The Pier, First Class Lounge at Hong Kong International Airport [Review]
Perhaps the most famous Cathay Pacific lounge in the world, The Pier First, at Hong Kong International Airport (HKG) is renowned for its amenities, food, and classic minimalist luxury vibes. There are countless bells and whistles to look forward to, including a-la-carte dining, complimentary spa treatments, amazing snacks, private spaces to unwind in, and impeccable service.
Here's everything from location to amenities offered in The Pier, First, which is 1 of 2 Cathay Pacific first class lounges at HKG.
(As of February 17, 2020, the Cathay Pacific Pier First Class lounge is temporarily closed until further notice.)
Location
The Pier, First is located at Cathay Pacific's home airport, HKG. Specifically, it's in Terminal 1 on the Departures level (Level 6), near gate 63. As is the case with all of Cathay Pacific's main lounges, The Pier, First is located airside, so you'll clear security prior to heading to the lounge.
The Pier, First is open from 5:30 a.m. to 12:30 a.m. 7 days a week.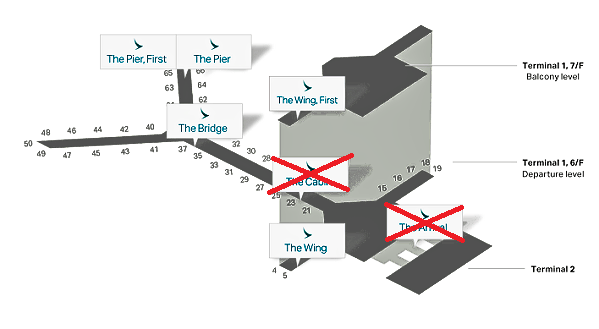 Interestingly, The Pier, First is located downstairs, which means you'll take a set of escalators (to the left of the main sign) to get to The Pier.
Gaining Entry
You can access the lounge if you are flying on a first class Cathay Pacific or other Oneworld partner fare. Additionally, you'll be eligible for access in any class if you're a Oneworld Emerald member, American Airlines Executive Platinum, or American Airlines ConciergeKey member.
Design, Arrangement, and Seating
The Pier, First is a phenomenally designed lounge. It resembles less of a first class lounge and more of a zen, private hideaway. Once inside, you will immediately forget that you're in the world-famous concrete jungle that is Hong Kong.
After presenting your boarding pass, you'll walk into a long hallway, which has a very minimalist feel. There's an emphasis on nature, which is thanks to the design from Studioilse.
There's a ton of velvet furniture flanked by marvelously carved wood furnishings and completed by spectacular lighting that sets the tone of the whole lounge: serenity.
There's bound to be tons of business travelers in Hong Kong, as the tiny city-state is one of the world's largest financial capitals and premier commerce gateways. Those business travelers or any leisure travelers may want to keep updated with this expansive literature selection available.
There was quite a bit of seating available, though with the variety of different seating options coupled with the spacing of each seating section, it felt like this lounge was endless. There were also 8 day suites, which will be discussed in later sections.
Food and Drink
I had heard from previous lounge reports that the food and beverage program at Cathay Pacific had been replaced with Sodexo, which you might know for education and corporate food services. However, I didn't have many complaints about the food at all, as we'll find out.
I wasn't blown away by the food in The Pier, First, but I'm rarely blown away by food, to begin with.
There are 3 main areas for food and beverage in The Pier, First. These are:
Self-serve food area
The Bar
The Dining Room
Self-Serve Food Area
The self-serve food area is where you could pick up a plate and just grab whatever food items you wanted. First, the salad bar was at the entrance of this open-air section.
Next, you'd find a couple of bottles of alcohol and some crackers and cookies.
The left bottle of wine is an Australian Brown Brothers Special Late Harvest Orange Muscat & Flora wine, while the right-hand side showcases a Grant Burge 10-year-old Tawny port, also from Australia.
Next to these 2 bottles of wine were black sesame cookies and other assorted cookies, including almond, chocolate almond, and pistachio cookies.
I moved onto the Easter-themed section, which had dark and white chocolate shapes (bunnies, chickens, and eggs). These surrounded a bed of cross buns, served with butter and jam.
The middle section that contained the salad was set atop a stunning wooden table and housed various cheeses, meats, and breads.
My favorite part of the self-serve area was the macarons on offer. I'm a huge fan of macarons, which are delicious (and expensive!) pastries. For example, my favorite macaron shop 'Lette Macarons in my hometown of Los Angeles charges $3 a pop! Needless to say, I ate a couple dozen of these treats.
Cathay Pacific uses high-quality preserves, which graciously anoint their bread selection, including charcoal soft bread, dark rye rolls, brioche rolls, and black sesame rolls.
The refrigerator section of the self-serve area was nestled in a corner of the room, and it housed freshly squeezed juices, among many other drinks such as sodas, local and imported beers, and sparkling water. The main highlight was the freshly squeezed guava and mango juice.
Also, on the bottom-right section was fruit salad, smoked salmon with cucumber salad, tossed berries with balsamic vinegar, and other chilled delicacies.
A sophisticated espresso machine, the WMF 8000S (an advanced dual-hopper and mostly automatic espresso drink machine), was located to the left of the refrigerator.
I thought self-pouring beer machines were unique to Japanese lounges, but I was proven wrong with the dual pouring set up here.
Tea connoisseurs can enjoy a selection of 9 types of tea from JING tea. Travelers will revel in delight with the filtered, hot, and sparkling water dispenser just left of the tea bags.
The Pier, First has an awesome snack and drinks area. This is a perfect avenue to satisfy your cravings until you get to The Dining Room, which is where you're expected to actually have meals.
In the meantime, let's touch on The Bar.
The Bar
The Pier, First's bar is clearly understated. There were quite a few travelers in the bar area, and I didn't want to infringe on their privacy, so I kept my pictures to a minimum.
Still, there were tons of drinks on offer, and I did manage to snap a picture without being terribly disruptive.
I'm not that big on alcohol, so I didn't take advantage of the offerings at the bar here.
The Dining Room
The Dining Room is one of the main highlights of The Pier, First. This is an a-la-carte section where you can dine your heart out.
There was a host dedicated to seating travelers, just like at an upscale restaurant. You could take a variety of magazines with you into The Dining Room.
There were plenty of seats available, and we were helped almost immediately.
We chose a seat near the extensive floor-to-ceiling windows for the sweeping views of the tarmac/runway. There was also an espresso and bar section, which was fully staffed to cater to the needs of first class travelers.
The a-la-carte menu was expansive, and we ordered a lot.
The beverage and wine list was similarly comprehensive.
Since we were traveling around the time of Easter, there was also a holiday-themed menu available that we didn't take advantage of. We ordered way too much food from the a-la-carte menu, anyway.
I started off with a Hong Kong milk tea, which was excellent.
We ordered these dishes:
Spicy chicken wings
Crab meat focaccia
Braised chicken in supreme soy sauce
Wagyu beef cheese burger
Warm chocolate fondant
Chilled sago with mango and pomelo
All of these items were delicious, and we were stuffed at the end of our dining experience. We didn't think that the food was "Sodexo quality" at all, and we left The Dining Room with pleasant impressions and full stomachs.
Bottom Line: Overall, Cathay Pacific does a great job with their food and beverage program. Made-to-order food is served a-la-carte style in The Dining Room, high-quality snacks and drinks are kept in the self-serve area, and gourmet cocktails are crafted in The Bar. 
Amenities
Let's talk about lounge-specific amenities. The motif at The Pier, First is supposed to be an unconventional oasis in an unconventional setting. As such, there is an entire area dedicated to your relaxation — an area known as The Retreat.
Day Suites
The first thing we did was reserve a day suite. Usage guidelines suggest a maximum of 1.5 hours, but we noticed that there was always space, even when the lounge was at capacity. There is a concierge at the entrance of The Retreat. The staff will assist you in booking massages, reserving day suites, providing shower amenities, and leading guests to shower suites.
The 8 day suites are located alongside a long hallway, and when a day suite is occupied, the curtains are closed.
Inside the day suite was a rectangular room with a long day bed.
We took a much-needed respite here. Inside the day suite were charging facilities, which we took advantage of.
The best part of the day suite was the astonishing views of the runway and tarmac. In fact, our day suite's windows were facing a gate. This was a treat because we actually witnessed the taxiing and disembarkation of an Emirates A380.
The pictures don't quite do it justice, as the A380 looked absolutely mammoth.
The business center in The Pier, First is called The Bureau. There are 6 oversized work desks furnished with iMac computers and comfortable office chairs.
Restrooms
The restrooms were immaculate and private.
In fact, each restroom stall had sinks and hand washing facilities inside the stall, which is awesome.
Let's pivot over to the massage area.
Complimentary Massage Service
At the front-desk of The Retreat, we glanced through the massage menu, and there were 3 options available:
Signature Gentlemen's Tonic Foot Massage (15 minutes)
Reinvigorating neck, shoulder & scalp massage (15 minutes)
Signature Gentlemen's Tonic "The Traveller Eye Revitaliser" (15 minutes)
I opted for the neck, shoulder, and scalp massage and my travel companion chose the foot massage.
Note that travelers should reserve their massage as soon as they get settled into the lounge. We reserved our massages for ~3.5 hours later, which was the earliest time available.
When the time for our massage came, we were whisked into the main massage room. There were a total of 3 massage stations, each separated by a wooden partition.
The massages were great. I've never gotten a high-quality massage in an airport lounge like at The Pier, First. It truly de-stressed me, and I'm glad I had a chance to try it.
Shower Suites
I went back over to grab a quick shower before heading to The Wing, First, which we'll be reviewing in another piece. In total, there are 14 shower suites, which is an ungodly number for a lounge.
The front desk of The Retreat similarly provides shower amenities, including deodorant, hair comb, hair spray, shaving set, shaving foam, and slippers.
We each got a pair of slippers (not pictured but very fluffy), which we're still using in our house today.
The shower suites are beautiful decorated, planned, and furnished. Some of the inclusions in each shower suite are a chair, bench, cosmetic mirror, and hair dryer.
You'll enjoy rain showers, high quality Aēsop amenities, and pretty much every toiletry you'll need. The water pressure and temperature of this shower suite were excellent.
I left the shower suite feeling truly refreshed.
Bottom Line: The amenities at The Pier, First were remarkable. From the private day suites to the complimentary 15-minute massage service to the outstanding shower suites to even the well-designed restroom stalls, The Pier, First's unique amenities made for an extraordinary experience. 
Experience and Service
Unsurprisingly, The Pier, First is truly a special lounge. The service we received at all junctures of the lounge was first-rate.
Everything in the lounge seemed to lend credibility to the theme of a serene sanctuary, whether it's the interior design or the complimentary massages.
Also, we noticed that there were always staff performing routine cleanings, which is probably why literally everything in the lounge was spotless. They continuously dusted off and cleaned all the facilities, and I was astonished by this.
Overall, the service of this lounge was exceptional, and it truly sets a high bar for other first class lounges to beat.
Final Thoughts
The Pier, First truly exemplifies what it's like to have a first class lounge experience. Many first class travelers value privacy and quiet over a large food selection, and this is probably one of the best examples of that.
The design and vibe of the lounge is something that I don't believe can be replicated anywhere else. It's got a minimalist, zen, homely feel to it that is unparalleled.
Also, the amenities and facilities were world-class, from the private day suites with tarmac views to the shower suites with Aēsop amenities.
The food was great, if not somewhat limited in variety, but ordering a-la-carte in an airport lounge is something that will never get old.
Lastly, the massage service was excellent, and I won't forget the quality of the treatment from the staff when we were in the lounge. It simply is one of the best orchestrated first class lounges in the world. Bravo, Cathay Pacific!
---
All images are credited to Stephan Au unless otherwise specified