Korean Air Boeing 777-300ER First Class Review (Singapore to Seoul)
Airline: Korean Air
Aircraft: Boeing 777-300ER (HL 8216)
Flight #: KE 646
Route: Singapore Changi Airport (SIN) to Incheon International Airport (ICN)
Date: May 04, 2019
Duration: 6 Hrs 15 Mins
Cabin + Layout: Originally booked on the Kosmos Suites 2.0; downgraded to Kosmos Suites. 8 first class suites in a 1-2-1 configuration across 2 rows.
Seat: 1A
Miles Used: 45,000 Korean SKYPASS Miles (transferred at a 3:1 ratio from Marriott Bonvoy) + $141.44 (including taxes and fees per person)
Fare Paid: N/A
Typical Retail Fare: $2,033 per person including taxes and fees
Introduction
Having heard rave reviews of both Korean Air (KE) and Asiana Airlines (OZ), I took up the opportunity to try out the first class product of both the airlines during my trip to Seoul in May 2019. I booked a one-way first class ticket from SIN to ICN with Korean Air on the Boeing B777-300ER and then from ICN to Los Angeles International Airport (LAX) with Asiana on the Airbus A380-800.
In terms of fleet size and destinations, Korean Air is South Korea's largest airline that includes a mixed fleet of narrow and wide-body Airbus and Boeing aircrafts. With such a diverse fleet, they have different products and cabin layouts. Below is just a summary of the different seat configurations they have equipped on their wide-body fleet.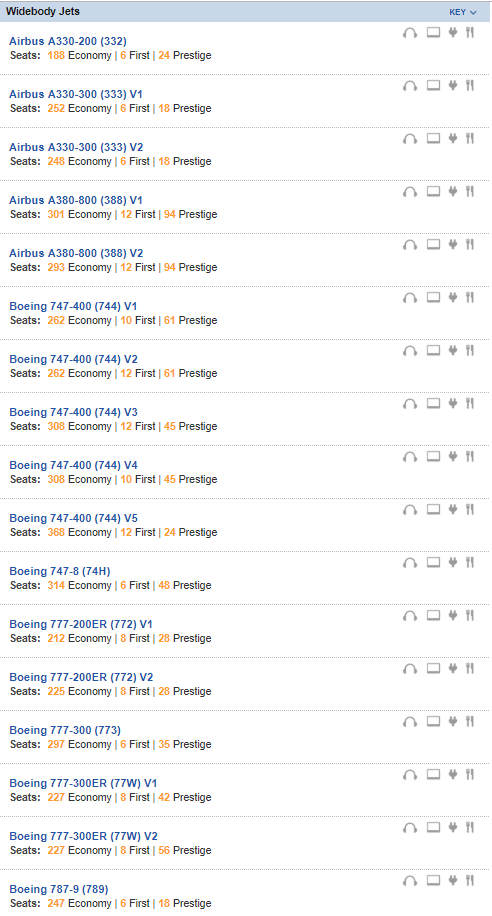 Since I was flying on the Boeing 777-300ER, I'll just focus on the details of this particular aircraft.
Boeing 777-300ER Configurations
Korean Air flies 2 versions of the Boeing 777-300ER and is known to interchange their Boeing 777-300 ER versions, as it happened on this flight. Even though my ticket clearly stated that I would be flying in the first class Kosmos Suite 2.0 with the privacy door, I ended up in the Kosmos Suite without a privacy door. So other than checking on the seat configuration map on what product you will be flying, you can also verify using the aircraft tail numbers.
Though there isn't much of a difference between Kosmos Suites and Kosmos Suites 2.0 other than a privacy door, I believe you should get what you pay for, whether it be a cash booking or mileage redemption.
Version 1
Version 1 of the Beoing 777-300ER has a total capacity of 291 seats. There are 8 open Kosmos suites, 56 flat bed Prestige Class seats, and 227 standard economy seats.
Version 1 with the open Kosmos Suites is available on the aircrafts with the following tail numbers:  HL 7782 – HL 7784; HL 8208 – HL 8210; HL 8216 – HL 8218; HL 8250; HL 8274 and HL 8275.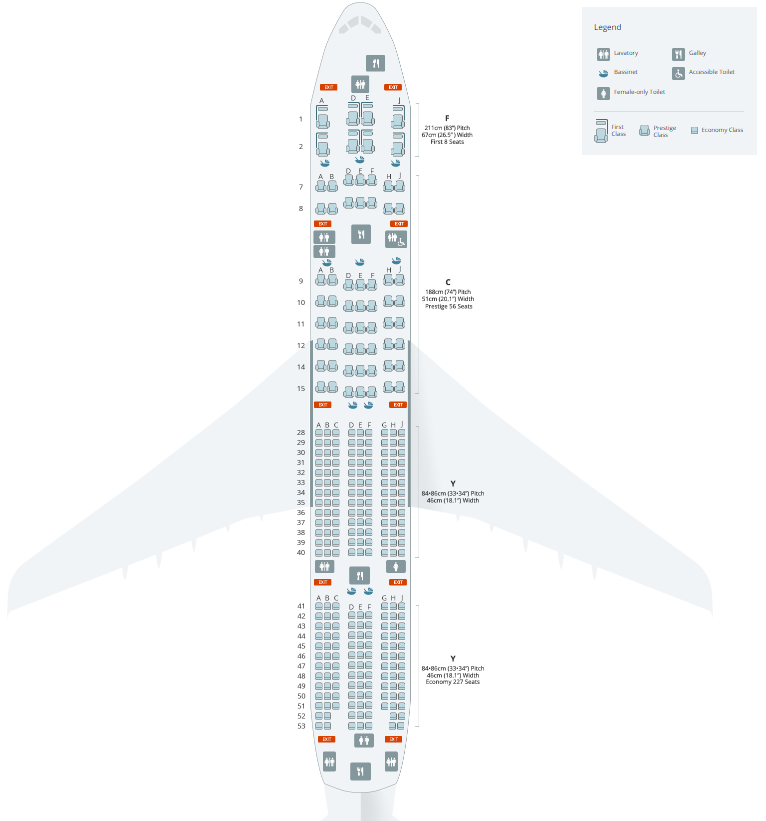 Version 2
Version 2 of the aircraft has a total capacity of 277 seats. There are 8 closed Kosmos suites 2.0, 42 flat-bed Prestige Class seats, and 227 standard economy seats.
Version 2, with the partially enclosed Kosmos Suites 2.0 is available on the aircrafts with the following tail numbers: HL 7202 – HL 7205; HL 8006 – HL 8011; HL 8041, HL 8042, HL 8346 and HL 8347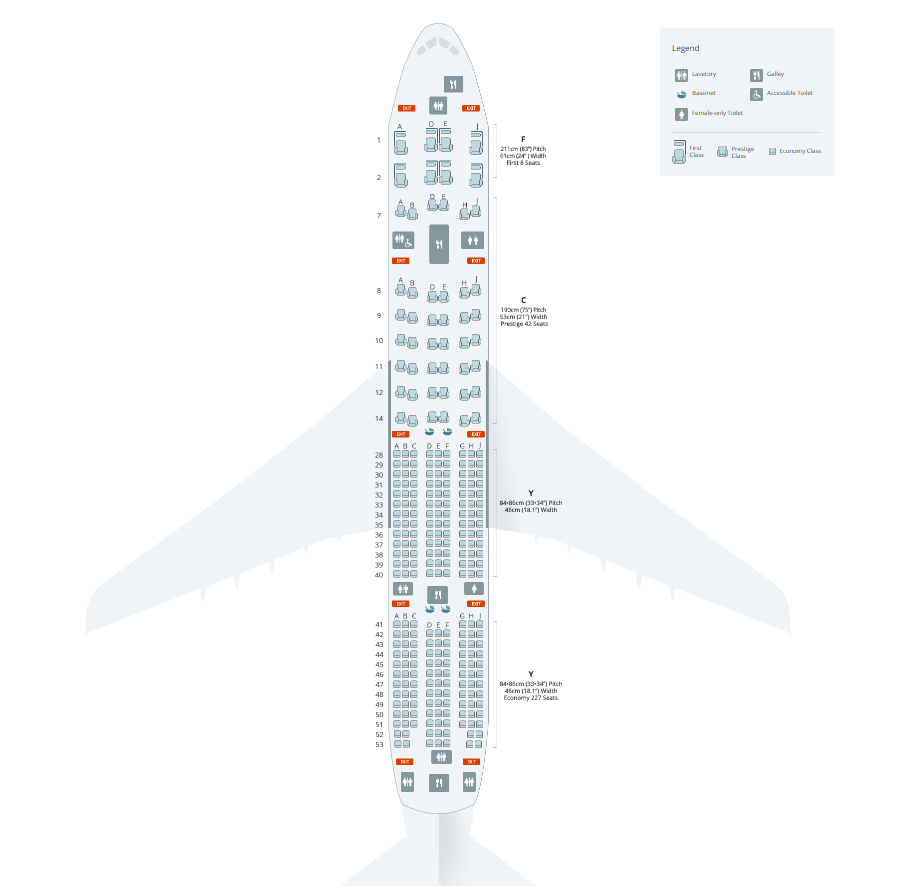 Booking
The mileage redemption required for this redeye flight from SIN to ICN was 45,000 Korean Air SKYPASS miles plus $141.44 per person including taxes and fees.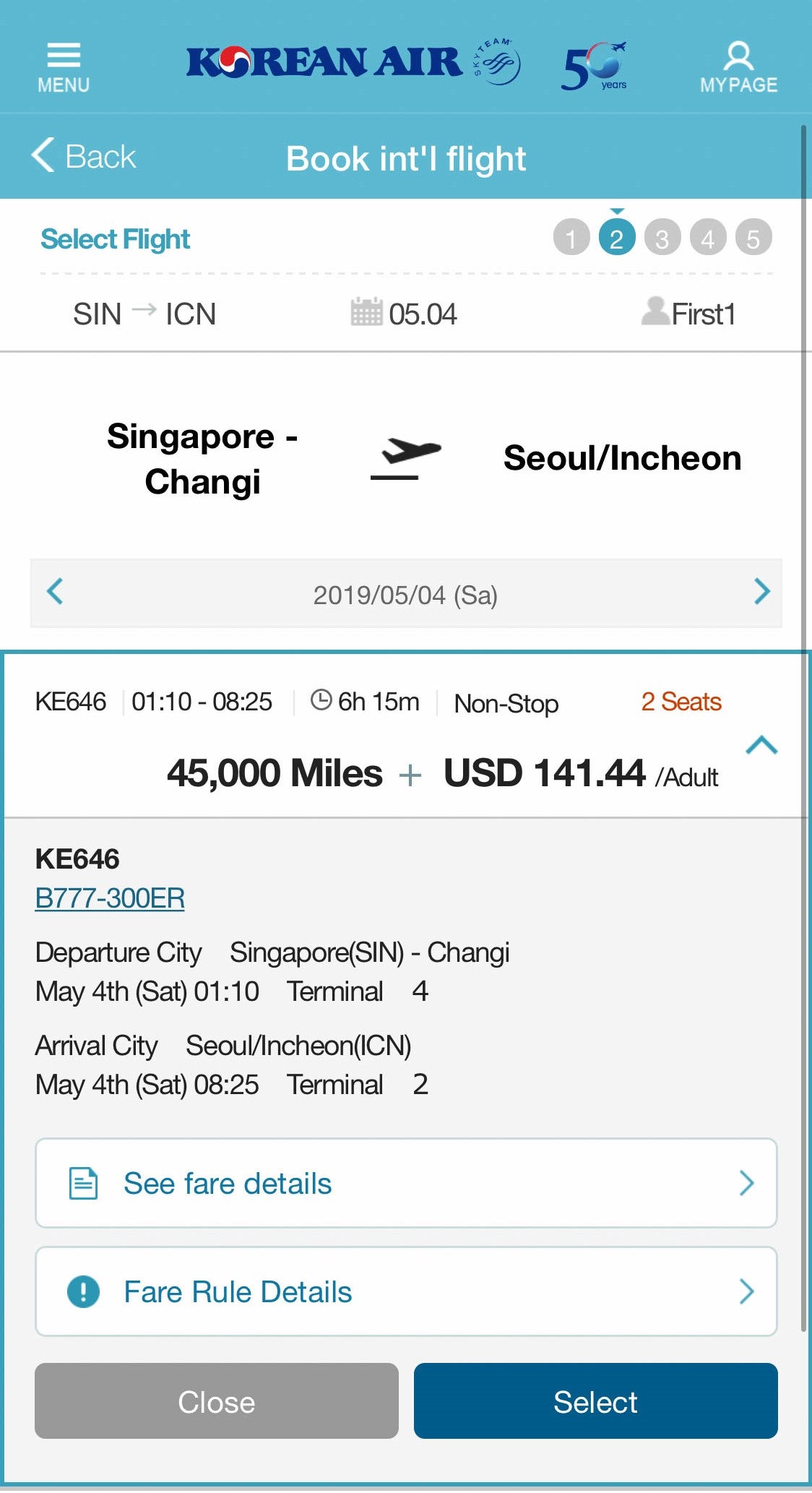 Korean Air is a member of the SkyTeam Alliance. Though partner redemption is available to book economy and business class award seats, first class award seats can only be booked using the airline's frequent flyer program: Korean Air SKYPASS.
Based in Abu Dhabi, UAE, the only way for me to book the a first class ticket using miles was by transferring Marriott Bonvoy points which I earn using my Emirates NBD SPG credit card at a 3: 1 ratio to my Korean Air SKYPASS account.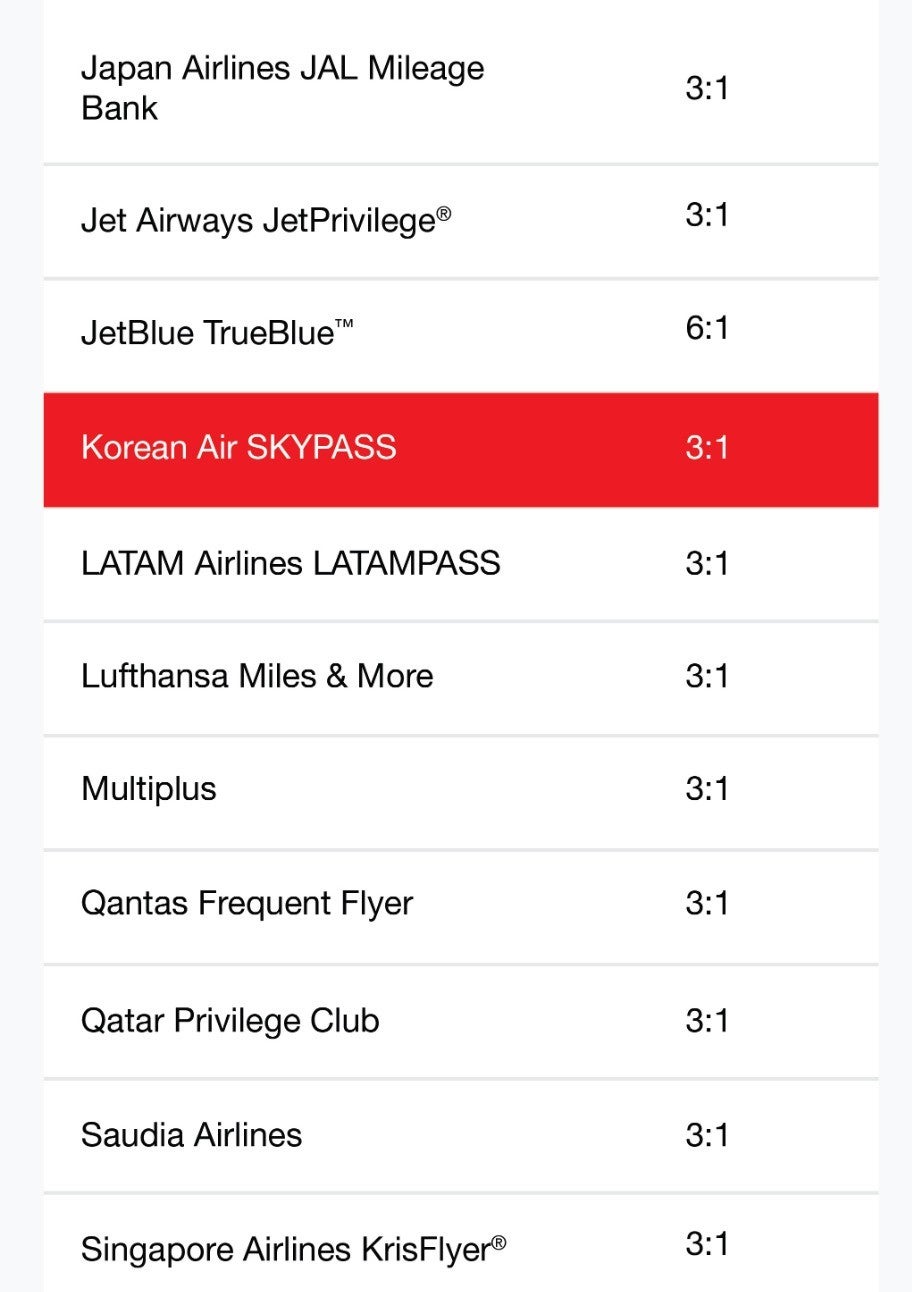 I proceeded to transfer 135,000 Marriott Bonvoy points at a 3:1 ratio for the required 45,000 Korean Air SKYPASS miles to book the first class award ticket. I also received 5,000 bonus miles since I transferred 60,000 Marriott Bonvoy points. The transfer took 12 days to go through and post to my SKYPASS account.
Hot Tip: Korean Air only releases 2 first class seats for award redemption. See our Korean Air first class booking guide for more information and tips!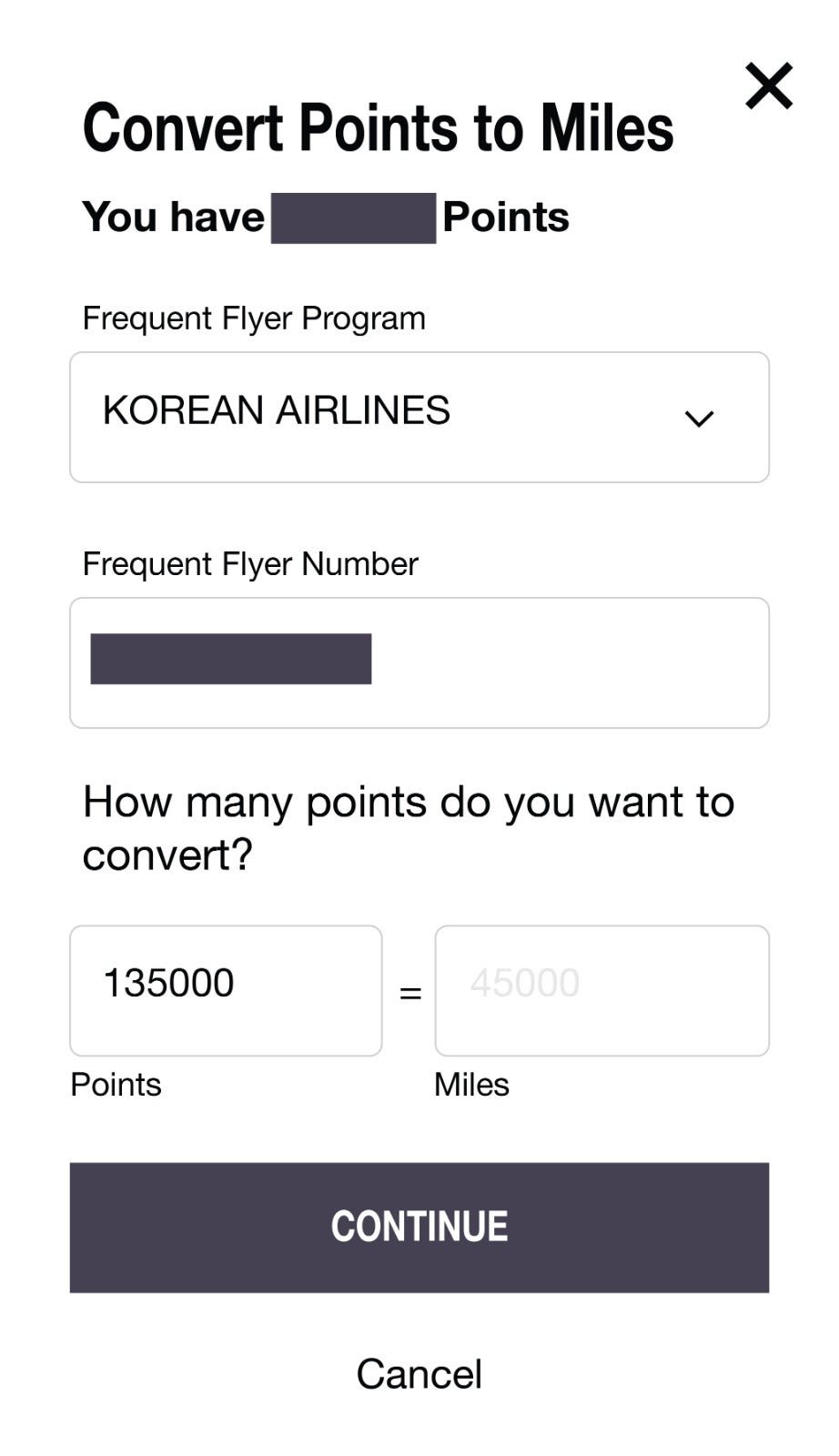 At Singapore Changi Airport (SIN)
I flew into SIN from Dubai International Airport (DXB), on the morning of May 3, 2019, and stayed the day at the airport's Crowne Plaza Changi Hotel, one of the best airport hotels with sweeping views of the airport tarmac.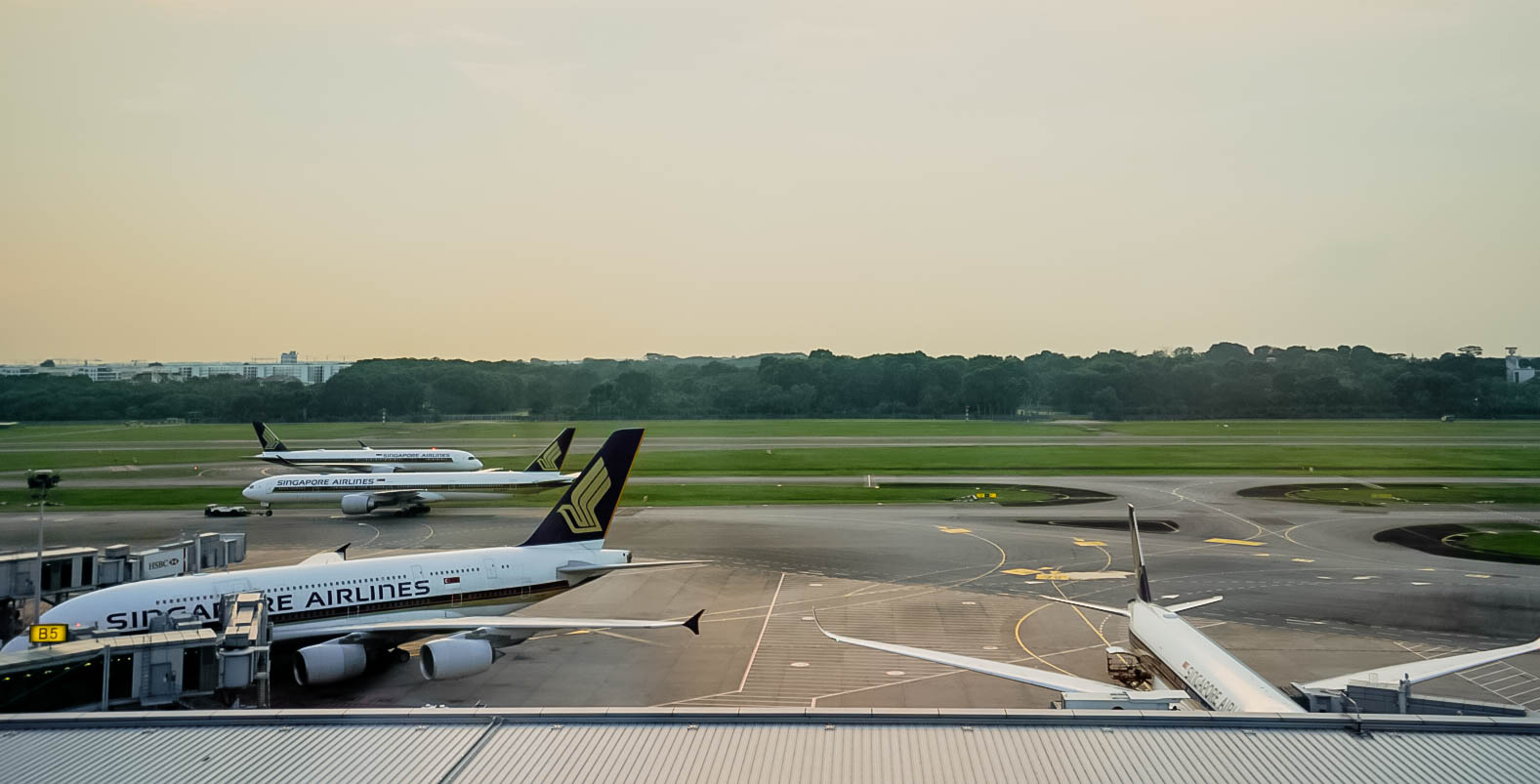 After dinner with friends at the hotel, I headed to Terminal 4, from where Korean Air operates along with AirAsia, Cathay Pacific, Vietnam Airlines, Cebu Pacific, and others. Note that there is no SkyTrain available between Terminal 4 and the other terminals (1, 2 and 3). There is only a regular shuttle bus service between Terminal 2 and Terminal 4, which means that if you are arriving in to Terminal 1 or 3, you will need to take the SkyTrain to Terminal 2 and then the shuttle bus service to Terminal 4.
To avoid all this, I just took a taxi from the hotel to Terminal 4, which cost me around $7.30 (SG$10). I arrived at the terminal at 11:00 p.m. and proceeded to the Korean Air check-in desk located at Row 5. The most convenient drop-off location is Door 3.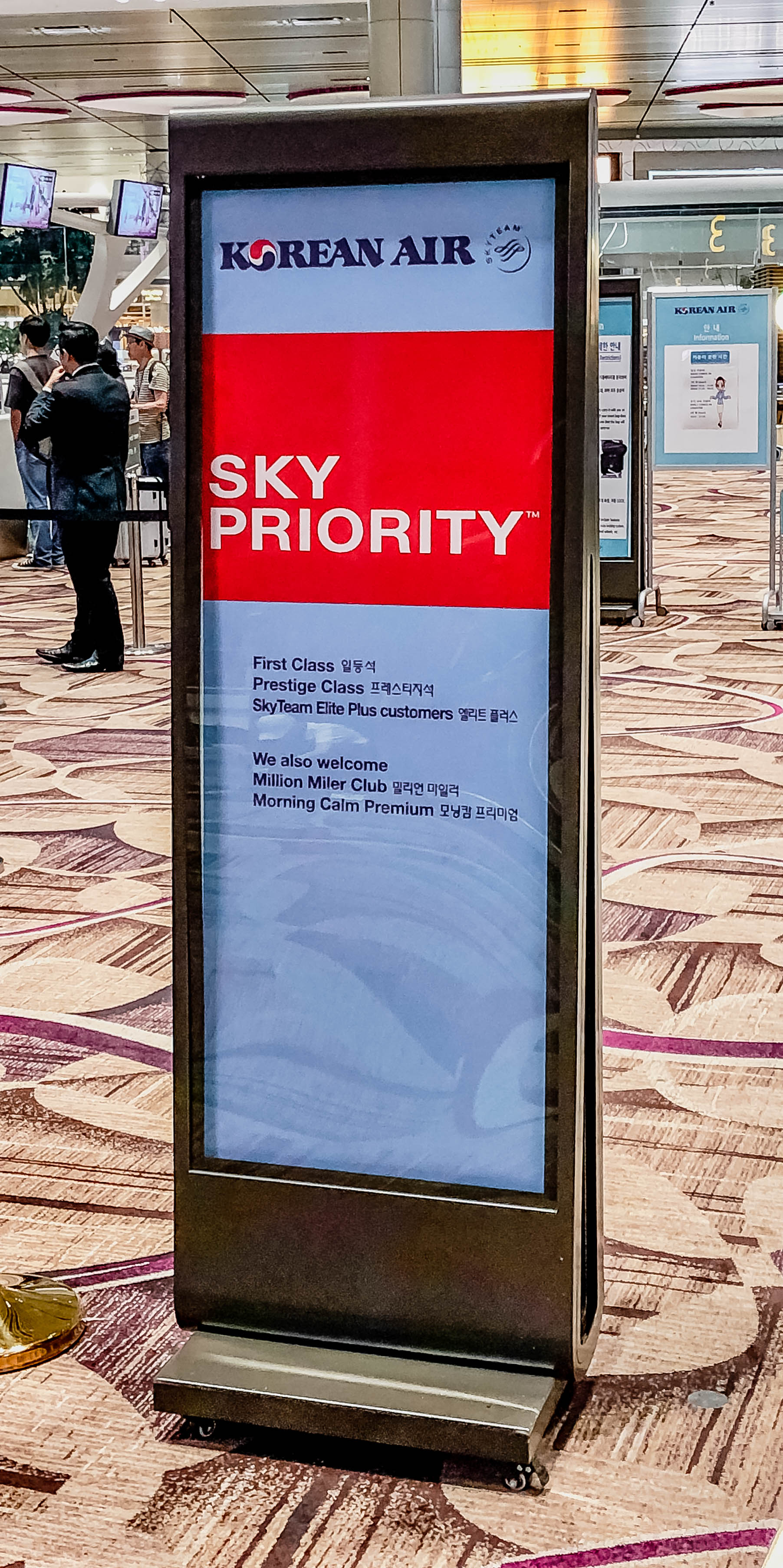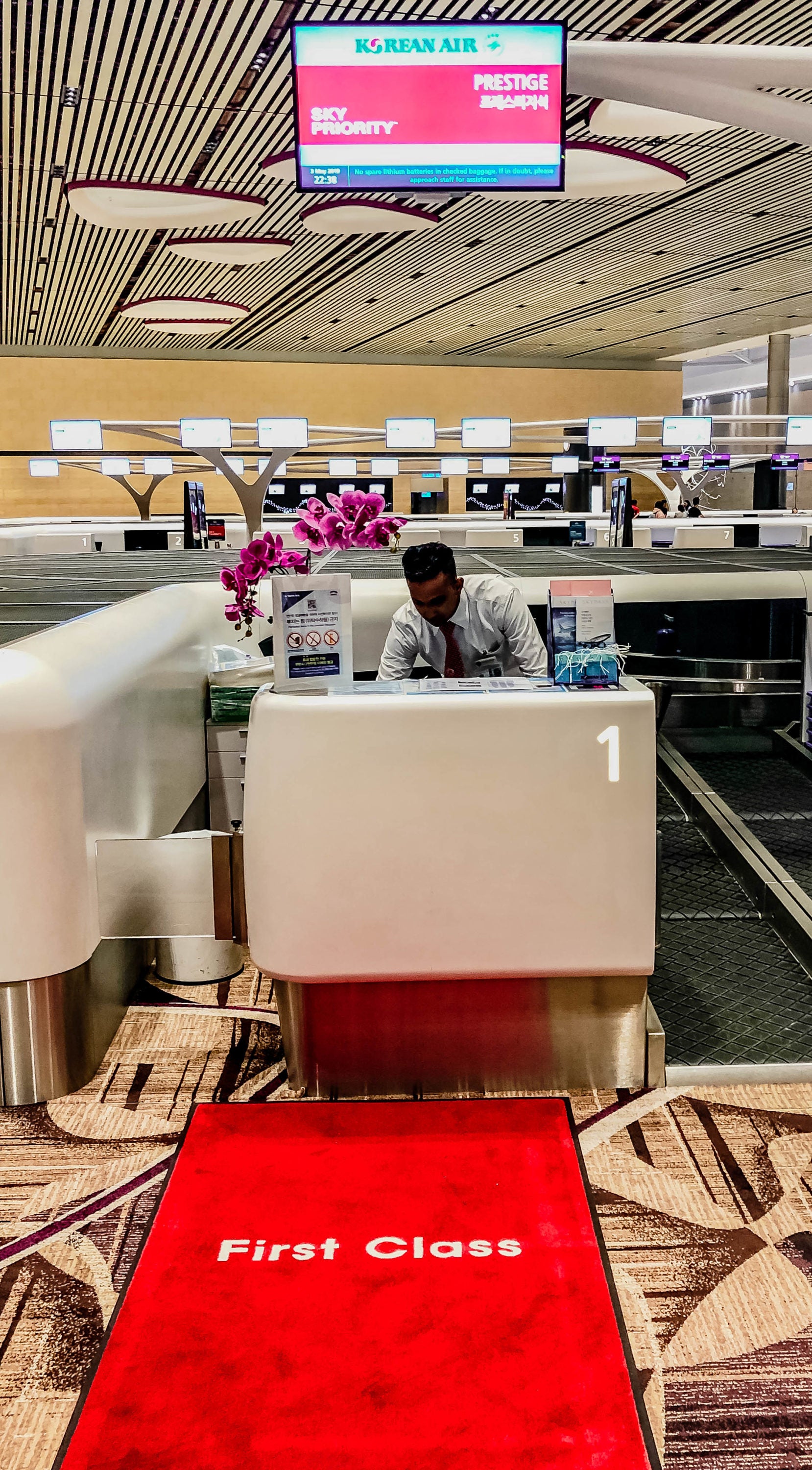 Check-in was fairly straightforward and I was informed that I am the only passenger traveling in first class. This further enhanced my expectations of being pampered by the famed Korean Air service onboard. Immigration clearance through the auto-gates was a breeze as well, and I was starting to get a good vibe about this trip to Seoul.
Blossom Lounge
Korean Air uses the Blossom Lounge located on Level 2 of the departure area for first class, business class and SkyTeam Elite members. The lounge is a product of the partnership between SATS and Plaza Premium and is also accessible using Priority Pass, various credit cards issued by Singapore banks, and by purchasing a day pass (10 hours) for $78.
Hot Tip: Many credit cards offer a complimentary Priority Pass membership simply by being a cardholder!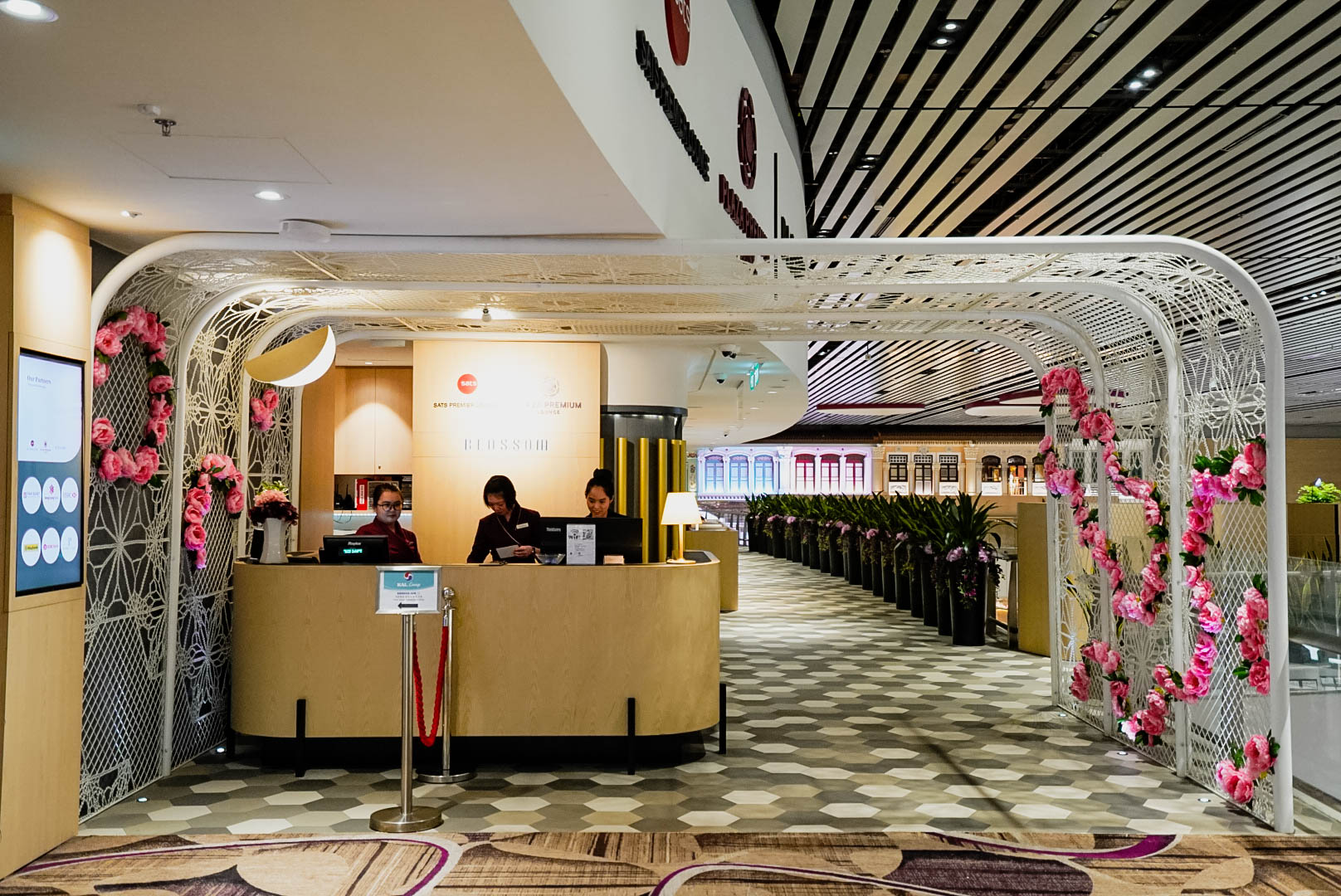 As you enter the lounge, there are 2 showers located on the left for which you are required to book your slot. Since both the showers were occupied, I could not check out those facilities.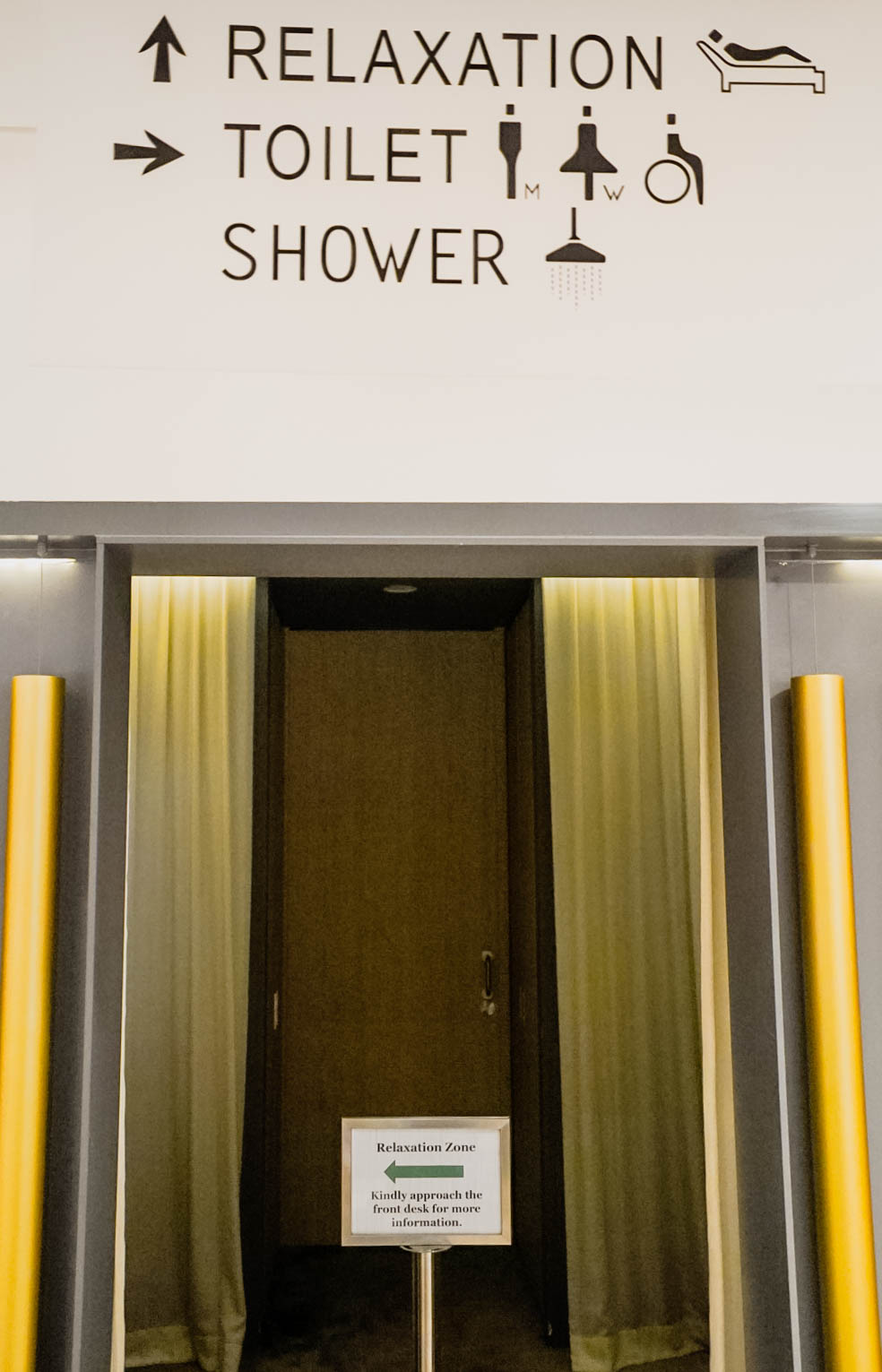 As you walk further ahead, the dining area is located on the left followed by seating stalls for passengers traveling solo.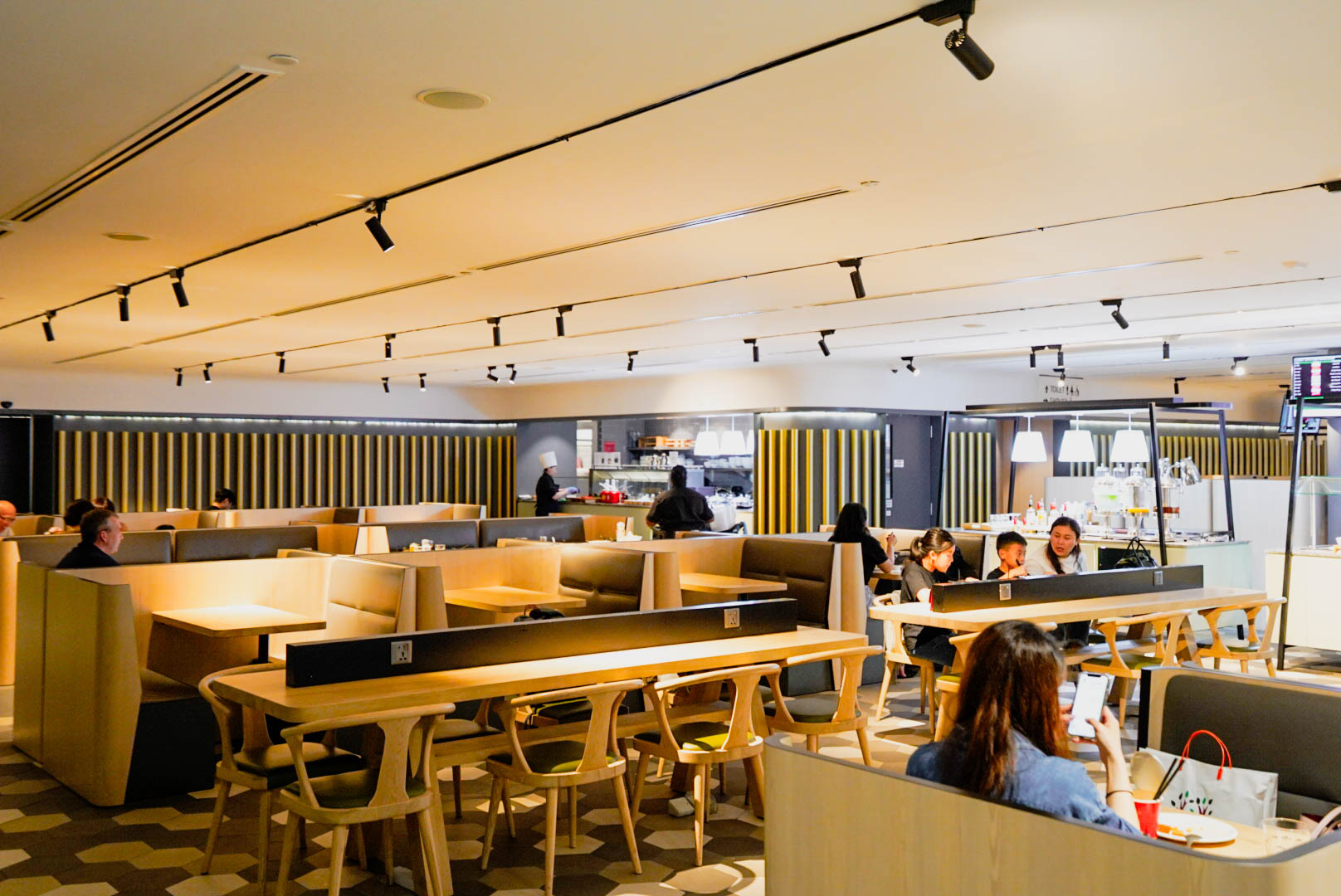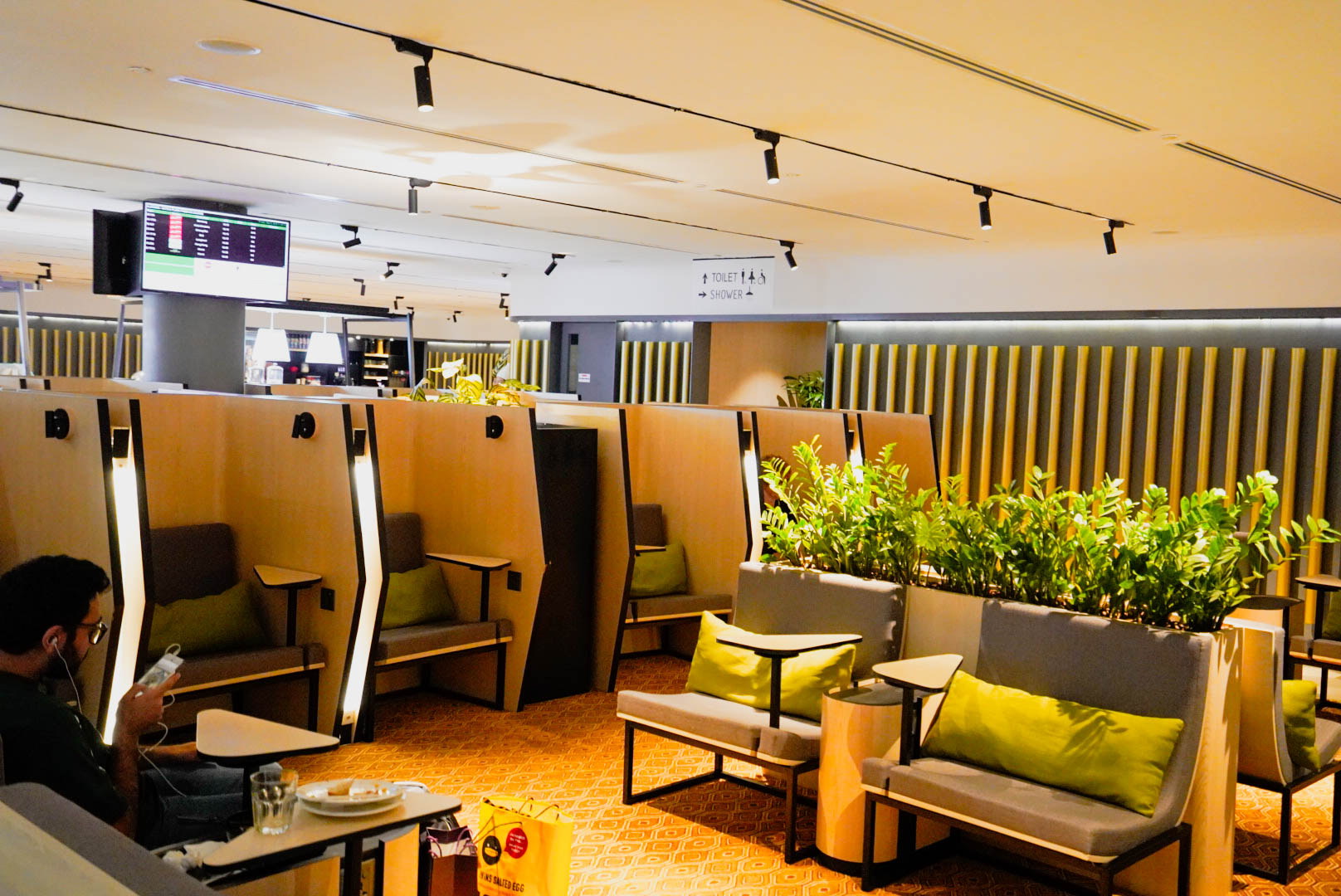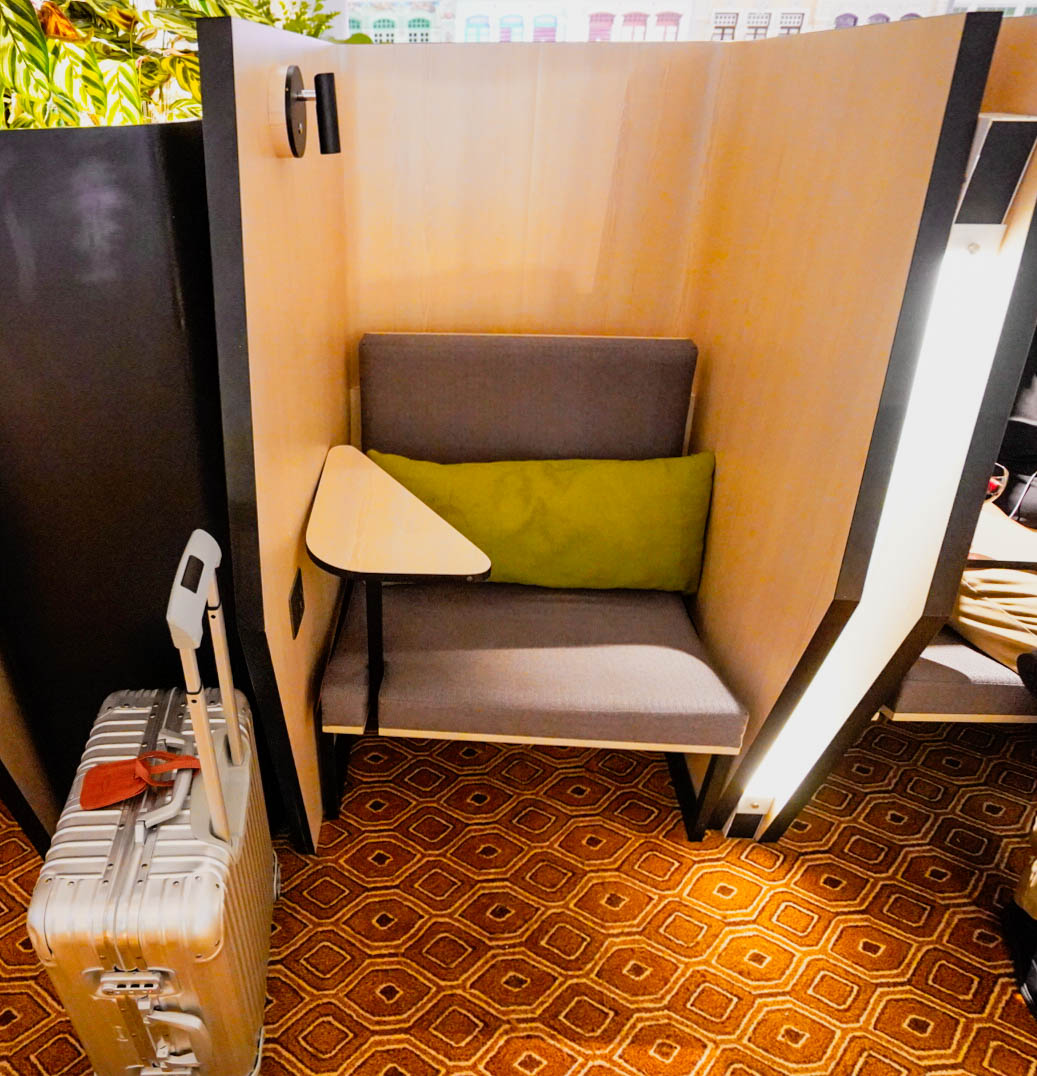 For first class passengers traveling on Korean Air, there is a special area reserved right at the end of the lounge, from where you can enjoy the Peranakan Love Story show – a story of the romance between two musician neighbors that runs every 15 minutes.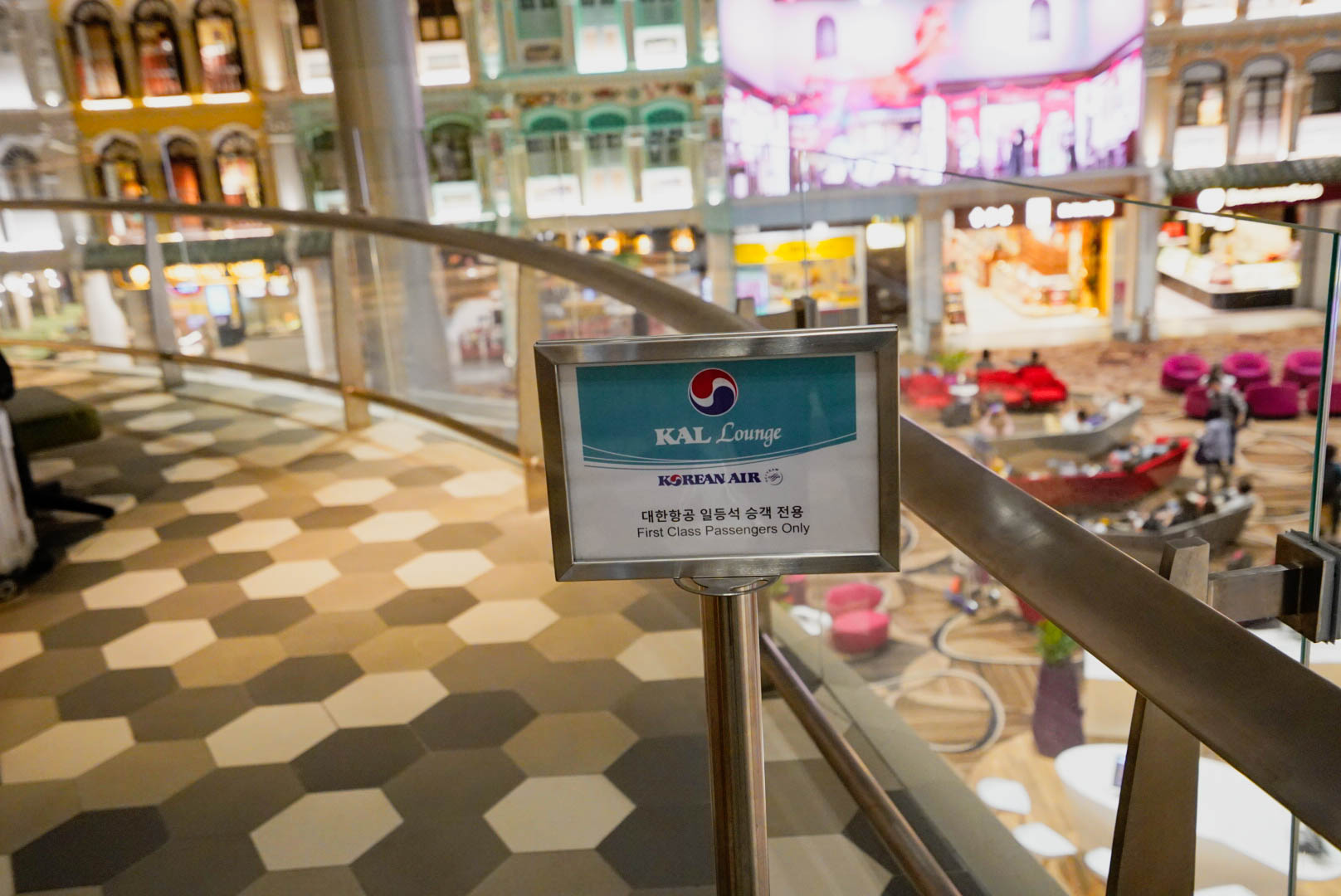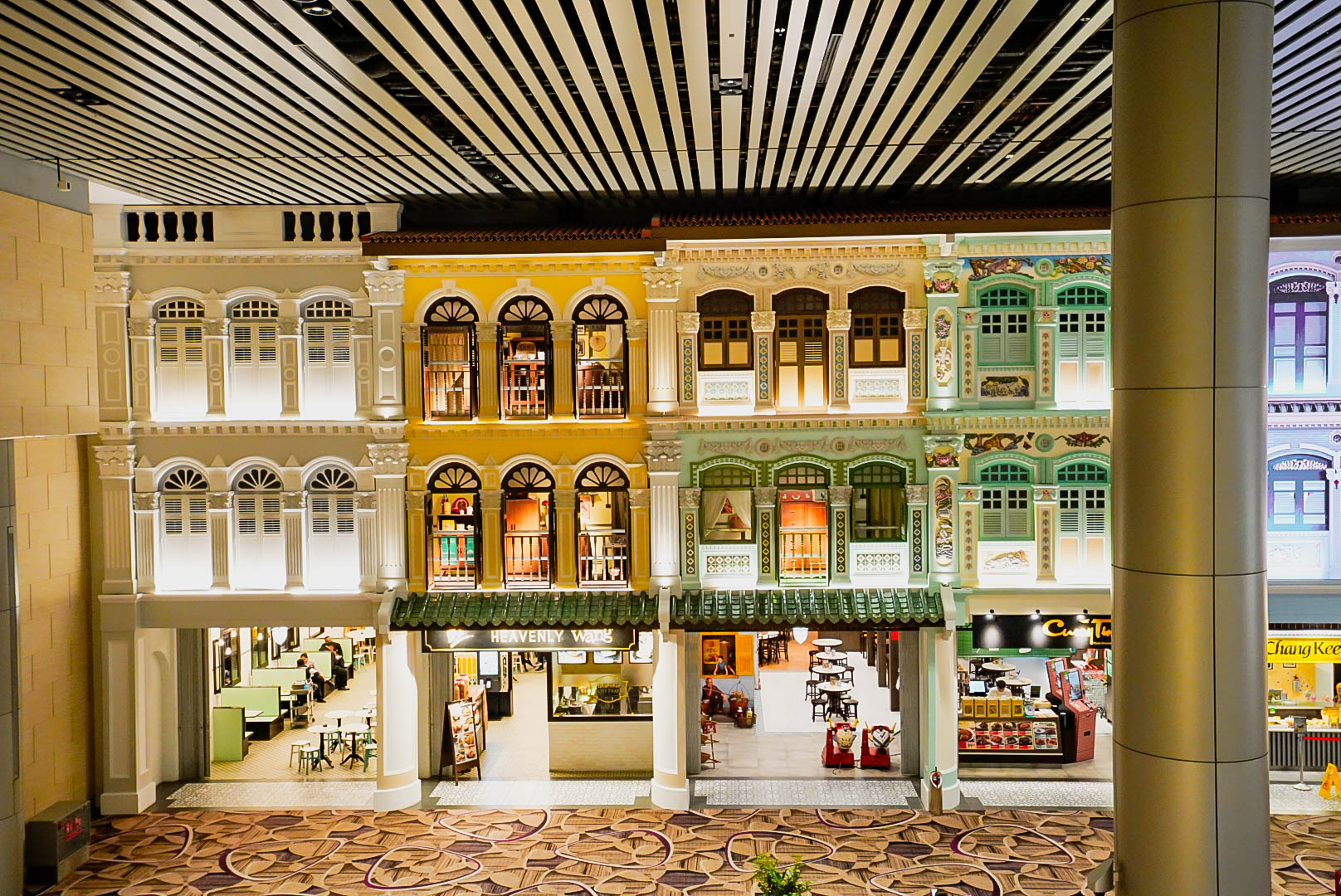 The lounge offered both hot and cold food options including a noodle and laksa bar, with a selection of alcoholic and non-alcoholic beverages but nothing to shout about. The only other lounge in Terminal 4 is the Cathay Pacific lounge, which was out of bounds and since I had already had a sumptuous dinner back at the hotel, I just grabbed a beer and put my feet up.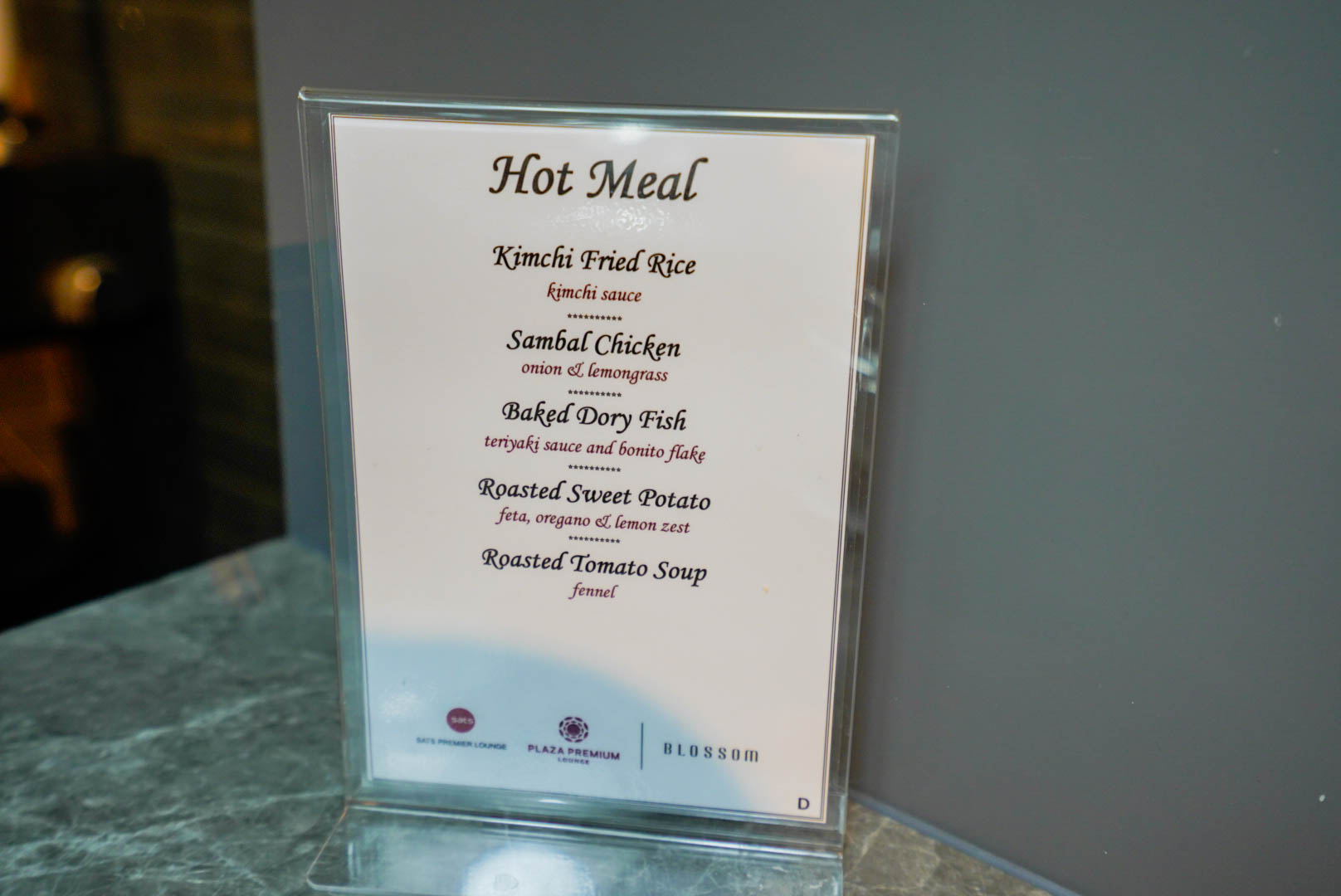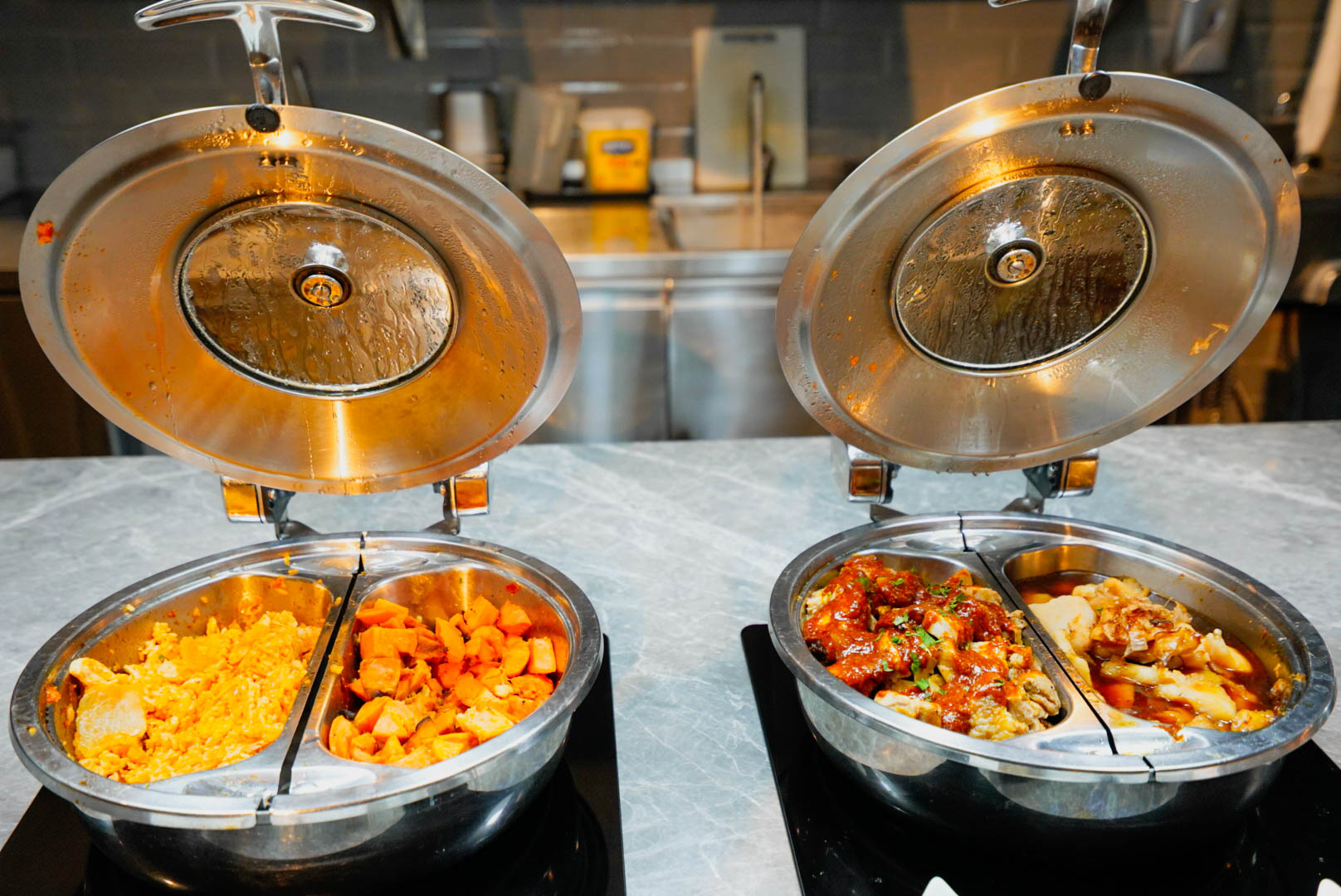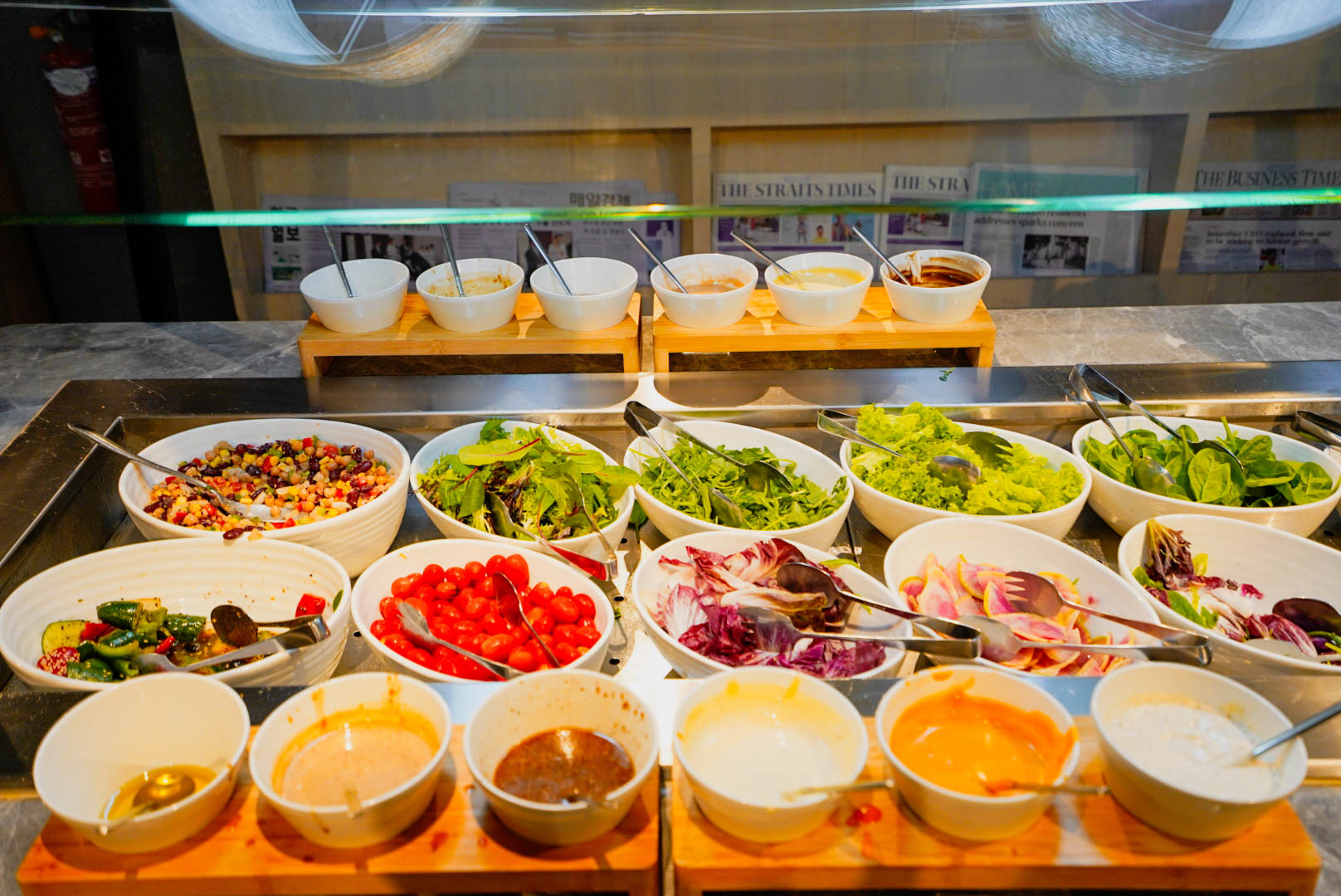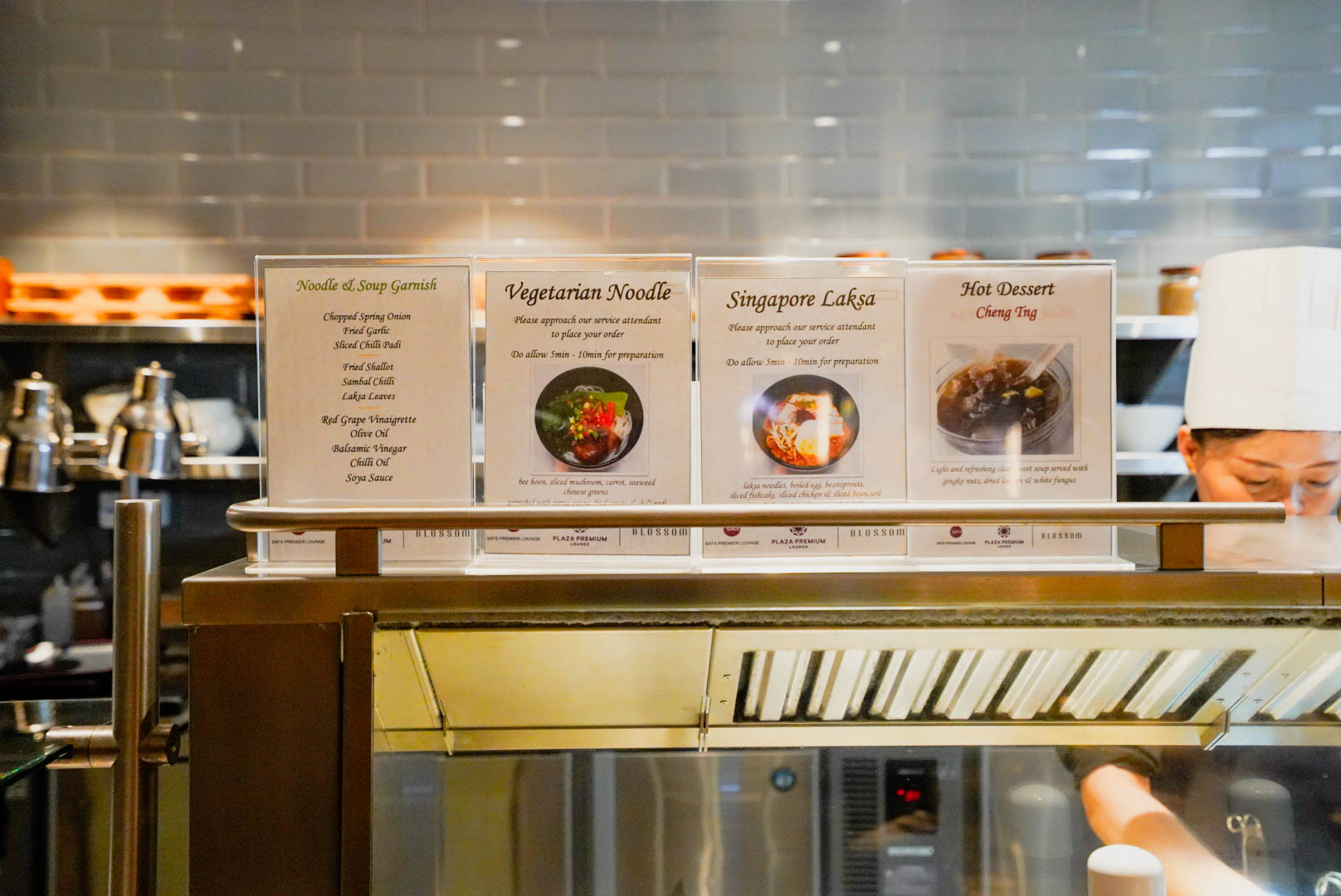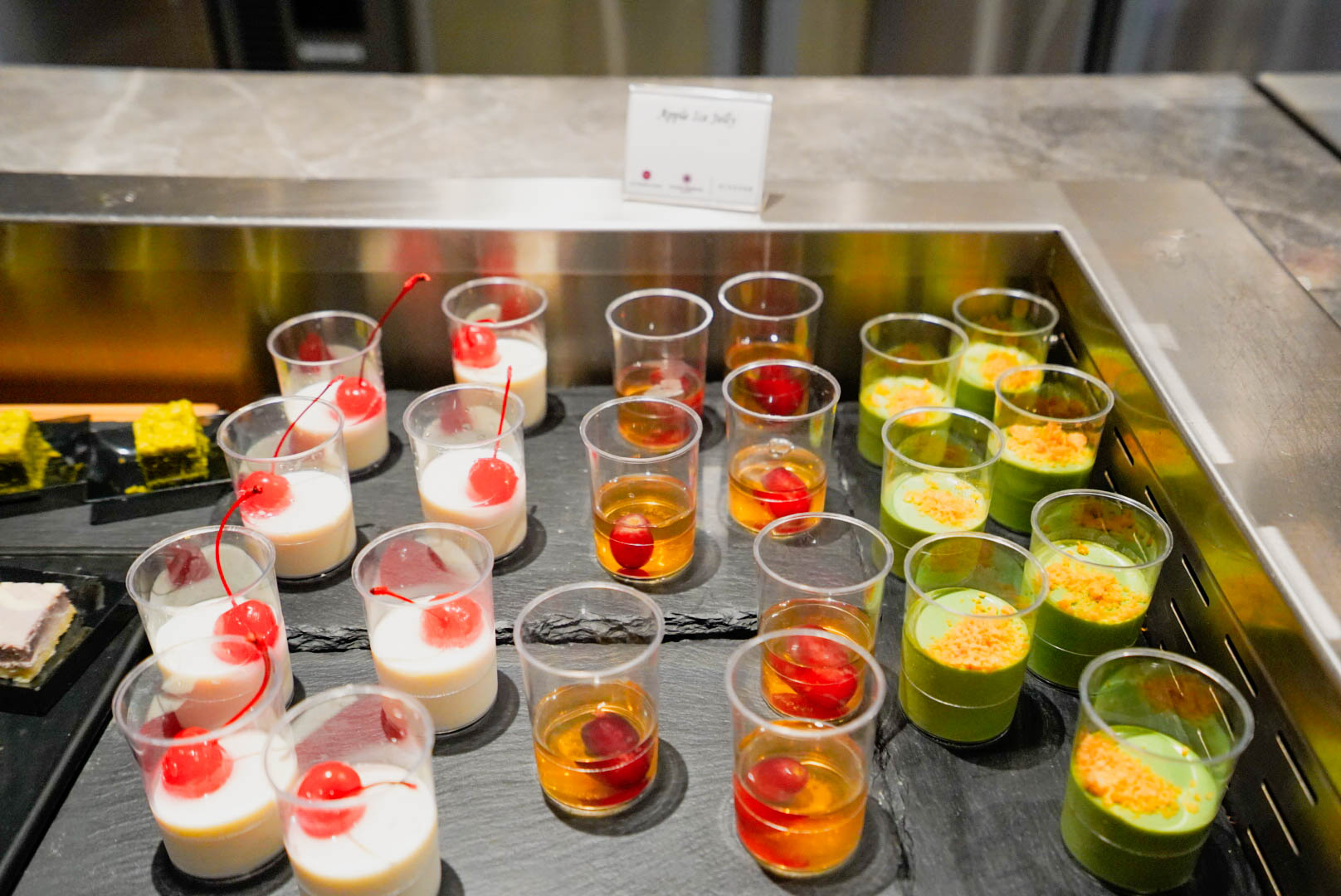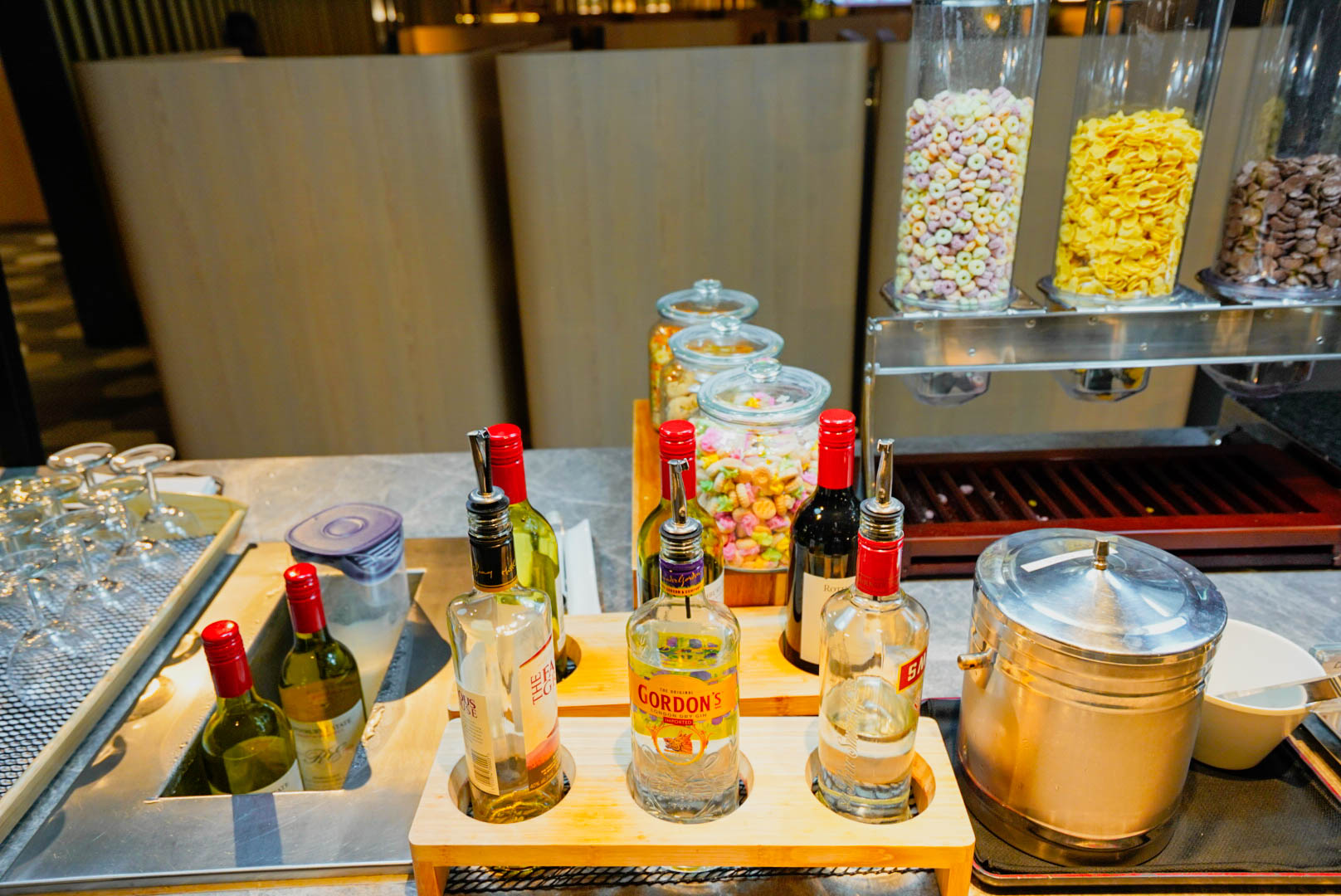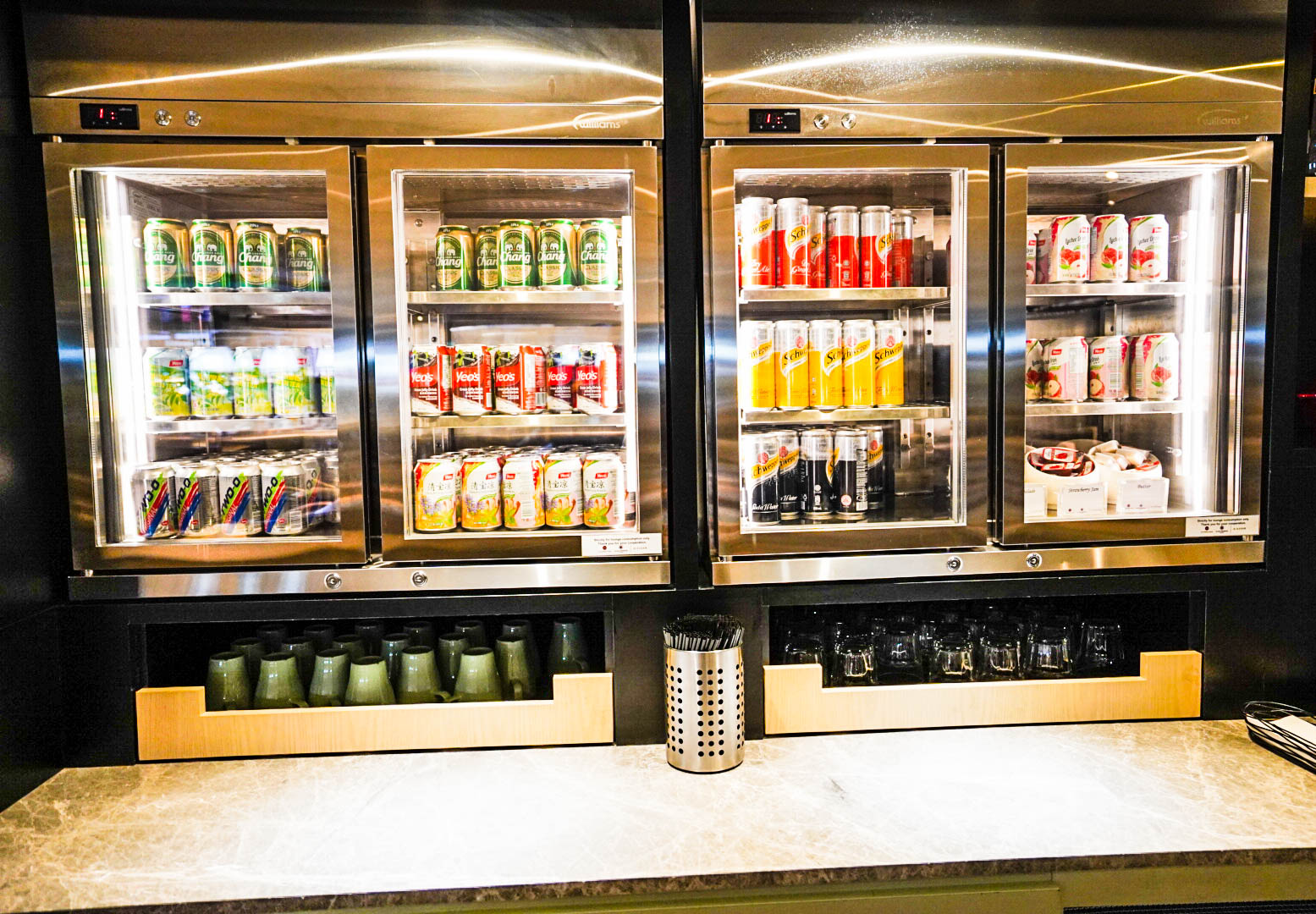 Scheduled departure was at 01:10 a.m, and I started making my way to the designated gate G19, which was a good 10 minutes walk from the lounge.
Hot Tip: You don't have to fly first or business to have lounge access. Many credit cards grant lounge access regardless of which class you're flying. 
Flight
Aircraft
The aircraft registered HL 8216 was delivered to Korean Air in May 2011. This was the high density Version 1 with a total capacity of 291 seats configured as follows:
First Class Kosmos Suites: 8 seats in a 1-2-1 configuration across 2 rows
Business Prestige Class: 56 seats in 2-3-2 configuration across 8 rows
Economy class: 227 seats in a 3-3-3 configuration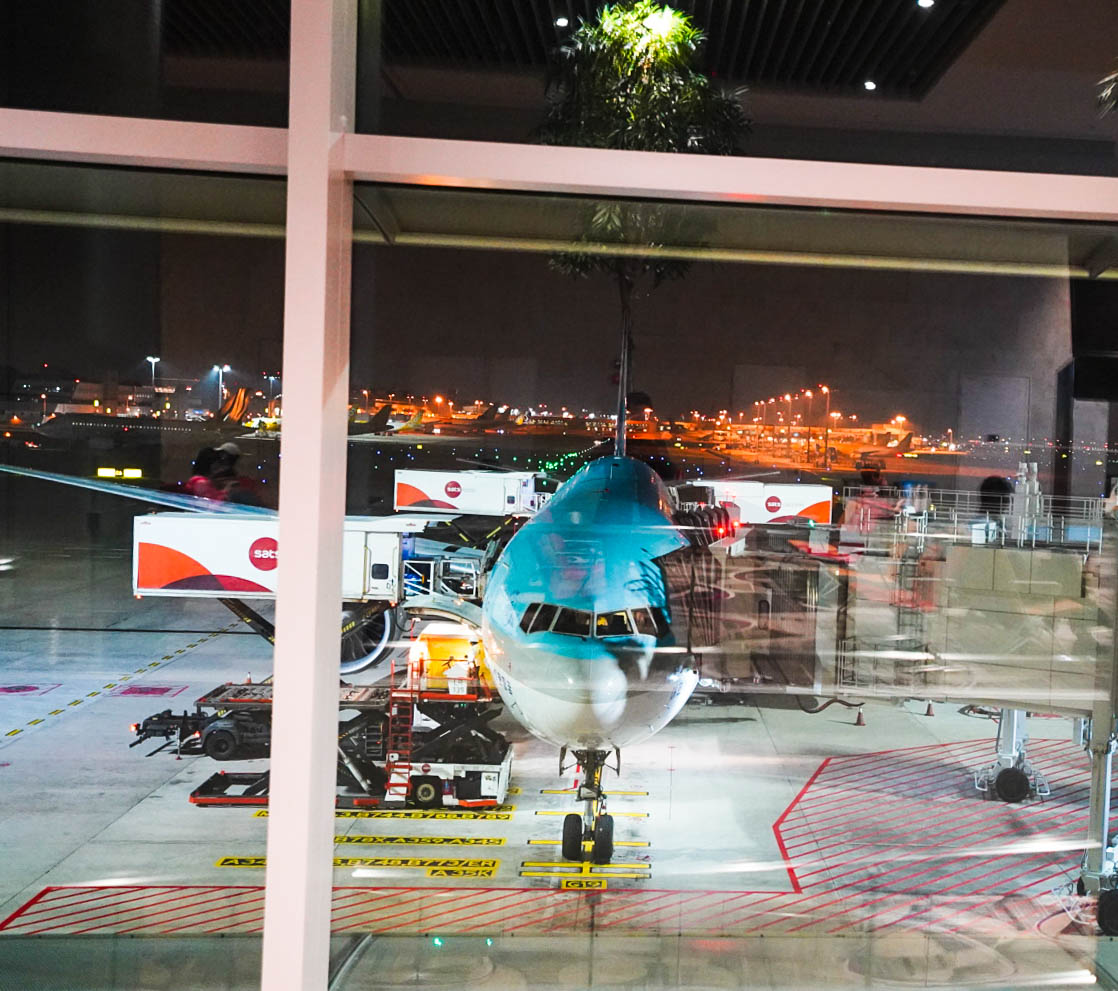 Boarding was via 2 jet bridges. Through L1 for first class and Prestige Class passengers and through L2 for economy class passengers.
Cabin
The first class cabin is set in a forward facing 1-2-1 configuration with direct aisle access.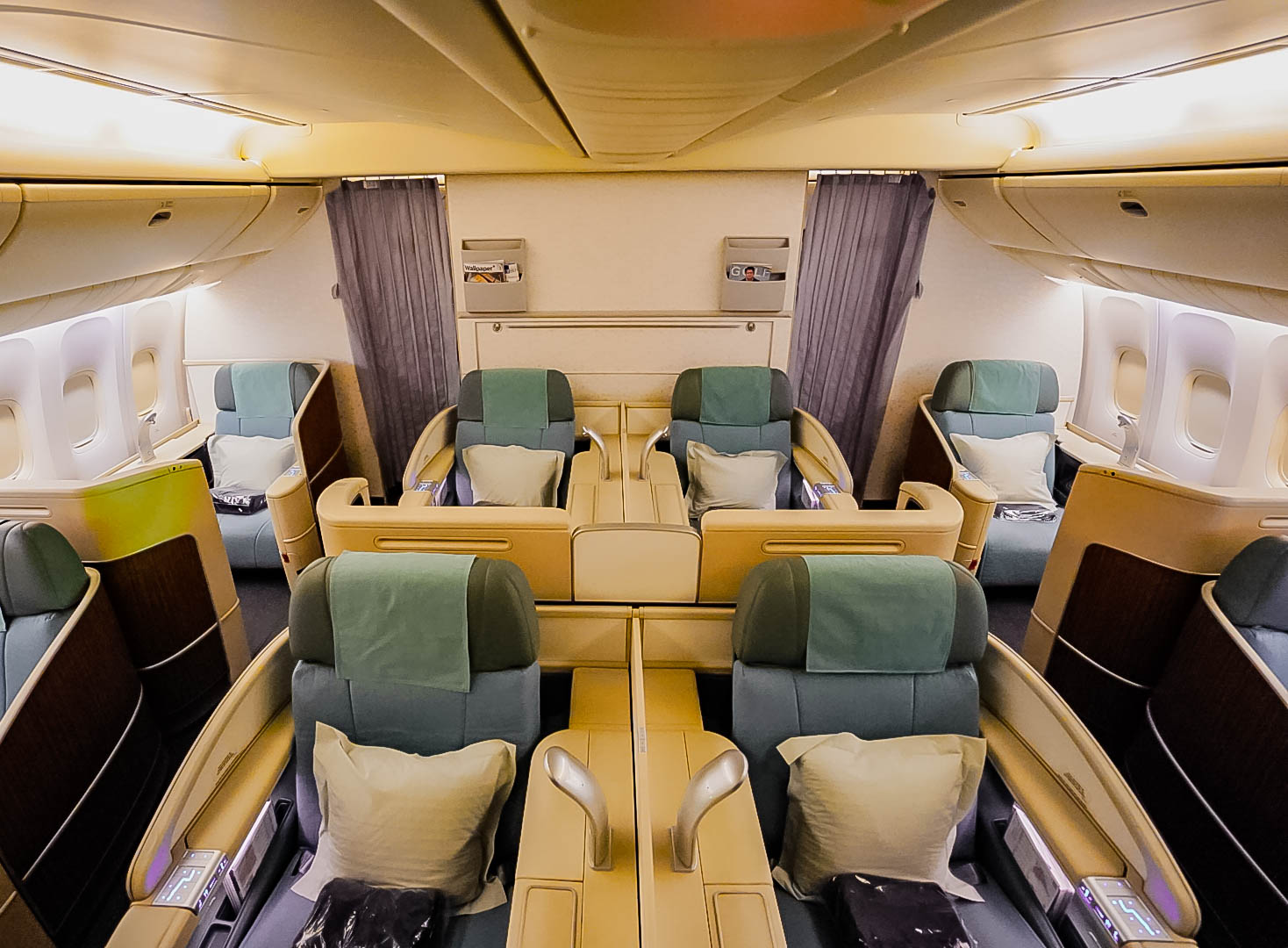 Upon entering the aircraft, I was greeted by the head purser and settled into my designated seat of 1A. I was surprised to notice that the aircraft was equipped with the Kosmos Suites and not the Kosmos Suites 2.0 that have privacy doors as mentioned on my ticket, as there was no communication from the airline on the aircraft and product change.
Since I was the only passenger in first class, I was not that bothered. However, it would have been nice to receive an email notification from the airline stating that there is an aircraft change.
If you are traveling solo, the window seats are the way to go and if traveling with a companion, then it is the middle seats that are equipped with a partition, which can be raised or lowered.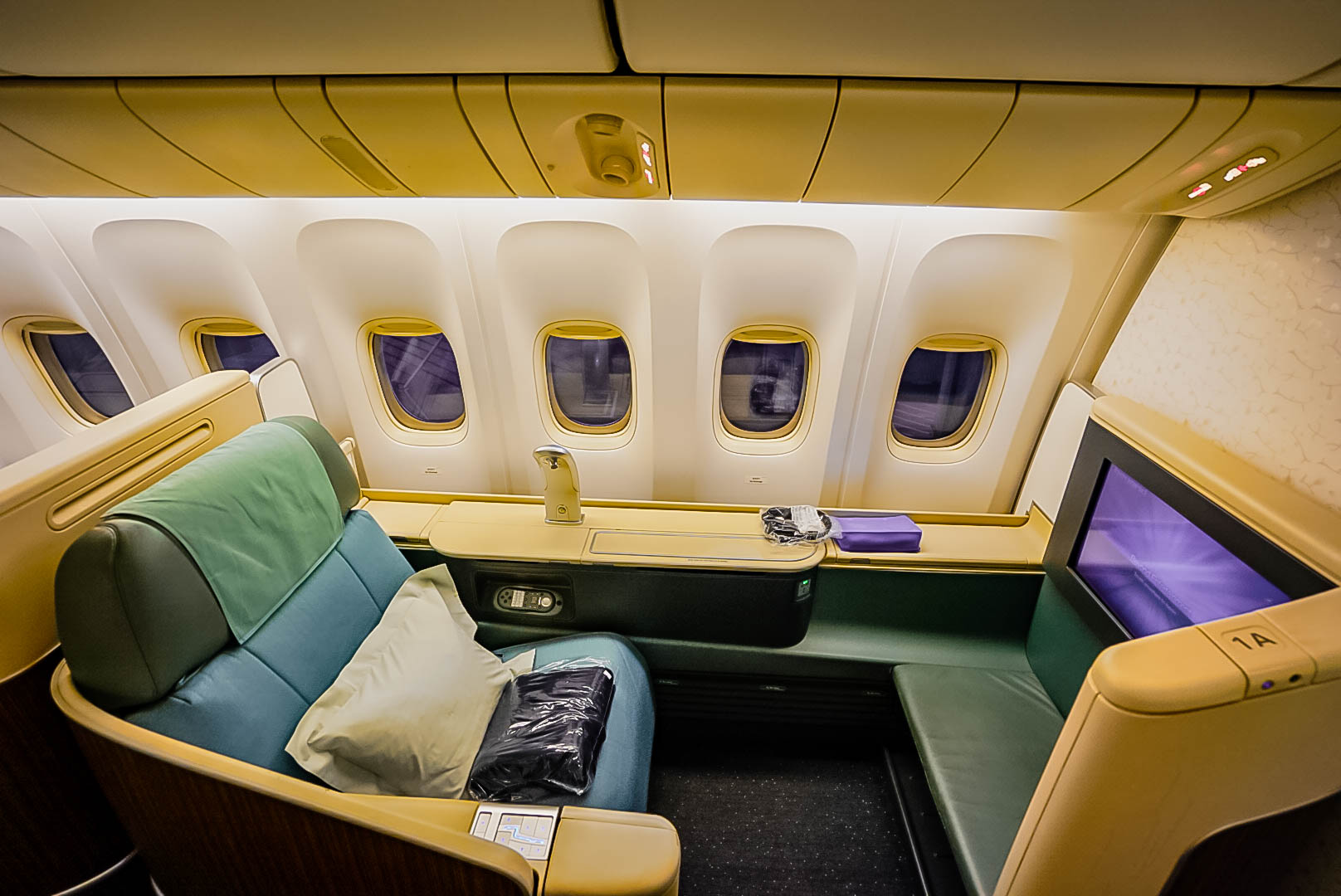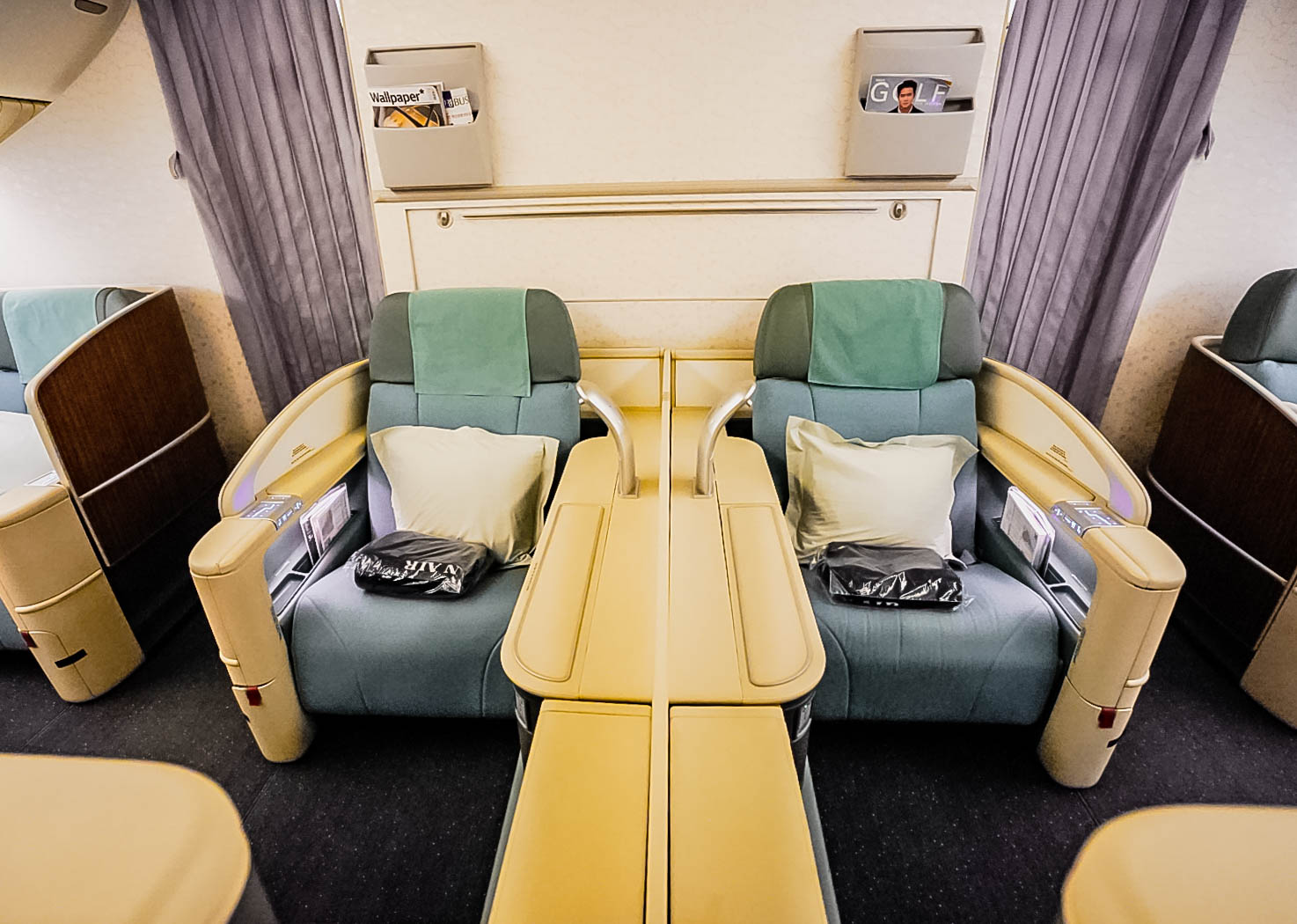 The cabin interior is dull with palettes of cream and light blue seat upholstery and the dim lighting does not help the cause.
The first class cabin has 1 standard sized lavatory located at the front of the cabin.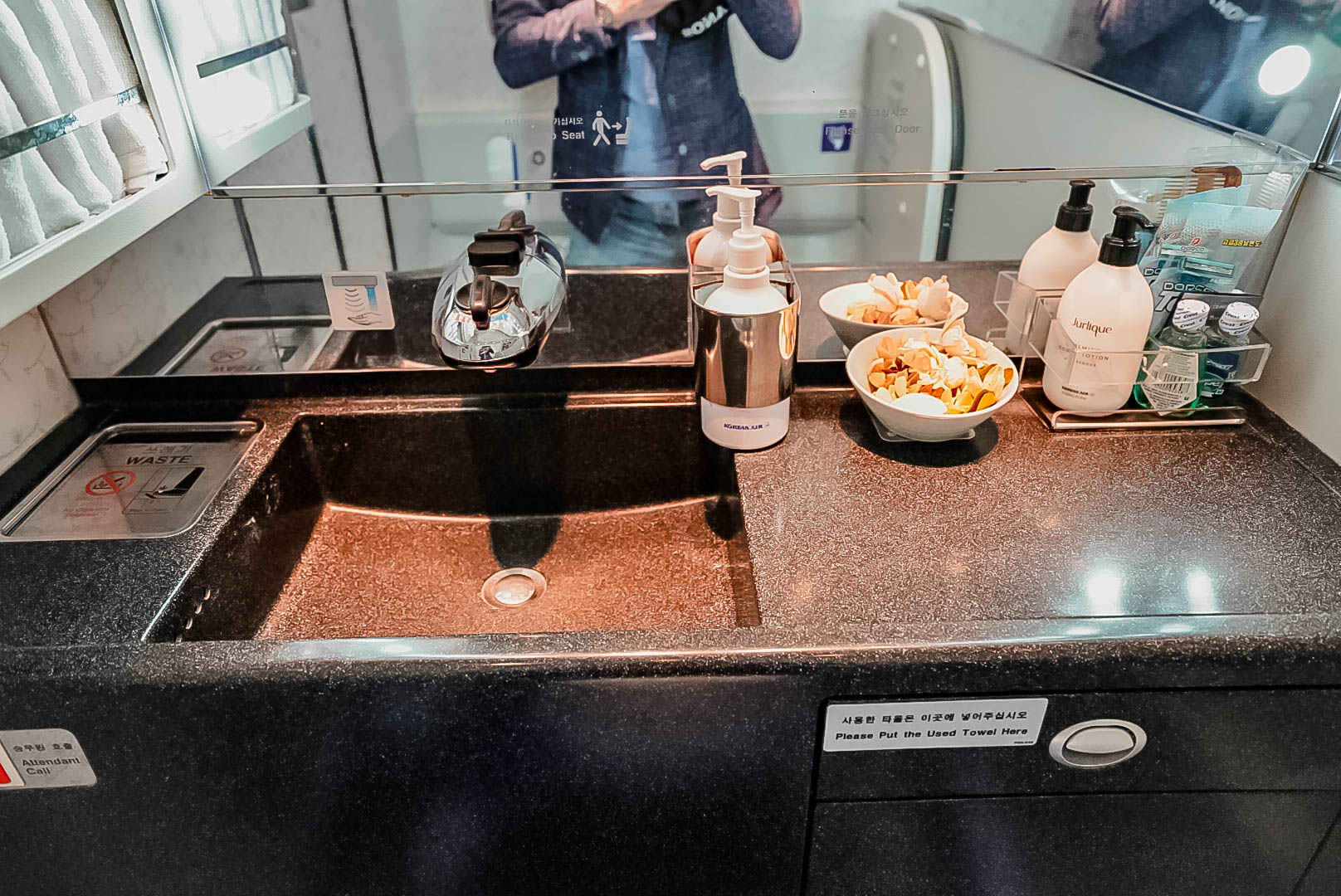 Seat
The seat is comfortable and well padded with a generous 83″ pitch and 26.5″ width that transforms into a 180 degree flat bed with foot support being provided by the ottoman. The ottoman is not fitted with a seat belt, so companion dining is out of the question.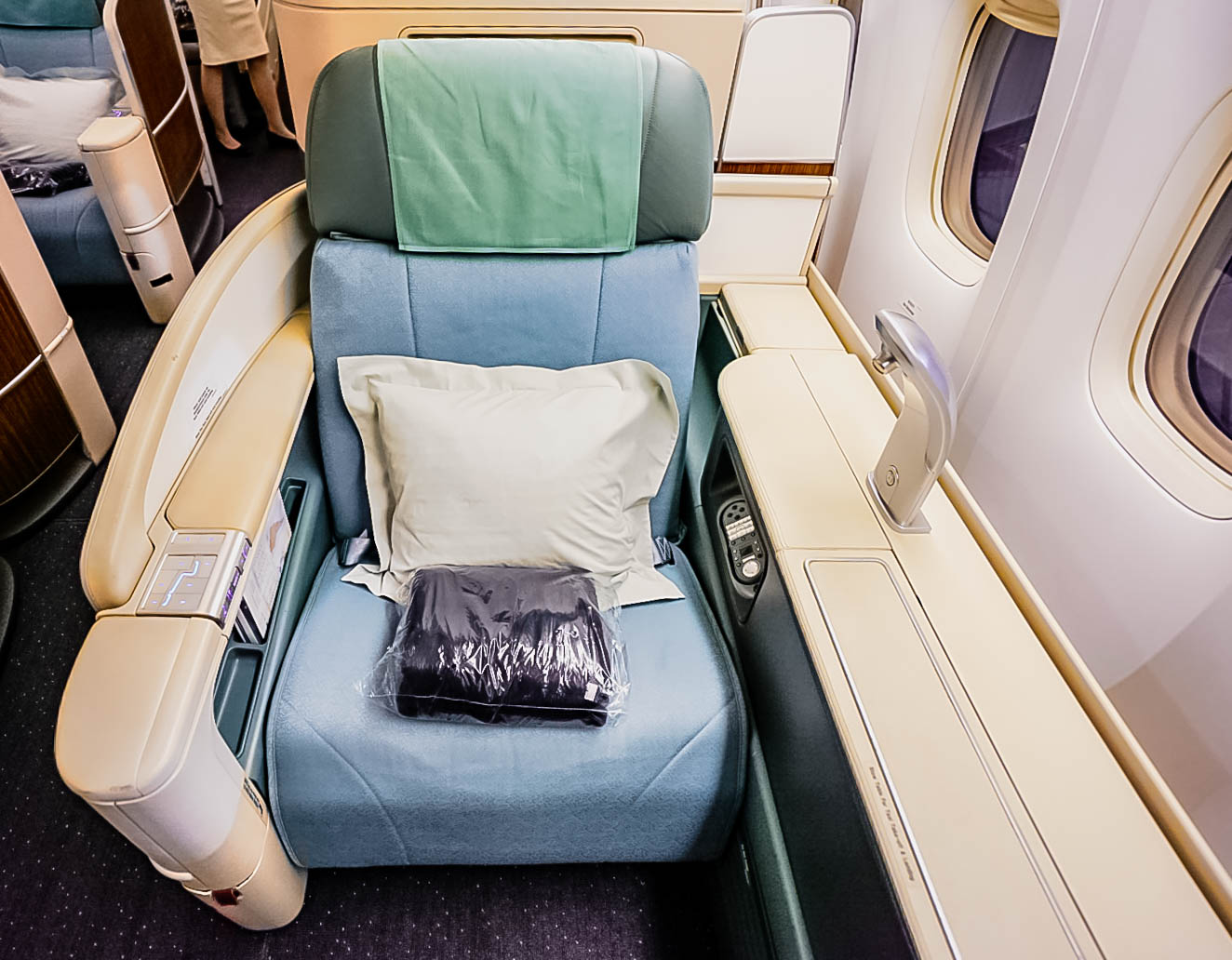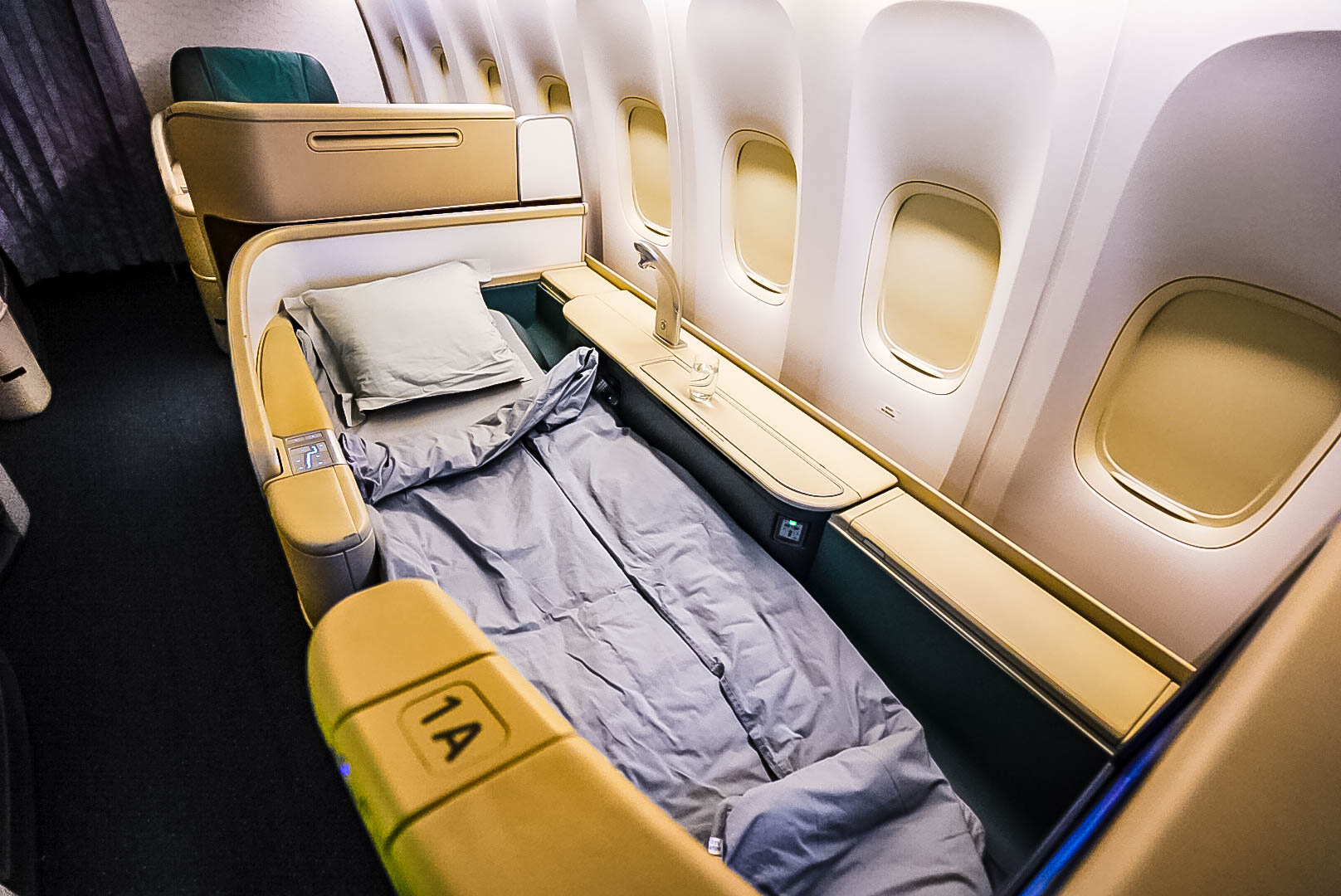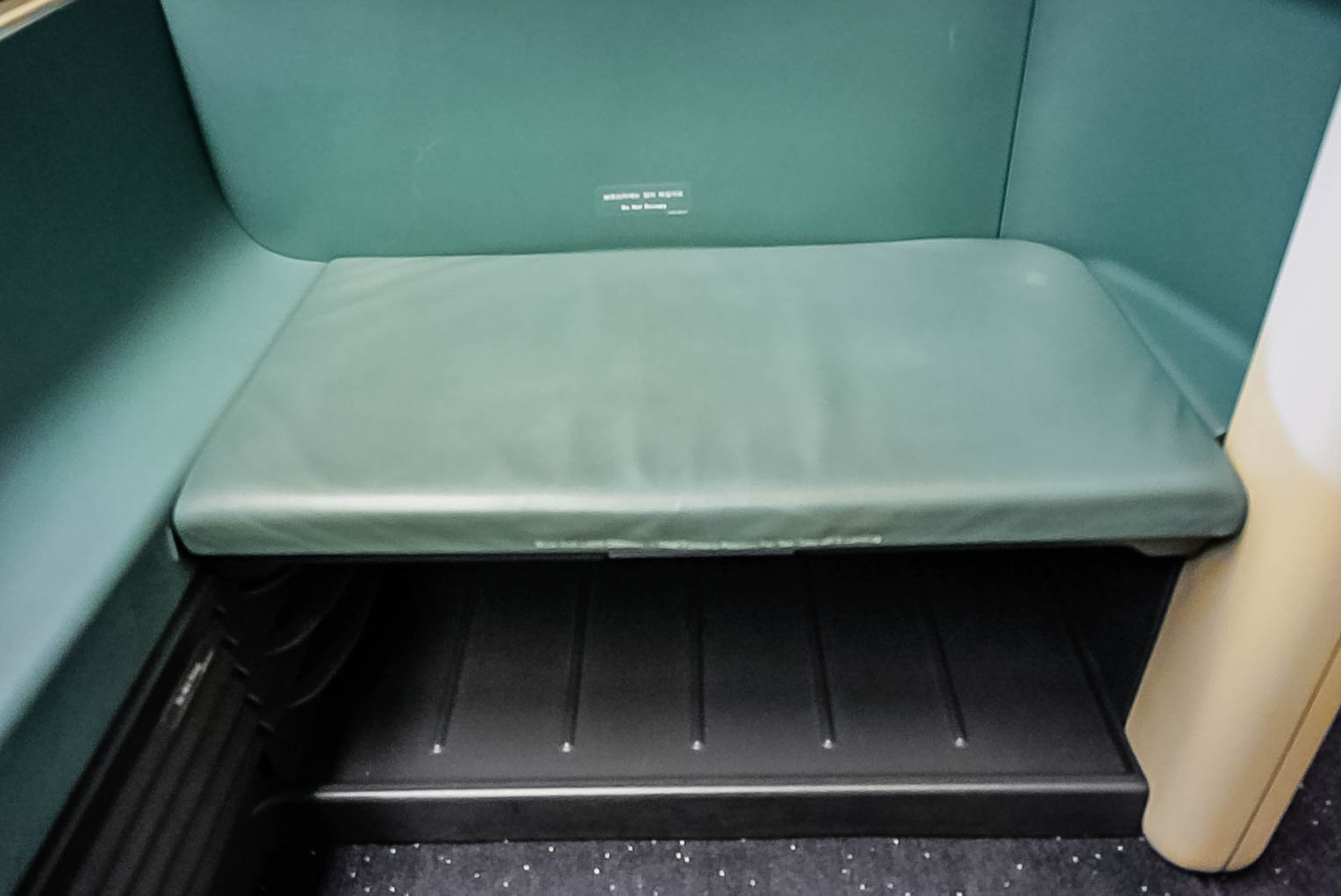 The seat controls are fairly simple to use with 3 pre-set modes: Take-off, Dining and Flat Bed.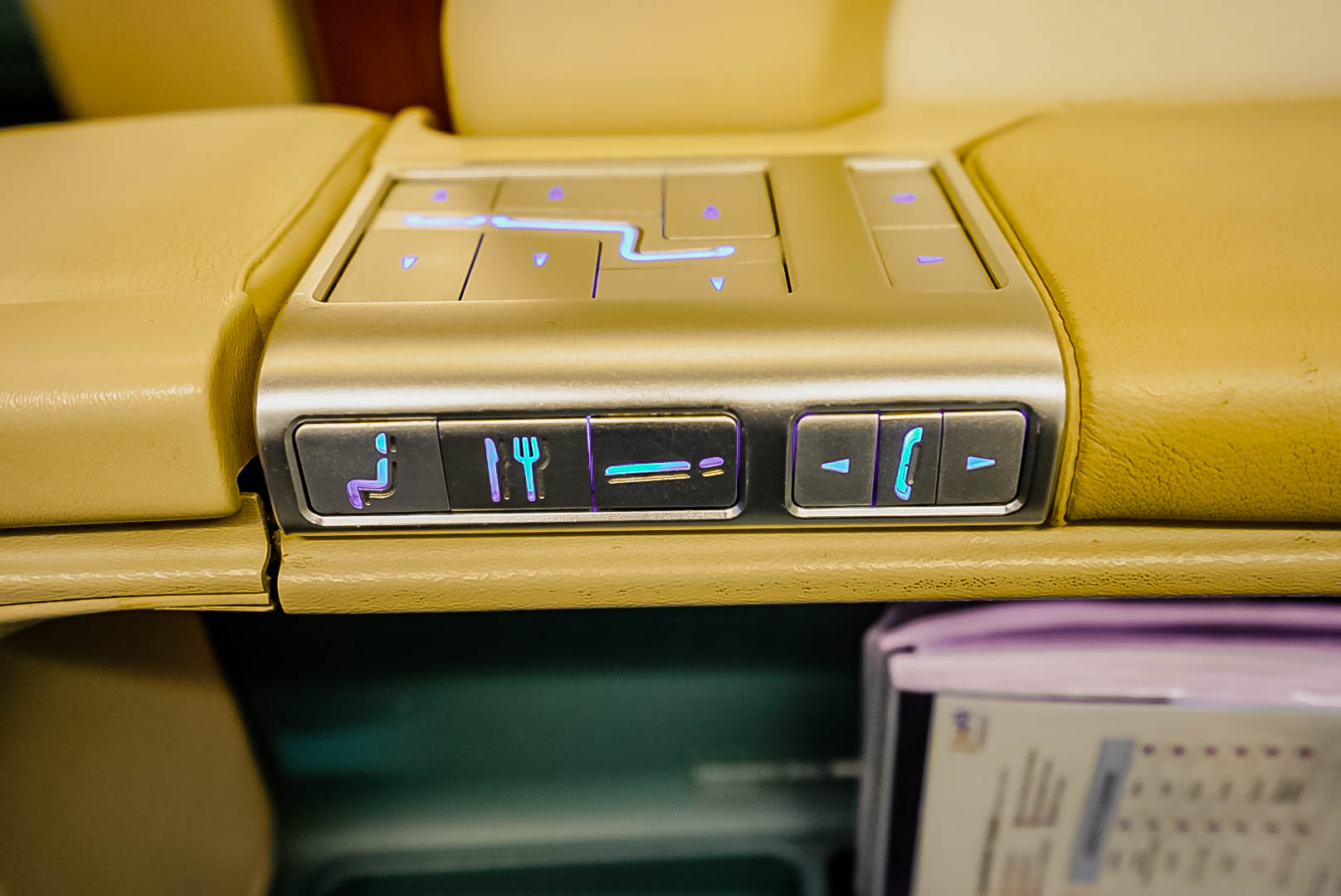 The seat can further be individually adjusted using the below illustrated controls.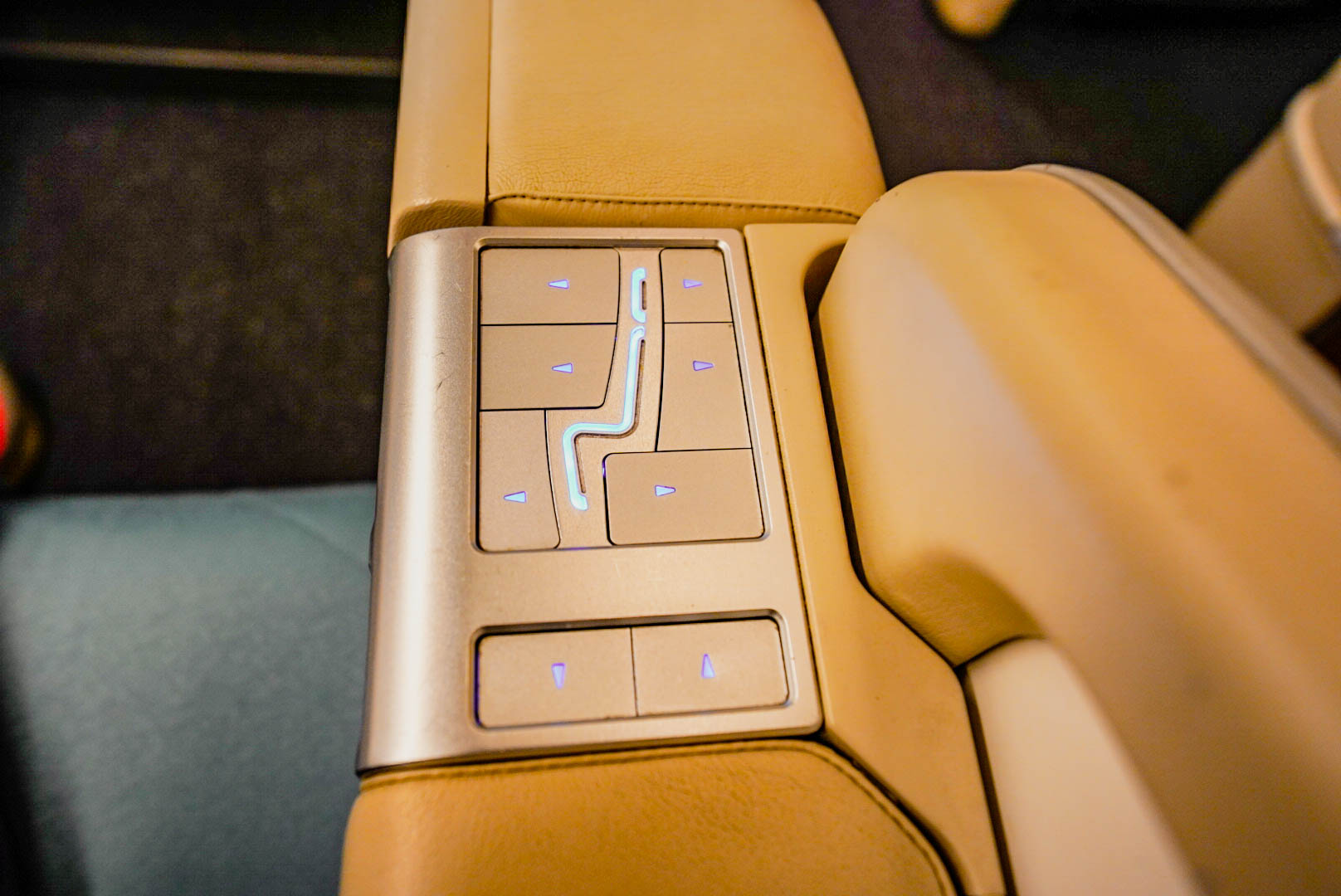 The seat is also equipped with a reading lamp that looks more like a beer tap or spigot.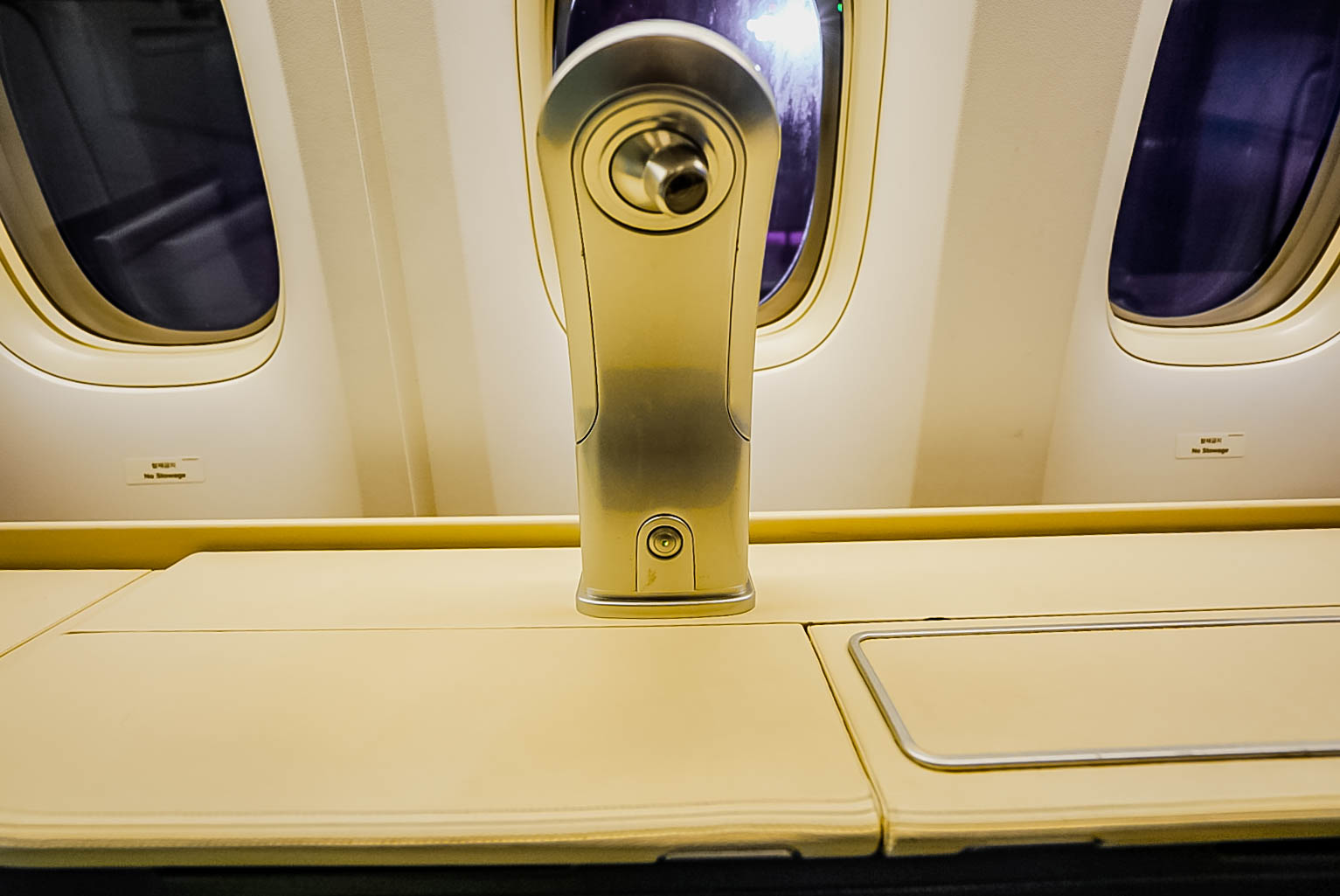 Storage
Each suite is equipped with ample storage facilities; there are 3 storage compartments that run flush between the aircraft frame and the seat.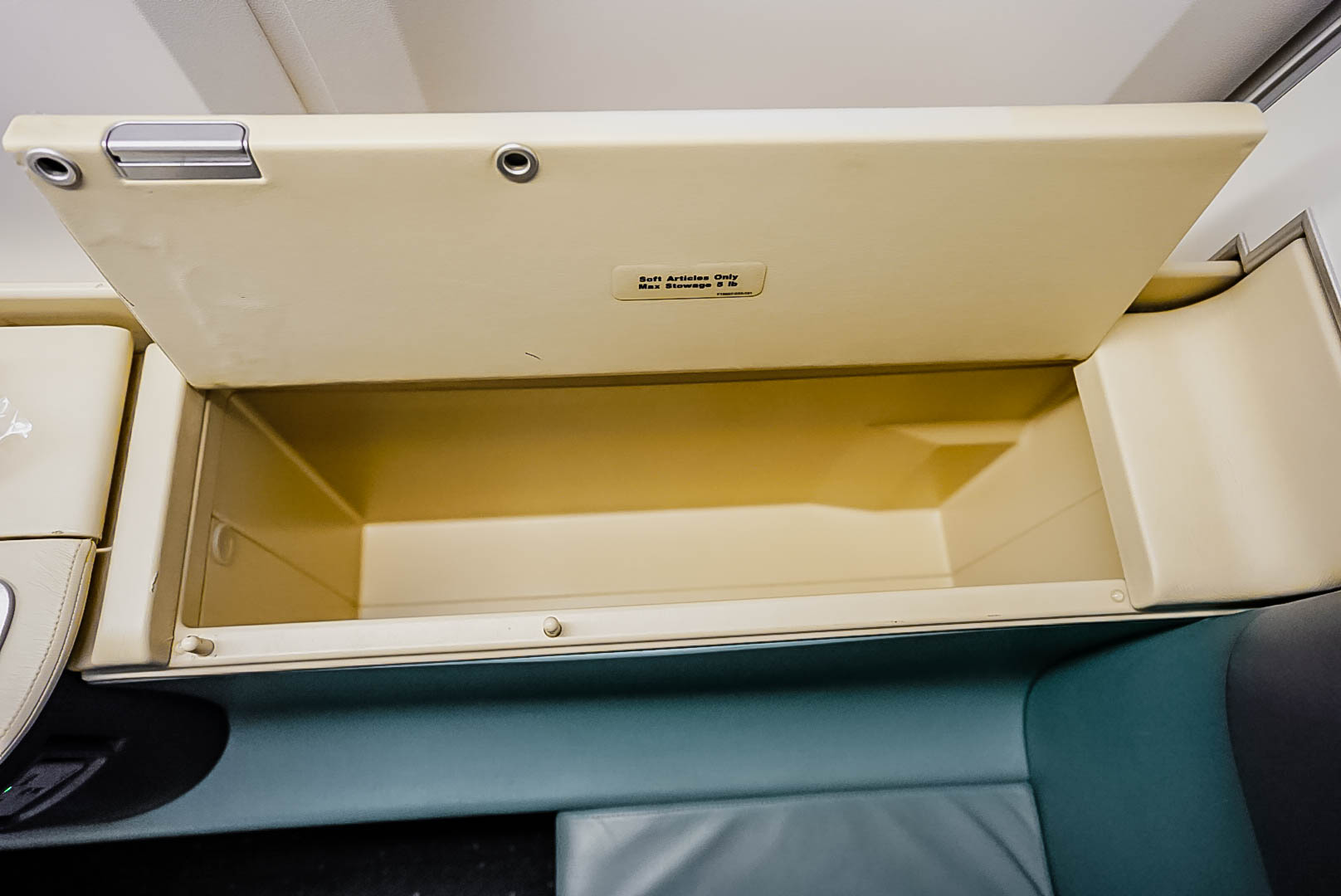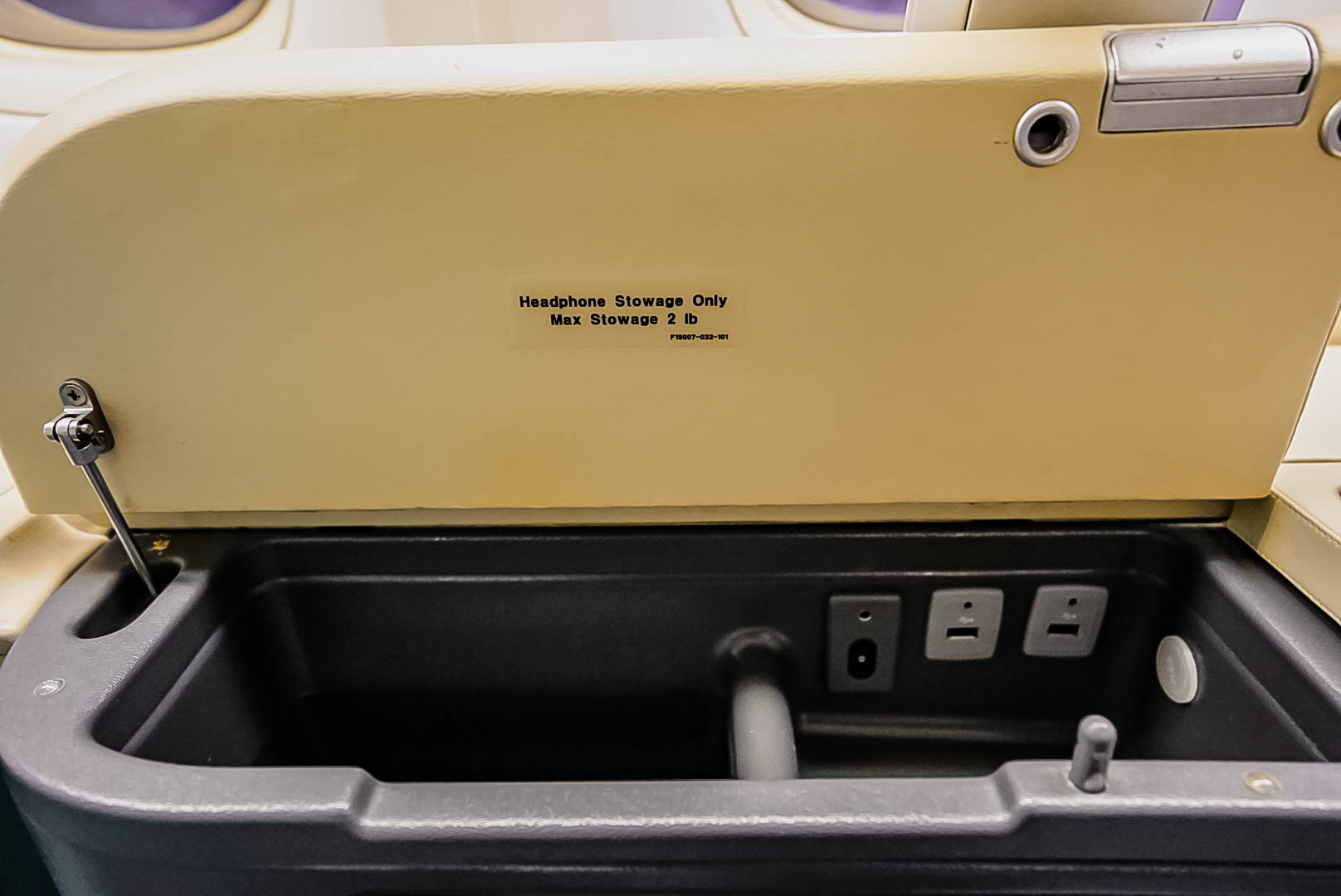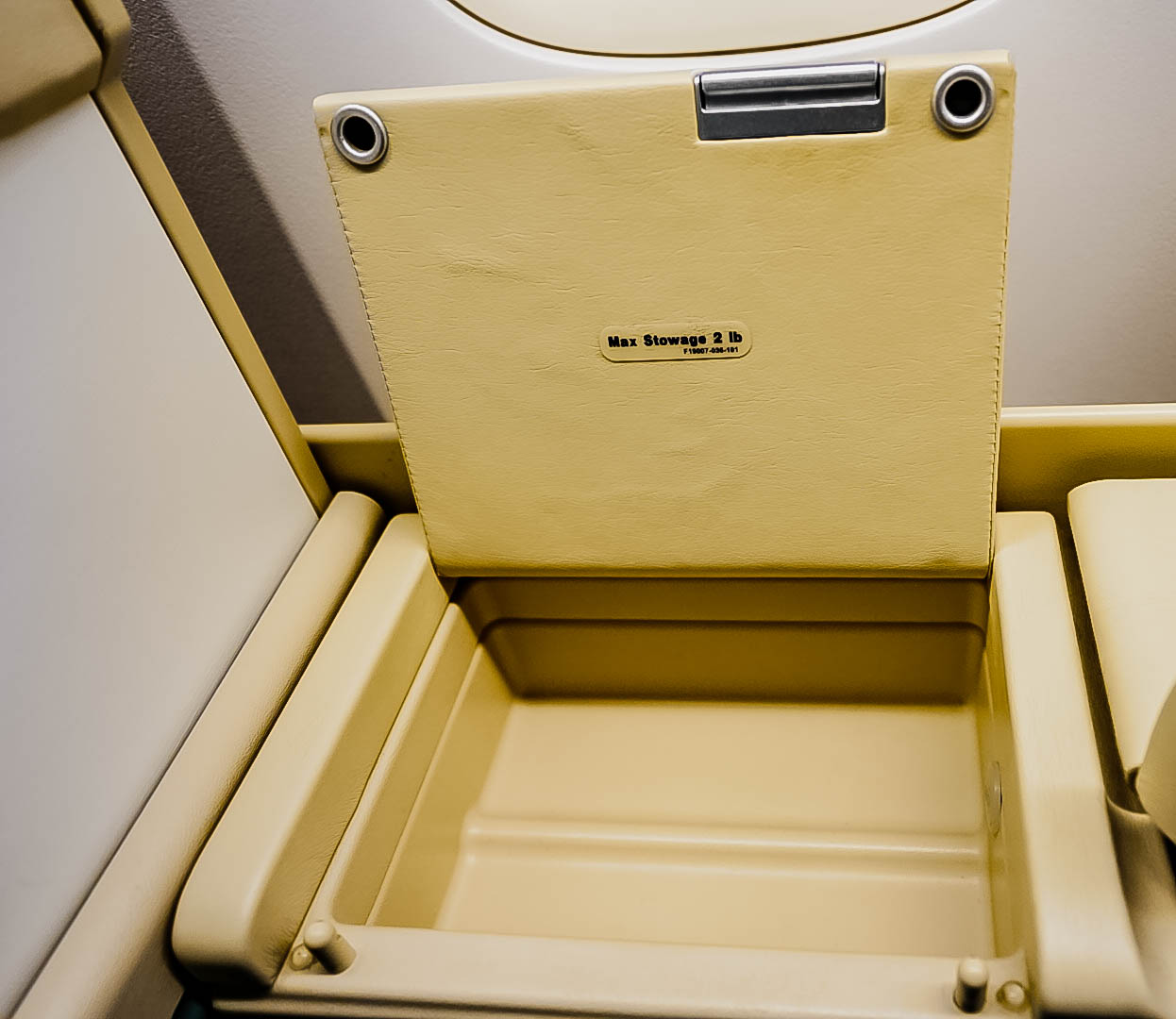 Additionally, there is storage available beneath the ottoman, which is decent space.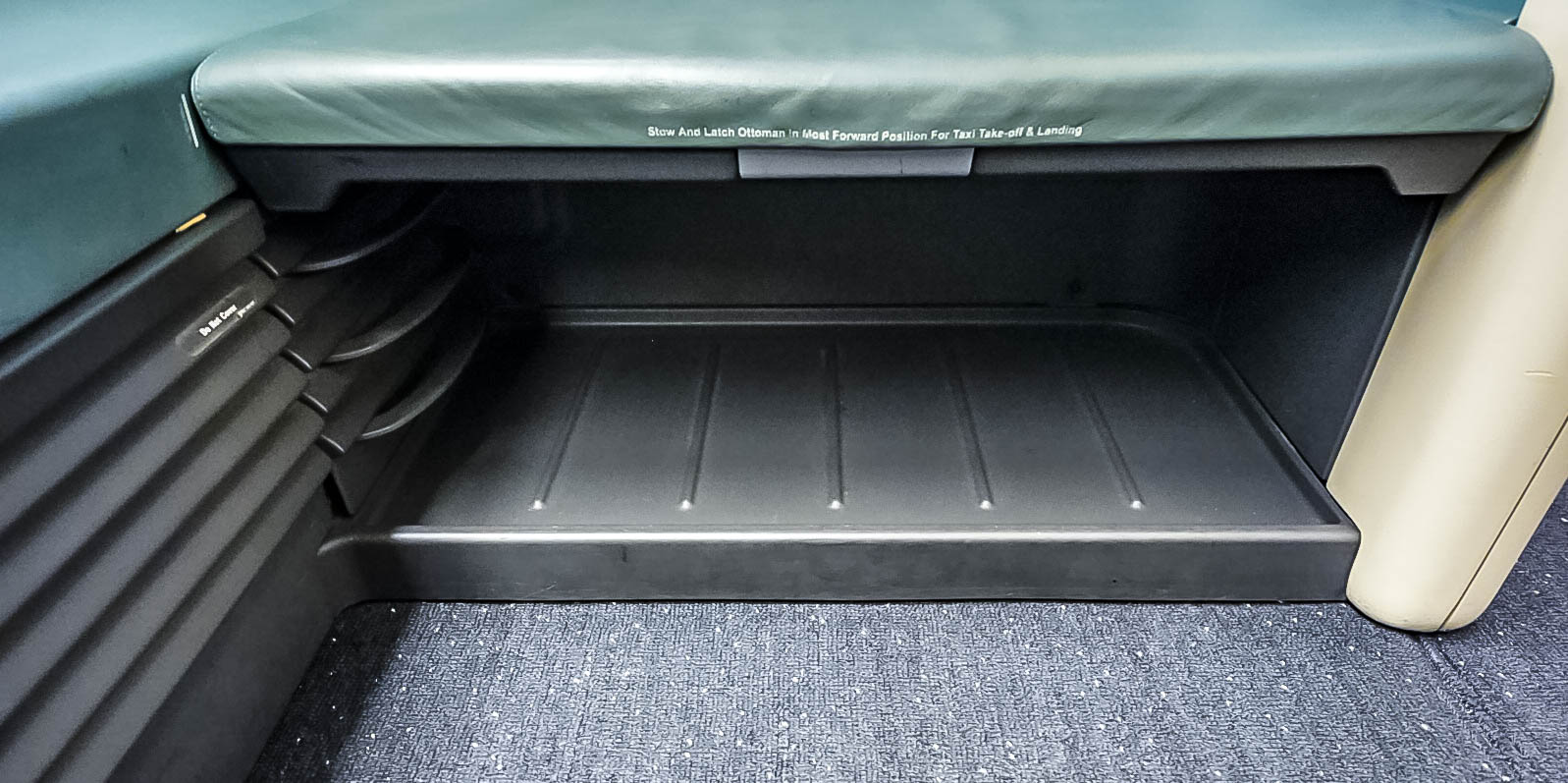 Inflight Entertainment and Wi-Fi
Each seat is equipped with a 23″ LCD monitor with limited entertainment options.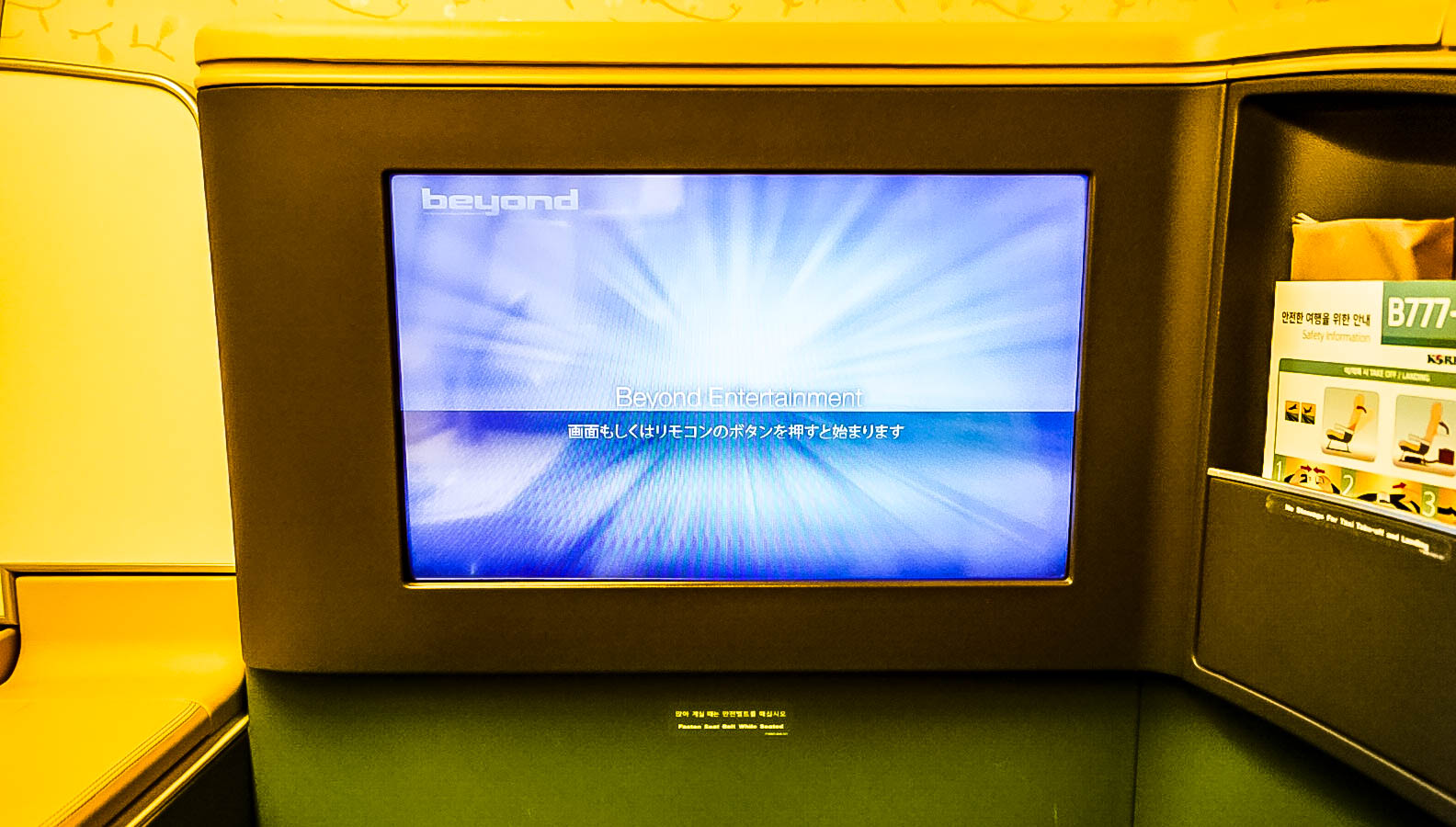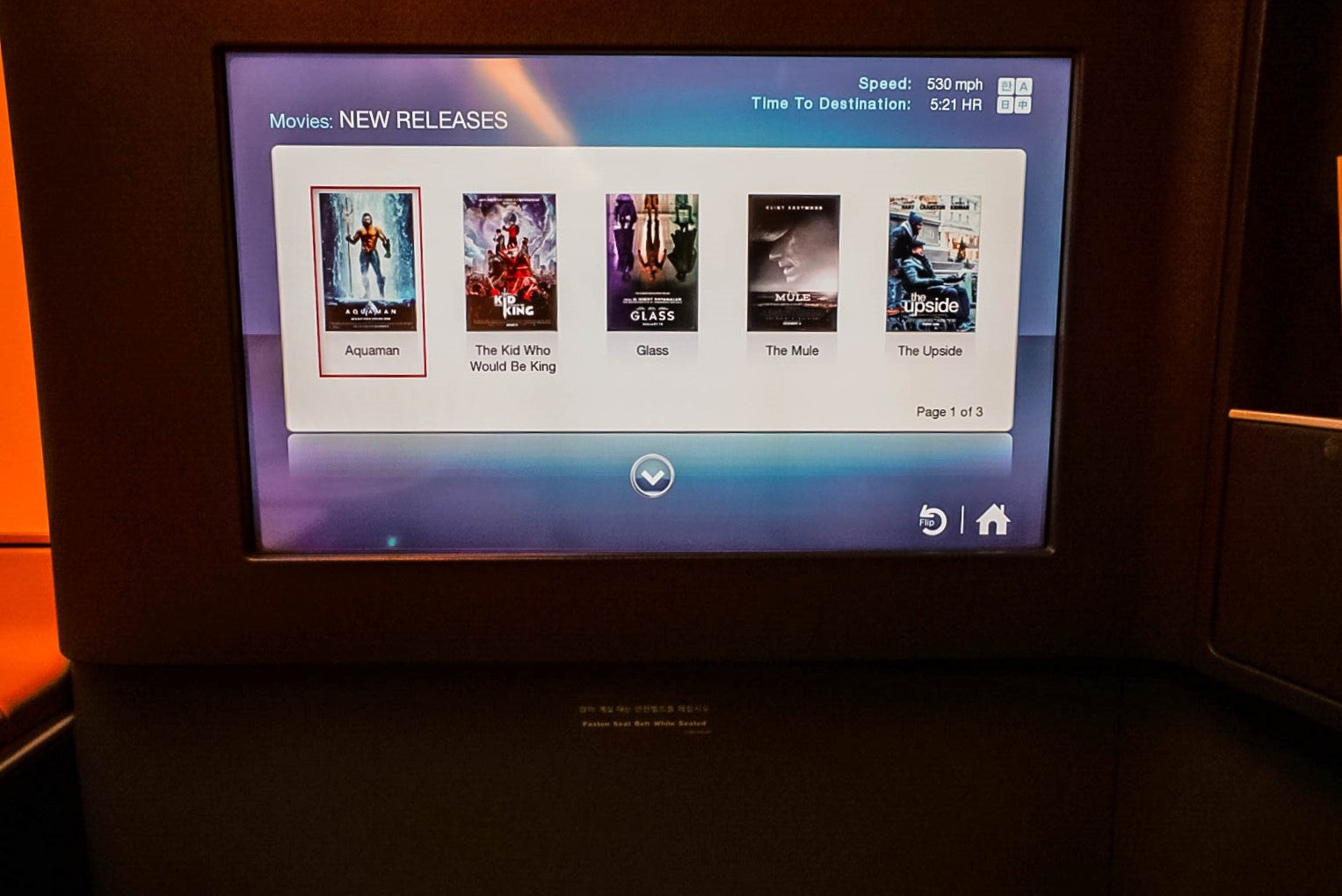 The TV monitor is not touch screen, and can only be controlled by a dated handheld controller that is stored in the left-hand arm rest.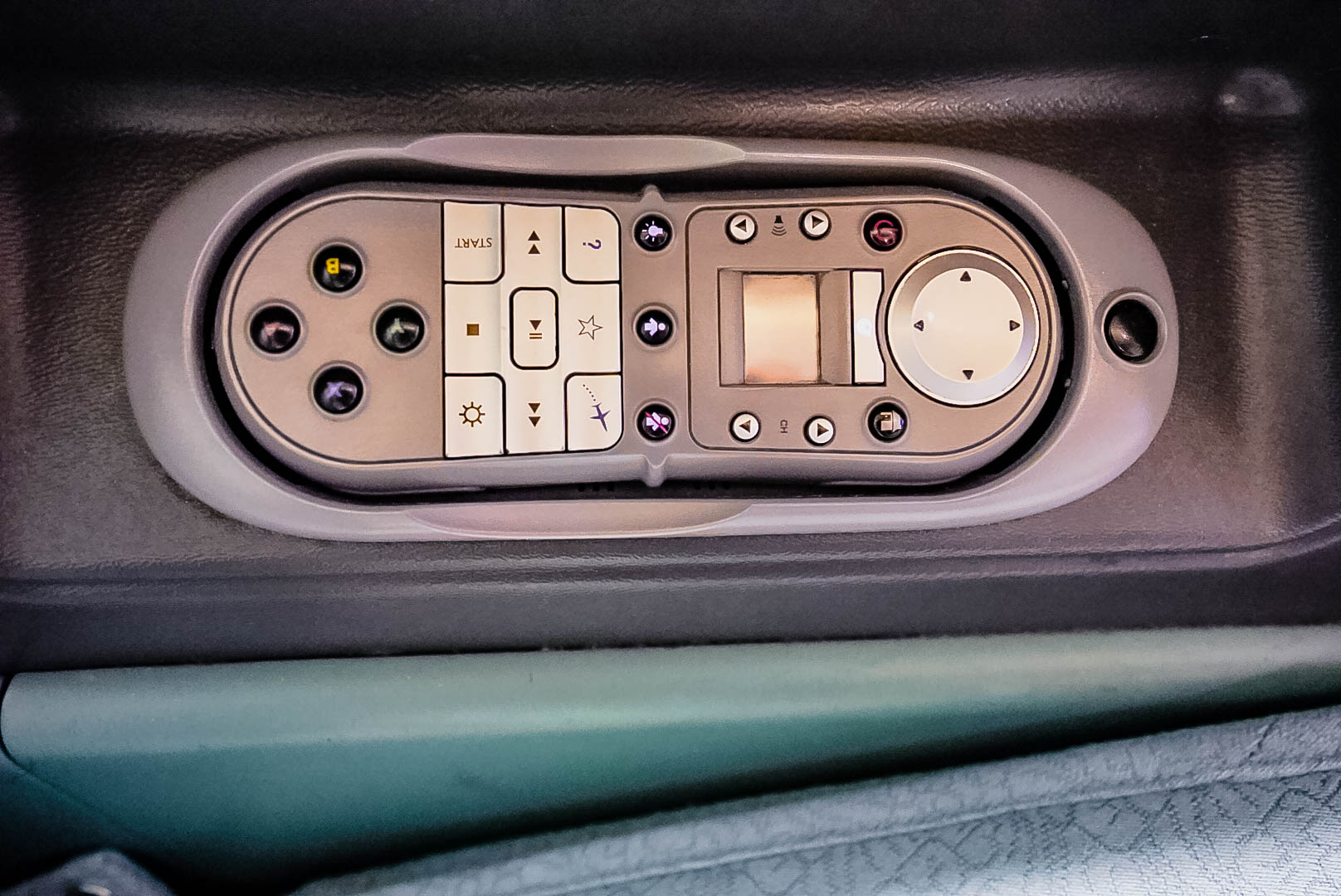 Korean Air provides the Bose noise canceling headphones to complement the IFE, which again are pretty dated.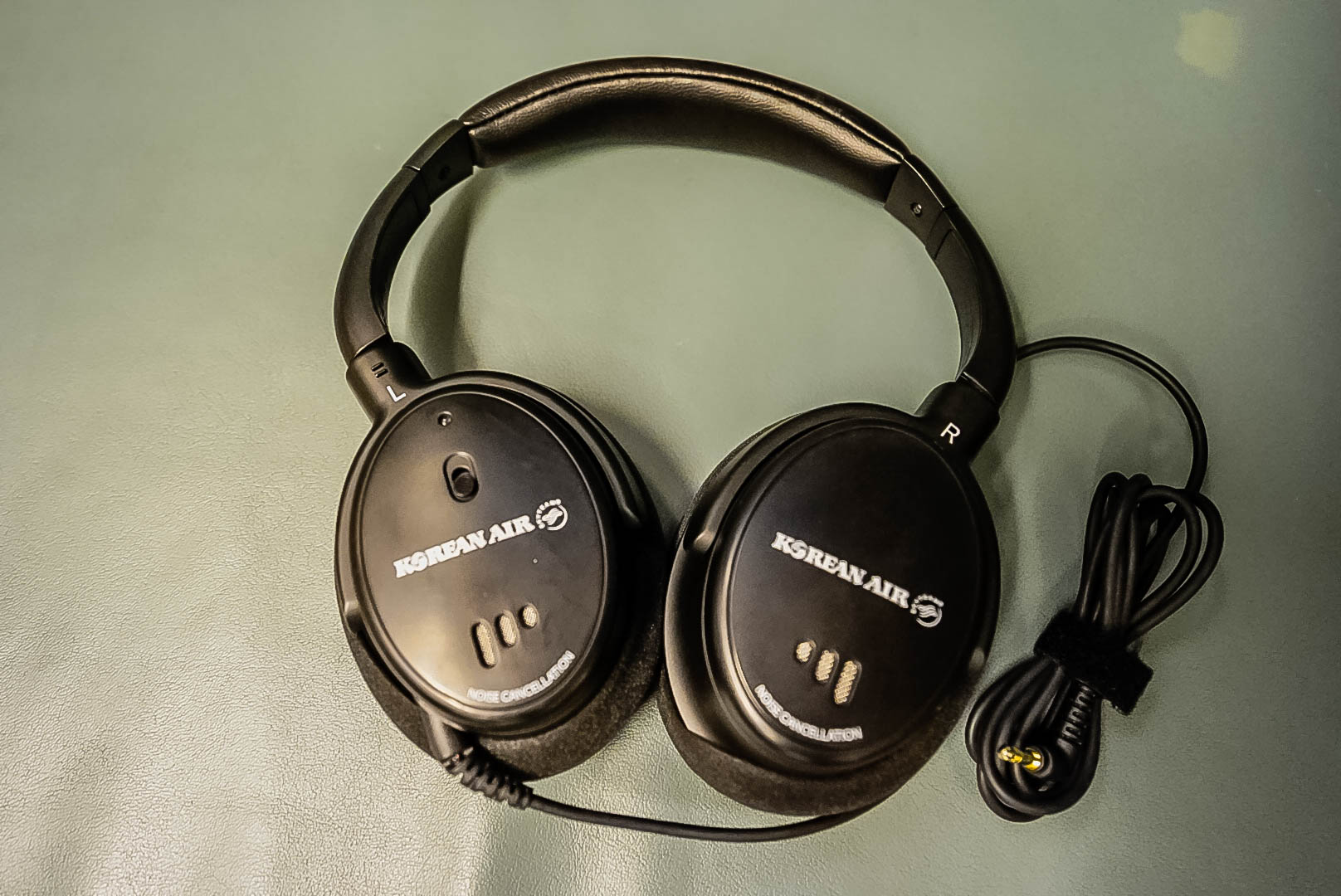 There is no Wi-Fi service available on these aircraft.
Plug Points
A universal power socket and 2 USB ports are provided in each suite.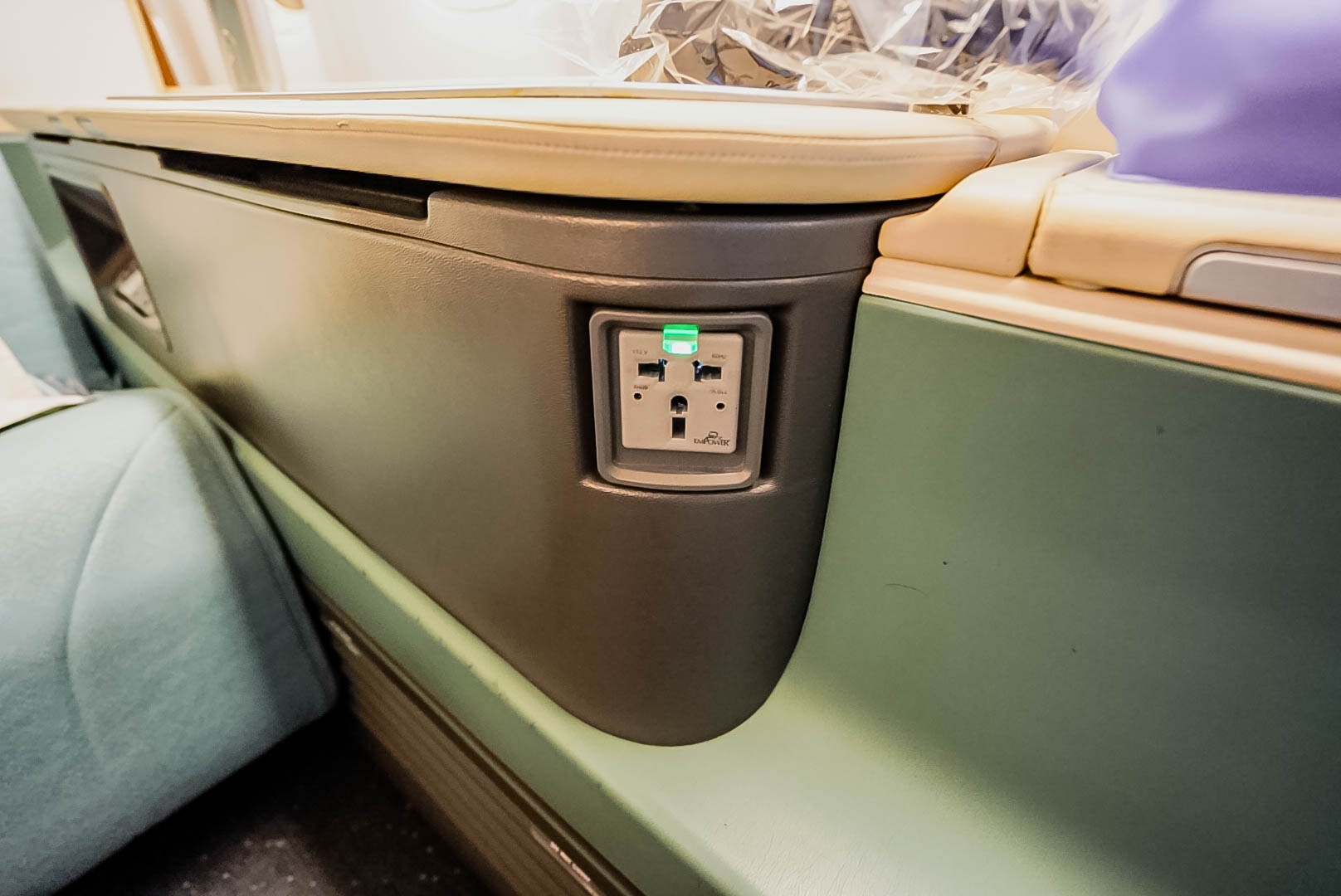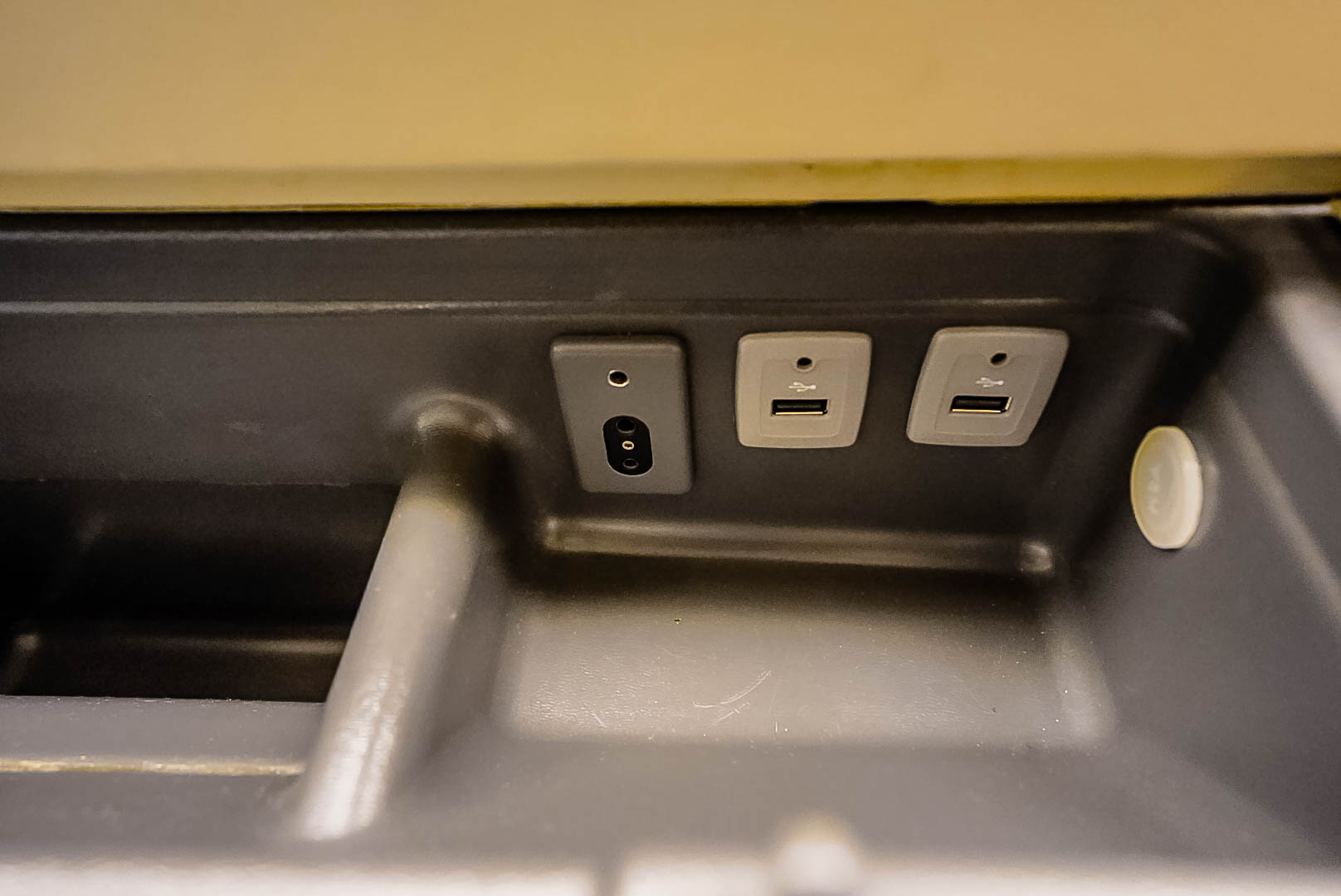 Food and Service
The first class cabin was manned by 3 flight attendants including the head purser and being the only passenger in first class, I was really looking forward to getting spoiled rotten. However, that was sadly not the case, and it all started going downhill from here.
After boarding and settling in my designated seat of 1A, I was served the Perrier Jouet Blason Rose Champagne prior to take-off , which was fruity and crisp along with some nuts.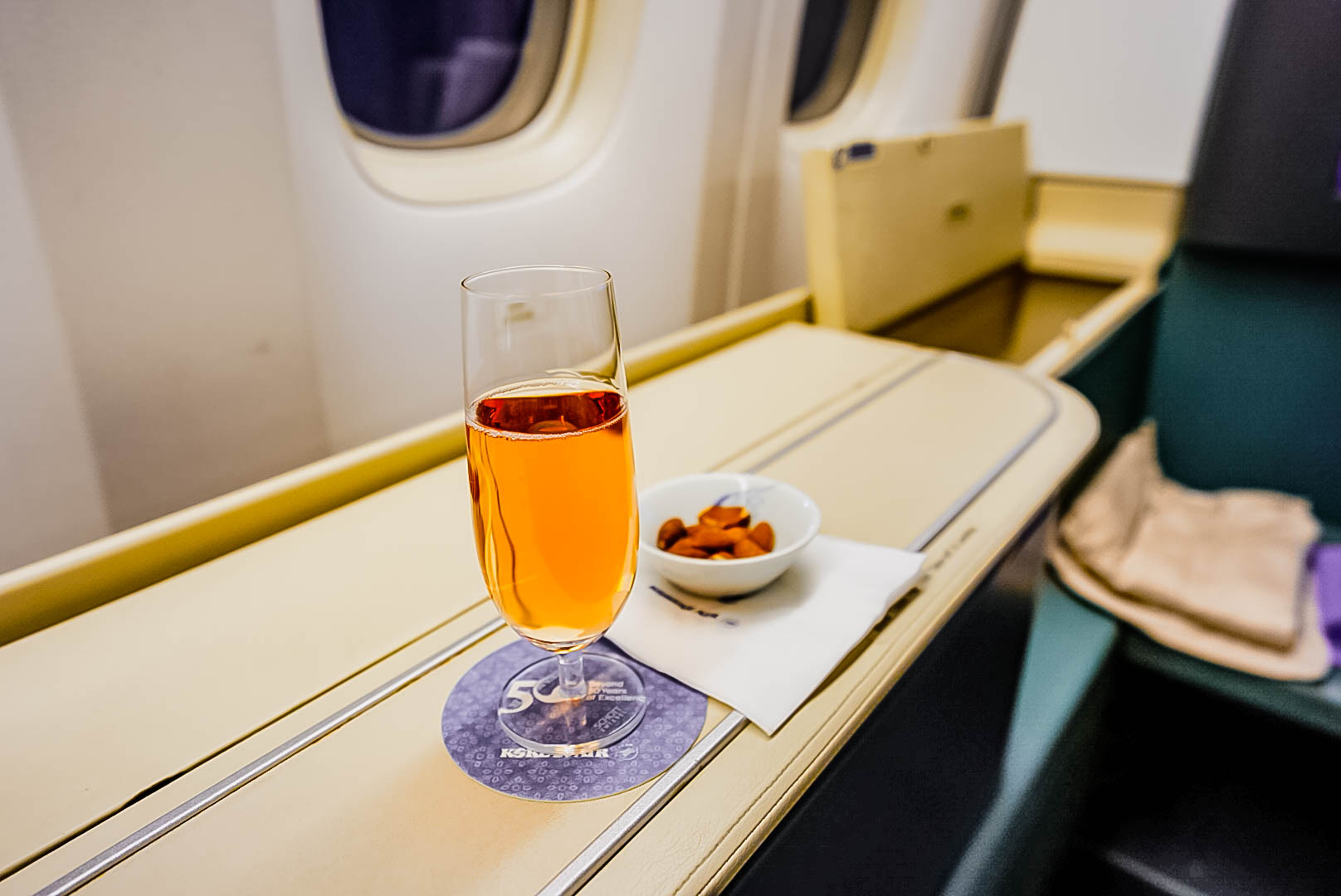 I was then presented the wine list and food menu. The wine list was decent and had some good selections of red and white wines including the Chataeu Gruaud Larose 2007 and the Louis Latour Corton Grand Cru 2014.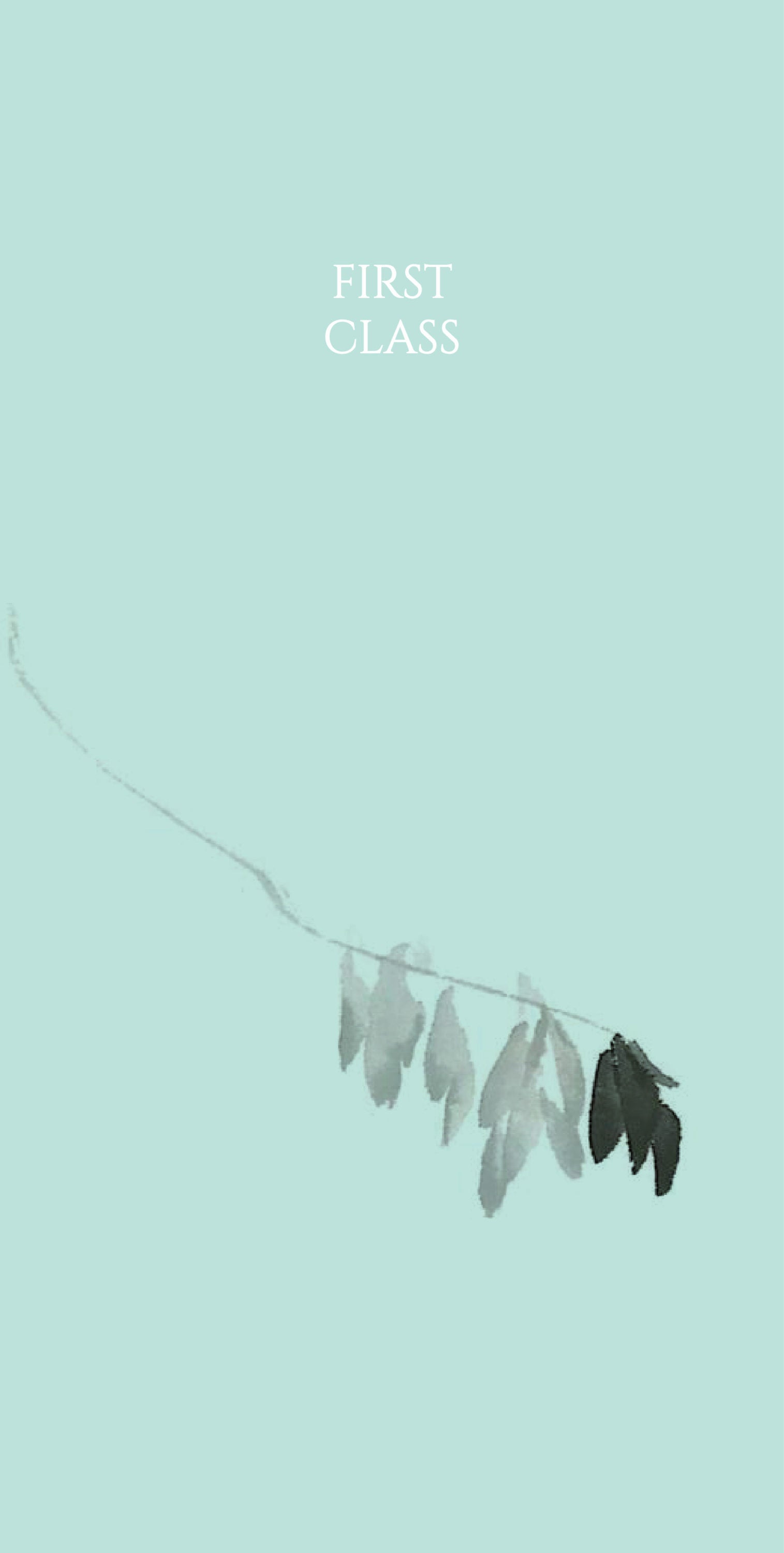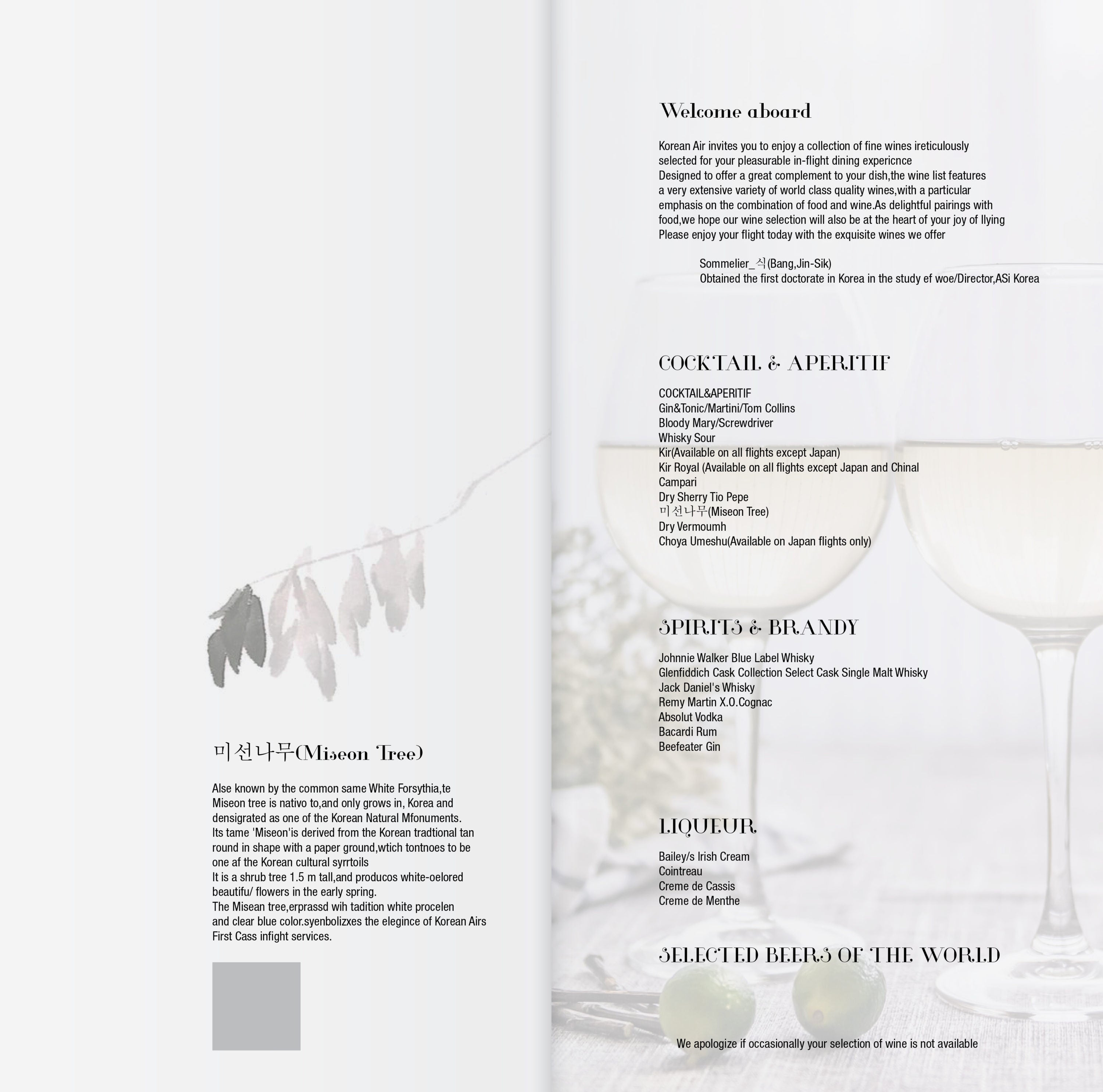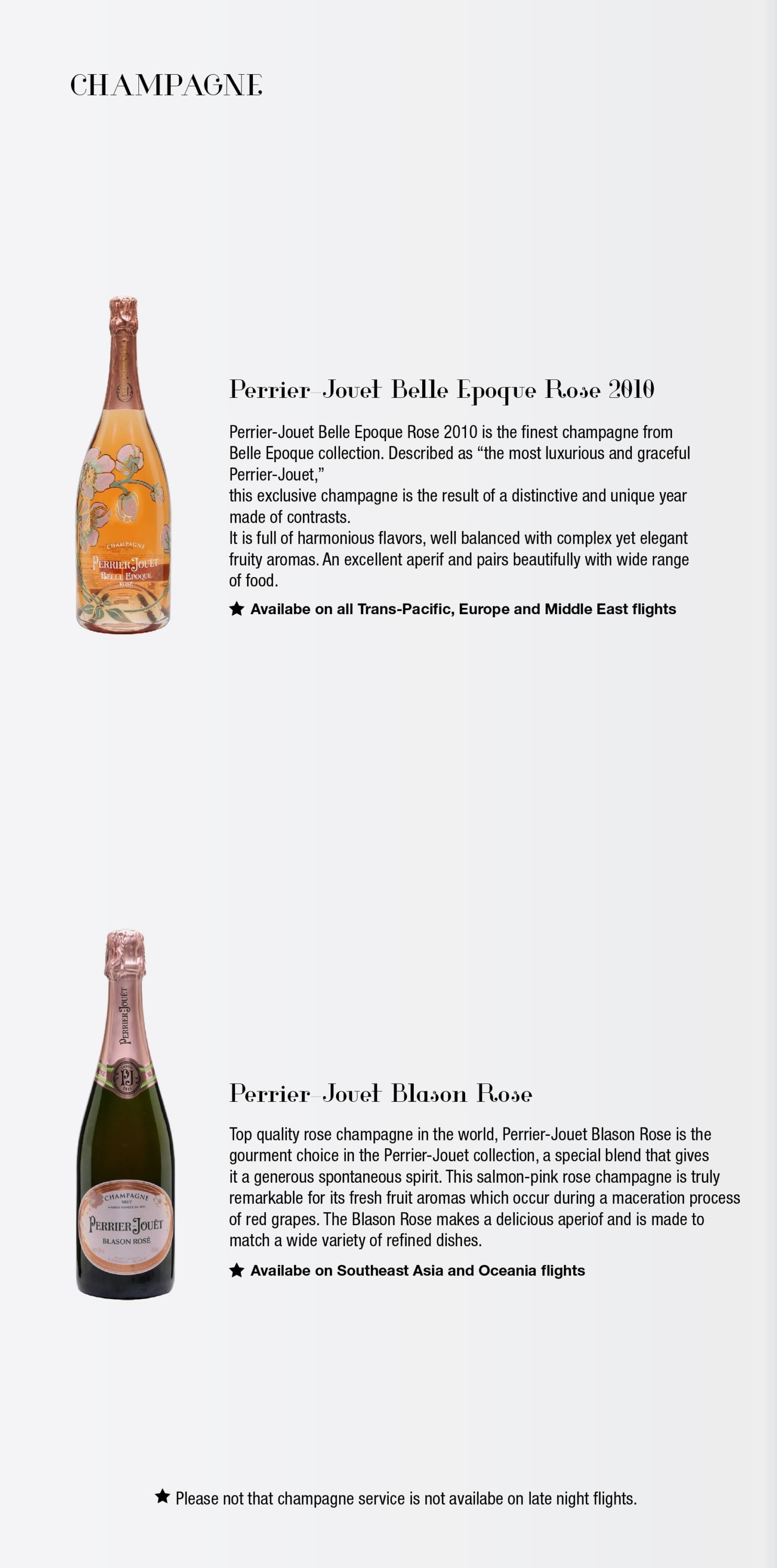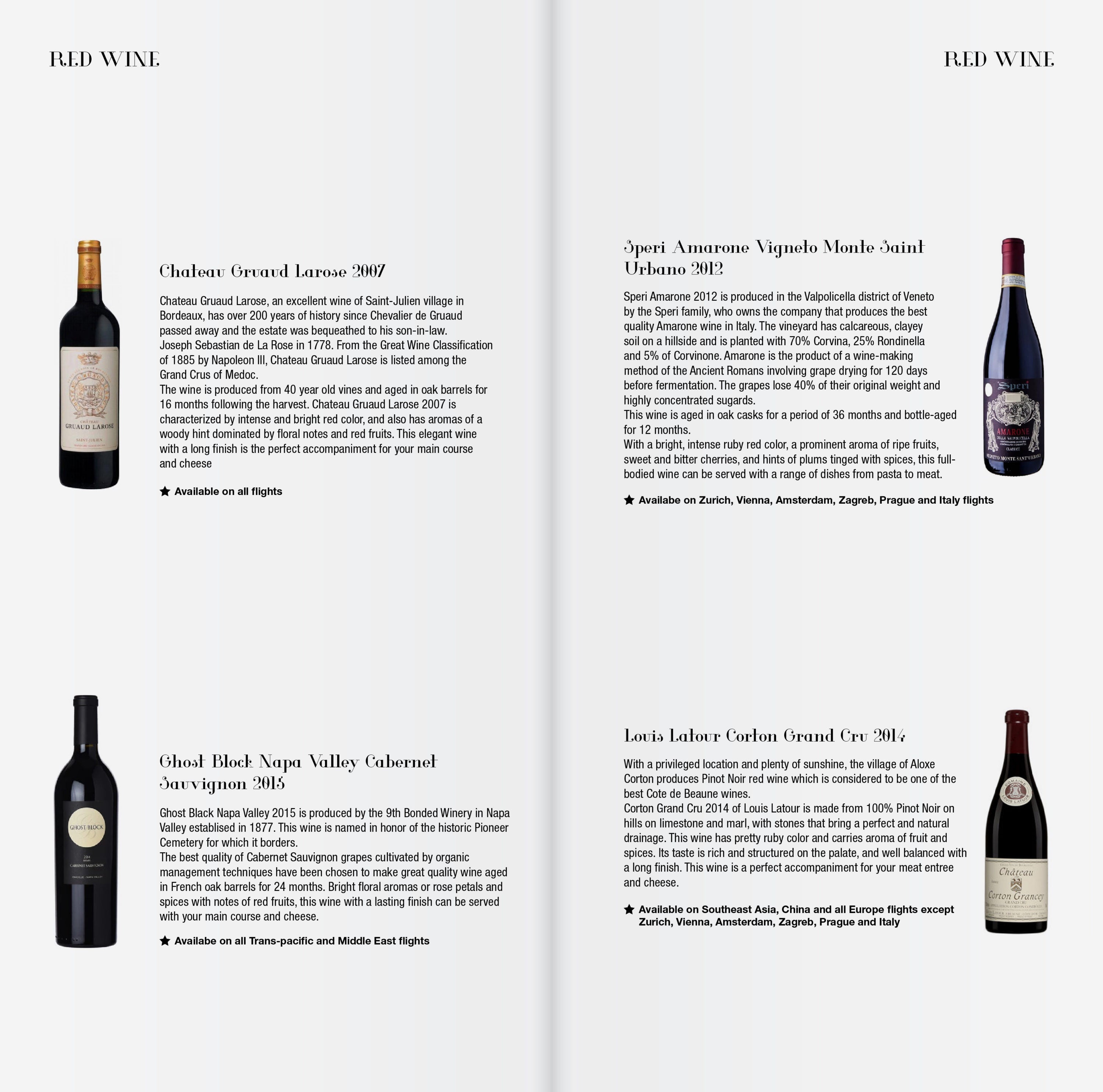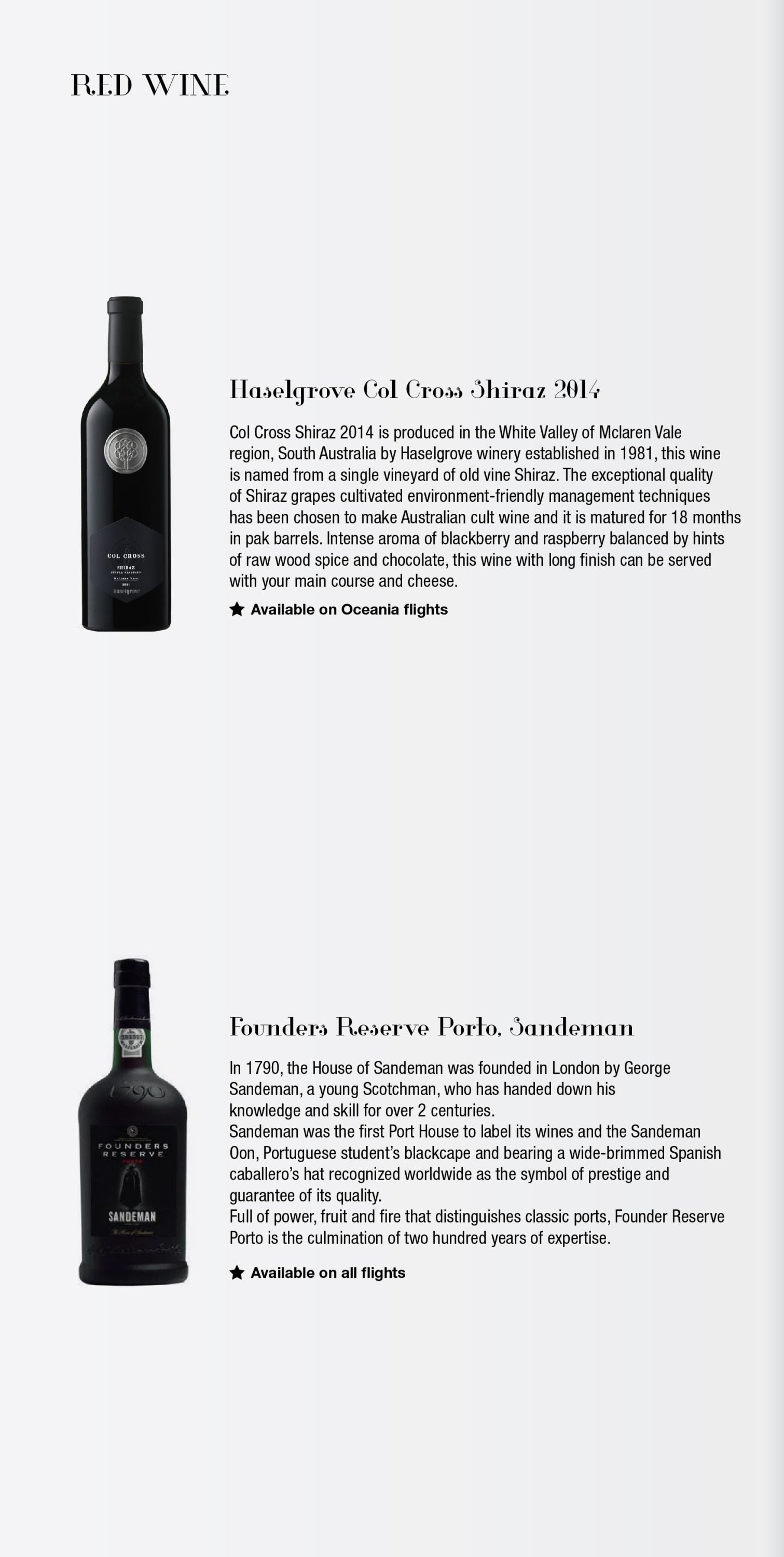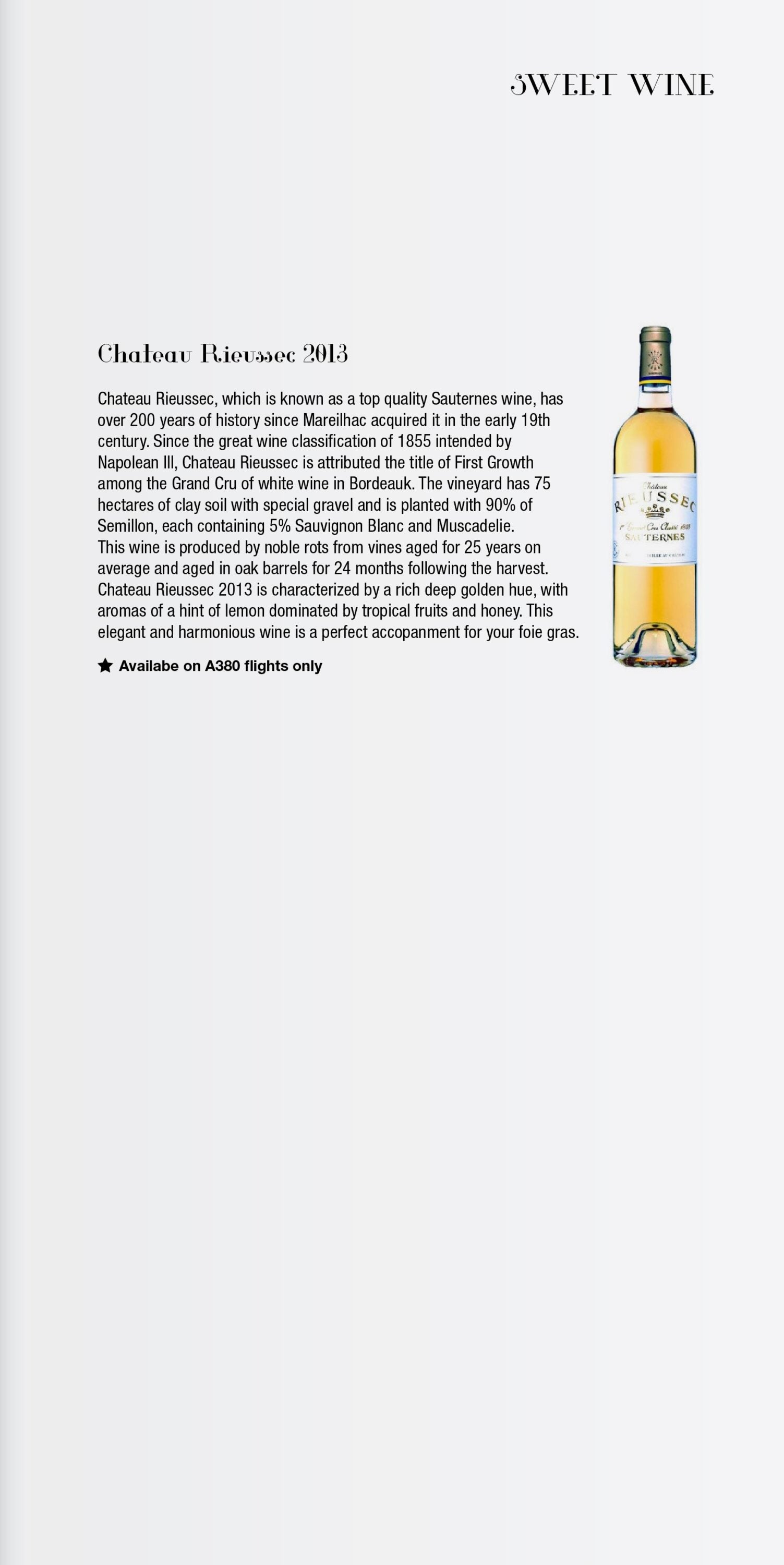 Unfortunately, I was dismayed at the meal offerings. On a 6-hour flight, Korean Air offered a measly pre-drink service of a mozzarella, kalamata olives and cucumber skewer, and breakfast.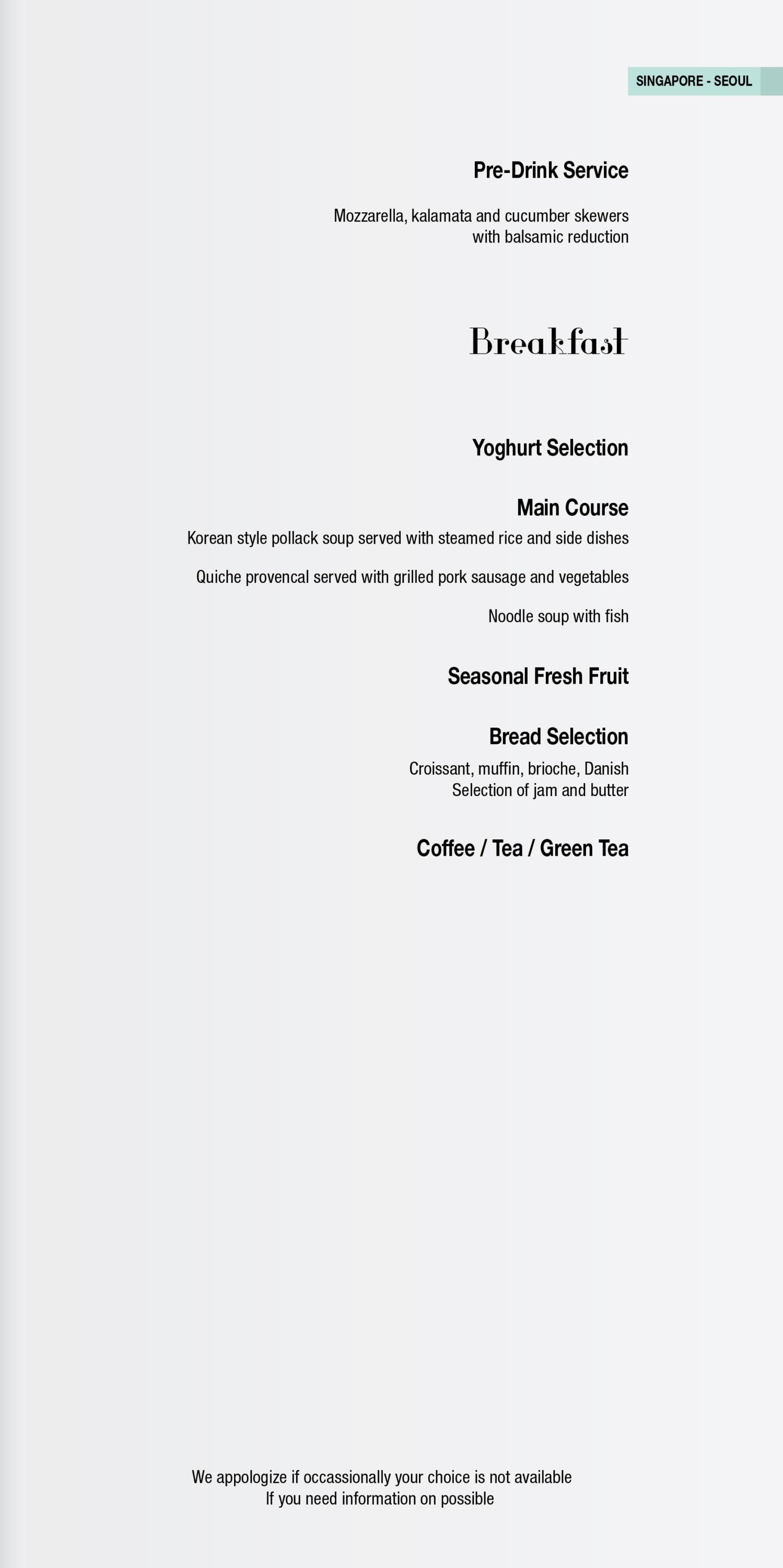 To make matters worse, out of the 3 breakfast options, the only option available was the Noodle Soup with fish. I have flown intra-Asia on similar 6-hour red-eye flights that depart around midnight, namely Singapore Airlines, Thai Airways, Japan Airlines, ANA, and they all offer 2 proper meal services and that too in business class. One being a light supper after take off and the other being breakfast prior to arrival. If these were the meal options in First Class, I wonder what the poor souls back in Business and Economy Class were offered?
It was 1:30 a.m. and by now I was feeling peckish. But since there was no light meal or snack after takeoff (other than a measly skewer), I decided to go for the breakfast on offer. Since I wasn't exactly spoiled for choice I decided to go with what was available, both of which were strictly okay!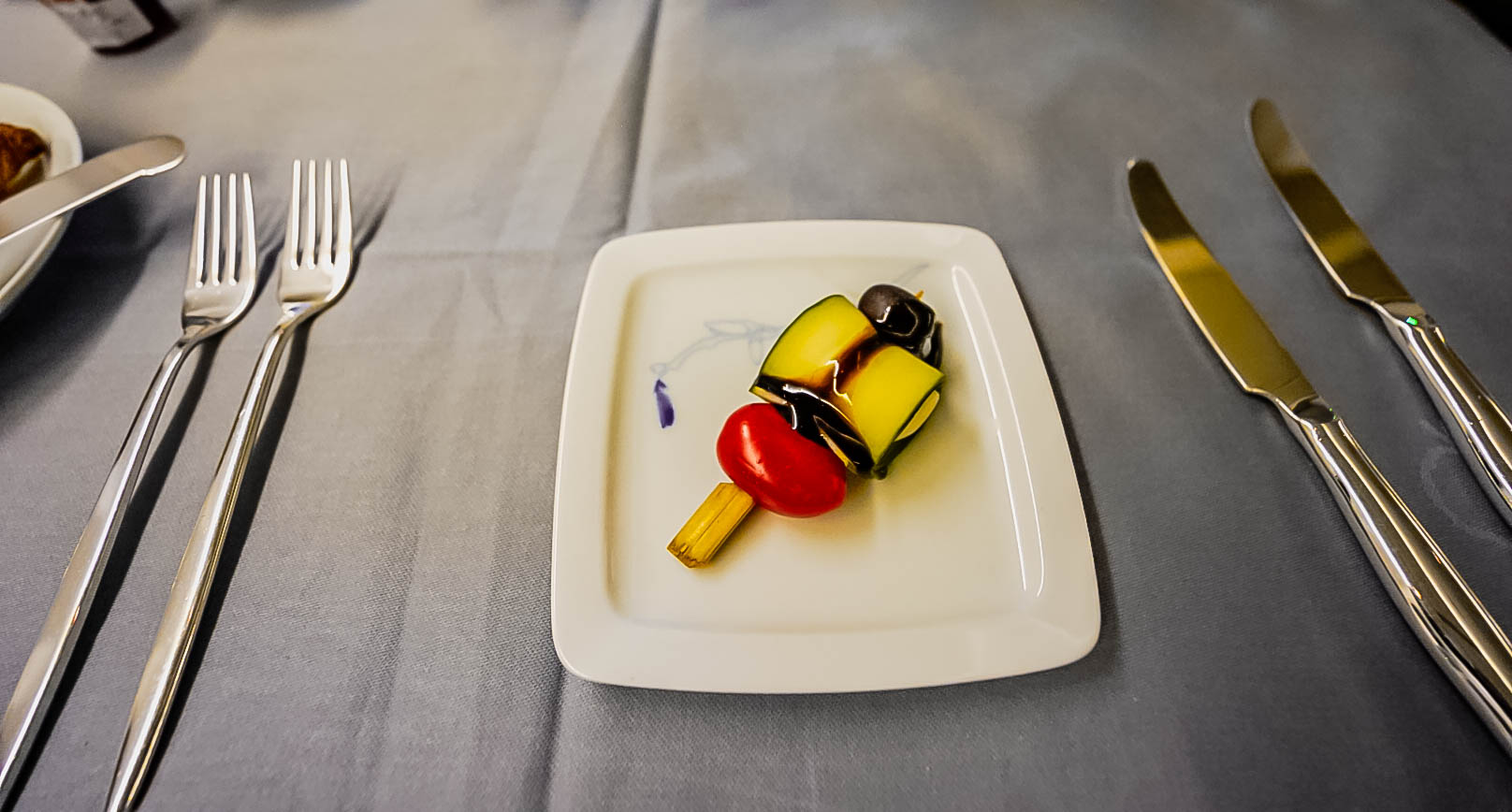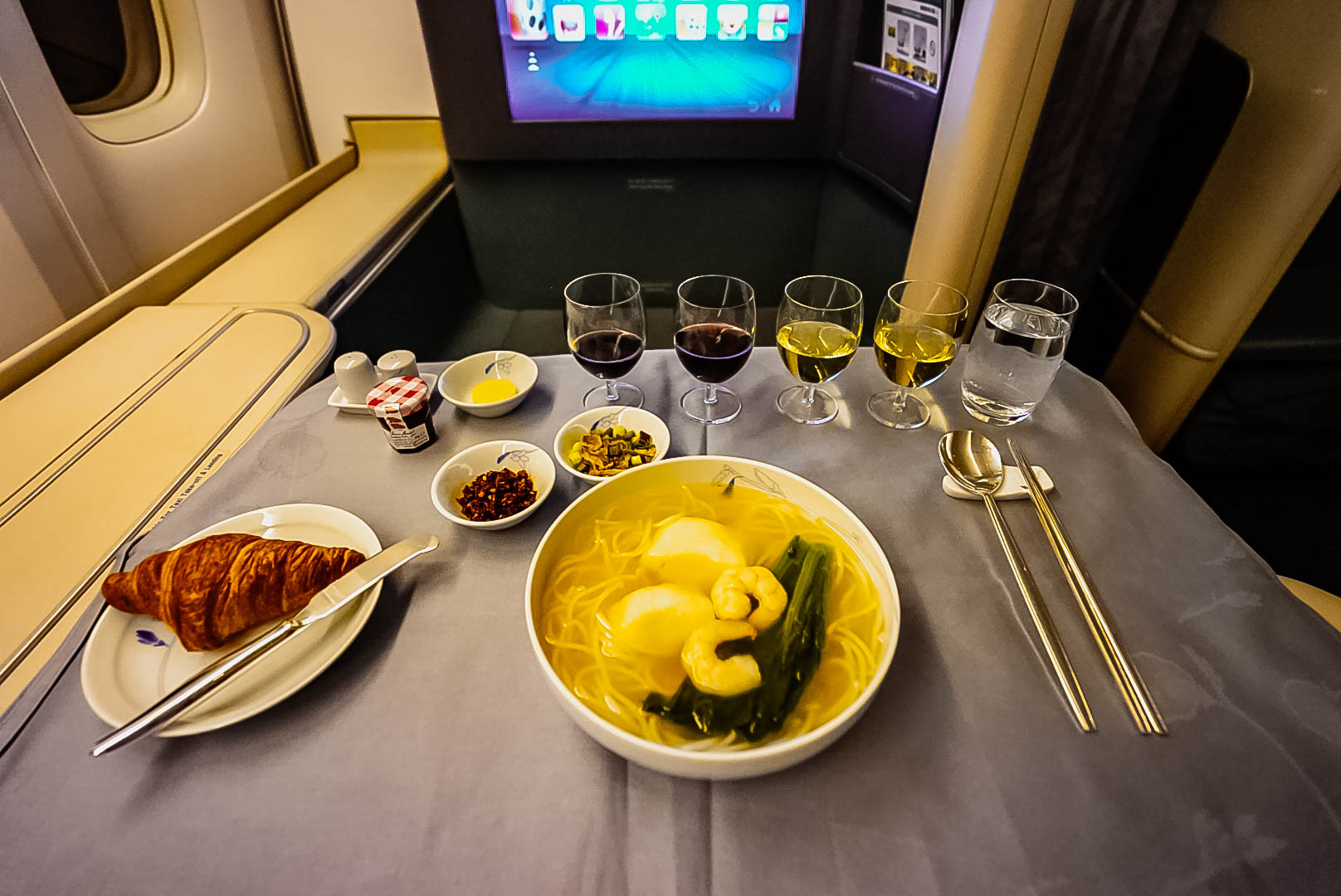 I was determined to recoup in kind some of my miles that I had redeemed for this flight, so I decided to engage in a solo wine tasting session to drown my disappointment.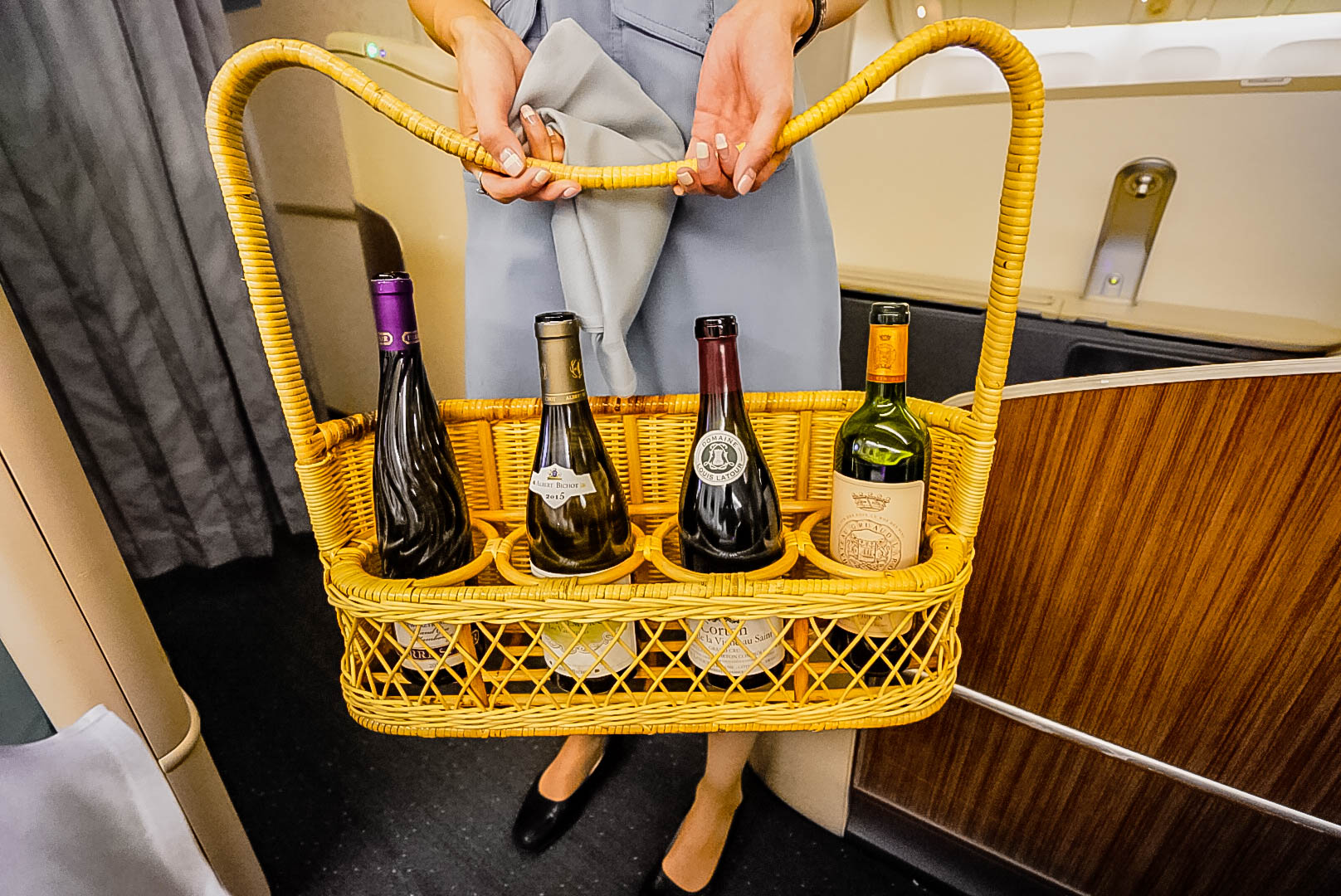 I opted for:
Mambourg Gerwurztraminer 2016 (white)
Albert Bichot Chablis Premier Cru 2015 (white)
Chataeu Gruaud Larose 2007 (red)
Louis Latour Corton Grand Cru 2014 (red)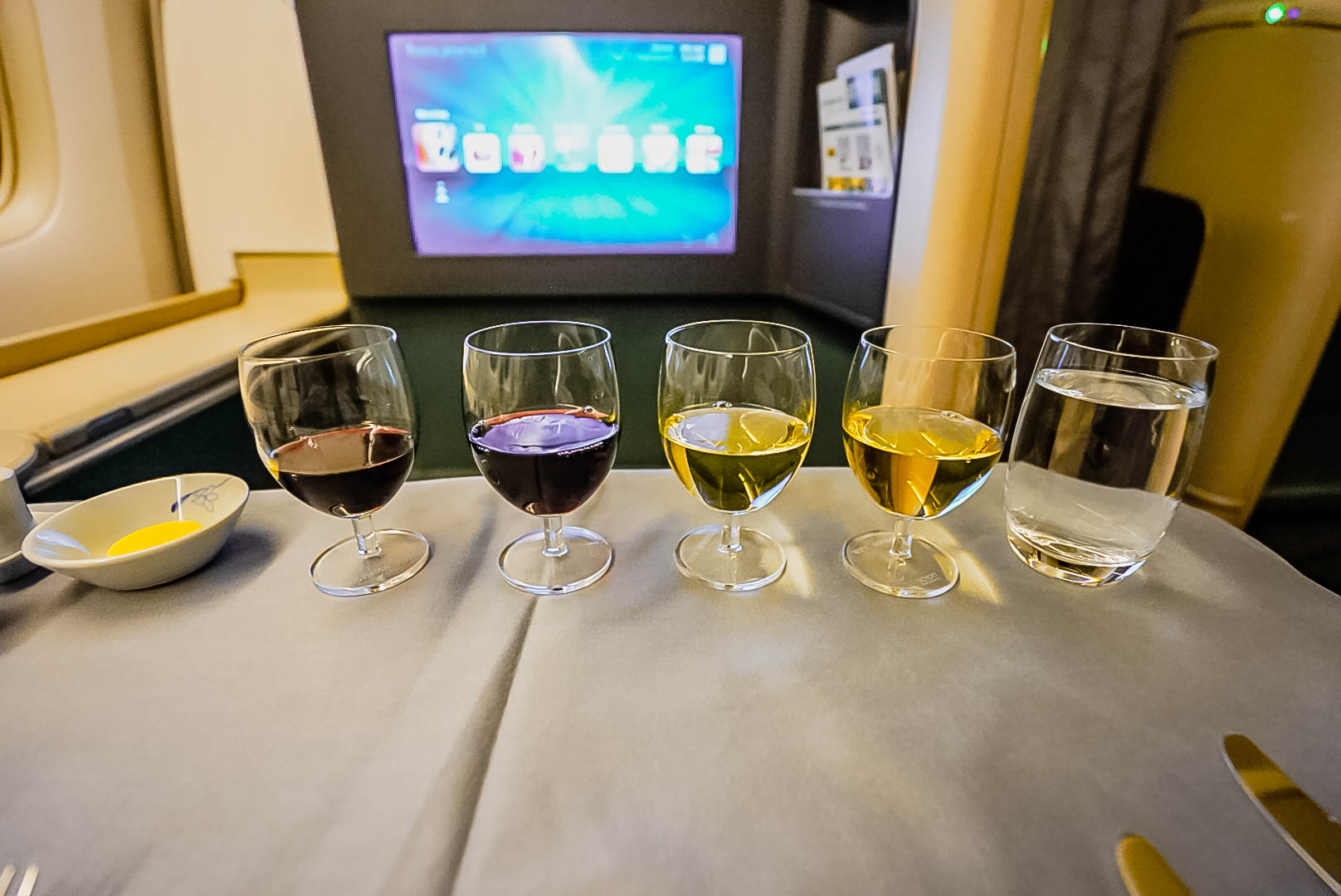 The onboard service was no great shakes either, given the crew had a very lackadaisical attitude. After I had boarded and settled in my seat, the flight attendant did not even once offer to take my jacket until I had to finally press the call button and hand it just before push back.
The service was rushed, not allowing me to enjoy my only meal. The flight attendant kept coming and asking if I was done. I had to finally tell her that I will inform her once I am done. They seemed in a hurry to complete the service, dim the cabin lights and knock off.
After my solo wine tasting session, I decided to hit the sack and slept for a good 4 hours before I was woken up at the top of descent. I just had a coffee prior landing into Seoul.
Amenities
Korean Air offers an amenity kit that contains an eye mask, dental kit, shoe horn, and Atelier-Cologne branded Aftershave lotion, body lotion, hand cream, face cream, and lip balm. All these were offered in a flimsy blue colored plastic pouch that looked more like a toddler's crayon pouch.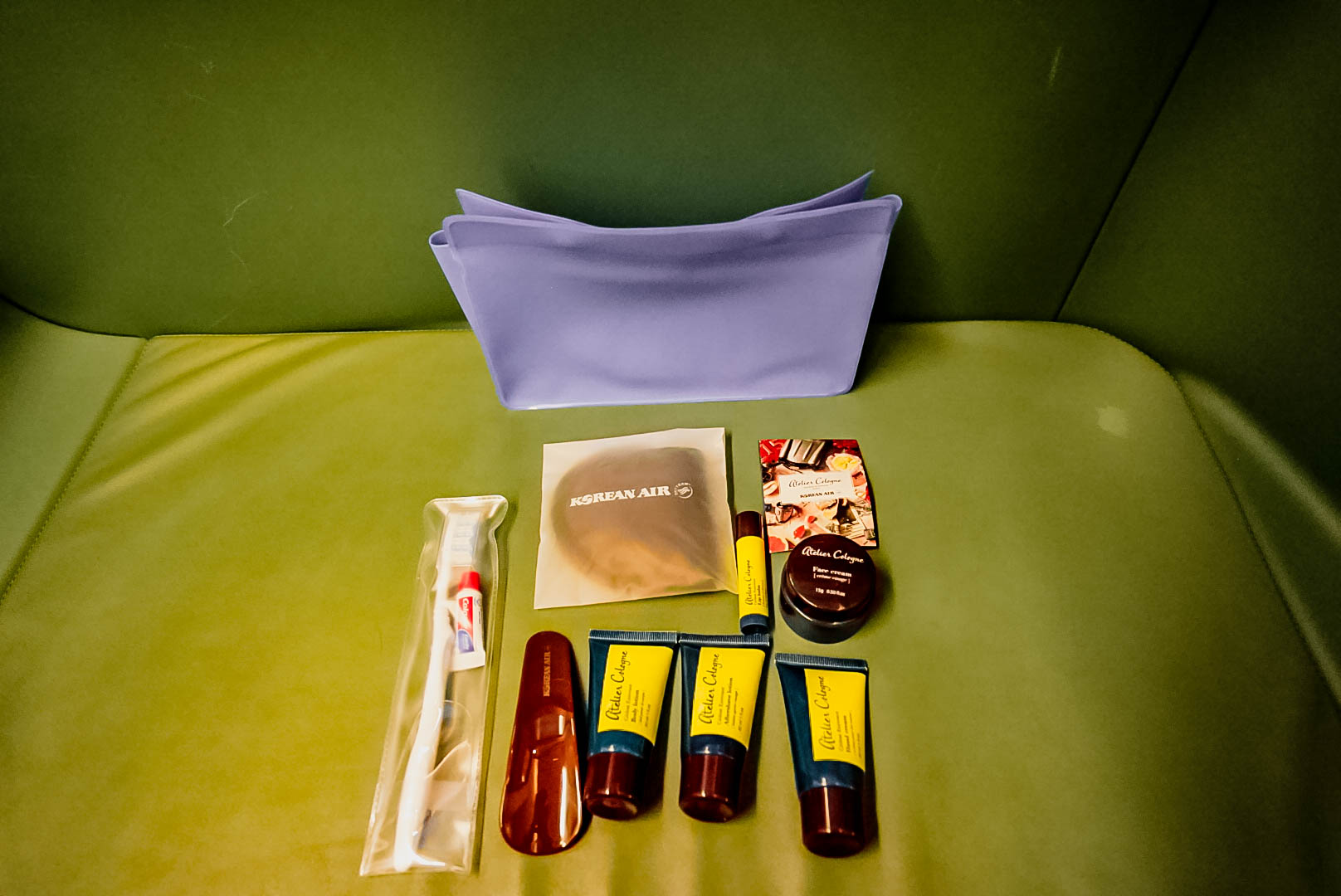 For the 6 hour red-eye flight, Korean Air also offered Gianfranco Ferre branded pajamas and a pair of slippers that were very comfortable.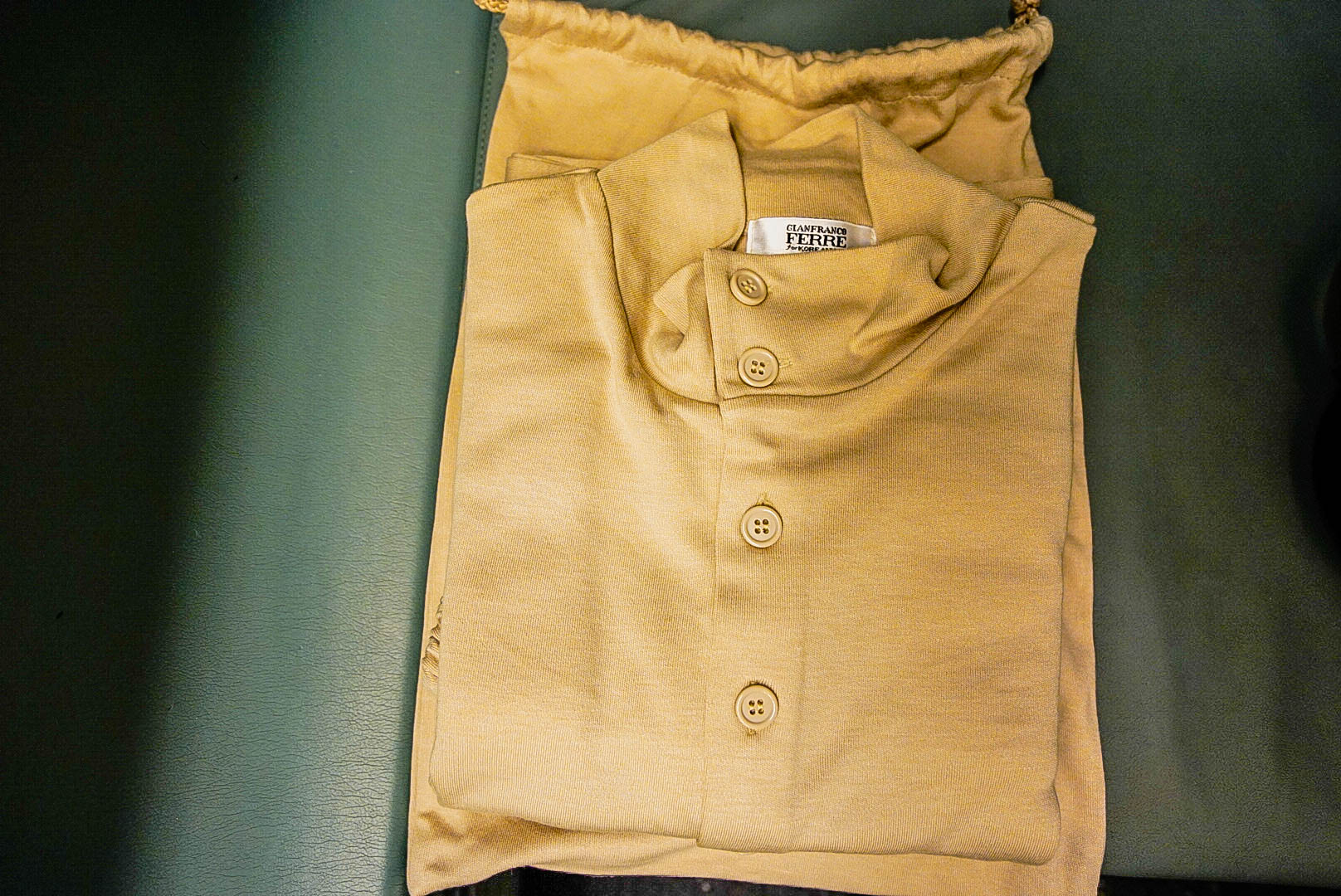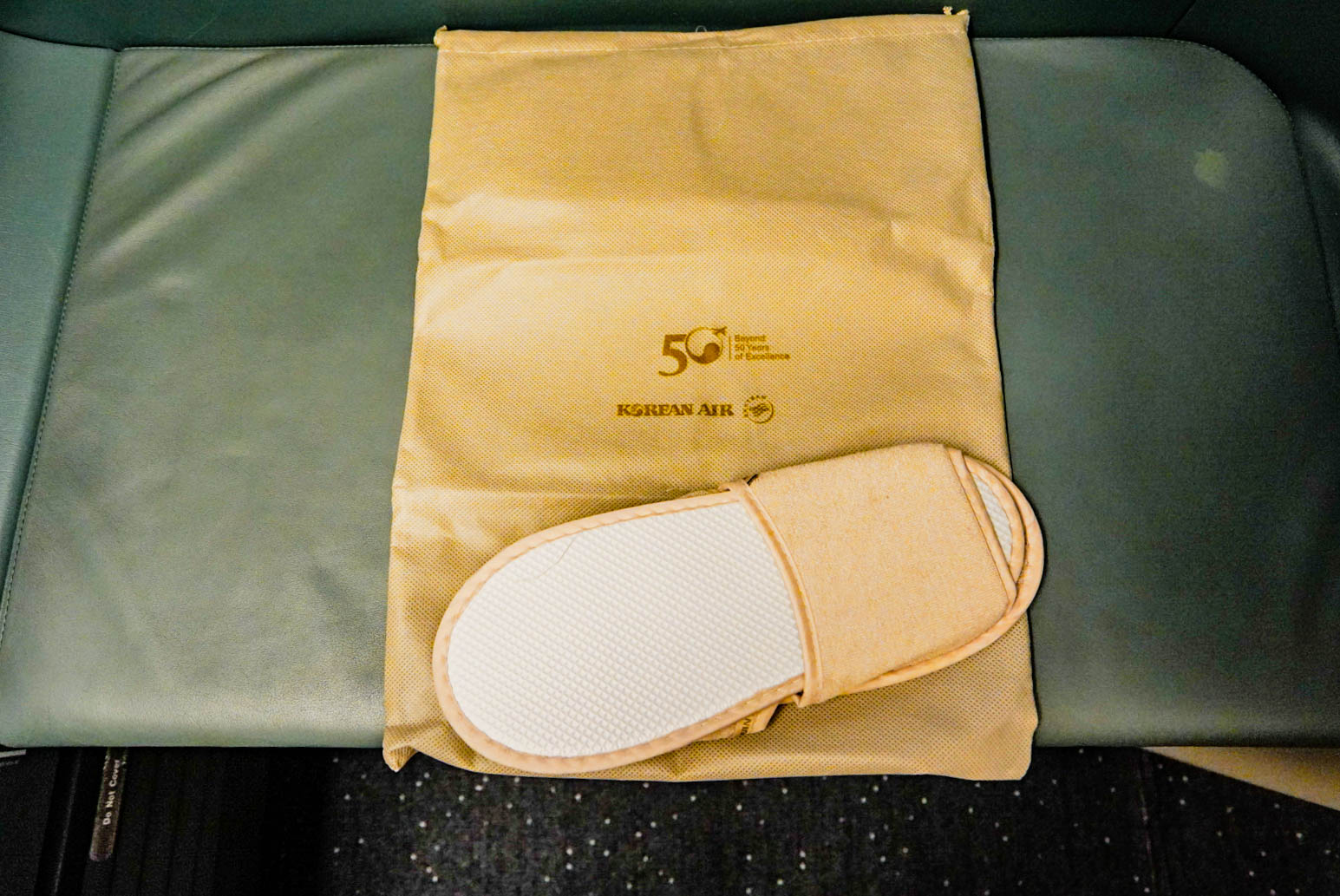 The bed which was comfortable was prepared complete with a mattress and comforter.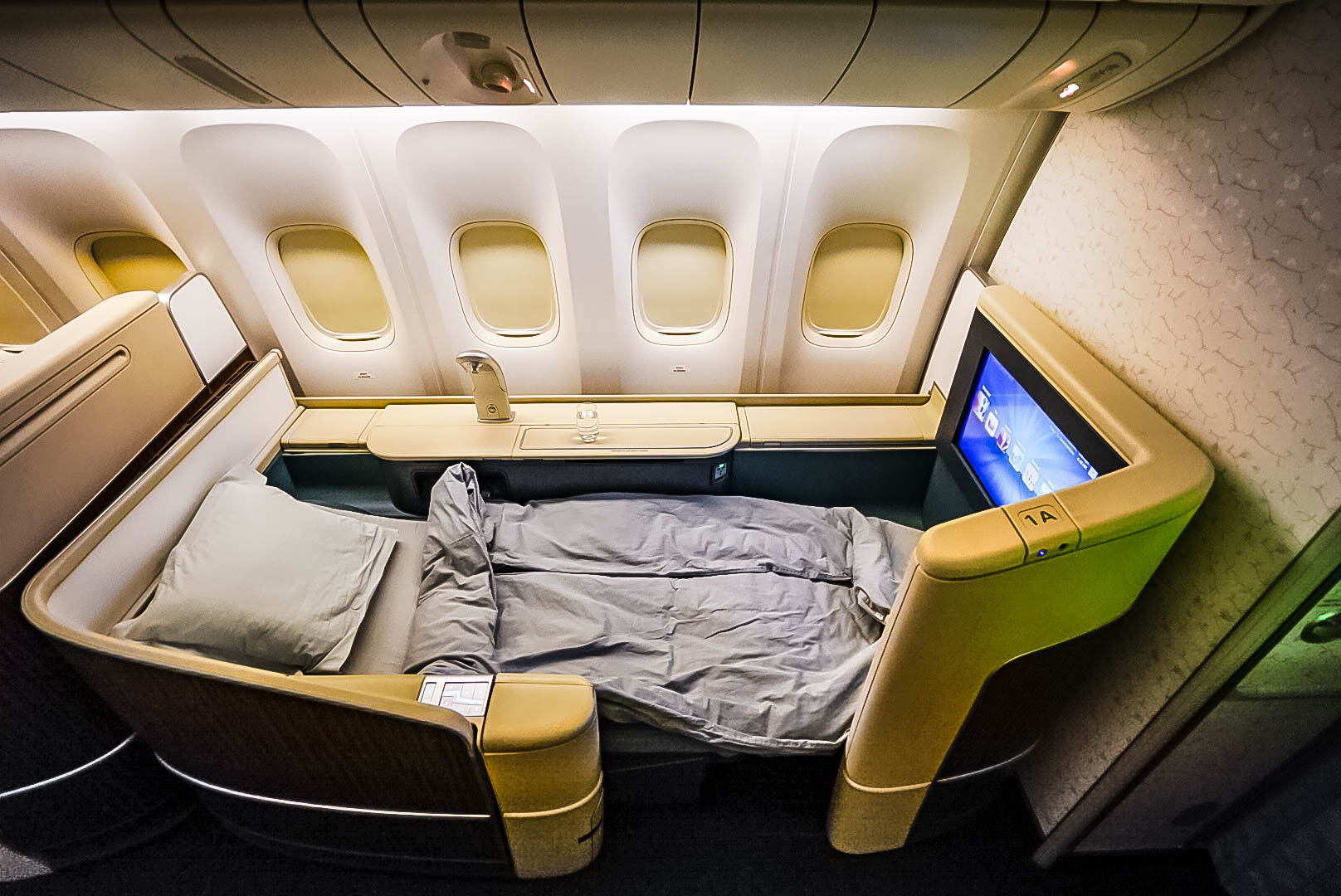 Final Thoughts
An utter disappointment! I had lofty expectations, based on all that I had heard and read about Korean Airlines' service. Was it worth redeeming 135,000 Marriott Bonvoy points for this first class ticket? Absolutely not!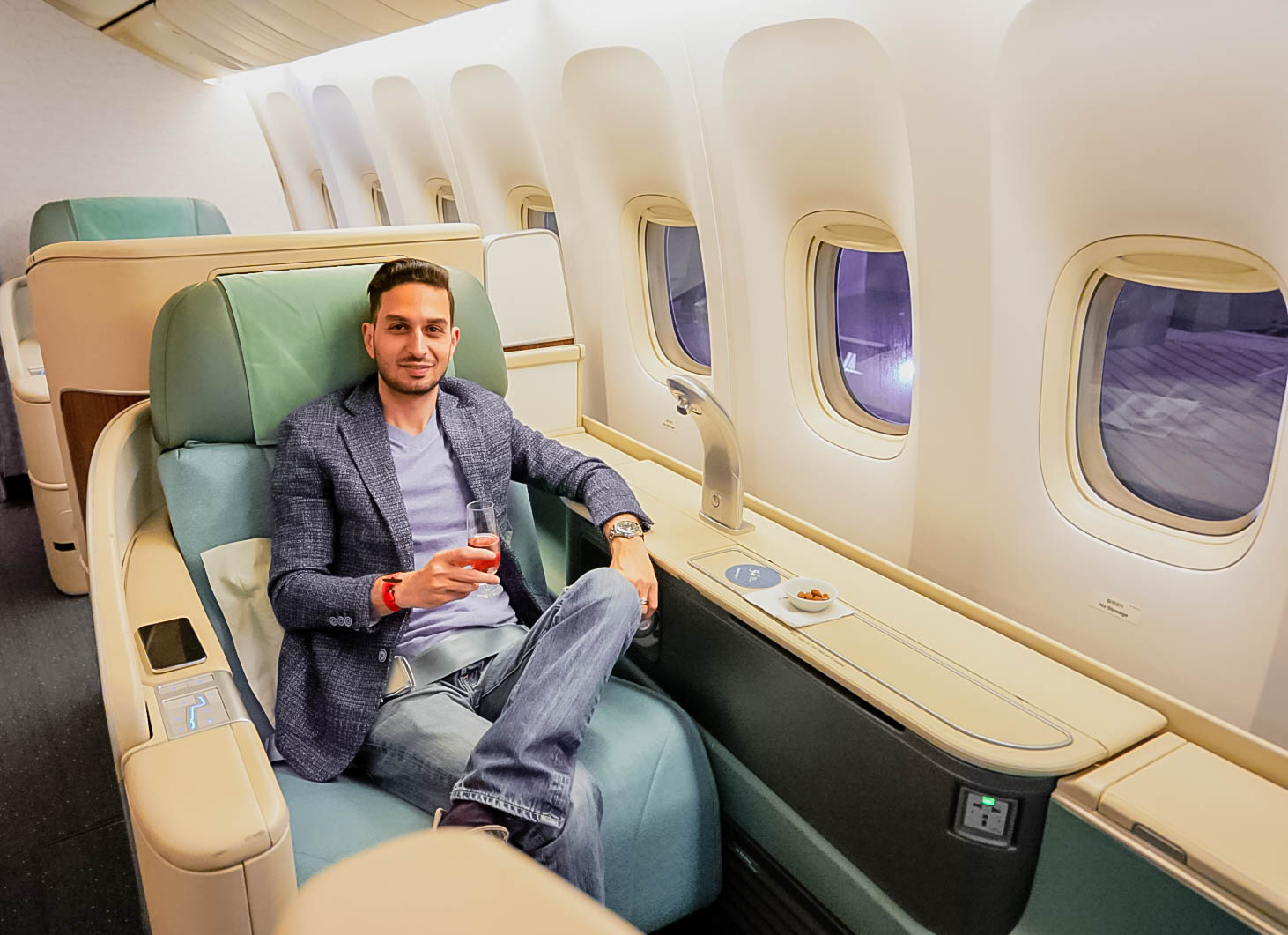 In May 2019, Korean Air, announced that starting June 01, 2019 they will be cutting first class service on 27 of their international routes and it seems their crew have taken that announcement in earnest. I still cannot get over the fact that for a 6-hour flight their meal options were so limited. I read on one of their Instagram posts where they mentioned as follows: "When it comes to service, we go above and beyond". Sadly, this wasn't the case on this particular flight.
This year, the airline is celebrating its 50th year in service and they didn't exactly cover themselves in glory. If you are selling a first class ticket, please ensure you deliver a first class service.
Interested in the pilot's perspective? Explore the Boeing 777 from a pilot's perspective.