Oman Air Airbus A330 Business Class Review [FRA to MCT]
Airline: Oman Air (WY)
Aircraft: Airbus A330-300 (A4O-DD)
Flight #: WY116
Route: Frankfurt Airport (FRA) > Muscat International Airport (MCT)
Date: June 24, 2019
Duration: 6hr 40min
Cabin & Layout: Business Class, 20-seats, 1-2-1 config
Seat(s): 10K
Miles Used: None – paid fare
Cash Used: $1,400 (£1,180) per person one-way Barcelona to Frankfurt to Muscat to Bangkok
Introduction
A last-minute decision to attend a conference in Barcelona that attracts over 120,000 people from around the world meant that when booking this flight there were no options left to use points or miles. Luckily, I found decently valued paid fares ex-Bangkok on both Finnair and Oman Air.
I couldn't decide which carrier to fly so I posted a poll on Instagram; a friend replied and suggested I fly both — which I thought was a great idea.
Finnair promotes its "Northern Route" as being far more efficient flying between Asia and Europe than its Middle Eastern competitors, so I was eager to put that claim to the test.
Between Bangkok and Barcelona, I flew Finnair on its amazing Airbus A350 to Helsinki which connected to its not-so-amazing Airbus A321.
I would return to Bangkok on Oman Air.
Booking Oman Air Business Class
The return fare worked out to be better value for the money, but for the purposes of flying both carriers and bringing you these reviews, I booked the 2 one-way flights.
Oman Air doesn't operate out of Barcelona, so my ticket included a codeshare flight on Lufthansa to Frankfurt.
I paid $1,400 (£1,180) for the one-way flight between Barcelona and Bangkok via Frankfurt on Lufthansa and then Muscat via Oman Air .
What I didn't know is that there was a festival happening in Barcelona at the same time and I almost missed the very first flight, which, if I did, would have had a huge knock-on effect getting home.
Miles Earned
Oman Air doesn't have too many partners so I decided to credit miles to Etihad as the Etihad Guest program provides me with more partner-booking options instead of Oman's Sinbad Frequent Flyer program.
The flight between Barcelona and Frankfurt, however, was on a WY codeshare and not eligible for Etihad miles. For the 3,236 + 2,890 miles flown between Frankfurt and Bangkok on a business class D fare, I received a total of 9,090 Etihad Guest Miles.

How to Book Oman Air Business Class With Points and Miles
Likewise, you can book Oman Air business class with Etihad Guest miles.
Instead of pricing Oman Air award tickets by zone, Etihad Guest prices each Oman Air destination differently. Generally, the further you are from Oman Air's hub in Muscat, the more expensive the award ticket will be. You can view the full award chart on Etihad's website.
A business class ticket from Frankfurt to Muscat will set you back just 39,000 Etihad Guest points one-way. Thankfully, points transfer to Etihad Guest from American Express Membership Rewards, Capital One, Citi ThankYou, and Marriott Bonvoy at varying rates, so it's relatively easy to build up an Etihad Guest balance.
Unfortunately, booking Oman Air award tickets on Etihad can be tough. They're not bookable online, so you'll have to call Etihad Guest to book the ticket. I recommend getting in touch with the loyalty program's Manchester, U.K. call center for the smoothest experience.
Expect to spend some time on the phone when you do call in. Since there's no easy way to search for Oman Air award space online, you'll have to have the phone agent search for you. This can be a time-consuming process — but trust me, the end result is well worth it!
At Barcelona and Frankfurt Airport
Sorry that I don't have any coverage of the lounges at Barcelona or in Frankfurt. But I can explain…
When planning this last-minute trip, I didn't realize that the Festival of Sant Joan was happening on my last evening and that the Monday morning of my departure was a public holiday. I first heard about it from my taxi driver on arrival at my hotel on the first evening.
During my 4 nights in Barcelona, all I heard was how huge the festival was and how it's bigger and better than New Year's Eve.
I also found out that there was a free beach party happening on my final night which went from 11 p.m. to 5 a.m. Monday morning. I kept wishing I booked an extra night!
Considering I had a 6:50 a.m. flight to Frankfurt, it crossed my mind that I could still get to the party as long as I left by 5 a.m., headed back to the hotel, showered and taxied to the airport.
And so again, I asked Instagram…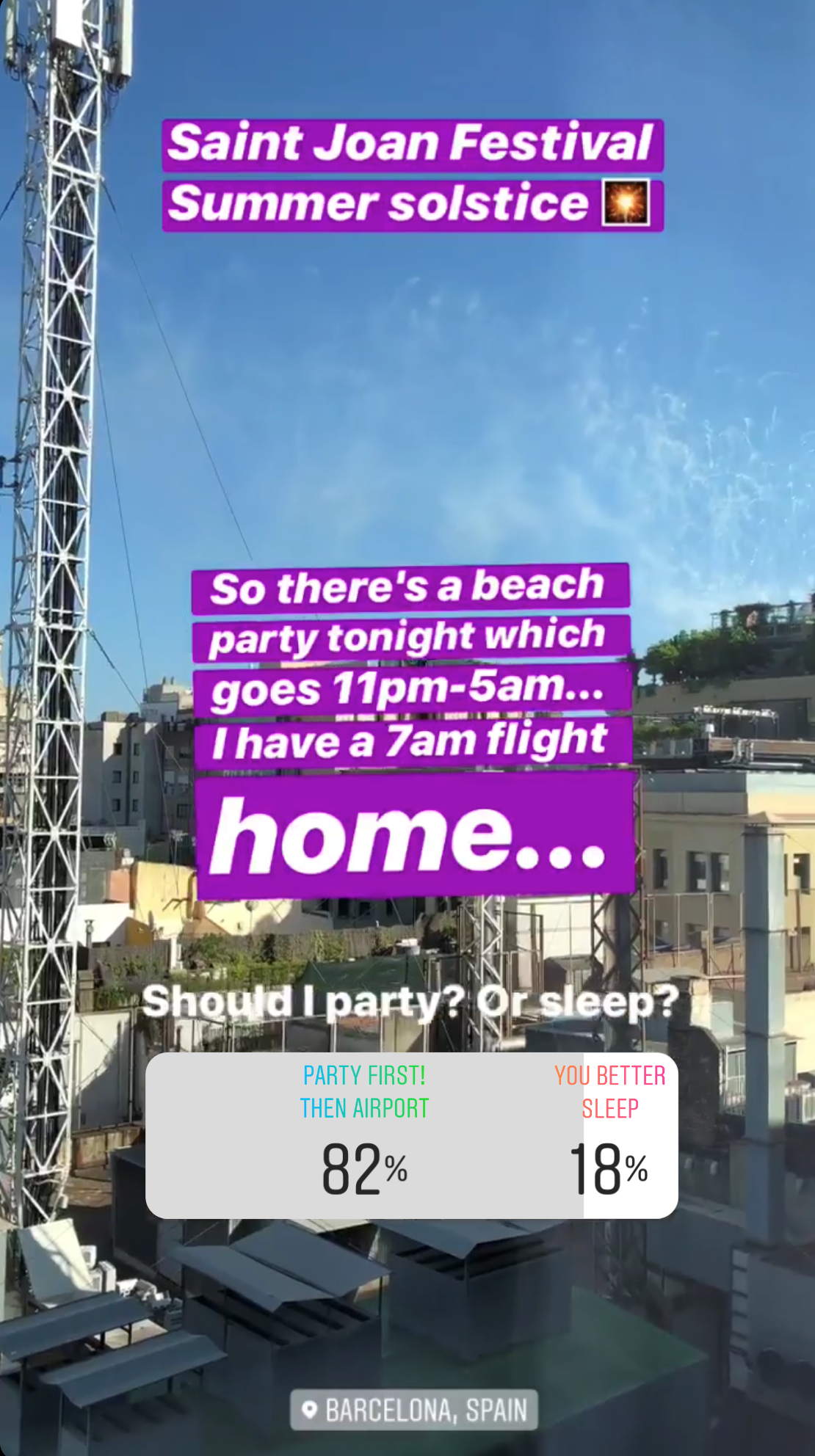 And the internet spoke. I thought to myself, "you only live once," I may never get back to Barcelona on the exact same time of year ever again, I might as well adjust my body clock back to Australian time early and that I would have plenty of opportunities to sleep on my trek home. Well, that's how I justified it to myself.
And what a night it was and I'm so glad I went.
My alarm went off at 5 a.m. so I left the party, headed back to the hotel for a quick shower, and with bags already packed I then jumped straight into a taxi.
The lovely taxi driver didn't speak a word of English and proceeded to have a 20-minute conversation with me in Spanish with me replying in English after picking up only a few words. It was hilarious; I was delirious. I was watching the time and getting very nervous. I quickly checked-in on the Lufthansa app en route.
When arriving at the airport, Lufthansa was already paging passengers bound for Frankfurt to skip the queue to check-in as the flight was closing. Ekk! I dropped my bags and was told to "run!" as I was the last passenger to be accepted onto the flight and my gate, B48, was at the far end of the terminal.
Security was horrendous but thankfully my business class ticket afforded me the use of the priority queue.
I then had to sprint! I literally had to run across every moving sidewalk. Arriving at the gate, I walked straight on board and the door was closed behind me. Phew!
And I had 3 seats to myself to catch a few minutes' sleep.
I landed into Frankfurt at 9:00 a.m. and boarding for Muscat commenced at 9:30 a.m., so I had to rush from gate A16 to B43. As such, I had no time to check out the Lufthansa Business Lounge and once again had to run through an airport terminal this morning.
Flight
Aircraft
WY116 is operated by an Airbus A330-300 aircraft.
Oman Air currently has a fleet of 6 Airbus A330-300 aircraft and, according to its social media team, they currently fly between Muscat and:
Frankfurt Airport (FRA)
Zurich Airport (ZRH)
My aircraft today was Oman Air's second A330-300 delivered and was 10 years old.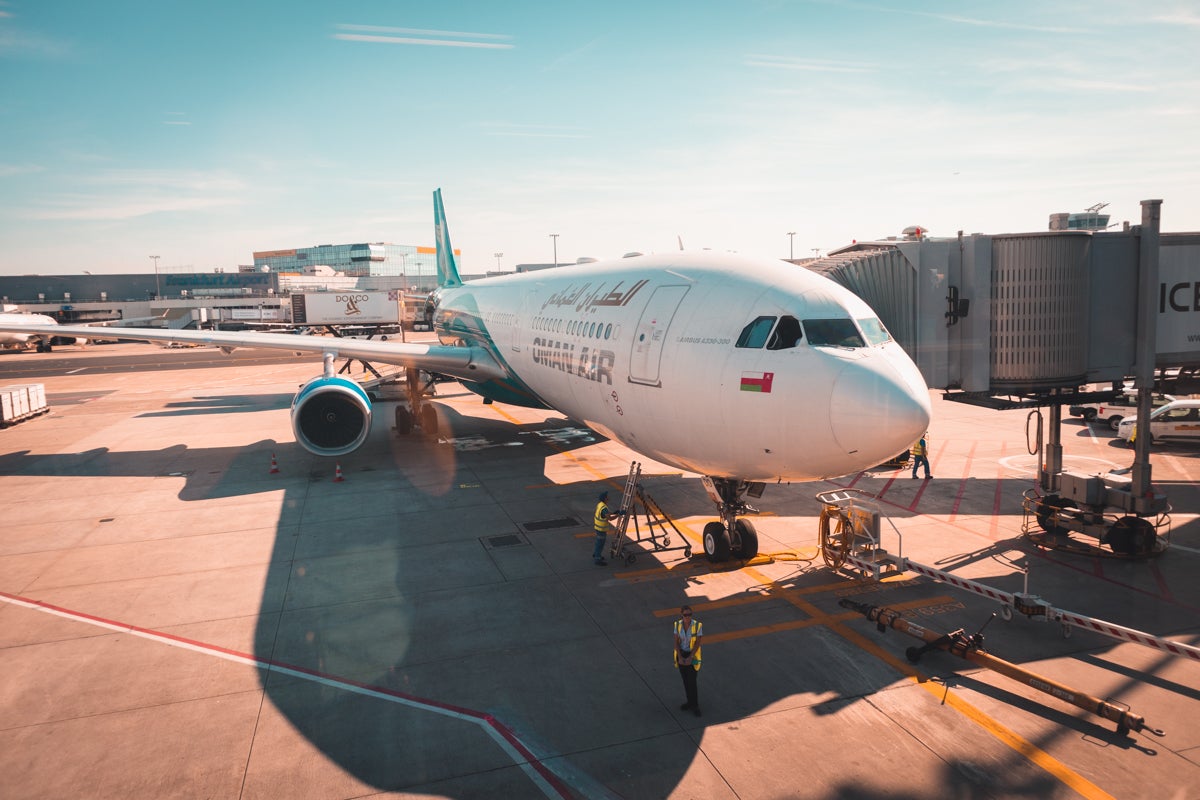 The carrier has 2 versions of the A330-300: a 2-class configuration with the newer Apex business class seats and economy class, and an older 3-class configuration which adds first class.
My aircraft had the older 3-class configuration.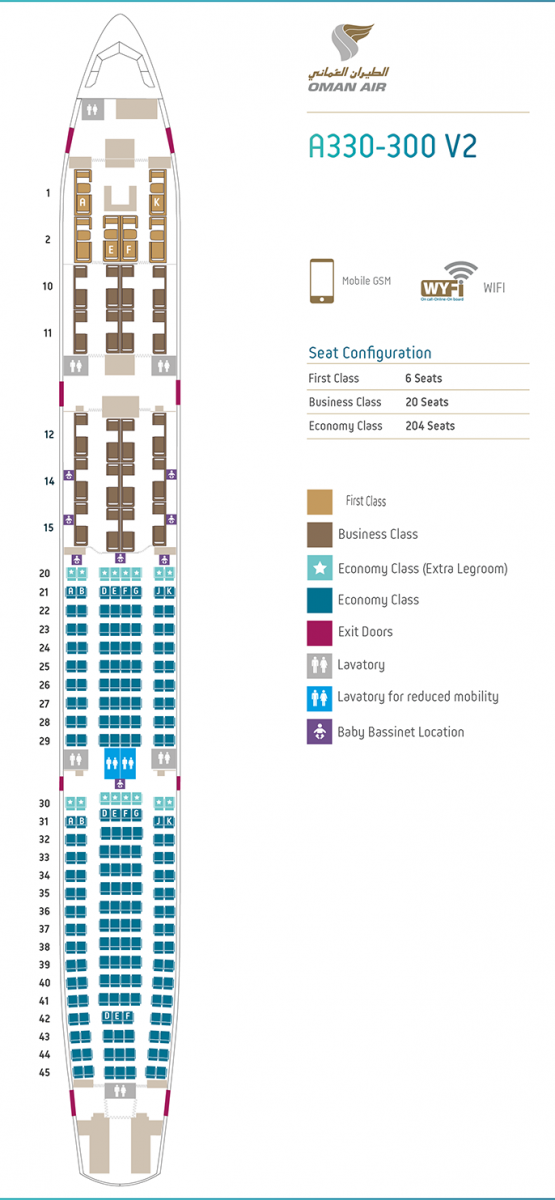 Up the front are 6 open first class seats.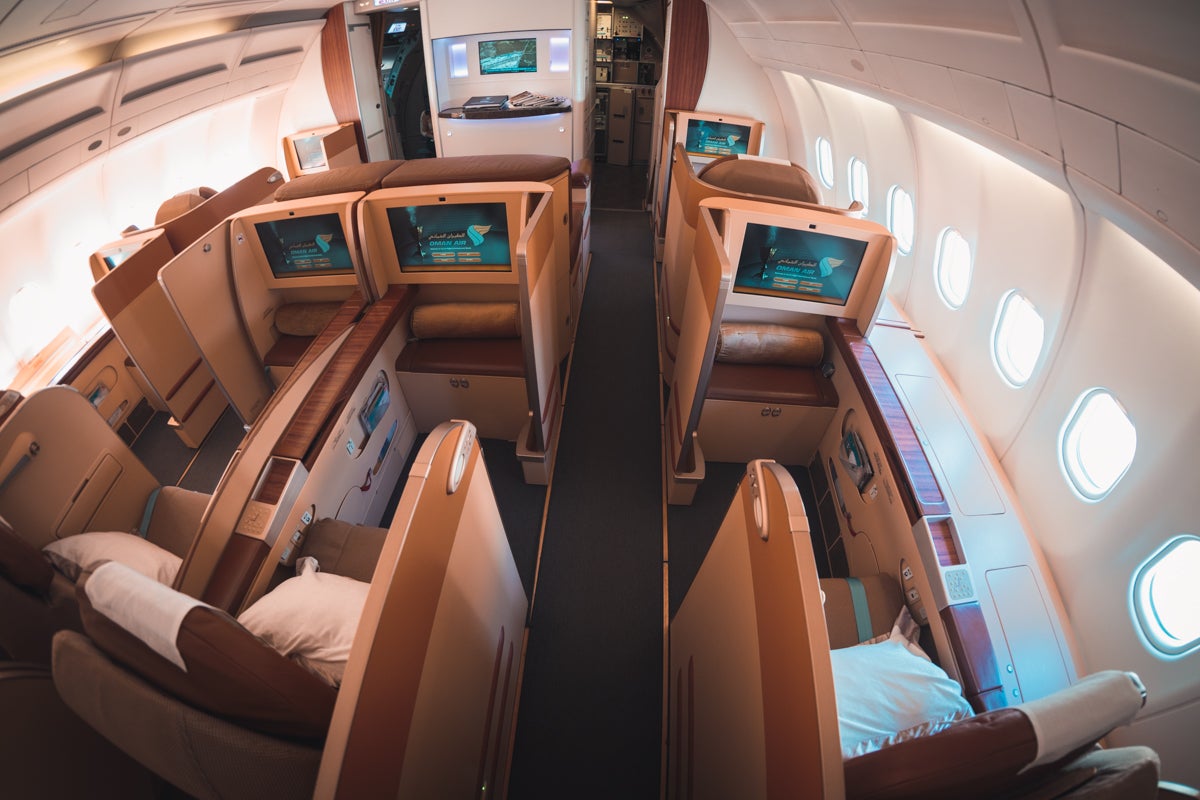 The first class cabin also has a lounge area in the middle of the first row.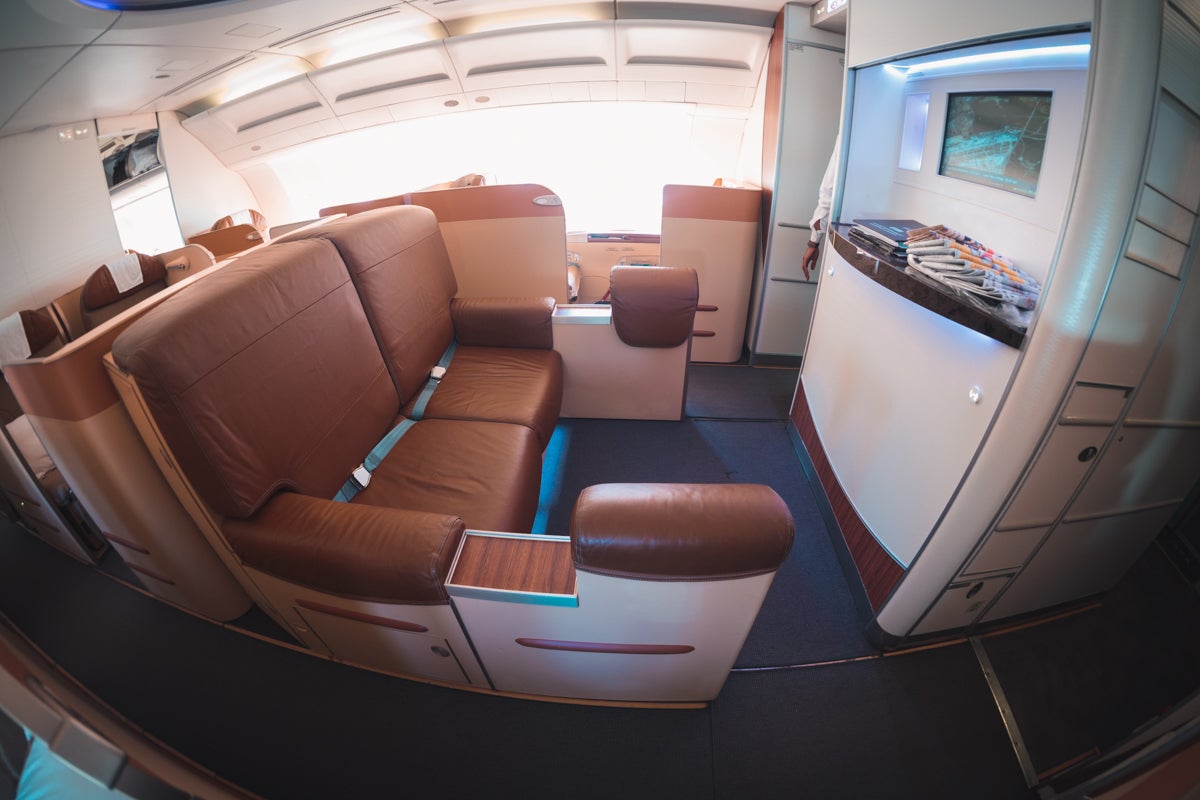 The business class cabin features just 20 seats in a 1-2-1 configuration with 8 in the forward cabin between first class and door 2. A larger cabin is behind door 2 with the remaining 12 seats.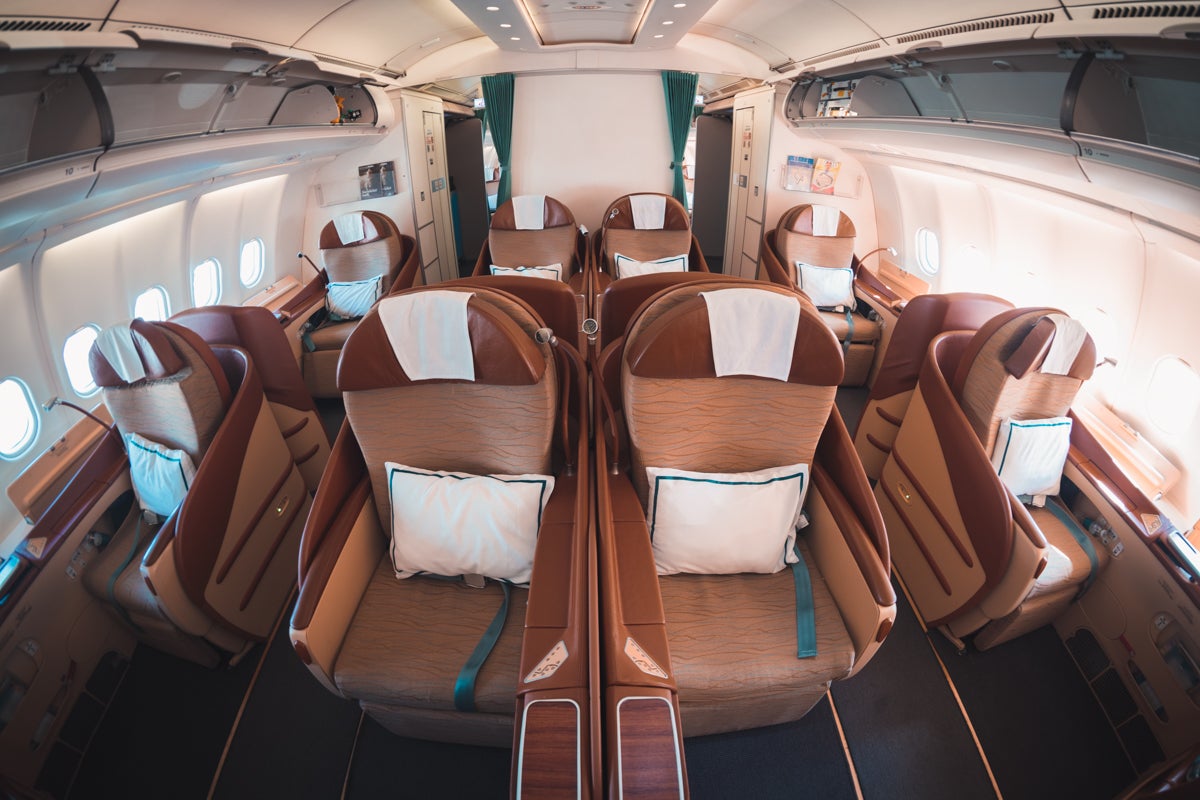 If you think the seats look familiar, it's because first class features the exact same seats as business class, just with a privacy wall around the seat.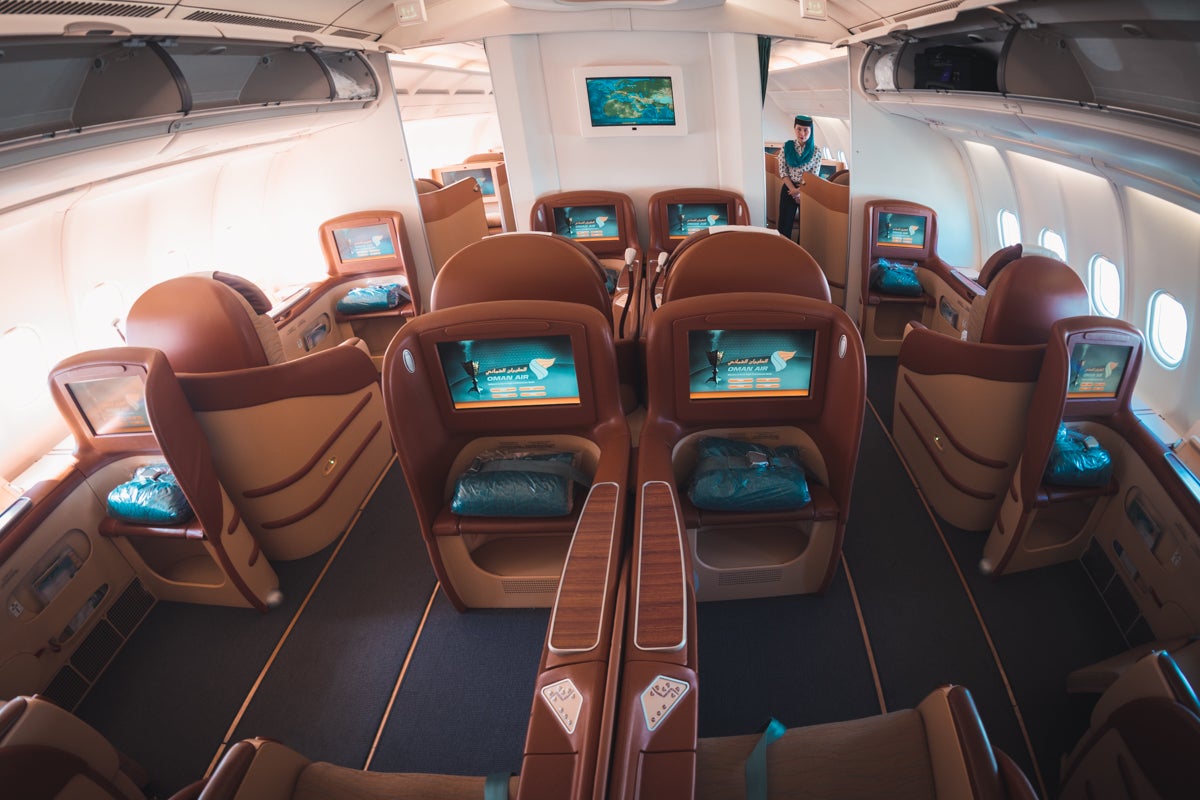 Economy has 204 seats in a 2-4-2 configuration.
Business Class
Stepping on board was like stepping back in time, to a time where airlines maximized passenger space.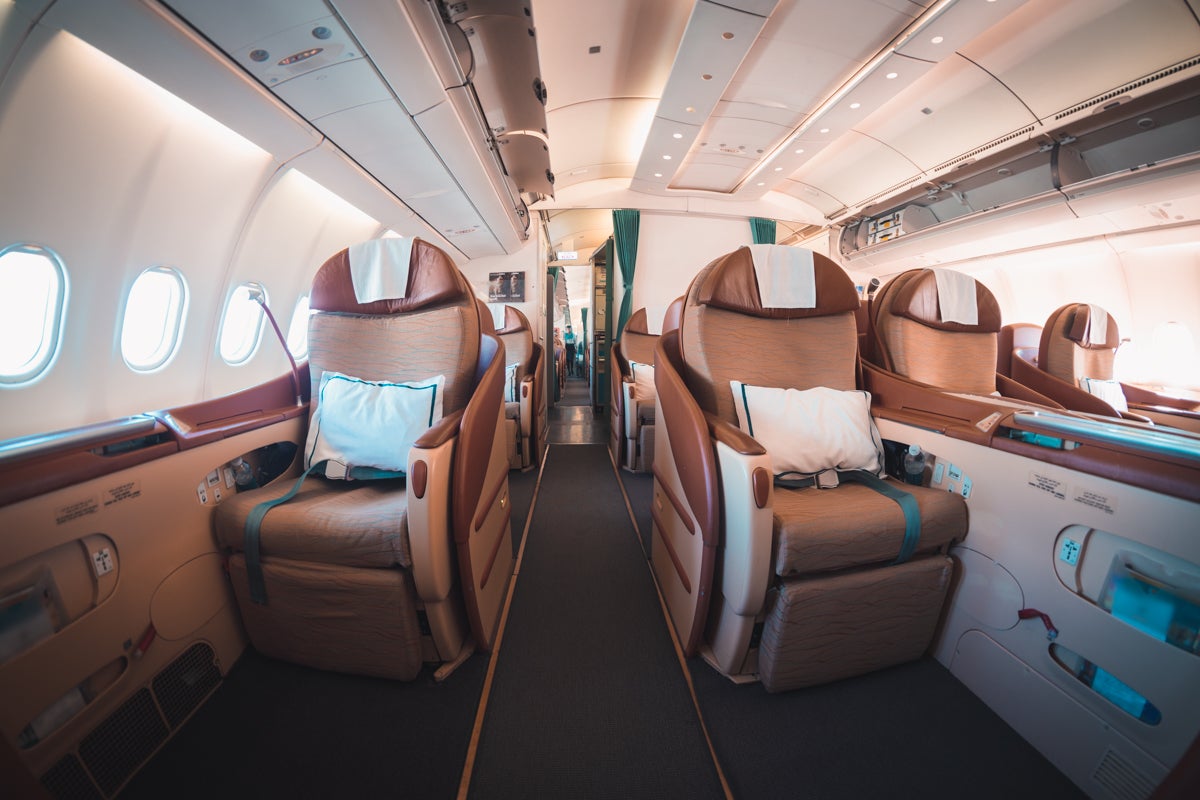 This was one of the least dense aircraft configurations I have flown on.
To put it into perspective, my flight from Bangkok to Sydney the day after this flight was on a Qantas A330 which had 28 business class seats between door 1 and door 2 whereas Oman Air had 14 seats. And behind door 2, Oman had 12 business seats plus 204 in economy vs. 269 economy seats on Qantas.
Between the first/business class window seats are large storage bins, the first I have seen on an A330 as they are usually only found on the upper decks of a Boeing 747 or Airbus A380.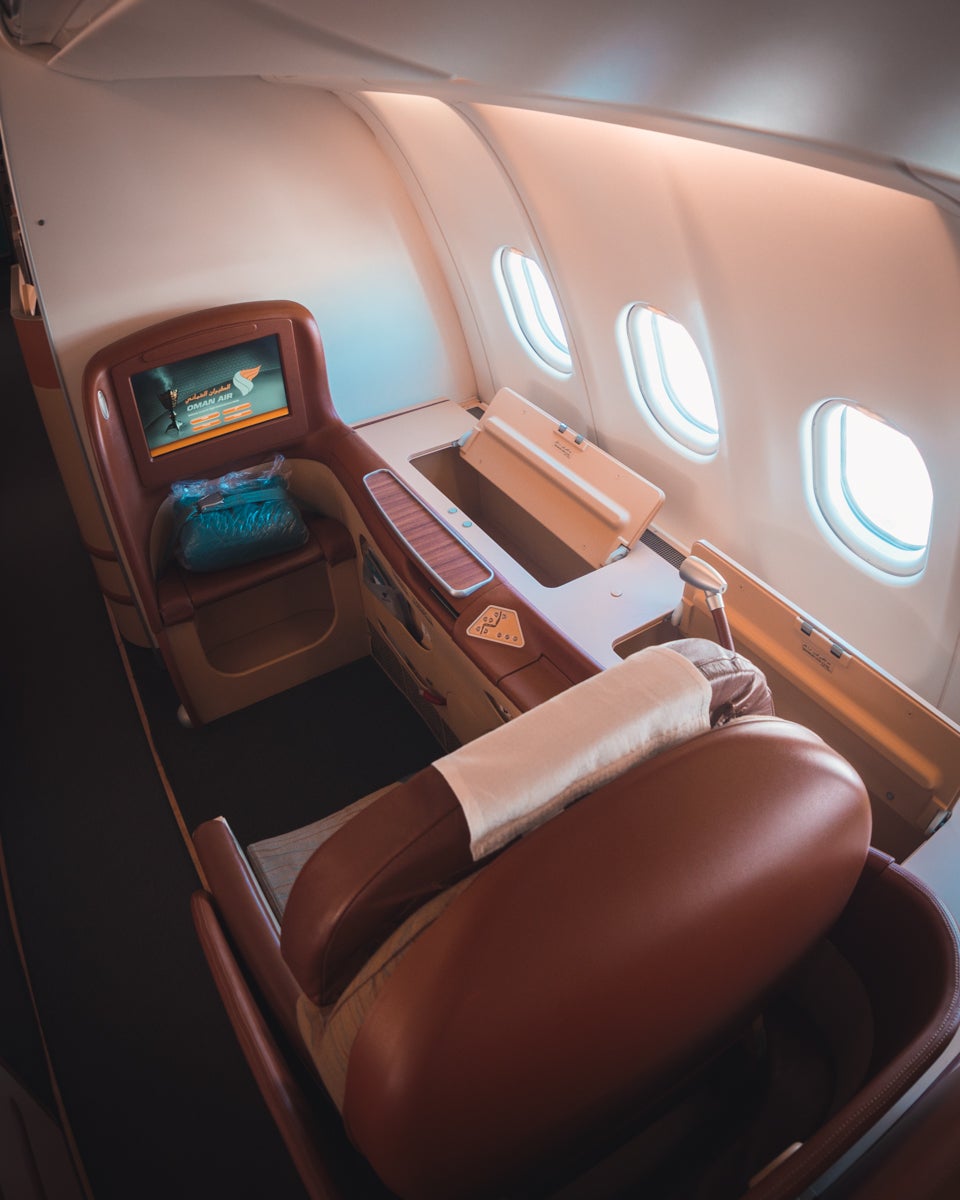 The amount of space in this cabin is phenomenal. There are no overhead bins down the center of the cabin, adding to the feeling of spaciousness.
Plus, the distance from the window due to the storage cupboard provided me with a view out of 4 windows.
The seats don't "ying-and-yang" with one another, nor do they need tiny footwells when seats tuck into the console of seats in front.
As such, there is substantial room with each passenger having direct aisle access and the seats having a pitch of 82 inches.
I was seated in 10K at the front of the forward business class cabin, which was a window seat.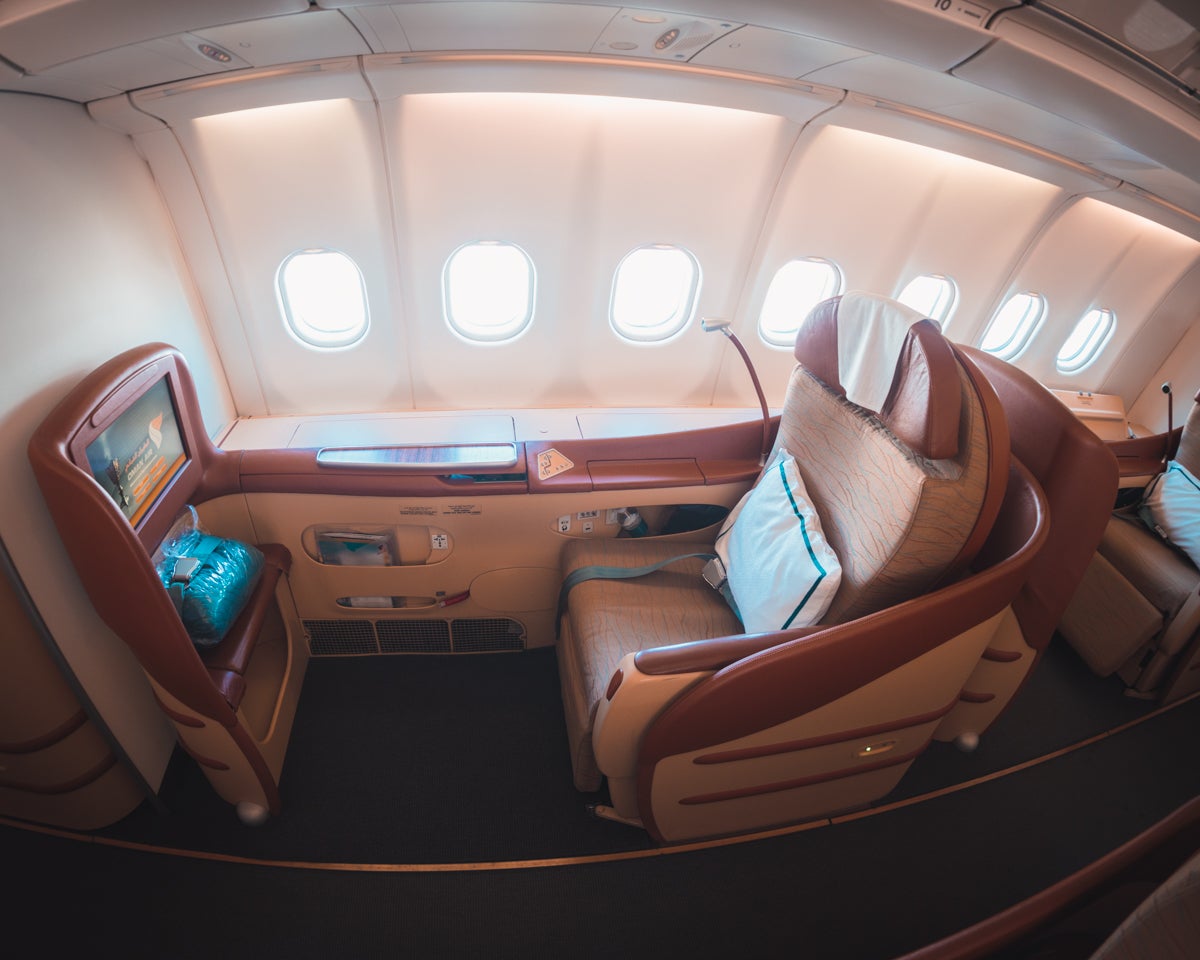 Without the walls of the first class version of these seats, you are left sitting exposed to the rest of the cabin. But with just 4 of us in this cabin, I didn't feel that this was a problem. The middle seats have a privacy screen that can be raised.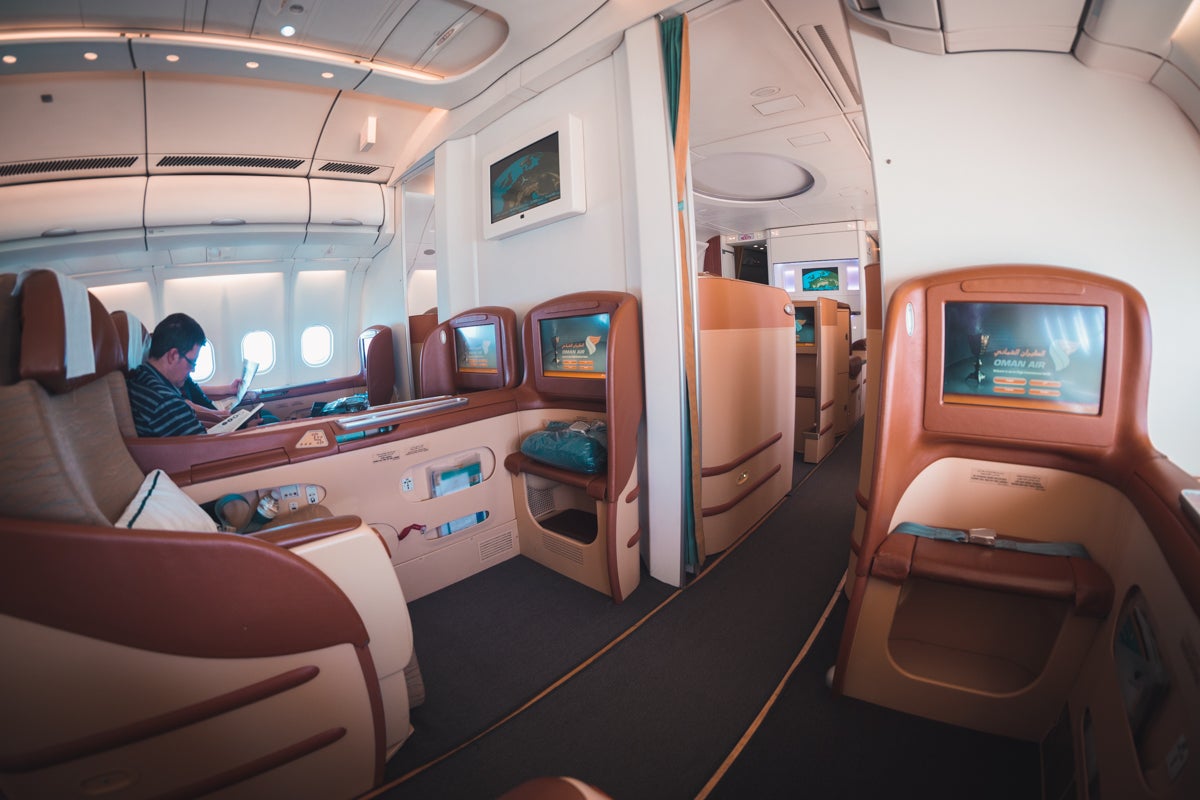 There is so much space, a guest can dine with you by sitting on the ottoman which also comes with a seatbelt in case of turbulence. The tray table is big enough to accommodate the 2 passengers' meals. Under the ottoman is a storage compartment.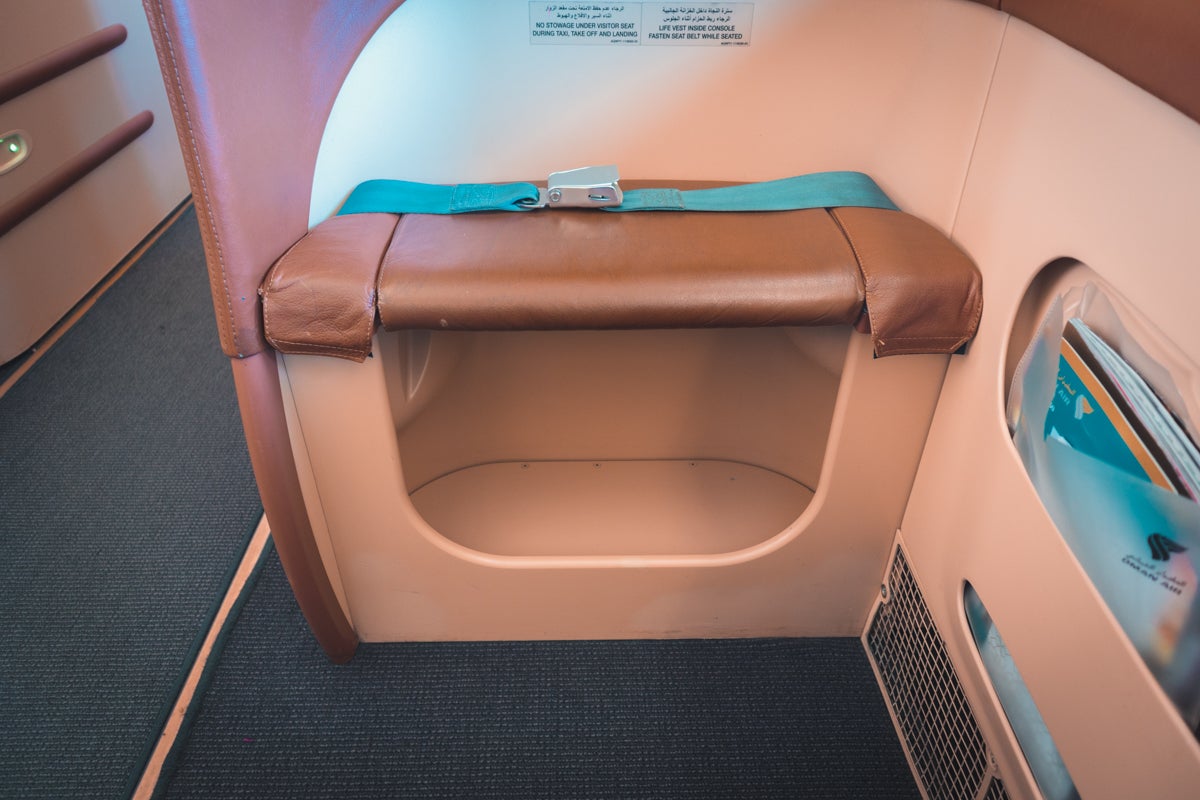 Looking around at the seat, there was no hiding the age of this aircraft with various scuffs, marks, and stains on the plastics and fabrics.
Alongside the window are a literature pocket and power adapter.
Closer to the seat, is a narrow compartment with the headphone socket, USB socket, and an RCA socket (so you can plug in that VCR you brought with you). It's very narrow and it only just squeezes in the headphones and a bottle of water.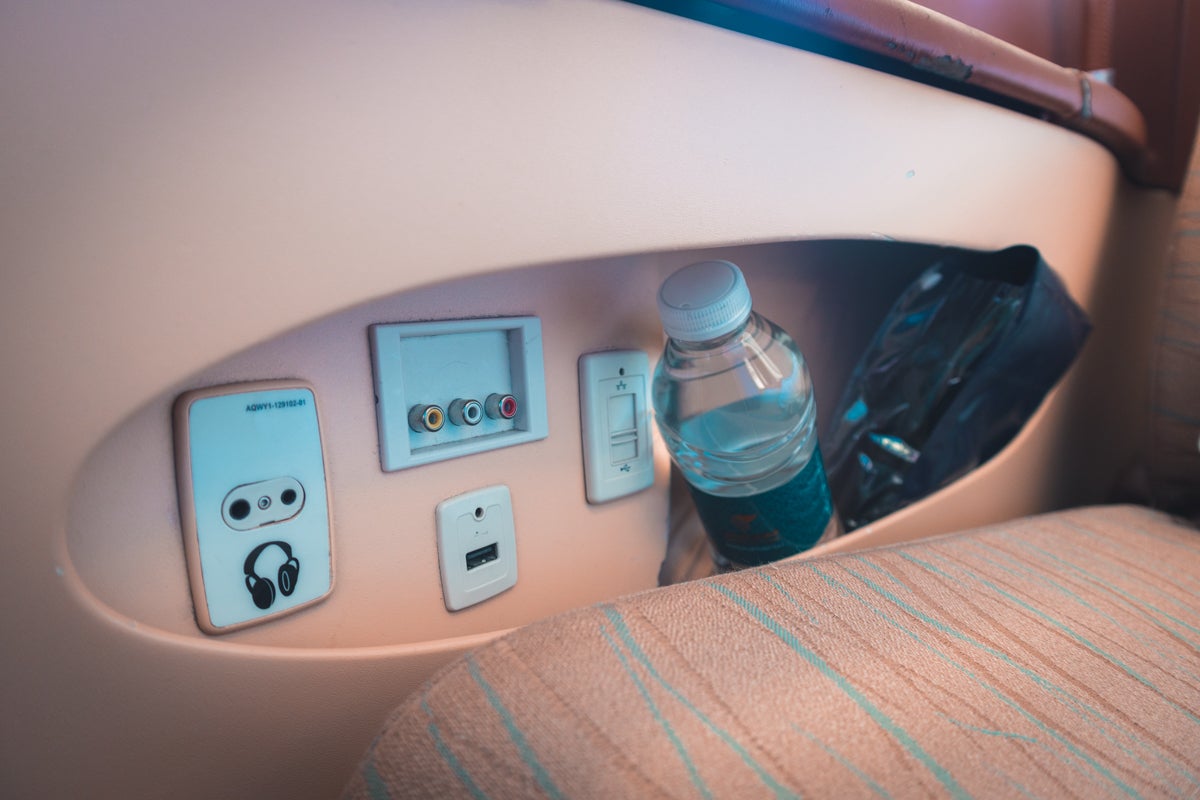 The IFE remote is further up the console.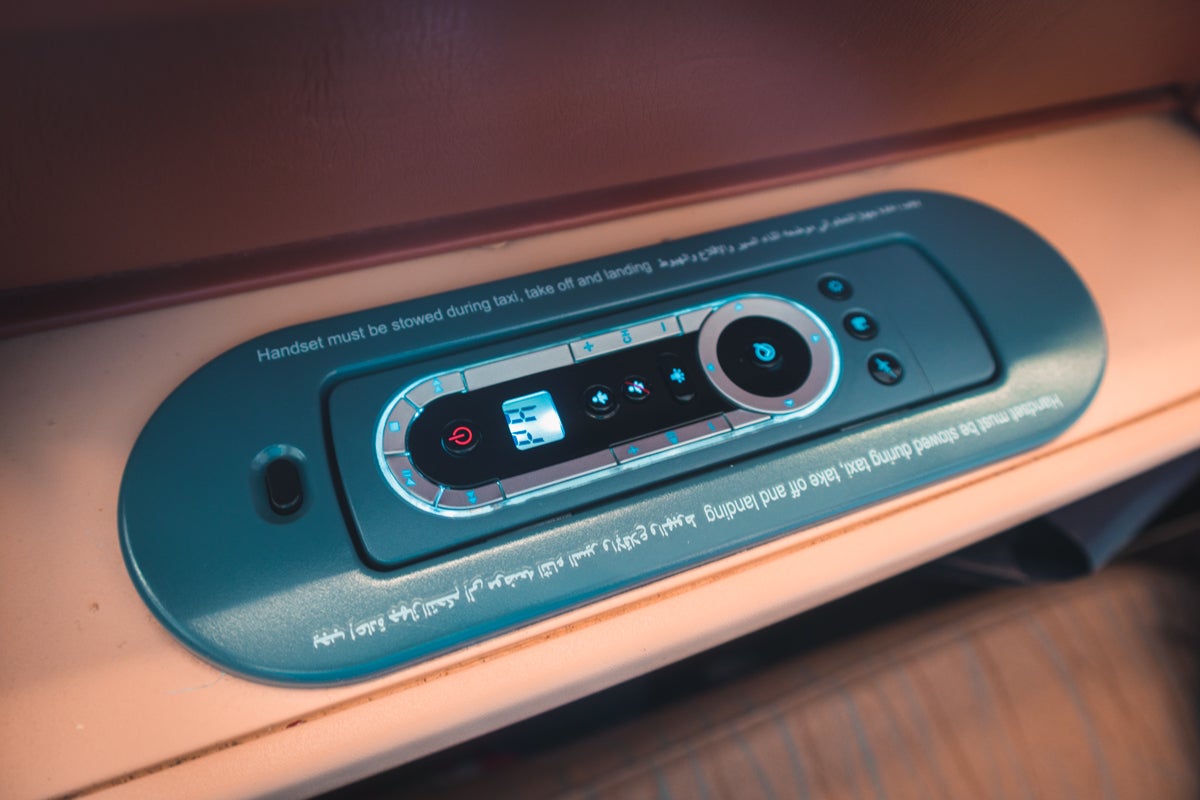 Directly in front of this console are the seat adjustments.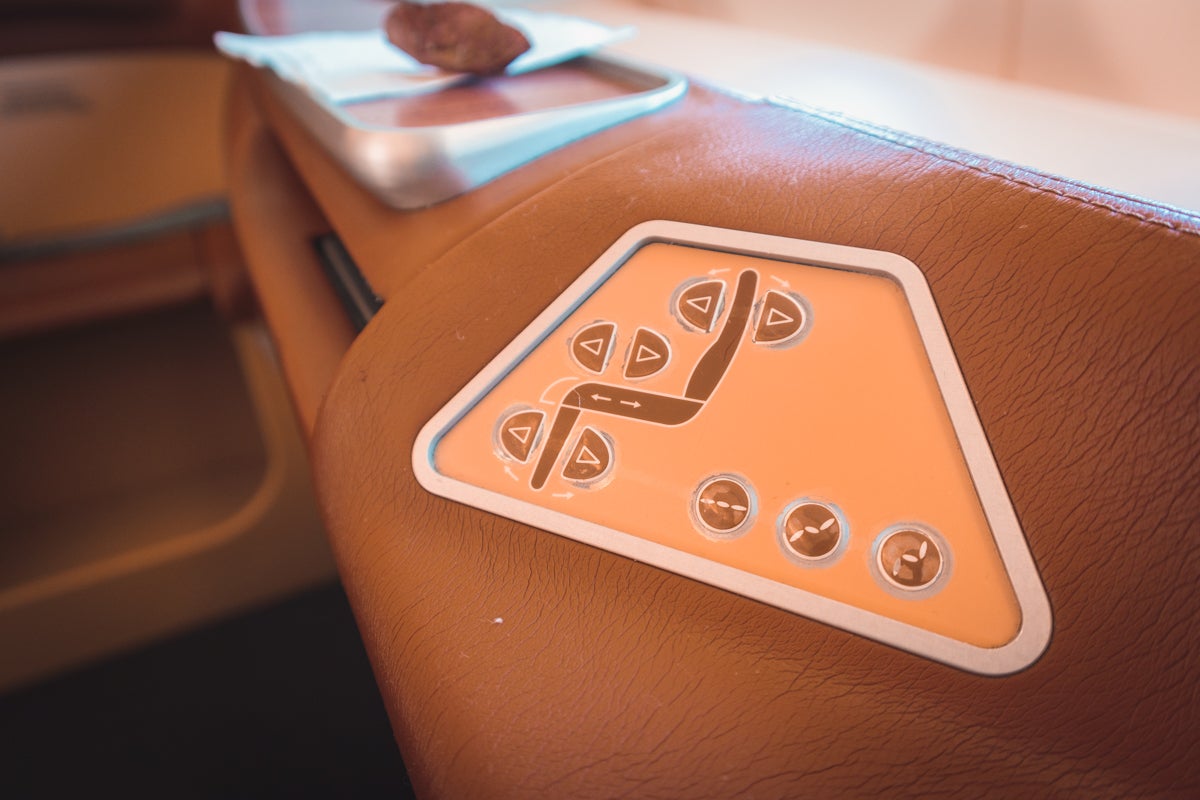 Over your shoulder is an adjustable spotlight.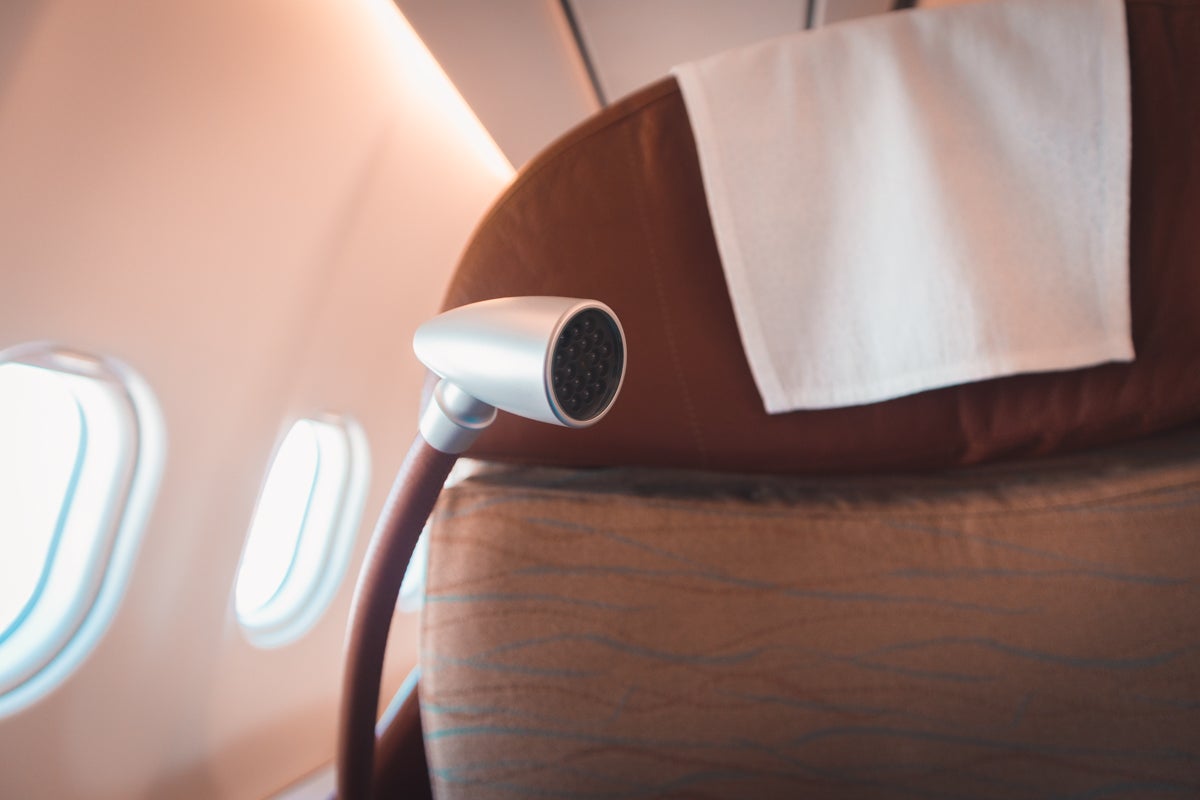 Behind the smaller business class cabin, 2 lavatories are located at door 2 and provide an amazing passenger-to-toilet ratio of 10:1. There was never a queue for the loo.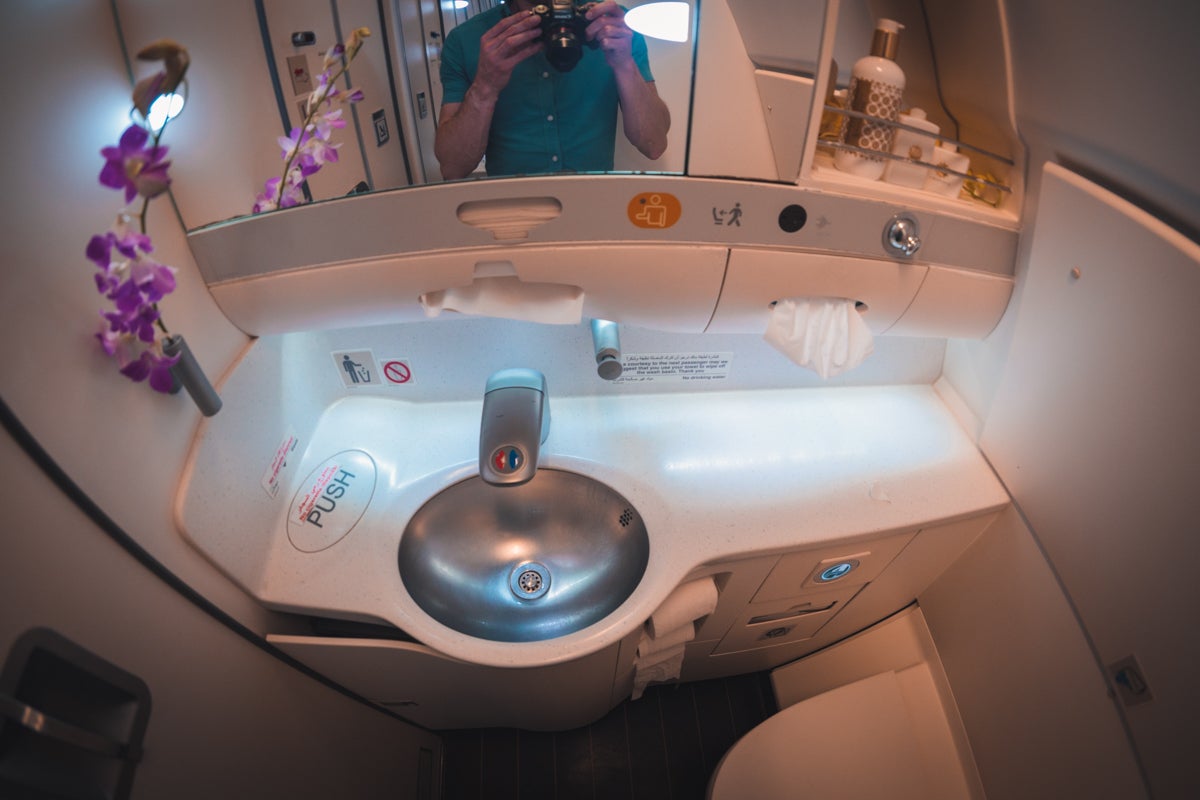 There are no individual air-conditioning outlets which were very much missed as the cabin was kept ridiculously warm during the entire flight.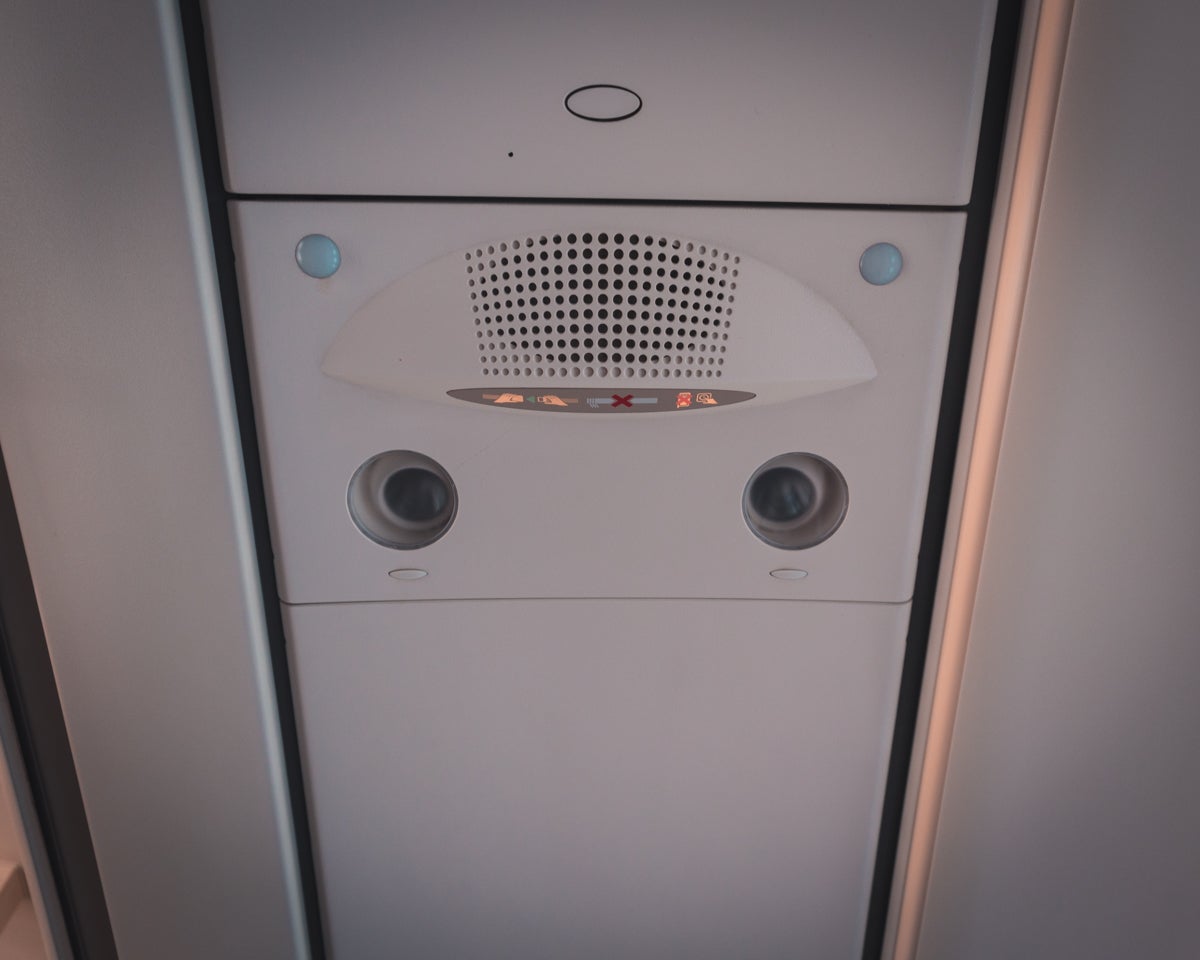 Although this was a total day flight, after the meal service the crew enforced that all window shades be closed. Considering I had no sleep the previous night, I wasn't complaining and needed the sleep myself.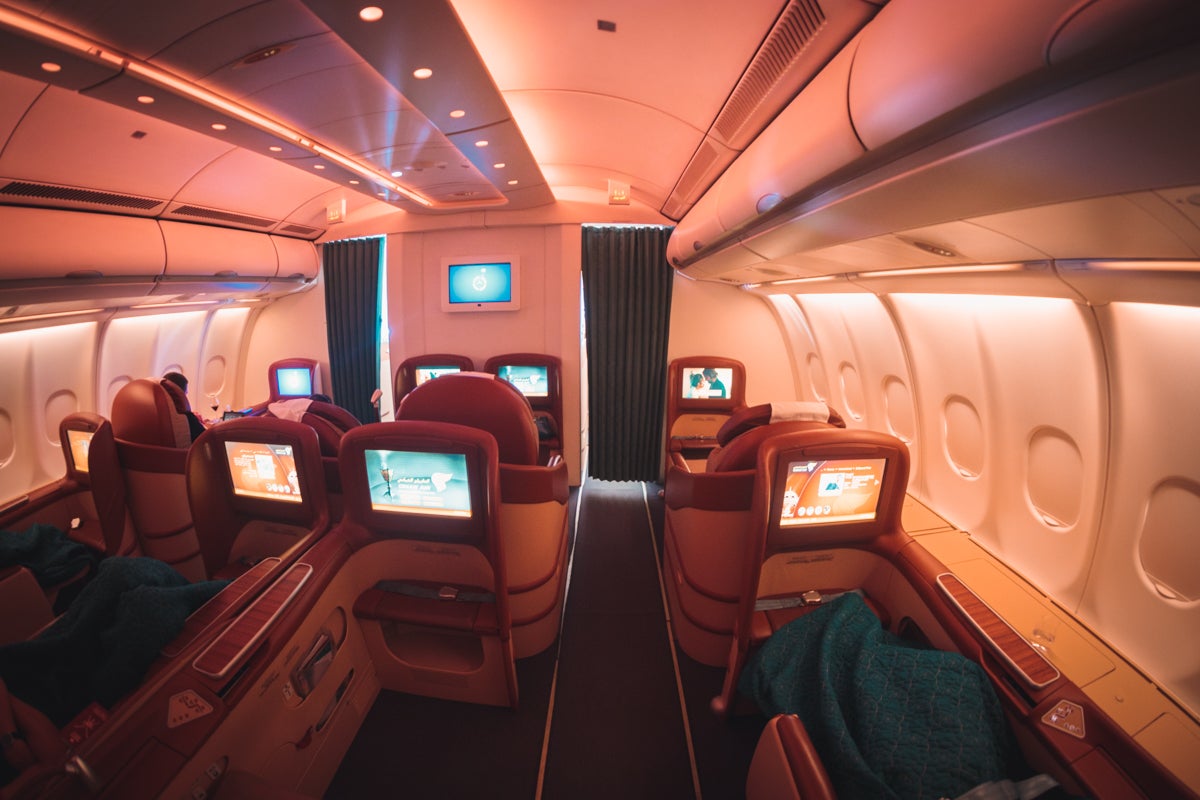 The seat is 22 inches wide and slides down to a 77.5-inch lie-flat bed. My seat must have had faulty electronics as the seat wouldn't stop when it got to the fully flat position, and instead would slide straight back to the upright position for take-off and landing.
I couldn't get it to stop at the point where it joined with the ottoman so had to give up and leave a gap in the bed.
The seat padding was excellent when seated, yet made for a very lumpy bed.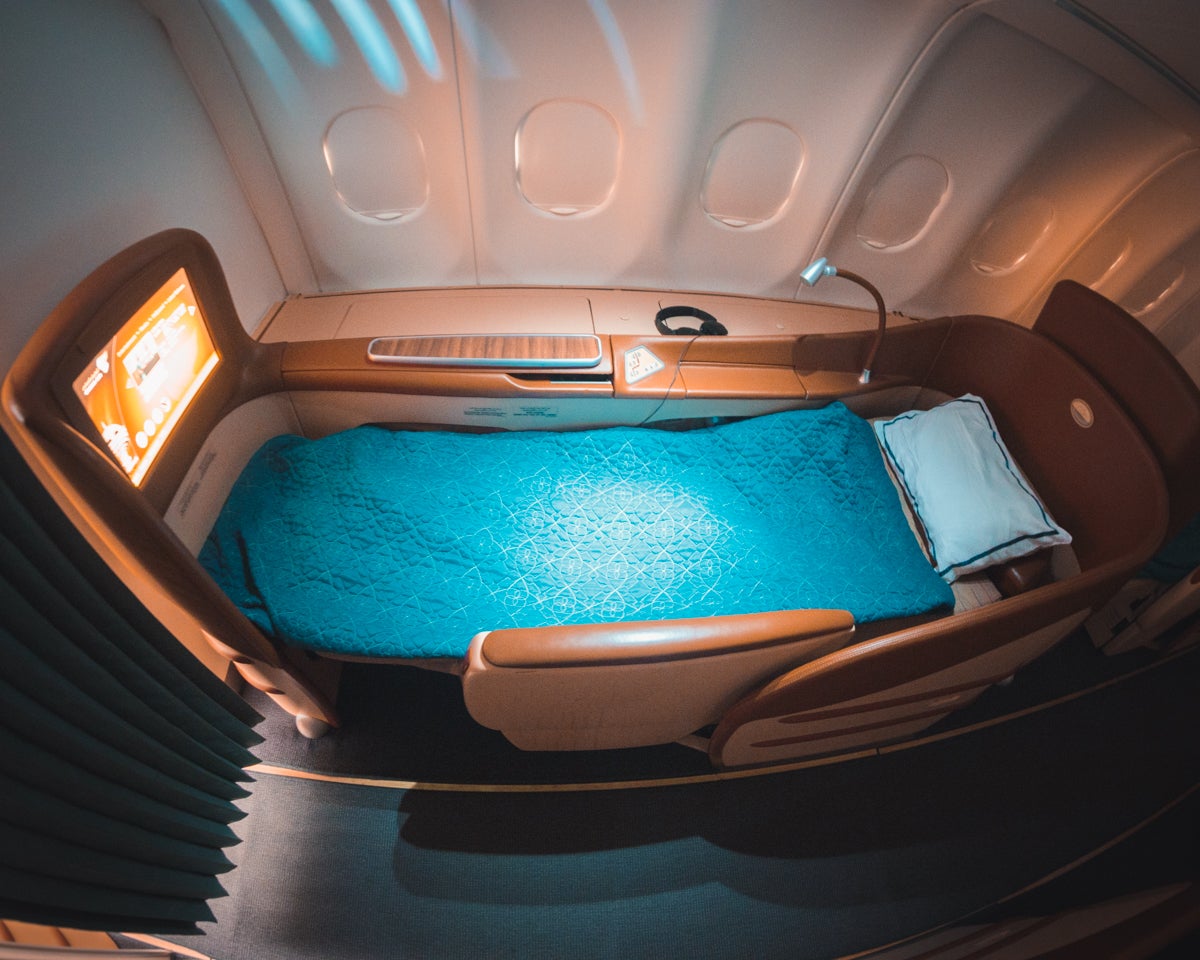 Due to sheer exhaustion, I fell asleep very quickly around 3 hours into the flight and was woken 3 hours later and 30 minutes before landing.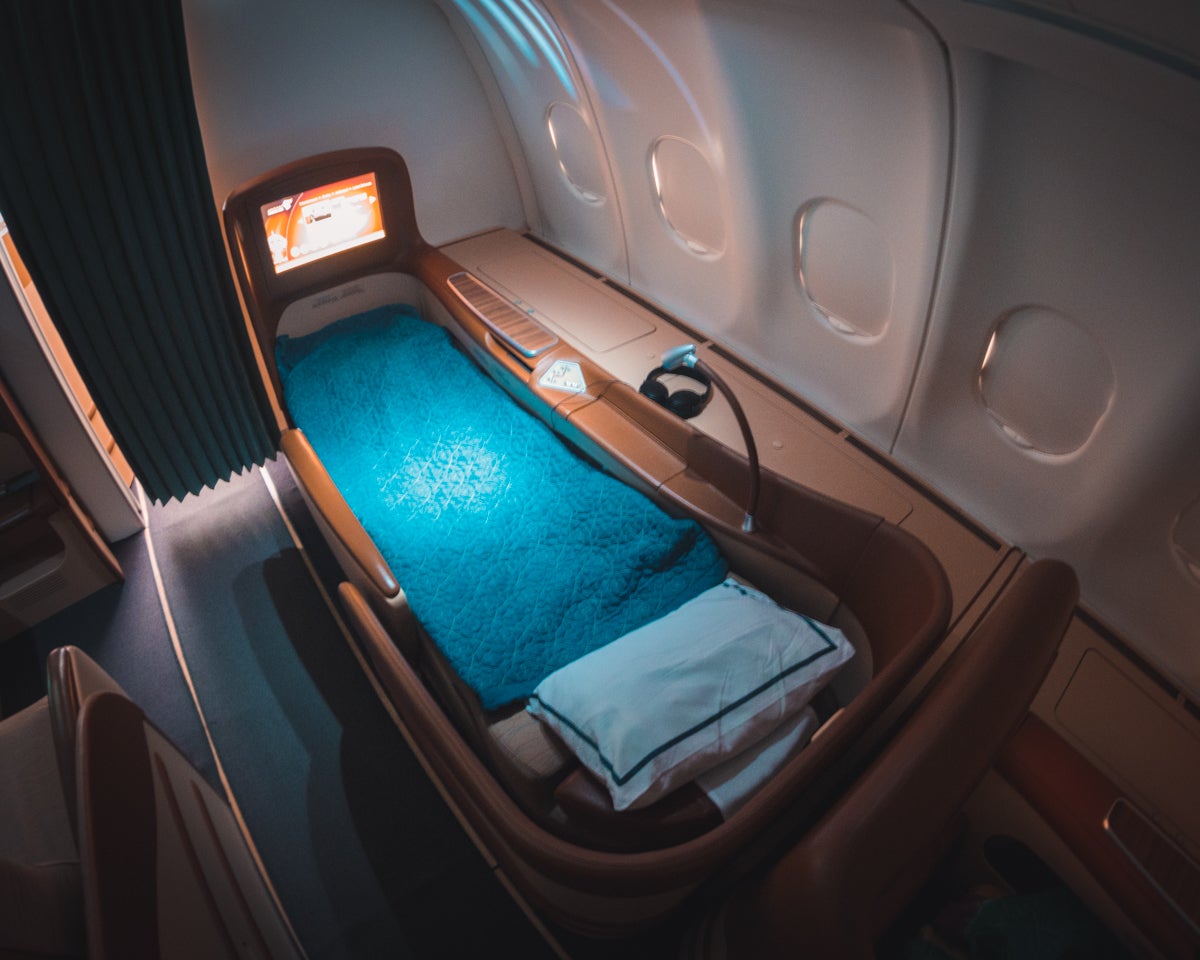 Amenities
Oman Air distributes an Amouage-branded amenity kit to business class passengers.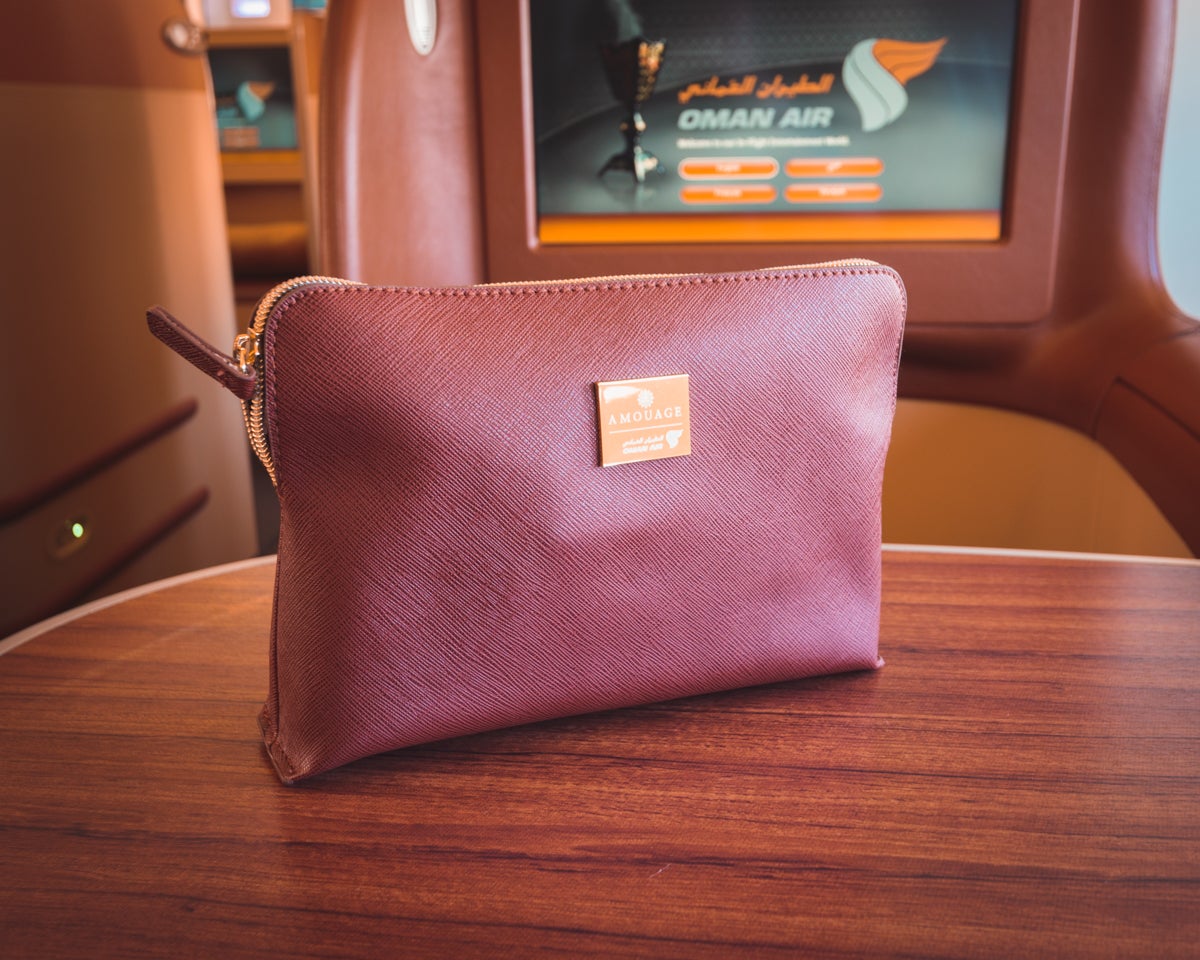 It is packed full of goodies such as socks, an eye mask, hairbrush, lip balm, earplugs, face moisturizer, hand and body lotion, mouthwash, and dental kit.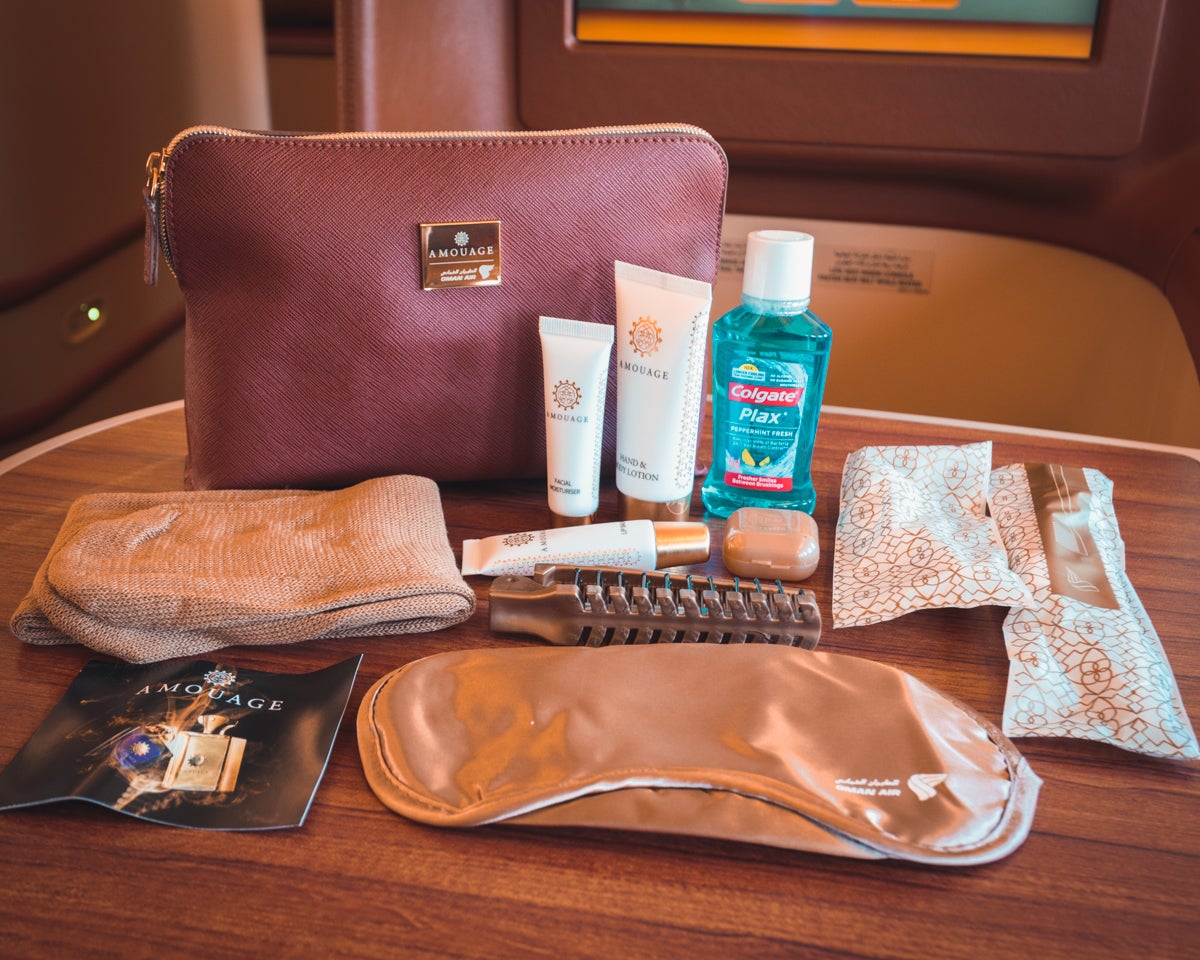 No pajamas are provided on this day service, but I brought along a Qatar Airways set to slip into.
Entertainment
The aircraft's age also shows when it comes to the inflight entertainment system.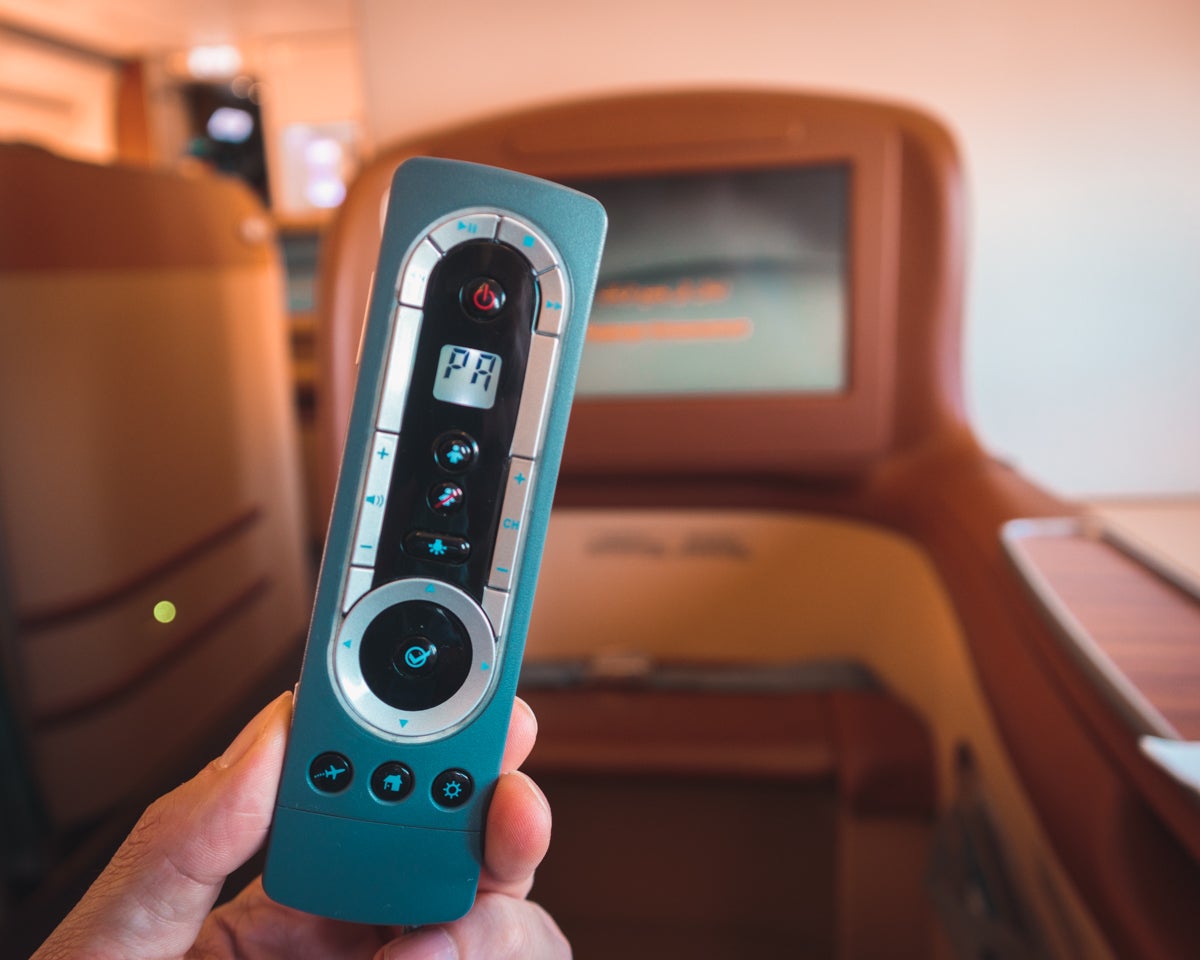 At 17 inches, the size is actually larger than some newer business class offerings, but it actually needs to be larger due to the 82 inch distance between you and the screen.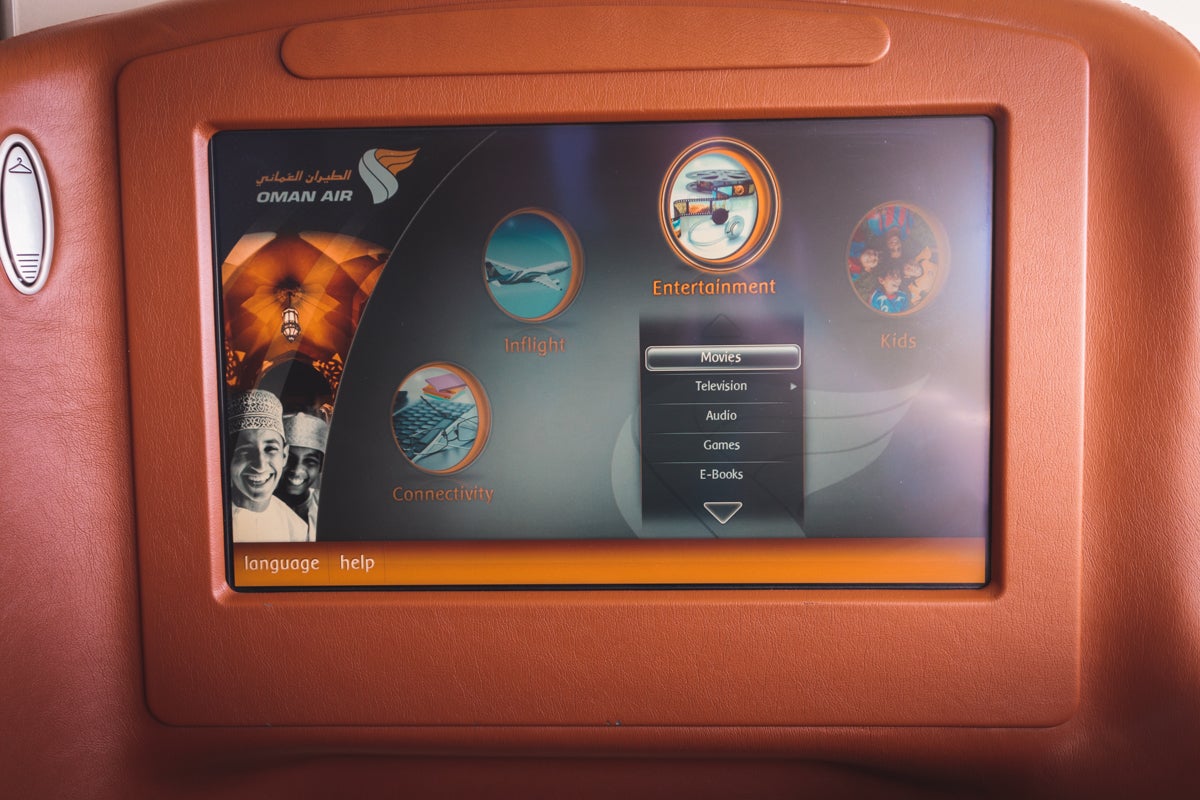 The software was obviously dated, slow to respond, and lacked content and the tiny content titles were hard to read from the seat.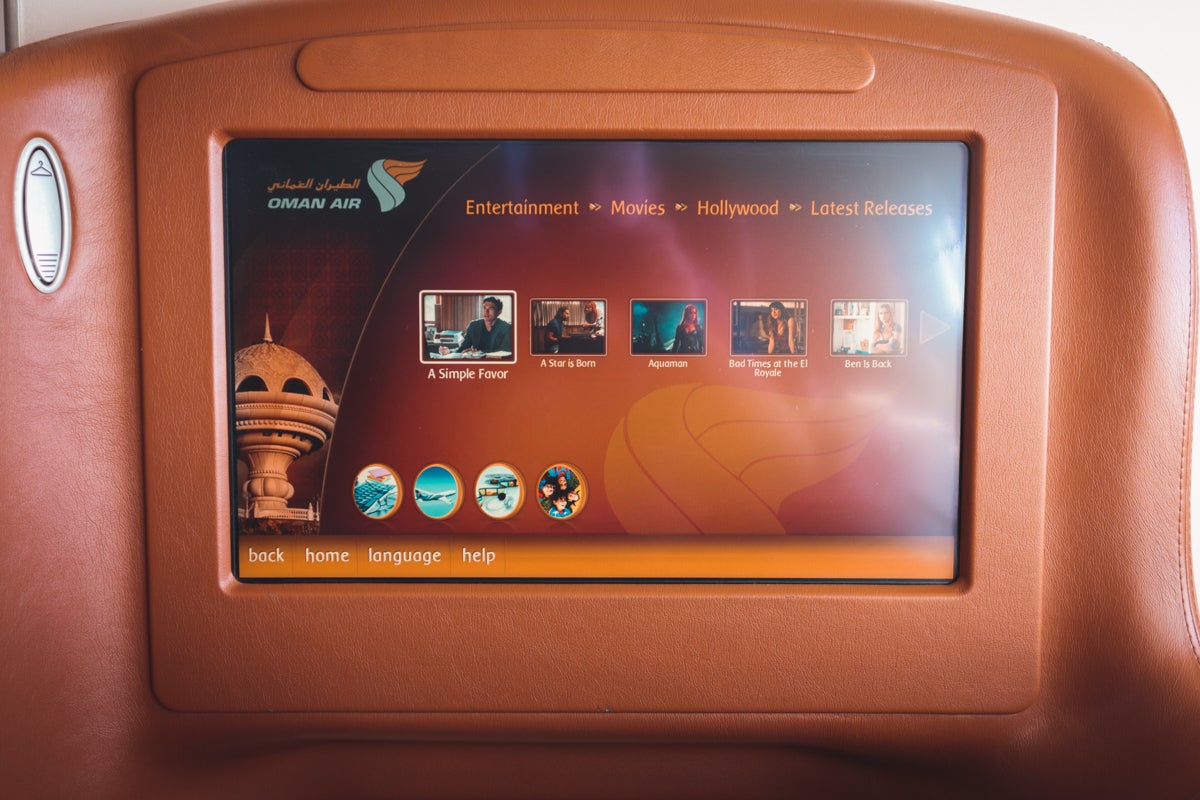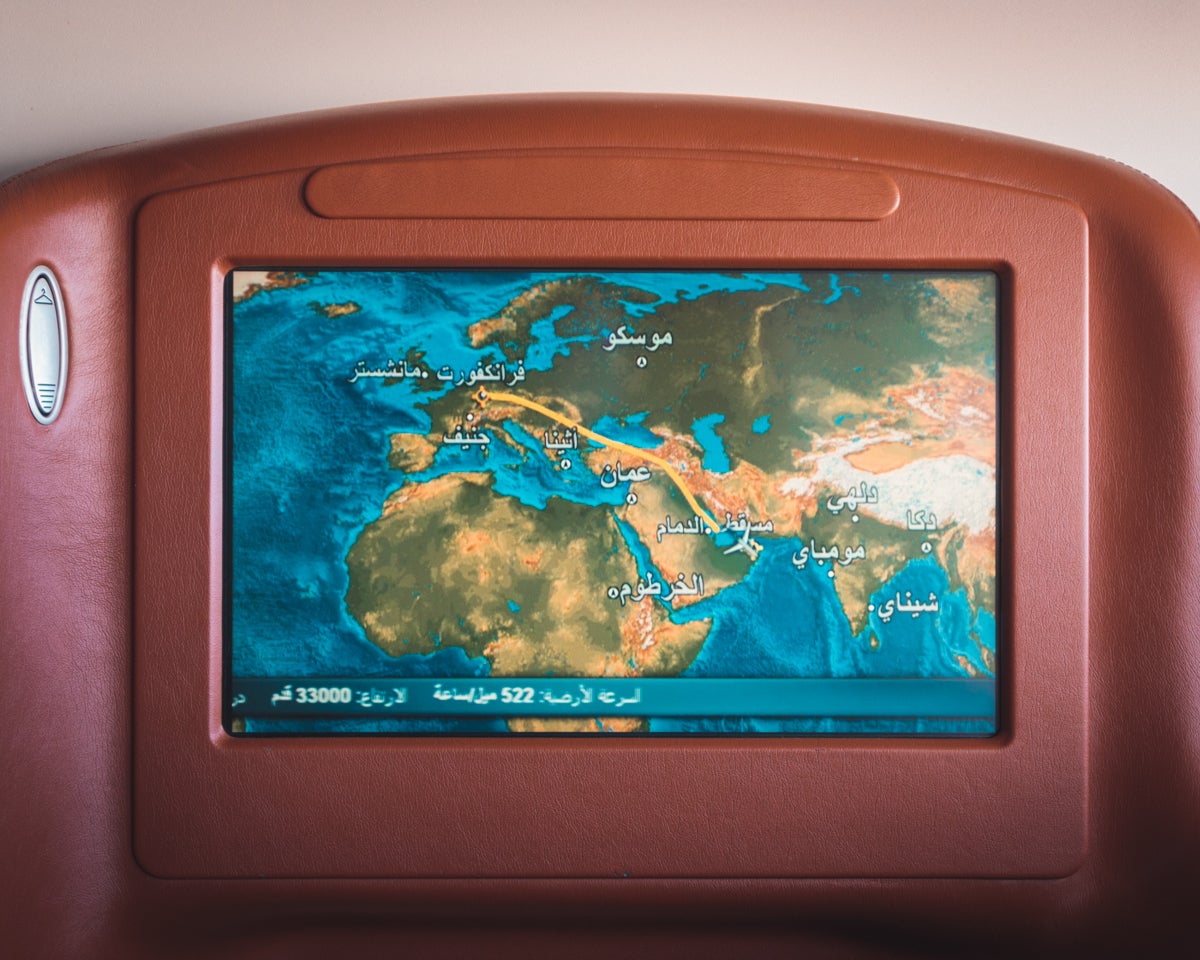 What was surprising for this old aircraft was that Oman Air had installed Wi-Fi onto it.
Plans start at $10 for a 30-minute block, but don't let that fool you as the small print lists a measly 10 Mbps "fair use policy", which is definitely not good value.
While I usually love when airlines offer a "full flight" plan, the 150 Mbps cap only lasted me 3 hours and that was just with simple text messaging as the speed was dreadfully slow.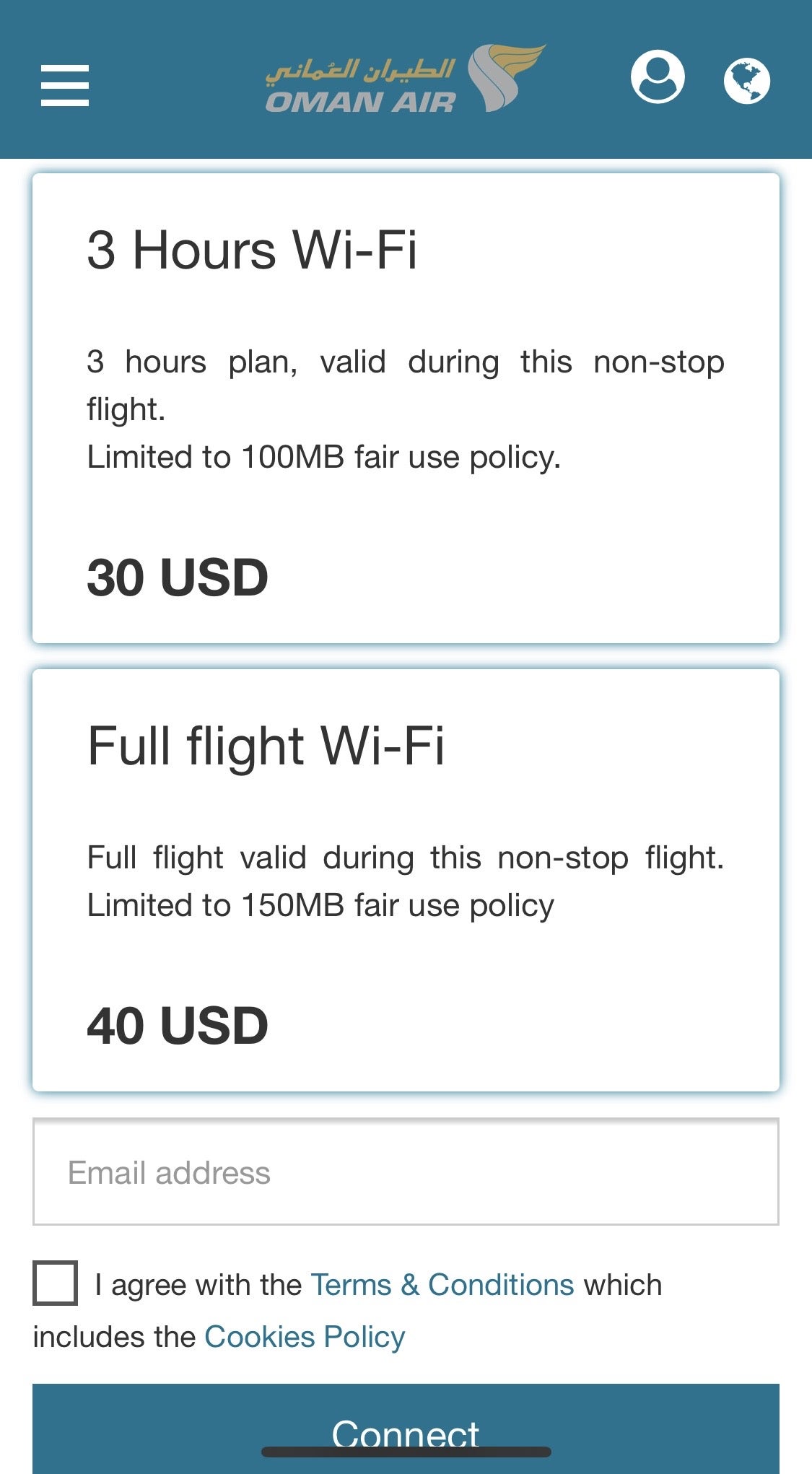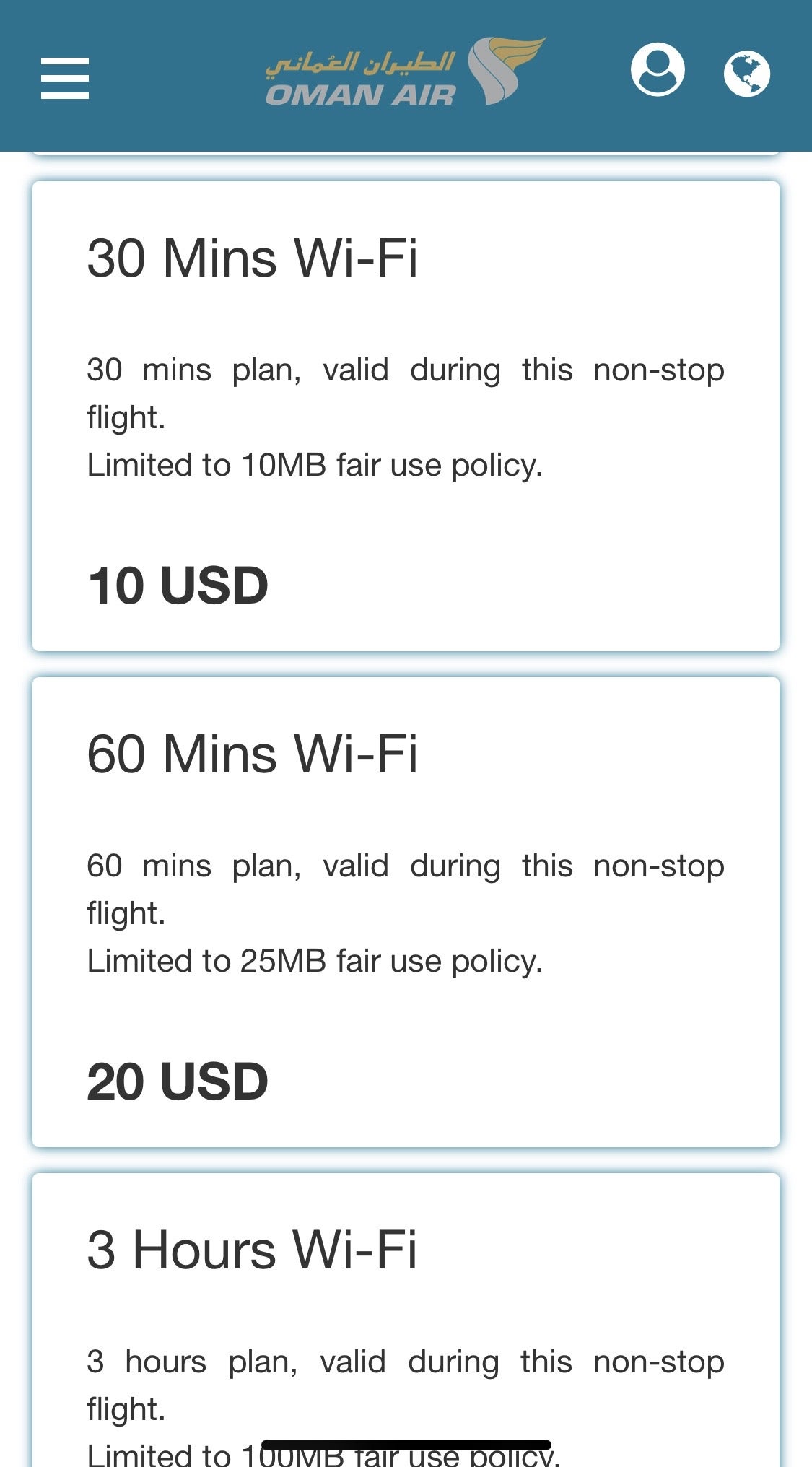 Noise-canceling headphones are provided but were of cheap quality, so I used my Bose.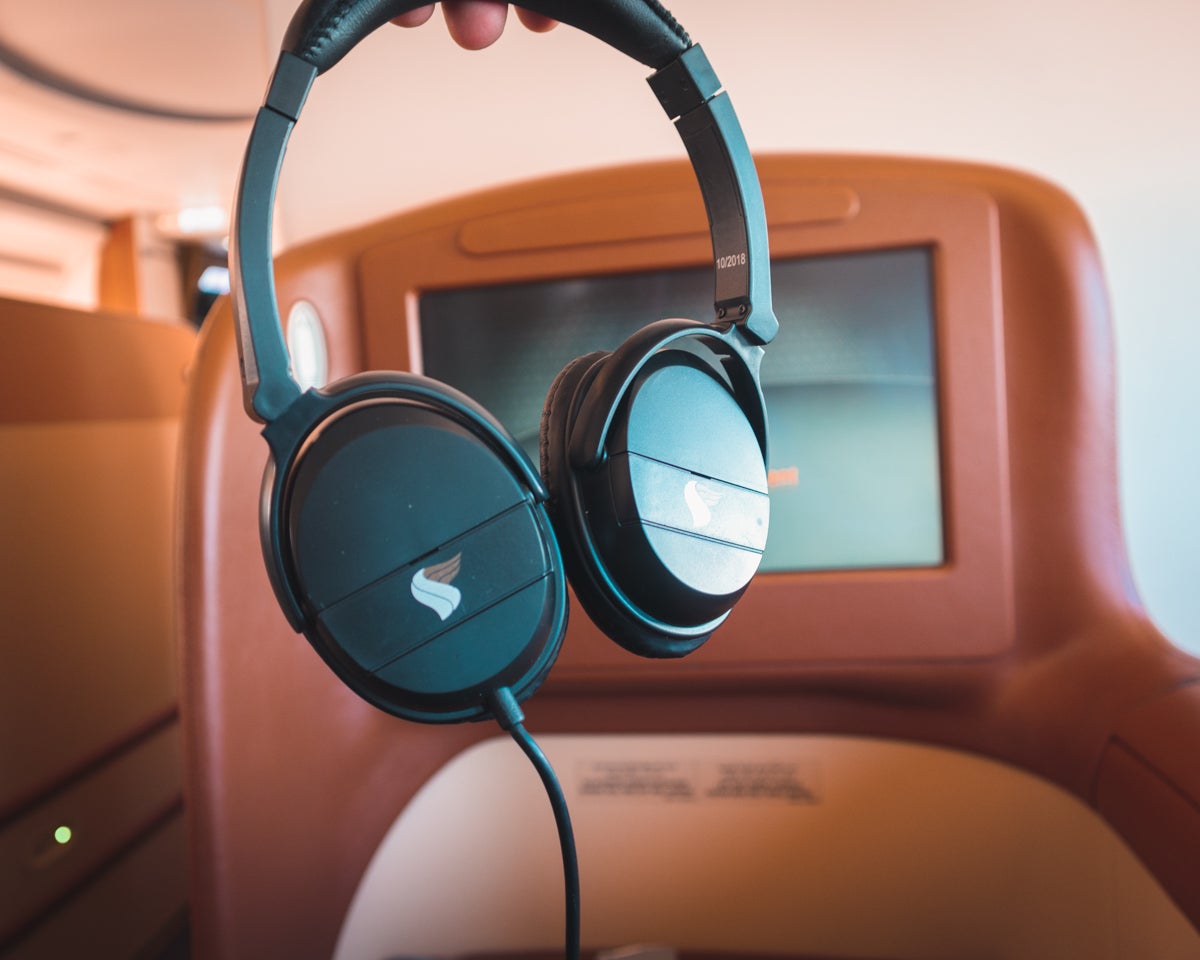 Due to their cheap-looking nature, I was surprised the crew insisted on collecting them before landing — I doubt anyone would want to steal them.
Meal and Service
Upon boarding, I was greeted by Gina who offered either a glass of Laurent-Perrier Brut Champagne ($35 a bottle), orange juice, or water.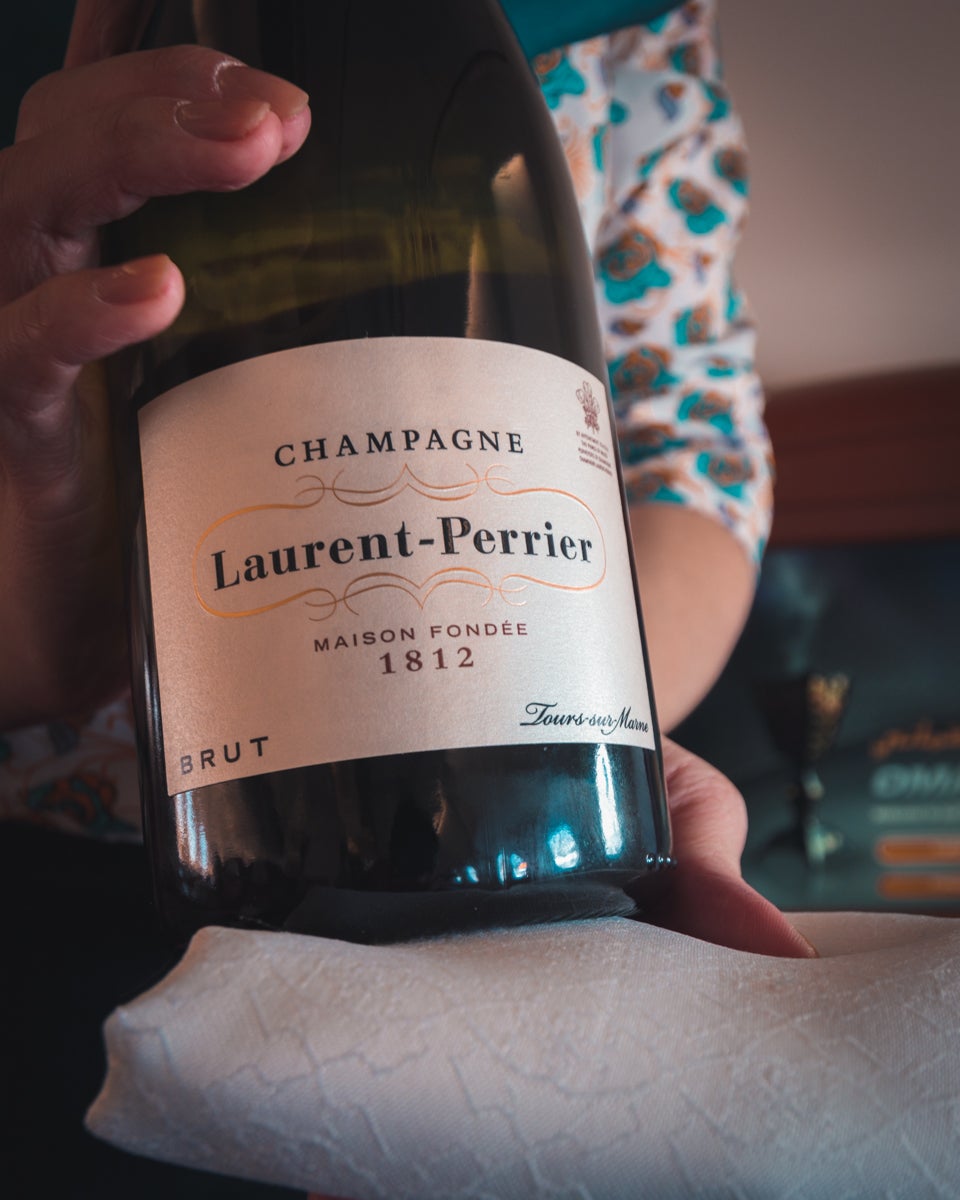 A small serving of nuts and a hot towel also arrived.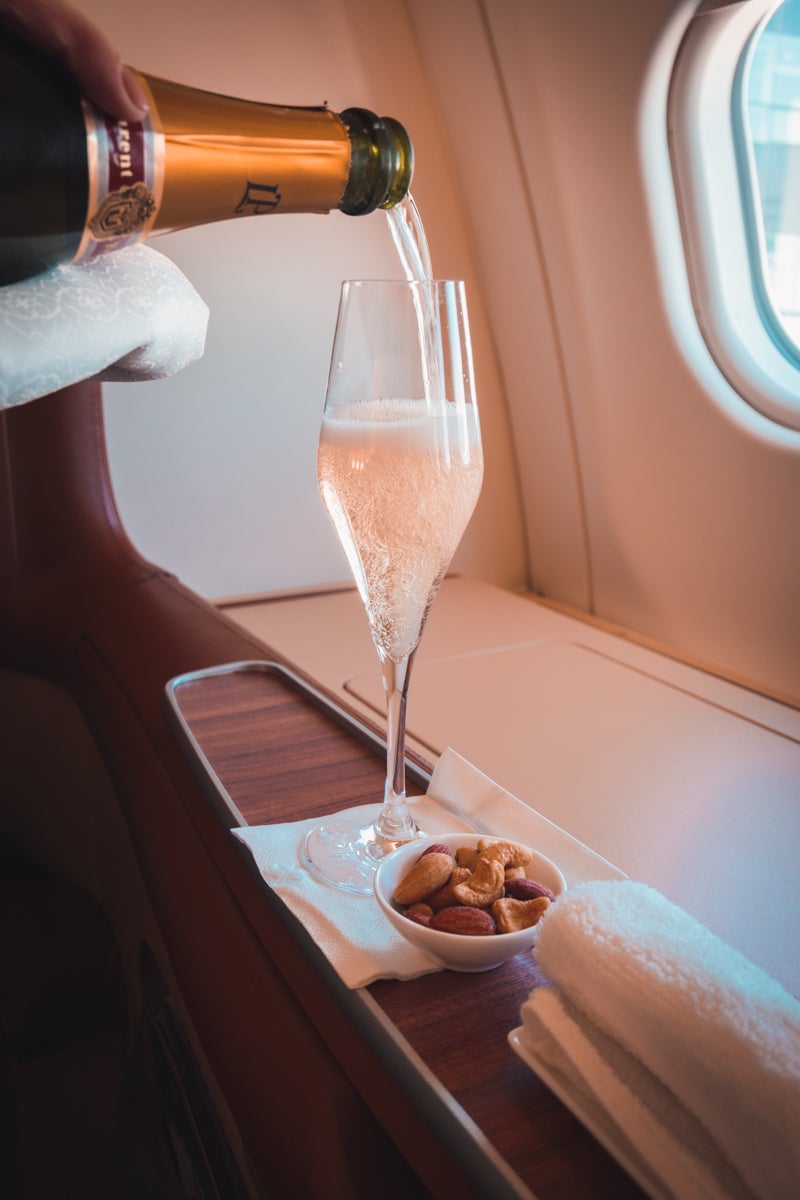 I was then handed the menus and advised I was welcome to dine at any time I wanted. I decided to eat soon after take-off.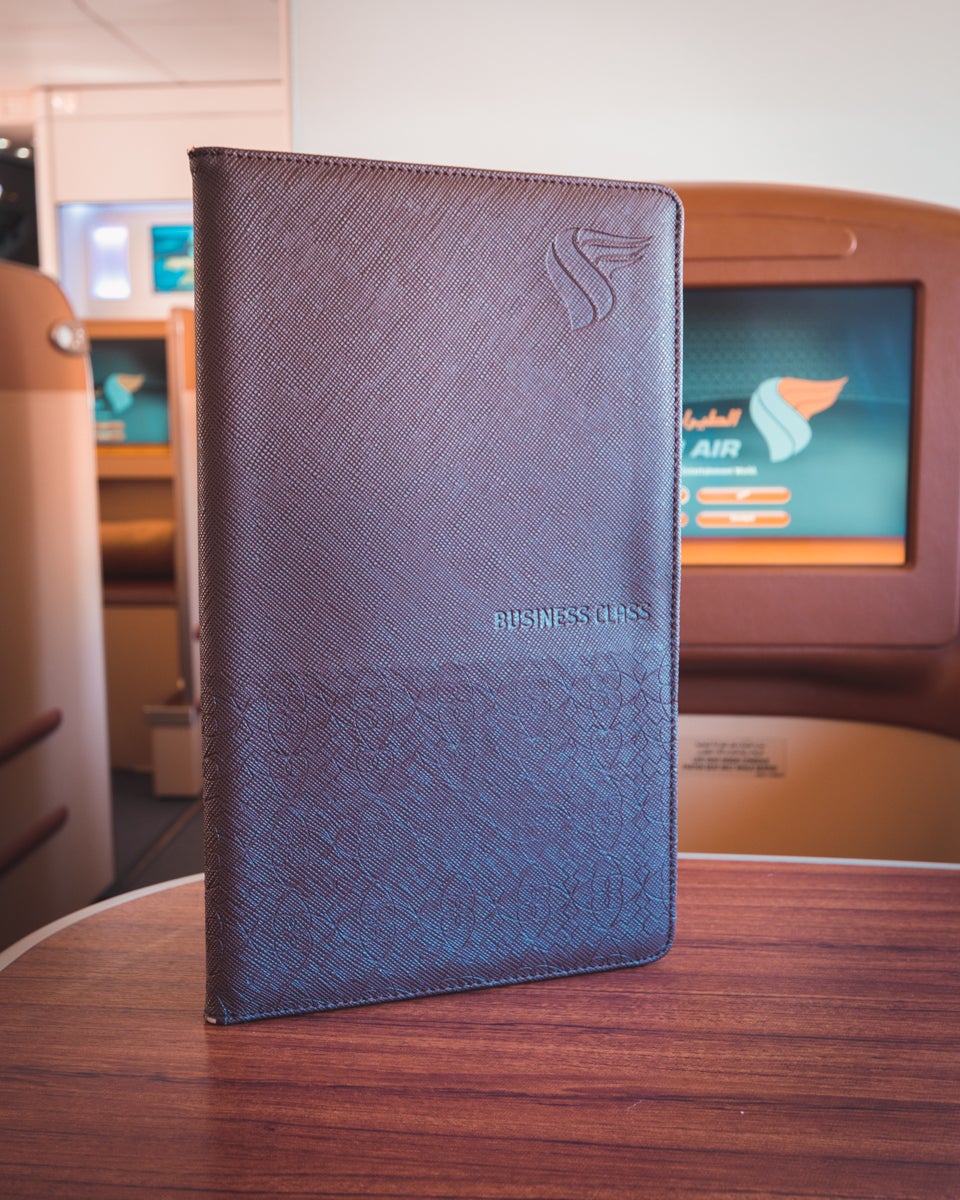 I was also offered an Arabic coffee.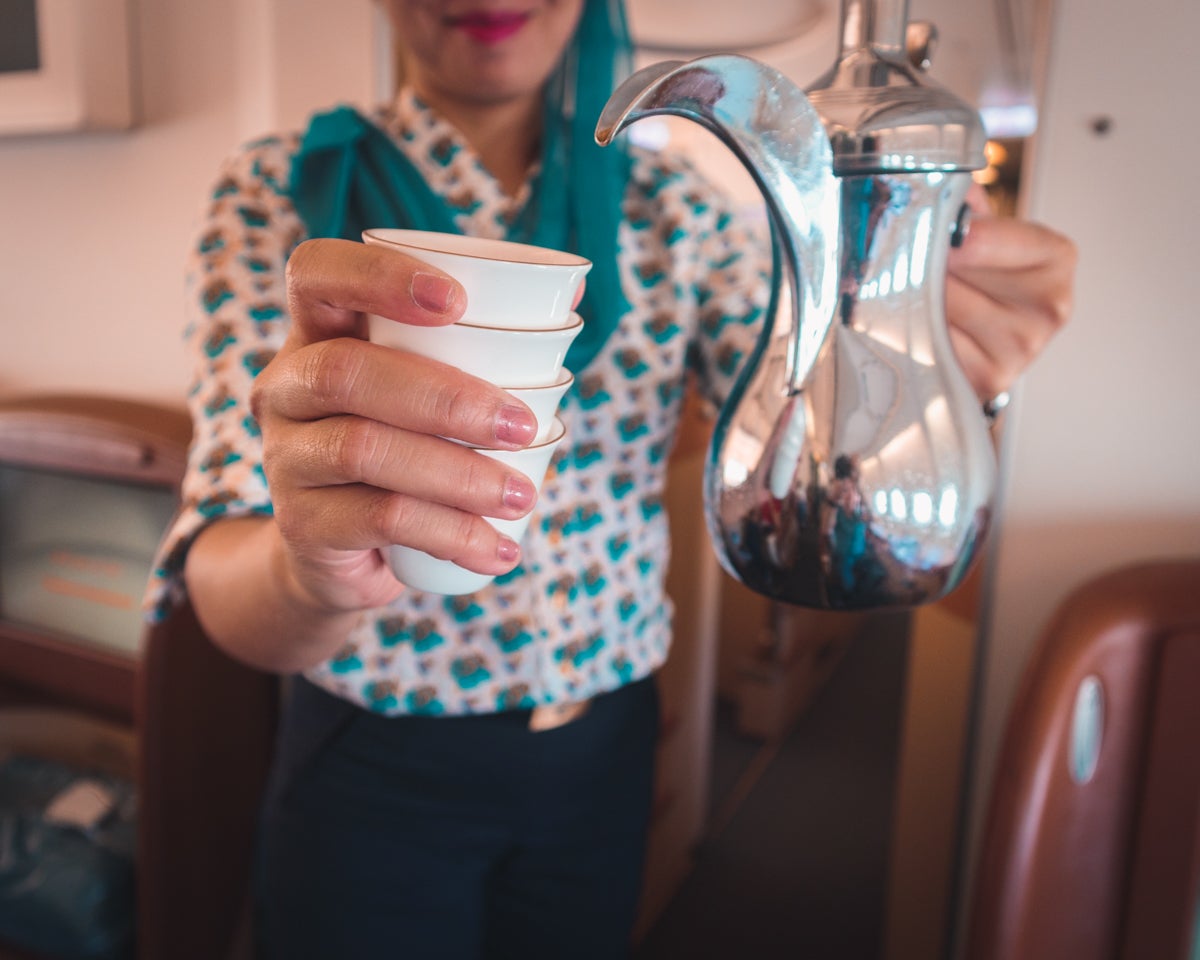 And then dates.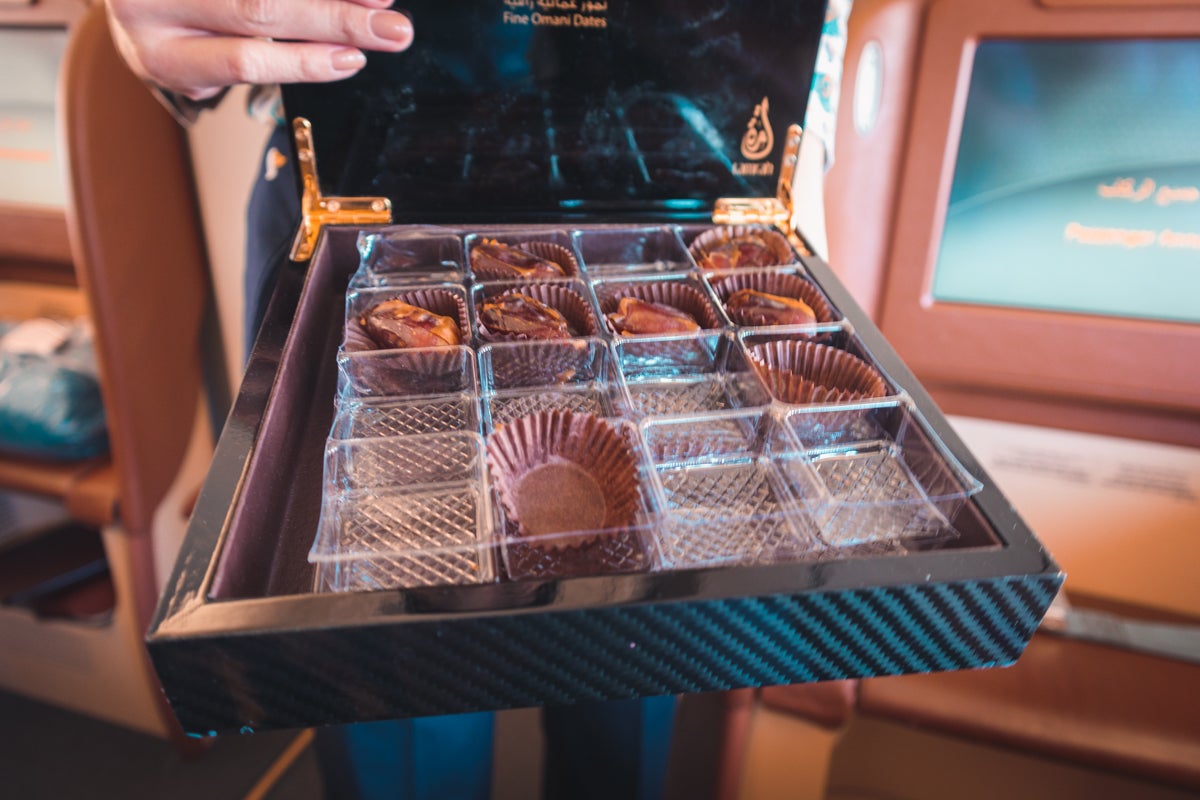 The cabin supervisor, Amelia, greeted every passenger personally and I overheard that the crew were made up of 7 different nationalities today.
Gina returned once more to take my lunch order before departure.
Once airborne, more champagne was offered around 30 minutes after departure. I was really impressed to see it arrive with an amuse-bouche of sea bass wrapped in bean curd with spiced plum and lemon relish tobiko caviar, which looked great but was incredibly salty.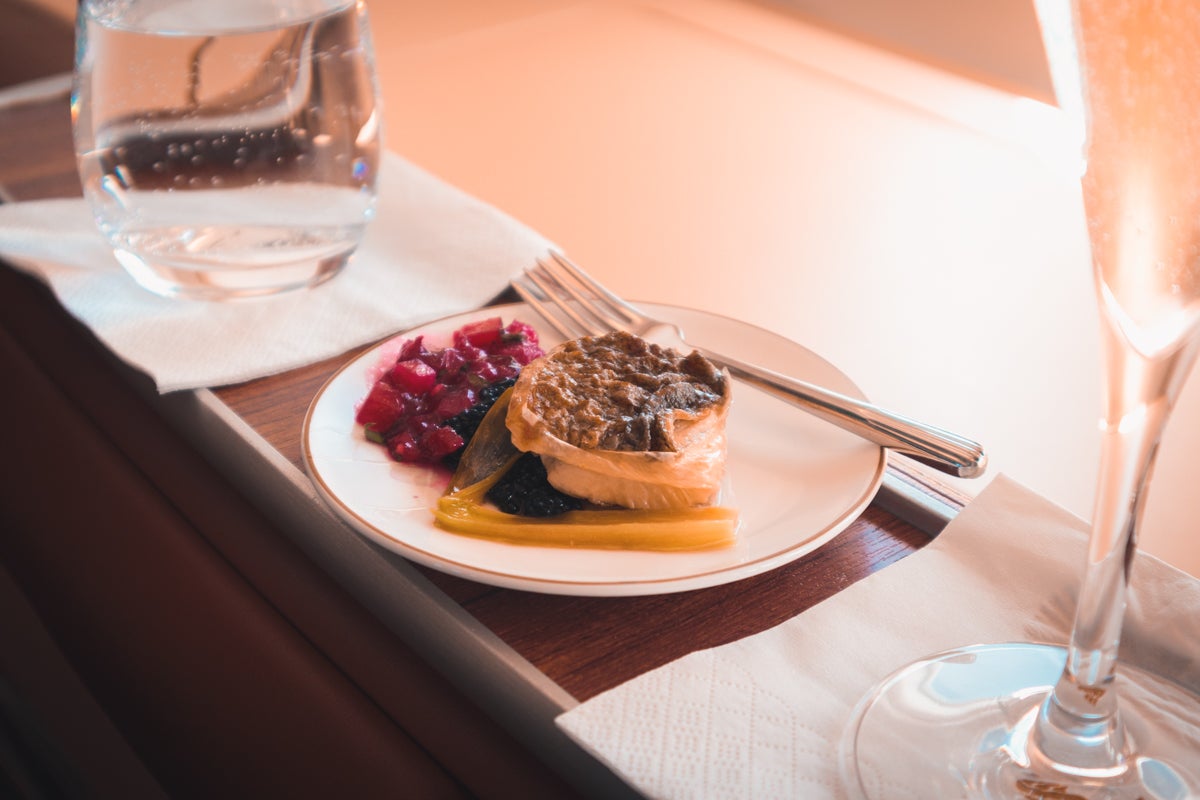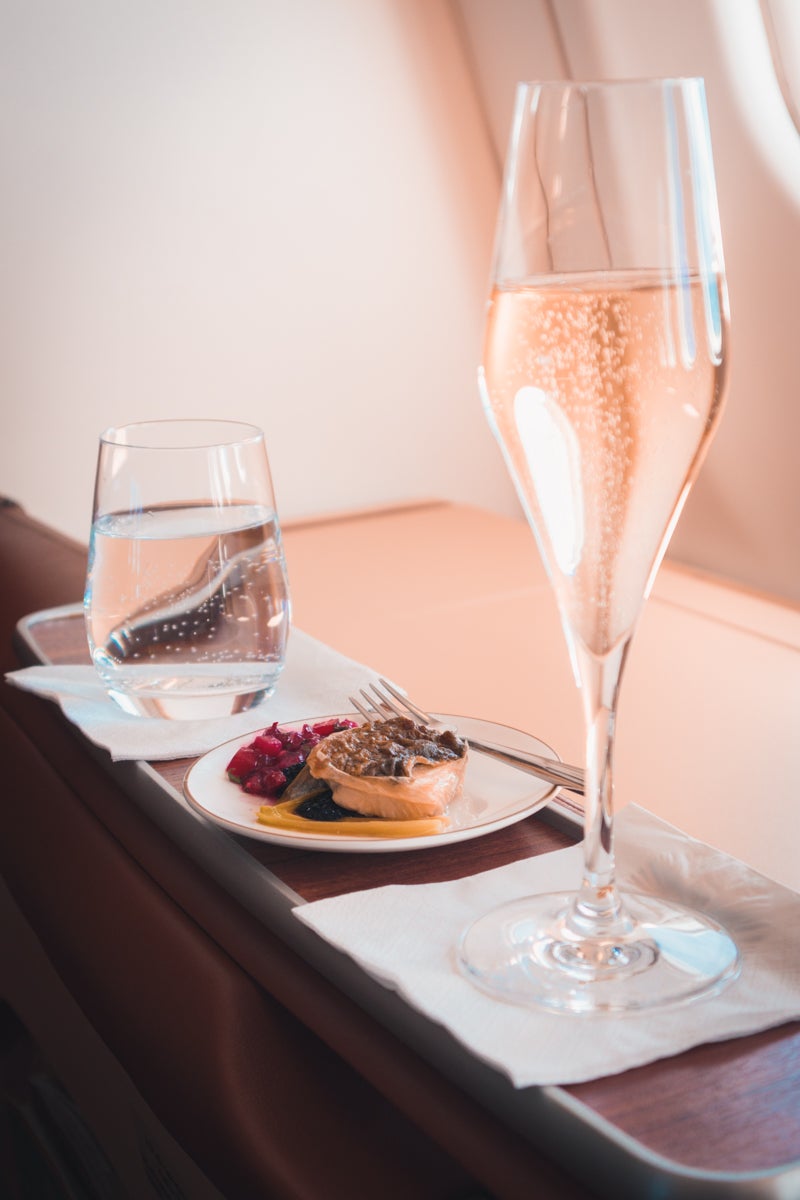 My tray table was then set up ready for the lunch service, with a bowl of 4 different pieces of bread, butter, and oil.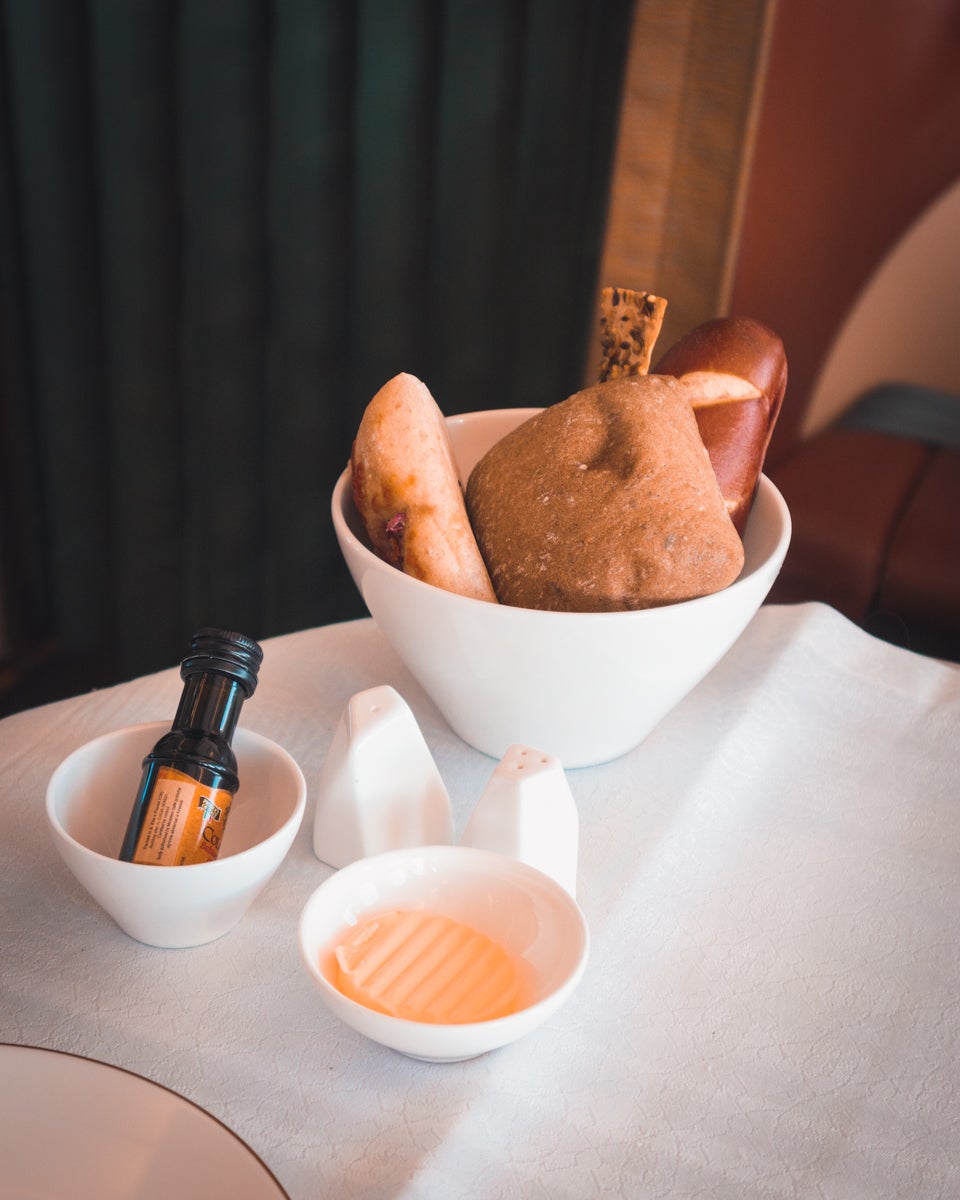 For an appetizer, I couldn't go past the sound of seared tuna and herb poached lobster with dried figs, asparagus, artichoke, pimento, coriander, and mint cream cheese. It arrived 15 minutes after the amuse-bouche and wow, I'm so glad I ordered it as it not only looked spectacular, but it tasted fresh and had a great mix of flavors. Yum!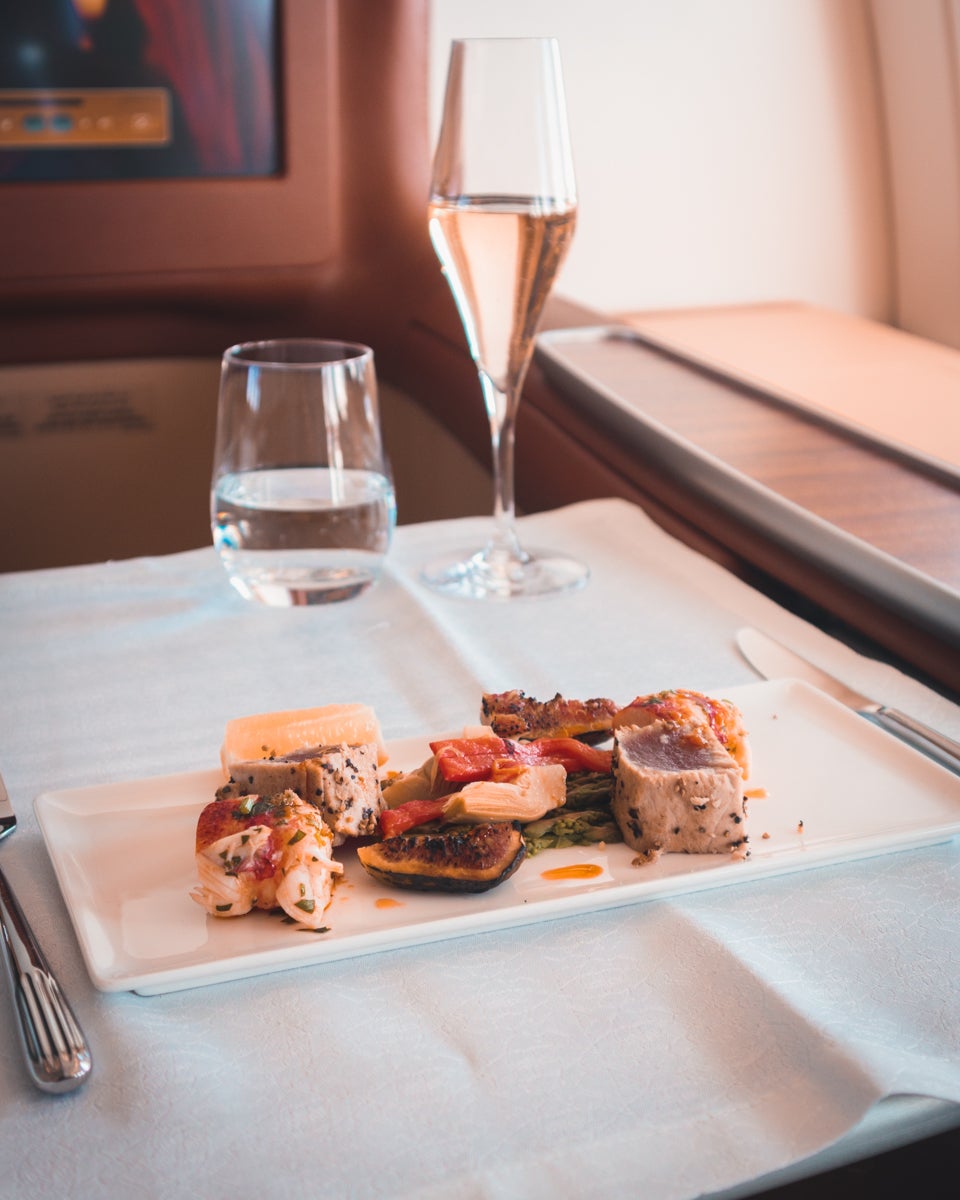 The other options for appetizer were:
Tomato and basil soup
Classic Arabic mezze
Baby beets and carrot salad
For my main, I opted for the Arabic roasted chicken with lemon garlic yoghurt sauce, lamb rice, cherry tomatoes, asparagus, rocket leaves, and roasted nuts. I don't usually select chicken as it's usually overcooked in the aircraft ovens, yet this chicken was still moist, and the sauce provided a beautifully rich flavor.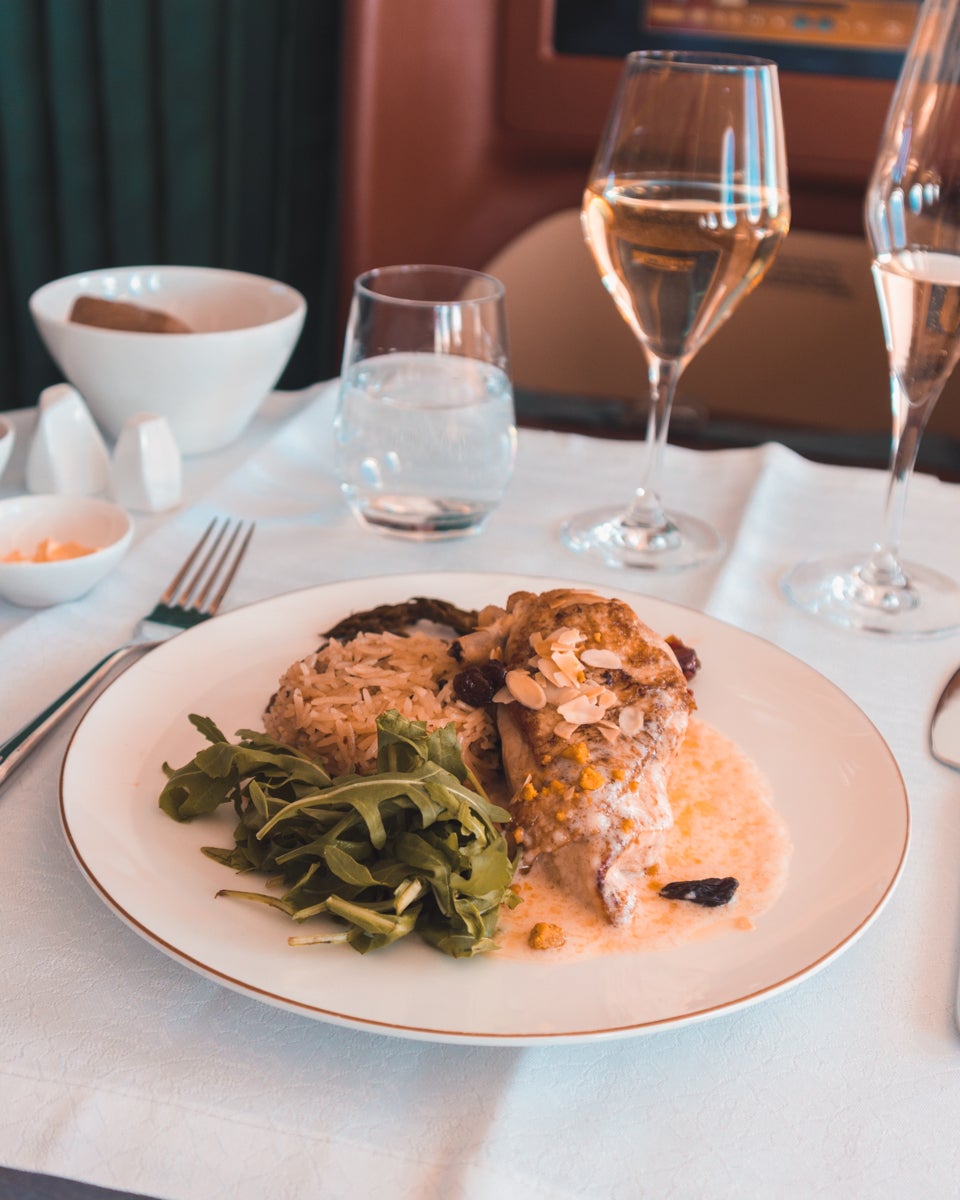 I switched from the champagne to the Sancerre La Perriere ($25 a bottle).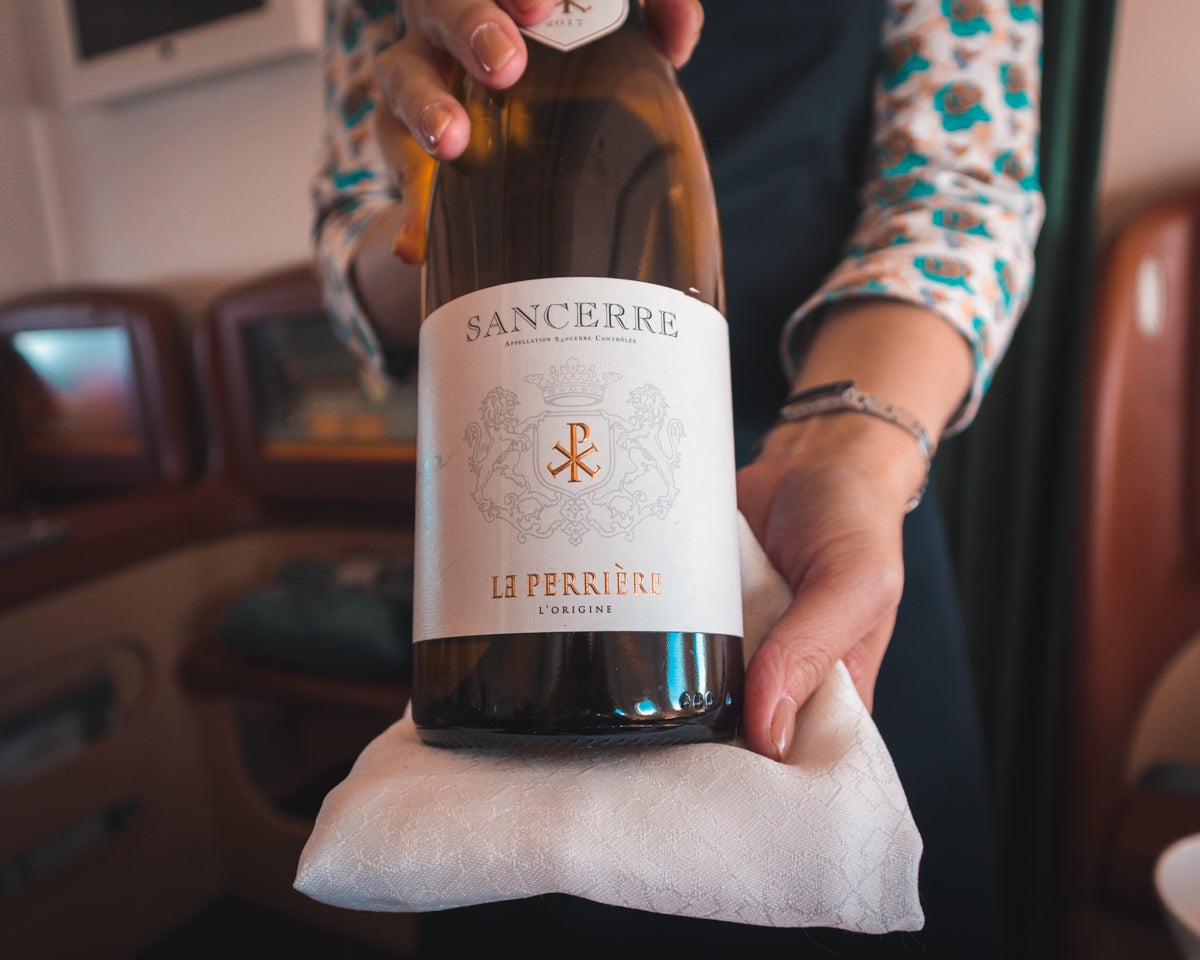 Other mains offered:
Baked black cod with kaffir lime and saffron cream sauce
Mushroom tortellini with herb mushroom sauce
The lunch service was wrapped up with a stunning looking and tasting pudding made from spiced dates and walnuts with caramel sauce, whipped cream, strawberry, and crushed pistachios.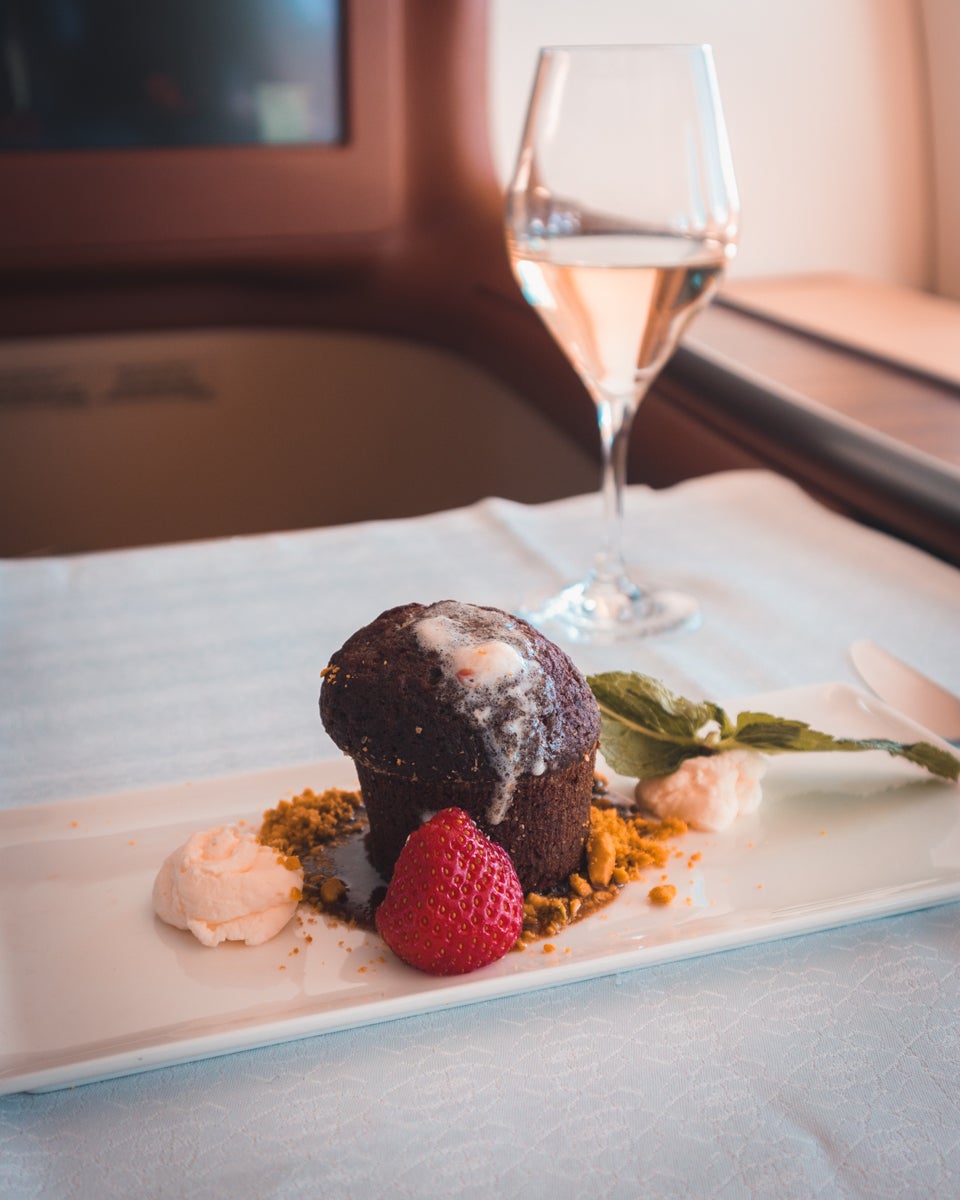 Additional desserts offered:
Cheese plate
Green tea, vanilla ice cream
Seasonal mixed fruits
The lunch service concluded around 2 hours after departing Frankfurt.
A refreshment service was available 2 hours before arrival into Muscat, however, I slept through it. It was a "Trio Plate" of spiced stewed chickpeas, raspberry and pistachio verrines, smoked beef sandwich, and chicken burger.
These sounded great, but considering lunch finished just 2.5 hours earlier, I doubt I would have been hungry if I had been awake for the service.
Final Thoughts
For my very first flight on Oman Air, I stepped off the aircraft both incredibly impressed and wishing the flight had been longer.
For a flight which departed at 10:35 a.m. and landed at 7:30 p.m., I would have usually preferred to be allowed to leave the windows open for a day flight, but since I had zero sleep the night before, I wasn't complaining.
Even considering the age of the cabin and seat, which added a sense of retro-coolness to the journey, I loved the old Oman Air business class experience — 4 windows, lots of space and storage, a comfortable chair, and a huge tray table. I was also blown away at the quality and presentation of the food.
I wouldn't hesitate to fly it again on another day flight. I'm just so glad I didn't miss that first flight out of Barcelona!
Next up is to see what the Oman Air 787-9 is like on to Bangkok with the new Apex Suites!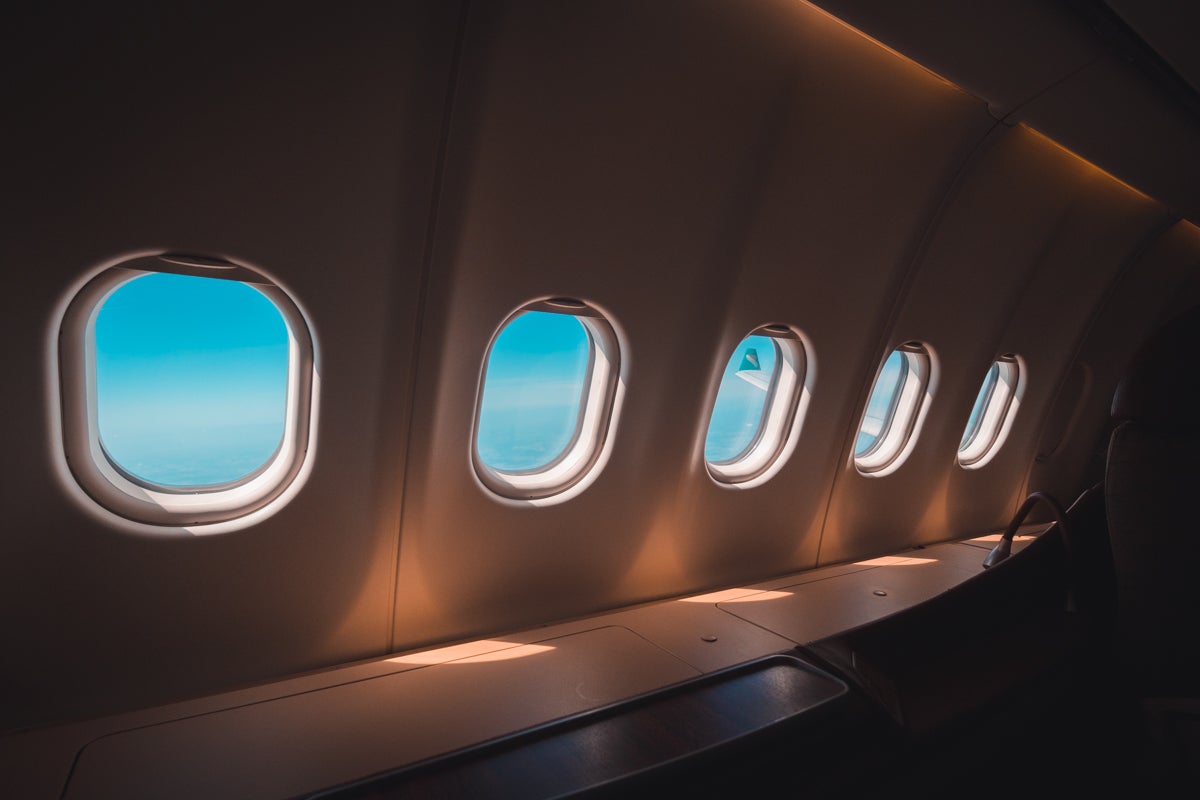 All images and videos credited to Greg Stone unless otherwise noted.