What Are Codeshare Flights and Why Are They Important? [Guide]
In a world where interconnectedness is of utmost importance, travelers are often tasked with finding the most efficient routings to make the most of their time. Airlines rarely operate flights that do not include their home country at either the departing or returning city.
Over the past 30 years, airlines have been challenged by consumers, both frequent and infrequent, to make the overall travel process more streamlined and smooth. One of the byproducts of consumer sentiment has been codeshares.
Codeshare flights are, at the initial outset, highly confusing. If you're on a codeshare flight, you will see a different plane parked at your gate than what's indicated on your flight number. This might leave you scratching your head and even asking around to get some clarity.
Fear not, however. In this guide, we'll be talking about codeshares and interline agreements. First, we're going to describing what exactly these are. Then, we'll touch on how to tell whether or not you're on a codeshare. Lastly, we'll be showing you why you should care about codeshares. Let's get started.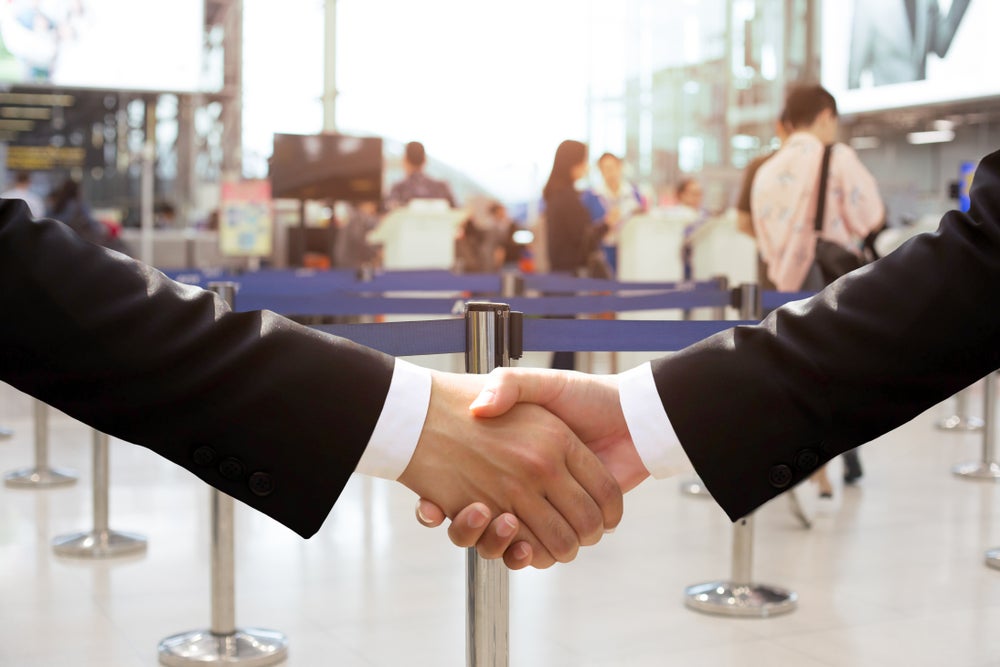 Let's introduce the codeshare with some history. In 1989, Qantas and American Airlines worked together and coined the term "codeshare flight" to describe the business arrangement spanning the wide array of routes officially connecting Australian cities and U.S. domestic cities, as Australia was a ridiculously difficult country to access from the U.S.
Under codeshare agreements, Qantas and American Airlines were able to offer "hub-and-spoke" style services. Essentially, American Airlines would fly passengers to a hub airport, which was Los Angeles (LAX) in this case. Then, Qantas would fly passengers across the Pacific Ocean to a hub airport, which was usually Sydney (SYD) or Melbourne (MEL). Further, Qantas would fly passengers to their final destination in Oceania, whether it was a smaller city in Australia or somewhere else.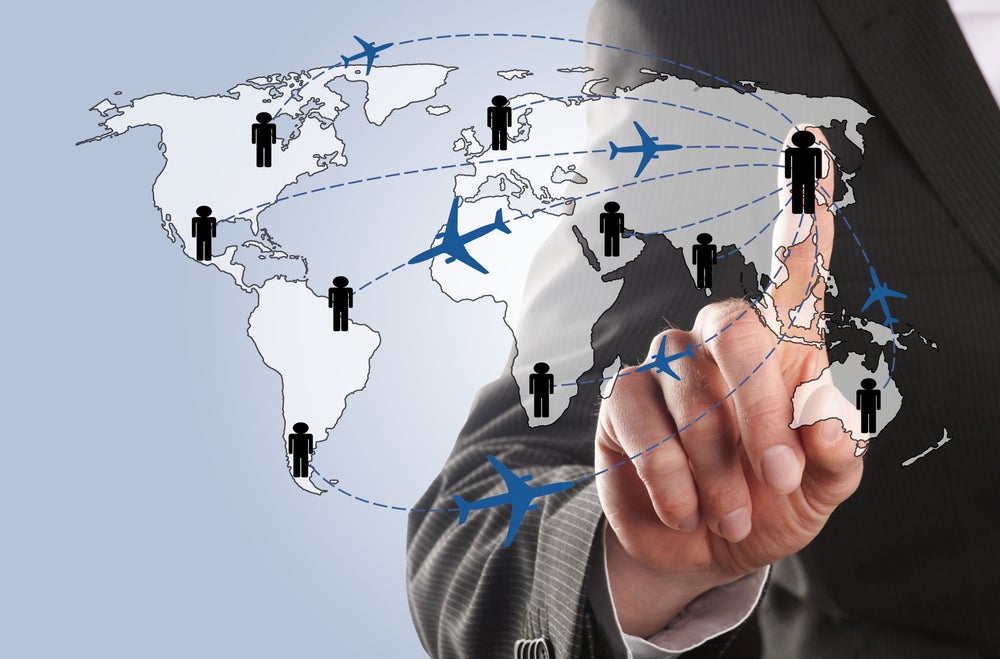 A codeshare agreement, also known as a codeshare, is a business arrangement in which 2 or more airlines publish and market the same flight under their own airline designator and flight number as part of their published timetable or schedule.
Here's how it works. Suppose you're American Airlines. American Airlines recognizes that it takes a significant investment in order to offer flight services abroad. They'd have to research demand, capacity, negotiate with airports, and perform lots of commercial due diligence.
However, if you already have a flight to a European hub such as London-Heathrow, you can enter into agreements with another airline such as British Airways to offer connecting flights to your customers, as opposed to stopping at London-Heathrow.
The way it works is as follows:
American Airlines discusses with British Airways the additional demand for flights from, say, London to Johannesburg, South Africa.
American Airlines and British Airways, after negotiations, enter into a codeshare agreement.
British Airways sells American Airlines a set number of tickets at a contracted rate. This benefits British Airways because it results in guaranteed, booked revenue without the need to spend any money marketing to customers.
American Airlines sells these tickets to customers, corporations, and travel agencies at a mark-up. This benefits American Airlines because they can offer flight service all the way to Johannesburg, instead of stopping at their London-Heathrow hub, at the fraction of the cost of operating a flight themselves. This expansion of their flight network is good for public relations. It also benefits American Airlines because they can market these tickets as they please and realize any profits themselves.
Consumers are able to seamlessly fly on multiple airlines with a single ticket, minimizing their headache with baggage transfer, connections, and more.
The result of the codeshare agreement is a win-win-win for the marketing airline, operating airline, and consumer base. 
Let's introduce some terminology. An operating carrier is an airline that actually providing the flight logistics, whether it's airport slots, pilots, ground services, or operational permissions. The marketing carrier is simply the airline that is selling codeshare tickets to its customers.
In the above example codeshare agreement between British Airways and American Airlines from London-Heathrow to Johannesburg, British Airways is the operating carrier. They are the airline actually flying the planes, supplying flight attendants, and carrying passengers to South Africa. American Airlines is the marketing carrier, which sells tickets to American Airlines customers to be able to fly to South Africa.
The reasons why codeshare flights have been so important is because increasing connectivity in commercial aviation has been one of the central themes of globalization and international business. Without codeshare flights, moving passengers at the rate that airlines do today would be impossible.
What Are Interline Flights?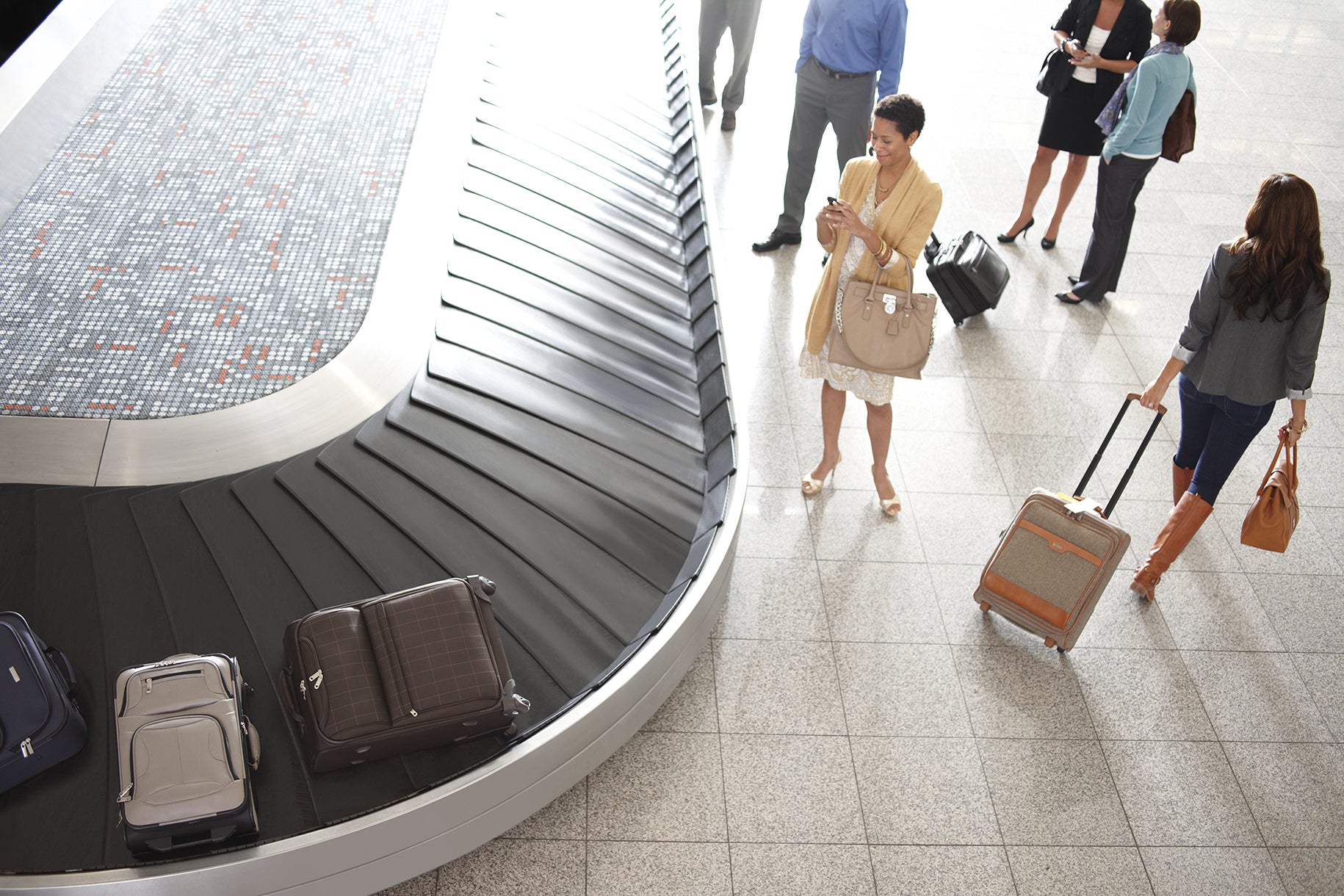 An interline agreement, also known as interlining, is an agreement between 2 or more airlines to handle passengers when their itinerary involves traveling on multiple airlines.
Interline flights are often misconstrued as codeshare flights. Interline agreements concern passenger-level services, such as baggage handling to the final destination or check-in agreements.
Some examples of interline agreements are:
American Airlines' flights at New York (JFK) are chronically delayed due to delayed arrivals from storms in Dallas-Fort Worth (DFW). In order to get passengers to Los Angeles (LAX) on time, American Airlines leverages its interline agreement with Delta Air Lines, which allows American Airlines to rebook the delayed customers on a confirmed Delta flight.
Because of the interline agreement in the example above, all customer baggage is handled seamlessly to their final destination, despite flying on a completely different airline.
On interline flights, you only need to check-in once, as opposed to checking in for every single flight segment.
Airlines that don't participate in interline agreements, such as WOW Air, force passengers to collect baggage and check it in with the next airline themselves.
Bottom Line: The key distinction between interline and codeshare flights is that interline flights are more like passenger service agreements for flights between 2 different airlines, while codeshare flights are a business arrangement between 2 airlines to offer greater flight networks across the world. 
Airlines have codeshare agreements because they want to be able to fly their customers to more destinations without having to buy more planes, hire more flight attendants, and pay more in airport fees. So, airlines partake in partnerships to facilitate this agreement.
At the end of the day, airlines have codeshare agreements because of 3 reasons:
Profit — they can make money off of airline ticket arbitrage
Marketing/Public Relations — they can say they offer more flights than they actually do
Increased Connectivity — they can transport passengers to smaller/more obscure markets easier
On the flip-side, airlines have interline agreements because they want to:
Offer an easier customer experience
Be covered in the event of an emergency/stranded passengers
It's pretty difficult to unknowingly book a codeshare flight using points and miles. That being said, it's important to be able to tell if you're on a codeshare flight. The main reason you'd want to know if you're on a codeshare flight is to confirm what kind of business/first class product you're flying on.
For example, it would be a shame if you thought you were traveling on a Cathay Pacific first class flight, only to find out that you're flying on American Airlines first class. Let's take, for example, the flight on American Airlines from Dallas-Fort Worth (DFW) to Hong Kong (HKG).
This flight is labeled as American Airlines flight "AA125." What you'll find is that long-haul flights are very rarely labeled for 4 numbers. Typically, they're 1 or 2 numbers, or at most 3. If you find a format of "XX1234" on an international flight, you're pretty likely on a codeshare flight.
American Airlines operates AA125, but Cathay Pacific also participates in this codeshare with flight number "CX7681." Cathay Pacific's U.S. routes all use flight numbers in the 800s (the number 8 is considered auspicious in Chinese culture), which is markedly different from the 4-digit codeshare format.
Hot Tip: One of the best ways to tell with a reasonable degree of accuracy that you're on a codeshare flight is if the format of the flight number is inconsistent with similar flights on the same carrier. 
Obviously, numbers are just numbers. The numbers by themselves may allow you to infer with some degree of accuracy, but there are some exceptions to this. The best way to find out if you're on a codeshare flight is to use a flight-tracking website such as Flightstats. 
When you search for a flight number on Flightstats, the resultant website looks something like this: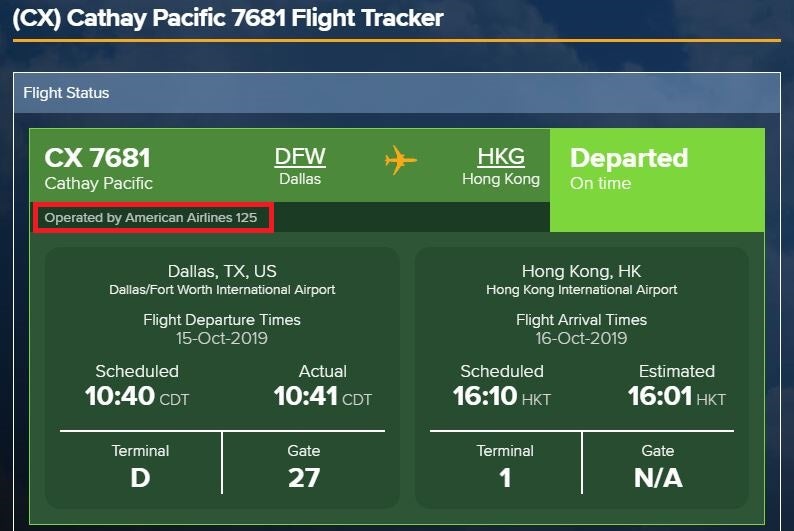 Notice how there's a box that says "Operated by American Airlines 125." When you see something like this, you'll know with 100% certainty that this flight is operated by American Airlines. As a result, you will see American Airlines flight attendants, American Airlines service, and it will be virtually indistinguishable from an ordinary American Airlines flight.
Bottom Line: It can be confusing trying to tell the difference between a codeshare flight and a normal flight. The best way to tell if you're on a codeshare flight is to look on a flight-tracking website, such as Flightstats. Alternatively, a good but not infallible proxy for determining whether or not a flight is indeed a codeshare is to compare the format of the flight number to those on similar routes. 
How Can I Tell If I'm on an Interline Flight?
The easiest way to tell if 2 airlines have an interline agreement is by using ExpertFlyer.
Here's how to find out:
Visit ExpertFlyer
Log in with your email address and password
On the left side of the page, click Travel Information
Click Interline Agreements on the intermediate banner under Travel Information Search
Type the Airline you're interested in
The resultant page will populate with all the airlines that have e-ticket interline agreements or paper ticket and baggage interline agreements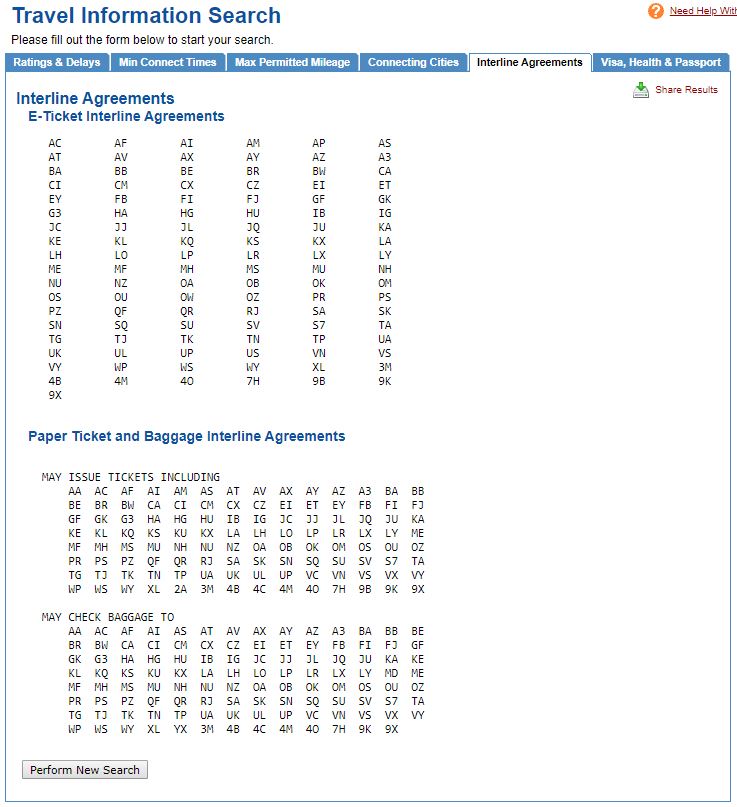 Bottom Line: Using ExpertFlyer is the easiest way to confirm whether or not an airline has an interline agreement with another airline. 
What Effect Does This Have on Me?
Now that we've talked in great detail about what codeshare and interline flights are, along with how you can tell whether or not you're on a codeshare flight, let's circle back to the central question: why does it matter?
Although there are a number of ways codeshares that don't behave like normal airplane tickets, we've compiled the top ones that concern points travelers and frequent flyers.
Elite Benefits
While it's easy to understand that alliance airlines reciprocate elite benefits through Star Alliance, Oneworld, or SkyTeam elite status, the same isn't the case for some other airlines… unless you're on a codeshare flight.
One of the biggest benefits of booking codeshare flights is the ability to enjoy elite benefits via status on the marketing carrier. For example, if you find yourself on a China Eastern flight marketed by Japan Airlines, you'd immediately notice that the 2 airlines aren't part of the same alliance.
China Eastern is in the SkyTeam alliance, while Japan Airlines is a Oneworld member. However, since China Eastern and Japan Airlines have codeshare agreements, you will enjoy elite benefits on the China Eastern flight if you have Japan Airlines elite status!
Bottom Line: Flying on codeshare flights can enable travelers with the elite status from the marketing airline to enjoy benefits on the operating airline's flight. This includes awesome perks like priority baggage handling, priority boarding, lounge access, extra baggage allowance, and even expedited security.
Upgrade Eligibility
Normally, if you book an airplane ticket and want to upgrade, the process is pretty simple.
Let's say you booked a ticket on American Airlines and you want to upgrade to business class. As long as you've located upgrade space and have enough American Airlines AAdvantage miles, you shouldn't have much issue upgrading.
The story is completely different on codeshare flights. Whether you are trying to use elite status, miles, or even cash to upgrade your flight, you may find yourself completely unable to upgrade in any way, shape, or form.
For the most part, you cannot upgrade any codeshare flights using miles on the marketing airline. For example, if you booked a China Eastern ticket marketed by Japan Airlines, you won't be able to redeem Japan Airlines miles for an upgrade on China Eastern. If you want any chance at upgrading, you'll need to use the mileage of the operating carrier.
Furthermore, many airlines similarly place restrictions on whether or not you can upgrade a codeshare flight, even if you have a lot of operating carrier's miles.
This is the same story for those with elite status. If you have United 1K elite status and book a codeshare ticket on ANA marketed by United Airlines, your flight will still be operated by ANA. This means you won't be eligible to receive any upgrades, even if you have top-tier United elite status.
Bottom Line: Keeping track of codeshare upgrade rules can be confusing. As a general rule of thumb, you cannot upgrade codeshare flights using the marketing carrier's miles. Depending on the exact terms and conditions of the operating carrier, you may be able to use the operating carrier's miles to upgrade your flights, as long as you are eligible to do so. 
Mileage Accrual
One of the best ways to earn miles with your favorite frequent flyer program is to credit as many paid flights as possible to them. For example, if you've decided that you want to accrue Japan Airlines miles in any way possible, you can accrue miles on eligible codeshare flights.
On the surface, you'll find that Japan Airlines is a Oneworld alliance member. Upon closer examination, you'll also find that Japan Airlines has a variety of non-alliance partner memberships that can help you earn miles.
Simply put, you can earn Japan Airlines miles on Alaska Airlines, China Eastern, Emirates, Hawaiian Airlines, Korean Air, and more non-alliance partners by booking the right codeshare flights.
How do you tell? Simply put, you'll need to book the ticket that says "JL XXXX" in order to earn Japan Airlines miles. Here's what this might look like on Google Flights: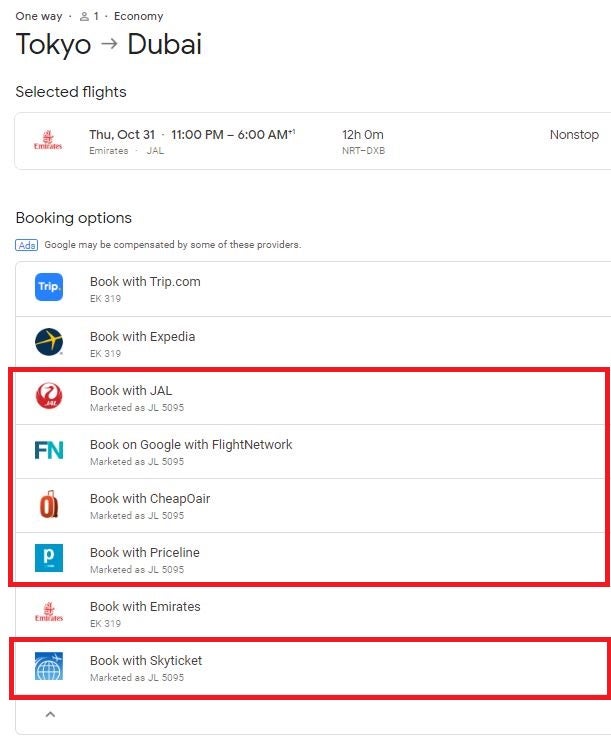 If you book through these methods, you will be eligible to earn Japan Airlines miles. Just remember that many codeshare flights are significantly more expensive than a normal flight. In the above example, booking as EK 319 might be several hundreds of dollars cheaper than booking under JL 5095. You'll want to keep that in mind when looking for codeshare flights.
Bottom Line: Earning miles on codeshare flights is still possible. However, you'll only be eligible to earn miles on select codeshare flights that share the same airline code as the airline you want to earn miles on. 
Flight Interruptions, Delays, or Cancellations
Interline agreements are one of the saving graces that passengers have that reduces your headache when traveling. If anything happens, whether it's terrible weather to other unexpected events, interline agreements will enable airlines to re-route customers to get them closer to their final destination.
Codeshares flights on the same ticket will protect consumers in terms of offering baggage management, ground services, and more. From a convenience standpoint, interline and codeshare agreements are huge pluses for travelers.
Usually, low-cost carriers do not participate in interline agreements, so be aware of that.
Bottom Line: Codeshare/interline agreements cover operational irregularities where customers may need to be transferred to other airlines. These include baggage delay/loss and much more. Also, codeshare tickets can also enable flights to be cheaper when combining tickets into a single itinerary. 
Flight Connections
The focuses of codeshare flights have usually been on scheduling and aircraft sharing. Since airlines typically rely on other partners to transport passengers to far-flung destinations that they don't actually fly to, codeshare agreements serve as a logistical blessing.
Customers can purchase a ticket from 1 airline but travel on a number of other airlines, as long as the airlines have a business relationship, known as a codeshare agreement. Therefore, customers have a greater amount of autonomy in selecting their flight schedule, depending on what fits best with them.
If you buy tickets separately, the airlines have no obligation/knowledge of the other flight, which means flight connections will not be protected. If your incoming flight is delayed, you will be completely out of luck on your second flight.
Essentially, codeshare agreements serve as insurance for travelers to be re-booked on an alternative flight in the event of an operational hiccup.
It makes sense to potentially buy a codeshare ticket at a $100 premium over separately booked tickets if the value of the flight is greater than $2,000, for example. That way, the airline is legally obligated to re-route passengers if you miss a connection.
Understanding the Actual Seat You're Flying In
If you know your flight is a codeshare flight, you'll want to figure out who the operating carrier is as soon as possible. If you're flying in business or first class, you'll undoubtedly find a different product than what you might have booked in the beginning.
Since these tickets are often expensive when paid in cash, you will absolutely want to make sure you're flying in the best seat. For example, if you think you're booking a Cathay Pacific first class ticket but instead find yourself in an American Airlines first class seat and airplane, you'll probably be upset.
Cathay Pacific first class is one of the most phenomenal experiences you can have on a plane, replete with amazing lounges, gigantic and comfy seats, impeccable service, delicious food, and utmost exclusivity. Simply put, there's a reason why people buy these tickets for $20,000 or more.
American Airlines first class, on the other hand, has a reputation for being more like a business class product. American Airlines focuses primarily on business travelers, so they face little incentive to continue improving their products or service.
Bottom Line: Ideally, you'll want to figure out if your flight is a codeshare flight before booking. Otherwise, you'll want to at least do some research on your flight to figure out what plane it is and what exact kind of product it contains. If you don't, you might be severely disappointed. 
Unwanted Surprises at Your Seat
One of the worst things that can happen to you in aviation is to pay for a premium product but literally get downgraded with no advance notice or warning.
To illustrate this concept, let's say you're booked on a business class ticket with a stop in Europe. Even if the second leg of your ticket doesn't have a business class cabin, airlines are still allowed to sell a business class codeshare.
In this case, you might find yourself automatically downgraded to economy with no warning or compensation. This is a horrible situation to be in, especially if you've actually paid for the ticket with your own money.
Final Thoughts
Codeshare and interline agreements were invented to provide convenience and cost benefits for customers. Ever since the internet, e-ticketing, and online travel agencies were invented, the literacy in these 2 areas has dwindled.
However, you'll probably find that you've used codeshares and interlines to your advantage in the past, whether it's getting rebooked on an airline due to bad weather or getting your baggage delivered to your final destination on your airline ticket.
Passengers benefit tremendously from codeshares and interlines. In addition to cheaper tickets, you don't need to worry about missing flight connections or finding your baggage at every intermediate airport among other things. Passengers can earn enjoy elite benefits and earn miles where they ordinarily wouldn't be able to.
Airlines also benefit magnificently from codeshares and interlines, from greater realized revenue to developing fruitful partnerships. Also, airlines can easily facilitate claims and settlements through a streamlined internal system, thanks for codeshare and interline agreements.
There's a lot to love about codeshare and interline flights. Hopefully, this guide helped you gain an understanding on the importance of codeshare/interline agreements in making the aviation world even more connected.