WOW air Review – Seats, Amenities, Customer Service, Baggage Fees, & More [Airline Out of Business]
Update: Wow air has gone out of business.
We've put together a general review of WOW air to give you a quick glance at the airline from a customer's viewpoint.
Since this isn't an airline you hear about every day, we know lots of folks have questions: Where does WOW air fly? Will I get snacks when I fly on WOW air? How much does WOW air charge for baggage fees? What are people saying about WOW air?
In this post, we've outlined some basic company statistics, ticketing/fare options, those pesky extra fees (including baggage fees), seat specs, inflight amenities, customer satisfaction rankings, and more.
Basic Info
Airline: WOW air
Alliance: None
Category: Low-Cost Airline
Frequent Flyer Program: None
Tag Line: We promise you that WOW feeling!
About/Mission Statement: "WOW air is committed to providing the cheapest flights to and from Iceland and across the Atlantic, while providing a memorable service all the way." (source)
Daily Flights: Variable, ~50-55
Fleet: 20 (plans to increase to 24 by the end of 2018)
Main Hub: Keflavík International Airport, KEF (Greater Reykjavík Area, Iceland)
Destinations: 37 (across Europe, North America, and Asia) – note that from November 2018, US routes are being reduced in frequency or cut entirely due to financial difficulties at the airline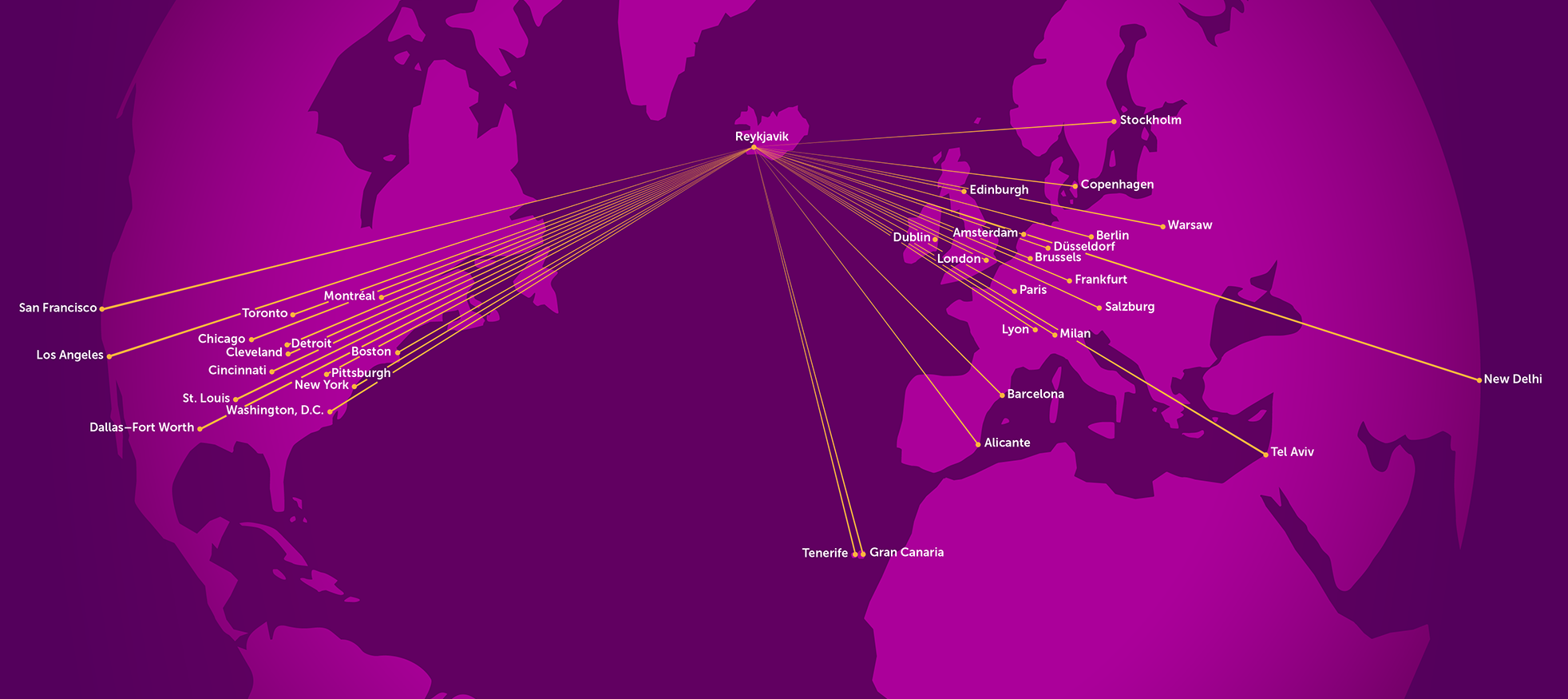 Ticketing Options
Yes, WOW is a budget airline. Yes, fares are appropriated accordingly. Yes, you'll pay for extras.
However, with options for such ridiculously low fares, it might be worth it!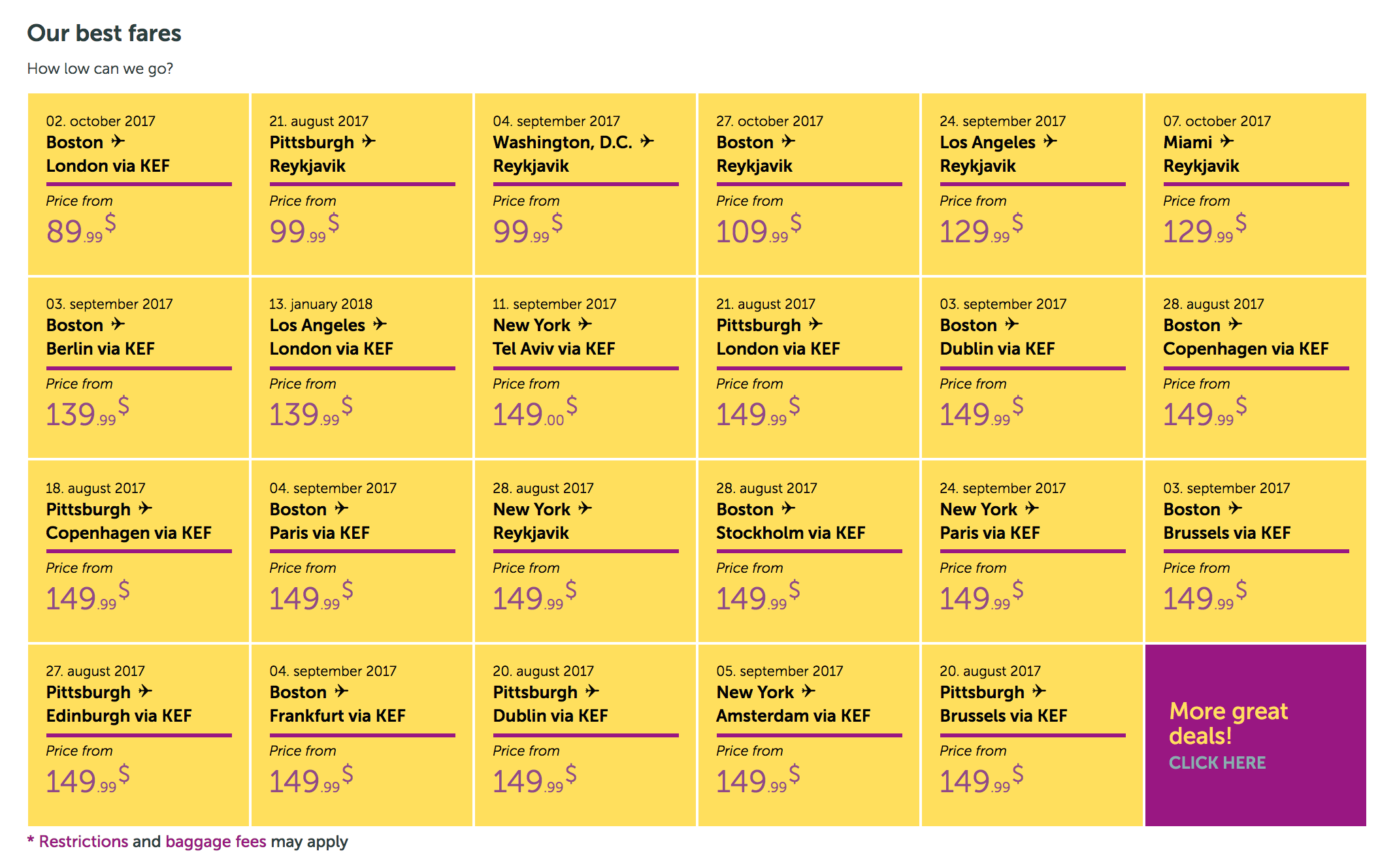 Base Fares
WOW air provides 4 fare options. Depending on which option you select, you might pay extra fees based on selected add-ons like priority boarding, seat selection, etc.
WOW basic
WOW plus
WOW comfy
Wow premium
Flight Ticket
1 Personal Item
Flight Ticket
1 Personal Item
1 Carry-on
1 Checked Bag
Seat Res (standard only)
Flight Ticket
1 Personal Item
1 Carry-on
1 Checked Bag
Seat Res (best available)
Cancellation Protection

Flight Ticket

1 Personal Item

1 Carry-on

2 Checked Bags

Cancellation Protection

BigSeat

Priority Check-In (KEF)

Security Fast Track (KEF, LGW*, CHP, & EDI)
Priority Boarding (all airports)
In-Flight Meal

No Change Fee
WOW basic: This fare is exactly what it sounds like: the most basic fare WOW has to offer. WOW "basic" includes your flight ticket and 1 personal item (limited to 42 x 32 x 25cm and 10kg). That's it!
This means you'll pay extra for things like a carry-on, checked bag, seat assignment, or snacks (see baggage/fees section below). Additionally, cancellations are not refunded.
WOW plus: This fare gets you a bit more bang for your buck. WOW "plus" includes your flight ticket, 1 personal item (above size limitations apply), 1 carry-on (limited to 56 x 45 x 25cm and 12kg), 1 checked bag, and a seat reservation (with standard legroom). Again, cancellations are not refunded.
WOW notes: "WOW Plus will always be cheaper than adding to the WOW Basic fare. That's guaranteed."
WOW comfy: This fare is the 3rd fare option offered by WOW. "Comfy" includes your flight ticket, 1 personal item (above size limitations apply), 1 carry-on (above size limitations apply), 1 checked bag, a seat reservation (best available at the time of booking – either XL or XXL), and cancellation protection.
WOW premium: This is the most expensive and inclusive ticket option WOW offers. WOW "premium" includes your flight ticket, 1 personal item (above size limitations apply), 1 carry-on (above size limitations apply), 2 (TWO) checked bags, cancellation protection, and guaranteed BigSeat. PLUS, you also get priority check-in at Reykjavik airport (KEF), fast track through security at 4 popular airports (KEF, LGW*, CHP & EDI), priority boarding at all airports, an in-flight meal and no change fees.
As you can imagine, there are minimal (read: fewer) added/extra fees associated with this fare.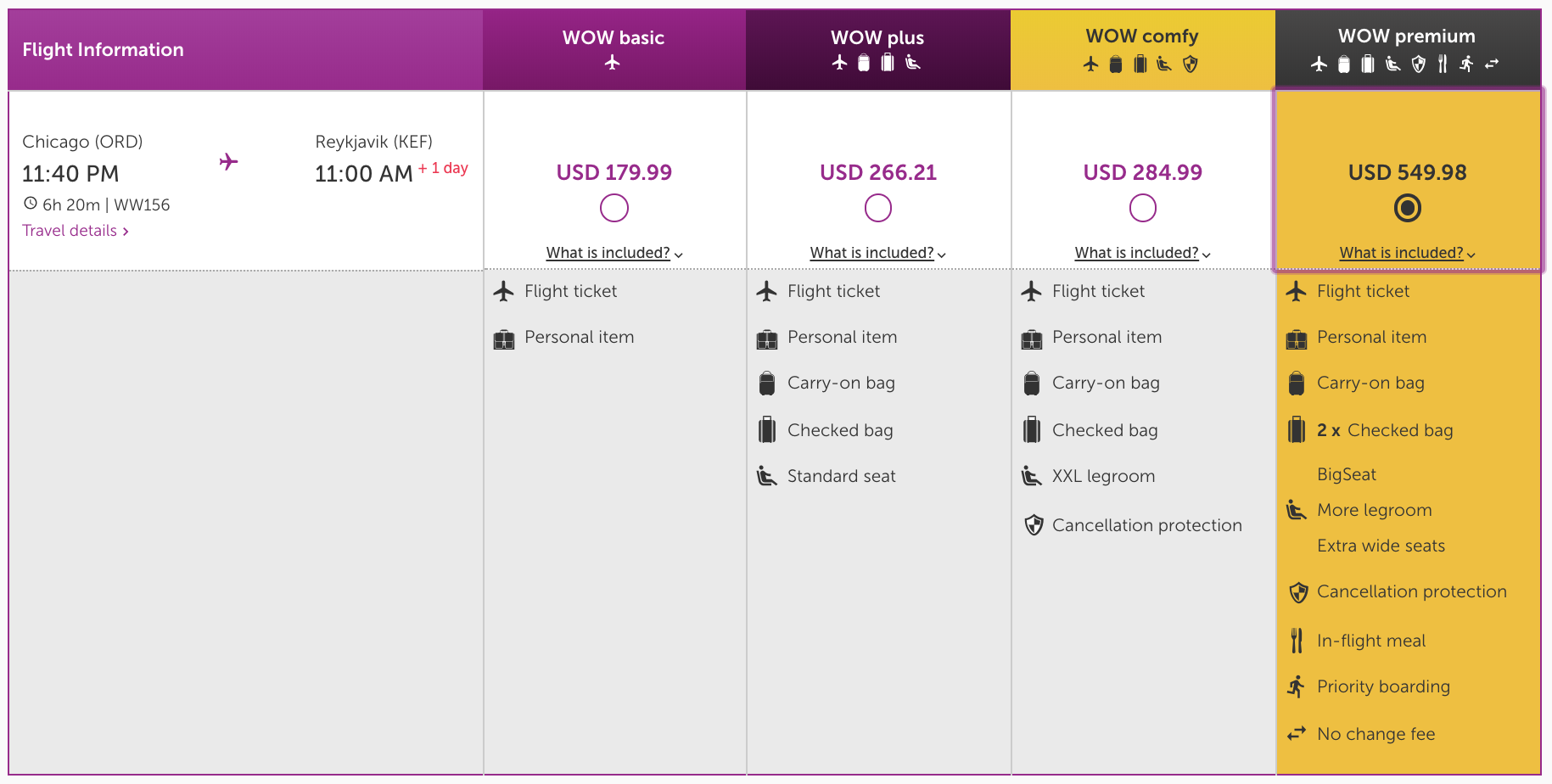 It's important to note that WOW Basic and WOW Plus fares cannot be upgraded after initial booking. So if you want more perks included in your base fare, choose Plus or Biz from the start.
Iceland Stopover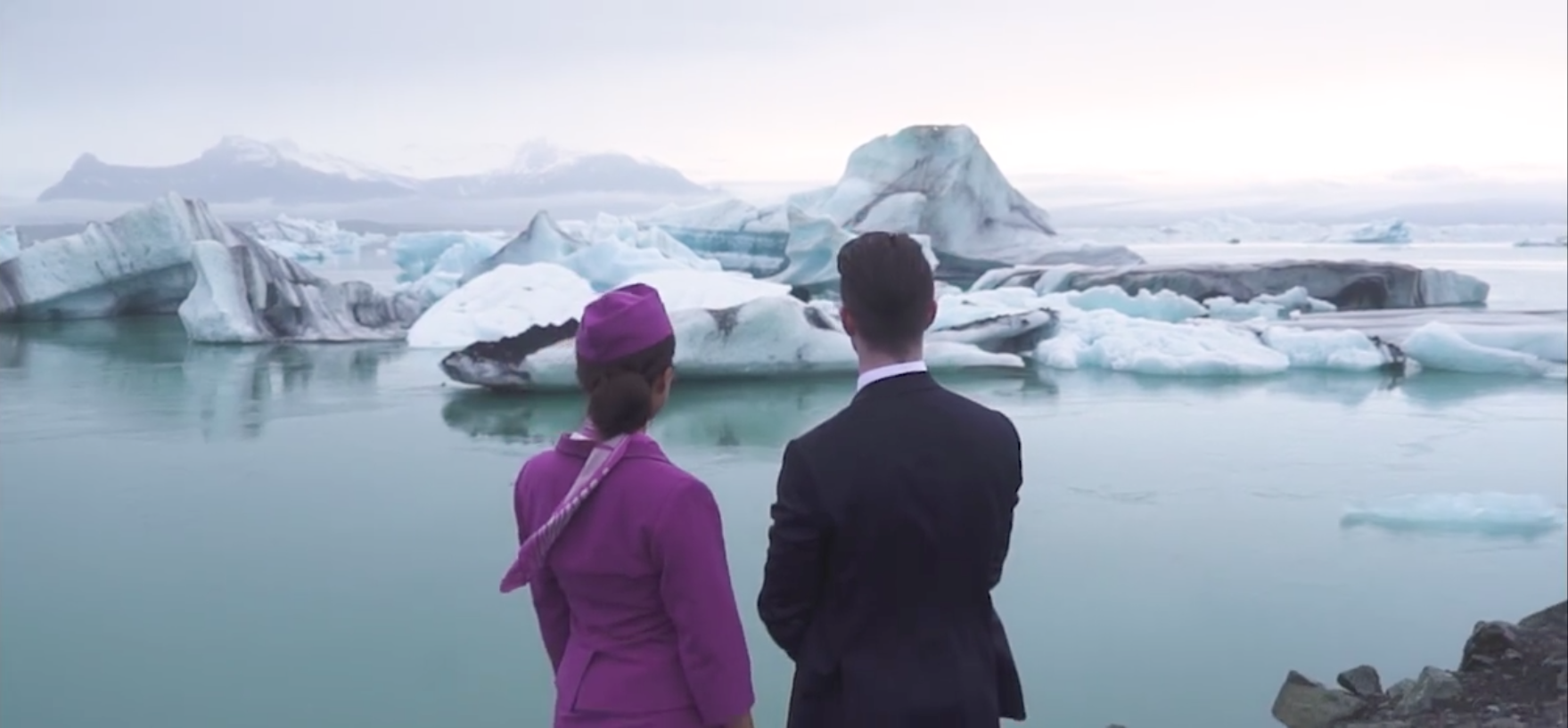 If you're flying between the U.S. and Europe on round-trip flights, WOW air offers a stopover option in Iceland for no additional cost. This is different than a layover in that the stopover can extend for multiple days. Additionally, the stopover may be selected for the outbound or return journey at the customer's preference.
However, WOW air provides the following disclaimer related to the WOW Stopover:
"There is no additional charge for creating a WOW Stopover in Iceland. However, when booking two separate flight legs instead of a connecting flight with a short layover, each leg can be higher (or lower) priced. It depends on supply and demand for each flight.

In some cases the price can therefore be higher, lower or even almost the same. Also note that, when entering a new country, airport taxes for that airport could be different between stopping in Iceland and traveling directly via Iceland over the Atlantic ocean."
Hot Tip: The WOW air stopover includes 3 flight legs. This means you will pay for baggage fees times 3 since they're applicable on EACH leg: A to B, B to C, and C to A. 
WOW club
While WOW air does not have a frequent flyer program at this time, they do have a program called WOW club.
WOW club includes signing up for exclusive deals and special offers to be received before the general public via email. Customers participating in WOW club may also receive information about WOW destinations and special promotions. (WOW states you can unsubscribe at any time.)
Wow Baggage & Other Fees/Add-ons
Since WOW air offers a couple different ticketing options, baggage fees and add-on/extra fees are charged accordingly. Some fees will be charged regardless of which ticketing option you choose, so keep this in mind when you're planning to fly WOW air.
Baggage Fees: With WOW air, baggage prices depend on the fare option you choose when purchasing your ticket and the specific route flown.
As we mentioned earlier, with WOW Basic, you'll pay fees if you bring anything other than a personal item. WOW Plus and WOW Biz fares include a carry-on and a checked bag.
It's also important to note that baggage fees increase the closer you get to take-off. So try to pre-purchase your desired baggage allowance during your initial booking if you want to save the most money.
The size/weight limitations for WOW air baggage are as follows:
Personal item: 17″ x 13″ x 10″
Standard carry-on: 22″ x 18″ x 10″ (max weight of 26lbs)
Checked bag: max linear dimensions of 62″ (max weight of 44lbs)
The following table displays a range of baggage fees for most WOW air routes to/from the U.S. to Reykjavík, per leg. However, for the most accurate baggage fee calculations, please use WOW air's online baggage calculator tool.
Online After
Booking
At Airport
Check-in Desk
At the Gate
Carry-on
$40-50
$45-$55
$50-$70
$100
Checked Bag
$50-$70
$60-$75
$70-$80
$100
The following table displays a range of baggage fees for most WOW air routes to/from the U.S. to Europe via Reykjavík, per leg. Again, for the most accurate baggage fee calculations, please use WOW air's online baggage calculator tool.
Online After
Booking
At Airport
Check-in Desk
At the Gate
Carry-on
$40-$50

$55-$60

$70-$80
$100
Checked Bag
$60-$70
$75-$80
$80-$90
$100
Hot Tip: Let us reiterate that the above prices are PER LEG. Since all flights have 1 leg outbound and 1 inbound, you should expect your baggage prices to be double what's listed here. This is pretty normal; any typical airline that charges fees for baggage will charge per flight or leg. 
Other Baggage Related Fees: Here are a few other baggage-related fees WOW air charges.
Carry-on Bag Change Fee: $30 (this applies if your carry-on is overweight/oversize and you choose to change it to a checked bag at the check-in counter; if you do not and you are forced to check it at the gate this will cost you $100)
Overweight Baggage: $20 per kilo, max of 12kg extra per bag
Sporting Equipment/Special Baggage: $76-$116 (see fee page for specifics)
Service Charge 1: If you want to save money, book online! Booking through the call center will cost you $28 per guest, per flight leg. That can add up quickly!
Service Charge 2: Try to book all your extras like baggage and seating at the same time you book your flight, and do it online. This $18 fee is charged per guest, per flight leg if you have to book bags and seats through the call center after your initial booking is made.
Flight Change: In addition to any fare difference between the flights (if applicable), customers are charged a $91 fee per guest, per flight leg. 
Name Change: $91 per guest, per flight leg; this service is not available to/from U.S. within 72 hrs of flight departure.
Name Spelling Correction: $18 per guest, per flight leg.
Cancellation Protection: $25 per guest, per flight leg.
Unaccompanied Minor: $90. Per WOW air: Not available on connecting flights between North America and Europe. A service charge has to be paid for a child traveling unaccompanied for each individual flight. If 2 or more children (siblings) are traveling together without a parent or guardian, only 1 charge will be applied per leg of the journey.
Seat Reservation Fees: These fees vary significantly based on which flight route is taken and which seat is desired. Customers can choose from:
Standard Seat – Back
Standard Seat – Front
XL extra legroom
XXL extra legroom
BigSeat
Please see WOW air's extra fees page for details on seat reservation pricing.
Priority Boarding: $10; must be purchased during initial booking.
Refreshments Onboard: Other than meals included with WOW Biz fares, all other refreshments are available for a fee. Customers should also note that certain meals are not available from certain locations. Sandwiches and light snacks like chips, yogurt, and chocolates are included in the inflight menu.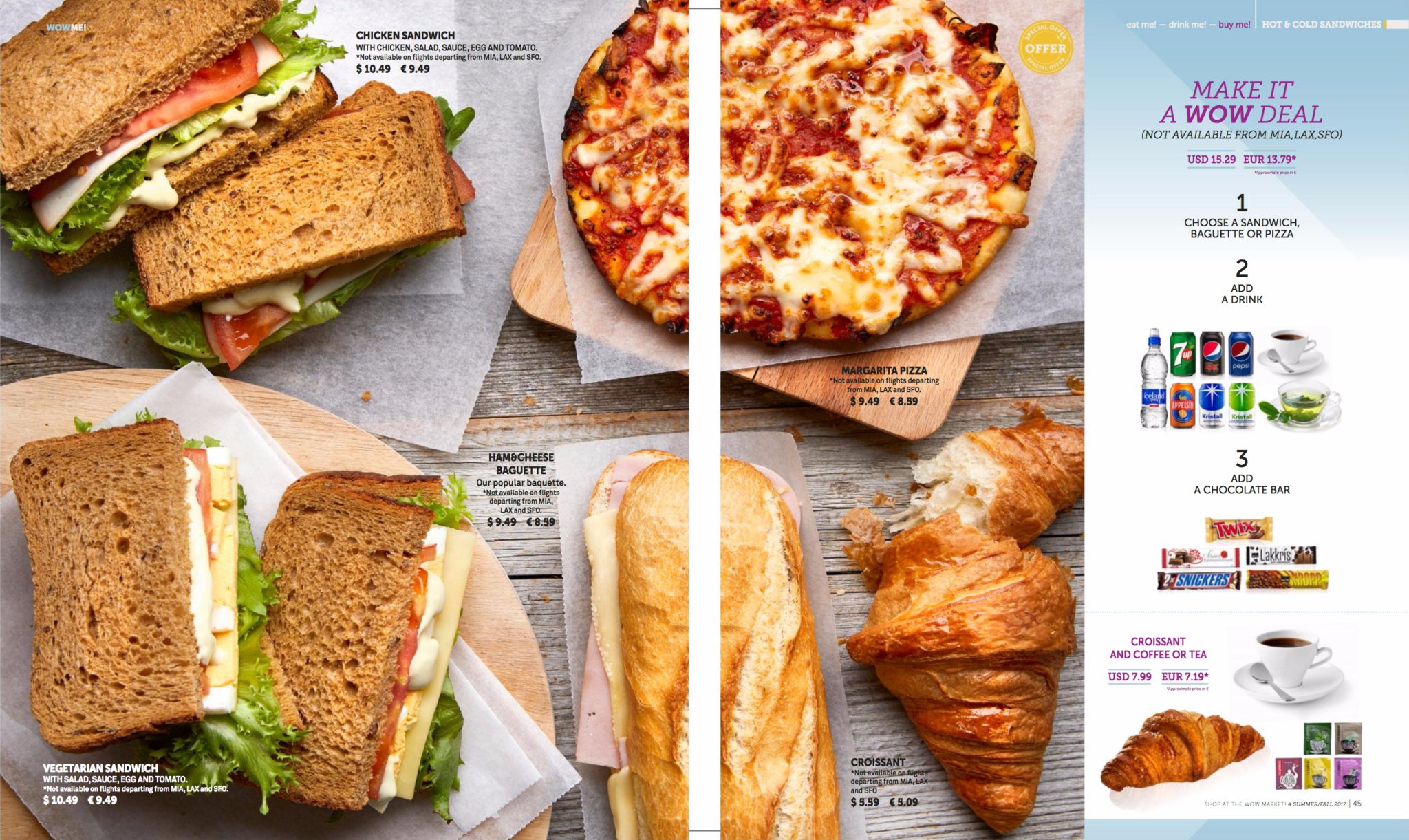 Larger food items range from $9.50-$11.00, while meal deals can be purchased for about $15. Snacks vary from $3-$7, and non-alcoholic beverages cost around $3.30. If you'd like an adult beverage, you're looking at between $8-$14 depending on your preference.
WOW air also gives customers the option to pre-order a meal from a special menu up to 48 hours before their flight (service not available on Chicago, LA, Miami, San Francisco, or Tel Aviv routes). This can be done on the WOW air website via My Booking.
How to Avoid Paying Excess Fees & Travel Expenses
The following cards offer airline credits that will cover the cost of added travel expenses, such as baggage fees, inflight purchases, seat upgrades, etc.
Capital One VentureOne Rewards Credit Card - This no annual fee card comes with a 20,000 bonus mile offer after spending $500 in the first 3 months. When you use your card for travel purchases (e.g. baggage fees), use your miles to pay off all, or part of, your statement balance! We've highlighted 30+ benefits of the card.
Capital One® Venture® Rewards Credit Card - The "big brother" card to the VentureOne with a 60,000 bonus miles when you spend $3,000 on purchases in the first 3 months. This card is full of benefits and perks and you can redeem your miles on travel (flights, hotels, even paying for baggage fees etc) or transfer your miles to over 10+ travel loyalty programs.
To find out more about how each of the cards listed can help cover the costs of your excess fees, please refer to their respective card reviews.
Inflight Amenities & Seat Specs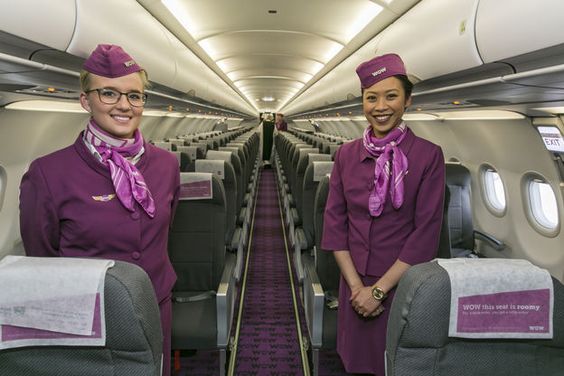 What will my WOW air flight look like? If you're wondering, here's all the info you need:
Inflight Amenities: As we previously mentioned, this depends on which WOW air base fare you choose and which add-ons you purchase. To run a low-cost airline, certain amenities some customers are accustomed to with larger airlines simply aren't available.
WOW air does not provide inflight Wi-Fi, video streaming capabilities, or any onboard entertainment. WOW air encourages customers (especially those with children) to bring something fun to do with them.
While the above is true, customers on North American routes have the option to rent an iPad "full of entertainment." WOW air's website does not currently list the cost of this rental.
There are universal power outlets onboard WOW air's A321 and A330 aircraft.
Unless you've picked a WOW Biz ticket, refreshment service is limited to paid beverages and snacks only.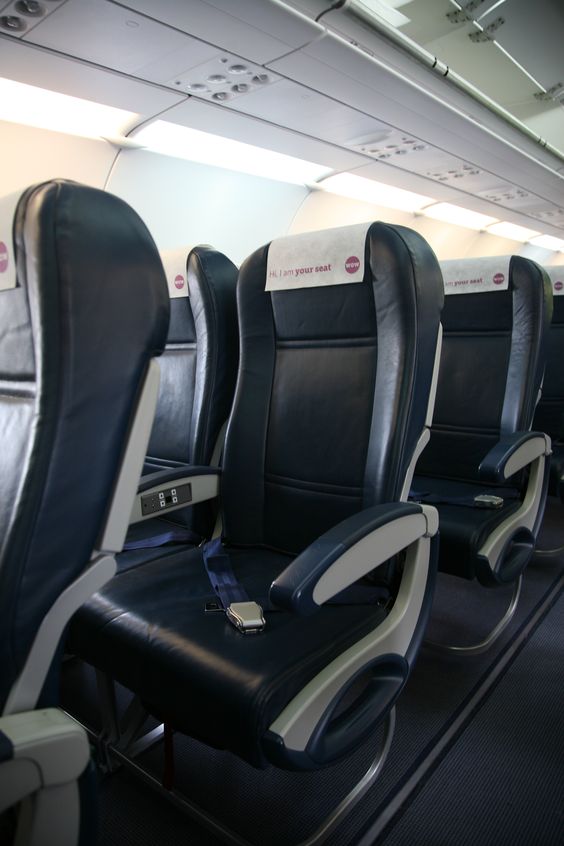 Seat Specs: Seat specs and seat arrangements vary quite a bit depending on which WOW air flight you're on. We've listed WOW air's fleet according to plane type, and then documented how many of each size seat is available. Seat widths are not disclosed on the WOW air seating maps.
Standard Seats*: 29″-30″ pitch
Standard+ Seats*: 29″-30″ pitch
XL Seats: 32″-33″ pitch
XXL Seats: 35″+ pitch
BigSeat: 37″+ pitch
*WOW states the difference in their Standard & Standard+ seats has to do with their location on the plane. Seats in the back of the plane or seats in the middle row are often considered "Standard" while seats in the front of the plane, window seats or aisle access are considered "Standard+". 
Aircraft
Plane
Type
Total
Number
of Seats
Standard
Seats
Standard+ Seats
XL
Seats
XXL
Seats
BigSeats
TF-SIS
TF-BRO
A320-200
174
96
60
15
3
n/a
TF-NEO
A320neo
178
132
24
6
12
4
TF-MOM
TF-DAD
TF-KID
TF-SON
A321-200
200
97
40
27
36
n/a
TF-NOW
TF-PRO
TF-WIN
TF-CAT
TF-DOG
A321-200
208
113
38
31
18
8
TF-SKY
TF-DTR
A321-200neo
208
113
38
31
18
8
TF-GMA
TF-GPA
TF-JOY
A321-200
210
110
74
0
18
8
TF-GAY
A330-300
345
156
100
52
16
21
TF-WOW
TF-LUV
A330-300
345
150
96
56
16
27
You may have noticed WOW air has some unique registration names for their planes. They state: "We like to keep our registration names fun and a bit different as they represent WOW air in a BIG way."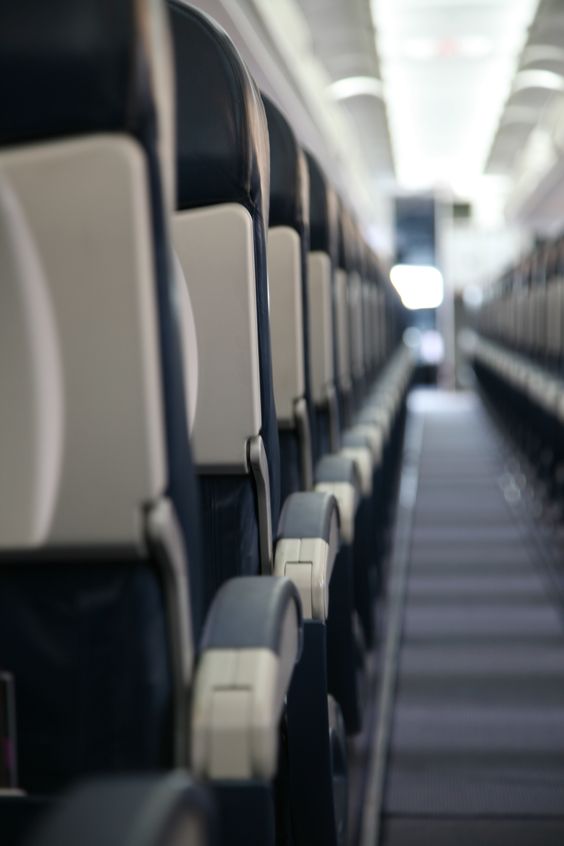 Customer Satisfaction
We hear it all the time…air travel used to be glamorous.
In an age where it seems like there's a general negativity surrounding airport and airline experiences, passengers regularly wear sweatpants to fly, and aviation branding is lackluster, WOW Air stands out.
The first thing you notice about WOW—whether you're booking a flight on the website, perusing their facebook page, or flying with the airline itself—is their clean, modern feel. They seem to be promoting air travel in all the right ways and they look damn good doing it. (Are we allowed to say that?)
The Fun Factor
Plus, the Wow air team looks like they're having FUN. Imagine that…airline employees having some actual fun!? Just look at them all giggly and smiling!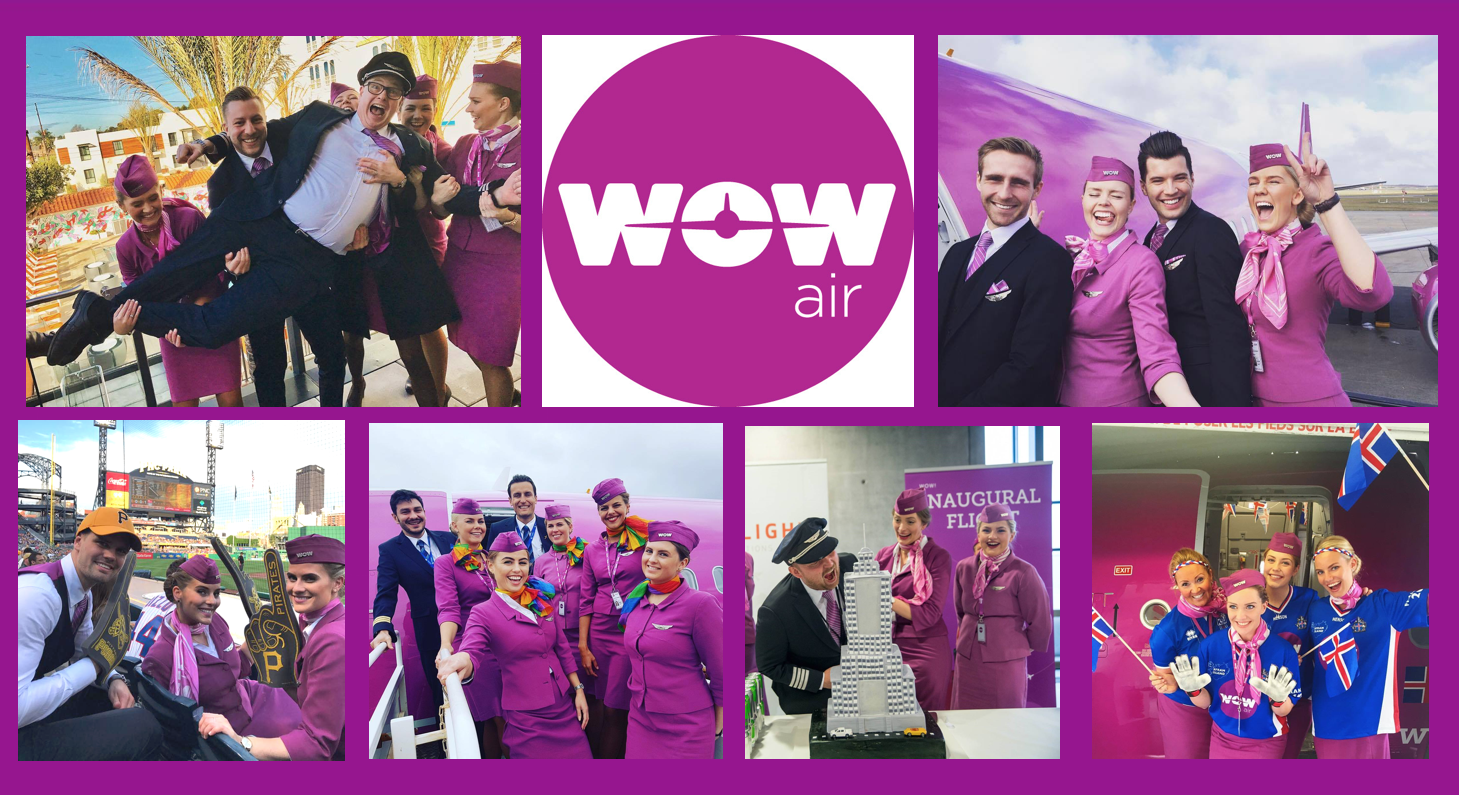 WOW even expands on this as one of their "Promises": "Everything we do has the WOW factor! Everything from how we make the coffee at the office to how we welcome our guests on board. Simply put – We're fun, free, and we love smiling, and we hope our guests will smile back and maybe laugh at some of our jokes."
Why is all this important?  Because it makes you want to fly with them.
But Is It Enough?
WOW air suffers from wildly furious consumer complaints similar to a lot of other low-cost airlines like Spirit. Many complaints revolve around flight delays, tarmac delays, baggage delays, lost baggage, and horrible customer service.
There are even Facebook groups and Twitter handles dedicated to WOW air complaints.
Poor Transparency, Although Honest
A number of other complaints are due to WOW air's poor transparency—basically, the fact that WOW air charges extra for "everything," but many customers don't expect that since it's not advertised all over their homepage.
It's certainly difficult to determine the total price of your ticket until you click all the way through to the purchase page. Additionally, it can be tough to find the exact price of some fees on their website.
That being said, WOW is honest in that they clearly state what's included in your Basic, Plus, and Biz fares. And you can find the extra fees if you look around the website hard enough.
In a sense, if you're an informed consumer, you already know to expect extra fees before booking. So, while there are a lot of these complaints, we don't consider them particularly valid.
Most Common Complaints
What are the most common WOW air complaints?
The August 2017 Air Travel Consumer Report filed by Transportation.gov lists the following 264 complaints against WOW air for January 2017 through June 2017.
Baggage: 65 / 24.6%
Flight Problems (cancellation, delay, or misconnection): 58 / 22%
Reservation, Ticketing, Boarding: 52 / 19.7%
Refunds: 30 / 11.4%
Fares: 24 / 9.1%
Customer Service: 16 / 6.1%
Other: 7 / 2.7%
Over-Sales: 5 / 1.9%
Disability: 5 / 1.9%
Discrimination: 2 / 0.8%
Consumer Rankings, Ratings, Etc. 
There are a number of different systems out there when it comes to airline ratings and reviews. We've taken a few of the most popular and presented them here.  
SkyTrax Ranking: 3 Star Airline (out of 5)
SkyTrax Customer Rating: 4/10 (average from 273 reviews)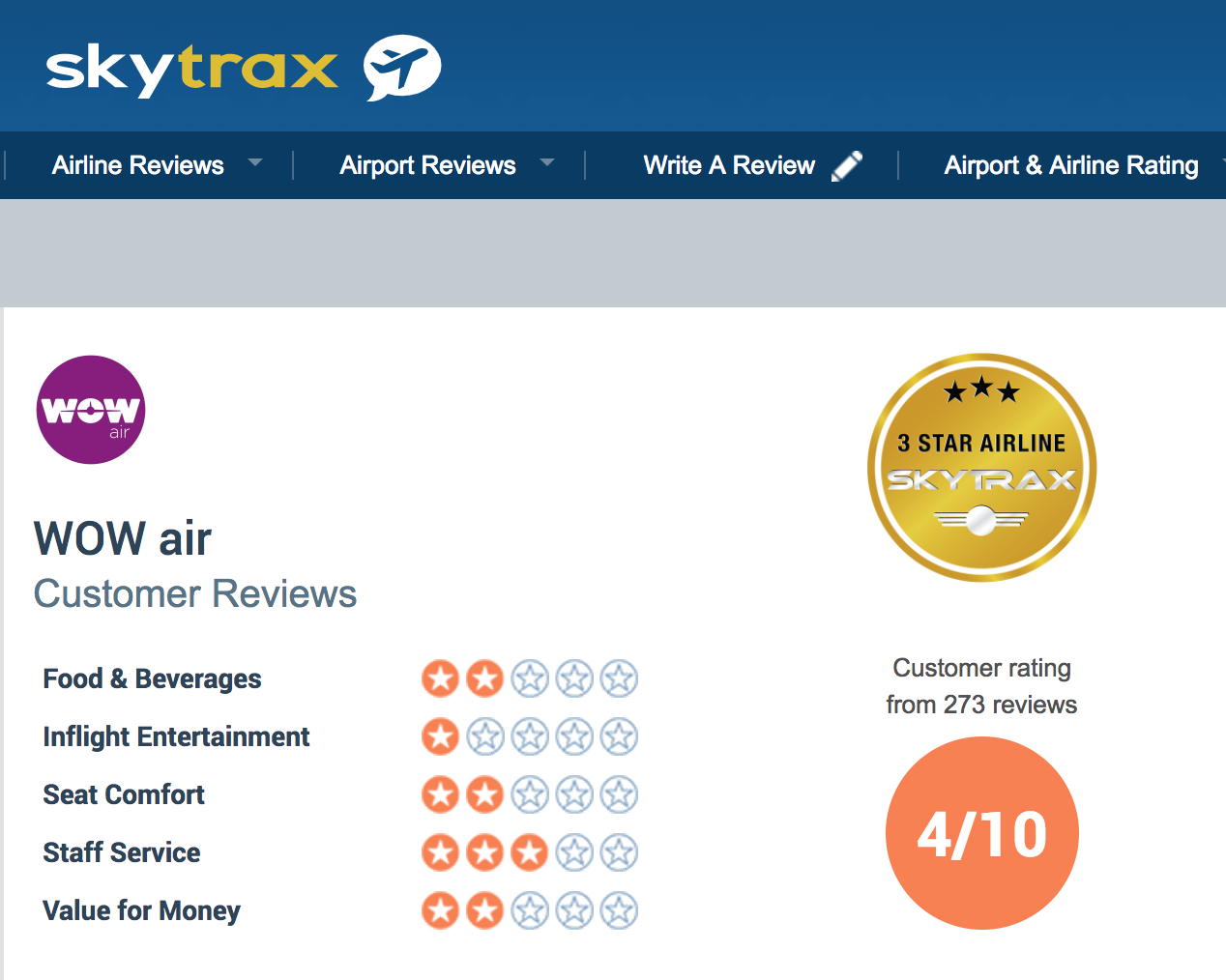 TripAdvisor Airline Review Rating: 3/5 (average from 3,977 reviews)
Kayak Customer Rating: 5.6/10 (average from 651 reviews)
AirHelp.com Overall Rating: 6.9/10 (quality of amenities, on-time arrivals, and how well an airline resolves flight delay compensation claims)
Performance
AirHelp.com Delay Report: AirHelp.com reports that WOW air flights are heavily delayed or canceled only 0.53% of the time.
AirHelp.com Most Disrupted Route: ALC (Alicante) to KEF (Reykjavik) is disrupted 75% of the time
Awards & Notable Mentions
SimpliFlying Awards for Excellence in Social Media, 2017: A Top 3 Airline, Branding
SimpliFlying Awards for Excellence in Social Media, 2017: Best Airline, Launches; Best Airline in Europe, Overall; A "Highly Commended" Airline, Branding
Skytrax World Airline Awards 2013, 2014, 2015, 2016, 2017: 7th Best Low-Cost Airline in Europe; did not break World's Best Low-Cost Airline top 20 list; did not break World's Best Airlines Top 100 list.
Final Thoughts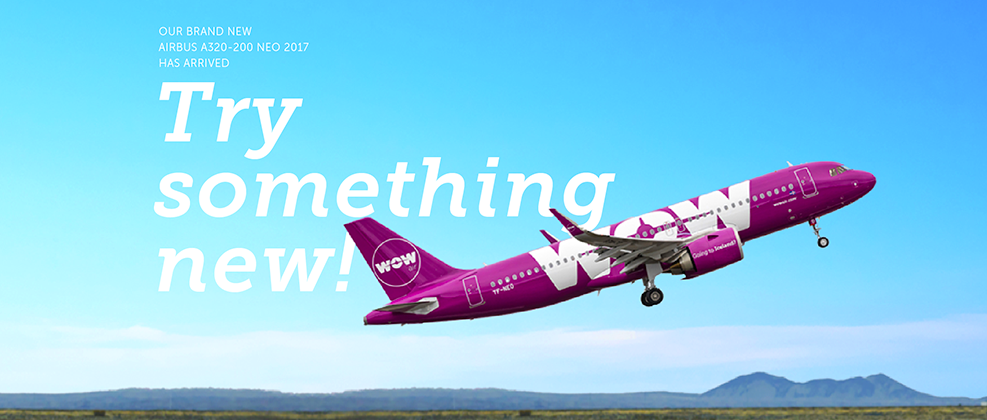 If you do your research and know what you're getting with each ticket option, WOW air may save you some cash to certain destinations. This is especially true if you have an applicable credit card that saves on costs related to added fees like baggage and in-flight purchases.
Keeping in mind that WOW air is a fairly young airline, we expect them to continue to make strides toward improved performance in the future.
So, if you don't mind a fairly basic flight without a lot of included amenities and you aren't too bothered by potential delays or baggage issues, WOW air could be a viable option.
Plus, if you're looking to visit Iceland, doing so on a stopover at little to no extra charge (if you book the right flights) is a great perk!