Qatar Airways Airbus A350 Business Class Review [DOH to GVA]
Airline: Qatar Airways (QR)
Aircraft: Airbus A350-900 (A7-ALN)
Flight #: QR99
Route: Doha (DOH) > Geneva (GVA)
Date: January 26, 2019
Duration: 6hr 45min
Cabin and Layout: Business class, 36 seats, 1-2-1 config
Seat(s): 5K
Miles Used: 110,000 Asia Miles per person one-way (including the Qsuites flight from Sydney)
Taxes and Fees Paid: $335 (HK$2,640) per person
Typical Retail Cost: $4,100 (AU$6,000) per person one-way from Sydney
Introduction
Booking Qatar Airways Business Class
This flight follows on from a phenomenal Qatar Qsuites sector from Sydney. It's fantastic that Qsuites can be booked on points, so what a set up going into our flight on Qatar.
Timings for our connecting flight to Geneva resulted in us having an 8 hour and 45 minute layover in Doha between 11:30 p.m. and 8:15 a.m. I looked at the pricing of the transit hotel at Hamad International, however, and it was twice the price of a hotel in Doha so we decided to stay in town. I would later regret this decision.
At check-in in Sydney, we asked the staff member to tag the bags to Doha so we could take them to our hotel in Doha and change clothes before our next flight. But the staff member refused to short-tag the bags, despite us showing her booking confirmations for our hotel in Doha and onward connections to Switzerland to confirm we weren't "skiplagging" — she just wouldn't do it.
On arrival into Doha, business class passengers were ushered to a premium immigration channel for priority service, however, there was only 1 team member on the desk. With 47 business class passengers on our inbound 777 flight alone, it took nearly an hour to exit the airport. The regular immigration channel would have been quicker.
I should have also done more research considering this was my first, albeit brief, visit to Doha. We soon discovered that taxis in Doha don't accept credit cards. Fortunately, the airport staff helped me estimate how many riyals we would need for the return trip to the hotel before withdrawing money from an ATM.
We got to the hotel and had 5 hours of sleep in the end. This was enough considering the sleep we had on the flight from Sydney. However, having to shower, and getting dressed in the same clothes we flew in from Sydney wasn't great, to say the least, but thankfully Qatar Airways provided pajamas so at least we weren't in the same clothes for the entire 15-hour flight from Sydney!
At Hamad International Airport Doha – Al Morjan Lounge
We arrived back at Hamad International Airport a few minutes before 6 a.m. for our 8:15 a.m. departure. Business and first class passengers departing from Doha can use the Premium Check-in facility.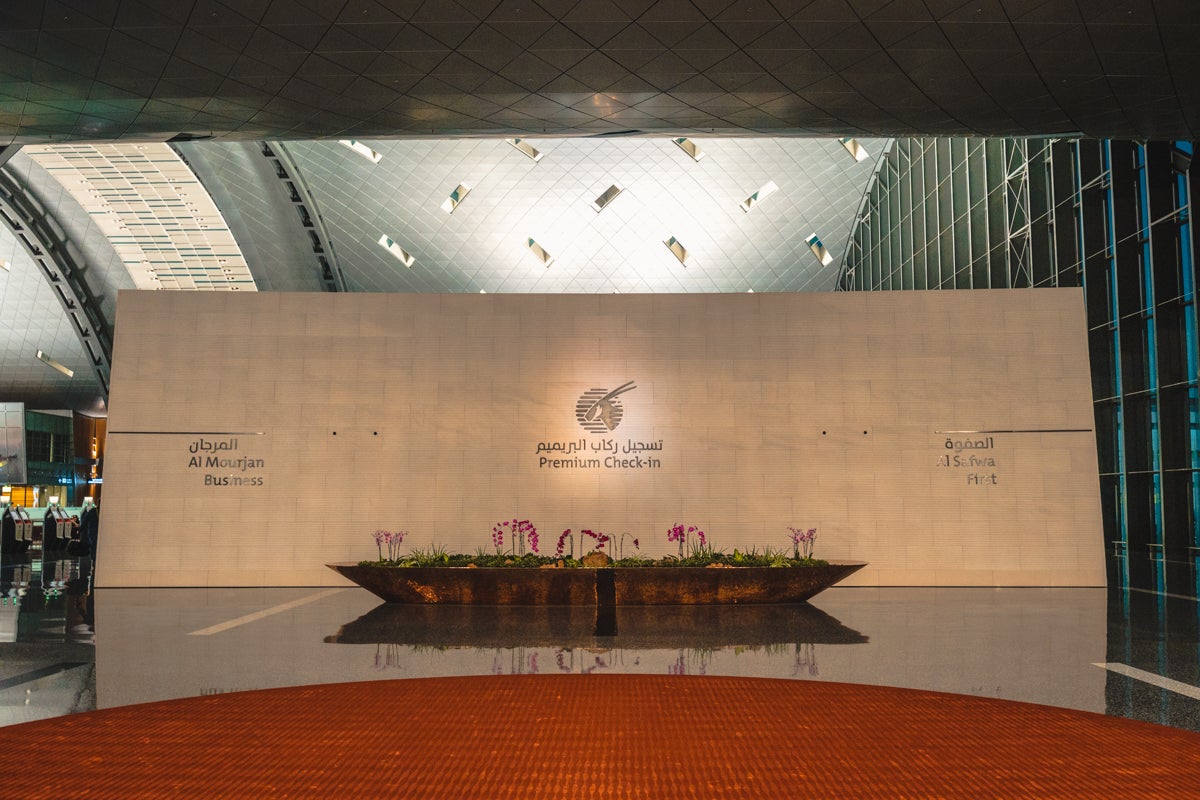 With boarding passes already in hand, and our bags obviously already checked-in, we headed straight through to immigration. Thankfully this only took a couple of minutes.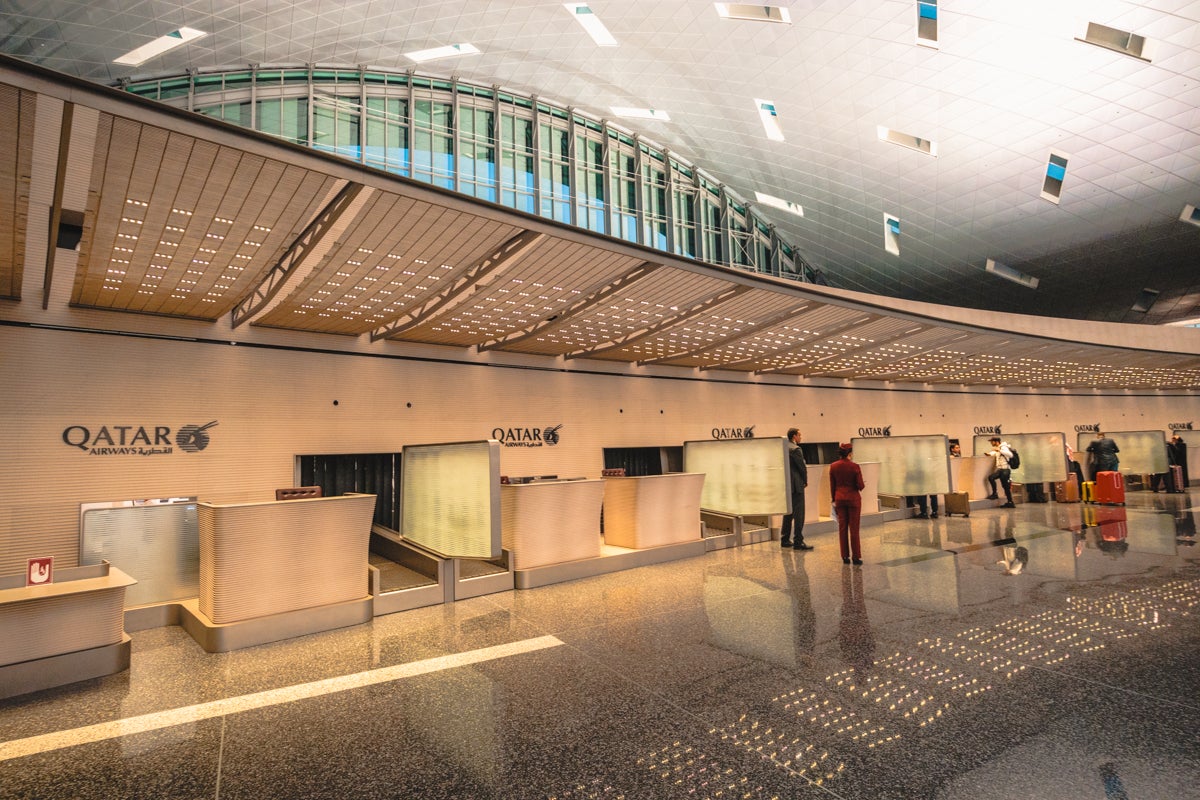 Hamad International Airport is well signposted and is easy to navigate so we were into the terminal, around the famous Lamp Bear, and into the lounge by 6:10 a.m.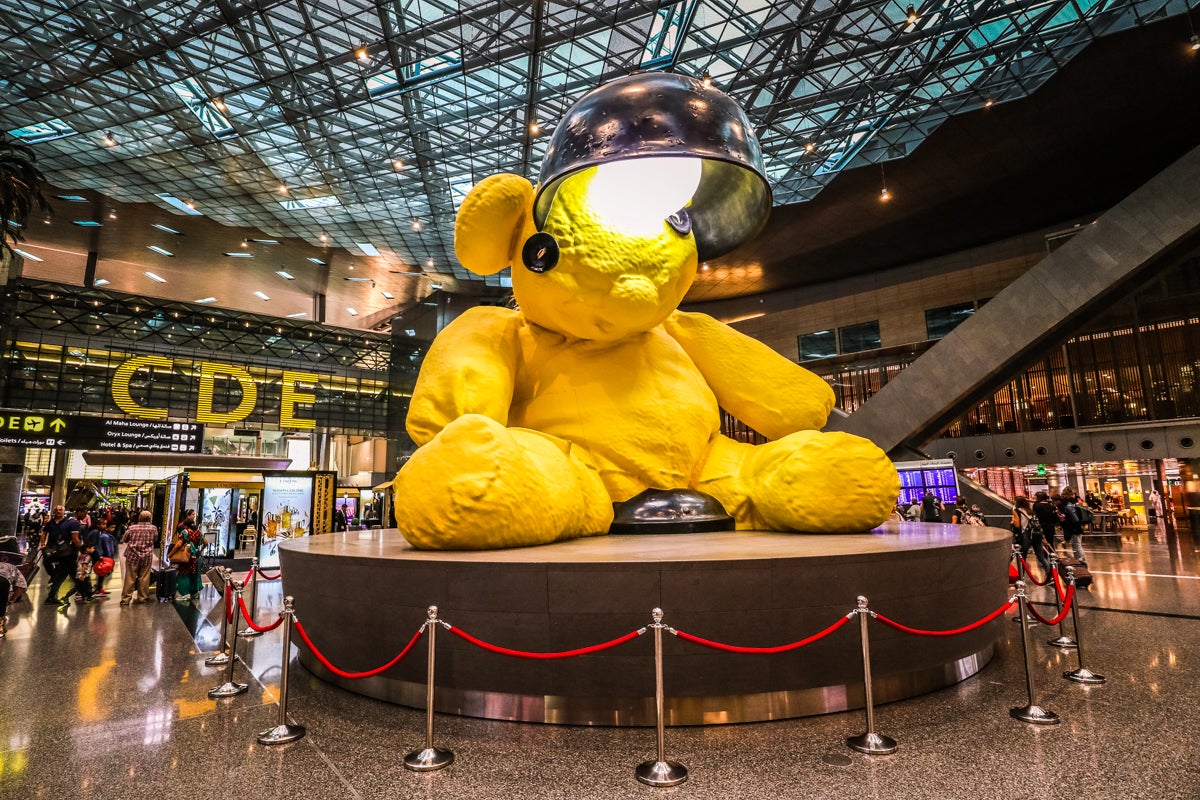 Only passengers flying in business class can access the Al Morjan Lounge. Oneworld status passengers flying in economy are sent to another lounge, which isn't up to the same standard as the Al Morjan.
I've visited this lounge several times before, but I'm always amazed at the sheer scale of the facility. The immense ceiling height, artwork, elaborate water feature, and spiral staircase are some of its standout features.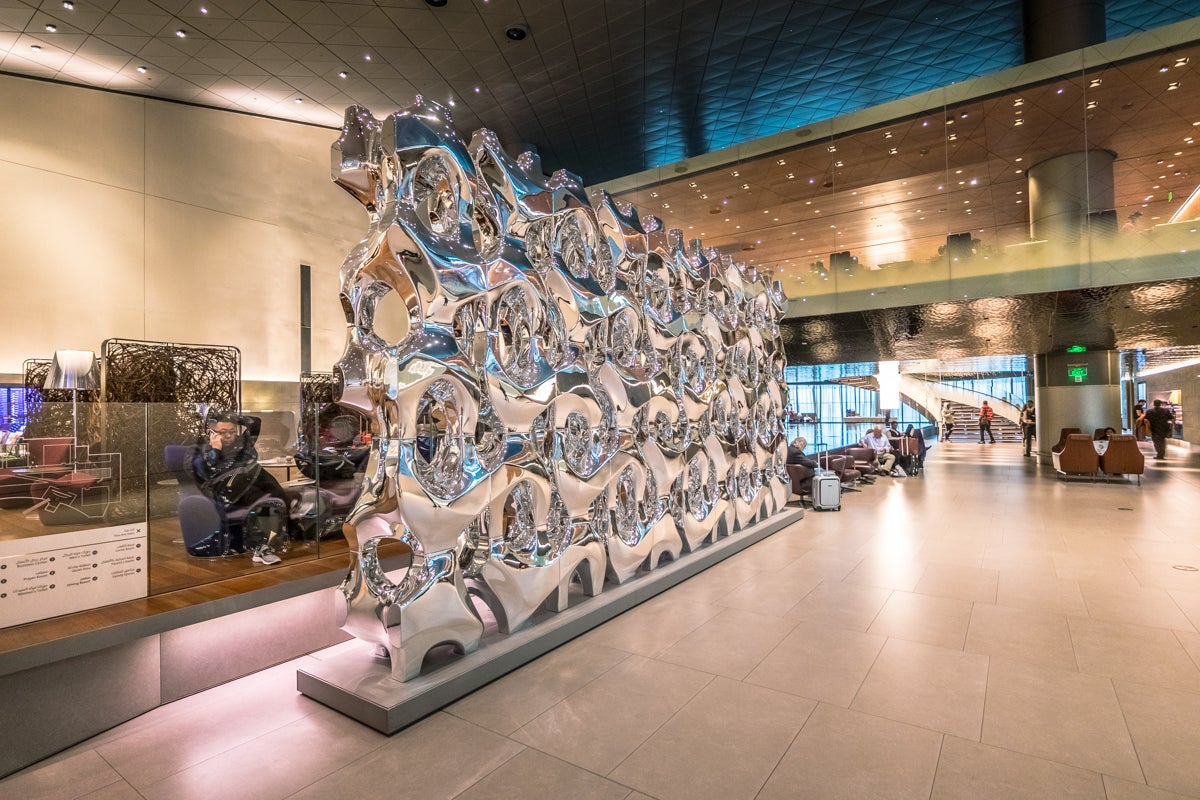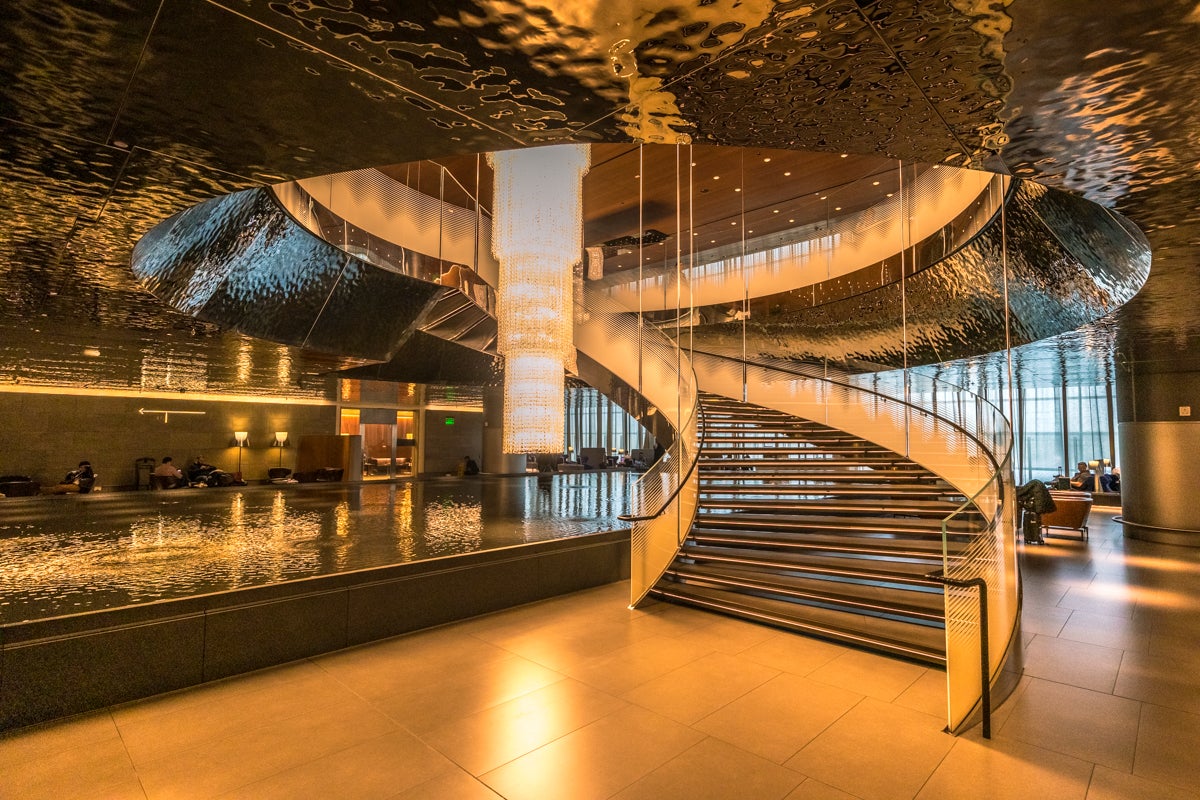 The use of glass, metal, concrete and marble used in the Qatar Airways lounge is in stark contrast to the carpets, low ceilings and timber used in the Cathay Pacific latest lounge design language, highlight in Hong Kong's airport lounge, which is modeled on a residential lounge room. You often feel like you're still "in the terminal" due to the height of the ceiling in the Al Morjan lounge.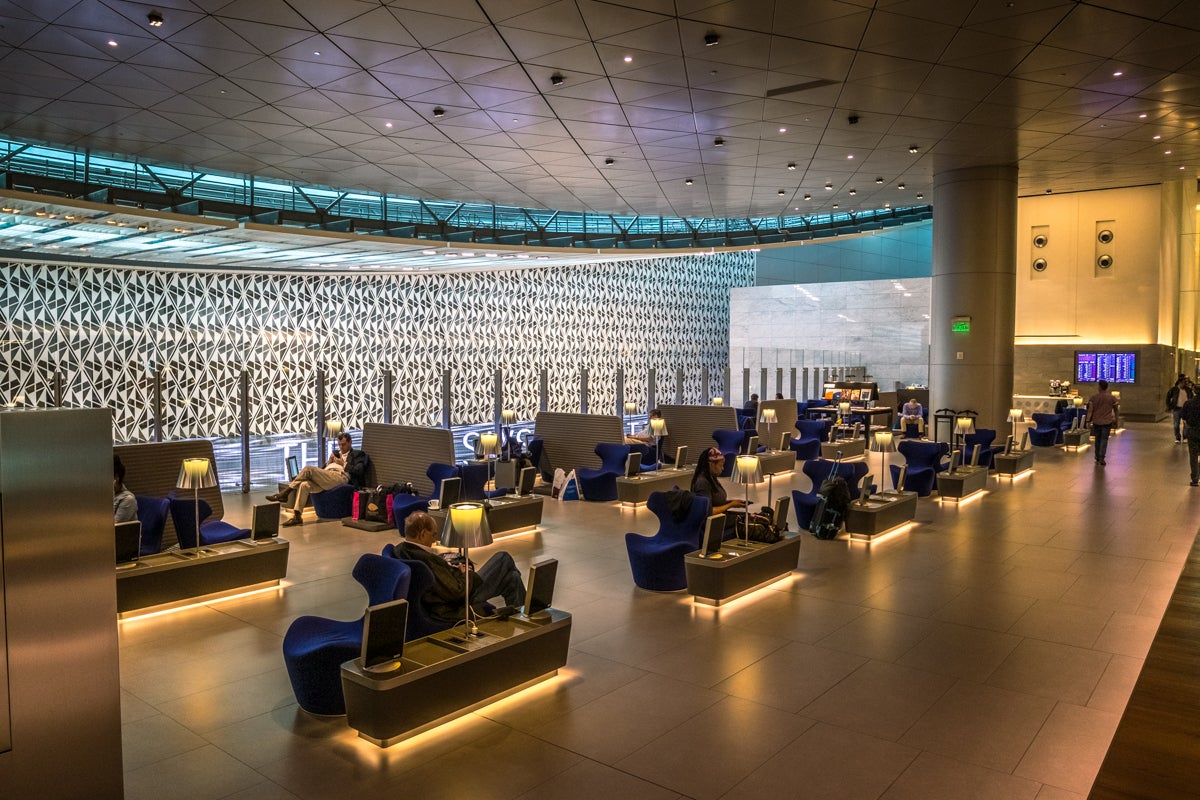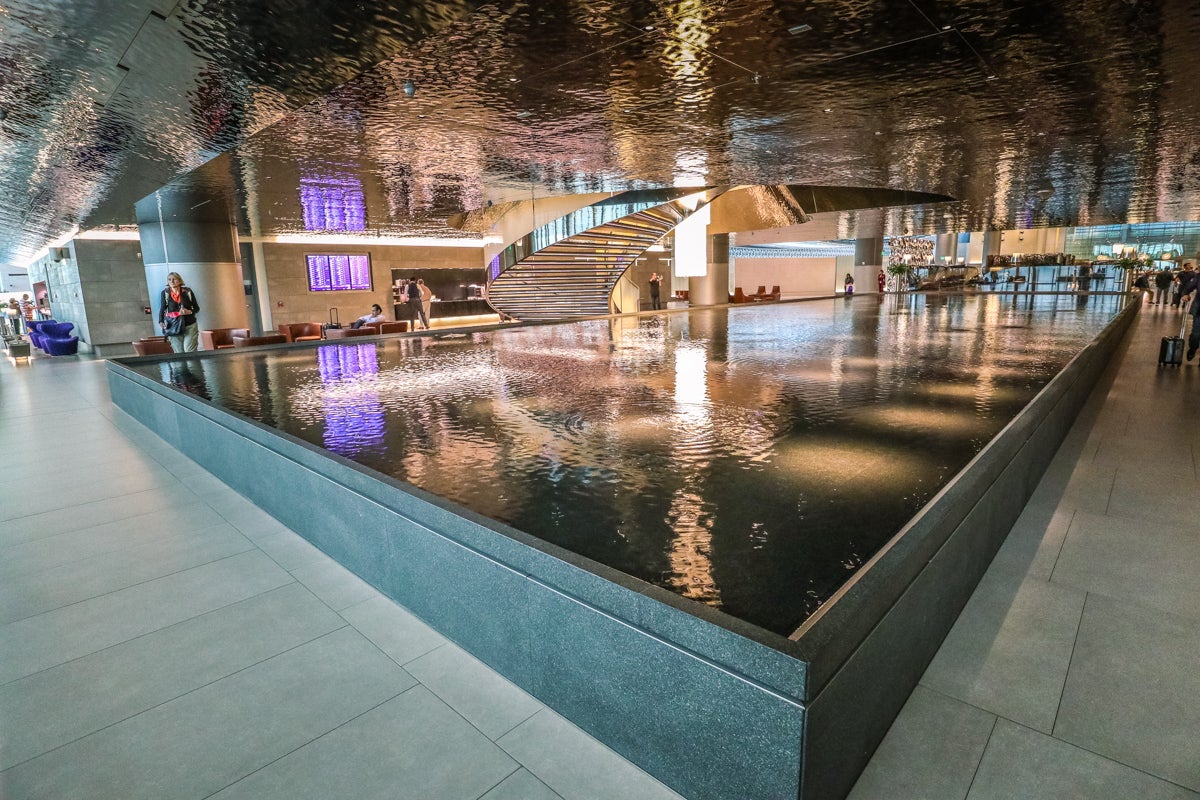 We headed straight up the spiral staircase to the buffet to grab a quick breakfast. Despite the size of the restaurant and the restriction of only business class passengers and no status passengers, it was still very busy.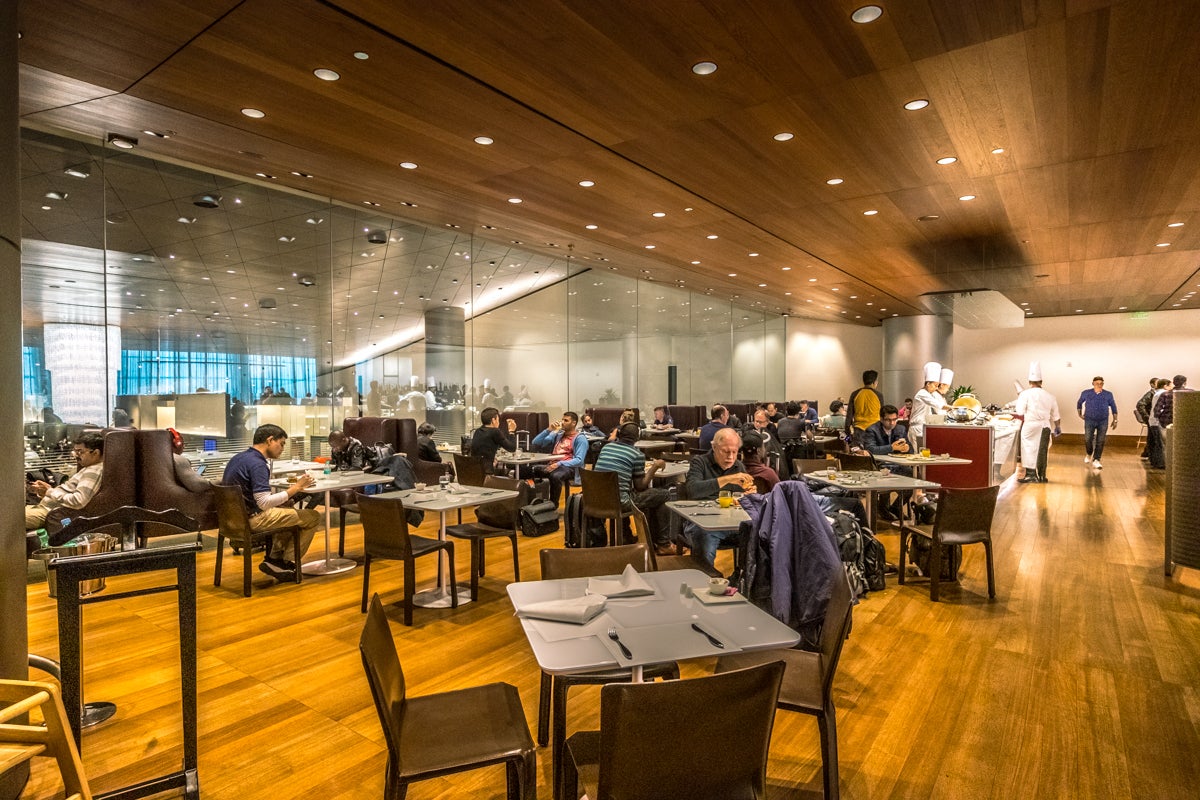 There is a tendered bar serving coffee, juices, or something stronger.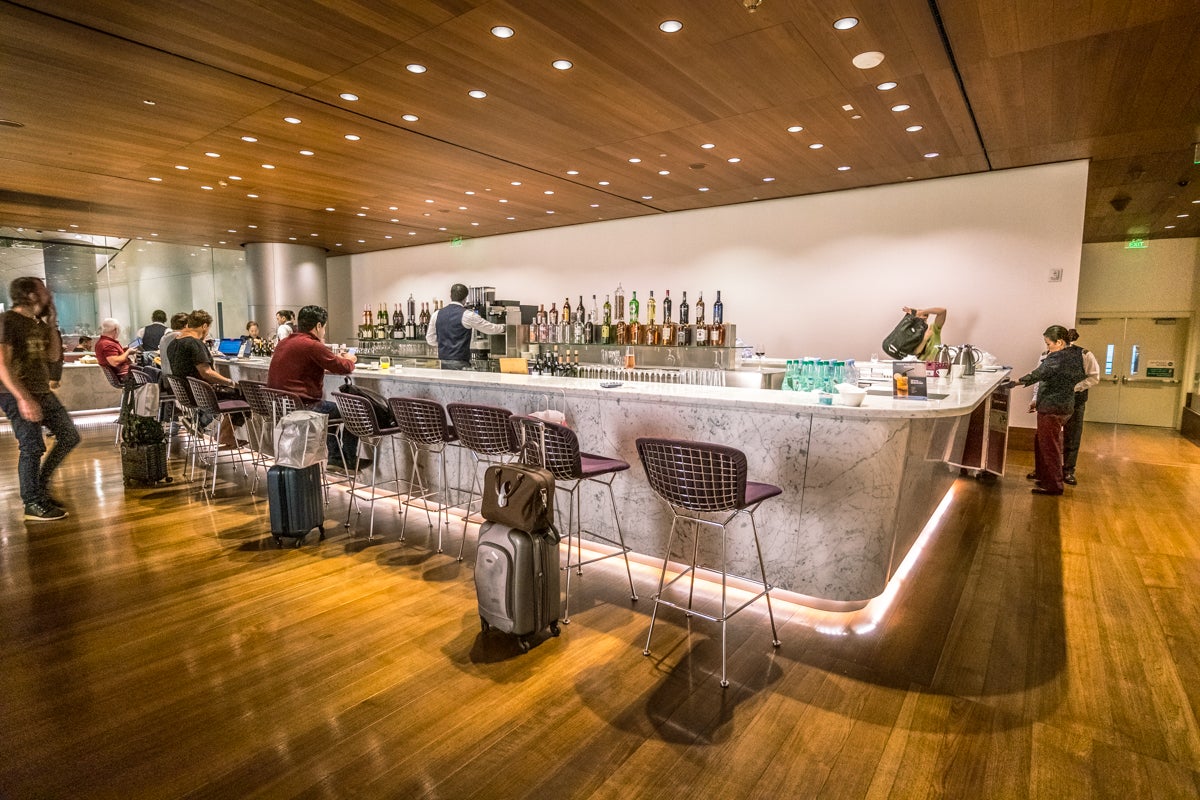 The buffet had a wide variety of Western and Middle Eastern options. However, I was disappointed with the quality of the scrambled eggs which were bland and dry.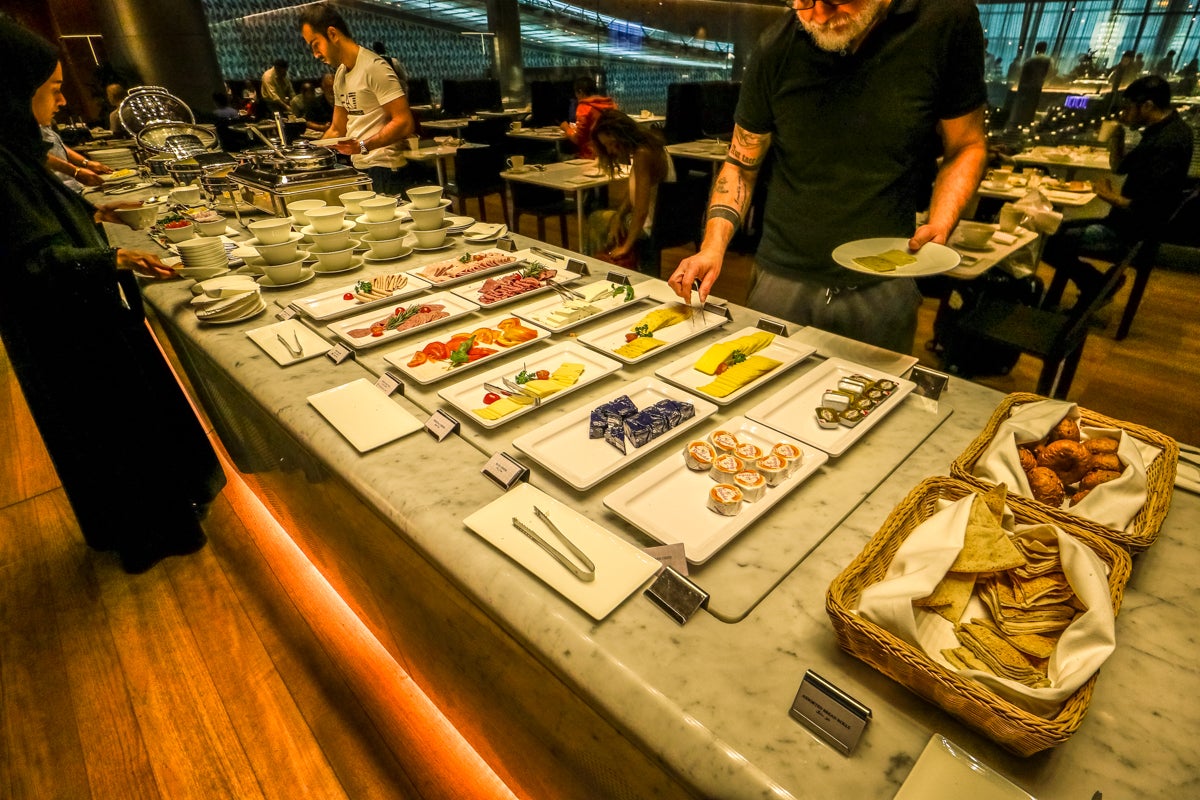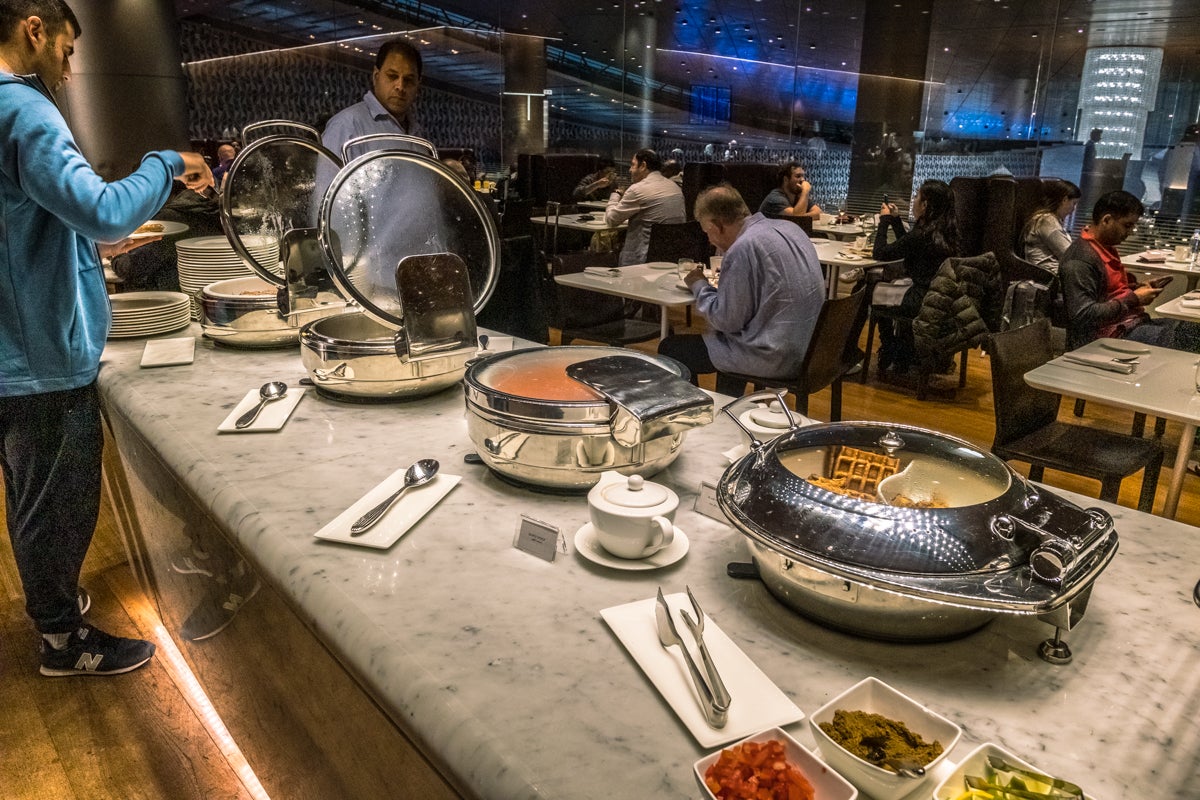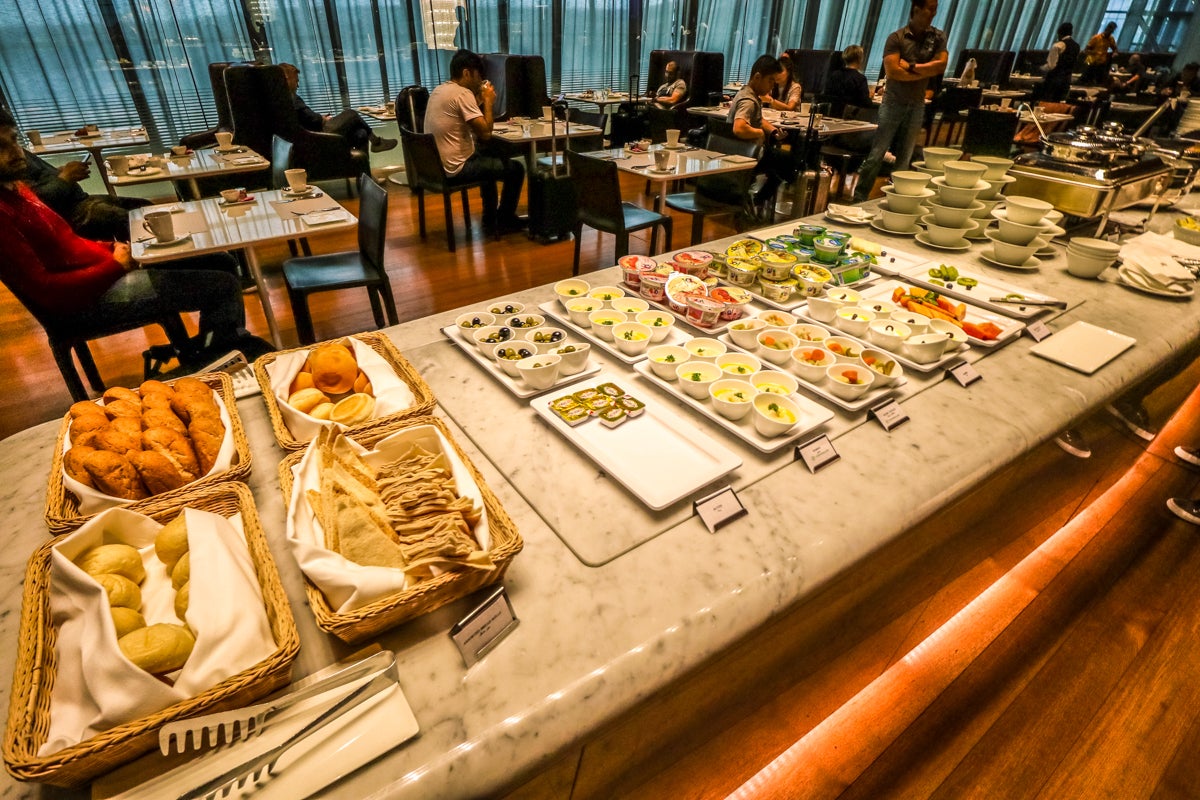 Downstairs you'll find a café that serves lighter bites and has communal bar tables.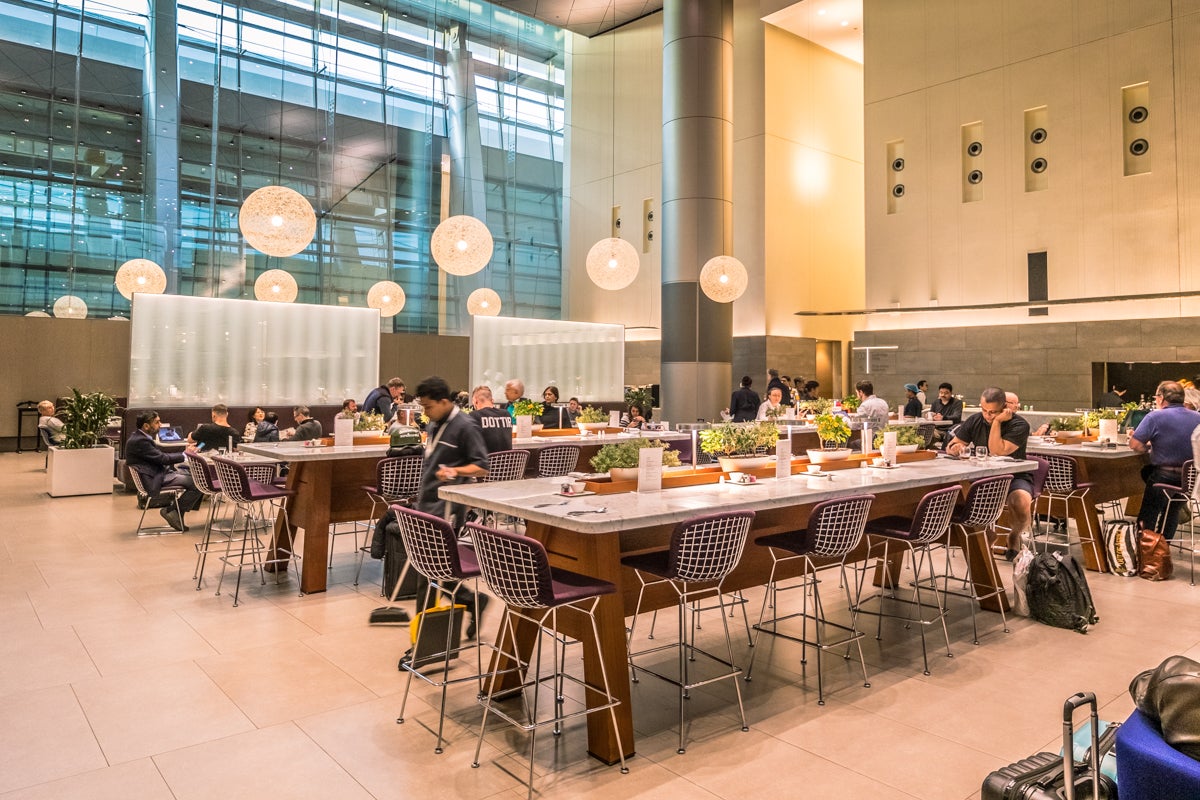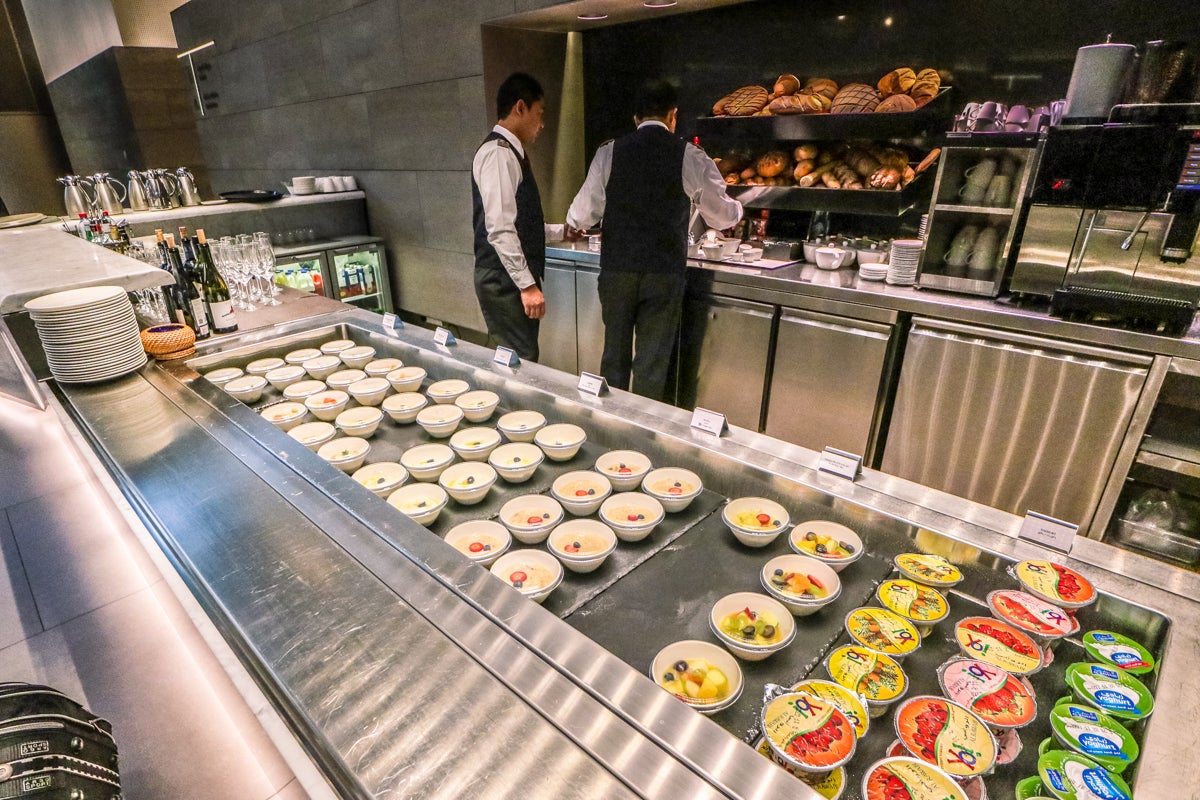 A game room complete with F1 video games and table foosball was available to entertain children.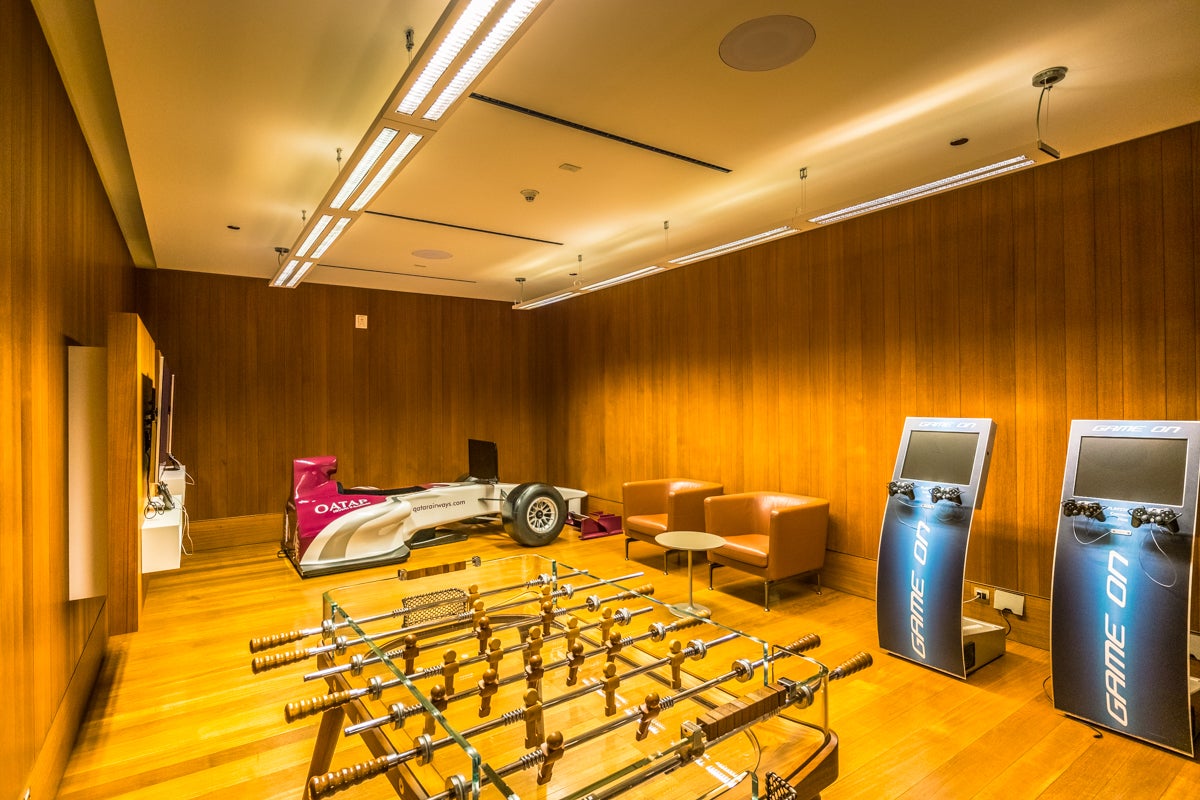 A business center offered PCs, meeting tables, and printing facilities.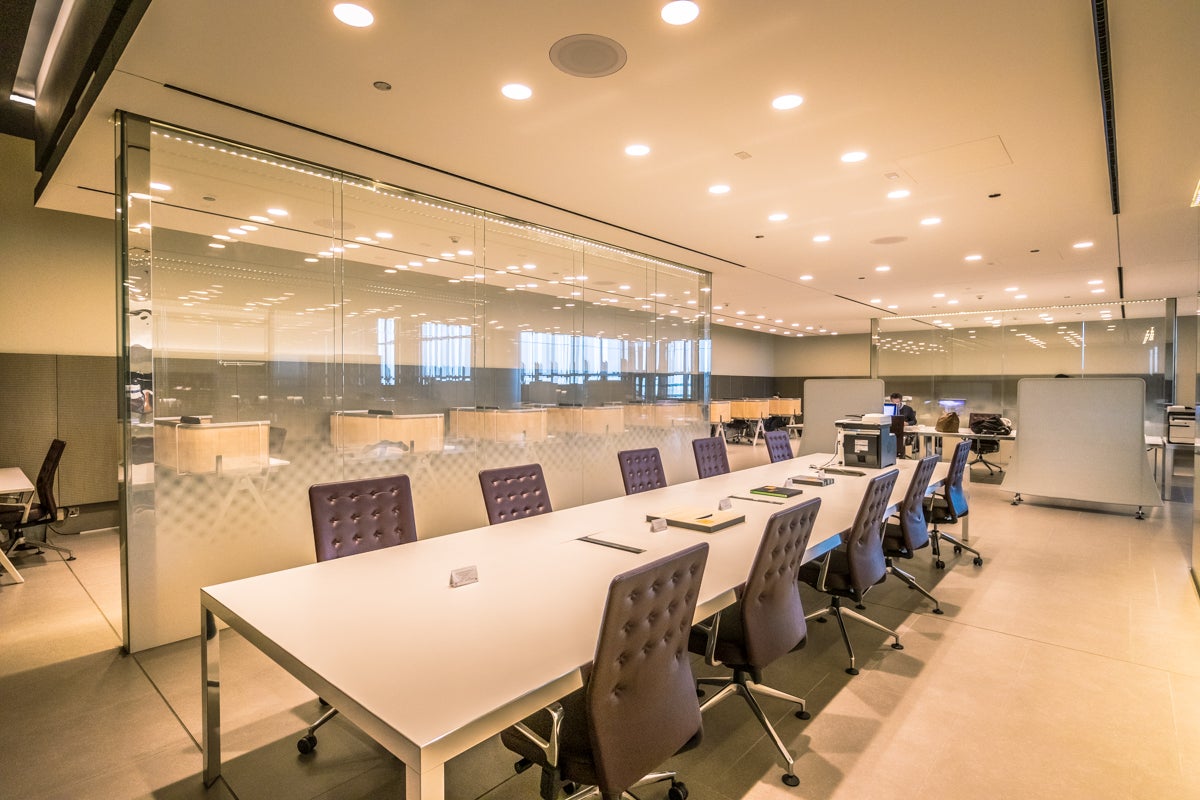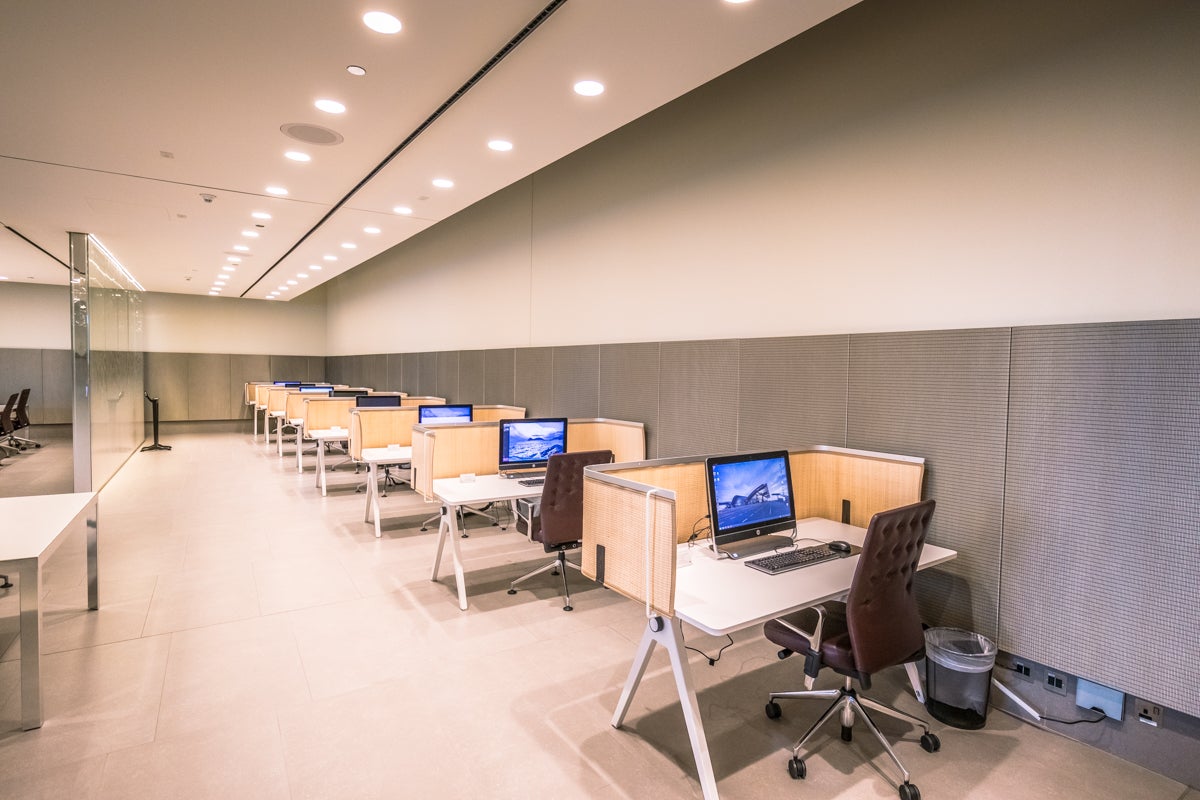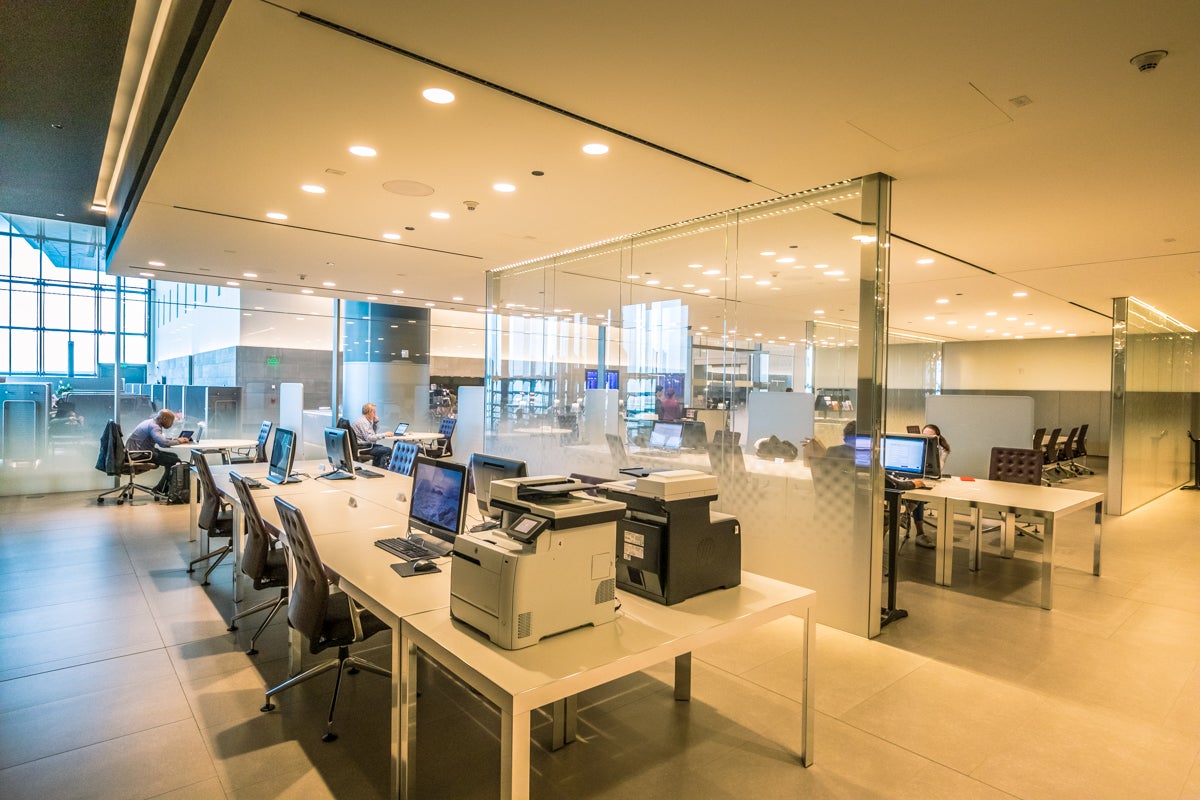 There was a designated quiet zone if you wanted to nap.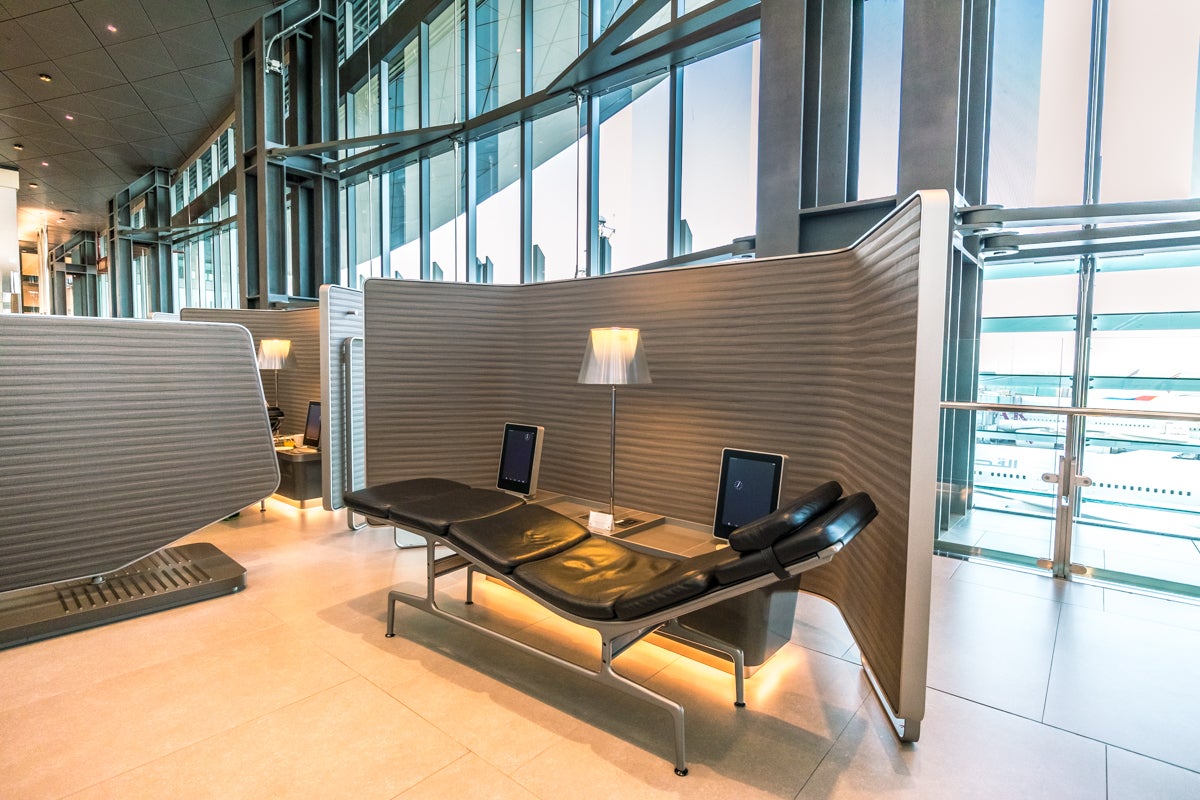 Showers were available, which I didn't utilize during this visit. However, the wait times were long.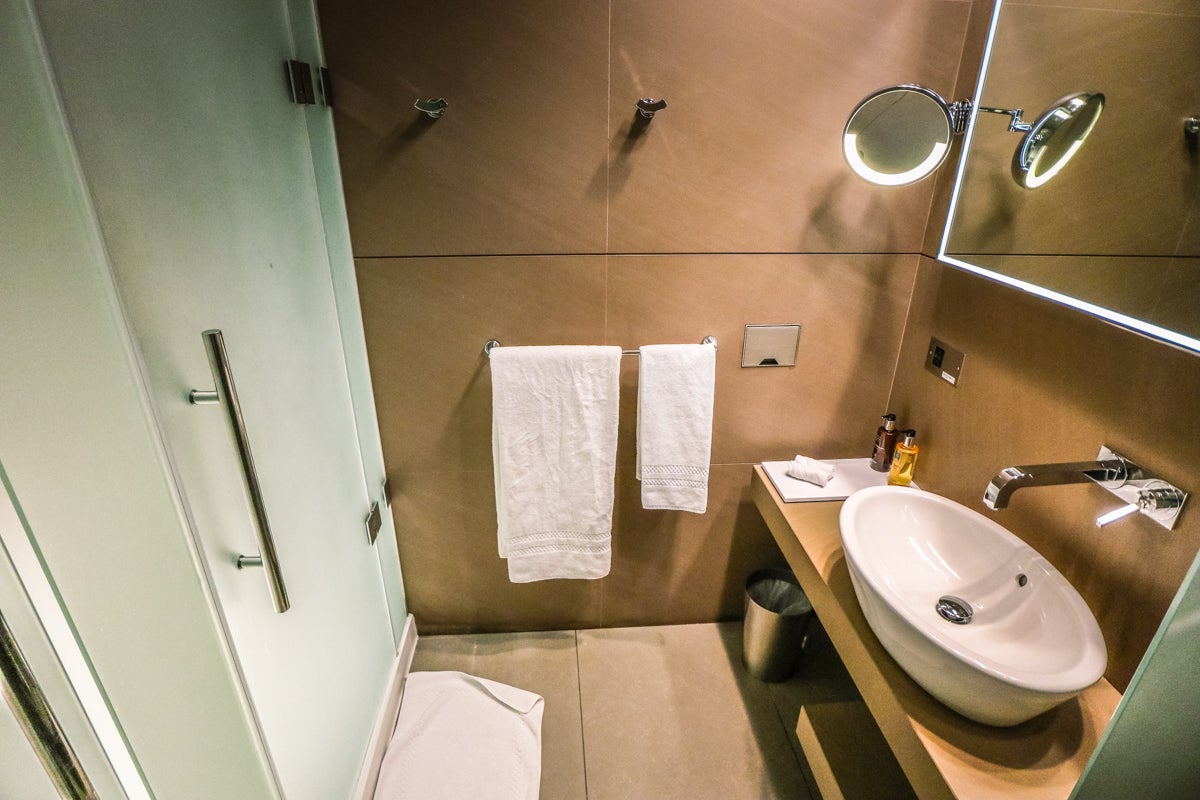 There's a huge number of seating zones.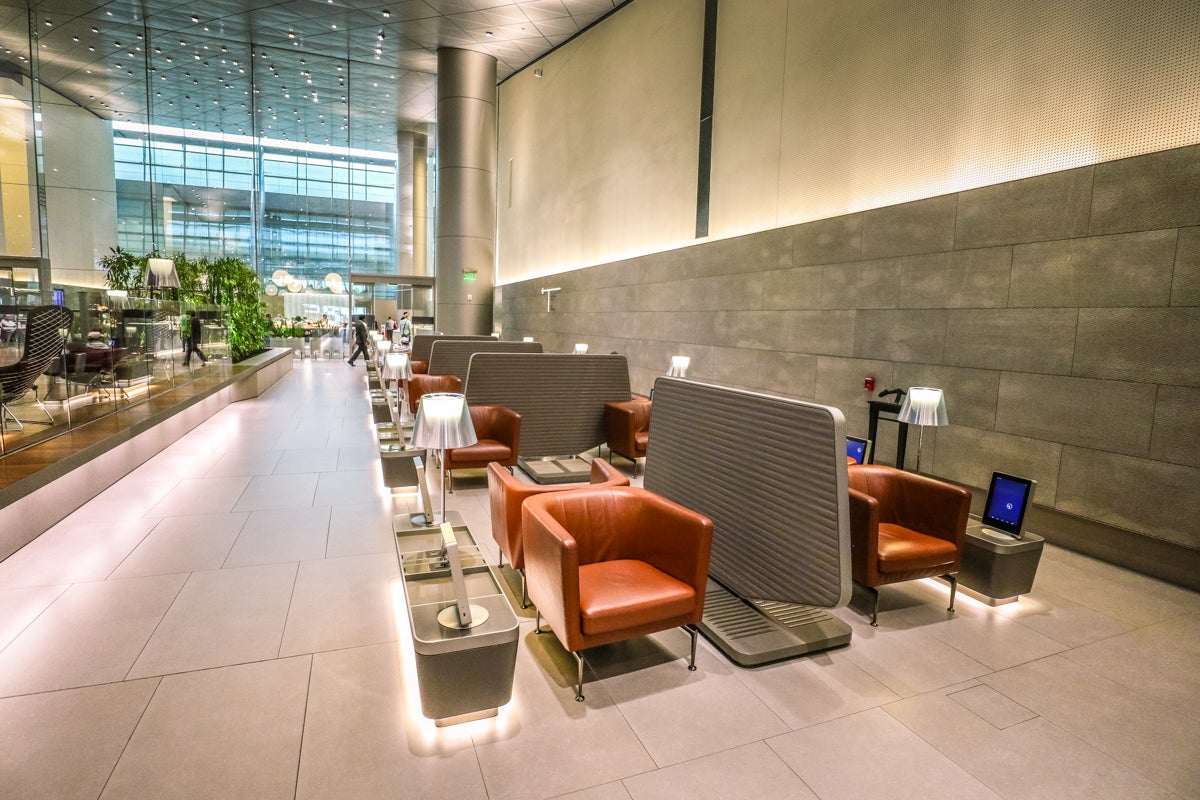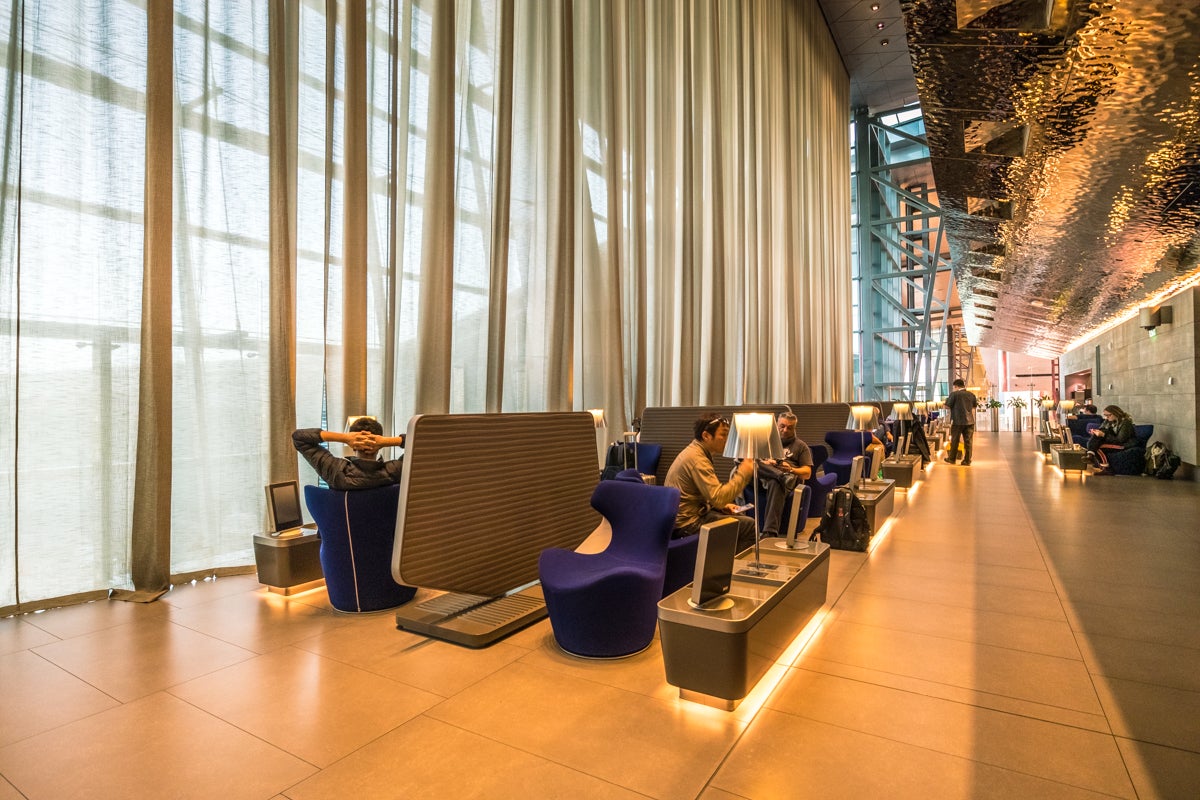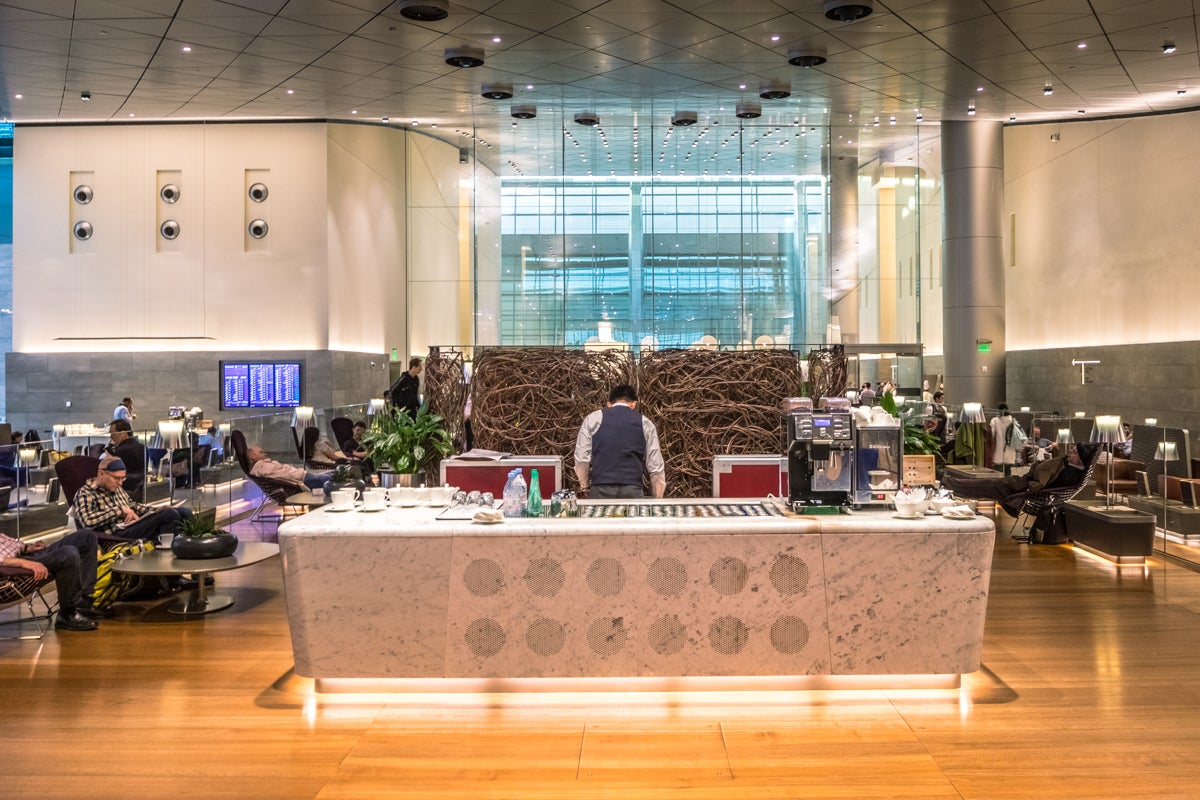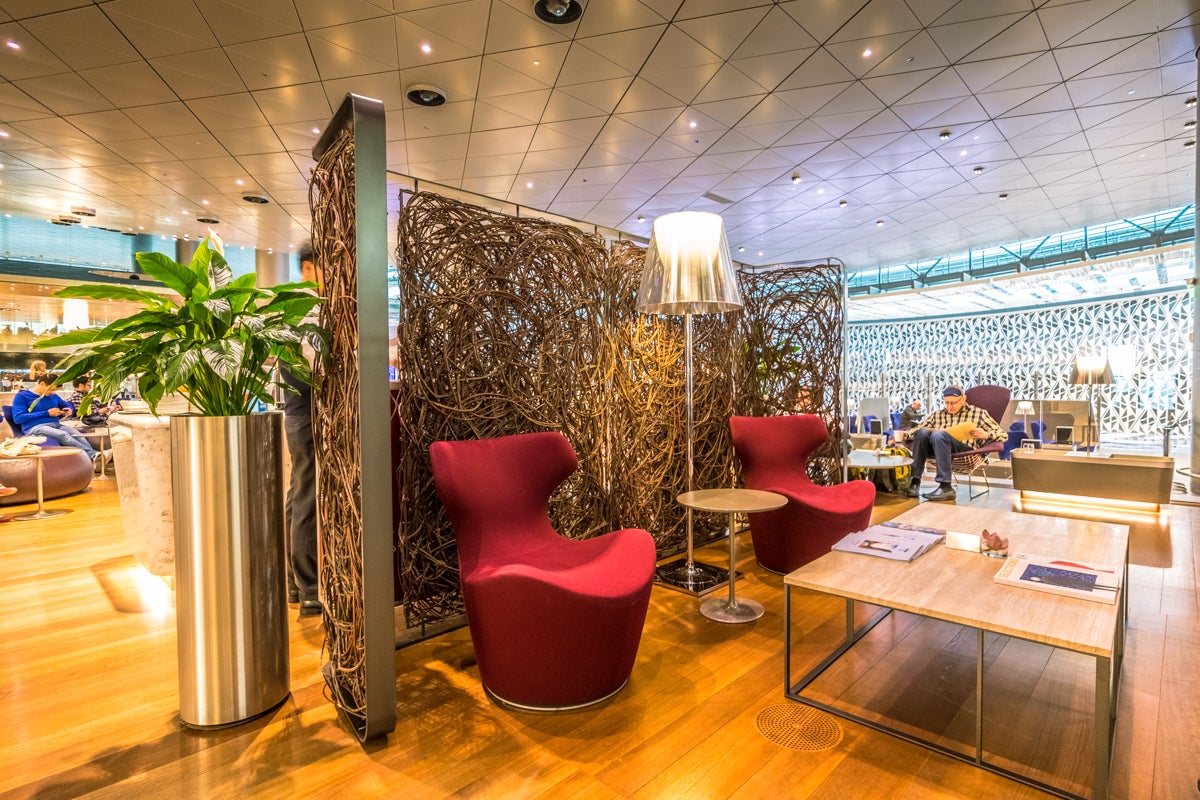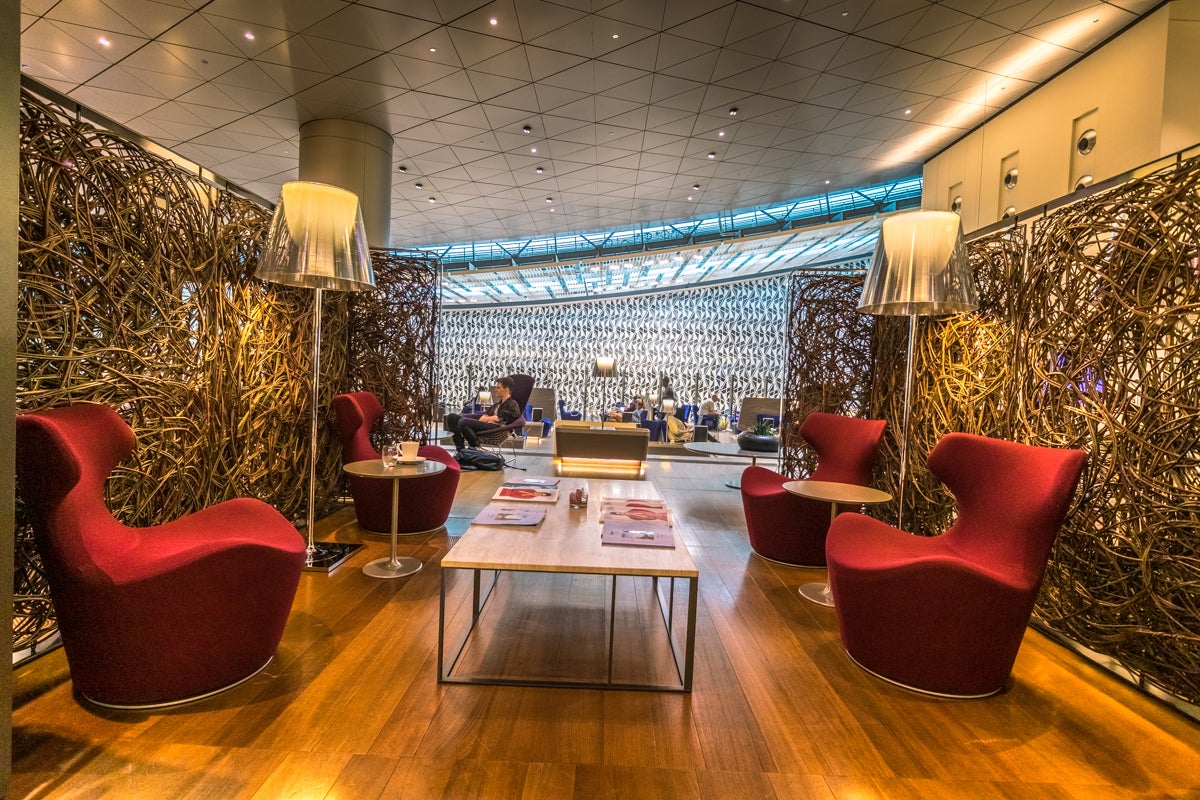 Overall, the Al Morgan lounge at Hamad International is one of the most impressive business class lounges you will visit.
Flight
Aircraft
Qatar Airways currently has a fleet of 45 Airbus A350 series aircraft including 36 of the -900 variants and 9 -1000 variants with 33 still on order. Qatar Airways was the launch customer of both A350 variants. All new deliveries of the A350 have the Qsuites installed, however, older aircraft have the existing business class product.
Our aircraft this morning was Qatar Airways' 14th A350-900 delivered and was just 2 years old and still had the previous generation cabin.
The non-Qsuites Qatar A350-900 is configured with 36 flat bed business class seats in a 1-2-1 configuration with 24 located between door 1 and door 2 and a smaller cabin of 12 seats behind door 2. Following that are 247 economy seats in 3-3-3 configuration.

The Qsuites seating configuration has the same seating count in both cabins.
Business Class
Although Hamad International airport only opened in 2014, there already aren't enough gates at the terminal for all morning departures, so we were bussed to the aircraft.
The ground crew specifically bussed all economy passengers to the aircraft first and left business class passengers to the end to improve the boarding efficiency.
Boarding was via door 2 that enters a refreshment area with overhead feature light and timber veneer paneling flanking both sides of the entrance – something the new Qsuites aircraft don't have.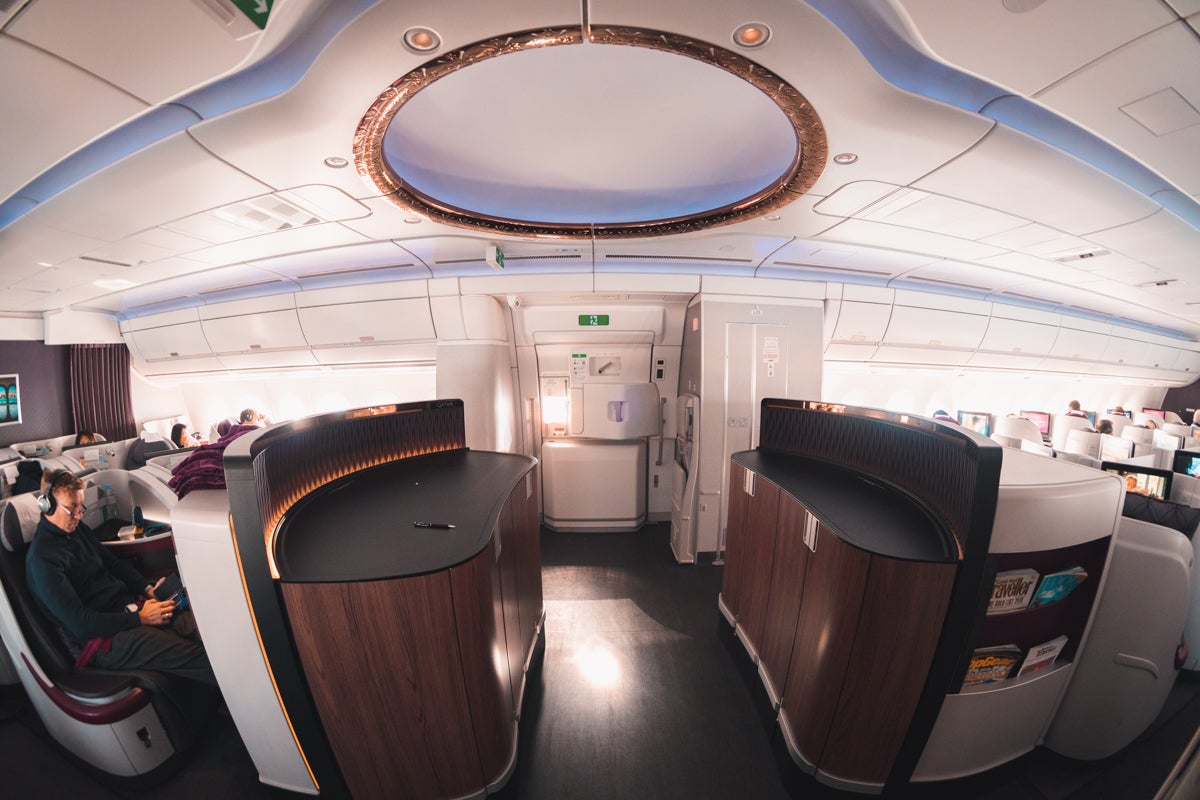 I selected seat 5K and turned left into the second aisle and into the larger forward cabin.
The cabin looks beautiful with its seats dressed in Frette Italian fabric in Qatar Airways' signature burgundy and grey, complimenting the light-colored seat shells. The expansive ceiling architecture, without center bins, gives an increased perception of space.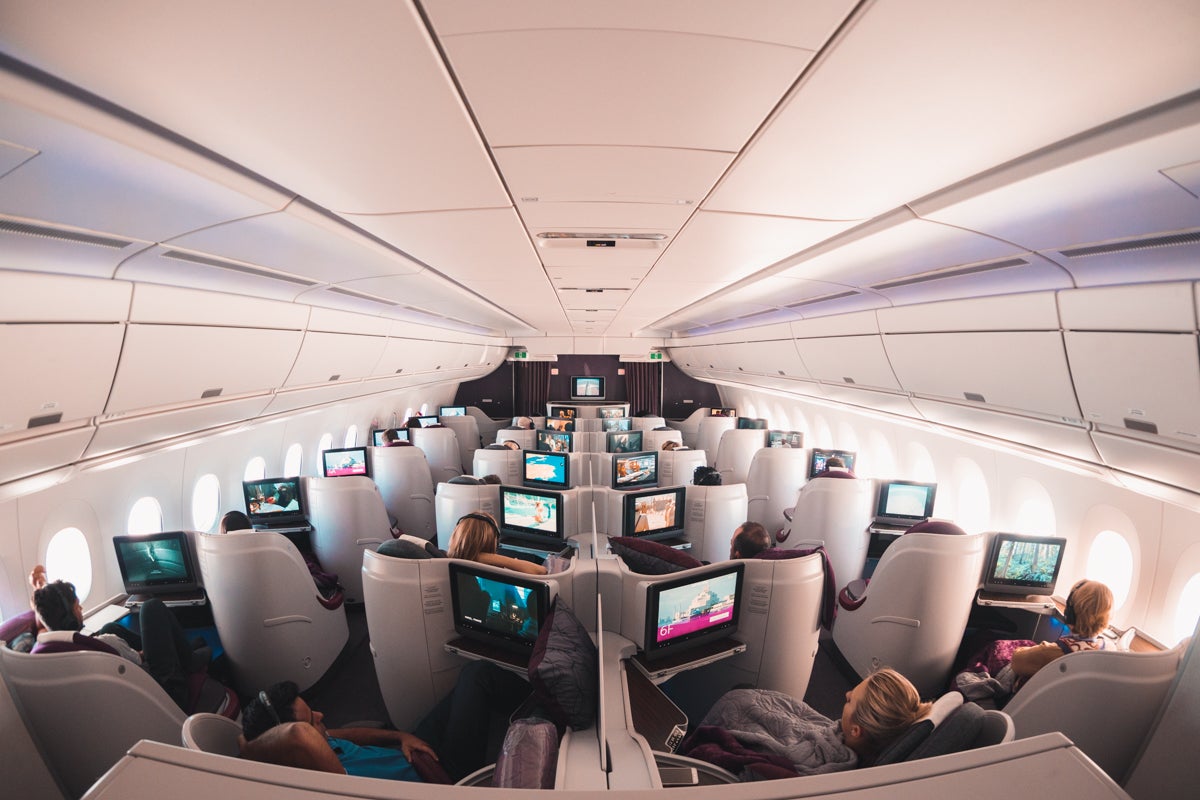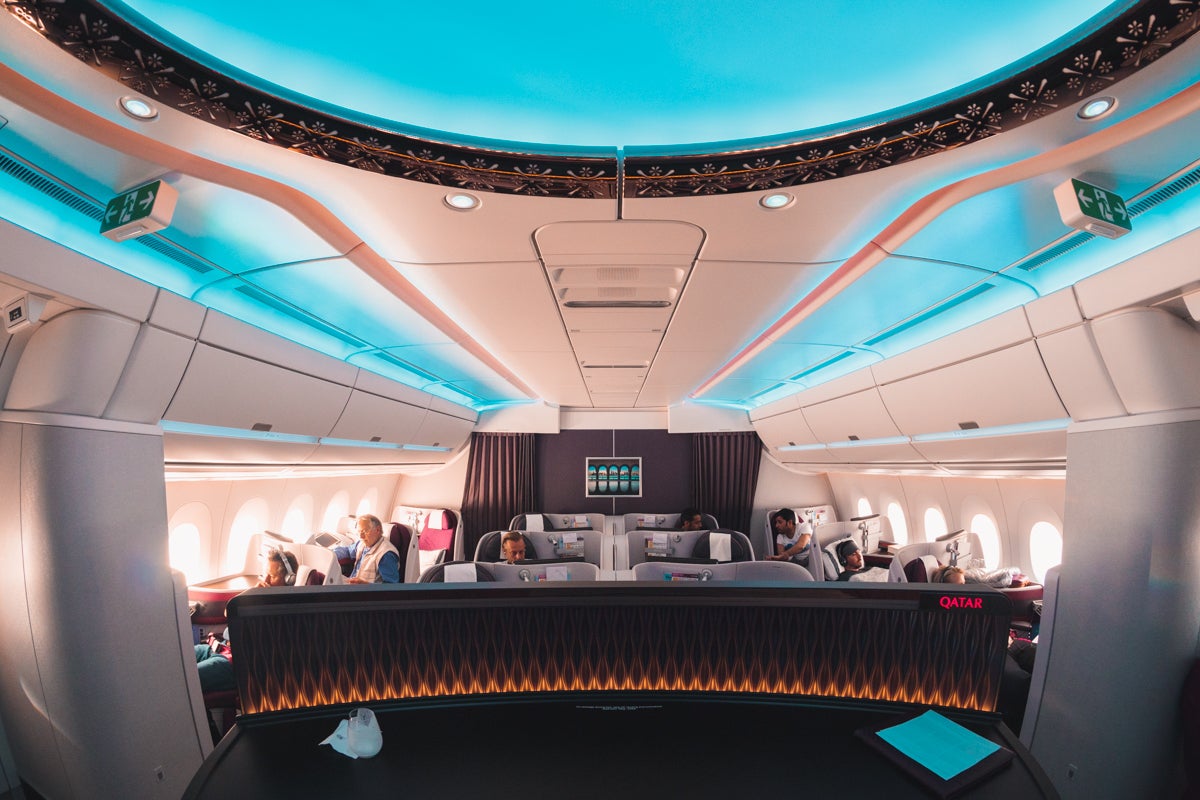 Qatar Airways' highly customized Super Diamond seat from B/E Aerospace, now Collins Aerospace, can also be found on Virgin Australia, Air Canada, American Airlines, and British Airway's new Club World to name just a few. It's the same seat Qatar Airways uses on its fleet of Airbus A380 and Boeing 787.
The reverse-herringbone configuration means window seats angle towards the windows and the middle seats angle towards the center of the cabin.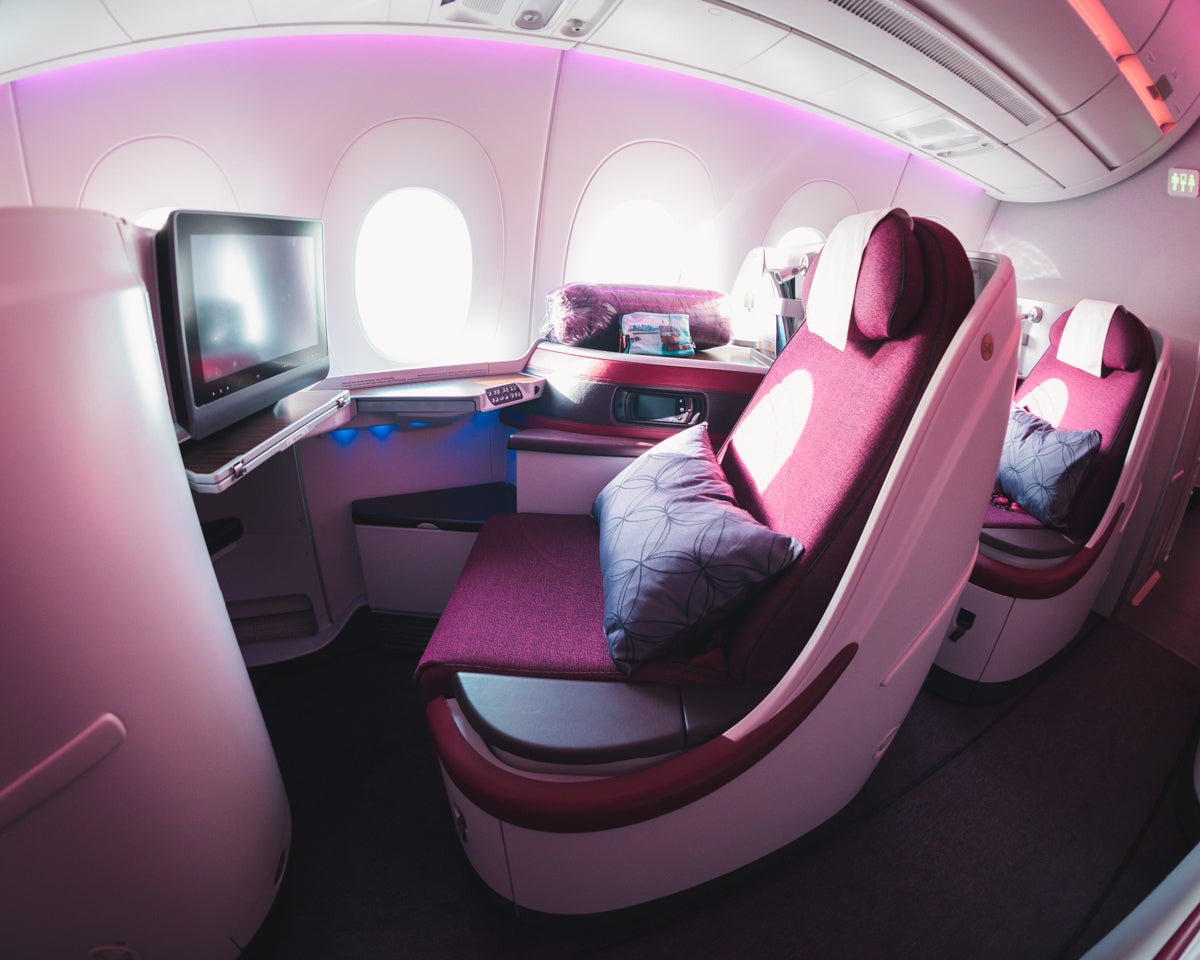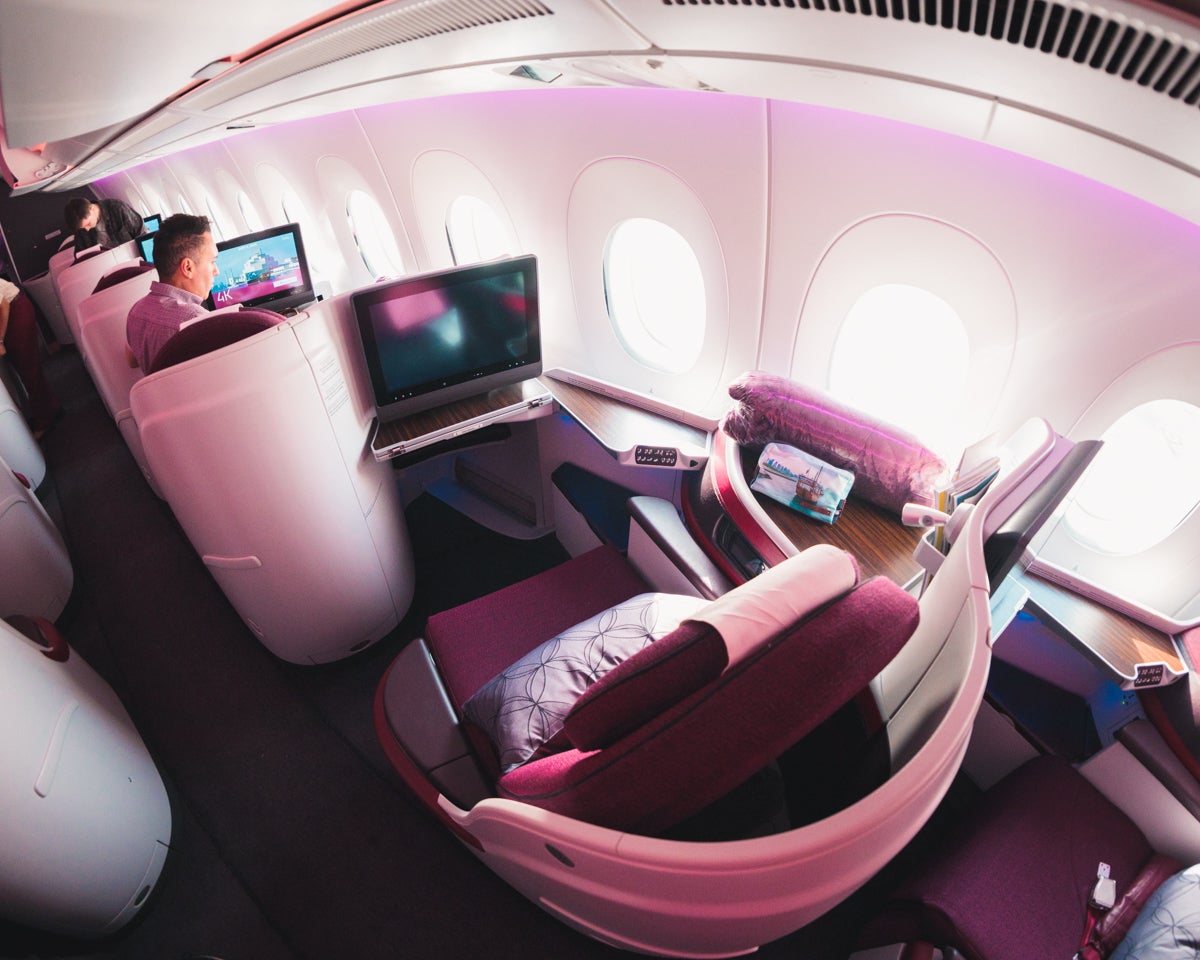 There are privacy dividers between the middle seats which are raised at the time of boarding to prevent any awkwardness if you didn't want to greet the person next to you.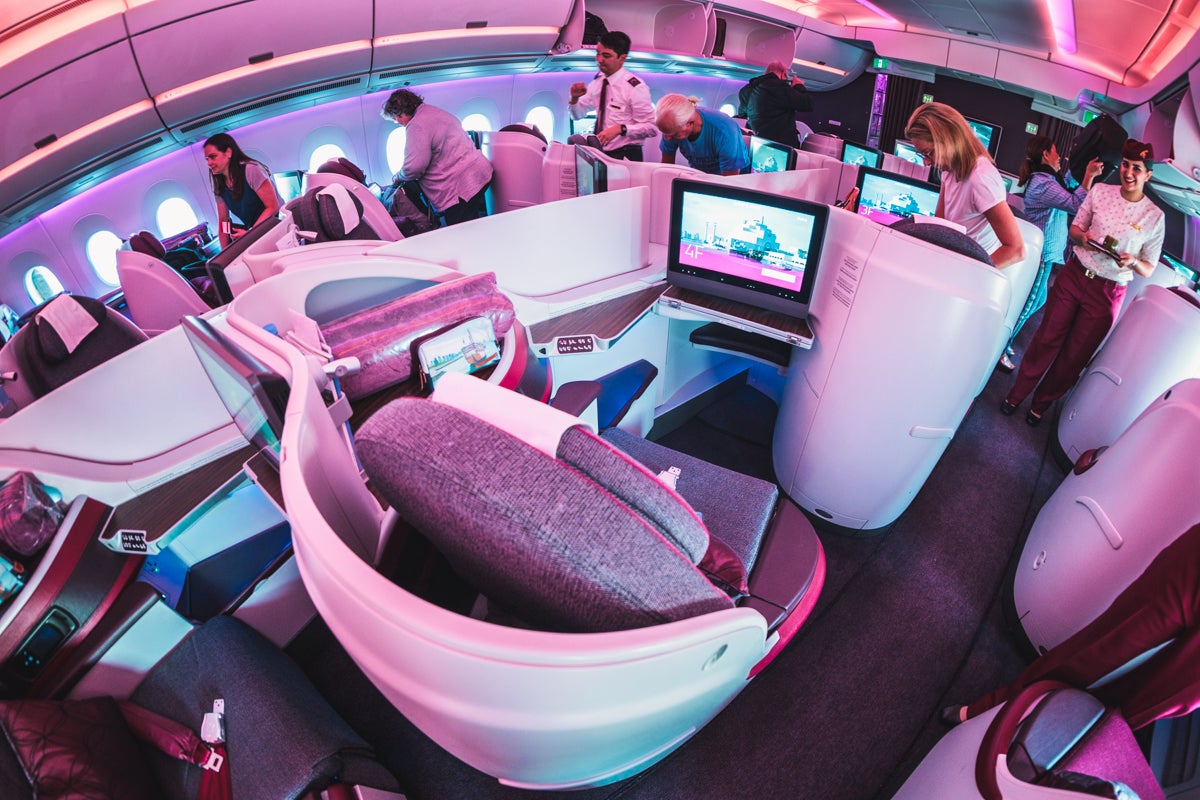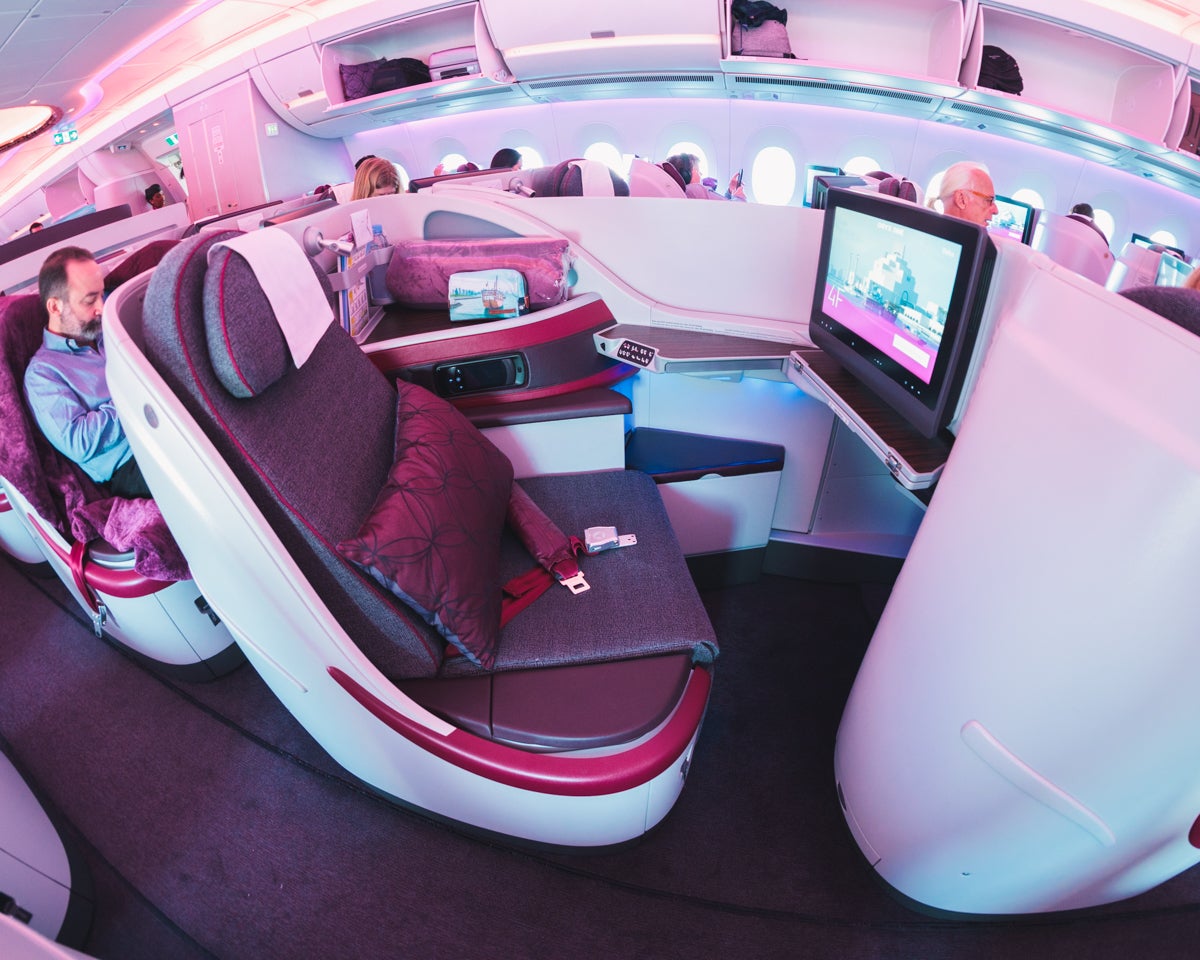 The foot cubby is a decent size for a reverse herringbone seat, however, it isn't as wide as a staggered configuration like the new Qsuites.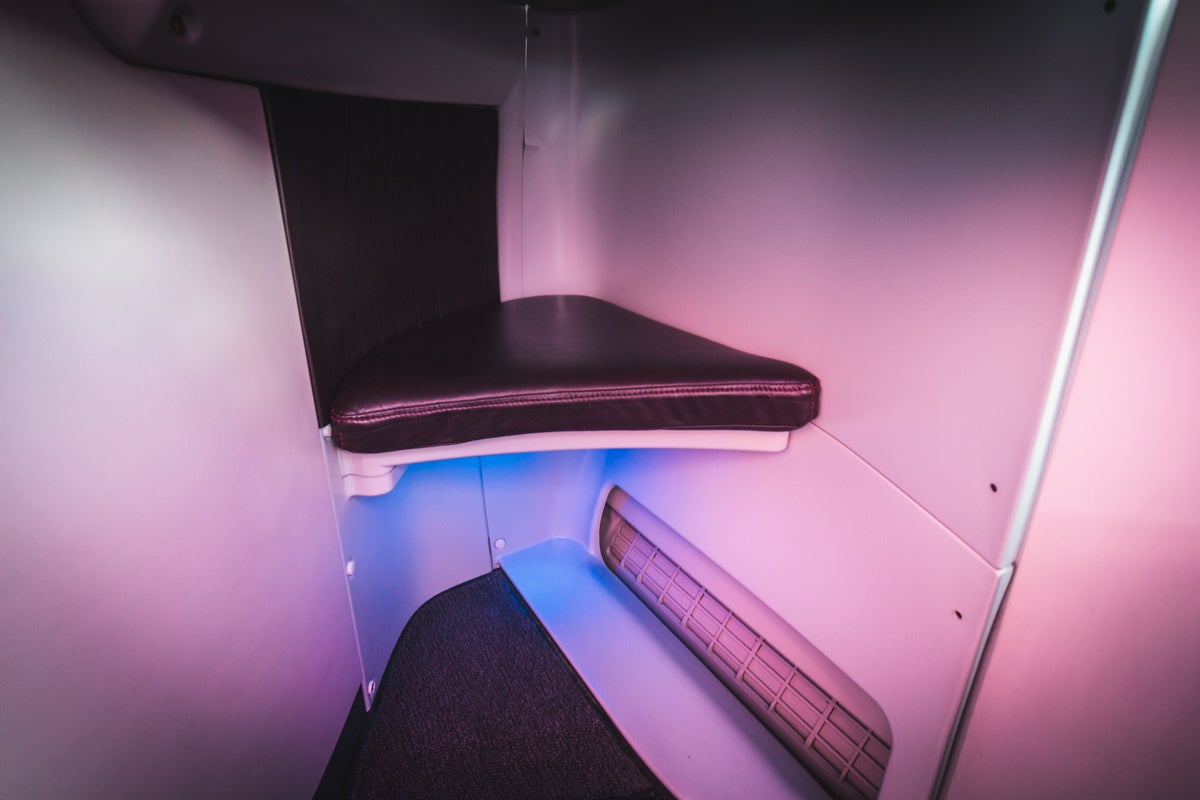 The tray table extends from under the IFE screen, flips forward to extend the available surface area, and slides towards you during meal service. You can also push it forward to make it easier to get out of the seat during the service.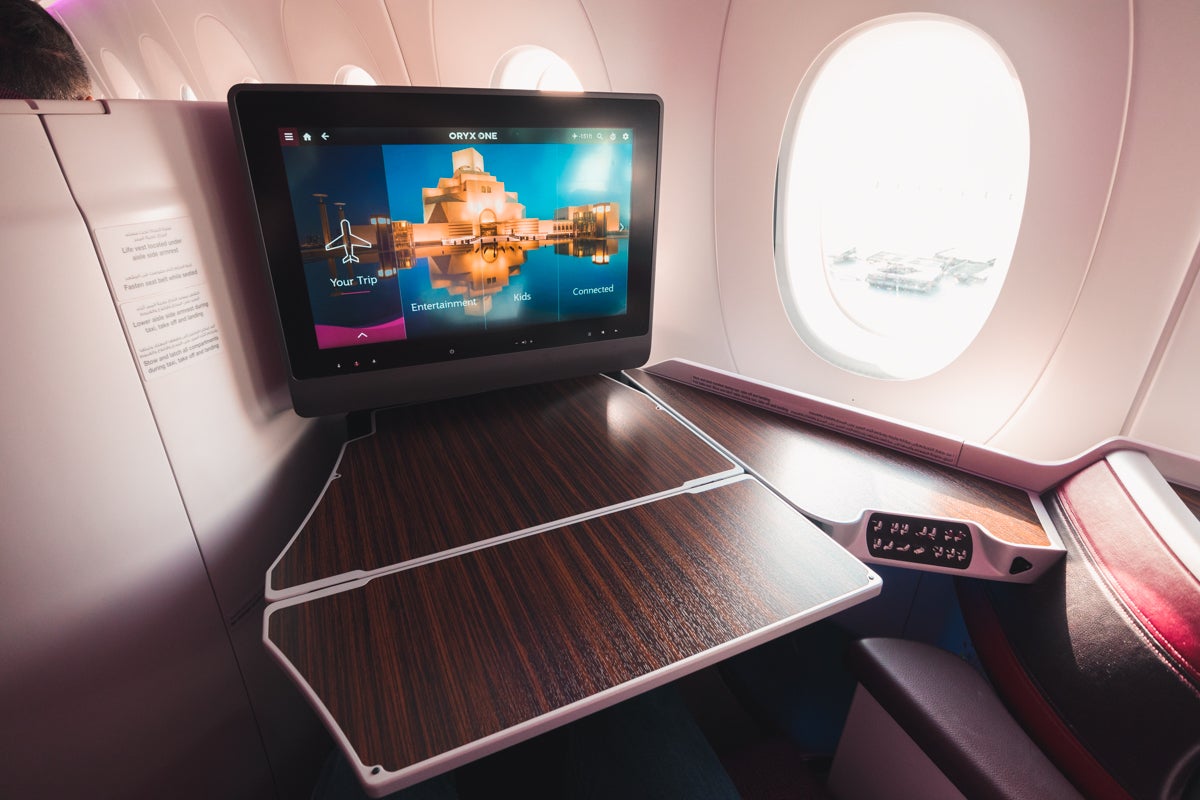 On top of the console, at the rear of the seat shell is the literature holder, water bottle holder, and a personal spotlight.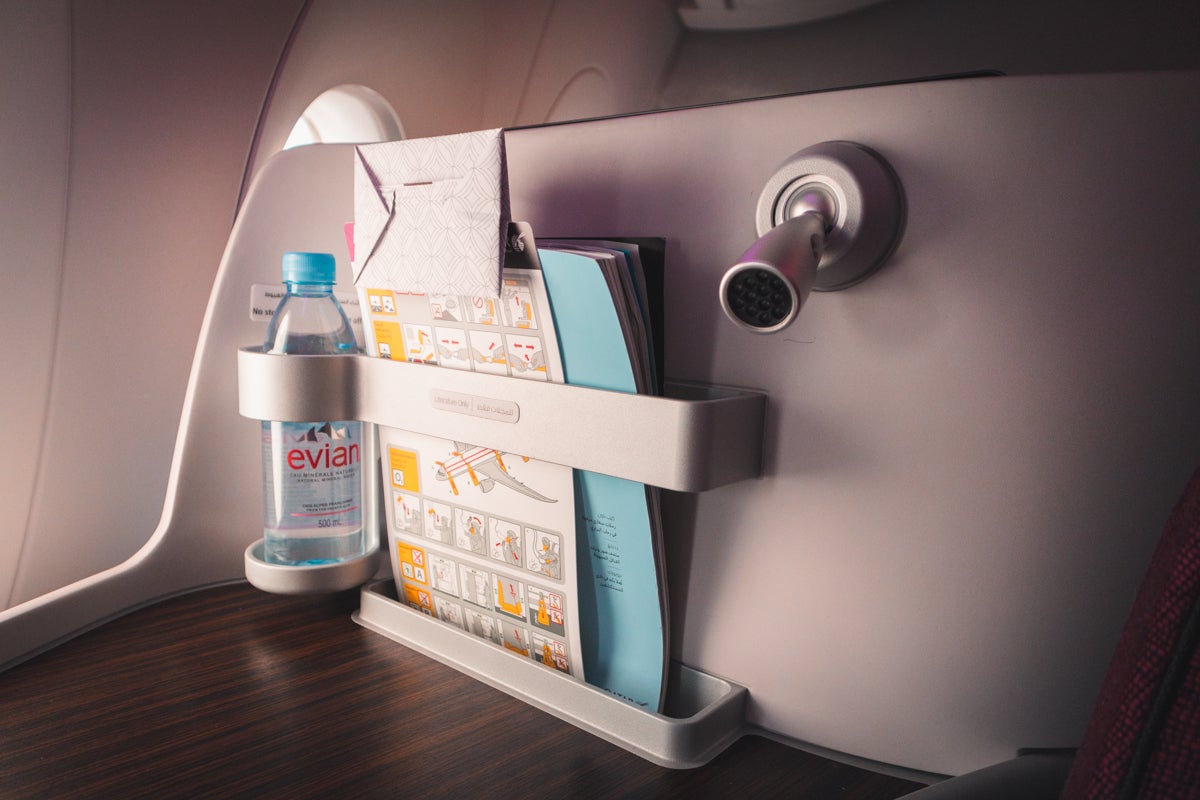 Seat controls are on the edge of the console facing passengers, and while some airlines have a touchscreen, Qatar opted for buttons. However, they have included motorized control for the arm rest and installed a massage and lumber feature which other carriers don't have.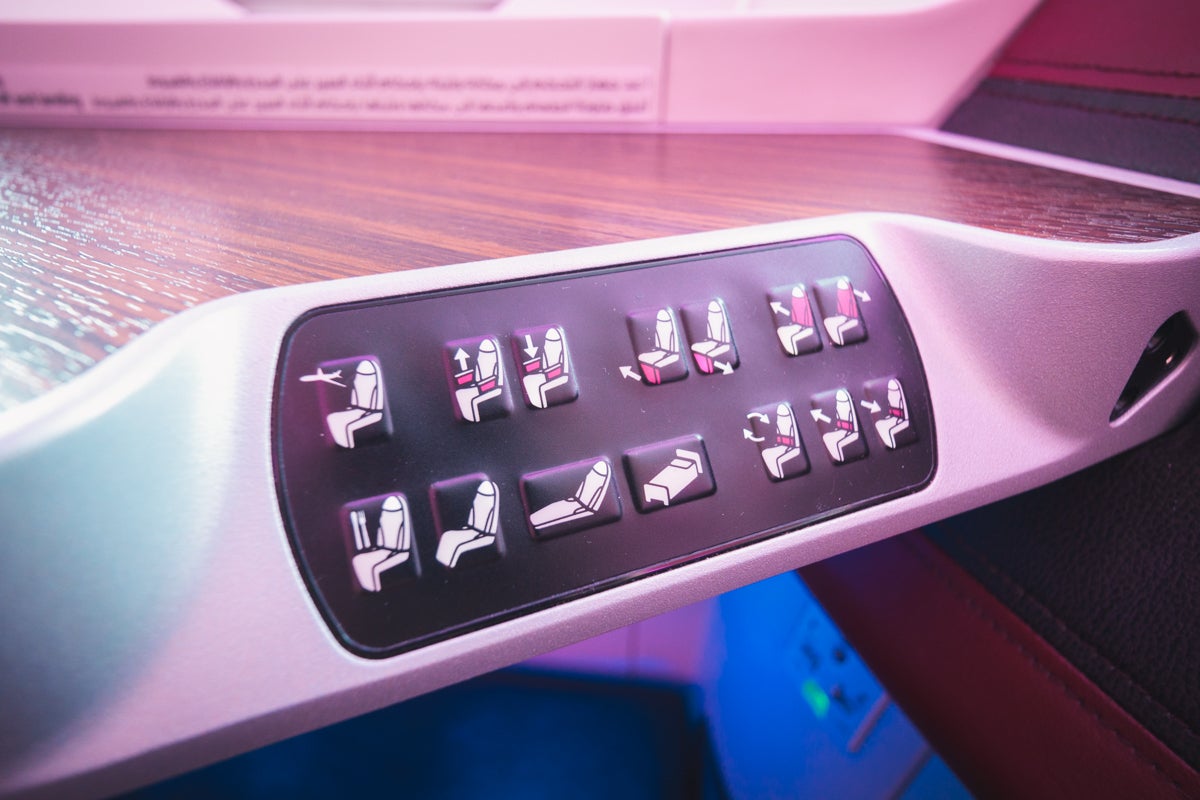 Under the console alongside the window is an enclosed storage compartment which is also illuminated – a nice touch so you can easily find your belongings when the cabin is dark.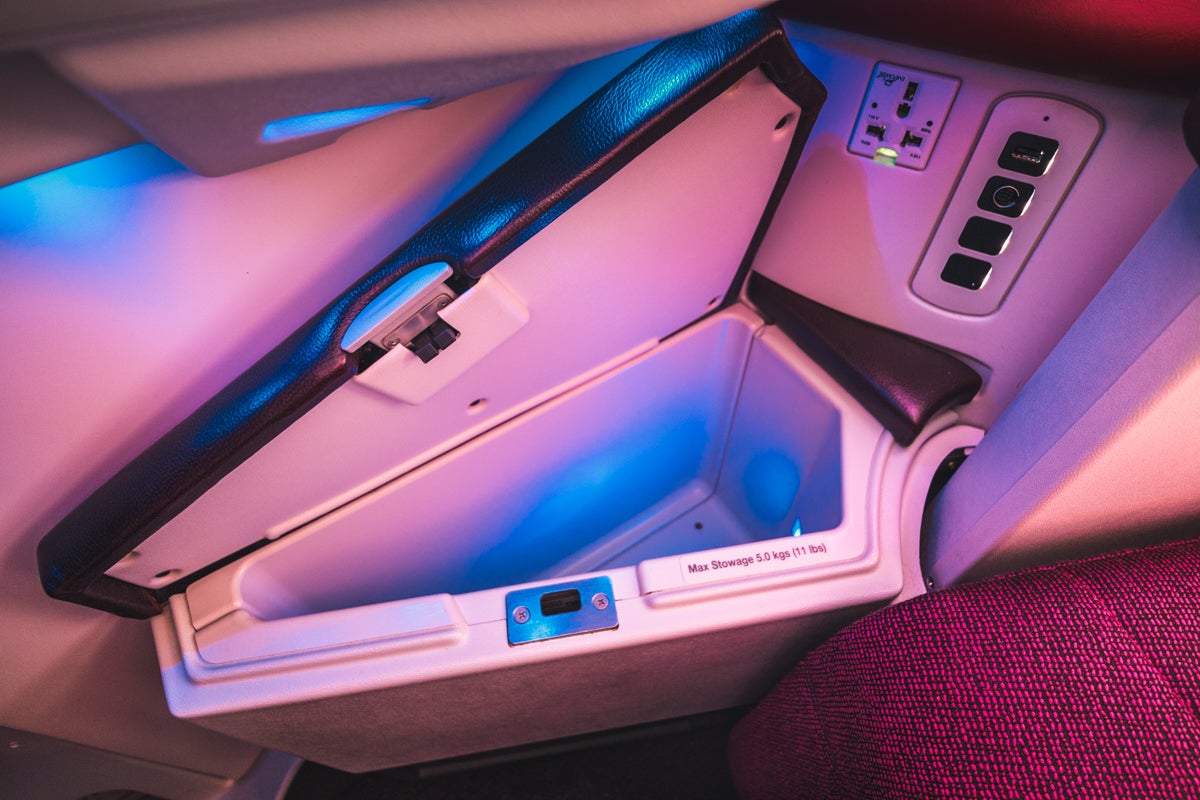 Just above the storage compartment is a power socket and USB port so that you can leave your small electronic devices in the closed console whilst they charge.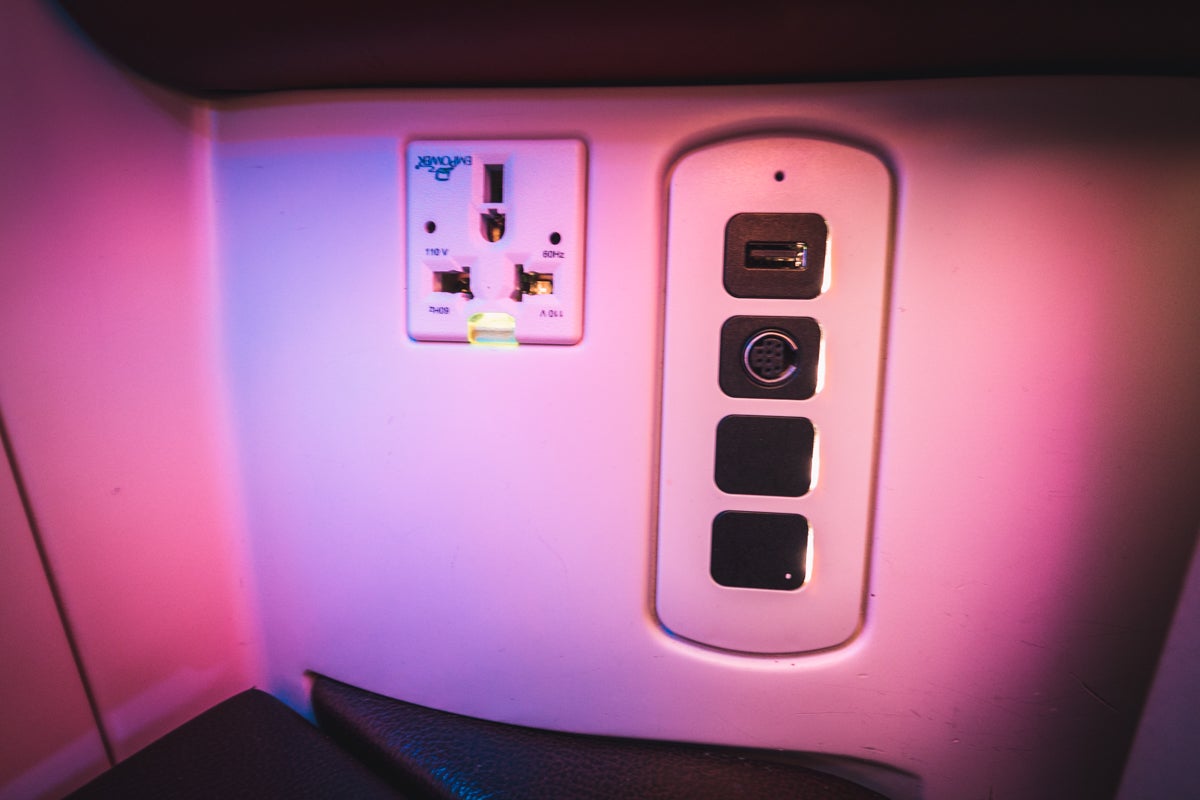 The motorized armrest houses the noise-canceling headphones and is also illuminated.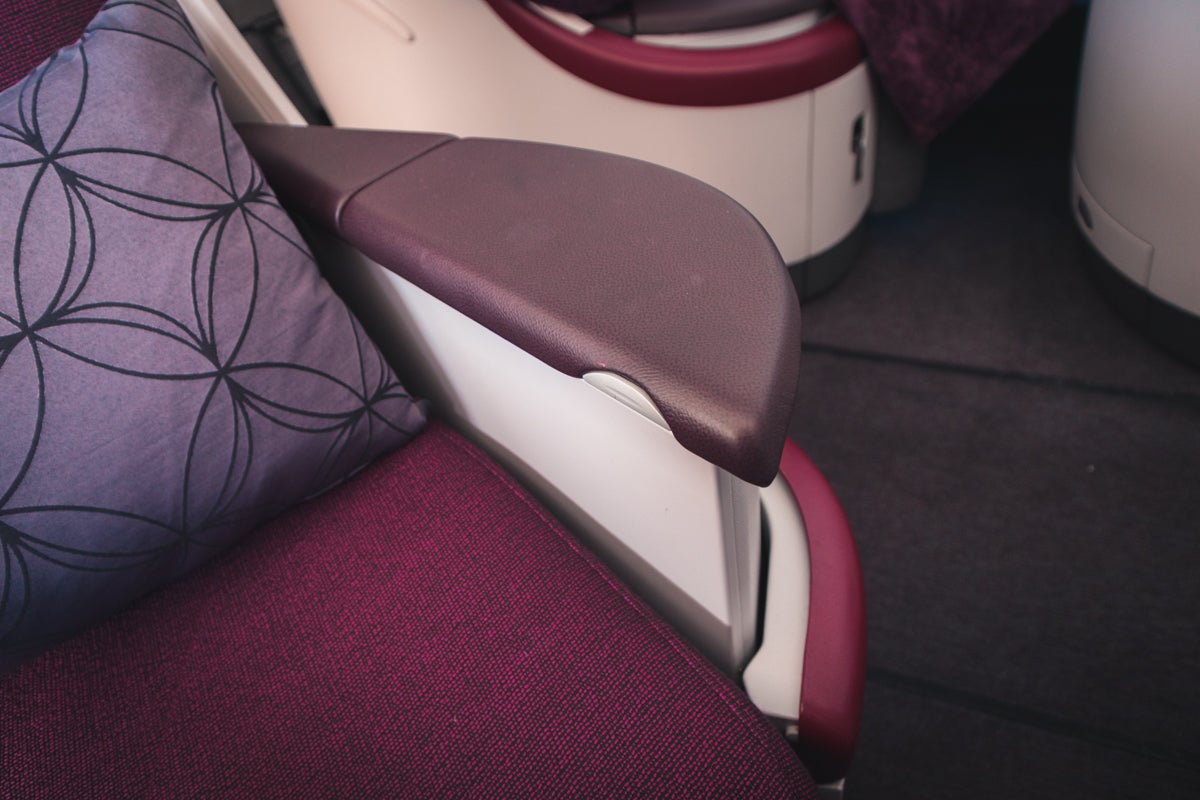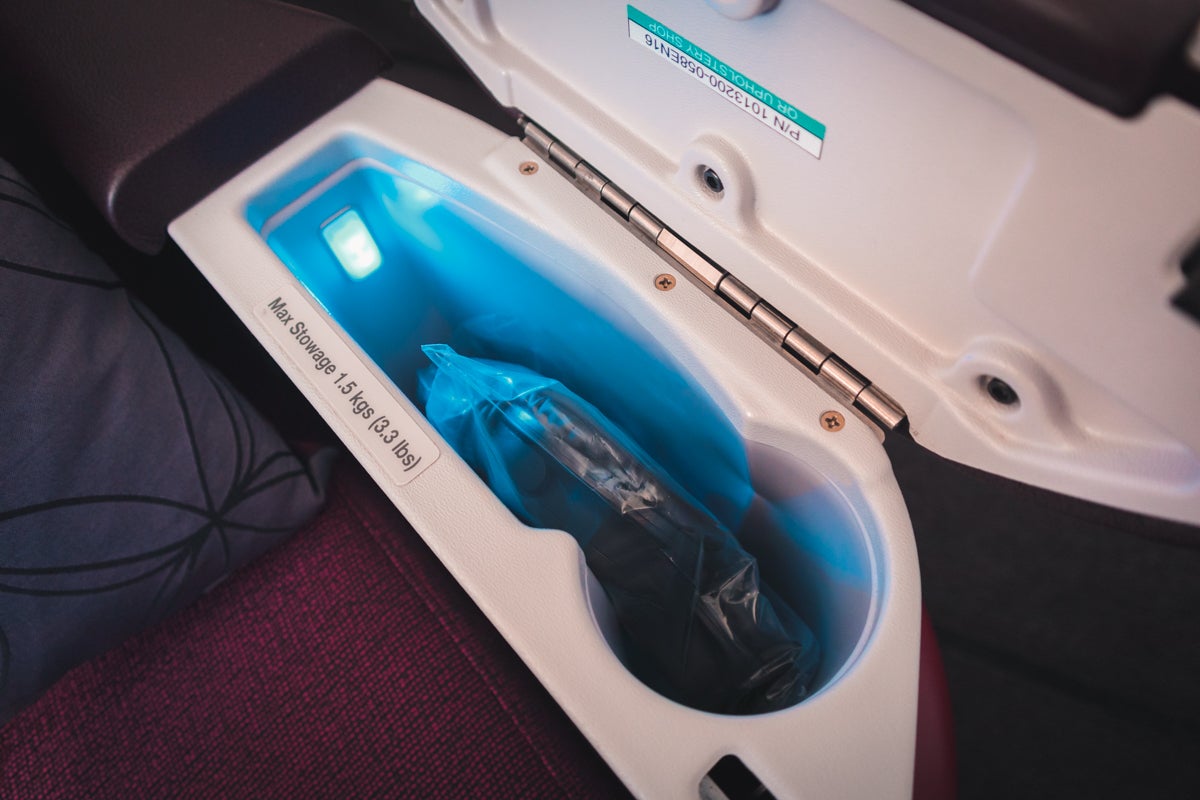 Finally, there is a drawer under the seat in front which I found to be perfect to store my shoes.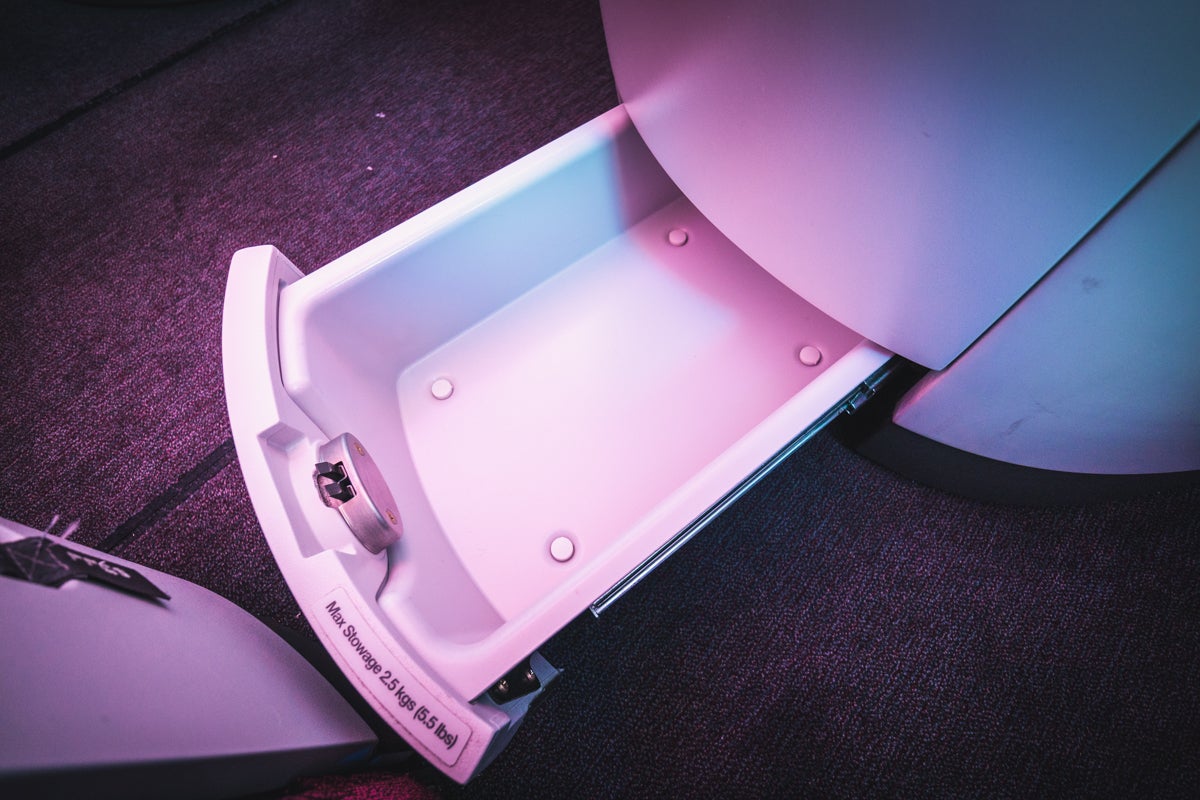 While the Airbus A350 aircraft misses out on the enormous electronically dimming windows of the Boeing 787, the windows are still very large and Qatar has selected twin-layer electronic shades — a sheer and a block out.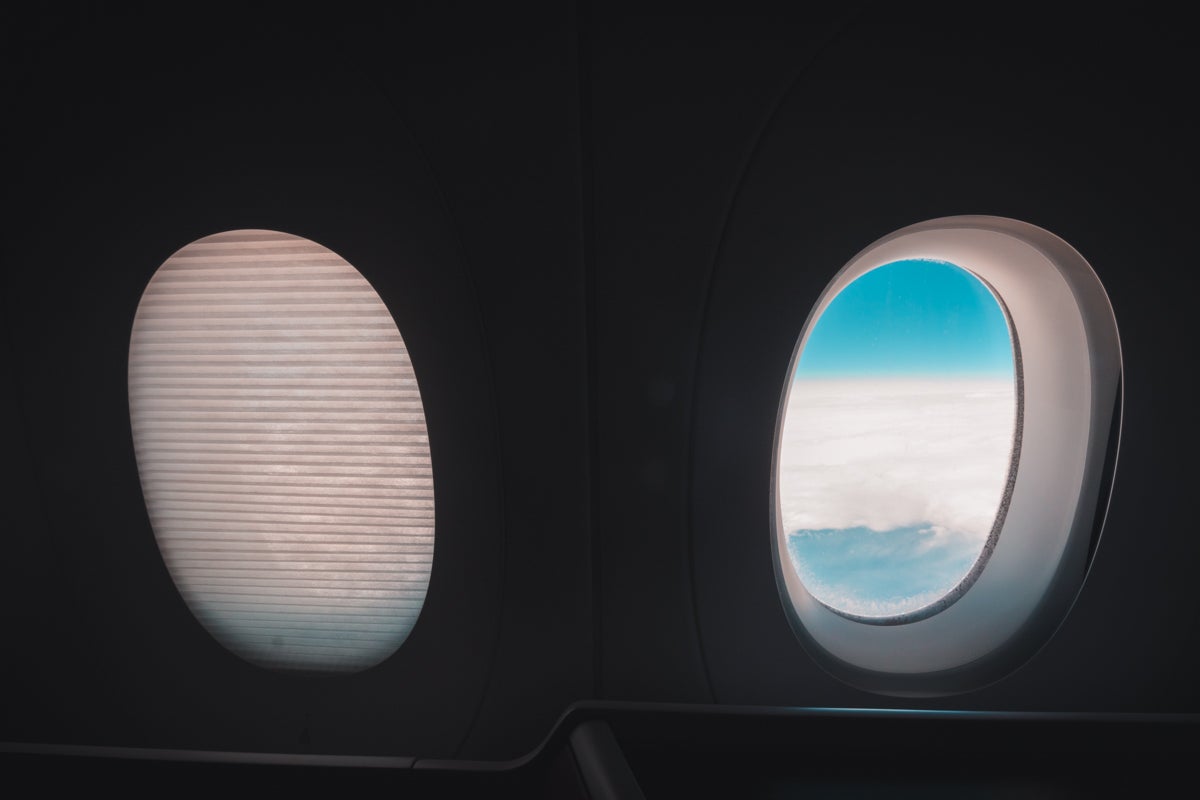 The crew has full control of these and can override your window-dimming wishes, but thankfully on this day flight, the crew left window passengers in full control of their shades.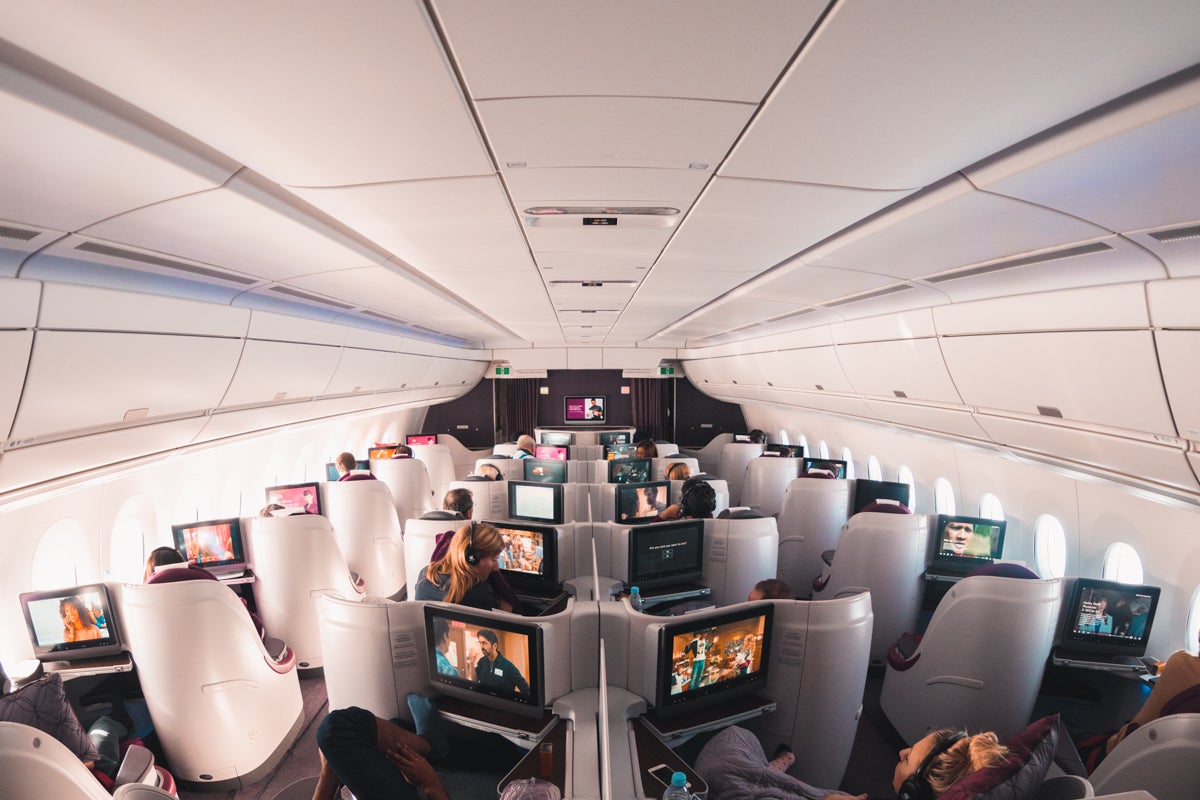 There are 2 lavatories just ahead of door 2 on either side of the aircraft with another 1 up the front providing a passenger to toilet ratio of 12:1.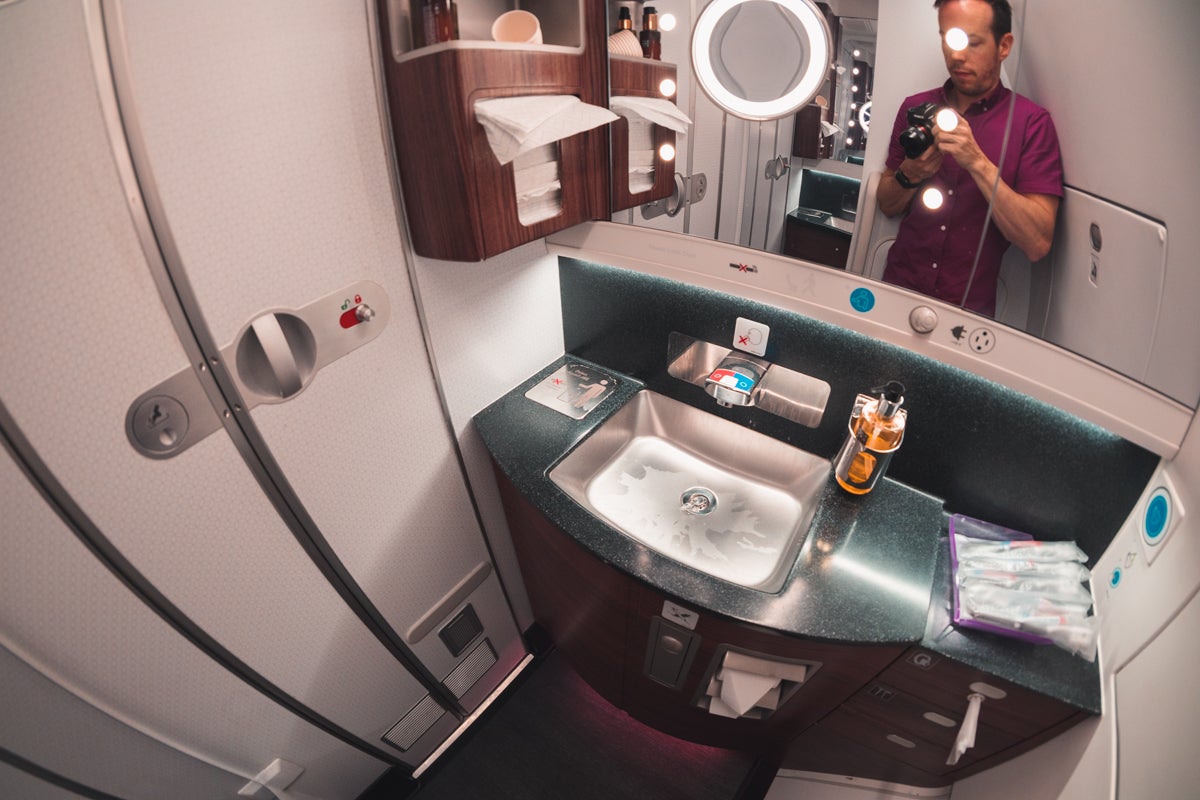 I'm amazed at the attention to detail Qatar Airways has in this aircraft — features such as the entrance ceiling light, the waffle pattern behind the entrance consoles, and the engraved belt clasps.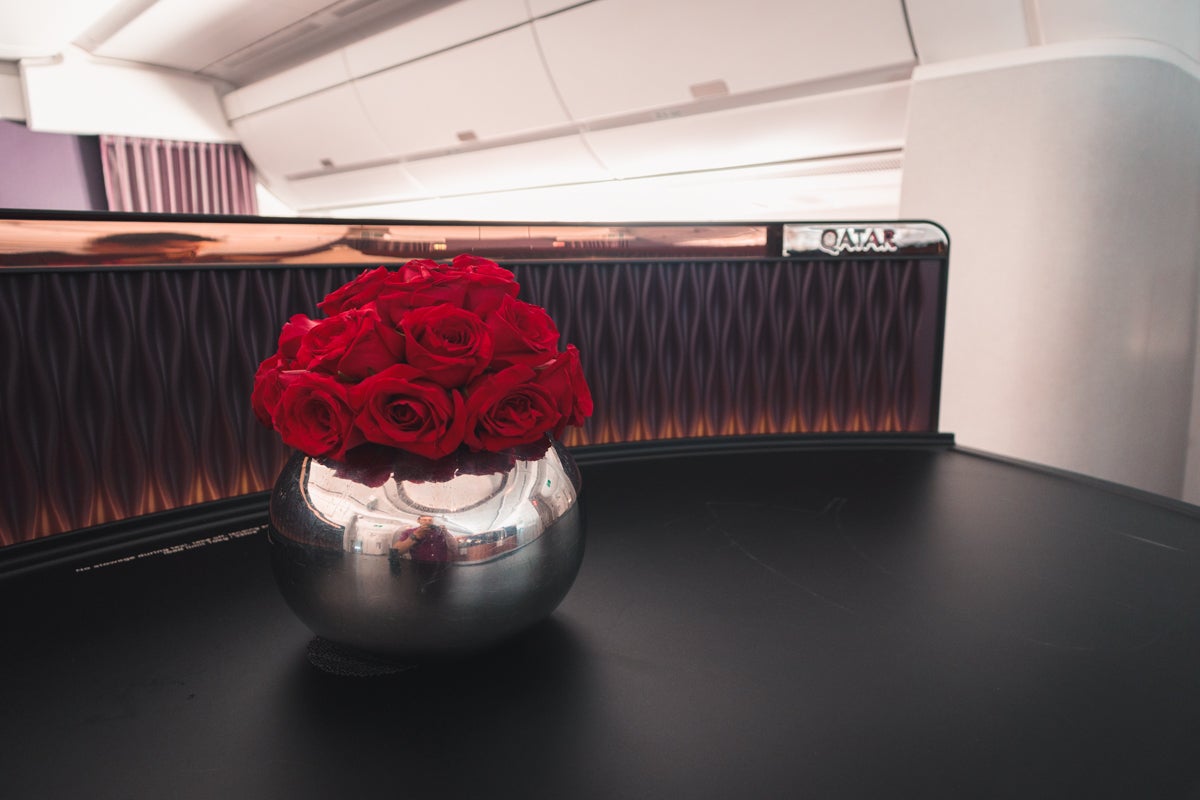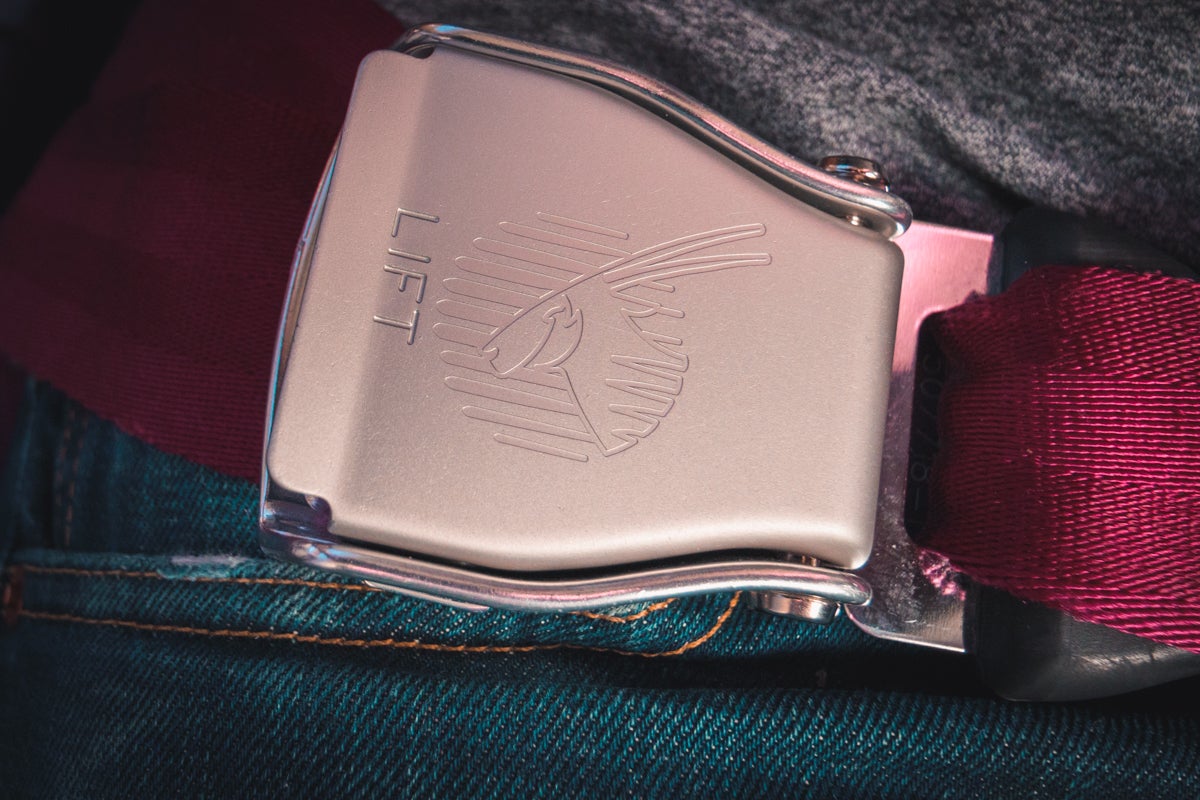 I wanted to stay awake during the flight to adjust my body clock, but if you wanted to sleep, the seat slides down to an 80 inch (2 meter) fully flat bed.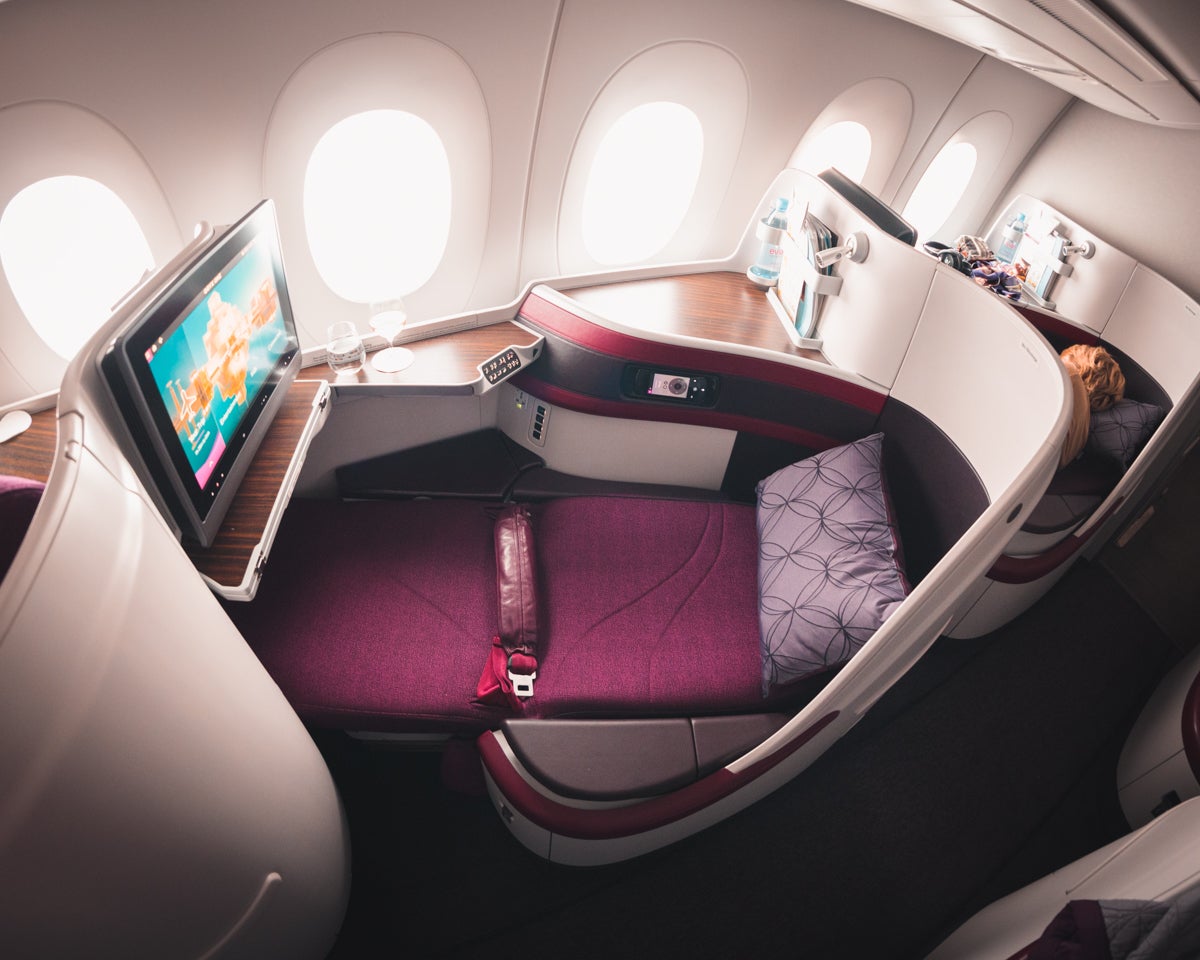 The only problem I have with Qatar Airways' interpretation of this seat is the lack of a privacy wing at head level. You're left feeling exposed to the whole cabin, catching eye contact with other passengers, and feeling like your head is angled into the aisle when in bed mode.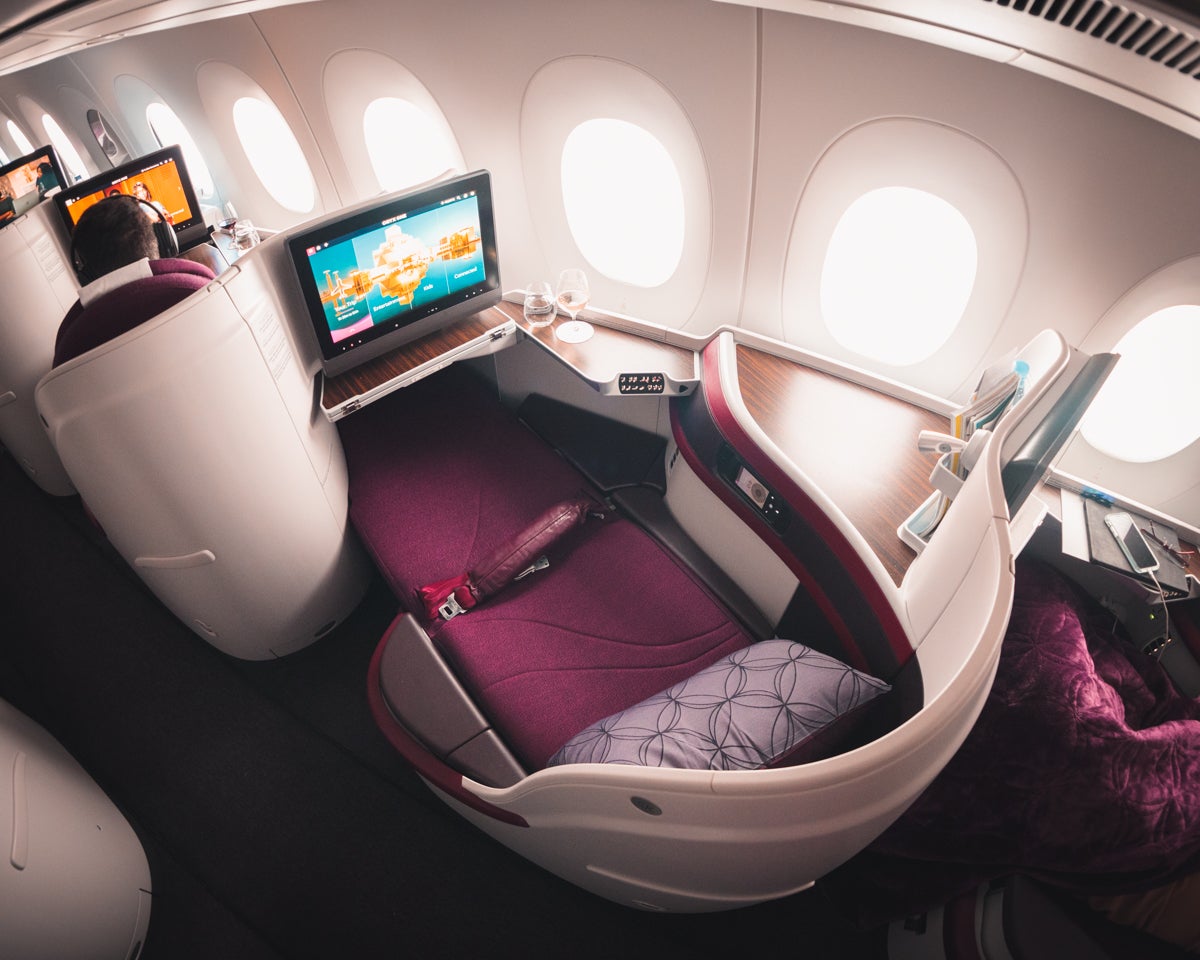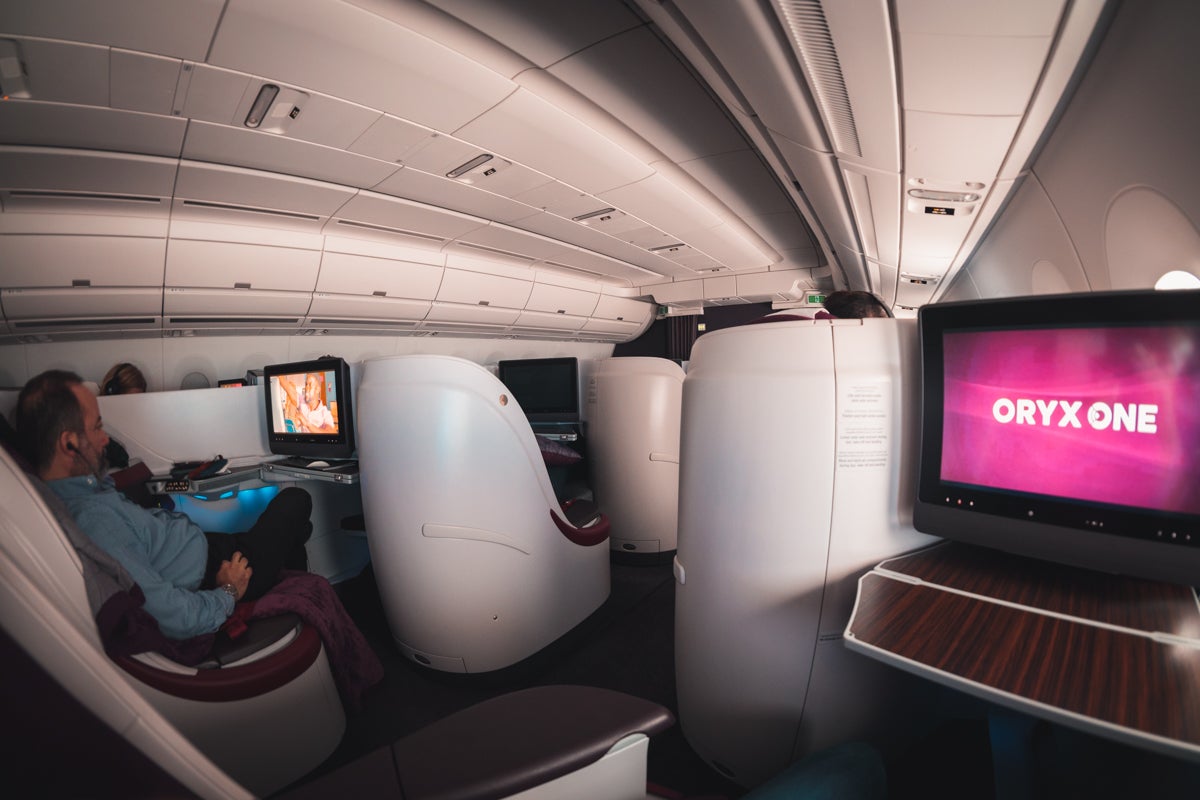 A feature that most passengers won't directly realize, but your body will thank you for, is the active humidification systems that Qatar optioned-up for the business class cabin zones and crew rest areas (sorry economy class passengers). Cabin air is normally extremely dry but by humidifying the air, it reduces problems like fatigue, jetlag, red eyes, and dry skin.
Amenities
A limited edition Nappa Dori amenity kit was at my seat upon boarding that included socks, eye mask, lip balm, earplugs, moisturizer, and facial mist.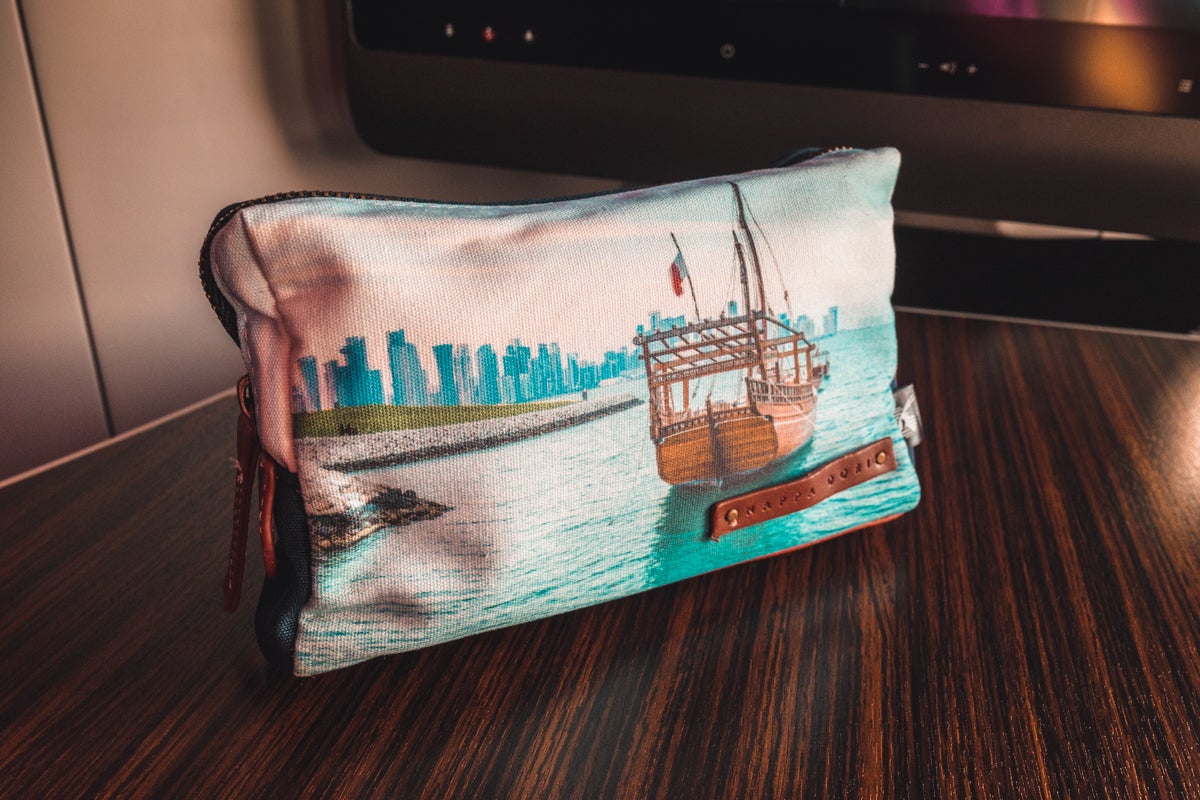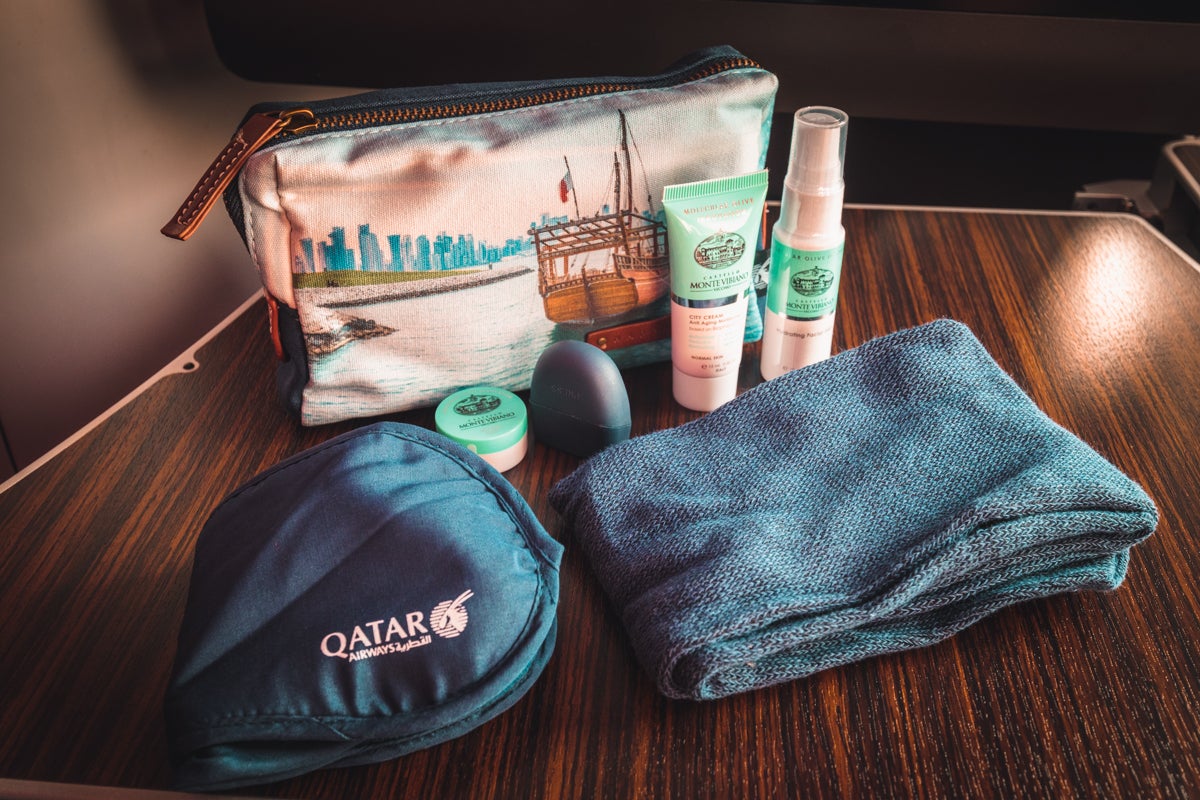 A duvet is supplied, but no pajamas or mattress pad are available on this day flight.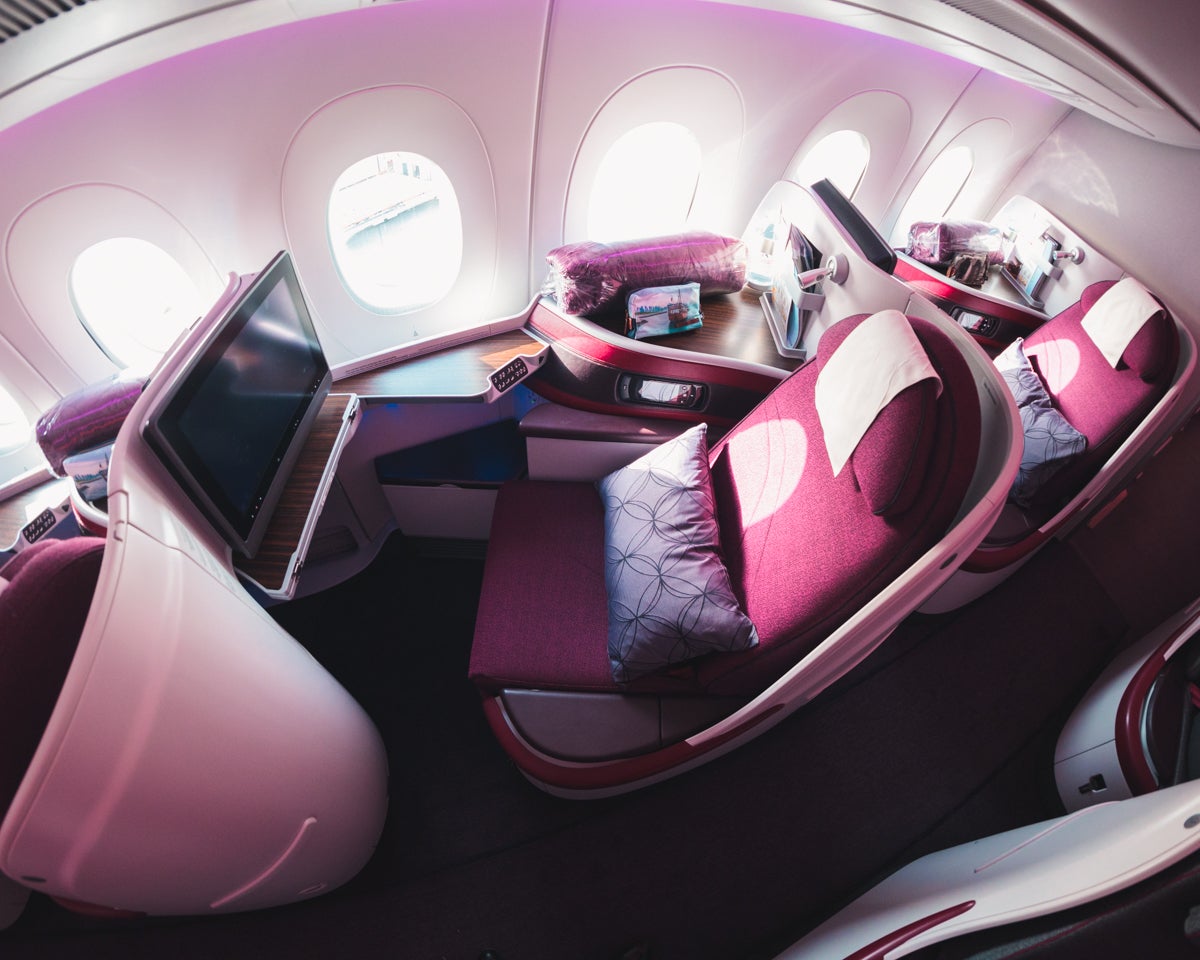 Entertainment
Oryx One, Qatar Airways' inflight entertainment system, offers passengers over 1,000 options including newly released blockbuster movies, TV box sets, music, and games.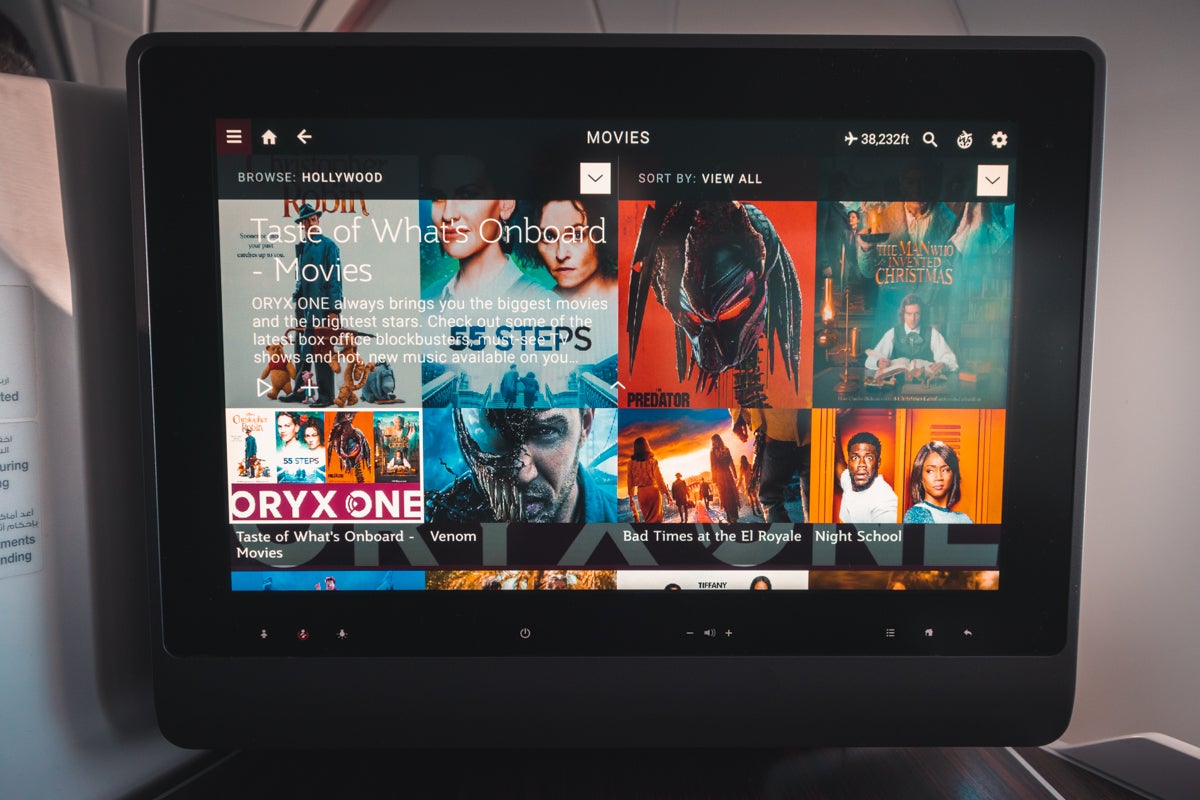 A high-definition 17 inch Thales Avant touch-screen is fixed directly in front of all passengers meaning you can use the entertainment from gate-to-gate.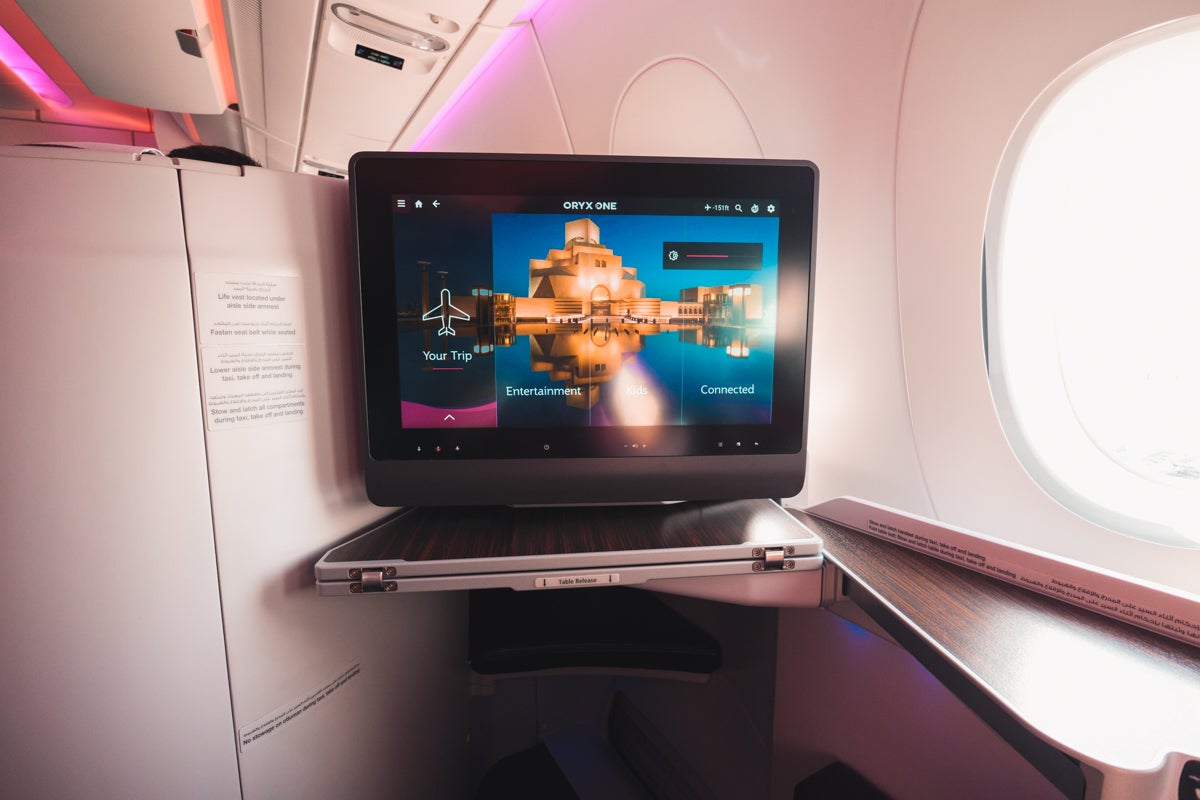 I found the touchscreen IFE remote terribly unresponsive, similar to the one on my A380 first class flight with Qatar. You needed to press hard to get it to respond so, in the end, I just used the more responsive main touchscreen.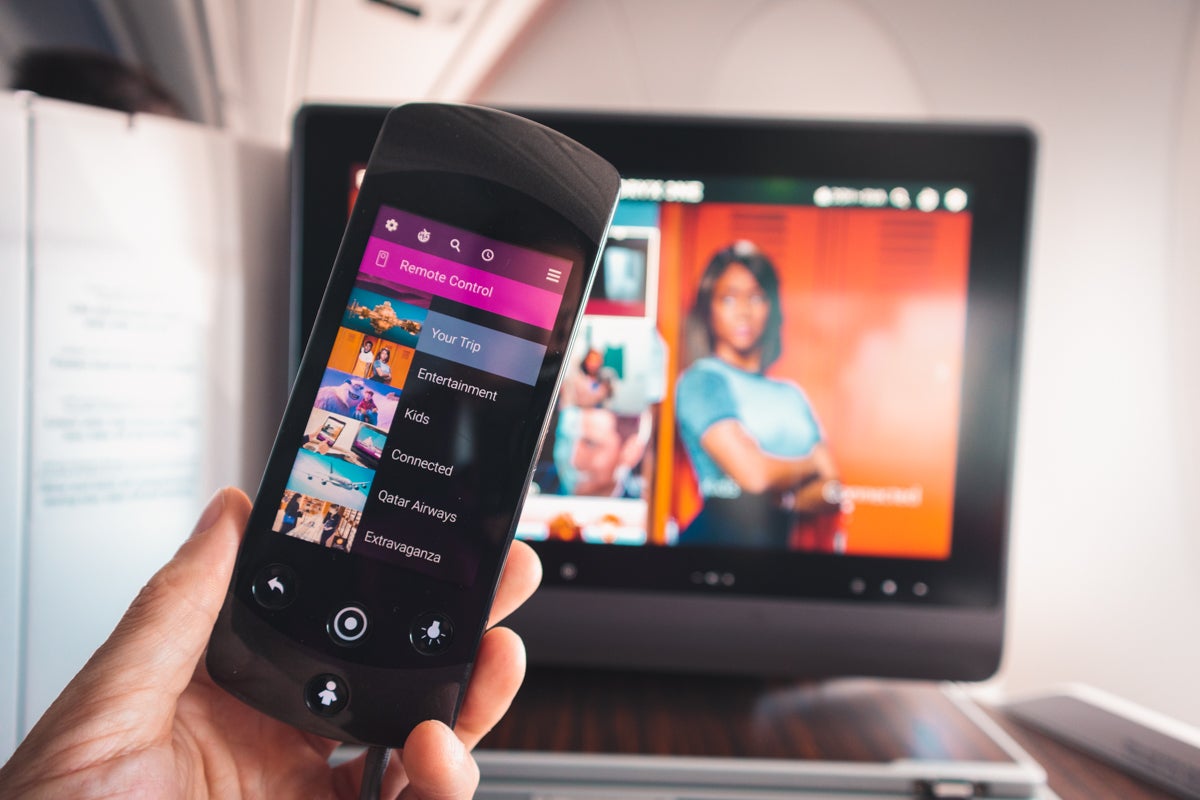 Noise-canceling headphones are provided but they feel and sound pretty cheap and pale in comparison to a decent bring-your-own pair, so I stuck with my Bose.
Hot Tip: Prefer to bring your own headphones? Explore the best noise-canceling headphones geared toward the avid traveler.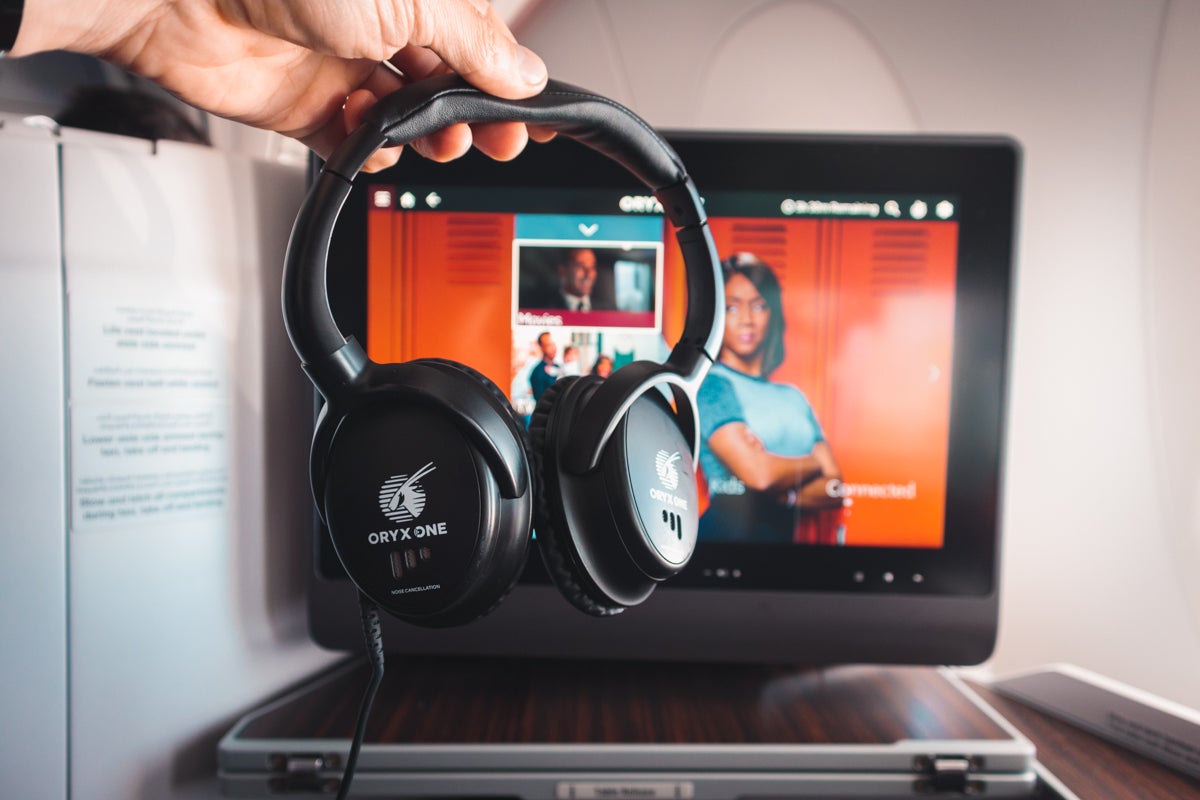 There's also an interactive flight plan map.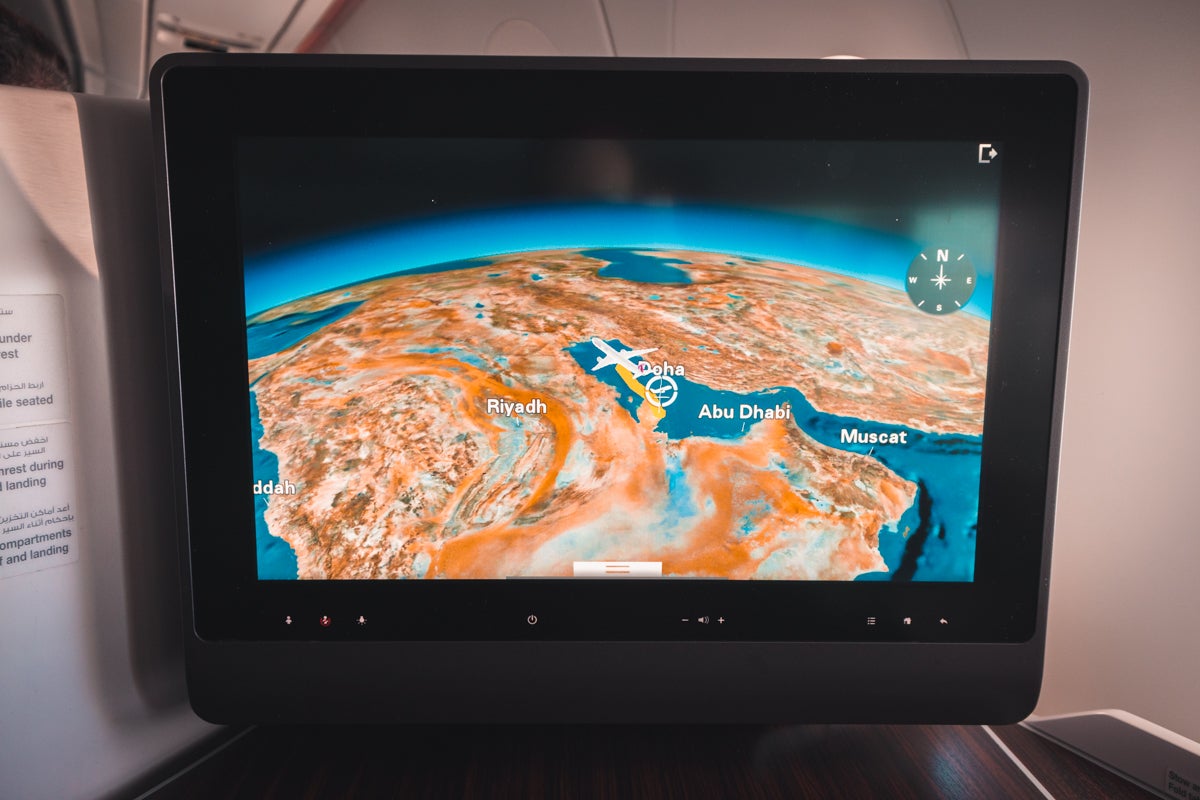 A view of the tail and landing gear was available to watch.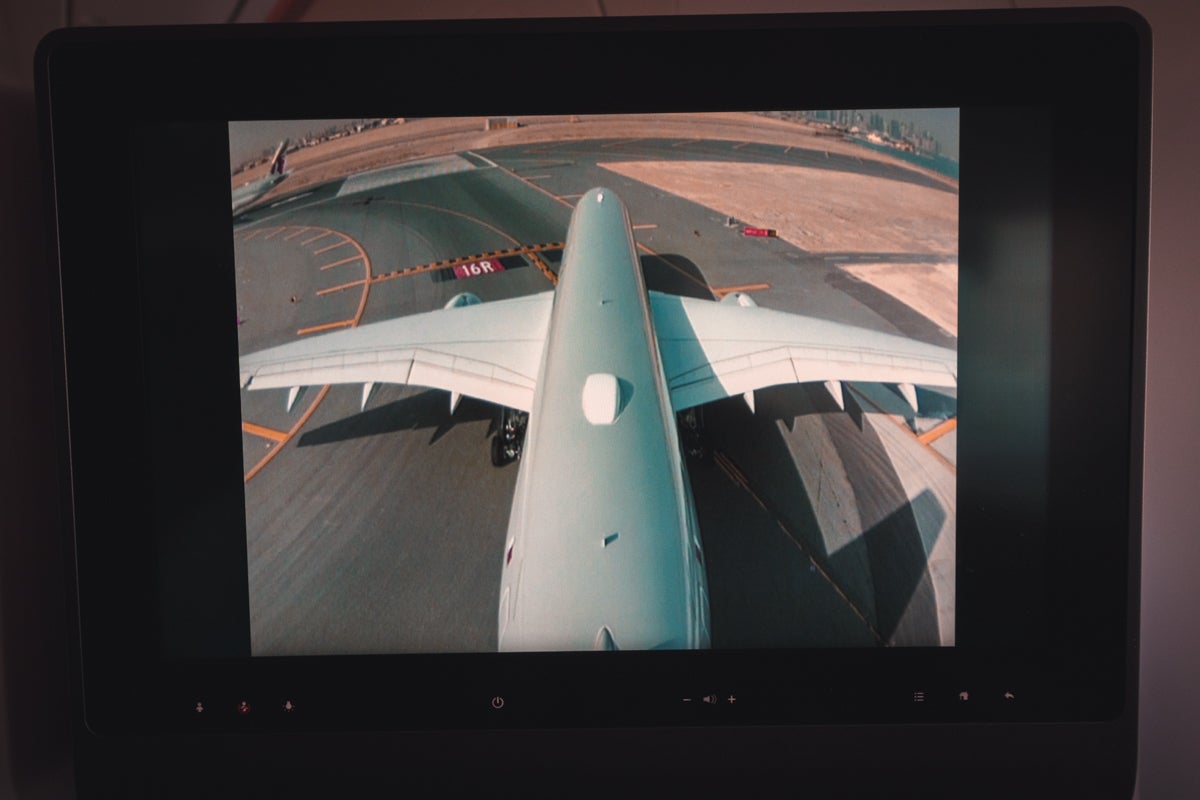 Business class passengers are provided a free 30 minutes of Wi-Fi, without data cap. After that, plans run from $5-$20. Although the "Ultimate" flight plan doesn't have a time cap, there is a 200 MB data cap.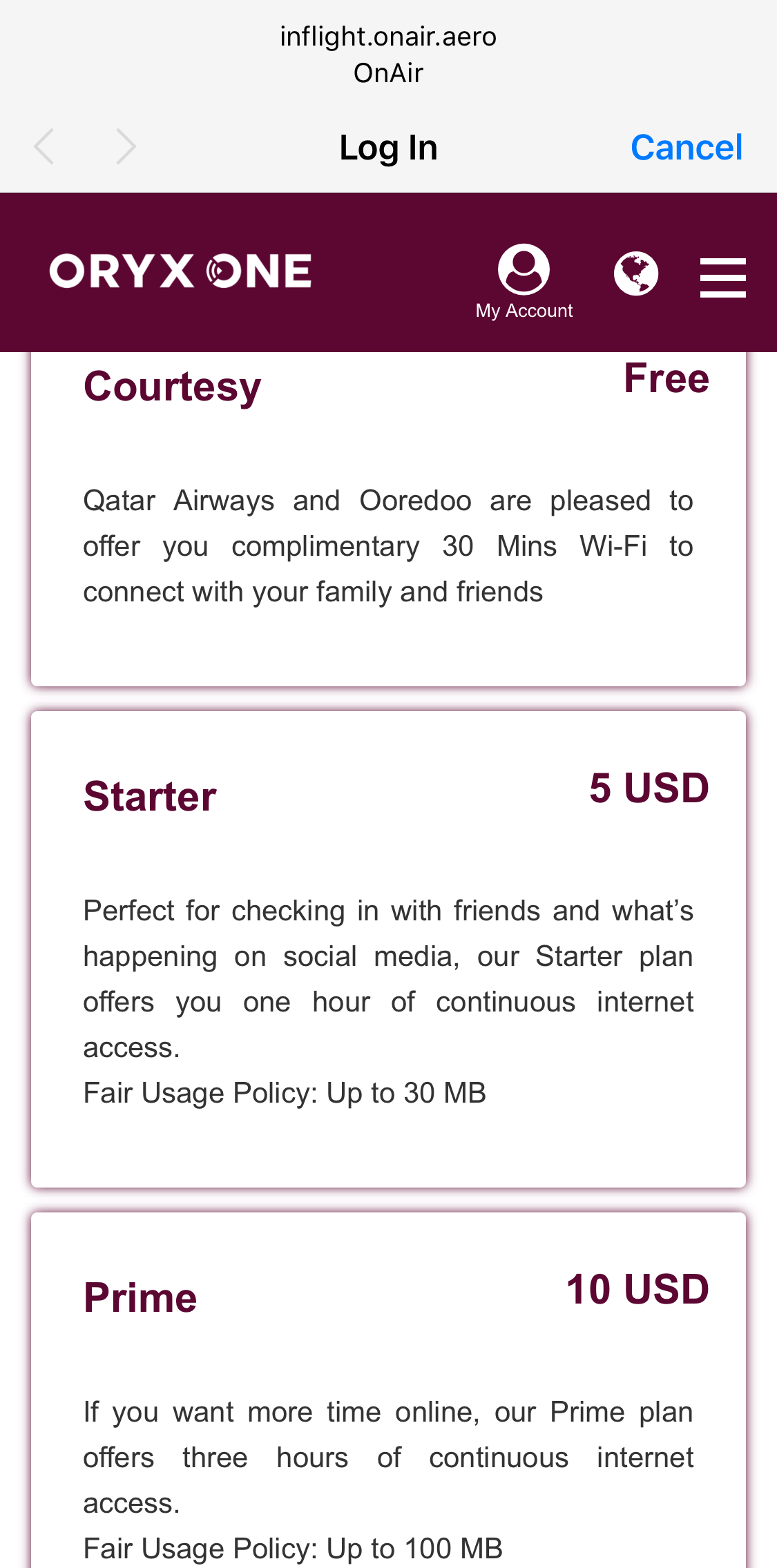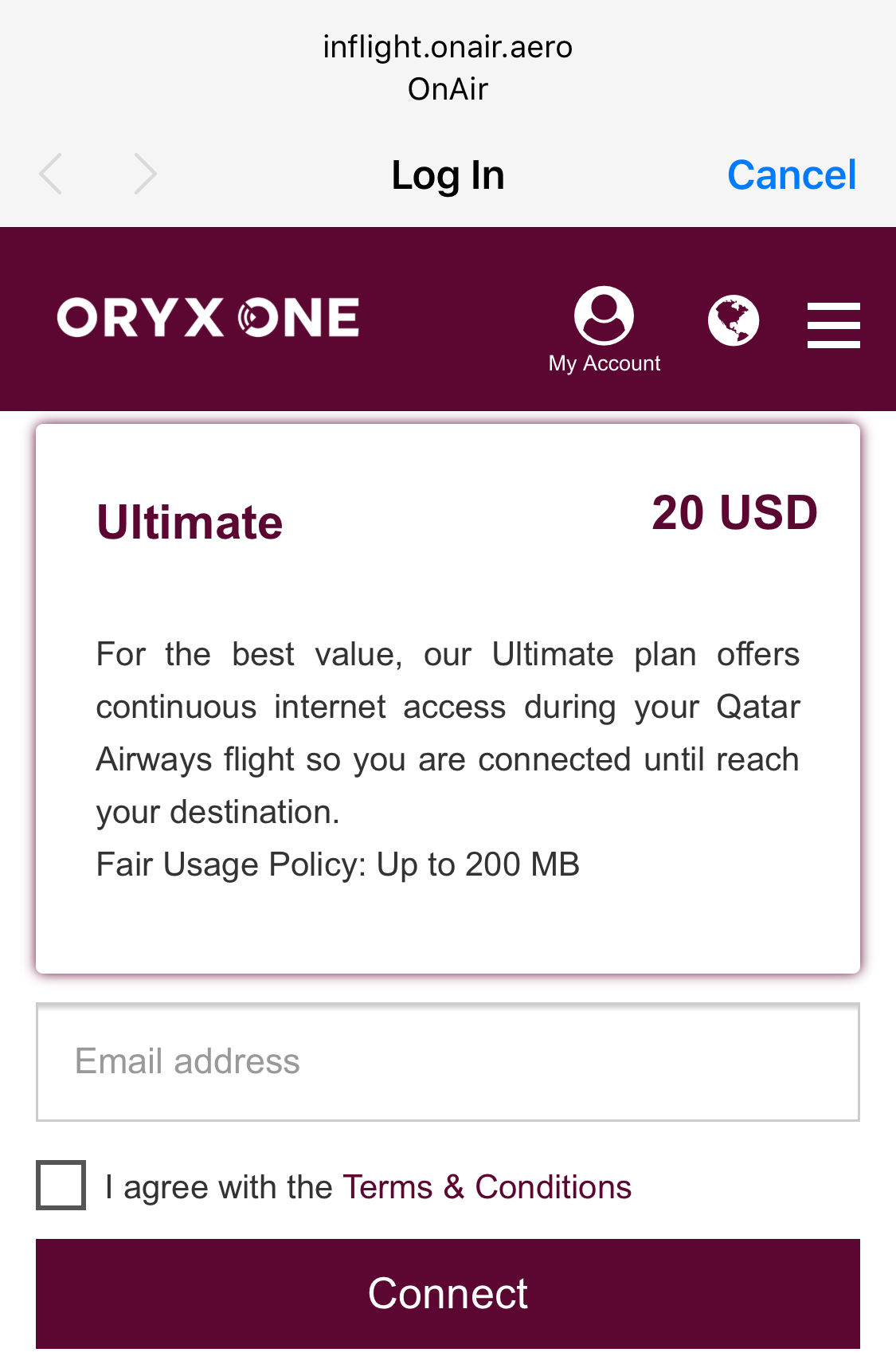 The Wi-Fi speed was so dreadfully slow I couldn't even download the 200 MB maximum allocation of data during the nearly 7-hour flight. Qatar plans to roll out Super Wi-Fi across its entire Boeing 777 and Airbus A350 fleet, however, this aircraft definitely didn't have it.
Hot Tip:Learn more about airplane Wi-Fi including how it works, availability, and fees. 
Meal and Service
Upon boarding, I was offered a glass of Lallier Grande Reserve Champagne ($40 a bottle), Atair Etoile Rose Champagne ($40), orange juice, or water. I opted for the Rose considering I missed out on trying it on the flight up from Sydney.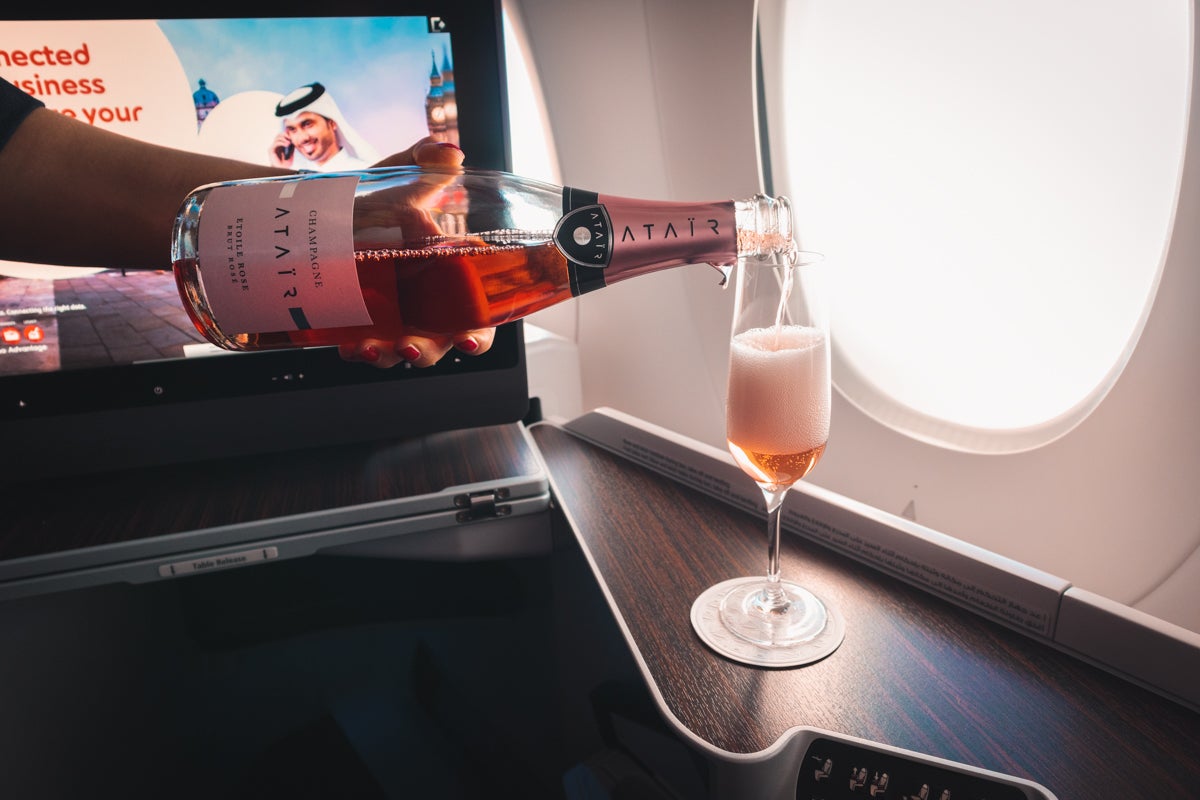 I just love these huge A350 windows!
Passengers are also offered either a hot or cold towel. Considering the heat outside exiting the bus, I opted for a cold towel.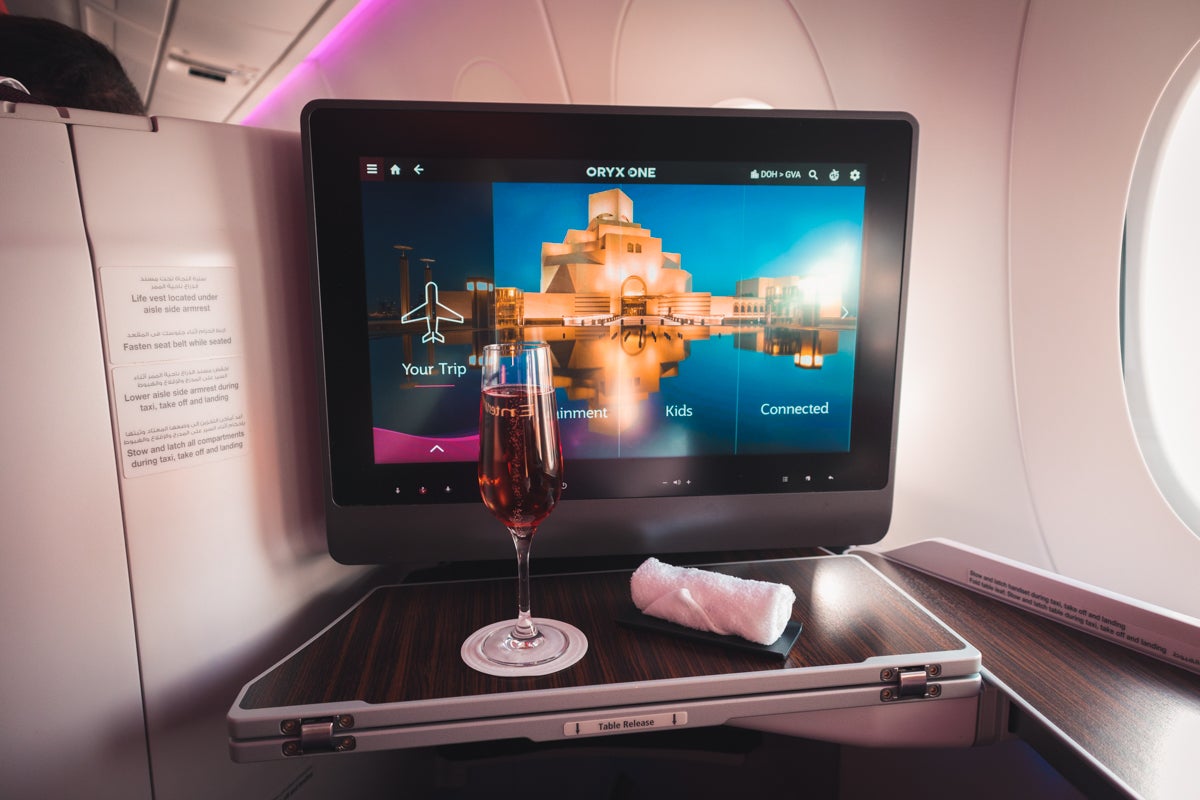 Due to the efficiency of the bus-to-gate boarding, we departed at 8:13 a.m., which was 2 minutes ahead of schedule.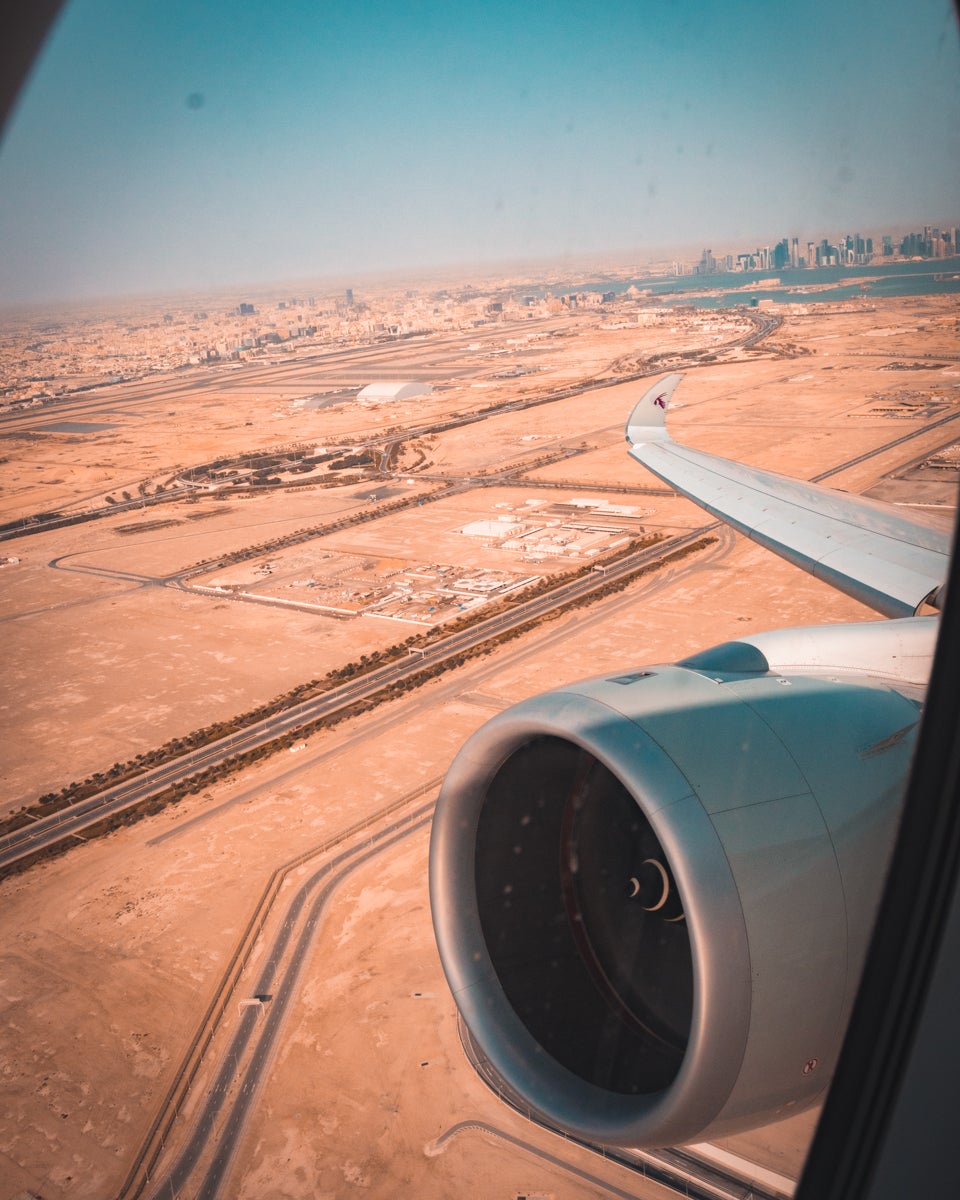 Breakfast orders were taken soon after take-off and I was asked when I would like to dine, as Qatar Airways has a "dine on demand" service. I decided to dine soon after take-off.
Qatar also offers a restaurant-style dining experience complete with a linen tablecloth, fine glass and dinnerware, individual salt and pepper grinders, and a cute little LED imitation candle.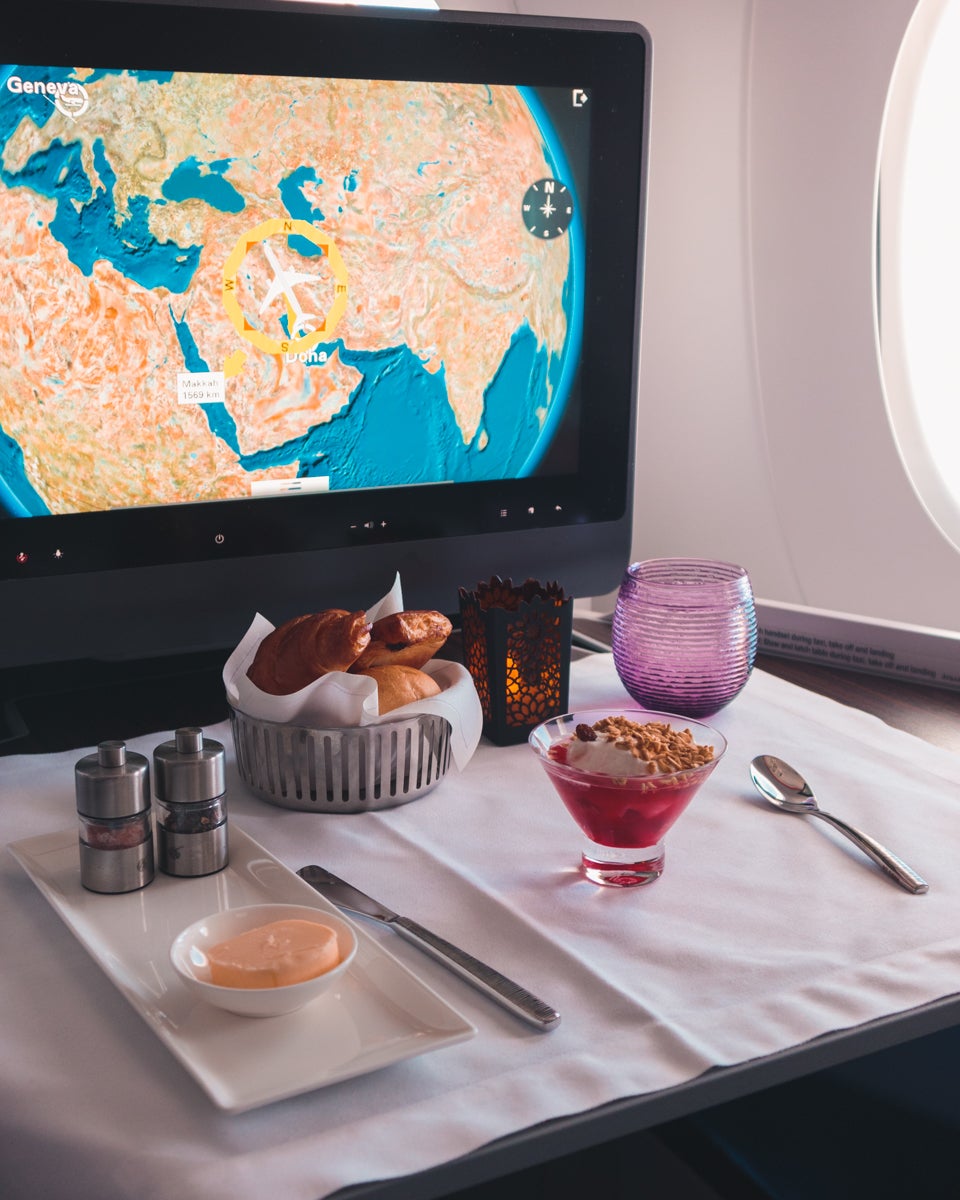 Breakfast began with a choice of starters. I selected the Greek yoghurt, strawberry compote, and toasted granola with nuts.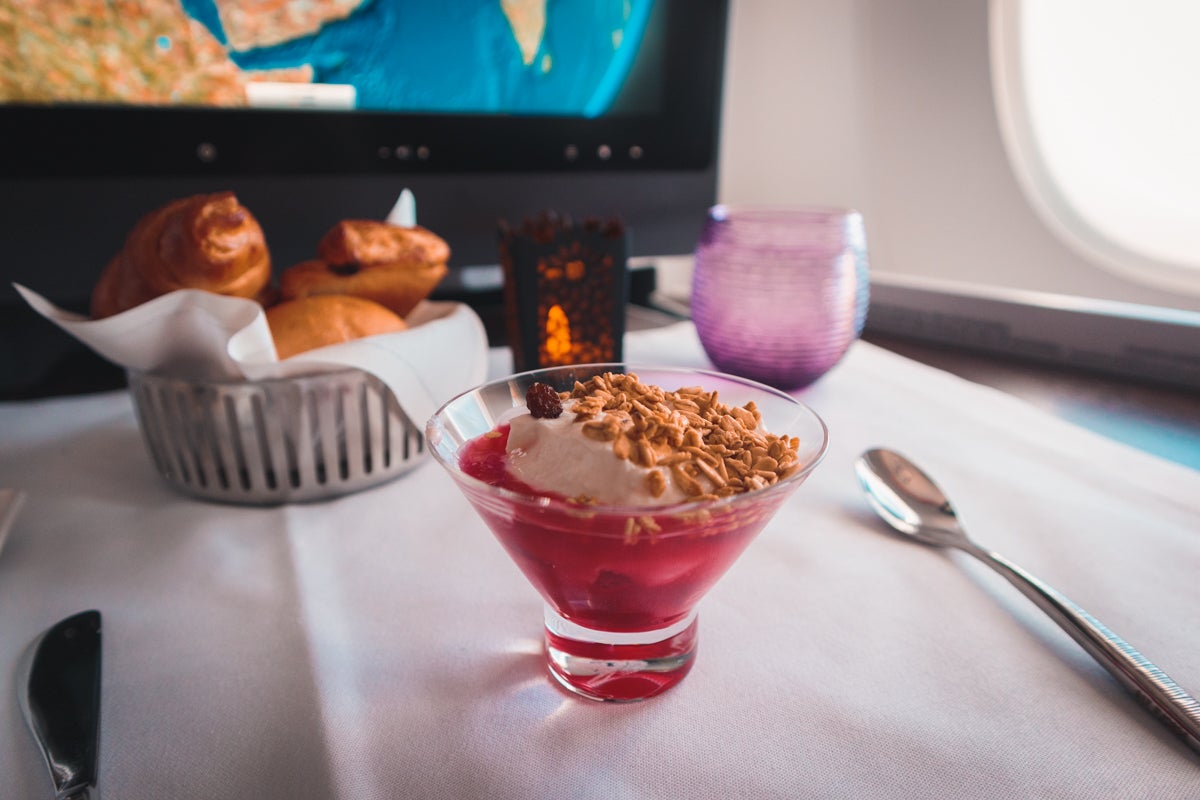 Other starter options:
Platter of seasonal cut fruits
Choice of breakfast cereals
Assiette of cold cuts
For main I decided on the emmental cheese omelet with chicken and herb patties, lyonnaise potatoes, baked plum tomato, and grilled chestnut mushrooms.
Airline breakfasts usually aren't that great, but this meal ticked all the boxes; the eggs tasted great and vegetables still had moisture in them.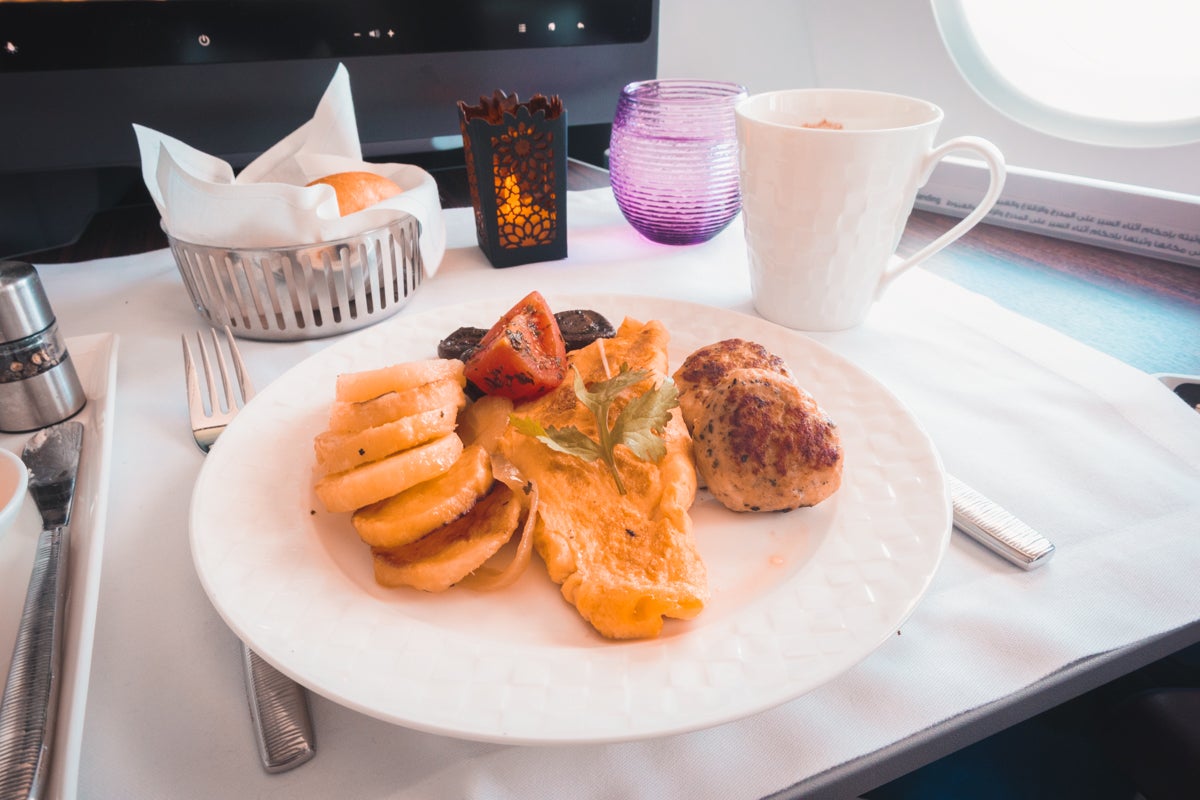 "When you are uploading a photo and realize the shirt you flew in was totally on brand with the airline."
After the first meal service, the crew set up the refreshment area with chips, fruit, and a bottle of Champagne on ice.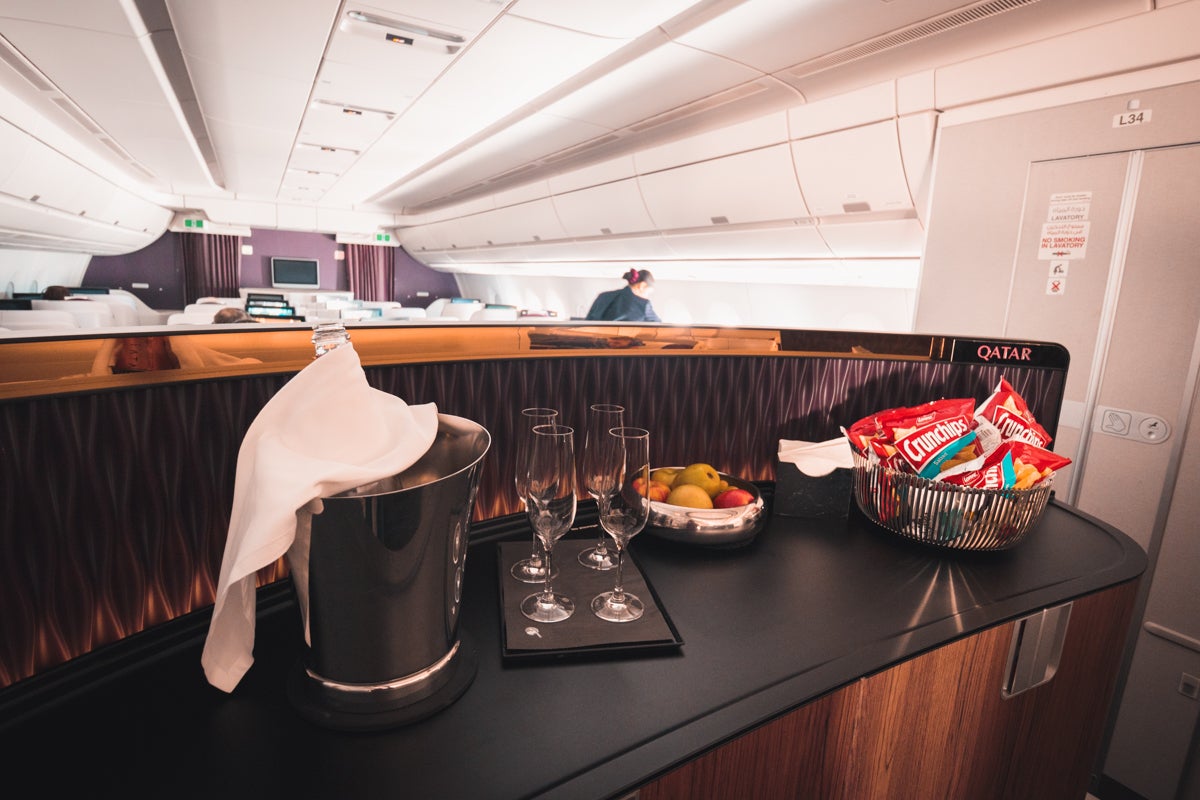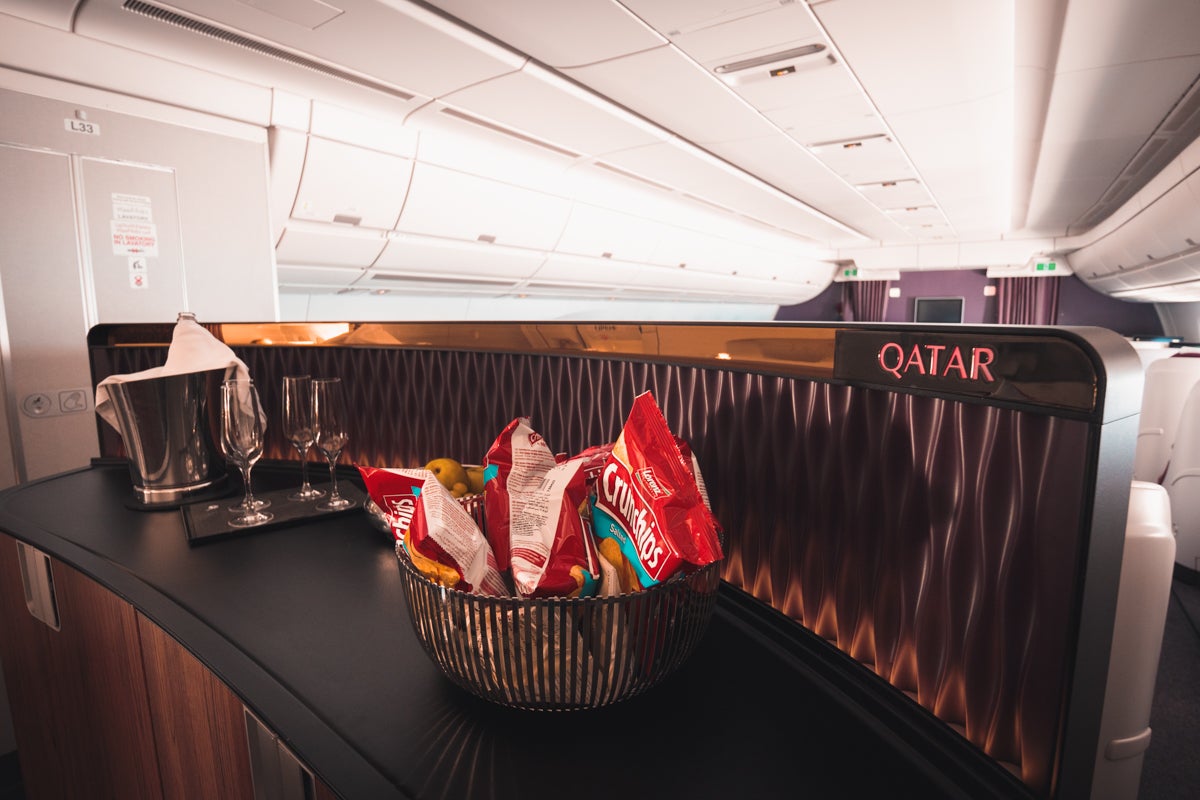 The crew remained present in the cabin throughout the flight, offering guests beverage refills and reminding passengers they can order anything else they wanted off the menu whenever they wanted.
Around 4:30 hours into the flight, I ordered the steak sandwich off the "Light options" menu complete with chargrilled fillet of beef with melting Swiss cheese, caramelized onions, and tomato on toasted sandwich bread. My meal took approximately 30 minutes to arrive after I placed my order.
I also switched to the Chilean 2016 Anakena Enco Reserve Sauvignon Blanc.
Beef can be quite hit and miss in the air, yet this steak sandwich was succulent and tasted amazing. I also loved the grill marks on the bread.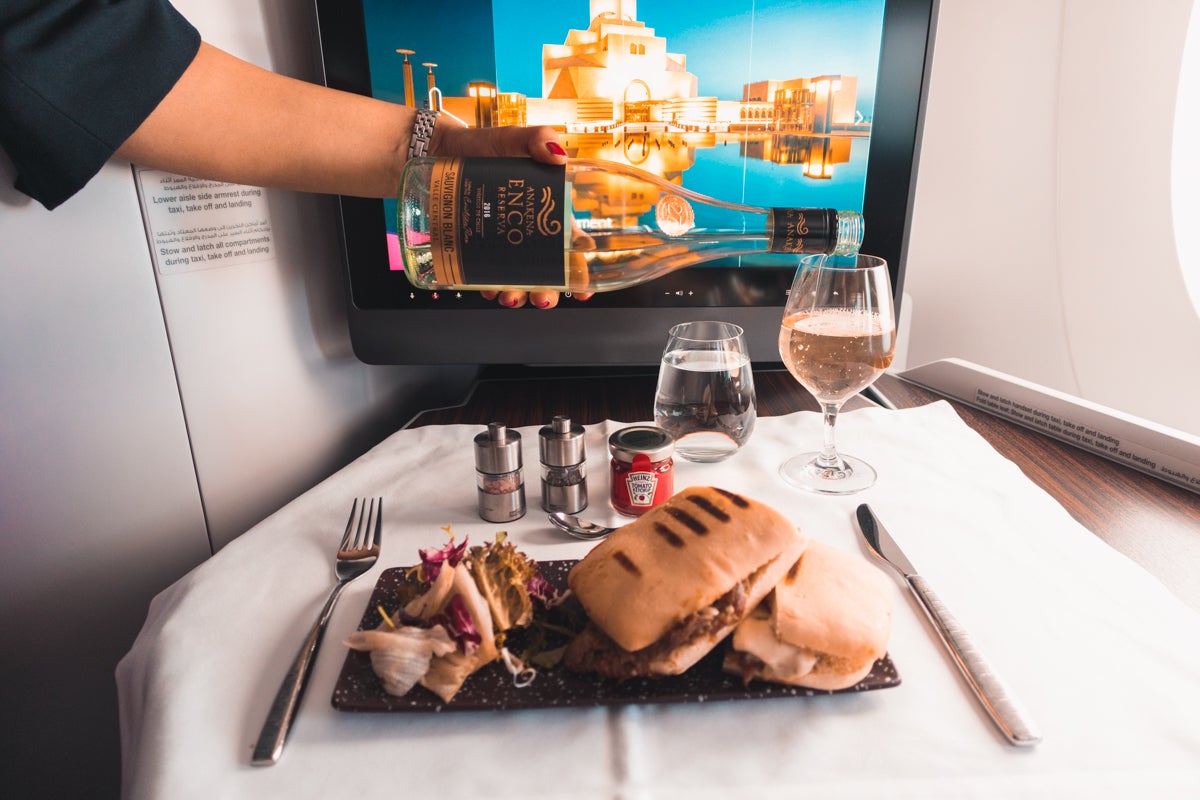 The other light options were:
Fresh garden salad
Chicken tikka masala
Afternoon tea with fresh finger sandwiches, warm scones, cream, and pastries
Cheese plate
After the final meal service, Godiva chocolates were distributed.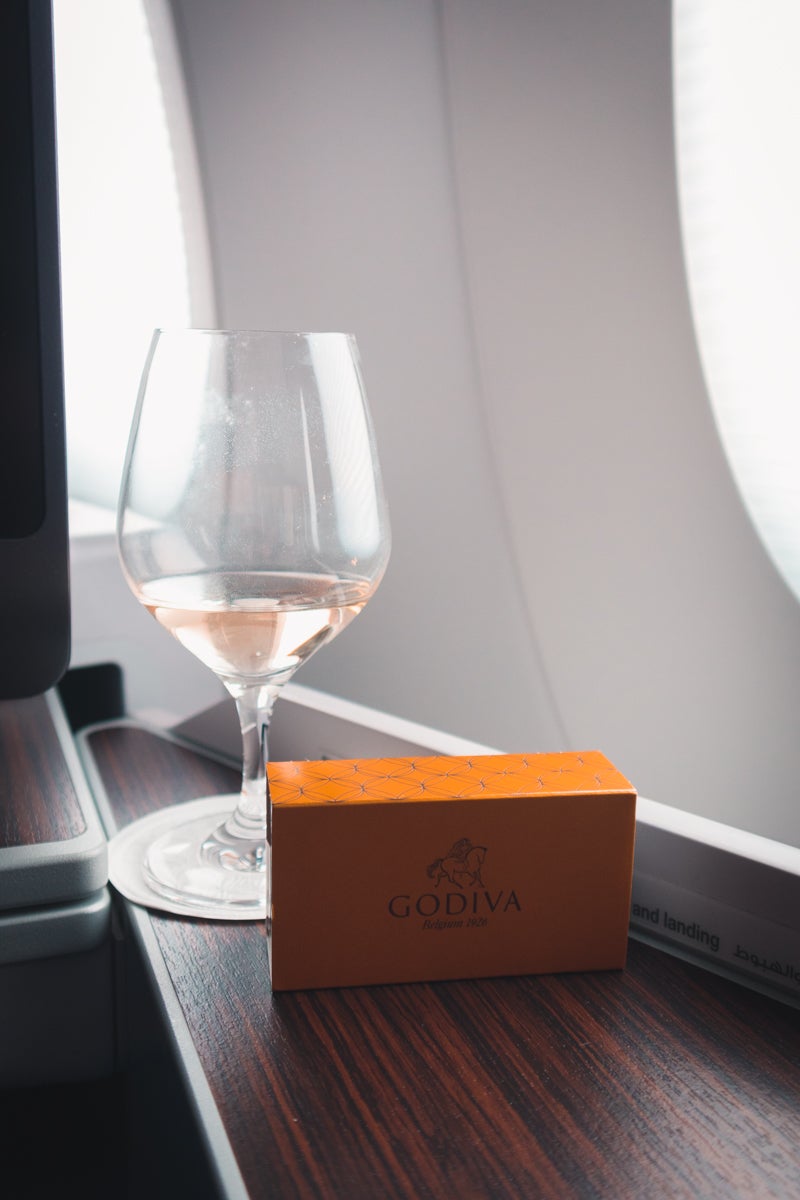 I really believe the improved A350 galley kitchen equipment with the latest-generation steam ovens and equipment makes the food taste better compared to older aircraft.
No crew member stood out, but that's not a bad thing — they were all friendly, proactive, and couldn't be faulted.
I was also grateful for the crew not plunging the cabin into darkness so that I could watch all the flights between the Middle East and Europe outside of the window.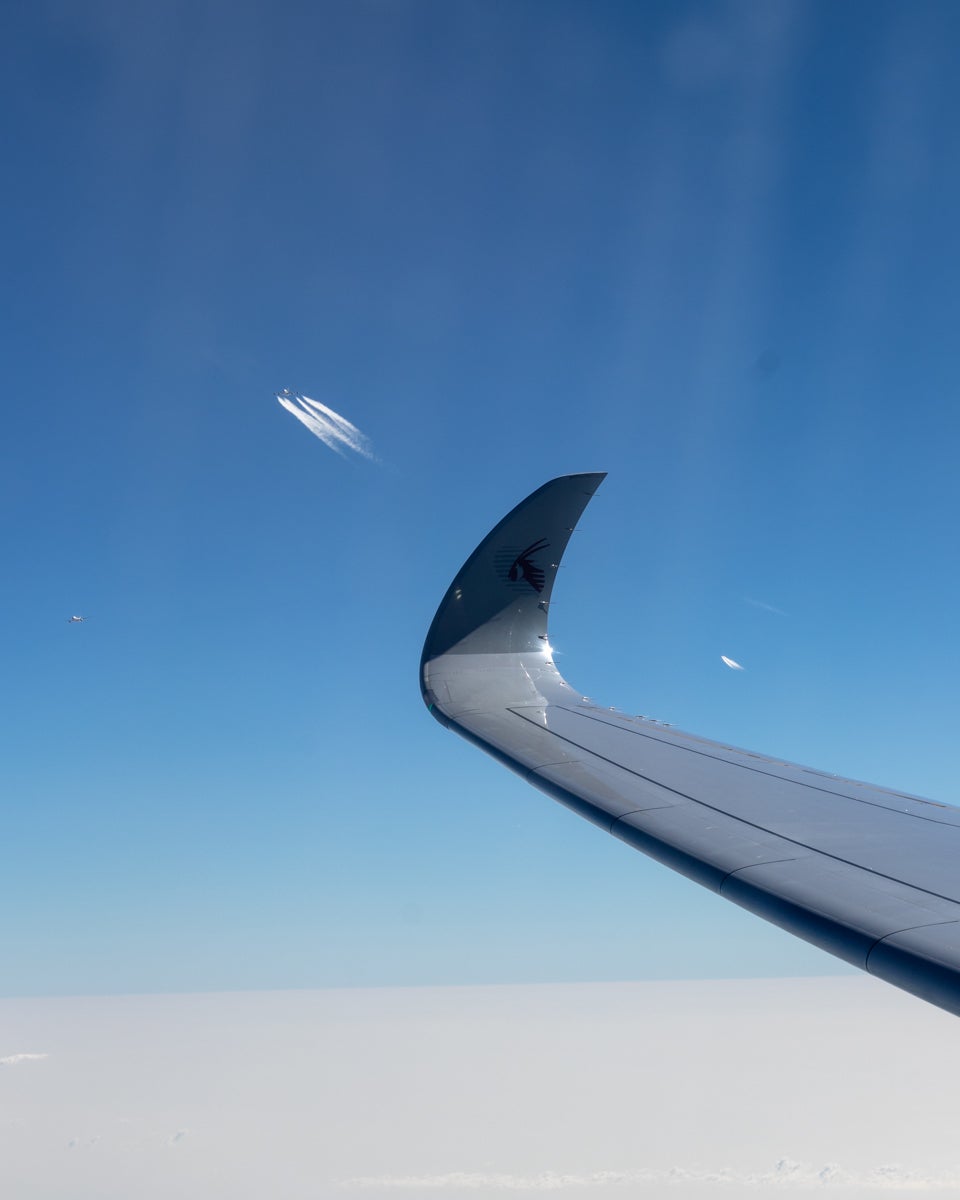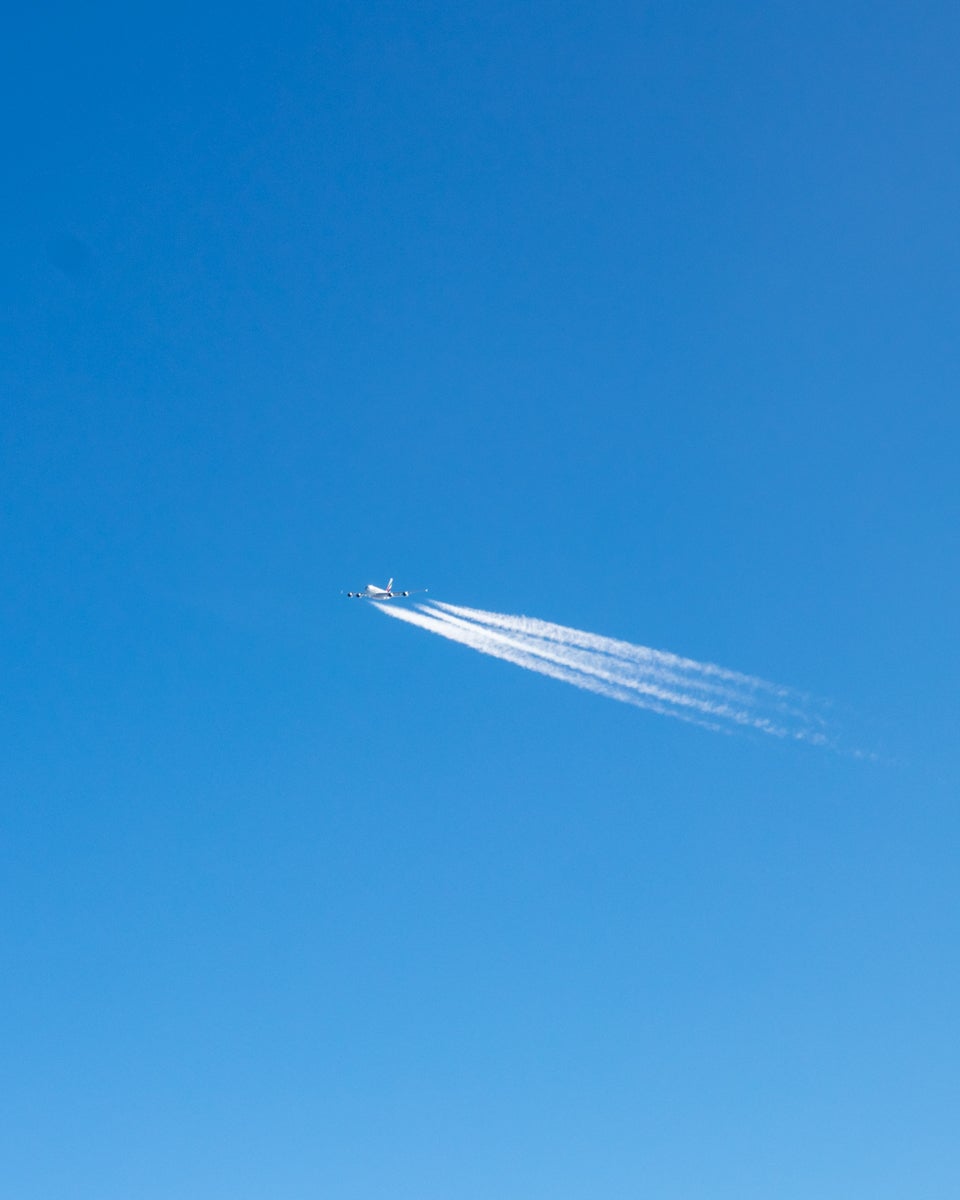 Final Thoughts
I was left really disappointed by my first Qatar Airways flight on the A380 in first class, but the airline has redeemed itself on every subsequent business class flight with great seats, fantastic food, and excellent service.
Although this older A350-900 missed out on the newest Qsuites product, the seat and cabin were perfect for the almost 7-hour day flight. The spacious cabin and large windows allowed in lots of light to adjust the body clock and I'm sure it would be just as comfortable for an evening flight – with the lack of privacy being the only downside. I definitely wouldn't hesitate in booking a Qatar Airways 787, A380, or A350 with these older seats on another day flight.
The Airbus A350 is also a dream to fly in, with draft-free air conditioning, outstanding noise isolation, and a very smooth flight.
This flight ended in the best possible way for any AvGeek, with a 24-minute delay which resulted in us circling the Swiss alps enjoying the most spectacular views thanks to the large windows of the Airbus A350.