British Airways Boeing 747 Club World Review [LHR to DXB]
Update: British Airways retired its 747 fleet in October 2020. Club World, BA's international business class product, is still available on the 767, 777, 787, and A380. 
Airline: British Airways (BA)
Aircraft: Boeing 747-400 (G-BYGA)
Flight #: BA109
Route: London Heathrow (LHR) > Dubai International(DXB)
Date: October 29, 2019
Duration: 6 hrs 55 min
Cabin & Layout: Business Class, 86 seats, 2-4-2 config main deck and 2-2 upper deck
Seat(s): 62A
Miles Used: 50,000 Asia Miles + HK$3,552 ($457) in taxes
Typical Retail Cost: £4,200 ($5,400) per person one-way
Introduction
British Airways and Virgin Atlantic both started flying new Airbus A350 aircraft around the same time in 2019 and I wanted to experience both.
I hadn't flown Virgin Atlantic since 2008 and had never flown British Airways' long-haul.
I devised a plan to fly home to Sydney from a trip to the U.S. via London and Dubai so I could experience both new aircraft back to back.
I easily found Virgin Atlantic award seats on its new A350 but unfortunately, British Airways wasn't so generous unlocking award seats on its new aircraft.
Using ExpertFlyer, I could find seats on the Boeing 777 and Boeing 747 services to Dubai, so I set up alerts for the Airbus A350 service.

To ensure I wouldn't be stranded in London, I booked a placeholder flight on the Boeing 747 service as the thought of flying on the upper deck appealed to me more than the 777. I haven't read many good reviews of the British Airway's Club World experience, so I set expectations pretty low.
Booking British Airways Business Class
I could book this flight using any of the following reward points for this 3,424-mile flight:
For reference, the one-way paid fares were:

It was an easy decision to book using Asia Miles, so I transferred the points from the Business Platinum Card® from American Express and the points arrived in my account within 2 days.
Booking via Asia Miles online is very straight forward.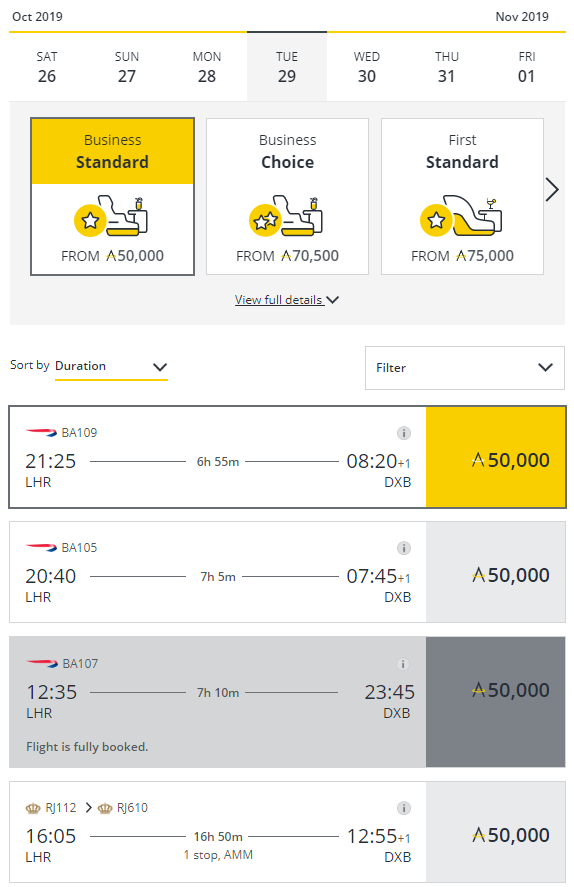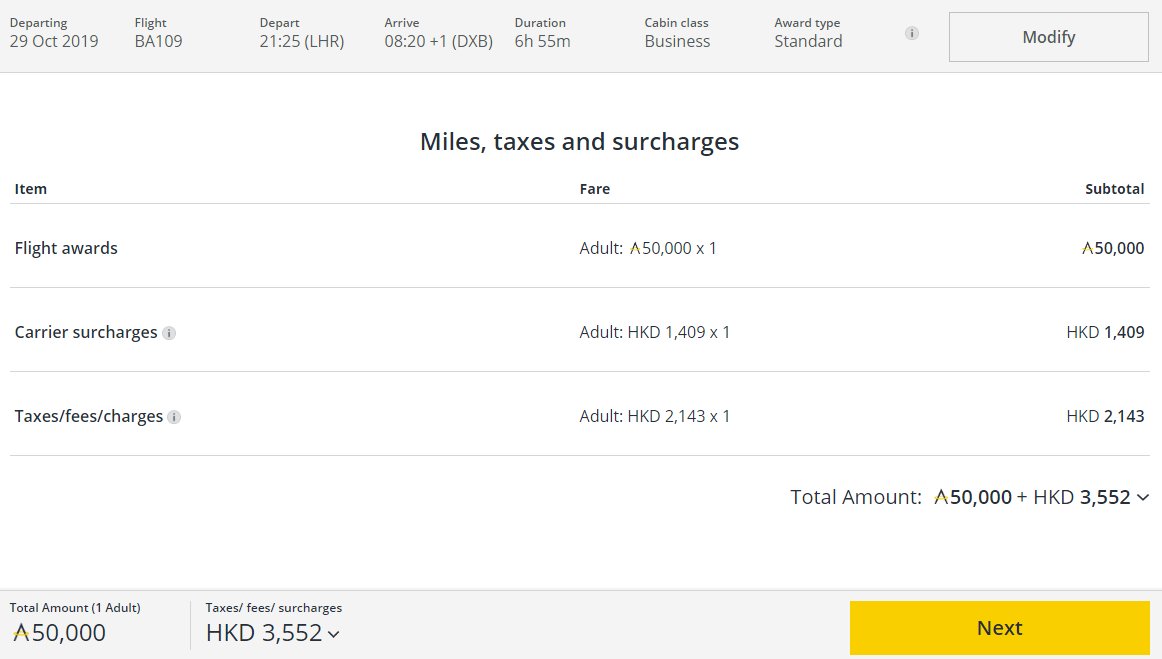 After the ticket was issued, I went to select my seat over on the British Airways' website, and as a Oneworld-status nobody, I was horrified at the cost to reserve a seat.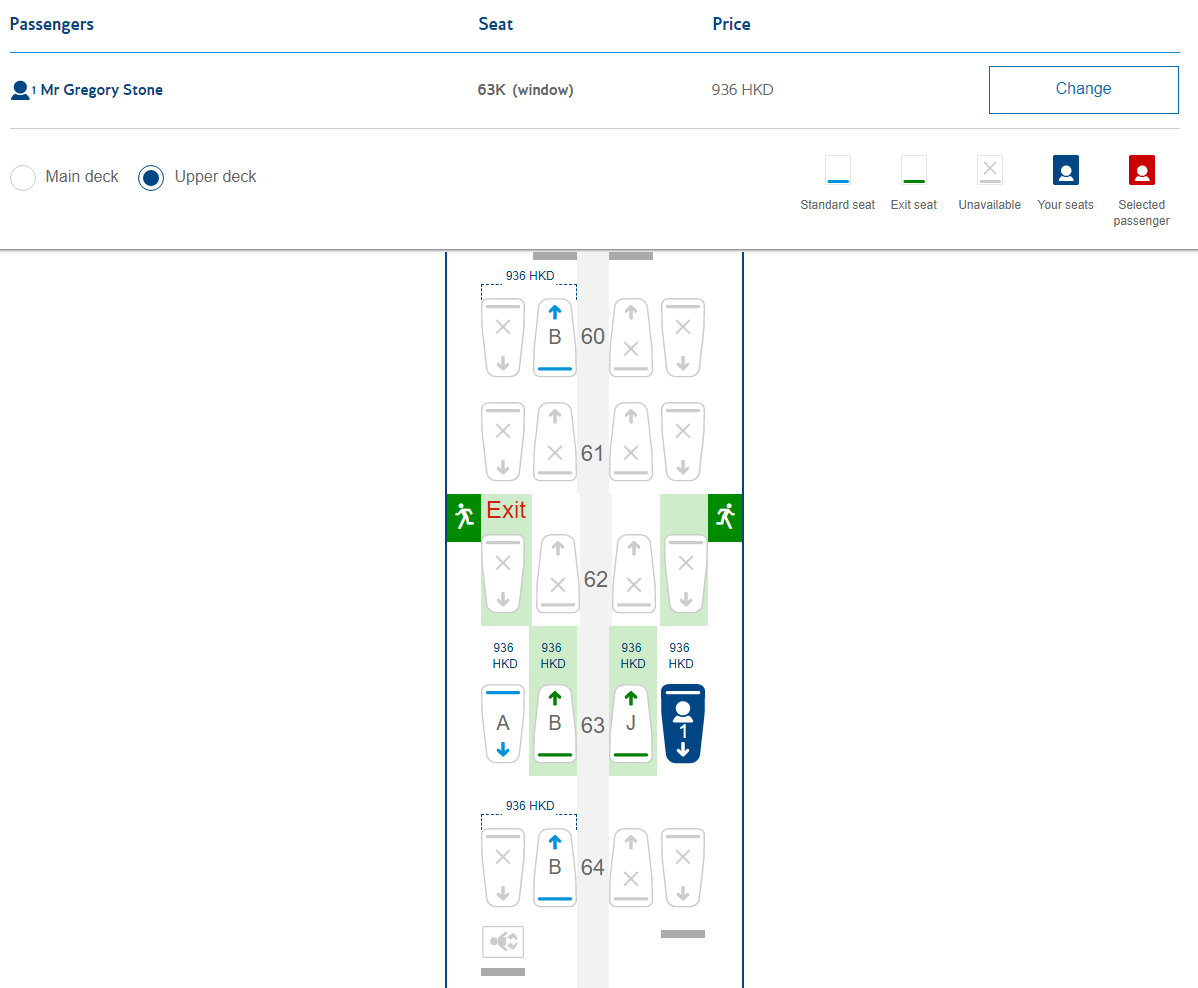 Even though I had just paid 50,000 points and $457 in taxes for this flight, British Airways wanted to charge me HK$936 ($120) to select a seat upstairs. I understand that some airlines block the best seats in a cabin for their highest tier frequent flyers, but to not have a single free seat option is outrageous and felt more like booking with a budget carrier than a full-service flag carrier. No other business class airline I have flown has had the same policy.
As I had my fingers crossed for an award seat on the A350 to unlock, I didn't want to pay for a seat just yet. The terms and conditions stated if I canceled or changed my flight, the seat assignment fee would not be refunded.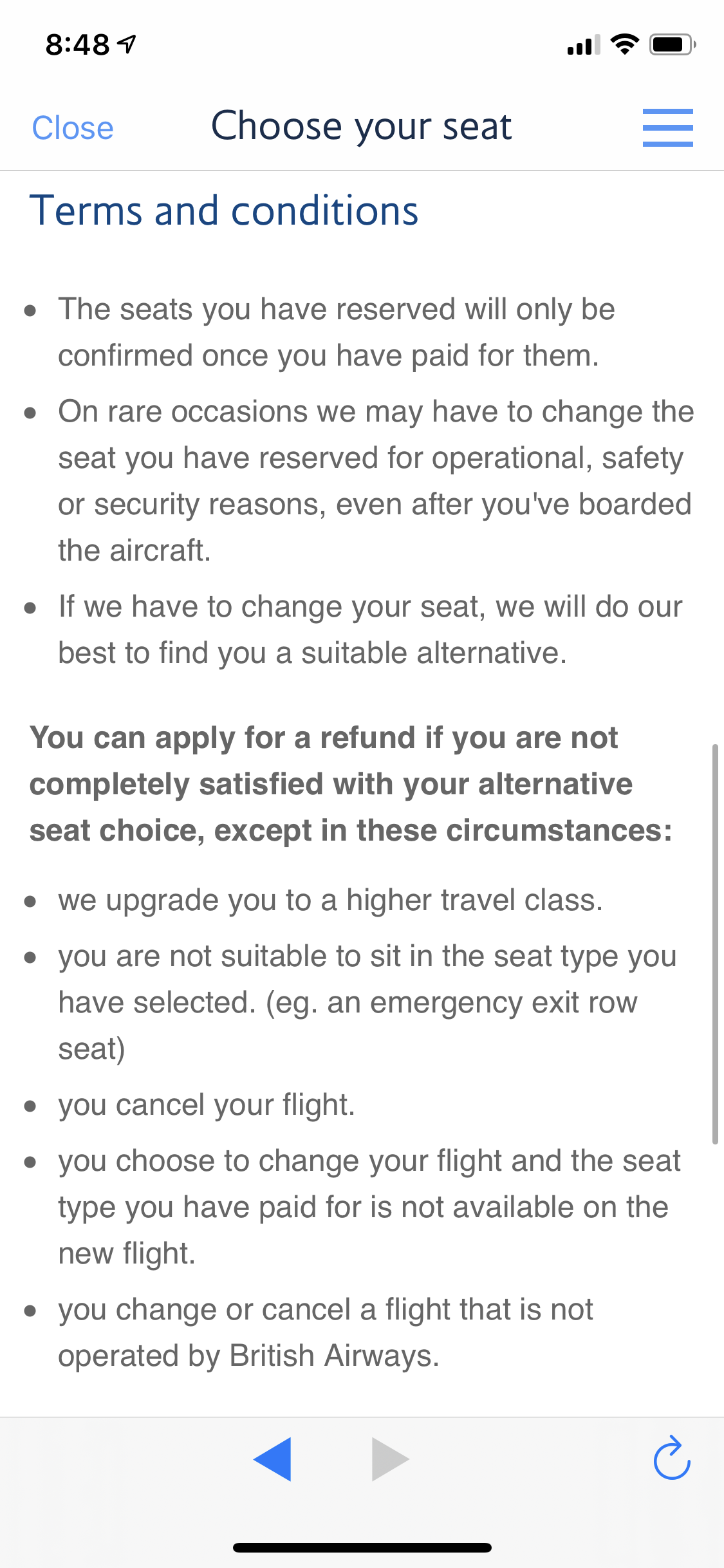 I later discovered the rates are also dynamic depending on demand. 10 days before departure I resigned to the fact that I wouldn't be on the A350 and didn't want to be stuck in the middle of the lower deck 2-4-2 seats, so I bit the bullet and decided to pay for a seat. But by this time, the fees were even higher at HK$1,274 ($165). Unbelievable!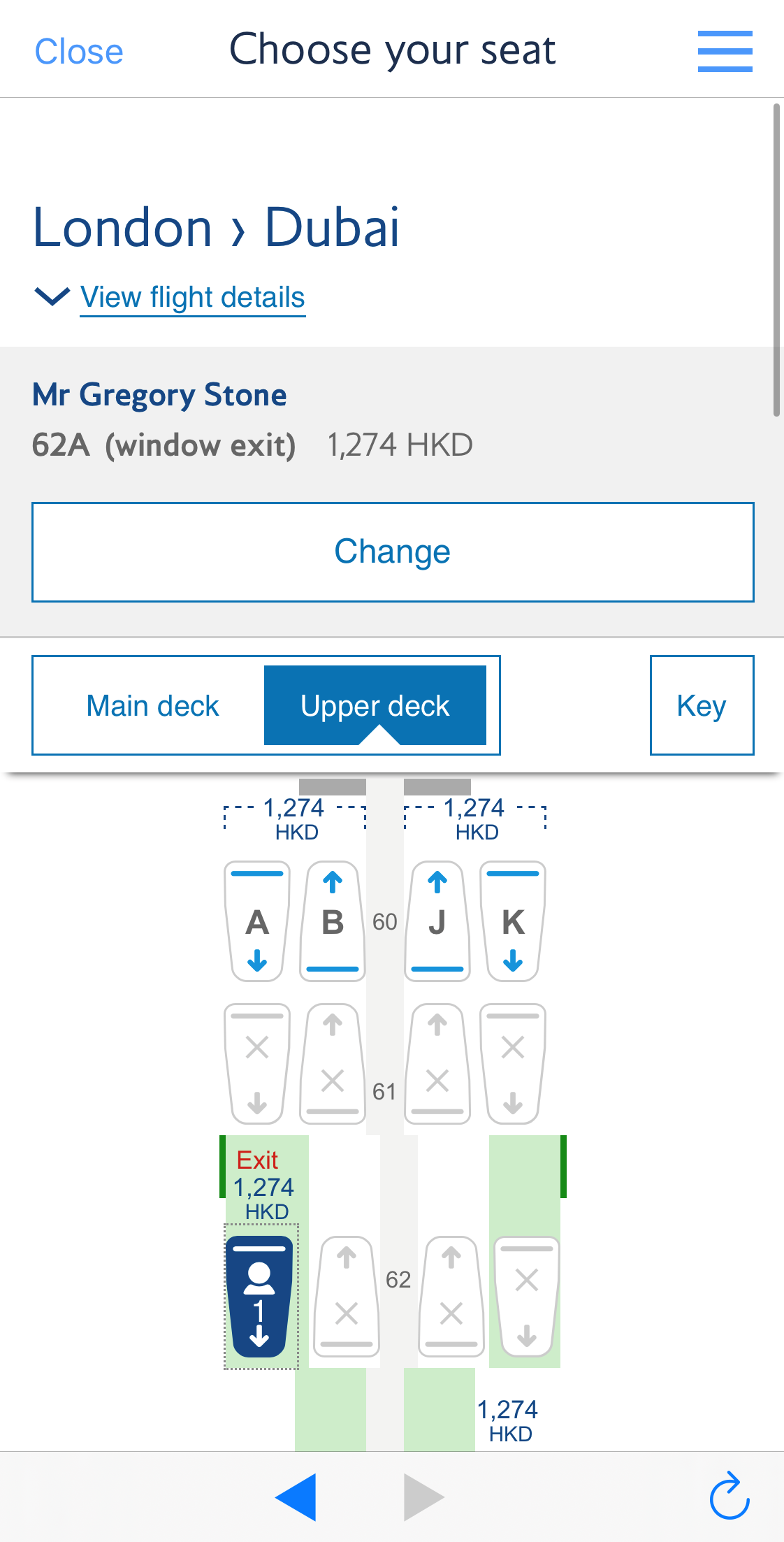 At London Heathrow Airport – British Airways' Galleries Lounge
After a much-needed sleep at the Aerotel at London Heathrow Terminal 3 after my short red-eye flight on Virgin Atlantic, I headed over to T5 around 5:00 p.m..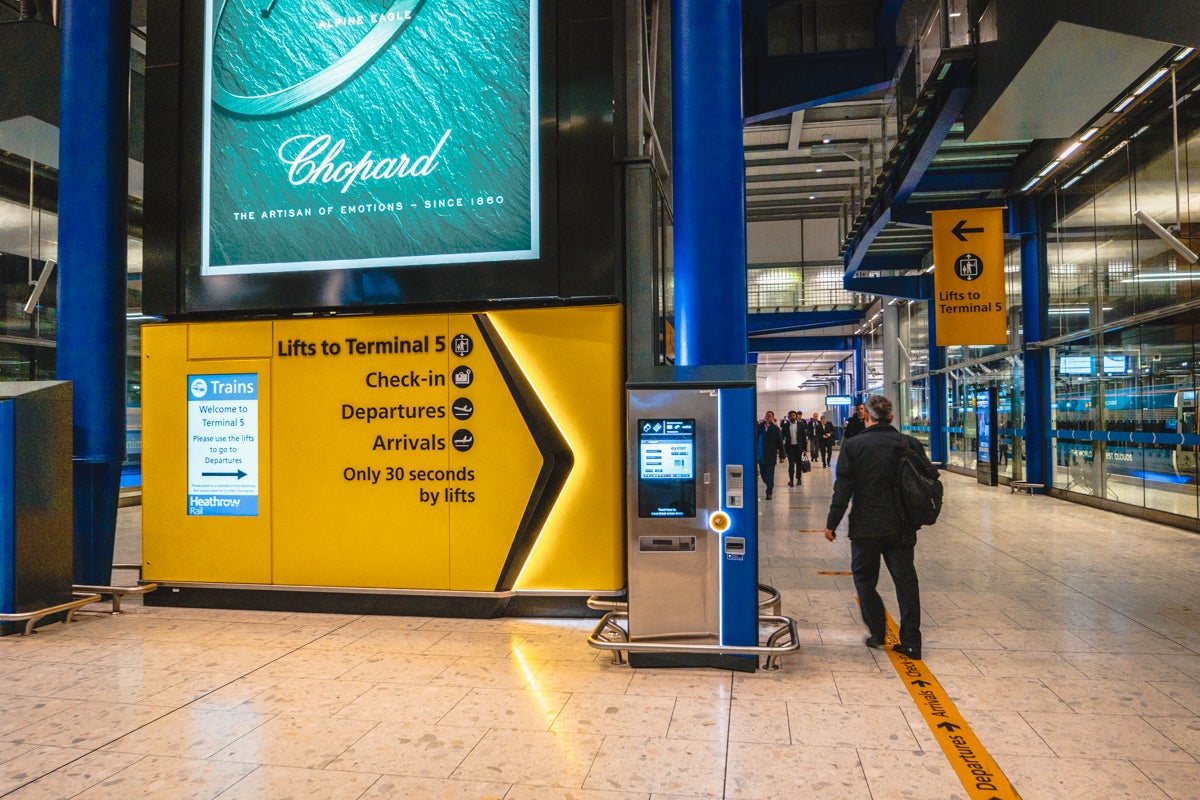 The British Airways check-in area at T5 is enormous. Economy class passengers can use the self-serve kiosks but Club World passengers can head over to Zone H instead.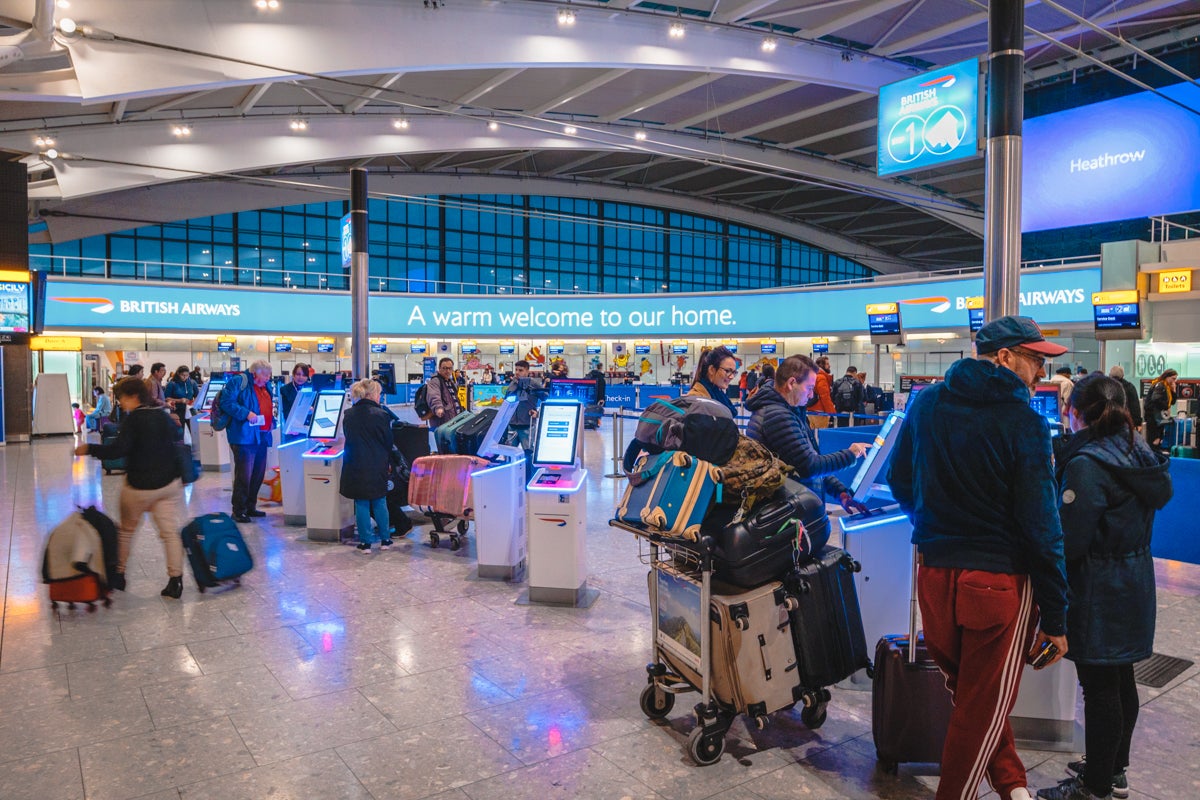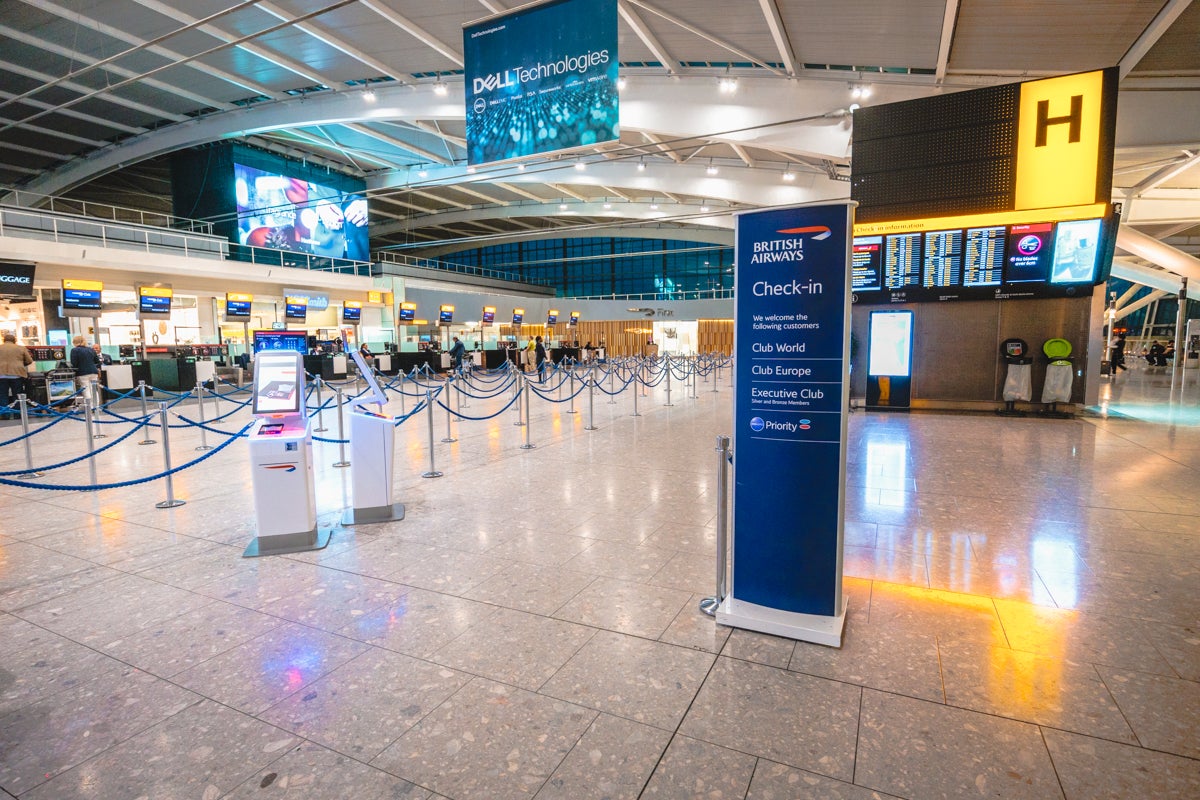 I was served by Selina, who wasn't at all friendly and didn't feel like she wanted to be there that evening. But thankfully, I was checked in and off to security within 5 minutes.
I'm sure the "how busy is security" sign was showing a 30% busy but there were seriously only 3 people in front of me at security. By 5:17 p.m., I was through.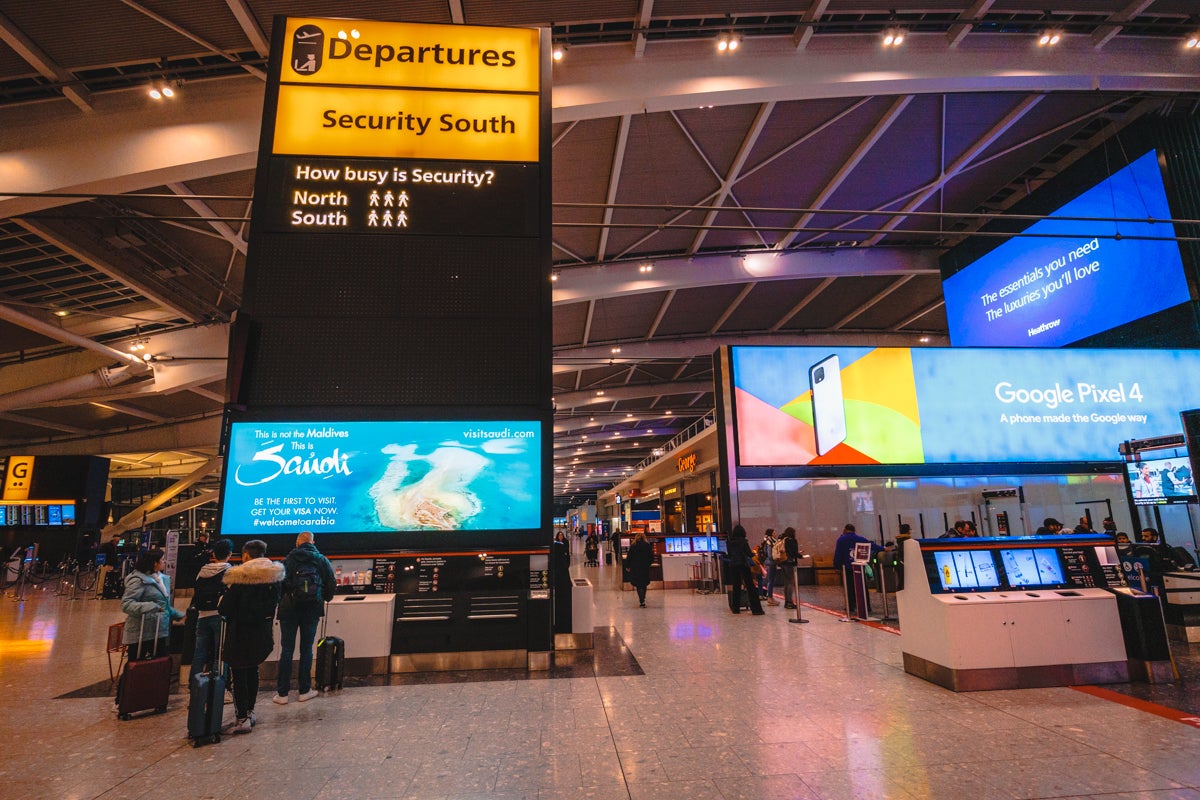 With a choice of 4 lounges at T5 — British Airways Galleries Club North, British Airways Galleries Club South, British Airways Galleries Club at Terminal 5B, and Aspire, The Lounge at LHR T5 — I decided on the Galleries Club at Terminal 5B based on guidance from a mate. Plus, as my 747 was departing from the C gates, it was also the closest lounge.
To access the satellite terminals after security, you need to take the elevator down under the apron.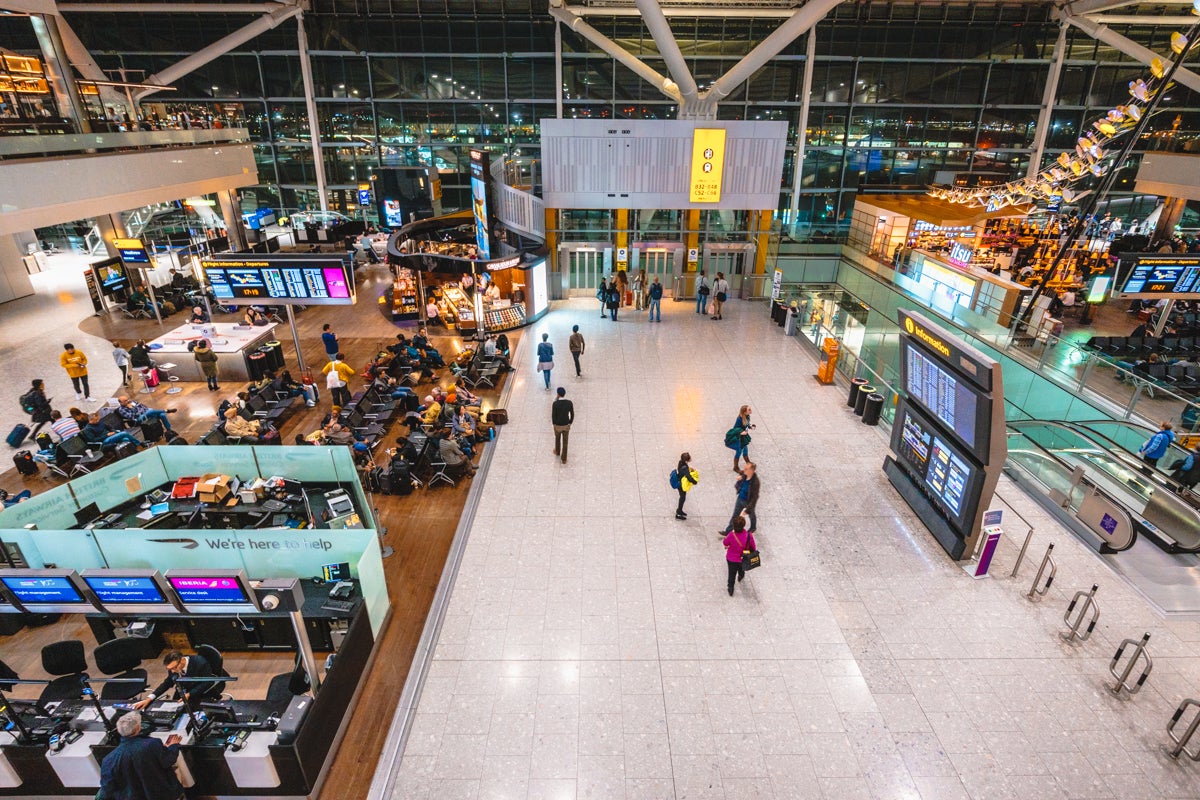 You can then take a transit train to either satellite terminal or walk.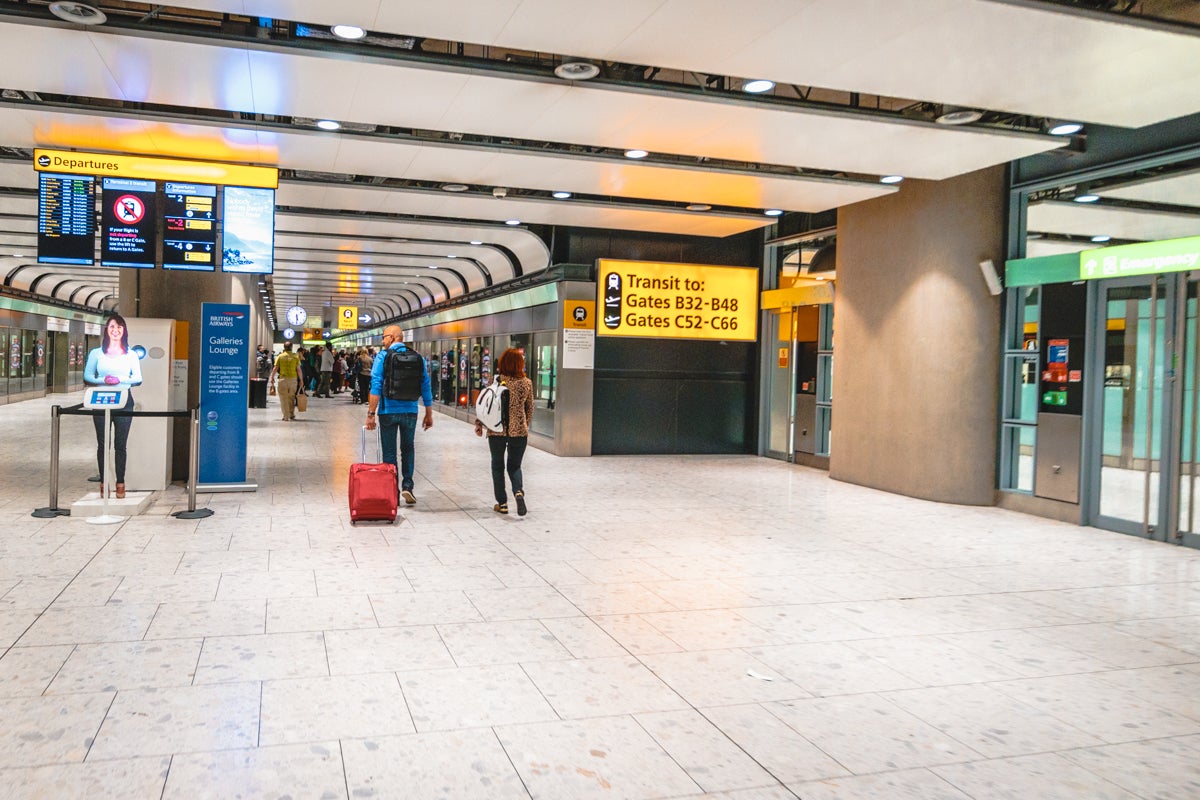 You can use the elevators or escalators to enter Terminal 5B.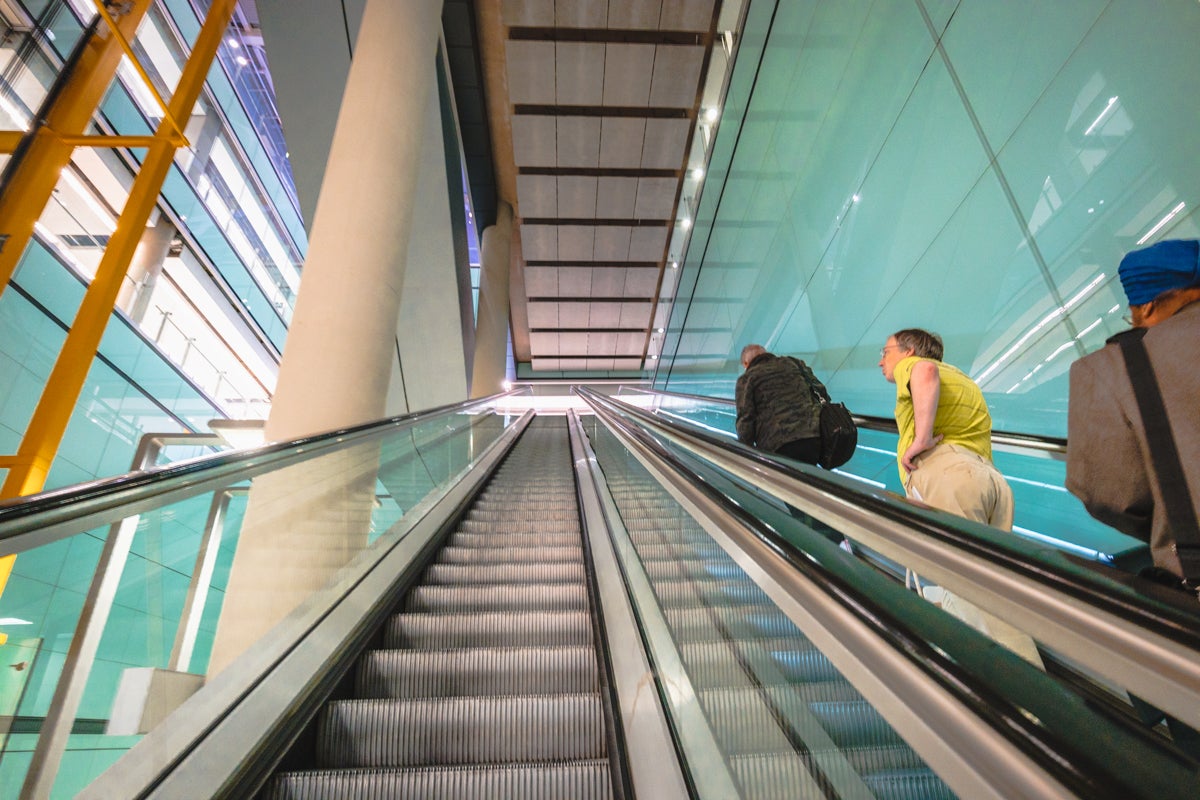 Passengers with Oneworld Emerald or Sapphire status, as well as first class passengers, can also access the Galleries Lounge.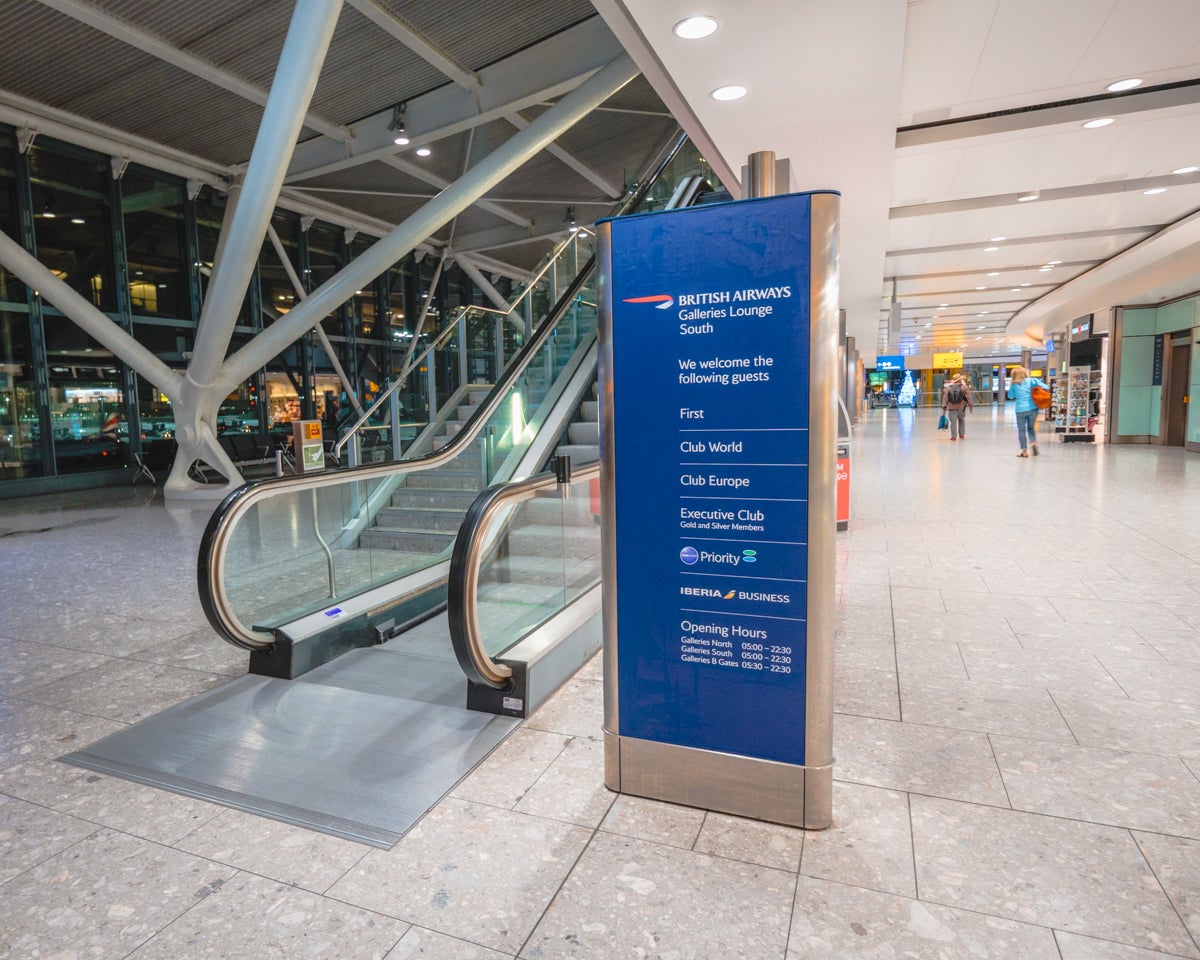 It's hard not to draw comparisons with the Virgin Atlantic JFK Clubhouse I was in just a day before, but whereas the Clubhouse was glam and funky, this lounge felt downright dreary.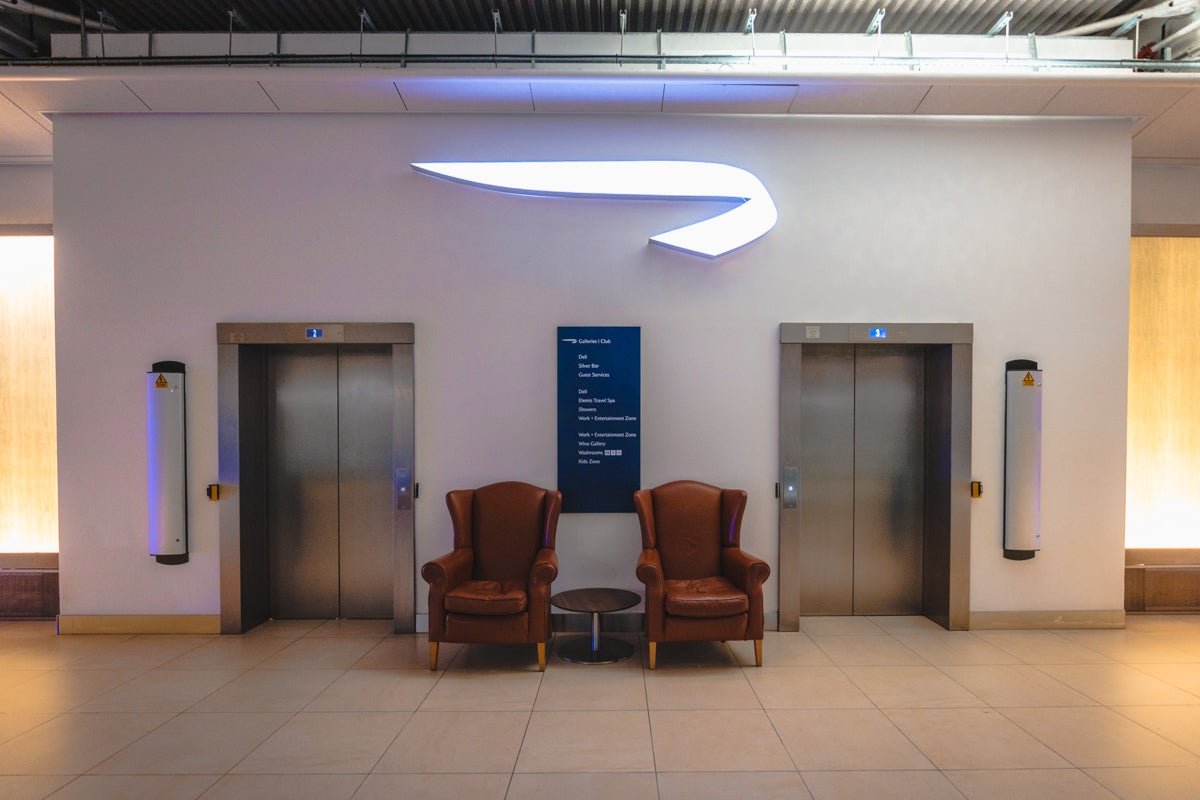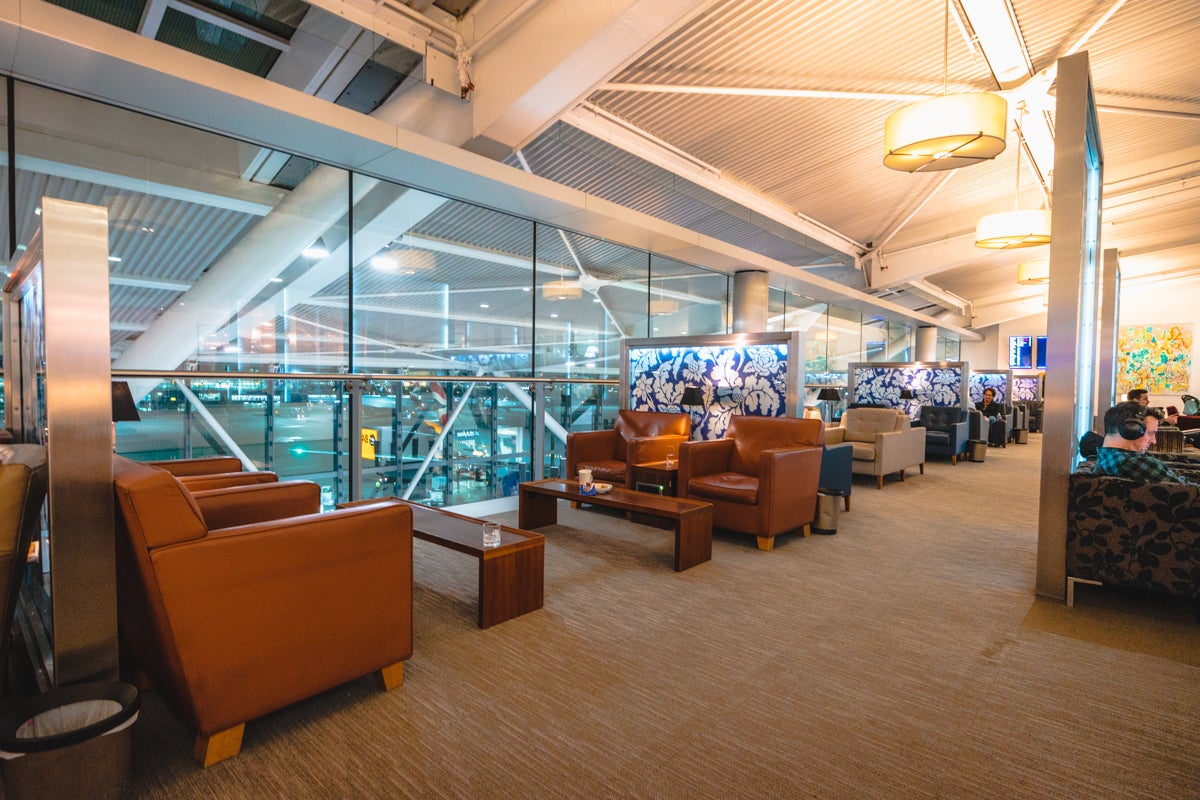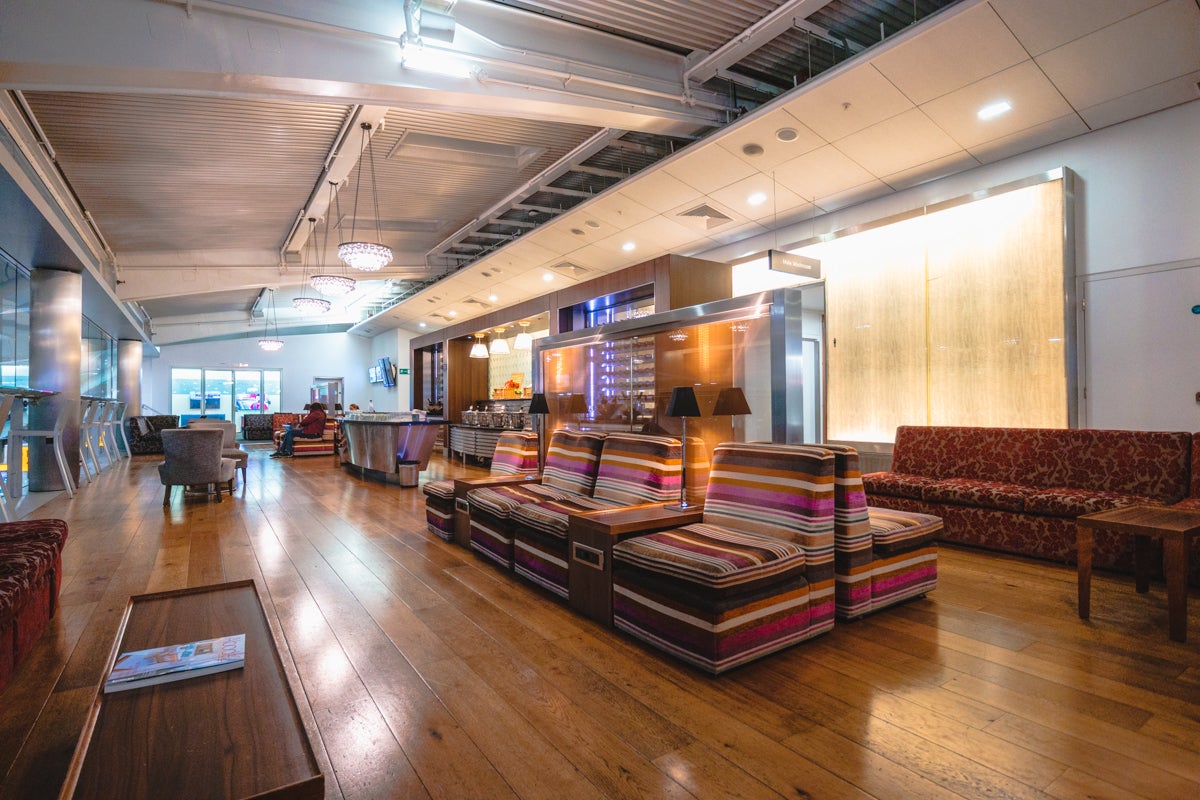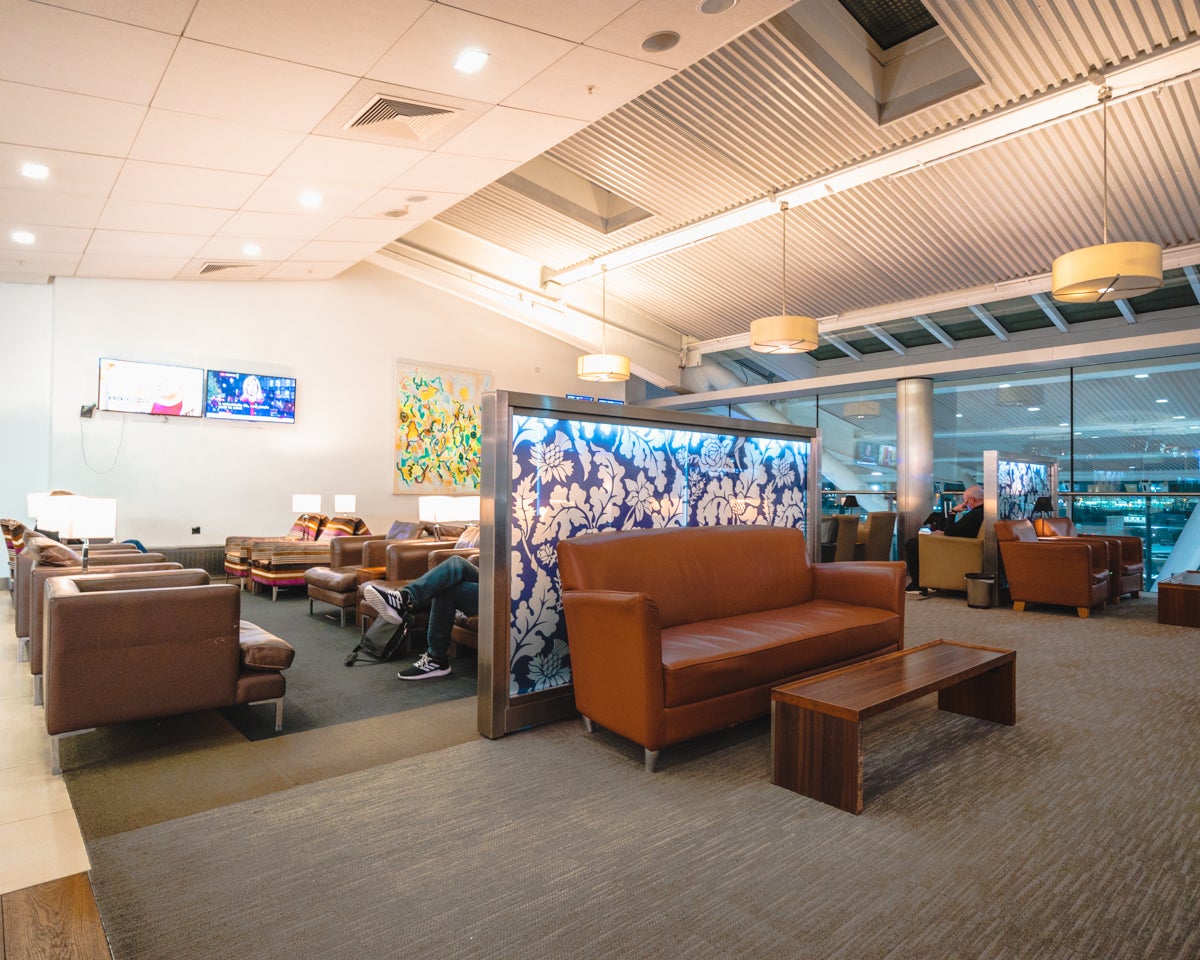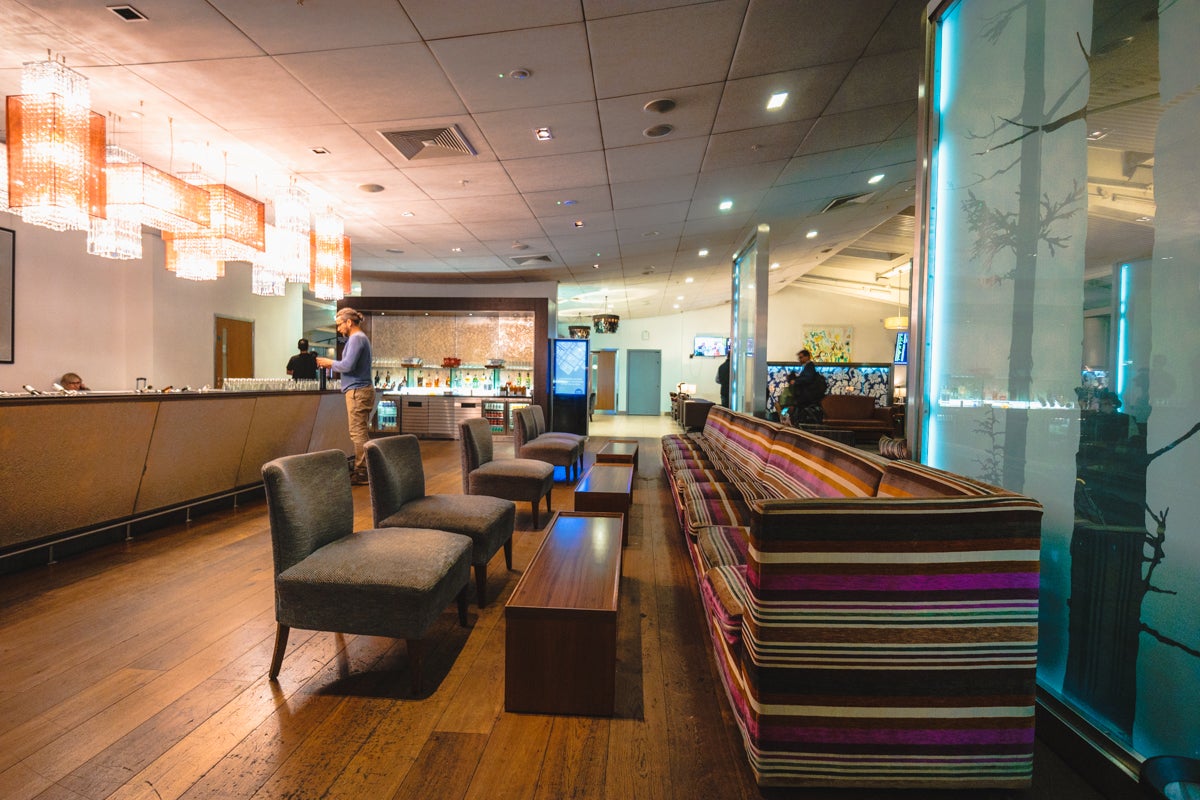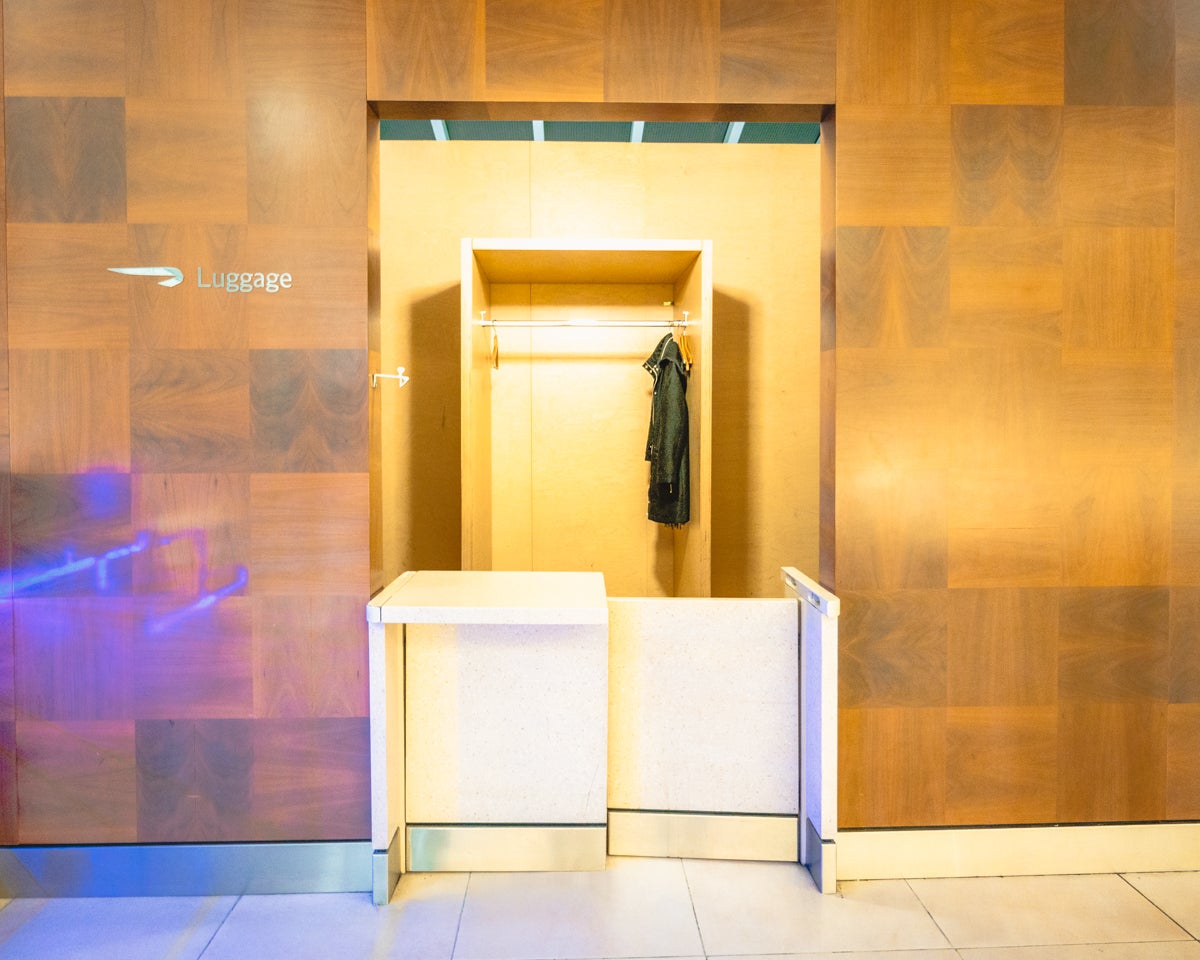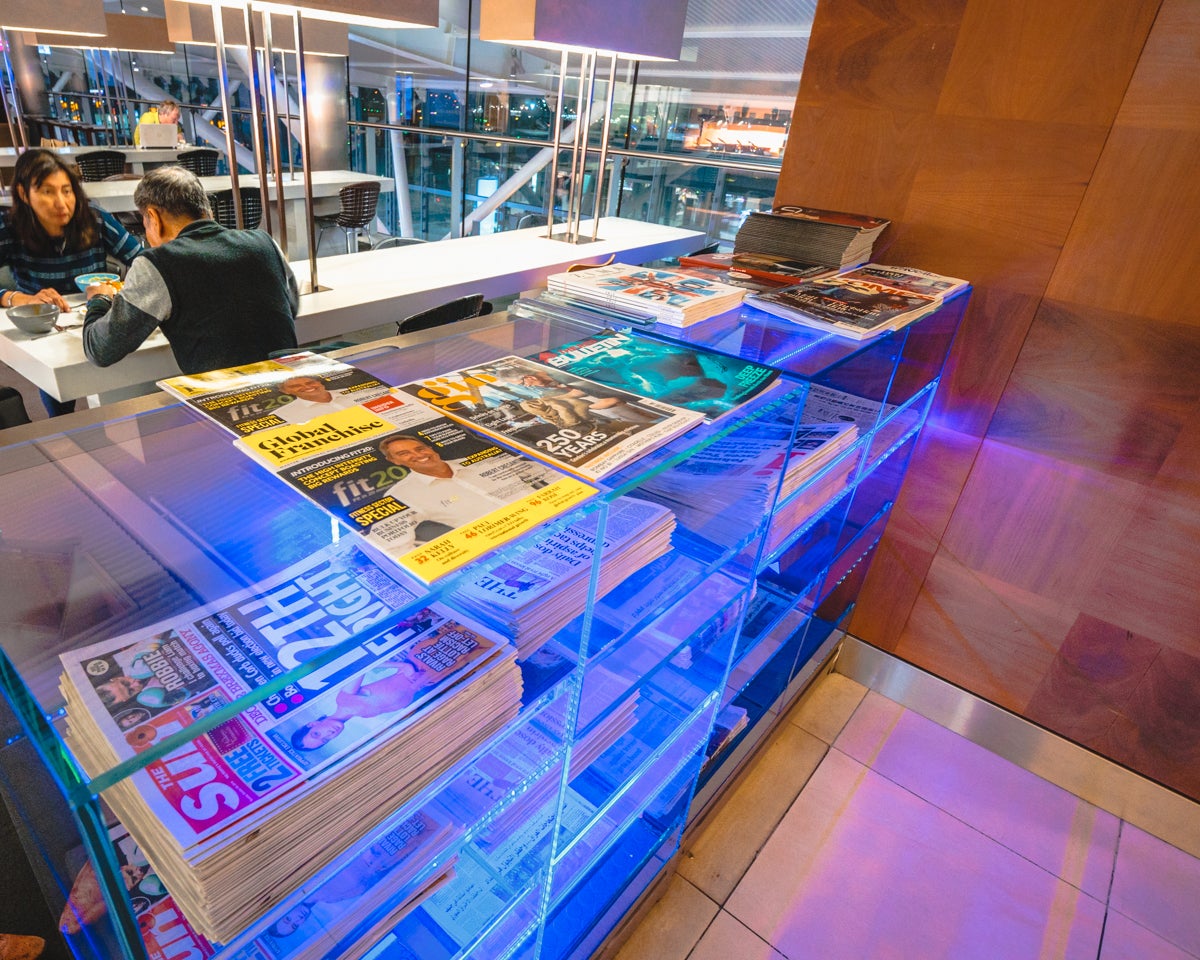 There's no tendered bar, just a DIY booze shelf. So, no espresso martinis tonight.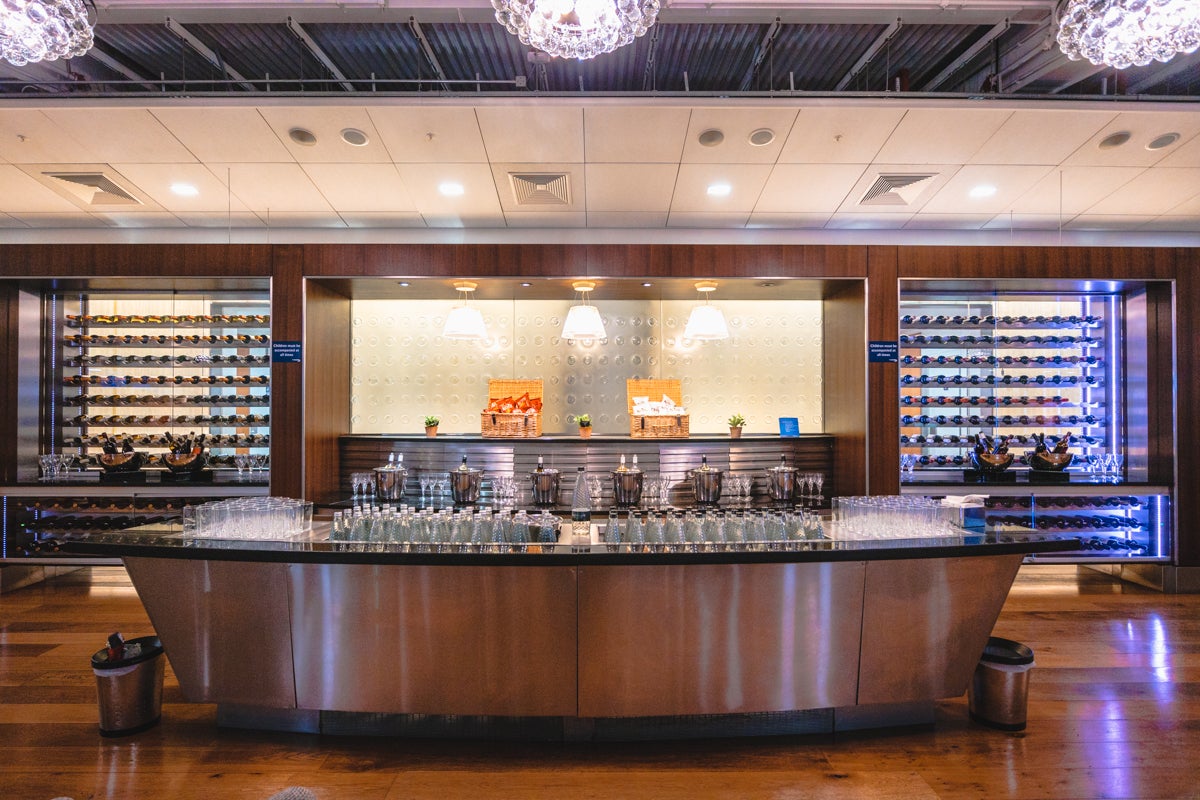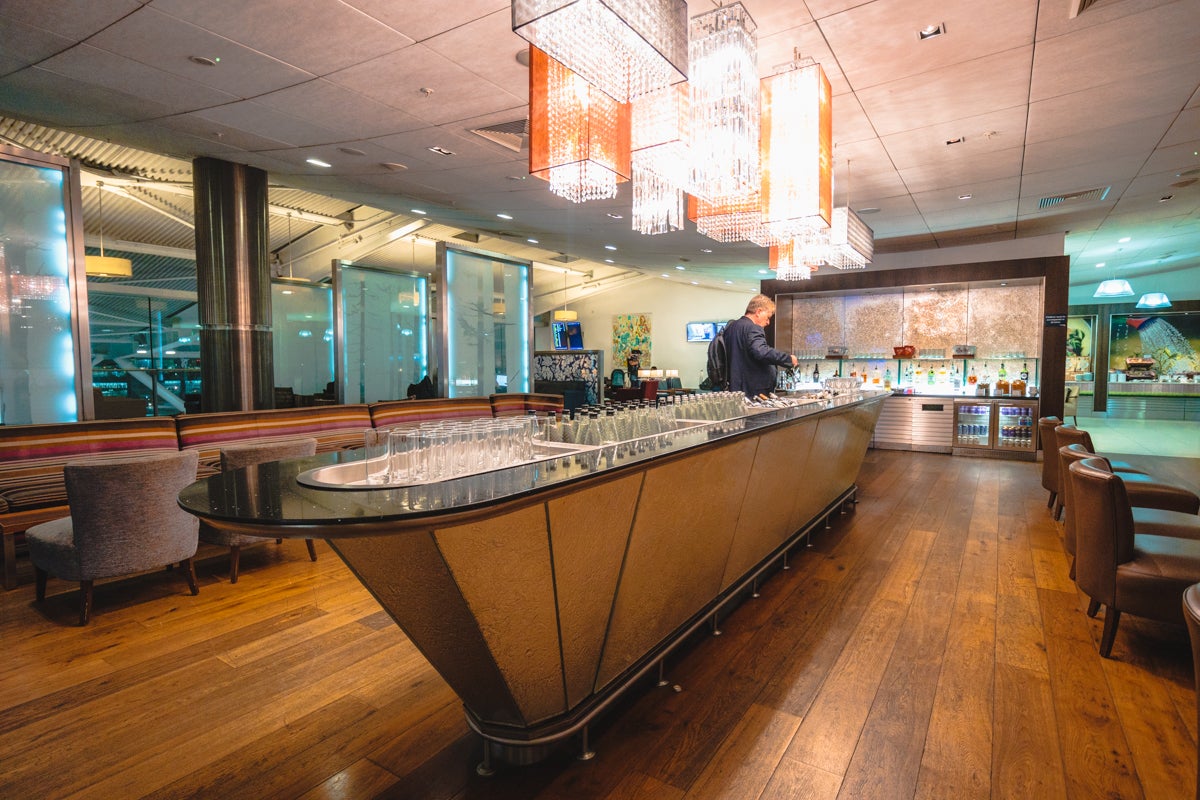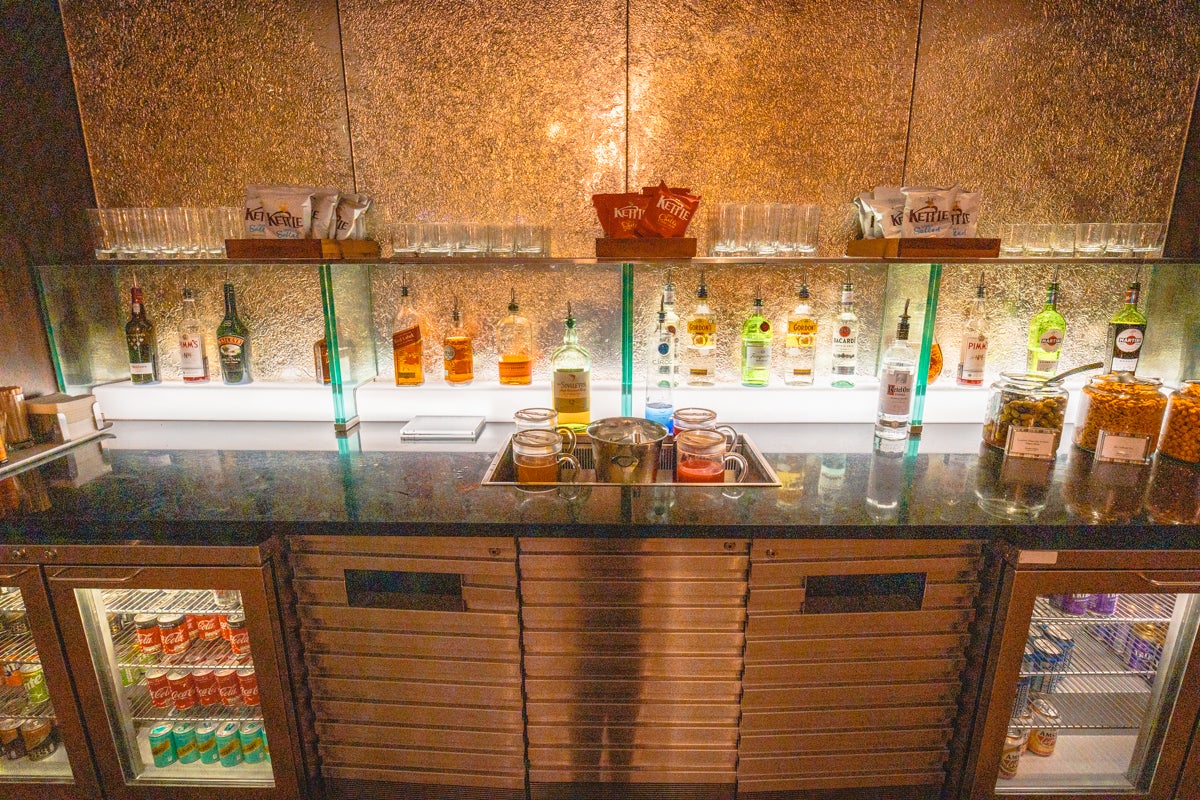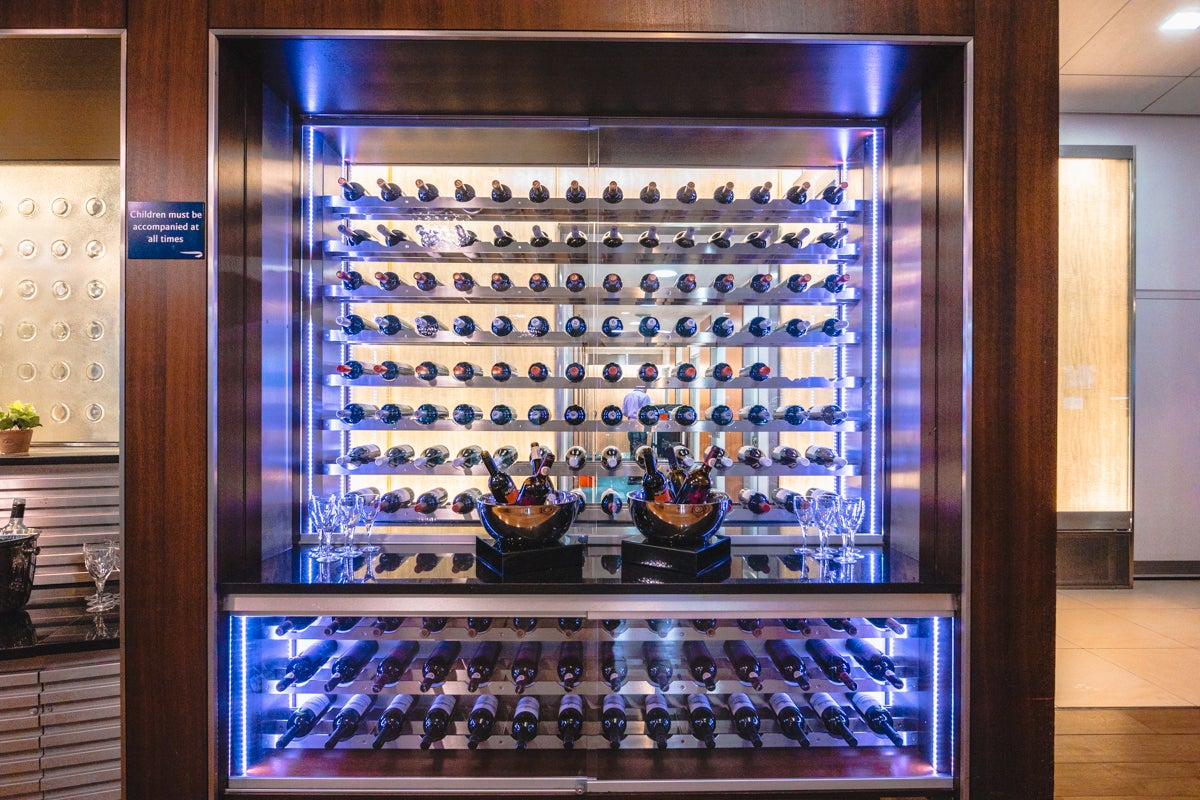 There is a spa with complimentary treatments, yet it wasn't staffed.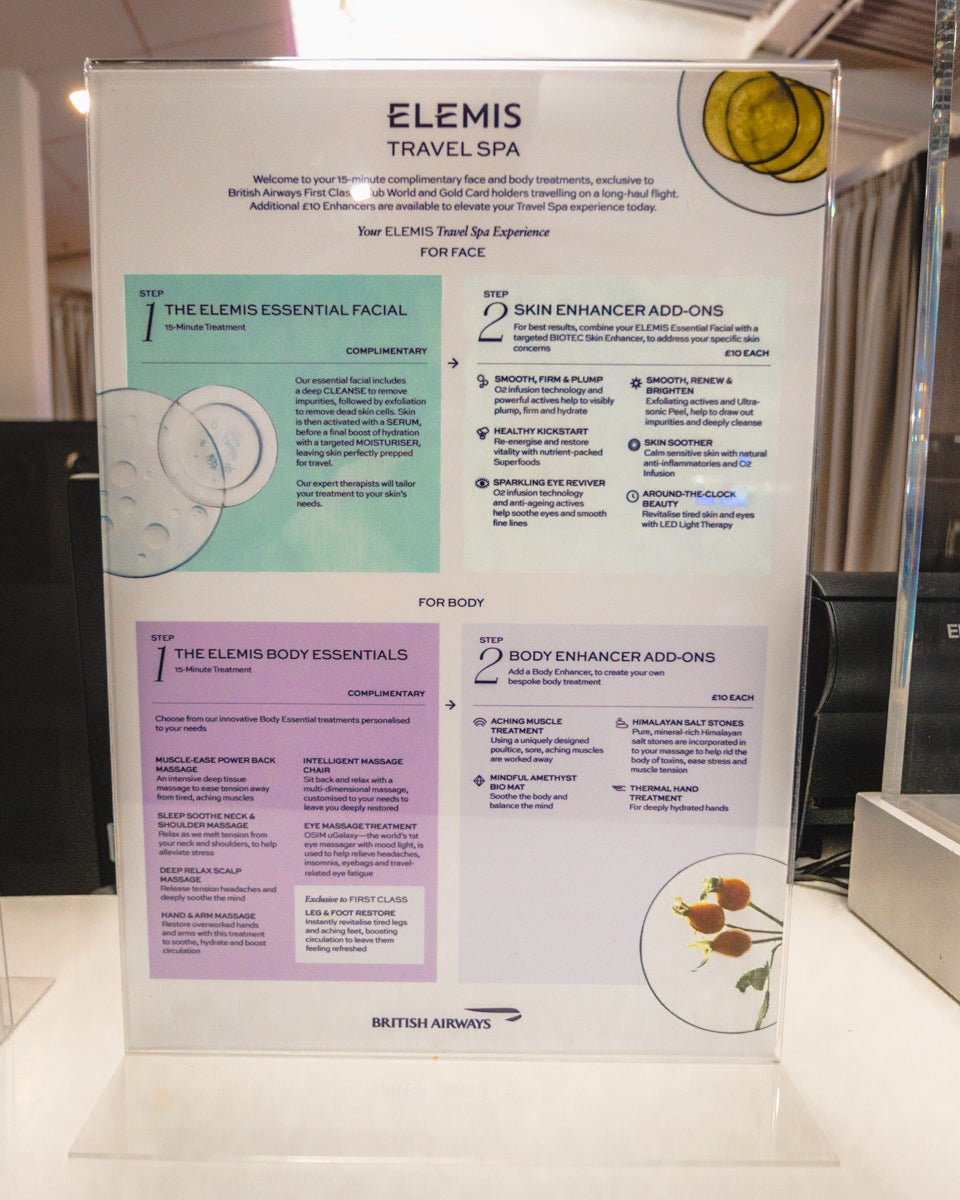 No à la carte dining here, just buffet.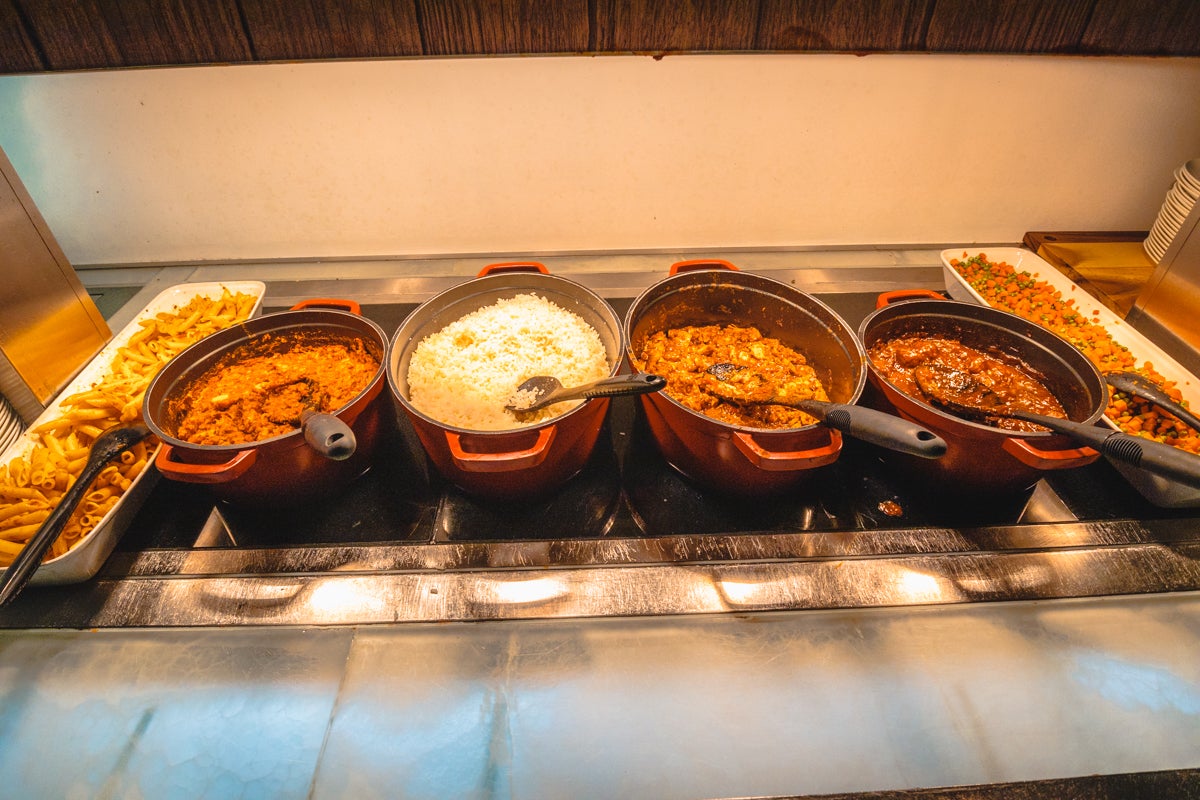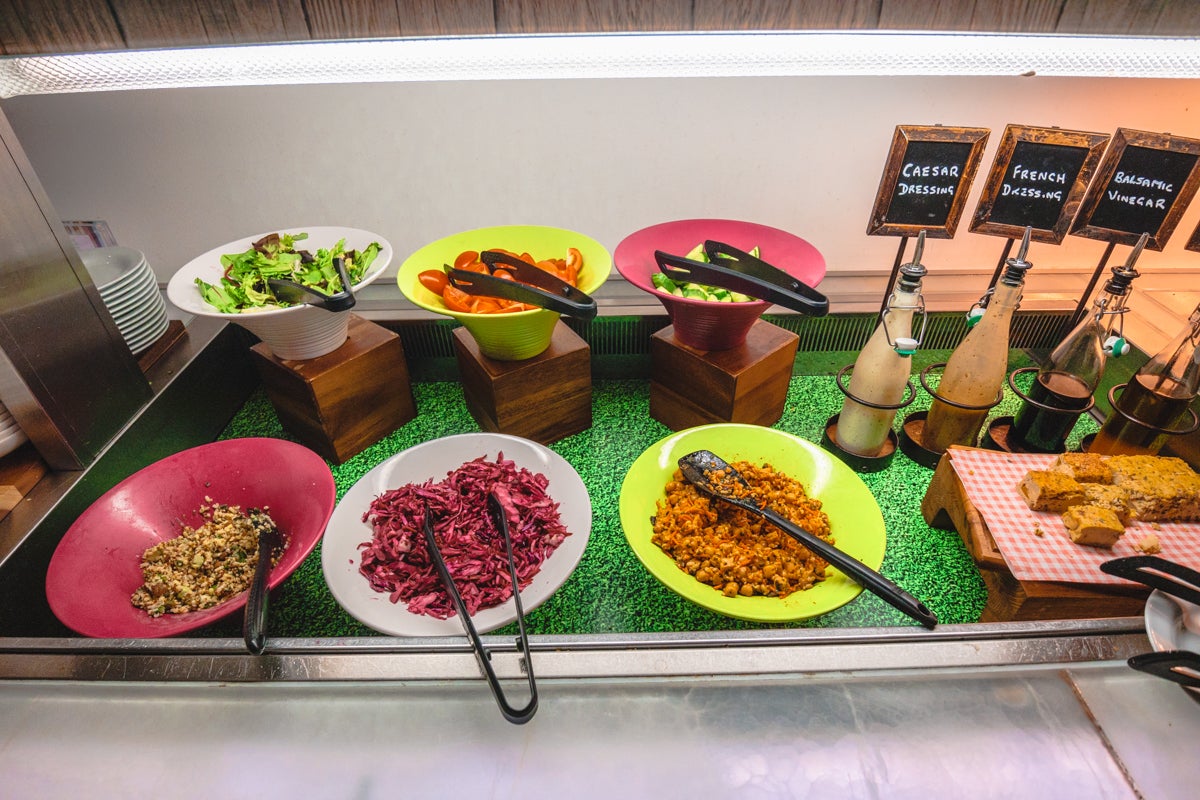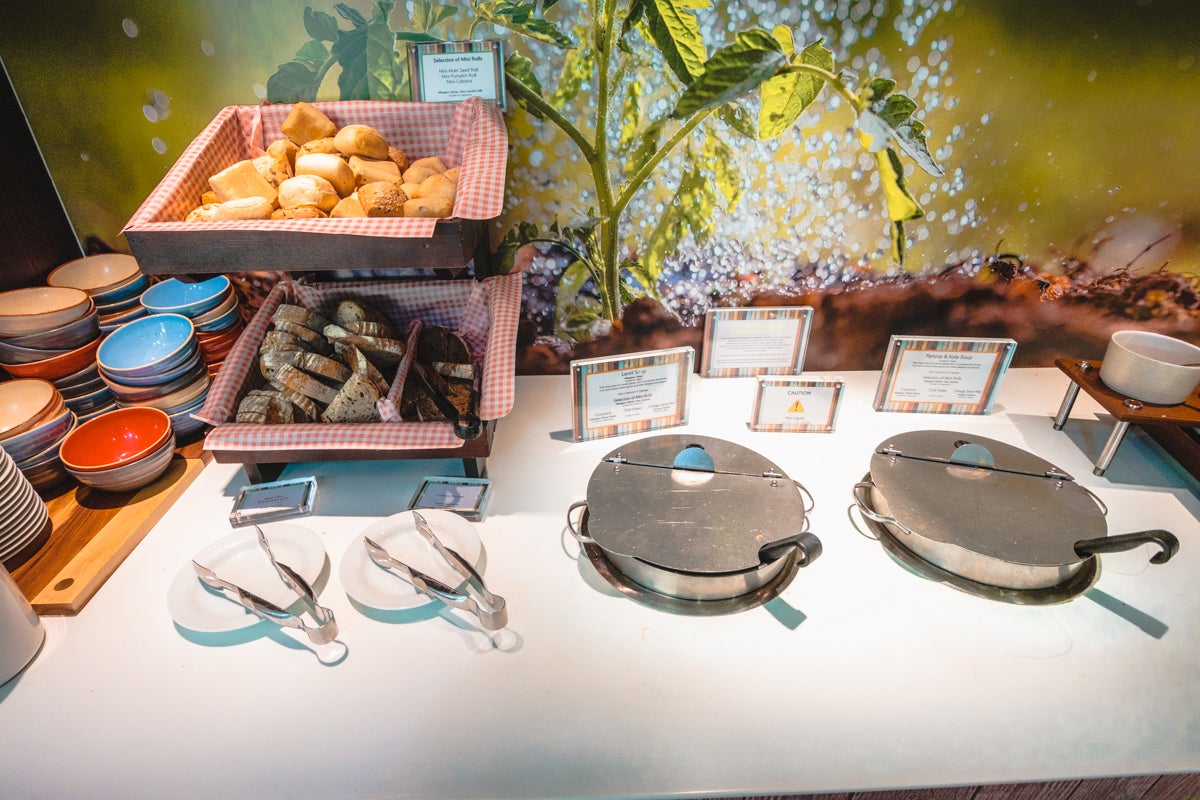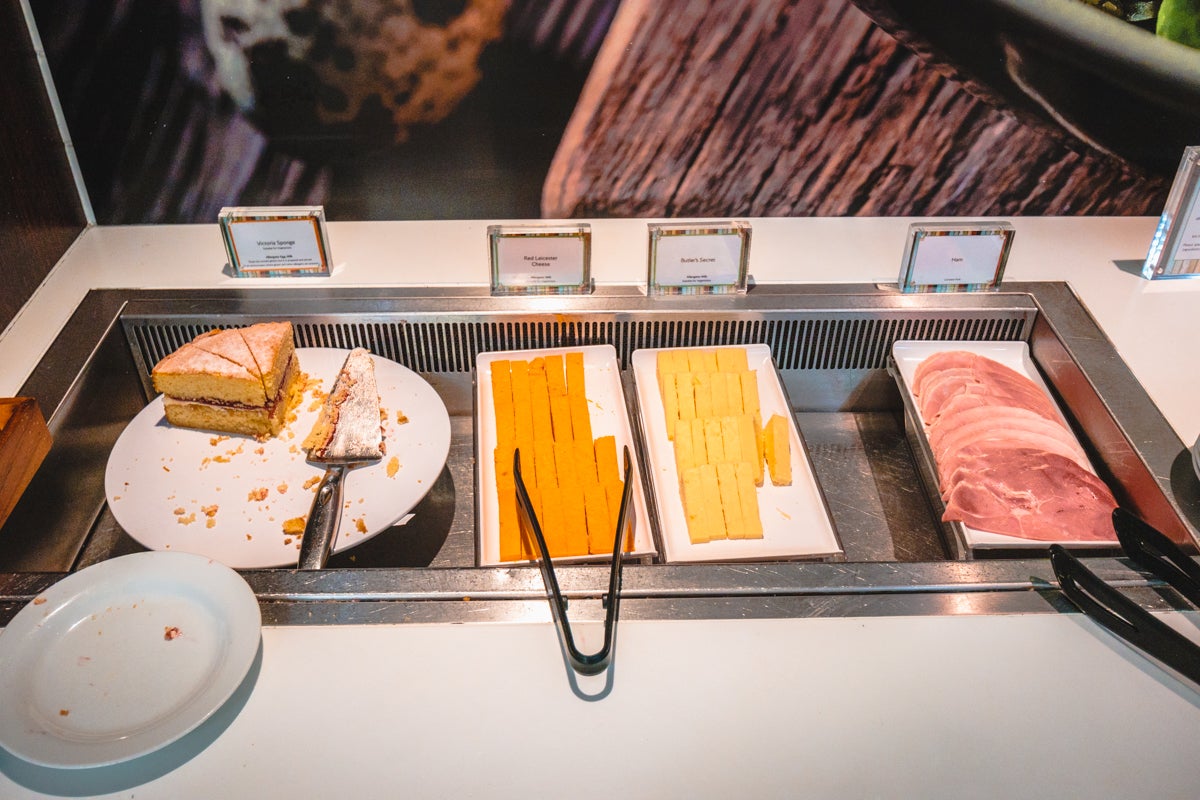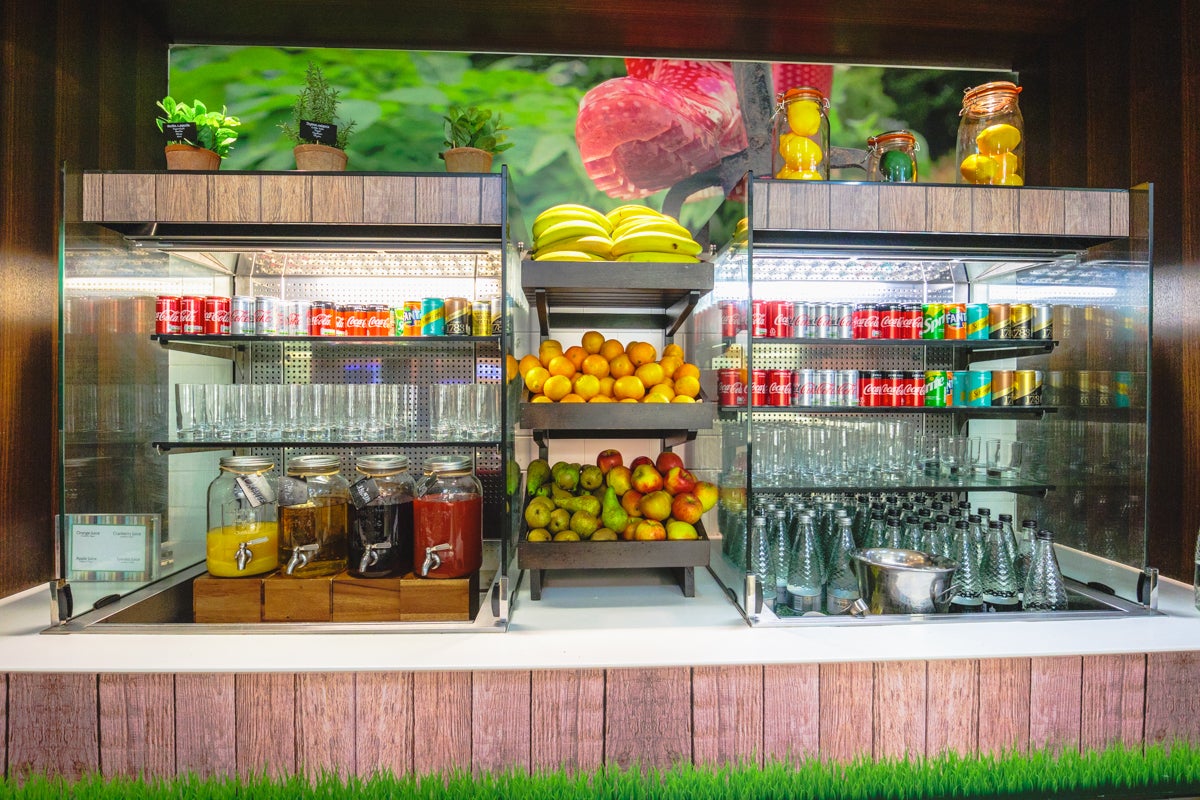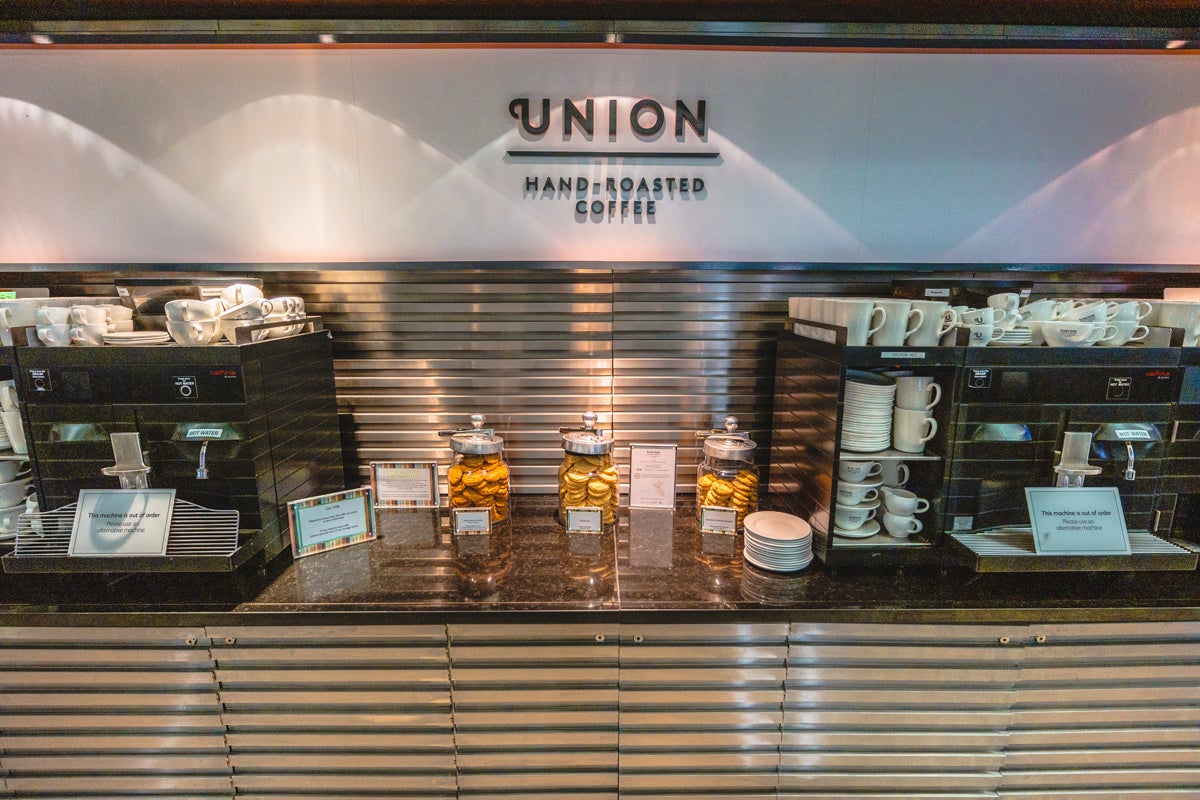 The lounge is set back from the windows of the terminal so there aren't any views for AvGeeks to appreciate.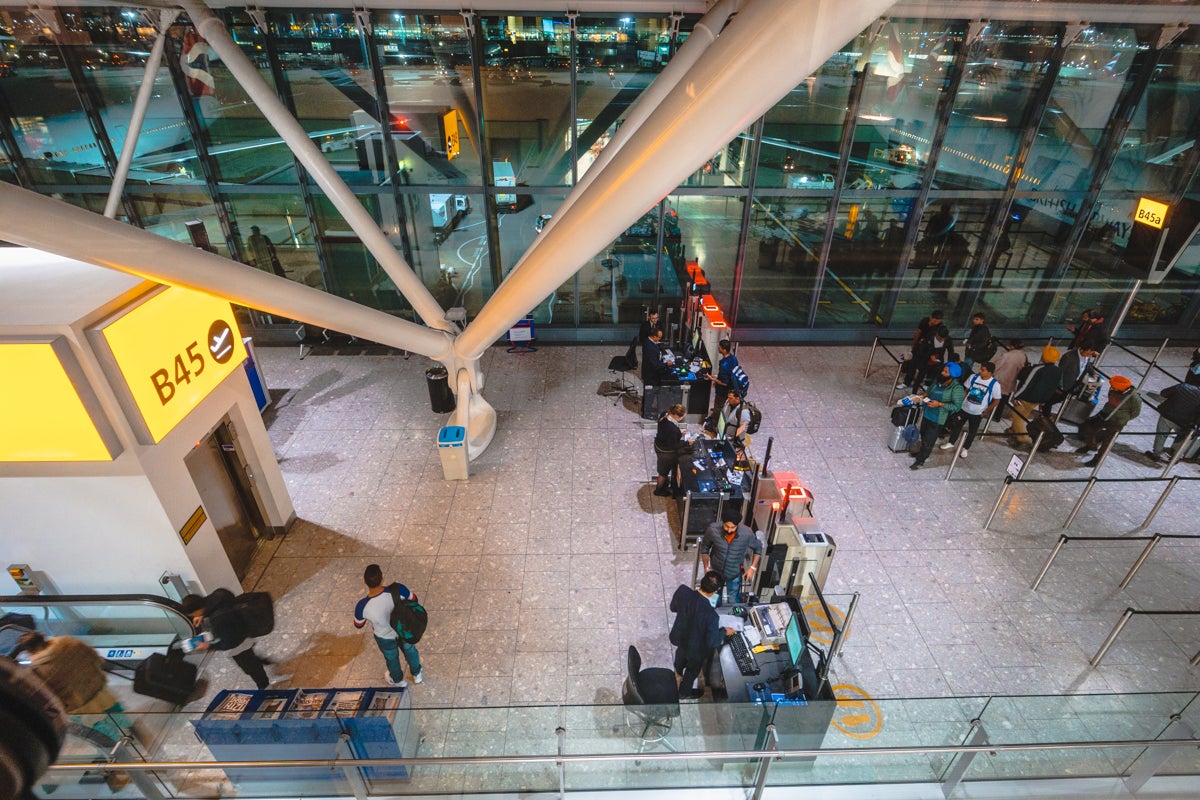 The Wi-Fi was unusable and I had to switch back to my cellular service. I found it amusing that the service provider was a Virgin company.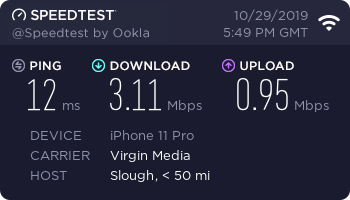 The toilets looked like they belonged in a hospital.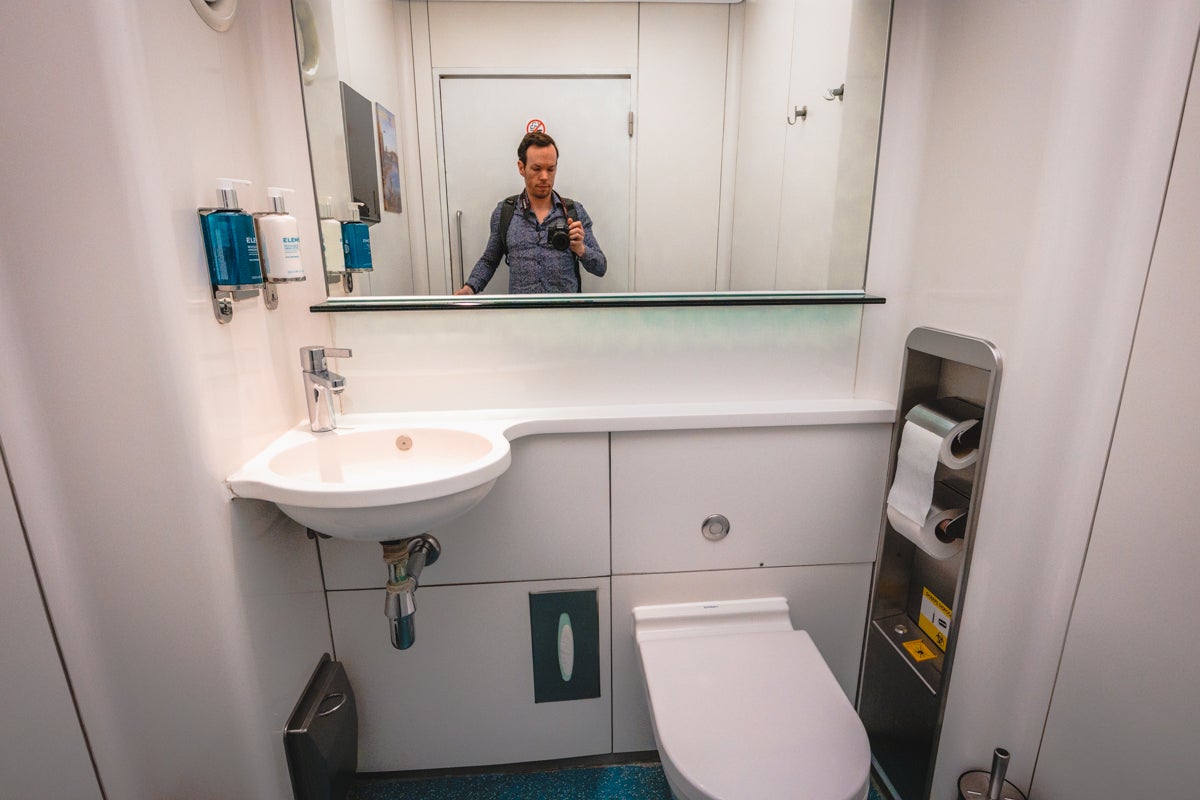 PCs and a printer were available along with plenty of desks to catch up on work.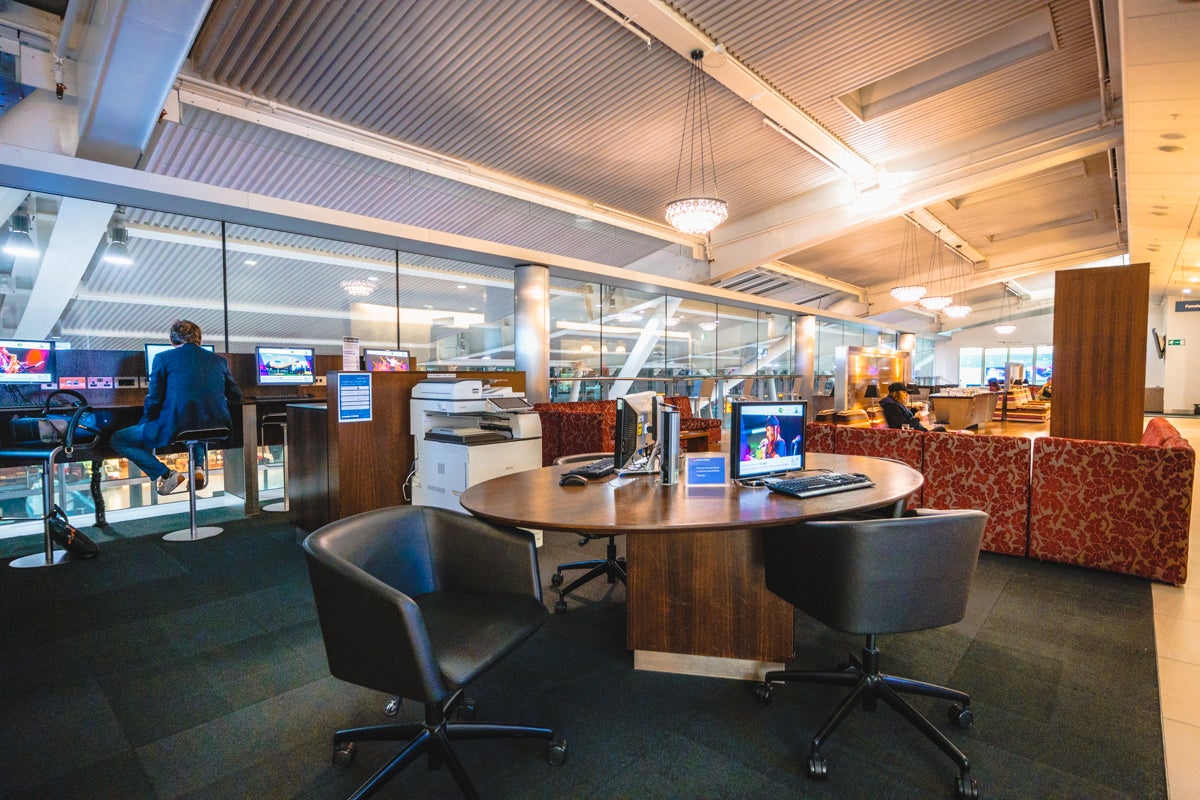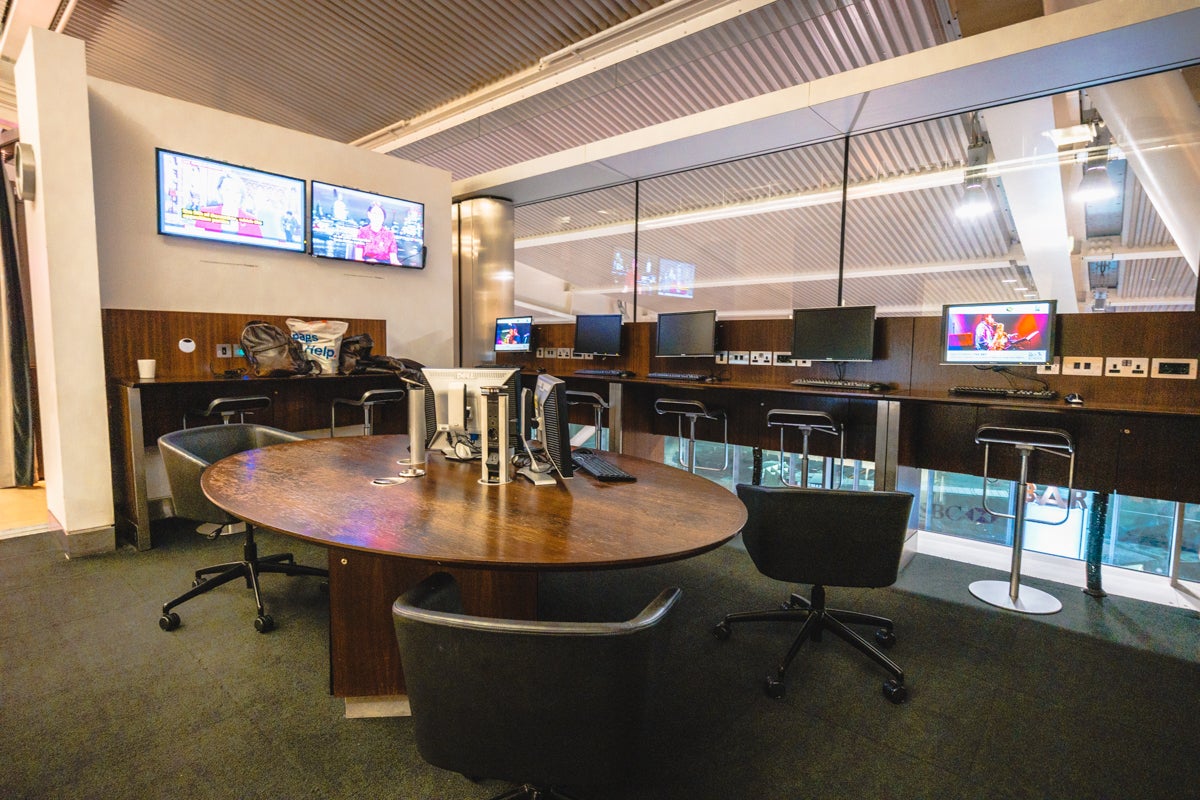 There were ample power points throughout.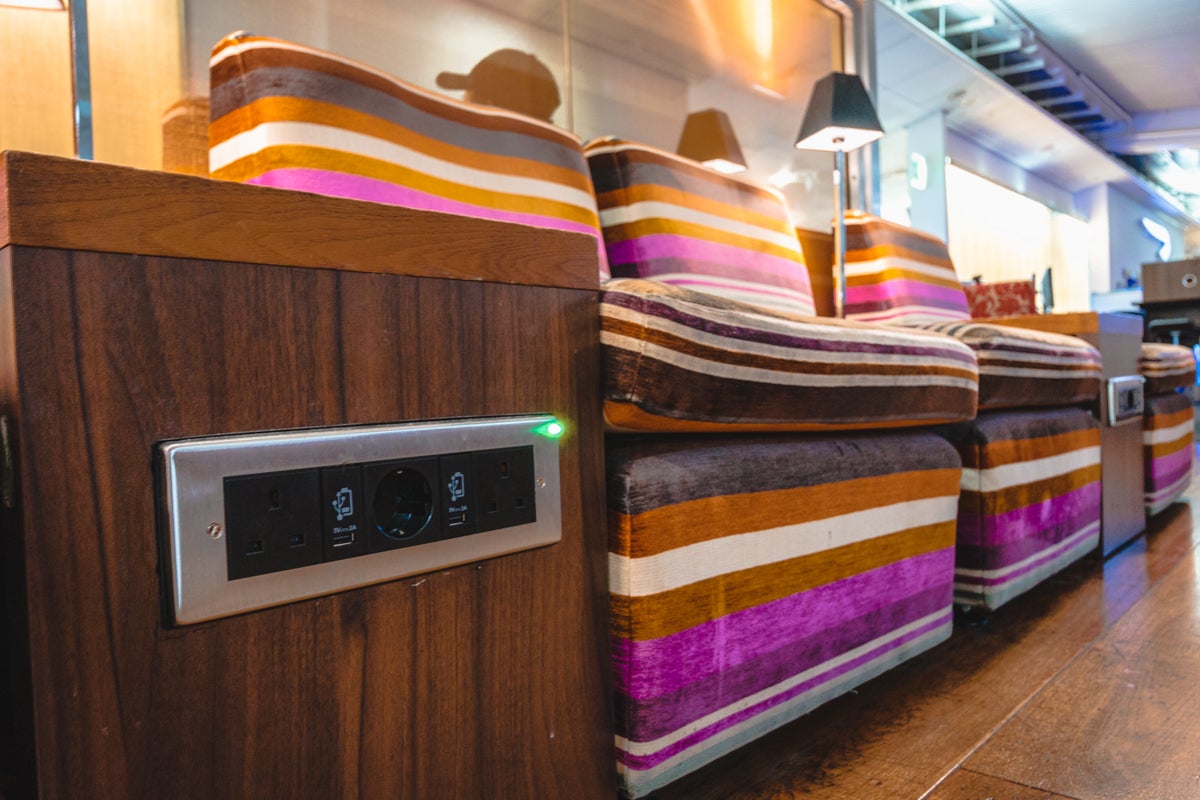 There was a kids' playroom behind glass doors.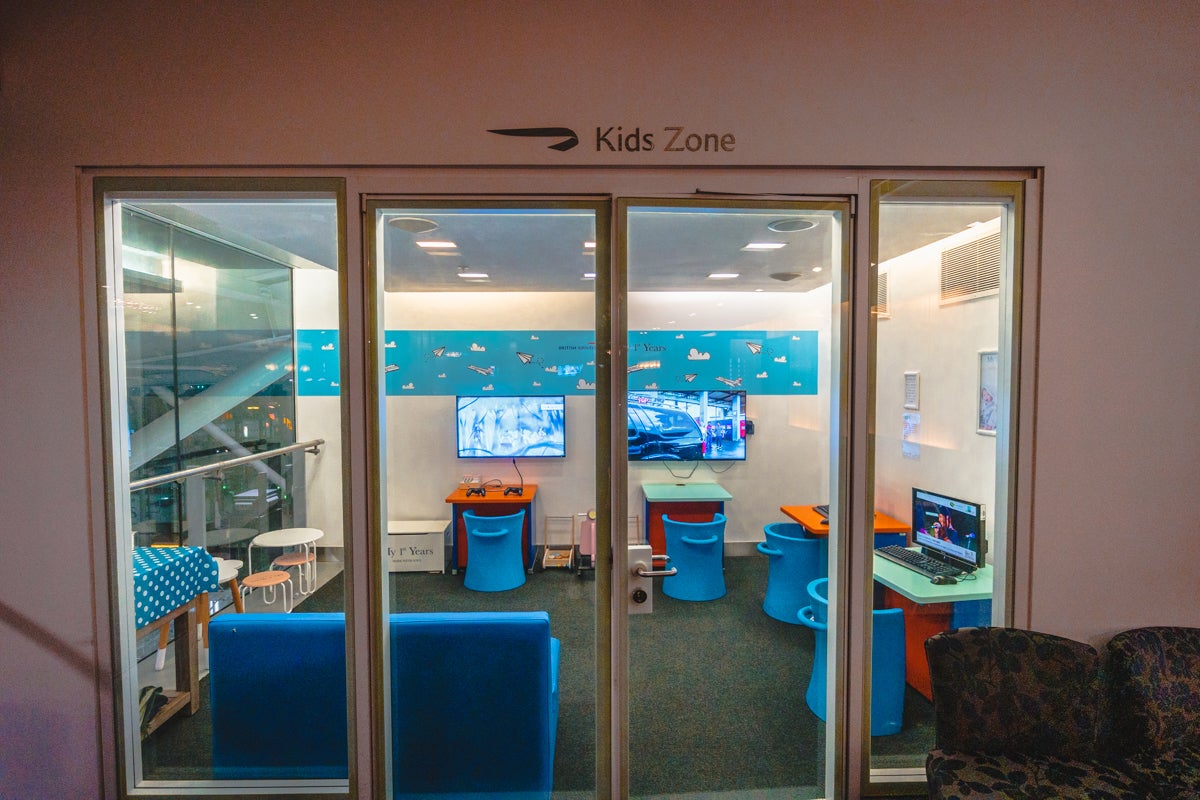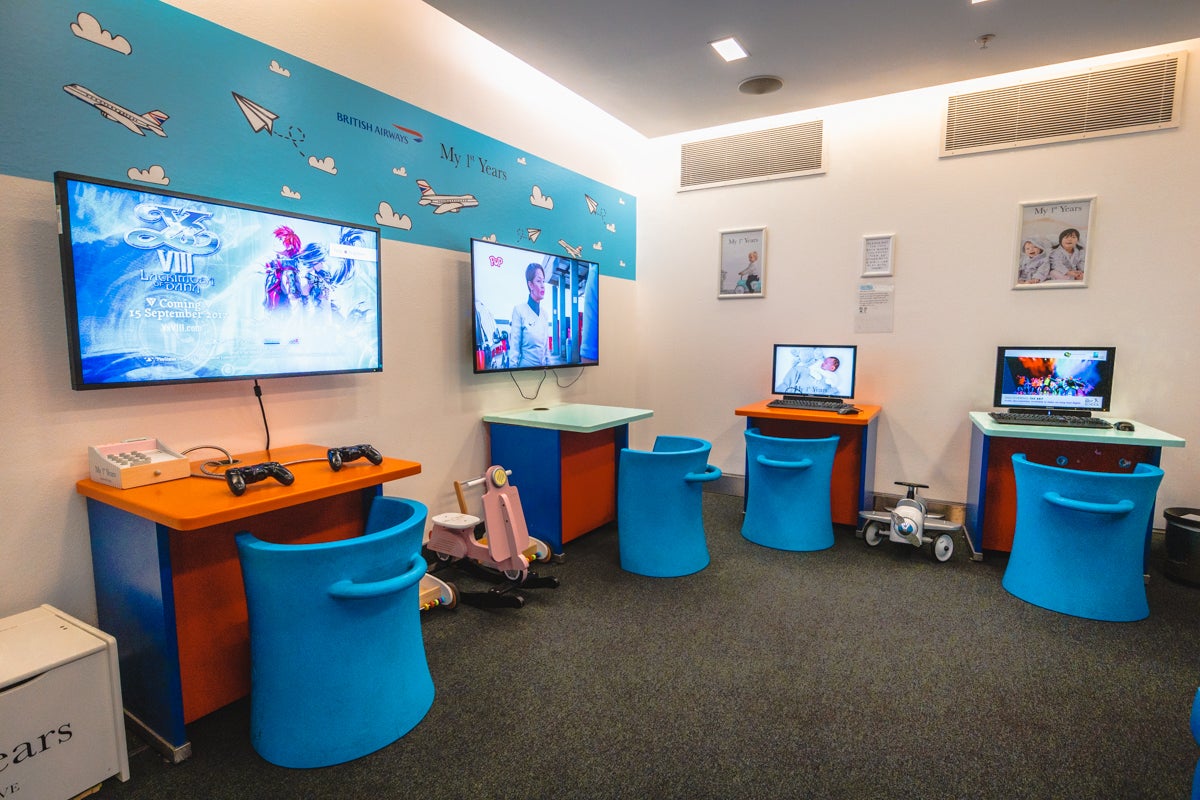 Whilst there was plenty of friendly and attentive staff at the Clubhouse, in the 3 hours I was in the British Airways lounge I didn't see a single staff member inside, apart from the 2 at the entrance.
And the Clubhouse was at an outstation for Virgin Atlantic at JFK, unlike this home-port lounge of British Airways.
It should be a flagship experience, but it's not.
3 hours was way too long here.
I had a bit of a hike from Satellite B terminal to C.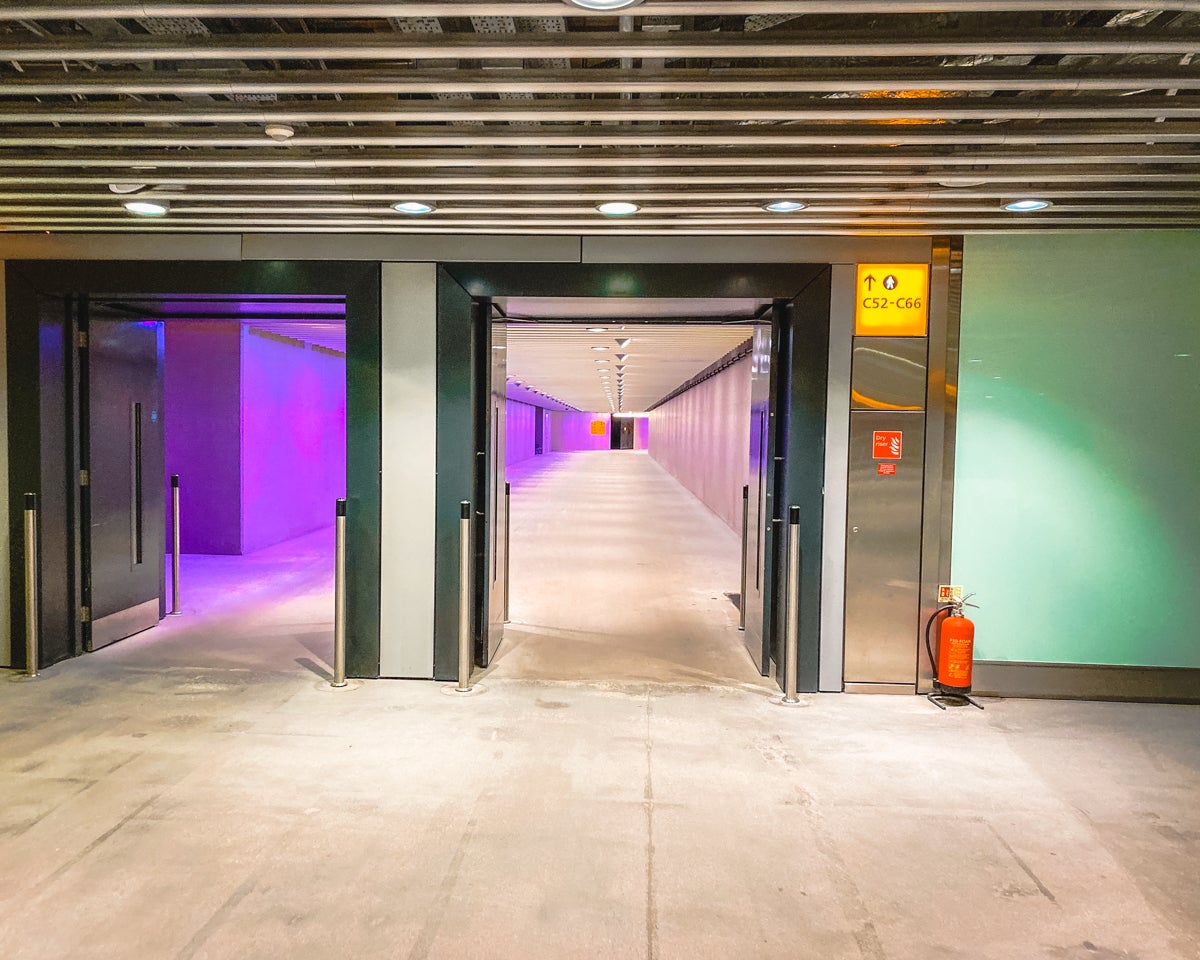 But thankfully there were a couple of moving walkways, which seemed to stretch on forever.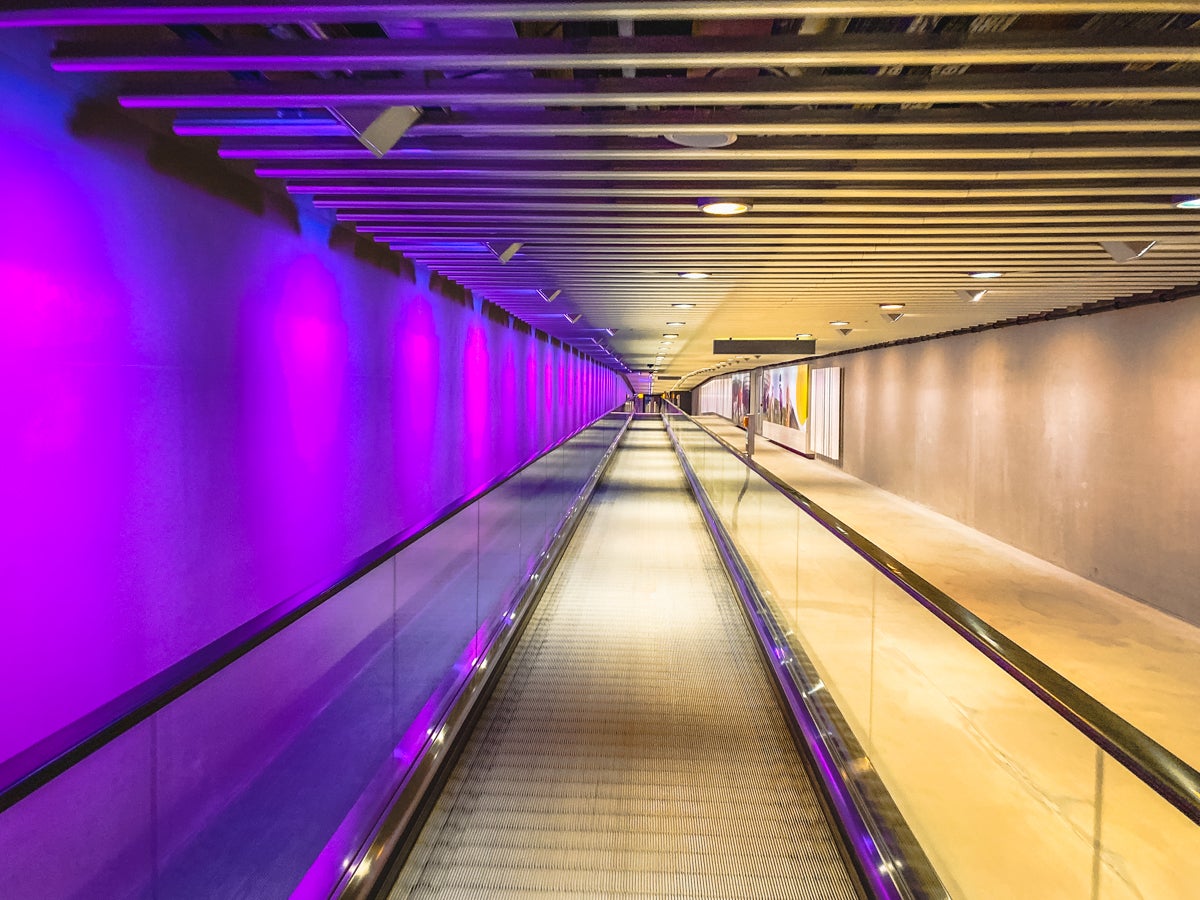 I arrived at the gate and boarding had started ahead of schedule.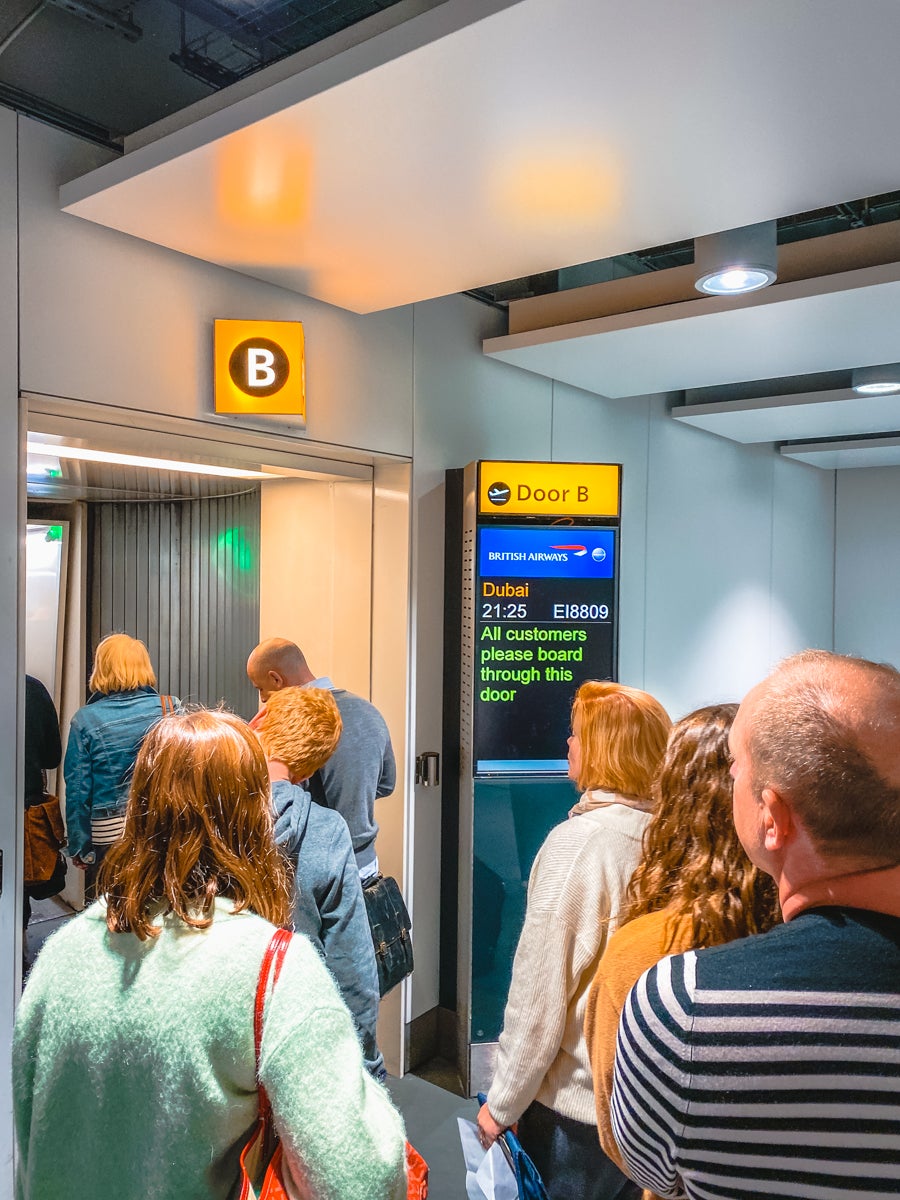 The aircraft was also being boarded through the single jet bridge so there was quite a queue formed already.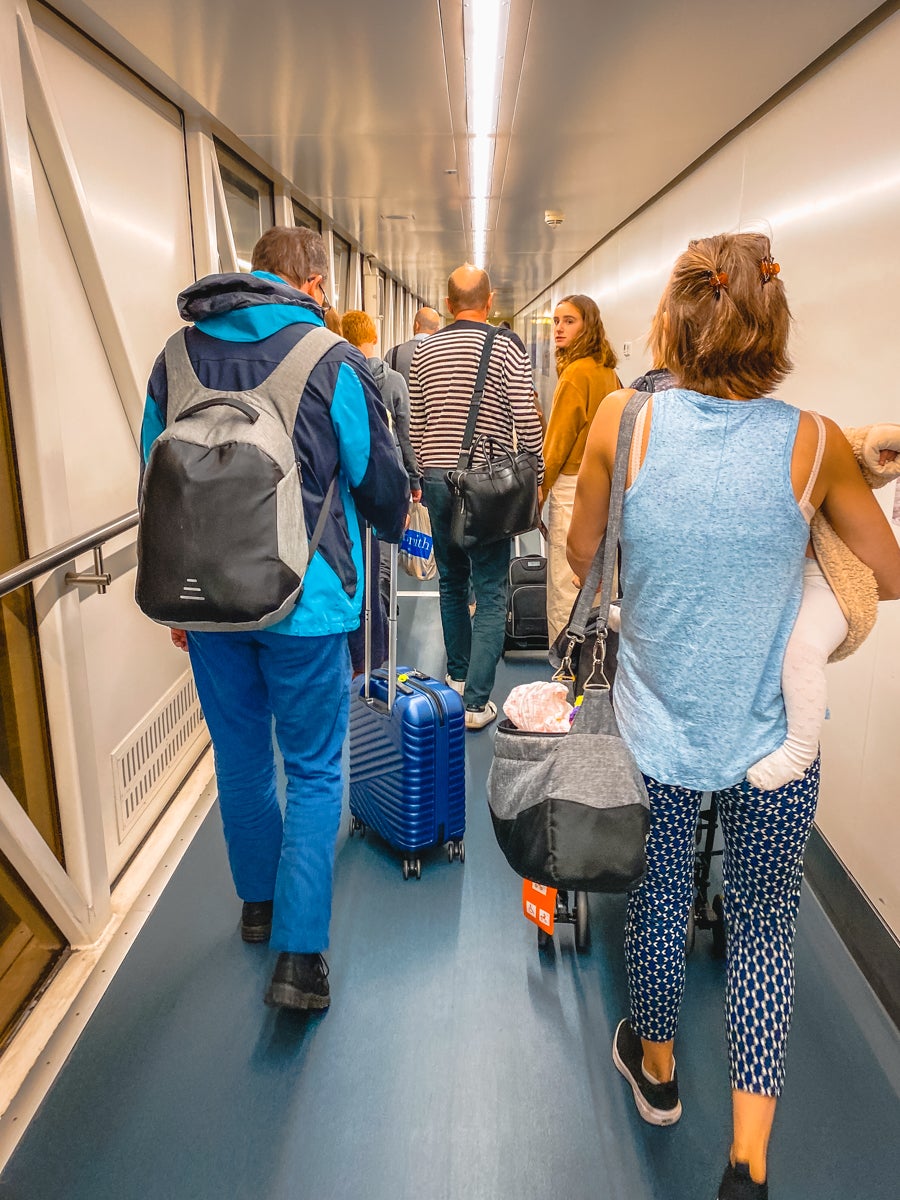 Flight
Aircraft
BA109 is operated by a Boeing 747-400, of which British Airways currently has a fleet of 32.
My aircraft this evening was delivered back in December 1998 so it was nearly 21 years old.
The aircraft is configured with 14 first class seats in the "nose" of the aircraft.
The main deck Club World is configured in a tight 2-4-2 configuration, in a yin-and-yang with a mix of forward- and rear-facing seats.
A mini Club World/business class cabin occupies the space between first and door 2 with 18 seats. A larger cabin is behind that with 48 seats with the upper deck featuring a more private cabin with just 20 seats in a 2-2 configuration.
Premium economy features 30 seats. The 2-4-2 configuration illustrates just how narrow the Club World seats are when they fit the same number seats across the width of the aircraft as in premium economy.
Economy occupies the rest of the aircraft in 3-4-3 configuration with 145 seats in a single cabin.


Business Class
Stepping on board at door 2, I turned right and walked through one of the Club World cabins.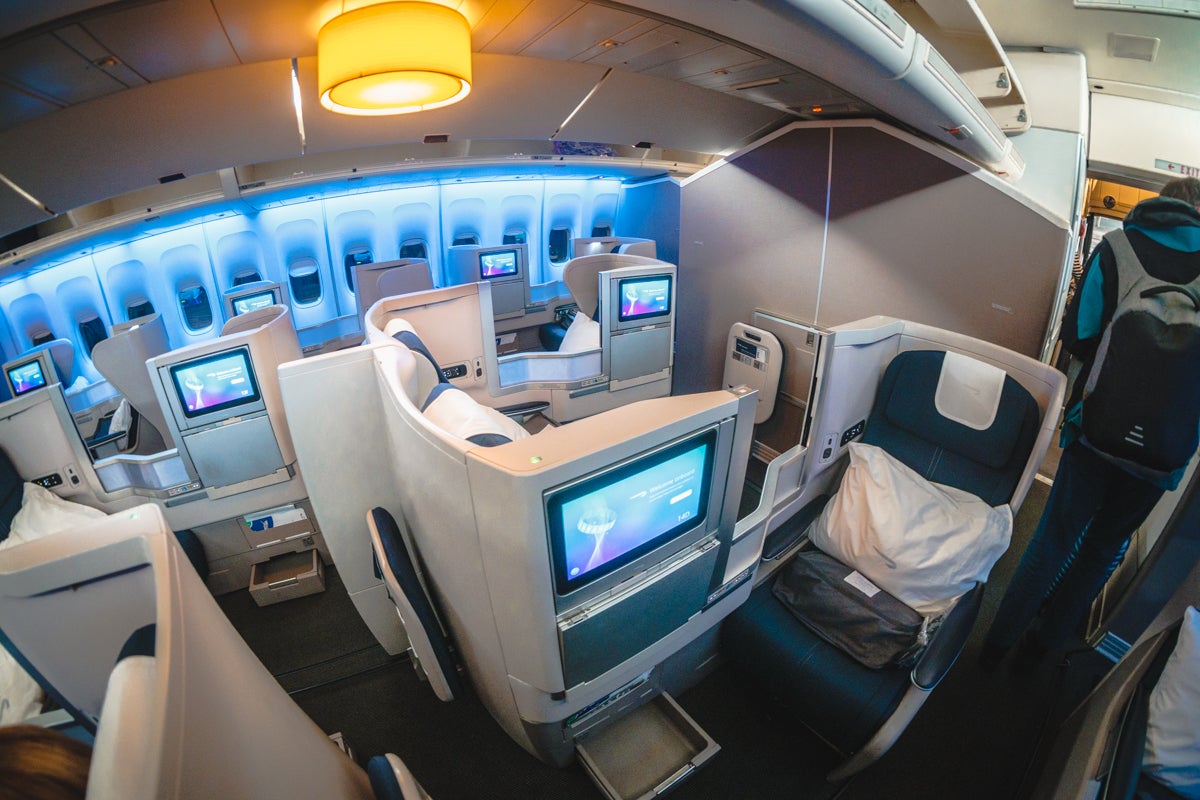 All whilst thinking how glad I was not to be stuck in one of the middle seats which requires you to step over the aisle passengers to access.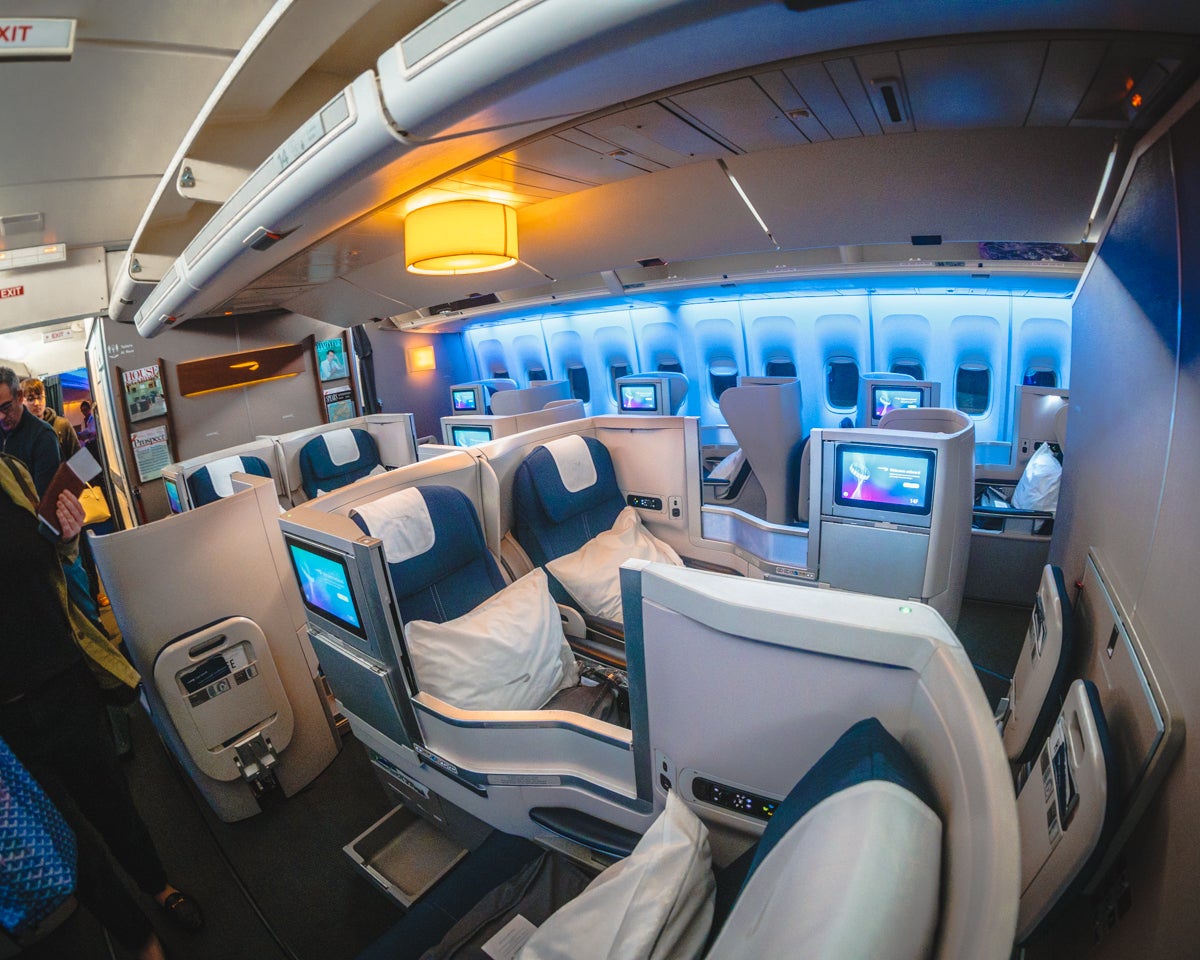 For a nearly 21-year-old aircraft, this girl didn't look so bad. I think the blue mood lighting helped.
I then headed up the signature 747 stairs and left the cramped main deck behind.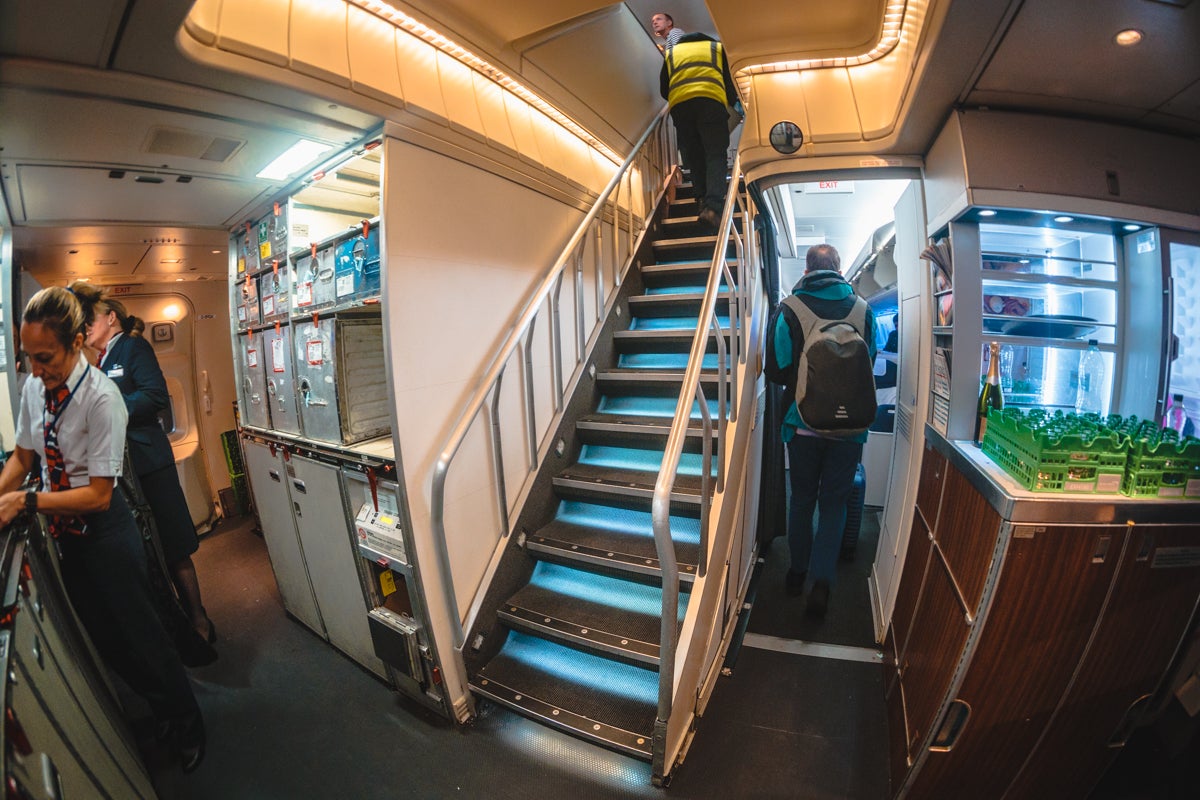 Upstairs felt more like a private jet with just 20 passengers.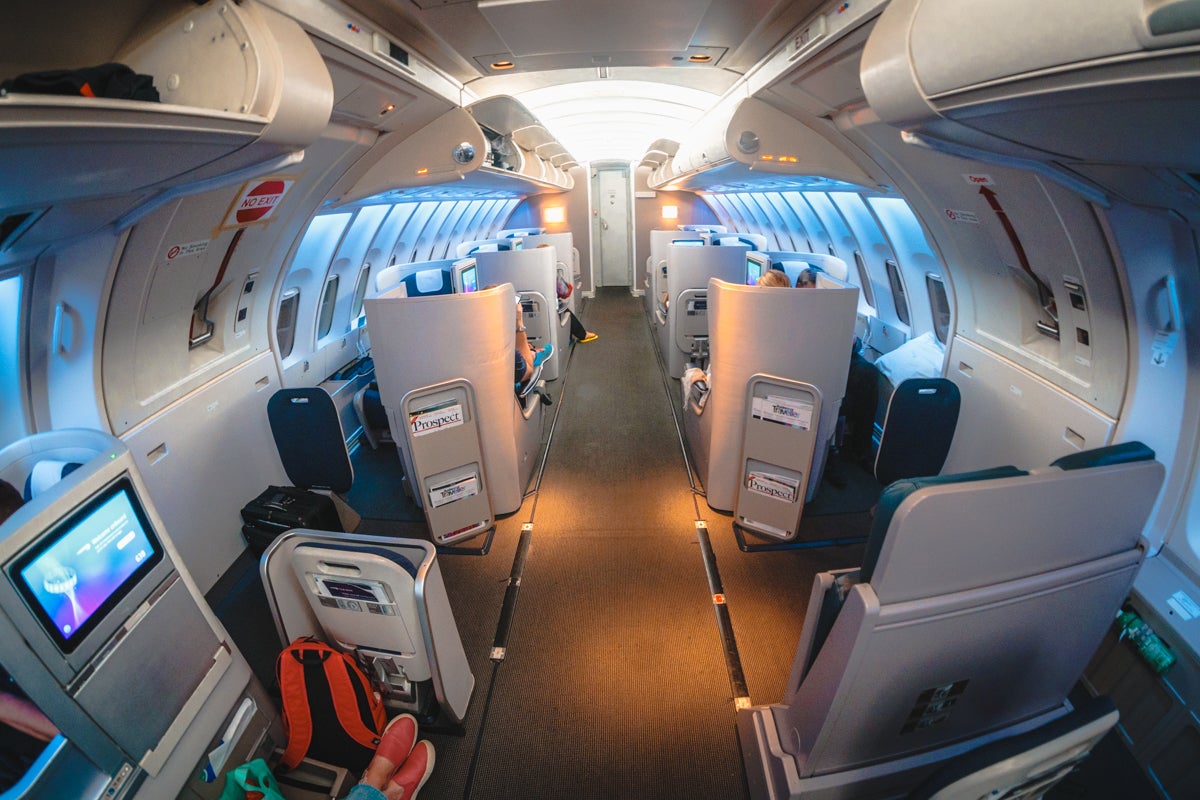 There are 2 types of seats upstairs: the seats directly next to the aisle which face forward.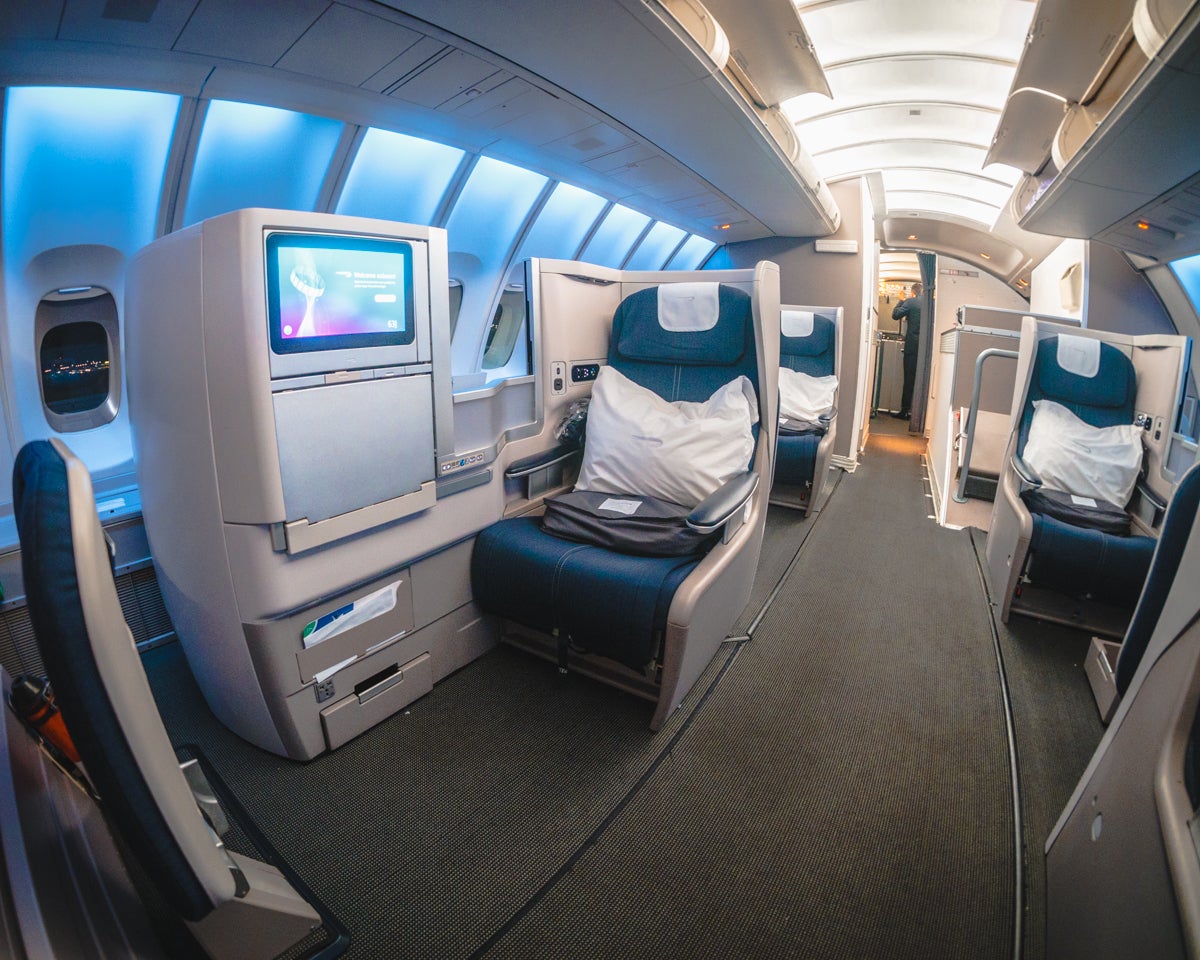 And window seats which face towards the rear.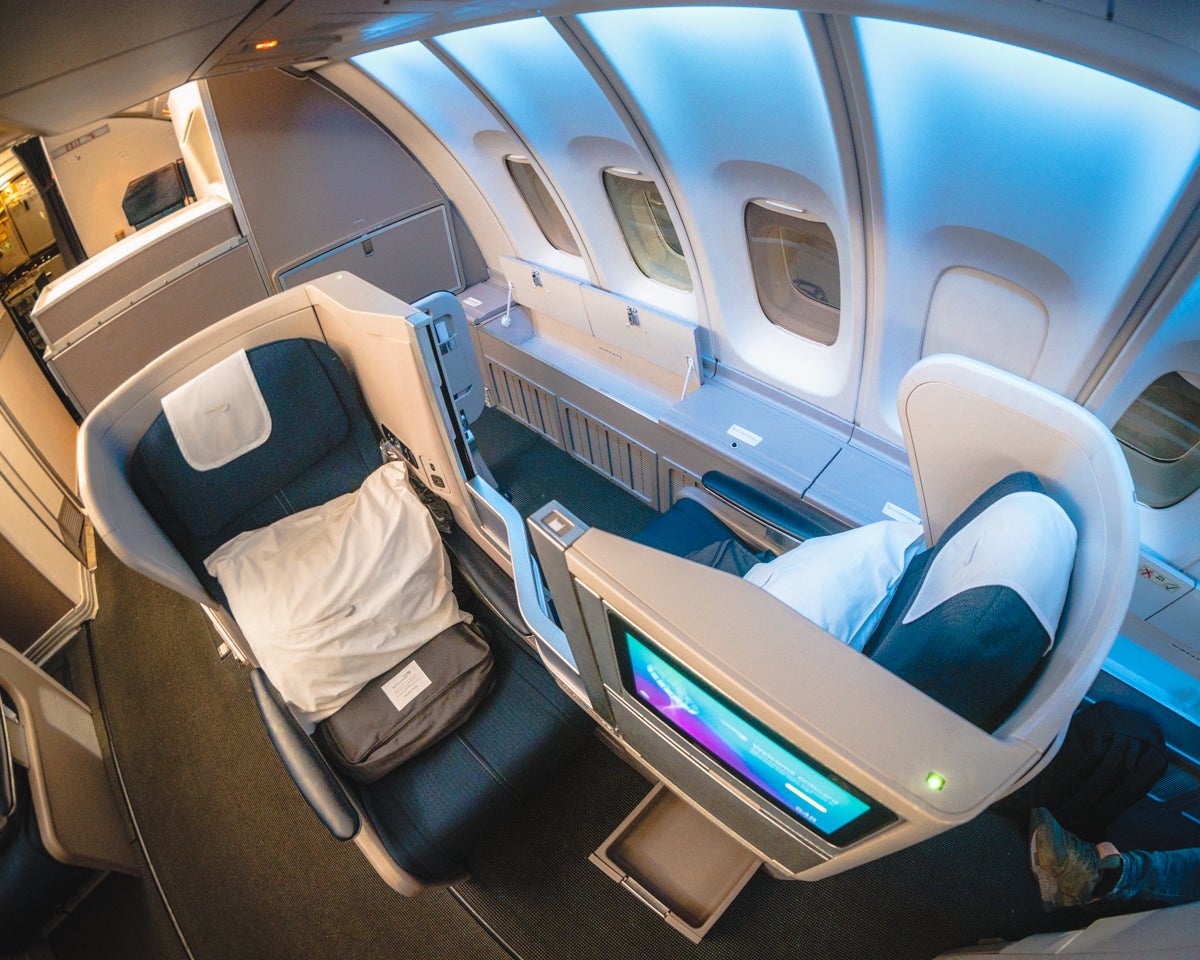 Most of the rear-facing window seats upstairs have direct aisle access however you can see the guy's shoes below who would have to jump over the legs of a sleeping passenger in the aisle seat every time he needed to get in or out of the seat.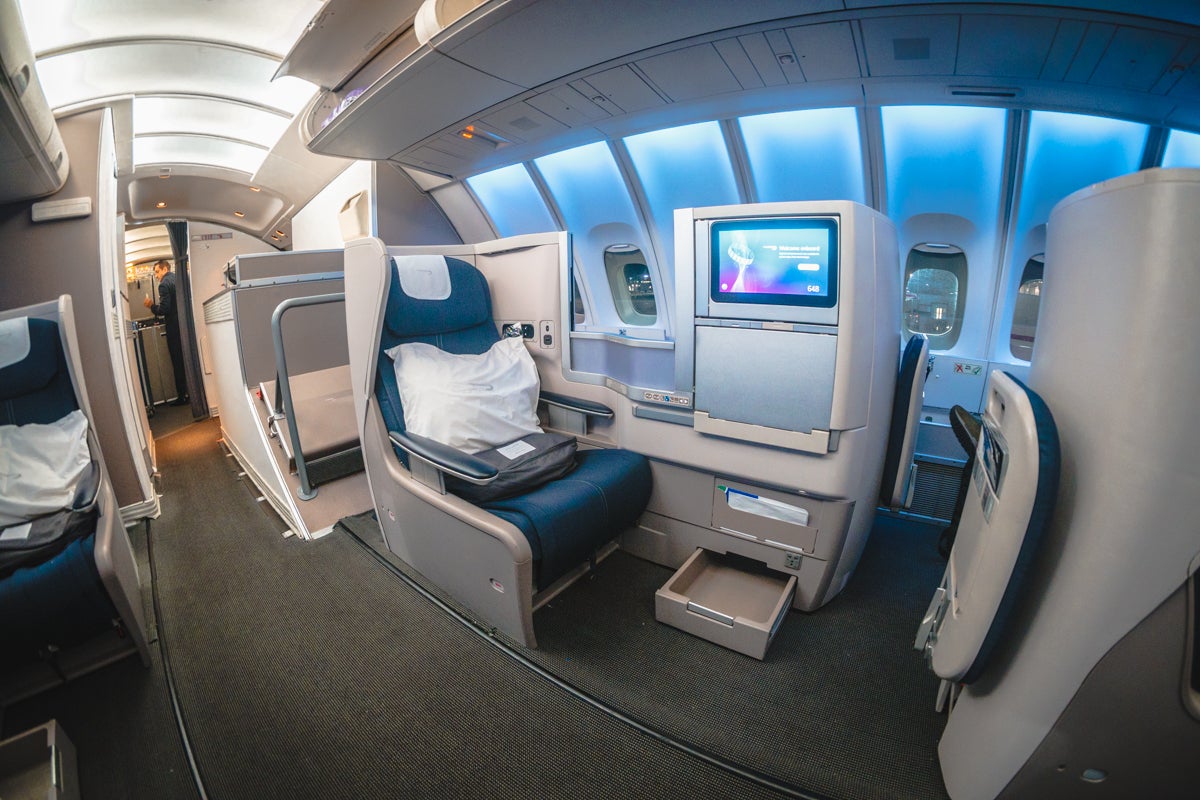 I had snagged 62A as I read it was the best seat in the cabin. Having 1 of the 2 emergency exit doors meant it was easy for me to get in and out of the seat.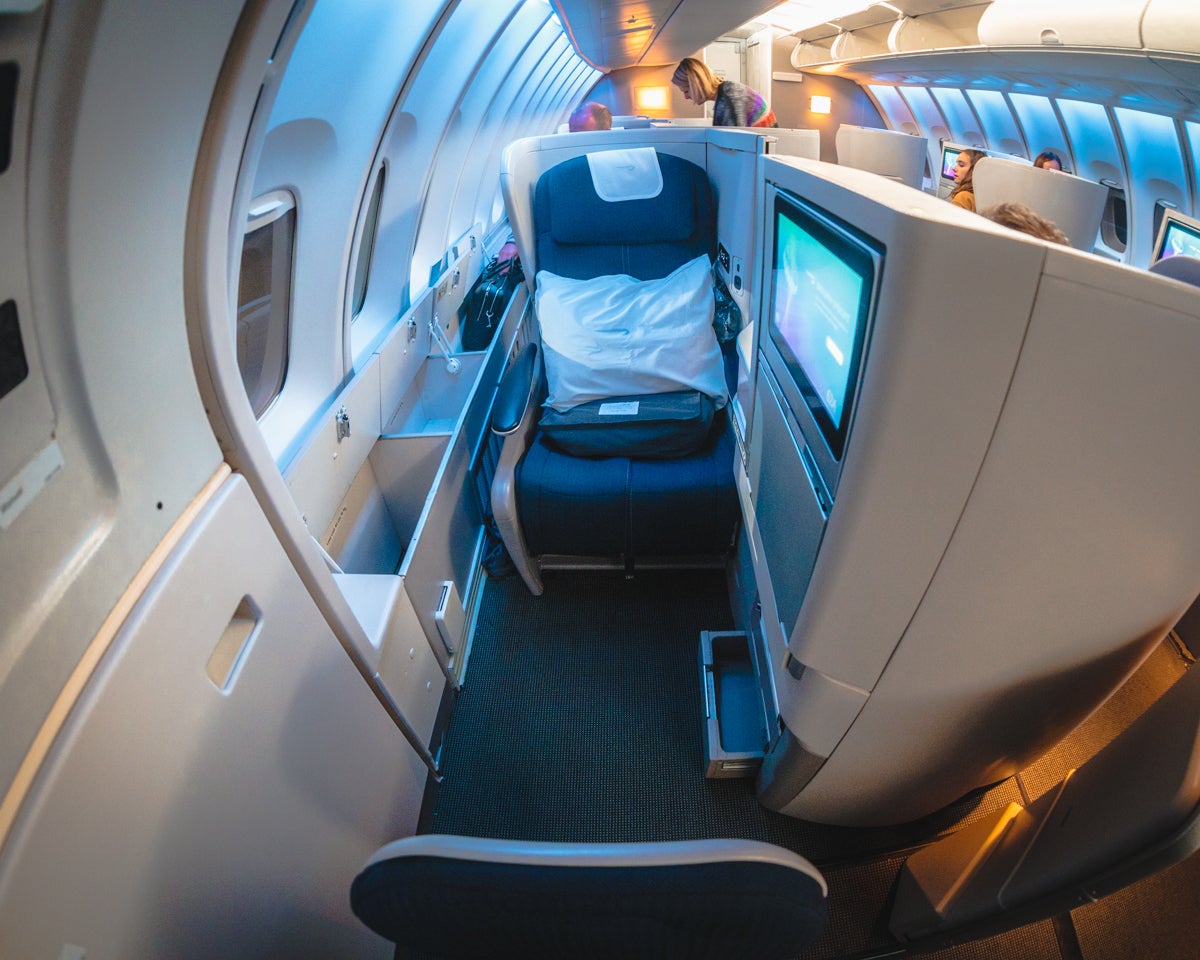 I was later told that my emergency exit had been disabled, hence the big "No Exit" sign on it.
There was also an odd moment where I locked eyes with the guy flying next to me who was in the aisle forward-facing seat. It's bizarre having that feeling that someone's watching you in your seat.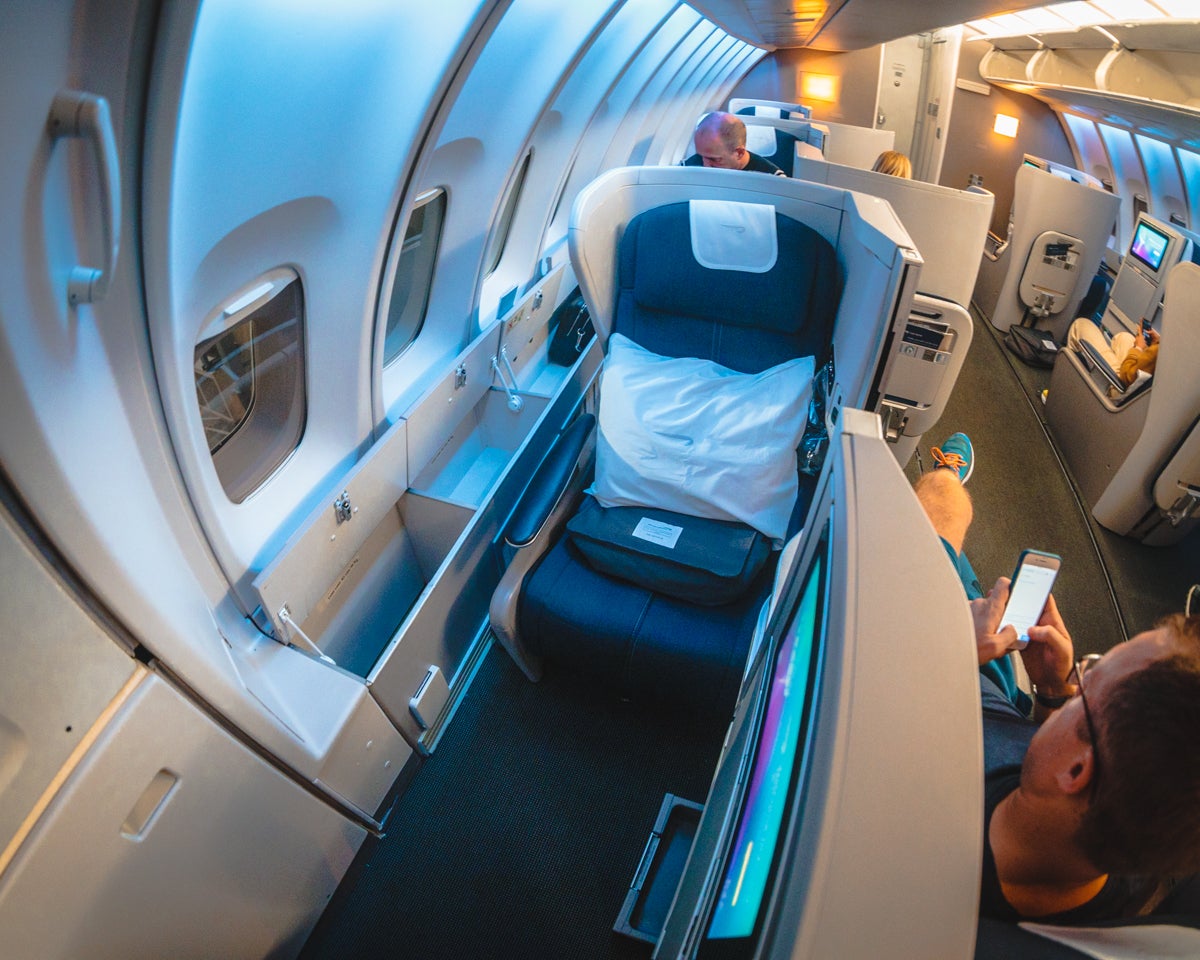 Although the privacy screen is supposed to be stored for taxi, take-off, and landing, my seatmate raised it as soon as crews finished their pre-takeoff checks — thankfully.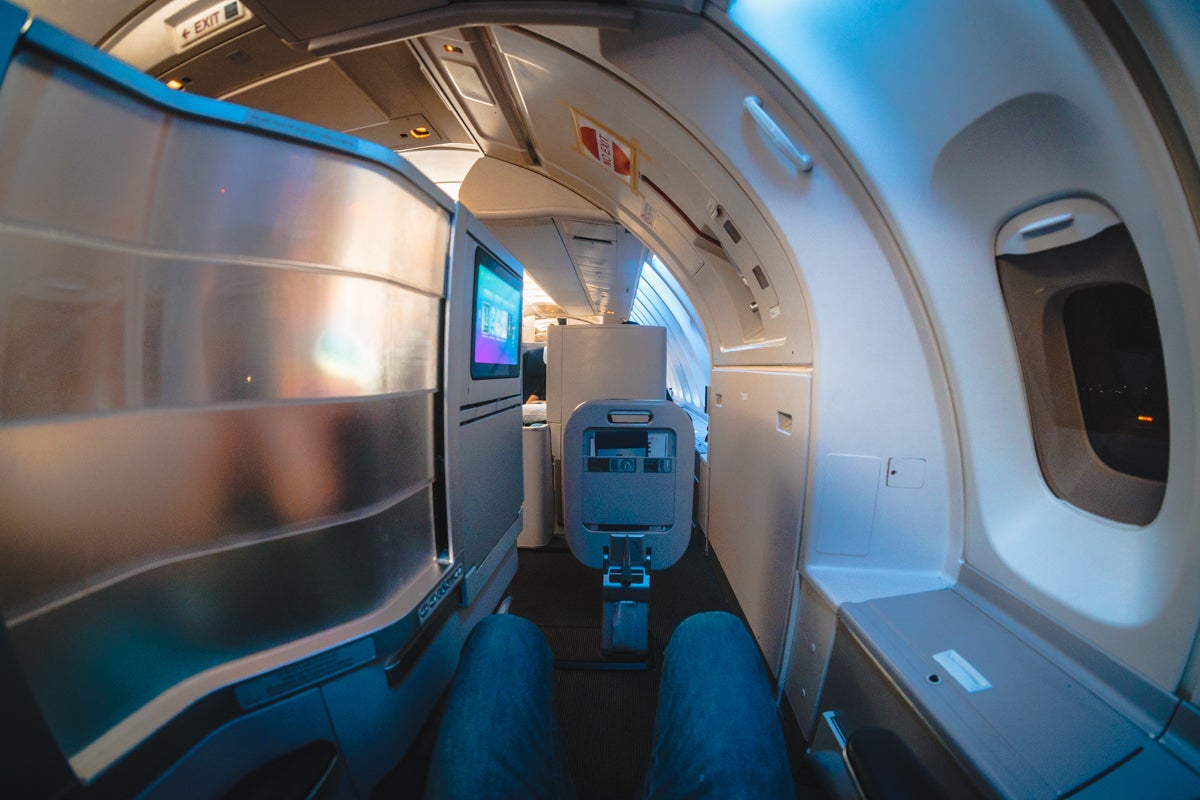 Looking around the seat, the age of the aircraft started to become apparent — there were chips and scratches on many surfaces, like around the seat controls.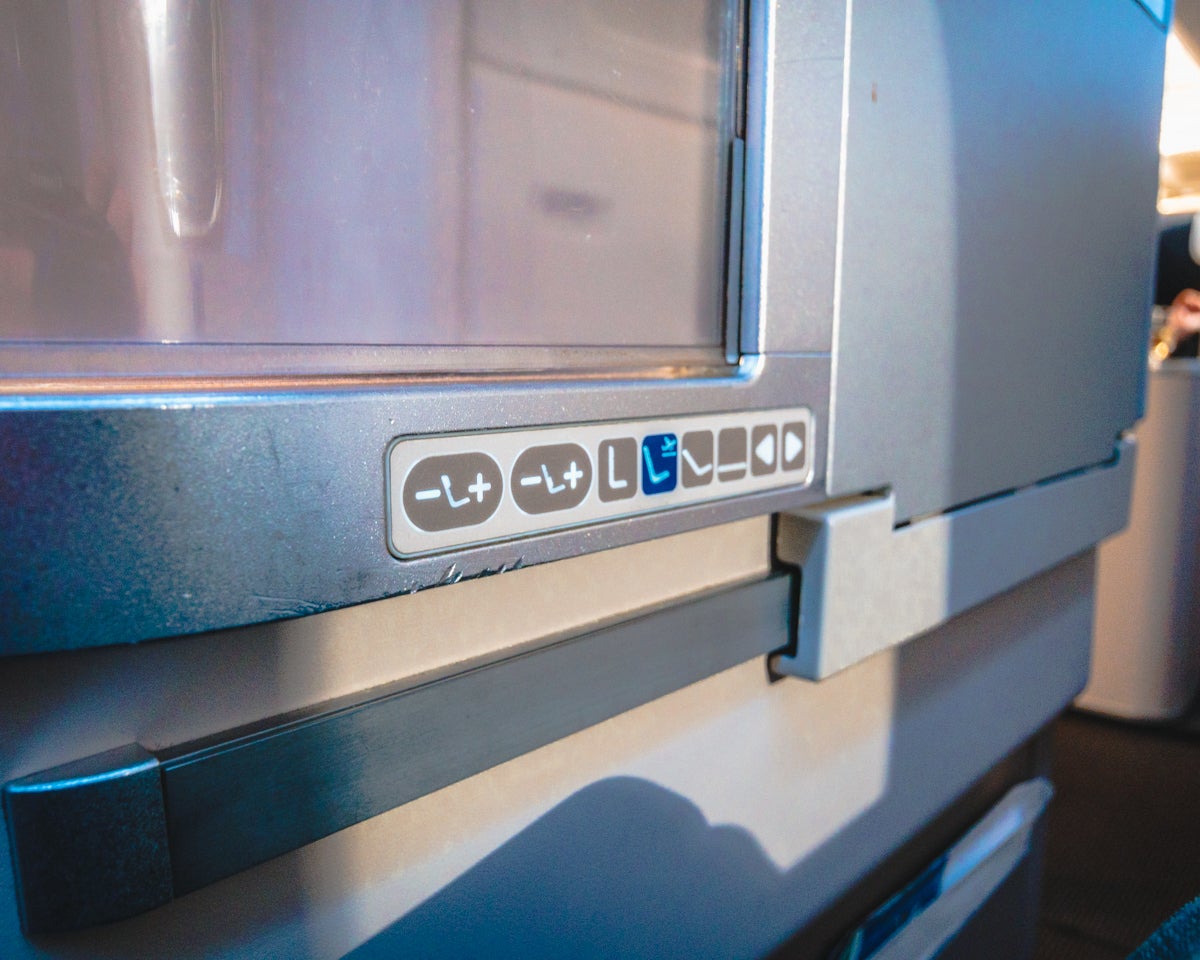 Over my shoulder were the IFE remote, USB port, and headphone socket, with the headphones jammed into the tiny bit of space between the seat and seat shell. A personal spotlight was positioned higher, out of the photo frame.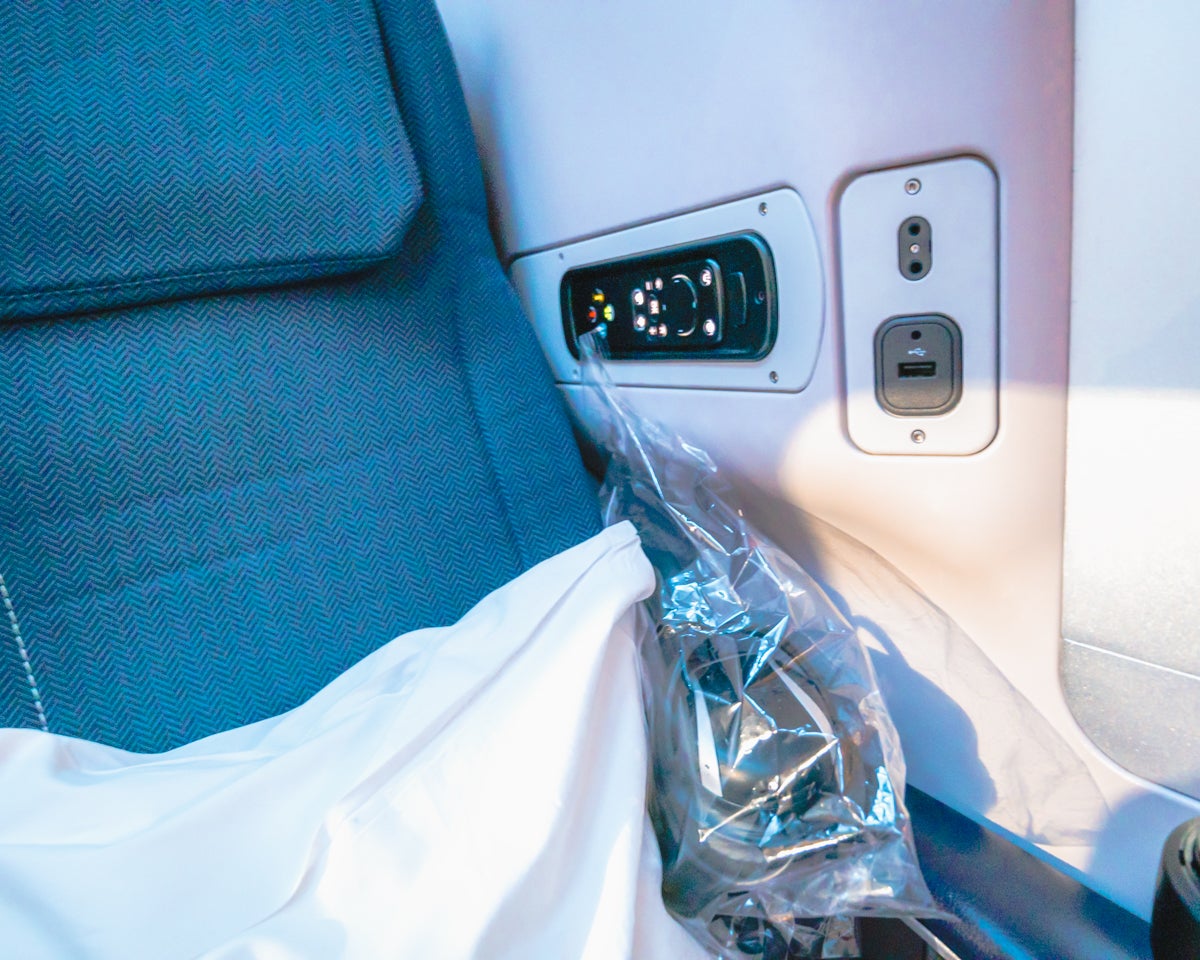 Out in front was the flip-down ottoman which also forms the base of the bed when it's time to sleep.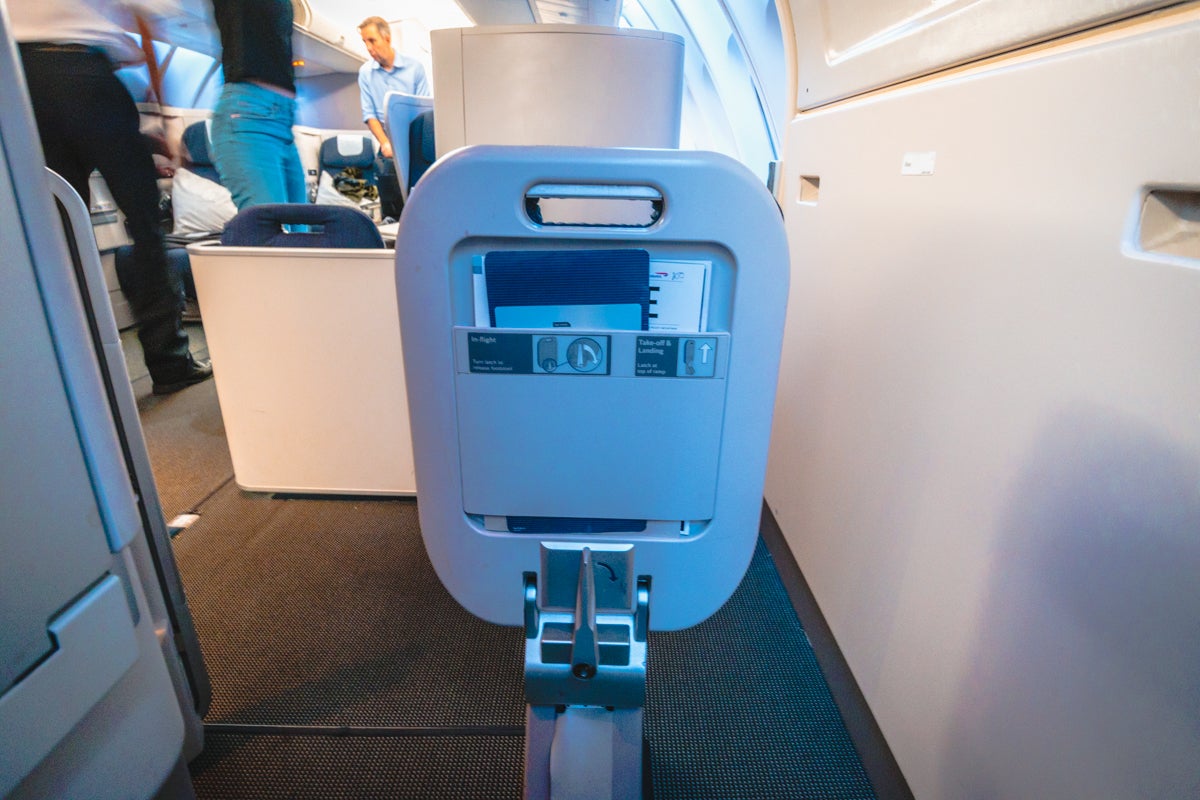 If I hadn't been in a window seat on the upper deck, the only storage space would have been the small drawer in the most inconvenient place on the floor out in front of your seat.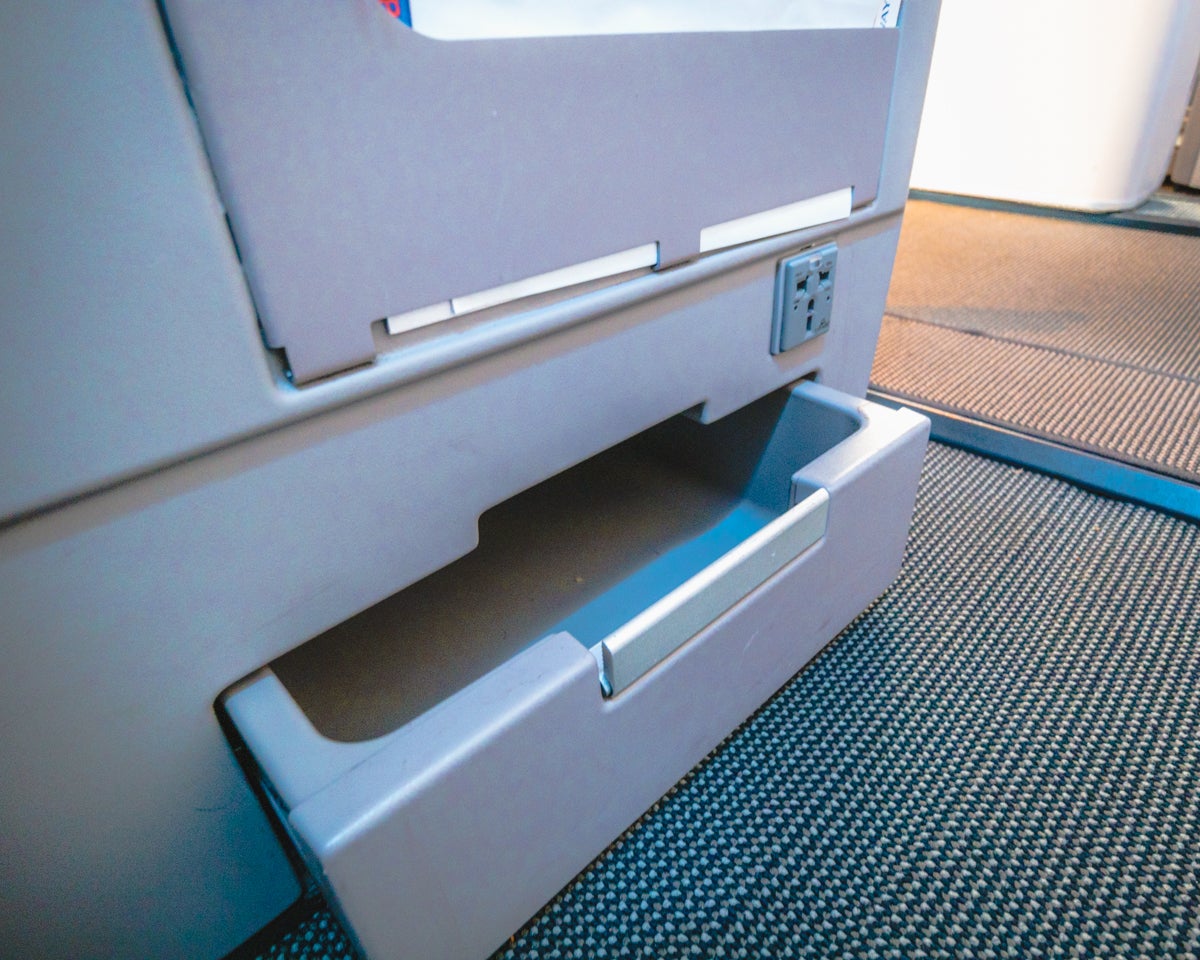 But thankfully, window seat upper deck passengers have 2 bins to store their belongings.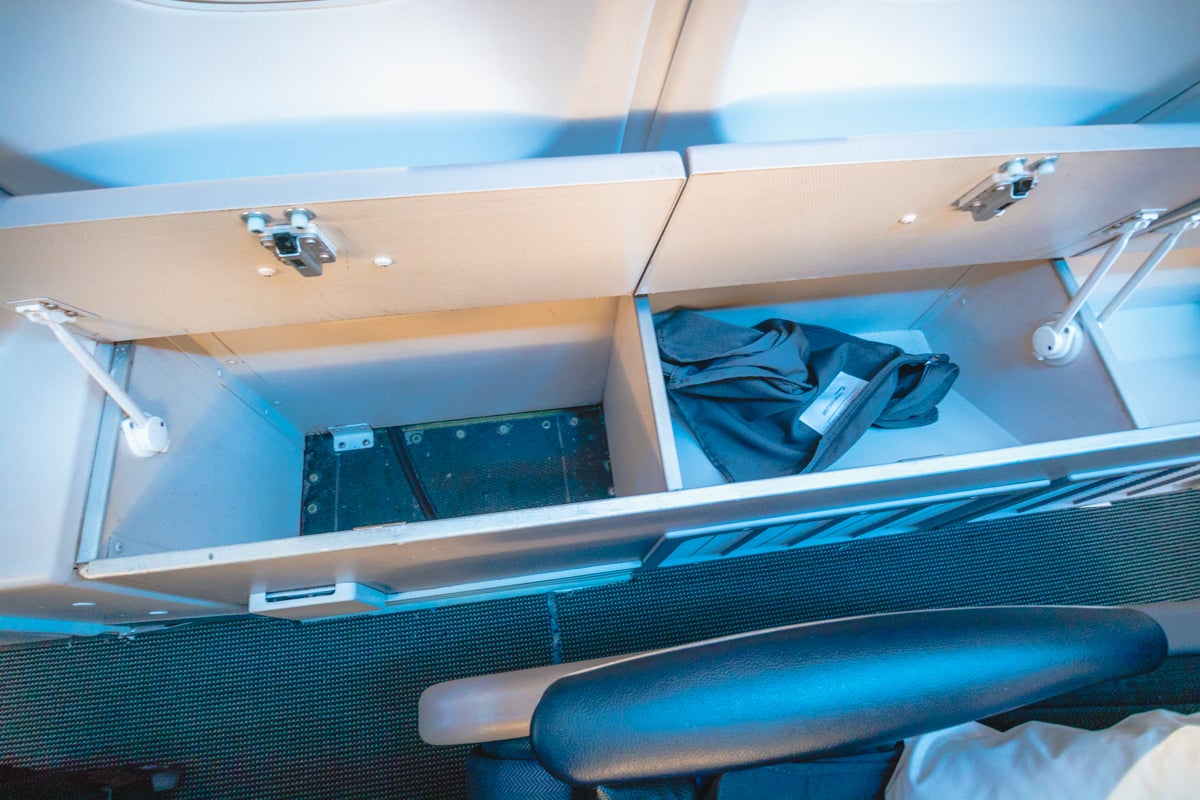 The tray table drops down from the side panel. It also doesn't sit perfectly horizontal and was very unstable.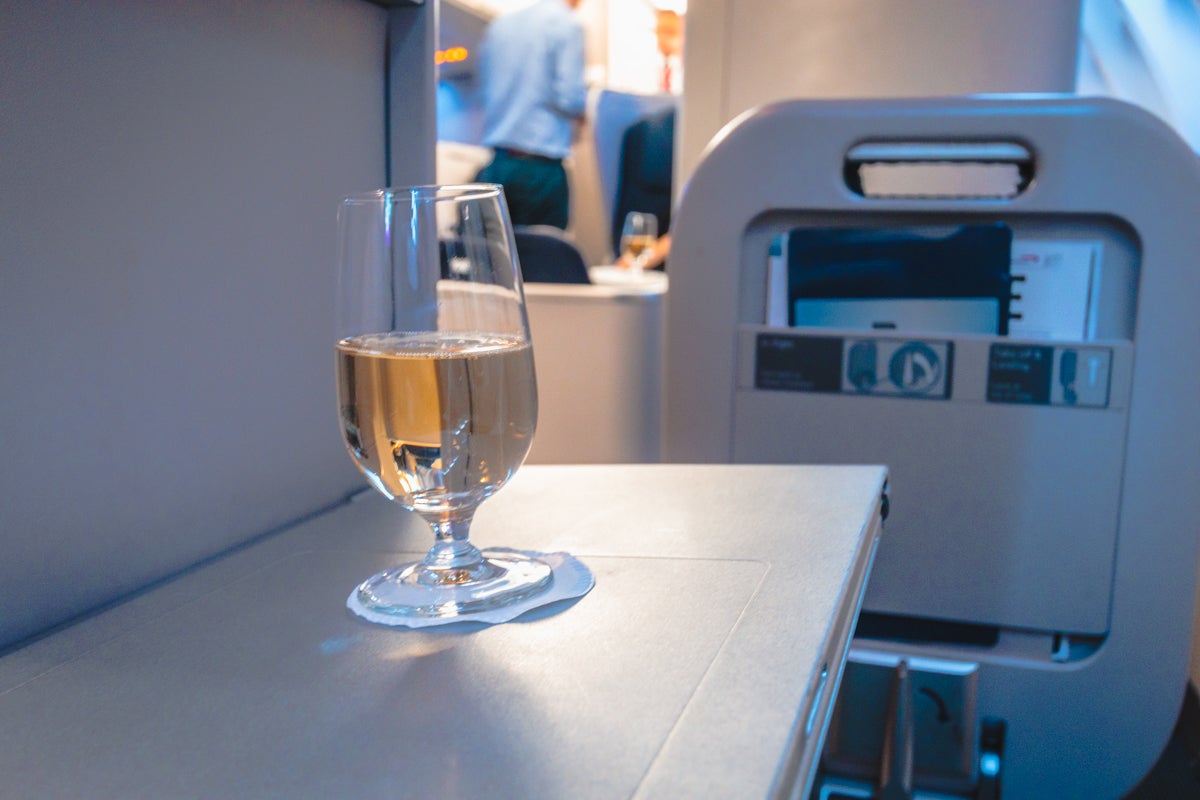 Sadly, no overhead personal air nozzles were on this aircraft and they were missed as the flight was kept quite warm overnight.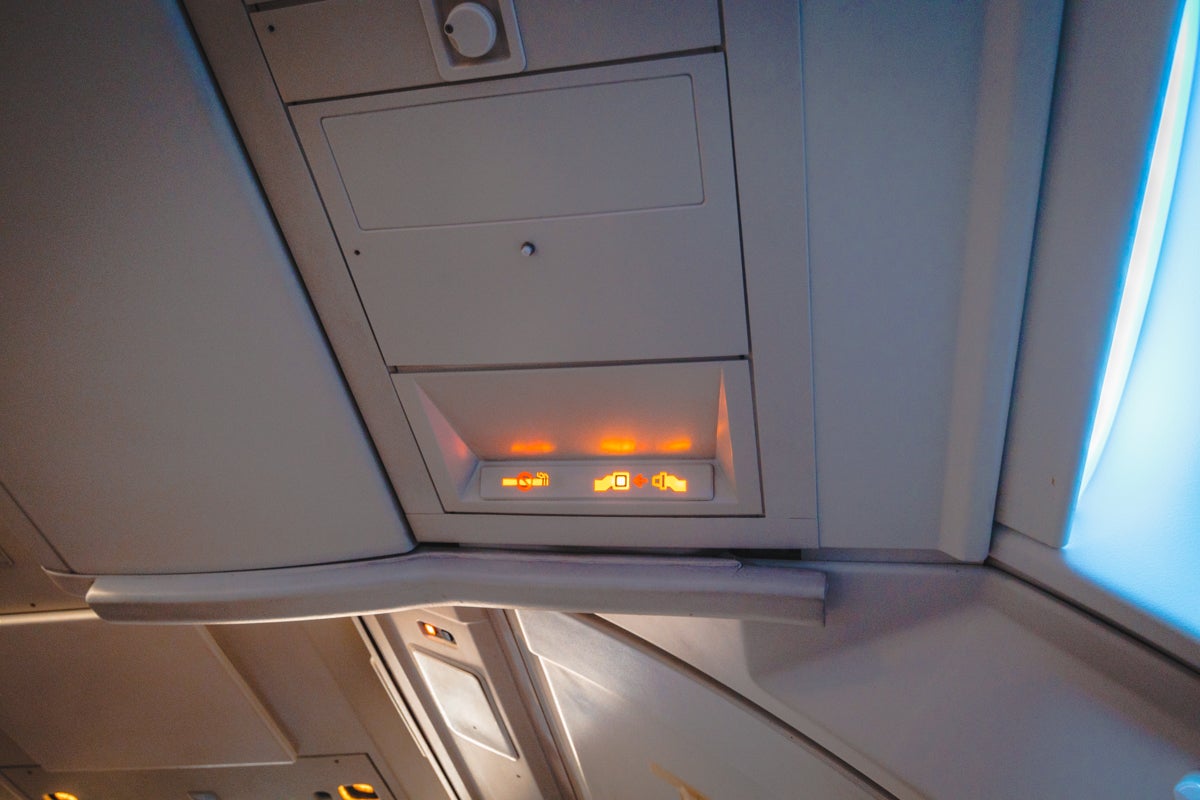 When it came time to sleep, there was no turndown service offered by the crew, so it's a DIY affair.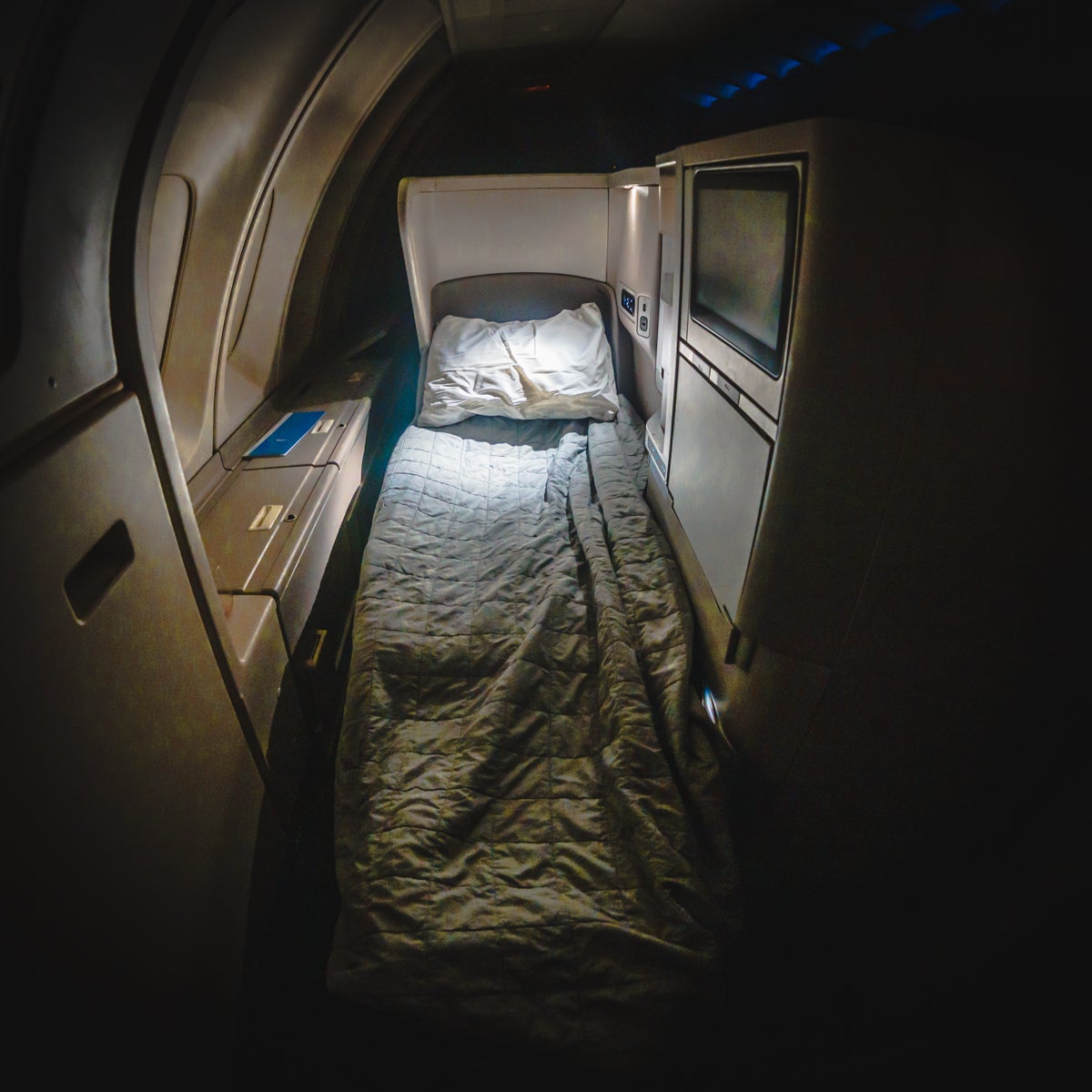 A large bag full of bed linen was on each seat upon boarding.
The "mattress pad" was a very thin rectangle panel that doesn't actually tuck around the seat but simply sits in place. But stay in place when you sleep? It does not.
The rest of the linen was lovely to sleep in and I found the pillow to be the perfect size and firmness.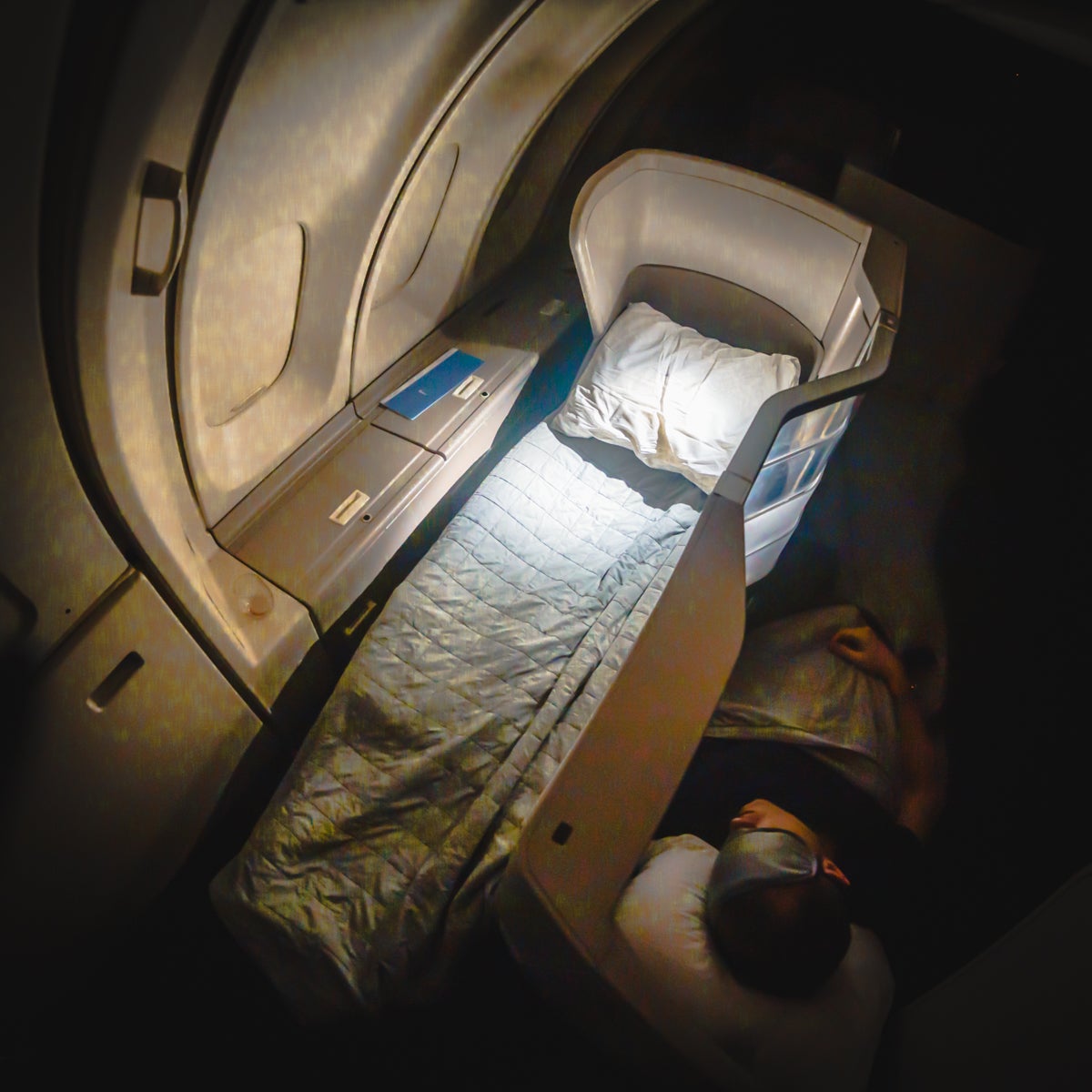 Even though the cabin was warm, I still managed to sleep 3.5 hours and was woken for breakfast 1 hour before landing into Dubai.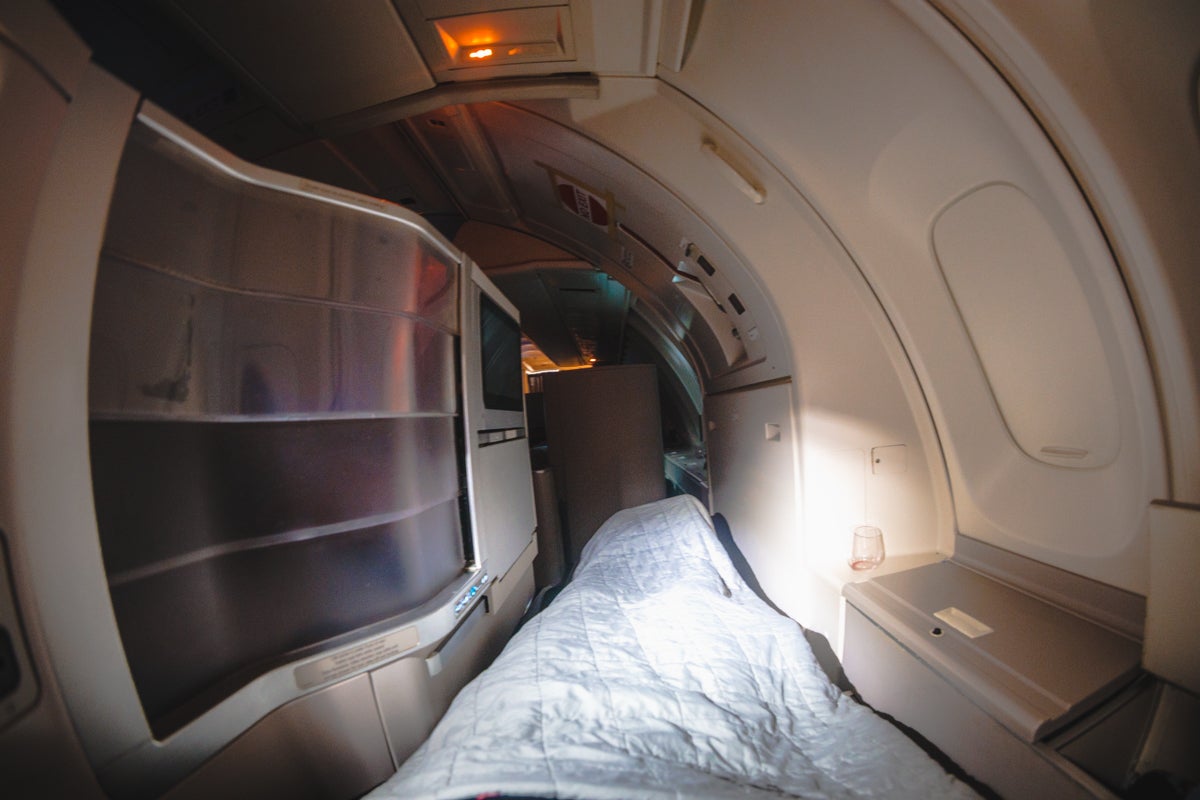 There were 2 lavatories on the upper deck, 1 at each end of the cabin, providing an excellent passenger to toilet ratio of 10:1. As such, there was never a wait.
The bathrooms featured products from The White Company's "SPA" line.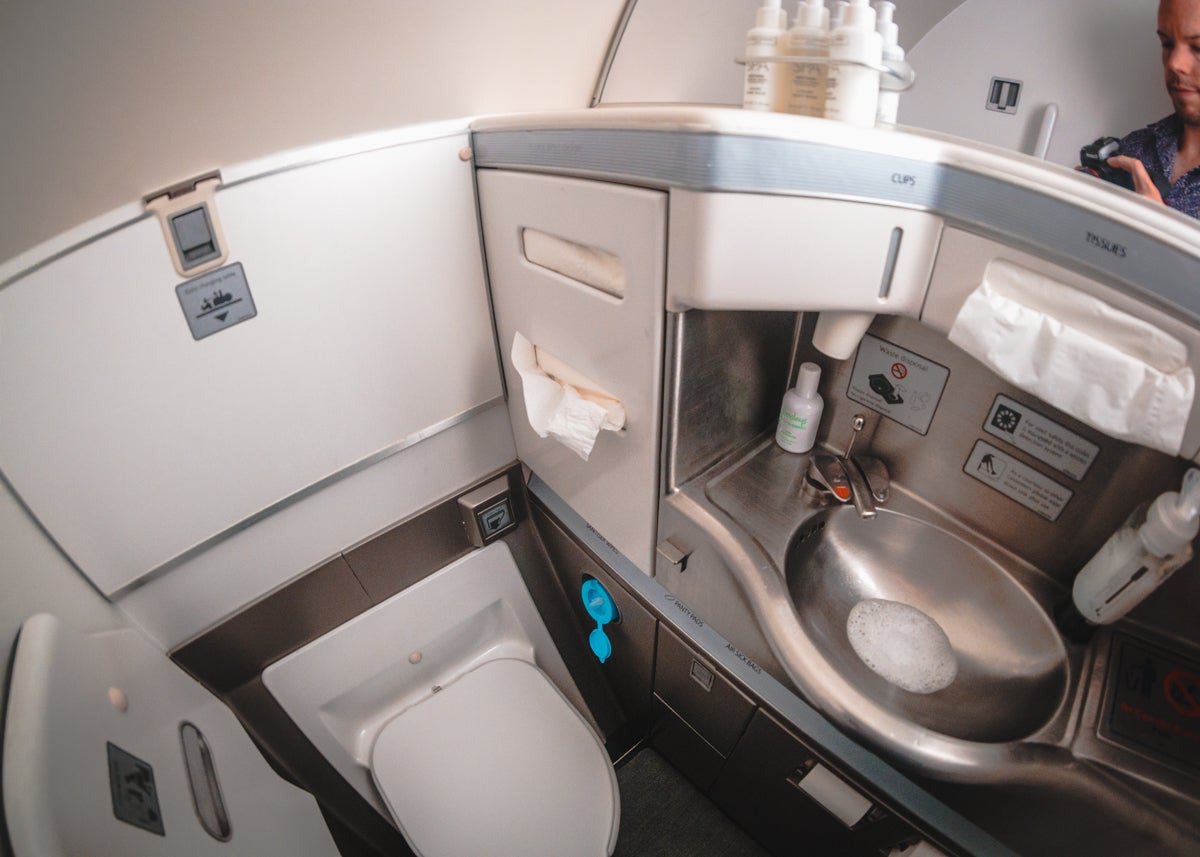 Amenities
Amenity kits from The White Company were distributed soon after boarding.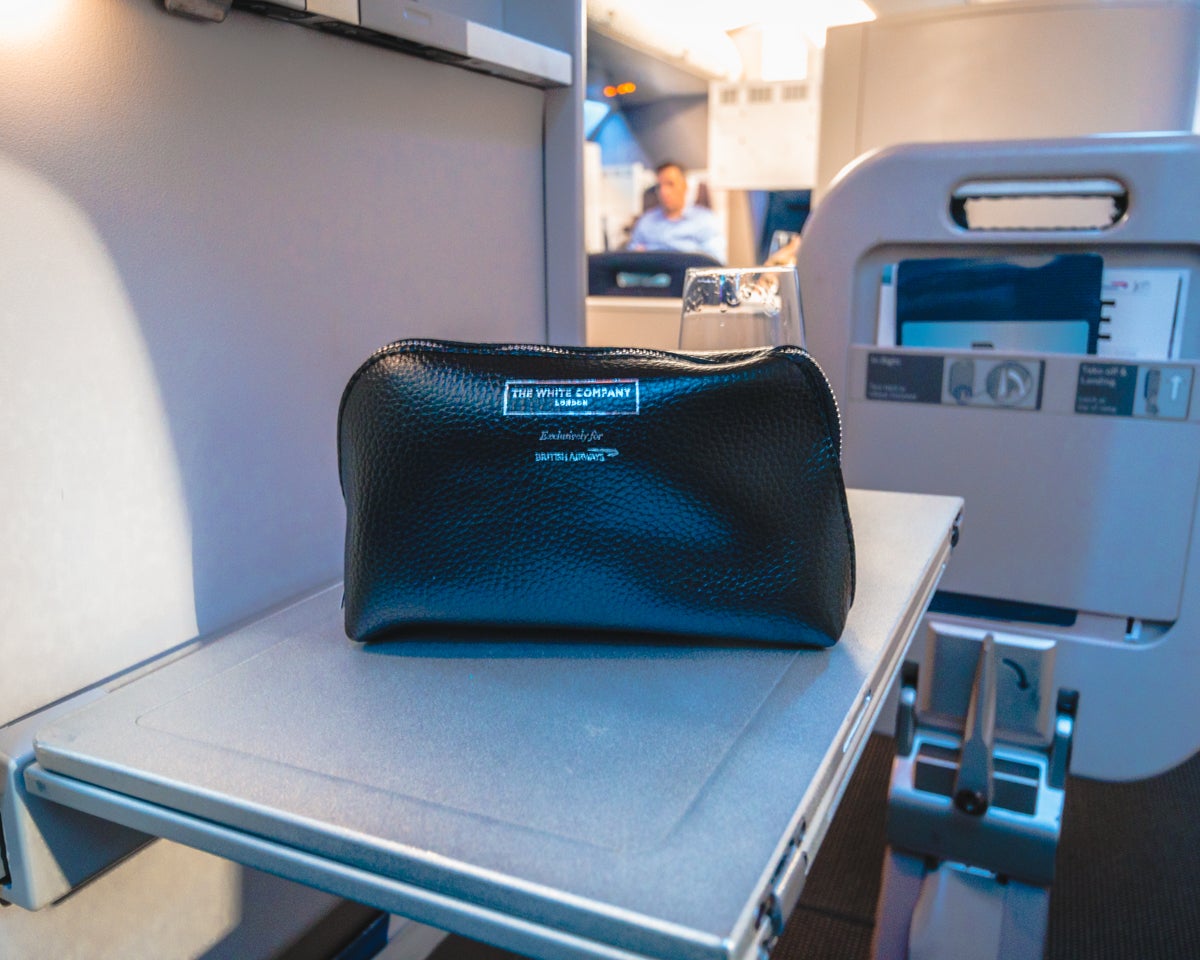 These included socks, eyeshade, dental kit, pen, earplugs, lip balm, moisturizer, and a relaxing pulse point roll-on. There's nothing special about it… just the basics.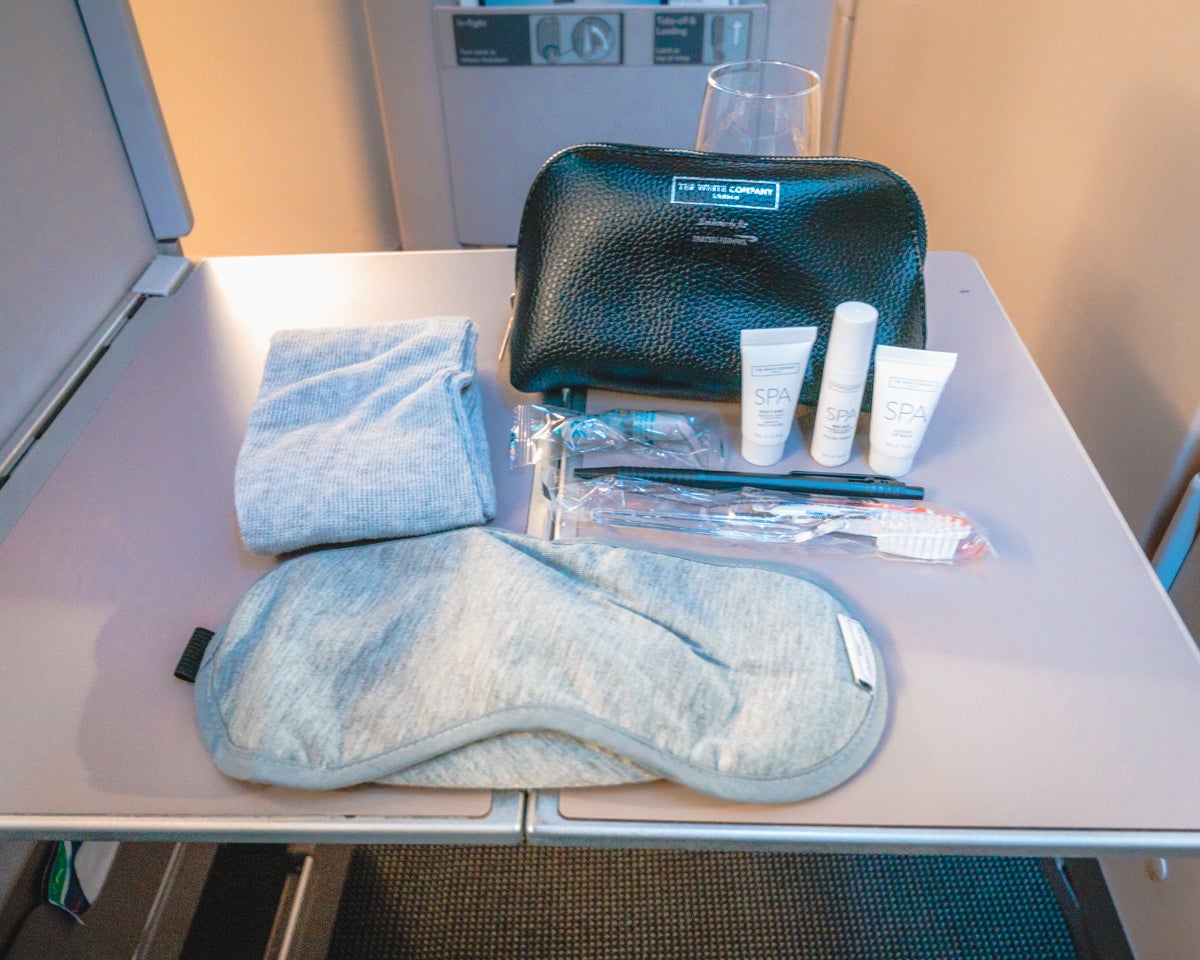 When I asked about pajamas, the flight attendant Paul replied, "This really is your first time flying with us, isn't it?"
Entertainment
Inflight entertainment is provided by a 12-inch screen that swings out from the seat on your side.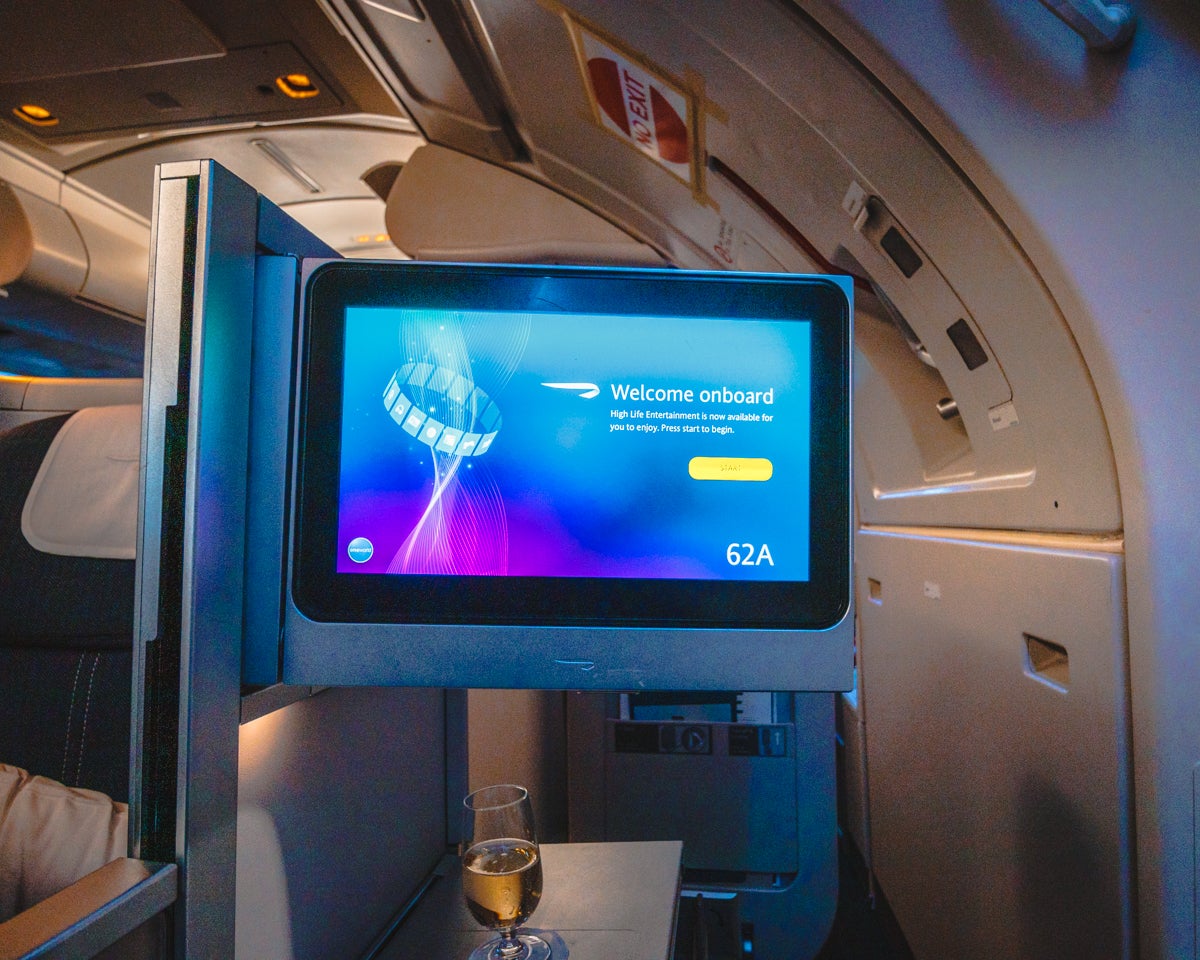 You can also adjust the angle if you wanted to watch whilst laying in bed.
The system has obviously been updated as the interface and resolution aren't from a 21-year-old system.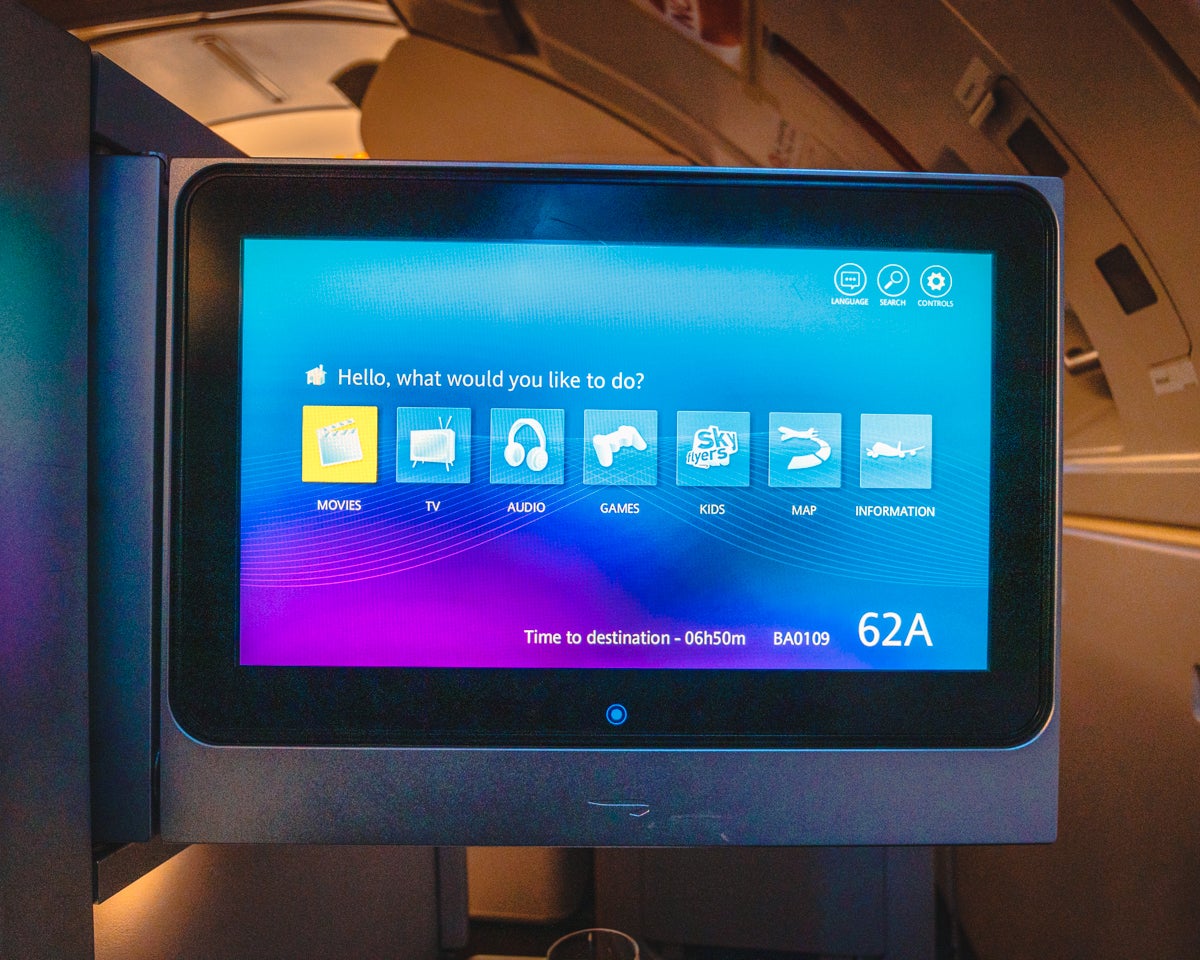 It was quite responsive and had an updated moving map as well.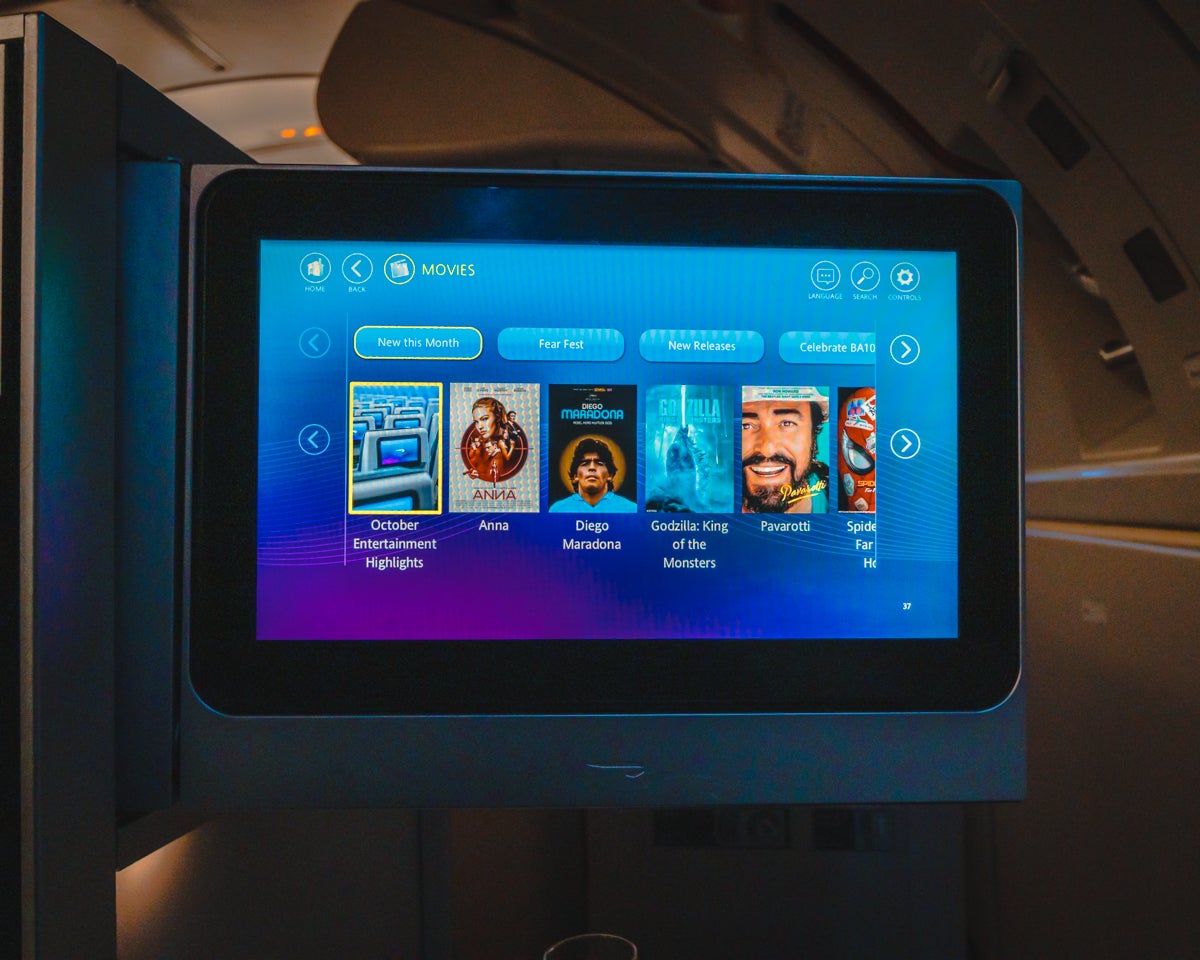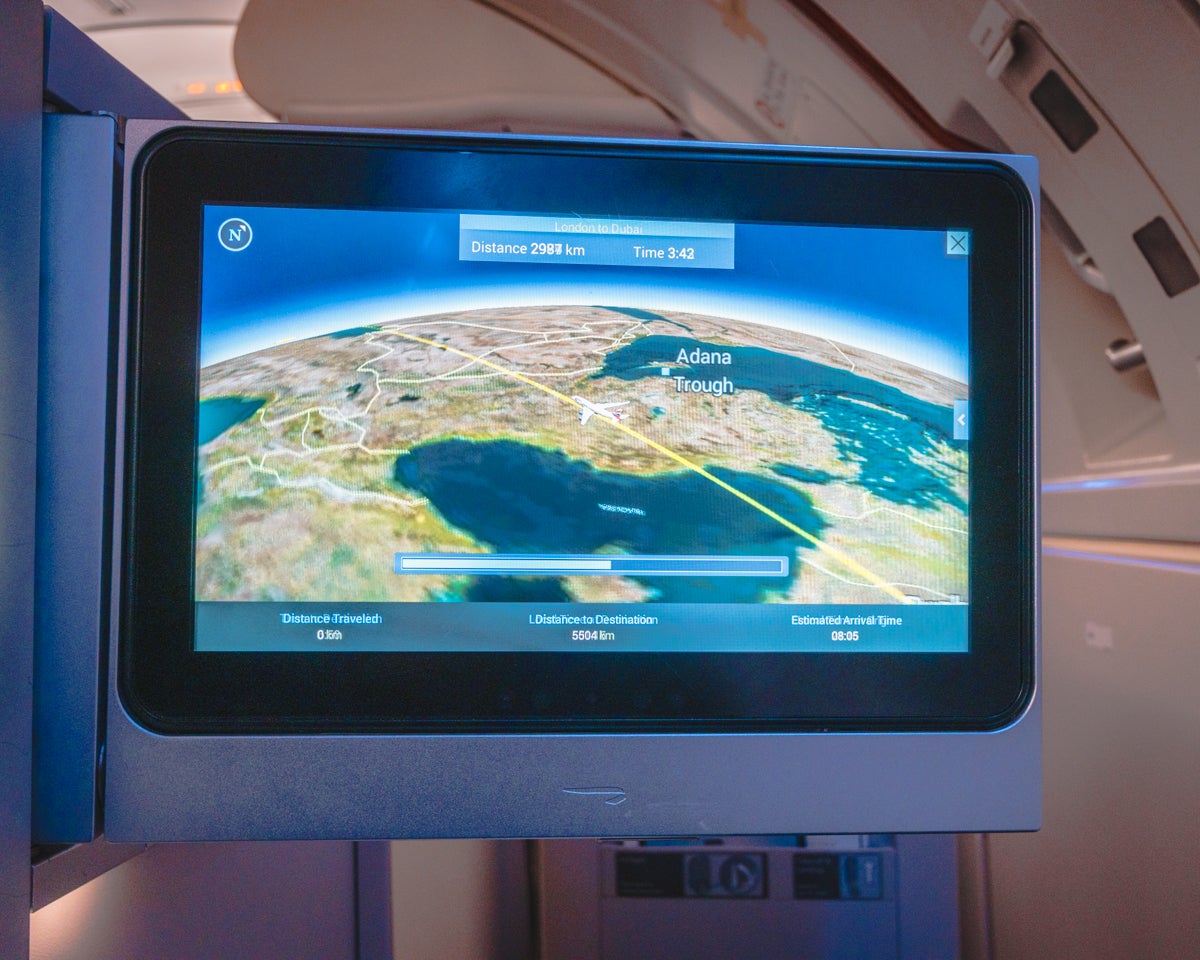 Noise-canceling headphones are provided, which were pretty average.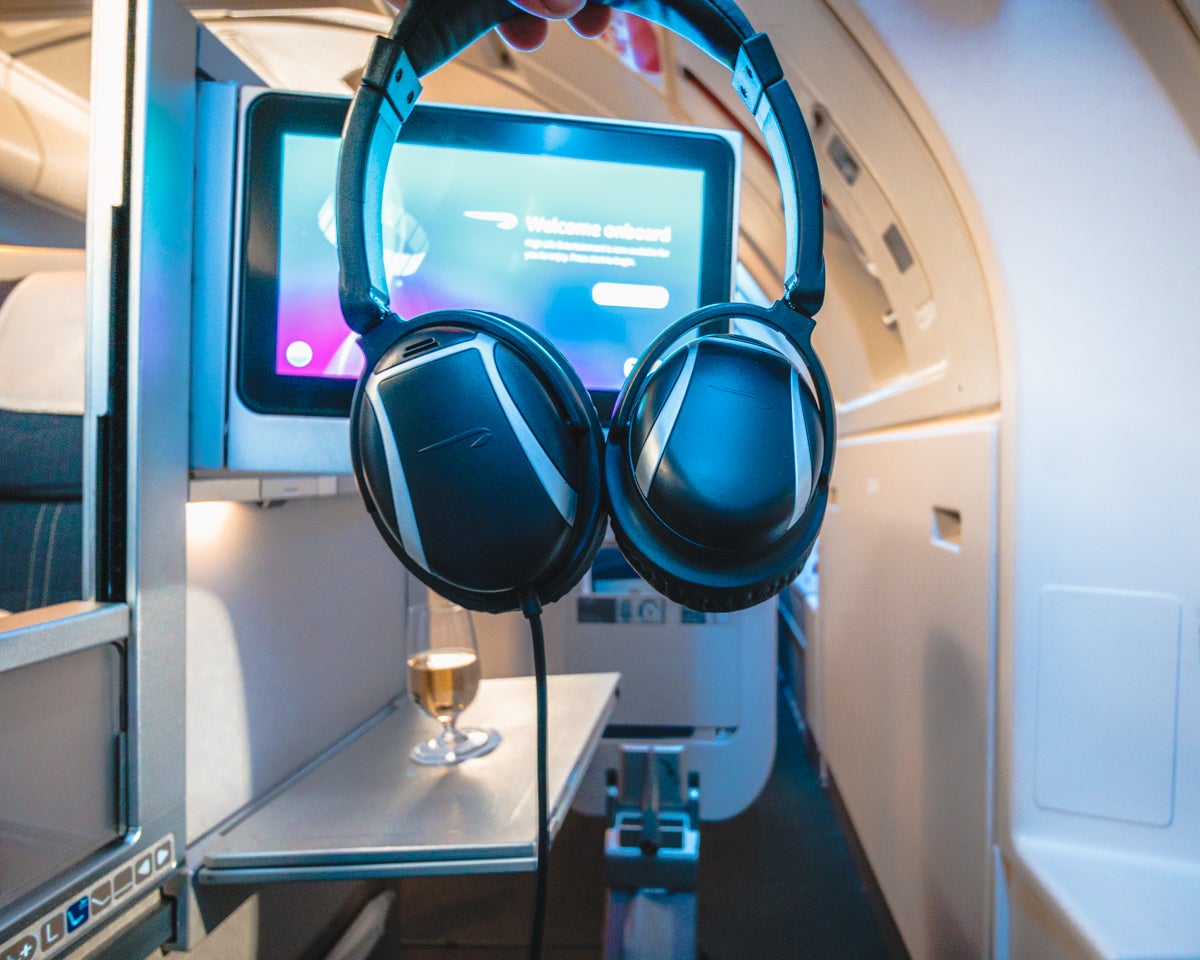 The aircraft was also fitted with W-Fi that clocked better speeds that in the Galleries Lounge on the ground.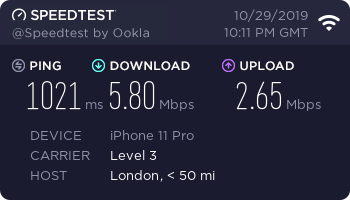 Packages are sold based on usage duration and not data consumption, thankfully.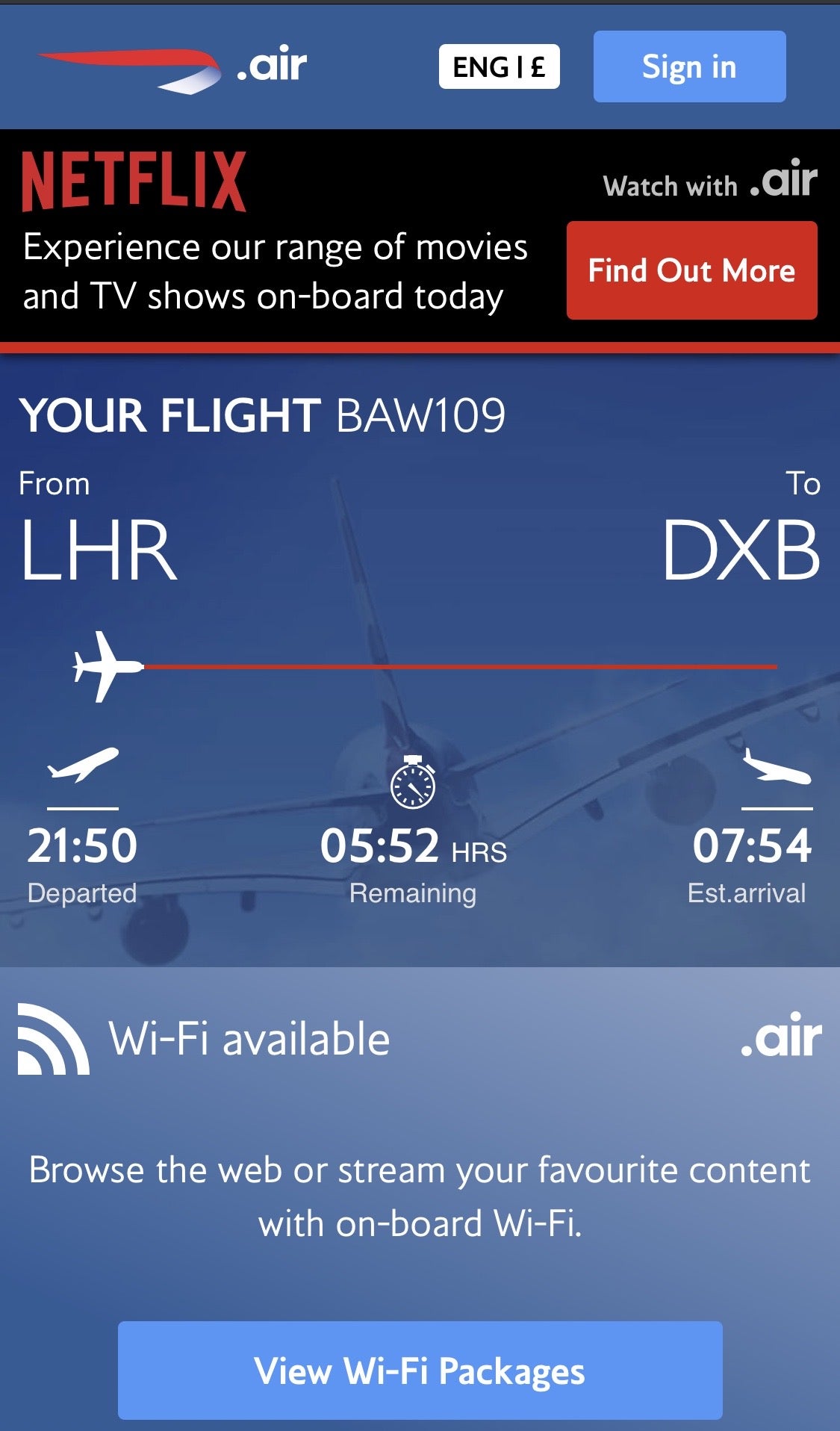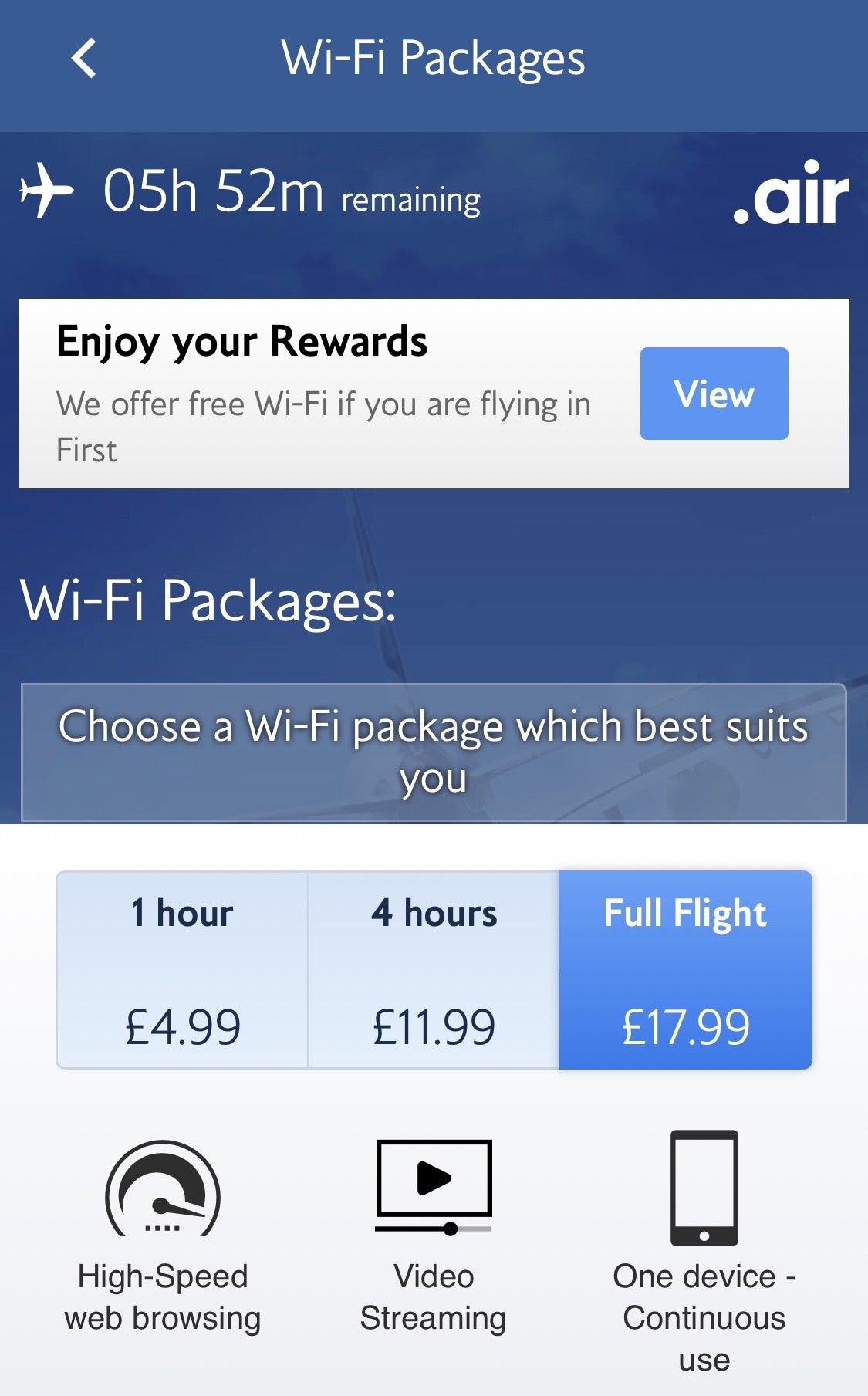 Meal and Service
Upon boarding the aircraft, the Cabin Service Director was at the door welcoming passengers and I instantly knew I would have a "Worldwide" crew for this flight judging by her seniority.
British Airways has 2 distinct crews on different contracts — the legacy Worldwide crew have been with the company for longer and have more experience. The "Mixed Fleet" crews, on the other hand, are newer to the company, are usually a lot younger, and aren't paid as well.
After taking my seat, I was welcomed by both Sunil and Paul who were working upstairs this evening and would continue to call me Mr. Stone throughout the flight.
I was offered a pre-takeoff beverage of Canard-Duchene Brut Champagne ($30 a bottle), orange juice, or water.
Hot towels were then distributed, then the menus.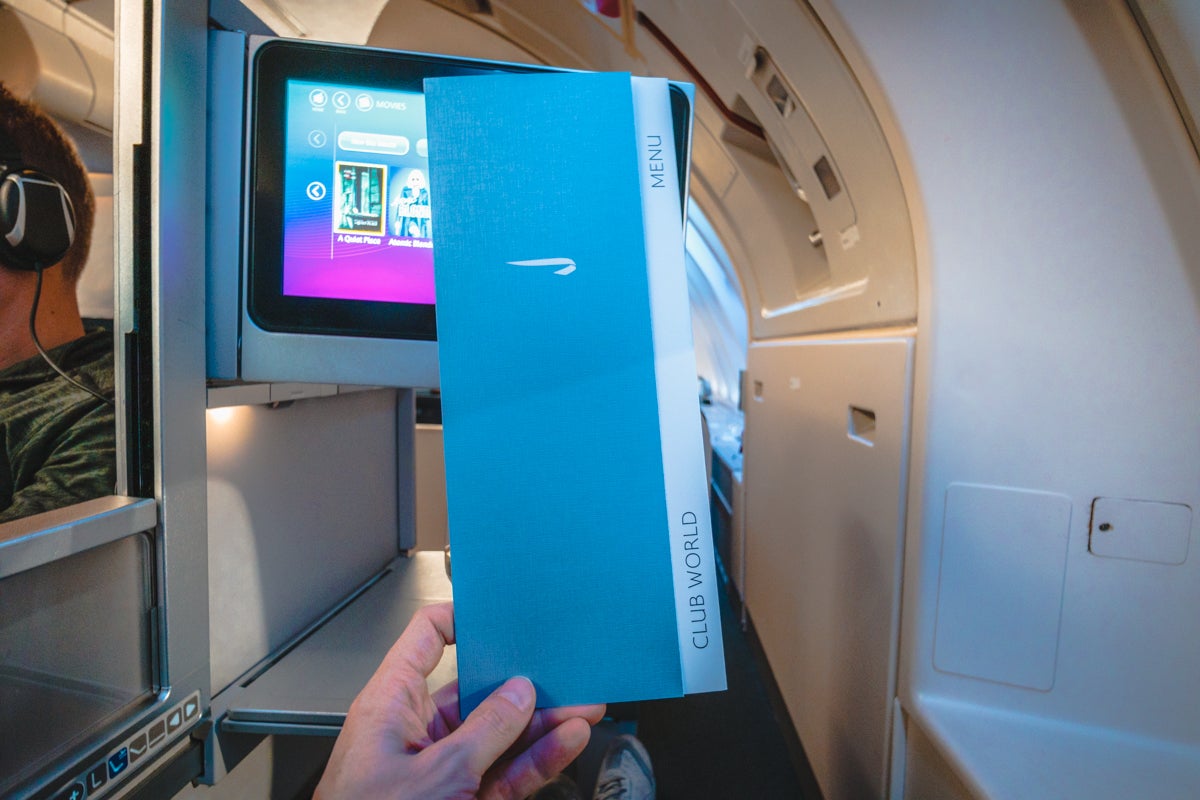 A breakfast card was inside the menus with options as to whether the crew should wake me or let me sleep.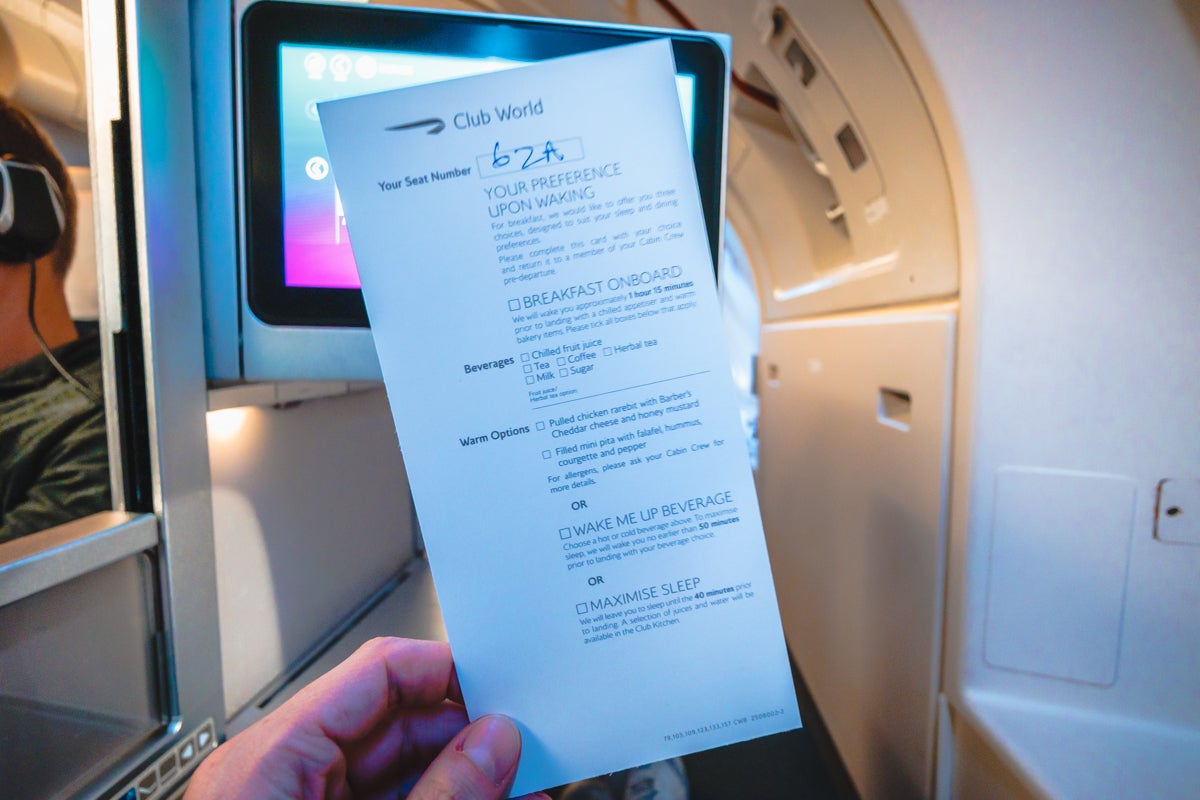 On the PA, the Cabin Service Director welcomed everyone onboard the "majestic" 747.
We took off from London Heathrow at 9:26 p.m., just 1 minute behind schedule.
By 10:05 p.m., a post-takeoff beverage arrived accompanied with nuts. I went with a Gin Zing (gin, citrus, and sparkling water over ice).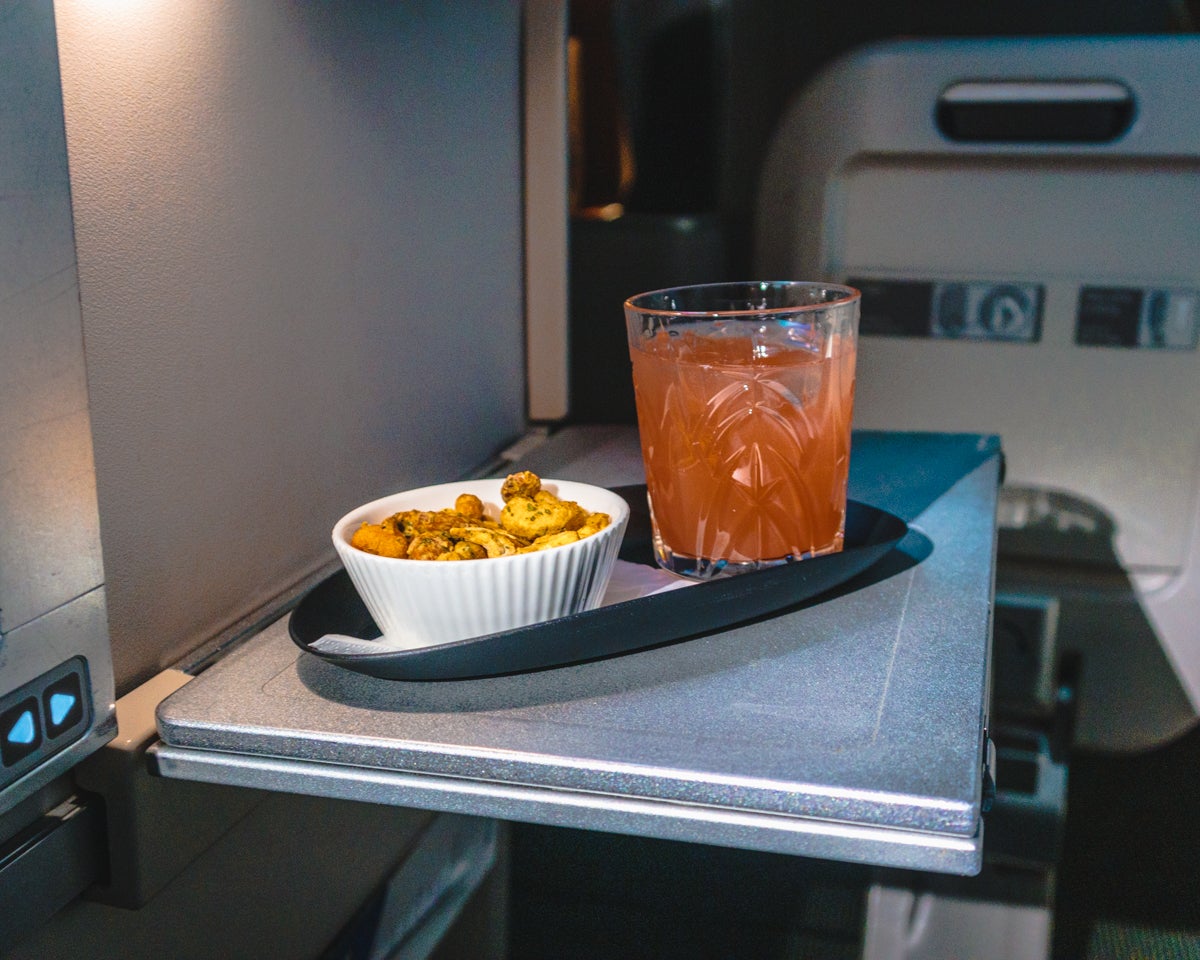 My starter arrived 50 minutes after take-off — the Severn and Wye Scottish smoked salmon with a Burford Brown hen egg, shallots, dill crème fraîche, and pumpernickel.
The other option was a soup.
The dish looked a bit sad the way everything was plonked on the plate, but it tasted fine. The starter was served with a side salad and bread roll. I paired this with the d'Arenberg Chardonnay from Australia ($13 a bottle).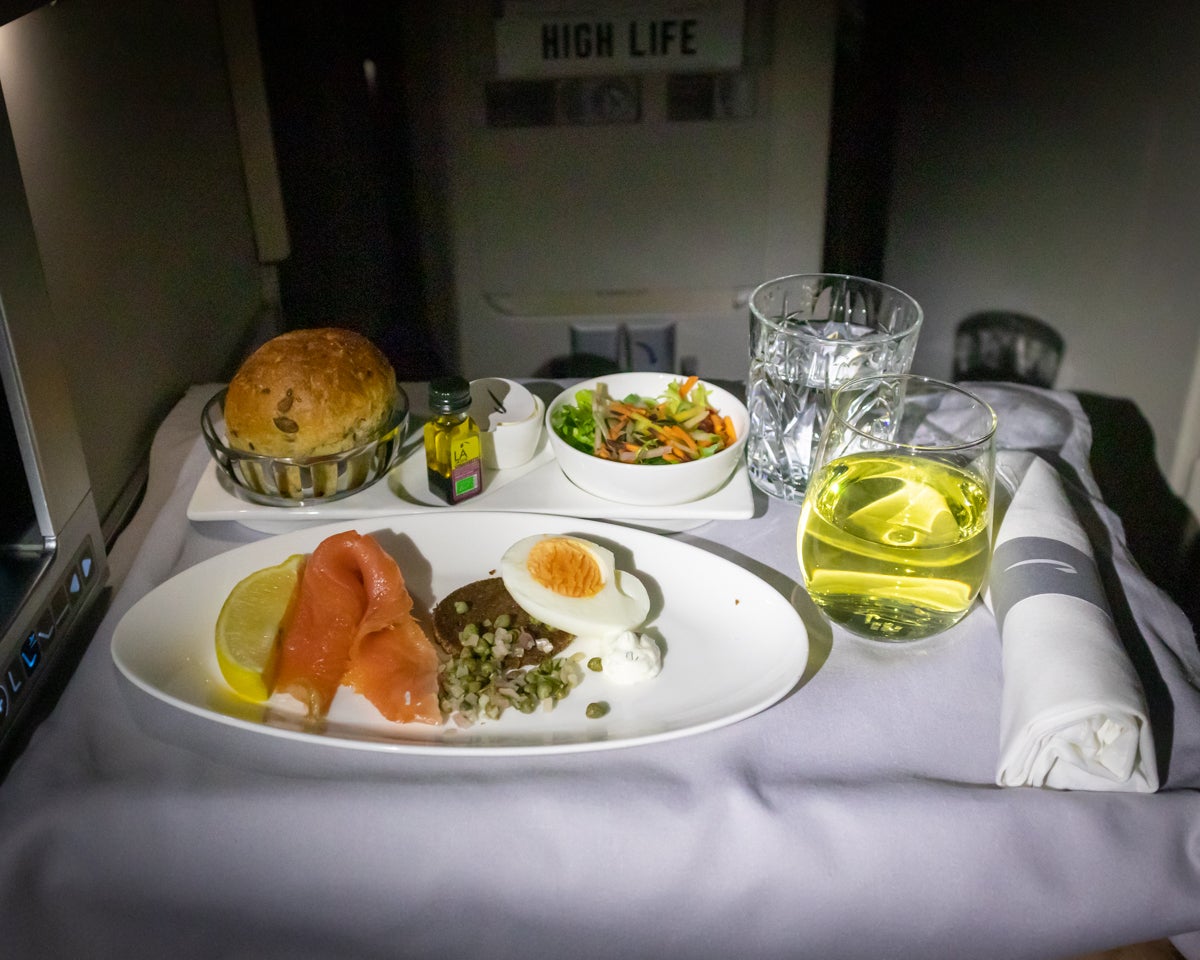 For main, I selected the seared fillet of British beef with potato dauphinoise, honey roasted butternut squash, and peppercorn jus. Unfortunately, the steak was a bit chewy.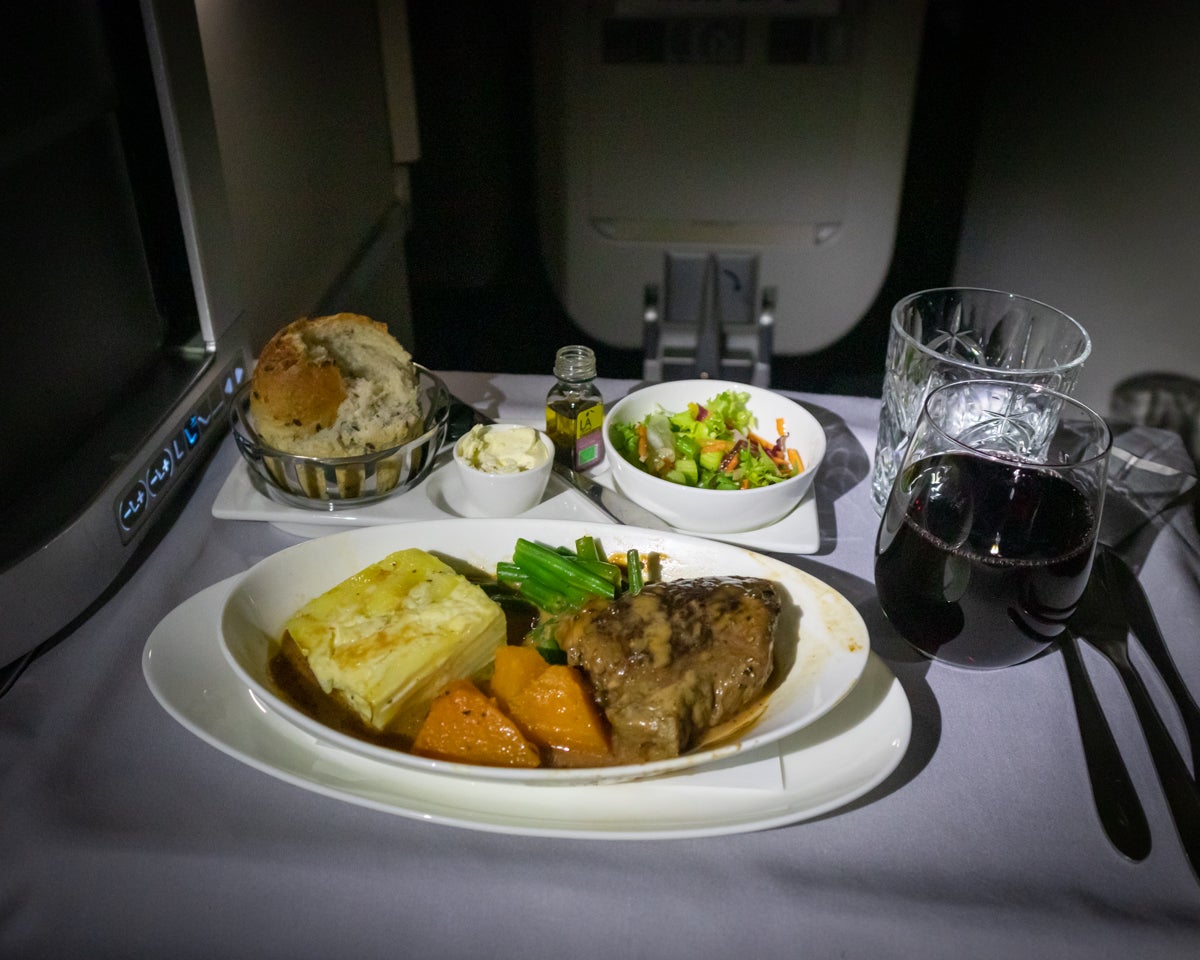 The other main choices were grilled chicken or Thai vegetable curry.
I asked Paul for a recommendation when switching to red wine and he brought both bottles over and offered me a tasting. Between the Bodegas Faustino, Fortinus Tinto from Spain ($10 a bottle) and Swartland Winery Red Blend ($12 a bottle) from South Africa, he personally liked the South African and my taste buds agreed.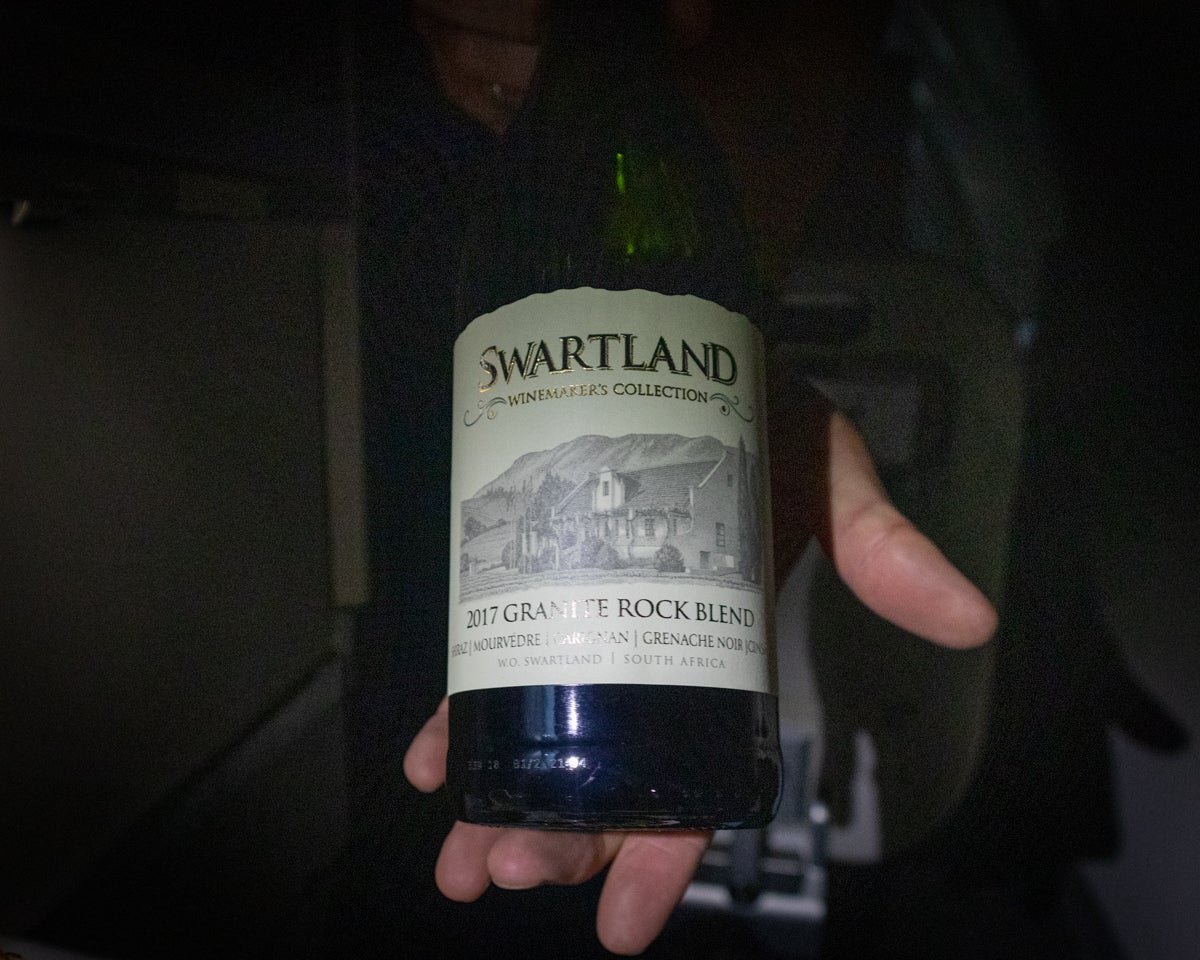 A chocolate and caramel layer cake for dessert wrapped up the dinner service at 11:00 p.m. London time, or 2.5 hours after departure. For a short red-eye flight, I appreciated the efficient meal service.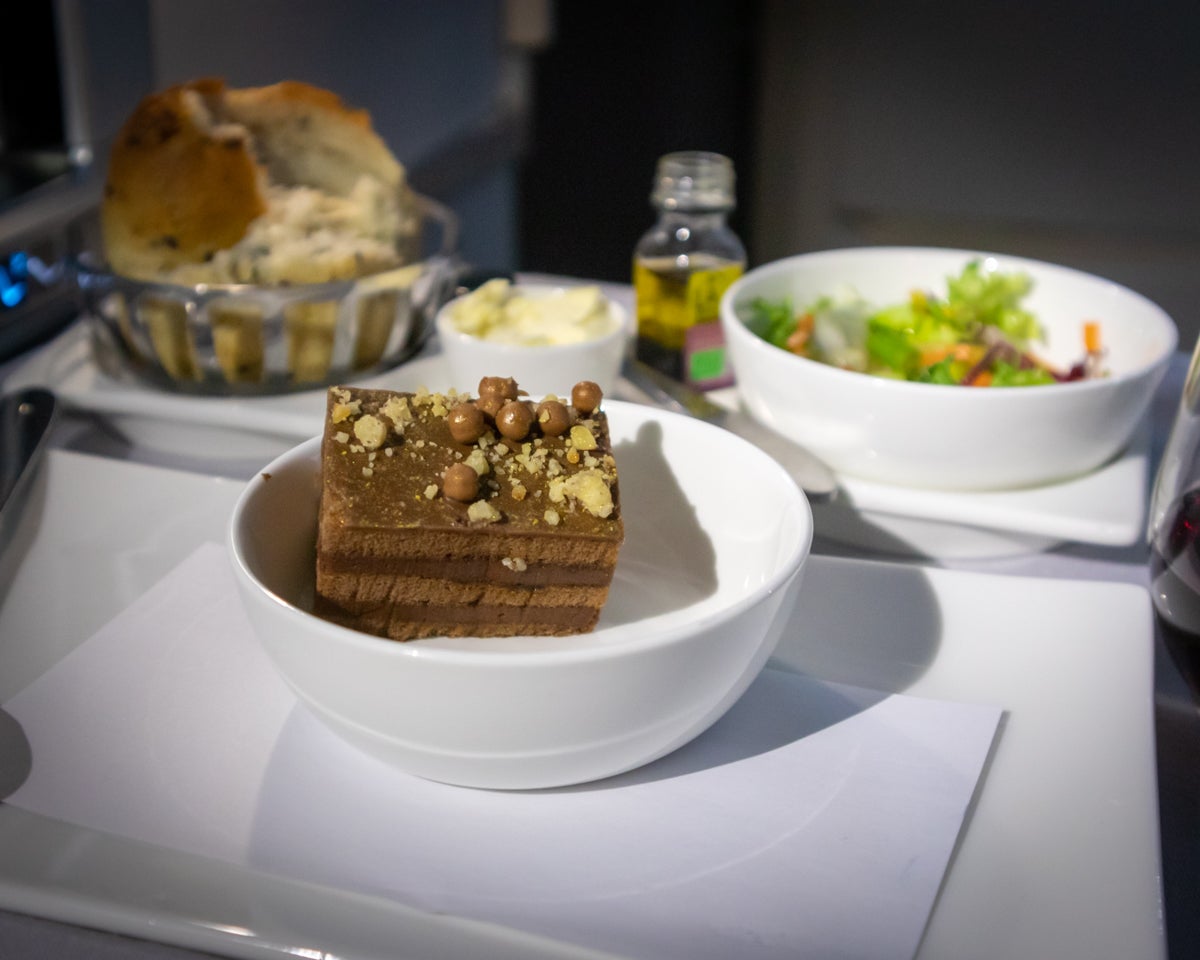 If I was peckish during the flight, the self-serve "Club Kitchen" available up the top of the stairs had a few beverages available.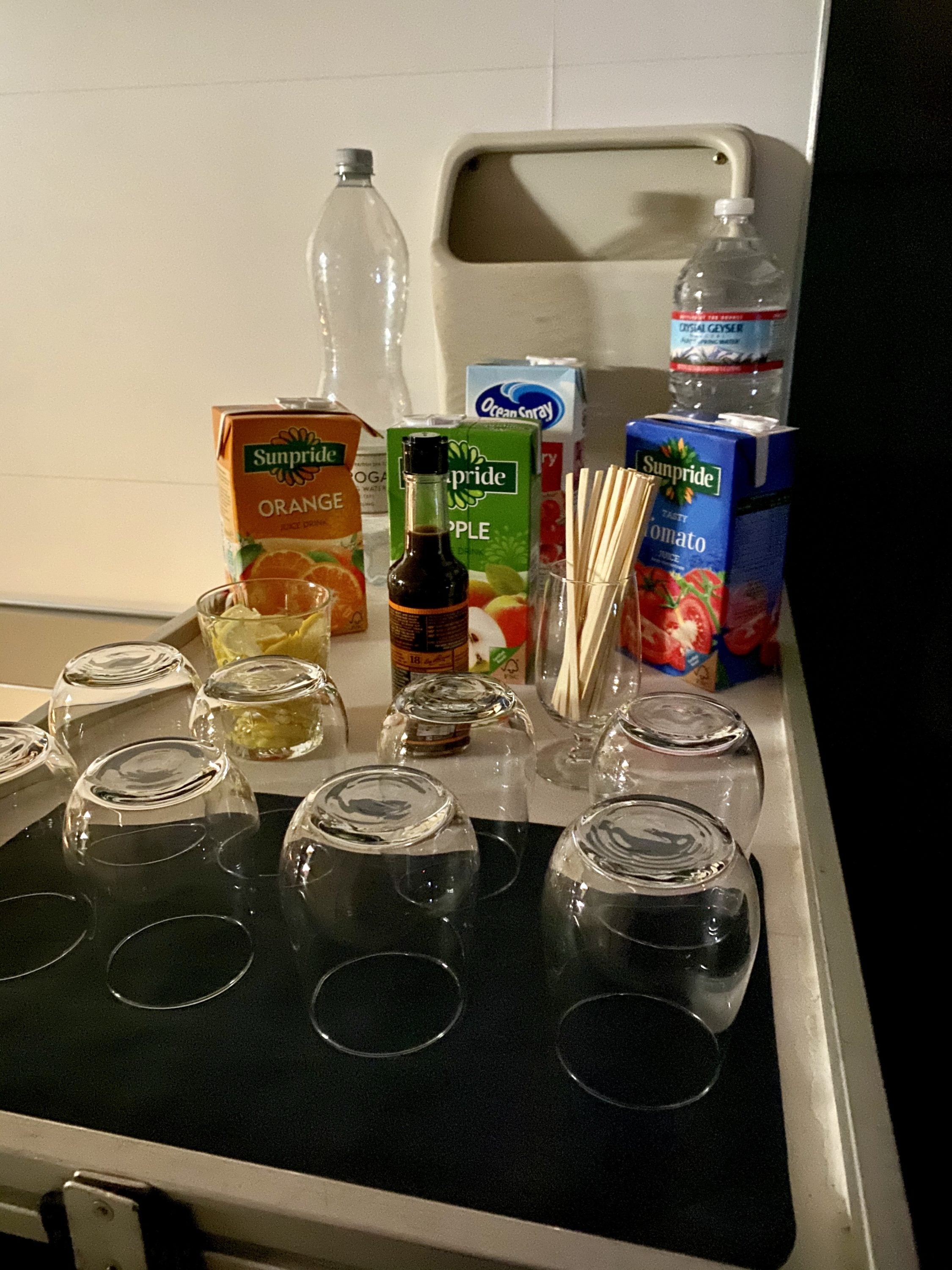 An hour before arriving into Dubai, breakfast was served based on the orders placed before take-off.
I selected the Middle Eastern option: filled mini pita with falafel, hummus, zucchini, and pepper. It also looked a little sad but considering it had only been 3 hours since dinner, I didn't need to be substantial.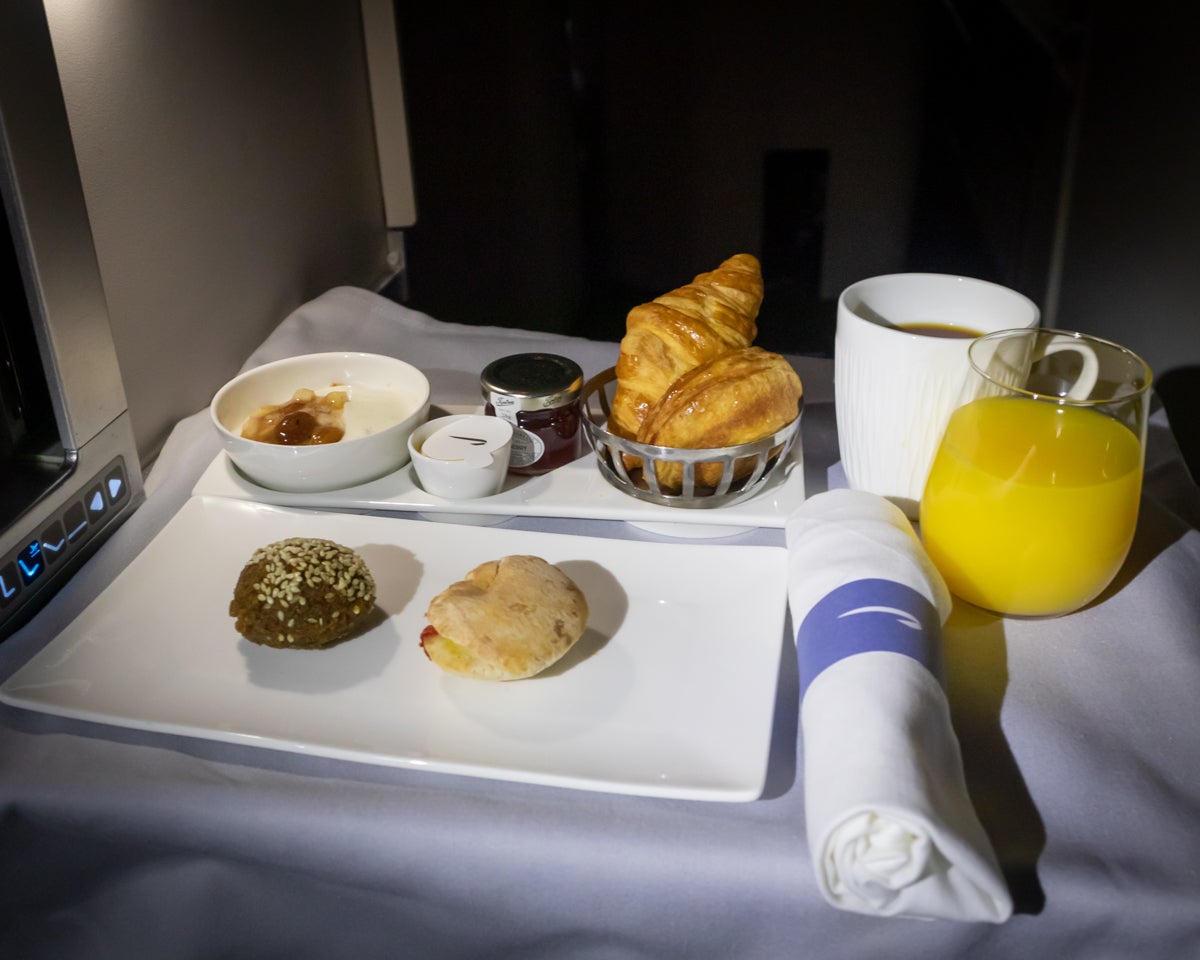 The other option was a pulled chicken rarebit.
We touched down in Dubai at 8:08 a.m., 12 minutes ahead of schedule, though it was another hour before bags were off the aircraft.
Final Thoughts
In 2000, British Airways became the first carrier in the world to offer business class passengers a true flat-bed to sleep on. In 2006, it launched the product you see on this aircraft today.
As the industry moved on, offering business class passengers more room, storage, and direct aisle access for all business class passengers, it took until 2019 for British Airways to launch an all-new seat and will take years to roll this out across its wide-body fleet. As a result, this dated seat will continue to fly on.
I had pretty low expectations of this flight, knowing I would be flying a 13-year-old seat in a 20+-year-old plane… and my first British Airways long-haul flight certainly met those expectations.
The lounge experience left a lot to be desired.
The food was quite average.
The seat is narrow, lacks privacy unless the screen is raised, lacks storage unless you're sitting upstairs by the window, the tray table is flimsy, there are no pajamas, and the mattress topper is too thin and isn't secured in place.
But I'm always thankful for having a flat-bed when flying.  Plus, the upper deck is the place to be and I did have the best seat in the cabin — but to charge me $165 to select the seat is insane.
No matter how good or bad a seat is, how tasty the food is, it is the crew who will make or break a flight for me. Thankfully, Sunil and Paul on this flight were fantastic and elevated this experience. They were both very polished in the service delivery, friendly, were familiar with the menu, and were very efficient. This pales in comparison to my Qantas 747 business class experience where not even the service could save the flight.
During the hour wait for my luggage, I was reflecting on the flight and how it compared to my Virgin Atlantic experience, but it wouldn't be a fair comparison between one of British Airways' oldest aircraft to Virgin Atlantic's newest.
But then I thought about the 6 Emirates A380 services between London Heathrow and Dubai that British Airways competes against, its onboard bar, direct aisle access for all business class passengers, mini-bar, dine on demand, large 23-inch IFE screen, chauffeur (for cash bookings), and free Wi-Fi for business class passengers (as long as you're a Skywards member, regardless of status)… and I'm unsure why anyone would pick to fly British Airways on this route.
Sure, flying on the majestic 747 is nostalgic, but hardly worth foregoing the above. It must be the Executive Club loyalty handcuffs?
I won't be rushing to fly this product again but I'm still keen to try the new Club World Suites.