Virgin Atlantic Airbus A350 Upper Class Review [JFK to LHR]
Airline: Virgin Atlantic (VS)
Aircraft: Airbus A350 (G-VLUX)
Flight #: VS138
Route: John F. Kennedy International (JFK) > London Heathrow (LHR)
Date: October 29, 2019
Duration: 6hrs 39min
Cabin & Layout: Business Class, 44 seats, 1-2-1 config
Seat(s): 9A
Points Used: 47,500 Virgin Atlantic Points + $624.20 in taxes
Typical Retail Cost: $6,700 per person one-way
Introduction
I have very fond memories of Virgin Atlantic, which all started back in 2004.
My best mate and I started planning a European trip-of-a-lifetime after our university graduation in 2007. It would be my very first time to Europe, the furthest I had ever flown, and my first time on an international trip without my family.
My mate planned on flying Qantas in business class using his dad's staff travel benefits.
This got me thinking about how much it would cost me to do the same. Qantas was hideously expensive, so that was out of the question, but I found the best value fares on Virgin Atlantic who were flying from Sydney to London via Hong Kong, at the time, using the Airbus A340-600.
Virgin Atlantic doesn't have a "Business Class," they called it "Upper Class," and back then, it was better than anything else flying out of Sydney. It had a proper flatbed (not a sloping lie-flat), an onboard masseuse for complementary treatments, and an onboard bar. I was sold!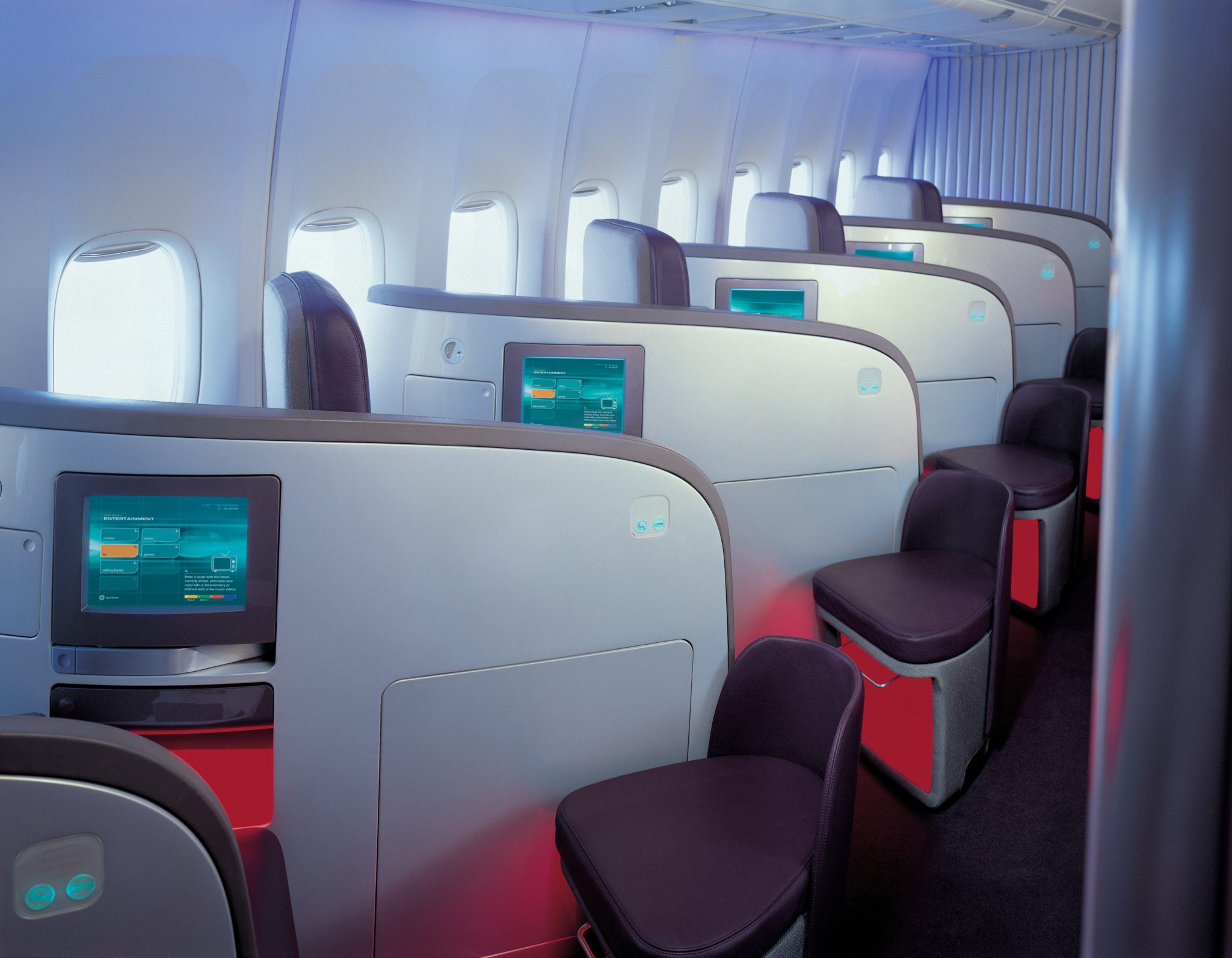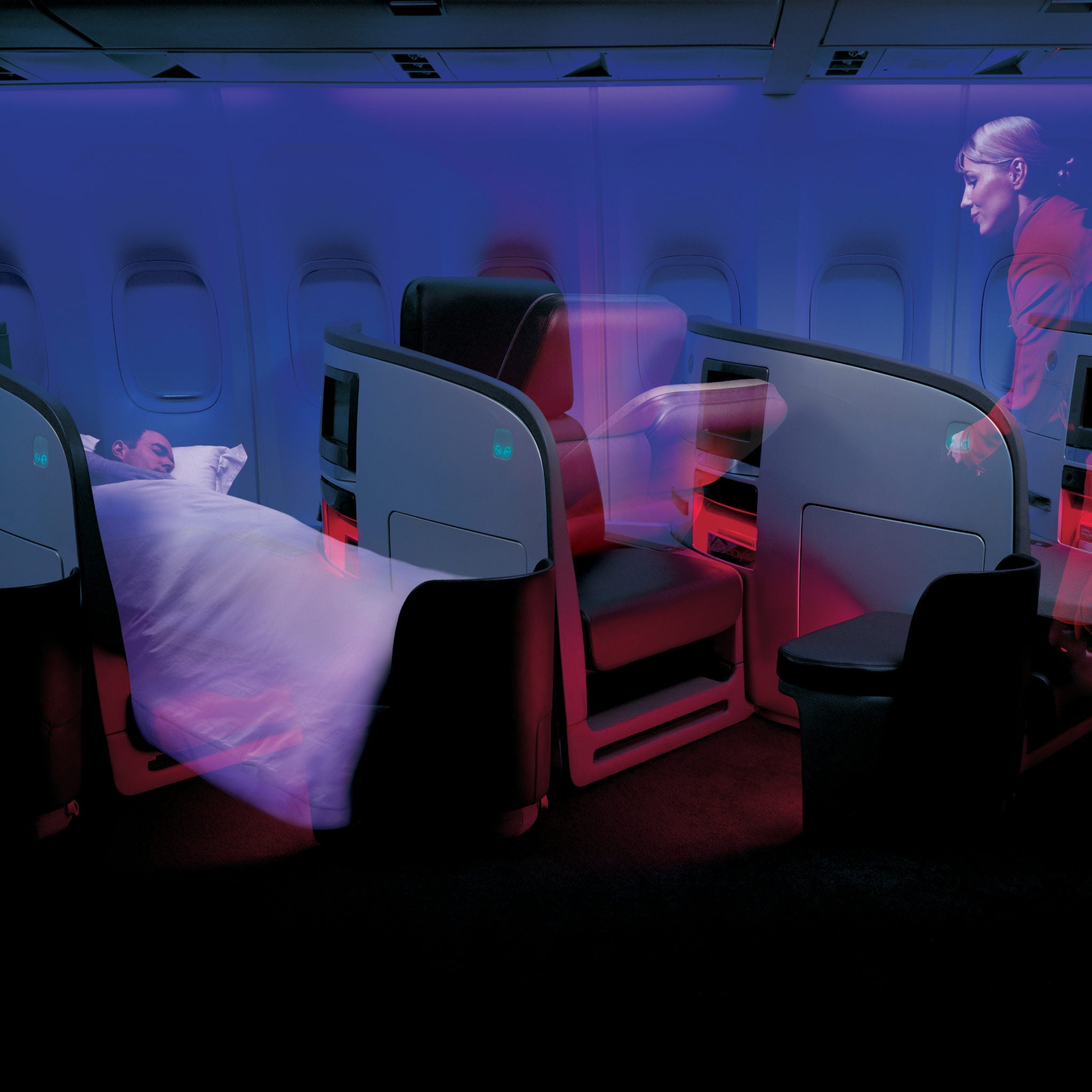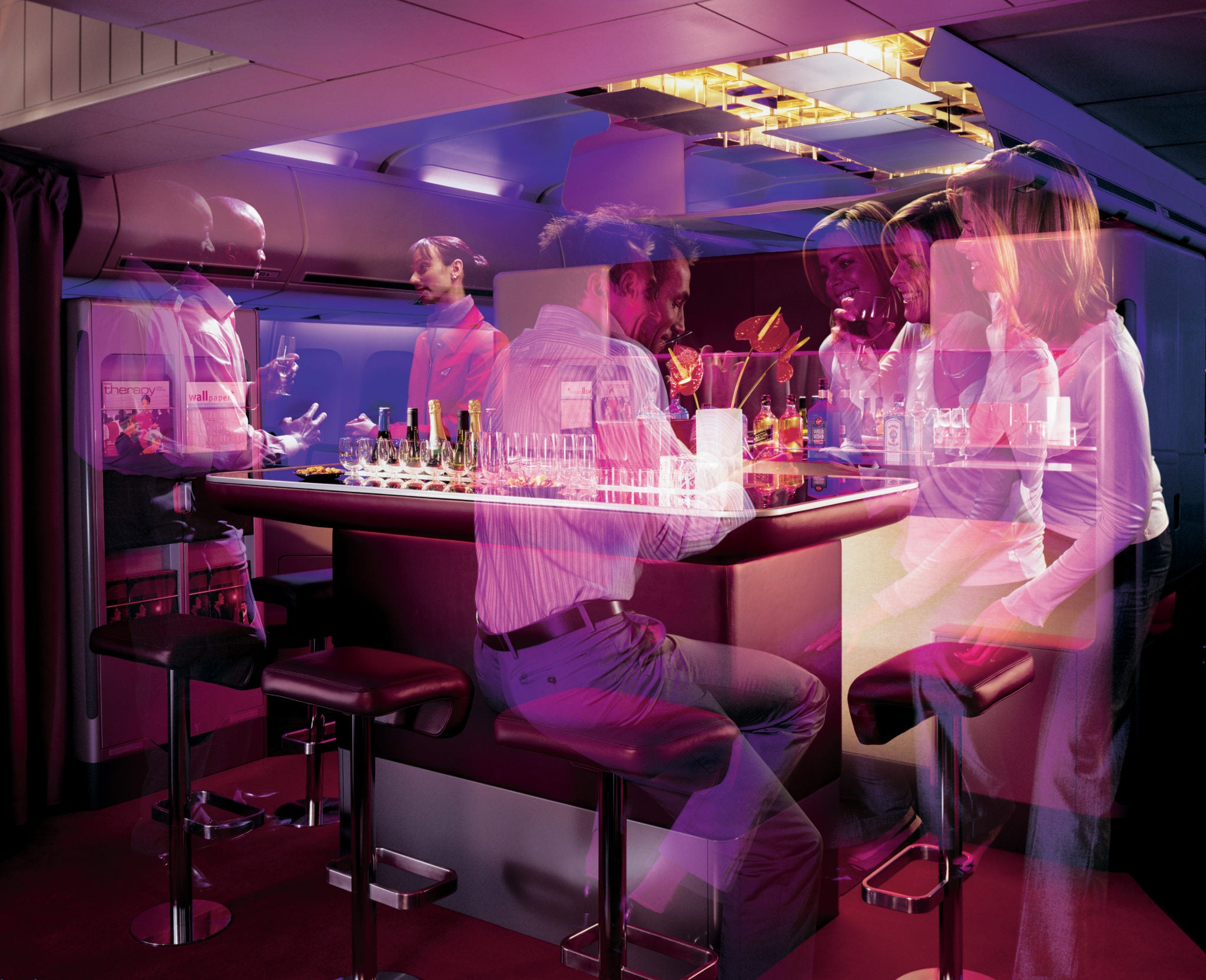 With 3 years before I could book flights, I worked my butt off at 2 jobs to save for the trip whilst also studying at university.
And it was absolutely fabulous — the whole flight experience remains one of my most memorable flight experiences. Considering I had only ever experienced a Qantas Club lounge before, I was blown away by the Clubhouse lounge at London Heathrow.
It spoilt me, though, and I have never wanted to fly in economy ever since, especially on the 24-hours between Australia and Europe.
Even back then, maximizing loyalty rewards ran through my veins. I had signed up for a rewards credit card, which would net me enough loyalty dollars to use towards the Contiki tour booking for our European adventure.
Plus, I signed up to Virgin Atlantic Flying Club as I worked out that the points earned on this booking would be enough to upgrade a Premium Economy flight from Sydney to Hong Kong to Upper Class if/when I wanted to fly them again.
This singular experience taught me how valuable loyalty rewards programs were and I was determined to do whatever I could to fly like that again, using points instead of dollars.
When I needed to go to Europe with my current job in 2008, I selected Virgin Atlantic again.
Sadly, Virgin Atlantic stopped flying onward from Hong Kong to Sydney in May 2014 so there has not been an opportunity to fly them again.
When the airline announced a brand-new Airbus A350 delivery, and with my points earn healthier than the years before, I wanted to do whatever I could to fly them again.
But would it live up to my lofty expectations and could the experience compare with that very first flight?
Booking Virgin Atlantic Business Class
Thankfully, there are a few ways you can use credit card points and airline miles to book business class award seats on Virgin Atlantic's brand new A350 from JFK to LHR:
Here's how many points you'll need:
Delta SkyMiles: 85,000+
Virgin Atlantic Flying Club: 47,500
Virgin Australia Velocity: 49,500
Notice how Delta SkyMiles is listed as "85,000+"? This is because the airline has dynamic flight pricing, meaning that the airline switches up award pricing based on various factors like passenger load, dates, and more.
If you're lucky enough to find a flight on one of these cheaper dates, you'll pay very minimal taxes (~$5.60) on the JFK to LHR route.
On the other hand, Virgin Atlantic Flying Club offers significantly cheaper redemption rates and has a standard award chart. This means you'll never pay more than 47,500 points for a Virgin Atlantic Upper Class flight from JFK to LHR.
The downside here is taxes and fees. This route has $624.20 in taxes and fees attached to a one-way Upper Class ticket between the cities because the airline passes along fuel surcharges and other taxes to the passenger, so it's up to you to decide if saving points is worth the added cash cost.
You can transfer miles to Delta SkyMiles from American Express Membership Rewards and Marriott Bonvoy.
On the other hand, you can transfer points to Virgin Atlantic Flying Club from American Express Membership Rewards, Chase Ultimate Rewards, Citi ThankYou, and Marriott Bonvoy at varying rates.
Regardless, you'll get a good redemption for the points as a paid ticket is often more than $5,000 one-way.
My Experience Booking Virgin Atlantic Business Class
Virgin Australia is a partner of Virgin Atlantic and considering I already had enough Velocity points in my account already, I first tried to book using these.
At 49,500 points, there was only a premium of 2,000 points compared using Virgin Atlantic and would negate the need to transfer points from American Express to Virgin Atlantic Flying Club.
You can't book Virgin Atlantic reward seats on Virgin Australia's website, so I had to call. The agent needs to process the booking through Virgin Atlantic and wait for it to be "confirmed" by the airline. Sadly, Virgin Atlantic wasn't releasing any A350 award seats to partners, so my booking was declined.
So, I jumped onto the American Express website and initiated the transfer of 47,500 Virgin Points for the 3,452-mile flight to London. I had to wait an unusually long 3 days before the points hit my Virgin Atlantic account but thankfully the award seat was still available to book. Phew.
In retrospect, I should've called Virgin Atlantic to place a hold on this award seat before I made my transfer. The airline lets you hold Virgin Atlantic operated flights for 48 hours. When a ticket is on hold, no one else can book it, so there's no risk of losing award space.
While I waited 3 days (longer than the 2 day Virgin Atlantic hold time) for my transfer to process, this is unusual as points usually transfer to Virgin Atlantic near-instantly. Regardless, it's good practice to hold award tickets before you transfer points so that you can be sure you're able to redeem for your flight of choice.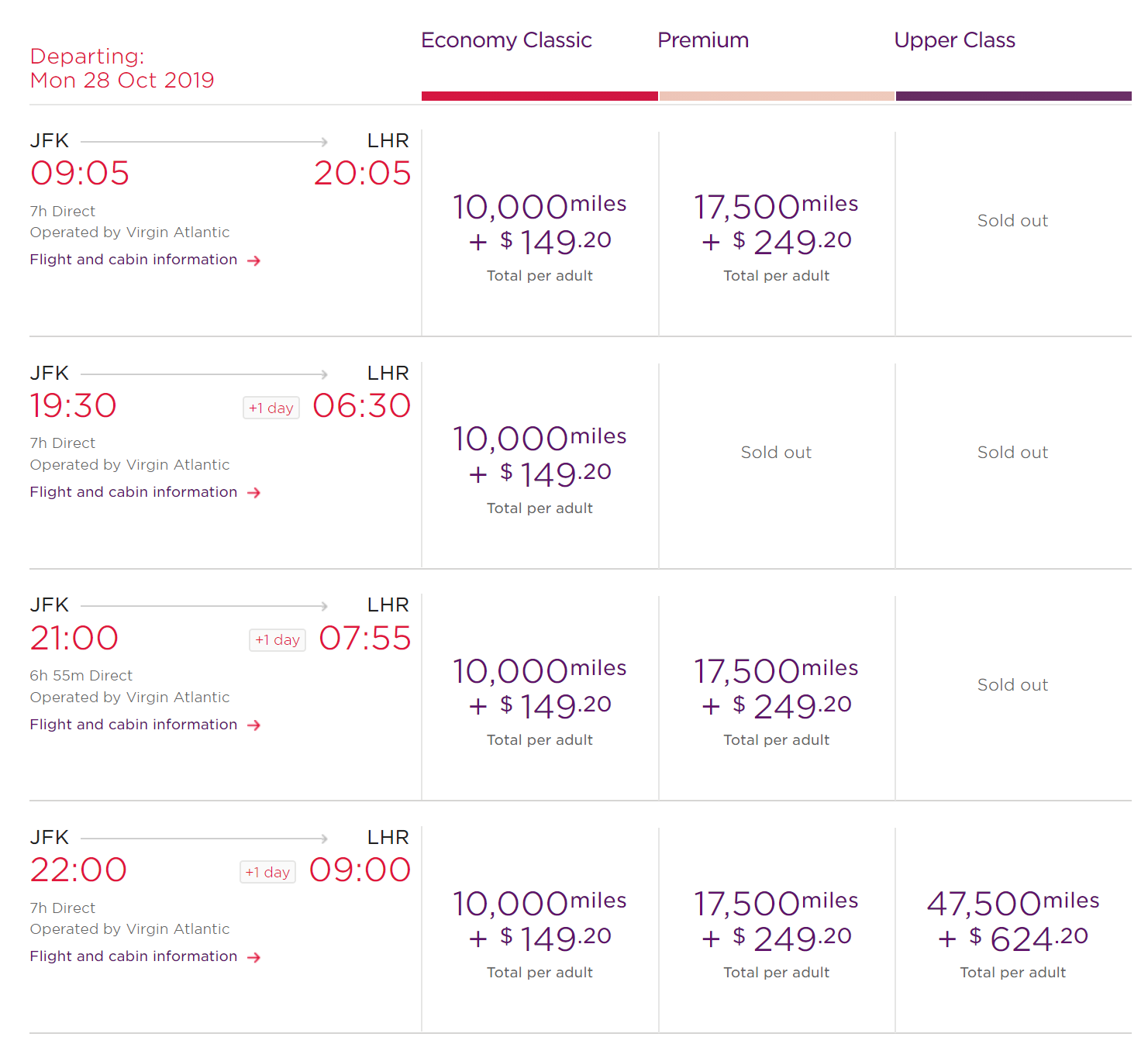 Booking was straight forward, but the carrier charges were on the high-side.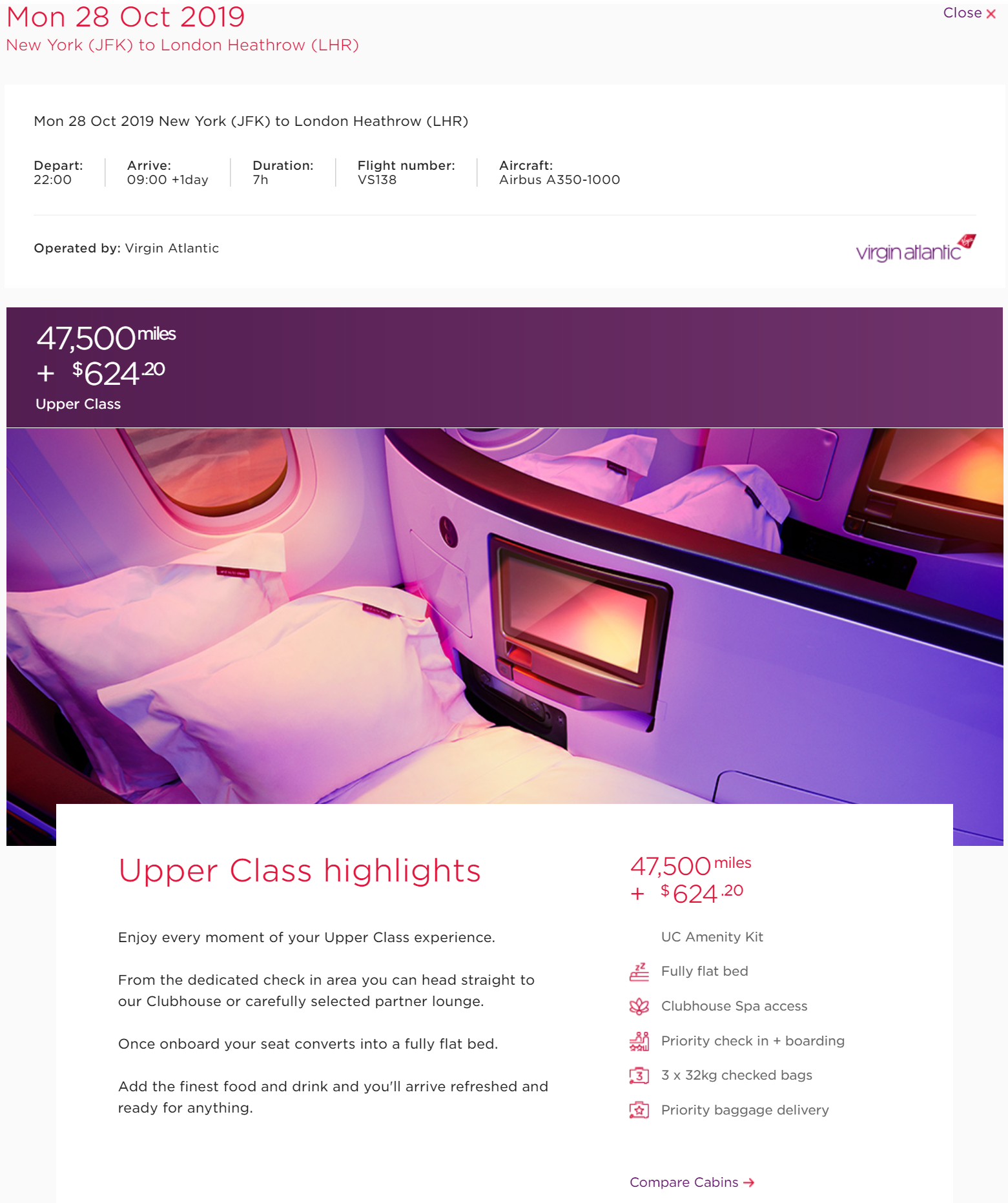 But the $624.20 carrier and fuel surcharges were a fraction of the $6,703.70 for the full fare.

At JFK Airport – Virgin Atlantic Clubhouse
Before my flight, I overnighted at the TWA Hotel at JFK and managed to witness V-LUX's arrival from my Runway View Room — she looked amazing!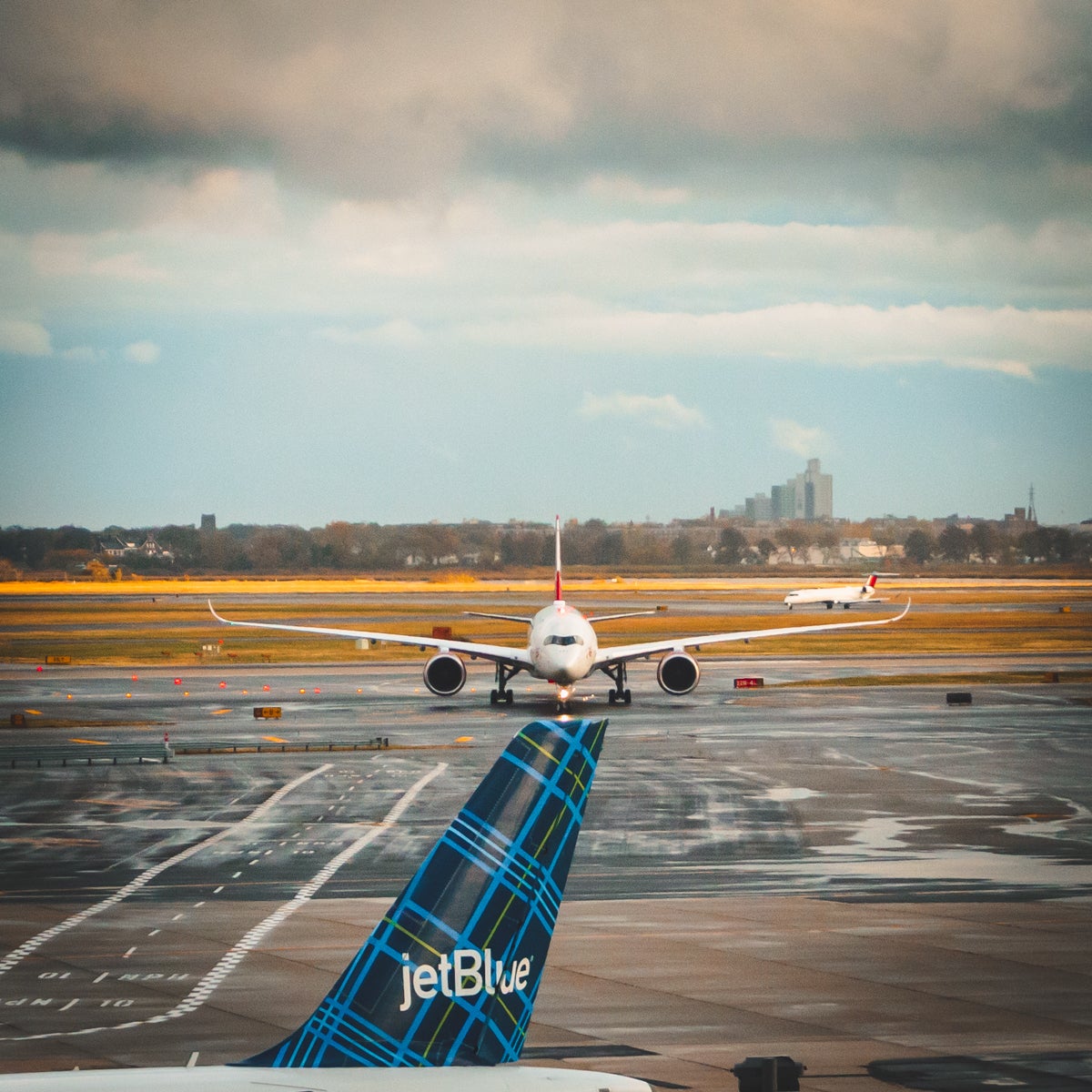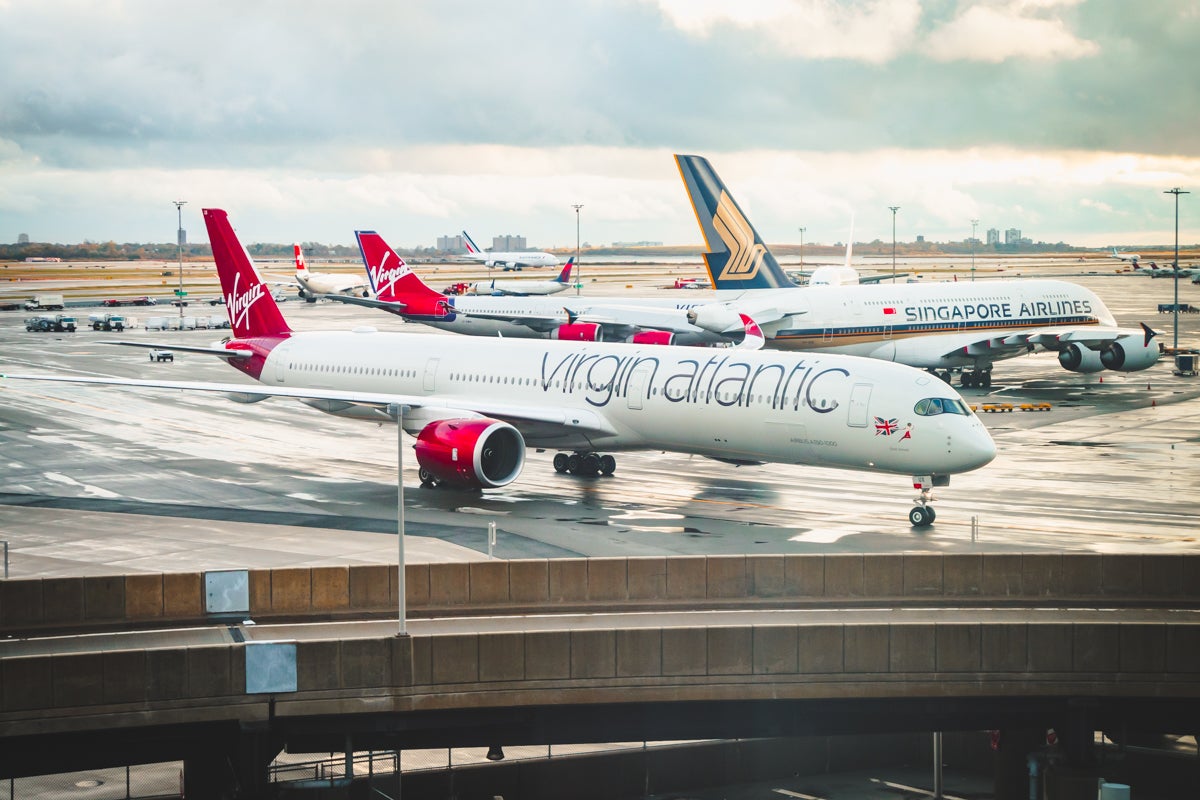 After a brief stroll from the hotel, I arrived at JFK Terminal 4 at 6:30 p.m.
I approached the check-in counters and was told by the staff that the Upper Class check-in was at the far end of the terminal.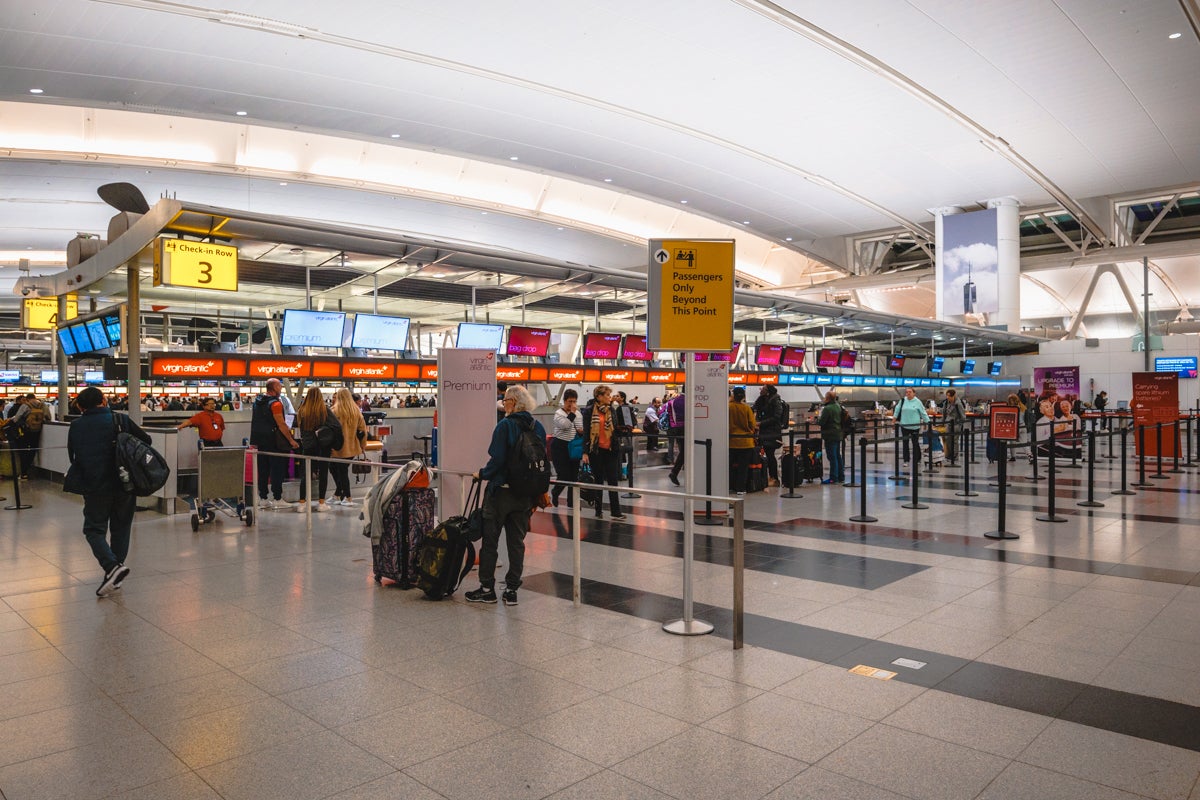 It was a bit of a walk, and by the time I got there, only 1 agent was working the desk and 2 others were in the queue, so it took about 15 minutes before I was served. The agent was super friendly and was telling me that I was going to love the new A350.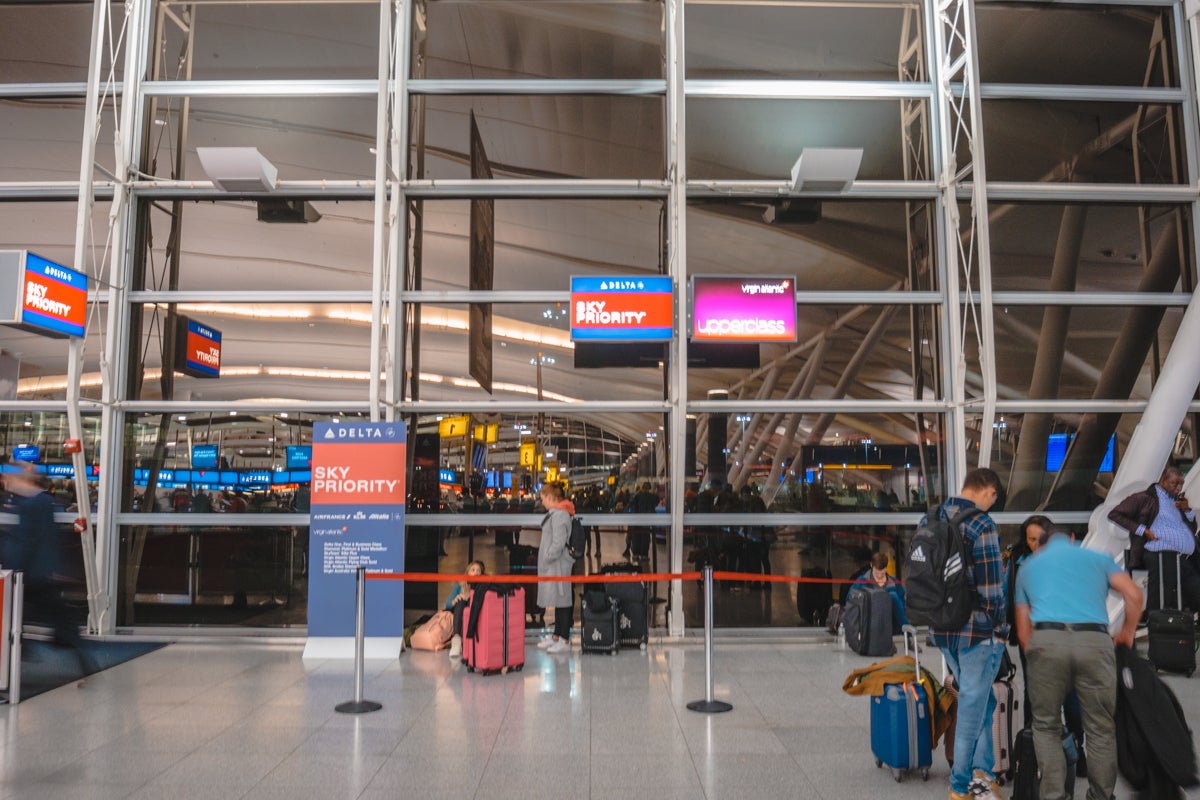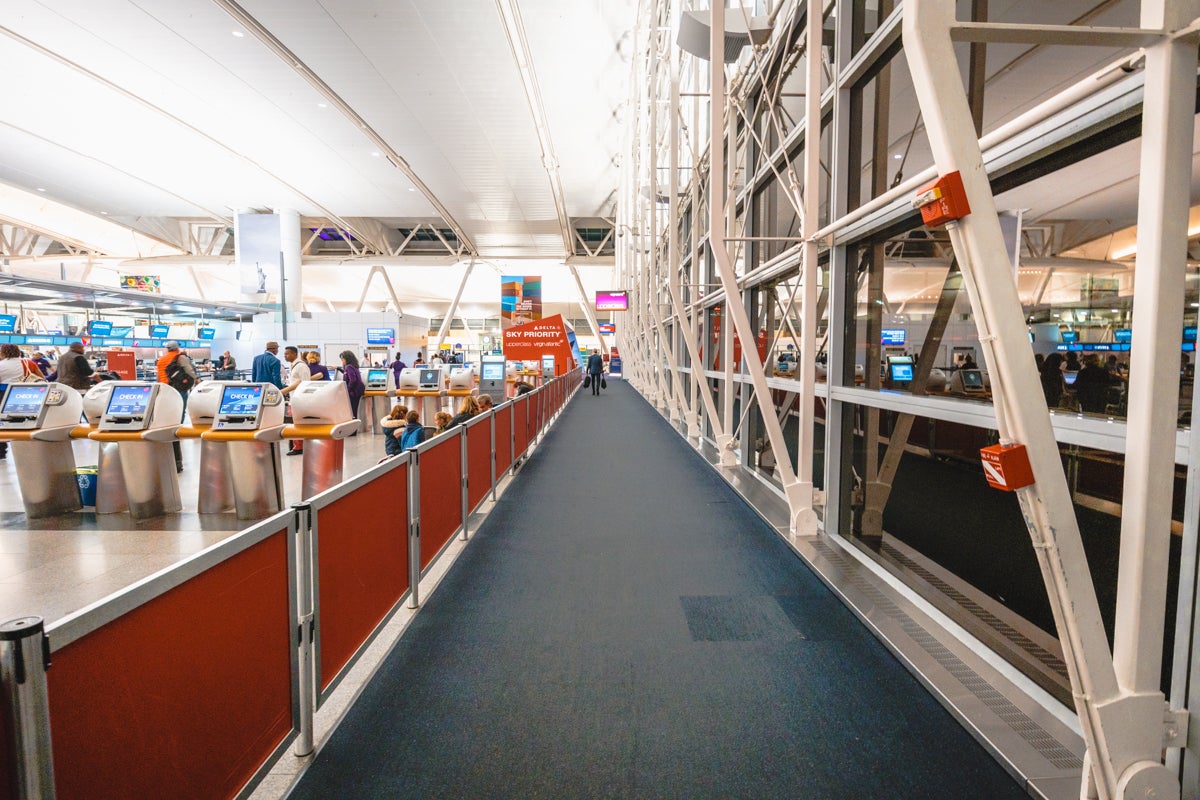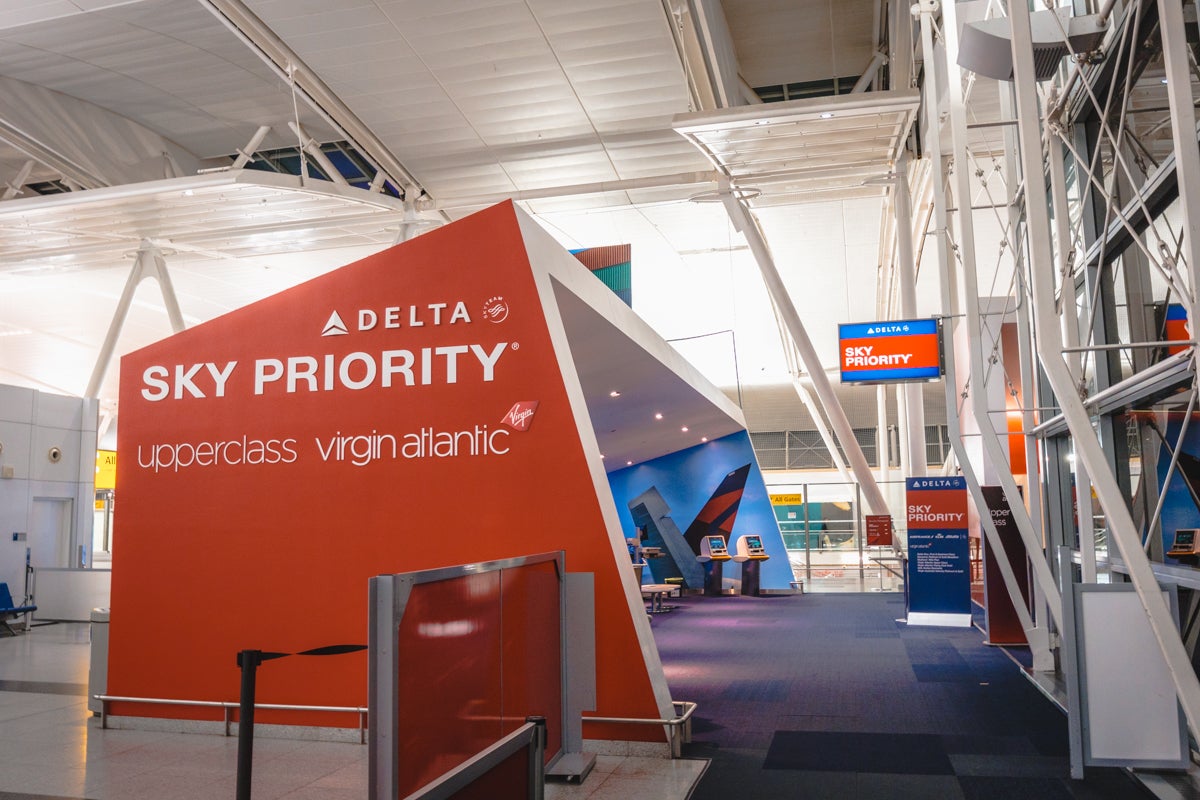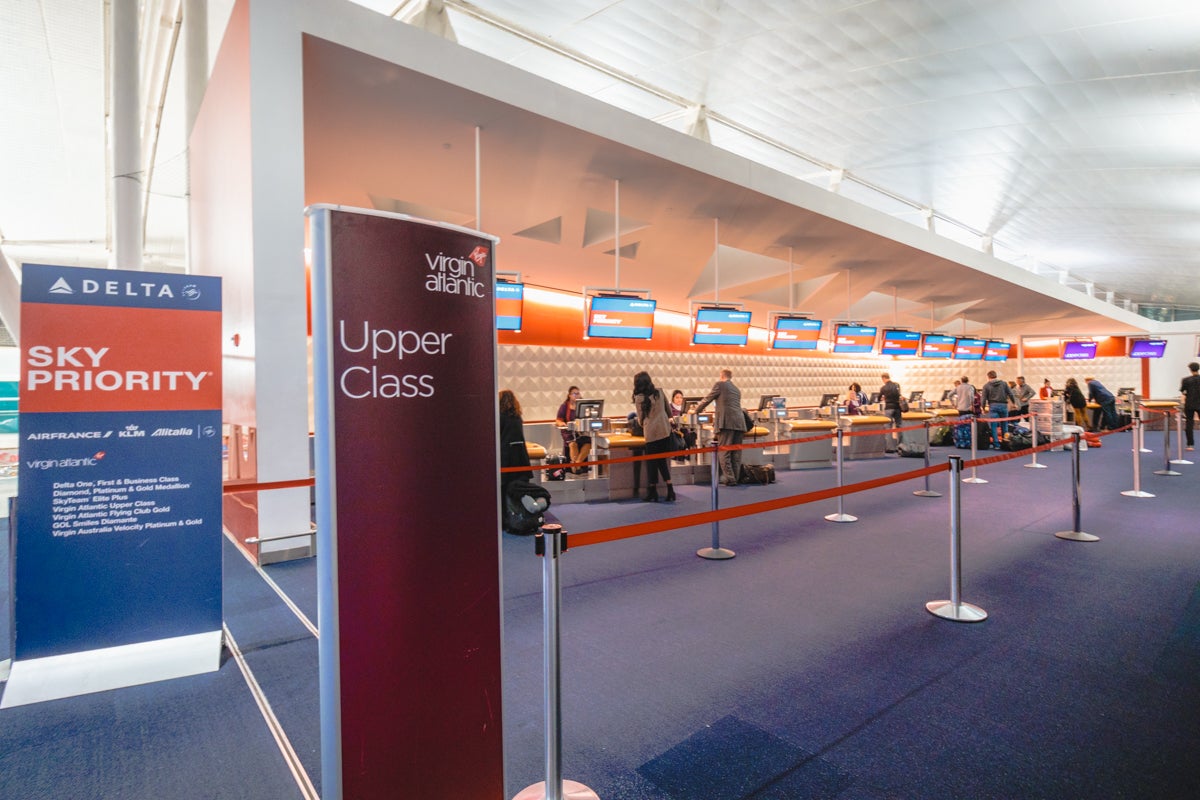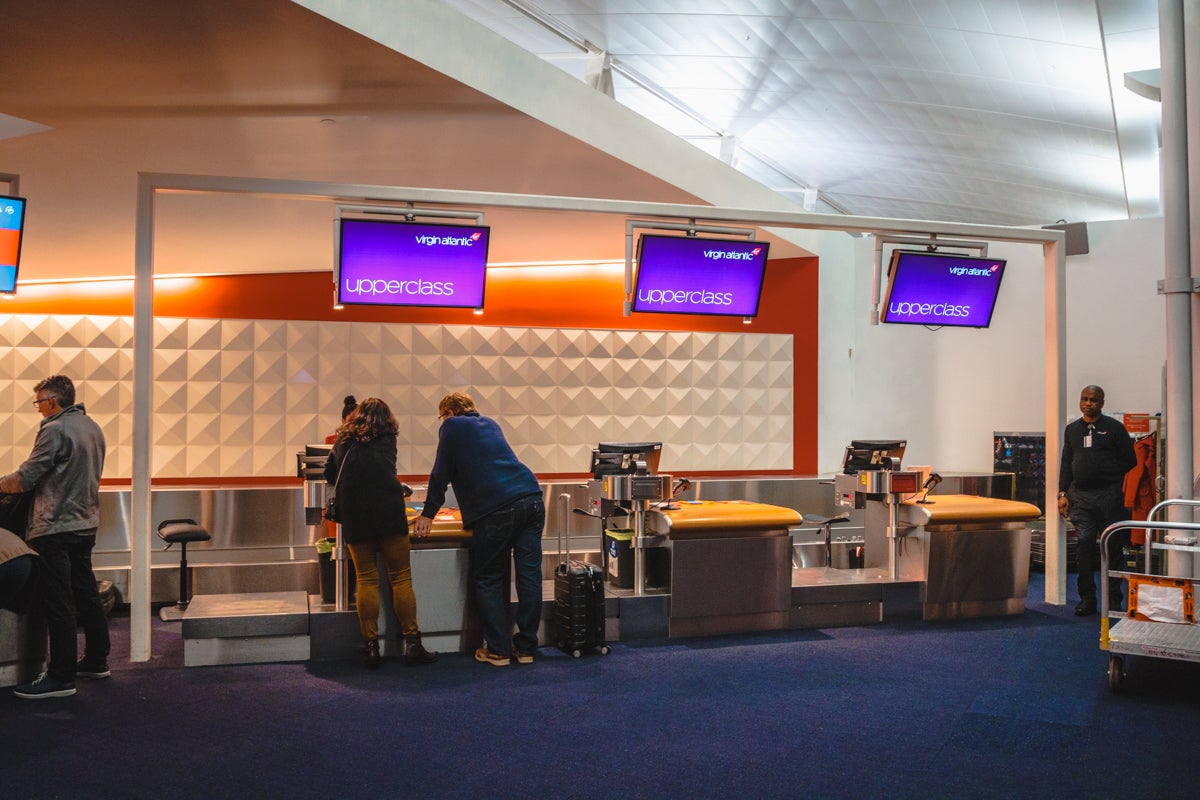 It would have been quicker to have checked in at the Premium counter, but the Upper Class check-in did drop me into the priority security queue, which took about 10 minutes.
Through security, I was thirsty and needed a cocktail so headed straight to the Virgin Clubhouse.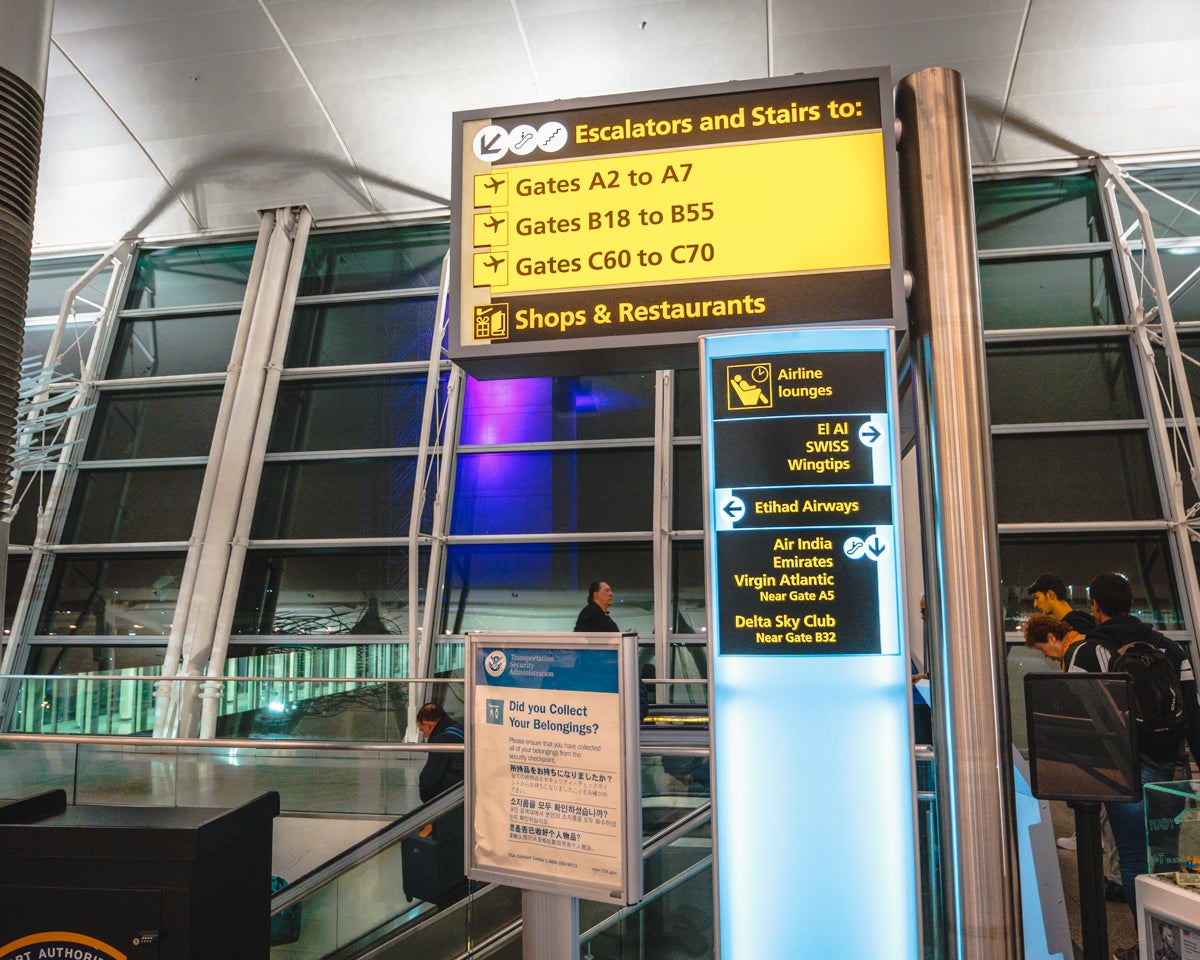 Located near A5, I arrived at the Clubhouse right at 7:00 p.m.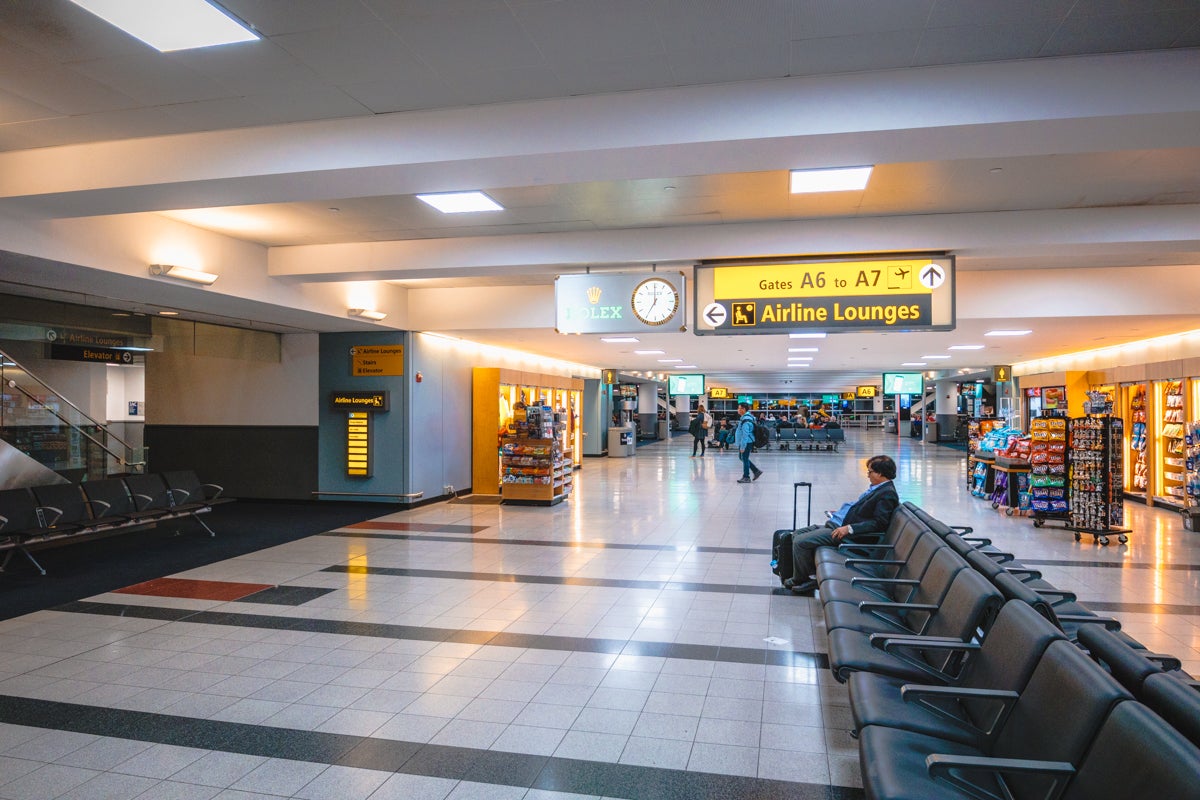 I had a quick walk around the lounge to get my bearings and so I could admire the Airbus A330 out of one of the many windows.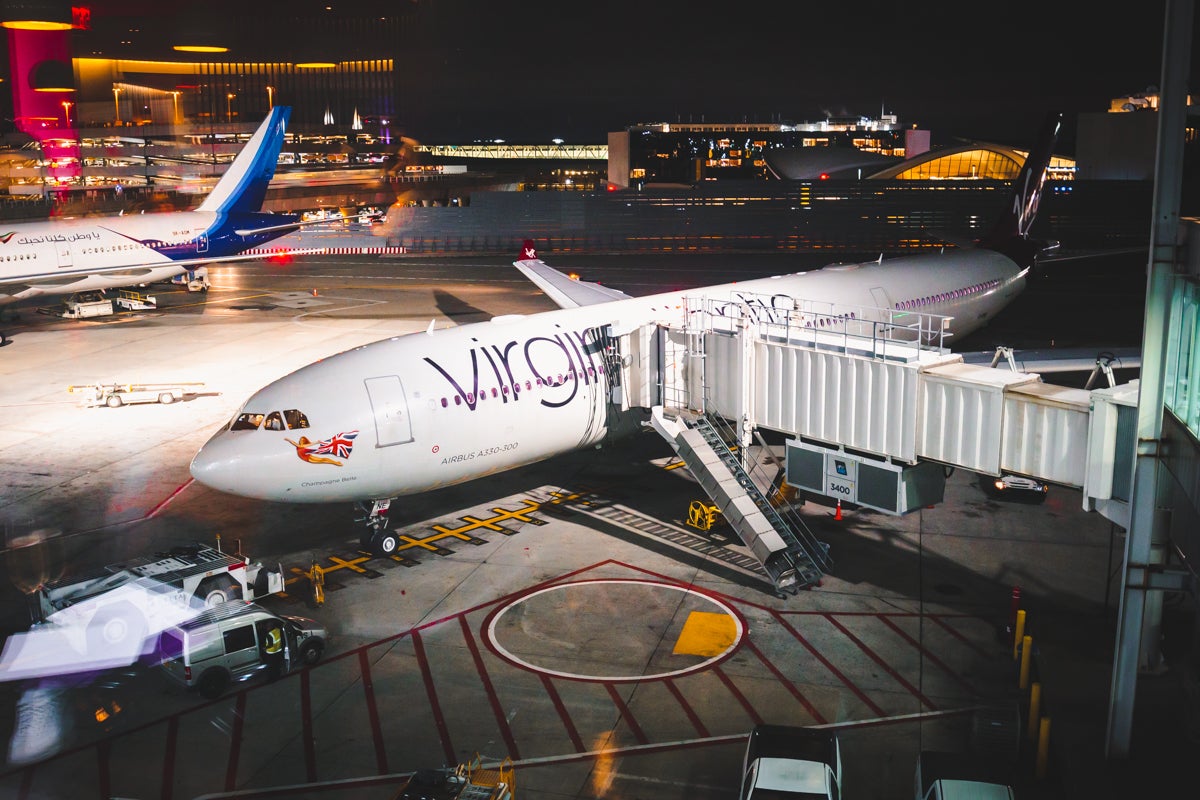 Virgin Atlantic has an Eboni Spa offering select complimentary and paid treatments. I headed there first just so I didn't miss out on a treatment and booked a complimentary Express Radiant You Facial for towards the end of my lounge visit.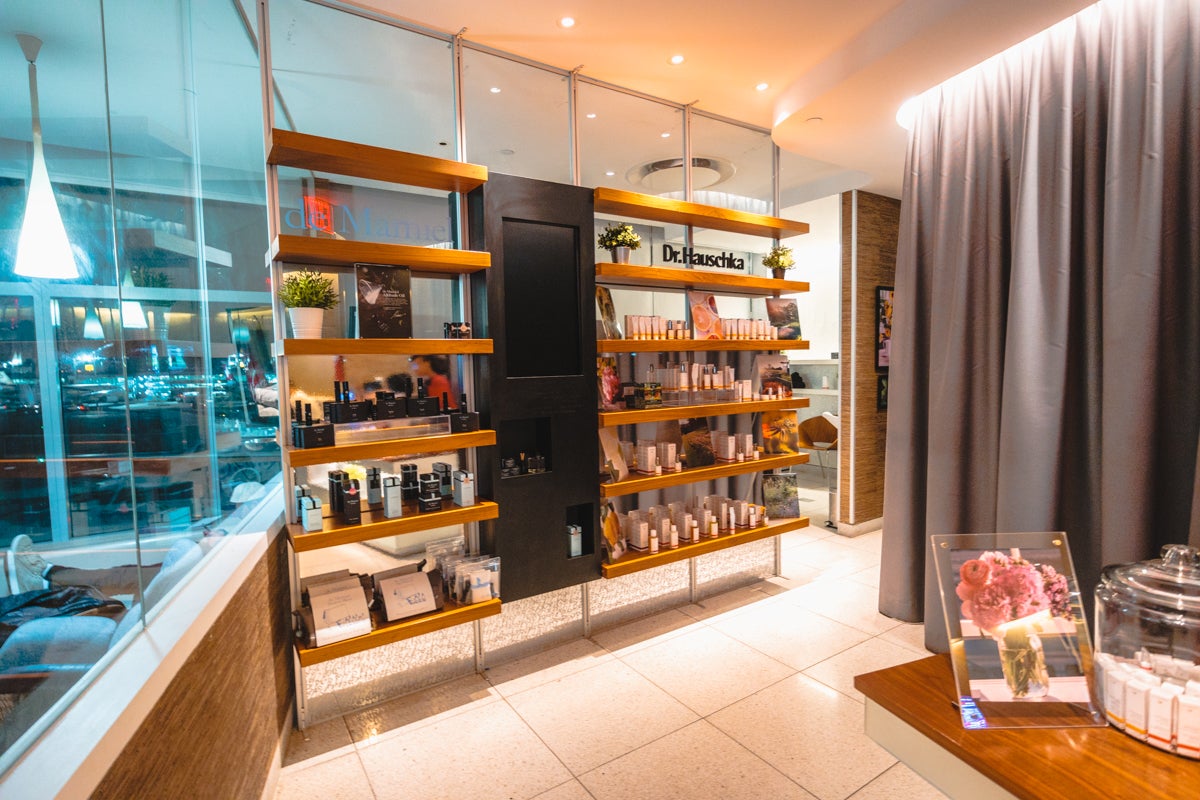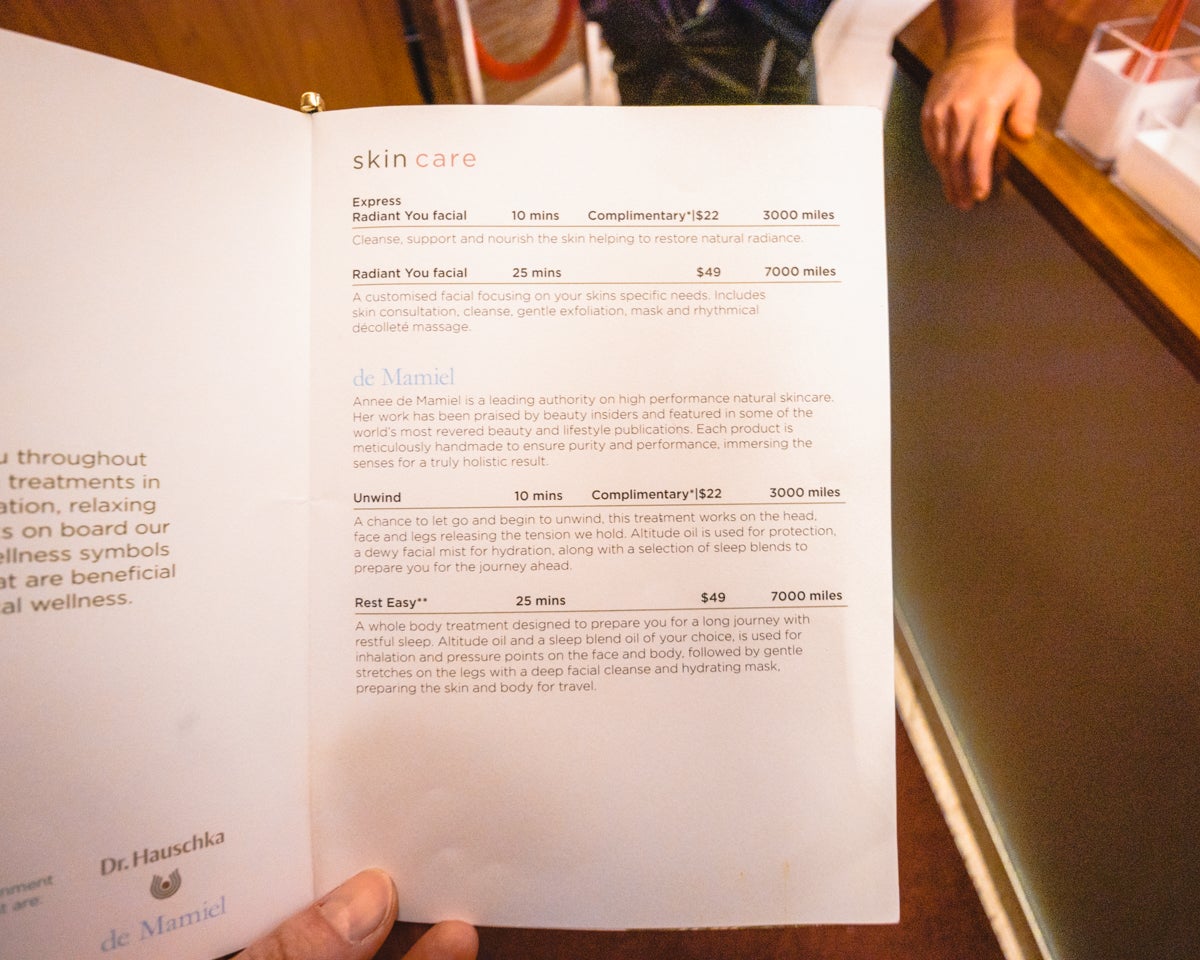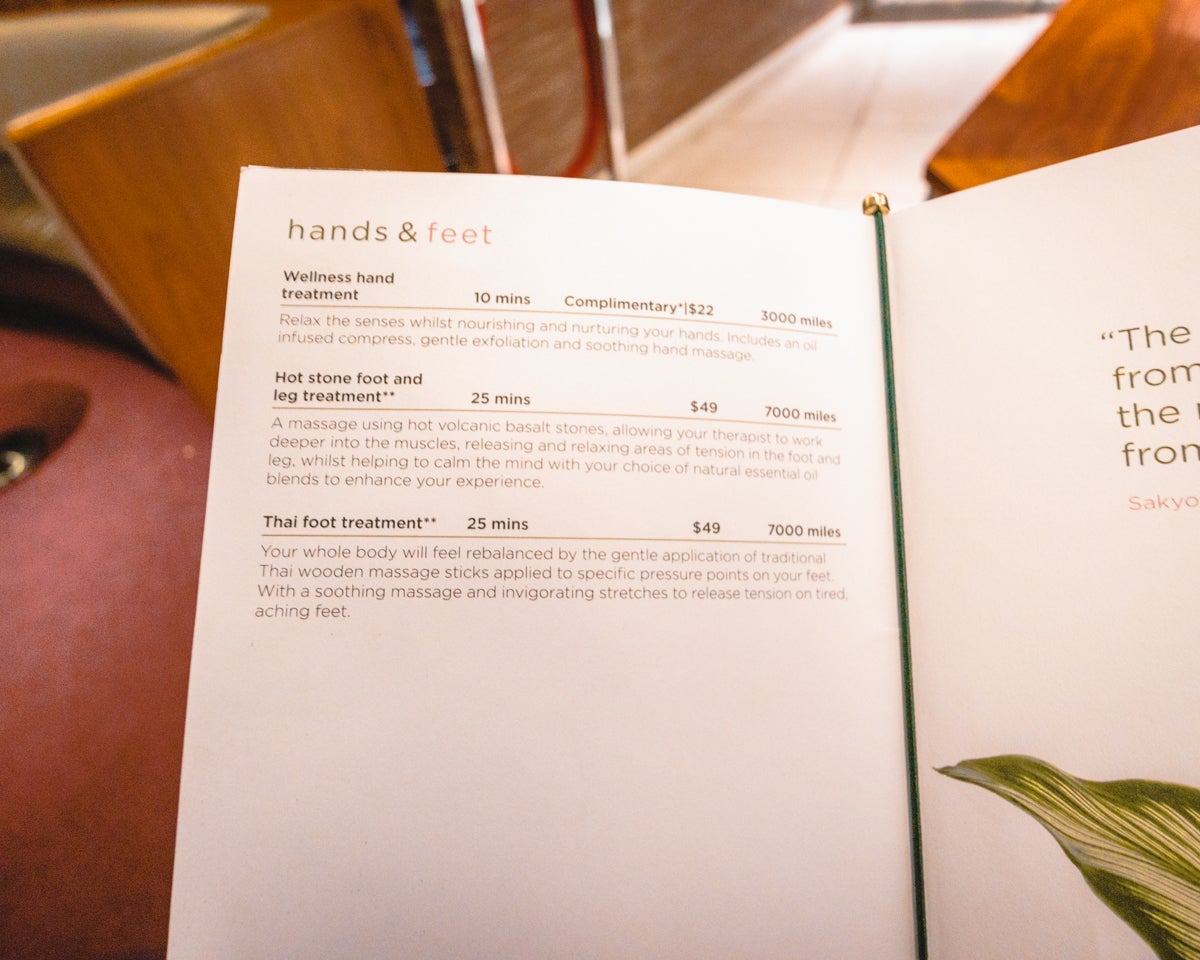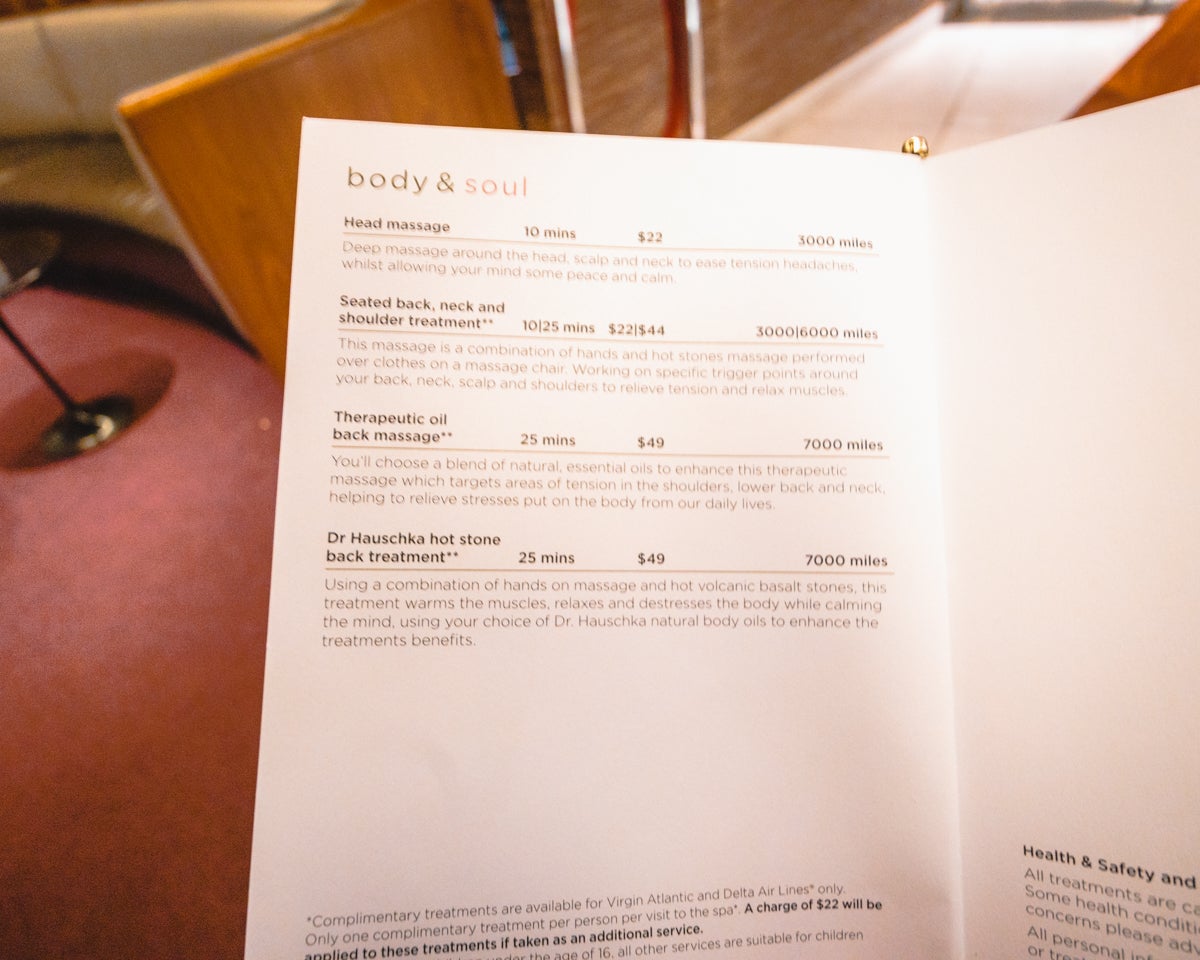 I then headed over to the tendered bar to peruse the cocktail menu, but I already knew what I wanted, but an espresso martini was not listed.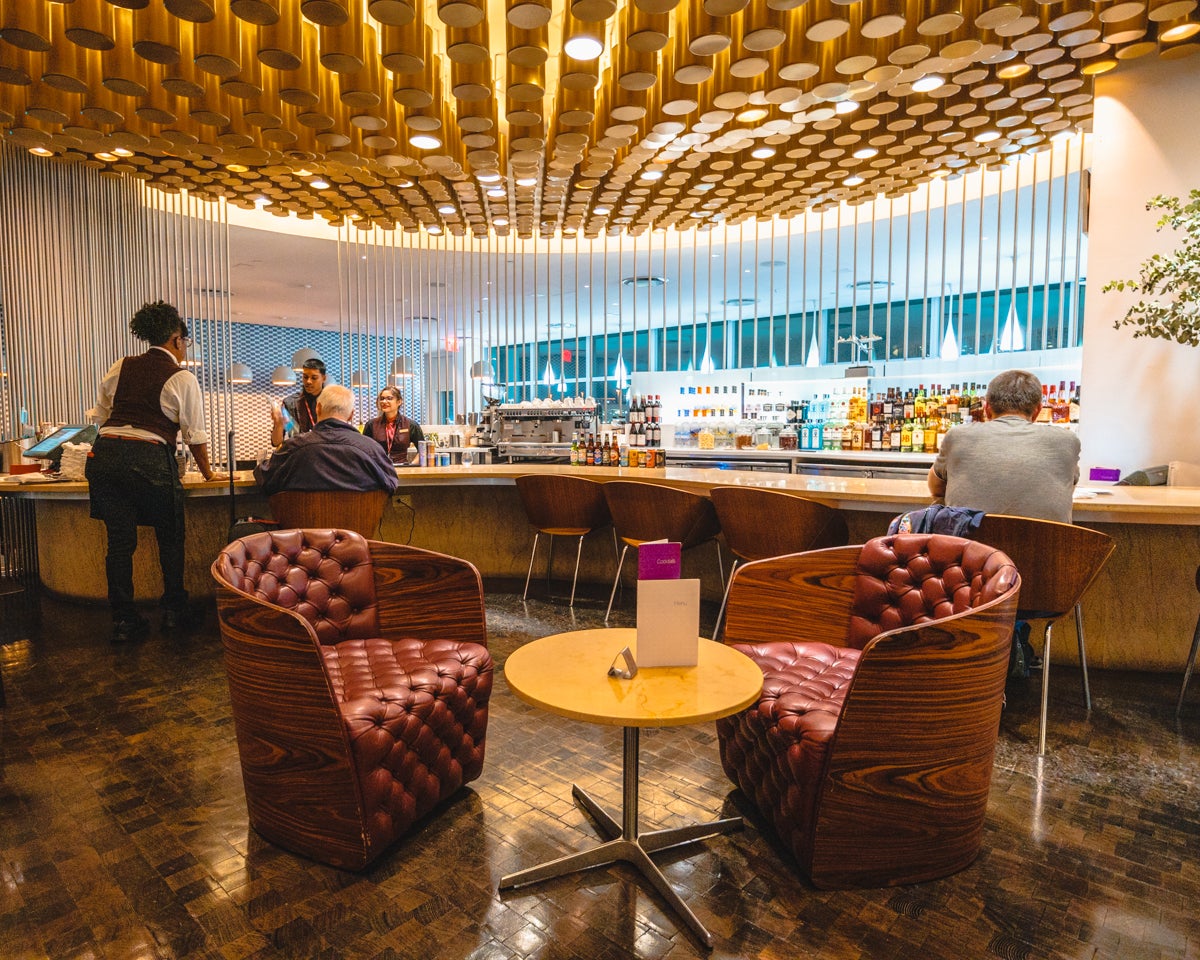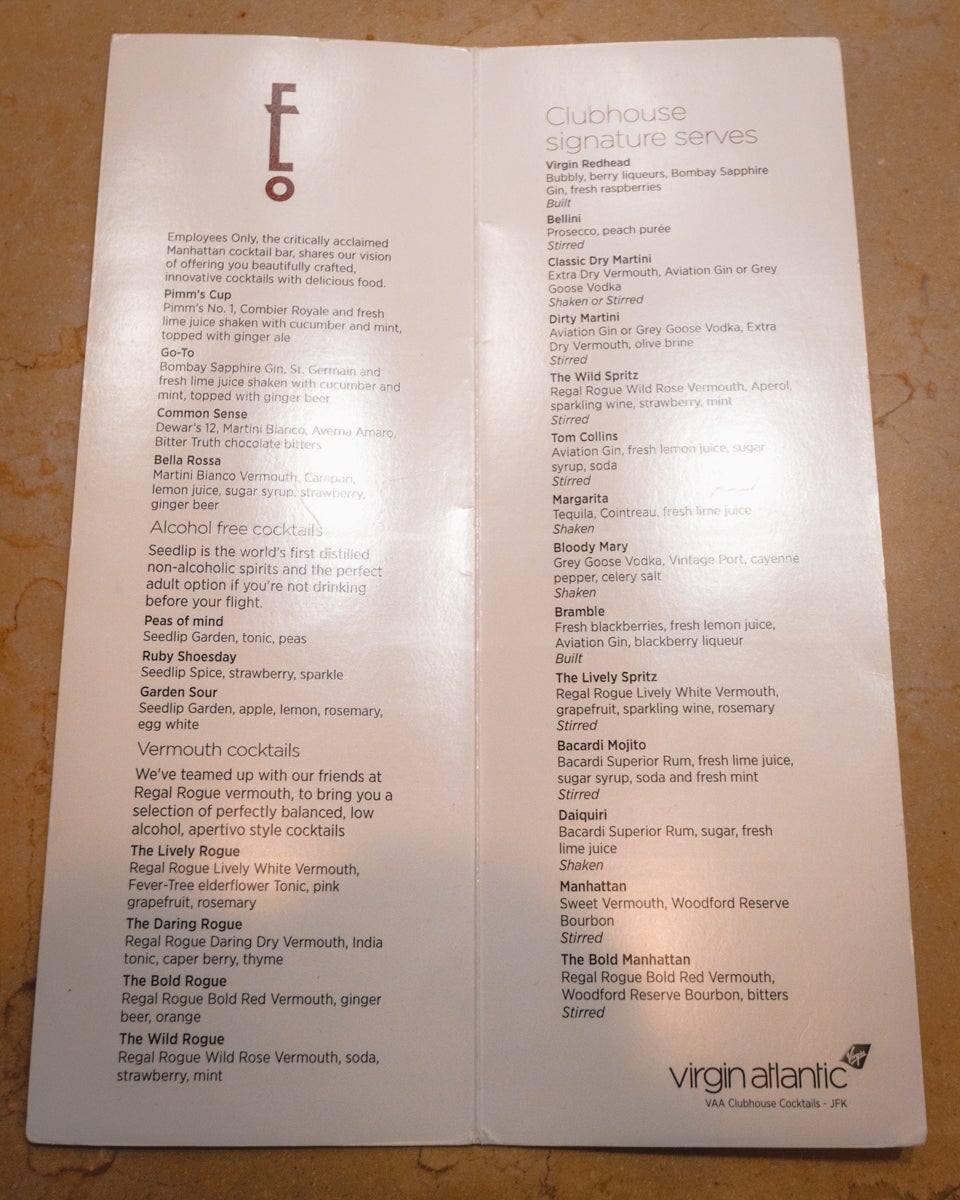 But ask, and you shall receive.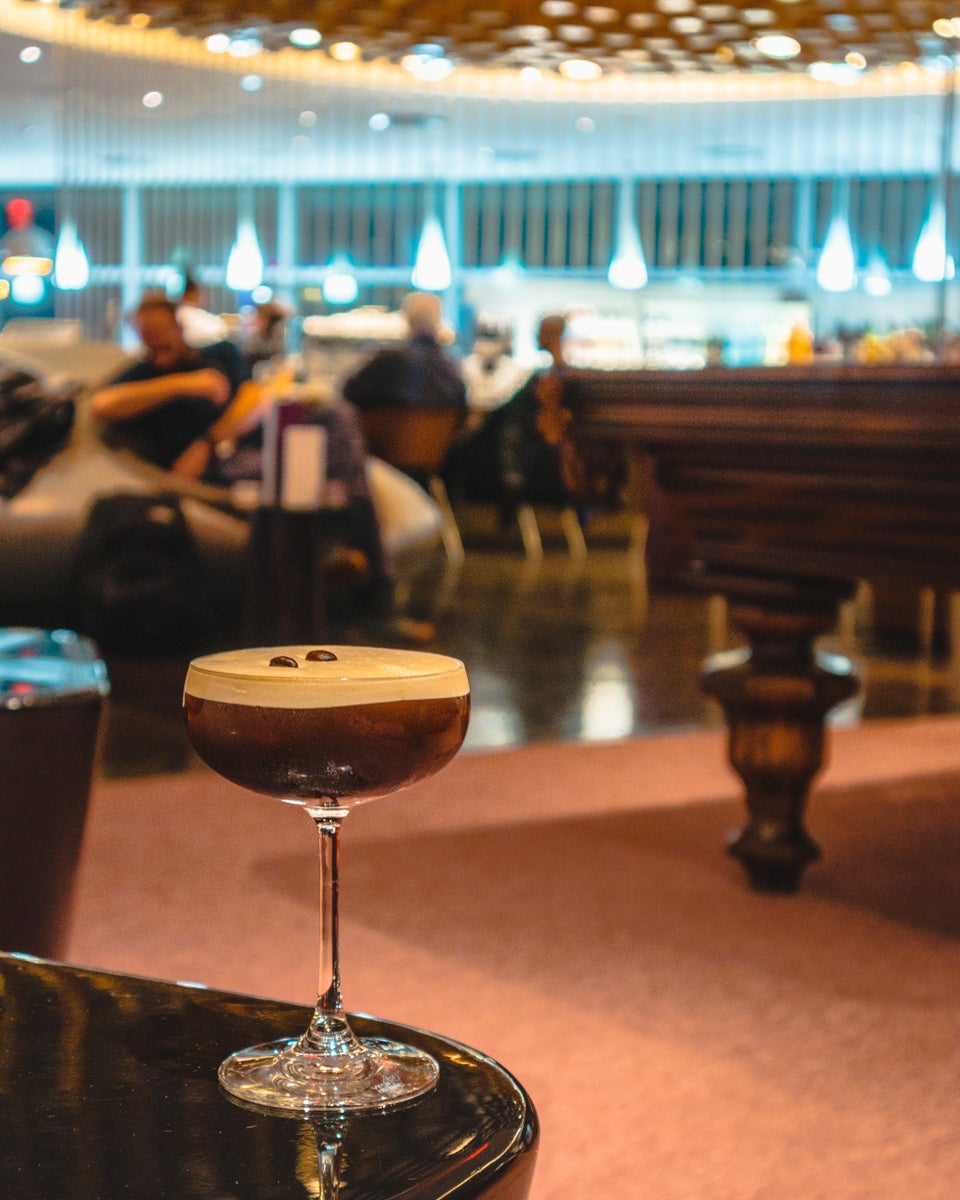 The red-eye flights to London can take as little as 5 hours 30 minutes up to 6 hours 40 minutes, depending on air traffic and the wind. To maximize sleep onboard, you can enjoy a full a la carte dining experience in the lounge and skip the meal onboard.
I wanted to try both the lounge and onboard service, for the purpose of this review, of course, so I headed to the dining room next.
There was ample lounge seating available and I had no trouble getting a table.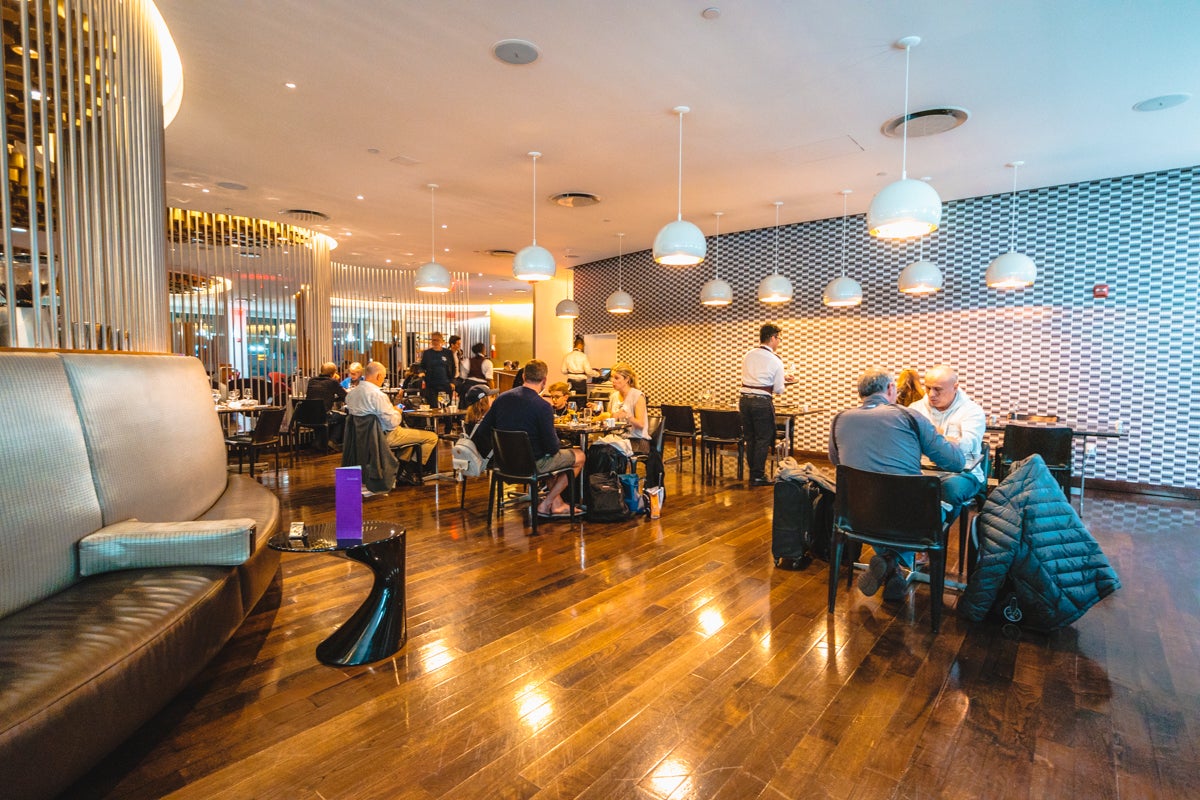 Next up was a Virgin Redhead (bubbly, berry liqueurs, Bombay Sapphire Gin, and fresh raspberries) whilst I decided on what to eat.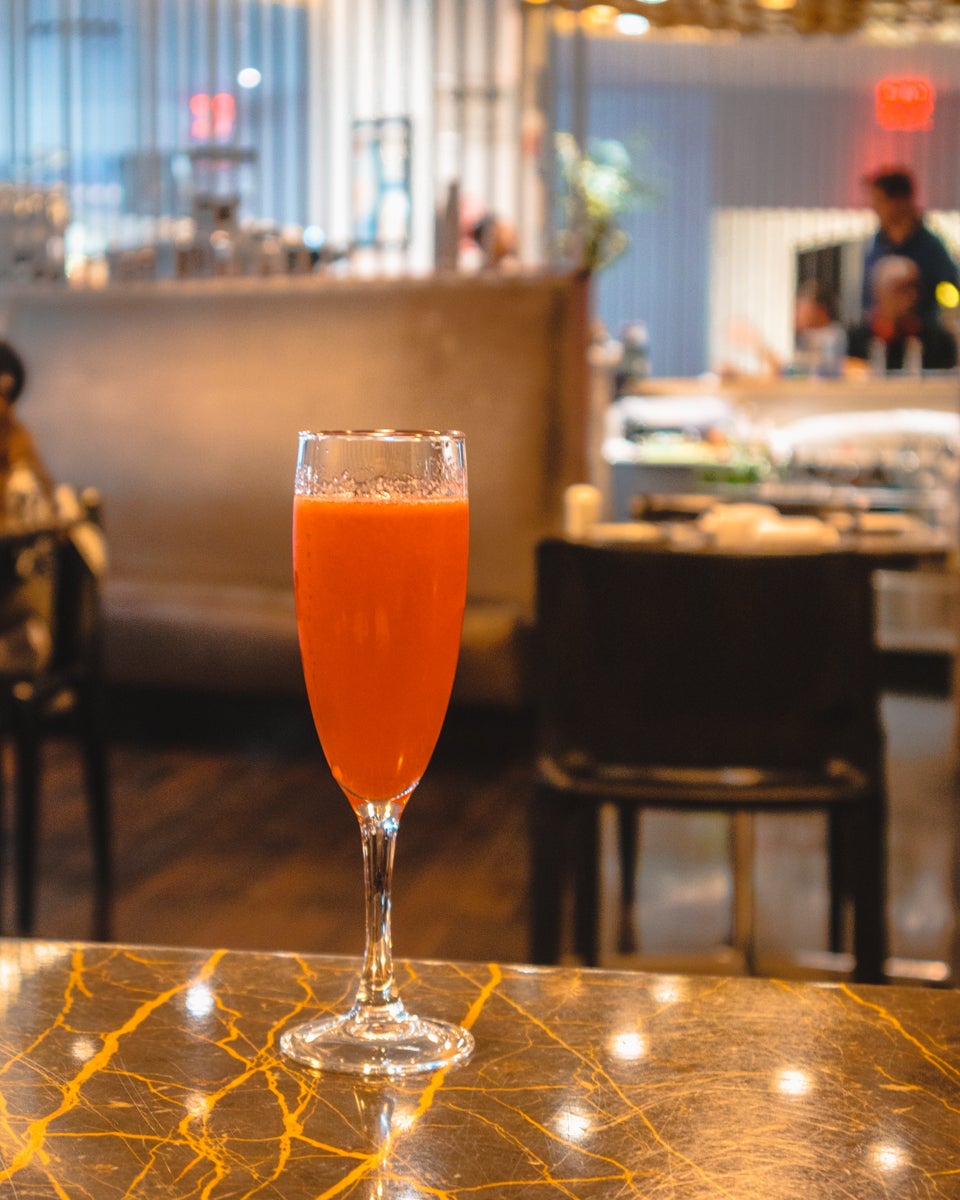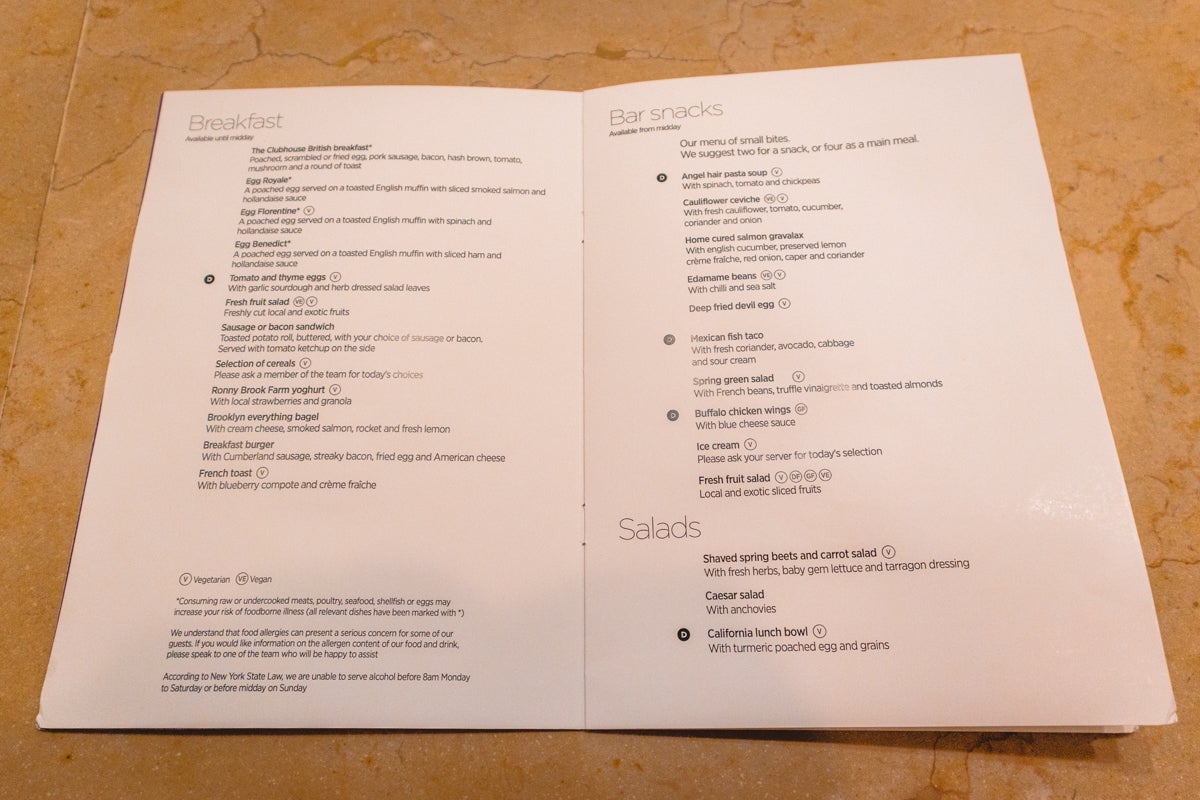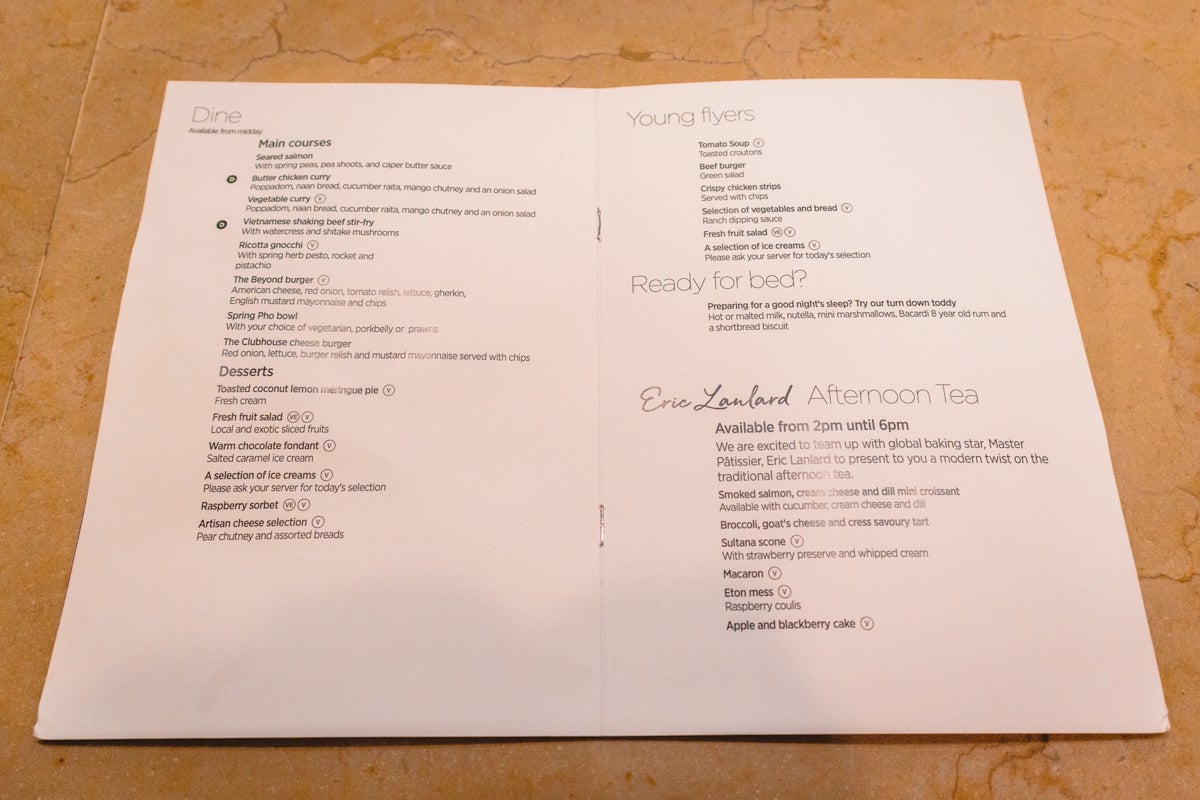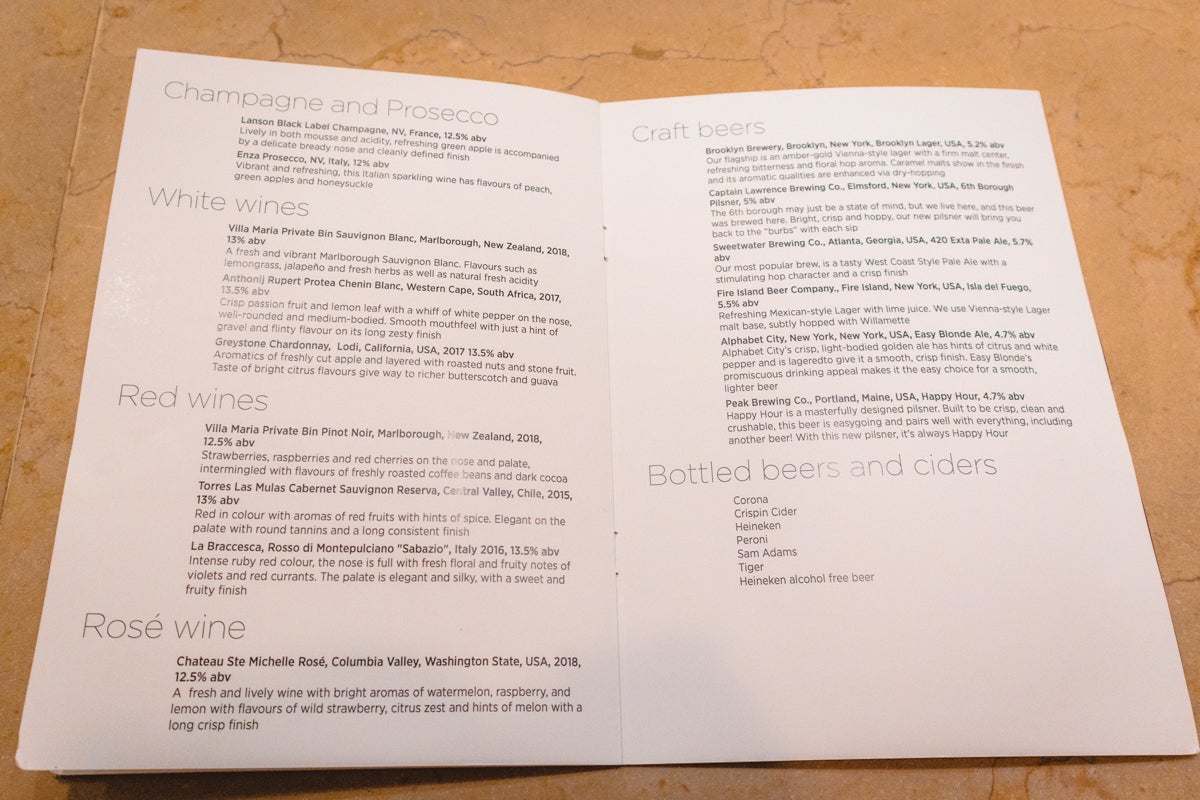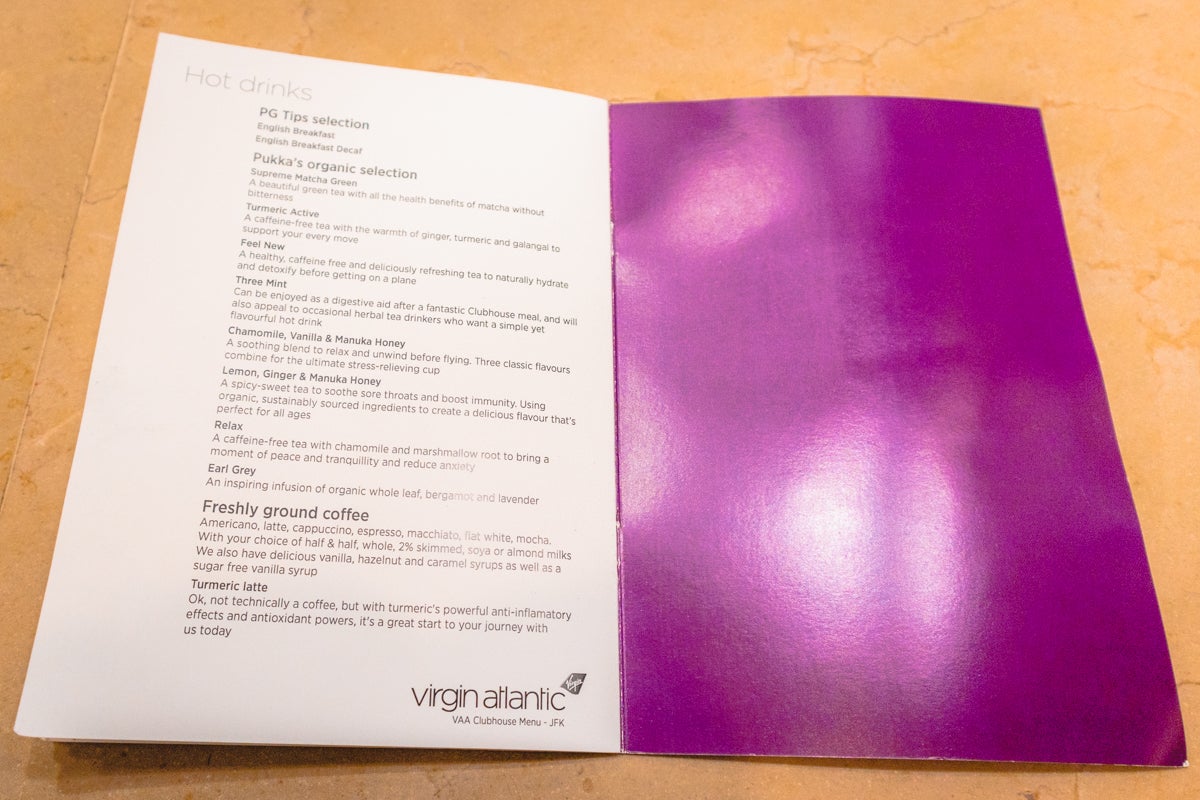 Everything sounded amazing, but I didn't want anything too heavy so I selected the salmon and it was divine. Perfect portion size and cooked to perfection.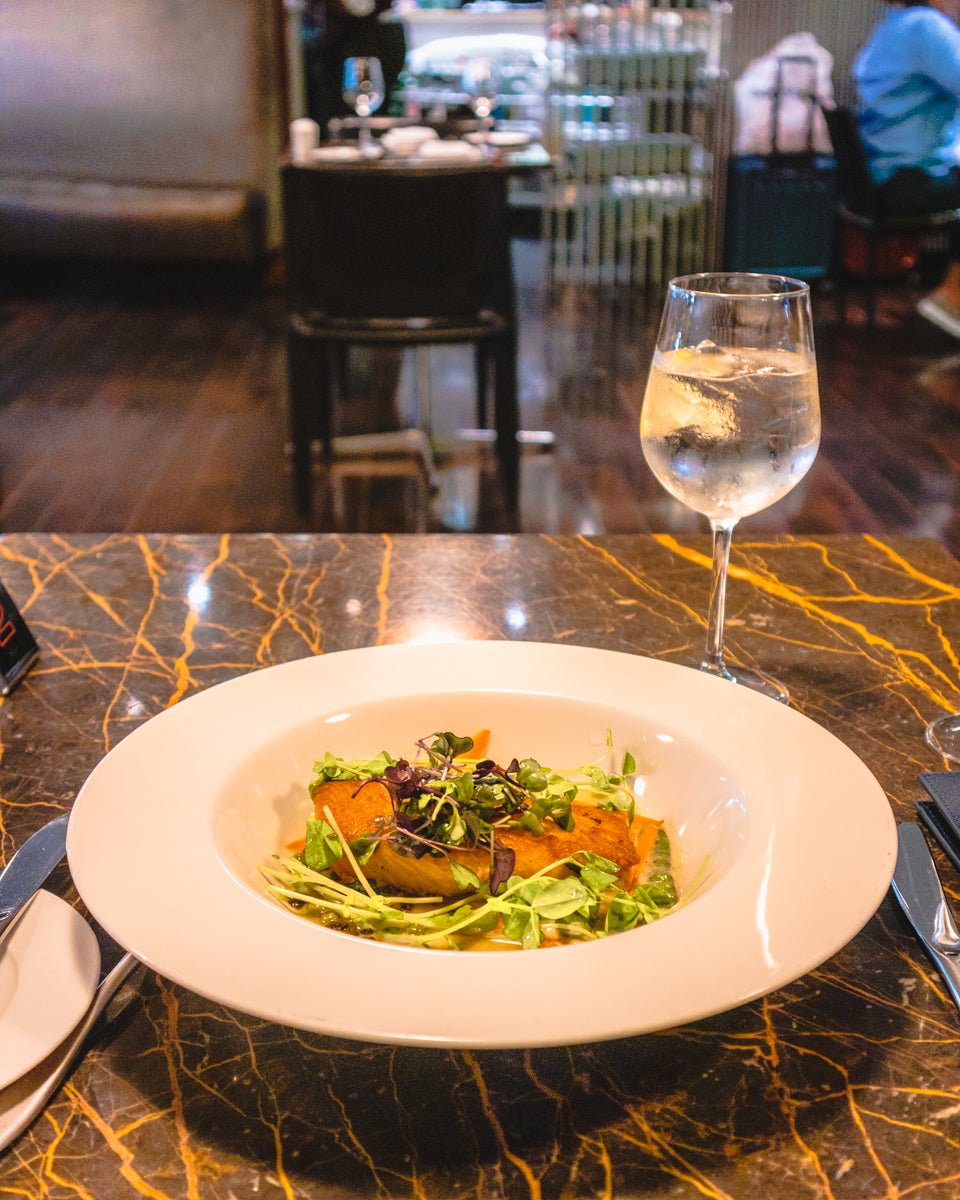 Then it was onto a Bramble (fresh blackberries, fresh lemon juice, Aviation Gin, and blackberry liqueur).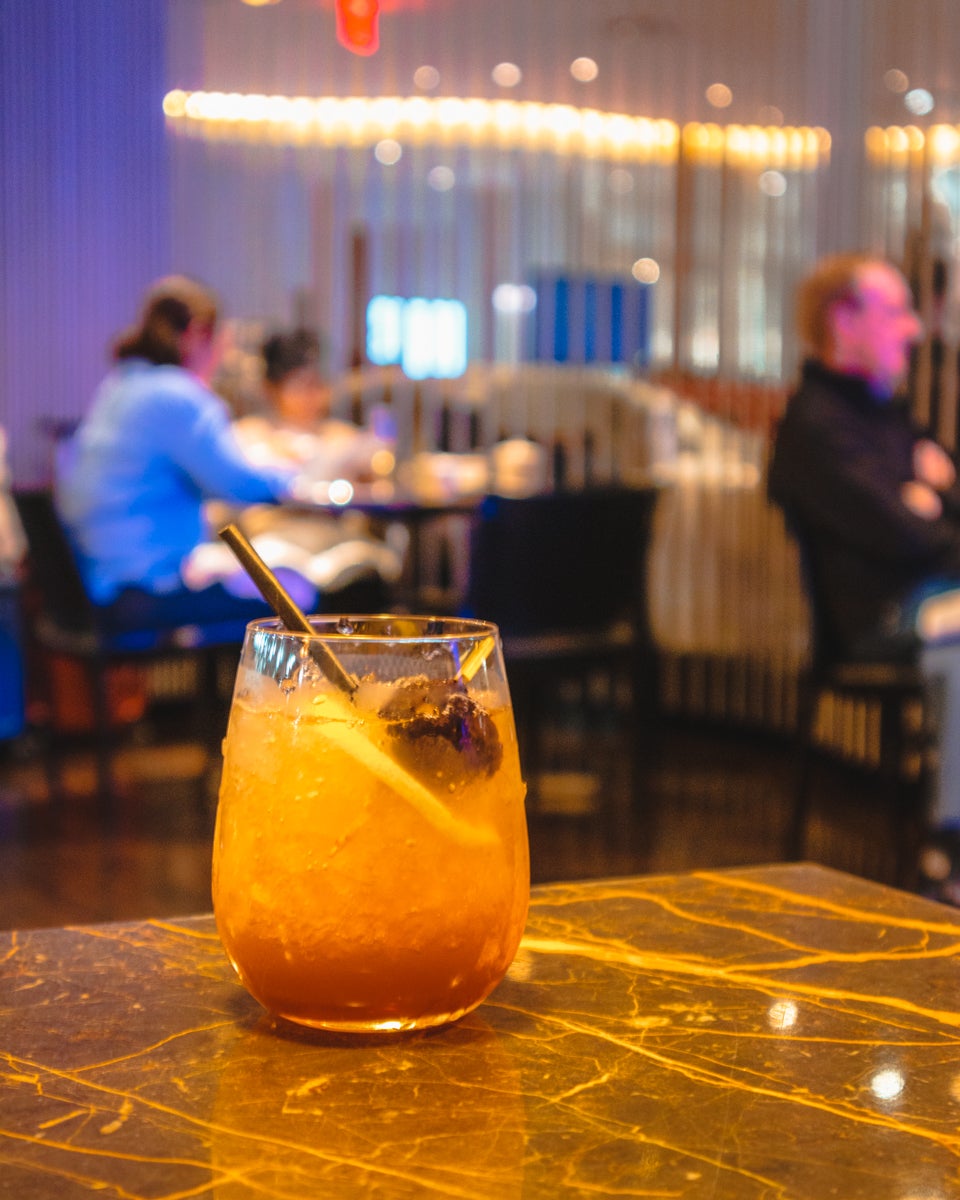 The "not too heavy" strategy went out the window for dessert when I selected the chocolate fondant.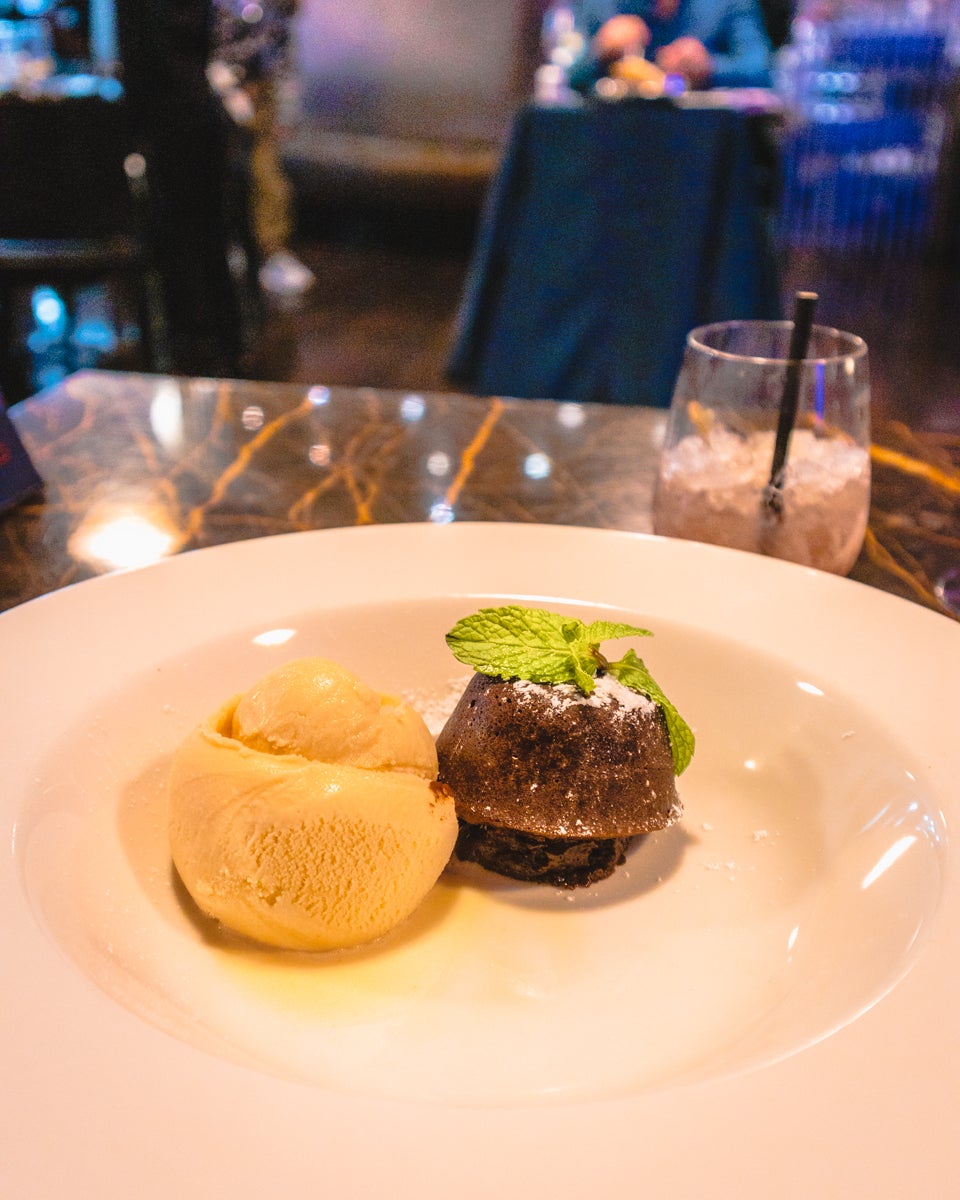 It was such a shame that it wasn't soft and gooey on the inside when I broke it open — it was overcooked.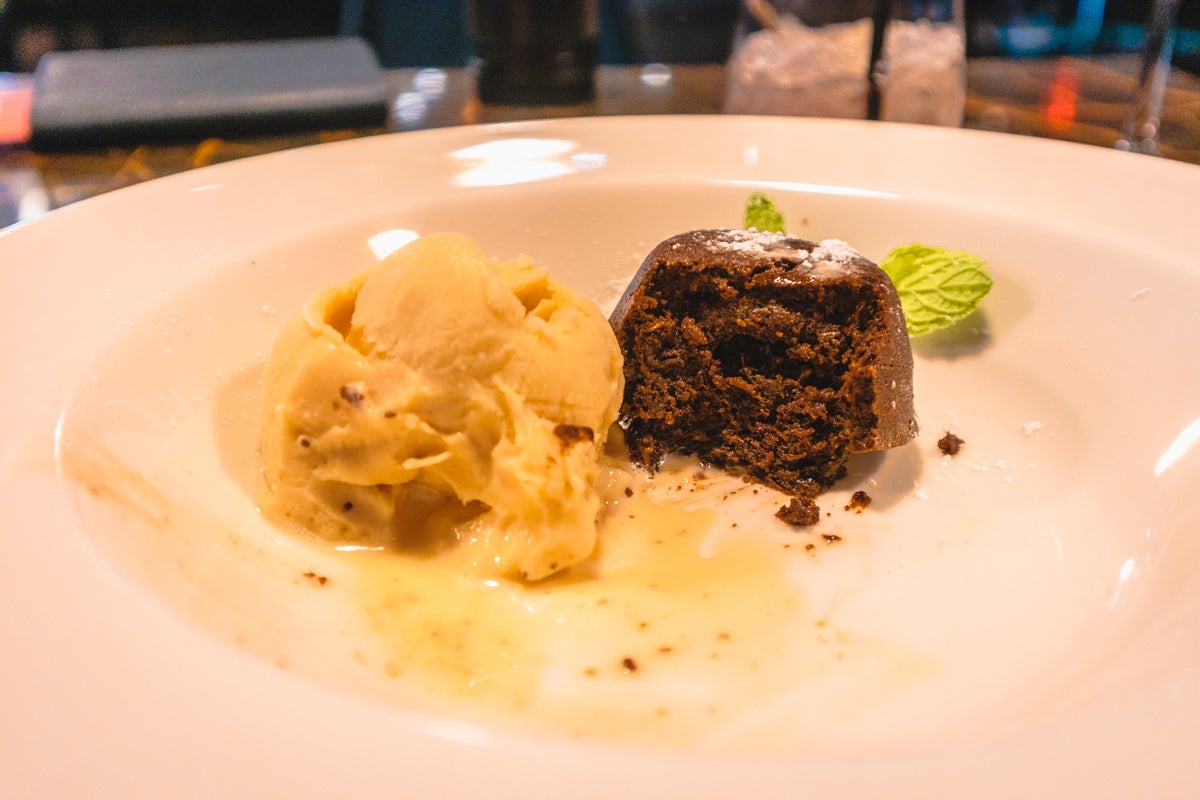 After my first dinner for this evening, I headed to a lounge.
Overall, the lounge has a New York '60s glam vibe, sort of Austin Powers-esque meets a funky night club or bar. The design uses lots of curves with splashes of Virgin's signature reds and purples with a huge variety of lounges to choose from.
The lounge uses vertical metal poles, wooden slats, hanging pendants, and ceiling-mounted gold cylinders to differentiate different zones.
Some are form-over-function odd egg-shaped.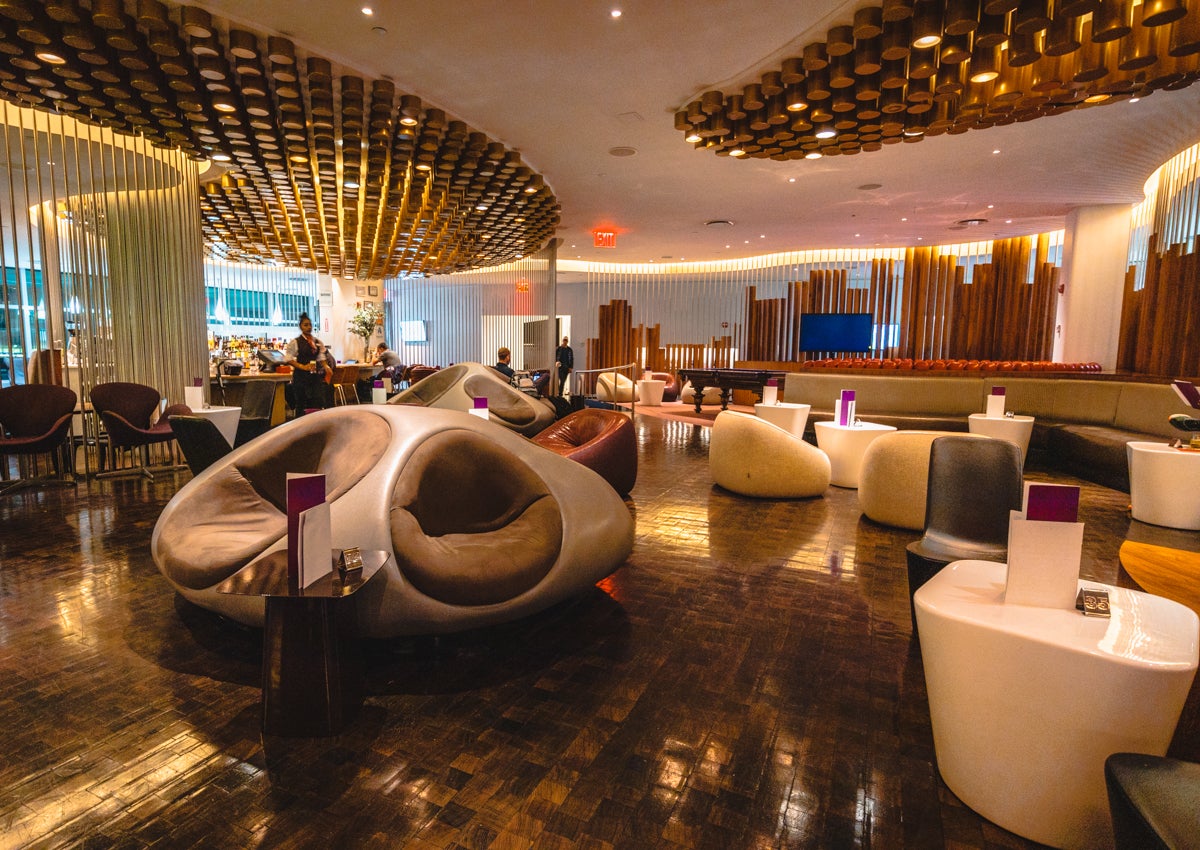 The centerpiece red semi-circular sofa.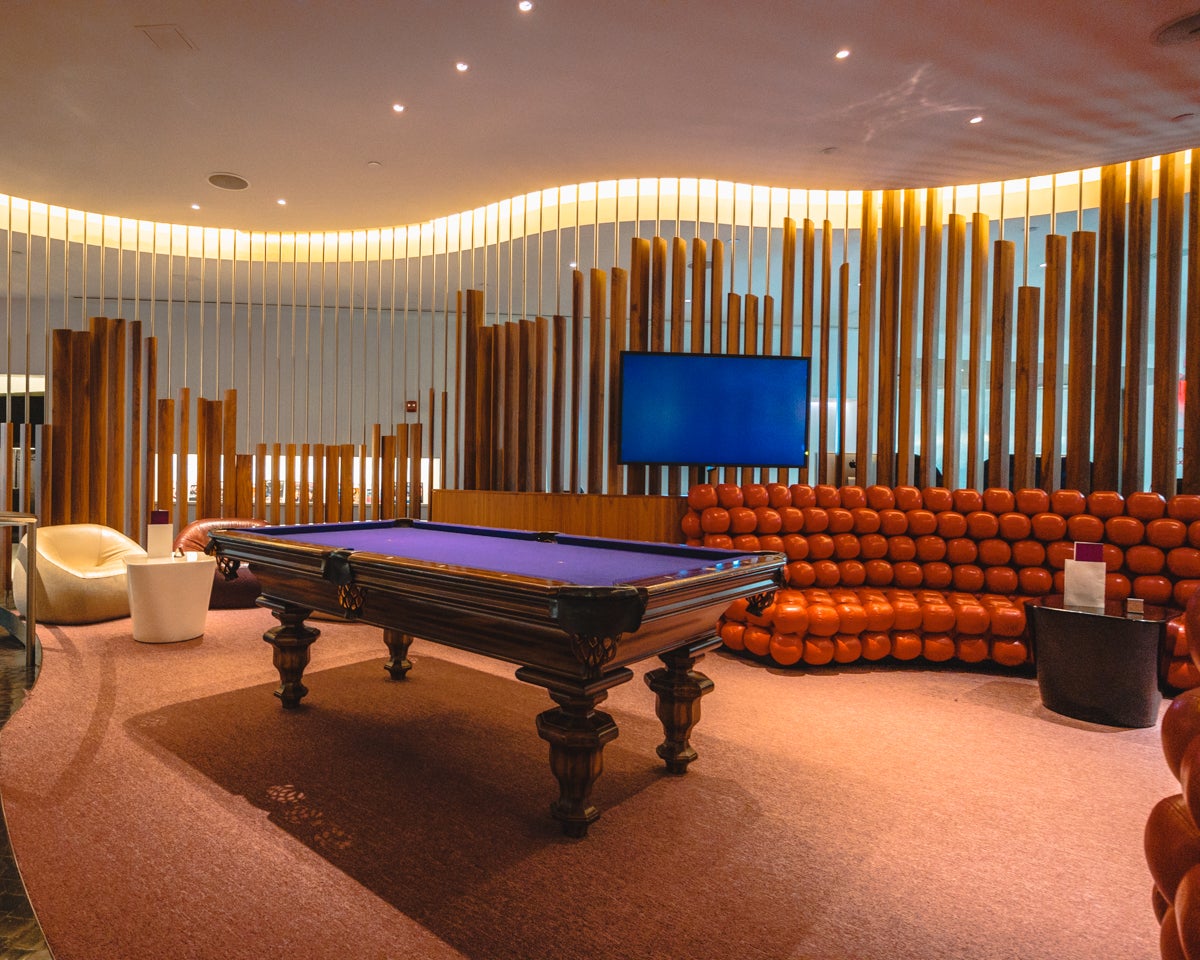 Eames chairs by the window.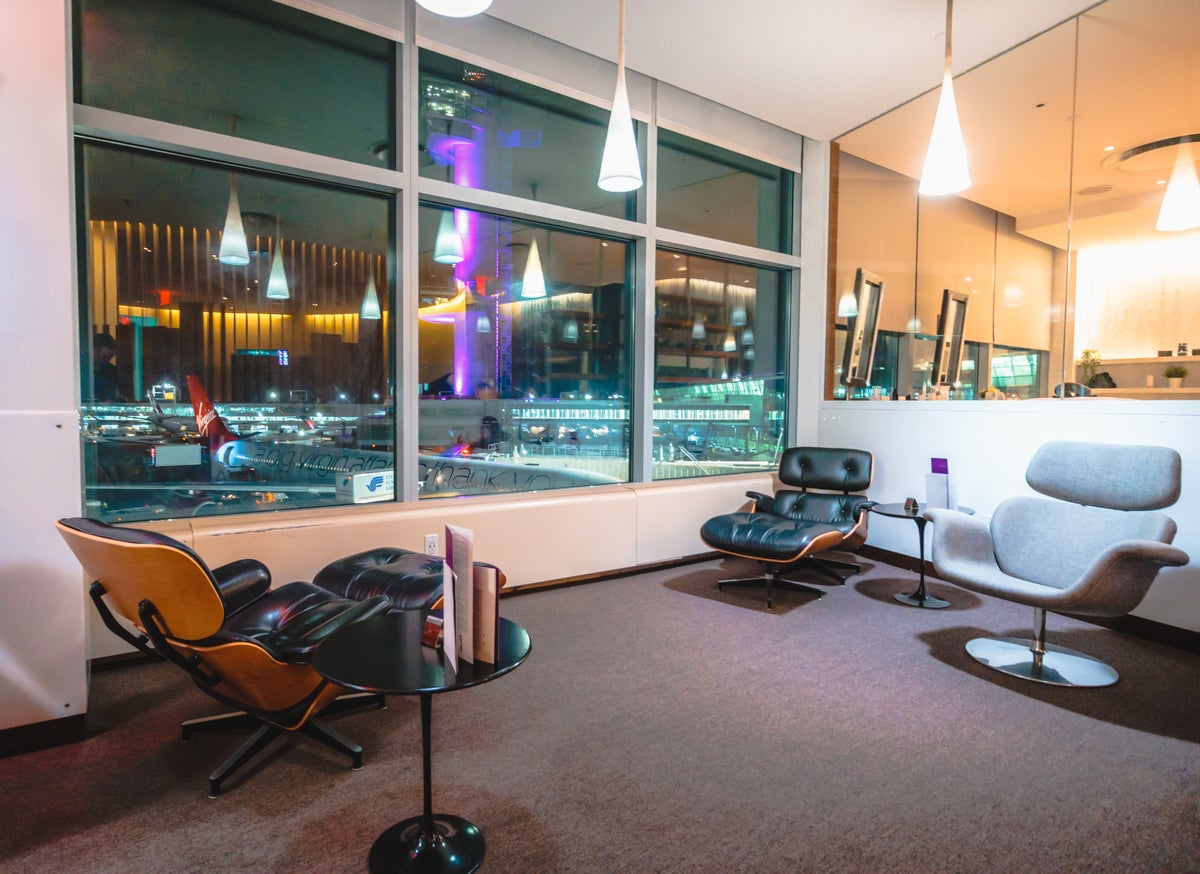 Privacy chairs.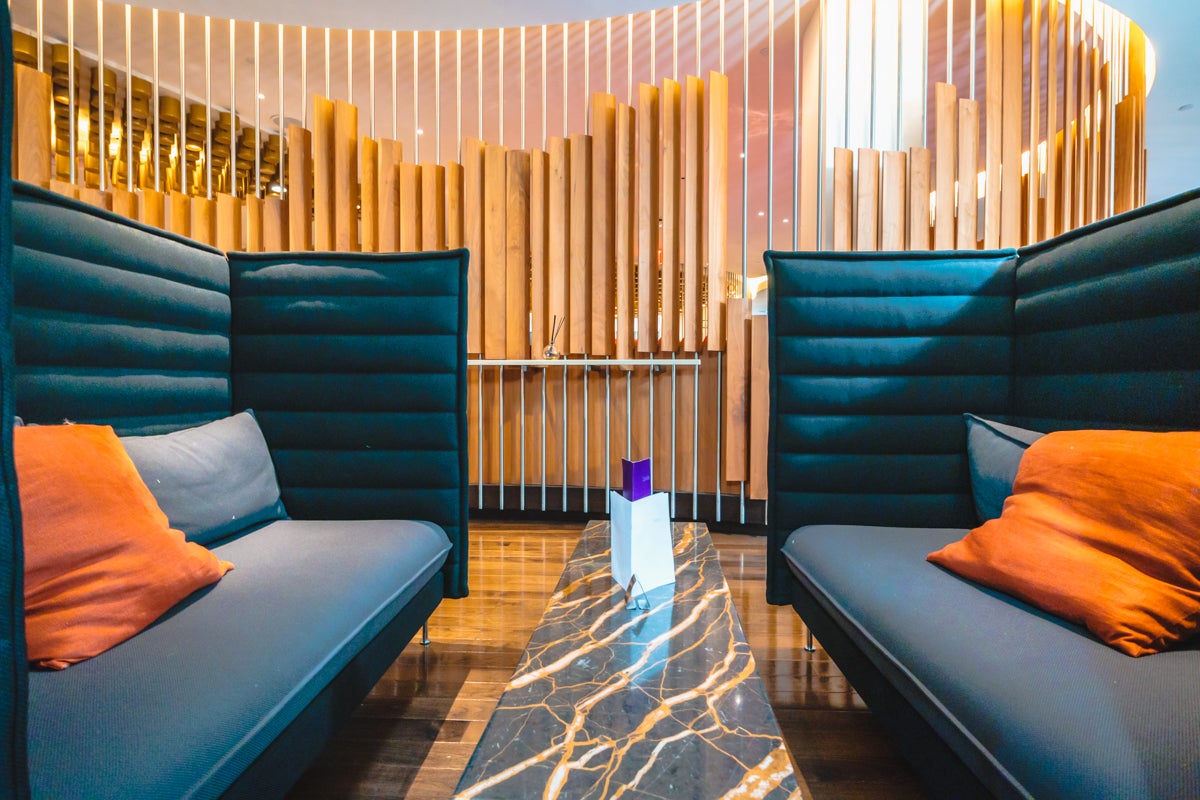 Or banquette seating.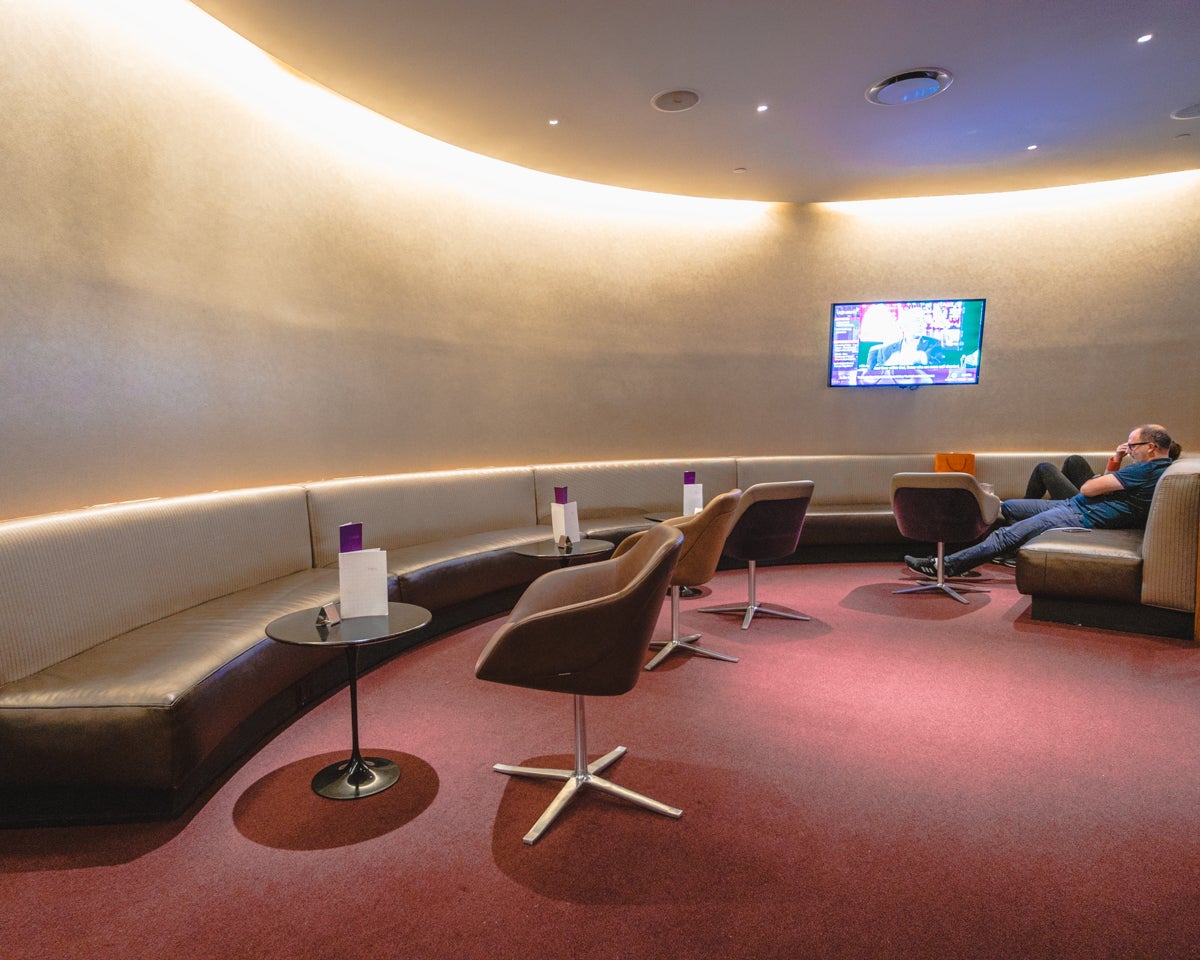 There is even a pool table.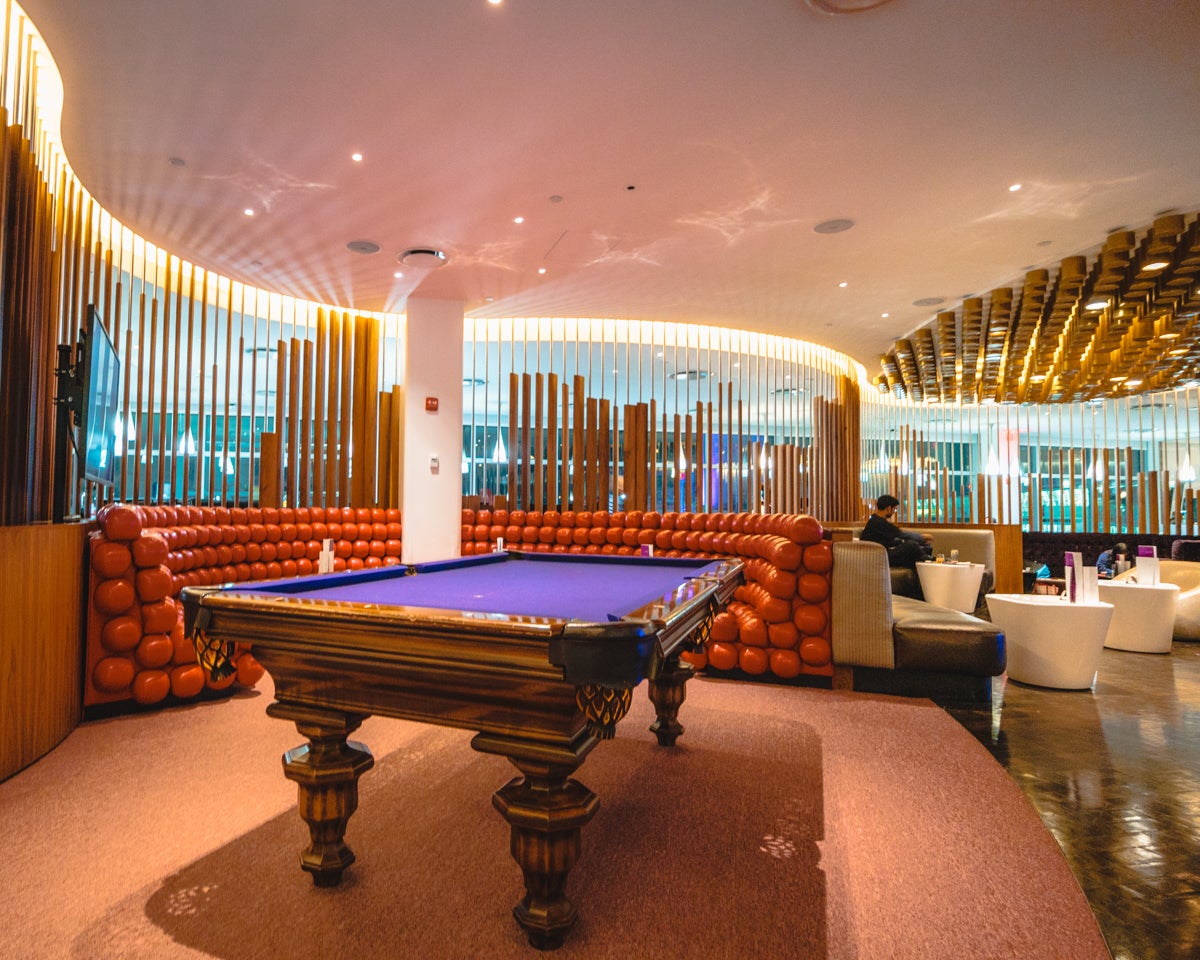 If you really must work, you can use one of the Apple Macs or connect to the lounge Wi-Fi which clocked mediocre speeds.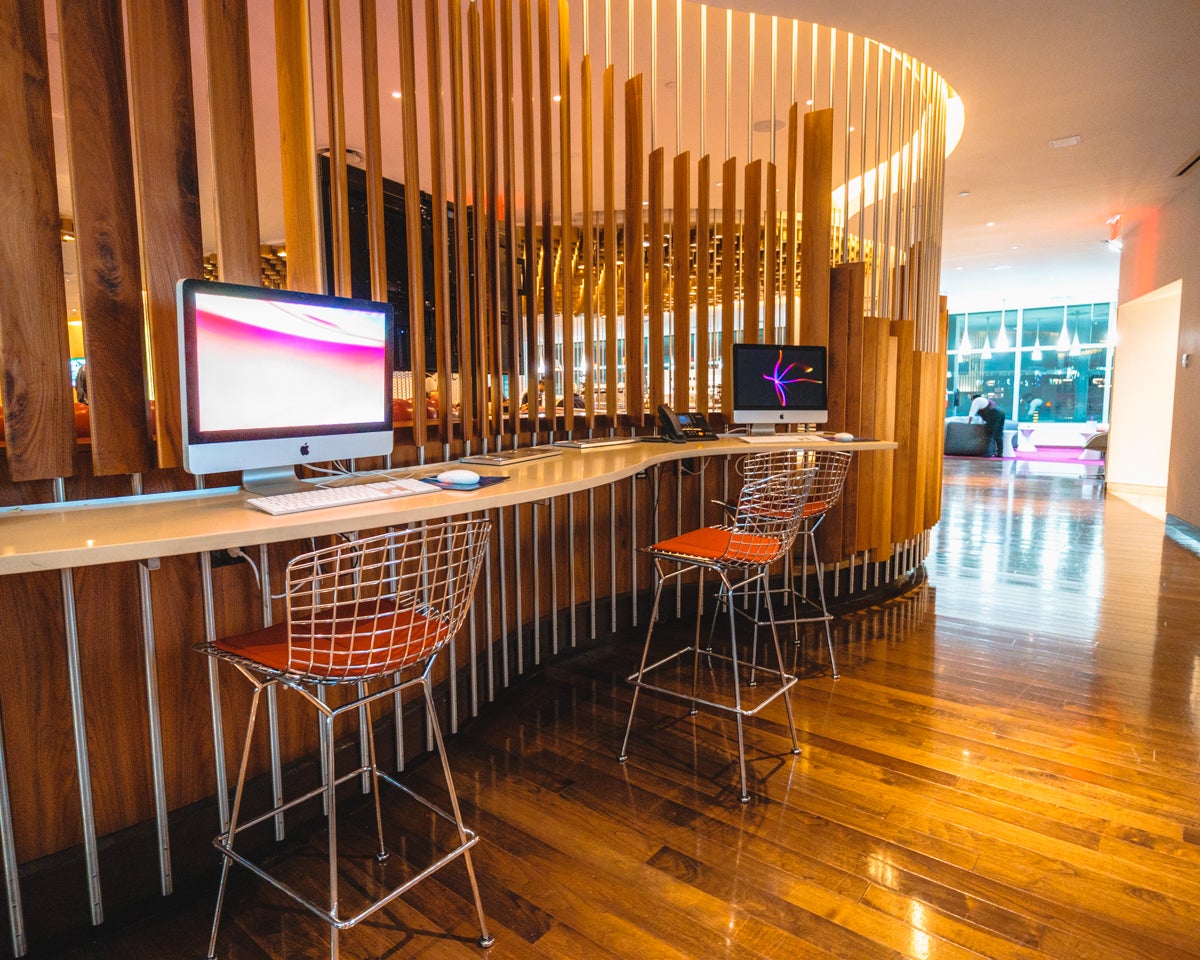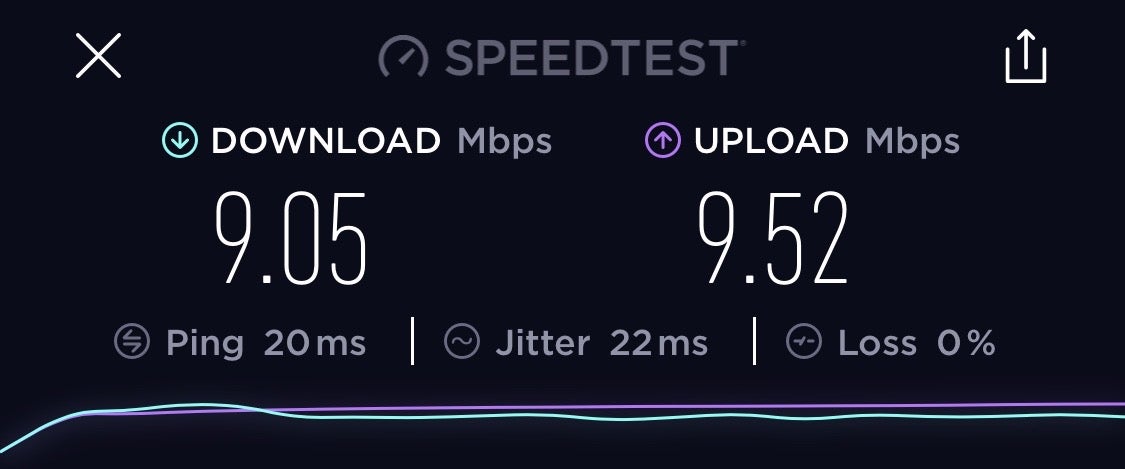 Read a paper.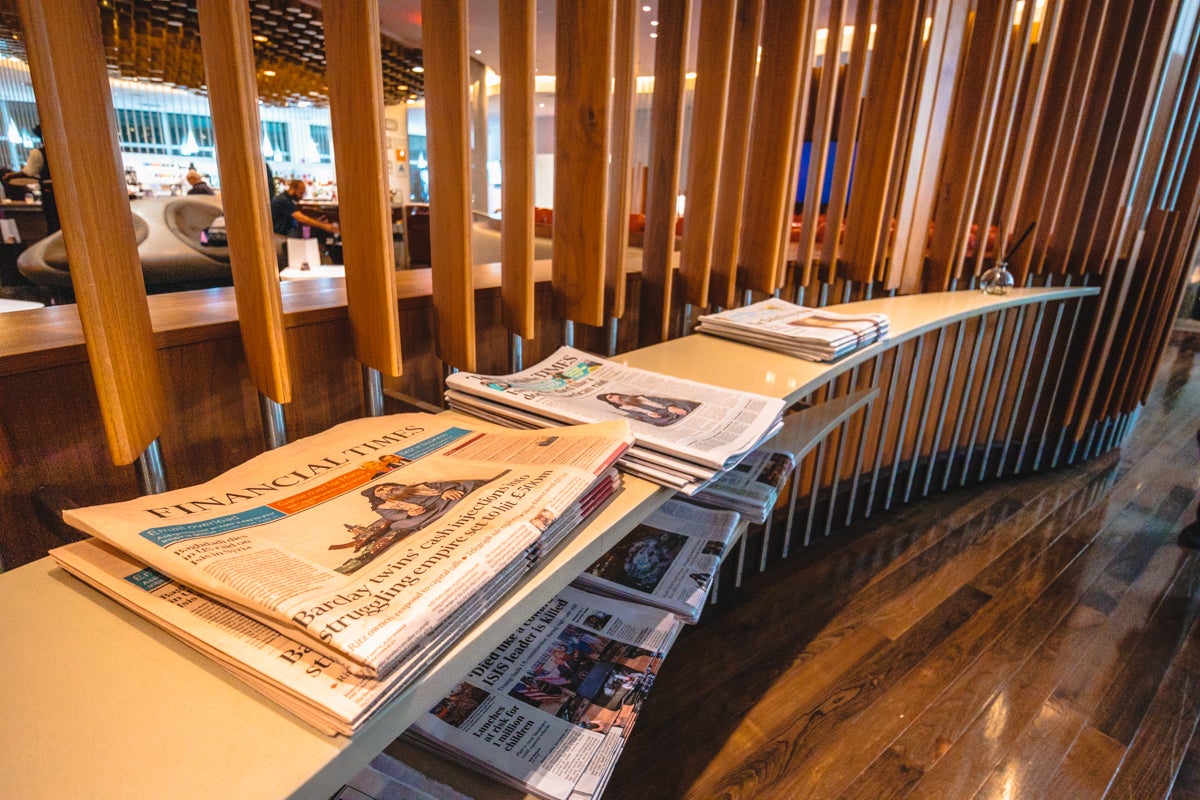 Or grab a magazine.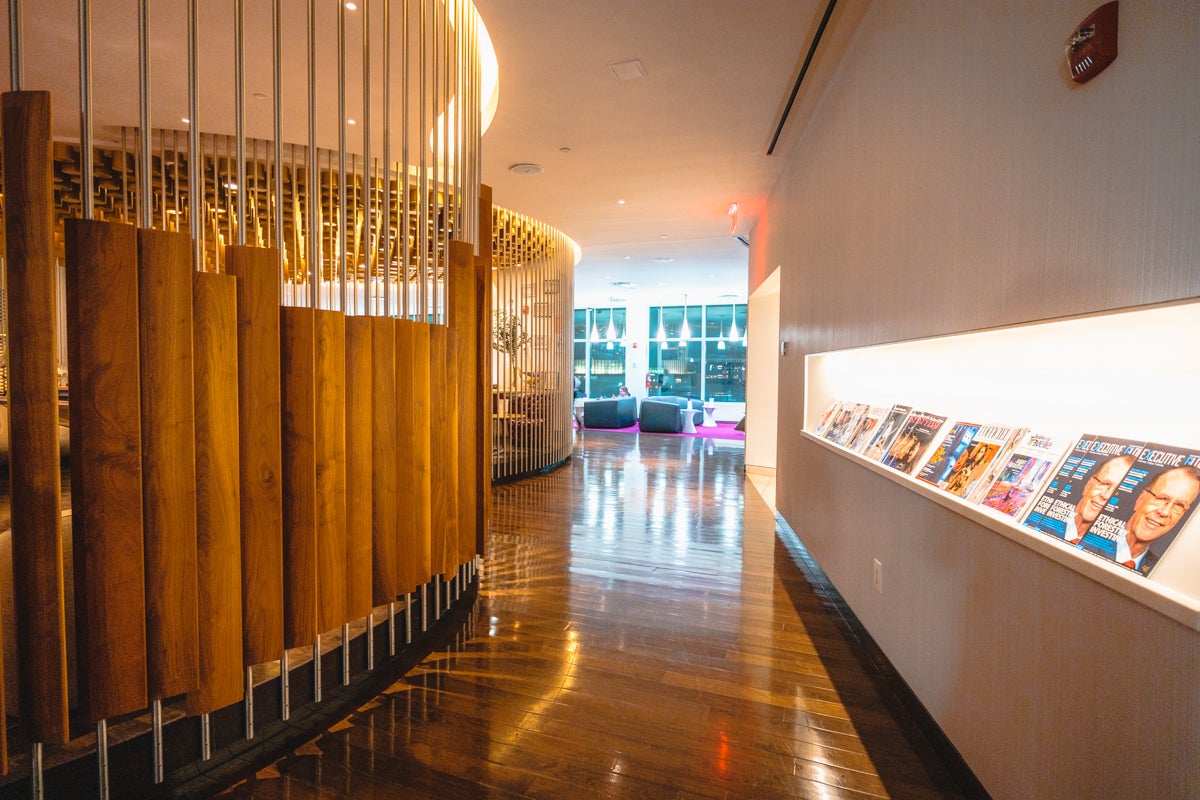 Shower suites are available.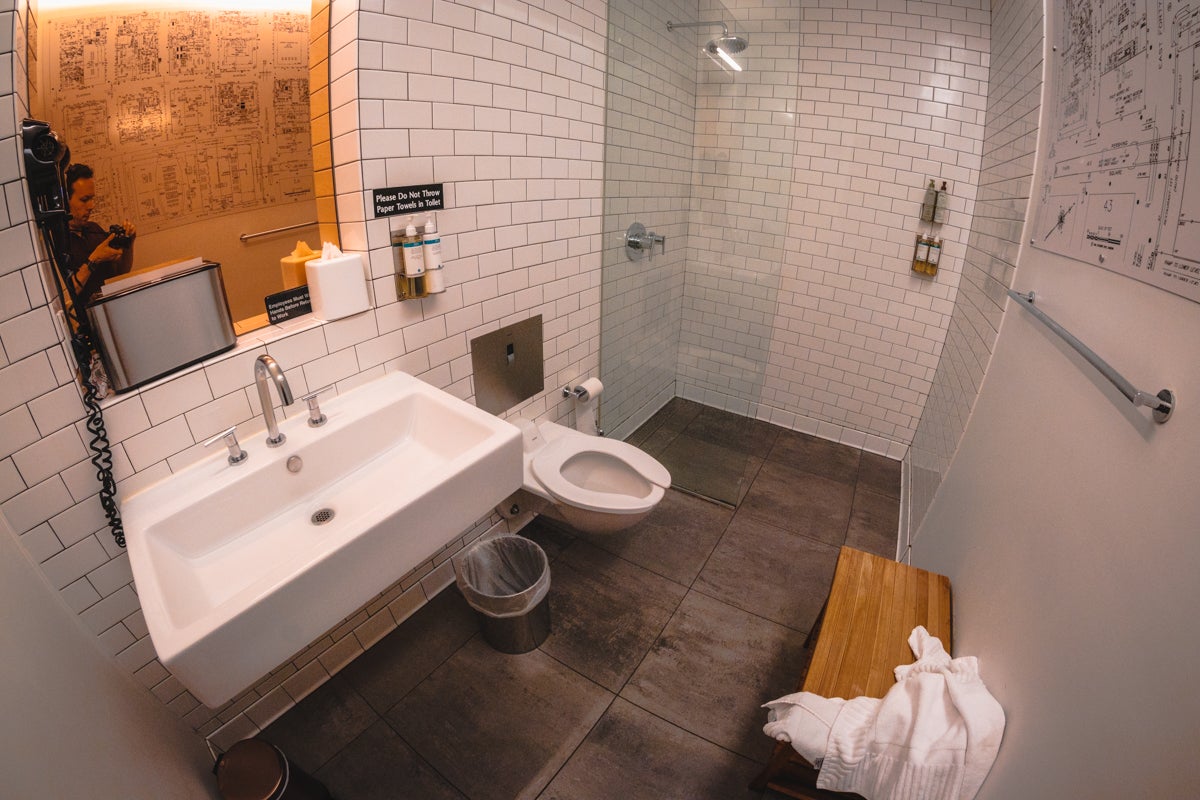 After a brief moment to relax, it was time for my facial at the spa. It was a brilliant way to hydrate my face before the flight.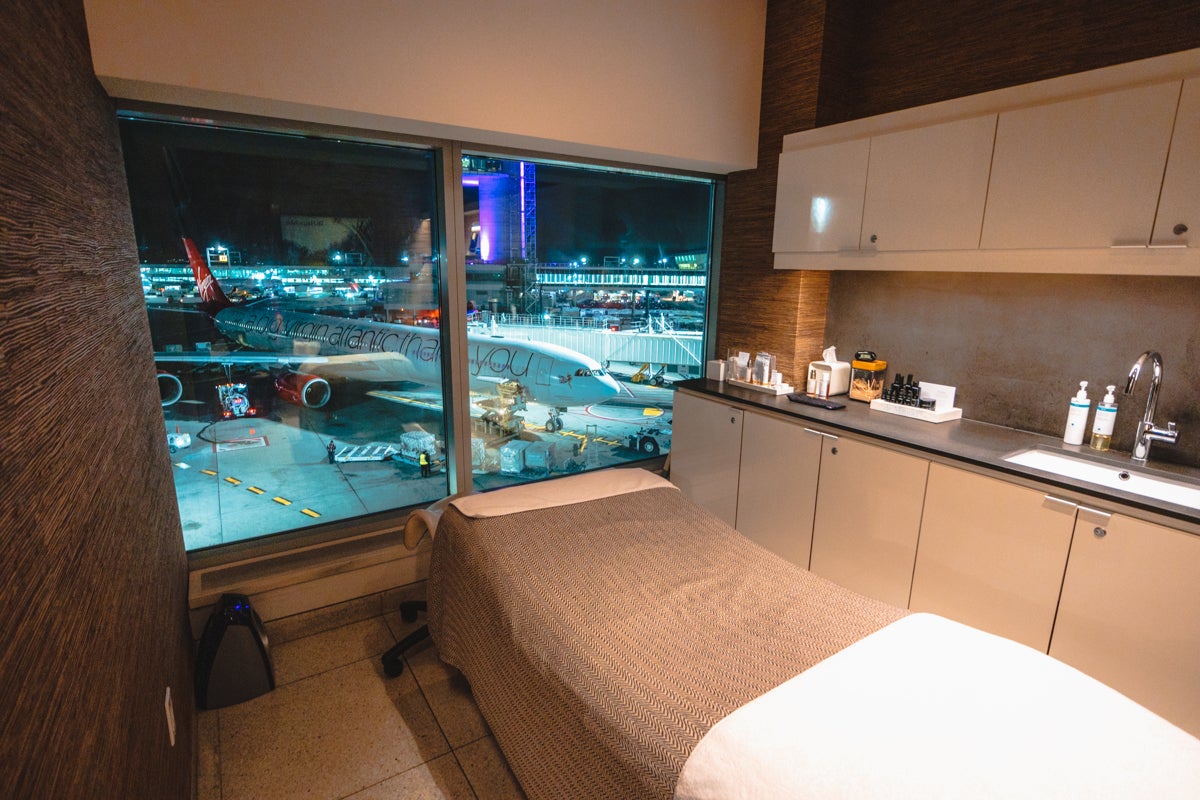 I headed back to sit by the window and enjoy a final beverage before my flight where I saw my ride, Red Velvet (G-VLUX), being towed to the gate alongside the second delivered A350, Mamma Mia (G-VPOP).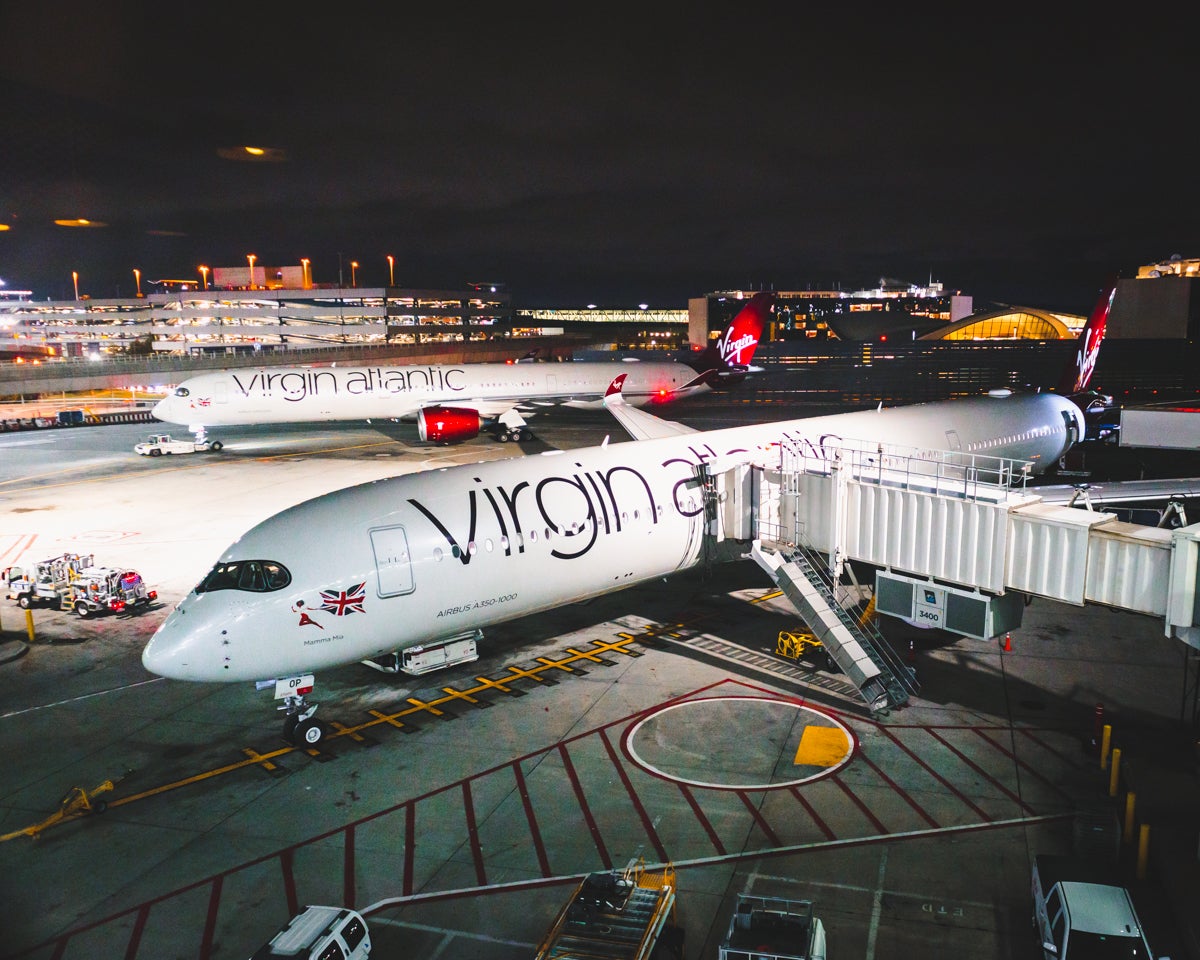 Virgin Atlantic Clubhouse at JFK is fabulous and is one of the best business class lounges I have visited. It's not as big as the Clubhouse at London Heathrow, but it never felt crowded during the evening. For the dining experience, beverage selection, attentive service, and being able to enjoy a complimentary spa treatment, it's one of the best places to spend time before a business class flight.
Flight
Aircraft
VS138 is operated by a new Airbus A350-100 which began service in October 2019.
Virgin Atlantic has taken delivery of 4 of the aircraft type with 8 remaining on order.
The aircraft is configured with 44 business class seats in a 1-2-1 configuration between door 1 and door 2.
Premium economy has 56 seats in a 2-4-2 configuration behind door 2. Economy occupies the rest of the aircraft in 3-3-3 configuration with 235 seats split across 2 cabins.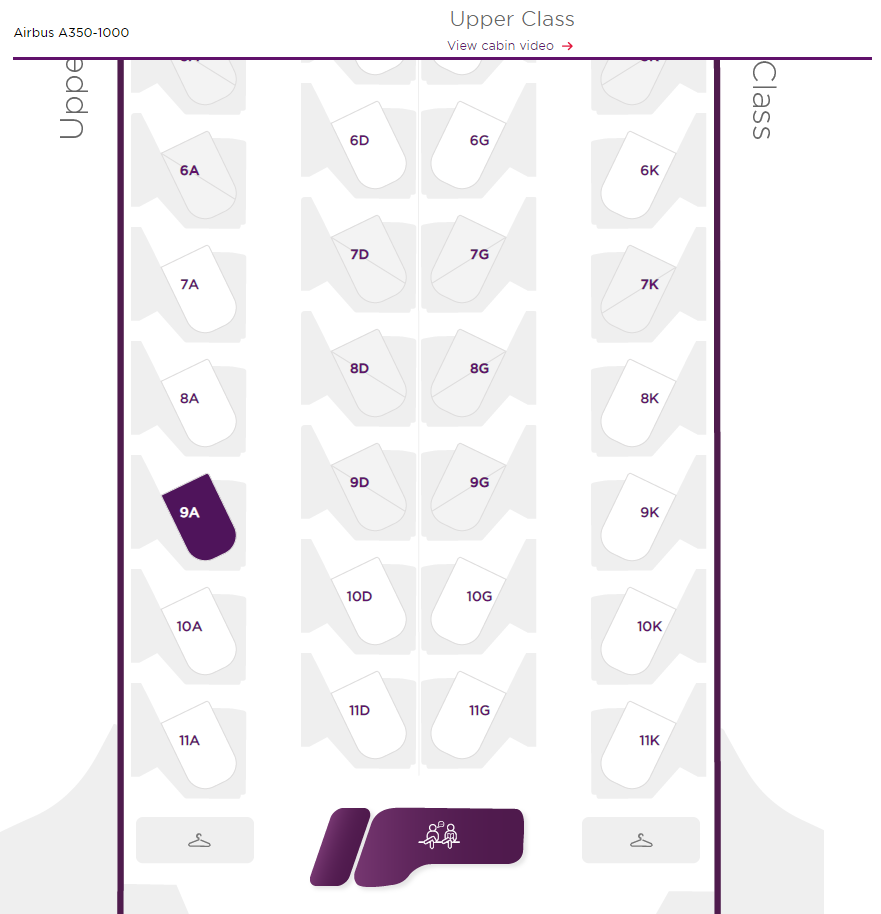 Business Class
Stepping on board, I was instantly impressed by the design of the new Upper Class cabin.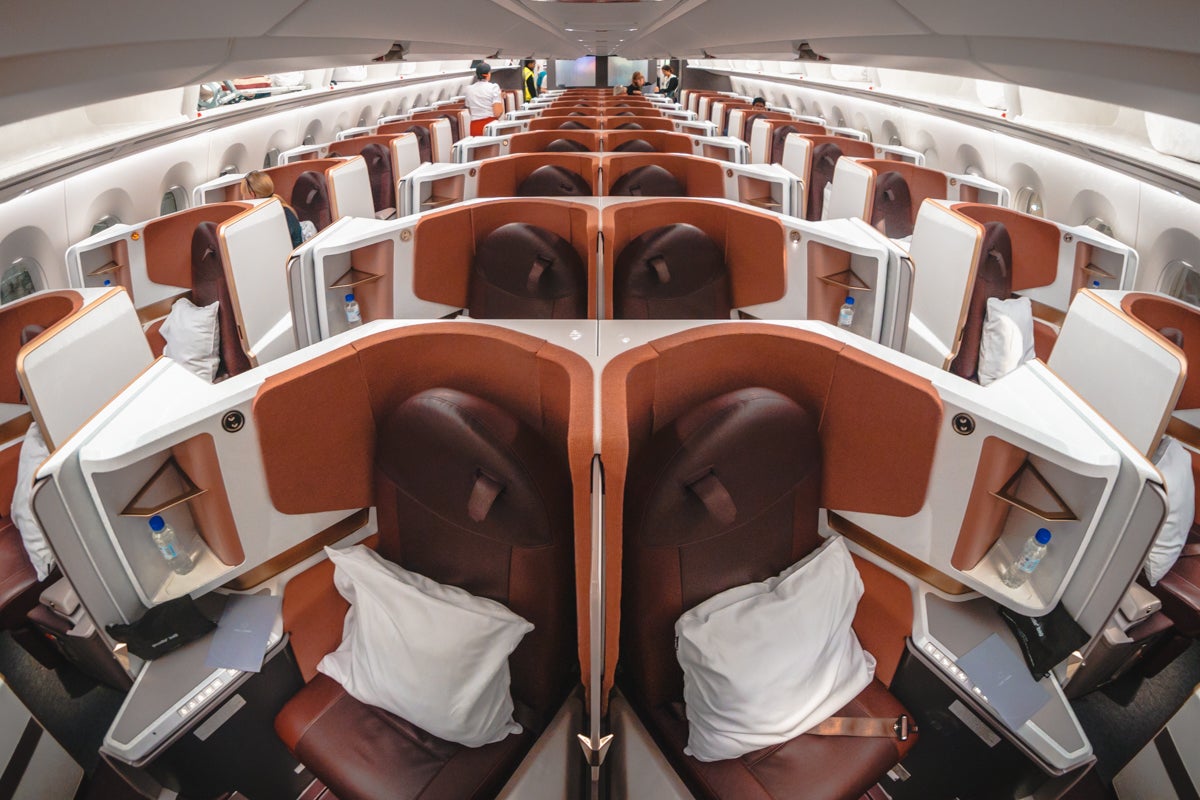 Instantly recognizable as a funky Virgin cabin, the white thermoplastics contrast perfectly against the chocolate leather seats, burnt orange seat-surrounds, and gold accents.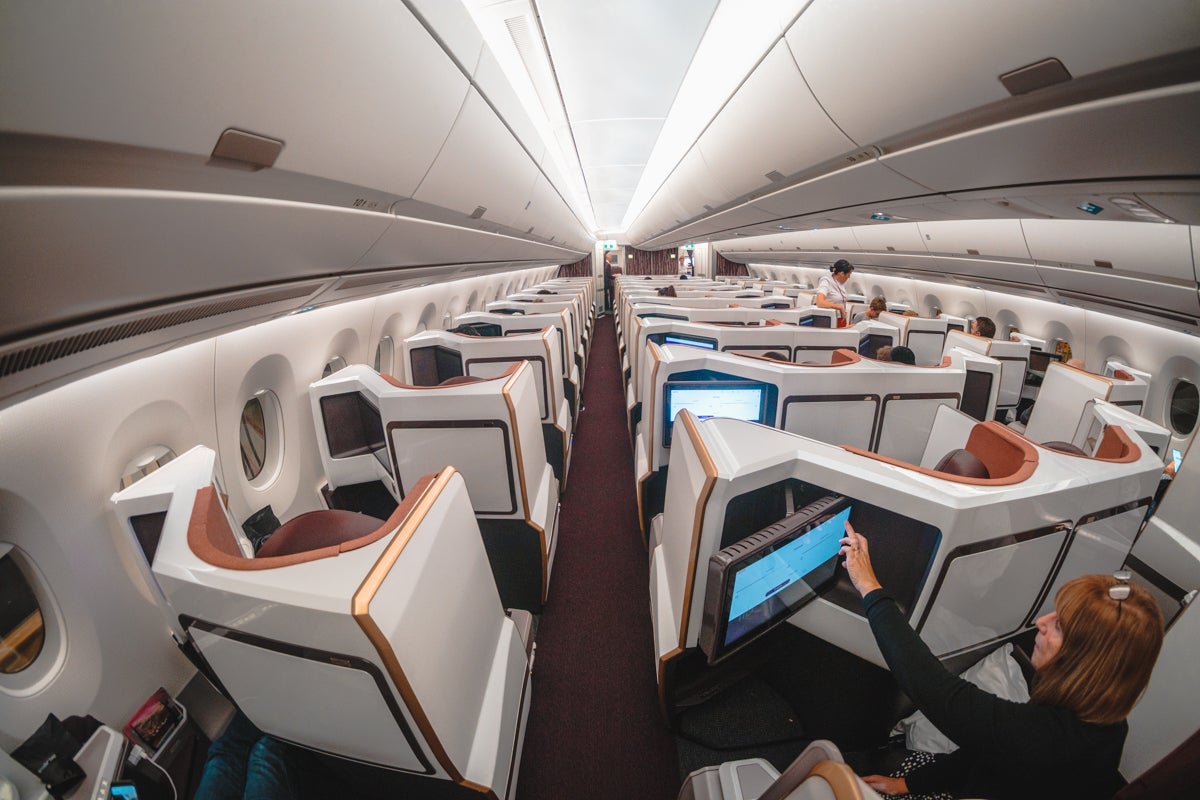 Virgin Atlantic selected the Safran Cirrus NG as the base seat which is herringbone by design, meaning window seats angle towards the window and middle seats angle towards the aisle.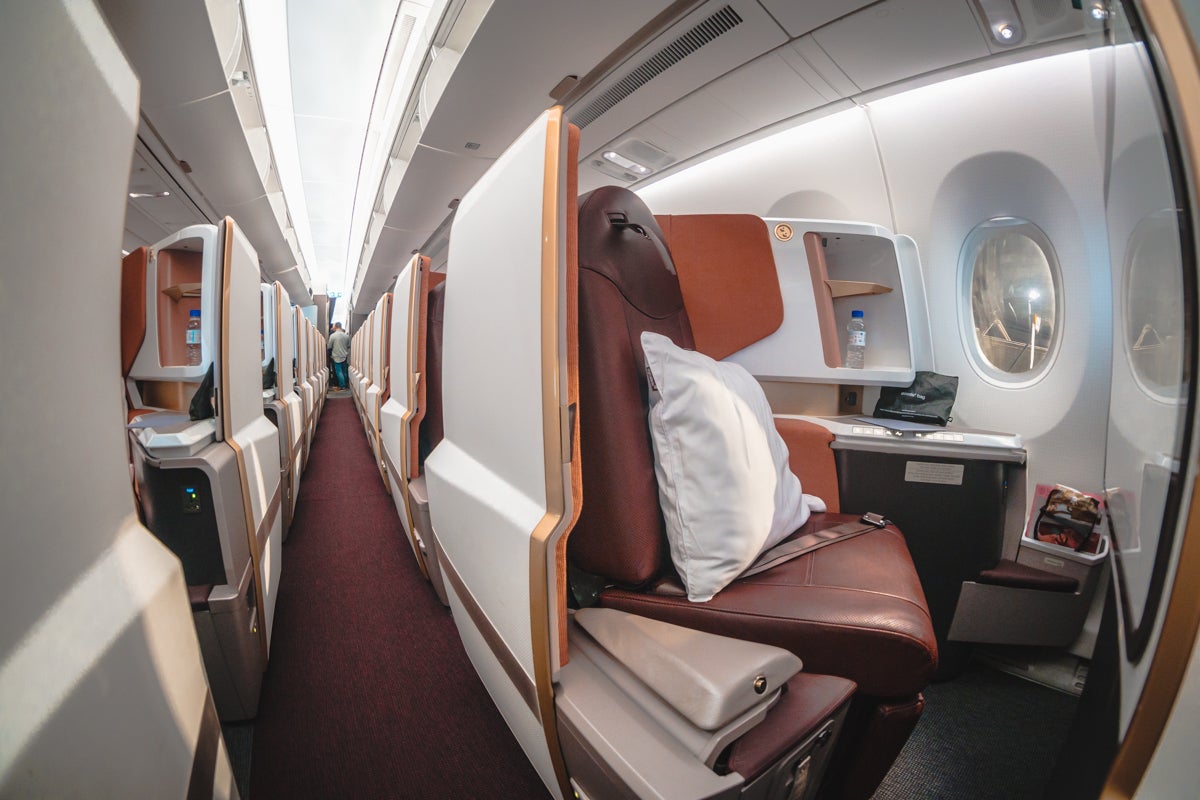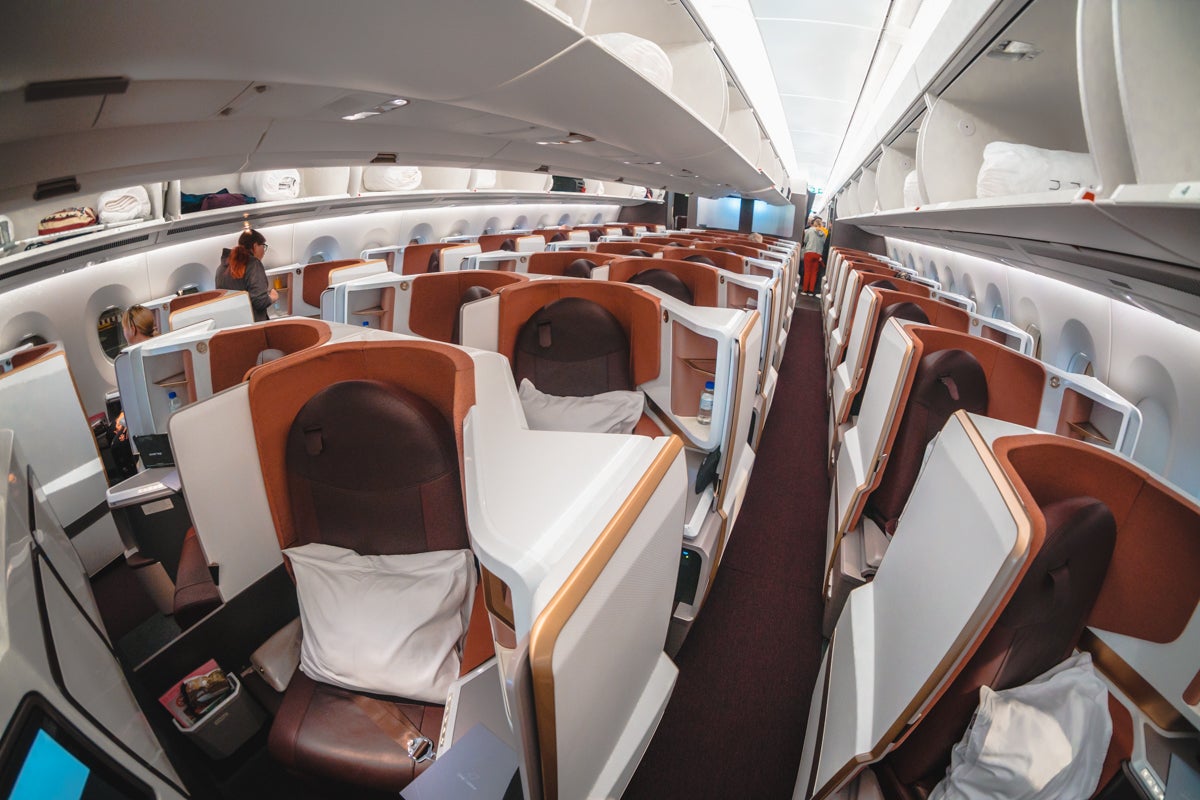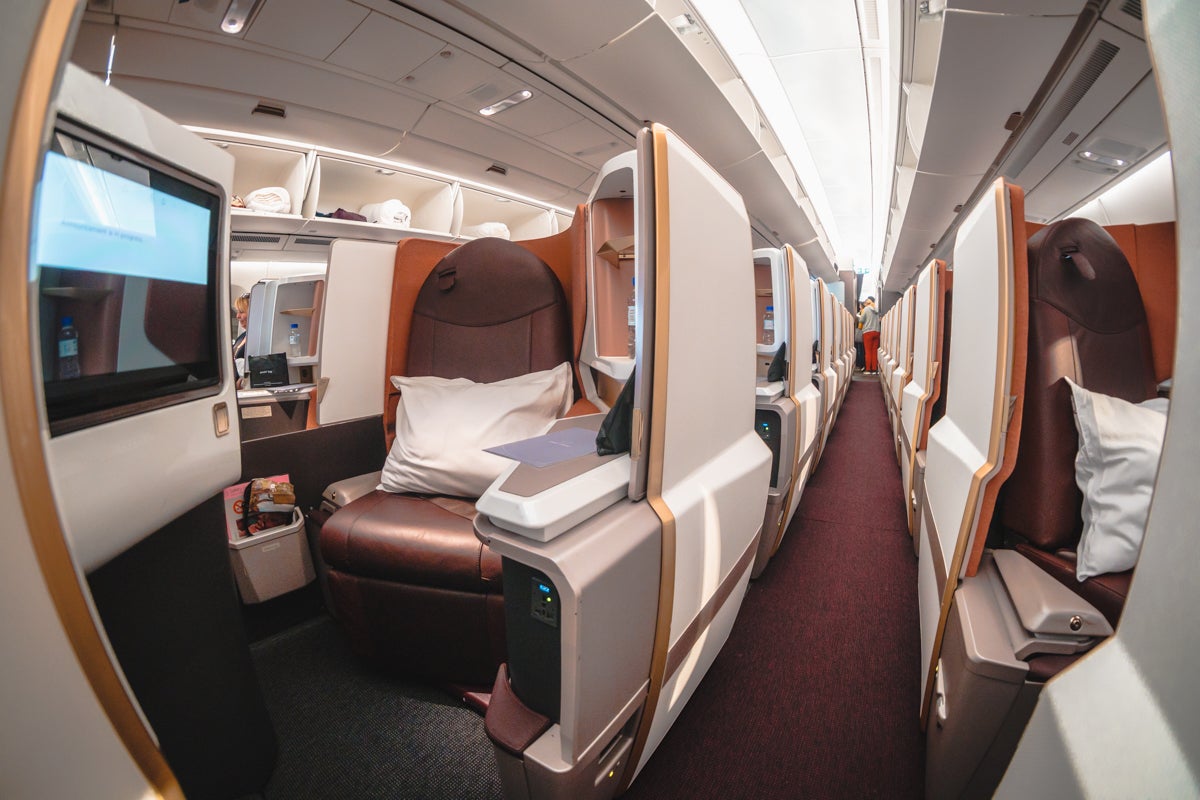 This is different from most other herringbone configurations which have the middle seats closer to the aisle and facing towards the middle. This design means middle passengers have their heads closer together, meaning it's easier to lean around the seat shell to talk instead of when the seats are further apart.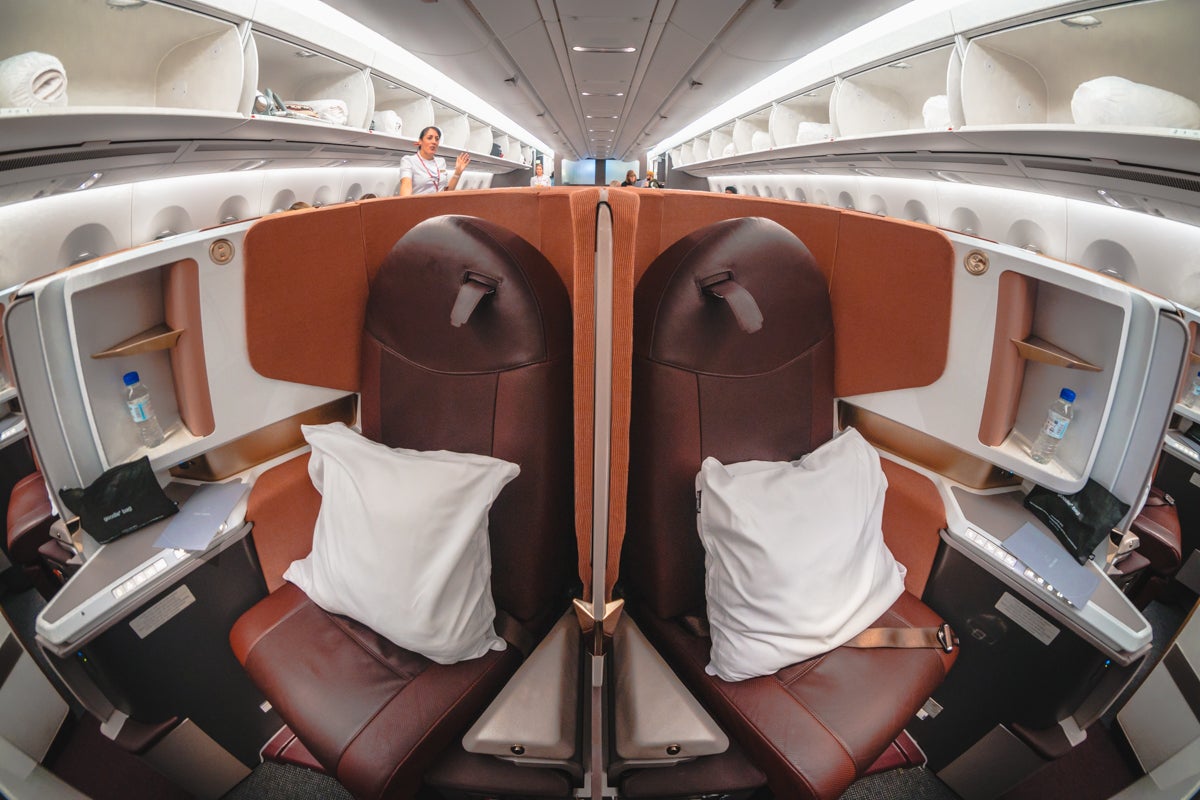 I loved that the seat isn't overloaded with linen, which is stored in the overhead bins instead.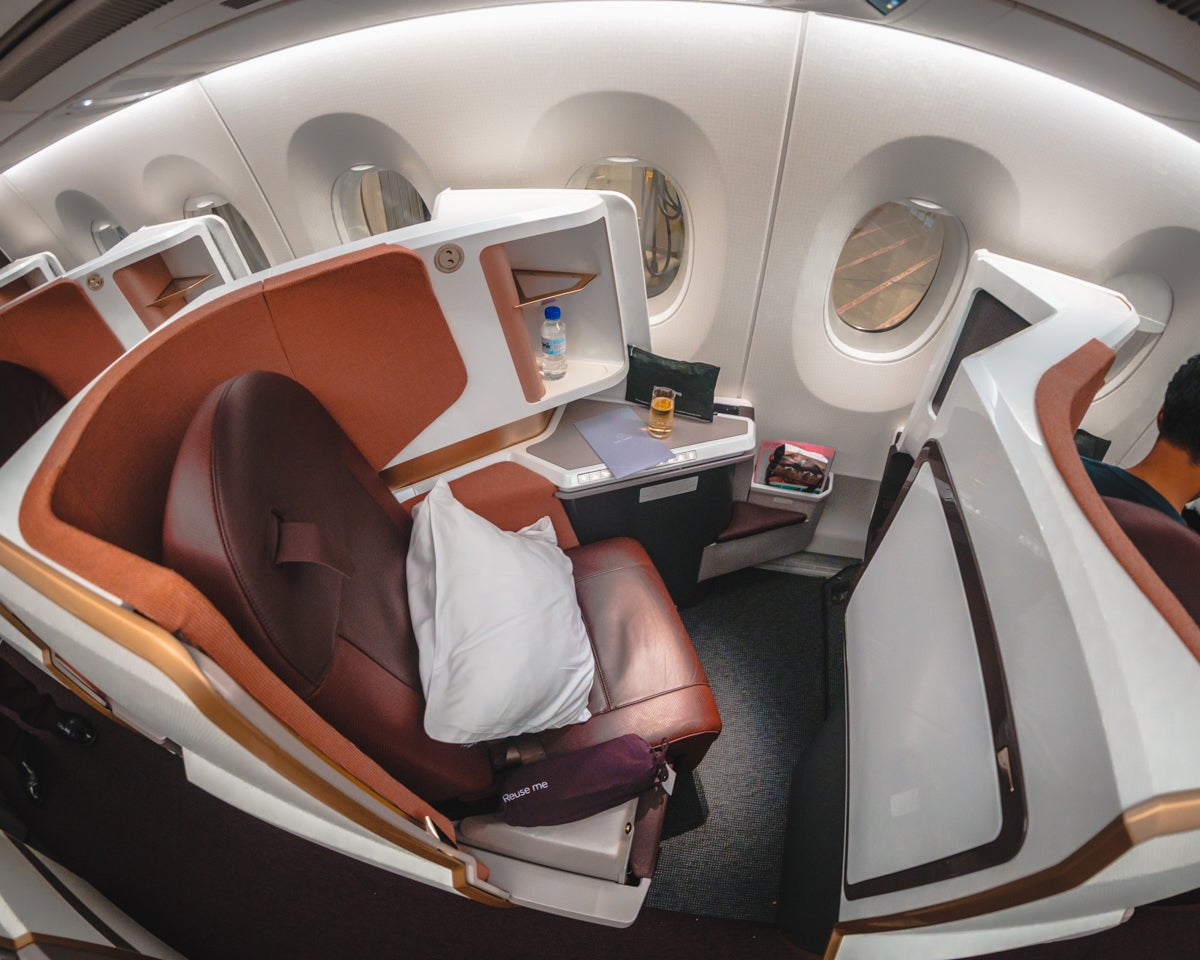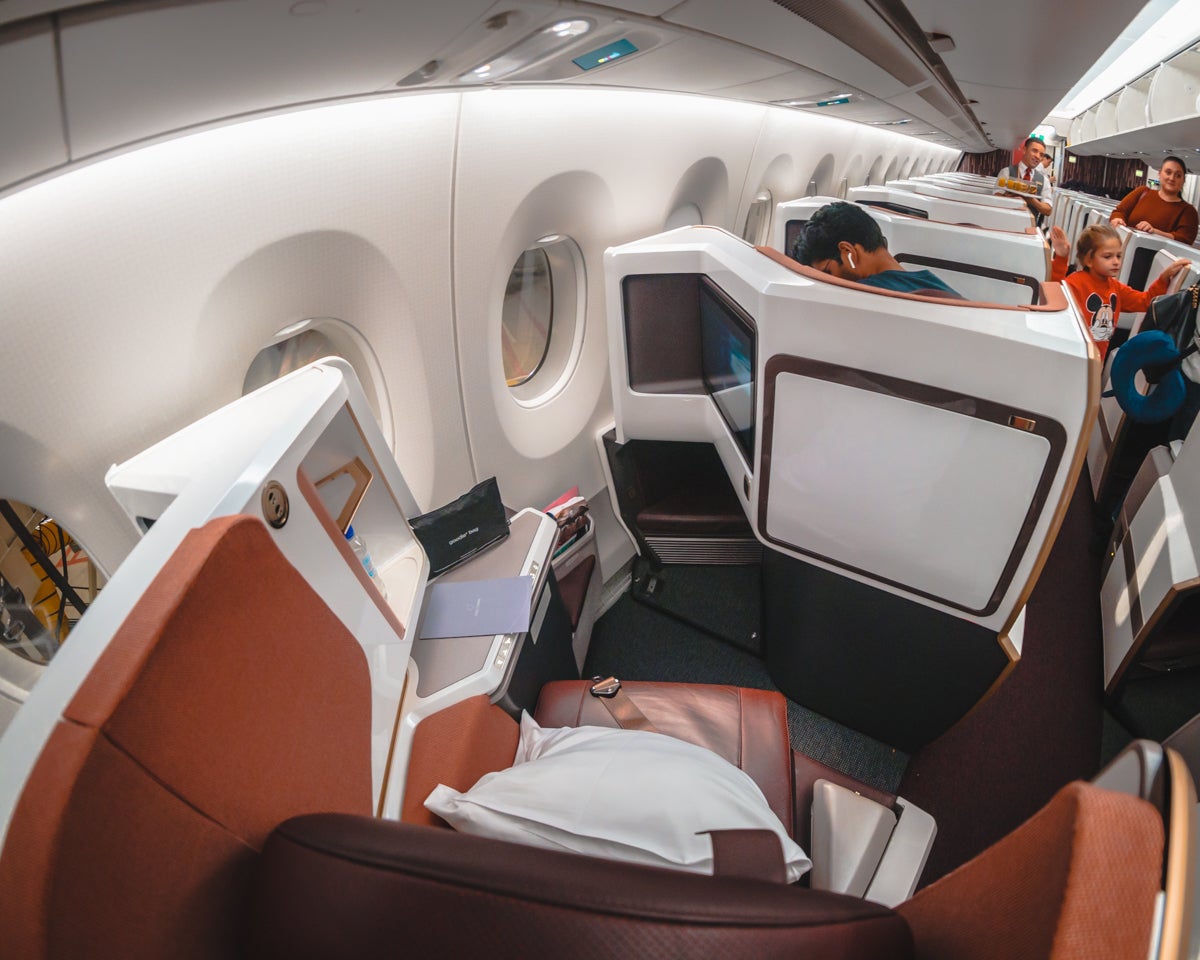 On the leading edge of the seat console are the seat controls and shortcut buttons for the IFE and crew call buttons.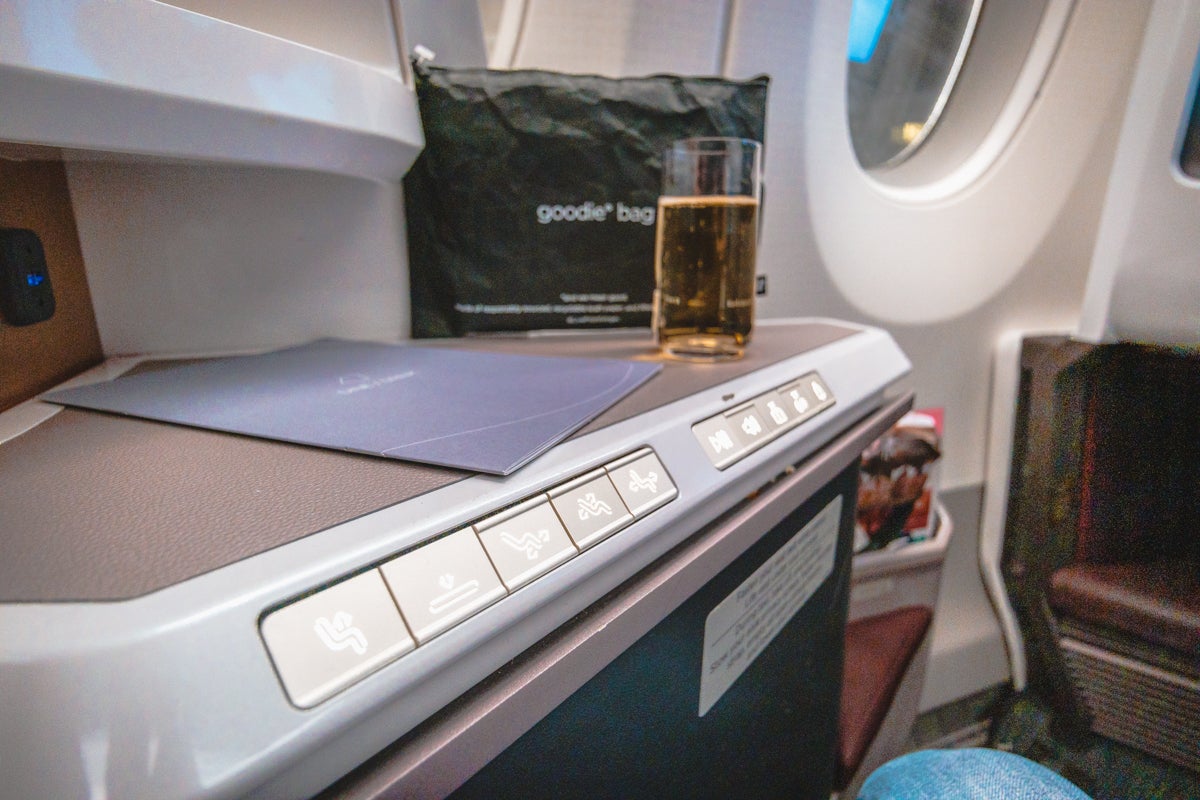 Down alongside the window are the literature pocket, USB, and power socket.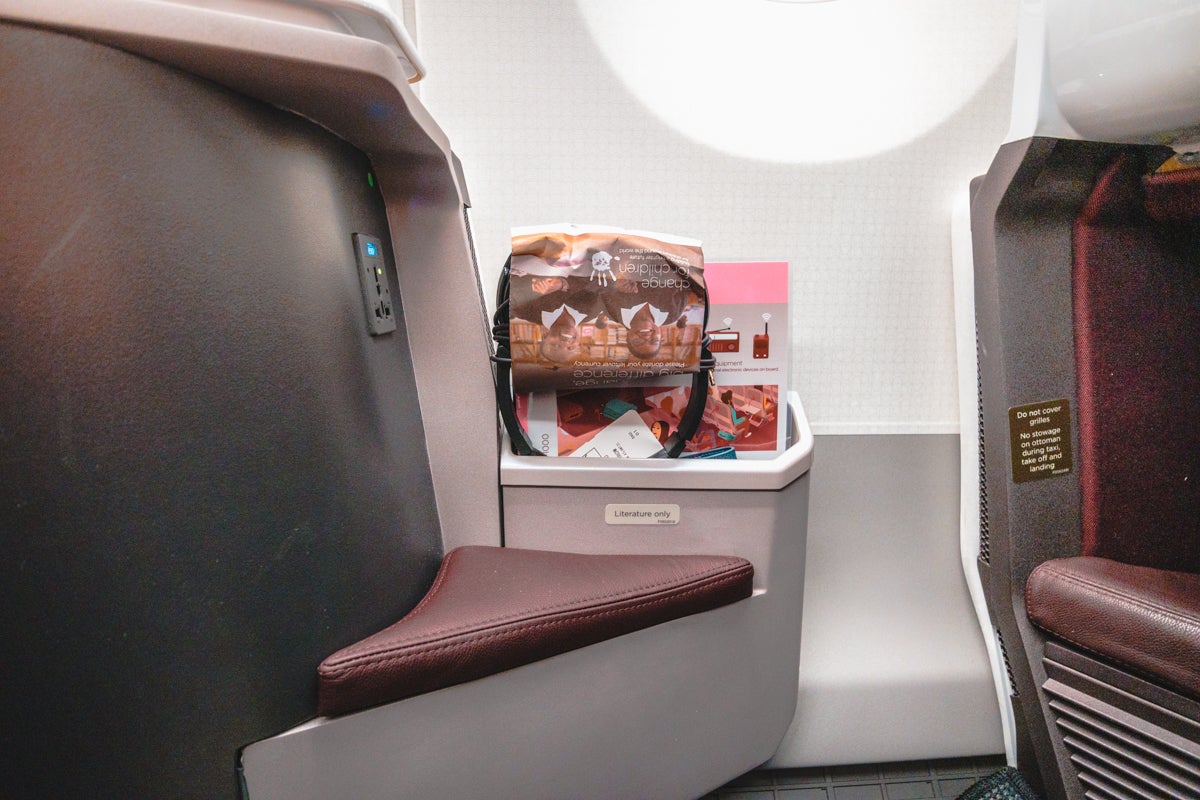 But after I got settled, I started noticing flaws. The most obvious is the total lack of storage.
While the glass shelf looks great, it doesn't have a door, so it's not certified for takeoff and landing storage. Nor can you just leave your personal belongings (including that bottle of water) on the console.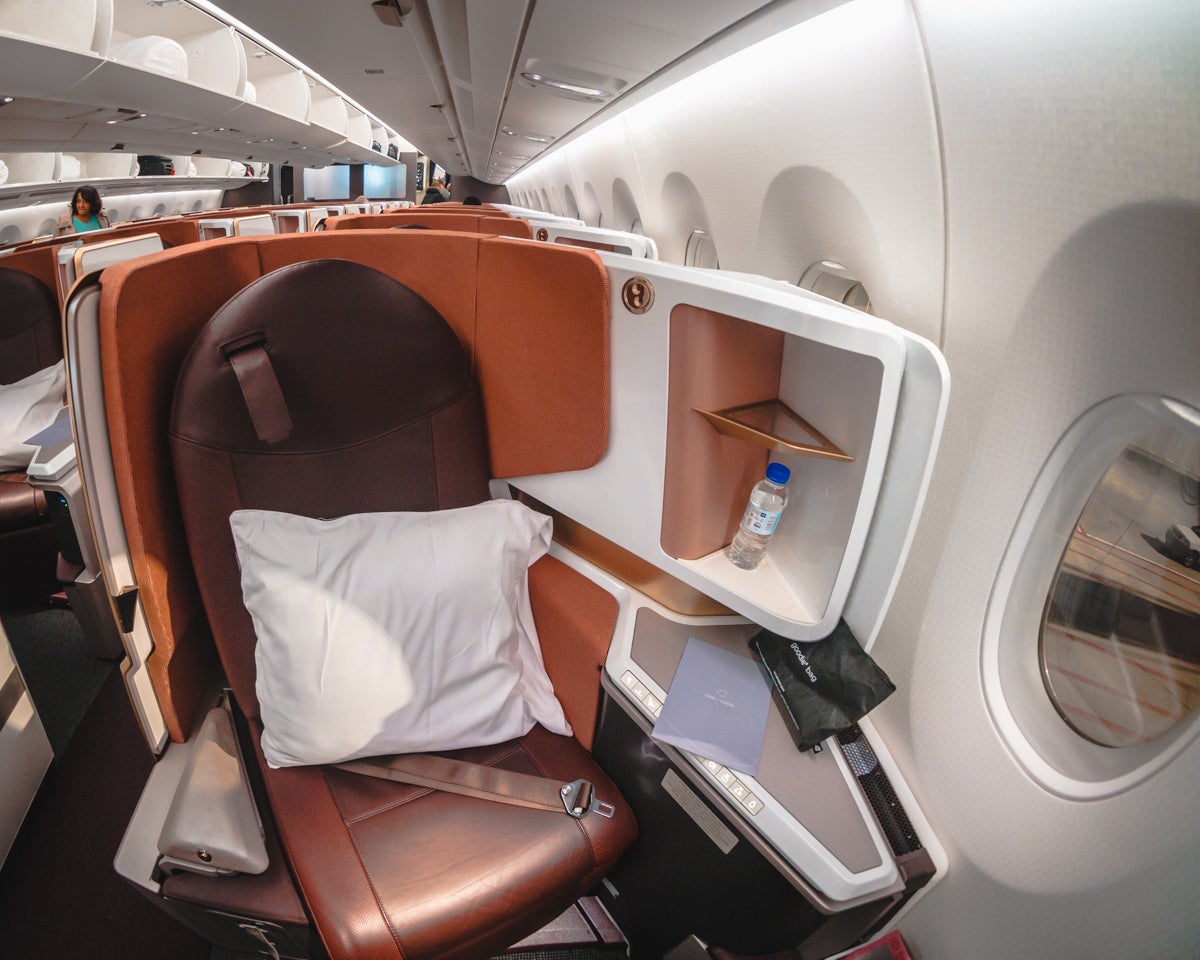 I also looked under one of the leather pads in search of a storage pocket and the leather just lifted off. Nope, not there.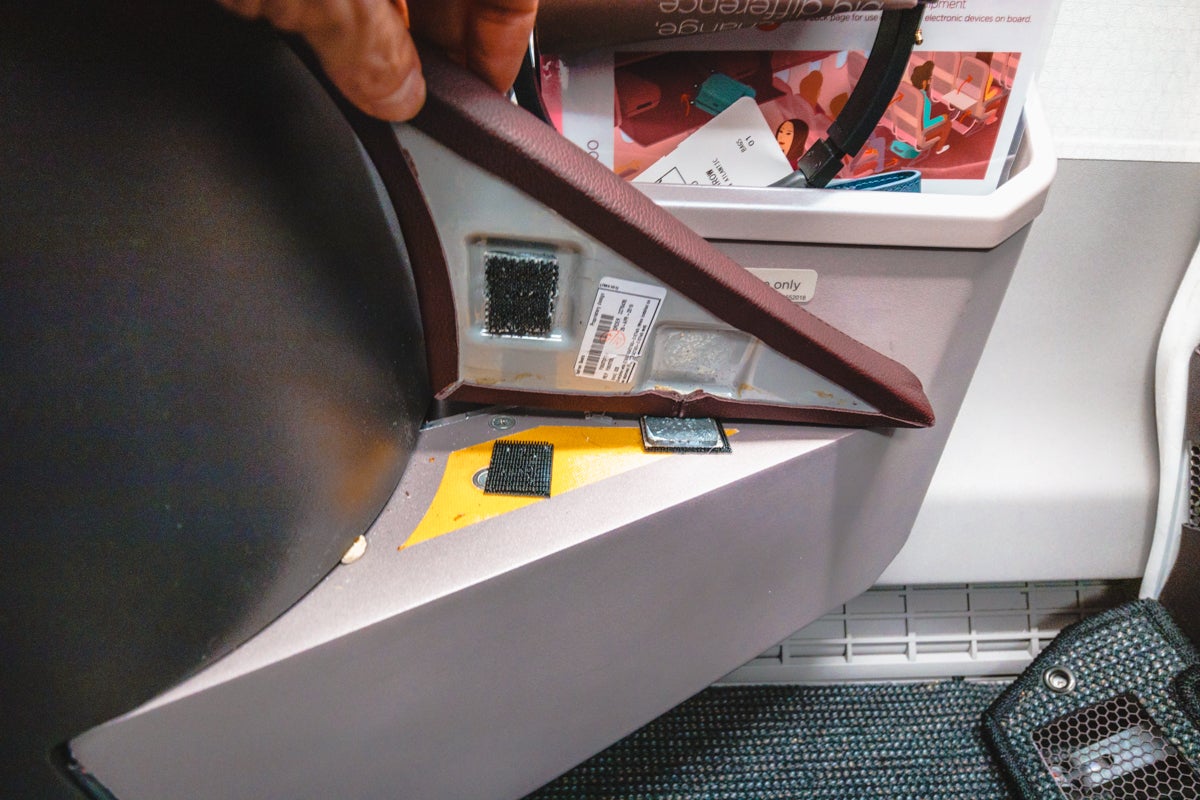 Looking next at the height adjustable armrest, which would usually house a storage compartment — no storage there, either.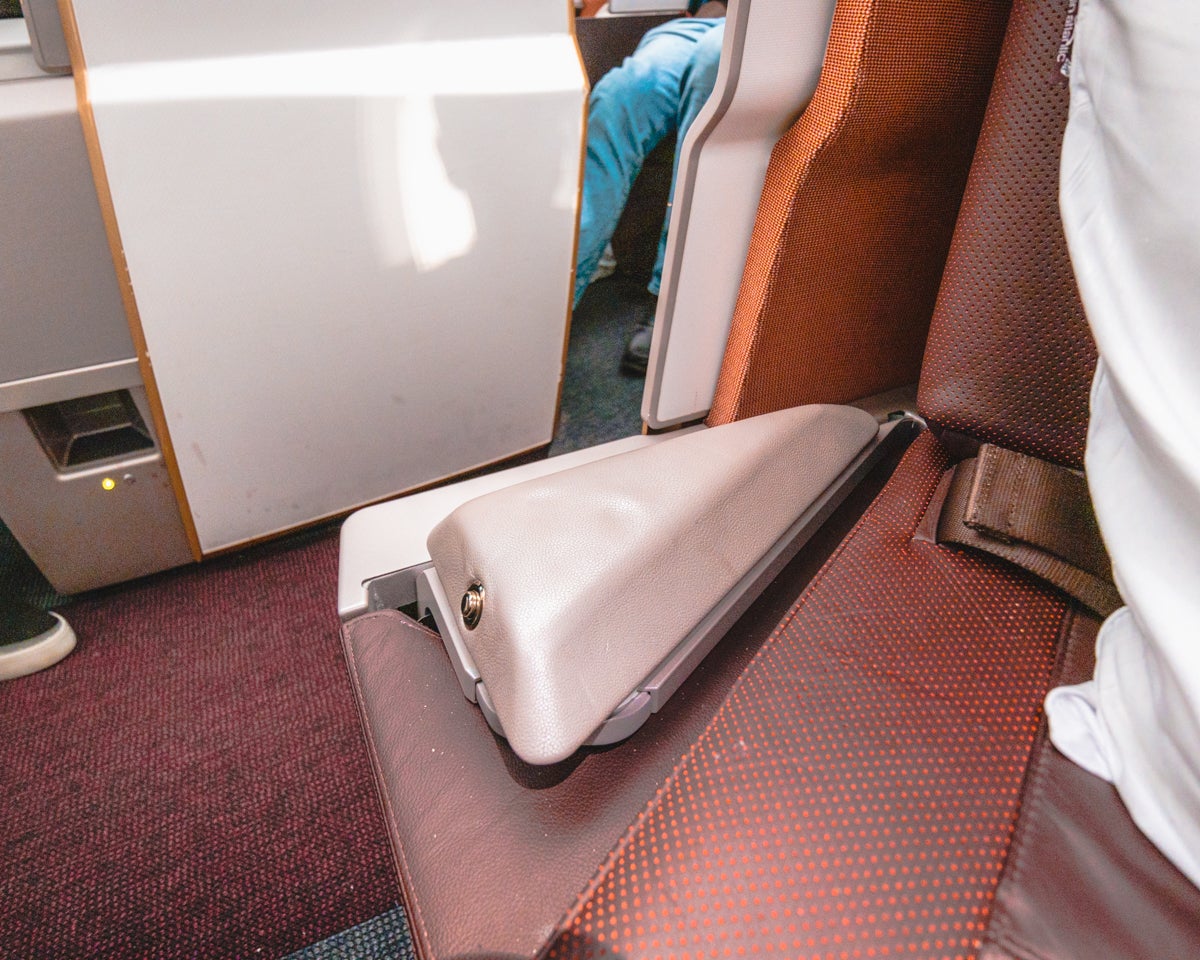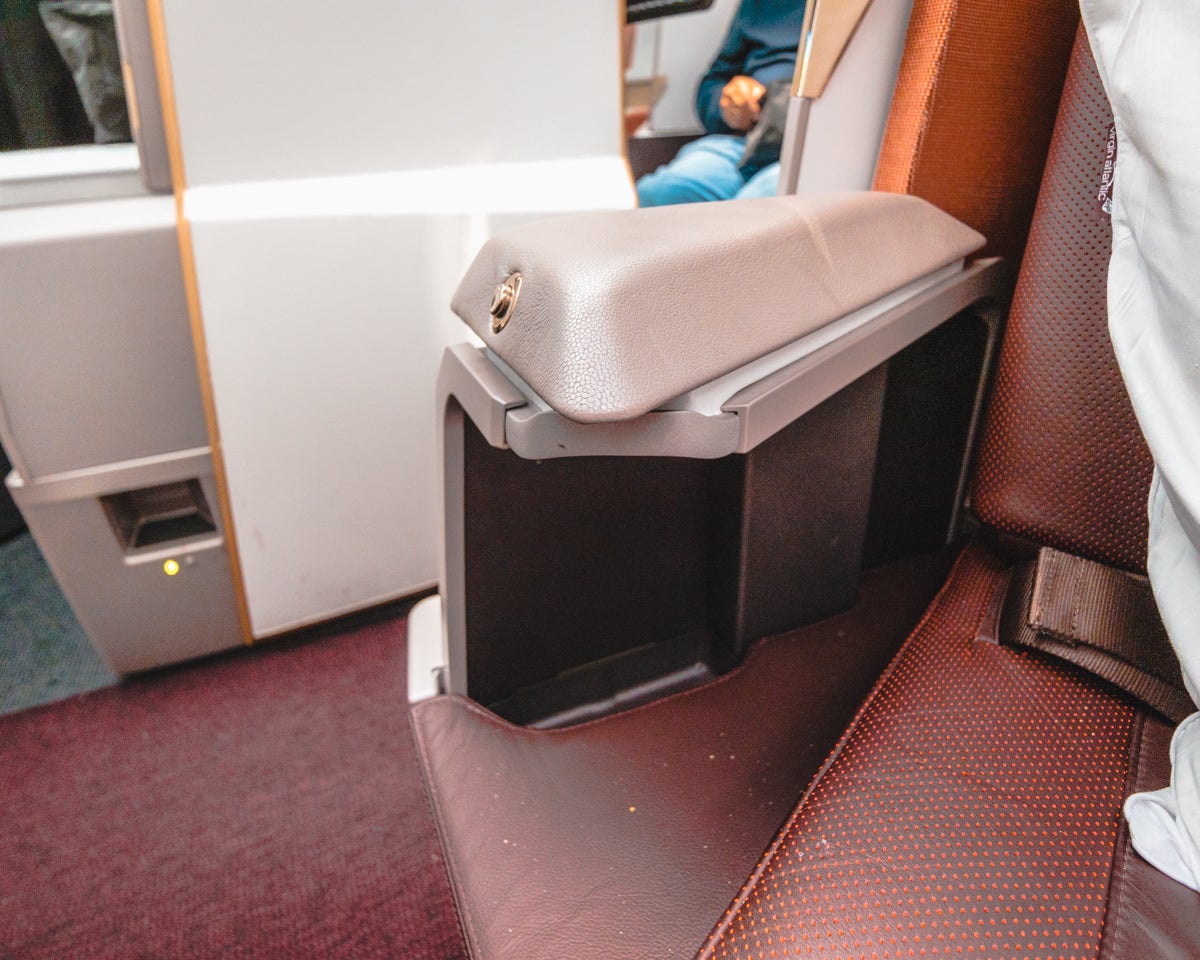 So, I had to store my camera bag on the ottoman after I put all my camera lenses back inside.
After pushing back from the gate, I also found out that the ottoman also isn't certified for takeoff or landing storage. The crew had to tell passengers that absolutely everything had to be put into the overhead bins or held.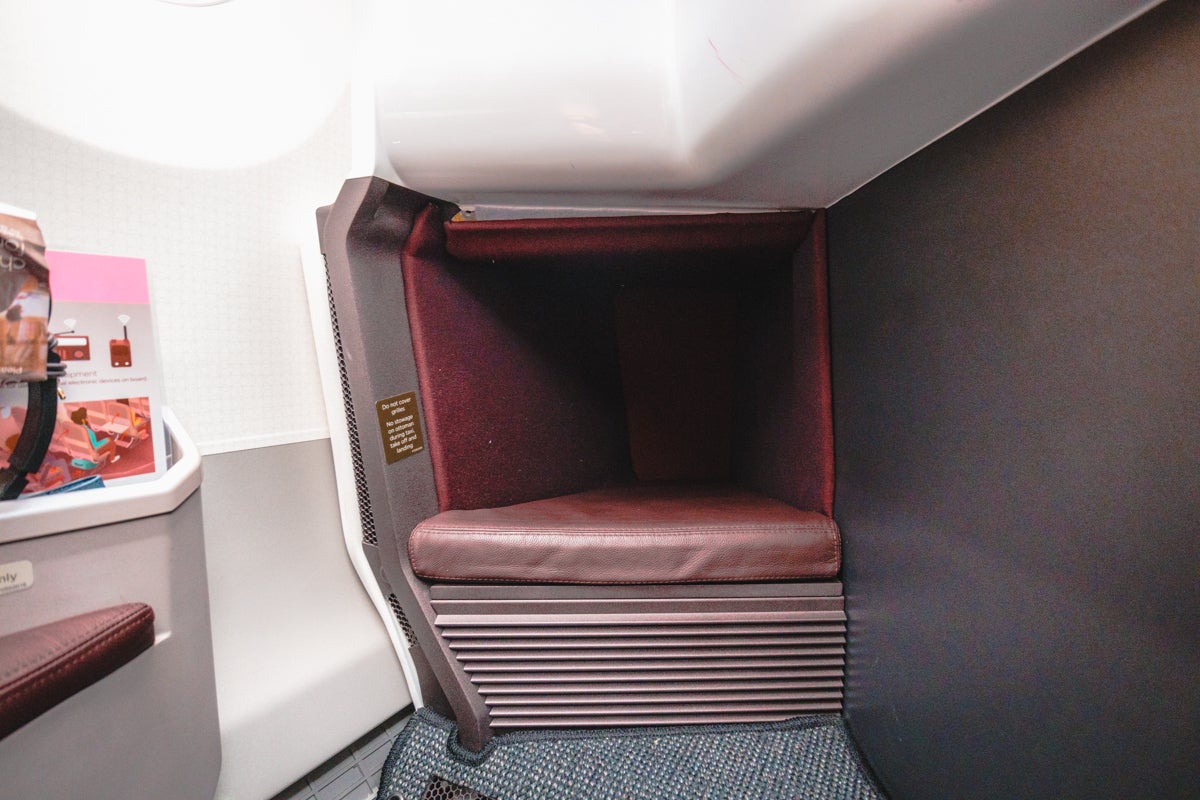 I had a similar complaint with storage with the Safran seat installed on Finnair's Airbus A350 also. Yet there is oodles of storage on the Safran seat on Cathay Pacific's Airbus A350.
I then tested the tray table, which folds from the seat in front, and it's actually too big and prevents you from moving in or out of your seat during meal service. The reach also can't be adjusted so larger-waisted passengers will be wedged into the seat.
I've heard that Virgin is currently replacing these with a new design to correct this issue.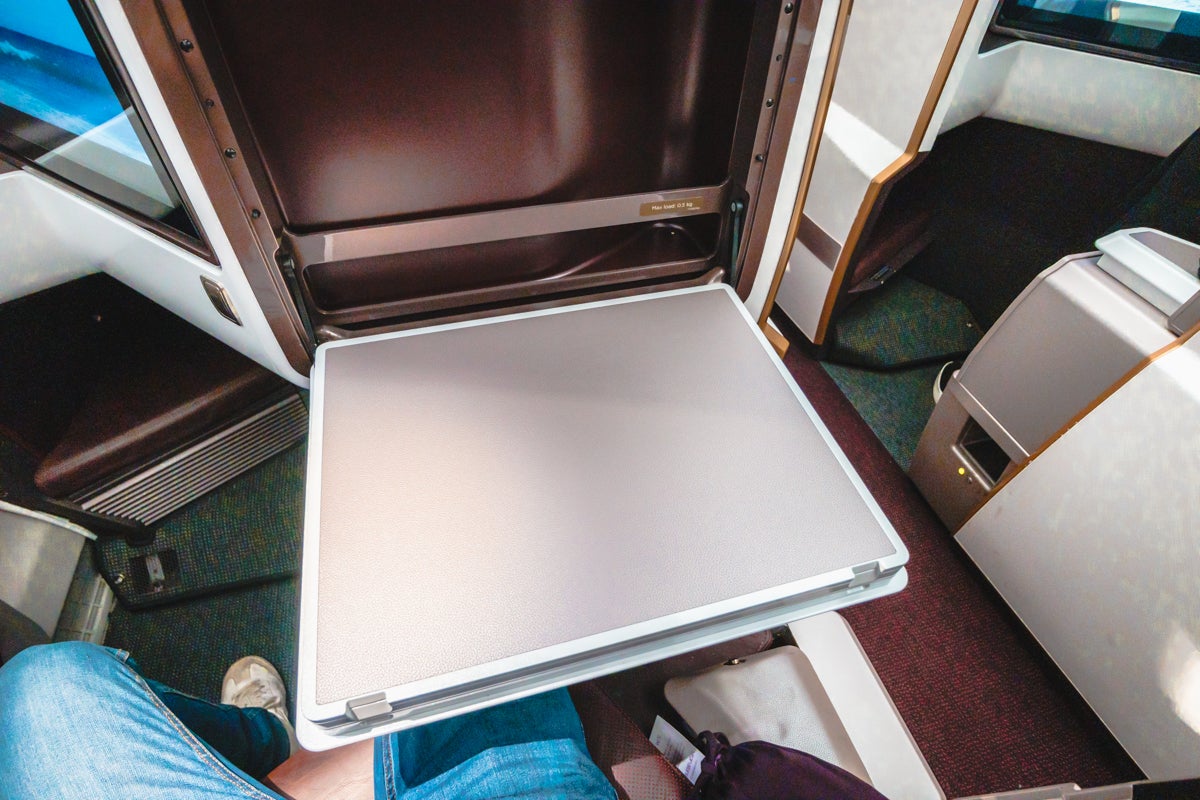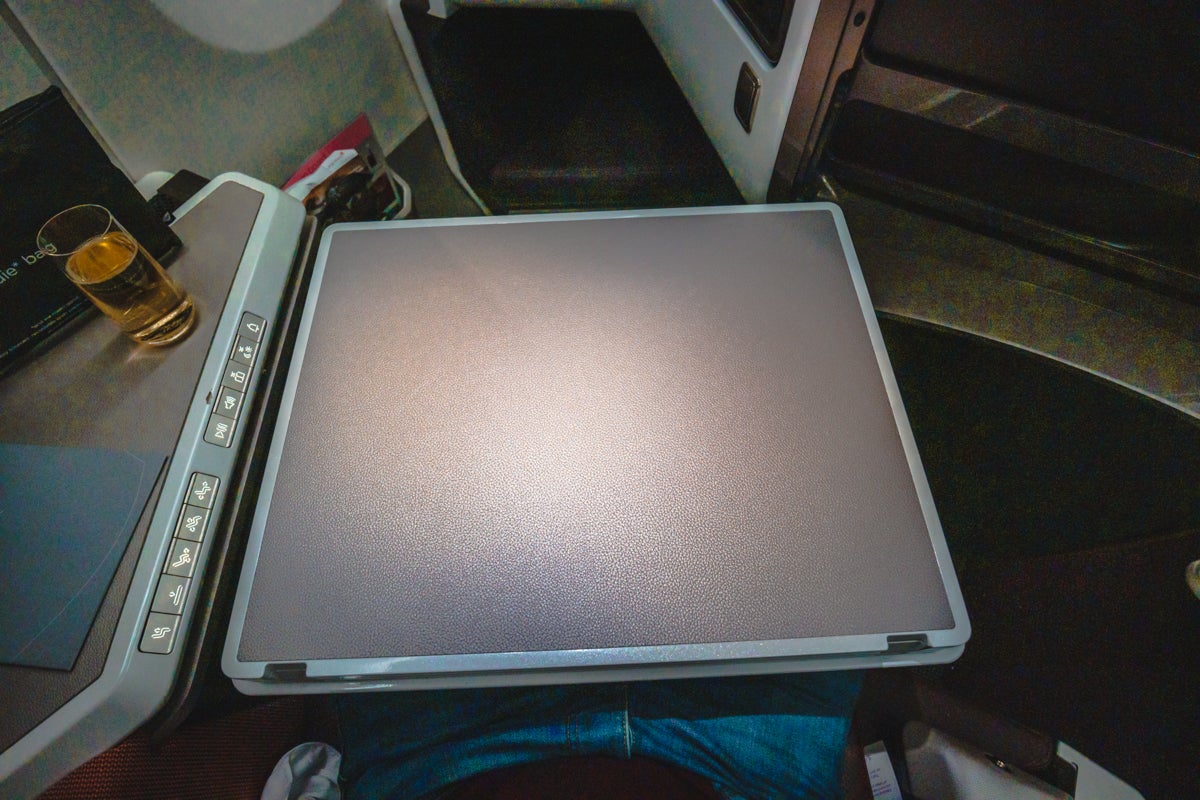 And, it was surprising to see the seat controls were showing wear and tear already.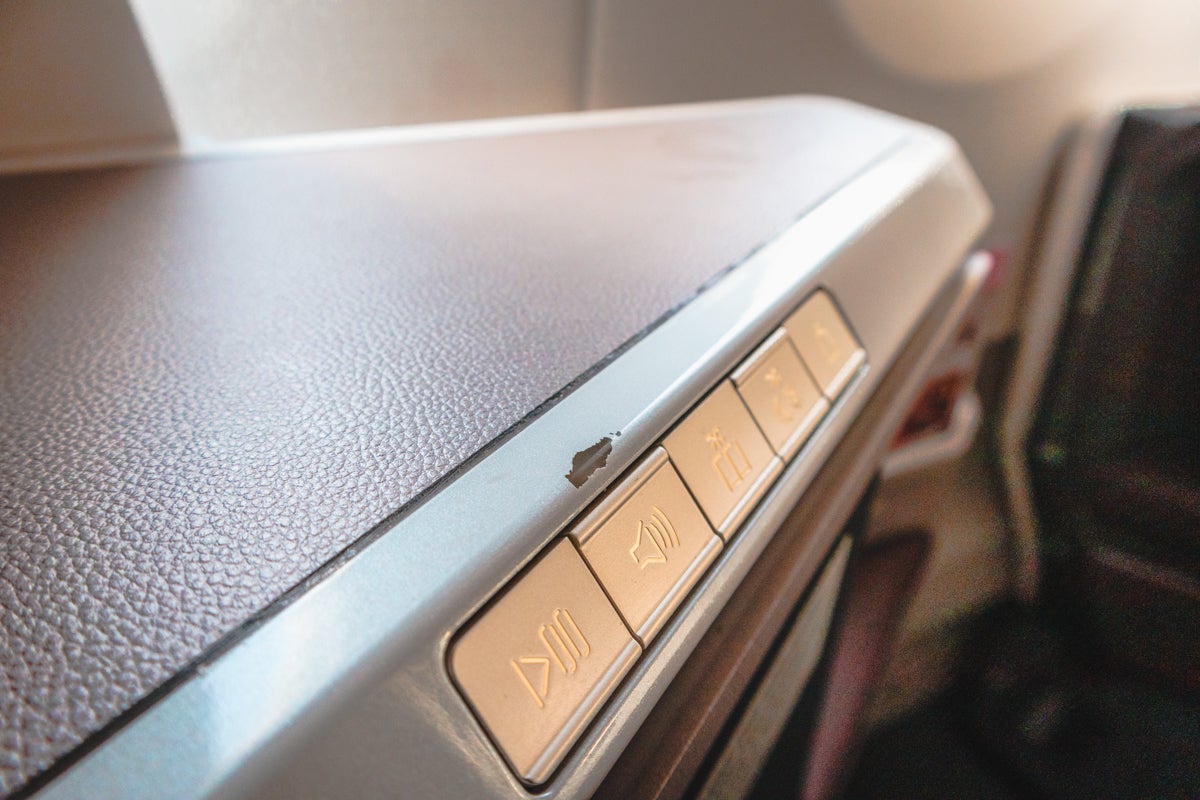 Whereas its nearest competitor, British Airways, also opted for a herringbone design, it optioned the seats with closing doors. Virgin's research determined its passengers prefer crew interaction, so it decided to install small sliding partitions instead.
The seats are offset between rows.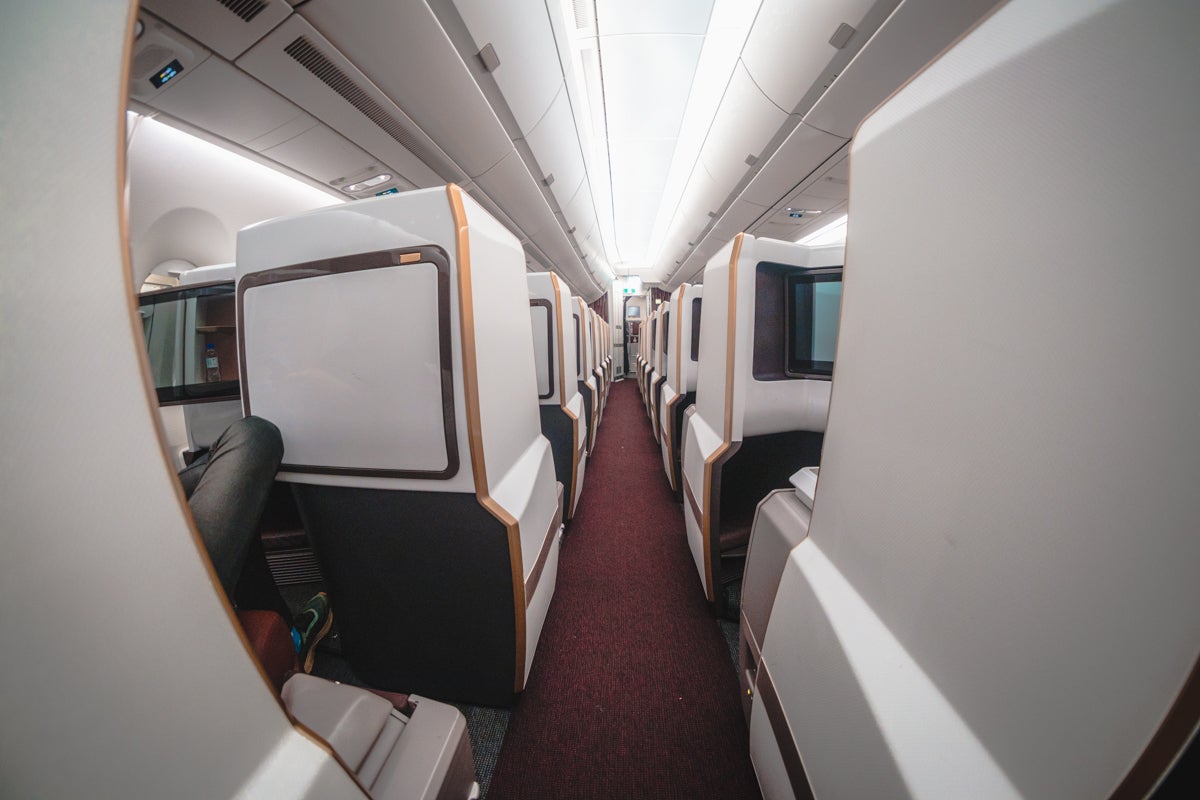 And the seat shells are high enough that you don't see other passengers unless you sit up off your seat.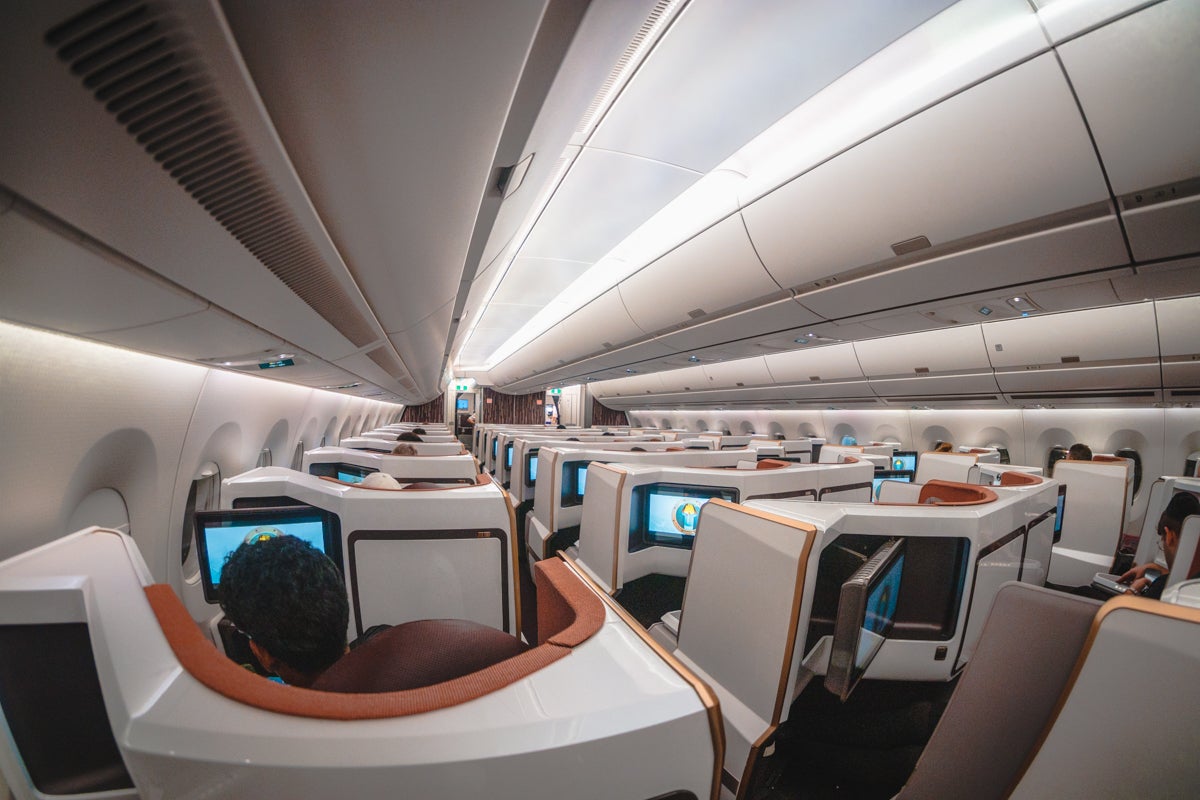 But the privacy screens between middle passengers are welcome if you don't know your seat-mate.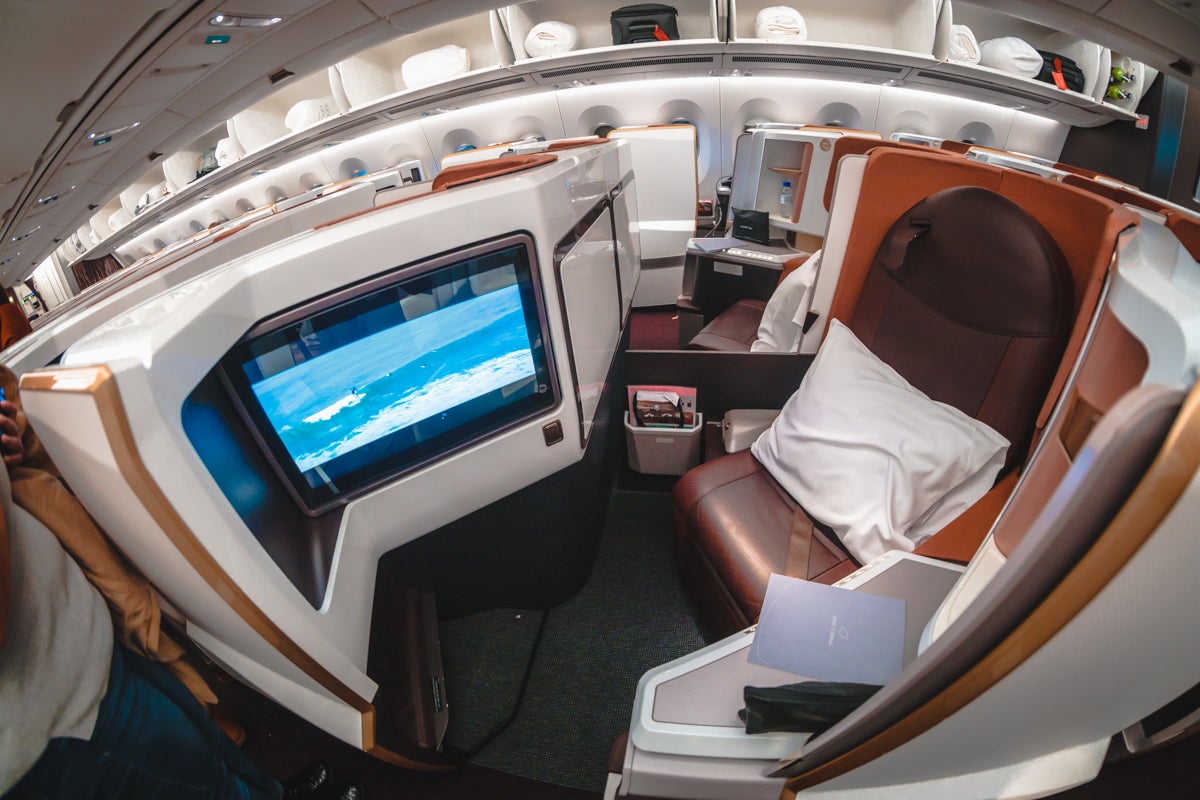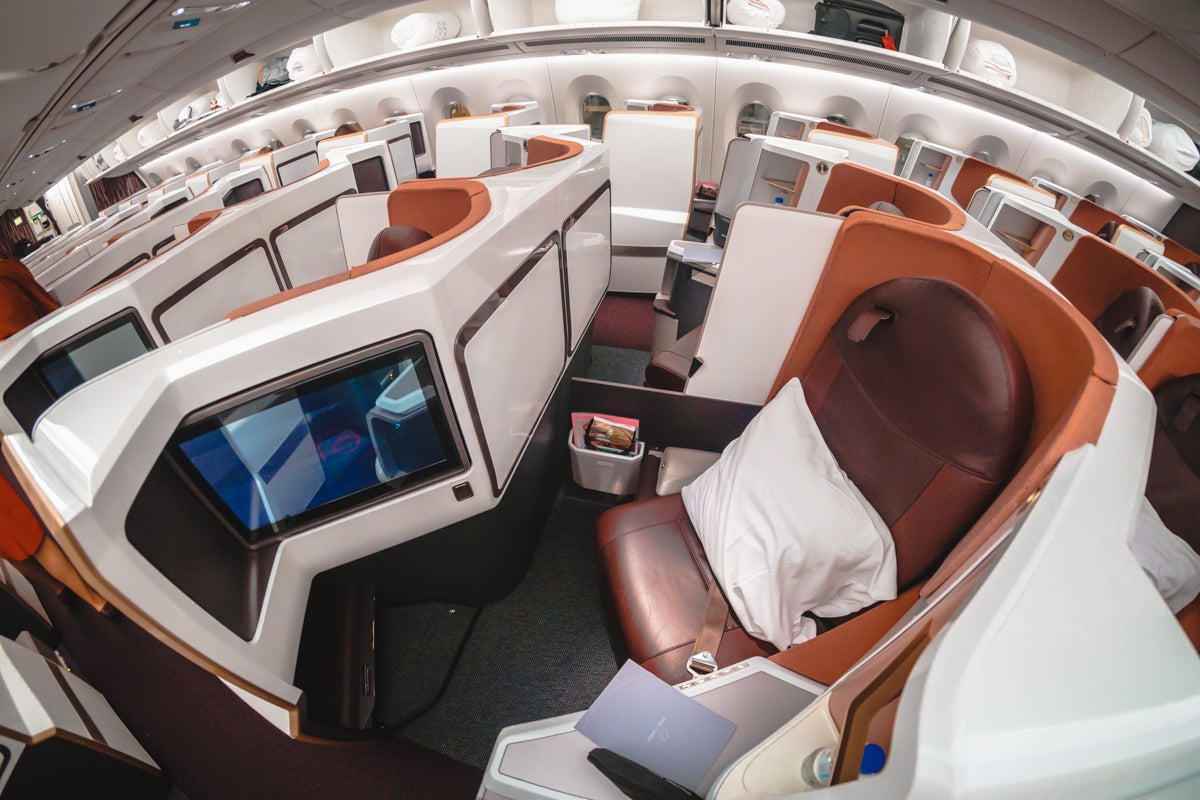 For window seats, I personally don't think the screens are necessary. I didn't even think to use the screen until just before landing into London Heathrow and you can see that it does nothing to increase my privacy.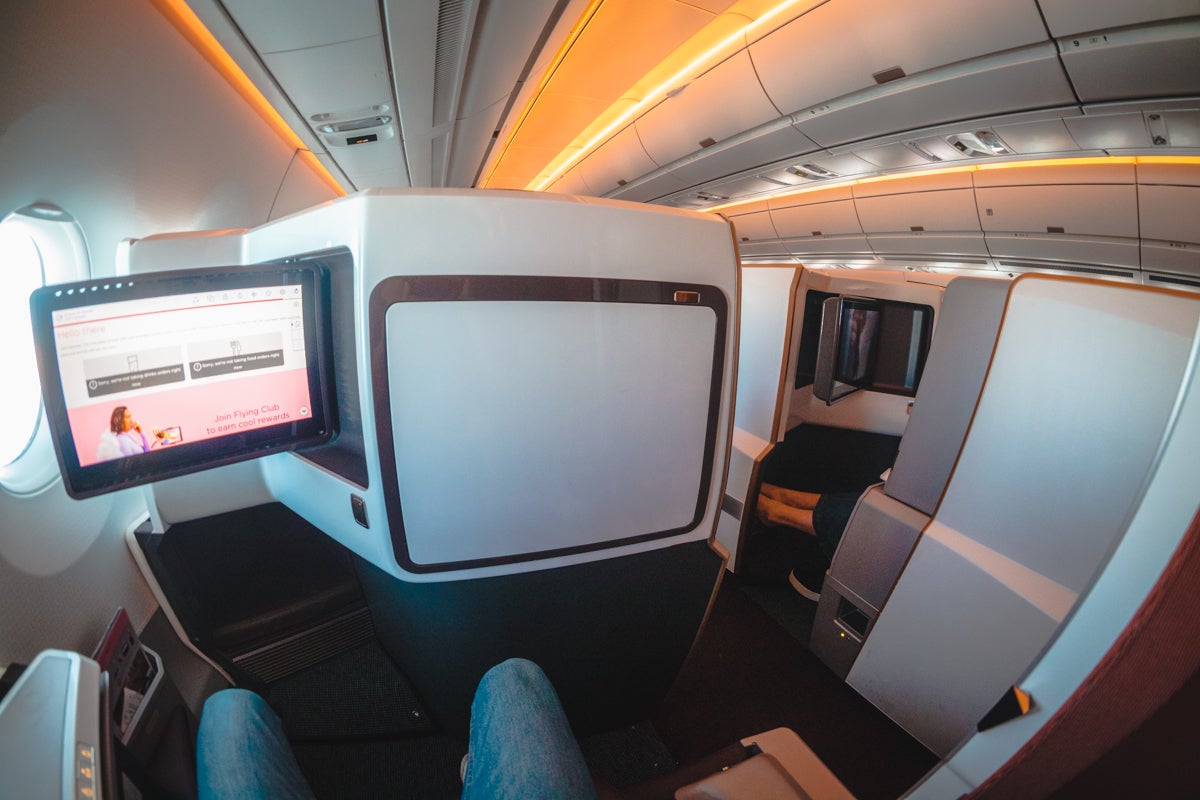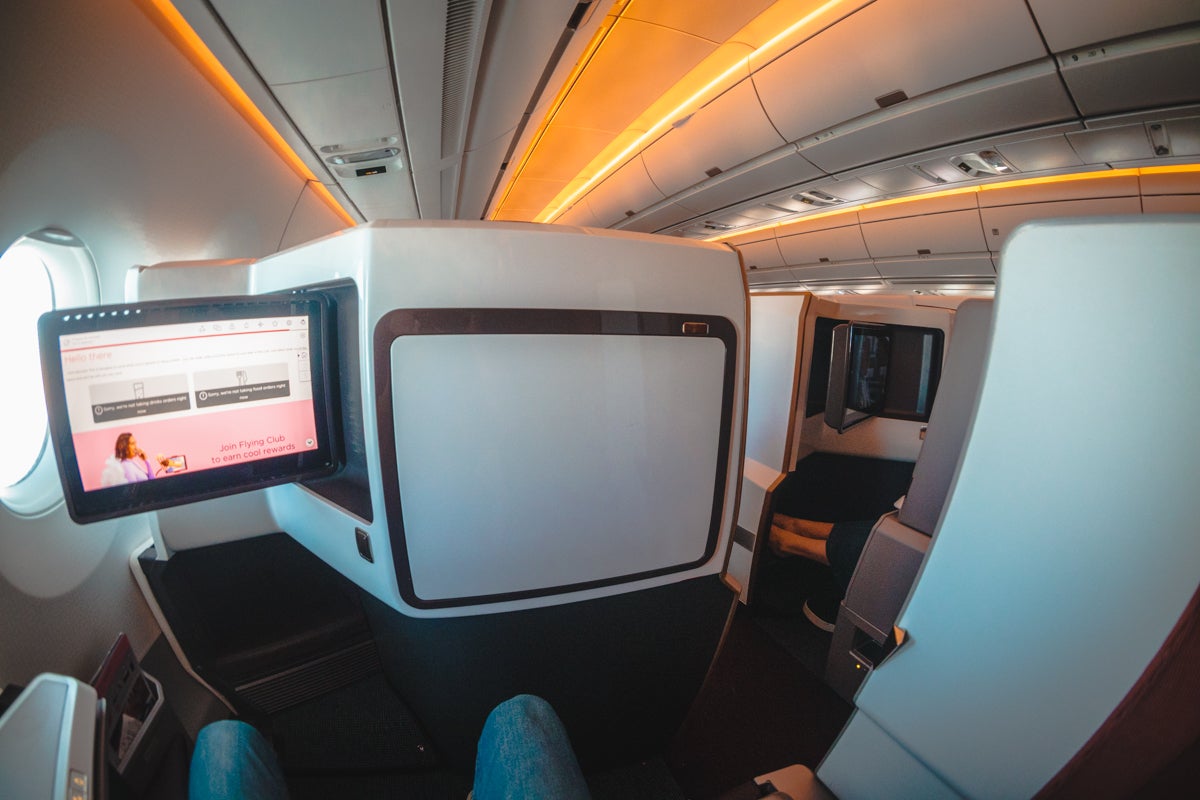 Individual airflow nozzles are overhead for all passengers.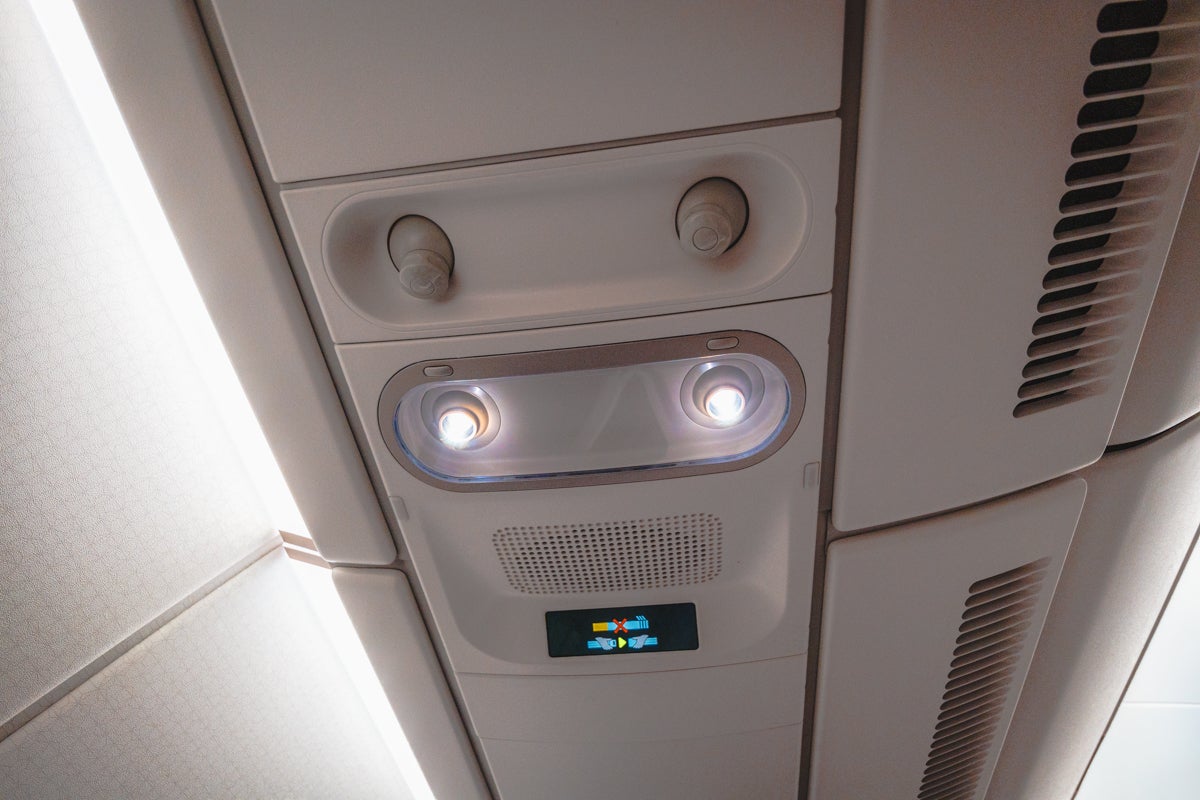 Gone is the Virgin signature bar — instead, the space is used for the new "Loft," a casual lounge space with seating for 6 guests.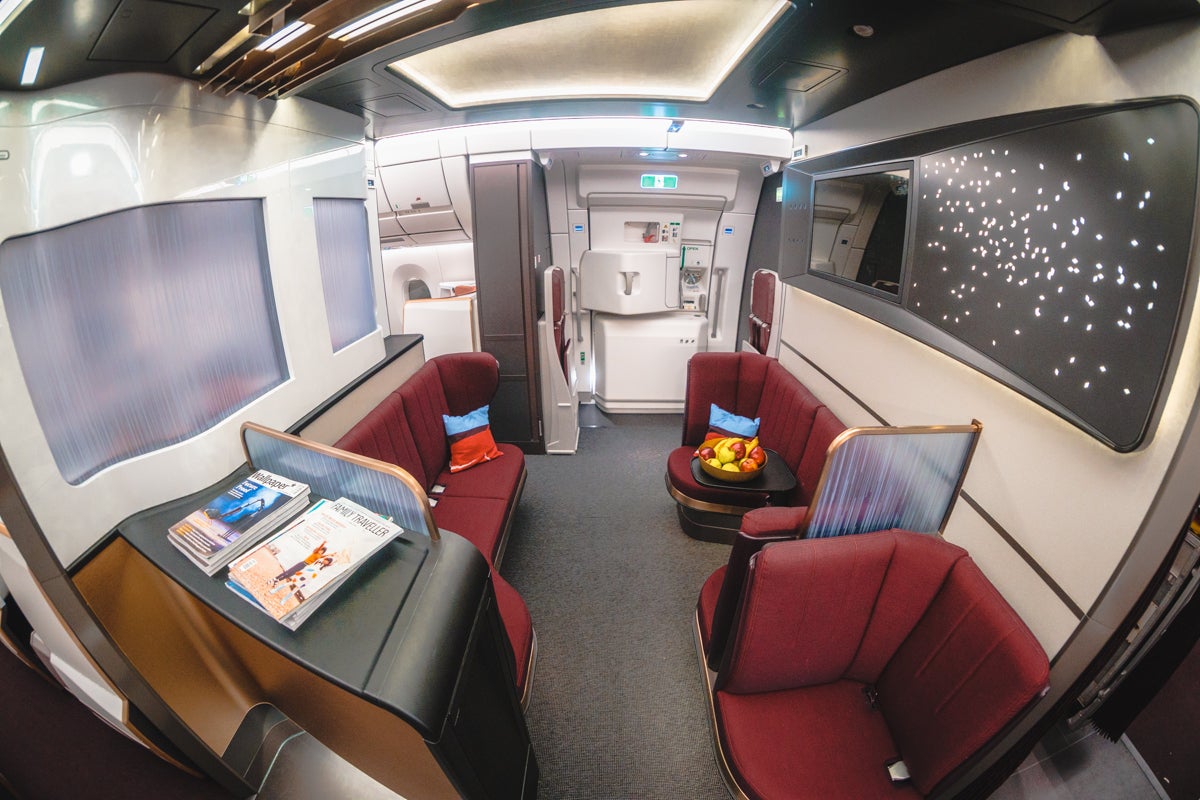 Loft features a 3-seater, 2 solo seats opposite a table, and a solo chair for the anti-social person in the cabin.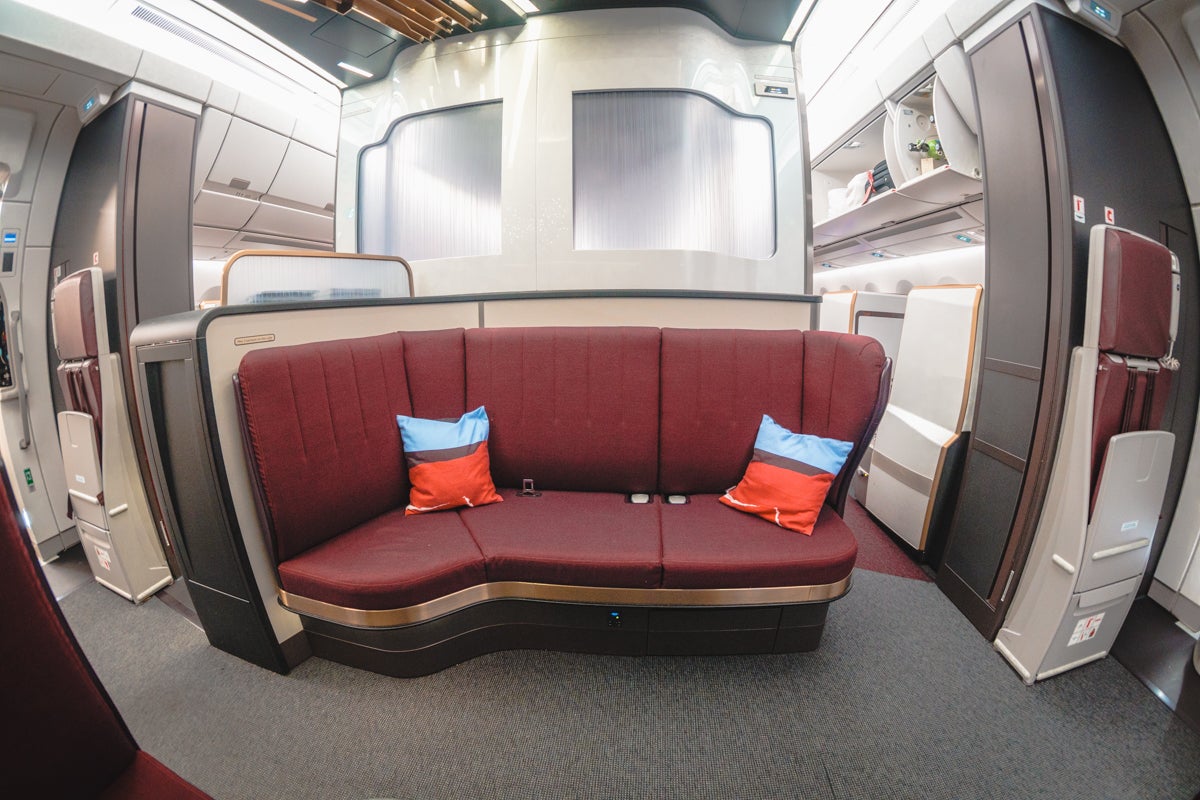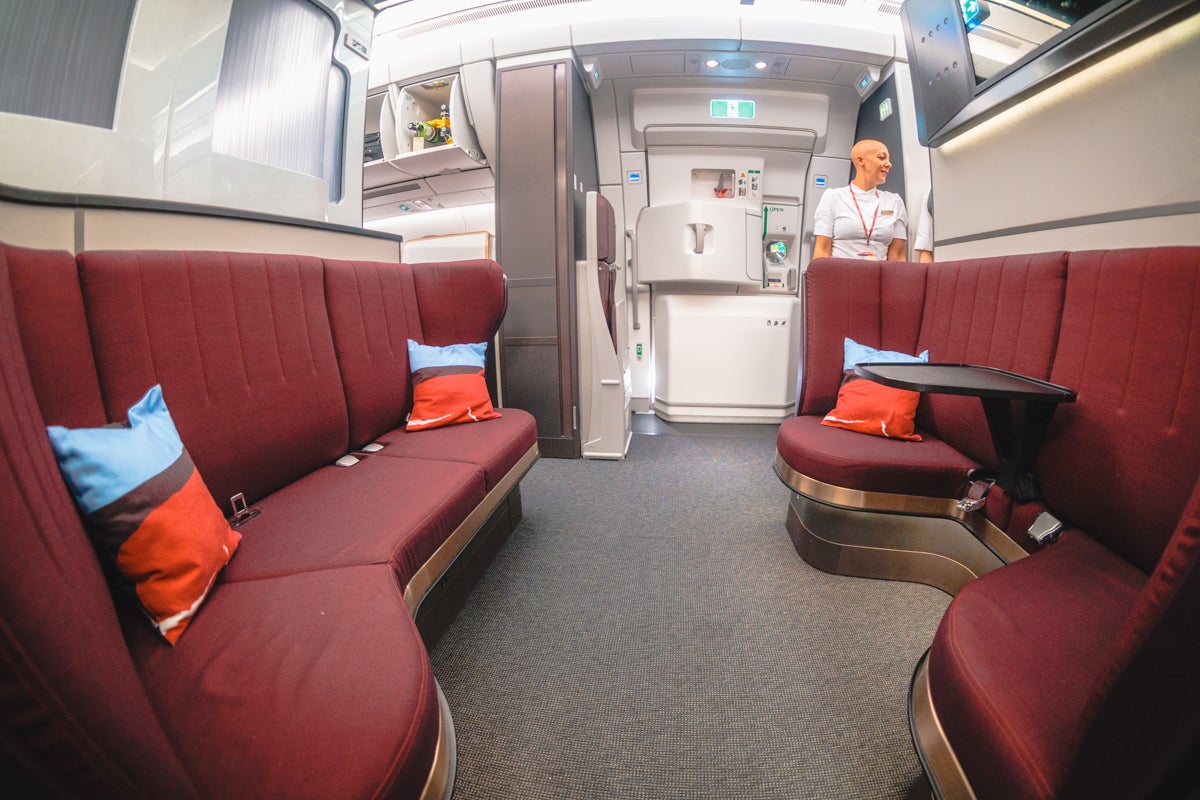 A 32-inch television screen allows up to 8 passengers to pair Bluetooth headsets to the screen. Yet due to the short red-eye flight, I didn't have time to test it out.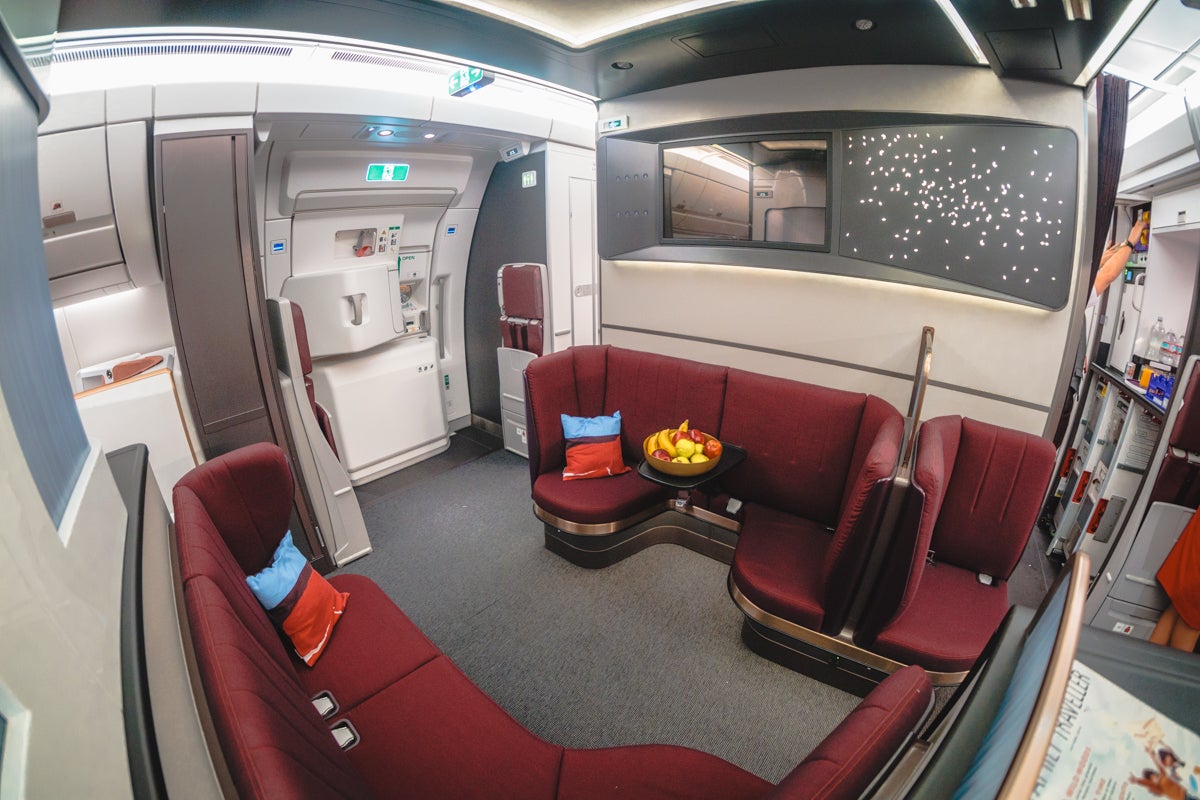 Back at my seat, I was really impressed by the comfort due to the excellent cushioning and space around my seat.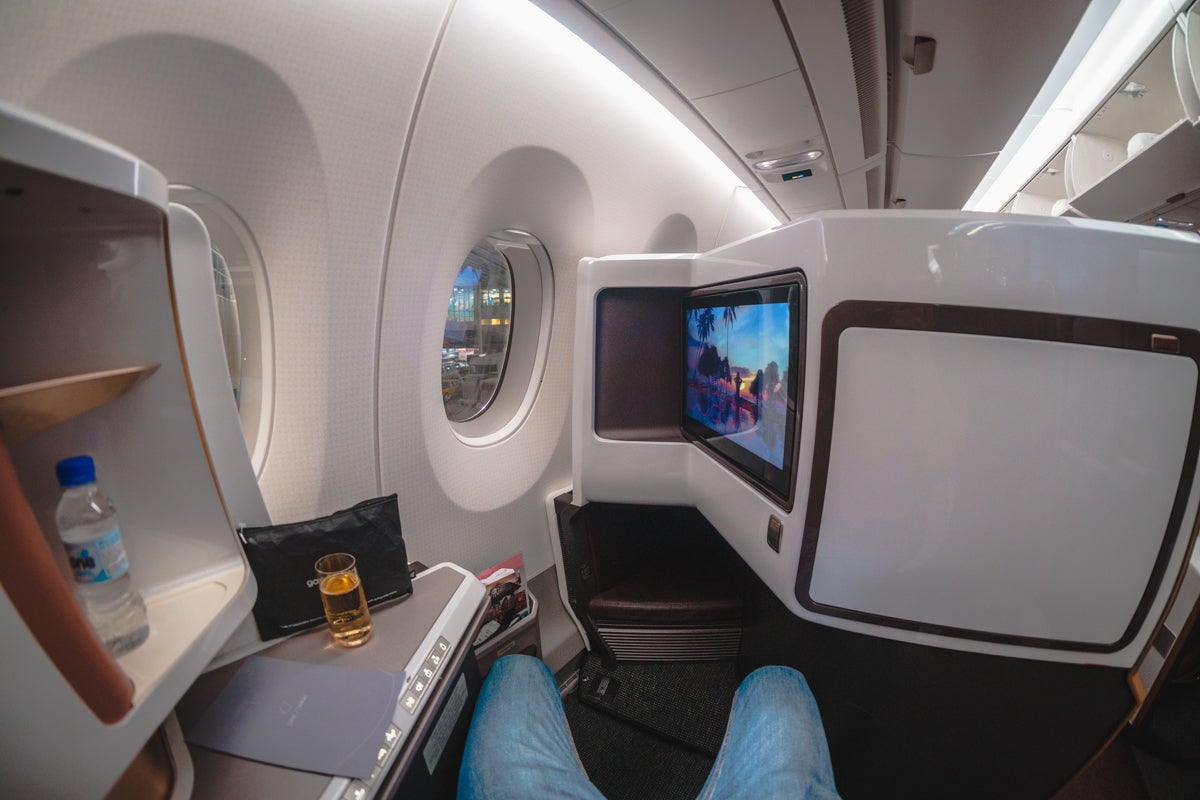 When it came to sleep, the Virgin Atlantic crew offer personalized turndown service. By the time I changed into my pajamas in a lavatory, the crew had made my seat into a bed, with one of the most comfortable business class mattress toppers I have slept on (on par with Virgin Australia's "the business" mattress pad).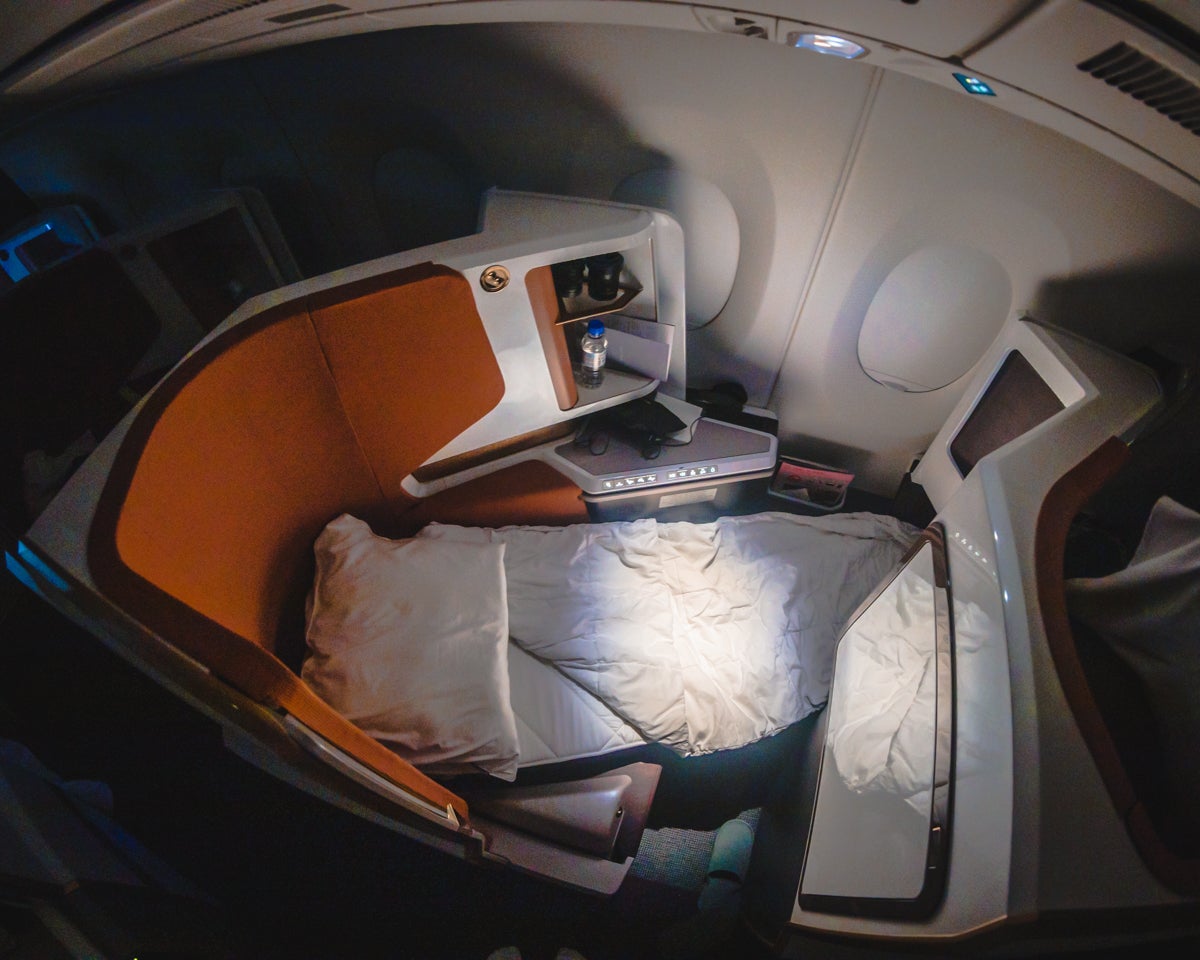 The linen was perfect, the cabin was kept cool, and I slept a solid 3 hours 40 minutes, which unfortunately wasn't enough time. I was woken by the captain's PA to advise of arrival information into London Heathrow 45 minutes before landing.
There are 2 lavatories up the front of the aircraft exclusively for Upper Class passengers which also feature windows and are stocked with Ren products. Another 3 lavatories are between the bar and Premium which can be used by either cabin passengers.
As such, it is a little hard to determine the passenger-to-toilet ratio but, I never had to queue for a bathroom during this flight.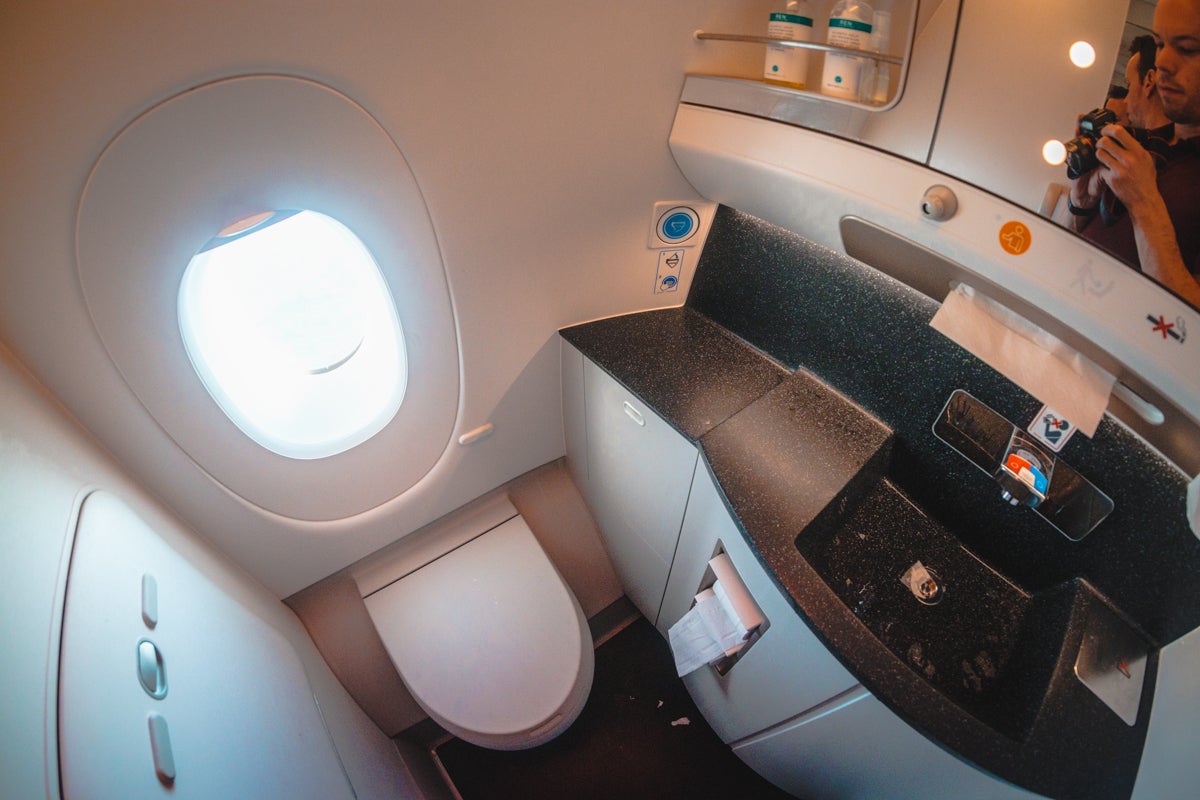 Amenities
The new Virgin "goodie bag" was sitting on my console upon boarding.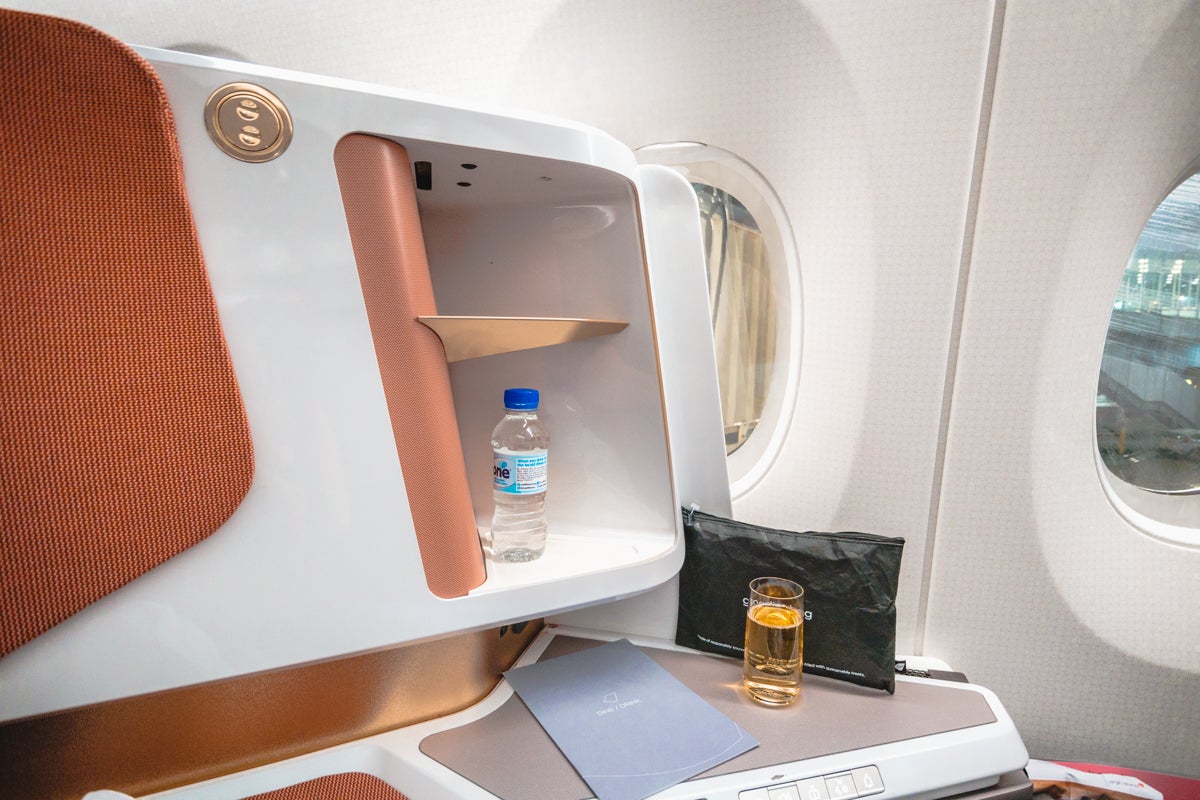 It's so great to see the airline addressing the issue of single-use plastics with this new, more sustainable amenity kit.
The bag itself is made from recycled kraft paper. The contents included a bamboo toothbrush, earplugs in paper packaging, and kraft paper pens.
There's no escaping plastic completely with the Ren Clean Skincare products.
High-quality socks are also included which are not like the rubbish thin ones you would usually leave behind. The kit also included a satin eyeshade.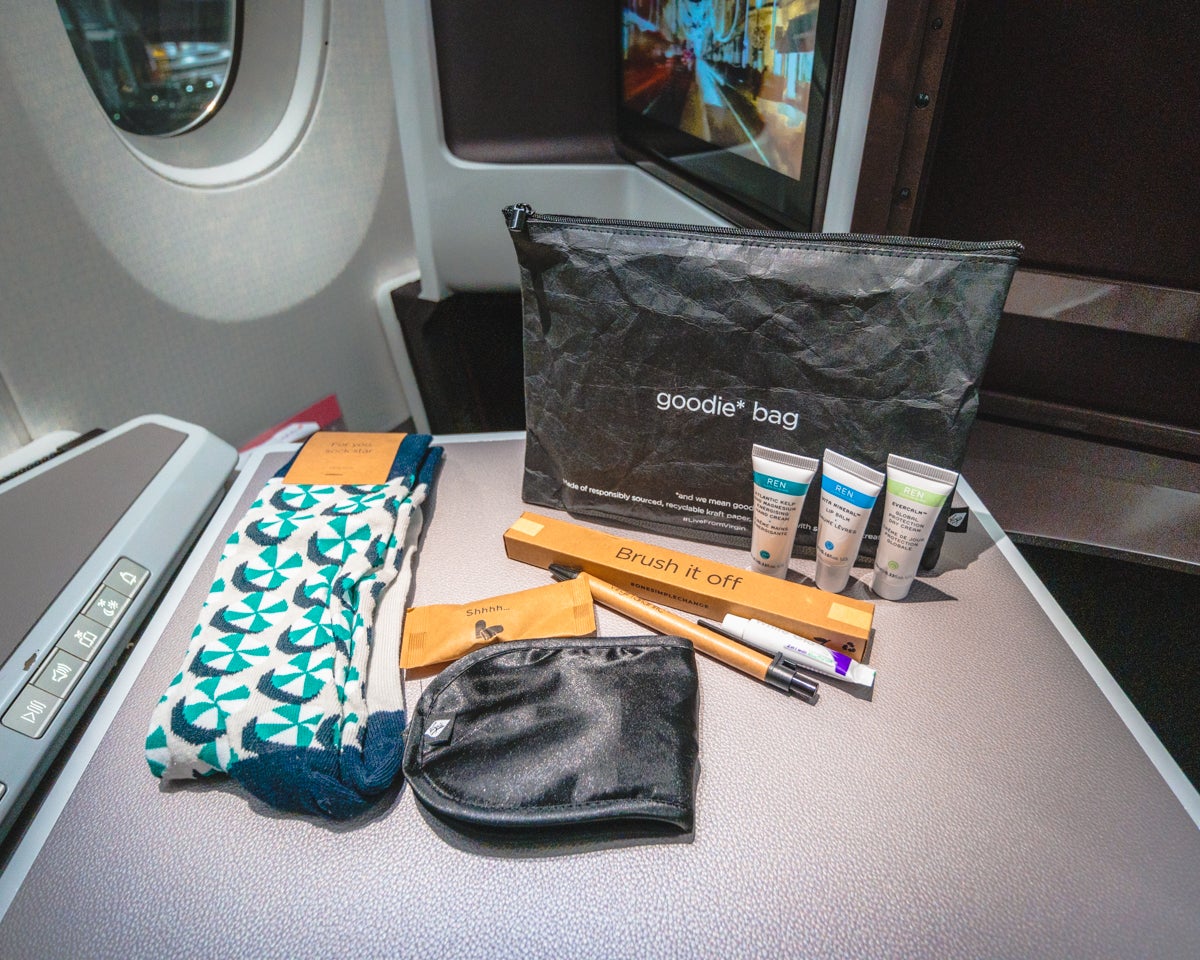 The new kits will save 945 tons of plastic each year, the airline says.
Sleep suits are handed out by the crew before take-off with a reminder to take and "reuse me" at home.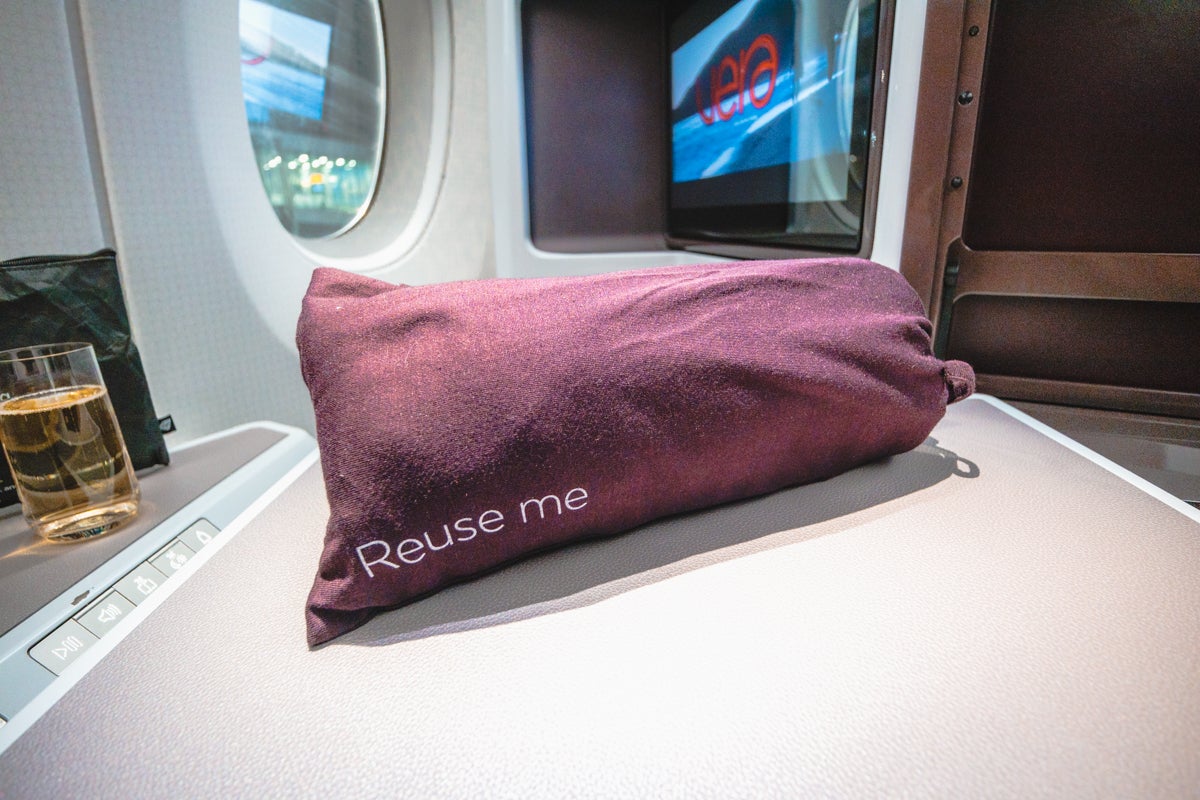 Entertainment
Inflight entertainment is provided courtesy of a Safran RAVE IFE solution with a crystal clear 18.5-inch screen that swings out from the seat in front.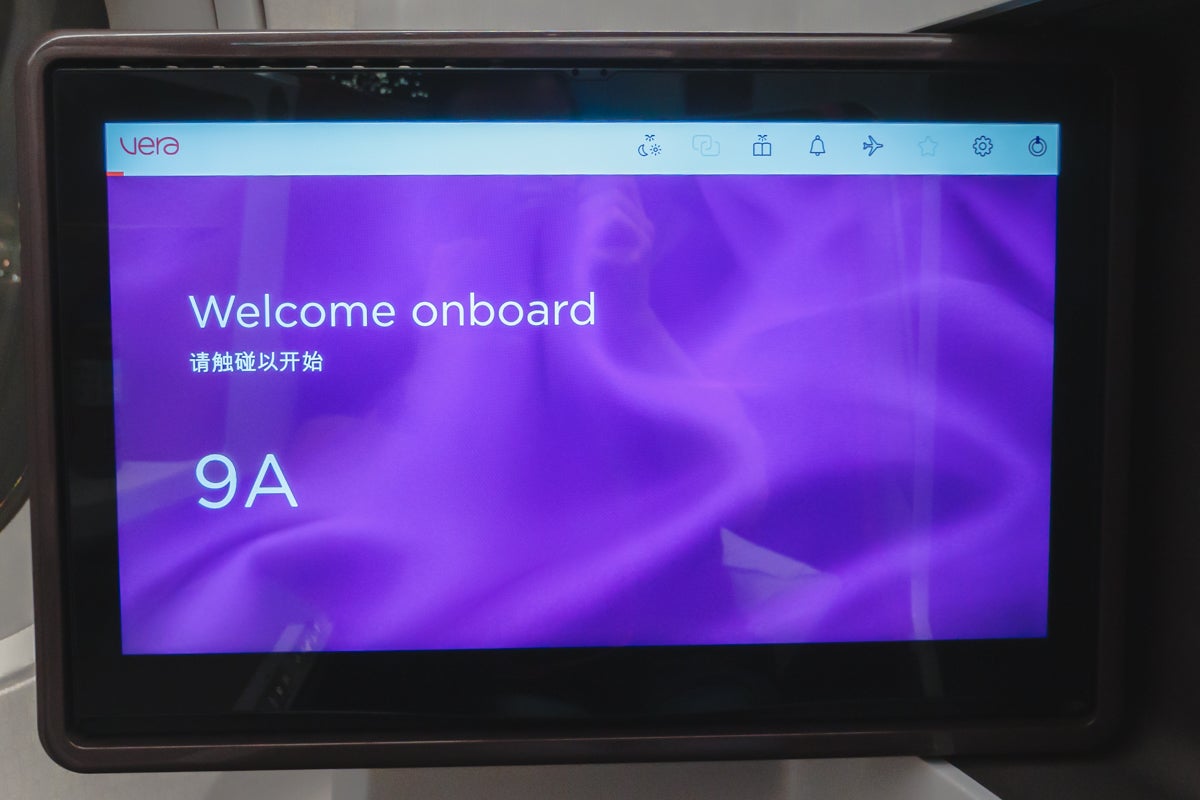 As a brand-new system, it was very responsive to touch and no additional remote control has been installed or is necessary. You can also control the screen with your mobile, but I didn't as the screen was perfect.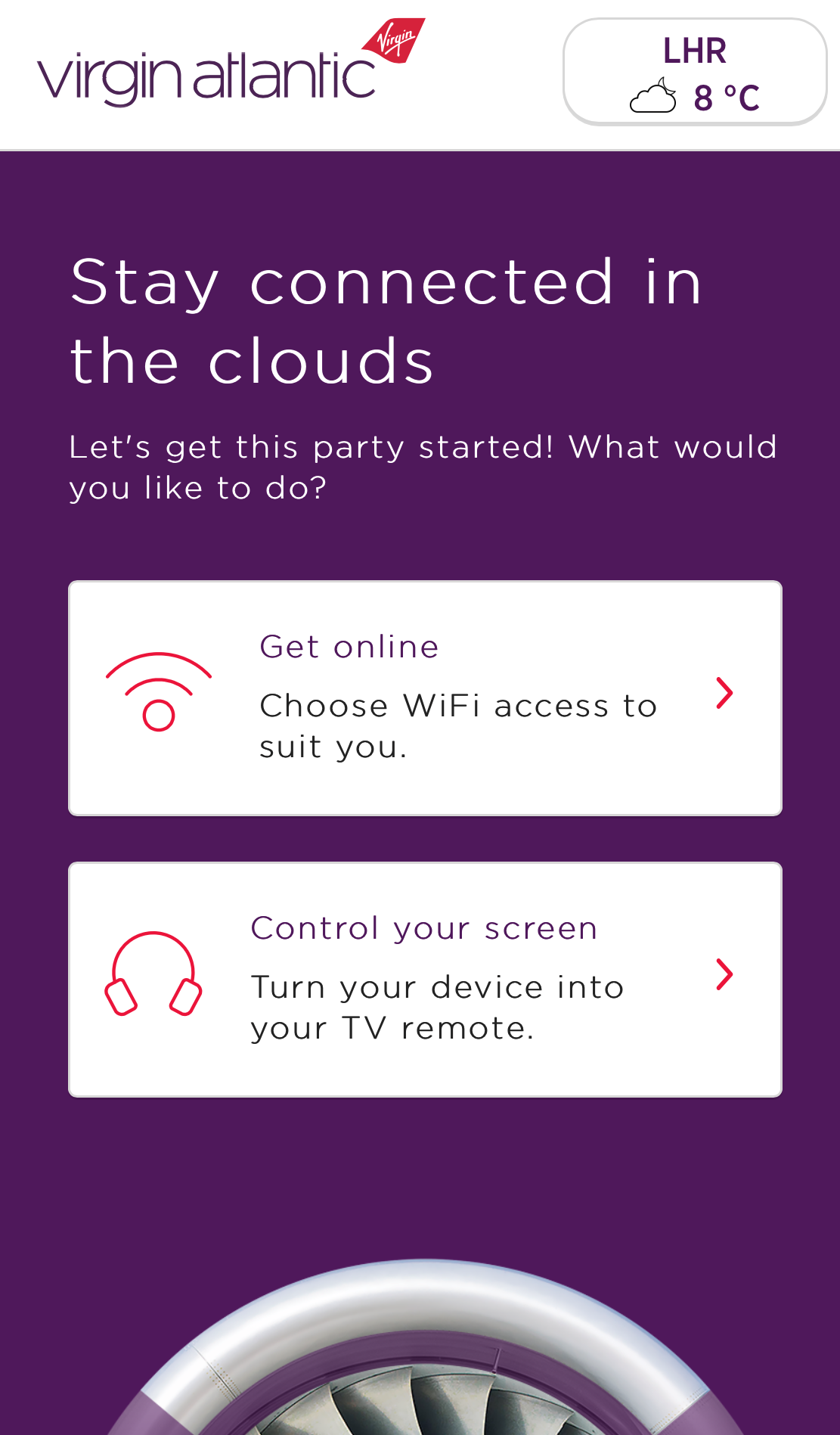 Headphones are provided and had decent noise-canceling functionality.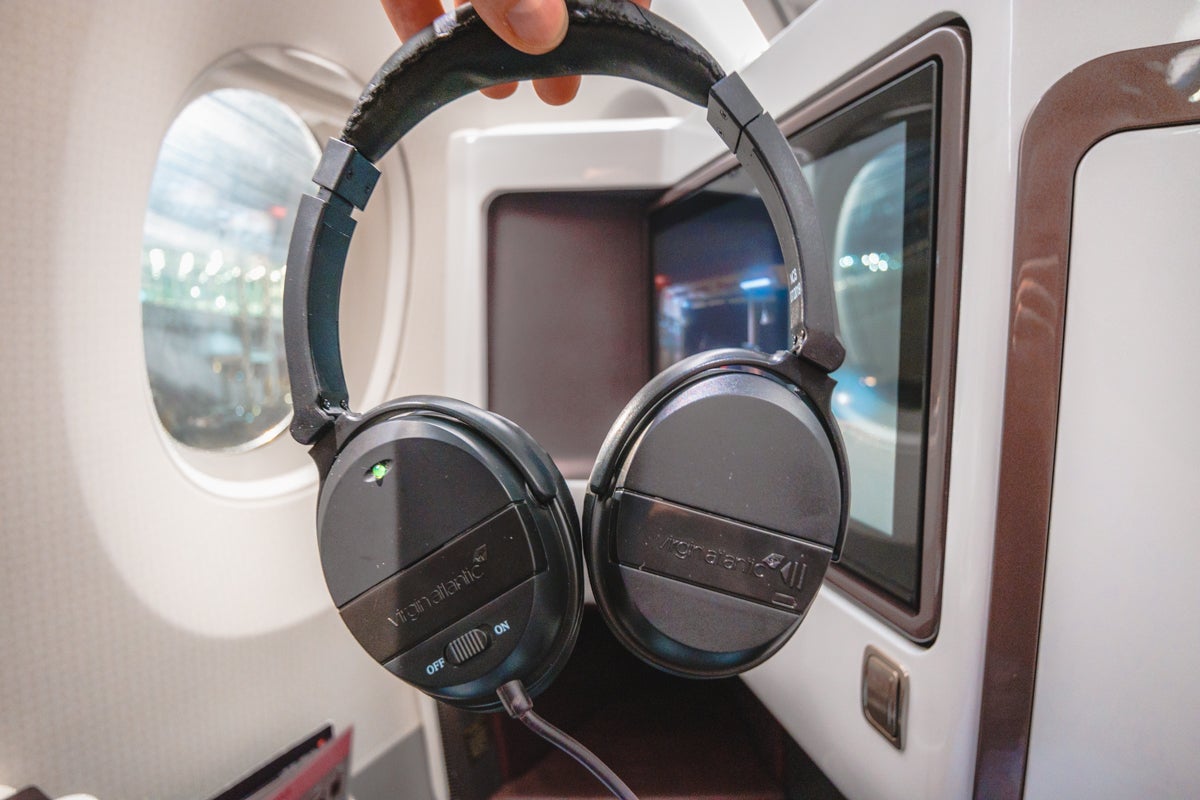 The menu structure could use clearer icons as at a glance, they all look the same.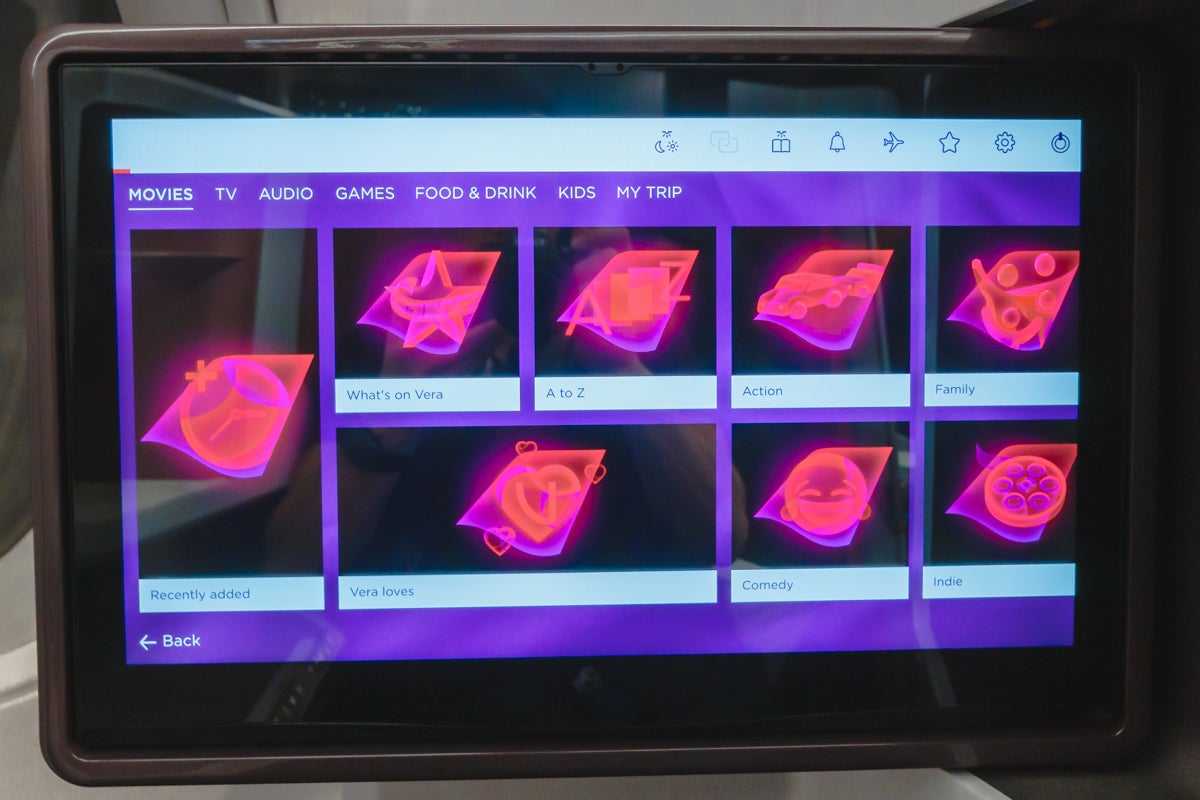 Plenty of content is available, but I didn't have time to watch anything on this quick hop across the Atlantic.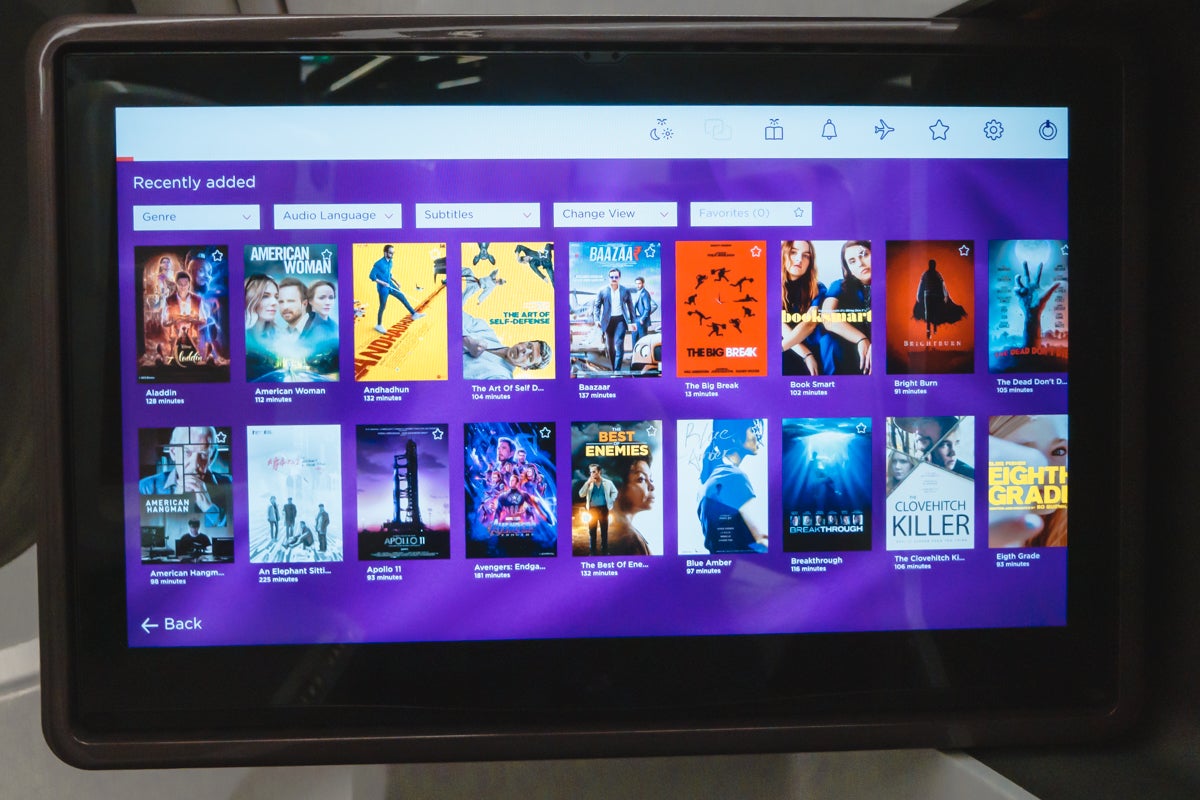 Food and beverage could also be ordered through the IFE, yet every time I checked, the functionality was disabled.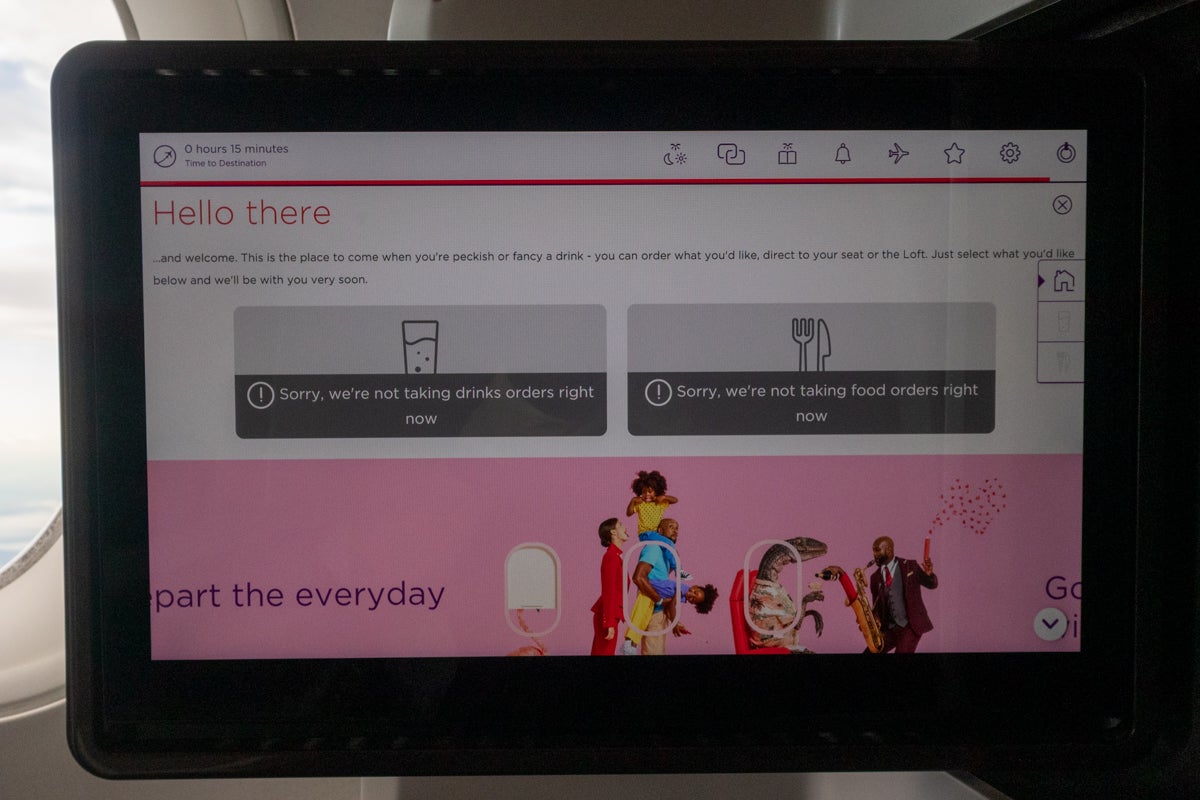 I absolutely loved watching the HD tail-cam coming into land, which is noticeably clearer than other tail-cams I have seen.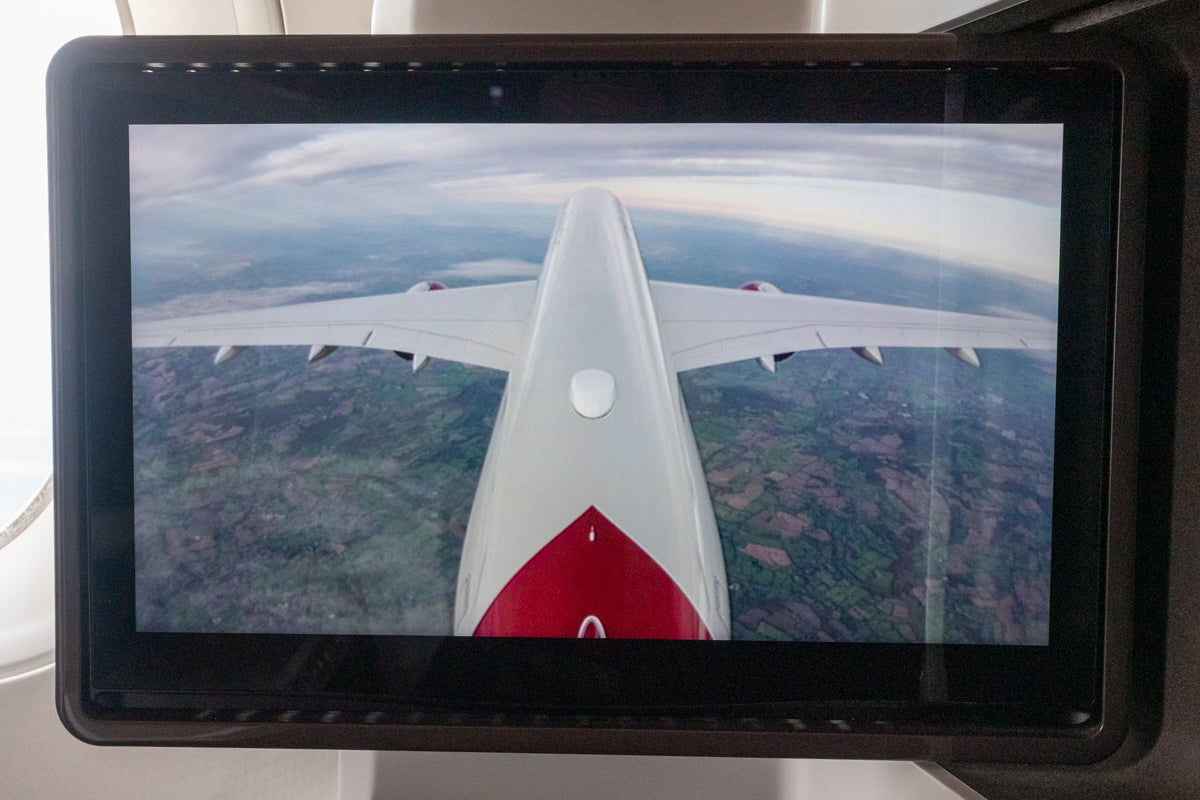 There's also an interactive map.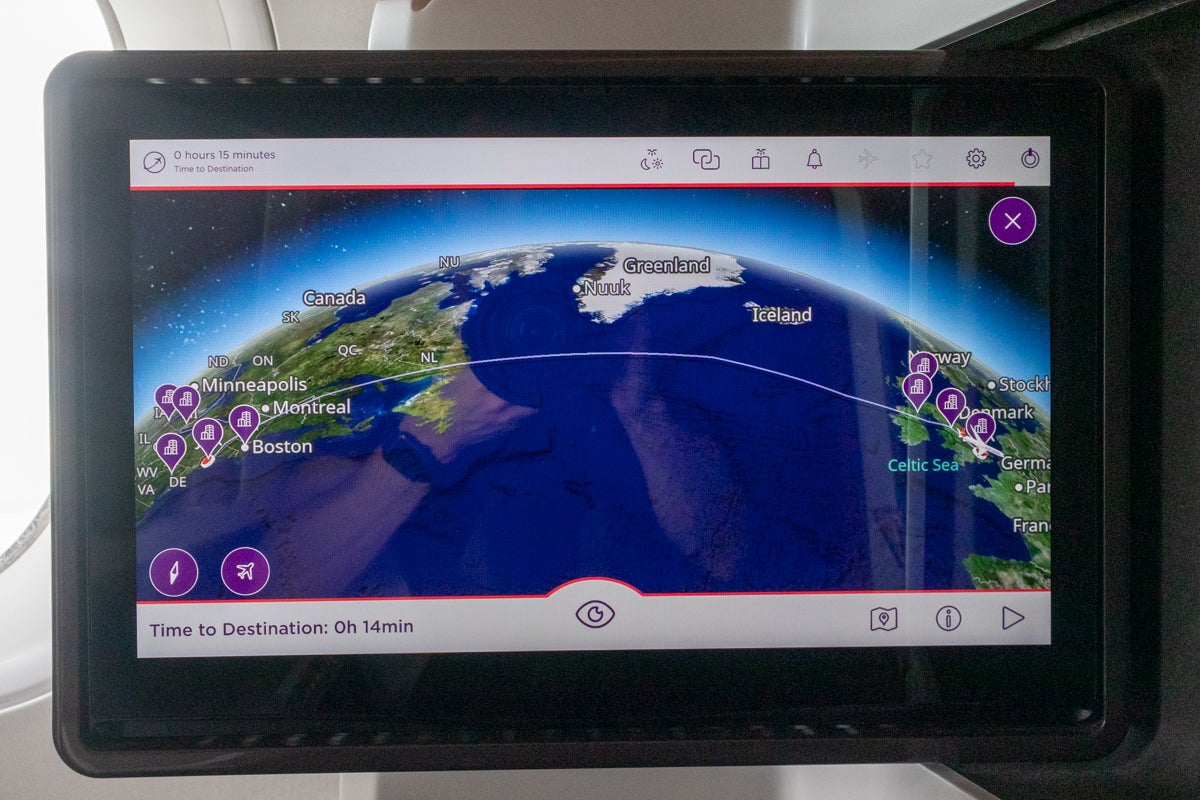 Wi-Fi is available using Inmarsat's GX Aviation technology with plans that thankfully provide unlimited data volume, unlike some data-capped plans on other airlines.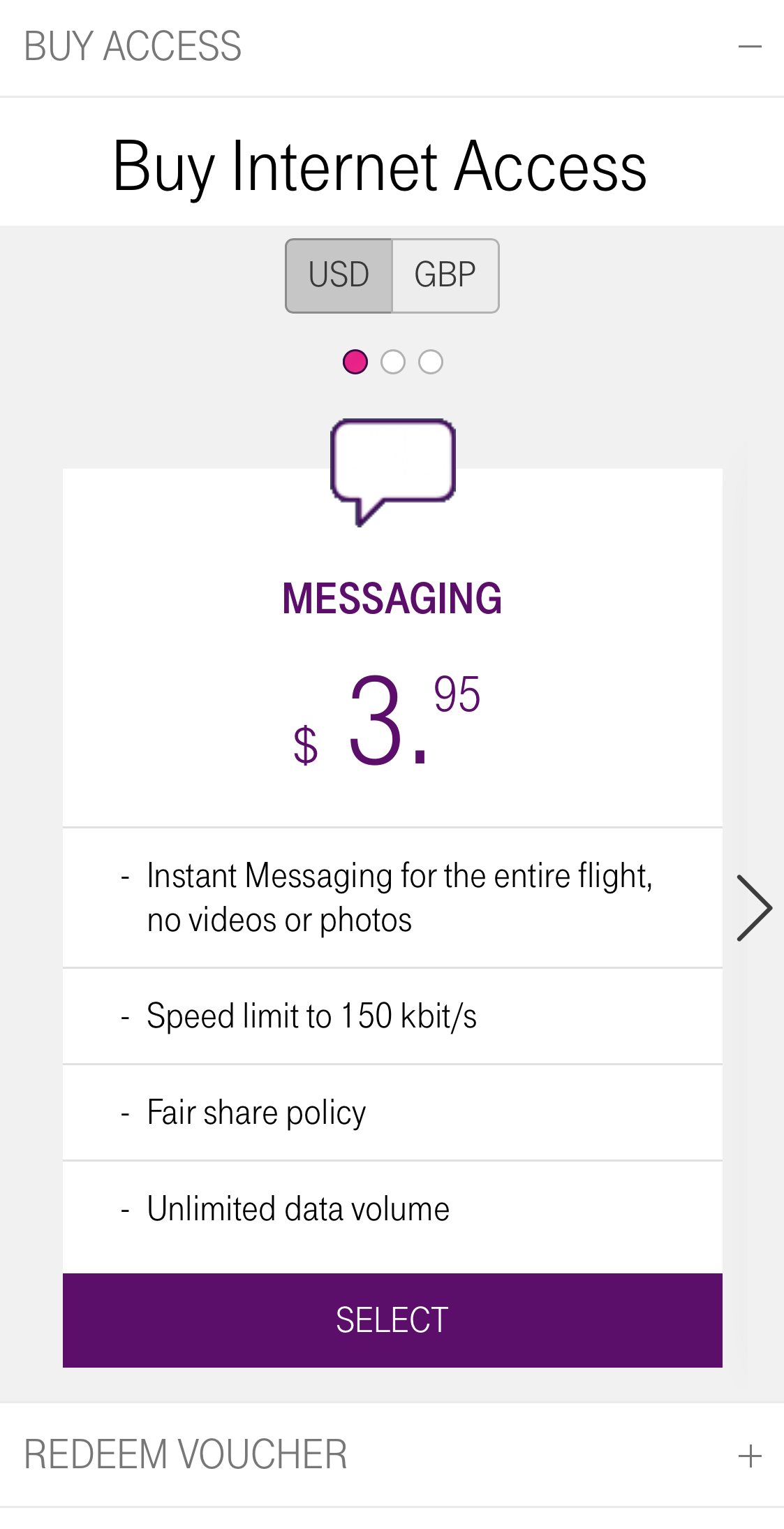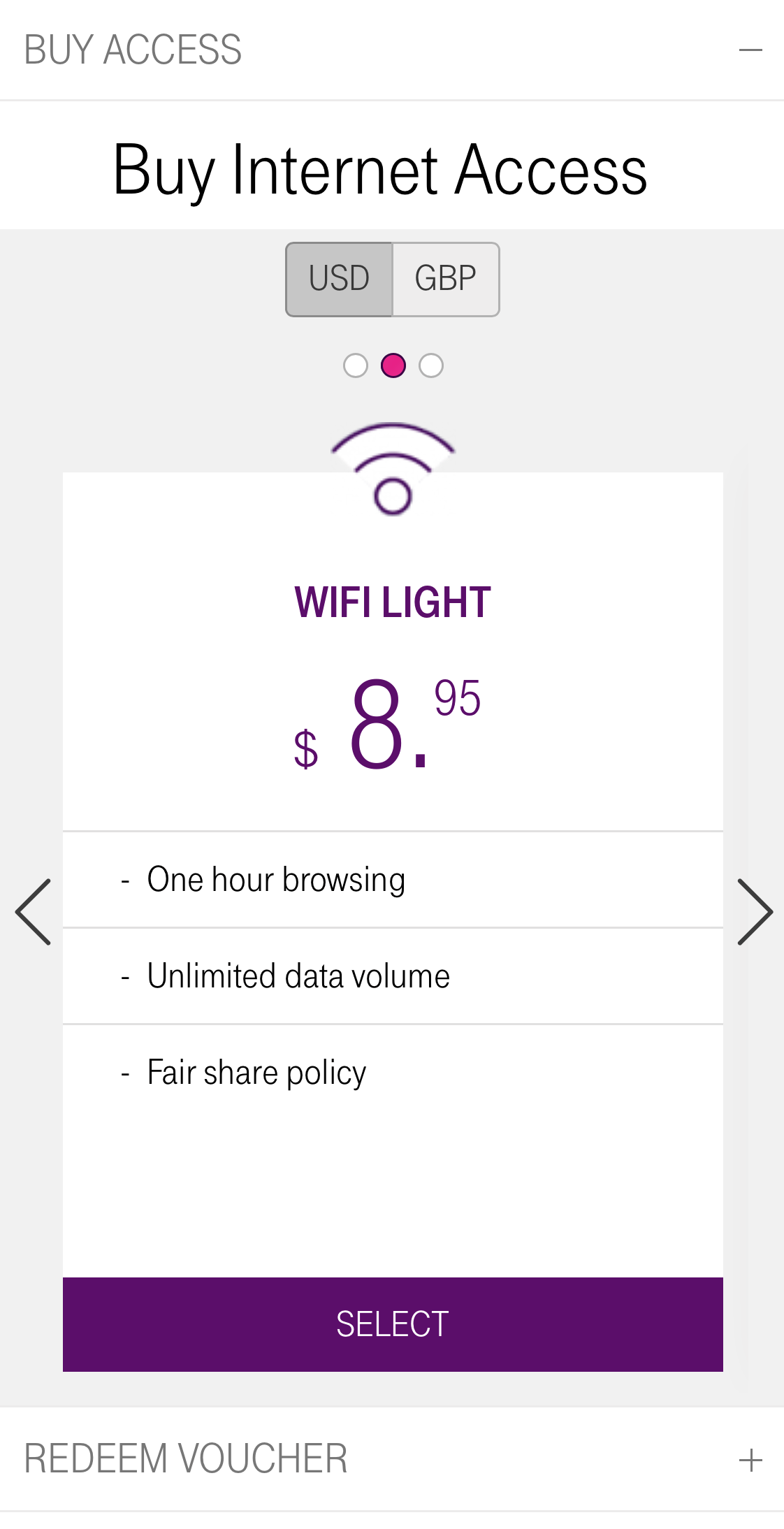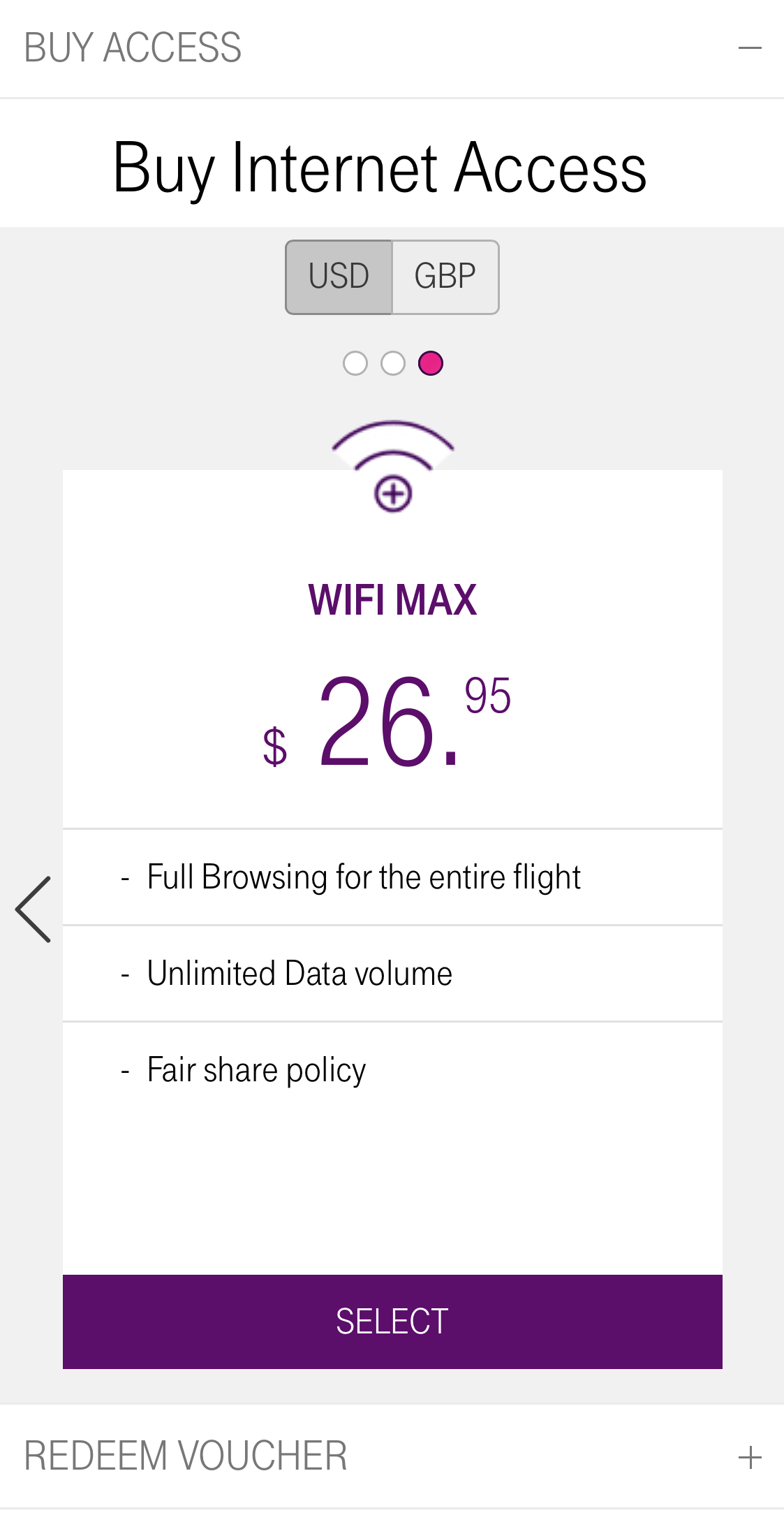 Speeds were impressive and pretty close to the speeds clocked on the ground in the Clubhouse.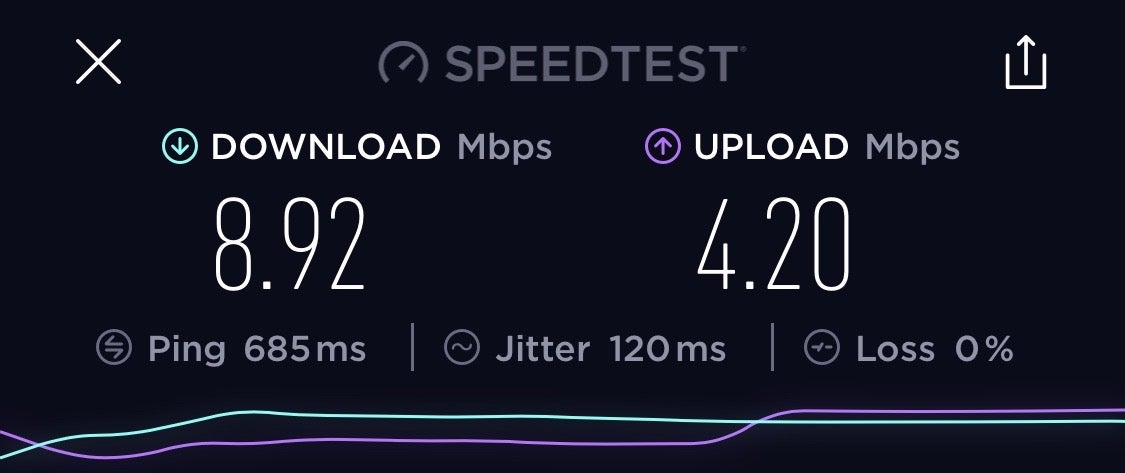 Meal and Service
Boarding commenced right on schedule at 9:10 p.m.
Entering the aircraft, I was welcomed by Rachel at the door who directed me into the Upper Class cabin. There I was greeted by Darren who offered me a choice of Canard-Duchene Champagne, orange juice, or water. I was referred to by name for the duration of the flight by all the crew.
I was asked if I would be dining on the aircraft or heading to sleep. As I was planning to eat, my meal order was taken.
Whilst I was photographing the "Loft" lounge area before take-off, I had the pleasure of meeting more of the fabulous crew including Rima, Karl, and Colin, the Customer Service Manager. They were all very excited about their shiny new aircraft and explained this was only their second flight, after flying over from London just a day before.
They also explained that there were only 8 empty seats in Upper Class, 10 in Premium, and 30 in Economy — about 86% full.
Due to the short 6-hour red-eye flight, straight after take-off the crew burst into action and did a fantastic job of prioritizing the turndown service for those who wanted to skip the onboard meal service and get straight to sleep.
As a collective team, it took them no time at all. If Virgin Atlantic can get this amazing turn-down service done correctly on a 6-hour flight, you would think Qantas could do so on a 9-hour flight?
By 10:30 p.m., just 20 minutes after take-off, my post-take off Sunset Martini arrived. It's good to see no single-use plastic straw, but the paper straw is enormous.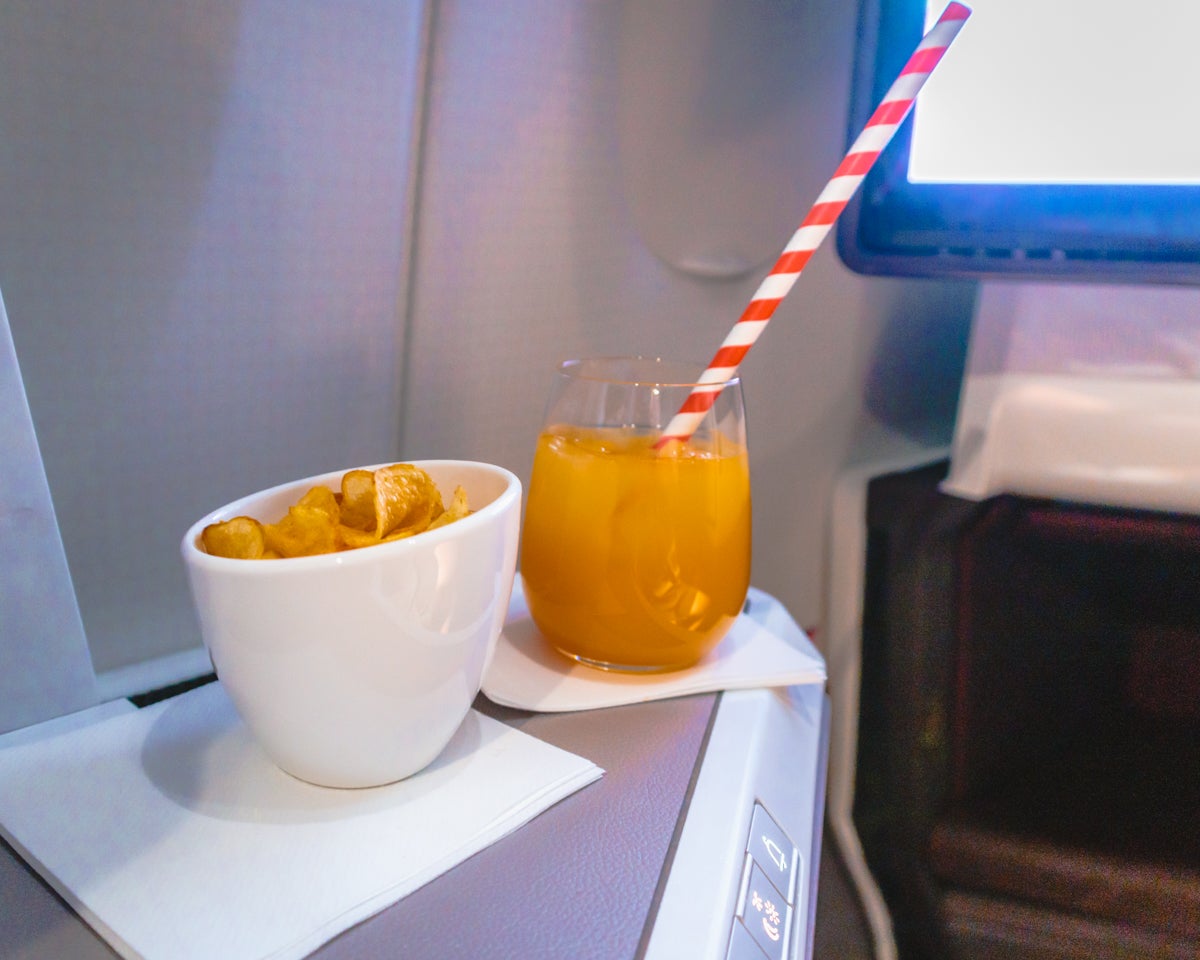 The tray table was set with a purple placemat, side plate, and the iconic Wilbur and Orville salt and pepper shakers.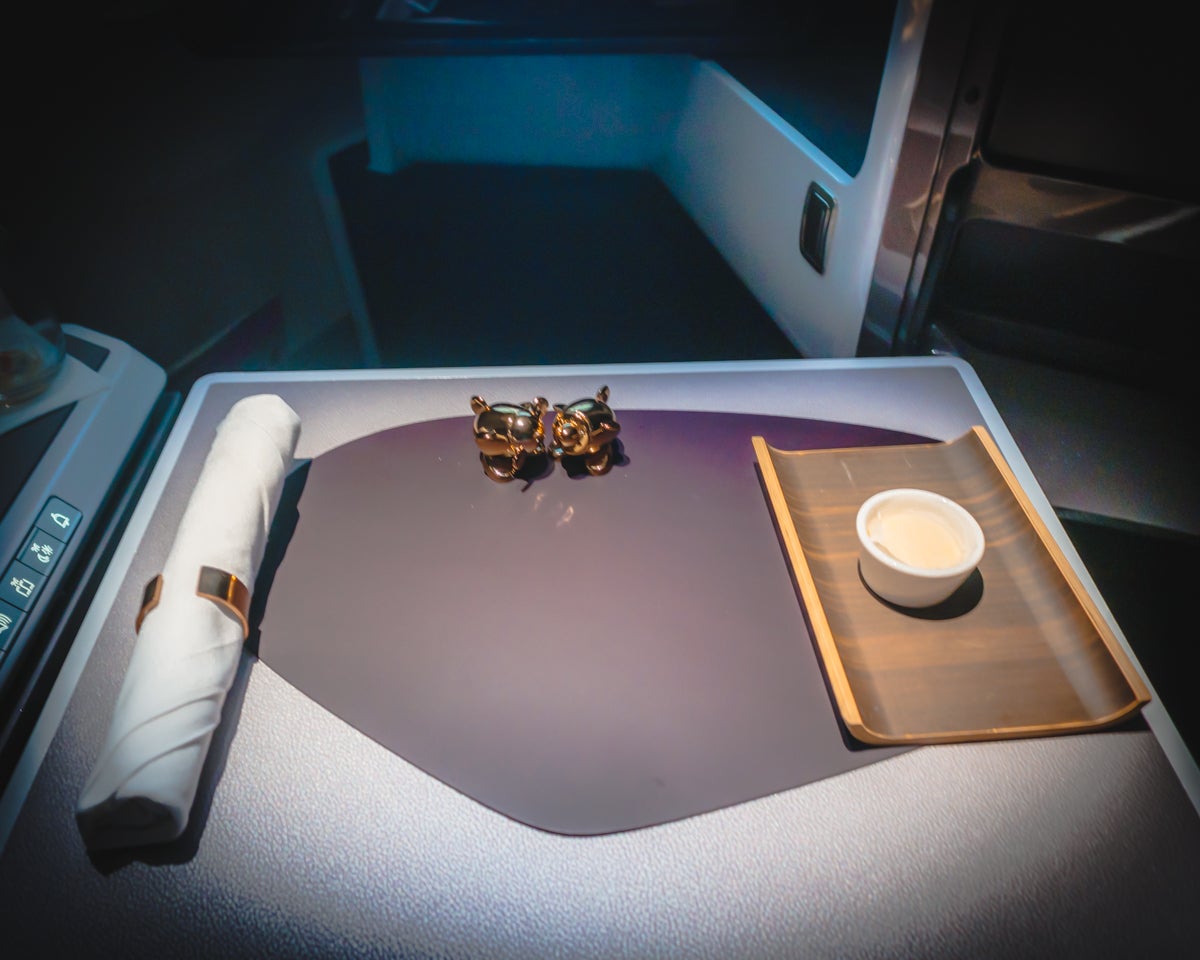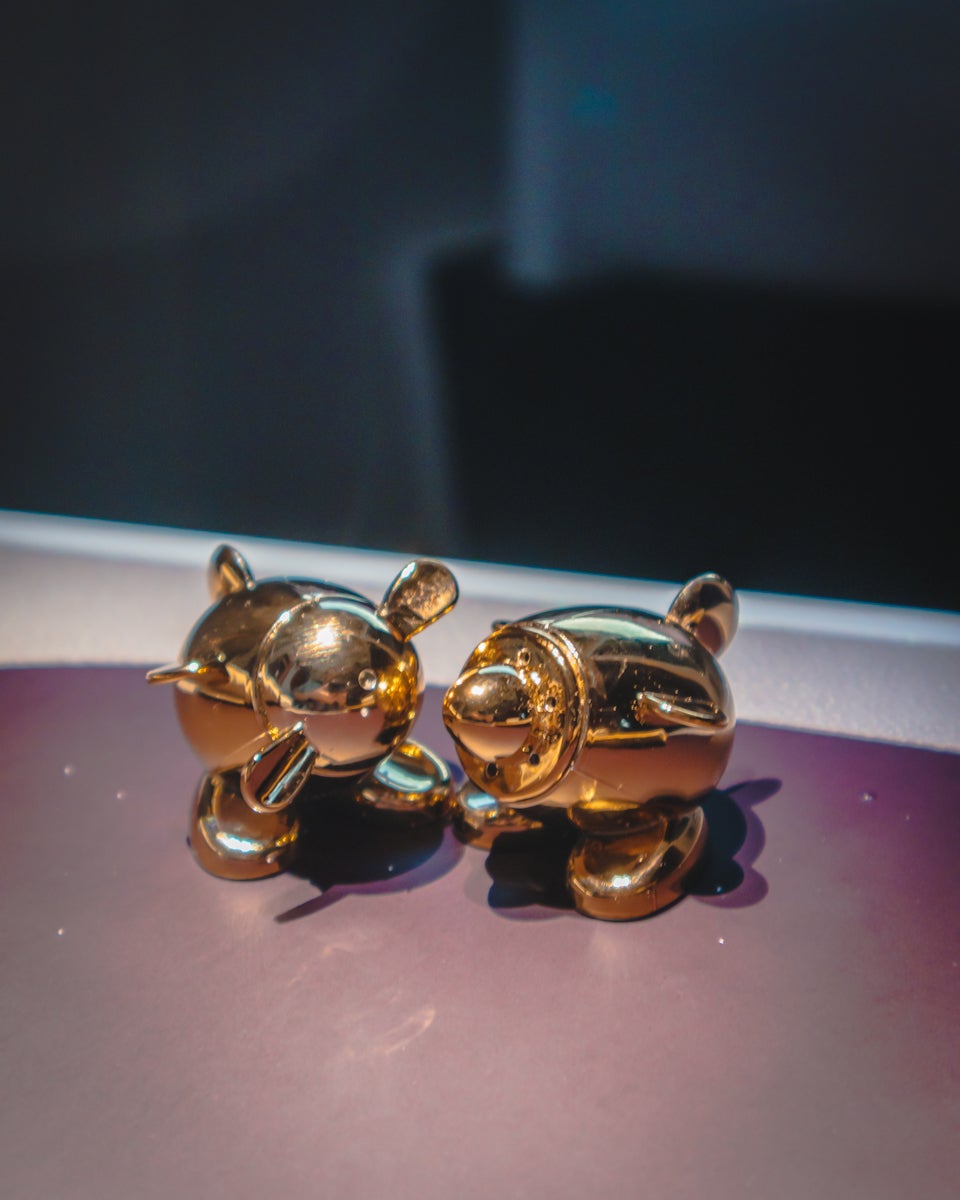 A selection of bread arrived at 10:50 p.m. My meal followed shortly 10 minutes later. I ordered the grilled fillet steak with red bliss mashed potatoes, sautéed green beans, mushrooms, and cocoa sauce.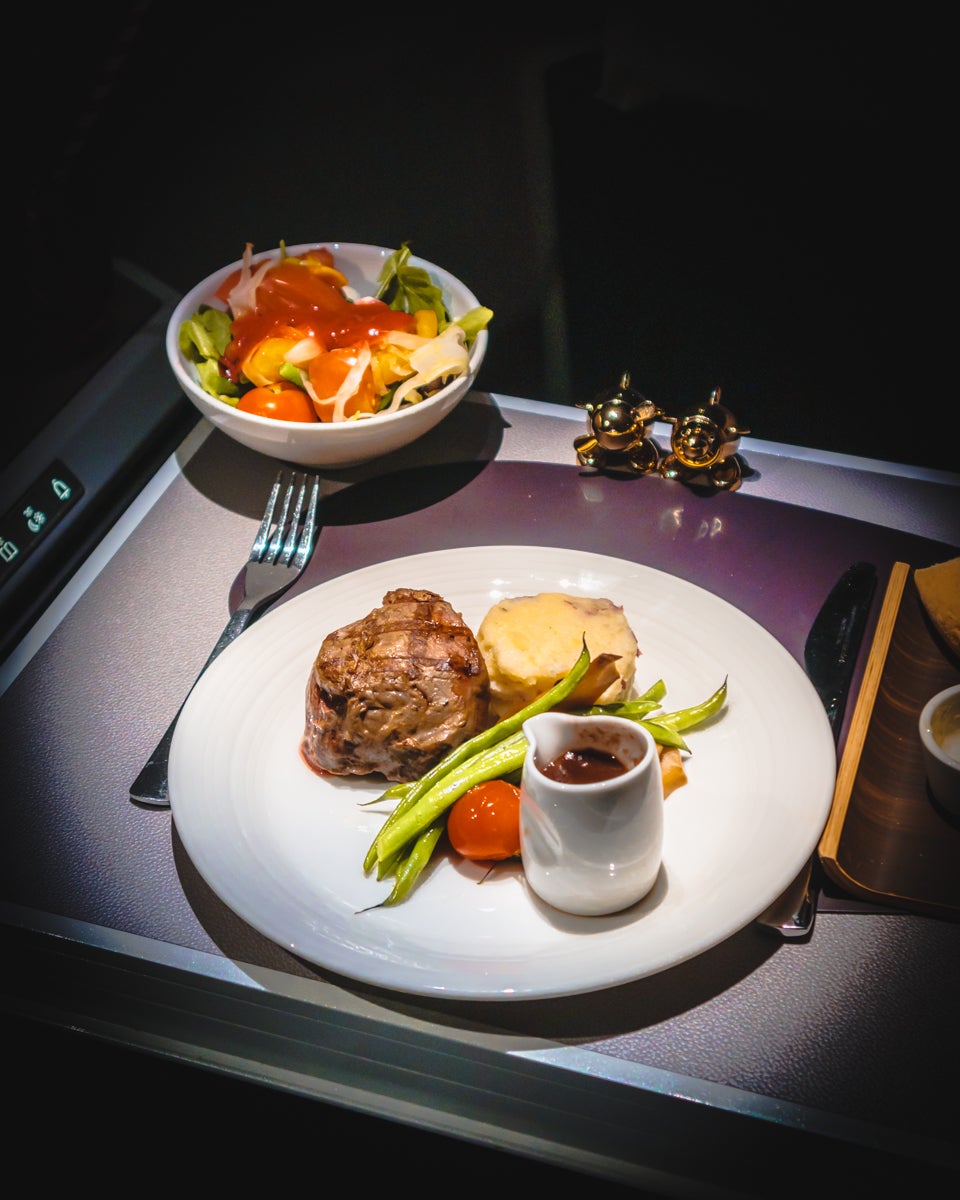 It was perfectly cooked, still moist, and a little red inside and I loved how the sauce was served on the side so I could control how much to add.
A side salad of heirloom tomatoes, rocket, kalamata olives, mozzarella, fennel, and raspberry vinaigrette accompanied the steak and was served at the same time for efficiency.
The other side option was miso corn soup.
Other main options:
Vegetarian gnocchi
Sriracha chicken salad
I ordered the flourless Valrhona chocolate cake for dessert because I hadn't had enough chocolate cake this evening, which came with fresh berries and raspberry coulis.
It arrived at 11:25 p.m. and tasted much better than the fondant I had at the Clubhouse.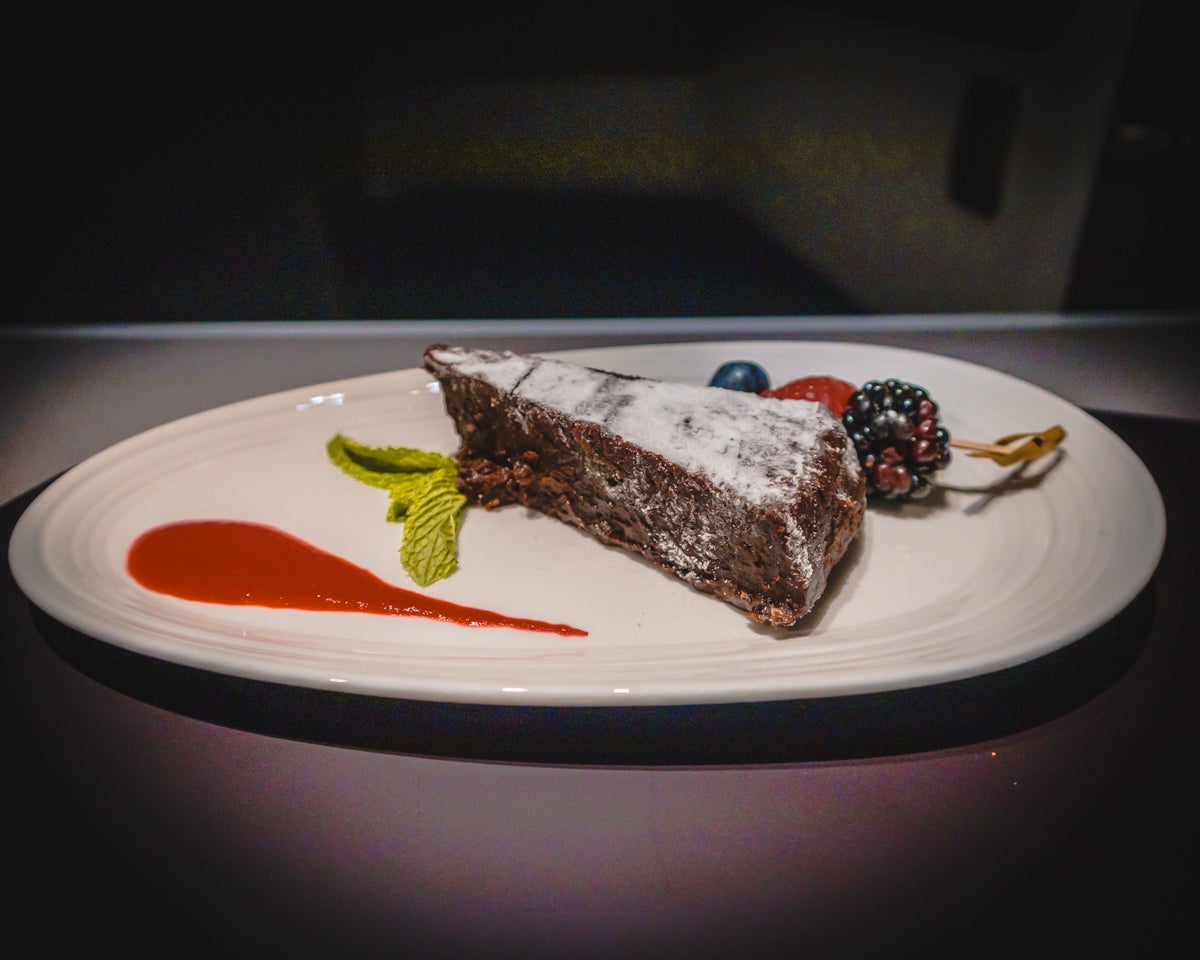 A selection of cheeses was the only other dessert option.
From placemat to empty dessert plate, the whole service took less than 40 minutes which is a fantastic job for such a short flight as I really needed to get some sleep.
I had completed a breakfast card before take-off, but whilst I was sleeping, Darren tapped me on the shoulder to check if I still wanted to eat, which I declined. I can only guess it was just a couple hours after finishing dinner.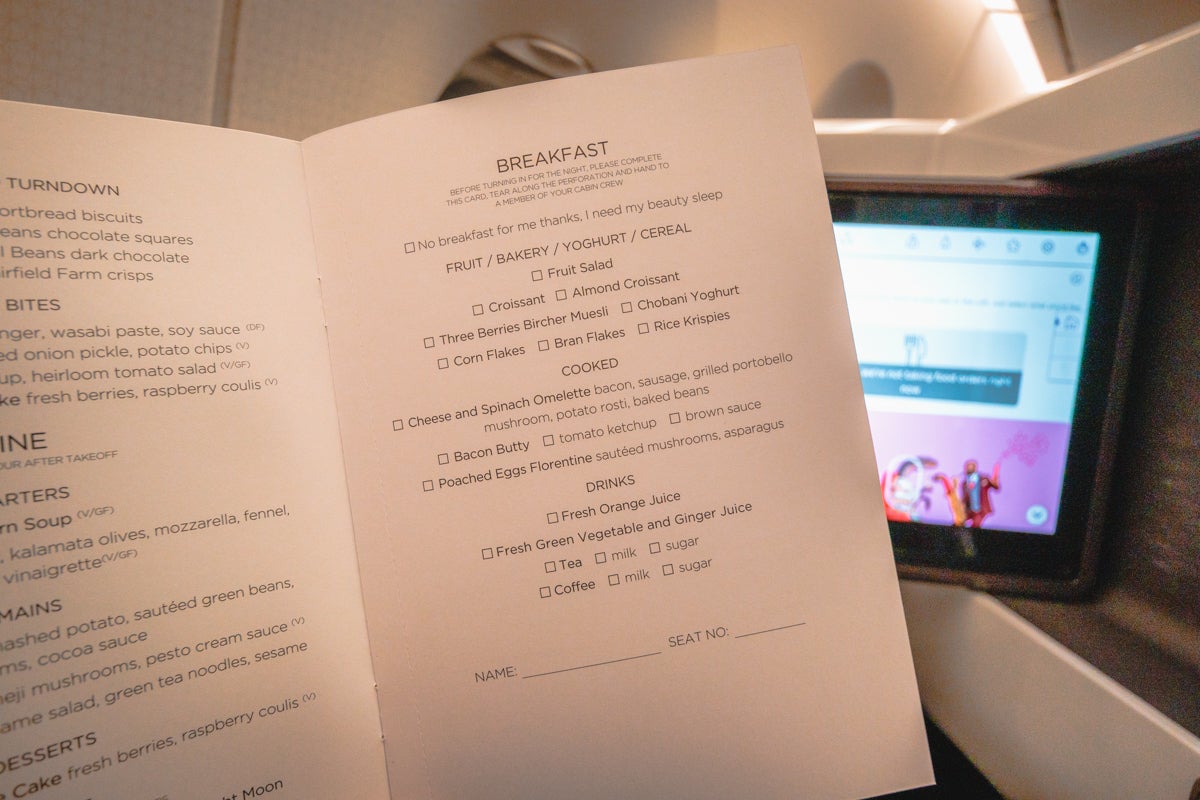 Throughout the flight I was blown away by service from this crew — they were so much fun, and you could tell they all loved what they do by the way they interacted with each other and the passengers. Their performance made me understand why closing doors are not needed for this new product.
Even though it was only their second flight, the service was faultless and proactive.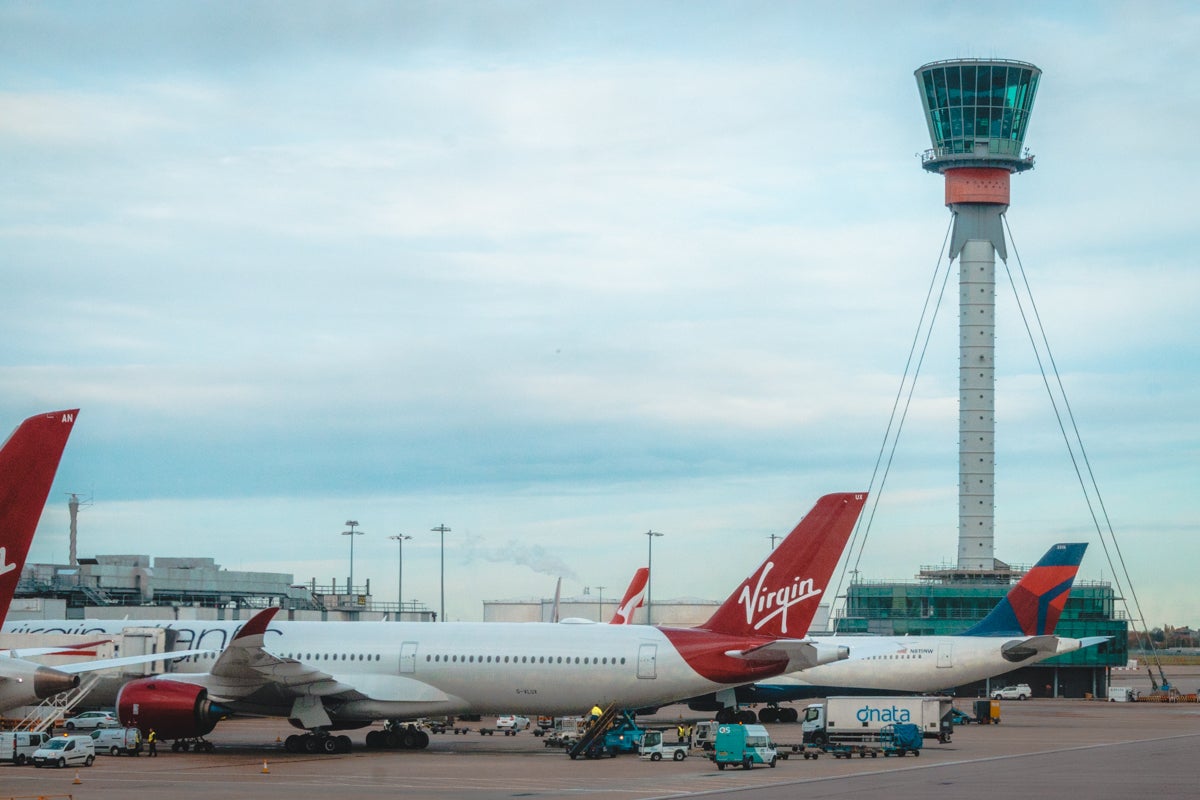 At London Heathrow Airport– Virgin Atlantic Revivals Lounge
After touching down at 8:54 a.m., and collecting my bag, I popped in to check out the Revivals Lounge, which all arriving Upper Class and Delta One passengers can visit.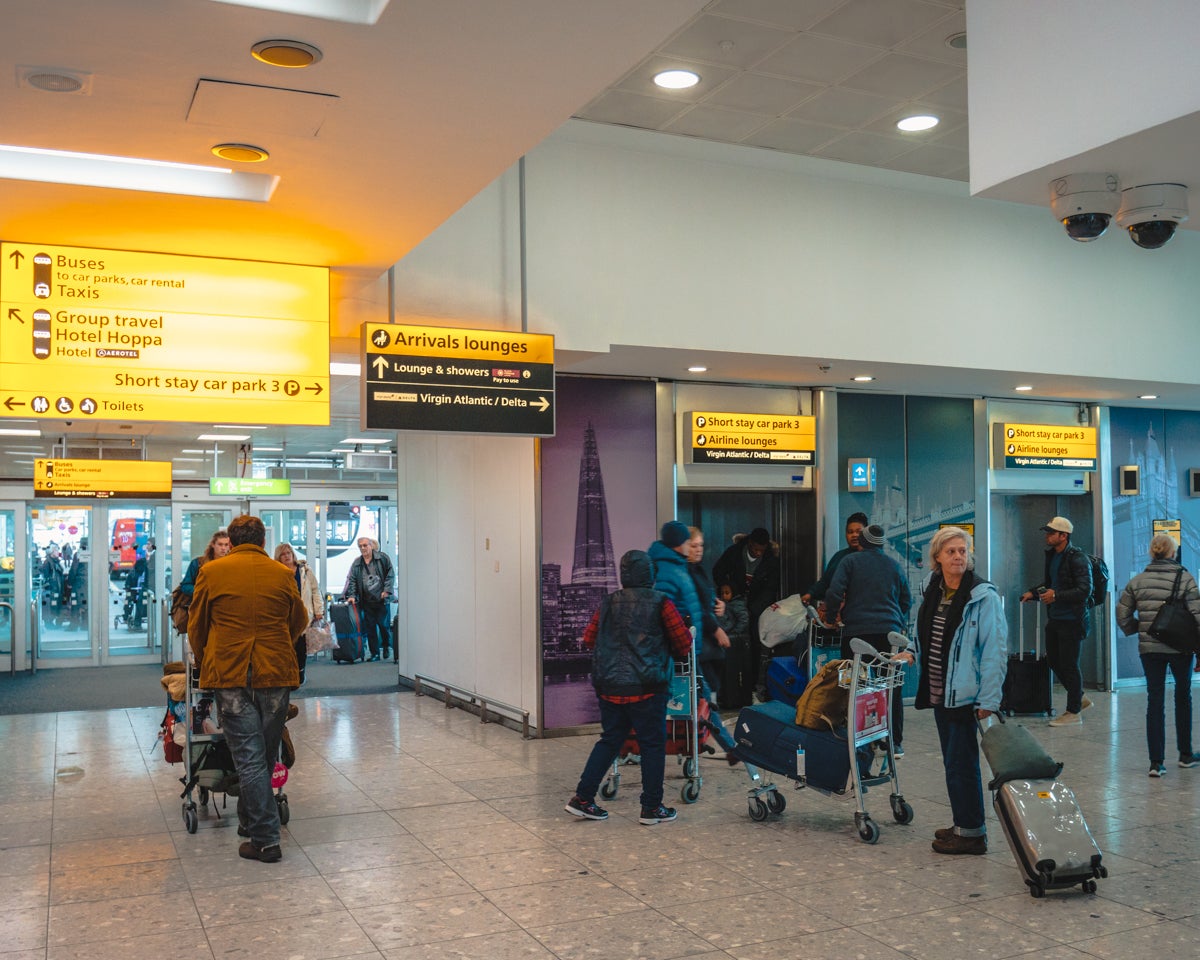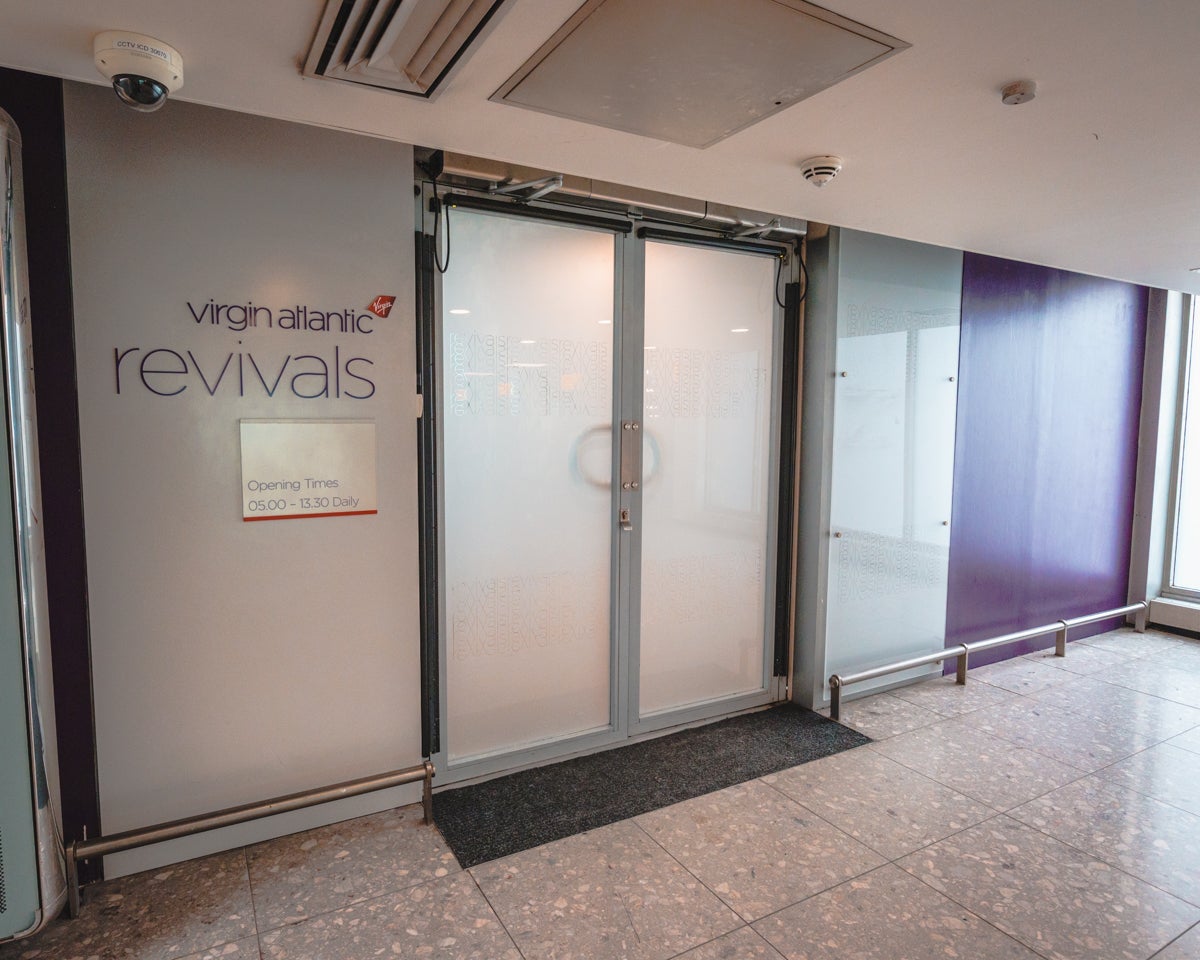 I only did a quick walk-around of the Revivals Lounge and the a la carte menu looked like it had some excellent breakfast options if you missed out on breakfast on the plane. But I still wasn't hungry yet.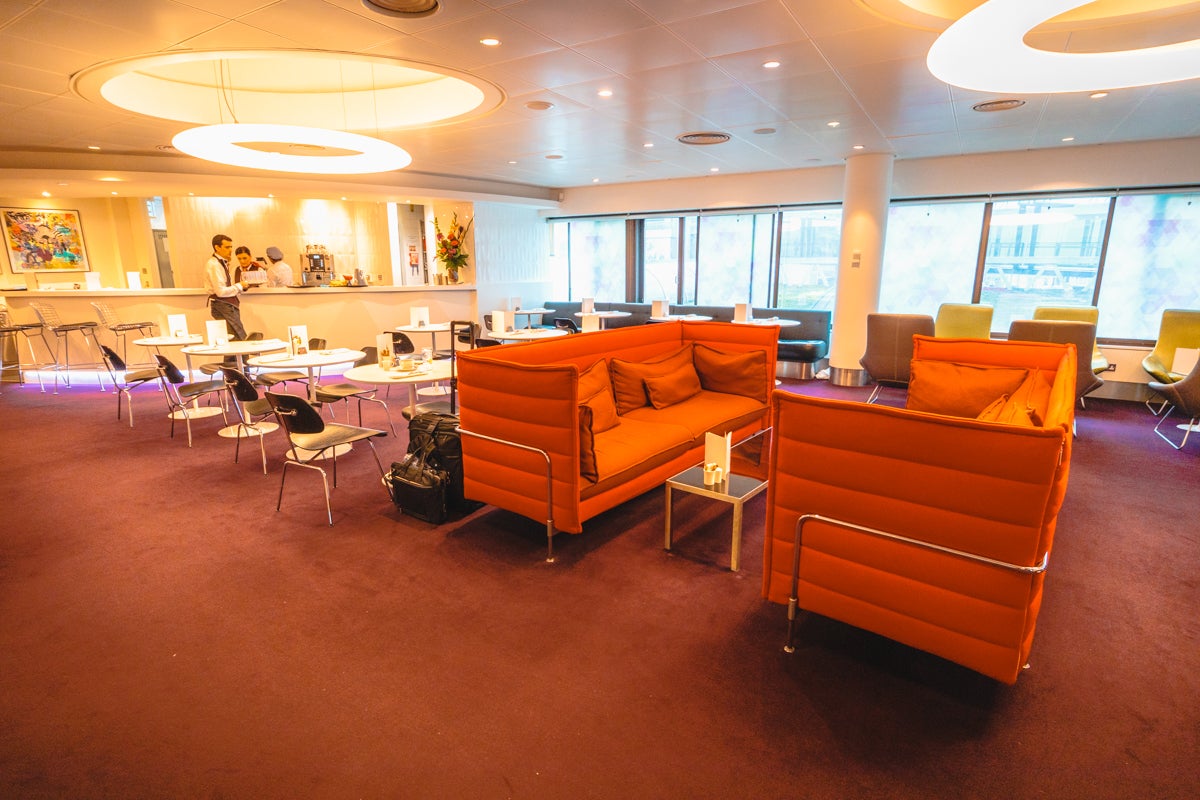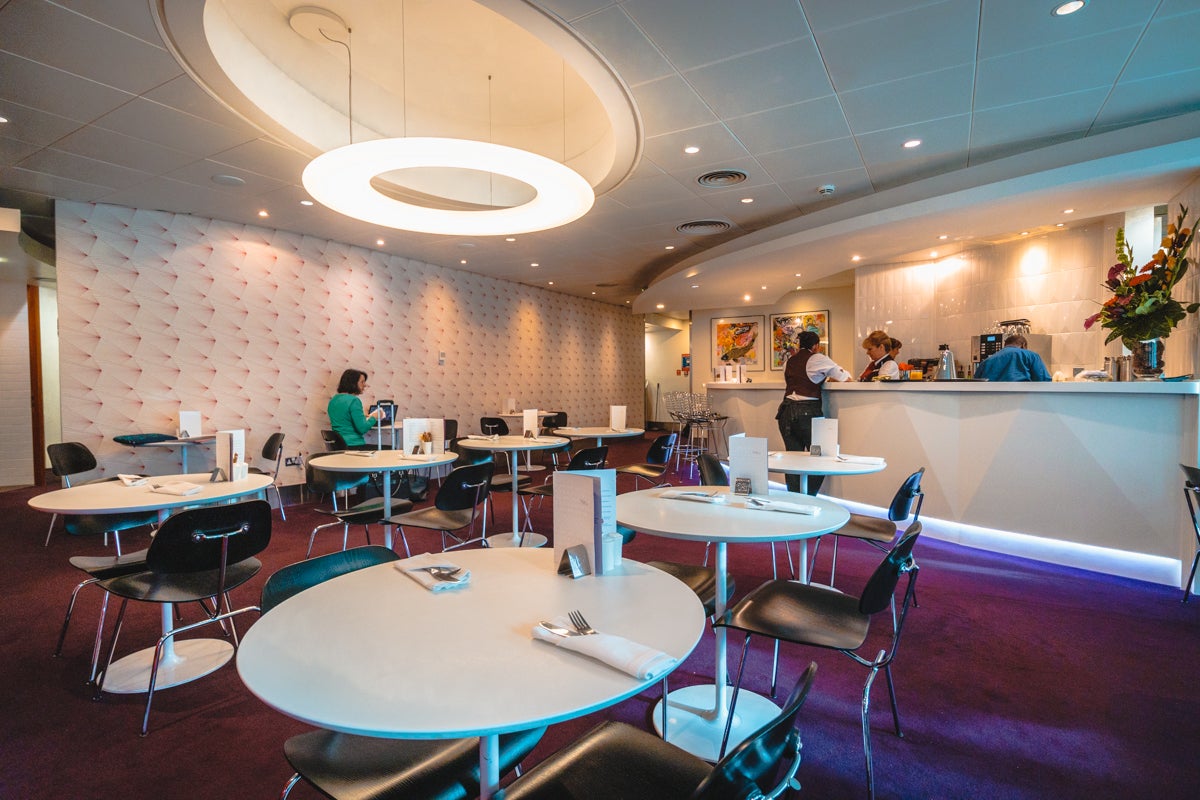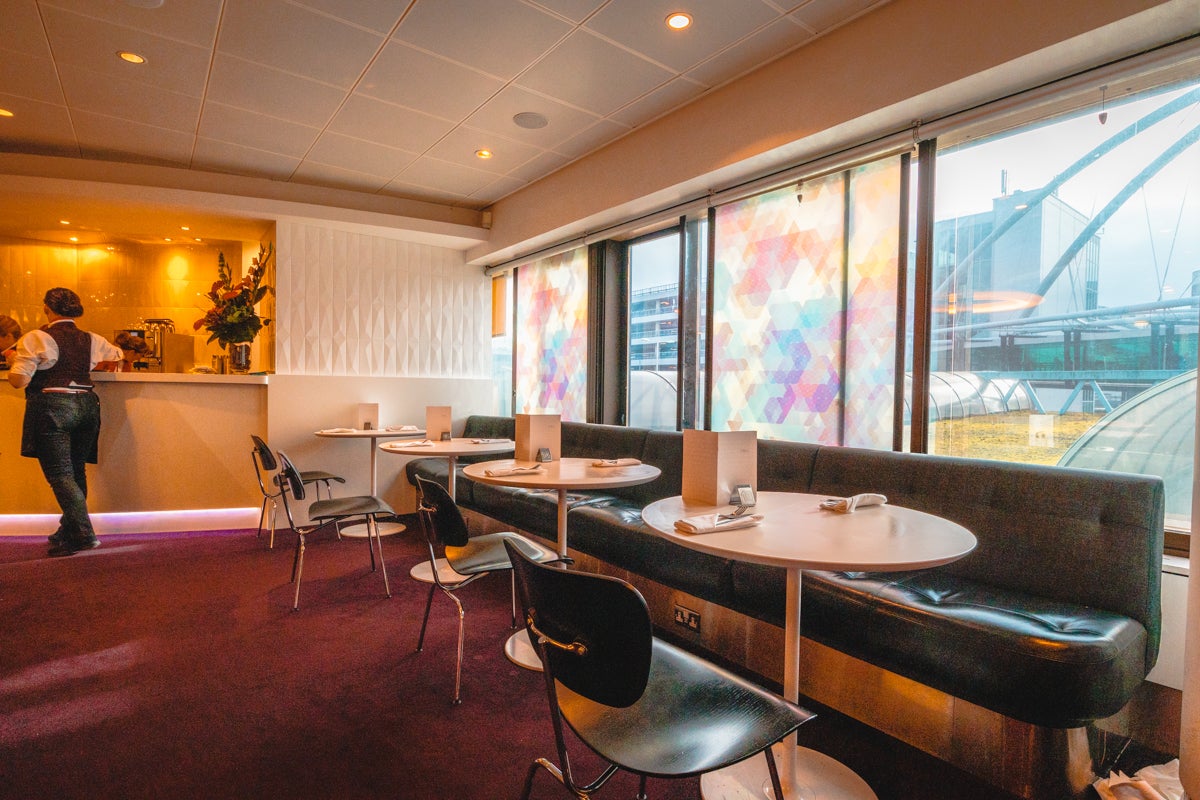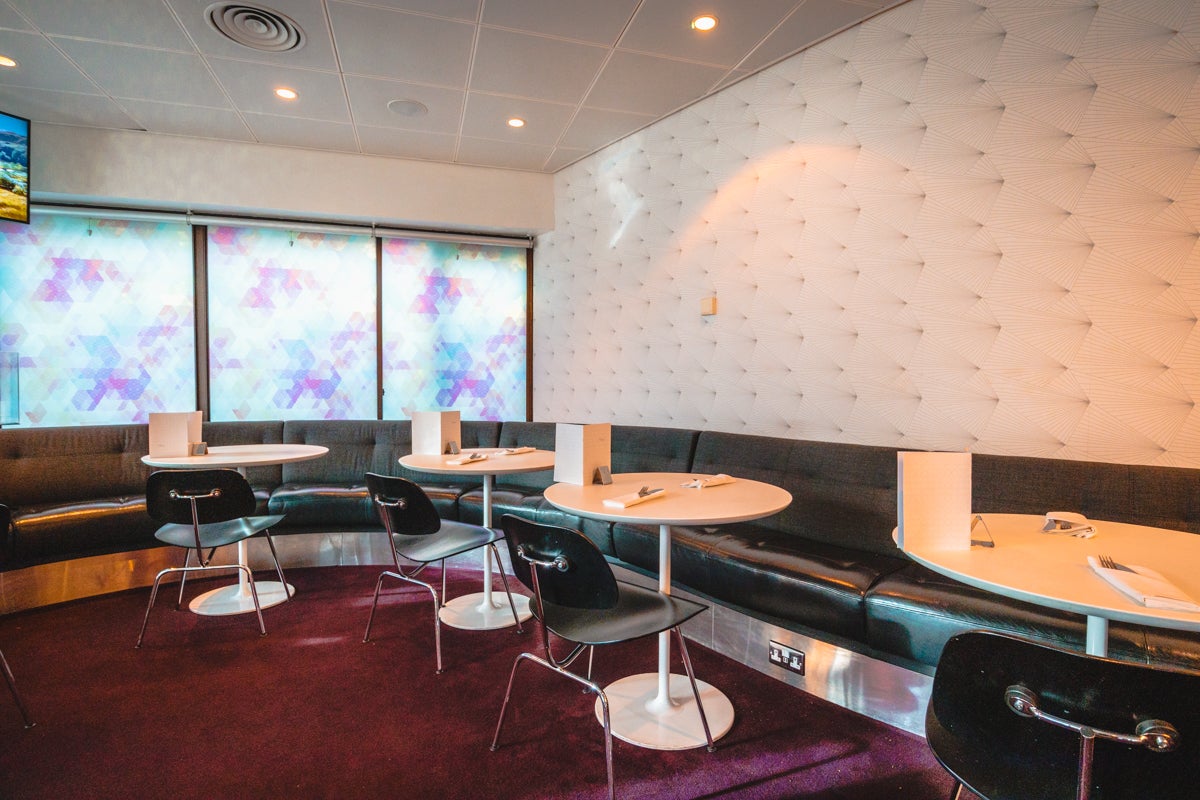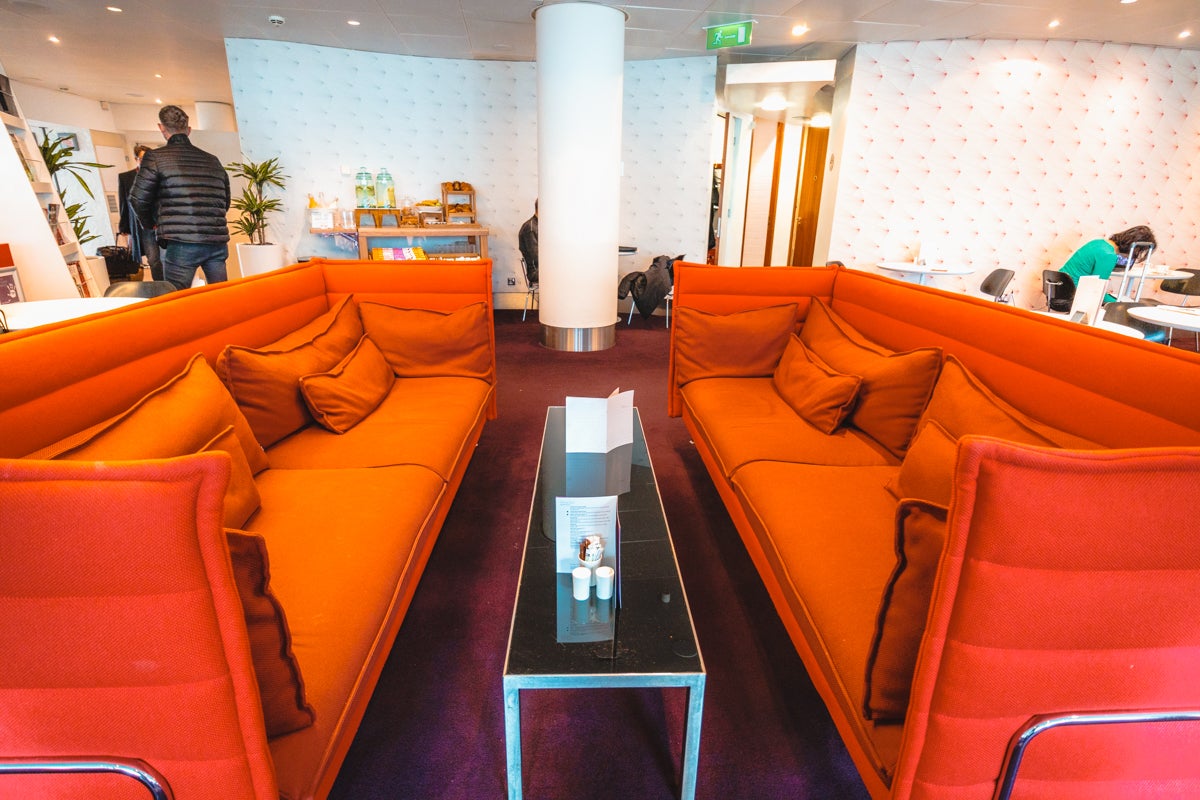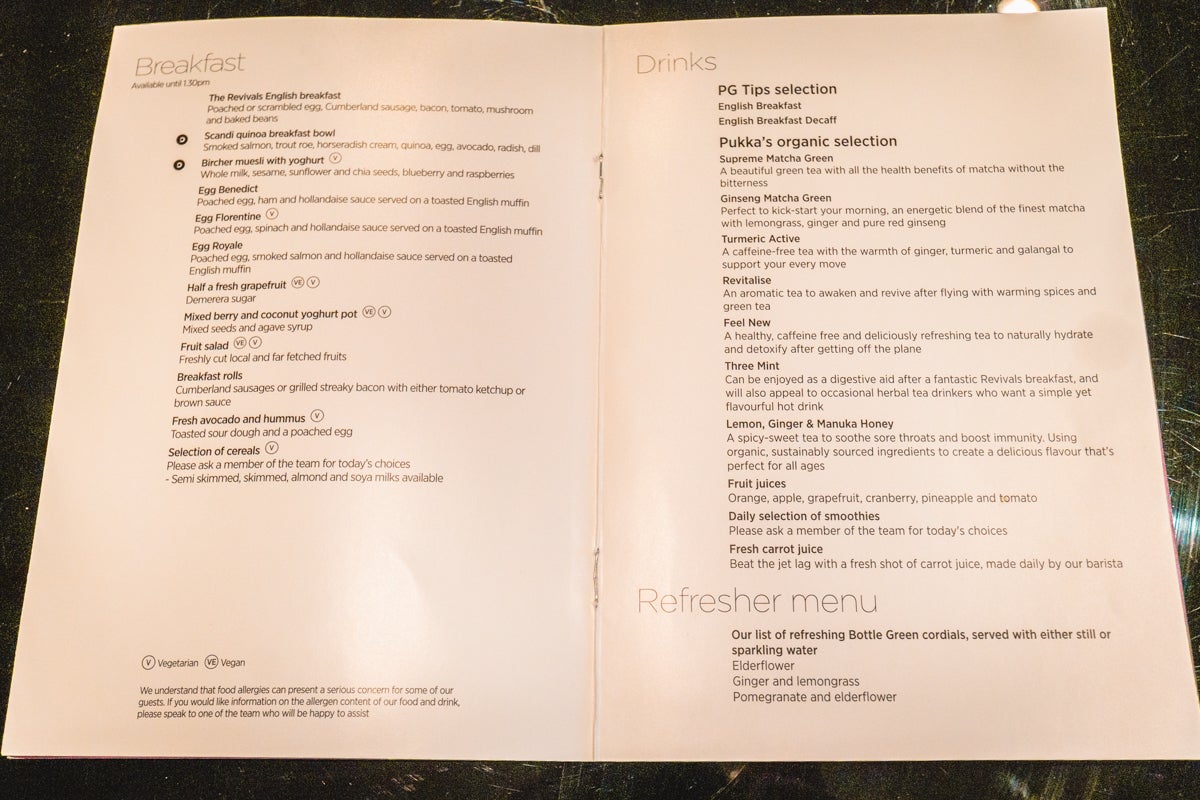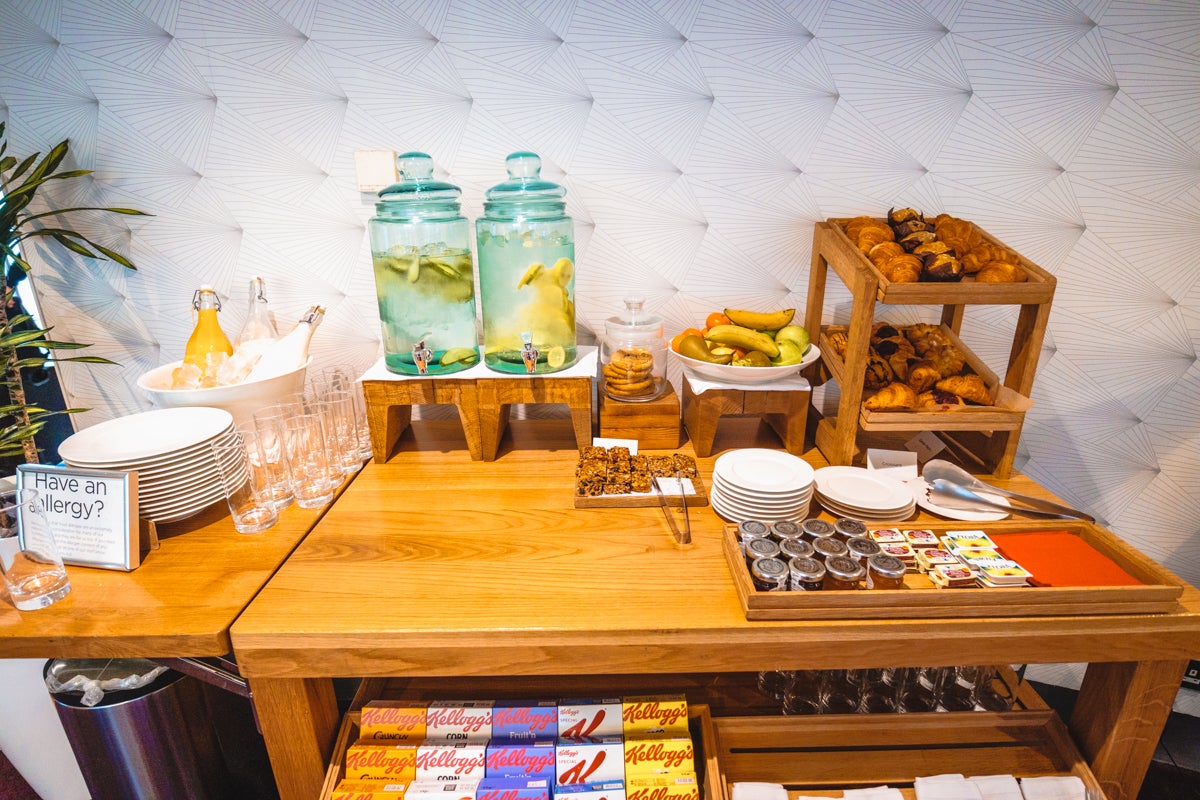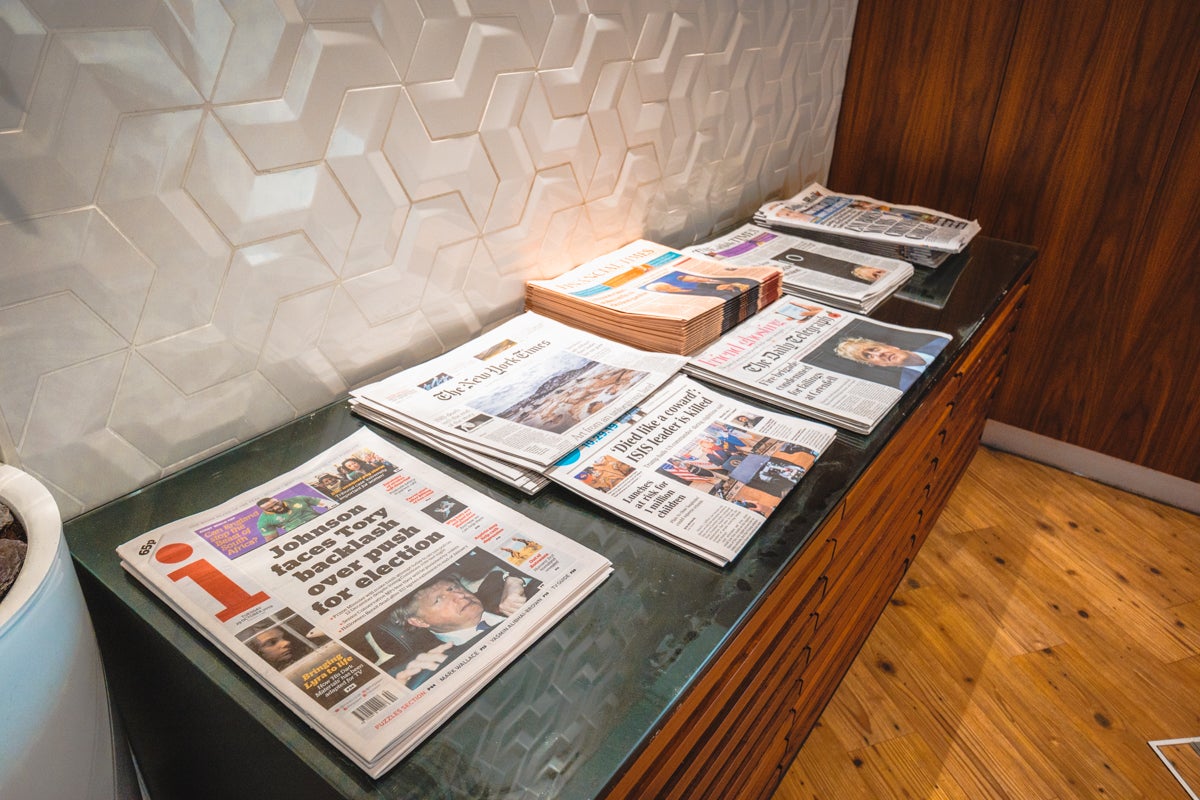 Not only was I not hungry, but I was also totally wrecked after only getting a few hours' sleep on the plane — I asked the friendly lounge staff and they said that the Aerotel was just around the corner and would be the perfect place to catch up on sleep.
Final Thoughts
So, did this live up to my high expectations and did it rekindle my love of Virgin Atlantic?
Overall, I absolutely loved this Virgin Atlantic flight.
However, I found the lack of storage and issue with the tray table a huge oversight. Surely during the development stage of this new business class product, passengers would have been consulted and this would have been flagged well before entering into service? Maybe the airline only gained feedback from loyal Virgin passengers who were used to not having any storage in the old seat so they didn't pick up on it?
I was also surprised to see the seat surfaces were already damaged on such a relatively new aircraft.
But sleep quality and service will always trump storage in my eyes, and Virgin delivered both of these in abundance. The new seat is also a huge improvement over the old configuration.
The small privacy screen isn't necessary, and I preferred the interaction with the fabulous crew to being shut off from them.
The entire Upper Class crew on VS138 on this flight epitomizes the Virgin Atlantic brand and how I remember my previous flights — fabulous, fun, and all whilst providing a rock star service.
But 6 hours and 39 minutes wasn't enough time to experience this product. I would love to see Virgin Atlantic return to Australia. Back in October 2018, Richard Branson said he wants to launch London to Australia flights "as soon as possible." 17 hours would be a much better test for this new Upper Class!