Qantas Airbus A330 Business Class Review [BKK to SYD]
Airline: Qantas Airways (QF)
Aircraft: Airbus A330-300 (VH-QPF)
Flight #: QF24
Route: Suvarnabhumi Airport – Bangkok (BKK) > Sydney Airport (SYD)
Date: June 26, 2019
Duration: 9hrs 15min
Cabin & Layout: Business Class, 28-seats, 1-2-1 config
Seat(s): 4K
Miles Used: 50,000 Asia Miles per person one-way
Taxes & Fees Paid: $220 (HK$1,727) per person
Typical Retail Cost: $2,000 per person one-way
Introduction
Booking Qantas Business Class
This review is the last in a series of flights between Sydney and Barcelona.
Without any award seat options, I found decent value paid fares between Bangkok and Barcelona on Finnair Airbus A350/A321, Oman Air Airbus A330, and Oman Air Boeing 787-9. To get to Bangkok I flew Singapore Airlines, however, I needed to find a flight to get me home.
Traditionally, I've only ever had luck finding award seats at the release of the Qantas schedule or when Qantas would announce a new route. So, I was very surprised to find a seat between Bangkok and Sydney a few months out from departure.
I could have spent 60,000 (68,400 since September 18, 2019) Qantas Frequent Flyer points. However, the same flight was also available through Asia Miles for just 50,000 miles.  You just can't escape the ridiculous Qantas Carrier Charges that totals $175 (HK$1,368).


At Bangkok Airport
Sleep
After landing from Muscat at 6:34 a.m. and after only getting 5.5 hours of sleep on the previous flights and then dealing with the drama of my lost bag that never made it out of Barcelona, it was now 8 a.m. and I was absolutely wrecked.
My flight home to Sydney wasn't until 6:10 p.m. and there was no way I could stay awake until then, so I decided to find a place to sleep. However, I also didn't want to sleep too much knowing I'd need to sleep again on the Qantas red-eye to get my body clock back into Sydney time.
There was no value getting a hotel room for a few hours of sleep, but after some internet searching, I found the BOXTEL at Bangkok Airport, which had rates by the hour. I paid $41 for 4 hours.
In my box, there is just enough space for a king single bed, a small bedside table, and a drop-down shelf. All guests receive a bottle of water and earplugs.
You get 300-count cotton sheets, a micro gel pillow, and a comfy mattress. With the lights out and earplugs in, the room was completely pitch black and I couldn't hear a thing. I set an alarm for 4 hours and drifted off to sleep within minutes.
It was fantastic — I woke up feeling back to somewhat normal. I just needed to find a lounge so I could shower.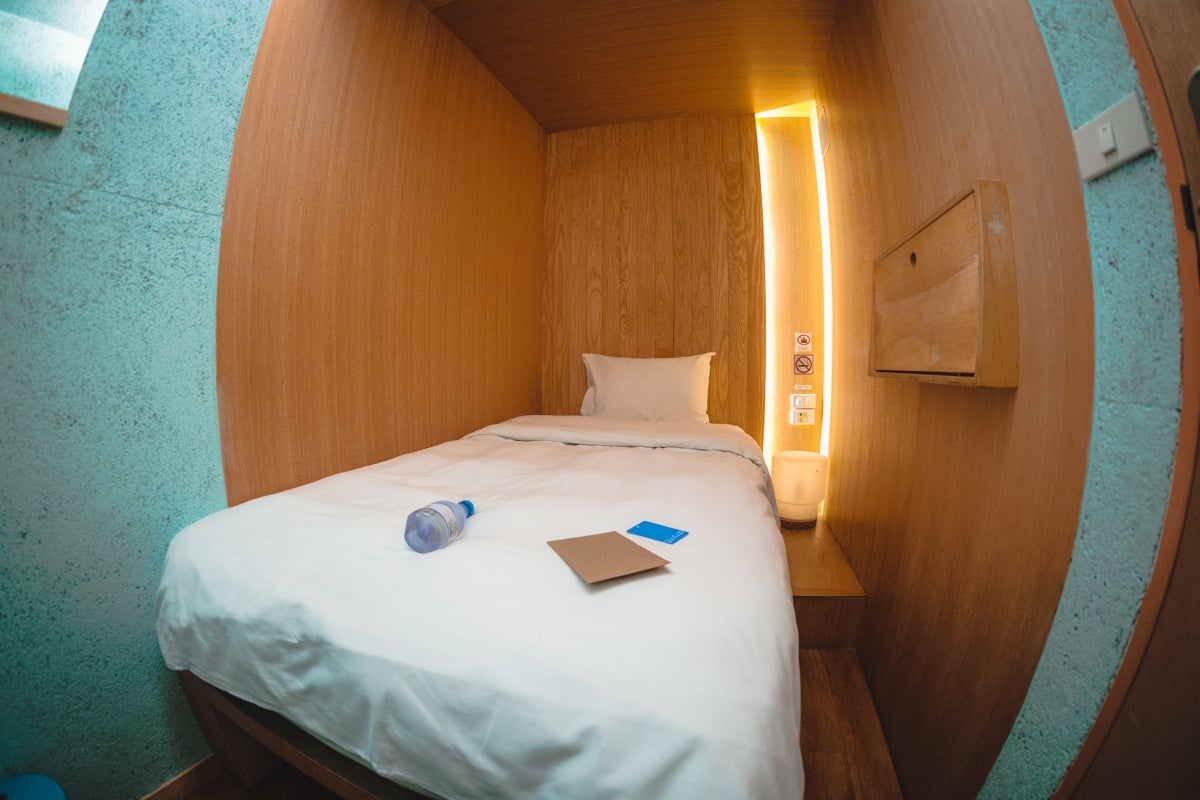 Check-In
With 6 hours to go before departure, the Qantas check-in wasn't open for another 3 hours. Considering I had no suitcase to check, I simply jumped onto the Qantas app to check-in online – the only silver lining to the lost bag.
Lounge
I was spoiled for lounge choices at Bangkok airport so I will cover the 14 hours I spent lounge hopping across my inbound and outbound visits in a later review.
Flight
Aircraft
QF24 is operated by an Airbus A330-300 aircraft.
Qantas currently has a fleet of 28 Airbus A330 series aircraft including 10 of the -300 variants and 18, smaller, -200 variants.
My aircraft this evening was Qantas fourth A330 delivered and was over 15 years old.
The aircraft has 28 business class seats, in a 1-2-1 configuration, between door 1 and door 2 with 269 economy seats, in a 2-4-2 configuration, split across 2 cabins filling the rest of the aircraft.

Qantas A330 Business Class
Business class passengers boarded through door 1 approximately 20 minutes before departure.
My first impression was how messy the cabin looked because the crew had already installed the mattress pads before passengers boarded. As a scheduled 9-hour evening flight, the logic is that it saves the crew offering a turndown service for 28 individual passengers after the dinner service that takes time and those passengers who choose to dine at the airport instead can go straight to sleep.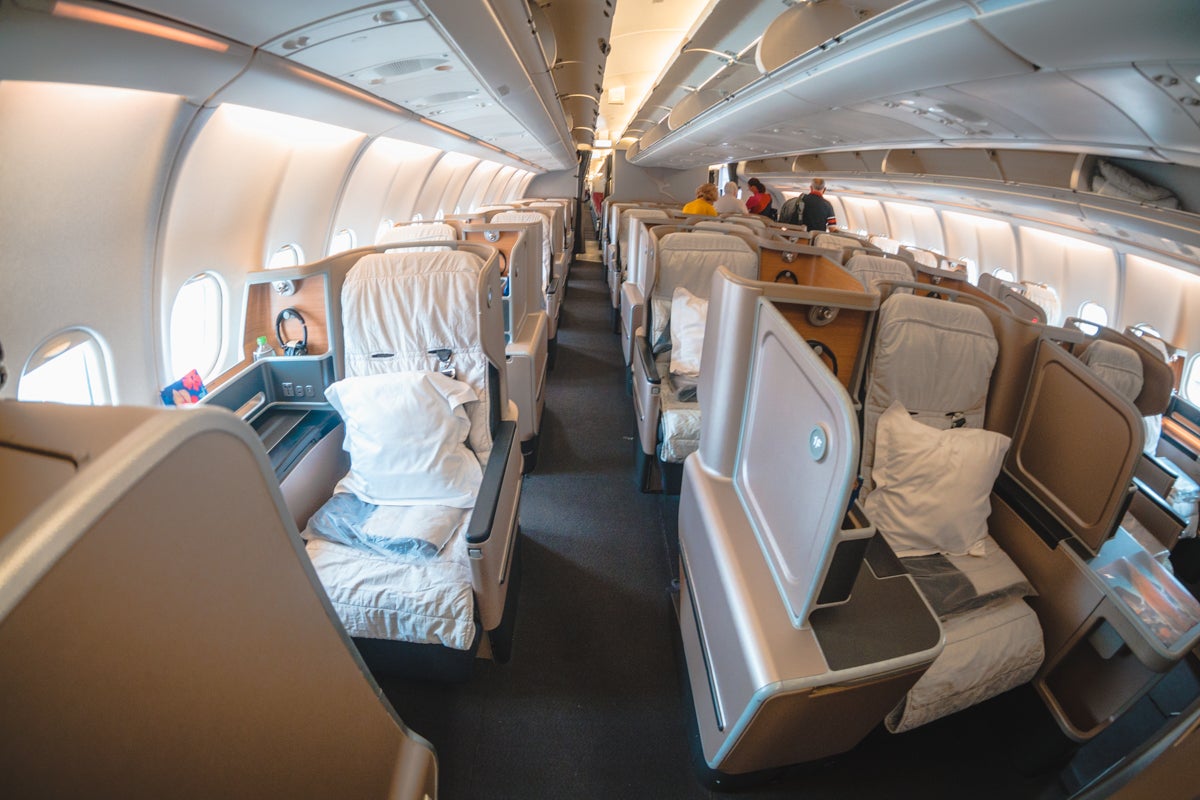 Qantas' uses the staggered Thompson Aero Vantage XL business class seat, which they brand the Business Suite – it's a long stretch to call this a suite and align it with a Qatar Qsuite.
You'll find the same seat on all Airbus A330 aircraft now after an extensive refit project. All factory-fresh Boeing 787 feature the same seat and the airline is now in the process of refitting its Airbus A380 aircraft with the same seat.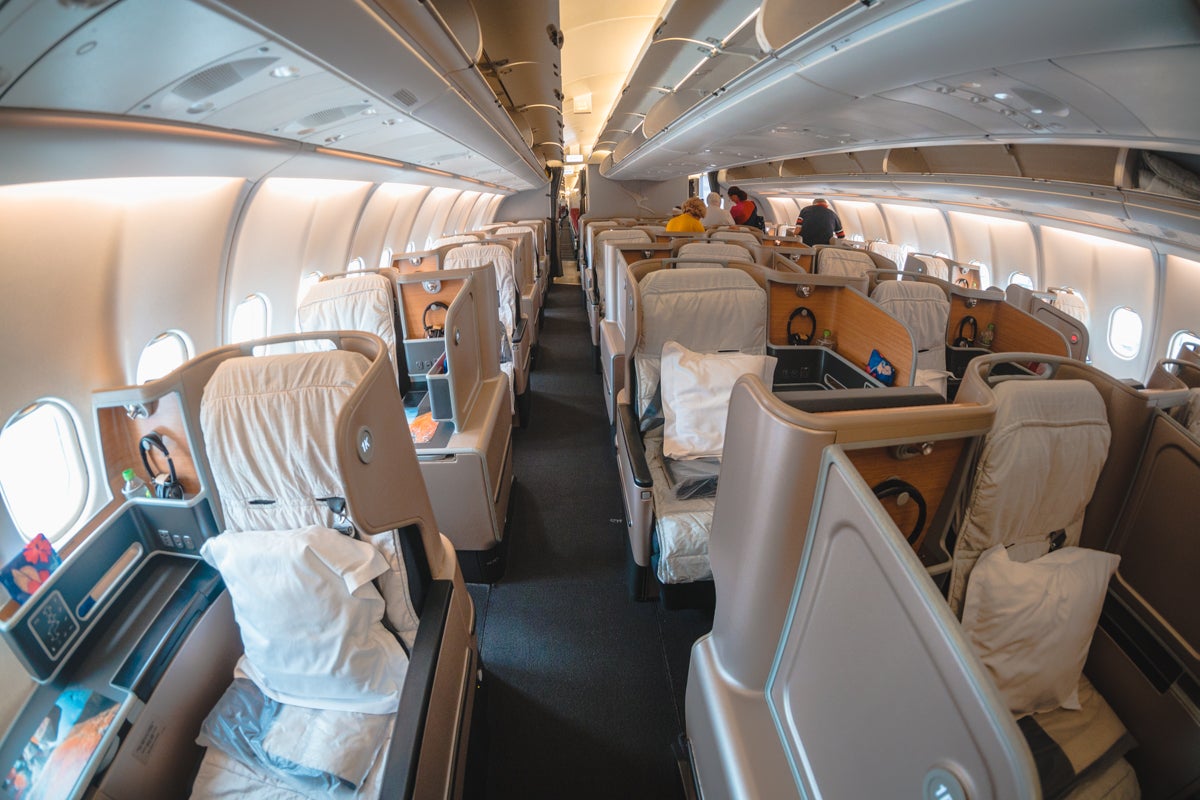 Each passenger has direct aisle access yet the staggered configuration means there are 2 styles of seats; 1 where the console is on the aisle and the other where the console is away from the aisle.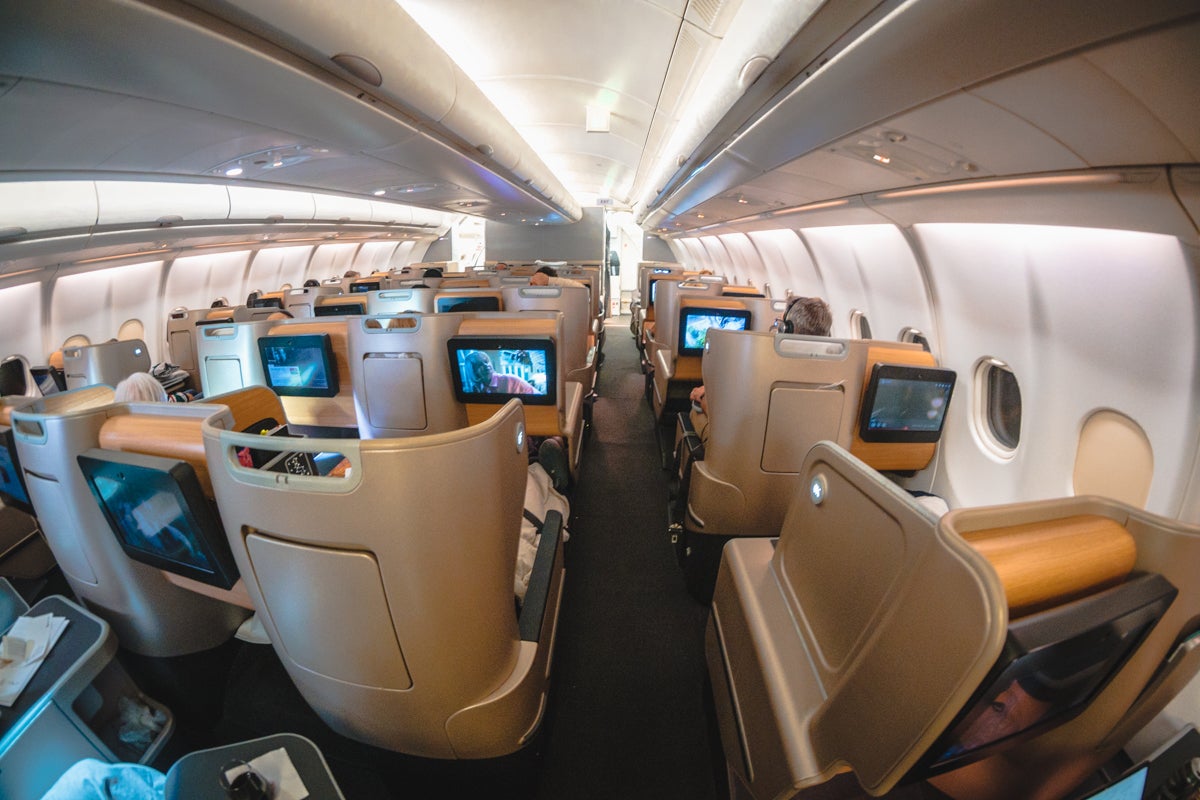 While most carriers will articulate these differences in the seat column designator, like A or B, Qantas doesn't, so just be mindful when selecting your seat. There is also only 1 cabin, and the lavatories are not in row 5 behind me. So I'm unsure why the seat map looks like this: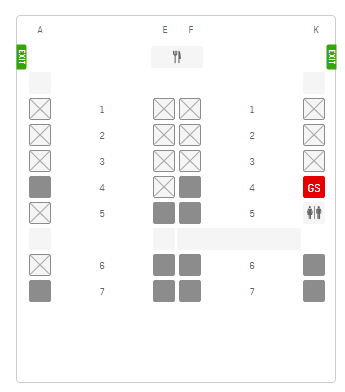 Seats closest to the window are the even rows, whereas seats in the odd rows have the seat closest to the aisle, which has less privacy.
The middle seats aren't actually ideal for traveling with a companion as the privacy divider between the seats is fixed. So, you'll need to lean all the way forward or stand up if you wanted to converse with your seatmate.
Newer versions of this seat in the 787 and refit A380 have a height-adjustable privacy panel.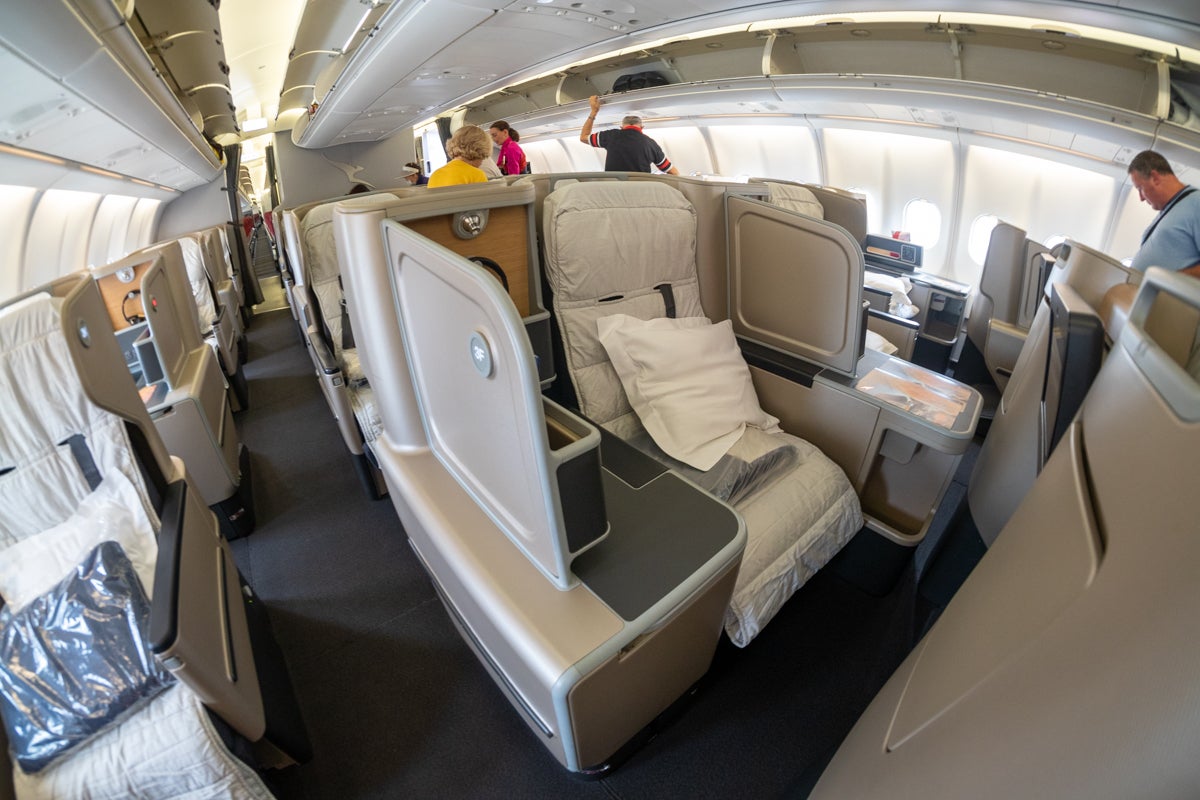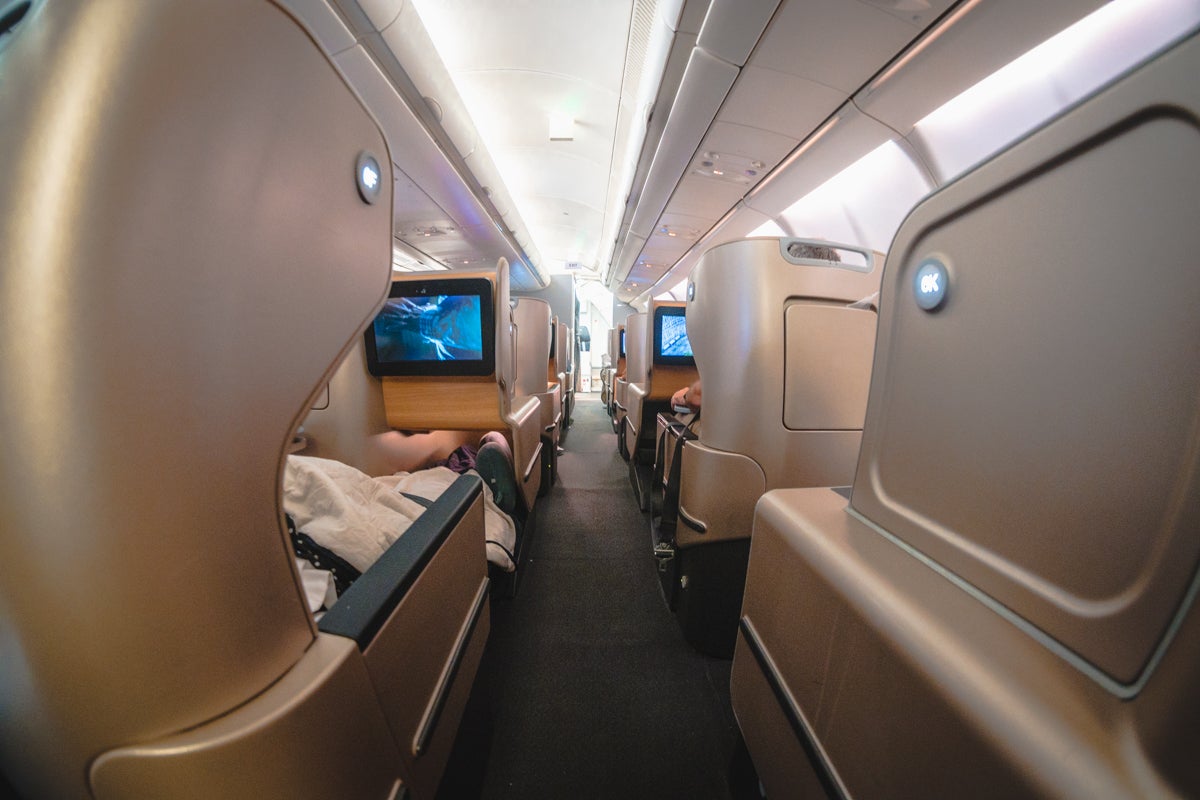 I wanted a true window seat, so I selected 4K, which still had the Do Not Disturb mode selected from the previous flight.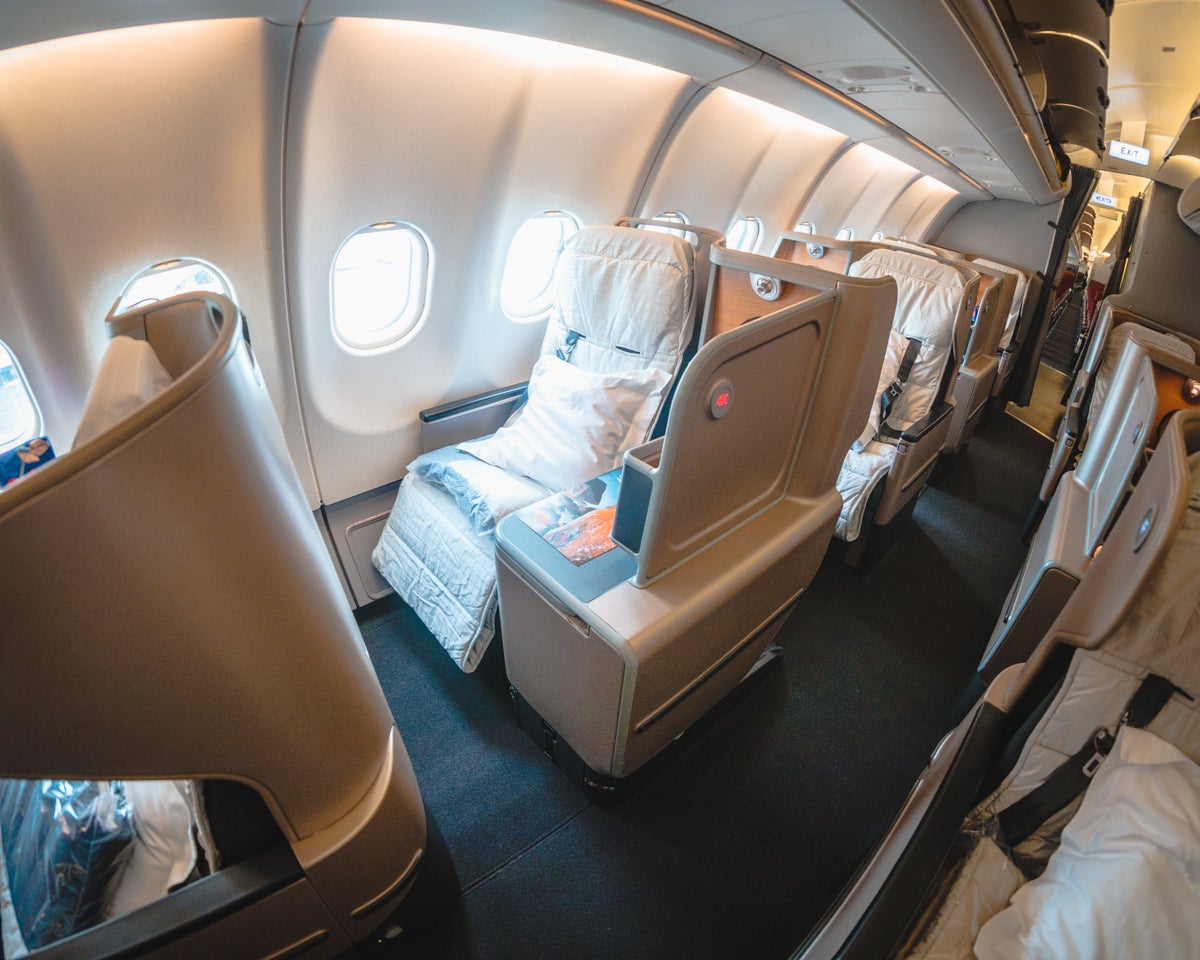 I usually prefer sitting towards the rear of a cabin but on my last 3 Qantas flights, I have missed out on my first, and sometimes second meal options by sitting too far back. So, I went with row 4 this time.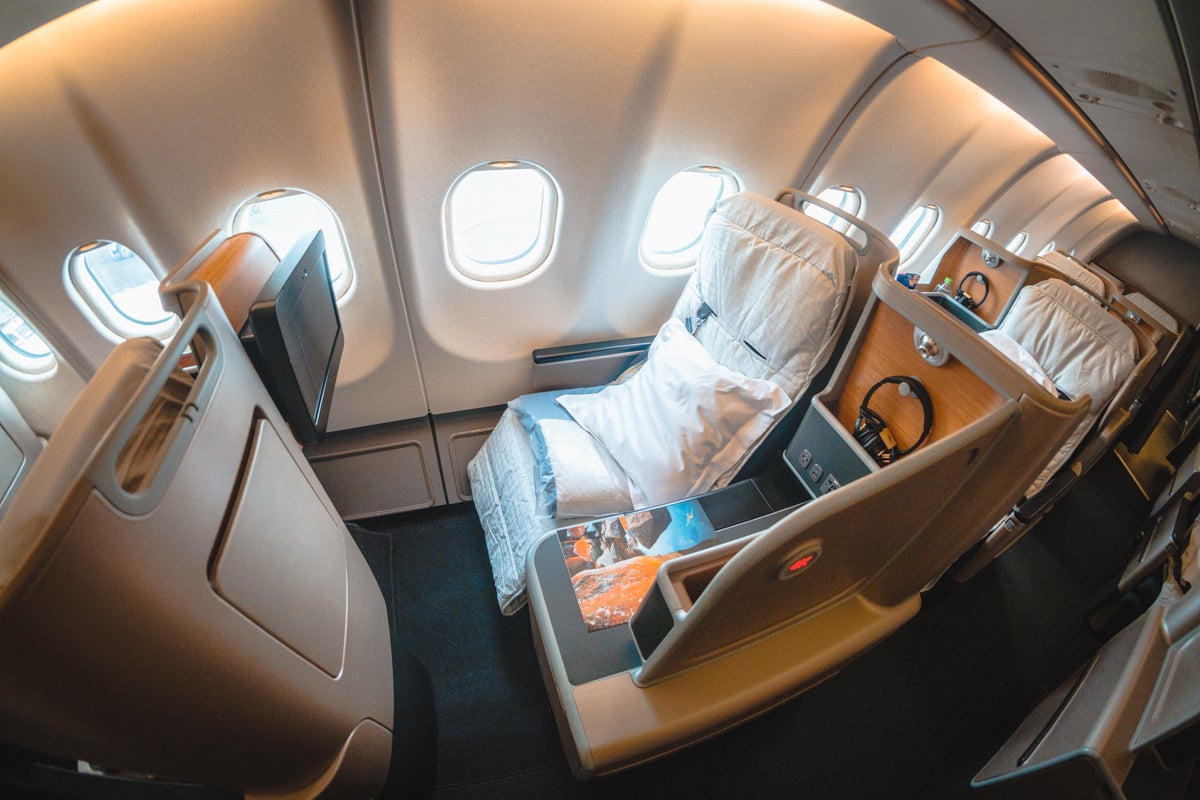 Each seat has an open storage compartment on the inside of the privacy shell. On the face of the compartment are the controls for the seat, lighting, and the Do Not Disturb mode.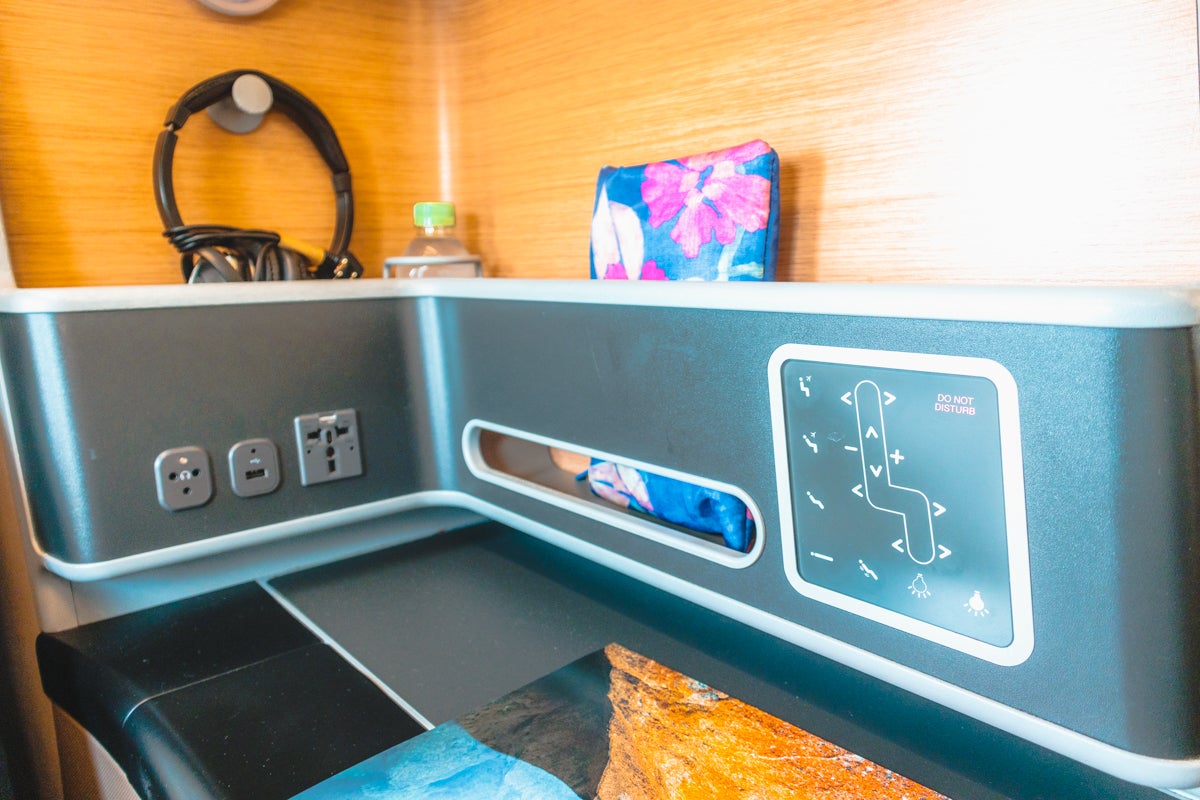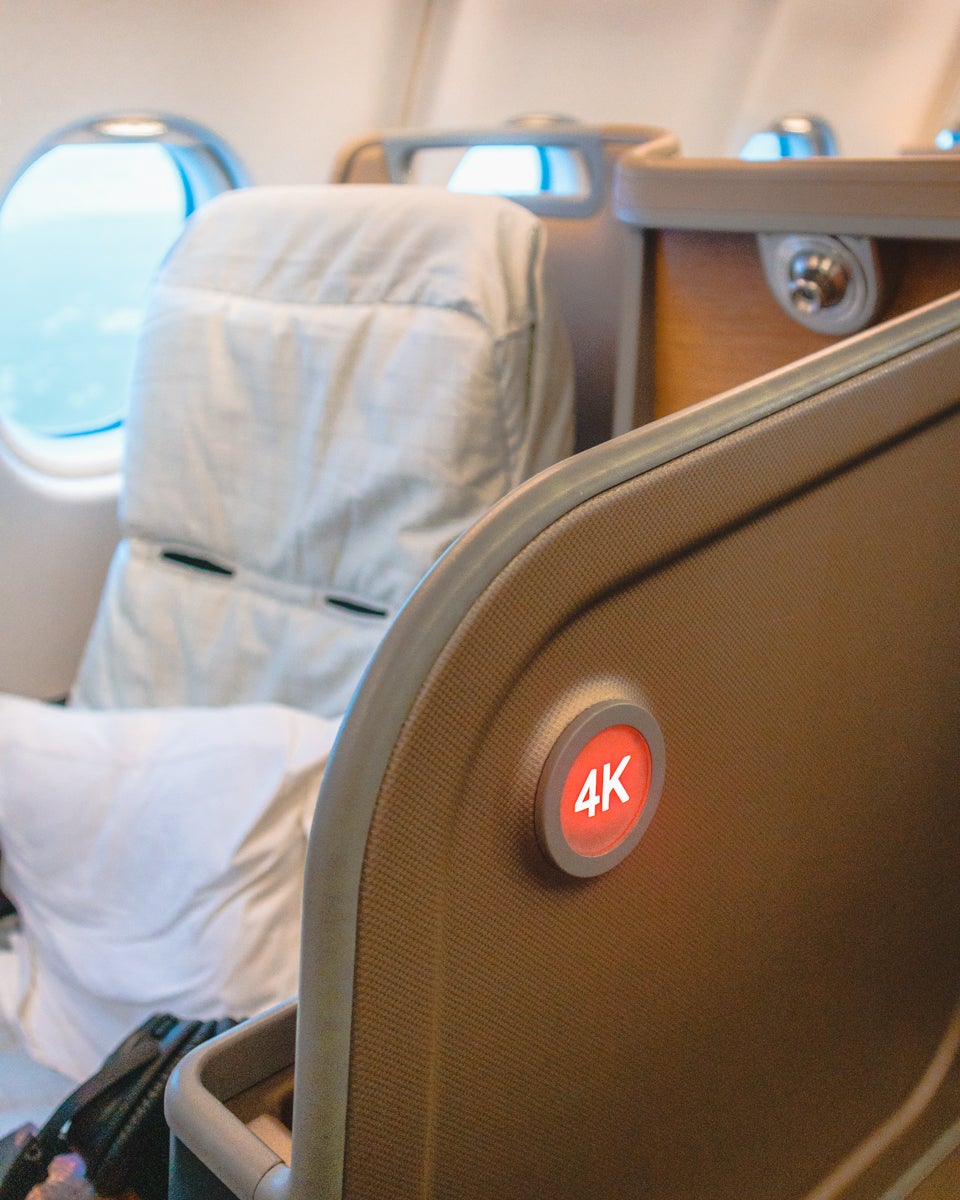 The headphone jack, USB, and power point are also on the face of the compartment and directly next to the seat, providing easy access and allowing you to charge your devices while they are stored in the compartment.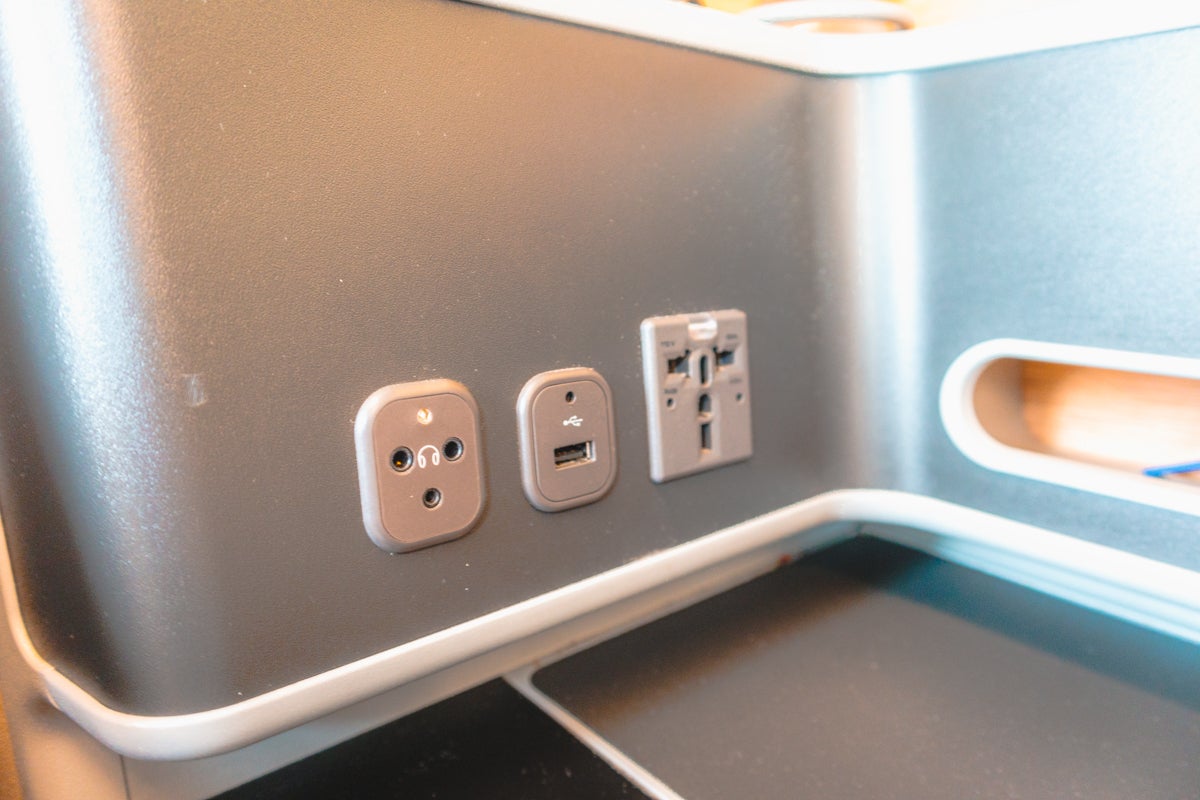 There is also a spotlight, a hook to store your headphones, and a water bottle holder.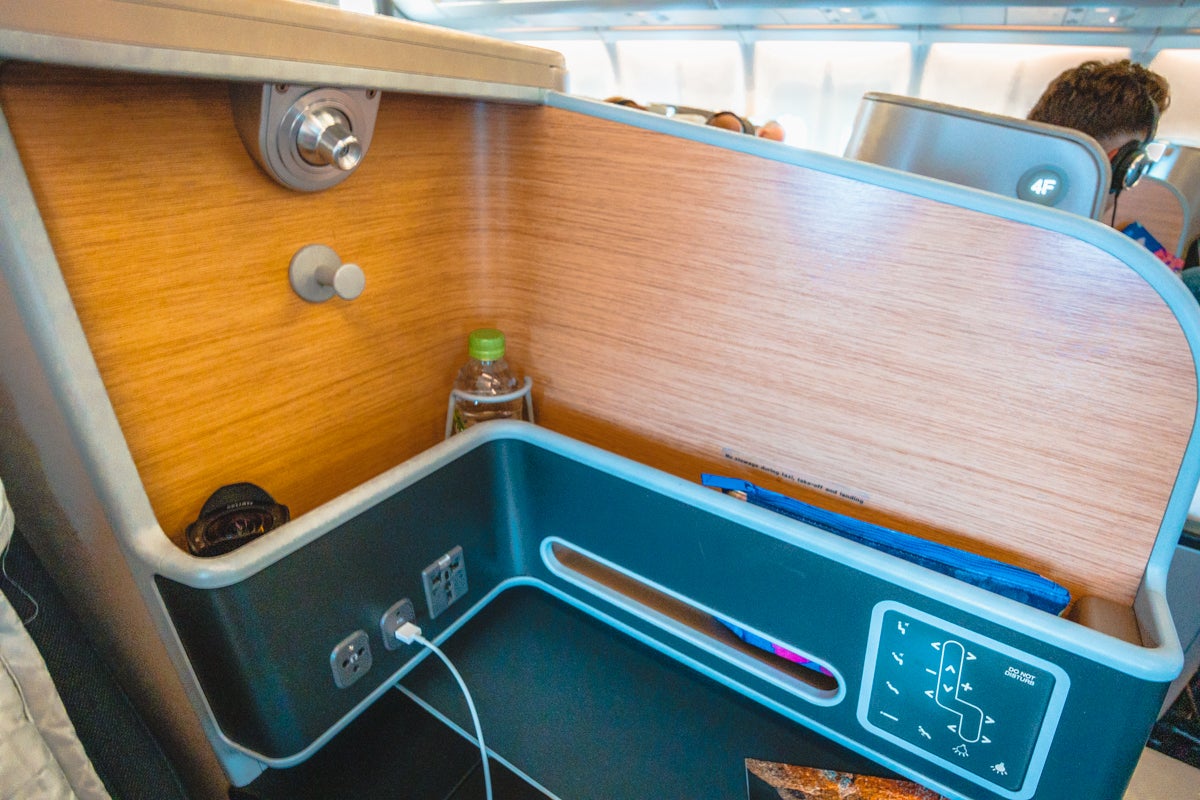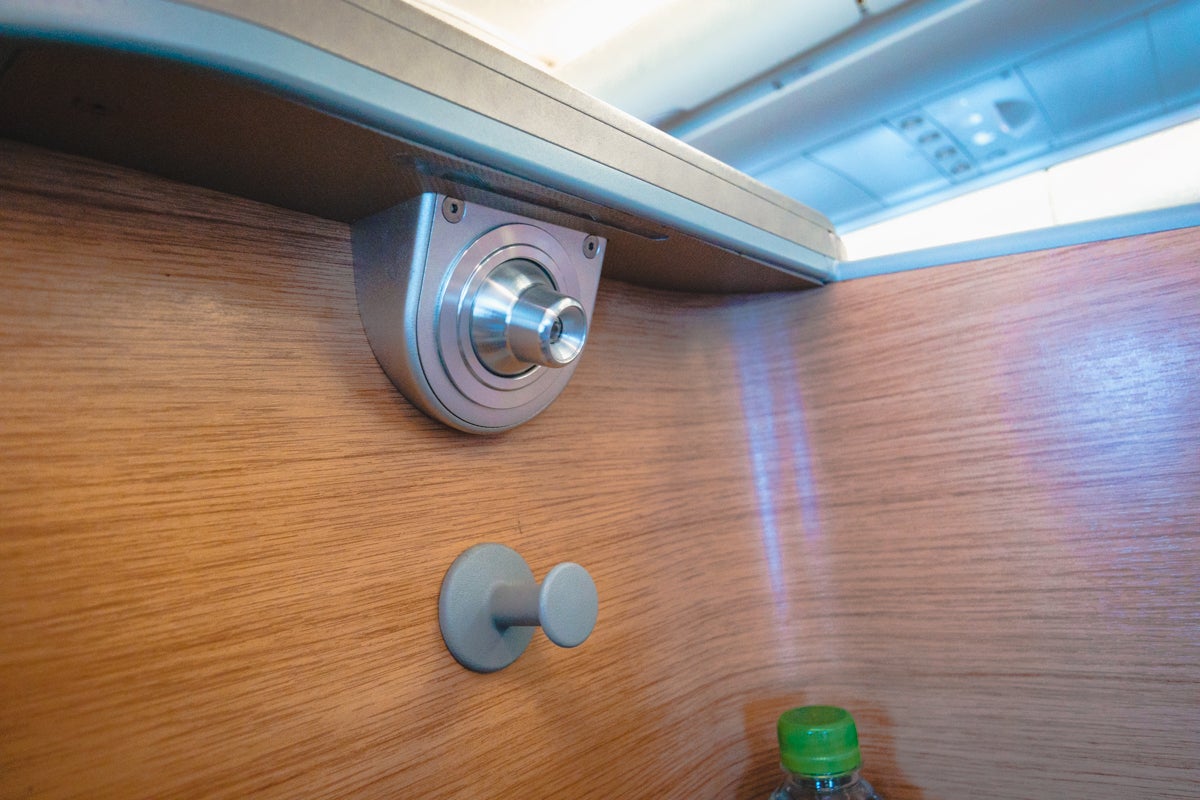 One thing I dislike about this design is that the storage compartment is completely open, and for windows seats, the compartment runs alongside the aisle and your belongings could easily be snatched out of this compartment from the aisle when you are sleeping.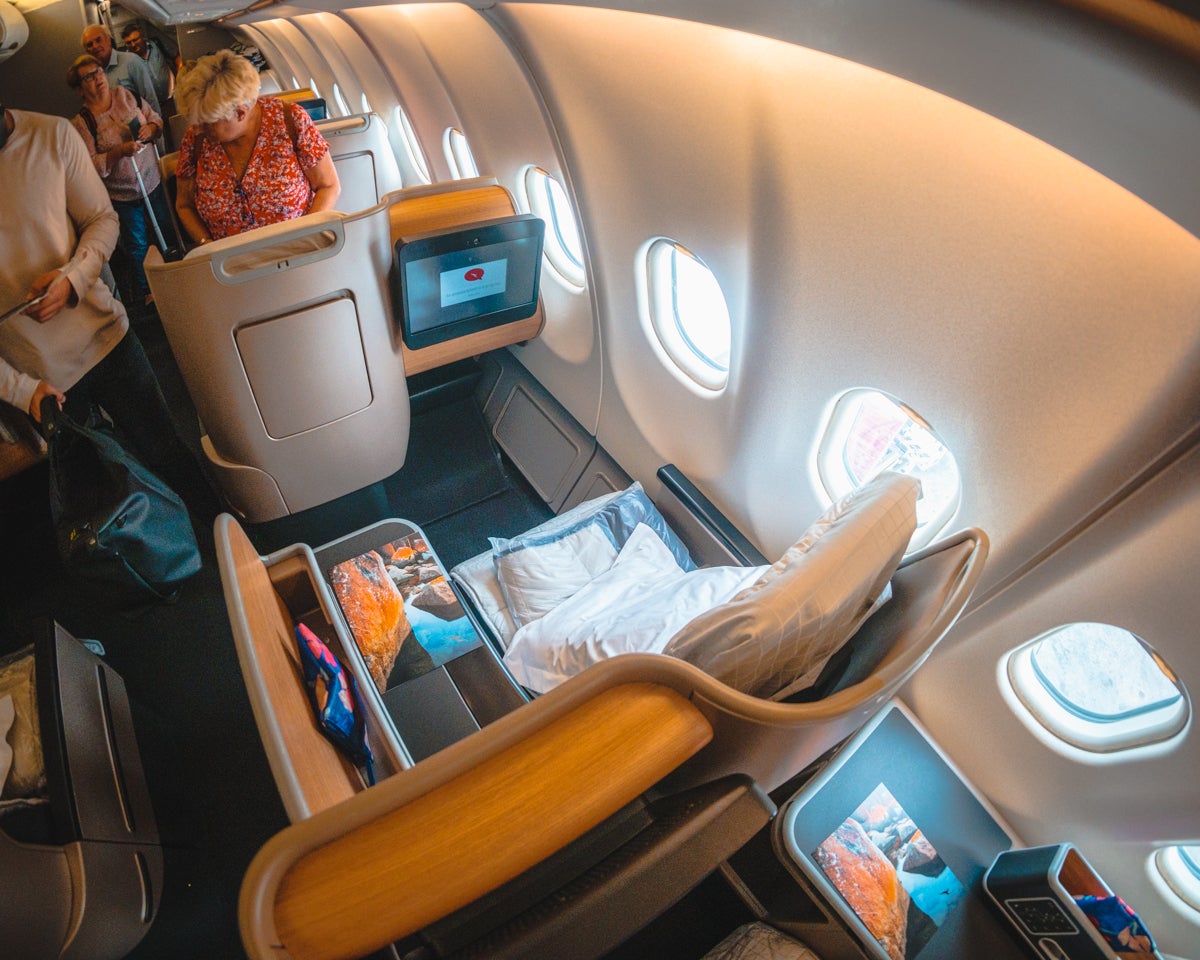 You'll find the IFE remote in a flip-open compartment on the console bench, which also houses a mirror.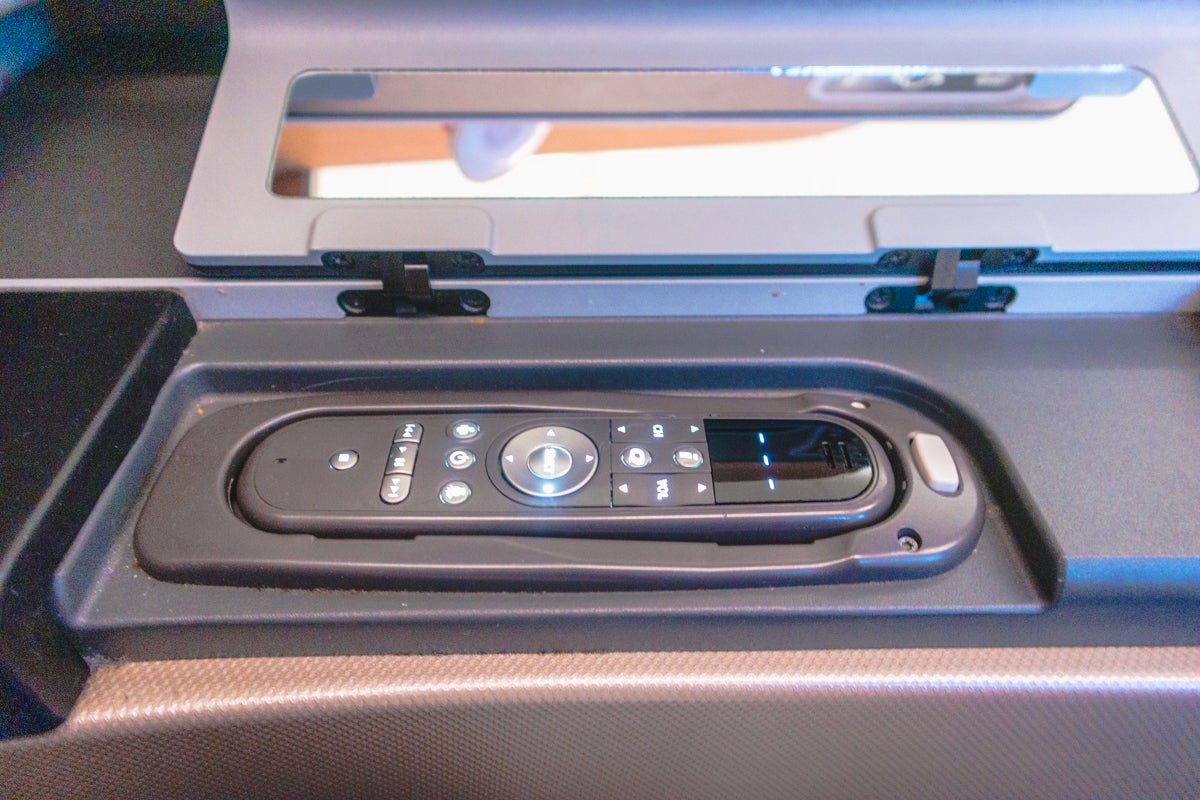 The literature is housed in a pop-out pocket on the seat in front.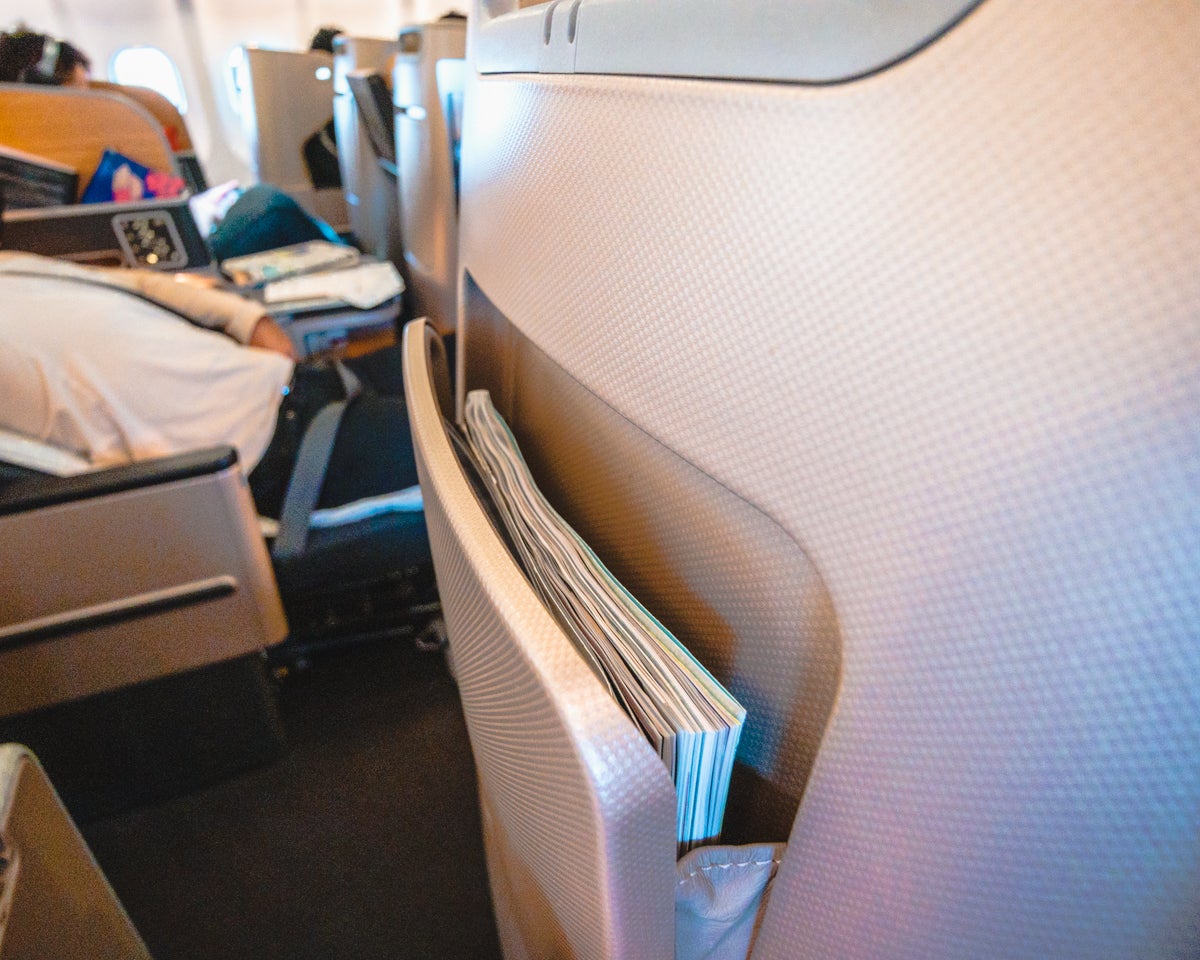 The tray table swings out of the console and isn't very big. And once the tray table is out, you're stuck and can't get up unless you have a seat on the aisle.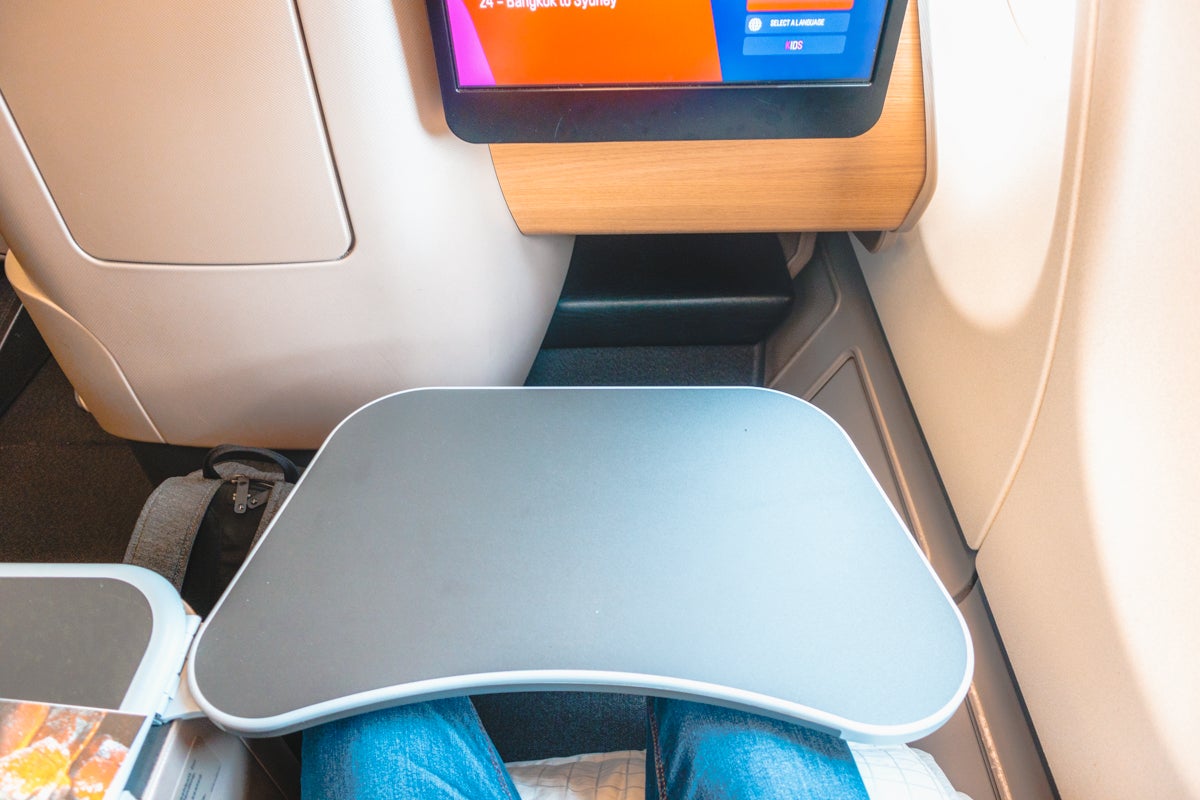 The footwell is a decent size but there isn't any storage under it — instead, just a footrest.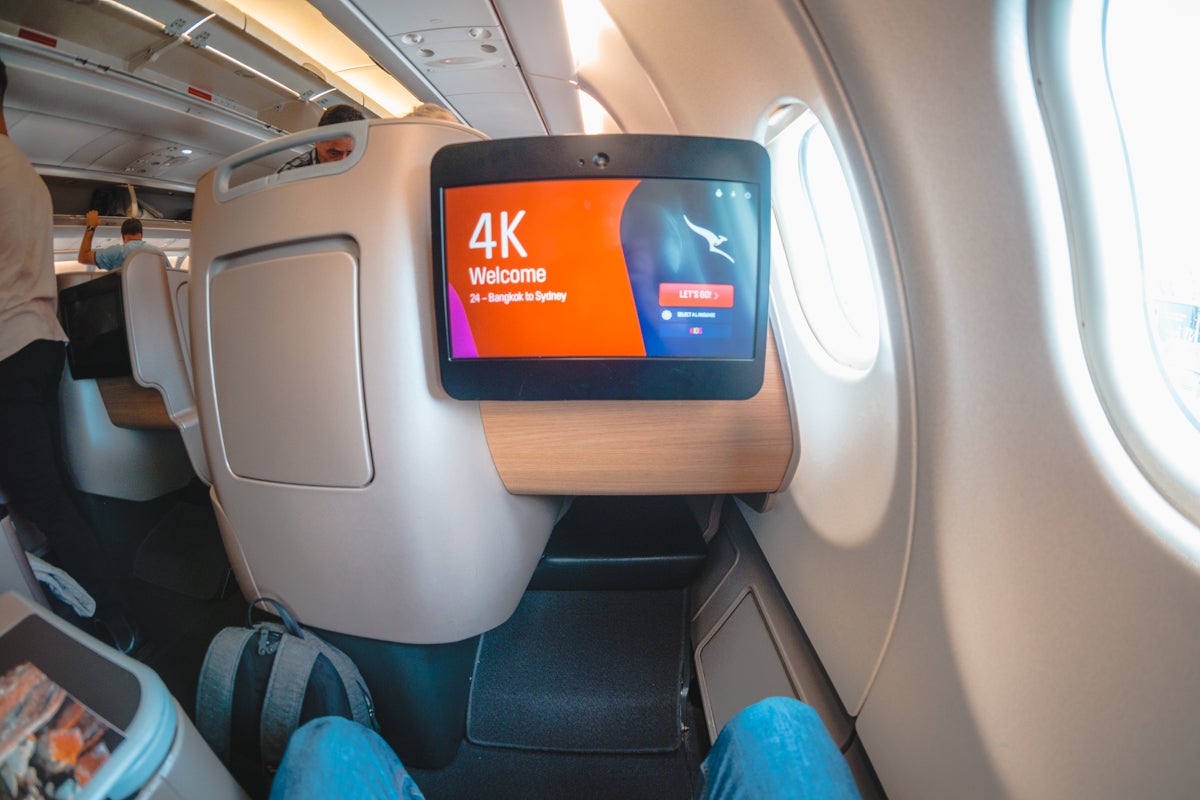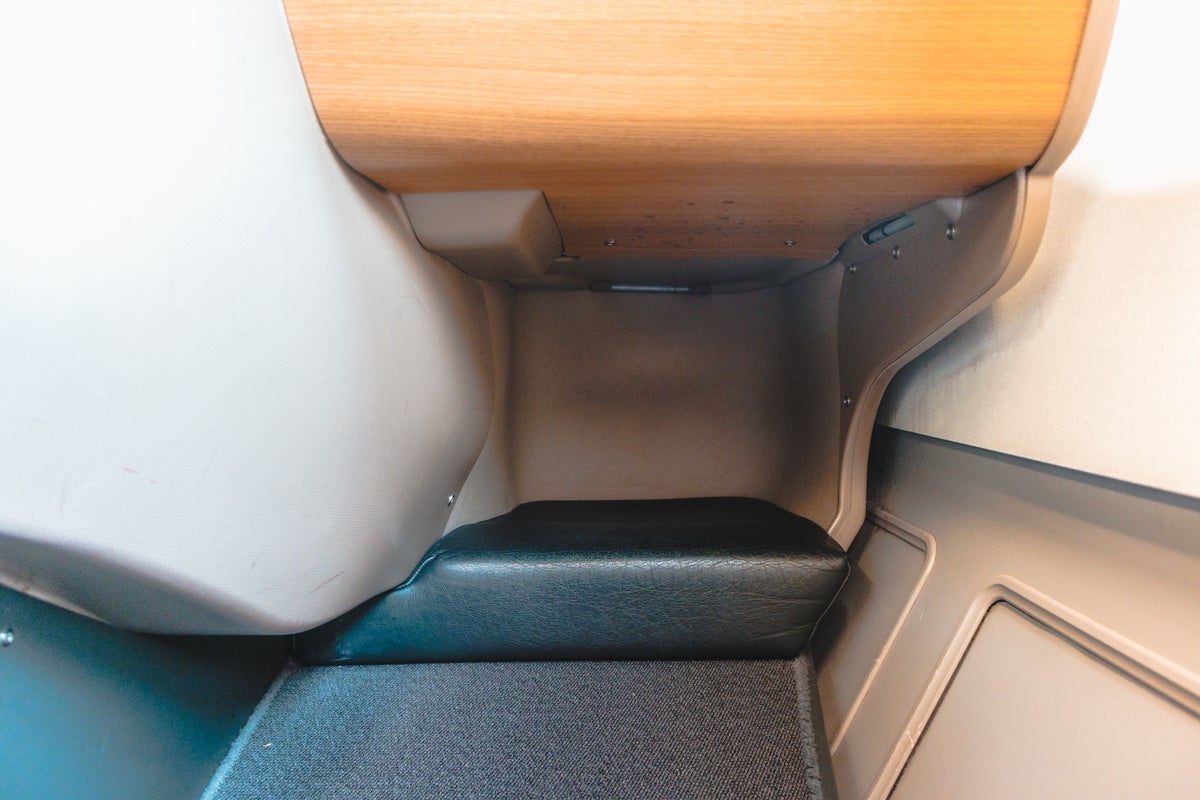 A lap-sash seatbelt is required for take-off and landing. The seat can also be slightly reclined for this.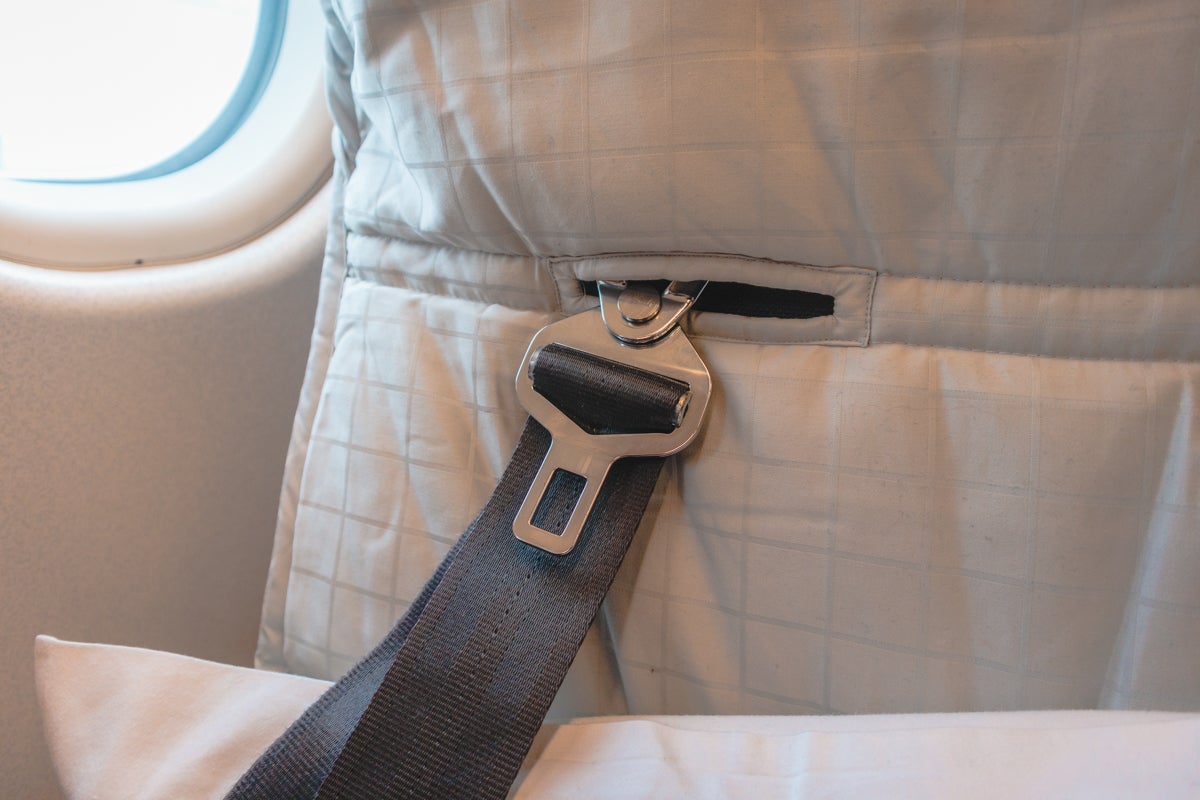 It's great to find individual air-conditioning nozzles on this aircraft. It was also great that the cabin was kept a comfortable temperature the entire flight.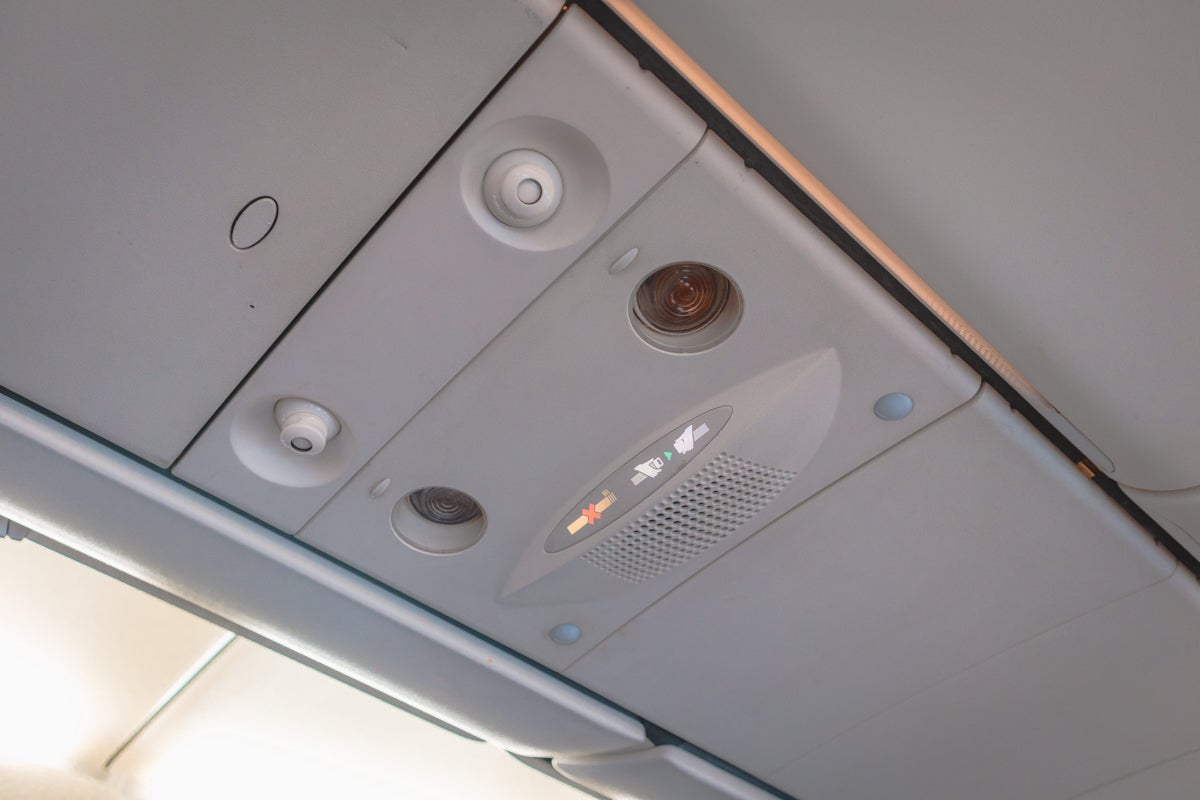 The seat slides down to a fully flat bed and drops lower than the original seat pan, so the console provides you with excellent privacy if you're sitting away from the aisle.
I ended up sleeping for a solid 3.5 hours; I found the duvet to be the perfect thickness and the mattress topper provided a flat sleeping surface.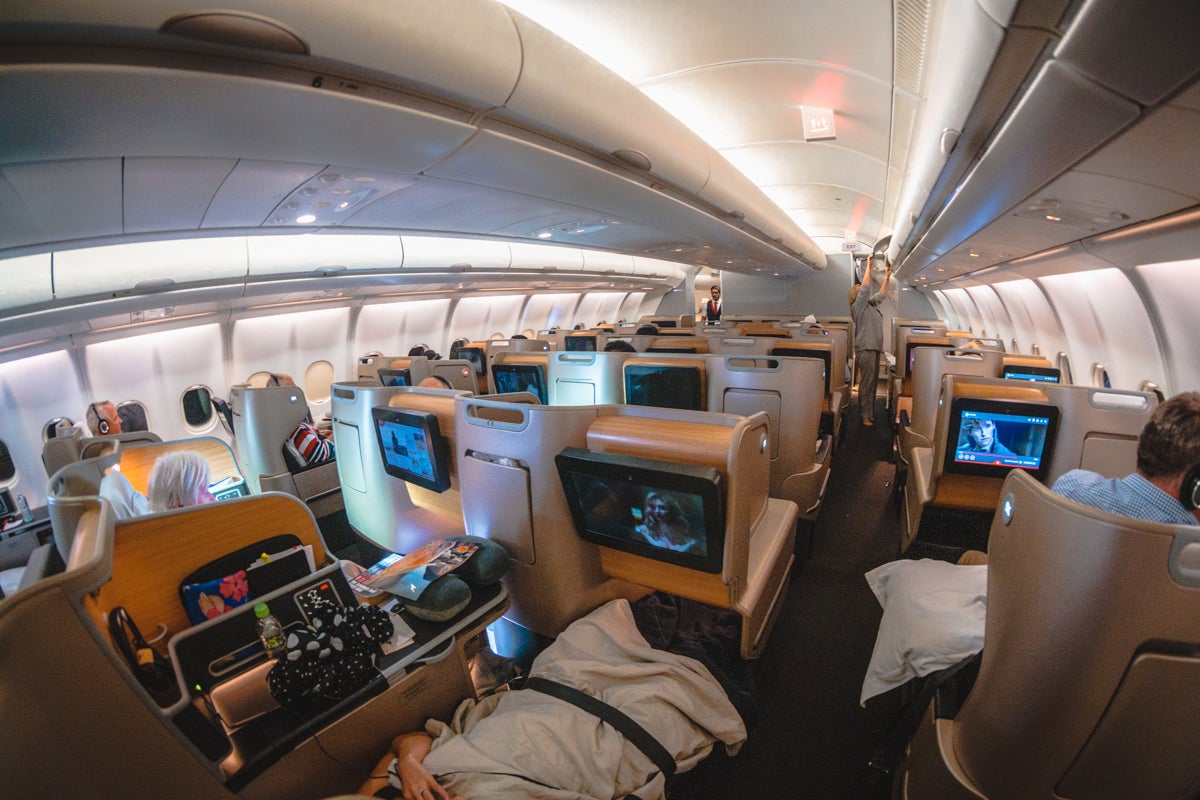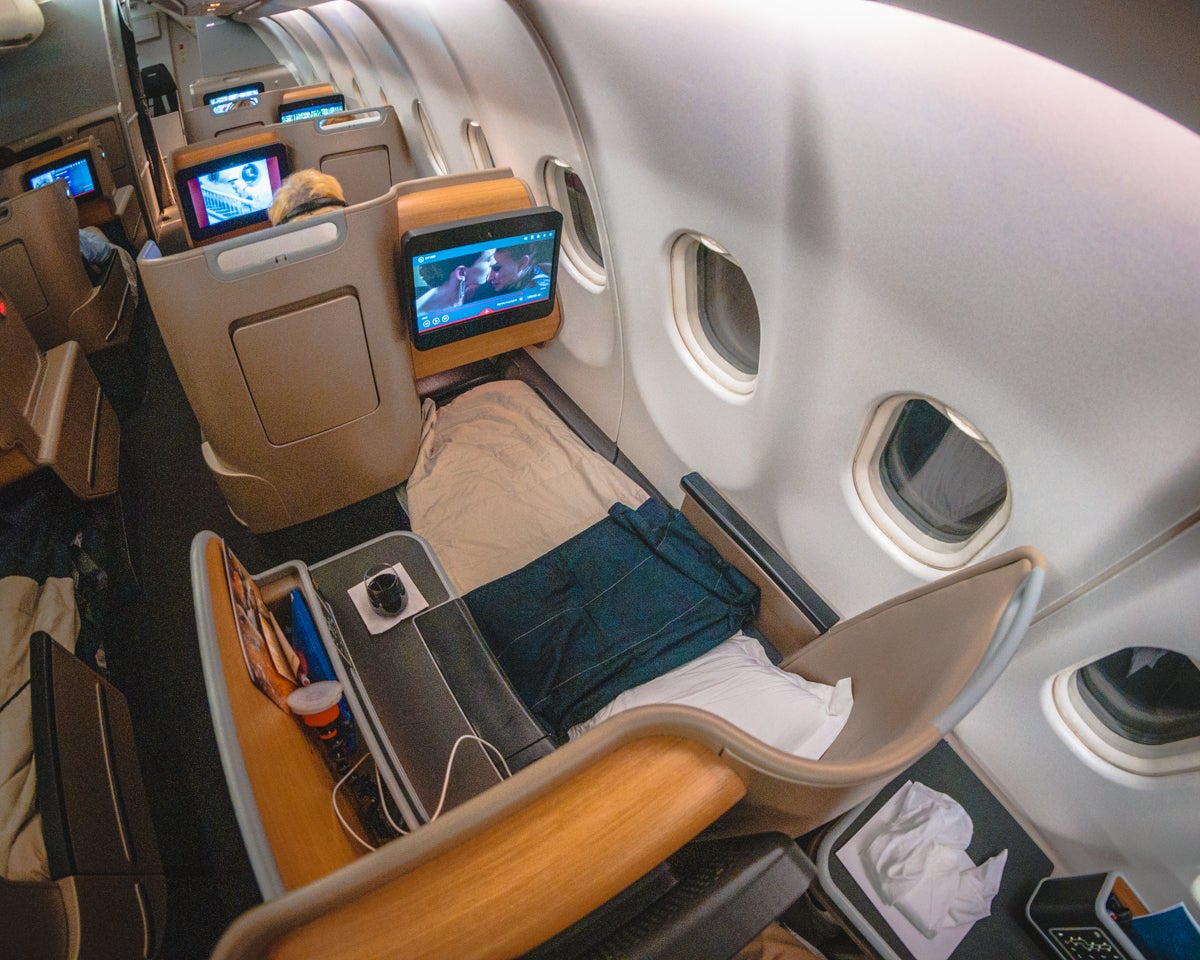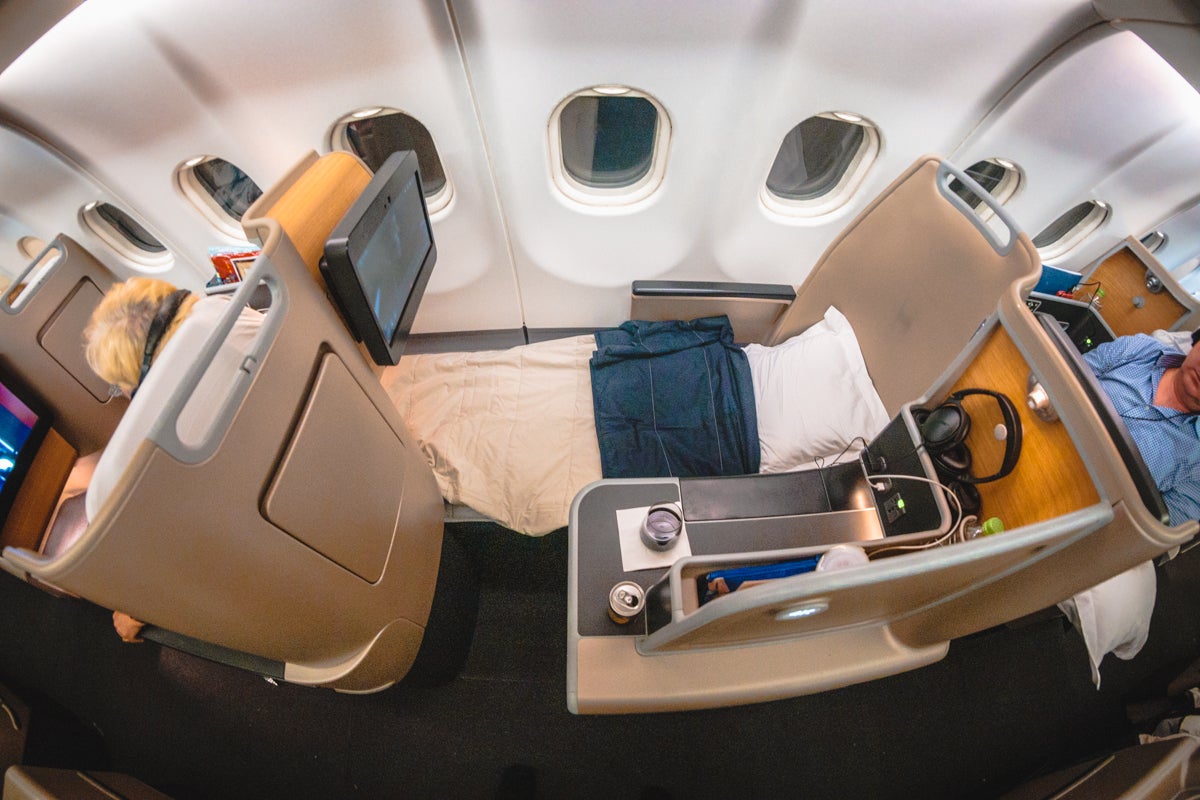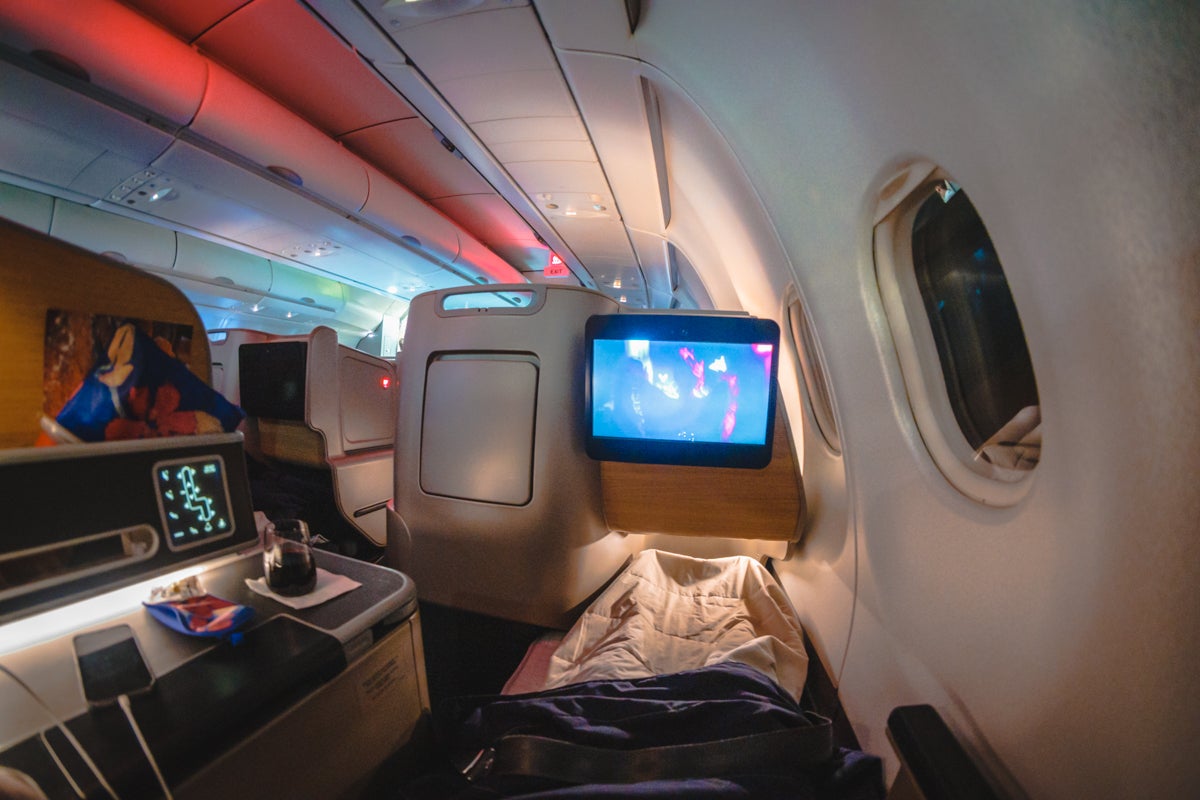 There are 2 lavatories for business class passengers: 1 up the front on the left and 1 on the right at door 2. This provides a poor passenger to toilet ratio of 14:1.
I had to queue to use the lavatory every time and before descending into Sydney there was a 15-minute queue to change out of pajamas.
Amenities
An amenity kit was provided in my storage compartment upon boarding that included socks, a dental kit, an eye mask, earplugs, and products from Aspar.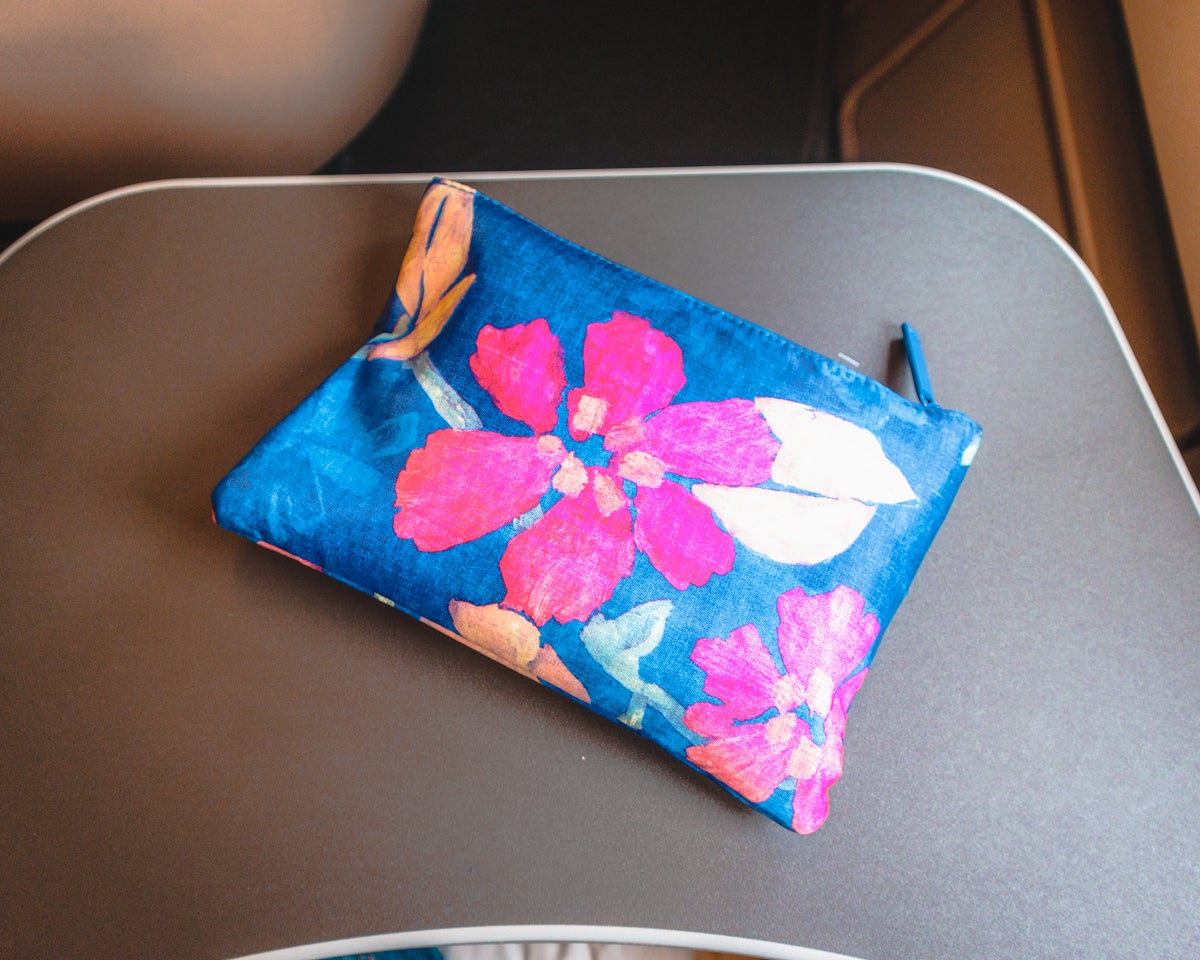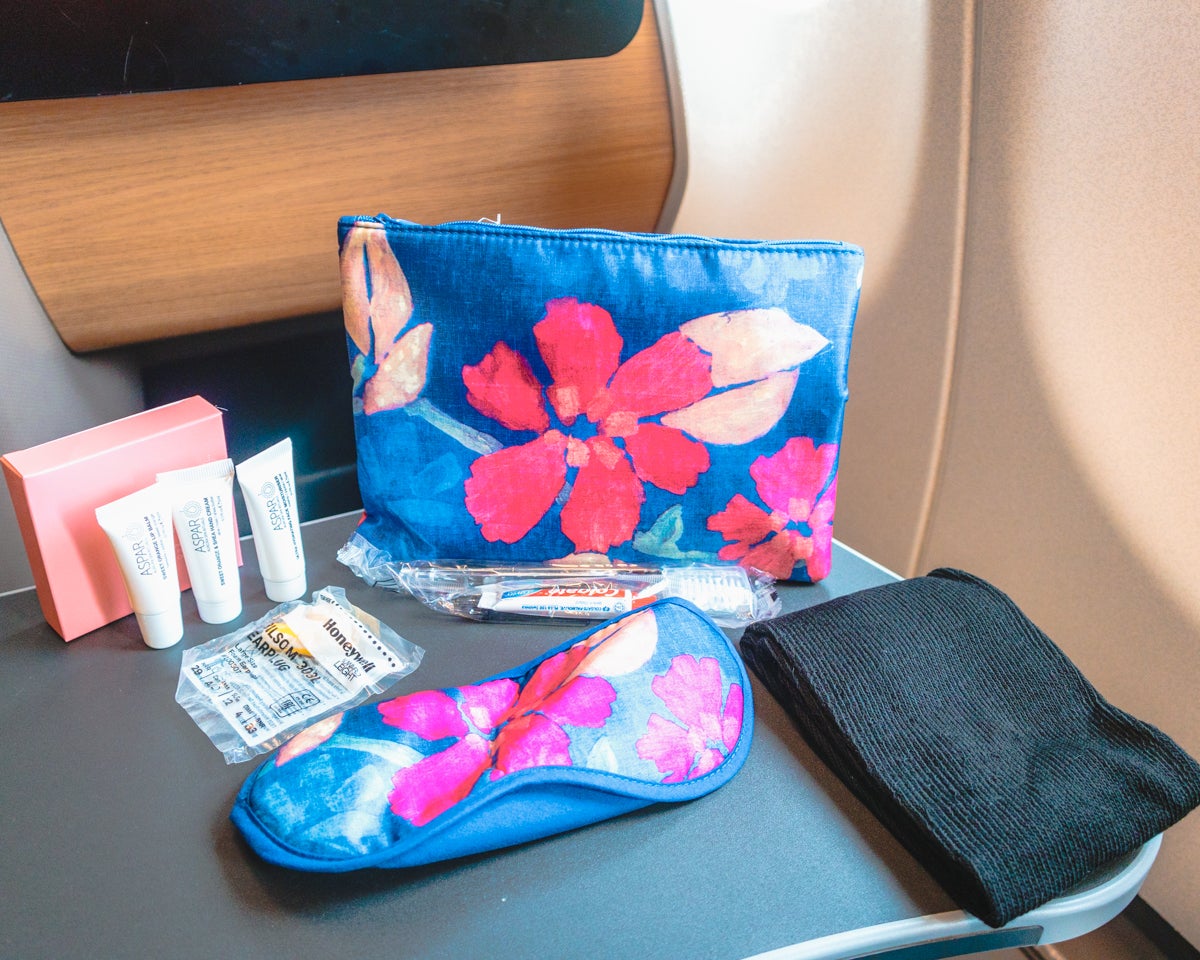 Pajamas were handed out but were only available in size large on this flight, so the cabin was full of passengers wearing PJ tops that looked about 2 sizes too big.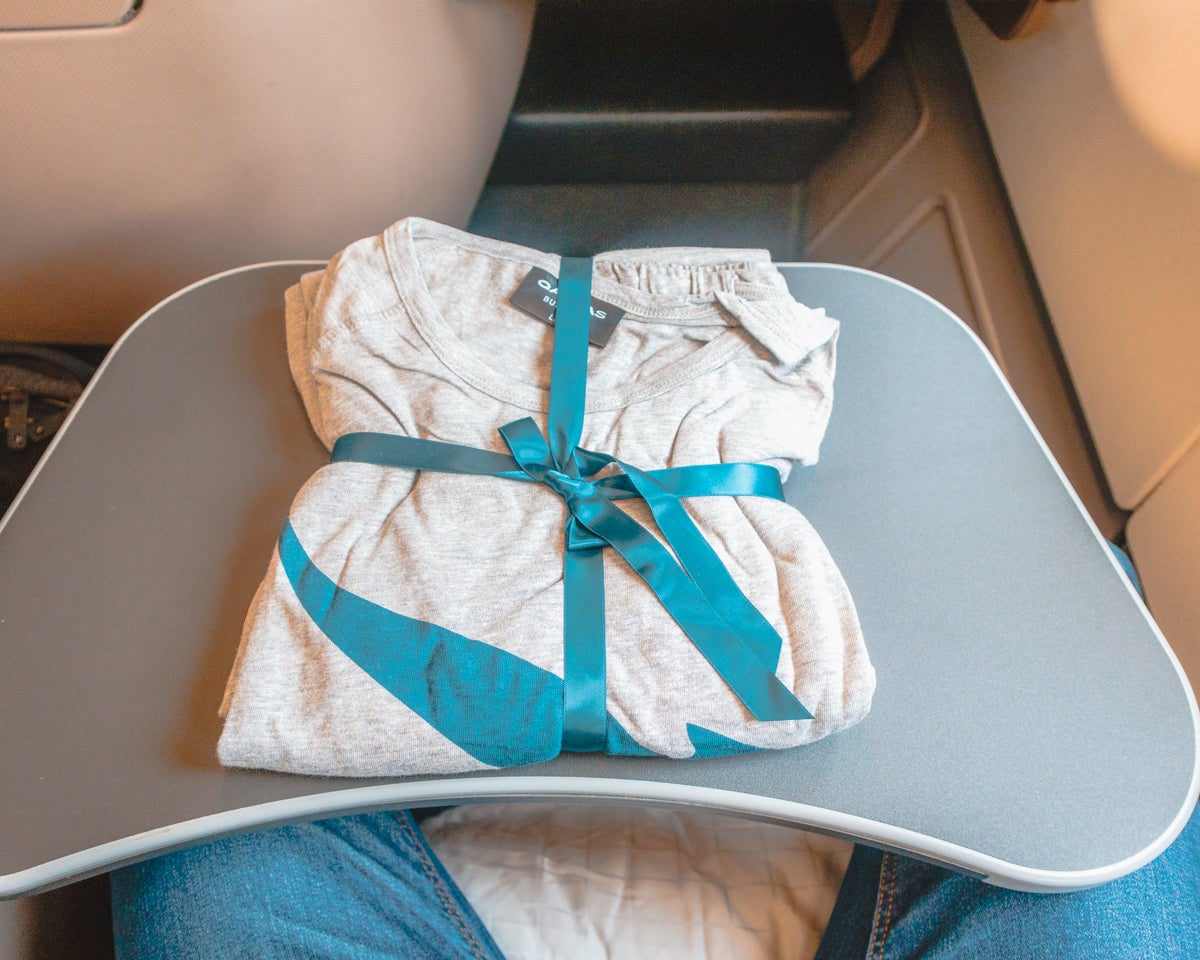 Entertainment
A 16-inch Inflight Entertainment (IFE) screen is attached to the seat in front and has angle adjustment so it can be easily seen while the seat is also in bed mode.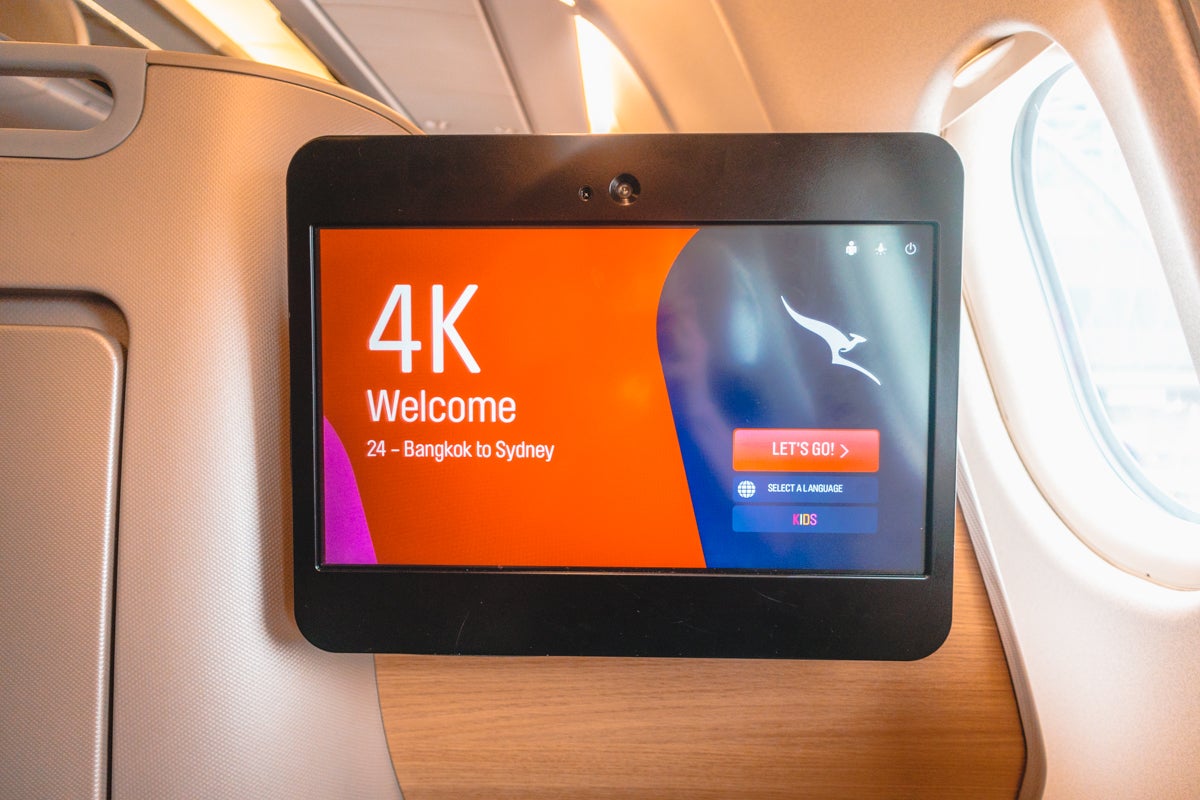 It isn't the largest screen out there for a business class; Qatar Qsuites and Etihad E-Box, for example, are larger, yet it's acceptable for the distance it is to your seat.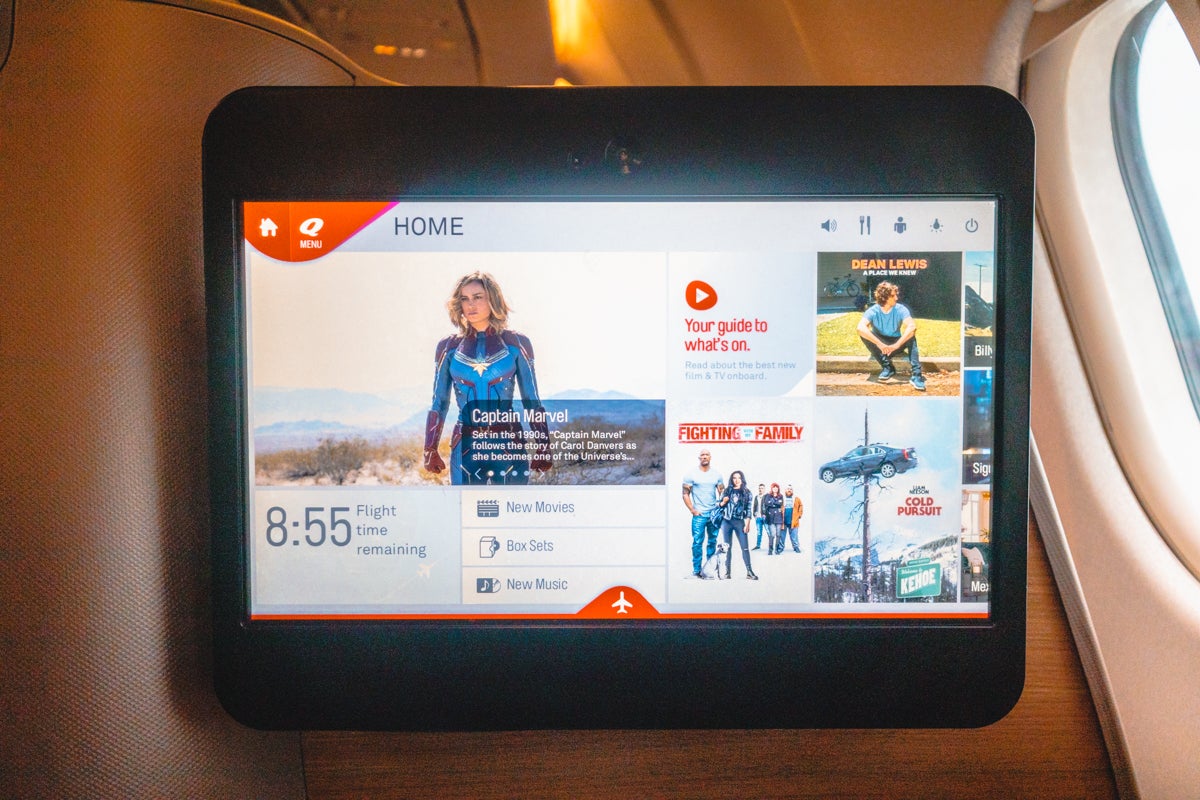 It's packed full of content and despite all the movies that I'd seen on aircraft during the last week, I had no problems finding a couple of movies to watch.
A unique feature is that after you've watched a movie, passengers are given the option to rate it and that rating is shown alongside a "critics" rating on the movie's synopsis screen.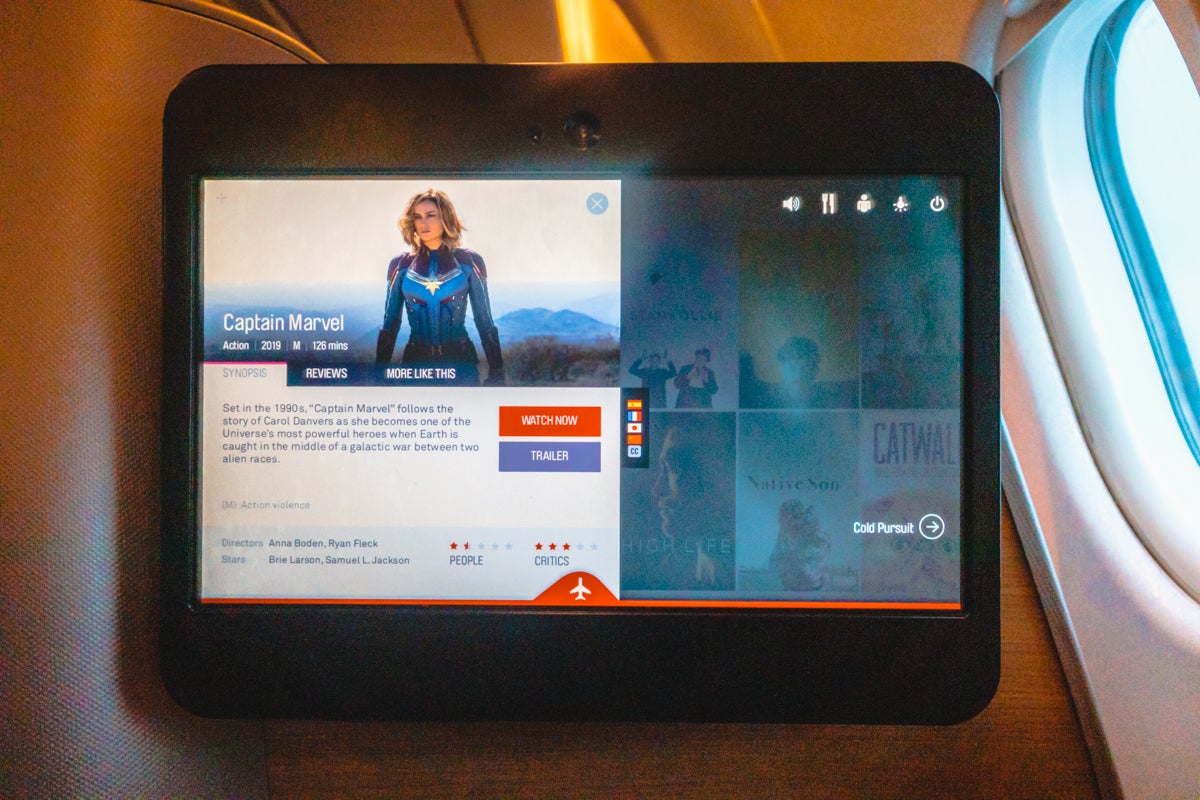 The system is very responsive so I didn't need to use the remote. Plus, the display is crystal-clear with some of the content available in HD.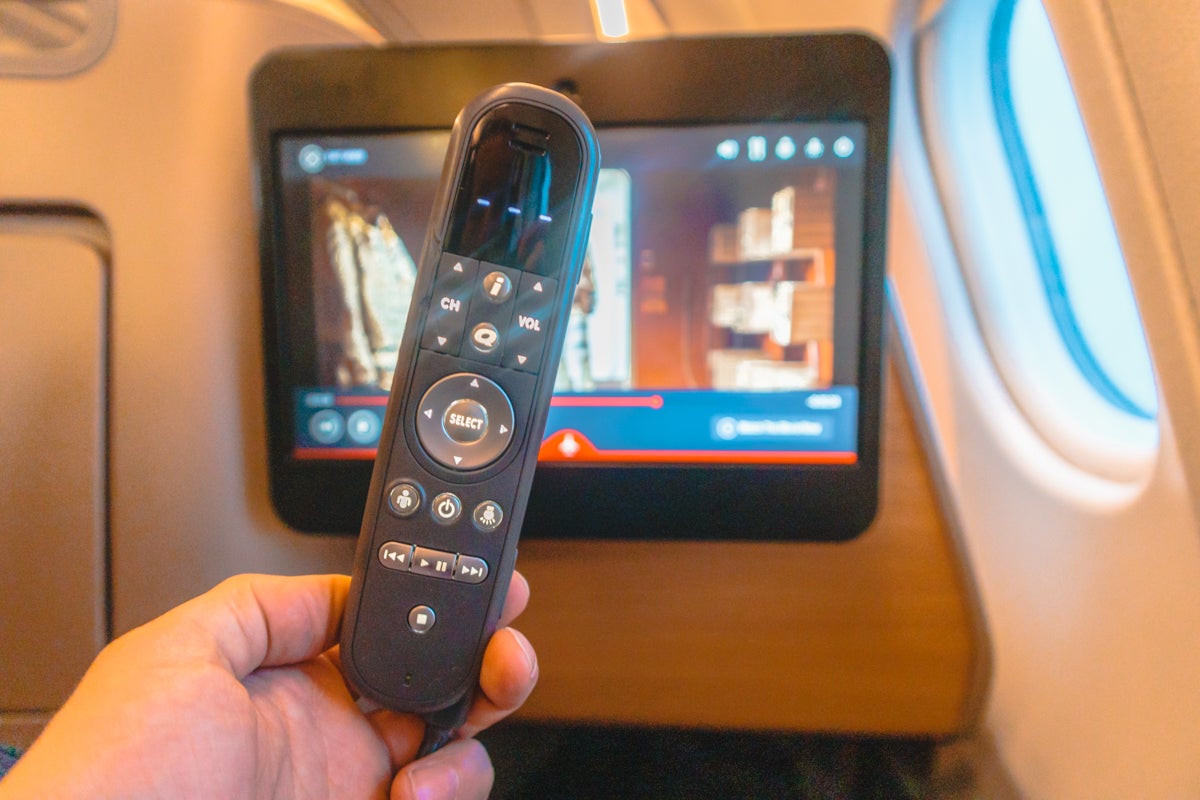 There are around 2.5 minutes of ads before every program.
Noise-canceling headphones are provided, but I used my Bose headphones instead.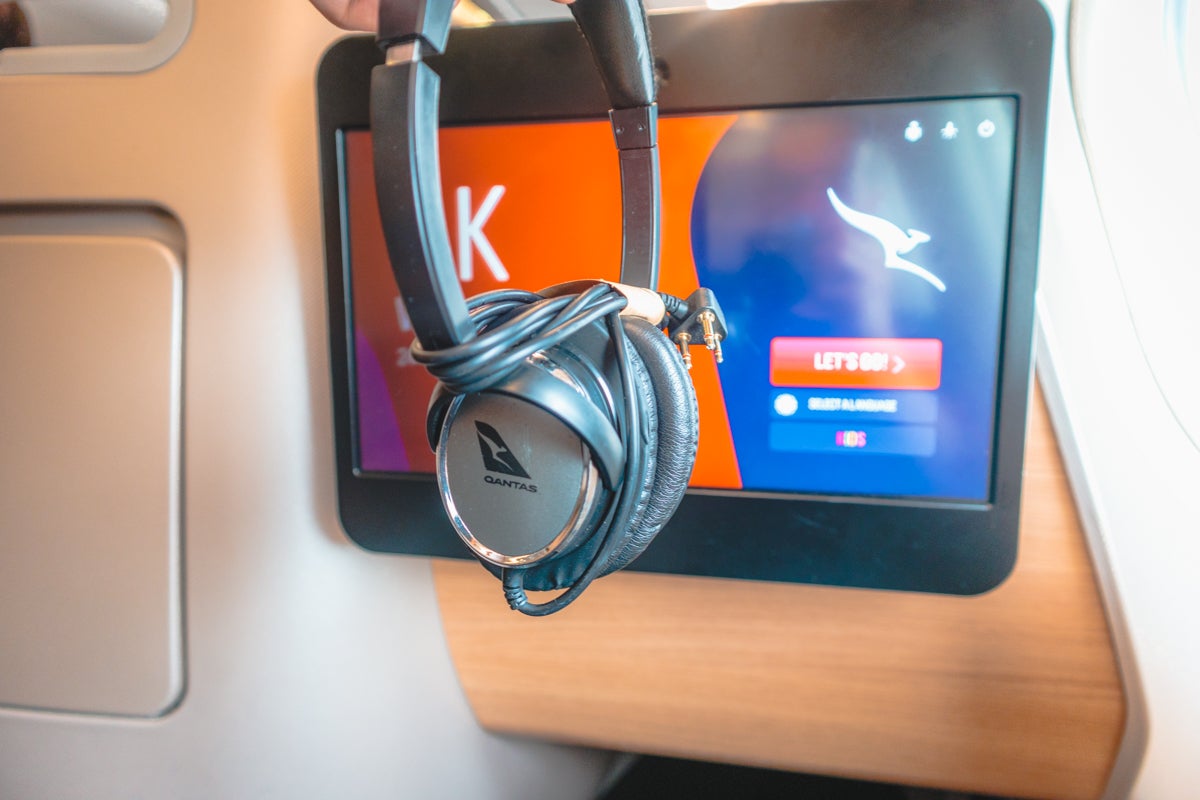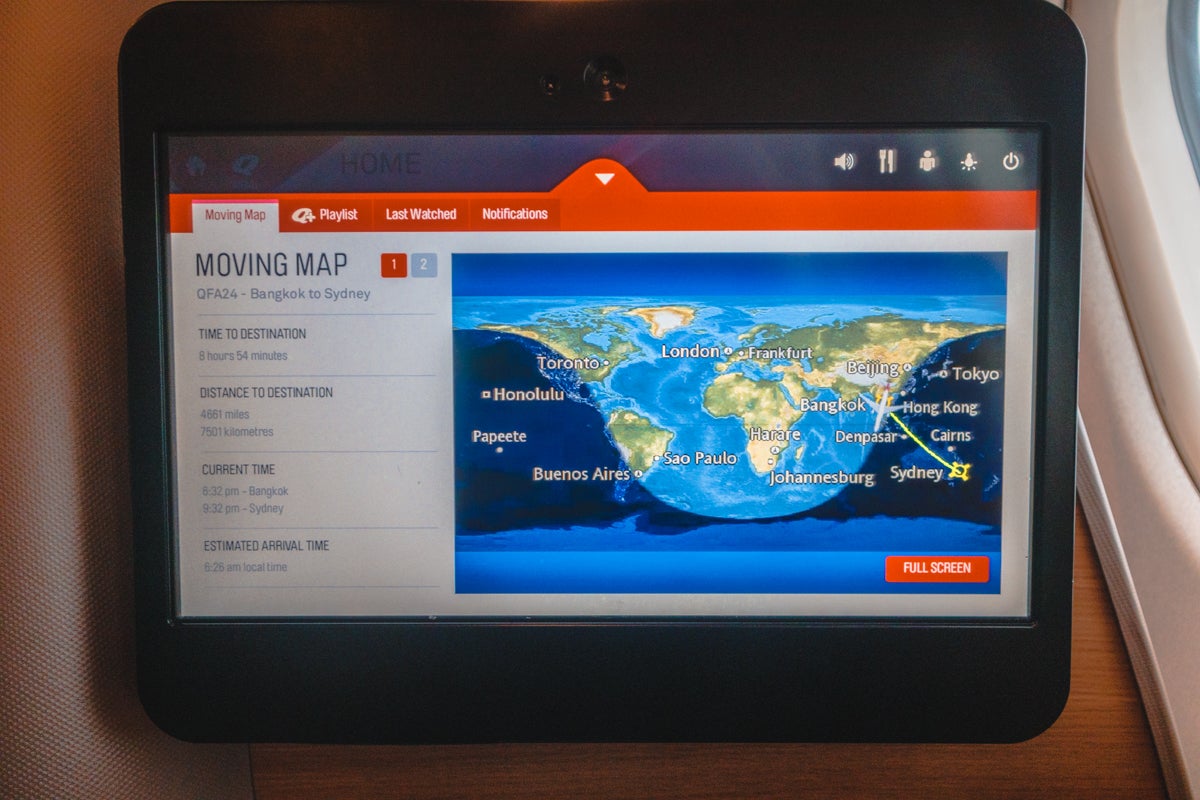 Although Qantas provides travelers with complimentary Wi-Fi across most of its domestic fleet, no international aircraft has the service yet.
Meal and Service
Upon boarding, I was greeted by the lovely Maria who would be looking after my side of the aircraft this evening. I was offered either a glass of Jacquart Brut Champagne ($30 a bottle), orange juice, or water.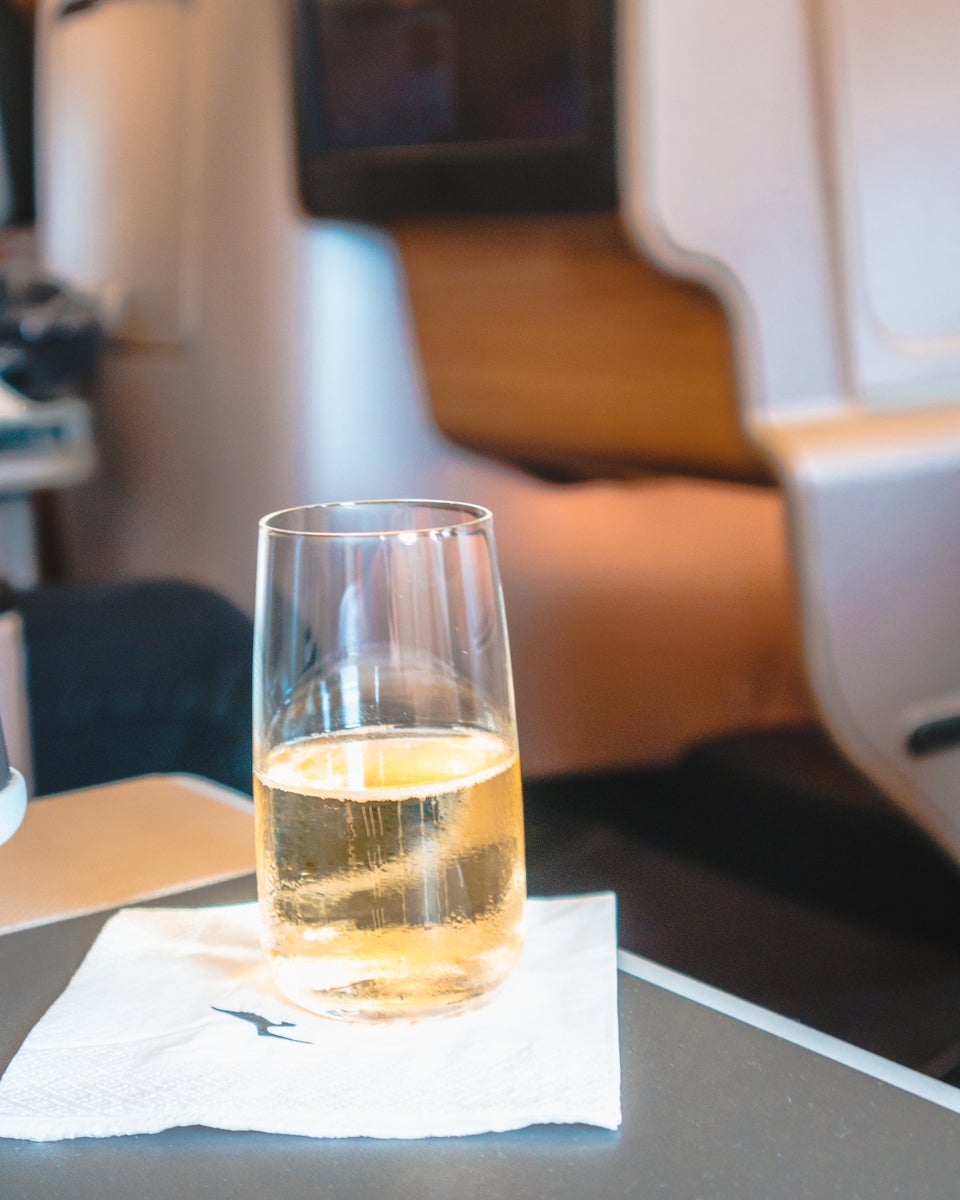 We pushed back a minute before scheduled.
After take-off, meal orders started to be taken. I was watching Maria on my side get stuck with 1F who wanted to chat, whereas the crew member on the left aisle was already at row 4. All I could think about was that the left aisle better not take all my first meal options!
Thankfully there was enough beef, but the chicken option was all gone once the left crew member got to row 4, so all subsequent guests on the right aisle missed out. I overheard Maria apologizing to 4 passengers in front of me that the chicken was already gone.
The cabin service manager, Kaizad, then came around and introduced himself to every passenger and handed them an arrival card, reciting the exact same welcome greeting, word-for-word, to every single passenger.
An hour into the flight we hit turbulence, so all passengers and crew were seated for 20 minutes.
The beverage trolley service started next and I went with a gin and tonic, due to my newfound appreciation of the beverage thanks to my Etihad chef on the 787 I recently flew. Qantas uses Beefeater gin and it was accompanied by a packet of pretzels.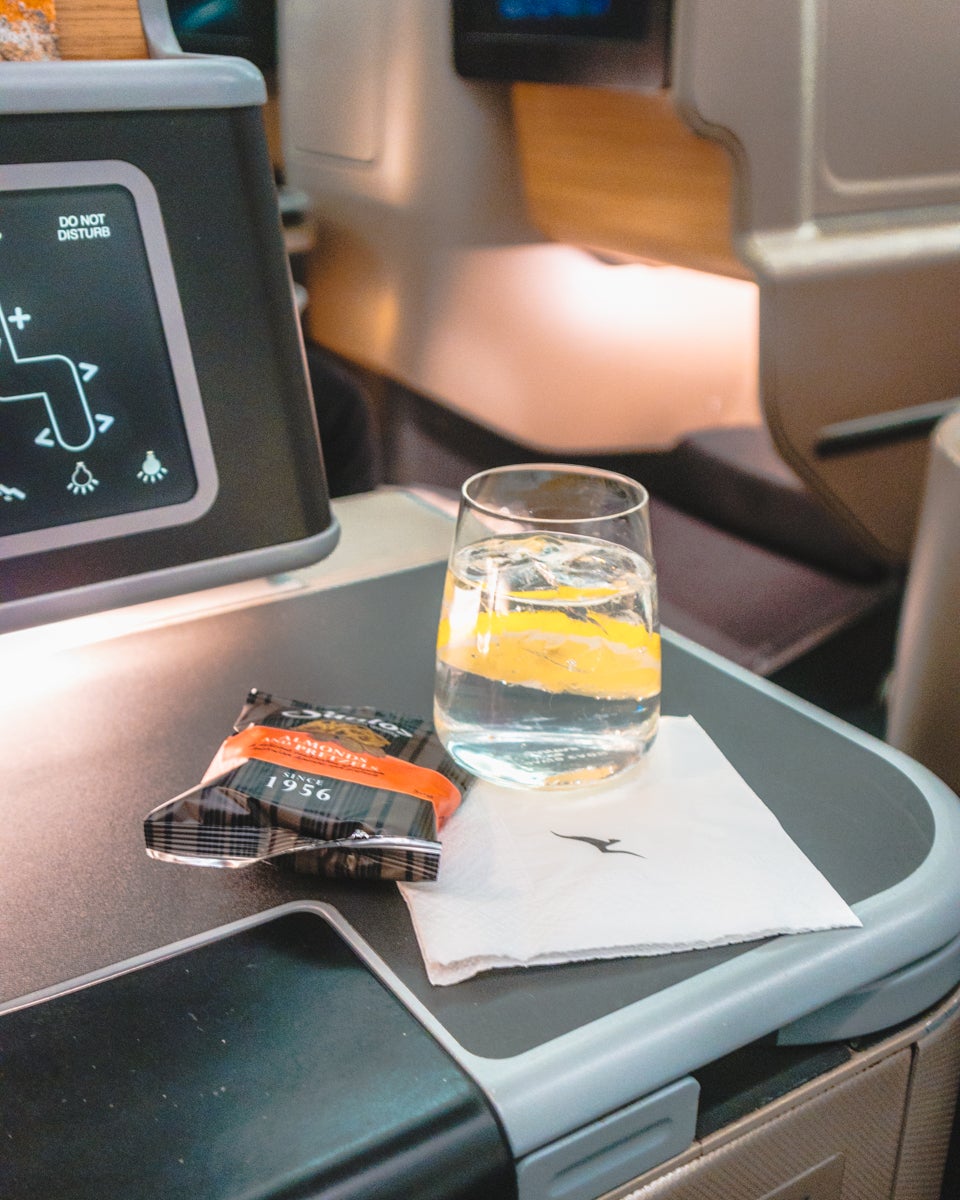 For starter, I opted for the Thai-style salad of roast pork with zucchini, cashews, tomatoes, coconut, and chili dressing. There's no mention on the menu that the delicious pork in the salad is completely overpowered by coriander.
The salad is also accompanied by, what the menu calls, "Green leaf salad with Neil's vinaigrette," when really, it's just lettuce with dressing. There are no salt and pepper shakers — these condiments come in a plastic packet wrapped in a cardboard jacket that is incredibly wasteful and environmentally unfriendly. And the butter was hard as stone and butchered my bread roll.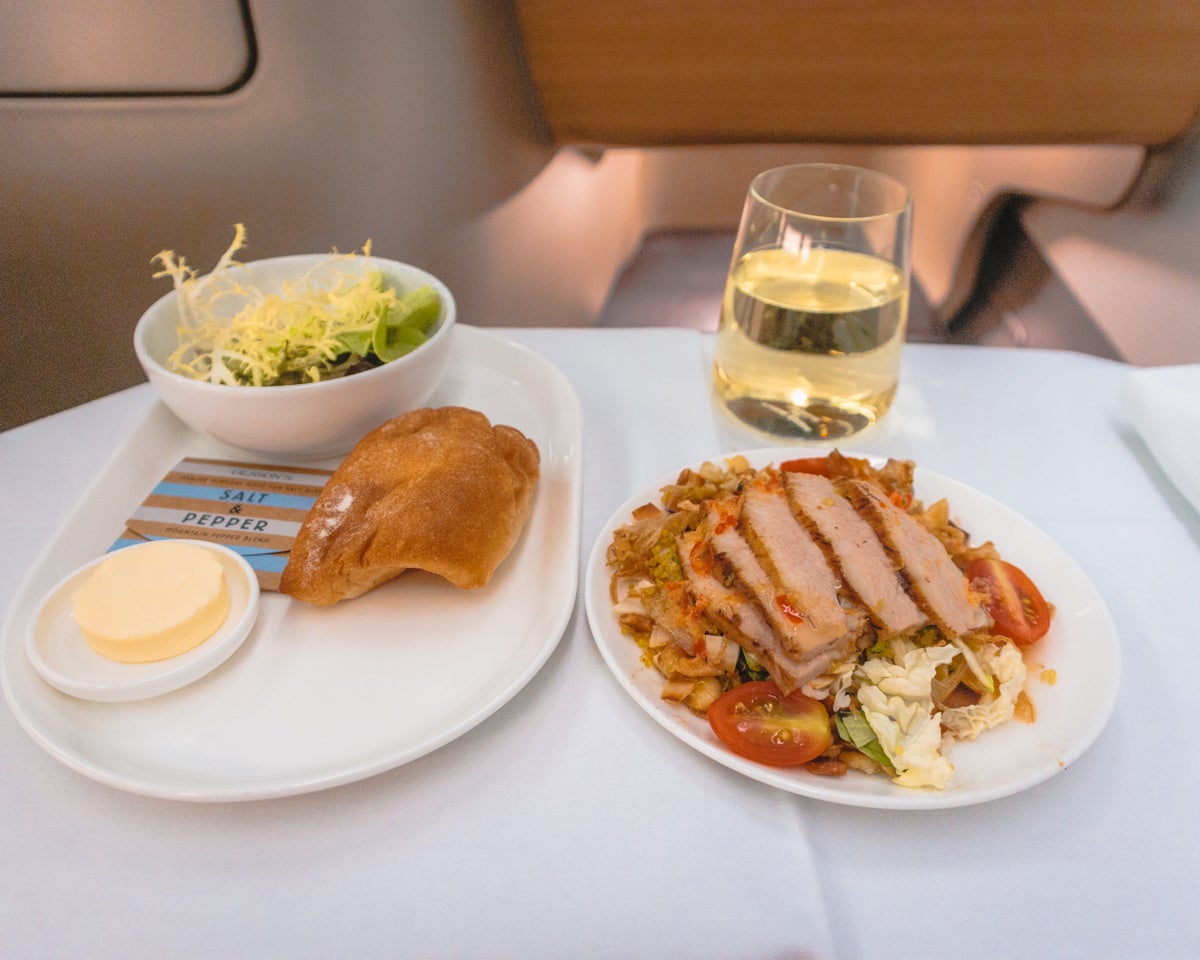 I paired the salad with the Harewood Estate Semillon Sauvignon Blanc ($12 a bottle).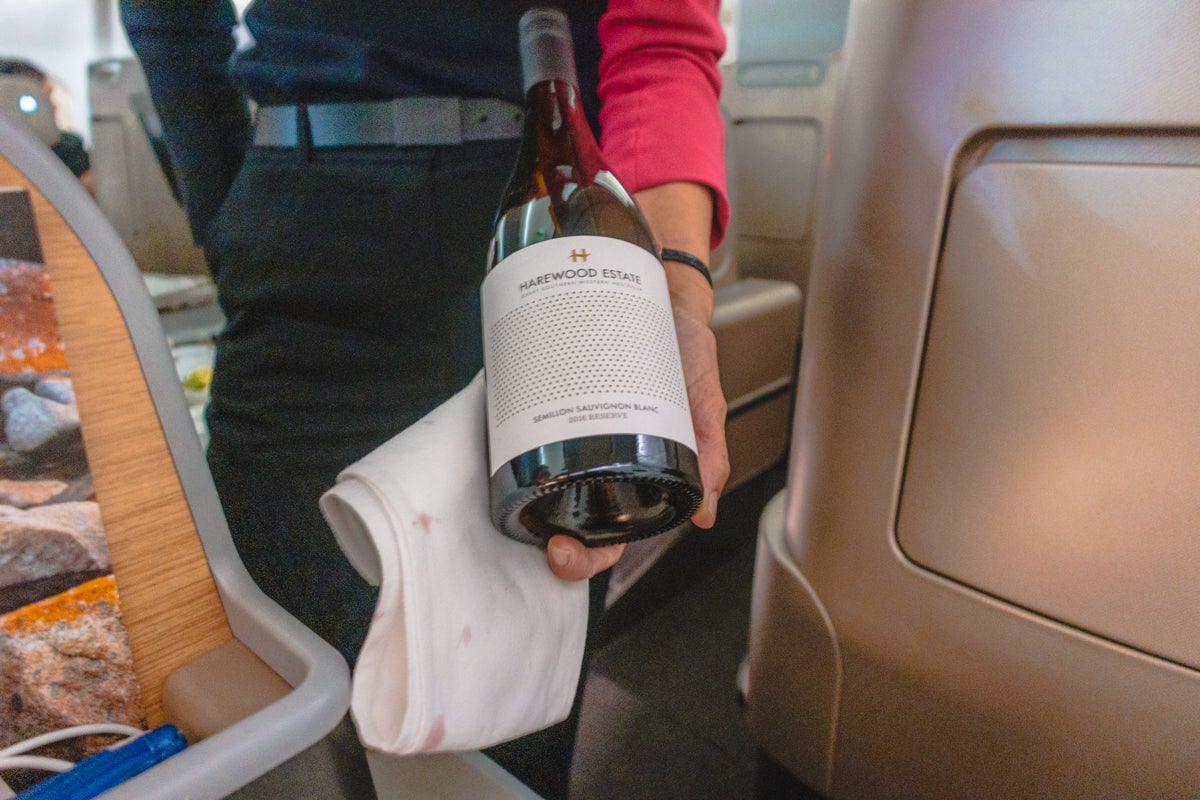 A choice of still or sparkling water is available.
The only other starter option was a corn and basil soup. Mains started arriving approximately 2 hours after departure.
I decided on the braised beef with fried polenta, sautéed spinach, and slow-roasted tomatoes. It had a great flavor but sadly the beef was chewy.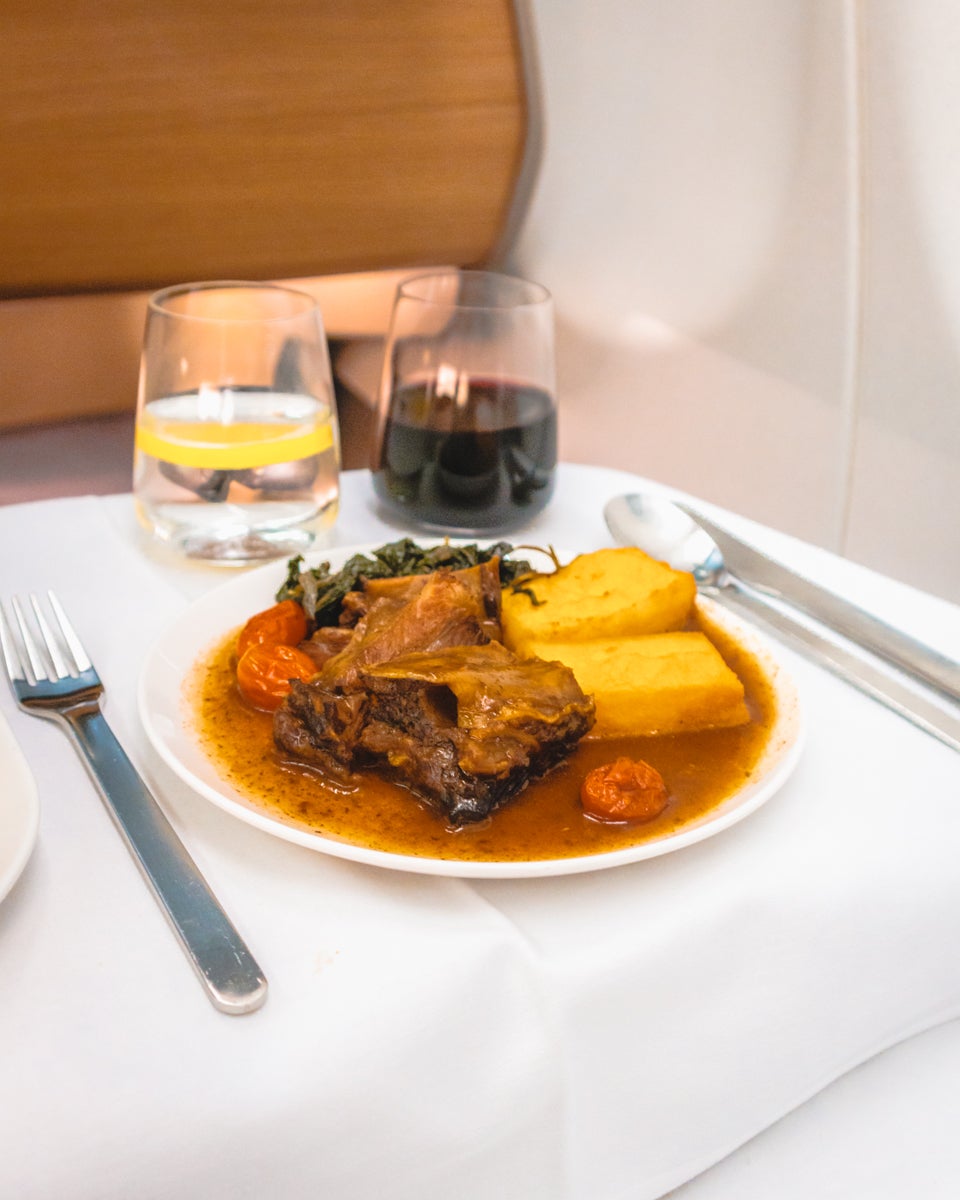 Maria allowed me to try the 2 red wine options and in the end, I decided on the 2017 The Lane Vineyard Shiraz ($10 a bottle).
Maria mentioned to me that all the carts are chilled, so after take-off, they immediately take out all the red wine to try and return it to room temperature as quickly as possible. If only they took out the butter, also.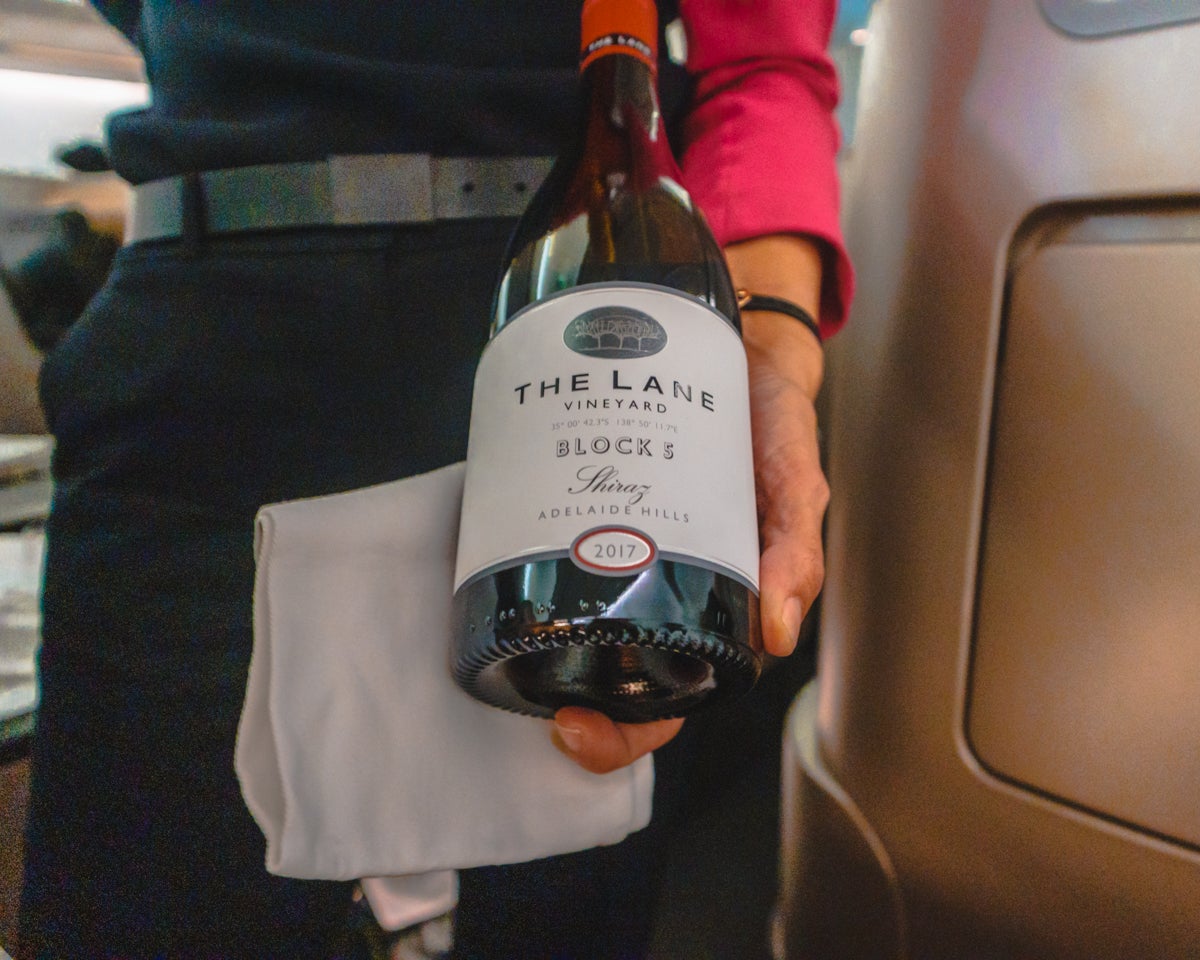 The other main options were:
Stir-fried Hokkien noodles
Roast chicken with chasseur sauce
Red curry of snapper
For dessert, a trolley is wheeled through the cabin showing all the options:
Cheese
Coconut sticky rice with mango and coconut cream
Ice cream
Seasonal fruit
Valrhona chocolate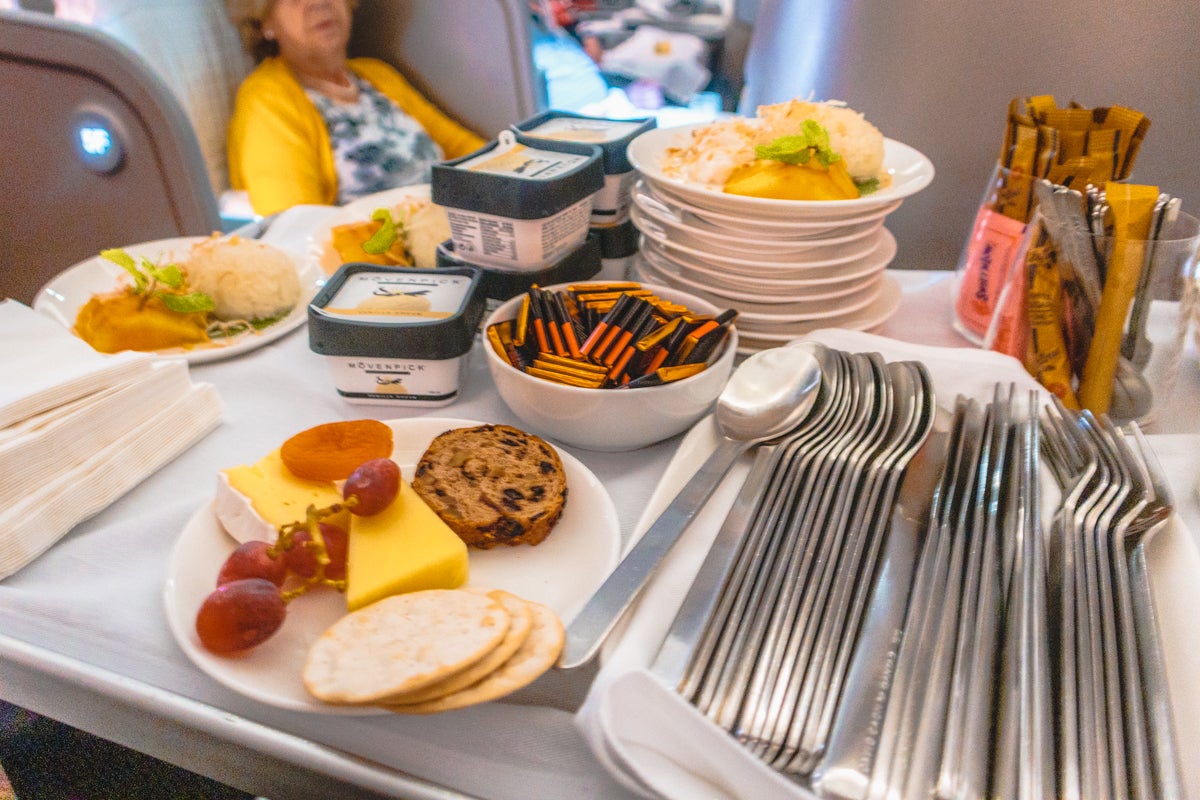 I went with the ice cream and switched to the dessert wine ($30 a bottle)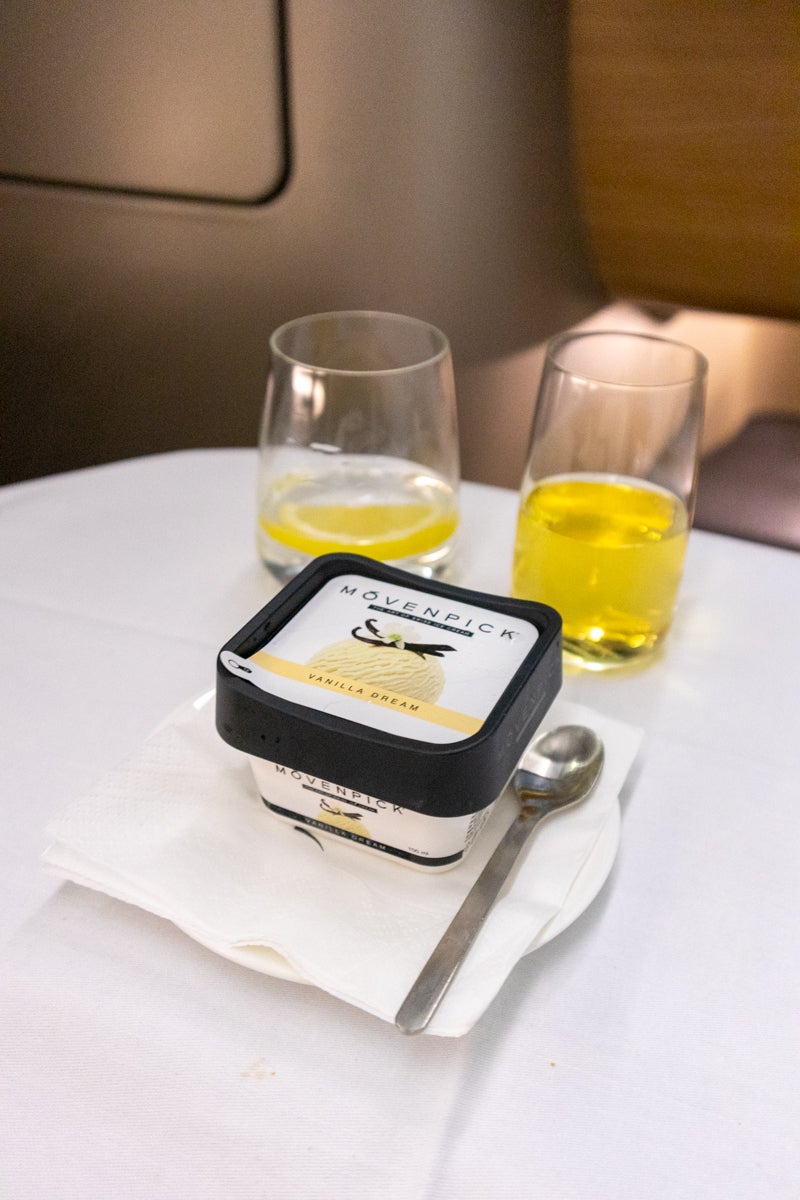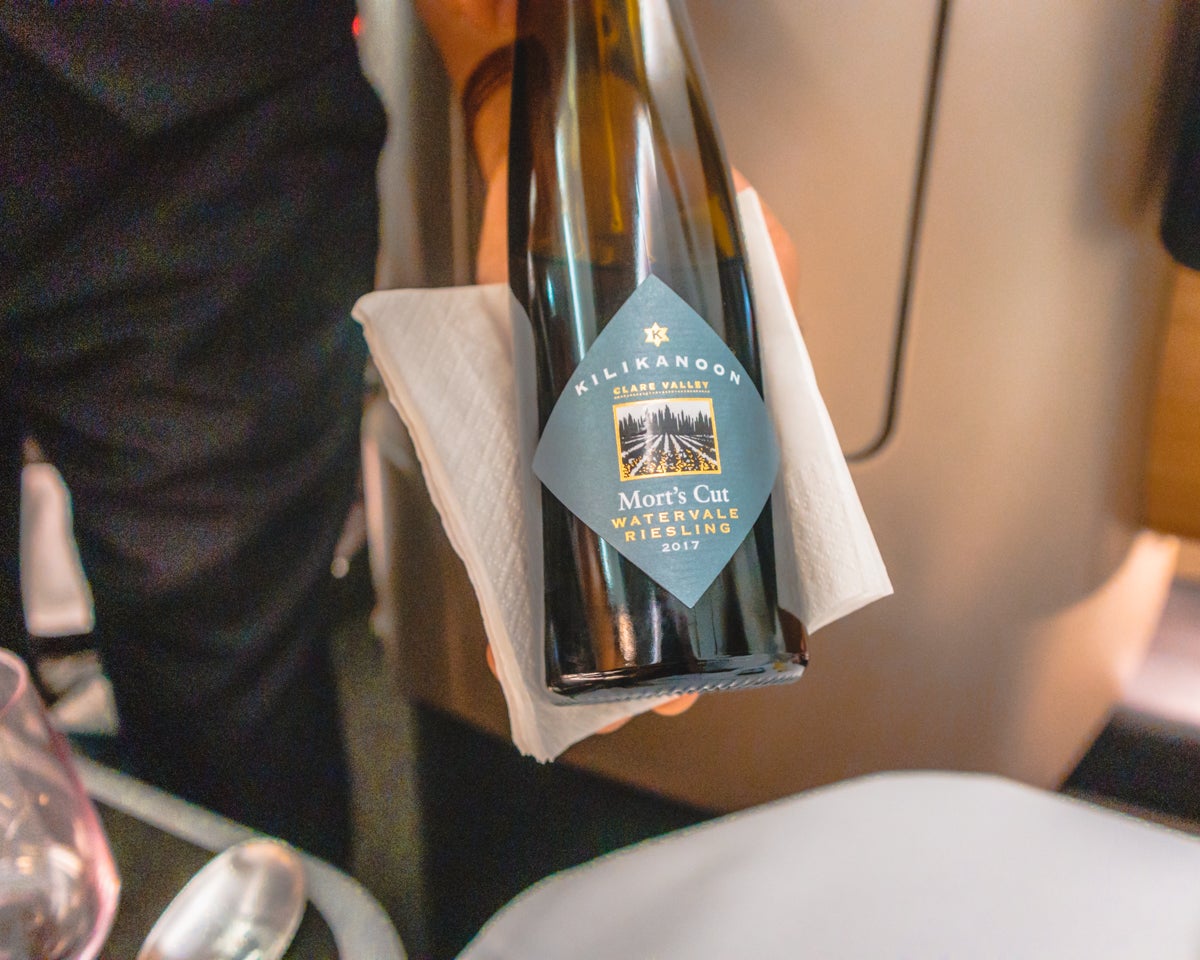 If you were still hungry during the flight, the following options were available from the mid-flight menu:
Whole seasonal fruit
Almond and oat biscuit
Chocolate bars
1.5 hours out of Sydney, the breakfast service commenced which was a "café service" (i.e. no hot options) comprised of just muesli, a juice/smoothie, and coffee/tea.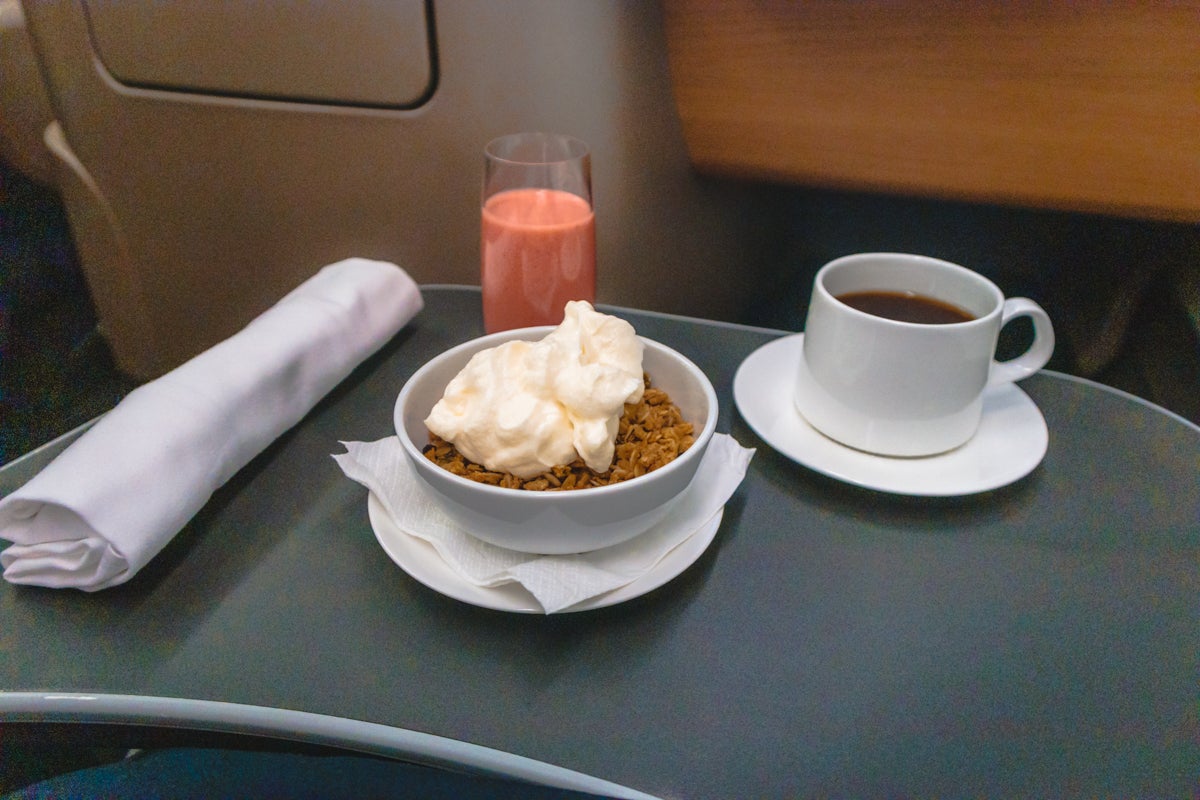 After breakfast, I overheard the CSM walk through the cabin and give the exact same spiel to every single passenger: "It was an absolute pleasure having you on board, I look forward to seeing you again."
He hadn't seen any of us since he handed out arrival cards out, so this interaction felt very forced and robotic.
We landed in Sydney 31 minutes behind schedule and then had a medical situation, so the Australian Quarantine needed to board the aircraft to inspect the passenger before the rest of the passengers on the aircraft were allowed to disembark. Thankfully everything was fine and we were only delayed 10 minutes.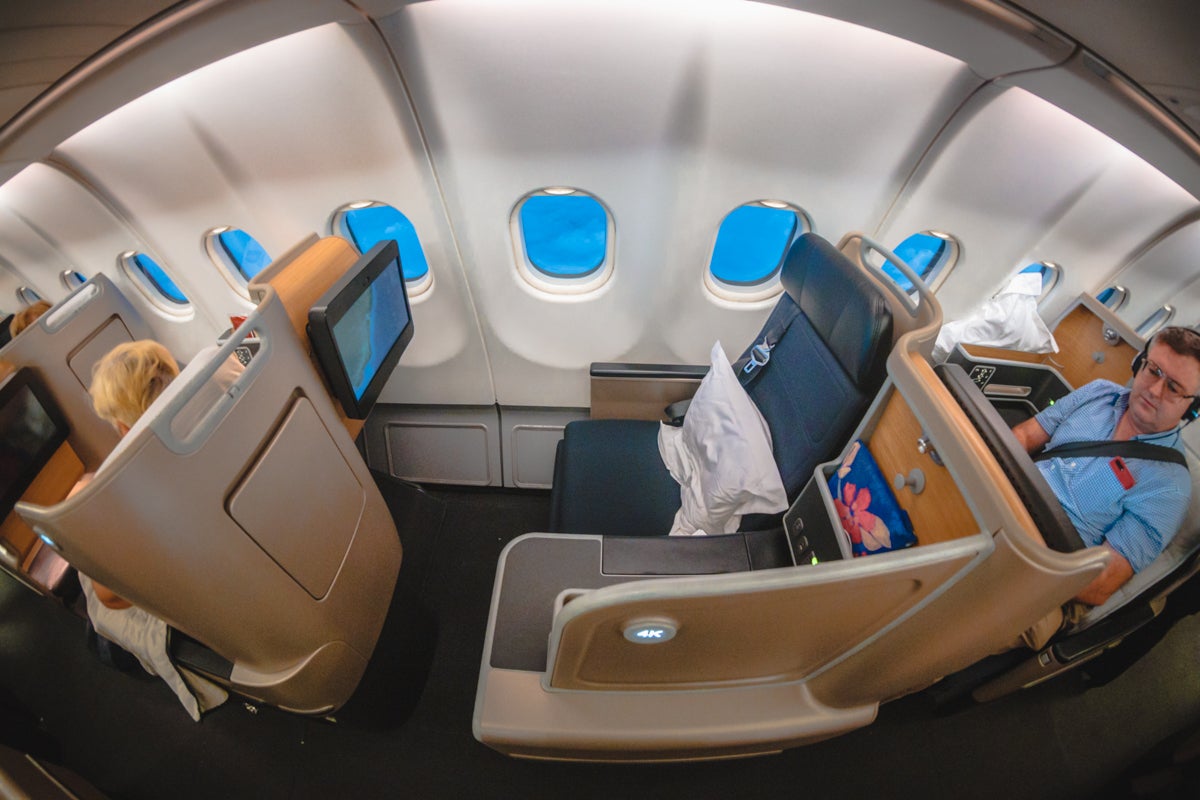 Final Thoughts
It's hard for me not to compare this flight with the other 3 carriers I had only just flown in the week prior: Singapore Airlines, Finnair, and Oman Air. Overall, the Qantas business class experience felt the least premium and it all comes down to the details.
The food was average, Qantas under-catered meal options in what seems to be a cost-cutting maneuver. It doesn't have enough toilets on the A330. It doesn't offer hot towels. It uses trolleys down the aisle. The second meal option wasn't substantial, and to really nit-pick, packets of pretzels and packaged salt and pepper is what you'd find in premium economy, not business class.
The Business Suite is a great place to fly but it isn't really a "suite" and not all seats are created equal. Those on the aisle have less privacy and passengers away from the aisle can't exit once the tray table is out.
The seat also lacks storage under the ottoman and totally misses out on any enclosed storage compartment. However, I slept well in the comfortable flatbed and enjoyed a few movies on the excellent IFE.
While I really didn't like the fake robotic pleasantries from the CSM, but Maria was an absolute gem and provided a warm and genuine service. She greeted me by name from the beginning to the very end of the flight and even shook my hand to farewell me before landing.
So overall, my feelings are quite mixed, and this was my least favorite flight on this trip.