The TWA Hotel at New York's JFK International Airport [Review]
Situated at New York John F. Kennedy International Airport's (JFK) Terminal 5, the TWA Hotel is "the" hotel opening of the year — anticipated by much media fanfare, AvGeek wonder, and airline employee nostalgia.
The hotel officially opened for business on May 15th, 2019 — and the day was filled with a grand opening ribbon cutting ceremony, a media open house and then the official check-in for guests later that afternoon.
In this review, you'll find a look at:
The hotel's opening day festivities, including the ribbon cutting and tours, which provide insight into the hotel's operations
The logistics of the hotel, where it is located and what amenities are on-site
The cons of the hotel on opening weekend
Note that this review is solely focusing on the experience of the opening weekend.
The Hotel Itself
Designed in 1962 by architect Eero Saarinen, the hotel was home to Trans World Airlines (TWA) for over 50 years. You may recognize the hotel's iconic design as Saarinen also designed the St. Louis arch and the famous ticketing and departure hall at Washington Dulles International Airport. The TWA Hotel doesn't have any right angles — something very unique to Saarinen, but something not too foreign for 1960's design.
In 2004, the hotel was declared a city landmark by the New York City Landmarks Preservation Commission — which, fortunately, prevented the hotel from getting demolished. In 2005, the hotel was labeled on the National Registry of Historic Places with the National Park Service.
When you look at the building, you'll notice that the original boarding gates are now situated where JetBlue's Terminal 5 is — the only remaining structure is the ticketing terminal itself, however, the "tubes" remain going into present-day Terminal 5, and what would have been the original boarding gates.
The hotel's groundbreaking occurred on December 15, 2016, and was attended by many top dignitaries from both the state and local levels. Alongside the main building, there are two hotel wings — both of modern construction. One was started in December 2017 and the other in March 2018. Both of these hotel wings are where the actual hotel rooms are located and were both built from the ground up, so they are not of any historic value or part of the original terminal.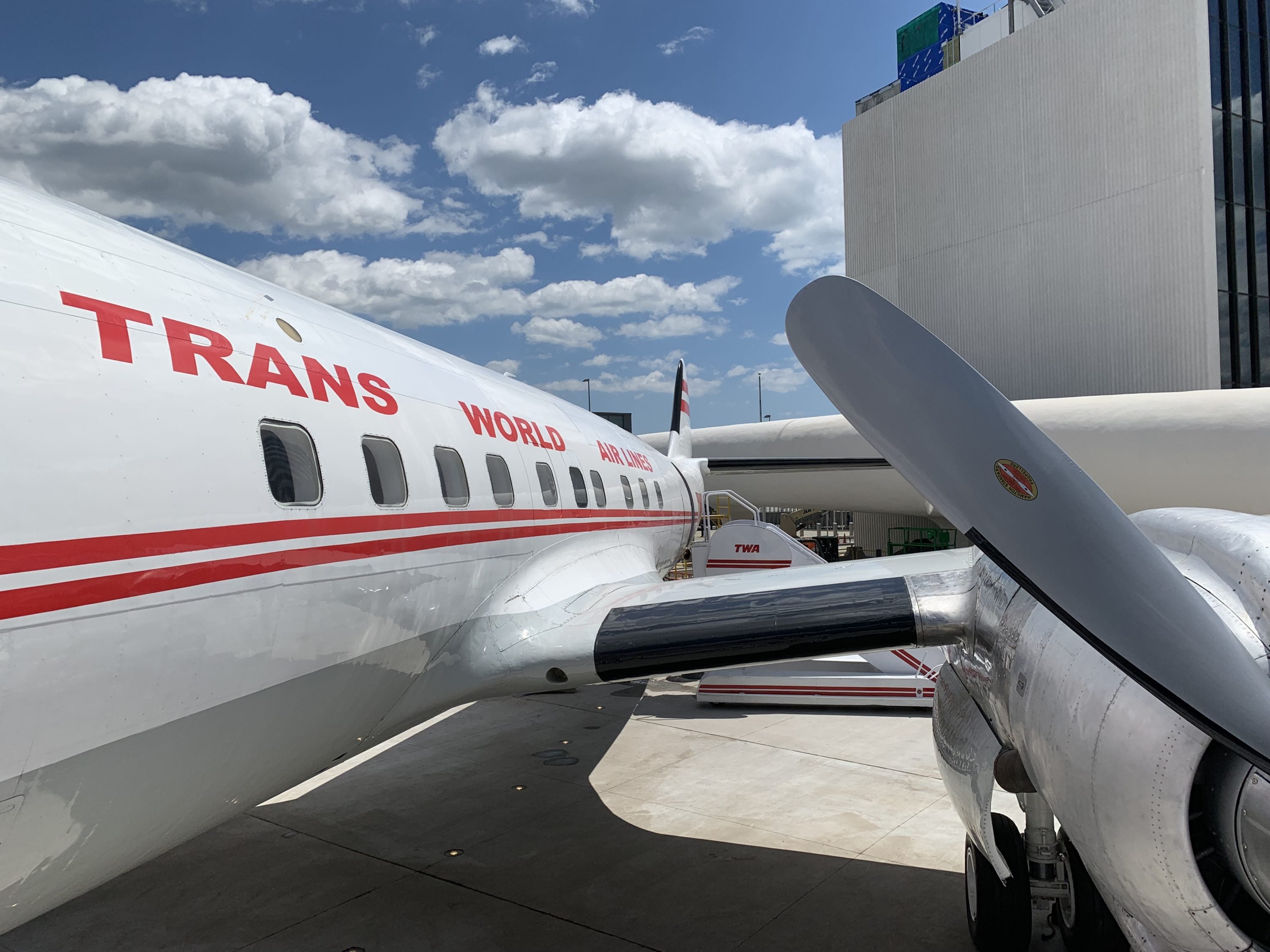 One of the most iconic parts of the hotel is the Lockheed Constellation L-1649 Starliner, which was shipped to the hotel in October 2018 and displayed for public view in New York's Times Square in March of 2019.
The hotel was developed by Morse Development, along with MCR — a middle to low-end hotel operator (you'll see how this comes into play shortly).
Here are some quick demographics of the hotel:
There are 512 rooms, divided up amongst the 2 new-build towers on either side of the hotel.
There is a conference space located in the underground portion of the hotel that will be used for major events, weddings, corporate conferences, etc.
There are 8 restaurants ranging from bars, fast-casual places, and a fine dining establishment.
There is a rooftop infinity pool overlooking the surrounding runways and Terminal 5.
The Hotel's Location
The hotel is located directly off of Terminal 5, which is accessible by all AirTrains to all terminals. To access Terminal 5 from any other terminal you simply need to go to the AirTrain station from the respective terminal you land at and take the terminal AirTrain directly to Terminal 5 (note: do not take the train to Jamaica or any other station that is outside of the terminal loop or else you will go severely out of your way and have to backtrack).
Once you're in Terminal 5, the hotel is accessible by two original TWA Flight Center tubes leading into the hotel.
Terminal 5 hosts these airlines:
JetBlue, both domestic and international departures
Aer Lingus and TAP Portugal
Hawaiian Airlines
Cape Air
The hotel is the only hotel located within JFK itself, however, you need to carefully research if taking an off-airport hotel shuttle is better for your plans.
If you're departing out of Terminal 5, it probably is a no-brainer to stay at the TWA hotel if you have an early flight departure, but if you're staying out of any other terminal, when you combine taking the AirTrain and then walking to the hotel, there might be faster options available depending on when you stay.
Hot Tip: The best way to get into the hotel is by walking through Terminal 5. For more tips on navigating the airport, check out this guide on how to get between terminals at JFK. 
Entering the TWA Hotel
Once you enter the hotel, you're greeted with the very sterile, white lobby that is the original TWA Flight Center.
The old split-flat display "clickety-clack" departure board is immediately visible as you enter, and you'll notice that the folks who restored the board were smart enough to add many of the airlines and logos that existed around the time of TWA, and some typical historical departures for realism sake. Every so often the board starts to click and new departures come up which really makes you feel as if you're in an airline departure hall.
The floors are one of the first negatives you'll see — while they are original to the building, it's very evident they hadn't been cleaned prior to the opening, and many of the ramps and passageways in public areas were downright filthy, appearing as if they've been walked on for many years with no effort to try and remove any remnants of dirt.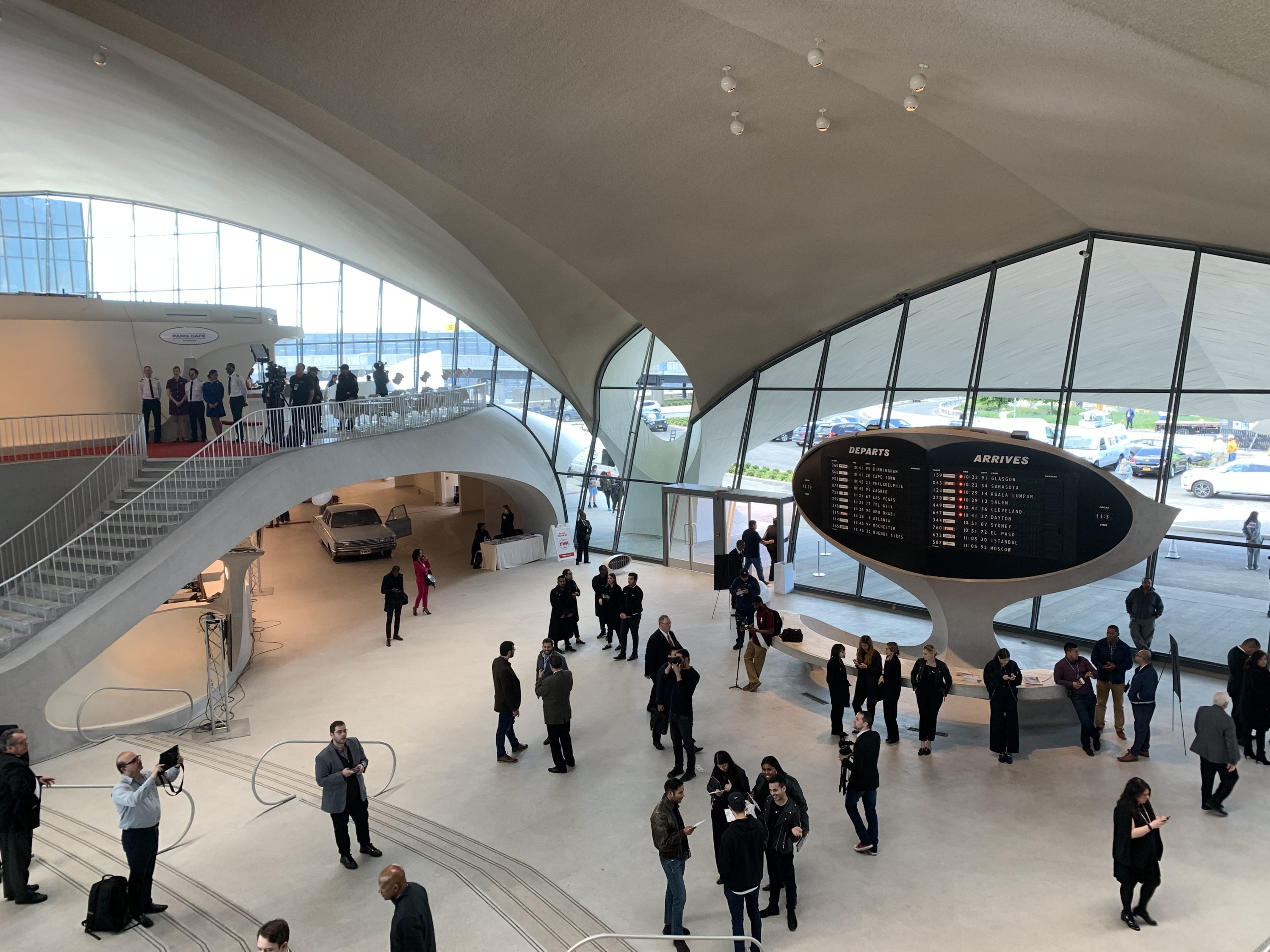 Check-In
To the left are the check-in area and front desk, which is where the original ticketing counters used to be. Check-in is all automated, and one of the goals of the hotel is to remove the human element — something that may easily backfire on them as more and more guests want to experience the human touch.
To check-in, you use one of the automated kiosks which ask for your name and departure date, but nothing more (there's no check of any IDs, so theoretically as long as you knew someone's name and departure date you could check-in to their room). You're then asked to slide your credit card to cover the room rate and any incidentals and then are asked to activate your keys on a small pad to the left of the screen.
The process is actually rather simple and really only lasts a few moments, far less than if you had dealt with a front desk agent, but the one thing missing is the "human touch" where it may be possible for them to place you in a better room, a quieter area of the hotel, etc. whereas the computer doesn't really have this discretion.
Once you're done checking in, you receive an email with your room number on it — a nice touch as many travelers tend to lose the little paper jacket their key cards usually come in with the room number listed on it.
Right behind the check-in counters are the actual belts used to previously whisk passengers luggage away — at the new TWA Hotel, these belts will do the same purpose, but for temporary luggage storage as folks wait to check-in, or to store after a guest checks out.
On opening day, check-in was a disaster. The first issue was that there was mass confusion over the official check-in time — whether it was 3 p.m. or 4 p.m. Some patrons had earlier check-in times while some had emails saying it was later. In either case, with it being a brand new hotel, you'd expect rooms to be ready early since no one would be checking out the night before. Not so in this case.
While some rooms were ready at 4 p.m., the time they started letting folks check-in, some patrons wouldn't receive rooms until past 8 p.m., with the hotel citing last-minute preparations, moving of furniture, and clean-up. This was by far one of the most unprofessional scenes of the day. With a hotel of this size and scale, you'd expect the rooms to be prepared well in advance of check-in, but they missed that deadline and lingered into the next several hours.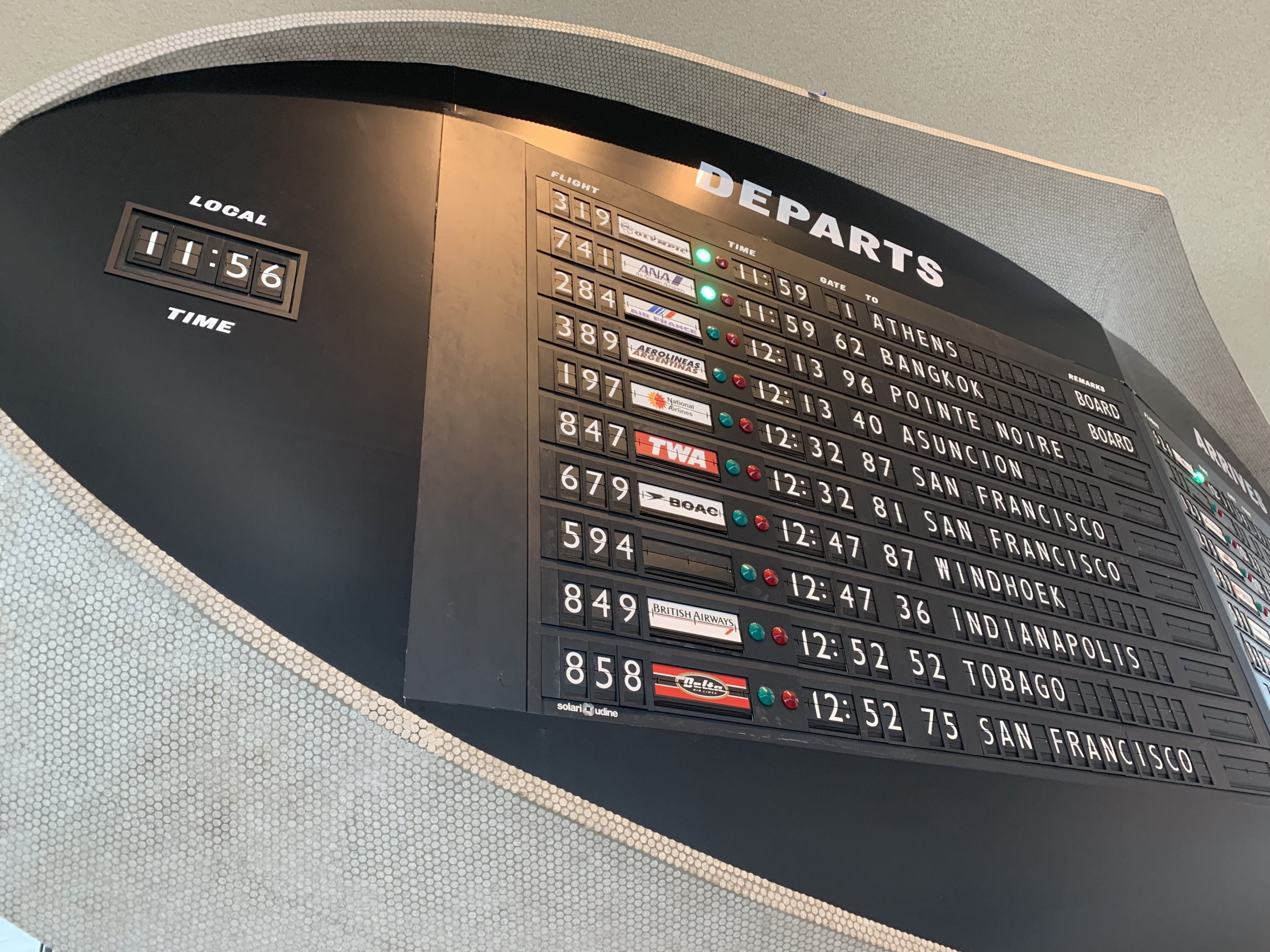 Food Hall
Opposite the check-in desks on the other side of the main entrance is the Departures Hall Dining food hall, again similarly situated in an area that was used for passenger check-in back in the day.
This area is currently being used as a food hall with several well-known pop-up restaurants. Here are the current ones along with the descriptions provided by the hotel:
Halal Guys: Hours. That's how long New Yorkers have been willing to stand in line since 1990 for steaming platters of gyro and chicken over rice served from a Midtown hot dog cart by a trio of Egyptian immigrants. Famed for their secret white sauce, The Halal Guys specialize in falafel and baklava, too.
Empanada Republic: Conceived in Latin America, born in Brooklyn! Empanada Republic honors a range of culinary traditions with its baked pastries — options include Argentinian-style creamy chicken, Mexican corn and Oaxacan cheese and Spanish-inspired pork and peppers. All are paired with house-made dipping sauces.
Antico Noè: For more than 70 years, Antico Noè has served its authentic Italian panini from a storefront off Piazza San Pier Maggiore in Florence, Italy. In 2016, the brand expanded to NYC and has attracted a cult-like following, offering more than a dozen inventive sandwiches on freshly baked bread, as well as fresh salads and antipasto.
Fresh&Co: A family-owned eatery started in 2010, Fresh&Co grows its own produce at a Long Island, New York farm. Naturally, the organic-focused company offers salads, grain bowls and veggie-and-protein plates with vegan, gluten-free and meat-lover options.
Playa Bowls: The brainchild of two Jersey Shore surfers, Playa Bowls began on a Belmar, New Jersey sidewalk where its founders sold açai bowls at a stand outside a pizza shop. Today, the eco-friendly company whips up 7 different kinds of bowls and smoothies from its brick-and-mortar stores in NYC.
…and several others, including a soon-to-be Earl of Sandwich
The concept here is that these restaurants will be on a several month trial to see how customers respond and patronize the stalls, and to see how the concept works with providing food in such a unique environment.
On opening day, these restaurants really weren't ready for prime time, though by the end of the evening a few of them were open to serve several different meal options. By the second day, they were all fully up and running and you could order most items that would be featured in their brick and mortar restaurants, albeit at a very marked up price tag.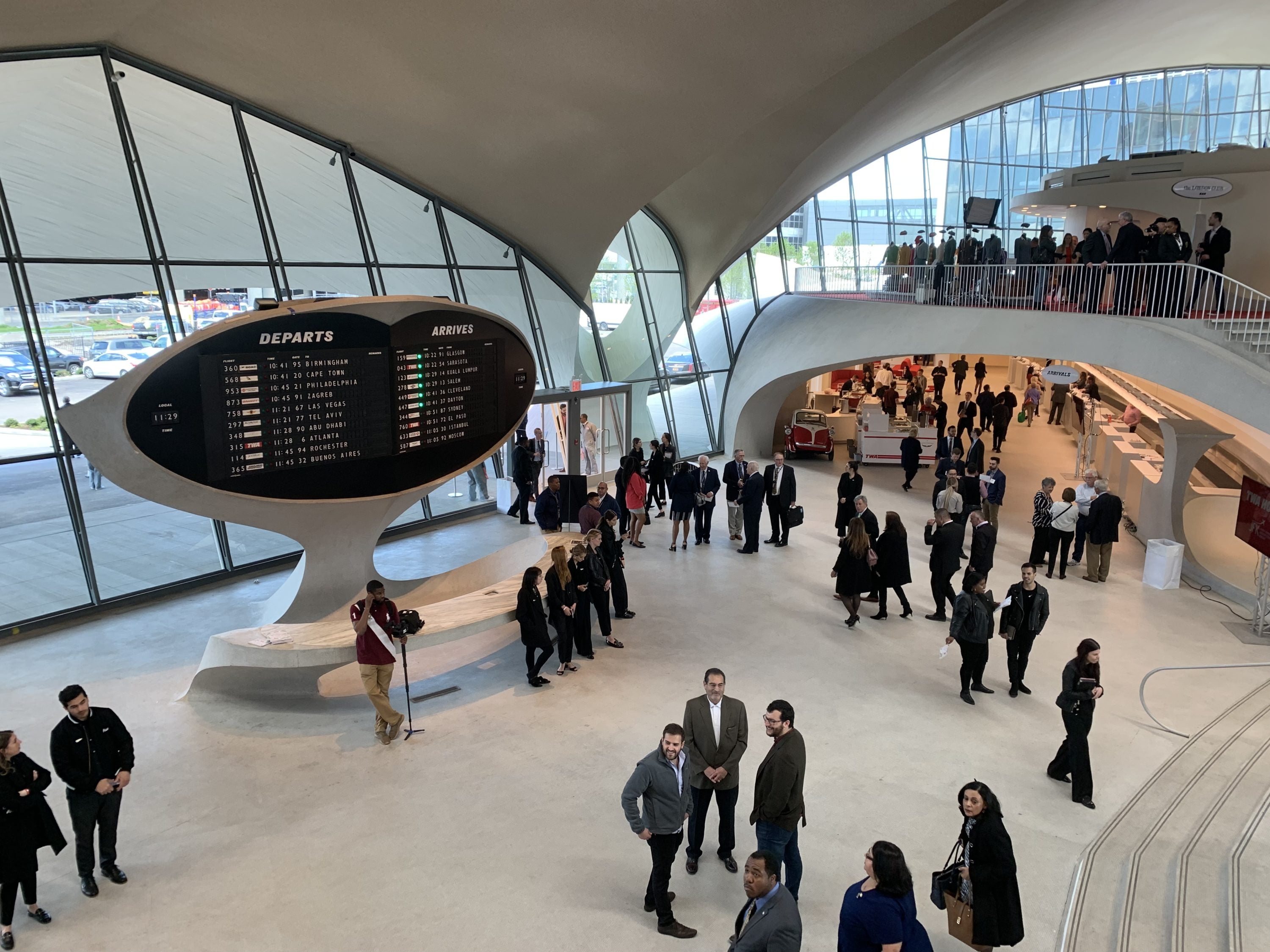 Gift Shop
Past the food hall was the gift shop, with plenty of unique branded TWA paraphernalia and apparel for the AvGeek or frequent guest.
The shop includes such items as:
TWA branded cashmere sweaters for $249
Gola for TWA sneakers for $65
T-shirts for $22
Jackets for $49
Socks for $5
TWA branded robes for $69
Hoodies for $45
If you want something with the TWA logo on it, this is the place.
The Sunken Lounge
Greeting you towards the large glass windows in the back of the hotel is the Sunken Lounge, the original waiting area sitting under the clickety-clack departures board that's been restored to its former glory.
The bar features a variety of well-known and unique cocktails to satisfy any tastebud, but service is incredibly slow. Perhaps it was because of the opening day influx of people, but if the hotel is to anticipate the full occupancy they wish to have, they are going to dramatically have to improve the staffing here. At one point, a server approached who wasn't able to serve liquor, and throughout the evening, several servers took note of orders that simply never came.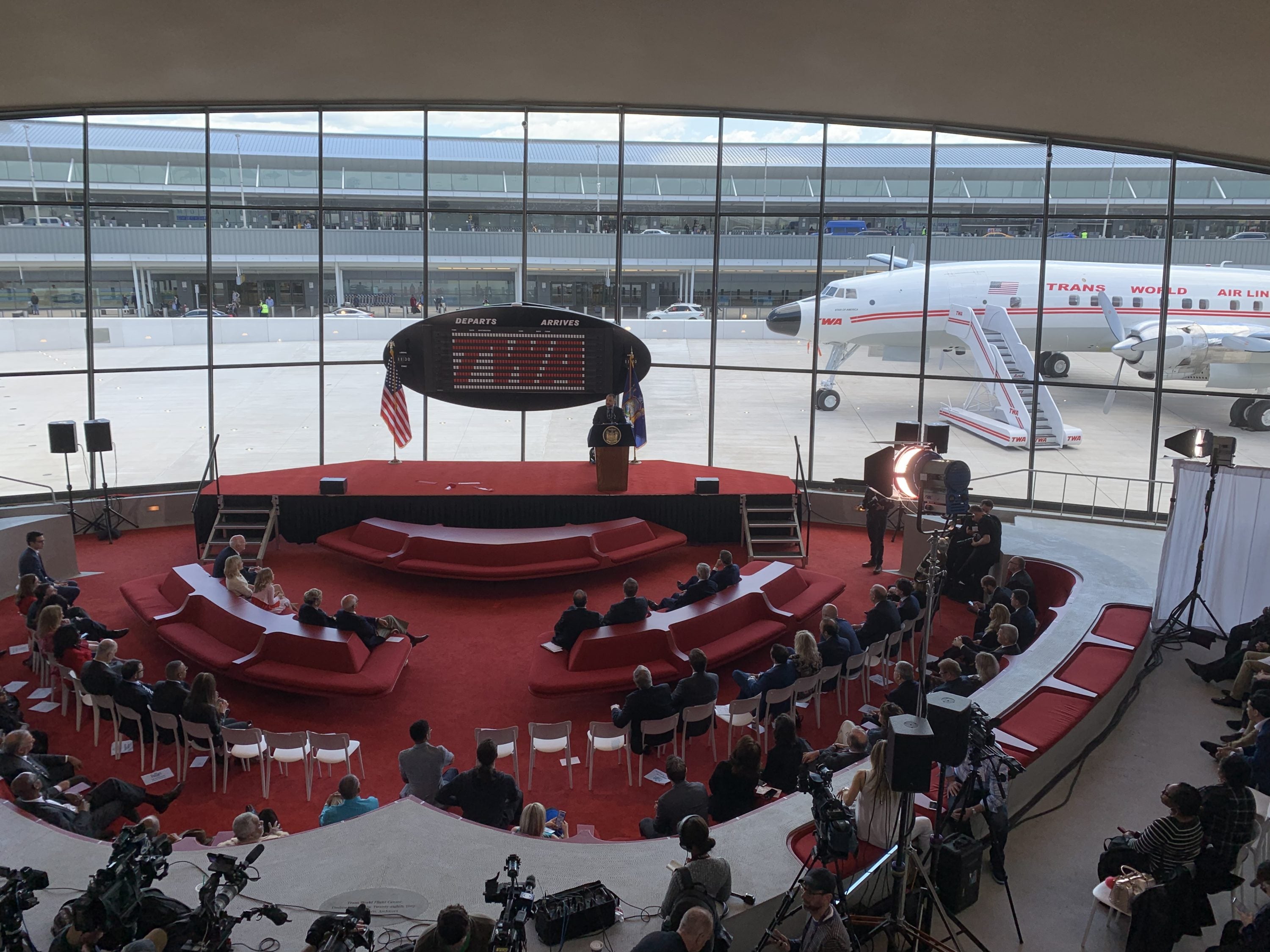 The Sunken Lounge also offers small plates of food, but be weary, the portions are incredibly small and the prices are very high, a truly winning combination for New York City.
Surrounding the lounge were 2 bar stations that were clearly in disrepair — one bar had some sort of dirty leak onto the tile, and both bars weren't even set up with a point-of-sale system to accept payments. As the opening day progressed, they were still stocking liquor options, and I know throughout the event that many drinks weren't available simply because they didn't have the equipment or supplies to make them properly.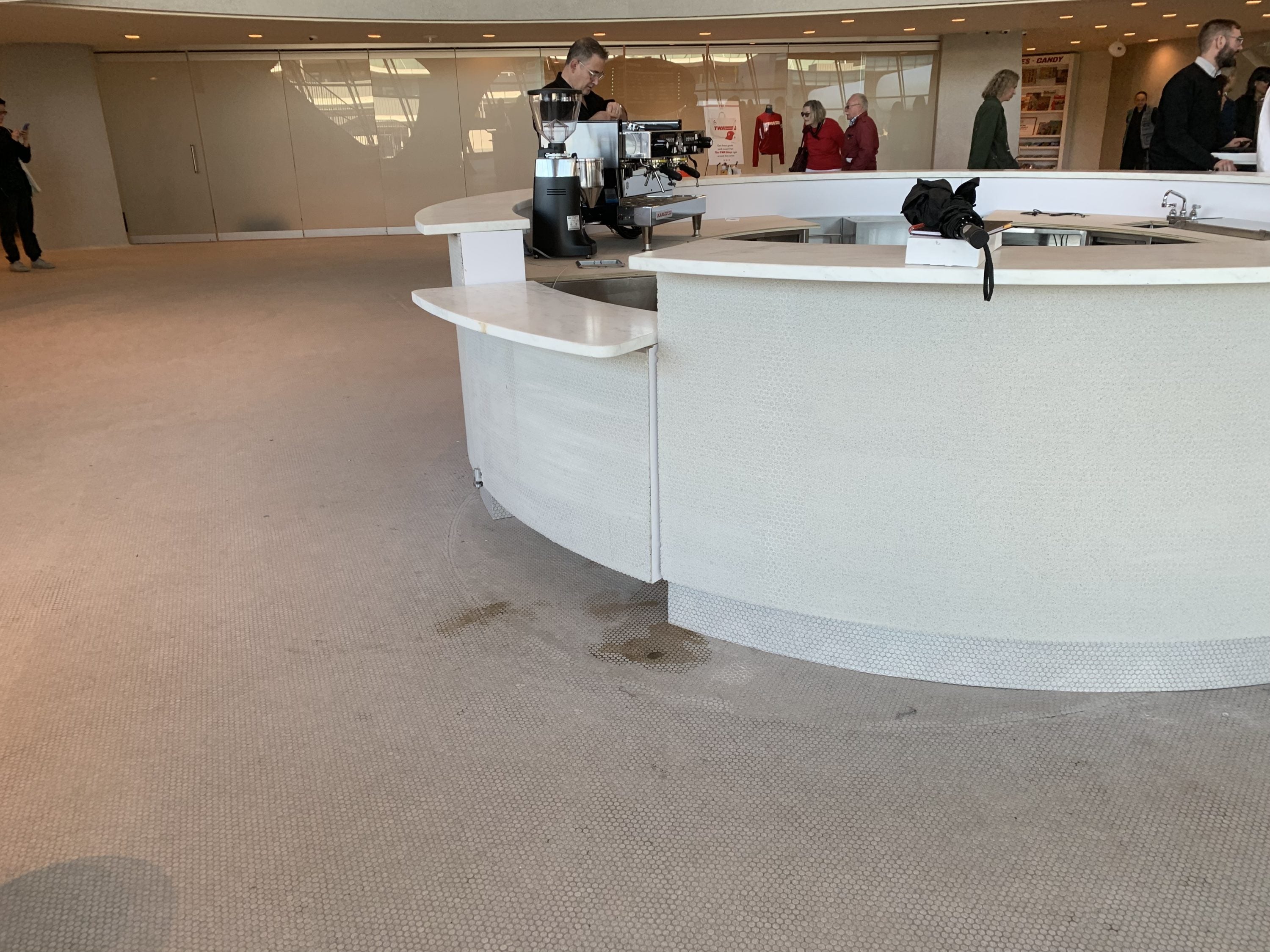 The Connie
On the concrete pad in the back of the hotel sits a 1958 Lockheed Constellation, known as the "Connie." The Connie is the TWA hotel's main bar and inside features several stool-style seating options paired with a few rows of restored seating. The plane's cockpit is also open for viewing and you can head up front for a few pictures, too.
The bar was not fully functional on opening day, though complimentary water and sparkling wine were offered to ease the frustration. The bar in the back of the plane is rather meager, so it's difficult to judge how exactly they plan on operating such an extensive menu there. The countertop and sink are rather plain, and there isn't a ton of storage, so it will be interesting to see how this pans out in the coming months. One of the challenges will be bringing in glassware for beverages and then bringing out any trash.
Another opening day gripe was the lack of real seating — they had brought up a few retro stools and tables, but apparently, these weren't the official seating options. These were temporary arrangements for a more permanent solution, supposedly to be fixed against the walls of the aircraft.
Access to and from the Connie is provided by original airway stairs on either end, though these stairs definitely felt unstable and they swayed as you climbed each step. These really need to be further secured or bolted down for additional safety.
Underneath the Connie was an array of construction equipment that clearly indicated the hotel was nowhere near ready for opening day, and it appeared this equipment was stashed in a hurry to try and make it look like the hotel really was in fact finished when it wasn't.
During busy periods, it's highly recommended to make a reservation at the Connie as it is a very small space.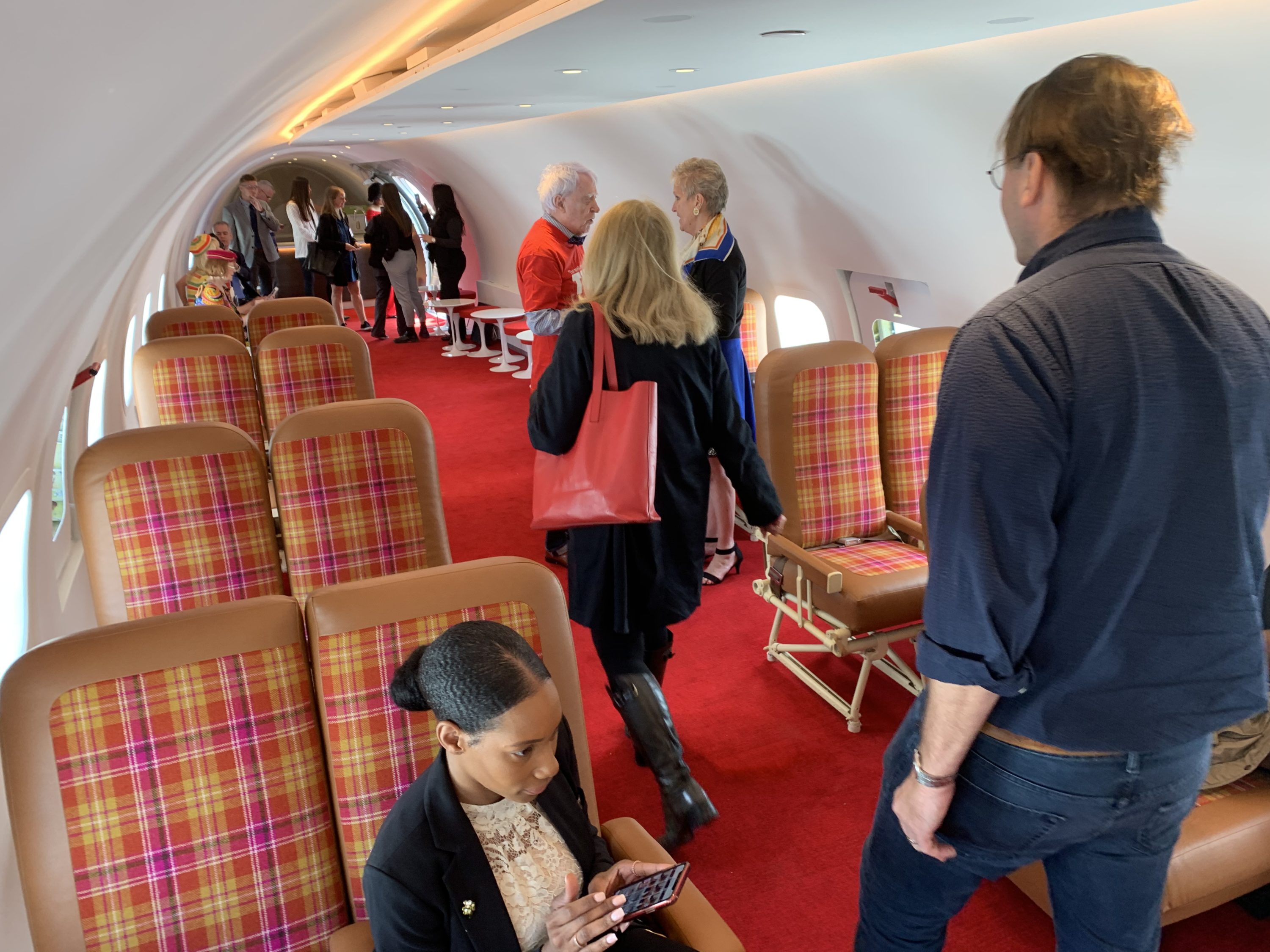 The Lobby
There's no denying that the lobby is simply a work of art — and if you look closely, it really does look like Washington Dulles airport, for those that have flown in there. Spanning the lobby was a bridge of sorts, connecting both sides which contained restaurants, bars, and other seating areas.
Exploring upstairs were several fascinating TWA flight uniform collections. They did a nice job of creating a chronological progression of the various uniforms and pieces, and you could really feel yourself stepping back in time.
Across from the uniforms, however, was an unfinished part of the lobby that stunk… literally. Part of the former Ambassador Club, there was an alcove with additional seating where as you stepped inside you could smell a pungent odor of fresh paint.
Looking up, you could see parts of the ceiling peeling off as well as exposed electrical wiring, not the first you'd see this type of thing throughout the day. There was no warning of the paint or wiring and guests were free to roam as they pleased without any message to them noting they shouldn't step into such an area.
The carpet areas surrounding the exhibits and seating were covered in white dust, clearly remnants of some last minute construction. It was something that could have easily been cleaned in the days leading up to the opening but was neglected for media and first customers to find.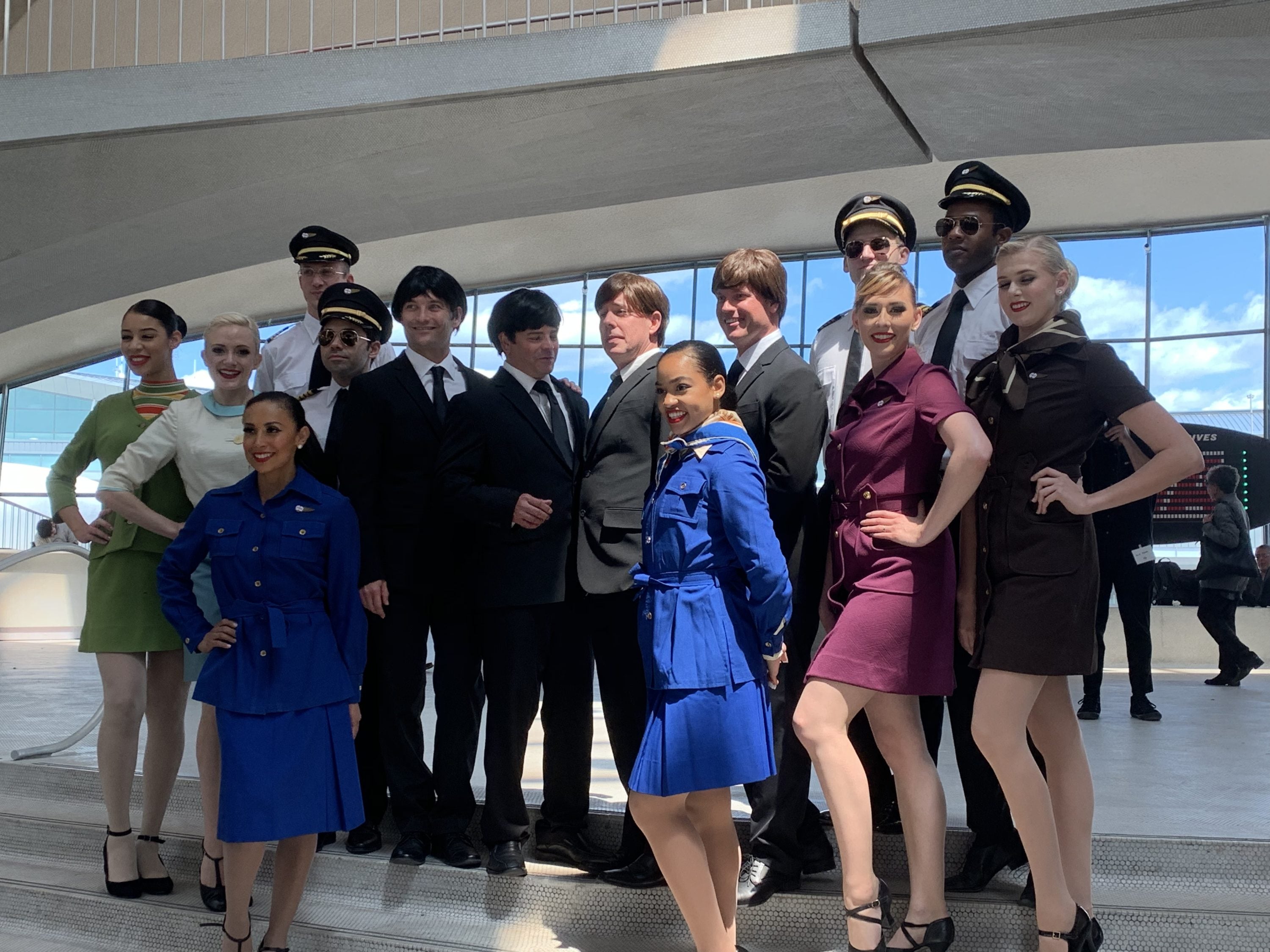 The Pool
In the rightmost tower was the pool, located on the top floor.
There wasn't a ton of signage leading to this area, but looking at some of the maps of the hotel that were handed out in the lobby, you could find your way there without too much trouble. Going up on the elevators was interesting — in the elevator bank lobby off of the long tubular hallway leading into the terminal there were ladders, carts with tools and other construction-type equipment everywhere. This was about 2 hours to check-in, and the place clearly wasn't ready, but the pool was incredibly hyped up prior to the opening so it was certainly worth a look.
Stepping off the elevator on the pool level you could see the disrepair already; the walls were still unpainted and wiring hung off both the ceiling and several fixtures on the walls. As you walked outside, you could see similar construction boxes, carts, and tools strewn over the deck, similar to what was found on the floors below.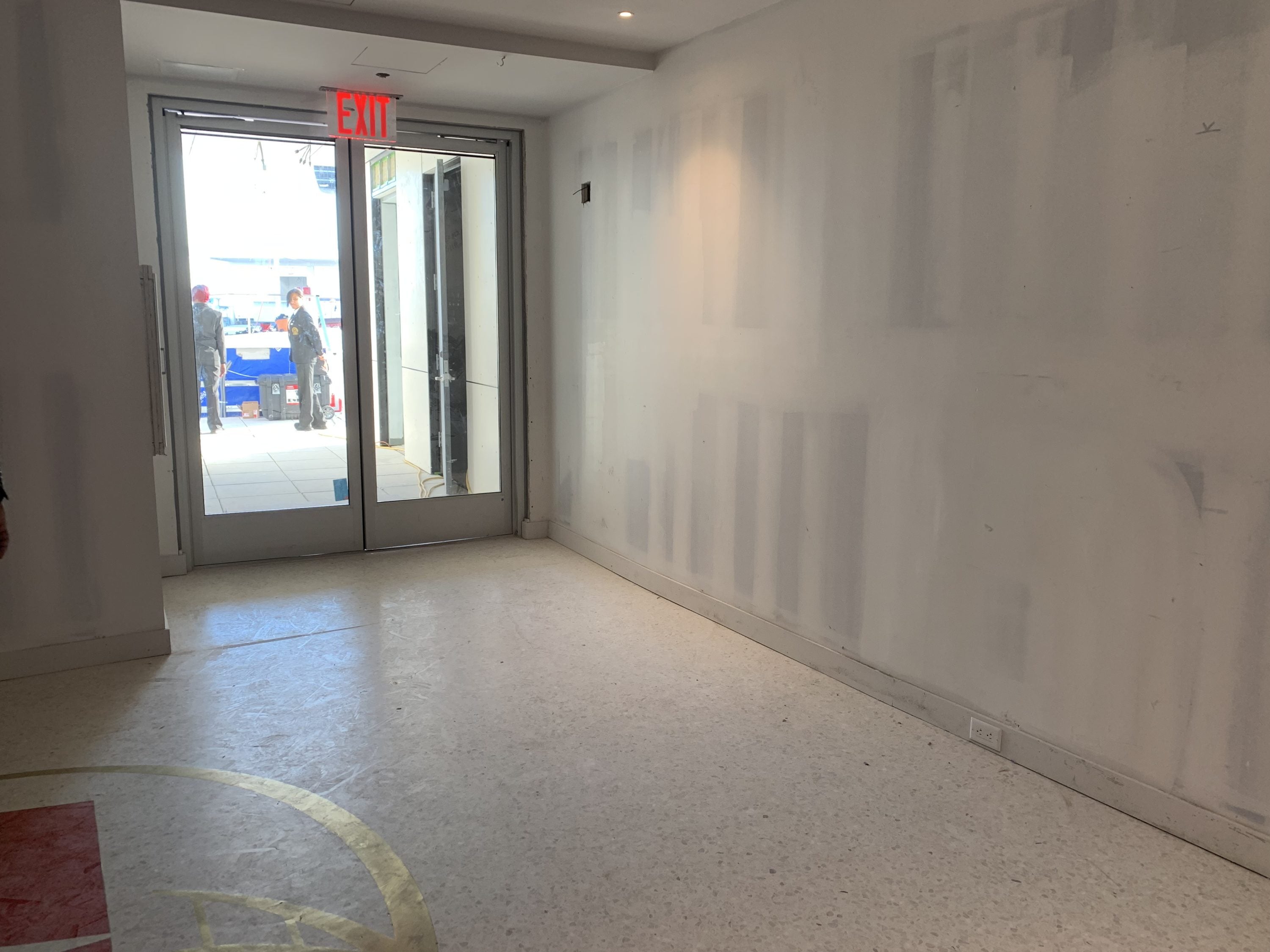 The pool itself was finished and filled with water, and it was beautiful. It was of the infinity type so as you got in the water, you really couldn't see the edge. It overlooks all of Terminal 5 and the planes taking off and landing on the surrounding runways, which is really a unique site to be seen — something you won't find practically anywhere else in the world.
There is a bar at the far end of the pool deck, but it wasn't open on opening day, clearly still in a state of setup. On the deck, there was no furniture or other items you'd typically expect in such a space. Instead, hammers and wrenches filled the areas where you would have expected towels and umbrellas.
The pool was open for preview from the morning until early afternoon, but sometime around 2 p.m. or thereabouts the pool was suddenly closed to folks wishing to preview it, even media. Security guards guarded the doors leading in, and they prevented folks from taking pictures, clearly in an attempt to cover up the dust and equipment visible beyond. It was a shame that this area was closed as it was one of the highlights of the hotel that was supposed to be open on day one.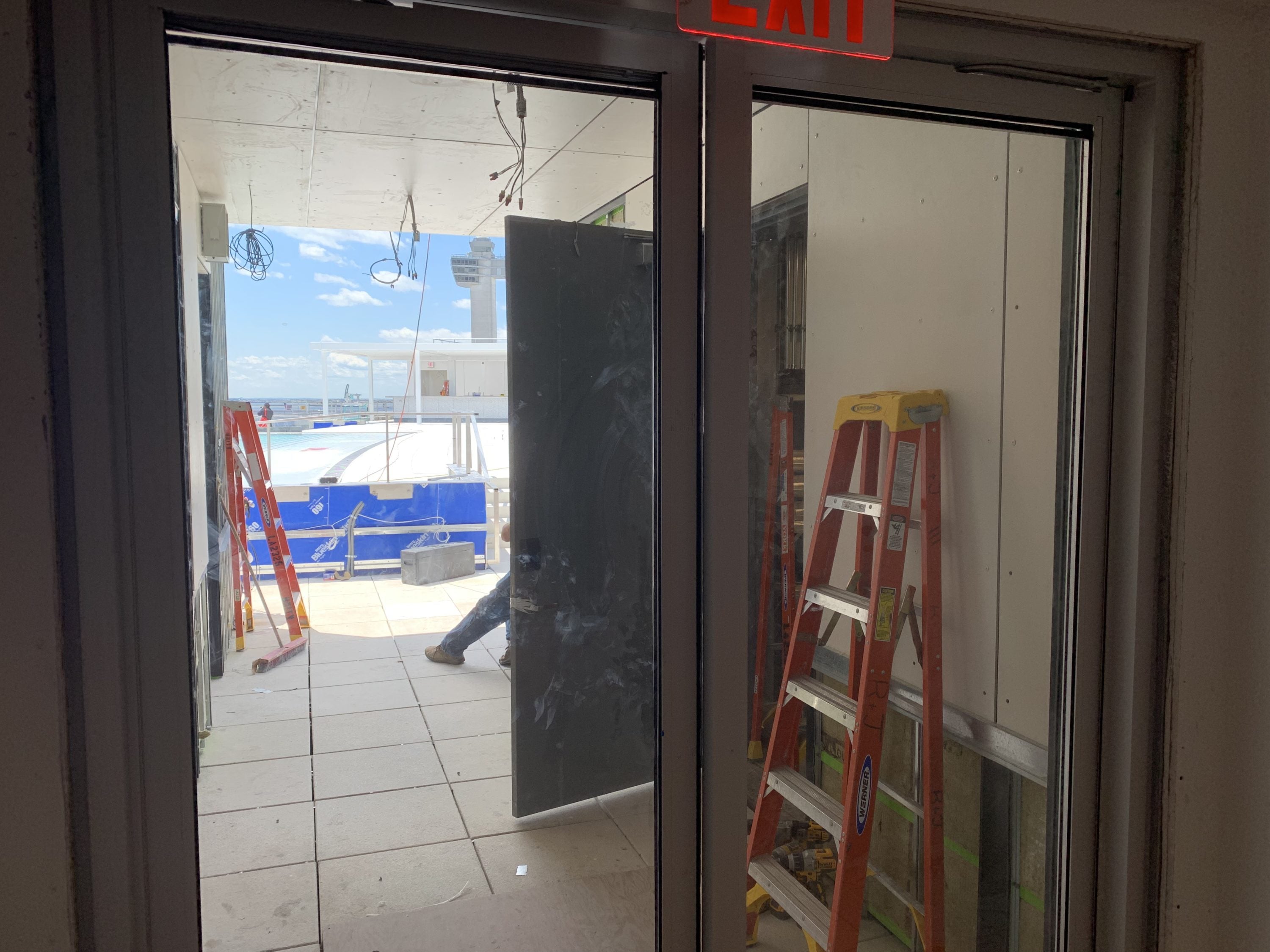 Interestingly, many patrons had true pool reservations which would allow them a guaranteed spot to sit and have drinks and food. These reservations were accepted several weeks prior to opening on the hotel website, but on opening day none of these reservations were honored and there was no communication that the pool wouldn't be open for business, let alone accept any previously made reservations.
Clearly, there was a major communication fail from the hotel, and several guests left disappointed. Funny enough, even throughout opening day and the day after, the hotel still listed the pool as being open.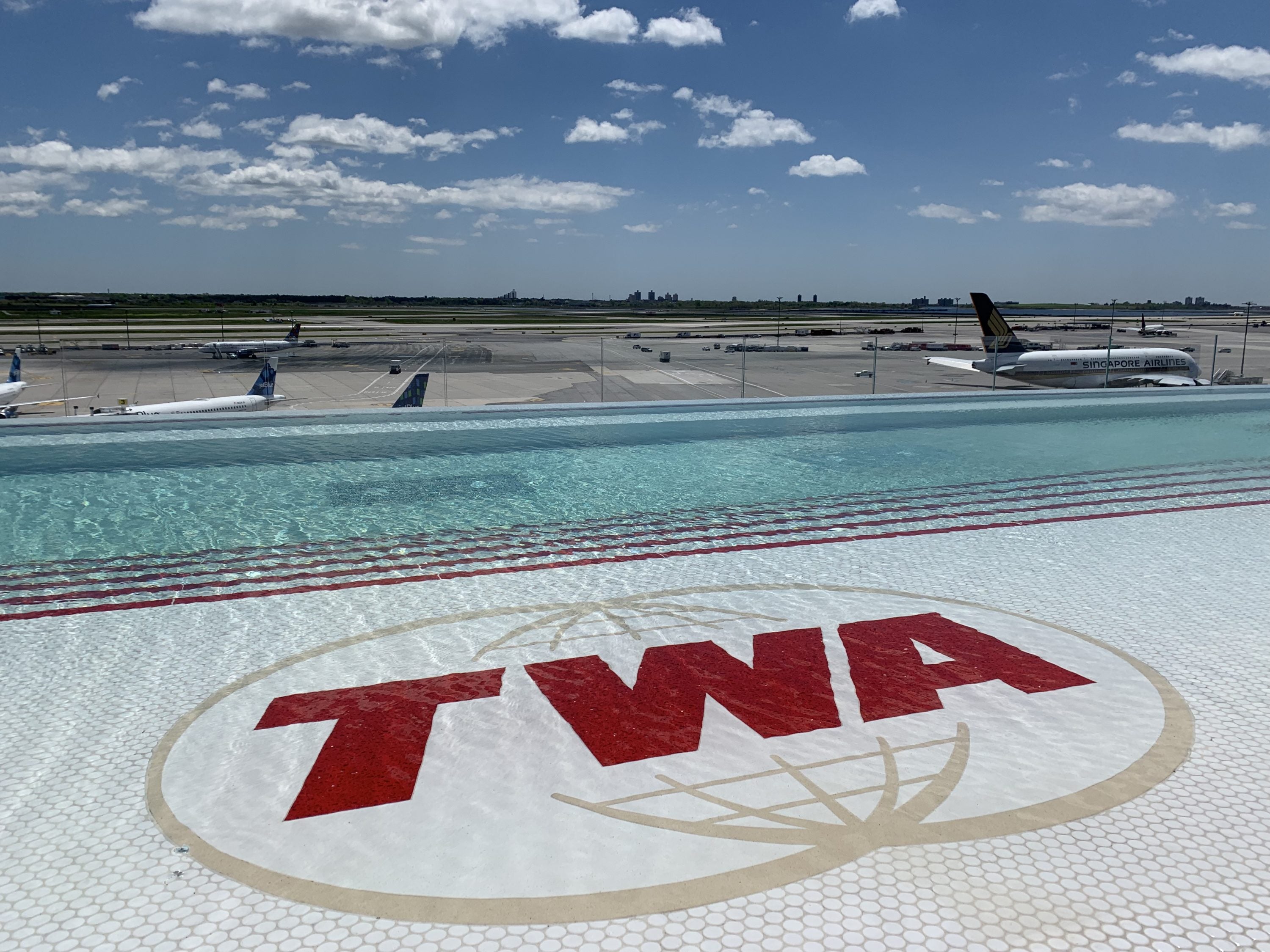 The TWA Rooms
The rooms at the TWA Hotel are truly one of the best features of this new property. After checking in, I headed upstairs into my room, but not without passing multiple boxes in the hallway with various minibar stock items that attendants were still placing in the rooms.
Just about an hour or so earlier in the day, as we walked the hotel, there were still dozens and dozens of rooms without sheets on the beds, boxes strewn over the ground, and things still not in their place. In some cases, there was still furniture being loaded.
After check-in, another blunder hit the hotel — none of the elevators leading up to the guest rooms worked, and staff was on hand to lead guests into the maintenance areas where they could use service elevators or the emergency exit stairs. It was clearly not a very professional opening to such an iconic hotel, and I'm not sure why the elevators, in particular, were out of service, but it was certainly a pain having to walk up and down the stairs with luggage.
Nonetheless, the room I was assigned was ready (surprisingly). Inside, it really felt like a Kimpton hotel — and for those that have stayed at this now IHG brand, know that the rooms and hotels are generally modern, swanky and very well kept. The room defiantly had a TWA theme with dozens of logos throughout. I was assigned a "Deluxe Room with Historic TWA View" and I was pleasantly surprised at the view — literally right in front of the TWA Flight Center.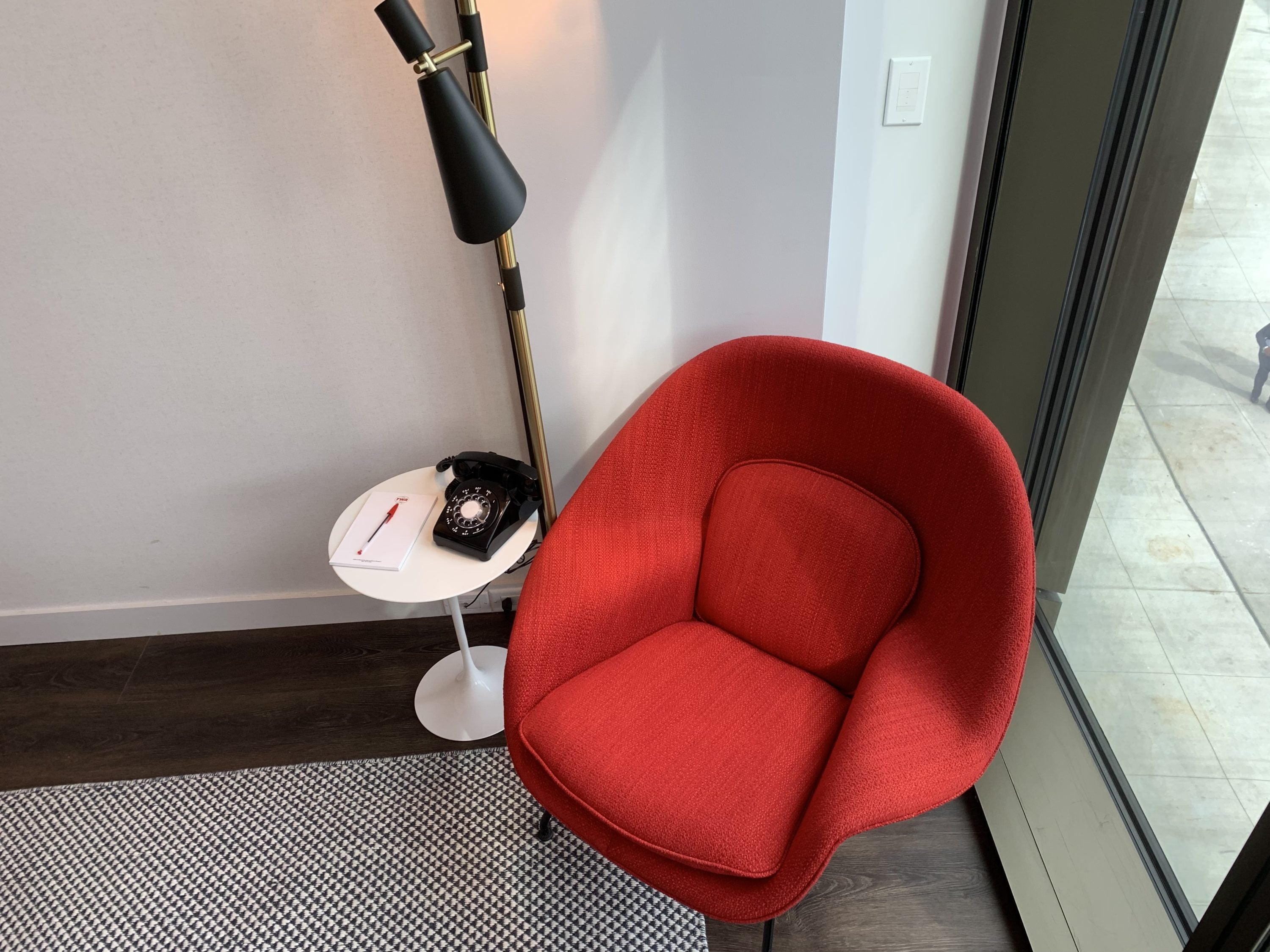 Each room features:
Floor to ceiling windows, with full blackout shades. The room was pitch black at night with no ambient light from the outside leaking in. The shades were controlled by a panel on the wall.
Fast, free Wi-Fi which was very, very speedy. In fact, the Managing Director of the hotel said it is one of the fastest Wi-Fi connections at a hotel worldwide, and that certainly would be believable. You should have no problem downloading any movies or surfing the web here.
Knoll furnishings designed by Eero Saarinen, a true throwback to the TWA era. The room featured many retro furnishings and designs.
A walnut and brushed brass cocktail bar greeted guests at the entrance of the room. It was stocked with dozens of items, but there was no pricing list. The pricing list was all online, clearly meant to inconvenience folks to have to look there and come up with a price instead of having it visible right in the bar itself.
Terrazzo-styled tiles in the bathrooms with Hollywood-style vanities. The bathrooms were super bright and polished.
Sealy mattresses. The room I was in featured a very comfortable King bed. No complaints about my sleep.
Each room was equipped with an HDTV and premium cable, but the placement on the wall was incredibly awkward. If you had a companion on the other side of the bed, there's no way they could reach that part of the bed without ducking under the television or hitting themselves. I know many customers on opening day reported the televisions not even turning on or the cable not working, though I did not test mine as I was occupied with other opening day festivities.
Each room also had a rotary phone, though there were no instructions on how to dial the front desk or other hotel services. Some rooms I know didn't have phones installed, and when folks had issues, there was no one to call.
In my particular room, it was clear there was an electrical wiring issue — I plugged in my cell phone by the bed nightstand and the outlet started sparking, followed by a "thump" in the wall. I immediately unplugged my phone and charged it elsewhere, but this wasn't the first I had heard this report.
Other rooms had lights that had no switch or mechanism to turn them off, outlets that didn't work, or outlets that sparked. While the aesthetics of the room appeared fine, it was clear there were underlying maintenance issues.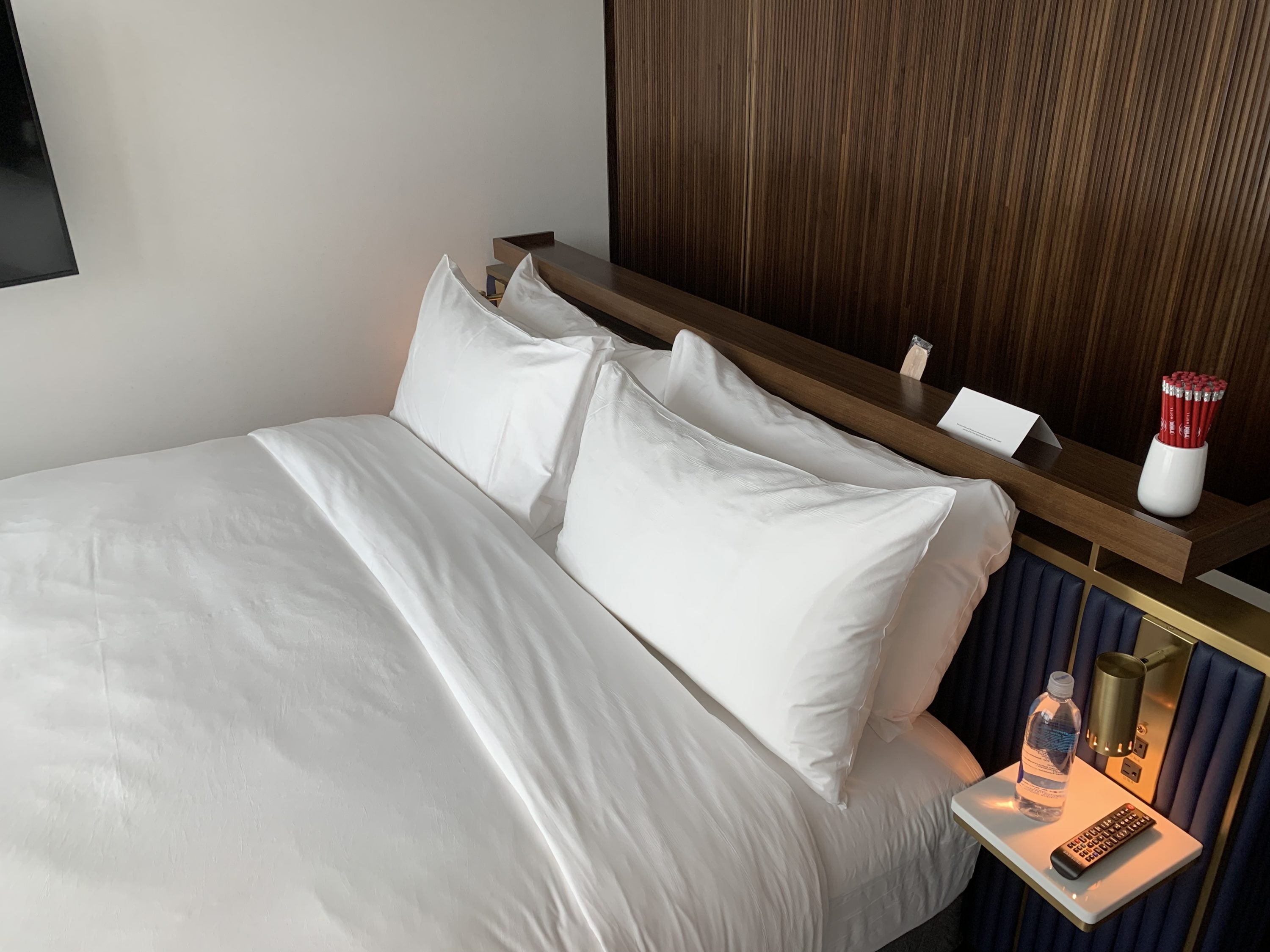 Rates
Rooms on opening day went for around $250 for a no-view room, $269 for the TWA view room I had, all the way up past $300 for suites and corner rooms. The hotel wants to have a 200% occupancy concept, selling rooms both at night and during the day for day stay rates.
Looking at a typical day in July 2019, here are the rates:
Deluxe King for $283
Deluxe King with Historic TWA View: $301
Deluxe King with Runway View: $337
Deluxe Double Queen: $283
Deluxe Double Queen with Historic TWA View: $301
Deluxe Double Queen with Runway View: $337
Executive King Suite: $346
Executive King Suite with Historic TWA View: $355
Executive Double Queen Suite with Runway View: $373
Day Stay, 7 a.m. – 11 a.m.: $149
Day Stay, 8 a.m. – 8 p.m.: $209
Day Stay, 10 a.m. – 4 p.m.: $149
Day Stay, 12 p.m. – 6 p.m. : $149
On the whole, you'll find the rates steeper here than you would at any other nearby airport hotel, but its location commands the premium.
Event Space
The TWA Hotel is certainly a unique space to host an event, and just the day after the opening there was a JetBlue conference held in the hotel's conference center, a testament to the partnership between the hotel and the airline whose home is just a few feet away.
The Constellation Ballroom is 15,000 square feet with 21-foot ceilings — a perfect space for any large event, such as a trade show, a gala dinner, a major speaking function or a cultural event that involves lots of moving around.
This ballroom is also connected to a pre-event space good for cocktails and the like, so between the two, it's the grandest function space on the property. Dividing the pre-function space with the ballroom are several huge sliding doors, mimicking an aircraft hanger, which is really neat.
In the pre-event space are tons of furniture of the Saarinen era, and you really feel like you're stepping back in time with all the hues of red and white, combined with the curvatures of the stools.
Just above the Constellation Ballroom are several Skyboxes, which feature conference style seating, audio-visual hookups, and lightning fast Wi-Fi. These rooms are great for smaller conference meetings or for those who need to host a meeting that looks down on the larger ballroom below, such as in a trade show.
The 1962 room is the smaller ballroom on the property, at only 4,200 square feet, but it's a perfect location for a wedding, dance or company function.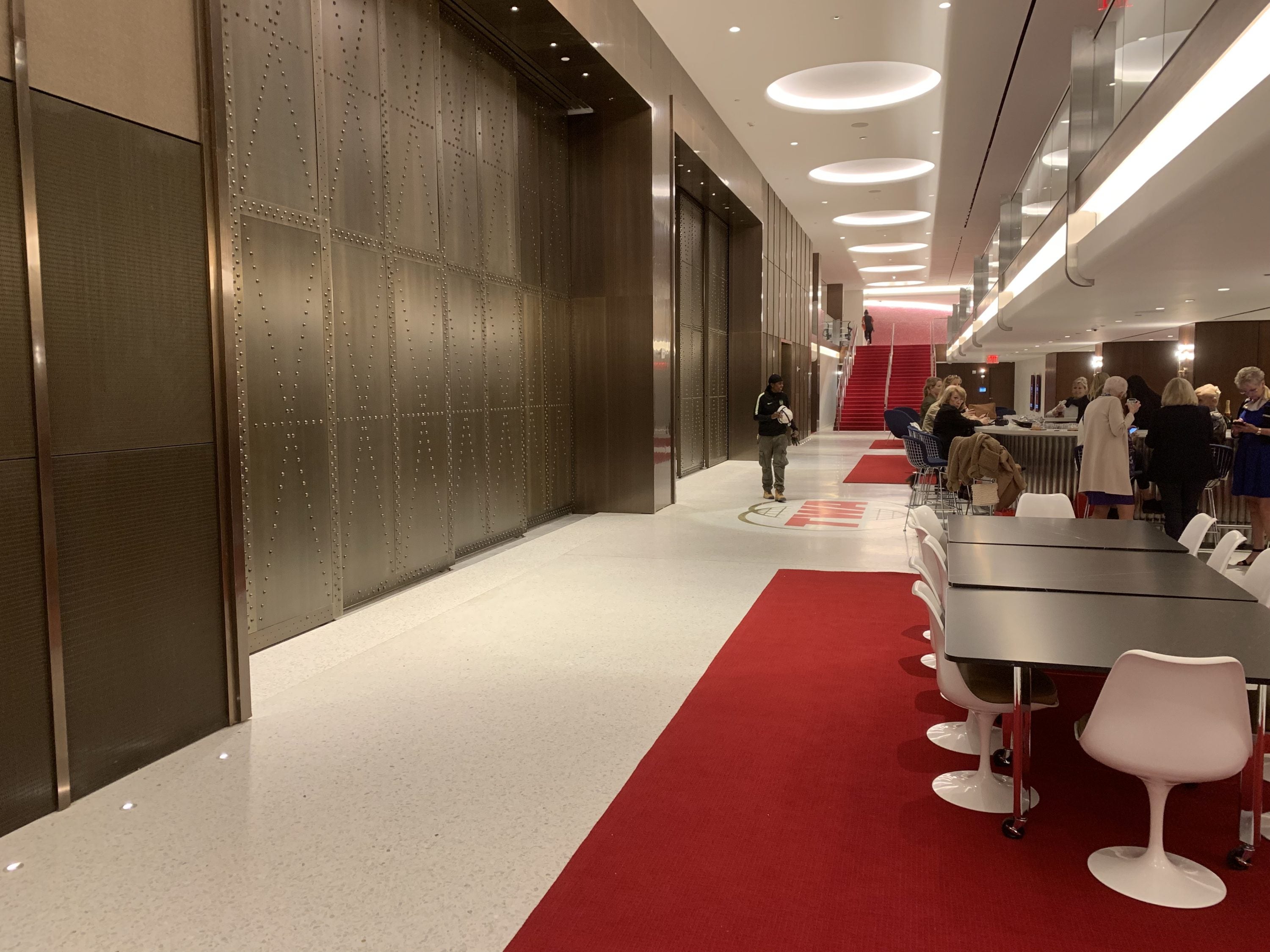 Room Service
The hotel does not have any 24-hour room service or dining options, a shocker to many that will visit this property. Management said they really don't have plans for such an option as they feel the market and trends don't support it, though common sense probably says otherwise.
Being in the middle of JFK, the hotel will play host to thousands of folks traveling in from other countries on varied body clocks and time zones. Inevitably, folks will want something to eat at all hours of the day, but the hotel has no capability to feed them in the middle of the night — a huge downside.
In addition, the options for nearby dining are very limited. You could venture inside Terminal 5 for a bite to eat, but only to-go snack shops are situated prior to security. In the other terminals, you'll find a similar story. Testing the nearby dining options that night, it was found out that Uber Eats and similar delivery services do not support drop-offs at JFK airport, so to find a sandwich or salad late at night may prove much more difficult than you think.
The Paris Café
The TWA Hotel isn't without food options, though admittedly the first few weeks of the hotel being open will feature a very limited selection and operating hours.
Probably the most famous of all the restaurants on-site will be the Paris Café, a creation of Michelin star chef Jean-Georges Vongerichten. The restaurant will be open for breakfast, lunch, dinner, and cocktails and will offer selections in a mid-range price point, though you'll probably find the prices higher than you expect simply because of where the hotel is situated.
The cool thing about this restaurant is that they've looked at old TWA menus and tried to incorporate some retro meals and tastes in the current menu.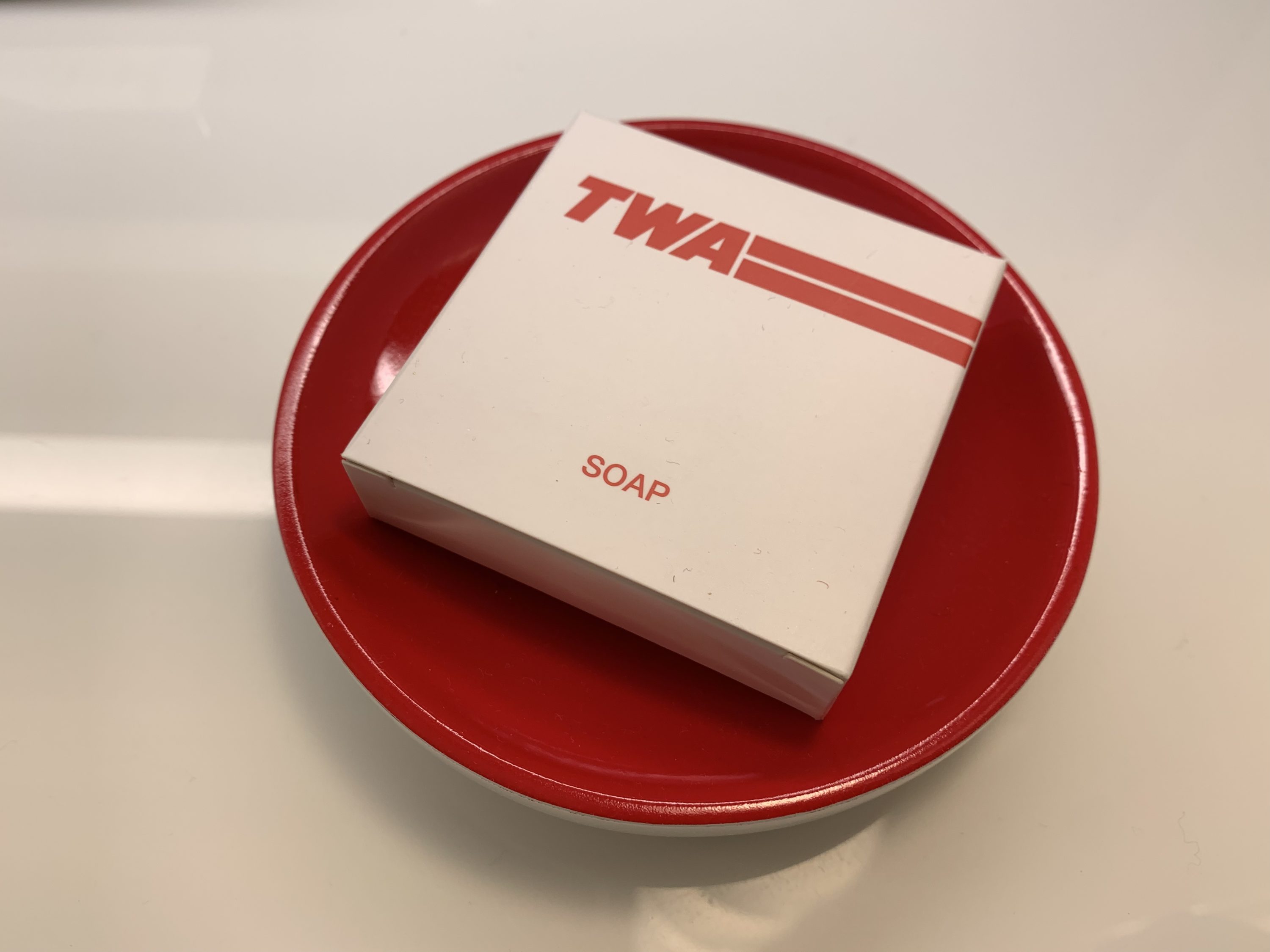 Important Notes
There's a lot to be said for this hotel, and it truly has potential in the grand scheme of things, but I think there are several large kinks that need to be worked out before one would recommend staying in this hotel.
Here are some important notes:
The terminal (lobby) of the hotel is open to the public 24/7, and is not restricted to hotel guests only. If you have a long enough layover, it's definitely worth checking out this stunning piece of architecture. This said, because the space is open 24/7, even on opening day, and the day after, guests from Terminal 5 and other terminals found out about this and used the hotel's lobby as a sleeping area after their flights were delayed or canceled. The hotel definitely needs to put some sort of action plan in place to prevent people from using the lobby itself as a hotel.
The hotel can only be booked on the hotel's official website, and you cannot book it with any online travel agency, such as Expedia or Orbitz. Interestingly, they also offer no phone support — you must book your reservation online. The hotel has said that it is not in their business model to offer their rooms for sale anywhere else, so to do so, you must book directly with them, and for any modifications, you will need to speak with them via email.
Even if you are not staying at the hotel you can still use the hotel's restaurants, which may make for a nice layover or a reason to get to the airport several hours early.
Keep in mind that even though the hotel is within the airport's property limits, it may in fact be faster to stay at a hotel on the perimeter and take one of the free hotel shuttles in, especially if you are not flying through Terminal 5.
The hotel offers a cancellation penalty, even on refundable rooms, which could be up to 10%. So, if you book a refundable room due to potential flight delays and you have to then cancel your reservation, you are still on the hook for some sort of cancellation penalty even though you may have booked with a rate that had "refundable" or "flexible" in the name.
The hotel is not ready, especially if you plan on staying within several months of the May 15 opening. That should be one of the most important things you gather from this review — the hotel is very much in a "soft" opening stage and there will be issues, some that include the physical presence of the hotel. There will be wet paint, there will be electrical issues and there will be dirty floors and rooms. This should very much be anticipated if you are staying here, though it is certainly the hotel's mission to be fully up and running within several months.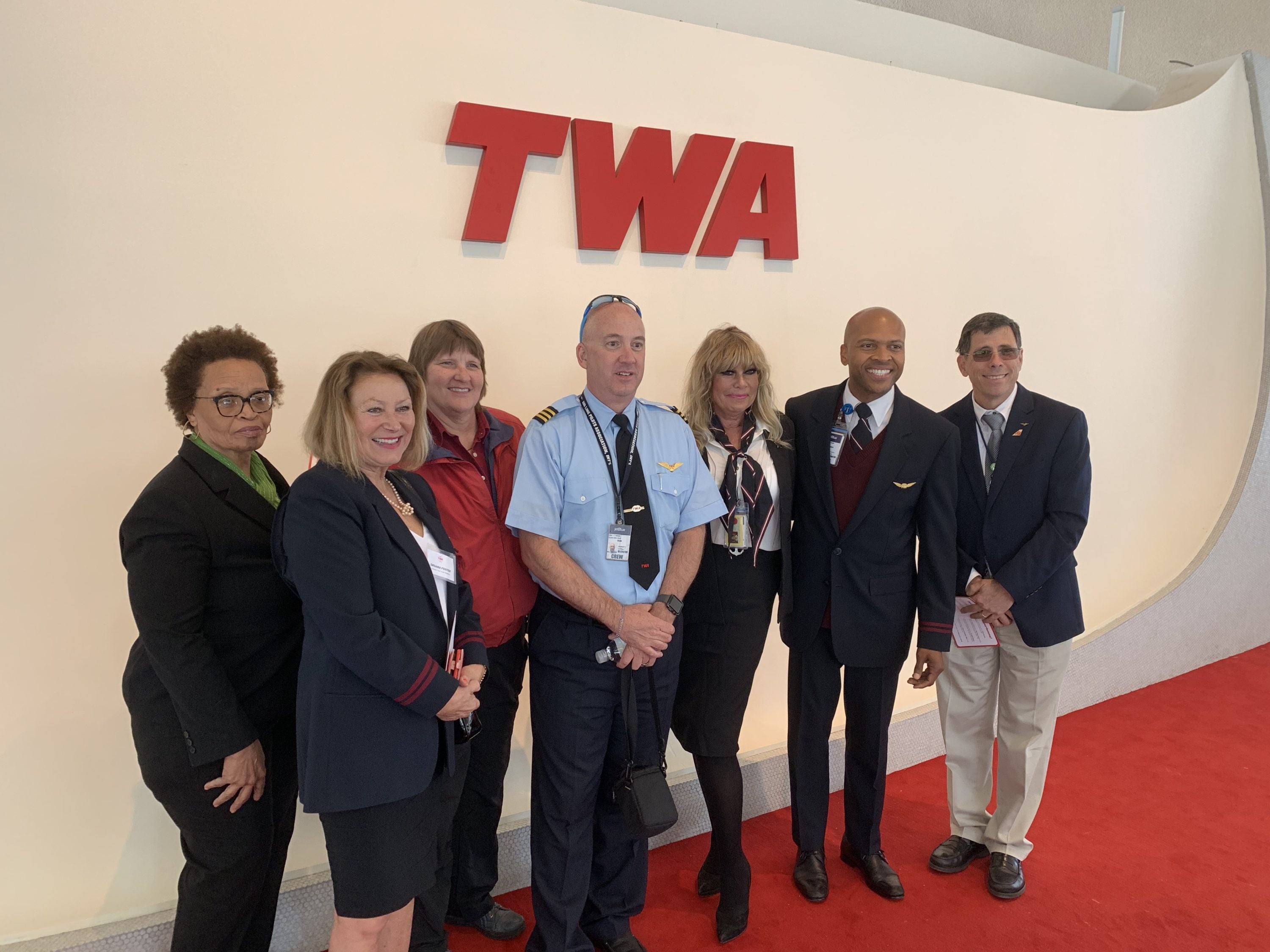 Final Thoughts
If you're really feeling like taking a step back in time, the TWA Hotel is a must-do activity on your layover at JFK! The hotel is in a great location for flights out of Terminal 5, and only a short train ride away from the other departure areas. Even if you're looking for a cool place to have an evening drink, or just want a getaway from home, come a few months, the TWA Hotel will be the place to be!