Virgin Atlantic Review – Seats, Amenities, Customer Service, Baggage Fees & More
While you may not have flown with Virgin Atlantic, there's no doubt you've come across this distinctive, glamorous airline with its vibrant brand and PR-loving founder.
If you're planning a trip on Virgin then we've got you covered with all the information required for planning your flight.
Maybe you need to know the baggage allowance, fare structure, or cabin amenities, or you want to be prepared for any additional fees or add-on options. We outline everything you need to know below.
Basic Info
Airline: Virgin Atlantic
Alliance: None
Category: International Carrier
Frequent Flyer Program: Virgin Atlantic Flying Club
Tagline: "Flying in the face of ordinary"
About/Mission Statement: "To embrace the human spirit and let it fly."
Daily Flights: Over 300 (including partners — Delta Air Lines and Air France-KLM)
Fleet: 44
Main Hubs: London Heathrow (LHR), London Gatwick (LGW), Manchester (MAN)
Destinations: Over 200 (including partners — Delta Air Lines and Air France-KLM)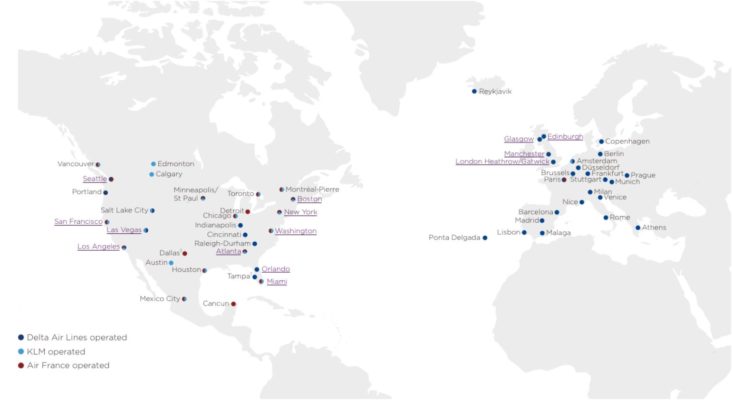 Virgin Atlantic Frequent Flyer Program
Flying Club is Virgin Atlantic's loyalty program that rewards members with points when they fly with Virgin Atlantic and on other partner airlines including Delta, Air France-KLM, and Singapore Airlines.
These Virgin points can be redeemed for award flights or used to pay for part of a flight (starting from 3,000 points). As well as flying, there are a variety of ways to earn Virgin points, from spending on the Virgin Atlantic World Elite Mastercard® to shopping at specific retails through the Virgin Atlantic retail portal.
When you fly, you earn tier points that can help you move up the Flying Club's membership tier statuses of Red, Silver, and Gold — the Red tier being the lowest tier and Gold being the highest with each tier offering its own benefits.
There are great incentives to achieving Gold tier with Gold members not only earning a bonus on flights, but also receiving priority for check-in, access to the Virgin Clubhouses, and an extra luggage allowance.
Better yet, as of Septemeber 1, 2020, Flying Club members will earn elite-qualifying Tier Points on all bookings with Virgin Atlantic – including award tickets!
You'll earn Tier Points based on the fare class of your ticket. But award tickets will earn tier points at 50% of the rate of cash tickets. All one-way Upper Class redemptions will earn 100 Tier Points, Premium one-way redemptions will earn 50 Tier Points, and economy one-way redemptions will earn 25 Tier Points.
Hot Tip: Read more about Virgin Atlantic's loyalty program in our article about the best ways to earn lots of Virgin Points and you'll be jetting off on a reward flight soon!
Ticketing Options
Virgin Atlantic has introduced some flexible options to its economy fare offerings, along with standard fares for Premium and Upper Class cabins.
Economy Light
Flying Economy Light offers you meals, drinks, and snacks included; however, you are limited to carry-on luggage only. Secondly, seat selection can only be made at check-in or for a fee 24 hours before departure. Passengers may also pay to book a "preferred seat" (near the front of the cabin, exit row, or duo seats) in advance.
Economy Classic
As with Economy Light, Economy Classic offers you meals, drinks, and snacks included. Flying Economy Classic also includes 1 free checked bag, free seat selection, and is upgradeable with Virgin Points. If passengers want a preferred seat they can pay to do so.
Economy Delight
Economy Delight delivers all the perks of Economy Classic but adds great extras like premium check-in, priority boarding, and extra-legroom seating.
Premium Cabin
When you fly in the Premium cabin on Virgin Atlantic, you receive dedicated check-in, priority boarding, and priority baggage offloading on arrival (where possible). Additionally, you benefit from free seat selection up to 331 days before departure as well as a larger seat onboard. On board, you're offered a complimentary drink and newspaper to start your flight off.
Upper Class
Flying in Virgin Atlantic's Upper Class, its first class equivalent cabin, there's a whole host of perks at the airport and onboard (in-flight inclusions are covered later in this article):
Priority check-in and security at London Heathrow's Upper Class Wing
Access to Virgin Clubhouses
Free seat selection (including preferred seats for those in Economy Classic or with semi-flexible tickets in Q class or higher)
Priority boarding
2 free checked bags
Chauffeur service (additional fee)
Virgin Atlantic Baggage and Other Fees/Add-Ons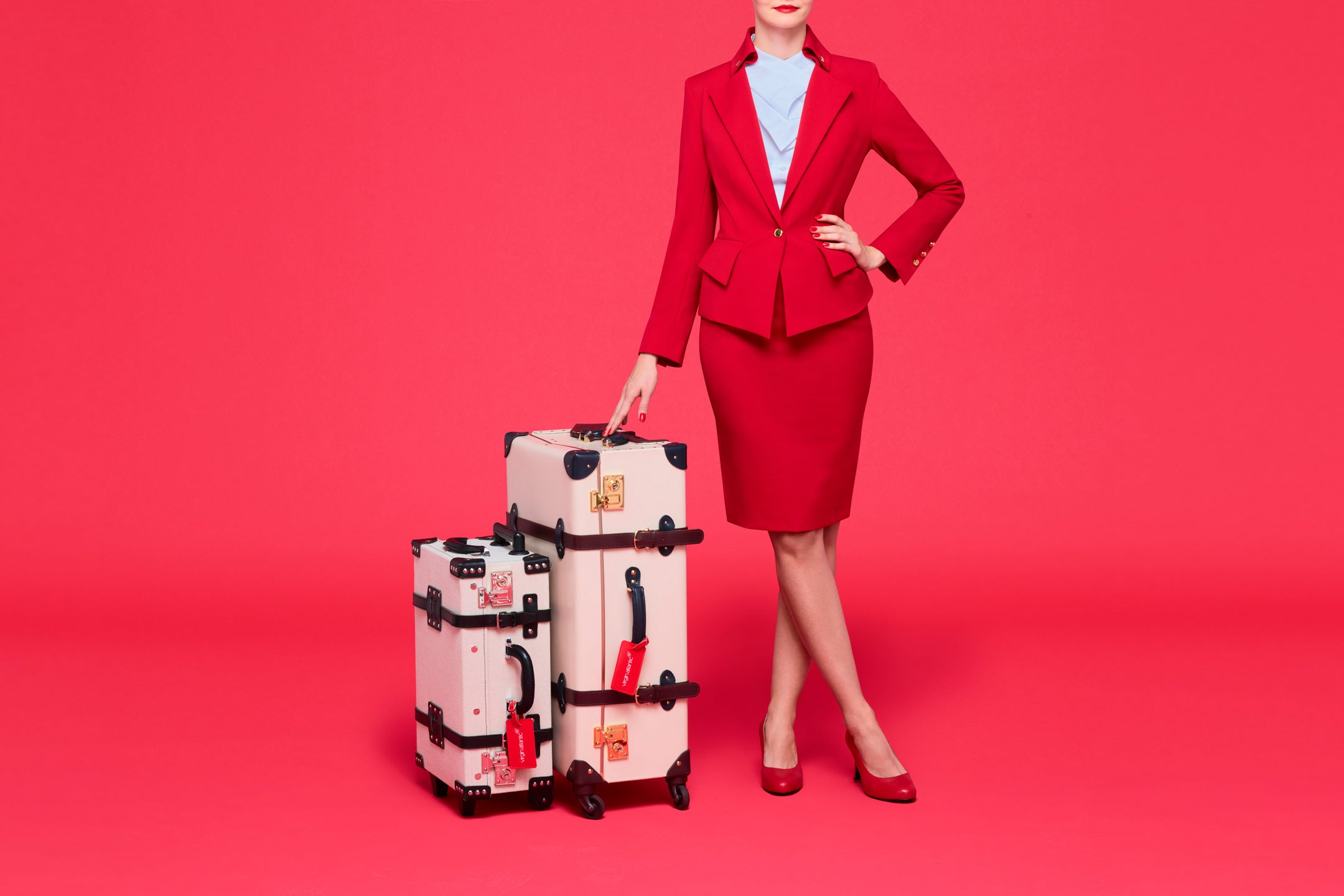 Baggage Allowance and Fees
As Virgin Atlantic doesn't operate any domestic or short-haul flights, it has a pretty clear-cut baggage policy.
Virgin Atlantic Carry-On Allowance:
Passengers in Economy Light, Economy Class, Economy Delight, and Premium are permitted to bring 1 piece of carry-on luggage plus 1 personal item, such as a handbag or small backpack.
Passengers in Upper Class are permitted to bring 2 pieces of carry-on luggage plus 1 personal item.
Standard carry-on luggage must not exceed 9 x 14 x 22 inches (23 x 36 x 56 cm) or 22 pounds (10 kg) for Economy or Premium passengers. The same size restriction applies to Upper Class but includes a maximum weight of 26 pounds (12 kg) per piece or a combined total of 35 pounds (16 kg) for all carry-ons.
Lap Infant Carry-On Policy
Lap infants are permitted 1 standard carry-on bag weighing up to 13 pounds (6 kg) and have the same size restriction of no larger than 9 x 14 x 22 inches (23 x 36 x 56 cm).
Stroller Check Policy
Passengers traveling with children have the option to check their stroller free of charge either at check-in or at the gate. The stroller will be transported in the hold compartment and in some cases will be ready for you outside the plane on arrival, or at baggage claim.
The following strollers can be taken into the cabin, within your carry-on allowance:
GB Pocket
Britax Holiday
Silver Cross Jet
BabyZen YOYO
Virgin Atlantic Checked Baggage Allowance:
All checked bags must adhere to a maximum weight of 50 pounds (23 kg) for Economy and Premium fares, and 70 pounds (32 kg) for Upper Class fares. All luggage must adhere to maximum linear dimensions of 35.5 x 29.5 x 16 inches (90 x 75 x 43 cm).
Economy Light: No baggage included
Economy Classic and Economy Delight: 1 piece (50 pounds/23 kg)*
Premium: 2 pieces (50 pounds/23 kg per bag)
Upper Class: 3 pieces (70 pounds/32 kg per bag)
* 2 bag allowance applies to Economy passengers (Classic or Delight) traveling from the U.K. or the U.S. to India or to/from Nigeria.
Additional/Excess Baggage Fees:
You can add up to 7 extra bags per person when you check-in online (from 24 hours to 70 minutes before the flight). You can add up to 10 bags at the airport.
| | | | | |
| --- | --- | --- | --- | --- |
| | First additional bag | Second additional bag | Third additional bag | Fourth additional bag |
| Economy Light |  $60 (£45) | $100 (£65) | $200 (£140) | $200 (£140) |
| Economy Classic & Economy Delight | included | $100 (£65) | $200 (£140) | $200 (£140) |
| Premium | included | included | $200 (£140) | $200 (£140) |
| Upper Class | included | included | $200 (£140) | $200 (£140) |
Overweight Fee: $100 (£65)
Oversized Fee: $300 (£200)
Lap Infant Checked Bag Policy
Lap infants are allowed 1 piece of checked baggage with a maximum weight of 50 pounds (23 kg).
Please refer to Virgin Atlantic's baggage policy for information relating to special luggage (e.g. musical instruments or sports equipment).
Hot Tip: Check out our detailed post on Virgin Atlantic baggage fees and tips to cover the expenses.
Other Fees and Add-Ons
Change/Cancellation Fees (Cash Tickets)
Fees are detailed in the fare conditions section upon booking. After running a few test searches, these fees seemed consistent for a variety of flight routes from North America.
Economy/Premium: $275 to $300
Upper Class: $450 to $500
Lap infants are charged 10% of the fee.
In the case of a change/cancellation due to Force Majeure (evidence required), Virgin Atlantic will credit the fare towards a future flight and charge a £30 ($38) per person administrative fee.
Hot Tip: You can find out information on Virgin Atlantic's award flight change and cancellation fees here.
Name spelling mistake changes (small): Free
Seat Selection
Economy Light: Free at the airport or via online check-in, prior to the airport: £30 ($38) for standard seats and £40 ($56) for preferred seats
Economy Classic: Free; £30 ($38) for preferred seats, £59-£89 ($75-$114) for an exit row seat, or £49 ($63) for an exit row seat with reduced legroom
Economy Delight: Free
Premium: Free
Upper Class: Free
Wi-Fi Onboard: Wi-Fi Light £4.99 ($6.50) for 40 Mbps or Wi-Fi Max £14.99 ($19) for 150 Mbps/unlimited data, depending on the aircraft. A messaging-only service is also available for £2.99 ($4).
Unaccompanied Minor: Charged at the adult fare
Pet in Cabin: Not permitted
Onboard Refreshments: Free
Avoid Paying Baggage and Excess Fees by Using These Credit Cards
Unfortunately, the Virgin Atlantic World Elite card doesn't offer any baggage perks, but that doesn't mean you have to pay excess fees!
Simply purchase your travel with a Capital One® Venture® Rewards card or Capital One® VentureOne® Rewards card. You then have 90 days to request a statement credit by using Purchase Eraser to redeem your miles at 1 cent per mile.
Capital One VentureOne Rewards Credit Card - This no annual fee card comes with a 20,000 bonus mile offer after spending $500 in the first 3 months. When you use your card for travel purchases (e.g. baggage fees), use your miles to pay off all, or part of, your statement balance! We've highlighted 30+ benefits of the card.
Capital One Venture Rewards Credit Card - The "big brother" card to the VentureOne with 60,000 miles if you spend $3,000 on purchases in the first 3 months. This card is full of benefits and perks and you can redeem your miles on travel or transfer your miles to over 10+ travel loyalty programs.
Virgin Inflight Inclusions, Amenities, and Seat Specs
Economy Light and Economy Classic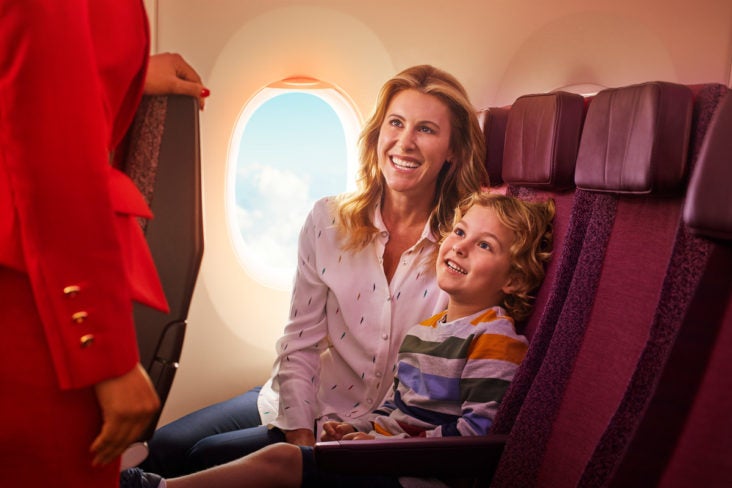 Amenities Include:
Snacks and drinks including hot drinks, beer, wine, and spirits
1 or 2 meals depending on the flight duration
Entertainment on your personal screen including movies, games, and music
Wi-Fi available to purchase
Power supply
Kids entertainment pack (flying from the U.K.)
Economy Delight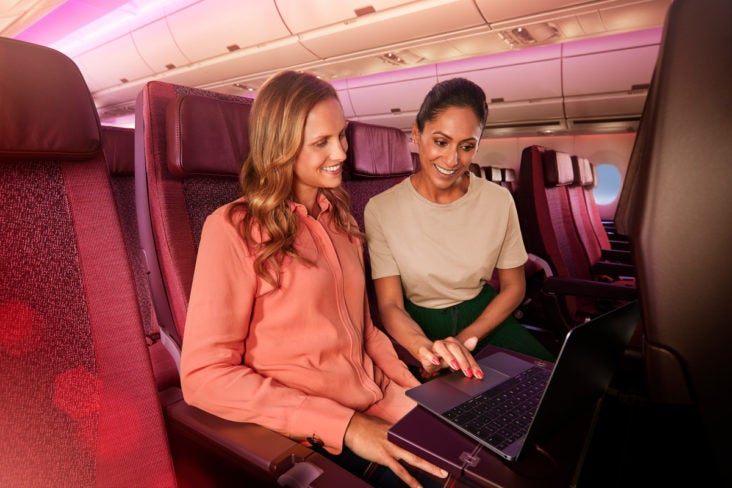 Amenities Include:
Extra legroom with a seat pitch of 34 inches
Priority check-in and boarding
Premium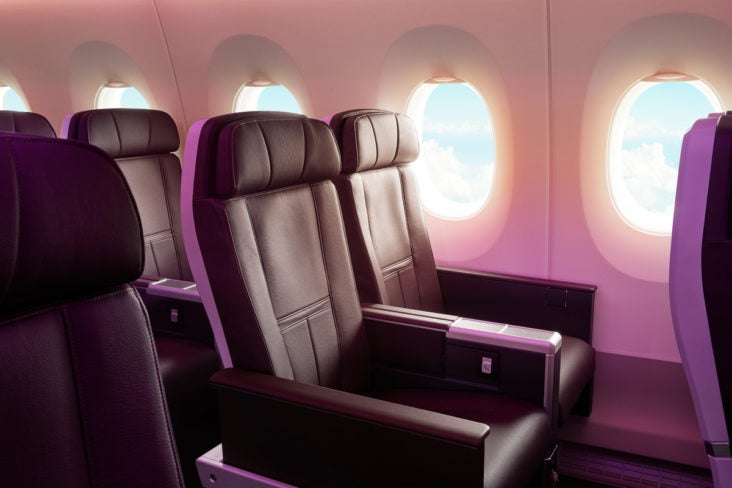 Amenities Include:
Wide leather seating (21-inch width) with a seat pitch of 38 inches and a footrest
Welcome drink including Champagne and a newspaper
Entertainment on your personal screen including movies, games, and music
USB socket
Premium amenity kit on night flights
Wi-Fi available to purchase
Upper Class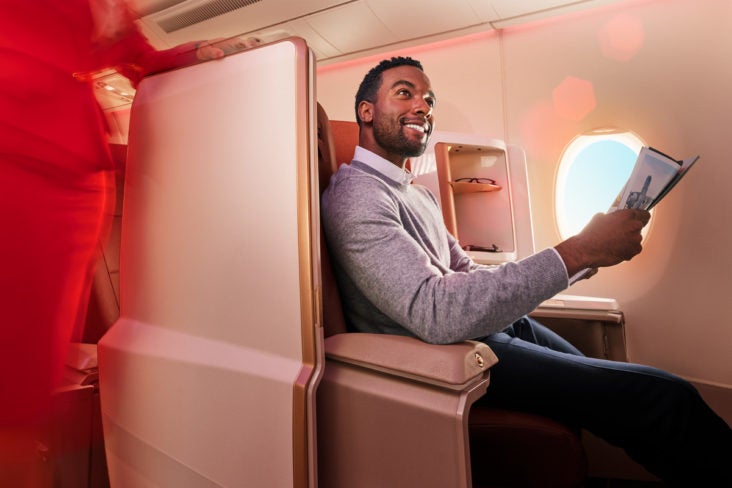 Amenities Include:
Large leather seats that convert to lie-flat beds
Entertainment on your personal screen including movies, games, and music
Welcome drink including Champagne
Bar on board (excluding A330-200); on Virgin's new A350 aircraft, the bar has been replaced with "the Loft" — a stylish seating area with a 23-inch TV featuring the live tail cam
Light bites and snacks available to order or pick-up from the bar
Premium dining
Drinks including wine, beer, and spirits
Wi-Fi available to purchase
USB socket
Duvet and pillow
Pajamas
Amenity kit including Rituals beauty creams and lip balm
Seat Specs
Virgin Atlantic has 5 aircraft types in its fleet with a couple of different seating configurations for its Airbus aircraft.
Airbus A330-200 (2 Layouts)
Seat Count
Seat Pitch/Bed Length
Seat Width
Upper Class
19
59 to 60 inches/71.3 inches
20 inches
Premium
35 (36 seats on layout 2)
36 inches
17.7 inches
Economy
212
30 inches
17.7 inches
Airbus A330-300
Seat Count
Seat Pitch/Bed Length
Seat Width
Upper Class
31
79.5 inches/78 inches
22 inches
Premium
48
38 inches
21 inches
Economy
185
29 to 30 inches
17.5 inches
Airbus A350-1000
Seat Count
Seat Pitch/Bed Length
Seat Width
Upper Class
44
44 inches/82 inches
22 inches
Premium
56
38 inches
18.5 inches
Economy
235
31 to 34 inches
17.4 inches
Boeing 787-9
Seat Count
Seat Pitch/Bed Length
Seat Width
Upper Class
31
79.5 inches/78 inches
22 inches
Premium
35
38 inches
21 inches
Economy
192
31 inches
17.5 inches
Virgin Atlantic Customer Satisfaction
Virgin Atlantic has its fair share of devoted customers that won't fly any other airline when possible.
Well known for its friendly service both in the air and on the ground, Virgin Atlantic seems to have a real emphasis on hiring the right people to do the job well and with a smile on their face.
Complaints of delays or cancellations are scarcely reported on the likes of Tripadvisor or Virgin Atlantic's social media, so it seems to run a tight ship. Although comments regarding price hikes have become more prominent recently, with customers comparing Virgin Atlantic fares to its long-standing rival British Airways.
Since creating an alliance with Delta, Virgin Atlantic has discontinued some of its routes much to customer disappointment. The London to Cape Town, London to Tokyo, and Hong Kong to Sydney routes were lost over the years in favor of more profitable transatlantic routes.
Founder Richard Branson is the face of Virgin Atlantic and his passion and drive to create the world's sexiest and most exciting airline seems to have paid off through some pretty crazy and daring PR stunts. Customers have stated on social media that flying on Virgin Atlantic means the holiday starts when you step onto the plane rather than when you reach your destination.
Most Common Complaints
No official statistics can be found on the U.K.'s Civil Aviation Authority website.
Consumer Rankings, Ratings, Etc.
Skytrax Ranking: 4 of 5 Star Airline
Skytrax Customer Rating: 5 of 10
Tripadvisor Airline Review Rating: 4 of 5 (average from 15,125 reviews)
Kayak Customer Rating: 8 of 10 (average from 1,566 reviews)
AirHelp.com Overall Rating: 7.69 of 10 (quality of amenities, on-time arrivals, and how well an airline resolves flight delay compensation claims)
Safety and Performance
AirlineRatings.com awarded a 7 of 7 safety record for Virgin Atlantic. This rating looks at whether the airline has an IATA Operational Safety Audit Certification, as well as information from the world's aviation governing body, government, and crash records.
2019 Awards
Global Five Star Award by Apex (Britain's only airline to be awarded)
Skytrax World Airline Awards 2019: World's Best Premium Economy Class
British Travel Awards 2019: Best Airline for Economy Class
Tripadvisor Travelers' Choice Awards 2019: Best major airline
Final Thoughts
Virgin Atlantic's customer service is at the heart of its business, so if you like your coffee served with a smile, Virgin Atlantic could be the airline for you.
It brings a touch of glamour to air travel, especially if you're flying in Upper Class with its cabin bar — perfect for mingling with other passengers — or its stylish airport clubhouses.
Virgin Atlantic has been busy refurbishing its premium cabins onboard select A330-200s and will be taking delivery of 12 new A350 aircraft through 2021. Along with improved seating across all cabins, these new aircraft will have larger panoramic windows, improved storage, and quieter engines.
Richard Branson is a prominent voice on climate change, so it's also great to see an airline that is as concerned about its impact on the planet as well as its profitability.