British Airways Galleries South Lounge at Heathrow Terminal 5 [Review]
Travel in the U.K. is rebounding — one small step at a time.
Now that things are beginning to return to normal, I was recently able to go to Spain and pass through London Heathrow's Terminal 5 on the way. Naturally, I arrived at the airport a couple of hours early to make the most of my sacred preflight lounge time.
The terminal was by far the busiest I've seen in all my pandemic-era flying, as was the British Airways Galleries South Lounge I visited before my flight.
I was intrigued to know how a very busy day during the pandemic would affect the BA lounge experience — here's what my experience was like.
What Are British Airways Galleries Lounges?
Galleries Lounges serve British Airways' business class passengers as well as certain Executive Club elite members at the airline's flagship Terminal 5 at London Heathrow Airport (LHR).
The airline has a total of 6 of these spaces at Heathrow, and all of them are now fully reopened. There are 3 Galleries Club Lounges in Terminal 5 as well as 1 Galleries First Lounge. In Terminal 3, there's 1 Galleries First and 1 Galleries Club Lounge. They're located next to each other in Zone F.
Back in Terminal 5, The 2 main Galleries Club Lounges (appropriately named Galleries North and Galleries South given their respective positions at the north and south ends of the terminal) are in the A Concourse.
The third Galleries Club Lounge is situated in the B Satellite Terminal, accessible from the main concourse via underground shuttle.
Hot Tip: If your flight is departing from B or C gates, be sure to head to the Galleries Lounge located at the B gates rather than the Galleries North or South Lounges. It's quieter and closer to where your flight will depart from.
Non-Galleries BA lounges in the terminal include the recently reopened Concorde Room and Arrivals Lounge. Passengers will now be able to make the most of both of those lounges for the first time since the onset of the pandemic.
To check which British Airways lounges are open, the Oneworld website has all the information you need.
British Airways Galleries South Lounge at London Heathrow Airport (LHR)
Location
The Galleries South Lounge is located, as you may have guessed, in the southern end of the terminal.
Once you've cleared security, you'll head left into the departures area. Head down the first escalator you come to and make a u-turn when you reach the bottom. Continue walking and you'll notice some high-end shops including Prada, Reiss, and Dior on your right.
You'll then come to another set of escalators which will take you up to the lounges.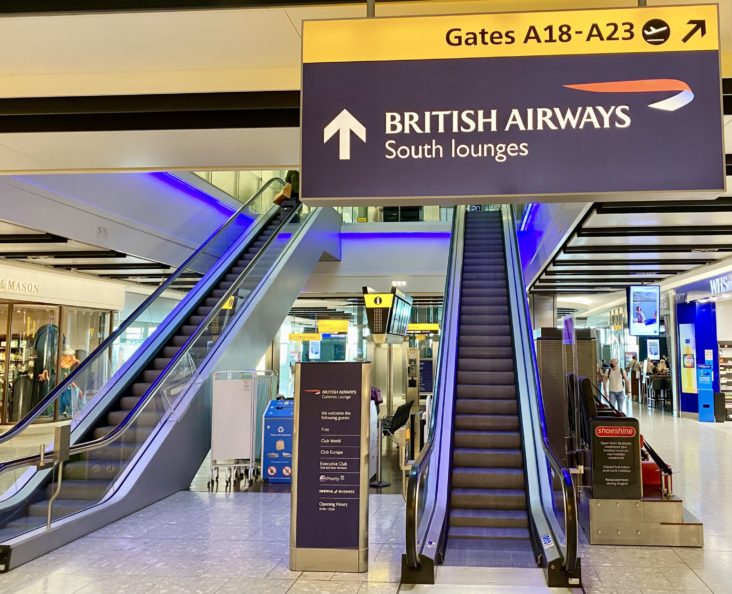 The first floor is home to the Galleries First Lounge, the Elemis Spa and shower area, and BA's coveted Concorde Room.
Another level of escalators up and you'll come across a large Airbus A380 model as well as BA's classic — though completely random — horse with a lampshade on its head. That's when you'll know you're in the right place.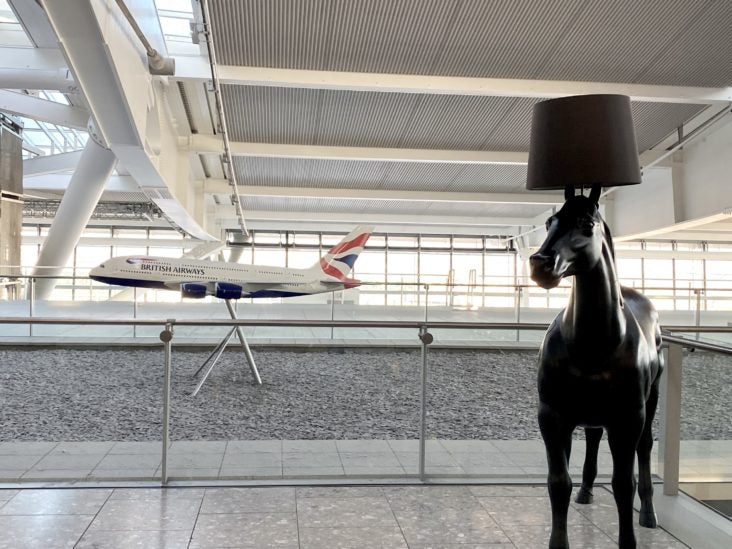 Gaining Entry
Passengers traveling in premium cabins (business or first class) with British Airways, American Airlines, Iberia, or Qatar Airways (all members of the Oneworld alliance) have access to the lounge. BA elites with Silver Executive Club status and above can also access the lounge.
Hot Tip: Check out our dedicated post for more information on how to access each type of British Airways lounge.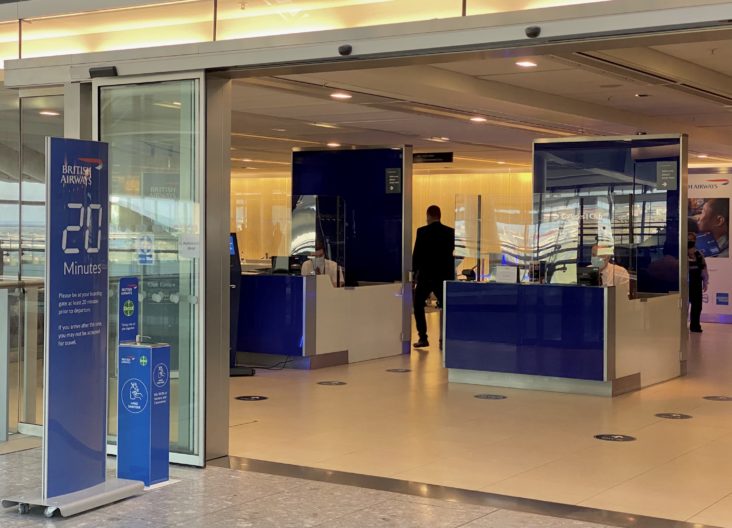 First Impressions
I've visited this lounge dozens of times over the past few years, so I had a good of about what to expect.
As this visit was for a review, I was even more aware of my surroundings than usual.
The reading stand at the lounge's entrance only offered copies of BA's High Life magazine.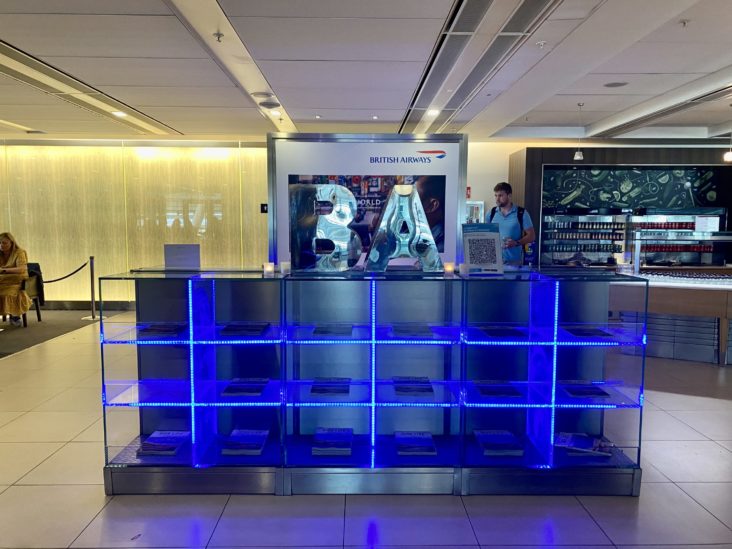 To the right is the main self-service soft drink area. Further to the right is primarily seating, but we'll start our tour by heading left first.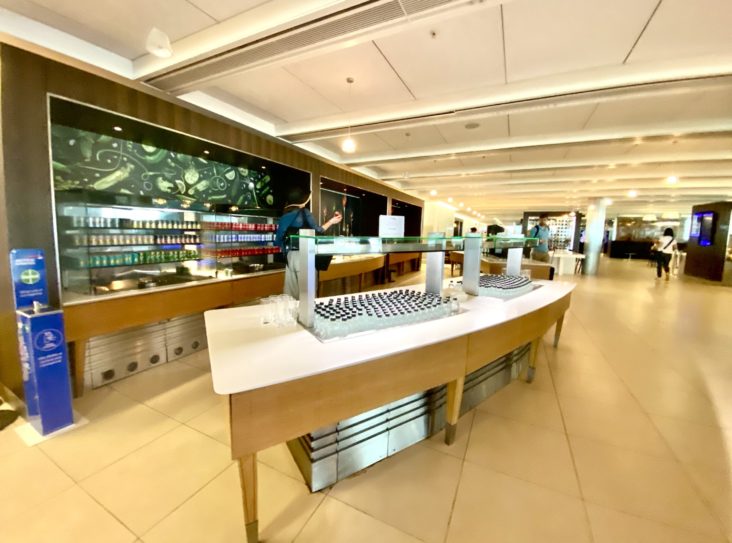 As I usually do, I headed left towards the windows which have the best views over the end of runway 9R/27L.
The lounge was busy. The only unoccupied space was a rather dirty table. I moved to another spot as soon as I saw it open up.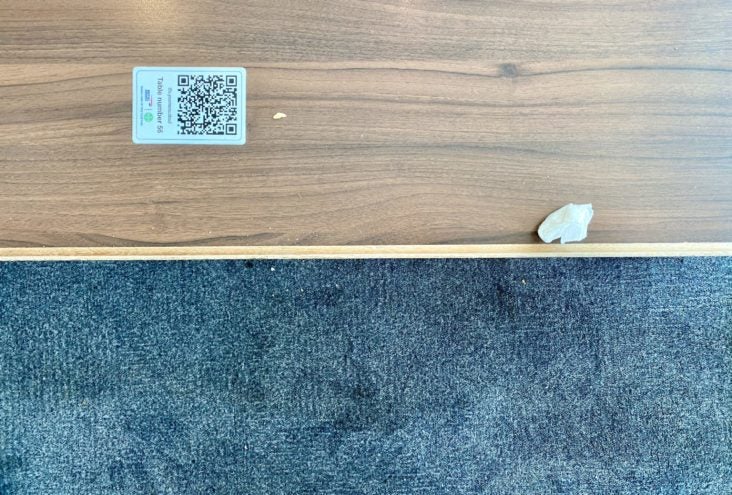 The state of the seating left a lot to be desired. Not only was some of the internal plastic dangerously protruding…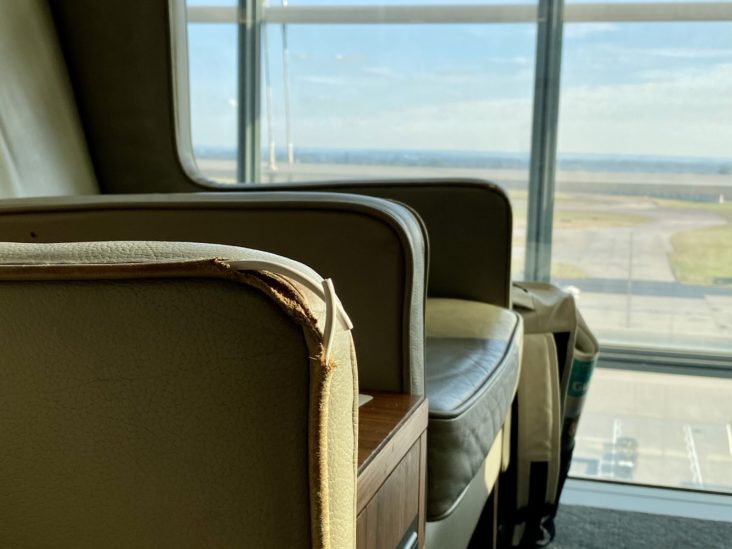 …but the general wear-and-tear was really quite appalling.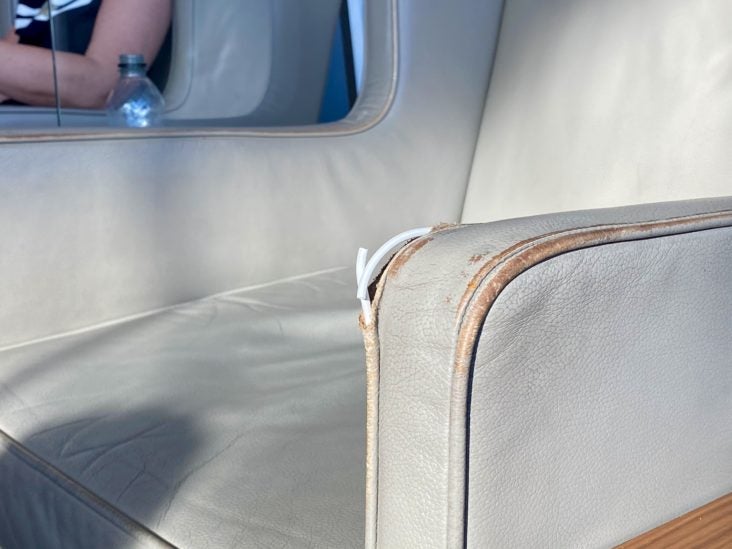 Later in my visit, I took a walk around the lounge and did see a staff member doing their best to stay on top of the mess.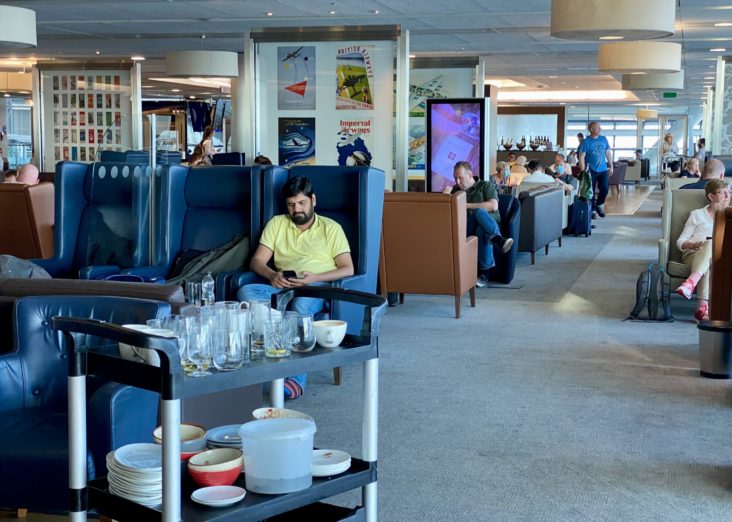 However, I was greeted with similarly unkempt, dirty, and downright unacceptable scenes on my first visit to the bathroom.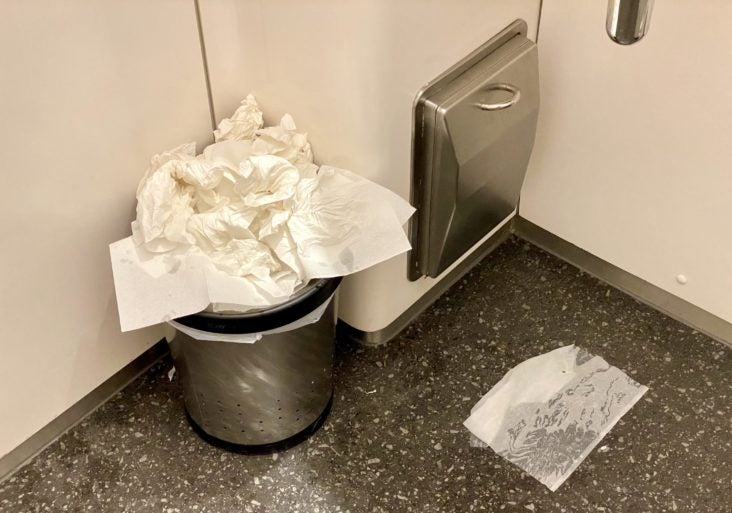 This was despite the presence of cleaning supplies which would suggest cleaning was in progress.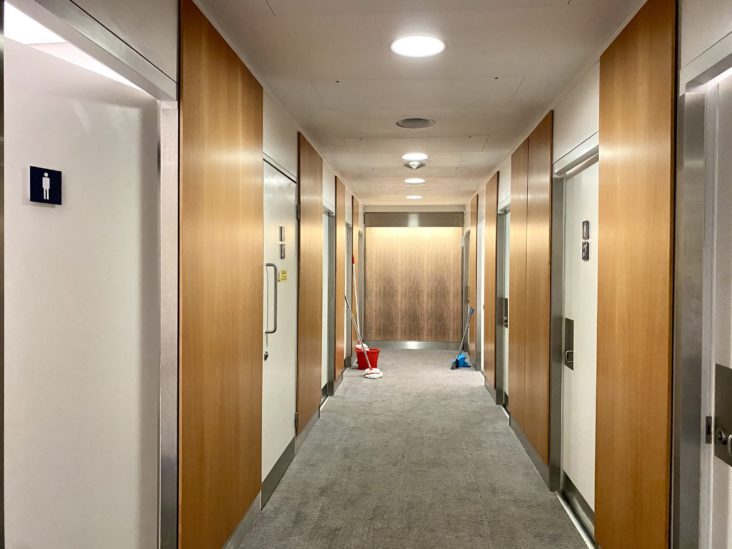 Similar to the seats in the main area of the lounge, the fixtures and fittings had seen better days. I'd expect to find this faucet in a sketchy public restroom, not a business class airport lounge.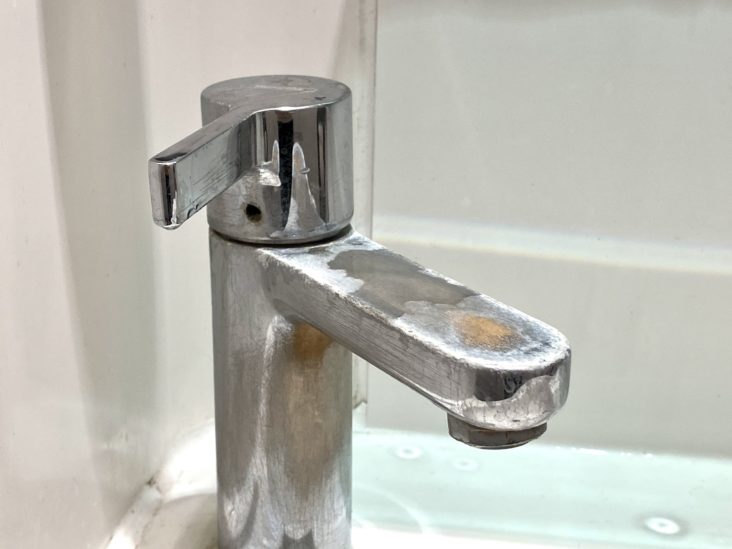 The second time I visited the restrooms, a cleaner was present.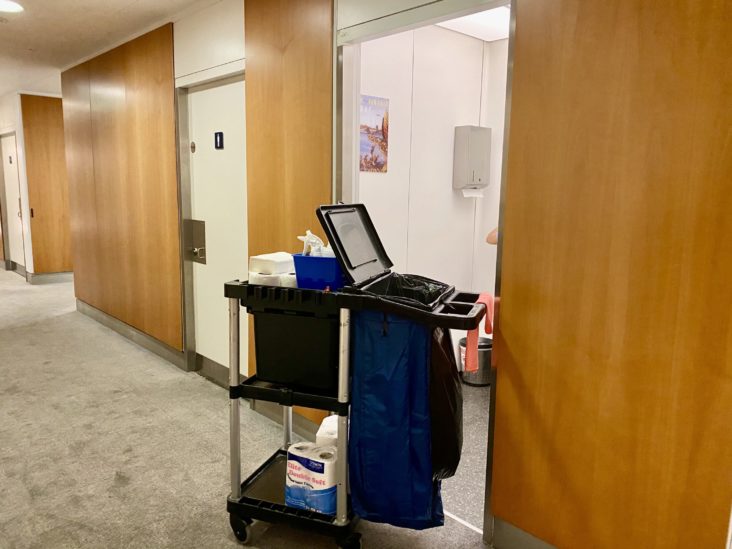 This time around, the bathroom was spotless, though they still look outdated.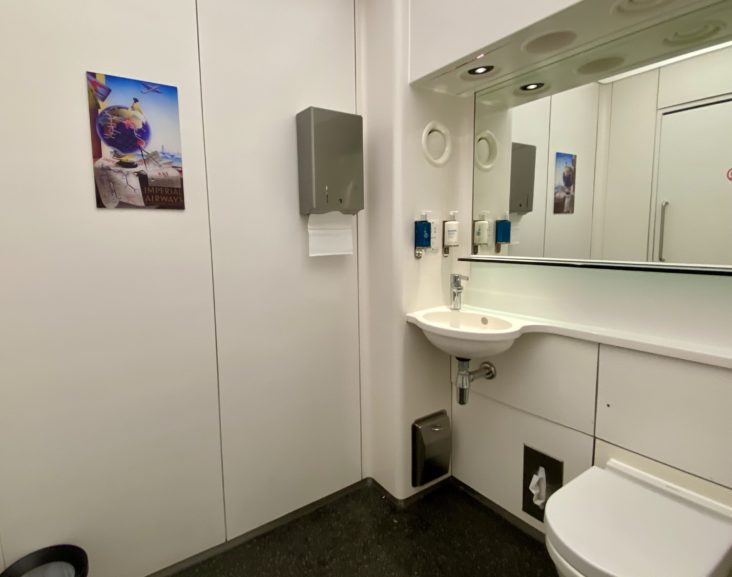 BA uses Elemis for amenities in its lounges, lavatories on board, and amenity kits.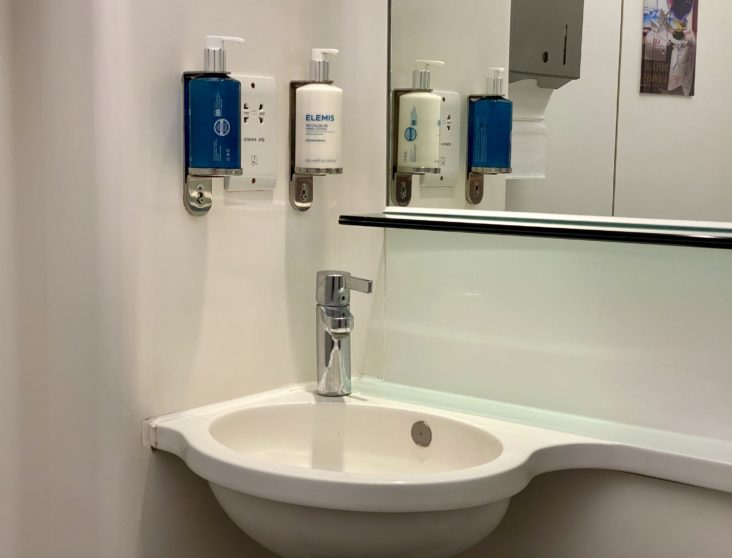 On a beautiful sunny day, like it was when I visited, the views from Galleries South are really something.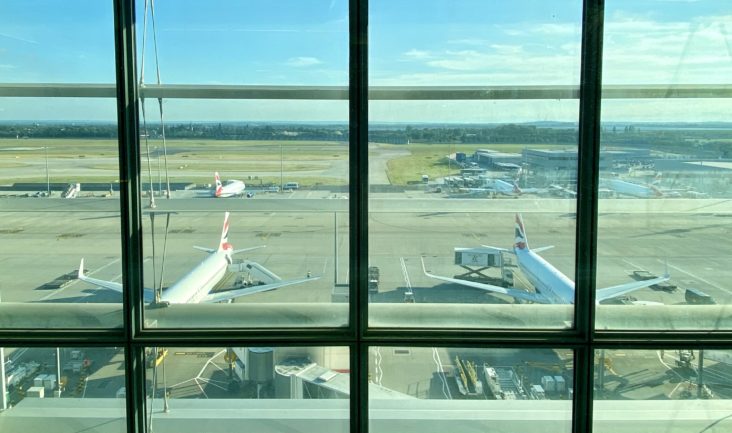 Let's play a game of guess the aircraft!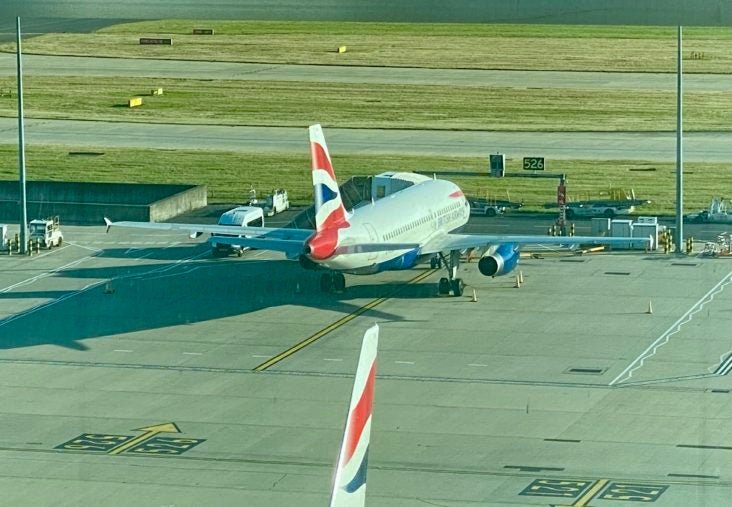 Seating
This lounge is the largest Galleries Lounge at Heathrow and has a variety of different seating areas.
To the left of the entrance, you'll find this area with high stools and tables. I usually use this spot if I'm just popping in for a quick coffee while doing some work.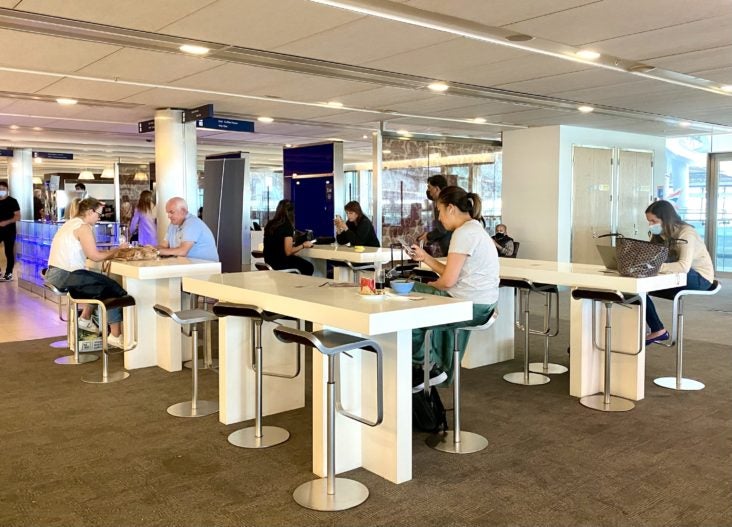 Continuing on, you come to the main area that has a mixture of sofa and armchair seating.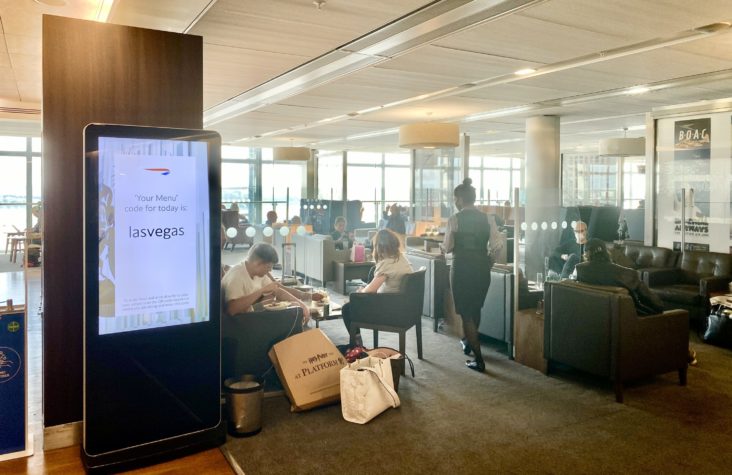 I'm a fan of the old-school BA memorabilia which is scattered throughout the lounge.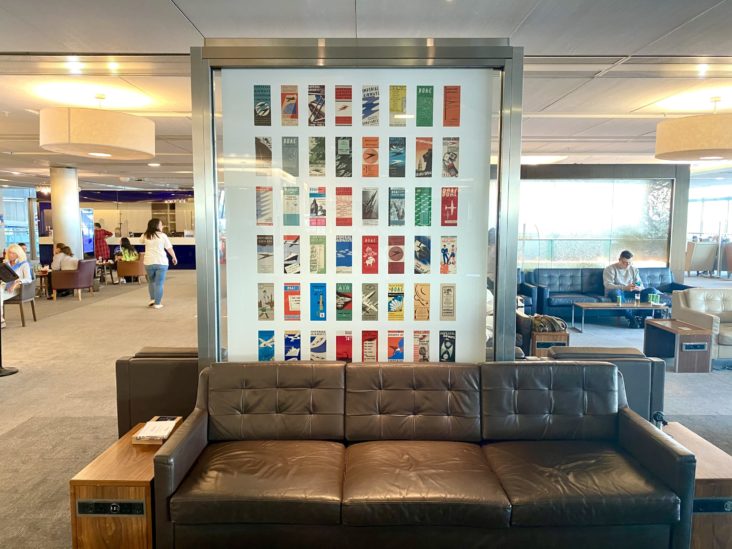 In the far southeast corner are these high-top workstations. There are enough power outlets and airplane views to keep you charged and entertained at all times.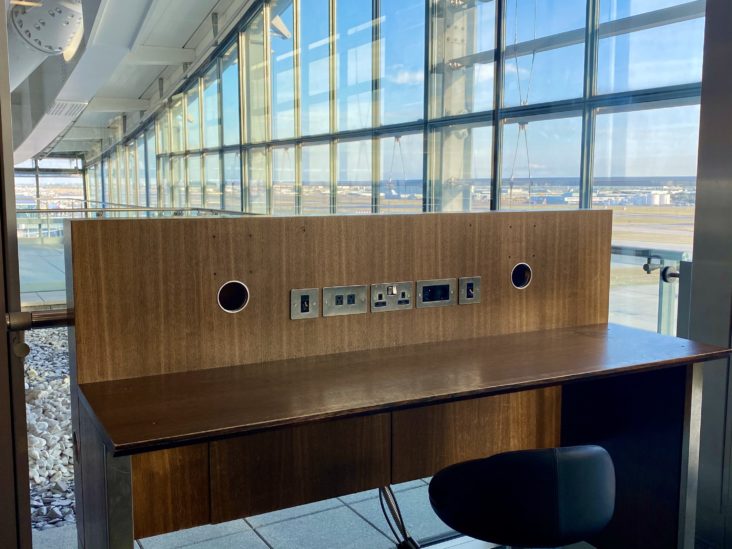 Looking back towards the entrance, there's another help-yourself soft drink area. Here I found only still and sparkling water.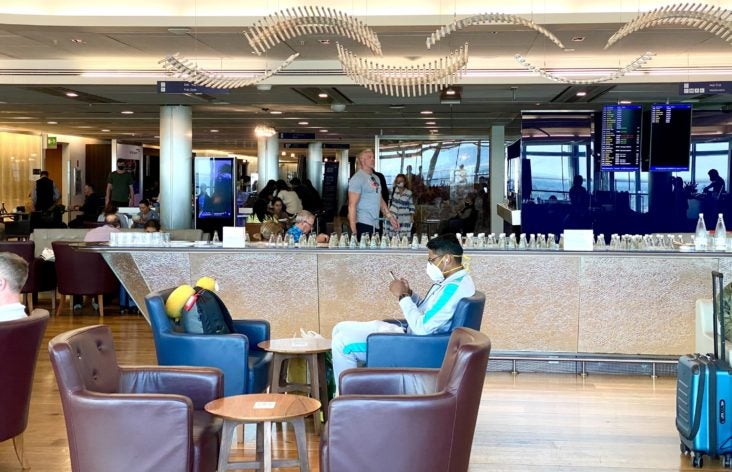 If you head to the right after entering, the vibe is more relaxed and private.
There are longer, lounger-type chairs and seating areas more suited to relaxing and reading rather than working on laptops.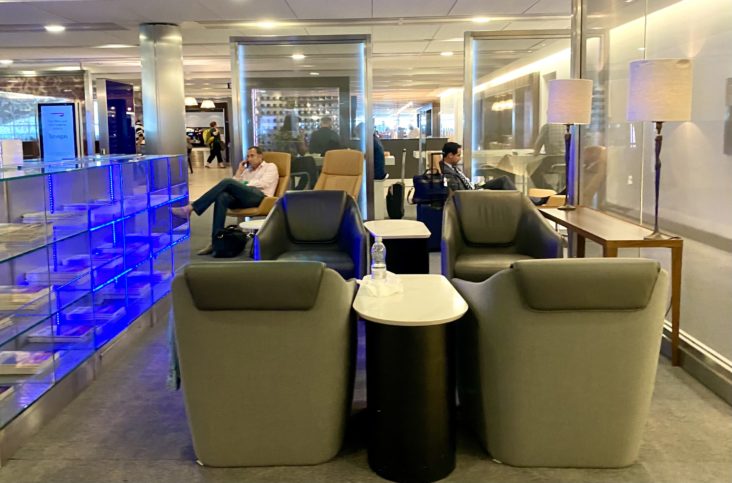 The old cinema area is now filled with lounger-type office chairs. Apparently, they're good for napping …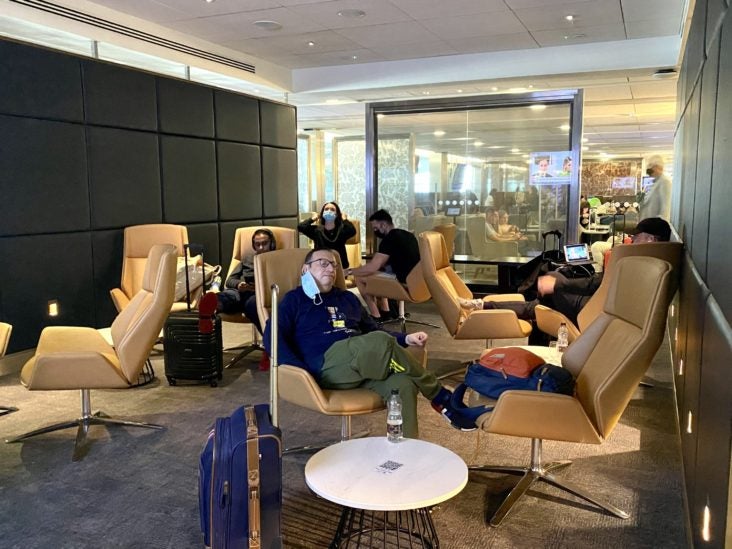 And, tucked away in the far northeastern corner of the lounge is this cozy area that's more like the lounge room at your aunt's house.
There's no doubt there's a spot for everyone, whether you're working, relaxing, sleeping, or eating and drinking.
Food and Beverage
Many lounges around the world have brought back the pre-pandemic-style self-service buffet. British Airways, on the other hand, has decided to keep at-seat ordering, and I'm a fan.
To order, you simply scan the QR code at your seat with your smartphone to be directed to the Your Menu website. You'll then be asked to log in with your name and the password of the day (which will be one of BA's destination cities).
Beverages
The only self-serve drinks available were small cans of a variety of sodas including Coke, Diet Coke, Sprite, and tonic waters.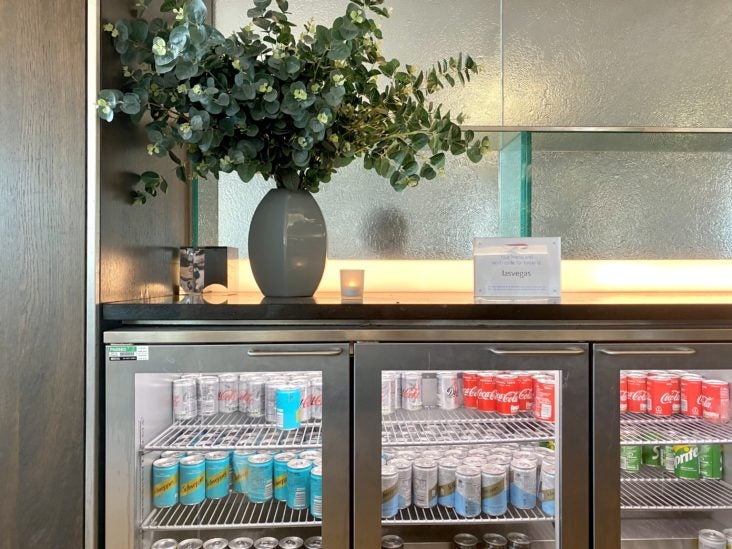 There was also a juice station located where the buffet area used to be.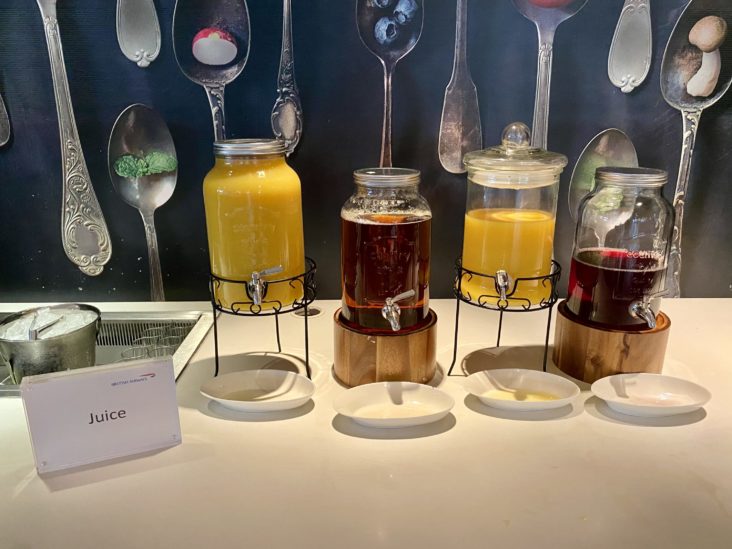 Most of the Union coffee machines were covered.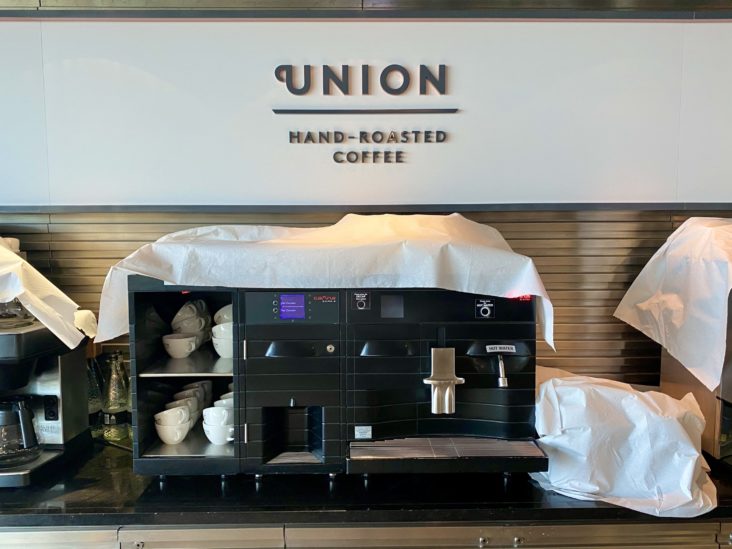 There was 1 station near the center of the lounge where a staff member would make your preferred coffee or tea on request.
If you've never had it before, BA's lounge coffee is very good. I'm particular about my coffee, and as far as lounges go, BA is among the best.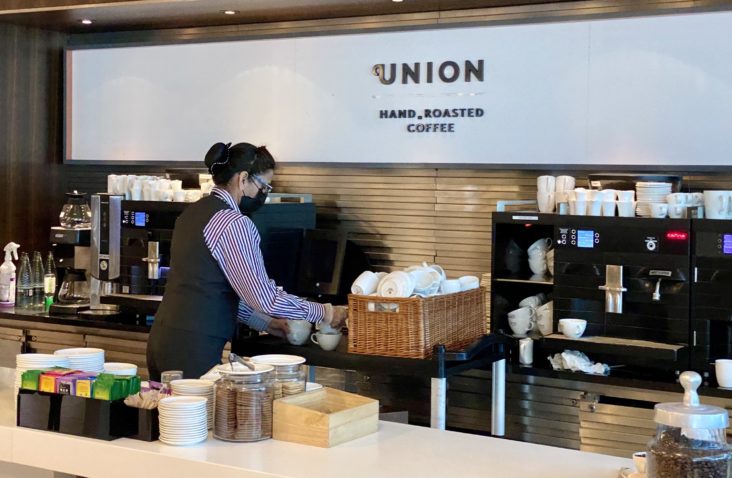 I visited during the afternoon, so the full alcohol selection was available to order to my seat.
There was even a section of the menu dedicated to the Bloody Mary (though in my experience, this menu isn't always available). In addition to a regular Bloody Mary, BA offers its very own variations including the Maverick Mary, the Red Snapper, and, for those who don't drink alcohol, a deliciously refreshing Virgin Mary.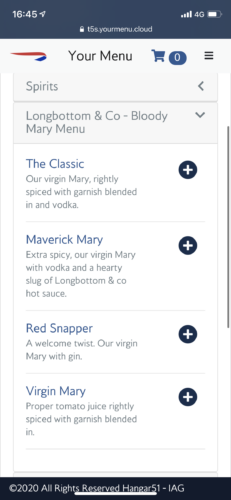 The selection of liquors is an interesting mix of top-shelf and more basic brands, including Ciroc, Johnny Walker Black Label, The Singleton of Glendullan 15-year-old single malt, Gordons, Bacardi Carta Blanca white rum, Baileys, and Pimms No. 1. For example, a vodka drinker would no doubt be happy with Ciroc. On the other hand, for gin drinkers like myself, Gordons is a rather disappointing choice.
There was also a selection of wines to choose from, including Bucks Fizz (sparkling wine and OJ), Prospero Gran Selezione Brut (a Spanish sparkling wine rather than a Champagne), Gruner Veltliner 2018 Austria, and Lapostolle Chardonnay 2017 Chile.
And finally, for those who prefer beer, there was Heineken, BA's Jet Stream by BrewDog, and an alcohol-free Heineken option.
Food
All food is served to you at your seat.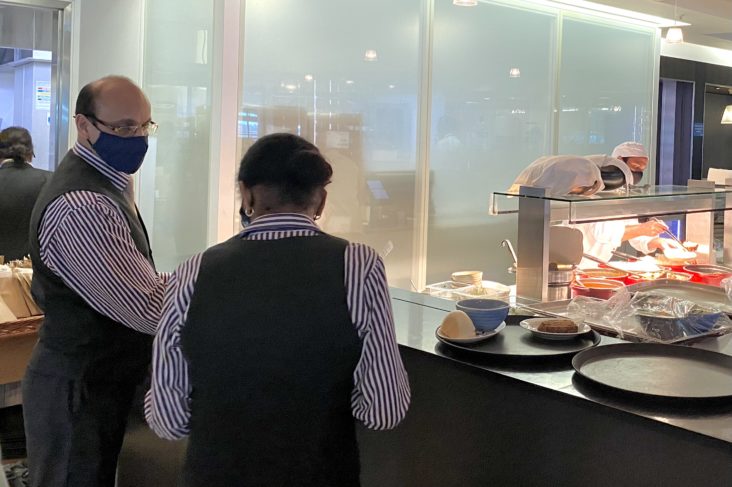 The busy (and very hard-working) lounge staff run orders from a food-service area near the center of the lounge which is on display to guests.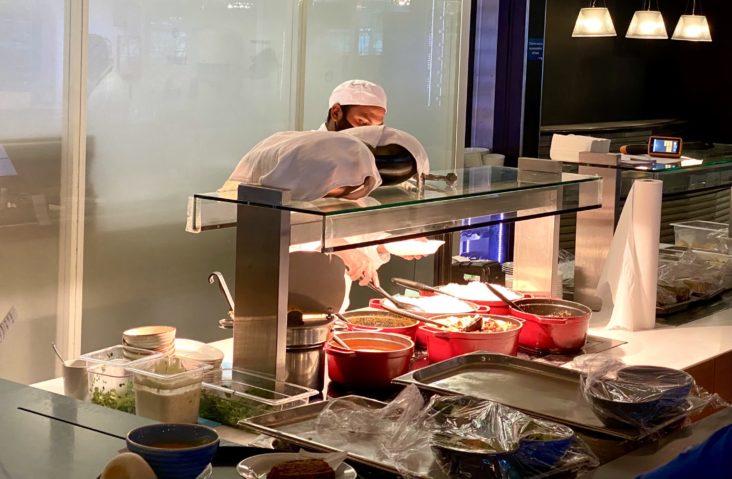 I went for a portion of the Spanish-style chicken with chorizo in a tomato sauce accompanied by a glass of the Spanish sparkling wine. Fitting, given I was about to fly to Spain.
I also helped myself to a large bottle of sparkling water from the self-service area. Staying hydrated is key when flying.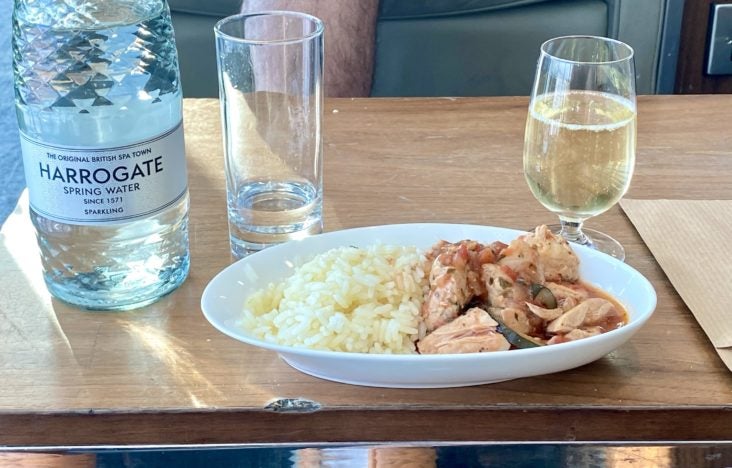 The chicken was tender and succulent but wasn't the taste sensation I was expecting. The sparkling wine went down beautifully.
Other entrée options included a Cambodian vegetable curry, chunky beef chili, and a black rice, quinoa, and edamame salad.
There was also a soup of the day, an afternoon tea option, and carrot cake for anyone with a sweet tooth.
And finally, there was a kids' menu with a small selection of tasty treats, including a garden salad, tomato soup, tuna and sweetcorn pasta salad, a cheese sandwich, and McVitie's Biscuits.
Once I'd decided what I fancied, they appeared in my "basket" in the app before confirming and submitting the order.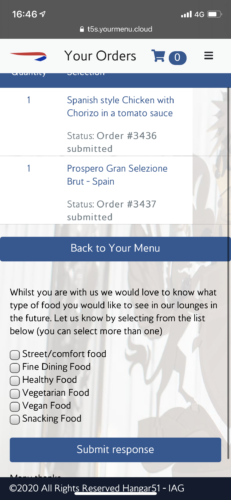 Amenities
The food-and-beverage ordering service also provides information regarding the showers. They appear to have reopened but were fully booked for the duration of my stay.
I checked a couple of times during my 90-minute visit to the lounge, but availability never opened up.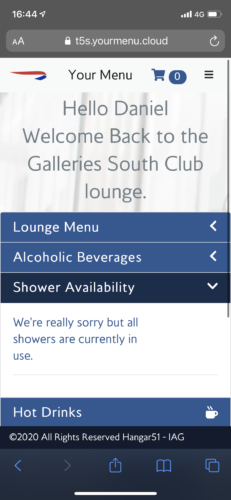 Staying connected and charged in this lounge isn't always possible. Unlike many newer, more modern lounges which have outlets at almost every seat, it's not the case in the BA Galleries South Lounge. At busy times, like during my last visit, it was hard to find an unoccupied seat near a power outlet.
Staff and Service
Given the new at-seat service offering, staff members are busier than ever. Giving credit where credit is due, the food was delivered quickly and it arrived hot.
Seemingly dozens of cleaning and foodservice staff could be seen hustling hard throughout my stay. Interactions were minimal, but the brief moments I did have were pleasant and professional.
An interesting addition was the announcement of flight information. This was previously never done in British Airways lounges.
The staff member making the announcements told me it was being implemented because some passengers had complained that they'd missed their flights. "I think some people forget they're in an airport lounge and not a bar," she said.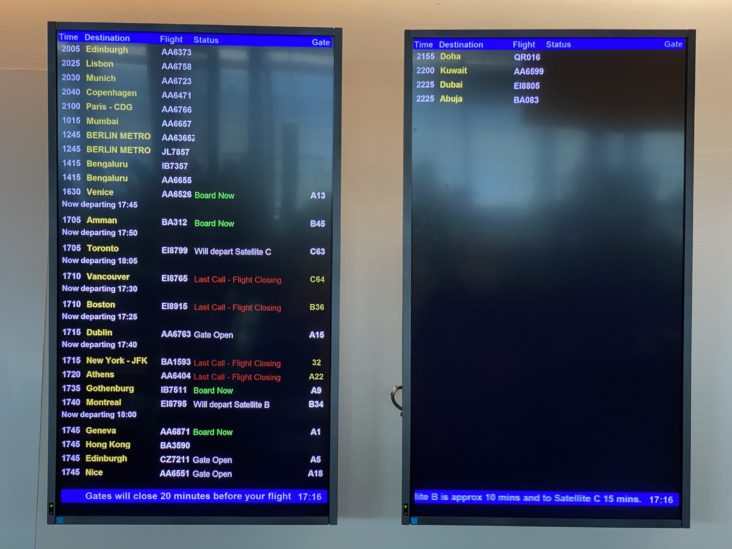 COVID-19 Protocols
Heathrow requires face coverings for all passengers aged 11 or older and BA requires you to wear a face mask at all times while in the airport.
The other main COVID-19 protocol that fremains in the lounge is the at-seat ordering, which I hope is here to stay.
There are also several hand-sanitizer stations around the lounge.
However, the cleanliness of some areas of the lounge during my visit left a lot to be desired. I'd like to think the lounge was short-staffed, or it was just a particularly busy moment.
I'll be interested to see if the situation is better on my next visit.
Final Thoughts
This lounge is 1 of 3 that features the best the airline has to offer its business class and Silver elite members at the flagship terminal of its global hub.
At the end of the day, it's a shame the quality of the lounge doesn't reflect this. The British Airways Galleries South Lounge is in dire need of a refresh. Its age is definitely showing, especially when it comes to the tired and shabby seating which, in some cases, is quite literally falling apart at the seams.
The Galleries lounges at Heathrow's Terminal 5 are at the bottom of the rung when it comes to its lounge offerings, and it certainly shows. The Galleries First Lounge and Concorde Room are leagues above the Galleries Club Lounges.
In all fairness, the food and drink offering is good. There are plenty of choices, portion sizes are great, and the at-seat ordering system works wonderfully.
However, it's a shame nothing was done to update the lounge during the months of pandemic-induced closures.