Emirates' Inaugural World's Shortest Airbus A380 Flight – Business Class Review (Dubai to Muscat)
Airline: Emirates (EK)
Aircraft: Airbus A380-800 (A6-EOT).
Flight #: EK 862 and EK 863
Route: (EK 862) Dubai International Airport (DXB) > Muscat International Airport (MCT); (EK 863) MCT > DXB
Date: July 01, 2019.
Duration: 40 minutes per leg.
Cabin + Layout: Business Class; 76 seats in a 1-2-1 staggered configuration.
Seat:  16K (DXB > MCT) and 23A (MCT > DXB)
Miles Used: None.
Typical Retail Fare: ~$1,900. (AED 6,745)
Introduction 
Starting July 1, 2019, Emirates launched a twice-daily, "World's Shortest Airbus A380 service" to Muscat, Oman, beating its own previous record of the World's Shortest Airbus A380 flight to Doha, Qatar. The 217 miles journey to the capital of Oman takes approximately 40 minutes each way and is serviced by a 3-class Airbus A380.
Interestingly, Emirates also operates the longest Airbus A380 route from Auckland, New Zealand to Dubai, UAE which takes approx. 17 hours 05 minutes to complete the 8,824 miles journey.
Though this was the launch of a regularly scheduled summer service, it was not the first time an Emirates A380 has landed in Muscat. Exactly a year ago on July 1, 2018, Emirates operated a one-off Airbus A380 service to the newly opened Muscat International Airport (MCT) to commemorate 25 years of partnership between the United Arab Emirates (UAE) and the Sultanate of Oman. Emirates first commenced flight operations to Muscat in 1993.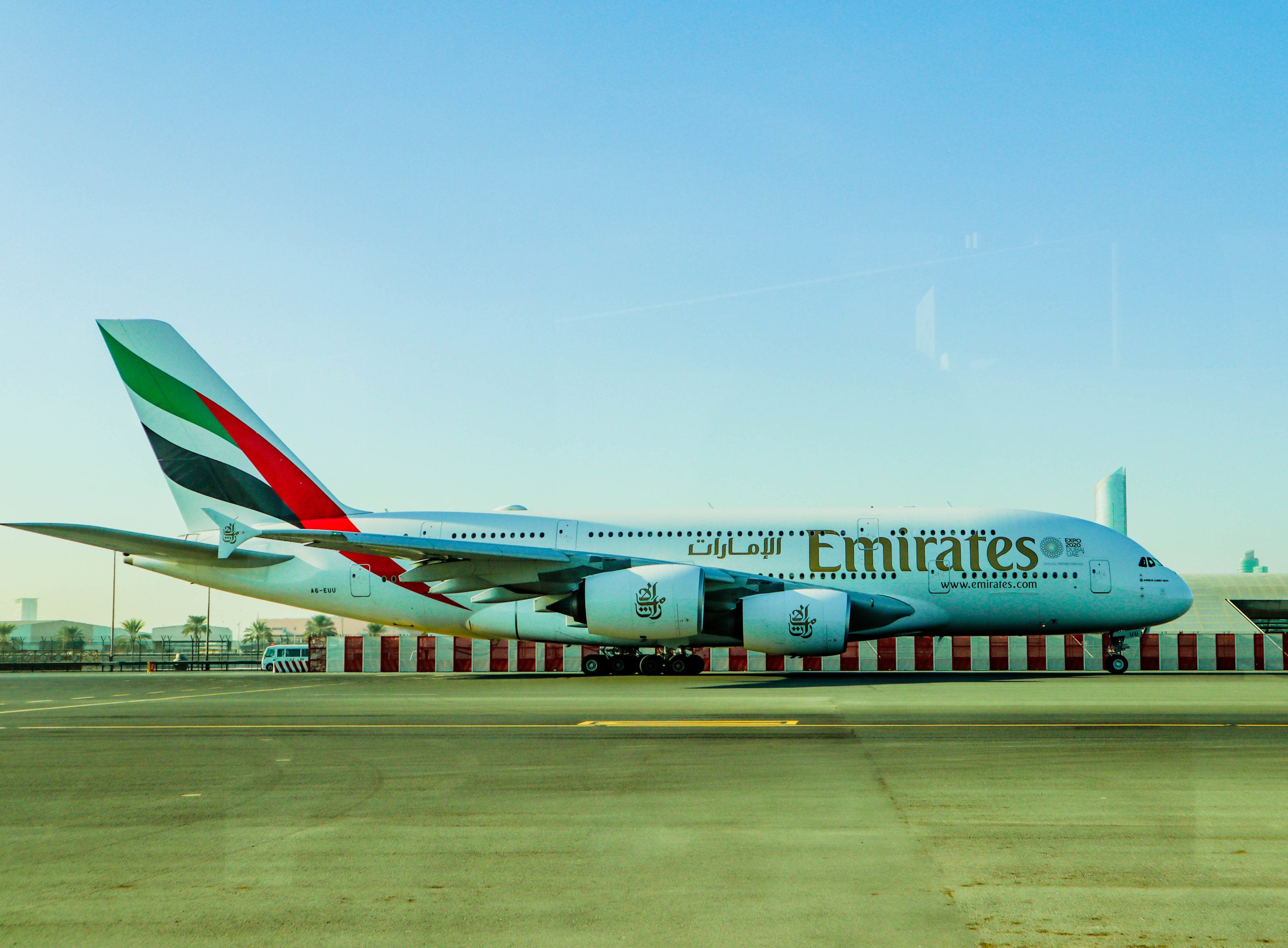 Prior to commencing the twice-daily Airbus A380 service to Muscat, Emirates operated the Boeing 777-300ER on the three-times-daily frequency.
For the 2019 summer schedule until October 2019, the following frequencies will be operated by the Airbus A380:
DXB to MCT Routes:

EK 862: 8:25 a.m. – 9:40 a.m.
EK 864: 4:10 p.m. – 5:25 p.m.

MCT to DXB Routes:

EK 863: 11:15 a.m. – 12:25 p.m.
EK 865: 7:05 p.m. – 8:15 p.m.
However, the flight times will slightly vary starting late October 2019, which is the beginning of the winter schedule.
The below frequency will continue to be operated by the Boeing 777-300ER:
DXB to MCT Route:

EK 866: 2:15 a.m. – 3:30 a.m.

MCT to DXB Route:

EK 867: 4:40 a.m. – 5:55 a.m.
I received a lot of questions on my Instagram page as to why would Emirates launch a twice-daily Airbus A380 service on such a short route? There is a method to this madness and it is well thought out by the airline.
Currently, with 111 "Superjumbos" in the fleet, Emirates is the largest operator of the Airbus A380, with a further 14 to be delivered by the end of 2021 and this double A380 service offers one of the best flying products to both business professionals and tourists in addition to seamless connections to other destinations operated by the Emirates A380. Thus, offering a consistent service across both short haul and long haul routes.
At Dubai International Airport (DXB)
At 5:55 a.m., the Emirates' chauffeur was at my doorstep and by 6:30 a.m., I was at DXB's Terminal 3.
Hot Tip: The Emirates Chauffeur service is only available if you booked your first class or business class ticket using cash and is not available for tickets booked on mileage redemption.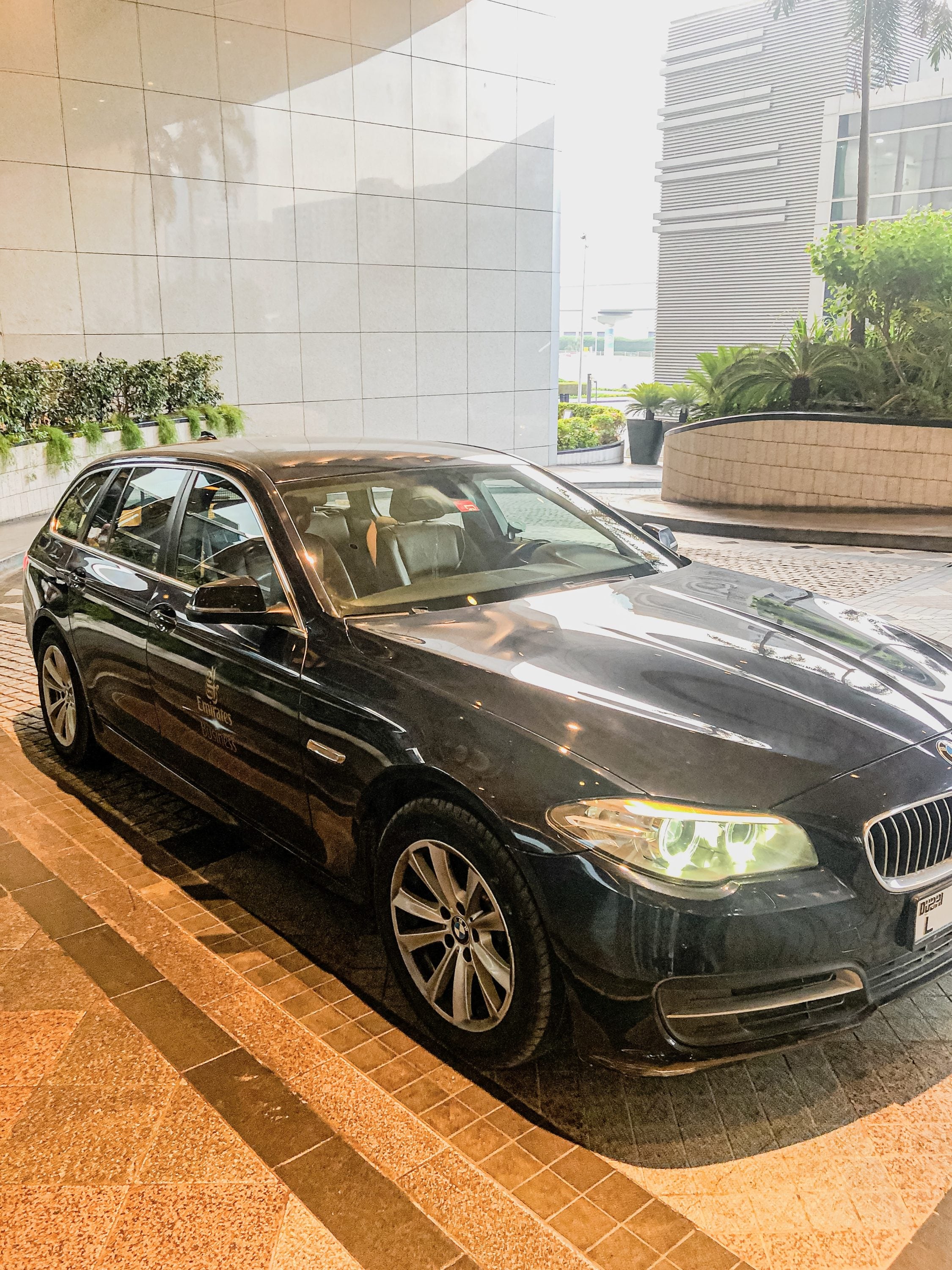 Emirates First Class Lounge
Once at the airport, check-in was smooth and I then headed to the Emirates First Class Lounge in Concourse B for some champagne and sushi breakfast. It is never too early for some bubbles.
I usually like to get to the airport early to enjoy all that the Emirates First Class Lounge has to offer including the spa treatment. However, I had just returned from New York a day earlier and was fighting a serious case of jet lag.
From my previous flights with Emirates, I was pretty familiar with the lounge and its extensive offerings which I have covered in my review of the Game Changer First Class.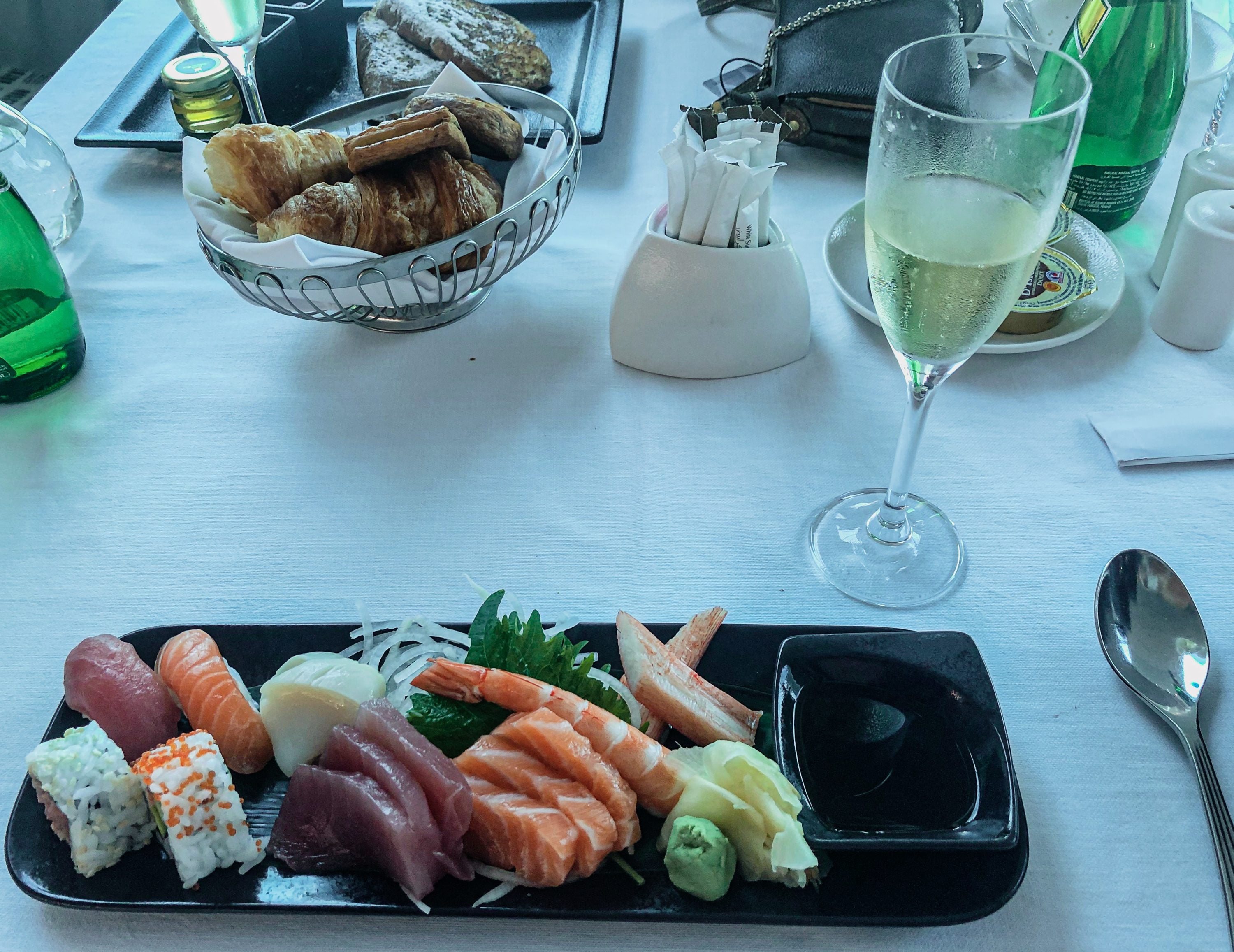 Boarding
Our boarding gate was C14 in Concourse C, which is quite a walk from the Emirates First Class Lounge in Concourse B, so we had a buggy arranged to take us to the gate. Upon arrival, there she was; the big whale gleaming under the morning sun. Boarding was swift, with premium passengers boarding via a separate jet bridge to the upper deck. There was no inaugural ceremony at the gate; however, one was arranged at MCT.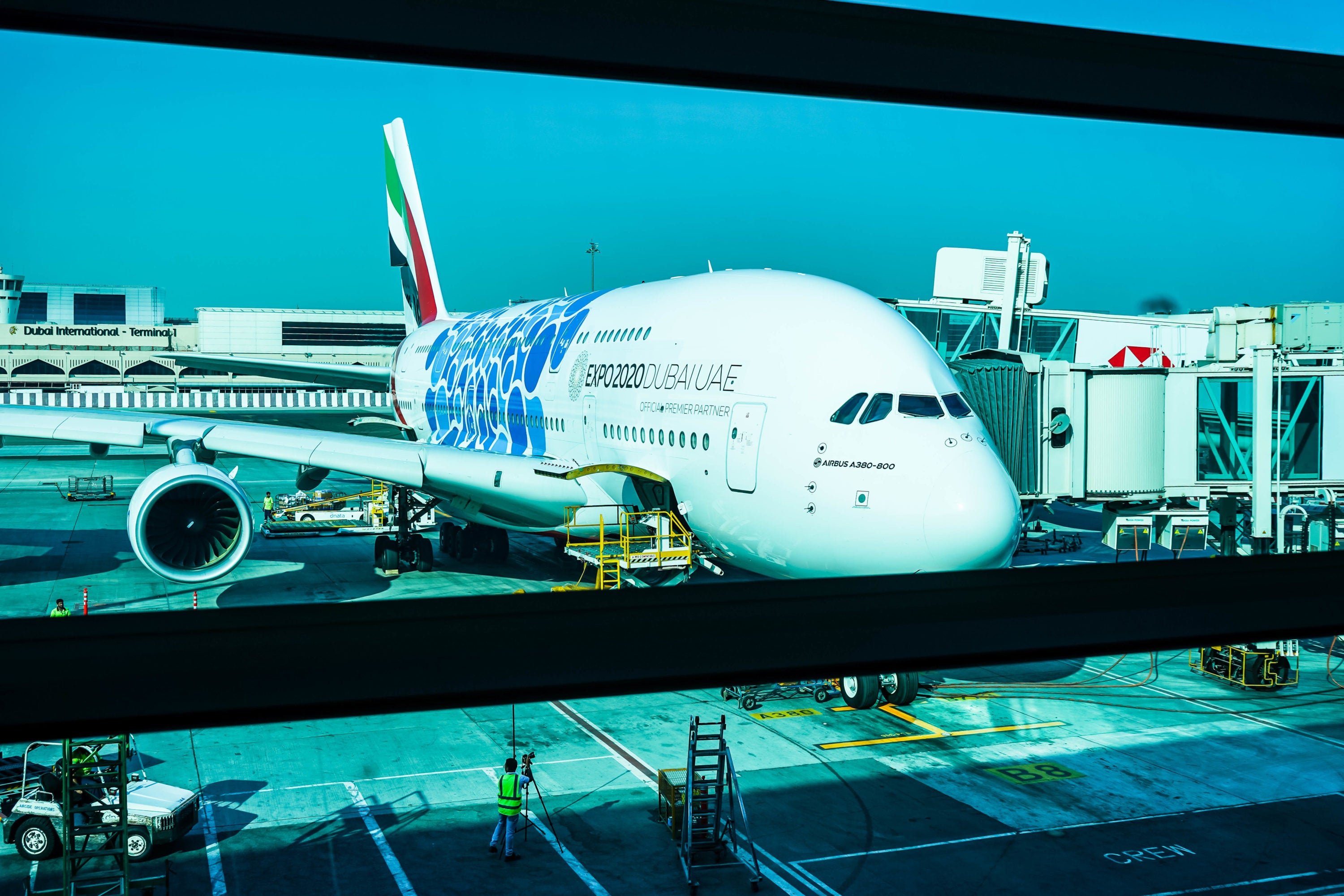 Flight
Aircraft
The aircraft registered A6-EOT was delivered to Emirates in December 2015 and sports the Dubai Expo 2020 blue livery. The total passenger capacity is 519 configured in 3 classes as follows:
First Class: 14 seats in a 1-2-1 configuration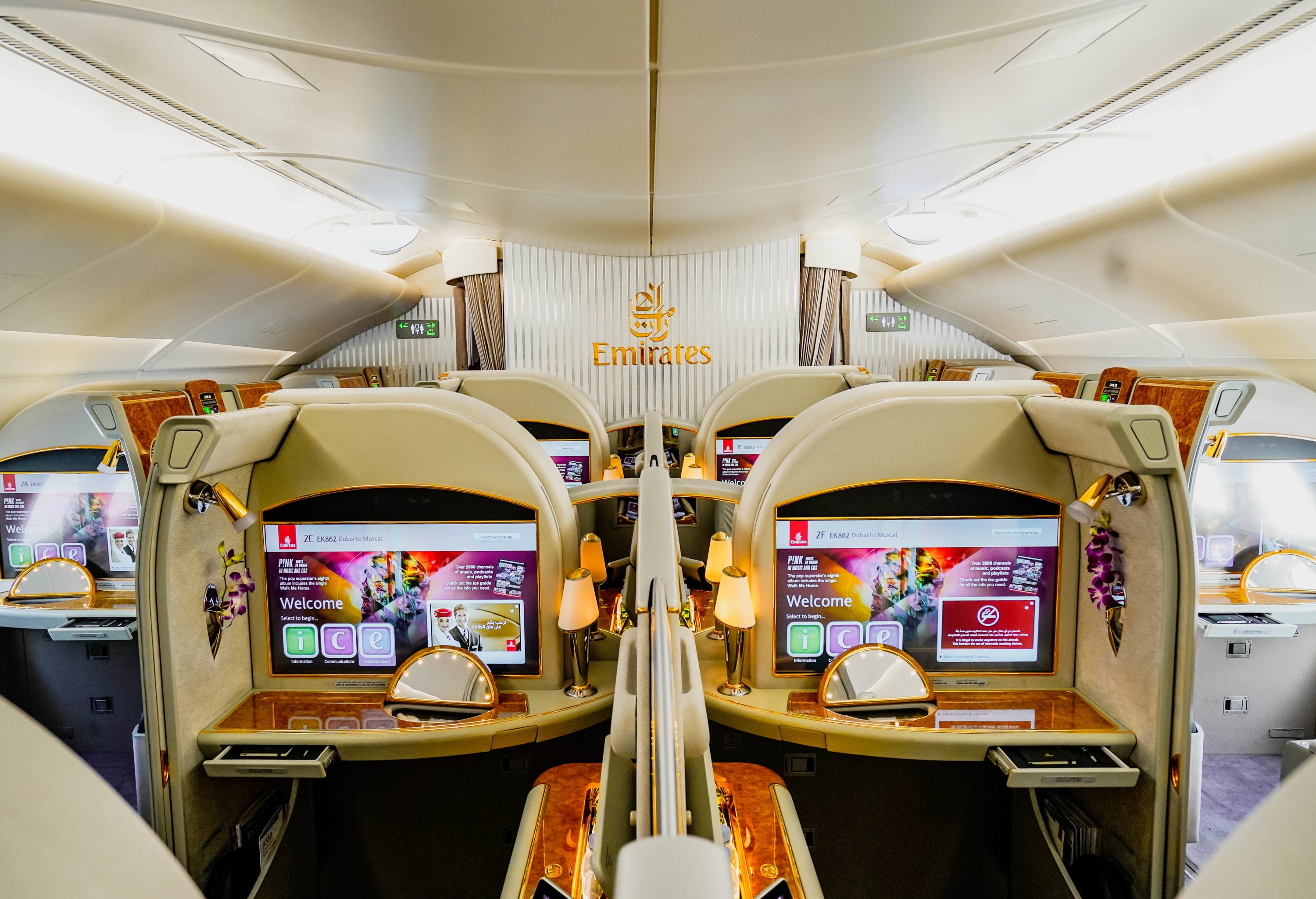 Business Class: 76 seats in 1-2-1 staggered configuration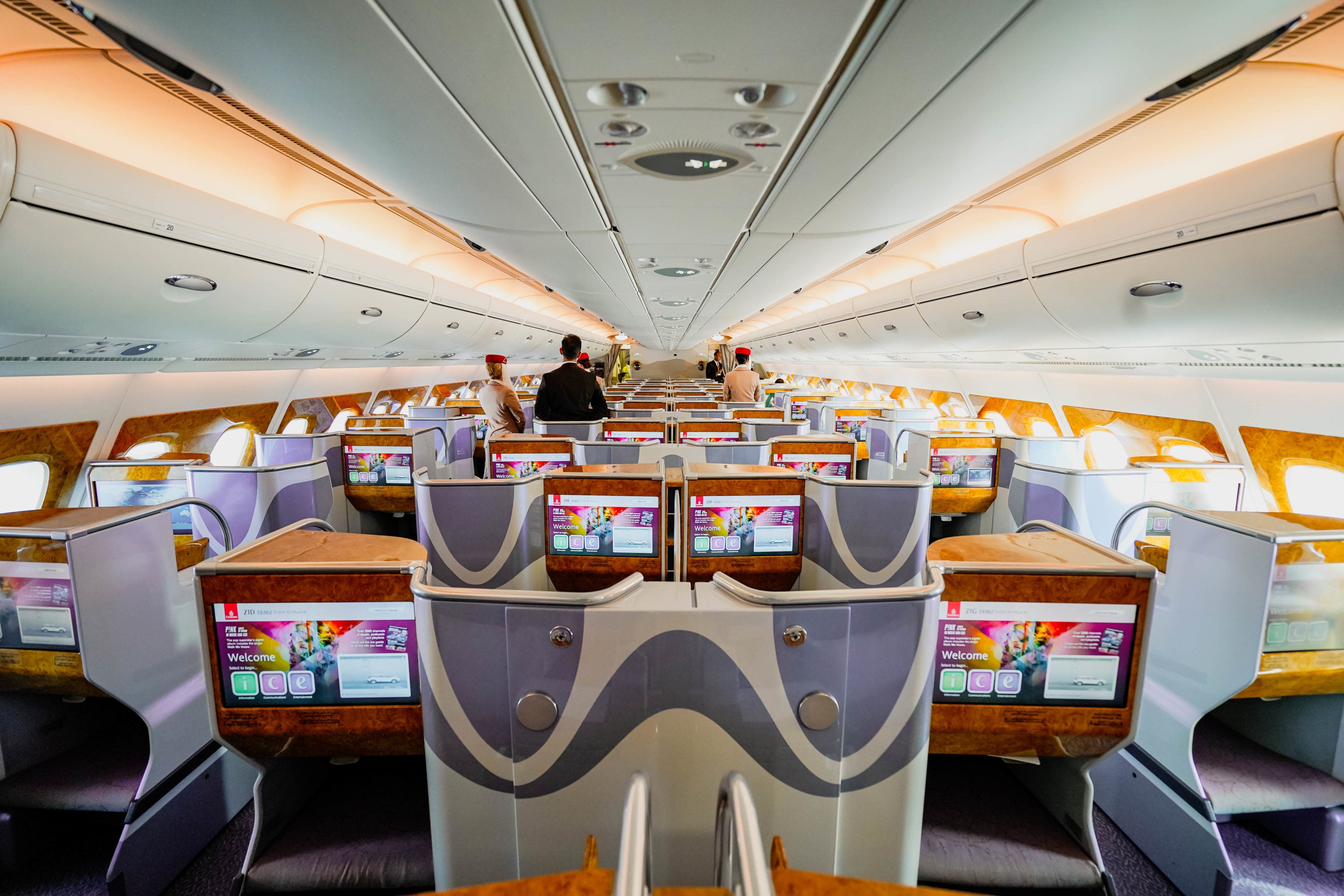 Economy Class: 429 seats in a 3-4-3 configuration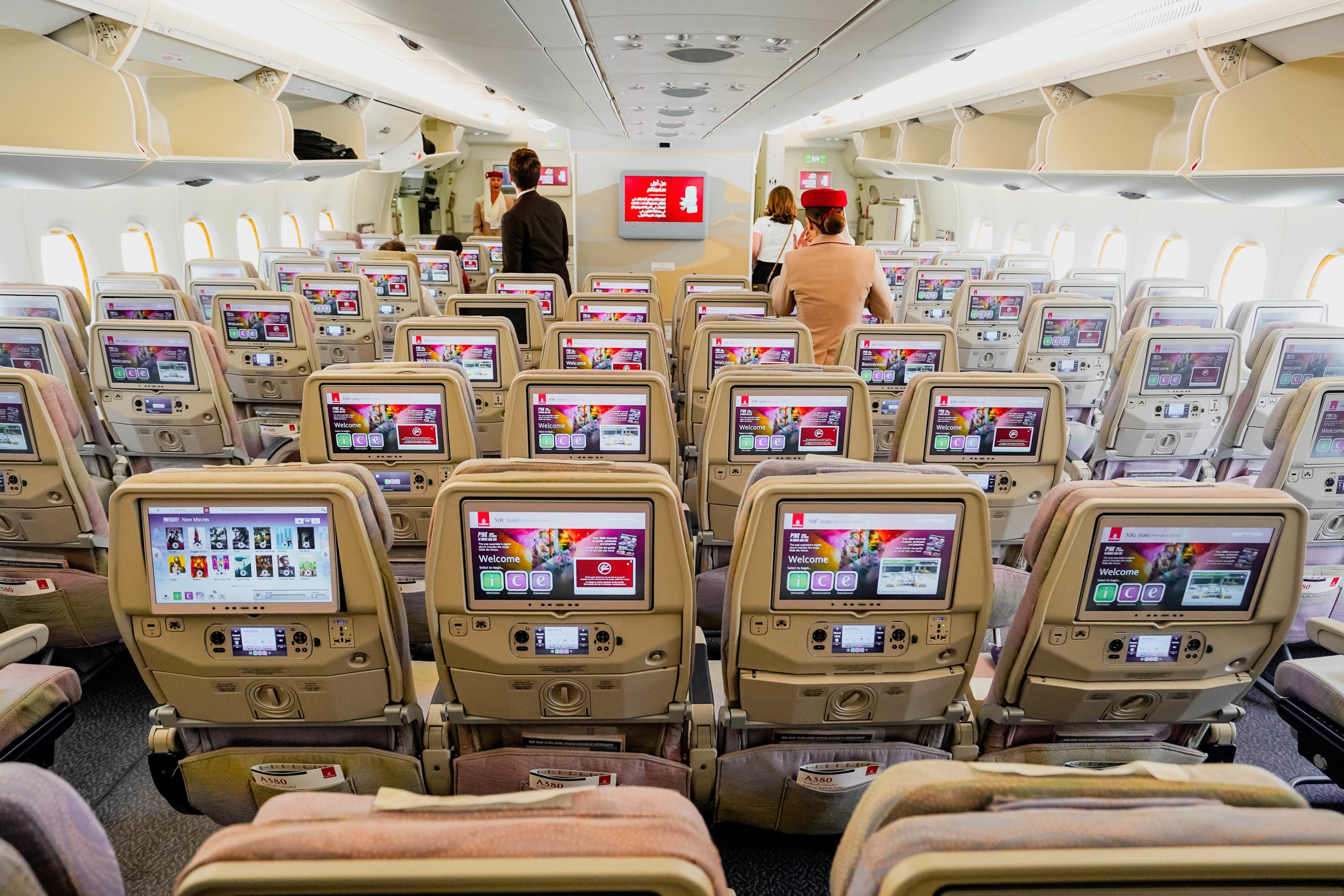 Both premium classes are located on the upper deck with the economy class occupying the entire lower deck
Boarding was through the L1 door on the upper deck, where I was greeted by the Chief Purser, Paulo, who was heading a 27 strong multi-national cabin crew.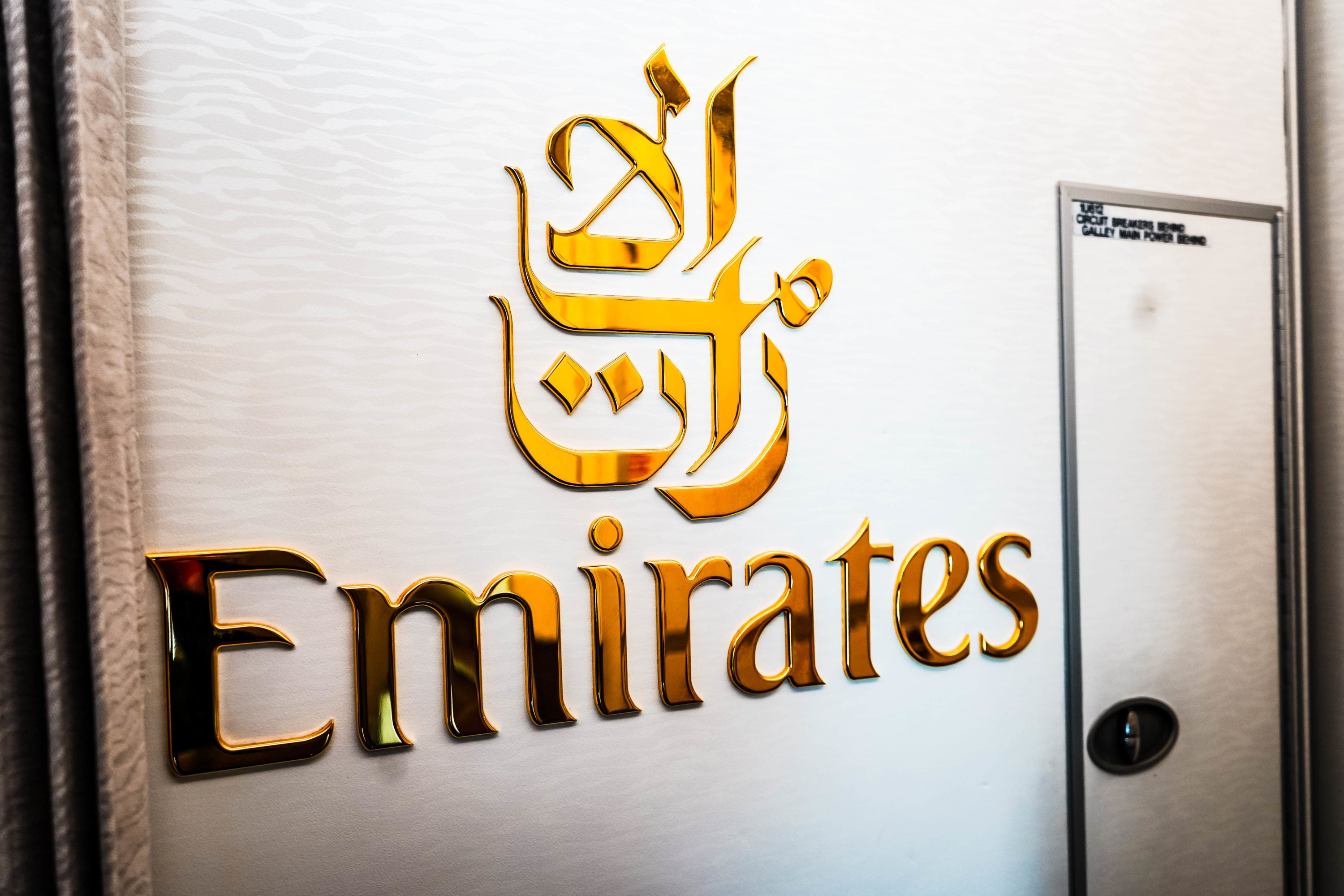 I settled into my assigned seat, 16K, which is a window seat with a glass or two of Moet.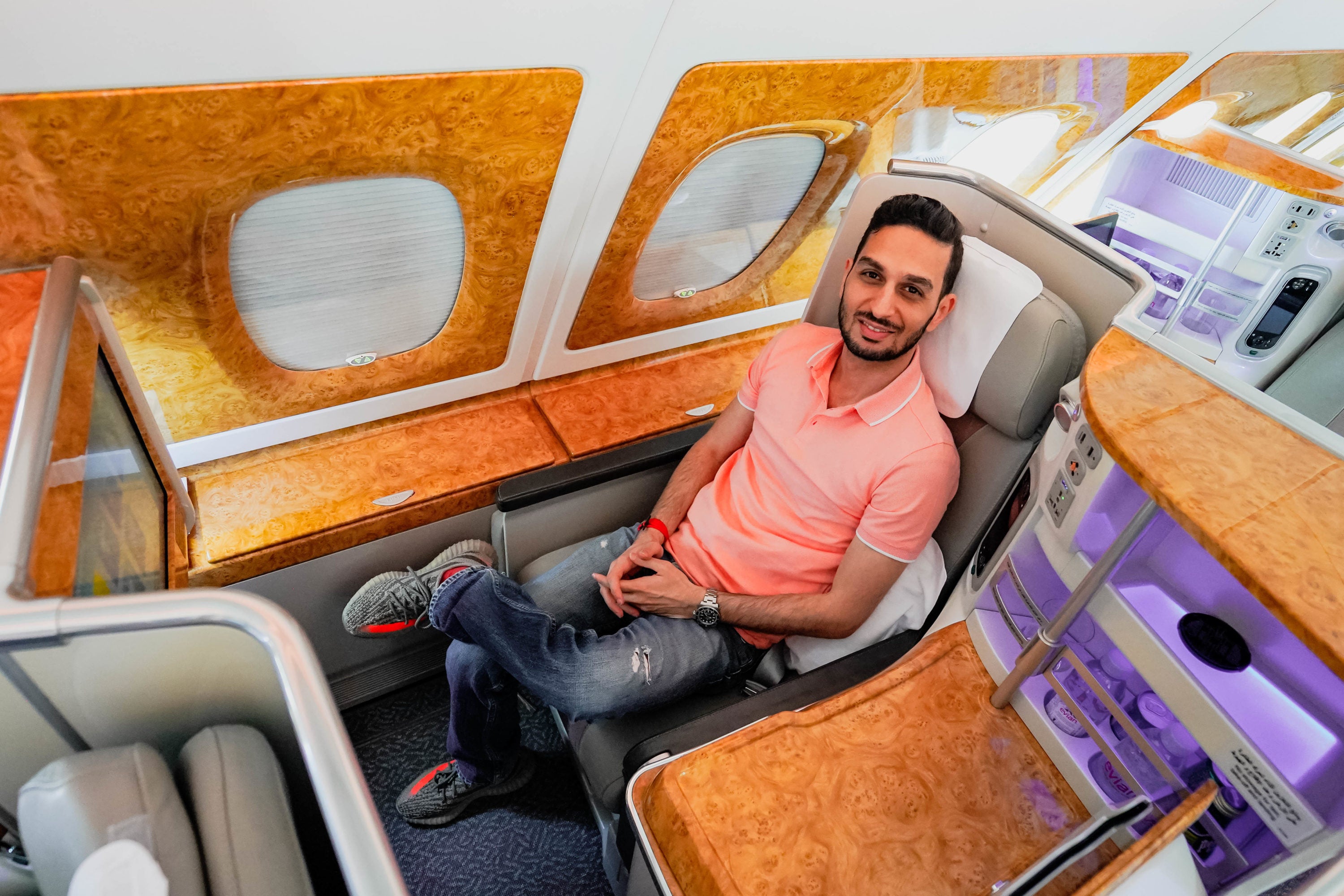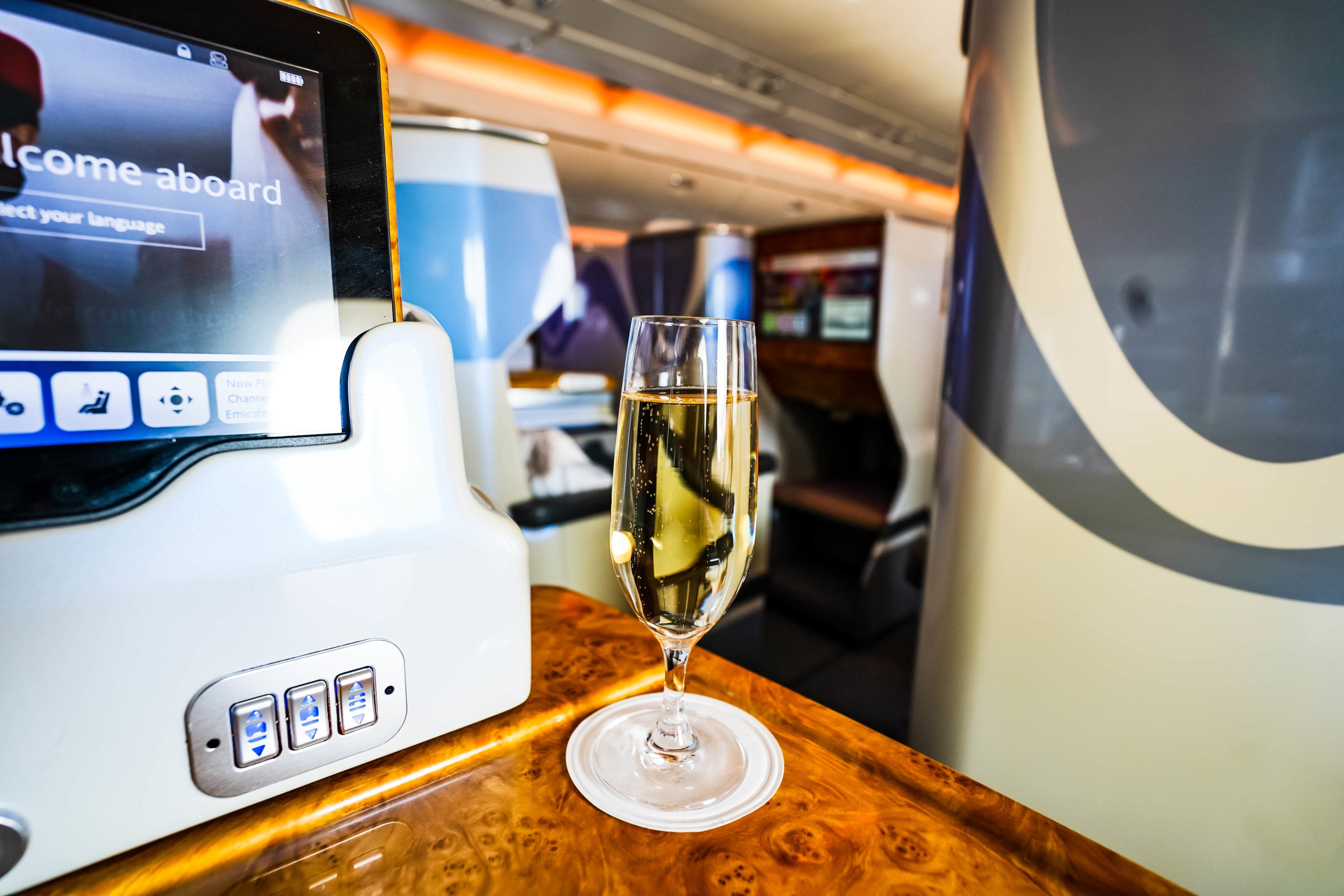 Whilst the business class cabin was sparsely populated, the first class cabin was empty on the way to Muscat, so I decided to stretch my legs and tour the aircraft.
First Class
The Emirates First Class cabin is equipped with a total of 14 suites all featuring fully flat-lie seats with 8 suites in the center and 4 window suites each on the port and starboard side all with direct aisle access. If you are traveling with a companion the middle suites are the ones to go for.
Each suite is equipped with a privacy door with gold and wood finishing on the panels. Below the TV screen is a pop-out vanity mirror that stocks a BYREDO wellness kit.
On this short haul, I did not notice the knickknacks basket that is usually offered in each suite. Perhaps, it was deliberately not stocked since the first class cabin was empty on the way to Muscat. However, the minibar was fully stocked.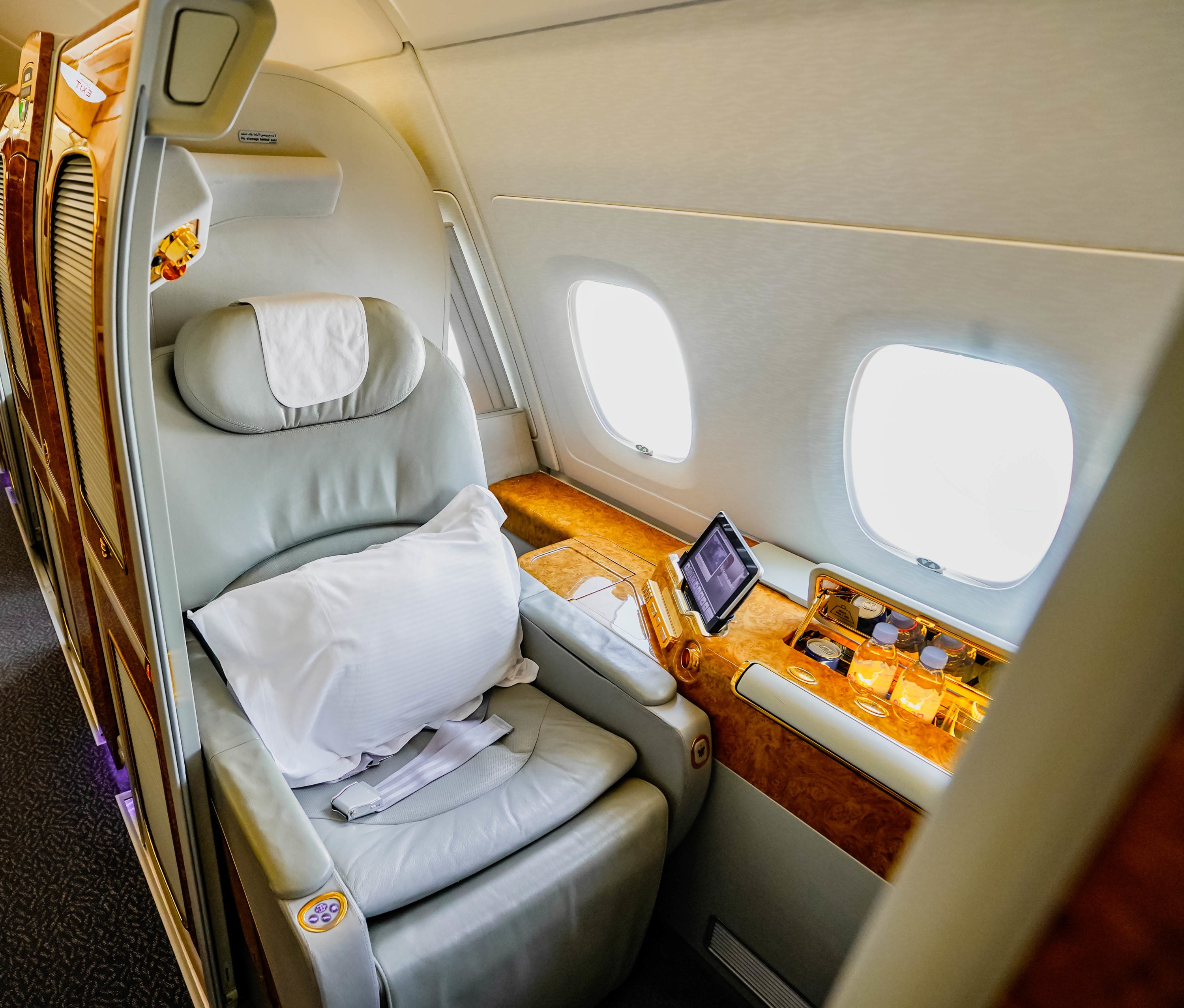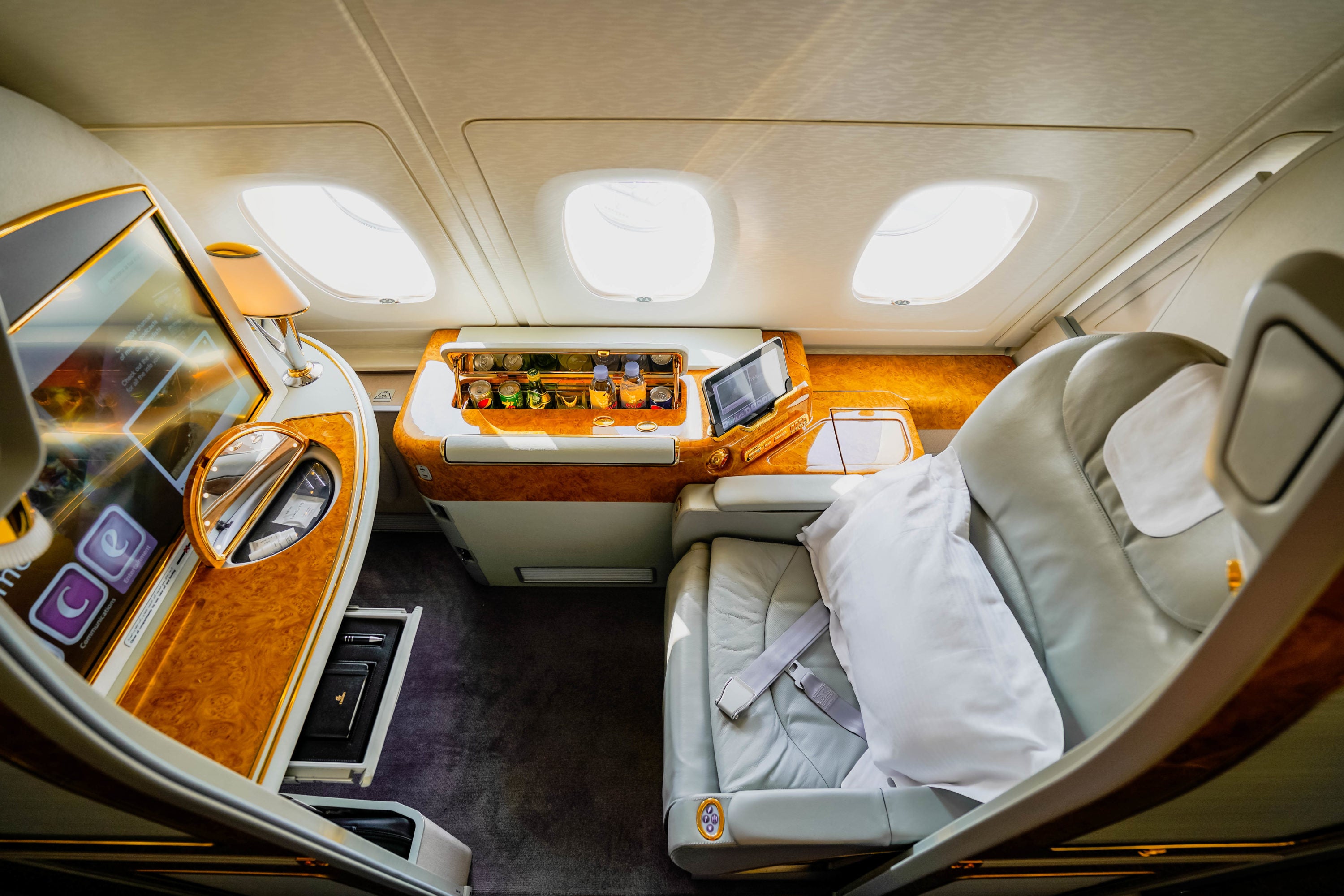 Hot Tip: Avoid suites in row 1 if possible, as those suites are only equipped with 2 windows instead of 3. Suites in rows 2, 3 and 4 are equipped with 3 windows.
Directly atop the staircase, in front of the first class cabin, is a bar that is usually stocked for self-service for the first class passengers. On this short flight, both the first class bar and the bar behind business class were not stocked nor accessible to the passengers, which is understandable considering the duration of the flight.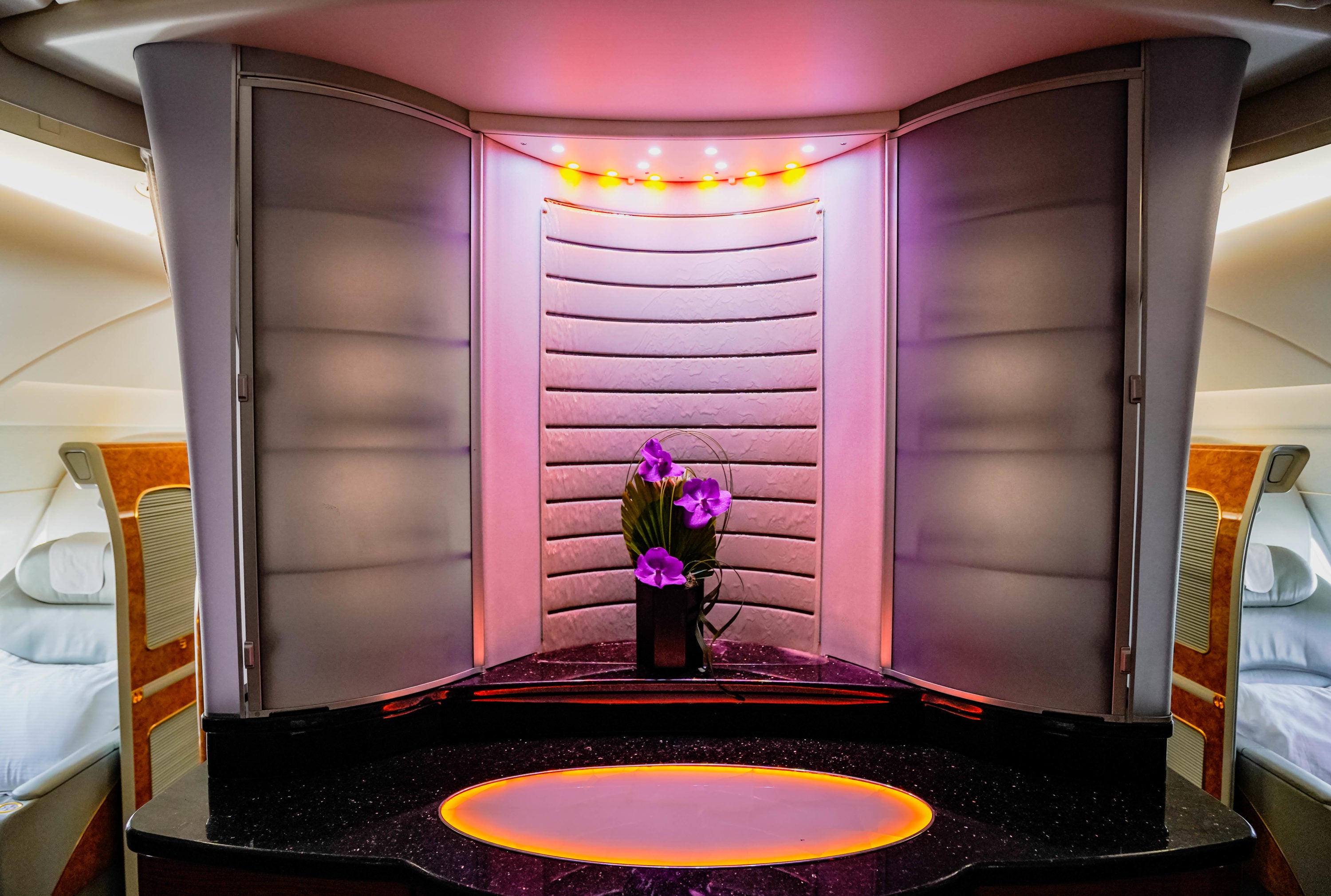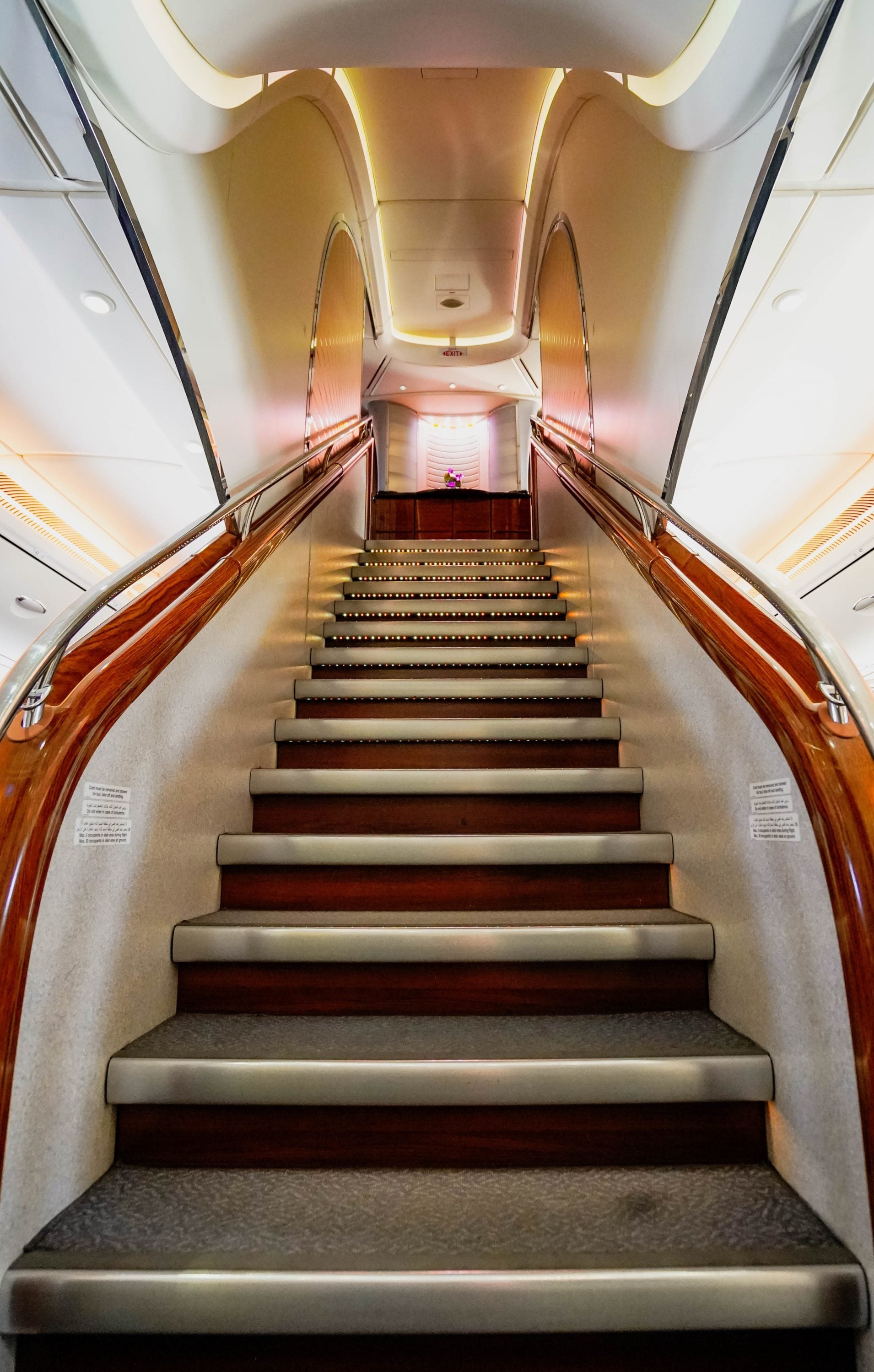 At the front on the first class cabin, on either side beside the first class bar, there are two spacious shower suites. On this short haul, it was manned by just one dedicated shower attendant instead of the regular two since the shower service was not available on this short 40-minute haul and, again, understandably so.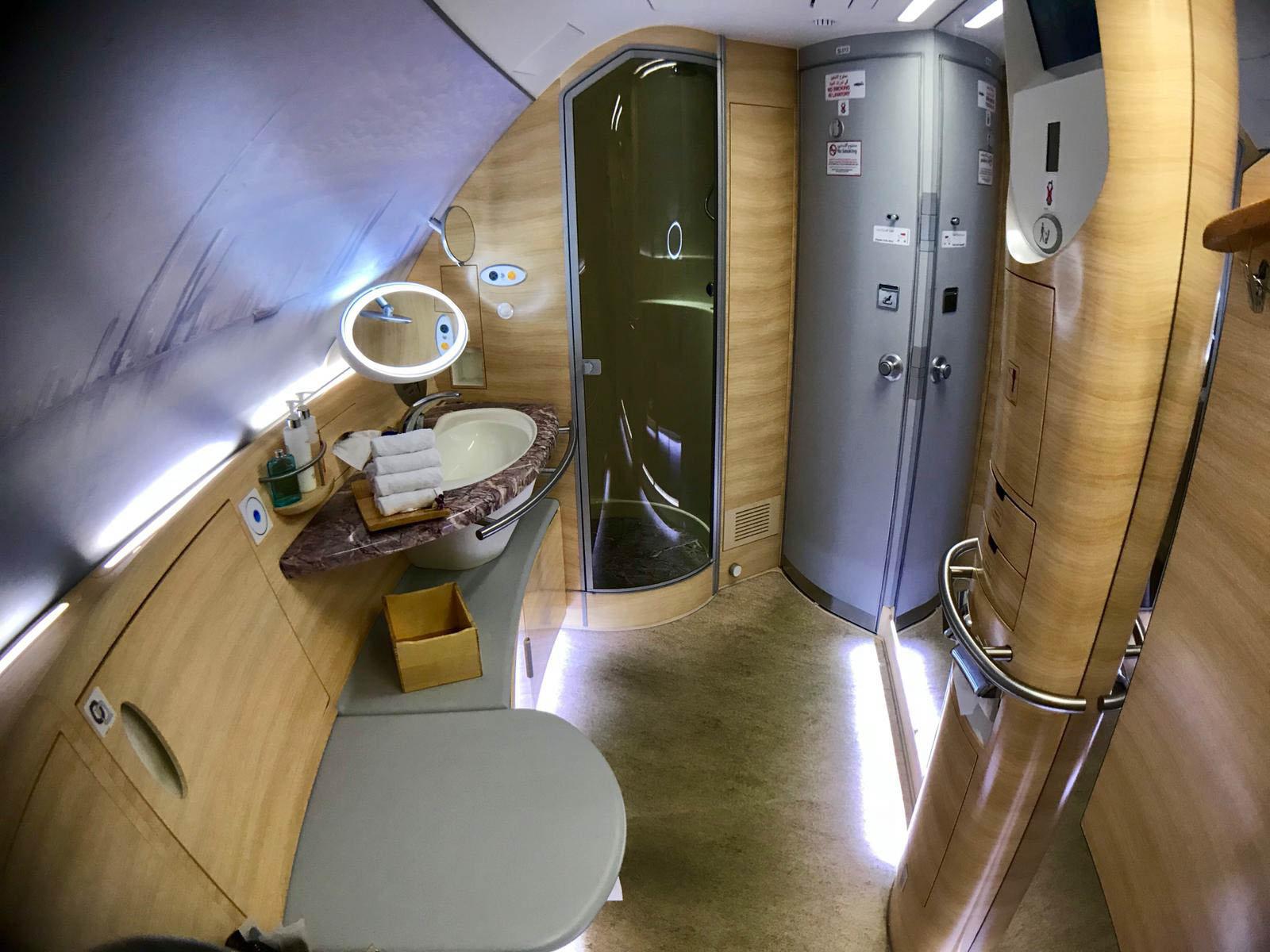 Business Class
The 76 business class seats, which are a staggered in a 1-2-1 configuration, are spread over 2 cabins. The bigger forward cabin houses 58 seats, whilst the smaller rear cabin houses 18 seats.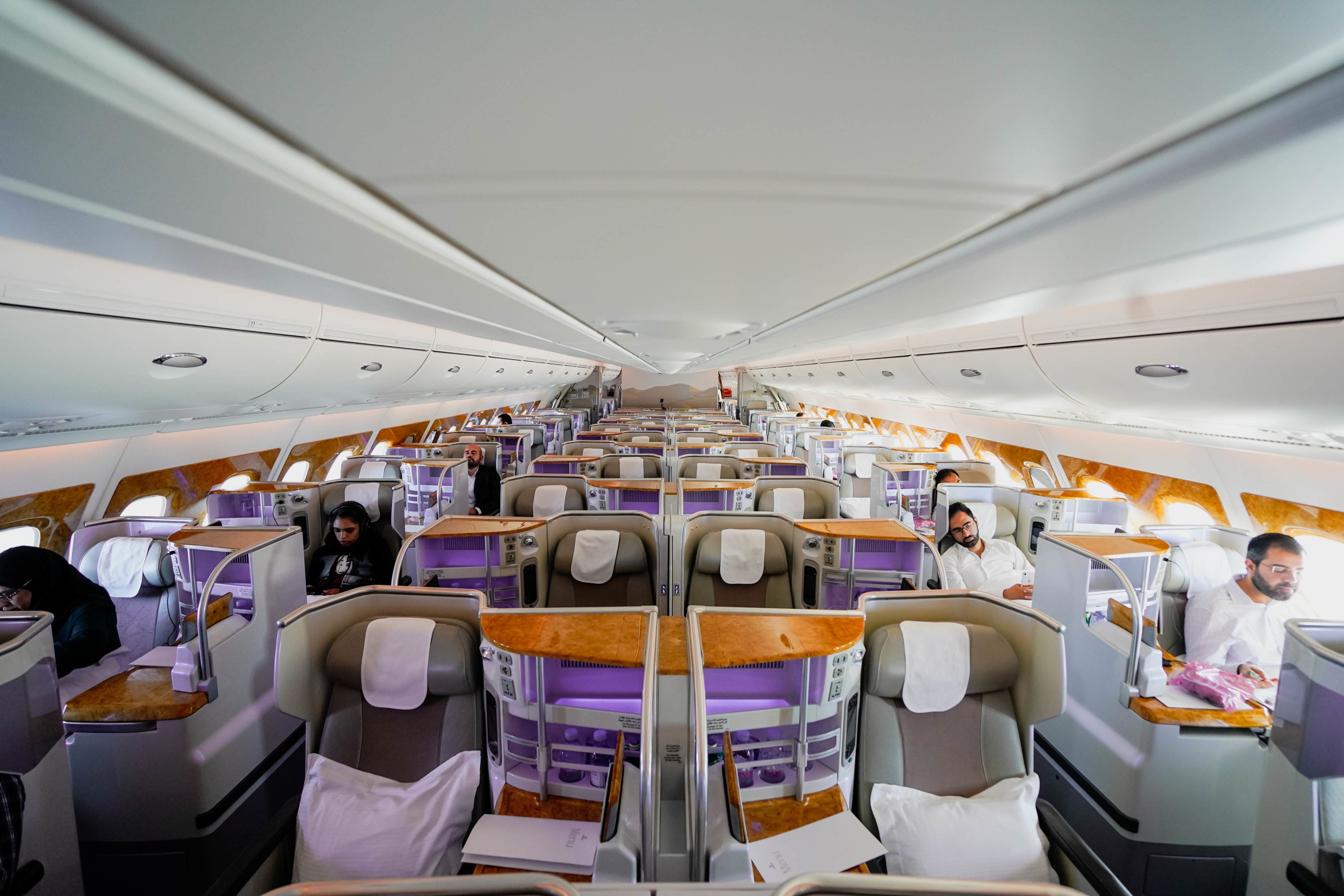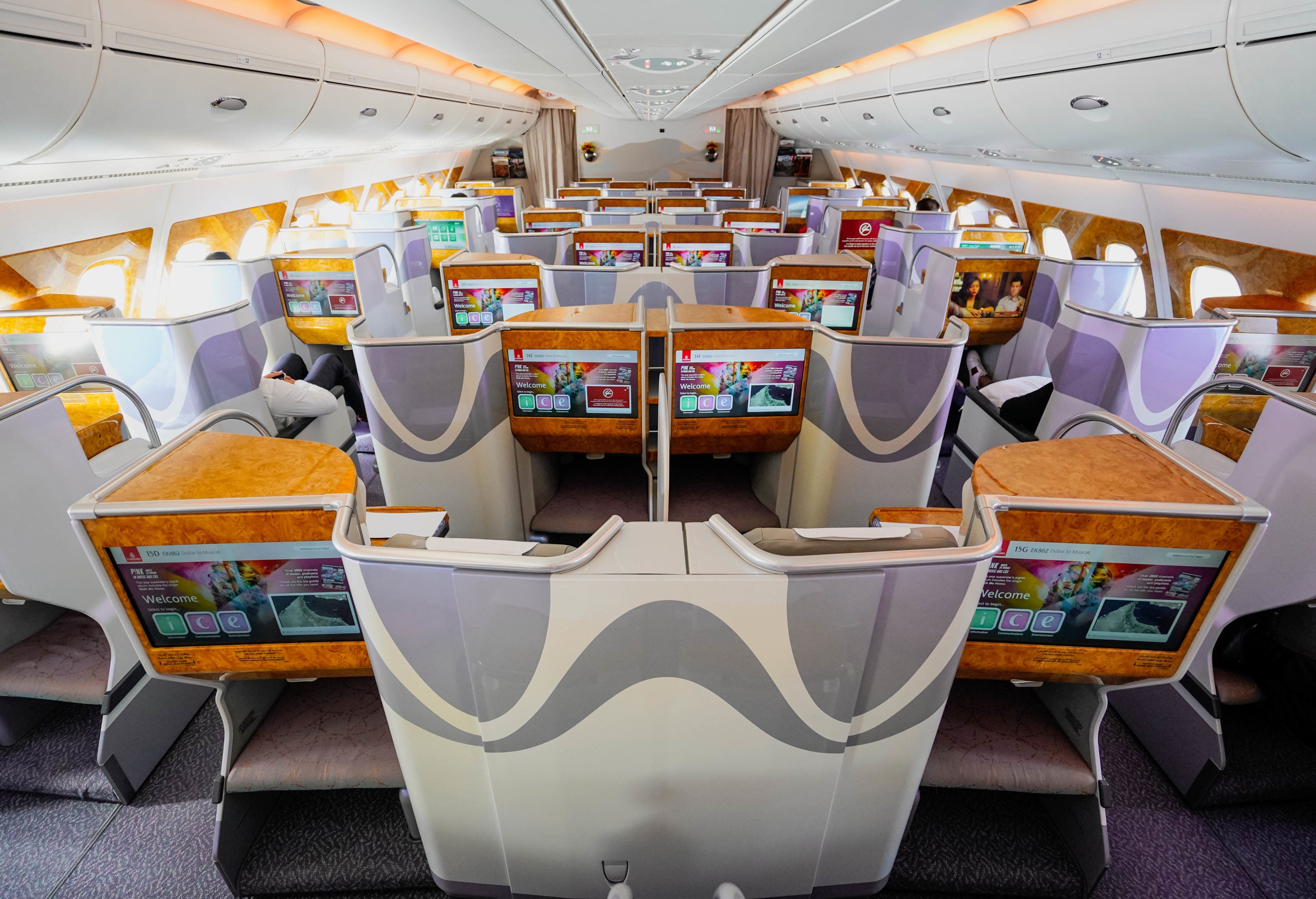 Seat
The seats are well cushioned and comfortable offering 18.5″ in width, a pitch of 48″, and can be converted to 1 of the 4 modes: Take-off, Recline, Dining, and Flatbed.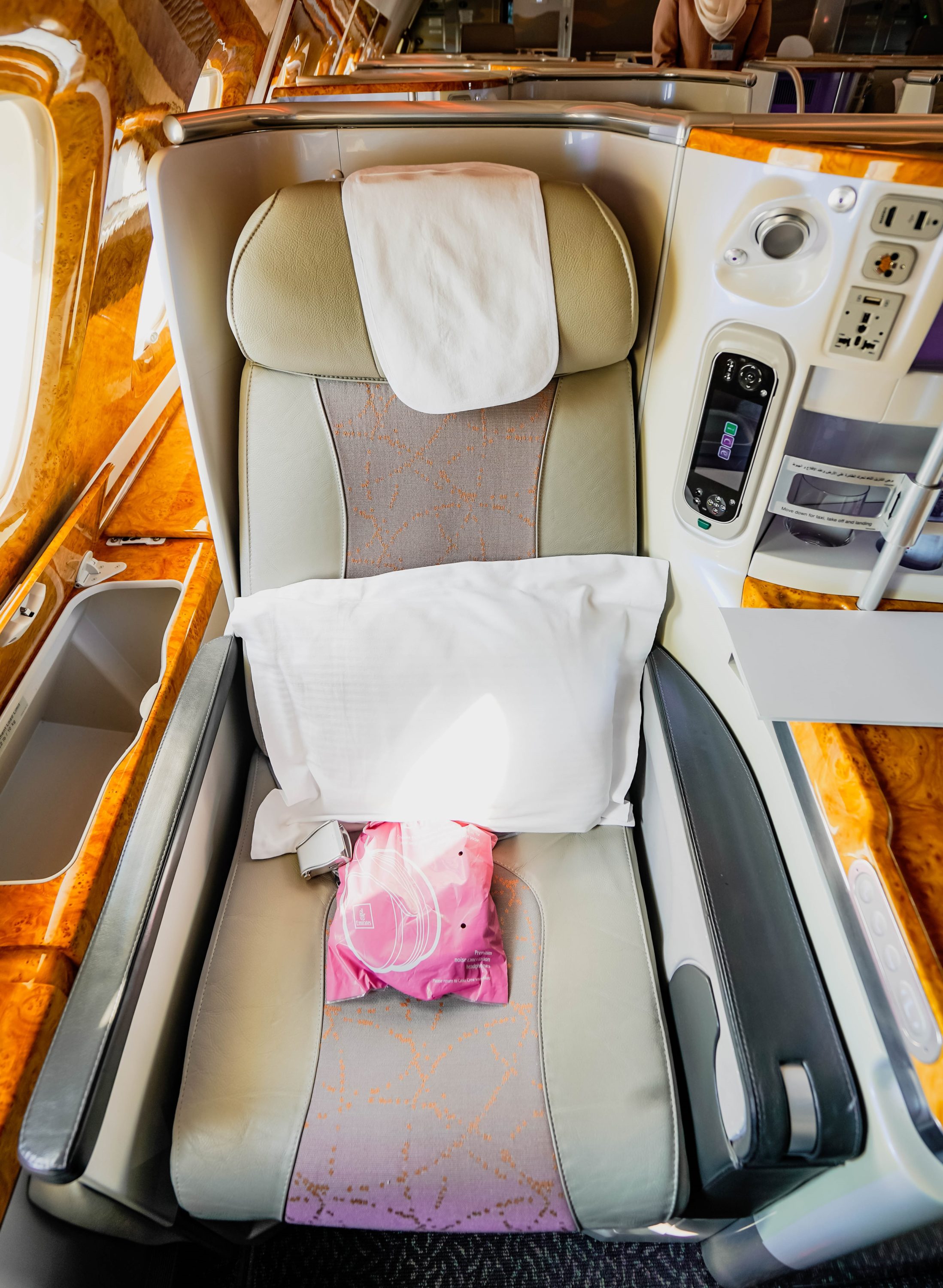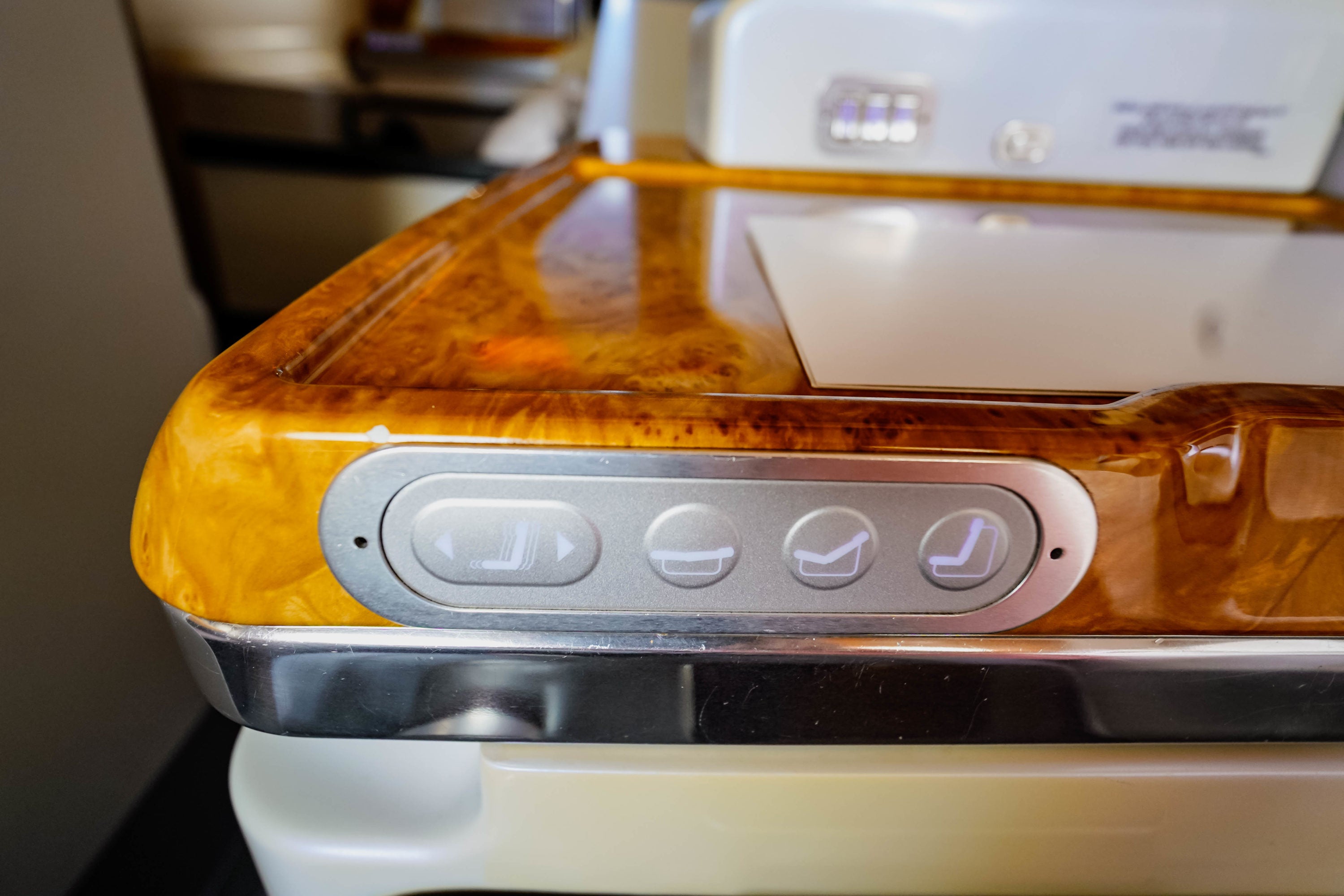 If you are one to seek total privacy, then the window seats to go for are rows A and K.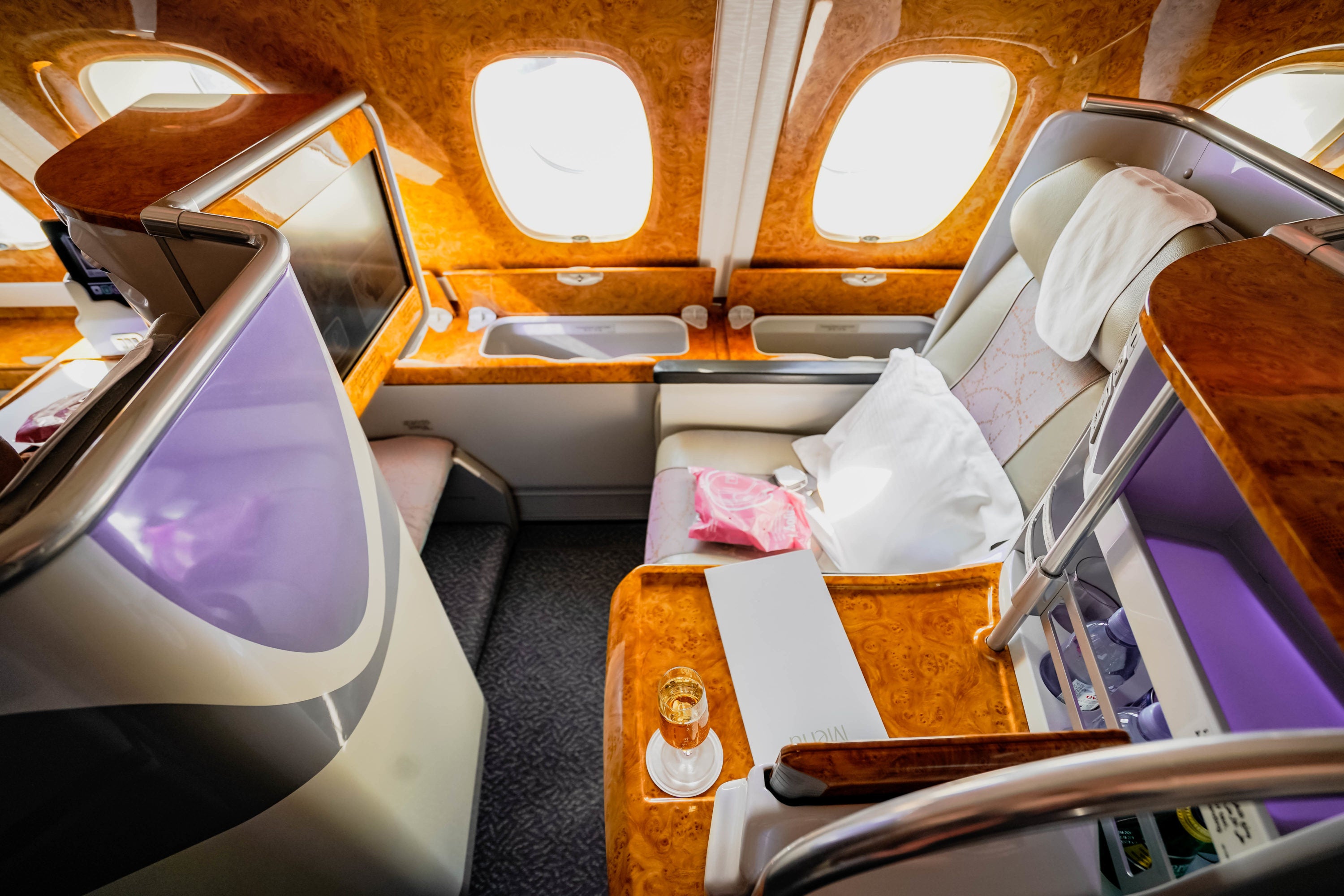 If you don't mind the hustle and bustle of flight attendants and passengers walking up and down the aisle, then you can opt for seats in side rows B and J or in middle rows D and G.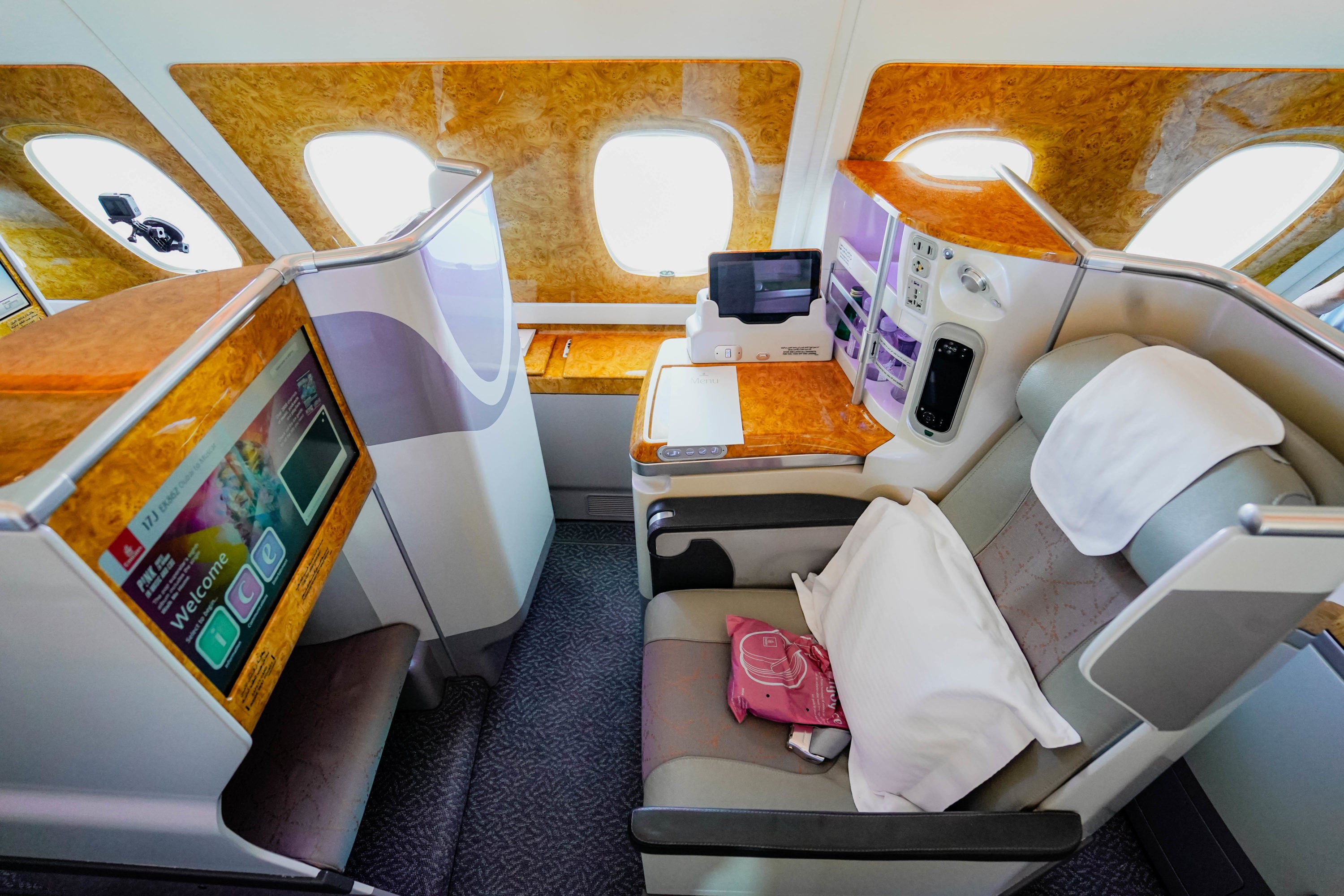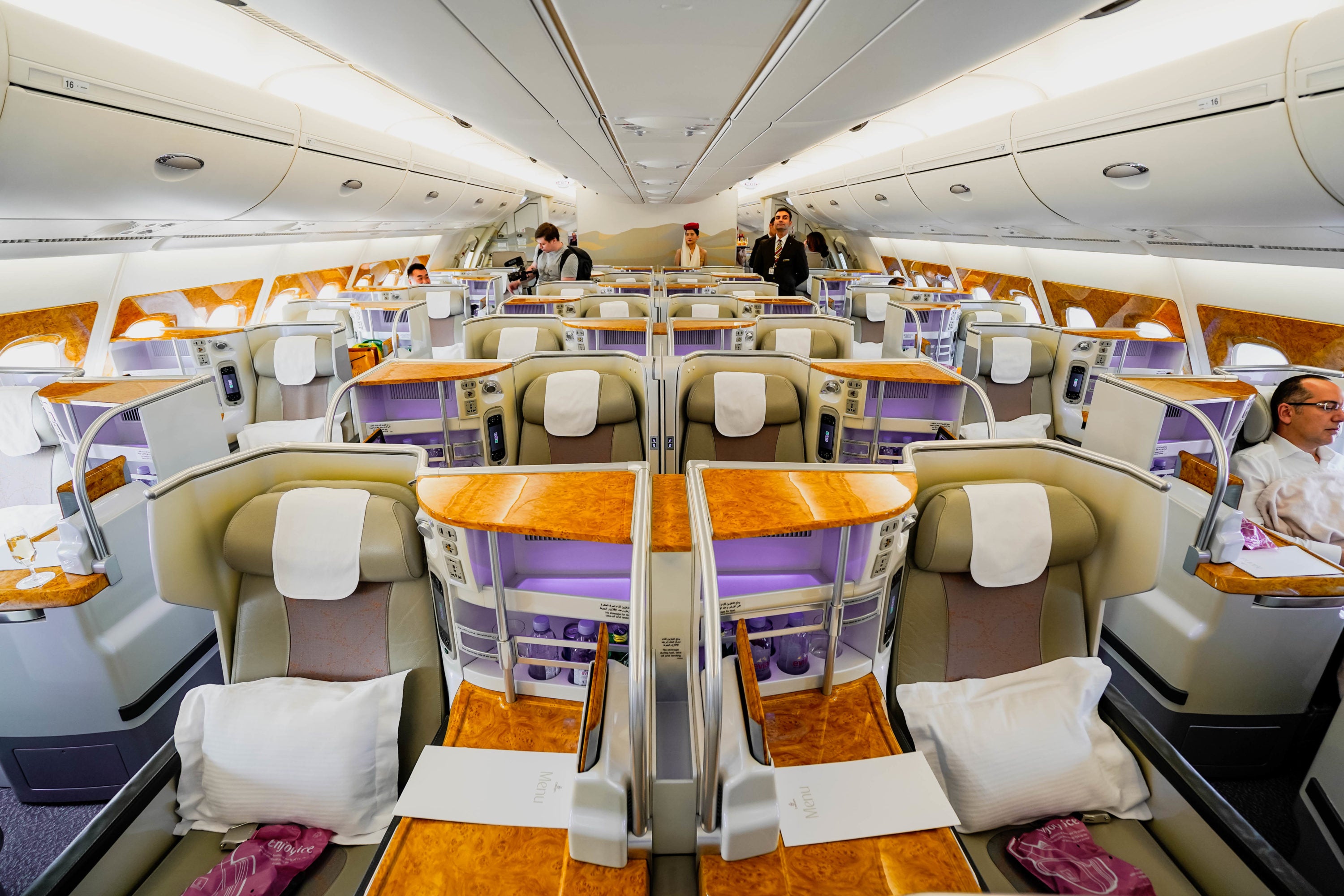 If you are traveling with a companion you would want to go for seats in E and F in the middle row.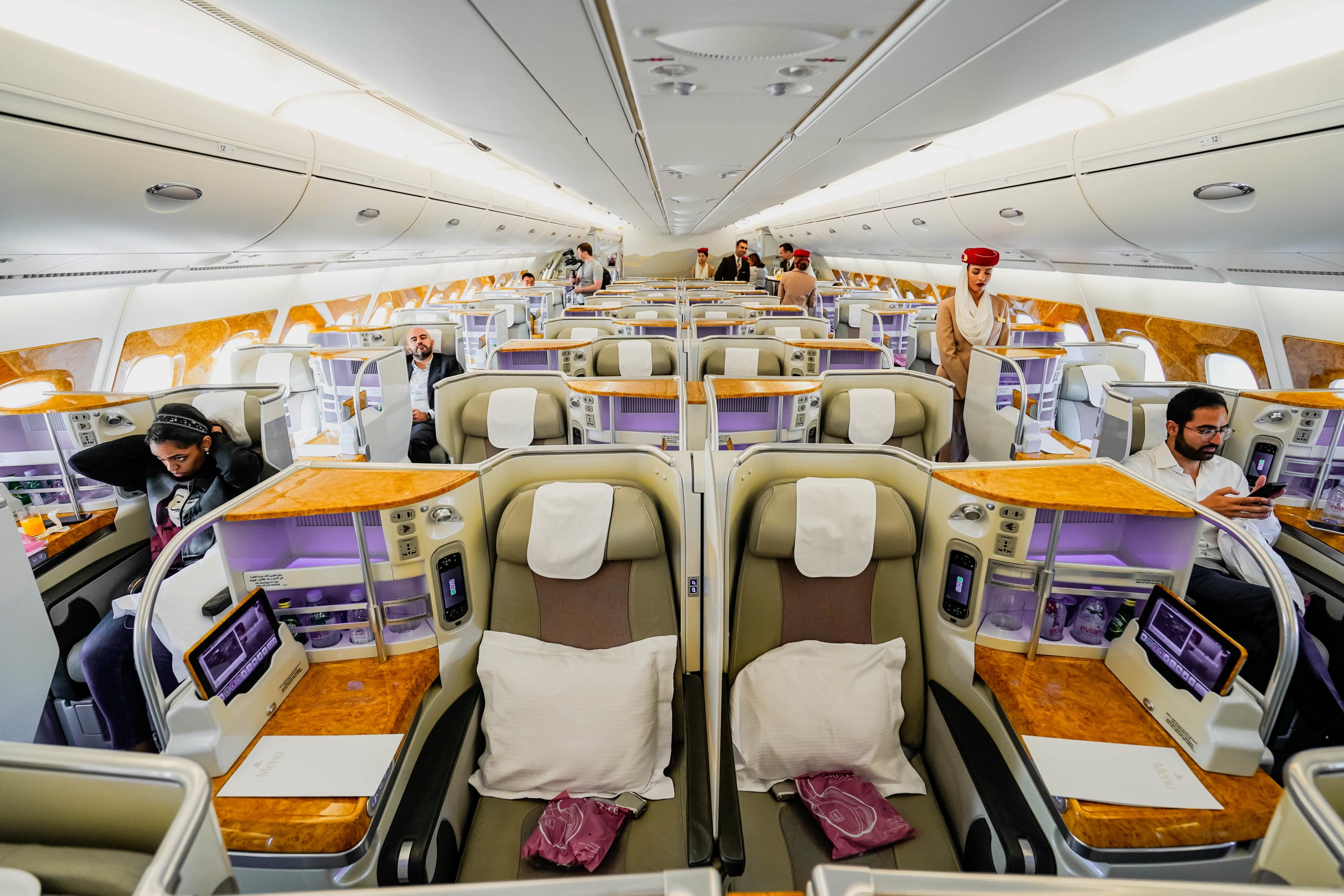 Storage
Right below the TV screen is a spacious cubby.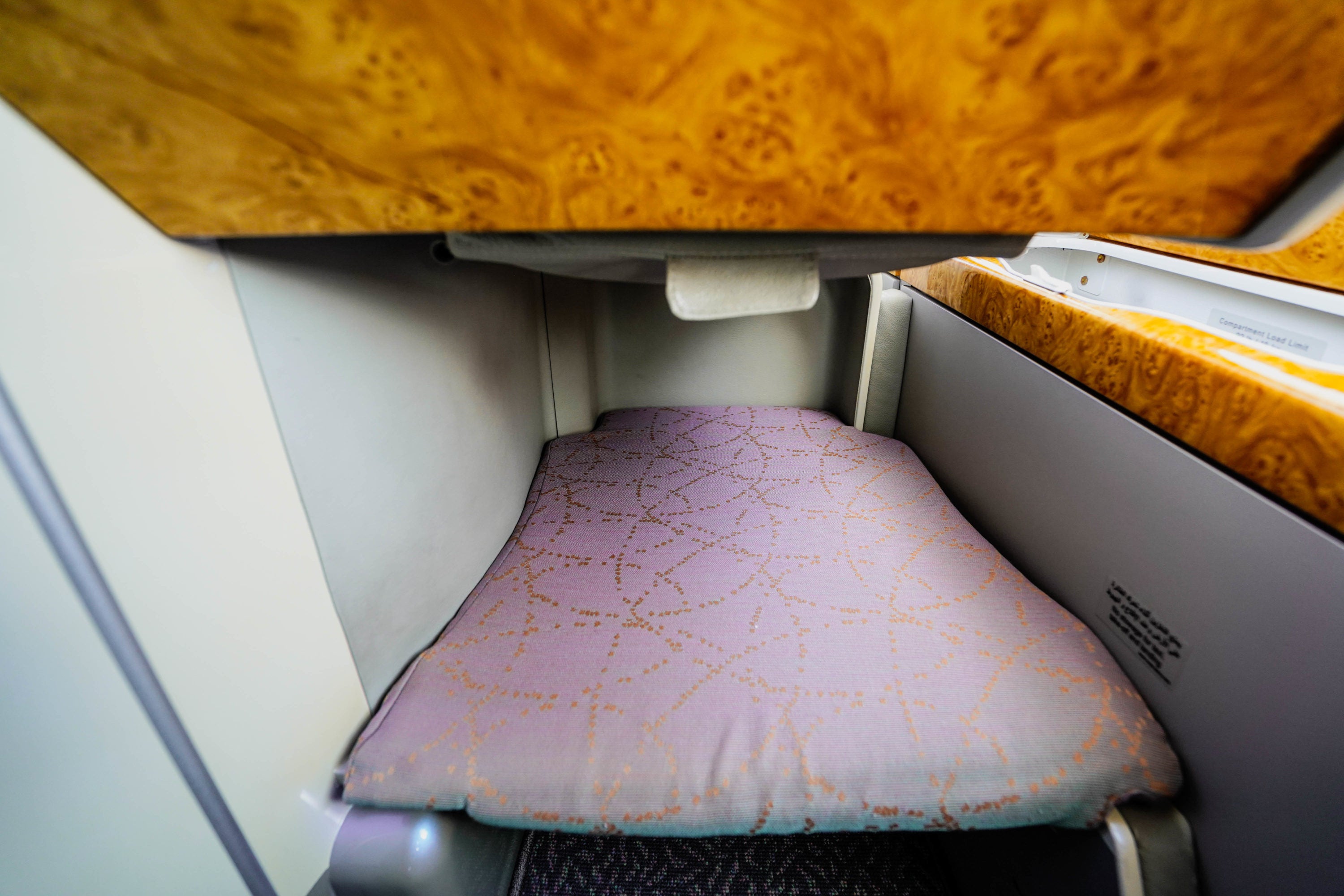 In addition to the overhead storage bins, there is a decent storage space below the cubby and there are large storage bins provided on the side that run along the aircraft frame.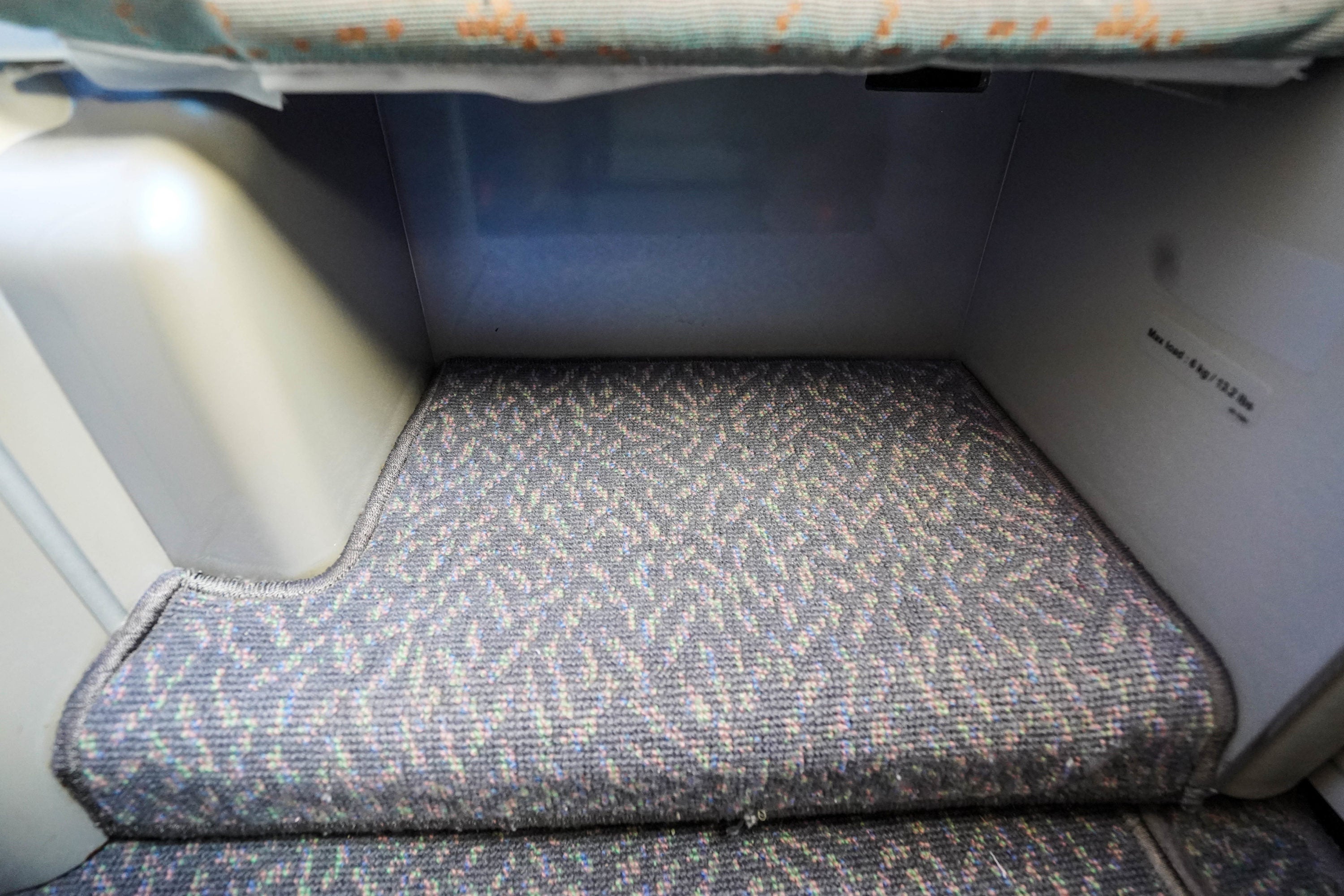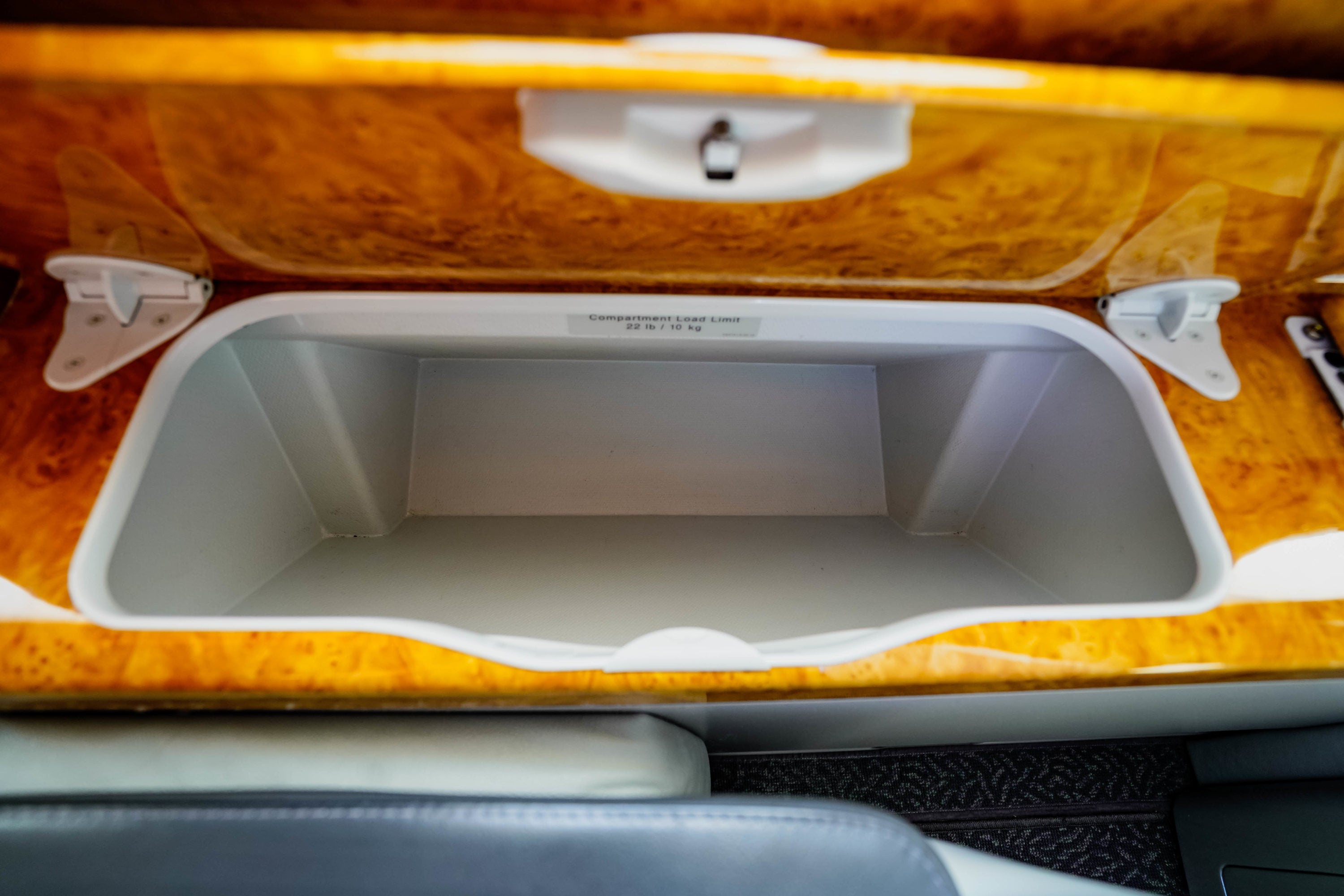 Minibar, Power Plugs, and Controls
Each seat is also equipped with a minibar, a universal power socket, USB and HDMI ports, a 13″ detachable tablet, and remote control for Emirates' award-winning ICE Entertainment system.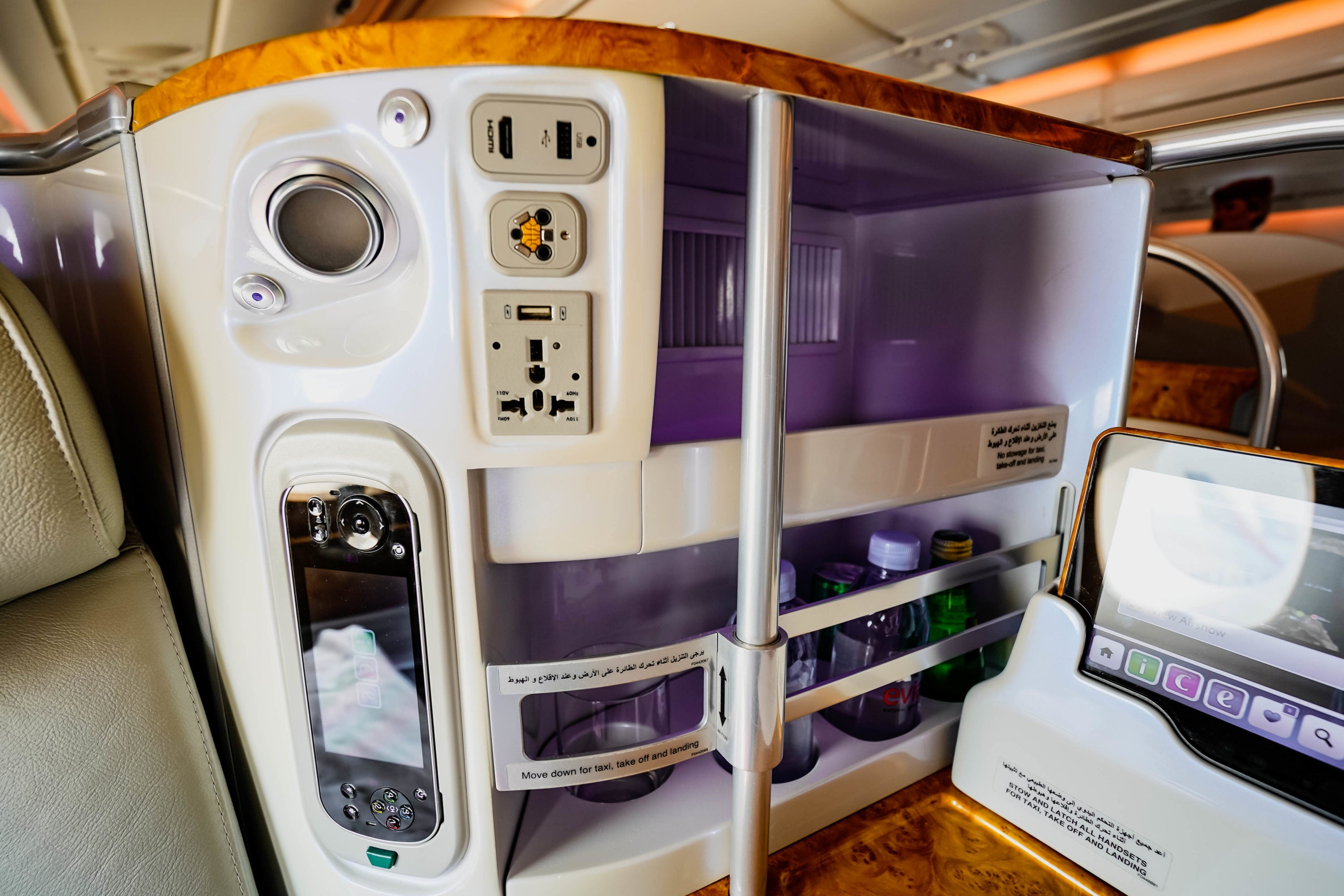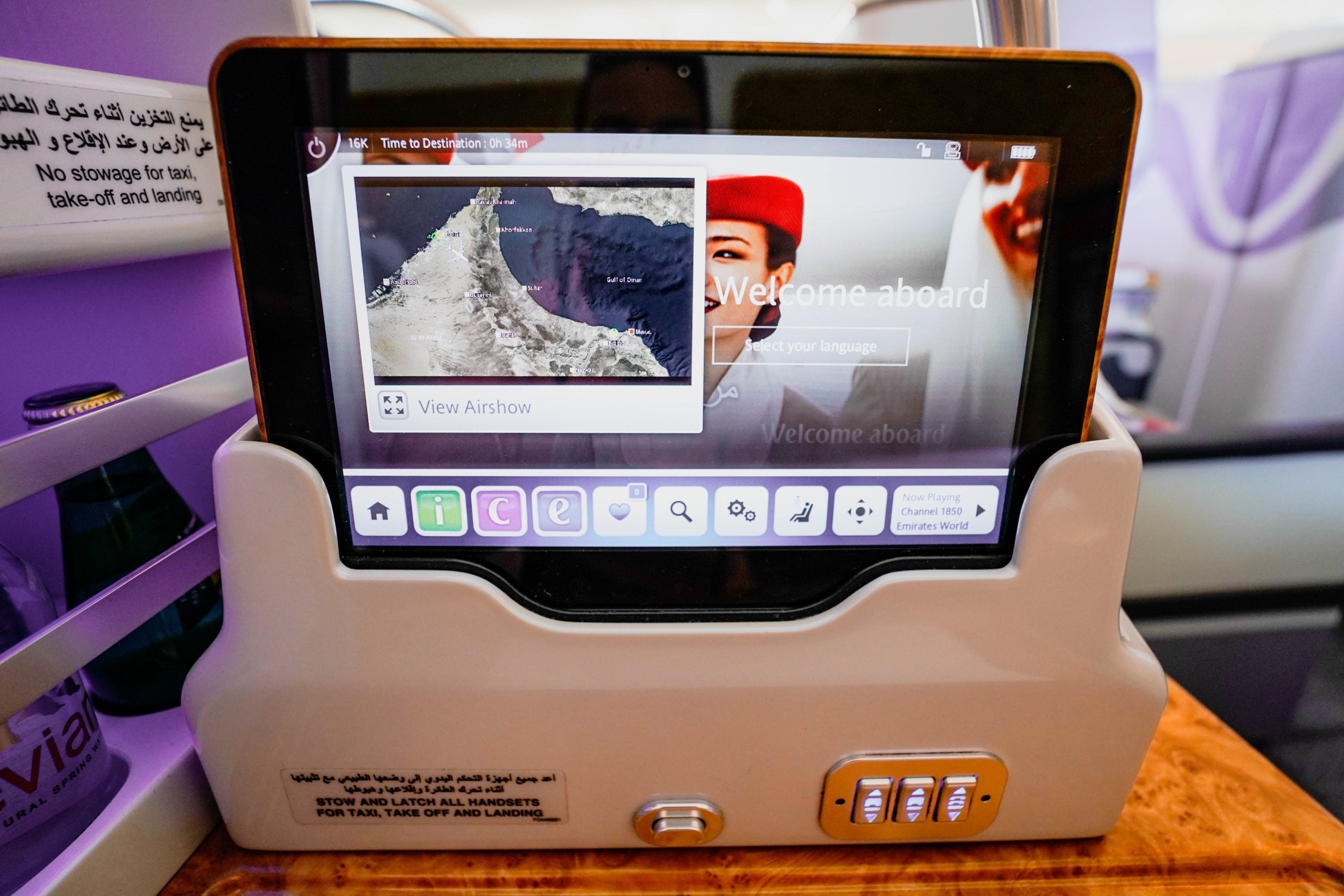 Inflight Entertainment and Wi-Fi
Emirates has one of the largest selection of movies, TV series, and music on its award-winning inflight entertainment (IFE) system called ICE. The TV monitor is a mounted 23″ touchscreen that can be controlled by the detachable 13″ wireless tablet, the remote control mounted on the minibar shell, and the TV touchscreen itself. With over 4,000 channels of entertainment on offer, who needs Netflix?
However, 40 minutes is too short to catch a movie but you can definitely catch an episode of a TV series.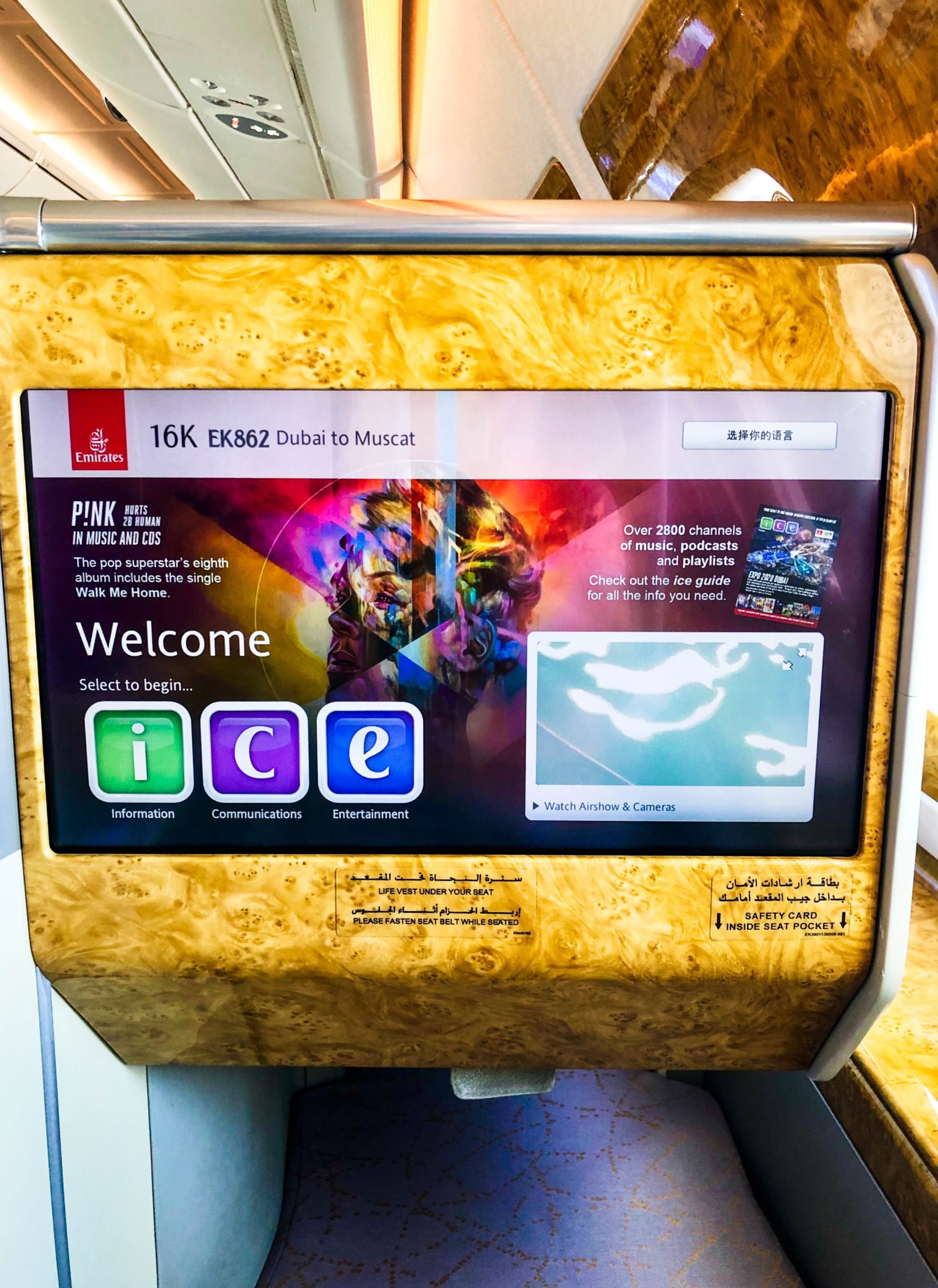 The 13″ detachable tablet controls mostly everything including seat adjustment, inflight entertainment system, and window blinds. Additionally, the tablet displays the airshow and flight information.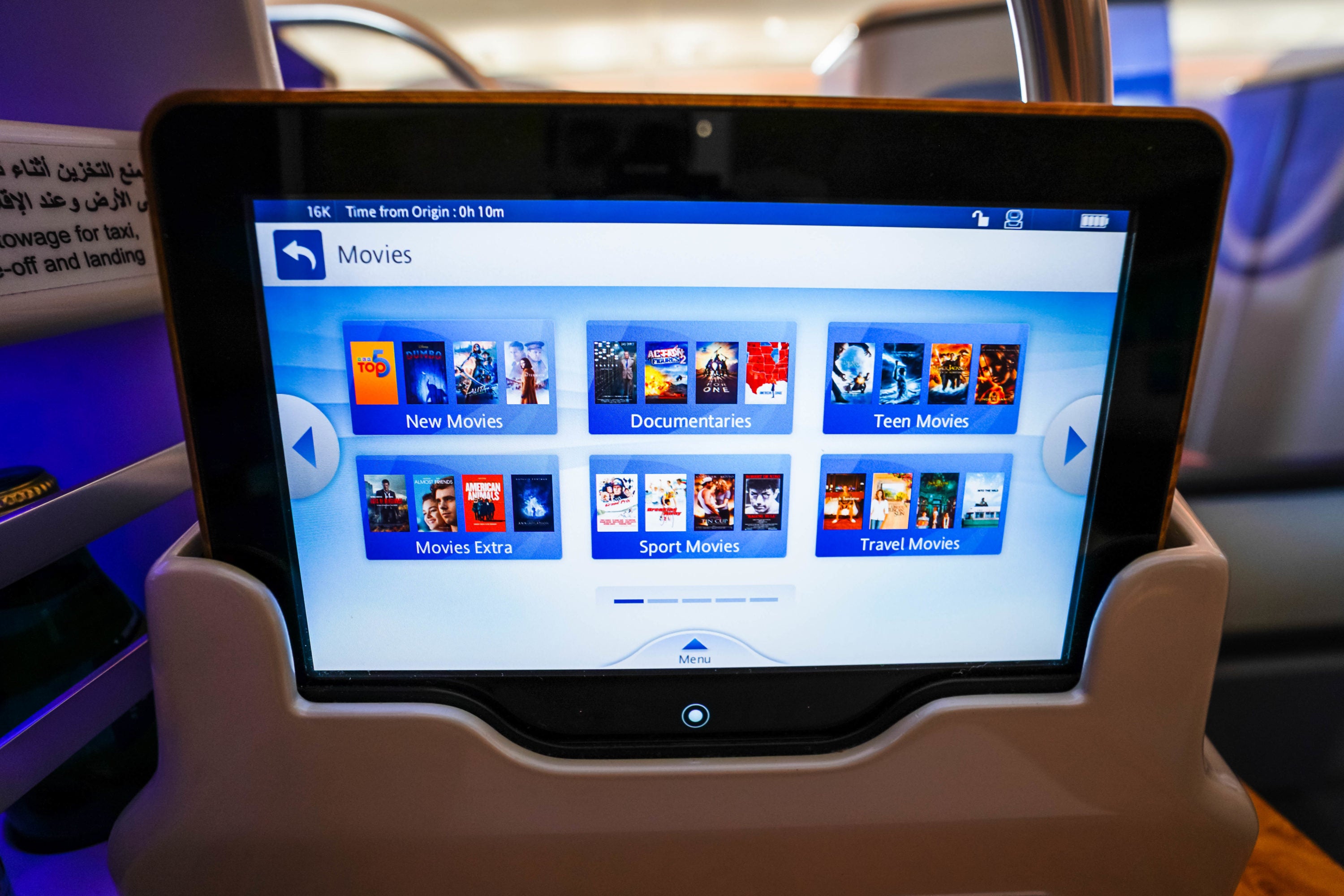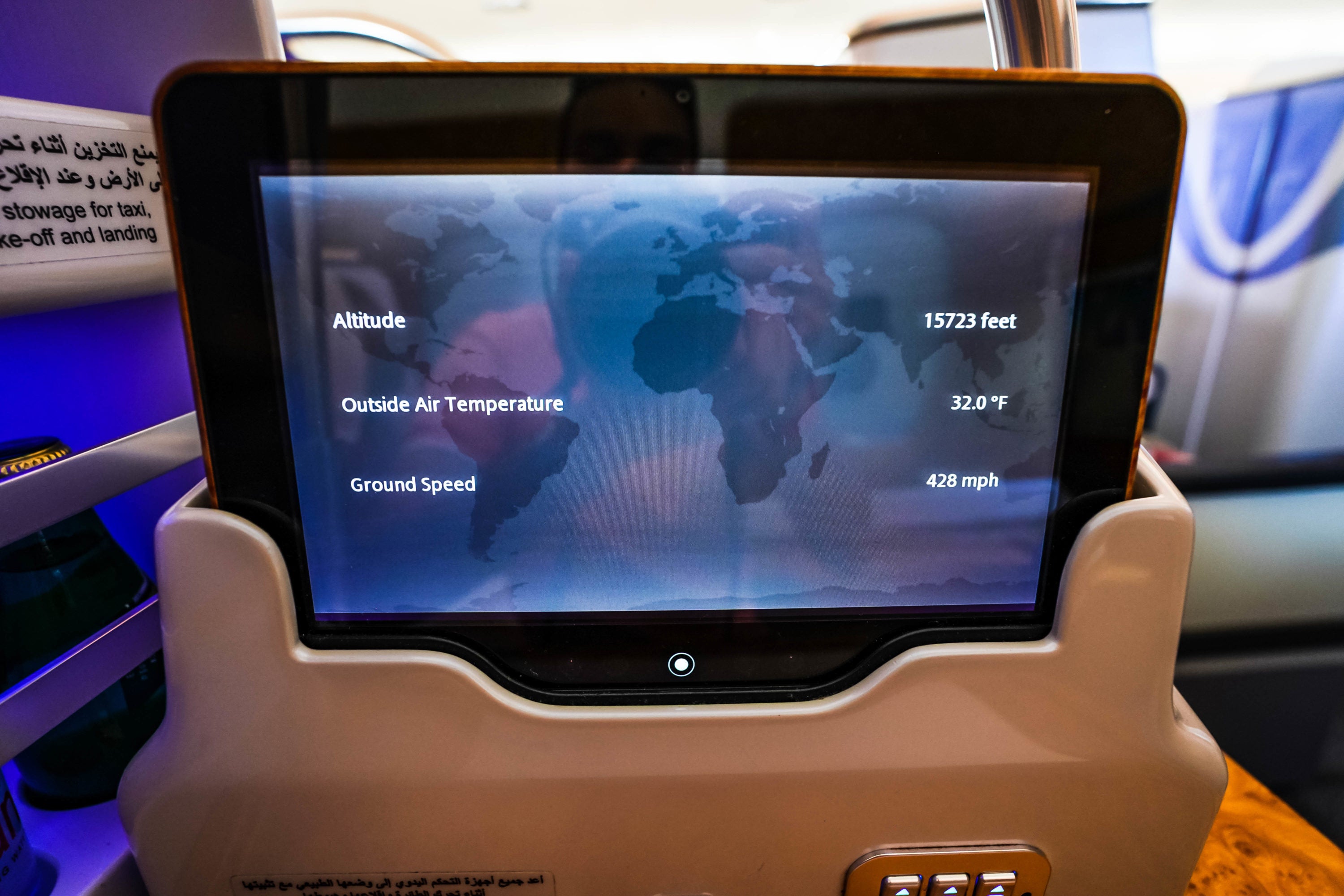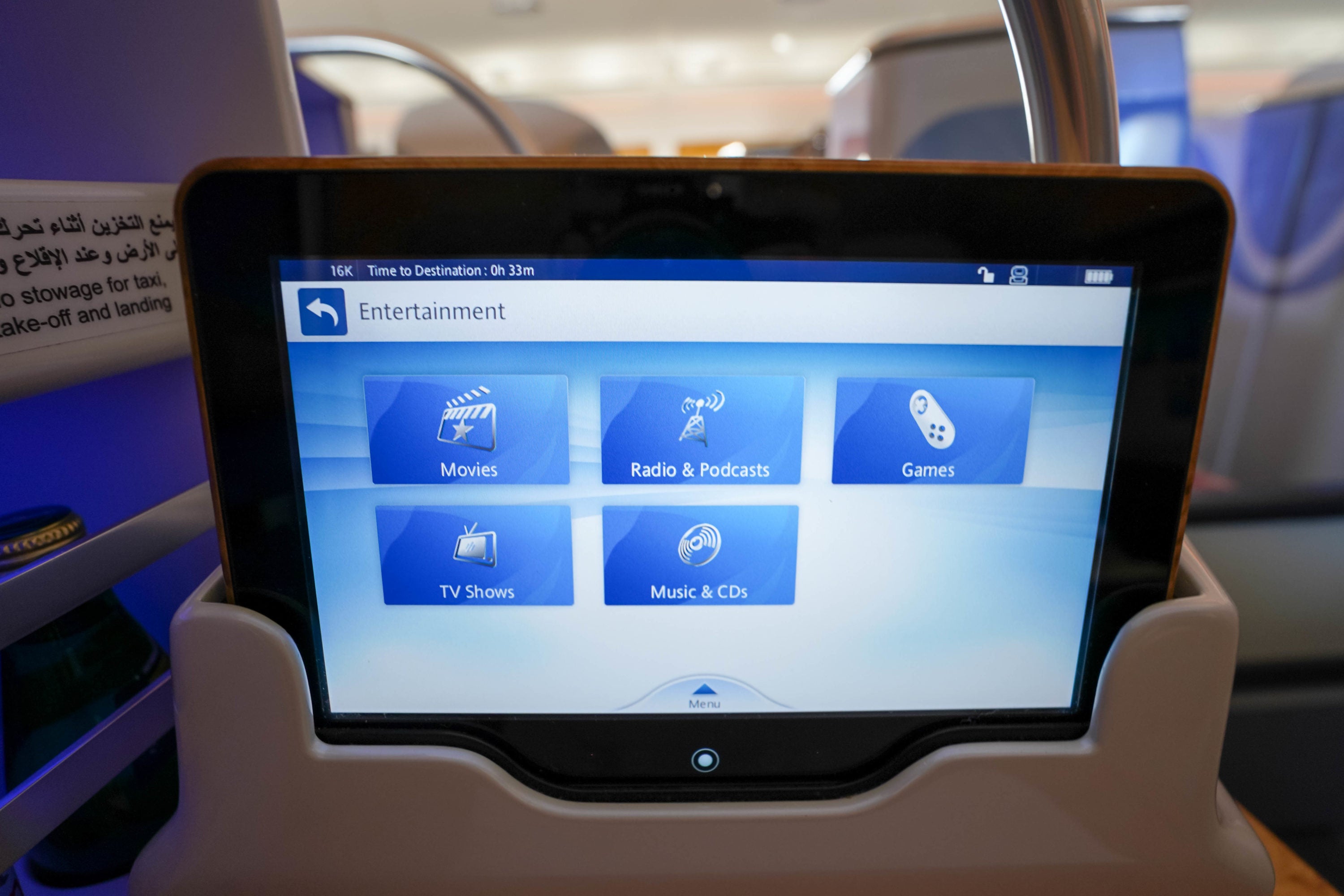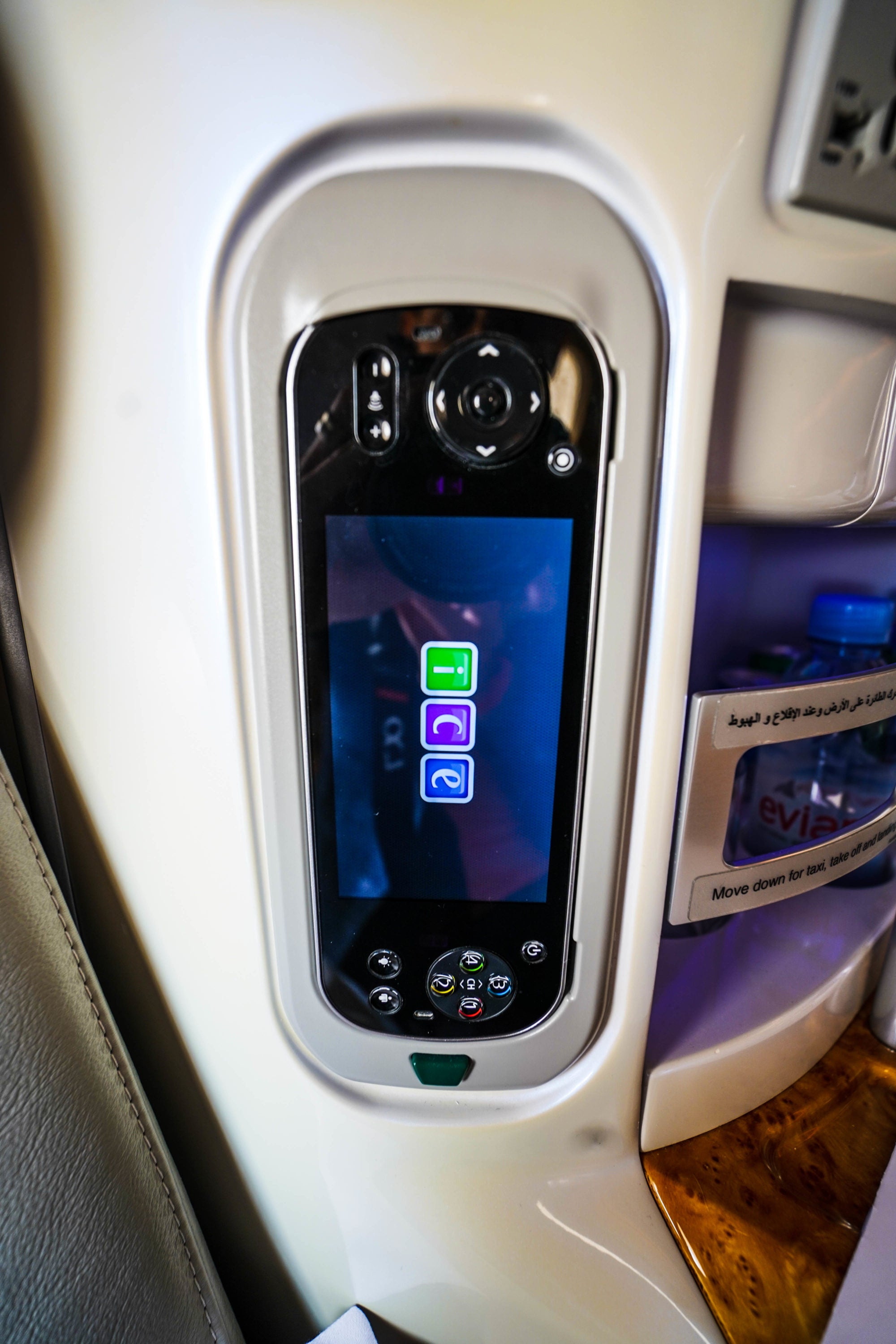 To complement the IFE system, Emirates provides noise-canceling headphones.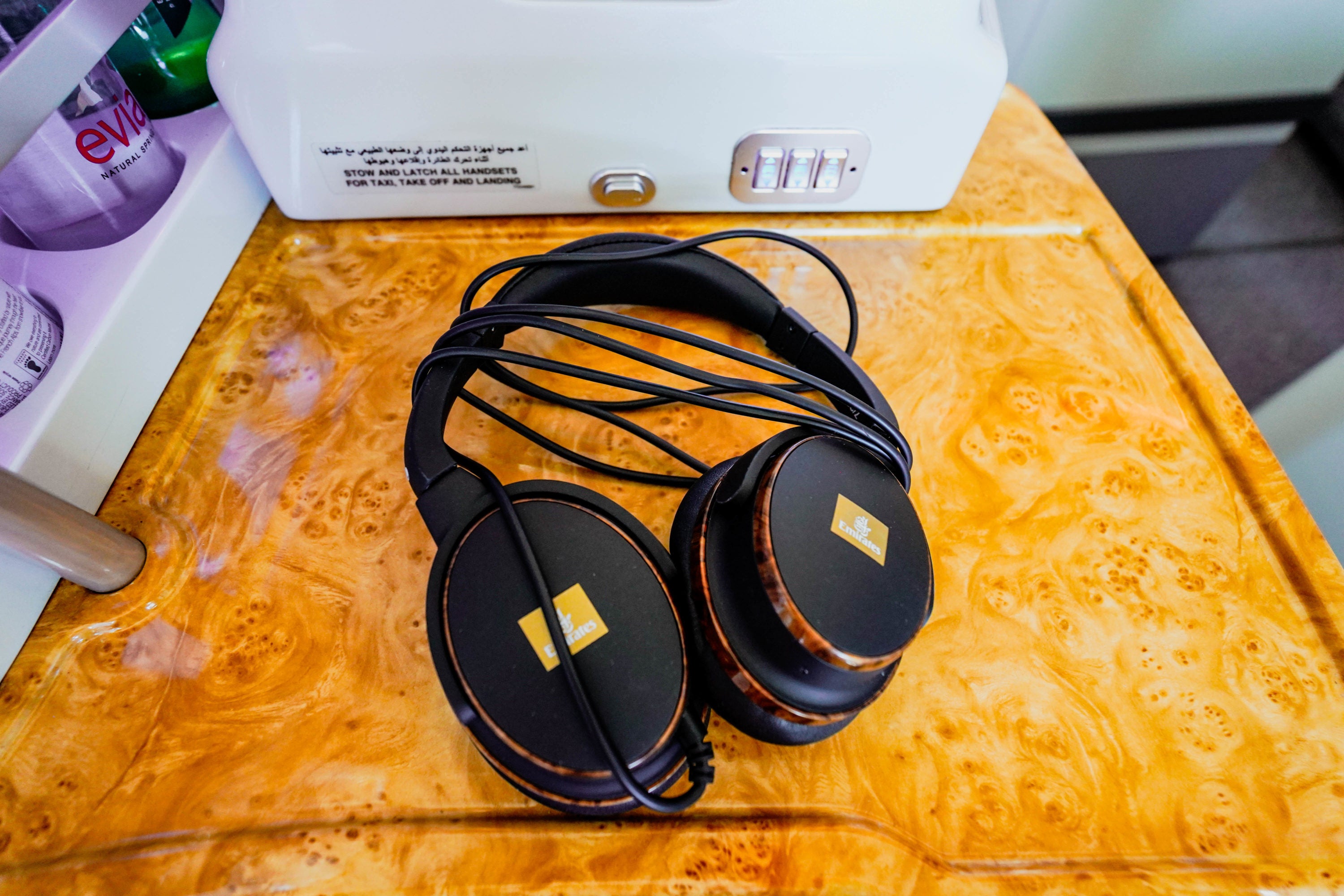 Being an Emirates Skywards member, I was able to take advantage of the free internet for the entire duration of the flight by punching in my frequent flyer number attached to the booking. The speed was acceptable to receive and send emails, as well as browse through social media.
Service
On the way to Muscat, the breakfast service commenced immediately once we reached cruising altitude. Breakfast was a selection of cold cuts, cheese, and fresh fruits along with tea or coffee.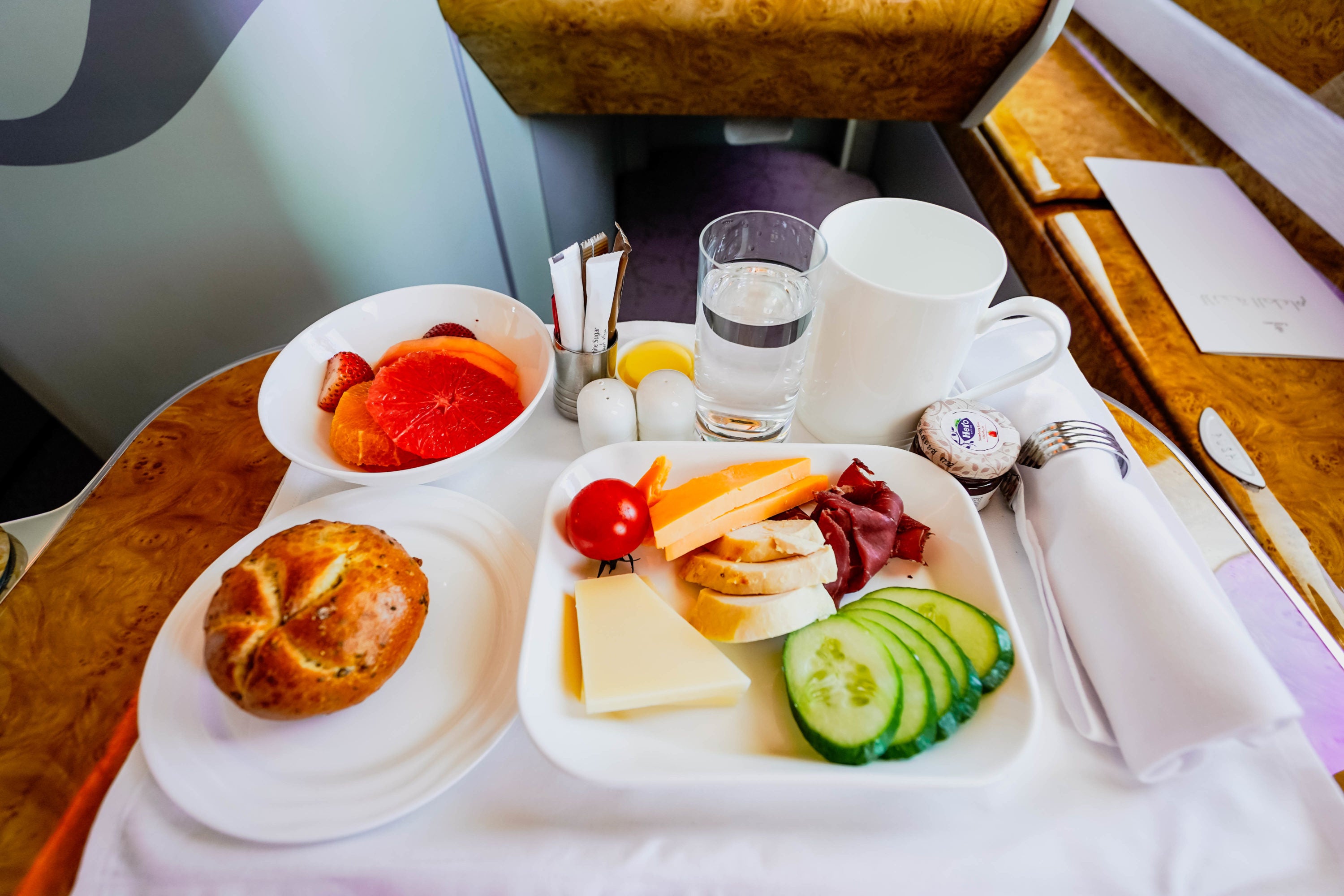 On the way back to Dubai, we were offered a light snack of grilled chicken and cold salad.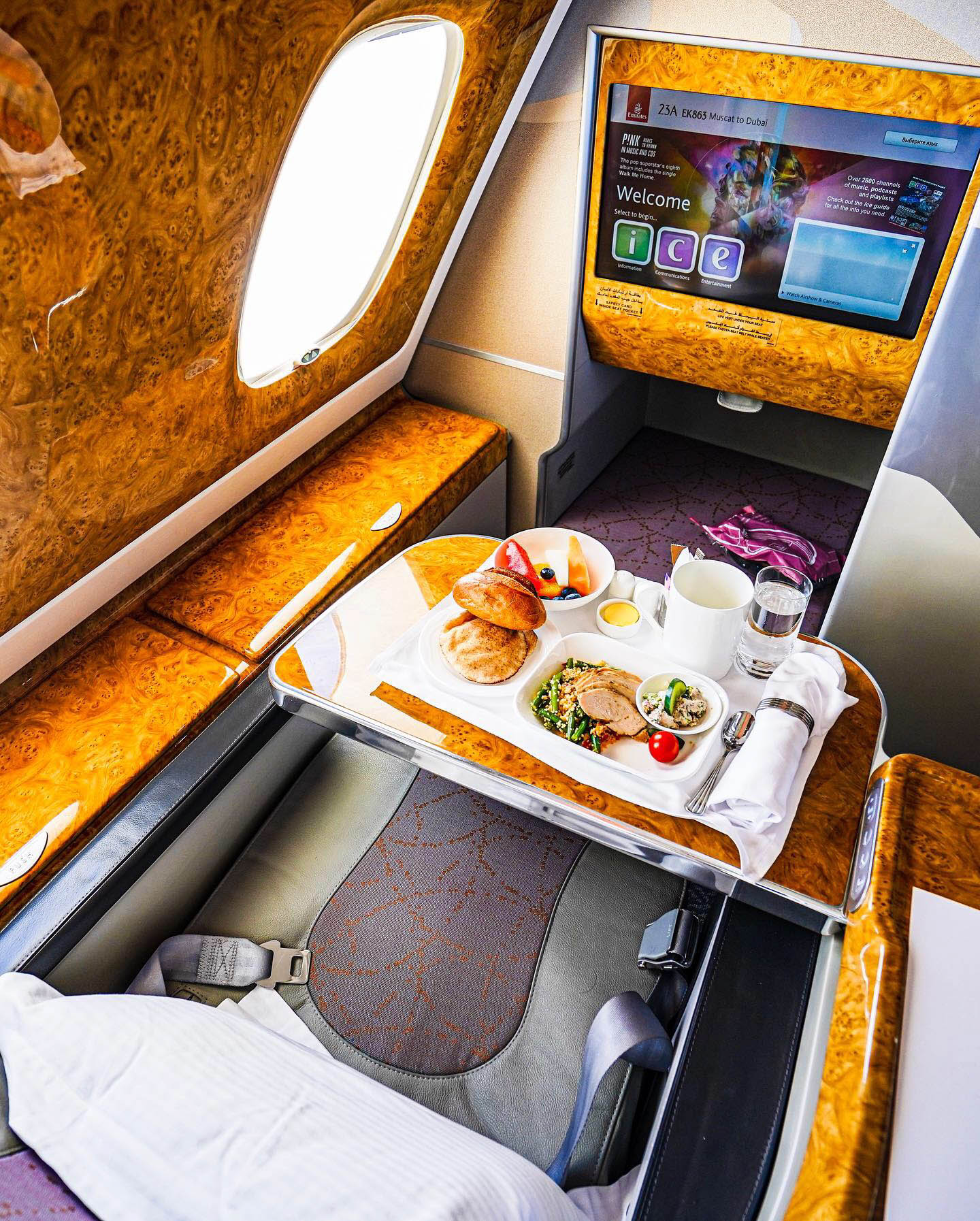 The crew members onboard were superb and handled the service very well considering the paucity of time.
At Muscat International Airport
Before we knew it, it was time to land and upon touch down in Muscat, we were greeted by a water cannon salute.
Since I was returning back to Dubai on the same flight along with fellow Avgeeks, Sam and Lays, we decided to hang back in the aircraft after all the passengers disembarked. To our total surprise, the Emirates team came up with a very kind gesture of handing us a Certificate of Appreciation for being one of the first passengers on this scheduled A380 service between Dubai and Muscat.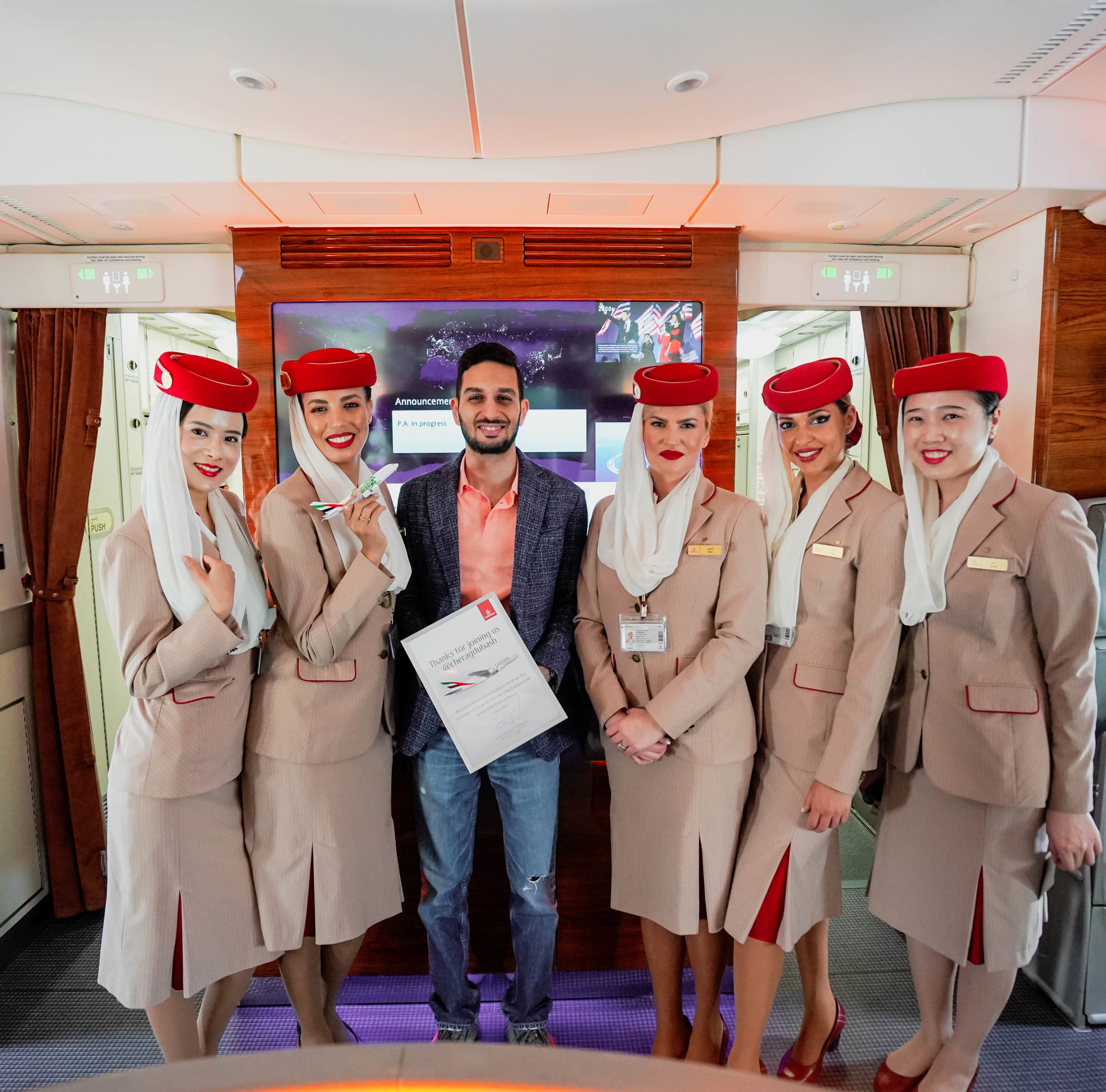 We were then invited to join the crew for a cake cutting ceremony to commemorate this momentous occasion that was attended by officials from Emirates and Muscat International Airport followed by short speeches from officials on both sides.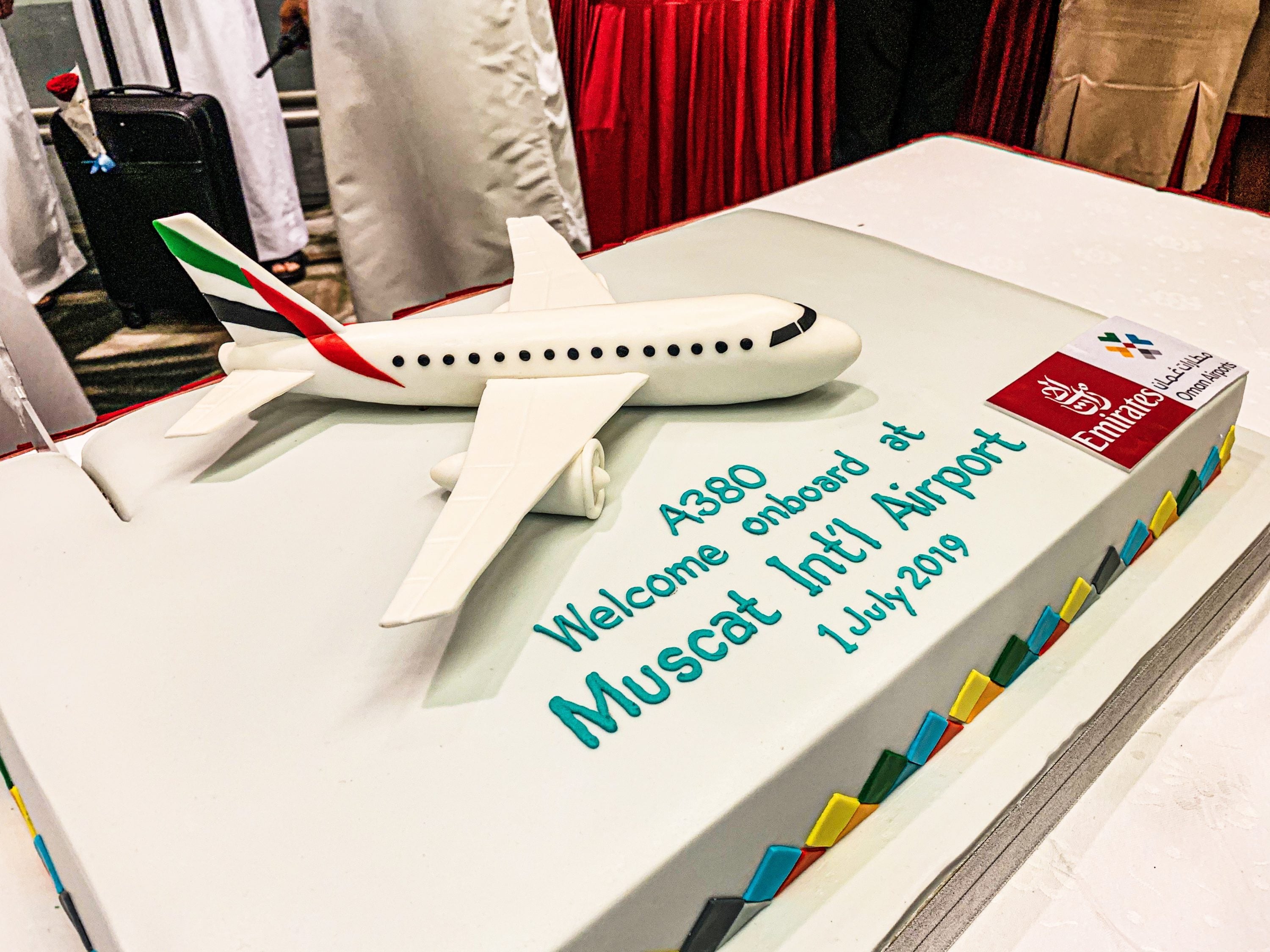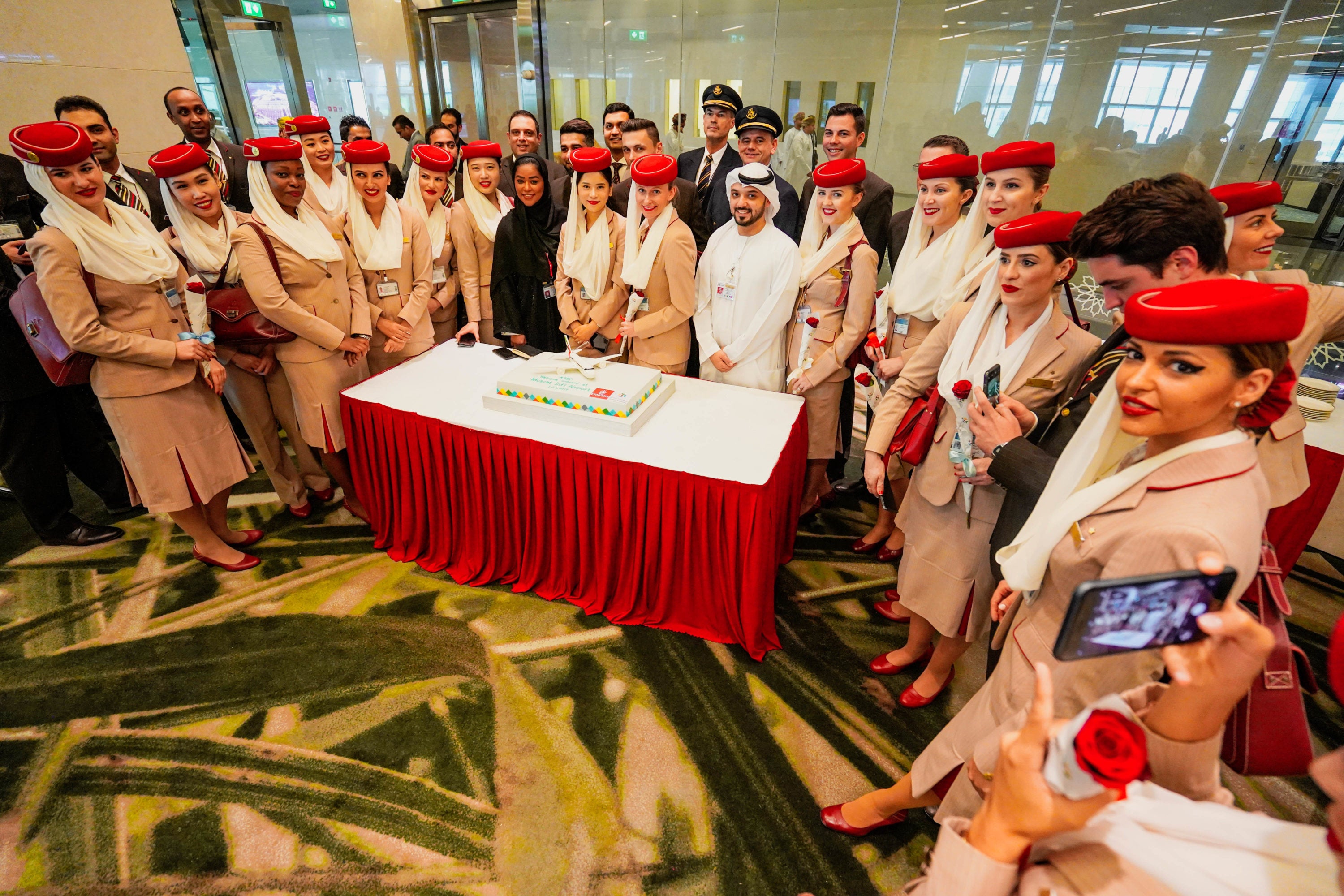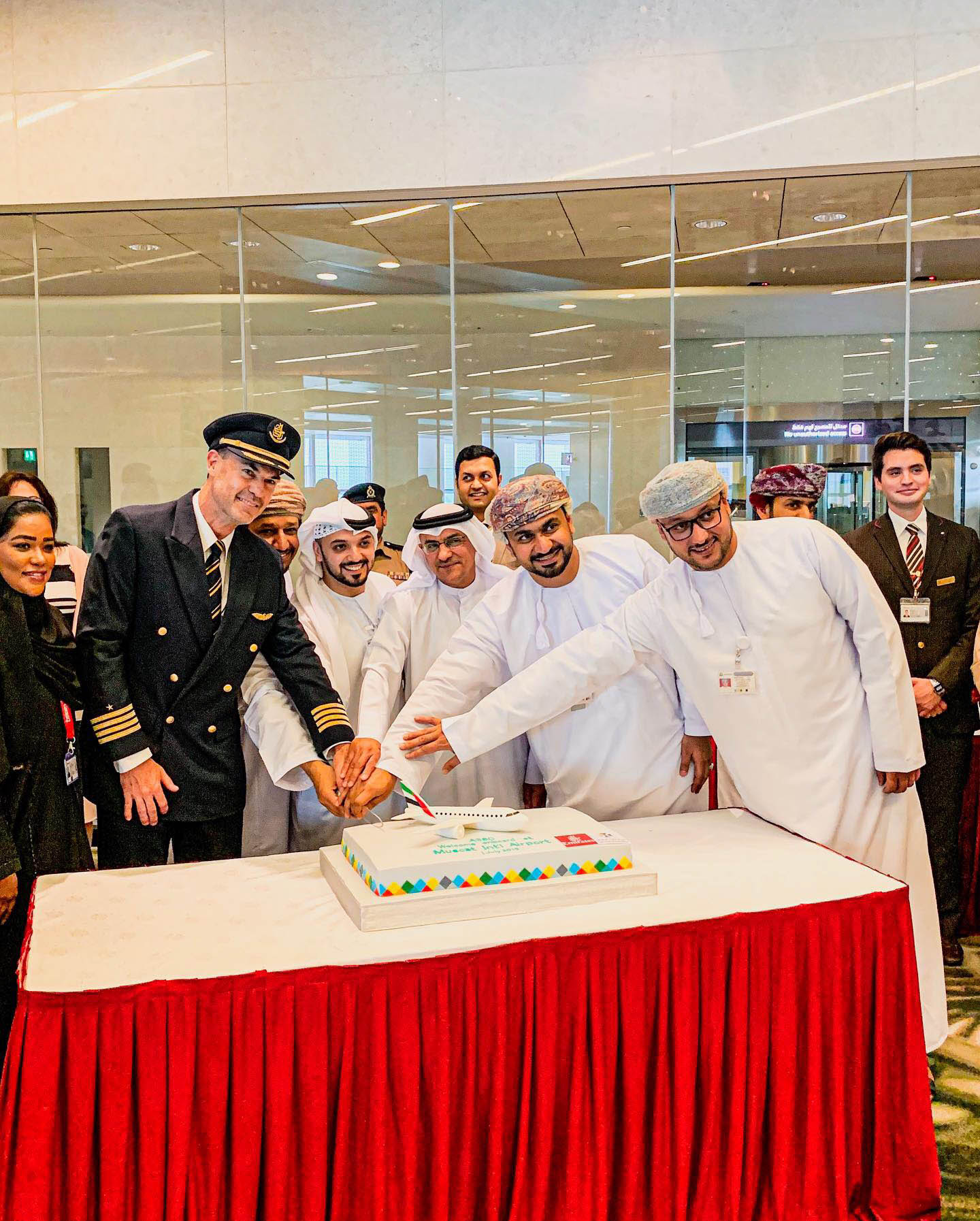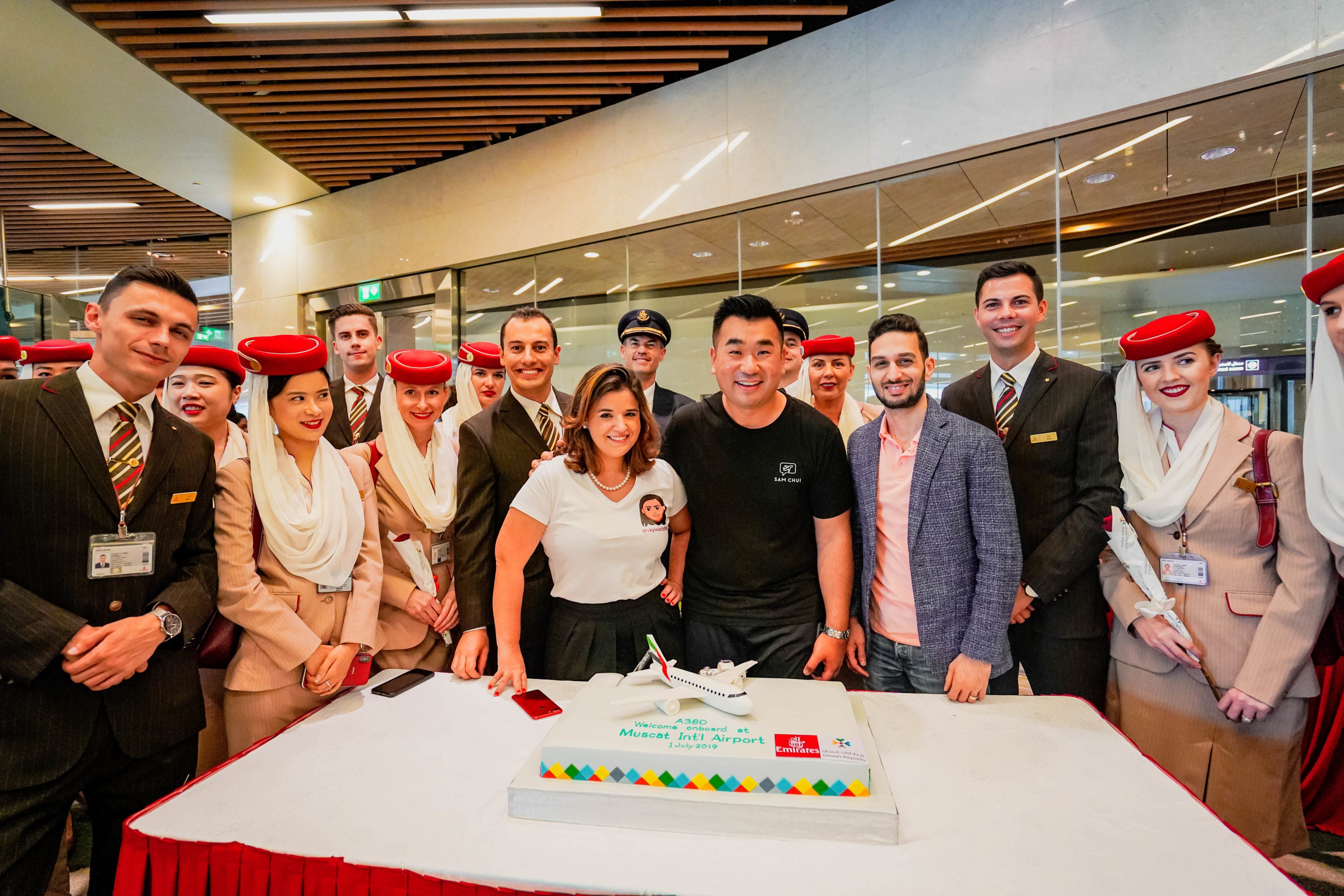 And before we knew, it was time to head back to Dubai.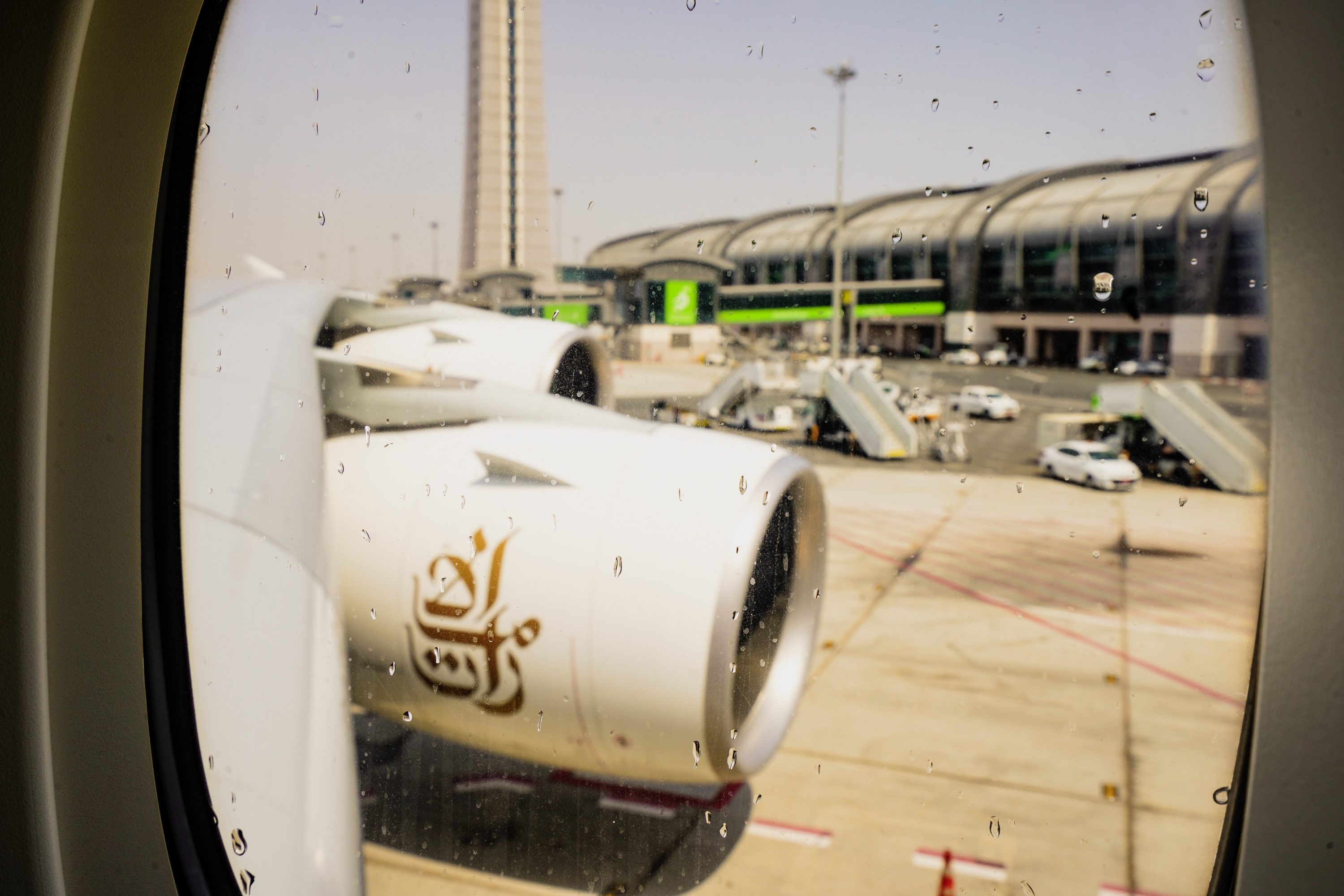 On the way back to Dubai, I opted for seat 23A, which is the first row in the rear Business Class cabin.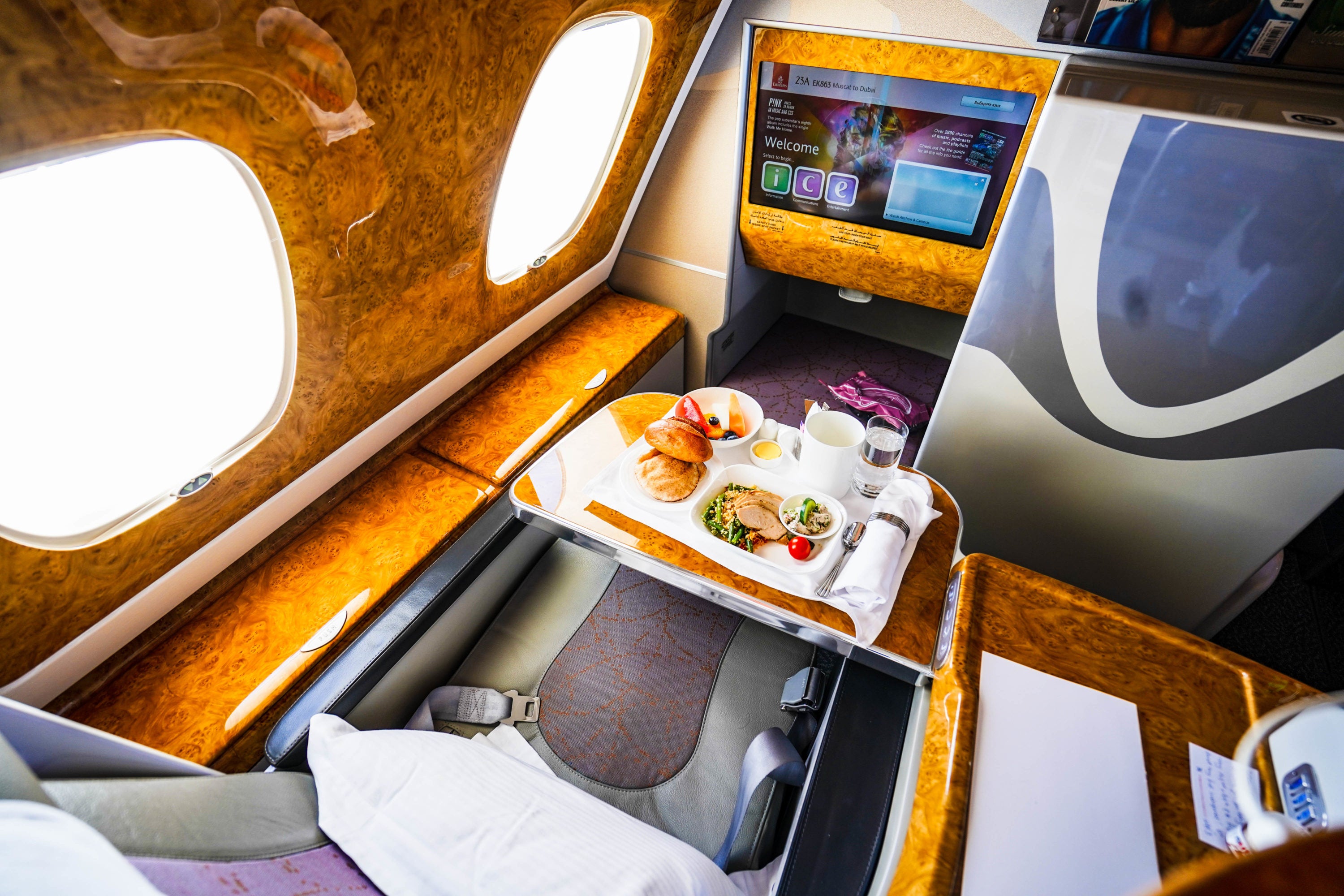 However, I mostly hung out at the onboard bar and lounge at the rear of the upper deck interacting with the crew, fellow Avgeeks, and passengers and captured some Polaroid memories.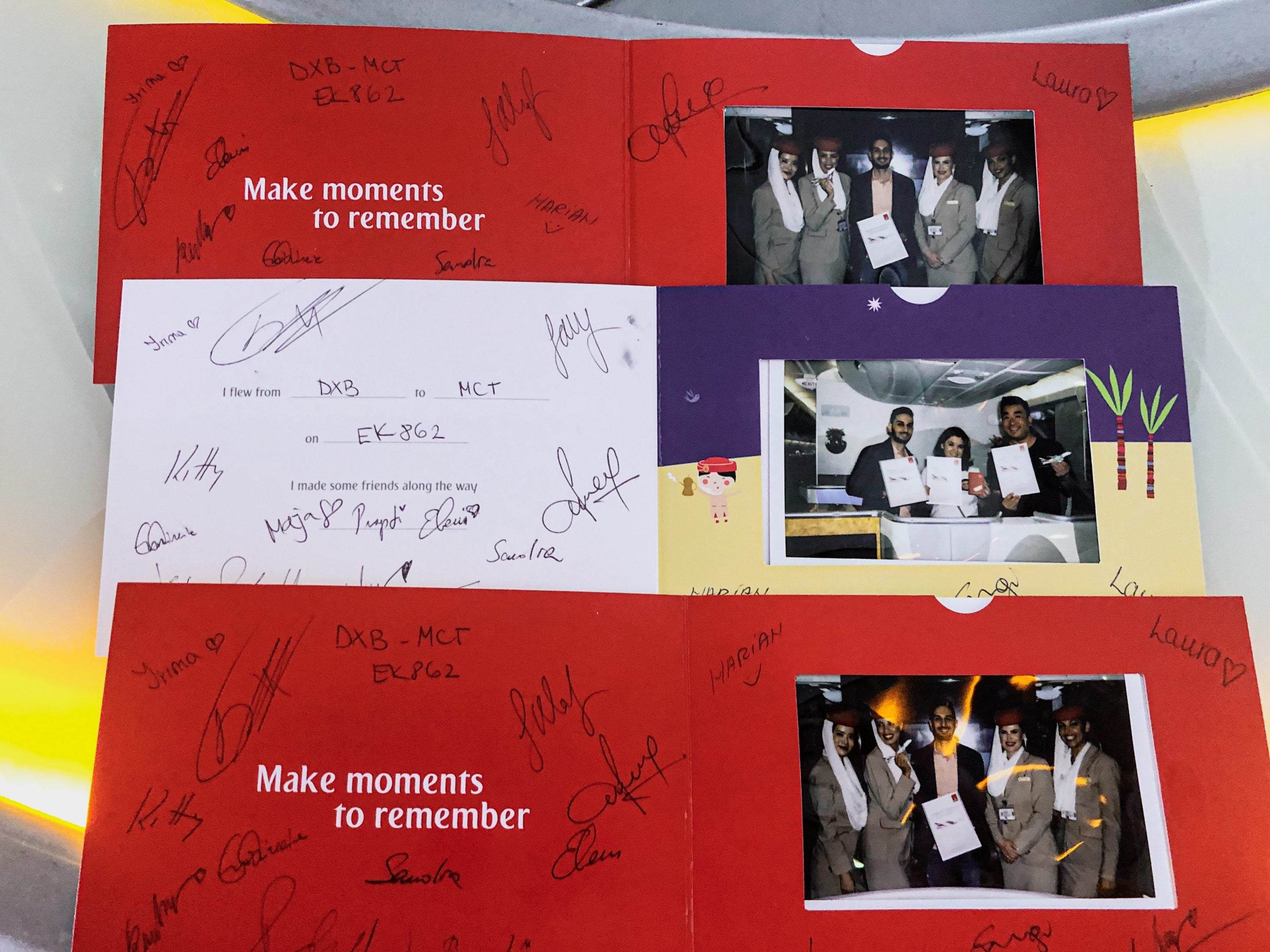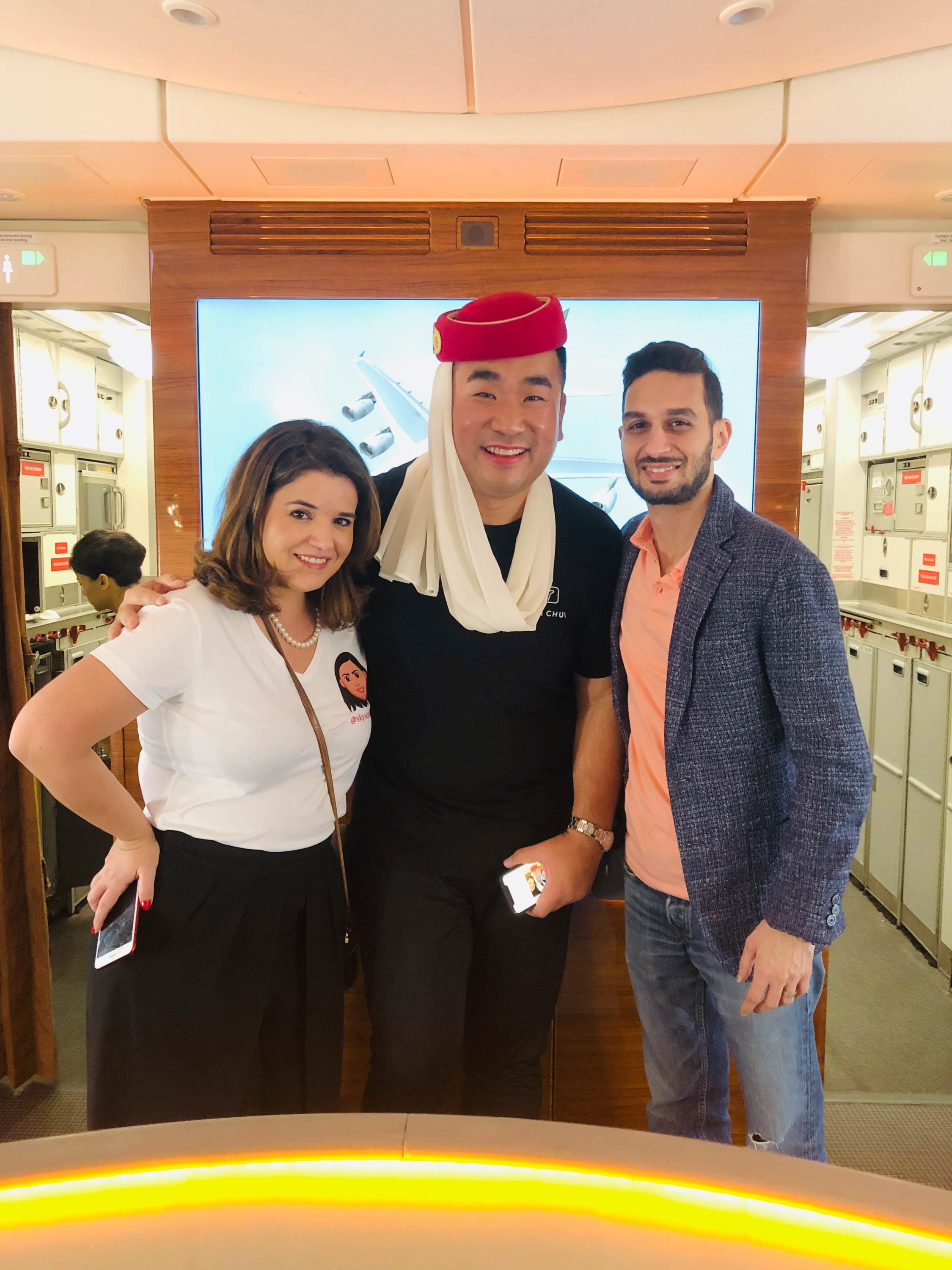 Final Thoughts
It was great to be part of another "Inaugural" and this momentous occasion between UAE and Oman.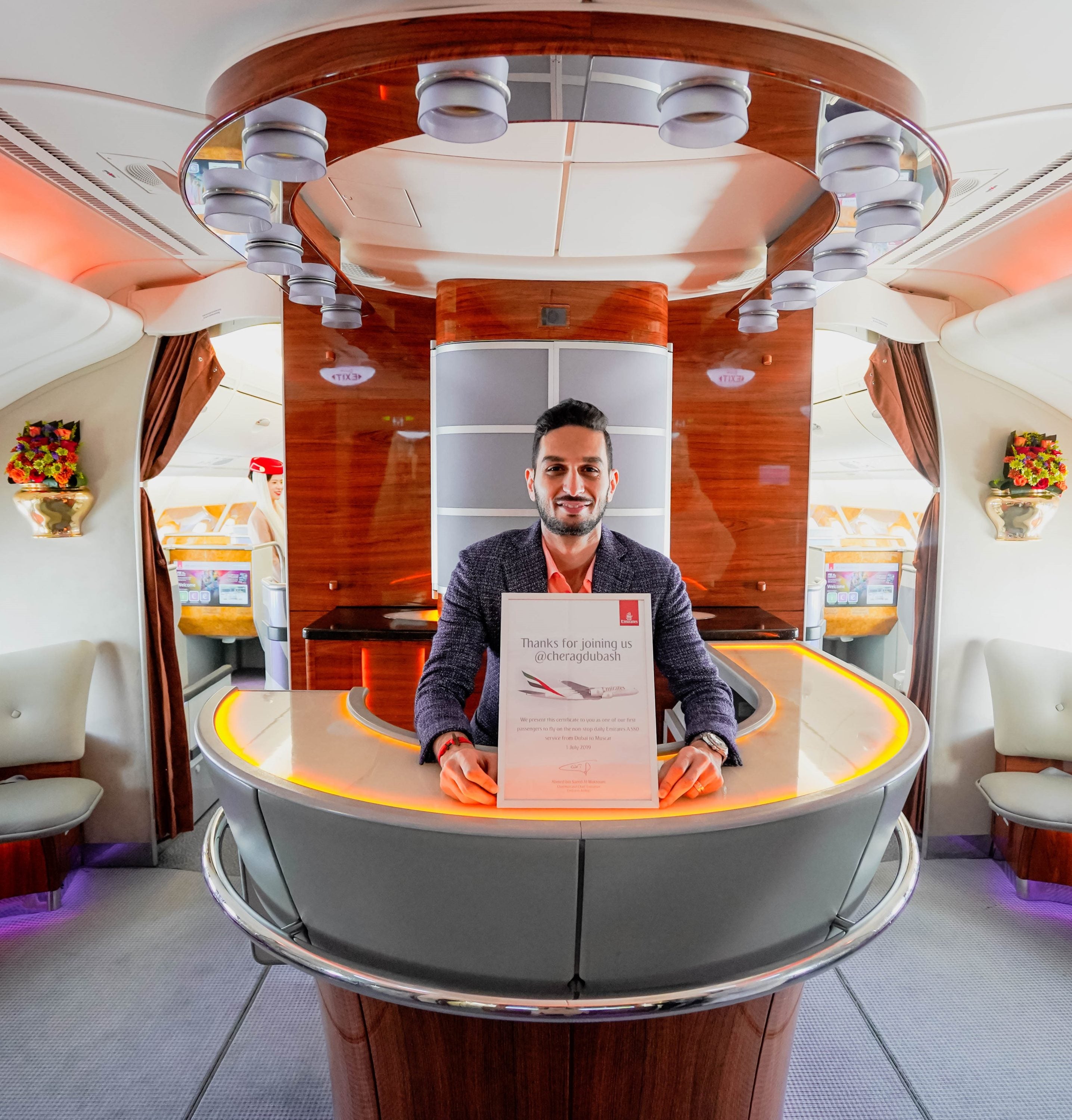 I have been flying with Emirates coming up on 15 years now and have always had a great experience.
Last year, I flew on Emirates' Game Changer First Class on the 777-300ER and was completely blown away. In my opinion, that is the best first class out there whilst traveling solo.
Even on a 40-minute flight, the crew members ensured they delivered an excellent service and who would have thought that you could fly an A380 with a fantastic hard and soft product on this short haul.
Emirates has a knack of pushing the envelope and I am looking forward to seeing what's next.