Qantas Boeing 747 Business Class Review [HND to SYD]
Airline: Qantas Airways (QF)
Aircraft: Boeing 747 (VH-OEH)
Flight #: QF26
Route: Tokyo-Haneda Airport (HND) > Sydney Airport (SYD)
Date: September 6, 2019
Duration: 9hrs 30min
Cabin & Layout: Business Class, 58-seats, 2-3-2 and 2-2 configuration
Seat(s): 6K
Miles Used: None
Typical Retail Cost: $2,600 (AU$3,800) per person one-way
Introduction
This review focuses on the return flight from Tokyo to Sydney that follows this Qantas 747 Premium Economy review.
Booking Qantas Business Class
While all my travels are usually self-funded, these return flights between Australia and Japan were paid for by a business supplier that I work with. They booked Qantas Premium Economy for the Sydney to Tokyo-Haneda flight, which is currently served by a Qantas 747.
During the exciting and exhausting week in Japan for work, I had been thinking about how much I would need a good sleep on the way home to Sydney. So, I reached out to the travel management company to ask how much an upgrade to business class would be.
They came back with a quote of $1,700 (AU$2,512) which I couldn't justify.
I checked the seat map on ExpertFlyer on the bus to the airport and I noticed the flight still had many empty seats in business class.
Once we got to the airport, I enquired how much an upgrade would be and the check-in staff said it would be $733 (¥80,000). This was much easier to justify so I decided to proceed. The staff then arranged for a team member to meet me in the lounge to process the upgrade.
A business class ticket on this route costs approximately $2,600 (AU$3,800) per person one-way when booking outright.
Booking Qantas Premium Economy With Points
You can book this award ticket online with any of the following mileage programs. Just head to the airline's website, search for your flight, and opt to book with miles. Here's a look at how many miles you'll need:
We recommend booking with AAdvantage since it has the lowest mileage cost and you'll pay only minimal taxes and fees.
You can transfer points from Marriott Bonvoy to American Airlines AAdvantage miles at a rate of 3:1, and you'll get a 5,000-mile bonus for every 60,000 Marriott points you transfer. This means that you need 105,000 Marriott points to book this flight.
Alternatively, you can transfer American Express Membership Rewards, Citi ThankYou Points, and Marriott Bonvoy points to Cathay Pacific Asia Miles at varying rates. This may be easier than building up a stash of AAdvantage miles if you already have a stock of credit card points on hand.
Miles Earned
As this was a paid fare, I opted to credit the flight to my Alaska Mileage Plan account which earned me 5,314 miles, including a 483-mile cabin bonus – the same value as the outbound flight in Premium Economy as the credited miles are based on the original fare purchased.

At Tokyo-Haneda Airport (HND) – JAL Business Lounge
We arrived at the airport at approximately 7 p.m. for our 10 p.m. flight to Sydney.
By this time, the queues were already quite long, especially the Premium Economy queue. I jumped into the economy class queue as I had noticed it had 3 agents checking in passengers instead of just the 1 for Premium Economy.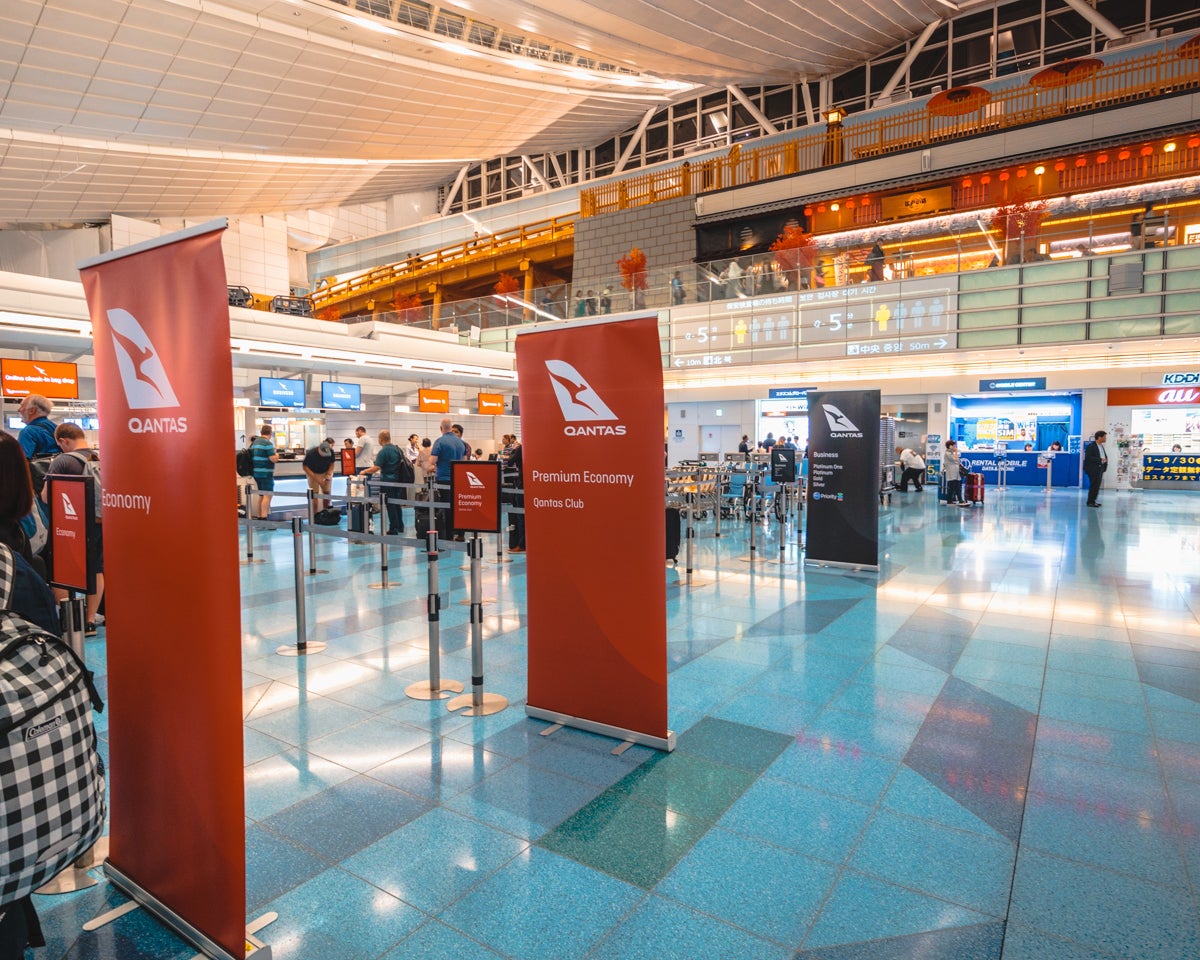 The check-in agent was incredibly polite, as is typical in Japan. She stepped out from behind her counter to say, "Thank you for waiting," and sincerely apologized for the wait time.
Immigration and security also had lengthy waits and we finally got into the lounge 40 minutes after arriving at the airport.
The JAL lounge entrance is adjacent to gate 112.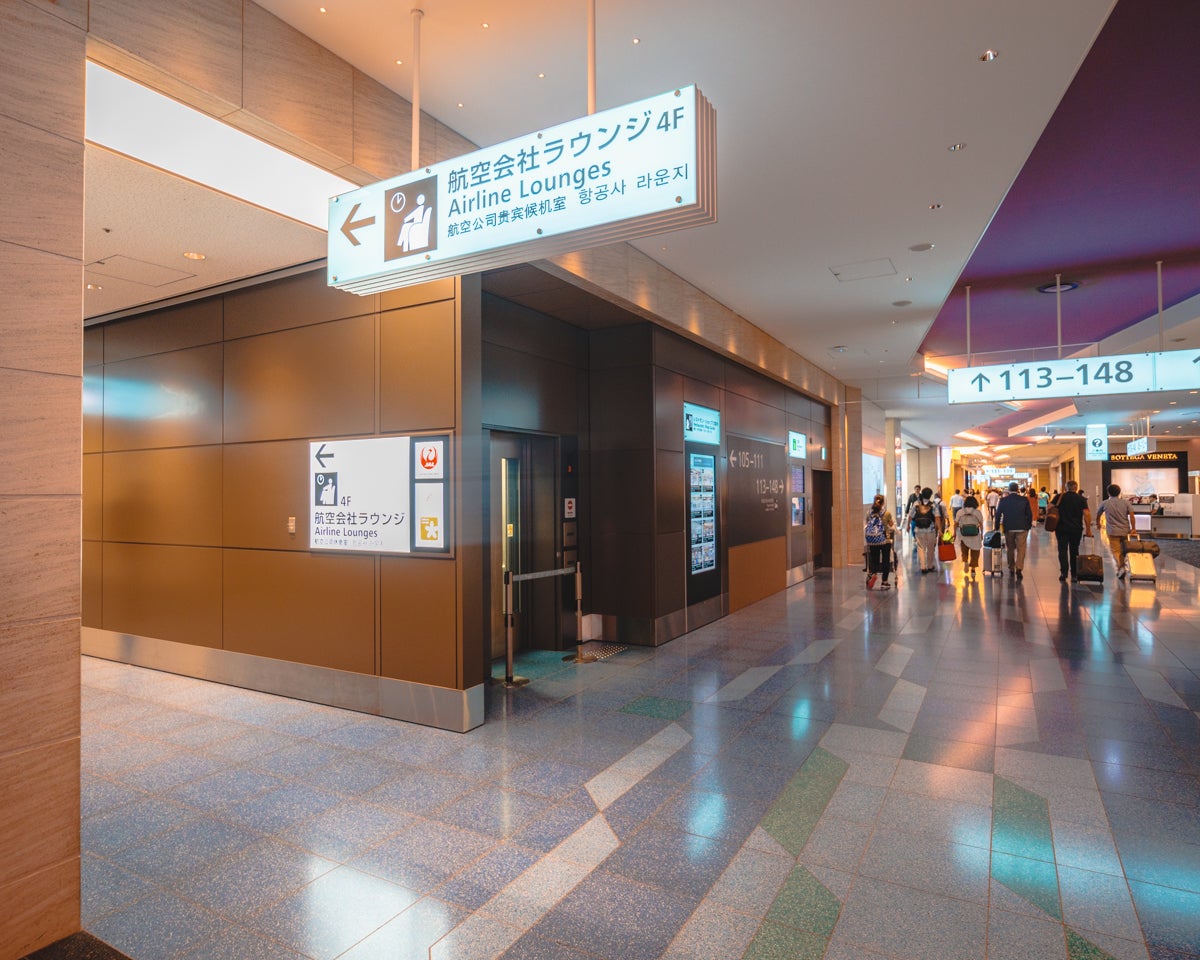 Business class guests enter the lounge to the left, whereas guests in first class or Oneworld Emerald can enter the first class lounge to the right.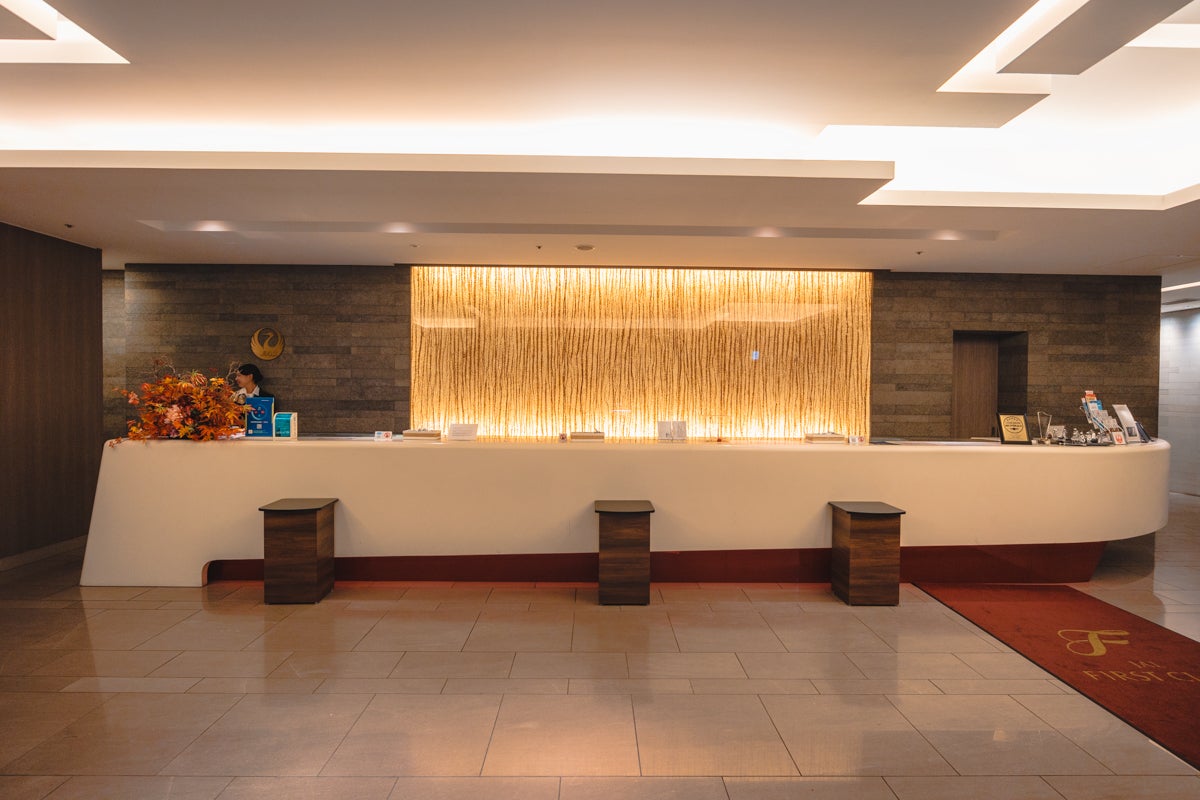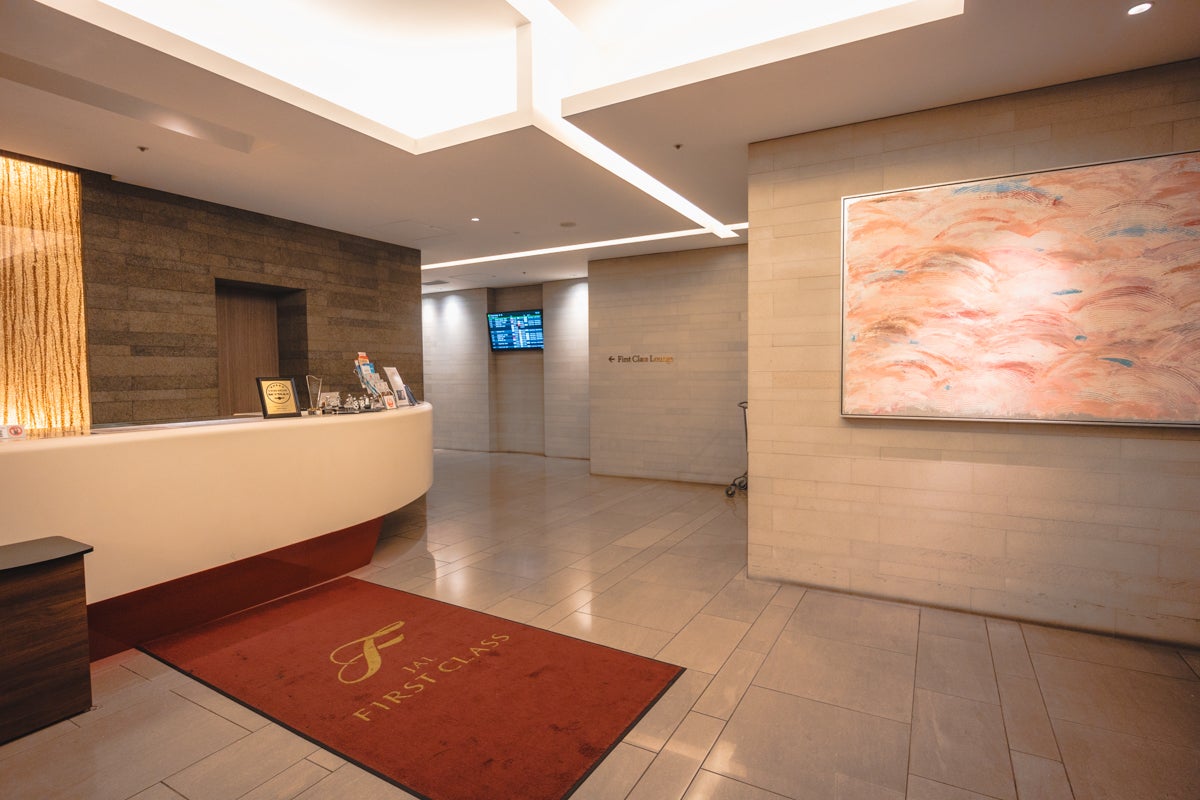 I checked out the lower of the 2 levels first.
Just past the lounge reception were the bathrooms and showers.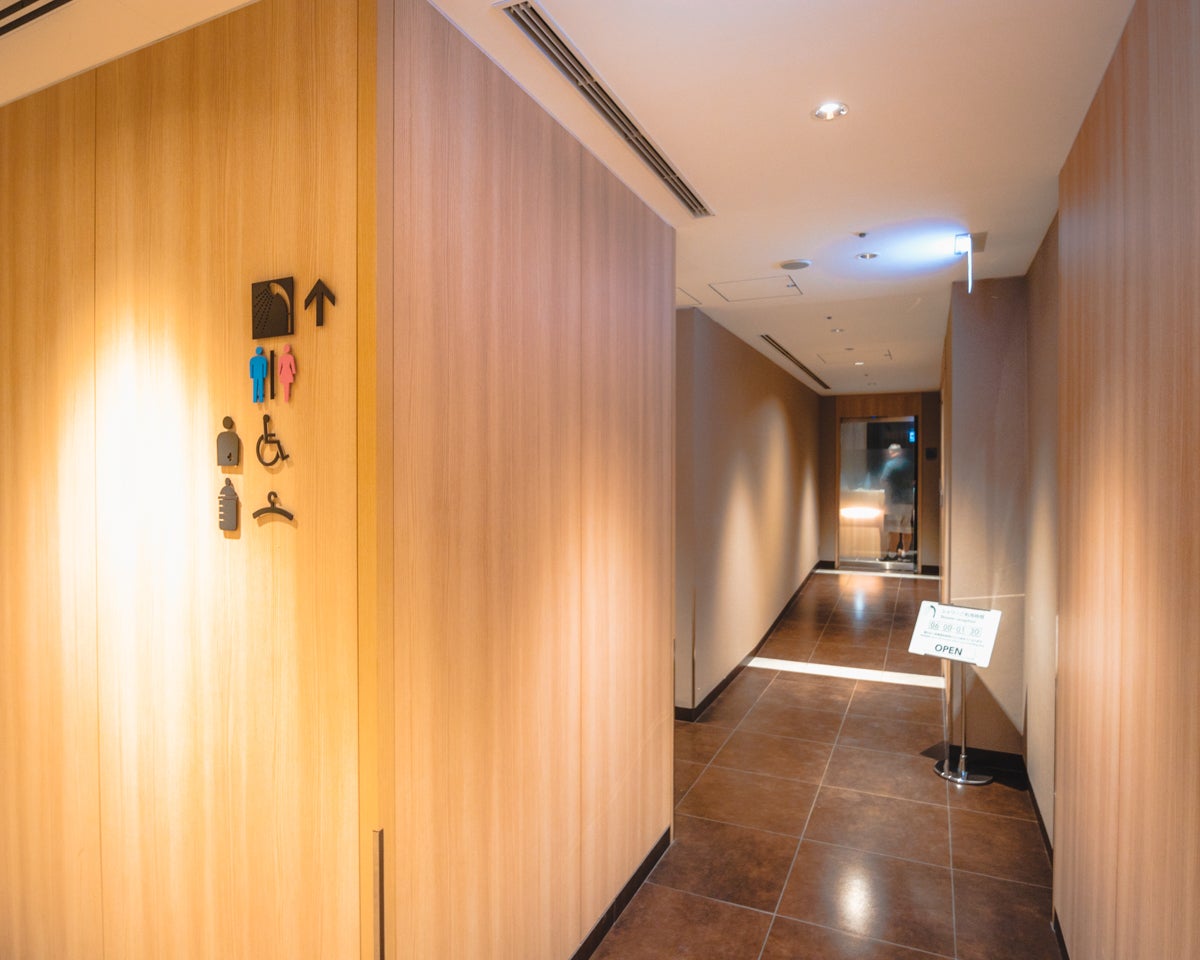 The bathrooms and showers were followed by a cloak storage room.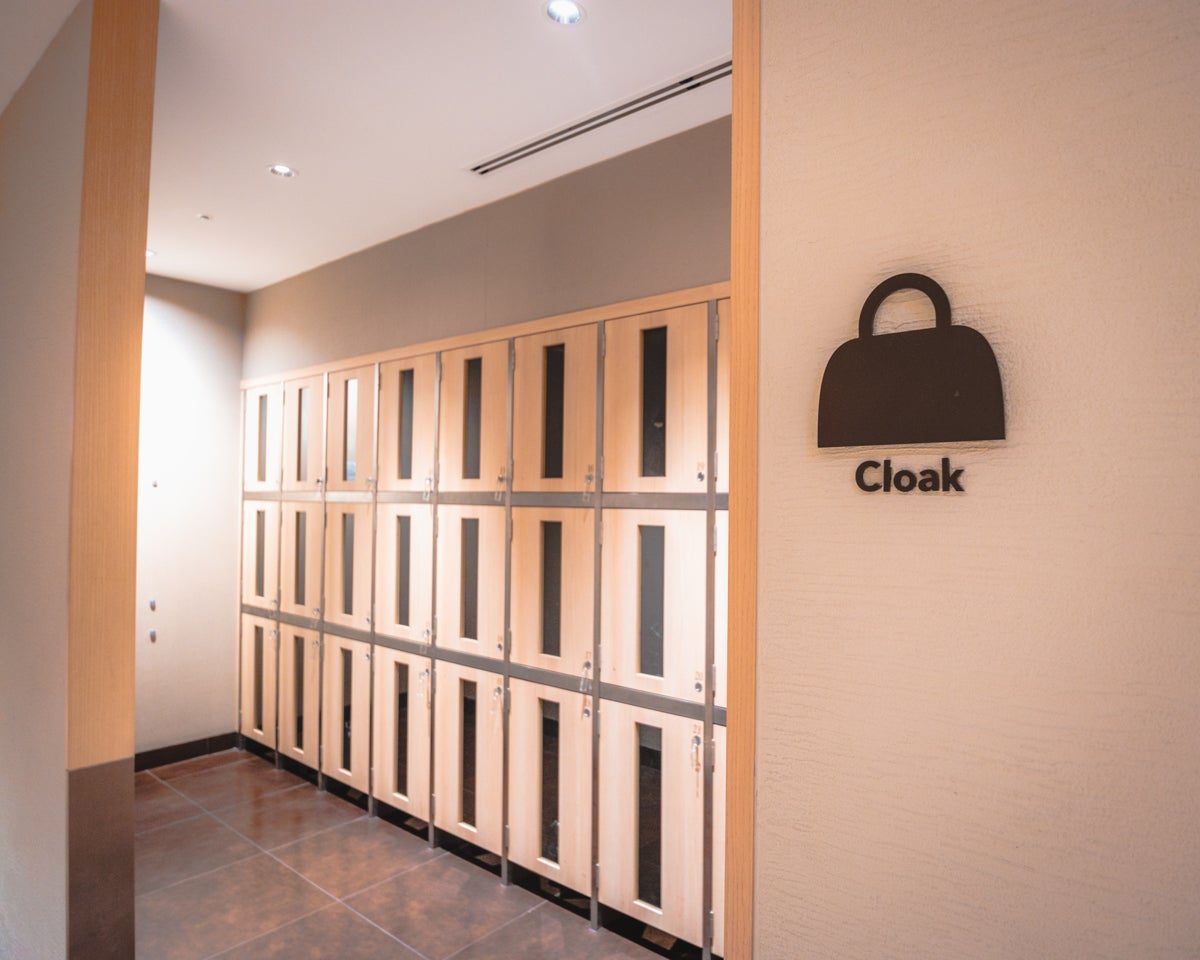 Talking on phones is frowned upon in the lounge so 2 private telephone cubicles were available next to a cubical with a printer/fax/copier.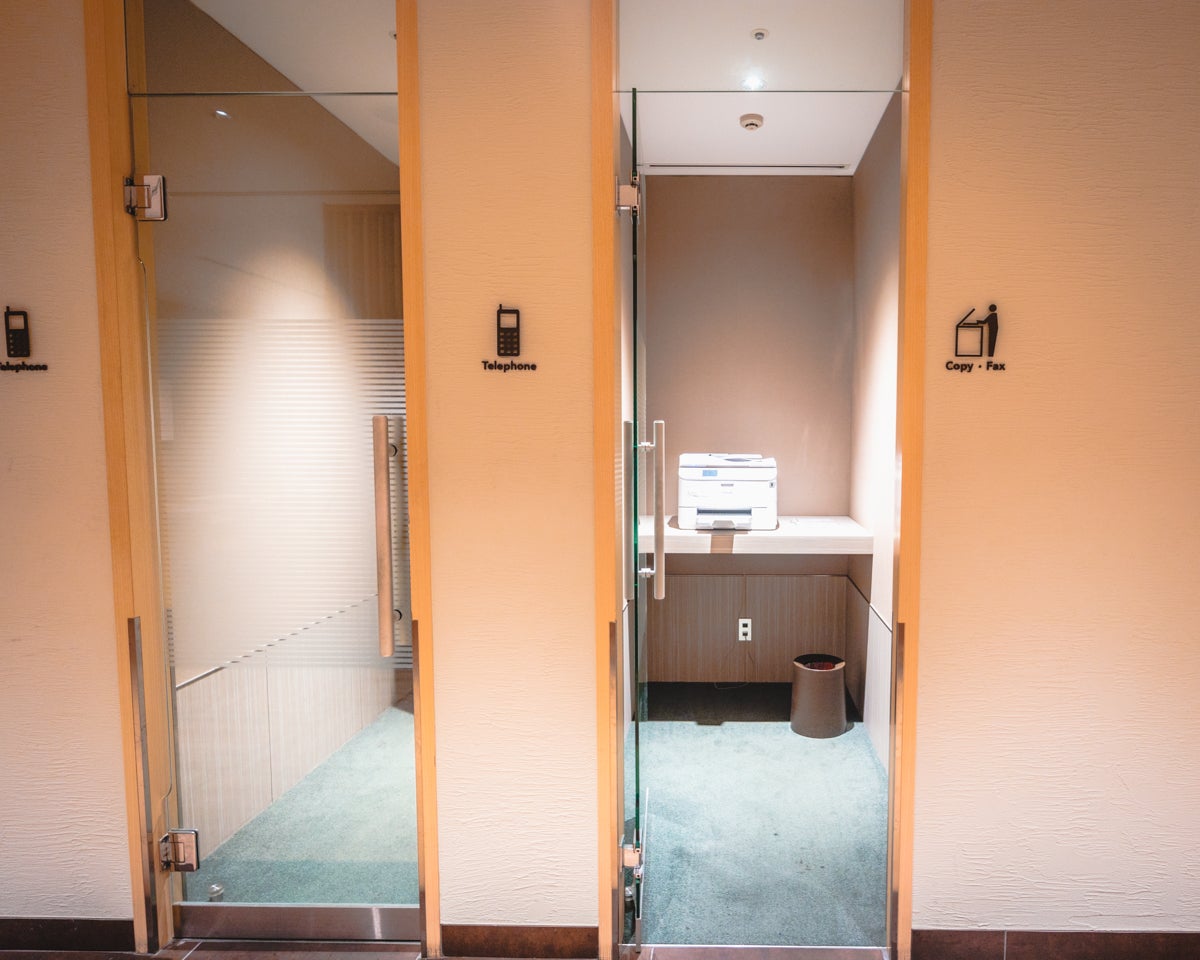 Opposite this was a media room with a TV, banquette seating, and a few tables.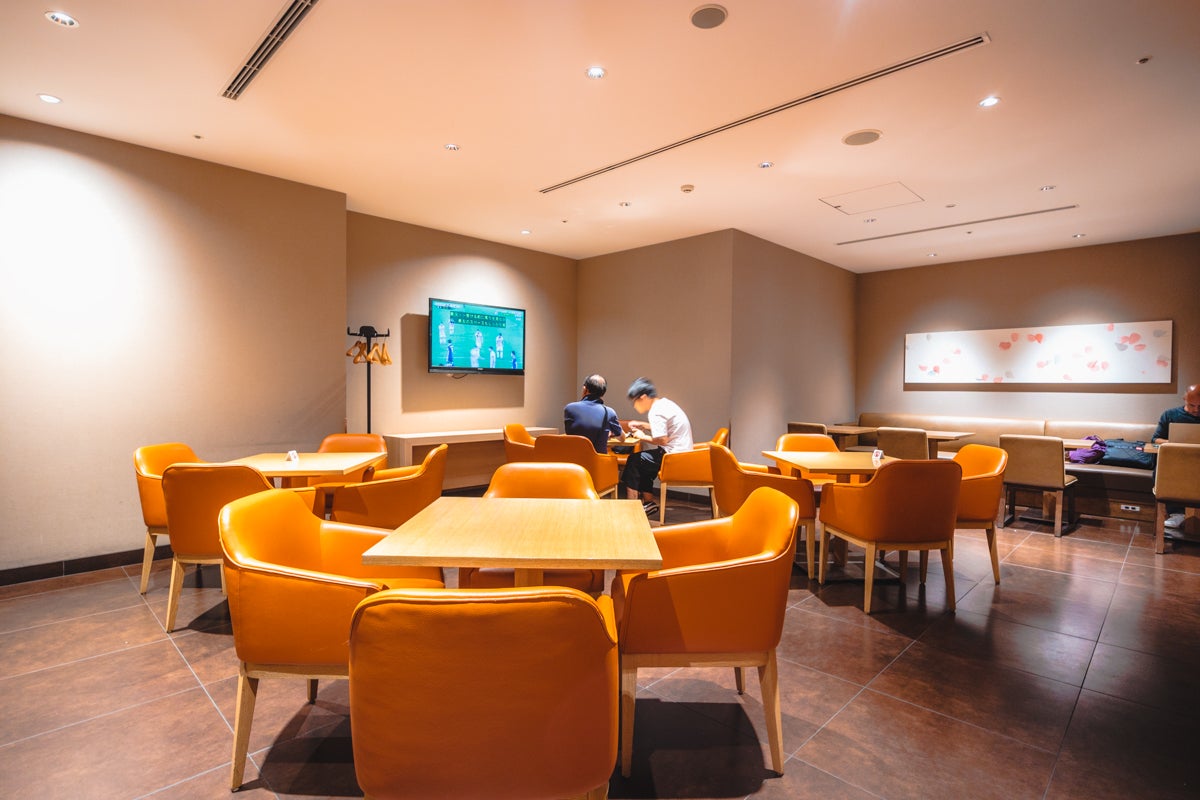 The lounge then opened into a large buffet and dining room.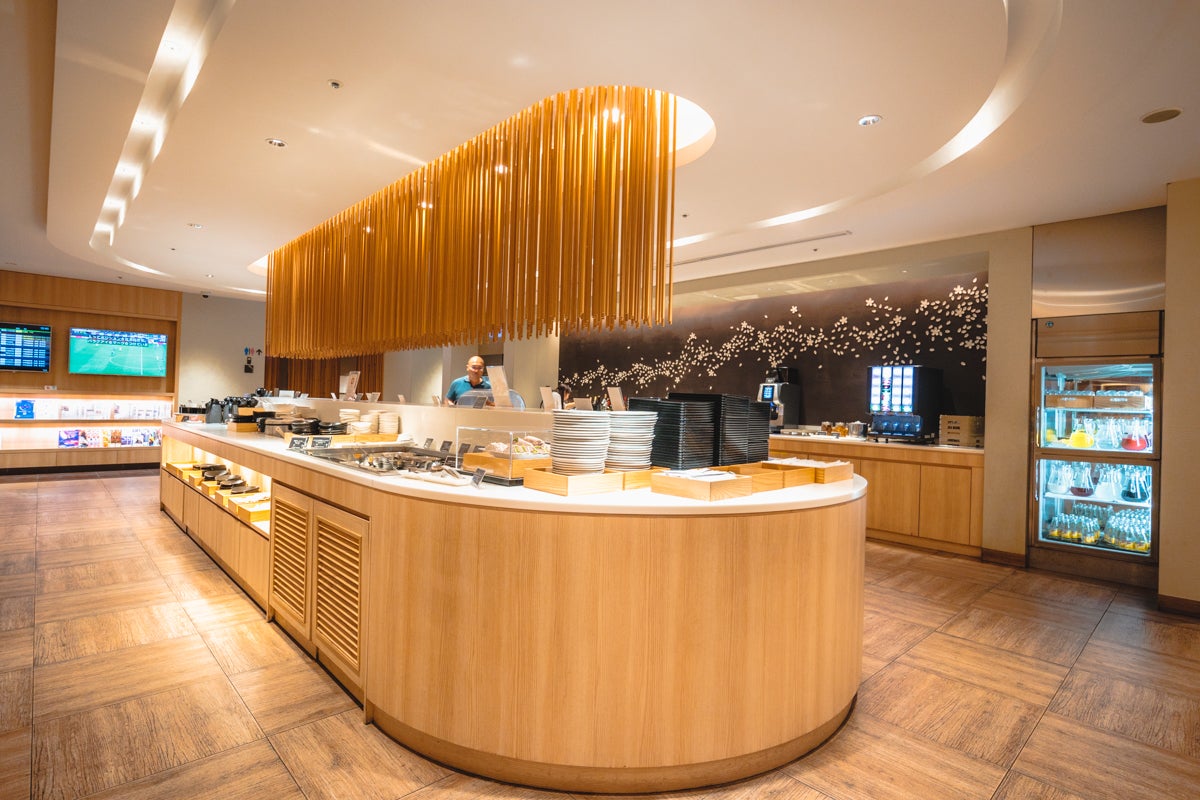 Considering how busy check-in, immigration, and security was, I was surprised how quiet the JAL lounge was.
There was ample seating; tables were available in either standard size or as high tables with stools.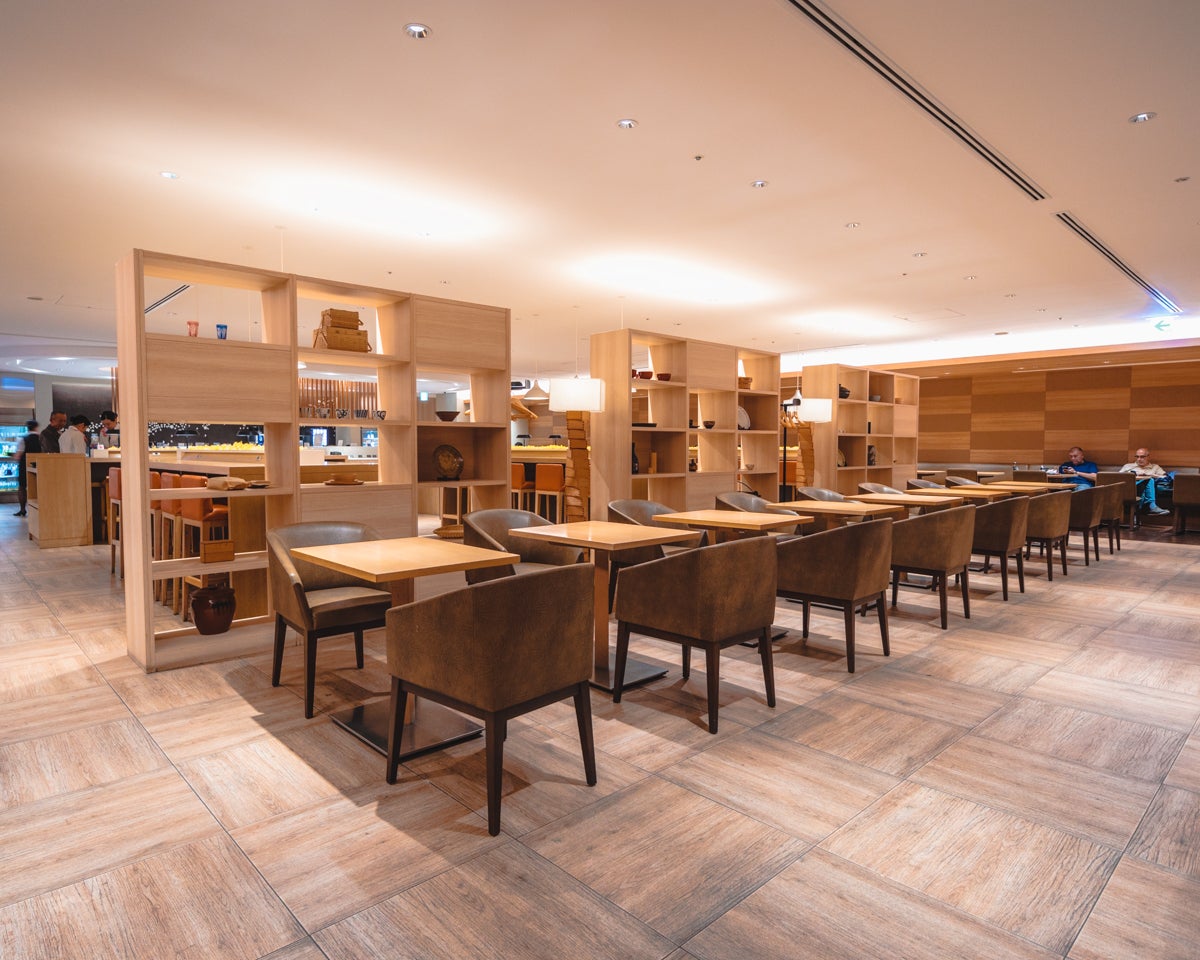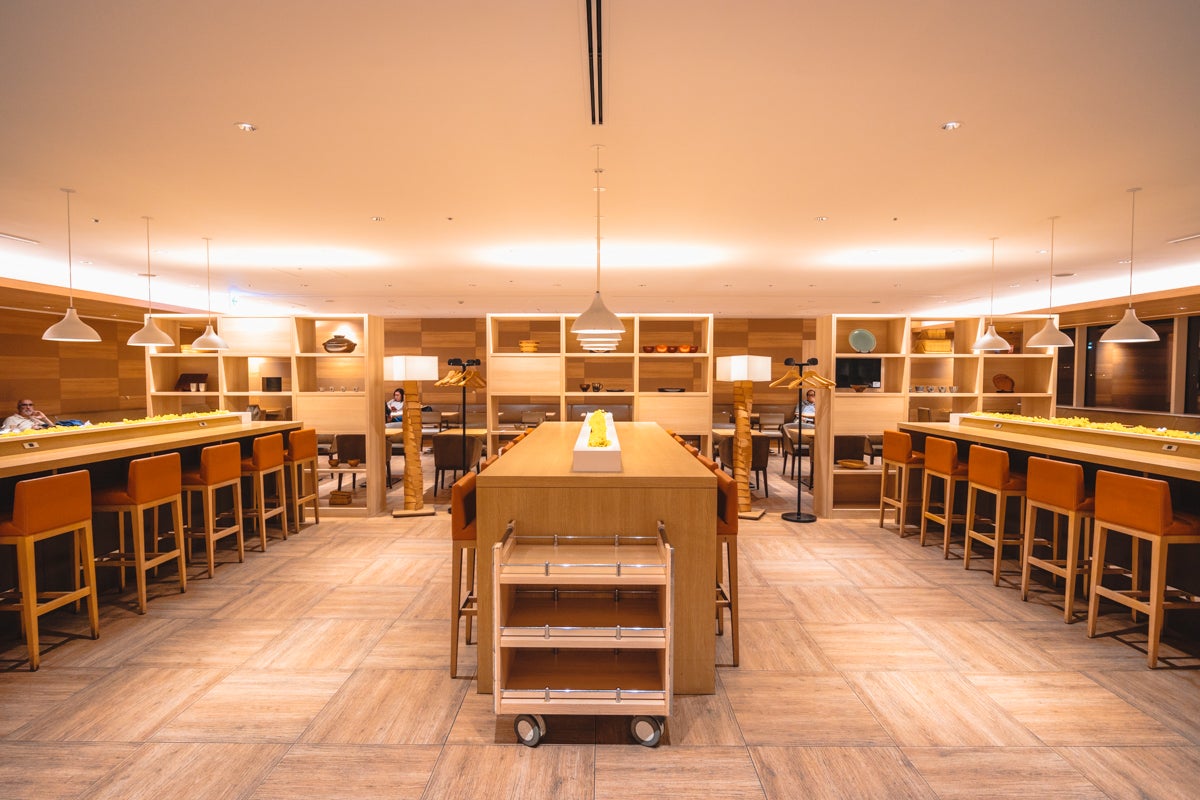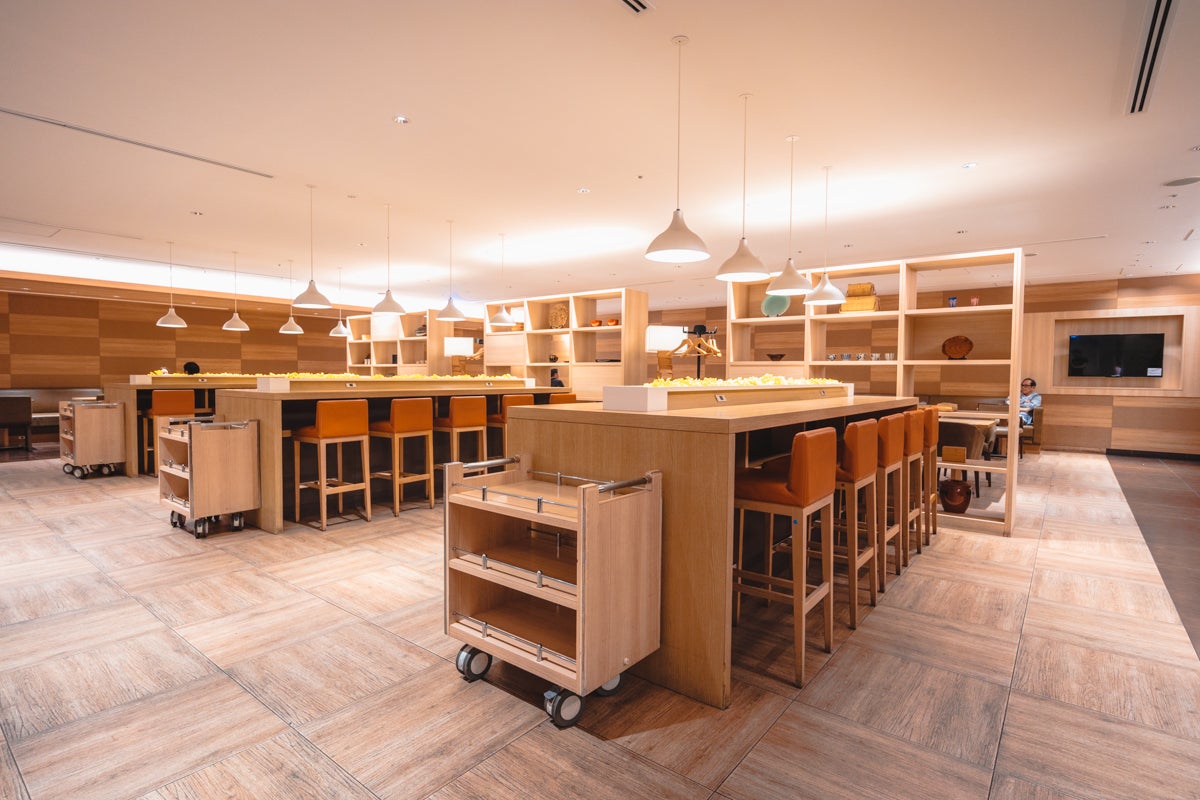 The buffet featured a huge selection of hot and cold options in both Japanese and Western cuisine.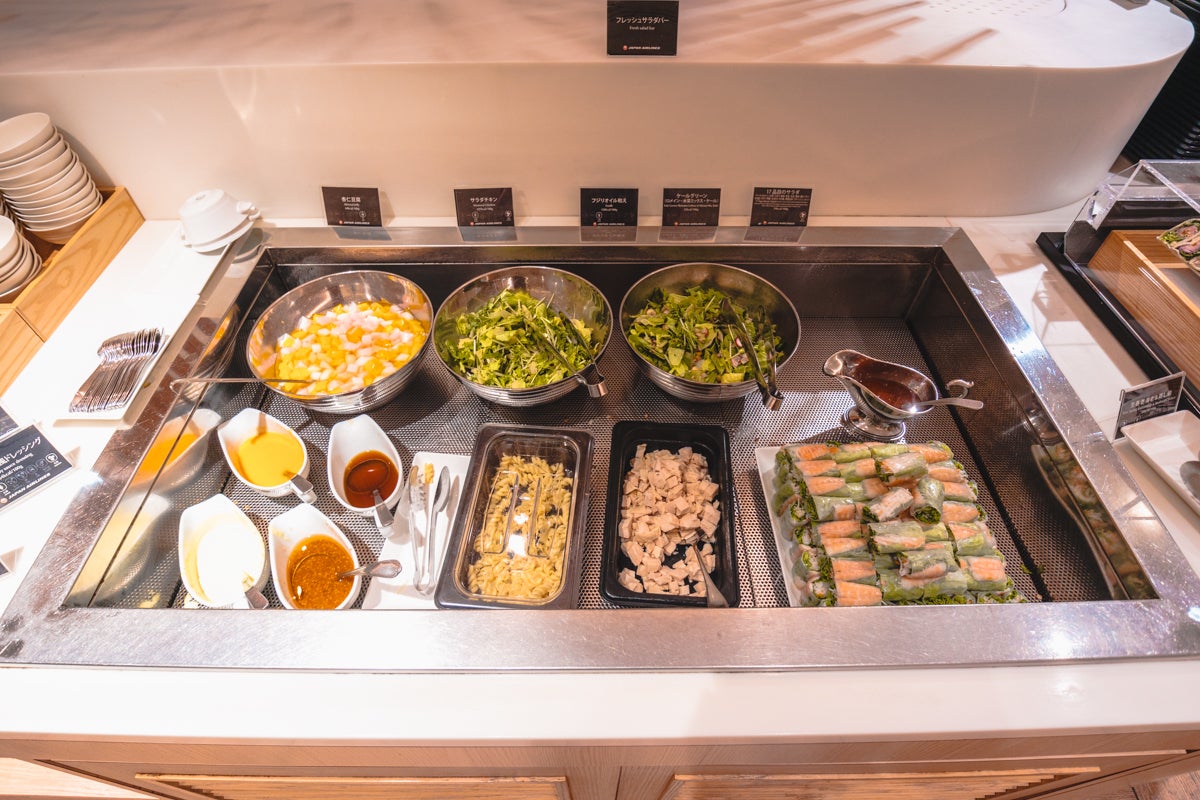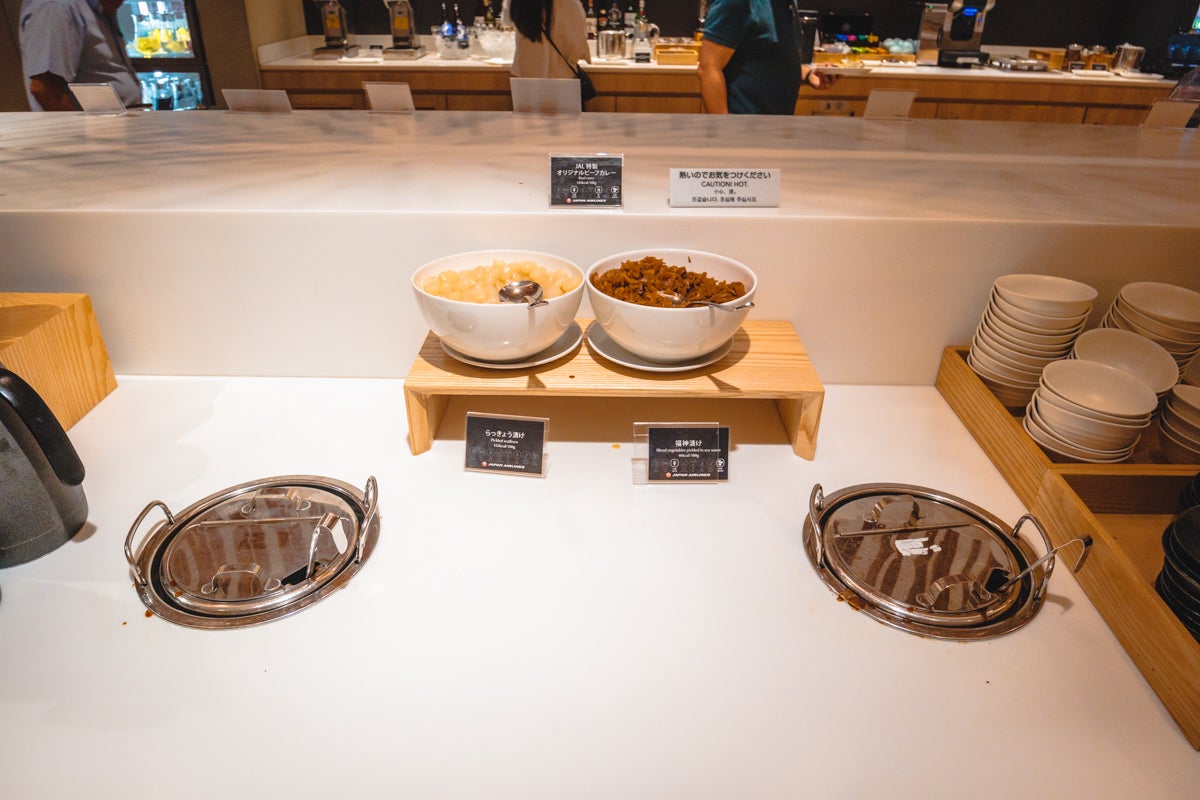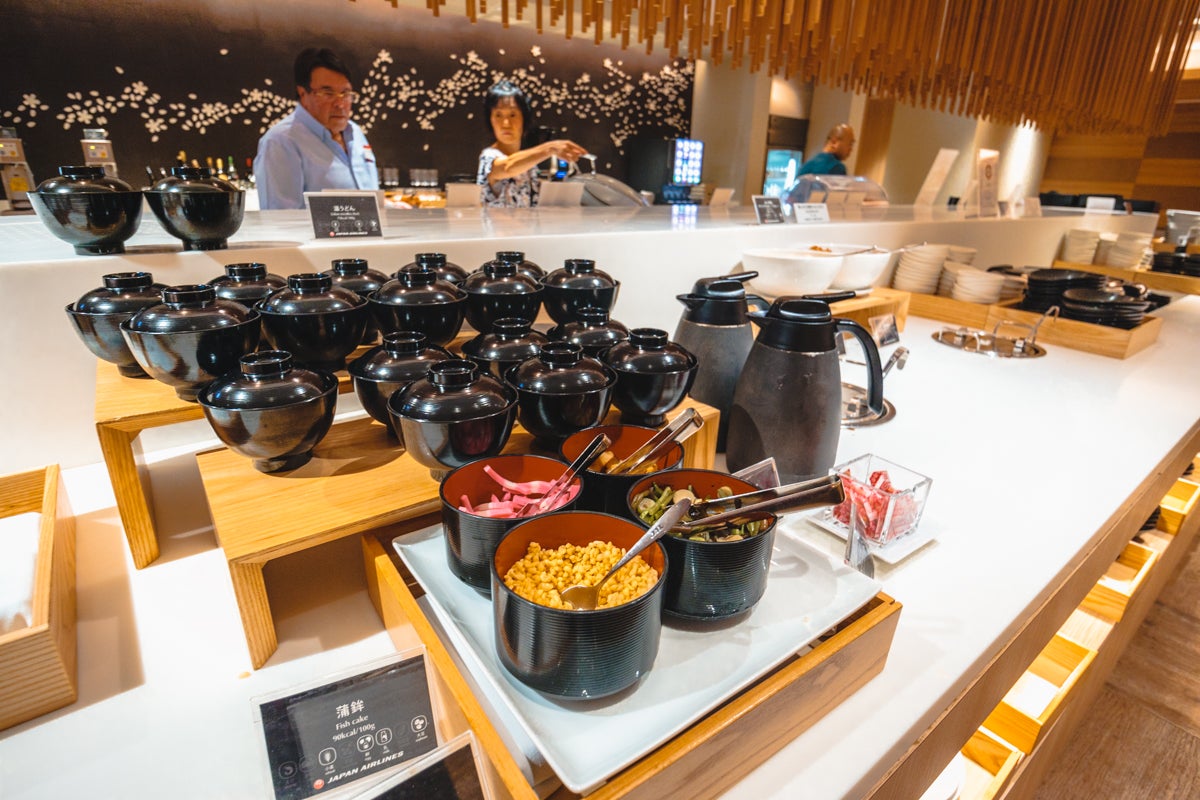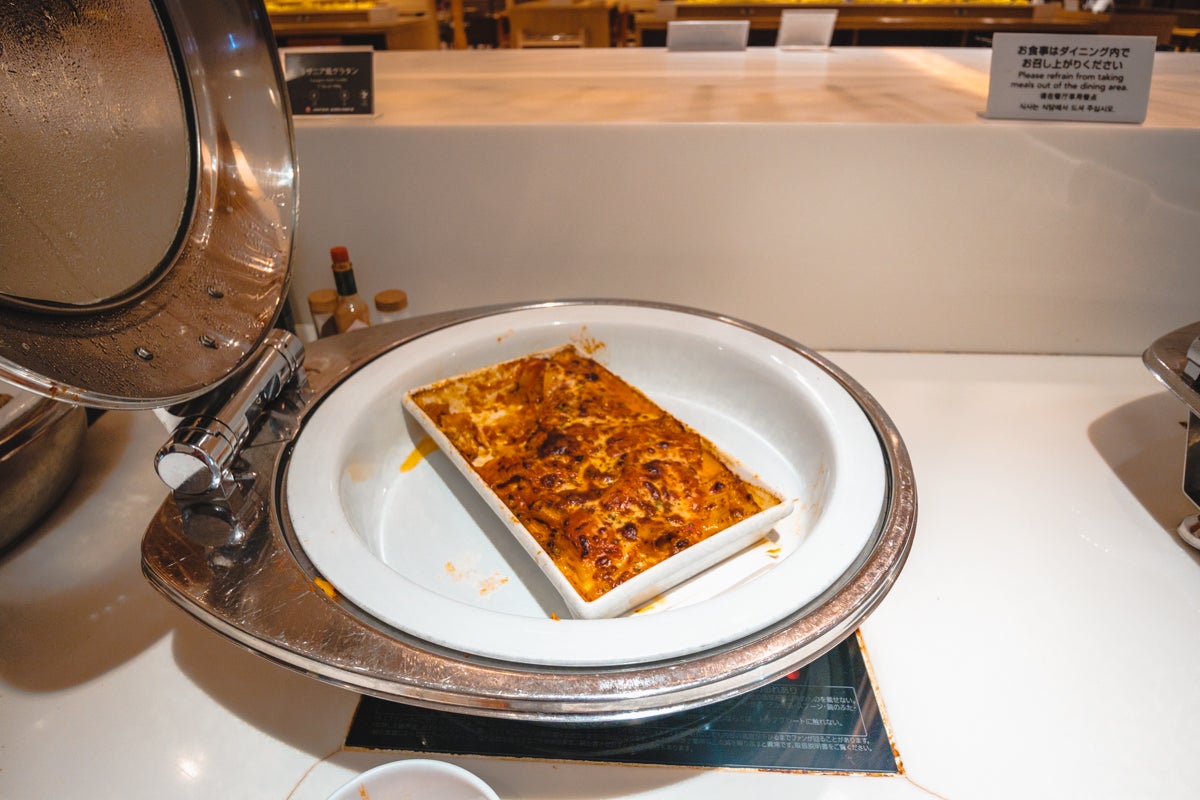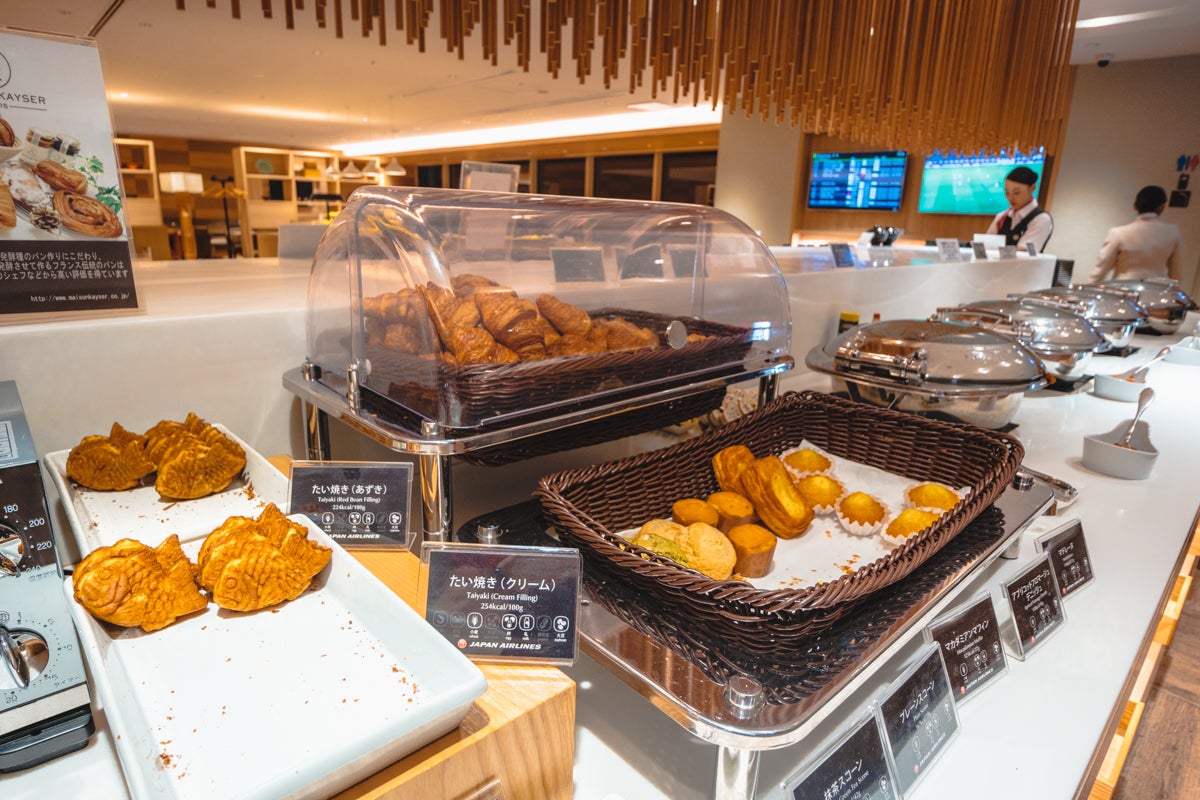 There was a selection of 2 white wines, a sparkling Cava, and 3 red wines, plus spirits and sake.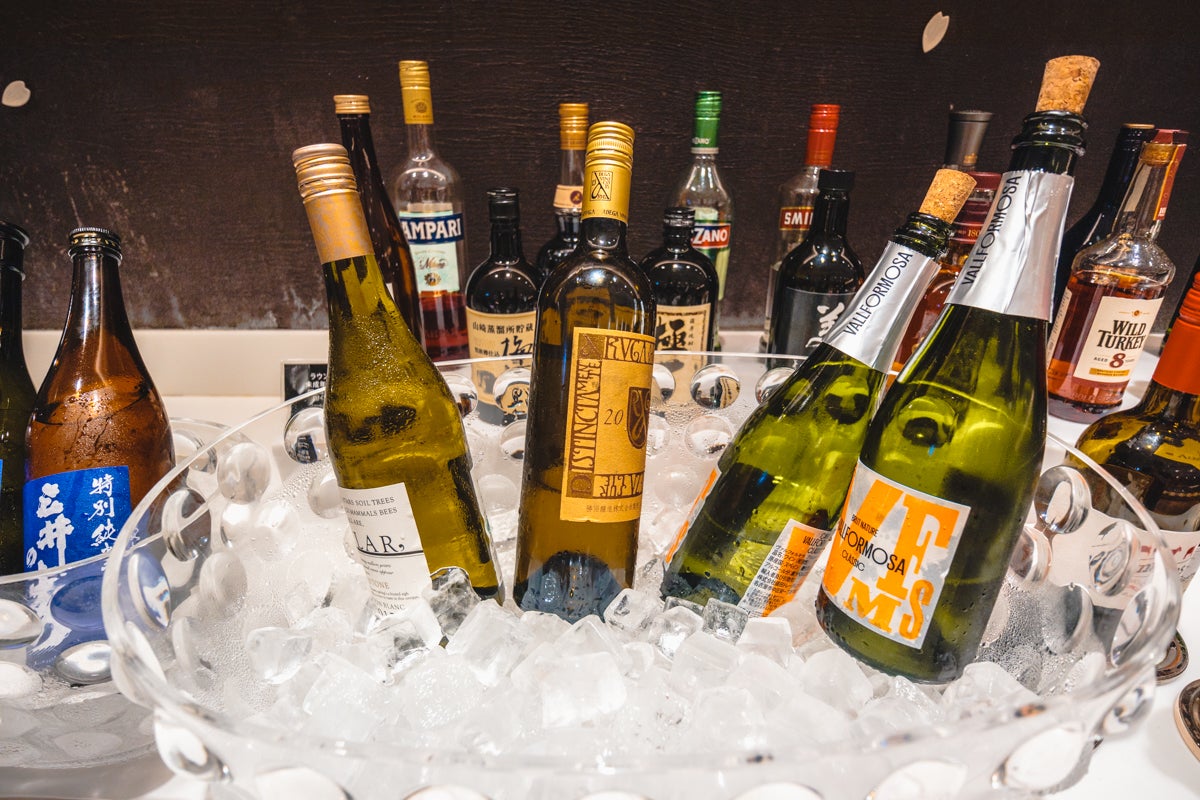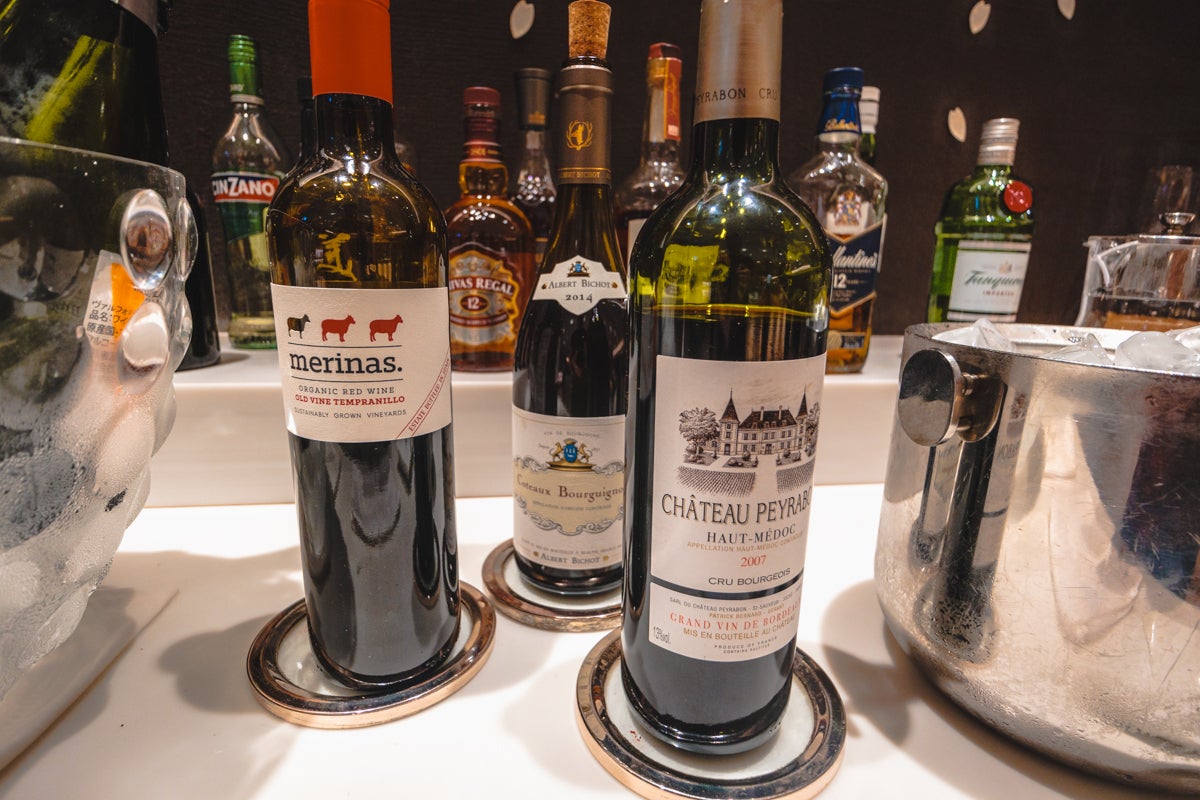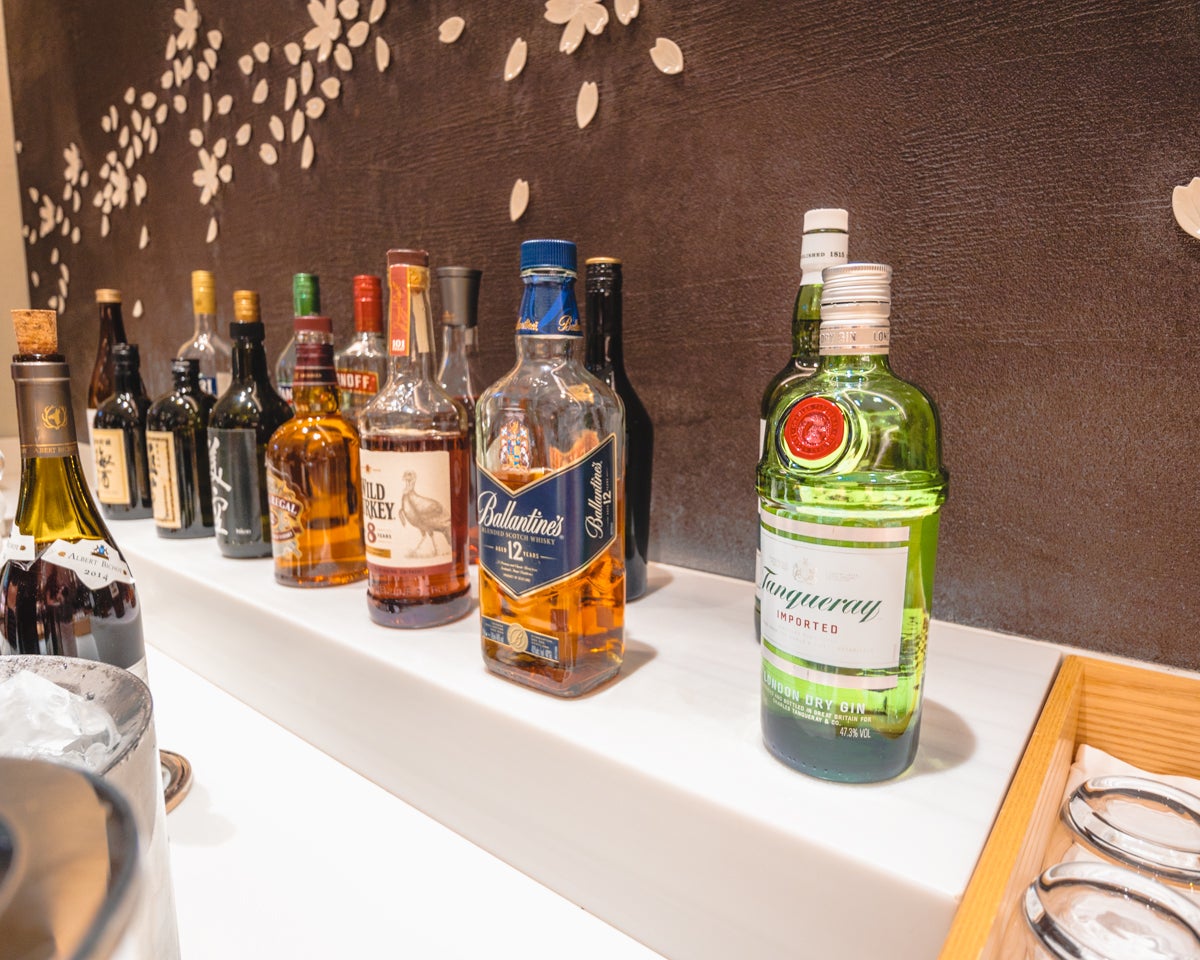 The lounge also featured 2 of the famous Japanese automatic beer pouring machines.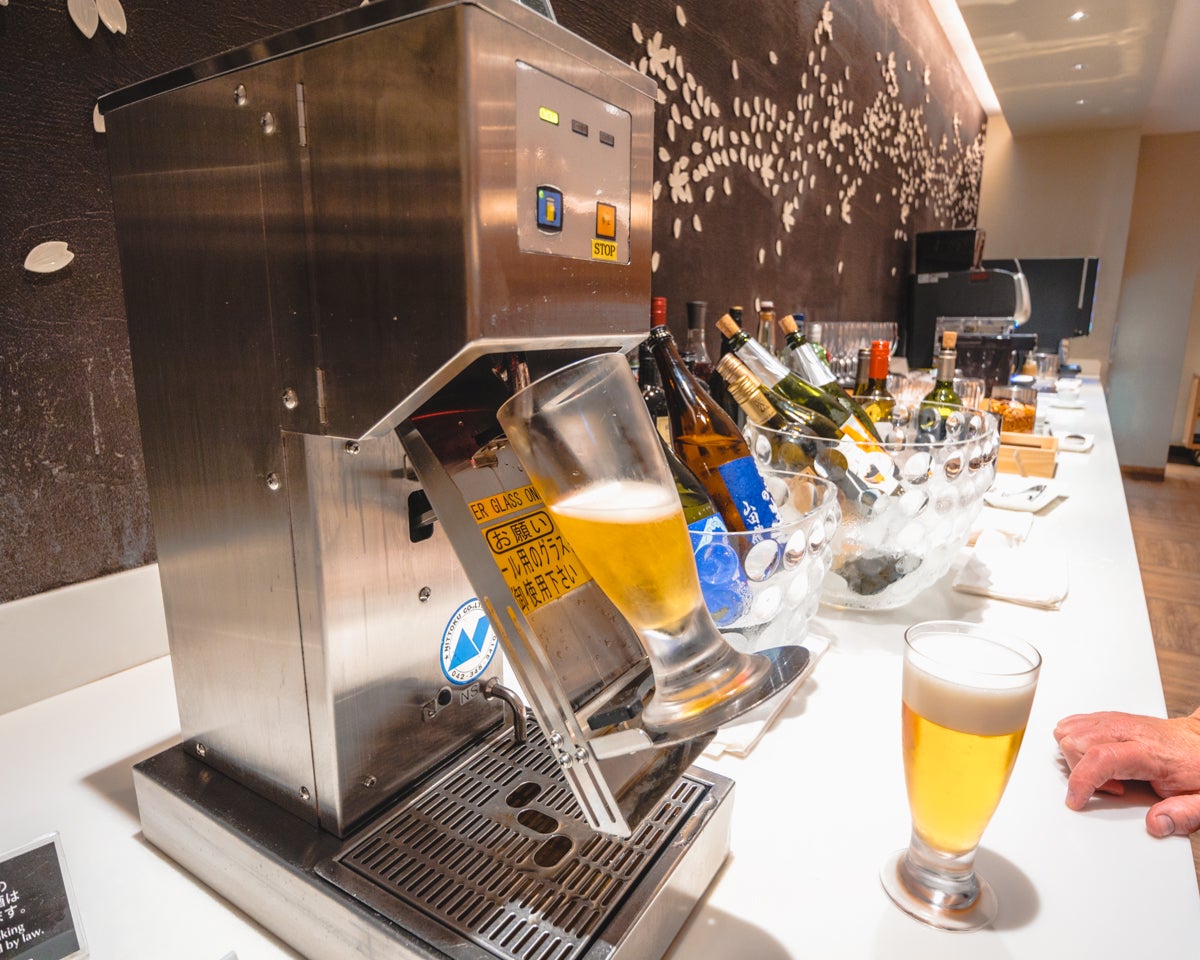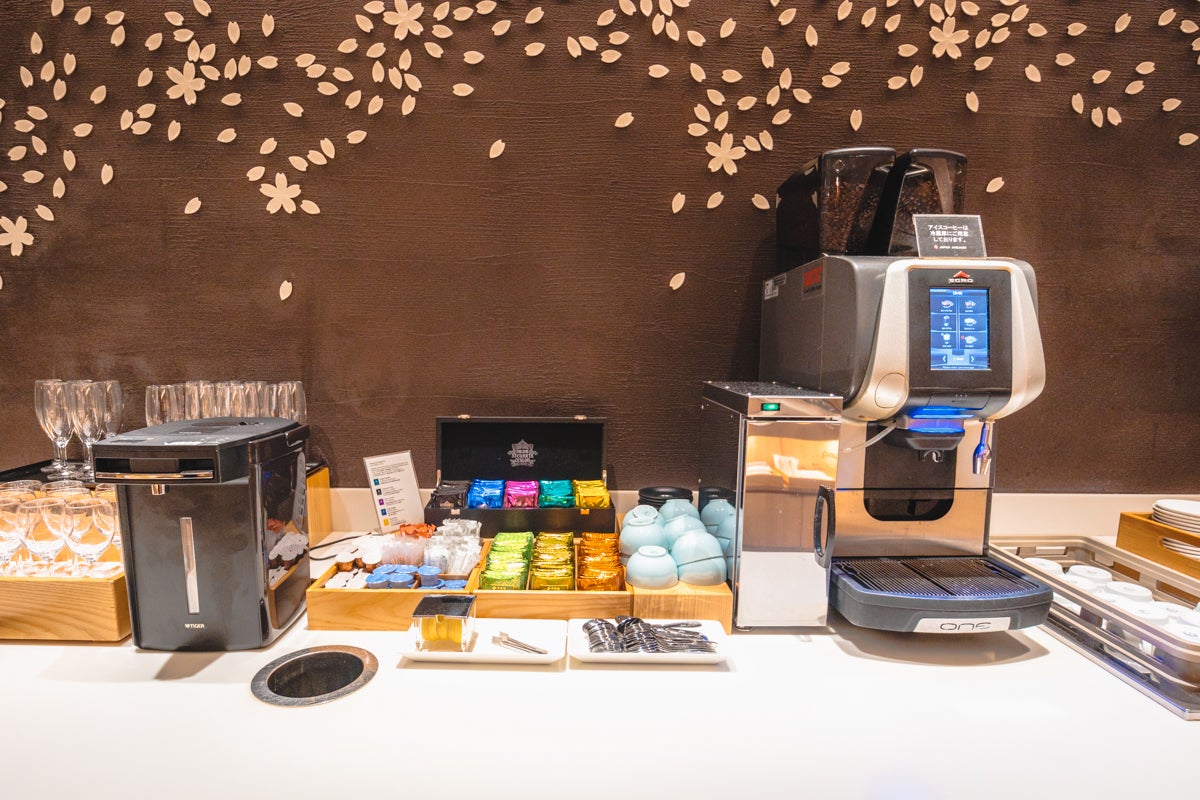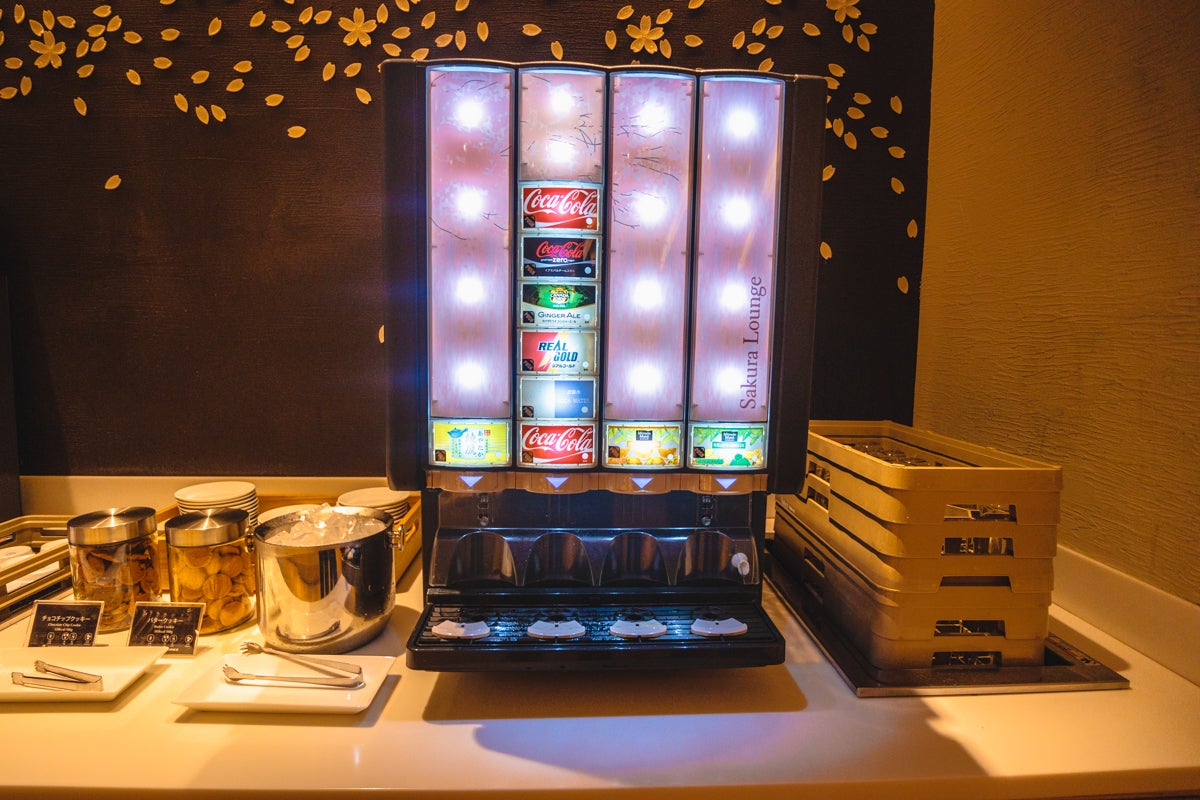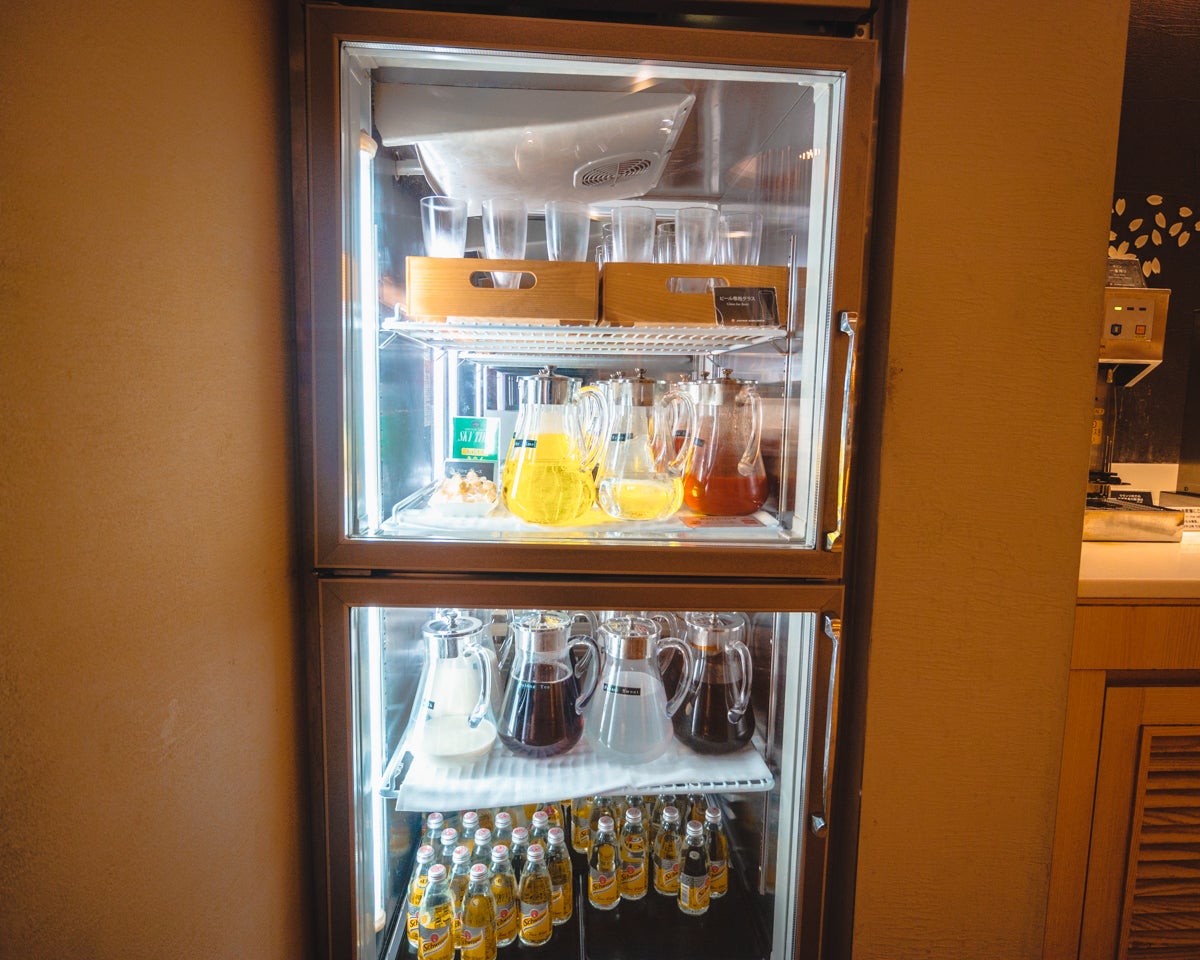 I enjoyed a selection of dumplings, meatballs, and lasagna which were all delicious.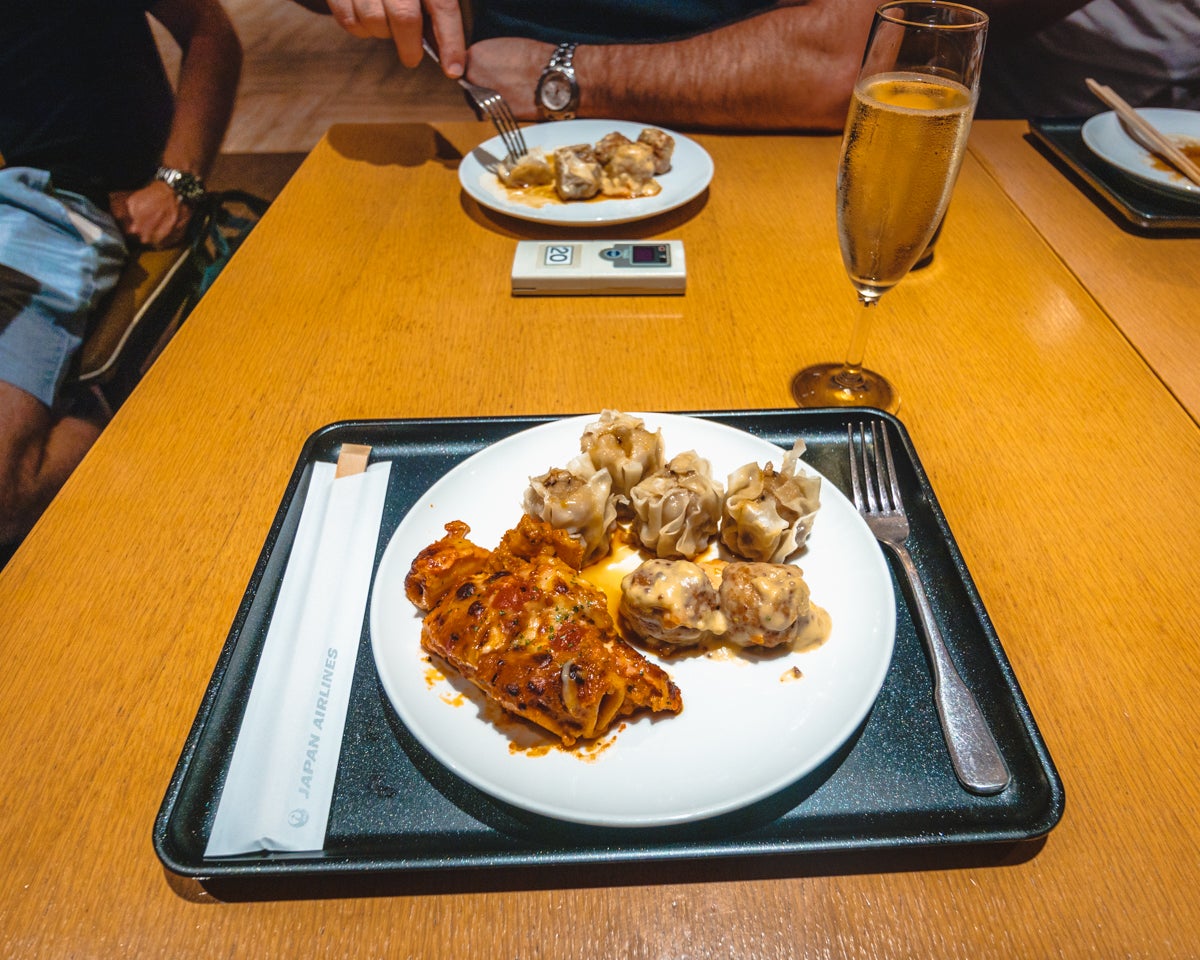 Opposite the buffet was a flight display monitor, reading material, and an additional television.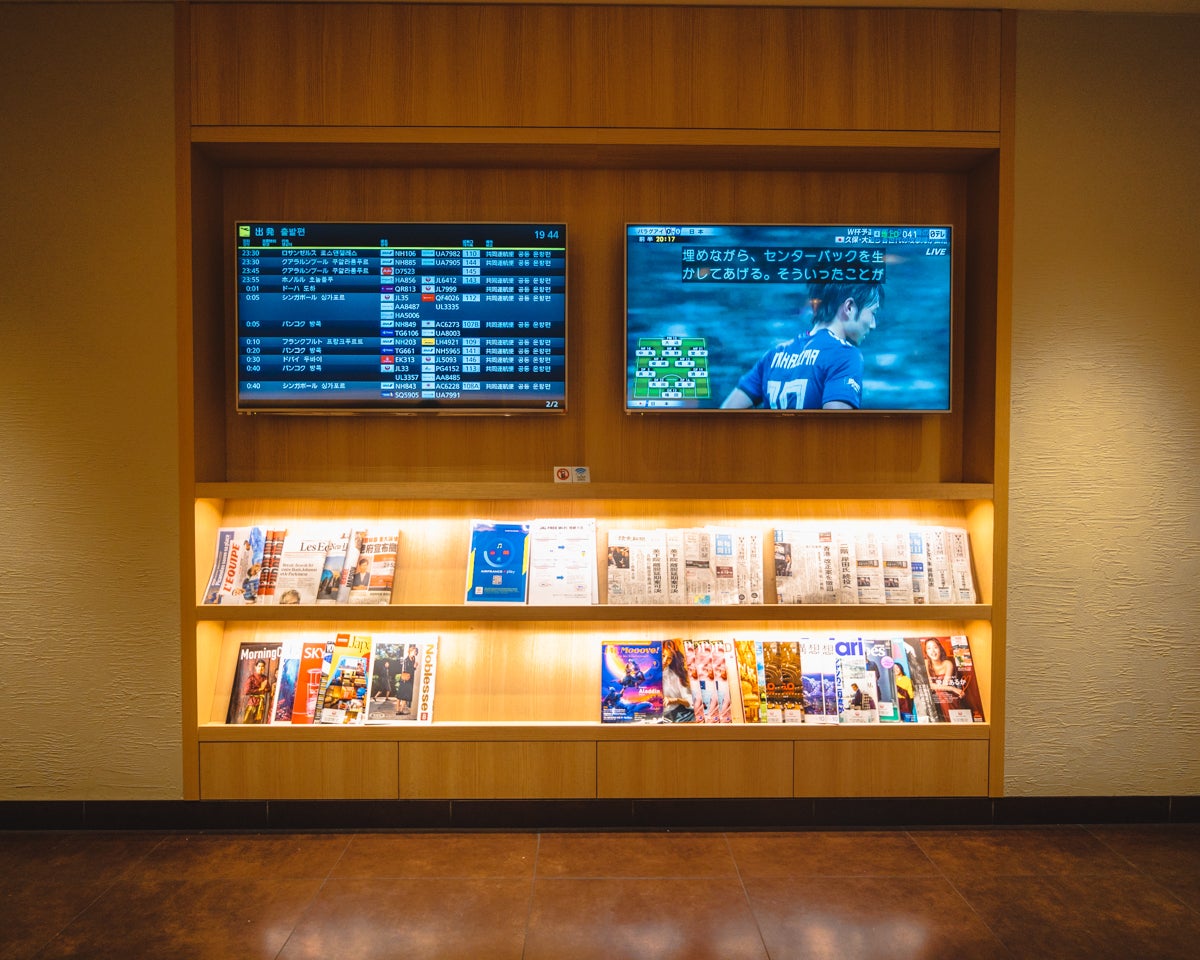 Following a bite to eat, I headed upstairs to check out the rest of the lounge and there were even fewer passengers up there.
Additional cloak facilities were alongside the staircase.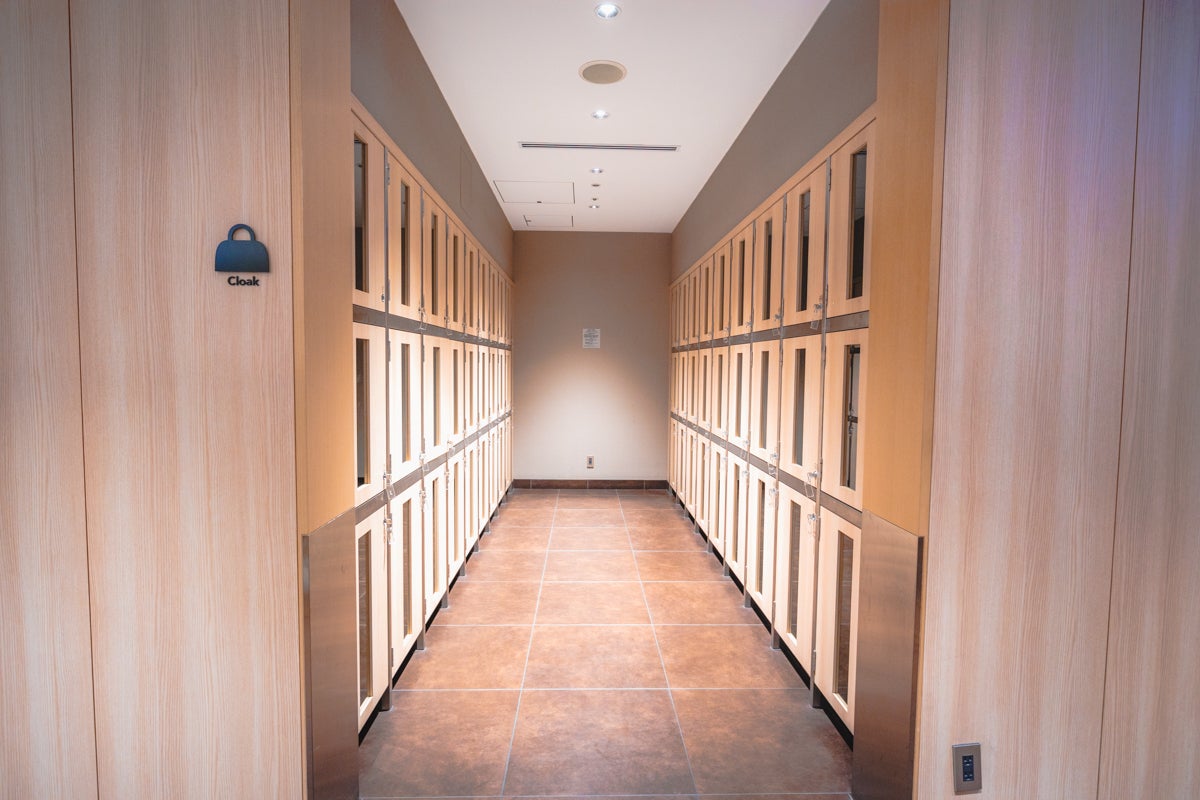 To the right of the top of the stairs was a work zone. It featured a variety of different spaces to work at — from a communal low table, solo work pods, and solo chairs, to a high bench.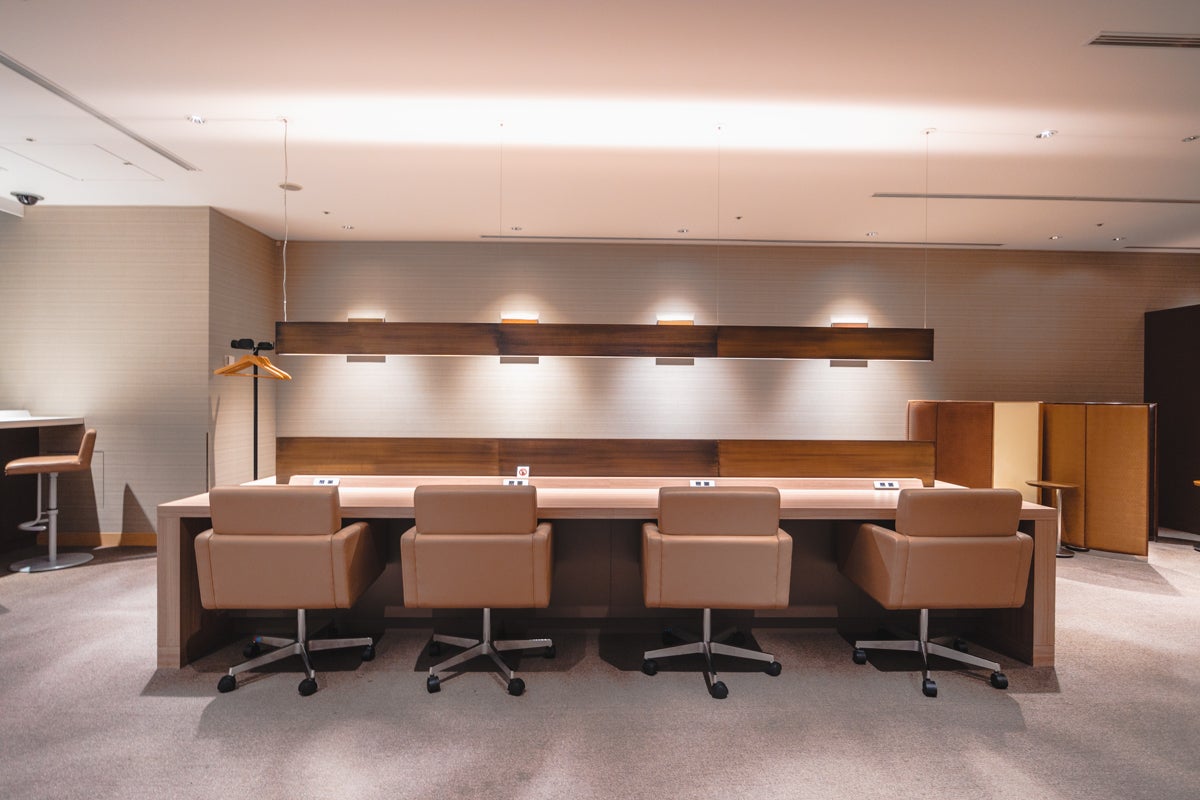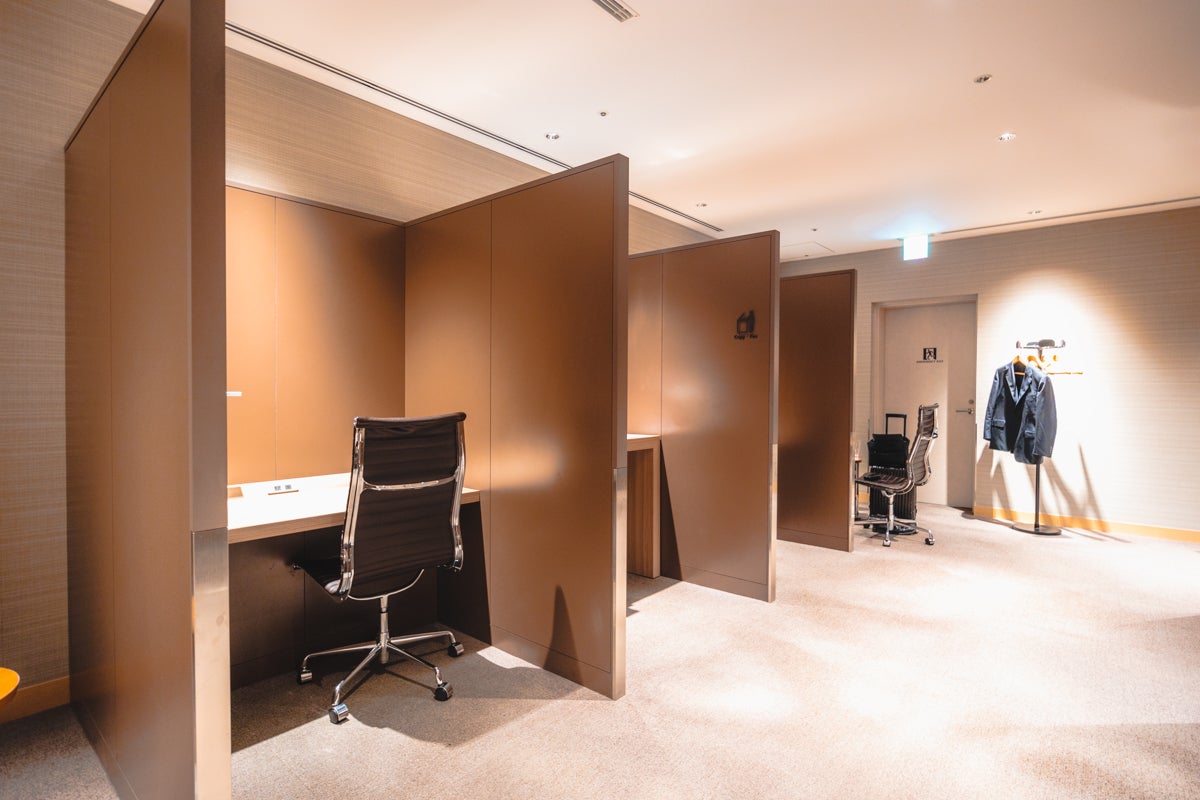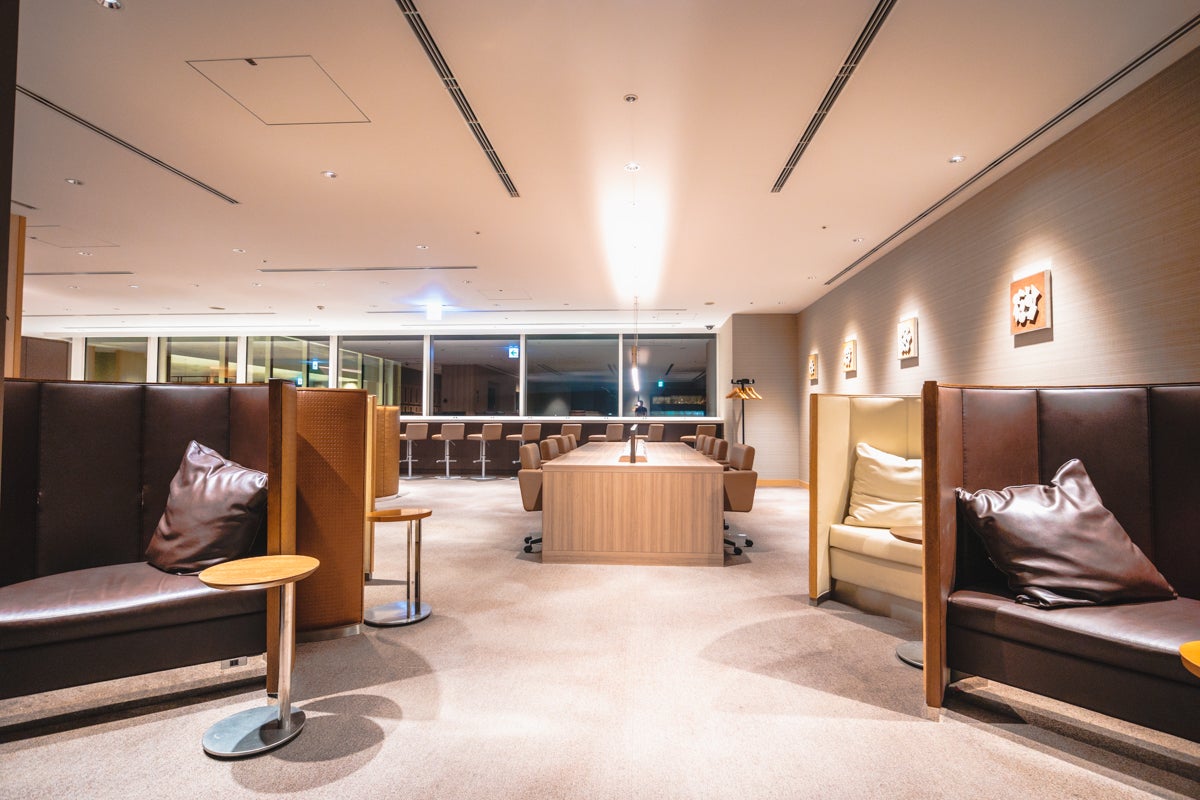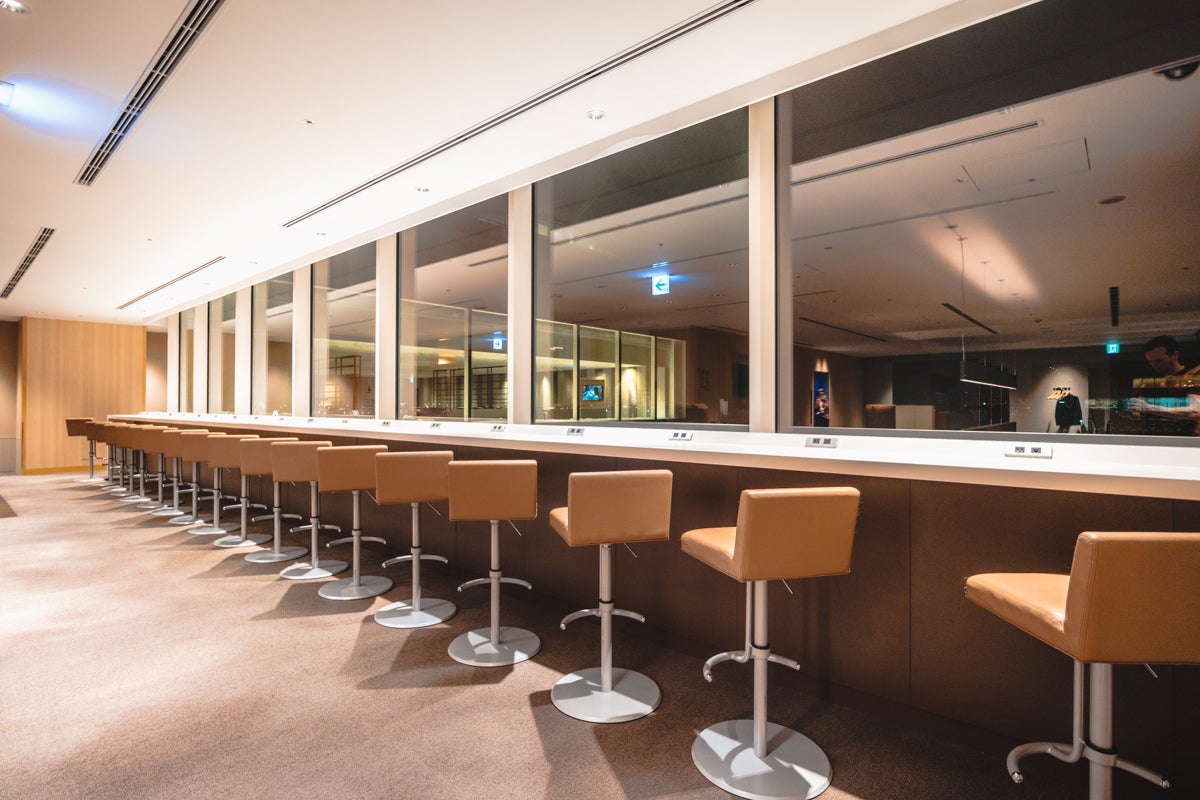 The opposite side of the stairs was more suited to lounging.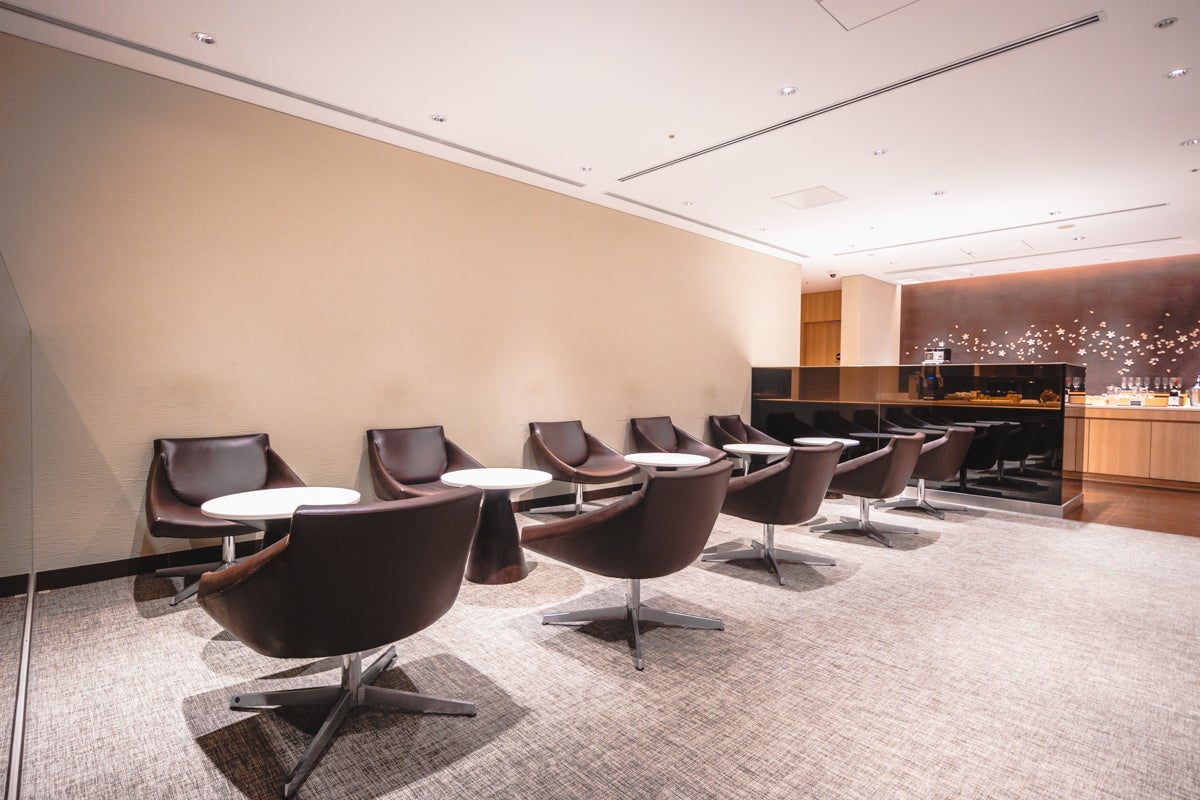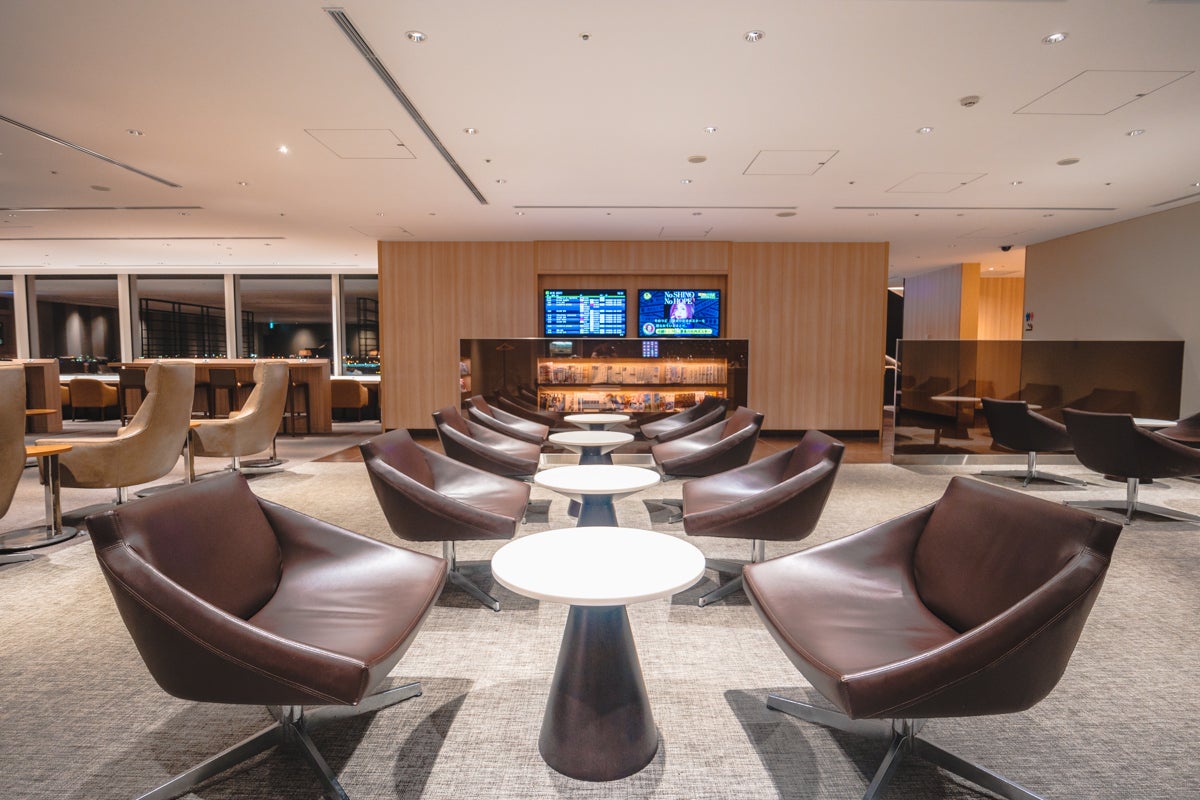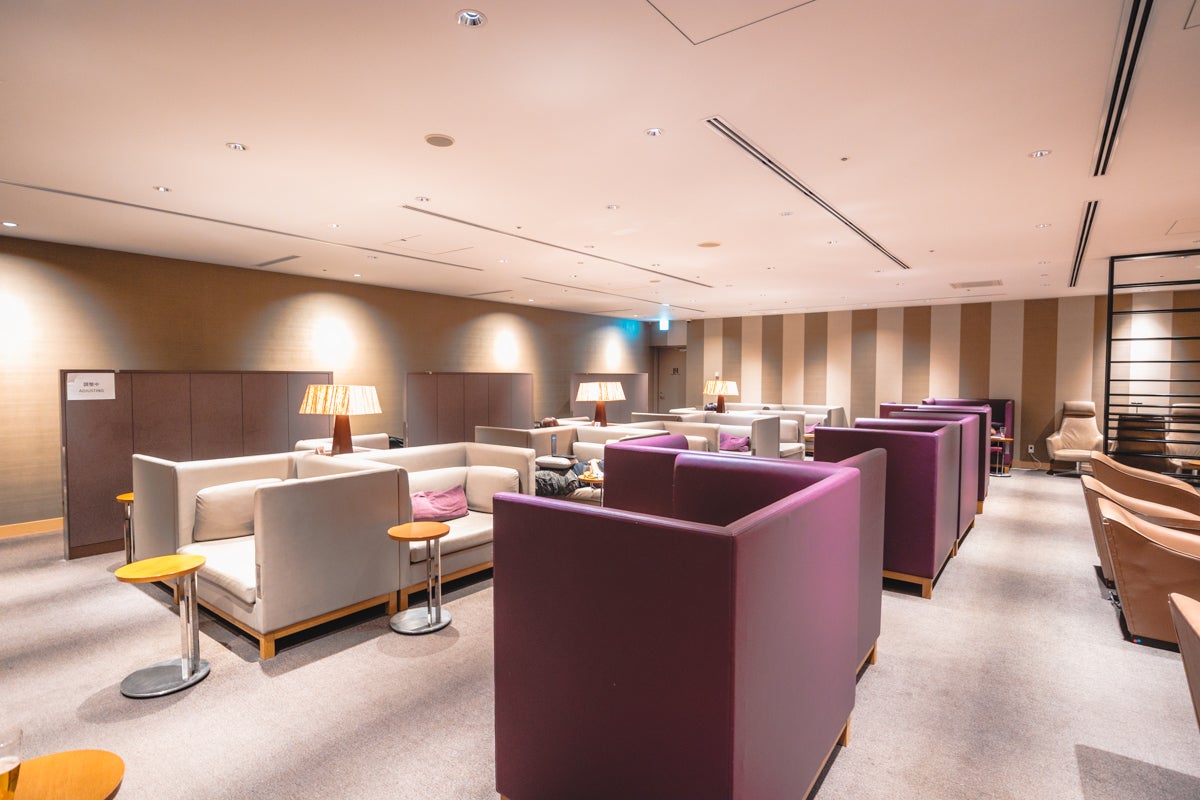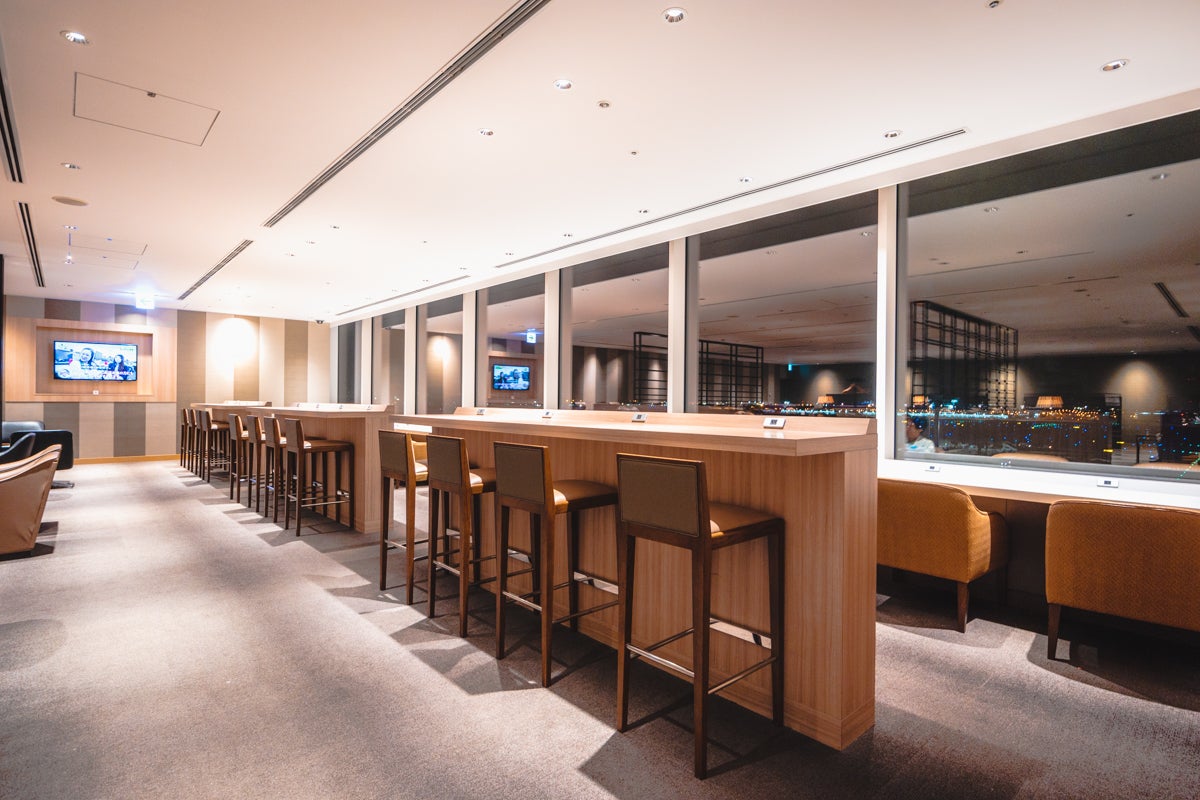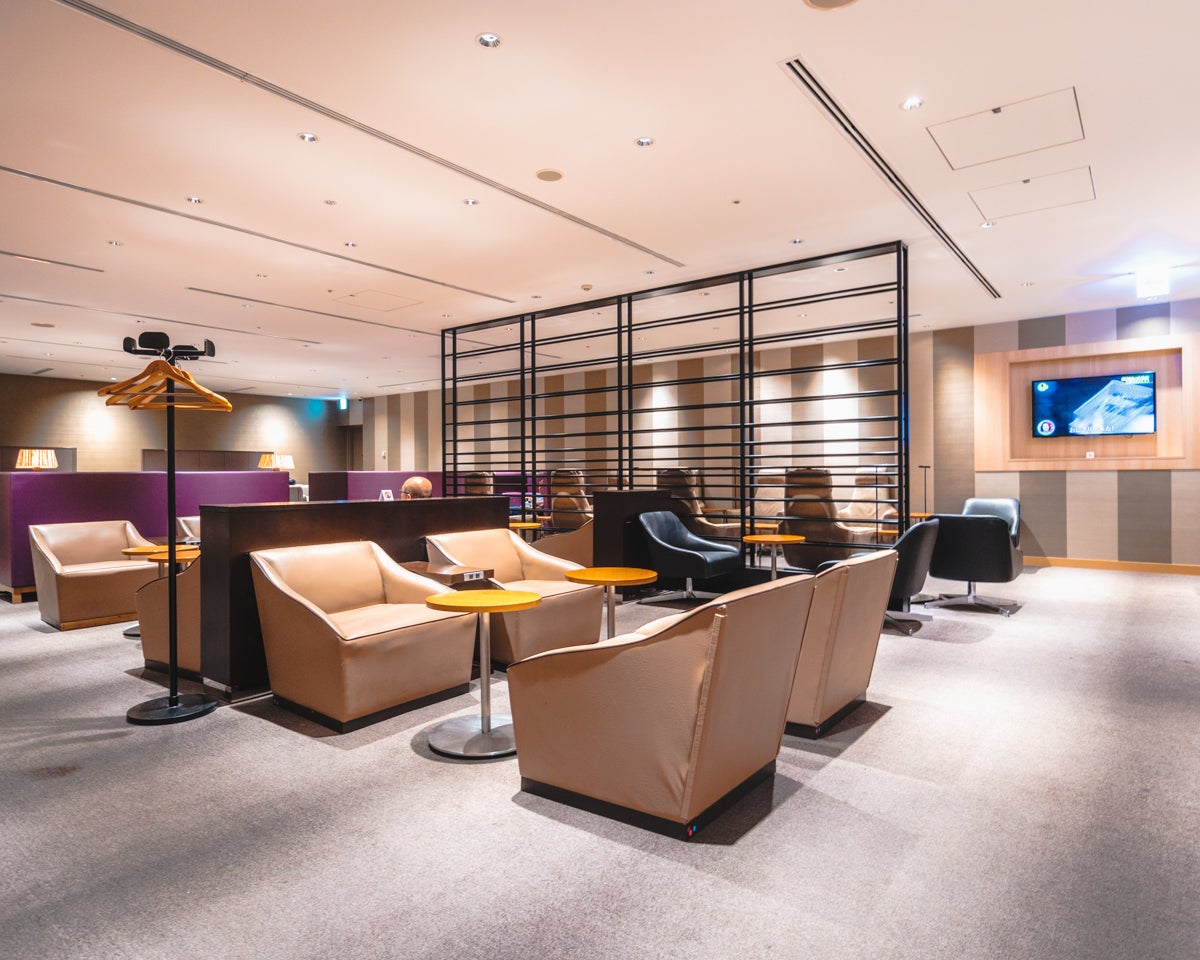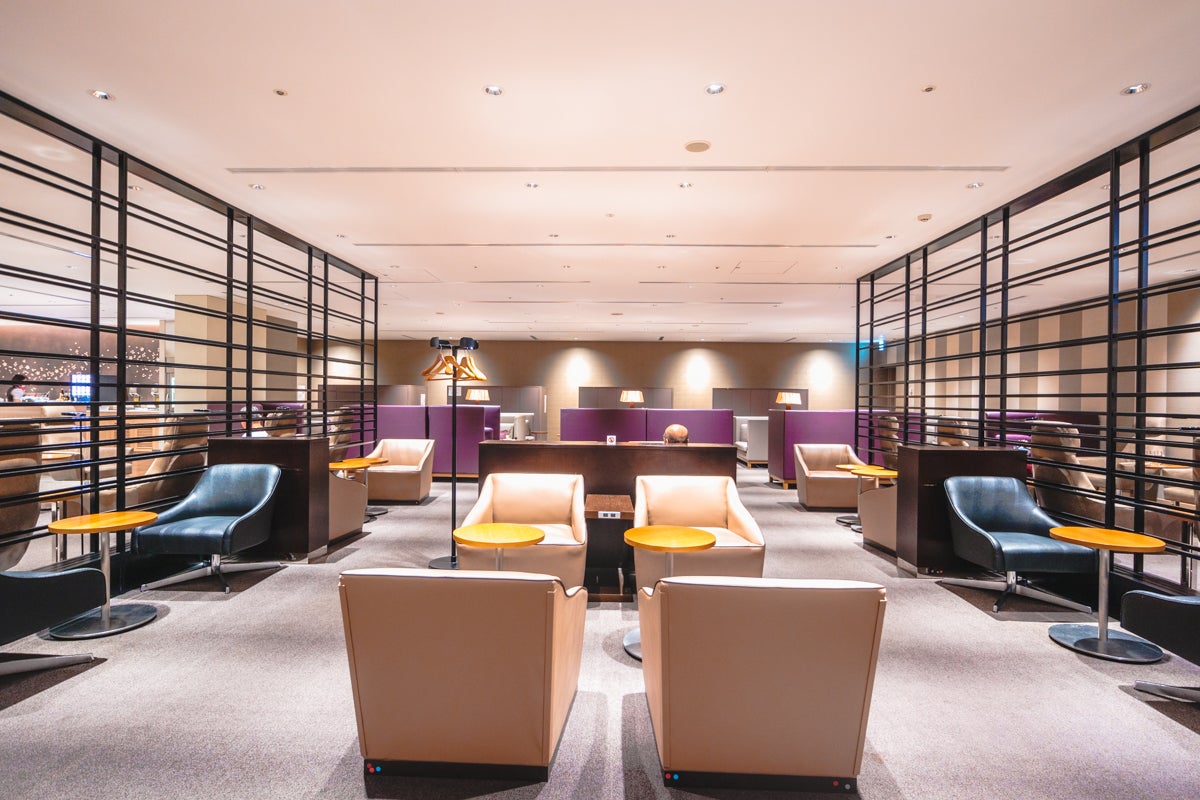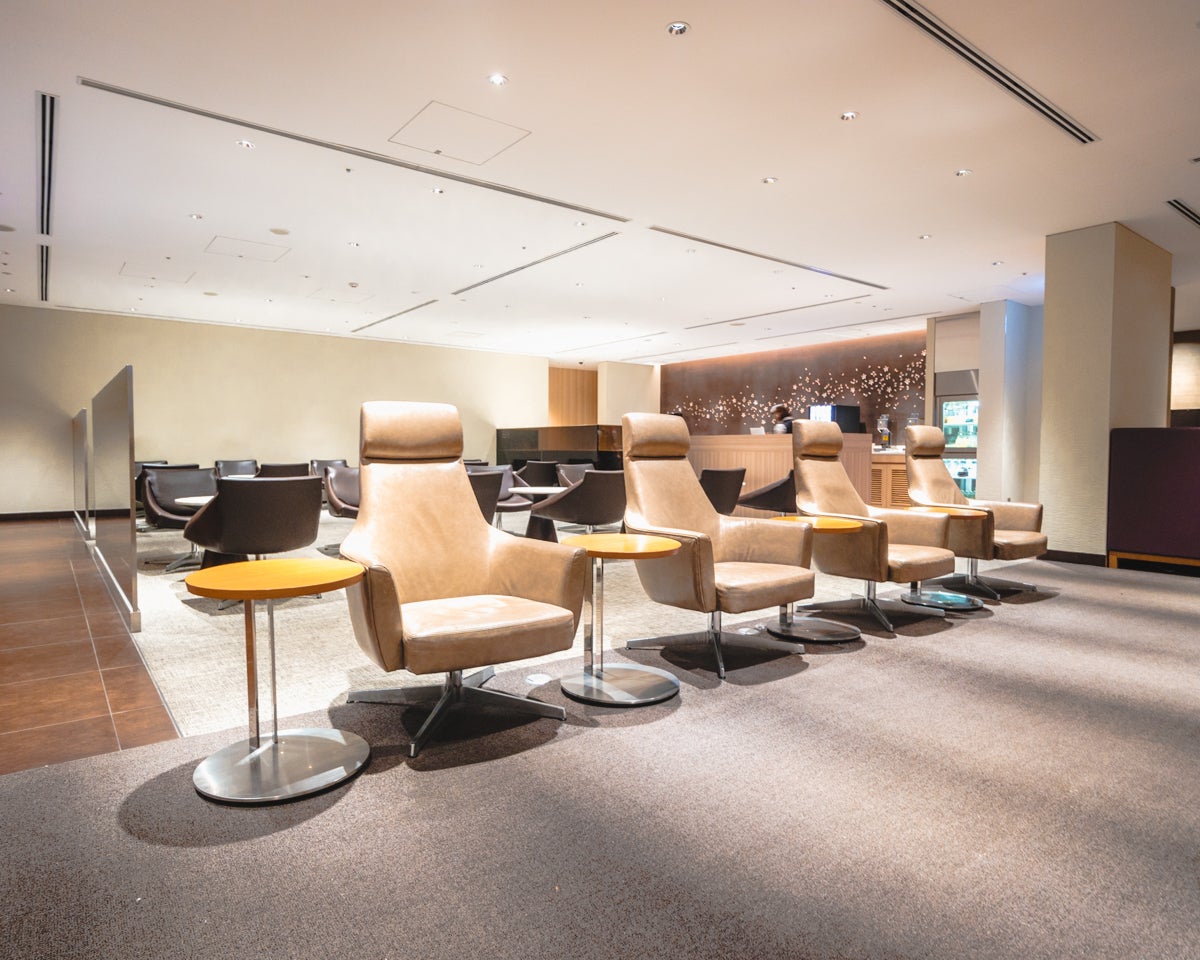 There was also a beverage refreshment bar.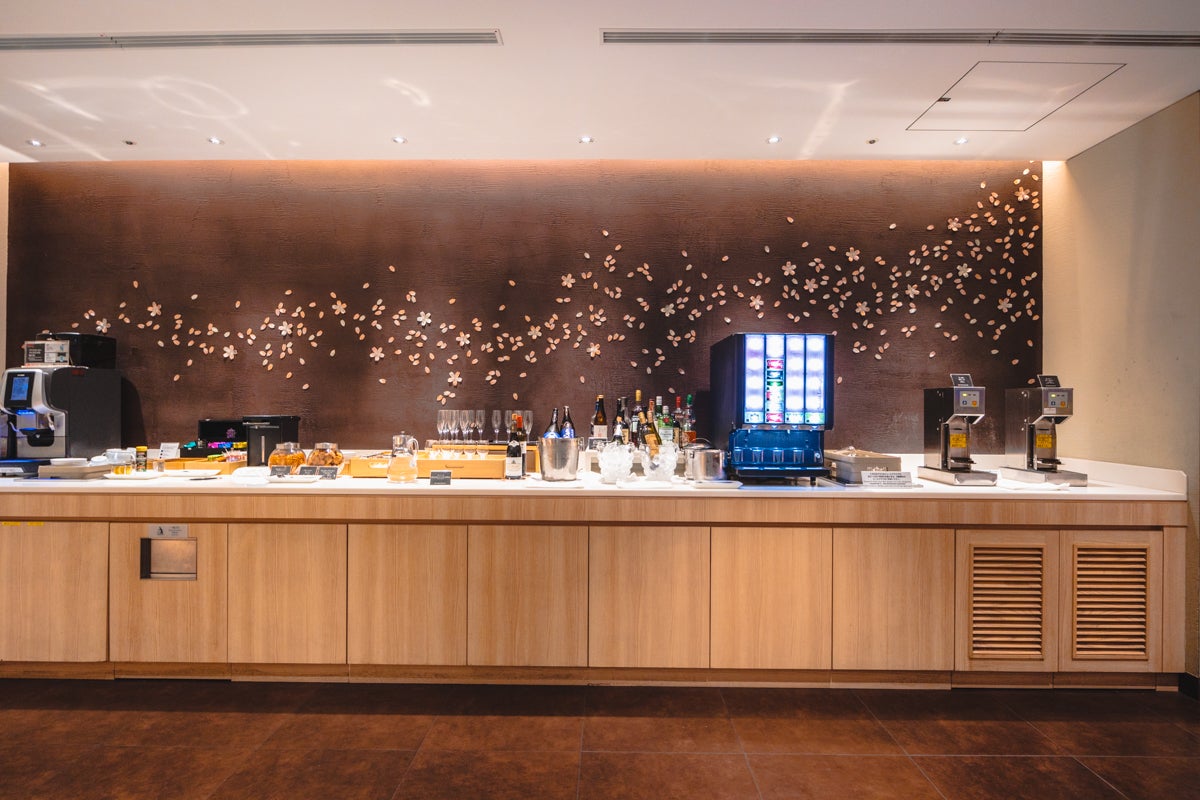 Overall, I was really impressed with the JAL Haneda Business Class lounge and it was a great place to relax, eat, drink, or work before a flight. There was a large selection of food and beverage options and a variety of different zones to settle in.
Flight
Aircraft
QF26 is operated by a Boeing 747-400 aircraft.
At the time of writing, Qantas currently has 6 Boeing 747-400 aircraft left in its fleet which fly between Sydney and:
Santiago (SCL)
Tokyo (HND)
San Francisco (SFO)
Johannesburg (JNB)
My aircraft on this evening's flight, VH-OEH, is nearly 17 years old.
Qantas plans to have the remaining 747-400 aircraft retired by the end of 2020.
Business class takes up the entire upper deck with 18 seats in 2-2 configuration. The remaining 40 business class seats are between the nose and door 2 in a mixed 2-2 and 2-3-2 configuration.
Premium Economy follows in a 2-4-2 configuration with 36 seats.
Economy occupies the rest of the aircraft in 3-4-3 configuration with 270 seats.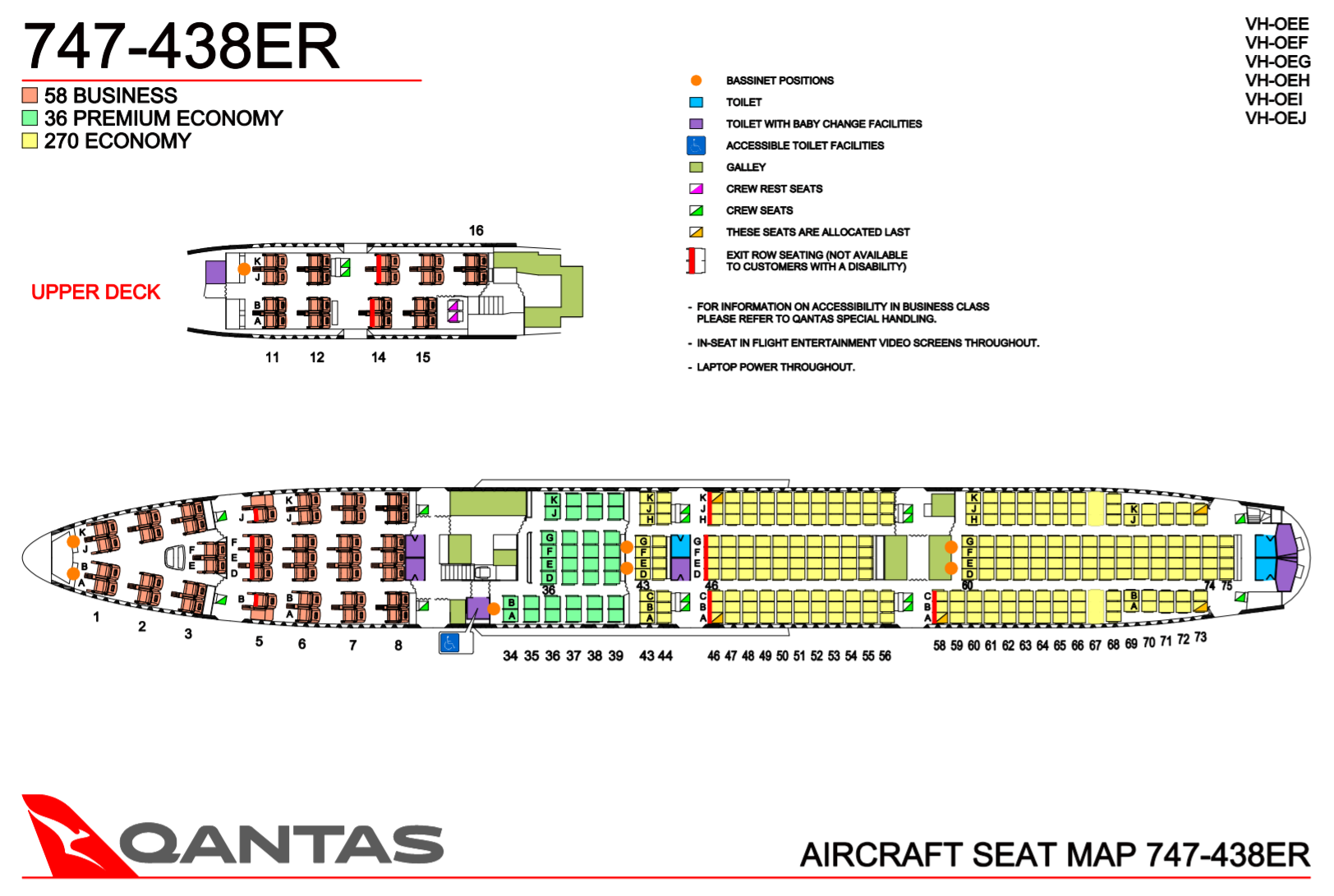 Business Class
Boarding commenced right on schedule and business class passengers used door 1 with passengers in premium and economy using door 2.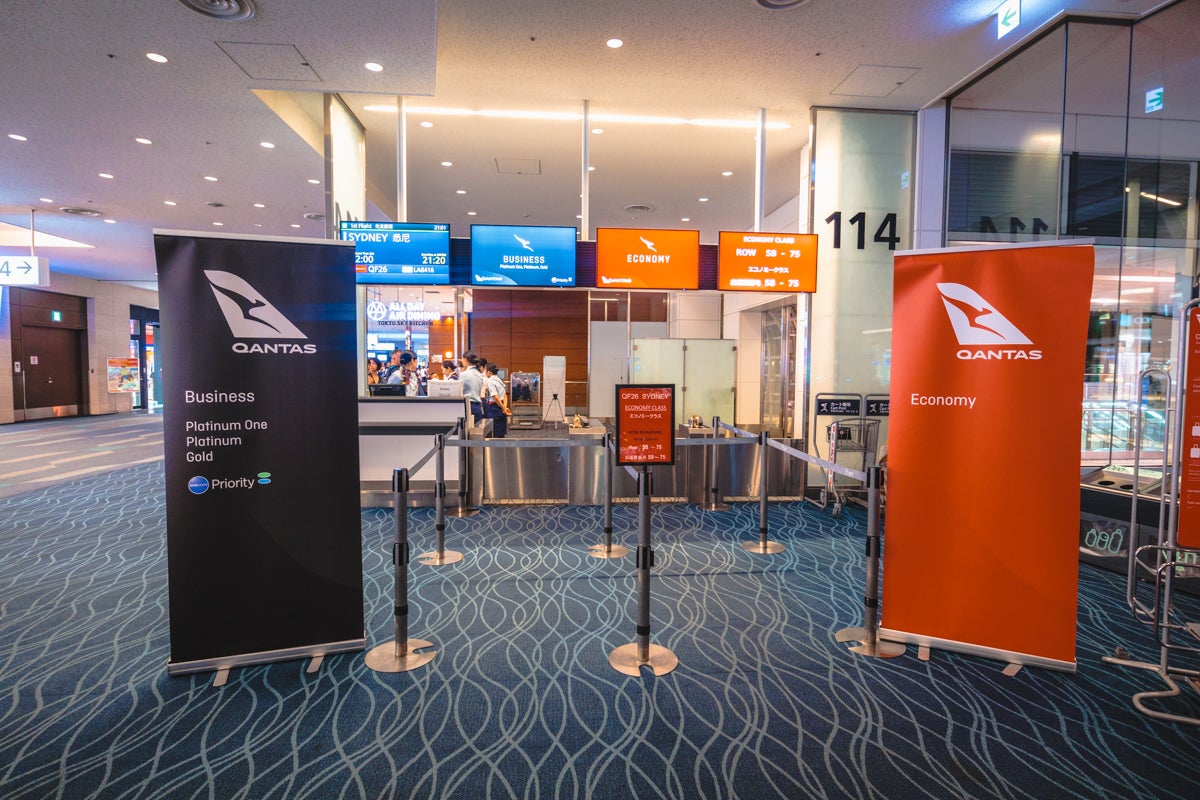 All seats had mattress pads pre-installed before boarding, exactly like on the Qantas A330 evening service I flew just weeks earlier.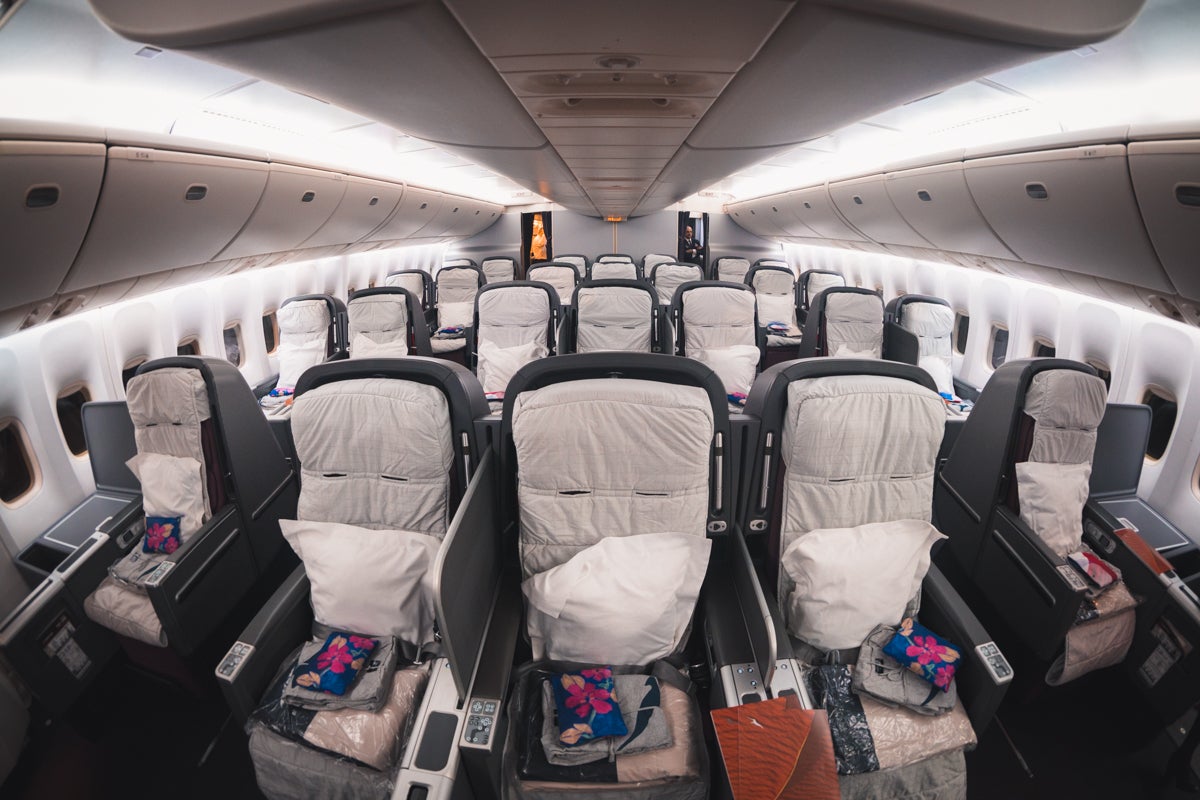 When I asked Instagram what they thought of this, the reactions included, "It looks tacky," "It's a Mommy flight: everyone must get straight to sleep," "For a 9-hour flight there is plenty of time for the crew to offer a personalized turndown service," and "Great idea, I wish more carriers did this."
For me, I agree that if Virgin Atlantic can offer a personal turndown service on a 6-hour red-eye across the Atlantic, there is enough time on a 9-hour flight to do the same. But either way, I'm just thankful a mattress pad was provided.
I was seated in the main business class cabin which was configured in 2-3-2 between door 1 and door 2.
I noticed that there was no standardization when it came to the privacy divider — upon boarding, some were up and others were down — so I guess they were left the way the previous passengers left them.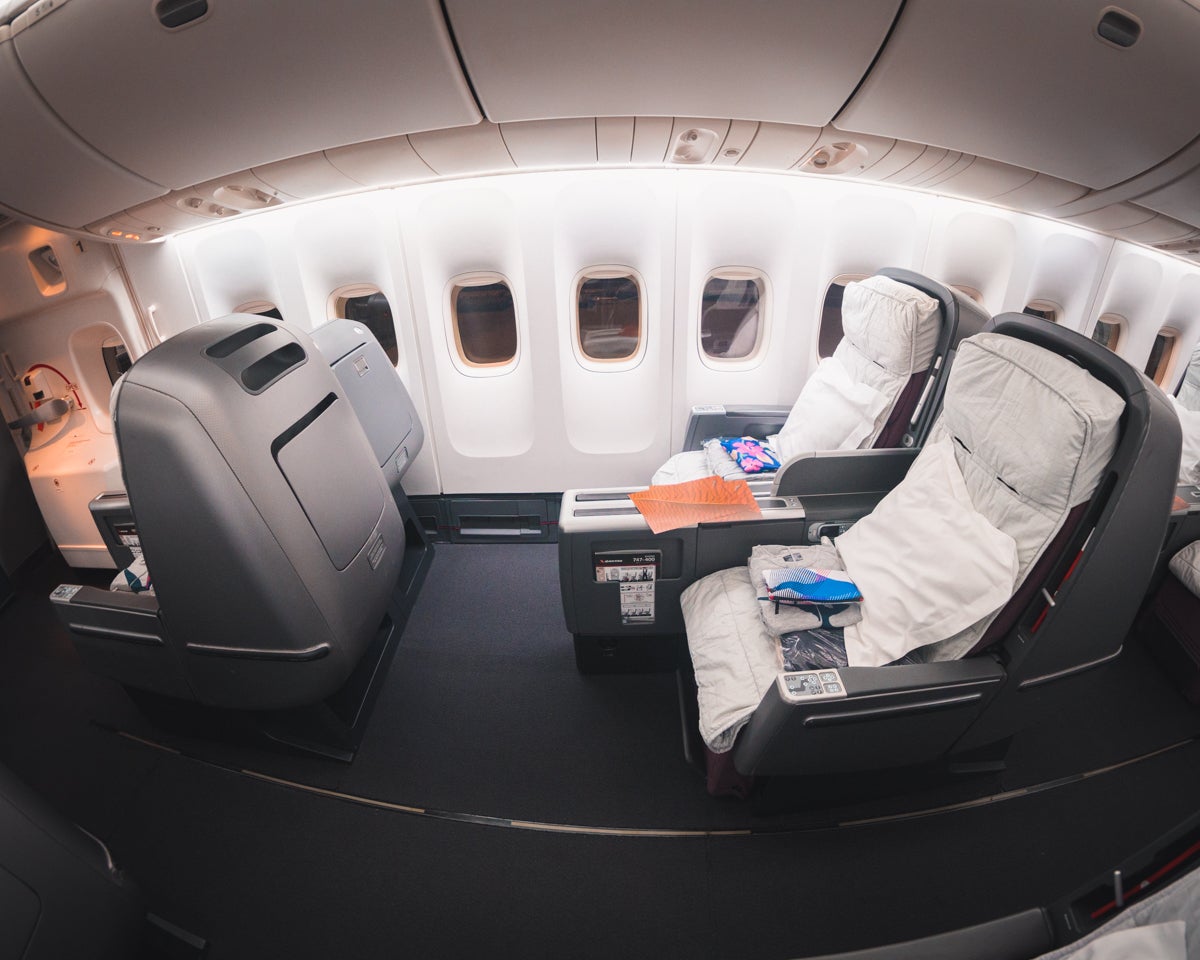 I quickly snapped a few shots of the forward cabin in the "nose" of the 747 which is mostly 2-2 with 1 seat pair in the middle of the last row.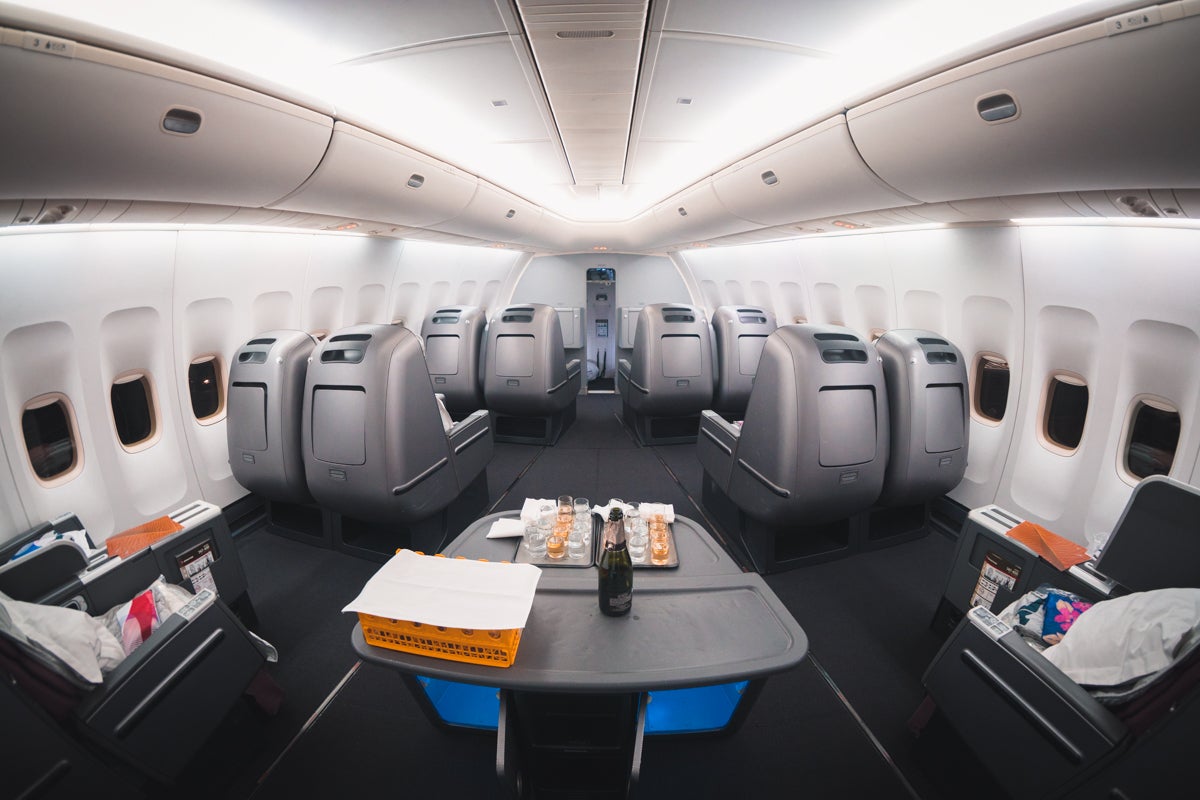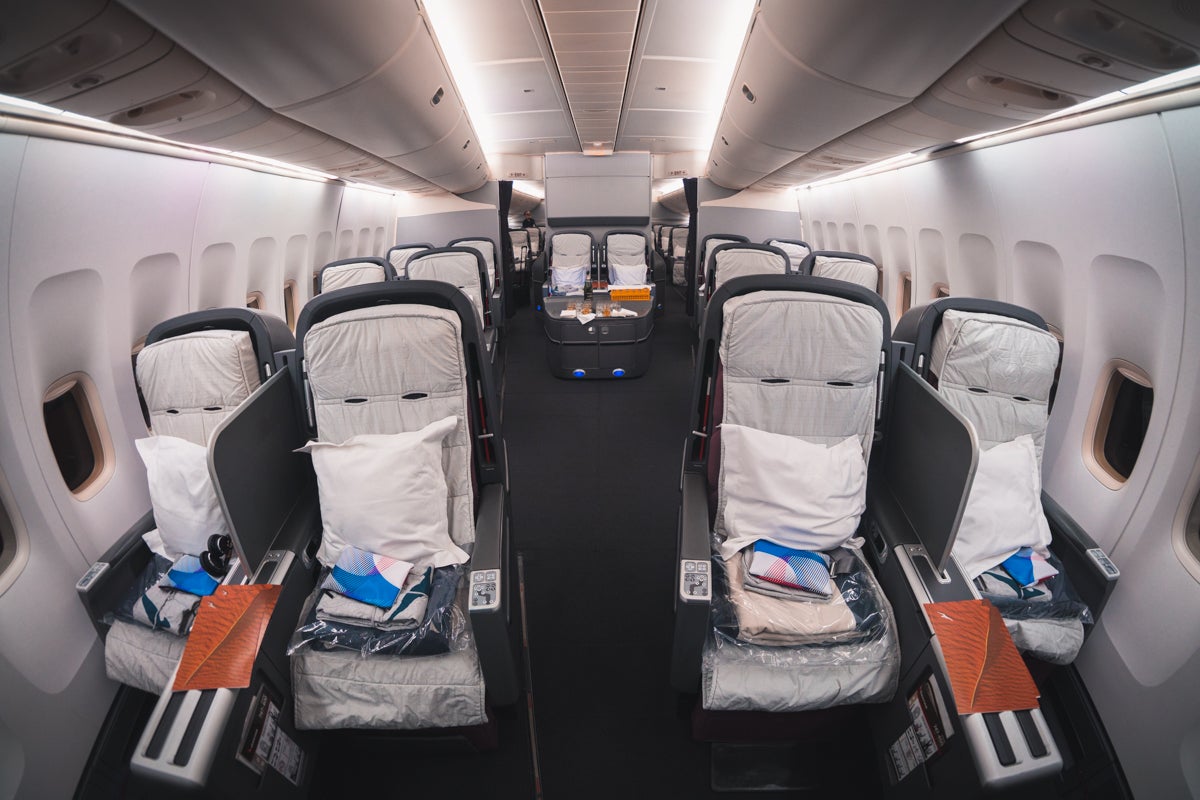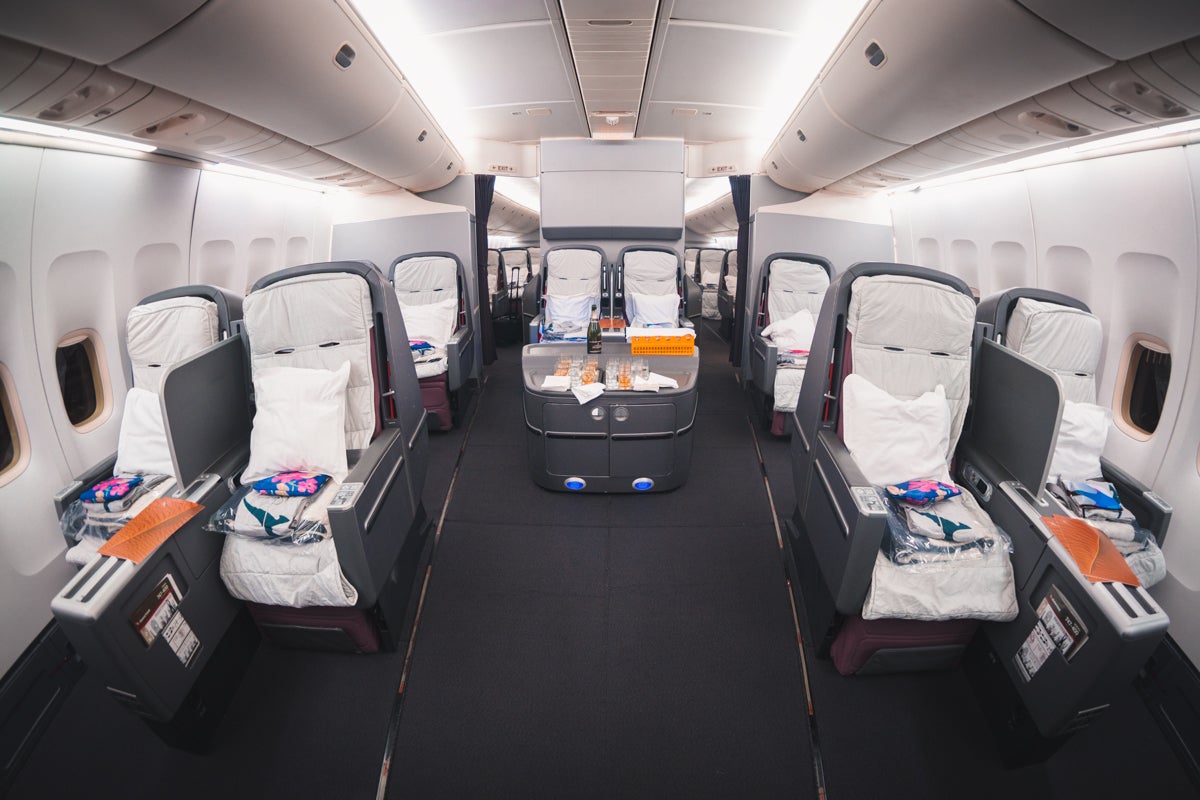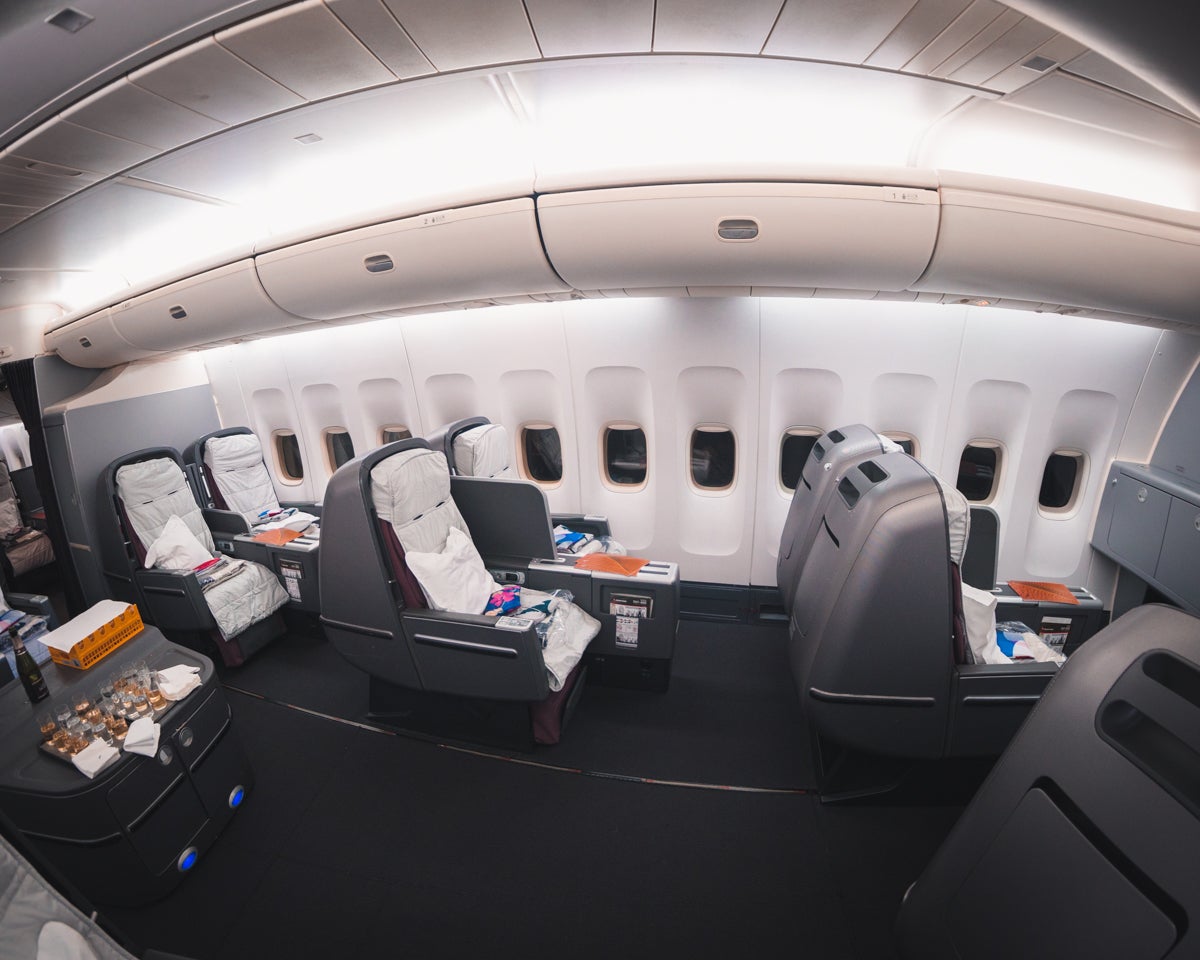 The only solo seats are 5B and 5J, which are both exit row seats and have a storage console alongside them.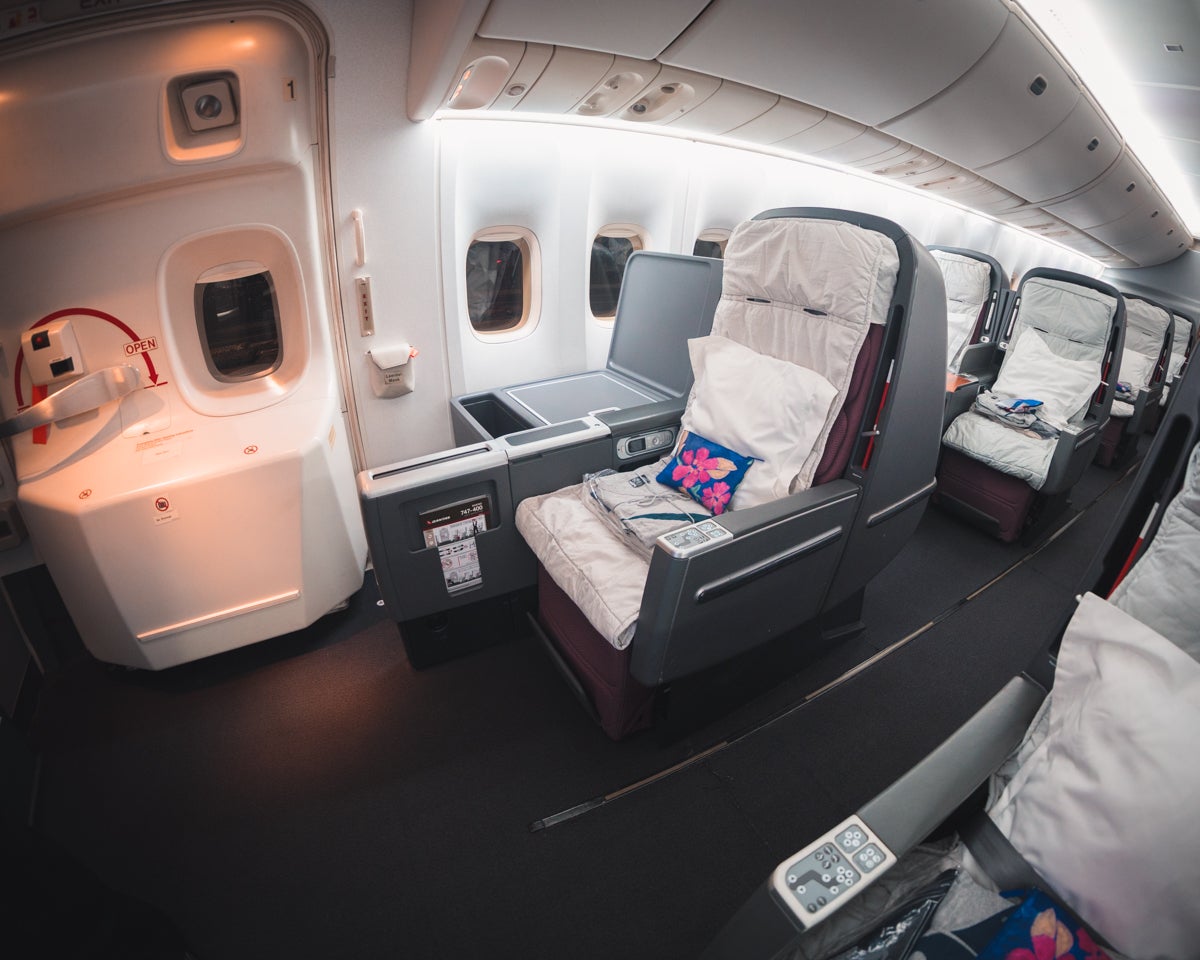 Despite the last-minute upgrade, I was fortunate to be assigned a window seat at 6K.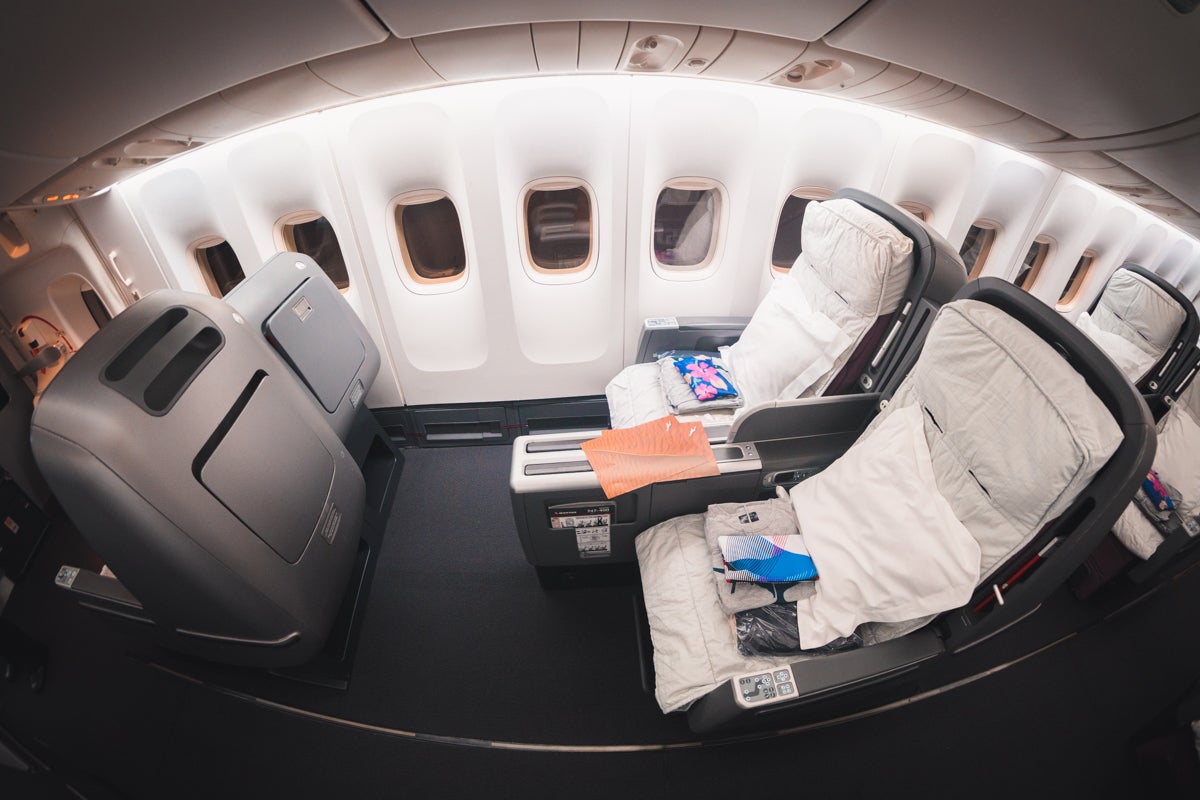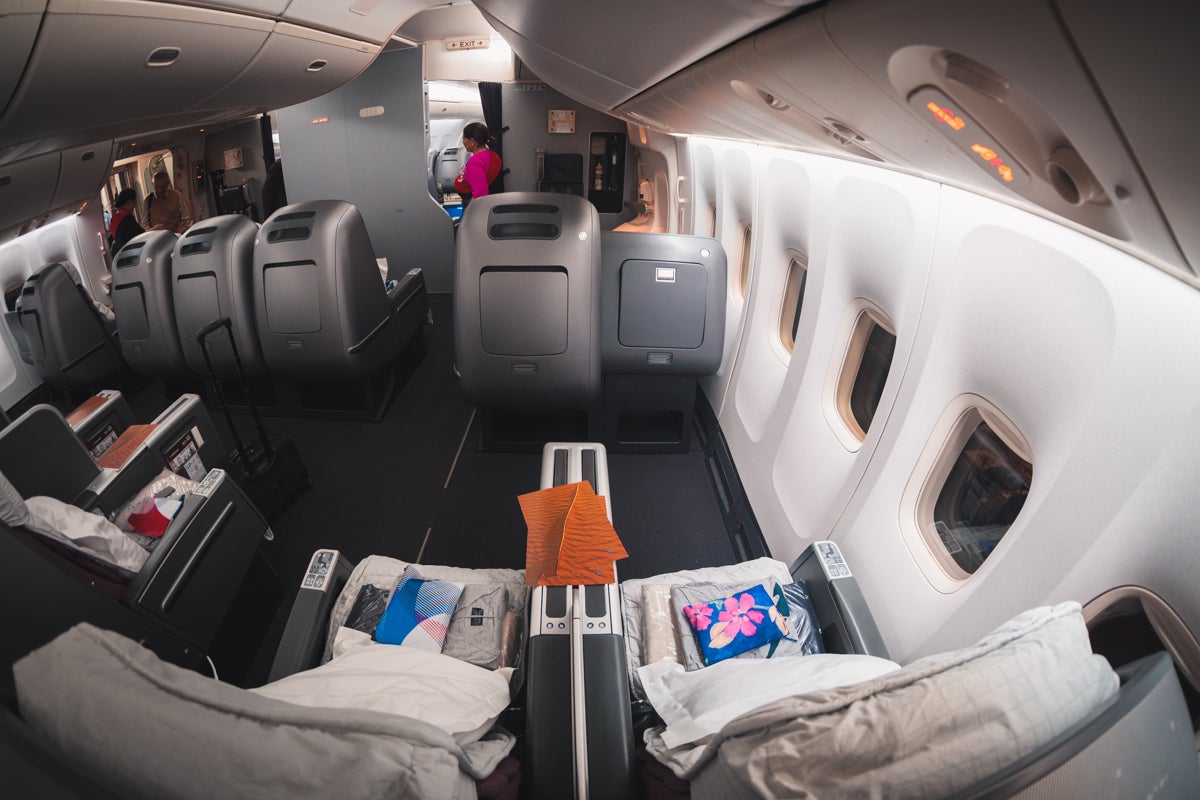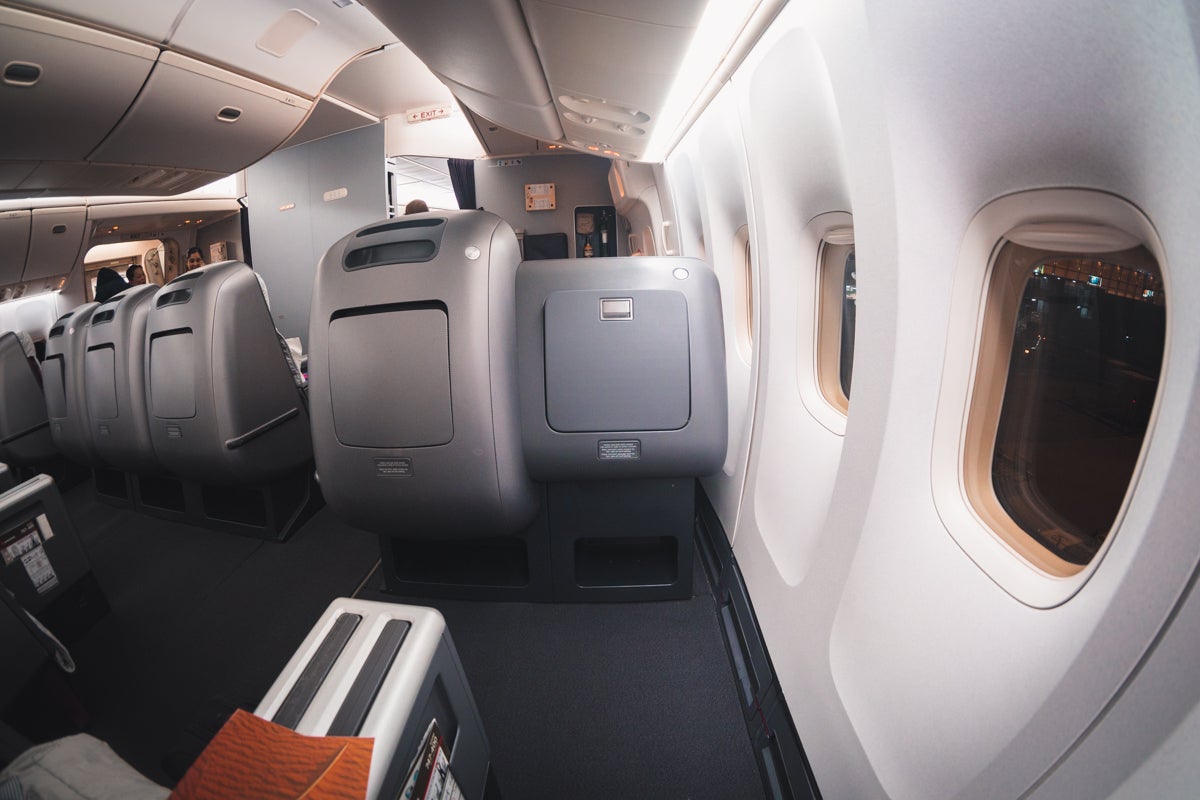 I'm so glad I wasn't stuck in one of the middle seats.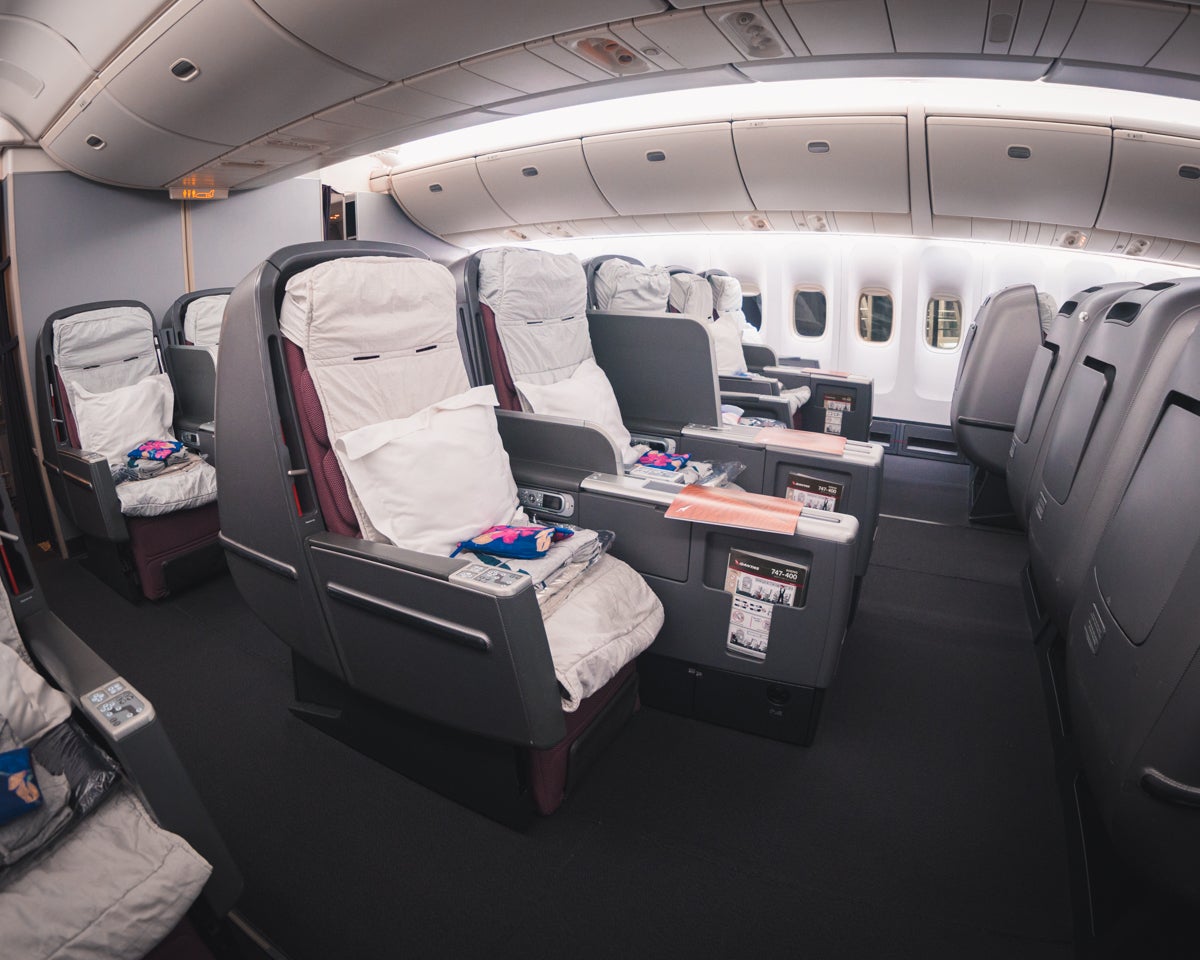 Qantas' Skybed II was launched with the Airbus A380 in 2008 and has an 80-inch pitch and reclines fully flat.
The airline commenced a refurbishment program for its 747 aircraft in 2012 which included the installation of these same A380 Skybed seats, just with a slightly smaller IFE screen (10 inches versus 11.8 inches).
Although I did not have direct aisle access, I was fortunate to be seated next to a friend who was part of the same week-long business tour.
If I didn't want to see my seat neighbor, there is an electronic height-adjustable privacy screen, but it doesn't raise high enough as I could still see my tall seat friend sitting next to me when I tested it.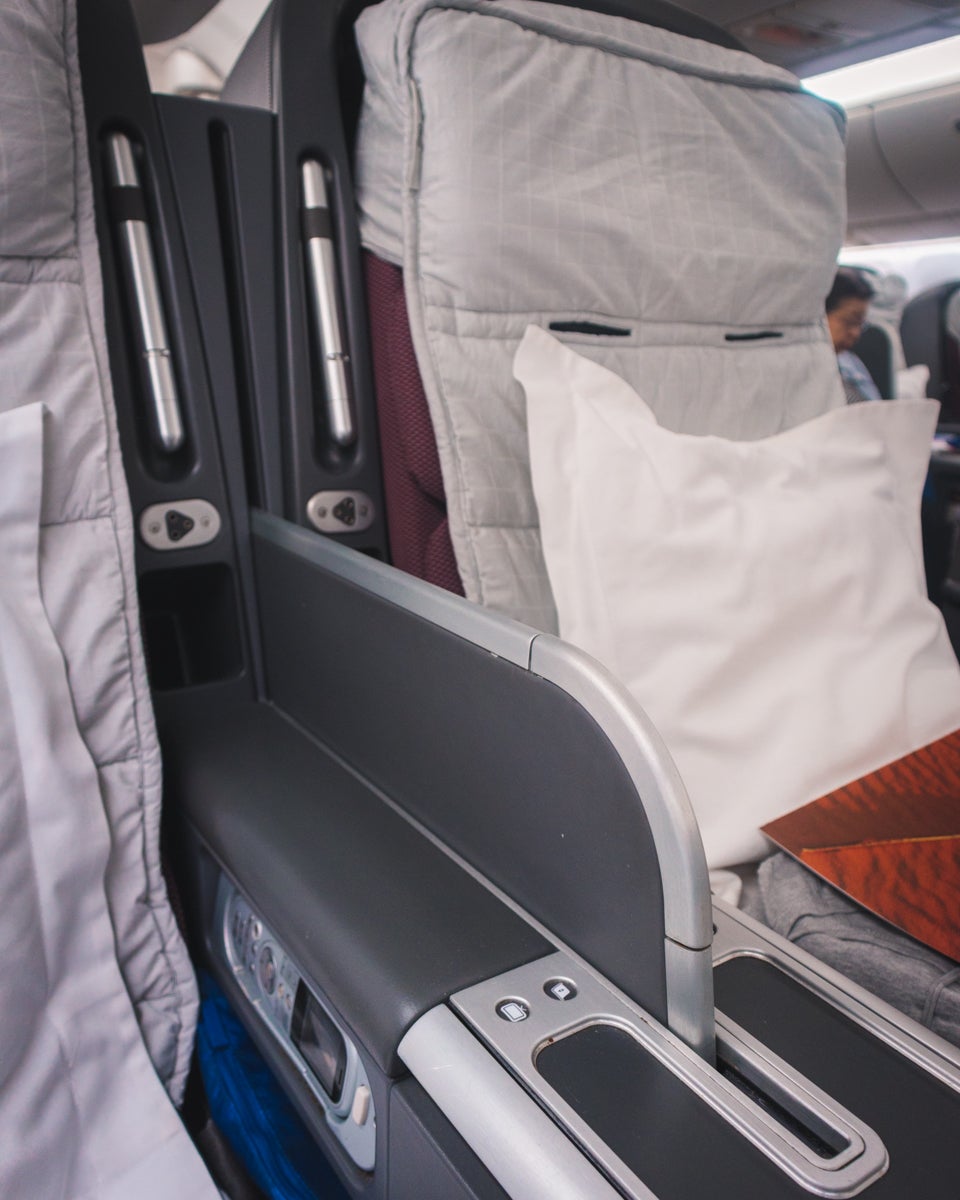 Alongside, is an individual spotlight.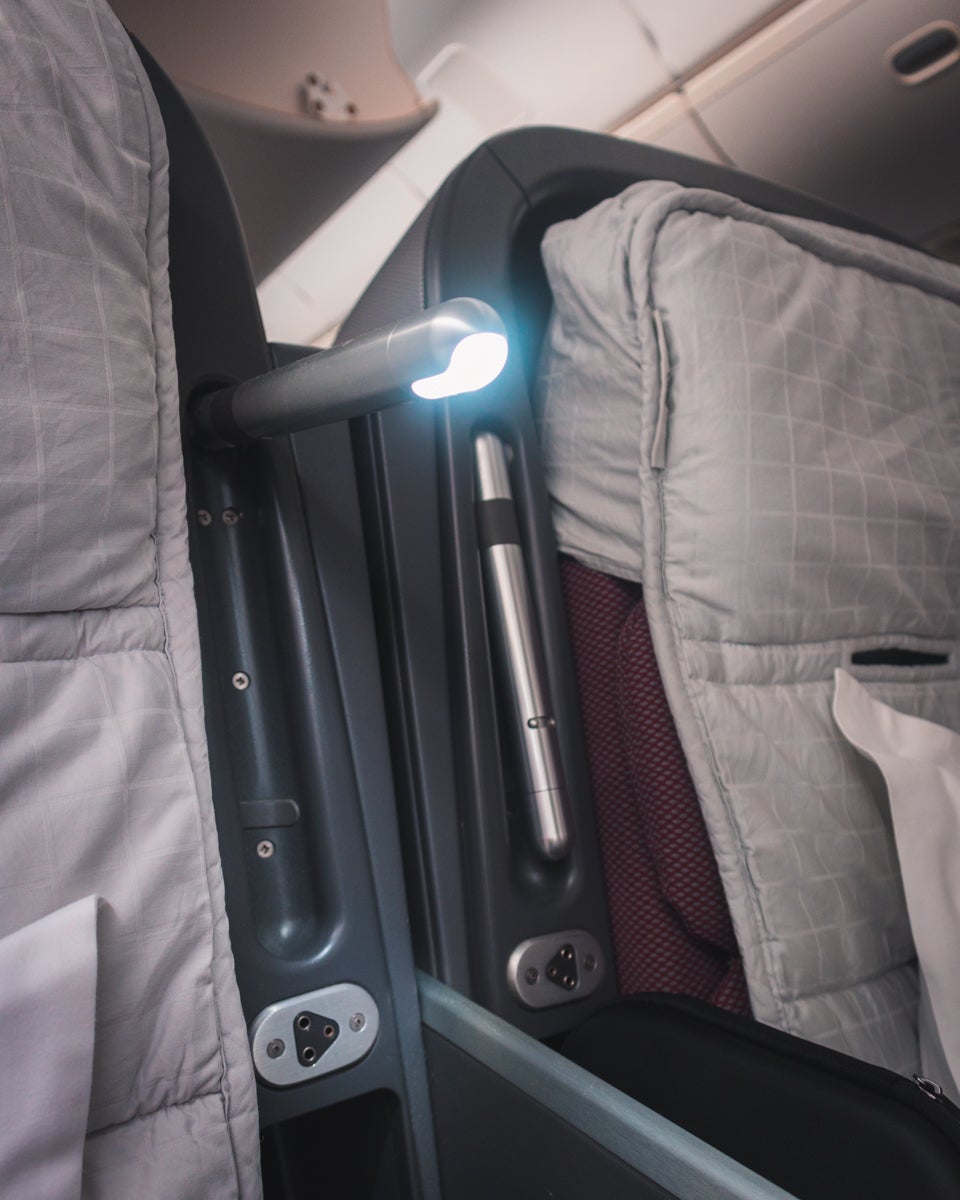 The tray table extends out from the console between seat pairs.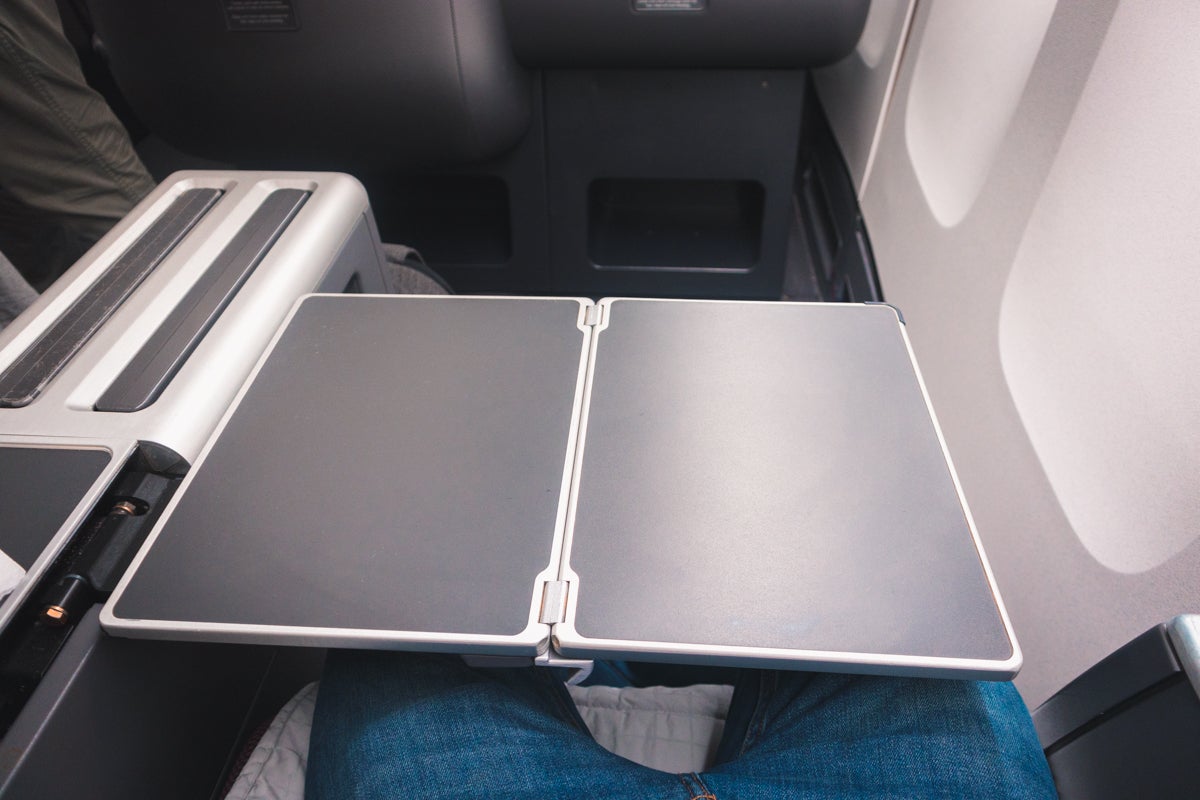 The IFE remote is housed above a very small storage pocket also alongside the seat.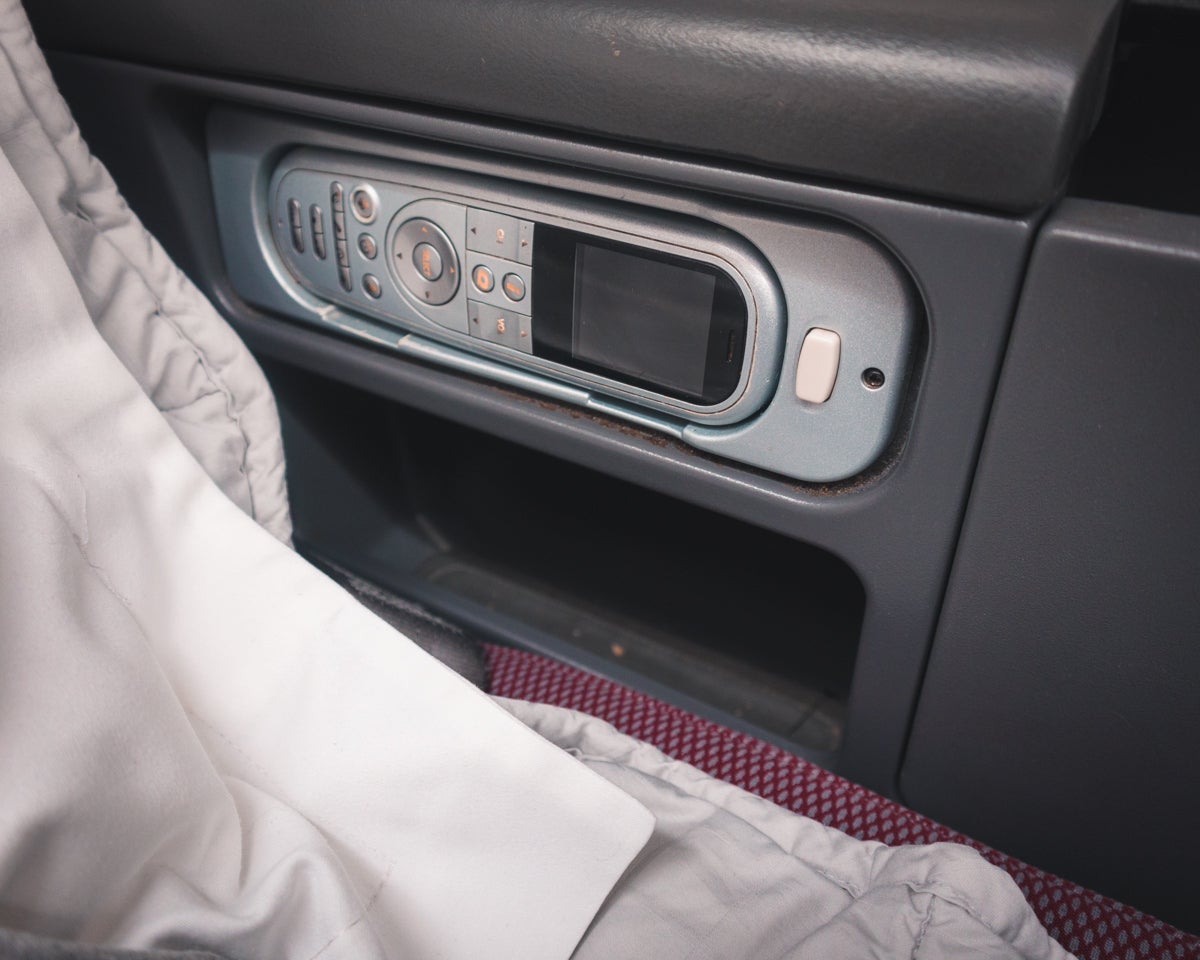 Further out from the seat is the literature pocket.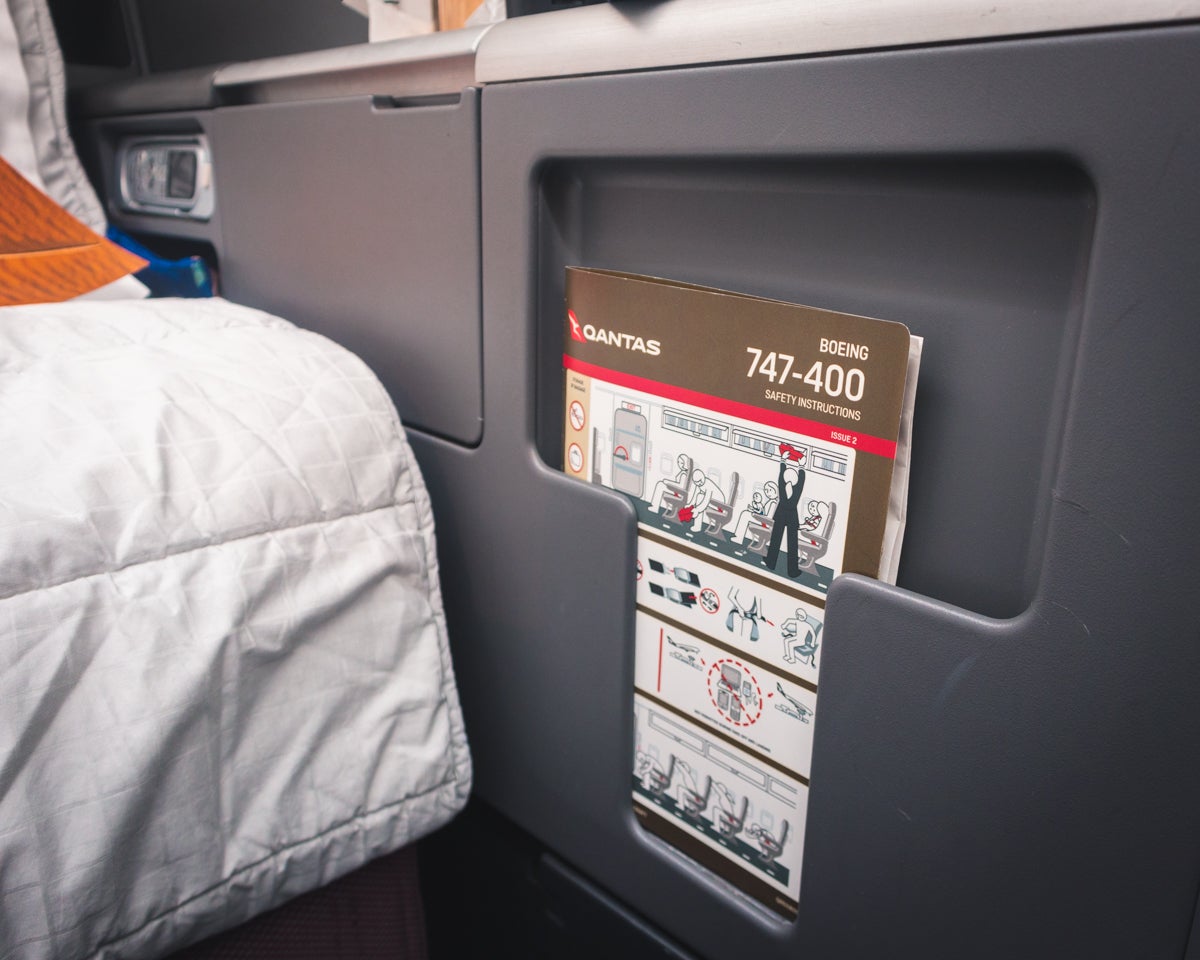 On the end of the console, between the seat pairs, is a pair of power and USB sockets.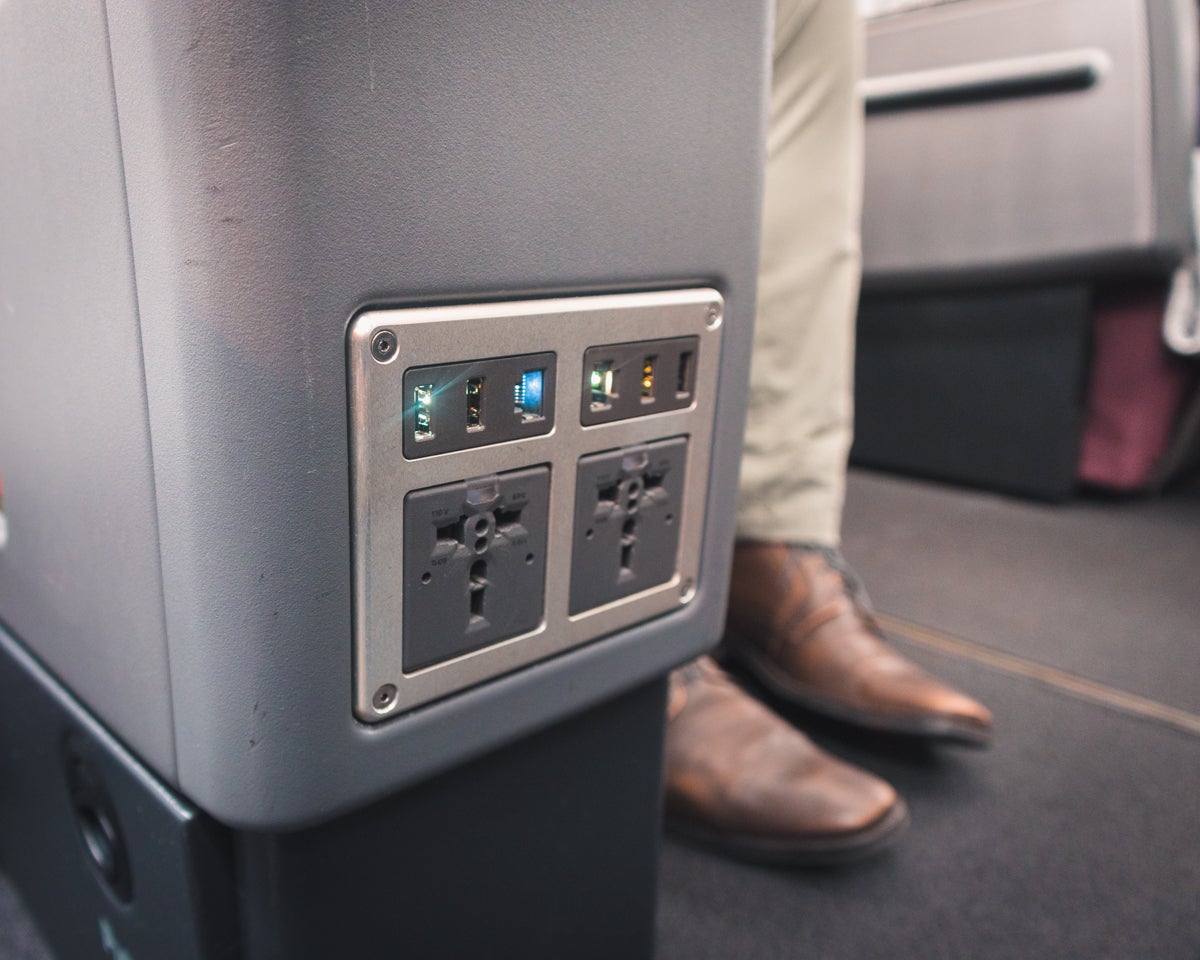 Over on the opposite side, you'll find the controls for the seat.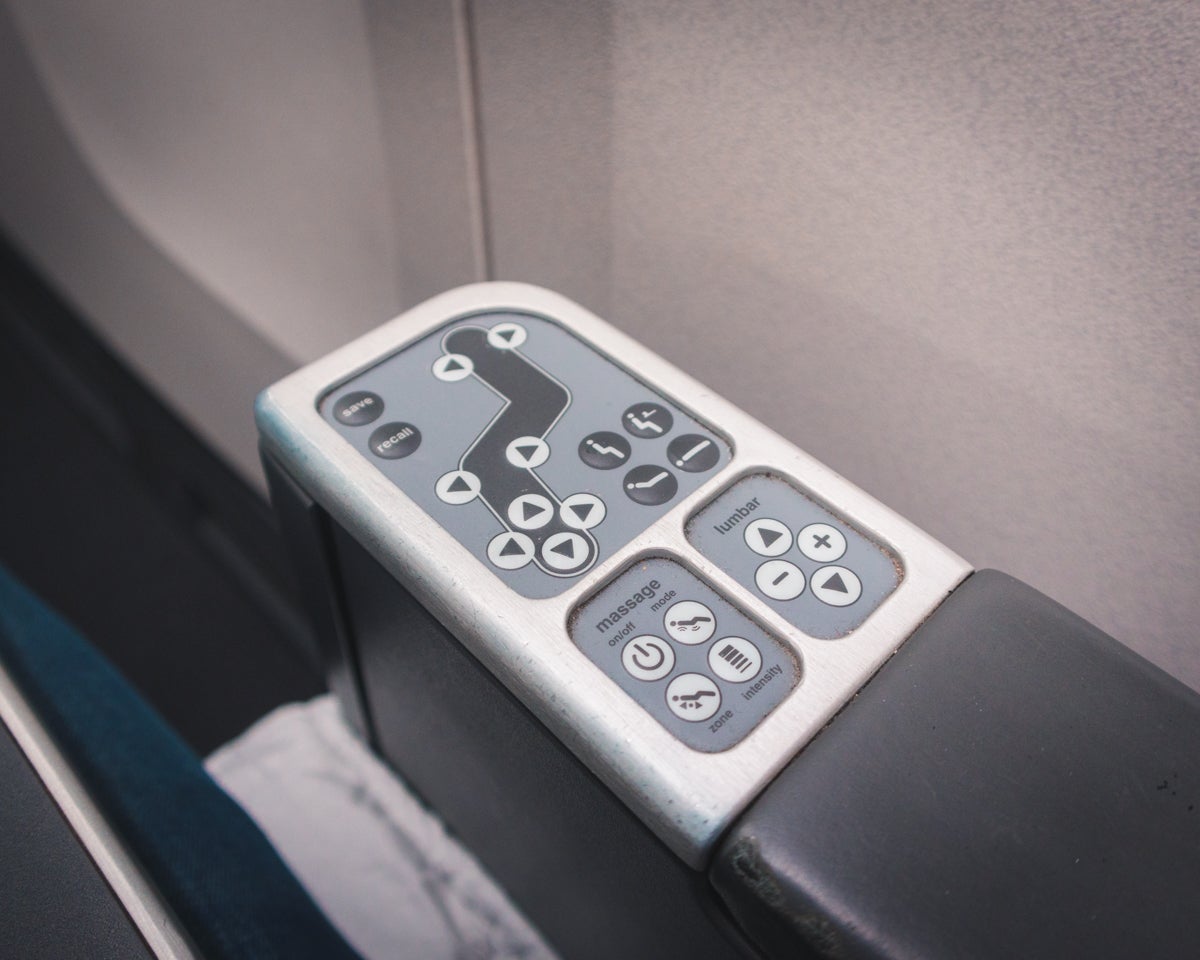 Directly in front is a small storage compartment that is too small for a bag, but fine for a pair of shoes.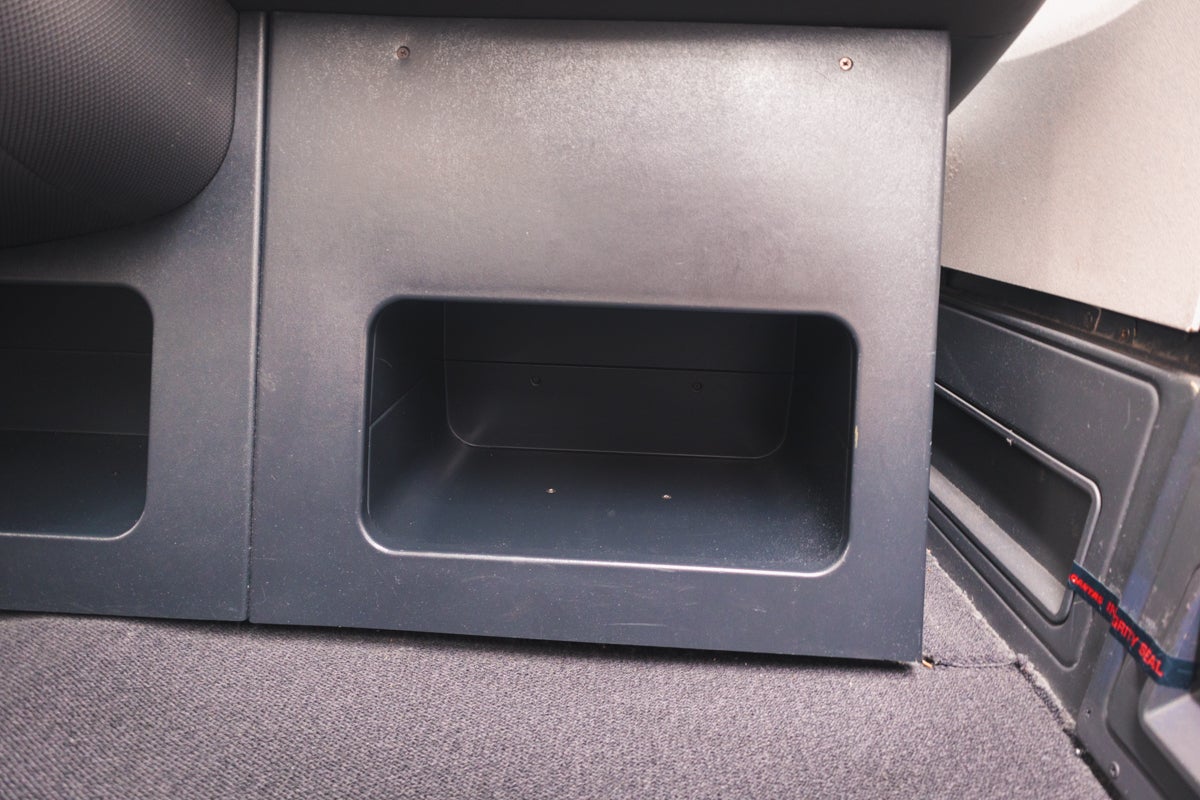 Above this, is a small storage pocket.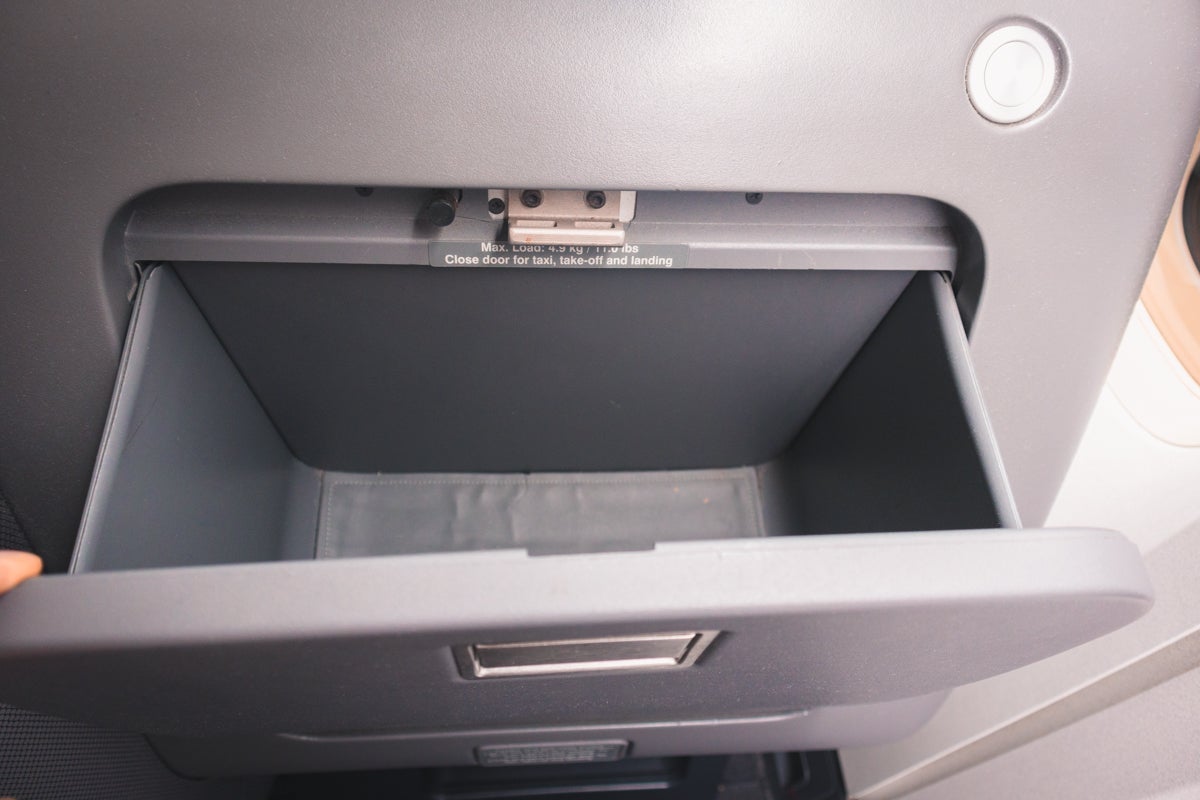 Individual air vents are overhead.
As mentioned in my previous review, Premium Economy and the lower deck business class passengers all share the 3 lavatories between both the cabins.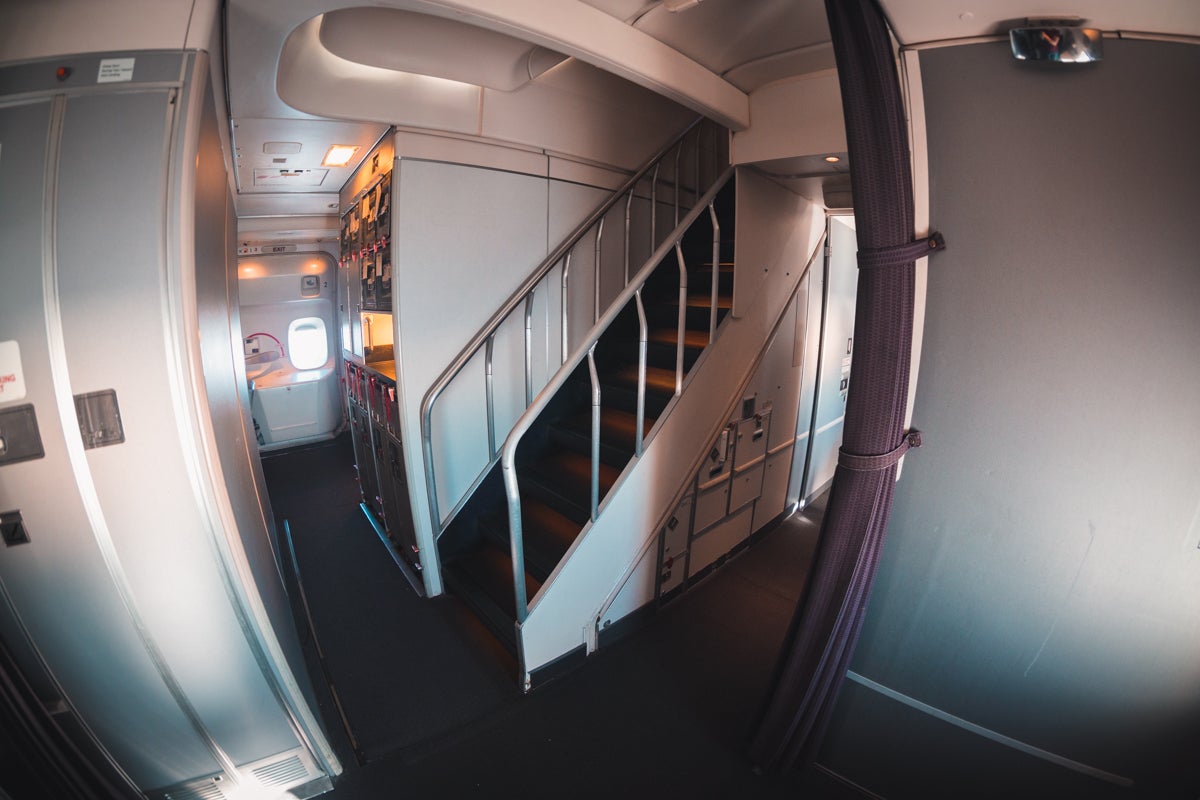 As such, the passenger to toilet ratio is a shocking 76:3 and meant there was always a wait to use a bathroom.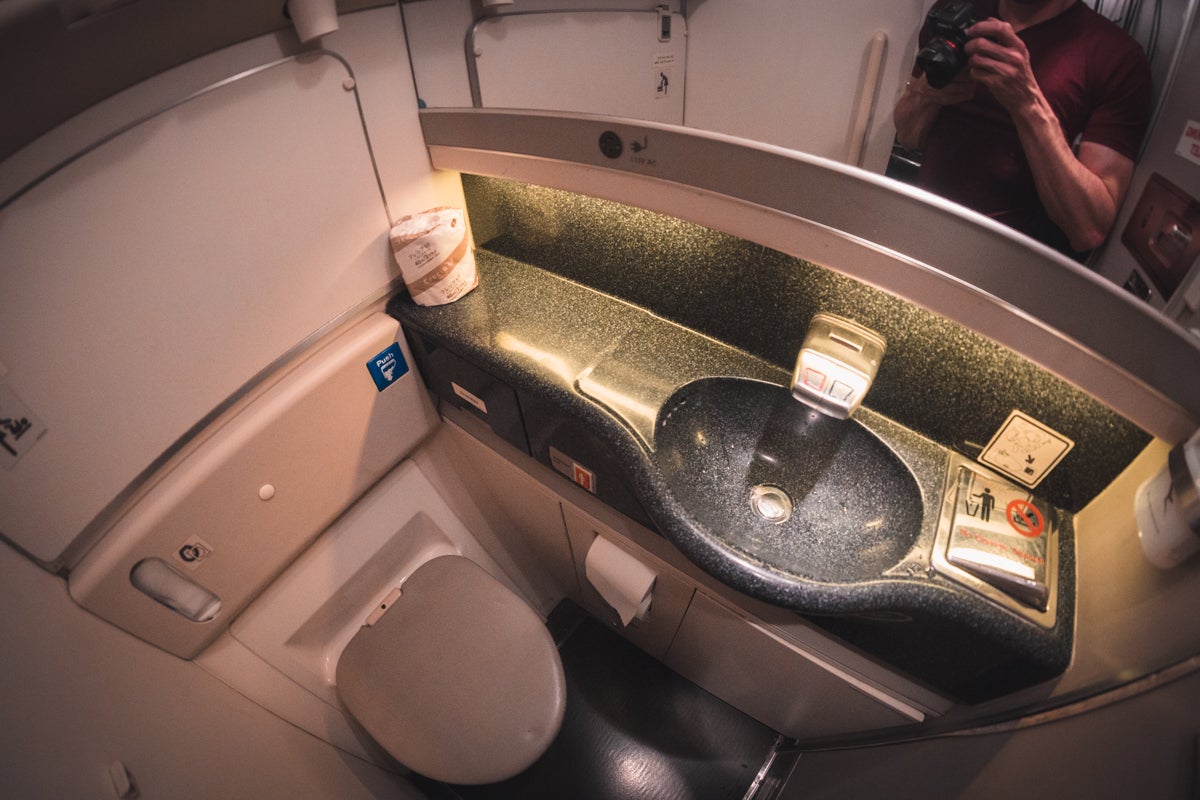 After the meal service, I converted my bed into a flat bed to finish watching off a movie before drifting off to sleep.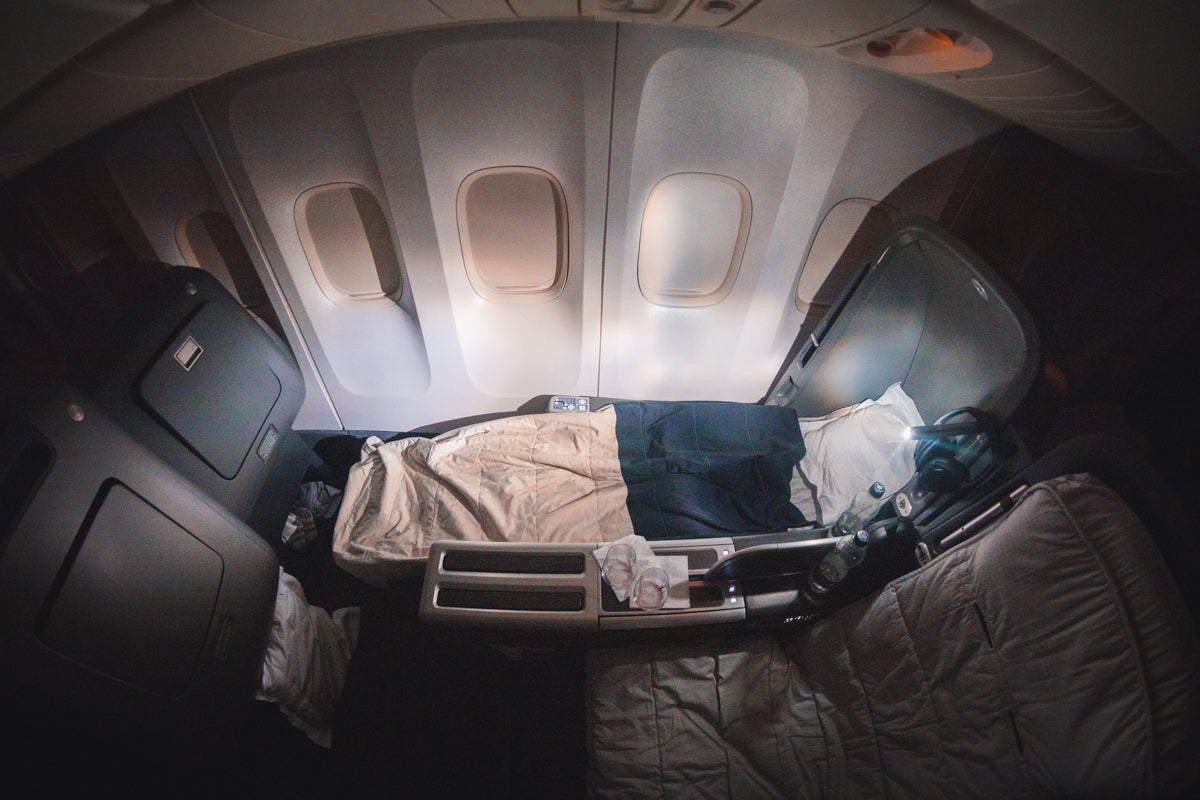 Window and middle seat passengers need to jump over their seatmates to get to the aisle.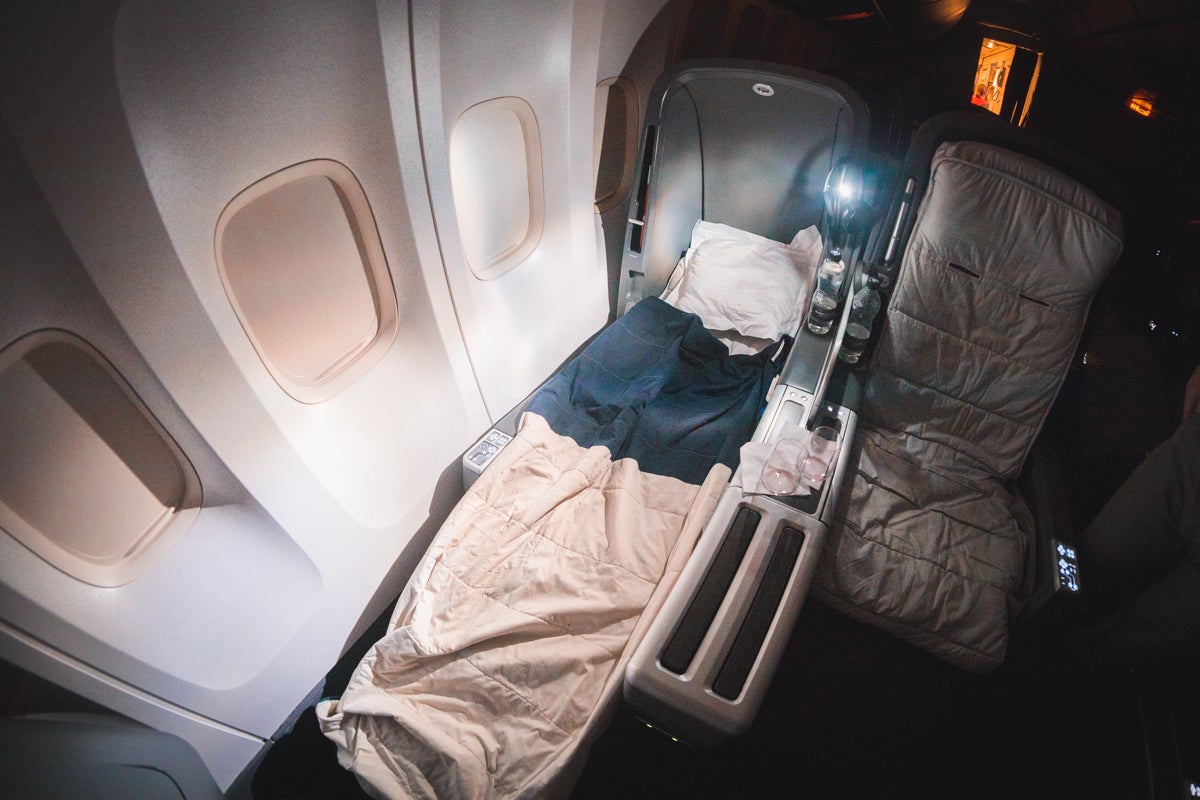 I managed to get 5 hours of sleep on the way to Sydney.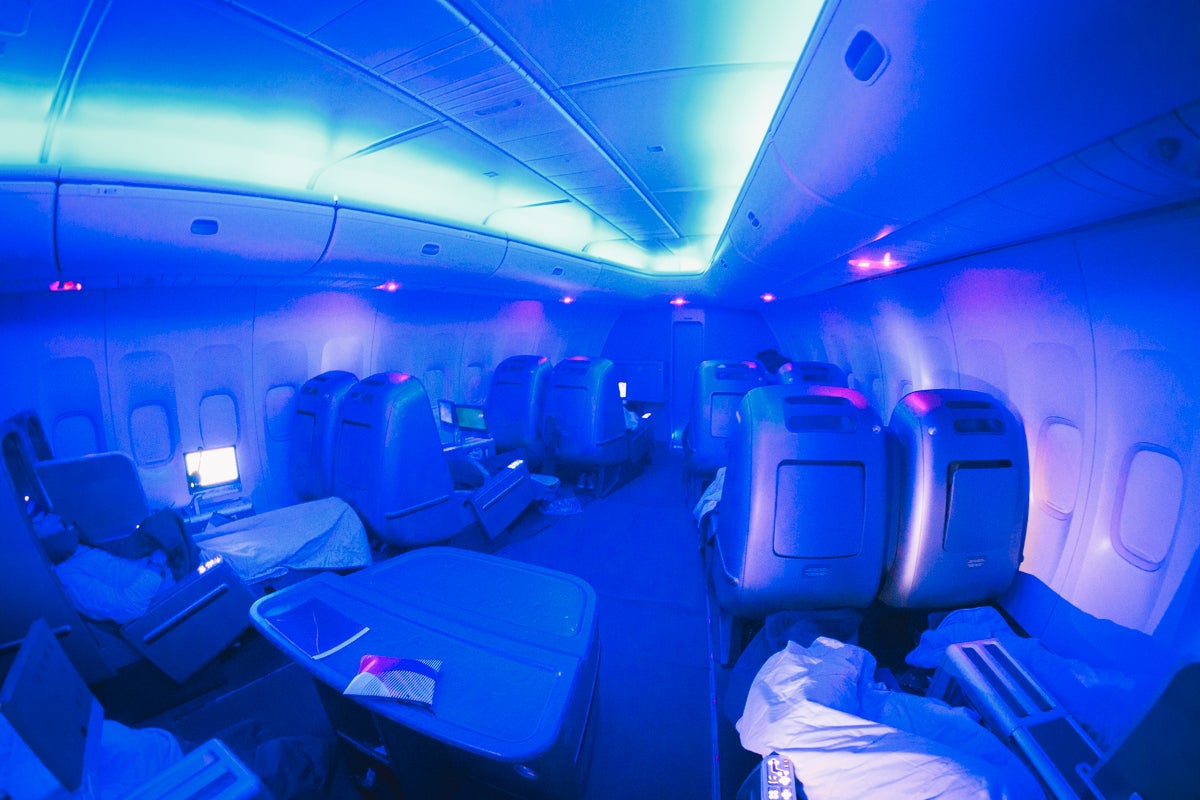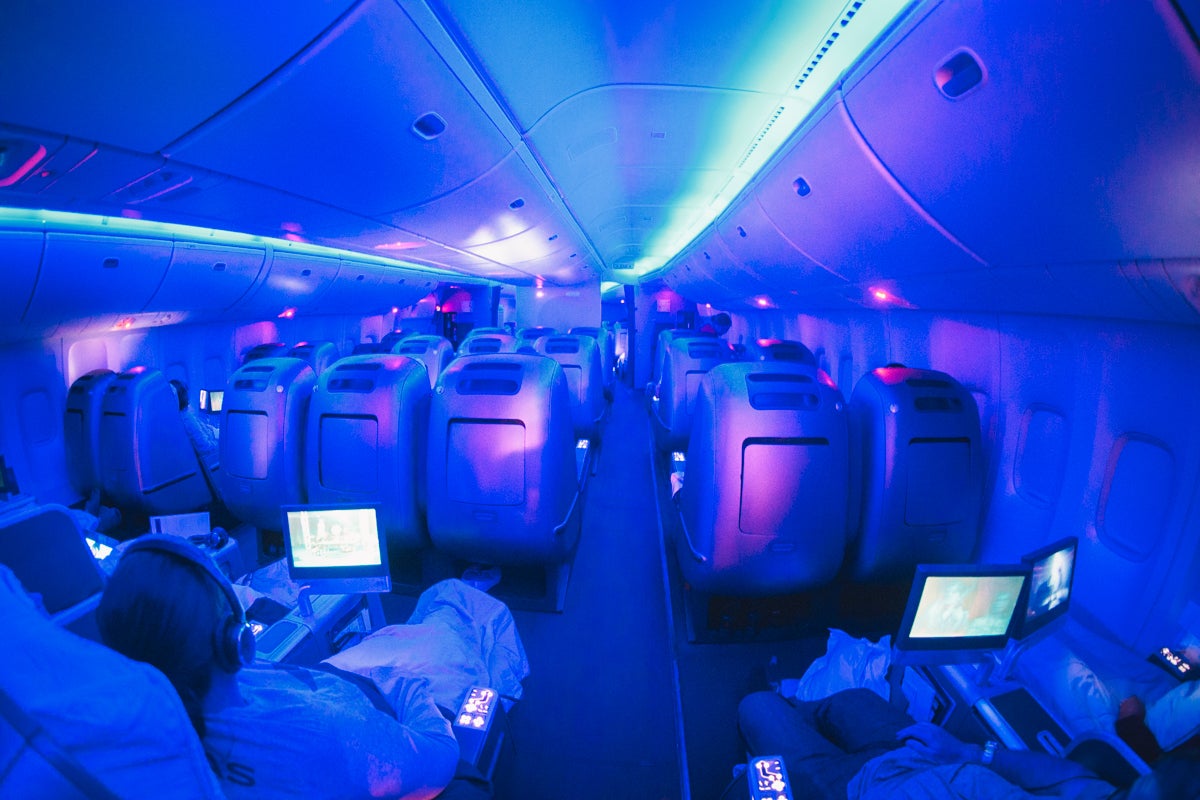 Amenities
An amenity kit with a floral print was waiting at my seat upon boarding.
It includes Aspar products, a dental kit, earplugs, eye mask, and socks.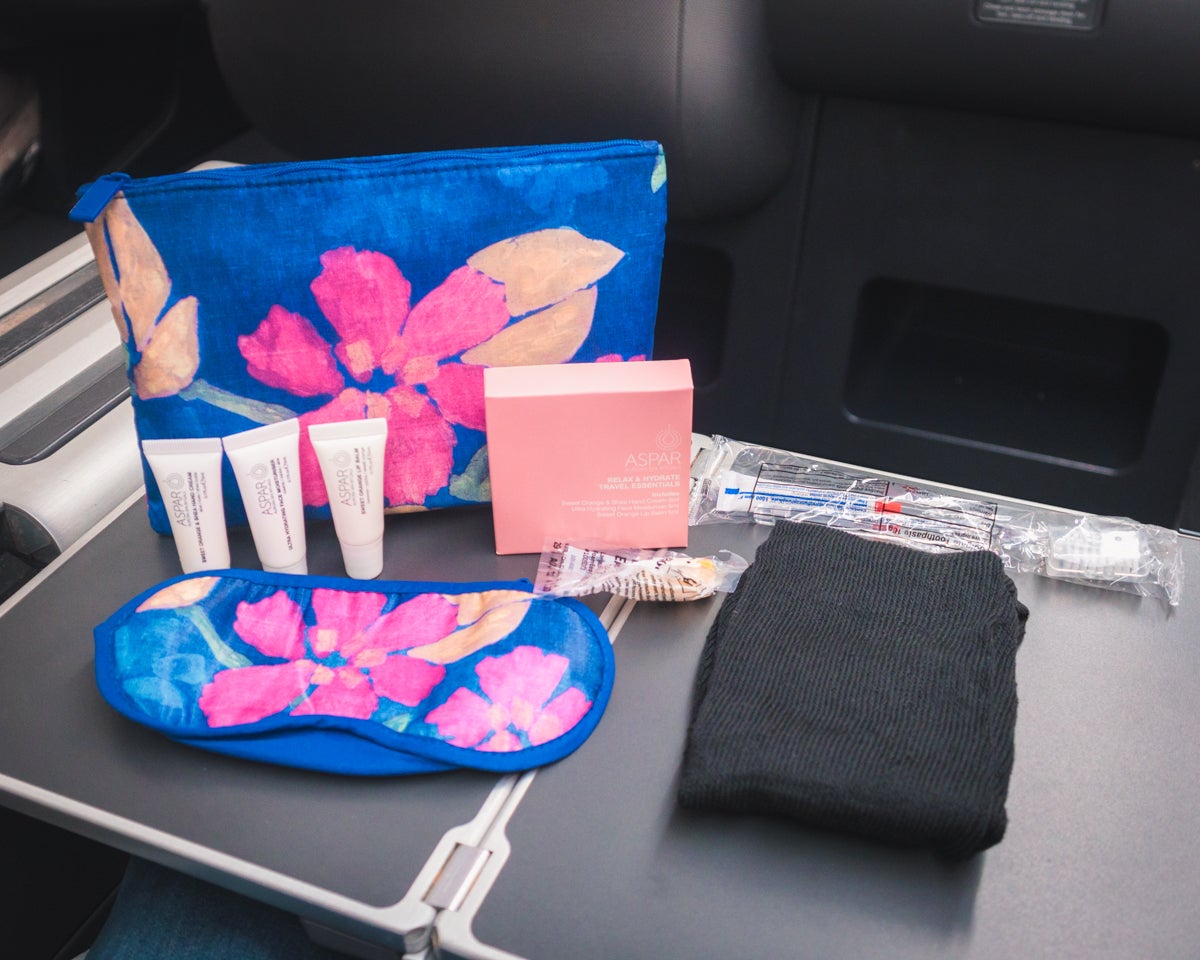 Pajamas were also handed out by the crew.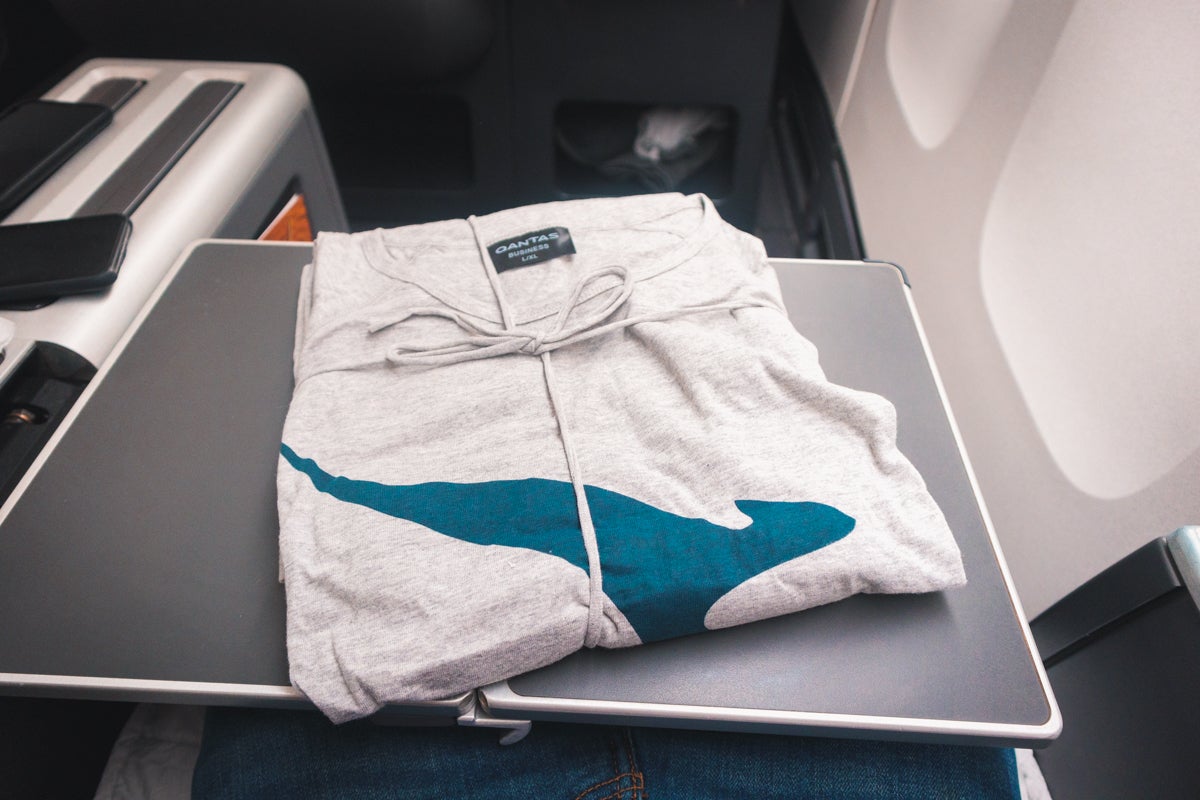 Entertainment
The IFE screen is 10.6 inches and extends out from the console between the seat pairs. Like in Premium Economy, it has a very low resolution. The angle can be adjusted which makes viewing better when the seat is converted into a flat bed.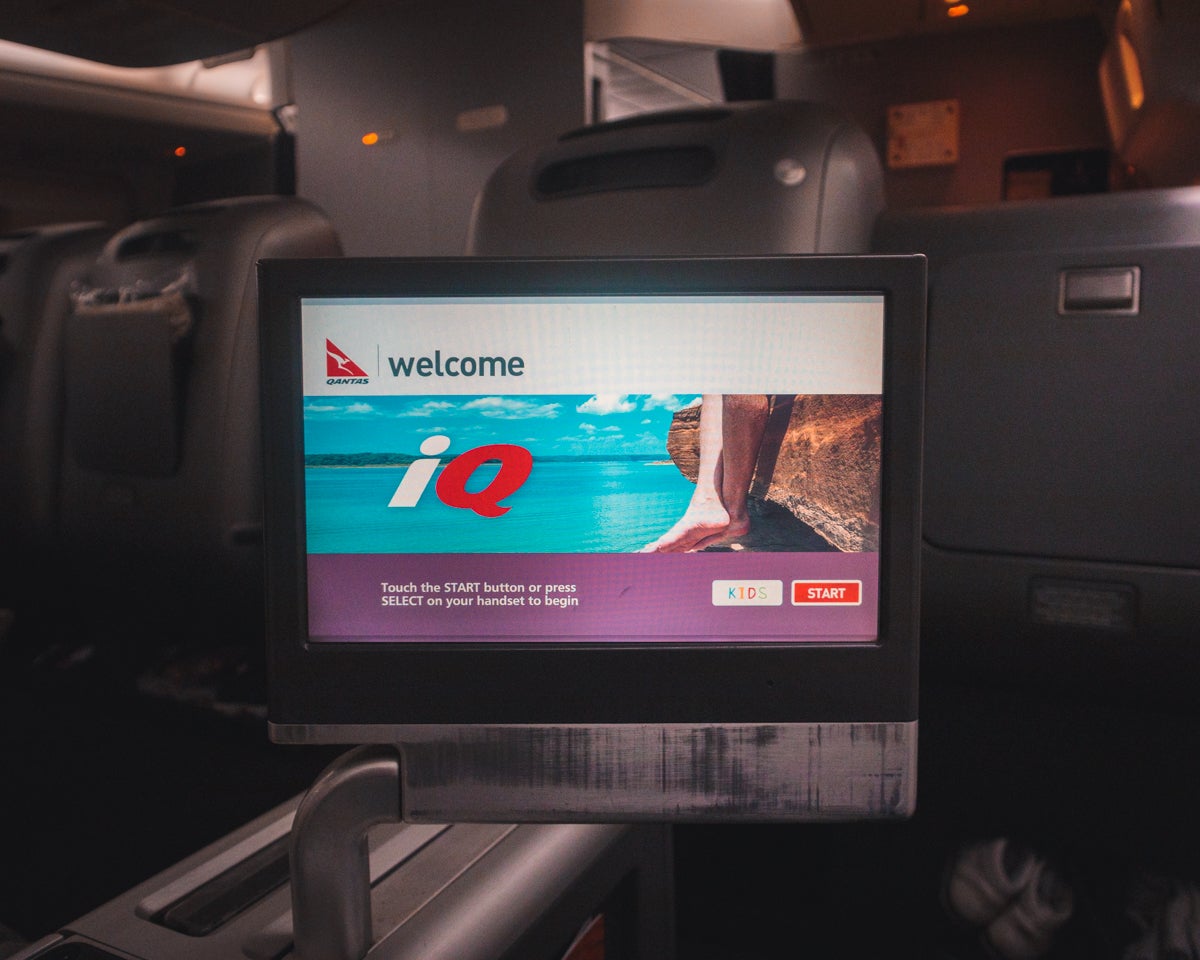 There is an IFE remote which is more responsive than the dated touchscreen.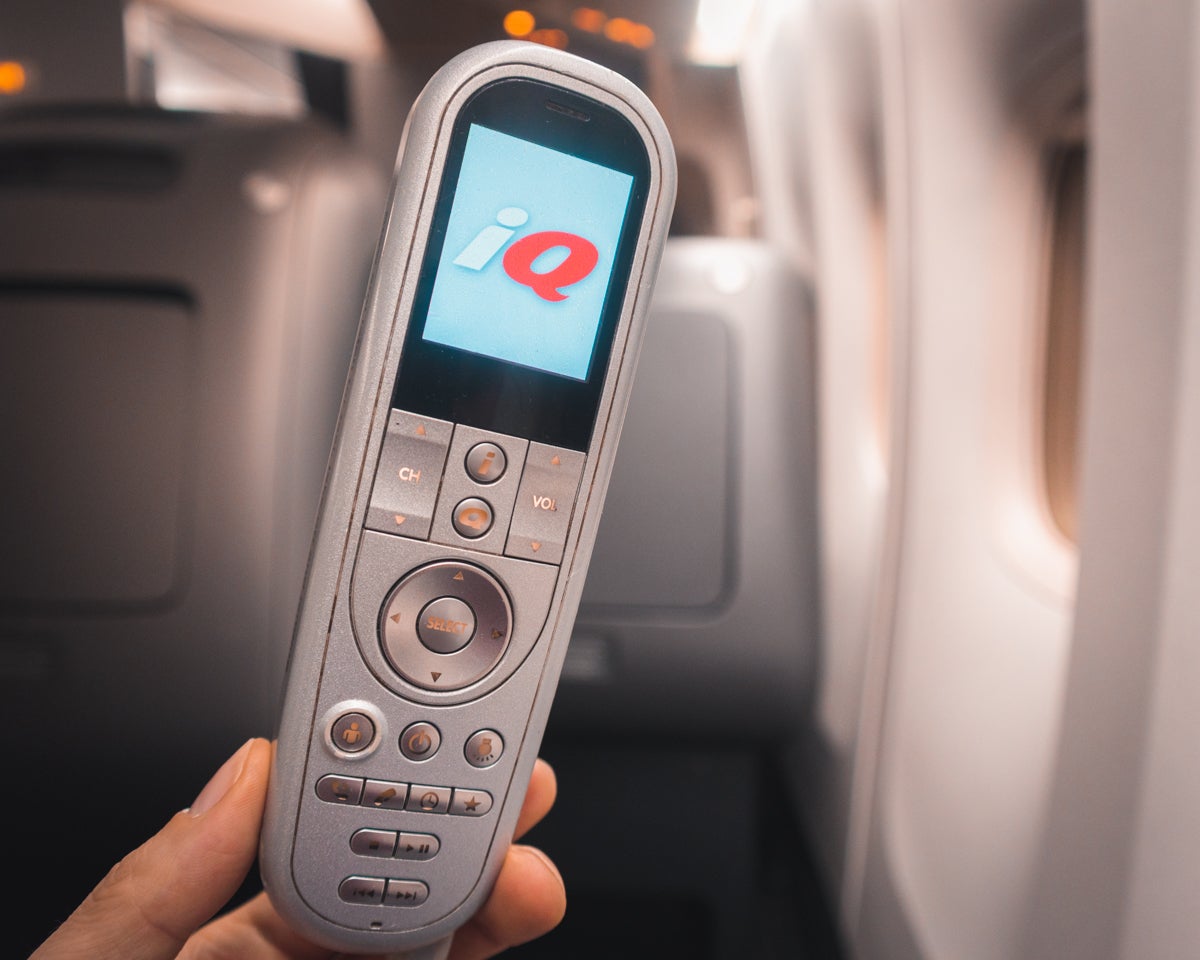 Despite the age of the software, the content selection was excellent. As per my Premium Economy flight, I counted 35 new release movies including full collections from Marvel and Harry Potter, plus 35 box-set TV shows.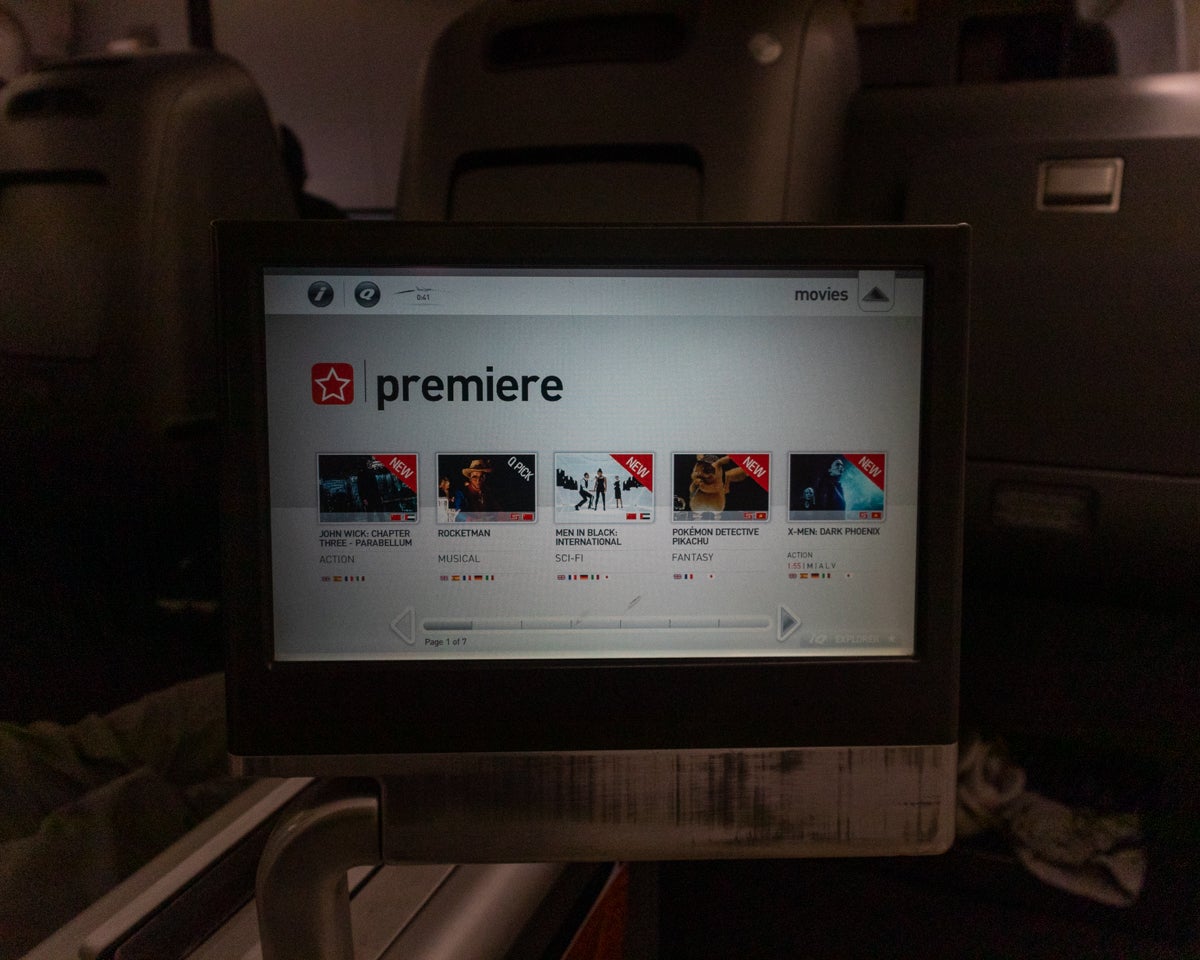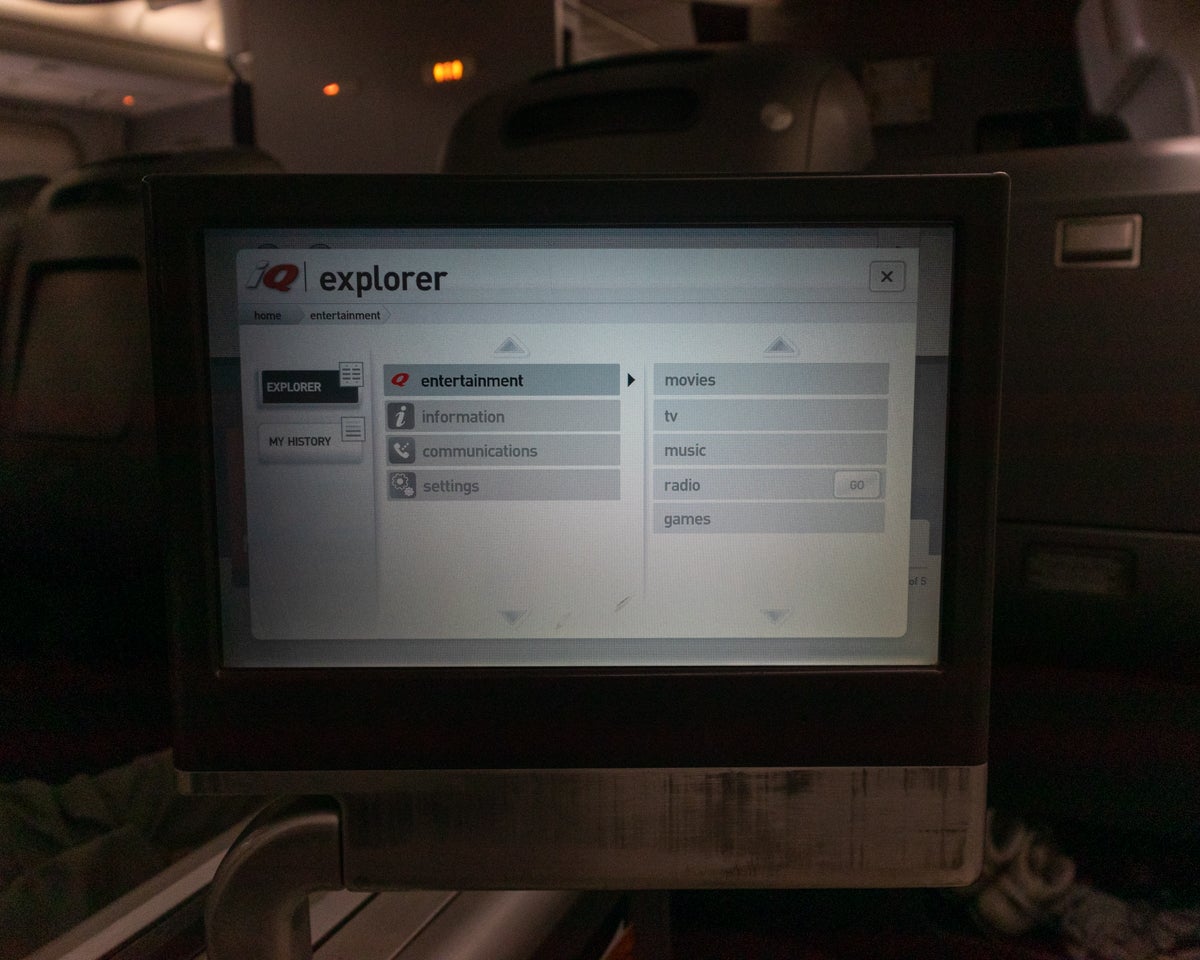 There are 2 minutes of advertisements to skip past before each program starts.
Wi-Fi isn't available on this old 747, or any Qantas international aircraft for the matter.
Noise-canceling headphones are provided and they are the same as I found in Premium Economy. They were fine for Premium Economy, but they are of poor quality for a business class set.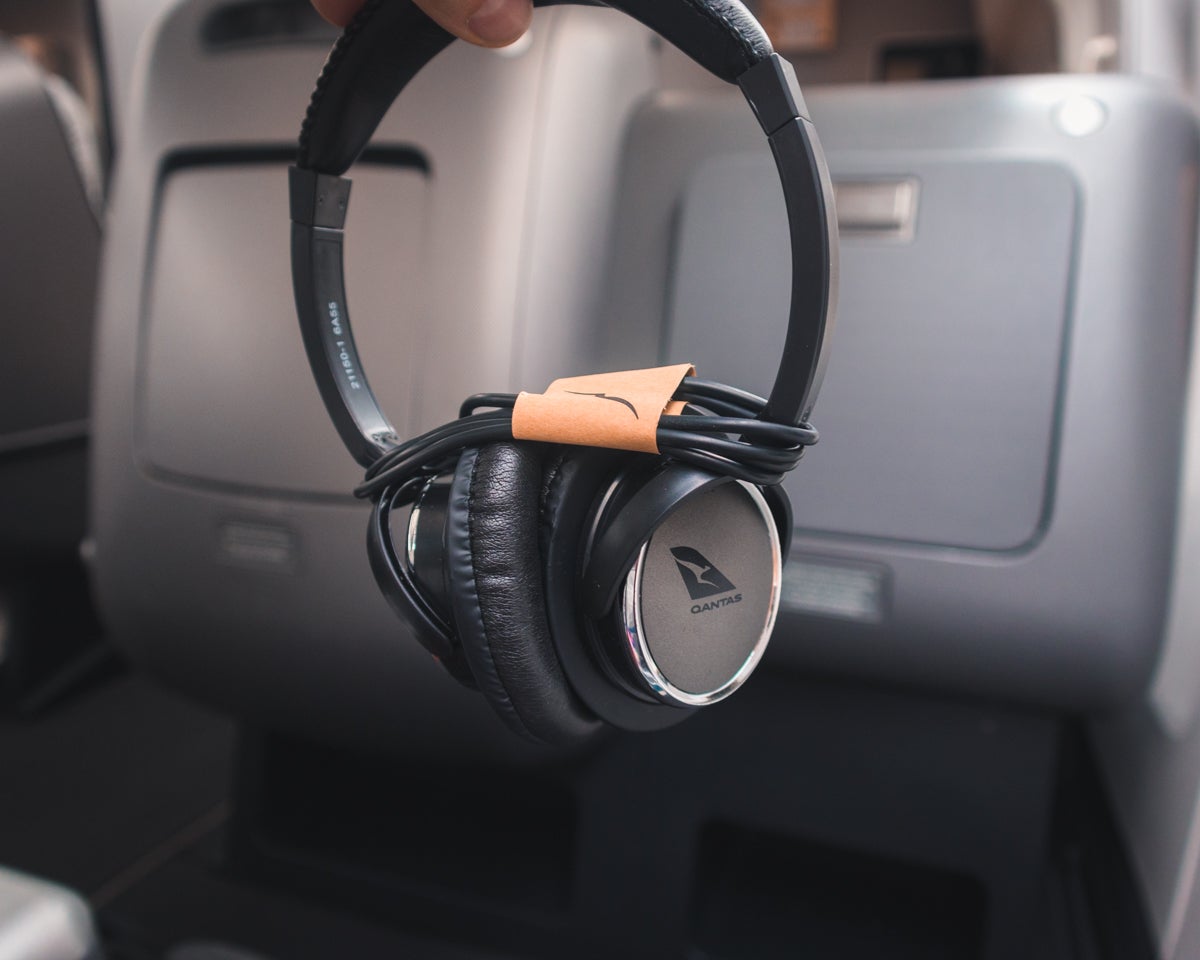 I went to use my Bose noise-canceling pair, yet, unfortunately, the cord dropped down between the seat and console. When I tried to extract it, the airline adapter fell off between the seats so I was forced to use the Qantas set.
Meal and Service
Upon boarding, I was greeted by Allici who asked if I wanted a glass of Champagne, orange juice, or water. I opted for the Champagne, but it tasted like it had been sitting out for a while as it was not very chilled or bubbly.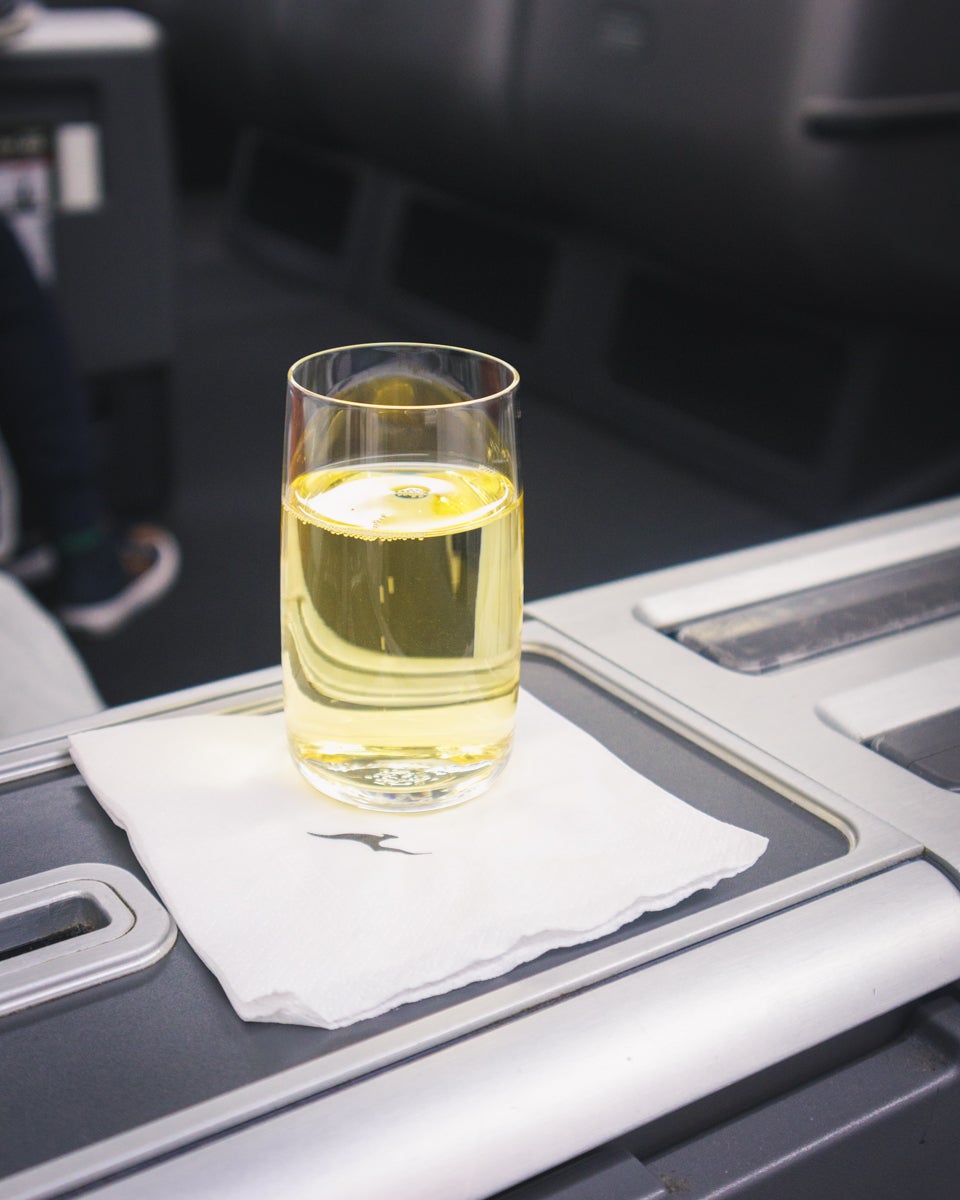 My seatmate and I started chatting to the crew member, asking how her time was in Tokyo, and she seemed friendly, so I felt like we were in for a great service this flight. Oh, how I was wrong!
After take-off, no crew member came over to take a beverage order. We had watched 3 other passengers receive glasses of wine yet not the whole cabin.
An hour after take-off, we still had not been seen by a crew member. There were no hot towels distributed and no post-take-off drinks offered.
So, I pressed the call button.
Another 3 minutes went by, and 1 crew member storm trooped through the cabin, totally ignoring the illuminated call bell and my raised hand.
After a few more minutes, 2 crew members were pushing the service trolley up the aisle. They looked at us so I asked when we were able to get a drink, to which one of them replied, "You'll get a drink with supper," and kept pushing the trolley up the aisle.
The crew finally got to my seat, 1 hour and 30 minutes hours after take-off, and I was asked what I wanted to drink. I inquired as to what was for the appetizer, to help me pick what to drink with it, and Allici replied, "This is a supper service, there is no appetizer."
I felt silly asking, but in all my previous international business class flights, there has always been a starter/appetizer. The 6-hour Oman Air red-eye between Muscat and Bangkok had a full 3-course, restaurant-style, dining experience — none of this "supper" business. Even on the 3-hour Singapore Airlines 787-10 flight between Singapore and Bangkok, there was a full 3-course meal.
So red wine it was — to go with my main meal. A 2014 Yering Station Shiraz Viognier ($17 a bottle). I selected the teriyaki beef and eschalot skewers with steamed rice, sesame spinach salad, and mustard dressing.
The first thing I noticed is just how little beef there was on the skewers. Thankfully, it was cooked perfectly and had beautiful flavor, but I had more protein on my flight from Sydney in Premium Economy than in this dish.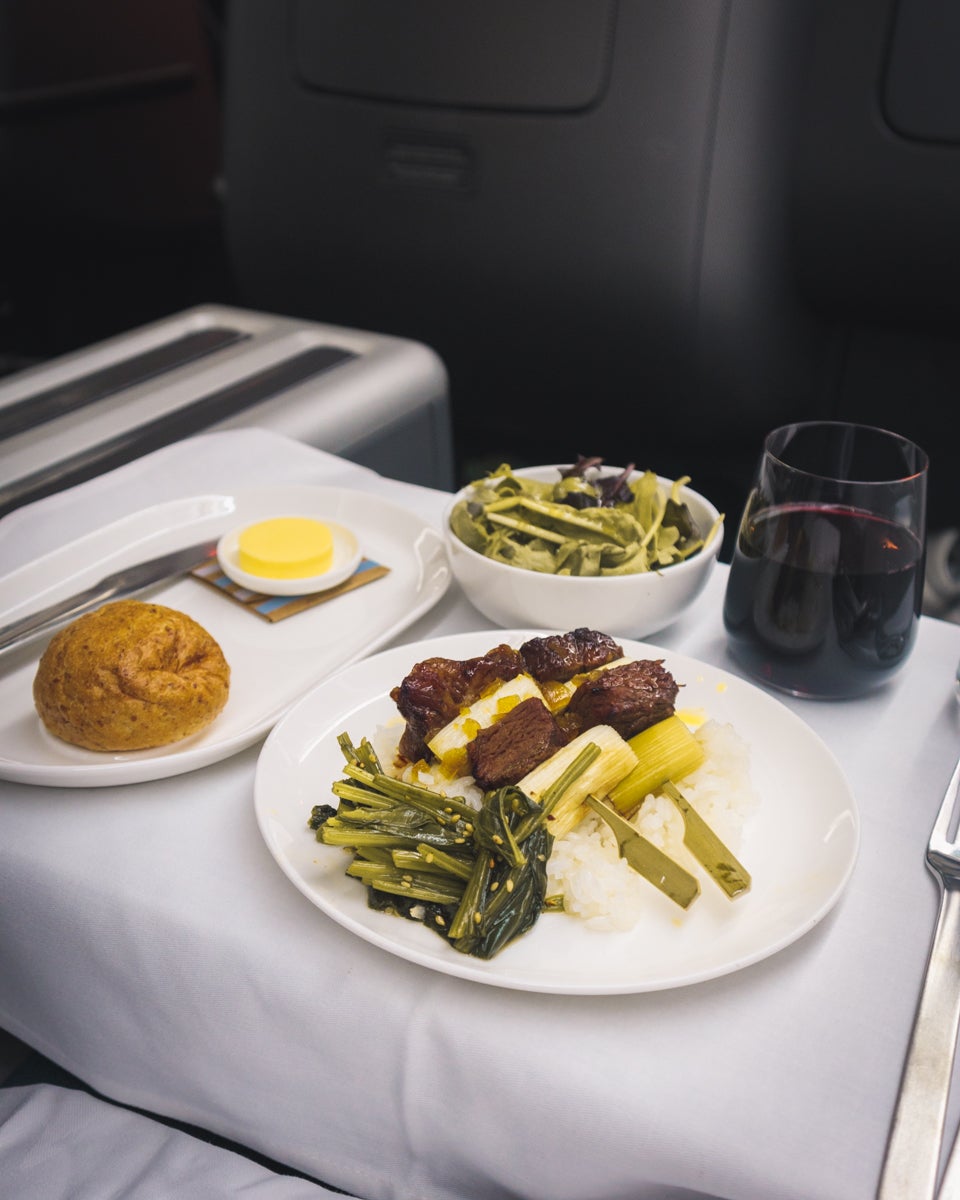 The other options were:
Selection of cheese
Mushroom soup
Orecchiette with roasted eggplant
Toasted milk bun with chicken karaage
Seared Madara cod
All dishes were served with the same salad I had in Premium Economy, which can hardly be described as a salad and is really just a bowl of lettuce.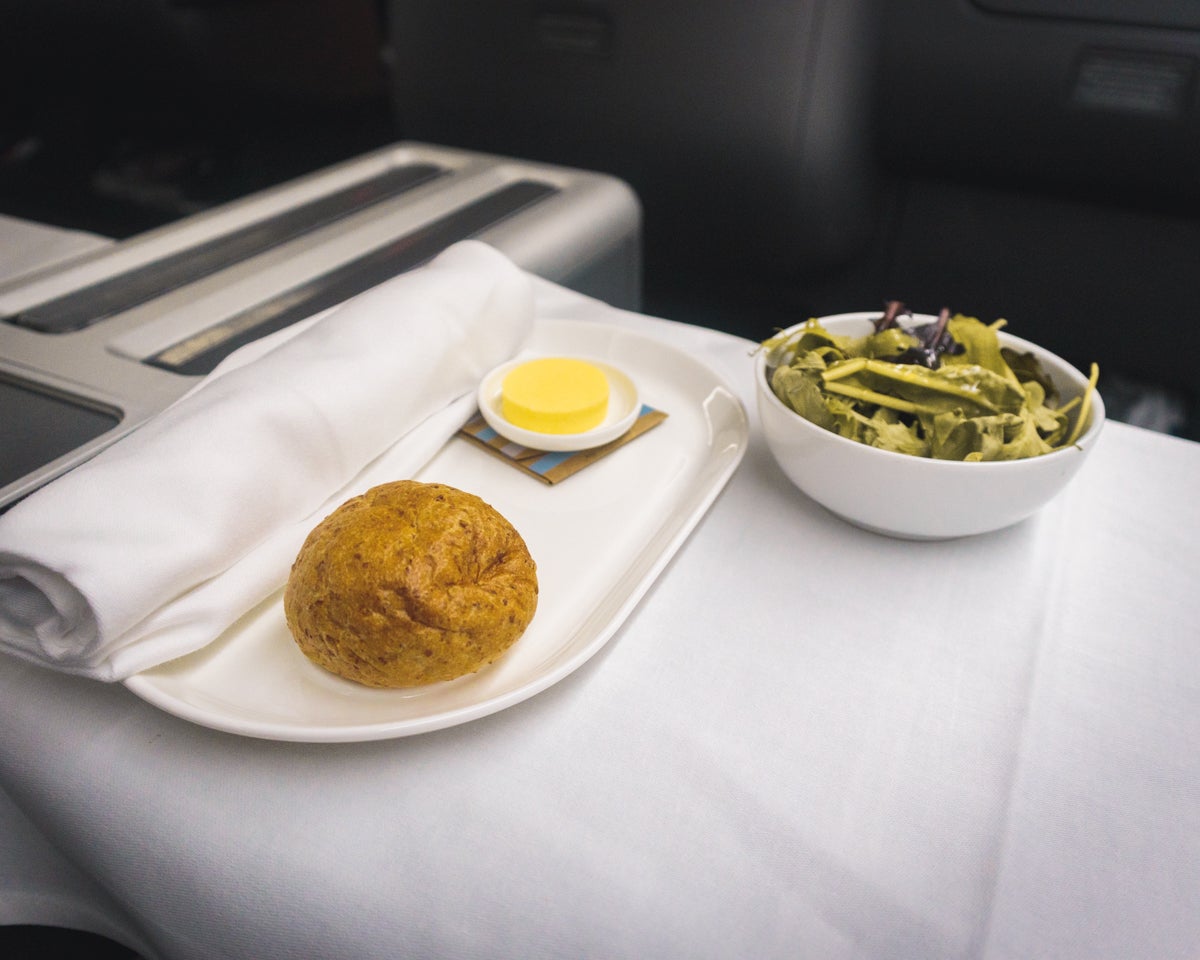 There was a Japanese 3-course option:
Still or sparkling water was available.
There was a delay between courses and with my wine glass empty and no crew member proactively offering refills, I used the call button. Allici arrived quicker than previously but this time looking very unimpressed that I had requested service. I asked for another glass of red and heard her scoff as she turned around to get the bottle. I couldn't believe it.
For dessert, I selected the orange, coconut, and lemon pudding with double cream which was fine, but unmemorable.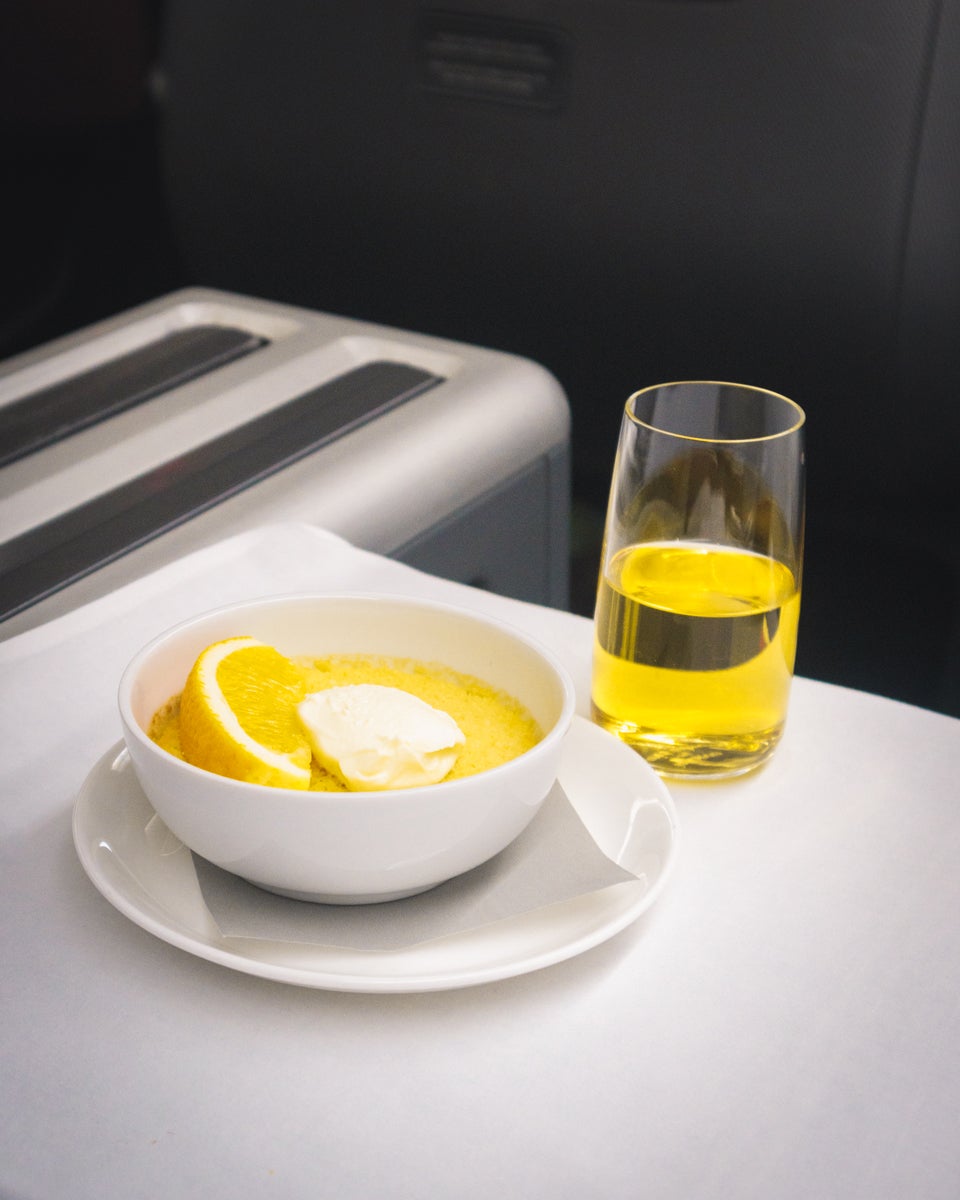 Desserts:
Selection of cheese
Ice cream
Seasonal fruit
Valrhona chocolates are available to wrap up the meal.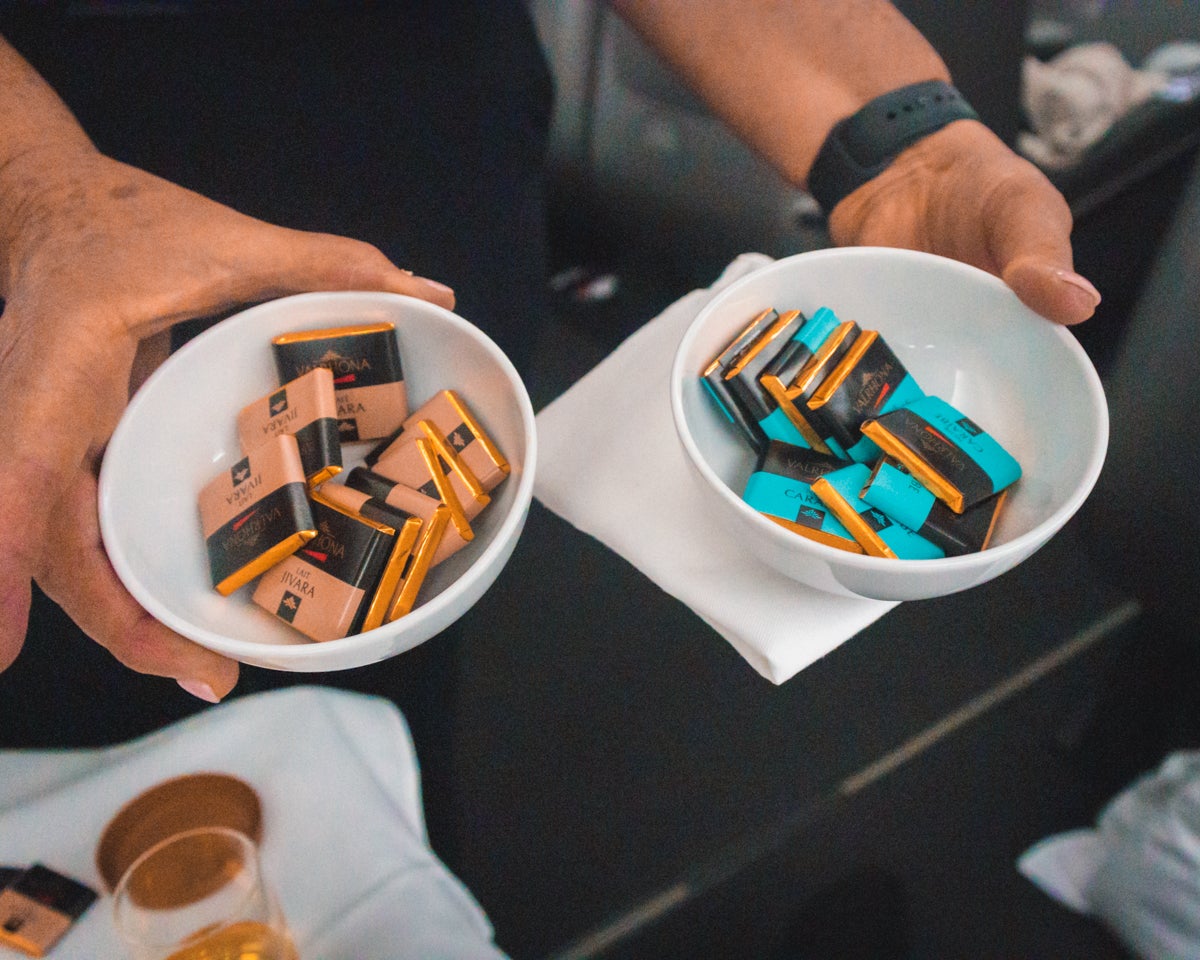 After 5 hours of sleep, the cabin lights were turned on 1 hour and 30 minutes out from Sydney.
On the menu, it's stated, "We would like to ensure that you have the dining experience and rest you desire on our flight. To enable this, we have provided you with a range of options for breakfast. Please indicate your preference on the breakfast card."
But there wasn't a breakfast card to be found anywhere. Instead, Qantas offered its "café breakfast service," much like on my flight from Bangkok. So, the options only were a toasted ham and egg sandwich, croissant, or muesli. My seatmate ordered the former and it was inedible, so he sent it back.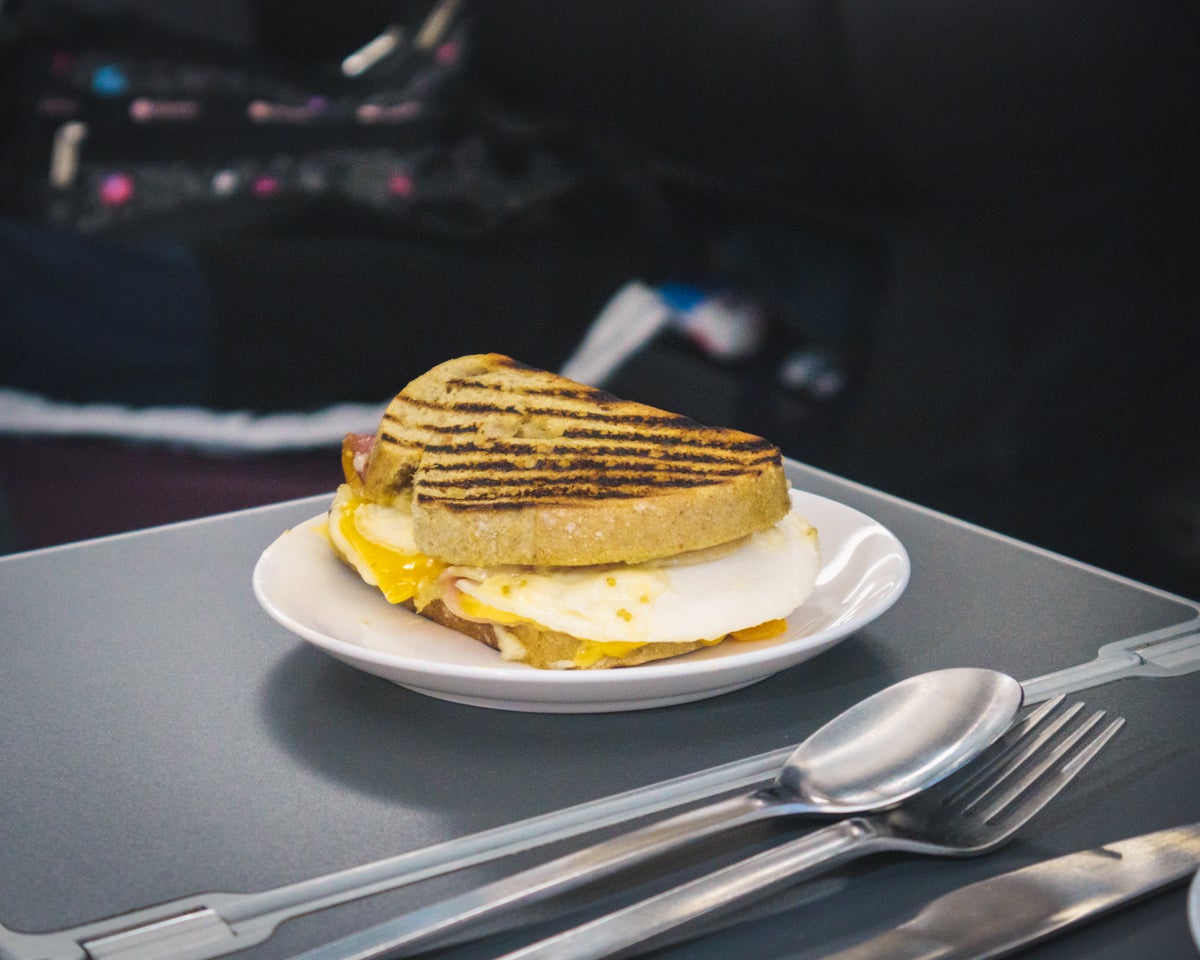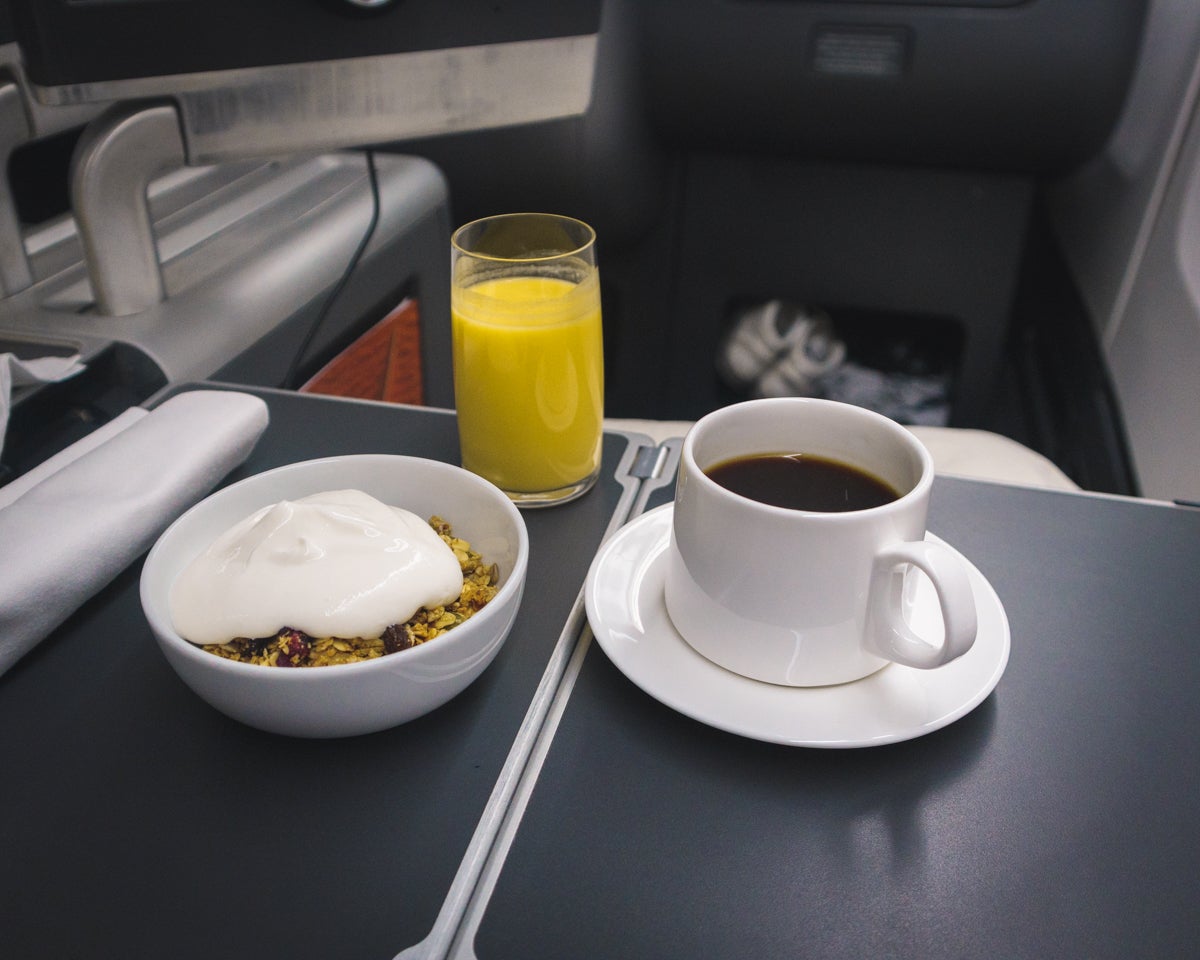 I don't like these service shortcomings that are disguised as "maximizing sleep." What happened to providing passengers with a choice?
If a passenger wants to get straight to sleep, an eye mask and earplugs are provided, and nothing is stopping them from sleeping. What if I did not have time to eat in the lounge and wanted a full 3-course meal for dinner? What if I skipped the evening meal to get straight to sleep and wanted a full hot breakfast? Why should all the service suffer if the airline assumes everyone just wants to sleep?
After the breakfast service, my seatmate buzzed the call bell (because none of the crew's service was proactive) and asked for a drink of water. Allici replied to him, "You'll need to get a drink from the toilet." Yep, that's right — he was actually told to get a drink from the toilet.
You know those little signs on the wall that say don't drink the water from the bathroom sinks? Well, it seems that if you really need a drink then feel free to totally disregard them, especially on a Qantas flight.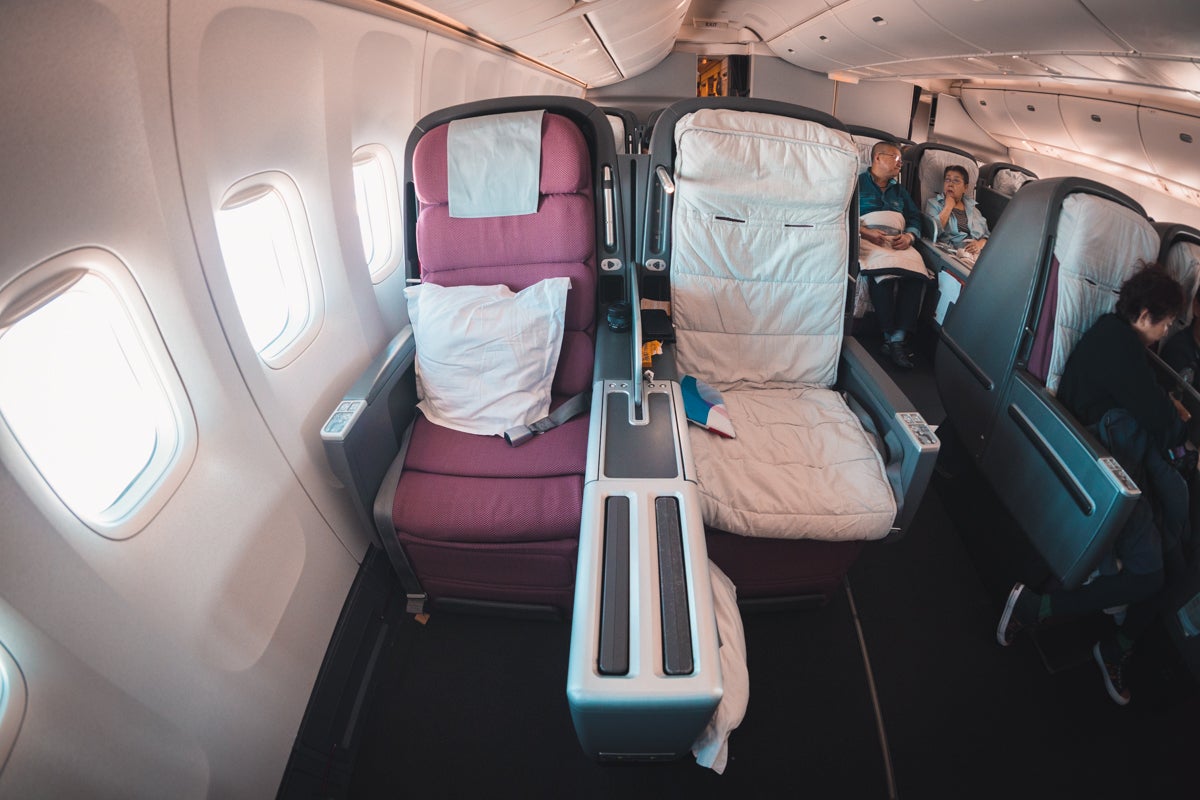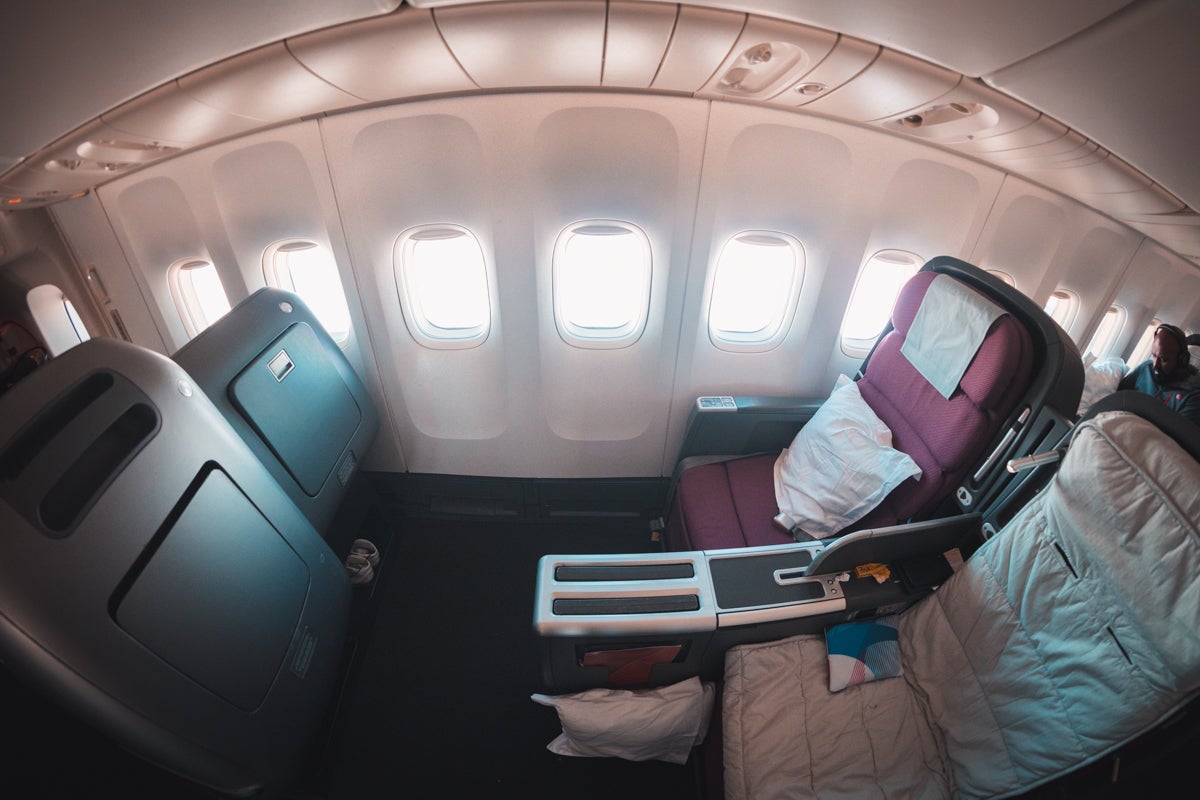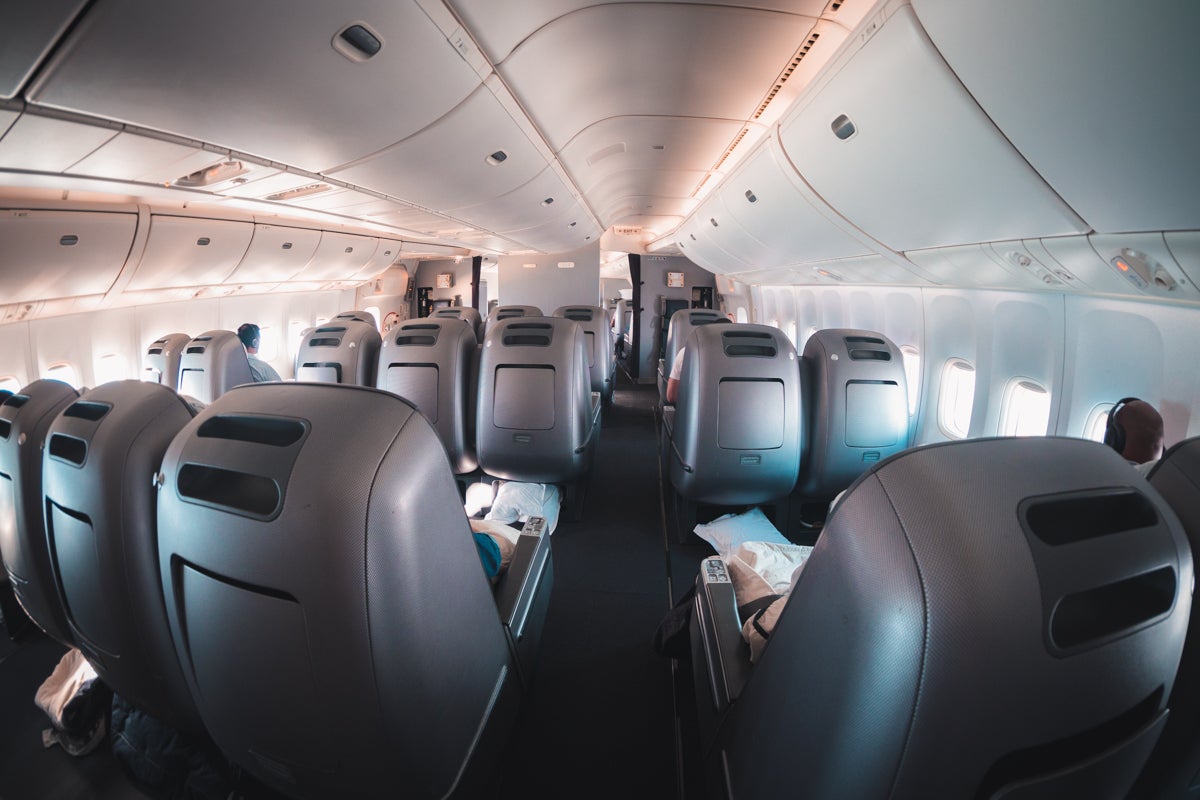 Final Thoughts
Direct aisle access for every passenger is now a gold standard — it may have been cutting edge 16 years ago, but today it definitely is not. The lack of direct aisle access on this flight was totally understandable for an aircraft with a year left before retirement; I knew what I was getting when I paid for the upgrade.
The reason was to get a decent sleep and for that, it delivered. And I just loved the 747 window views upon landing into Sydney.
This product will fly on in the rest of the remaining 747s up until they are all retired by the end of 2020 and until all of the Airbus A380 aircraft are refit by the same time.
Aside from the flat bed, everything else felt more "premium economy" than "business class," and a "premium" experience that was worse than my excellent "premium" flight from Sydney, for the matter.
There was more meat in my premium dinner. More of everything in my premium breakfast. I even received a bottle of water after take-off in premium, yet no beverage until the meal service in business. The "salad" was the same in both cabins. As are the headphones. And all 76 premium and business passengers have the same long lavatory queues because we all share the same 3 toilets. But while we received a lovely warm service in premium, in business I received attitude from the crew, scoffs when requesting service, and the ultimate insult of my seatmate being told to get water from the toilets!
And all this at a cost of 3.5 times more the retail dollar value than premium!
While I can look past the shortcomings from the dated hard product, the shortcomings from the soft product, especially the service, are inexcusable and not welcome in any cabin.
The "Spirit of Australia?" That spirit was total non-existent on this Qantas flight.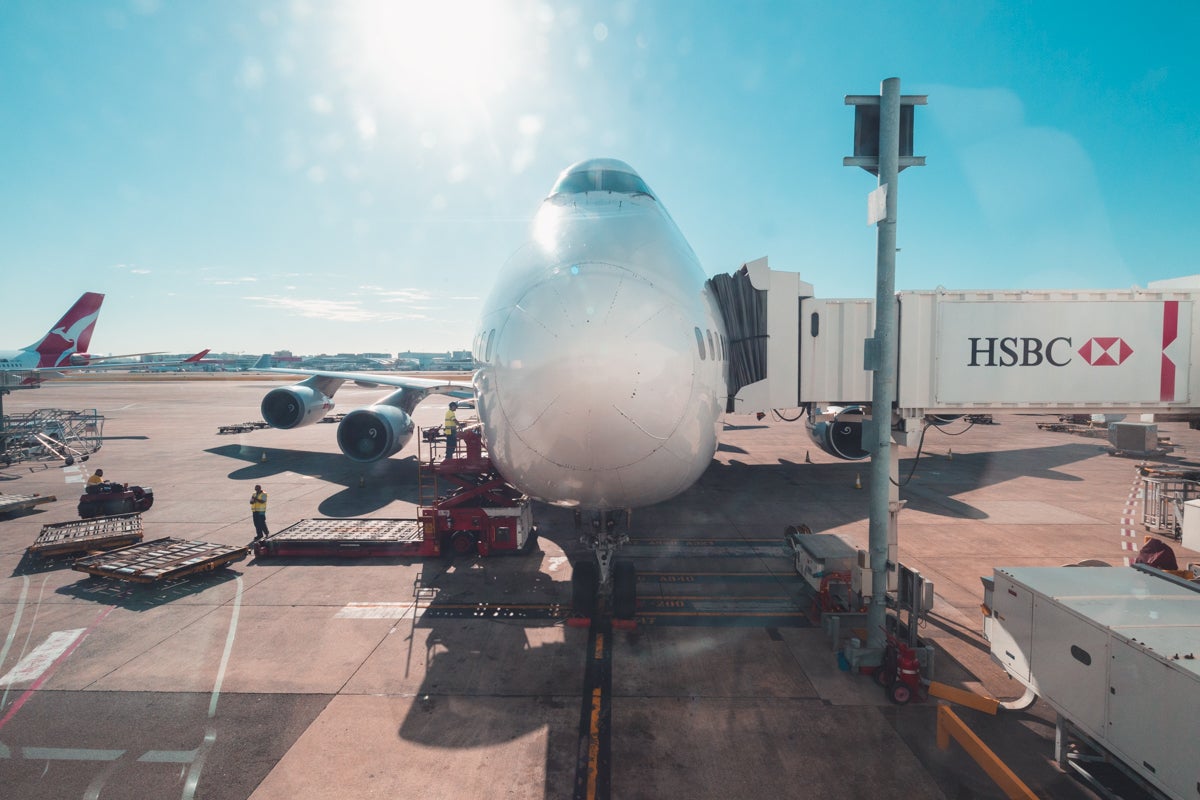 Another Qantas 747 will make her final journey from Sydney (SYD) to Los Angeles (LAX) on February 9 2020 which you can book using Qantas points.