The Ultimate Guide on Where to Credit Your Airline Miles [Maximize Your Earnings]
In the world of points travel, people often get fixated on traveling for free. While this is definitely something to strive for, it is not recommended to use your points if the redemption is impractical or is a poor return on value.
In many cases, whether it's travel for work or leisure, cash tickets will inevitably make their way into your wallet — especially if you're conscientious about points valuations and saving up for premium cabin travel.
To make the most of those points, this guide will focus on deciding where to credit paid flights to maximize value. You'll also find clarity about the unnecessarily complicated system of different airline miles to ensure you're getting the most out of your points.
An Introduction to Crediting Airline Miles
Here's the key lesson to remember: just because you flew with a particular airline doesn't mean you have to earn their miles.
For example, if you fly on United Airlines, you don't need to earn United miles — you can instead credit them to a more valuable partner such as Air Canada Aeroplan, ANA Mileage Club, or Asiana Club.
In fact, you will find that it's often best to credit paid tickets away from the operating carrier. Before we talk about why, let's back up for a second and discuss airline partners, fare codes, and everything in between.
Airline Partners, Booking Class Codes, and Earning Miles
Airline partners are a group of airlines with agreements that passengers can share/redeem miles and frequent flyer benefits between them. Most of the time, you can credit miles earned on a flight to any partner of the airline you flew with.
On any given flight, there are a certain number of tickets sold. Every single ticket has what is known as a fare basis code.
The first letter of the fare basis code denotes the booking class, which is used by the airline's revenue management department to control how many seats are sold at a particular fare level. The inventory of seats within a booking class is colloquially known as a "fare bucket."
Hot Tip: Finding the alphabetic booking class is the single most important factor that determines how many miles you'll earn. It can make the difference between earning 0 miles and earning thousands of miles.
An example of this would be a United Airlines N fare ticket (basic economy) will earn far fewer miles than a Y fare (highest full fare) ticket.
Thus, we must remember these 2 key insights:
You don't need to credit airline miles to the carrier you flew on; any airline partner is eligible in most cases.
Finding out the booking class on your ticket is instrumental in maximizing your value from paid travel.
How to Find Out Your Booking Class on a Paid Ticket
Now that we've discussed the importance of figuring out the booking class you're looking at, you'll want to actually find out what booking class you're considering (or already ticketed in).
Using the ITA Matrix
If you're familiar with award travel, you'll probably have seen/heard of the ITA Matrix, which can be used for many things, including fuel surcharge estimations.
In this example, we'll be using ITA Matrix exclusively to figure out the booking class on a ticket you're thinking about booking.
Let's take an example round-trip ticket between San Francisco (SFO) and New York City (JFK) on American Airlines. Here's what a populated search query window looks like: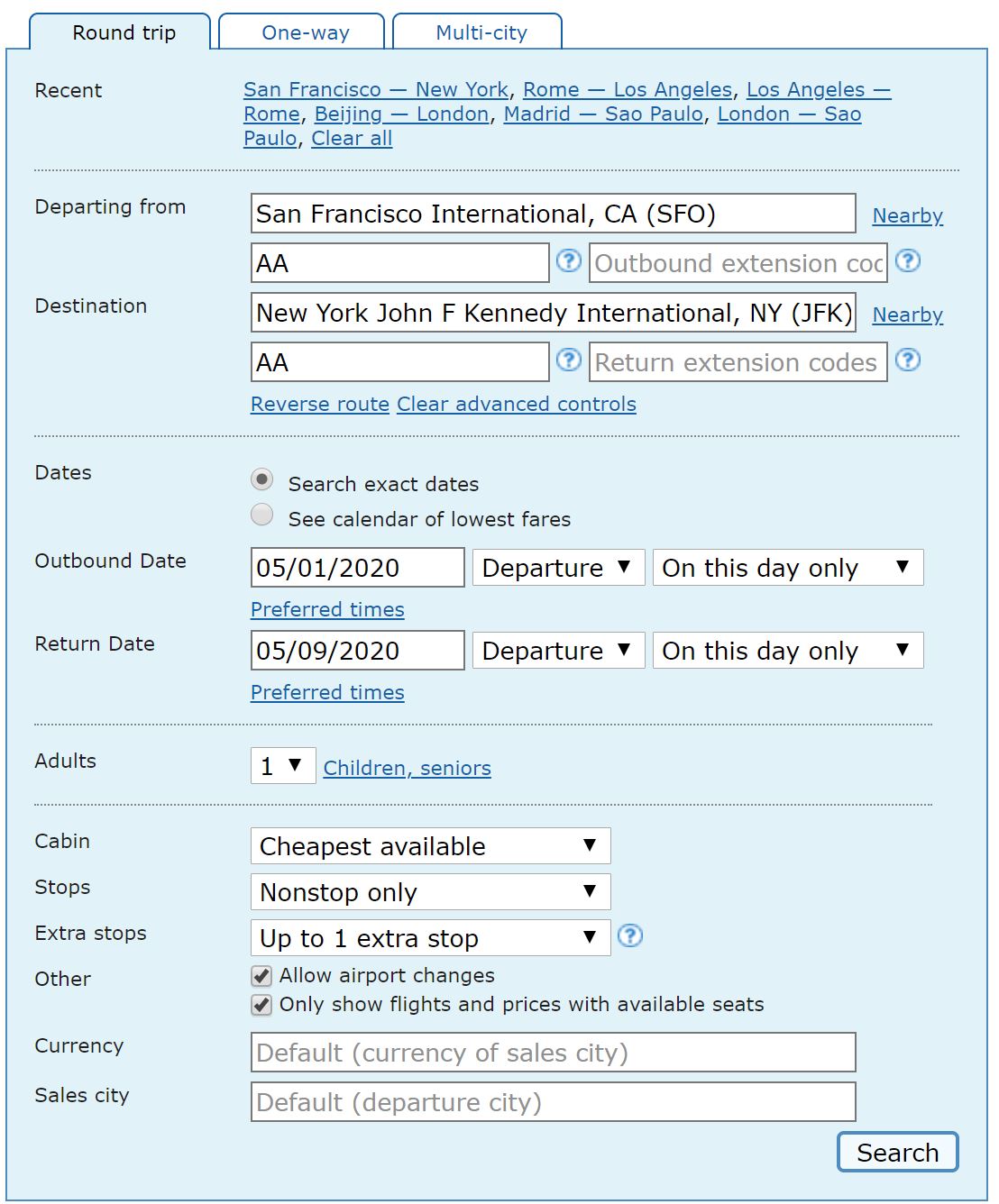 Once you click Search, you'll see a screen that aggregates the different choices and prices as follows: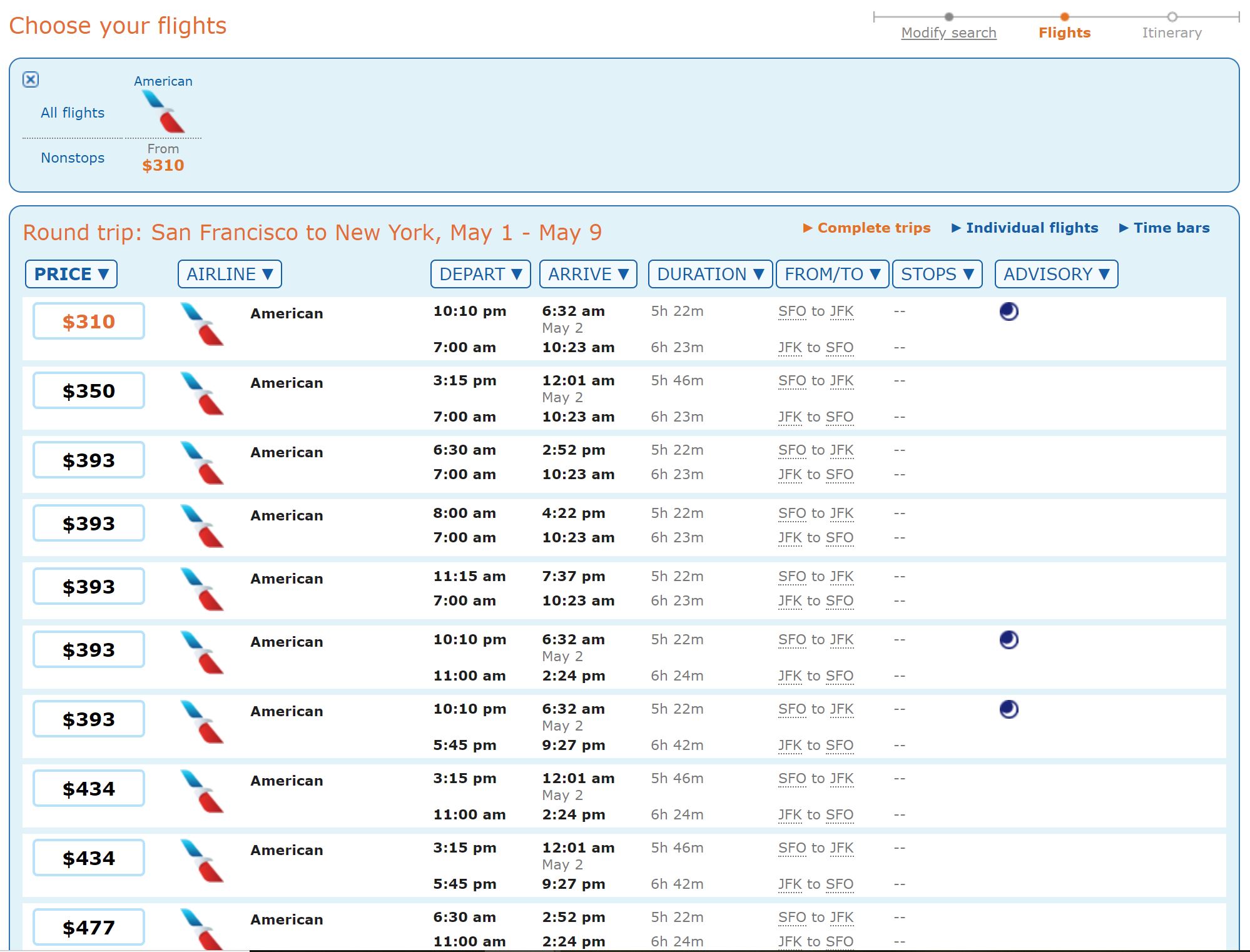 Simply click on the choice you want, and you'll arrive at the Itinerary details screen. You will see the booking class in parenthesis as shown in the red circles below: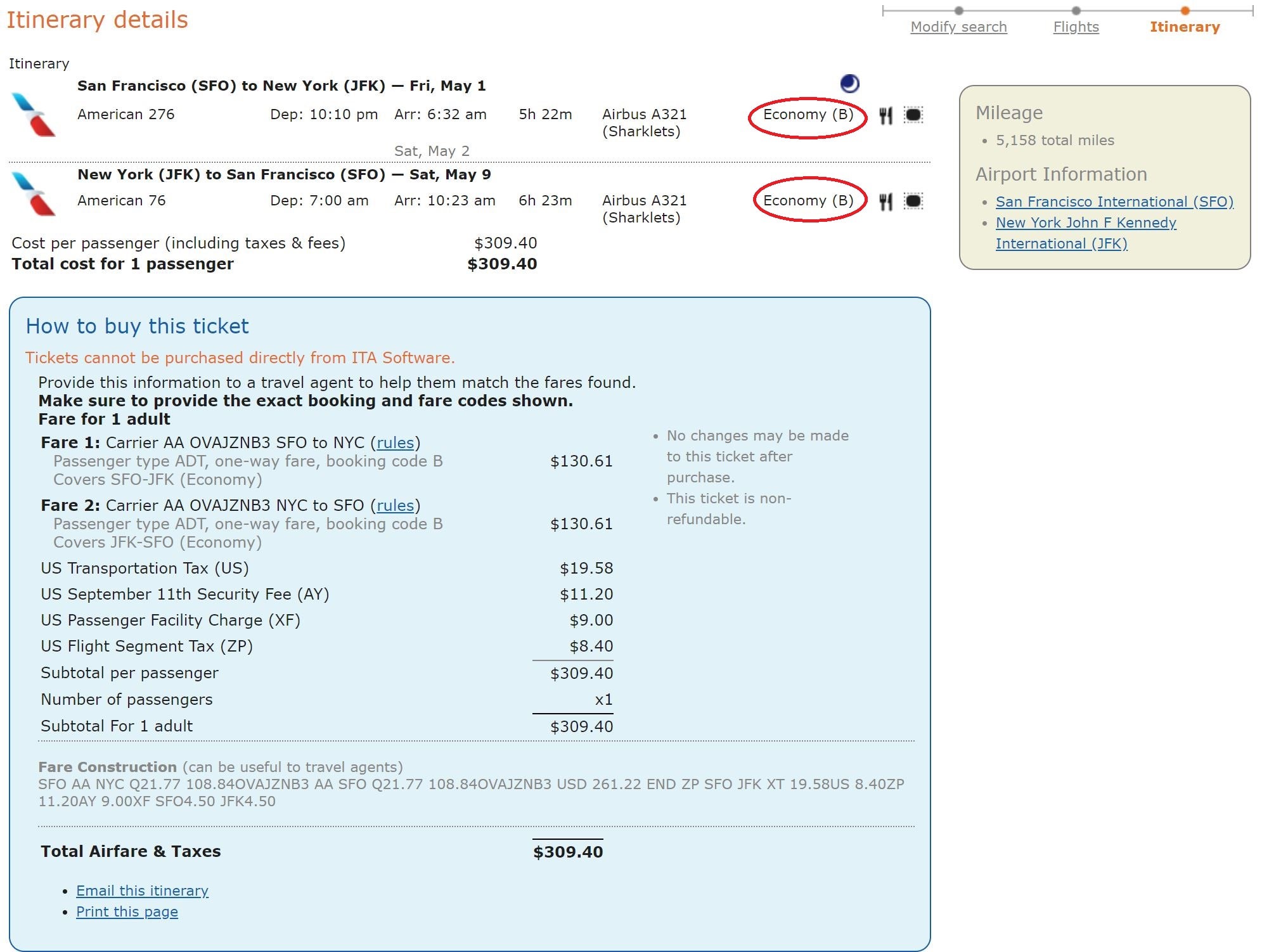 And that's pretty much it. Perform a normal search on Google-ITA Matrix and by the time you get the itinerary details, the booking class will also be displayed.
Using Fare Aggregators Like Expedia
Let's say you're more familiar with other booking interfaces such as Expedia. It's easy to find out your booking fare class from there, too. Simply visit the homepage, and search for your desired flight itinerary.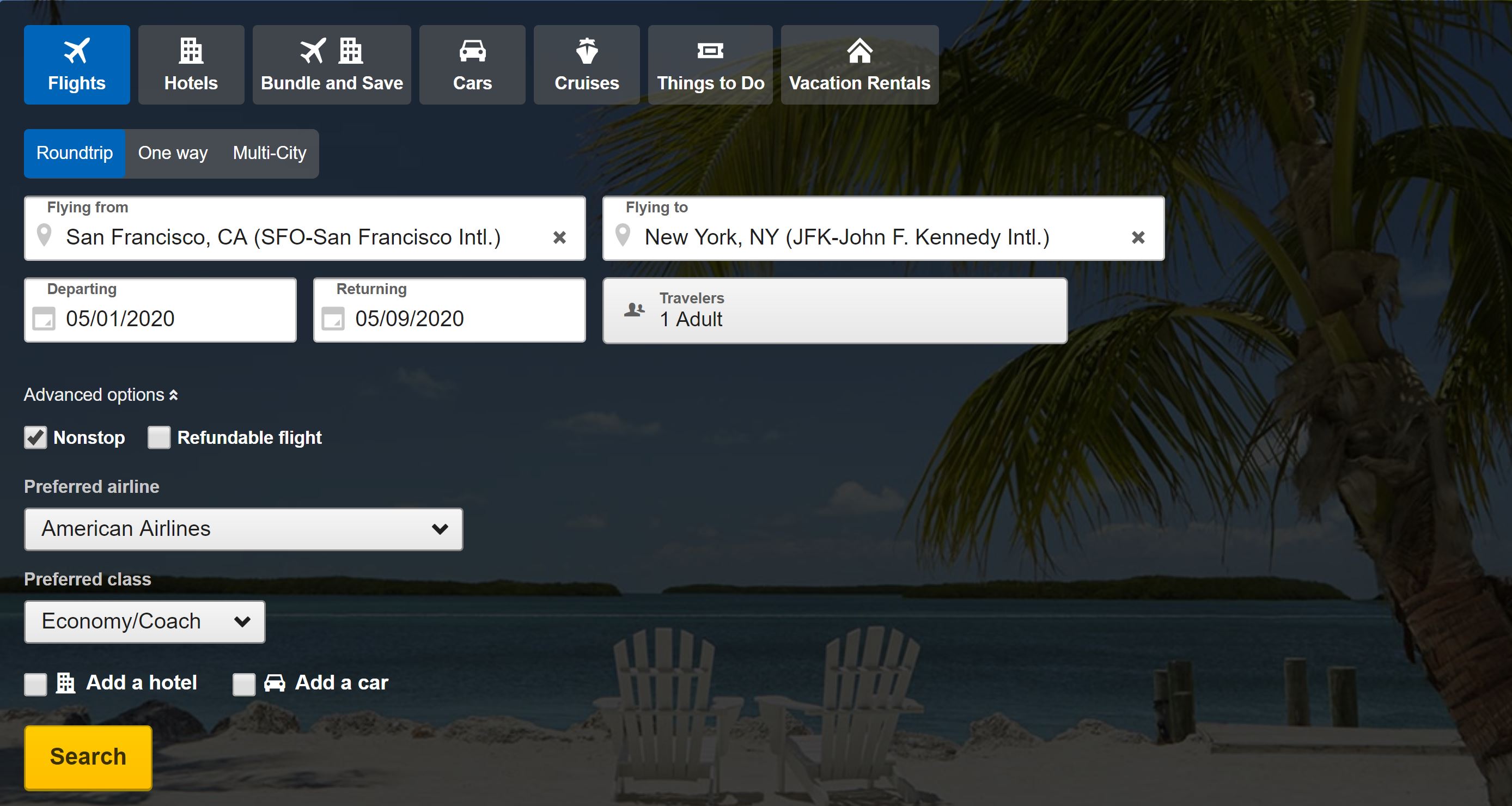 After typing in your search, you'll arrive at a screen that sorts the flight options from cheapest to highest price. For each option, you can click the blue button that says Details & baggage fees.

After clicking that, you'll see the booking class is displayed just below the flight number.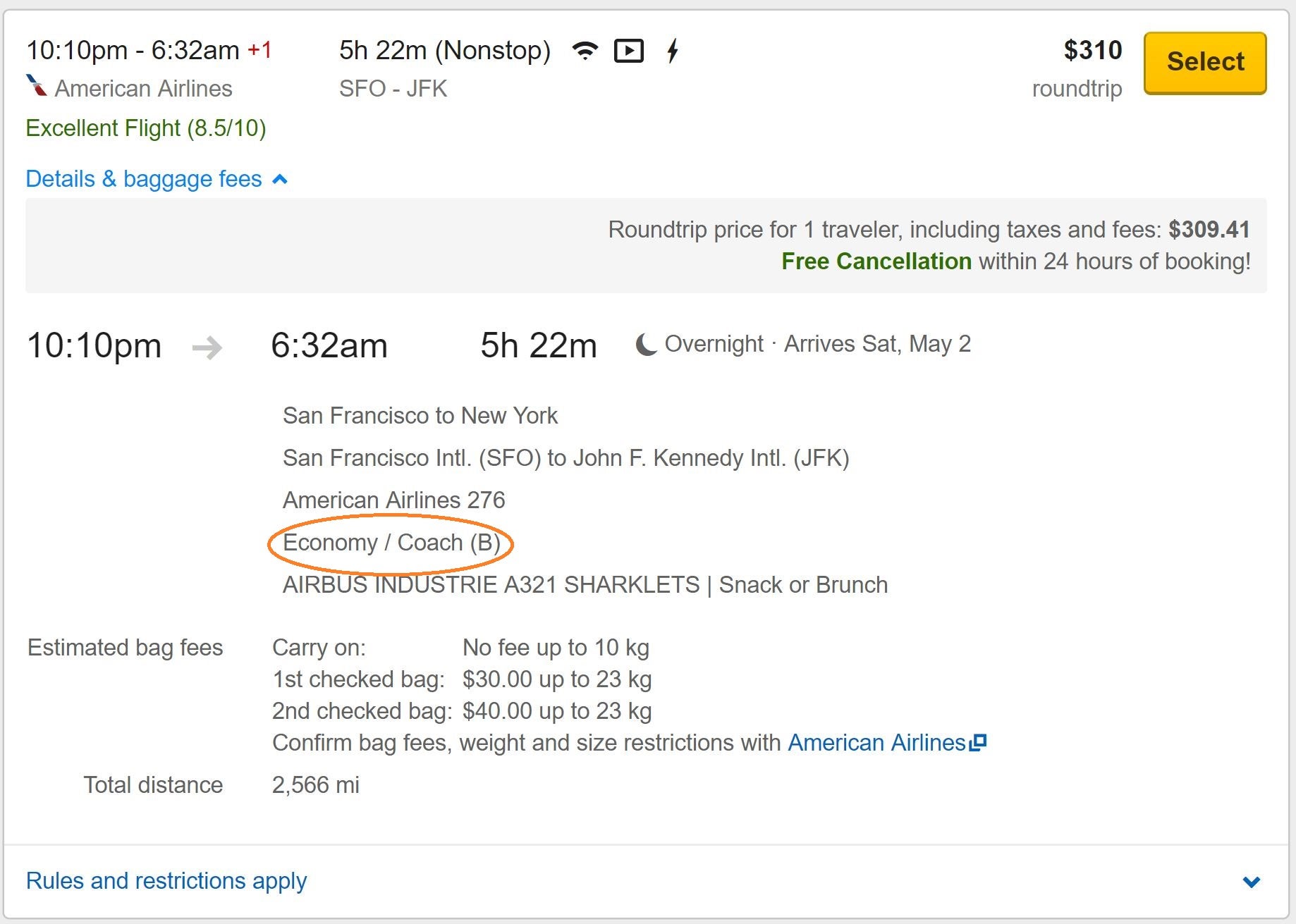 As you can see, the booking class is easy to acquire from websites like Expedia.
Using Airline Websites Like American Airlines
The last method we'll be talking about is finding out the booking class when looking for tickets directly on an airline's website. We'll use American Airlines as an example and show you how to get your booking class from a ticket search.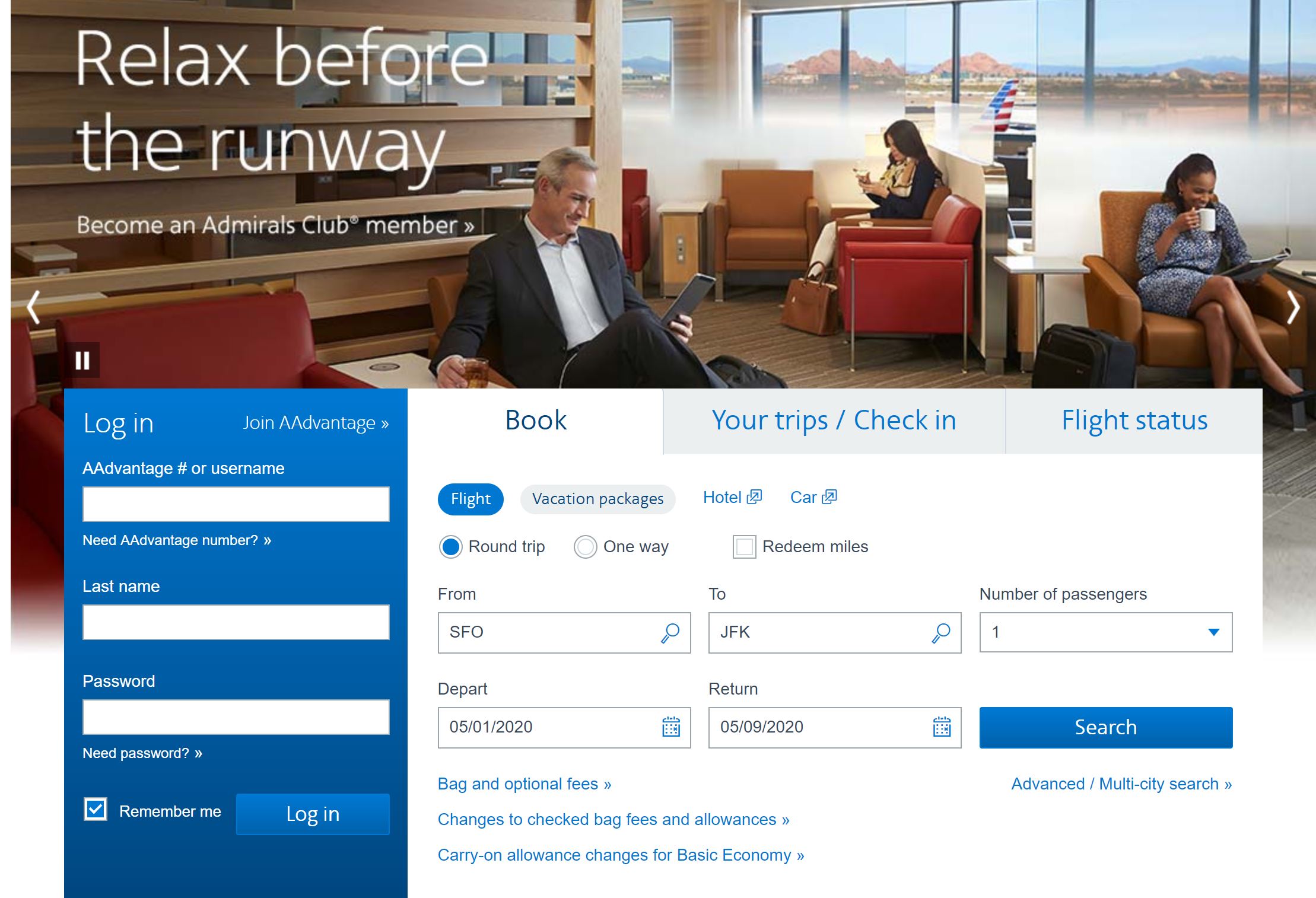 After you key in your search on AA, click the Search button. A bunch of results will be displayed. Scroll to the result that you'd like details on, and click the blue button that says Details on the bottom left of each itinerary.

A pop-up will provide you with the flight details, including booking class for each class of ticket.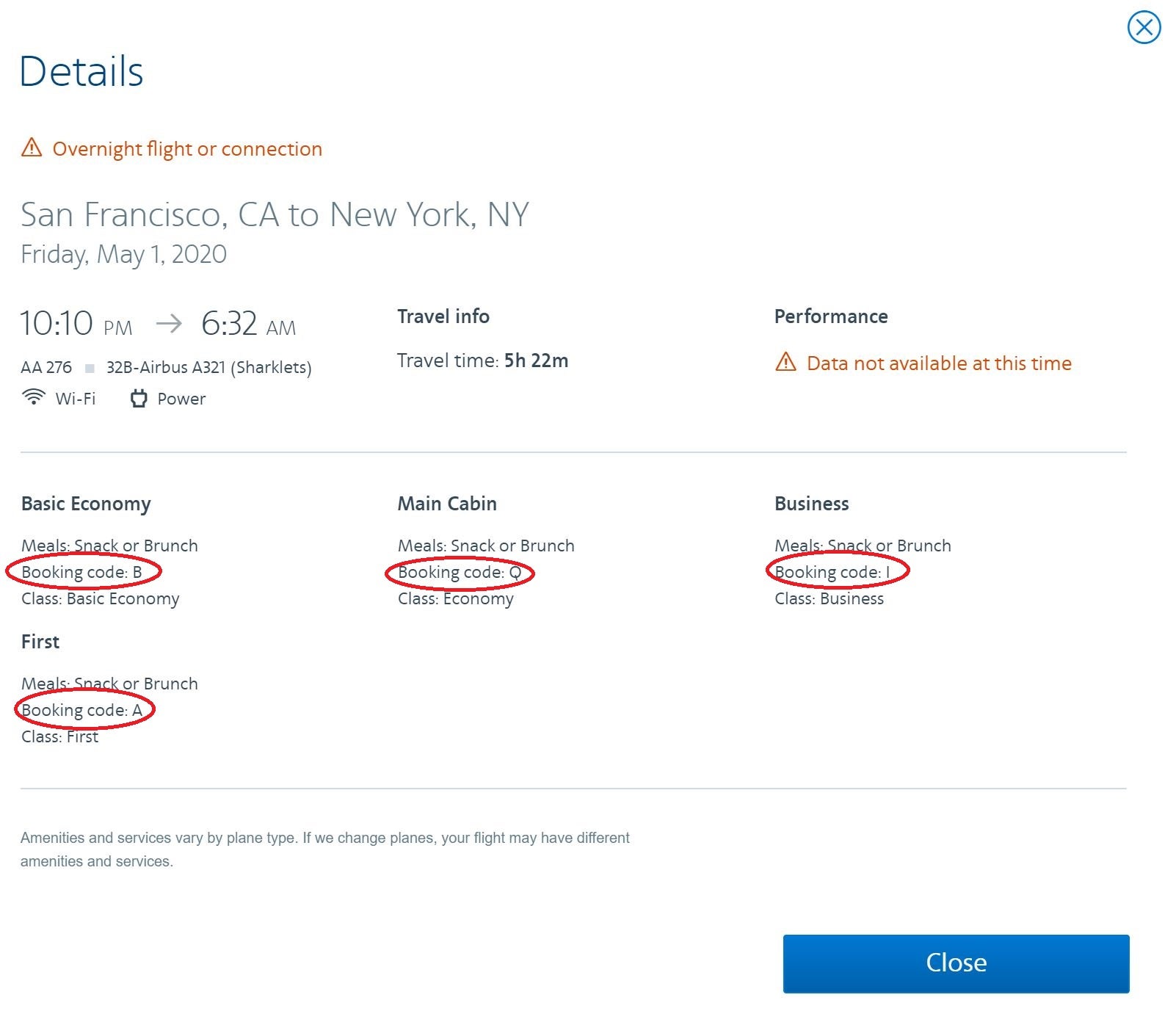 As you can see, Basic Economy is coded B, which is the same result that shows in the above Expedia and ITA Matrix sections.
Bottom Line: Finding your booking class is simple. There are many ways to do it, including using the ITA Matrix, Expedia, or an airline's website. The overall process can vary slightly depending on the user interface of the airline/website you use.

The Best Tool to Figure Out Where to Credit Airline Miles
Once you've figured out your alphabetical booking class, the next step is to figure out where to credit your flights. The process to determine where to credit airline miles is subjective by nature due to discrepancies in airline mile valuations.
Typically, the mileage you earn when crediting flights to partners is a multiplier of the actual distance flown. For example, if you flew a distance of 1,000 miles and the frequent flyer program you're crediting your travel to offers a 150% accrual rate, you will earn 1,500 miles (150% of 1,000 miles).
One of the most useful tools for deciding where to credit these airline miles is called Where to Credit. Where to Credit is extremely helpful because it provides a simple interface for travelers to figure out where to book paid travel.
Here's what the homepage looks like: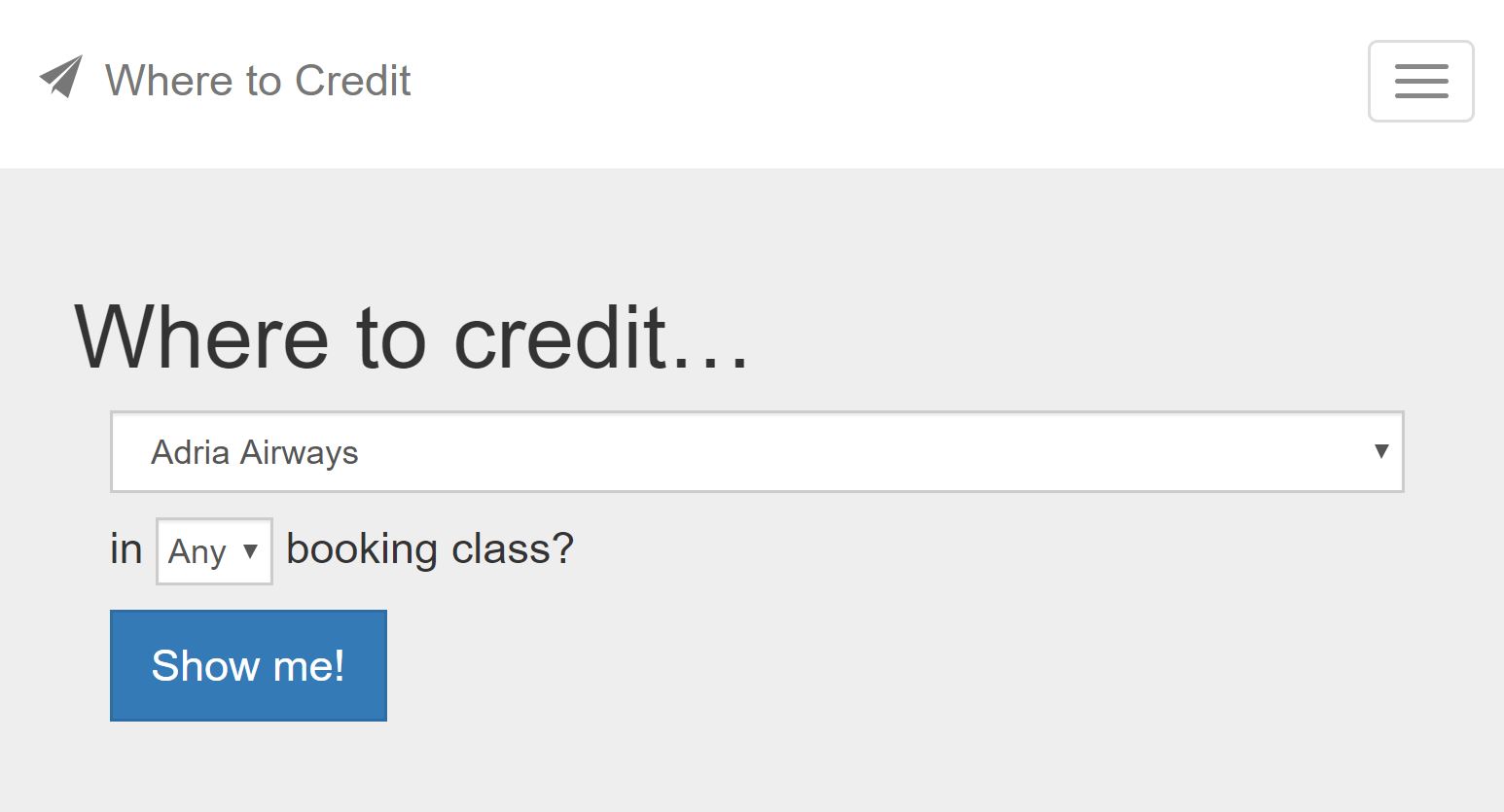 Using Your Airline and Booking Class to Figure Out Mileage Earning Rates
Let's take the example from above flying on American Airlines from San Francisco (SFO) to New York City (JFK). Suppose you wanted to figure out where to credit a first class flight on this route booked in A class. You'll choose the appropriate airline and booking class, and then click Show me!

The results will be displayed in the following table. RDM represents redeemable miles earned, and the different tiers correspond to elite status levels, which typically come with bonus miles earned.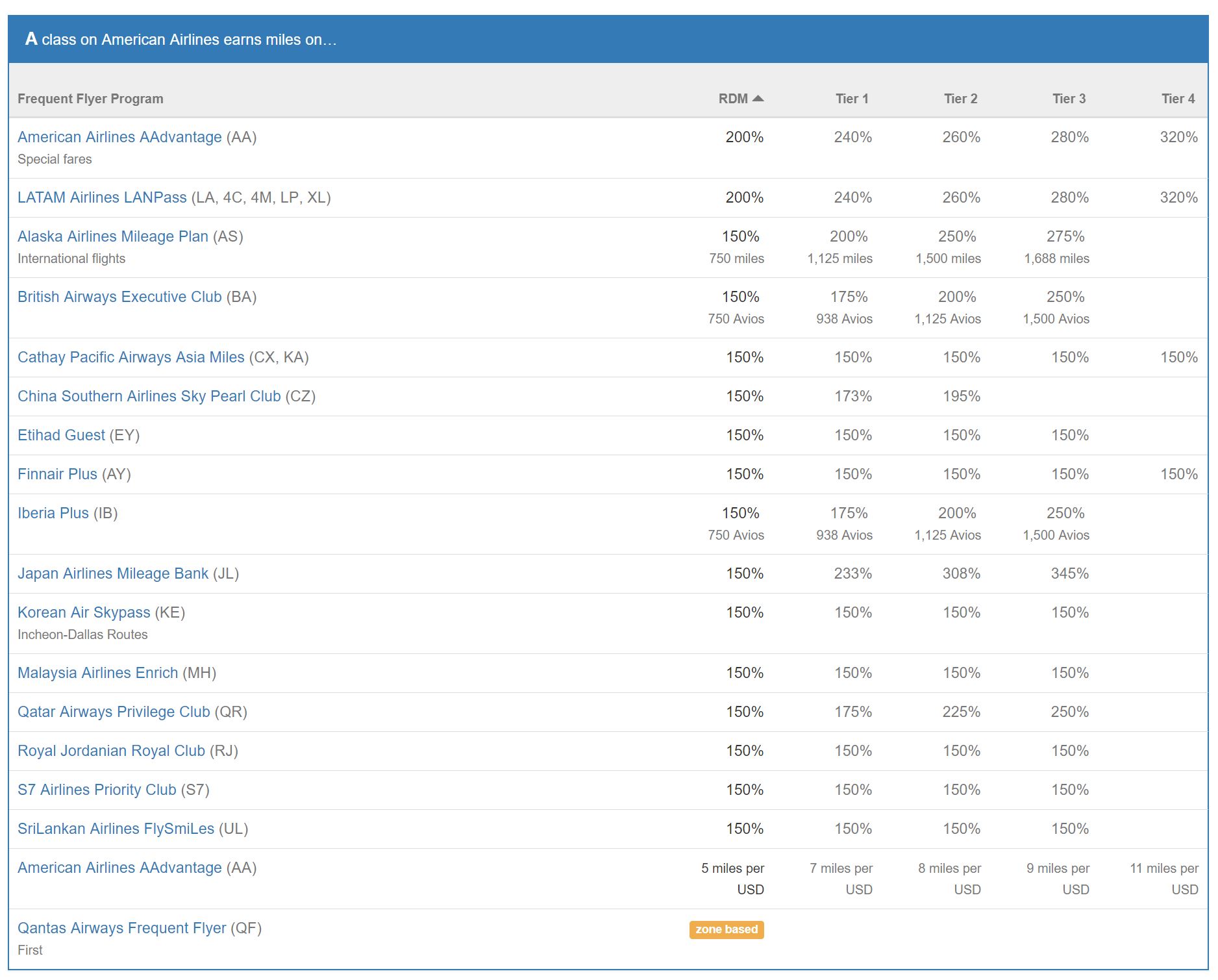 In this case, you'll notice that every partner except American Airlines will earn miles based on the total distance flown. American Airlines, except for special fares, will earn based on the dollars spent on the ticket.
Special fares (the top result above) means fares purchased through a specialized agent, third-party, or part of a package including air transportation and lodging. For the majority of us, these special fares will not apply.
Assuming you don't have any elite status, here are some of the options you can choose from for earning miles in the above example:
5 miles per $1 when crediting to American Airlines
150% redeemable miles when crediting to British Airways
150% redeemable miles when crediting to Cathay Pacific
150% redeemable miles when crediting to Etihad Guest
150% redeemable miles when crediting to Japan Airlines
Remember that in the example above, we are examining the SFO-JFK route and assuming a first class ticket in booking class A. To figure out the approximate flight distance between the 2 cities to calculate your miles, use Great Circle Mapper.
Shown below is the flight distance between San Francisco and New York City: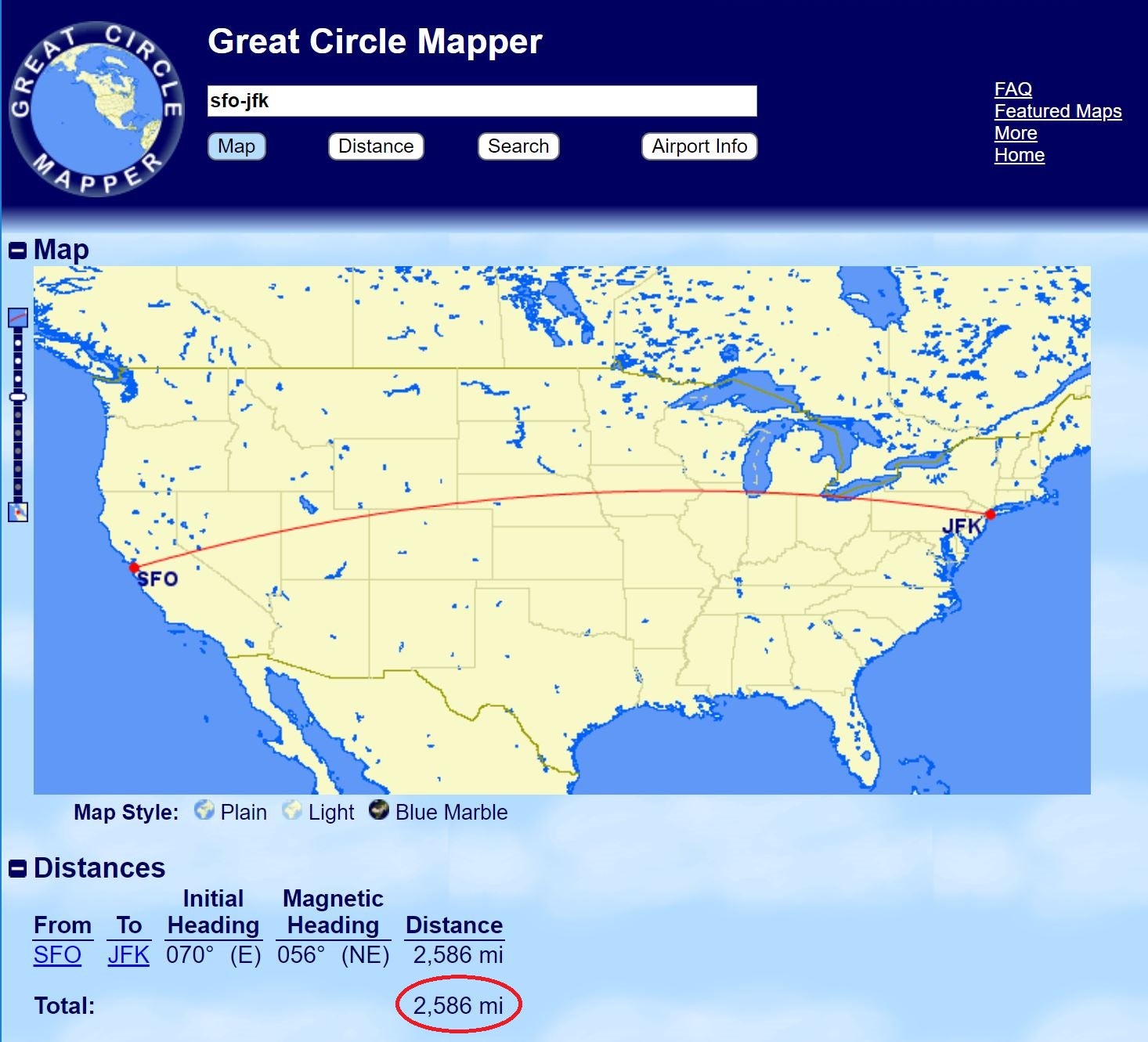 The one-way flight distance is 2,586 miles, whereas round-trip is 5,172 miles. This means that you can earn around 7,758 British Airways Avios, Cathay Pacific Asia Miles, Etihad Guest Miles, or Japan Airlines miles (5,172 x 150%).
A round-trip flight in Flagship First Class costs $2,050 (as shown in the previous sections), which means that you would earn around 10,250 AAdvantage miles by crediting your travel to American Airlines.
To summarize the mileage earnings on this flight, you could choose between:
10,250 AAdvantage Miles
7,758 British Airways Avios
7,758 Cathay Pacific Asia Miles
7,758 Etihad Guest Miles
7,758 Japan Airlines Miles 
In most cases, you'd want to choose to earn AA miles here — though earning Japan Airlines miles is attractive if you're planning a redemption on Emirates, for example.
Bottom Line: Where to Credit is a must-keep in your travel arsenal. Although it's not an award travel redemption tool, it will help you decode how many miles you'll earn, which can then be used for award travel later on. 
Using Your Route, Airline, and Booking Class to Figure Out Miles Earned
If you're trying to figure out what your mileage accrual is but don't want to use Great Circle Mapper, Where to Credit also has a great calculator page. To get there, visit the homepage and click the button on the top banner that says Calculator.

You'll arrive at the following page, where you'll enter your route, airline, and booking class.

If you're looking for mileage accrual rates for round-trip flights, you can add the returning route as well. Once you've typed in all the appropriate information, click Show me! to display results in decreasing order of miles earned.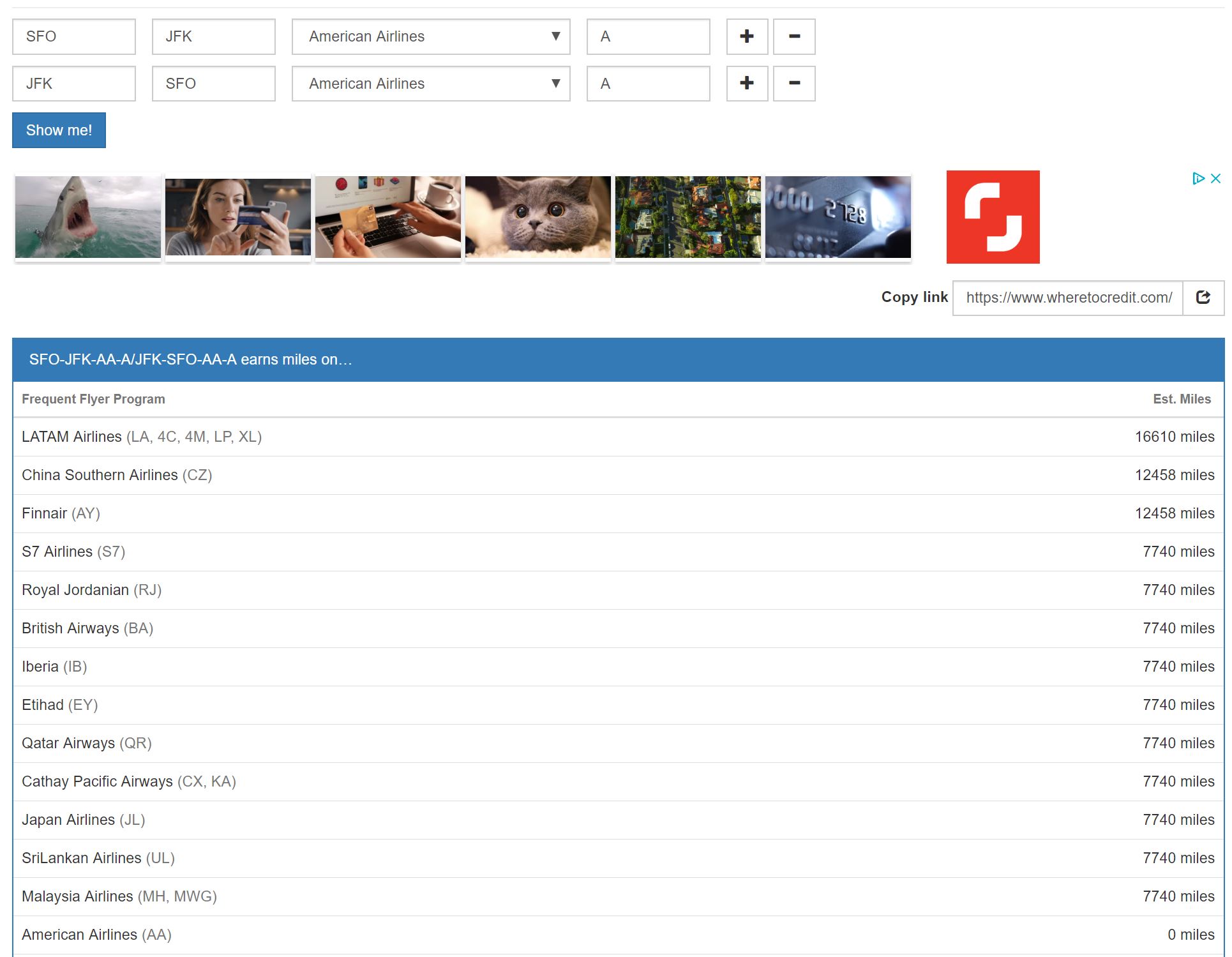 As you can see, the results match our manual calculation pretty well, except for American Airlines, which is all the way at the bottom with 0 miles. This is because the mileage accrual with AAdvantage is based on the cash price of the ticket, which Where to Credit doesn't have access to.
Bottom Line: Where to Credit's calculator has excellent functionality that removes a lot of the manual work from calculating the number of miles you'll earn on a specific itinerary. The results are very reliable for distance-based accrual, but it can't currently calculate mileage accrual for revenue-based earnings. 
Deciding Which Airline to Credit Paid Flights to
Earning the Most of the Best Miles
Now that you know how to figure out your booking class and how many miles you'll earn with your exact itinerary, you'll want to be able to compare all your options and convert that into an actionable plan that falls in line with your personal travel goals.
This is where the subjectivity of crediting to airlines comes in. Generally speaking, there are a handful of airline miles you should be focused on earning. The miles in these programs are generally accepted to be some of the most valuable:
It's impossible to suggest an all-encompassing rule of thumb here, simply because the earning structures will vary depending on which booking classes you're ticketed in.
However, we can say that when flying internationally on airlines such as Cathay Pacific, Japan Airlines, Emirates, or Qantas, it is generally best to credit flights on Alaska Airlines Mileage Plan.
To help you decide based on your specific situation, here's a great checklist to optimize your paid travel:
Which countries do you want to fly to for upcoming trips?
Which mileage programs have sweet spots that can help you get there?
Which airlines operate these flights?
Do those airlines have any partners?
If so, what is the highest RDM multiplier available for those partner airlines?
Credit your paid flights to a partner airline with the highest RDM multiplier of your paid travel.
Earning Elite Status
For those who are pursuing elite status, it often makes sense to credit your flights to different airlines. For example, elite status with Asiana Club and Aegean Airlines are gateways to the coveted Star Alliance Gold (which grants access to Star Alliance lounges on all flights in any class).
With Asiana Club, you only need to earn 40,000 miles over 2 years, as opposed to 1 year for most other airlines. This is incredible for 2 reasons:
Low mileage requirement of 40,000
Longer qualification period of 2 years
This means that you only need to earn 20,000 miles per year to earn Star Alliance Gold! If you credit your paid United Airlines in economy booking class V (75% RDM), you'll need to fly just 26,667 miles per year, which is doable in a single, multi-country trip on Star Alliance carriers.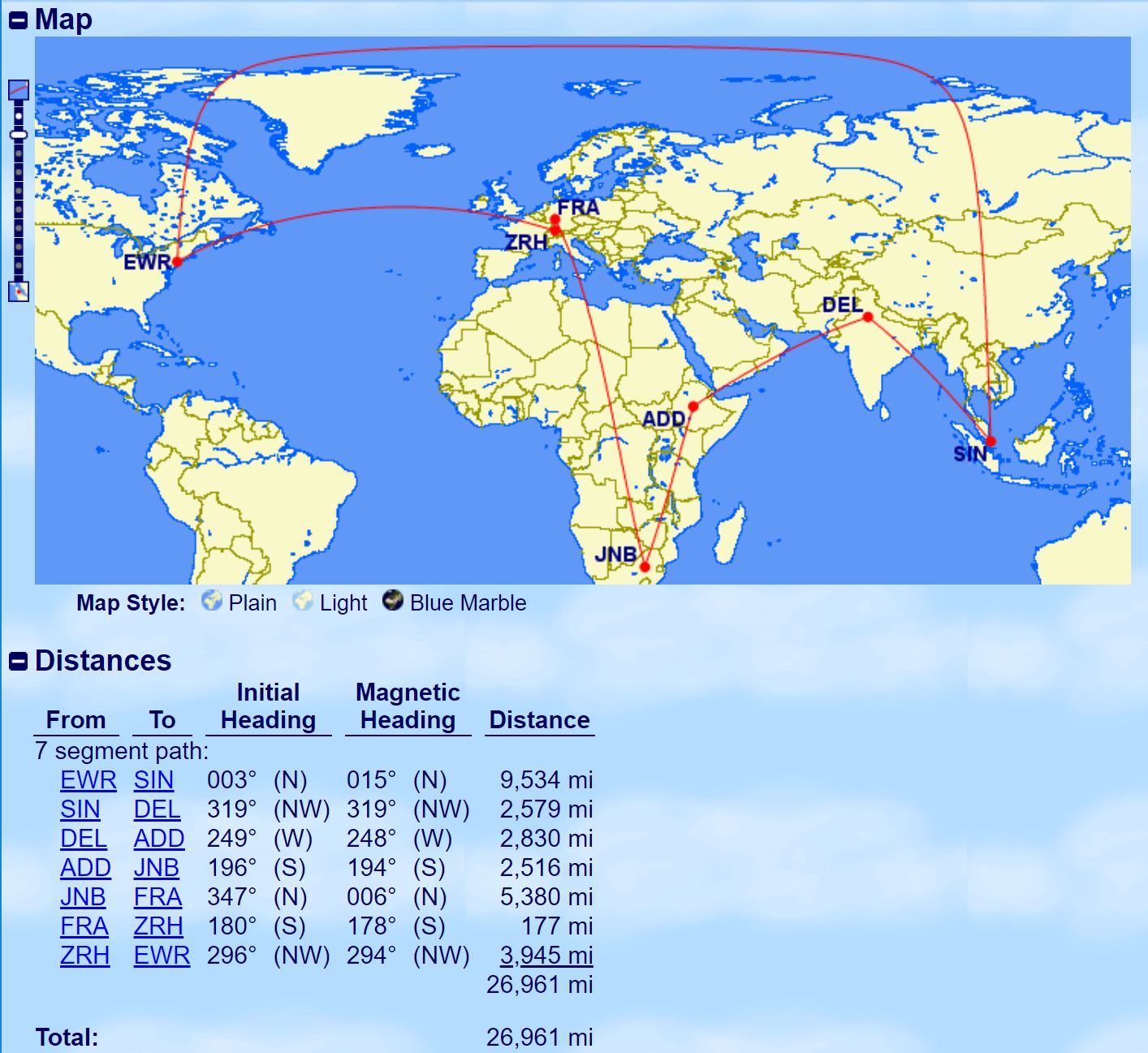 However, Asiana Club offers 125% RDM on D tickets, which is discounted business class. This can go a long way, especially if you're flying on behalf of your employer.
In any case, figuring out the best way to credit airline miles can be affected by your desire/motivation to achieve elite status.
Some of the most advantageous elite status avenues are with unconventional airlines, such as Asiana. Crediting your miles to these airlines enables you to get elite status without investing in paid tickets on that specific airline.
How to Credit Your Miles to Partners
Once you've decided which airline to credit your travel to, the way to actually earn miles on your travel is very simple: enter the frequent flyer program number and select the program you want to credit to when booking your flights.
For example, if you're booking travel on United Airlines, you'll find an area that allows you to enter frequent flyer information. Usually, your MileagePlus information is filled in by default, but you simply change the selection and enter the new loyalty number you want to earn miles on.
Hot Tip: If you get an error when trying to enter another program's loyalty number, you'll have to call the operating airline over the phone and manually book/enter the information.
Final Thoughts
In this guide, you saw the exact protocol to find out your booking class, the earnings for your booking class, and the best ways to apply these lessons learned to optimize your travel. All in all, there are tons of ways to credit revenue tickets to airlines.
Most travelers don't maximize these opportunities, and many of them get stuck with a small balance of many different airline miles, which ends up being useless.
But by crediting all your paid travel to a select few airlines, you'll be able to see your mileage balance pile up in no time!