Delta One Suites Airbus A350-900 Review [Shanghai to Los Angeles]
Airline: Delta Air Lines (DL)
Aircraft: Airbus A350-900
Flight #: DL 88
Route: Shanghai Pudong International Airport (PVG) to Los Angeles International Airport (LAX)
Date: October 7, 2019
Duration: 11hrs and 50min
Cabin and Layout: Delta One Suites, 32-seat capacity across 9 rows, 1-2-1 configuration
Seat: 8B
Miles Used: 60,000 Virgin Points (47,000 Amex points transferred with a 30% bonus)
Taxes and Fees Paid: ¥414 (~$58.57) in taxes and fees
Typical Retail Cost: Approximately $5,091
Typical Economy Cost: Approximately $280
Booking Delta One Suites
Delta One Suites is one of the hottest business class products on the market today. Offering private, enclosed suites and revitalized amenities, Delta has asserted itself again as a leader in world travel, connecting business travelers globally in more comfort than ever before.
As someone who has tried United Polaris class, I wanted to see how Delta One Suites stacked up. I was already planning a trip to Southeast Asia, so I wanted to fly a long-haul route back to my home city of Los Angeles (LAX).
As luck would have it, both Shanghai (PVG) and Tokyo-Haneda (HND) have service to Los Angeles with Delta One Suites. I opted for the Shanghai route, as it was the longer flight.
Booking Delta One Suites can be difficult, especially when you try to do it on Delta's own website. Award availability can be all over the place, and the award pricing is multi-tiered on Delta, so I actually never visited Delta's online website throughout this whole process.
Instead, I booked using Virgin Atlantic Flying Club. Virgin Atlantic displays Delta availability in an "all-or-nothing" fashion, in the sense that it either shows seats at the lowest "Saver" level award or not at all.
Amazingly, you can also book Delta awards completely online, which is what I ended up doing. To top it all off, I took advantage of a targeted 30% Amex transfer bonus. I transferred 47,000 Amex points to book this fantastic transpacific business class seat. When you consider that Delta can sometimes charge 300,000+ miles for the same flight, you'll begin to understand what a killer deal this was.
Thanks to a robust planning process, I was able to book Delta One Suites from Shanghai to Los Angeles. When all was said and done, I:
Transferred 47,000 Amex points with a targeted 30% bonus to get enough miles
Spent $59 in taxes and fees
Confirmed the reservation on December 3, 2018 (308 days in advance)
For a flight that retails for around $5,091, I was able to get 10.7 cents per point in value, which is around 5 times better than our travel points and miles valuations for Amex.
Bottom Line: Because I was flexible, knew the best airline route offerings, and planned properly, I was able to book a flight on a top-notch business class product with a deep discount and extract tons of value from my points.
VIP Lounge 137 at Shanghai Pudong International Airport (PVG)
Our flight was departing from Terminal 1, so we headed to the airline check-in desk. Because Delta is a SkyTeam member, the SkyPriority line was shared by:
Air France
Alitalia
KLM
Virgin Atlantic (non-SkyTeam partner)
Additionally, SkyPriority access is available for:
Delta One, First, and Business Class travelers
Diamond, Platinum, and Gold Medallion SkyMiles members
SkyTeam Elite Plus members
Virgin Atlantic Upper Class travelers
Virgin Atlantic Flying Club Gold members
GOL Smiles Diamente members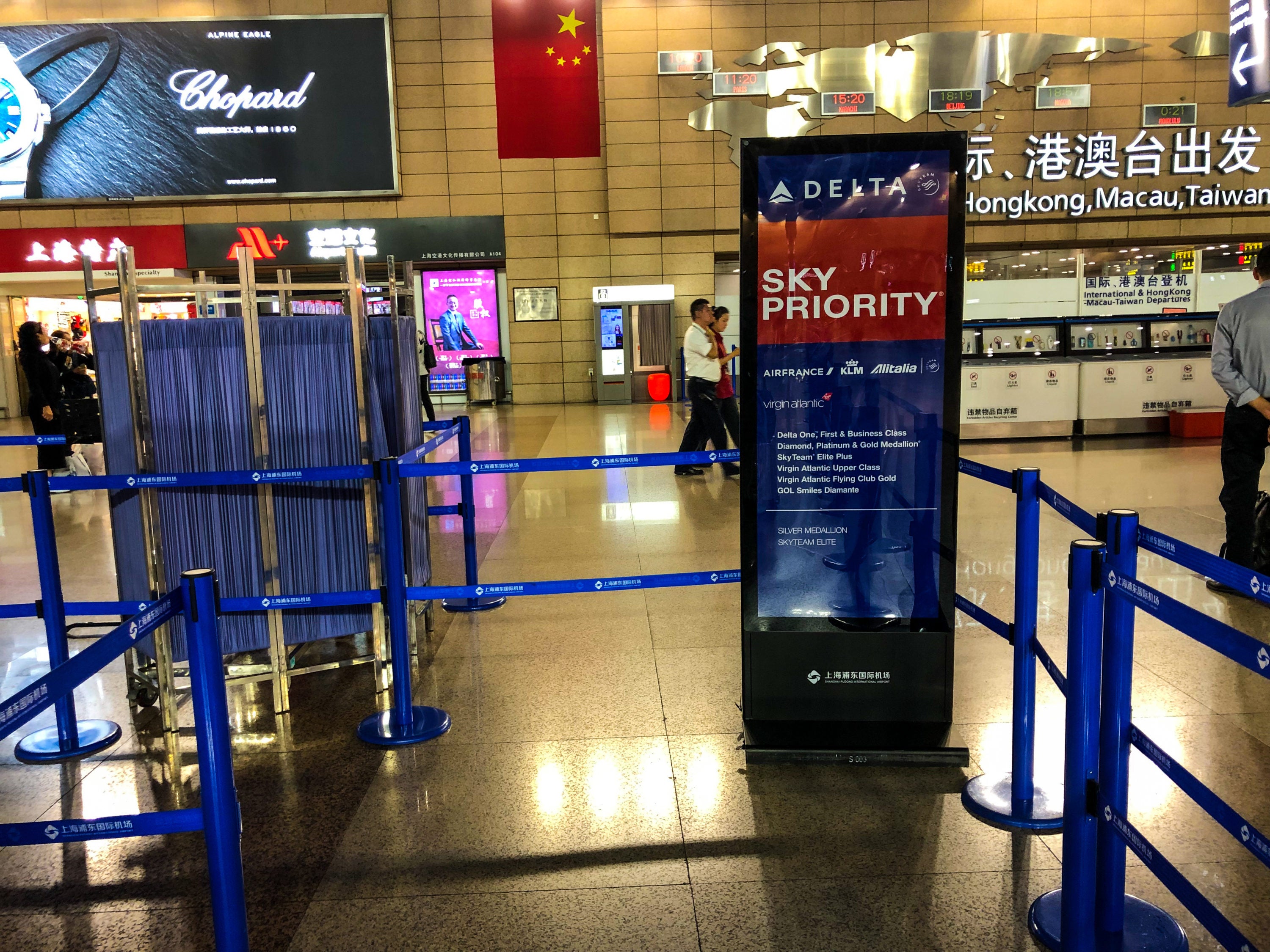 Because we weren't checking any bags, we were handed our boarding passes only. We were notified that our flight would be departing from the newly constructed satellite terminal. This terminal was connected by an express subway.
I hadn't known about the expansion of Pudong airport, but I was dazzled by the new terminal, which is the world's largest single satellite terminal, measuring over 622,000 square meters in size!
Security was uneventful, and we took a quick 5-minute subway ride to the satellite terminal. The lounges at Pudong airport are denoted numerically, and there are tons of lounges. We were granted access to VIP Lounge 137.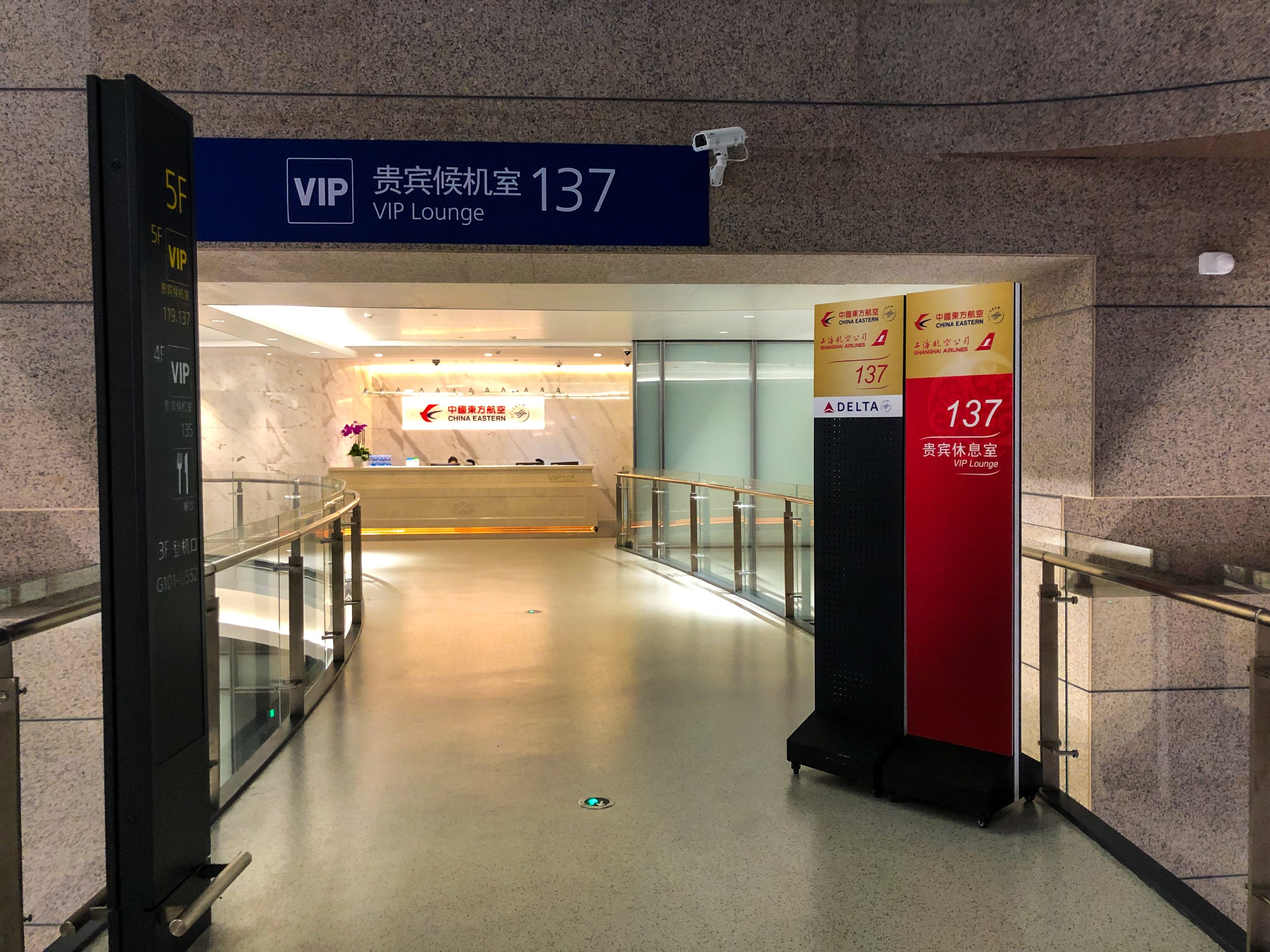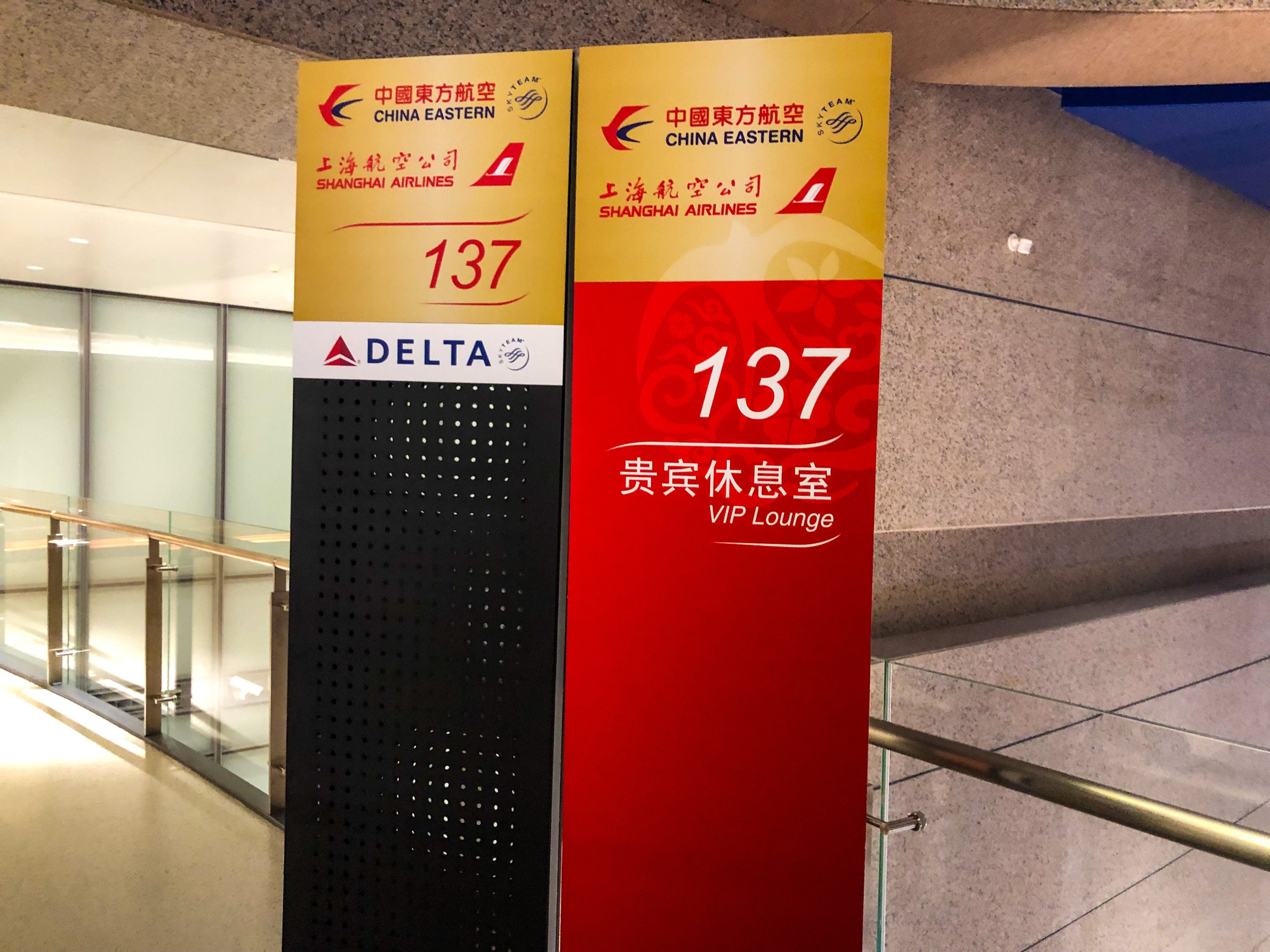 One thing I noticed about the entire terminal (including this lounge) was how immaculately clean and new it looked. I presented the check-in desk with our boarding and lounge passes and we were whisked into the lounge.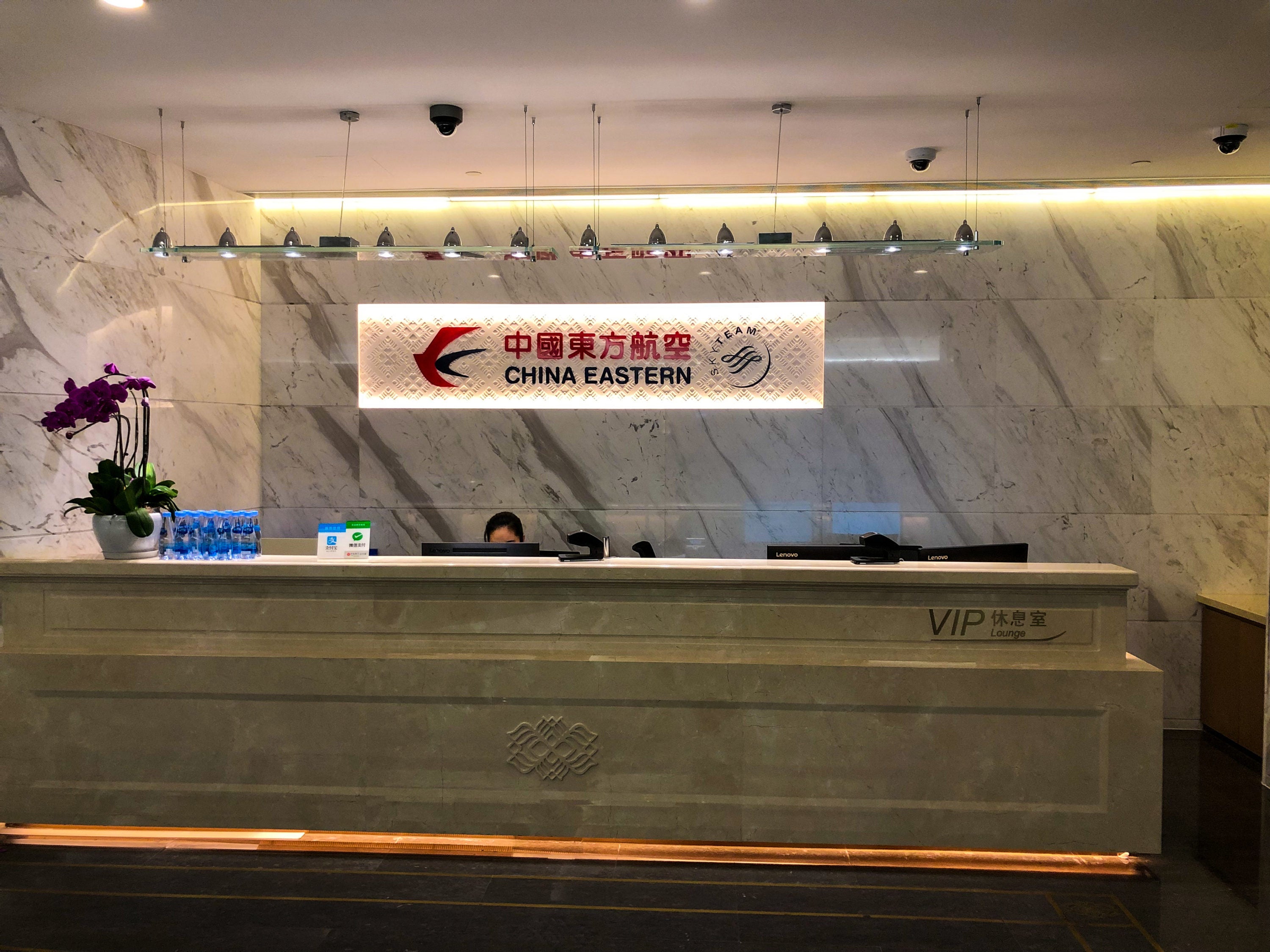 Since the terminal is so large, China Eastern (the state-owned airline operating chiefly out of Shanghai) decided to post a sign that denoted walking times to many gates.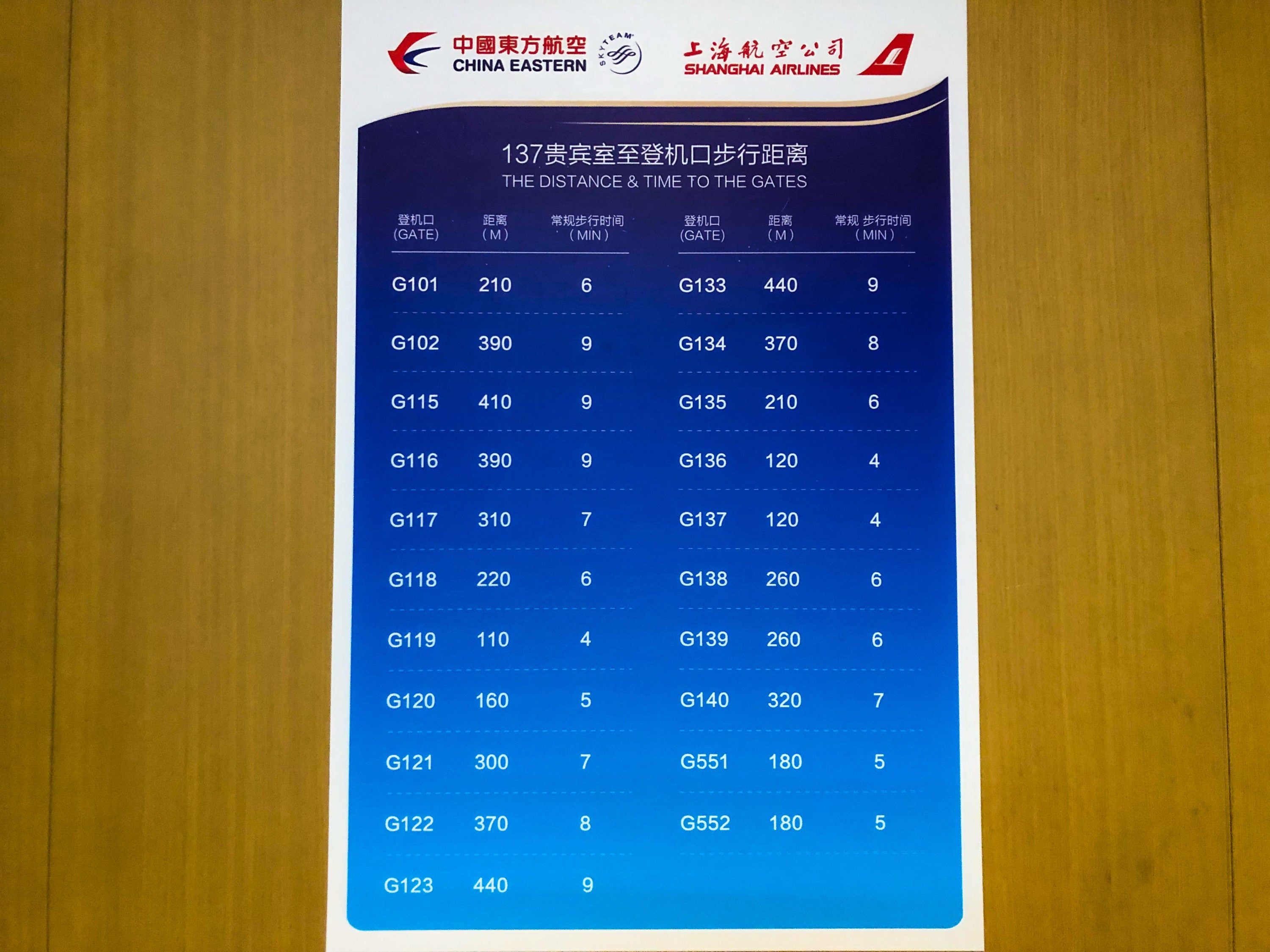 VIP Lounge 137 is a brand-new lounge, and you could tell that everything was sparkling and new inside. All the facilities were clean, and the seats looked like they were bought yesterday.
The first thing that caught my eye was a wall directory, which ended up being very helpful for such an expansive lounge.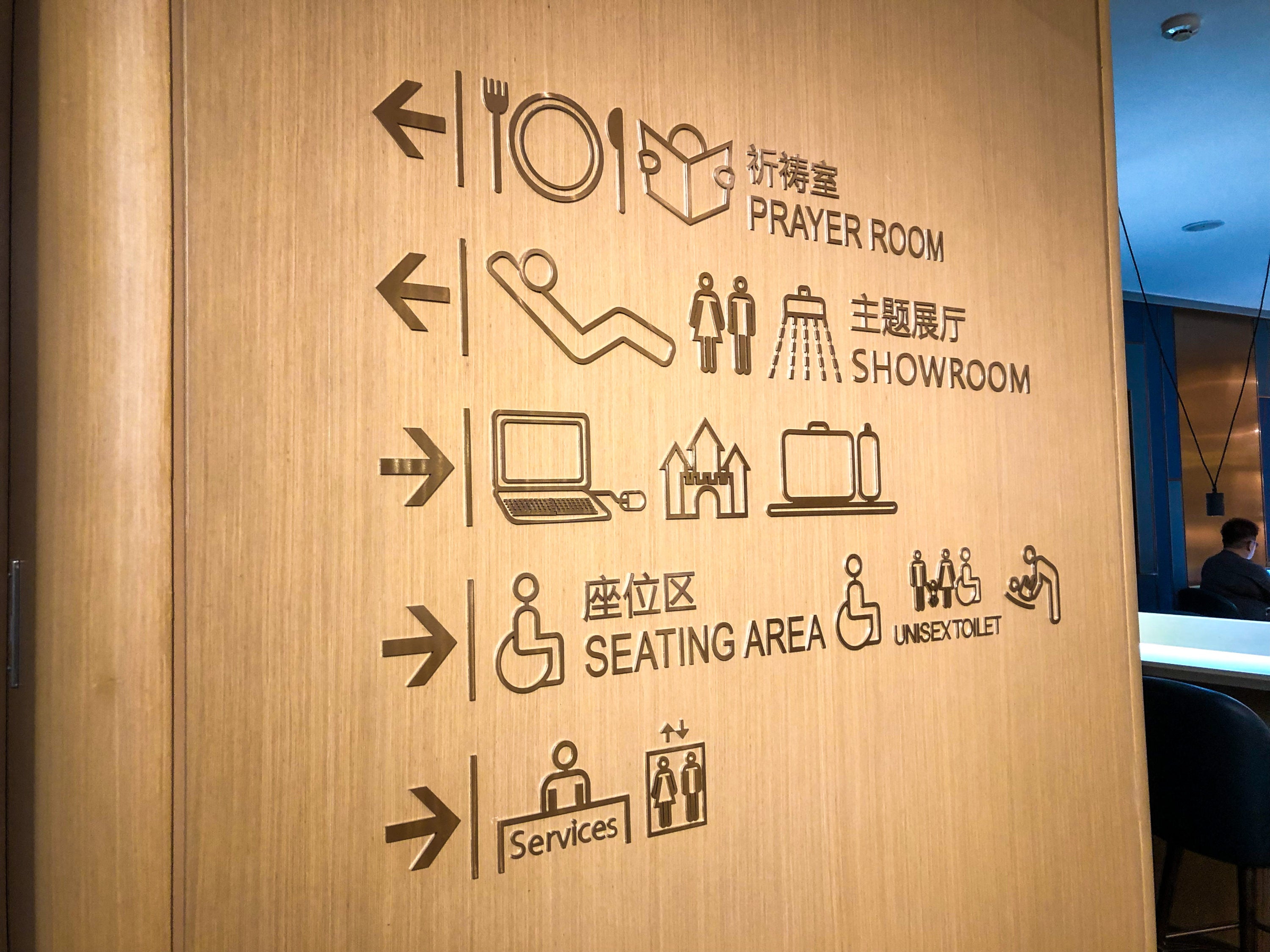 There were lots of seating areas, ranging from couples seating to armchairs to dining chairs to even high chairs and bar seating.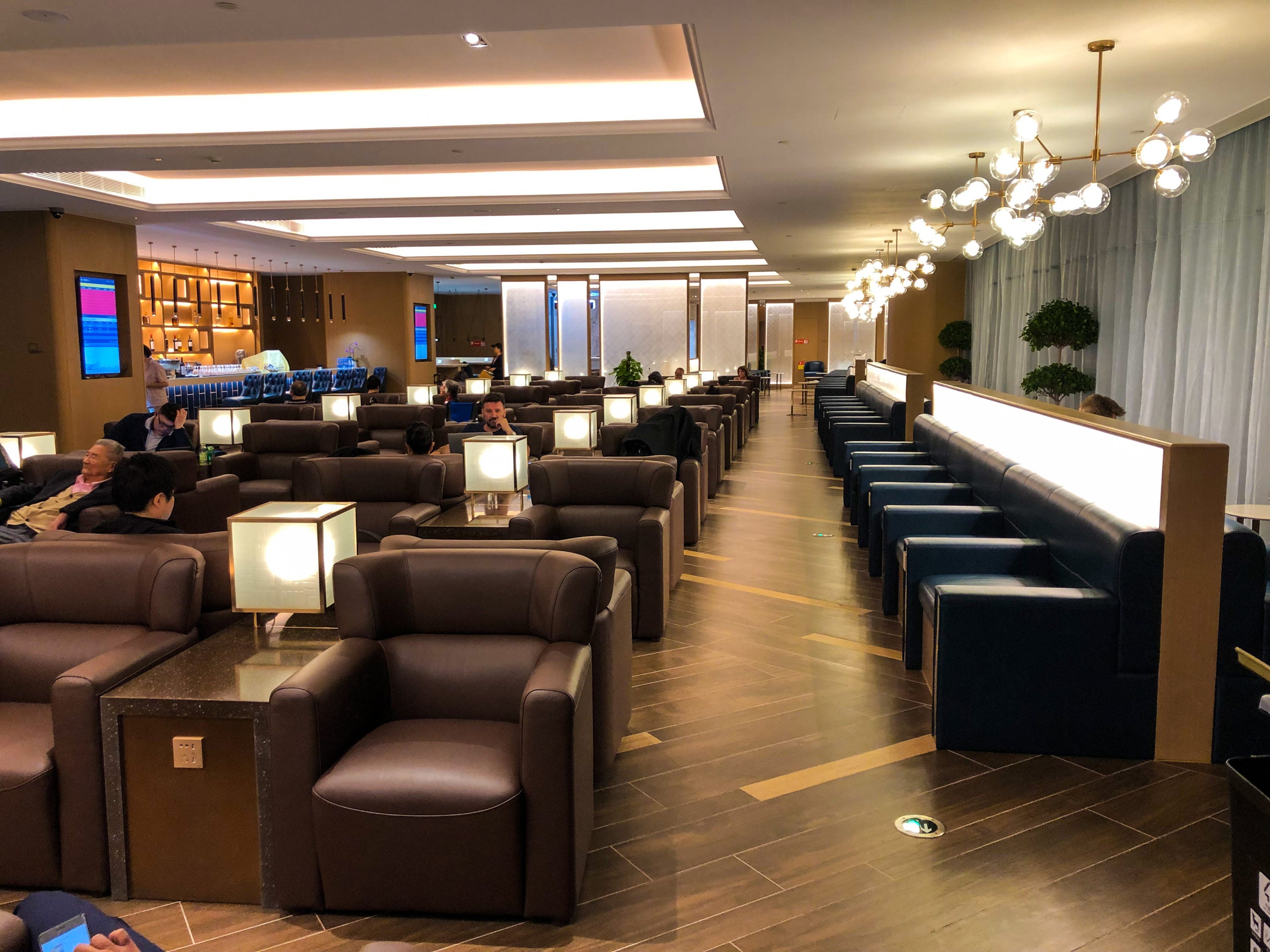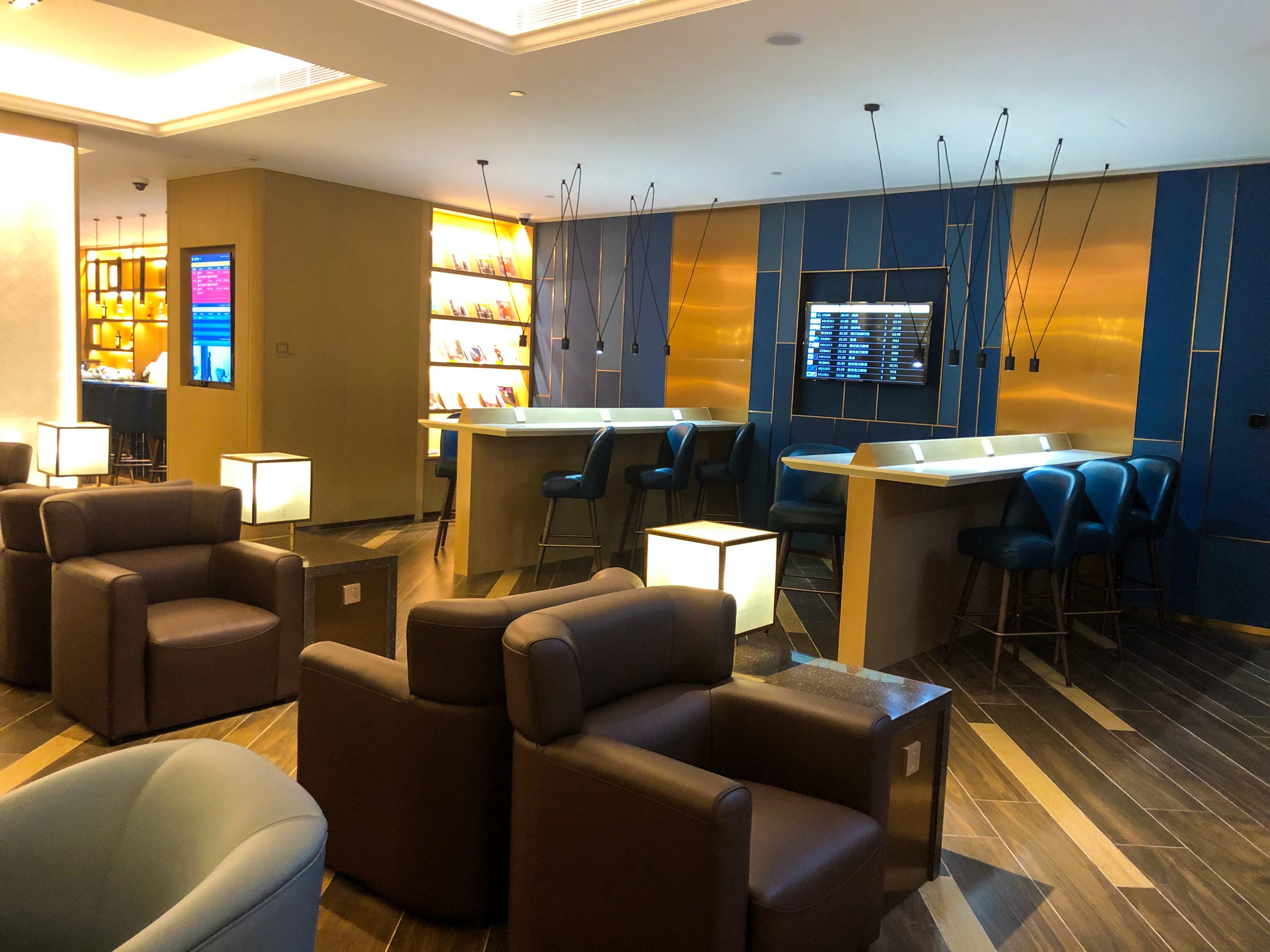 The cocktail bar, though not staffed, was very beautiful, complete with warm lighting and sophisticated furnishings.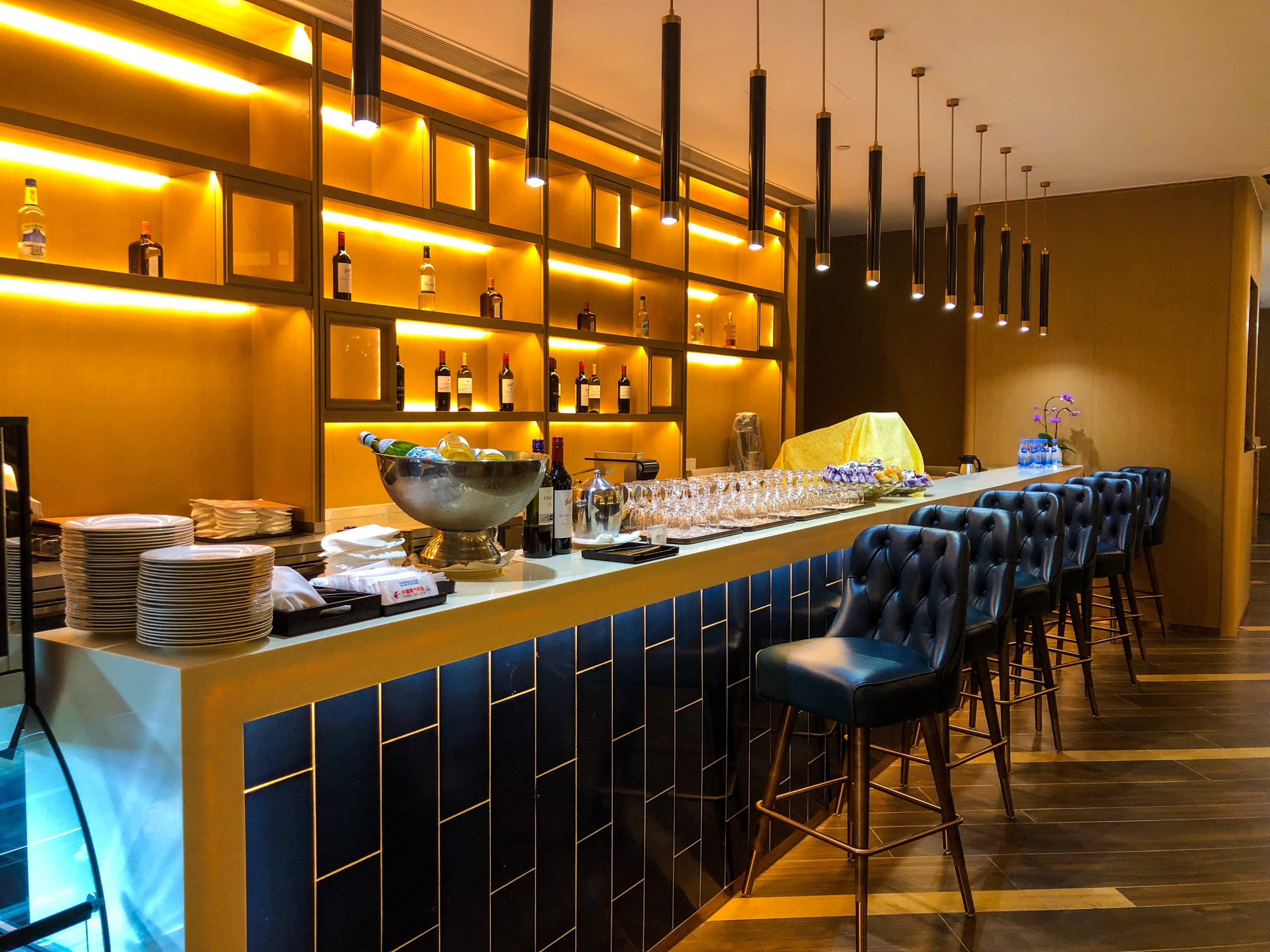 The over-sized lounge is very spaced out and had tons of capacity, which is excellent. There was also a business center and magazine room.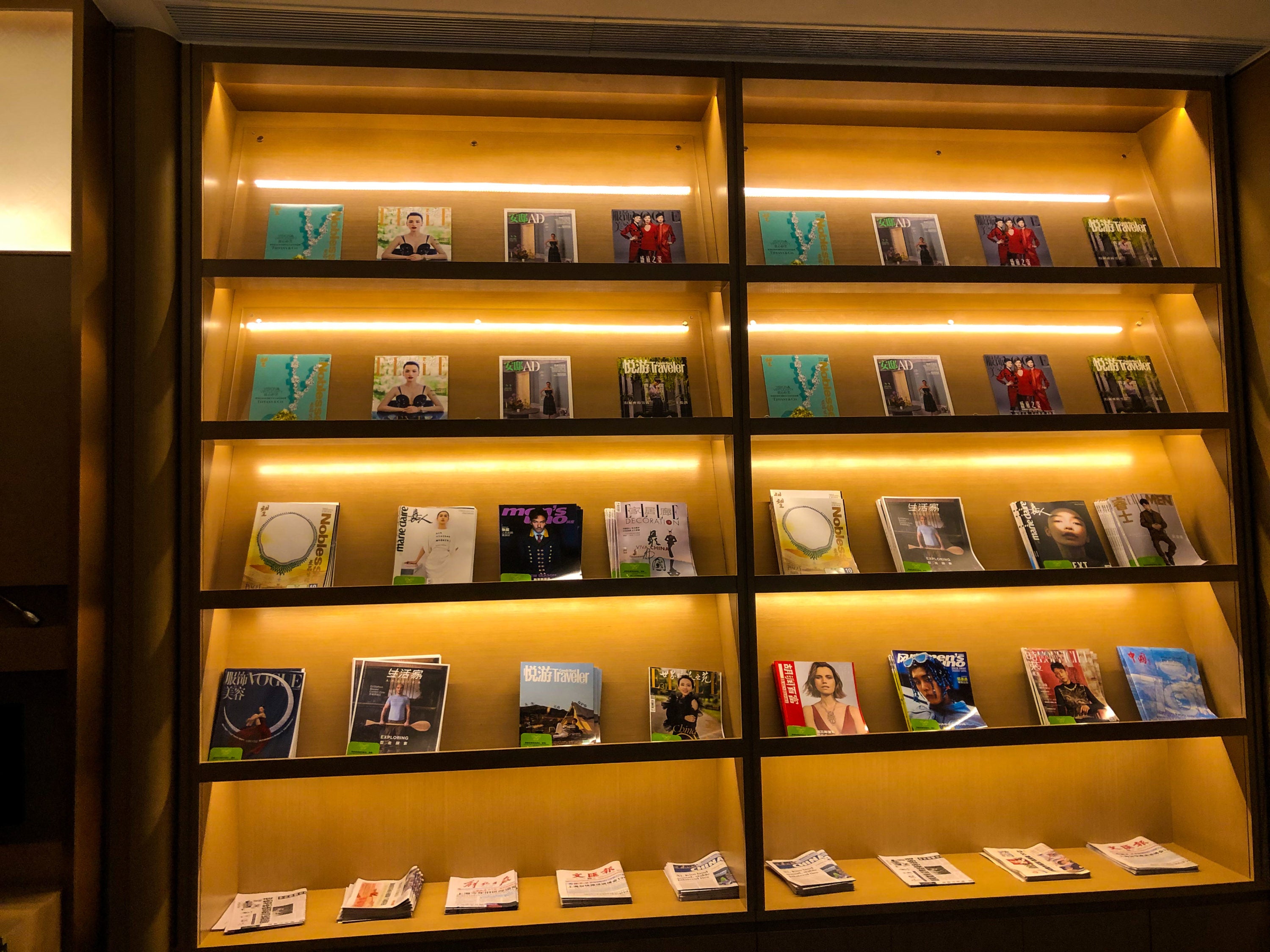 With monitors and private desks, you could work in peace.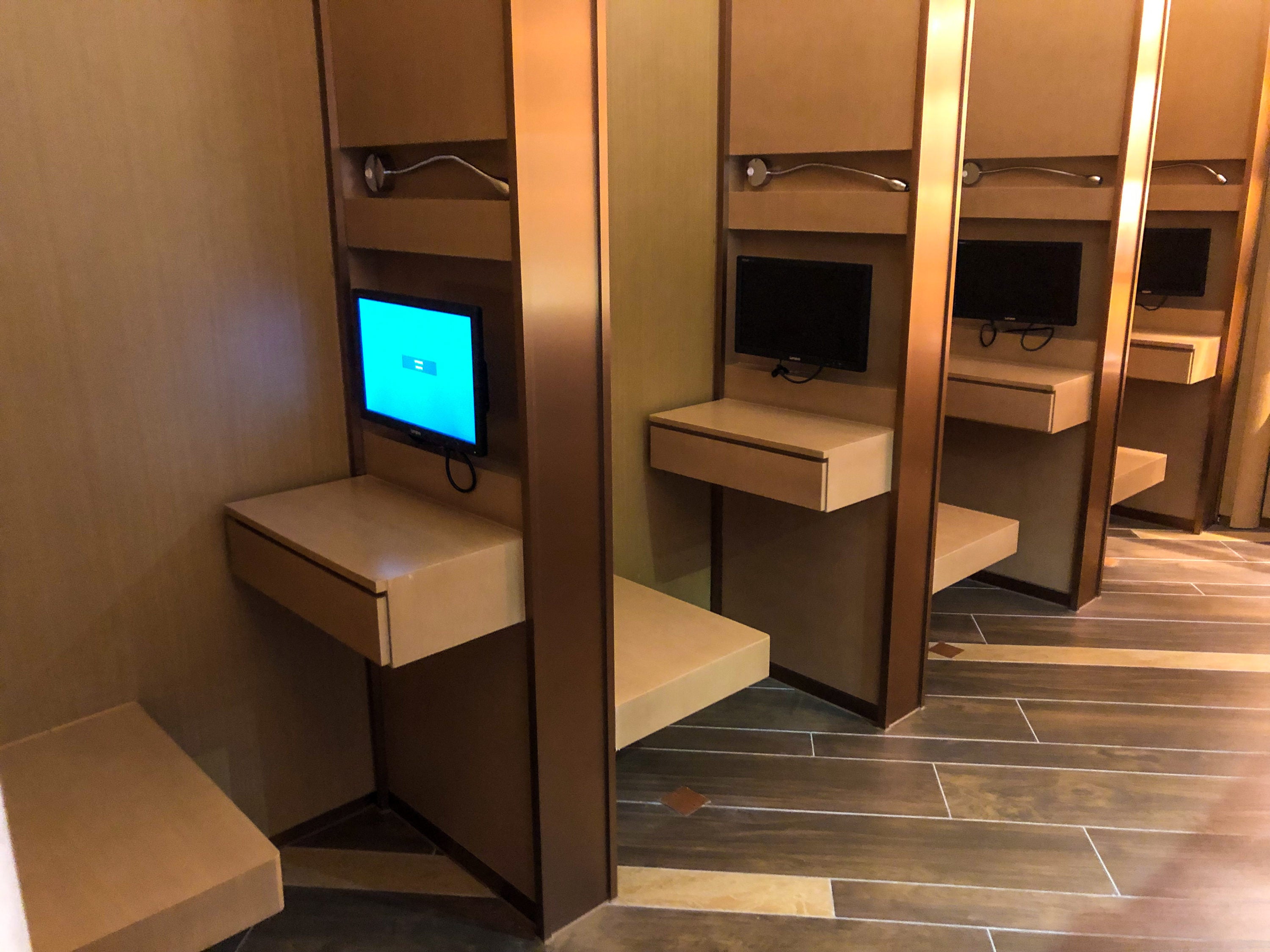 I also checked out the prayer room, which is an extremely nice touch by China Eastern.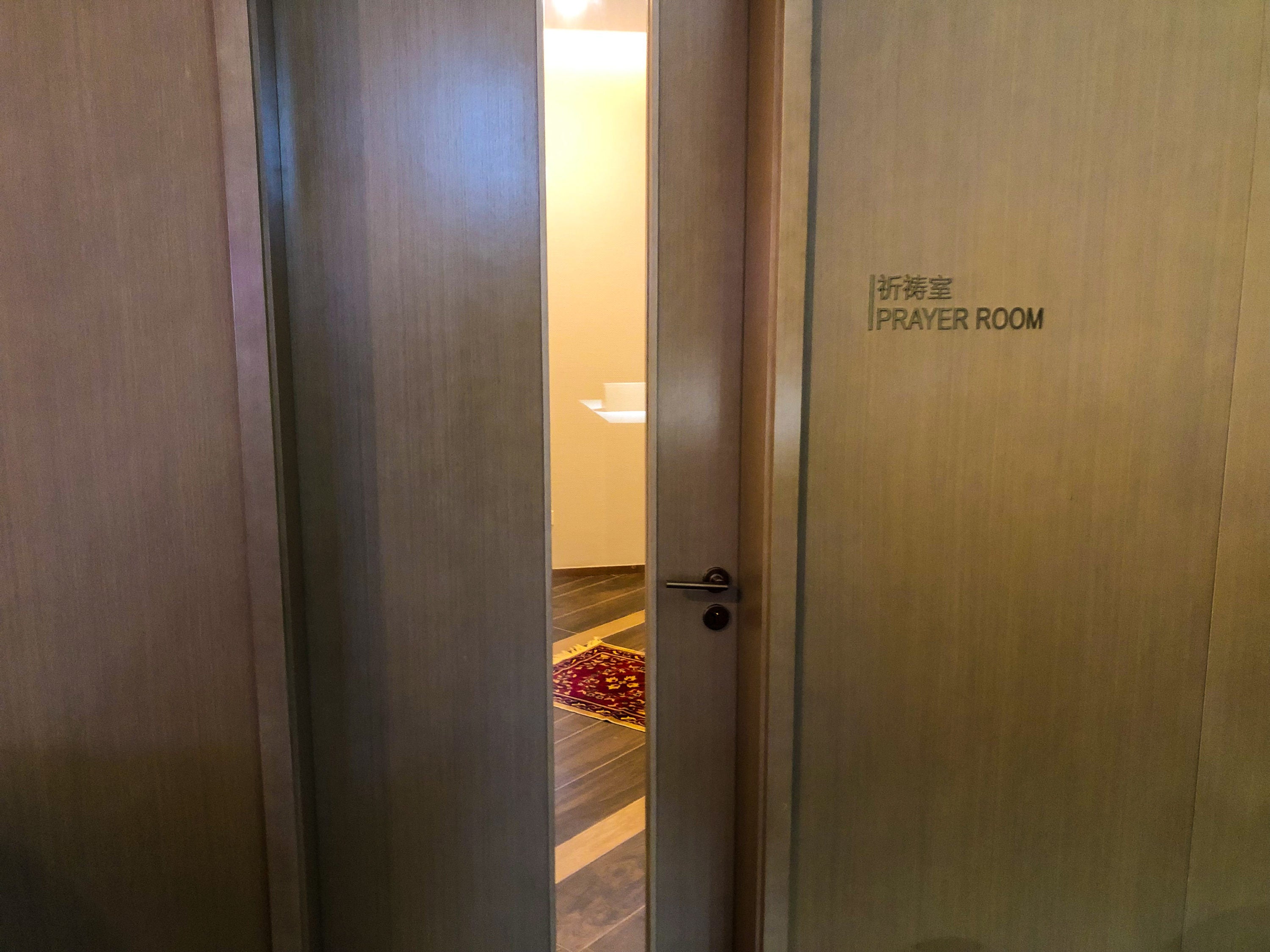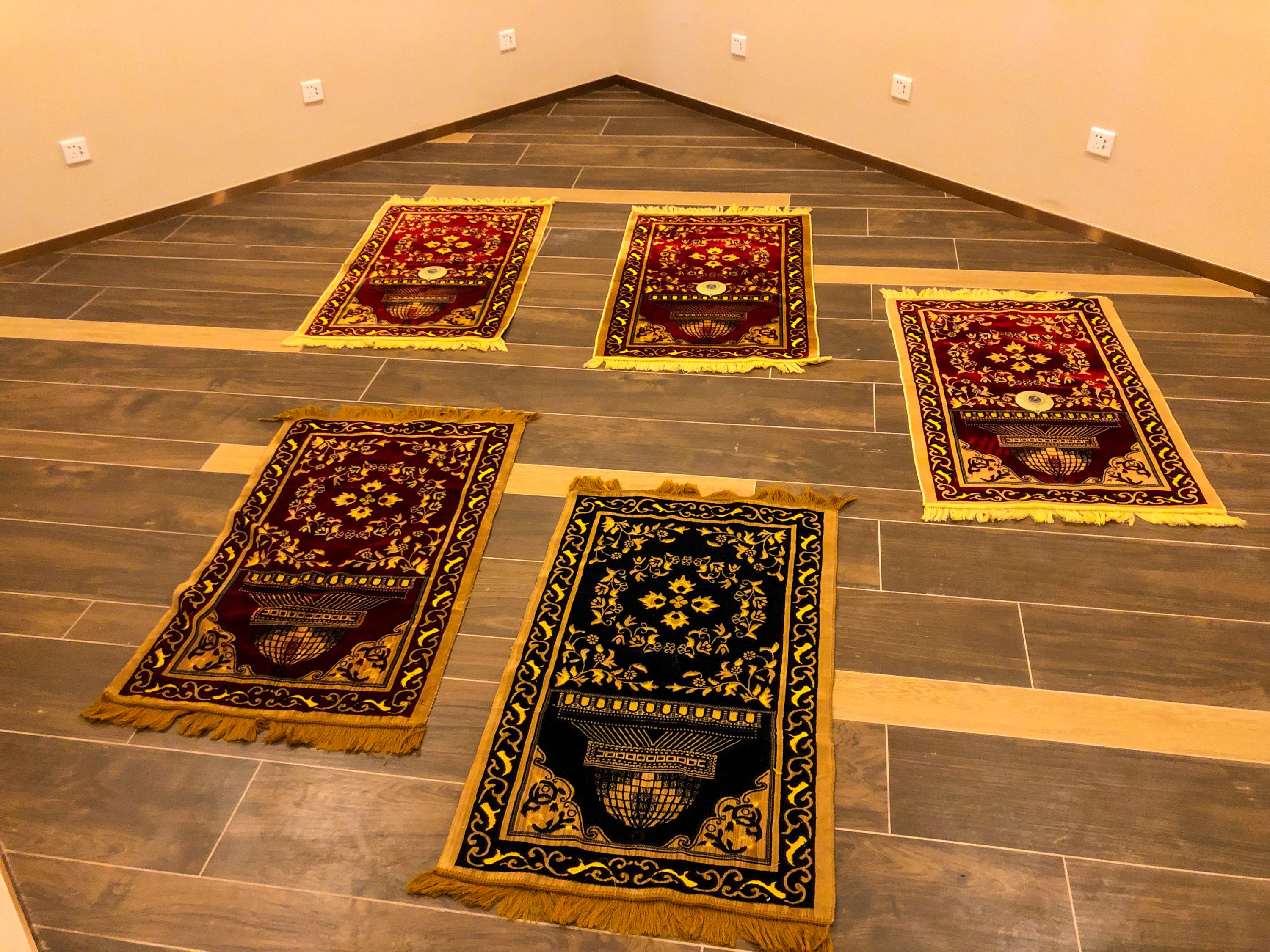 One thing I found throughout the lounge was USB ports and power outlets everywhere. Staying connected is easier than ever in this lounge.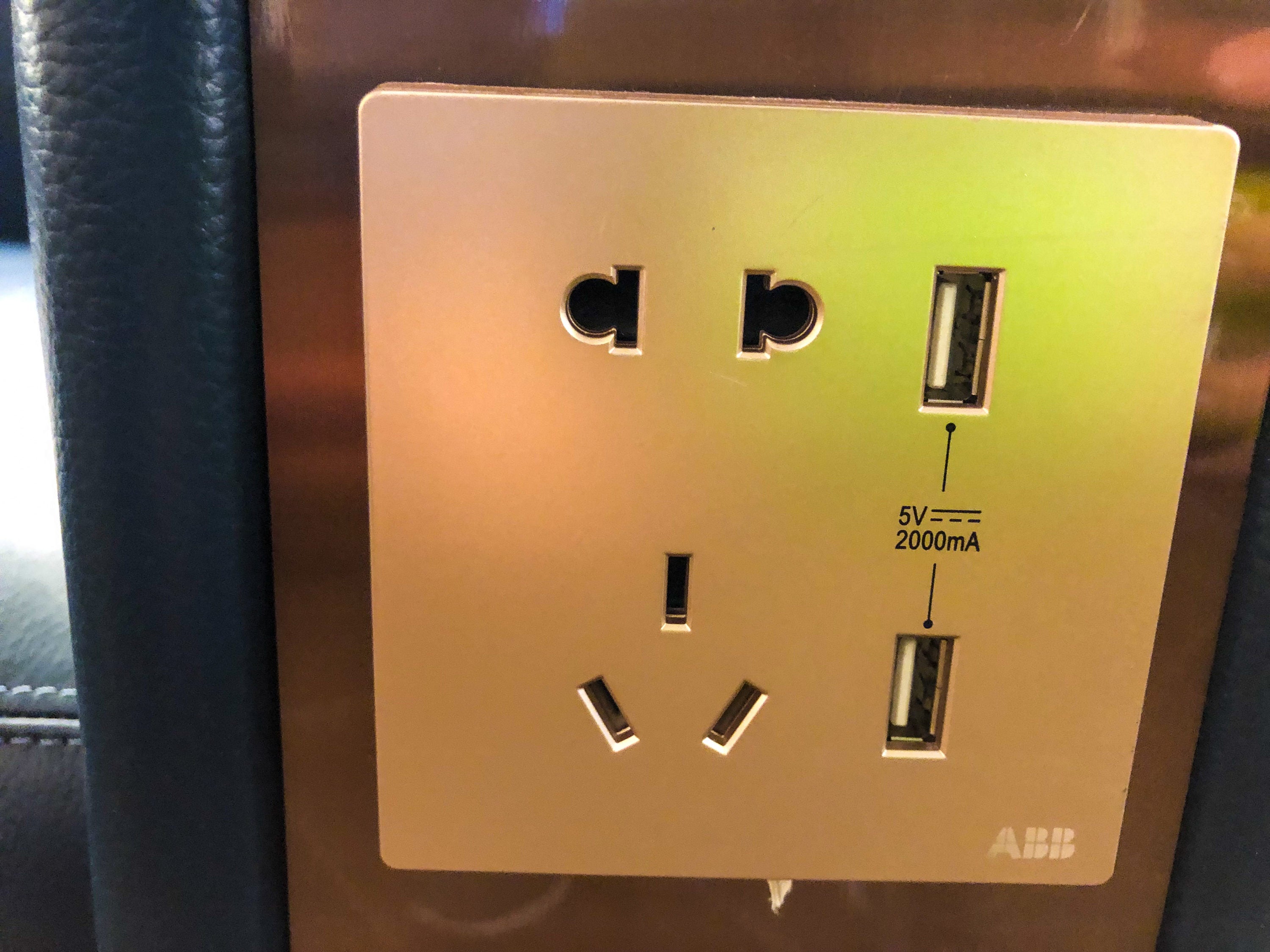 There are 2 nap rooms, which you can reserve at the front desk.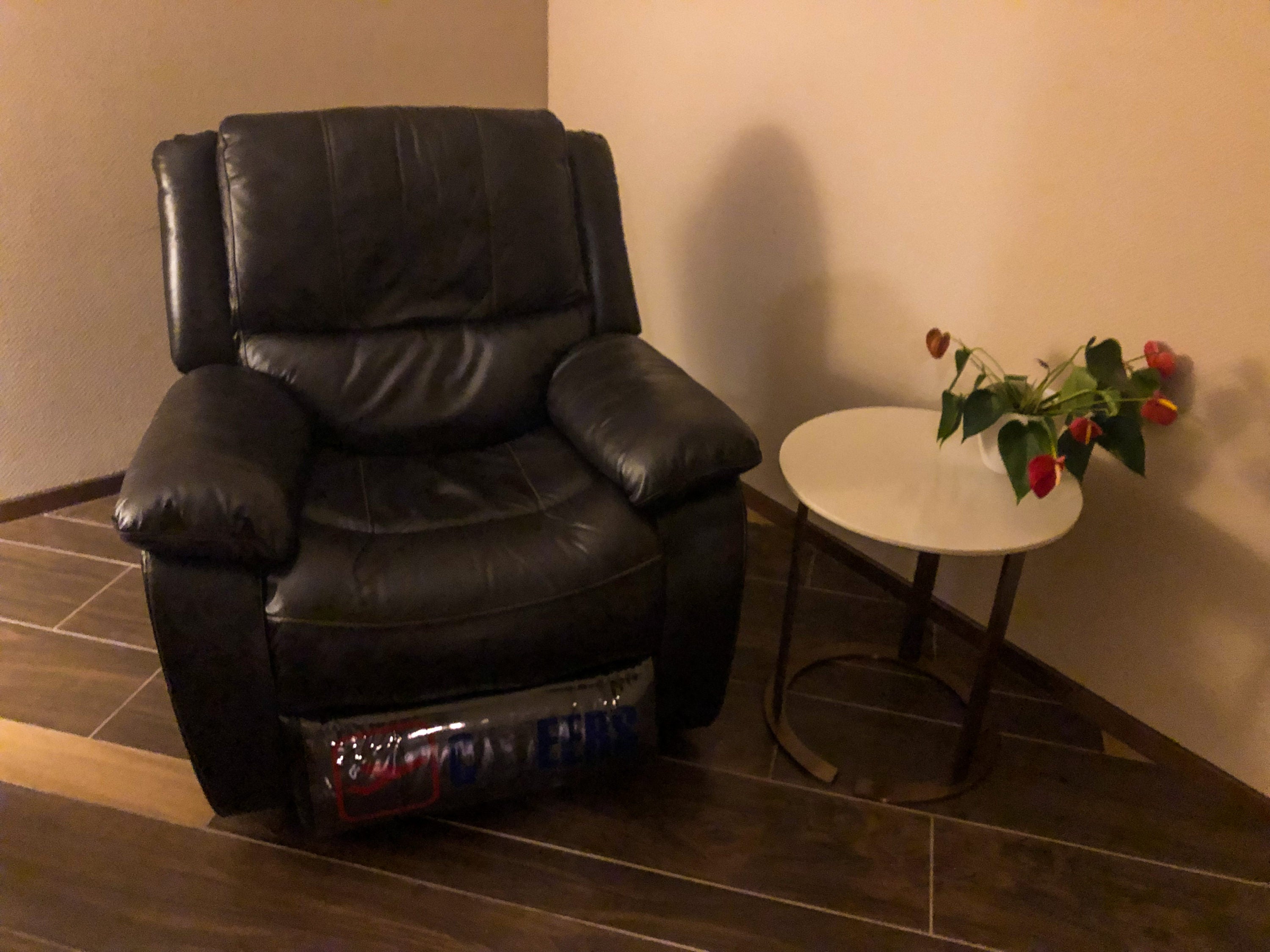 An oversized leather recliner, desk, and television await travelers in the nap room.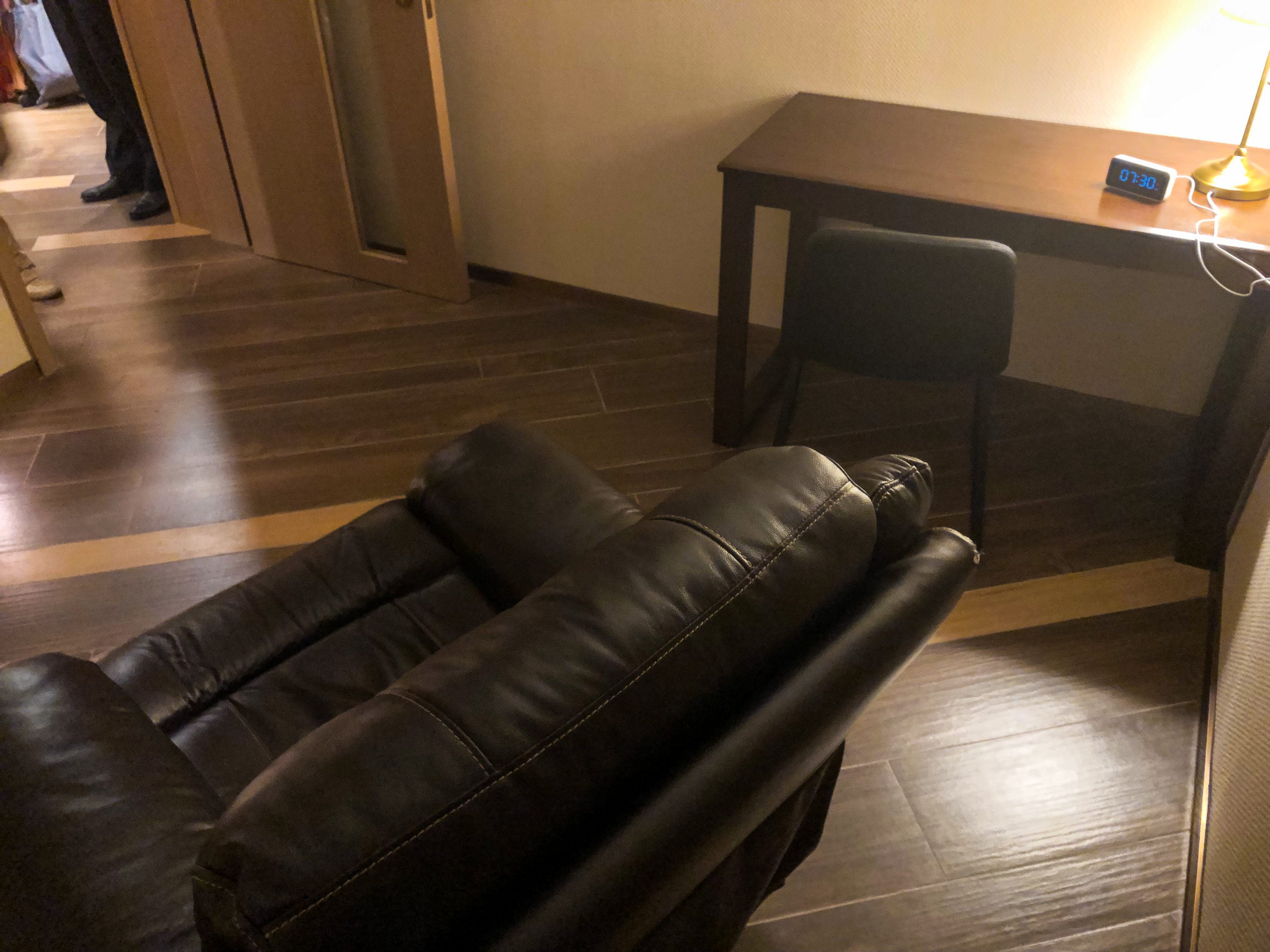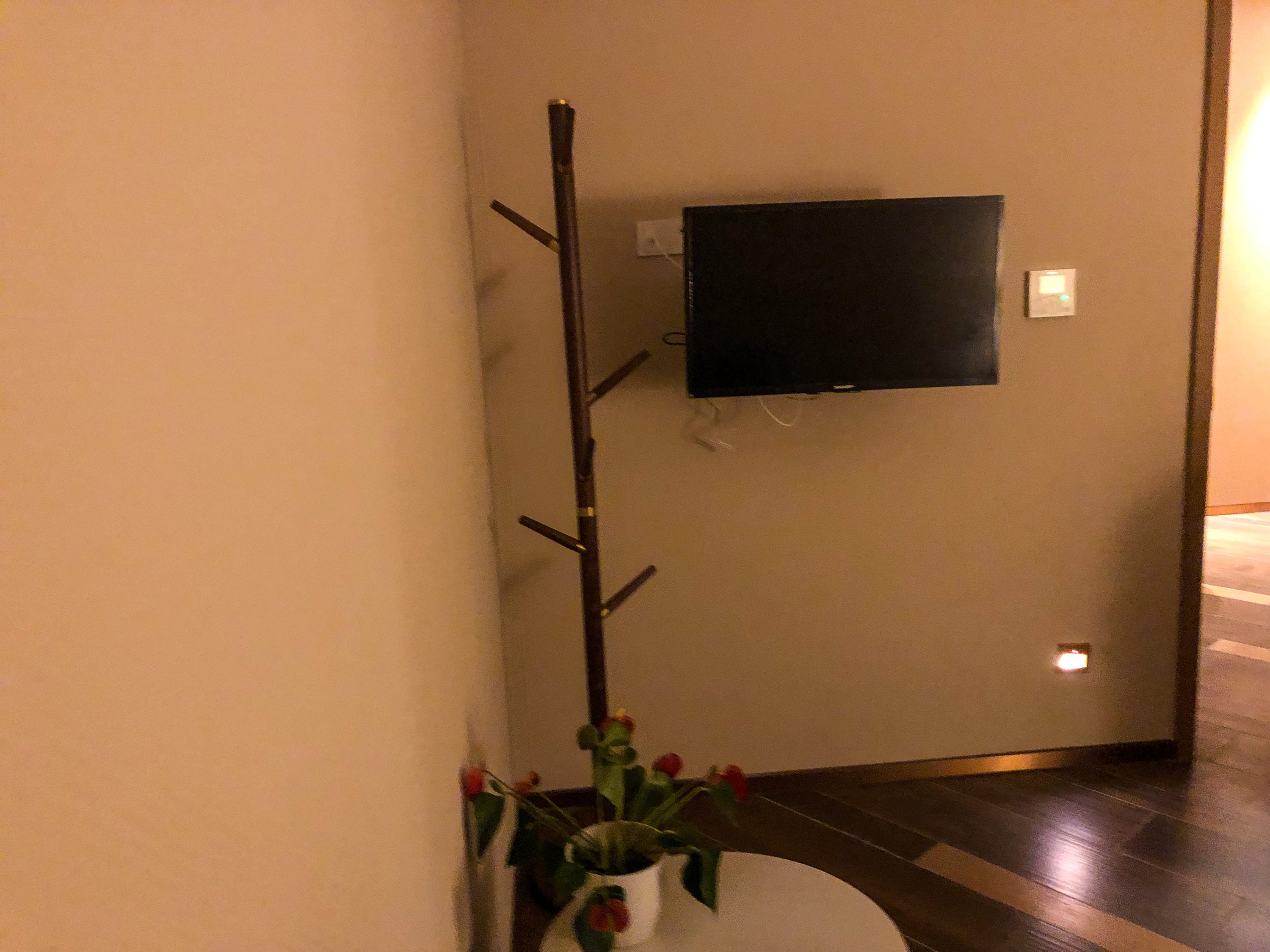 There were also lots of shower rooms available by reservation, but the staff was performing some plumbing and electrical maintenance when I was there, so the showers were actually closed.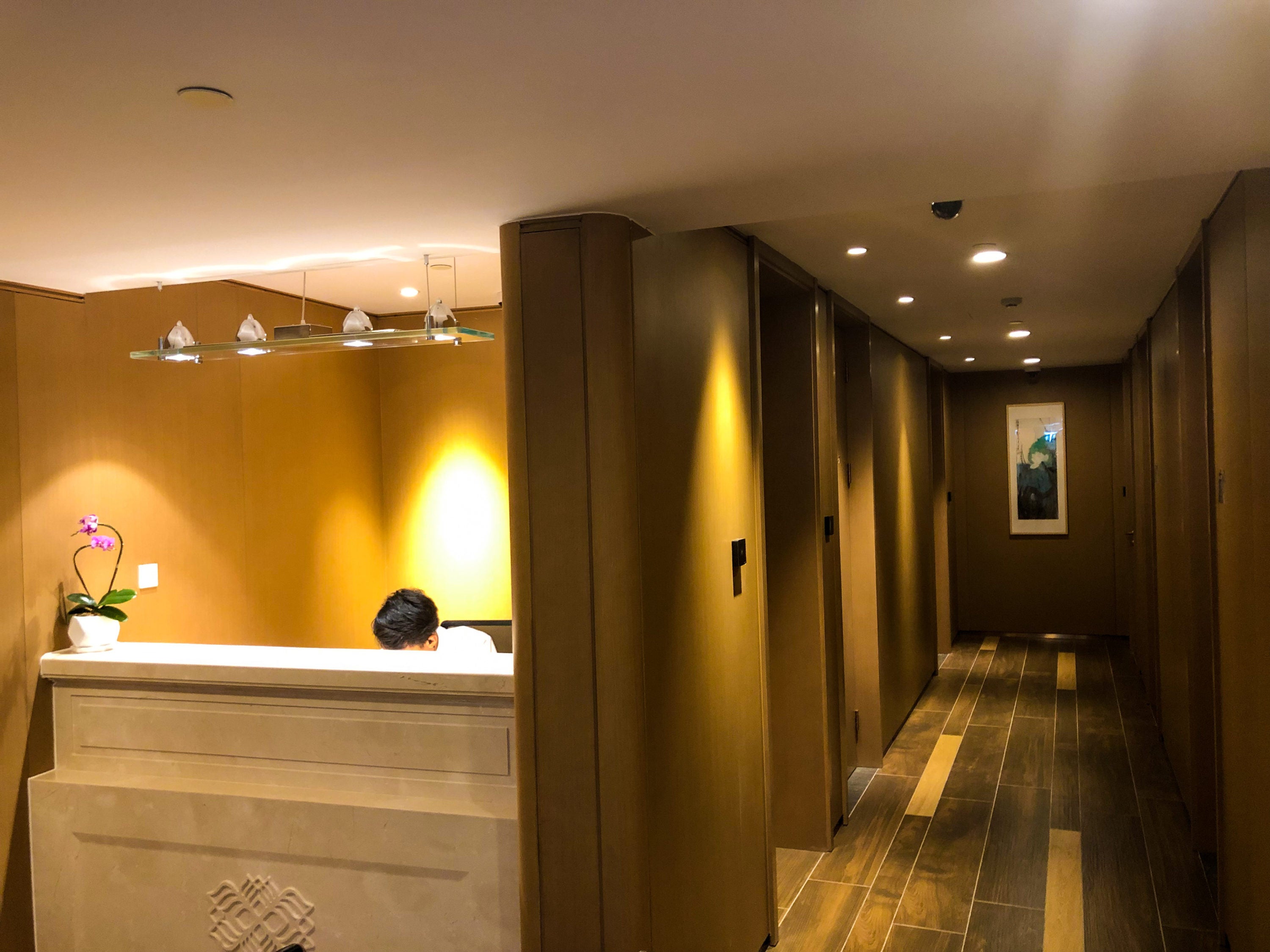 In the back of the lounge, there was also a children's playground, which was generously furnished and nicely decorated.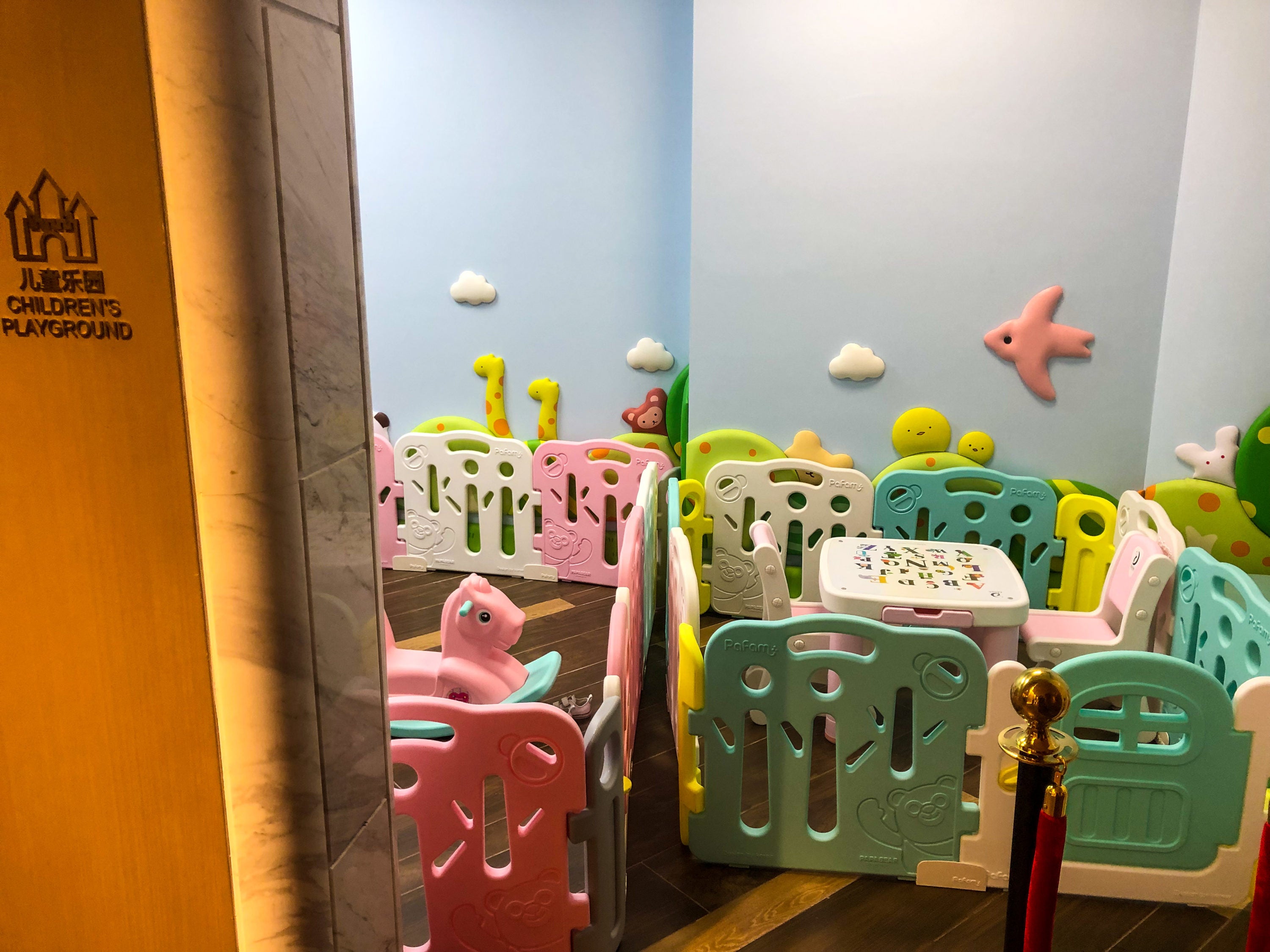 PVG Airport VIP Lounge 137 Children's Playground, Continued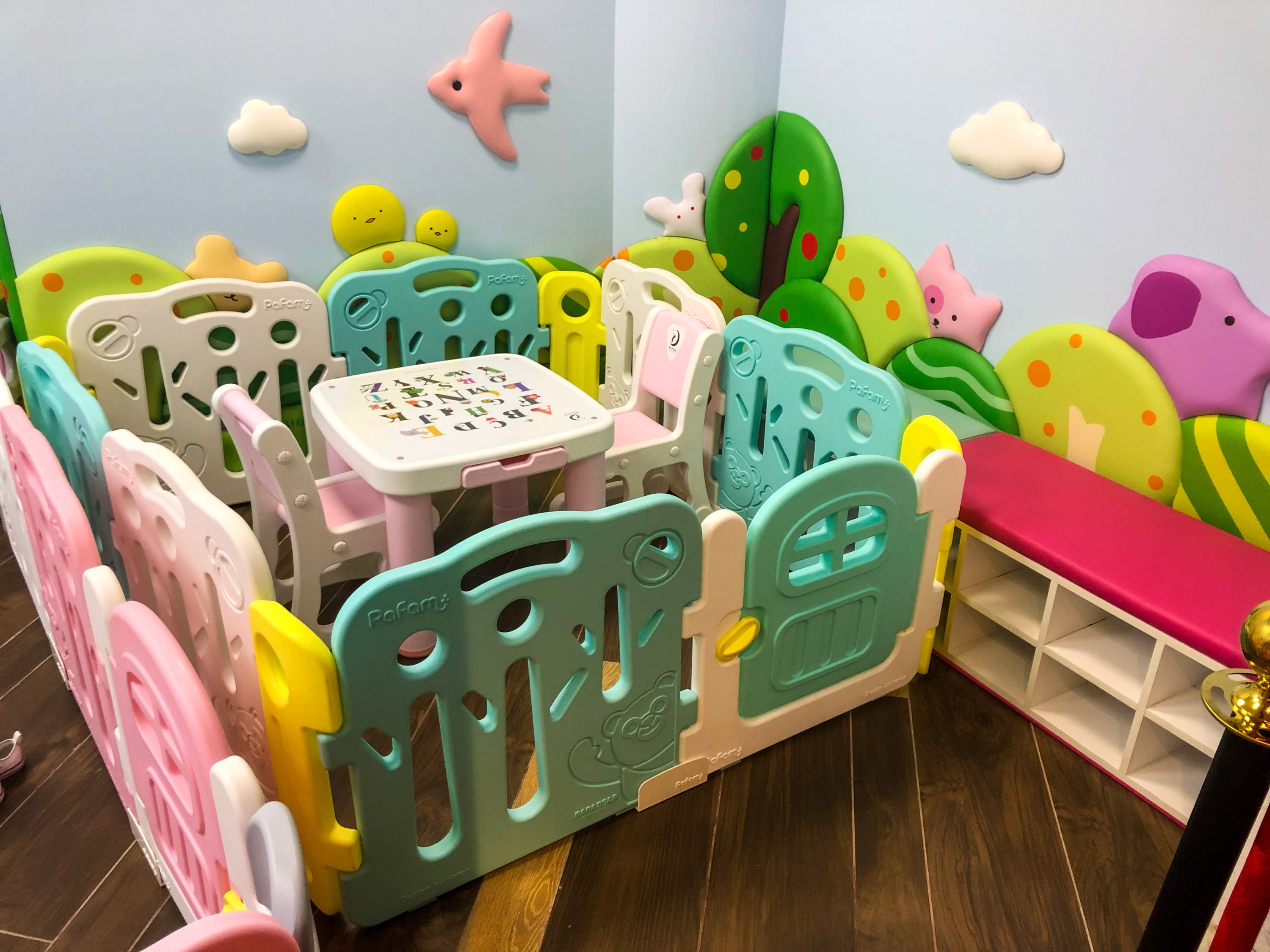 Near the entrance of the lounge was a theme room. If I remember correctly, this event was sponsored by the Make-A-Wish Foundation for a group of children headed to Australia. The Australian themes and decorations in this room actually brought a lot of color to an otherwise minimalist lounge.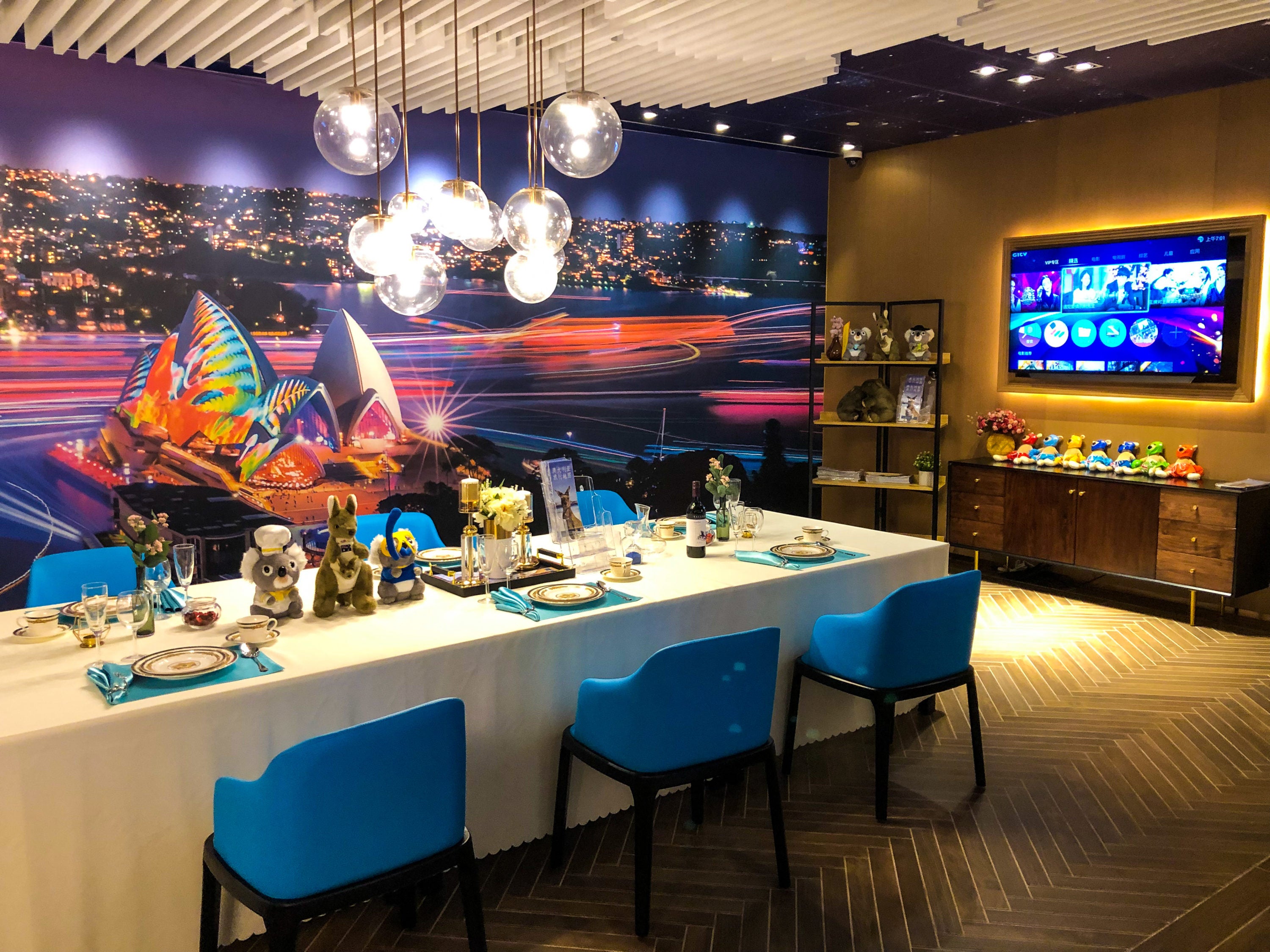 The foodstuffs were organized along a wall of the lounge.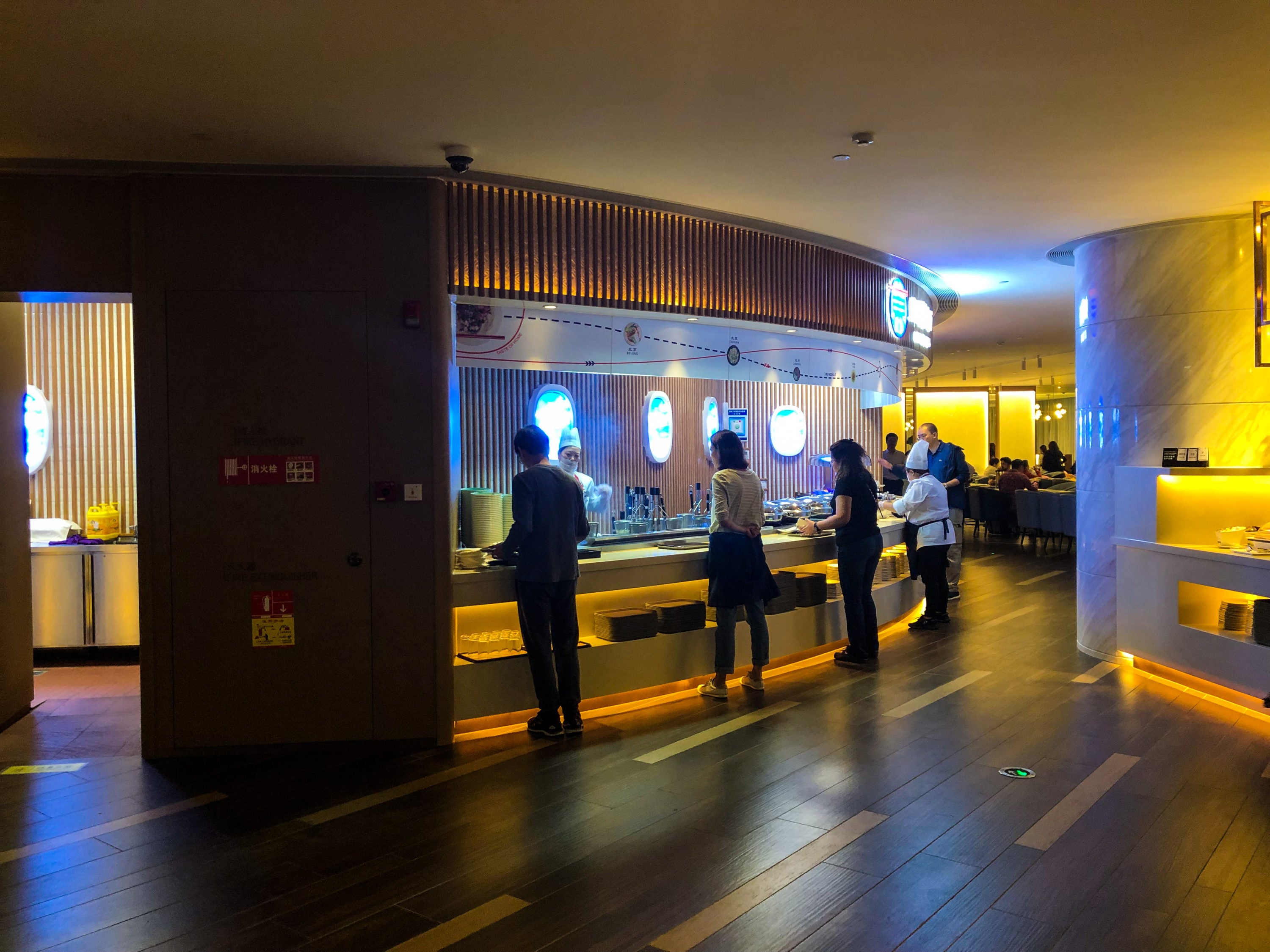 First up was the noodle bar, which served made-to-order bowls of artisanal noodle soups.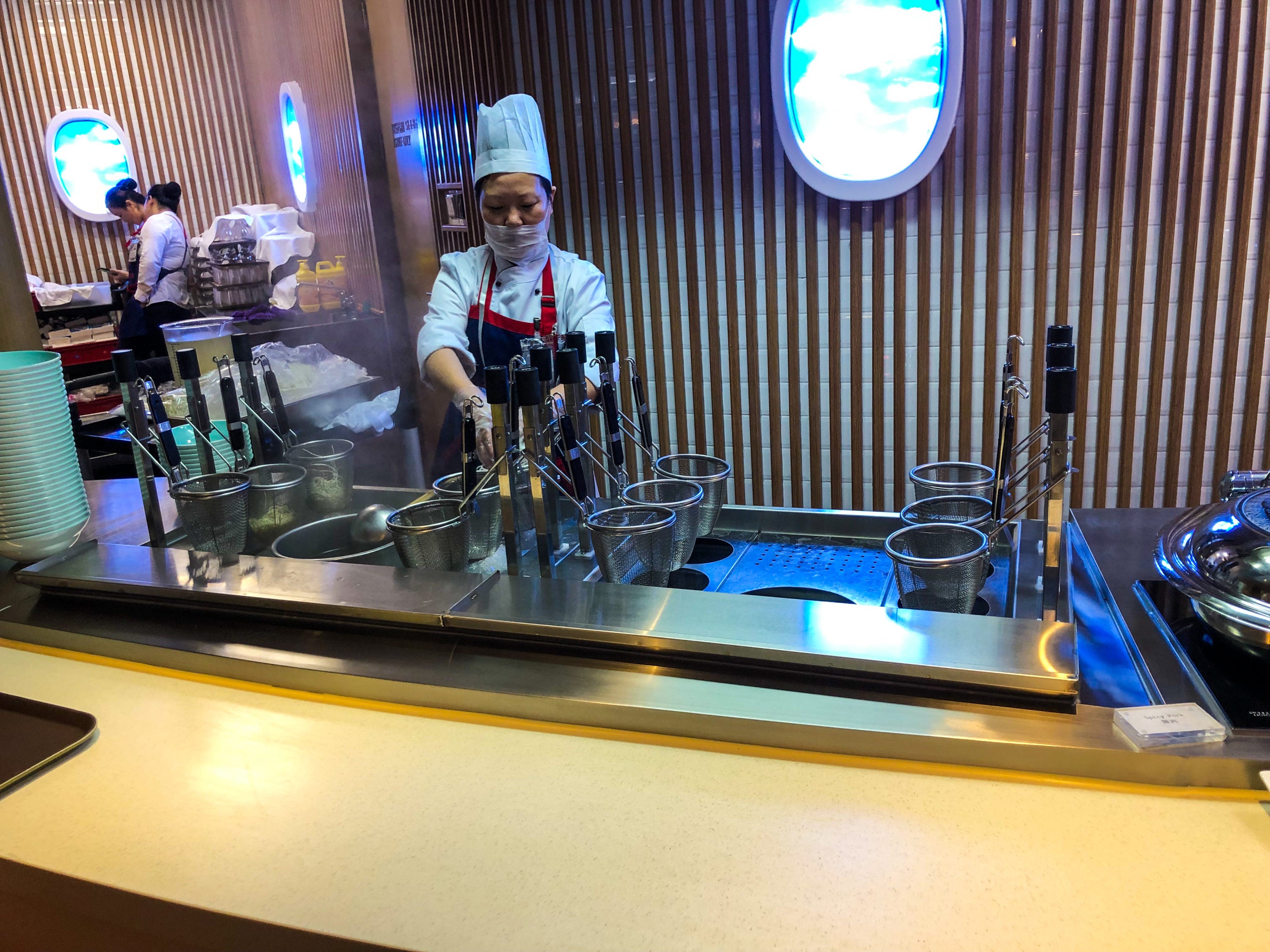 Following that was a number of toppings and condiments to put on top of your bowl of noodle soup.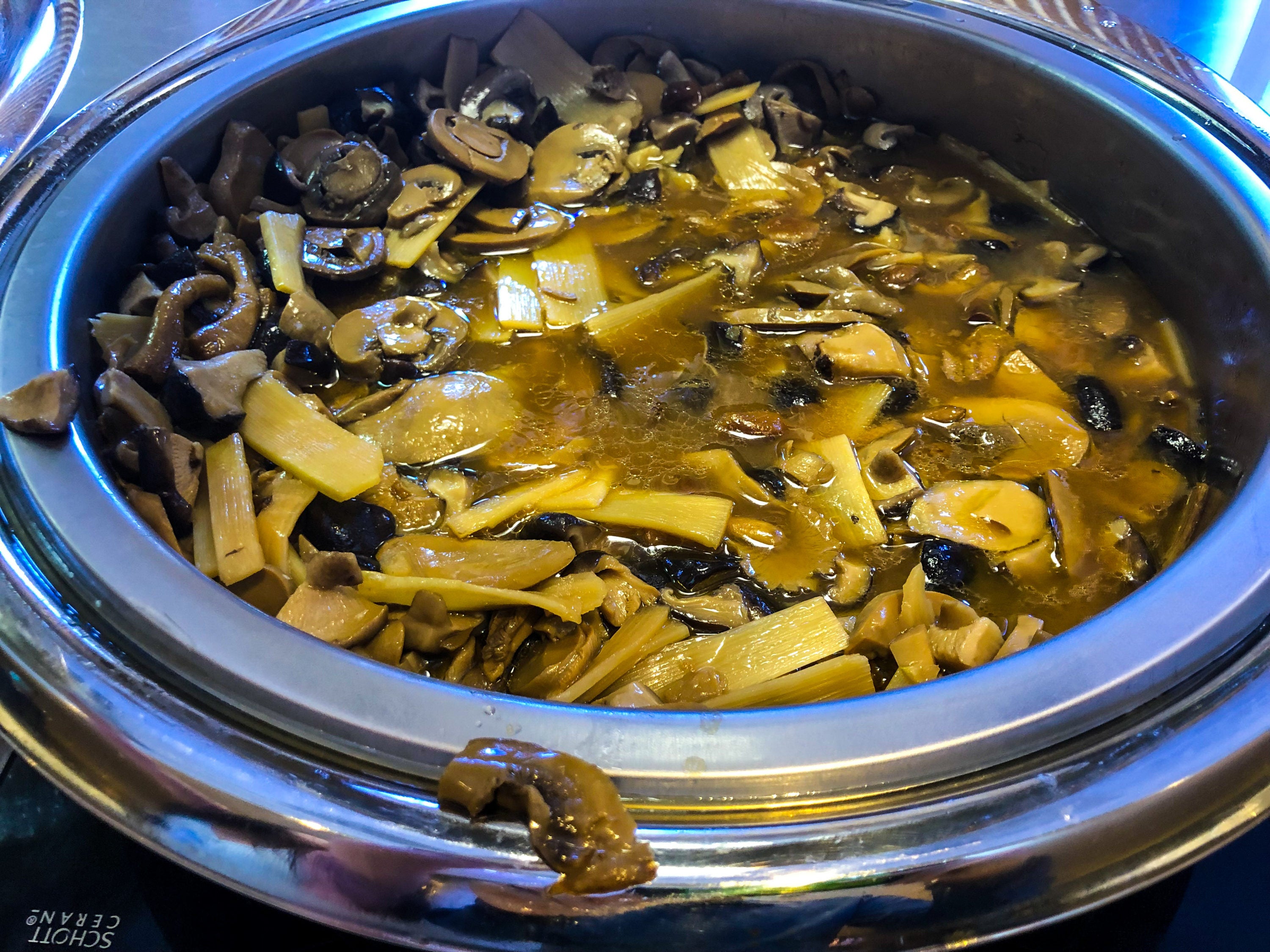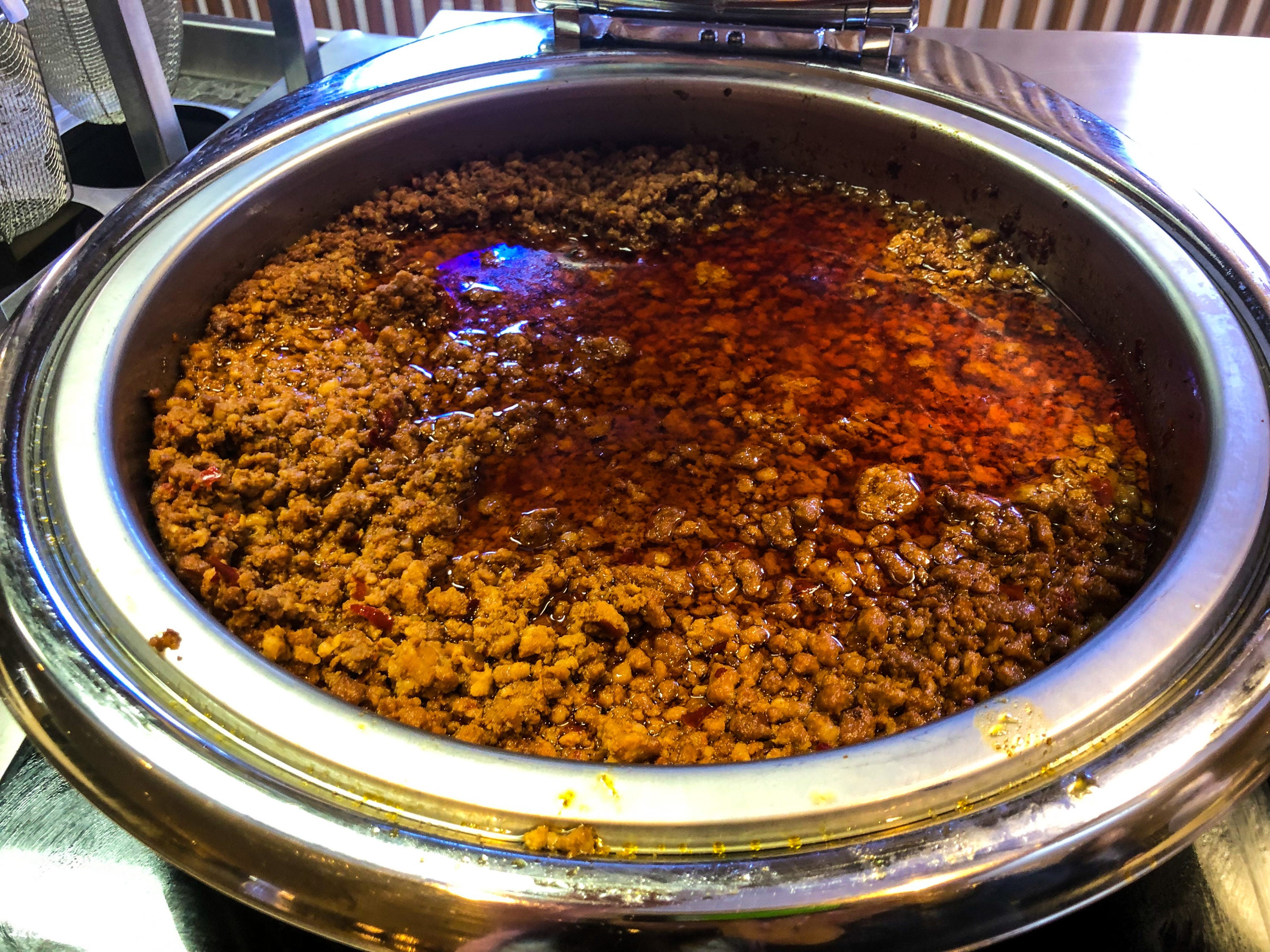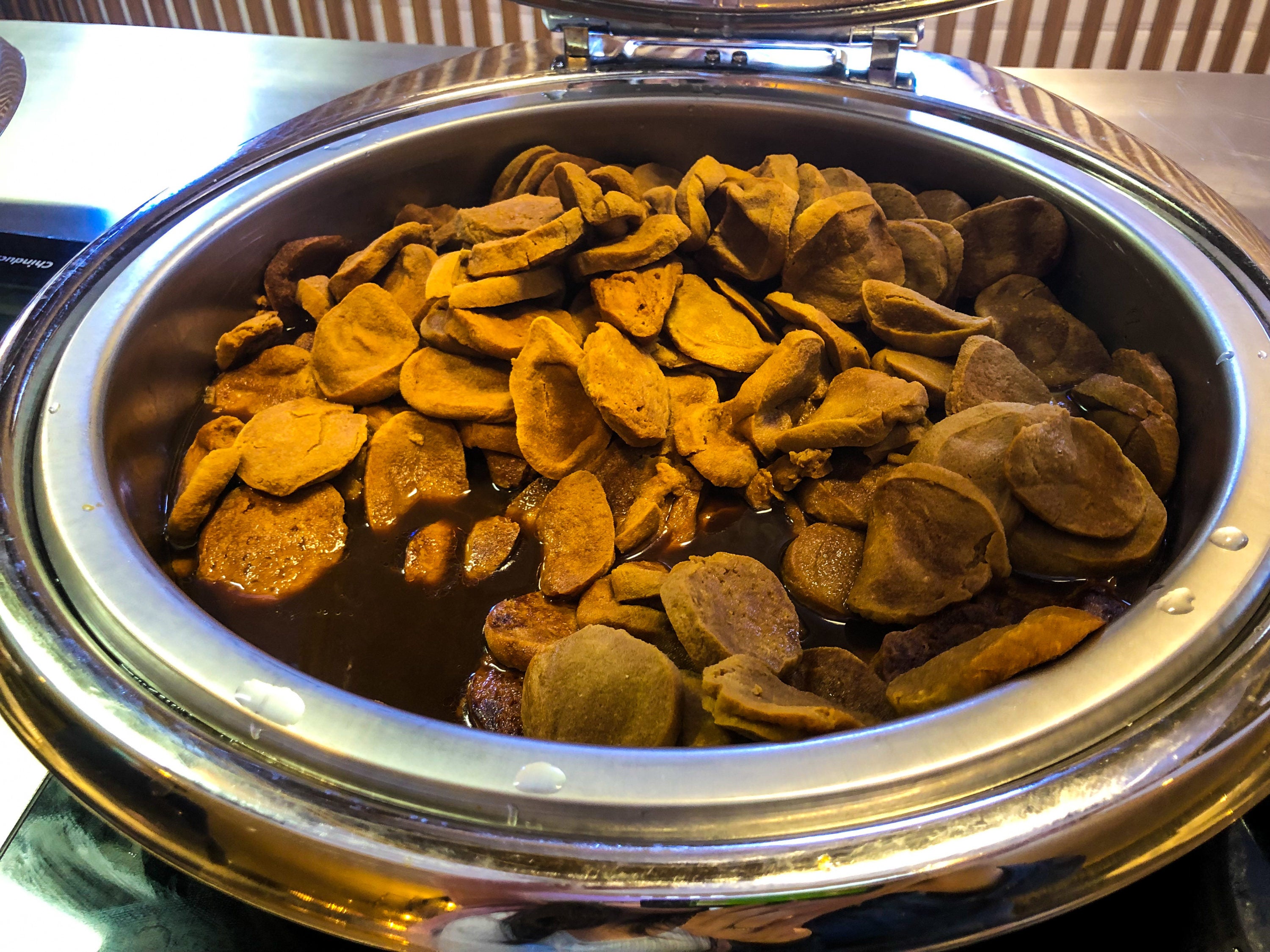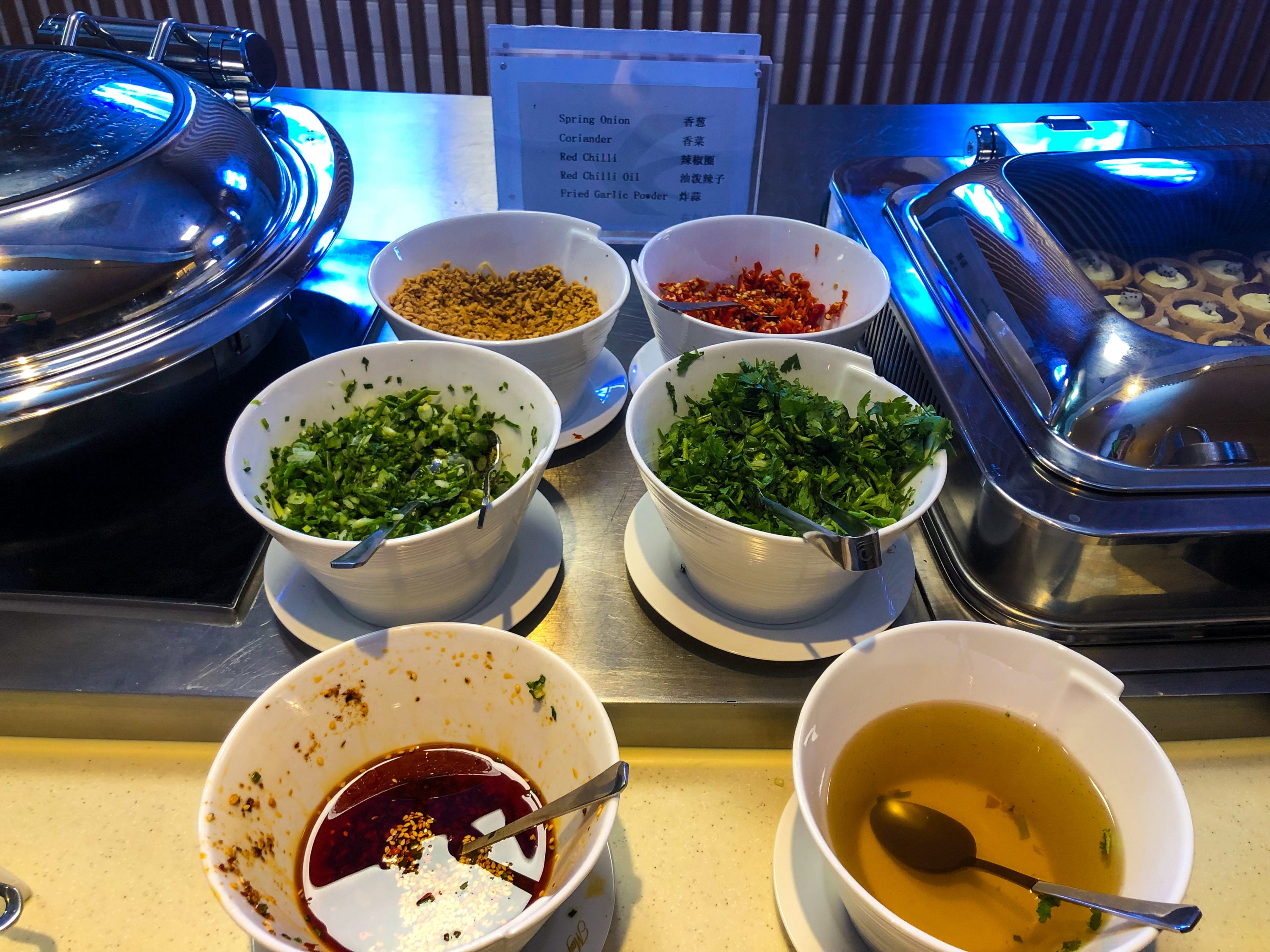 Perhaps a bit abrupt was the sudden placement of desserts separating the 2 hot food sections. There were a number of offerings, including tarts, cakes, Swiss rolls, and cupcakes.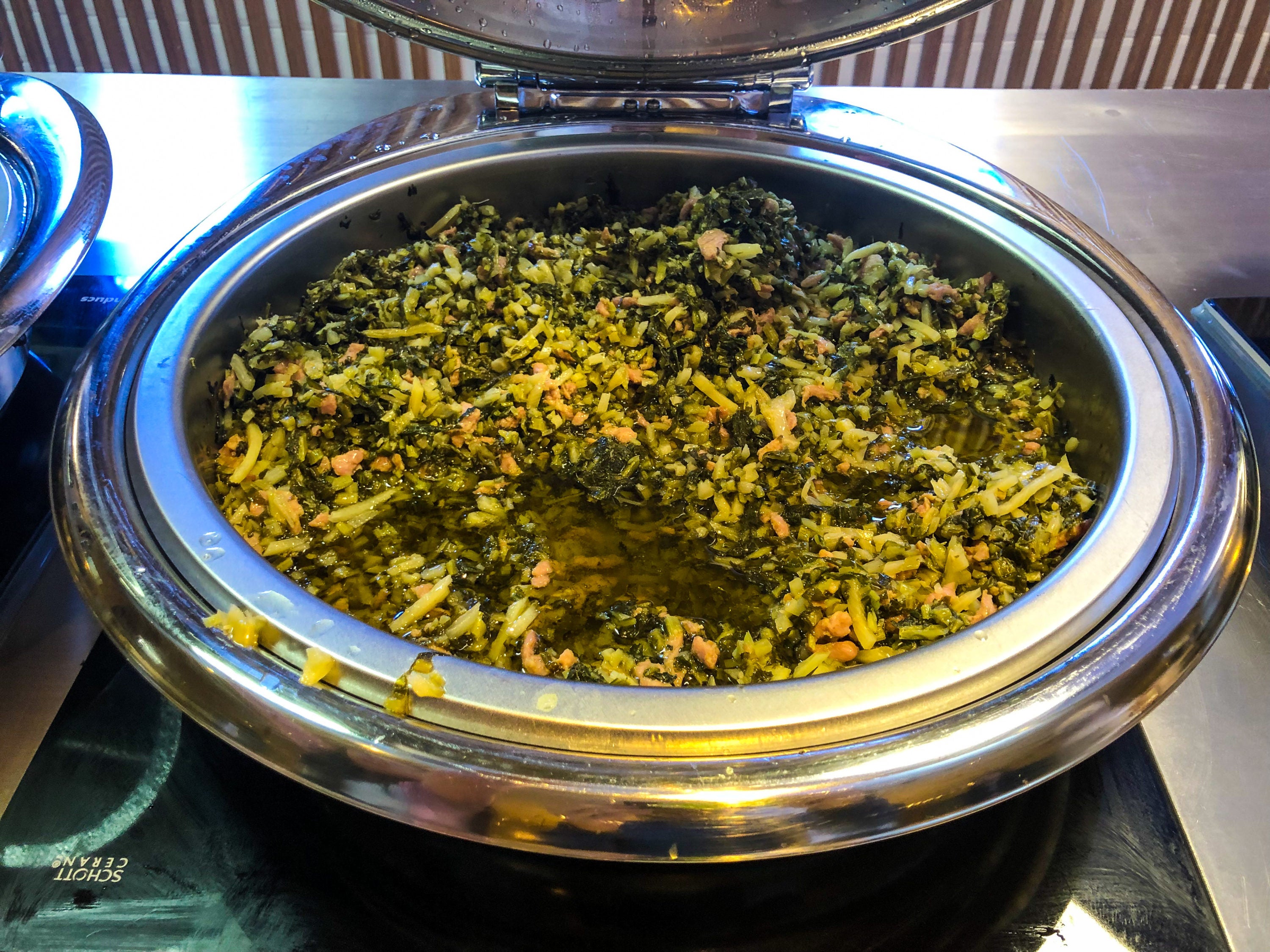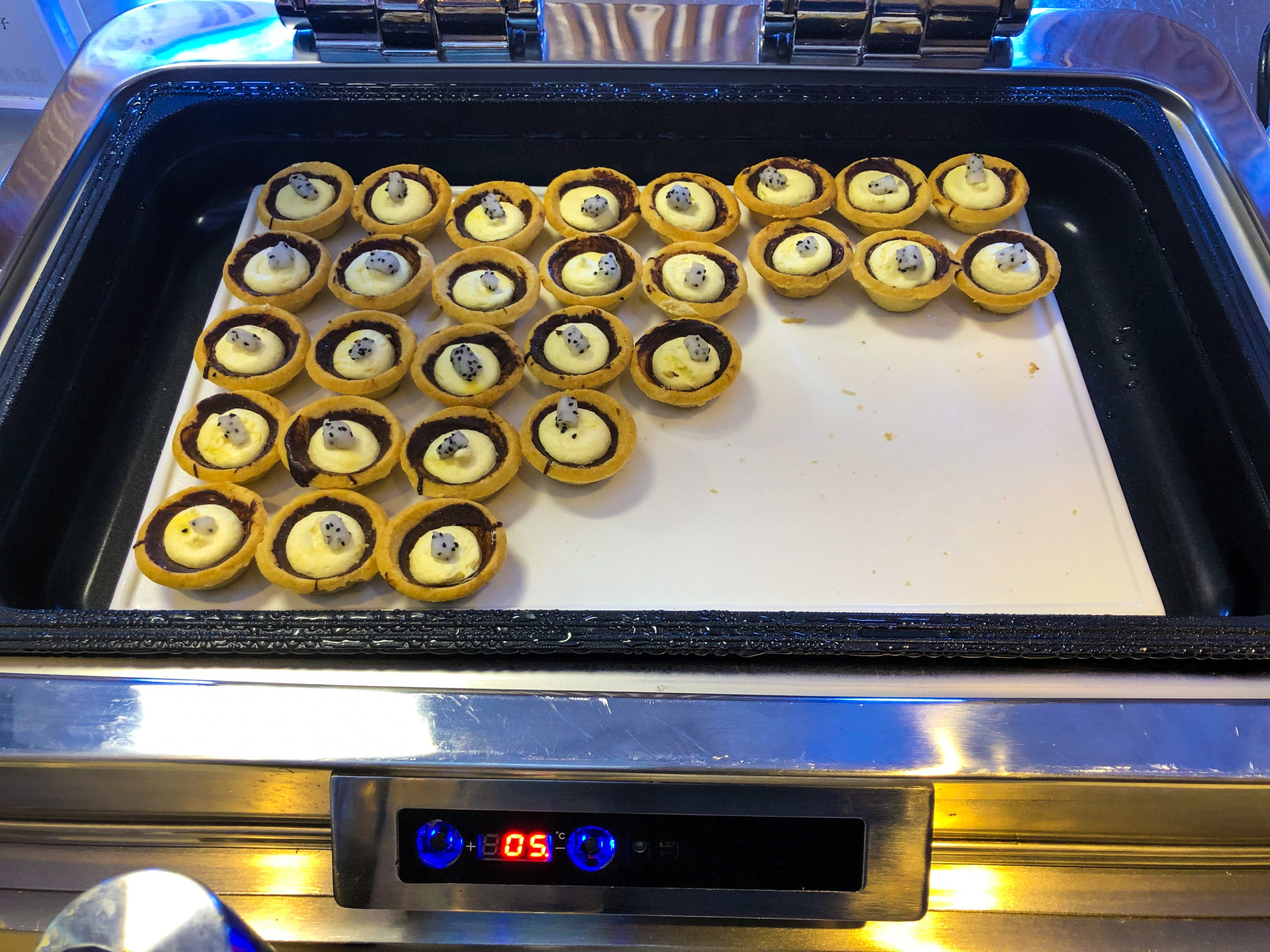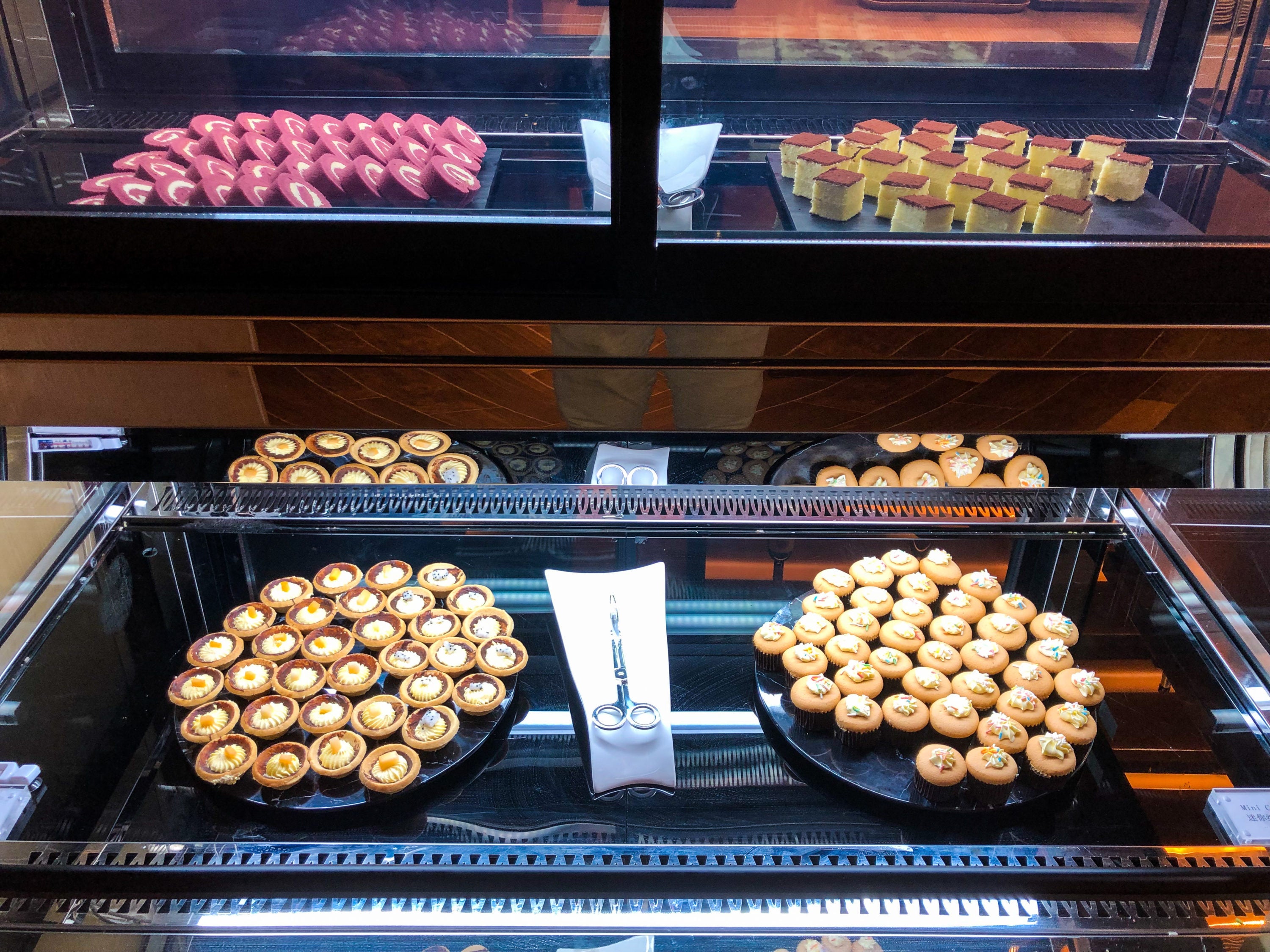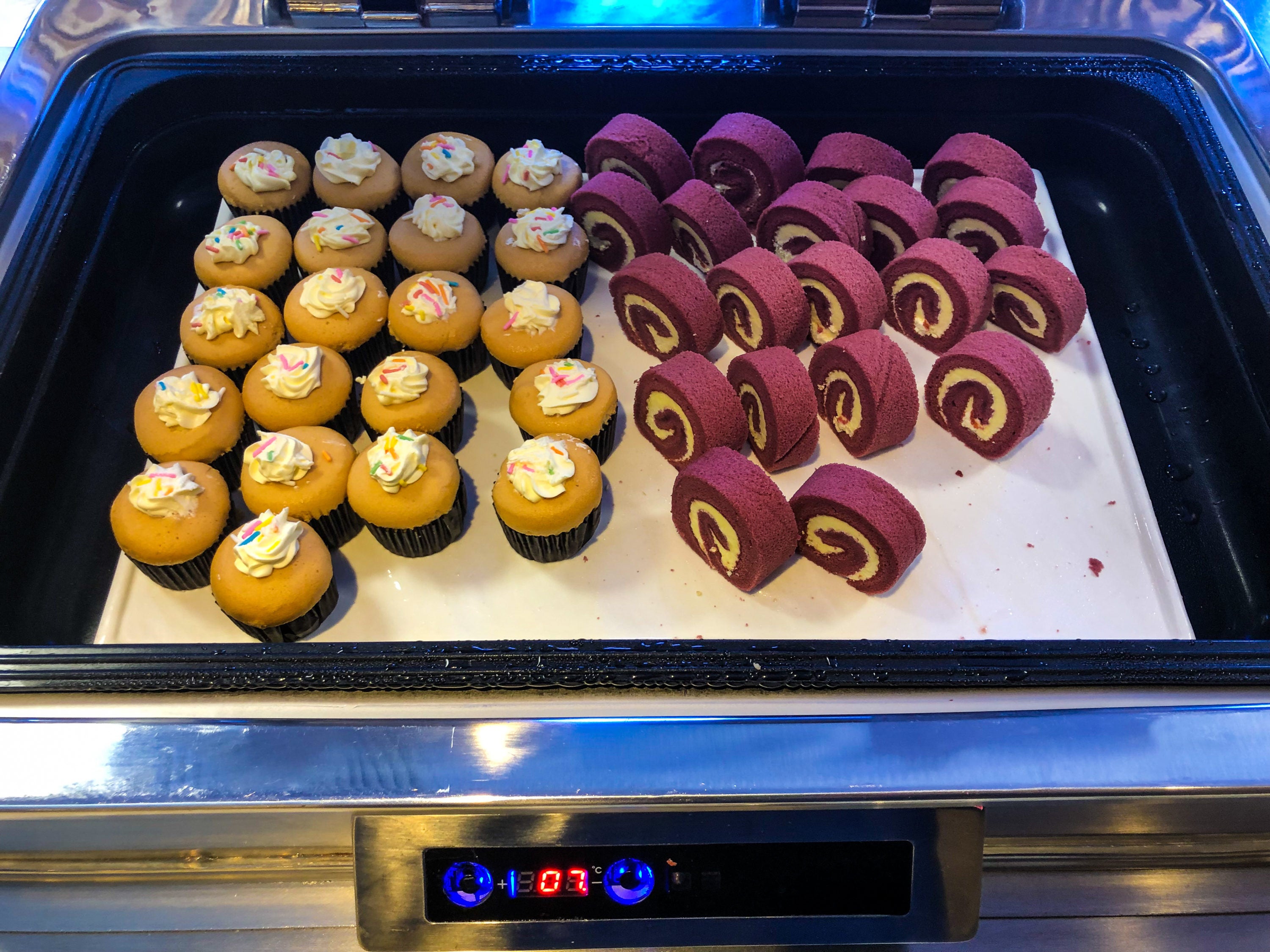 The lounge also offers freshly steamed dim sum, which is a nice touch.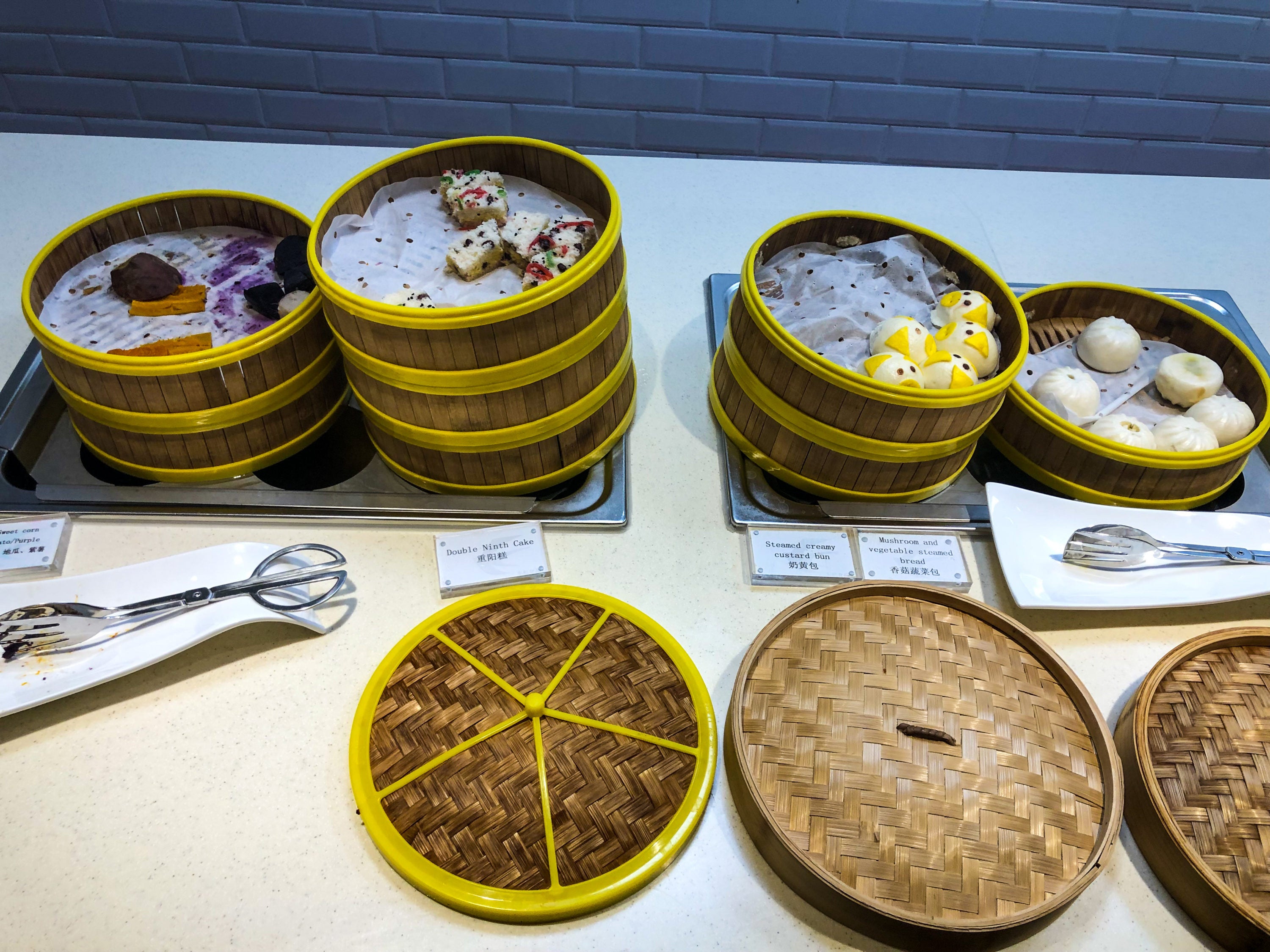 The second hot food section followed shortly thereafter, which served:
Curry fish balls
Spaghetti
Baked potatoes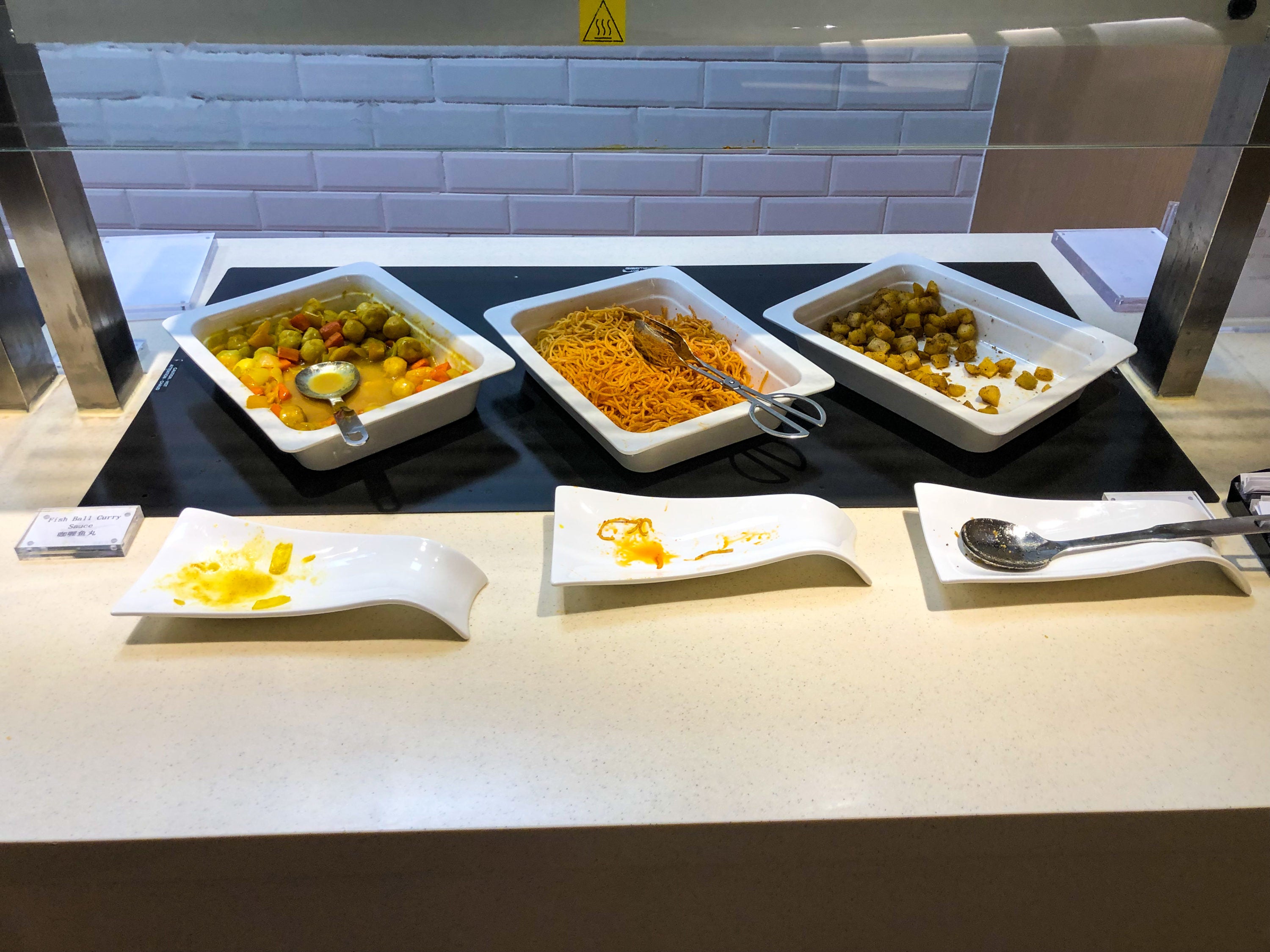 Lastly, you could pick between 2 soups:
Chinese wolfberry tremella soup
Sweet corn cream soup
For sandwich lovers, you could pick from a variety of ham, beef, and vegetable sandwiches.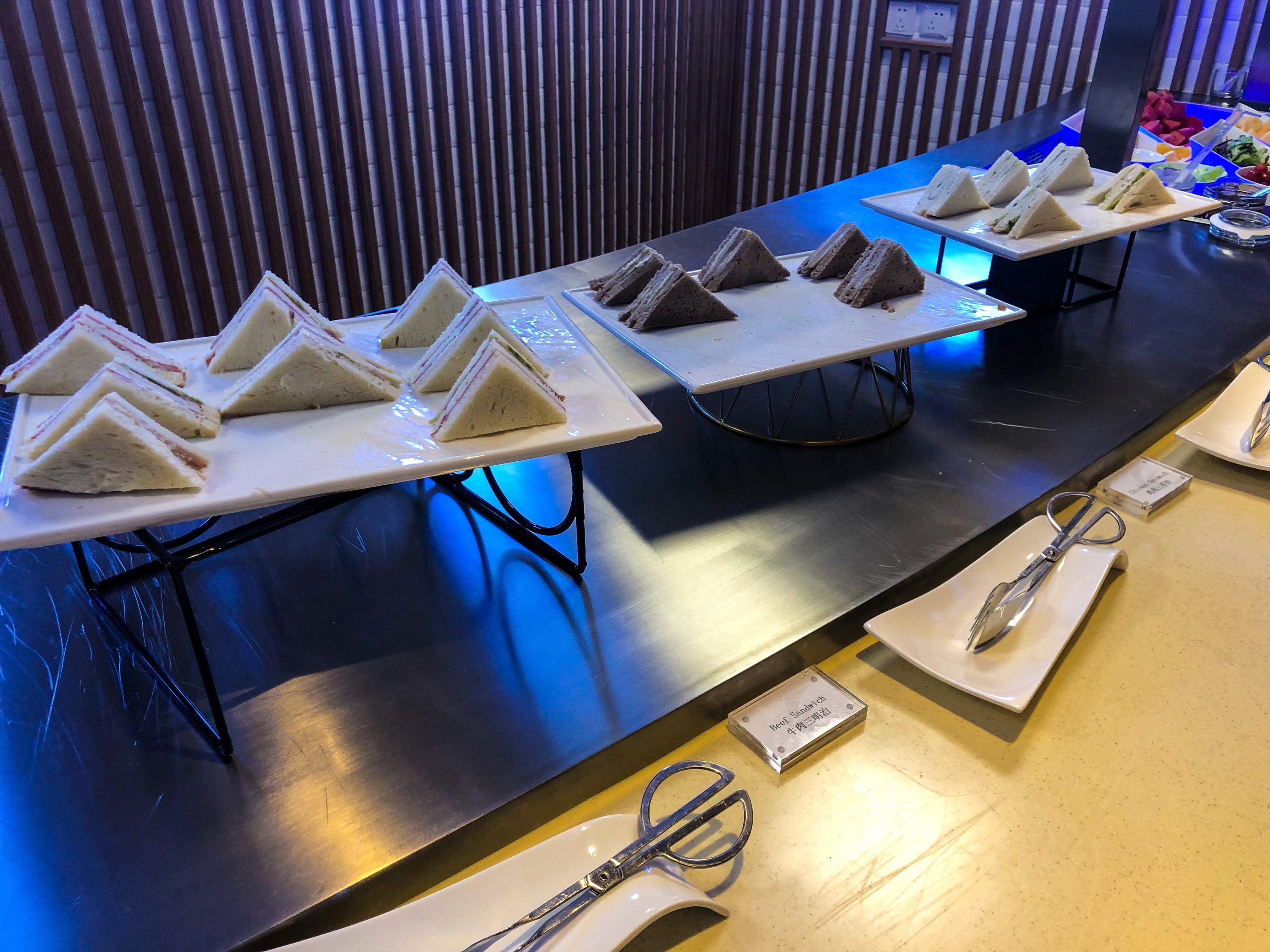 To wrap up the buffet/self-serve selection, you can also make your own salad or enjoy some fresh fruit.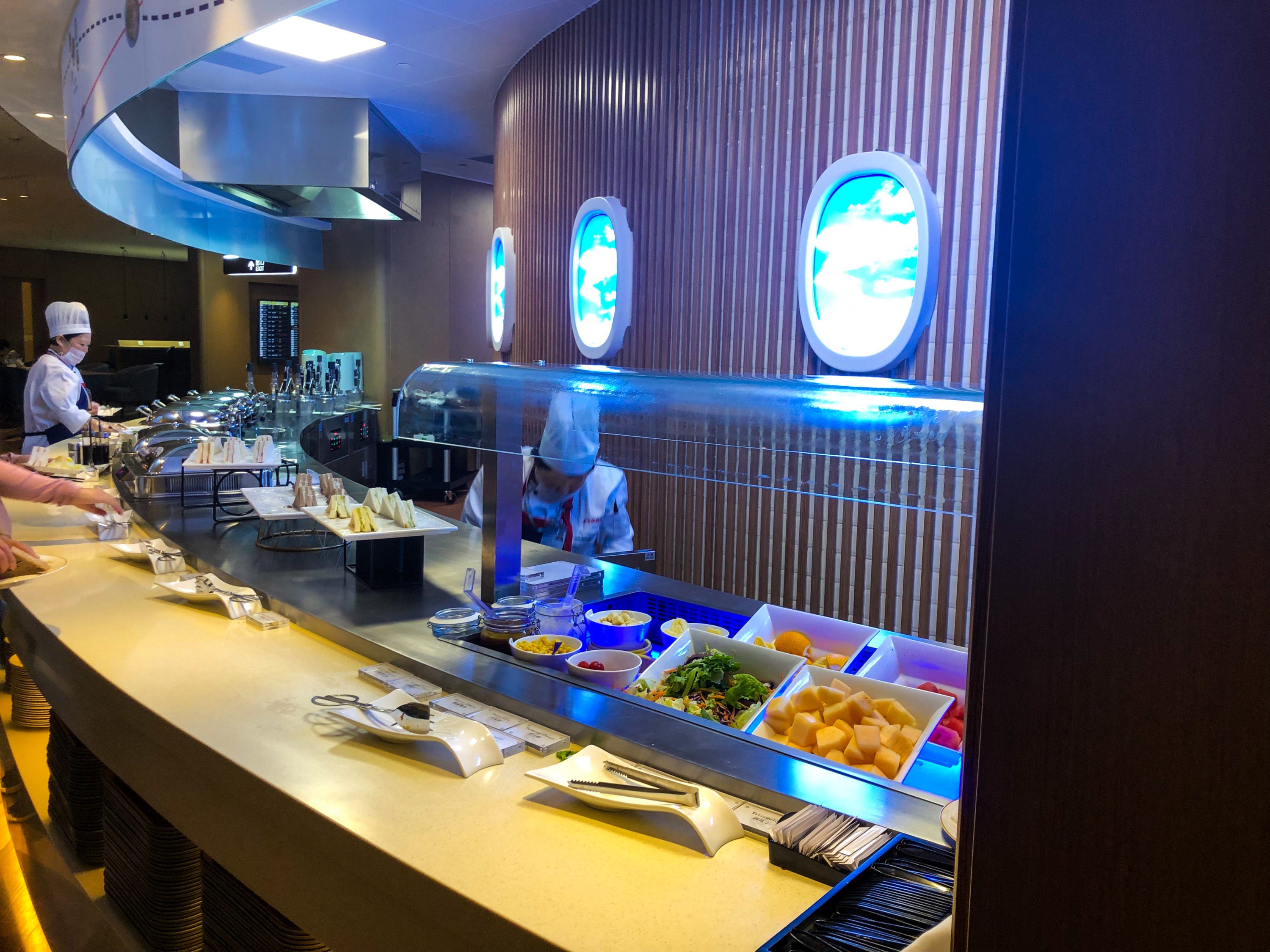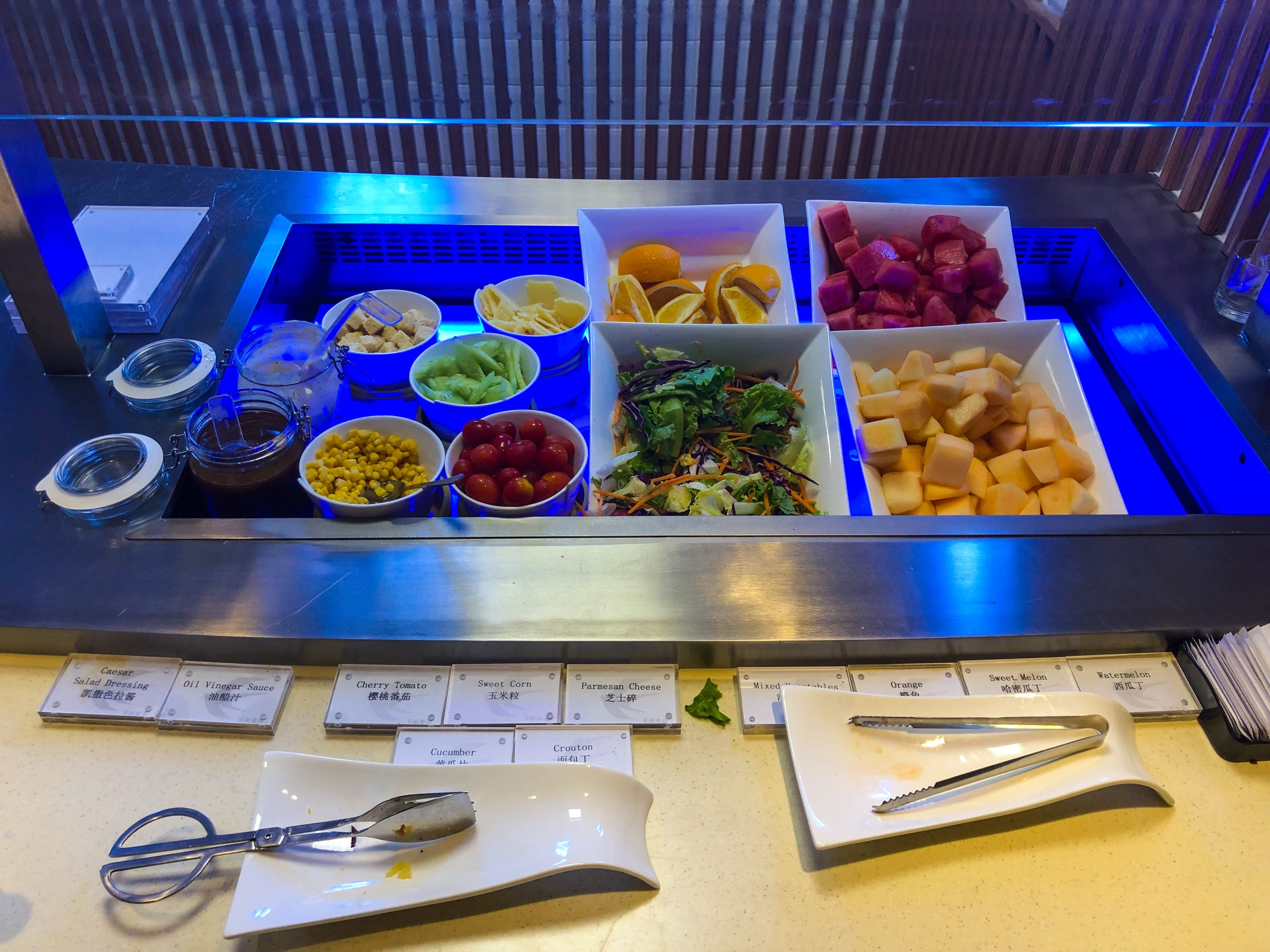 Separately, there was an island near the hot food area that housed many of the drinks. First, you can steep your own tea using loose leaf choices and a hot water filter.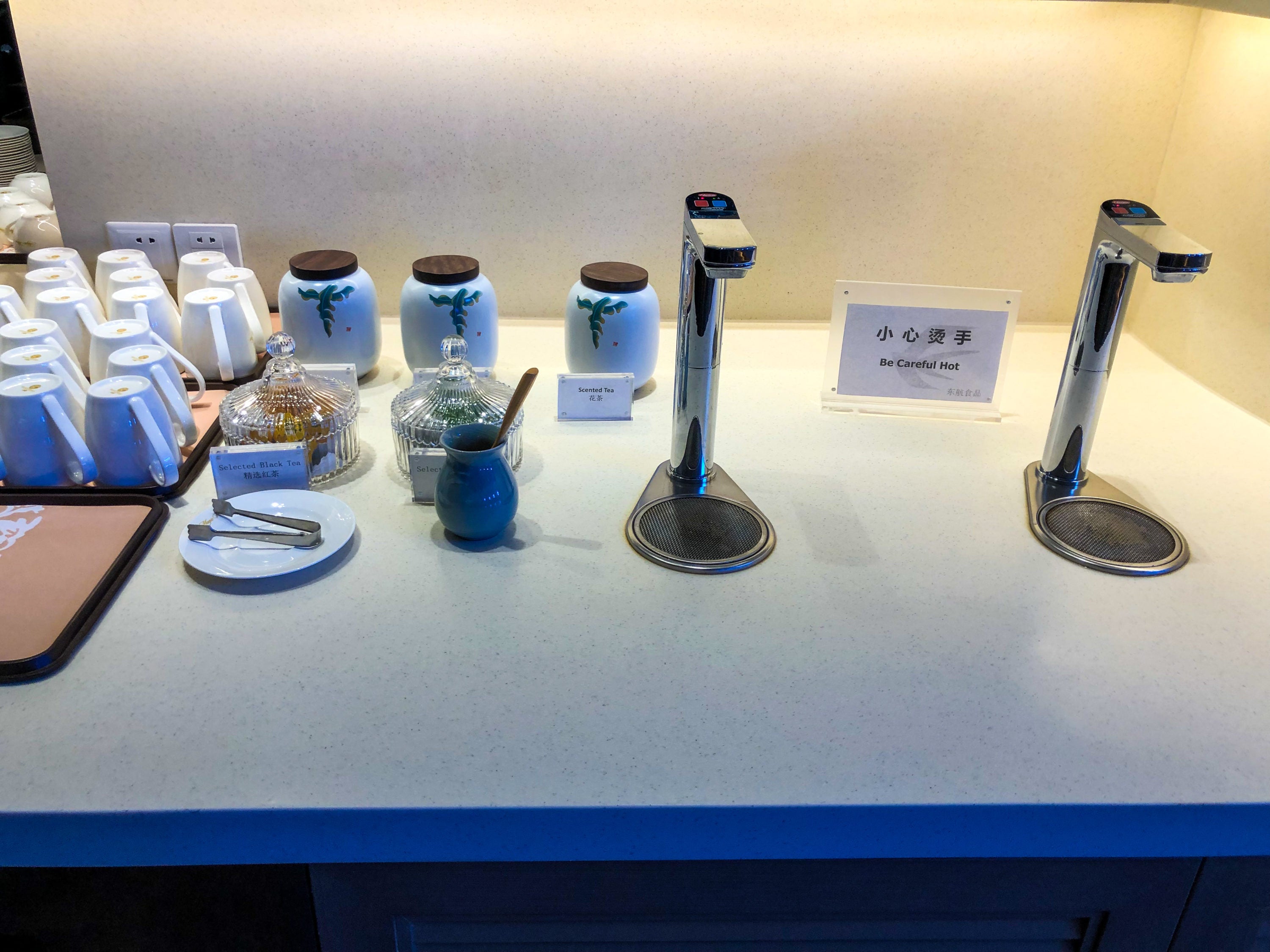 Alternatively, you can use one of the 2 espresso machines to make yourself a caffeinated beverage.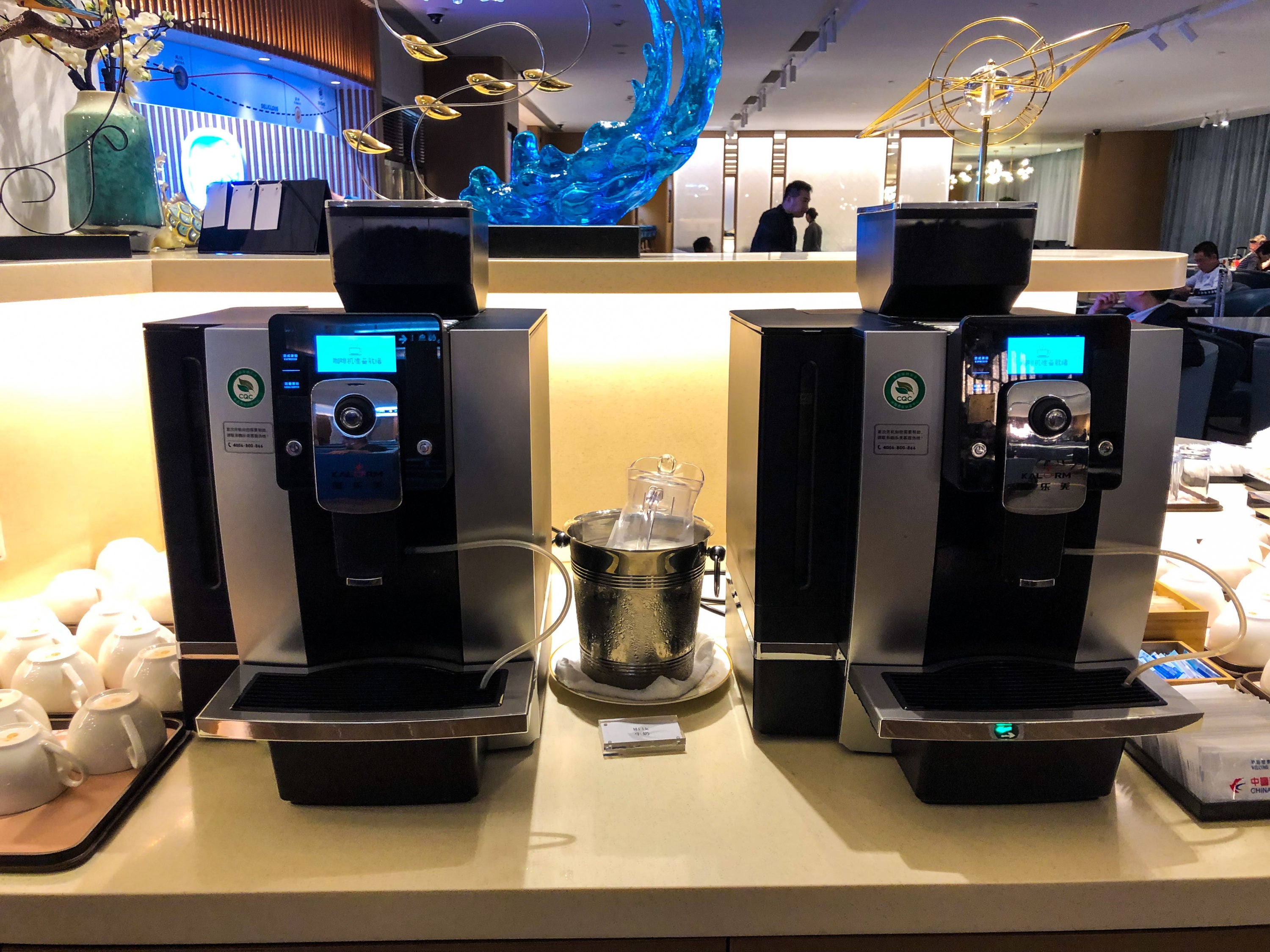 Lastly, there was a small selection of self-serve alcohol and bread choices.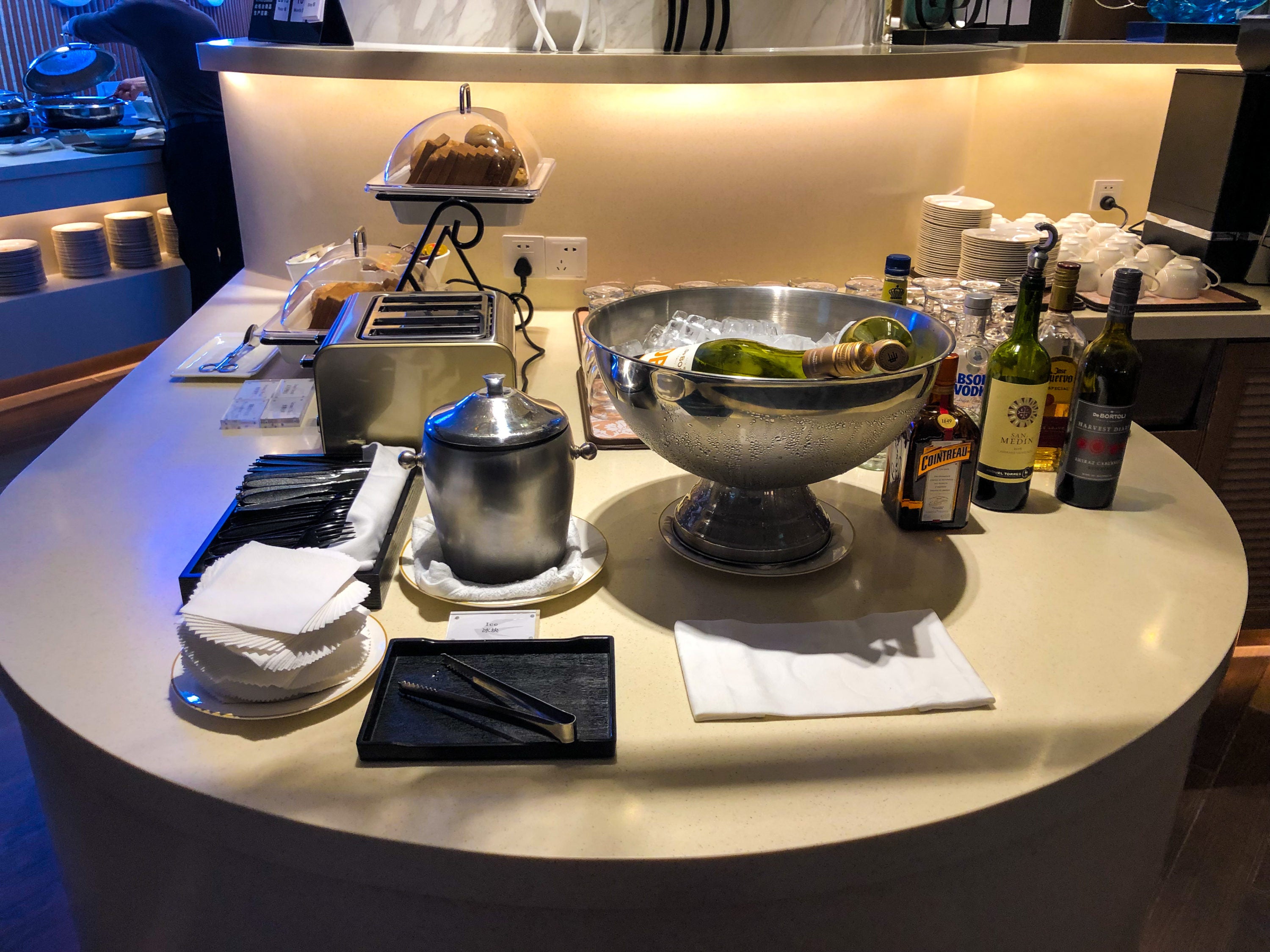 In many places throughout the lounge, you can also find soft drinks, water, and various juices in large refrigerators.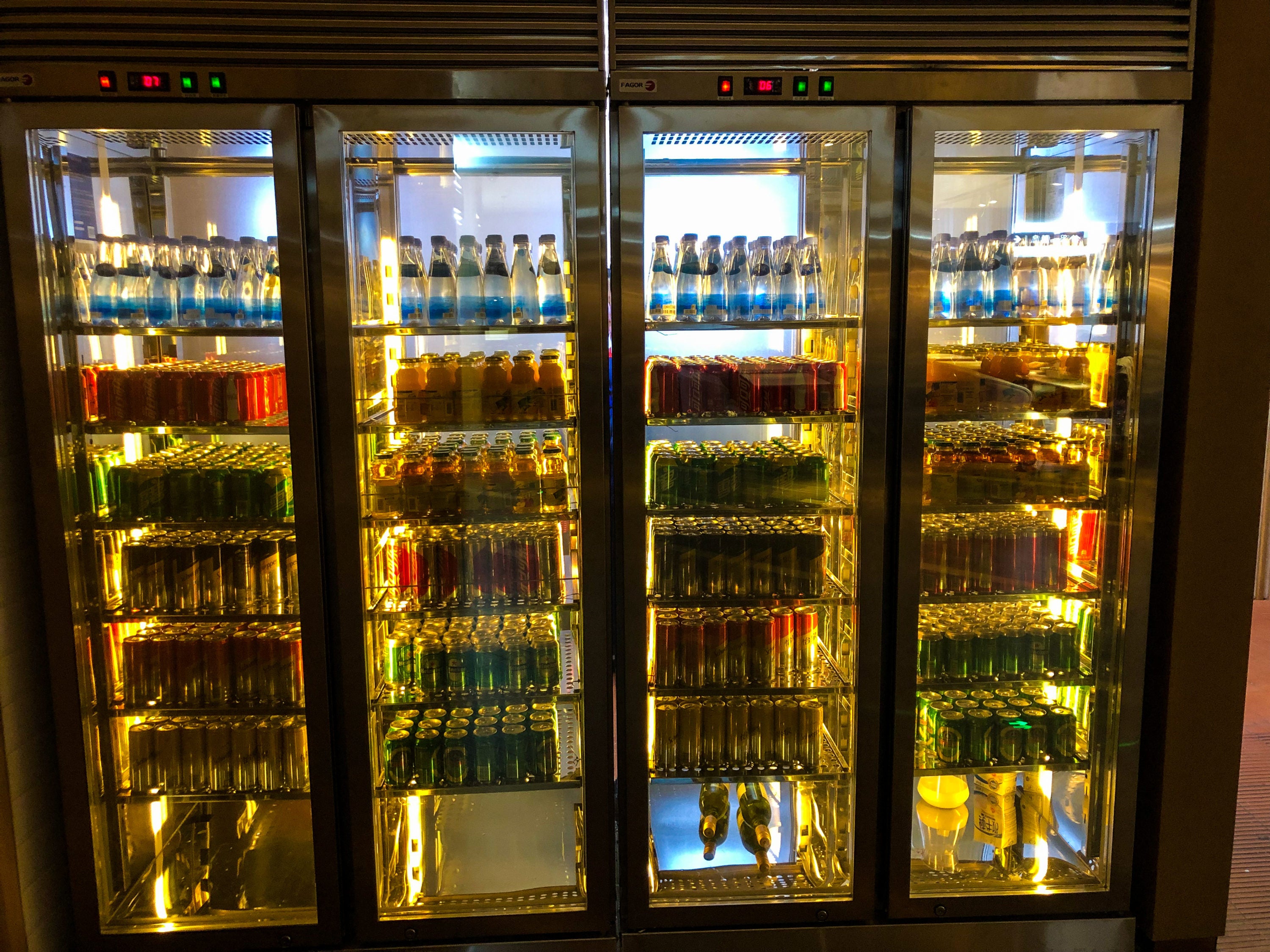 All in all, the food at the VIP Lounge 137 was great. Since we arrived at the airport around 3 hours prior to departure, we had plenty of time to enjoy the offerings in the lounge.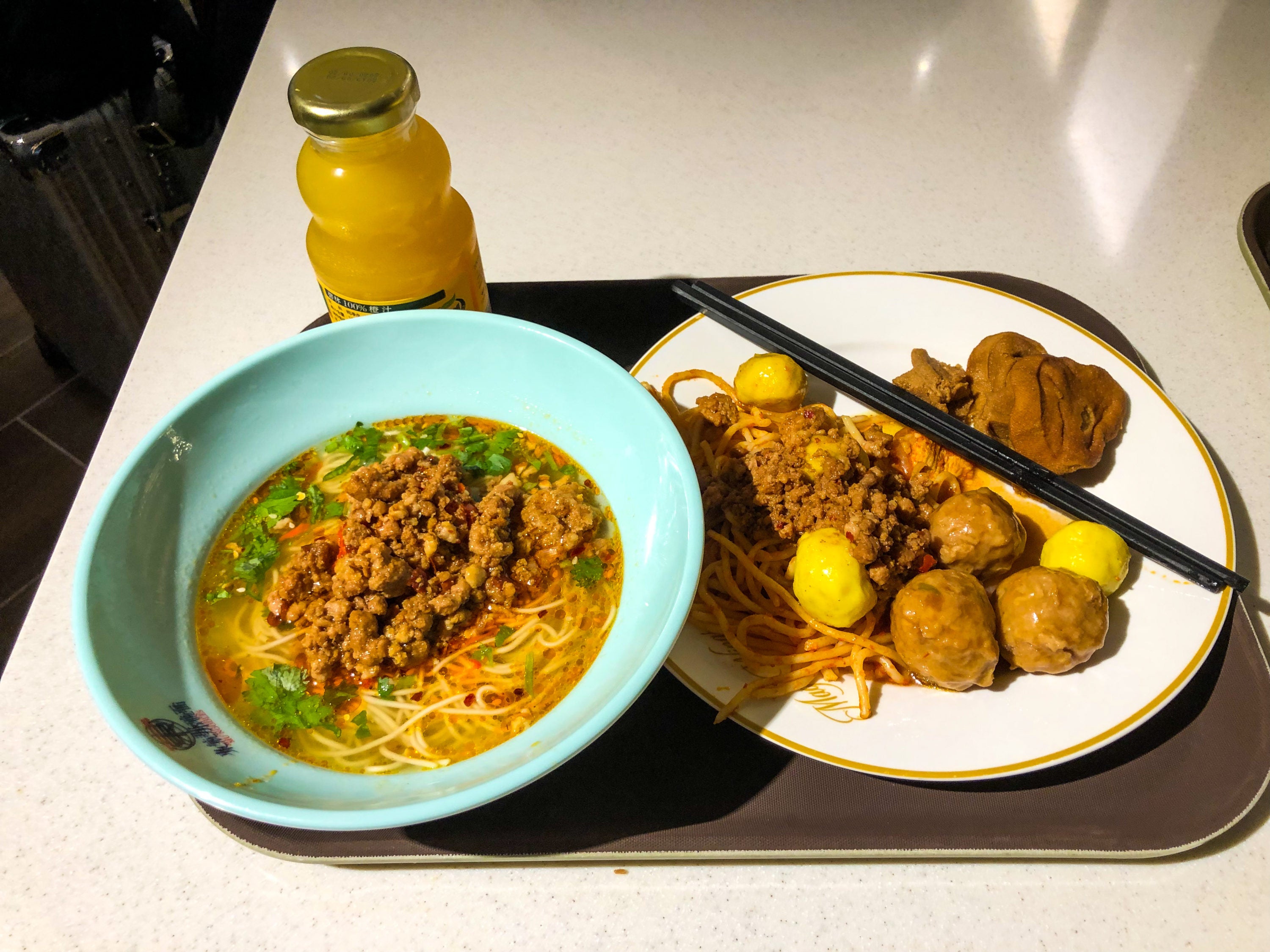 15 minutes prior to departure, we began walking towards our gate through a set of escalators.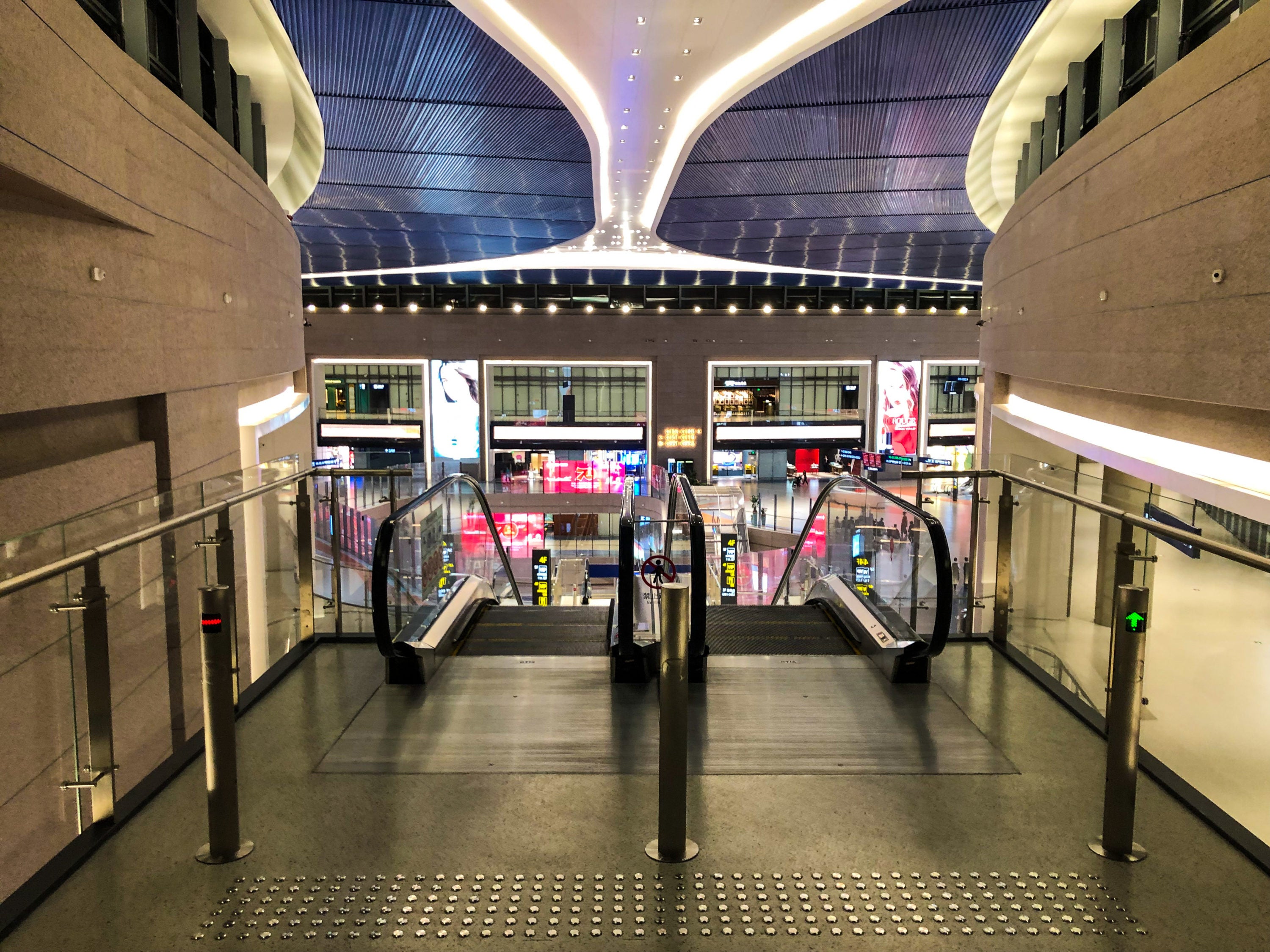 Bottom Line: To be able to enjoy a brand-new lounge with tasty food, clean seats, and a minimalist vibe was an unexpected perk that we enjoyed. China doesn't exactly have the best reputation for having amazing airport lounges, but we left the VIP Lounge 137 very impressed. The experience was certainly better than all of the Delta Sky Clubs in the United States. 
Flight
After the short walk to the gate, we lined up in the SkyPriority line to board our flight. Our flight boarded on time, and we boarded via a jet bridge. The moment of truth was awaiting me, and I was anxious to see if the flight measured up.
Seat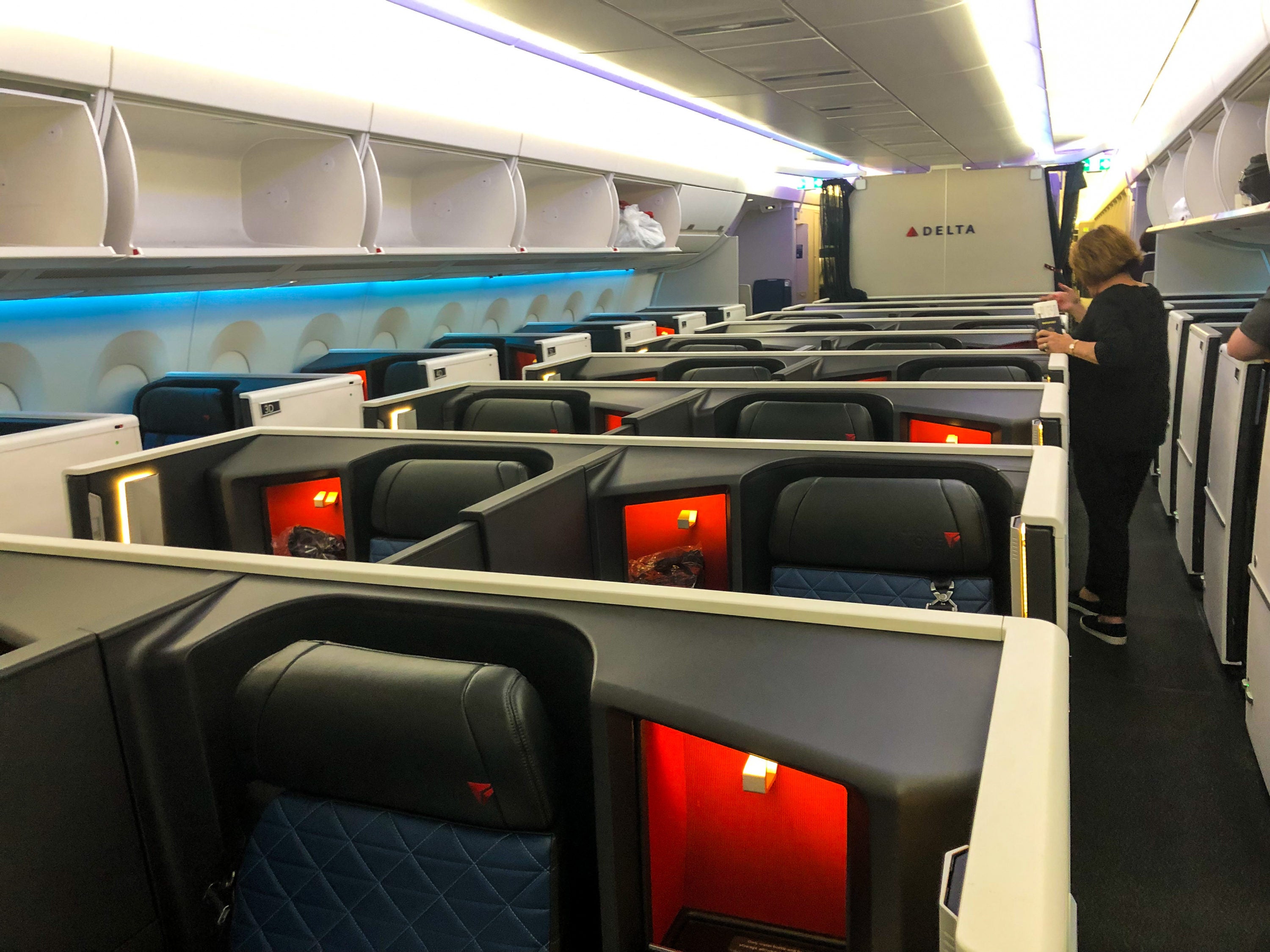 In a word: wow. The cabins were beautifully decorated and the finishes were ultra-sleek. I had seen a lot of pictures of the cabin, but experiencing it in real life was something else.
With ultra-detailed blue stitching, contrasting red colors of storage compartments, and the private design of each suite, I was hugely impressed. Also, the absence of overhead bins made for a much more open feel to the cabin, which simply felt more spacious.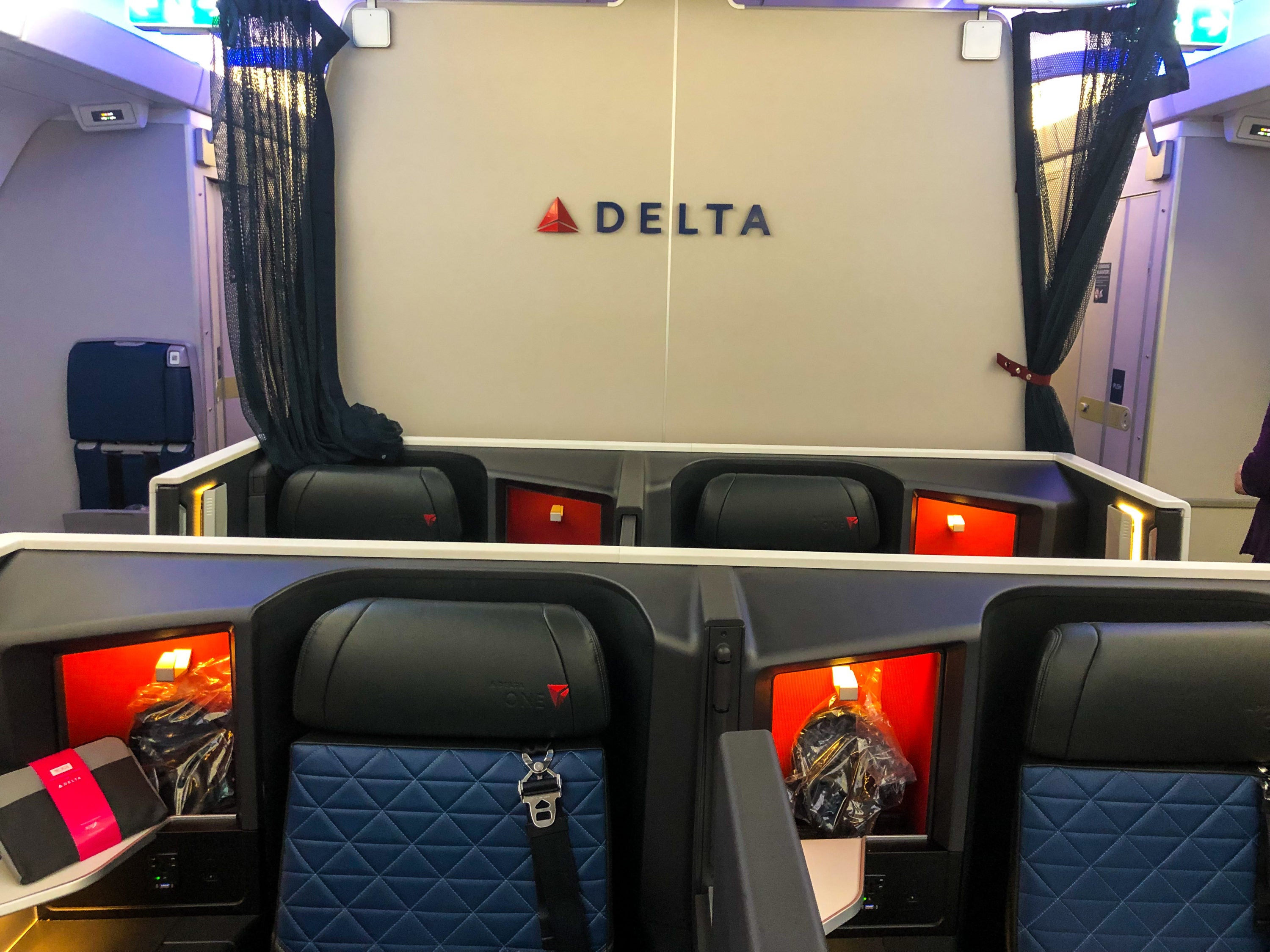 The Delta One Suites cabin is arranged in a 1-2-1 configuration with 9 rows total. There are 32 seats on this aircraft. Each of the seats is around 24 inches wide, which is big. The seats are also around 78 inches in pitch and bed length, which is equivalent to 6 feet 6 inches.
The seats themselves are in a staggered, forward-facing configuration. Specifically, the seats are modified Thompson XL Vantage seats. This product is similar to other airlines such as South African Airlines, but the difference is the presence of the sliding door, which goes a long way.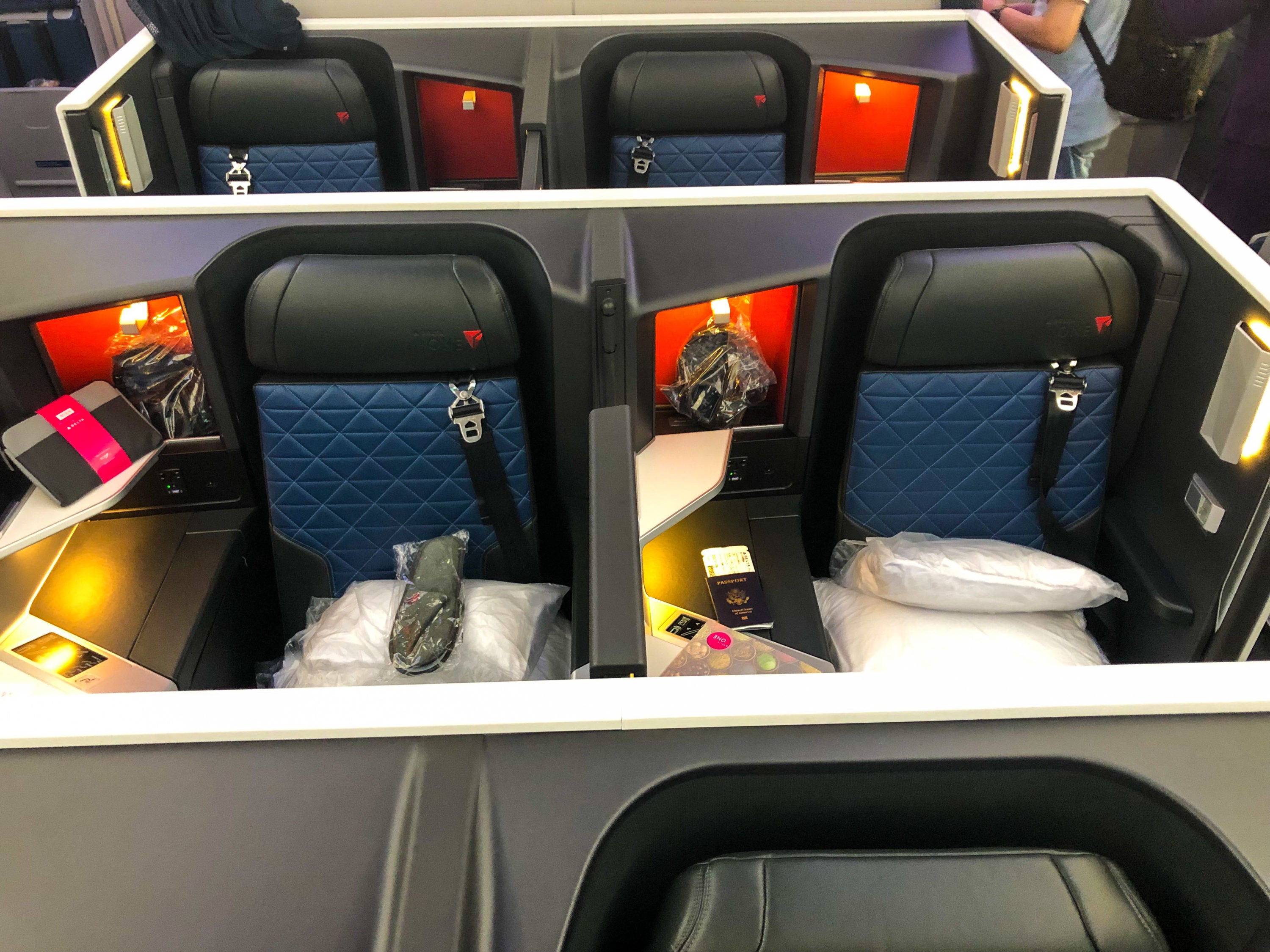 Our seats were 8B and 8C, which are the second to last row at the rear of the cabin. We chose these seats because they were far away from the lavatories at the front of the plane, which will minimize noise and foot traffic throughout the flight.
Hot Tip: Once you're booked on your business or first class flight, you'll want to figure out the best seats to reserve. Check out our SeatGuru guide, which shows you how to find the best seat on your plane.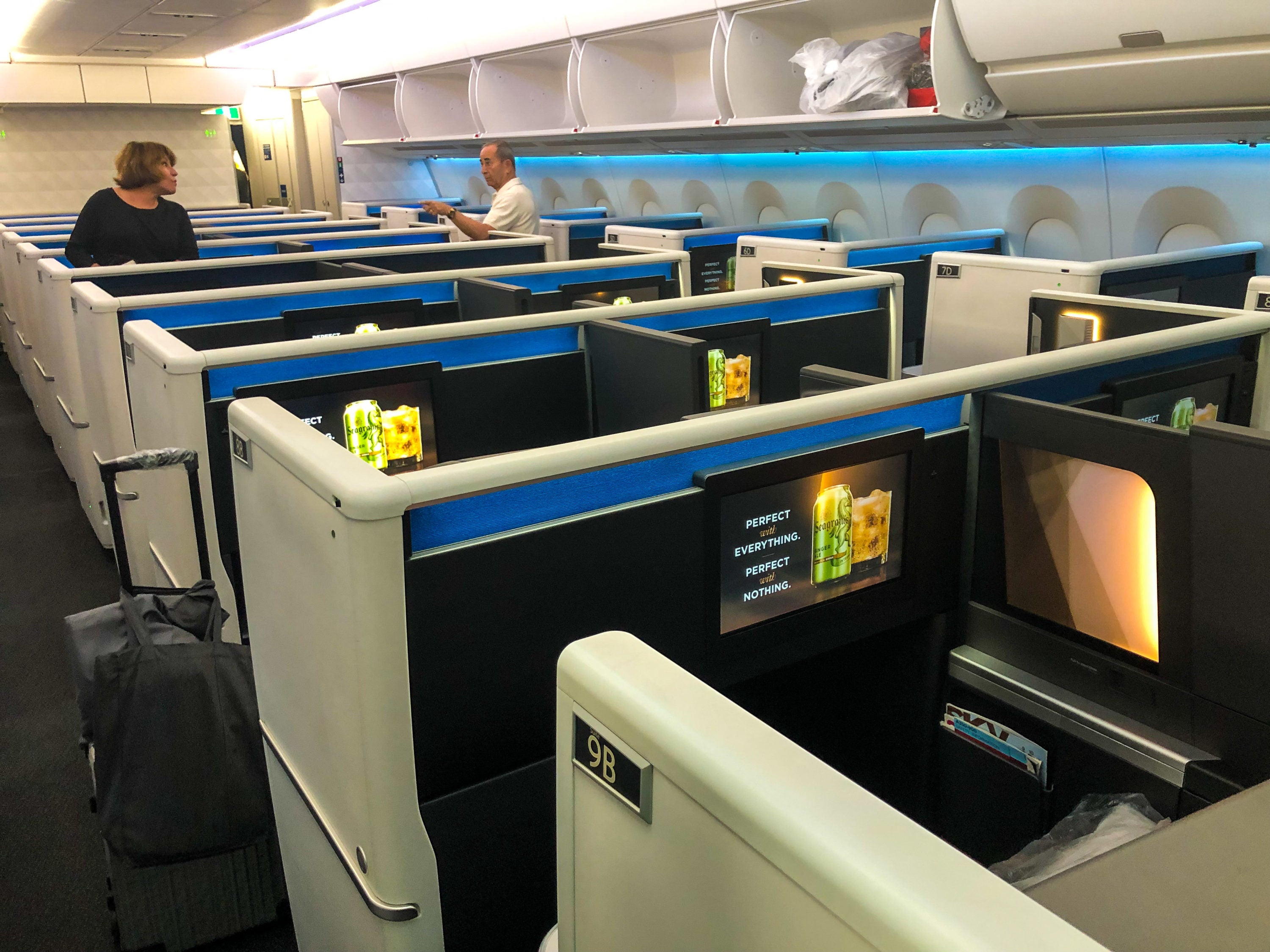 But wow, I couldn't stop snapping pictures of these suites, as they were just so aesthetically appealing. The checked patterns, premium trim, cabin coloring, and finishes came together beautifully.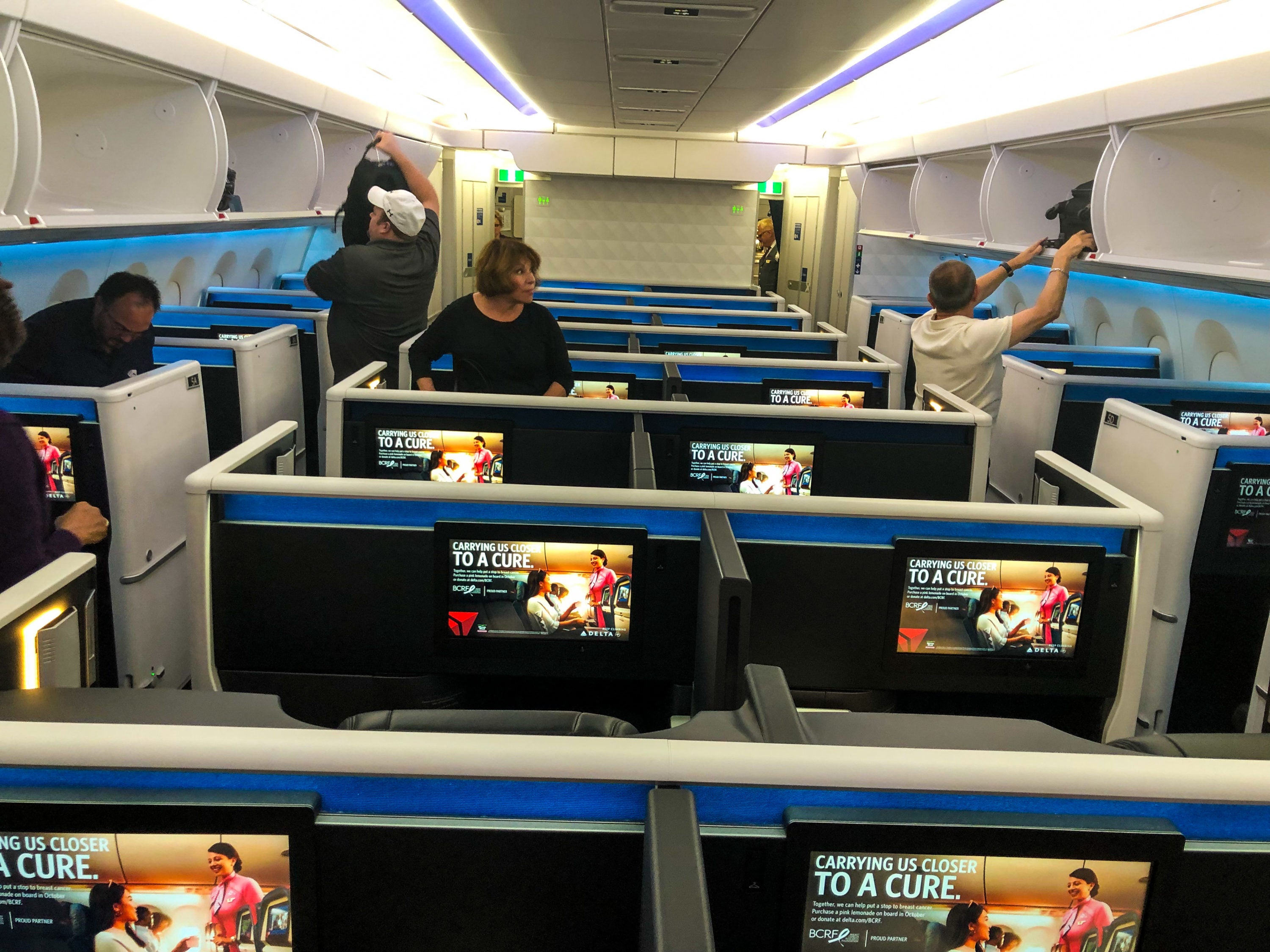 This particular flight was very empty, with only 9 seats occupied out of the 32-seat capacity business class cabin (~28% occupancy). When I asked the senior purser why, he explained that the drop in demand was because summer break (specifically the university summer break) had just ended.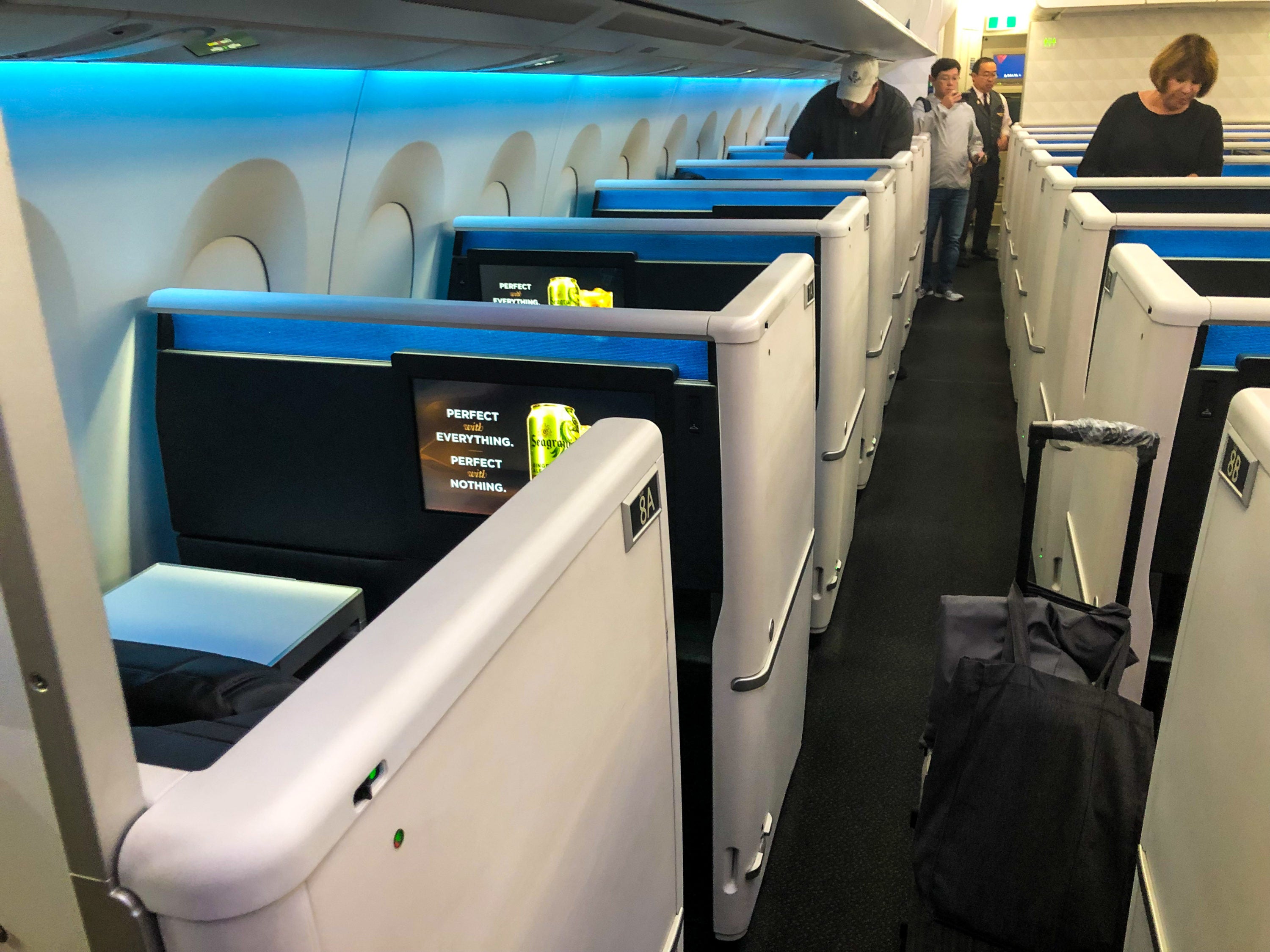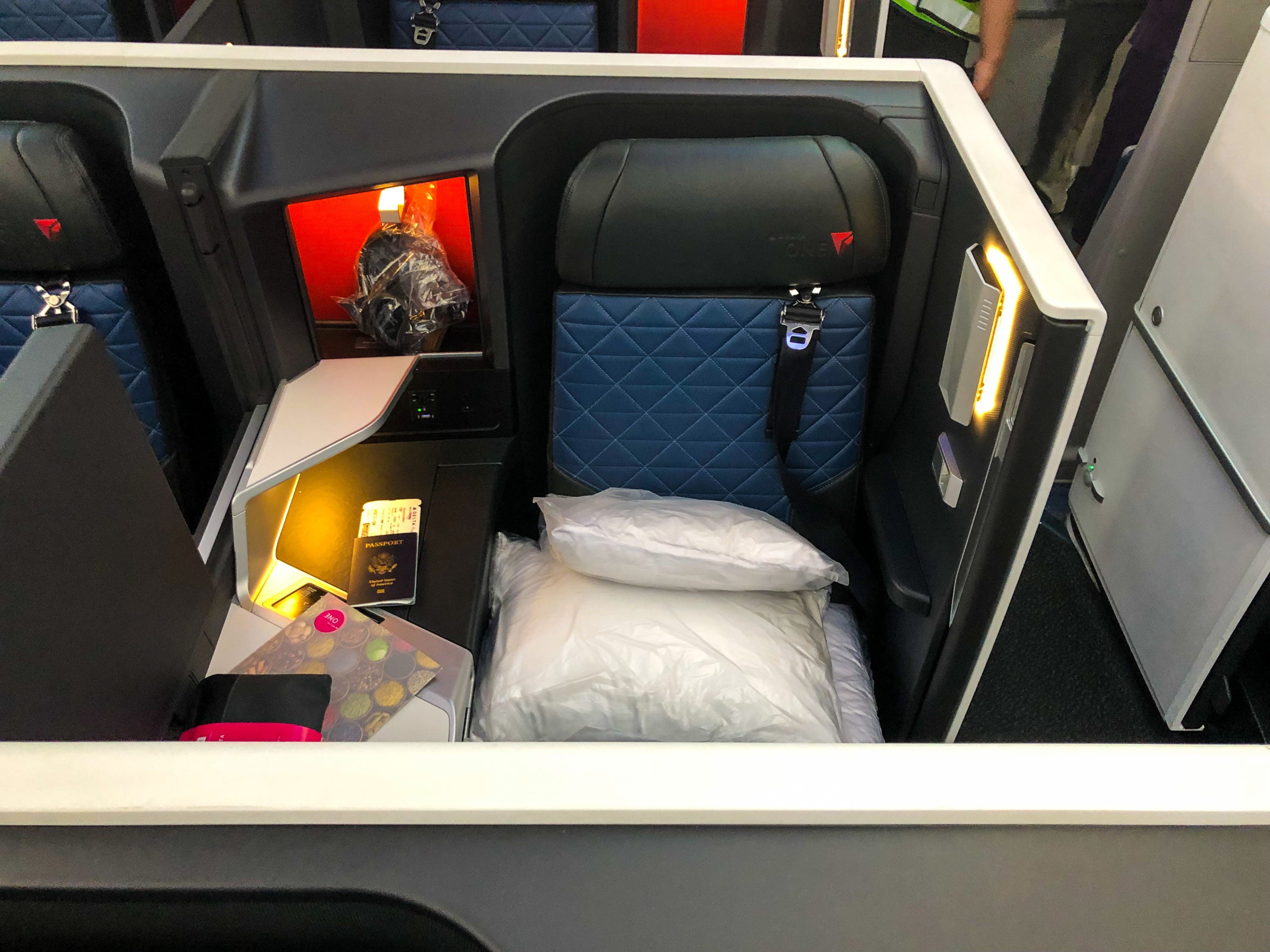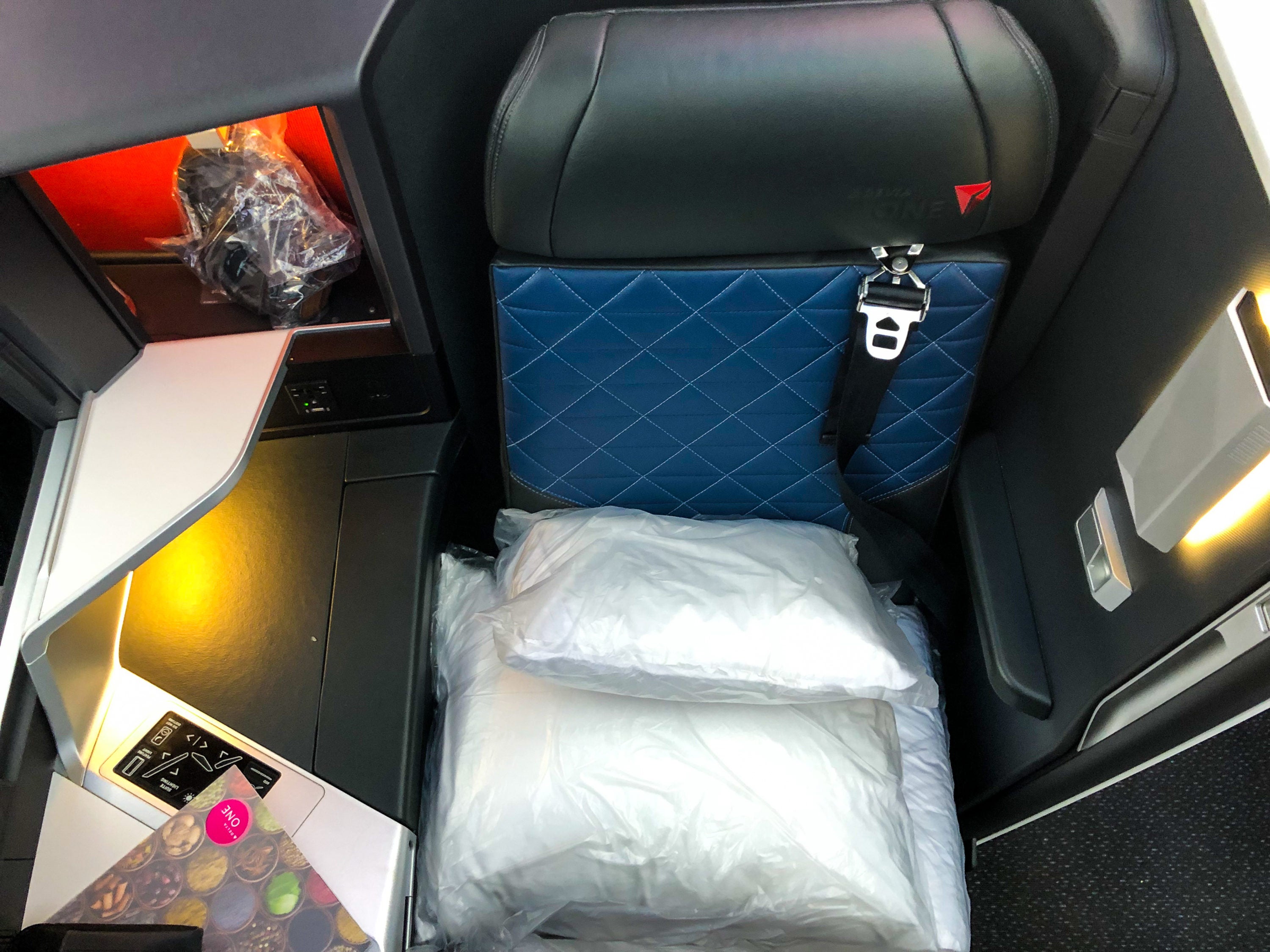 The new Airbus A350-900 featured state-of-the-art design, which included this seat lamp.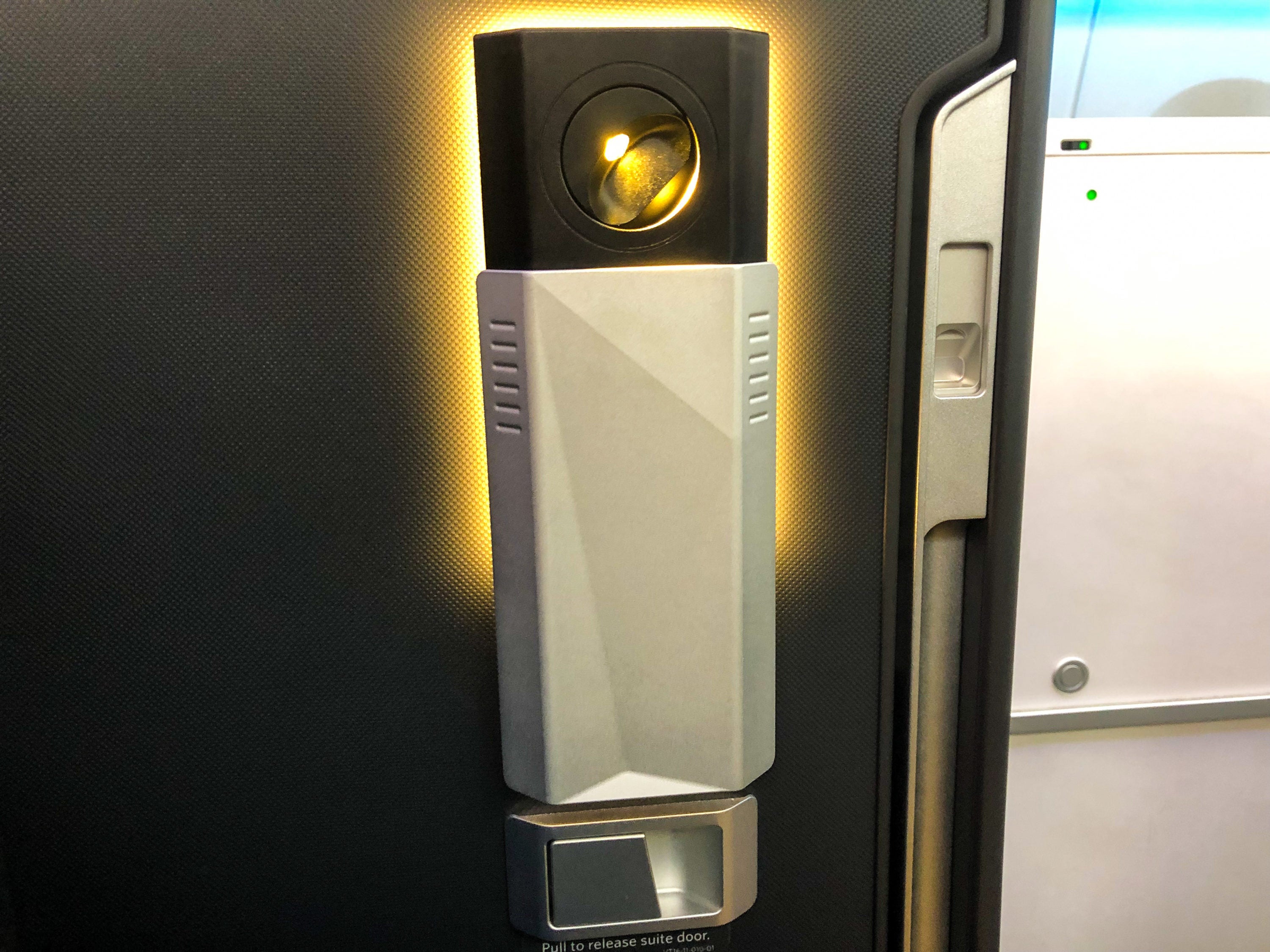 The seat controls, functions, and tray table buttons were easy to understand and organized in a user-friendly manner. In addition to a Do Not Disturb button and a feature light function, you could customize every aspect of your seat.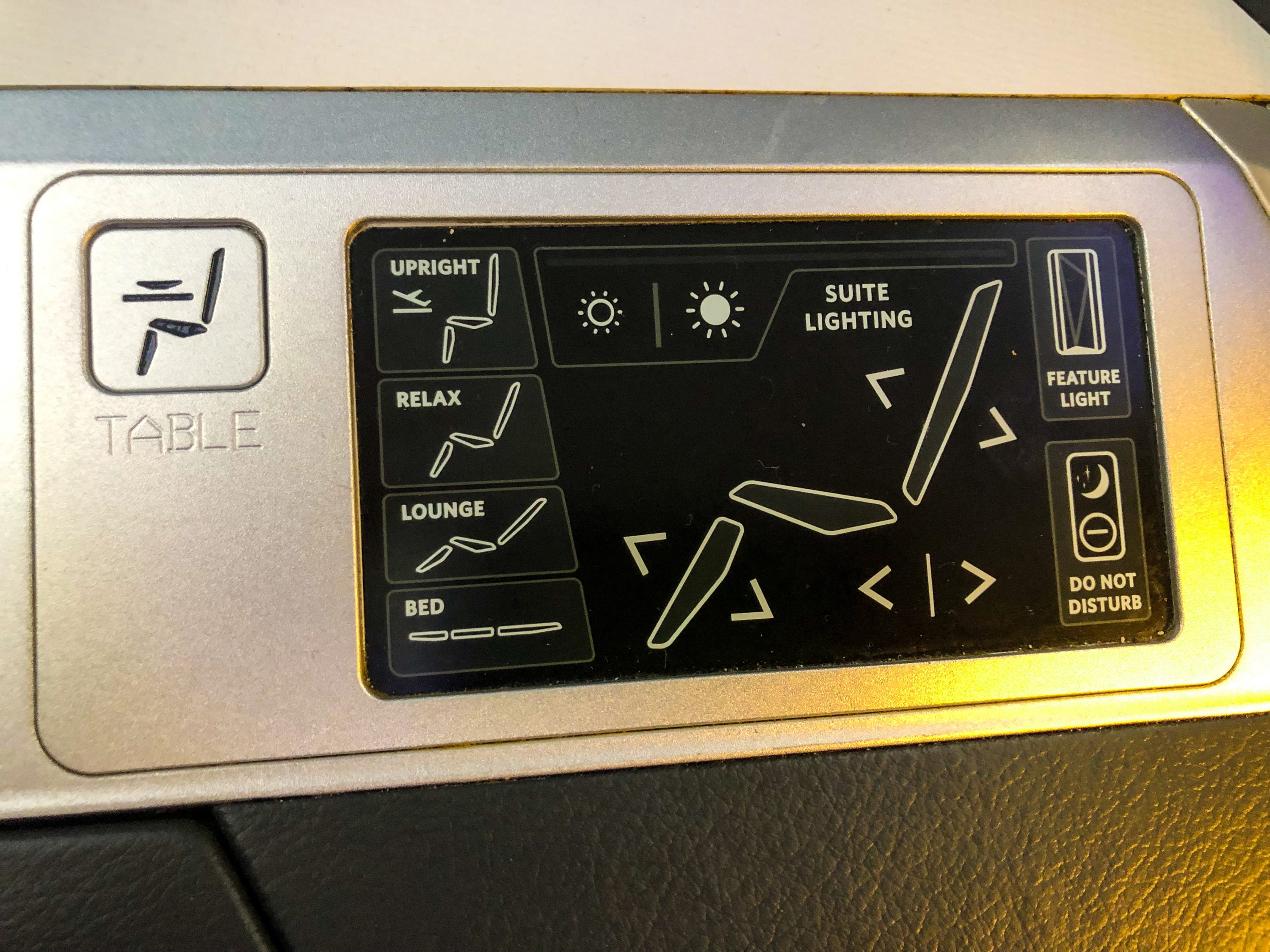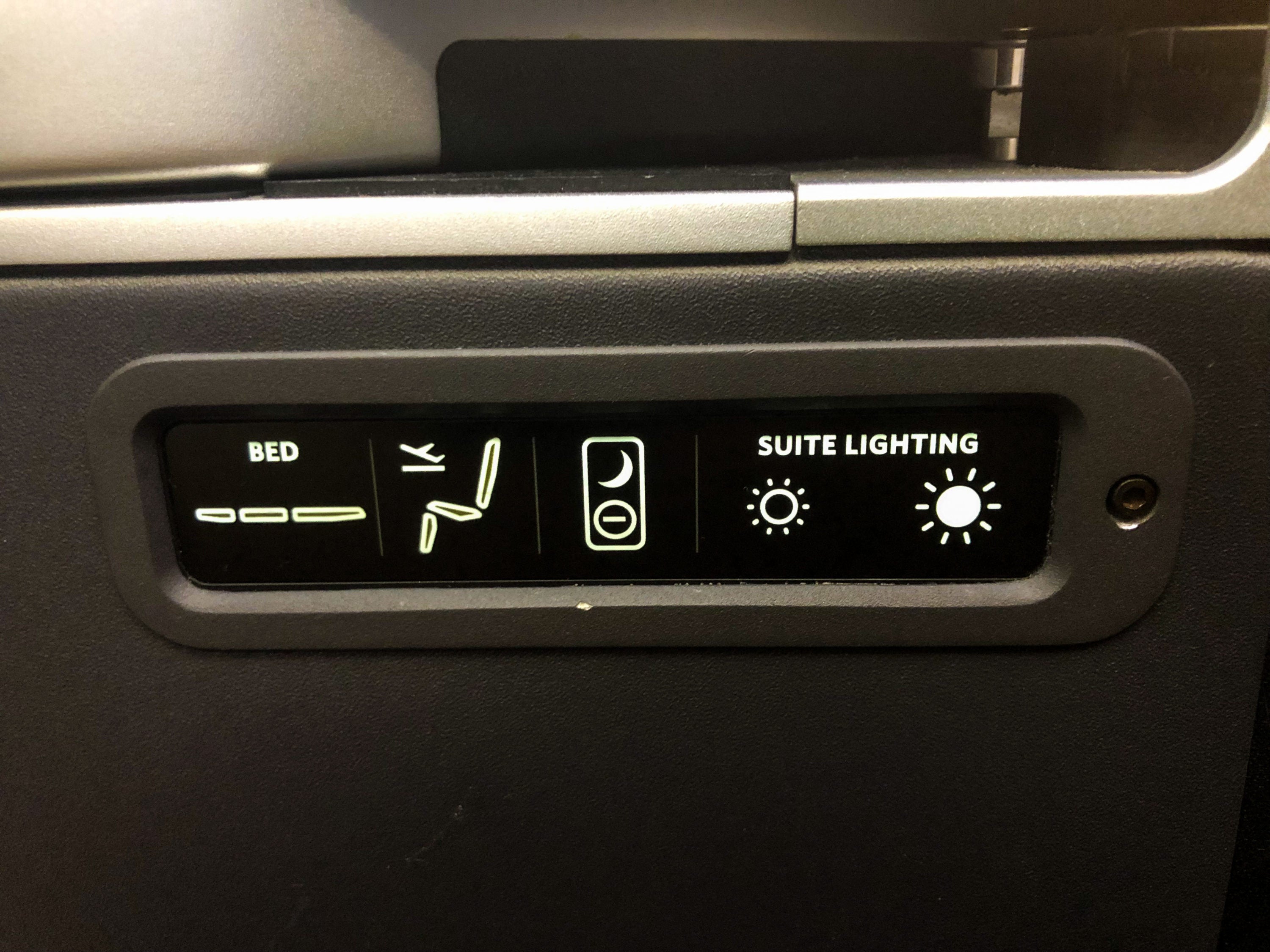 The tray table was stowed underneath the side table, and it was very clean. Some airlines don't maintain a close eye for cleanliness, and the tray table is one of the biggest areas of concern. Well done, Delta!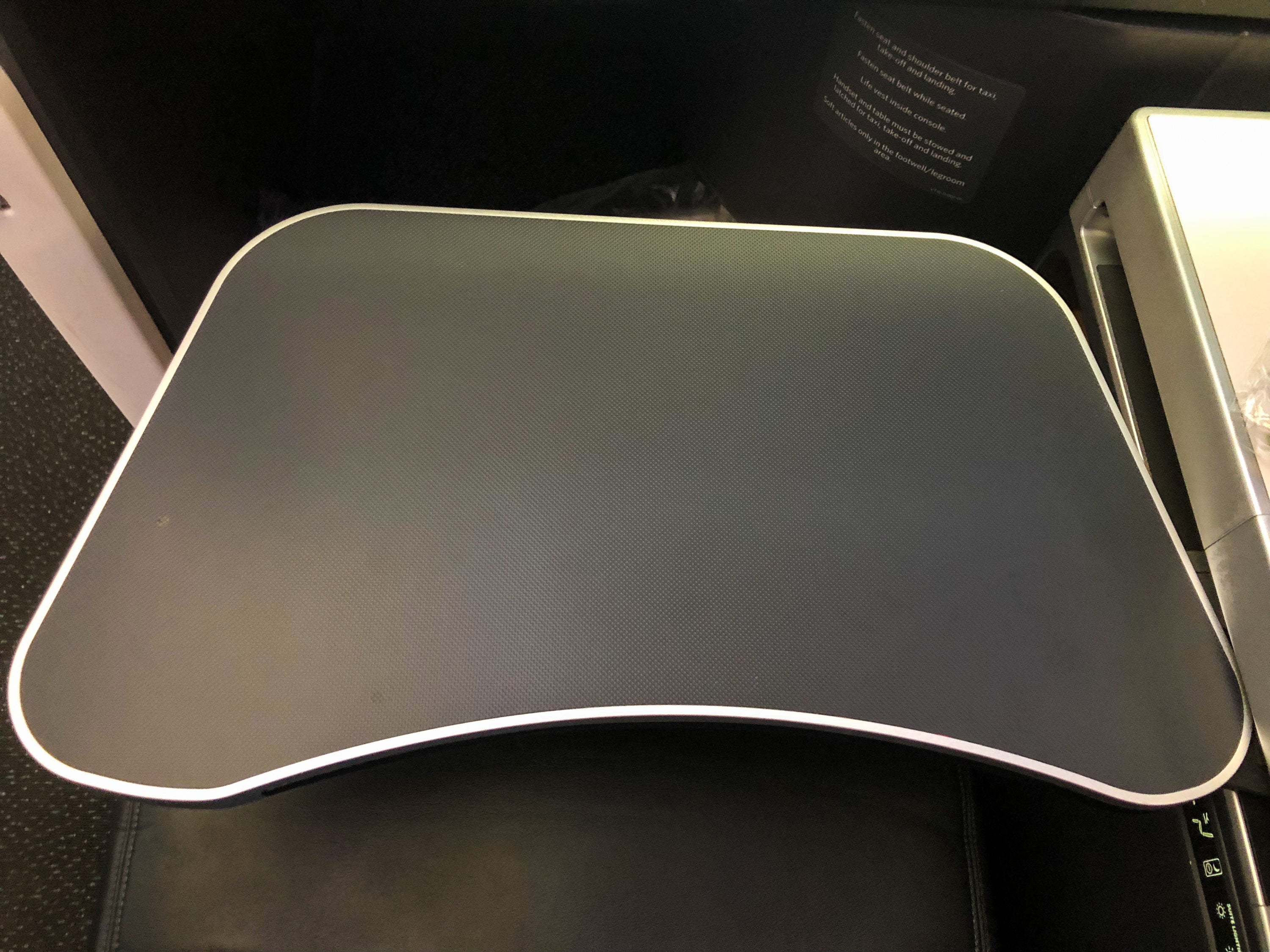 There was a storage compartment that housed the headphones and a water bottle holder (deeper inside the compartment).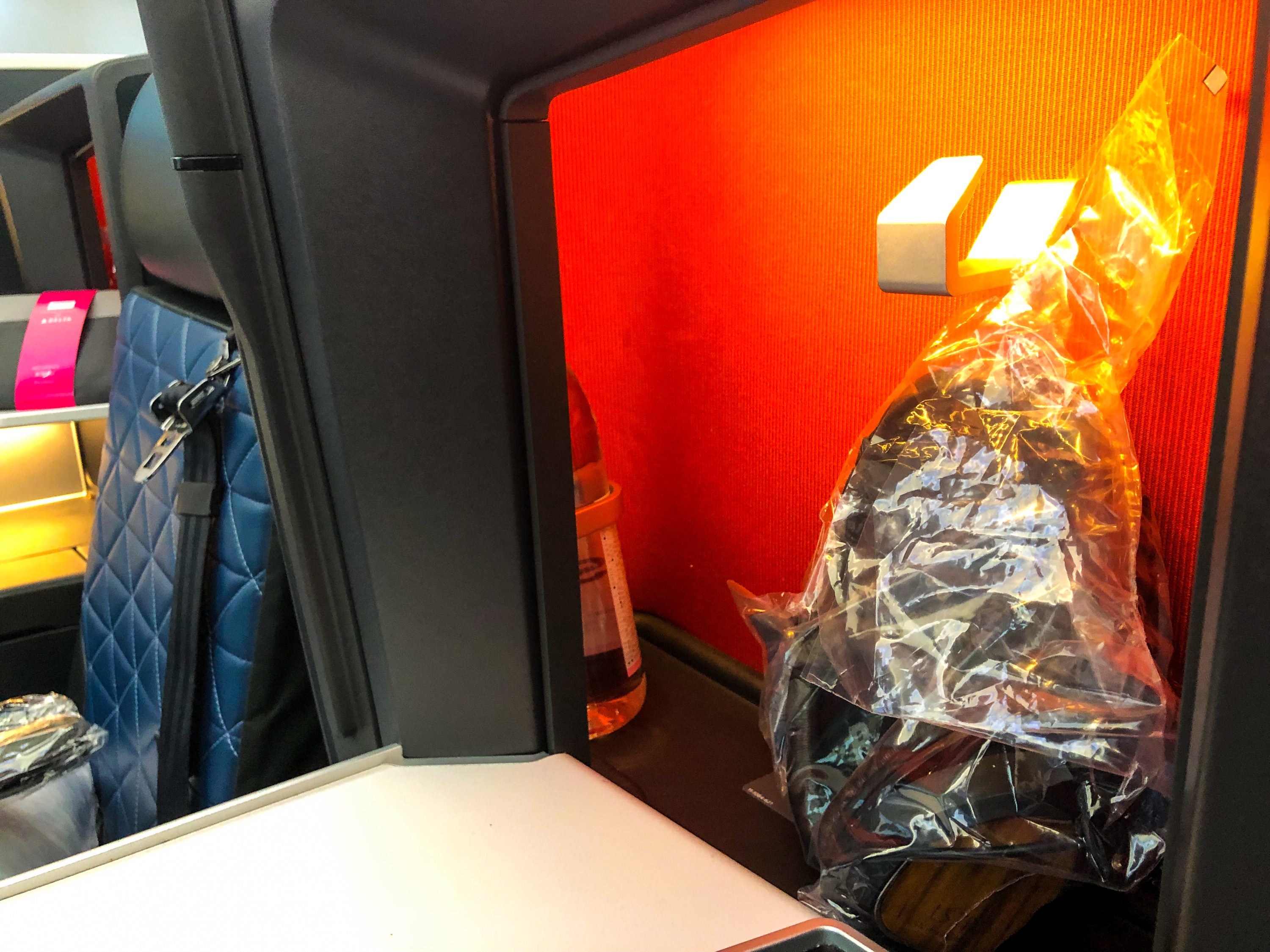 There was also a dedicated shoe storage compartment, which was a really nice touch. Usually, you have to stow shoes underneath a footwell, and it can be annoying reaching for them. In this way, you're arms' distance from your shoes.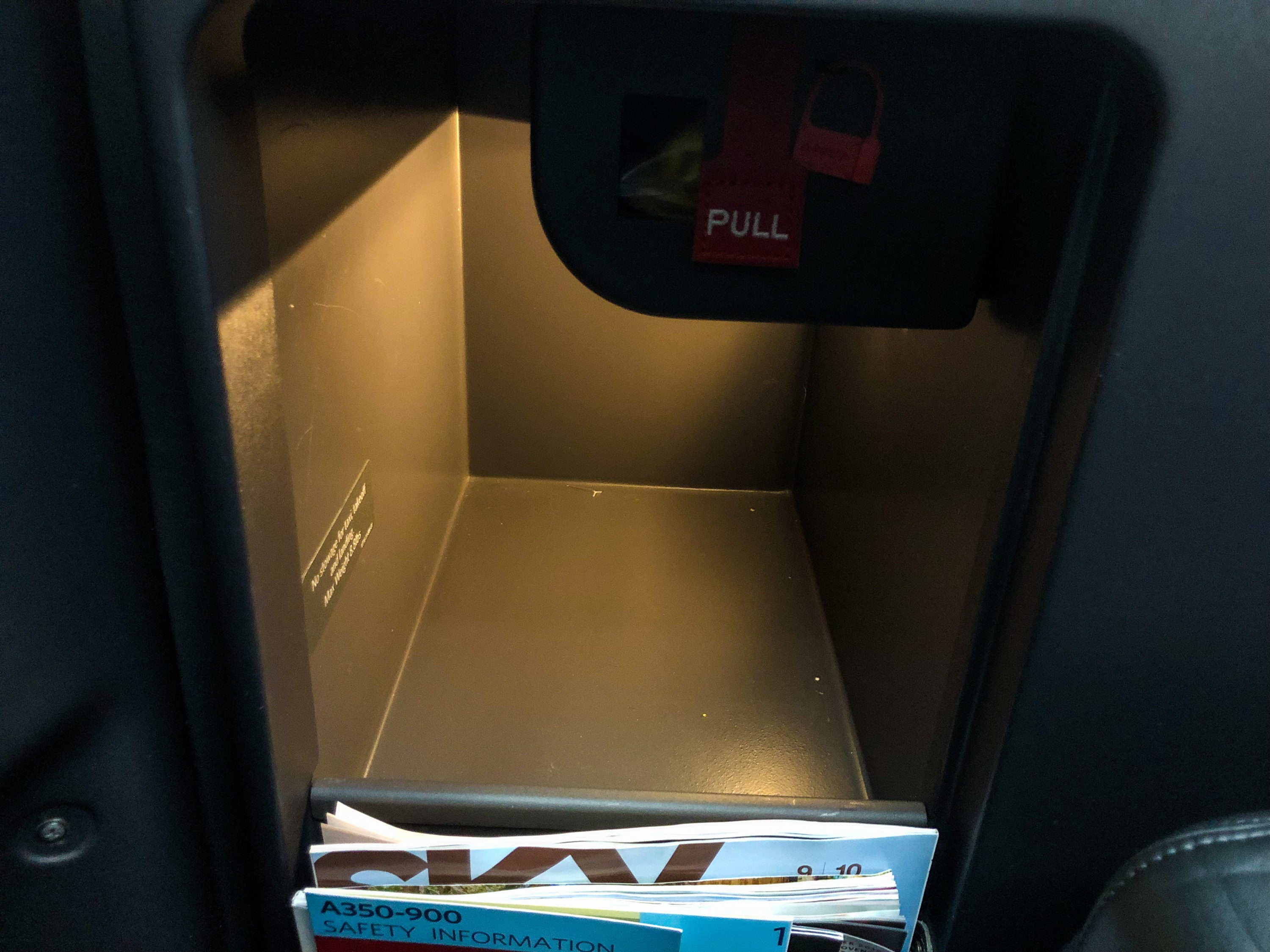 If you need to charge any devices, each of the Delta One Suites has an international power outlet, a headphone jack, and a USB charging port.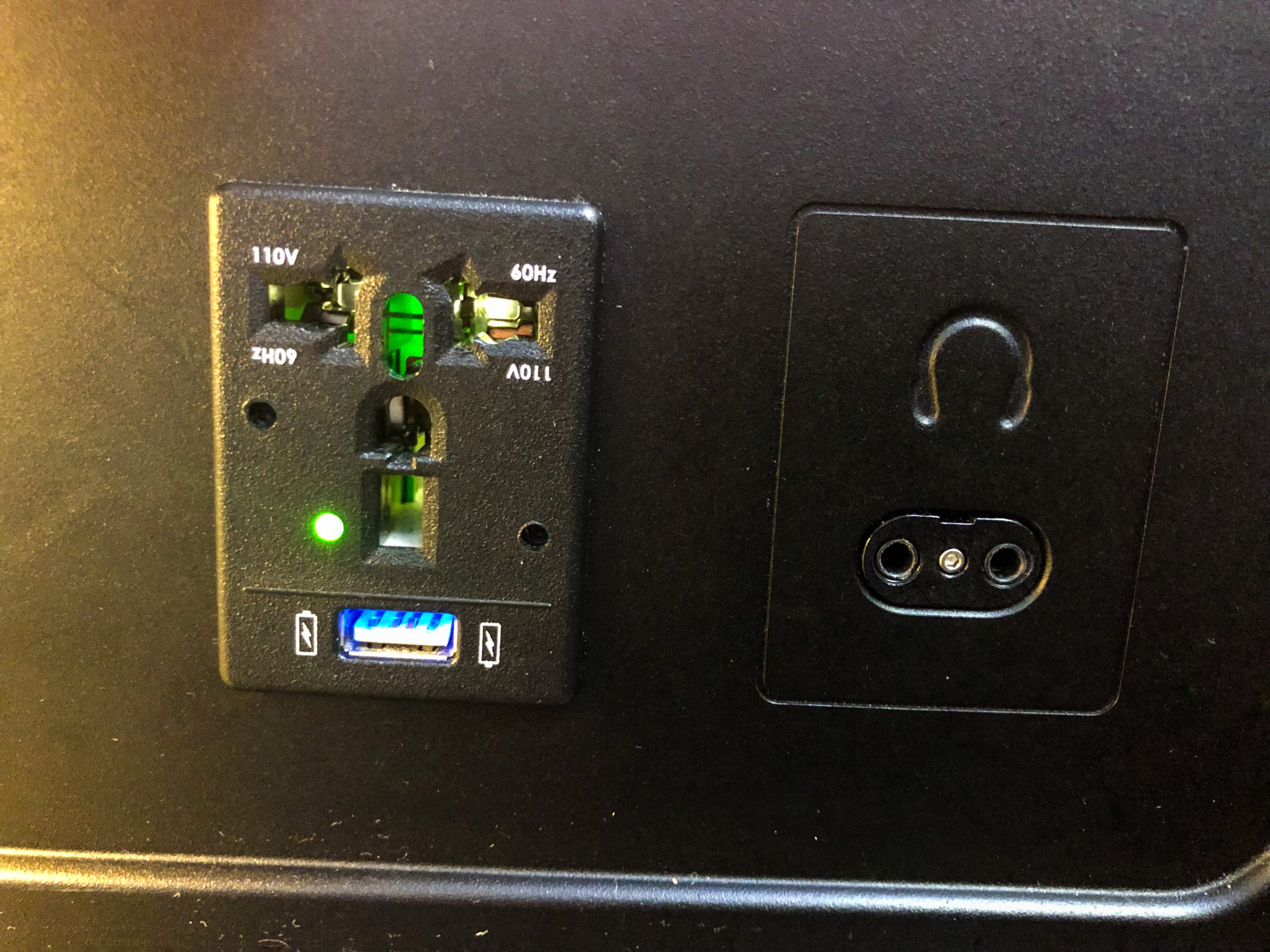 The inflight monitor was in full HD and measured 18 inches diagonally. I found the quality of the screen to be especially crisp. Also, the inflight monitor was completely touchscreen.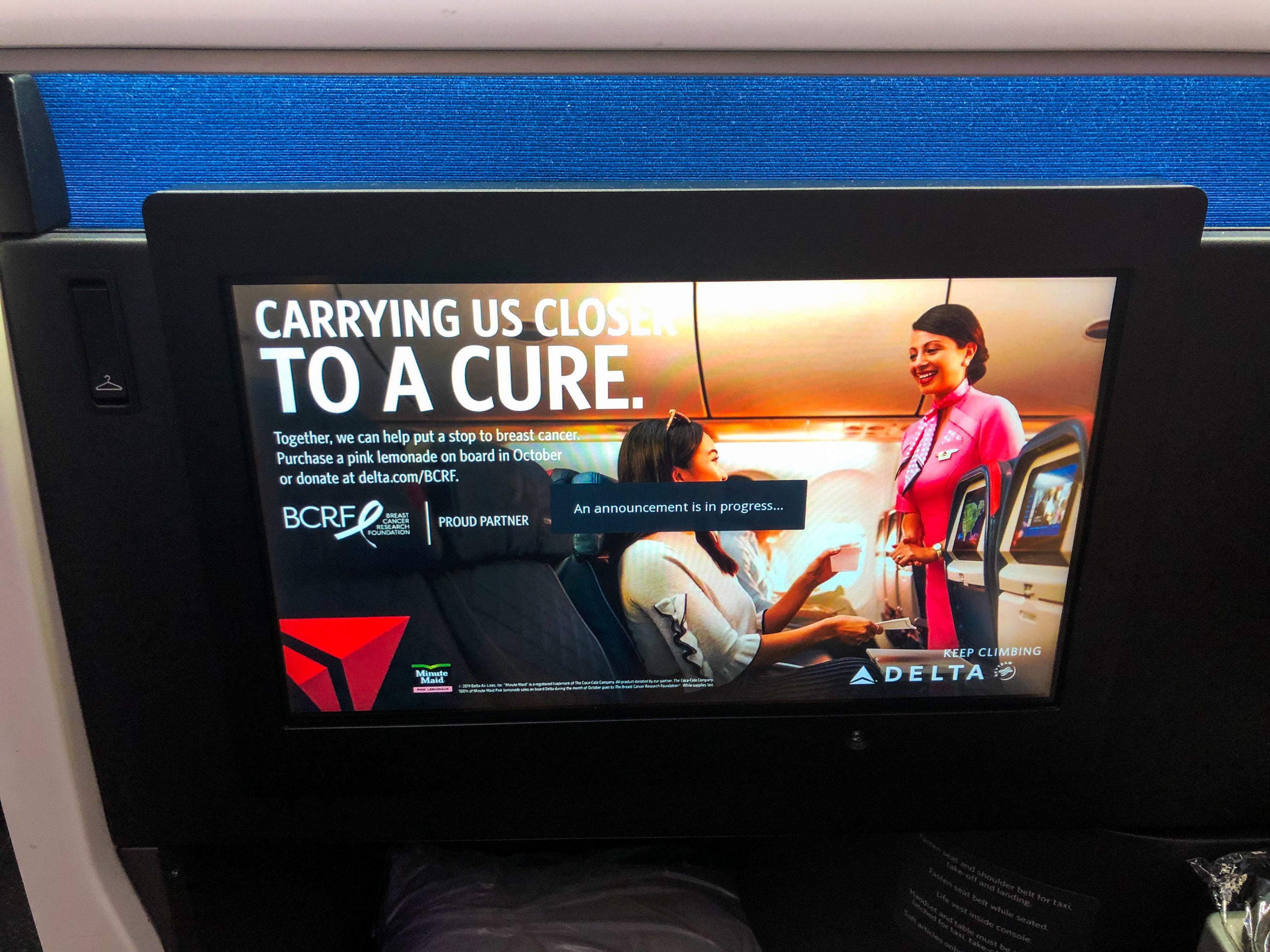 I found the inflight remote to be standard, which can not only toggle screen functions but also play games inflight.
Because each row's seat position alternates by being a staggered configuration, the footwell is essentially underneath the front passenger's side table. I found the footwell to be fine in terms of space. It helps that the seat is completely forward-facing so that I don't have to angle myself to fit into a tiny crevice.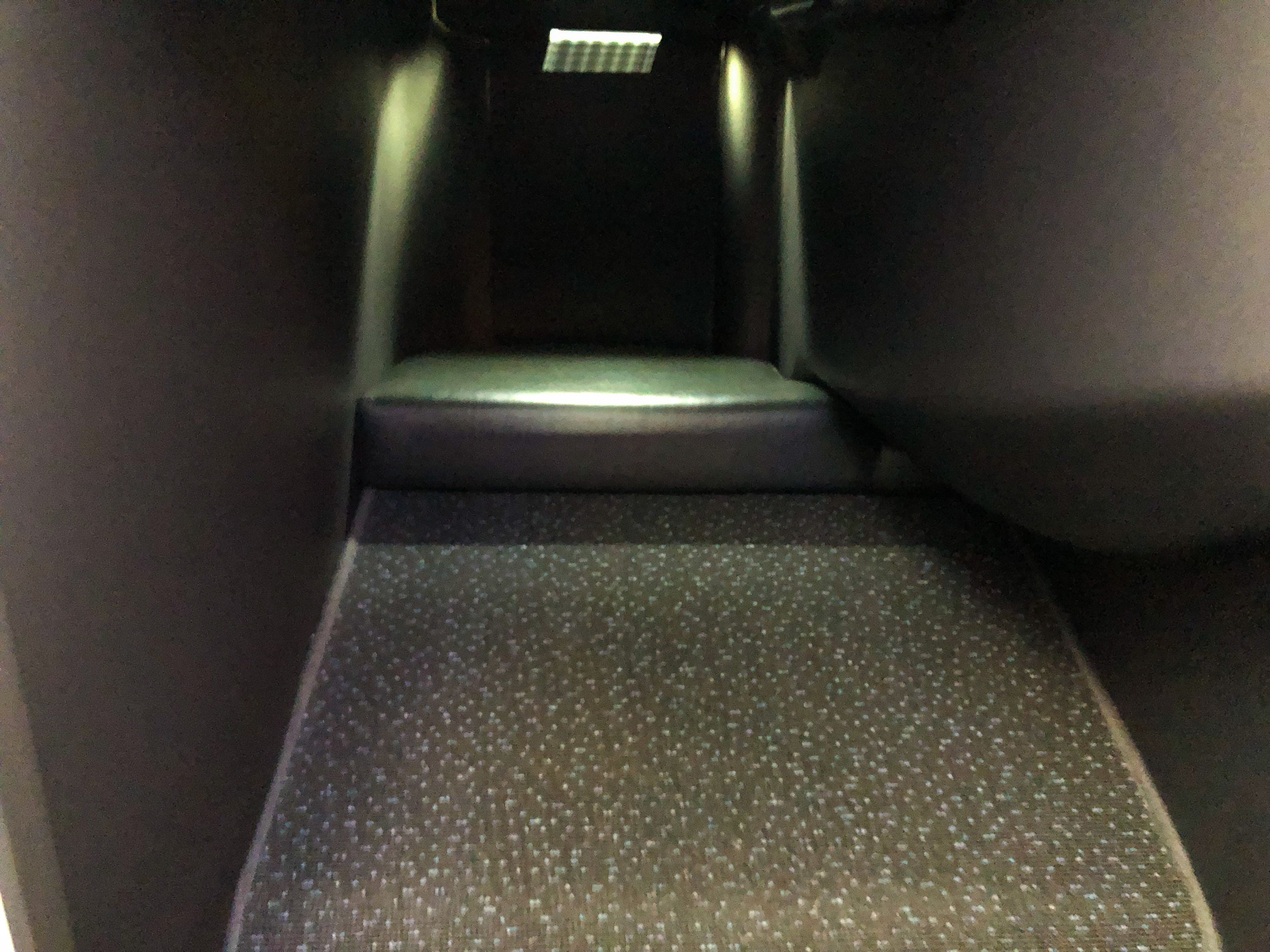 If you're traveling solo and find yourself in a middle seat, you can deploy the privacy divider, which adds even more seclusion.
One of the best characteristics of Delta One Suites is that you have so much privacy. Between the privacy dividers and the sliding door, you'll feel completely nested in a peaceful haven.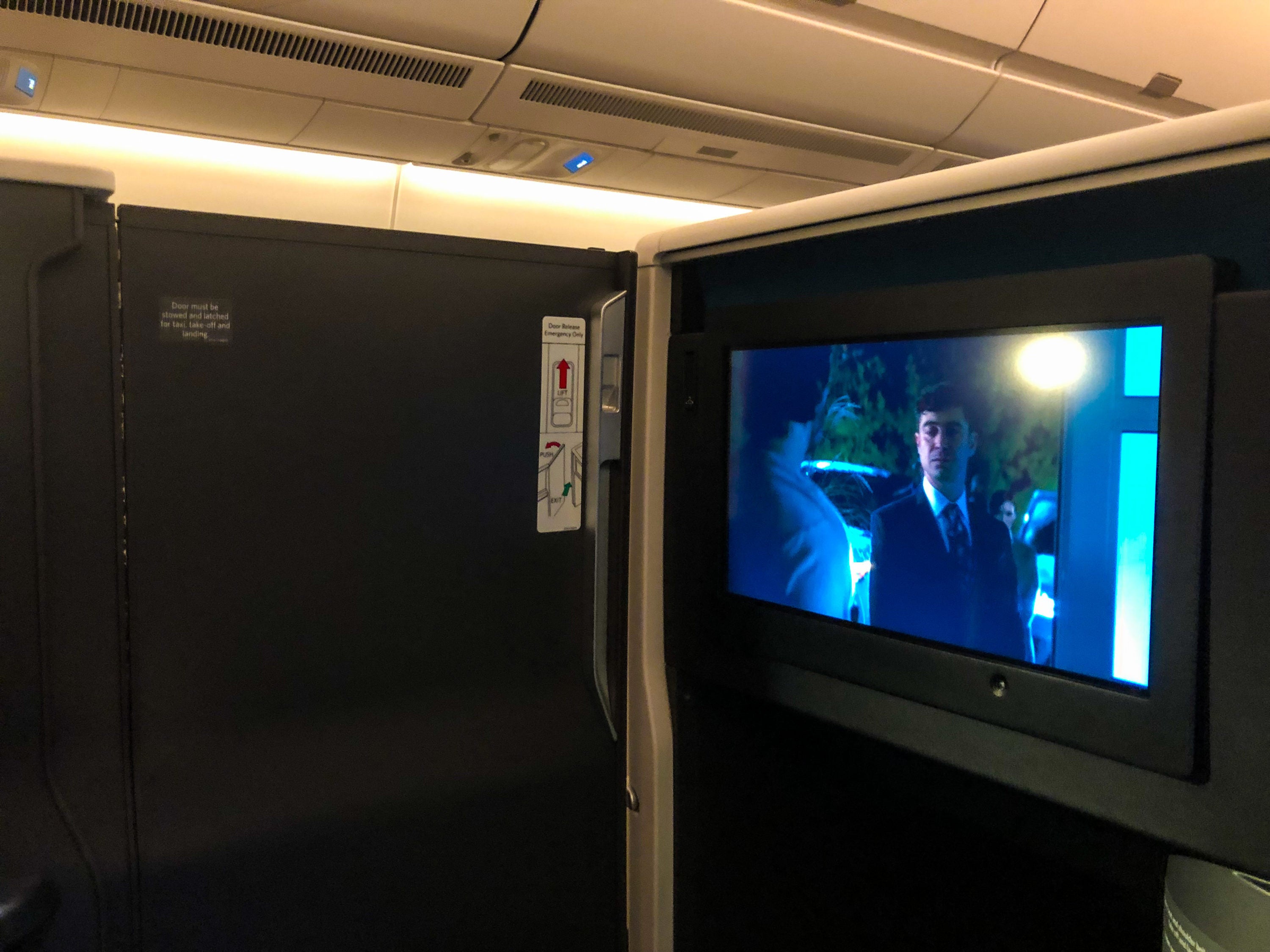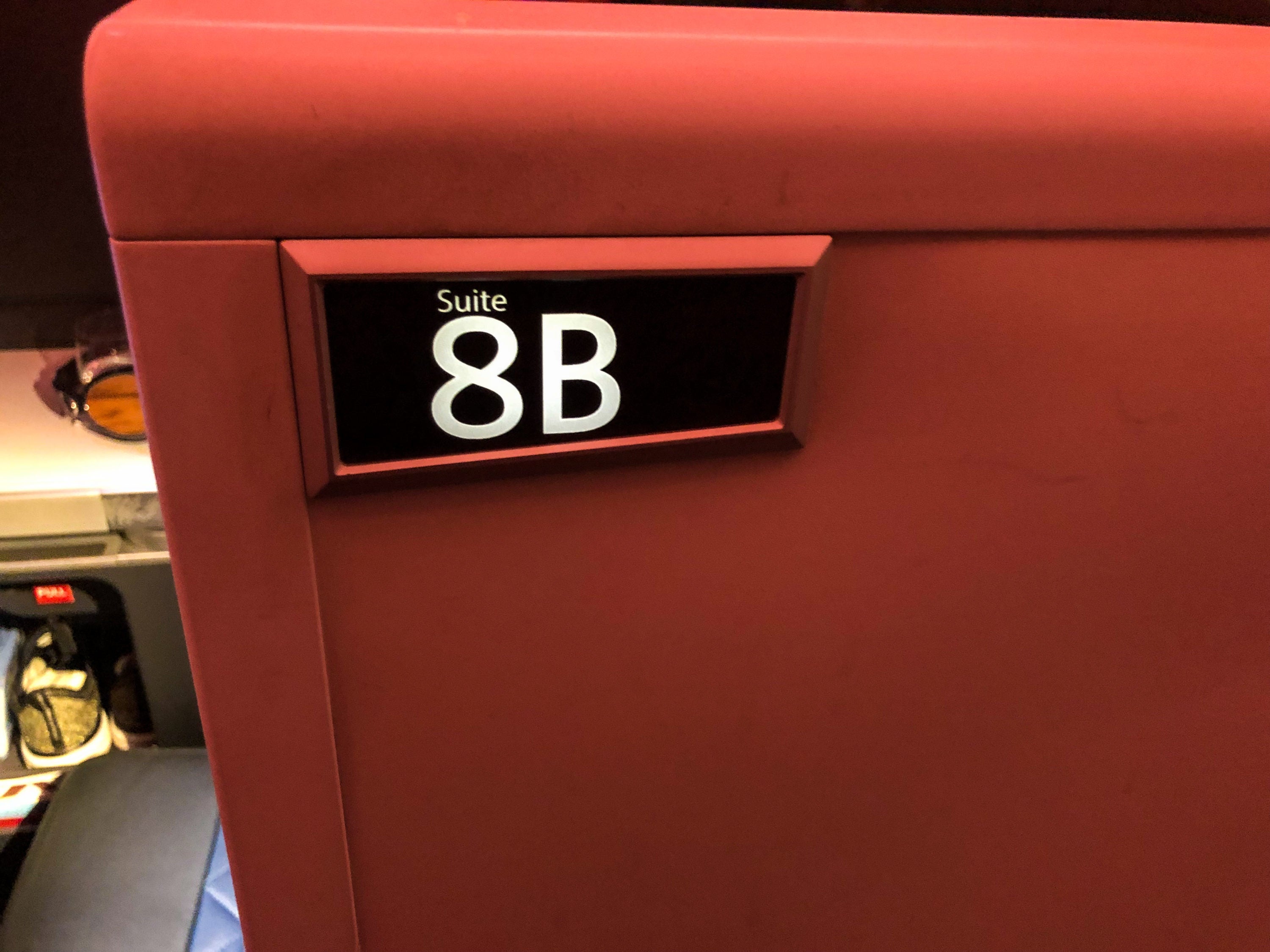 Amenities
As soon as you show up on the plane, you can feel overwhelmed by the amenities provided to you. There's just not enough storage compartments to store everything you get.
The headphones were racked on a hook in the storage compartment, and upon unpackaging it, I found LSTN-branded noise-canceling headphones.
The wood finishes were very delightful. I found the headphones to be extremely comfortable to wear. That being said, the noise cancellation is nowhere near as good as Bose's or Sennheiser's.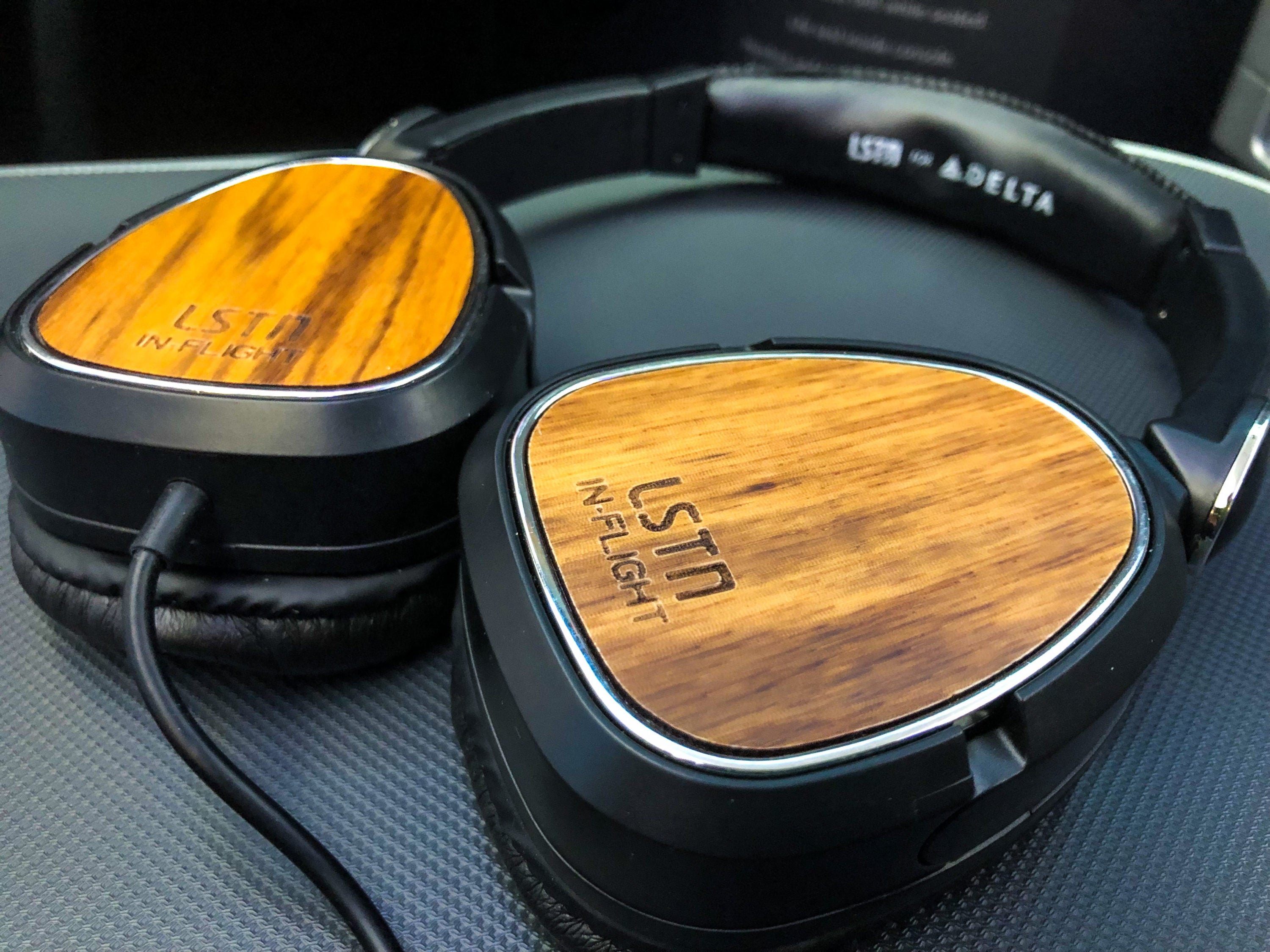 Delta provides Tumi amenity kits, and this particular one was in partnership with the Breast Cancer Research Foundation, which is a phenomenal cause.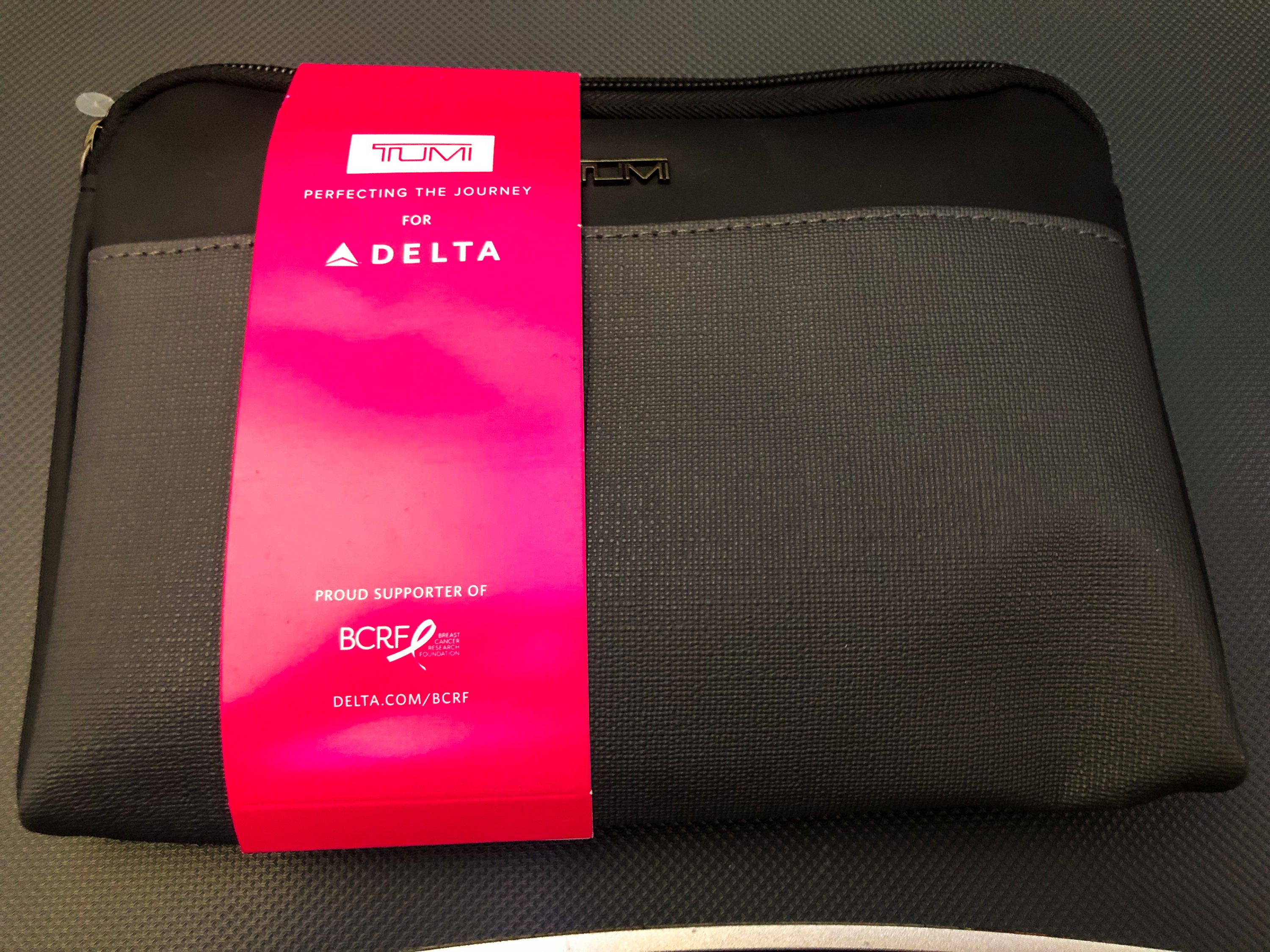 I found the amenity kit to be pretty standard for a business class flight. It isn't comparable to a first class amenity kit, as I found the quality of the eye mask and socks to be quite basic.
In all, there were these goodies in the amenity kit:
Le Labo hand pomade
Le Labo lip balm
Tumi facemask
Socks
Toothbrush and toothpaste
Mouthwash
Hand sanitizer
15% discount voucher at Tumi
Pen
This happens to be a pretty decent haul for a business class amenity kit. I'd suggest that Delta improve the quality of the items, specifically the eye mask and socks.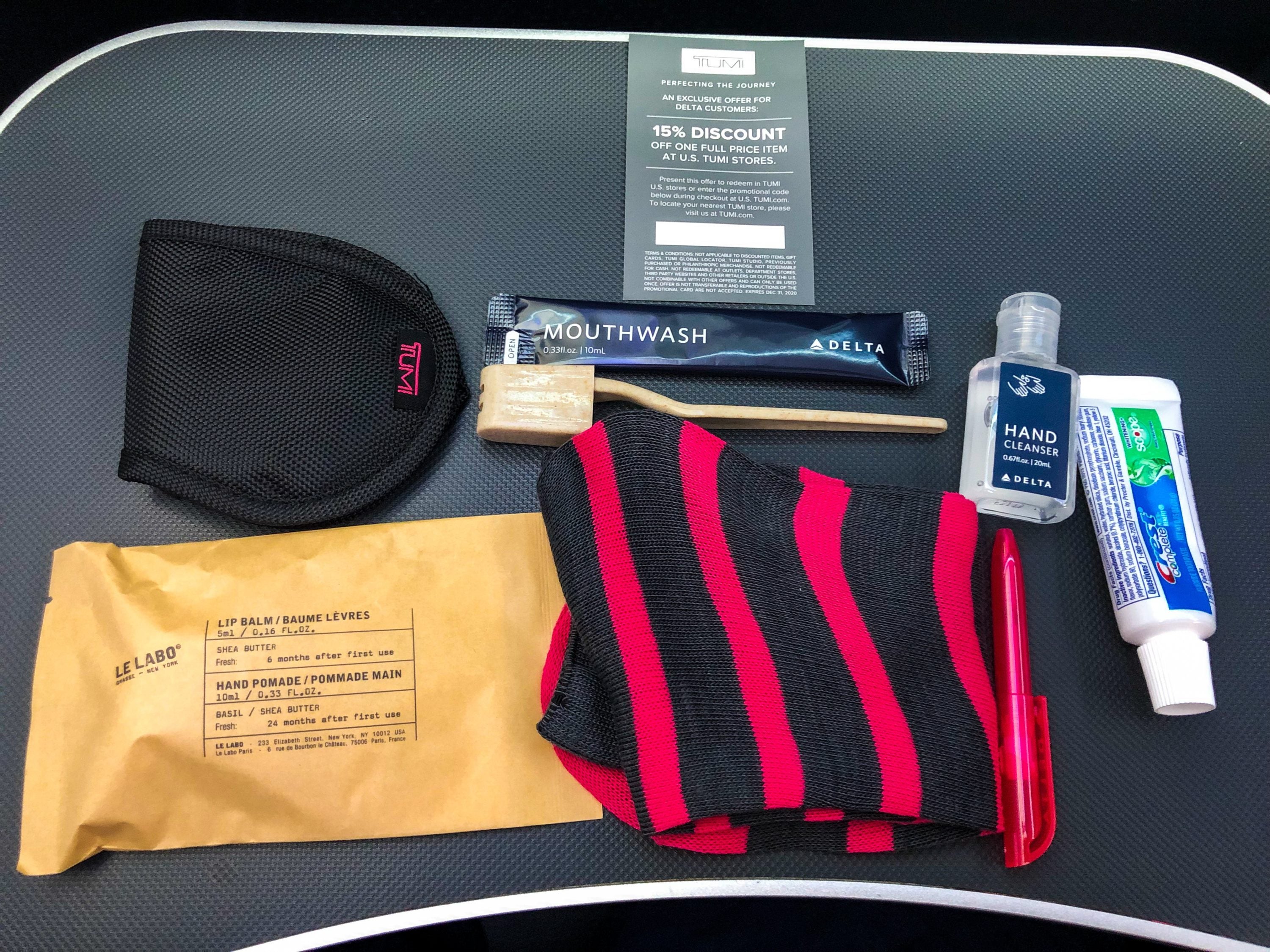 As mentioned, the amenities were Le Labo-branded, which is definitely a step up compared to their old Kiehl's amenities. Le Labo amenities are found in many Park Hyatt and Fairmont hotels, for reference.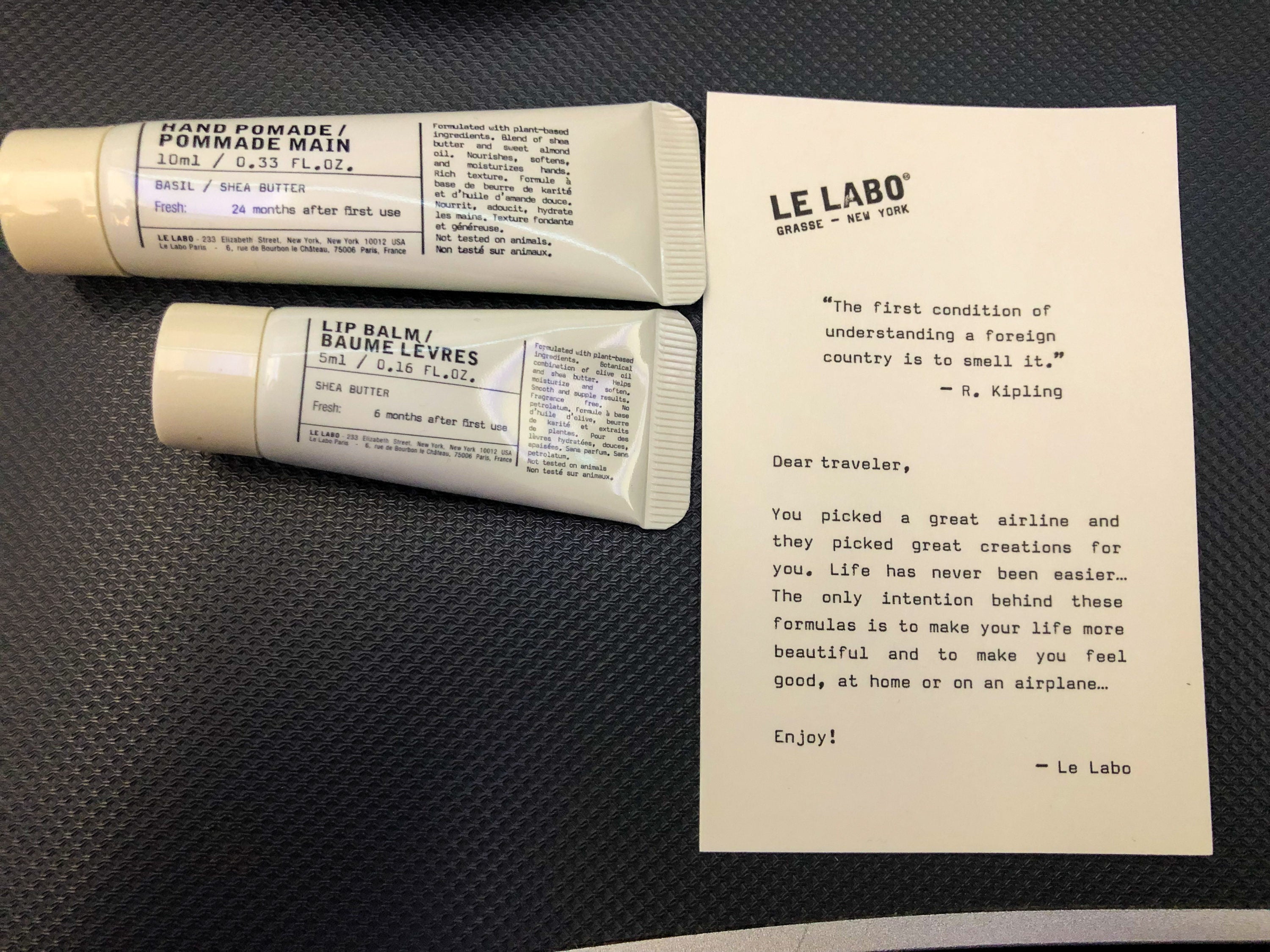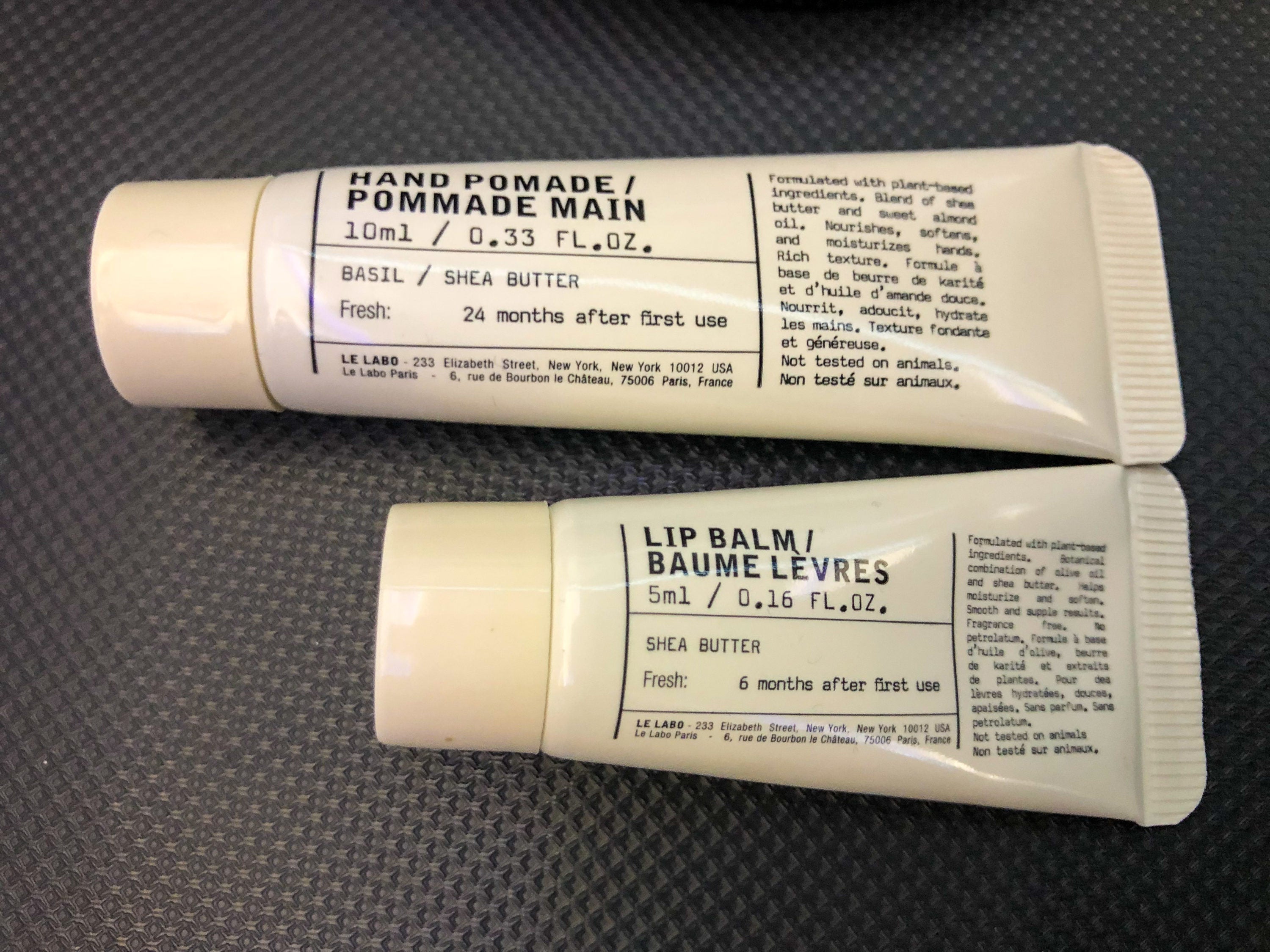 I was also handed a pair of slippers, which were soft and comfortable.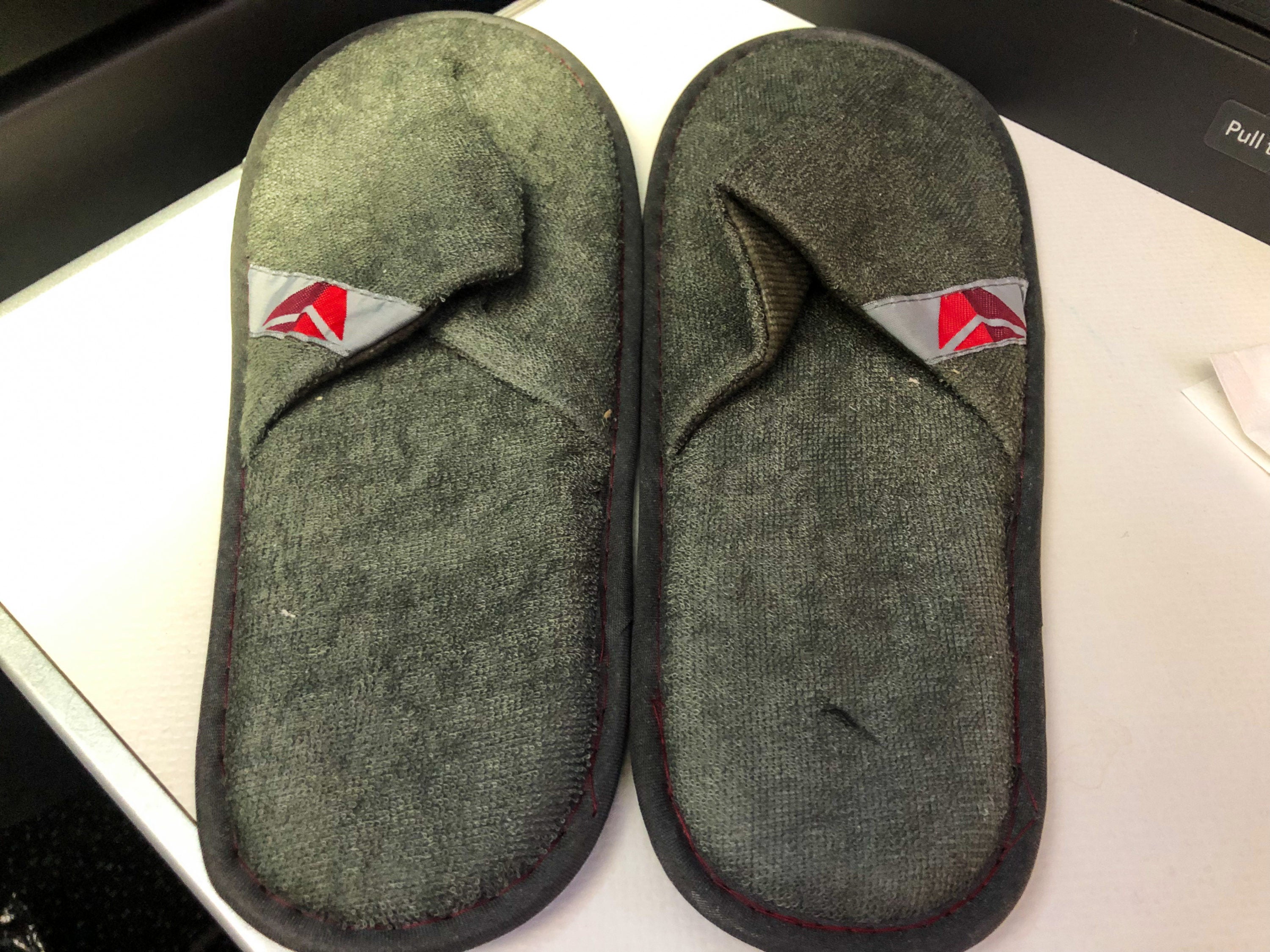 Also, one of the flight attendants handed out an extra pair of slippers to all passengers, which were (oddly) not the same as the first pair.
The second pair of slippers were much lower in quality than the first. Extra is better than nothing, though!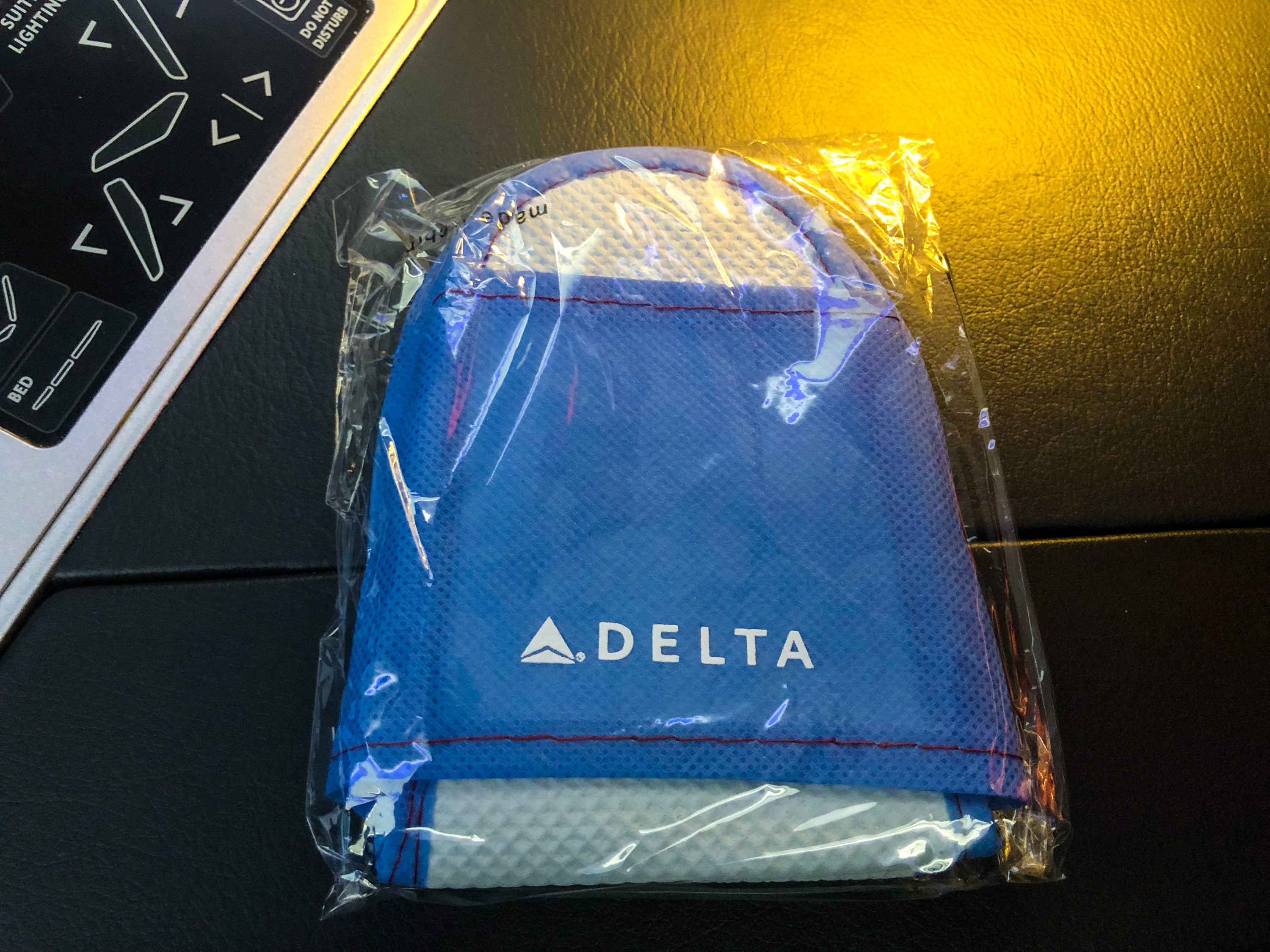 I hurriedly unpackaged the bedding, as I was very excited to see what Westin Heavenly was all about.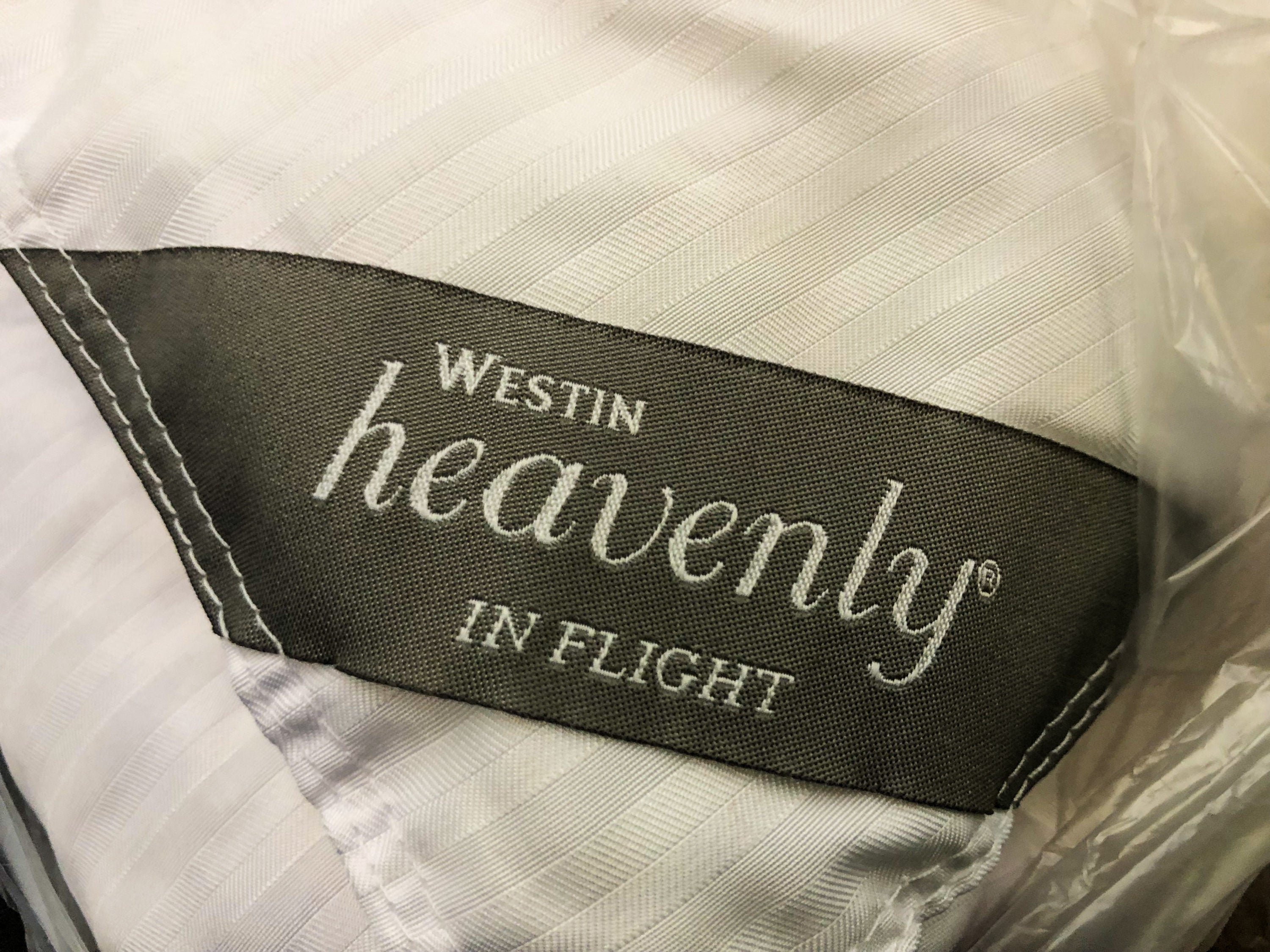 The duvet was extremely fluffy and the pillows were supportive and soft. Westin Heavenly bedding is extremely impressive, and I slept like a baby on the plane.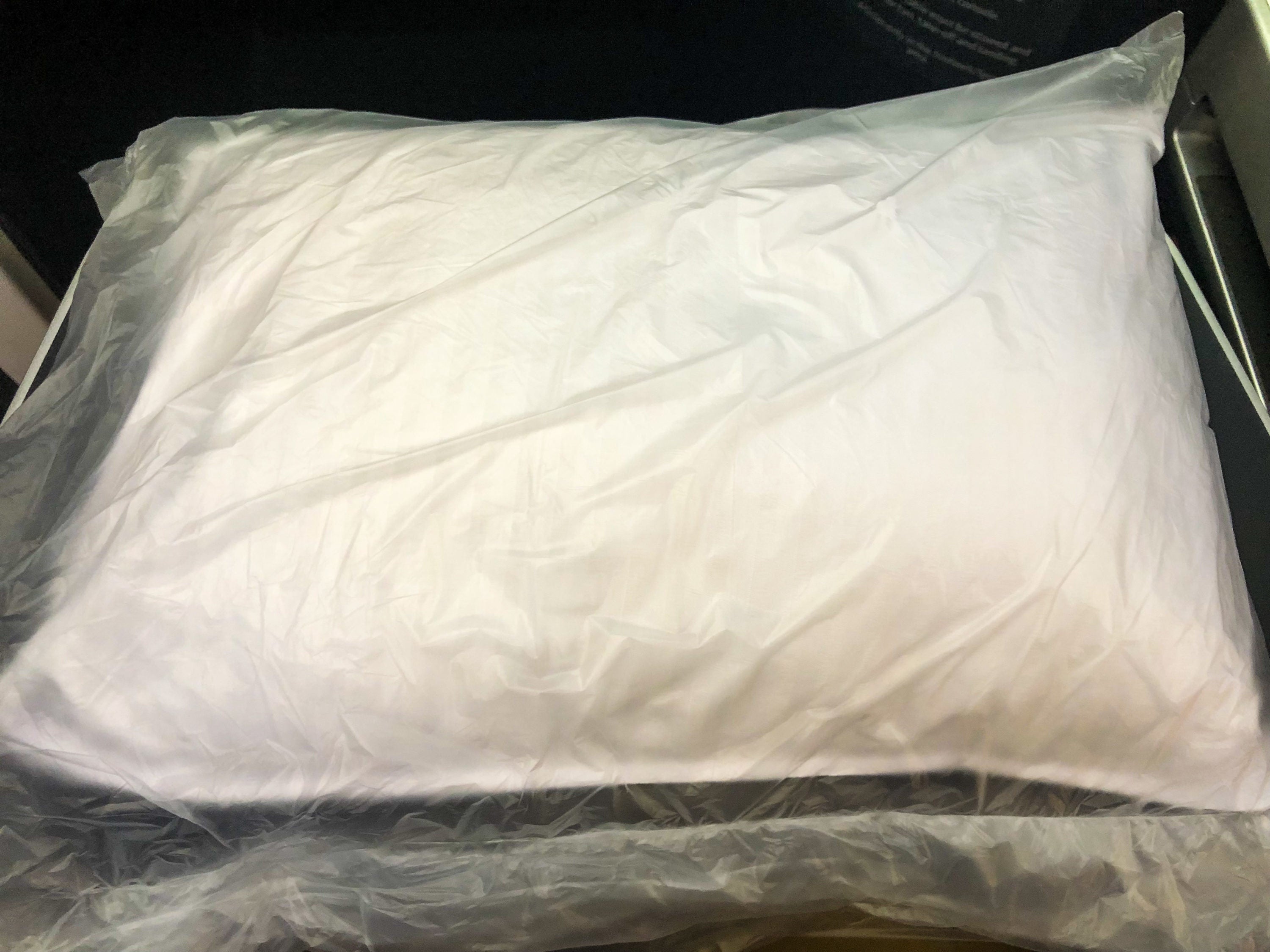 One thing to note: individual air nozzles are not available for middle seats, so if you are naturally warm, you might want to opt for window seats.
Delta One Suites doesn't supply pajamas, so I proactively changed into my Cathay Pacific first class pajamas. When I was conversing with the purser, he explained that passengers don't keep the pajamas, so they stopped offering them. What an unfortunate move!
Since the Delta One Suites cabin wasn't full at all, I requested our beds be made in the row in front of us, and the crew gladly obliged. Before I knew it, our beds were fully made up and ready for us to slip into an epic food coma slumber.
I slipped on my Cathay Pacific first class eye mask, put in earplugs, and slept incredibly well for a solid 7 hours.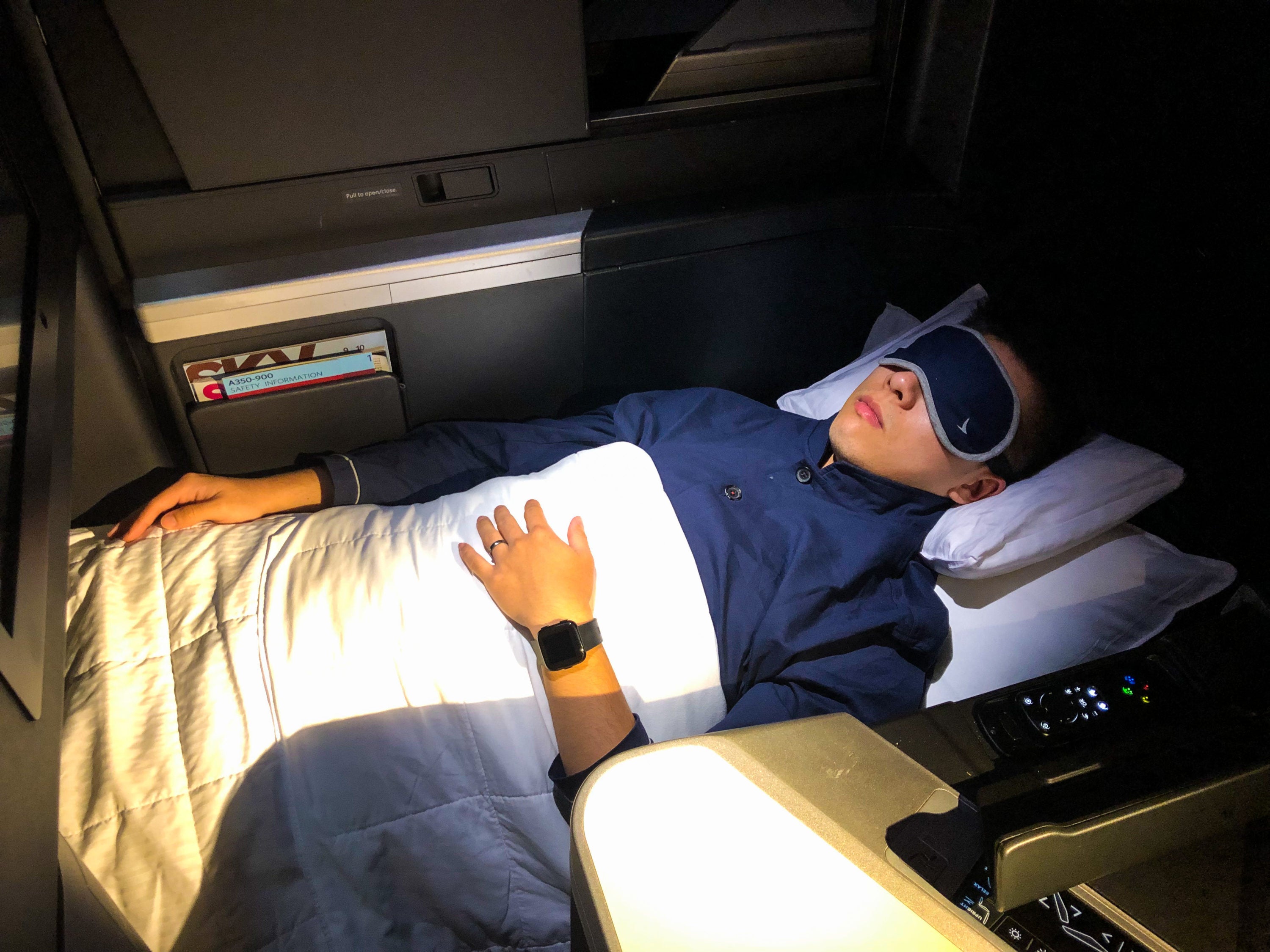 Bottom Line: Delta One Suites' amenities are fantastic. Between Tumi amenity kits, plush Westin Heavenly bedding, and Le Labo toiletries, there's little to complain about. The only things I'd recommend is to improve their selection of headphones, up the quality of the eye mask, and offer full-sized Le Labo toiletries (as opposed to 10 ml tubes).
Food and Beverage
As soon as we finished unpacking all of our goodies, we were offered a welcome drink. I requested Champagne, and I got a glass of Canard-Duchêne Cuvée Léonie Brut.
A bottle of this particular bubbly retails for around $30-$50, and I found the champagne to be dry.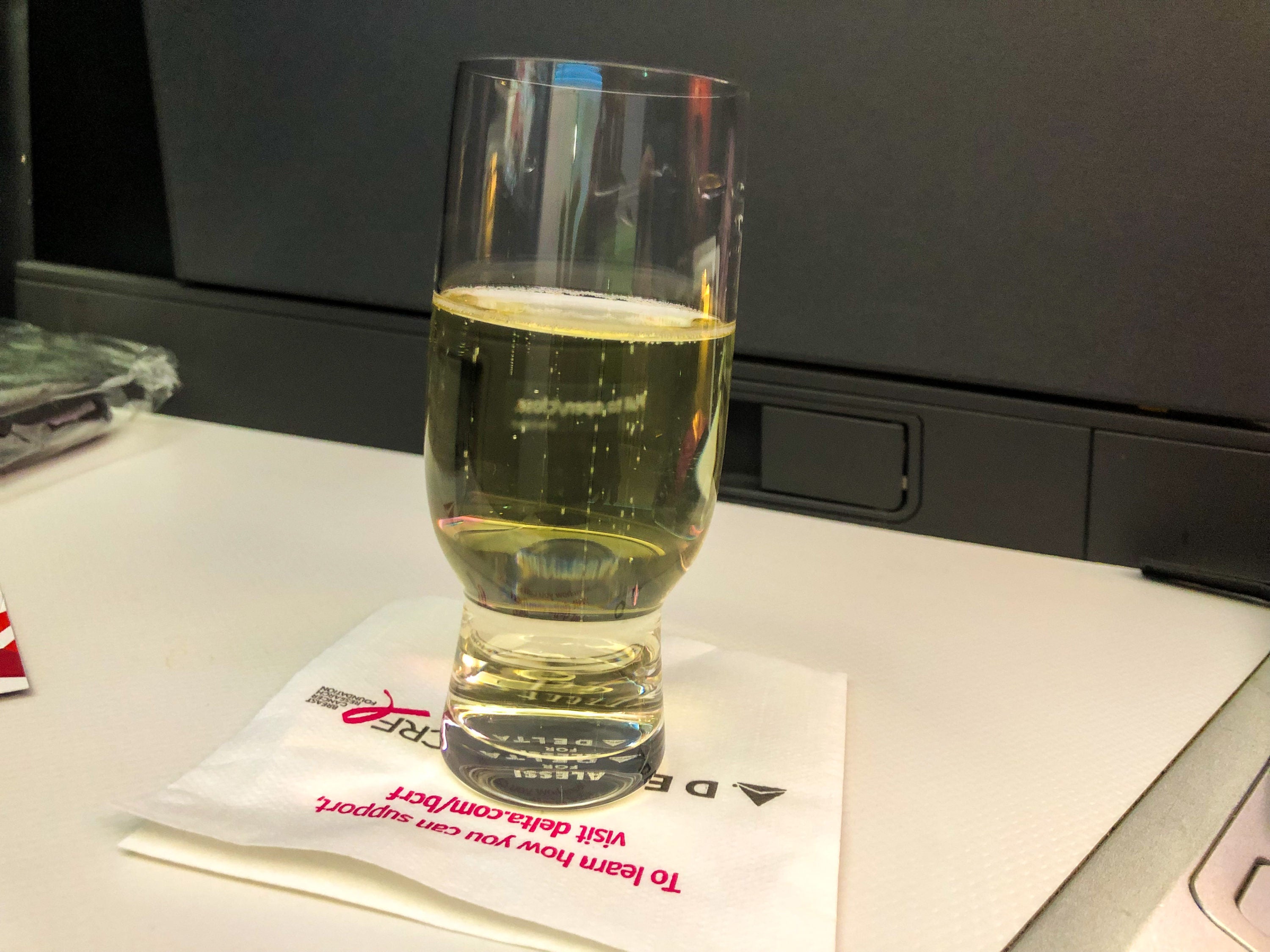 Shortly after takeoff, our meal service began. First, we were handed warm towels for refreshment.
The Delta One menus were handed out prior to departure, though I didn't get a chance to look through it until they were ready to take our orders.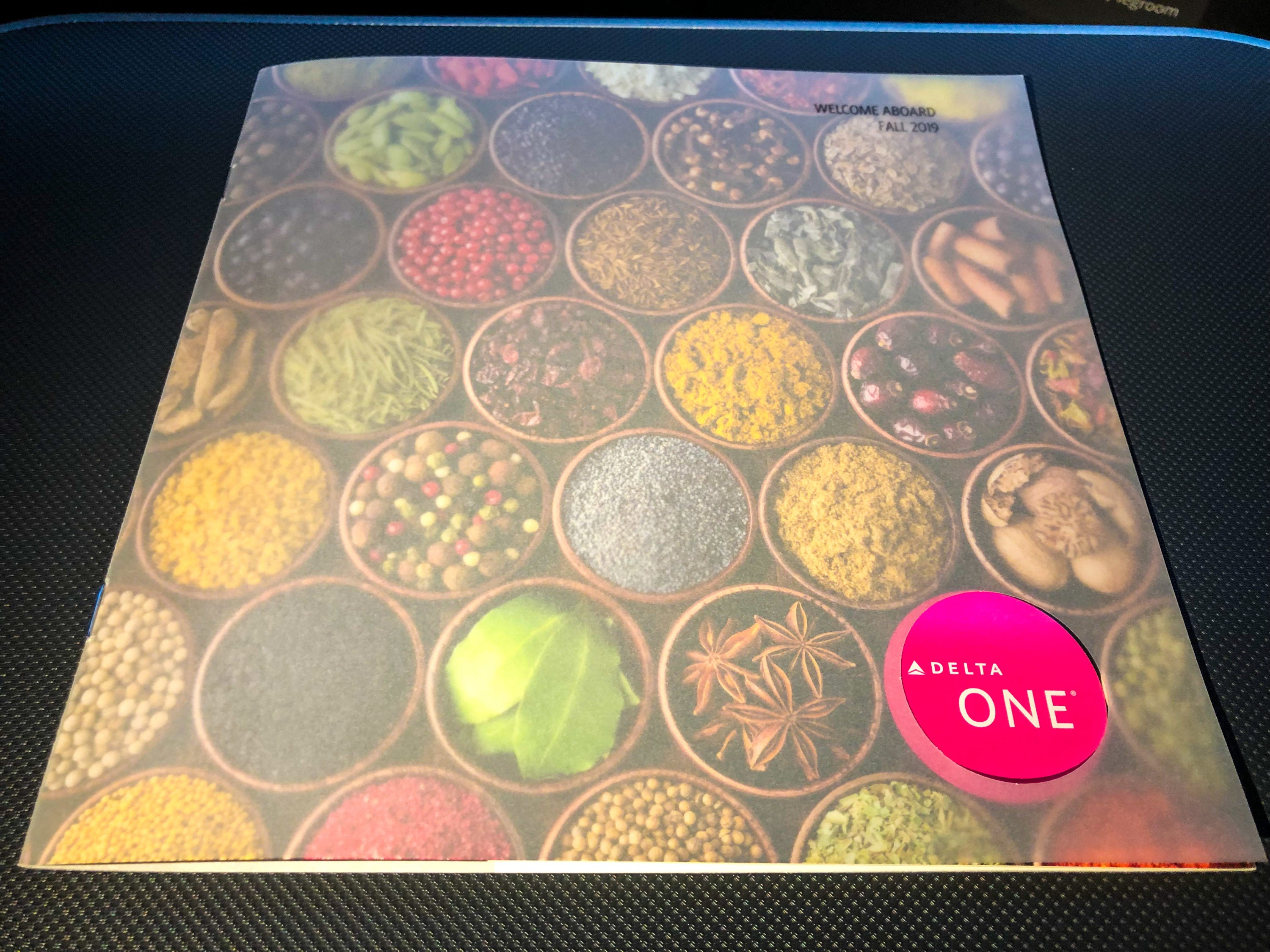 Delta's catering on routes to/from China is headed by Jereme Leung, a celebrity chef at the iconic Raffles Hotel Singapore.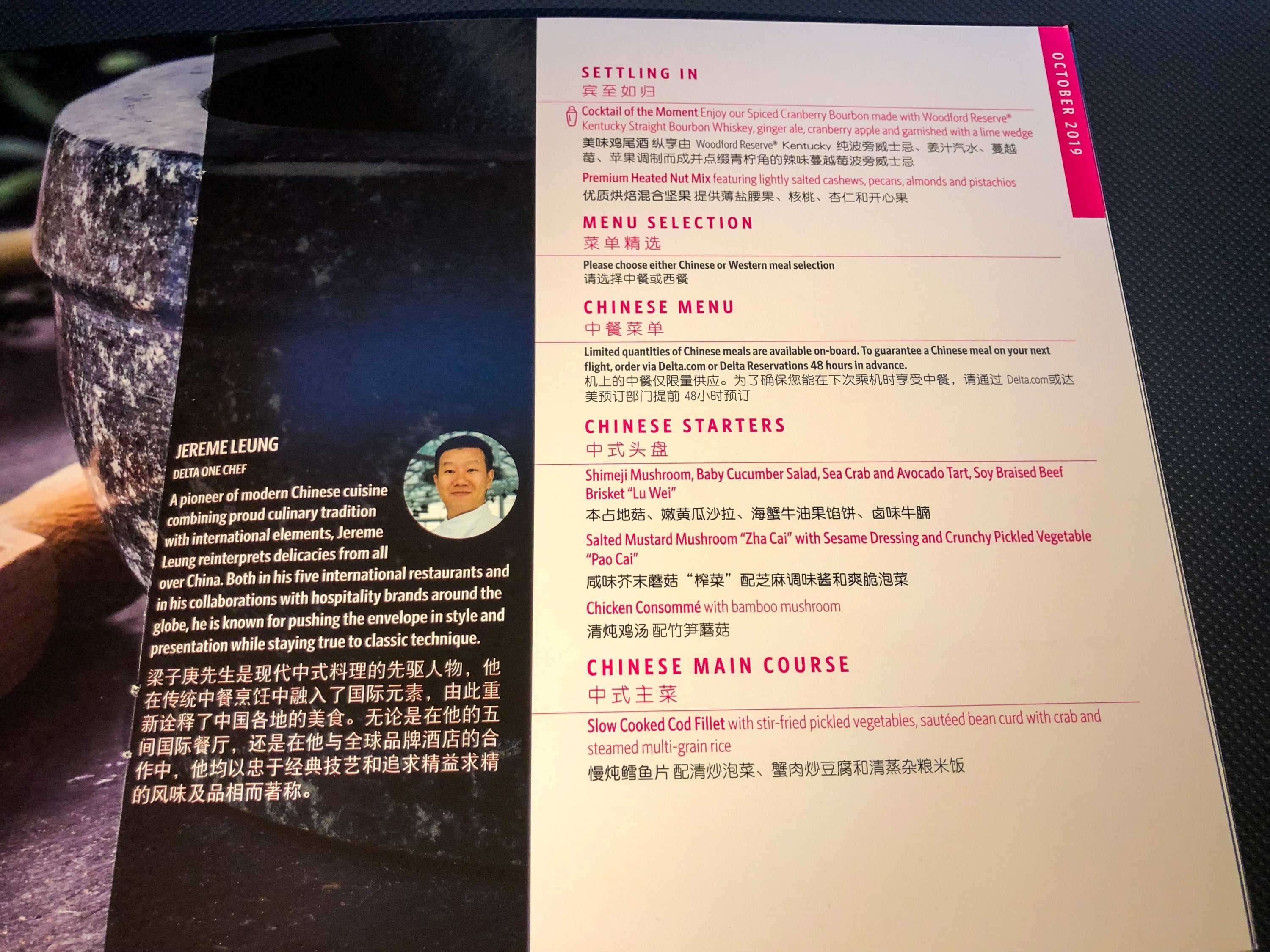 If you chose the Chinese menu, you would feast on a number of traditional courses, which is what I ended up opting for.
For Western choices, you'd start with:
Mustard-crusted beef with roasted onion and marinated asparagus
Autumn salad with pumpkin, orange zest, toasted pumpkin seeds, and sesame dressing
Cream of potato soup with roasted red peppers and parsley
And you'd follow with a choice of main courses:
Grilled beef tenderloin with port wine reduction, Parmesan mashed potatoes, sauteed snap peas, peppers, and mushrooms
Barbeque "Kinsodori" chicken breast with squash puree and harissa-spiced vegetables
Prawns Provencal with orecchiette pasta and broccoli
Tomato basil penne pasta with kale, Kalamata olives, and Ricotta cheese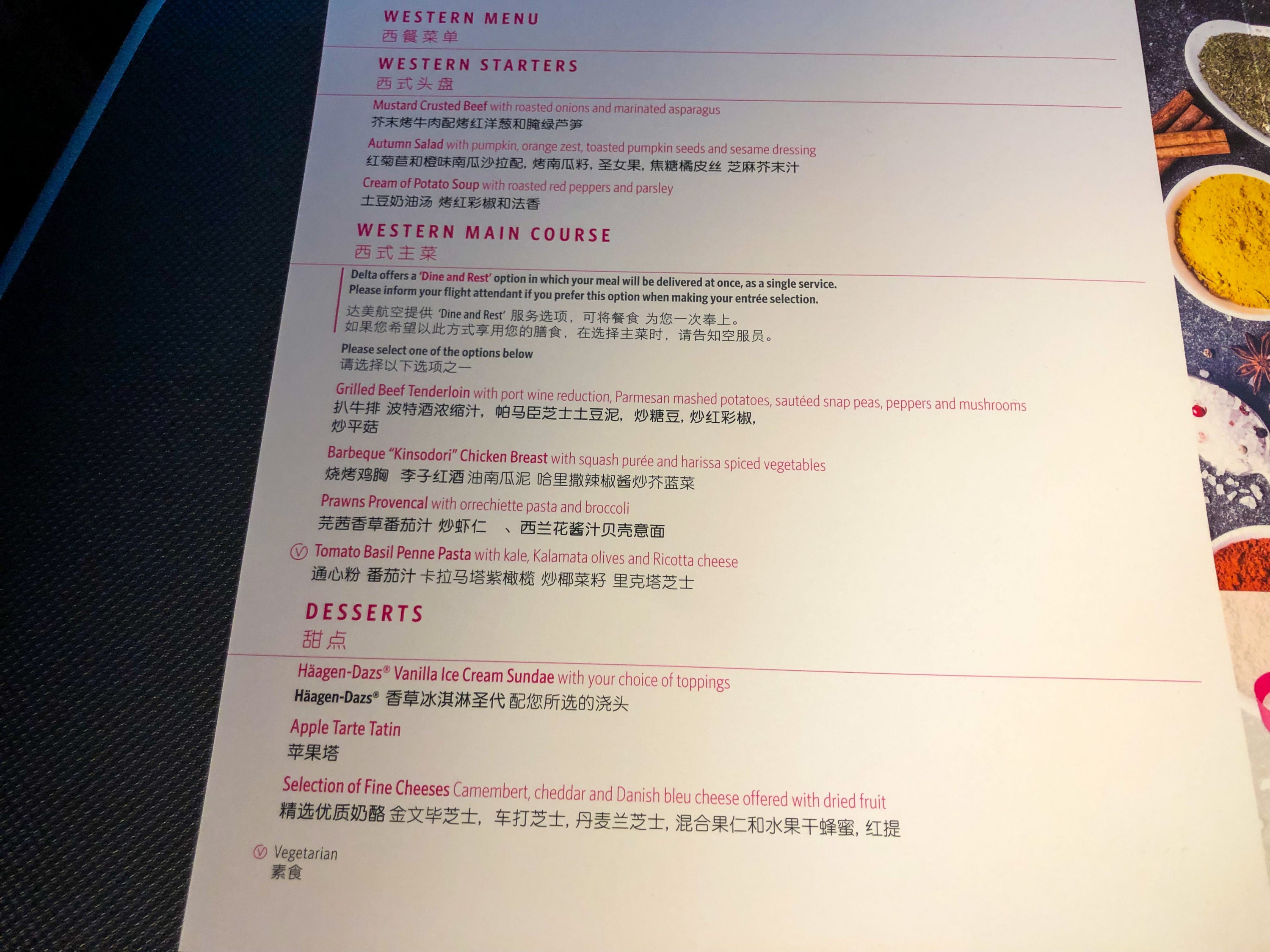 The menu continued on with snacks and a pre-landing meal. Choose your snacks:
Skybreak brisket, a variety of sweet and savory snacks
Portobello mushroom burger on a brioche bun with provolone cheese and potato salad
Dim sum — pumpkin bun with potato filling, vegetable dumpling, and barbecue fluffy dumpling served with fresh fruit
And your breakfast would be between:
Mushroom frittata with tomato confit and chicken sausage
Granola cereal with yogurt
Pork wonton with egg, Chinese pickles, and bok choy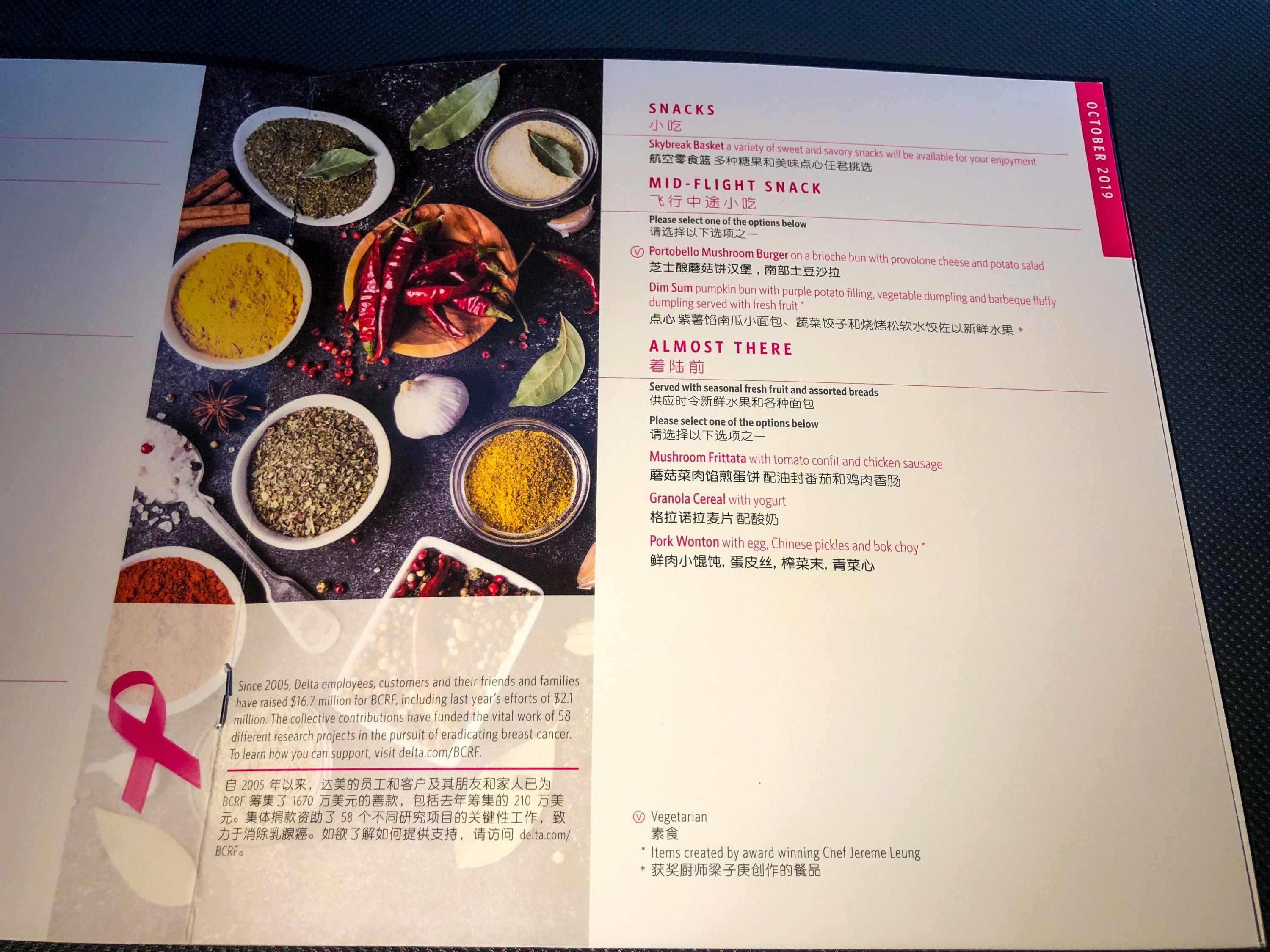 There was also an assortment of alcoholic and non-alcoholic drinks on offer.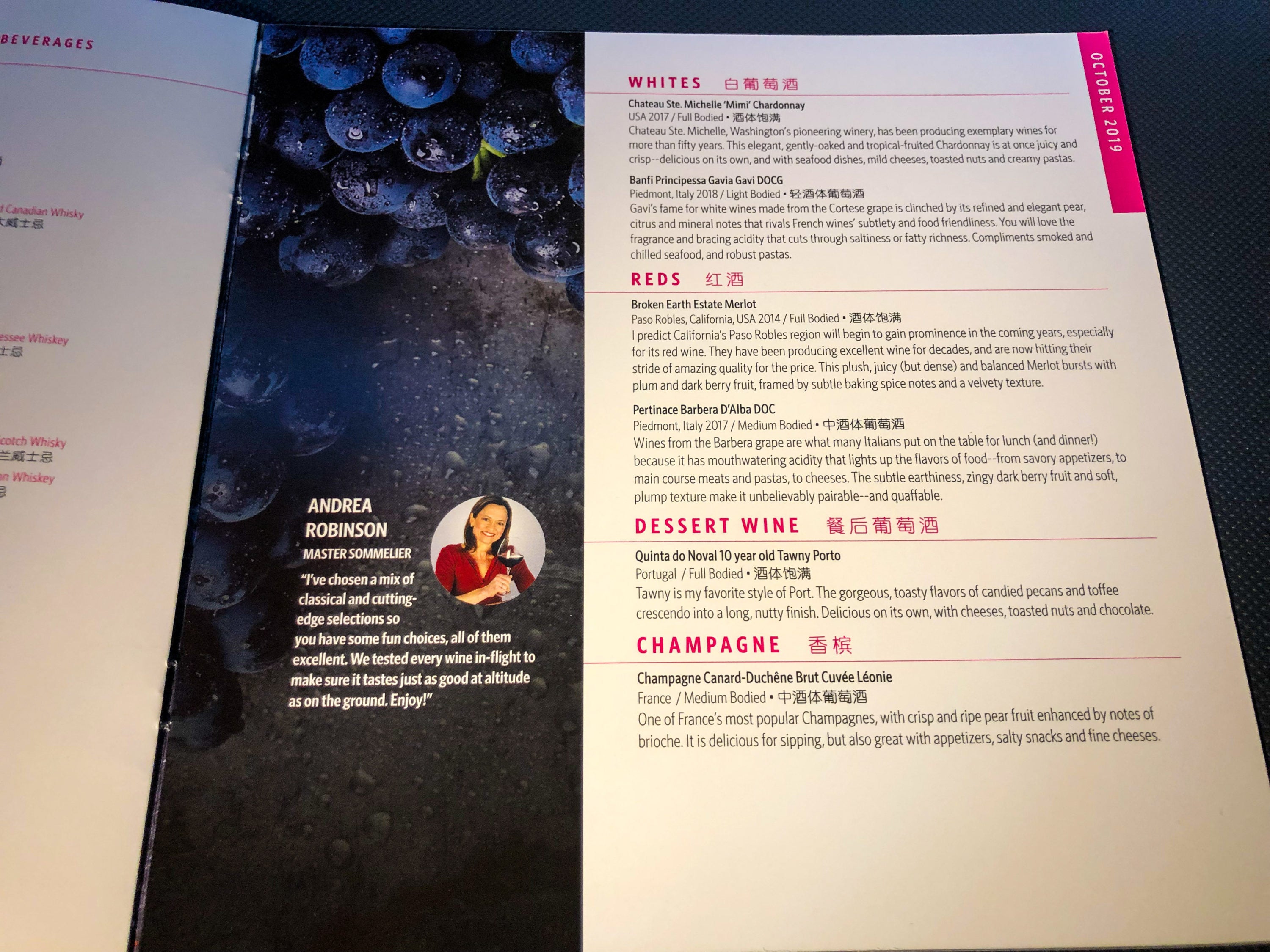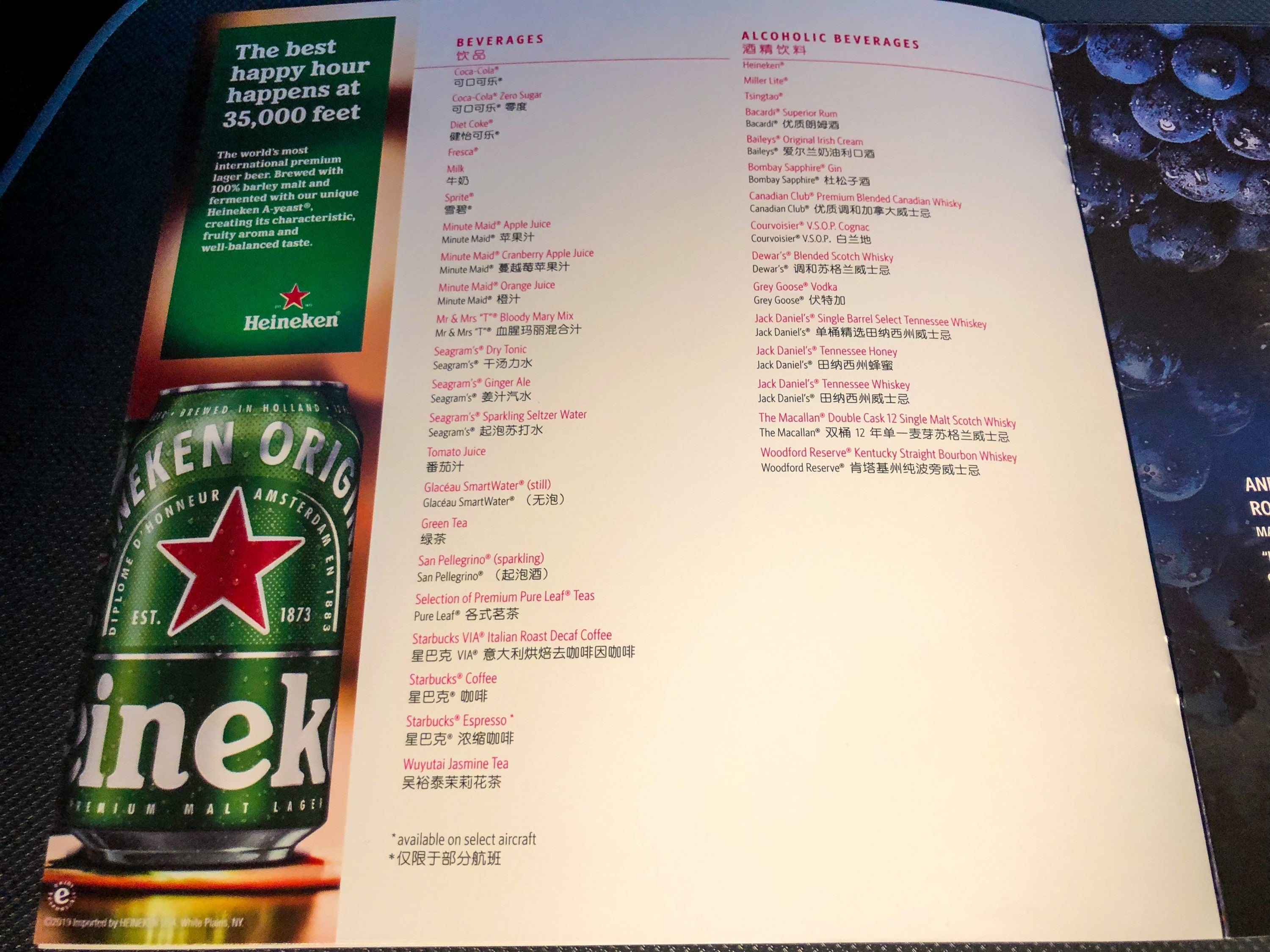 To kick off the flight, I ordered Delta's signature drink, known as the "Cocktail of the Moment." It consisted of spiced cranberry bourbon made with Woodford Reserve Kentucky Straight Bourbon Whiskey, ginger ale, cranberry apple, and a lime wedge.
The cocktail was delicious, and I enjoyed some warm nuts while sipping on the drink.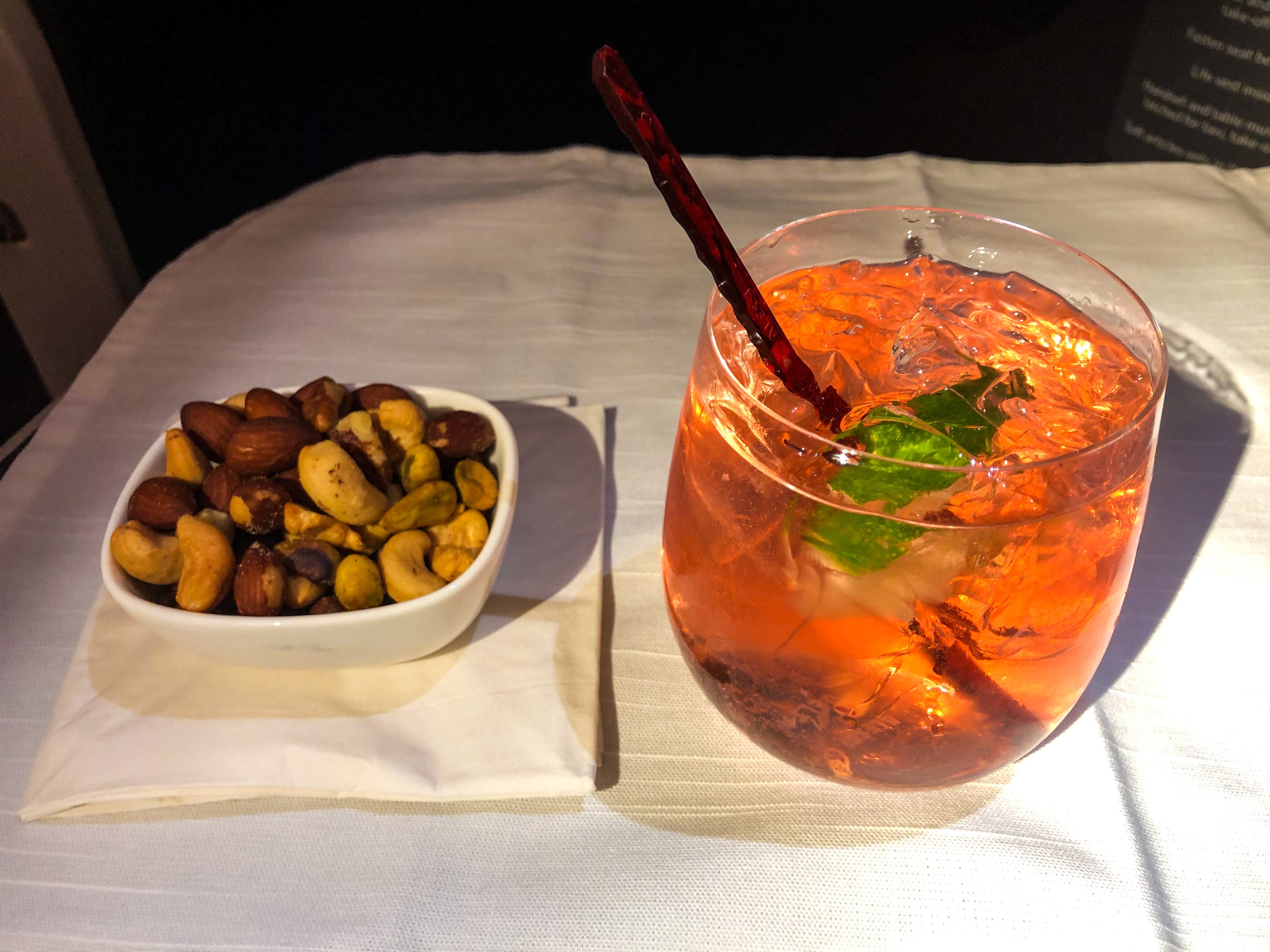 As mentioned above, I opted for the Chinese courses, and I managed to get the last one available. This was quite shocking, seeing as how there were only a total of 9 passengers in business class.
Hot Tip: Some signature meals require you to reserve them in advance. On this flight, you had to reserve the Chinese course 48-hours in advance! If you don't, you may find yourself out of luck. 
In any case, I started off with:
Center: Shimeji mushroom, baby cucumber salad, sea crab and avocado tart, soy-braised beef brisket "Lu Wei" (滷味)
Top-left: Salted mustard mushroom "Zha Cai" (榨菜) with sesame dressing and crunchy pickled vegetable "Pao Cai" (泡菜)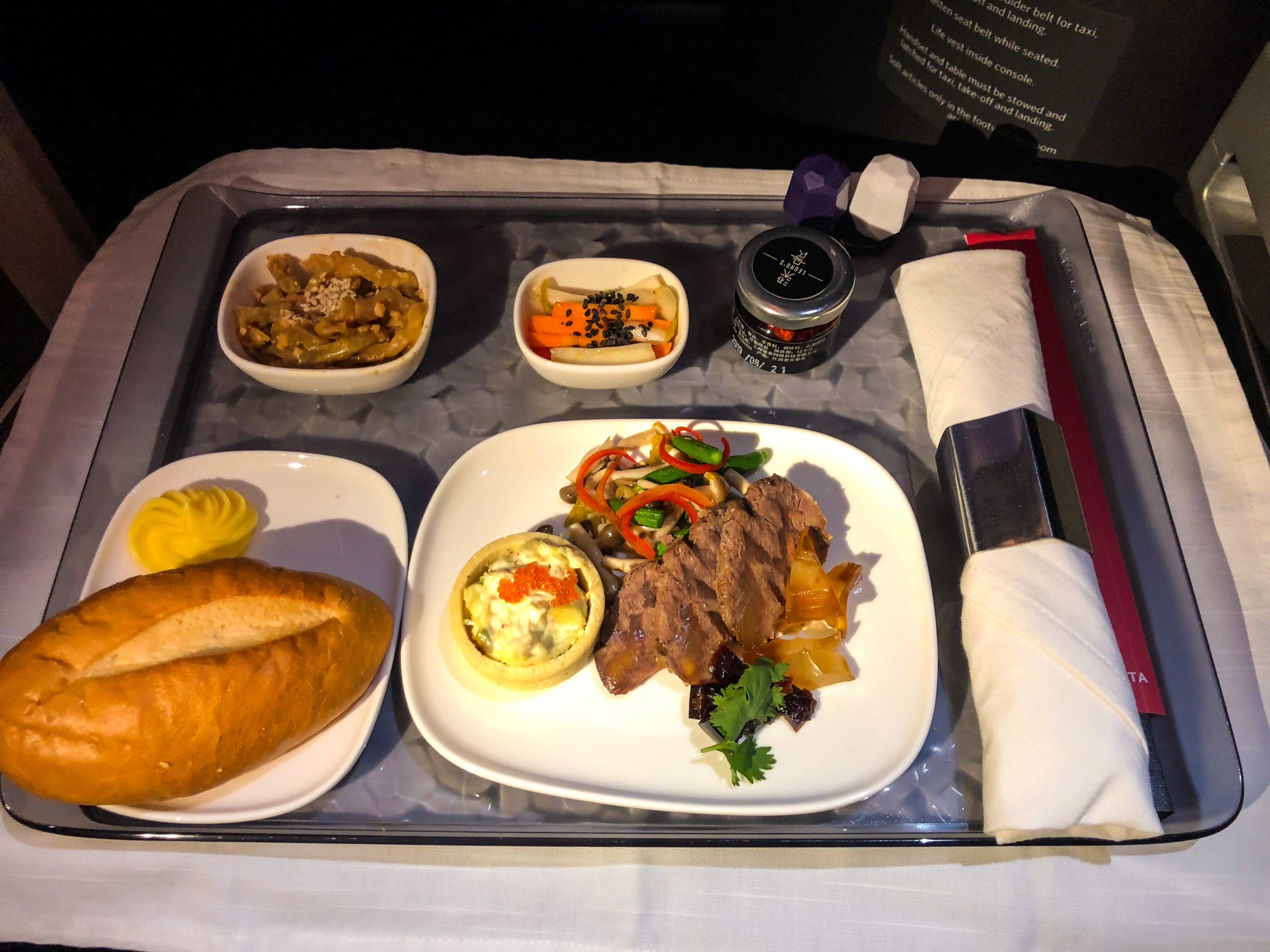 I was also served a chicken consommé with bamboo mushroom: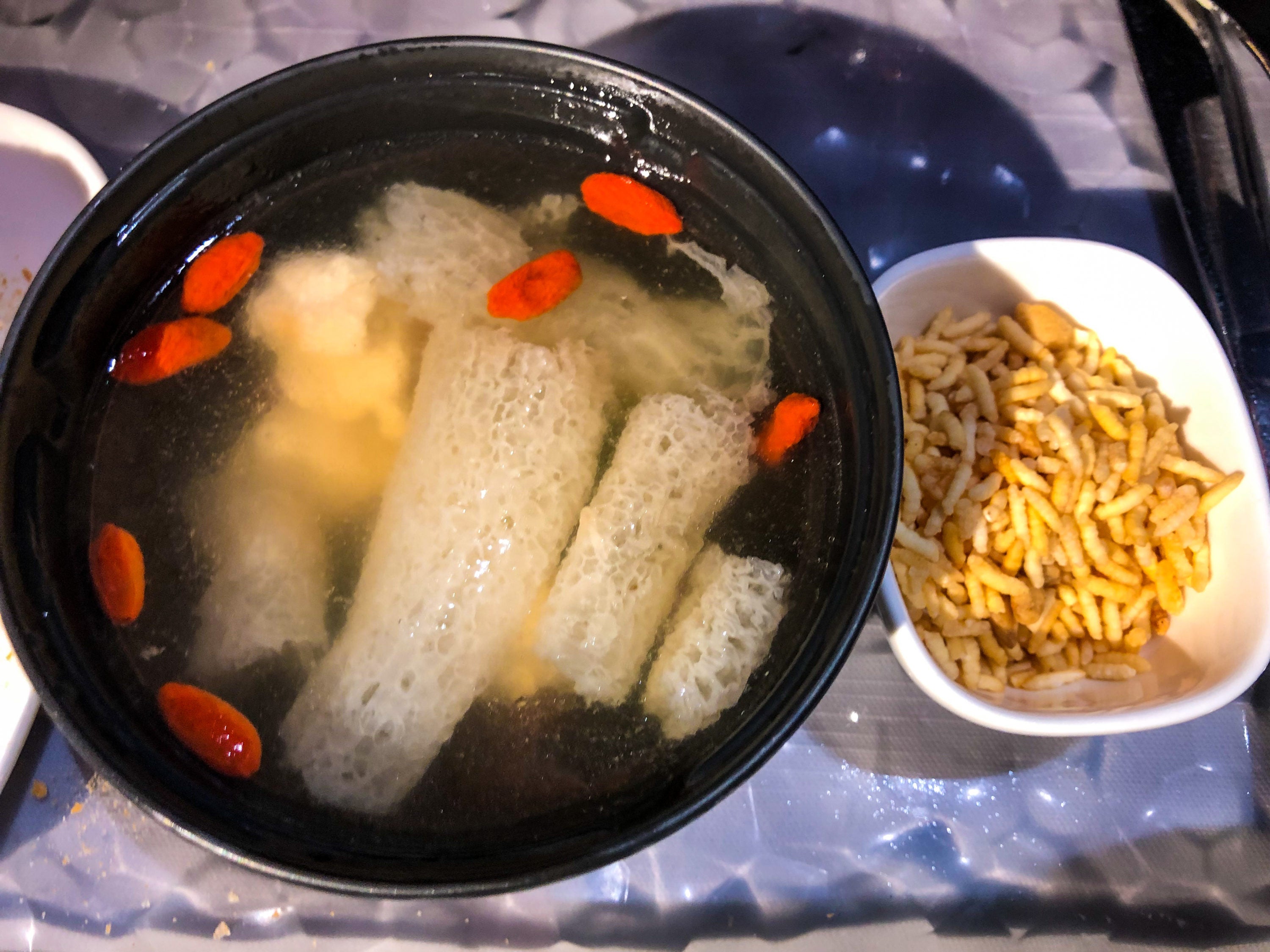 The main course was a slow-cooked cod fillet with stir-fried pickled vegetables, sautéed bean curd with crab and steamed multi-grain rice, which was absolutely delicious.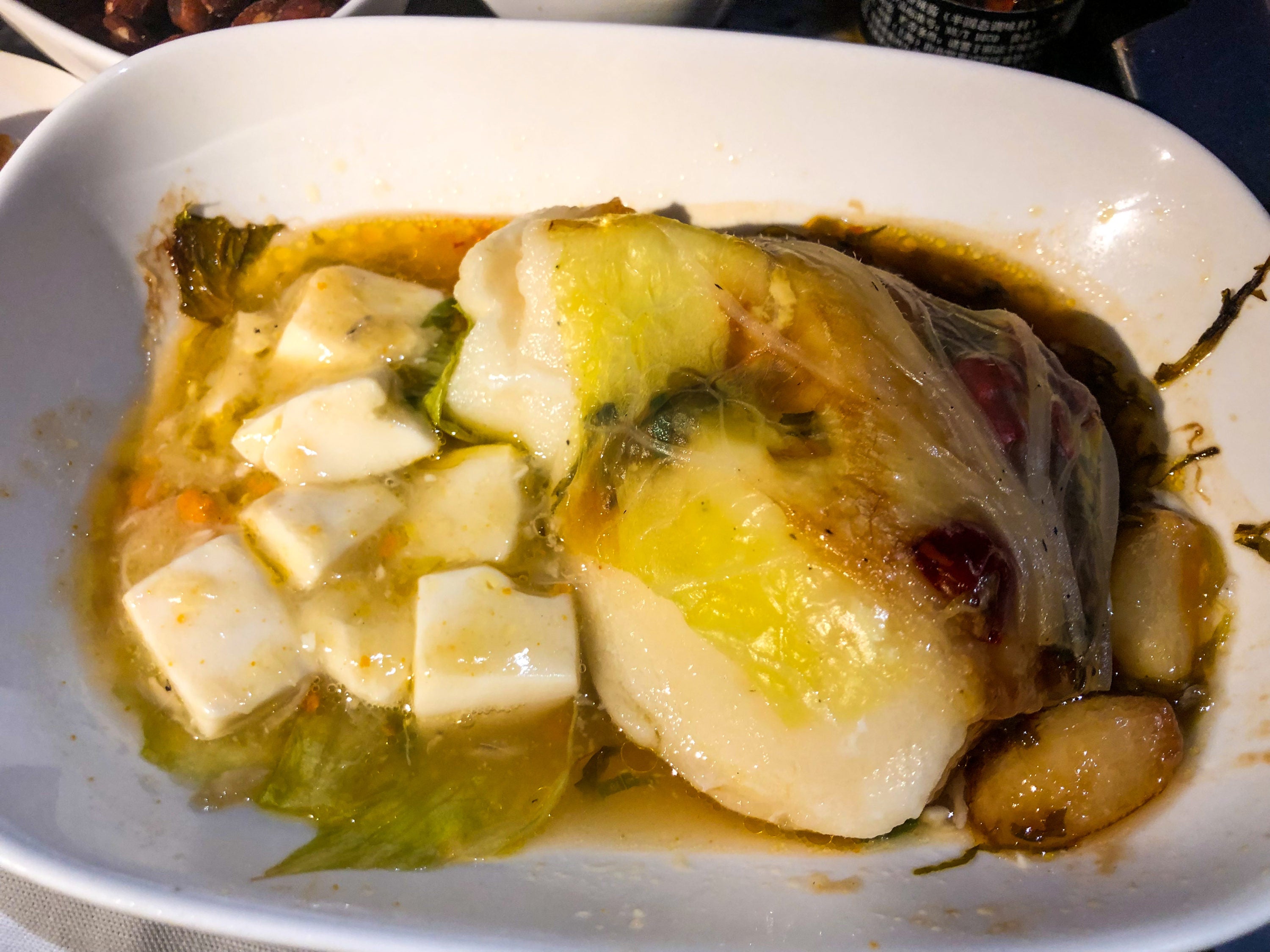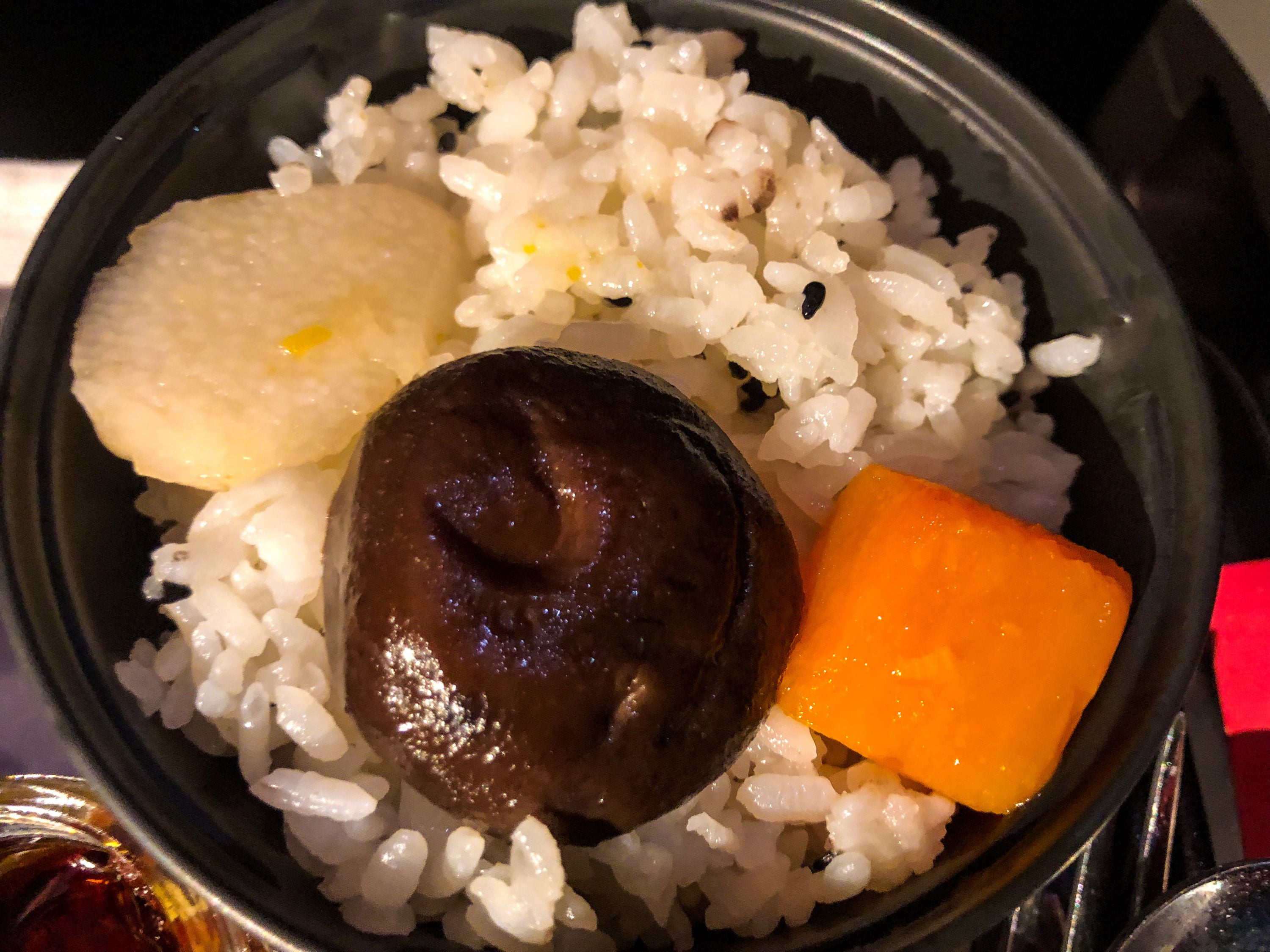 After that, dessert was served. Our flight attendants went down the aisle with a large cart containing wines, cheeses, fruits, and other treats.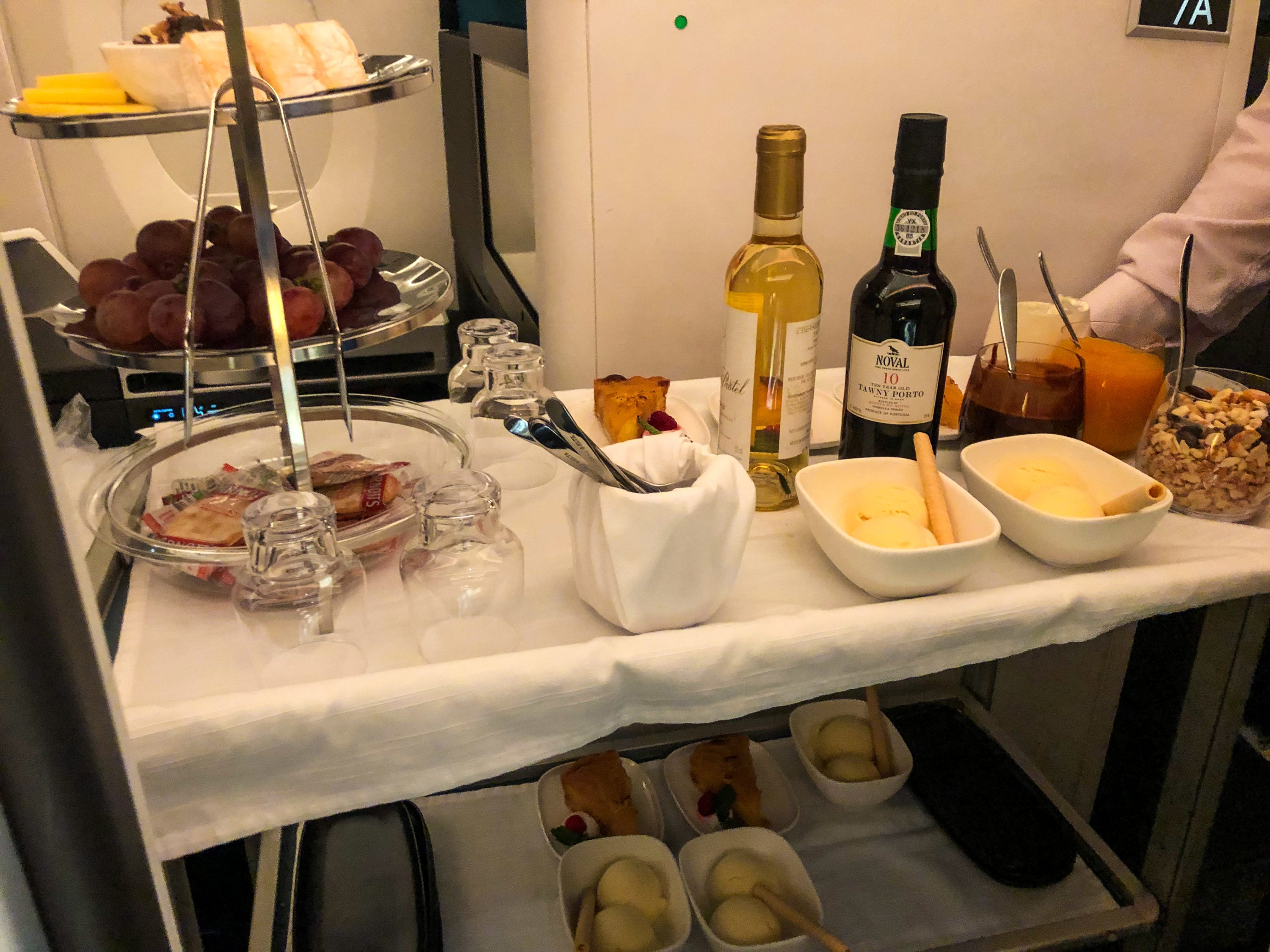 I opted for a Häagen-Dazs® vanilla ice cream sundae, complete with chocolate and tangerine syrup, various nuts, and topped off with a wafer.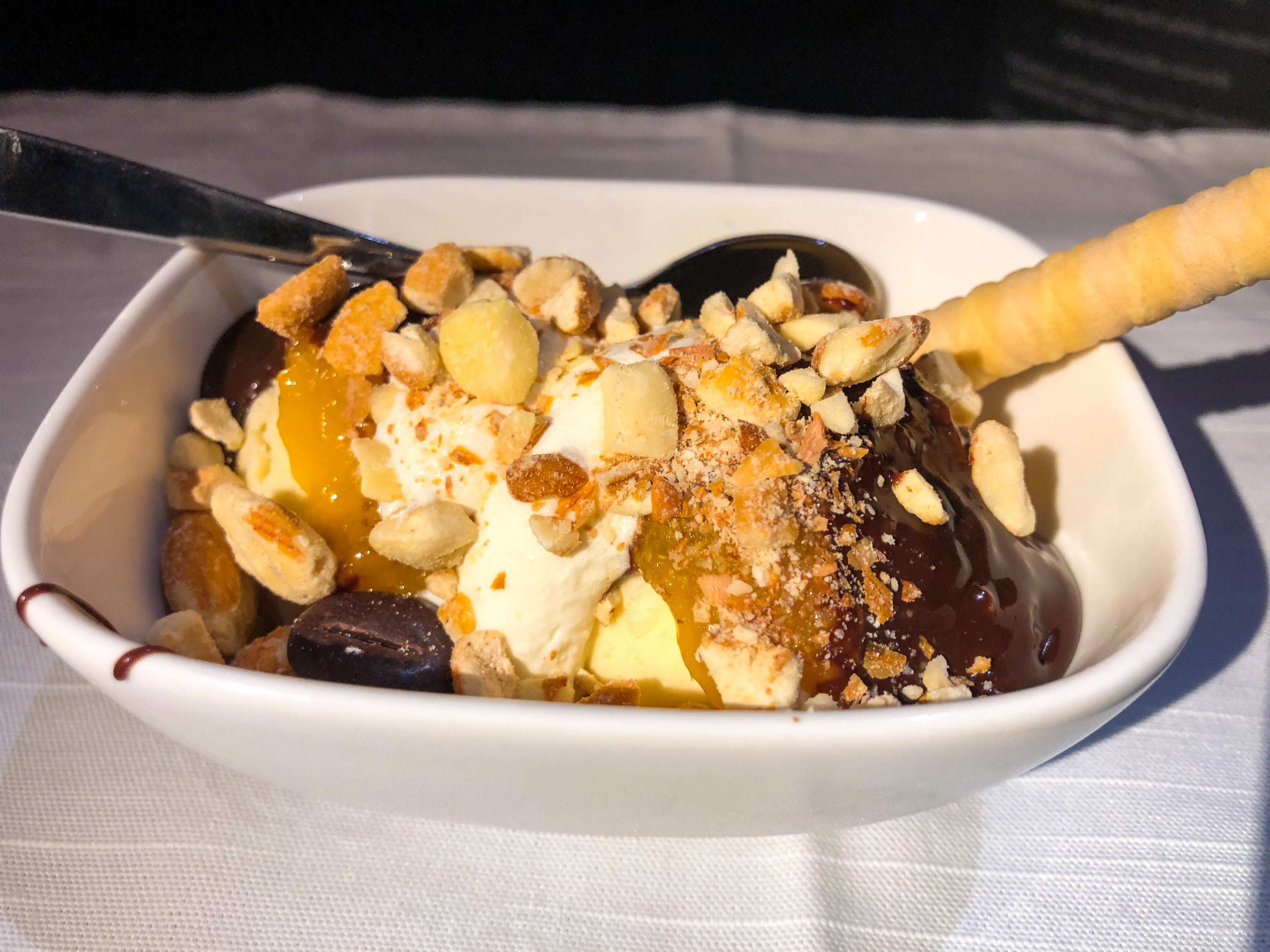 If ice cream is not your thing, you could also pick between:
An apple tarte Tatin
Selection of fine cheese including Camembert, cheddar, and Danish bleu cheese paired with dried fruits
After all the courses were served, I was handed another Evian water bottle to keep hydrated.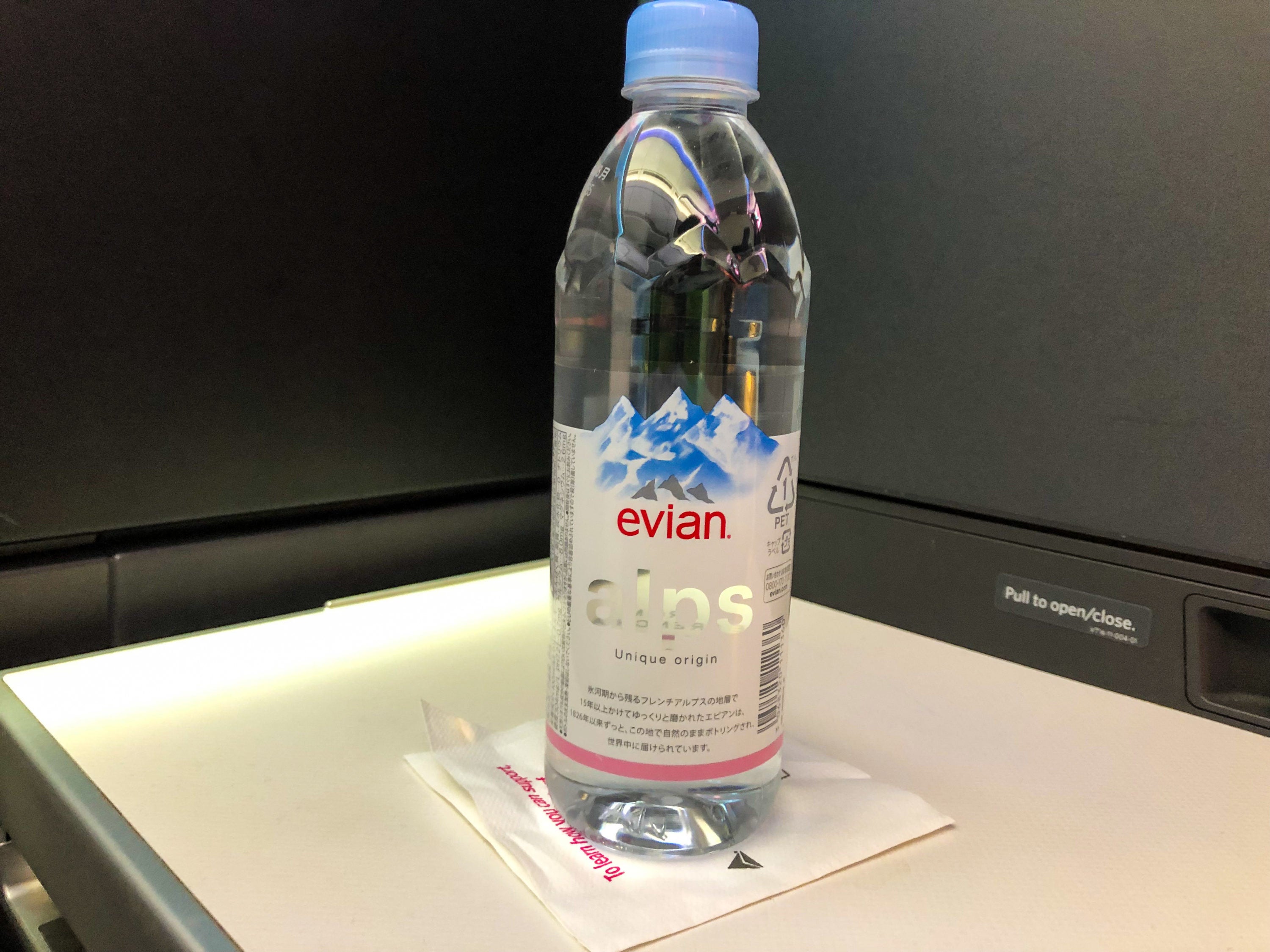 When I woke up for breakfast, I was feeling extremely dry, so I immediately chugged the bottle of Evian. In addition, I requested a cup of hot tea.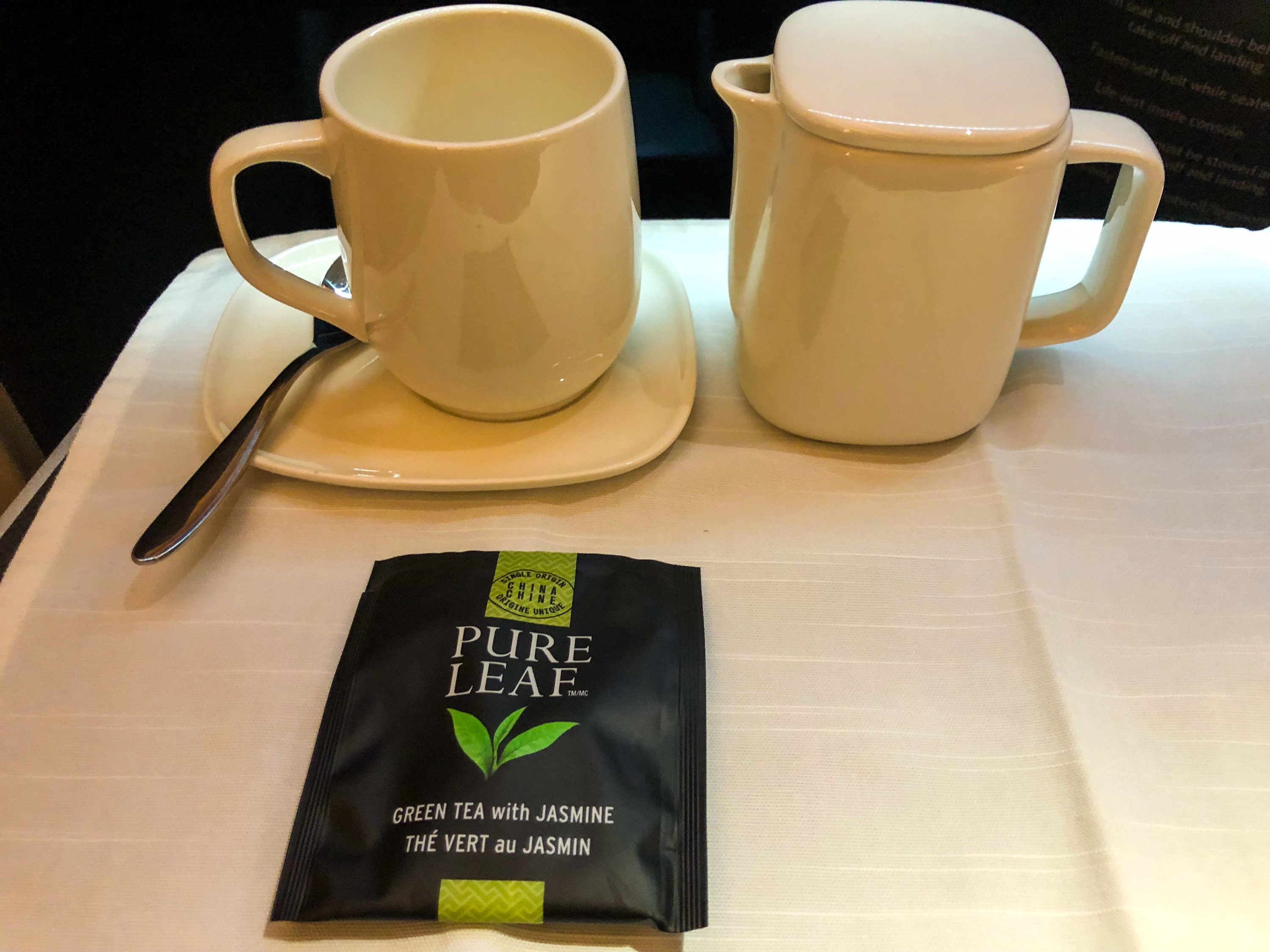 Delta offers Pure Leaf tea, and I ended up getting the green tea with jasmine.
I ordered the mushroom frittata, which was very tasty as well.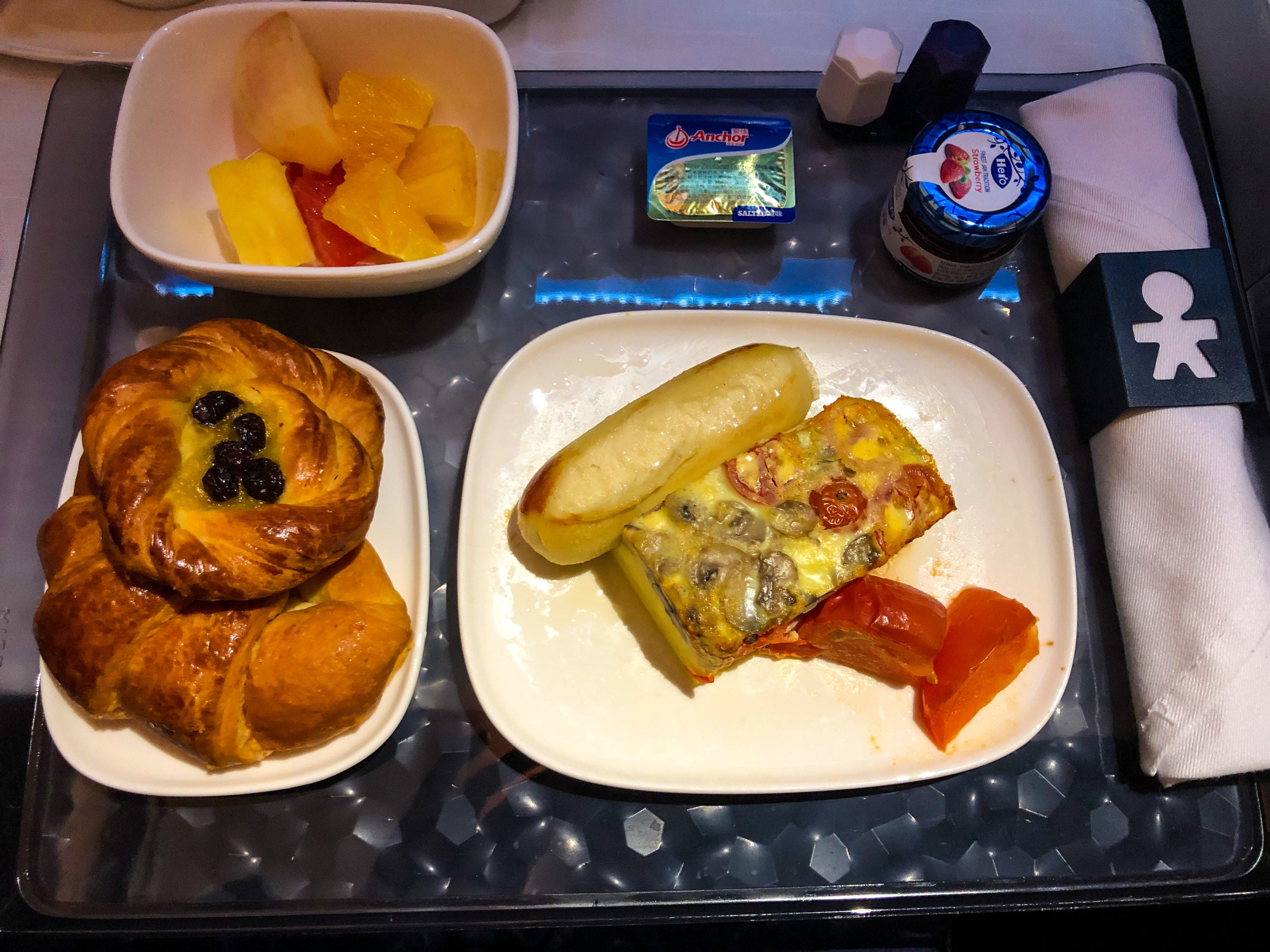 The breakfast came with an assortment of bread, and I picked a croissant and raisin pastry.
I closed out the meal service with some fresh fruit, including pineapple, watermelon, grapefruit, and apple.
Bottom Line: The meal service I had on this flight was excellent. I never expected a U.S. carrier to pull off Chinese food well, but I was left impressed with the selection that I got, particularly the cod fillet. The only concern was that on a flight with less than 30% occupancy, I received the last Chinese set menu. 
Entertainment and Service
If I had to characterize Delta's service, I'd say that it was fun. The crew were all extremely casual and light-hearted. I personally found this to be a refreshing take on airplane service, though it might not be for everyone.
Waiting at my seat was a handwritten welcome card, which was a nice touch.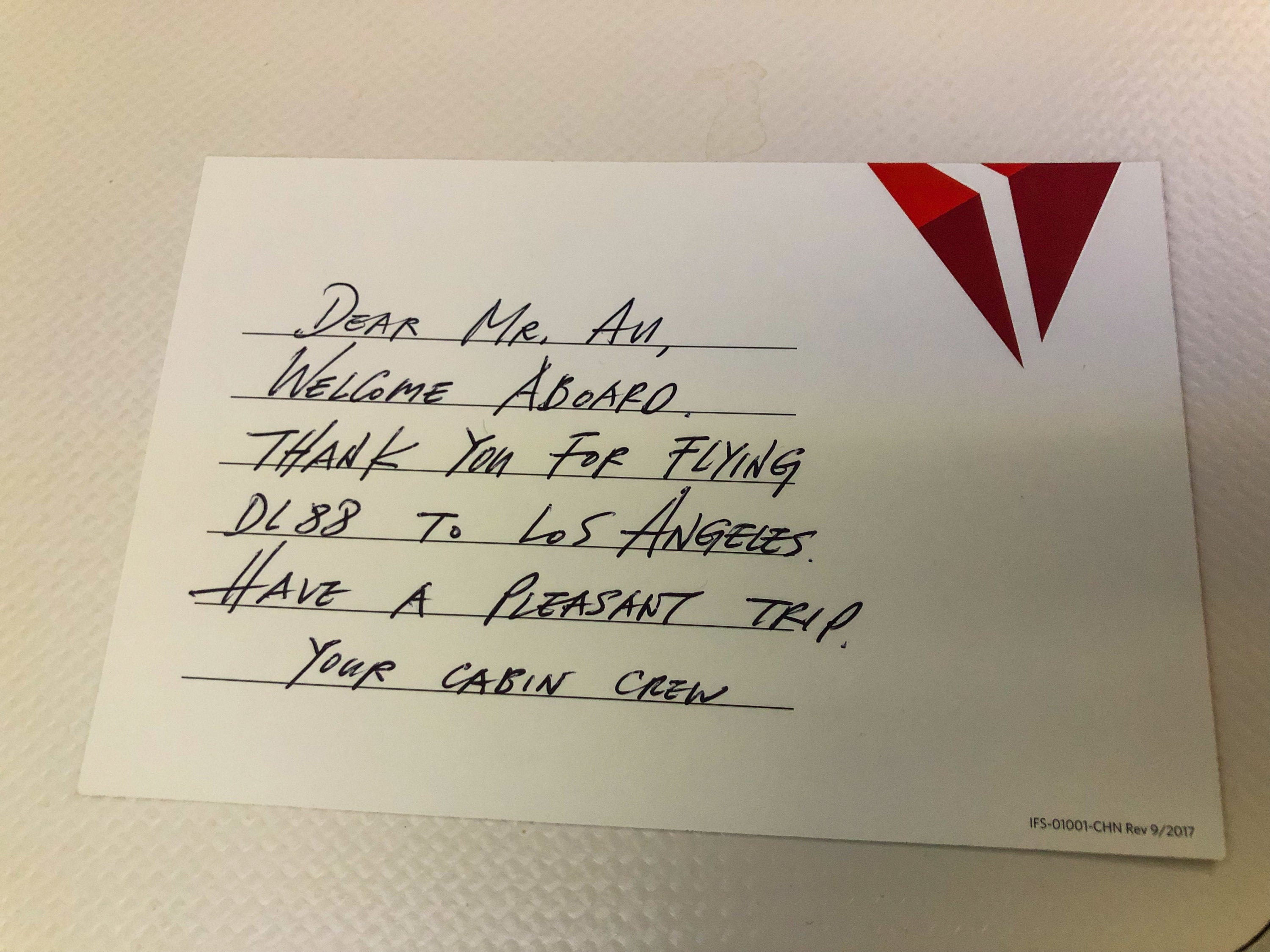 The inflight entertainment selection was varied and substantial, ranging from major Hollywood releases like John Wick 3 and Avengers: Endgame, as well as foreign classics.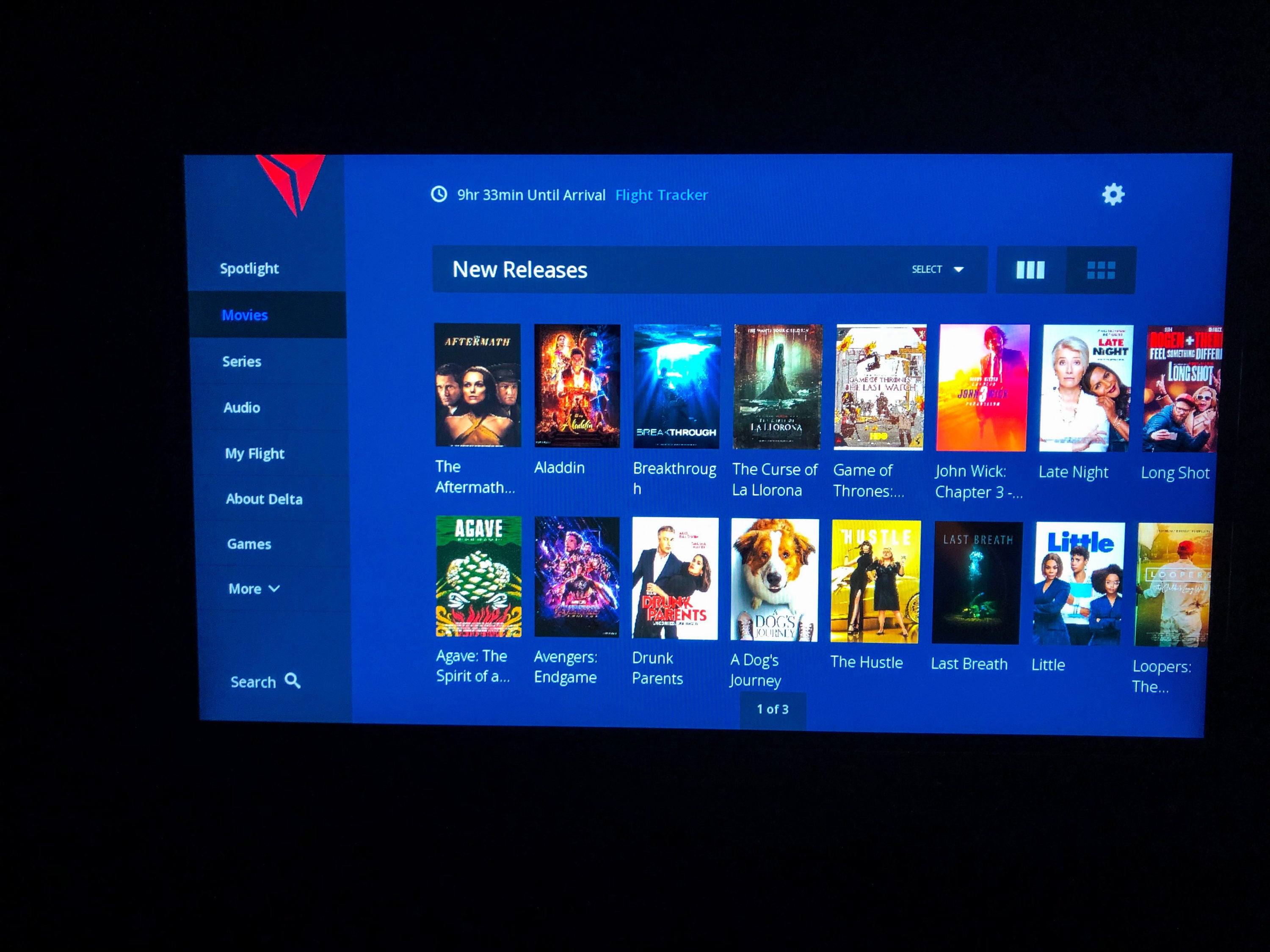 In addition, there were plenty of television series available for binging, like The Walking Dead, Grey's Anatomy, and Hawaii Five-O.
The flight attendants and pursers were so hospitable, fun to talk to, and clearly competent. In fact, I would describe this particular crew as representative of the most senior and top performers in the entire company.
From the moment we stepped onto the plane until we stepped off the plane, we were taken care of. The fact that the cabin was less than 30% full was a blessing and meant that service would be that much more intimate.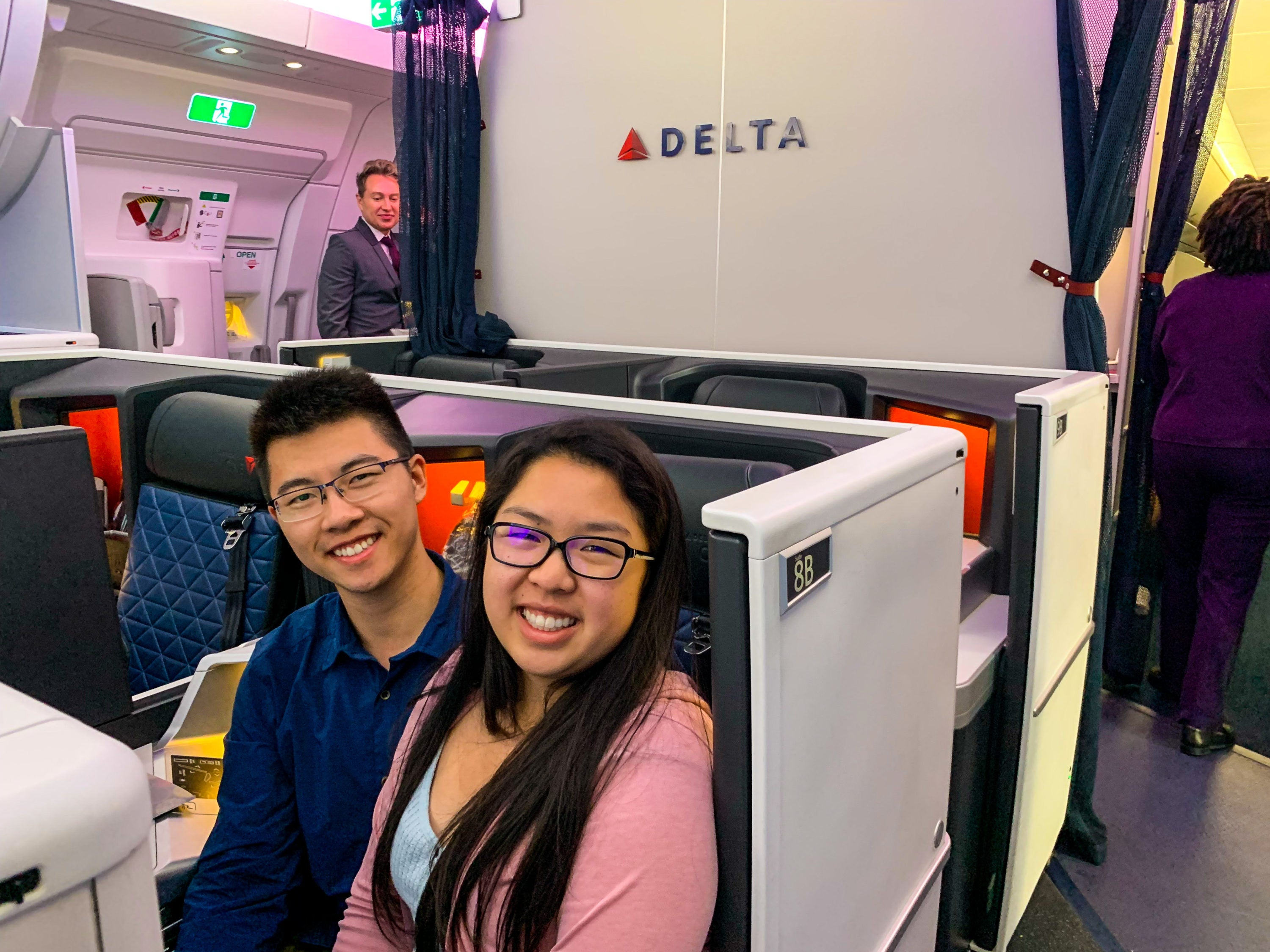 Bottom Line: The service we experienced on Delta One Suites can be best described as cheerful. We found all of the staff to be incredibly competent yet casual and provided a rare perspective of how fun airline service can be. At every point in time on the flight, Delta was taking excellent care of us. 
Final Thoughts
This was our first time taking a long-haul flight in a U.S. carrier's business class cabin. We snagged these flights for 47,000 points plus around $60 in taxes and fees, and it ended up being a killer deal.
Delta One Suites are a beautiful business class product, with highlights being the privacy of the enclosed suites, the wonderful service, the plentiful amenities, and the delicious food.
Delta One Suites set the standard for a technologically advanced airline product, and Delta's staff does the same for U.S. hospitality aboard a plane.
Best of all, this is a top product you can book using points to be fly to various places globally, whether it's Paris, China, Japan, or even Australia!