The Ultimate Guide to SeatGuru – Finding the Best Seat on the Plane
In the world of premium travel, particularly business and first class products, it's ever-so-important to get all the little things right. For international flights, most people simply book a ticket and that's it until the day of departure.
Well, road warriors know that this approach, while stress-free, is not ideal for seat optimization. Simply put, if you don't figure out where to sit in your plane, you may find yourself in an unpleasant seat.
But how do you figure out where to sit? For those who have followed our slew of posts detailing plane routes, types, and best seats, you'll notice that we use 1 resource time and time again: SeatGuru.
SeatGuru is a travel website that is known primarily for its comprehensive database of plane types and seat maps. This TripAdvisor company, as we'll find out later, is literally one of the most useful aviation resources you can use. So, buckle up and let's get into the weeds about SeatGuru.
The History of SeatGuru
SeatGuru was founded in 2001 by computer engineer, entrepreneur, and real estate CEO Matthew Daimler. The initial premise of SeatGuru was simple: mark good seats green, bad seats red, and "be aware" seats yellow.
SeatGuru was single-handedly responsible for aggregating over 1,250 aircraft seat maps across more than 160 different airlines, both major and minor. In 2003, SeatGuru began a monetization campaign for its website traffic. Nearly 4 years later, SeatGuru was bought by Expedia and spun off with TripAdvisor.
Today, SeatGuru is one of the quintessential resources that frequent flyers and points travelers use to optimize their seats.
Why is SeatGuru Useful?
SeatGuru is a website that enables travelers to see their plane layouts and configurations before walking onto it. Best of all, SeatGuru is a free service!
It is extraordinarily useful for providing you with an idea of the features of your aircraft and dimensions of your seat. Let's take a look at some of the features that SeatGuru offers.
Find Your Seat Map
One of the most important aspects of SeatGuru is the ability to find your seat map. There are 2 ways to do so:
Input your airline, flight number, and date
Browse manually by airline and plane model
Most travelers are going to be interested in the first option, as they are laser-focused on finding their exact seat map on a plane ticket they already purchased. To get started, you'll want to visit the homepage, which might look like this: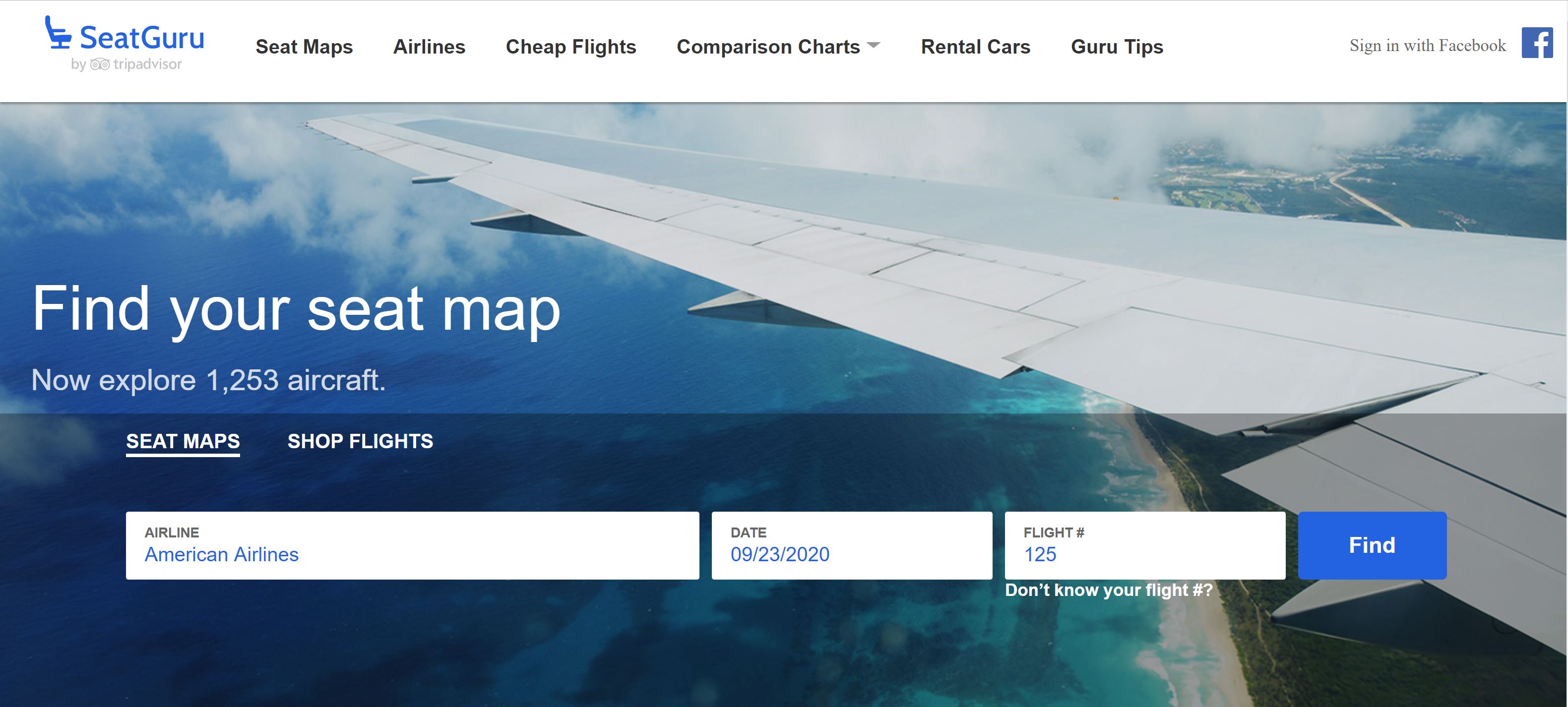 Once you're on the homepage, type in the airline, flight date, and flight number. After that, click Find. When the next site loads, scroll down to find the results, which might look like this:

After the results are populated, click the button that says View map. The exact seat map on your flight will load, as shown in the following image: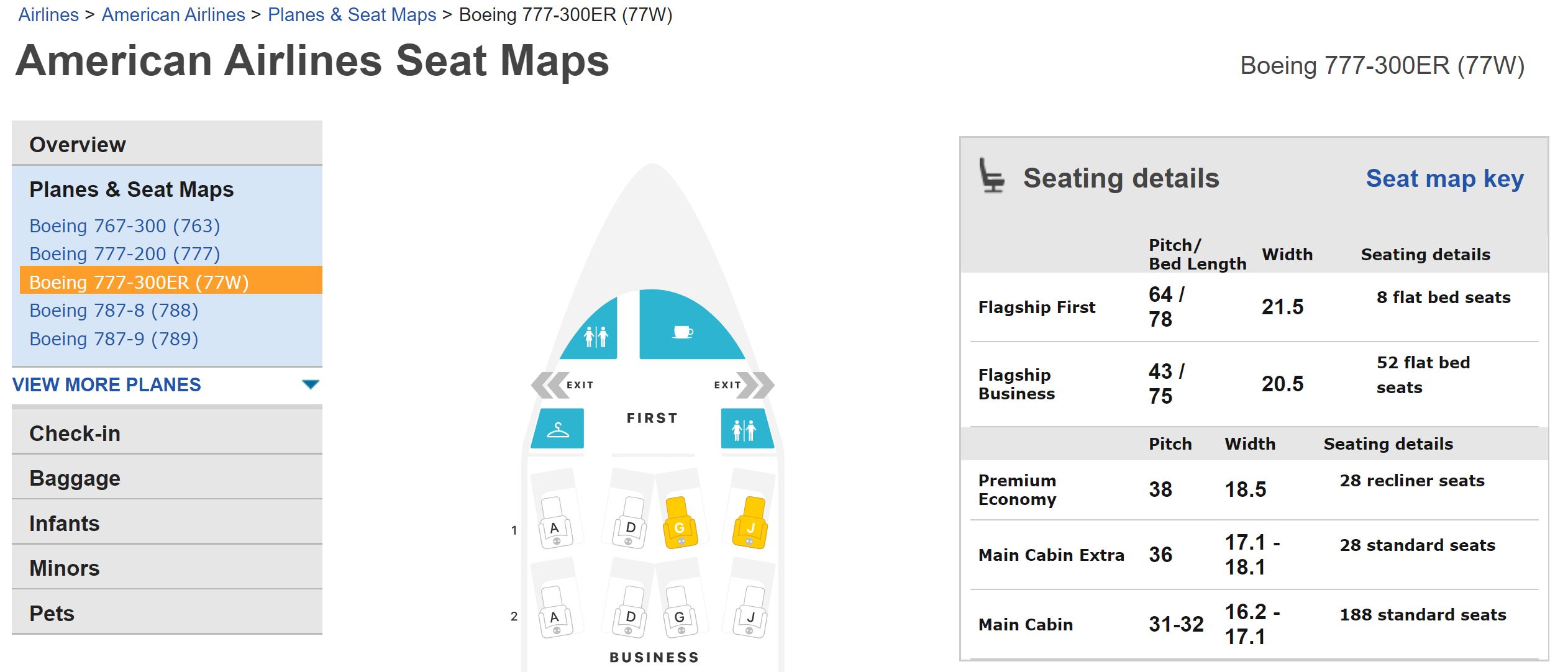 On the resulting page, you'll see a large amount of information. First, you'll see the plane type on the top-right side. In our case, we are looking at American Airlines' 777-300ER, also known as the 77W.
One of the most important elements of selecting the best seat is referencing the Seating details, which is the box on the right-hand side of the screen. In this box, you'll see:
Number of seats in each booking class
Seat pitch (how much legroom you have)
Seat width (how wide the seat is)
The seat type (open suite, closed suite, lie-flat, angle-flat, recliner, standard)
This feature is crucial because it gives you an idea of how big the seat is, along with how big the entire cabin class is. For comparison, here are the seat maps for the different class sections on American Airlines' 777-300ER: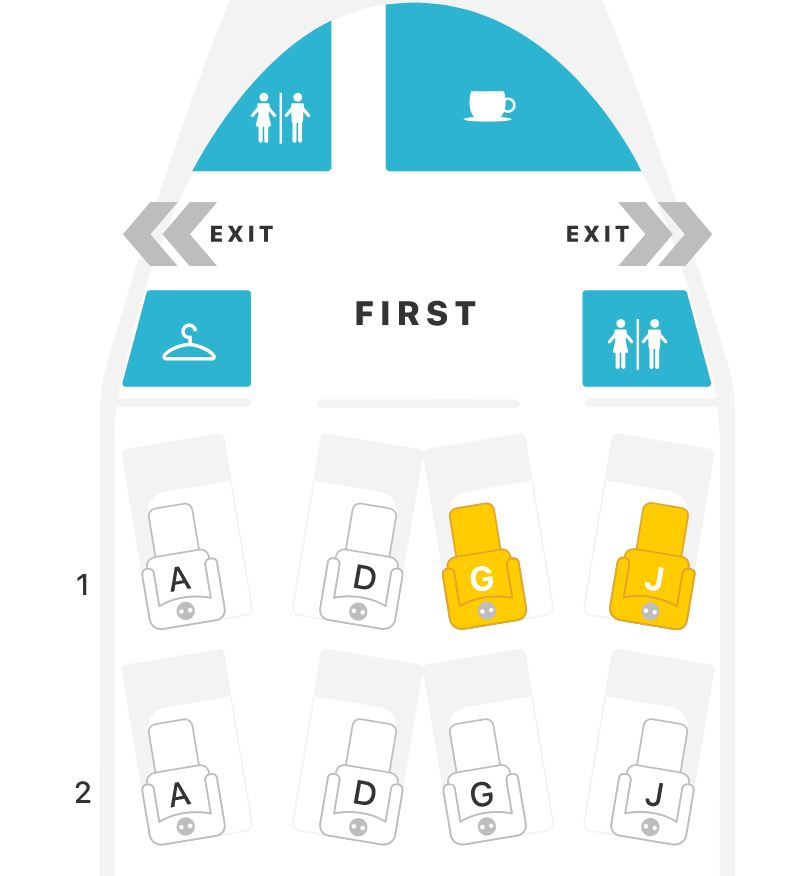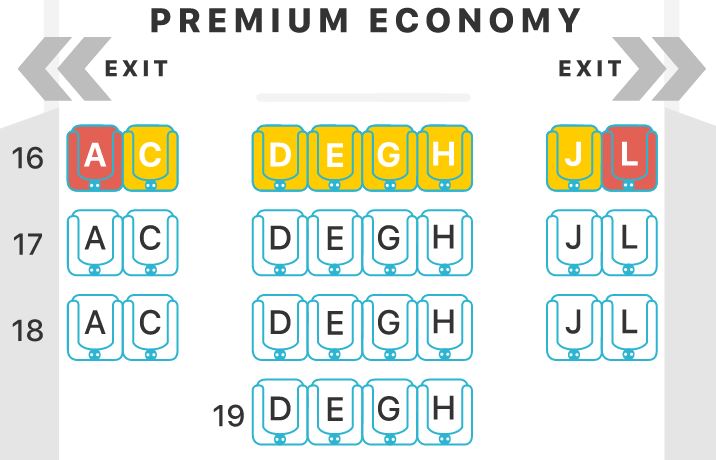 So, what do the colors mean? SeatGuru has a seat map key as follows: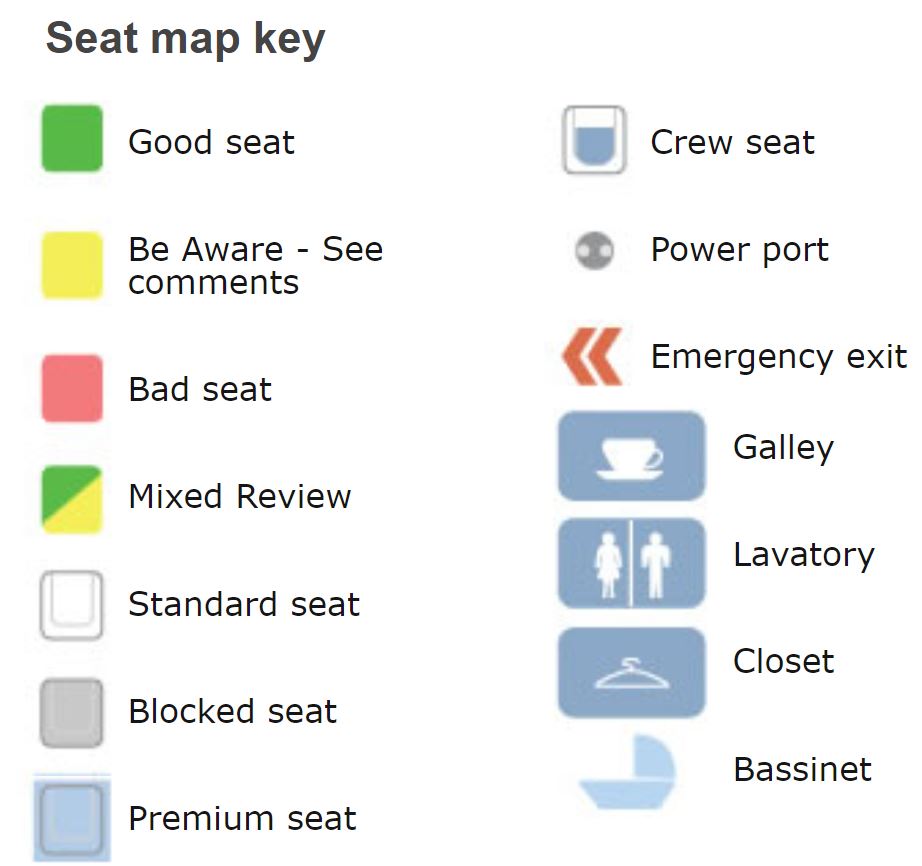 In simplest terms:
Good seats = green
Be aware seats = yellow

Be aware seats can be a number of things, from proximity to lavatories (noisier) to brightness from galley lights

Bad seats = red
You can find out more about any of the seats by hovering your mouse over the seat. For example, let's look at American Airlines' seat 1G in the first class cabin, which is a "Be aware" seat. This is what shows up: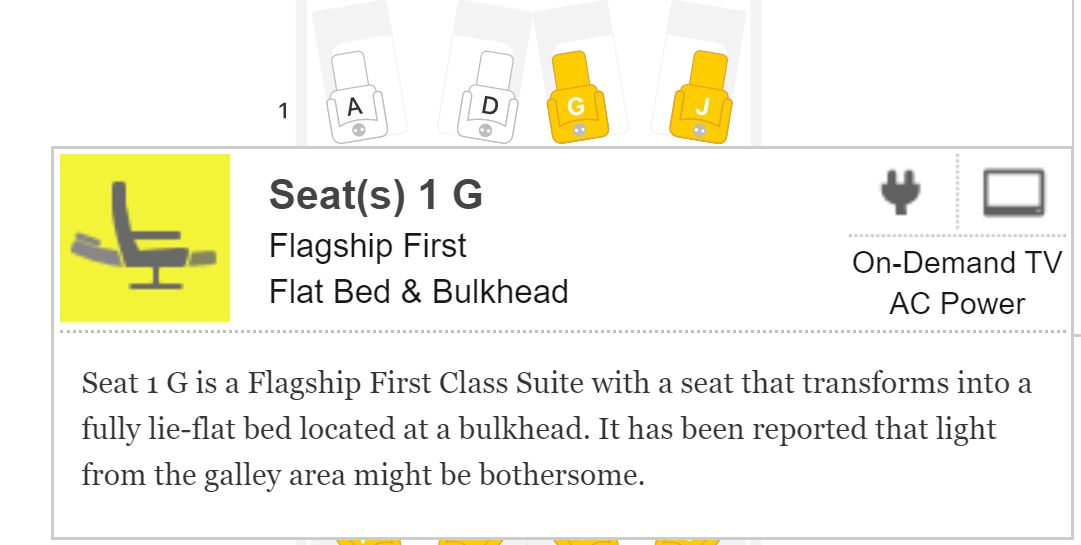 The details indicate that for this particular suite, "It has been reported that light from the galley area might be bothersome." The interpretation of this means that the suite is very close to the galley, almost too close. The light that shines from the galley area can impede the passenger's ability to sleep, for example, which results in the seat being color-coded yellow.
The level of detail SeatGuru places into each seat's description is phenomenal. As a result, there are so many useful insights you can gain from looking at your seat map on SeatGuru. You might have inadvertently chosen a seat that isn't ideal; looking up your seat map on SeatGuru empowers you with the information to change or keep your seat number.
Lastly, there's an area on the right side of the page that contains traveler photos, information on in-flight amenities, and even an overview of the specific aircraft you're looking at.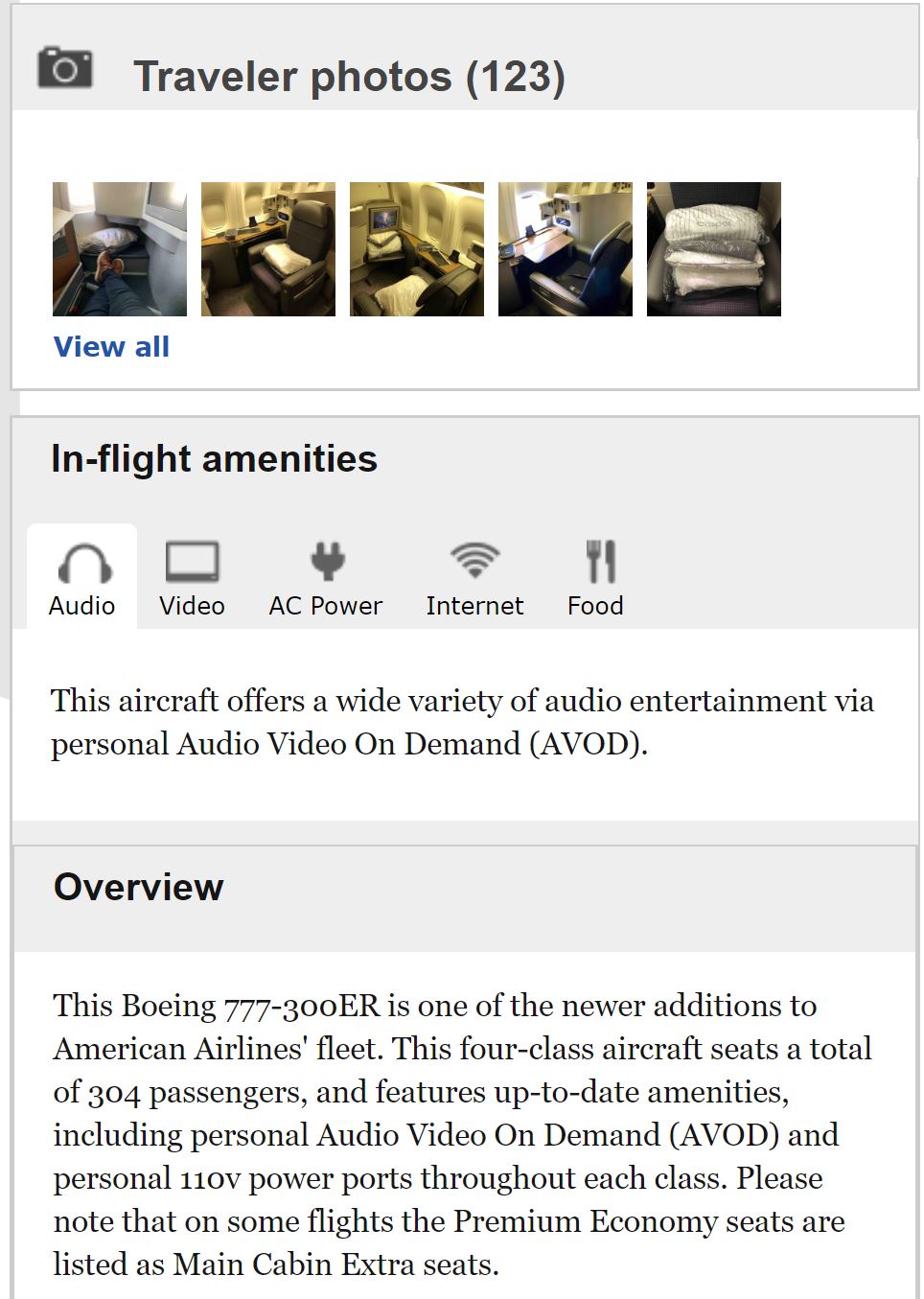 Bottom Line: Most travelers are going to be interested in selecting the best seat for the ticket they bought. One of the best ways to use SeatGuru is to look up your flight, study the seat map, and choose the seat that best fits your needs. The seat descriptions themselves are extremely detailed, and they're able to satisfy even the pickiest of travelers. 
Explore Airline Seat Maps
If you've already selected your favorite seat or are contemplating which flight you want to take, you can also explore airline seat maps using SeatGuru. To accomplish this, you can pick any airline you want from SeatGuru's homepage. You'll want to scroll down to look for your airline of choice.

For example, let's choose Qantas. Once you click on Qantas, you'll be directed to the overview of Qantas, as shown below.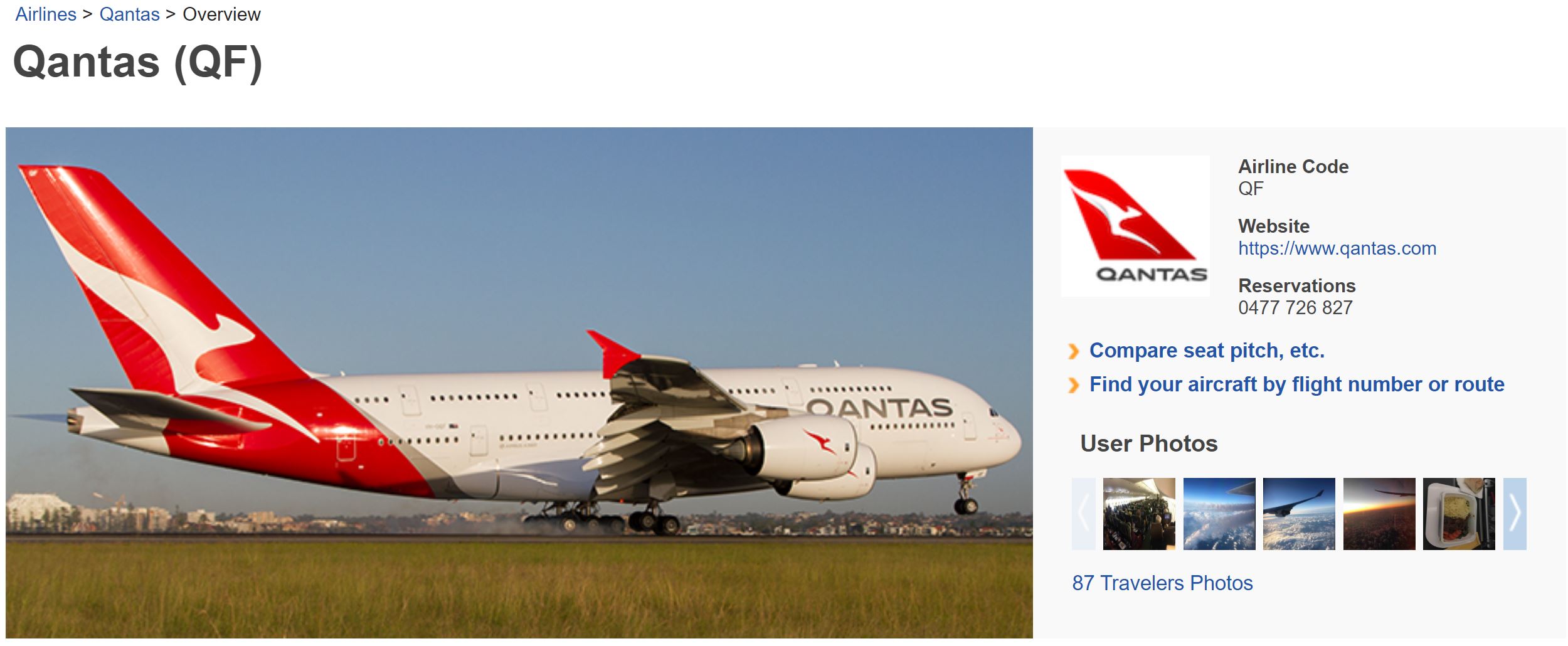 If you scroll down, you'll see a summary of all their aircraft, whether it's wide-body, narrow-body, or even turboprop planes.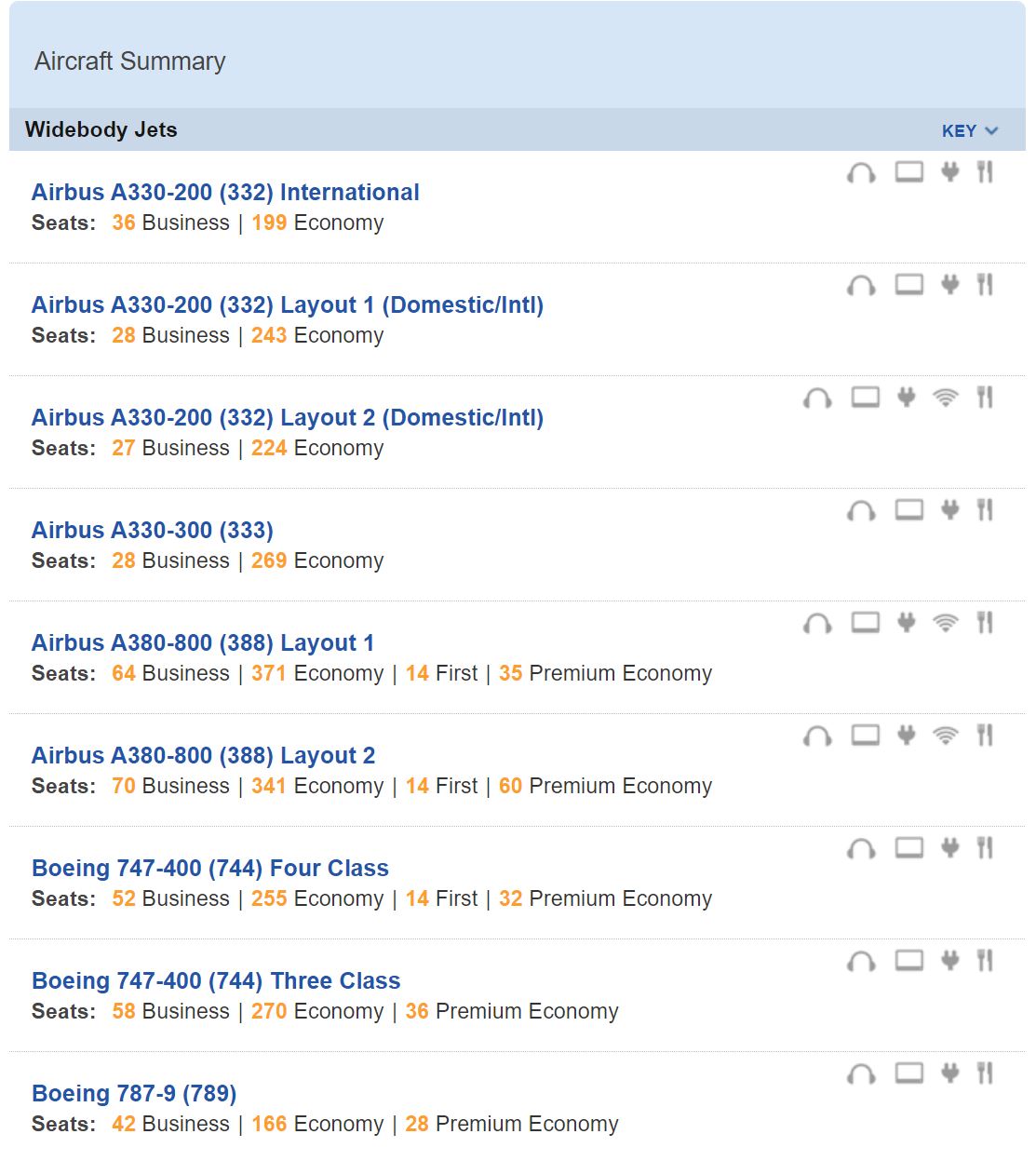 You can click on any of the aircraft to view their seat maps. Let's pick the A380-800 Layout 2.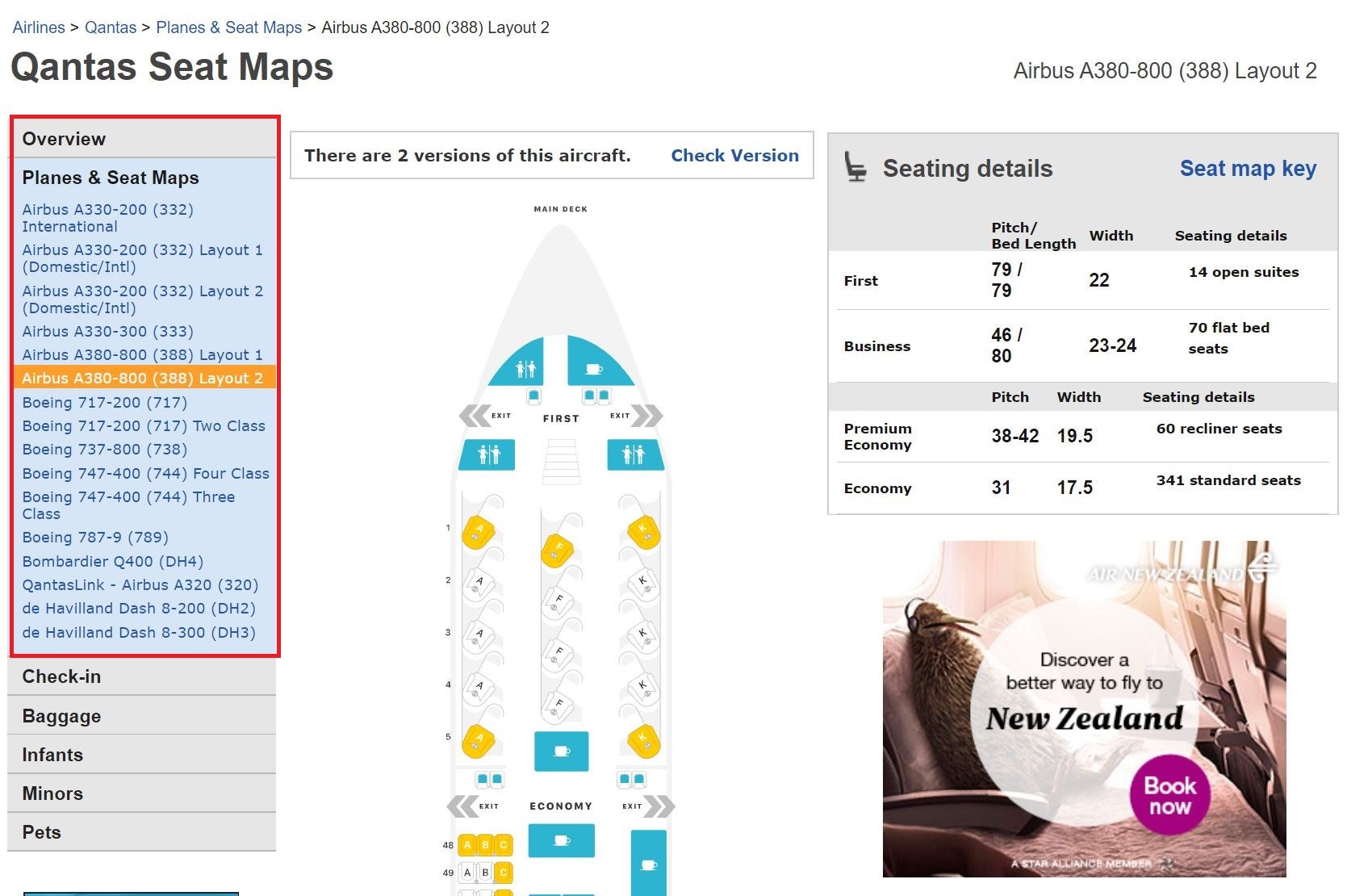 If you've already studied this seat map, you can also toggle between different Qantas aircraft. To do this, simply go to the left banner and pick from their list of aircraft!
The reason you'd want to compare seat maps across different aircraft in the same airline is if you're flying on a specific route but want to choose the best planes. If, for example, you're thinking of booking an Air France flight in business class, you'll definitely want to pick their best seats, which you can find in our guide on Air France's direct routes to the United States.
The best seats on Air France are lie-flat seats in a 1-2-1 reverse herringbone configuration, each with direct aisle access. Currently, these can be found on the 3-class 777-200ER or the 4-class 777-300ER. All other seats are angle-flat and do not have direct aisle access. If you don't pick the right aircraft, you'll be sorely disappointed with a subpar seat.
The best way to find the best aircraft for your particular seat is to browse the seat maps for each flight on the route you want to take. Doing so can mean the difference between Air France's ultra-private business class: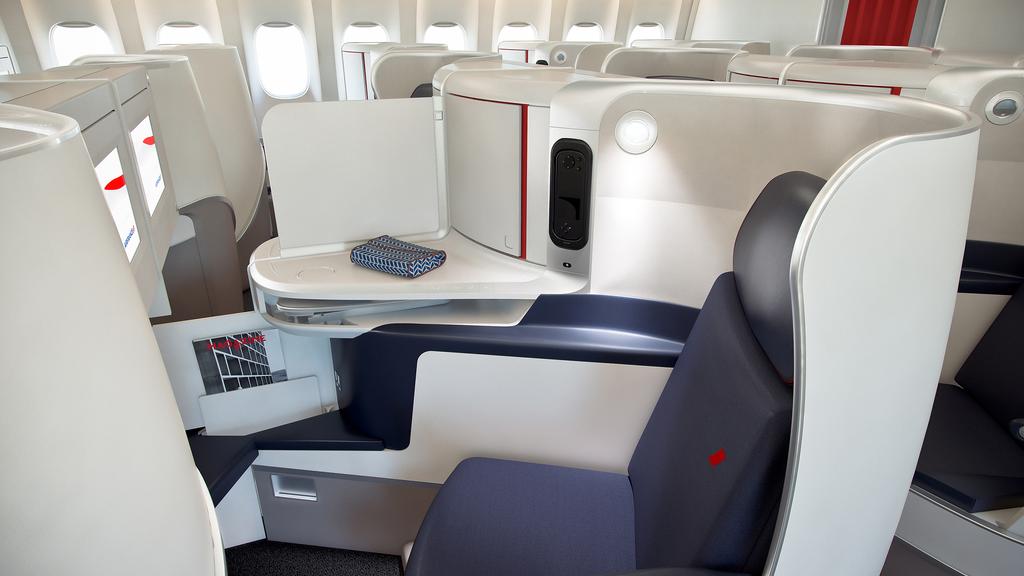 And Air France's dated angle-flat business class with very little privacy: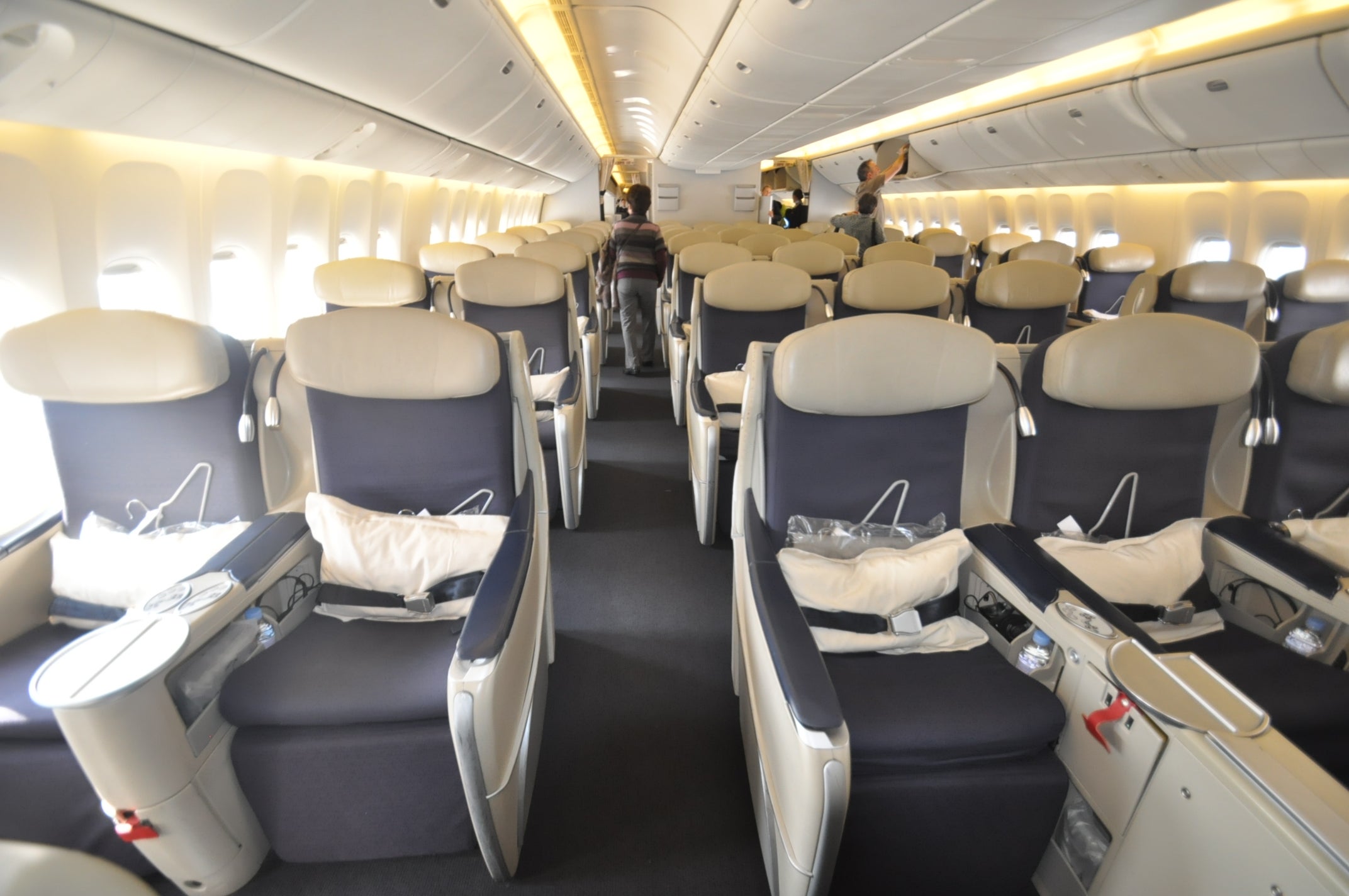 Bottom Line: Airline seat maps are often drastically different. Each airplane could feature a completely different type of seat, specifications, and number of seats. Exploring airline seat maps using SeatGuru is a great way to pinpoint the absolute best aircraft to fly on. If you're deciding between 2 flights on the same airline with different aircraft, you'll definitely want to use SeatGuru to help you pick the best choice for your needs. 
Figuring Out the Best Seats on Your Plane
If you've already booked your flight and need to figure out what the best seats are on your plane before selecting a seat, SeatGuru can help tremendously in this regard. Let's say you're booked on a Scandinavian Airlines flight in business class, and you redeemed Turkish Airlines miles to book this.
The next thing you'll want to do after the ticket is confirmed is pick the best seat. Let's say you use the techniques above to find that your plane is the A340-300, which has the following business class seat map.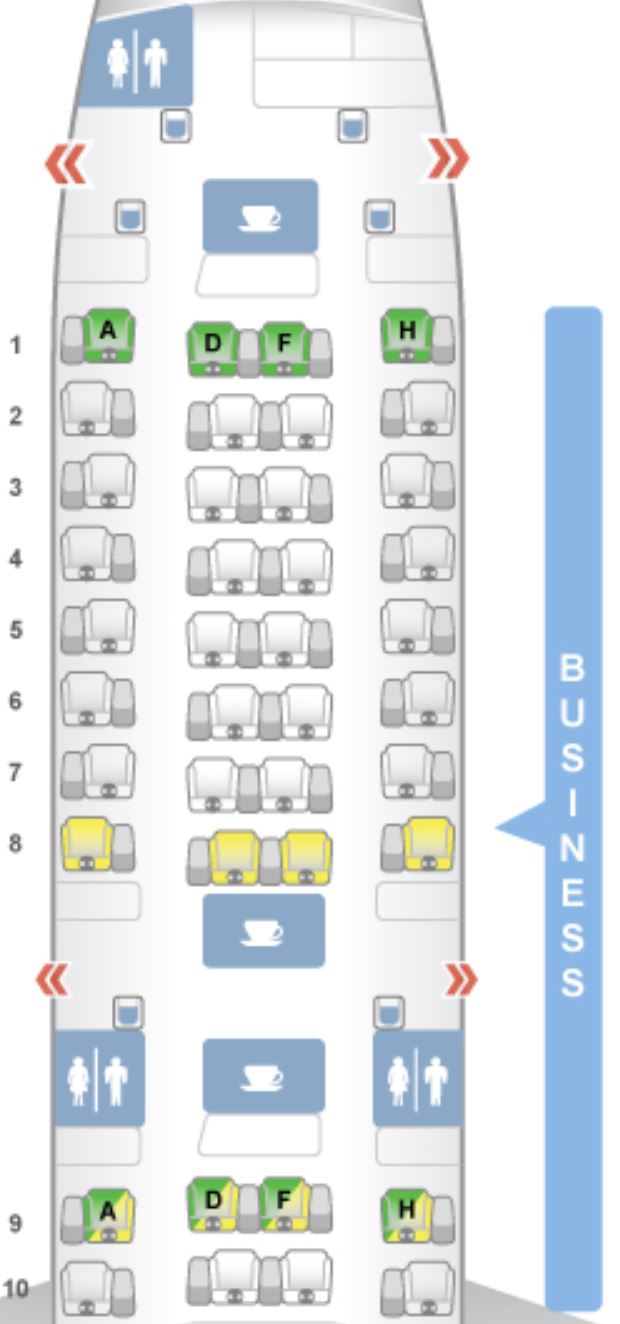 Immediately, you'll want to hover your cursor above the colored seats to figure out what exactly the details are. Upon hovering over row 1 seats, you might see this message: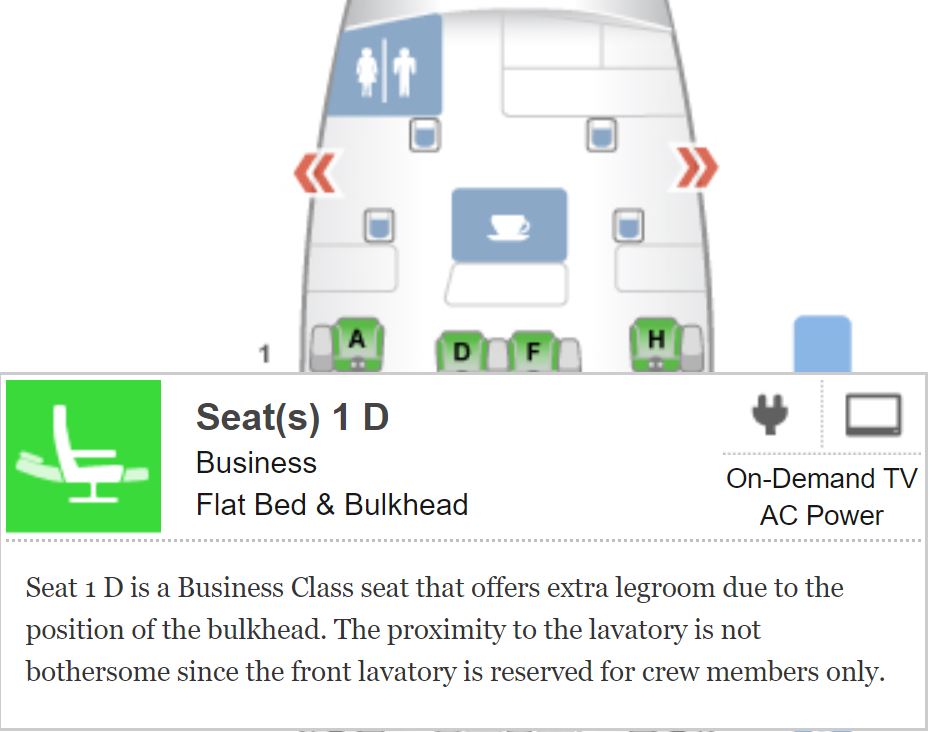 The description says that the seat offers extra legroom due to the position of the bulkhead. What this means is that instead of a footwell restricting the movement of your feet, you'll have something more similar to an ottoman. Simply put, you'll have this legroom: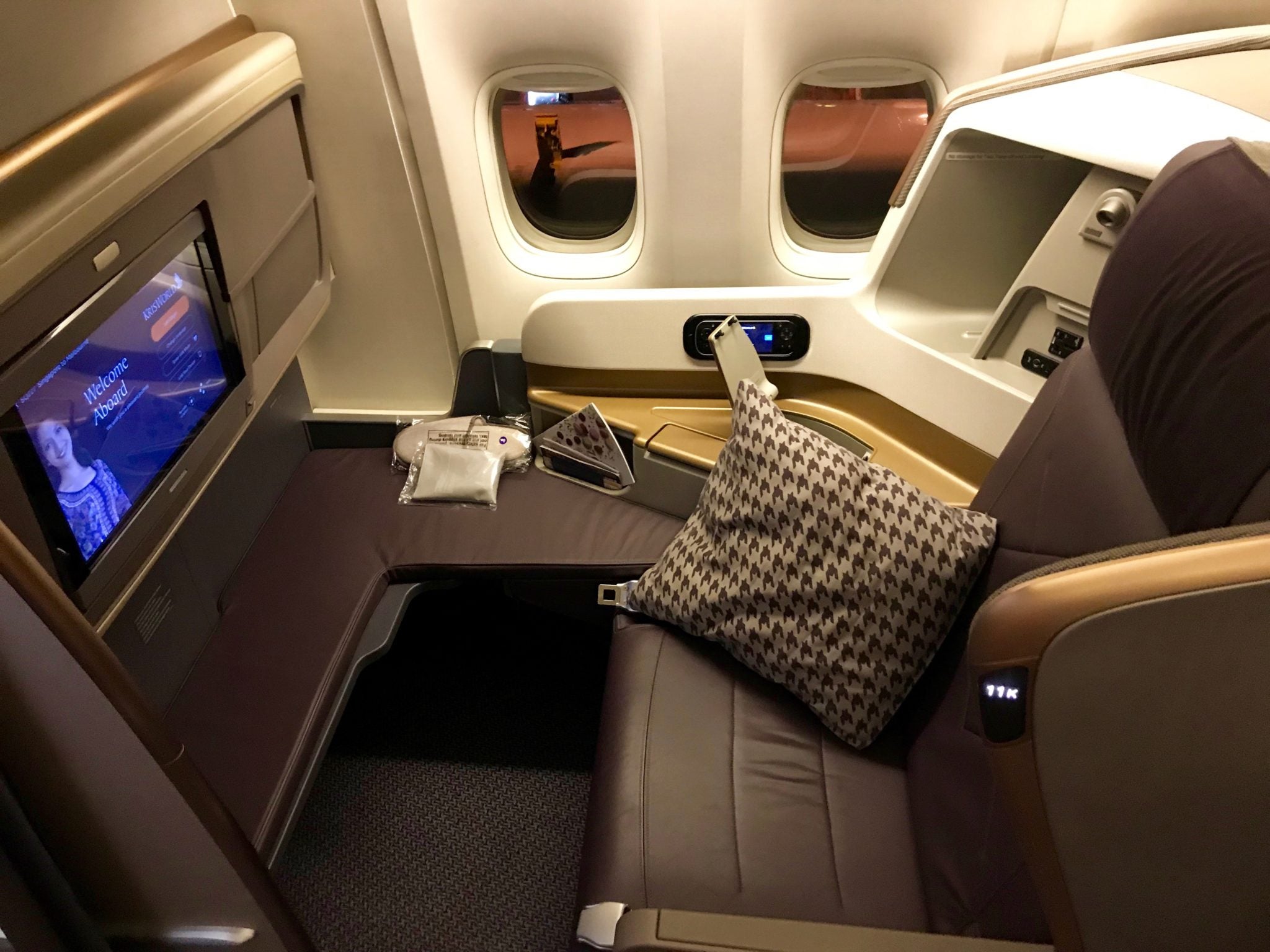 As opposed to this: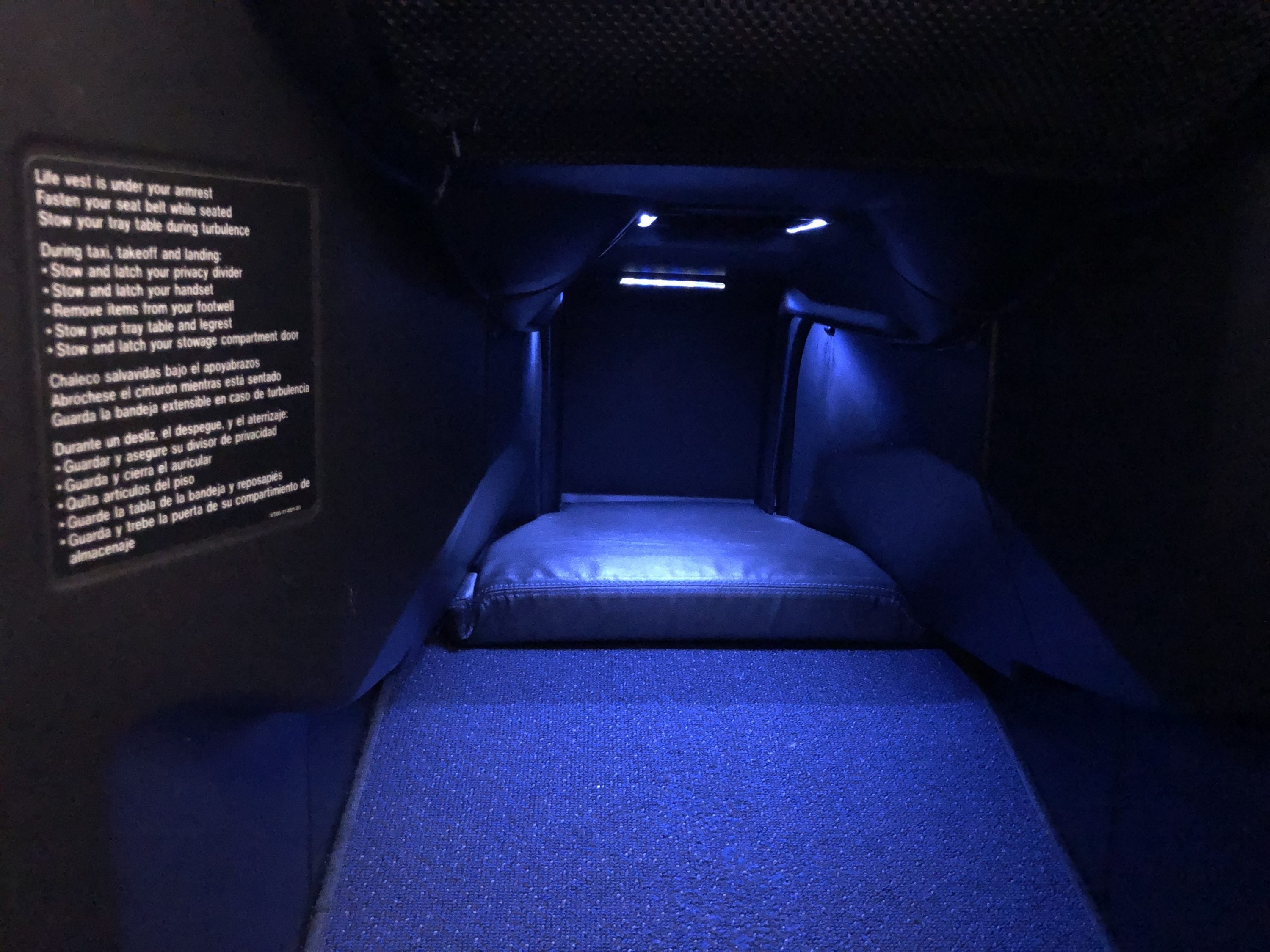 The difference between a footwell and an ottoman is quite pronounced, especially for taller travelers. If you have to fit your feet into a tunnel-like footwell, your movement while sleeping can be heavily restricted. You might find yourself bumping your legs into the sides of the seat.
On the other hand, an ottoman makes you feel like you're actually sleeping in a bed, as opposed to a coffin.
Bottom Line: Checking to see that bulkhead business class seats are available is actually a great tactic to use even prior to booking your business class ticket. The advantage of the bulkhead is just too good to pass up! Therefore, using SeatGuru to optimize your seat choice is absolutely a no-brainer. 
Seat Specification Comparison Charts
If you want to compare the seat specifications across all the major airlines and their planes, SeatGuru has a tool for that. Simply visit the homepage and hover over the button at the top banner that says Comparison Charts.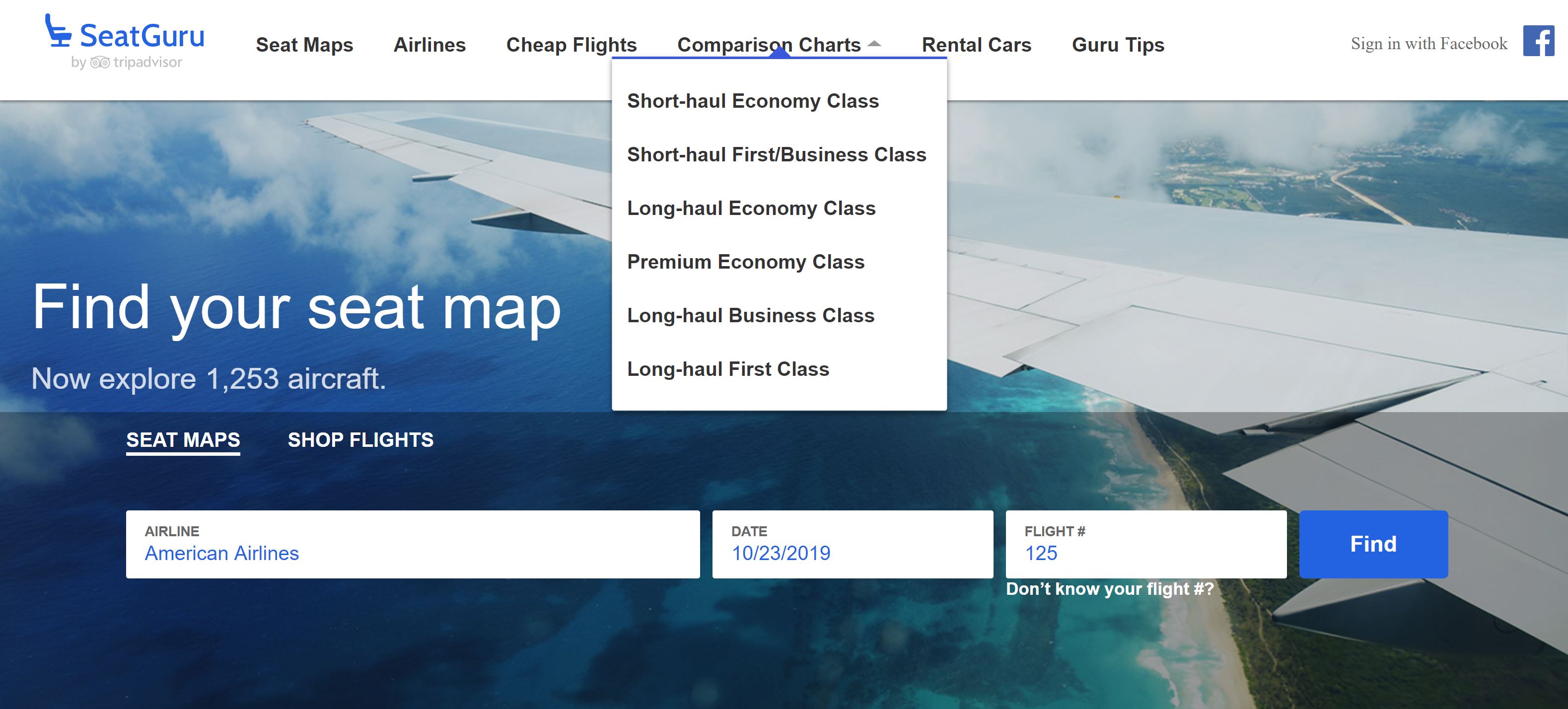 Let's say you wanted to compare the long-haul first class seats. Click the appropriate button and scroll down to access the comparison chart: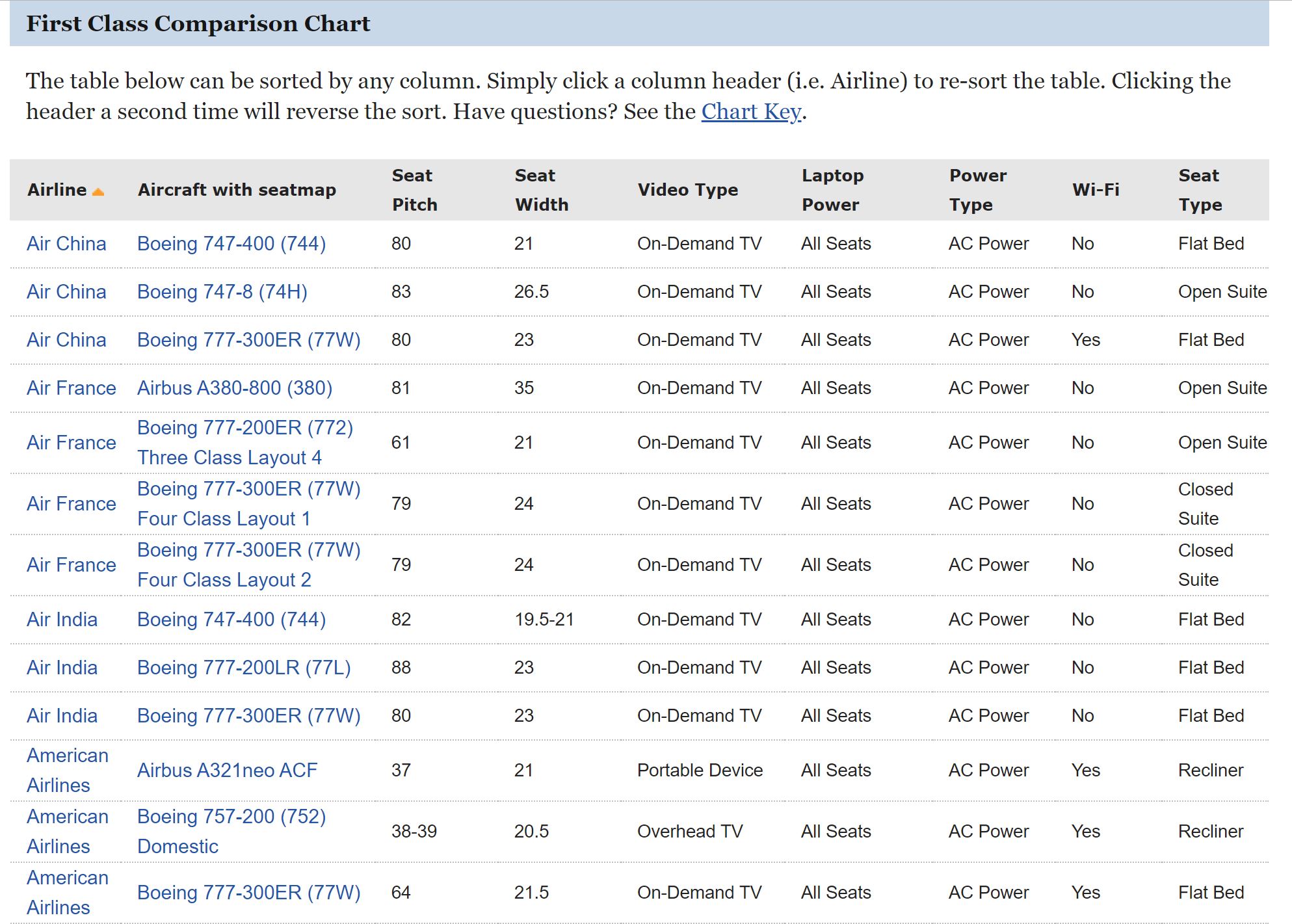 This chart tabulates in a user friendly way the airline, different aircraft types, seat dimensions, and other specifications. By clicking on any of the chart headers, you can filter in decreasing or increasing order based on what feature you value.
Let's say that you wanted to find the widest first class seats on long-haul flights.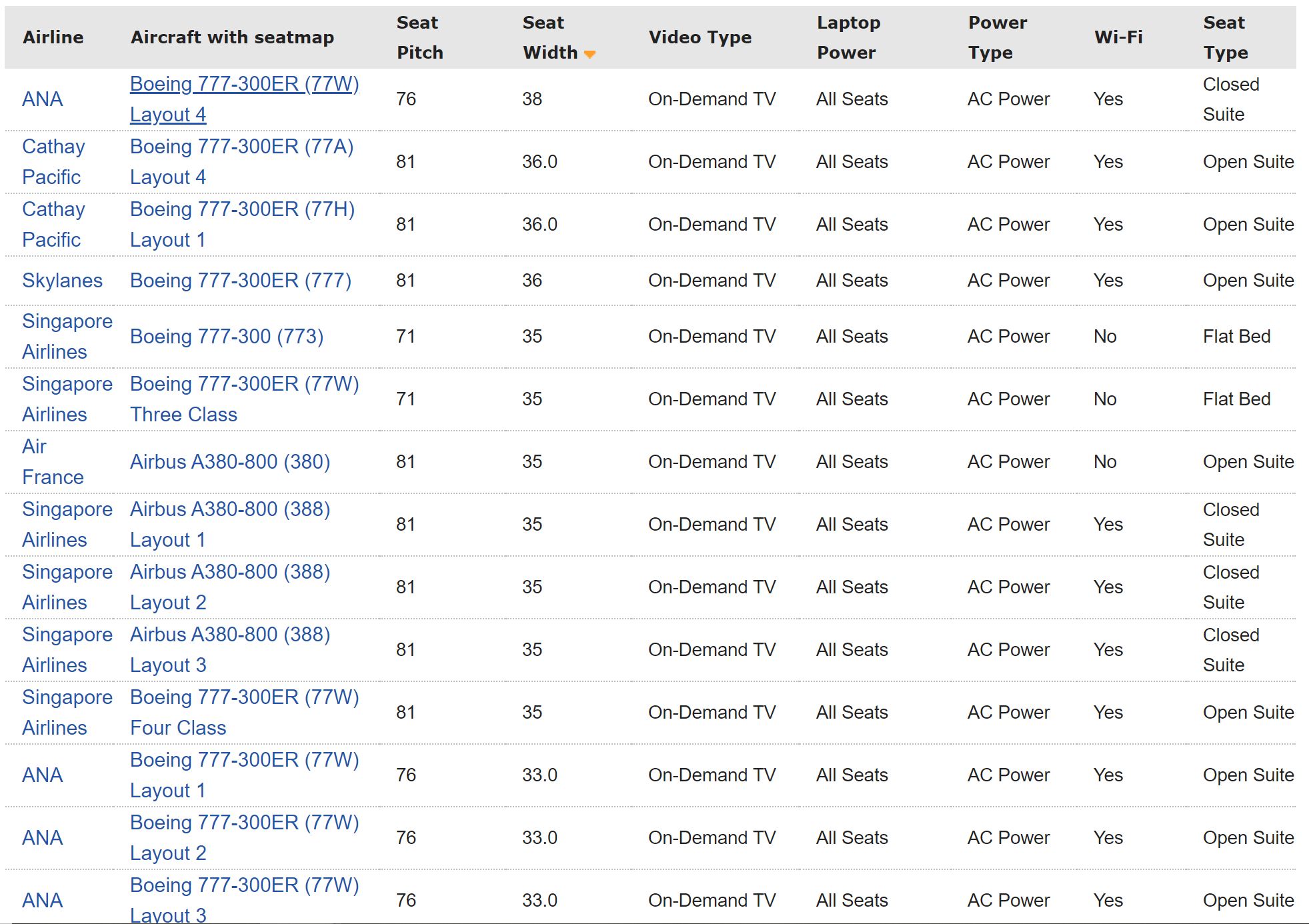 By sorting all the long-haul first class products by seat width, you'll find that the widest first class seats are ANA's new 777-300ER first class and Cathay Pacific's 777-300ER first class, which measure 38 and 36 inches, respectively.
Bottom Line: Using SeatGuru's comparison charts can help you rank and narrow down the various plane types that you might want to fly on. With all this being said, comparing seat specifications can be extremely useful even for travelers comparing different planes within the same airline.  
Where Can SeatGuru Fall Short?
Overall, SeatGuru is an extraordinarily useful tool. Whether it's searching for seat maps themselves, browsing for various seat maps, or even comparing different seats across multiple airlines and planes, SeatGuru is an absolute must-have in your back pocket.
The site, however, is not infallible. Although it has received criticism in the past for being outdated, this is very rarely the case nowadays. SeatGuru has a large team of travelers flying on different airplanes all the time. These travelers validate, verify, and update the seat maps by experiencing the products first-hand.
Nonetheless, there are a few pitfalls that you should be aware of.
SeatGuru, like many travel databases, are updated and modified by human beings. If you find yourself looking for a brand-new airline product or plane, you may be out of luck trying to use a resource like SeatGuru.
If the new plane isn't in service yet, SeatGuru may not have a seat map available for viewing. To get around this, you are normally able to get some information from the airline itself. Typically, the refurbishment or release of new planes or seats is followed by a press/media release.
By going directly to their website and looking for these news announcements, you can often get a headstart on understanding the new seat map. While this isn't always a surefire way, it will usually point you in the right direction.
Inaccurate Seat Details
Sometimes, the seat details displayed by SeatGuru aren't accurate or complete. Let's talk about this drawback with an example: Saudi Arabian Airlines' 3 class 777-300ER.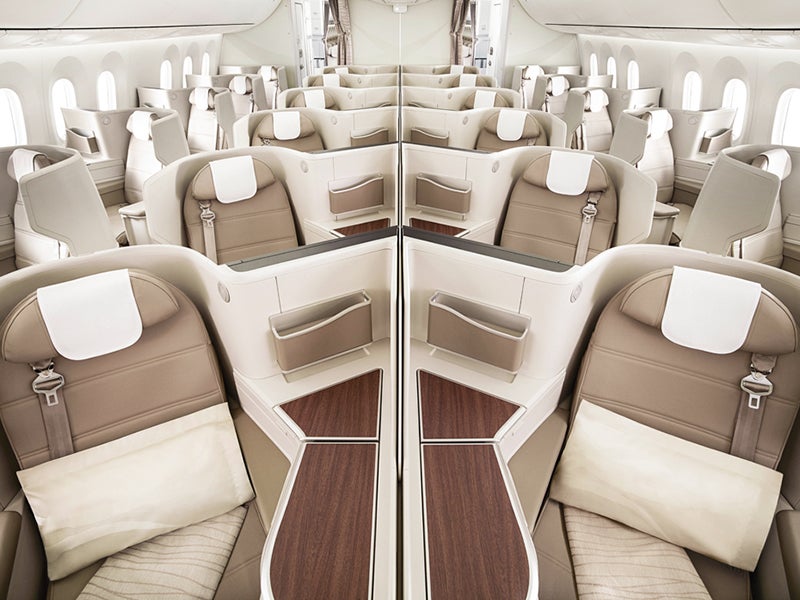 As you can tell, Saudia employs a comfortable reverse herringbone seat in business class on all their routes to the United States. According to SeatGuru, their seat pitch is 60 inches, which is equivalent to 5 feet.
This information is obviously inaccurate, or rather, incomplete. Reverse herringbone seats are designed in such a way that the bed length is significantly longer than the actual seat pitch. So, you'll often find reverse herringbone seats that may have a seat pitch of 60 inches but the bed is much longer than that.
As a result, it can lead travelers to believe that Saudia's business class seats are tiny. In fact, the seat in lie-flat mode is 78 inches long, which is equal to 6 feet 6 inches. This length is more than enough for the vast majority of travelers, but it isn't reflected in the seat details.
Another inaccuracy you might find is the seat type. For example, Cathay Pacific's brand new A350-1000, according to SeatGuru, contains angle-flat business class seats. This is 100% false, as these seats are totally lie-flat reverse herringbone seats with direct aisle access.
To combat this, try to corroborate your research by doing deeper searches on Google, whether it's reviews or Google Images.
Bottom Line: SeatGuru is very accurate for the most part. However, there are some rare situations in which the seat details can be inaccurate. Be sure to leverage other resources to fact-check your research! 
Misleading Preferential Seats
The last and potentially most severe drawback of SeatGuru is the fact that it sometimes displays seats as preferential when they are not. This particular occurrence is extremely rare. Typically it does this for:
Exit door seats in exit rows (legroom is extremely restricted) are yellow seats
Bulkhead economy seats (legroom is extremely restricted due to a wall) are green seats
In order to prepare yourself for this, try to look through photos of the cabin and get an idea for what it actually looks like. If you find information that supports SeatGuru's description, use it to help you decide whether or not a seat is truly preferential.
An Alternative to SeatGuru
SeatGuru is, without a doubt, one of the most powerful travel tools out there. From the straightforward user interface to the immense amount of detail in their seat maps, there's tons to love.
That being said, there is a notable alternative to SeatGuru that offers a similar service but a different perspective.
SeatLink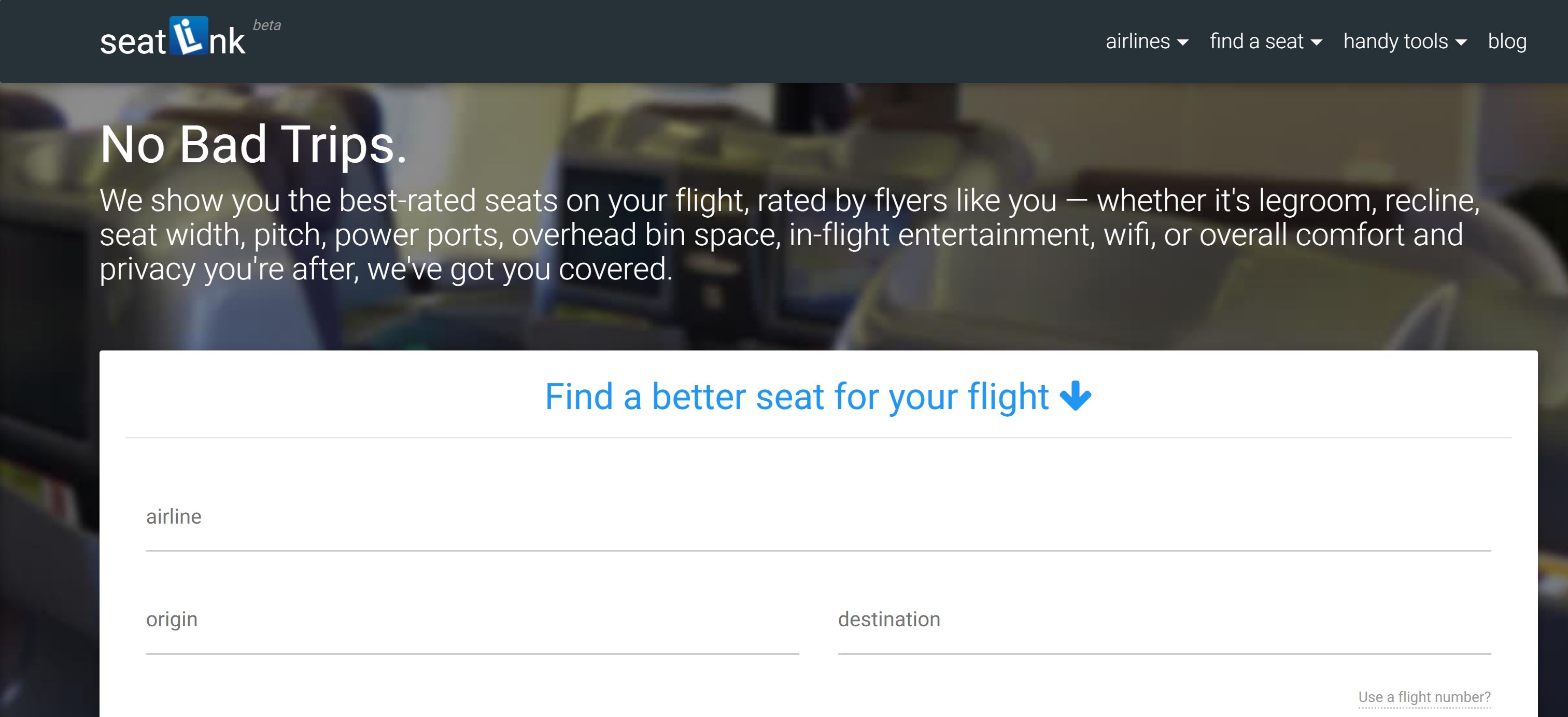 SeatLink provides a similar interface to SeatGuru in the sense that you can search for seat maps by feeding a flight number or even a routing into a search box. In terms of functionality, SeatLink is pretty much the same as SeatGuru.
The main difference is that SeatLink's interface and features provide a more fun user experience. You can read reviews of specific seats, look at an individual seat's pro-tips, and more.
One of the best aspects of SeatLink is that you can see the exact seat type, whether it's a B/E Aerospace Super Diamond seat or a Thompson XL Vantage seat. This is a unique advantage of SeatLink over SeatGuru.
Bottom Line: There are a few other airline seat map alternatives out there. However, many of them are outdated or don't provide a straightforward, user-friendly way to navigate. While SeatGuru isn't perfect, it's by far the top service in this space. 
Final Thoughts
SeatGuru is an awesome service for frequent travelers. The history of the company dates back to the early 2000s, but the company has matured into a comprehensive repository of updated aircraft seat maps.
There are so many different ways in which SeatGuru is useful. In this guide, we talked about using SeatGuru to:
Find your exact flight seat map
Explore airline seat maps
Figure out the best seats on your plane
Compare different products through the specification comparison charts
However, SeatGuru isn't always 100% accurate. It may be unable to display seat maps for new planes, especially if they haven't been put into service yet. Also, seat details are sometimes inaccurate. Rarely, seats are mislabeled as preferential seats, which you'll definitely need to watch out for.
There are some alternatives to SeatGuru, but the only true contender is thought to be SeatLink. However, SeatLink doesn't have anywhere near as many seat maps as SeatGuru. All in all, SeatGuru is a magnificent service that every traveler should be putting in their bookmarks.