Vietnam Airlines A321 Business Class Review – Hanoi to Hong Kong [Detailed]
Airline: Vietnam Airlines (VN)
Aircraft: Airbus A321
Flight #: VN 592
Route: Noi Bai International Airport (HAN) to Hong Kong International Airport (HKG)
Date: April 22, 2019
Duration: 2 hours, 5 minutes
Cabin and Layout: Vietnam Airlines business class, 16-seat capacity across 4 rows, 2-2 configuration
Seat: 3C
Miles Used: None, booked Cathay Pacific mistake fare (HAN-HKG-SFO) with round-trip first class for $1,208.14
Taxes and Fees Paid: $135.74 in taxes and fees, and $183.40 in fuel surcharges
Typical Retail Cost: approximately $16,990
Typical Economy Cost: approximately $1,571 USD
Booking Vietnam Airlines Business Class
Many of you may know that on January 1, 2019, Cathay Pacific published a mistake fare for business and first class tickets flying from Vietnam to the United States. Round-trip tickets, which have layovers at Cathay Pacific's home base in Hong Kong, sold for $700 and $1,000-$1,200 in business and first class, respectively.
This was a deal that was simply too good to pass up, and I booked a couple of tickets immediately after catching wind of this. The mistake fare was honored, and we were going to fly from Noi Bai International Airport (HAN) in Hanoi to Hong Kong International Airport (HKG) and then onwards to San Francisco International Airport (SFO).
The Hanoi to Hong Kong segment was a codeshare ticket aboard Vietnam Airlines' A321 in business class. All in all, the 2-hour flight in booking class J would be around 526 miles in distance. This isn't a hugely significant flight in terms of mileage accrual, but I went ahead and redeemed my flight with Delta SkyMiles, which earns 100% redeemable miles.
I could've earned more miles by crediting flights to Korean Air at 135% for instance, but I won't be transferring any miles to Korean Air SKYPASS anytime soon, so I opted not to.
Plus, Delta Air Lines SkyMiles never expire, and I anticipate using their program sometime in the future, which is another factor that drove my decision to credit my short-haul business class flight on Vietnam Airlines to Delta SkyMiles. All in all, I earned 526 Delta SkyMiles, which is not much.
If you wanted to book this flight with points, you could pay either 45,000 Flying Blue miles each way or 45,000 Delta SkyMiles. Neither of these are good deals at all, seeing as how cash flights are typically quite cheap.
For a short regional flight of ~2 hours it is best to book using cash, although you could use 45,000 Air France/KLM Flying Blue miles or Delta SkyMiles one-way.
Vietnam Airlines Lotus Lounge at Noi Bai International Airport
We arrived pretty late the previous night, so we didn't feel too strongly about going to the airport early in the morning. We spent the early bits of the morning hanging out at a coffee shop and enjoying the Hanoi hustle.
We arrived at the airport around 1 hour before departure and headed to the Vietnam Airlines Lotus Lounge. There was a bit of signage, which was helpful in locating the lounge.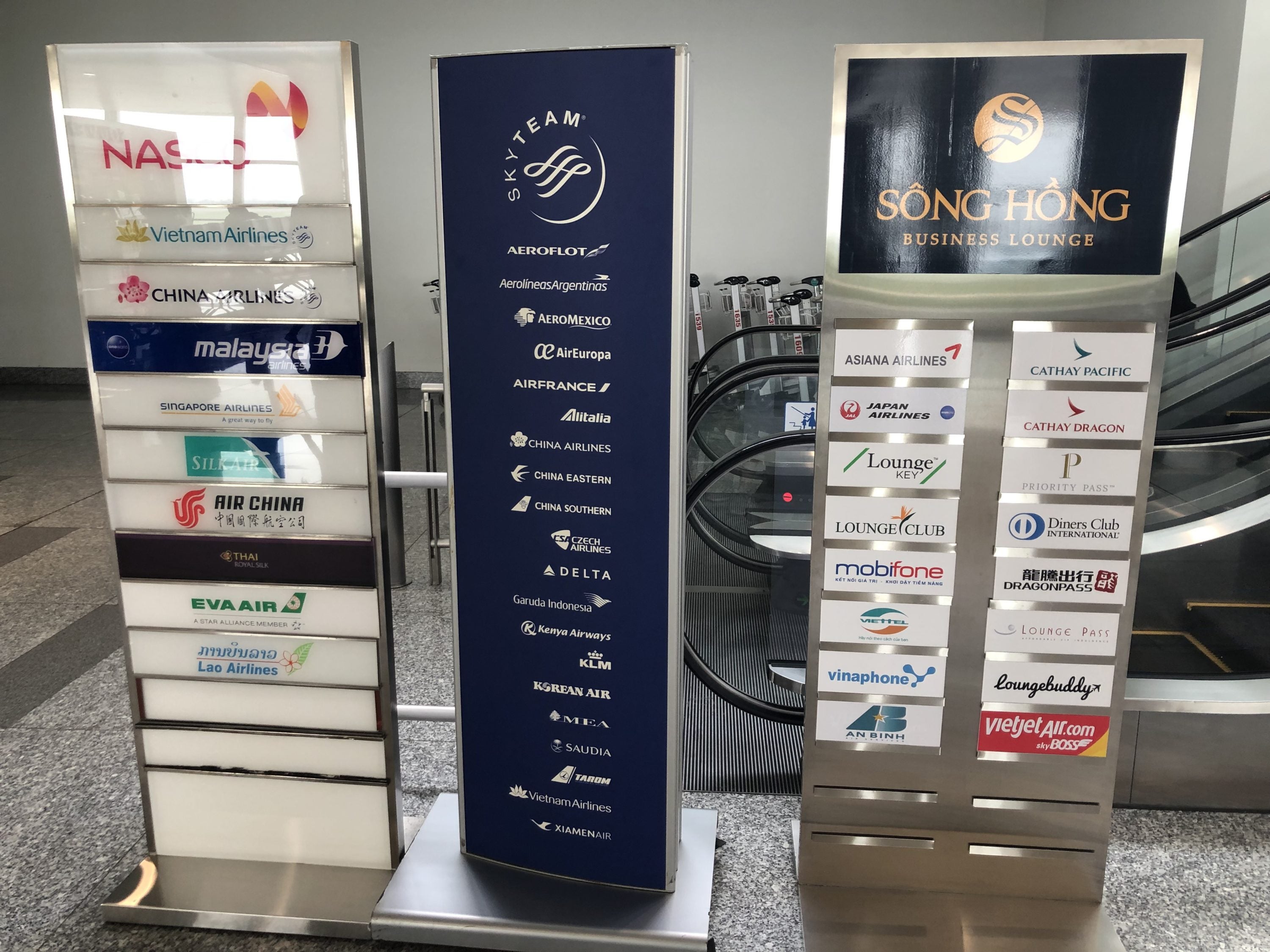 In the lounge, there was plenty of seating available. The Vietnam Airlines Lotus Lounge is an open-air lounge, which is a welcome change. There are lots of tables, chairs, lounge chairs, and even massage chairs!
All in all, I counted 5 lounge chairs suitable for sleeping and 3 massage chairs. The massage chairs were tremendous, and I spent around 20 minutes relaxing and de-stressing in one of them.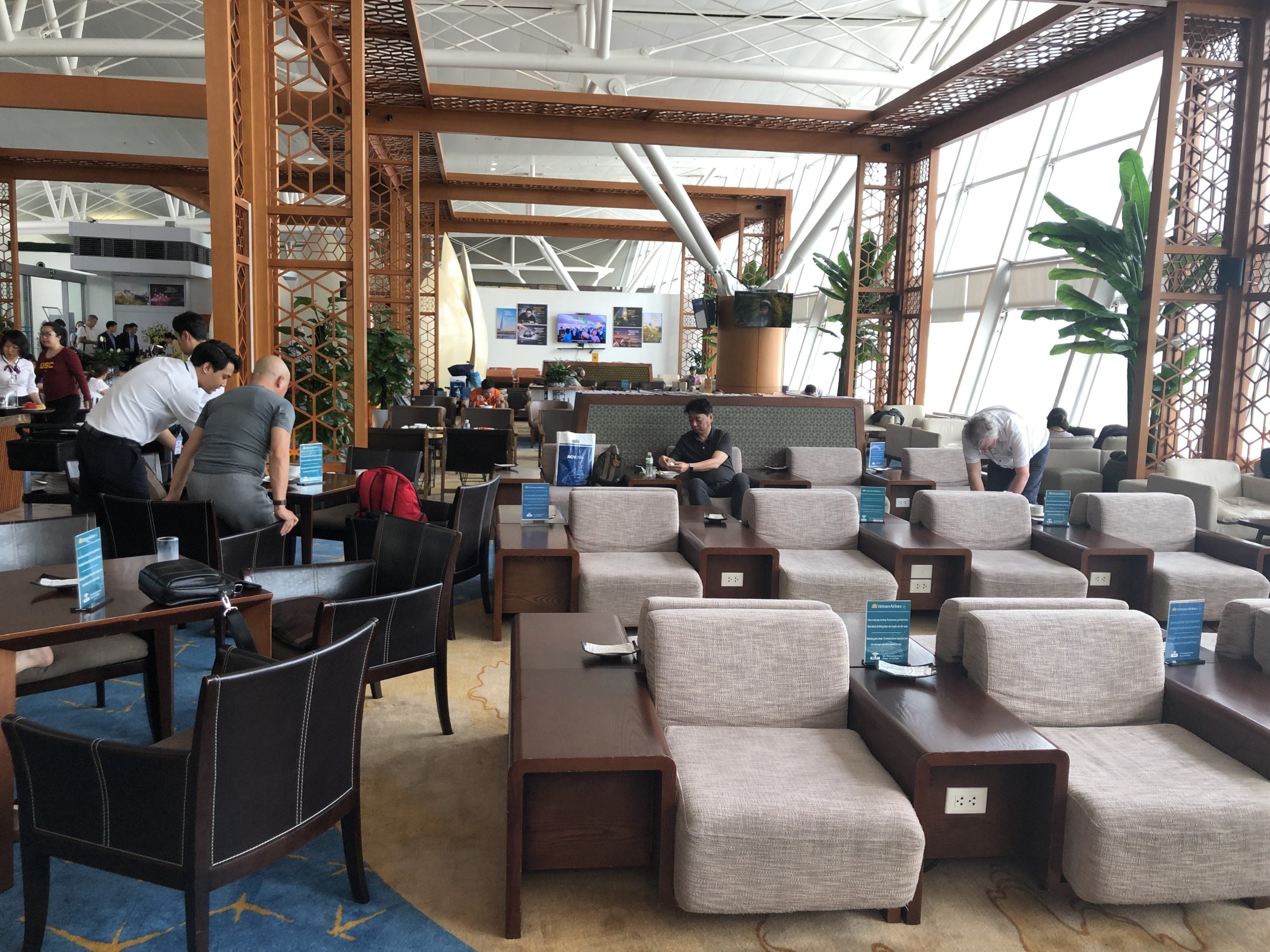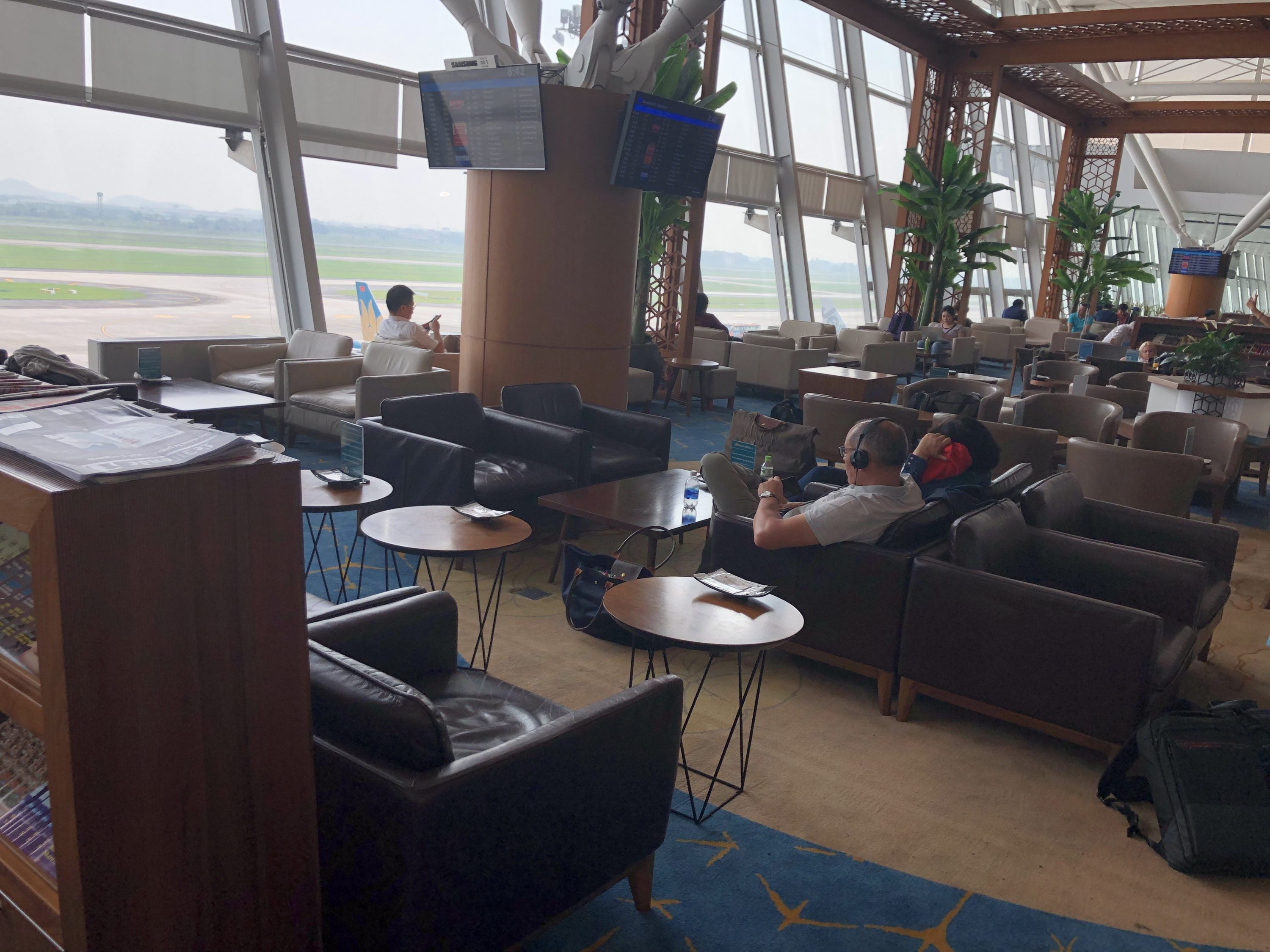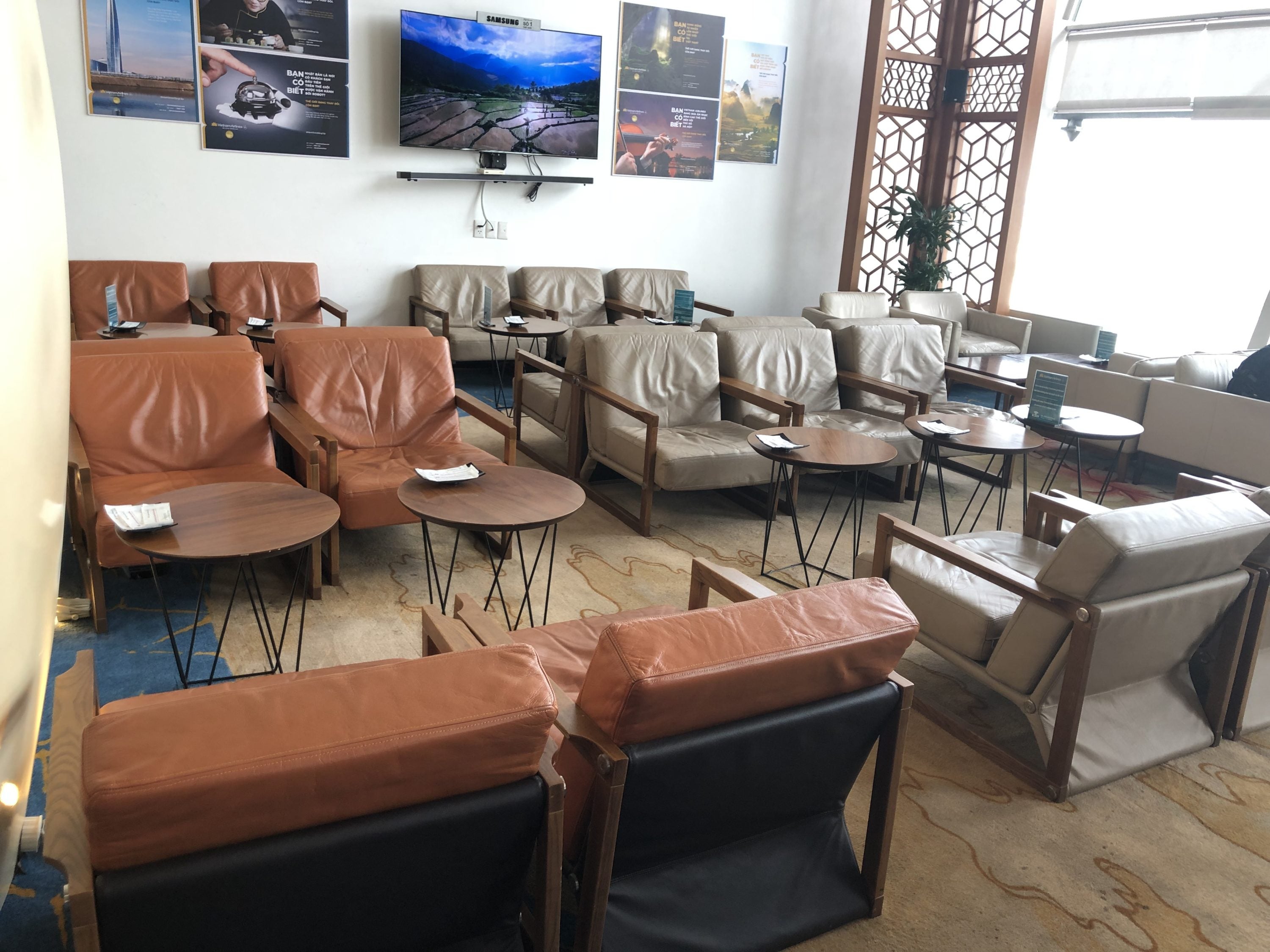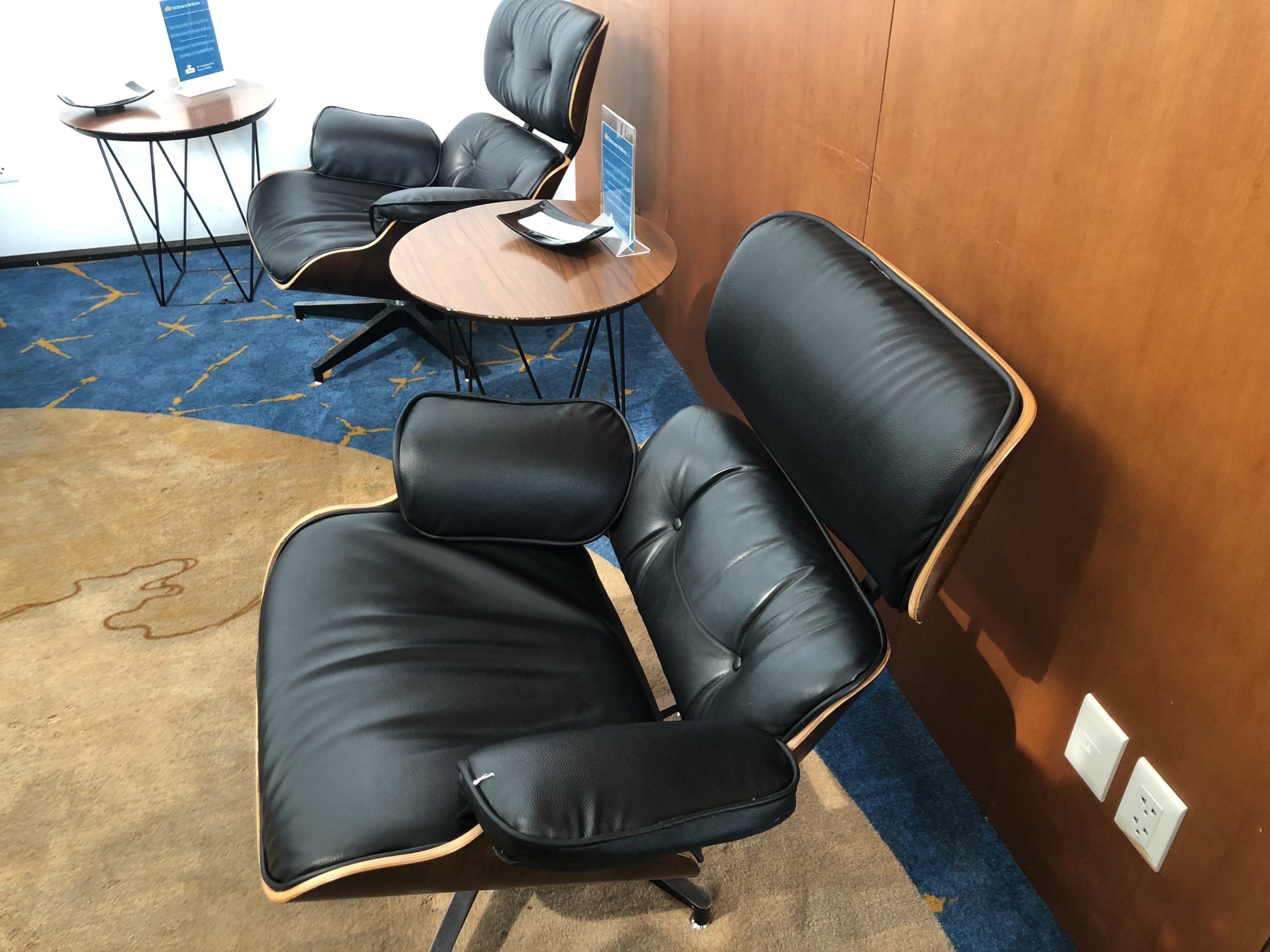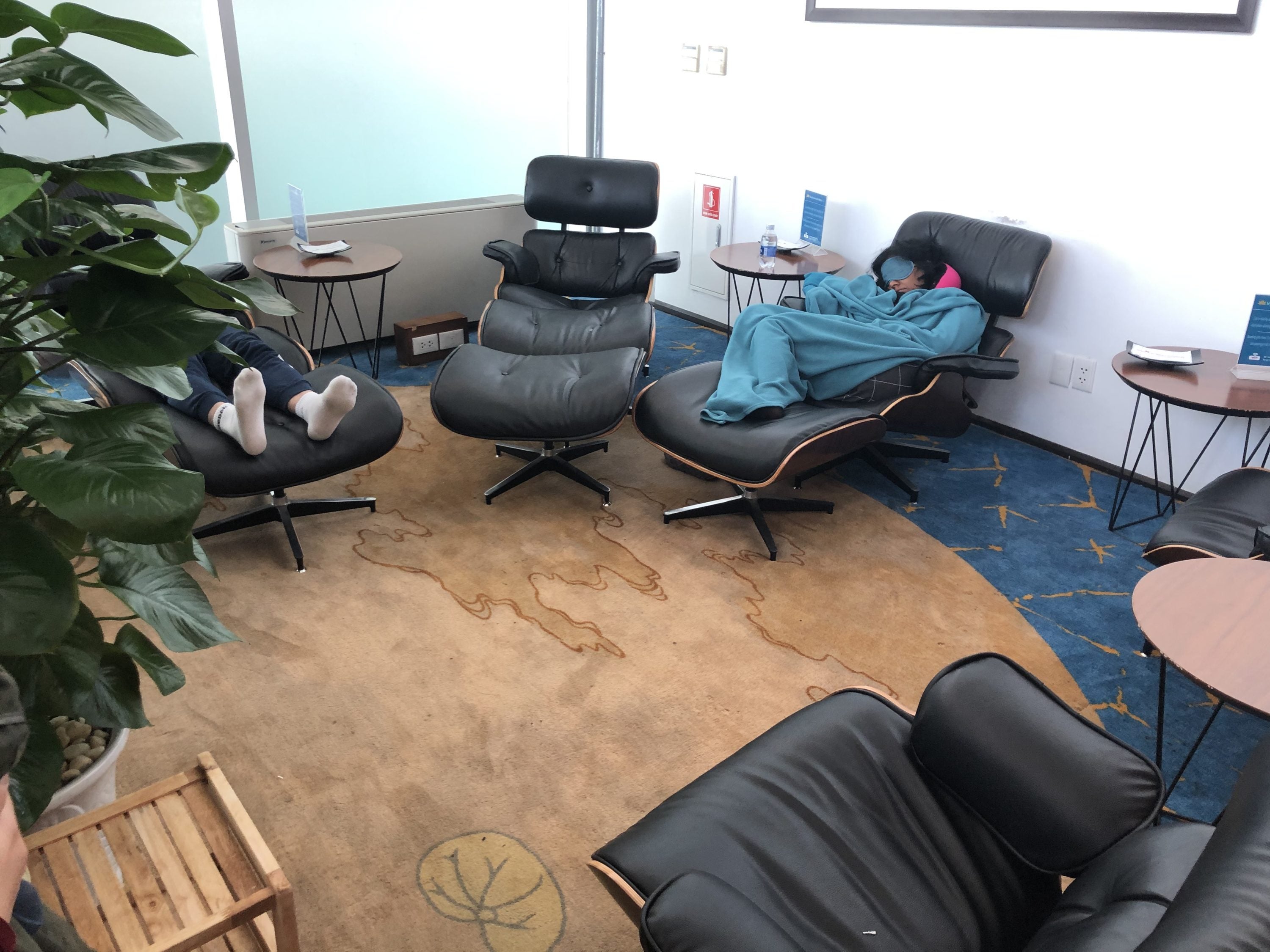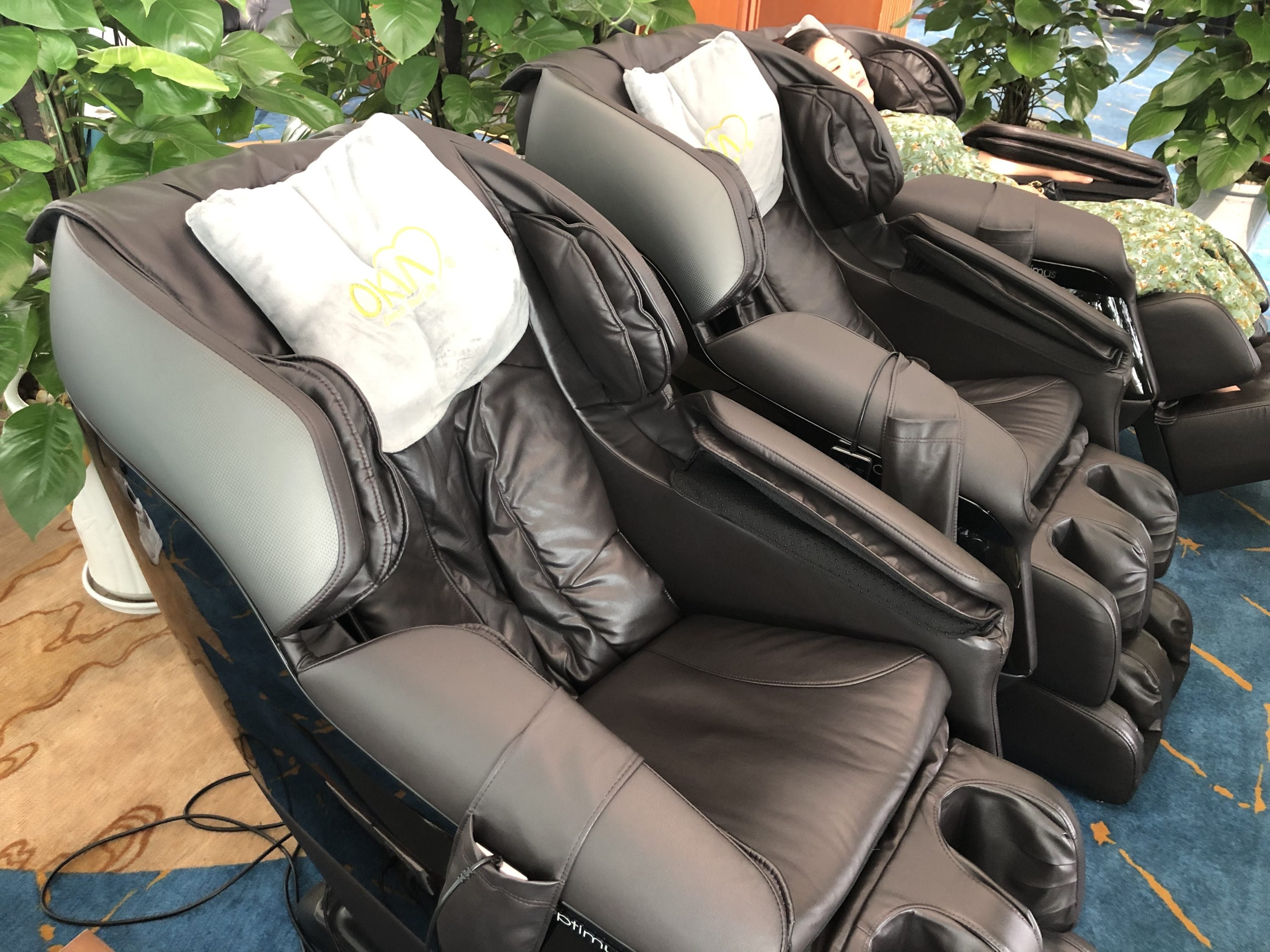 There was an area for storing luggage.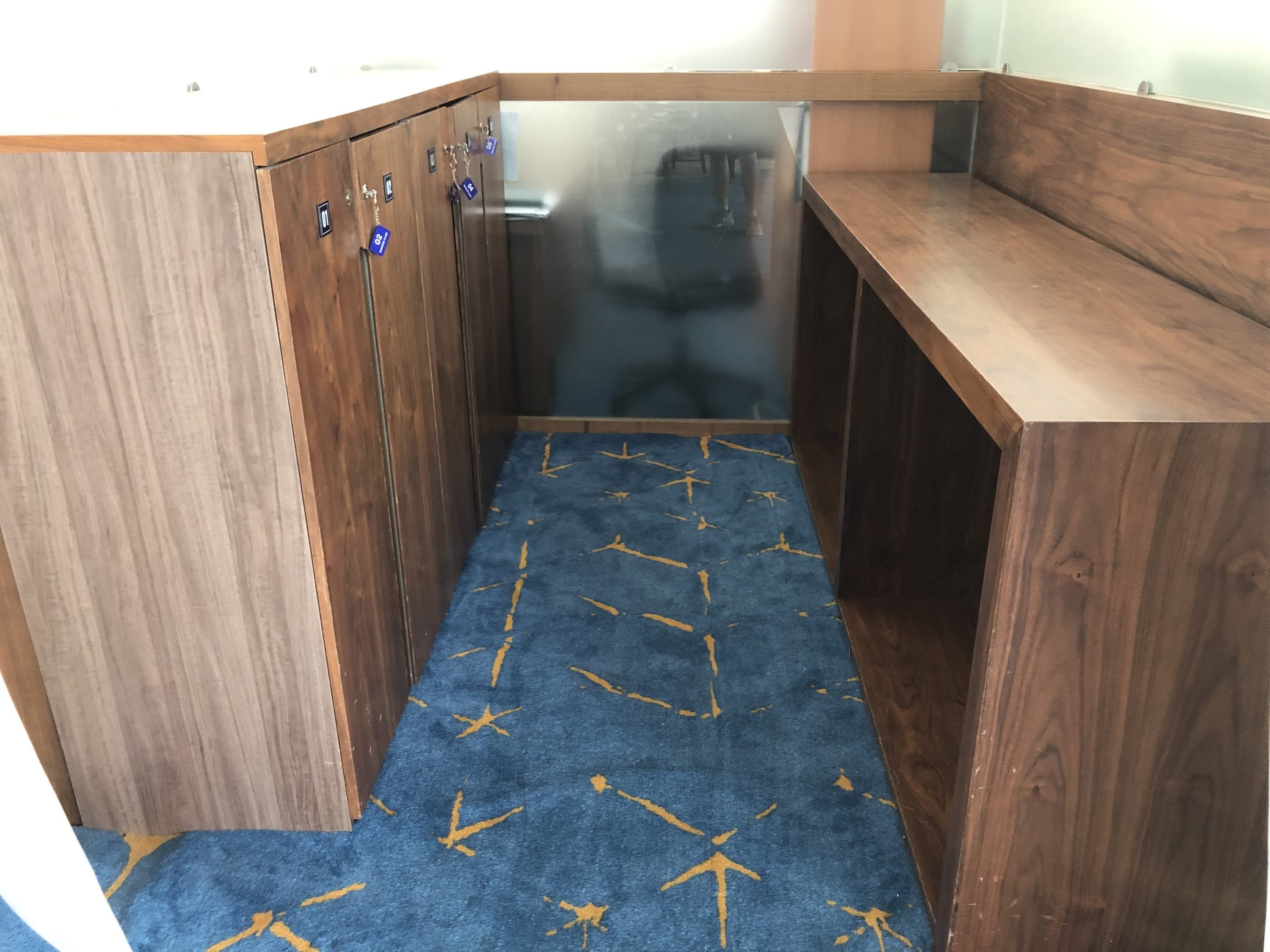 Additionally, a smoking lounge was located near the entrance. This particular smoking lounge was significantly larger than most other smoking rooms.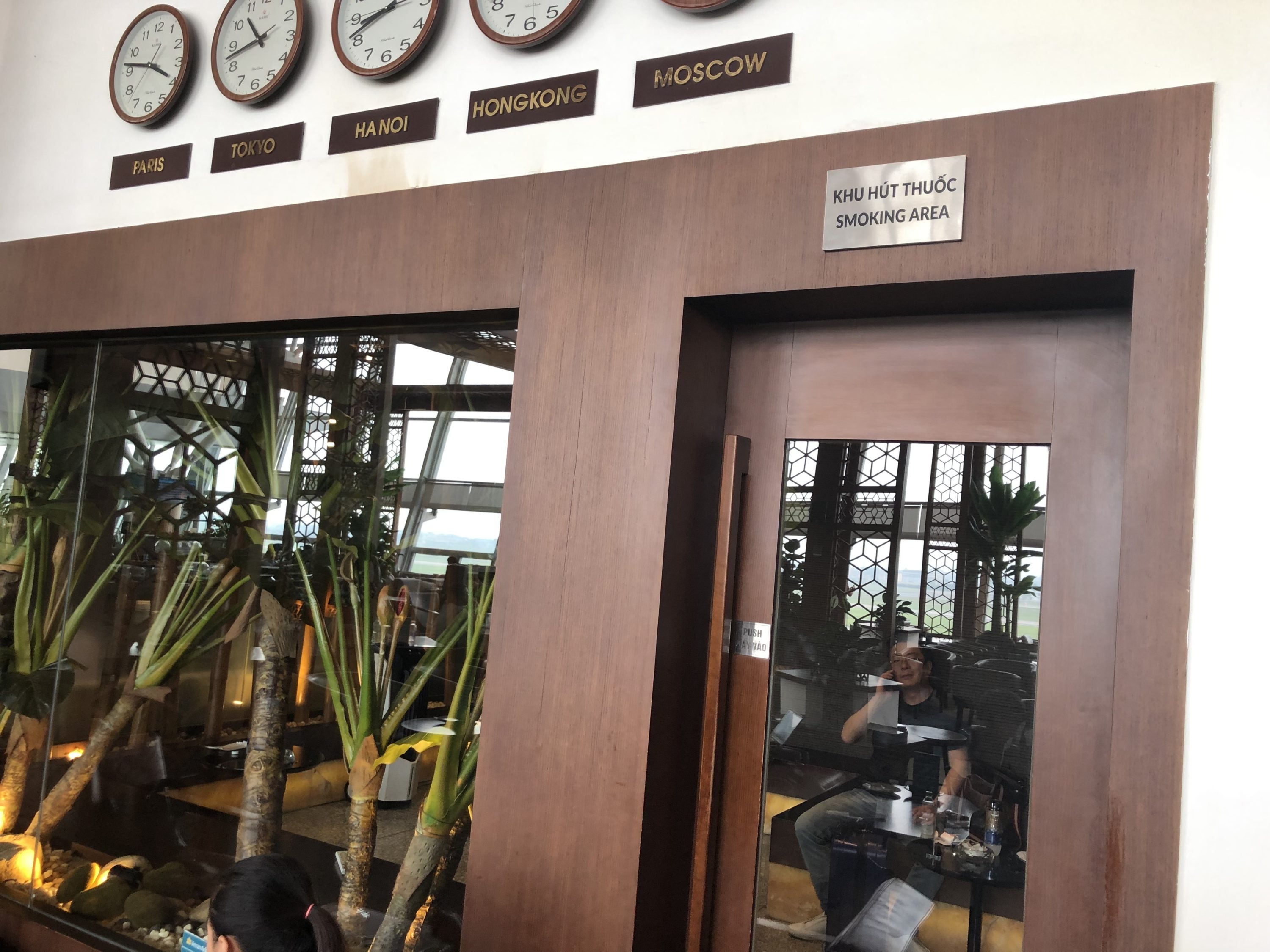 Also, a battery charging station and snack bar with stools was available. I'm not sure who doesn't bring charging cords, but it's quite handy if you've lost your cords somewhere in the airport or on your travels.
Hot Tip: Since other lounges may not offer a charging station, check out this guide on the best portable power banks and chargers so you don't have worry about your phone dying mid-travel.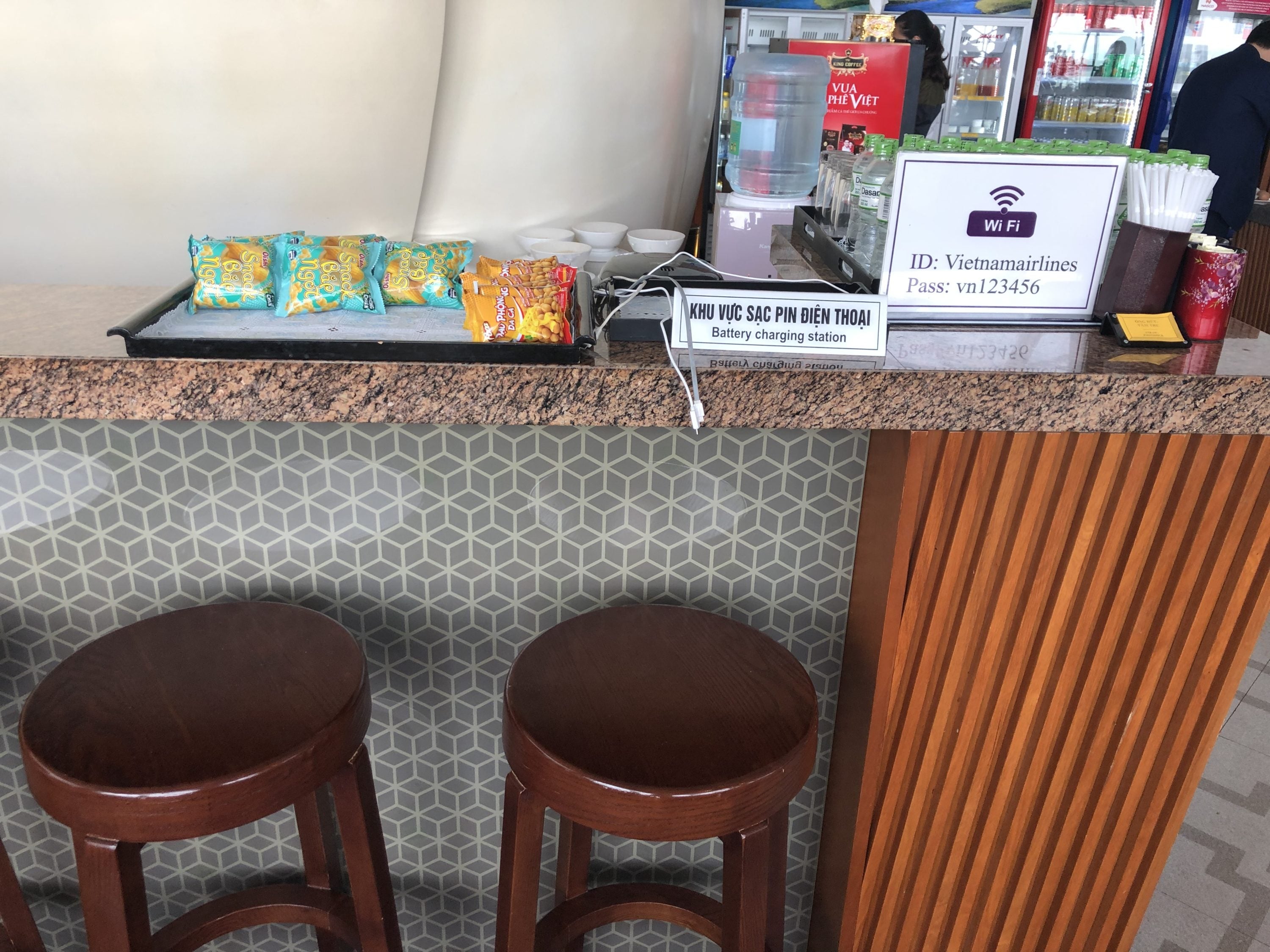 Additionally, a business center was available for use. There were 6 work stations, complete with privacy dividers, common office supplies, a computer mouse, and a desktop computer at each station.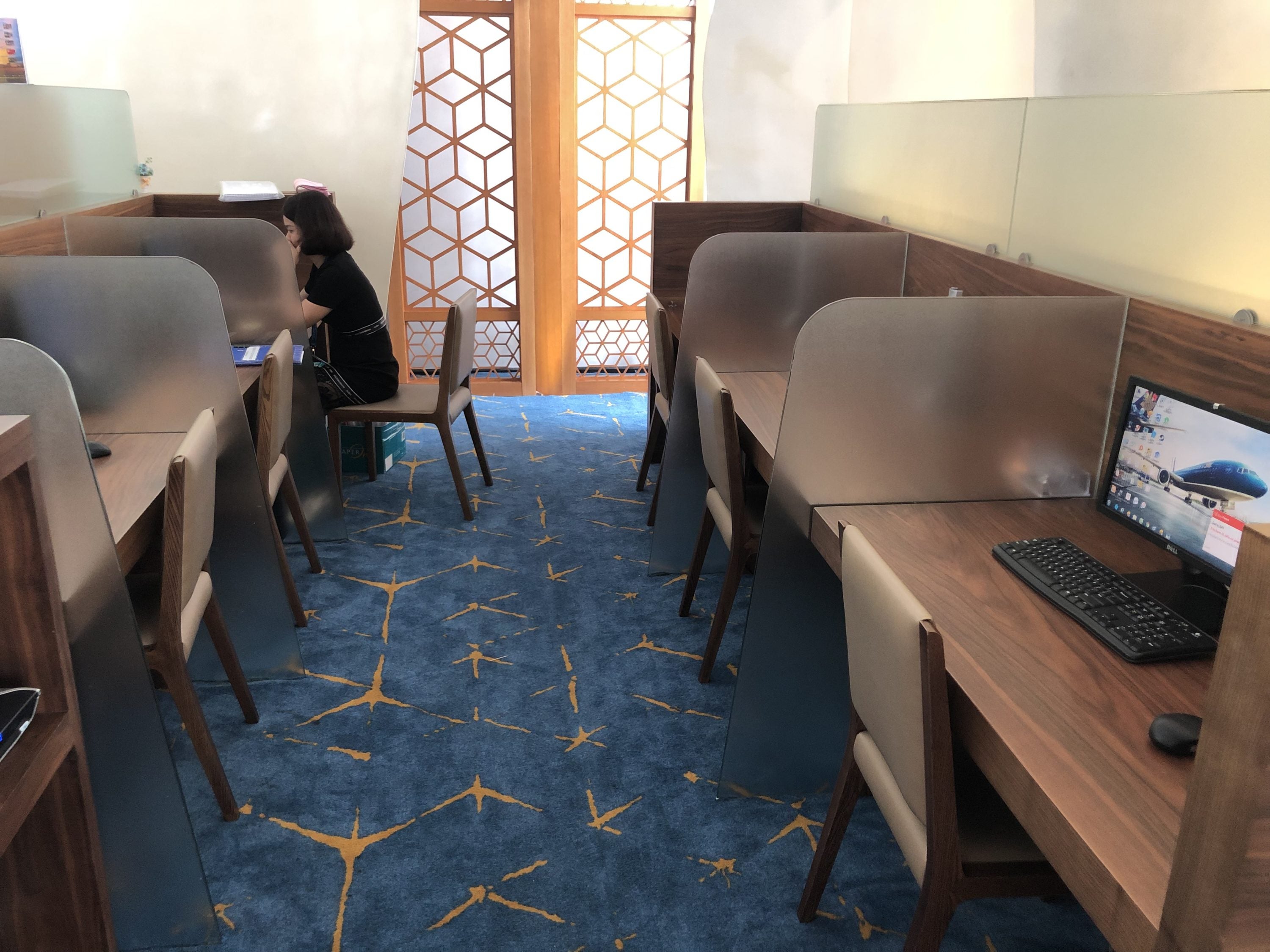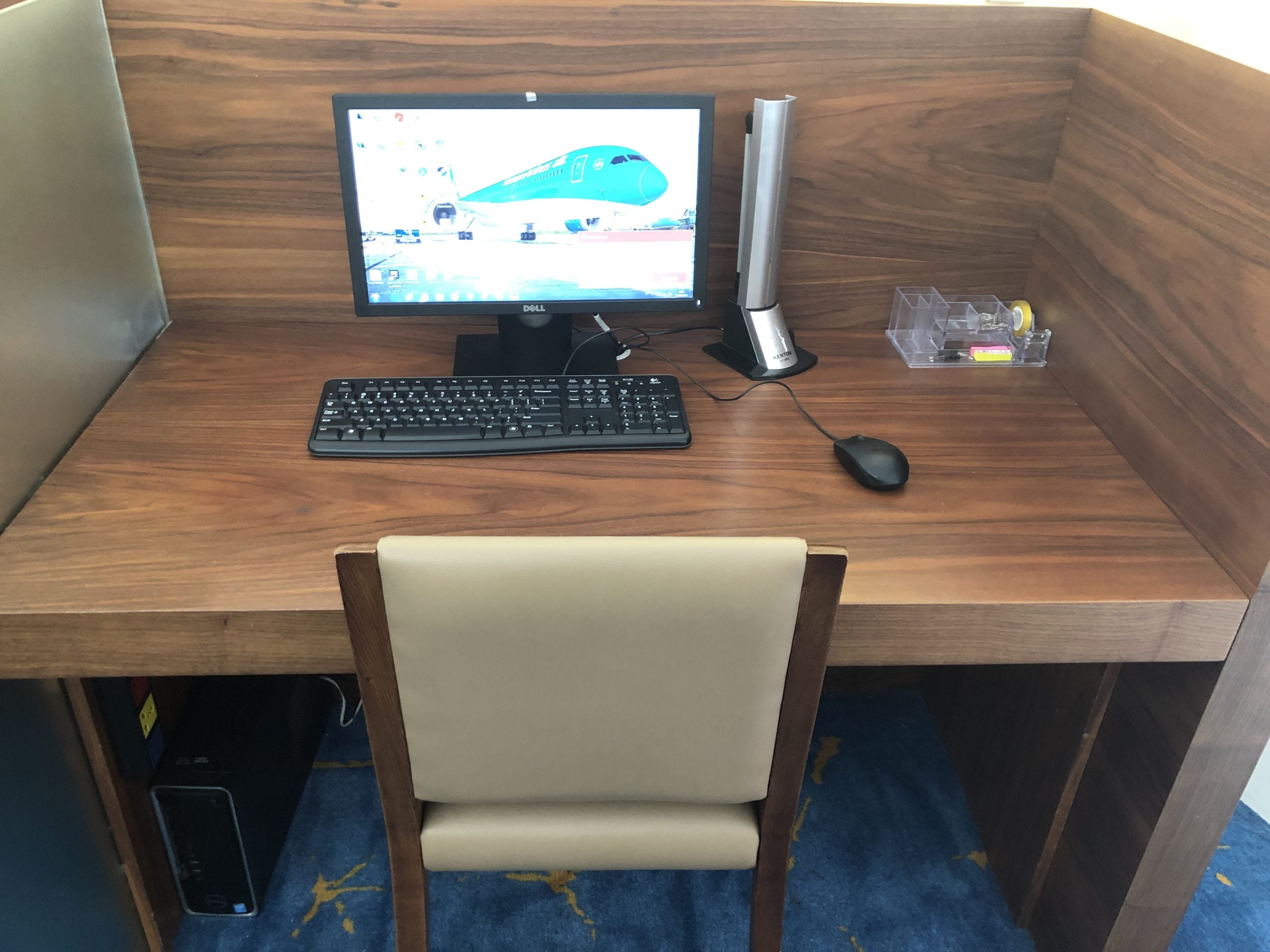 I spent around 20 minutes plane watching, which was made easy by the huge floor-to-ceiling windows surrounding the lounge.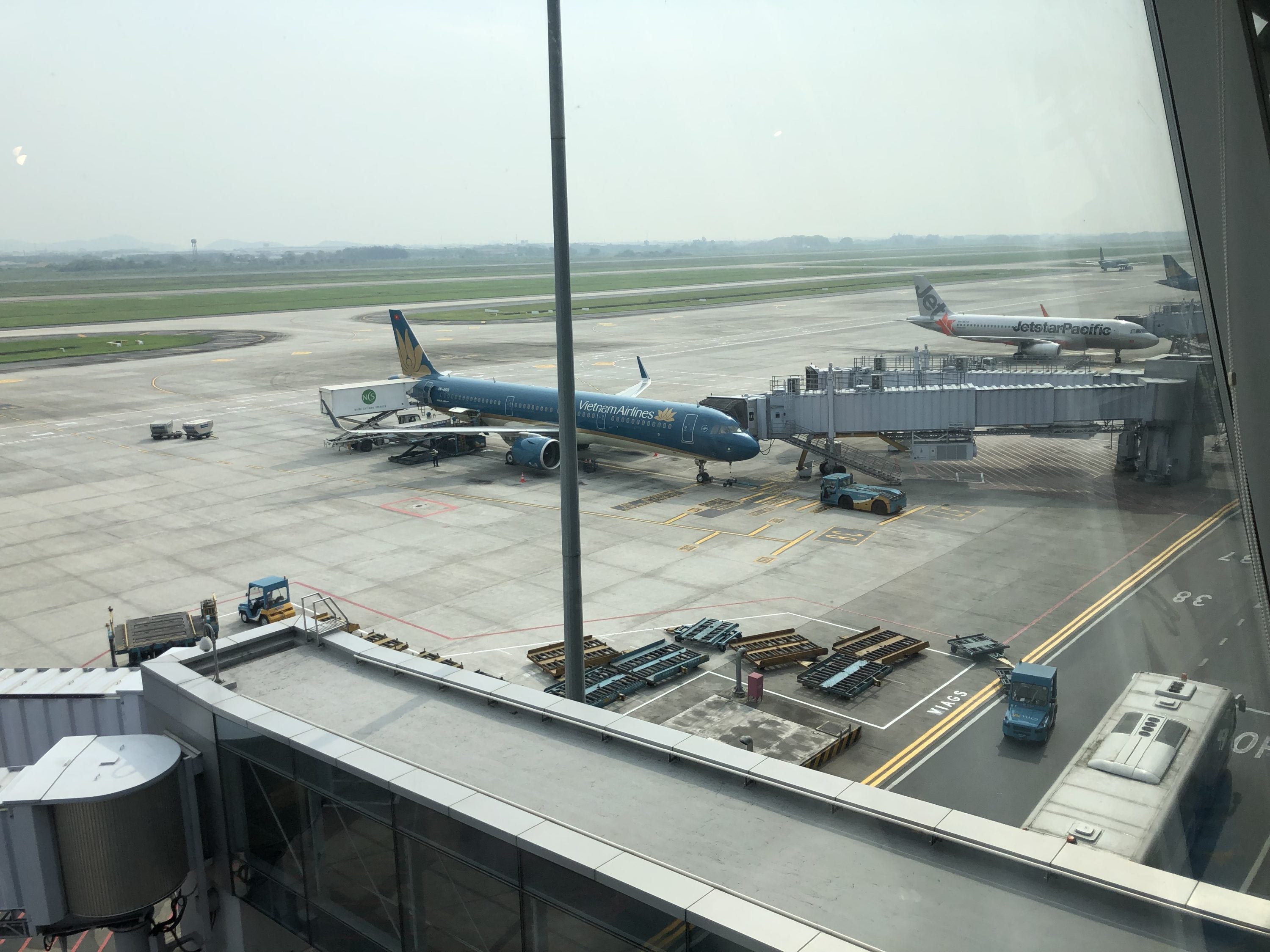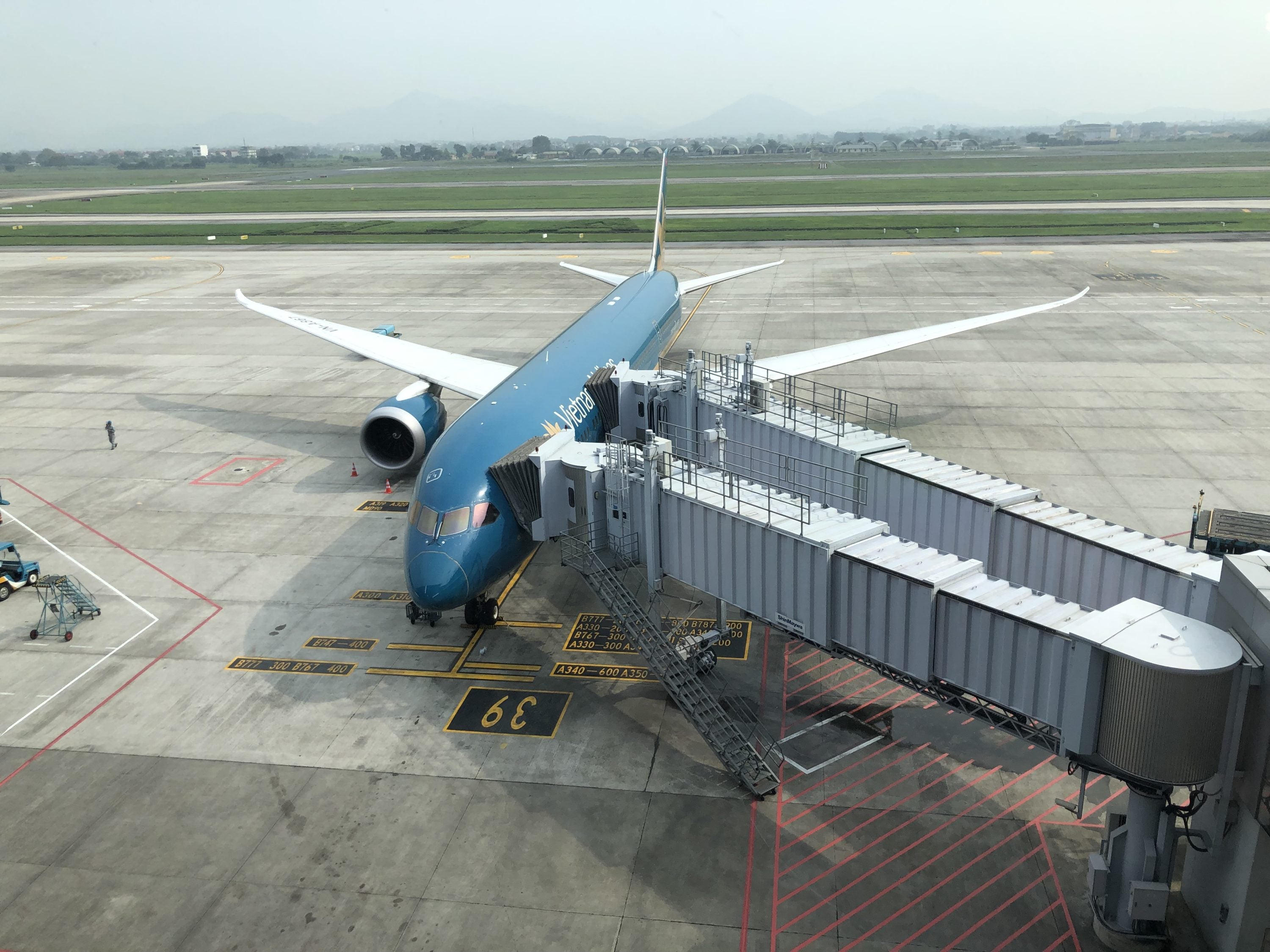 If you follow aviation news, you probably heard of Bamboo Airways, which is a start-up, low-cost airline based in Vietnam. I was able to catch a glimpse of their very first A321neo, which was a very cool experience.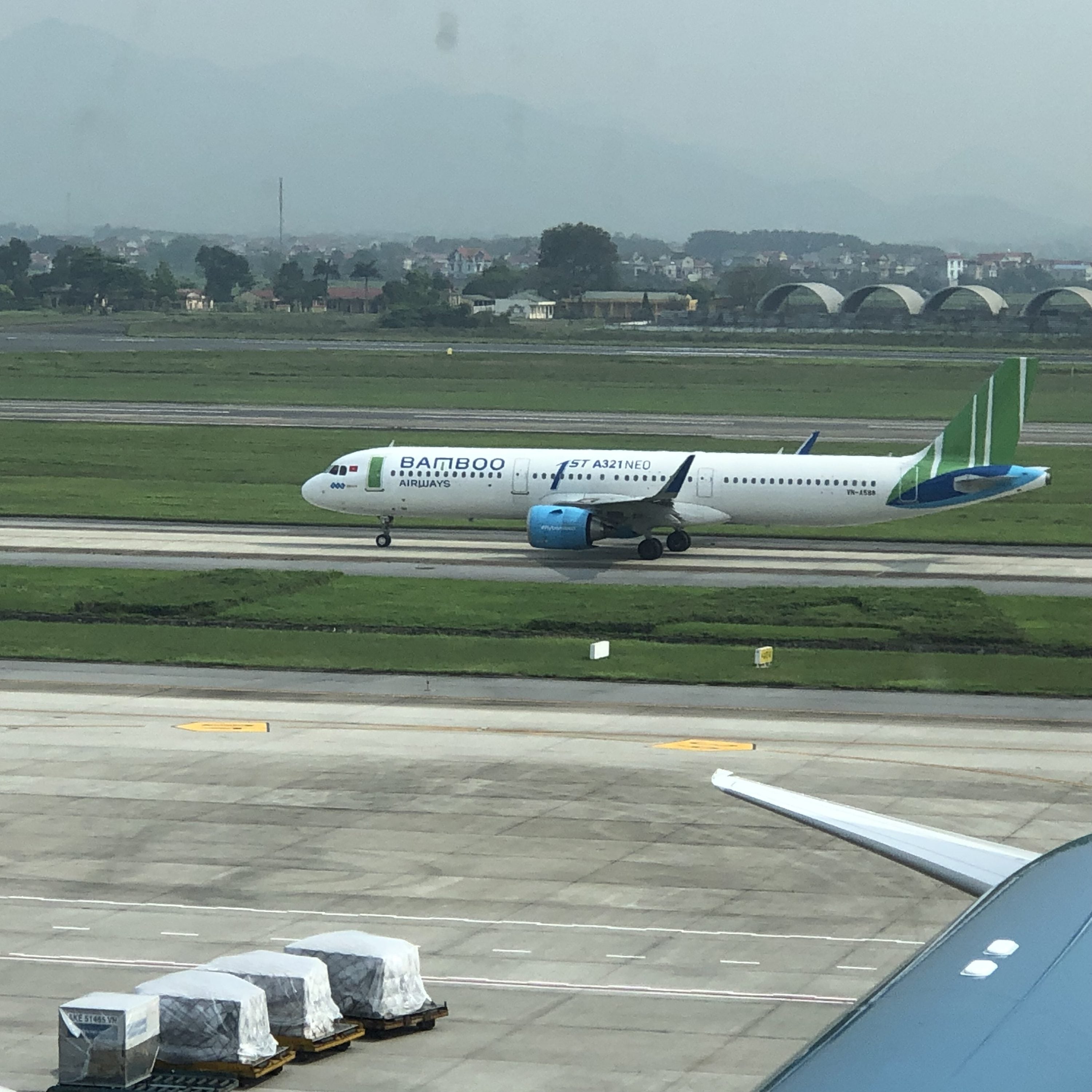 I wandered over to the showers, and I found that they employ a unique set up for their showers. Instead of offering shower suites, they offer shower stalls. There were two stalls on the men's side, located nearby a few waiting chairs.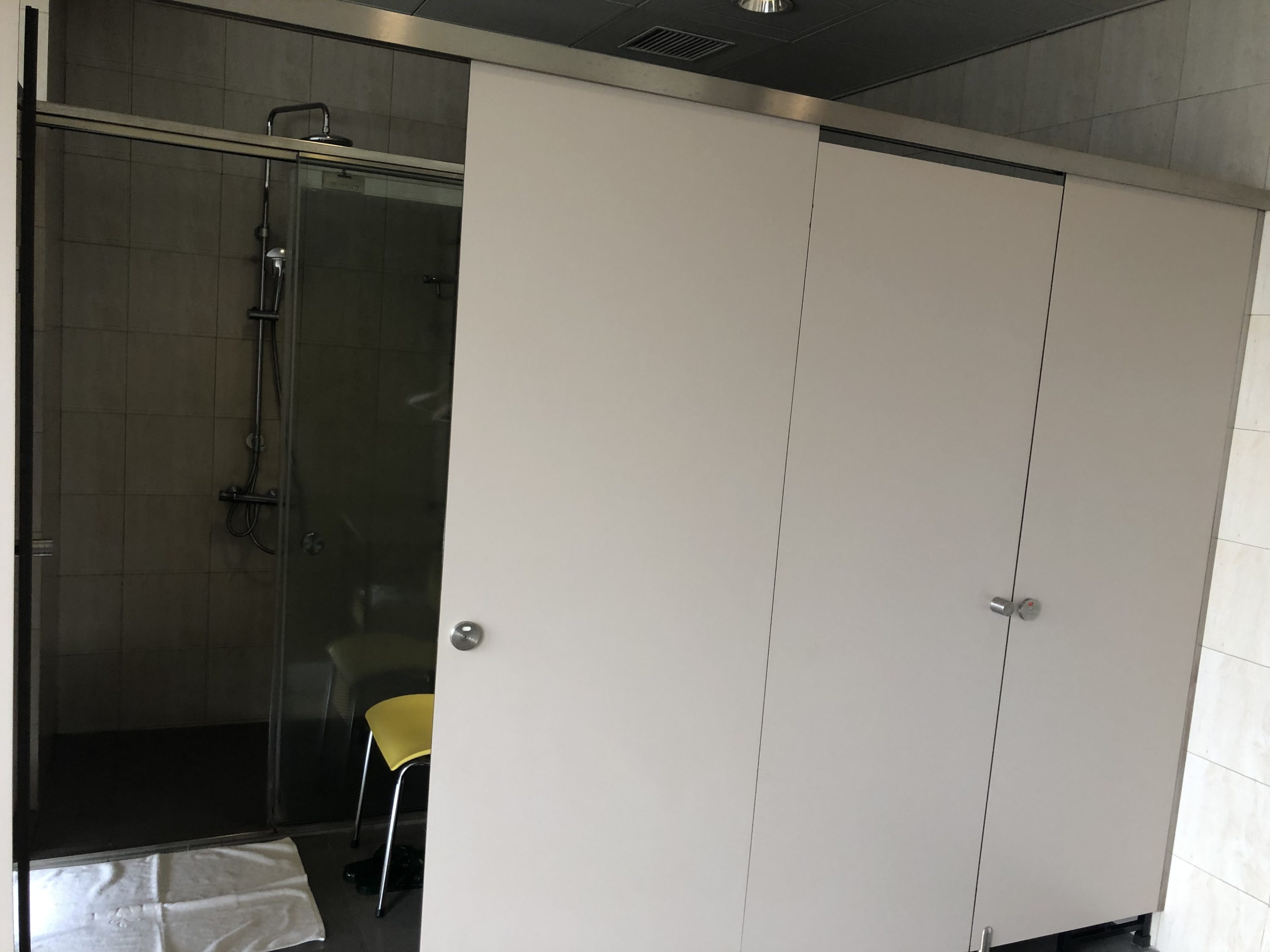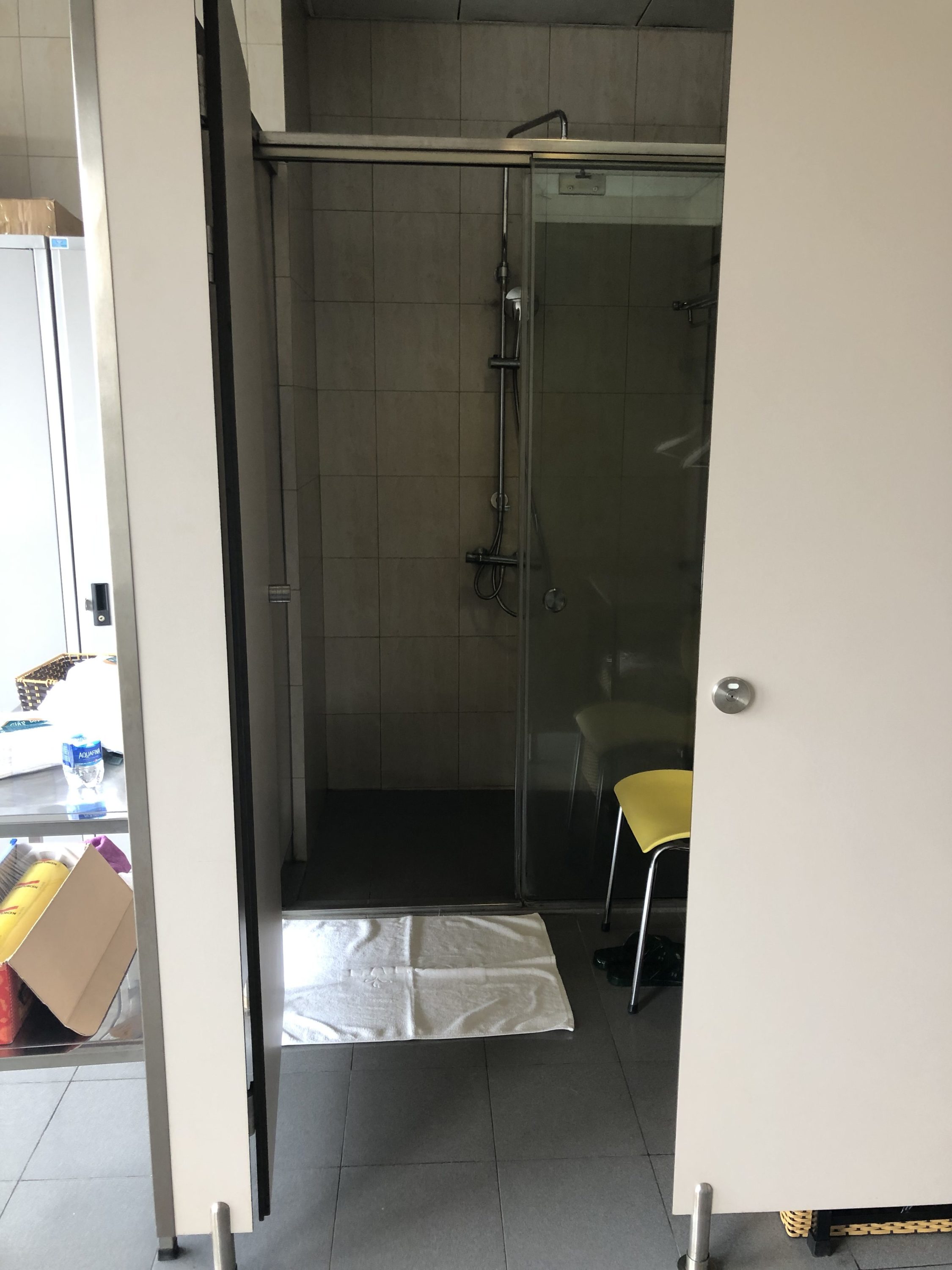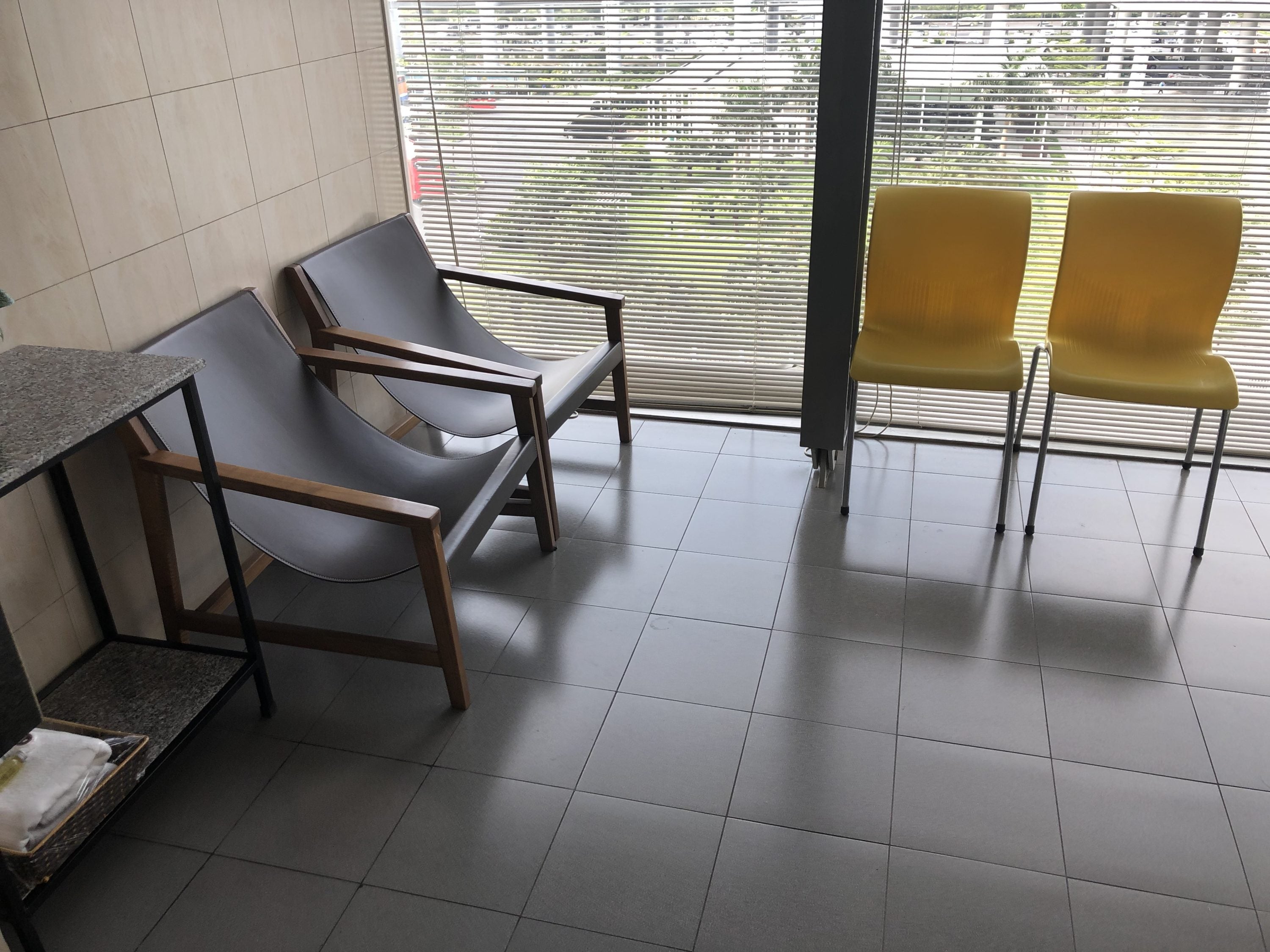 Toiletries are provided, including combs, cotton swabs, razors, and toothbrush sets.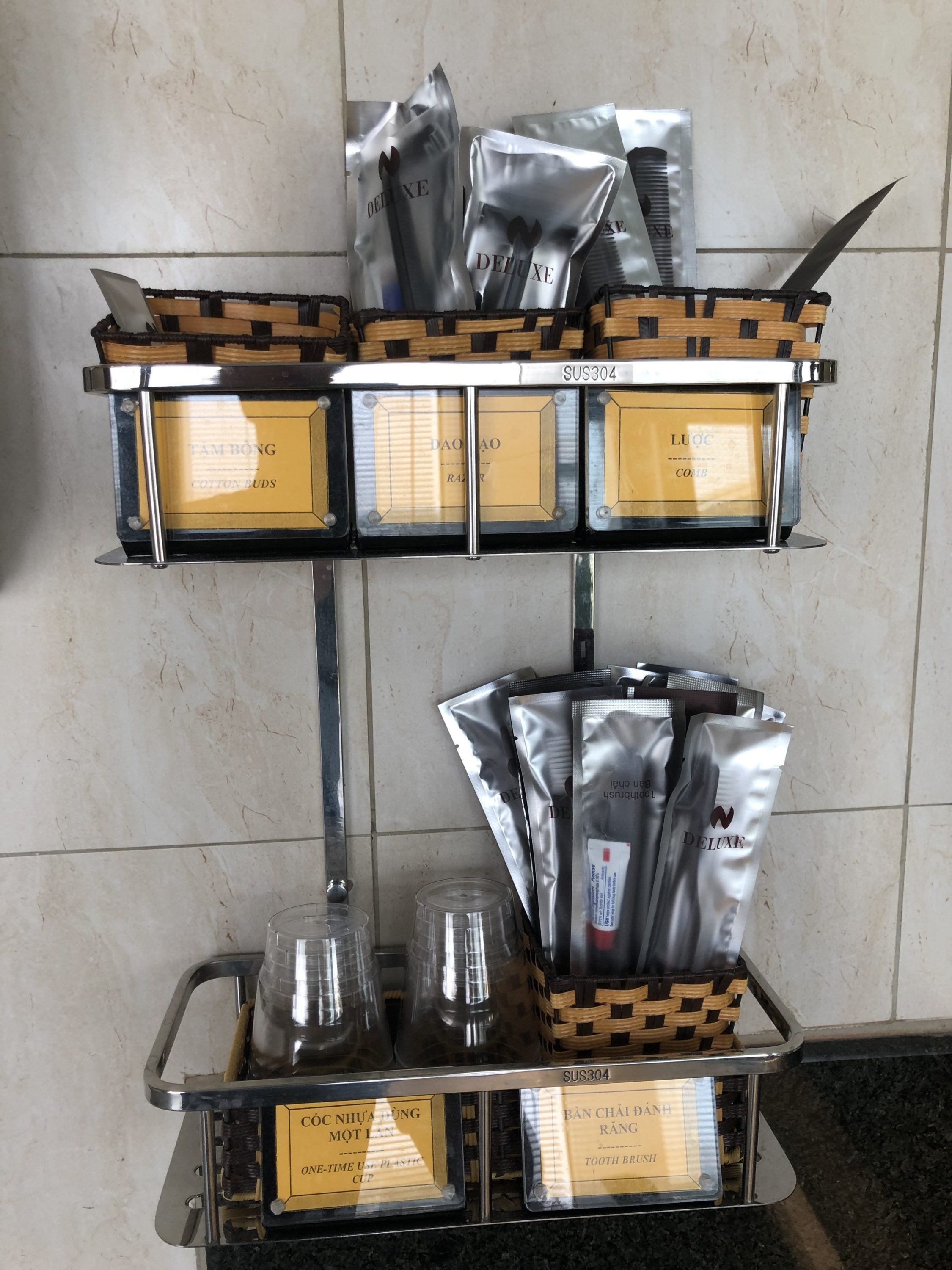 The other shower amenities and necessities such as shampoo, conditioner, body wash, soap, and body towels were provided in an individually packaged basket. It's a bit of a grab-and-go setup, and it's a unique departure from the norm.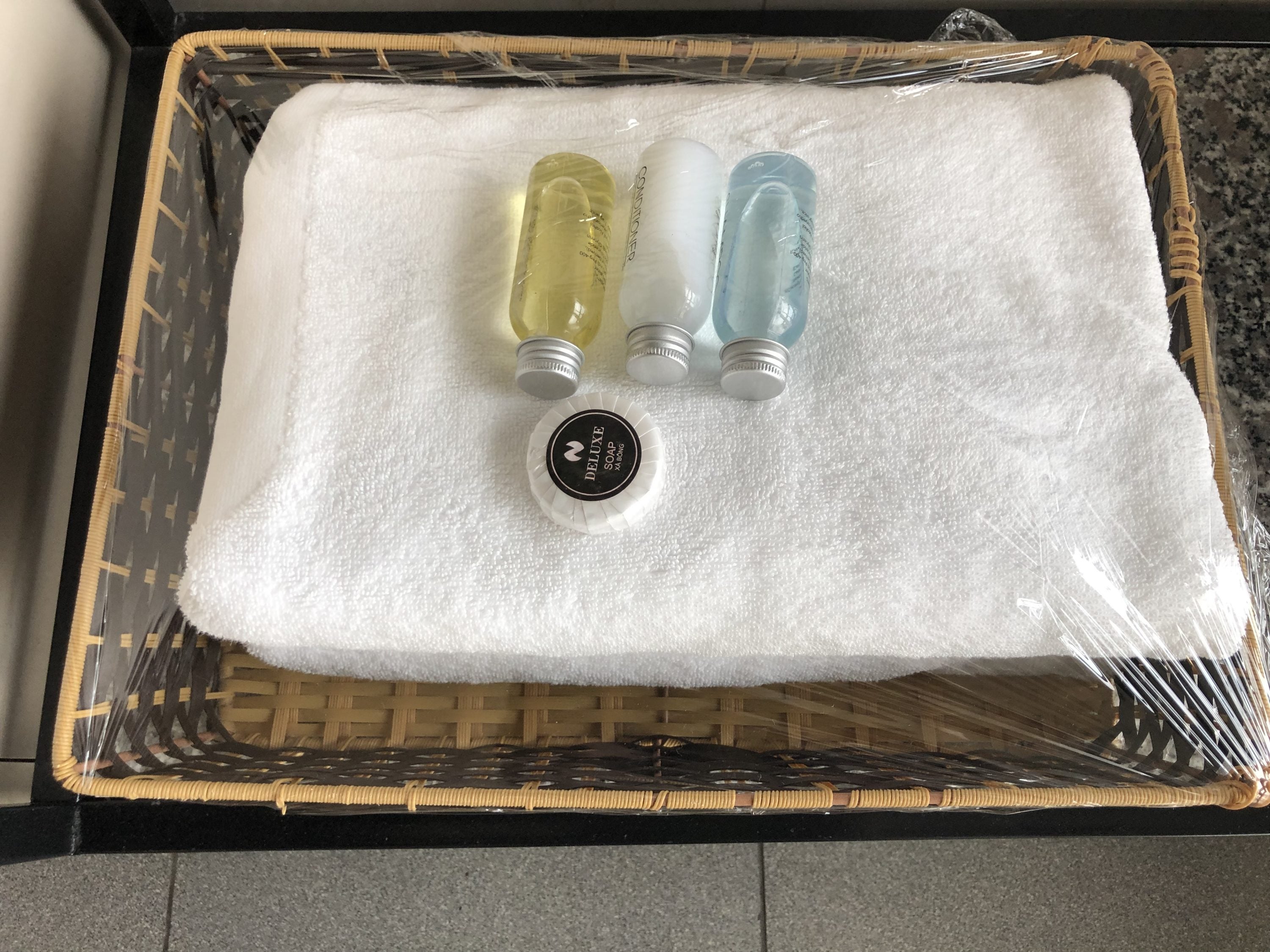 I meandered my way to the food and beverage section, and the first things that caught my eye were the large refrigerators.
I found some yogurt, electrolyte water, local beers, and even white fungus bird's nest drinks! As a huge fan of bird's nest, you can bet that I took several cans of those.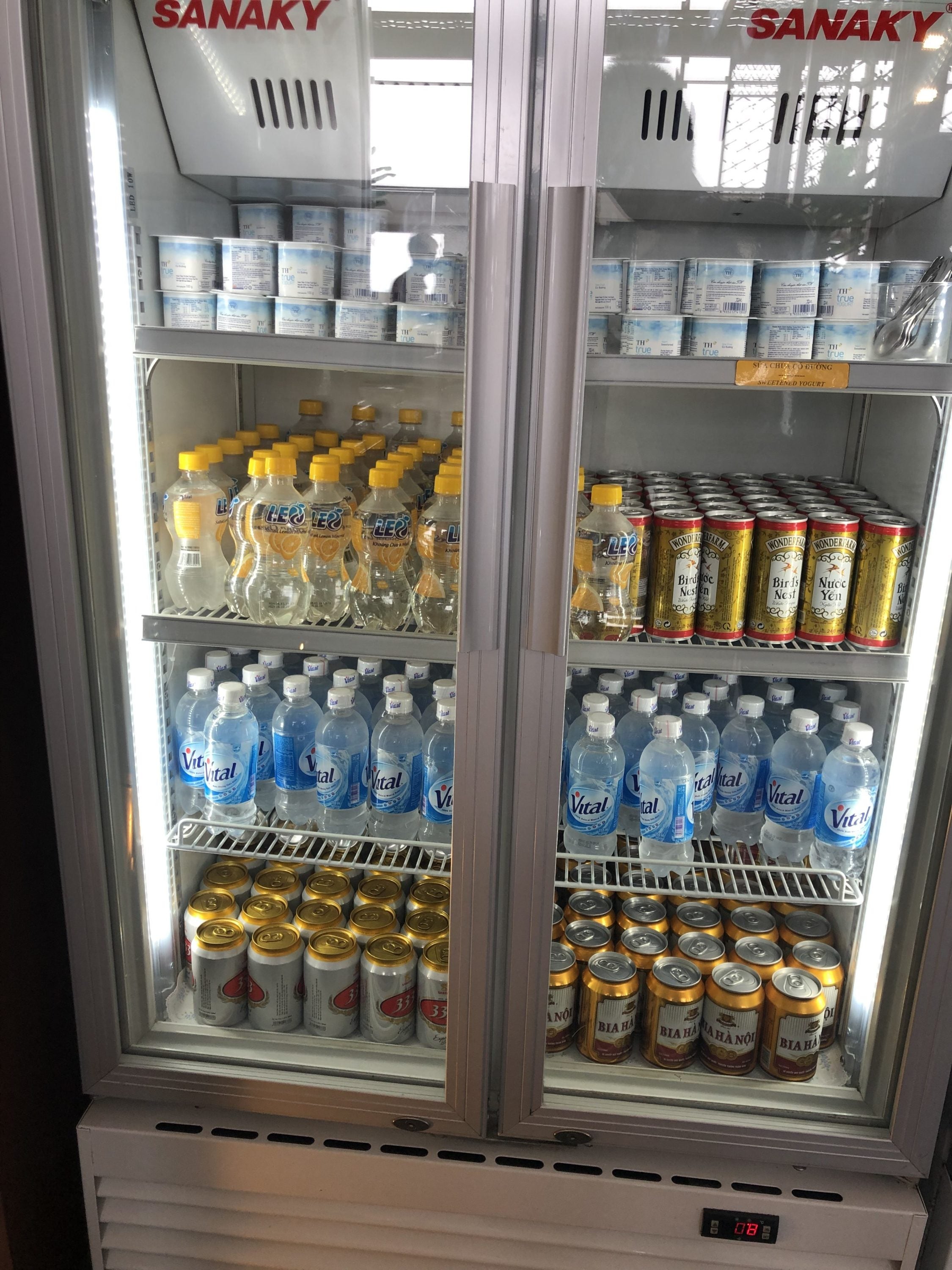 There were also pitchers of milk and juice above various brands of bottled water.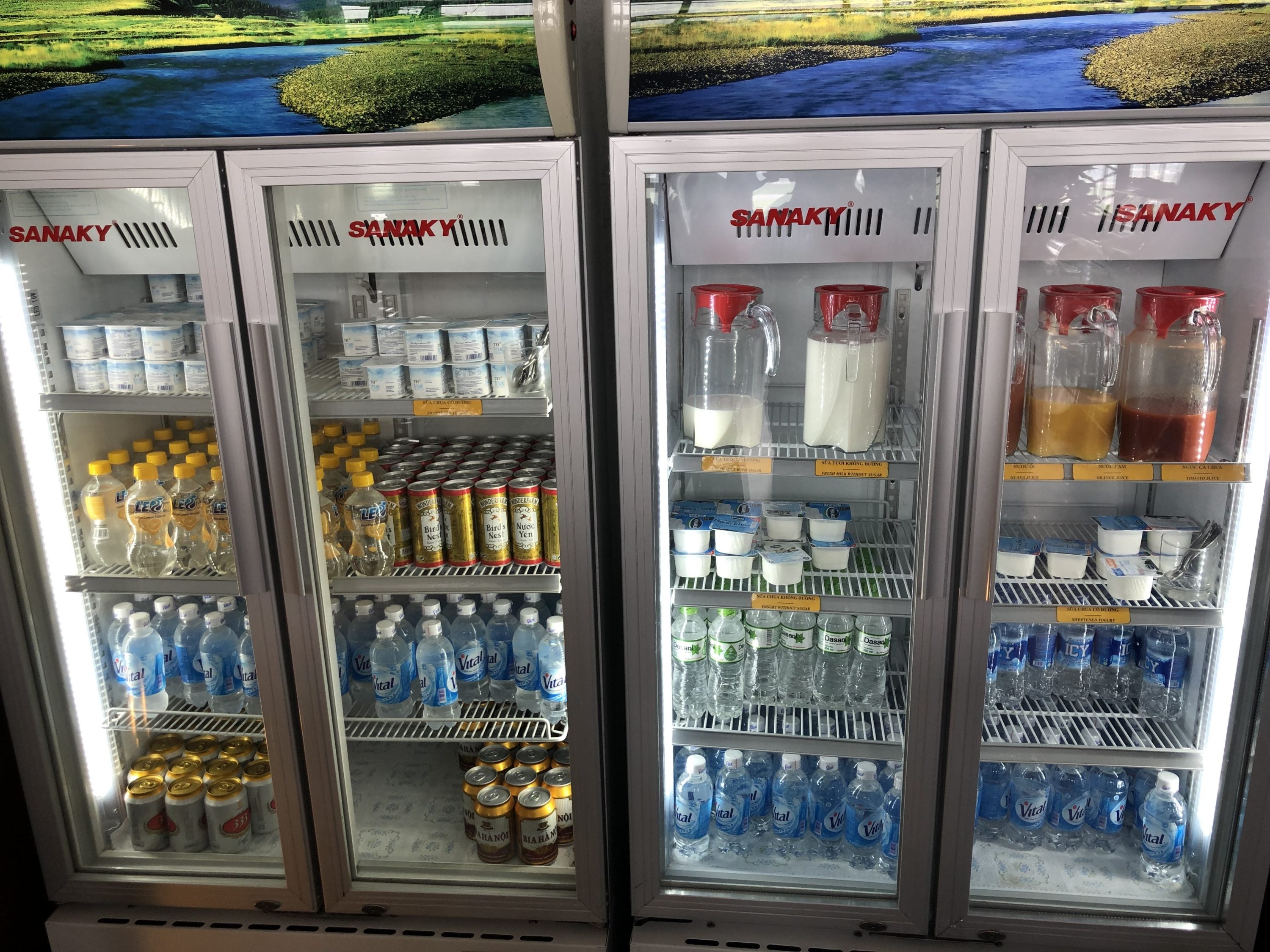 The cold drinks concluded with typical soft drinks, green tea, and more water.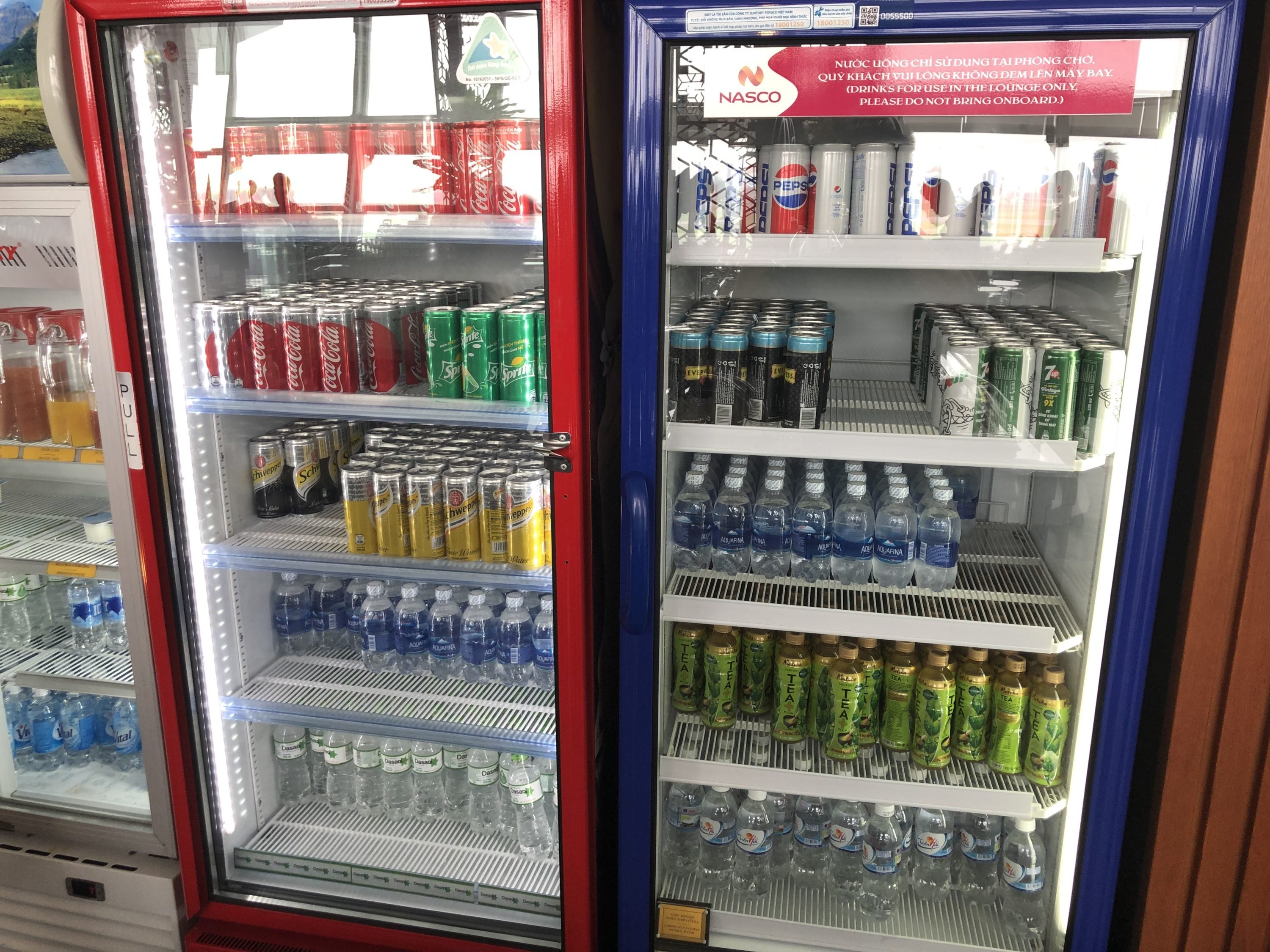 Vietnam is famous for its coffee, and there was quite a large station dedicated to tea and coffee in this lounge. This also included a Keurig-like pod coffee brewer.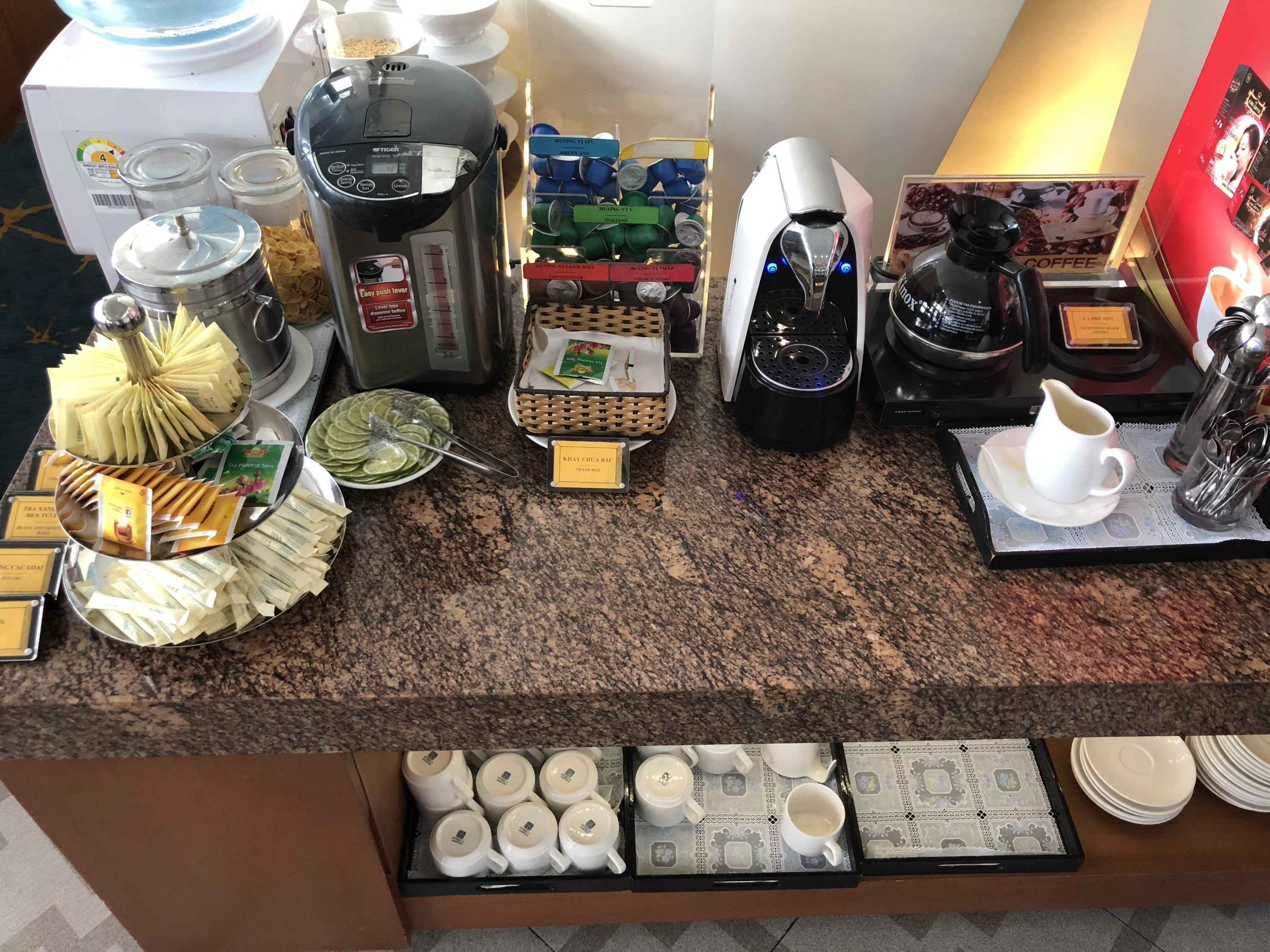 An espresso machine was located to the right of the tea and coffee station, which begs the question: why would you use the pod coffee brewer when you have a full-blown espresso machine? Nevertheless, variety is a strength, I suppose.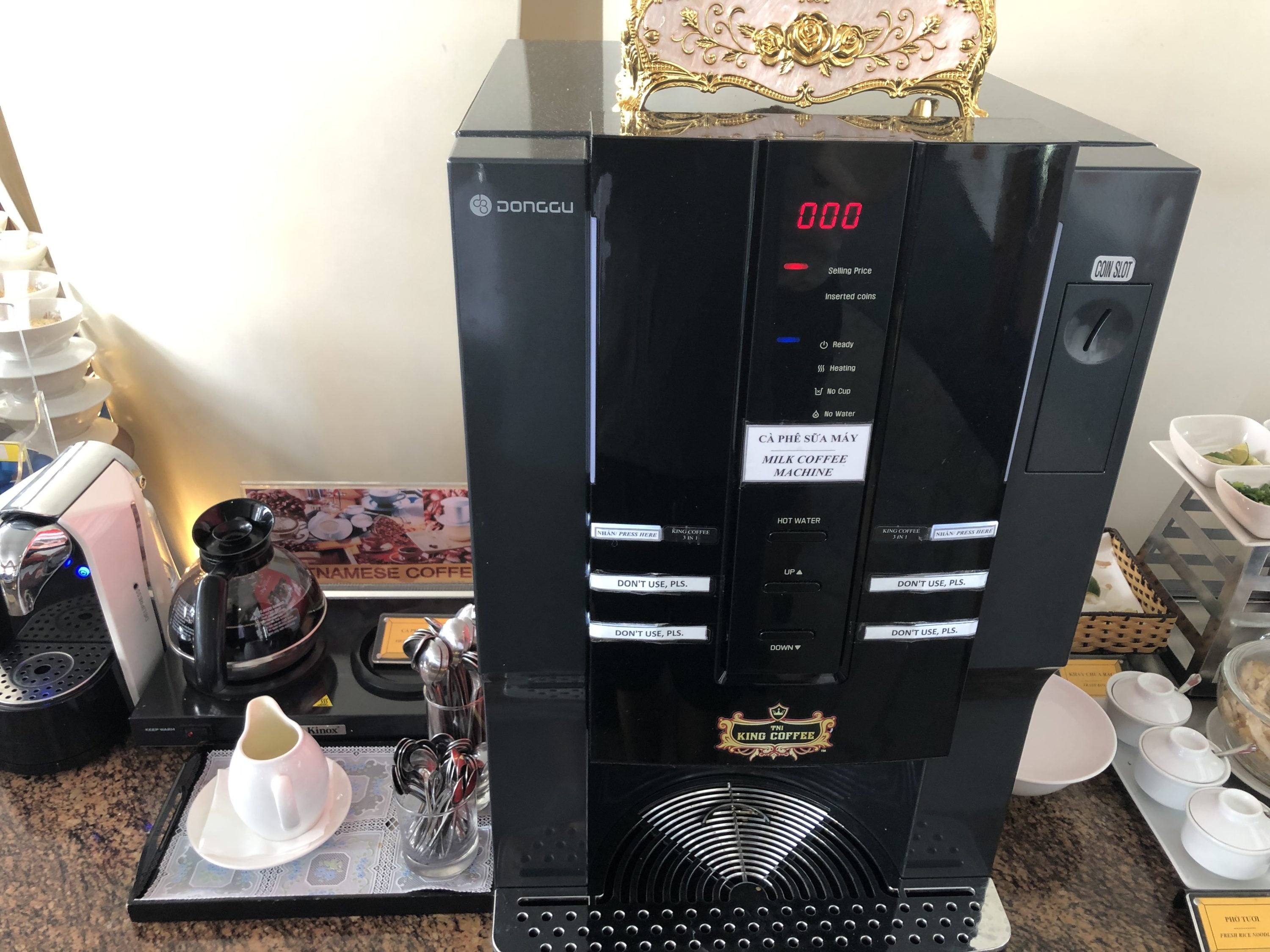 The liquor selection was somewhat varied, though there wasn't any special display case or bar. You could enjoy Chivas Regal and Absolut, among others.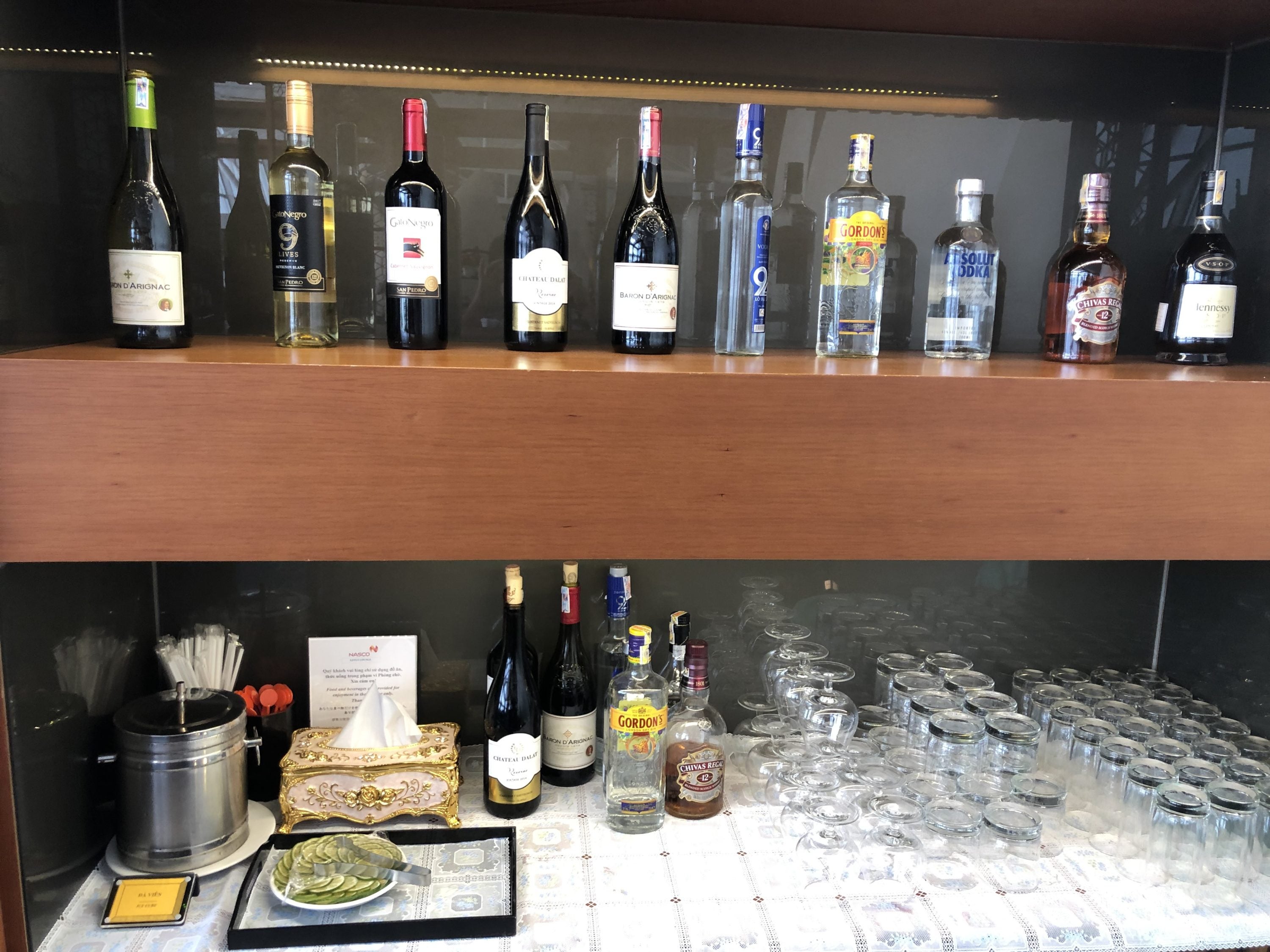 The overall food selection was well varied, though nothing stood out as particularly tasty.
First, there was a pot of corn cream soup.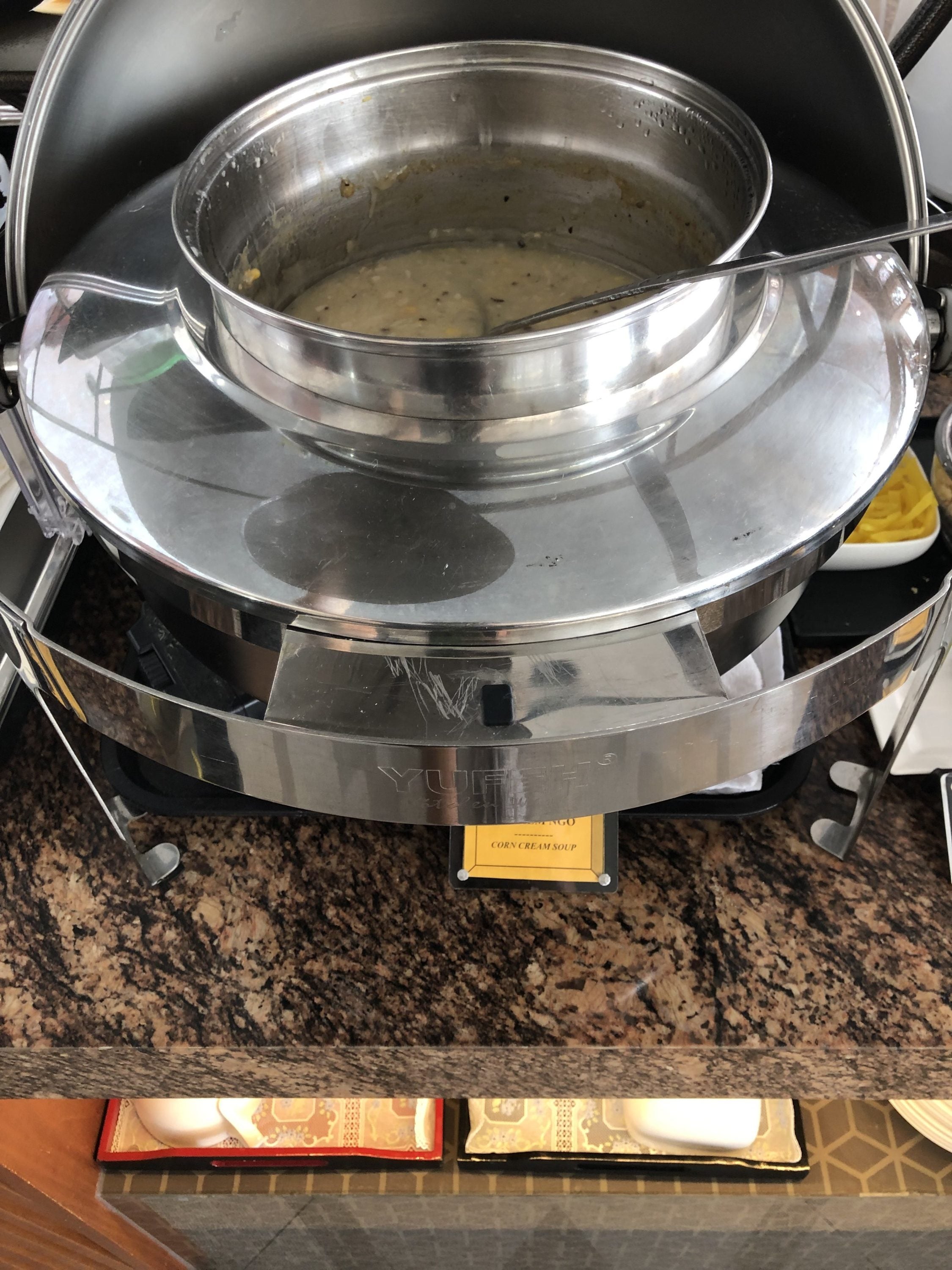 Then, I saw a tray of sausages, except the left and right containers were completely empty. So it ended up being a bunch of interesting looking sausages. Yeah, hard pass.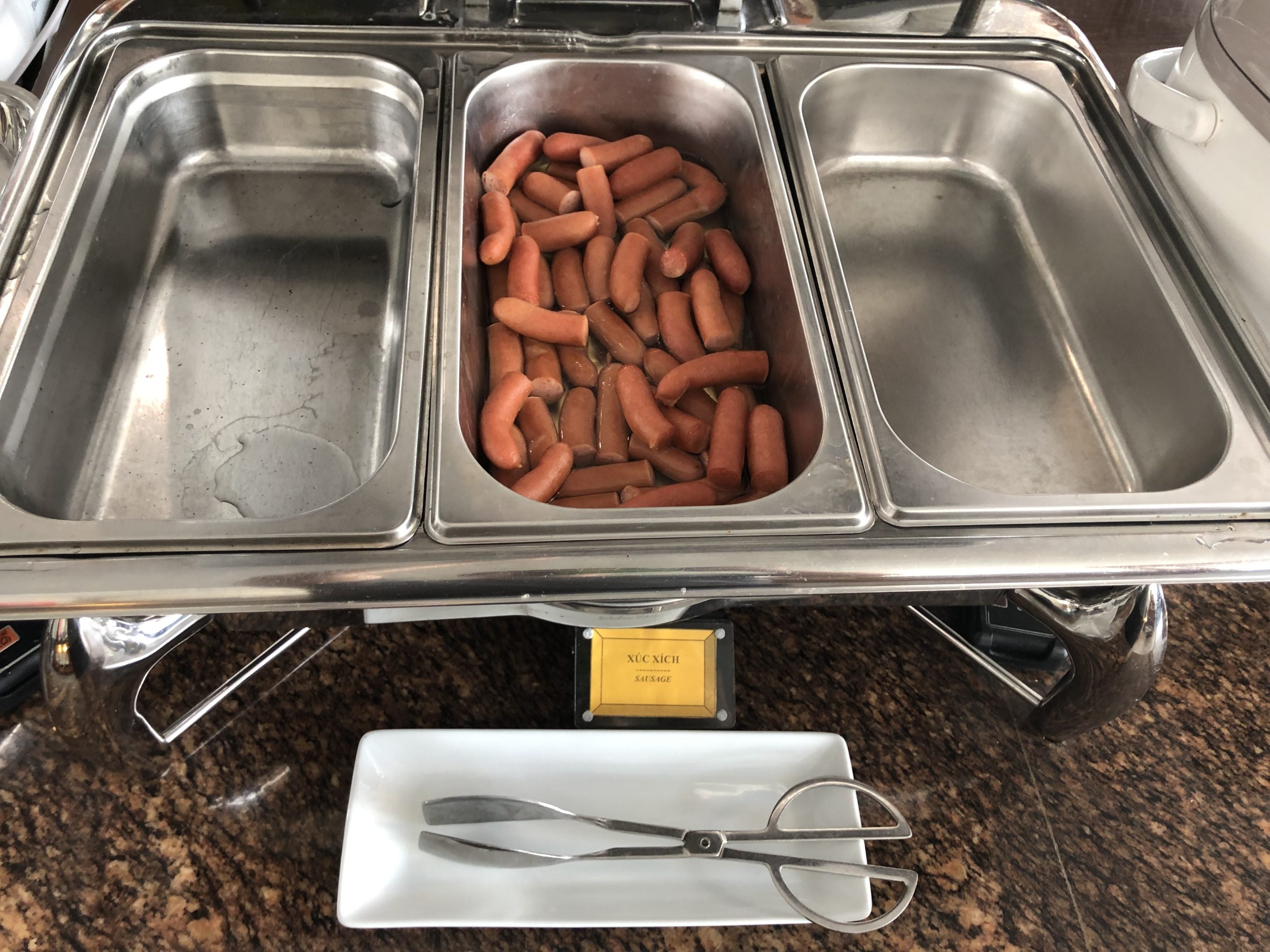 Next, I found the porridge station, which was complete with sides such as minced pork meat, pickled radish, spices, and even sliced pork rolls (chả lụa) and shredded chicken (gà).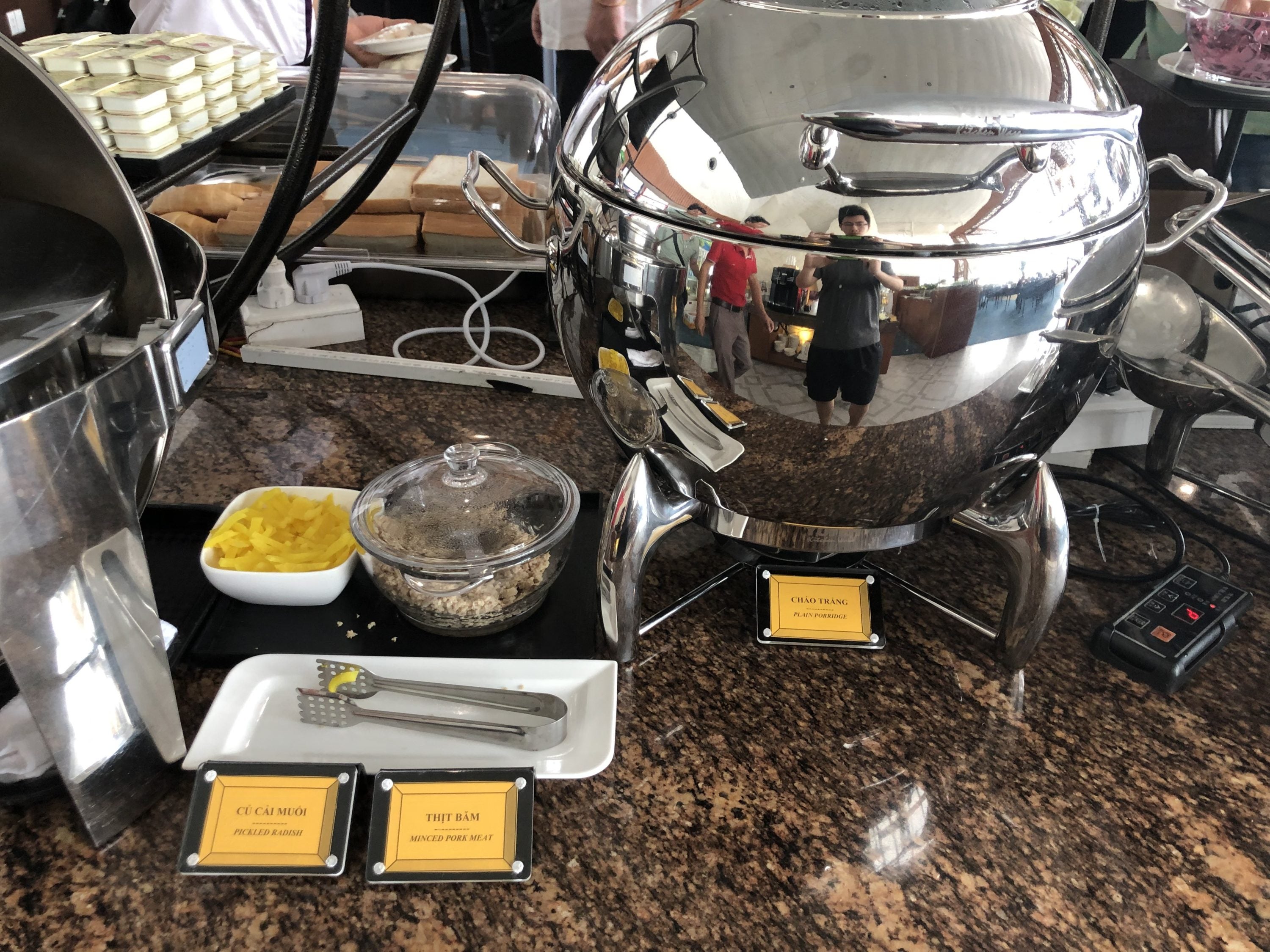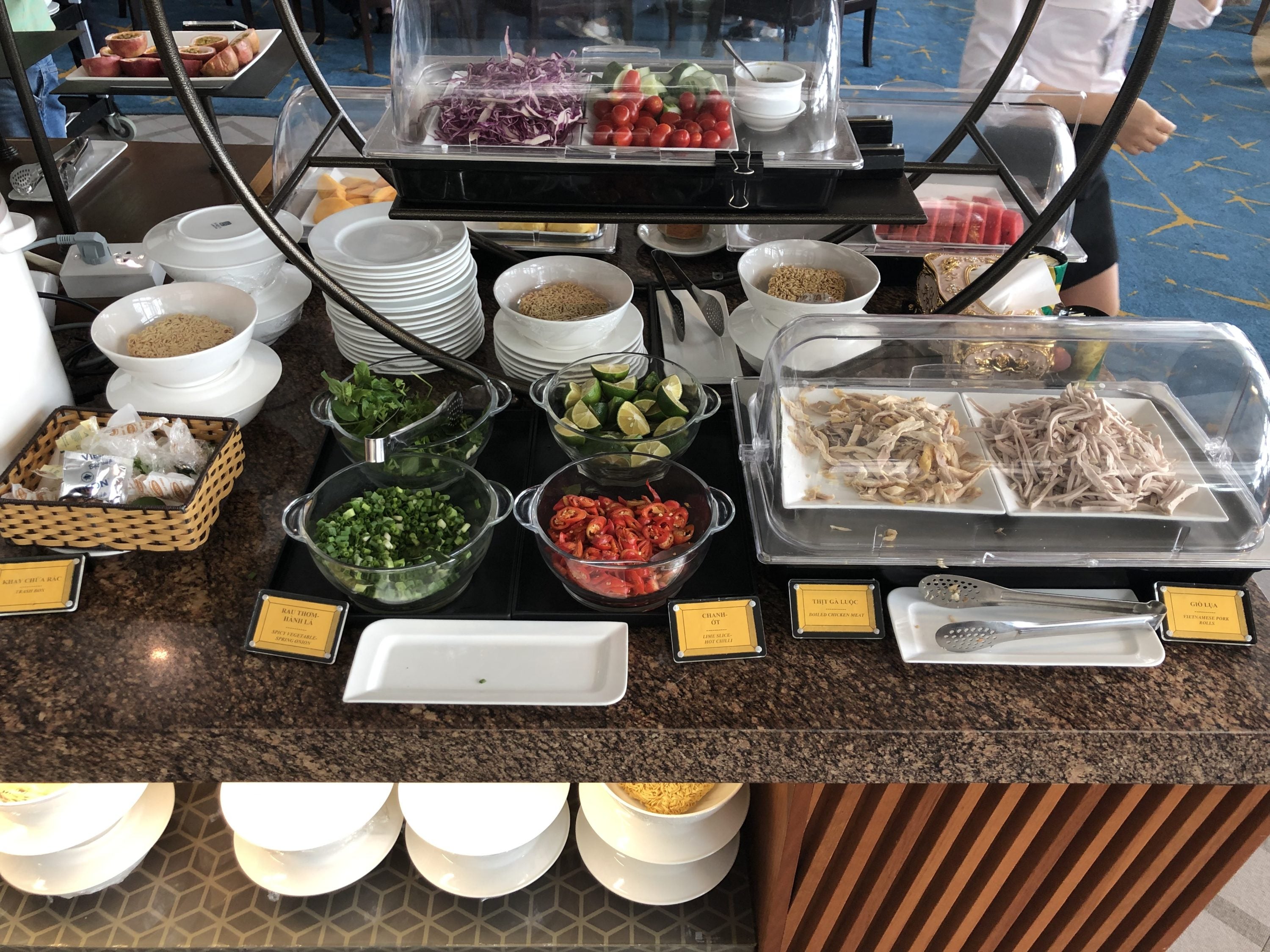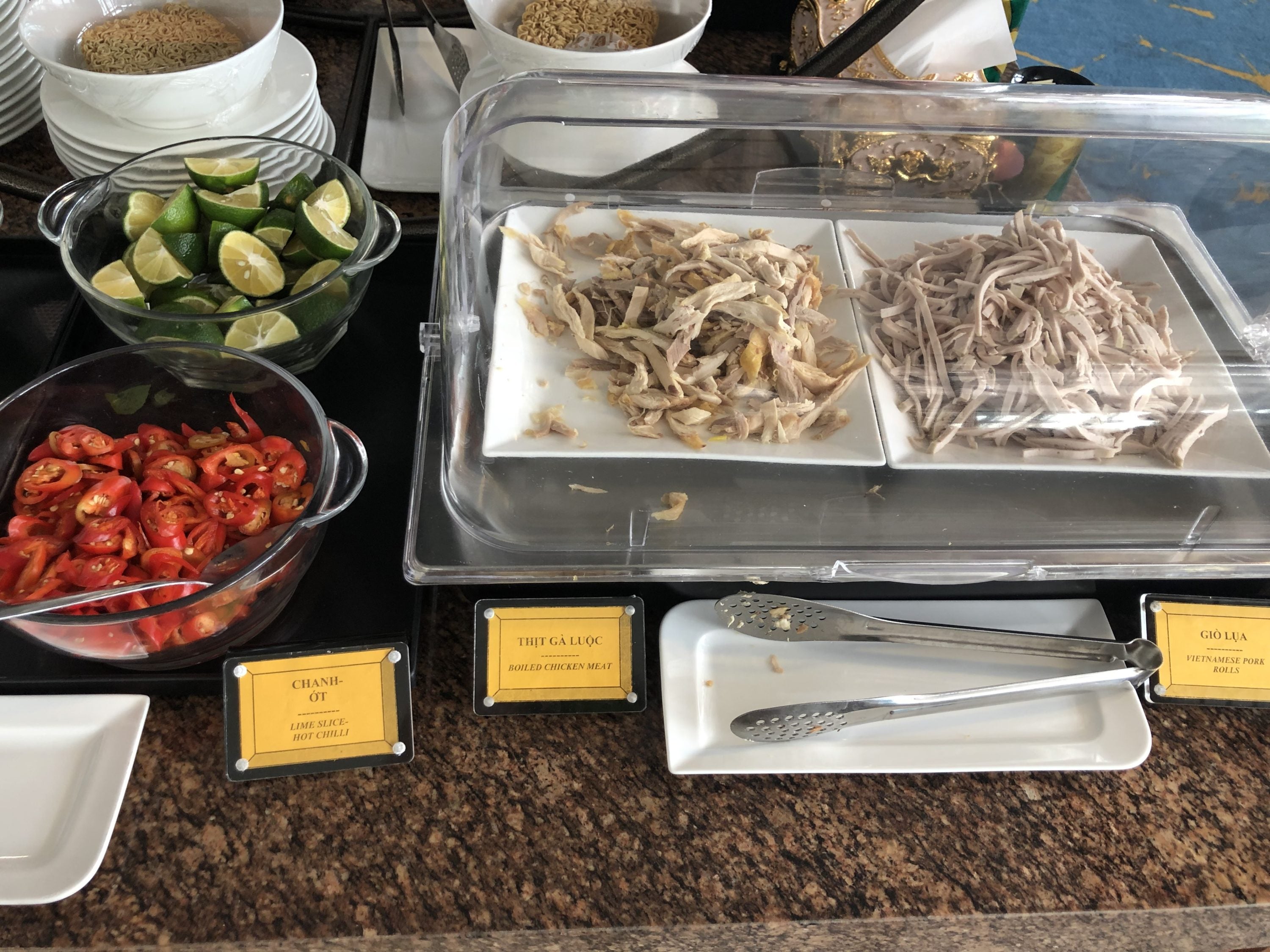 Behind the porridge station was the chicken pho station. There was a large pot of broth alongside some pre-portioned bowls of vermicelli. You could season and spice your soup accordingly with chilis, scallions, and limes.
The pho was decent tasting, though I couldn't help but think that there was MSG in it.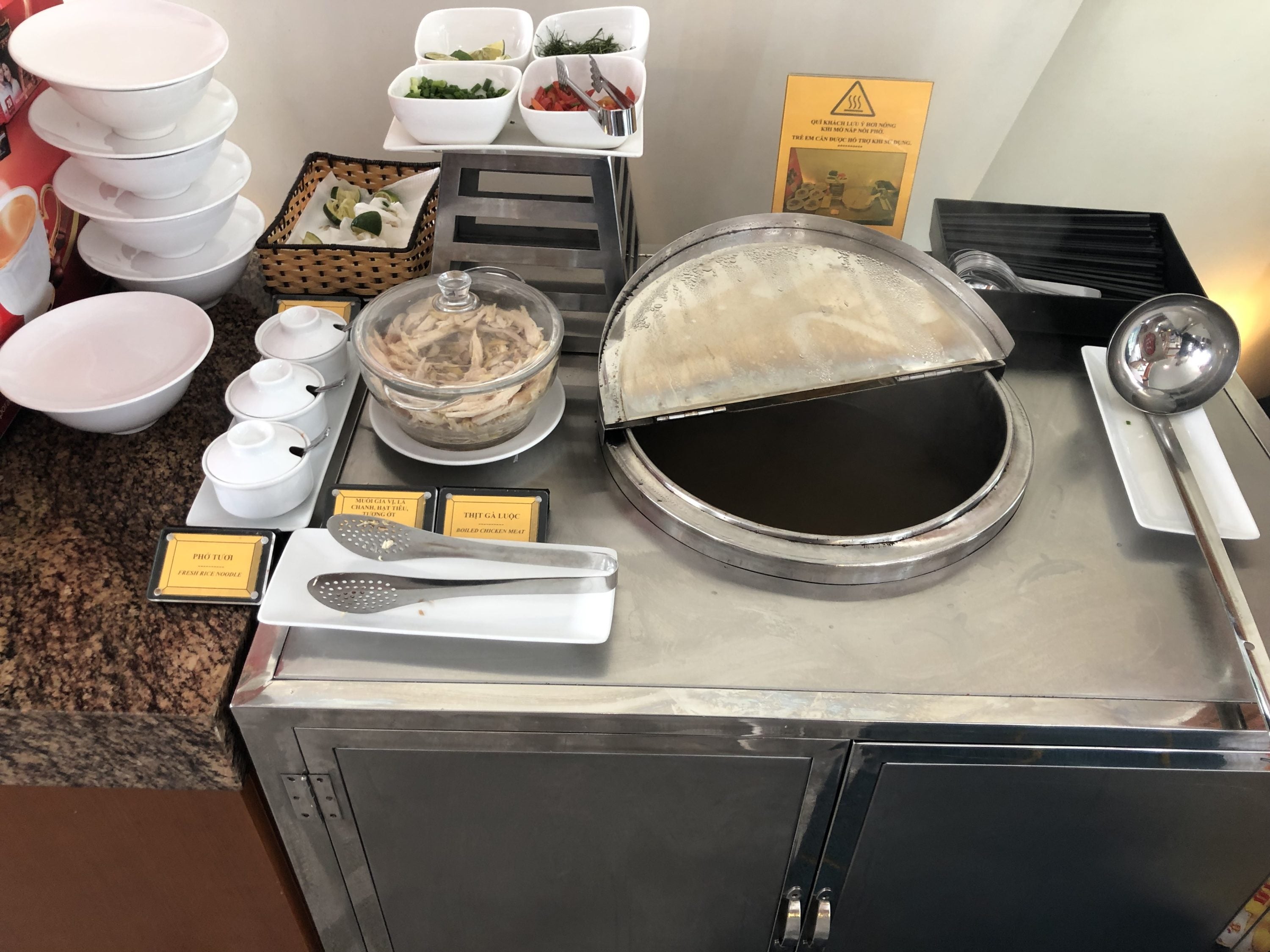 The bread selection consisted mostly of sliced white bread.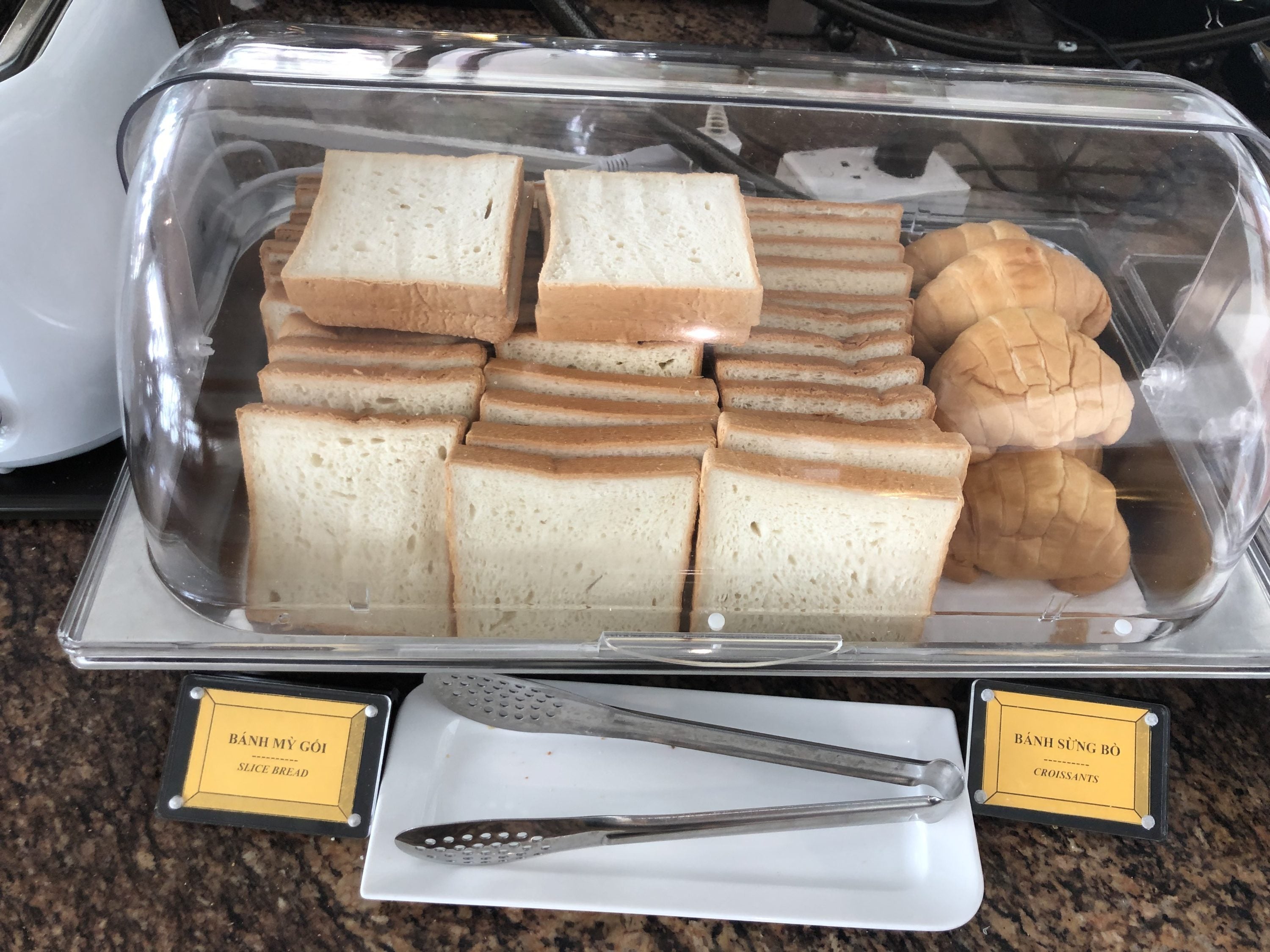 Hard boiled eggs, fermented fish sauce, and chili paste were within arm's reach of each other.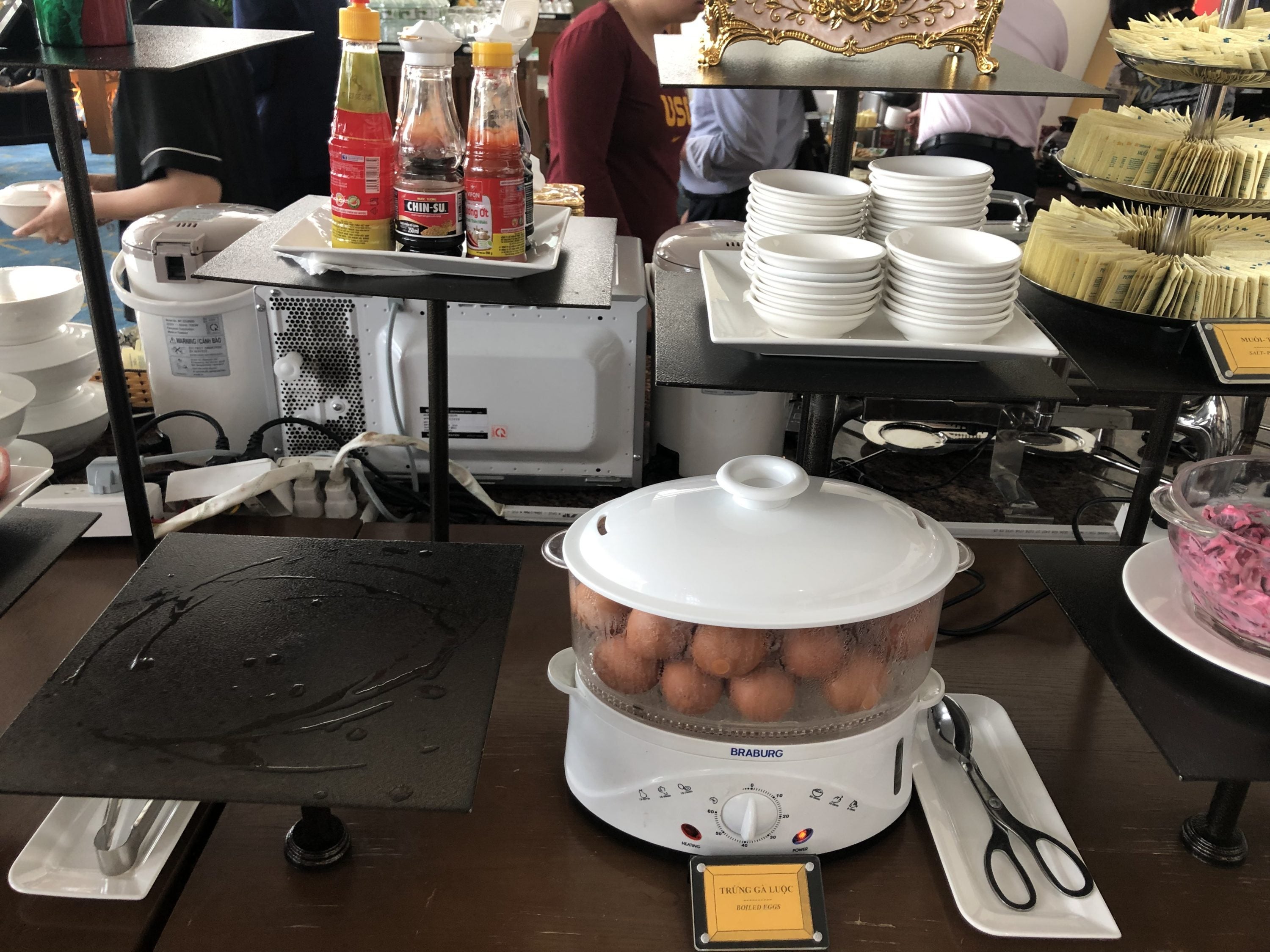 Sliced cured meats were placed next to the sliced Vietnamese pork sausages.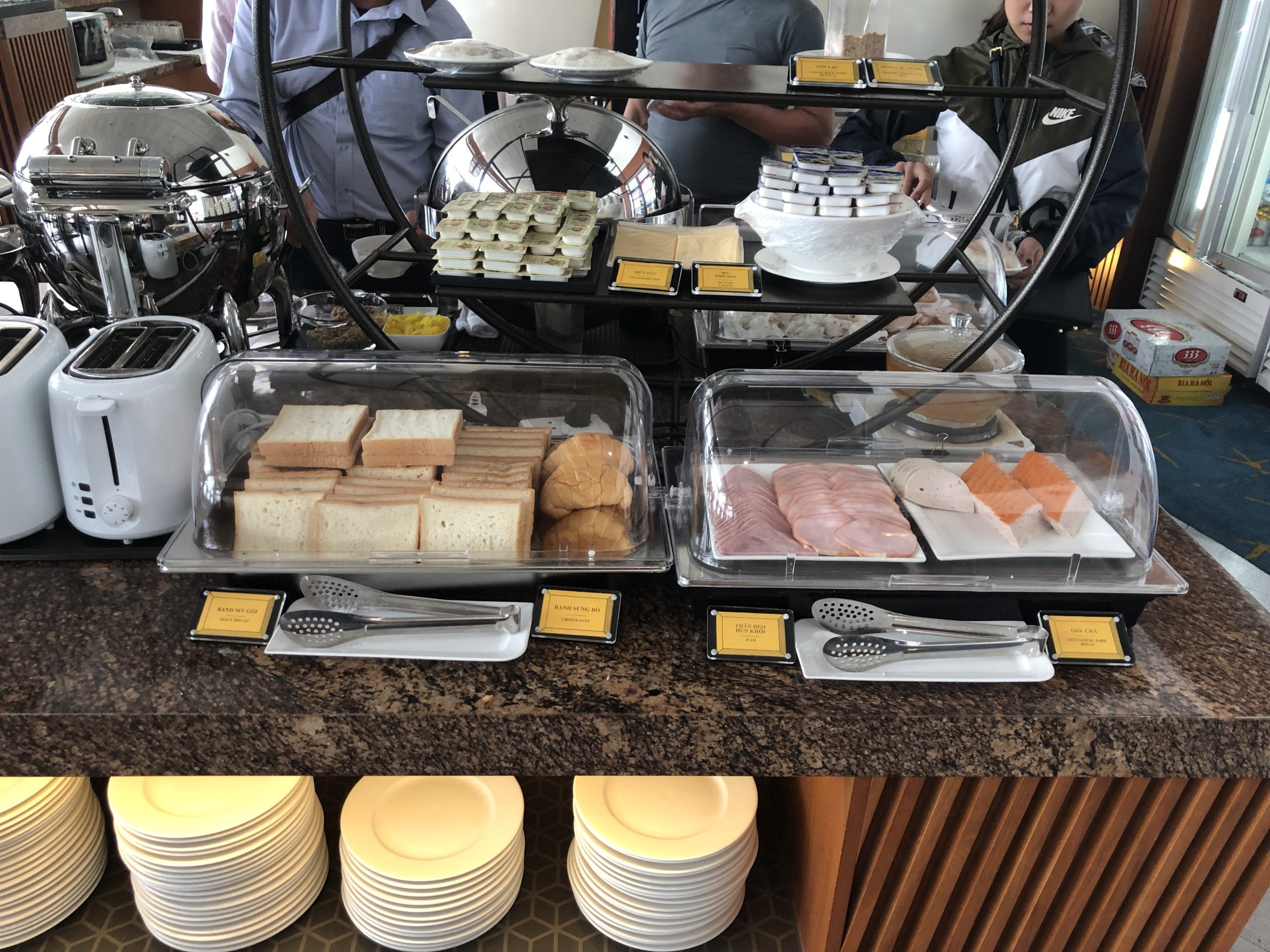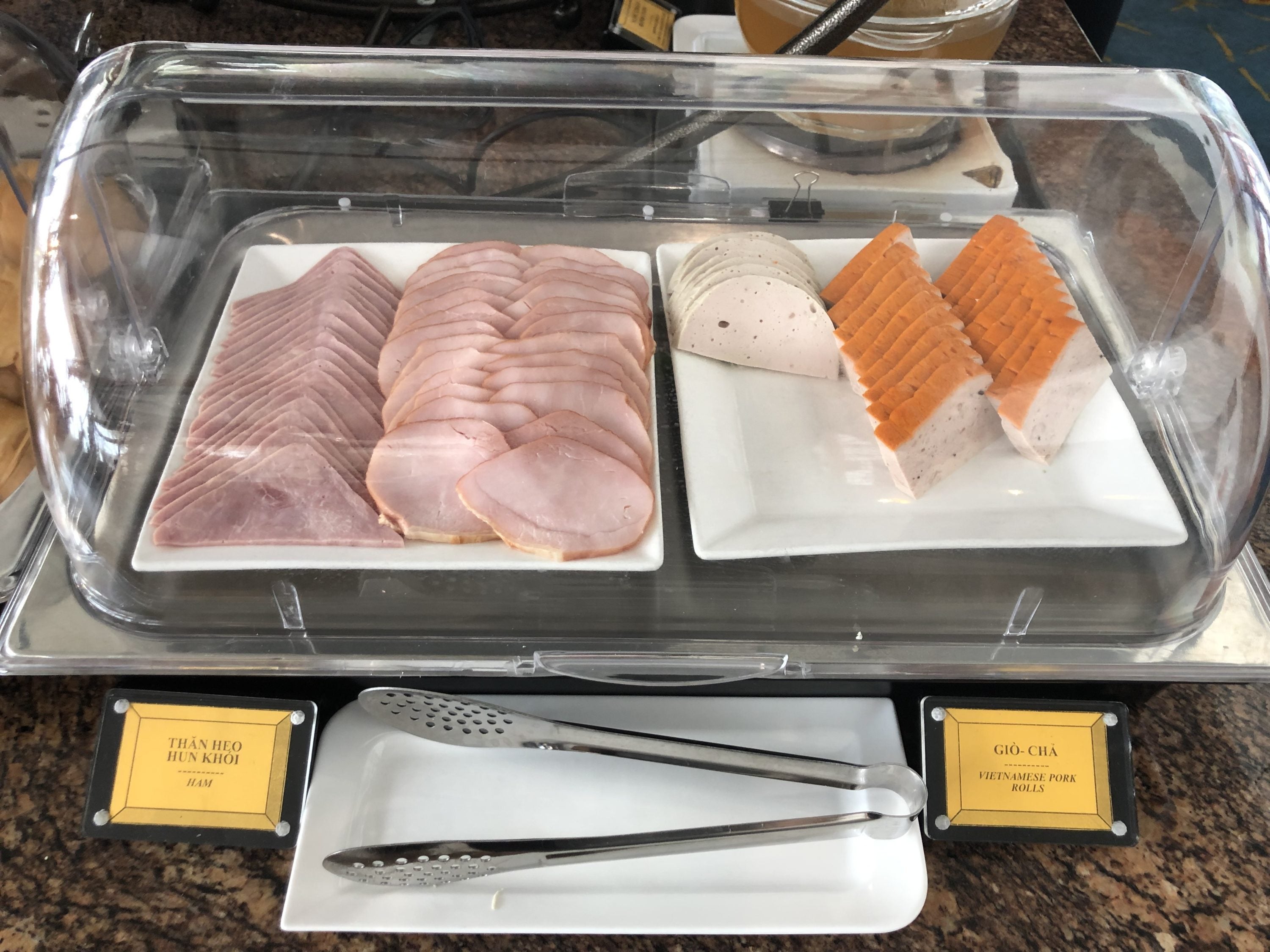 Additionally, there was a bánh cuốn station. Bánh cuốn is a Vietnamese dish consisting of steamed rice noodle rolls filled with meats and spices.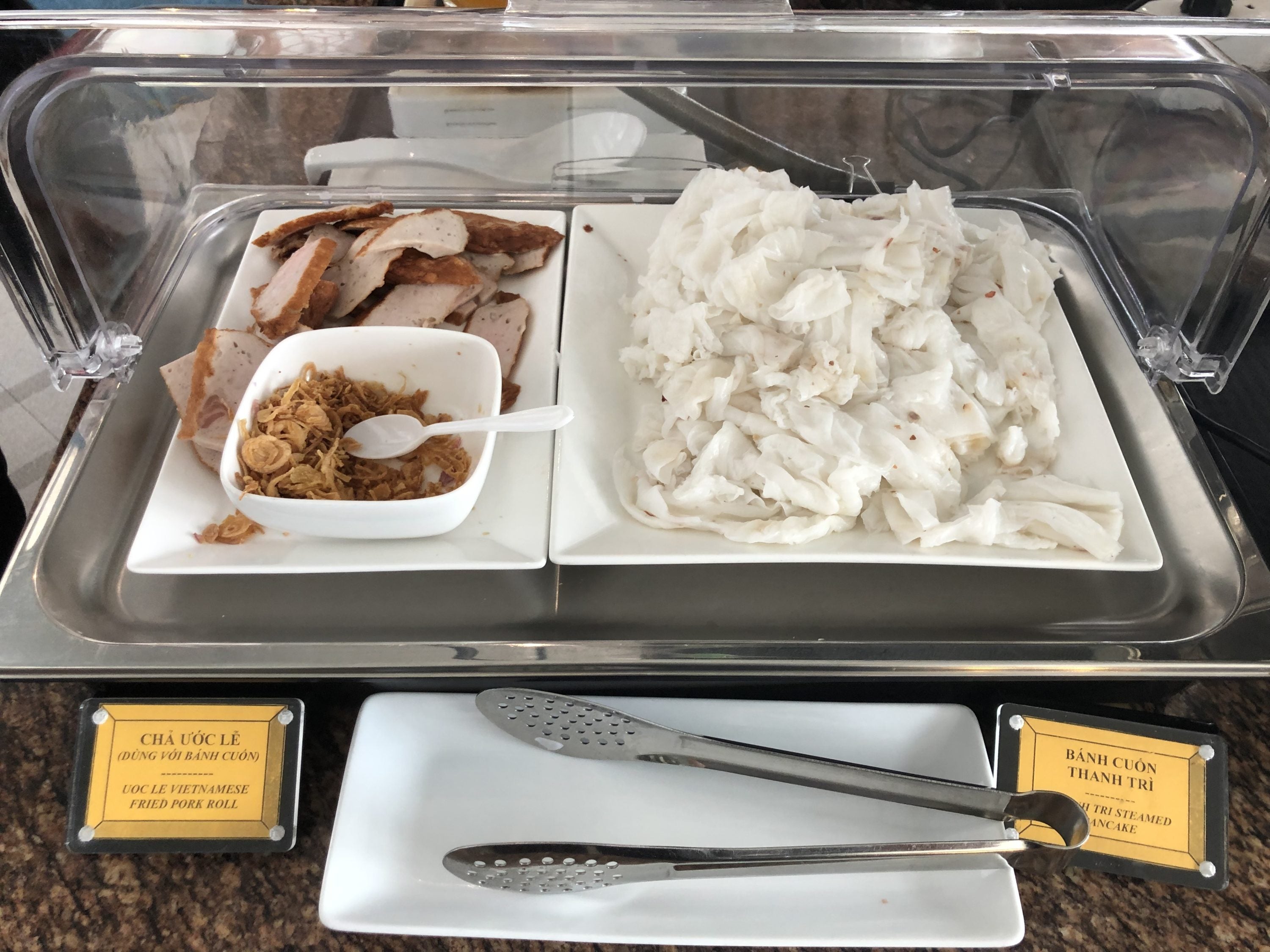 There was a good amount of Vietnamese dishes in the lounge. Of all the food types in the lounge, these dishes tasted the best.
The fruit selection consisted of sliced watermelon, halved passion fruits, pineapple, and mango. Also, there was a tub of chili salt, which you could use to season your fruit if desired. The mangos were extraordinarily sweet and were the highlight of the lounge.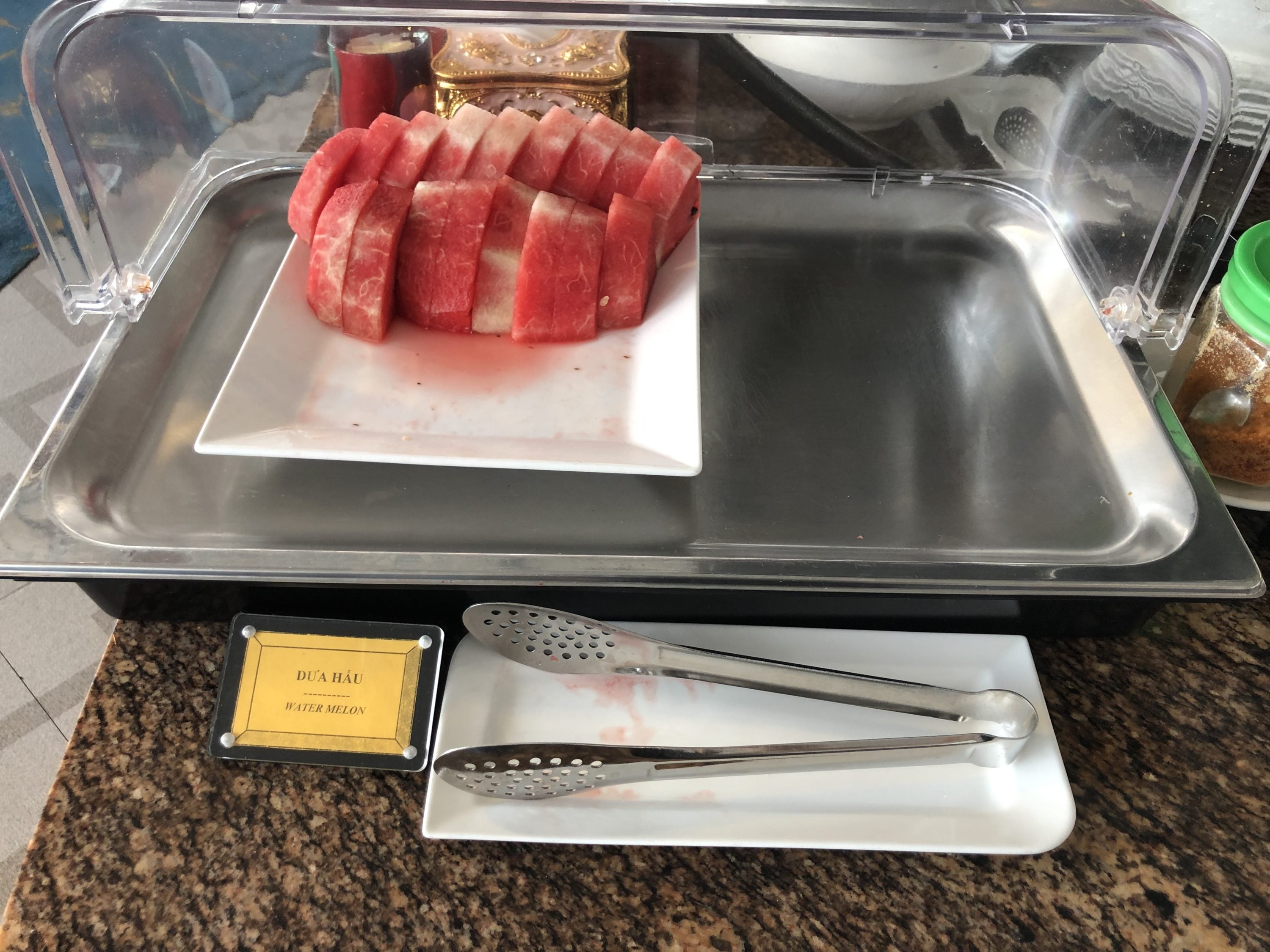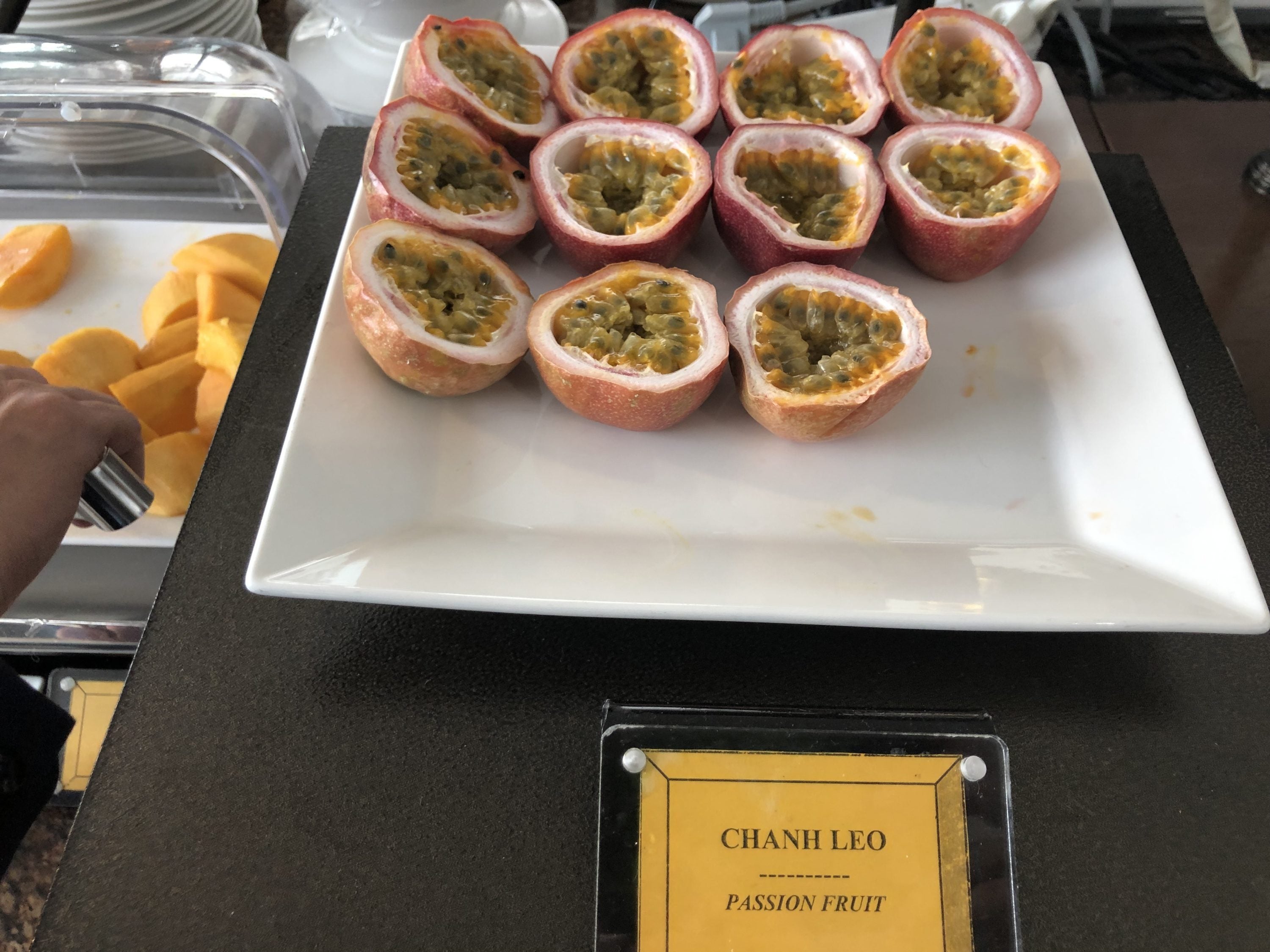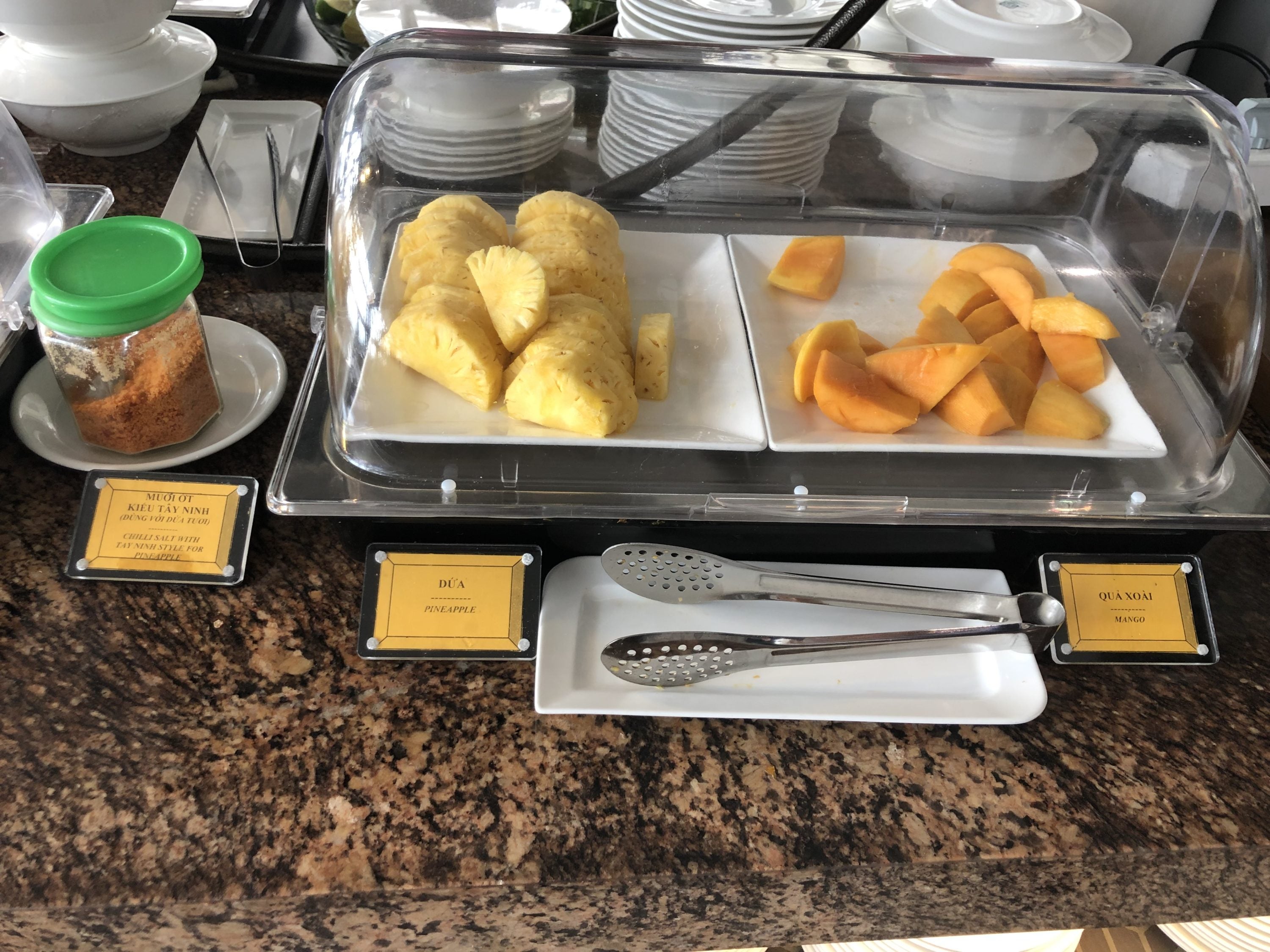 Flight
I've found that boarding times in Vietnam are extremely generous. For a short-haul flight on a smaller aircraft such as the A321, boarding was scheduled to begin 50 minutes before departure, which I think is overkill. Nevertheless, boarding was organized, and we made our way onto the aircraft.
Seat
The business class cabin consists of 16 seats across 4 rows in a 2-2 configuration.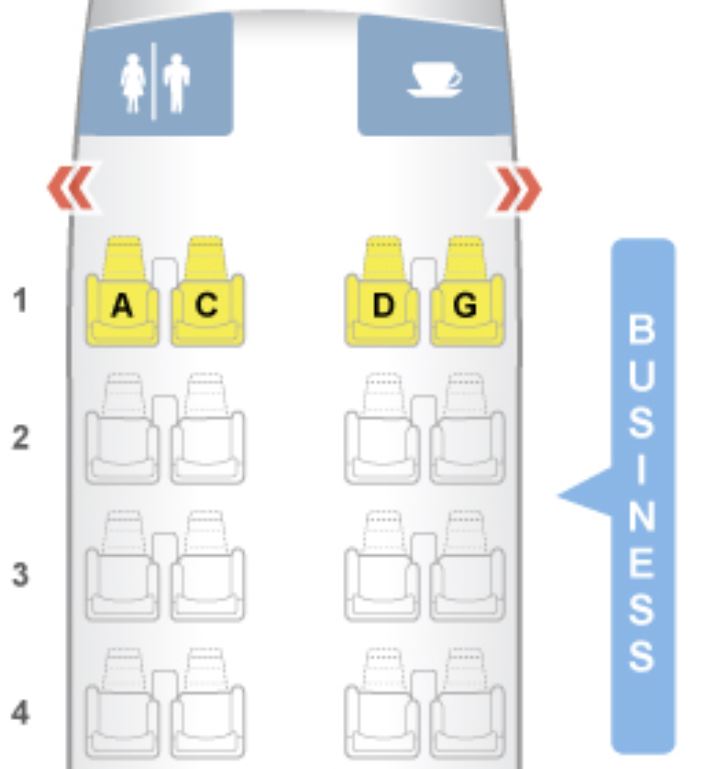 The A321 is a narrow-body aircraft. Each of the 16 seats is 21 inches wide and 45 inches in pitch. The seats themselves are reasonably comfortable, though the headrest was quite hard.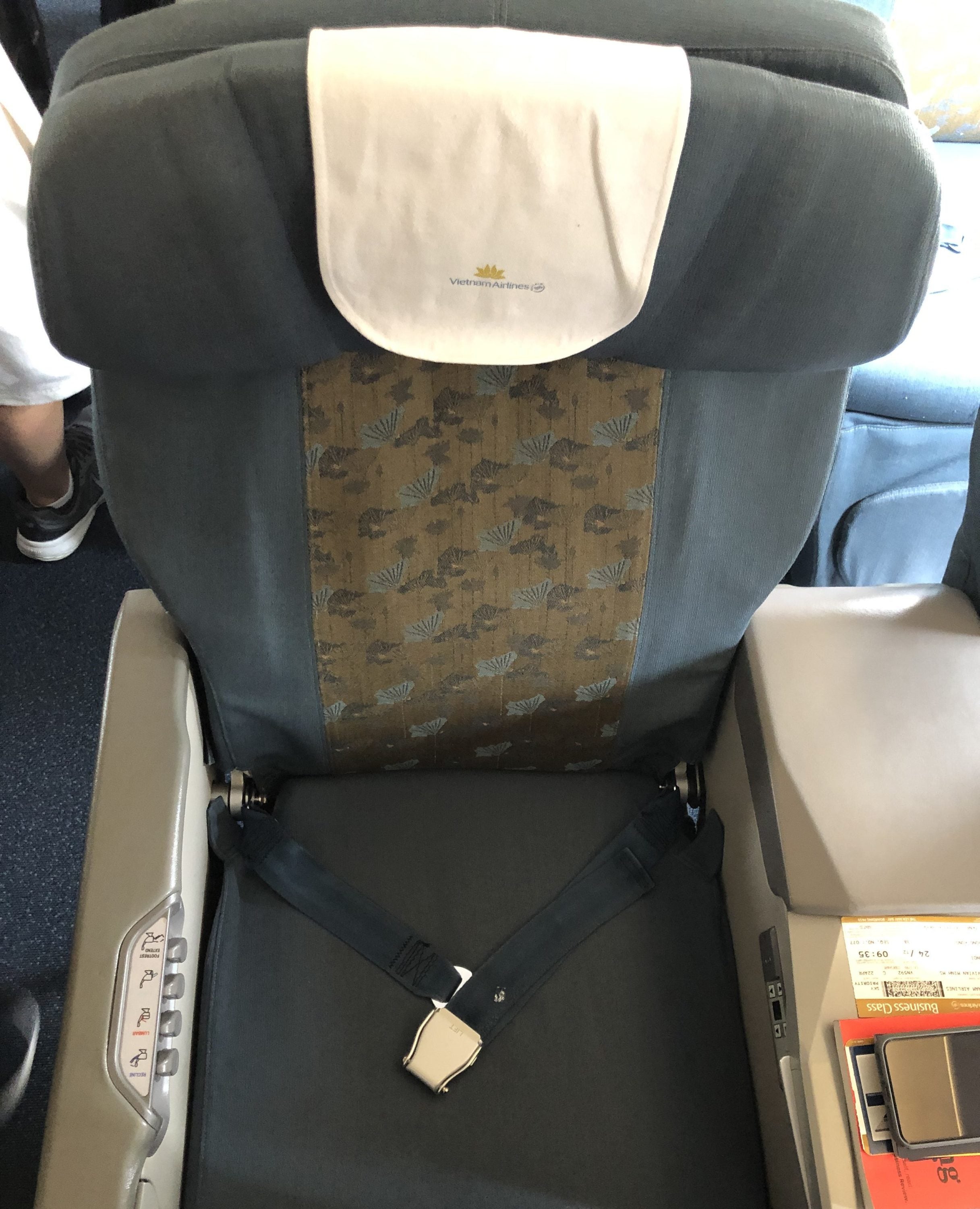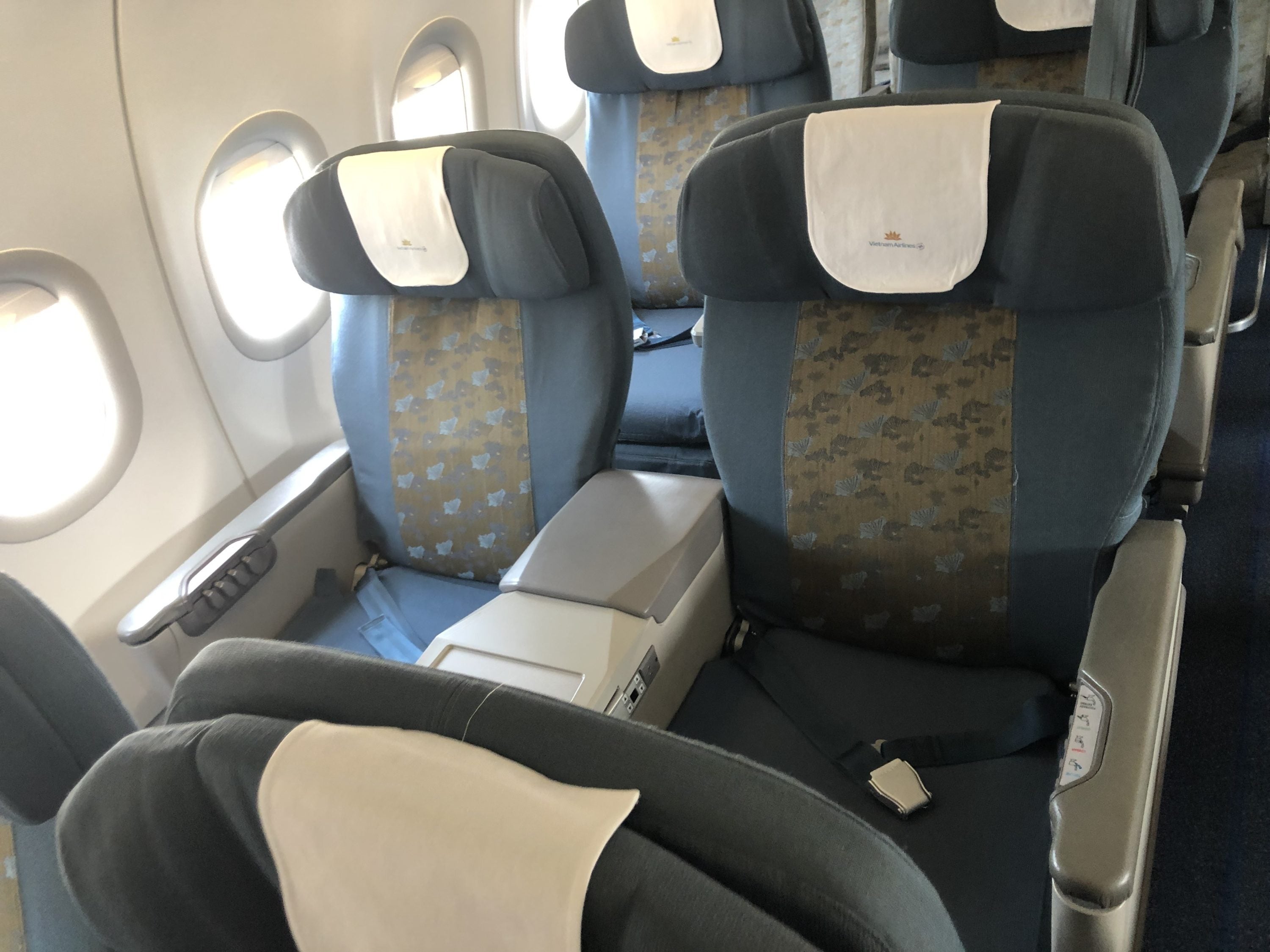 There are several buttons that operate the seat controls.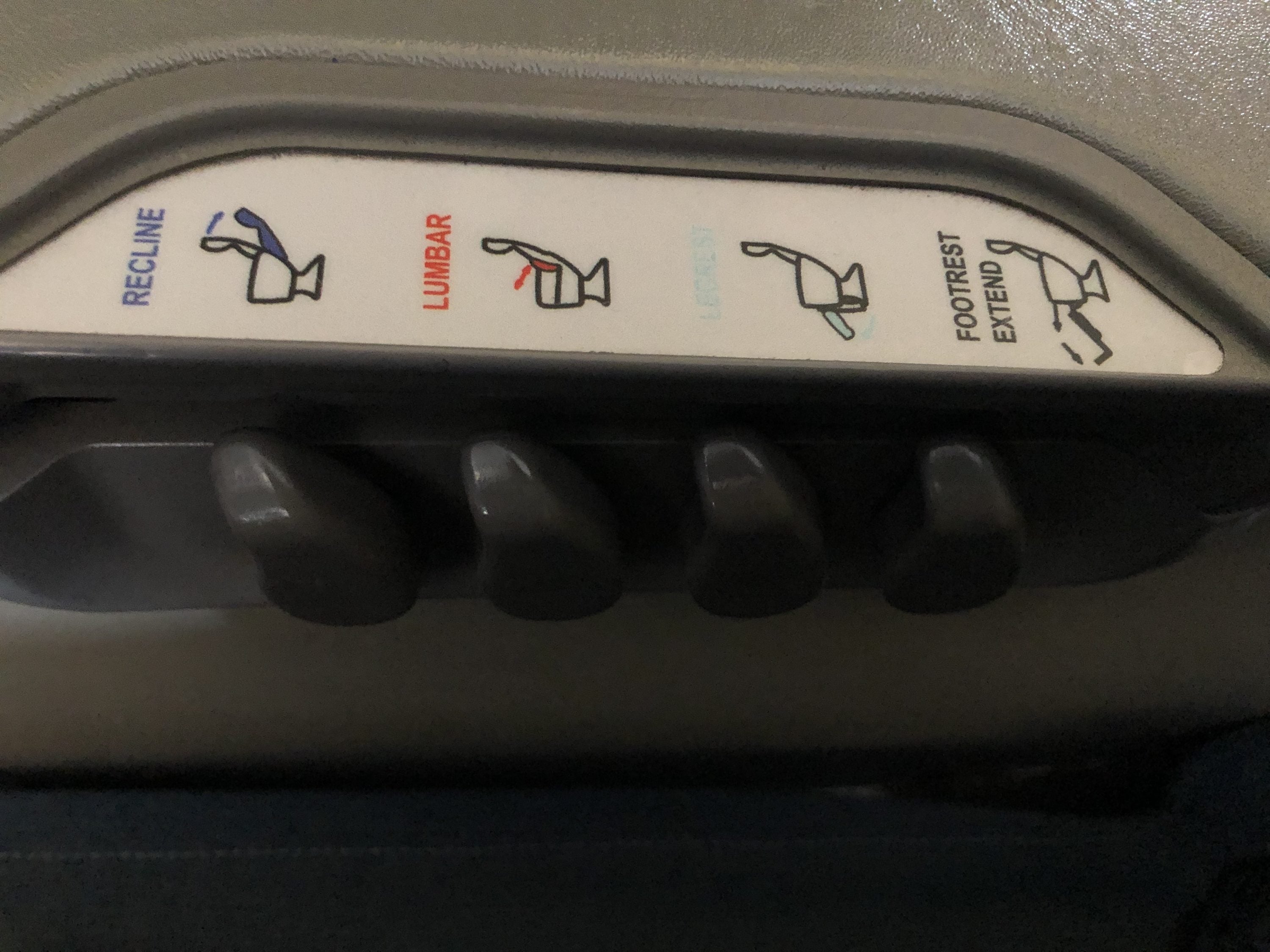 When the leg rest and footrest is deployed, the bird's eye view looks like this: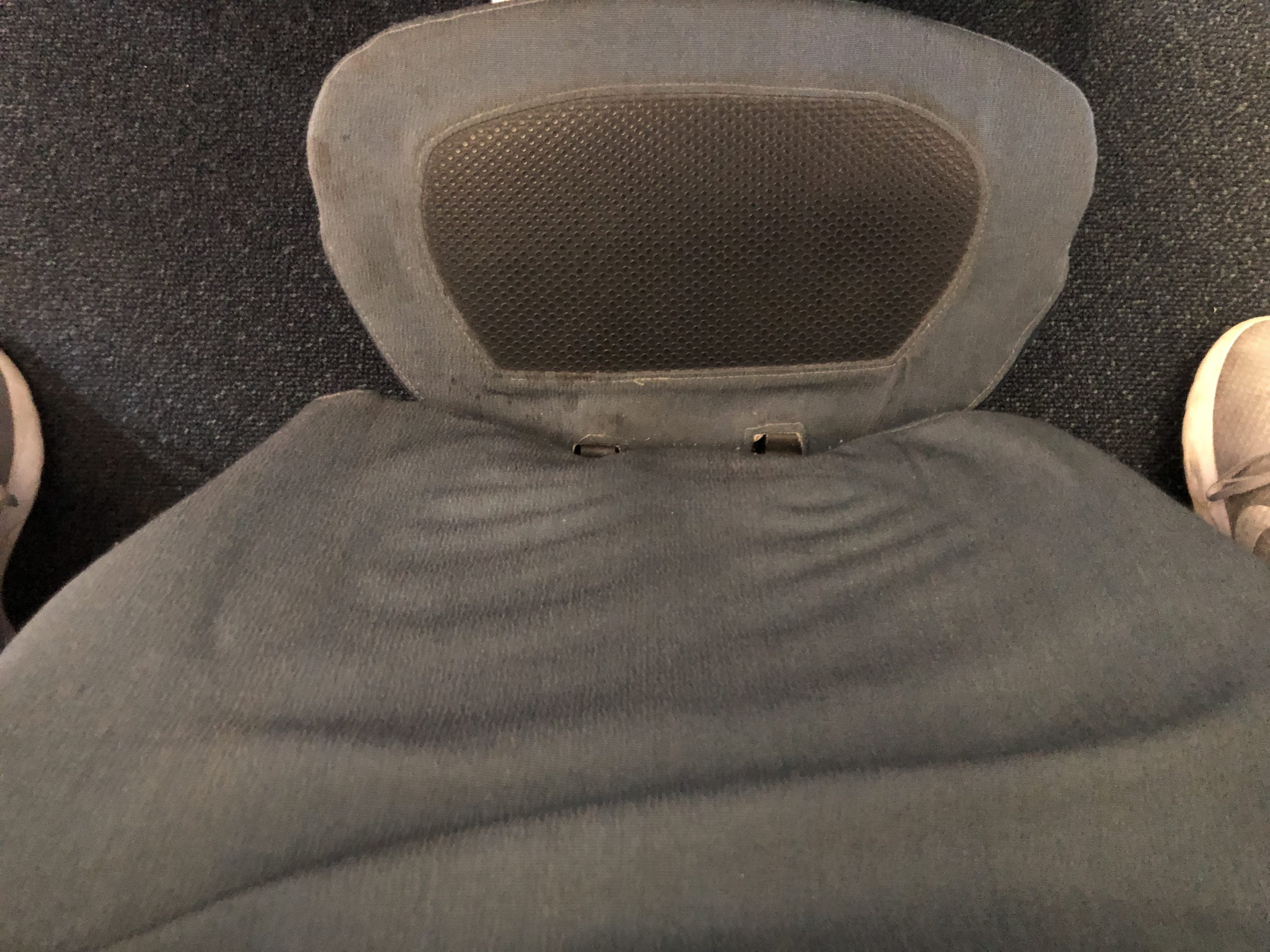 There was no entertainment in the seat backs or Wi-Fi on this flight, though these aren't nearly as important for a 2-hour flight as they would be if this were a longer flight. There were common monitors above the business class seats.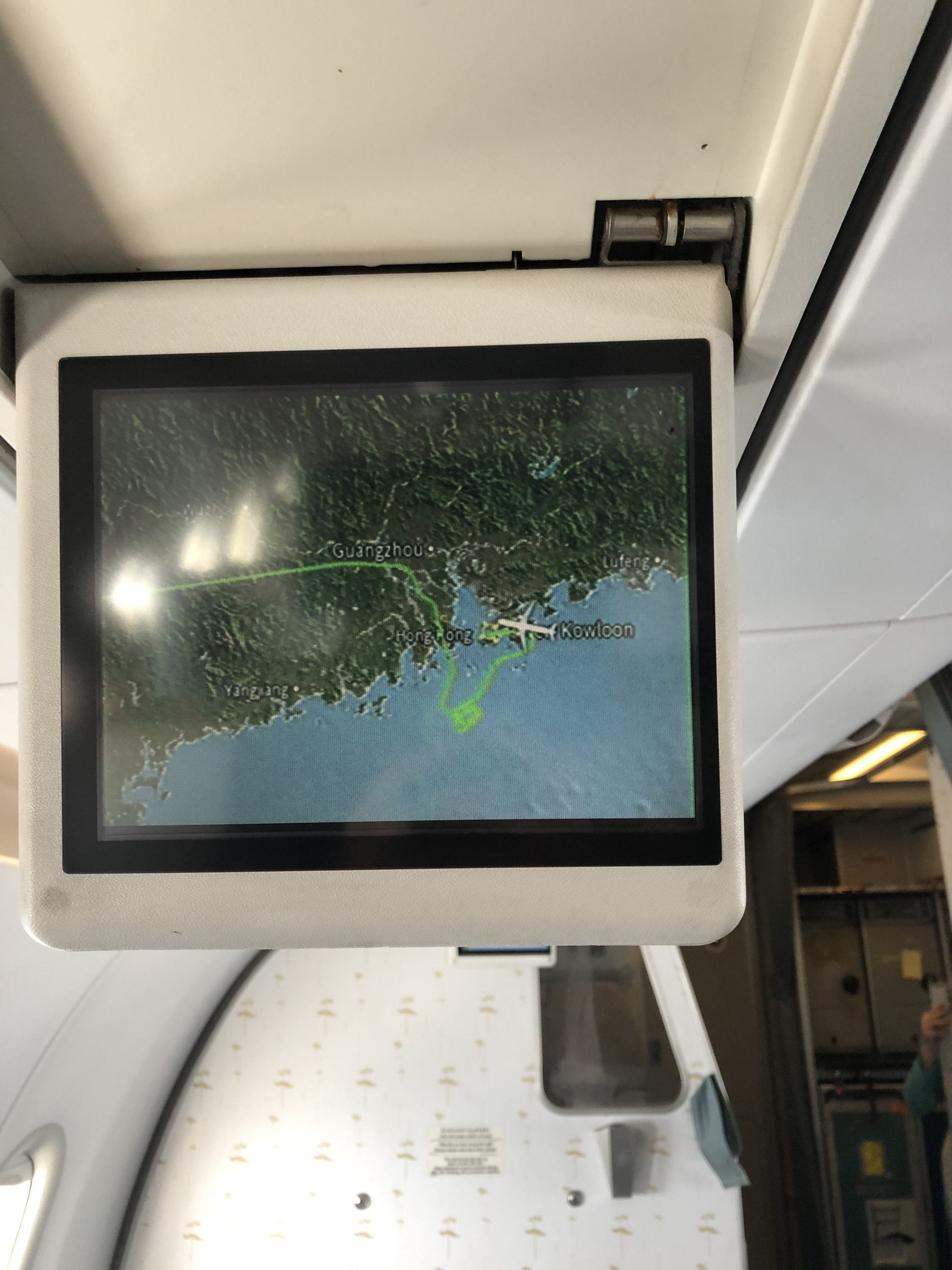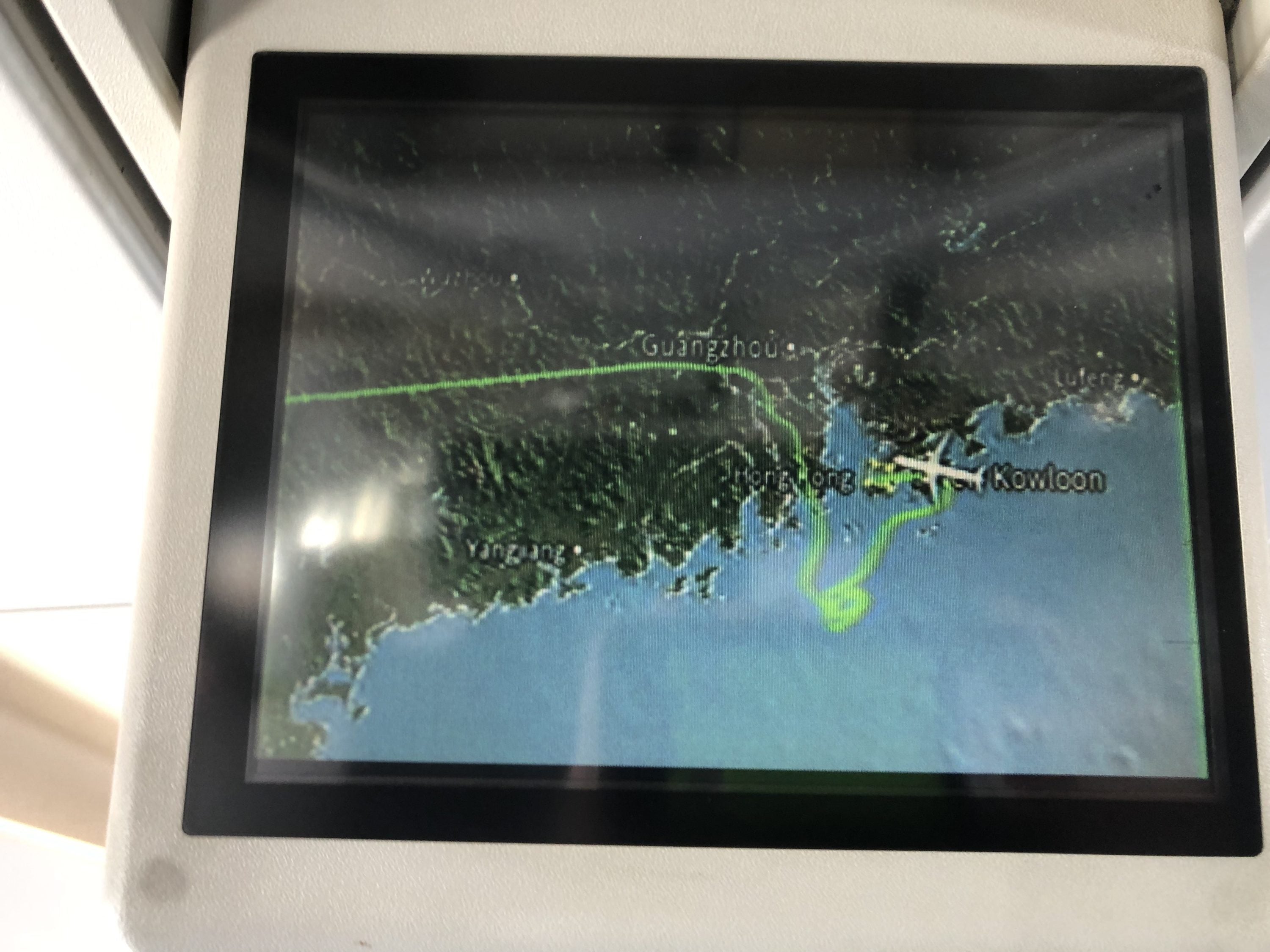 Lastly, there were some old fashioned controls for headphone volume and entertainment channels next to the headphone jack by the seat.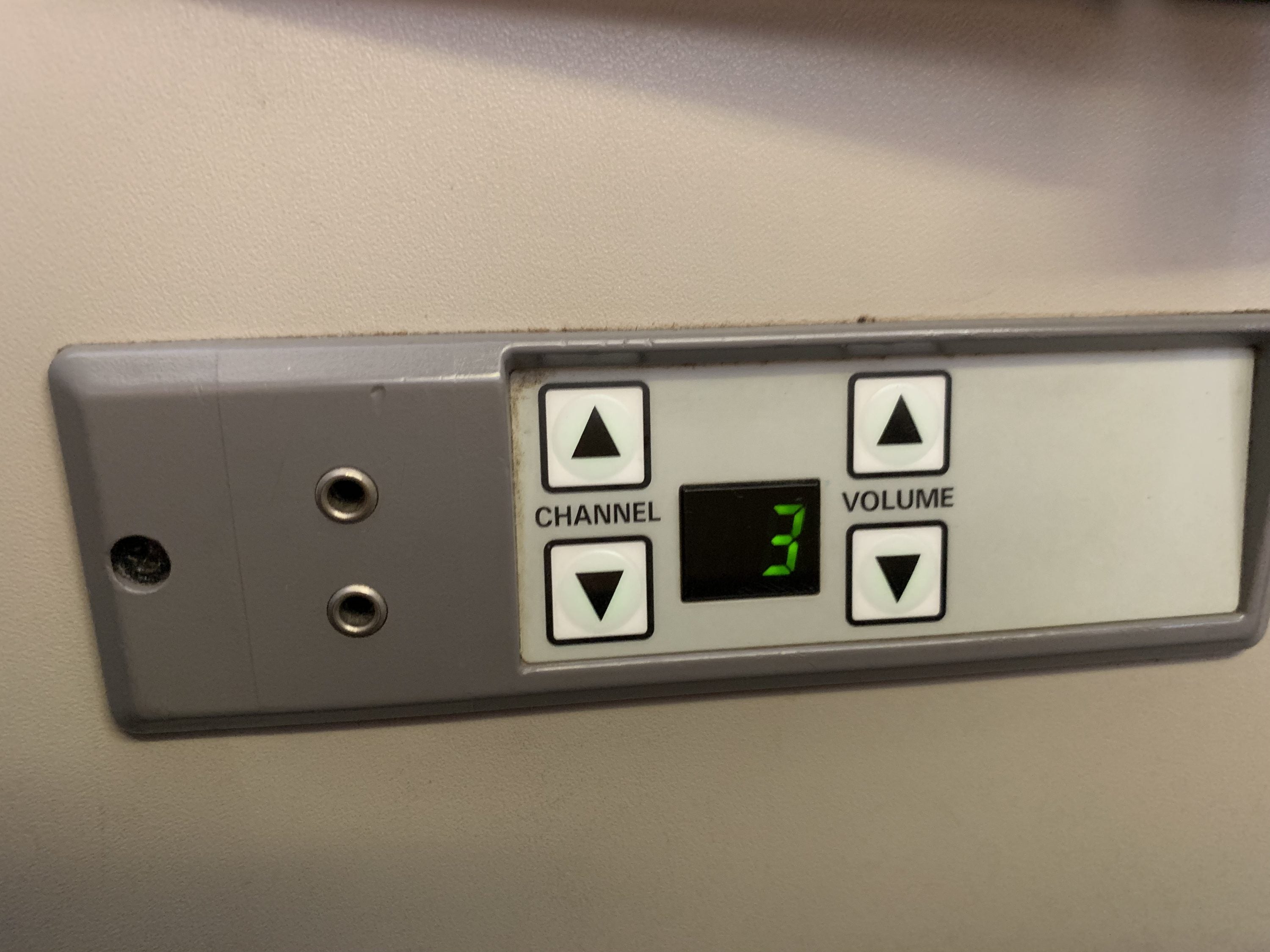 The tray table folded out from the armrests. I found them to be somewhat flimsy.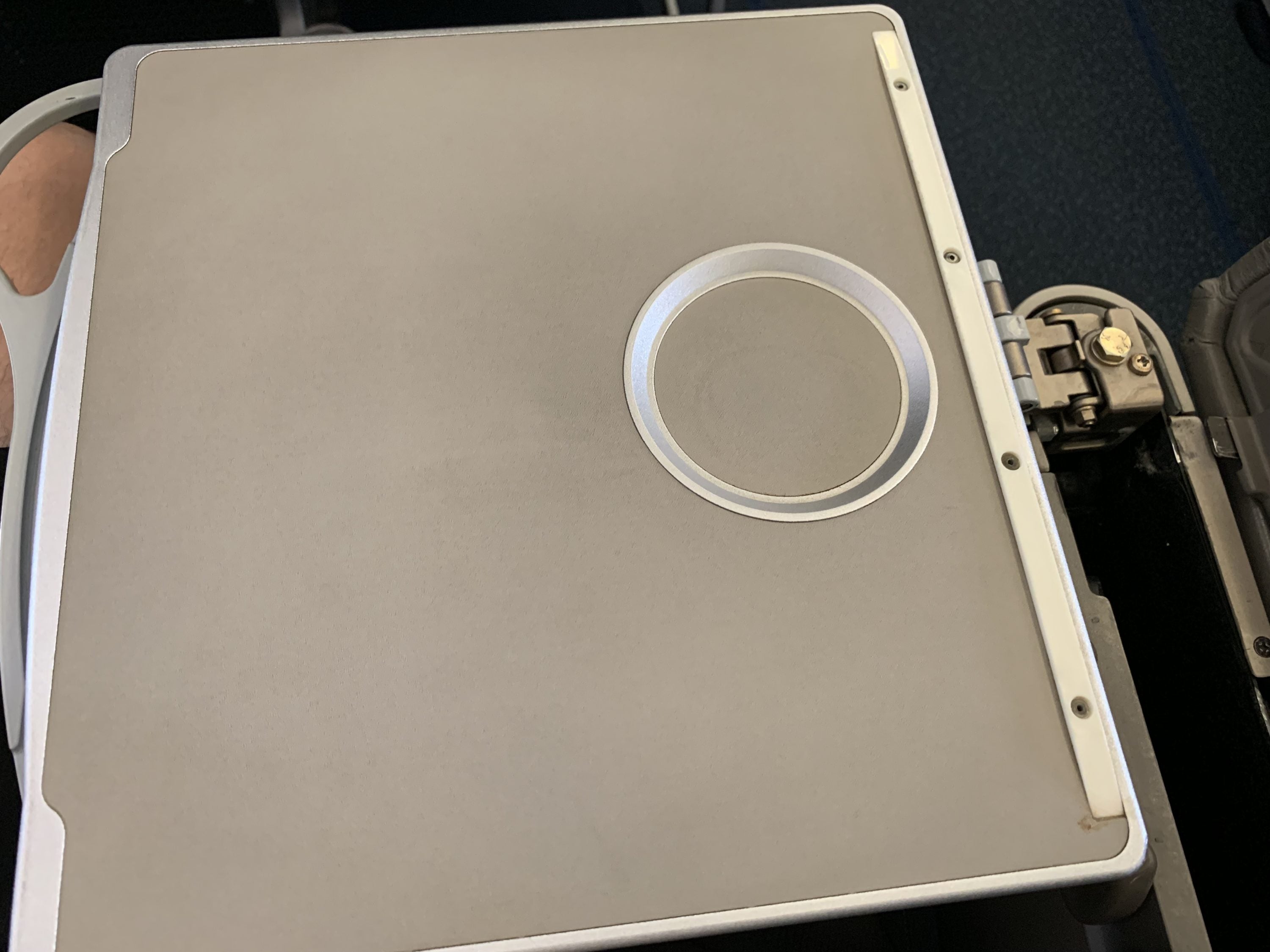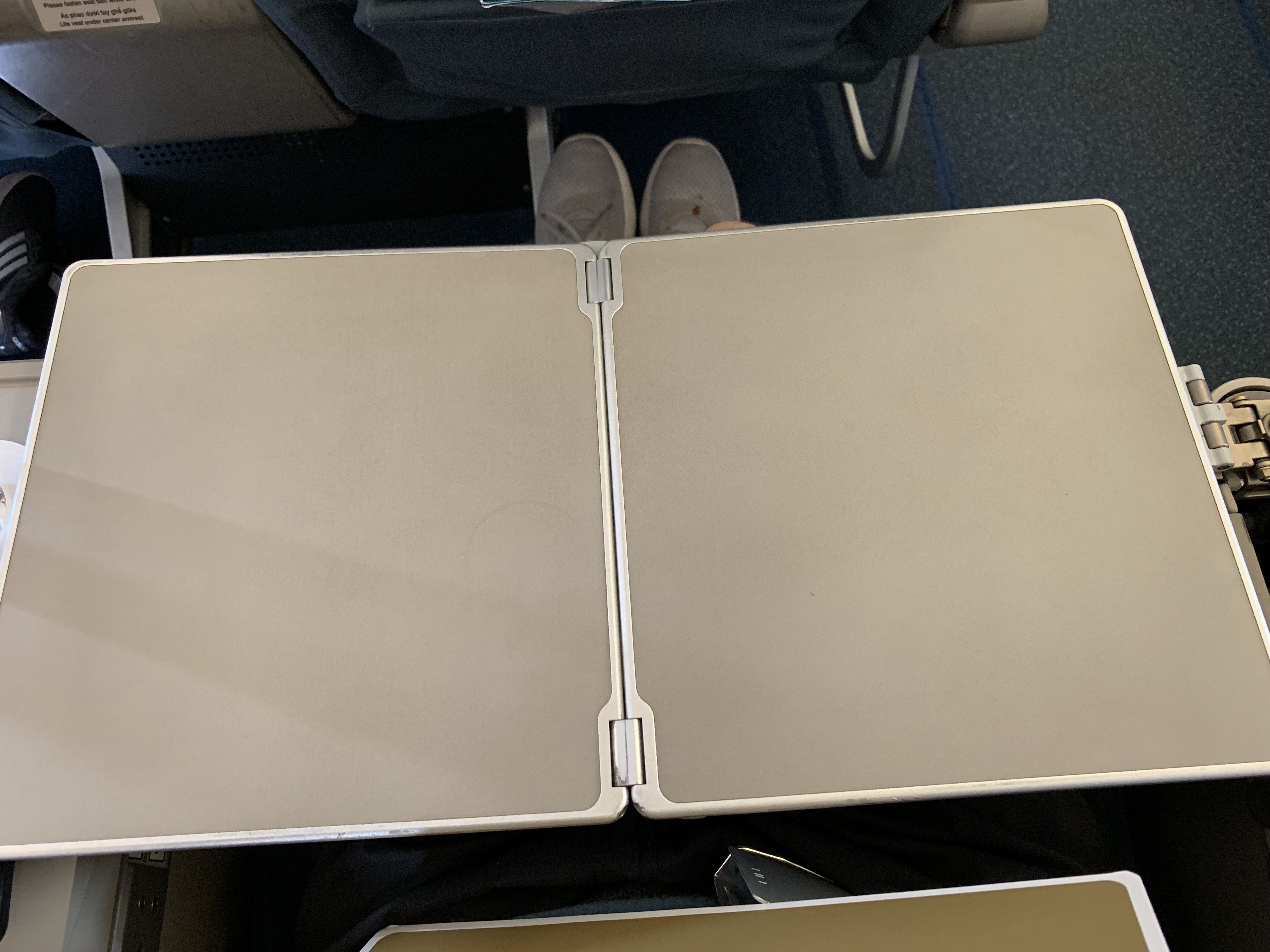 Amenities
On this short-haul flight, no amenities were offered.
Food and Beverage
What really impressed me the most about this flight was the food and beverage service. Shortly after takeoff, we were given meal service menus.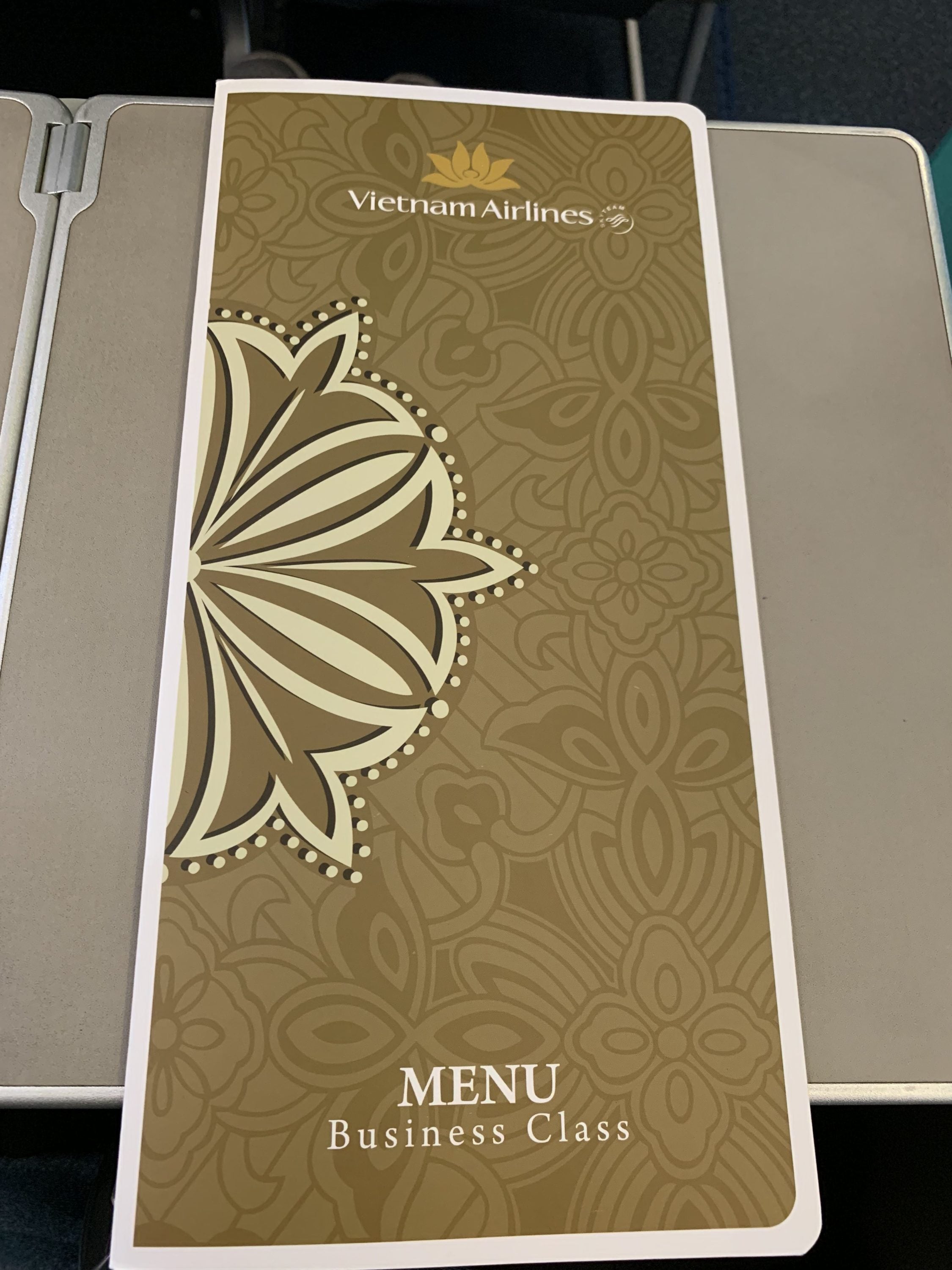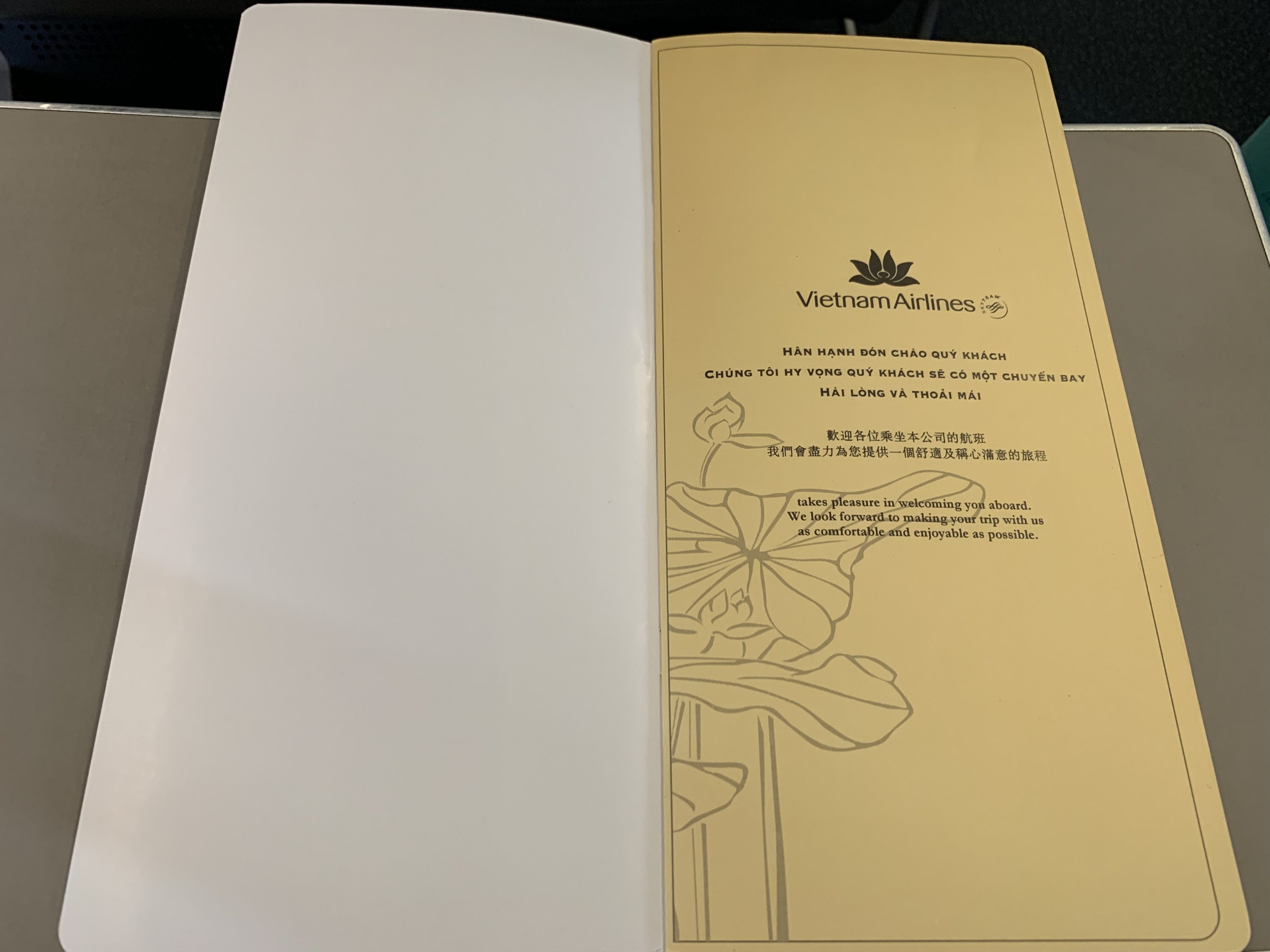 There was a selection of drinks, both alcoholic and non-alcoholic. Juices, soft drinks, and caffeinated beverages were also on offer.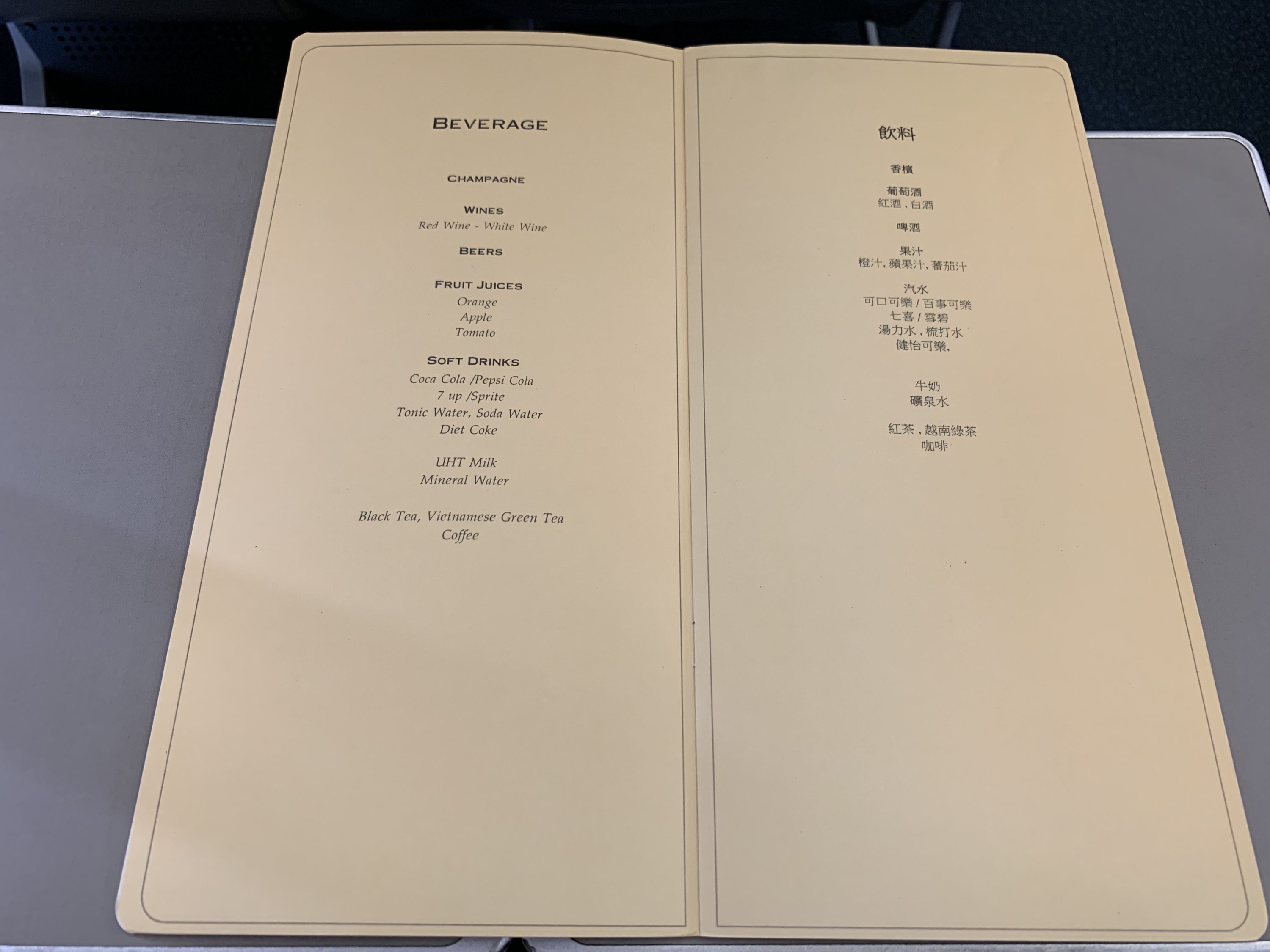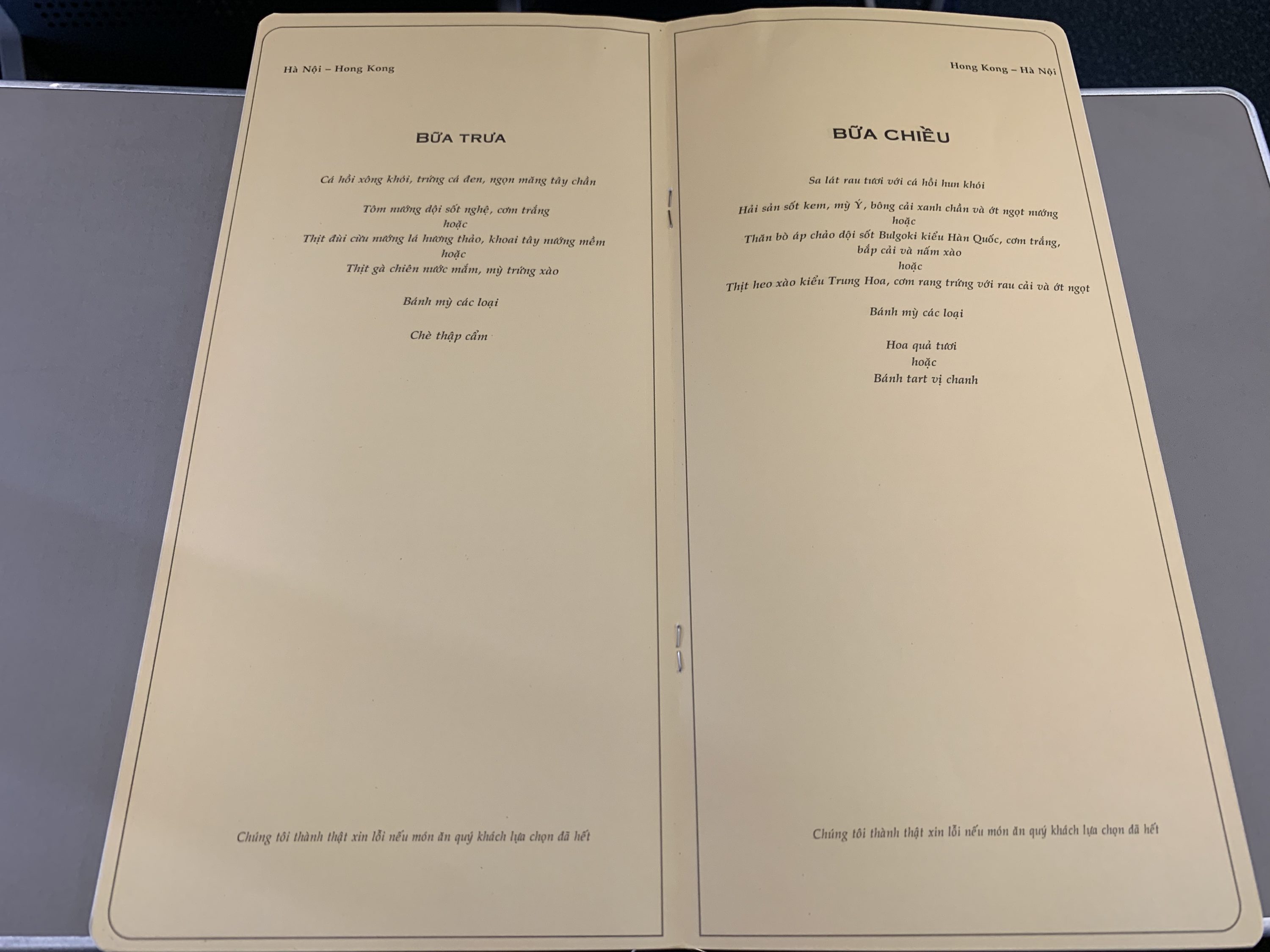 Since our flight was Hong-Kong bound, the left page was applicable. I chose the grilled lamb leg with rosemary and grilled fondant potatoes.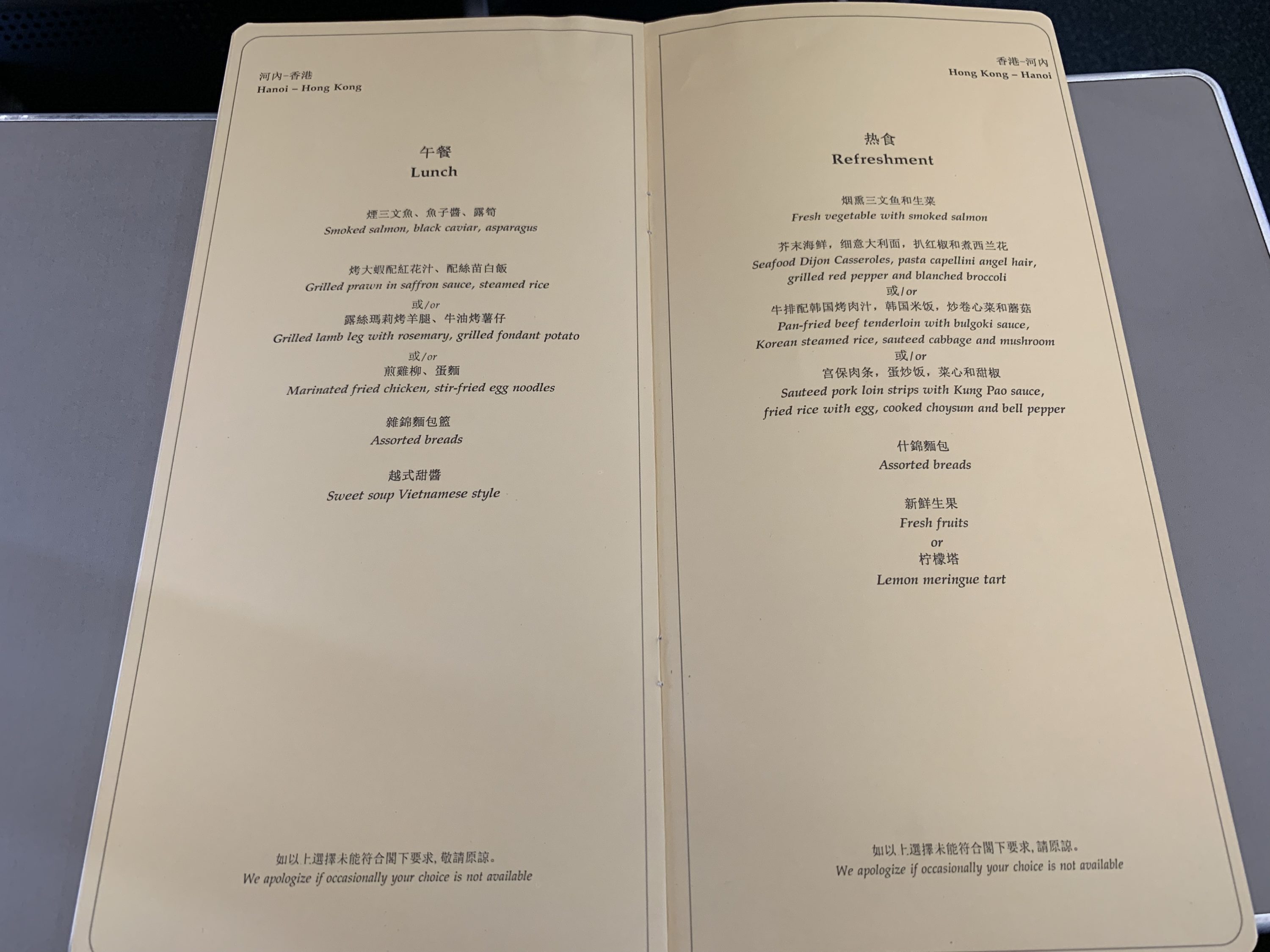 All of the food came out on a single tray, and my dishes were accompanied by Pepsi.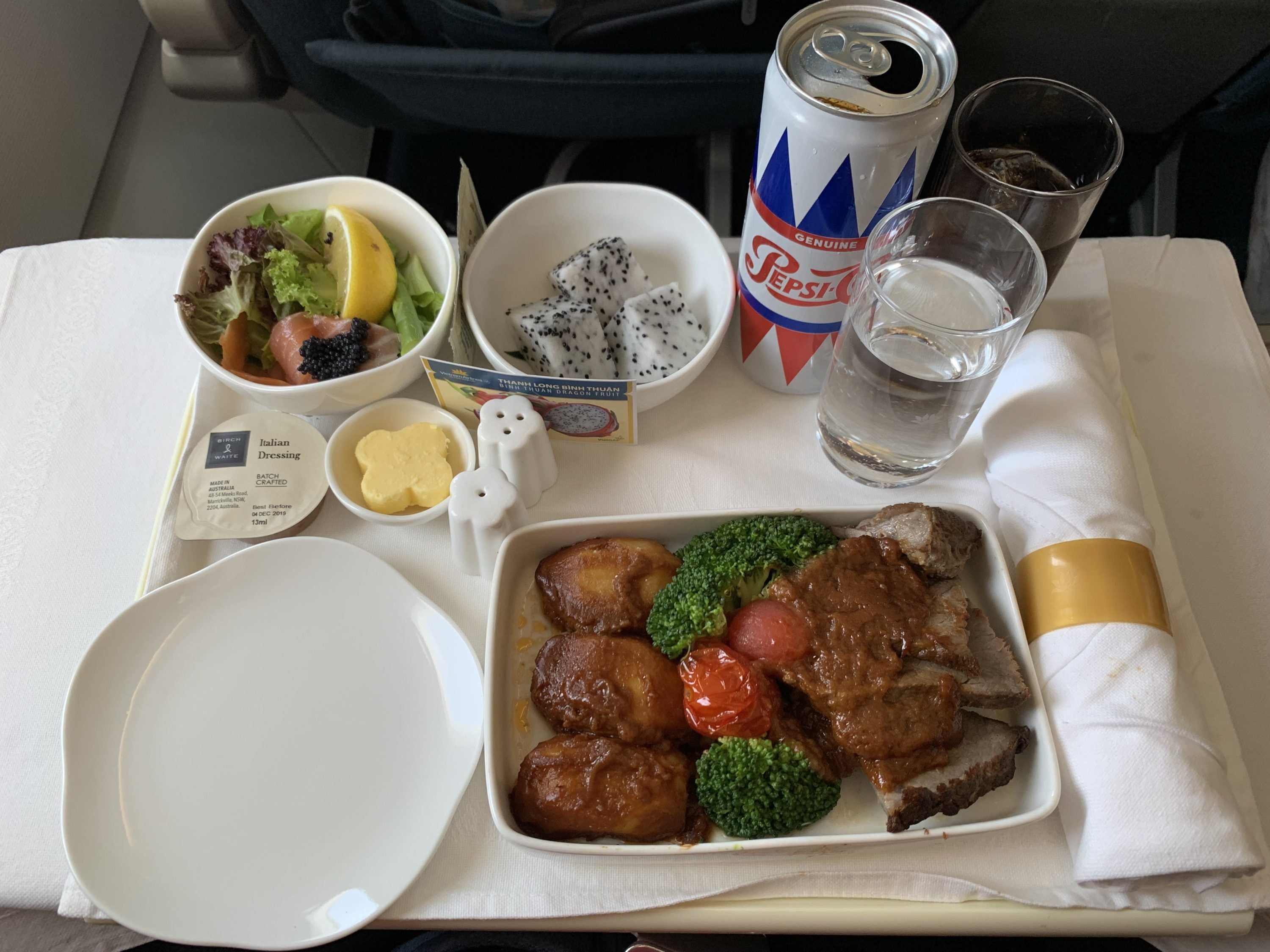 Amazingly, a 2-hour short-haul flight in business class featured caviar as an appetizer, which blew my mind. It was delicious too!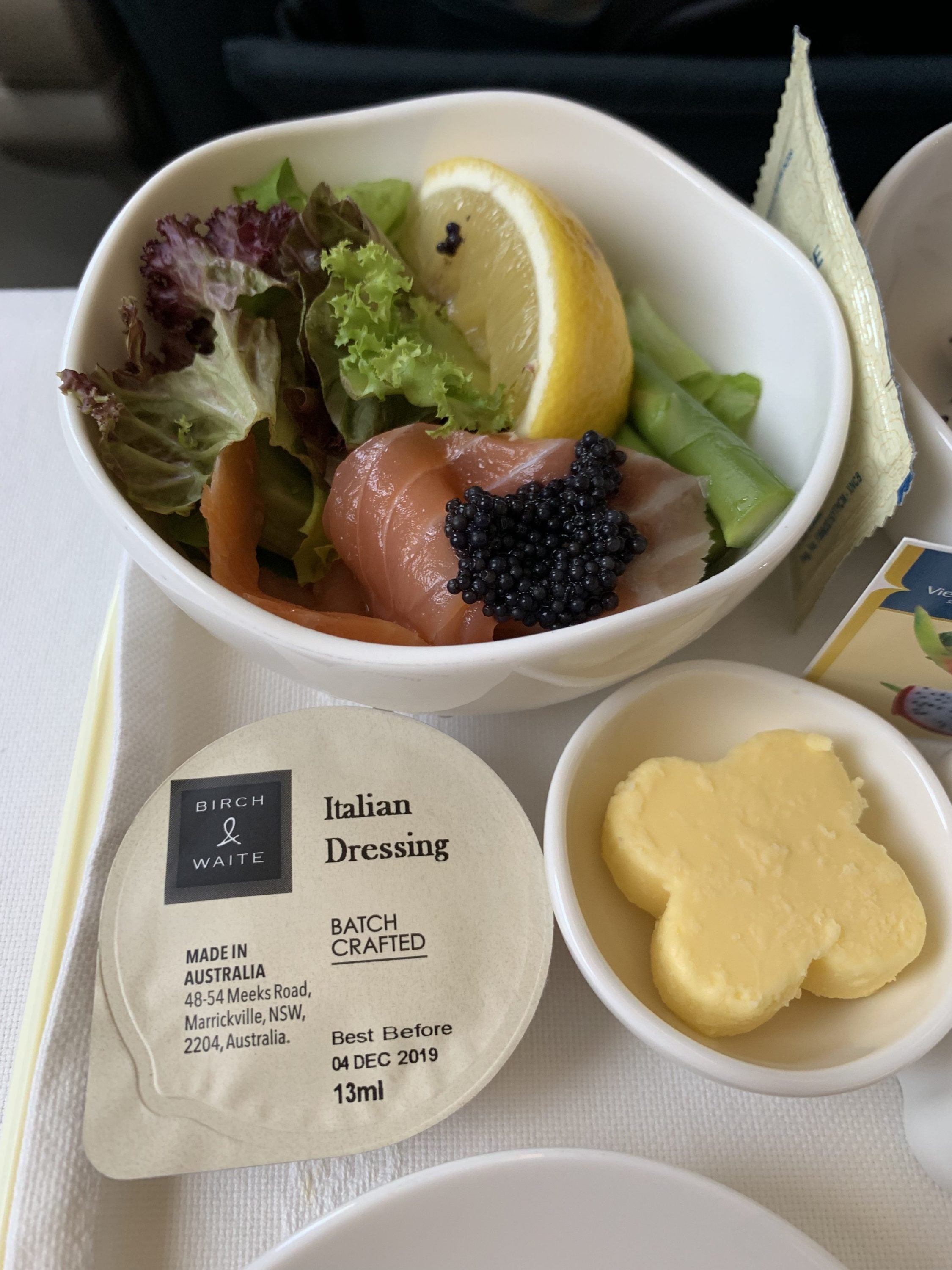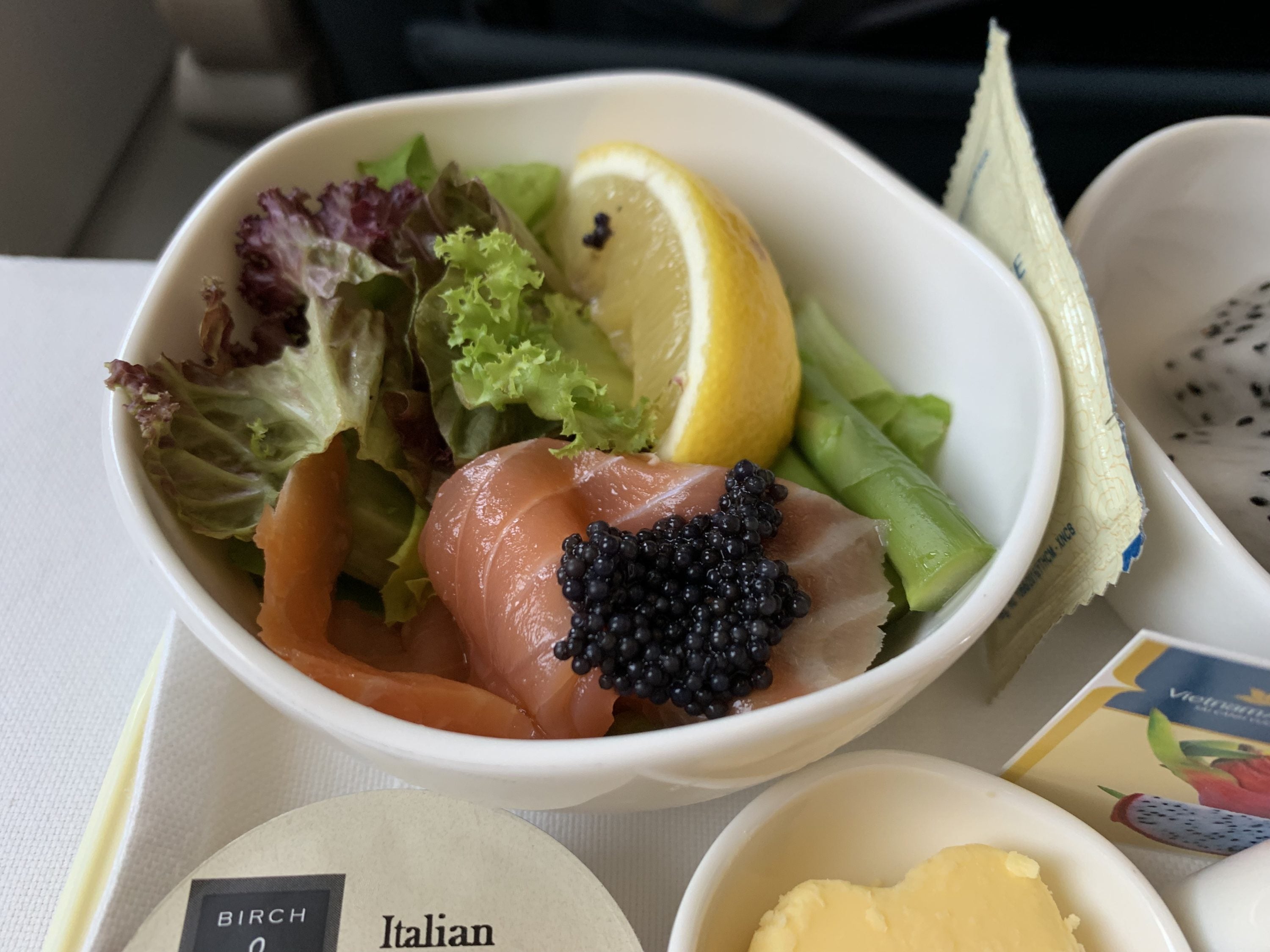 The lamb, though cooked well-done, had a nice texture to it. The sauce was awesome as well. The fondant potatoes were thick, rich, and complex.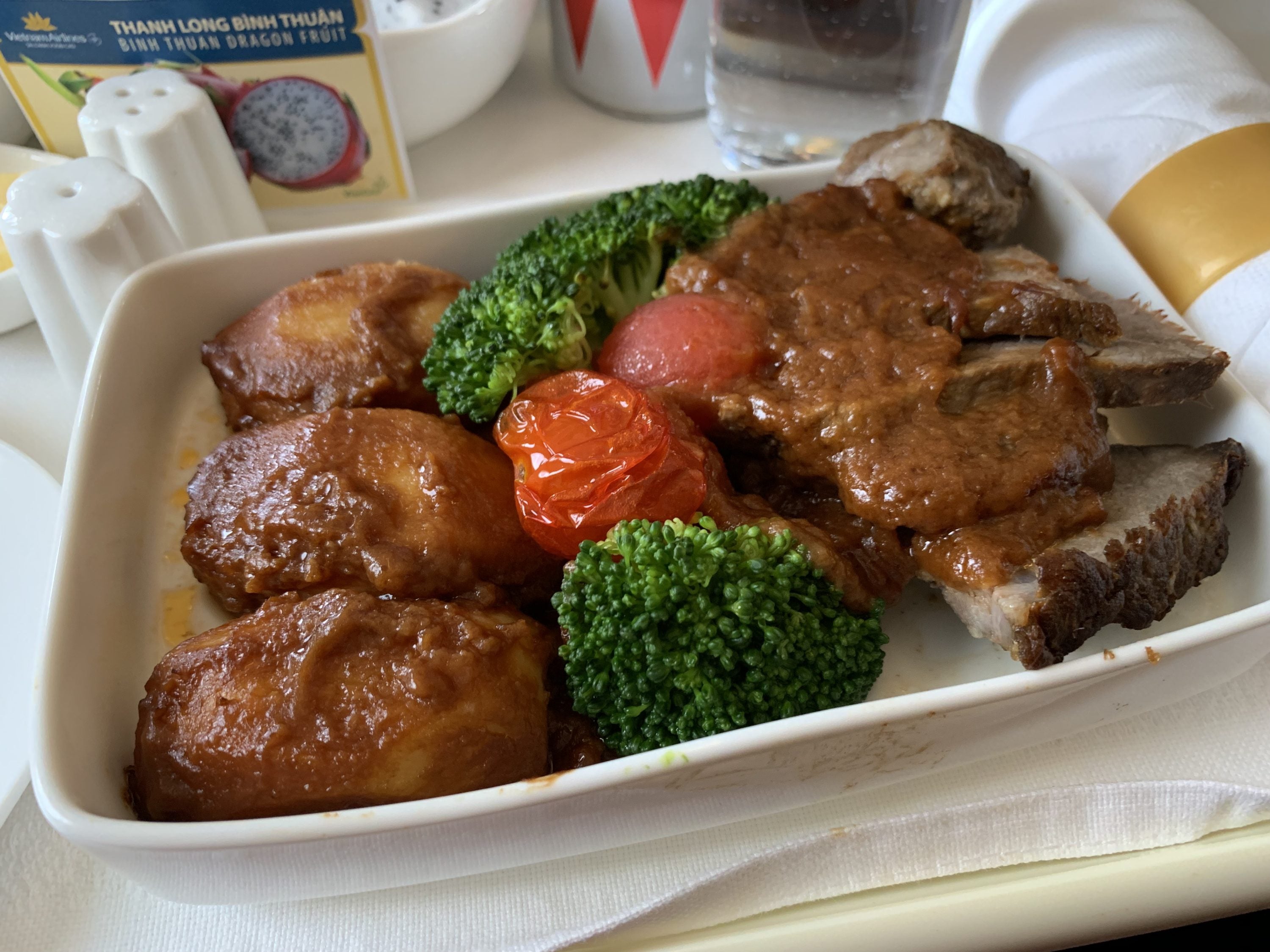 Dragonfruit was the fruit of choice for my dessert, which I love.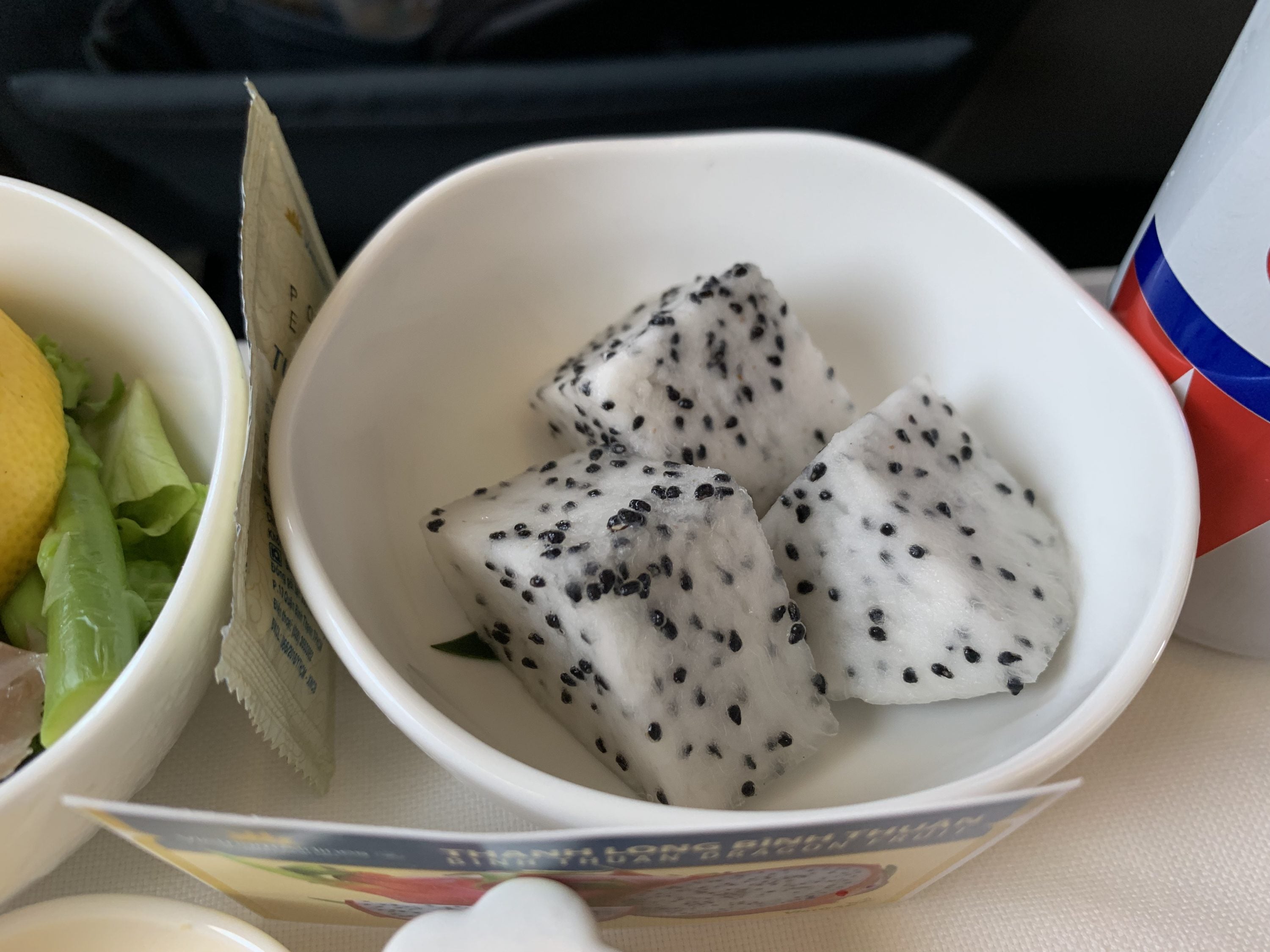 Entertainment & Service
No inflight entertainment was provided for this short-haul flight. In addition, Wi-Fi wasn't available. I had anticipated this and put several episodes of Billions on my Apple device before walking on this flight, so it wasn't an issue at all.
The service was quick and efficient. Also, they made a concerted effort to respond to any flight attendant calls swiftly, which is a plus.
Final Thoughts
All in all, this regional business class flight was far superior to my past experiences in U.S. domestic first class. The main thing I'll remember is the food. To offer caviar on a 2-hour business class flight in recliner seats was new to me.
I wasn't affected by the lack of seat-back entertainment, but that's not crucial for a 2-hour flight. The service wasn't deficient in any way, but also not particularly memorable. Though really, how memorable can a 2-hour flight be?
Overall, I received excellent value and comfort; much more than I had anticipated for a basic recliner product from my Vietnam Airlines business class flight on the A321.