Vietnam Airlines 787-9 Business Class Review — Seoul to Hanoi [Detailed]
Airline: Vietnam Airlines (VN)
Aircraft: Boeing 787-9 Dreamliner
Flight #: VN 415
Route: Seoul-Incheon (ICN) > Hanoi (HAN)
Date: April 21, 2019
Duration: 4 hr 25 min
Cabin & Layout: Vietnam Airlines reverse herringbone business class, 28-seat capacity across 7 rows, 1-2-1
Seats: 3A
Miles Used: None. Paid $576.10 for ICN – HAN and HAN – PVG in Vietnam Airlines 787-9 and A350 business class, respectively
Taxes & Fees Paid: $236.20
Typical Retail Cost: N/A
Typical Economy Cost: ~$338 USD
Booking Vietnam Airlines Business Class
I had previously booked a bonkers mistake fare that allowed me to secure a round-trip first class flight on Cathay Pacific for ~$1,200. My challenge now was to figure out the positioning flights in order to take advantage of this fare. Since the mistake fare was originating in Hanoi, I had to figure out how I was going to get from South Korea to Vietnam.
Long story short, I found a stellar business class fare on 2 distinct products from Vietnam Airlines. I ended up paying around ~$576 to get from Seoul to Hanoi in April and Hanoi to Shanghai in September (as a part of my second trip). Overall, this netted me ~8 hours in lie-flat business class.
The best part? I would be able to sample Vietnam Airlines' 2 best business class products: the 787-9 and A350-900. This review covers the first segment, which lasted around 4.5 hours.
Booking Vietnam Airlines business class is very easy in the sense that award availability is excellent. For a regional flight and an airline that typically runs under the radar, this isn't terribly surprising. Unfortunately, it's difficult to find many sweet spots on SkyTeam carriers on this particular flight.
You could use 45,500 Air France/KLM Flying Blue miles, 45,000 Delta SkyMiles, or 112,000 AeroMexico Premier Points. If you've got lots of Korean Air miles, you can also redeem a round-trip flight for 75,000 Korean Air miles. Generally, Delta SkyMiles can represent a decent use of these miles, though the cash prices are often cheap enough to pay outright for these business class tickets.
Checking In
First, I arrived at Seoul-Incheon's Terminal 1, where we headed to the Vietnam Airlines business class check-in area.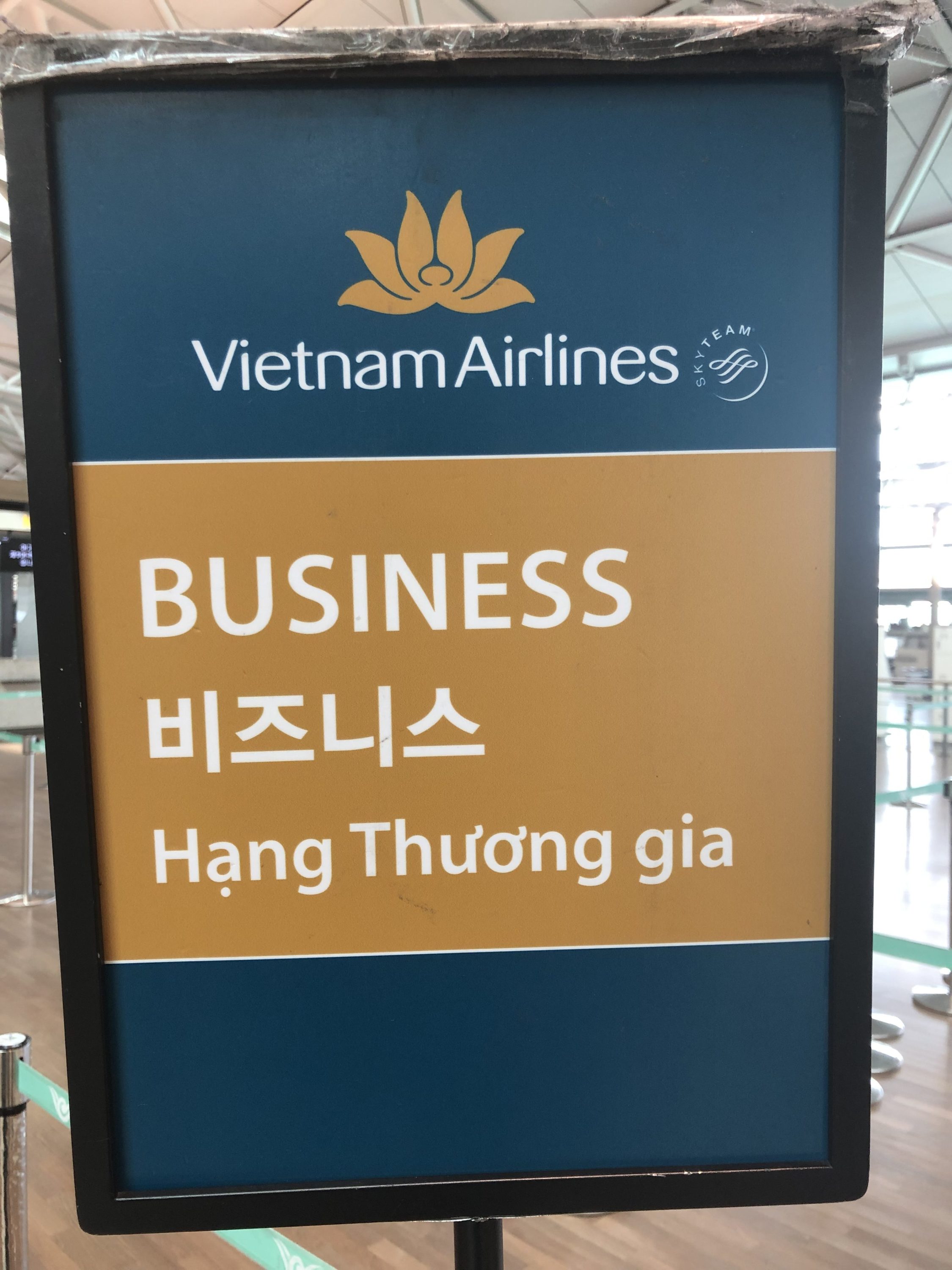 After a speedy check-in process, our baggage was checked and our boarding passes were printed. As a SkyPriority member traveling in business class, we also had access to priority security screening, which was a nice touch.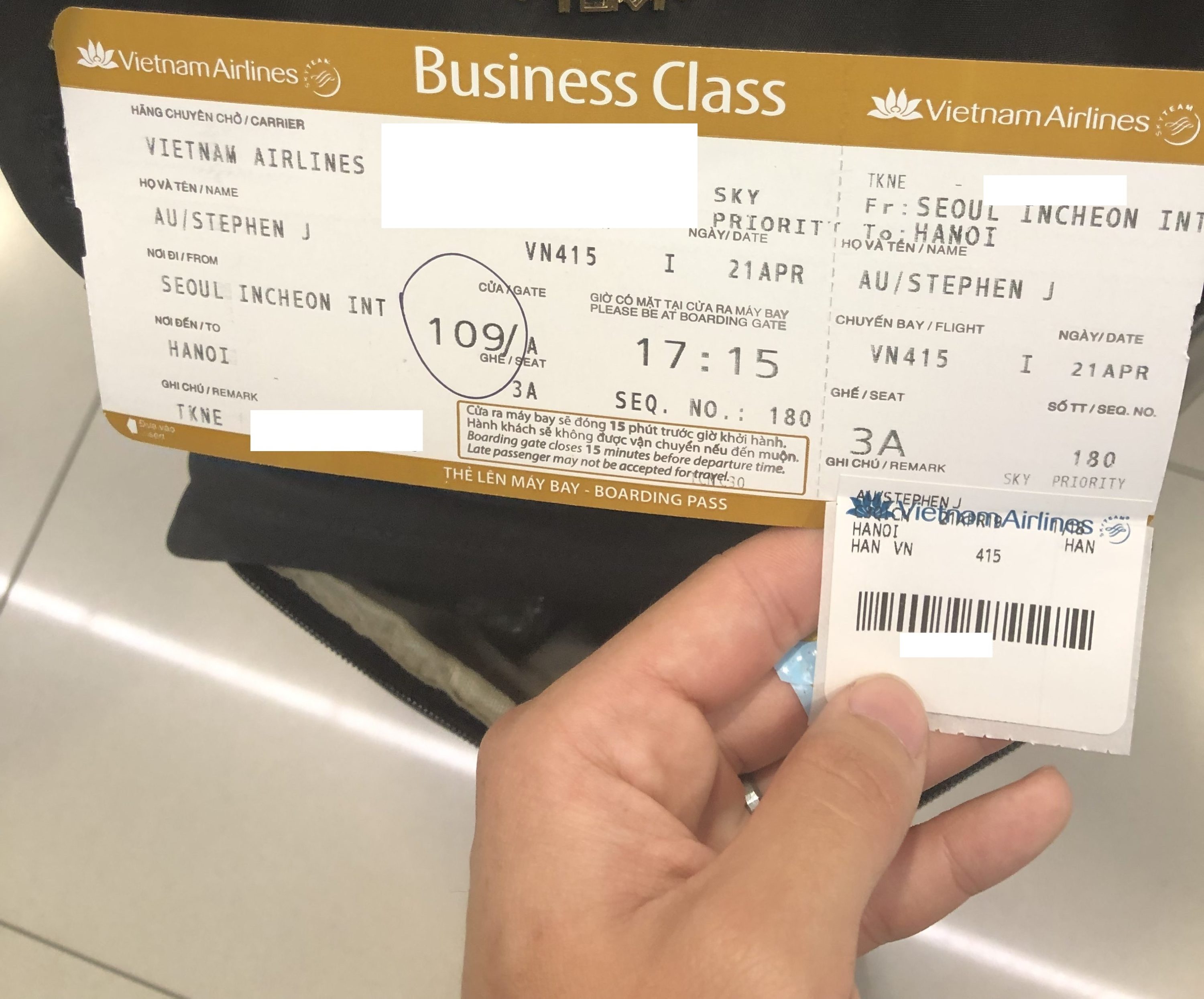 Overall, the check-in and security process took around 15 minutes. When we cleared security, we made our way toward the Korean Air lounge located at Concourse A.
KAL Lounge at Seoul-Incheon Airport's Concourse A
As is the case with almost all Korean Air lounges, this lounge is a Priority Pass lounge as well.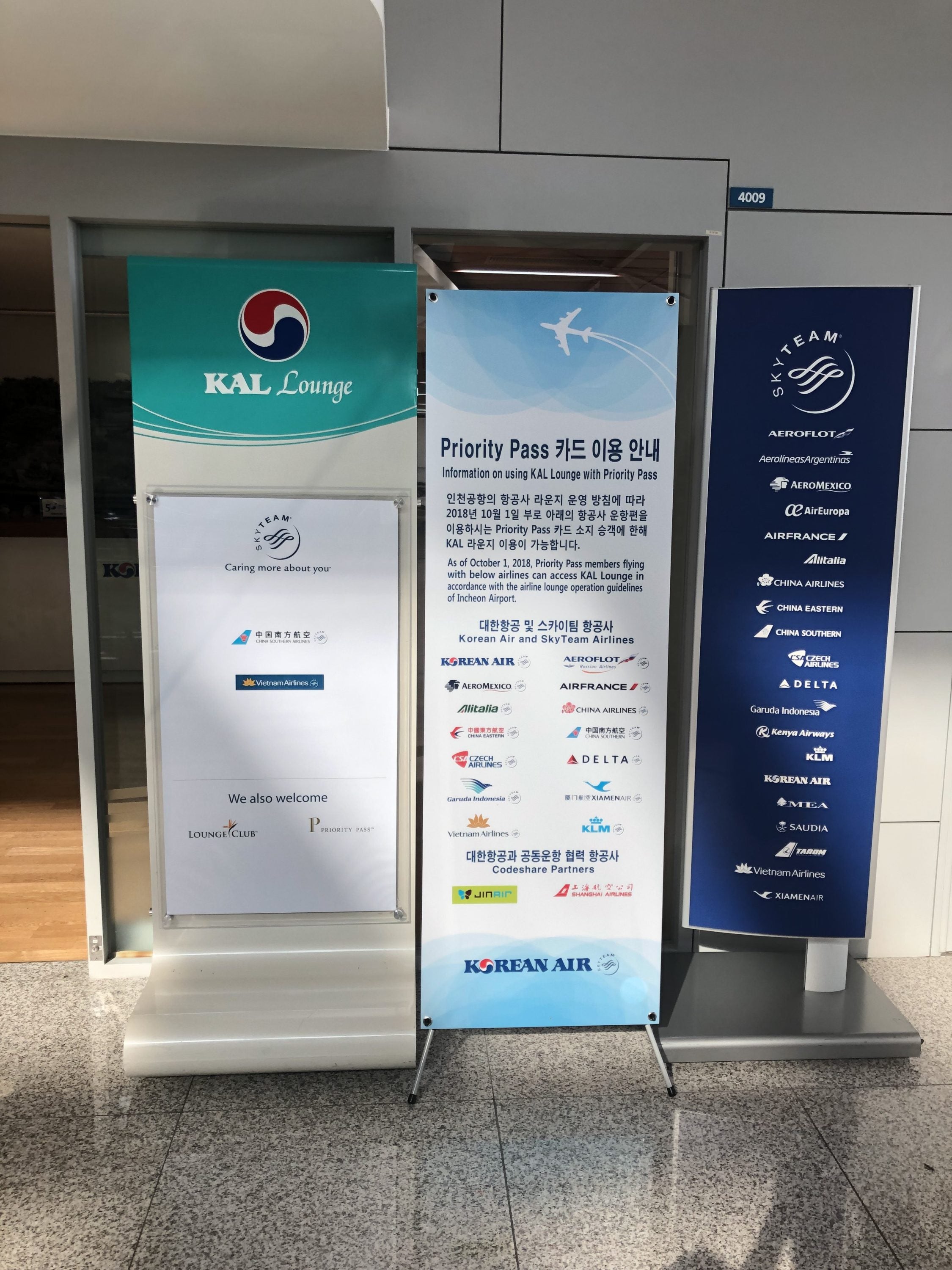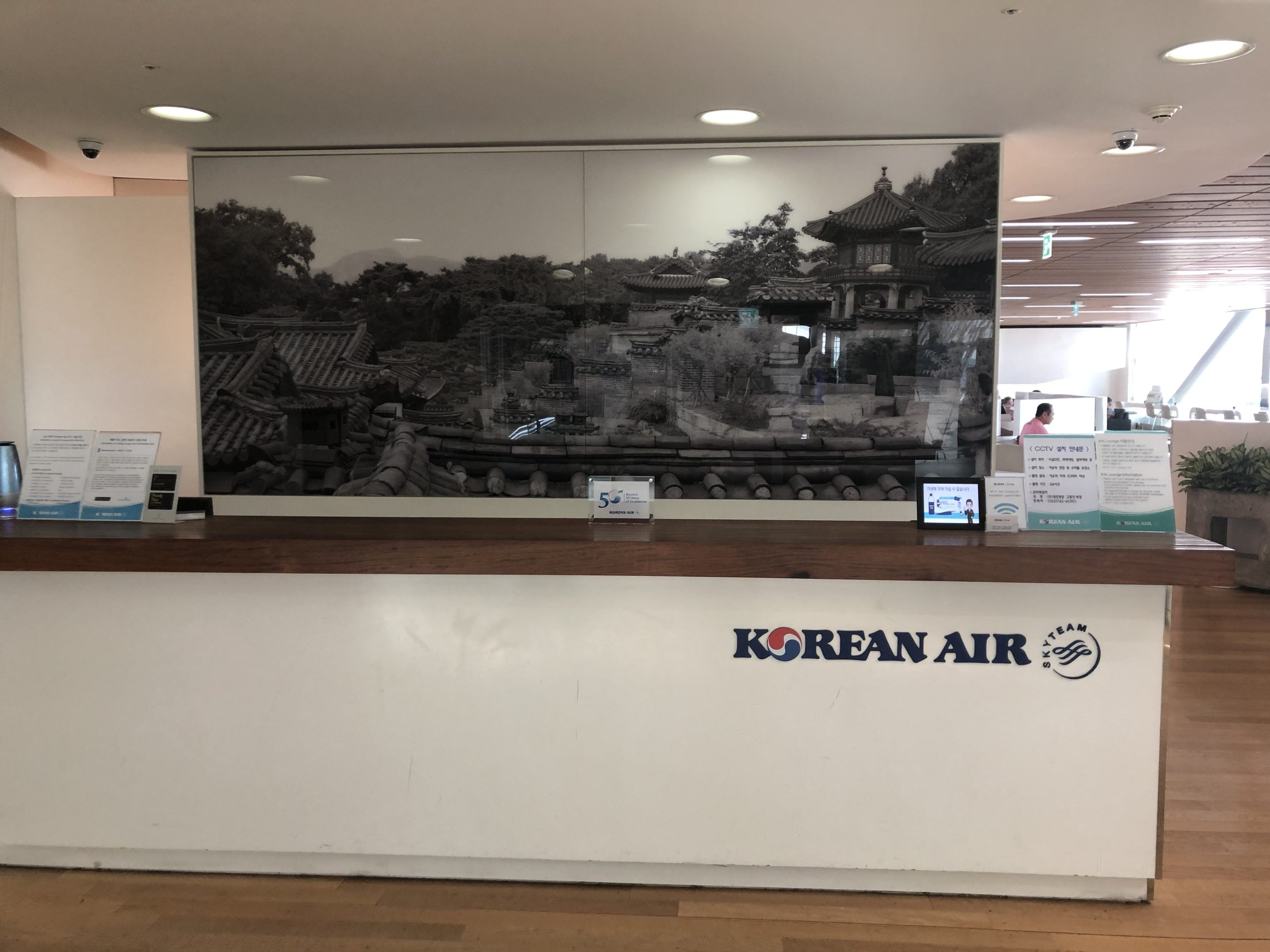 As soon as we scanned our boarding passes and entered the lounge, we saw this directory on the wall, which was actually very helpful in locating the various facilities.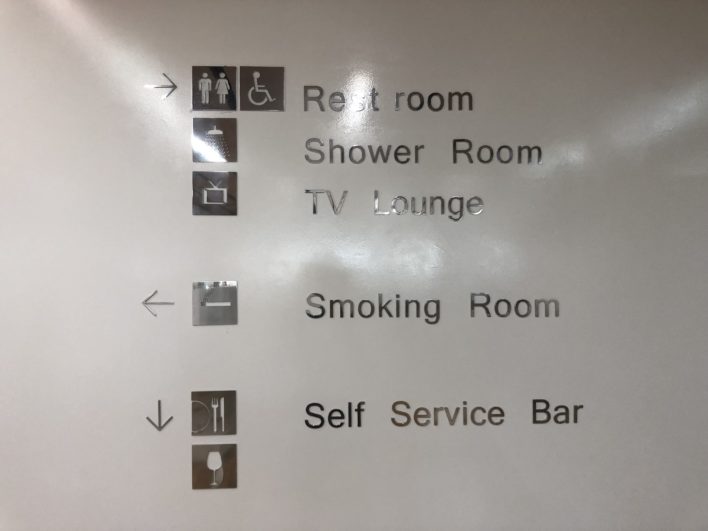 There was a ton of seating available; this lounge has a large capacity of seats in varied types.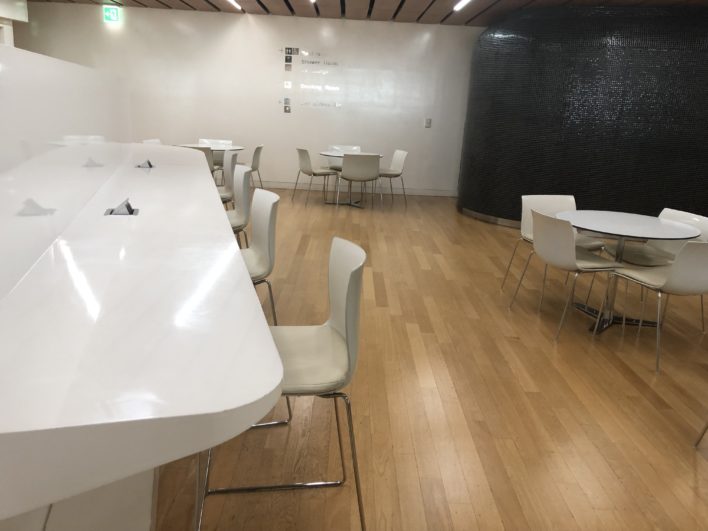 In addition to the square armchairs that were very comfortable and soft, there were bar stools and chairs available in multiple rooms.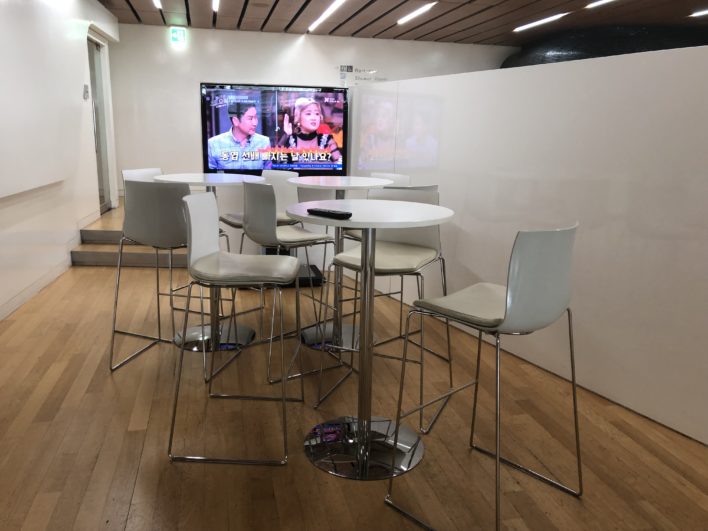 We ended up settling in the TV room, which was nestled in the back corner of the lounge (close to the showers and restrooms).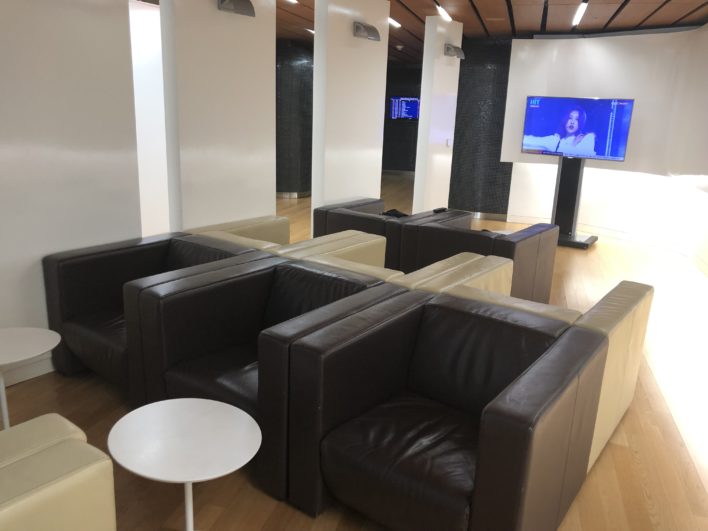 A smoking lounge with a TV is available for those who need it.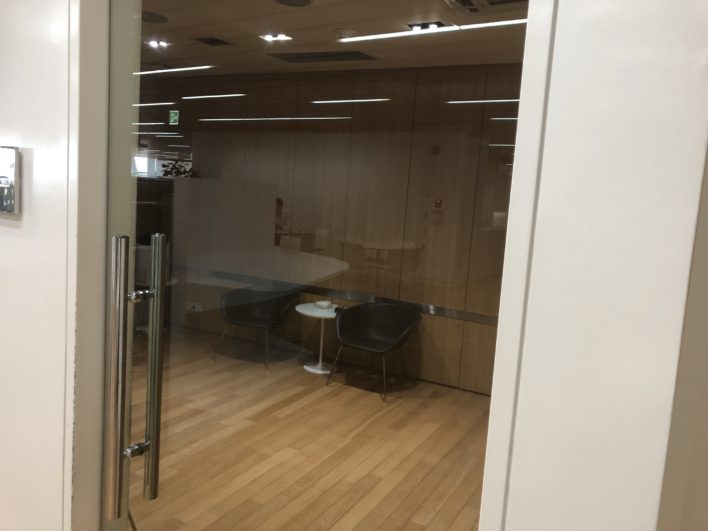 There was also a large room available for luggage and coat storage.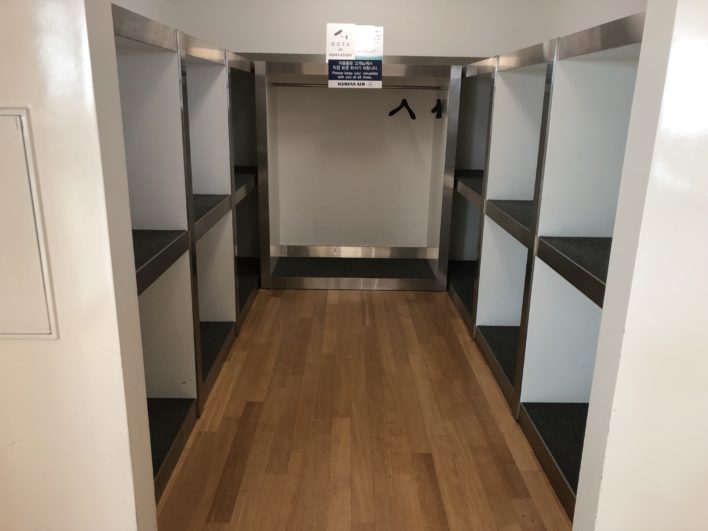 There weren't many airport flight monitors in the lounge, but I did manage to find one of them.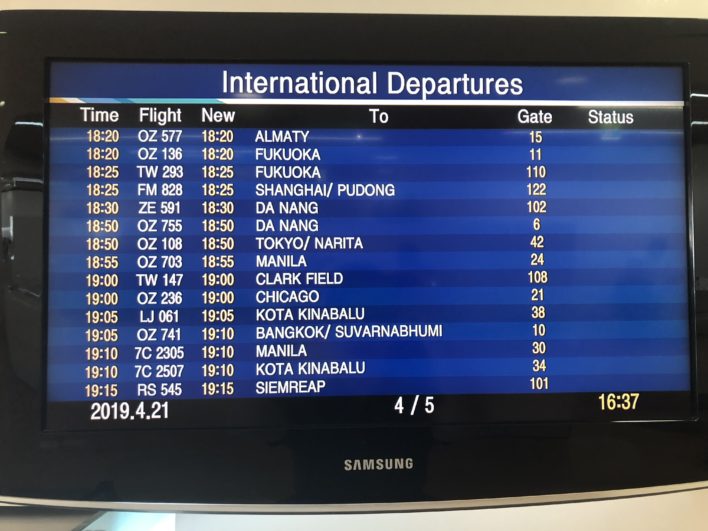 As soon as we were able to claim a spot to sit down, I headed over to the food stations. The first things I saw were some blueberry crumble muffins and black sesame bread.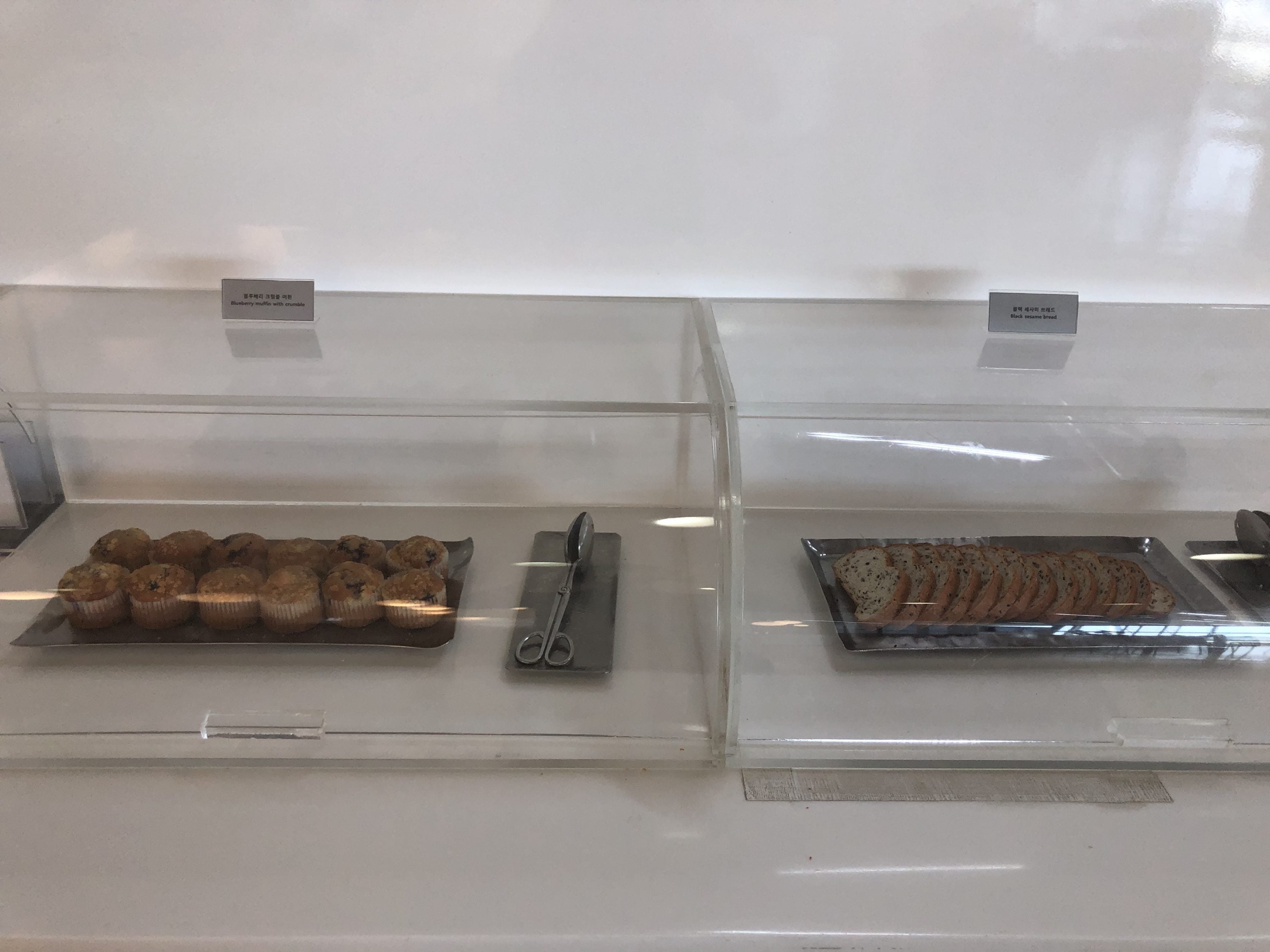 Beers are available on tap: our 2 choices were Budweiser and the Korean favorite Max Hite.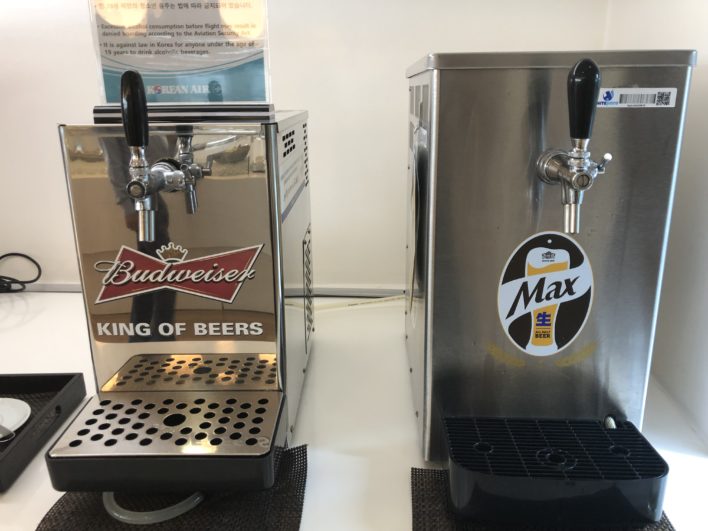 I also saw a small selection of wines, champagne, and liquor. Pictured below is Valdivieso Brut Rose and Copperstone Creek Chardonnay, followed by Concha y Toro Reservado Cabernet Sauvignon.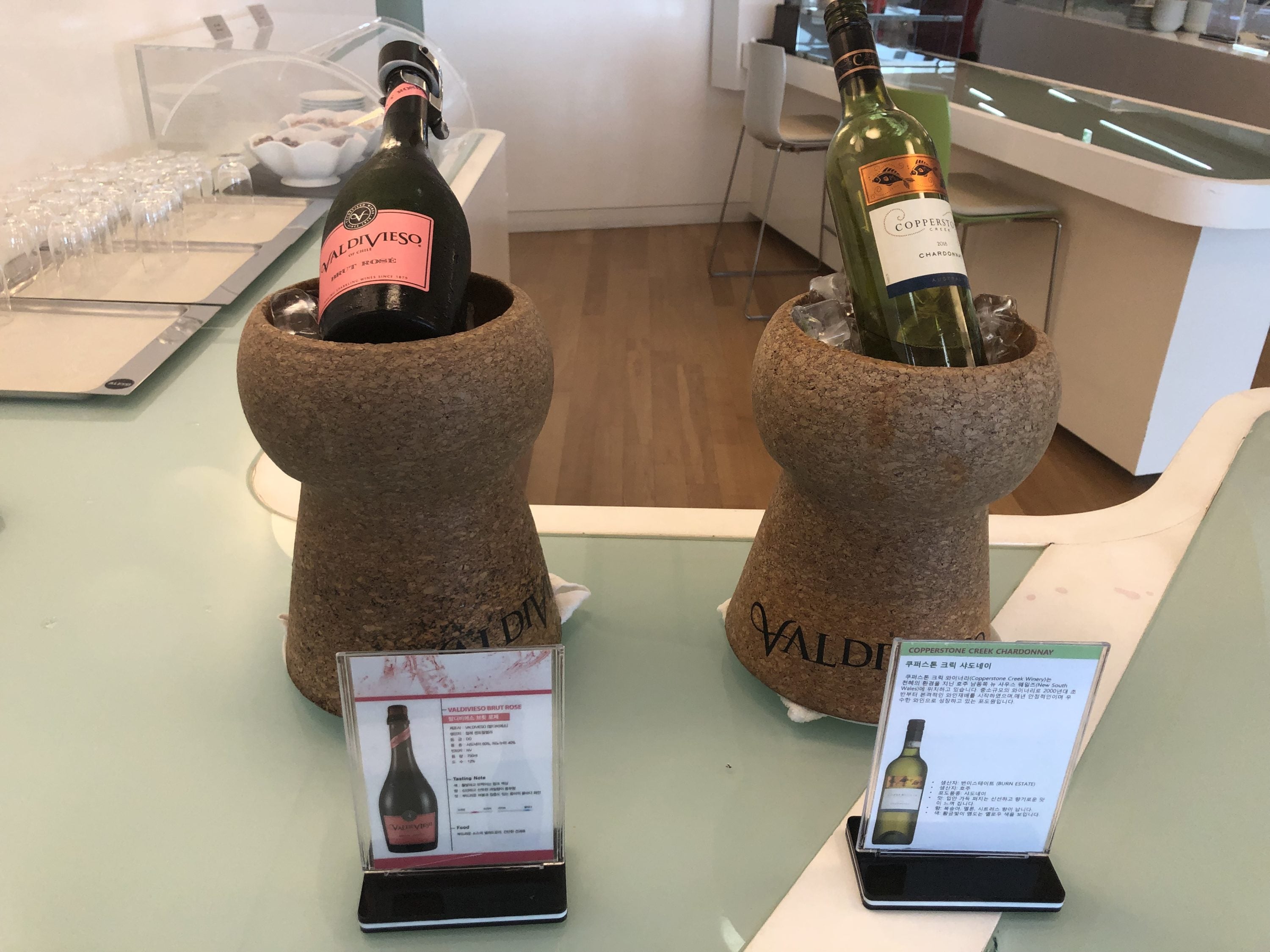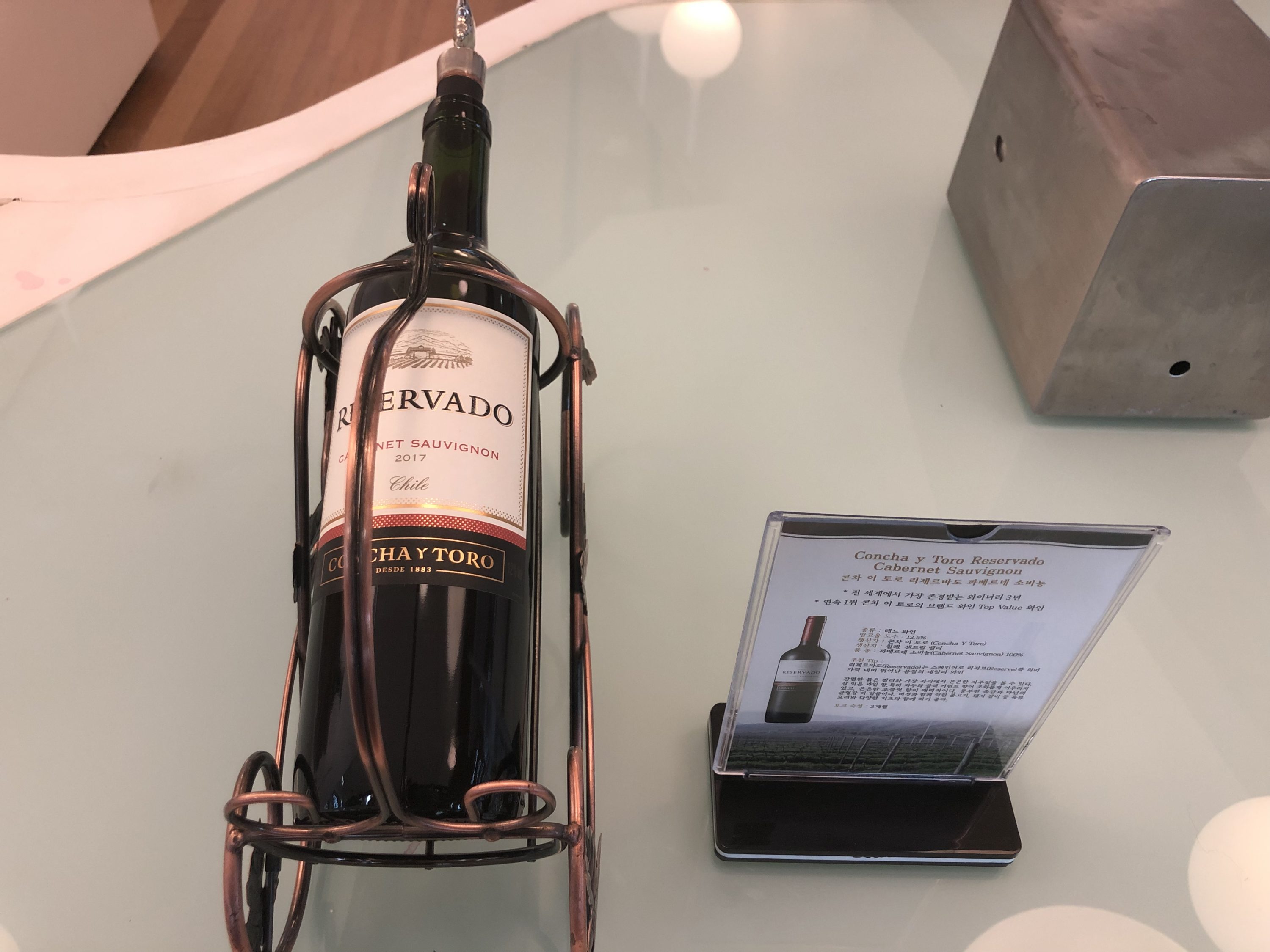 If you wanted some whiskey, you could choose between Jack Daniel's or Ballantine's 17.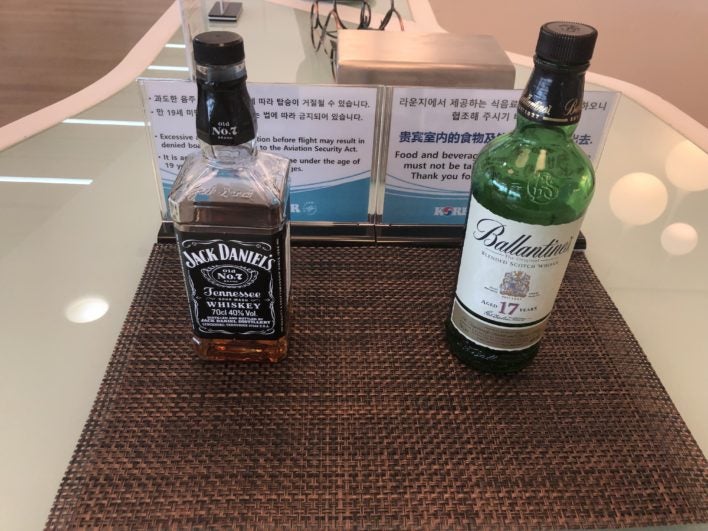 There were also some mixed nuts and pretzels for your typical bar snacks.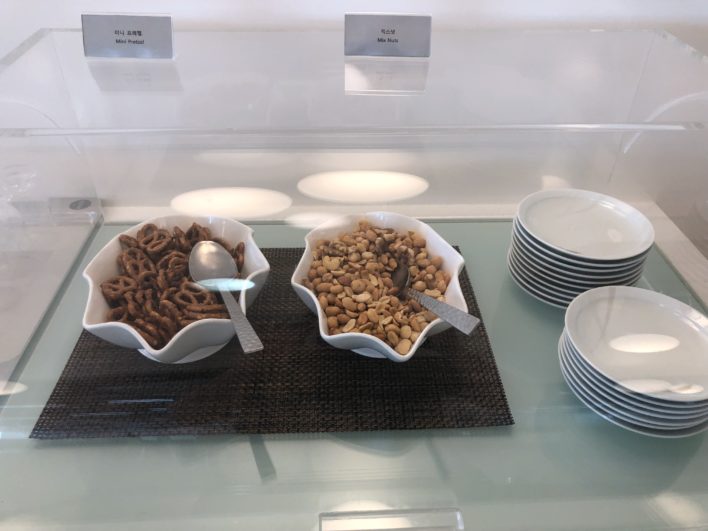 The salad bar consisted of cherry tomatoes and assorted greens.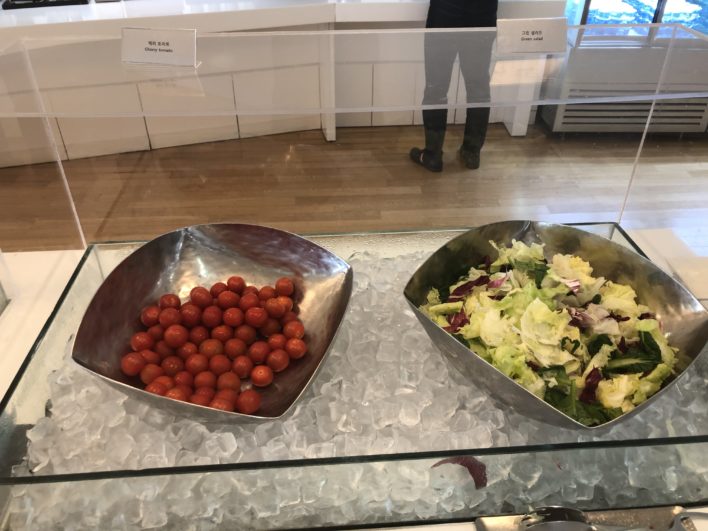 The main refrigerator was nearly empty due to the fact that the drinks were located separately. You could find milk, water, and a couple of chilled beer glasses in there.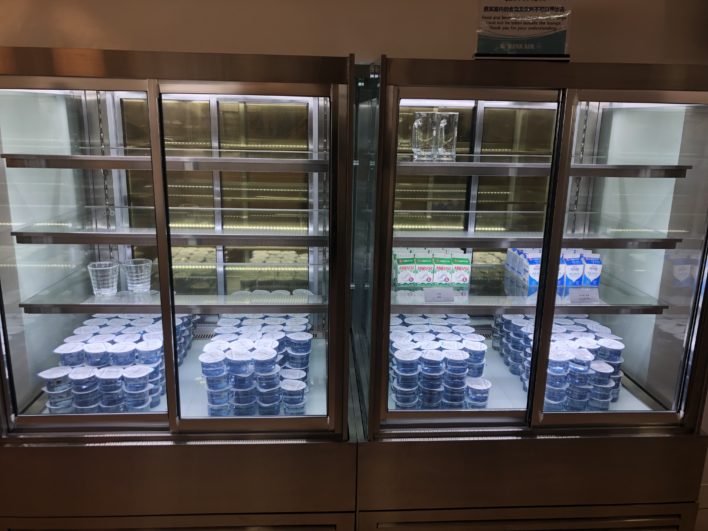 There were 3 types of tea bags and a coffee station nearby.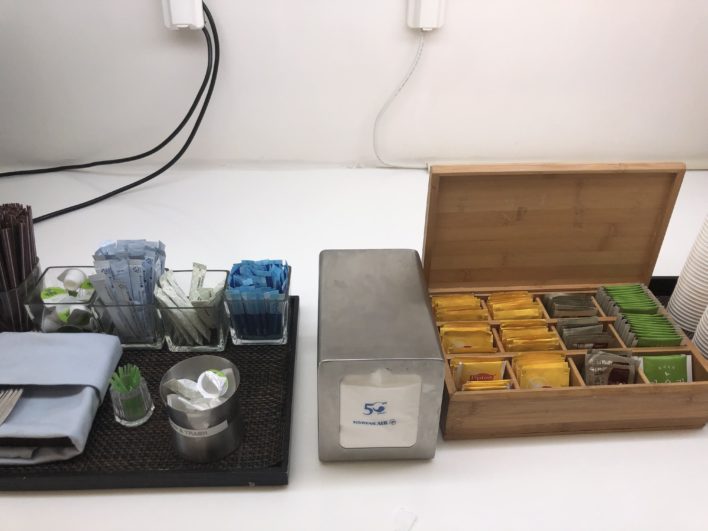 If you wanted soft drinks, you could use this fountain machine to pour Sprite, Coca-Cola, and Coca-Cola Zero.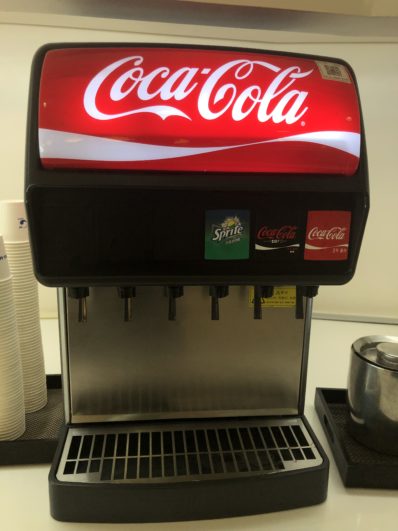 I moved onto the main food area, which started with corn soup. Despite not looking very appetizing, it was actually quite tasty.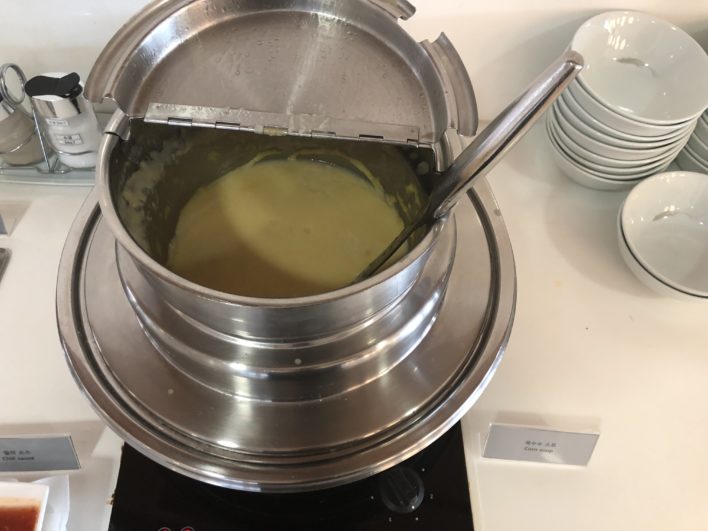 The juice bar contained dispensers for orange juice, apple juice, and tomato juice.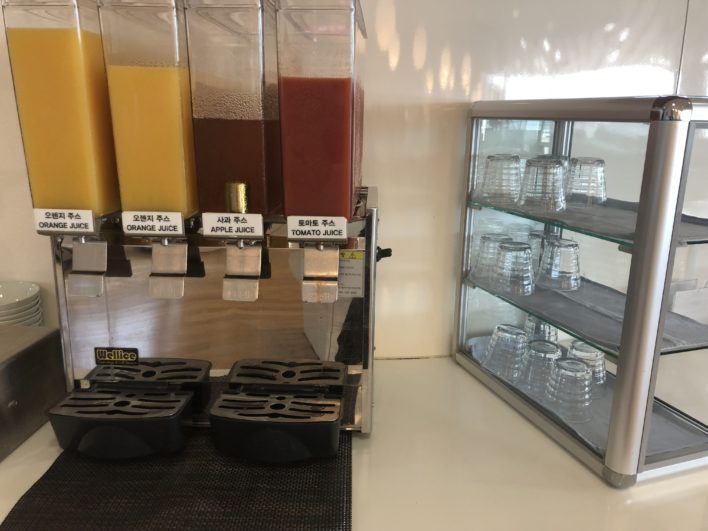 Tuna egg sandwiches and fusilli pasta salad were on display at another food section.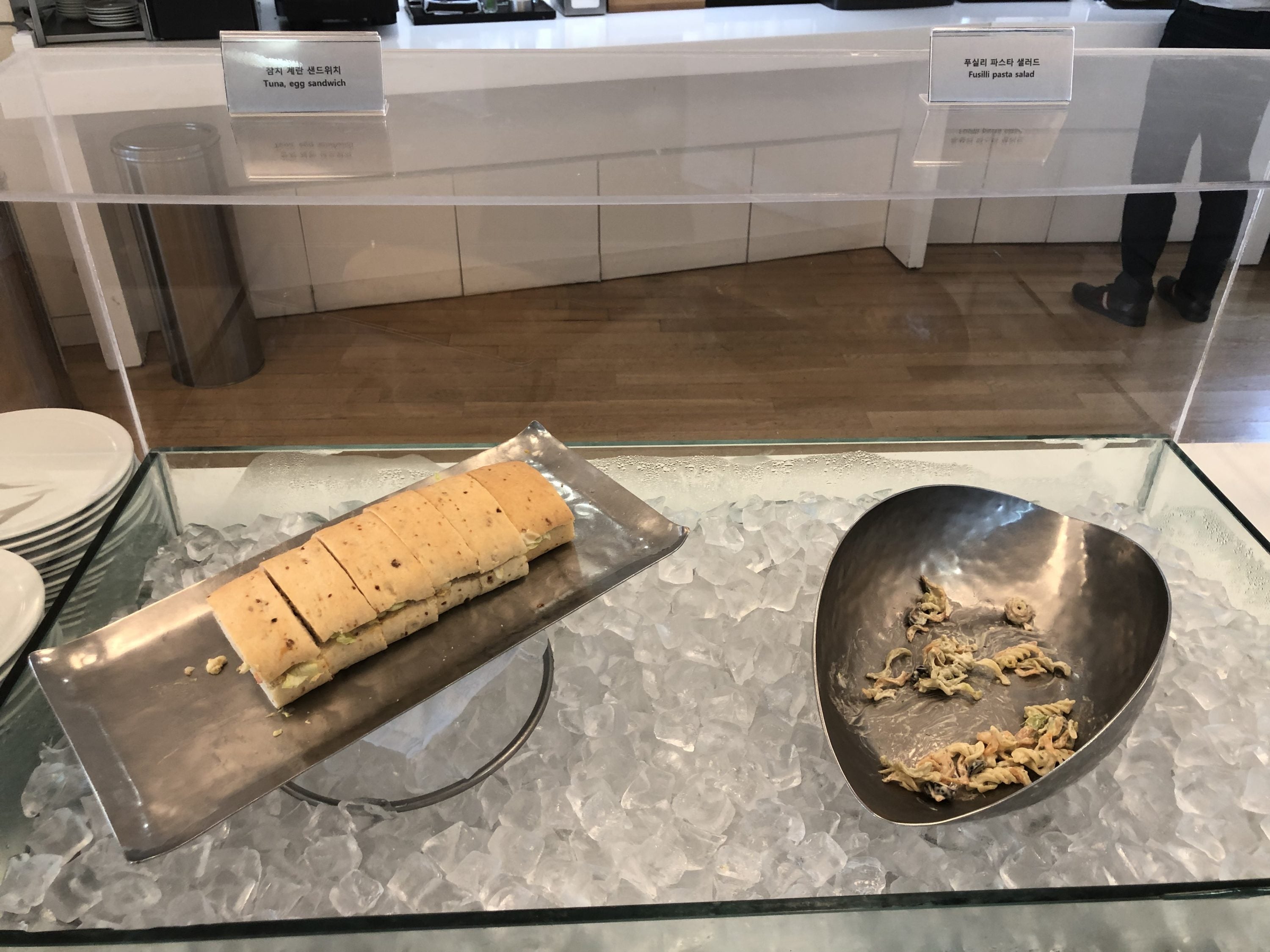 The best part of this lounge was the espresso machine, which can dispense cafe creme, americano, cappuccino, cafe lattes, and espresso.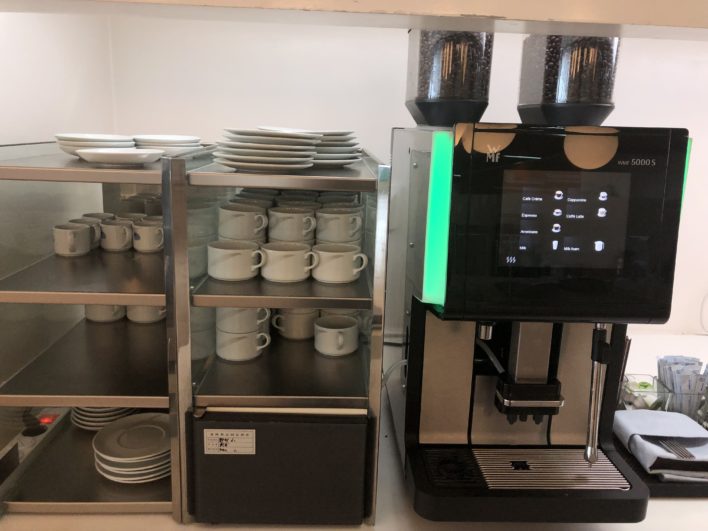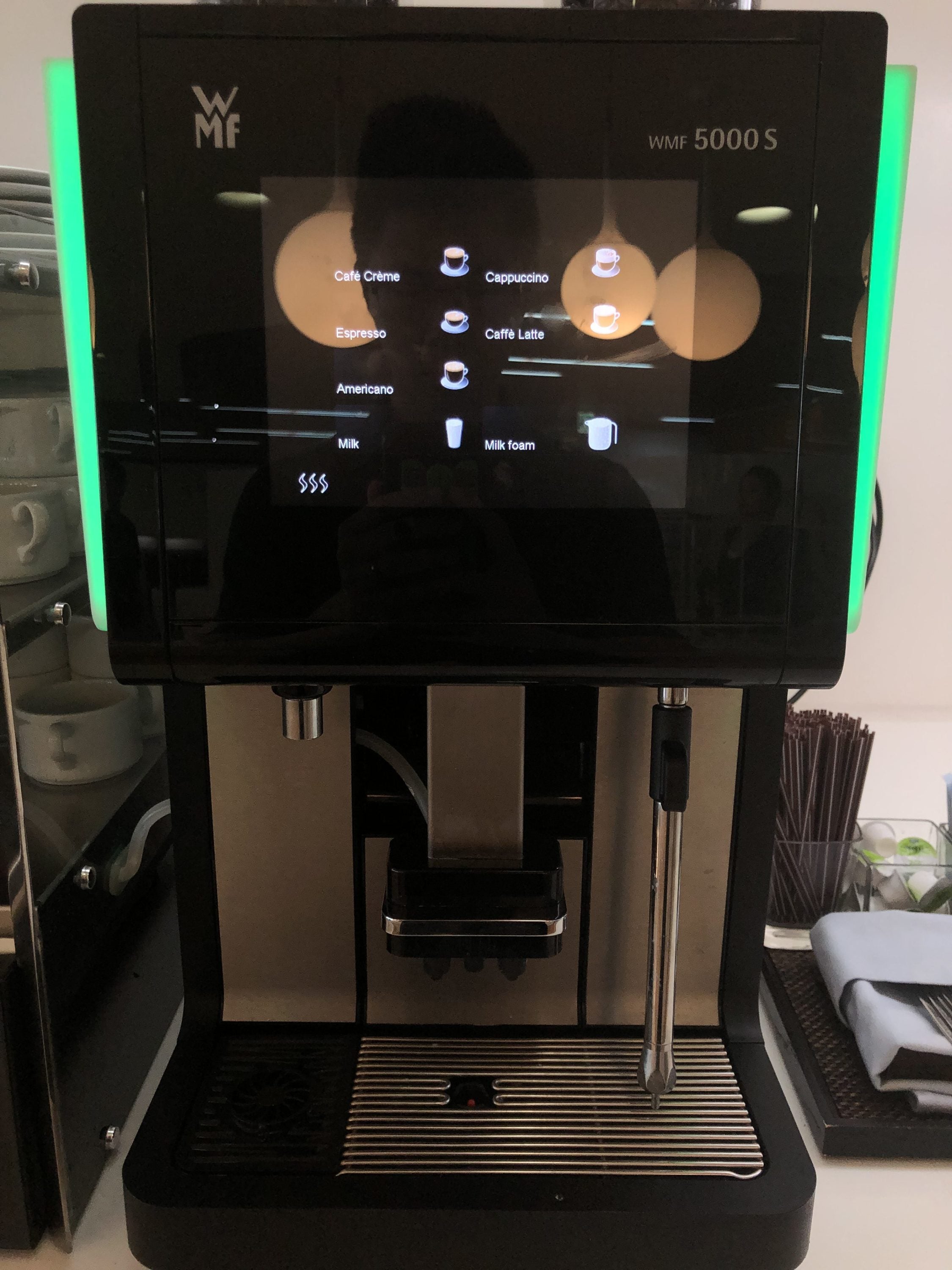 Crackers, cheese, and cranberry almond tea cake were next to the espresso machine.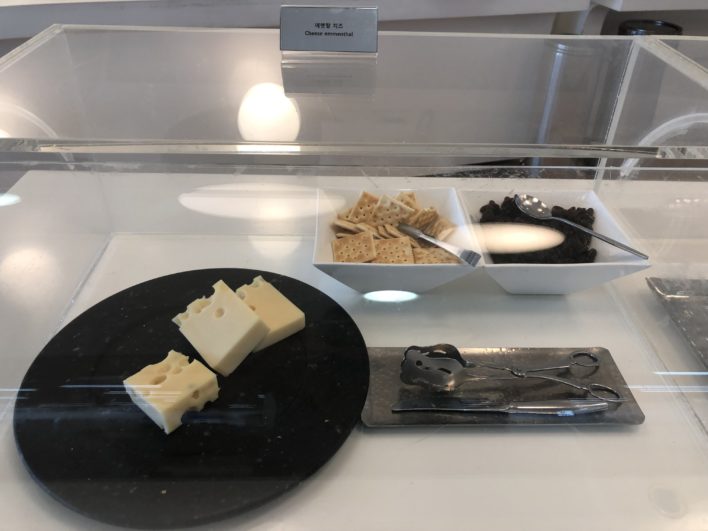 Instant ramen is a signature component of Korean lounges, and it made an appearance at this lounge too. You could pick between Shin Ramen or Tempura Udong.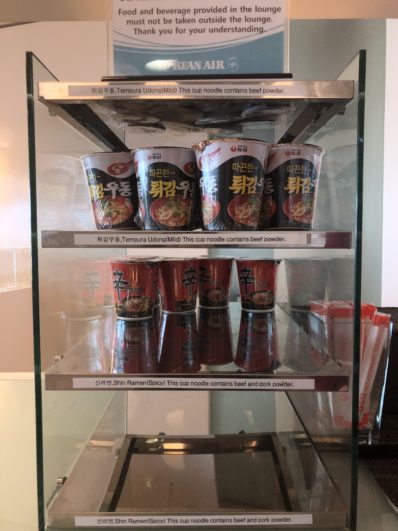 I moved on to the hot foods, which first featured sweet and sour pork alongside some beef and mushrooms.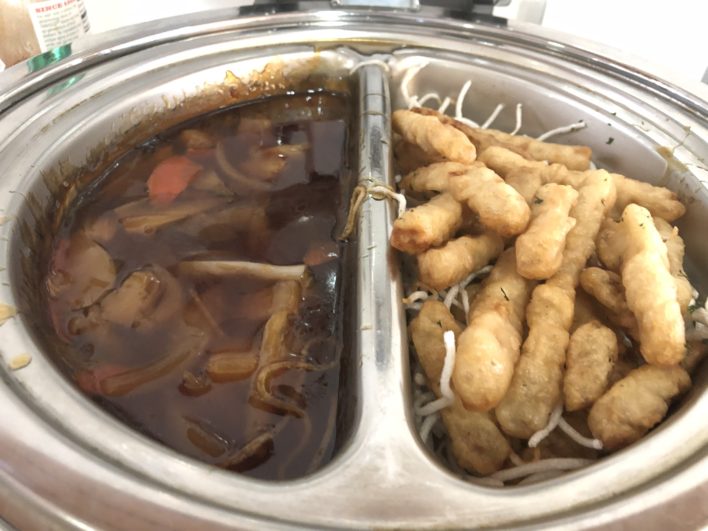 Next up was fried shrimp balls with sweet chili, which tasted great.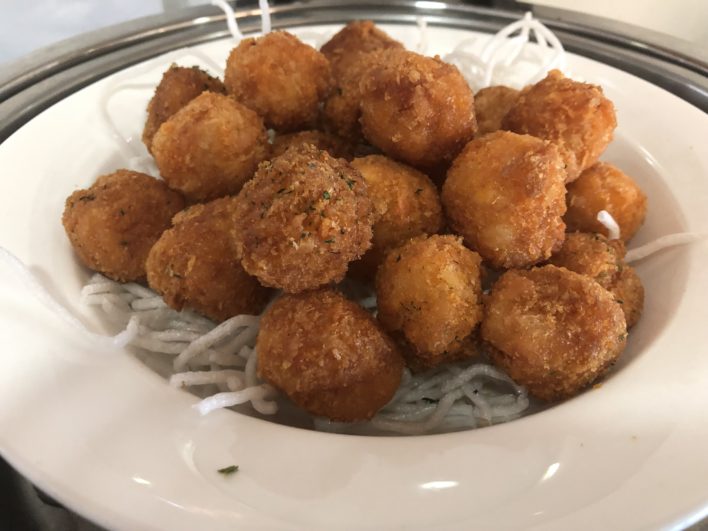 The food selection concluded with pork and mushroom fried rice; it was good too.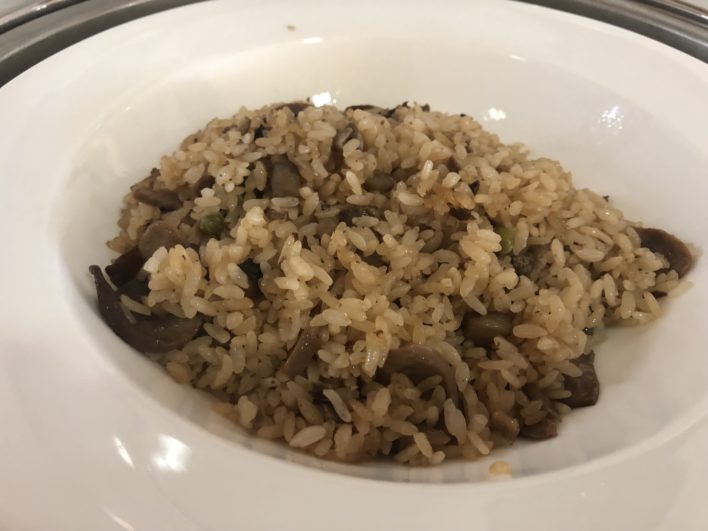 The restroom facilities were quite large, though there were only 2 shower suites.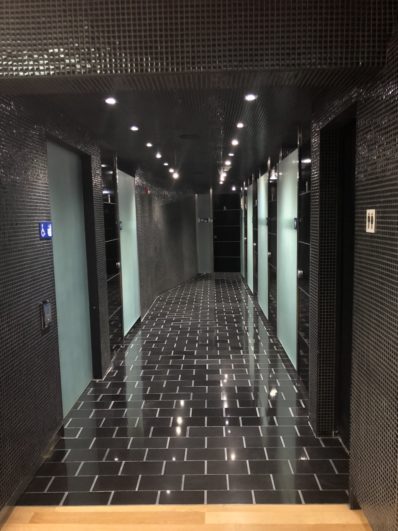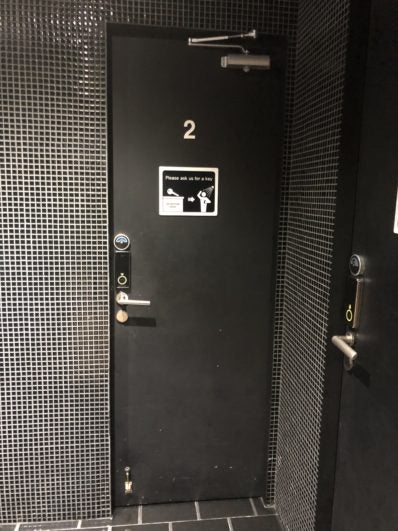 The locking system for the shower stalls was so sophisticated and unique that I couldn't resist snapping a picture of it.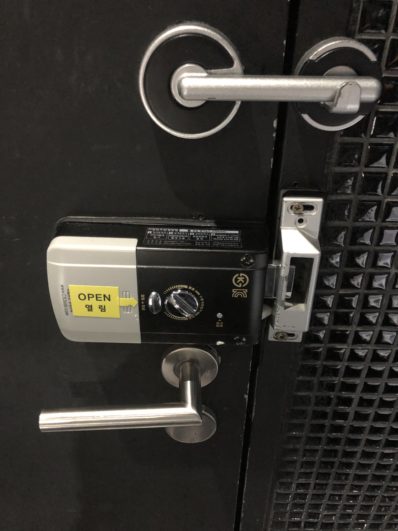 The shower lounges were quite spacious, and the tile work was intricate and sleek.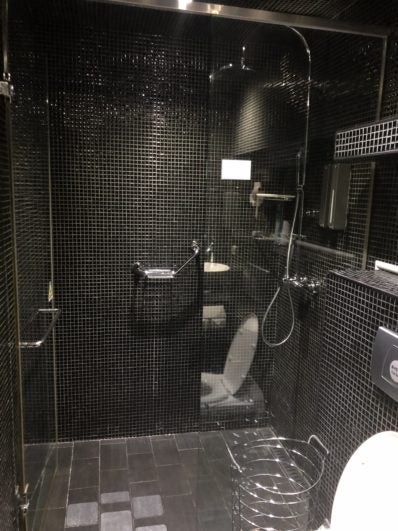 Shower gel and shampoo were provided in large dispensers located inside the shower.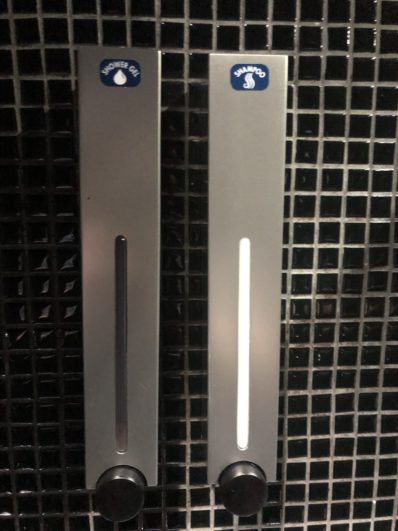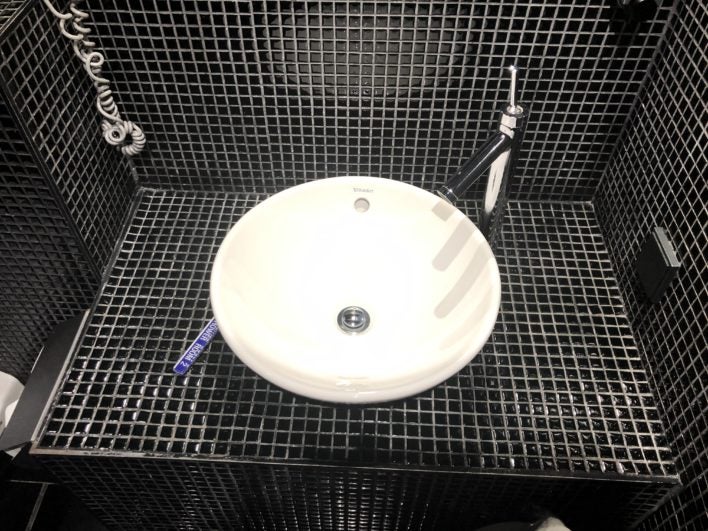 Other amenities were provided, including shower caps, combs, soap, and toothbrush kits.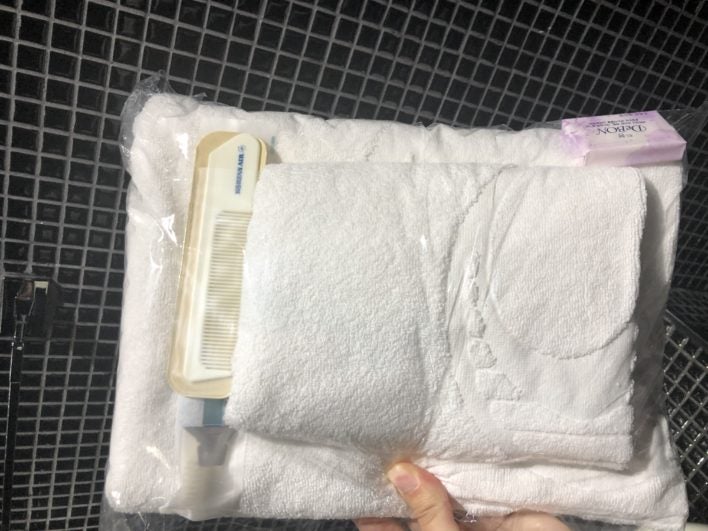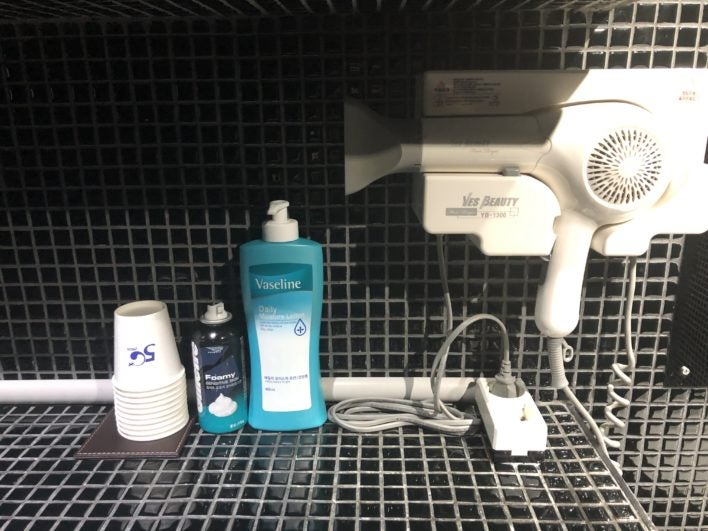 I actually took advantage of the shower suites, which ended up being a great decision.
As we were leaving the lounge close to our departure time, I noticed some personal beauty stations, which I was intrigued by.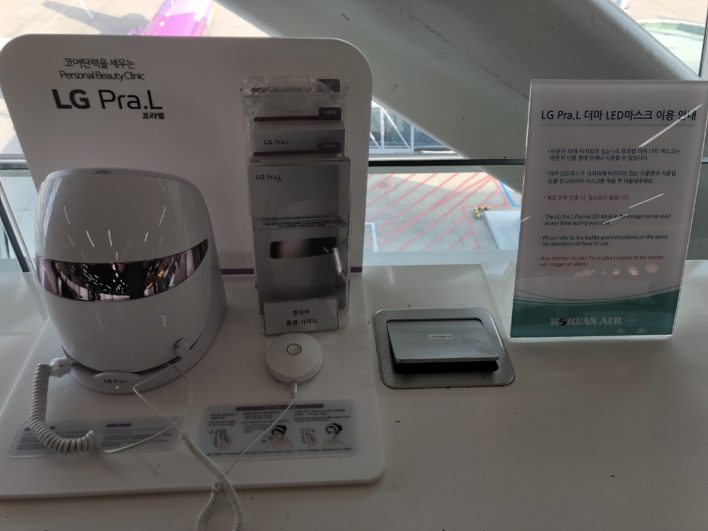 Also, if you didn't bring your charging cords or power bank, you could take advantage of these mobile phone charging stations.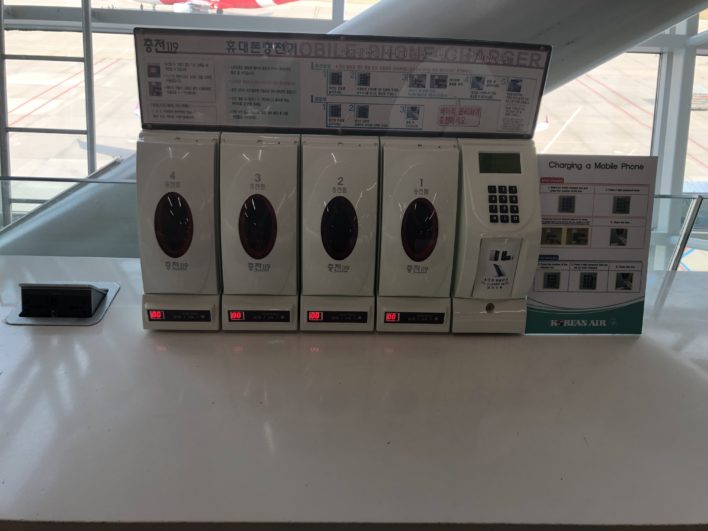 I took a couple more pictures of the plane-watching windows and magazine selection before heading to the gate for our flight.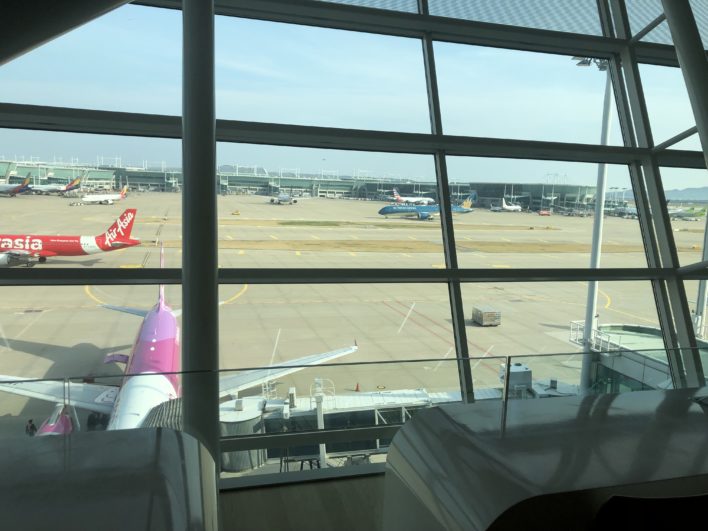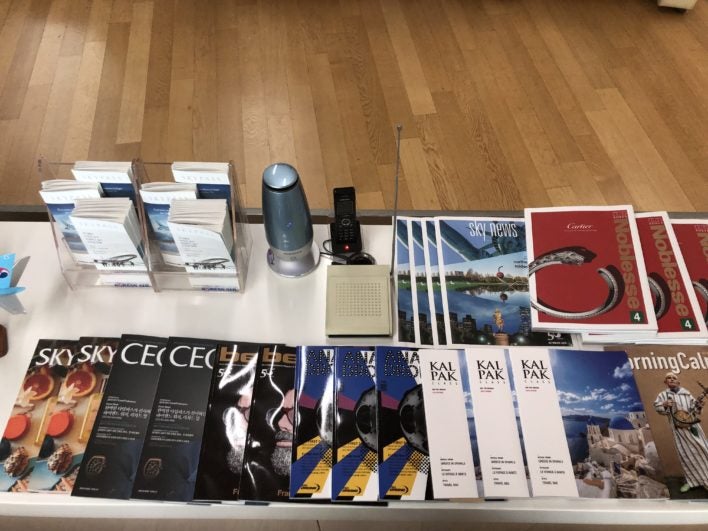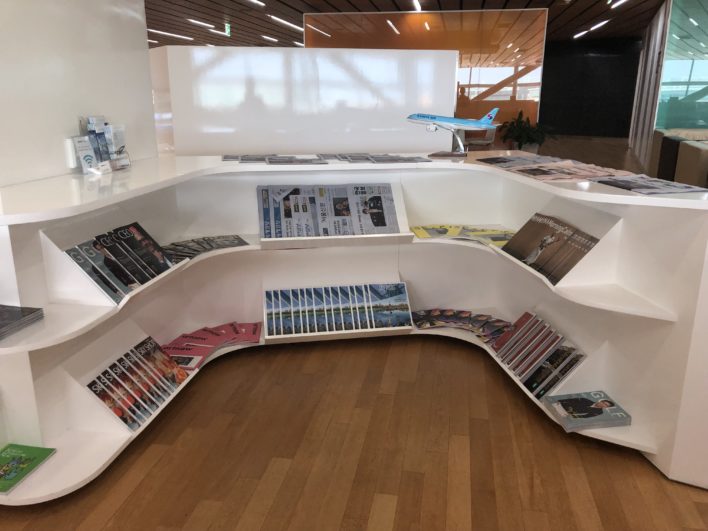 Flight
Boarding was relatively efficient; we were the first to board the plane. I took pictures of the 787-9 aircraft, jetbridge, and newspaper stand.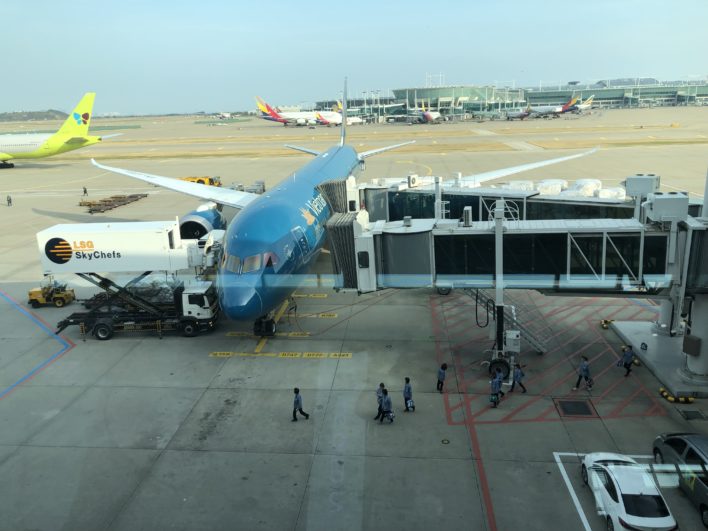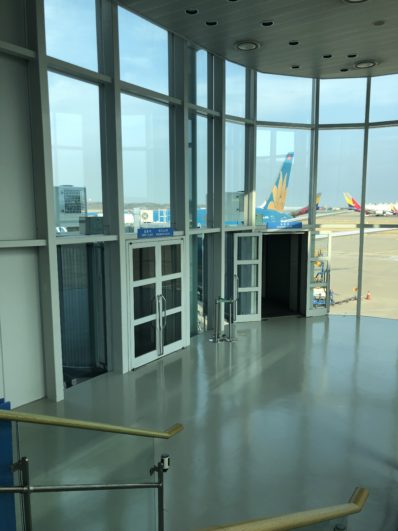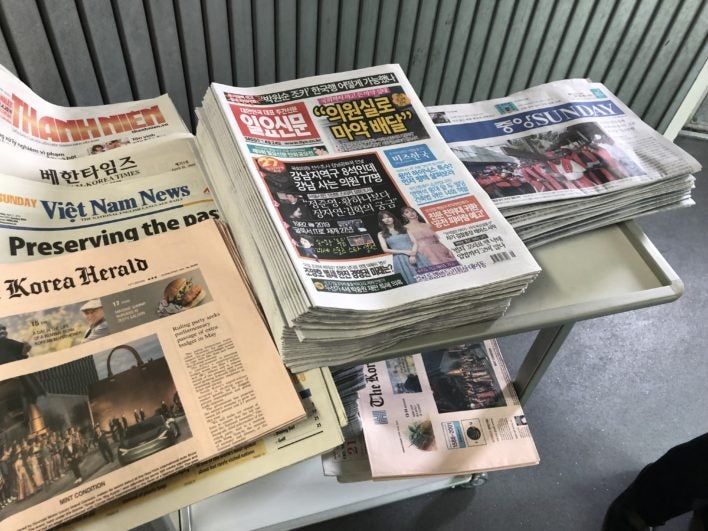 Seat
Since we were the first to board, I got the opportunity to take pictures of the empty business class cabin, which was awesome.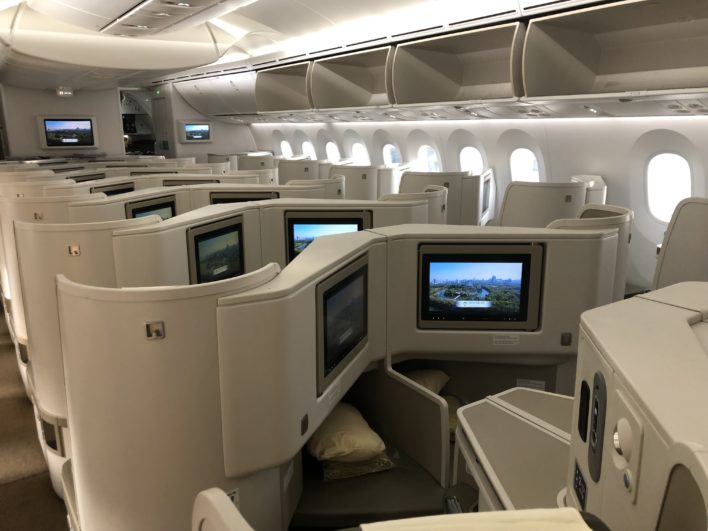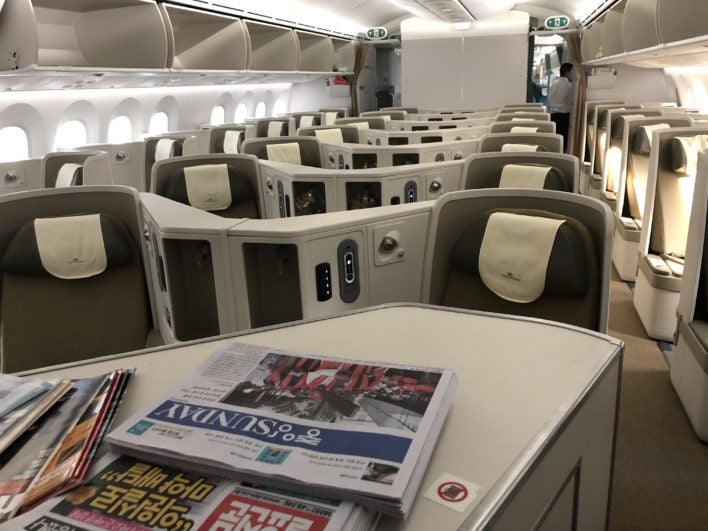 The cabin finishes were olive green, which was somewhat disappointing considering Vietnam Airlines uses a beautiful sky blue and gold coloring scheme for their exterior livery.
These seats are reverse herringbone in a 1-2-1 configuration; they go fully lie-flat and feature direct aisle access. Likely, these are Zodiac Cirrus variants of reverse herringbone seats.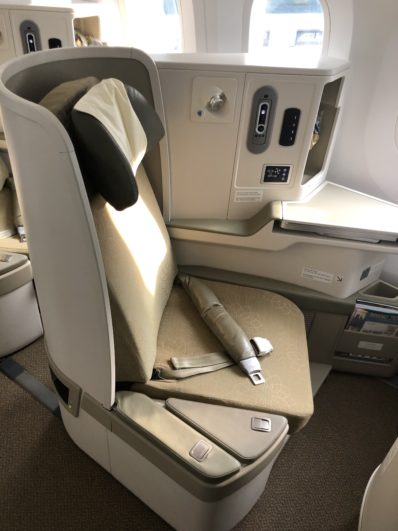 With the armrests down, the seat measures 21.5″ wide, which is quite spacious. As far as seat pitch and bed length, you can expect 42″ in pitch and 78″-79″ of bed length when fully lie-flat.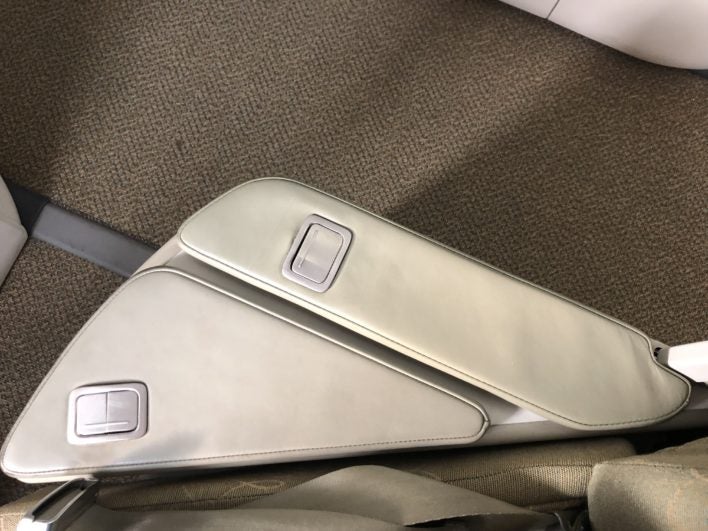 The storage compartment next to the main armrest was quite deep. I was able to fold up my newspaper once and tuck it in there for the duration of the flight.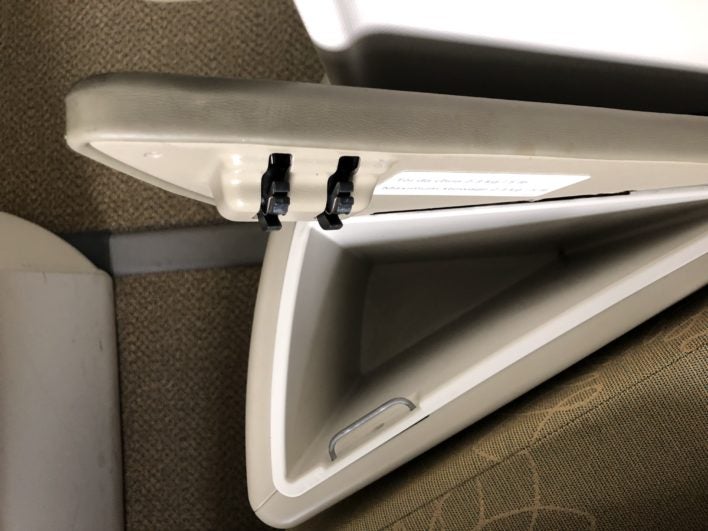 And when fully deployed, the armrest itself is quite high.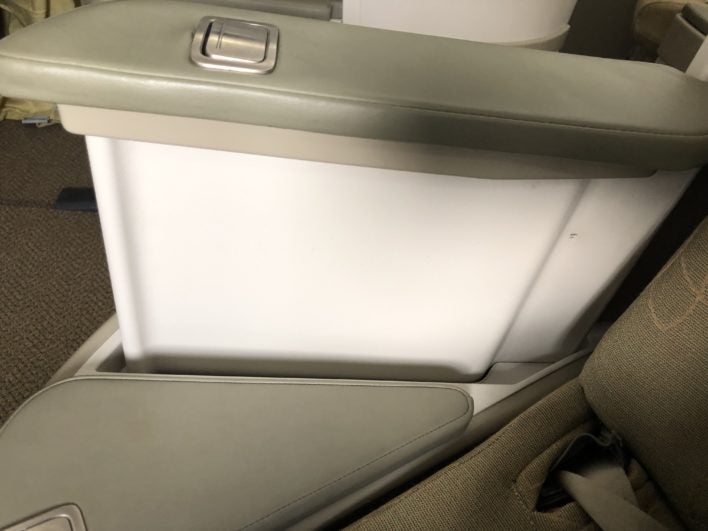 There was also a storage compartment dedicated to water bottles, which is quite useful. Next to it was a 110v power socket.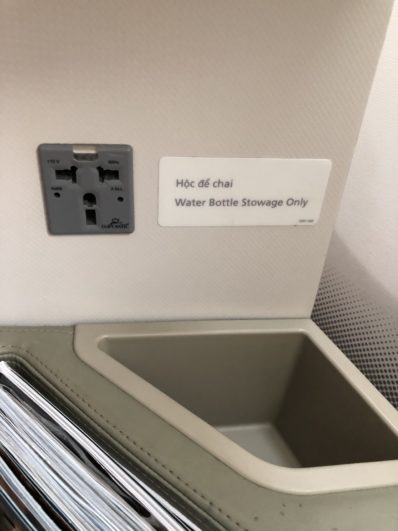 The literature compartment was located right next to the water bottle storage space.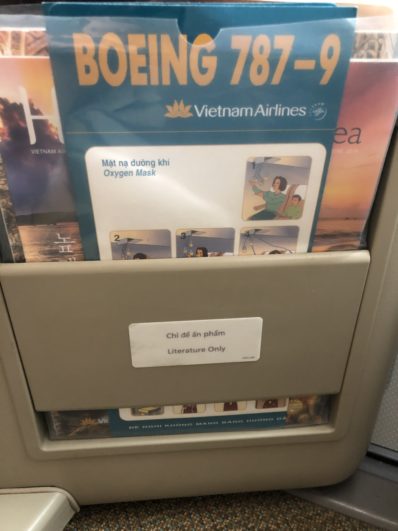 To the left of the seat were the inflight remote, USB outlet, headphone jack, and seat controls.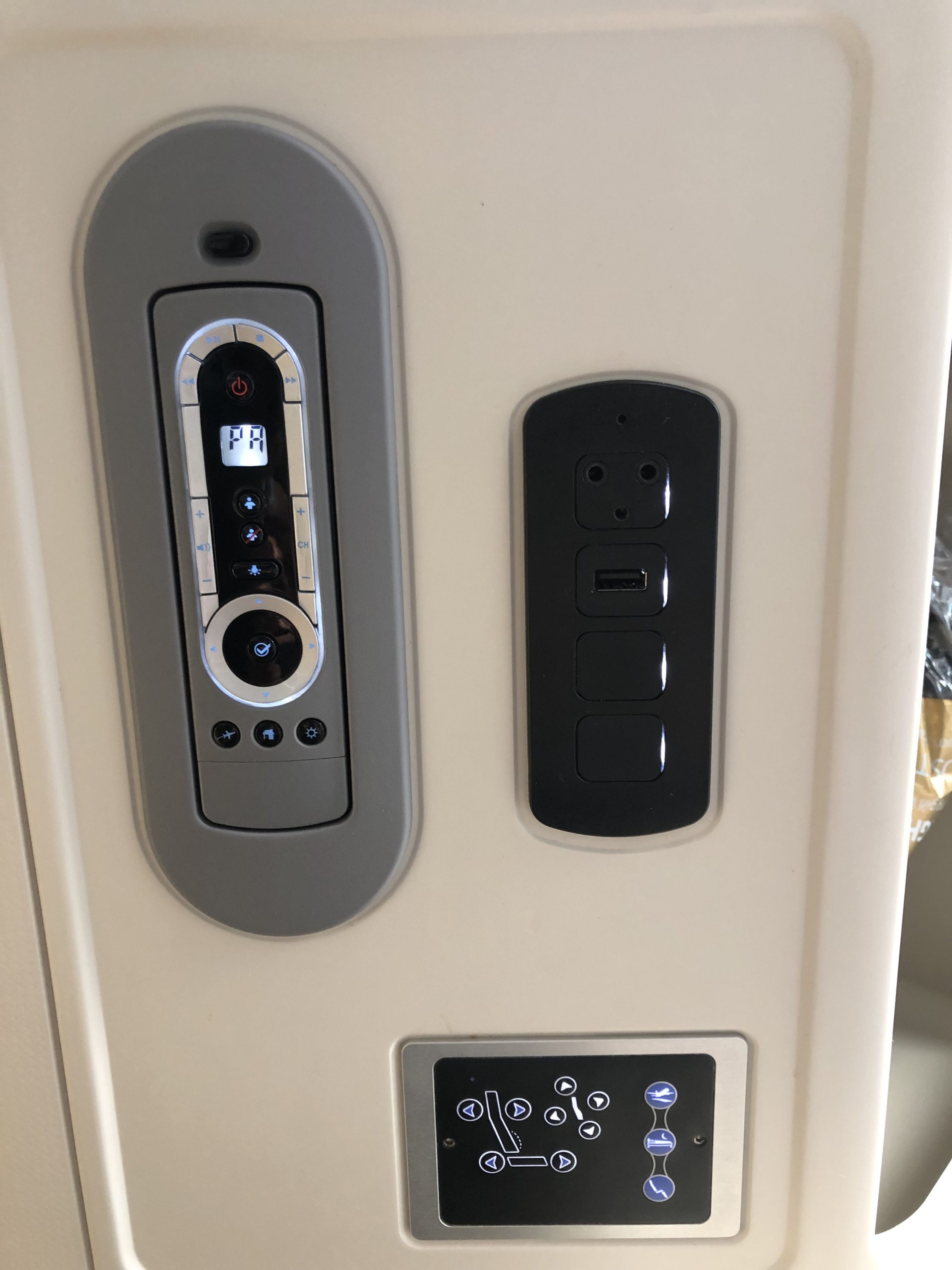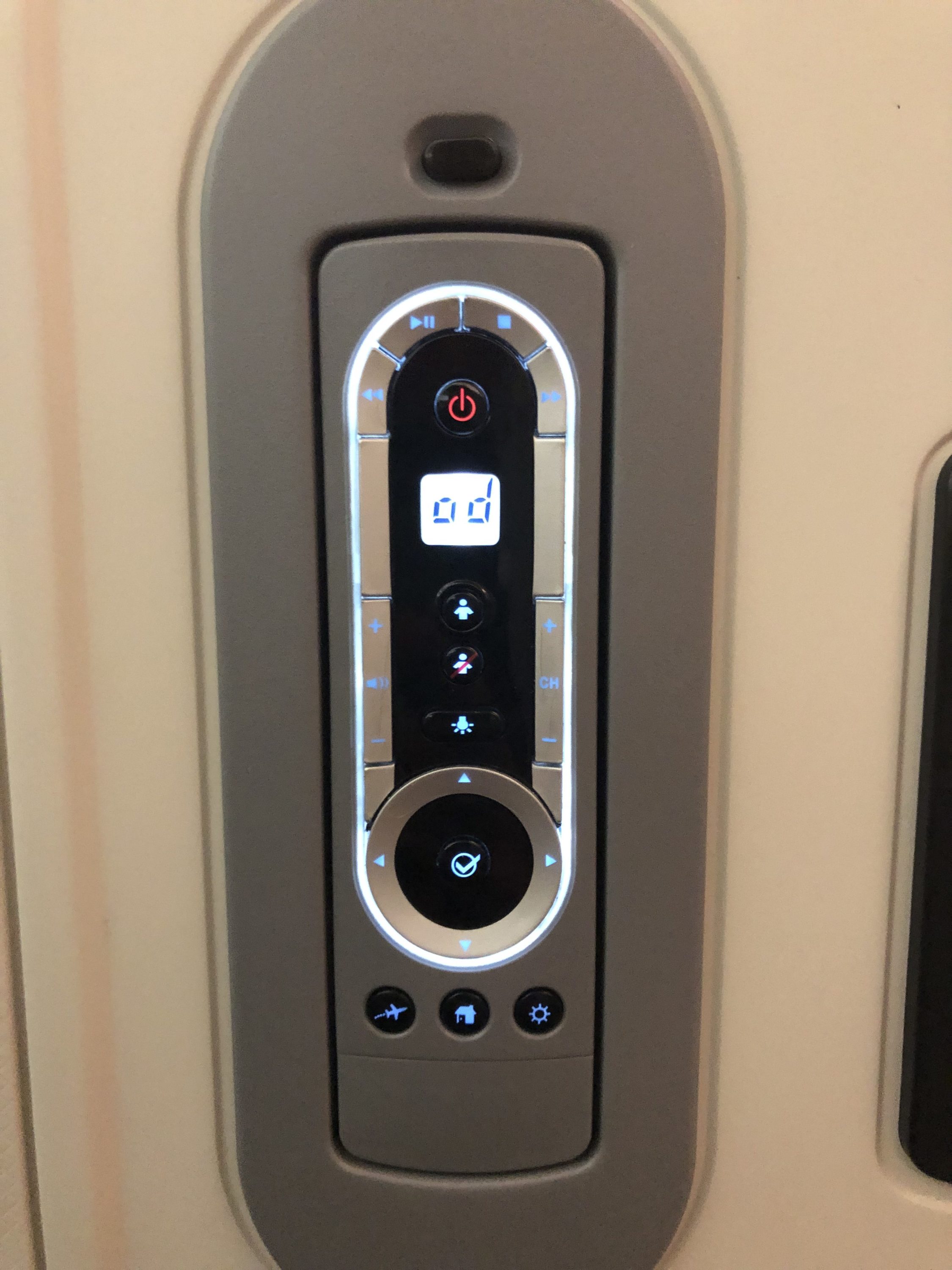 With the seat controls, you can adjust the lumbar support.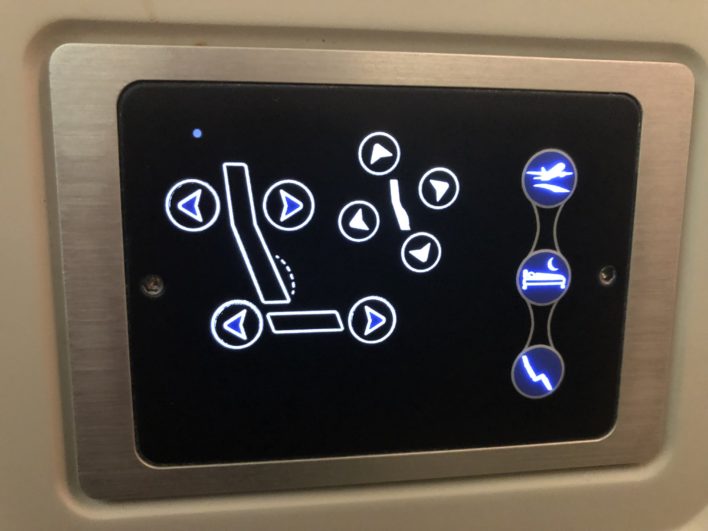 Adjacent to the entertainment controls was a reading light.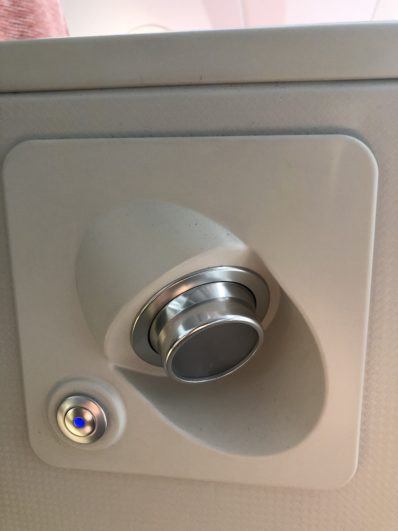 A coat hanger was located next to the inflight monitor.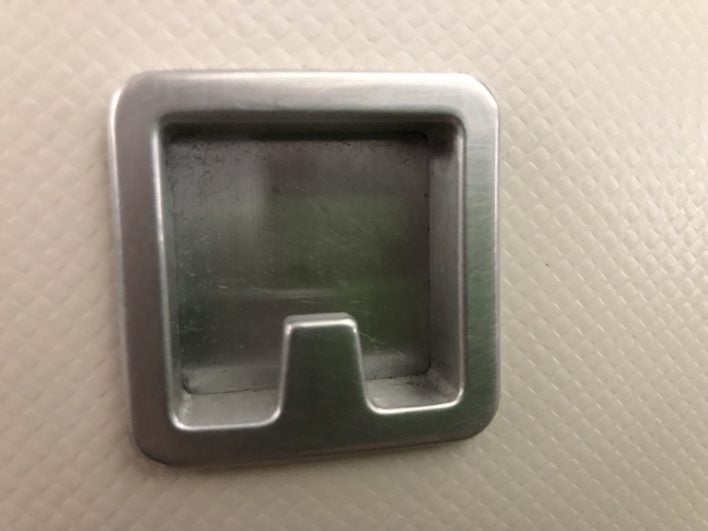 I opened another storage compartment to my left and found a pair of headphones already there.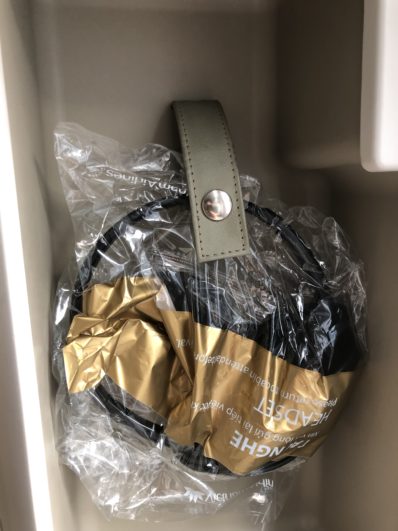 We were provided with a light pillow and blanket, along with slippers and an amenity kit (which we'll discuss in the next section).
The footwell was quite generous, easily capable of fitting my shoes.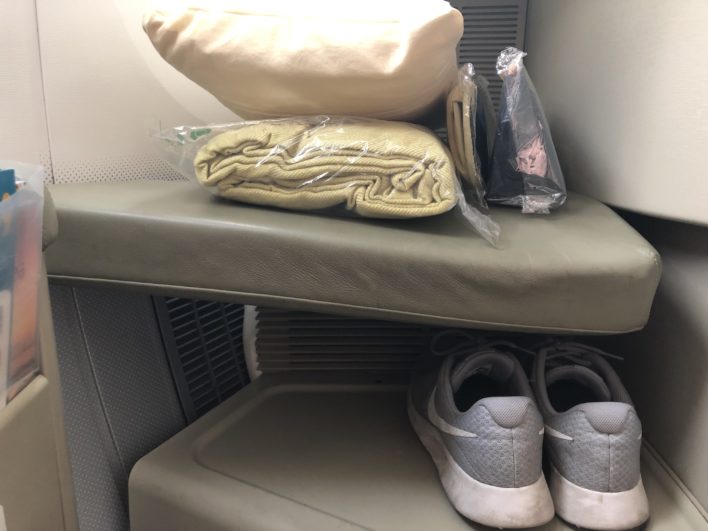 Lastly, the fold-out tray table was relatively sturdy.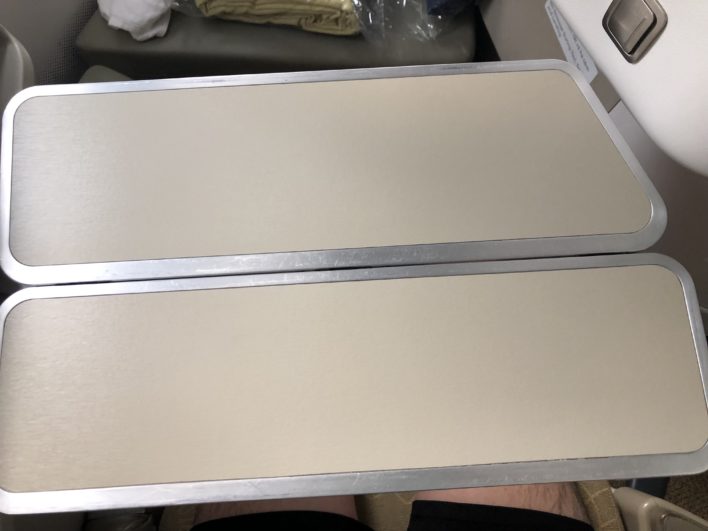 The inflight monitor was quite crisp, measuring up at 16″.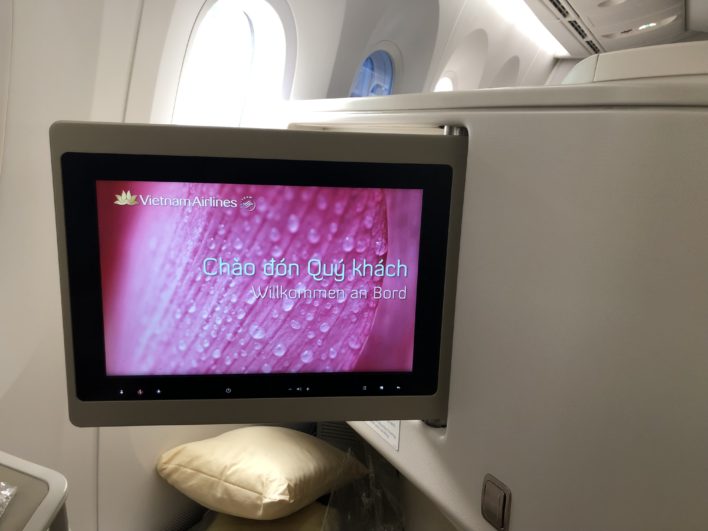 I settled into my seat, snapped a few pictures of the windows, and relaxed for takeoff.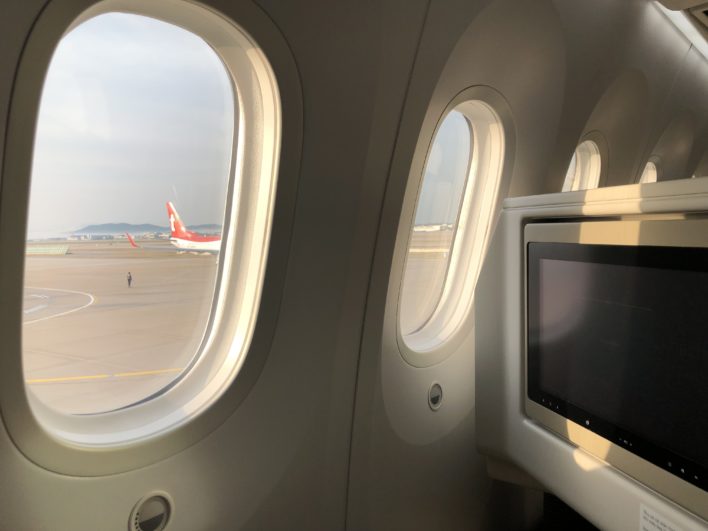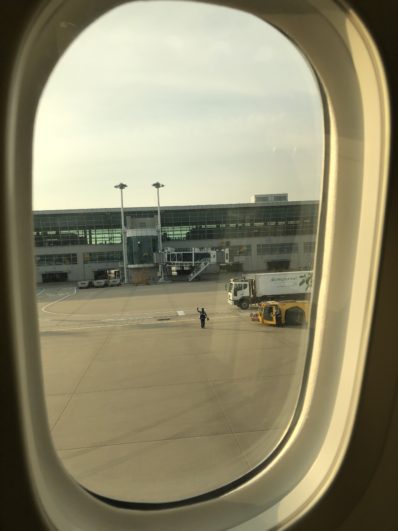 I also noticed that Vietnam Airlines installed individual air nozzles in business class, which is an awesome addition to an already excellent hard product. This allows passengers to control their own air conditioning.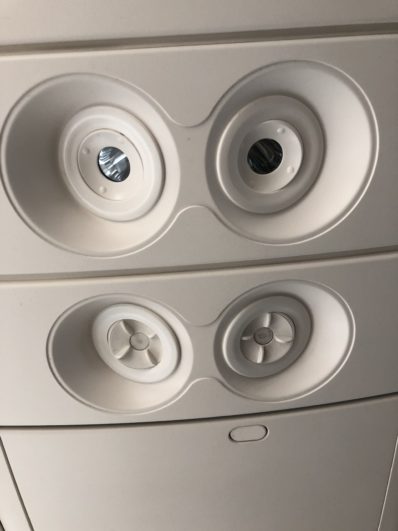 One unique thing I also noticed was that the back half of the middle seats didn't contain overhead storage bins, while the front half did. This was new to me, and I'm not sure how I feel about it.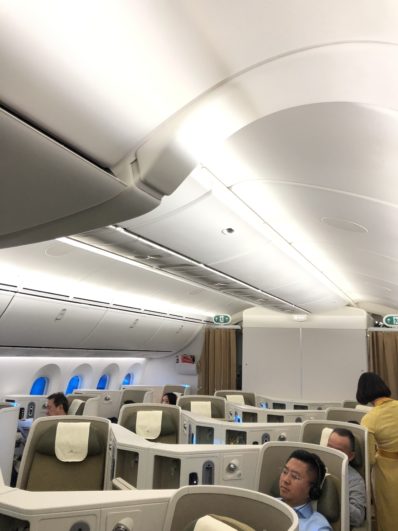 There was a reasonable level of privacy at your seat, as you couldn't see much when sitting upright.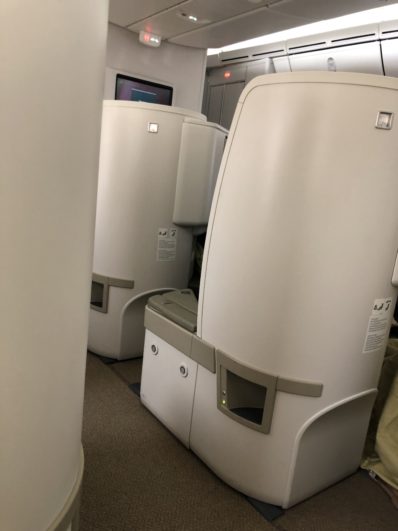 Putting the 78″-79″ of bed length to the test, I fit easily.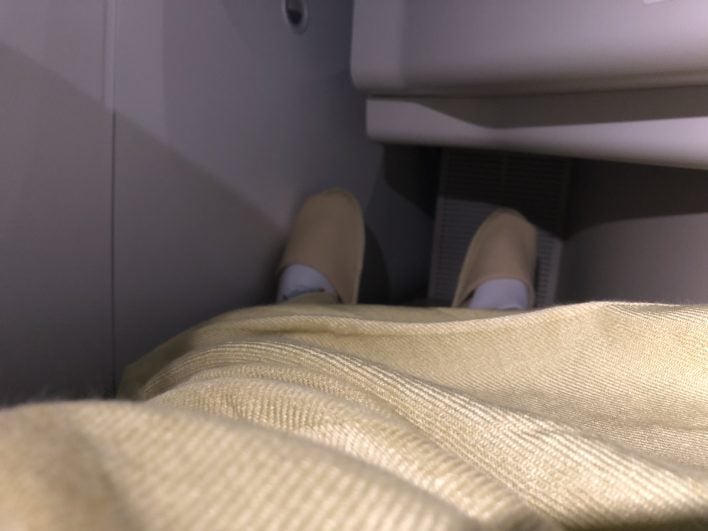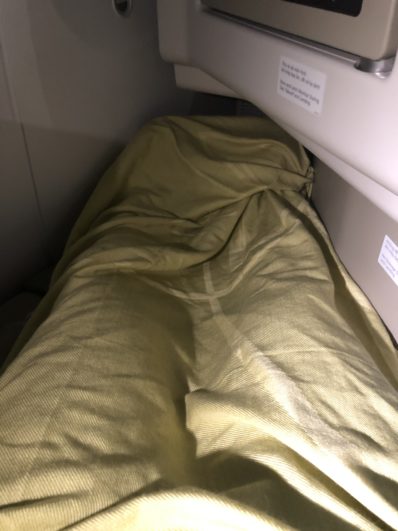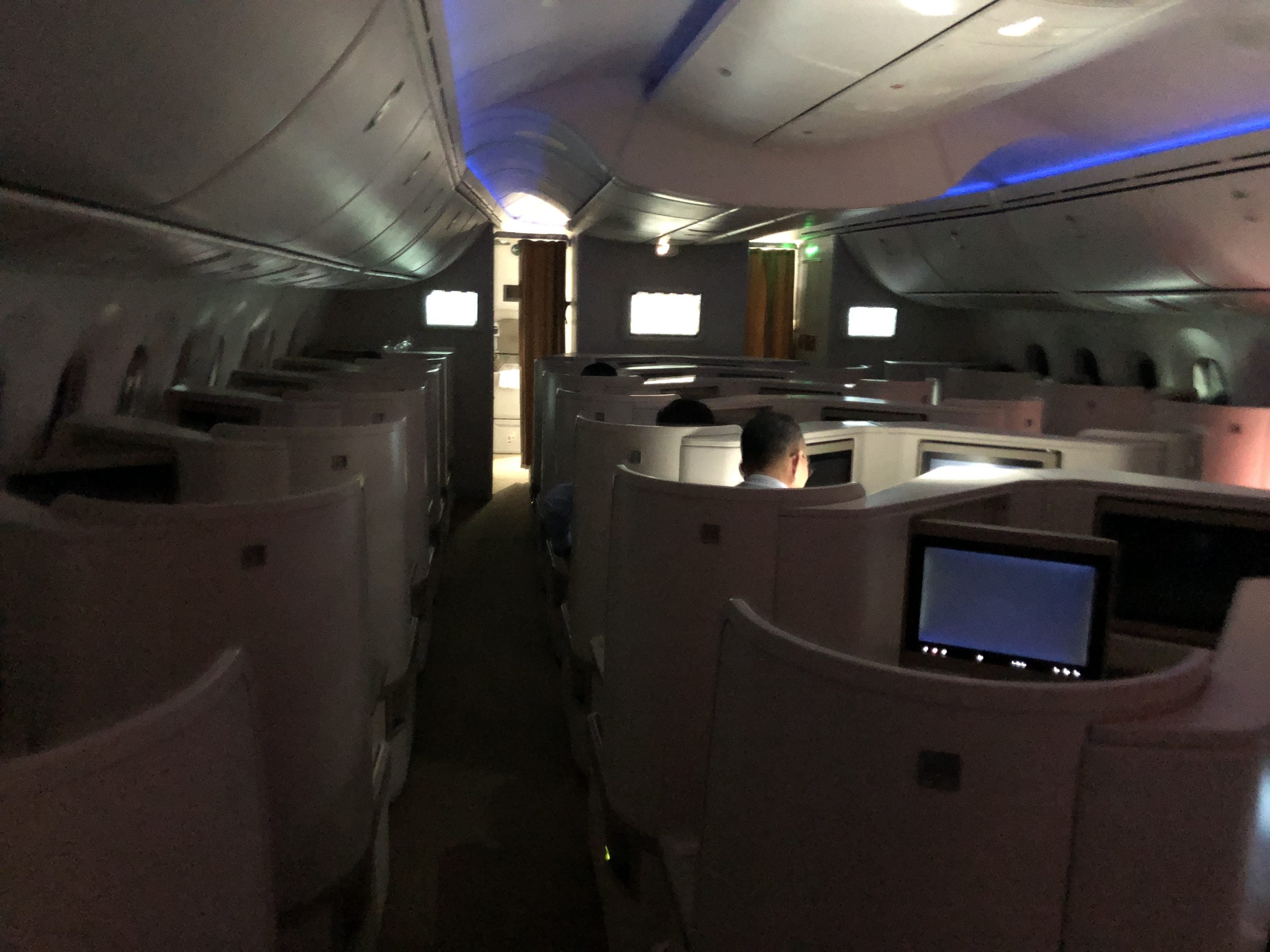 Bottom Line: Overall, Vietnam Airlines 787-9 has an excellent hard product. Reverse herringbone lie-flat seats with individual air nozzles are about as good as it gets in business class. 
Amenities
Since this flight was slightly longer than 4 hours, I didn't have a great expectation of amenities, but I was pleasantly surprised. As we briefly mentioned earlier, sitting on the footwell was a light pillow and blanket, alongside slippers and an amenity kit.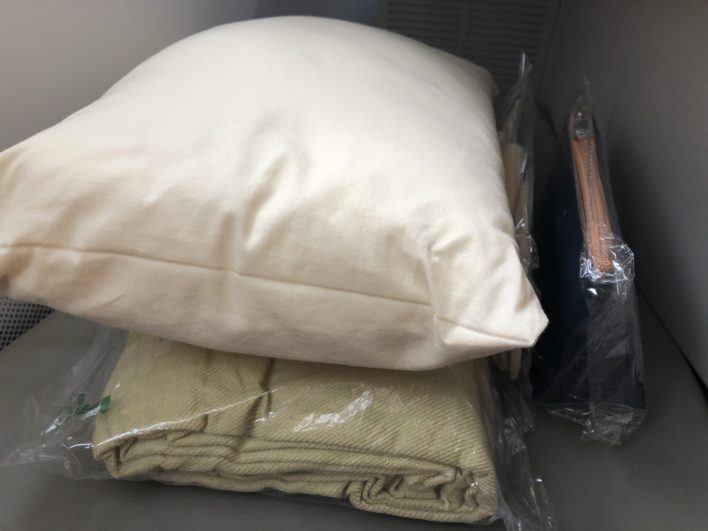 The slippers were quite plush.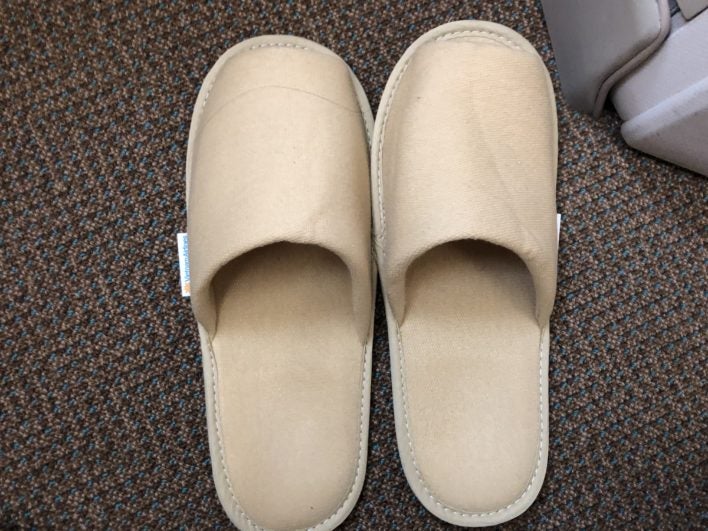 I found the pillow and blanket sufficient for a medium-haul flight, though not for a long-haul flight.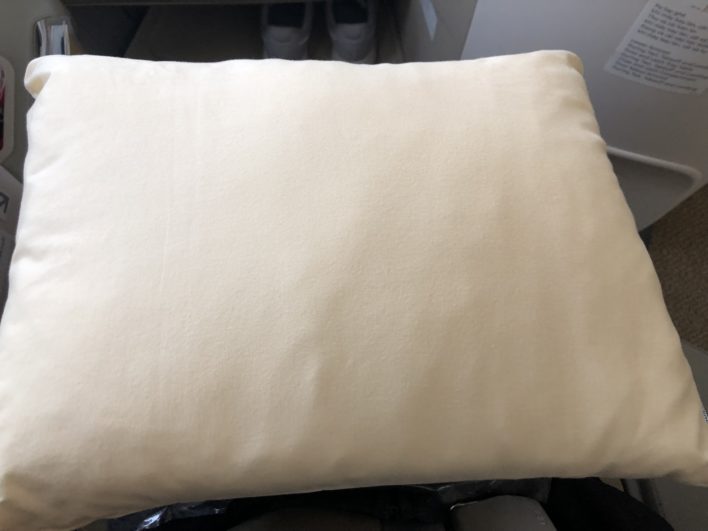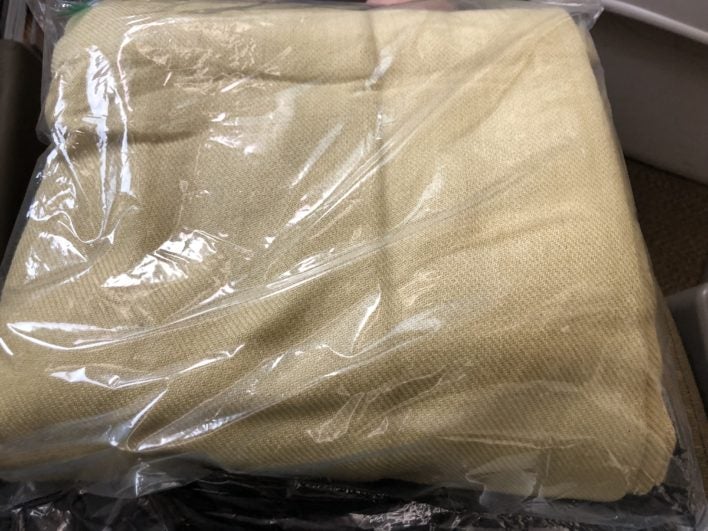 I unwrapped the headphones that were waiting at my seat in the storage compartment, and found them pretty mediocre – certainly not noise-canceling headphones!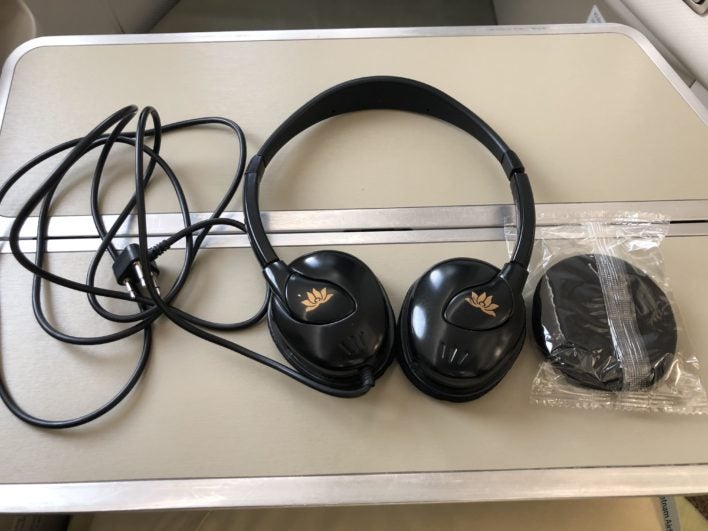 The business class amenity kit is branded by Swiss manufacturer Charriol.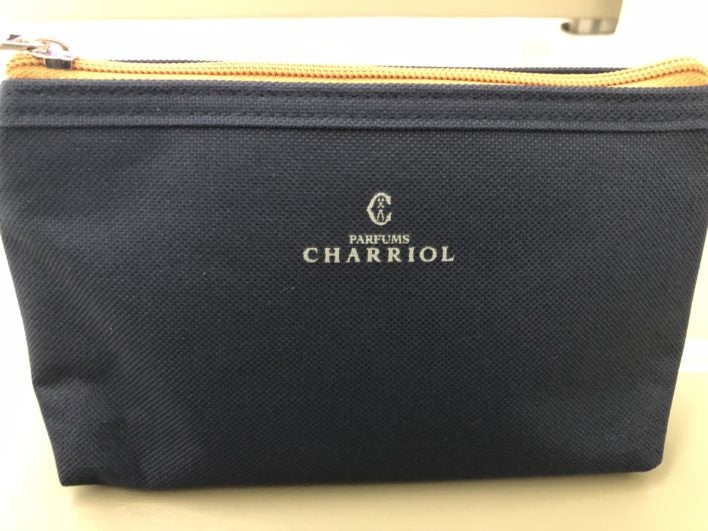 The kit contained a comb, body lotion, lip balm, toothbrush kit, earplugs, socks, and eye mask. This is an excellent business class amenity kit for a medium-haul flight.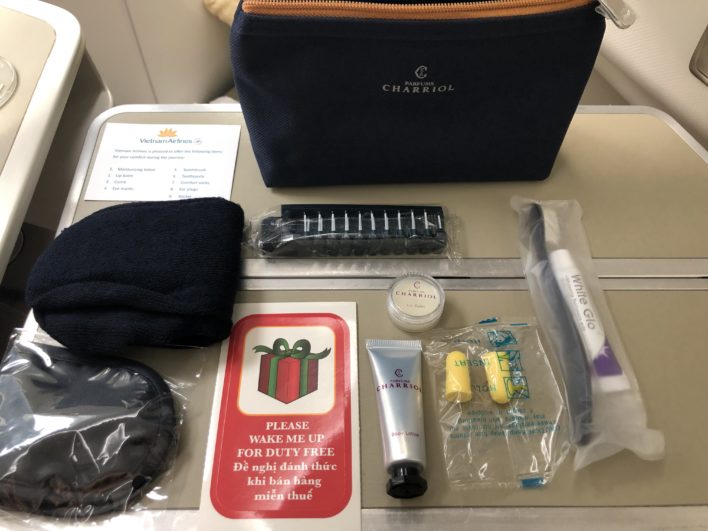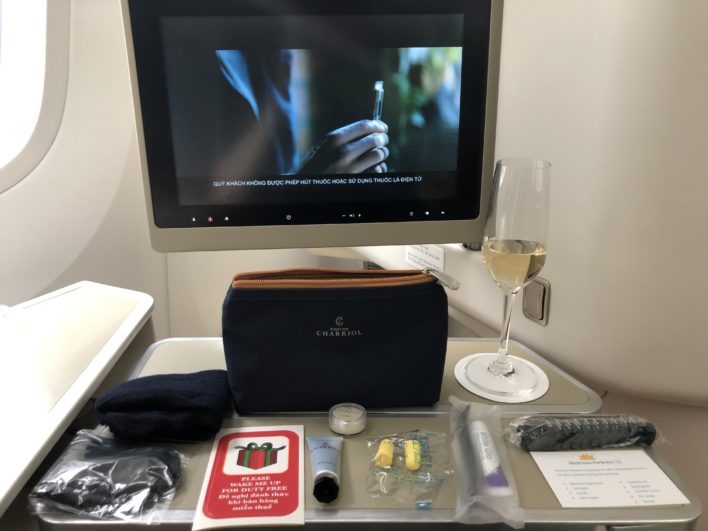 As soon as the seatbelt sign was switched off, I wandered to the business class lavatory, where I found assorted amenities branded by GERnétic.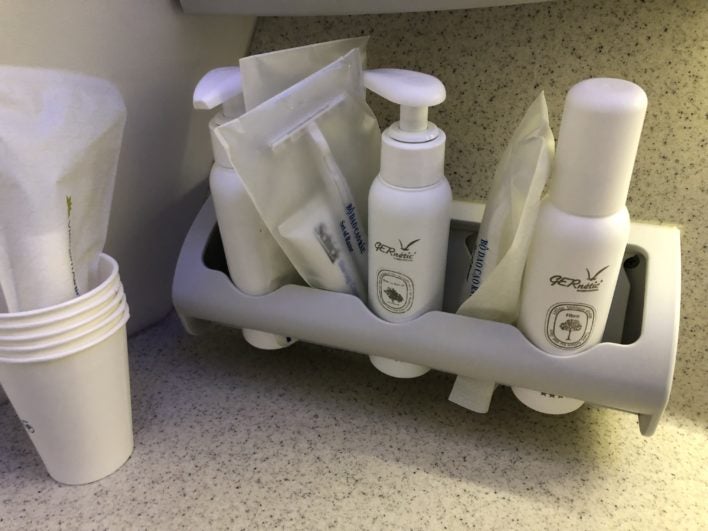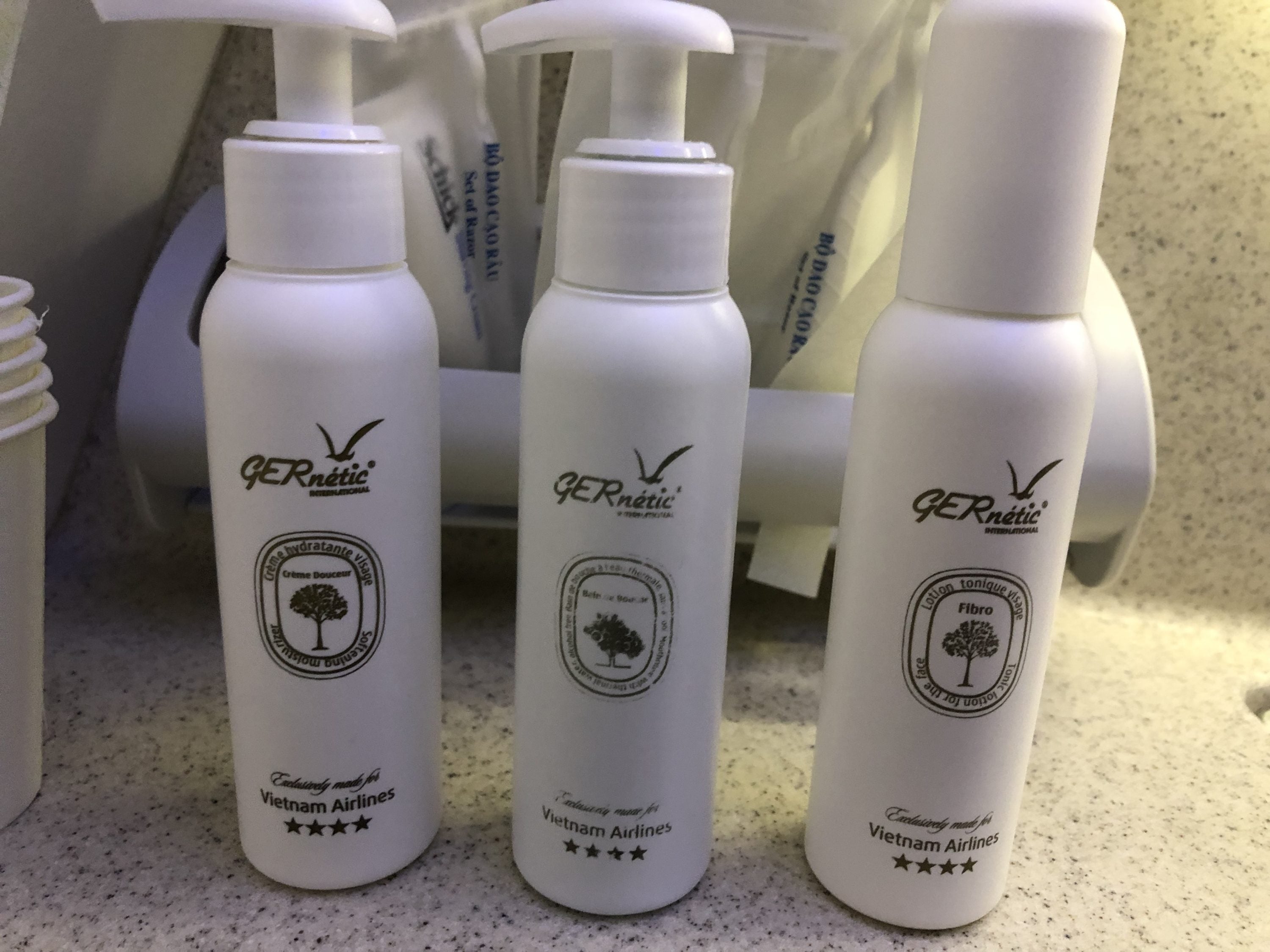 The lavatory smelled fresh and fragrant, thanks to some flowers and a scent bag hanging on the door.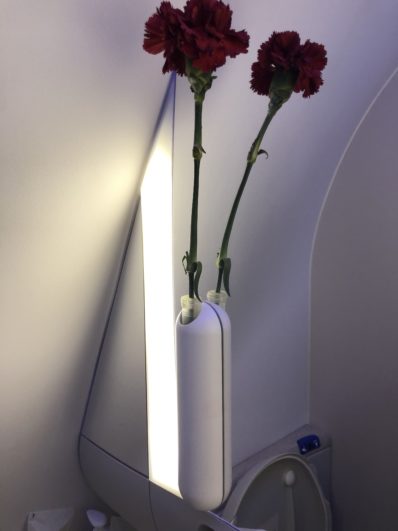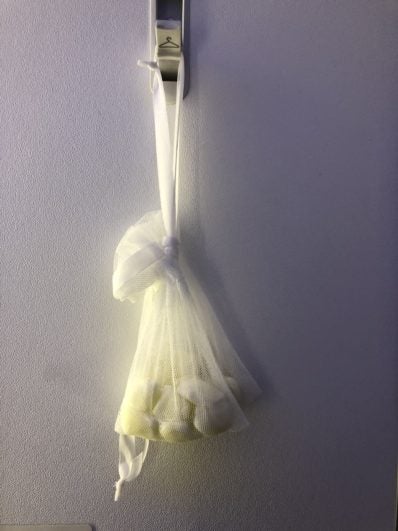 Food and Beverage
For a pre-departure beverage, I was served champagne. On offer was Heidsieck & Co's Monopole Blue Top Brut, which retails for $40 per bottle.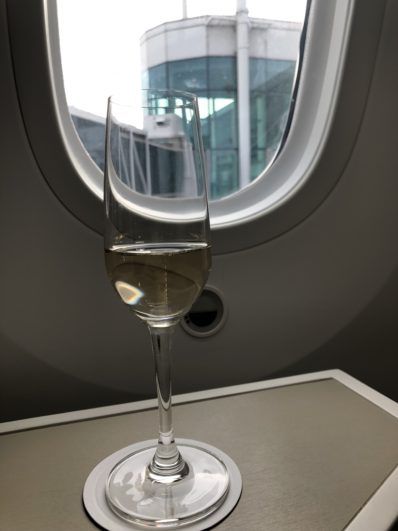 The business class menus were distributed to all passengers, and I flipped through the different pages and sections.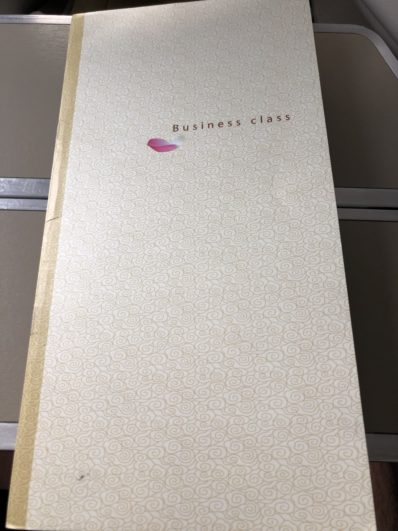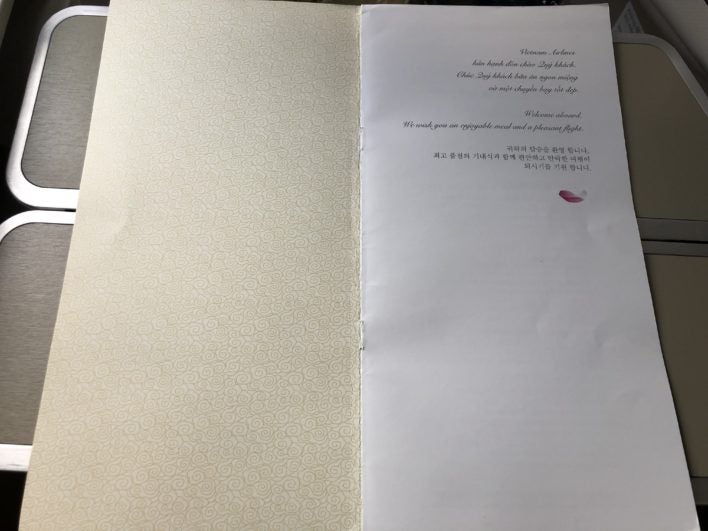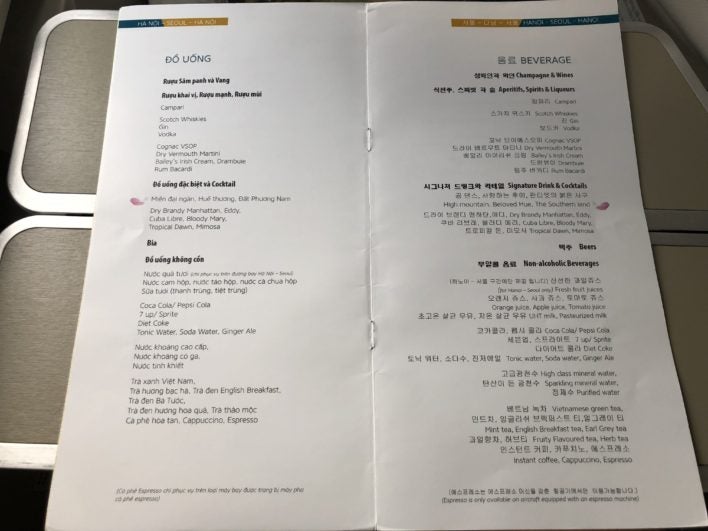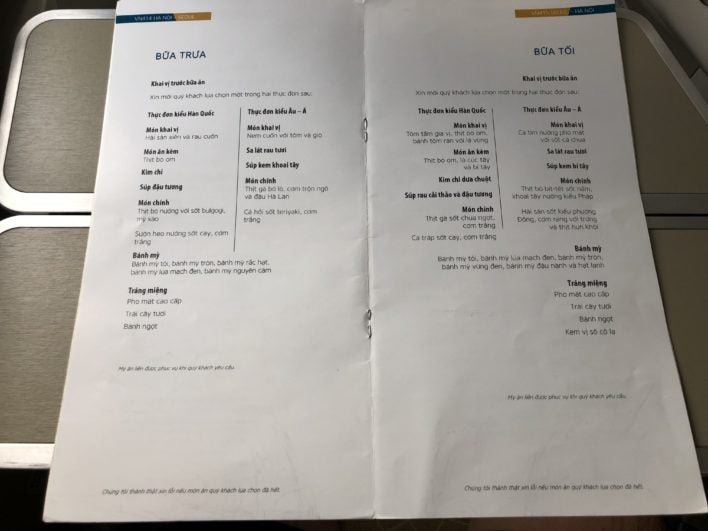 Since this was an evening flight, we would be served dinner. Travelers have the option to pick between Korean, Asian, and Western style courses. I opted for the Western style.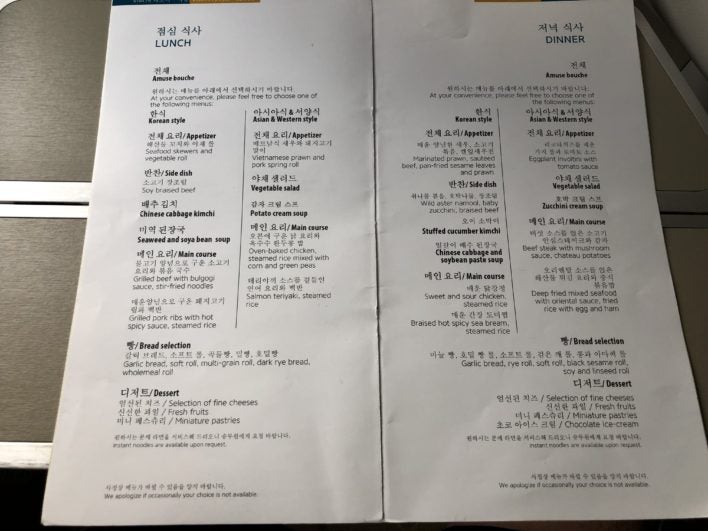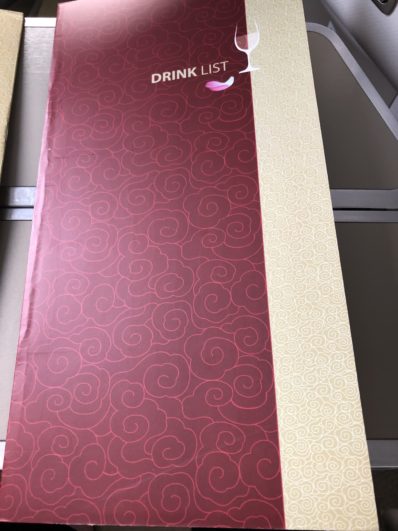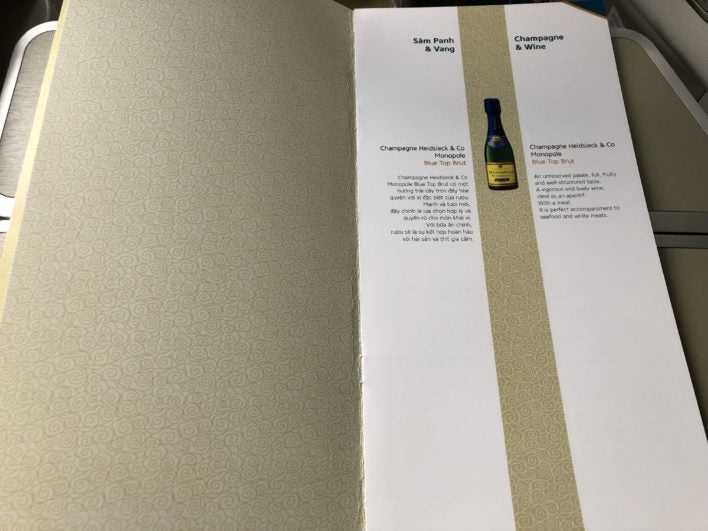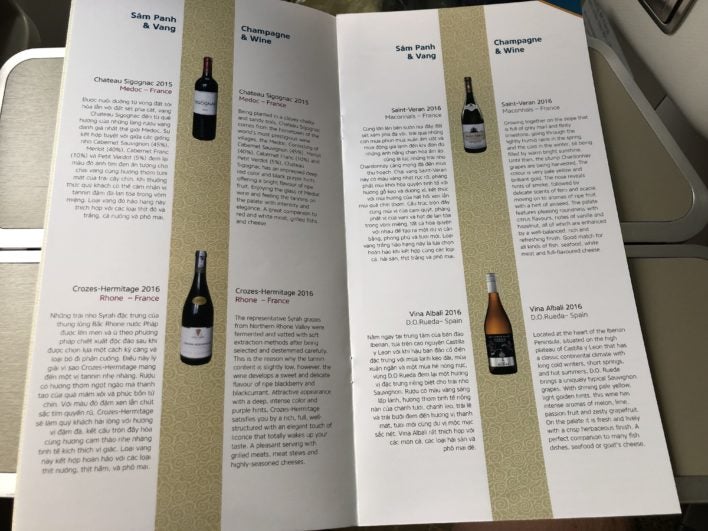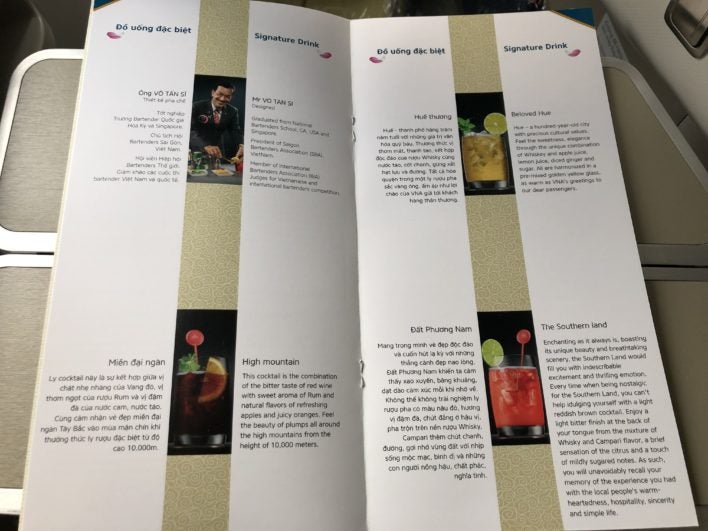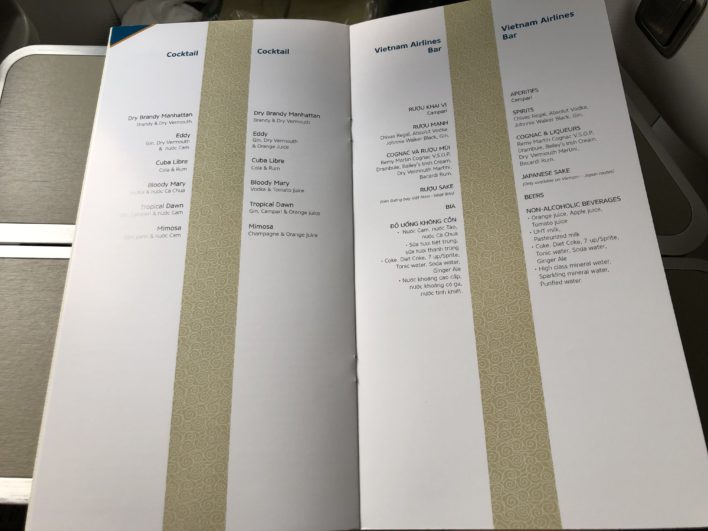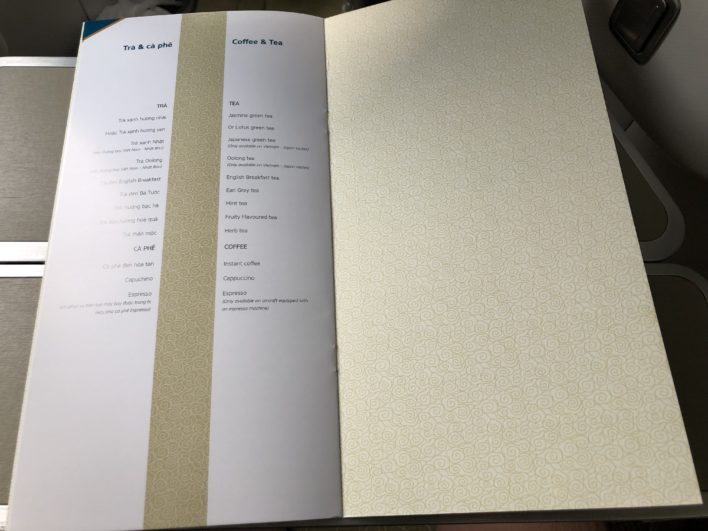 The meal service began shortly after takeoff, though the distribution of the meal service menus slowed it down a bit.
We were first served the amuse bouche, which consisted of some savory, cheesy, and herb-based bites.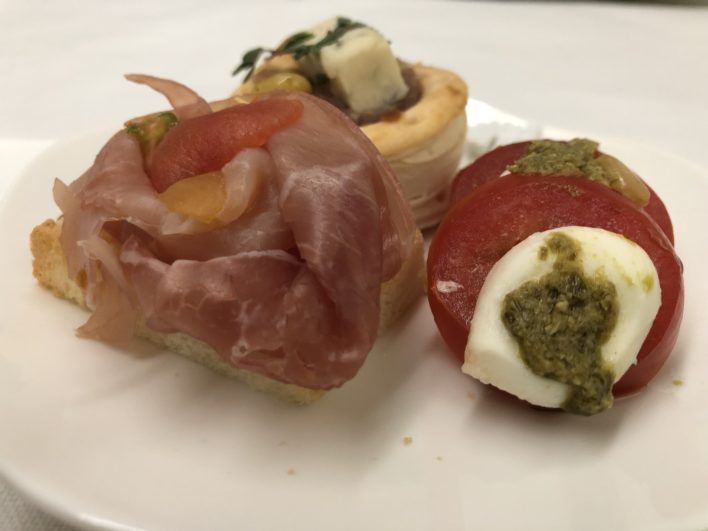 The appetizer was an eggplant involtini with tomato sauce. It came with a vegetable salad and zucchini cream soup.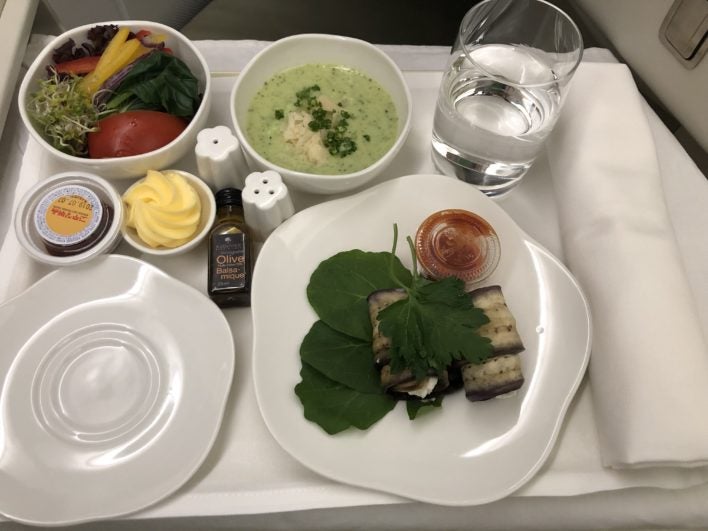 I wasn't terribly impressed by the eggplant involtini, but the zucchini cream soup was rich and delicate.
Next, I chose the beef steak with chateau potatoes in a mushroom sauce. The beef was cooked perfectly, the chateau potatoes were dense and flavorful, and the mushroom sauce was smooth, savory, and delicious.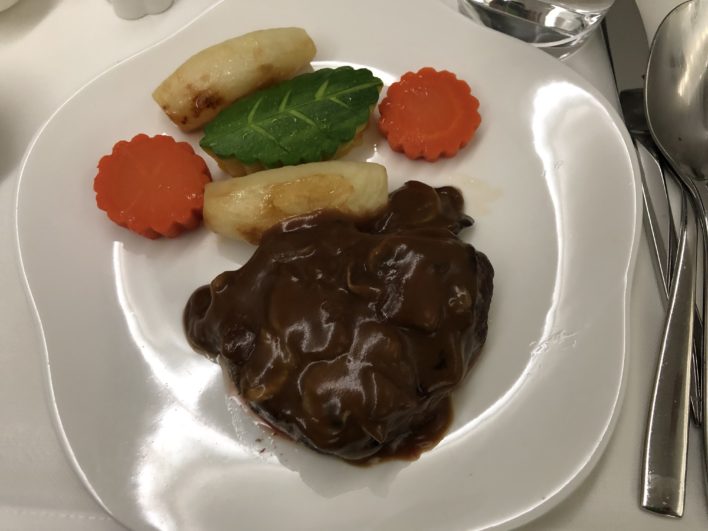 I was very pleased with the main course, and the flight attendant brought out a basket of sliced fruit. As I was quite full at this point, I chose a slice of pineapple, Korean pear, and a couple of grapes.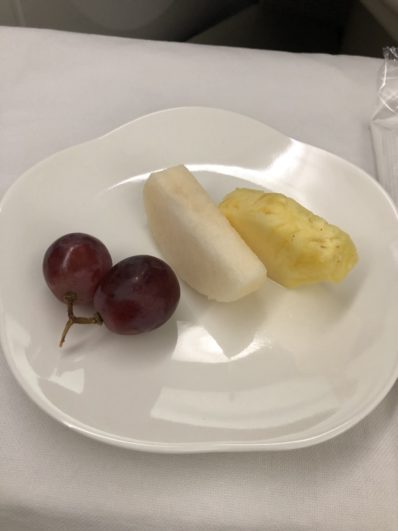 As if this wasn't enough, she also brought out a tray of various desserts, including chocolate ice cream, cakes, and tarts.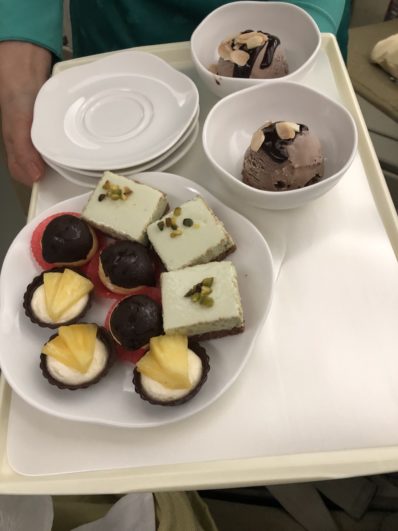 I relaxed in my seat and sipped on a cup of tea. Unfortunately, my first choice of the jasmine green tea wasn't available on this flight — I settled for lotus tea, which was also floral and very warm.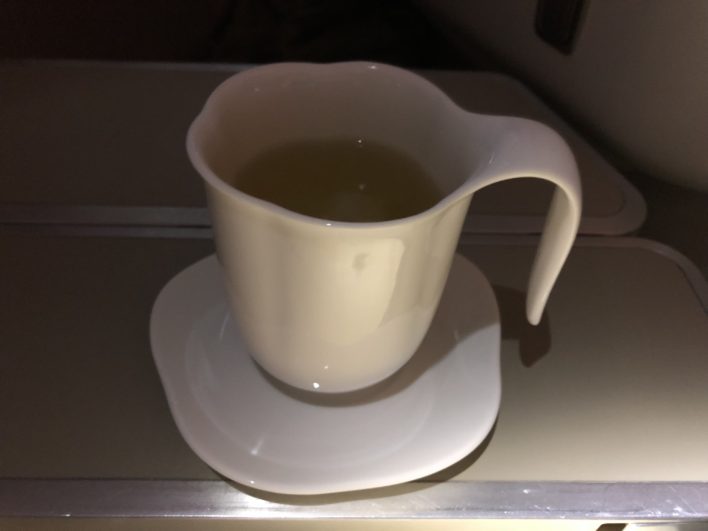 Bottom Line: Overall, the steak was unforgettable, and the core of this food and beverage program is excellent. Though there were a couple of misses on this meal service, Vietnam Airlines impressed me greatly with their food and beverage offerings. 
Entertainment & Service
Vietnam Airlines' entertainment program is called Lotustar, which consists of many Hollywood releases, Vietnamese cinema, and international programs.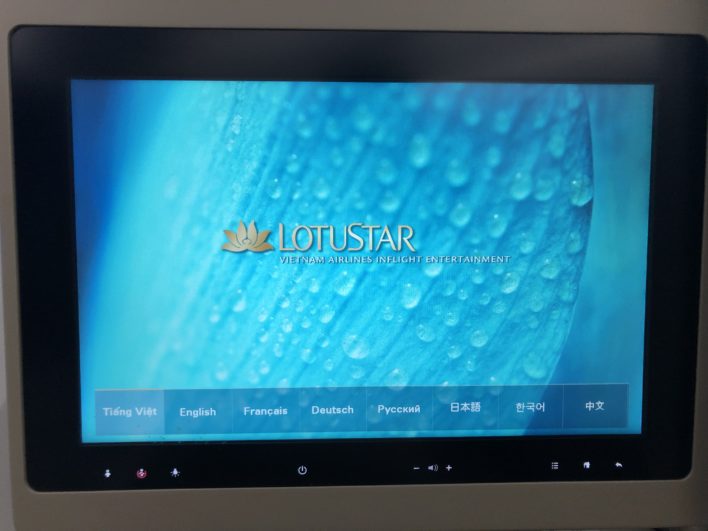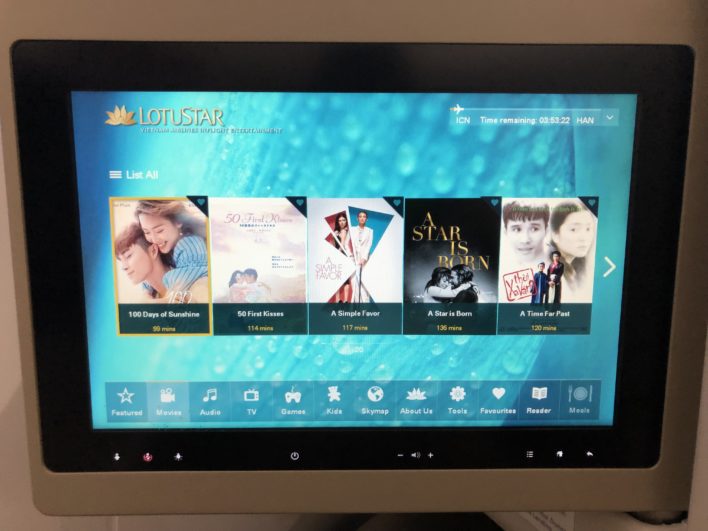 Vietnam Airlines doesn't currently offer Wi-Fi on the 787-9, which is unfortunate. Though it wasn't a big deal on this relatively short flight, I can imagine it being a problem on a premium business route, such as between London and Hanoi.
I also turned on the air show for a while.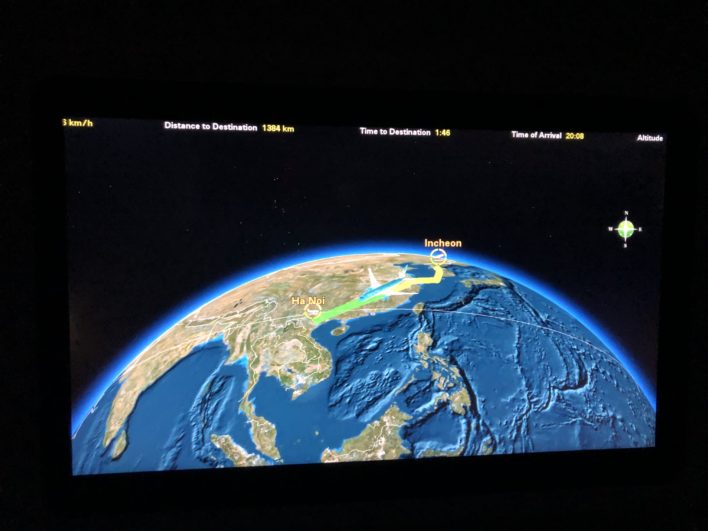 Overall, though our flight attendants were professional and courteous, they didn't seem particularly friendly or happy to be there.
There were 4 business class flight attendants — a relatively high ratio. But despite having lots of staff, I noticed some customer service blips like forgetting to bring out tea and bringing main courses later than expected. Still, the service was pleasant and the staff was accommodating.
I can say that while the flight attendants got the job done, the service wasn't particularly impressive like you'd see on Singapore Airlines, Cathay Pacific, or EVA Air.
Final Thoughts
My first experience in Vietnam Airlines business class was good. The food was delicious, the hard product was top-tier, and the amenity kit was unexpectedly impressive.
However, the flight attendants were relatively aloof, the inflight entertainment was somewhat lacking in variety, and there was no Wi-Fi offered.
I think that for the value I received booking an affordable cash fare, I would have done everything the same. Vietnam Airlines has a lot to offer, and this is a business class product that often undeservedly flies under the radar.