Everything You Need to Know About Gogo Inflight Internet
Whether you travel in first, business, or economy class, having Wi-Fi access on your flight can make it more enjoyable. This can be particularly important on transcontinental flights and long international flights.
Some passengers just want to be able to talk with friends or browse the web, while others are traveling for work; either way, having Wi-Fi inflight could make their lives much easier.
Whether you're looking for some entertainment or trying to finish a project, Gogo inflight Wi-Fi could be an important part of your flying experience.
What Is Gogo?
Gogo is an inflight broadband Wi-Fi provider that serves around 20 airlines and is installed on thousands of aircraft.
The Gogo inflight network allows travelers to access the internet to respond to send messages, email, browse, and stream.
What Airlines Use Gogo?
Airlines from around the world utilize Gogo to provide Wi-Fi access for their passengers.
Aeromexico
Air Canada (and Rouge)
Air France
Alaska Airlines
American Airlines
British Airways
Cathay Pacific
Delta Air Lines (until summer 2021)
GOL Airlines
Iberia
Japan Airlines
JTA
KLM
LATAM
Level
Qatar Airways
United Airlines
Virgin Atlantic
Virgin Australia
How Reliable Is Gogo Wi-Fi?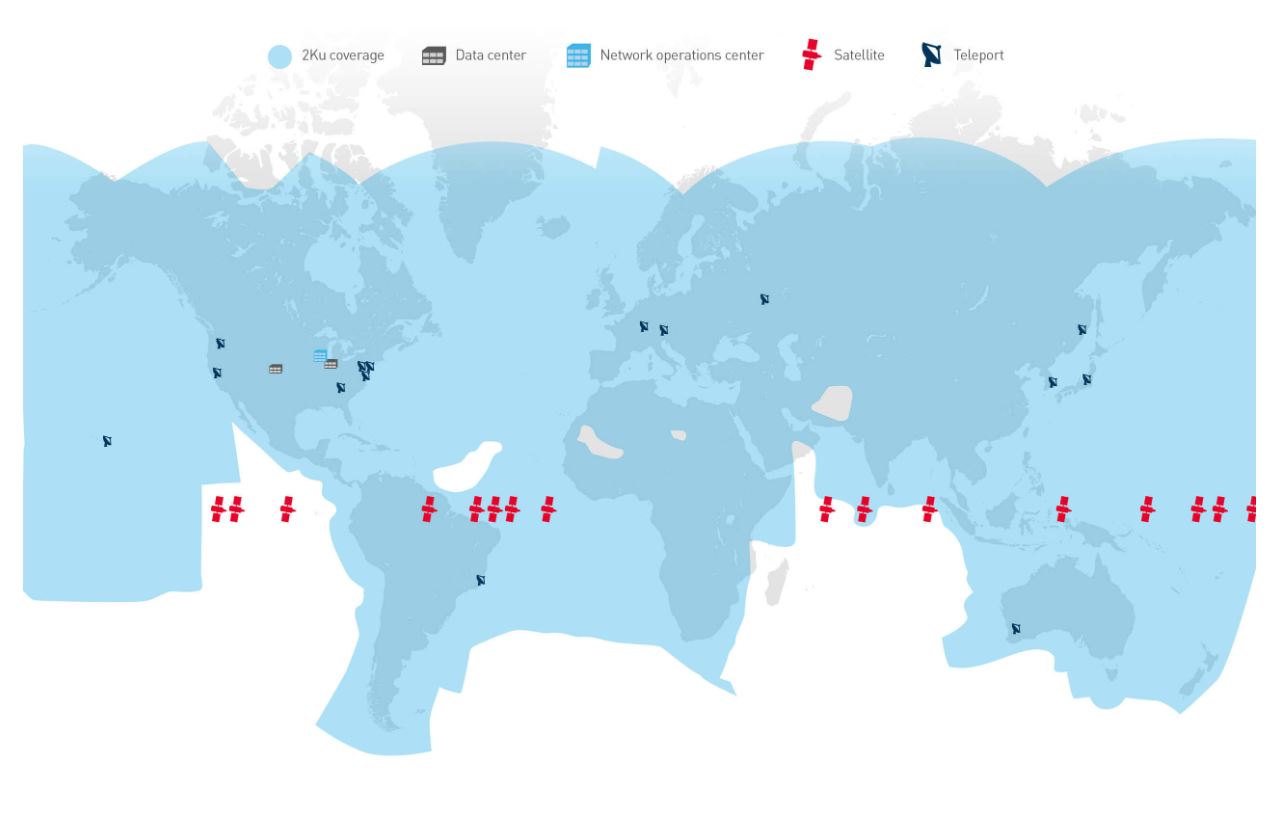 The Gogo inflight network has improved significantly since it was first launched on commercial aircraft over a decade ago.
That being said, Wi-Fi speeds remain inconsistent since some planes are still outfitted with air-to-ground (ATG) systems. This is significantly slower than Gogo's newer satellite system.
On planes using the older ATG systems, load speeds can become frustratingly slow if most people on your flight decide to use Wi-Fi. Since T-Mobile partners with Gogo to provide its Magenta plan customers with 1 hour of Wi-Fi for free, this can result in what amounts to a traffic jam on the inflight network.
As Gogo rolls out its newest product, a satellite system known as 2Ku, passengers should experience up to 20 times more bandwidth than the older ATG connection.
Gogo's older system does not cover the entire globe, and when on a long-haul flight, there's a good chance you'll cross through a dead zone at some point and lose Wi-Fi.
With Gogo 2Ku satellite Wi-Fi, the network will be vastly improved, covering much of the world, as you can see from the map above.
Gogo 5G
Gogo announced that it will be launching its 5G network in 2021 for regional and mainline commercial jets flying within the contiguous U.S. and Canada. The 5G network will provide passengers with fast and uninterrupted connectivity when flying over urban and non-urban areas.
Can You Stream Video Inflight?
Unfortunately, if your flight is utilizing the ATG system, it is not possible to stream video. There is good news, though! The newer 2Ku satellite system does support video.
How Much Does Gogo Cost?
For participating airlines, Gogo allows you to purchase hourly and day internet passes and plans prior to flights. If you forget to do so before your flight, you can still purchase a pass inflight (although it may be more expensive).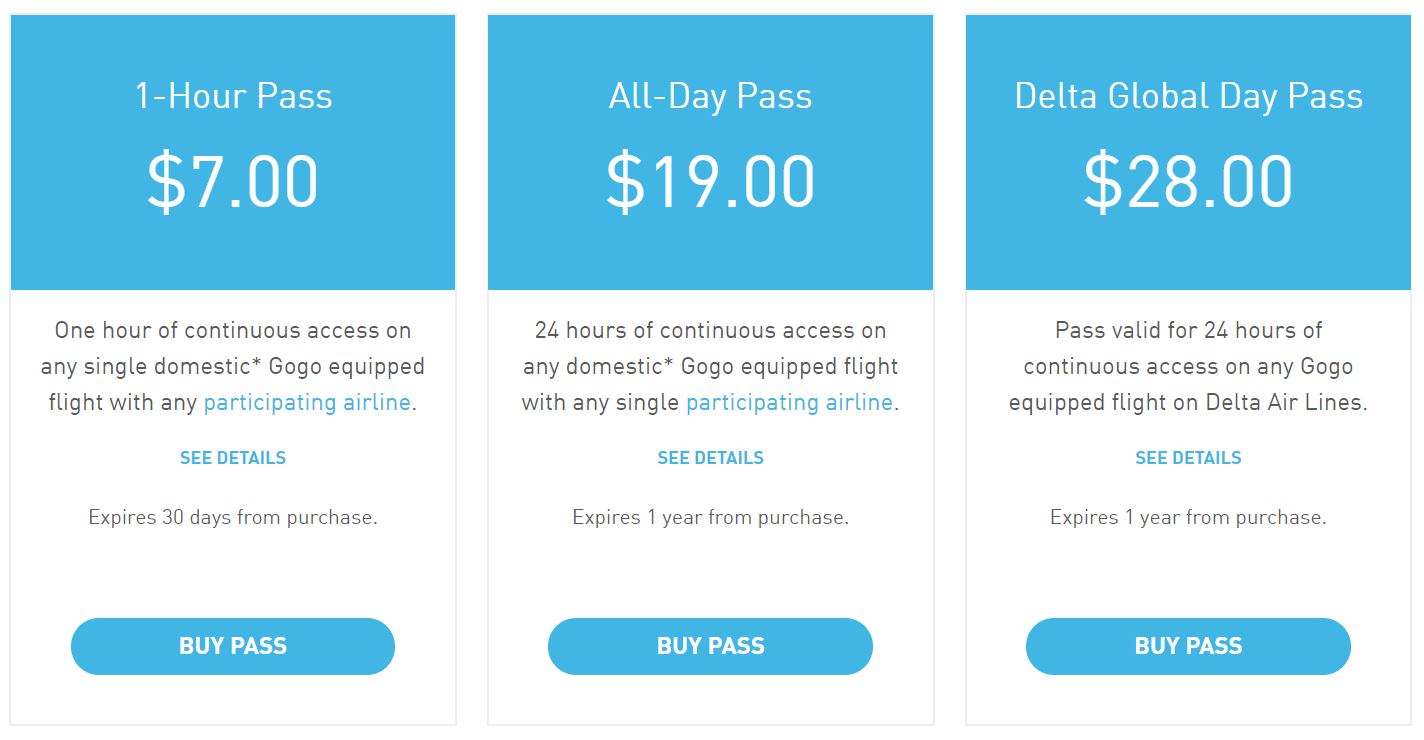 Currently, 4 of Gogo's airline partners participate in these passes: Air Canada, Alaska Airlines, Delta Air Lines, and United Airlines.
Gogo Passes
Valid Airlines
1-Hour Pass
$7
Air Canada, Alaska Airlines, Delta Air Lines, and United Airlines
All-Day Pass
$19
Air Canada, Alaska Airlines, Delta Air Lines, and United Airlines
Delta Global Day Pass
$28
Delta Air Lines
If you travel regularly, you might be better off purchasing one of its 4 subscription plans.

Gogo Subscription Plans
Valid Airlines
Monthly Airline Plan
$49.95 per month
Alaska Airlines and Delta Air Lines
2-Device Plan
$59.95 per month
Delta Air Lines
Global Delta Plan
$69.95 per month
Delta Air Lines
Annual Airline Plan
$599 per year
Alaska Airlines and Delta Air Lines
Make sure you read the details about each plan to ensure it covers your needs. If you have a lot of upcoming domestic travel, a global plan might not be necessary. If you will be traveling internationally, though, a global plan would be vital.
How Do I Get Free Wi-Fi When Flying?
As you can see from Gogo's pricing plans above, inflight Wi-Fi is not cheap. Fortunately, there are a few credit cards that provide Gogo Wi-Fi passes as part of their perks, valid on domestic and international flights.
| | | |
| --- | --- | --- |
| Credit Card | Number of Free Gogo Passes | Credit Card Annual Fee |
| U.S. Bank Altitude™ Reserve Visa Infinite® Card | 12 | $400 |
| UBS Visa Infinite Credit Card | 12 | $495 |
| Crystal® Visa Infinite® Credit Card | 12 | $400 |
Even if you will need more Gogo Wi-Fi passes, knocking out some of the cost is a great benefit from these cards!
Hot Tip: Want to learn more about how inflight Wi-Fi works? Check out our article: Airplane Wi-Fi — How It Works, Airline Availability, Fees, & More. 
Is Gogo Inflight Wi-Fi Worth It?
Whether purchasing Gogo's inflight Wi-Fi is worth it to you will be determined by several factors.
Business travelers with tight deadlines might find internet access a must on all flights. However, leisure travelers on short flights might see the price and decide they'd be happy to read a book instead.
Final Thoughts
At this point, almost all travelers expect access to an inflight Wi-Fi network. Gogo continues to roll out a better product, but it's not cheap.
However, staying connected to the world outside of their plane can be valuable to travelers of all sorts.
---
The information regarding the U.S. Bank Altitude™ Reserve Visa Infinite® Card,  UBS Visa Infinite Credit Card, Crystal® Via Infinite® Card was independently collected by Upgraded Points and not provided nor reviewed by the issuer.