The Ultimate Guide to the Southwest Airlines Companion Pass
The Southwest Airlines Companion Pass is one of the best deals available in the travel world.
Though it might not fit with everyone's travel habits, if it works for you, the value you can get out of a Companion Pass is limited only by your vacation time.
Let's take a look and see what exactly this amazing deal is, how you can get one, and what you should do with it once you have it.
It's time to learn all about the Southwest Airlines Companion Pass.
What Is the Southwest Companion Pass?
The Southwest Airlines Companion Pass is the top-tier status or highest-level award that a member of the Rapid Rewards loyalty program can achieve.
It is fairly simple to understand and is one of the best elite-level benefits available for any hotel or airline loyalty program.
The Companion Pass allows its holder to book an additional ticket (their Companion) for every flight that they book with Southwest through the end of the term of the pass. All you pay for are the taxes and fees for the second ticket.
In effect, the member can use their pass to get 2-for-1 flights anytime they fly with Southwest Airlines. There is no limit to the number of flights you can use the Companion Pass on.
A pass holder can book their flight with either cash or points; once it's ticketed, they can add a second passenger on for the same flight either via Southwest.com or by phone.
Hot Tip: Families can do even better with the Companion Pass. Need to travel with 2 parents and a lap infant? All 3 of you fly for the price of 1. What about 4 people in your family? With 2 Companion Passes, you only pay for half of your flights. Every little bit you save when traveling with a family is great, and the Southwest Companion Pass can really help you out.
Why You Want the Companion Pass
Think about it: someone flies with you every time you fly — FOR FREE!
All you need to pay is Southwest's taxes. Within the United States, that's just $5.60 per flight segment. This means even with a connection, your Companion can fly across the country with you for just $11.20.
Once you start booking your flights during the many fare sales that Southwest Airlines has throughout the year, your trips get even cheaper. Their flights can be as low as $59, and points redemptions drop to 3,000 points (or lower) during a sale.
Not only are you getting to fly for that price, but your Companion gets to come along with you. Using just 3,000 points to fly 2 people anywhere is an amazing deal! Once you take a look at some of the destinations Southwest flies to, you'll be even more excited.
Where Southwest Flies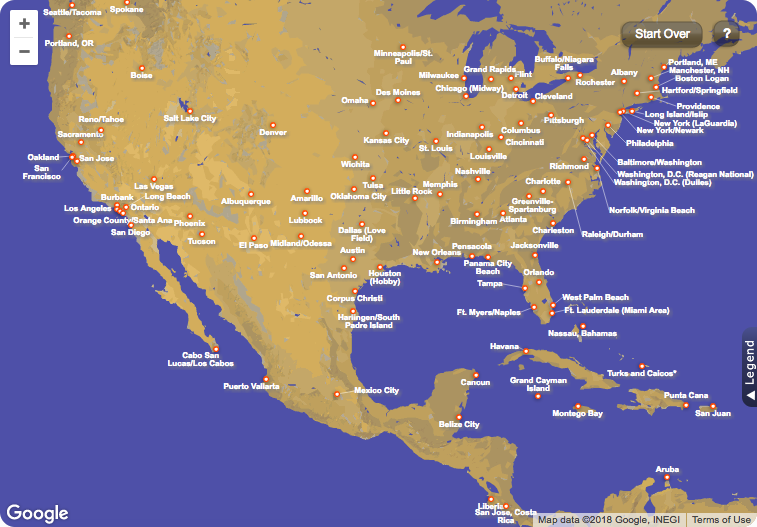 Southwest Airlines has always had a limited route network. For many years, in fact, they were an airline that operated only within the United States.
They are, however, constantly growing. Although Southwest began by servicing just a few cities, they have expanded over time to more than 80 U.S. destinations. You definitely can't get everywhere within the United States with Southwest Airlines, but you can come close.
In addition to flying within the U.S., Southwest now serves several destinations in Central America and the Caribbean.
Want to lie on the beach in Aruba? Southwest can get you there. How about cave tubing in Belize? Southwest can you get there too. Hawaii is also a destination you can get to on Southwest!
From sun and fun spots in the South to fantastic ski destinations in the North, Southwest has this region of the world pretty well covered.
It is important to note that Southwest Airlines does not partner with any of the major airline alliances. If you want to travel beyond their route network, it will have to be on a separate ticket.
Hot Tip: For a complete list of all of Southwest's international destinations check out this guide: Southwest's International Destinations.
What to Watch Out For
Southwest Airlines isn't for everyone.
They have a limited route network, and there are no fancy business or first class seats on their planes. They only fly Boeing 737 aircraft, and you don't get to select your seats before boarding.
Boarding pass numbers are assigned according to the order of check-in, so passengers need to check in exactly 24 hours before their flight to get a low number. Otherwise, they could easily be stuck in a middle seat in the back of the plane.
Because checking in right at the 24-hour mark is not always possible, you can pay $15 for EarlyBird Check-In. With this service, Southwest will automatically check you in 36 hours before your flight, and you will get a great boarding number.
If you don't mind dealing with these few items, then you should be fine flying with Southwest. To find more information about the airline, dig into our in-depth review of Southwest.
Now that we have the basics down for traveling on Southwest, let's learn more about how you can take someone with you for free when you do.
How to Earn the Southwest Companion Pass
A Rapid Rewards member can qualify for a Companion Pass in either of 2 ways:
Fly 100 qualifying one-way flights, OR
Earn 125,000 qualifying points in a calendar year (new points requirement as of 1/1/20)
Once you qualify for the Companion Pass, it is valid for the remainder of that calendar year and for the entire next year.
That means if you can earn 125,000 points in January, you will get to keep your companion pass for almost 2 full years. If you earn your pass in December, you only get to keep it for about a year.
As you can see, timing is critical when earning a Companion Pass. The earlier in the year you can earn it, the longer the pass is good for. Who wouldn't want a Companion Pass for 2 years instead of just 1?
Let's see how we can make that happen.
Fast Track Earning With Credit Cards
Let's be honest: it is possible to fly 100 flights to earn the Companion Pass, but that is probably not going to happen in the first month of the year.
It is realistic, however, to earn 125,000 points in a very short time — and the easiest way to do this is with credit cards.
Chase offers the following Southwest Airlines co-branded credit cards:
CARD
BENEFITS & INFO
Southwest Rapid Rewards® Priority Credit Card


Apply Now

(at Chase's secure site)

Earn 65,000 points after you spend $2,000 on purchases in the first 3 months.
Earn 2 points per $1 spent on Southwest® purchases.
Earn 1 point per $1 on all other purchases
Receive 7,500 bonus points after your Cardmember anniversary
Annual $75 Southwest travel credit.
Good to Excellent Credit Recommended (670-850)
Annual fee: $149

Southwest Rapid Rewards® Premier Credit Card


Apply Now

(at Chase's secure site)




Earn 65,000 points after you spend $2,000 on purchases in the first 3 months.
Earn 2 points per $1 spent on Southwest® purchases.
Earn 1 point per $1 on all other purchases
Receive 6,000 bonus points after your Cardmember anniversary
Good to Excellent Credit Recommended (670-850)
Annual fee: $99

Southwest Rapid Rewards® Plus Credit Card


Apply Now

(at Chase's secure site)

Earn 65,000 points after you spend $2,000 on purchases in the first 3 months.
Earn 2 points per $1 spent on Southwest® purchases.
Earn 1 point per $1 on all other purchases
Receive 3,000 bonus points after your Cardmember anniversary
Good to Excellent Credit Recommended (670-850)
Annual fee: $69
With sign-up bonuses typically in the range of 30,000-65,000 points each, signing up for one of these personal cards and the business card, and completing the required minimum spend for the bonuses will put you very close to (if not over) what you need for a Companion Pass.
New Chase Southwest Credit Card Rules
On April 5, 2018, Chase instituted a new rule on the personal Southwest credit cards.
Now you cannot get a second personal Southwest card if either:
You are a current Southwest consumer credit cardholder; or
You have earned a new cardmember bonus on a Southwest consumer credit card in the last 24 months
This means the companion pass shortcut is no longer possible by getting two Southwest personal cards.
However, one personal card and one business card are possible to get at the same time!
Getting Over the 125,000 Hump
If you aren't quite to 125,000 points, put some household charges on the card: Christmas presents, home appliances, a new gym membership… anything will work. As long as you hit that 125,000 point total, the Companion Pass will be yours.
For some more ideas on how to earn the points you need, check out our guide to earning lots of Rapid Rewards points. It's also important to say that transferring points from Chase Ultimate Rewards (or from anywhere else) will not count toward earning the Companion Pass. This used to be the case, but not anymore, unfortunately!
How to Time the Companion Pass for Maximum Usage
You may notice that we have been talking about earning your Companion Pass in January, but also mentioned Christmas presents in the ways to meet spending that we listed above.
There's a reason for that…and no, we are not telling you to buy presents 12 months early for next year!
The key here is that you need the points to post in January; you do not necessarily need to do all of the spending in January.
For example, if the minimum spending you need for the sign-up bonus on a card is $3,000, you can spend $2,900 of that in December after your December statement has closed. Those points won't post until your January statement closes.
Once January begins, spend that last $100, and your sign-up bonus will post too. That way all your points will post in January, and you'll be well on your way to earning the Companion Pass.
So in a nutshell, your spending would look like this:
Apply for one personal and one business card in November or December
Complete most of the spending after your December statement closes (so all points post in January)
Finish up your minimum spending the first week of January
…earn a shiny new Companion Pass to go along with the New Year!
What better way to celebrate? Maybe your resolution could even be to travel more with your favorite friend or family member!
Hot Tip: It is crucial that you do not complete the entire minimum spending requirement for your new card in December. If you do, that sign-up bonus will post in December, and you will be out of luck for earning your Companion Pass in January. Even though the points earned for purchases don't post until your next statement closes, the bonus points post as soon as you meet the minimum spending threshold. Be careful!
Once You Have a Companion Pass
Congratulations!
You have successfully used the methods discussed above and earned enough points to get your very own Southwest Airlines Companion Pass.
Now what?
Well, now it's time to take advantage of that pass and get some free flights. Let's take a look at what you need to do.
Selecting and Changing Your Companion
Once you've earned your Companion Pass, the first thing you need to do before booking any flights is to choose your official Companion.
Southwest allows you to select any 1 person to be your Companion at any given time. You can change that person up to 3 times a year, for a maximum of 4 Companions over the course of the year.
Here's how it works:
Selecting Companion 1 is the easiest part. This can be done online, simply by clicking on "Enter Companion Info" in your profile and entering the person's information.
You can now book flights and add Companion 1 for only the cost of the taxes.
Changing to Companion 2 requires a little bit more work. First, you need to cancel Companion 1's ticket for any future Companion Pass flights where they're scheduled to fly with you.
Next, you need to call Southwest Airlines at 1-800-248-4377 to change your Companion. This is a fairly easy process and takes between 5 and 10 minutes. Once the change has been processed, you can begin booking flights with Companion 2.
If you want to change your Companion again, just repeat the same process. Cancel future Companion Pass flights, call Southwest, and make the change. Now you are ready to book flights with Companion 3.
To select Companion 4, simply repeat the process of making a change.
Hot Tip: We should note that Companion 3 can be the same person as Companion 1. If your spouse is Companion 1, you can change to your best friend as Companion 2 for a couple of quick trips over the summer, then change back to your spouse as Companion 3 for your next flight. It is important to be strategic with your Companion changes since you only get to make a change 3 times per year.
Using Your Pass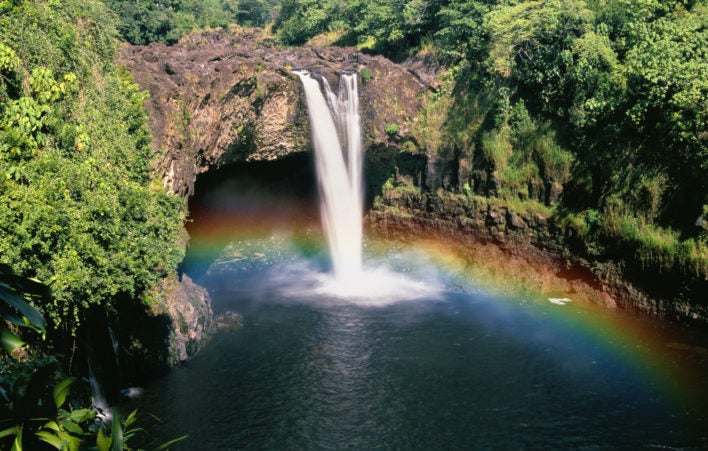 Using your new Companion Pass is fairly easy.
First, you need to book your flight. Remember, this can be done with either cash or points and at any available price.
Hot Tip: If you're looking for redemption ideas, we wrote about the 5 best ways to use the Companion Pass for maximum value!
Once your ticket is booked, you can add your companion either through Southwest.com or via phone.
On the website, you will see a place to click that says "Add Companion." This is located just below your flight information, next to the links to cancel or change your flight. Simply click there and enter the required information to add your companion.
To add a companion over the phone, just call reservations and let the representative know you will be using your Companion Pass to add another passenger to your flight.
Your Companion can be added up until the time of the flight, as long as there are still seats for sale. This is true even if the price has gone up since you bought your ticket; if there is a seat for sale, you can add your companion for just the price of taxes and fees.
The following rules apply to Companion Pass travel:
Your Companion must be ticketed and travel on the same flight as you
If you change your flight, you must also change your Companion's flight
If you cancel your flight, your Companion's flight will also be canceled
The Companion ticket is not considered to be a paid ticket, and therefore cannot have another Companion added
Bottom Line: Remember that you can now use those 125,000 points you earned to book award flights, with some as low as 3,000 points one-way. With your Companion Pass, you get 2 tickets for each award flight you book!
Final Thoughts
If you are a single flyer who always travels solo, the Companion Pass probably isn't for you.
If you primarily like to travel to Europe, Asia, and Africa in business or first class, the Companion Pass likely isn't for you either.
However, if you love traveling throughout the United States and to nearby countries, you have someone who regularly travels with you, and you don't mind flying in economy class, the Southwest Companion Pass may very well be the best deal you will find in travel.
You'll get 2 flights for the price of 1, every single time.
No matter whether you pay cash or use points for your flight, your companion always comes along for just the cost of taxes.
If you have the ability to earn the Companion Pass and your travel patterns match up with what Southwest offers, this is absolutely something you should strive to get.
Who knows…maybe we'll even run into each other on one of Southwest's 737s someday!