Southwest Airlines Boarding Process & Groups – Everything You Need To Know
update: Due to COVID-19, Southwest has made the following changes to its boarding process.
– Southwest will be boarding passengers in groups smaller than 10 at a time by their designated boarding positions. Flight attendants will also help provide guidance on distancing during deplaning.
– Customers are required to wear a face-covering for boarding and the duration of the flight. This includes all passengers that previously had a medical exemption. If you do not wear a mask, you will not be permitted to fly.
– Southwest is limiting the number of tickets sold on each flight to allow extra distancing for travel through September 30, 2020. The airline is committed to blocking middle seats, but they are maintaining their open seating policy to allow families to sit together.
Southwest Airlines has gained a lot of popularity over the years in part because they do things a little differently. They don't charge change fees, they don't charge for checked baggage, and they don't assign seats.
If you have never flown Southwest before, this last one can throw you for a loop! But have no fear — Upgraded Points has got you covered!
In this post, we'll detail what makes the Southwest boarding process different and what you need to know to navigate it like a pro. We'll also show you some ways to help boost your chances of getting the seat you want plus answer some common FAQs.
What Makes the Southwest Boarding Process Different?
The Southwest Airlines boarding process is different because they don't assign seats. However, it's not a free for all — there is a specific system that you'll need to follow to board the plane. Then once you are on board, you can choose any available seat that you want.
The Southwest Airlines Boarding Process [Detailed]
Why Checking in for Your Flight Is so Important
When you check in for your Southwest Airlines flight, you'll receive a boarding position. This boarding position will consist of a letter (A, B, or C) and a number (1-60).
The number you're assigned is based (mostly) on when you check in for your flight — the earlier you check in, the better your boarding position will be.
Southwest opens check-in 24 hours before your plane departs, so you'll want to check in as soon as it opens. Seasoned Southwest passengers will set an alarm to remind themselves to check in exactly 24 hours ahead of time.
Checking in 24 hours before your flight will usually land you somewhere in the B boarding group — which is generally adequate to find either a window or aisle seat or 2 seats together if you are flying with a companion.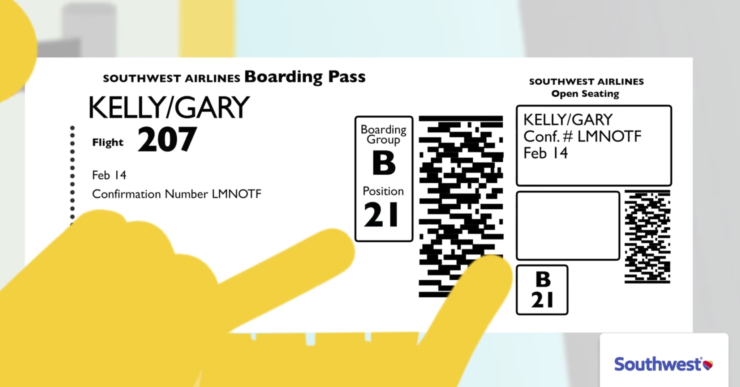 At the Gate
When it's time to board the plane, the gate agent will first call the A group to get in position. You'll notice 2 lines of people lining up in rows that are labeled A 1-30 and A 31-60 (note the photo below is showing C 1-30 and C 31+). In each row, there will be a marker for every 5 numbers showing exactly where you should be standing in line.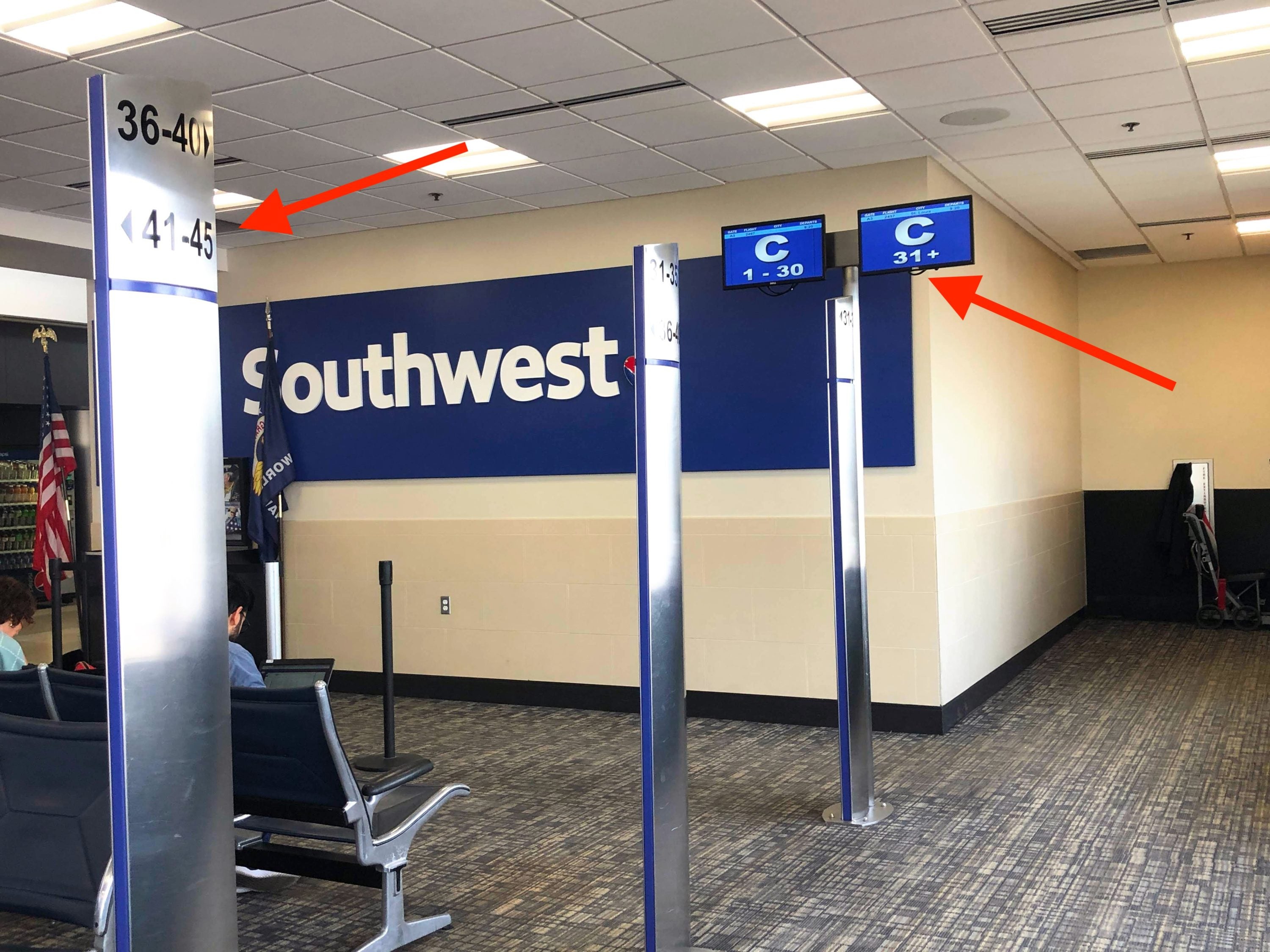 Once boarding begins, the gate agent will start with pre-board passengers and those with boarding positions A 1-15 (usually reserved for Business Select passengers). Then they will continue with A 15-30 then A 31-60. Once A 1-30 have boarded the plane, the monitor at the front of the line will change to B 1-30. Then the B group can start lining up while the rest of the A group finishes getting on the plane.
When your number is called, you'll walk in line to the gate agent to scan your boarding pass and proceed on to the plane. Once you are on the plane, you can choose any open seat.
Hot Tip: If you're flying on Southwest Airlines, be sure to familiarize yourself with the Rapid Rewards program. This frequent flyer program includes lots of ways to earn points (even without flying) and offers easy points redemptions with no blackout dates. Southwest flies to lots of international destinations plus Hawaii (finally), so their Rapid Rewards program is one you won't want to miss.
Southwest Boarding Positions
If you aren't familiar with Southwest's boarding positions, they may be a little confusing. Here's a rundown of what you can expect.
Pre-Board: Pre-boarding is reserved for those passengers with situations that require them to have a specific seat on the plane due to a disability or those who need assistance in boarding or stowing an assistive device. A pre-boarding designation needs to be arranged prior to boarding.
A1-15: These positions are usually reserved for Business Select passengers (the most expensive type of ticket you can purchase on Southwest). If not all of the Business Select tickets were sold, other passengers can upgrade their position to the A1-A15 section for $30-$50 (the upgraded boarding applies to just that flight, not your whole itinerary). To upgrade your boarding position, you'll need to see the gate attendant before the boarding process begins.
A16-30: This group is usually assigned to A-List Preferred or A-List members and anyone who purchased EarlyBird Check-In. However, an A boarding position is not guaranteed even if you have A-List, A-List Preferred, or EarlyBird Check-In.
Family Boarding/Active Duty Military/Passengers Needing Extra Time: Families traveling with a child who is 6 years old or younger can board after the A group regardless of their assigned boarding position. This does not need to be arranged ahead of time. You'll just line up to the side and board when they call for families with young children.
Any active-duty military passengers are allowed to board at this time as well.
Any customers with a disability who just need a little extra time to board can go in this group. This needs to be pre-arranged by speaking to a ticket counter agent or a gate agent prior to boarding.
B 1-60: This middle of the road group can vary depending on how full the plane is and how many people purchased EarlyBird Check-In. You can still end up in the B group when you purchase EarlyBird Check-In, however, you'll probably be at the front of the pack if you do.
If you check in exactly 24 hours ahead of time, you'll usually end up somewhere in the B group. If you have a B group boarding position, the chances are good that you'll still be able to get a window or aisle seat or find 2 seats together if you're traveling with a companion.
Hot Tip: If you are in the B group (or even one of the first numbers in the C group), head to the back of the plane. People tend to fill in the front of the plane first leaving open seating in the back. While this doesn't always work, you'll have better chances of avoiding a middle seat if you head to the rear of the aircraft.
C 1-60: This is the group you will most likely get if you don't check in right on time. While the C group isn't a guaranteed middle seat, the chances are pretty high you won't be sitting in the ideal spot.
If you're traveling alone, it's worth it to go to the back of the plane in search of a window or aisle seat. If there are only middle seats left, the flight attendants will announce it so you'll know when to give up and take the first seat you see.
Tips for Finding an Open Seat
The flight attendants will usually be standing in a row of seats near the middle of the plane (often in the exit row) during boarding. They are usually more than happy to move if you'd like to sit where they are standing.
You'll see people with their bags on the seat in an effort to save them for traveling companions with a later boarding number. While you are technically allowed to ask them to move their items so you can sit there, you'll have a grumpy seatmate for the whole trip. It's probably best to move on.
Often you'll see 2 people in a row who are traveling together but sitting in the window and aisle, leaving the middle seat empty. If you ask to sit there, more often than not one of them will move over, giving you a window or an aisle seat.
Don't pass up a prime empty seat in the front of the plane. I see this all the time! You'll often see a decent empty seat in the front of the plane that people are passing up. Unlike other airlines, these are not reserved for anyone, so feel free to take a great seat in the front if it's available (I've used this trick to score a second-row aisle seat with overhead bin space even though I had a C boarding position!).
Family Boarding
Flying on Southwest with young children is 1 instance when bringing the kids makes your trip easier! That's because parents traveling with a child that's 6 years old or younger get to board after the A group regardless of what boarding position is listed on your boarding pass.
That means you don't have to worry about checking in exactly 24 hours ahead of time — which is a luxury when flying on Southwest.
Boarding right after the A group also guarantees you'll be able to find a group of seats together, which is essential when traveling with little ones.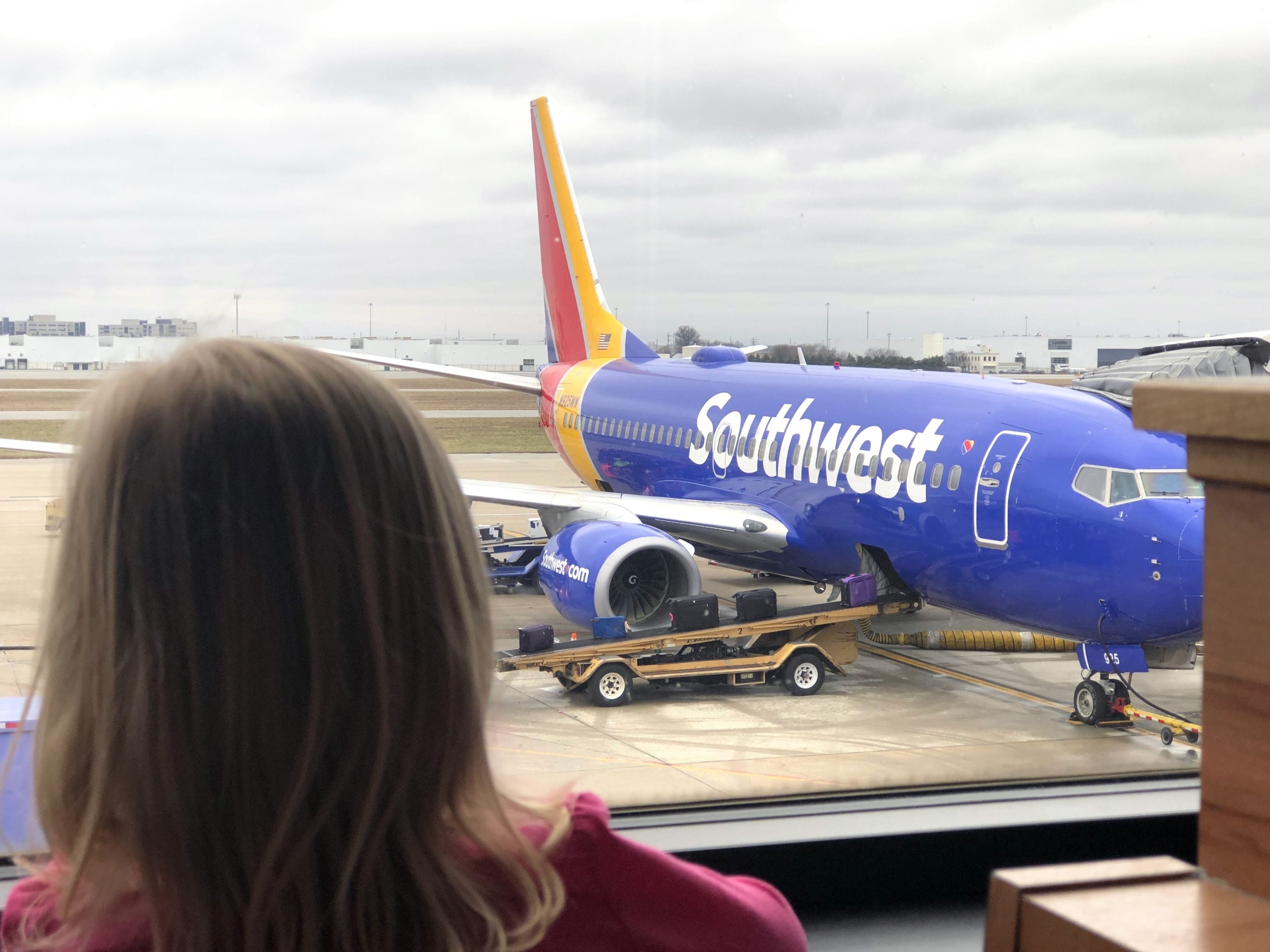 Family boarding is limited to 2 parents only and their children as long as one is 6 years old or younger. Grandparents, aunts, uncles, cousins, or anyone else traveling with you will still need to board in their assigned position.
If you are traveling with a child and you both have A boarding positions, you're more than welcome to go ahead and board with the A group — you don't have to wait for family boarding.
Bottom Line: If you're traveling with a child who is 6 years old or younger, you'll be able to board during family boarding. This takes place between the A and B groups which will ensure you can find seats together. This courtesy only extends to children and 2 parents — any other traveling companions will still need to board based on their boarding position.
Boarding for Passengers With Disabilities
Customers with disabilities that require pre-boarding due to a specific seating need or those who need assistance with a medical device need to speak to a ticket agent or gate agent before boarding begins. If the passenger qualifies, a new boarding pass with a pre-boarding designation will be issued. Anyone who pre-boards may not sit in an exit row.
If a customer with a disability just needs a little extra time, they will be permitted to board before family boarding between the A and B groups.
This courtesy extends to 1 travel companion as well — any additional family or friends will need to board with their assigned groups.
How to Get a Better Boarding Position
If you want a great boarding position, but don't want to worry about checking in at the right time (or paying for a Business Select fare), there are other options to help you secure a coveted higher boarding position.
Purchase EarlyBird Check-In
Purchase an upgraded boarding position at the gate (subject to availability).
Get a credit card that comes with upgraded boarding passes or a travel credit to cover the fees.
Earn Southwest Elite Status
You can earn elite status on Southwest Airlines through the number of one-way flights you take or through the number of elite qualifying points you earn in 1 calendar year. Southwest also allows other passengers on the same reservation as the elite member to board at the same time as the elite member.
| | | |
| --- | --- | --- |
| Southwest Status | Required Number of Qualifying One-Way Flights | Required Number of Tier Qualifying Points |
| A-List | 25 | 35,000 |
| A-List Preferred | 50 | 70,000 |
Southwest also will occasionally run promotions to help you fast track your status, or you can try a status match.
Hot Tip: While having a Southwest Companion Pass is a fantastic perk, it does not make you eligible for any type of priority boarding.
EarlyBird Check-In
Adding EarlyBird Check-In to your reservation will automatically check you in up to 36 hours ahead of your flight, giving you a higher boarding position. However, it doesn't guarantee an A group position. You could still get a B boarding position even if you pay for EarlyBird Check-In.
You can add EarlyBird Check-In when you purchase your ticket, or you can add it to an existing flight. It costs between $15-$25 one-way per person.

Purchase Upgraded Boarding at the Gate
If there are open boarding positions available in the A1-A15 group, you'll be able to pay to upgrade to one of these positions at the gate.
The cost is $30-$50 per person per flight segment (it doesn't cover your whole itinerary). Upgraded boarding can be purchased at the gate before boarding begins by speaking to a gate agent.
Bottom Line: Your best bets to get a higher boarding position without having to earn elite status are EarlyBird Check-In and upgraded boarding at the gate. However, both options will cost you. EarlyBird Check-In costs $15-$25 one-way per person and doesn't guarantee you'll get an A boarding number. Upgraded boarding at the gate is subject to availability and costs $30-$50 per flight per person, but it gets you an A1-15 boarding position.
The Best Credit Cards for Upgraded Boarding
Of course, perks like upgraded boarding or EarlyBird Check-In are even better when you don't have to pay for them. The good news is that some credit cards will cover these costs for you.
Southwest Credit Cards:
An A1-15 boarding position sounds great, but paying up to $50 per person isn't great. Thankfully, there are credit cards that can help you cover this cost.
The following Southwest credit cards each come with 4 upgraded boarding passes per year:
Other Credit Cards:
Some credit cards offer credits for travel purchases. You can use these credits to upgrade your boarding position or to purchase EarlyBird Check-In on Southwest Airlines.
The airline fee credit on these American Express cards will only be reimbursed if the charge comes from your selected airline (so be sure to choose Southwest!). These credits don't apply to airfare, so if you want to use your credit for EarlyBird Check-In, be sure to purchase it separately from your flight.
Amex credit cards that offer airline fee reimbursements include:
Chase and Citi also offer cards that come with a generous travel reimbursement. Using the travel credits on these cards is easier than those on Amex cards. You don't have to designate a specific airline or worry about making sure you pay for EarlyBird Check-In separate from your flight.
Final Thoughts
Southwest is an airline that does things a little differently. This includes their boarding process — because they don't assign seats! While the idea of not having an assigned seat can be a little confusing at first, once you get the hang of it, it's easy peasy.
We hope this guide gives you the confidence to board your next Southwest flight like a pro!