What Is Southwest Early Bird Check-In & Do I Really Need It?
Southwest Airlines is an extremely popular U.S. low-cost carrier for a number of reasons. They regularly offer cheaper fares compared to other airlines, and they're very transparent about their fees. Southwest doesn't charge for most of your luggage (your carry-on and first 2 bags fly free), and they don't issue change or cancellation fees.
Additionally, Southwest gets pretty great customer satisfaction ratings and provides a fairly comfortable inflight experience with some freebies along the way.
However, when it comes to seat assignments and boarding, Southwest does things a little differently — that's where their Early Bird Check-In comes into play.
So what is Early Bird Check-In, and do you really need it? Let's take a look…
What Is Early Bird Check-In?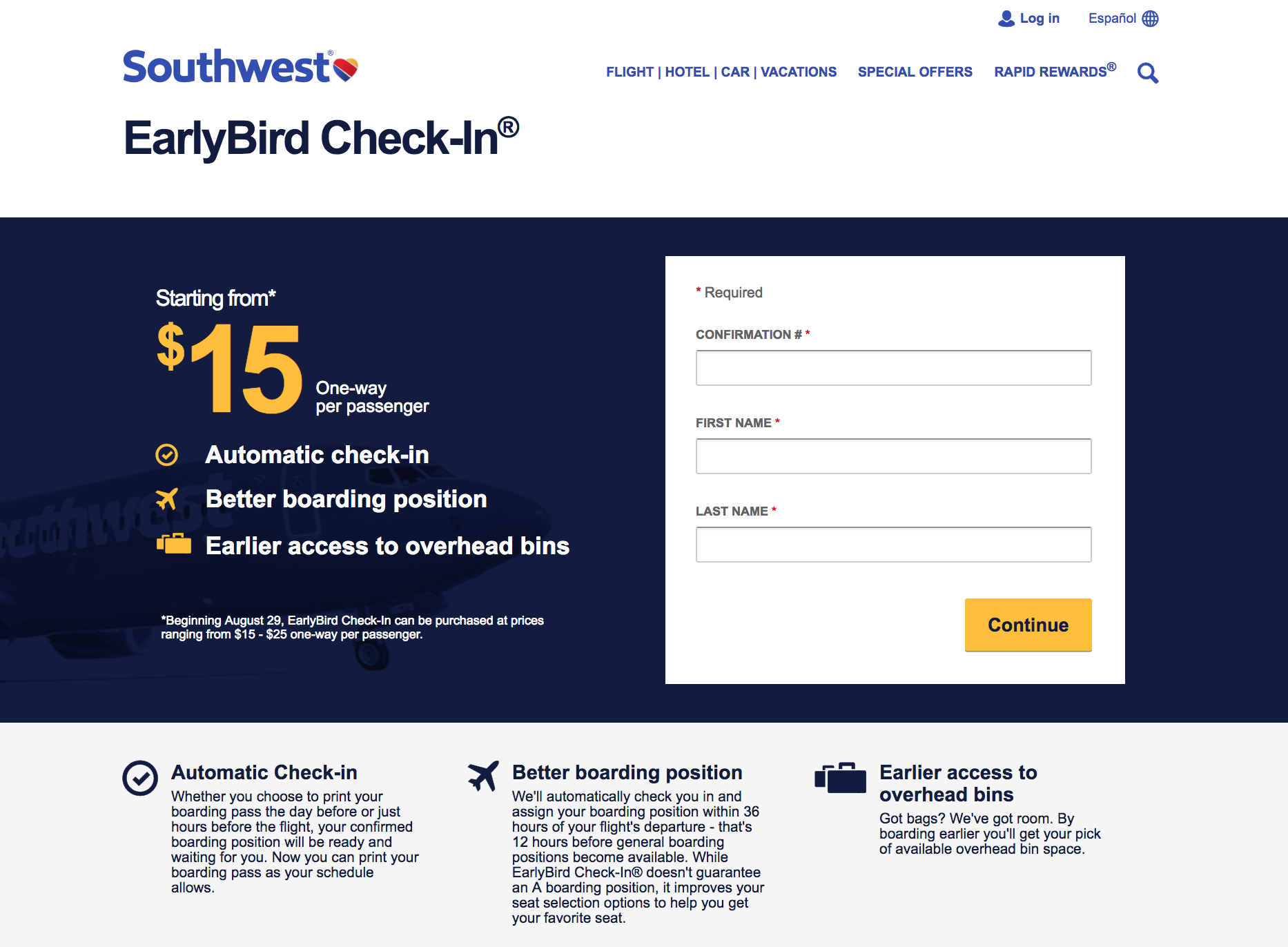 Early Bird Check-In is an optional Southwest Airlines add-on that provides the ticket holder with automatic check-in starting at 36 hours prior to the flight's scheduled departure time.
For $15-$25 one-way, Early Bird Check-In customers are automatically checked in and assigned a boarding number before the general 24-hour self-check-in period. Pricing depends on the length of the route and the popularity or demand for Early Bird Check-In on each specific route.
To realize how Early Bird Check-In can be a plus, we need to take a look at Southwest's boarding process.
Southwest Airlines Boarding Groups & Process
If you've never flown Southwest, their boarding process can be slightly confusing. If you're familiar, you'll instantly see the benefits of Early Bird Check-In.
Southwest Airlines doesn't assign seats. Instead, passengers line up at the gate according to boarding position; once called, they are free to sit in any available seat on the plane.
So how does Southwest decide who boards first?
Boarding numbers are assigned by Group (A, B, or C) and Boarding Position (1-60). Boarding flows in order from A1 through C60. Again, once you board the plane, you may sit in any available seat.
Southwest's boarding positions are assigned based on a few factors:
Fare type purchased (Business vs. Anytime vs. Wanna Get Away)
Status with the airline
Whether you're traveling with a family
Time at which you check in
"Pre-boarding" qualifications
Hot Tip: In general, the earlier you check-in, the better your boarding position will be when flying Southwest (cue Early Bird Check-In light bulb!).
Southwest Pre-Boarding: SWA states that pre-boarding is reserved for customers that have a "specific seating need". This need may be considered to accommodate a disability and/or need for assistance in boarding or stowing an assistive device.
All passengers requesting a pre-board designation should notify a Southwest Airlines employee either at the ticket counter or at the departure gate, prior to boarding. In order to verify a passenger's necessity to pre-board, agents may ask the passenger "fact-finding questions". Those who meet the qualifications will receive a new boarding pass with a pre-board designation.
Southwest also states that if a customer with a disability simply needs a little extra time to board, they will be permitted between Group A and Group B, before Family Boarding. These individuals should also speak with a gate agent and will likely be reissued a boarding pass with an extra time designation.
SWA's general policy for those traveling with a pre-board passenger is that only one "travel companion" acting as an attendant may pre-board alongside them. Any other family/friend is required to board with by their assigned boarding group and number.
A small detail to note: Pre-board individuals may not occupy an exit seat.
Positions A1-A15: Reserved for Business Select customers
This doesn't mean A16 is always the sixteenth person to board — there aren't always 15 people who purchased a business fare. If there are open A1-A15 positions (i.e., 15 business fares haven't been sold), then the gate attendant may give passengers an option of upgrading their position just before the boarding process begins for $30, $40, or $50 per segment depending on the itinerary.
The best positions following A1-A15: Usually assigned to A-List Preferred/A-List Members and passengers with EarlyBird Check-In.
Southwest states that these distinctions in and of themselves do not guarantee an A boarding position, but they do ensure that you will receive the earliest position available.
Family Boarding: Families traveling with children 6 years of age or younger are allowed to board together between A and B groups.
Non-priority positions: General positions are distributed after all Business fare, status, and Early Bird Check-In passengers have been assigned.
The remaining boarding positions are assigned in order of the time a passenger checks in. For this reason, you'll find many Southwest passengers set reminders to ensure they're checking in at the very moment check-in opens.
This can be a huge pain if you're busy at that time or you simply forget the 24-hour policy. Earlier boarding positions usually go in a matter of minutes.
Additionally, if the flight is pretty full and you're the last to board, there's a chance that your carry-on may not fit in the overhead compartments, meaning it will have to be checked. Southwest doesn't charge extra for this, but if you've only packed a carry-on to expedite your airport process, you'll probably be disappointed having to wait at baggage claim.
Remember, even if there are quite a few families (flights to Orlando for example), they all get to board between A and B groups.
A note about boarding "direct flights": A direct flight is where a plane flies from an initial destination to a final destination via one or more intermediate airports. In the case of a direct flight, the flight number does not change and passengers already onboard that are flying straight through to the route's final destination do not have to disembark.
This is a consideration in regards to boarding as these passengers will be on the plane, occupying seats, prior to new passengers boarding.
love southwest? Why not boost your points balance?! We can help. Check out our article on how to earn a stack of Southwest points (without even flying!)
Additional Notes on Early Bird Check-In & Boarding
Southwest doesn't limit the number of passengers who can purchase Early-Bird Check-In.
This means that purchasing Early Bird Check-In won't necessarily guarantee you an A boarding position.
Does that mean there's a boarding order within the early birders? The short answer is yes.
Southwest states Early Bird customers who purchased an Anytime fare will receive priority over those who purchased other fare types (such as Wanna Get Away). After that delineation, "boarding positions are assigned based on the timestamp of the EarlyBird Check-In purchase relative to passengers within the same fare class." (source)
Basically, the earlier you purchase your ticket with the Early-Bird add-on, the higher your boarding number will be.
When can Early Bird Check-In be purchased?
Customers usually purchase EarlyBird Check-In as part of their original flight purchase. However, if not purchased with the initial ticket, customers can add Early Bird Check-In to a flight after purchase up to 36 hours before a flight's scheduled local departure time.
Early Bird Check-In is nonrefundable. 
If a customer cancels his or her flight, the Early Bird Check-In fee for that particular flight is not refunded. However, if the flight is canceled by Southwest, the fee will be refunded.
So, Do I Need Early Bird Check-In?
Technically, no one needs Early Bird Check-In. On the other hand, whether or not you want it depends largely on your personal preferences.
You'll Probably Want Early Bird Check-In If…
You can't check in exactly 24hrs before departure and do care about where you sit
You may not remember to check in 24hrs before departure and do care about where you sit
You prefer to sit near the front of the plane (turbulence is generally less severe for passengers toward the front)
You prefer an aisle seat, window seat, bulkhead seat, or exit row (or just despise the middle seat)
You're not traveling with children, but you're on a flight to a destination that's family-friendly (e.g., Orlando/Disney)
You Don't Need Early Bird Check-In If…
You bought a Business Select fare
You have A-List preferred or A-List status
You have family boarding (traveling with children 6 years old and under)
You need "extra time" or assistance boarding the plane
You're buying a ticket for an unaccompanied minor (pre-board included in fare type)
You Probably Don't Really Need Early Bird Check-In If…
You're uber-confident in your 24hr check-in skills
You don't really care where you sit or what type of seat you sit in

Keep in mind boarding positions go fast, and you never know how many other passengers have opted for this add-on.

You're traveling with a friend or partner who has a Business Fare, status on Southwest, or Early Bird Check-In

Technically, "saving seats" is discouraged, but it's rarely reprimanded.

Your flight is at an obscure time on an unpopular day or route
You Might Be On The Fence About Early Bird Check-In If…
You might have to cancel your flight — remember Early-Bird is nonrefundable!

You can always wait a little while and add it later, as long as you purchase before the 36hr deadline

Your family is traveling together, but your children are over 7 years old

Family boarding between A and B groups only applies to those traveling with children 6 and under

You're traveling with friends and don't want to be split up
Your flight has come from another city, and passengers already on board are passing through to your destination with no plane change
Bottom Line: In our opinion, if the up-charge isn't a huge financial strain and you don't want the stress of boarding toward the end of the pack, go ahead and add it.
How to Add Early Bird Check-In
Alongside Your Original Ticket Purchase
If you're purchasing a ticket on Southwest.com or via the mobile app, there's no doubt you'll be prompted with a pop-up or other notification asking if you'd like to add Early Bird Check-In to your ticket.
If the answer is yes, simply select it at that time and continue with your purchase.
If you're making a reservation over the phone with an agent, they will ask if you'd like to purchase Early Bird before completing your transaction.
After Your Original Ticket Purchase
If you don't' select Early Bird Check-In with your original ticket purchase, you can still add it to your itinerary up to 36 hours prior to your flight's scheduled local departure time.
You can do this by accessing your reservation:
on the mobile app
calling a reservation agent at 1-800-435-9792
Tips for Online Purchase: It's really easy!
If you're opting for adding the perk online, you simply need to enter your confirmation number, first, and last name. Southwest will then bring up your itinerary and the proposed pricing at which point you choose "Continue".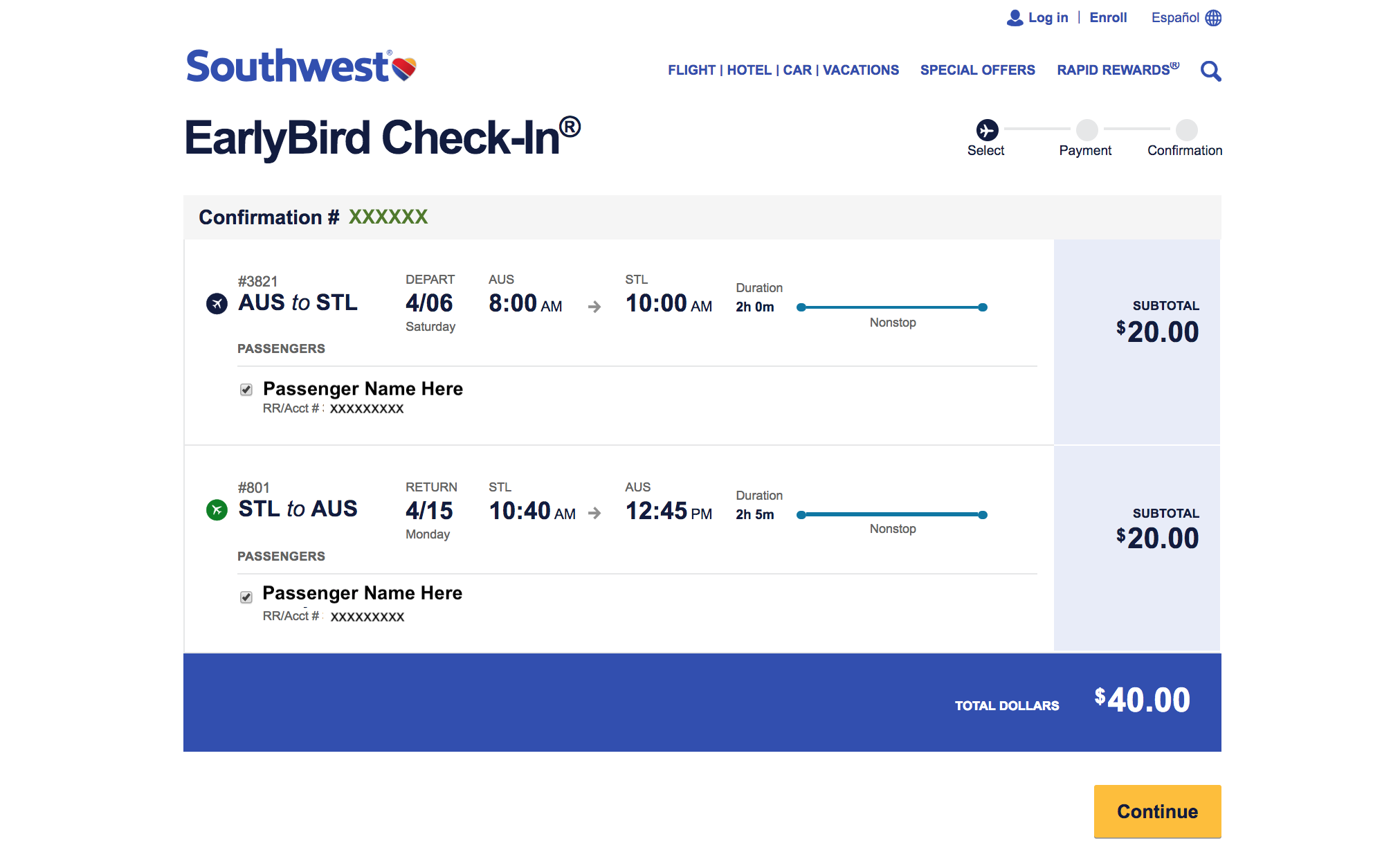 You will then be directed to a payment page where you enter your preferred method of payment and select "Purchase".
And that's it – Early Bird Check-In has been added to your itinerary! You should receive an e-mail confirmation of this addition.
Adding Early Bird For Just One Person
Technically, yes, but you have to go a slightly round-about way to do so.
If you're purchasing a group of tickets together but want to add Early Bird Check-In for just one person, do not purchase Early Bird Check-In with your original ticket purchase. (At the original purchase point, you'll only have the option to add it to all passengers on the itinerary.)
If you want to add Early Bird for just one person, you have to add early-bird to an existing itinerary. You can do this in the same way we explained in the "After Your Original Ticket Purchase" section just above this.
How to Get Early Bird Check-In For "Free"
If you have the right credit card in your wallet, your Early Bird Check-In fee can be paid for by using your miles to pay off those expenses.
The table below outlines some of our preferred cards:
Capital One VentureOne Rewards Credit Card - This no annual fee card comes with a 20,000 bonus mile offer after spending $500 in the first 3 months. When you use your card for travel purchases (e.g. baggage fees), use your miles to pay off all, or part of, your statement balance! We've highlighted 30+ benefits of the card.
Capital One Venture Rewards Credit Card - The "big brother" card to the VentureOne with 60,000 miles if you spend $3,000 on purchases in the first 3 months. This card is full of benefits and perks and you can redeem your miles on travel or transfer your miles to over 10+ travel loyalty programs.
Final Thoughts
Early Bird Check-In can be useful if you don't want to deal with the stress of Southwest's self-check-in policy, which requires action exactly 24 hours before departure. Additionally, you should strongly consider Early Bird Check-In if you're pretty particular about your seat; while it doesn't guarantee A Group boarding, it certainly gives you a much better chance of nabbing your desired spot.
However, if you've already got priority boarding through your business class fare or status, you won't need this add-on. Similarly, if you're traveling with kids under 6, you'll already board right after A Group and likely won't need it either.
Lastly, you could be on the fence. If you're going back and forth about it and you're worried about the added cost, remember you're already saving on baggage fees (which are usually ~$25-$40 a piece on other airlines), so $15 per ticket doesn't seem all that bad. Alternatively, if you're on a route where the fee is $25 per ticket, the decision could be a bit more difficult.
As a last note, remember – if you've optimized your purchase by using a credit card that covers the fee, your Early Bird Check-In is basically free!
---
Like this post? Pin it on Pinterest!