The Amex Platinum Card: How To Best Use Your $200 Airline Credit [Every Year]
The Platinum Card® from American Express is one of the most premium travel credit cards on the market, but also one of the most expensive. The card's annual fee is substantially higher than other cards on the market, but the card also comes with an extensive list of benefits like airport lounge access, complimentary Hilton Honors and Marriott Bonvoy hotel elite status, major bonus earning on flights booked with airlines, and more.
While the card's annual fee may seem like a shocker at first, it's actually not so bad when you take a look at the 3 different annual rebates offered by the card: up to $200 airline incidental credit, up to $200 Uber credit (dispersed in monthly increments), and up to $100 Saks Fifth Avenue credit.
The Uber and shopping rebates are pretty self-explanatory, but many travelers often aren't sure how to take advantage of the airline incidental credit and what it can cover. After all, it doesn't let you cover paid plane tickets but does let you cover other fees incurred from an airline—whether inflight or at the airport.
In this article, you'll finally get clarity as to what exactly the Amex Platinum card's airline incidental credit is and your best options for redeeming your card's $200 annual credit. What use is a benefit if you don't know how to use it, right?
Amex Platinum Card – Snapshot
Amex Card
Benefits & Info

The Platinum Card® from American Express


Learn More

(at Amex's secure site)

Earn 60,000 100,000 Membership Rewards® Points after you spend $6,000 on purchases on the Card in your first 6 months of Card Membership.
Plus, earn 10x points on eligible purchases on the Card at restaurants worldwide and when you Shop Small in the U.S., on up to $25,000 in combined purchases, during your first 6 months of Card Membership.
Earn 5X Membership Rewards® Points for flights booked directly with airlines or with American Express Travel up to $500,000 on these purchases per calendar year.
$200 Hotel Credit: Get $200 back in statement credits each year on prepaid Fine Hotels + Resorts® or The Hotel Collection bookings with American Express Travel when you pay with your Platinum Card®.
$240 Digital Entertainment Credit: Get up to $20 in statement credits each month when you pay for eligible purchases with the Platinum Card® at your choice of one or more of the following providers: Peacock, Audible, SiriusXM, and The New York Times. Enrollment required.
$200 Airline Fee Credit: Get up to $200 in statement credits per calendar year in baggage fees and more at one qualifying airline.
$200 Uber Cash: Enjoy Uber VIP status and up to $200 in Uber savings on rides or eats orders in the US annually. Uber Cash and Uber VIP status available to Basic Card Member only.
$300 Equinox Credit: Get up to $25 back each month on select Equinox memberships. Enrollment required.
$179 CLEAR® Credit: Use your Card and get up to $179 back per year on your CLEAR® membership.
Good to Excellent Credit Recommended (670-850)
Annual Fee: $695
Terms Apply. For rates and fees of the Amex Platinum card, click here.

$2,200

Must Reads: For more info on the Amex Platinum, see our thoughts on the cards incredible benefits and perks, which includes travel insurance coverage, car rental insurance and so much more. Check out our full review to see why it's one of the best travel credit cards.


What is the Amex Platinum's Airline Incidental Credit?
Both the Amex Platinum card and the Business Platinum Card® from American Express include a $200 airline incidental fee credit. This credit is, according to American Express, to be used to cover inflight expenses on one specific airline. Some of the items American Express lists as eligible for reimbursement include inflight refreshments and checked bag fees.
Unfortunately, things like airline tickets, gift cards, and points purchases aren't eligible for reimbursement.
Here's what the terms and conditions have to say:
"Incidental air travel fees charged prior to selection of a qualifying airline are not eligible for statement credits. Airline tickets, upgrades, mileage points purchases, mileage points transfer fees, gift cards, duty free purchases, and award tickets are not deemed to be incidental fees. The airline must submit the charge under the appropriate merchant code, industry code, or required service or product identifier for the charge to be recognized as an incidental air travel fee."
Once you've selected your airline, you can simply charge these expenses to your Amex Platinum card and you'll automatically be reimbursed in the form of a statement credit within 4 weeks of the charge posting to your account.
Hot Tip: You receive the airline incidental once per calendar year. The credit is dispersed on January 1st of the year and doesn't rollover.
Selecting an Airline for Your Airline Incidental Credit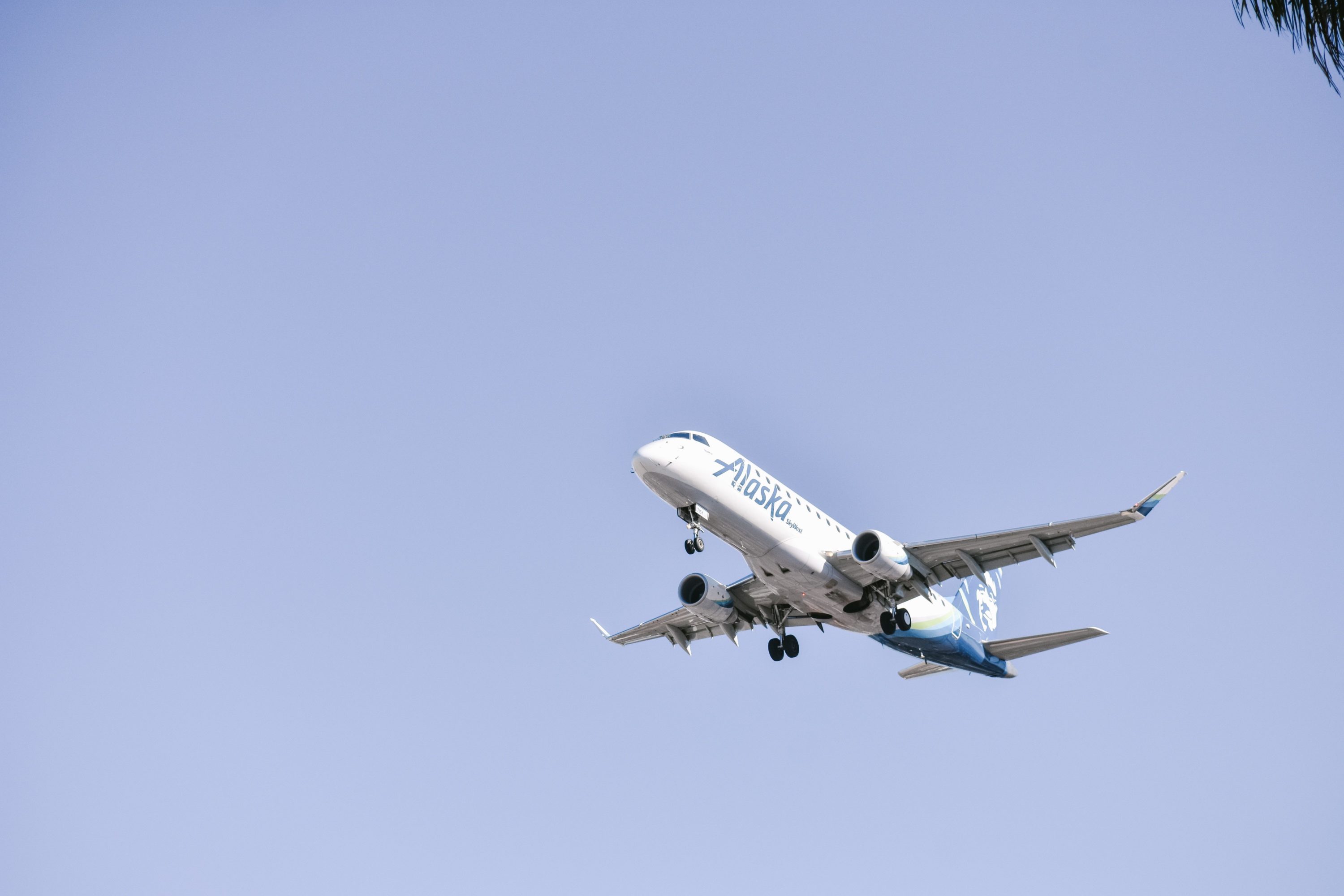 Unlike the Chase Sapphire Reserve® card's travel credit, you're limited to using your Amex Platinum's incidental fee credit on a single airline. You can select your airline when you receive your card and change it once per year thereafter. However, we at Upgraded Points have had luck changing the airline more than once when chatting (nicely) with an American Express representative.
You can pick from the following airlines:
You must select an airline before you can use the airline incidental credit. Charges made to your account before selecting an airline are not eligible for reimbursement, so select your target airline as soon as you receive your Amex Platinum and have a trip booked.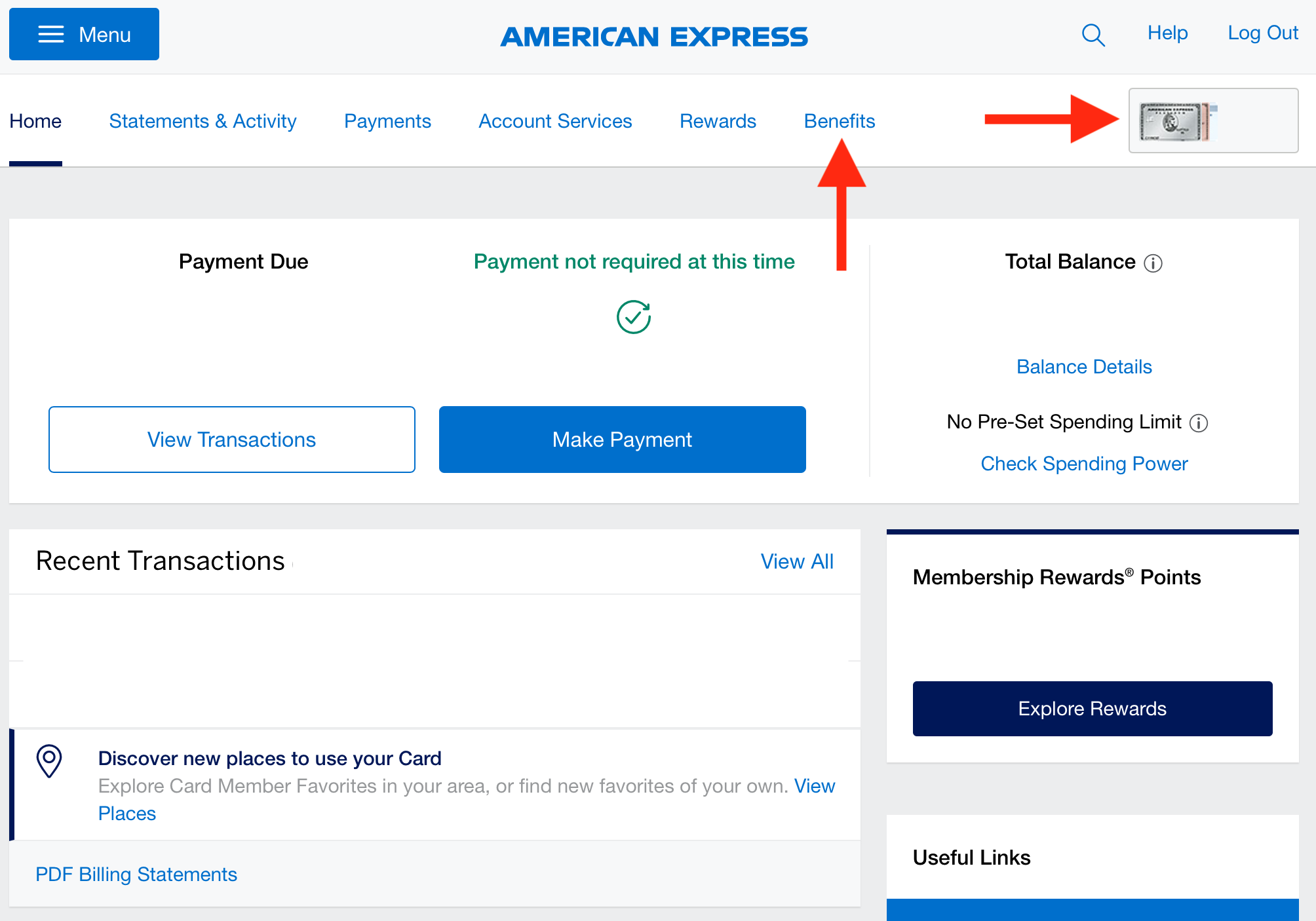 Thankfully, selecting your Amex Platinum's airline choice is easy. Just head over to the American Express website, log in and select your Platinum Card (should you have more than one Amex card). Then, click on the Benefits tab on the bar at the top of the screen.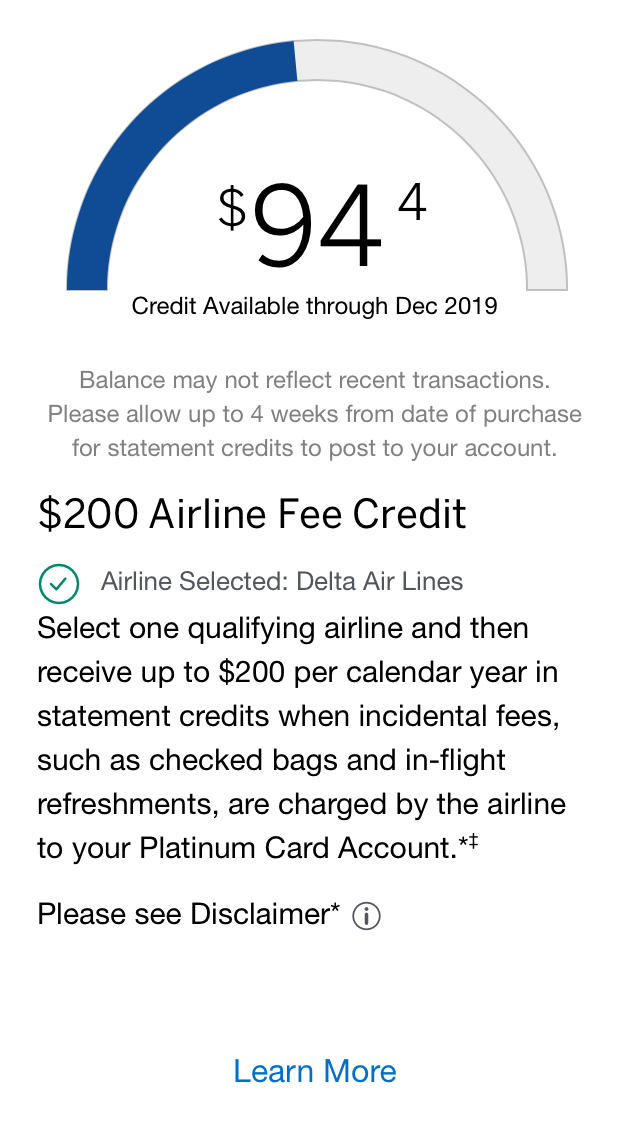 Here, you'll see a list of benefits included with your Amex Platinum card. Scroll down until you see an option labeled $200 Airline Fee Credit and click on the Learn More button underneath the header. You can select your airline choice using the drop-down menu at the center of the screen.
To check your remaining balance, return to the $200 Airline Fee Credit infobox on the Benefits page. You'll see a gauge underneath the header that shows your remaining balance.
The Best Ways to Use Your Airline Incidental Fee Credit
Like mentioned earlier, the Amex Platinum Card's airline incidental fee credit cannot be used towards plane tickets, points purchases, or gift cards. There's no doubt that this is frustrating, but thankfully, there are still plenty of great ways that you can spend the credit over the year.
Here are our favorite ways of utilizing the flight credit. We've split this section up into 2 parts: official and unofficial ways to redeem the incidental fee credit.
Official Ways to Redeem the Incidental Fee Credit

Airport Lounge Day Passes and Annual Memberships
While the Amex Platinum includes extensive lounge access, it doesn't include access to all of the U.S. carrier's lounges. You can use your Amex Platinum's credit to buy day passes to:
Alaska Airlines Boardroom
Just remember that you have to select the applicable airline for the lounge charge to be covered. So if you select Delta as your selected airline, your charges to the Admirals Club won't be covered by your incidental fees.
Hot Tip: If you purchase an annual lounge membership with your Amex Platinum that costs more than $200, you'll be credited the entirety of the incidental fee credit at once. So in this case, you can think of it as a $200 discount on your lounge membership of choice.
Further, note that Amex Platinum cardmembers do not receive complimentary guest access at Delta Sky Clubs. However, guest access can be purchased for $29 per person (versus $50 for a standard day pass). If Delta is selected as your Amex Platinum's airline, you will be reimbursed for their entry fee.
Change Fees
Changing a trip's date can be expensive, but your Amex Platinum's incidental fee credit will cover the itinerary change fee. Note that the incidental fee will not likely cover the airfare difference as this is often charged like a plane ticket.
Hot Tip: Want more information on airline change fees? Learn how to avoid airline change fees in our dedicated article. 
Checked Baggage Fees
Plan on checking a bag but it isn't included with your ticket? Just charge it to your Amex Platinum card. This is especially helpful if you've selected a low-cost carrier as your airline choice as these carriers generally charge more for baggage. Just remember that the incidental fee credit will only cover baggage fees on your selected airline.
Inflight Entertainment Fees
The incidental fee credit will cover inflight entertainment fees like TV, movies, and tablet rentals charged directly by the airline. A good example of this is renting an Alaska Airlines entertainment tablet inflight. The airline charges a fee to rent these in economy class.
Unfortunately, this does not cover inflight internet as this is generally billed by a third-party. However, we have heard of United inflight entertainment being reimbursed as it is generally charged by United directly. Proceed with caution though as there's no guarantee it will be reimbursed.
Inflight Amenities (Food, Drink, Headphones, Etc)
Most other inflight purchases are covered too. Think amenities like headphones, blankets on budget carriers, food, and drink. These are almost always charged by the airline and will be automatically be reimbursed by your Amex Platinum's incidental fee credit.
Seat Selection Fees
Seat selection fees are another great way to redeem your airline incidental fee credit. You can use this when flying low-cost carriers or are flying on a basic economy fare that doesn't include free seat selection. Note that this does include things like Even More Space seating on JetBlue and Economy+ on United Airlines.
Pet Flight Fees
If you're taking a furry companion with you, use your Amex Platinum's incidental credit to cover the pet fee. This can take out a nice chunk of your reimbursement too—for example, JetBlue charges $125 per one-way flight.
Hot Tip: Some airlines are better than others when flying with Fido. Explore our data study on the best airlines for traveling with your pet. 
Phone Booking Fees
You can usually avoid these by booking online, but there may be instances where you need to call to book an award ticket or a flight with special routing. If you can't get the agent to waive this fee, your Amex Platinum's incidental fee credit will cover it.
Priority Boarding
Priority boarding purchases will work on virtually all airlines. This can be especially valuable when flying Southwest Airlines as you'll get first dibs on the best seats. Again, just remember that the incidental fees will only cover priority boarding fees on your selected airline.
Unofficial Ways to Redeem the Incidental Fee Credit
The methods below are ways that either our staff has tried or seen work for other travelers. Proceed with caution. There's no guarantee that these will work for you. While we try and keep this section as up-to-date as possible, these things can change on a dime and we can't be held liable for a charge not being reimbursed.
Admirals Club Food or Drink Purchases
A number of American Airlines Admirals Club locations have premium food and drink available for purchase. These purchases have been reimbursed from American Express as they're billed directly from American Airlines.
We do not have data for Alaska Airlines, Delta, or United lounge purchases at this time. While it'd make sense for these purchases to be reimbursed, proceed with caution.
American Airlines requires Gold and Platinum elite members to use 500 miles to request an upgrade to first class on flights over 500 miles. These certificates are earned when flying, but can also be purchased for $40 each. Reports show that purchasing these certificates does trigger the incidental fee credit.
Delta Airfare Purchased Partially with a Gift Card
There are reports of Delta tickets purchased partially with a gift card being reimbursed by American Express. This is because when the purchase processes, it will add "additional collection" to the transaction instead of listing an airline route like most airfare purchases.
This means that American Express will see the transaction as if it was some sort of add-on or other inflight expense. However, this is not officially supported, and American Express may choose to not honor your incidental credit for this purchase.
Sub-$99 Airfare on Select Airlines
We've seen reports of sub-$99 fares on Delta, Southwest, and JetBlue being reimbursed by the incidental fee credit. But again, this is very much something you should try at your own risk as the purchase will code as airfare.
$9 Fare Club (Spirit Airlines) and Discount Den (Frontier Airlines) Memberships
Spirit Airlines and Frontier Airlines both have members-only discount clubs under the names $9 Fare Club and Discount Den respectively. These programs provide access to discounted tickets and include other perks, but have an annual fee.
We've seen reports of both $9 Fare Club and Discount Den memberships being reimbursed by American Express. Definitely keep this in mind if you're a frequent ultra-low-cost carrier as it can save you a nice sum of money as you travel throughout the year.
$5.60 TSA Passenger Security Fee on Award Tickets
Our team has had the $5.60 TSA Passenger Security fee reimbursed on multiple award tickets as recently as August 2019.
Purchases that Do Not Trigger the Airline Incidental Credit
Now that you have a full list of things that do (or might) trigger the airline incidental fee credit, here's a quick look at the things that don't trigger this credit.
Award Taxes And Fees
Aside from the $5.60 TSA Security Fee mentioned above, our team has not had luck having other award fees reimbursed. This is likely because of the fact that these purchases code as airfare when posted to your American Express card.
Airline Gift Card Purchases
Airline gift card purchases were a long-time favorite for redeeming the airline incidental fee credit. However, as of this summer, our team has had no luck getting these reimbursed.
Class of Service Upgrades
Unfortunately, cabin upgrades are not eligible for reimbursement.
Inflight Wi-Fi
Like mentioned earlier, inflight Wi-Fi generally does not trigger the incidental fee credit as it's billed by a third-party like Gogo or Panasonic. However, we've seen reports of United Airlines Wi-Fi purchases being reimbursed as United does bill Wi-Fi purchases on its own, or if purchased through the airline application prior to your flight.
What if my Purchase isn't Automatically Reimbursed?
While American Express states that it will reimburse eligible charges within 4 weeks, some charges make it past American Express' system. If you're not reimbursed for an eligible charge, you can either call the number on the back of your card or use American Express's live chat service to request reimbursement.
Final Thoughts
While the Amex Platinum card's airline incidental fee credit is limited when compared to travel credits offered by other premium credit cards, it still offers a ton of value. When you use the methods listed above, you'll not only save money, but also have a better travel experience with extra checked bags, lounge access, and more.
How do you spend your Amex Platinum Card's airline incidental fee credit? Let us know in the comments below!
---
For rates and fees of The Platinum Card® from American Express, click here.