How To Pay Your Credit Card Bill & Avoid Interest Fees
All the different numbers and dates listed on your credit card bill can make it difficult to know exactly what you owe each month in order to avoid interest fees. You might also be wondering how and when you should pay your credit card bill to maximize your credit score.
We're here to help you quickly understand what amount of money you should pay and when — plus we'll give you tips on how to easily manage your credit card payments monthly.
Decoding Your Credit Card Statement
We know that reviewing your credit card statement might not be the most interesting thing you will do each month, but the first step in determining what you owe is being able to break this down.
Here are some of the important things to look for while you're reviewing your statement. And remember, while the names or set up of your statement might differ slightly between card issuers, each of the following areas will likely appear on your statement.
Payment Information

Knowing how much you owe and when is the really important stuff, so let's start here:
New/Current Balance: This shows how much you owe in total.
Minimum Payment Due: This is the minimum amount you must pay before the due date, which could be a fixed amount or a percentage of the balance (whichever's greater). The exact amount will vary by card.
Payment Due Date: If you don't make at least the minimum payment by the due date, you'll be hit with a late fee. Depending on how late you make your payment, it may also be reported to a credit bureau, damaging your credit score.
Late Payment Warning: This will note the consequences of not making at least the minimum payment by the due date. These may include being hit with a late payment fee or even an interest rate increase — yikes!
Minimum Payment Warning: This explains how long it would take you to pay off the current balance if you made only the minimum payment, including how much interest you would pay over that time. Some people make the mistake of thinking this the amount they should pay each month. Looking at this table in your statement will show you exactly why that's a bad idea.
Bottom Line: Interest charges add up quickly, so try not to carry a balance. Even if paying off the whole amount isn't possible, make a payment for the maximum amount that you can afford.
If you've set your account for autopay, this area will also include the amount and date that your bank account will be debited for these charges. If you do not have autopay set up, you can send in a check along with the payment stub located at the bottom of the page.
We have more information on exactly how to pay your bill later, including setting up autopay.
Account Summary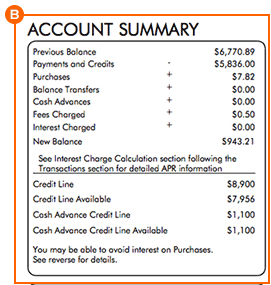 This section will show you the overall details of how your current balance was calculated. It begins with the previous month's balance, subtracts recent payments and credits, and adds purchases, interest charges, and fees to calculate the new balance.
The account summary section may also include the card's credit limit, available credit, cash advance limit, and days in your billing period.
Hot Tip: Available credit is not like store credit — it isn't money that you can spend without paying it back. Your available credit is your card's credit limit less any money that you have already spent on your card during your billing cycle.  
Payments and Credits

The payment area will show all of the payments that have already been factored into your current balance. You will also see the detailed information for any refunds credited back to your account — for example, if you purchased something and returned it or received a statement credit.
If you pay online, payments are applied within 1 to 3 days of clicking "submit" or on the scheduled date of your autopay date. It is important to check to see if refunds were processed and payments you made were applied timely to the balance.
New Charges
This is definitely the area you need to spend the most time reviewing as it will include all of the purchases you've made during this billing period. Every transaction you make between 1 statement closing date and the next closing date will appear on your next credit card statement.
Normally this will include the date, retailer, and cost, but might include more detailed information like the location of a retailer and a description like "groceries" or "travel."
Make sure you also review to ensure that you recognize all of the charges on your account. If there are purchases you don't recognize, someone may have accessed your credit card without your permission. You may need to act quickly to stop further fraudulent charges.
Hot Tip: Calling the number listed on the back of your card will be the easiest way to notify your card issuer that your card may have been compromised. For more tips, check out these ways to prevent credit card fraud.
Fees and Interest Charges

These 2 sections might show up separately but will show the total fees and interest paid year-to-date. If you pay off your card's balance each month, you won't be accumulating interest. If you have a card with an annual fee, you should expect to see this listed here.
An interest charge calculation for this billing period (if any) will also be included. This will be broken down by each balance type (purchases, cash advances, pay over time balances, and balance transfers) along with the annual percentage rates for each.
Bottom Line: Check this area to make sure you're not accumulating late payment or other unnecessary fees or being charged for any interest or fees in error.
Rewards Summary

This section will only be on your statement if you have a rewards credit card, such as a cash-back or travel card. At a minimum, your statement will tell you how many points you currently have in your account.
Some statements will show you how much you have earned or redeemed in the billing period, or even go into detail about which spending categories earned you points. This is helpful for cards that earn higher rewards in specific categories, like dining out, groceries, or airfare.
Hot Tip: If detailed information isn't shown directly on your statement, you can usually find more details online through your credit card's online rewards portal.
Make sure to review this information to see how your rewards are adding up. Oftentimes rewards credit cards come with high fees, so getting the most out of your rewards is extremely important to offset these fees and maximize your returns!
Information About Your Account
This area of your statement will include common legal disclosures, calculation information, and instructions on how to deal with errors. You'll also learn really useful information, like how your payments are applied, details about reporting to credit bureaus, and how your balance is calculated.
Bottom Line: The information here doesn't typically change from month to month, but you may still find it useful to read through this once to familiarize yourself with your credit card's policies. 
This section will also include ways to contact your card issuer if you have any questions or concerns.
Changes to Cardmember Agreements
If there are any changes to your account, you will be notified of the effective date and details about what these changes are. This section doesn't always appear, so this is a good example of why it is important to monitor your statement periodically.
FICO Credit Score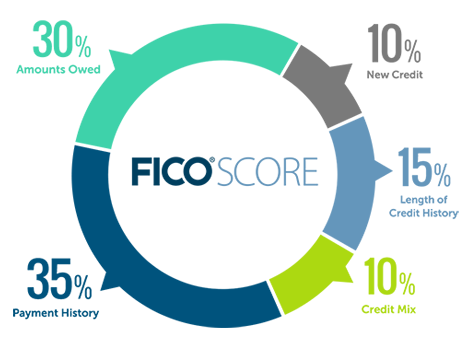 Some card issuers will include your 3 digit credit score on your monthly statement free of charge. This can help you easily monitor your number for any changes each month.
How Much Do I Owe on My Credit Card?
This is a bit complicated. You technically owe the entire outstanding balance noted on your card statement and we recommend paying your entire statement balance. If you can't afford to pay the full balance, make at least the minimum payment so that you aren't considered delinquent.
So why don't you have to pay the entire outstanding balance right away? Well, credit cards typically have a grace period. This grace period is the time between your billing cycle's completion and your statement's due date. During this time, you won't accrue interest on purchases made during the previous billing cycle. 
If you pay off the entire statement balance by the due date every month, the bank won't charge you any interest for these purchases.
Hot Tip: The grace period usually only applies to purchases made — not on balance transfers or cash advances.
If you don't pay off the entire statement balance by the due date, it is possible that you may lose your grace period. This means that your bank may start charging you interest on purchases back to the date they were made, on new purchases going forward, or both.
When Should I Pay My Credit Card Bill?
As we've noted above, we recommend that you always pay the full statement balance by the payment due date. If you can't afford the full statement balance, it is still very important to pay at least the minimum payment by the same due date. This makes it easier to stay out of credit card debt by avoiding expensive late fees.
Credit card issuers can vary in how long they take to post a payment to your account, so for your first few payments, give yourself a few extra days of cushioning. If you're concerned about this, check with your specific bank to find out what counts as an on-time payment and how long payments typically take to post to your account.
How Interest Charges and Late Fees Work
If you only make the minimum payment on your card, you will be charged an interest fee (also known as a finance charge). The reason why credit card debt can get so expensive so quickly is because of very high interest rates that can compound daily.
The daily average balance is a normal way that credit cards assess interest charges. This means that credit card interest applies to your average daily balance over the course of a billing period. Once you start carrying a balance on your card (typically after your payment due date), you will start incurring interest expenses daily.
Bottom Line: If you carry a balance on your card, it's very possible that the amount you incur finances charges on will be greater than your original balance. This happens if you start with a balance and continue to make purchases throughout the month.
To know exactly how much interest you pay daily, just divide your card's APR by 365 days in a year. This interest affects both your existing balance and any new purchases that post to your account. The interest rates you receive will vary by individual and by card. For example, credit cards for people with better credit scores tend to have lower rates than those people with lower credit scores.
Be sure to check out our guide to credit card interest for a more in-depth look at how interest is calculated. The bottom line is that interest is extremely expensive and can quickly snowball into an unmanageable amount. This is the main reason we strongly suggest paying off your entire statement balance on the due date.
Reasons To Make Early Credit Card Payments
Some people don't like to carry a balance at all and pay their accounts off early. We've already told you that this isn't strictly necessary — but there are a few instances where this might be useful.
1. Improving Your Credit Score
If you're hoping to improve your credit score, making extra payments or even paying off your entire outstanding balance in full can actually benefit you. By paying before the statement closing date, you can help lower your overall credit utilization.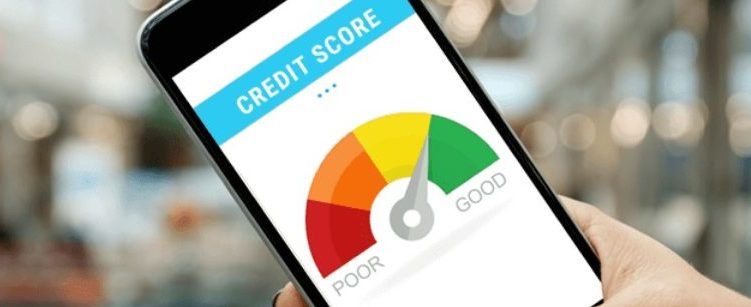 This happens because credit cards typically report balances to credit bureaus as of your statement date. Added to this is the fact that credit utilization doesn't have a history, so only the current limits and balances matter in this calculation.
Hot Tip: Credit utilization tells you how much you currently owe divided by your credit limit, and is represented by a percentage. 30% of your credit score is derived from this factor.
In almost every instance, having a lower credit utilization will increase your credit score. Don't fret over maintaining a crazy low rate like 1% to 2%, though — the main thing is that your rates don't climb above 30%.
2. You've Lost Your Grace Period or Are Paying Interest
If you didn't pay off your last statement in full (also known as carrying a balance), you may have temporarily lost your grace period. This means all new purchases start accruing interest immediately on the day they're made.
In order to get it back, you'll usually need to pay off your entire outstanding balance. It's always best to check the terms of your card to get all of the specific details about how to get your grace period back if you've lost it.
The good news is that you'll only probably only need to do this for 1 to 2 billing cycles, then you can go back to paying your statement balance in full on the due date.
3. You're Close to Your Credit Limit
Another reason you may want to make partial or full payments early is if you are nearing your credit limit. This could happen due to 1 big purchase or lots of little purchases adding up.
If you want to continue to charge on your card, it might be a good idea to make a payment between due dates to free up some of your available credit.
Why You Should Make Only Minimum Payments
We know we've been saying to pay off your bill in full, but there is 1 instance where it might make financial sense to make the minimum payments.
If you use a card with a 0% intro APR offer, you can take advantage of 0% interest and/or balance transfers. You still need to pay the minimum payment each month so the bank doesn't hit you with late fees for being delinquent, but this means that you'll have some time when the bank doesn't charge interest.
But — and this is an important one — make sure you have a plan to pay off that whole balance before the introductory period ends so you can avoid paying interest that has been accumulating over the entire time period. If you don't, you can be hit with retroactive interest from the date you started charging expenses on your card!
Bottom Line: Taking advantage of introductory offers only works if you are a responsible borrower with a plan to pay back the entire balance before the introductory period expires.

How To Pay Your Credit Card Bill
Some people like to set up autopay and not worry about payments being late. Others prefer to write a physical check and mail it in each month. Autopay is fine as long as you are regularly monitoring your statement. Sending in a check each month is fine as long as you make sure you send it in a timely manner.
Paying by Autopay
Most card issuers will let you set up online payments from your checking account or savings account so that your bill will automatically get paid on a date you set that is on or before the due date each month.
Autopay is a great option to avoid late payments. We recommend setting your date to process a few days before the payment due date. This will give you some time to fix any issues, such as payments returned for insufficient funds, before the due date.
Beyond selecting a date, you will also be able to pick from several options like making the minimum amount due, another set amount, or what we suggest — the new statement balance.
Hot Tip: Instructions on how to link your bank account to autopay will typically be provided through your online account, but you can always call the number on the back of your card if you have any questions.
If you do set up automatic payments, you will still need to review your statement before the payment date so you can identify and deal with any fraud or unauthorized transactions that may show up on your card.
Paying by Check
If you can make sure that you will send in your payments on time each month, sending in a physical check to your card issuer is another option.
On your card statement, there will be a stub that you can send in along with your check that will include a place for you to write the amount that you are paying, the mailing address, and information about who to make the check out to. If you choose to receive electronic statements, you might need to print this out.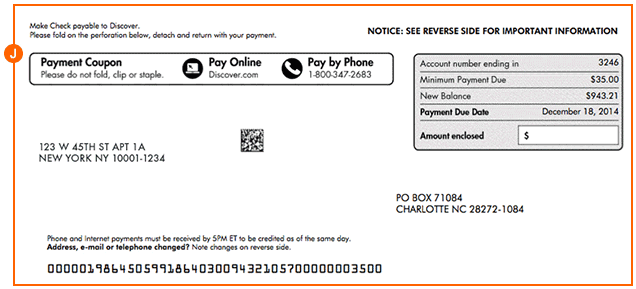 When you mail in your check, don't forget that it may take a few business days for your mail to arrive at the card issuer and another few days for your payment to be processed. You can still get hit with late fees even if your check is in the mail!
Final Thoughts
We hope that this article has shown you the importance of paying off your entire statement balance by the due date, rather than only making the minimum payments. If you do this, you can avoid interest charges altogether!
If you find yourself in a situation where you are nearing the top of your credit limit or if you'd just like to bring down your overall credit utilization, making extra payments in between billing cycles can also benefit you as well.