The 12 Best Beaches in Texas in 2021 [Detailed Guide]
Cowboys, barbecue, live music, and… beaches? They say everything is bigger in Texas, and that includes (perhaps surprisingly) its sandy shores.
While Texas certainly cannot hold a candle to the beaches of Hawaii, its 600 miles of shoreline are comparable to Florida's Gulf Coast — still sunny, still beautiful, and still worthy of a drive. Not to mention when those summer temperatures in the South skyrocket into the 90s, nothing seems more inviting than the glittering Gulf.
What truly sets Texas' best beaches apart, however, is their authentic taste of local life. Fishing — a popular Texan pastime — is spectacular no matter which beach town you choose to visit, while horseback rides along the sand channel the state's cowboy culture.
From windswept national seashores known for bird-watching and kayaking to calm-wave beaches filled with anglers and families, here are the best places to swim and suntan in the Lone Star State.
Boca Chica Beach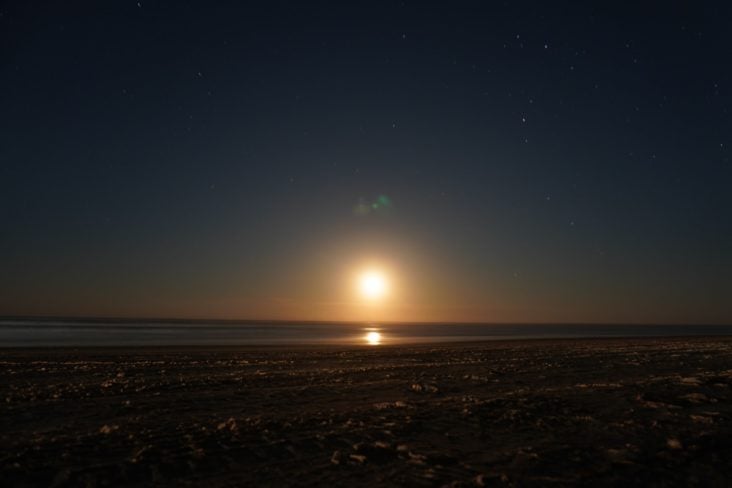 As far as Texas beaches go, the 8-mile-long Boca Chica Beach is as close as you can get to Mexico without actually crossing the border. All that separates the 2 is the mighty Rio Grande, which flows eastward into the Gulf.
Part of the Lower Rio Grande Valley National Wildlife Refuge and protected by the state, this quiet beach is as rustic and untouched as they come. Consequently, there are no facilities in the vicinity, so be sure to bring all the food, water, and beach essentials you'll want or need.
While certainly inconvenient, such a lack of development is exactly what makes Boca Chica so special. The area is tranquil and relaxed, perfect for enjoying life's slower pleasures — swimming, snorkeling, fishing, birding, or simply soaking up the sun's rays while flipping through a favorite beach read.
Hot Tip: Visit between April and July for the chance to see Kemp's ridley sea turtles — the smallest, rarest, and most critically endangered sea turtle species in the world — that nest here every year.
Crystal Beach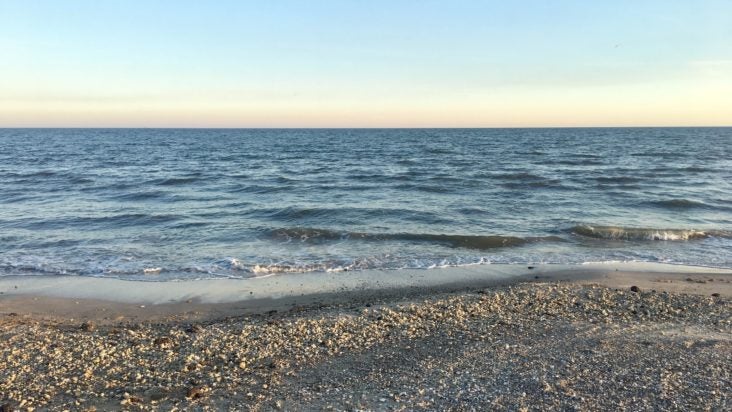 Looking for a good time? Take a drive up to the Bolivar Peninsula, on Texas's Upper Gulf, and hop a ferry in Galveston bound for Crystal Beach.
Despite how secluded it is, Crystal Beach serves up a true party atmosphere. Visitors are allowed to drive their cars and trucks directly onto the sand (there's a $10 fee per vehicle), campout overnight (free), and set up grills and bonfires, encouraging groups to gather and revel throughout the summer.
Fishing, hunting for shells and hermit crabs, and birding (over 100 migratory species flock to the Bolivar Peninsula each year) are also popular here. After the sun sets, nearby restaurants, bars, and nightclubs keep the energy high.
For even more family-friendly fun, check out the local Fun Spot Waterslide and Bolivar Point Lighthouse, an 1872 lighthouse that has survived multiple hurricanes.
Galveston Island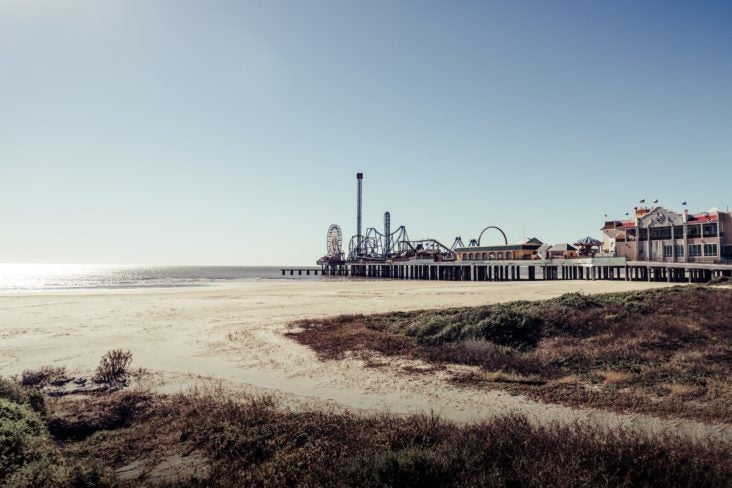 An hour south of Houston, Galveston Island is a favorite local escape from city life. This isn't to say Galveston is rowdy — there are just as many quiet corners as there are crowded areas along the area's seawall.
East Beach is Texas's largest beach and Galveston's prettiest (as well as the only beach on the island that permits alcohol), so it gets busy. Concerts and festivals take place throughout the summer, including an annual sandcastle competition. There's also a playground for kids.
Interested in sandcastle lessons? For that, head next door to Stewart Beach, where, instead of alcohol, you'll find seasonal lifeguards, umbrella and chair rentals, and an even more family-friendly atmosphere.
Keep walking west along Seawall Boulevard and you'll eventually hit the Galveston Island Historic Pleasure Pier, one of the island's biggest attractions. Its amusement park features a steel roller coaster and 100-foot-tall Ferris wheel and sits in close proximity to the island's best beachfront restaurants, bars, and hotels, including Hotel Galvez and Spa (from $215 or 30,000 Wyndham Rewards points per night).
Hot Tip: Galveston Island State Park, on the island's west end, protects 2,000 acres of beach, salt marshes, wetlands, and various lagoons. Entry is $5 per adult (or free for children 12 and under).

Matagorda Bay Nature Park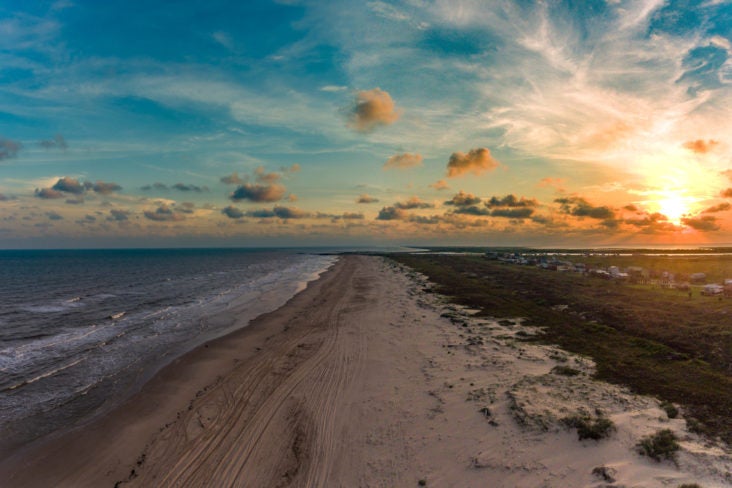 Much of Matagorda Island, immediately northeast of San José Island, is taken up by Matagorda Bay Nature Park — an off-the-beaten-path hidden gem along Texas's Gulf Coast.
Only about half of Matagorda's 58 miles of beach are accessible by foot, which helps keep the area in its natural state, but if you can brave the primitive surrounds and pack plenty of provisions and sunscreen, it promises to be one of Texas's most serene beach experiences.
When you're not setting up camp on the sand, horseback riding in the water, or kayaking along the coast, the rest of the inland region is ripe for exploration.
Follow one of the hiking trails to see shifting sand dunes or venture into the coastal marshes home to herons, storks, and spoonbills. Although no longer open to the public, the rusted-over Matagorda Island Lighthouse, built in 1852, is another favorite sighting.
Mustang Island State Park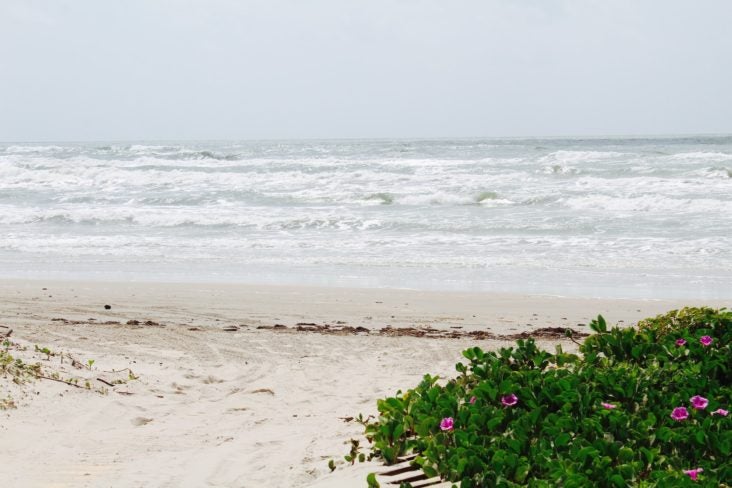 East of Corpus Christi, Mustang Island is named after the wild horses that once roamed here and is arguably the prettiest and best bang-for-your-buck beach vacation destination in Texas.
There's only a single town on the island — Port Aransas. The rest is reserved for Mustang Island State Park, a gorgeous natural swath of land home to 20 miles of hiking trails, 5 miles of beach, green sand dunes, surfing waves, and a healthy population of shorebirds, dolphins, and turtles.
Swimming, birding, paddleboarding, and kayaking are all noble pursuits here — the shallow-water Paddling Trail gets you up close and personal to park wildlife — as is fishing off the multiple jetties (charters are also available for more serious anglers), For folks who'd like to stay awhile, 98 campsites are available, located either directly on the sand or father back and with electricity.
North Beach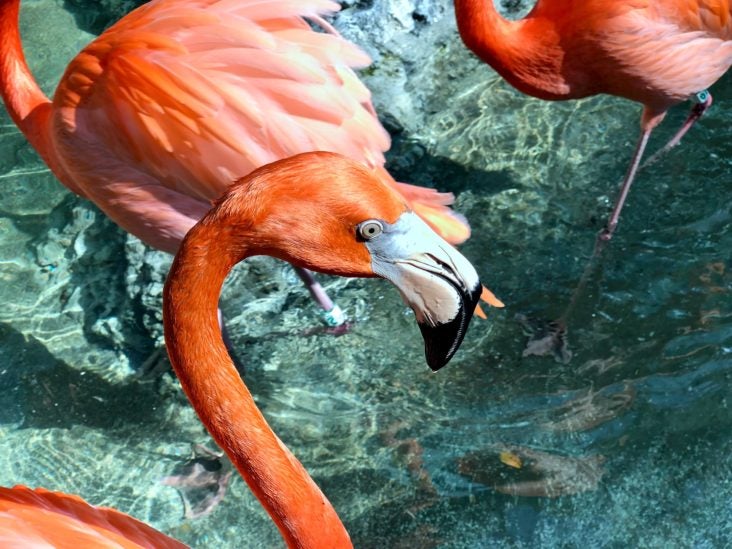 North Beach is living proof that you don't have to leave Texan city limits in order to enjoy quality beach time. One of the best beaches in the state sits just across Harbor Bridge from Corpus Christi, the second-largest metropolis (behind San Antonio) in south Texas.
From this 1.5-mile-long stretch of sand, 2 of Texas's biggest attractions are within easy reach. Perhaps the most famous is the USS Lexington, a WWII aircraft carrier turned naval museum that you can snap photos of right from North Beach.
A paved Beachwalk from North Beach also leads straight to the not-for-profit Texas State Aquarium, which features a 4D theater, a 400,000-gallon tank habitat for sharks, and a jungle exhibit home to flora and fauna native to the Yucatán, such as flamingos and southern 2-toed sloths.
Padre Island National Seashore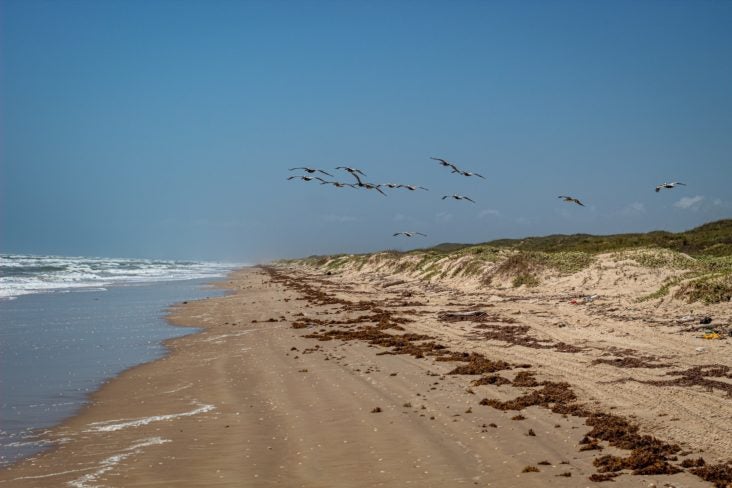 Nowhere else in the world will you find an undeveloped barrier island as long as Padre. Roughly 30 miles from Corpus Christi, the 7o miles of beaches and sand dunes that make up Padre Island National Seashore are a nature lover's paradise for over 300 individual bird species, as well as the endangered Kemp's ridley sea turtle.
If it sounds rugged, that's because it is. The seashore belongs to the birds and the turtles, but those in the know come here to relax, camp, windsurf, kayak, and stroll the waterline in solitude.
Kayaking and snorkeling are possible in the shallow waters of Laguna Madre and beach-combing is best on the well-named Big Shell and Little Shell beaches. However, beach-goers might have the most fun at Malaquite Swimming Beach, where park rangers host baby sea turtle releases and lead conservation programs.
Padre Island is also one of the country's best areas for birdwatching, which is especially spectacular during the early spring, fall, and winter.
Hot Tip: Park entry is $10 per vehicle for a 1-day pass or $15 per pedestrian or bicyclist. Campsites are also available, but come with additional fees ($14 per night at Malaquite Campground; $8 per night at Big Island Basin).
Port Aransas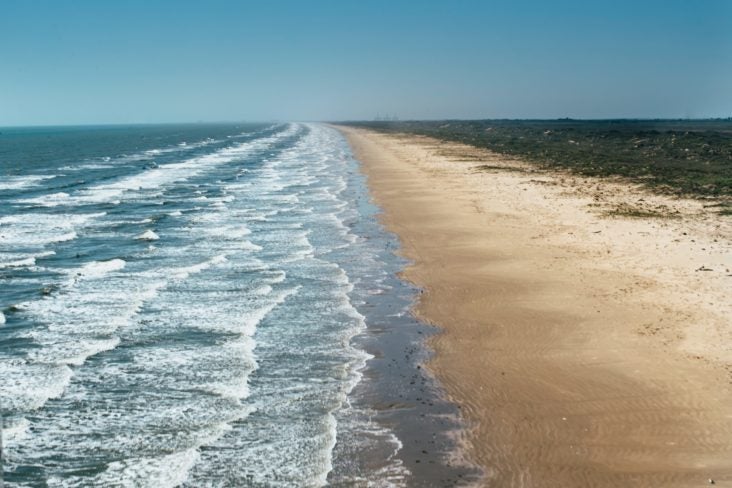 The best family-friendly destination on Mustang Island, the small, sleepy town of Port Aransas attracts bigger crowds than Mustang's state park but never more than ever-popular Galveston or South Padre Island.
Convenience is key here. Laid-back restaurants and for-rent vacation homes line the 18-mile-long beach, where it's just a short walk to the sand. Well-maintained facilities include bathrooms and outdoor showers.
Owing to the beach's popularity, festivities happen here year-round. The biggest event of the year in Port Aransas is Texas SandFest, a weekend sand-sculpture competition where concessions, live music, and activities draw crowds in the tens of thousands. For bird enthusiasts, the Whooping Crane Festival also takes place every February.
Rockport Beach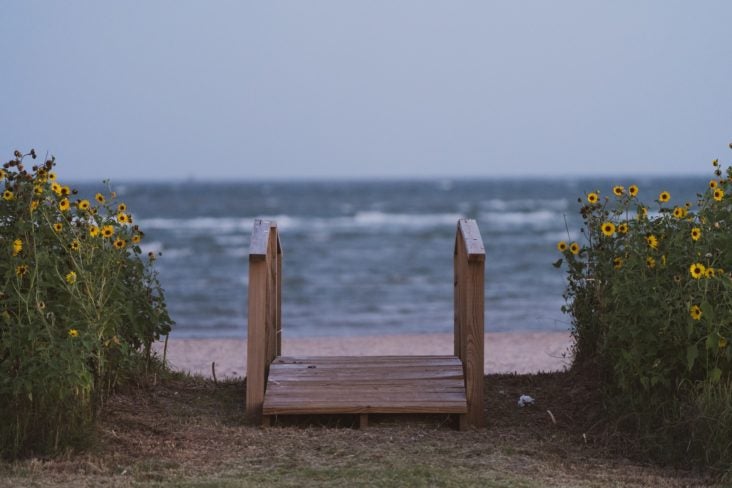 Cars, dogs, bonfires, fireworks, and campsites on the beach are all prohibited on Rockport Beach, keeping its sand (and water) as clean as can be. These efforts, however strict, paid off in a big way: this was the first beach in Texas to earn "Blue Wave Beach" status, an environmental certification that recognizes clean, well-managed beaches worldwide.
Locals spend time swimming, playing volleyball on the beach courts, and fishing off the pier as well as lazing in the thatch-roof palapas that line the crescent-shaped sand. Families especially love the shallow waters and available facilities that include picnic tables, restrooms, and showers. Parking is $5 a day.
The nearby village of Rockport, with its restaurants, art galleries, hotels including the charming Lighthouse Inn at Aransas Bay, and weekend events, is another nice distraction. If you visit in March, don't miss the annual Fulton Oysterfest, which supports the local volunteer fire department.
San José Island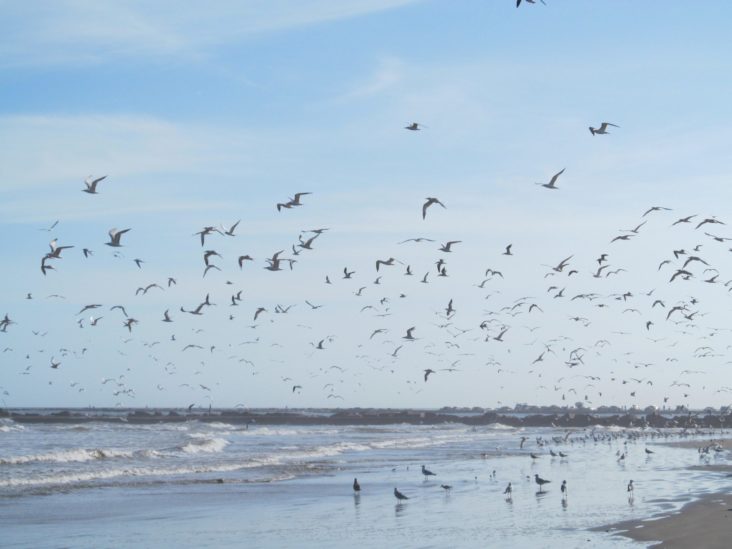 A boat is required in order to step foot on this pristine island across from Port Aransas. Once you arrive, you're limited to just the beach (San José, or "St. Jo" as the locals call it, is privately-owned, so there are no restaurants or stores), but then that's what you've come to enjoy.
The jetty is a perfect spot to fish for flounder or speckled trout, the water is startlingly clear (a rarity for Texas), and, because no cars are allowed on the island, the area is incredibly safe, quiet, and clean.
To ensure that level of cleanliness lasts, there are also zero facilities, bathrooms, running water, or even shade. If you plan to stay in the sun long, umbrellas, snacks, water, and coolers are all absolute essentials to pack before your departure.
Birding and shelling are popular pastimes on San José Island. If you're a fan of the first, be sure to catch the Whooping Crane Festival that takes place on nearby Port Aransas every February.
Hot Tip: The Jetty Boat ferries passengers to San José Island from Fisherman's Wharf ($12 round-trip per adult, $6 per child) in Port Aransas throughout the day.
South Padre Island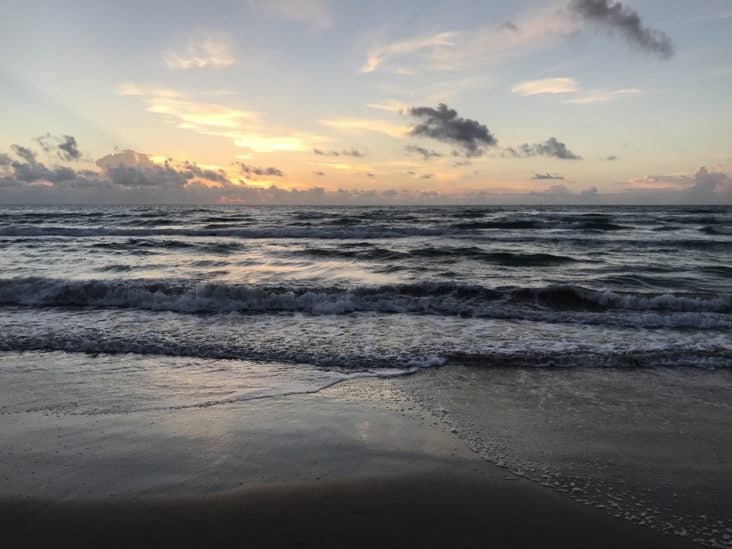 There's no denying the beauty found along this 34-mile-long barrier island just north of Boca Chica — or the crowds. South Padre is considered one of Texas's busier beaches. Chalk it up to stellar kite-surfing and parasailing conditions, pet-friendly beaches, diverse wildlife, relatively affordable hotels, and the fact that drinks are allowed on the sand.
March is peak season, when spring breakers arrive in droves to dance and carouse during day-long beach parties. South Padre's bayside is particularly loved for its lively beach bars and killer sunsets. If you're looking to avoid the mobs, the island's north end tends to be much quieter, if less developed.
Outside March, the rest of the year is a fantastic time to visit — especially Isla Blanca Park. There, the beaches are wide, pavilions are filled with concession stands, boat tours offer everything from deep-sea fishing to dolphin-watching trips, and there's even a Beach Park waterpark featuring 13 waterslides and a zip line.
Hot Tip: Stay nearby at the Isla Grand Beach Resort, where guests enjoy oceanfront rooms, 2 swimming pools, and a nightclub.
Surfside Beach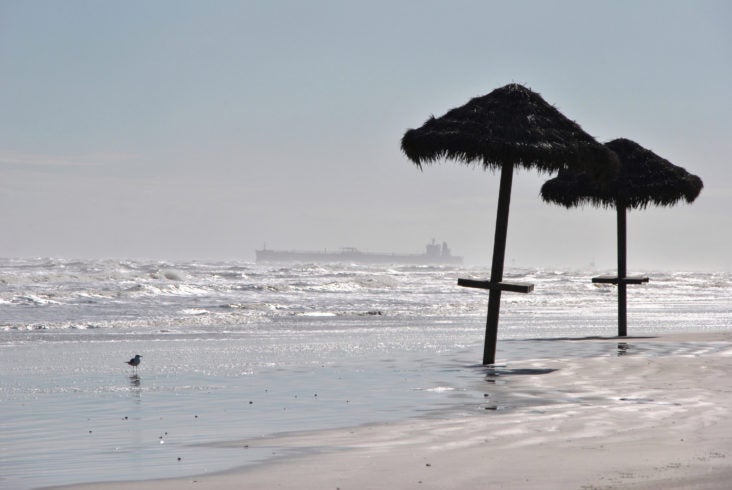 True to its name, stronger waves occur here during the hurricane season months, making Surfside one of the best surfing beaches in the state.
Like Rockport, 4-mile-long Surfside Beach has some of the cleanest and clearest sand and water you'll find in Texas. Unlike Rockport, however, the rules here are far more relaxed. Leashed dogs and campfires are permitted, and cars are allowed on specific sections of the beach for a fee.
In addition to the most traditional pursuits of swimming, strolling, crabbing, and fishing off the various jetties, guided horseback rides on the sand are a fun and unique way to take in the sights.
The Best Beaches in Texas for Families
Galveston Island (East Beach and Stewart Beach)
Mustang Island State Park
North Beach
Port Aransas
Rockport Beach
South Padre Island
Some could argue that every Texas beach is well-suited for families because of their calm Gulf waves, flat beaches, and abundance of wildlife, but some are decidedly more prepared to cater to the needs of children and parents than others.
While beautiful places to bring the gang, Boca Chica and San José Island both lack facilities and activities, which can pose a challenge to younger age groups.
The Best Beaches in Texas That Allow Dogs
Galveston Island (East Beach and Stewart Beach)
Matagorda Island
Padre Island National Seashore
Port Aransas Beach
South Padre Beach
Surfside Beach
With a few exceptions, most Texas beaches are extremely pet-friendly and welcome pooches of all sizes to frolic on the sand and in the water — so long as they remain on a leash. Rockport Beach does not allow dogs, as it is a bird sanctuary.
The Best Texas Beaches in Winter
As is typical for destinations in America, the further south you go, the warmer it will be. So, although Texas as a whole experiences mild winter weather, its southernmost beaches retain their high temperatures year-round. This includes Boca Chica Beach and South Padre Island, whose temperatures rarely dip below 70 degrees Fahrenheit.
If you aren't bothered by cooler temperatures, Padre Island National Seashore is another popular winter beach destination in Texas. Birdwatching is at its best here in the fall and winter, when thousands of migrating shorebirds — peregrine falcons, sandhill cranes, ospreys — flock here for the season.
Final Thoughts
The advantage of having every beach live along a single coastline means that no matter which one you choose to visit, you know exactly what to expect. In Texas, that means beautiful natural scenery, warm and calm Gulf Coast waters, unique and plentiful wildlife, accessibility across the board, and family-friendly activities that run the gamut from fishing to kayaking.
The state of Texas is big, but thankfully, no beach is truly out of reach if you're staying in Houston, Corpus Christi, or San Antonio. Some beaches are just a day's drive — sometimes even minutes away — from sand and surf.
So the next time you find yourself down south and the heat settles in, skip the pool, pack up the car, take a drive, and discover what all the fuss is about.
---
See here for our quick story on the best beaches in Texas.