The Ultimate Hawaii Travel Guide to Maui and Kauai
Hawaii is America's tropical paradise: a group of islands, each with something unique to offer. From the natural wonders and 5-star resorts of Maui to the jungle paradise of Kauai, the Hawaiian islands will take your breath away.
There are beautiful beaches, fantastic jungles, monstrous waterfalls, excellent diving, and world-class waves. There is so much to do, but don't forget to sit back and enjoy beach time! Hawaii is an attractive destination for honeymooners, surfers, and families alike.
In addition to the beautiful scenery, there is a vibrant culinary scene. Hawaiian cuisine used to mean canned food and imported everything, but that's no longer the case. From farm-to-table dishes to tasty festival fare, Hawaii's food reflects its diverse culture.
A Brief History of Hawaii
The Hawaiian Islands formed about 70 million years ago from erupting volcanoes. The oldest Hawaiian island is the Kure Atoll and the youngest one is the Big Island of Hawaii, which rose to the surface about 1 million years ago. The state of Hawaii, also known as the "Aloha State," consists of 8 main islands: Kauai, Maui, the Big Island of Hawaii, Oahu, Molokai, Lanai, Niihau, and Kahoolawe.
About 1,500 years ago, Polynesians arrived in Hawaii in voyaging canoes, and to this day, there are deep roots in Polynesian culture. Hawaii experienced slow, steady growth in population and the size of chiefdoms, which eventually grew to encompass whole islands. Chiefs often fought for power, which resulted in many battles fought between the islands.
In 1785, King Kamehameha defeated the local chiefs in Maui, Lanai, Molokai, and Oahu, and later, Kauai, uniting all of the inhabited islands under a single ruler. This established a monarchy that ruled the kingdom until 1872. In 1893, the Kingdom of Hawaii was overthrown by a group of local businessmen and sugar planters, leading to many political changes for the nation.
During this time, the sugar and pineapple industries flourished on the islands, making it very attractive to other nations. Threatened by European countries wanting to add Hawaii to their empires, American businesspeople began to seek annexation by the U.S.
In 1900, Hawaii became a territory of the U.S., and in 1959, the citizens of Hawaii voted to become the 50th state. On December 7, 1941, the Japanese attacked Pearl Harbor on Oahu, which led the U.S. to enter World War II. In World War II, Hawaii served as an essential base for operations in the Pacific.
Today, Hawaii is a dream destination for honeymoons, family vacations, and adventure travels. Almost 9 million people visit the Hawaiian islands annually. Hawaiian culture is treasured, and many programs and offices have been developed to promote and protect it. On your next visit to Hawaii, head to one of the local museums to learn more about Hawaii's culture.
Hot Tip: Check out our super in-depth guide on the best ways to fly to Hawaii using points and miles.
Hawaii Fact File
Hawaii is the most isolated population center on the face of the earth. Because of this, the islands house the world's biggest telescope and more scientific observatories in 1 place than anywhere else in the world.
More useful facts and figures:
Population: 1.415 million
Area: 10,931 square miles
Official Languages: English, Hawaiian
Capital City: Honolulu
Current President: Joe Biden
Time Zone: Hawaii Standard Time (GMT-10 hours), 6 hours behind the East Coast. Hawaii does not observe Daylight Saving Time.
Currency: U.S. dollar
Country Dialing Code Prefix: +1
Emergency Number: 911
Highest Point: Mauna Kea (on the Big Island) rises 13,796 feet above sea level
Top Industries: Tourism and defense
Beaches: There are 750 miles of coastline, so your beach options are endless!
While there are 8 main islands to explore, this guide focuses on Maui and Kauai, the locations that have the most to offer on your first few trips to the islands.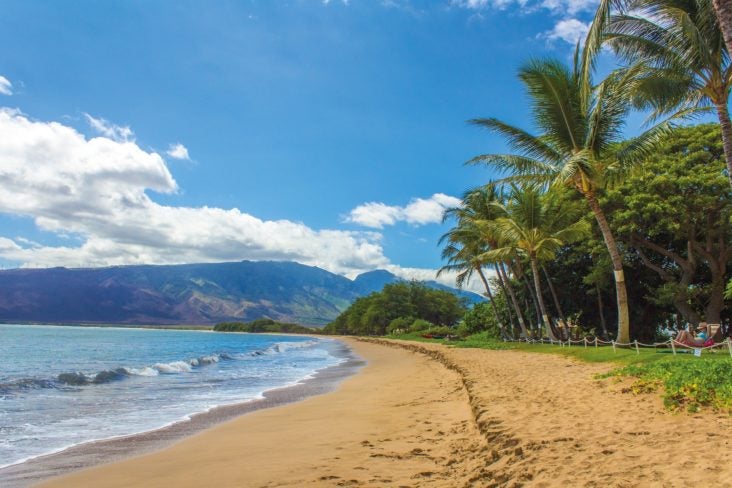 Maui
From exploring some of the world's most famous beaches to walking inside the crater of a dormant volcano, there is no shortage of amazing experiences in Maui, making this a frequent honeymoon destination. Maui is nicknamed "The Valley Isle" for the lush valley region that connects its 2 volcanoes, resulting in a very diverse topography.
For many vacationers, Maui has a perfect balance, offering a taste of just about everything the Aloha State has to offer, from impressive wildlife to intriguing history and culture. The port of Lahaina is particularly active — a former whaling town rich with art galleries and enticing restaurants. Or drive to Wailea, with stunning upscale resorts and world-class golf courses.
Getting to Maui
You won't need to go through customs or obtain a passport if you're flying from the U.S., making Maui an accessible place to travel. Due to increased competition between air carriers, fares to Hawaii are lower than ever.
Flying to Maui
Maui's main airport is Kahului Airport (OGG). Most flights that arrive here originate from Honolulu International Airport, but there are also some direct flights from the U.S. and Canada.
The following airlines service Kahului Airport: Air Canada, Air Canada Rouge, Alaska Airlines, American Airlines, Delta Air Lines, Hawaiian Airlines, Makani Kai Air, Mokulele Airlines, Southwest Airlines, United Airlines, and WestJet.
There are 2 smaller commuter airports in Kapalua (JHM) and Hana (HNM) that offer regional service between the islands as well.
Getting Around Maui
Once you've landed in Maui, you have a few options for getting around the island.
By Car
Driving around the island is the best way to experience all that Maui has to offer. Your best bet will be to rent a car at Kahului Airport (OGG) or Kapalua Airport (JHM). Most of the major rental car companies are available at the airports so that you can make reservations in advance.
When driving, be aware that island life moves at a slower pace. Take your time to enjoy the scenery, but make sure you allow locals to pass. Exercise caution on the many twists and turns you will encounter, especially when driving the famous Road to Hana.
By Shuttle
Many hotels will offer shuttles from the airport, but these should be arranged before arrival. The cost of these shuttles will vary according to your hotel.
Some hotels in larger resort areas, such as Kaanapali, offer complimentary shuttles to nearby towns and attractions. Check with your hotel when booking to see what type of shuttle service it provides.
Jayride is a solid choice if you're looking to compare Maui airport transfer options.
By Public Transportation
The County of Maui currently funds a public bus system that provides service in and between various Central, South, West, Haiku, Kula, and Upcountry Maui communities. 13 bus routes service the island of Maui, 2 of which make a stop at the airport.
The bus system offers extensive routes between the main towns, but not to out-of-the-way places, such as Haleakala National Park or Hana. A single ride will cost $2, and day passes are available for $4. Buses run daily starting around 5:30 a.m. and ending around 11 p.m., depending on the route.
For more information about ticketing, fares, and timetables, visit the Maui Public Bus Transit System website.
By Taxi or Rideshare
You should have no problem getting a taxi or other rideshare (Uber, Lyft) from the airport. However, costs will add up quickly. To get to the tourist areas like Wailea or Lahaina, rideshare costs can easily exceed $60/each way – and it will end up being more once you factor in getting to your daily excursions.
The standard rate for a taxi on the island is $3 per mile, which is significantly more expensive than most cities in the continental U.S. It may make more sense to a shuttle, public transportation, or rental car to reach your hotel. Once there, you can call a taxi to get to a nearby restaurant, attraction, or shopping area.
Bottom Line: It is more cost-effective to rent a car over calling taxis or rideshares unless you are staying near the airport and/or plan to stay at your resort.
Where to Stay in Maui (by Region)
Maui is made up of 6 main regions, each 1 with its unique characteristics and diverse landscapes. Many first-time visitors choose to stay in the more populated, tourist-friendly areas of the island such as West Maui and Wailea. However, if you're thinking about returning to Maui, consider staying in Upcountry or Hana to better experience all of the areas of Maui.
West Maui
No matter where you stay in West Maui, you are close to restaurants, shopping, grocery stores, lovely beaches, and nightlife. If you like being in the mix of things, West Maui is a great option.
Plus, it is home to some of the most beautiful beaches on the island. This area is costly, though, so it would be a great time to use those points you've been earning!
Where to stay:
Kihei and Wailea
Enjoy the sunshine and numerous 5-star resorts in this area of Maui. There are many casual restaurants in Kihei, as well as close access to one of the best beaches on the island: Makena Beach.
Kihei and Wailea are probably the busiest area of Maui, centrally located and close to shopping and restaurants. Maui is not known as a budget destination, but this area of Maui is particularly expensive.
Where to stay:
Central Maui
Kahului hosts most of the island's car rental facilities and big-box stores, such as Costco and Walmart, which makes it very busy almost every day — and not the tropical paradise you might have envisioned.
If you can find a hotel, B&B, or condo rental near Iao Valley and the West Maui mountains, you can experience a beautiful area of the island. There are a few options near the airport that are an excellent choice for budget travelers or those taking an early morning flight out of the airport.
Where to stay:
East Maui
A perfect resting stop after a long drive, Hana is a must if you're looking to experience the remote beauty of Maui firsthand. This area offers proximity to red, black, and golden sand beaches, waterfalls, hiking, bamboo forests, and natural pools.
There is only 1 resort in the area, but there are many cabins and opportunities to camp outdoors.
Where to stay:
North Maui
There are no hotel chains and big resorts here in North Maui. Instead, you can choose from private cottage/condo rentals and B&Bs. The restaurants in Paia are the best on the island, and it's the last real stop before heading along the Road to Hana.
However, the beaches with their large waves make a better fit for windsurfing than relaxation.
Where to stay:
Upcountry and Haleakala
For those looking for peace and serenity, high elevation views, and a cowboy lifestyle, Upcountry Maui may be right up your alley. You will also be close to Haleakala National Park, lavender farms, and the pineapple winery.
Similar to North Maui, there are no hotel chains or big resorts here. Look for private cottage/condo rentals and B&Bs.
Where to stay:
Hot Tip: Check out which Maui and Kauai hotels made our list of the best Hawaii hotels to book with points.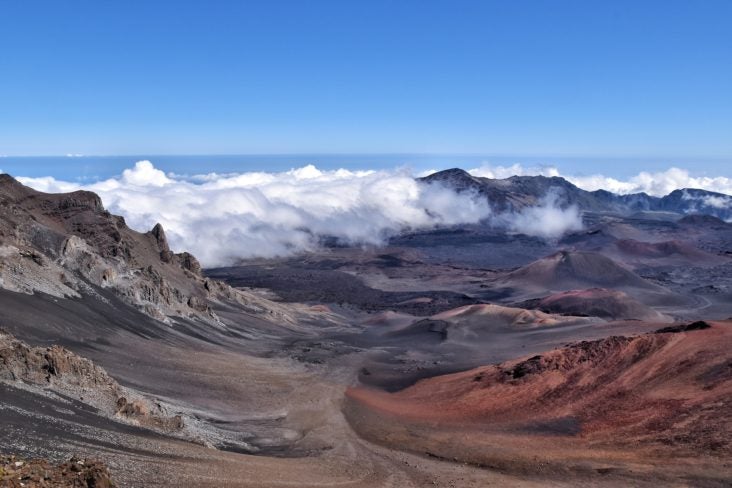 Top 10 Maui Attractions
While there is always the option to relax at your resort and drink a Mai Tai, consider these suggestions if you feel like exploring some of what the island has to offer!
1. Biking Down Haleakala
Mt. Haleakala is the largest dormant volcano in the world, rising an impressive 10,023 feet above sea level. Haleakala is known for its stunning sunrise views, and one of the most memorable ways to experience a Haleakala sunrise is via bicycle! It makes for a very early morning, but a memory you will always cherish.
There are numerous bike rental companies to choose from, but Bike Maui is the most popular. Each company will provide bikes, helmets, and cold weather gear for the 20+ mile ride down the mountain.
Of course, if biking seems too strenuous, you could get a helicopter flight instead.
Visit: Pricing will vary by provider, but a typical tour will cost you approximately $160 and run 6+ hours.
Get There: Tours meet at Haiku Market Place, 810 Haiku Road #120, Haiku, HI 96708. Transportation can be arranged with the tour company for an additional fee.
2. Road to Hana 
Drive this gorgeous 55-mile stretch of roadway to appreciate the true diversity of Maui's landscape. Pass over bridges and along bamboo forests, cruise by towering cliffs, and spot fruit trees and brilliant native Hawaiian flowers as you take in the amazing scenery of the Hana Highway on your picturesque trip.
The Road to Hana might seem short, but traveling it will most likely take all day given the number of scenic lookouts and other places to stop. Take your time and stop as often as possible.
Visit: Start your drive making your way east on Highway 36. The mile markers will start over once the road changes to Highway 360. You can usually find Road to Hana stops on these mile markers.
Get There: The best way to experience this drive is in a rental car.
3. Scuba/Snorkel Trip to Molokini 
Molokini is a partially submerged volcano that has been inactive for decades. It is well-known among divers for its colorful and diverse underwater inhabitants, nature preserve status, and humpback whale sightings. In fact, Molokini was named one of the top 10 dive spots in the world.
Pride of Maui and Four Winds Maui are 2 popular choices for snorkeling at Molokini.
Visit: Tours typically depart from Maalaea Harbor in Kihei and Lahaina Harbor on Maui's western shores. Most tours that span several hours provide snorkeling gear and a meal to passengers, as well as underwater camera equipment rentals, for around $100.
Get There: Located at either Maalaea or Lahaina Harbor. You can arrange transportation with the tour company for an additional fee.
4. Day Trip to Lanai 
Inter-island ferry services operate out of the Lahaina Harbor. From here, you can catch a ferry to the Manele harbor on nearby Lanai several times a day with Expeditions Lanai.
On a day trip, you can see the island's main sights, which include utterly deserted beaches, ruins of an old sugar plantation, and WWII freighters. 4-wheel drive is the best way to explore Lana'i. Arrange in advance for a rental Jeep or ATV with Dollar Lanai. Jeep rentals start at ~$140 a day. You should also look at some great snorkel tours, too.
Visit: The first ferry departs Lahaina at 6:45 a.m. and the final return boat leaves Lanai at 6:45 p.m. Round-trip fares cost $60 for adults and $40 for children.
For more information on schedules, see the Expeditions Lana'i website.
Get There: Located at either Maalaea or Lahaina Harbor. Transportation can be arranged with the tour company for an additional fee.
5. Luau
If it's your first trip to Hawaii, you must try to attend a traditional luau. The feast typically has music accompanied by dance and, of course, no shortage of food. Bring a big appetite, because attending a Hawaiian luau means feasting on a variety of delicious foods including traditional Polynesian fare such as lomi lomi salmon and kalua pua'a (roast pig), prime rib, chicken, and rice dishes.
The Feast of Lele in Lahaina puts on an incredible show and is the only luau on Maui that is not a buffet.
Many resorts also offer luaus as well, so inquire at your hotel.
Visit: Prices start at $135 for adults (12 and up) and $99 for children (2-12). Infants are free.
Get There: Located at 505 Front St, Lahaina, HI 96761.
6. Whale watching
Many visitors do not realize that Hawaiian waters are home to thousands of humpback whales from December to March when they migrate to the warm tropical waters of Hawaii. The coastal waters of Maui enjoy the largest concentration of these fantastic animals by far. While you can see whales breaching from the shore, there is no better way to experience than on a whale watching tour.
The Pride of Maui is a solid option, offering lunch on board and an open bar. You will have snorkeling gear provided, but you can also experience the whales from the comfort of the boat, as it also offers glass-bottomed boats.
Visit: Trips leave daily at 1:30 p.m. and last 4 hours. Tours cost approximately $50/person.
Get There: Located at Maalaea Harbor. Transportation can be arranged with the tour company for an additional fee.
7. Helicopter Tour
While a helicopter tour is definitely a splurge, seeing Maui from the air is an incredible sight. Additionally, helicopters can access parts of the island unreachable by boat, car, or foot.
Most operators offer tours of West Maui and Molokai, and Hana and Haleakala, though some also take passengers on scenic, hour-long flights of the whole island. No matter which route you choose, you'll be rewarded with stunning vistas of Maui's waterfalls, craters, cliffs, and valleys.
Visit: Blue Hawaiian offers multiple options, ranging from 50-minute tours of Maui to 2-hour tours that include the Big Island as well. Prices differ greatly depending on your tour, but start at ~$279/person.
Get There: Located at Kahului Airport. Transportation can be arranged with the tour company for an additional fee.
8. Iao Valley State Park
This 4,000-acre, 10-mile-long park in Central Maui boasts a verdant landscape and striking rock features, the most famous of which is the Iao Needle. Iao Valley State Park features numerous hiking trails, many of them leading to or offering excellent views of the Iao Needle.
In addition to the stunning landscape, visitors will be exposed to the park's legendary history. It was here that Maui's tribal army lost to the forces of King Kamehameha. It was the victory at this battle that allowed him to unite the Hawaiian islands under his rule.
Visit: Iao Valley State Park welcomes visitors from 7 a.m. to 6 p.m. You can access the park from Highway 32. There is a $5 parking fee. For more information on the park, check the Division of State Parks website.
Get There: Located at 54 S High St, Wailuku, HI 96793
9. Take a Zipline Adventure 
Feel the momentary sense of freedom while flying above the trees, and relish the fleeting moments of silence broken only by the sound of the breeze. For thrill-seekers, make sure you look down into the gaping ravines below!
Skyline Eco-Adventures opened the first zipline in the U.S. back in 2002, and it is still one of the most popular choices today. It offers 3 different adventures: 1 near Haleakala and 2 near Ka'anapali.
Visit: Prices start at $159/person for 8 lines and go up to $179 for 11 lines. Tour length is dependent on which option you select.
Get There: For the Haleakala Tours, the meeting point is 18303 Haleakala Hwy, Kula, HI 96790. For the Ka'anapali Tours, the meeting point is 2580 Keka'a Drive, Ka'anapali, HI 96761. Transportation can be arranged with the tour company for an additional fee.
10. Maui Ocean Center
Dive deep and learn about Hawaii's unique marine environment, where 25 percent of coral species are found exclusively in the waters surrounding the islands and nowhere else in the world.
Get up close and personal with sharks and rays in the shark tunnel, and get to know some of the sea turtles who are being studied and then released back into the wild. Your love for the ocean will grow when you spend time at the Maui Ocean Center.
Visit: The Maui Ocean Center is open daily year-round from 9:00 a.m. to 5:00 p.m. Last entry is at 4:30 p.m. Tickets are $34.95 for adults (ages 13 and above), $31.95 for seniors (ages 65 and above), and $24.95 for children (age 3-12).
Get There: Located at 192 Maalaea Rd, Wailuku, HI 96793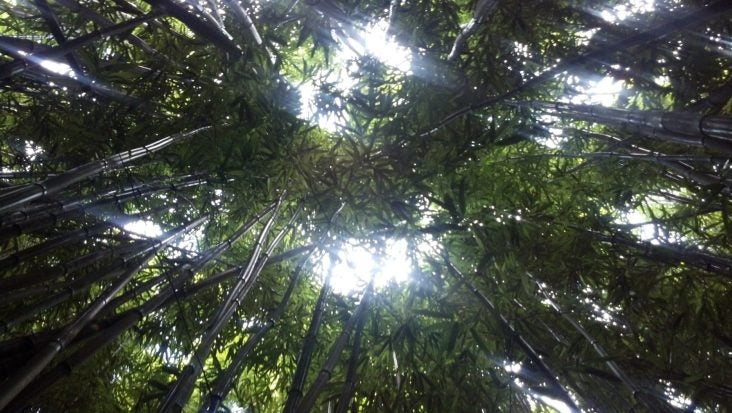 Top 5 Secret and Hidden Things to Do on Maui
While not much of Maui can truly be considered secret, here are a few things to do that are off of the typical tourist track.
1. Bamboo Forest
The Pools of 'Ohe'o are the most popular attraction in East Maui. They have been closed indefinitely due to rock slides in the area. However, you can still hike the surrounding paths.
The Pipiwai Trail is located on the Southeast side of Maui in an area called Kipahulu, part of Haleakala National Park. The trail winds above Pipiwai Stream leads through bamboo forests and brings you to a 400-foot waterfall, Waimoku Falls. The hike is 4 miles round-trip and transports you to another world of natural wonder.
Visit: The trail is found in the Haleakala National Park system on the eastern side of Maui, about 40 minutes past Hana. The park is open daily year-round except during severe weather closures. The cost of entry is $25/vehicle.
2. Drive Behind Haleakala
Many people drive the Road to Hana, but most turn around after the namesake town. Keep driving and you will discover an area of Maui that few visit.
The drive will proceed through several climate zones as the scenery transforms from the lush jungle of Kipahulu, through ranchland, dry grasslands, lavascapes, and ultimately back into lush green views of the cloud forest. If your timing is right, you're likely to witness a spectacular sunset over the blue waters of the Pacific Ocean.
Note: Many rental car agreements state that driving in this area will void your contact. When we asked the companies, though, they agreed that this wasn't true. However, if you get into trouble here, you will be on your own.
Visit: Just keep driving past Hana!
3. Milk a Goat
Surfing Goat Dairy offers the opportunity to assist in the evening chores. At 3:30 p.m. sharp, the Evening Chores and Milking Tour allows visitors to help with the evening feeding and hand milk a goat. The 2-hour Grand Tour, offered at 9 a.m. on Saturdays, covers feeding, milking, and cheese making. Reservations are required for both activities.
Note: Short, casual tours run every 30 minutes, but don't include the chance to milk a goat. And really, do you want to miss that?
Visit: The Evening Chores and Milking Tour is $15 for kids and $20 for adults. The Grand Tour is $39/person.
4. Get a Traditional Massage
At Ho'omana Spa Maui, you can relax with a traditional Hawaii massage (lomi lomi) at a tropical spa and studio located in Upcountry Maui. If you want more time to relax, you can attend exclusive wellness retreats and activity packages that will teach you about Hawaii's history, geography, language, cultural, and healing practices. This is a truly unique experience that you must reserve well in advance.
Visit: For a list of spa services and their prices, click here. For a list of wellness classes offered and their dates and prices, click here.
5. Nakalele Blowhole (and Find the Heart)
The Nakalele Blowhole is located in West Maui between Kapalua and Wailuku. It can be seen from the road or trailhead when there is enough wave action. With each wave, water gets pressed into tubes and shoots it up 100 feet into the air. The natural wonder gives off quite a show when the tide and surf combine. Just don't get too close!
If you look to the right of the blowhole, you'll find a perfect photo op!
Visit: Drive north from Kapalua for approximately 8 miles and park when you see mile marker 38.5.
Top 5 Beaches on Maui
1. Pa'ako Beach
Even though this beach is known as Secret Cove, it's actually not so secret. But that doesn't diminish the beauty of the place at all. To get to it, you have to find the narrow opening in a lava rock wall in a neighborhood. It's easy to miss if you don't know it's there.
2. Makena Beach (a.k.a. Big Beach)
As its name implies, Big Beach is really big! At almost 2/3 of a mile long and over 100 feet wide, it is one of the most popular beaches on Maui. Because of the size, you're sure to be able to find an area to call your own for the day.
3. Kapalua Bay
Kapalua Bay is one of the prettiest white sand beaches on Maui. Swimming is good here because a coral reef and long rocky outcrops at both sides of the bay protect the beach from strong currents. This is also a particularly good place to bring your snorkel gear!
4. Wai'anapanapa Black Sand Beach
Right off Hana Highway at mile marker 32, this beautiful black sand beach is a must-see and the perfect spot for an unparalleled photo opportunity. It is found in the middle of the beautiful 120-acre Wai'anapanapa State Park, which is also worth a visit. Take the short, steep trail down to the beachfront, take off your shoes, and walk along the shiny black sand.
5. Ka'anapali
The west Maui 3-mile stretch of beach called Ka'anapali is an area rich with history and culture. Here, visitors can snorkel at Black Rock, a sacred location in Hawaiian mythology. Be on the lookout for sea turtles as well. Public parking around the beach is limited, but there are spots in the Whalers Village lot (up to 6 hours of complimentary parking is available with validation).
Hot Tip: Don't forget your beach essentials. Here's our ultimate beach vacation packing list to ensure you don't leave anything at home. 
Top 10 Places to Eat on Maui
1. Mama's Fish House
Mama's Fish House is an opulent, 5-star restaurant with amazing views of the north shore of Maui. The menu changes constantly, as all seafood is caught by the local fishermen daily. If you pick 1 place to celebrate a special evening during your time on Maui, pick Mama's! The Polynesian Black Pearl dessert is spectacular.
Visit: Open 11 a.m. to 9 p.m. daily.
2. Hali'imaile General Store
Hali'imaile General Store is consistently rated as one of the top restaurants in Maui. The creative meals are complemented by the equally inventive cocktail and dessert menus. Kalua pork and goat cheese wontons, crab pizza, furikake crusted ahi, and coconut shrimp are just a few of the amazing dishes that are served here.
Visit: Open for lunch Monday through Friday, 11 a.m. to 2:30 p.m. Open nightly for dinner, 5 p.m. to 9 p.m.
3. Star Noodle
Star Noodle is a super trendy and delicious Asian-inspired eatery near Lahaina. The menu is meant for sharing, so come hungry and plan to order plenty of food to split. The pohole salad, star udon, garlic noodles, and malasadas are some great options. The cocktail and sake menus are also fantastic.
Visit: Open daily, 10:30 a.m. to 10 p.m.
4. Aloha Mixed Plate
Aloha Mixed Plate is located in the heart of Lahaina, right on the water. The Ali'i is a traditional Hawaiian meal, comprised of kalua pig and cabbage, lau lau, lomi lomi salmon, Hoaloha Farm's poi, white rice, and mac salad. The spam musubi is also a local Hawaiian must-try. You can't beat the views for the price!
Visit: Open daily, 8 a.m. to 10 p.m.
5. Ulupaluakua Ranch
Located across the street from Maui's Winery, Ulupaluakua Ranch would make a great stop after a wine tasting. Popular items include the Elk Burger and the slow-roasted Maui Cattle Co. beef brisket with house-made barbeque sauce, but there are also vegetarian-friendly options. The Maui Taro Burger is delicious! Sit in the shade of huge trees and enjoy the views of upcountry Maui.
Visit: Open daily from 10 a.m. to 5 p.m.
6. Paia Fish Market
Paia Fish Market is a Maui institution. The fresh fish, made in the preparation of your choice, is served with the market's famous french fries and coleslaw. This local joint is casual, yet satisfying, with picnic table seating. The prices are reasonable, as well. If you find yourself in Paia, or near the other 2 locations around Maui, make sure you stop in for a bite.
Visit: Open daily from 11 a.m. to 9 p.m.
7. Sam Sato's
The epitome of a small family diner, Sam Sato's is only open for breakfast and lunch. For breakfast, you have to try the local favorite, loco moco. For lunch, the dry noodles are a must-have, but the cheeseburger and plate lunches are also highly rated!
Visit: Open Monday-Saturday, 7 a.m. to 2 p.m. (closed Sundays).
8. Morimoto Maui
Located in the Andaz Maui in Wailea, Morimoto Maui has a fantastic chef in Masaharu Morimoto of Iron Chef. The menu is comprised of local and fresh ingredients and is best known for its hand-rolled sushi. It also has a mouth-watering Waygu beef carpaccio dish and an omakase (chef's choice) dinner.
Visit: Open for lunch from 11:30 a.m. to 2 p.m. and dinner from 5:30 p.m. to 10:30 p.m.
9. Ka Haku Smoke Shack
This is a necessary stop on the Road to Hana. You will find the best barbeque on the island, just when your stomach is starting to rumble. This is a no-frills spot with incredible food.
Visit: Located near mile marker 10, there are no hours and no website. Keep your fingers crossed that you can experience this amazing meal!
10. Coconut's Fish Cafe
Coconut's Fish Cafe has a wonderful selection of delicious and reasonably priced seafood options. Known for its fish tacos, it also serves fish on rice and fish burgers! There is a fun, beachy interior and a local feel. A perfect place to stop for a quick, but a tasty, meal.
Visit: Open daily, 11 a.m. to 9 p.m.
Top 10 Desserts Stops on Maui
1. Ululani's Hawaiian Shave Ice
Ululani's shaved ice syrups are made from 100 percent pure cane sugar, natural fruit juice, premium fruit purees, concentrates, and local ingredients. You can't go wrong with any combination, but if you can't decide, you can always try No Ka Oi or Sunset Beach combinations. Make sure you add on a sno-cap, shredded toasted coconut, or hand-cut mochi pieces! Check out all of the flavors on its website.
Visit: There are 5 locations on Maui, so hours will vary by location. Most open at 10:30 a.m. and are open through early evening. See the website for addresses and hours.
2. T. Komodo Bakery
Head Upcountry to this dessert hotspot located in Makawao Town. Open for over 100 years, T. Komoda is well known for its cream puffs, stick donuts, and the guava malasadas (a favorite!). Get there early, as they are likely to run out later in the morning and afternoon hours.
Visit: It doesn't have a website, but the location and hours can be found on Yelp. It is closed on Wednesdays and Sundays.
3. Hali'imaile General Store
While you're in Upcountry, consider making another stop at Hali'imaile General Store, home of the lilikoi (also known as passion fruit) crème brûlée. This piece of heaven is topped with almond brittle and seasonal fresh fruit. Also available is the hali'imaile pineapple upside-down cake made with caramelized Maui gold pineapple, buttery vanilla pound cake, and topped with whipped cream.
Visit: Lunch is served Monday through Friday from 11 a.m. to 2:30 p.m. Dinner is served nightly from 5 p.m to 9 p.m.
4. Leoda's Kitchen and Pie Shop
Serving up some of the most delicious pies on Maui is Leoda's, a café that is all about fresh ingredients and hand-crafted specialties. Its chocolate macadamia nut pie is heaven for any chocolate lover, and the bananas in the banana cream pie are harvested from the restaurant's own farm.
Visit: Open daily from 7 a.m. to 8 p.m.
5. Mana Foods
This health food store located in Paia is known for its organic products and hot food bar, but don't miss the bakery! There are many gluten-free and vegan options to be found here, but the chocolate-topped peanut butter truffles are perfection. Truly, any baked good from Mana would be the ultimate addition to your picnic lunch for the drive to Hana!
Visit: Open daily 8 a.m. to 8:30 p.m.
6. The Mill House
The Mill House often features a citrus curd with a shortbread glaze, honey, and candied lemon. Since it only serves foods that are in season, you will have to time your visit right to experience this dish, but anything served is bound to be amazing.
Visit: Open daily from 11 a.m. to 9 p.m.
7. Pita Paradise
Pita Paradise is a Greek-Italian eatery located in Wailea. The best part of eating here has to be the eatery's mouthwatering baklava ice cream cake. This decadent dessert features 2 layers of baklava with vanilla ice cream, drizzled in honey.
Visit: Open daily for lunch from 11 a.m. to 5 p.m. and dinner from 5 p.m. to 9:30 p.m.
8. Fabiani's
You start salivating over the desserts as soon as you walk into Fabiani's, and there isn't a single dessert here that is less than amazing. The red velvet cake and the macaroons are particularly wonderful. It also has a coffee bar with pastries for breakfast.
Visit: Open daily from 7 a.m to 9 p.m.
9. Maui Cookie Lady
The Maui Cookie Lady prepares freshly-baked gourmet cookies that are made in small batches and feature locally sourced ingredients. Whether you pick the Kona coffee dark chocolate espresso, coconut samoas (made with coconut porter!), or the passion fruit white chocolate, you will definitely not be disappointed.
Visit: Cookies are available at many stores and resorts around Maui. See its website for more details.
10. Stillwell's Bakery & Cafe
Voted Maui's Best Bakery by the Maui News, Stillwell's Bakery & Cafe is best known for its cream horns. Dipped in chocolate and dusted with powdered sugar, the cream filling makes a great Iao State Park hike reward.
Visit: Open daily from 6:30 a.m. to 4:30 p.m. Closed Sundays.
Top 10 Places to Have a Drink on Maui
1. Maui Wine
Make the drive to Maui Wine, Maui's only winery, and experience the unique taste of pineapple wine! The winery's top seller is the pineapple wine, Maui Blanc. Complimentary tastings of the pineapple and sparkling wines are available all day inside a historic estate. Note: Wine can also be purchased at local grocery stores if you aren't able to make the drive.
Visit: The winery is open daily from 10 a.m. to 5 p.m., but tours are offered at 10:30 a.m. and 1:30 p.m.
2. Ocean Vodka
Tours of the Ocean Vodka grounds and solar-powered warehouse and bottling center are offered daily. Visitors are welcome to explore the martini garden featuring fresh lavender, passion fruit, pineapple, strawberry, and other fruits and herbs, or the more than 20 varieties of sugar cane.
Visit: Ocean Vodka is open daily from 9:30 a.m. to 5 p.m. Admission is free; tours are $15 per person for ages 12 and older.
3. Maui Brewing Company
This is Maui's largest craft brewery. Make sure you take a tour of the production facility to see how Maui Brewing Company makes its brews. The tour ends with a tasting of its 4 flagship beers: Bikini Blonde Lager, Pineapple Mana Wheat, Coconut Hiwa Porter, and Big Swell IPA. With the price of your tour, you get a token redeemable for a pint in the taproom.
Visit: Daily tours are offered at 11:30, 12:30, 1:30, 2:30, 3:30, and 4:30 and are $15/person.
4. Monkeypod Kitchen
Monkeypod Kitchen has some of the best cocktails in Maui, especially when you factor in the amazing sunset views and live music. Some of the highlights include the Mai Tai, Jetsetter Julep, and No Ka Oi. The entire cocktail menu begs to be sampled and the craft beer menu is also impressive.
Visit: You will get the most bang for your buck at happy hour, which happens daily from 3 p.m. to 5:30 p.m. and 9:30 p.m. to 11 p.m.
5. Tiki's Grill
Tiki's Grill is an old Hawaiian-style bar. The best cocktails are those you would typically associate with Hawaii: the Mai Tai, Lava Flow, and Blue Hawaiian. This outdoor bar with an ocean view is the perfect place to grab a drink after snorkeling at Black Rock at Ka'anapali Beach.
Visit: The Tiki Bar is open daily from 10 a.m. to 10 p.m. and is located at the Ka'anapali Beach Hotel.
6. Fleetwood's on Front Street
The Moroccan-style rooftop bar is the perfect setting for sunset cocktails in Lahaina. During the winter months, you can even see the whales breaching from the shore. The Fleetwood Pimm's Cup and awapuhi mojito are the most popular cocktails. You won't regret an evening spent at Fleetwood's!
Visit: Open daily from 11 a.m. to 10 p.m.
7. Lahaina Grill
Lahaina Grill is located right in the heart of this historic town. The menu is award-winning and there is a wine list to match! The selection is wide and varied, with a rotating list of limited-production wines. This is a great place to have a memorable evening.
Visit: Open nightly from 5 p.m. to 9 p.m. Reservations are required.
8. Milagros Food Company
Located in the bohemian town of Paia, Milagros Food Company is known for its margaritas and tequila selection. This is the perfect place to stop after returning from a long day traveling around the Road to Hana.
Visit: Happy hour is daily from 1 p.m. to 5 p.m. and features $3 margaritas and beers.
9. Kimo's
Kimo's oceanfront location is the perfect setting to have a Mai Tai. Enjoy the live music and make sure you take a shot of that drink, as it's picture-perfect! It is also known for hula pie, so why not try both?
Visit: Open daily from 11 a.m to 10 p.m.
10. MauiGrown Coffee
Maui is the only state that grows coffee, so make sure you head over to MauiGrown Coffee. It offers self-guided tours of its coffee fields and a chance to sample its varieties. Grab a cup of coffee and a pastry and enjoy it outside on the porch.
Visit: Open daily from 6:30 a.m. to 5 p.m. Closed Sundays.
Top 10 Tips, Hacks, and Advice for Maui
1. Haleakala National Park Fee
Since the Pools at 'Ohe'o is part of the Haleakala National Park, the fee you pay here will also get you into the Haleakala Summit (and vice versa, so save your receipt). Admission to the entire park is $15 for a 3-day pass, so plan your trips to both areas accordingly.
2. Costco Trip
Make a stop at Costco as soon as you arrive to stock up on bottled water, alcohol, sunscreen, and other necessities. It also has the cheapest meal on the island: pizza!
3. Off-Season Travel
Hawaii is expensive, but traveling during the off-season will help. This will be from around February to May and September to early December. Stay clear of peak holidays like Christmas, Spring Break, and Thanksgiving.
4. Snorkel Gear
Buy a snorkel from either ABC Stores or Costco. You can bring this to all of the popular spots without having to do daily rentals or join a tour group.
5. Take Advantage of Happy Hours
Maui is expensive. Look for happy hour specials, lunch deals, and lesser-known local joints with great food.
6. Don't Overbook Yourself
This is supposed to be a relaxing vacation! Try booking 1 activity a day and leave plenty of time to relax.
7. Halfway to Hana
There is a spot about halfway to Hana that has the most amazing banana bread. Make sure you grab a loaf (or two).
8. Golf
Planning to golf in Maui? You can save 50% by playing in the afternoon. Pay even less at the courses located outside of the resorts.
9. Maui Museums
If it rains (or if you just want a bit of culture), escaping into a Maui museum is an affordable and informative alternative to being outside. The Whalers Village Museum is only $3 per adult, and the Lahaina Heritage Museum only asks for a donation.
10. Take Advantage of Free Events
Whalers Village in Ka'anapali has free events on its stage, including lei-making classes, hula classes, and arts and crafts sessions, with live music on most weekend nights. Check the schedule for details!
Kauai
Kauai, also known as the Garden Isle, is the oldest of the main Hawaiian Islands and is consequently the most eroded. 5 million years of staving off wind, rain, and waves have riddled the island with emerald valleys, sharp mountain spires, and jagged cliffs.
More than just dramatic beauty, the island is home to a variety of outdoor activities. Hike along the "Grand Canyon of the Pacific" in the morning and go kayaking along the Na Pali Coast in the afternoon. Kauai has fewer families and honeymooners than Maui and Oahu, so if you want to go somewhere that is a little quieter, Kauai is your island!
Getting to Kauai
The only way to reach Kauai is by plane, and flying time is 5 hours from anywhere on the West Coast.
Flying Into Kauai
Kauai's main airport is Lihue Airport (LIH). There are a few seasonal options that originate in Canada, but the majority of flights will originate from the U.S. There are a few nonstop options from the U.S., but there is also the option of flying into Honolulu International Airport (HNL) on Oahu first and then heading to Kauai on a short 25-minute flight.
Lihue Airport is serviced by the following airlines: Alaska Airlines, American Airlines, Delta Air Lines, Hawaiian Airlines, Southwest Airlines, United Airlines, and WestJet.
Getting Around Kauai
Once you've landed in Kauai, you have a few options for ways to get around the island.
By Car
If you're planning to explore the island, it's best to rent a car at Lihue Airport (LIH). This will allow you the flexibility to explore the island at your pace. Most of the major rental car companies are available at the airport, so you can make reservations in advance.
There is 1 major highway that nearly circles the island. Beginning in Lihue and going north, Kuhio Highway (Highway 56) goes to Kee Beach past Hanalei. Beyond the Napali Coast on the West Side, Kaumualii Highway (Highway 50) travels to Kekaha and then cuts inland, leading all the way back to Lihue.
By Shuttle
Many hotels will offer shuttles from the airport, but these should be arranged before arrival. The cost of these shuttles will vary according to your hotel.
By Public Transportation
The County of Kauai currently funds a public bus system that provides service in and between Kekaha to Hanalei with stops all across the main highway. The bus can take you to most of the island's major sites, but not all of them.
A single ride will cost $2 and monthly passes are available for $25. Buses run daily starting around 5:30 a.m. and ending around 11 p.m., depending on the route and day of the week.
For more information about ticketing, fares, and timetables, visit the Kauai Bus website.
By Taxi or Rideshare
You should have no problem getting a taxi or other rideshare (Uber, Lyft) from the airport. If you are staying in the Lihue area, this could be a good option, however, costs to get to other areas, like Princeville, can easily exceed $70 each way. You also need to factor in getting to your daily excursions.
The standard rate for a taxi on the island is $3 per mile, which is significantly more expensive than most cities in the continental U.S. It may make more sense to a shuttle, public transportation, or rental car to reach your hotel. Once there, you can call a taxi to get to a nearby restaurant, attraction, or shopping area.
Bottom Line: It is more cost-effective to rent a car over calling taxis or rideshares unless you are staying near the airport and/or plan to stay at your resort.
Where to Stay in Kauai
The island of Kauai is made up of 5 main regions, each one with its own individual personality. This is also the island where no building is taller than a coconut tree and the chickens roam free. If beaches are your scene, then you'll be happy almost anywhere. The entire island is full of them, arguably more than any other island in the state. Since you'll need to pick a base for your trip, here is some more information about the main areas of Kauai.
1. North Shore
Kauai's dramatic North Shore is an enchanting setting full of rugged mountains, lush taro fields, heavenly beaches, and spectacular sea cliffs. Visit lovely Hanalei Town, home to colorful shops, galleries, and restaurants. You'll also find some of Kauai's best beaches in this area, but the real benefit to this location is the close distance to the Na Pali coastline. The resorts here don't come cheap though, so save up those points and cash them in for some stunning views.
Where to stay:
2. East Side
The East Side of Kauai is often referred to as the "Coconut Coast" and is the most developed part of the island. This is where you'll find the most reasonably priced accommodations. The central location also makes it a convenient location from which to explore the north and south shores. The golden beaches and enclosed ocean pools also offer perfect places to relax for families and first-time snorkelers.
Where to stay:
3. South Shore
Kauai's south side is the driest and sunniest part of the island, which makes it very popular with tourists. There are plenty of big resorts, so you'll find plenty of charming shops and dining options. The biggest attractions here are the beaches around Poipu and Spouting Horn, however, expect it to be more crowded than at other parts of the island.
Where to stay:
4. Lihue
Lihue is home to Kauai's airport as well as the government and commercial center of the island. Don't let this fool you, though! There are many natural wonders to explore in this area, including the beautiful Wailua Falls and Kalapaki Beach. Since the airport is only a short drive to the hotels in the area, you can get your vacation started right away!
Where to stay:
5. West Side
The West Shore is the least visited part of Kauai and not very many people stay here. It's very barren, dry, and isolated, and not convenient for seeing the rest of the island. It is almost a 2-hour drive to the North Shore from here. However, this area is ideal for backpackers and hikers hoping to hike around Waimea Canyon.
Where to stay: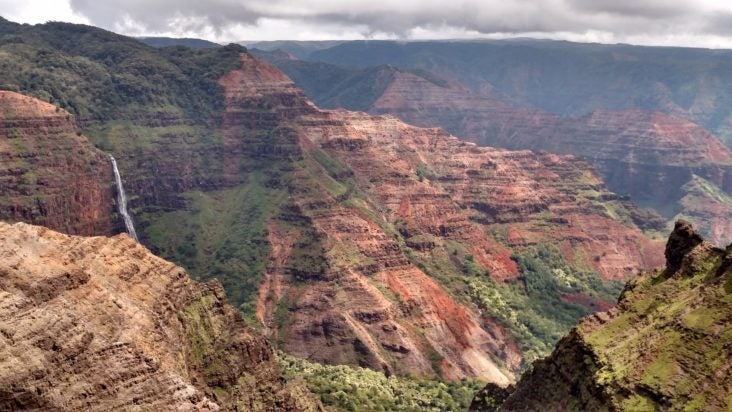 Top 10 Kauai Attractions
1. Waimea Canyon State Park
Waimea Canyon, aptly nicknamed the "Grand Canyon of the Pacific," should be at the top of every traveler's itinerary. Visiting the canyon is easy: you need to devote about half a day to drive there and spend time viewing the canyon.
Bring lunch or good snacks, because there aren't many options for food once you're there. Just past Waimea Canyon State Park is Koke'e State Park. This area is known for its views of the Na Pali Coast from above.
Visit: Admission to Waimea Canyon is free. For more information about Waimea Canyon, visit the Hawaii State Parks website.
Get There: Located at Waimea Canyon Dr., Uninc Kauai County, HI 96752.
2. Hiking Kalalau Trail
Unless you are planning on seeing the Na Pali Coast via boat or helicopter, the Kalalau Trail is the only land option available. The Kalalau Trail is a whopping 22 miles round-trip and is filled with elevation and terrain changes throughout.
Even those who attempt the first 2 miles of the trail to Hanakapi'ai Valley (the popular abbreviated version of the hike) still describe the trek as strenuous, with no shortage of rocky inclines, narrow trails.
Visit: If you're planning to hike to Hanakapi'ai Valley (2 miles from the trailhead), you won't need a permit. Go farther beyond that and you'll need to get a $20 (per night) camping permit, which is valid for a maximum of 5 nights, even if you aren't planning on camping. Visit the Hawaii State Parks website for more information on how to hike the Kalalau Trail.
Get There: The trail begins in Ha'ena State Park at the northwest end of Kuhio Highway (Route 56).
3. Zipline Tour
Skyline Eco-Adventures operates tours on all of the islands, including Kauai, and it has been rated as one of the top tours in Kauai. Soar over 3 different valleys against a backdrop of breathtaking mountain and ocean scenery. 2 different adventures are offered: 1 with 8 lines and 1 with 5 lines.
Visit: Prices start at $99.95/person for 5 lines and go up to $129.95 for 8 lines. Tour length is dependent on which option you select.
Get There: For the tours, the meeting point is The Shops at Kukui'ula in Poipu. Transportation can be arranged with the tour company for an additional fee.
4. Wailua Falls
This is one of the most accessible waterfalls in all of Kauai, located only a few miles from the airport. Wailua Falls is unique in that that the rocky terrain of the river above forms 2 separate streams that create 2 waterfalls in 1 spot.
Because it is so popular, make sure you arrive early in the day to find a parking spot. You'll want to explore the rest of the Wailua River State Park while you are there as well.
Visit: Admission to Wailua River State Park is free. Open daily during daylight hours.
Get There: The Falls are located within Wailua River State Park at Highway 56, Waialua, HI 96791.
5. Kayak the Hanalei Wildlife Refuge
Hanalei National Wildlife Refuge is located within the Hanalei River Valley between Princeville and Hanalei. For most visitors, it's just a stop at the vista point along the highway toward Hanalei, but the view into the valley and its taro farms is stunning. You can explore the area more in-depth by kayaking the Hanalei River.
Visit: Rentals of kayaks are available from 8 a.m to 5:30 p.m. Rentals start at $35/hour and $25/hour after 1 p.m.
Get There: Kayak rentals are located at 5070A Kuhio Hwy., Hanalei, HI 96714.
6. Spouting Horn
This easily accessible natural wonder sits on the island's southern coast near Poipu Beach. An eroding underground lava shelf created this natural blowhole that sprays ocean water up to 60 feet in the air when big waves crash against it.
Visit: There is no fee to visit the Spouting Horn.
Get There: The Spouting Horn is located in the Koloa district on the southern coast of Kauai. Parking is plentiful.
7. Na Pali Sunset Tour
Want to get up close and personal with the coastline, but don't want to hike? Why not sign up for a dinner and cocktail cruise in a catamaran? Capt Andy's offers a 4-hour Kauai Dinner Cruise on a catamaran with amazing sunset views. Some tours offer snorkeling if that is up your alley.
Visit: Tickets for the dinner cruise are $185 for adults and $135 for children. Tours leave daily from Port Allen. See the website for more details regarding times as this will vary seasonally.
Get There: The sunset tour leaves from Kukuiula Small Boat Harbor, Koloa, HI 96756.
8. Kilauea Point Lighthouse
A stop at Kilauea Lighthouse is worthwhile, not only for the view but for the birds! It's part of the Kīlauea Point National Wildlife Refuge, and birds can be seen flying overhead and lining the hills near the lighthouse. Kilauea Point National Wildlife Refuge is located on the northernmost point in Kauai, with breathtaking views overlooking the Pacific.
Visit: The refuge is open Tuesday through Saturday from 10:00 a.m. to 4:00 p.m. There is an entry fee of $5 for adults 16 and older. Children under 16 are free.
Get There: The refuge is located 2 miles north of historic Kīlauea town on the northernmost tip of Kaua'i.
9. Kauai Movie Tour
Kauai has long been a destination for Hollywood filmmakers, so you've likely seen a movie filmed here. Robert's Hawaii offers a tour to several locations across the island that will show you where they have been filmed, including sights from Jurassic Park to Gilligan's Island. The tour includes lunch.
Visit: Tours are available Sunday, Tuesday, Thursday, and Friday, leaving at 7 a.m. and returning at 3 p.m. Adults 12 and older will cost $109 and children cost $57.
Get There: Pickup is included in the price. If you are staying in Princeville, there is an additional $9.50/person charge.
10. Luau
Last, but not least, a luau! If you've been to a luau before, you'll still find plenty to enjoy with the Smith Family Garden Luau. The meal offers the favorites, such as kalua pig dug from the imu (underground oven), sweet potatoes, and poi, as well as many other dishes reflecting the islands' cultural melting pot, like teriyaki beef and chicken adobo. There is also an opportunity to take a tram ride through the gardens and see exotic and endangered birds and beautiful lagoons located in the property's 30 acres.
Visit: Dinner starts at 5 p.m. daily. You can attend the show separately as well, which starts at 7:30 p.m. Prices vary based on age and show type. See the website for more details.
Get There: Complimentary pickup is offered from the Wailua area. If you are coming from somewhere else, the luau is located north of Lihue at 3-5971 Kuhio Hwy., Kapaa, HI 96746.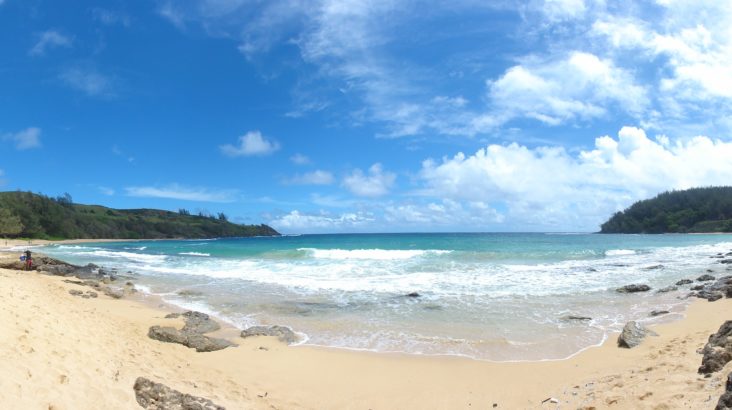 Top 5 Secret and Hidden Things to Do on Kauai
1. Secret Beach
Finding a tranquil spot on a beach near resorts can be a battle, so getting to the "Secret Beach" is worth the extra effort. Also known as Kauapea Beach, this white sand stretch is along steep cliffs near the Kilauea Lighthouse. You'll need to drive down a hidden dirt road in Kalihiwai Valley, then traverse a steep trail before you can check out the black and red rock cliffs and small waterfalls. It is becoming somewhat of a clothing-optional area, however, nudity is illegal in Hawaii. Fair warning!
Visit: A short, but fairly steep trail leading to the beach is located at the end of the first dirt road you'll see on the right-hand side when turning onto Kalihiwai Road from Kuhio Highway. There is no formal parking lot. The dirt path to the beach is easily found just west of the house. The 10-minute hike to the water is moderately difficult but worth the effort!
2. Chocolate Farm Tour
Hawaii is the only state where the chocolate tree grows, so a trip to Steelgrass Farms is perfect for couples and families alike. There is a 3-hour "Chocolate from Branch to Bar" educational farm tour and tasting available that starts in the botanical gardens. Here you can try samples of the award-winning palm-blossom honey, vanilla beans, and black bamboo, and taste the farm's exotic tropical fruits. The grand finale is the chocolate tasting!
Visit: A bit of a splurge at $95/person (children under 12 are free). Offered weekdays at 9 a.m. Steelgrass Farm is located on Kauai's East Side, in the foothills above the town of Kapaa.
3. Tubing at the Sugar Plantation
Mountain tubing through an old sugarcane irrigation system is such a unique experience that can't be missed. A 3-hour tour with Kauai Backcountry Adventures takes you on a 4 wheel drive into the old Lihue Plantation, where you're given a tube and headlamp before you launch into the flowing canals, tunnels, and flumes, handbuilt in 1870. At the end of the tour, you can jump in a natural swimming hole and refuel with lunch.
Visit: There are multiple tours daily. Tours cost $126/person.
4. Biking on the Coconut Coast
The Kauai Coastal Bike Path starts at Lihi Park in Kapaa and follows the coast north, ending at Ahihi Point, just past Donkey Beach. Cruise along with great views of the Pacific, see whales breaching and spouting late fall and during winter, stop for a bite to eat, or take a dip in the ocean. Rent your own bike or enjoy a guided trip.
Visit: Rentals from Coconut Coasters start at $18/half day.
5. Makauwahi Sinkhole
On the south side of the Hawaiian island of Kauai, down the 2-mile Mahaulepu Heritage Trail, there is a short path through the trees that leads to a tiny slit in the rocks. Keep crawling on all fours through the crevice and you will find yourself inside a cramped chamber that quickly opens into a natural amphitheater. Makauwahi Cave is a massive cave and sinkhole considered to be one of the richest fossil sites in the Pacific.
Visit: Finding the opening to the sinkhole can pose a challenge, and finding it open for the public to enter can also be part of the challenge. Your best bet is to jump on a free tour, which is led every Wednesday through Sunday from 10 a.m. to 2 p.m.
Top 5 Beaches on Kauai
1. Ke'e Beach
Ke`e Beach is one of the island's most popular North Shore beaches. The beach is almost always crowded and parking can often be difficult after 10 a.m. If you want a beach with a view, you'll be hard-pressed to find a better view than the NaPali Coast as seen from the far right end of Ke`e Beach: it's simply jaw-dropping.
2. Poipu Beach
Named "America's Best Beach" by The Travel Channel, Poipu Beach is naturally split into 2 smaller bays by a sand bar that hosts many Hawaiian monk seals. To the west of the sand bar is what is known as Baby Beach, a protected cove perfect for very young children. The eastern section has plenty of activities to keep you busy, from swimming and snorkeling to boogie boarding and surfing.
3. Tunnels Beach
Tunnels Beach is one of the best snorkeling destinations on Kauai, especially during the summer months. Running 2-miles long from Hanalei Colony Resort to Haena Beach Park, this North Shore beach is famous for its huge half-moon-shaped reef located just offshore. Deep-water caverns located close to shore also make for a great diving site, while swimmers and families with young children enjoy the shallower, calmer areas of the beach.
4. Hanalei Bay
Located on Kauai's North Shore, Hanalei Bay is a great choice to spend your day. With more than 2 miles of soft white sand and set among a backdrop of majestic mountains, Hanalei offers a little bit of paradise for everyone. During the summer months, the bay is calm, turning into a virtual wonderland for swimmers and stand-up paddlers. The beach itself is never crowded, which offers plenty of room to stretch out.
5. Shipwreck Beach
Located in Poipu, this beach got its name from an old wooden ship sunk off the coast that has long since disappeared. The swimming at this beach is not the best because of the strong currents, but its natural scenery, relative seclusion, and romantic atmosphere make up for the lack of good swimming. It is a great place to catch some sun on a beautiful beach and watch the local fisherman work along the cliffs.
Top 10 Places to Eat on Kauai
1. Mermaid's Cafe
Mermaid's Cafe is a little hole in the wall in Kapa'a that is the go-to spot for fresh, healthy food. You'll find wraps, tacos, and salads made with fresh ingredients and homemade sauces. It has seafood specialties but also has quite a few vegetarian options. It's a great place to fill up after a long day.
Visit: Located at 4-1384 Kuhio Hwy. B1, Kapaa, HI 96746. Open daily from 9 a.m. to 9 p.m.
2. Ishihara Market
The deli in the back of Ishihara Market serves up what is widely regarded as some of the best poke on the island. Poke is essentially Hawaiian sushi, without the fuss of the rice and the roll. Incredibly fresh fish is served in carefully cut, raw pieces that are marinated in different varieties of citrus juices and spices. It's a must-try on any trip to Hawaii.
Visit: Located at 9894 Kaumualii Hwy., Waimea, Kauai, HI 96796. Hours vary slightly each day, but the market is typically open from 6 a.m. to 7 p.m. (or later).
3. Tidepools at the Grand Hyatt Kauai – Po'ipu
Tidepools is your spot for a fancy romantic dinner. Located at the Grand Hyatt, the ambiance is special (and you'll also have a fantastic meal with stellar service). Diners rave about the fresh fish and steak options with a unique island flair, including macadamia nut-crusted mahi mahi, grilled opah, or a succulent steak. Reservations recommended.
Visit: Located at 1571 Poipu Rd., Koloa, HI 96756. Open daily from 5:30 p.m. to 10 p.m.
4. Eating House 1849
Eating House 1849 is a new concept by Hawaii's famous chef Roy Yamaguchi that pays homage to Hawaii's vibrant culinary heritage. The restaurant is located in the Kukui'ula Village Shopping Center in Poipu and the upstairs location means great sunset views. The menu focuses on fresh local ingredients in a farm-to-table-like atmosphere.
Visit: Located at 2829 Ala Kalanikaumaka Rd. A-201, Koloa, HI 96756. Open daily from 5 p.m. to 9:30 p.m.
5. Duane's Ono-Char Burger
This legendary burger spot in Anahola (between Kapa'a and Kilauea) is just a little roadside stand, yet visitors and locals alike flock here to stand in line for a burger. Unless you're stopping by at an off time, be prepared to wait in line.
Visit: Located at 4-4350 Kuhio Hwy., Anahola, HI 96703. Open daily from 10 a.m. to 6 p.m.
6. Merriman's Fish House
Chef and Restaurateur Pete Merriman owns 4 restaurants that carry his name in Hawaii, so it might sound familiar. The Merriman's on Poipu, on the south shore of Kauai, is a casual yet elegant setting. It's absolutely perfect for a family dinner out or date night. At least 90% of the food that is served here is locally grown or caught using sustainable methods.
Visit: 2829 Ala Kalanikaumaka St. #G-149, Koloa, Kauai, Hawaii 96756. Open daily from 5:30 p.m. to 9 p.m.
7. RumFire
For a great dinner on the south side, try RumFire at the Sheraton. You'll have a great dinner and an even better view of the sunset. This restaurant offers one of the best beachfront restaurant views on the whole island. The atmosphere is upscale but casual, and the food features contemporary twists on classic Hawaiian cuisine. Reservations recommended.
Visit: Located at 2440 Hoonani Rd., Koloa, HI 96756. Open Tuesday through Saturday from 5:30 p.m. to 9 p.m.
8. Pizzeta
Located in historic Koloa town, Pizzeta has all the Italian classics you'd expect, along with entrées that are Italian-meets-Hawaiian, like kalua pork (grilled in papaya barbeque sauce) and grilled ono (Hawaiian mackerel). Set in an airy, open space with indoor and outdoor seating, it's perfect for a laid-back meal of quality comfort food. The lunch specials are worth checking out!
Visit: Located at 5408 Koloa Rd., Koloa, HI 96756. Open daily from 11 a.m. to 9 p.m.
9. Tacos Al Pastor
Tacos Al Pastor is a food truck with some of the best tasting and best value fish tacos on the island. Visit for lunch and get a plate of the catch of the day tacos grilled on order, served on a styrofoam tray with rice and beans. Eat it at one of the colorful picnic tables and stare out at the great blue Pacific.
Visit: Located at 4-1620 Kuhio Hwy., Kapaa, Kauai, HI 96746. Open Tuesday-Sunday from 11 a.m. to 4 p.m. Closed Mondays.
10. Bar Acuda
Bar Acuda is a tapas restaurant in Hanalei that serves up both traditional small plates and unique combinations inspired by the island. The dishes are made with Hawaiian-inspired fare made from fresh, regional ingredients, such as ono, ahi tuna poké, and roasted ali'i mushrooms. The selection changes daily and ingredients vary by season. Reservations are recommended.
Visit: Located at 5-5161 Kuhio Hwy., Hanalei, HI 96714. Open daily from 5:30 p.m. to 9:30 p.m.
Top 10 Desserts on Kauai
1. Lappert's Ice Cream
How can anyone resist yummy ice cream served in a freshly baked chocolate-dipped waffle cone? There are a wide variety of flavors to choose from at Lappert's, from traditional flavors such as chocolate chip cookie dough to some more Hawaiian-like flavors such as Nene Tracks. Everyone in your group is sure to find something that they'd enjoy.
Visit: There are 3 locations in Kauai. Check the website for locations and hours.
2. Duke's Kauai
Hula Pie is the main draw at Duke's. What's a hula pie, you ask? It's a very generous serving of macadamia nut ice cream on top of a chocolate cookie crust. This decadence is topped with chocolate fudge sauce, whipped cream, and more macadamia nuts. Yes, it's the same exact dish served at Kimo's on Maui, but this treat should be enjoyed again and again!
Visit: Located inside the Kaua'i Marriott Resort: 3610 Rice St., Lihue, HI 96766. Open daily from 11 a.m. to 10:30 p.m.
3. The Fresh Shave
You really can't go wrong at any shaved ice place, but a good place is The Fresh Shave's mobile truck. A local favorite is The Professor, but The Chevron is the most popular. Each shaved ice is named after a mustache; it's pretty fun. And don't forget to ask about the secret menu while you're there!
Visit: Located at 3540 Koloa Rd., Kalaheo, HI 96741. Open Tuesday through Saturday from 11 a.m to 5 p.m.
4. Kilauea Bakery
Kilauea Bakery is a bit of a hidden gem that is mostly filled with locals. The lilikoi (passion fruit) lemon bar and the macadamia nut chocolate chip pie are delicious. This eatery offers an impressive number of vegan, vegetarian, gluten-free, nut-free, and dairy-free options for a bakery. It also serves calzones and pizza if you have any room left after your dessert!
Visit: Located at 2484 Keneke St., Kilauea, HI, 96754. Open daily from 6 a.m. to 9 p.m.
5. Roasted Nuts
Kauai Nut Roasters makes small-batch, hand-roasted, and fabulously-flavored nuts. Flavors range from butterscotch almonds to coffee coconut macadamias and maple bacon pecans. Samples abound, so it's very easy to be tempted to buy a bag or 2.
Visit: Located at 5420 Koloa Rd., Koloa, HI 96756. Open daily from 10 a.m. to 6 p.m.
6. Hukilau Lanai
Decisions, decisions: should you order dessert while at Kauai's Hukilau Lanai? The answer is yes, obviously, but do you choose the original Hawaiian chocolate factory warm cake with an oozing chocolate center and vanilla bean ice cream, or amazing sorbet, with flavors such as banana curry? It even offers a selection of gluten-free desserts.
Visit: Located at 520 Aleka Loop, Kapaa, HI 96746. Open Tuesday-Sunday from 5 p.m. to 9 p.m. Closed Mondays.
7. Pono Market
This is the best place on Kauai to get kulola, a Hawaiian dessert staple made from mashed kalo (taro), coconut milk, and sugar. This dessert is available on all of the islands, but there is something extra special about kulolo from Kauai.
Visit: Located at 4-1300 Kuhio Hwy, Kapaa, HI 96746. Open daily from 6 a.m. to 4 p.m. Closed Sundays.
8. The Right Slice
The Right Slice is your go-to pie stop in Kauai. There are 50 sweet flavors and 31 savory flavors that rotate constantly, so you have to check the Facebook page for the current offerings (but you really can't go wrong with whatever you pick). However, the blueberry piña colada and the lilikoi cheesecake can't be missed!
Visit: Located at 2-2459 Kaumualii Hwy., Kalaheo, HI 96741. Note: It has a smaller operation in Lihue as well. Open Monday-Saturday from 11 a.m. to 6 p.m. Closed Sundays.
9. The Local Kauai
The Local Kauai is located in the heart of old Kapaa town and has a few top-notch desserts. The Maui Brewing Coconut Porter chocolate cake made with chocolate creme and candied coconut, as well as the vanilla bean panna cotta topped with fresh island fruit, are stellar choices.
Visit: Located at 4-1380 Kuhio Hwy., Kapaa, HI 96746. Open Wednesday through Sunday, 3 p.m. to 9 p.m.
10. Kauai Bakery
Kauai Bakery sells traditional Hawaiian treats such as cream-filled malasadas, cakes, cookies, and other baked goods. The standout is the guava cake, though, and at only $1.99, there is no better value on the entire island.
Visit: Located at 3-2600 Kaumualii Hwy., Lihue, HI 96766. Open daily from 6 a.m. to early evening (hours vary by day).
Top 10 Places to Have a Drink on Kauai
1. Kauai Coffee Plantation 
The Kauai Coffee Company runs the largest coffee plantation in the U.S. It offers a walking tour of the plantation and daily roasting demonstrations. After the tour, you can relax on the lanai, try some samples, and take in the beautiful panoramic views of the plantation. Another bonus? It's free!
Visit: Located at 870 Halewili Rd., Kalaheo, HI 96741. Open daily from 9 a.m. to 5 p.m. (5:30 p.m. in the summer). Free guided tours are available daily at 10 a.m., 12 p.m., 2 p.m. and 4 p.m.
2. Koloa Rum Company
Enjoy a rum tasting at the Koloa Rum Company's tasting room. The liquor is made from locally sourced ingredients such as coffee, coconut, pineapple, and sugar, and is distilled twice in a vintage copper pot. After your sampling, invest in a few full-size bottles to take home for some Mai Tais.
Visit: Located at 3-2087 Kaumualii Hwy., Lihue, HI 96766. Open daily at 10 a.m., but closing time varies by day.
3. Keoki's Paradise
Tropical greenery and tiki torches highlight the landscape of this open-air bar. With a welcoming vibe and delicious menu featuring fresh fish and steaks, Keoki's bar is a great place to grab a drink, have fun with friends, and munch on appetizers. Live bands play on the weekends, with plenty of room for dancing. You'll find Keoki's on the south side.
Visit: Located at 2360 Kiahuna Plantation Dr., Koloa, HI 96756. Open daily from 11 a.m. to 11:30 p.m.
4. Tahiti Nui
If you've seen 2011's The Descendants, you've spotted this gem of a local bar and restaurant. George Clooney has hung out at The Nui a few times, and if you lived on Kauai, you probably would, too. The atmosphere is relaxed and local, there's live music, and it serves some of the best pizza around. This is one of those tried and true local spots that residents have been flocking to forever. It's definitely a local watering hole.
Visit: Located at 5-5134 Kuhio Hwy., Hanalei, HI 96714. Open daily from 11 a.m. to 10 p.m.
5. Kauai Juice Co.
One of the great things about visiting Hawaii is the abundance of healthy food choices available all over the island. There is no better place to grab a juice than Kauai Juice Co. With 3 locations across Kauai (Kapaa, Kilauea, and Poipu), there is sure to be a location near you. The kombucha drinks are well-loved, as are the cold-pressed juices.
Visit: Visit the website for locations and hours.
6. Nawiliwili Tavern
This relaxed neighborhood hangout is open late and offers plenty of late-night fun. Dancing, pool, darts, video games, TVs, and a rousing night or 2 of karaoke can all be found. Friendly and laid-back, regulars make you feel right at home. Centrally located near the beach in Lihue, the tavern is located near many hotels, providing an easily accessible place to unwind.
Visit: Located at 3488 Paena Loop, Lihue, HI 96766. Open daily from 5 p.m. to 1 a.m.
7. Nalu Kai
Quite possibly the only true beach bar on Kauai's North Shore, Nalu Kai pairs barefoot appeal with strong drinks and views over Hanalei Bay, Pu'u Poa Beach, and Bali Hai. Though the bar is part of the St. Regis Princeville Resort, it's more minimalist than posh. Drinks are typically priced for a 5-star resort bar at $10 for a local beer and $16 for a margarita, but cocktails are served with flair and made with the fresh juice of local fruit like lilikoi and lychee.
Visit:
Located at 
5520 Ka Haku Rd., Princeville, HI 96722. Open daily from 10:30 a.m. to 8:30 p.m. 
8. Oasis on the Beach
Just 15 minutes from Lihue Airport, this Kapa'a coast bar is perfectly situated for a pre- or post-flight drink. Its outdoor dining deck overlooks the long expanse of Waipouli Beach, and the bar menu is large and interesting. Popular choices include macadamia hot-buttered rum with cloves and the spicy Thai martini. On Wednesday evenings, the entire bar menu is half price.
Visit: Located at 4 820 Kuhio Hwy., Kapaa, HI 96746. Open daily from 8 a.m. to 9 p.m. Happy hour daily from 4 p.m. to 6 p.m.
9. Stevenson's Library
This bar has the feel of a Victorian gentleman's club, thanks to dark woods, upholstered sofas, books, and parlor games. Other diversions include billiards tables, televisions, and a player piano. Single-malt scotches are a specialty, along with cognacs and ports. Best of all, live jazz performers play nightly, regaling patrons with soothing, satisfying strains. Rather than beach casual, the Library resembles an old school lounge.
Visit: Located at 1571 Poipu Rd., Koloa, HI 96756. Open daily from 6 p.m. to 12 a.m.
10. Kauai Beer Company
Kauai Beer Company is a microbrewery and brewpub located in Port Allen on Kaua'i Island featuring up to 10+ house beers on tap and several rotating guest beers. It produces small quantities of high-quality craft beer, served in a relaxed atmosphere, making all feel welcome.
Visit: Located at 4265 Rice St., Lihue, HI 96766. Open Tuesday through Saturday from 11 a.m. to 10 p.m.
Top 10 Tips, Hacks, and Advice for Kauai
1. Farmer's Markets
The fresh produce sold at farmer's markets is fresh and grown by local farmers. If you've never tasted a fresh locally grown Hawaiian pineapple, you've never really tasted pineapple. It's about 100 times better than any other pineapple you've ever eaten. Not only that, but the fruit is inexpensive and you're supporting the local farmers. Check this listing for the closest spot.
2. Free Activities
If you're willing to rent a car, there is lots to see and do in Kauai. For example, you can get a free tour and tasting at the Kauai Coffee Company, located on the southern side of the island, or spend the day exploring and hiking through Koke State Park.
3. Hawaiian Culture
E Kanikapila Kakou is Kauai's premier celebration of Hawaiian music, hula, oral history, and storytelling. Held on Monday evenings from mid-January through March each year, the event features a talk story/sing-along format and performances by stars in the local music industry. Like backyard jam sessions, interaction and spontaneity are a big part of the experience, so you might end up performing, too!
4. Island Casual
Dining in Hawaii is strictly casual. In virtually any restaurant, a man would be appropriately dressed in an aloha shirt and slacks and a woman could wear the same or similar — there's no need to bring fancy dress clothes to Hawaii.
5. Art Walk
Hanapepe Town on Kauai's southwest coast is home to a bustling Hawaiian art scene, with an art celebration every Friday night from 6 p.m. to 9 p.m.  The town's painters, sculptors, and other artists open their gallery and studio doors to showcase their work. While bringing home Hawaiian shirts and macadamia nut chocolates is great, wouldn't it be nice to bring home a local piece of art?
6. Eat Strategically
Choose high-end restaurants for lunch rather than dinner, as lunch is often less expensive. Early evening happy hour deals are a great way to save money while sampling the chef's specialties. If you're staying in a condo, eat-in or pack a picnic when you can.
7. Queen's Bath in Princeville
The Queen's Bath is a natural pool carved into lava rock and is about the size of a large swimming pool: you've probably seen the photos on Instagram. But be warned, there is a possibility of a rogue wave entering the pool and sweeping you out to sea. People have been seriously injured and have even died swimming here. Seriously consider if it's worth the risk.
8. Tipping
Tipping is similar to the rest of the U.S. Tip cab drivers 15 percent of the fare and 15 to 20 percent of the bill at restaurants, depending on the service. Bellhops at hotels usually receive $1 per bag. For single-day guided activities like a boat trip to Na Pali, a zip-lining tour, or surf lessons, you should tip each guide at least $10 to $20 if you feel he or she enhanced your experience.
9. Grove Farm Train
On the second Thursday of every month, one of Grove Farm museum's 4 vintage steam locomotives is fired up and takes passengers on a 45-minute ride back in time. The locomotive carries about 80 passengers and makes stops along the way. This is a great opportunity to learn about Hawaii's sugar plantations and the trains' important role in them. If you're in town at the right time, make sure you check it out!
10. Cheap Souvenirs
As much as we hate to say it, the cheapest places to buy souvenirs are the large megastores from the mainland, such as Walmart which is located in Lihue. You can also find good cooking and food items at the grocery stores!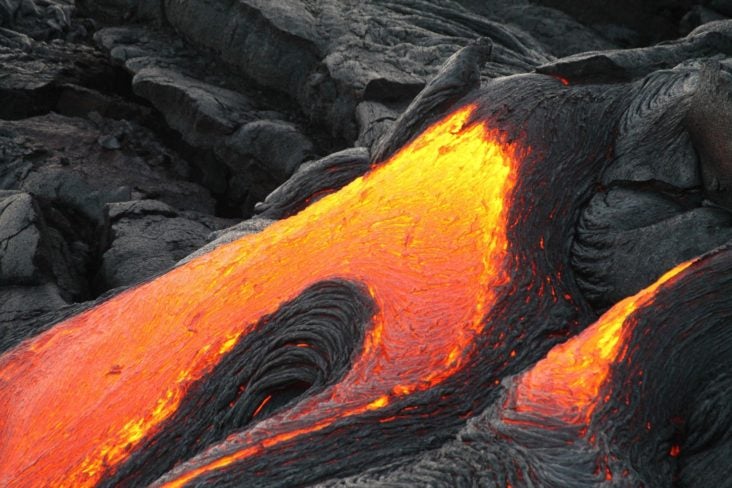 10 Fun Facts About Hawaii
1. The Big Island is Getting Bigger
The Big Island's getting bigger (by more than 42 acres each year) because of Kīlauea Volcano. It is the most active volcano on Earth and it's been erupting for more than 30 years. The Hawaiian name "Kilauea" means "spewing" or "much spreading."
2. Unique Agriculture
Hawaii is the only U.S. state that commercially grows coffee, cocoa, and vanilla beans. The weather of sunny mornings, clouds or rain in the afternoon, little wind, and mild nights combined with porous, mineral-rich volcanic soil create favorable coffee growing conditions. Kona coffee is the market name for coffee (coffea arabica) cultivated on the slopes of Hualalai and Mauna Loa in the North and South Kona Districts of the Big Island of Hawaii. It is one of the most expensive coffees in the world.
3. Lei Tradition
In Hawaii, leis are serious business, and the flower ones come with strict rules. For starters, it's impolite to refuse a lei, remove it in front of the person who gave it to you, or wear 1 that you intend to give to someone else. A lei should never be thrown away. Instead, it should traditionally be returned to the earth, ideally to where its flowers were gathered. It's bad luck to give a tied lei to a pregnant woman, as it suggests an umbilical cord around a baby's neck.
4. Aloha
Hawaii state's nickname is the Aloha State because the word Aloha is one of the most commonly used words in the Hawaiian language. Based on the context, Aloha can mean hello, welcome, love, best wishes, or goodbye.
5. Hawaiian Alphabet
There are only 13 letters in the Hawaiian alphabet and every word (and syllable) ends with one of 5 vowels.
6. Surfing
Surfing was invented in Hawaii — hundreds of years ago, in fact. There is a great deal of evidence that the modern sport of stand up paddleboarding (SUP), which is immensely popular worldwide, also originated here. It's believed to have been started by the beach boys at Waikiki decades ago, revived more recently by big wave surfers on Maui, then introduced to the rest of the world.
7. Ethnic Breakdown
Everyone is a minority in Hawaii; there are no racial majorities. Asians make up the largest group, at 37.6% of the population, Caucasians constitute about 25.6% of the population, and Native Hawaiian and Pacific Islanders make up 10.2%. 21.8% of the population has 2 or more ethnicities.
8. Gambling
If you want to make a trip to a casino during your Hawaiian vacation, you came to the wrong place. Hawaii doesn't have casinos, nor does it allow for gambling on board a ship, or anyplace gambling activities can take place. Hawaii doesn't have a lottery either, so the price to live in paradise won't be covered by your (unlikely) lottery win.
9. No Billboards
In Hawaii, it's illegal to put up a billboard. Of course, that makes sense when you've got ridiculously gorgeous natural splendor stretching out on all sides. Why would you want to pollute that experience with some unnecessary advertising? In 1927, more than 20 years before it became a state, Hawaii banned billboards so that they wouldn't detract from the state's natural beauty.
10. Chickens and Roosters
Roosters and chickens roam free, wandering aimlessly all over the islands. Most locals agree that wild chickens proliferated after Hurricane Iniki ripped across Kauai in 1992, destroying chicken coops and releasing domesticated hens and roosters. Now, these birds can be found crowing at all hours of the day and night to the delight or dismay of tourists and locals alike.
How to Stay Safe in Hawaii
Although tourist areas are generally safe, visitors should always stay alert, even in laid-back Hawaii. It's wise to ask the island tourist office if you're in doubt about which neighborhoods are safe. Generally speaking, you can feel safe in areas where there are many people and open establishments.
Emergency Contacts in Hawaii
If you have an emergency of any kind, call 911.
If you need to contact the police concerning a non-emergency, call 808-244-6400 in Maui and 808-241-1711 in Kauai.
If you experience an accident, medical emergency, or serious illness, or if you become a victim of a crime and have a police report, call the Visitor Aloha Society of Hawaii (VASH). On Maui, call 808-244-3530 and on Kauai, call 808-482-0111.
If you need information related to road conditions in Hawaii, visit HiDot for information for all islands.
Keep Safe on the Island
Pickpockets and thieves operate all over the world. Be mindful of your belongings and be aware of your surroundings.
If you are walking along the street, keep valuables on the other side. Thieves have been known to grab purses and bags from cars and motorcycles.
Never accept drinks from strangers and always keep yours with you in crowded bars.
Avoid deserted areas, especially at night.
Visiting Public Places
Never leave your bags unattended.
Always carry your wallet or purse close to you.
Avoid carrying valuables with you on the street, and don't display expensive cameras or electronic equipment.
Recently, burglaries of tourists' rental cars in hotel parking structures and at beach parking lots have become more common. Park in well-lit and well-traveled areas, if possible. Never leave any packages or valuables visible in the car.
At Your Hotel
Always keep your passports and other valuables in a locked room safe, if available.
Hotels are open to the public and on a large property — security may not be able to screen everyone entering. Always lock your room door. Don't assume that once inside your hotel that you're automatically safe.
Sun Protection
Enjoying Hawaii's tropical climate means being sun smart and wearing proper sun protection at all times.
Slip on sun-protective clothing.
Use at least SPF 30 sunscreen and ensure you reapply as needed. Note: use a reef-safe sunscreen that doesn't contain hazardous chemicals used in many sunscreens. The reefs will thank you!
Wear a wide-brimmed hat that shades your face, neck, and ears.
Wear your sunglasses.
A long-sleeved rash guard can protect your neck, back, and arms from the sun while you enjoy watersports like swimming, snorkeling, kayaking, or surfing.
At the Beach
Only swim on lifeguard-patrolled beaches. Warning signs will note when there is dangerous surf.
Keep an eye on your belongings while on the beach.
For more information on wave conditions, visit Hawaii Beach Safety.
Emergency Alerts
Hawaii's state Hawaii Emergency Management Agency has developed a warning system to alert the public in the case of an emergency. If you hear Hawaii Emergency Management Agency sirens (a steady siren tone for 3 minutes and repeated if necessary), listen to your car radio, turn on the television, or ask hotel personnel for emergency instructions.
Watches and warnings are prepared by the National Weather Service Central Pacific Hurricane Center in Honolulu. When watches and warnings are issued, visitors should closely monitor radio, television, or NOAA Weather Radio for official bulletins and instructions from authorities.
For more information, visit the Hawaii Emergency Management website.
Final Thoughts
It's easy to see why anyone would want to plan a trip to the Hawaiian Islands, but it can be overwhelming when choosing between the islands and wanting to make the most of your vacation time. Hopefully, this guide will take out some of the stress of planning your perfect trip and encourage you to book your flight today!
---
Like this post? Pin it on Pinterest!