The 10 Best Websites for Flight Deal Alerts [Don't Miss out!]
Knowing the right time to purchase a flight can cause some travel anxiety. Of course, you want to buy at just the right time so you can get the best deal — but how in the world are you supposed to know when that is?
Luckily there are lots of websites that can help you out. These websites and mobile apps can keep track of your flights and alert you when the price changes so that you have a better chance at making your purchase at just the right time. Some even offer predictions to help you narrow down the perfect time even more.
Here are our recommended websites and apps that offer flight deal alerts — they're all easy to set up and they're (mostly) free.
Kayak has been around for awhile and it's a great tool to use to search for flights, hotels, rental cars, and more. It's also handy when it comes to setting up flight deal alerts.
To set up an alert, you will need to first create an account, then you can set one up right from the home page.
You can also track prices right from a flight search in 2 ways. You can click the Track Prices toggle button in the top left of your screen or you can click the suitcase with a heart icon on the upper left corner of each result.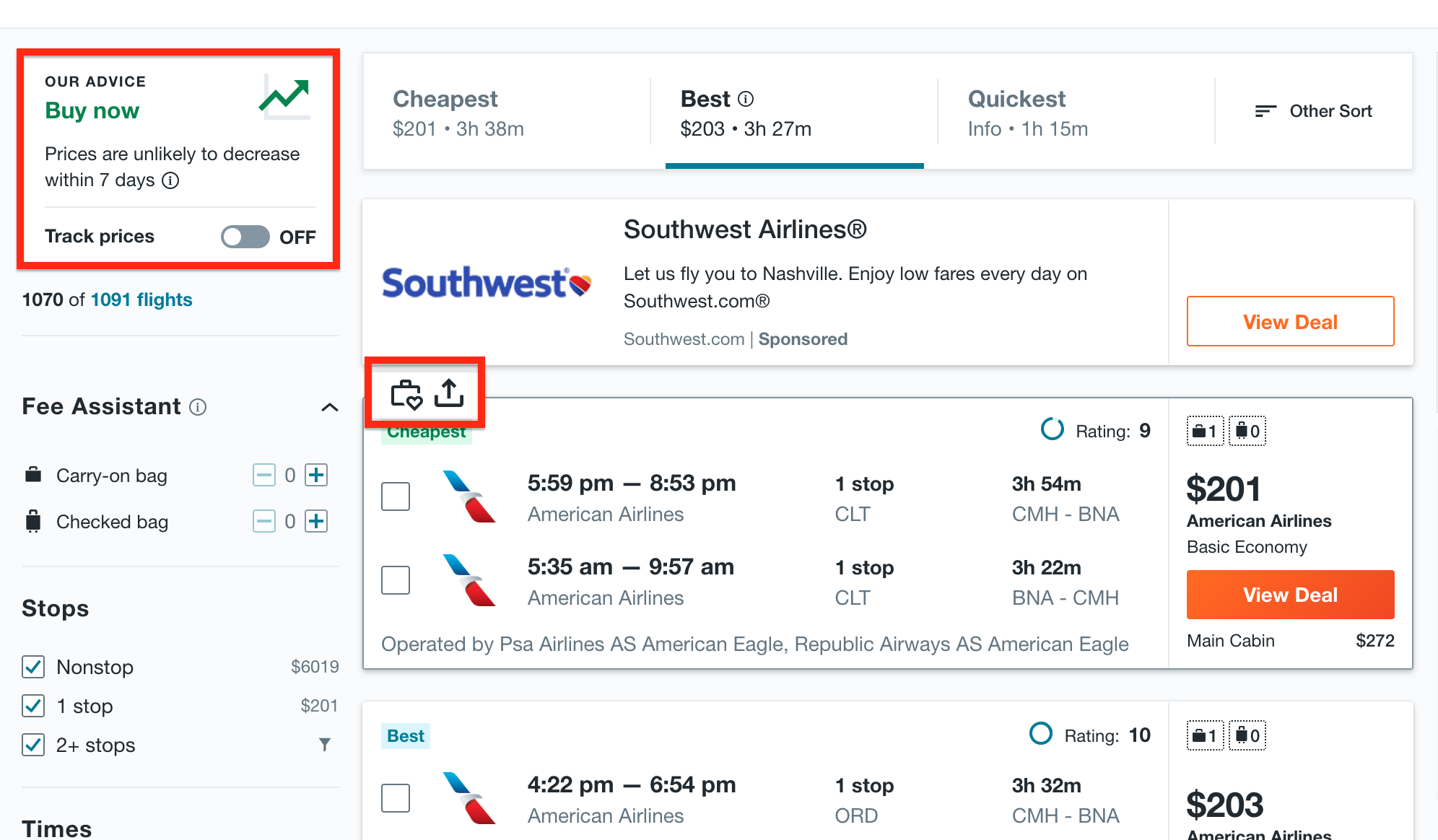 One of the cool things about Skyscanner alerts is that you can set them up going to and from multiple airports. This can be helpful if you are in a place like New York City where you have easy access to more than 1 airport. Just be sure to select Add Nearby Airports right under your departure and arrival cities.
To set up a price alert, go to Skyscanner and sign in or create an account if you haven't already. Then input your departure city and destination, and click on Search Flights. If you want to set up an alert that covers multiple airports, click the box below each city that says Add Nearby Airports.
Next, click on Get Price Alerts in the upper left-hand corner. That's it — your flight alert is set!
The first thing you'll notice is that you have to sign up with Facebook or an email address before you can access Airfare Watchdog.
Once you're in, you'll see that this site looks like a lot of other sites — you can search for deals on flights, hotels, and more.
When you're logged in, setting up an alert is easy:
Click on My Alerts > See My Alerts in the upper right-hand corner of the screen.
That's it! Now, your alert will be saved in your account and you'll receive an email when there are good deals available. You can also easily unsubscribe from your alerts or put them on hold.
Airfare Watchdog is not a booking site, so when you see a flight you want to book, you'll be directed to an online travel agency (like Priceline or Expedia) to finalize your booking.
Hot Tip: Traveling soon? Check out these websites and apps for finding last minute travel deals.
Google Flights is a popular way to search for the best flight deals. The site is easy to use and offers lots of features that make searching for a flight a breeze.
It's easy to set up flight deal alerts on Google Flights — all you need to do is enter your search criteria and click on the toggle button that says Track prices above your search results list to get price alerts and travel tips by email.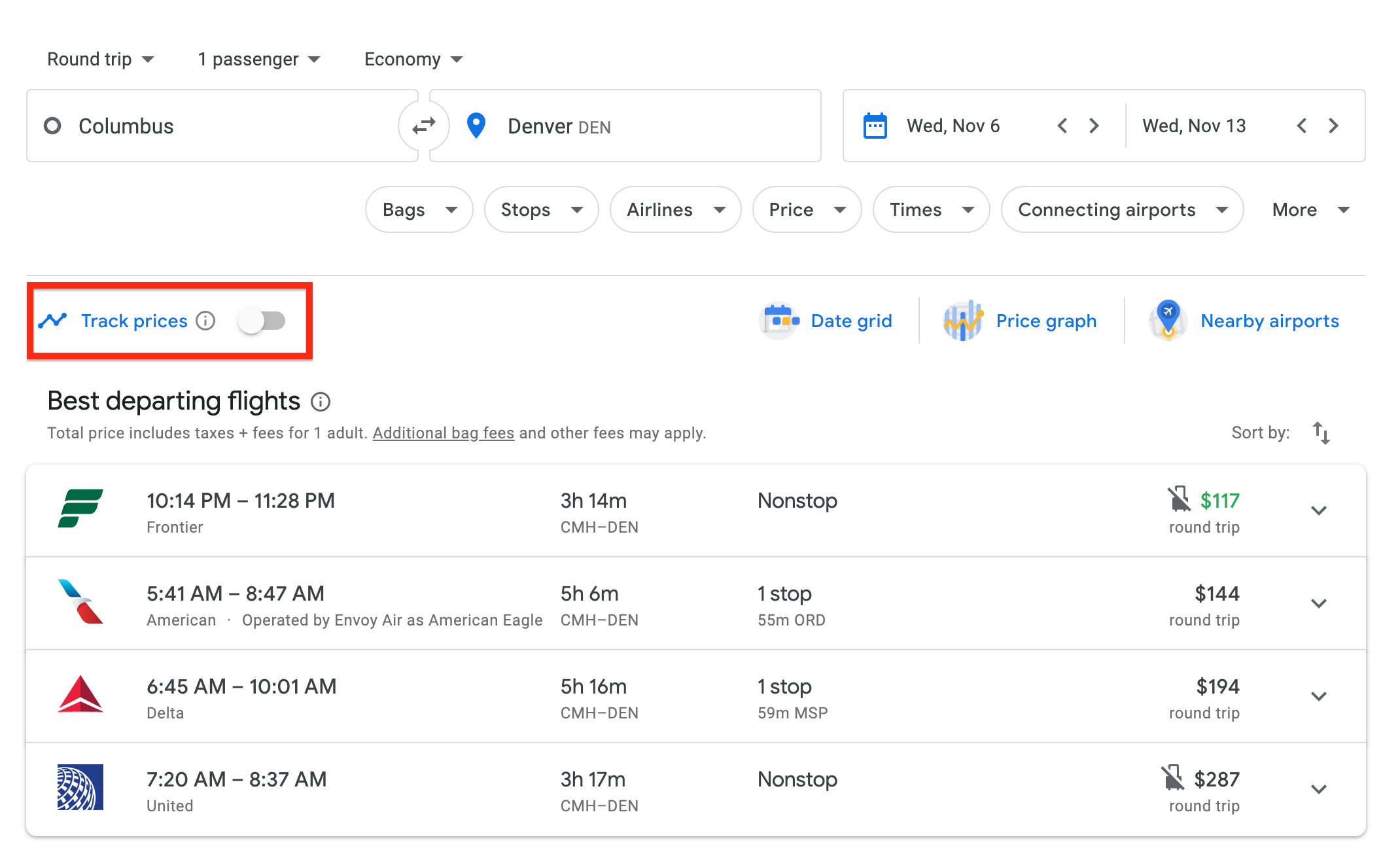 If you're logged into Google, your alerts will automatically go to your Gmail address, otherwise, you will need to enter an email address.
To check on all of your tracked flights, click on the 3 line icon in the upper left-hand corner. Then click on Tracked flight prices. Here you'll be able to see a graph of the flight prices since the day you set your alert.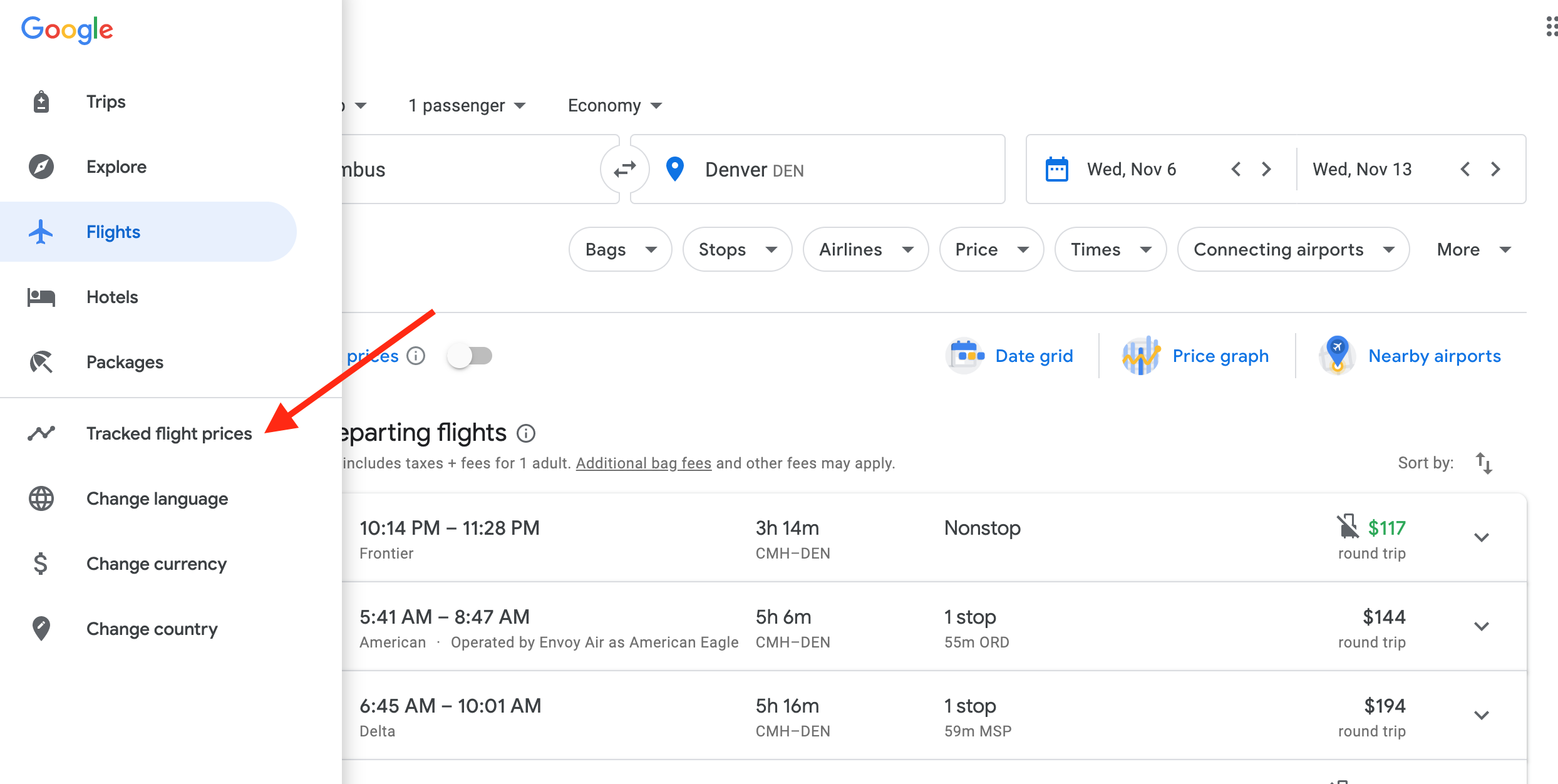 Hopper is a mobile app that gives predictions to help you find the best time to book your flight. They're so confident in their app, they claim 95% accuracy up to 1 year in advance!
You can view flights on the Hopper app without signing in, but you must create an account to set up an alert.
To set up an alert you first need to search for the flight you are interested in. Then, you'll be able to watch when prices drop and you'll get an alert if Hopper predicts that they are going to rise.
To set up a price alert, open the Hopper app and select Flights. Then input the days of your trip.
Scott's Cheap Flights uniquely monitors the best flight deals from your home airport. So instead of choosing a specific flight to follow, you'll select your home airport. They will also recommend nearby and hub airports to follow for even more deals.
There are 2 tiers to this site — a free version and a premium version that costs $49 per year. While the free version will send you deals, it doesn't include the serious savings like mistake fares.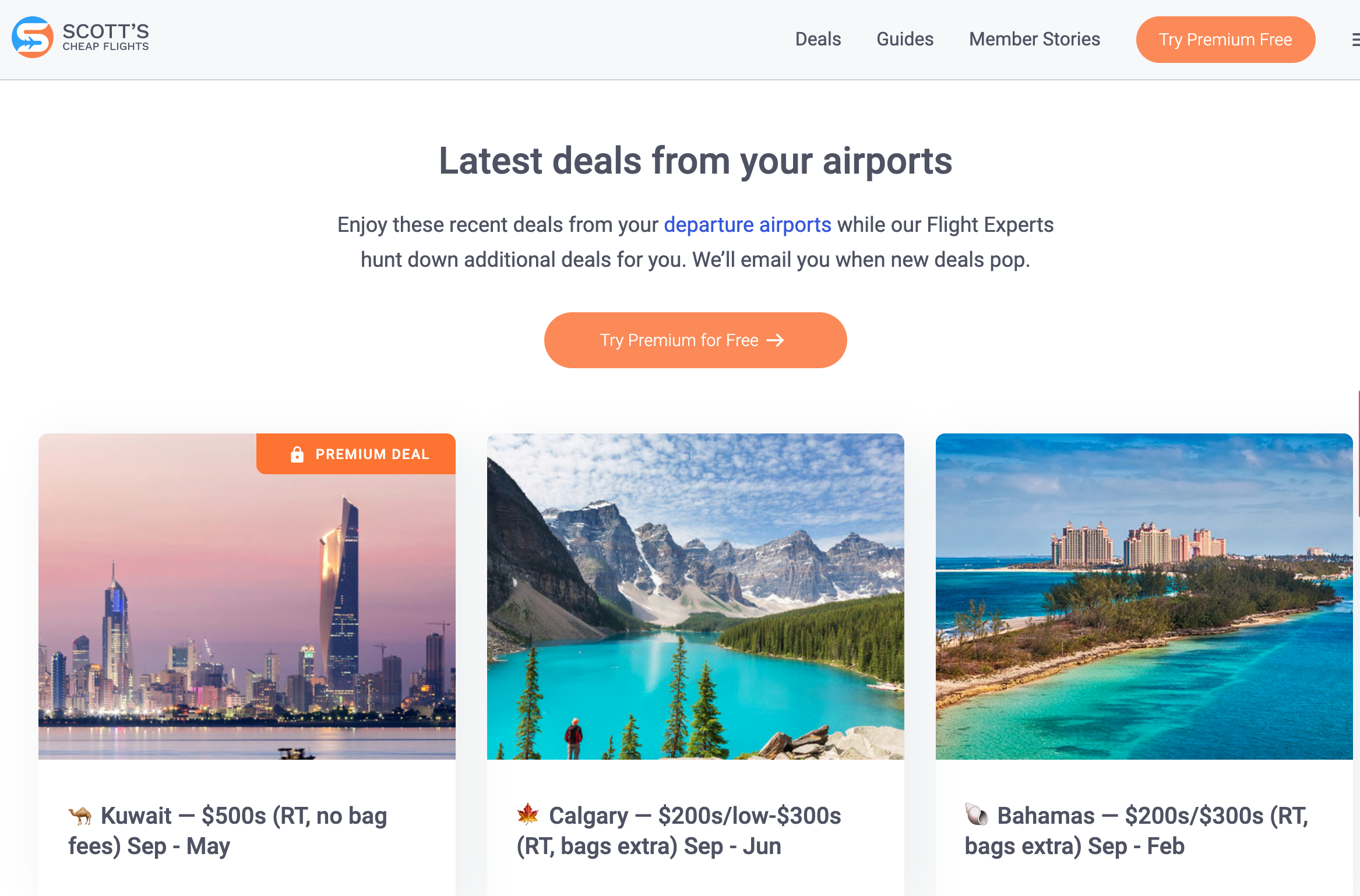 Once you have signed up, you'll see deals from the airports you selected. Click on any deal for more information including how long Scott's Cheap Flights thinks the deal will last.
Most of the deals I found required you to go to Google Flights to search for and book the flight, so actually booking the flight is not as simple as a quick click through.
Hot Tip: Keep in mind that some airlines (mostly "low cost carriers") don't show up on these online travel agencies, metasearch engines, or flight deal sites. If you often fly these airlines (think Southwest or Allegiant) you'll want to keep an eye on those flights on their respective websites.
Fare Compare is another site that will send you flight deal alerts. Unfortunately, you'll also get their travel tips. If you prefer to keep your inbox clean, this might be a deal breaker.
To set up a flight deal alert on Fare Compare, just enter your travel details, and be sure to click the box right underneath that says, Alert me when prices drop from. When you click Find Flights you'll be prompted to enter your email address if you aren't already signed in.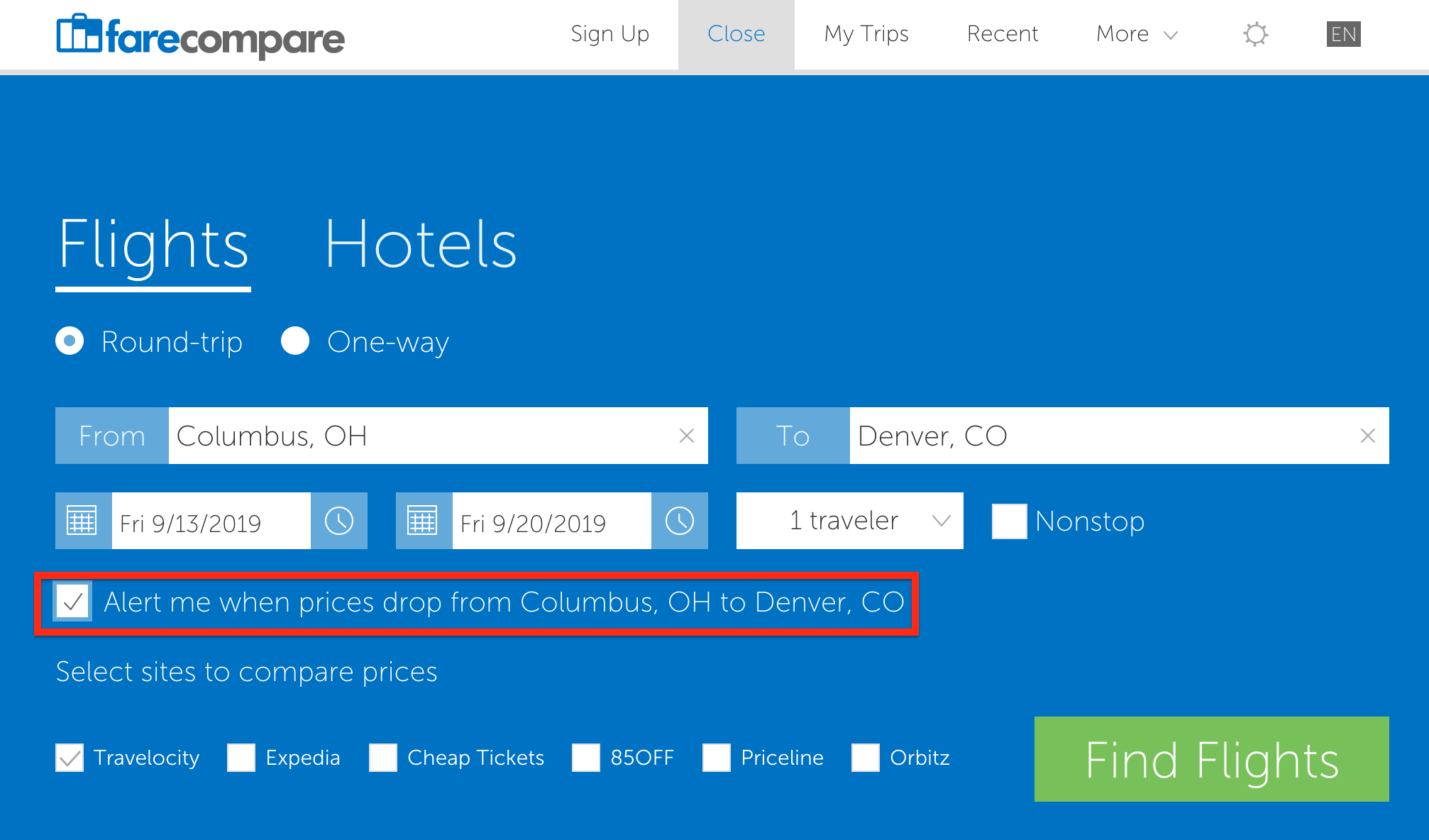 Fare Compare is a flight search engine, so if you find a flight you like you'll be transferred to an online travel agency to complete your booking.
Not only does Hipmunk win the "cute mascot" award, but you can also use this site to set up flight deal alerts.
To set up an alert, all you need to do is search for your flight. Then click the toggle button in the Get Fare Alerts box. If you don't already have an account, you'll be prompted to create one. Then you'll receive an email when the price for your flight drops.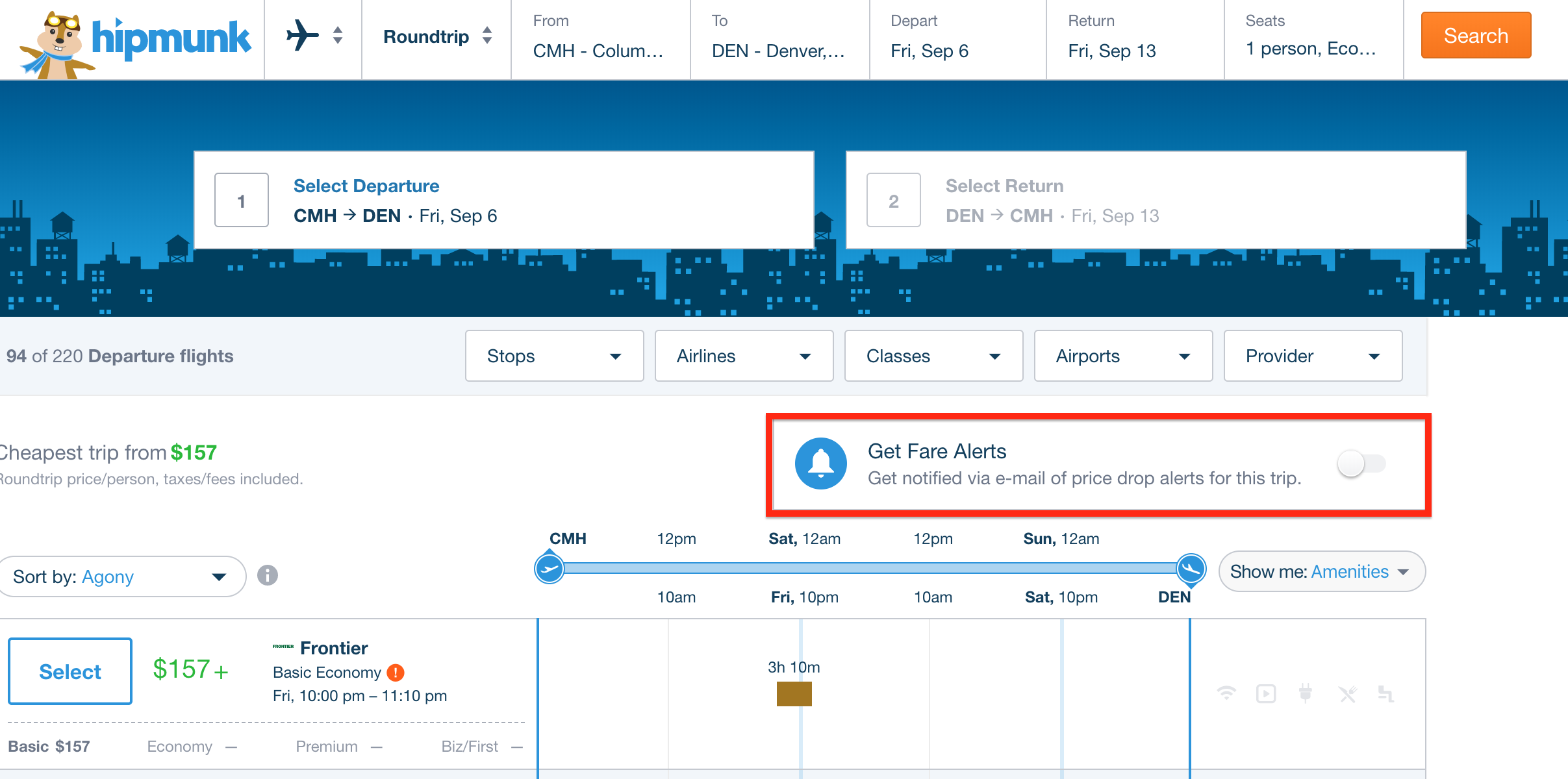 The Flight Deal is a little different than the other sites. This website lists great flight deals on their homepage. You won't search for the flights you're interested in — you'll just see whatever deals are available at that time.
They also don't sell flights — to take advantage of one of these deals you'll need to search for it independently on another site (usually an online travel agency like Orbitz, Booking.com, etc.)
The deals offered here won't last long and you can't search for specifics, so to get the most out of The Flight Deal, you'll need some flexibility and the spontaneity to book a flight without much planning.
To find deals on this site, check out the home page or click on "Flight Deals" in the main menu.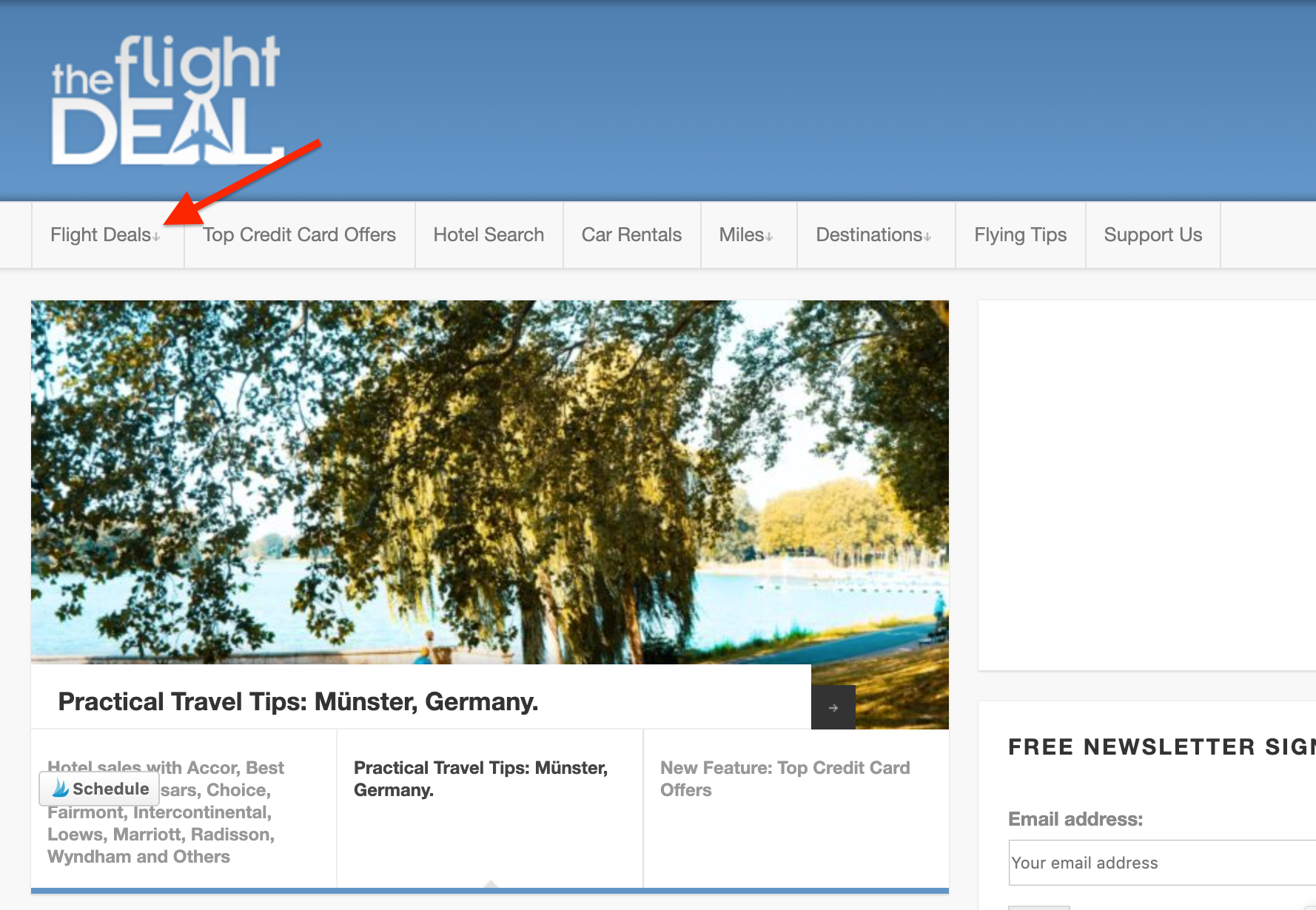 The Thrifty Traveler is another site that will send you flight deal alerts, but you won't have the ability to set up alerts for a specific route.
Look for the fare alert image on the right side of your screen to sign up for email alerts. The catch is that this service comes at a cost of $40 per year. As a member you'll receive mistake fare notifications, direct links to book your flights, access to a private Facebook group, and more.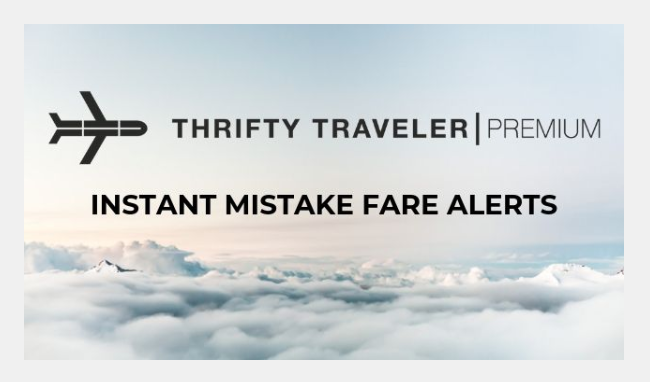 Final Thoughts
No one ever really knows the exact right time to purchase a plane ticket to save the most money. Unfortunately, there's not a tried and true formula for the best time to buy a flight, but there are lots of sites out there that can help narrow down the window. When you keep track of the flights you are after, you'll be able to keep tabs on price trends which will help you decide a good time to buy.
You can set up a flight deal alert so you'll be notified right away if there is a change in price, and some sites even alert you when they are predicting prices will rise or fall.
While setting up a flight deal alert isn't a guarantee you'll save money, it sure does help to make an educated guess on when to book your next flight.