Etihad Airways Boeing 787-9 Business Class Review [MUC to AUH]
Airline: Etihad Airways (EY)
Aircraft: Boeing 787-9 (A6-BLE)
Flight #: EY6
Route: Munich (MUC) > Abu Dhabi (AUH)
Date: May 16, 2019
Duration: 6hr 5min
Cabin & Layout: Business Class, 28-seats, 1-2-1 config
Seat(s): 6K
Miles Used: 139,000 Virgin Australia Velocity Points per person one-way (including onward flight to Sydney)
Taxes & Fees Paid: $491 (AU$716.78) per person
Typical Retail Cost: $3,900 (AU$5,700) per person one-way to Sydney
Introduction
Booking Etihad Airways Business Class
For a recent trip to Europe, I wanted to experience the new Cathay Pacific Airbus A350-1000, so I headed off to Amsterdam via Hong Kong from Sydney.
To return home I needed an option that I could book with my existing pool of points as, at that time, I had depleted my American Express Membership rewards for other upcoming trips.
Fortunately, I had a stash of Virgin Australia Velocity Points and Etihad had availability out of Munich all the way home to Sydney on dates that suited my schedule.
The Etihad "Carrier Charges" are on the high side yet at 139,000 Velocity Points + $491 (AU$716.78), I found it decent value compared to 162,945 Etihad Guest miles + $412 (€373.75) if I booked directly with the airline.
From my first flight on its metal in May 15, 2015, I've become a huge fan of the Etihad experience and I've been fortunate to clock up over 81,000 miles across 14 flights across all its cabins (aside from the Residence). Coincidently, this flight turned out to be 4 years and 1 day since that first flight.
Etihad's poor financial performance has been widely reported in the aviation community over the last few years. To curb losses, the airline has taken an ax to many of its services and amenities, especially in business class, so I was keen to see how this has impacted the overall Etihad experience I had always loved.
At Munich International Airport – Lufthansa Business Lounge
I arrived at Munich Airport 2 hours before the scheduled departure via an Uber.
Etihad operates out of Terminal 2 at Munich.
Check-in was completed in minutes thanks to no queues and 6 check-in agents working the desks.
Whilst heading to security I saw a sign to an observation deck, so this AvGeek made a beeline for that first.
I arrived just in time to capture a Lufthansa Airbus A350 arriving. The area isn't ideal for spotting photography as the overhead security mesh reflects off the glass, but it was a nice place to watch the arriving and departing aircraft nonetheless.
Although there was a priority business class security queue, it still took over 25 minutes to get through.
My flight was departing from gate L7. Gates K-L are in the satellite terminal which requires a shuttle from the main terminal to access.
Etihad invites business class passengers to use the Lufthansa Business Lounges while first class passengers can access the Senator Lounges.
With time ticking away fast, I headed straight over to the satellite terminal to check out the Lufthansa business lounge there instead of the 1 in the main terminal.
There was a queue of 10 passengers ahead of me when I arrived. The entrance to the business lounge is to the left of reception with the Senator entrance to the right.
As you walk further inside the lounge, additional workstations are on the left.
And a selection of newspapers.
You'll then pass a small lounge area with a forest-print feature wall. It was now 11 a.m. and the lounge was packed.
A TV zone follows with 3 channels playing on the wall with all lounge chairs facing the screens.
Past the TV zone, you'll reach the tendered bar — unfortunately, the bartender wasn't familiar with an espresso martini so I settled for a mimosa instead.
At the far end of the lounge is the dining area and buffet.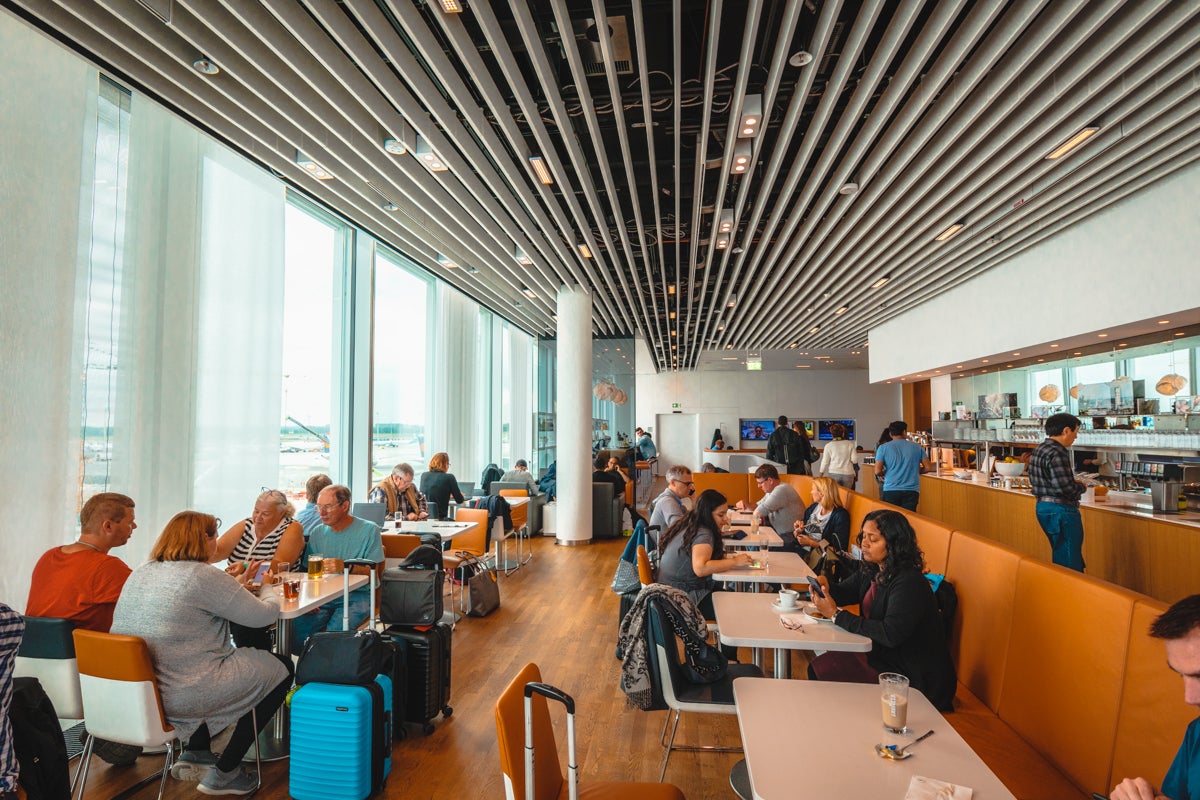 The selection of breakfast options included scrambled eggs, sausages, baked beans, yogurt, cottage cheese, spreads, cheese, and cold cuts.
The selection was disappointing but thankfully I ate breakfast at my hotel before heading to the airport.
I clocked an average Wi-Fi speed of 8.84 Mbps download and only 2.72 upload.
In the end, I only had 35 minutes in the Lufthansa lounge and that was enough. Overall, it's a disappointing lounge and definitely not up to the Etihad Premium lounge standards I've experienced in the past.
Flight
Aircraft
EY6 is traditionally served by a Boeing 777-300ER aircraft with the previous generation business class product. I hit the jackpot on this flight when I noticed a few days before departure that my flight was going to be operated by a newer Boeing 787 instead, one of my favorite aircraft, with the newer "Business Studio" onboard product!
Etihad Airways currently has a fleet of 35 Boeing 787 series aircraft including 29 of the -9 variants and 6 -10 variants.
My aircraft this morning was Etihad Airways' fifth 787-9 delivered and was just 4 years old. To my eyes, the Etihad "Facets of Abu Dhabi" livery is my favorite, especially on this beautiful Dreamliner!
Etihad has 2 configurations for its 787-9 aircraft — a 2-class configuration featuring business and economy and a 3-class configuration that adds first class. Today's aircraft was the latter.
I was fortunate to board first so that I could snap these pics to share with you.
First Class Cabin
First class features 8 seats at the very front of the aircraft.
Stepping into the first class cabin you'll admire the high walls of the suites with signature Etihad geometric patterns in the doors, luxurious Poltrona Frau-covered leather armchairs which alternate between caramel and beige, high contrast cushions, and beautiful detailing on all the suite fixtures.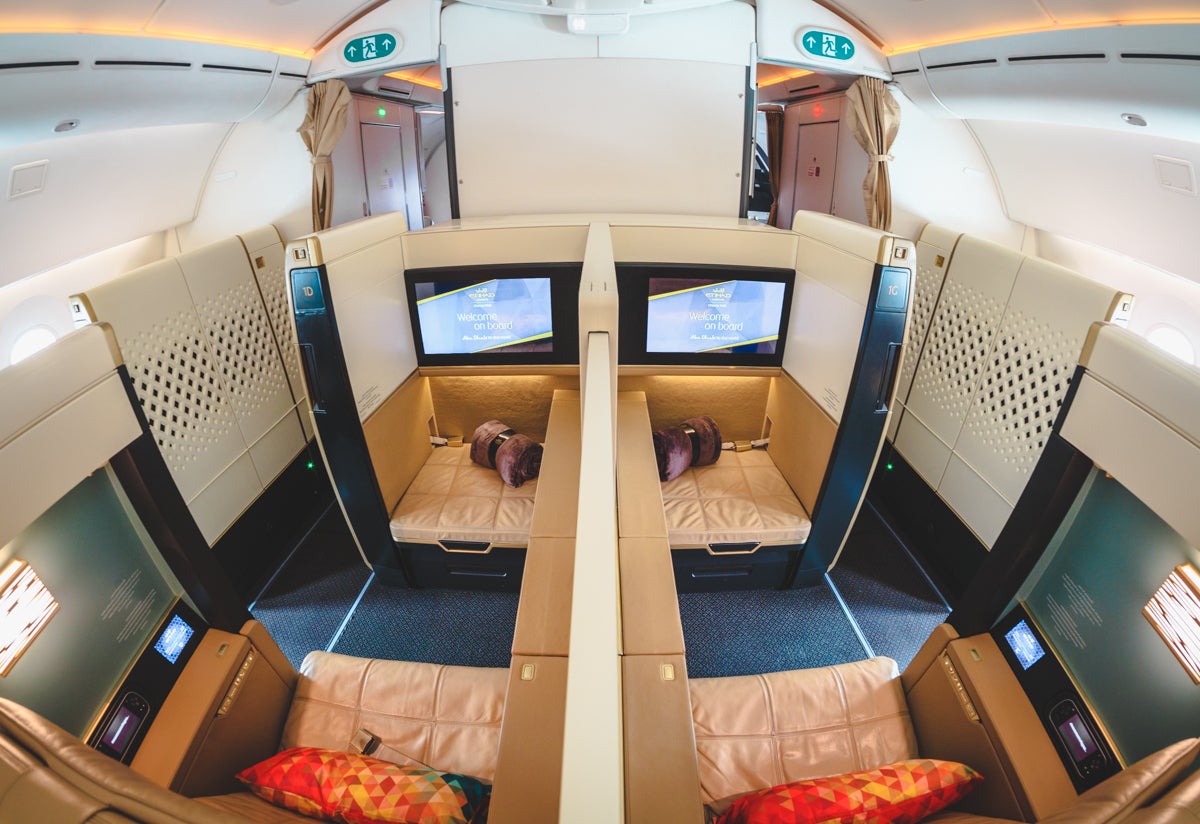 Due to the narrower 787 cross-section, the seats alternate between facing rearwards and forwards to maximize the width of the seat for your upper body. So, the window seats in row 1 face to the rear and across the aisle and the middle seats face forward.
With this inversed in row 2, window seats face forward and middle seats face the rear.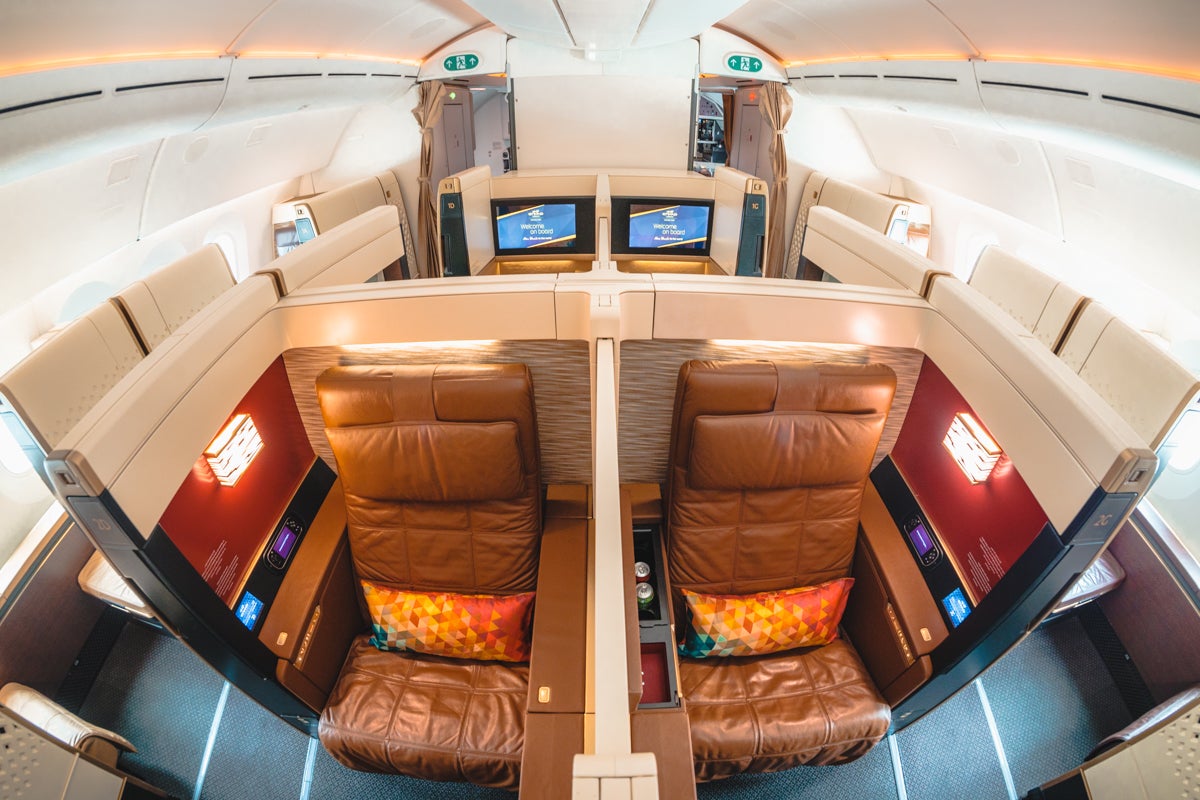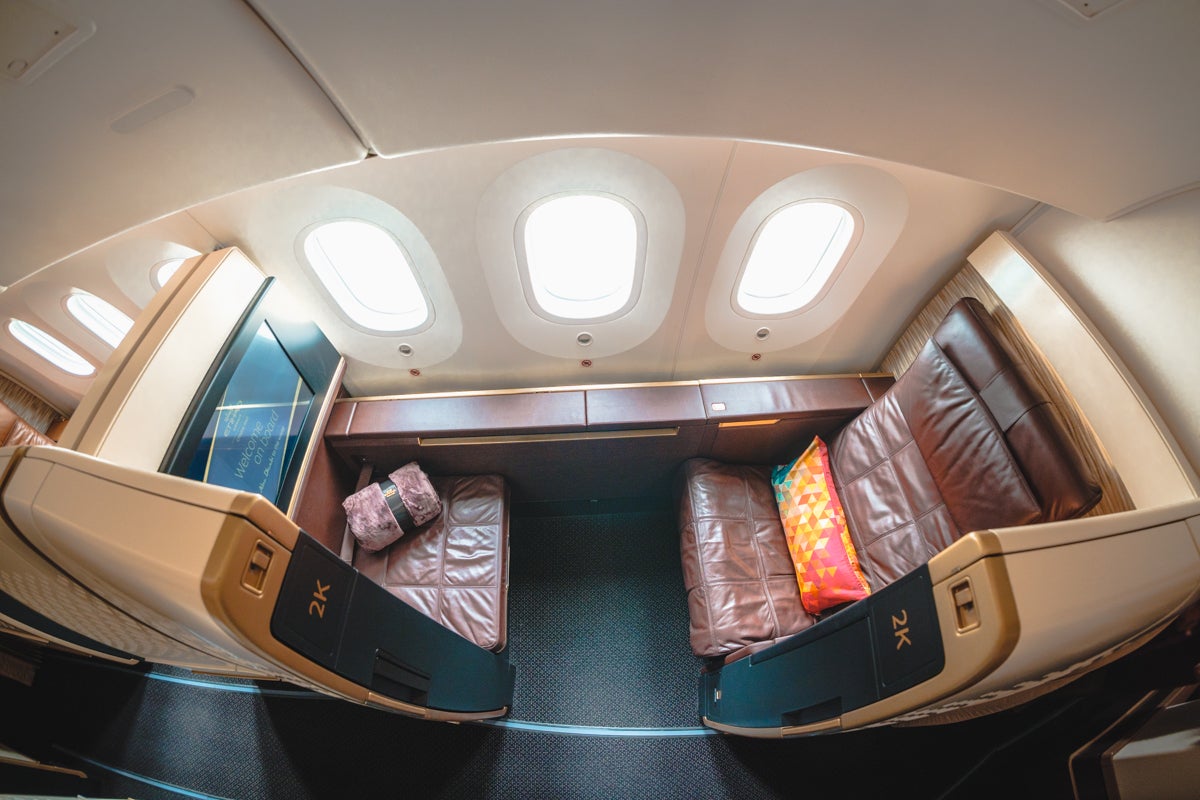 Business Class Cabin
Between first class and Door 2, is a very private business class cabin with just 8 seats in a 1-2-1 configuration.
Further back is a larger cabin of 20 additional business class seats.
Even though Etihad opted for the overhead bins down the middle of the cabin, the cabins still feel spacious and airy, most likely due to the enormous 787 windows which were flooding the cabin with natural light upon boarding.
Economy Class Cabin
Further back, 195 Economy seats in 3-3-3 configuration are split across 2 cabins. The "Smart Seats" have a fixed-wing headrest and adjustable lumbar support to improve comfort.
Business Class Studio
Returning back to the business class cabin, the luxurious detailing follows from the first class cabin, with geometric patterns from the "Facets of Abu Dhabi" styling used in the feature light over the shoulder of each seat and on the pillow slip.
Beautiful warm tones are used throughout the cabin surfaces and lighting to create a cozy and comfortable mood. Unlike its Middle Eastern neighbor, there is no "bling" or faux wood used anywhere in the cabin – in my eyes, I think Etihad has nailed the styling of this cabin.
I was fortunate to be seated in 6K in the smaller, forward, business class cabin. On this flight there were just 2 of us in the cabin that usually sits 8.
Etihad uses a custom-designed staggered seat configuration designed by Sogerma (now Stelia) yet manufactured by Zodiac (now Safran), and like in first class, the seats alternate between facing forward and to the rear to maximize the width at torso level.
Seats next to the aisle face to the rear, while window and the center pairs face forward. The aisle seats are approximately 20 centimeters (7.9 inches) shorter than the other seats to allow for a walkway from the aisle to the contained pods.
The forward-facing A and K seats are the best picks as these seats sit alongside the windows with the console by the aisle, providing slightly more privacy.
The next best are seats E/F and would be ideal for couples or colleagues traveling together as they sit closest together and have a height-adjustable privacy screen. It doesn't drop flush with the seat level to create a double bed like the newer Qatar Airways Qsuite or Singapore Airlines new A380 seats.
Speaking of Qsuites, the layout is actually very similar to the Etihad Business Studio except window seats face to the rear and the aisle seats face forward in the Qatar version.
The rear-facing D/G seats on the aisle face aft and have an adjustable privacy screen.
The rear-facing C/H seats have a console by the window and the actual seats alongside the aisle.
I would specifically avoid seats 5C and 5H as both miss out on a window due to the join in the fuselage.
The only downside to this configuration, with all the seats in a row facing the same direction which aren't offset, is that I could see the other passenger sitting on the opposite side of the aircraft out of the corner of my eye the whole flight. In hindsight, I could have raised the partition between the empty middle seats, but it didn't bother me too much.
As you take your seat, you'll notice the Poltrona Frau-covered leather headrest and over your shoulder is the stunning feature light which also has a reading spotlight on top.
Under this is a storage compartment that houses the noise-canceling headphones.
Further down you'll find the literature pocket, headphone jack and a place to store a water bottle.
At floor level, there is a universal power socket.
On the leading edge of the console, you'll find buttons to adjust the seat presets, firmness of the seat, and the reading light.
Up higher is the IFE remote, touchscreen for control of all the seat movements, massage, lumbar support, firmness adjustment, lighting, windows, and to turn Do-Not-Disturb mode on and off. I was advised the 2 USB ports had been deactivated so I had to use the power adapter at floor level to charge my phone during the flight. This 4-year-old bird was also showing signs of wear-and-tear on the black surfaces.
The foot cubby is wide, deep, and has ample height for the biggest of feet (which I do not have).
There is also ample storage under this to store your shoes during the flight.
It also extends far enough out to rest your feet on. The tray table pops out from the left side, where the gold button is shown.
What I love about flying in a Boeing 787, which isn't specific to Etihad, are the windows! Firstly, they are huge and are positioned higher up the cabin at the perfect height to admire the world fly by. They're also electro-chromatic which means they can transition to completely black without the need of a window shade and still allow you to see out. First-generation windows were slow to dim however these were quite quick.
On this day flight, the crew thankfully didn't override the controls and plunge the cabin into darkness, so I was able to watch the jets darting between the Middle East and Europe the entire flight. I was respectful of the passenger opposite me, so I dimmed the windows a few shades which still allowed me to see out without flooding the cabin with too much light.
When dimmed, the light that enters the cabin has a blue hue.
Although no individual air nozzles are available, the cabin was kept a comfortable temperature, thanks to the fresh air system of the Boeing 787 which doesn't use bleed air from the engine like most aircraft.
There are 2 lavatories just ahead of Door 2 on either side of the aircraft providing a guest to toilet ratio of 14:1. The loos also have windows! And the geometric patterns extend to the backsplash and floor.
Even though a toilet was right behind my seat, I was never disturbed by anyone using it.
I wanted to stay awake during the day flight, but if you wanted to sleep, the seat slides down to a fully-flat 80.5-inch bed. What I love about this seat is that it doesn't have an integrated headrest, so it doesn't get in the way in bed mode plus the seats also have adjustable firmness and can change between a firm or soft sleep surface.
A feature that most passengers won't immediately realize is the humidification systems on the Boeing 787 that reduce problems like fatigue, jetlag, red eyes, and dry skin.
Amenities
An Acqua Di Parma black amenity kit was at my seat upon boarding which includes socks with non-slip rubber (but please don't wear them into the bathroom!), dental kit, eye mask, moisturizer, and eau de cologne.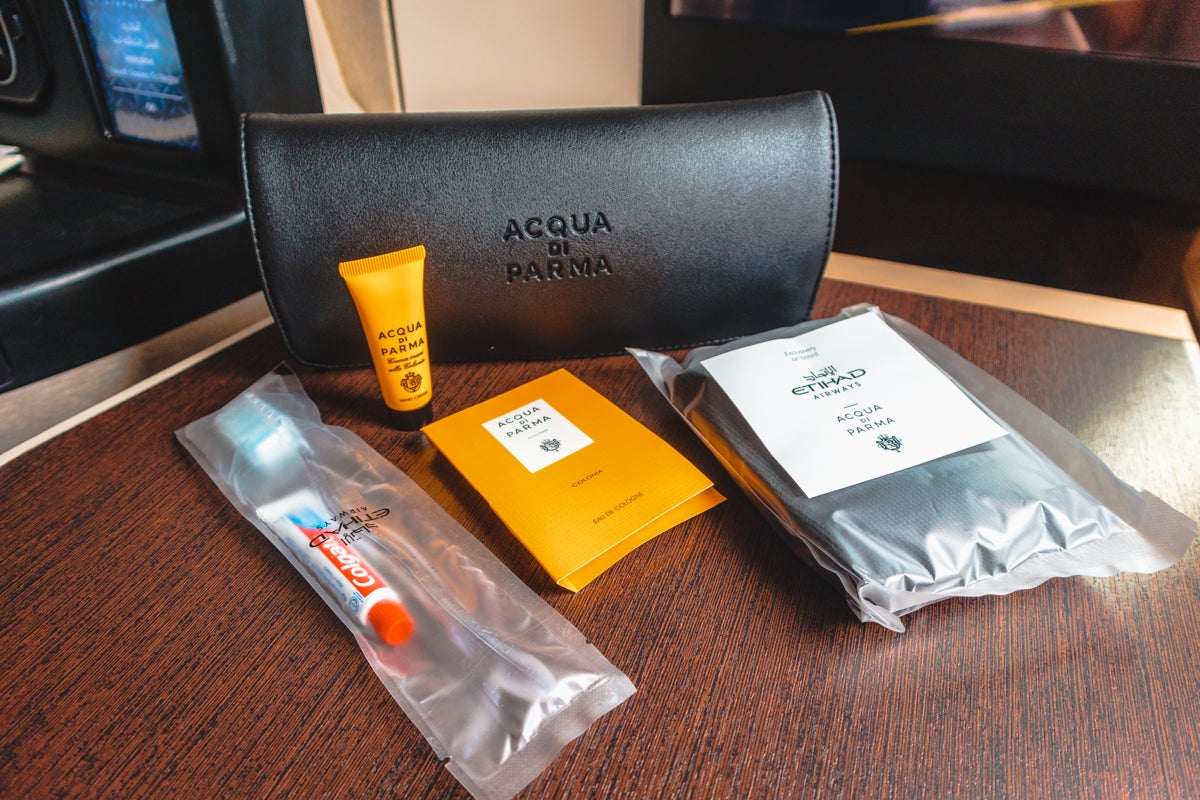 A duvet is supplied, but no pajamas or mattress pad as these were recently cut from their service.
Entertainment
E-Box, Etihad Airways' inflight entertainment system offers passengers over 750 hours of new release movies, TV series, live TV, music, and games.
A large 18.5-inch touch-screen is fixed directly in front of all passengers meaning you can use the entertainment system from gate-to-gate. And thankfully there were less than 2 minutes of pre-show advertisements.
Noise-canceling headphones are provided and are comparable with other airline business class headsets yet pale in comparison to a decent BYO pair, so I used my Bose instead.
There's also an interactive flight plan map.
The aircraft was fitted with Wi-Fi and plans started at $5.95 for a measly 50 MB and topped out at $29.95 for just 300 MB. I'm not a fan of the data allowance plans compared to time-based plans. I much prefer to take up an entire flight plan like on Cathay Pacific's Airbus A350 aircraft.
I purchased the "Premium" 300 MB package which I think refers to the premium pricing instead of the service provided. The speed was slow, so slow that speed tests timed out, and despite turning off all background data and using it for messaging only, the 300 MB was depleted within 1.5 hours. I purchased another plan, and the service cut out after Turkey, so I didn't bother with it further.
Meal and Service
Upon boarding, I was greeted by the amazing Danushka (Danni), the Cabin Manager, with an enthusiastic, "Good morning, Mr. Stone," which the crew continually addressed me as throughout the flight, without any prompting from paper or tablets like other airlines.
The lovely Lilliana introduced herself next as the crew member looking after the business class cabin on this flight. She offered me a hot towel and either a glass of Piper-Heidsieck Cuvee Brut Champagne ($35 a bottle), orange juice, or water. I opted for the Champagne. Considering I was flying during Ramadan, the crew didn't bring any wine bottles into the cabin however all alcoholic beverages were still available to any passengers who wanted a drink.
The inflight chef, Vikram, then introduced himself, hand-delivered the menu and discussed all the options. Etihad invites passengers to dine-on-demand, so I opted to have lunch soon after departure.
Update: Etihad has eliminated inflight chefs and food and beverage managers in 2020 as part of its changes related to COVID-19.
Before departing Munich, I shared a tour of the aircraft on my Instagram story, and the Etihad social media team was prompt to reply. I have found their social media team the most responsive of all the airlines I've tagged or messaged.
We pushed back 20 minutes later than scheduled and had a long taxi, but thankfully the crew kept my Champagne topped up until the last minute.
After take-off, beverage orders were taken, and I opted for a Cipriani Bellini which was accompanied by warm mixed nuts. The Bellini was refreshingly fruity.
While Etihad doesn't provide a restaurant-style place setting like on Qatar Airways, the tray service does speed up the delivery and Etihad has selected high-quality place setting pieces that match the "Facets of Abu Dhabi" company design language. The side plate, for example, looks like hammered chrome, with premium-weighted cutlery to match that feels like it has come from a high-end restaurant.
Lunch commenced with a choice of starters. I selected the beef bresaola with cherry tomatoes, rocket, and parmesan shavings with a balsamic reduction that was light and refreshing.
A choice of still or sparkling water was available.
Other starter options:
Arabic mezze
Butternut squash soup
For main I decided on the grilled salmon with mashed potato, asparagus and red vein sorrel which I matched with the Saint Clair Sauvignon Blanc from Marlborough, New Zealand ($20 a bottle). The salmon was cooked and seasoned to perfection and was the perfect portion size to allow for dessert.
The other main options:
Chicken breast
Lamb kabsa
Artichoke tortellini
A cheese service was offered, which I always skip, so I went straight for dessert. I couldn't go past the chocolate lava cake with vanilla sauce which was soft and gooey on the inside as promised.
The other desserts:
Lemon meringue
Seasonal fresh fruit
Haagen-Dazs ice cream
I finished off lunch with a black coffee which is delivered on a smaller tray, accompanied by sugar cubes and a chocolate.
About 30 minutes later, Vikram, the inflight chef, came to check on me to see how the meal was and also asked if I wanted to try his signature cocktail which isn't listed on the menu. I couldn't say no!
Vickram returned with an enormous glass and explained it was Caorunn small batch Scottish gin with pineapple, rosemary and cucumber with a hint of mint. It was deliciously fresh and aromatic. Before this, vodka was my go-to white spirit, but it was this 1 drink which has since made me switch to gin.
About 2 hours before landing into Abu Dhabi, I ordered a steak sandwich with Swiss cheese, red onion chutney and rocket from the "All day" dining menu. Although it was presented with too much rocket, it tasted delicious. The steak itself was cooked medium rare and was tender.
The other all-day dining options:
Chicken pie
Seasonal fresh fruit
Haagen-Dazs ice cream
Potato crisps
Baked cookies
Madeleines
Arabic baklava
Final Thoughts
Despite the 20-minute delay departing Munich, we managed to arrive in Abu Dhabi just 13 minutes late.
We arrived at a hard stand and the 2 first class passengers were whisked into a waiting Mercedes to the terminal while the 14 passengers in business class had a dedicated bus.
On the bus to the terminal, I was reflecting if my views of the Etihad experience had changed since that first flight 4 years and 1 day ago.
It's hard to believe this seat design is 5 years old — aside from the cosmetic scratches on this specific jet, it still ticks all the boxes for a comfortable journey: wide seat at shoulder level, wide foot cubby, fully-flat bed with adjustable firmness, decent storage around the seat, and a large IFE screen. Sure, the privacy could be better, maybe with a closing door in a future version?
The menu still provides a great selection of options for all courses including dishes which aren't too heavy and the ability to dine at any time is a huge plus.
What has also remained consistent in these years is the amazing in-flight service, from remembering my name throughout the flight to the surprise and delight secret cocktail to never needing to use the call bell due to an always present and proactive crew. I saw Lilliana check on the passenger on the opposite side of the cabin to me and when she noticed him sleeping, she reached over and dimmed the windows for him. It's service like this which keeps me coming back to Etihad — they make you feel special regardless of your airline status or whether you used points or dollars to pay for your seat.
Next up is to see how the A380 experience home to Sydney compares…