Etihad Airways Airbus A380 Business Class Review [AUH to SYD]
Airline: Etihad Airways (EY)
Aircraft: Airbus A380 (A6-APG)
Flight #: EY454
Route: Abu Dhabi International Airport (AUH) > Sydney Airport (SYD)
Date: May 16, 2019
Duration: 14hr
Cabin & Layout: Business Class, 70-seats, 1-2-1 config
Seat(s): 10K
Miles Used: 139,000 Virgin Australia Velocity Points per person one-way (including flight from Munich)
Taxes & Fees Paid: $491 (AU$716.78) per person
Typical Retail Cost: $3,900 per person one-way Munich to Sydney (AU$5,700)
Introduction
Booking Etihad Airways Business Class
This review follows on from a flight from Munich to Abu Dhabi on Etihad Airways' Boeing 787-9 in business class where you can read about my experience and how it was booked.
At Abu Dhabi International Airport – Etihad First Class Lounge
The inbound flight from Munich was 13 minutes late which only left me with 28 minutes before boarding commenced and 1 hour 22 minutes before departure to Sydney. I also needed to get from Terminal 1 to 3.
Going through security in the transit area, I realized my wallet wasn't in my pocket and I started to panic!
I frantically searched my hand luggage and it couldn't be found. With time ticking, I bolted to the Etihad First Class lounge which my Virgin Australia Platinum status afforded me entry to. I asked the receptionist what my options were, and she said nothing could be done in the time before boarding — which was now just 15 minutes away. Ekk! She said that lost and found could be processed online.
I had no time to check out either the Premium Business lounge or the First Class lounge during this visit however here are some photos of the First Class lounge from a previous visit.
The lounge entrance is through a small doorway across from the premium security entrance if your travel originated in Abu Dhabi.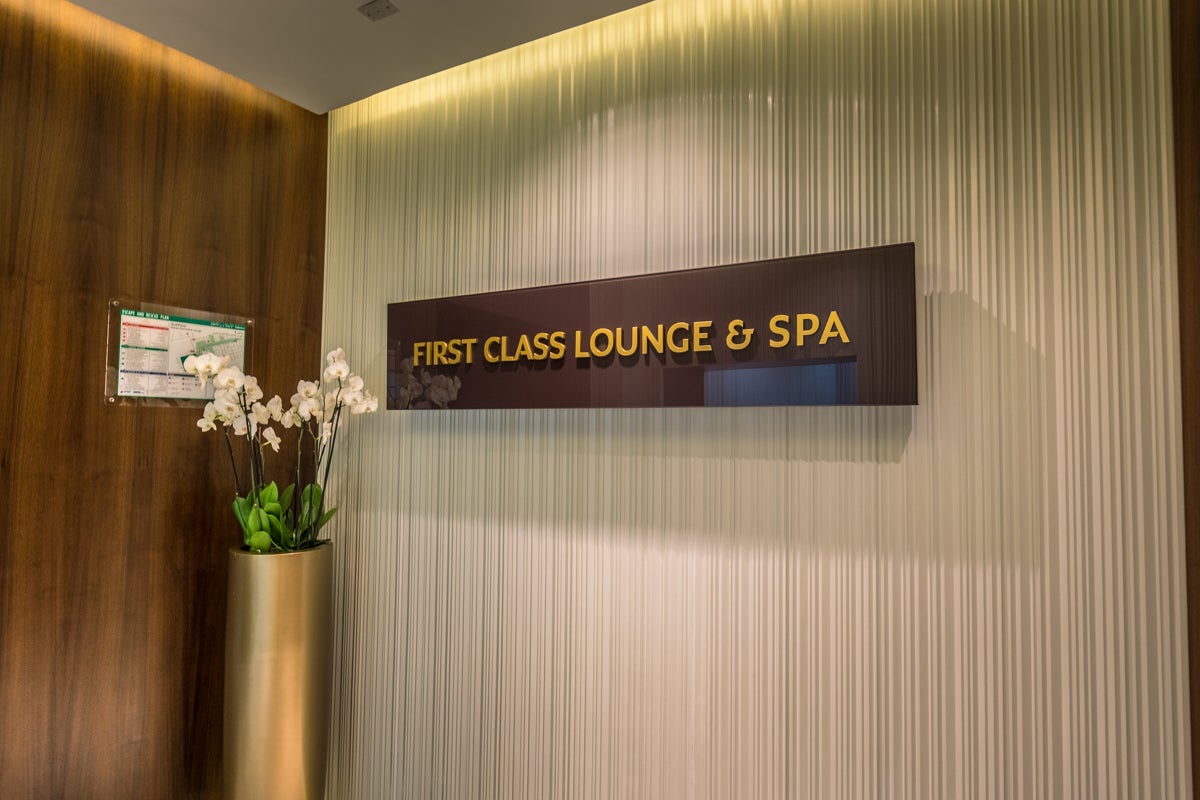 You then take the stairs or elevator up to the main lounge level where you step into the main entrance which looks spectacular.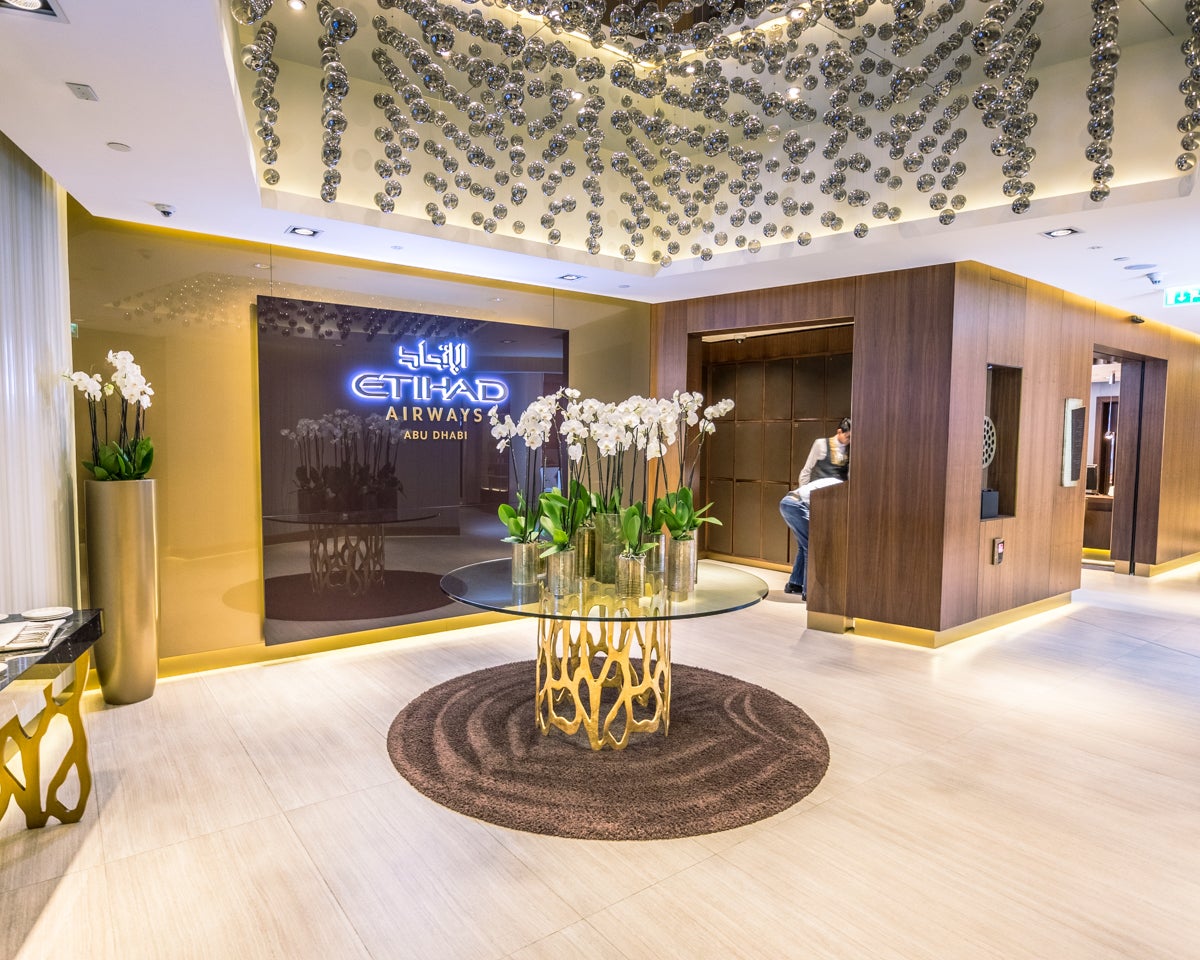 By the entrance, there is a refreshment station with Arabic coffee and a selection of 4 varieties of dates.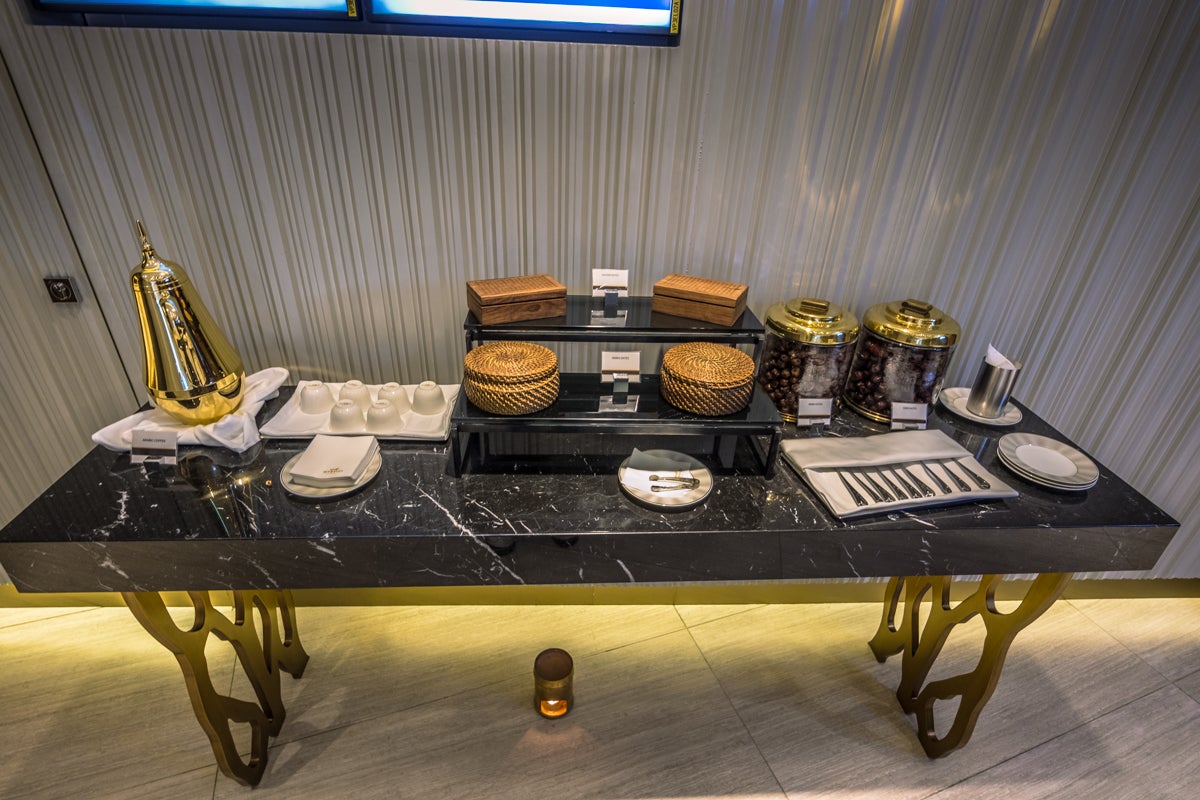 Stepping into the lounge, the first zone you will enter is the main dining area with its open kitchen. A bar runs alongside the kitchen if you would prefer to sit here and watch the action.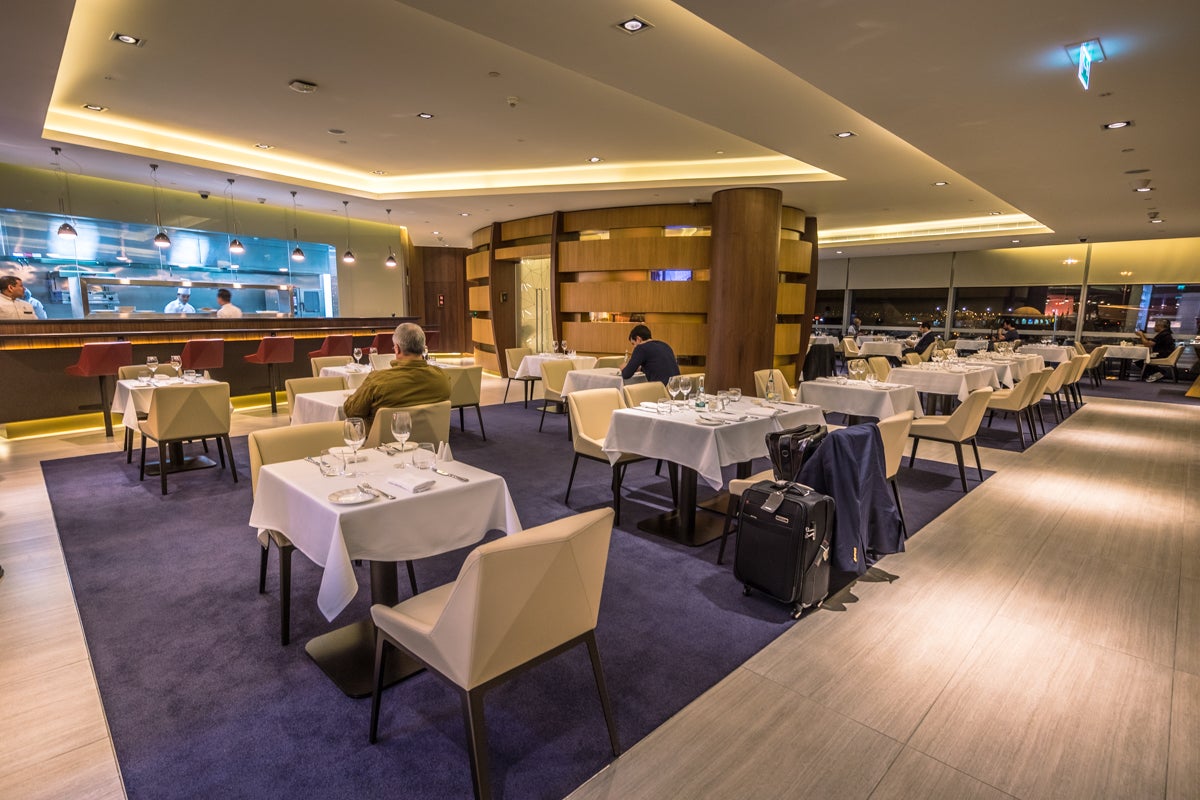 A smaller bar is located around the corner which even has power adapters under the bench so guests can recharge their devices whilst they sip cocktails.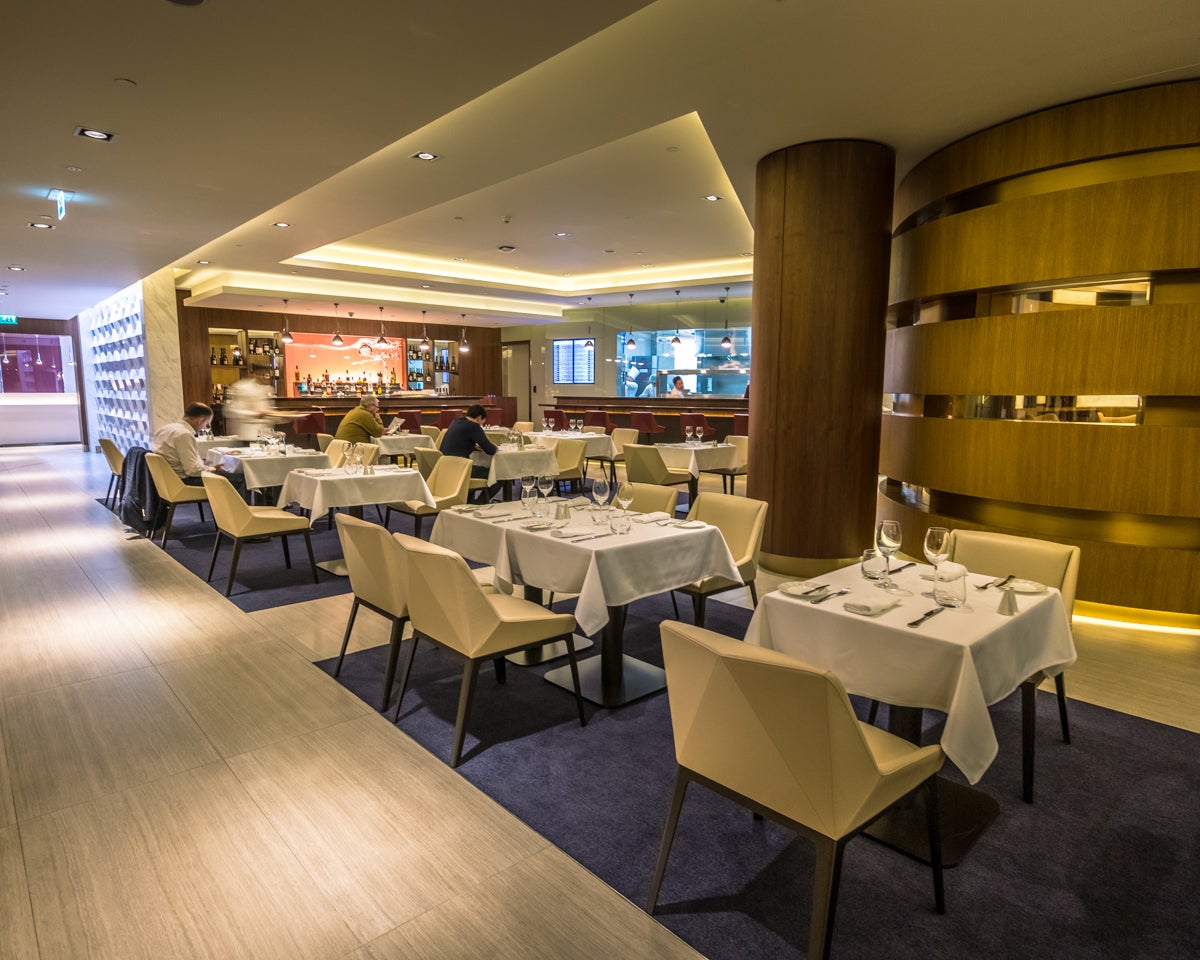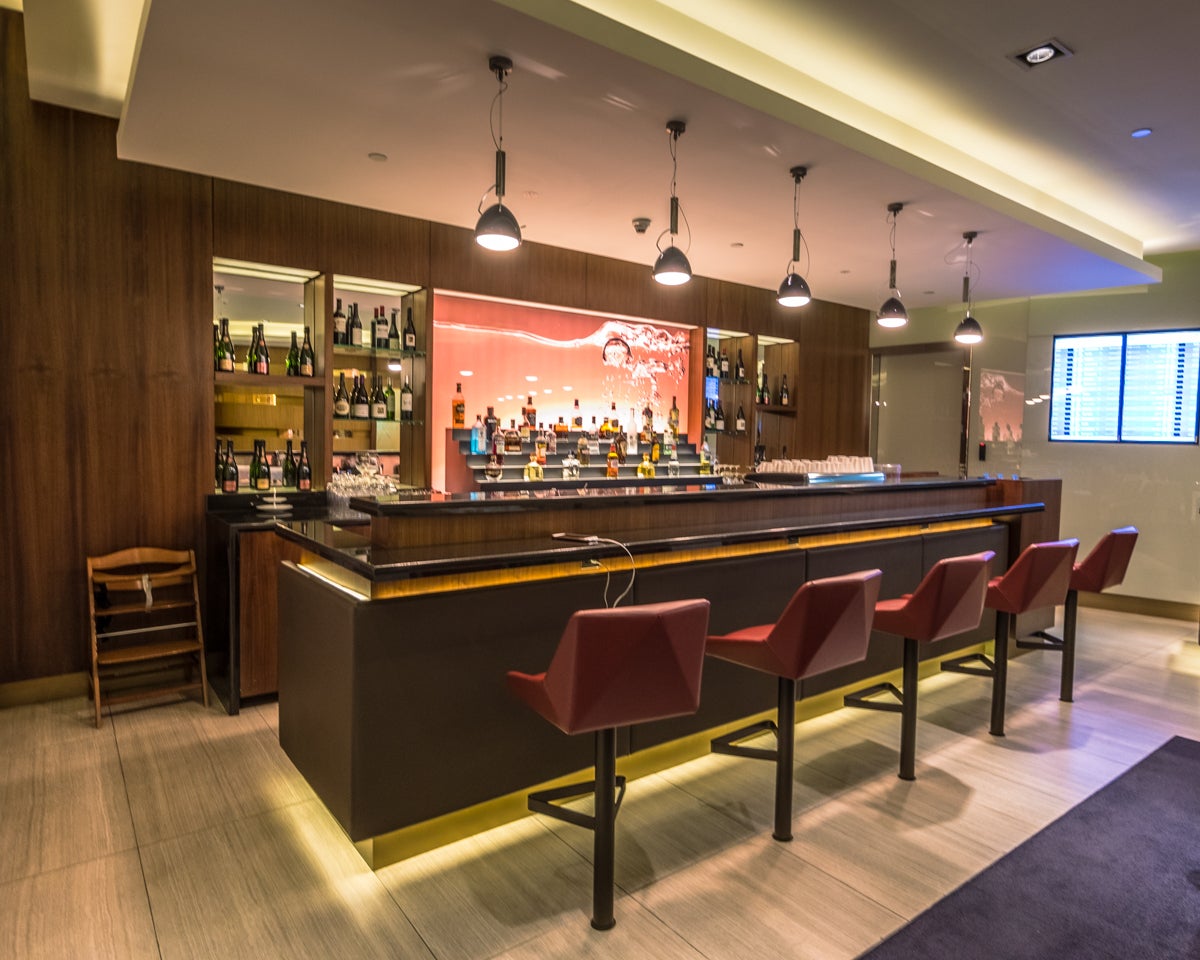 If you prefer to eat in the lounge so you can maximize sleep onboard, there is table service and an a la carte dining option that had 11 dishes available to choose from during this visit. I decided on the dukkah-marinated prawns with pea bulgur, smoked red peppers, mint-infused salad, and lemon dressing.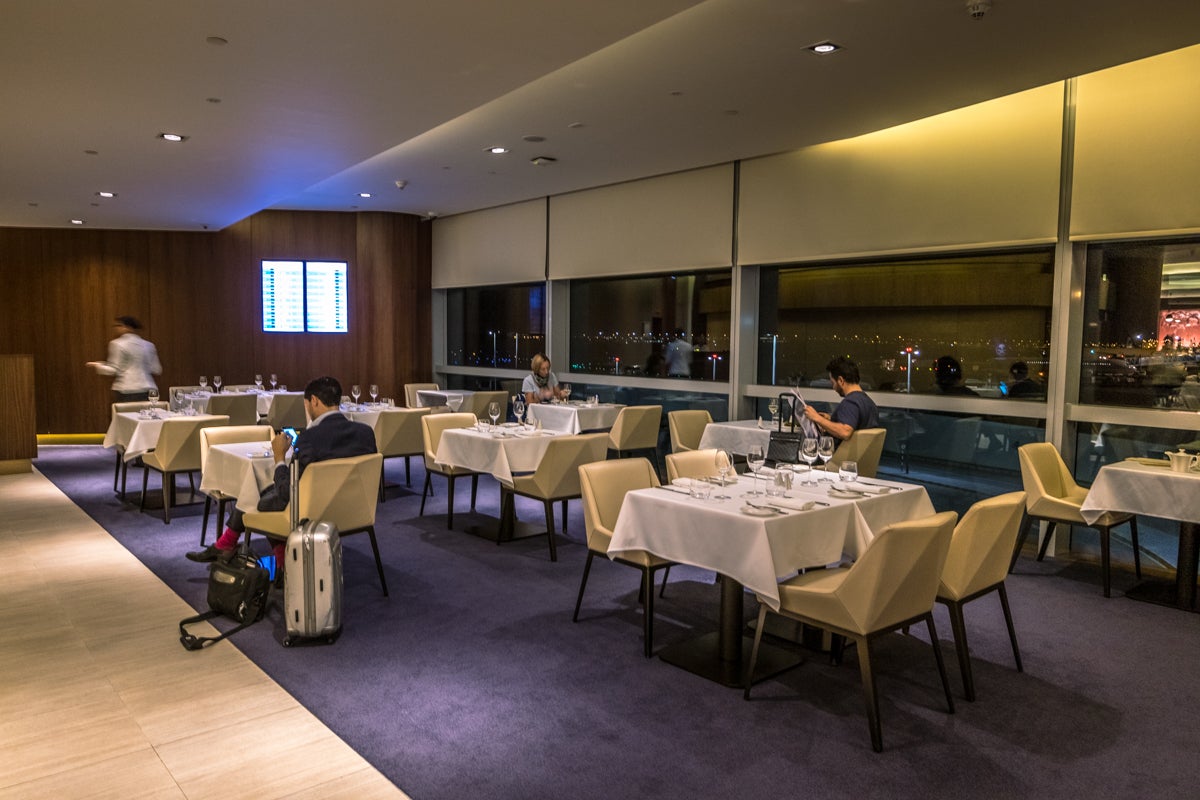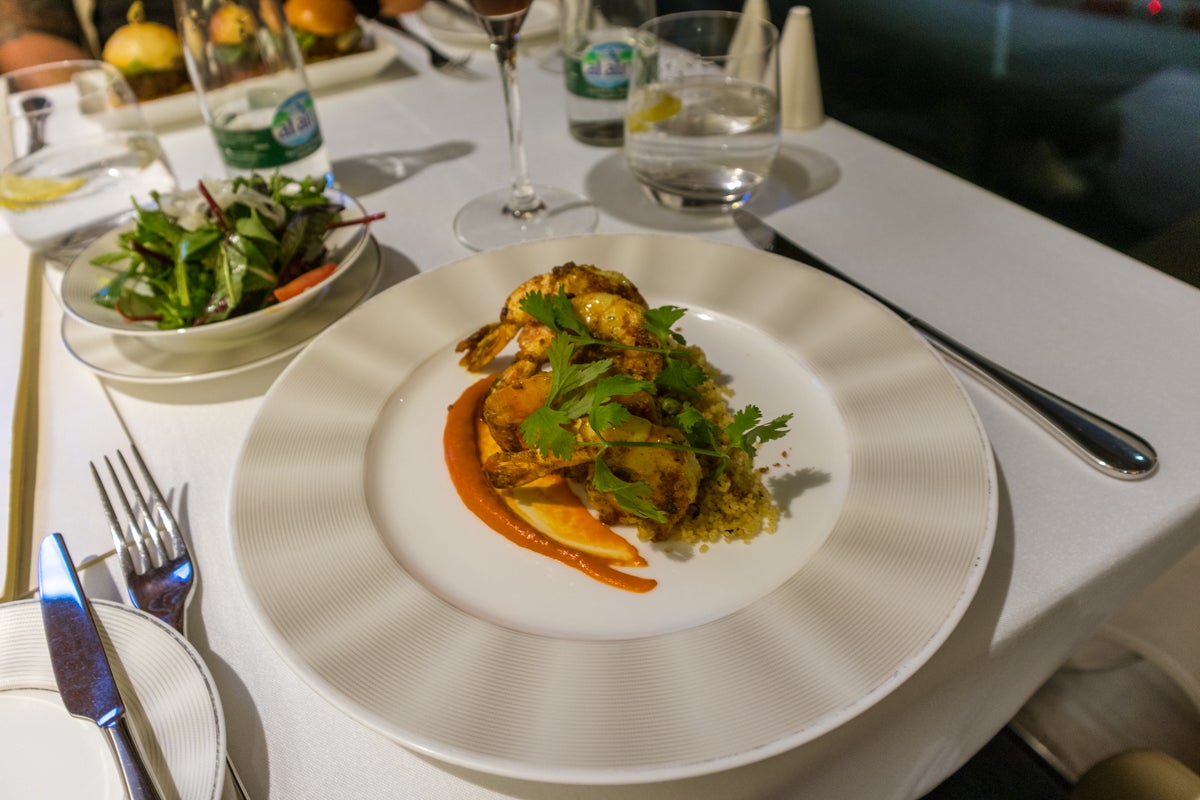 Although not listed on the cocktail menu, I asked if they could make an espresso martini — which the staff member replied, "of course."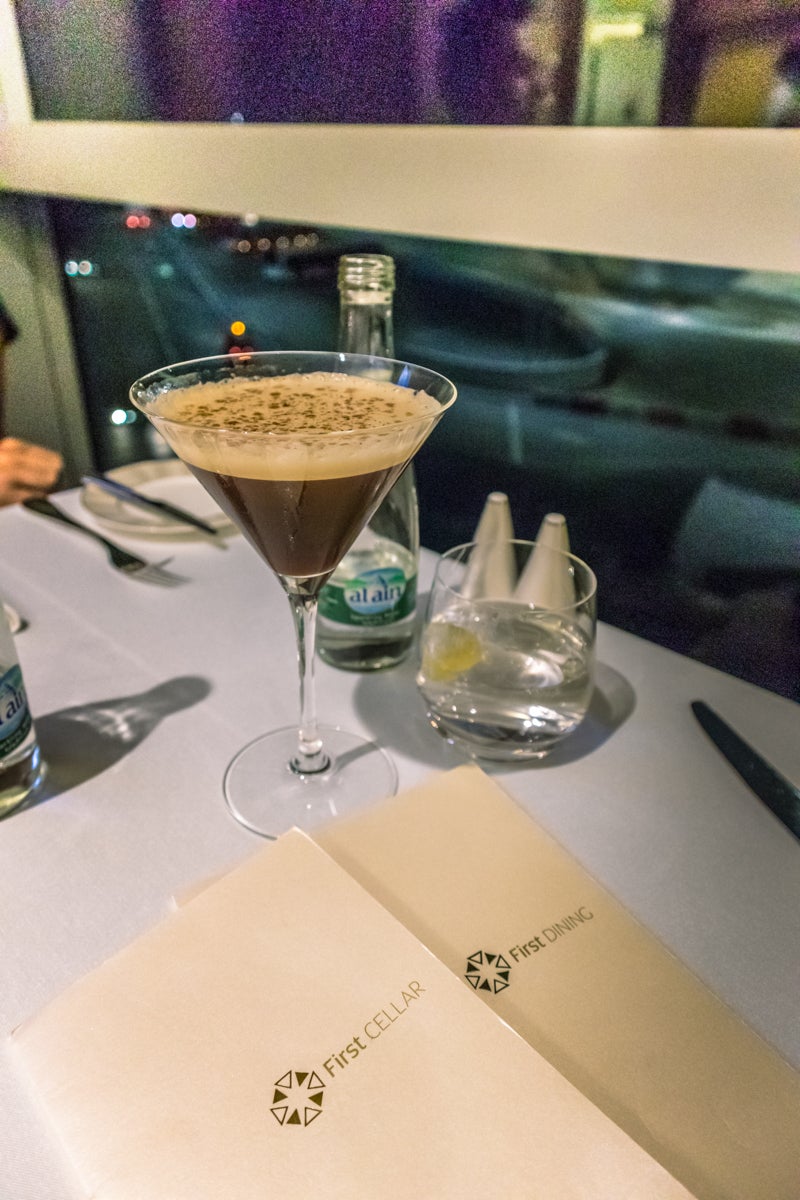 Past the dining room is the feature piece of this lounge, the main bar, which has been modeled on the "Facets of Abu Dhabi" brand design language which features geometric shapes as found in the modern architecture of Abu Dhabi with a color palette that reflects the hues of the UAE landscape.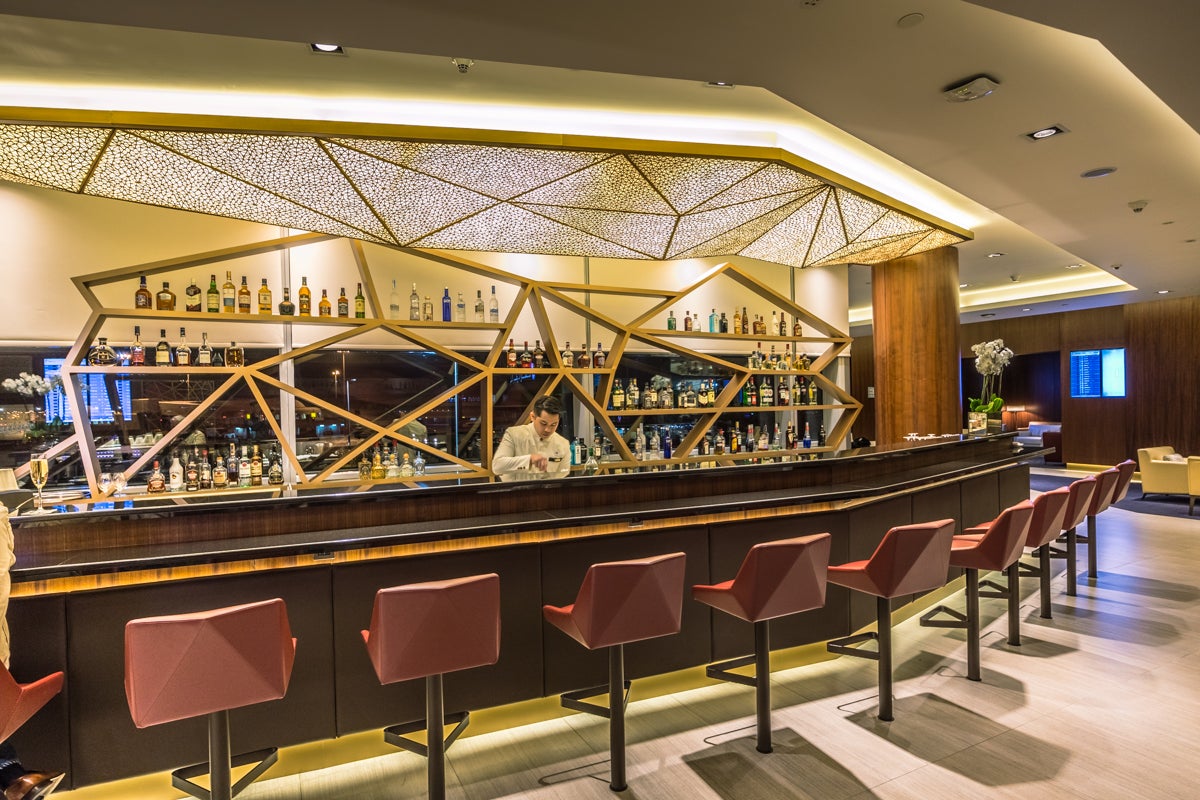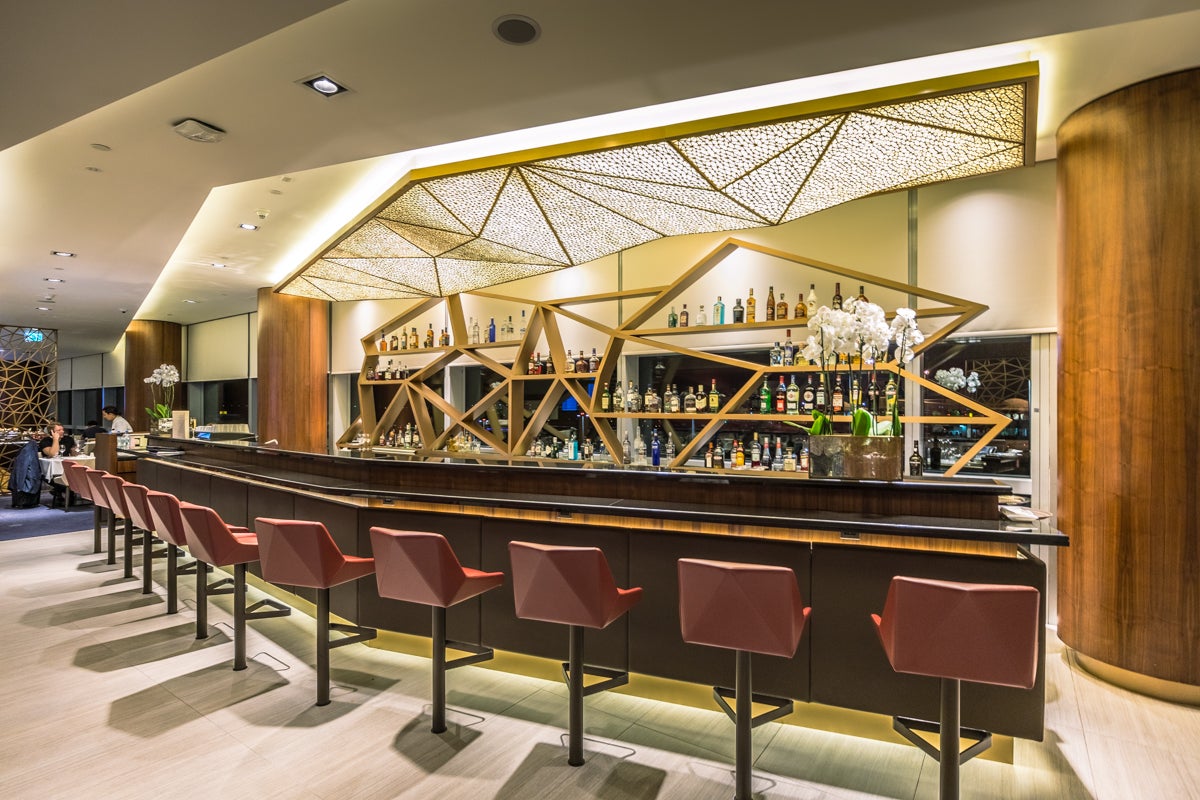 Further into the lounge are various lounge zones, most of which were empty.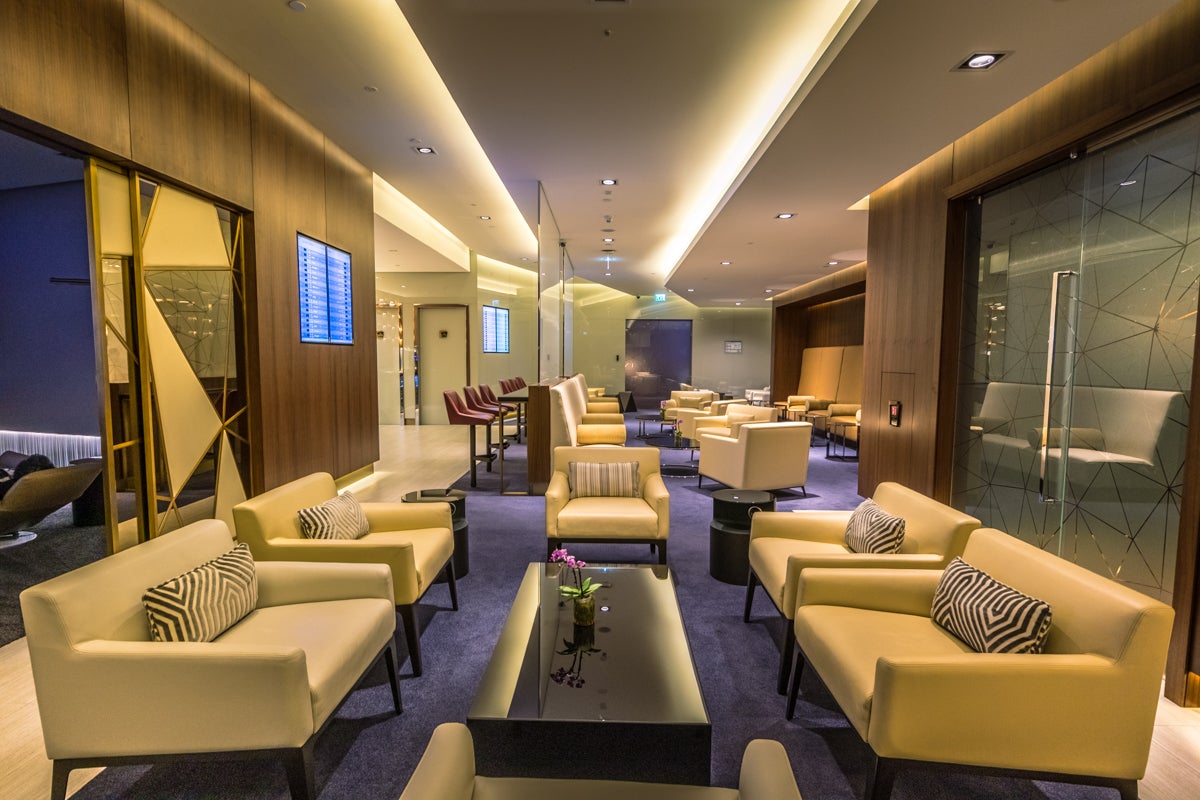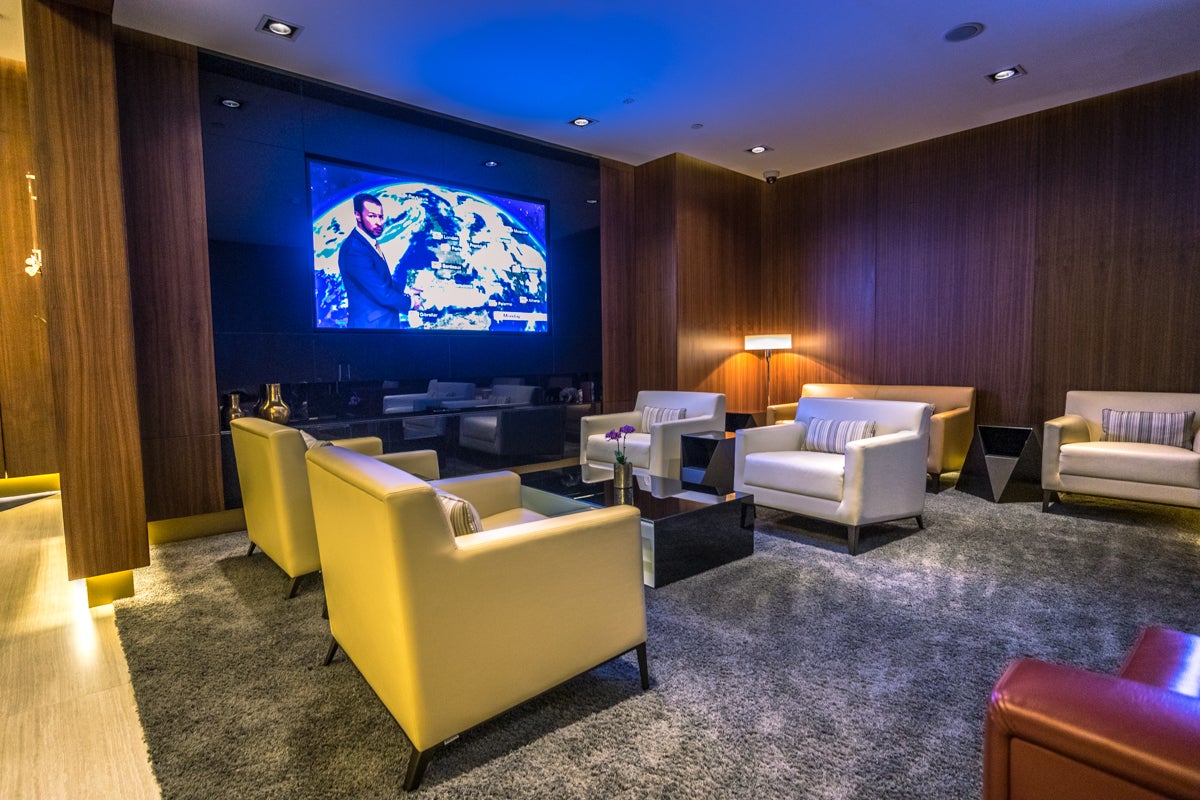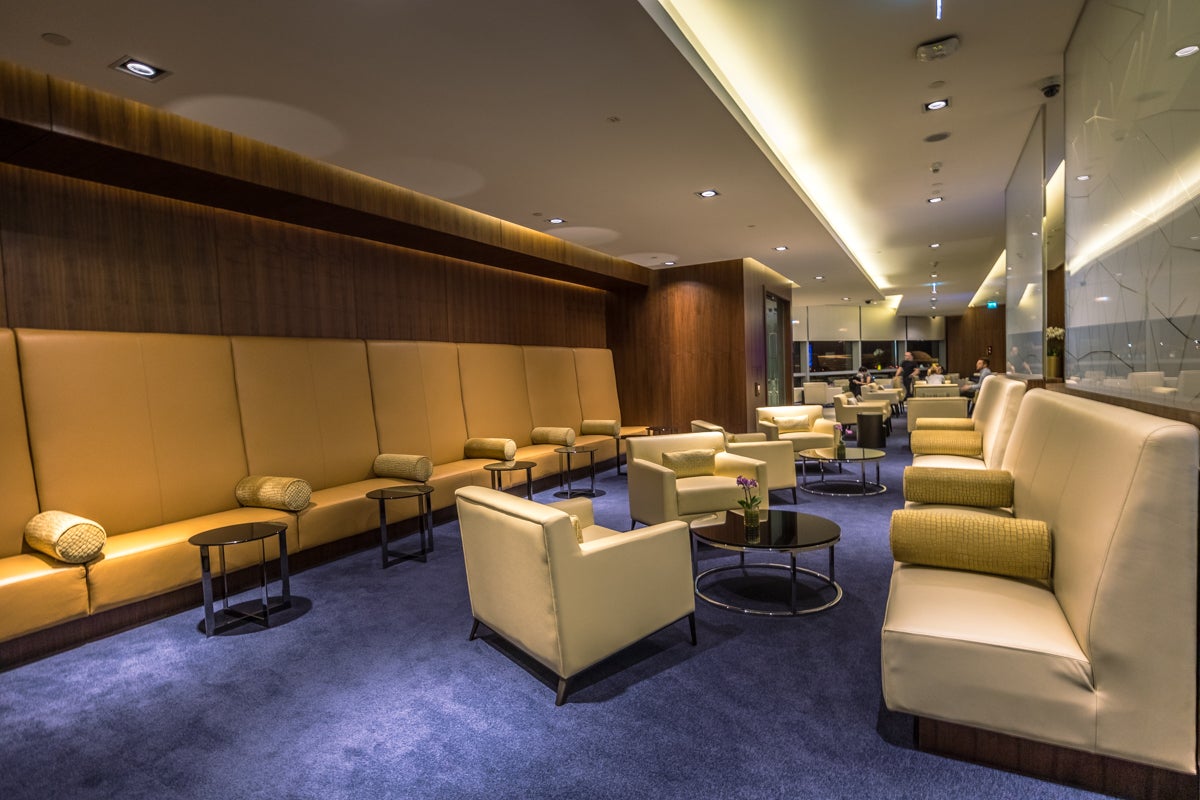 Under all the tables are power adapters and USB ports to charge your devices.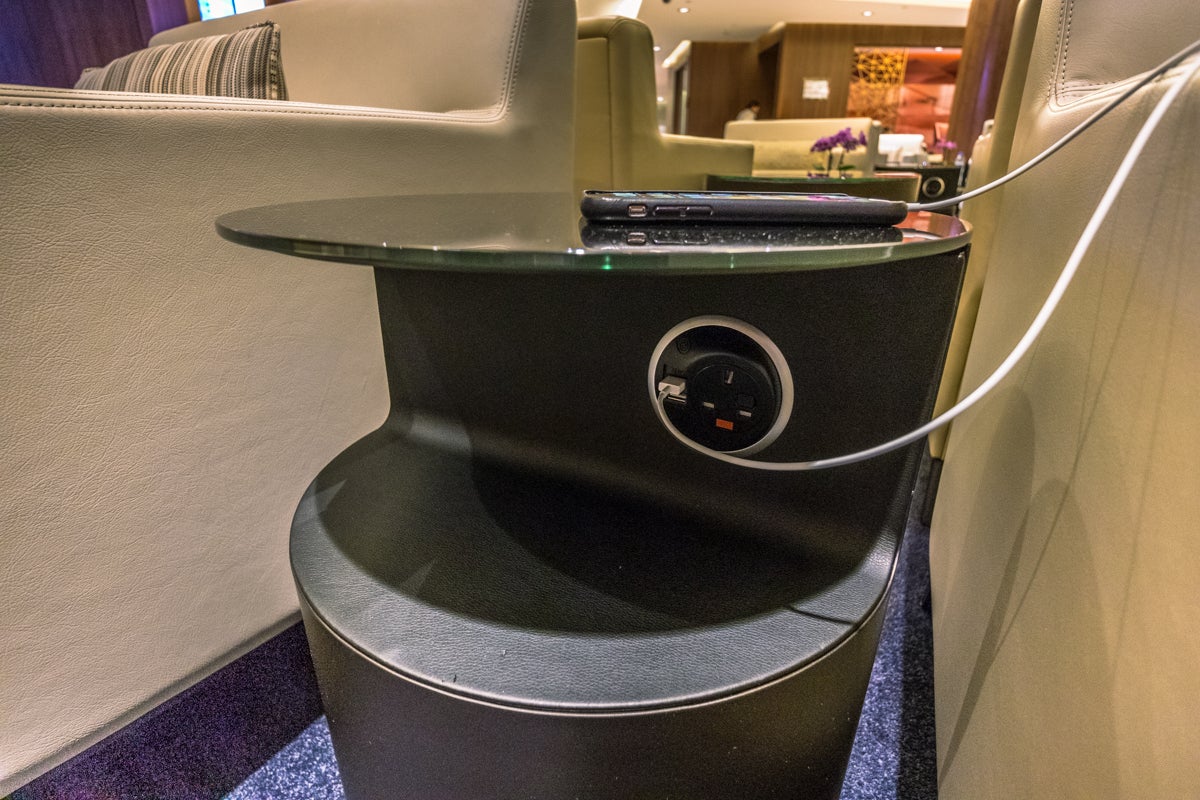 A refreshment station is at the far end of the lounge, however it shouldn't be necessary as lounge staff are incredibly proactive and will bring you refreshments no matter where you are seated in the lounge.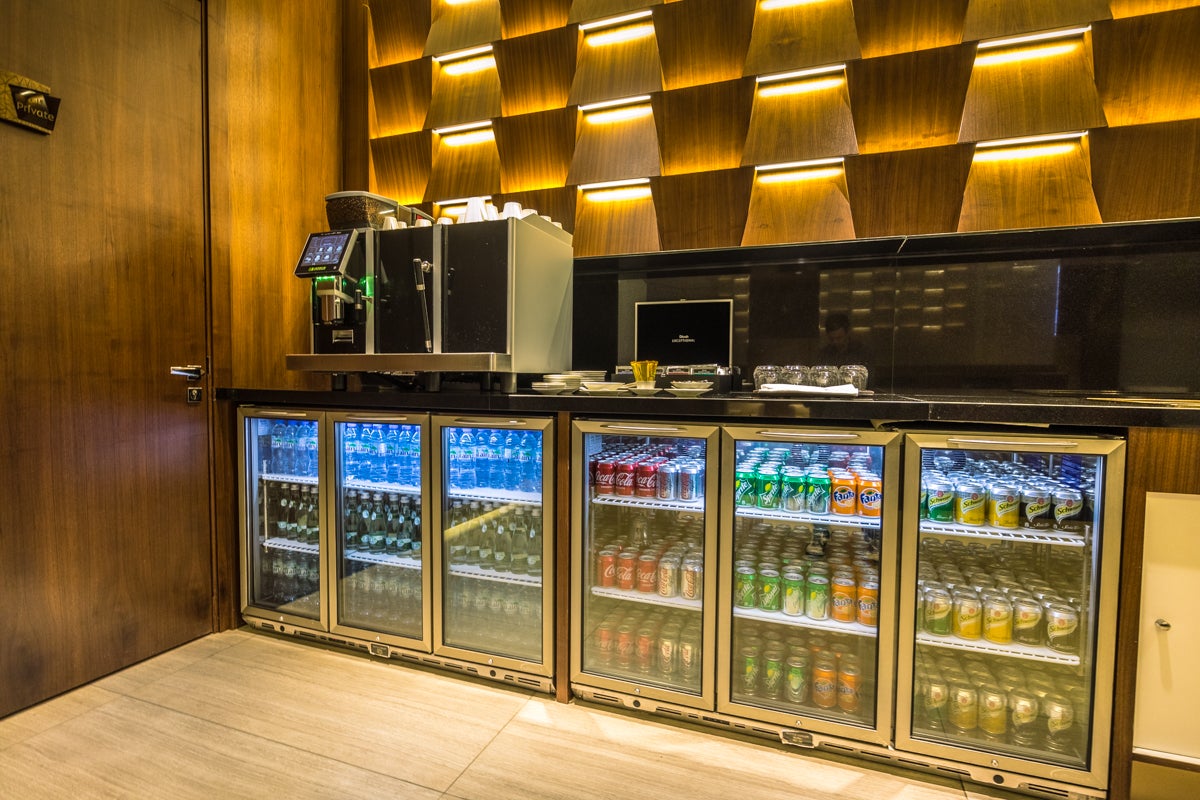 Although the lounge doesn't have a nap room, there is a relaxation room with large screens projecting graphics and a handful of armchairs which recline, but don't go fully flat.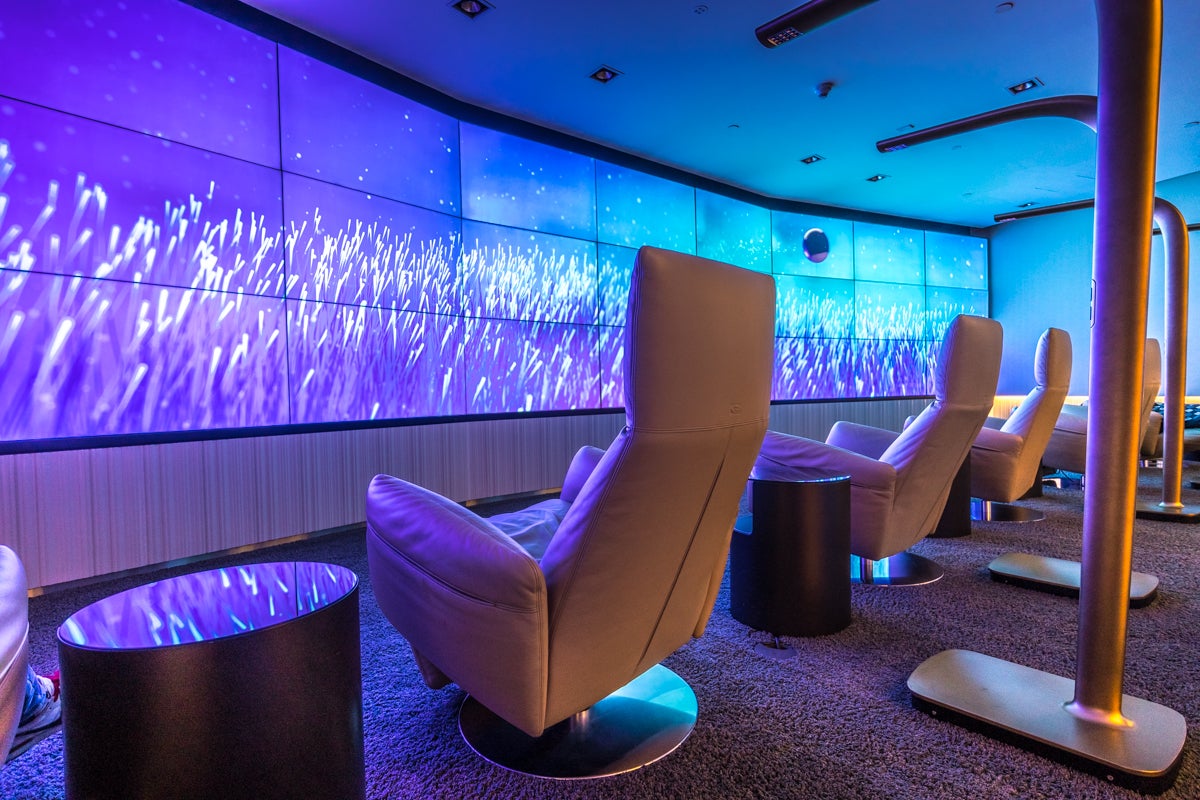 If you're an Etihad Platinum Guest member or traveling in The Residence or First Class, you can also get a complimentary spa treatment in the Six Senses Spa. All other guests must pay.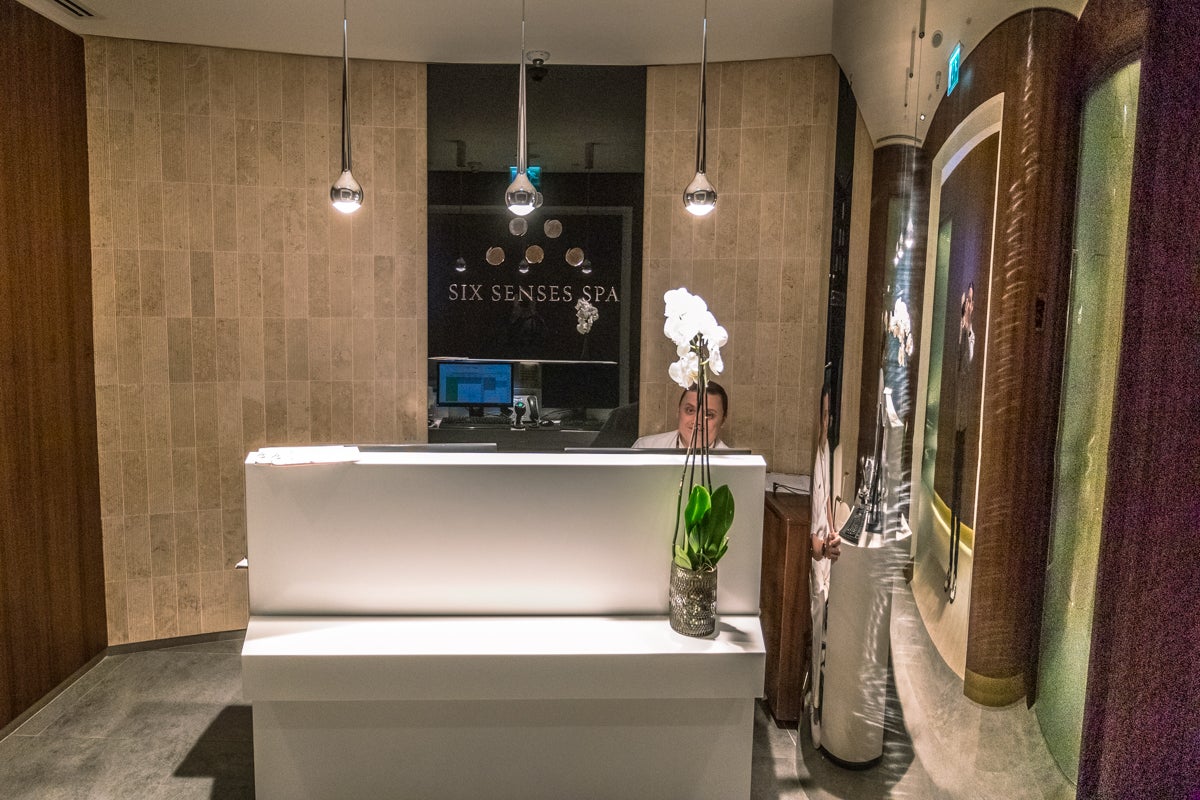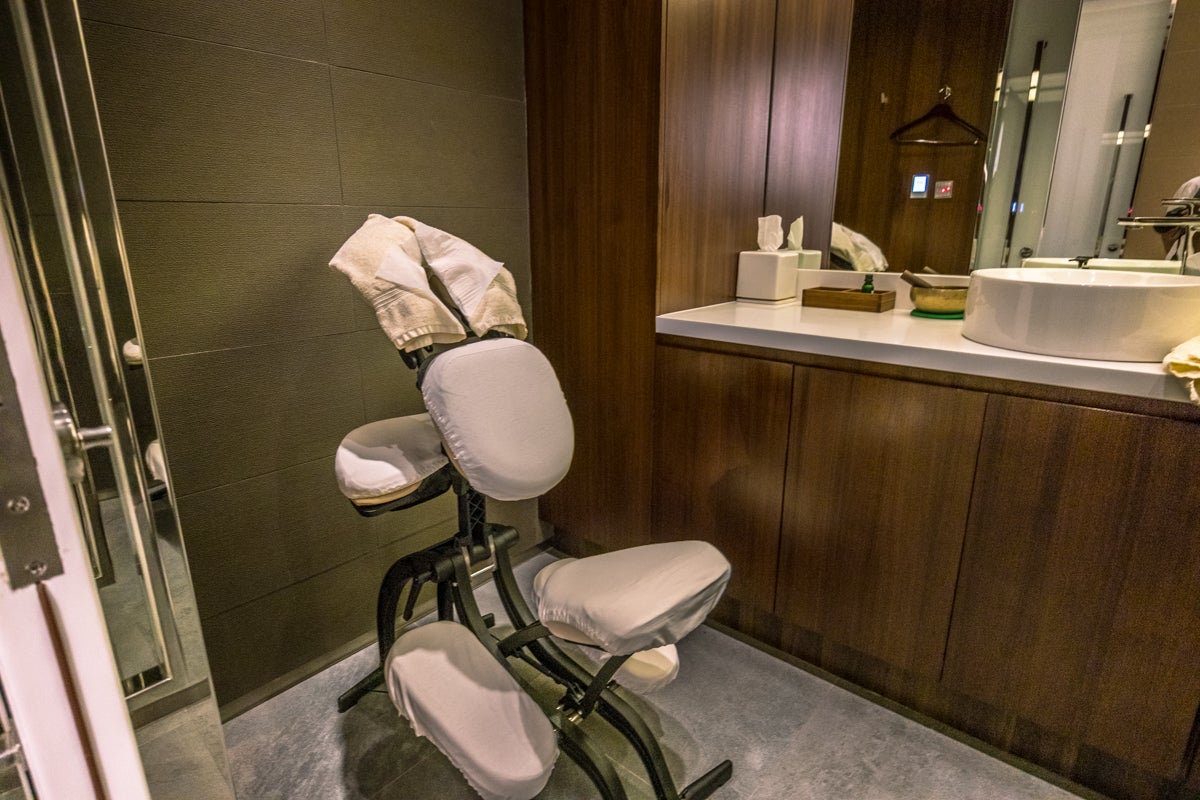 If you would prefer a workout instead of massages and cocktails, there's also a gym that features a couple of cardio machines.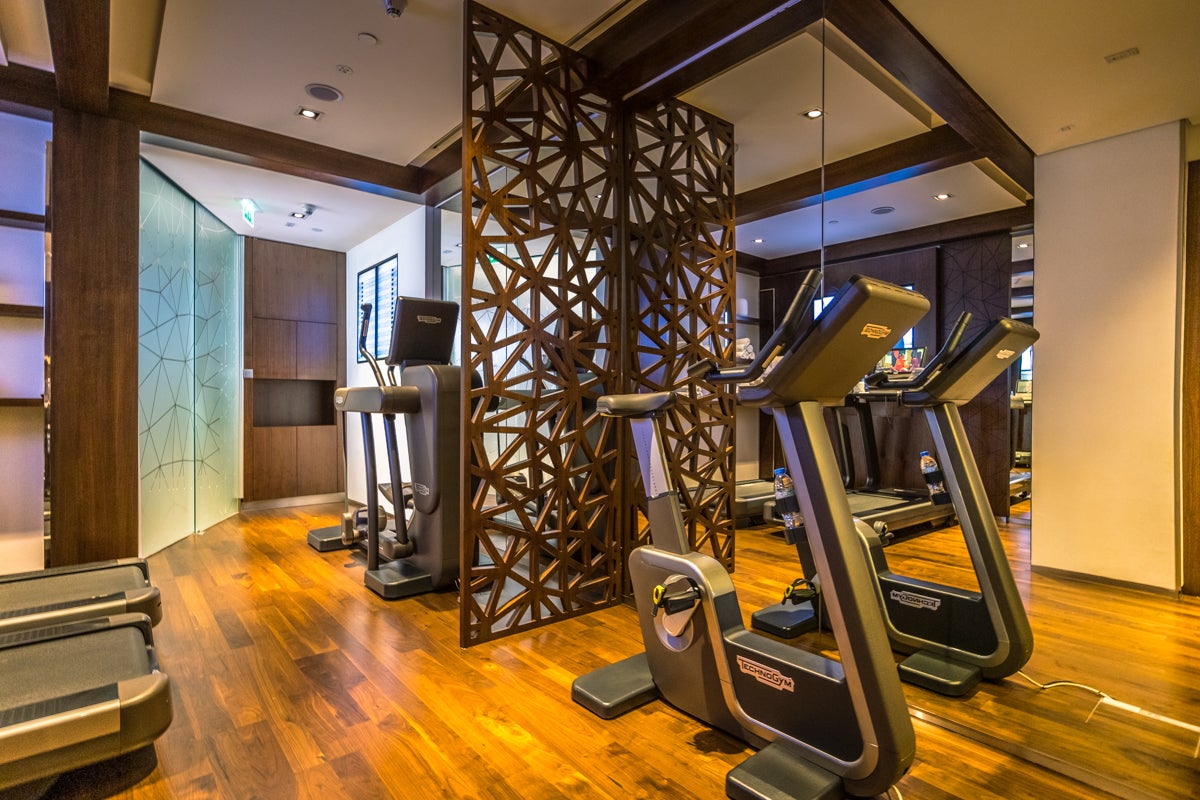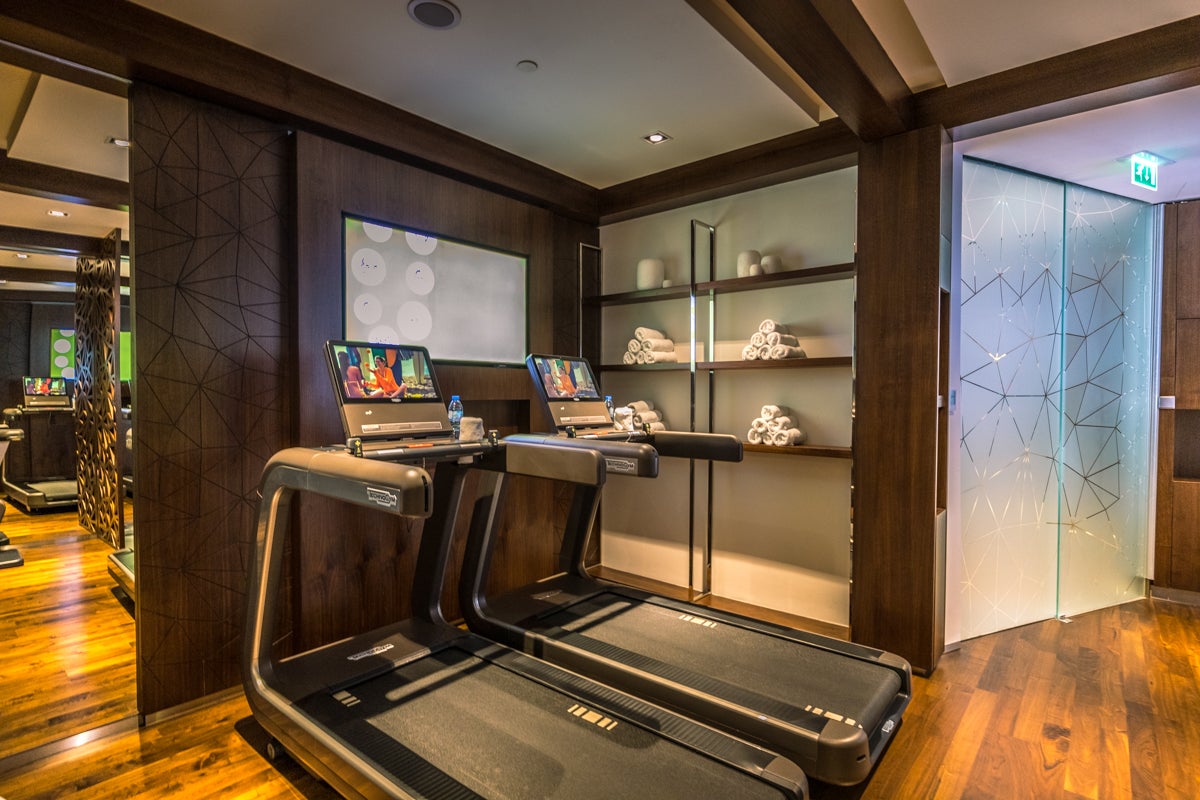 There is also a playroom full of toys and a TV to keep the little ones occupied.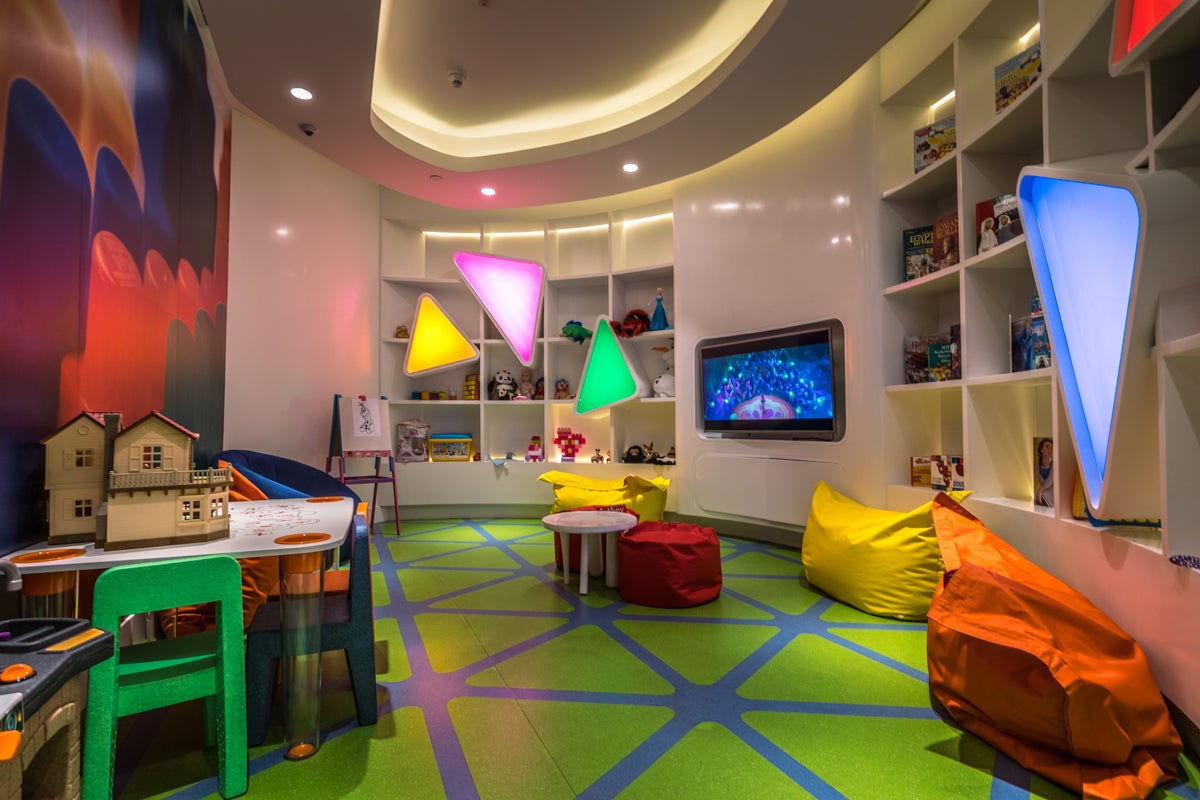 In Etihad's attempt to improve profitability and lounge utilization, you can now buy your way into the First Class lounge regardless of your class of travel. Rates start at $200 for 2 hours up to $250 for a maximum of 8 hours for adults.
Overall, this is an excellent first class lounge. It doesn't provide the same dining experience as the Qantas First Class lounge in Sydney or the ground service of the Lufthansa First Class Terminal in Frankfurt, but I would rate this higher than the Singapore Airlines Private Room.
Flight
Aircraft
EY454 is operated on an Airbus A380 with the current generation Business Studio seats.
Etihad Airways currently has a fleet of just 10 Airbus A380 aircraft which are currently flying between Abu Dhabi and Sydney, Melbourne, New York, Paris, and Seoul.
My aircraft this evening was Etihad Airways' seventh A380 delivered and was only 3 years old.
All Etihad A380s are configured with 4 classes.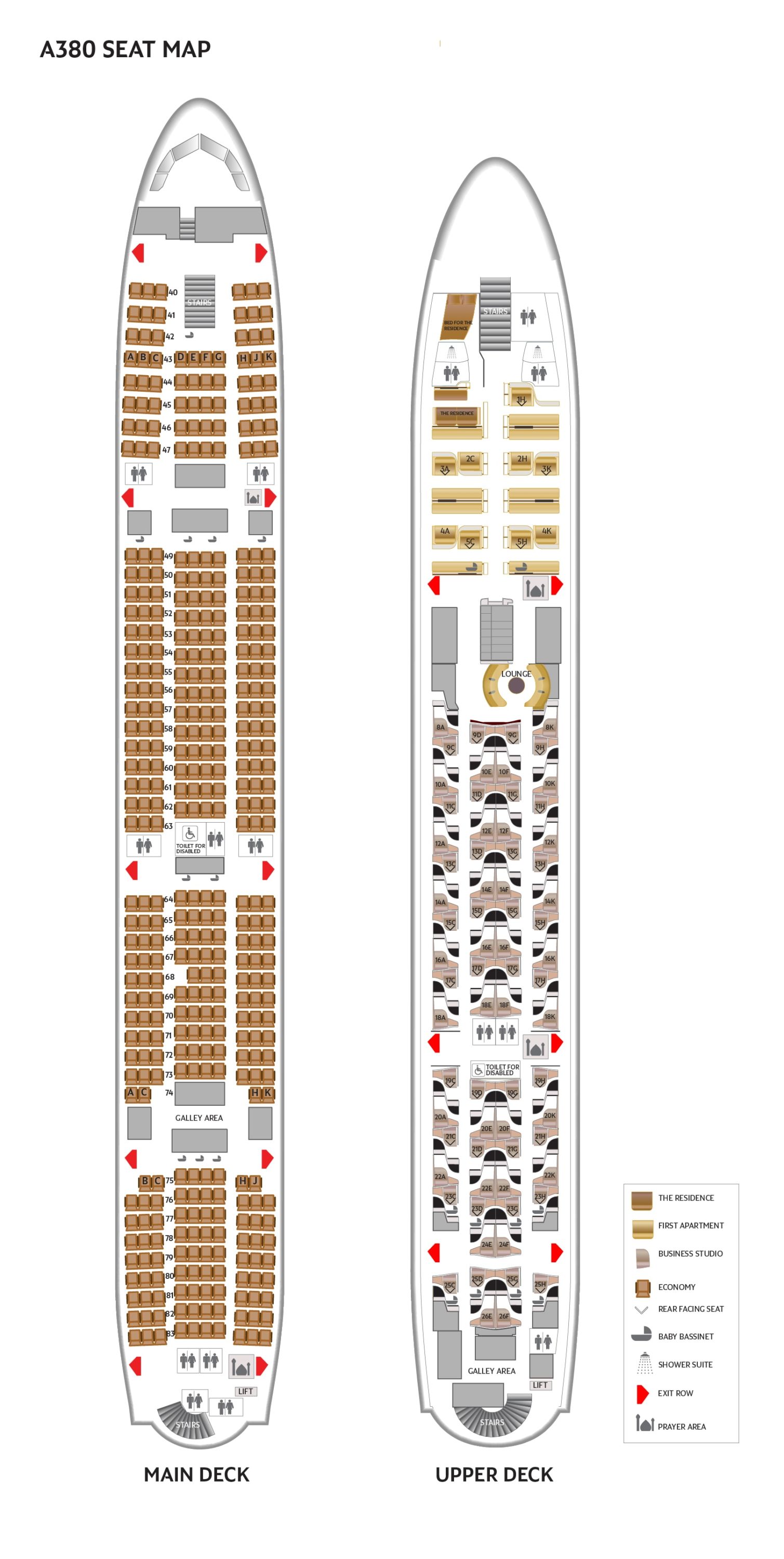 At the front of the upper deck is The Residence, the 3-room, better-than-first class product. There were guests in it this evening as I noticed the Etihad butler at the aircraft door when exiting in Sydney and the Etihad ground crew were all over this couple, escorting them through immigration and helping get their luggage off the carousel at baggage claim.
I managed to snap a sneaky photo of The Residence a few years ago.
In the same cabin, are 9 First Apartments between a single aisle which means every seat has a window seat.
Business class takes up the rest of the upper deck with 70 flat-beds in a 1-2-1 configuration split across 2 cabins.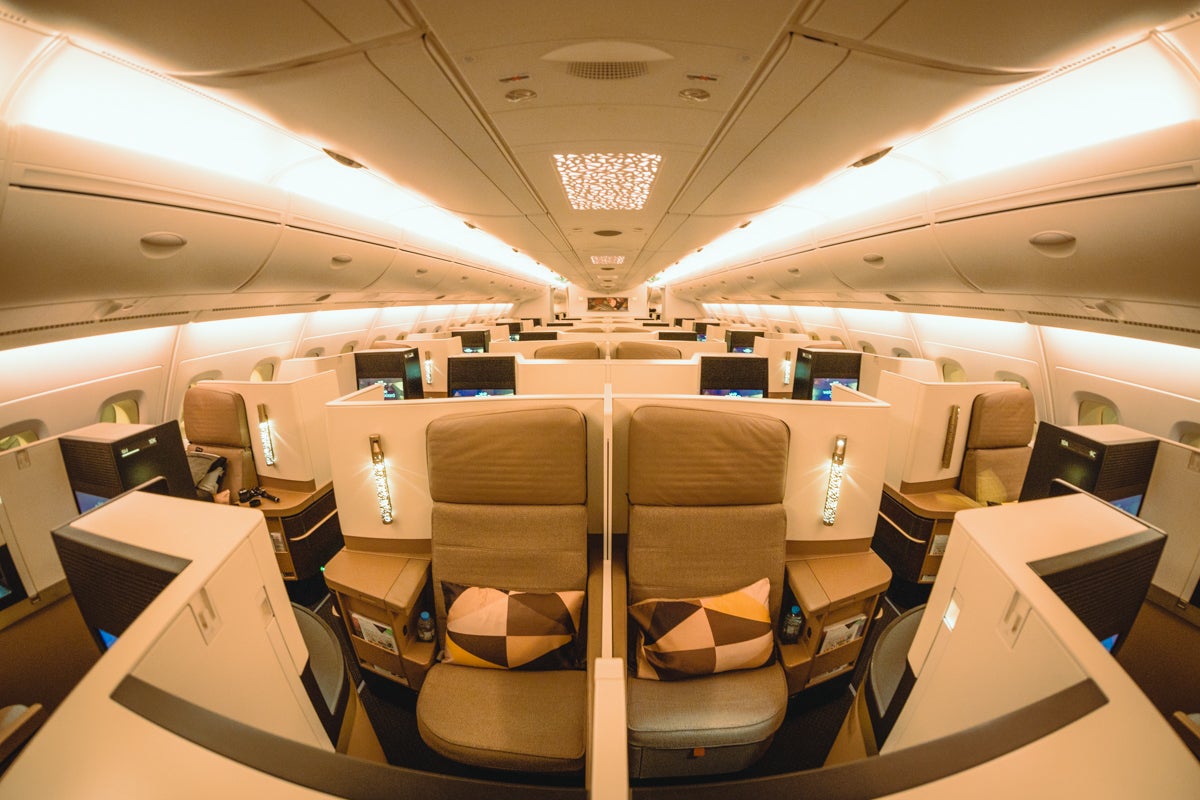 Economy takes up the entire main deck with 415 seats in a 3-4-3 configuration.
Business Class Studio
The Airbus A380 is configured with the same Business Studios as the 787 so it looks instantly familiar.
I think Etihad has nailed the styling with the use of a warm color pallet and geometric patterns as part of its "Facets of Abu Dhabi" design language. There isn't any faux wood to be seen.
Etihad uses a custom-designed staggered seat configuration designed and manufactured by Sogerma (now Stelia) with the seats alternating between forward and rear-facing to maximize the width at shoulder level.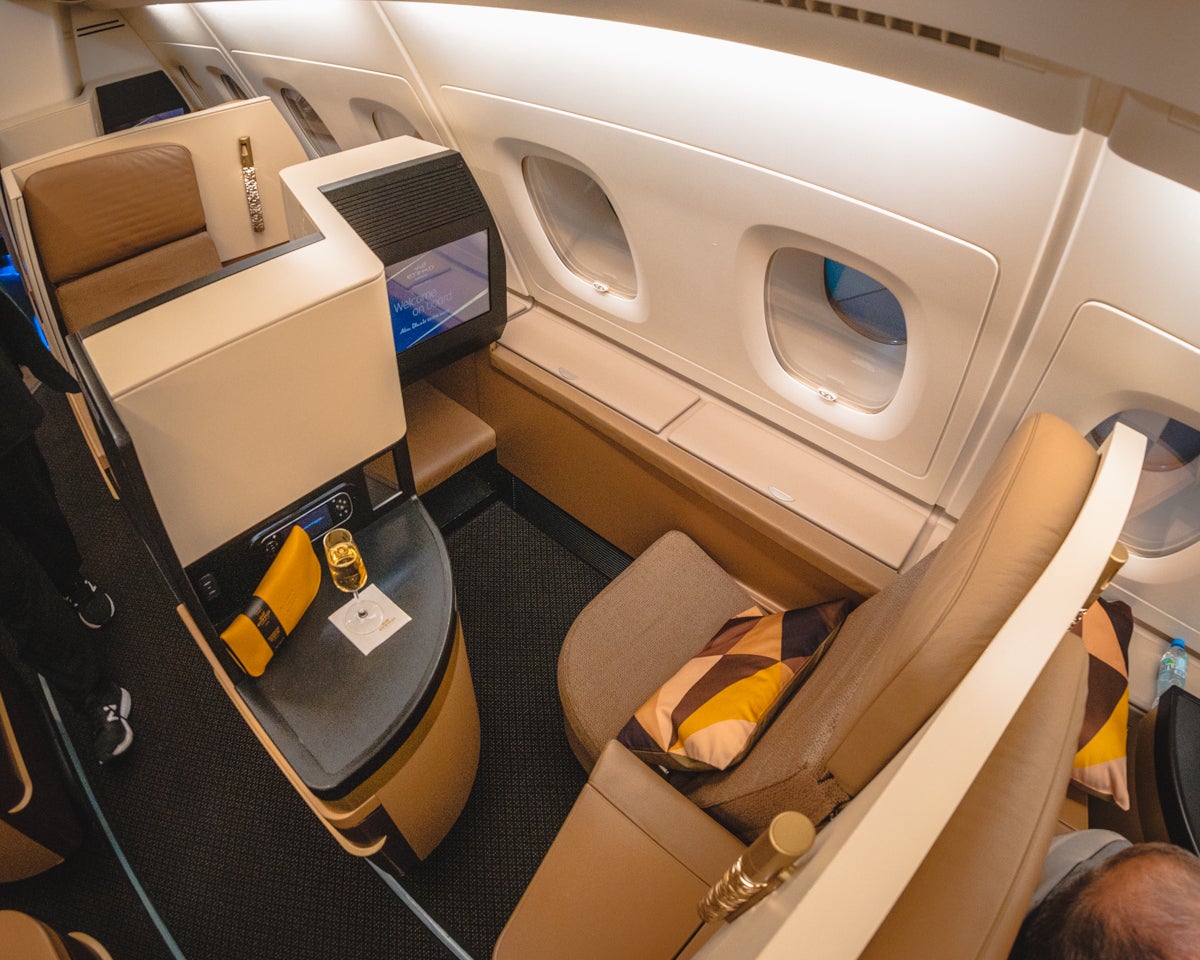 I was seated in 10K in the forward business class cabin.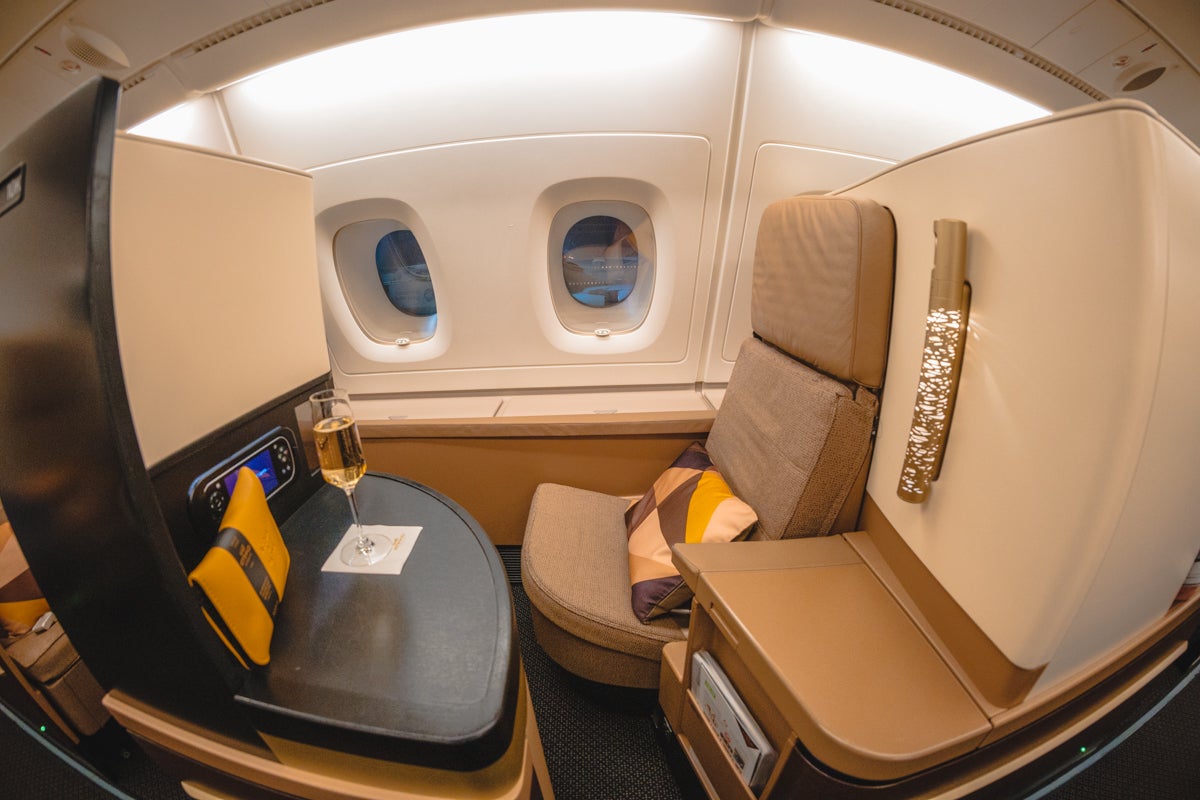 The key difference between its small Boeing 787-9 brother is the A380 upper deck storage bins which make this seat even better. Although the windows don't dim, they have dual-layered electronic adjustment shades; one-sheer and the other a block out. The crew has a master override function and they closed all windows straight after take-off on this evening departure.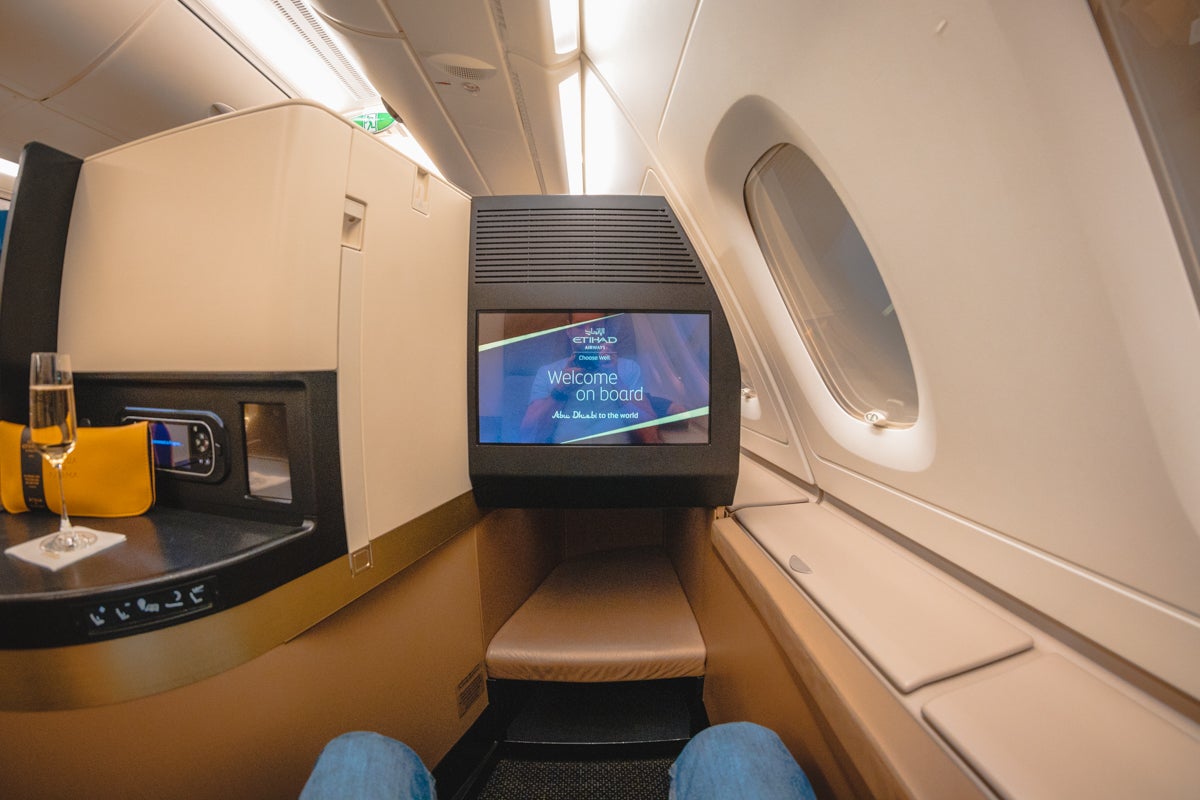 Another key difference compared to the 787-9 is that the middle seats are offset from the window seats so it's slightly better for not locking eyes with your neighbors across the aisle. A sliding door would make this seat perfect though.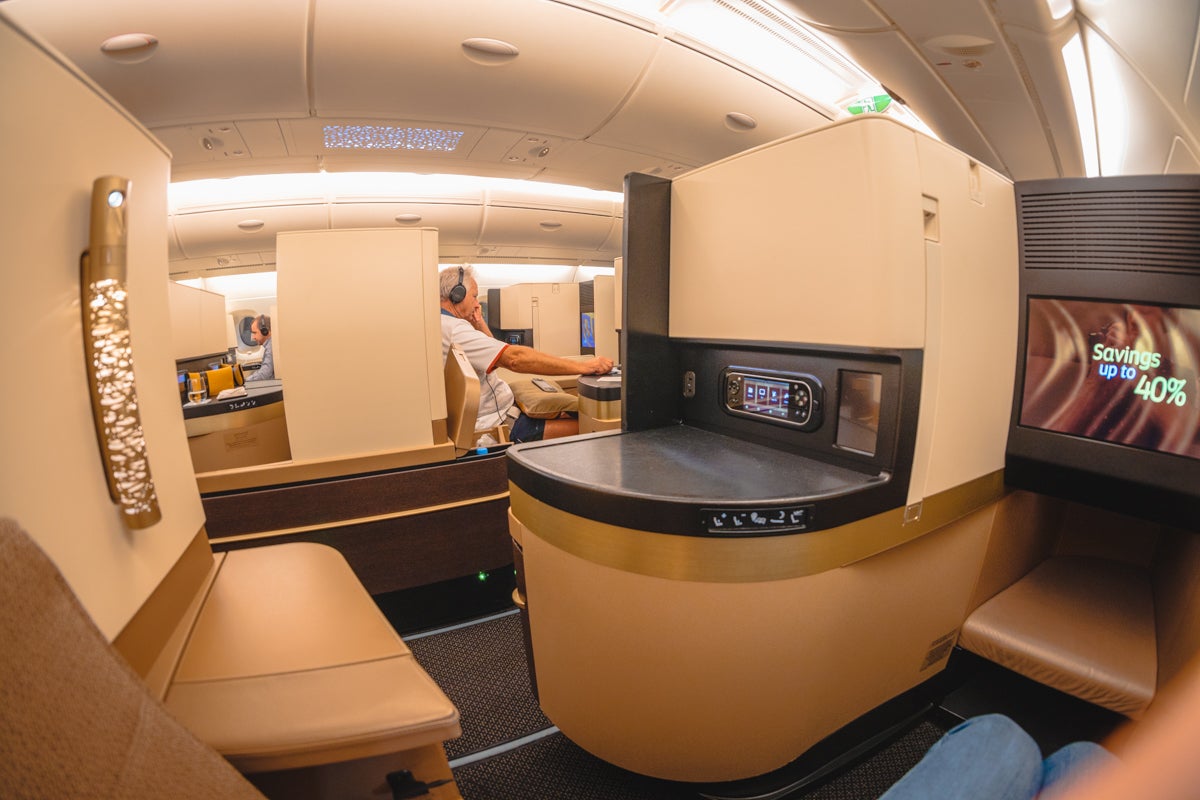 Seats next on the aisle face to the rear, while window and center pairs face forward. The aisle seats are approximately 20 centimeters(7.9 inches) shorter than the other seats to allow for a walkway from the aisle to the contained middle and window pods.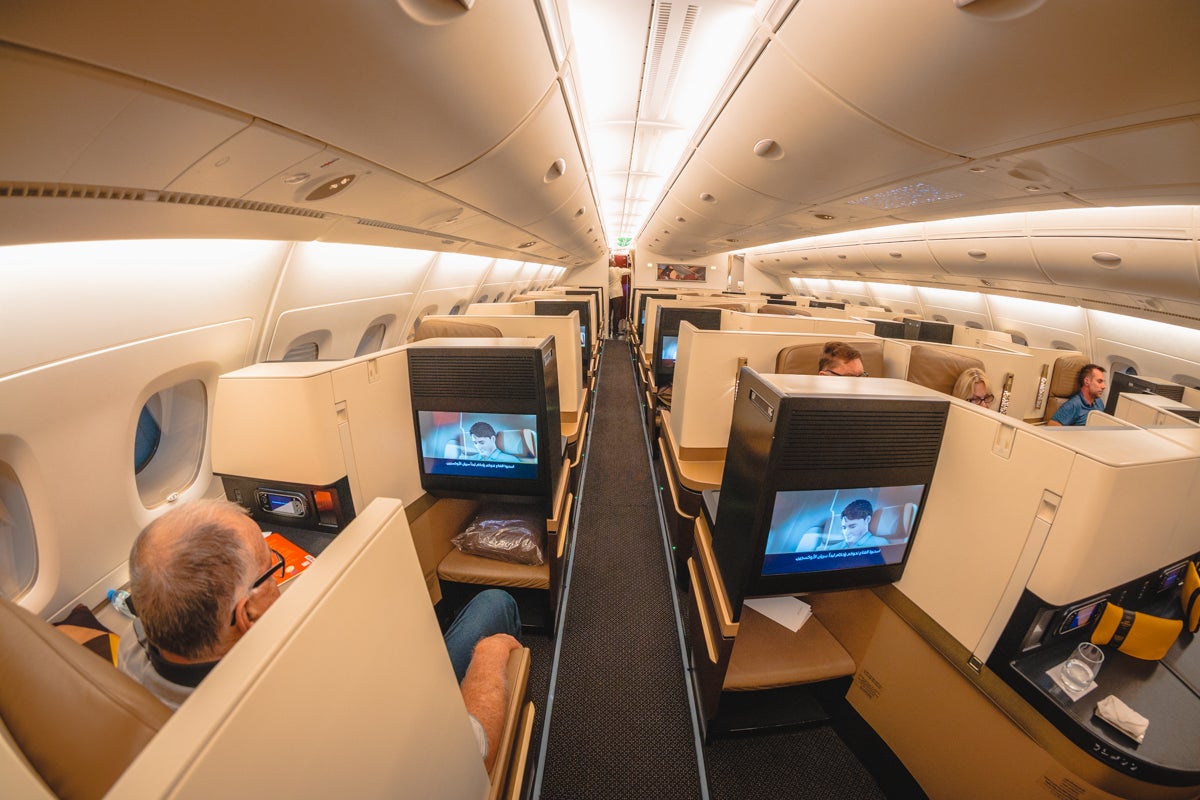 The forward-facing A and K seats are the best picks as these seats sit alongside the windows with the console by the aisle, providing slightly more privacy.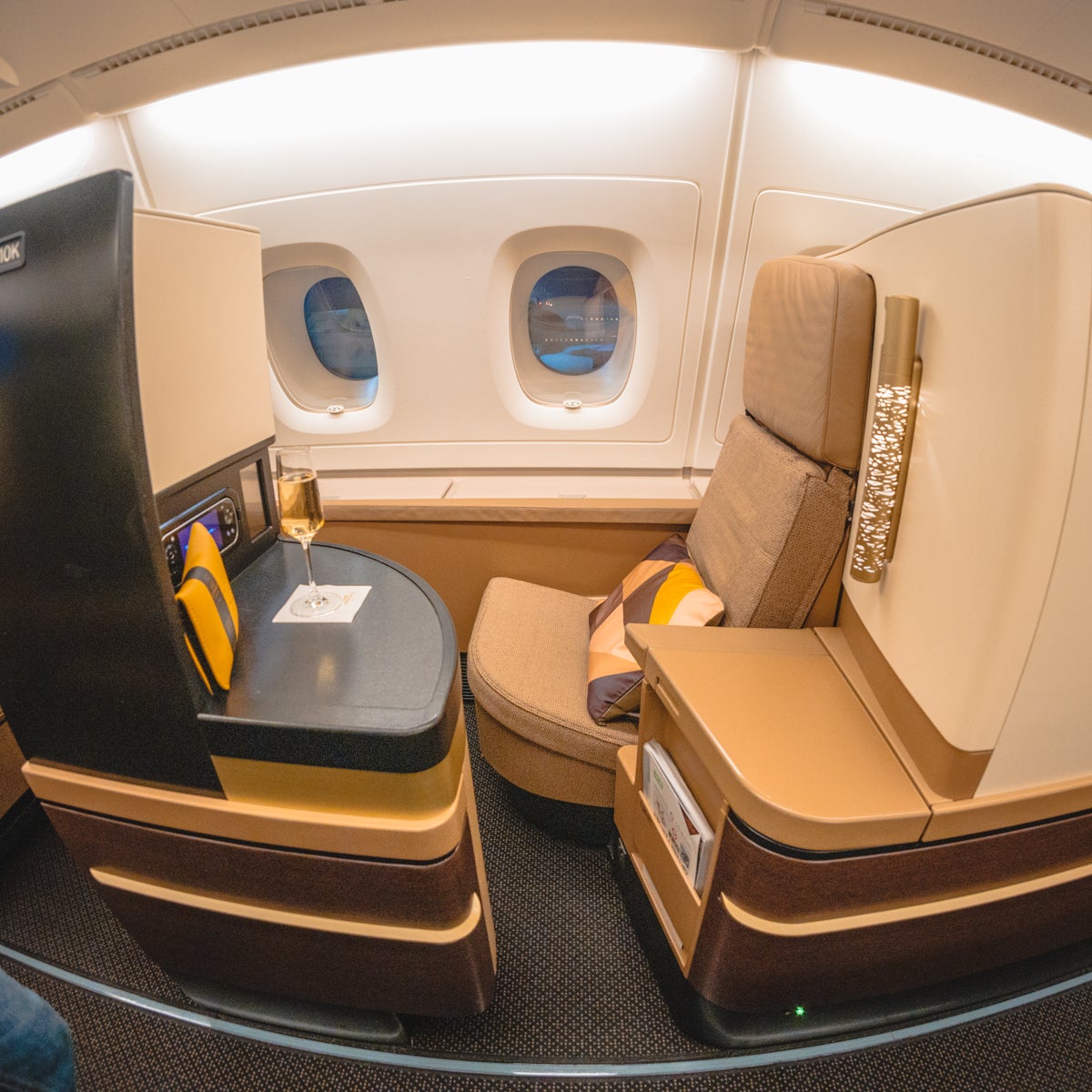 The rear-facing D/G seats on the aisle face aft and have an adjustable privacy screen.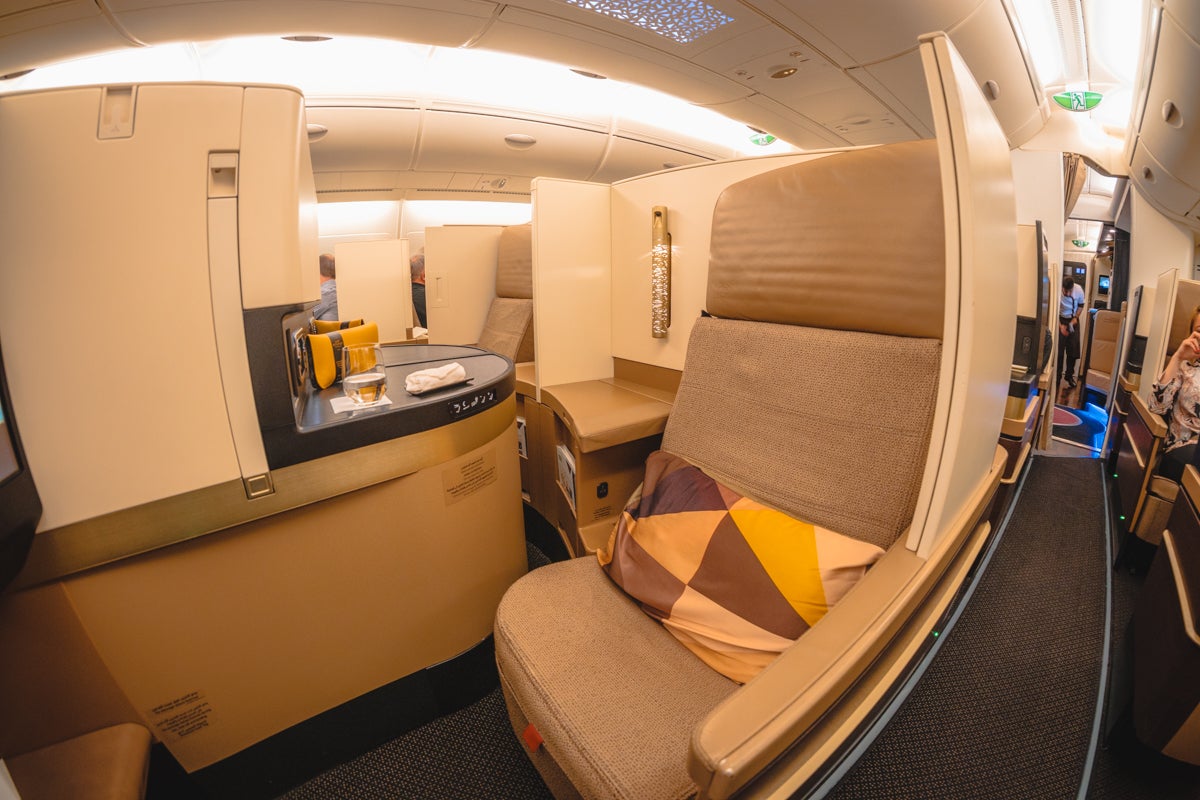 The rear-facing C/H seats have a console by the window and the actual seats alongside the aisle.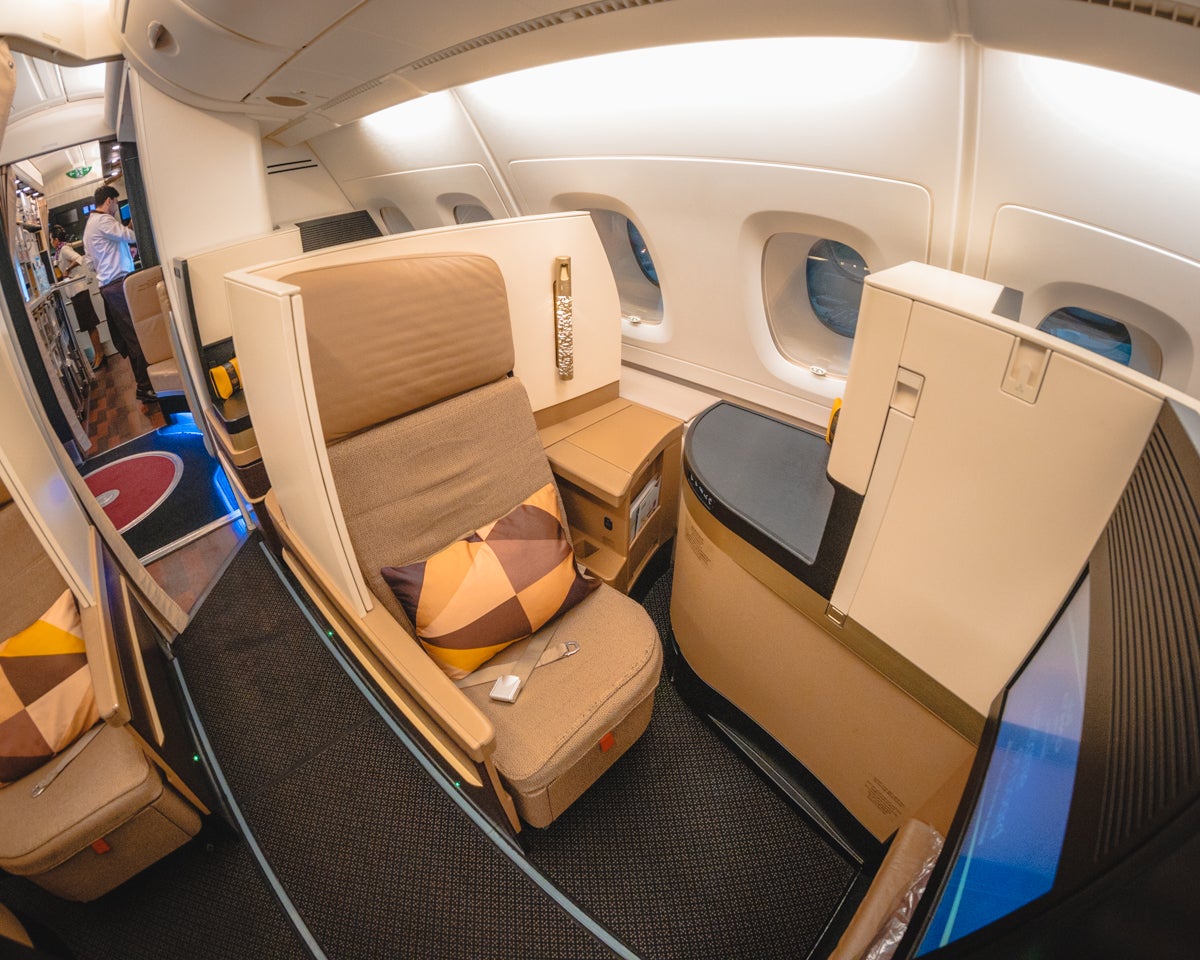 The headrests are upholstered in Poltrona Frau leather and there is a stunning feature light with a reading spotlight wall mounted over your shoulder.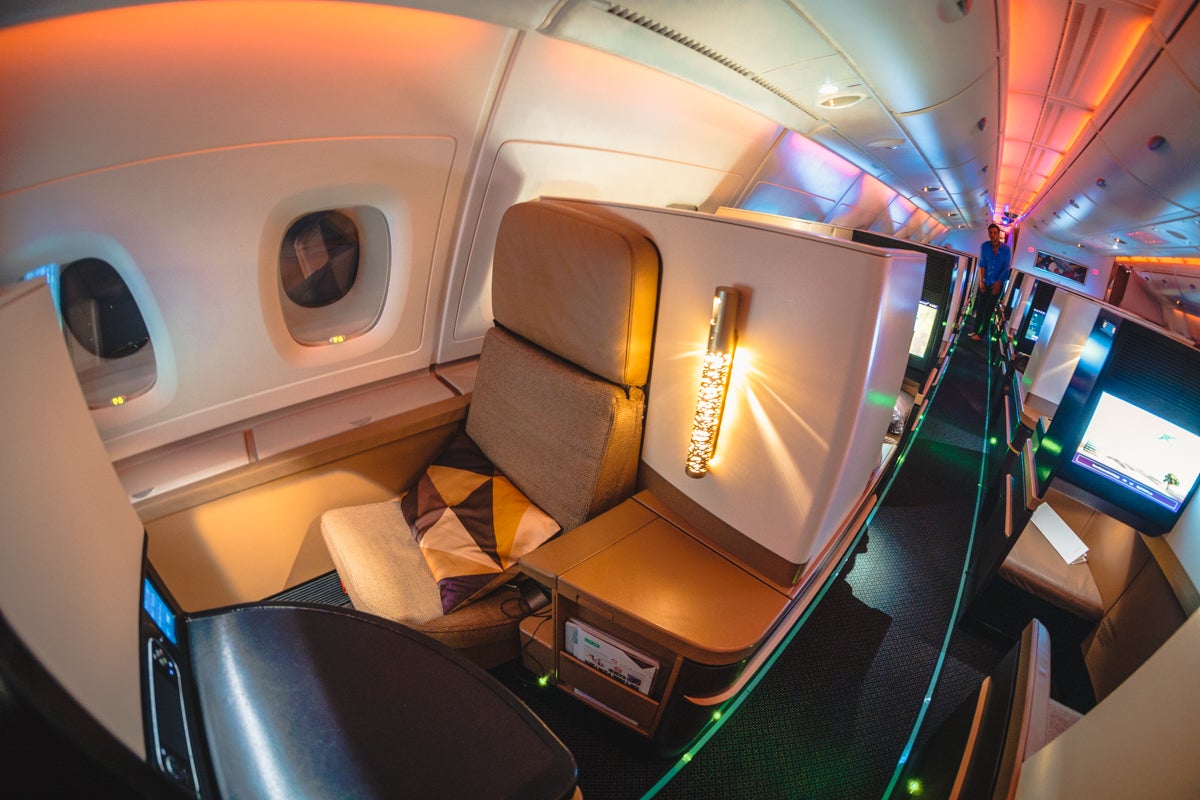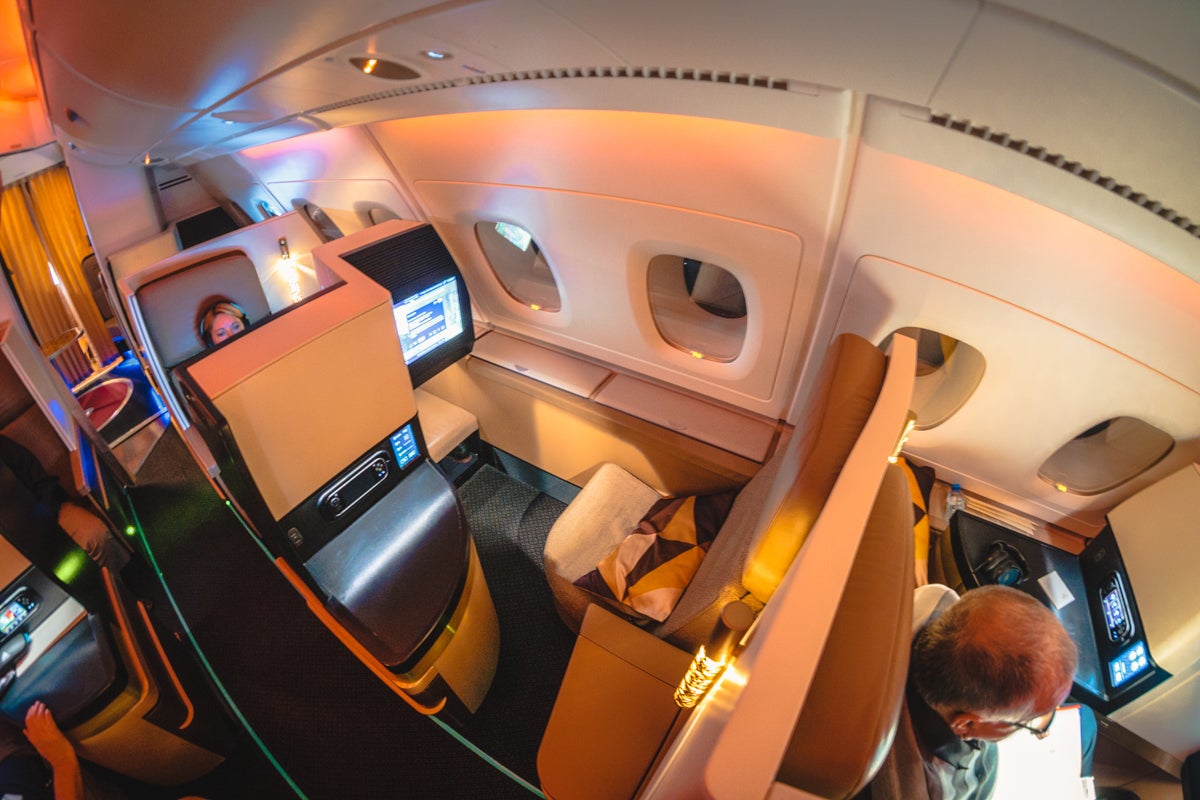 Under this is a storage compartment that houses the noise-canceling headphones.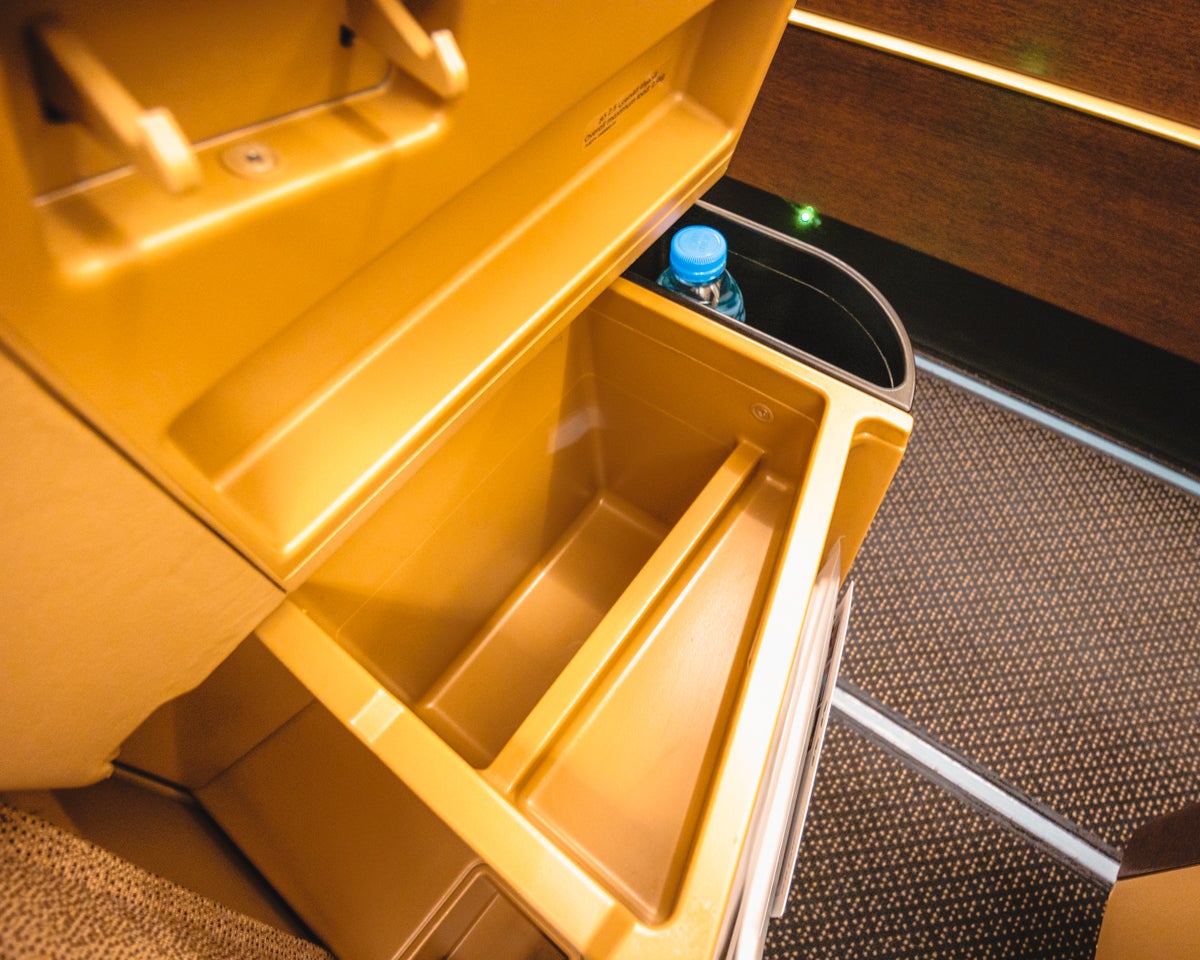 Further down you'll find the literature pocket, headphone jack, and a place to store a water bottle. At floor level, there is a universal power socket.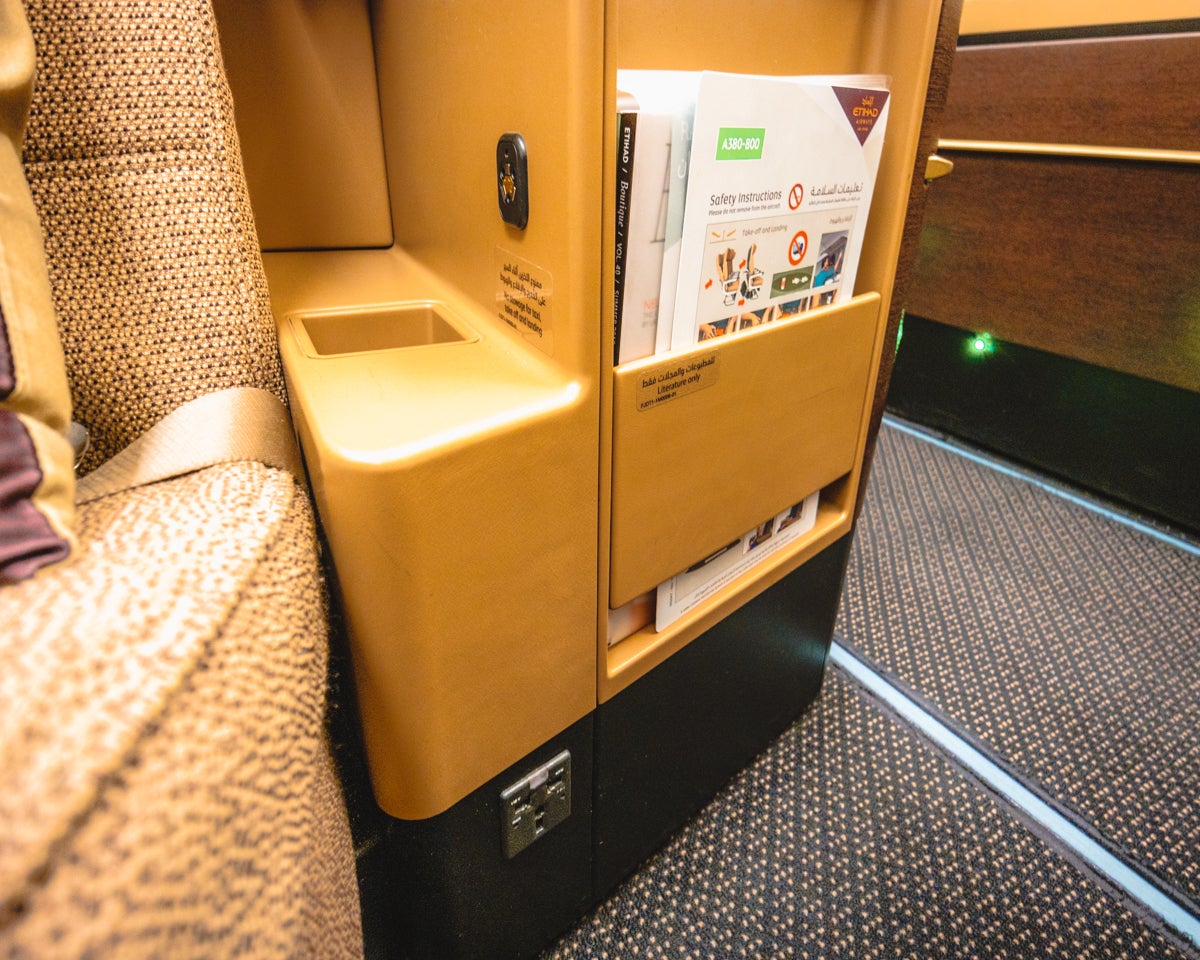 Up higher is the IFE remote, touchscreen to control all the seat movements, massage, lumbar support, firmness adjustment, lighting, windows, and turn the do-not-disturb mode on and off.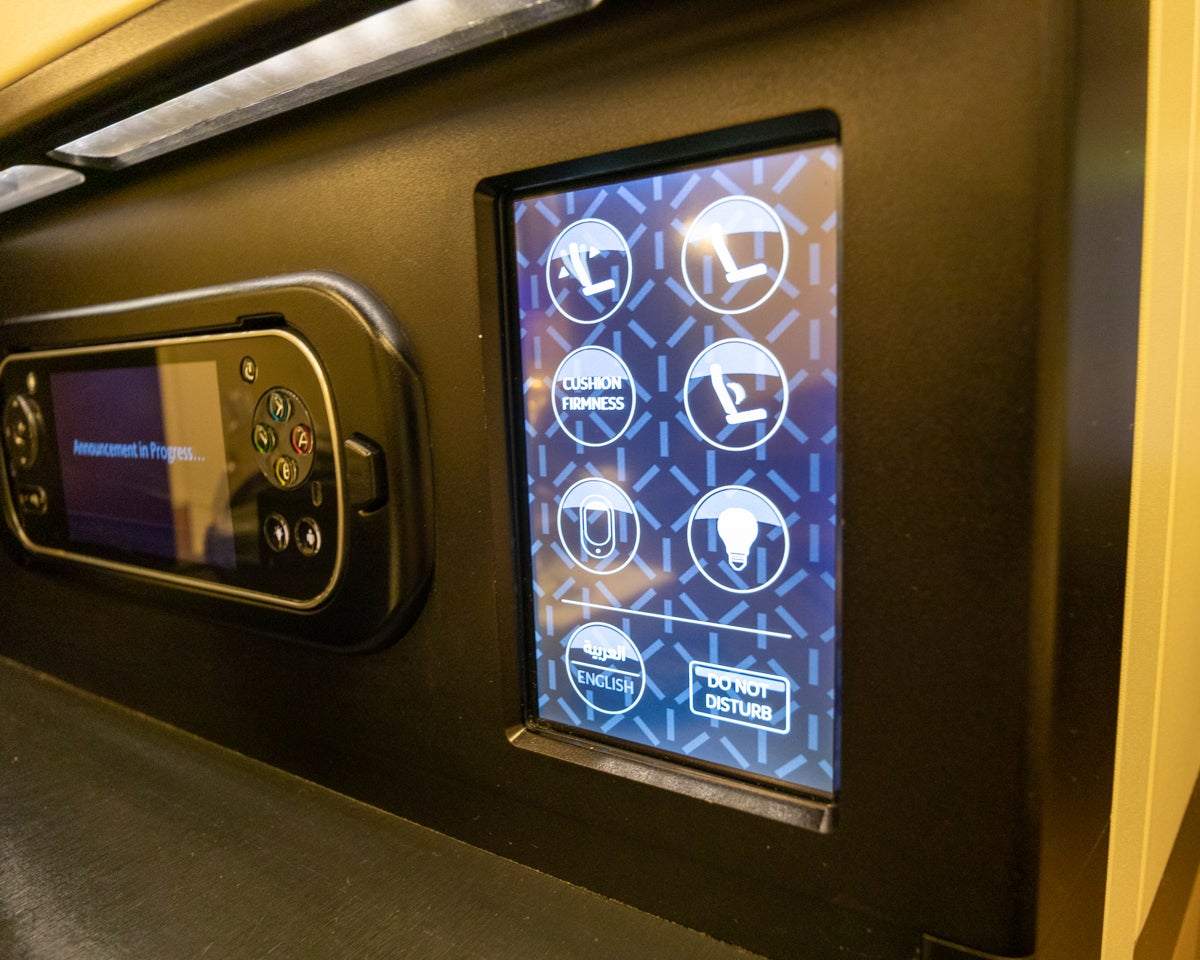 The foot cubby is wide and deep and there is also ample storage under this to store your shoes during the flight.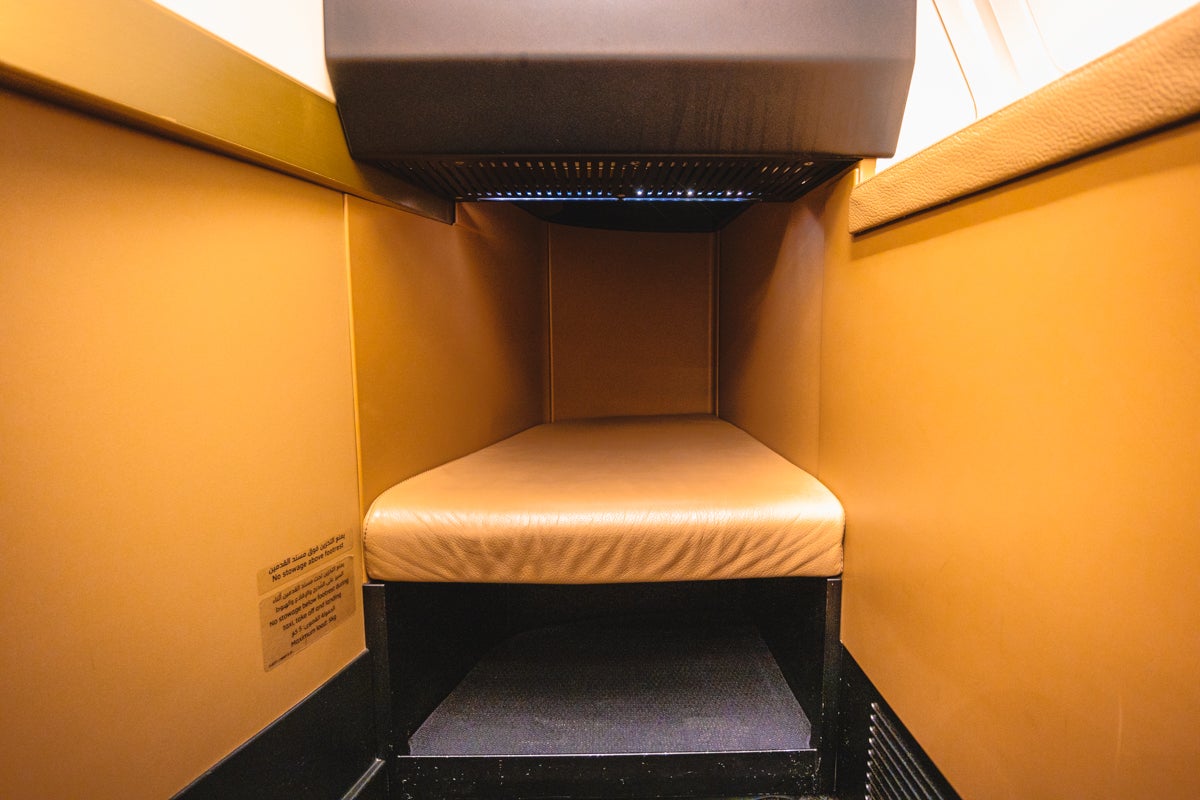 It also acts as an ottoman to rest your feet on as it extends far enough out. The tray table pops out from the left side, where the gold button is shown.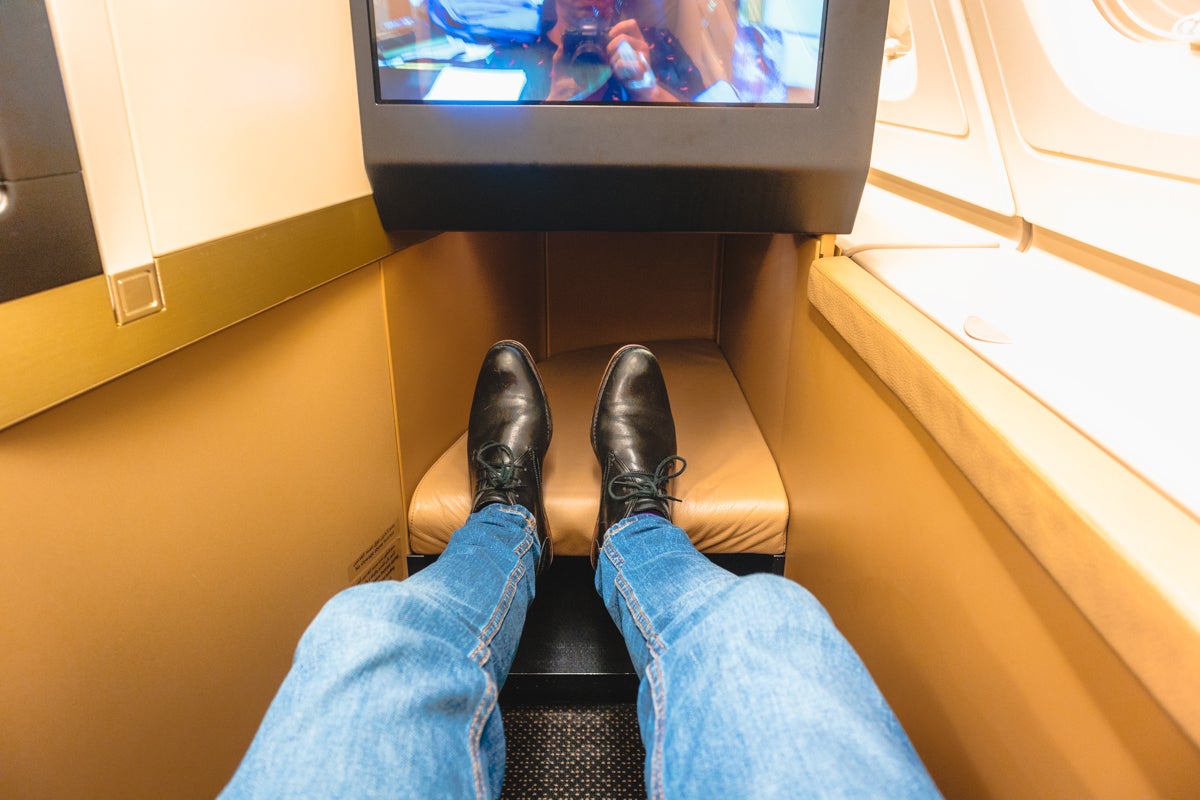 3 lavatories are located between the 2 cabins and an additional 1 at the rear providing a guest to toilet ratio of approximately 23:1. As the cabin wasn't full, there was never a wait to use the loos. The brand styling even continues to the backsplash and floor print.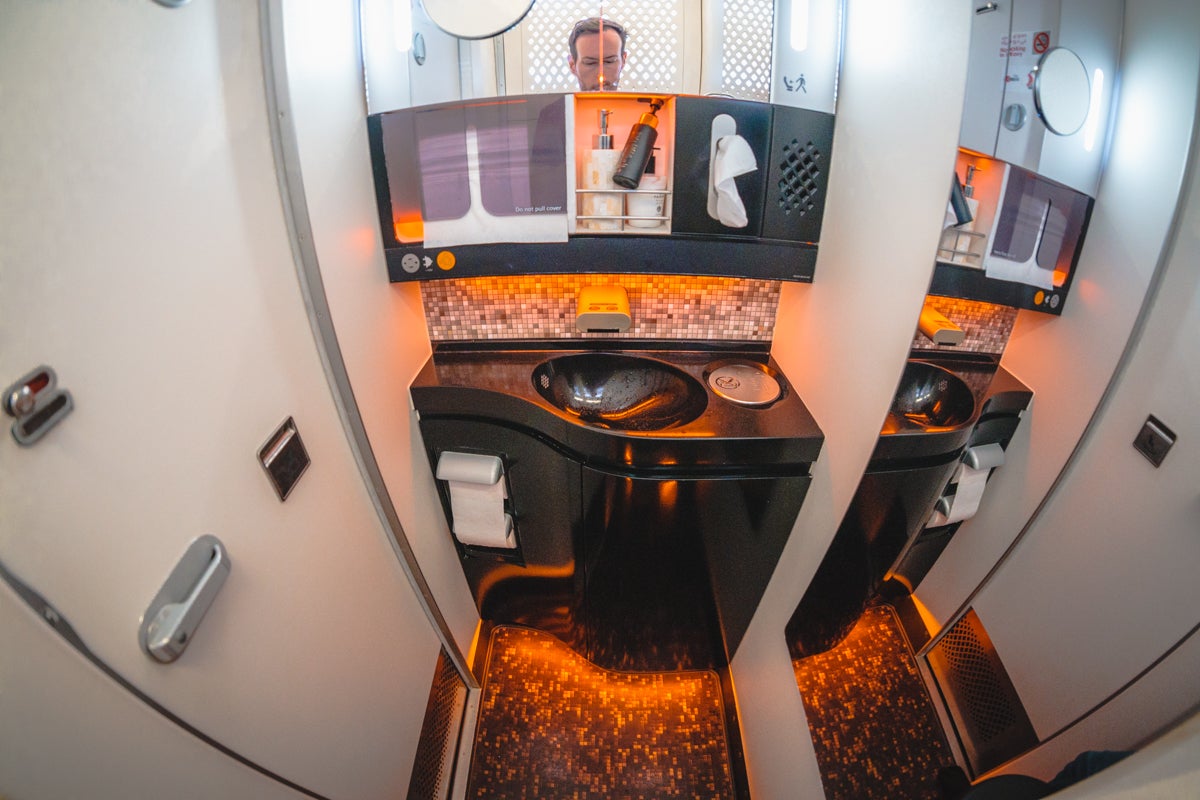 The other key feature of the Etihad A380 is the "Lobby" lounge. And while it doesn't have a tendered bar, the cabin crew are super responsive and will serve beverages or nibbles to the lounge area. A TV screen sits on the bulkhead between the business cabin and lounge if you wanted to flick on some live TV or watch the moving map.
During my visit, Ken, the cabin crew member looking after me, came to have a chat about photography as he saw me taking lots of photos.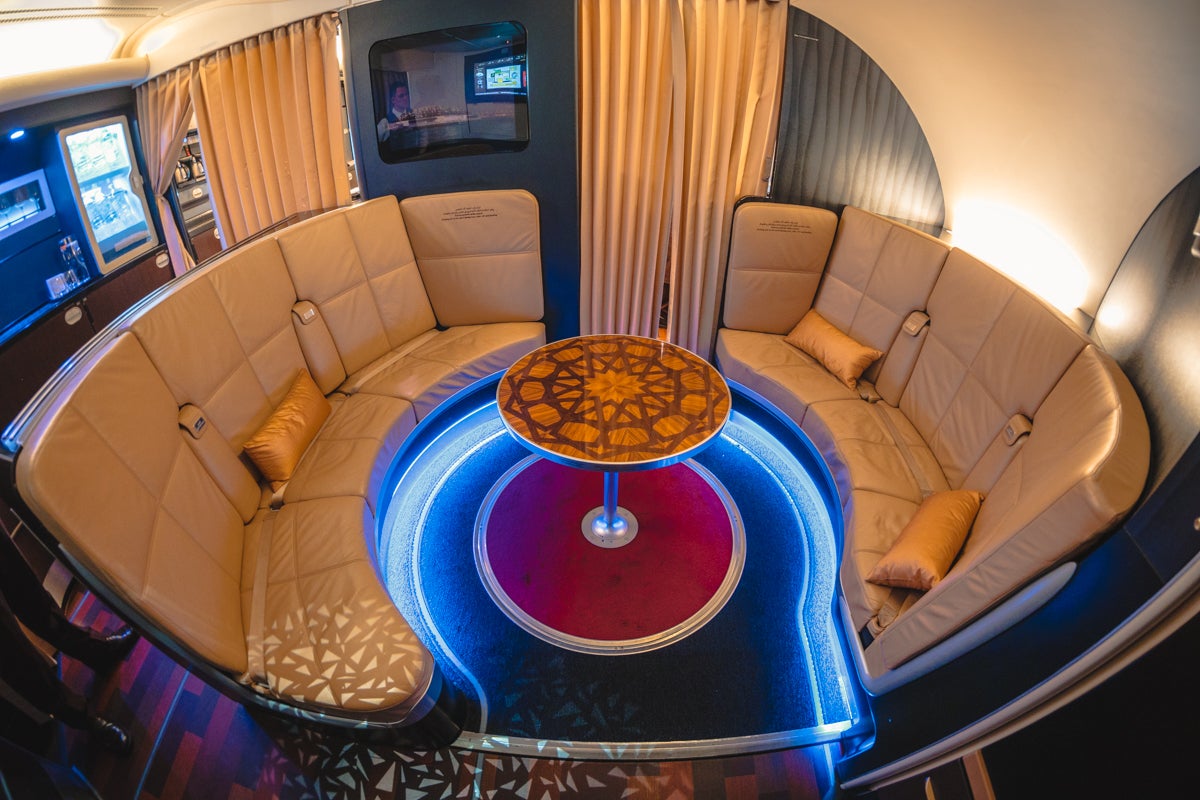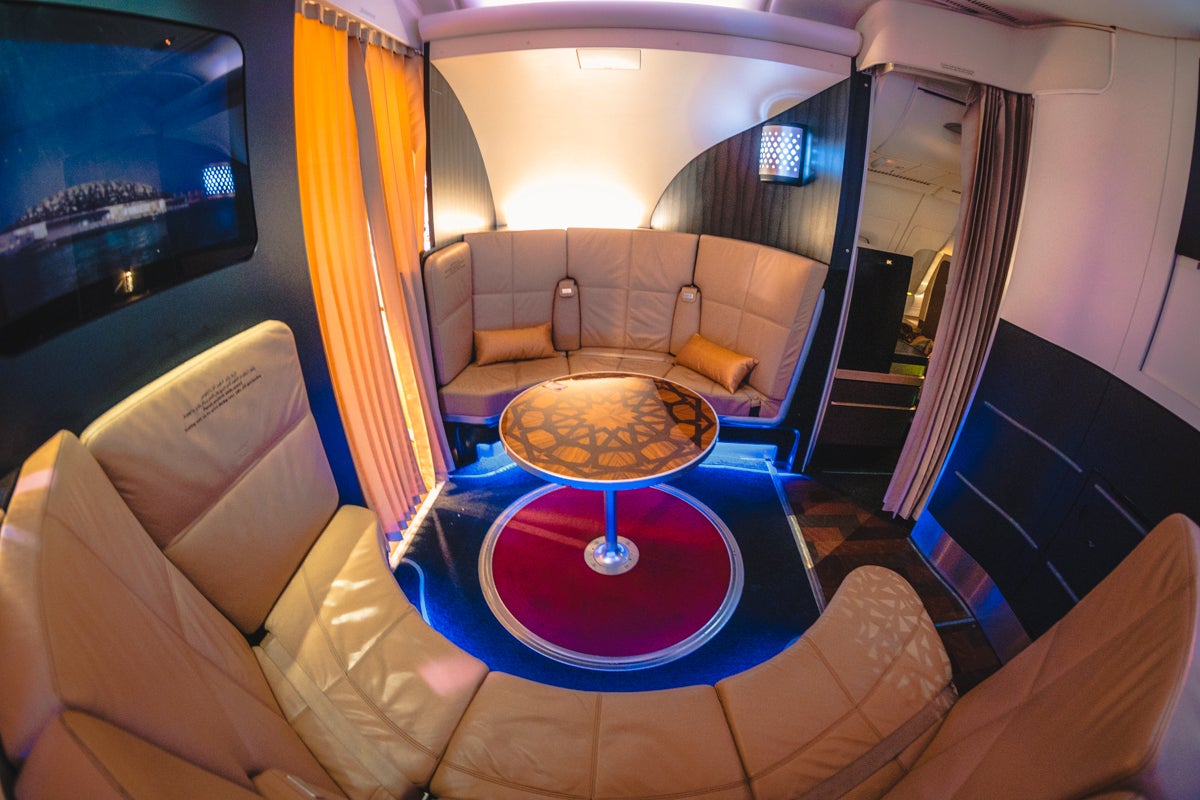 After a brief visit to the Lobby, I returned to my seat and converted it into a fully flat 80.5-inch bed. Sadly, Etihad no longer offers a turndown service as they no longer offer a mattress topper. I found its old mattress topper was pretty pointless as it was too thin anyway.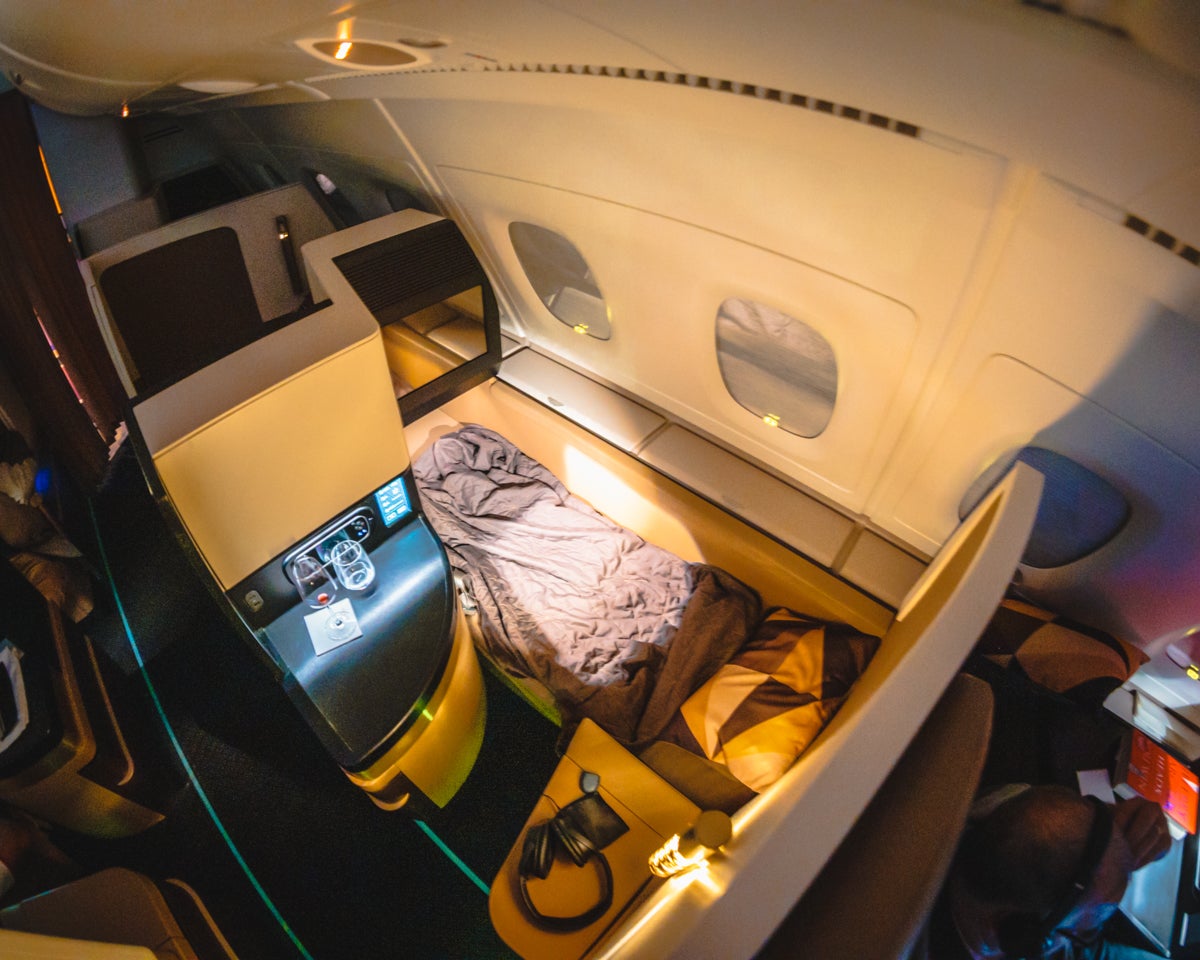 What I love about this seat is that it doesn't have an integrated headrest. As a side-sleeper, my arms are usually tucked under the pillow and so seats with integrated chunky headrests just get in the way.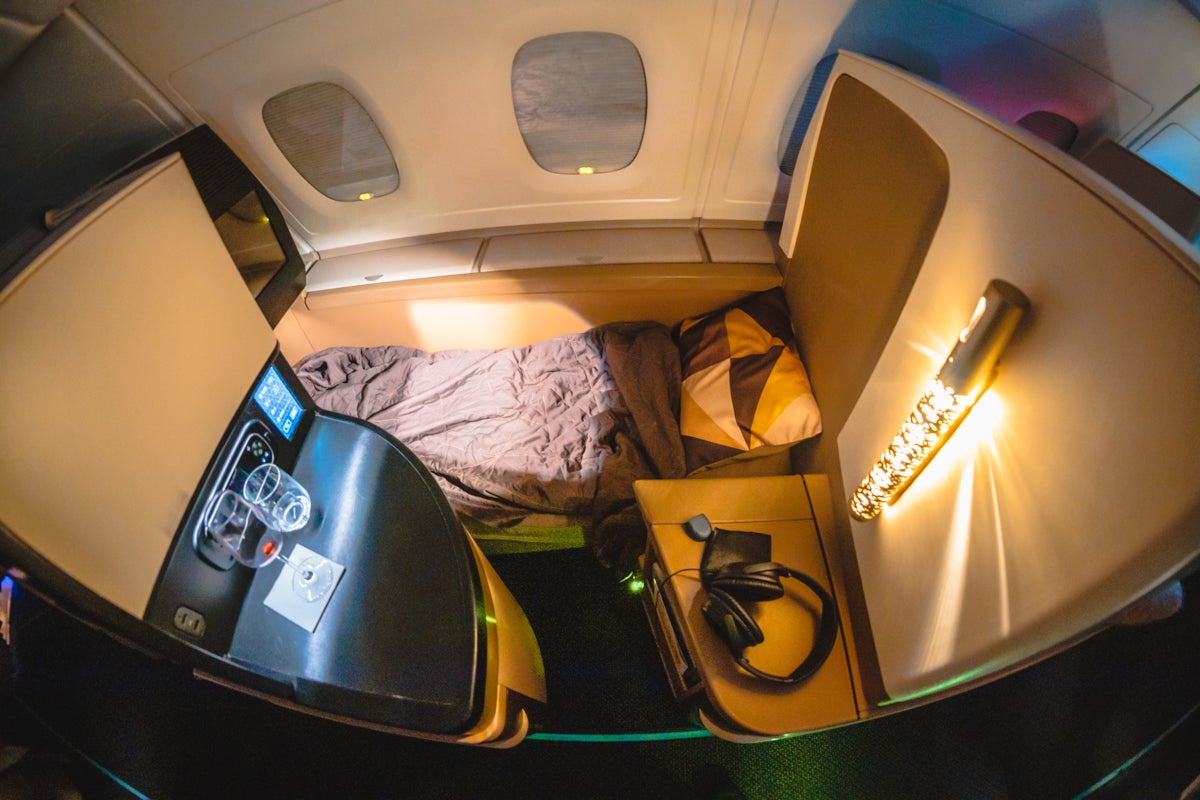 The bed also has an adjustable firmness so you can easily switch between firm, soft, or somewhere in between, whereas most airlines firmness is fixed, and usually firm.
Another amenity that got the chop recently was pajamas. I find airline pajama pants are too warm, especially when cabin temperatures are also usually warm, so I always pack shorts to sleep in. I also brought along a shirt to sleep in so the PJs weren't missed. I found the duvet to be the perfect thickness and not too warm.
I managed to get a solid 6 hours sleep.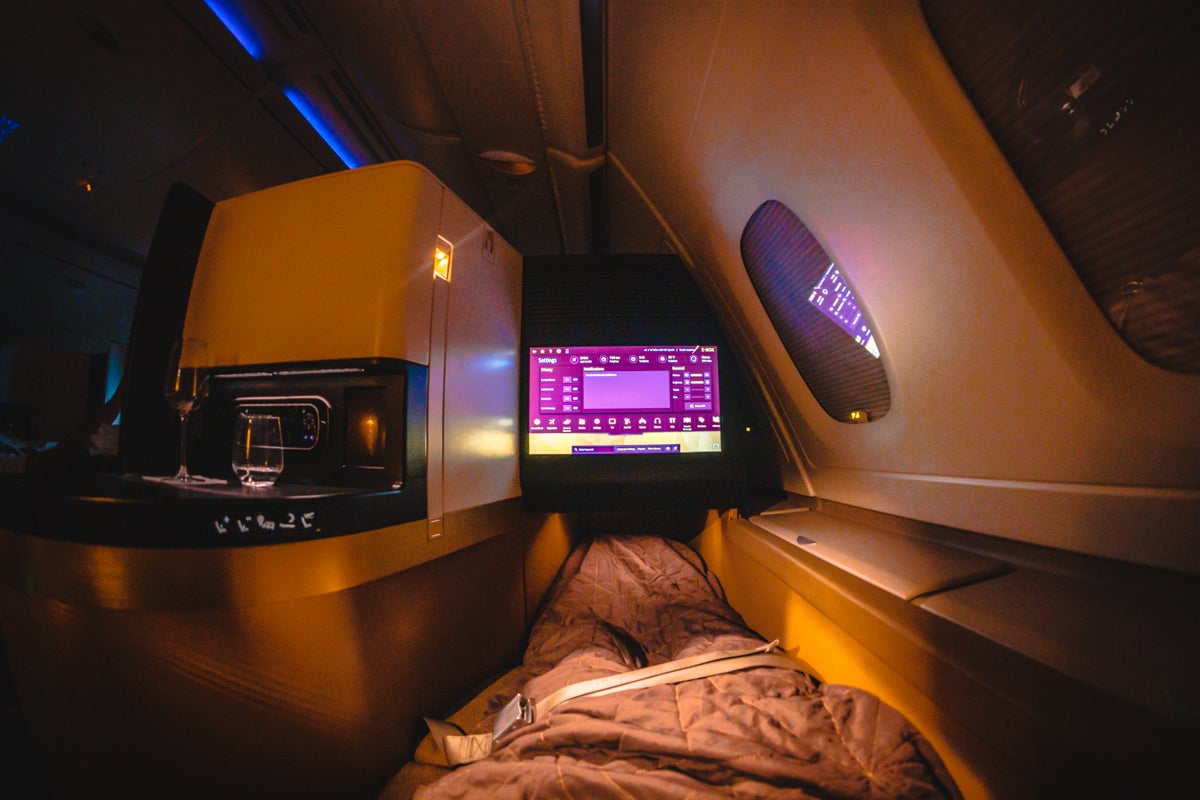 Amenities
An Acqua Di Parma yellow amenity kit was at my seat upon boarding.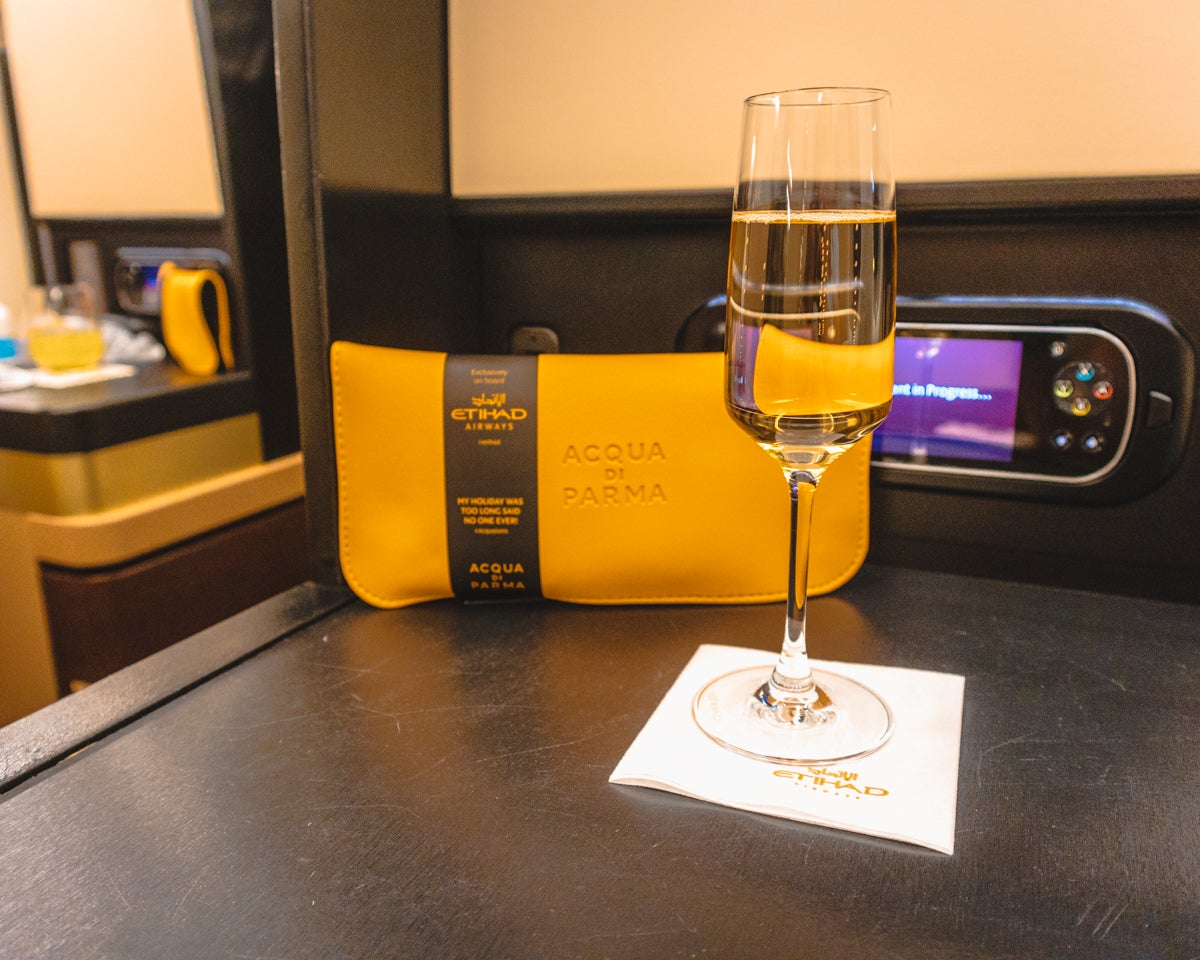 It included all the kit as per the black 1 I received on the inbound flight: socks with non-slip rubber (but please don't wear them into the bathroom!), dental kit, eye mask, moisturizer, and eau de cologne.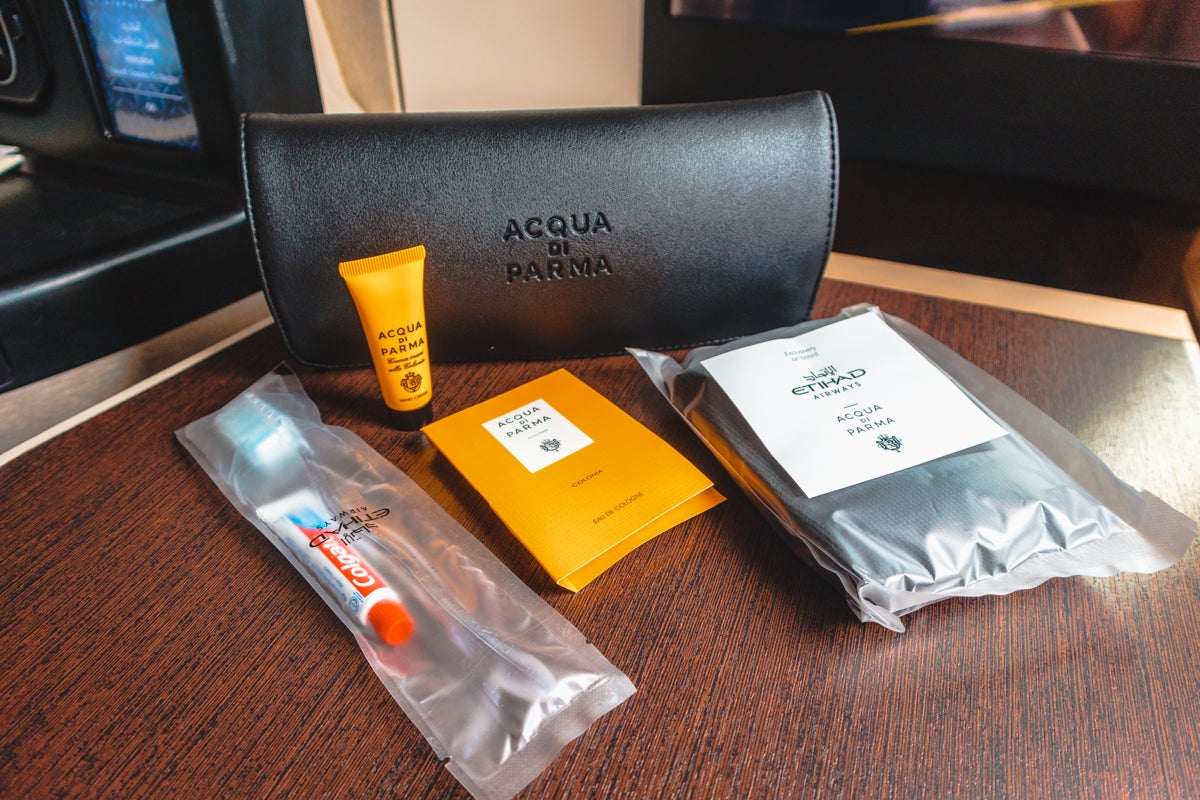 Entertainment
E-Box, Etihad Airways' inflight entertainment system offers passengers over 750 hours of new release movies, TV series, live TV, music and games.
A large 18.5-inch touch-screen is fixed directly in front of all passengers meaning you can use the entertainment system from gate-to-gate.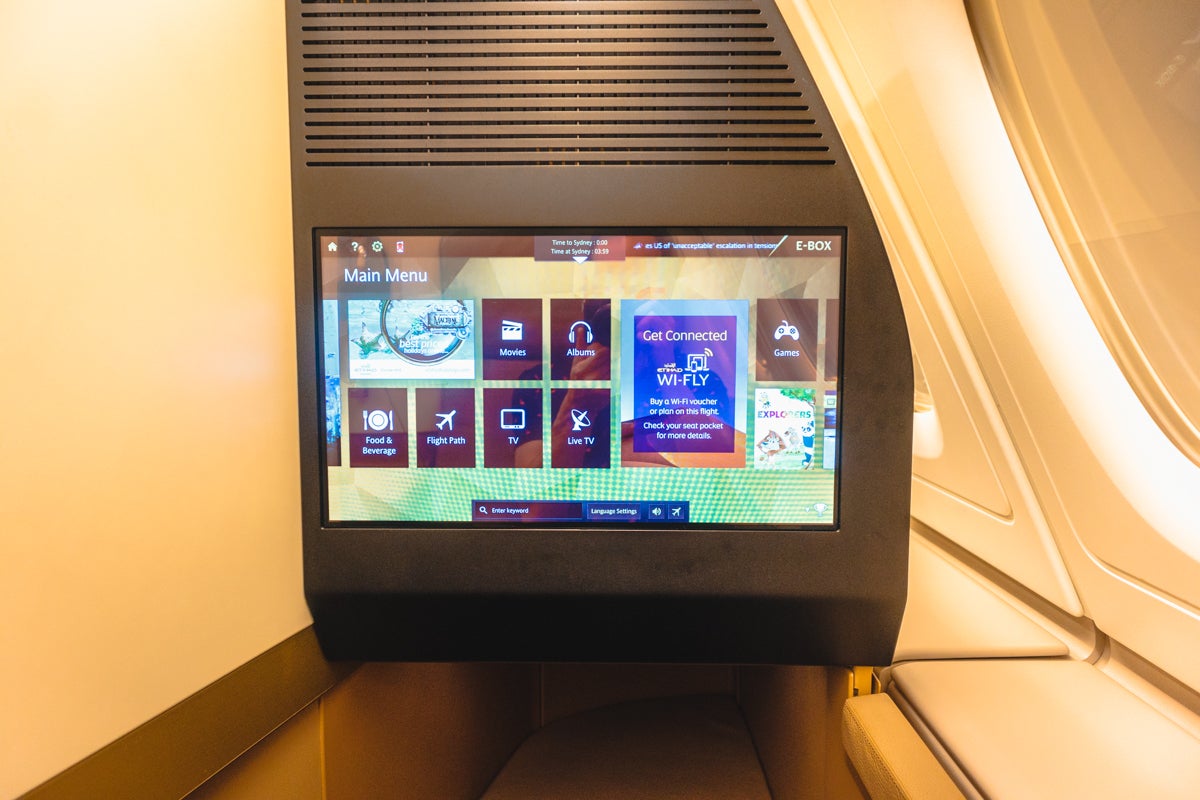 I had no trouble finding a few movies to watch before heading to bed.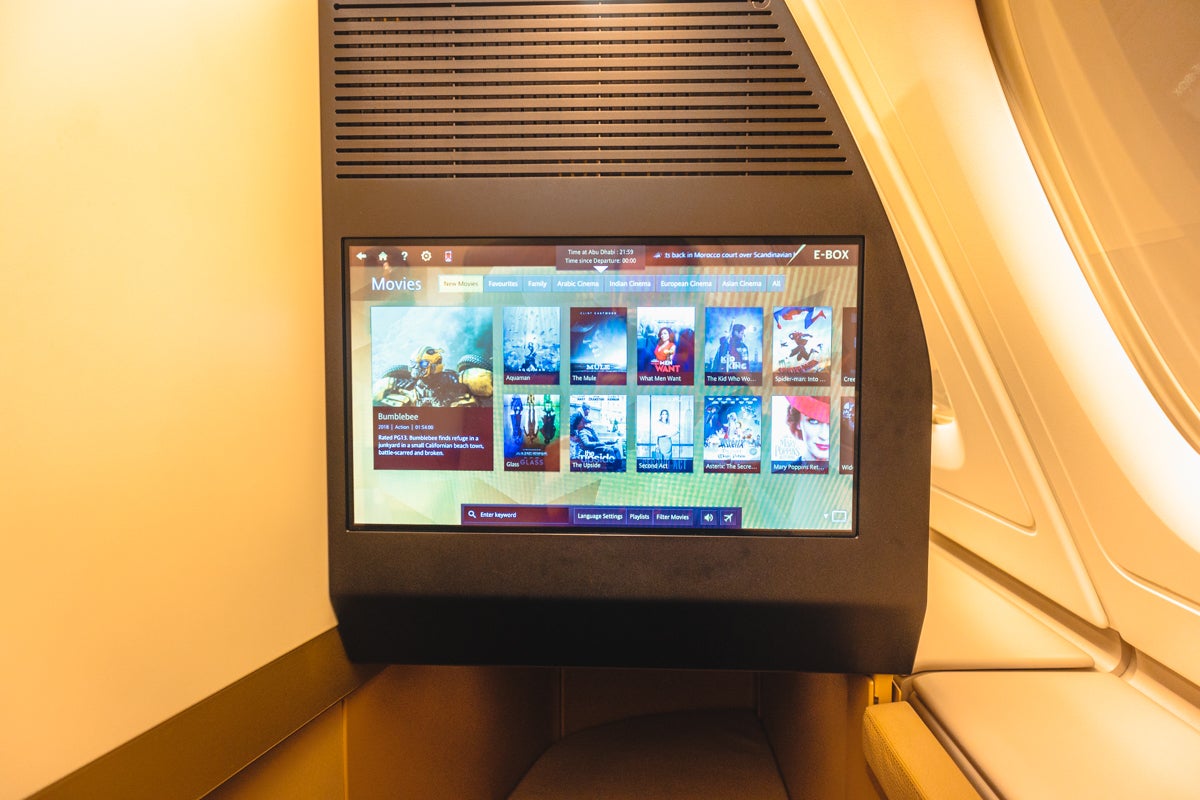 Noise-canceling headphones are provided and are the same quality as on the 787 so I stuck with my Bose instead.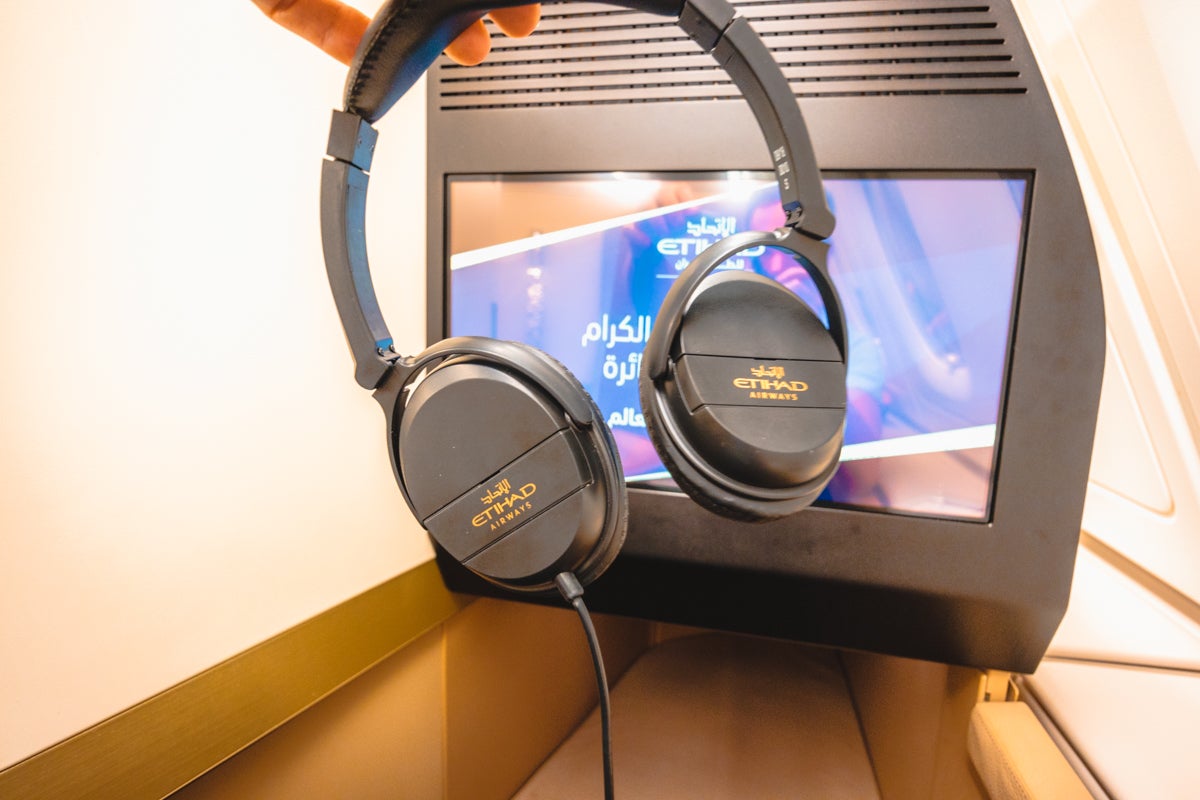 There's also an interactive flight plan map.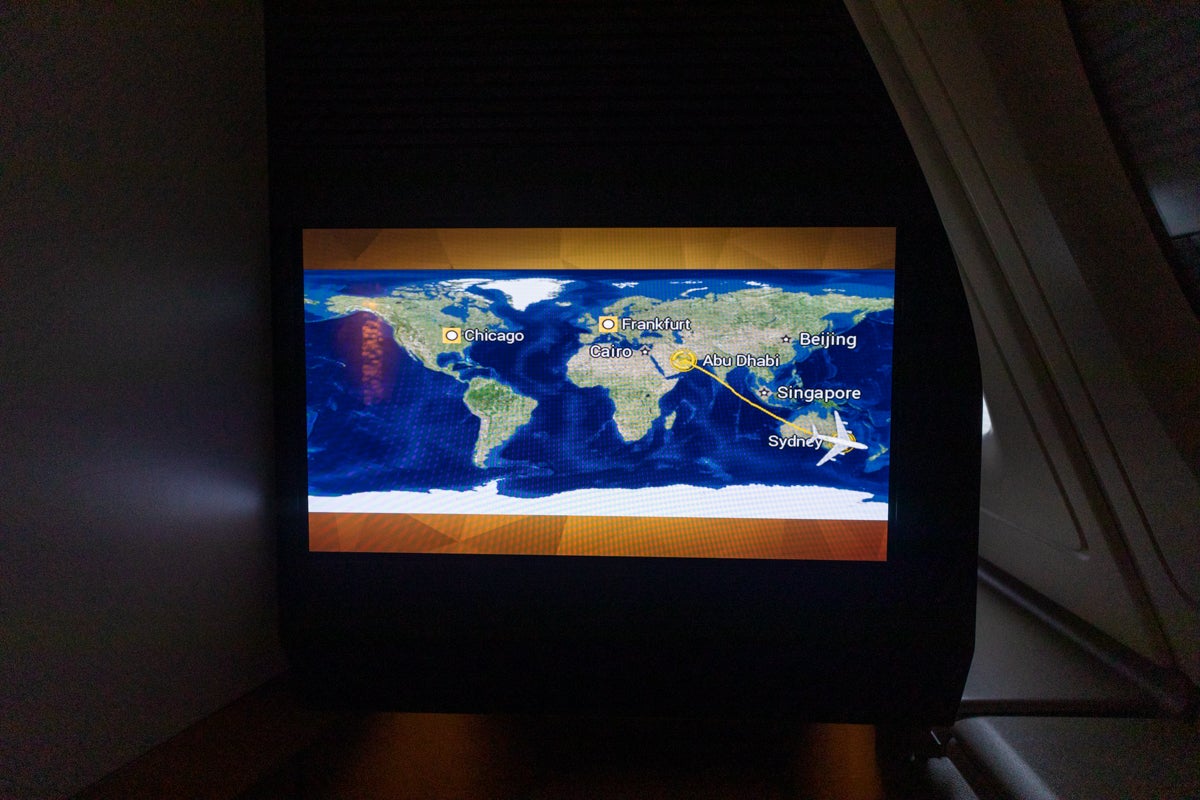 And a tail cam.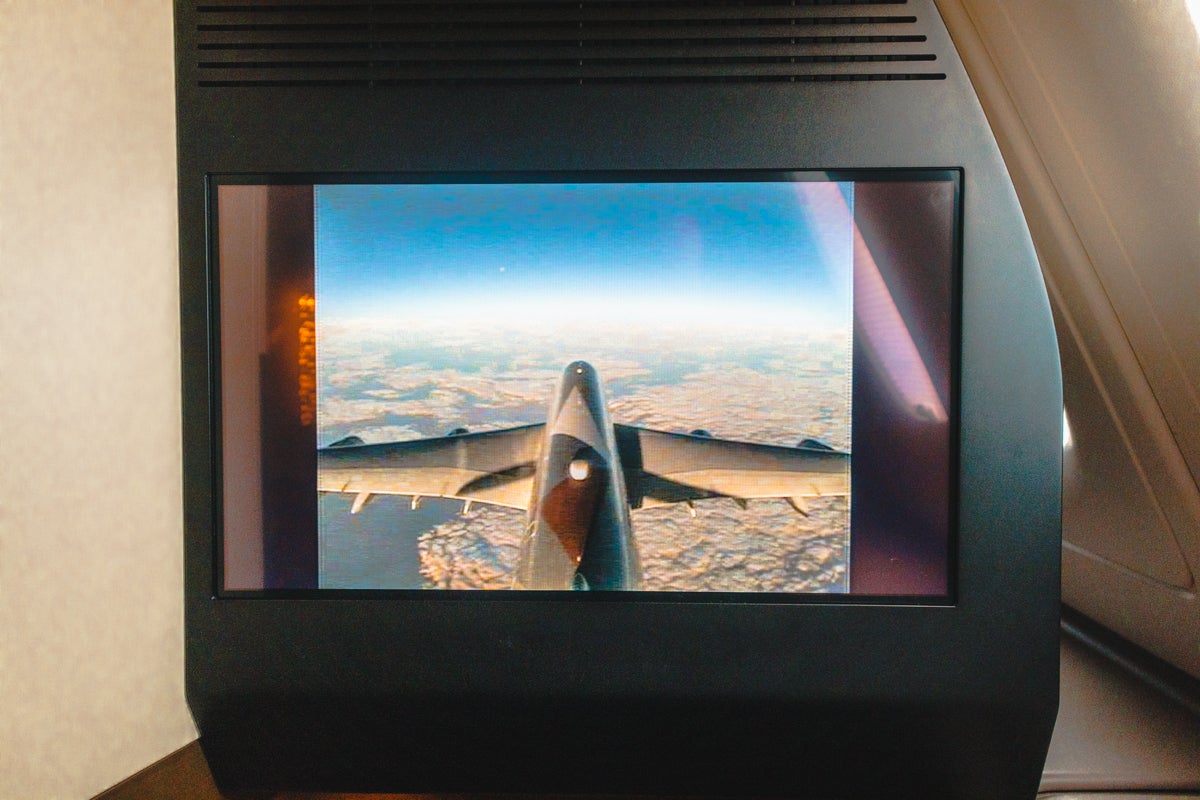 The aircraft was fitted with Wi-Fi and plans start at $5.95 for just 50 MB up to a maximum of 300 MB for $29.95 which represented awful value. Considering the poor service on the 787-9 service from Munich, I skipped using the Wi-Fi on this sector.
Meal and Service
Upon boarding, I was frazzled with the thought of losing my wallet and it must have been obvious as the cabin crew, Ken, who welcomed me on board and asked if everything was ok.
After explaining the situation, he was empathetic to the situation and offered to guide me to the lost and found website. He then offered me a hot towel (a cold towel would have been better in this situation!) and either a glass of Piper-Heidsieck Cuvee Brut Champagne ($35 a bottle), orange juice or water. I needed the booze!
In the meantime, I had a thought I may have left it in the lounge in Munich. Considering the Etihad social media team was so responsive on the flight from Munich, I decided to ask them if they had the number of the lounge. Within a few minutes, Max replied with all the details! What brilliant service. But by this time, the doors had closed and it was time to push back, so I resided to the fact there was nothing more I could do on this flight so I might as well enjoy the Champagne, sit back, and relax.
As I started to unpack, I needed to switch camera lenses and lo-and-behold, there was my wallet at the bottom of my camera bag lens compartment *facepalm*.
I have no idea why I would have ever put it in there; I obviously wasn't thinking when I was packing up my seat after enjoying that strong gin cocktail on my 787 flight. Anyway, crisis over and now back to enjoying this flight. Phew!
30 minutes after take-off, drinks and a warm nut service commenced. I opted for another Bellini which I had enjoyed previously.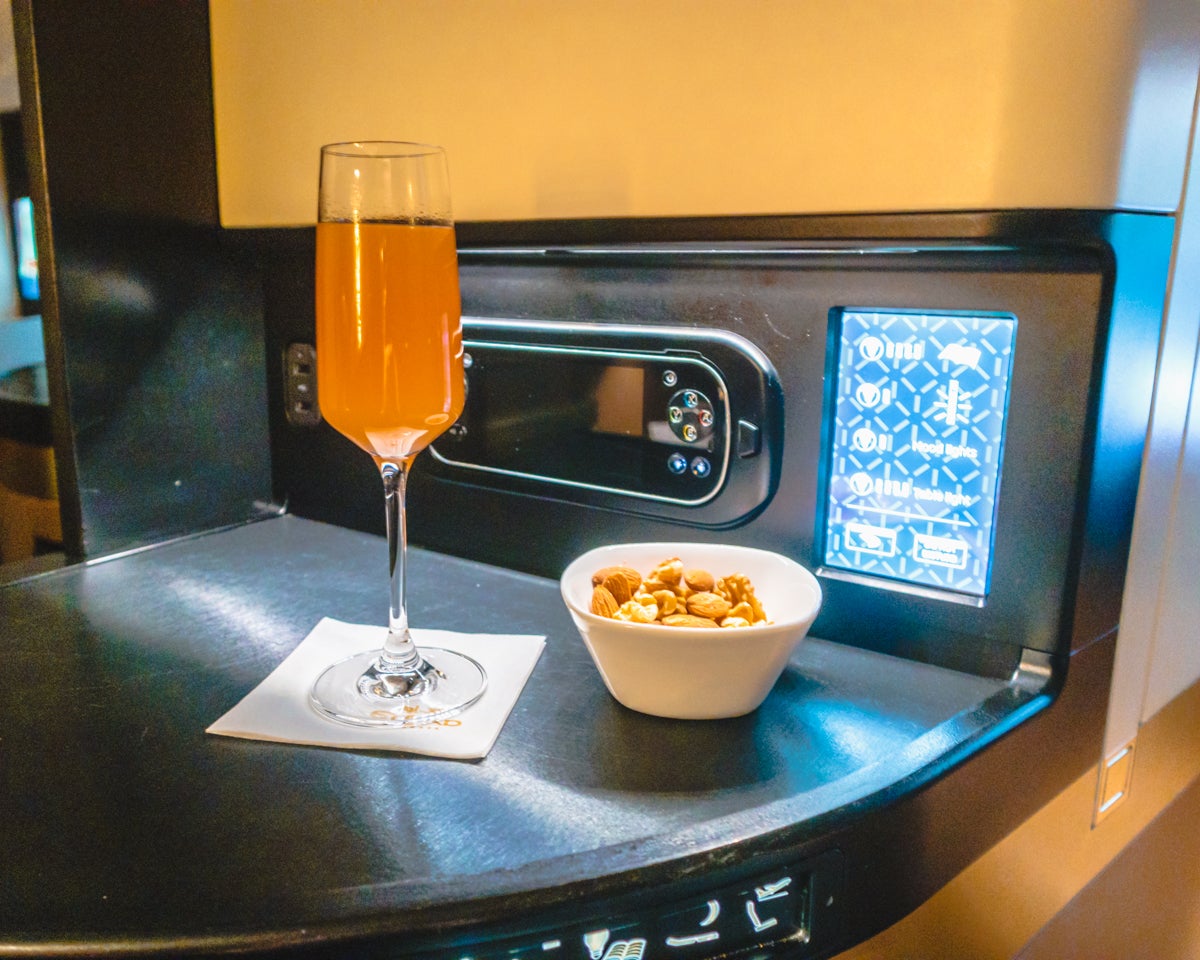 Ken asked when I wanted to dine as Etihad has a dine-on-demand service. I was getting hungry by now so agreed to eat soon after take-off.
Less than an hour after take-off, the starter was served. I decided on the Arabic mezze with a selection of hot and cold Arabic appetizers which was excellent. Etihad doesn't use trolleys down the aisle at any time; all meals are served straight from the galley on a black tray with hammered chrome-look plates and cutlery.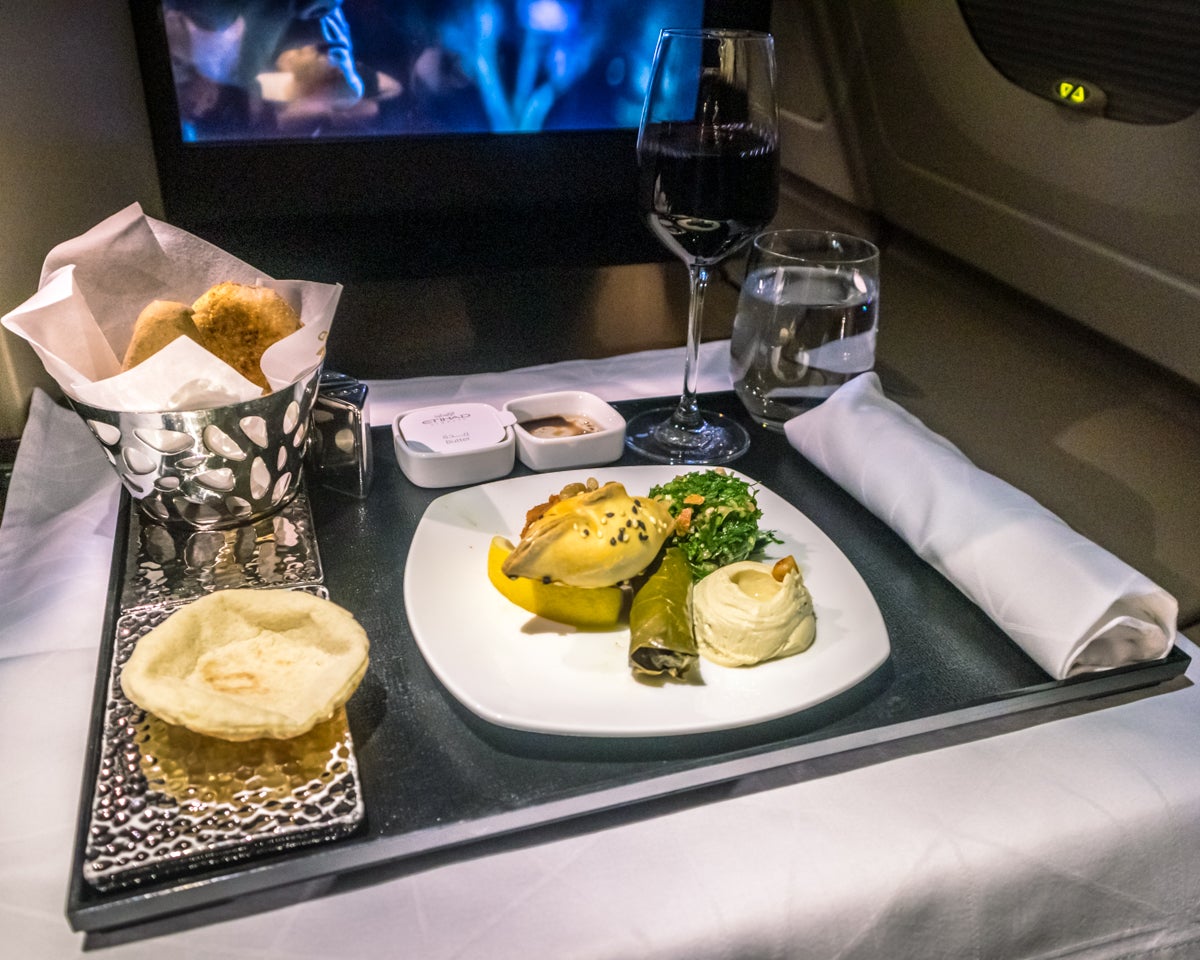 The other 2 choices of starters were:
Nori-wrapped smoked salmon
Thai coconut and basil soup
I switched to red and selected the Chateau Magnan La Gaffeliere Saint Emilion Grand Cru 2012 ($50 a bottle).
Considering I was flying during Ramadan, the crew didn't bring any wine bottles into the cabin, however, all alcoholic beverages were still available to any passengers who wanted a drink.
For main, I was tossing up between the beef or fish and in the end decided on the beef tenderloin with boulangère potato, beans, plum tomatoes, and Dijon jus. Beef can be hit-and-miss on an aircraft, but this was perfectly cooked with a beautiful rich sauce to match.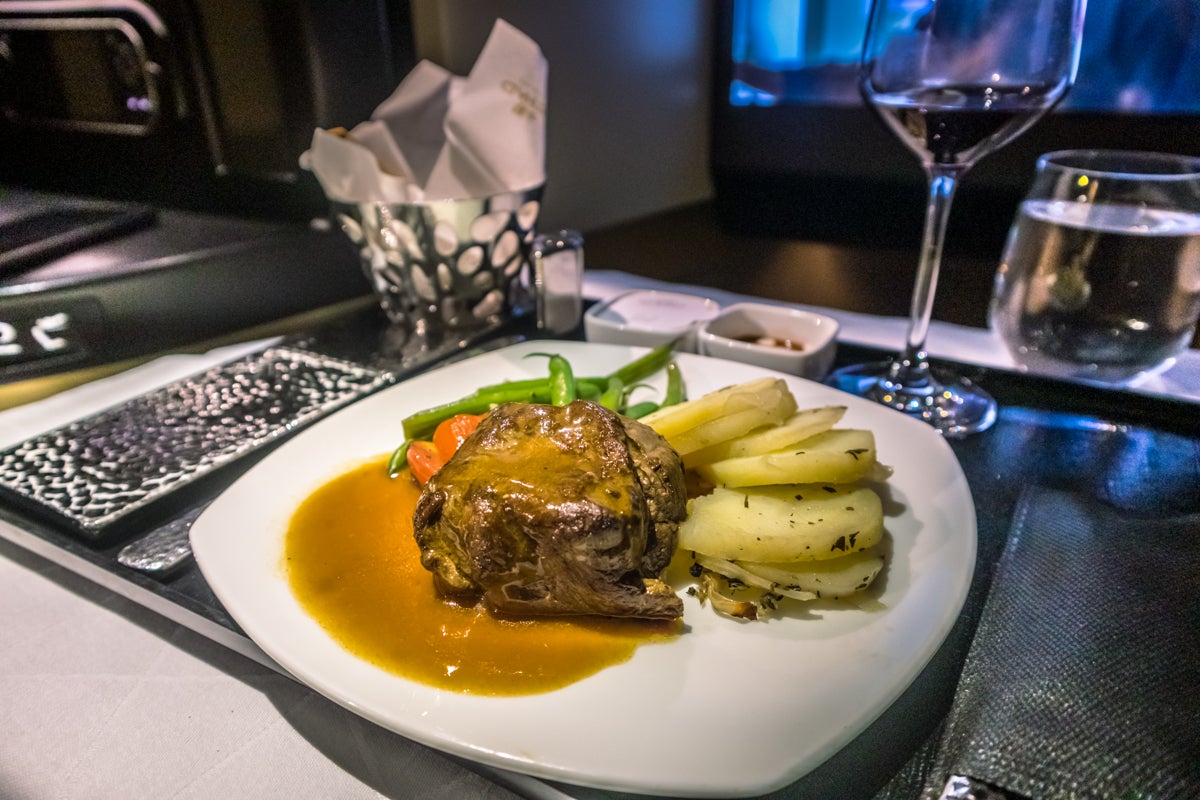 The other main dishes were:
Sweet and sour chicken
Sea bass mashwi
Casarecce pasta
To wrap up the main meal service I went for the white chocolate mousse praline and caramelized hazelnuts which was gloriously rich. Delicious, but I could only eat half of it.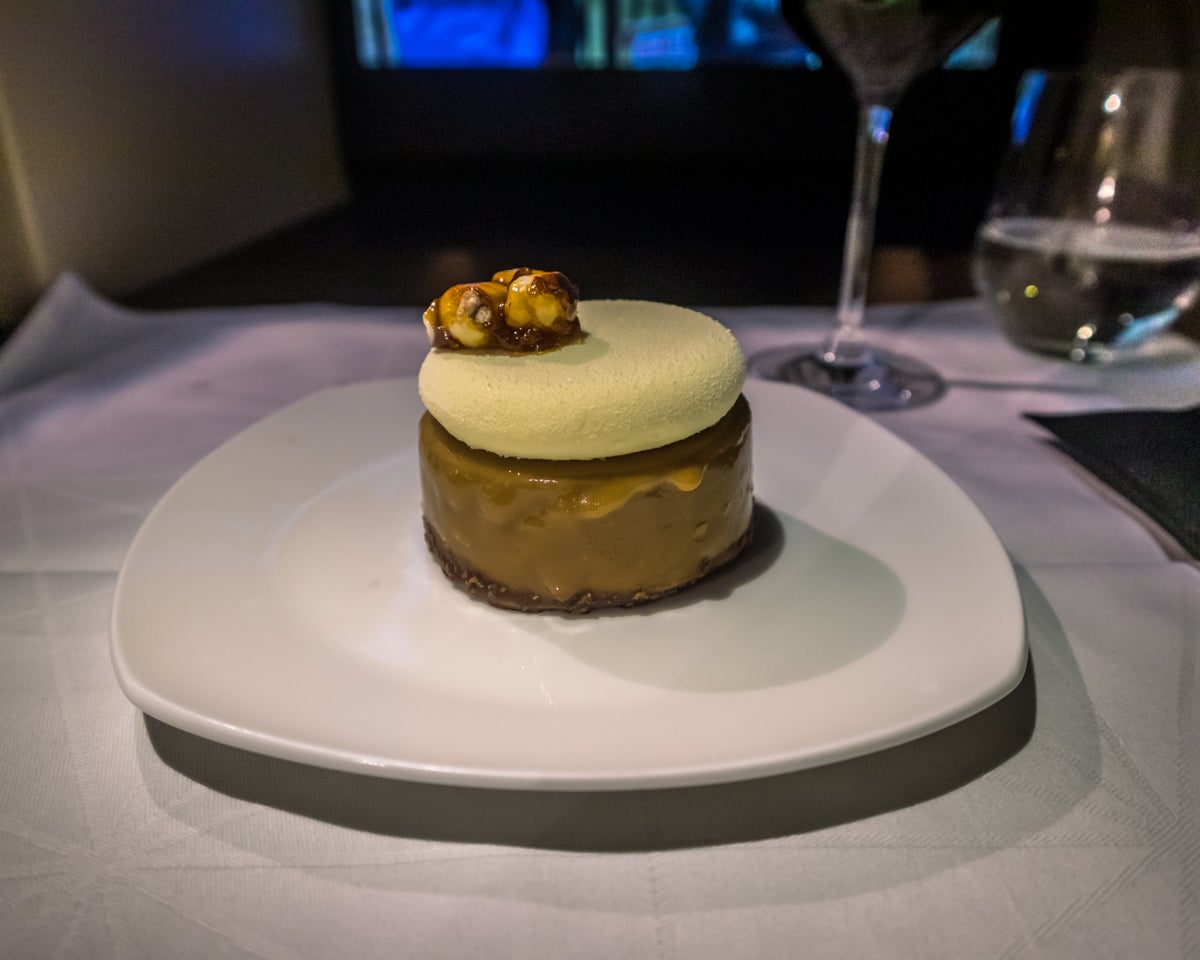 Dessert options:
Warm bitter orange pudding
Seasonal fresh fruit
Haagen-Dazs ice cream
All throughout the meal service and right up until I went to bed, the crew were present in the cabin and ensured my wine was kept topped up.
2 hours before arriving in Sydney, I was asked if I wanted breakfast. Considering it was around 4 p.m. Sydney time, and although I did just sleep, I didn't want to mess up my body clock further so I asked for the fish I was tossing up between for dinner. Specifically, the sea bass mashi with rice, green beans, spiced tomato sauce, and lime.
Ken explained that usually the second meal needs to be selected from the "all day" menu instead of the "a la carte" section, but if they still had this option left, he would make it happen.
The sea bass arrived with 1.5 hours to go before landing into Sydney, along with a selection of breads.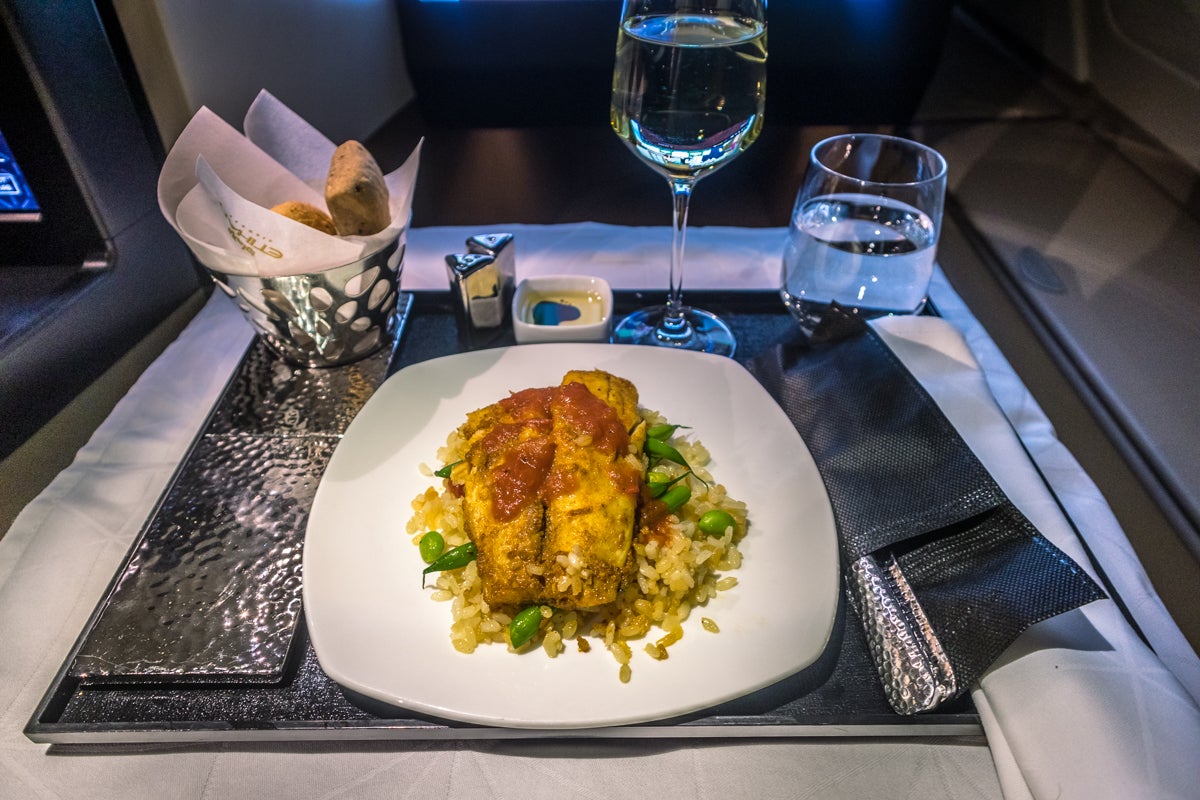 All day menu featured
Selection of breads and pastries
Range of breakfast cereals
Natural yoghurt
Steak sandwich
Swiss cheese and turkey omelet
Chicken yakitori
Assortment of sweet and savory snacks
Potato crisps
Baked cookies
Madeleines
Arabic baklava
Final Thoughts
On touchdown into Sydney, I had now clocked up over 89,000 miles flying Etihad Airways on 16 flights.
Compared to that very first flight 4 years ago, I do miss the complimentary luxury car chauffeur transfers on either end of the journey, but they have become a very rare inclusion for any airline now, even flying first class.
The Boeing 787 and Airbus A380 aircrafts provided a more pleasant and quieter ride than that of the Airbus A340-600 on that first flight and the newer Business Studio seats are more comfortable, have larger footwells, more storage, a better sleeping surface, a larger IFE, and offer slightly more privacy than the previous generation seat.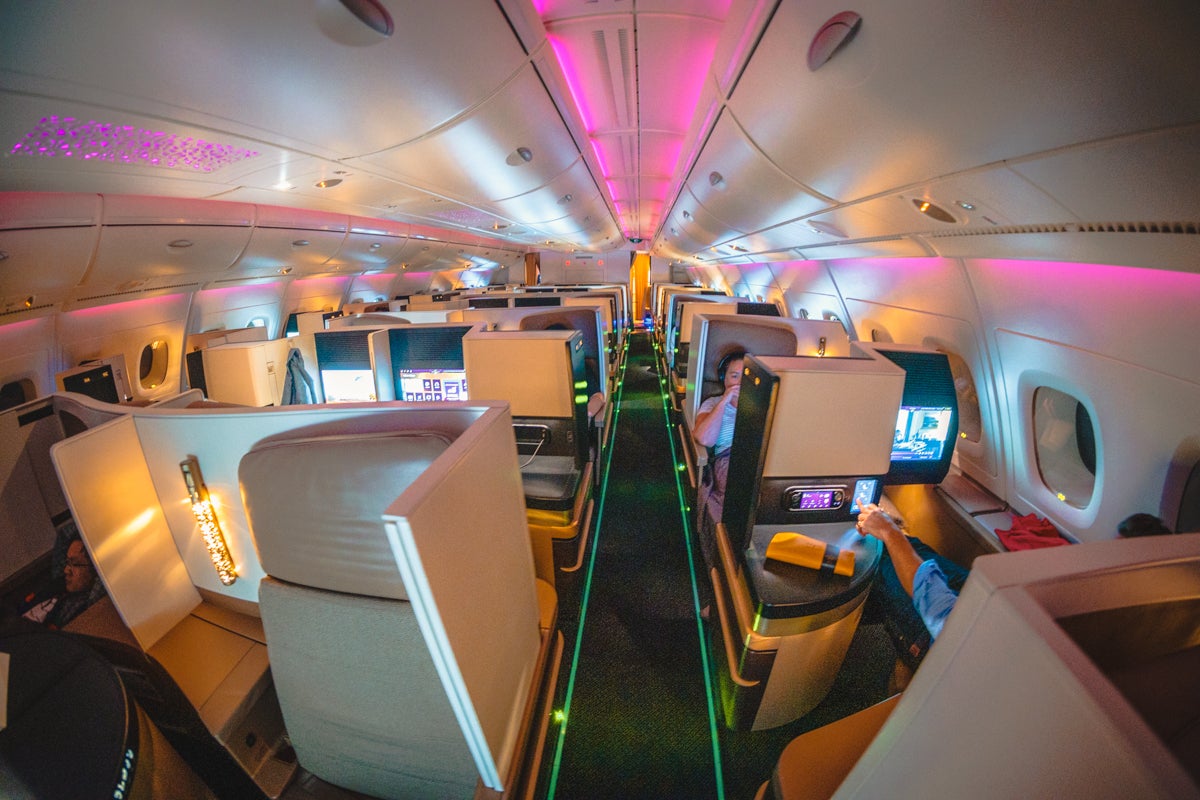 Yes, there are no more PJs, so remember to BYO. And no more thin mattress topper — which was pointless anyway. The Wi-Fi wasn't great and is quite expensive. As are the carrier charges on redemption bookings.
But what has remained consistent through the years, despite the amenity cuts, is the phenomenal Etihad service. Both in the air by its personable cabin crew and online with the responsive social media team. They all make you feel like a valued customer.
Plus, food selection, presentation, and quality are excellent. And the ability to dine when you like really rounds out this excellent business class product.
I'm now looking forward to my next Etihad flight! Instead of flying Sydney to the U.S. direct, we're flying via Abu Dhabi in 2020. After all, why fly direct when you can connect?