Frontier Airlines Boarding Zones & Process — Everything You Need to Know
Update: Due to the spread of COVID-19, Frontier has made the following changes to their boarding procedure:
– As of May 8, 2020, all Frontier customers will be required to wear a face covering over their nose and mouth throughout their journey.
– As of June 1, 2020, Frontier will implement temperature screenings for all passengers and team members prior to boarding flights. Screening will be done via touchless thermometers. Anyone with a temperature of 100.4 degrees or higher will not be allowed to fly, including crew members.
– Frontier is blocking a limited number of middle seats in the front of the plane. These seats are notated as "Stretch Seats" and also include extra legroom. 
Frontier Airlines is a low-cost carrier based in Denver, Colorado. They have an extensive flight network throughout the United States, mostly to smaller cities and airports — but by December 2018, they'll have added service to several locations in Mexico and the Caribbean.
Being a low-cost carrier, Frontier does as much as they can to save money. As a result, they fly their planes longer each day and don't have a lot of extra planes sitting around unused.
For passengers, this means that a mechanical problem or weather issue can impact a whole lot of flights later in the day as well. That jet stuck on the ground in St. Louis probably had 4 other flights left before it was supposed to rest for the night — and those are all delayed or canceled now too.
This leads to is a lot of anger toward what is really a pretty good airline. They are straightforward about their pricing (everything costs extra), they have super low fares (think $19 and up), and their flight crews are generally very friendly.
As long as you can accept that things might go wrong and you have a plan for dealing with it if they do, flying with Frontier can be a great way to save some money.
If you do end up booking one of their flights, your best bet is to be prepared. Here's one way to do that — let's take a look at the boarding procedures on Frontier Airlines so you're ready to get up in the air.
Frontier Airlines Boarding Zones
Boarding with Frontier Airlines is actually pretty simple. Of course, you get some people who clog up the boarding area because they don't know what they are doing — which is amplified by the fact that Frontier caters to less experienced travelers.
However, it really isn't much worse than with any other airline.
The process begins with boarding the typical passengers who need extra assistance first, followed by myFRONTIER Miles elite members and people who have purchased priority boarding.
Then they allow families to board, and finally the rest of the passengers through general boarding.
One oddity in the process is that general boarding on Frontier Airlines is actually a zone of one or more sub-groups, depending on the number of passengers.
The general boarding sub-groups are boarded in order by rows, starting from the back of the plane and going toward the front.
Here are the details of who is eligible to board with each zone on Frontier Airlines.
Special Services
Passengers needing a wheelchair or other boarding assistance
Unaccompanied minors
Zone 1 Boarding (Priority Boarding)
Passengers who purchase a carry-on bag
Passengers who purchase the WORKS
Elite members of myFRONTIER Miles
Courtesy Boarding
Families traveling with small children (under 3 years old)
Other passengers requiring additional time or assistance
General Boarding
Boarding Notes
Like most airlines, Frontier begins their boarding process 30 minutes prior to departure, but they shorten the process with fewer zones and have a goal of final boarding at 20 minutes out.
As a result of this abbreviated timing, Frontier plans to close the boarding doors 15 minutes prior to departure.
Most other airlines close the doors at the 10-minute mark, but if you are expecting that and arrive at the gate with 10 minutes to go for a Frontier flight, you very well could be denied boarding. The doors will have closed 5 minutes before you got there!
Hot Tip: Make sure to complete your check-in and print your boarding pass at home before your flight to avoid lines at the airport. Also, if you use the Frontier Airlines free mobile app, you can get your mobile boarding pass on your phone once you are checked in.
How To Build Up Your myFRONTIER Miles Balance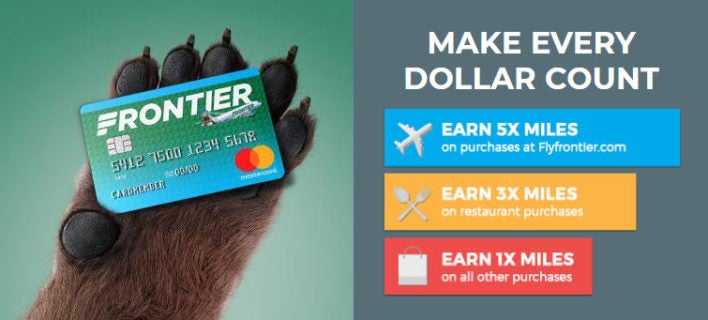 It's great to be at the airport and board a flight at any time, but it's even better to board a flight that you didn't have to pay for!
Paying for tickets and flying with Frontier Airlines is the most straightforward way to earn miles in their myFRONTIER Miles loyalty program. But if you're looking to fly free as quickly as possible, this isn't the fastest way to earn.
Frontier also has a limited network of partners that you can earn miles with. These partners include car rental companies, hotels, cruises, and a few online shopping sites — but again, you won't earn free flights very quickly with these partners unless you do a lot of business with them.
By far the easiest way to earn miles with Frontier Airlines is with their recently relaunched Frontier Airlines World Mastercard. The card is issued by Barclays, and has some features that make it great for families.
An interesting feature of this card is that you can spend your way to elite status, including all the way up to the top-tier Elite 100K status in the myFRONTIER Miles program. No other airline credit cards let you do that — and if you fly a lot with Frontier, this can be a great value.
Hot Tip: Although it would take a combination of 100,000 miles earned through spending and flying to reach the top tier elite status, the lowest level elite status with myFRONTIER only requires a total of 20,000 miles. Elite 20K gets you a free carry-on, free seat selection, free priority boarding, waived redemption fees, and free stretch seating at check-in. That's a great value, even if you only fly with Frontier a few times a year (and a fairly easy number of miles to hit).
Final Thoughts
As we mentioned above, boarding a Frontier Airlines flight can be a bit chaotic. This is partially due to the type of customer that Frontier caters to (often inexperienced or less comfortable with air travel), but mostly due to people just not knowing the process.
By following what we've outlined and learning how boarding will work before you get to the airport, you're already a step ahead of the game. If you want to be even more prepared, check out our detailed review of what to expect when you fly with Frontier.
They are definitely a low-cost carrier…but if you know what you're doing, Frontier Airlines can be a great way to get where you are going and save some money along the way.