15 Cheap Weekend Getaways to Take in 2021 [U.S., Mexico & Dominican Republic Ideas]
If you're short on time and money but are desperate for a quick trip away, you need to find somewhere that is easily accessible and won't cost the earth.
Whether you're looking to unwind on a beautiful beach after a busy working week, or are on a mission to discover the best places to eat and drink, these 15 destinations are perfect for a cheap weekend getaway.
Cheap Weekend Getaways
Cancún, Mexico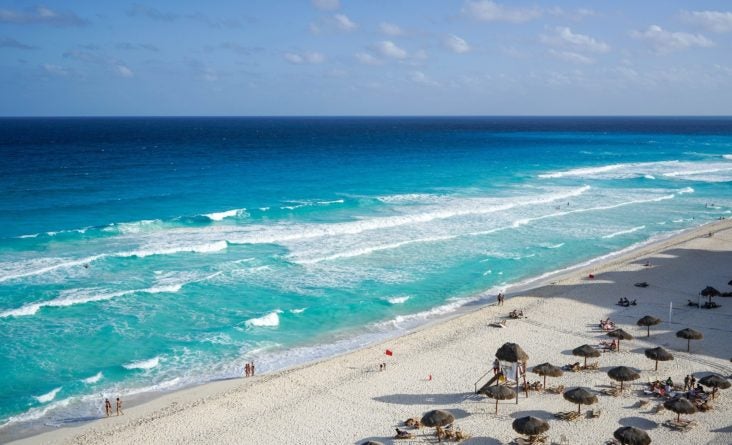 Cancún is warm year-round, and you can bag yourself a bargain in late spring, summer, or fall outside of the high season months of December to April. Located in the Gulf of Mexico, Cancún is a short hop from many southern and eastern U.S. cities, and with round-trips from Atlanta or New York starting at $200, it's the perfect weekend beach escape.
Treat yourself to an all-inclusive hotel so you know what your upfront costs will be, or book a room-only rate and eat like a local at cheap food stalls. The beaches are all free to visit, and you could even take a travel cooler with a picnic if you're on a serious budget.
Where to Stay
Hot Tip: You can save even more money by flying to Mexico using points and miles and looking for a Cancun hotel that you can book with points.
Chicago, Illinois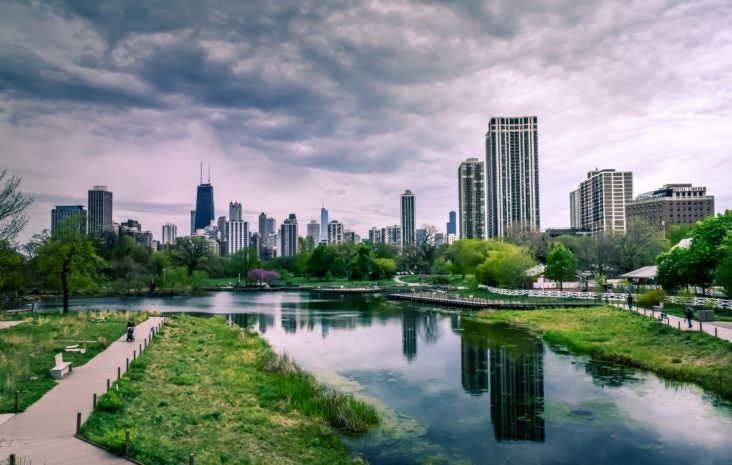 With free museums, music, parks, and beaches to explore, Chicago is great for a cheap city break. Book your flight at least 3 weeks before your departure date and visit outside of summer for the best rates. You've got the choice of flying into Chicago O'Hare International (ORD) or Chicago Midway International (MDW).
Before your weekend break, check out these fun things to do in Chicago.
Where to Stay
Estes Park, Colorado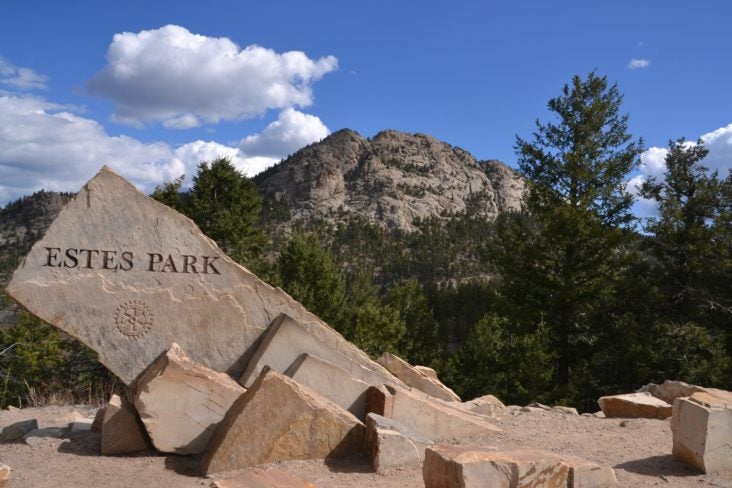 Estes Park is the perfect place to base yourself for a weekend exploring the Rocky Mountain National Park. Take the Estes Park Aerial Tramway to the summit of Prospect Mountain or hike one of the many trails within the national park. Estes Park attracts visitors year-round — hiking in the warmer months and snowshoeing or cross-country skiing during the winter.
Accommodation can be 50% cheaper outside of the summer season, and you'll be sharing your spectacular surroundings with fewer people.
Finger Lakes, New York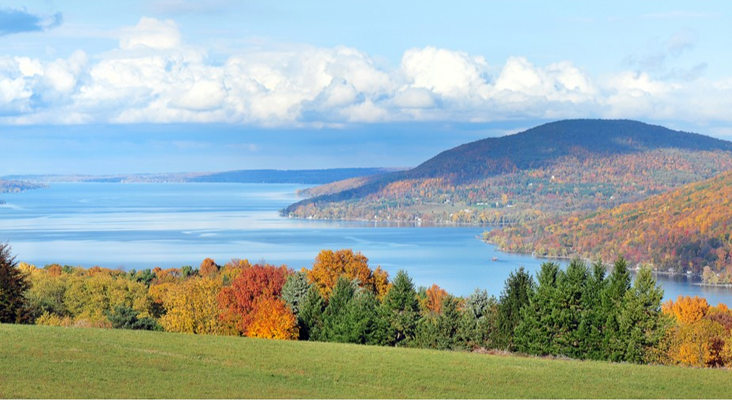 The Finger Lakes region consists of 11 long, narrow lakes surrounded by rolling hills, forests, and waterfalls. Around a 4-hour drive from New York City, Finger Lakes is the perfect weekend escape from the bustling city. Sample some of the region's fantastic wine at one of the many wineries or go hiking in the spectacular Letchworth State Park.
Summer and fall attract the most visitors as the orange and red trees look striking against the lake waters. Rent a car from New York City or fly from Boston Logan International (BOS) into Greater Rochester International (ROC) starting at $70.
Where to Stay
Glacier National Park, Montana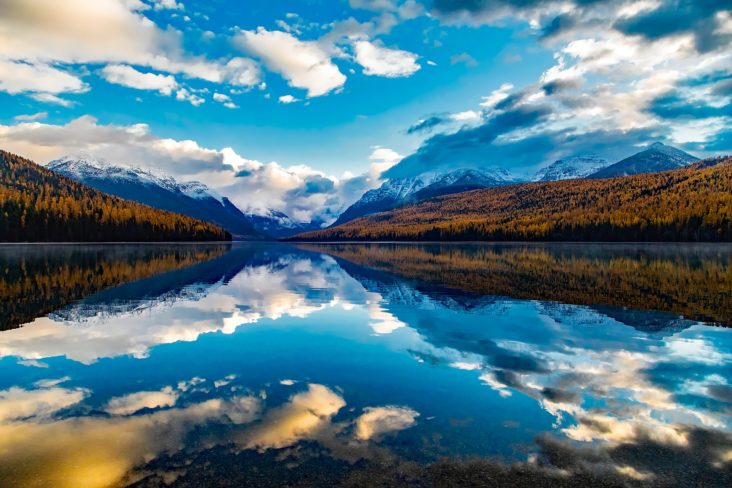 Outdoor enthusiasts will love spending the weekend hiking the miles of trails in Glacier National Park. You can also admire the spectacular mountain views, alpine meadows, and waterfalls from the comfort of your car when driving the 50-mile Going to the Sun Road that stretches from east to west of the national park.
Although lodging and park entry fees are the lowest in fall, winter, and spring, you'll need to consider the weather and avalanche risk if there has been a heavy snowfall. July and August are the most popular months to visit, as most trails and roads are open, along with general facilities and campsites. Camping is the most affordable way to experience Glacier National Park or take a look at the accommodations below that are situated in gateway communities.
Where to Stay
Hot Tip: You can enjoy the spectacular mountains, lakes, and forests of Glacier National Park from the comfort of your home — the park is featured in our guide to virtual tours of iconic U.S. national parks!
Gulf Shores, Alabama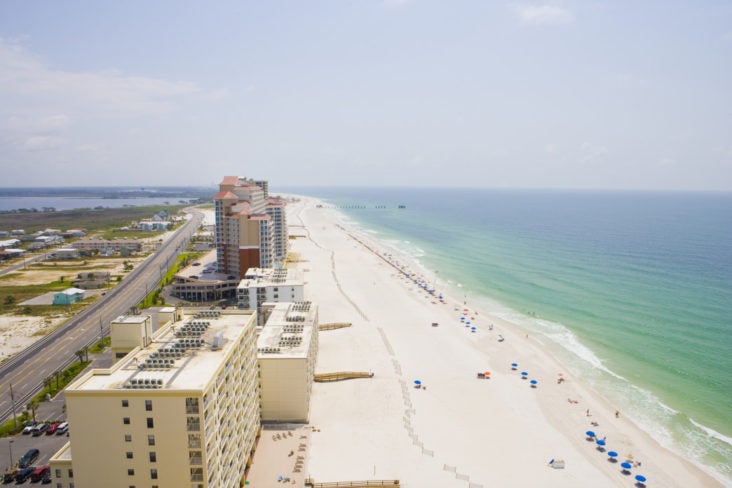 Gulf Shores is located at the southernmost tip of Alabama and boasts sparkling white sandy beaches made from quartz crystal. When you're not splashing around in the turquoise water, you can cycle through Gulf State Park, take a dolphin-watching cruise, or go fishing.
As a beach resort, summer is the busiest time for visitors with the highest rates for accommodation, but spring and fall can still be warm enough to enjoy a weekend beach break with fewer crowds. Staying in a beachfront hotel will set you back more than inland accommodation, so if you're on a budget, opt for the latter.
Where to Stay
Las Vegas, Nevada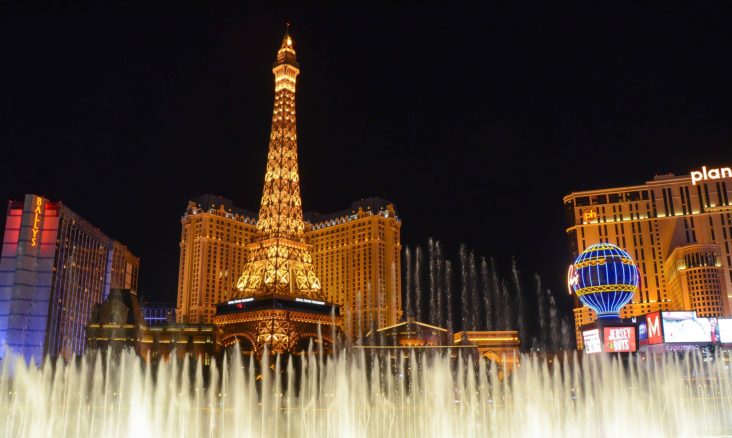 When you can book a round-trip flight from Los Angeles for as little as $65 or from Chicago for $140, Las Vegas can be an excellent destination for a weekend getaway. Although the city is all glitz and glamour, there are ways to ensure that you don't spend all your cash before you get a chance to hit the slot machines.
Check the Las Vegas convention calendar before you book your trip to plan around any large conventions that might bump-up hotel prices. Stroll along and enjoy the free entertainment along the famous Las Vegas Strip, but don't choose a hotel right in the heart of the action, as these charge the highest nightly rates.
Unless you're planning to take a day trip to the Grand Canyon, you won't need to rent a car for the weekend as you can walk, ride the bus, or take a cab along the Strip. For the cheapest flights and hotel rates, visit in the low season (February) and check out Tix4Tonight for cheap last minute show tickets. Lastly, opt for a vacation package that combines flight, hotel, and even a rental car to save money!
Where to Stay
Hot Tip: Don't miss a chance to earn perks — like free slot play and discounts — at over 13 Vegas casinos, including Bellagio, Luxor, Mandalay Bay, and MGM Grand. Check out our guide on everything you need to know about the M life Rewards loyalty program.
Memphis, Tennessee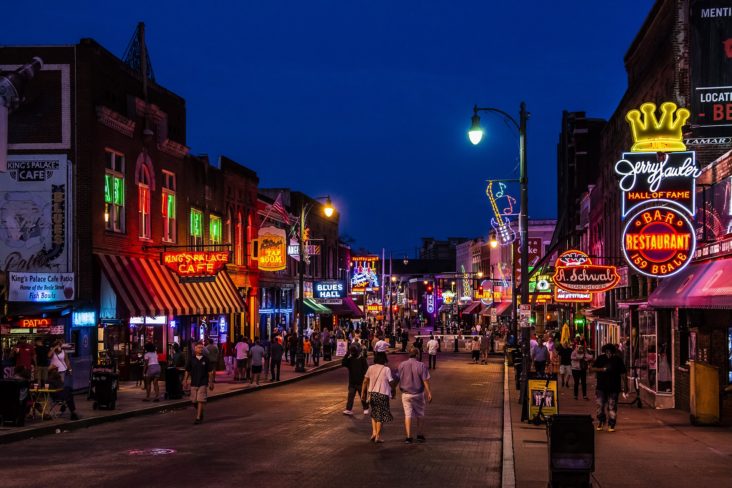 Memphis is the home of blues, soul, and rock and roll, with former residents including Elvis and B.B. King. The cheapest months to spend a weekend in Memphis are November and February, when no large events are taking place, but there are still tons of bars and restaurants hosting live music that will be sure to get your toe-tapping.
If you're visiting on a budget and want to see where Elvis Presley once lived, Graceland offers free admission to the Meditation Garden daily from 7:30 a.m. to 8:30 a.m. Round-trip flights from Denver cost around $110 and $200 from Los Angeles.
Where to Stay
Hot Tip: Memphis is a popular stop on The Great River Road, a 3,000 mile stretch along the Mississippi River from Minnesota to Louisiana.
Myrtle Beach, South Carolina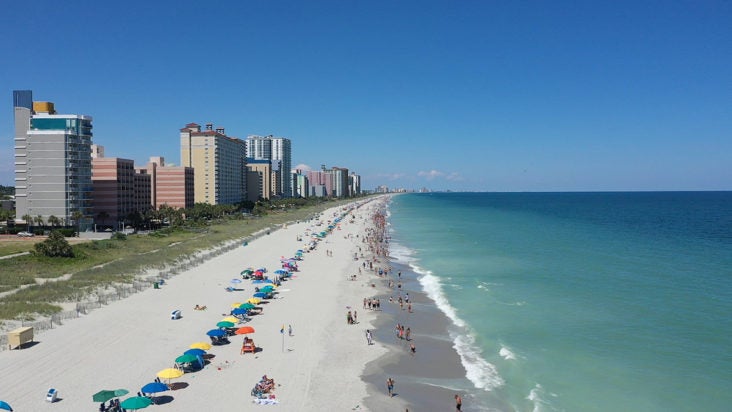 Myrtle Beach is the ideal destination for an affordable family beach vacation, with cheap accommodation, budget-friendly dining, and many free activities. Late fall to early spring is off-season, so you may not want to take a dip in the ocean, but you will find the cheapest hotel rates.
Myrtle Beach International Airport (MYR) is close to the coastline and many other city attractions, and you can jet in from Philadelphia for around $95 or New York for $115. Rent an apartment or hotel with a kitchenette and take picnics to the beach to save money on dining out.
Where to Stay
Olympic National Park, Washington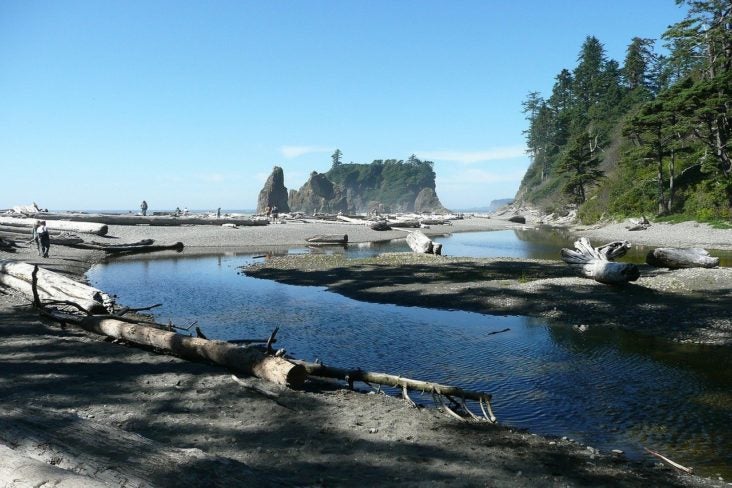 Olympic National Park consists of nearly 1 million acres of rugged coastline, snow-capped mountains, and lush rainforests. Visitors must pay to enter the park; however, if you visit on Martin Luther King, Jr. Day, National Public Lands Day, Veterans Day, or the first day of National Park Week, entrance to the park is free.
Spring is an excellent time to visit for wildlife watching, and accommodation rates are cheaper than the popular summer months. Drive the Olympic Peninsula Loop and stop at the driftwood-dotted Ruby Beach, stroll through the Hoh Rain Forest, or hike along Hurricane Ridge. To start exploring, fly from Los Angeles to Seattle for $115 or from Chicago for $160.
Where to Stay
Providence, Rhode Island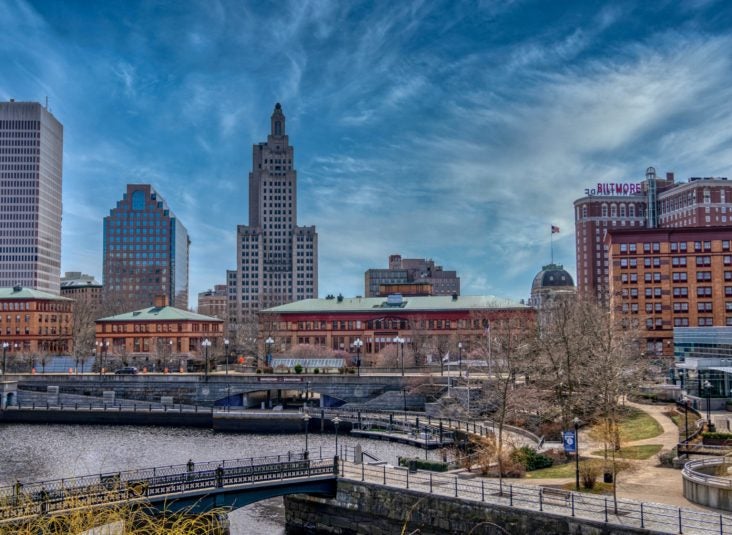 If you're a bit of a foodie, then Providence should be high on your list for a weekend break. Downtown Providence is home to some fantastic restaurants such as Oberlin, serving mouthwatering Rhode Island Seafood. In between discovering the city's burgeoning food scene, marvel at some amazing architecture, including the Fleur-de-Lis Studios and Providence Athenaeum.
Fall is a lovely time to visit Providence with the beautiful colors of the fall foliage. If you visit up until early November, head to the river for the famous WaterFire Festival. Round-trip flights to Providence from Charlotte start at $75 and start at $115 when flying from Orlando.
Where to Stay
Punta Cana, Dominican Republic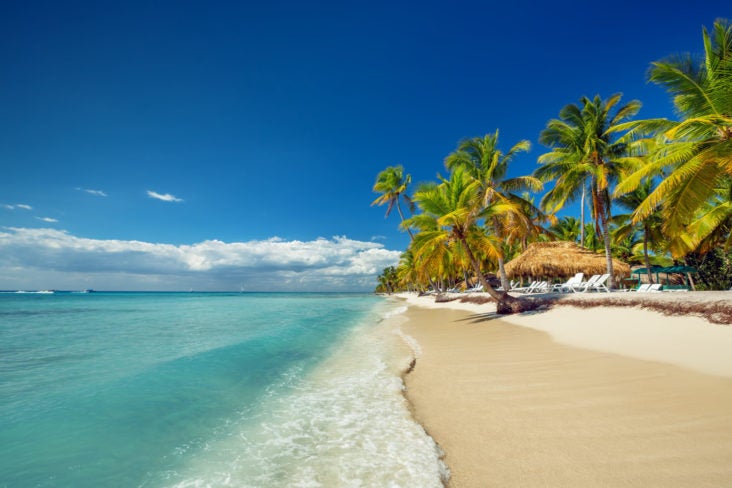 Relaxing on Punta Cana's white sandy beaches is the perfect way to unwind after a busy week. With just a 3-hour time difference from the West Coast U.S. and even less from the East, you can enjoy a weekend in Punta Cana knowing that you won't spend the duration adjusting your body clock.
Hotels offer great value, and many are 5-star all-inclusive, so you can enjoy a luxurious weekend without budgeting for additional food and drink. Avoid peak season from November to January for the cheapest flights to Punta Cana, which run around $350 from Boston and $320 from Chicago.
Where to Stay
Hot Tip: You can also save money by booking your Punta Cana hotel with points.
Salt Lake City, Utah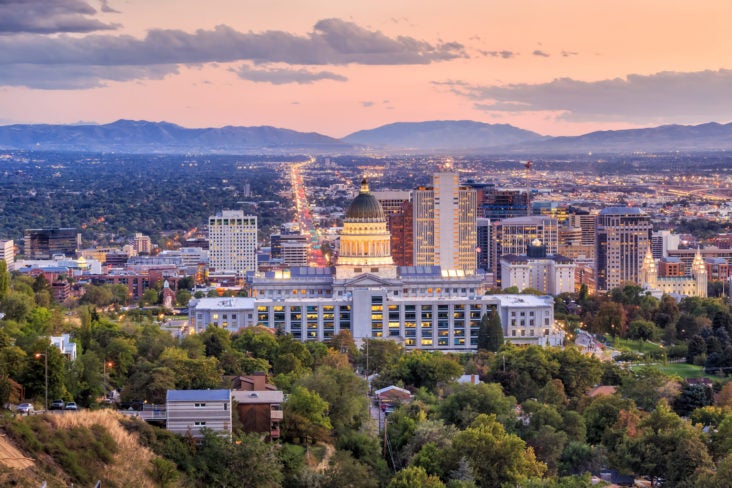 Spend a weekend exploring the Great Salt Lake — the largest lake west of the Mississippi River — and take a free guided tour of Temple Square. Whether you're visiting in winter to hit the slopes or in the warmer months to take the scenic aerial tram to the top of Hidden Peak, there's so much to see and do in Salt Lake City.
The cheapest weekends to visit Salt Lake City are in September and October before the skiers arrive. Fly from San Francisco for around $125 or Washington, D.C. for around $250.
Where to Stay
Hot Tip: Salt Lake City International (SLC) was found to have the best average TSA security wait times so getting home from your trip will be a breeze.
San Antonio, Texas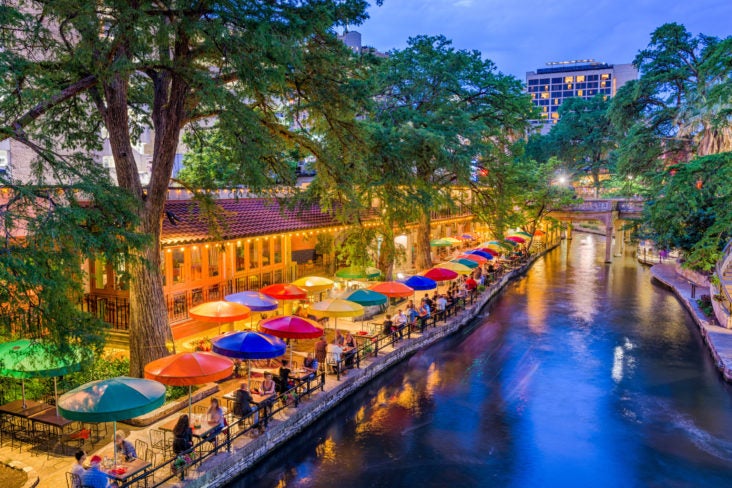 Historic sights and fantastic shopping and dining make San Antonio the perfect destination for a weekend city break. Stroll along the cafe-lined River Walk or discover 18th-century frontier missions, including the Alamo. Visit between November to April to avoid the crowds and take advantage of the low season hotel rates.
Visitors from New York can fly round-trip to San Antonio starting around $190. Staying downtown, you'll be looking at a minimum nightly rate of $200 plus, so stay slightly further out if you're on a budget.
Where to Stay
Savannah, Georgia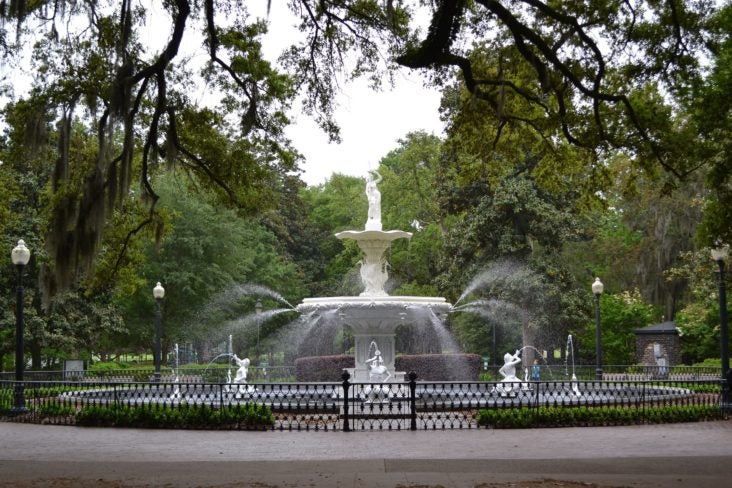 Savannah is considered one of the most haunted cities in the U.S., but its eerie reputation forms part of the intrigue for many visitors. Spot dolphins off the coast of Tybee Island or ride the free Belles Ferry across the Savannah River. At the heart of the city is the old district, with quaint cobbled streets and tree-lined roads dripping with silvery Spanish moss.
There's lots of history to discover in Savannah, and many of the monuments and museums are free to enter. Spring is the busiest time to visit, and the cheapest hotels and flights into Savannah/Hilton Head International Airport (SAV) can be booked in January.
Where to Stay
Final Thoughts
There are plenty of places that you can enjoy a weekend getaway without breaking the bank. Savvy travelers will save money by booking off-season when flights and accommodation are at their cheapest. Check the tourism board's calendar to see if there are any major events or conferences taking place that weekend that are likely to inflate accommodation rates and avoid staying right in the middle of town.
Take advantage of free attractions such as live music, museums, and galleries, and book a hotel with a kitchen or at least a refrigerator so you don't need to eat out 3 meals a day.