The Best Ways to Fly From Las Vegas (LAS) to Los Angeles (LAX)
Over 1.5 million people travel between McCarran International (LAS) in Las Vegas and Los Angeles International (LAX) annually on 10 different airlines. This makes the route not only the most trafficked flight out of LAS, but one of the more trafficked leisure routes in the United States.
Because of this, fares on the LAS to LAX route can be priced super low; you will often see $29 one-way fares on budget carriers and $44 fares on mainline carriers when booking just 2 weeks out!
As any frequent Las Vegas traveler knows, the route isn't always this cheap. During large conferences, holiday weekends, and other events, fares can skyrocket, making it cost-prohibitive for a quick weekend trip. So with that in mind, it's always good to have a points and miles backup plan so you can fly the route whenever you'd like without breaking the bank.
Here are all of the best ways to fly between LAS and LAX using the least amount of miles and points, giving you the opportunity to stretch your miles and save the most money.
Get a Great Deal With Low-Cost Delta SkyMiles Awards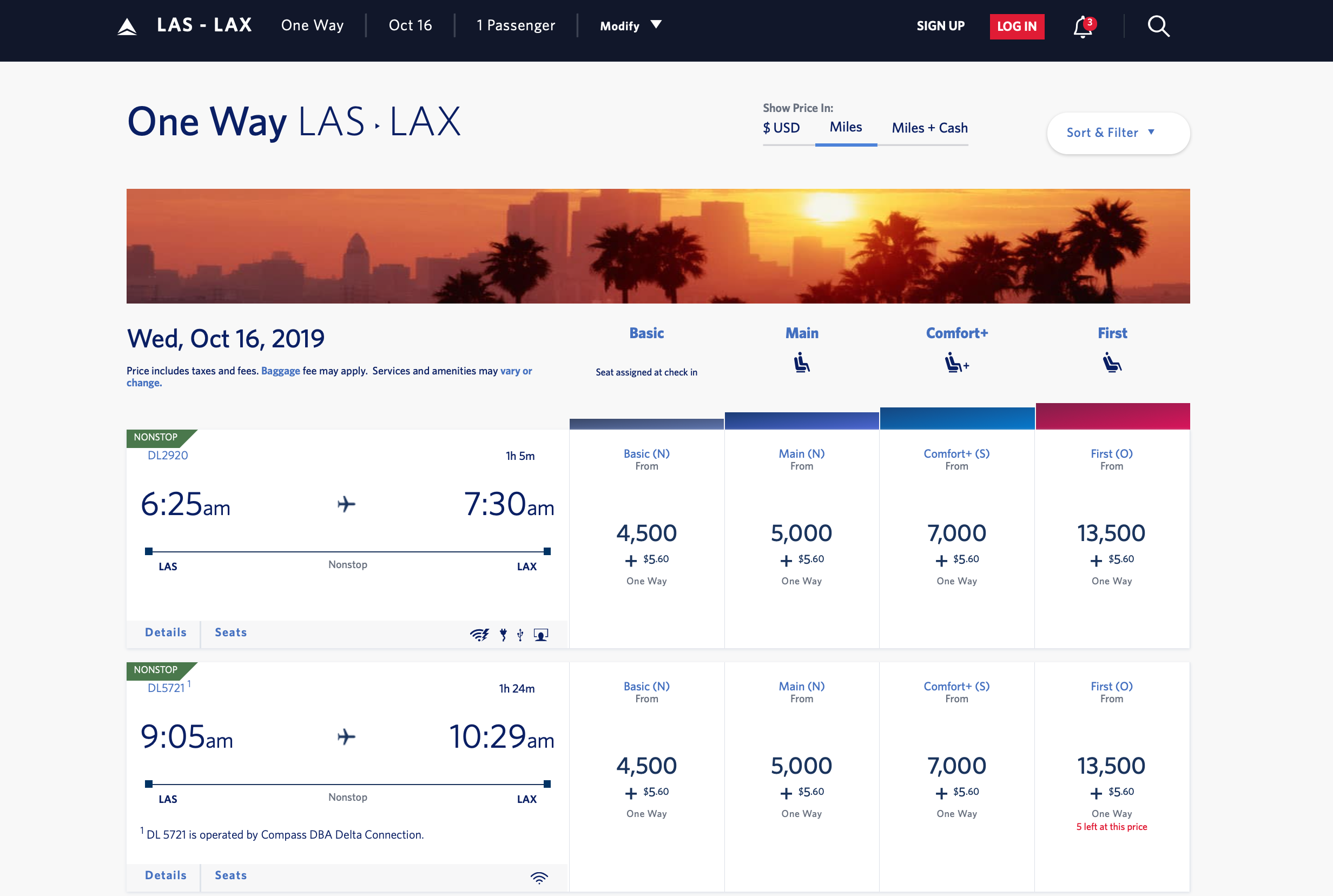 You may have heard that Delta Air Lines got rid of its award charts in favor of a dynamic award pricing structure. This means that all award tickets are priced based on a number of things like route, passenger load, date, and other factors. While this seriously increased the price of some award tickets (namely in business class), it's actually had the opposite effect on short-haul routes like LAS to LAX.
In fact, when searching 2 months out, you can see one-way tickets in Basic Economy price at just 4,500 SkyMiles one-way. This same ticket costs $77 one-way, giving you a value of 1.71 cents per point. This puts this particular LAS to LAX redemption at a higher value than 0ur August 2019 Delta SkyMiles valuation of 1.0 cents per point.
Hot Tip: Searching for a one-stop shop to know how much your points are worth? Explore our points and mile valuations to ensure you're getting good value. 
You can transfer points to Delta SkyMiles from American Express Membership Rewards or Marriott Bonvoy at varying rates. Plus, you can use one of these other awesome methods of earning Delta SkyMiles to build a substantial balance quickly.
Fly Alaska Airlines on the Cheap With Mileage Plan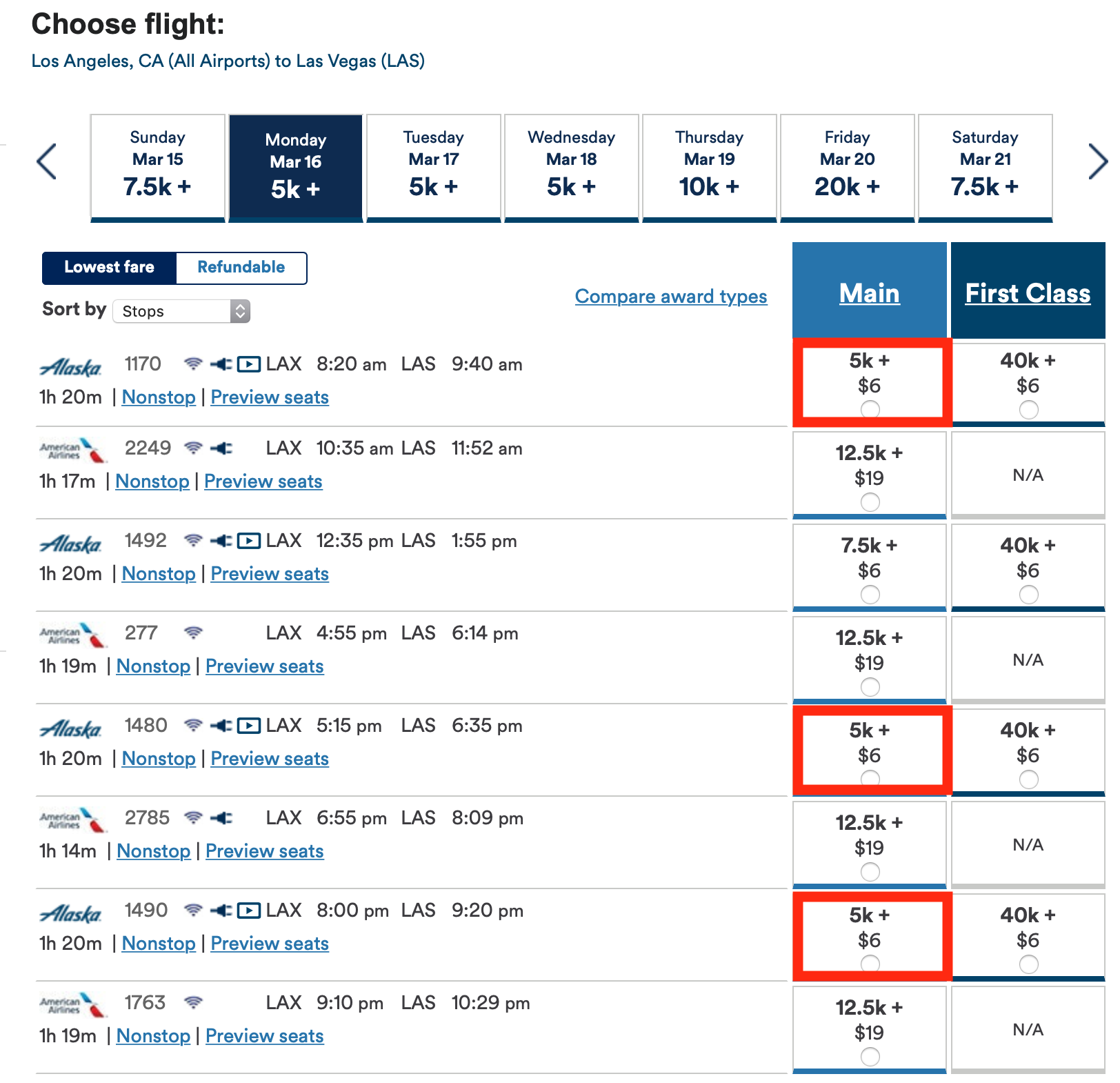 Alaska Airlines has a hub at LAX and a substantial presence at LAS, so naturally, it runs multiple flights between the 2 cities on a daily basis.
If you have a stash of Alaska Airlines Mileage Plan miles, you can book award tickets for just 5,000 Mileage Plan miles one-way in economy class between the cities — just search for the award on Alaska's website.
Note that Alaska Airlines' partner American Airlines also operates the LAS to LAX route. However, you can only find 5,000-mile awards on flights operated by Alaska Airlines. Further, some flights may price higher as Alaska Airlines employs a similar dynamic pricing structure as Delta for its own award tickets.
Thankfully though, 5,000-mile awards are plentiful, especially when booking far in advance. If this award is of interest to you, check out these various ways of earning Mileage Plan miles or transfer points from Marriott Bonvoy.
Book Alaska Airlines Flights With Singapore Krisflyer
Don't have Alaska Airlines Mileage Plan miles? You can always book Alaska Airlines award tickets with Singapore Airlines Krisflyer miles. These awards are more costly than booking with Mileage Plan, but Krisflyer miles transfer in from more credit card partners.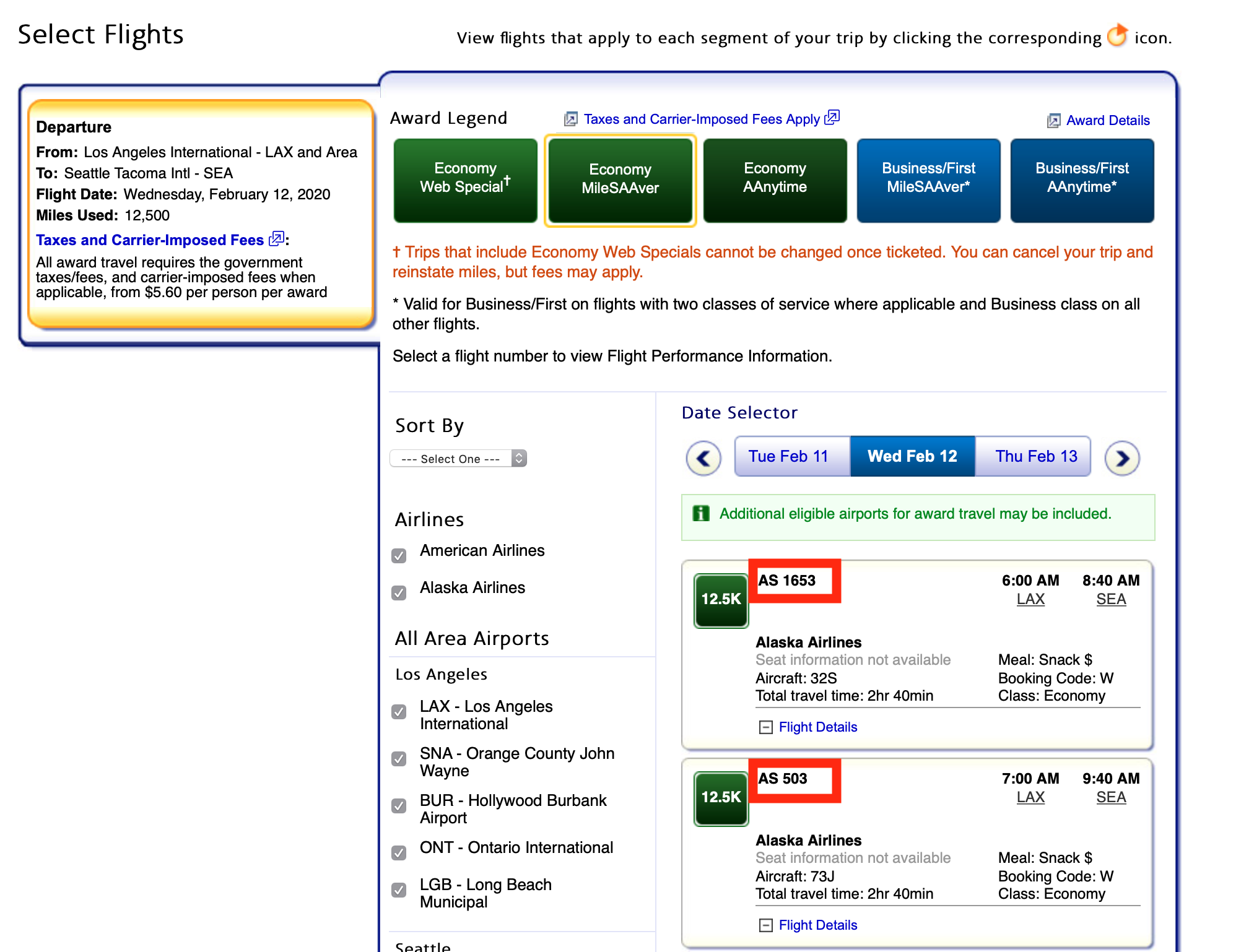 According to Singapore Airlines' Alaska award chart, booking a LAS to LAX ticket on Alaska Airlines costs 7,500 miles one-way in economy class. To book said award, you must first find availability on AA.com—just search for an award ticket from LAS to LAX, and look for MileSAAver availability.
Like booking with Alaska, both Alaska Airlines and American Airlines award tickets will show up in your search results. Only Alaska Airlines operated award tickets are bookable with Singapore Airlines miles, so look for MilesSAAver awards that have flight numbers starting with "AS." Write down this flight number and call Singapore Airlines Krisflyer to book the ticket.
As noted earlier, Singapore Airlines Krisflyer has a ton of transfer partners. Currently, you can transfer points from American Express Membership Rewards, Chase Ultimate Rewards, Citi ThankYou Rewards, and Marriott Bonvoy at various transfer ratios.
Fly Southwest on Points (Proceed With Caution)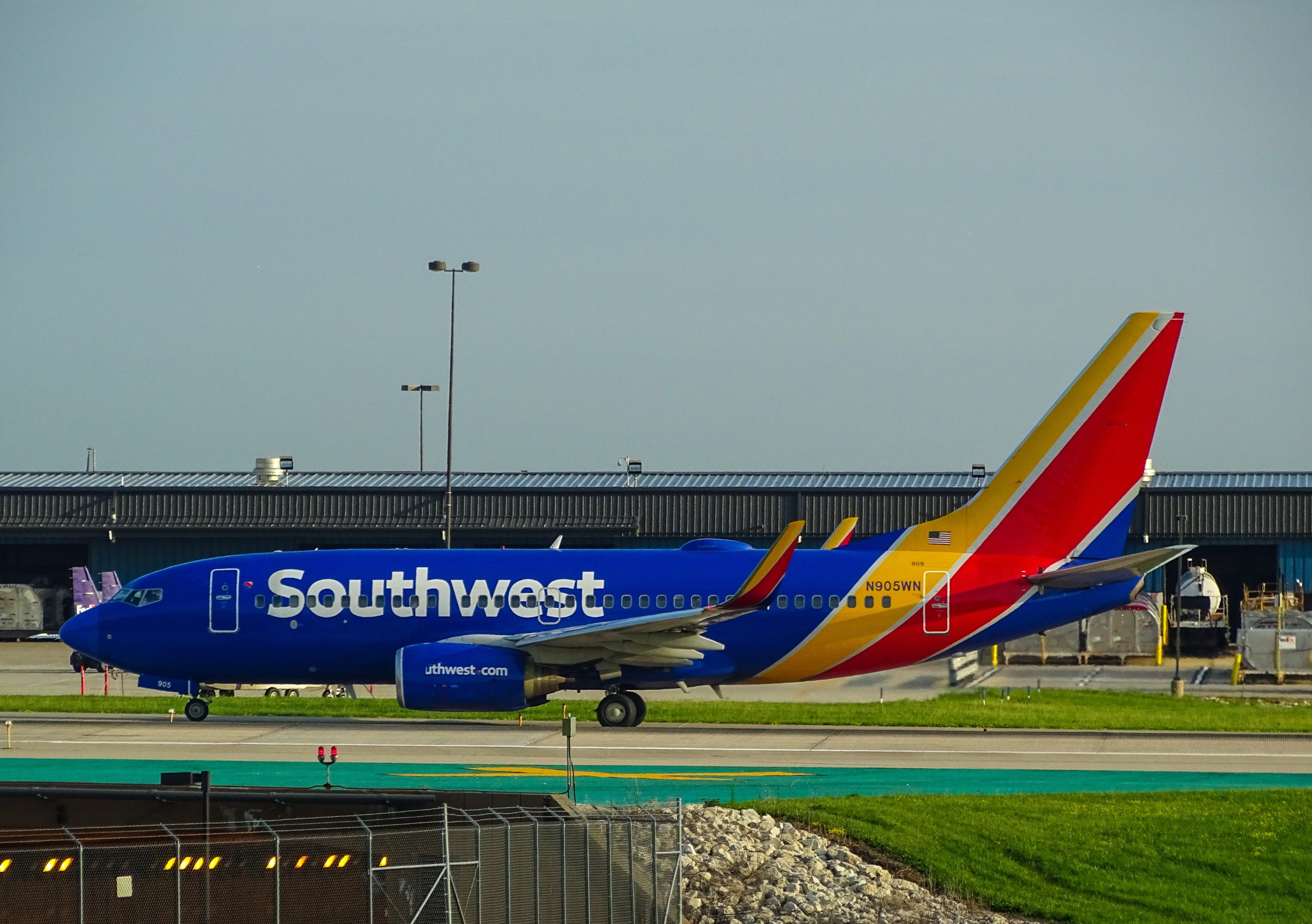 Southwest Rapid Rewards prices award tickets based on the cash cost ticket. In short, this means that more expensive flights cost more points than cheap flights (and vice versa).
It operates daily nonstop service from LAS to various Los Angeles area airports:
Southwest has service from 5 different Los Angeles area airports: Burbank (BUR), Long Beach (LGB), Los Angeles (LAX), Orange County (SNA), and Ontario (ONT) airports.
We value Southwest Rapid Rewards points at ~1.3 cents per point, but you may get slightly more or less value depending on your route and travel date. Run searches on the airline's website to find the best deal for your travel dates.
Southwest Rapid Rewards transfers in from Chase Ultimate Rewards and Marriott Bonvoy.
However, we generally do not recommend transferring in miles to this program to book award tickets — especially if you have a Chase Ultimate Rewards card. We'll take a look at why this is when we discuss the Chase Travel Portal later in the article.
If you have an existing stash of Rapid Rewards points though, booking a low-cost ticket can make a lot of sense. This is especially true if you live near LGB or another Los Angeles area airport serviced by Southwest as you can beat the notoriously hectic LAX traffic.
Bottom Line: Use existing Southwest Rapid Rewards points to book cheap award tickets between LAS and LAX. Otherwise, check out the Chase Travel Portal for a better deal.
Book Any Flight With the Chase Travel Portal
Earlier in the article, you saw that the LAS to LAX (and vice versa) route can often be purchased for as little as $29 one-way. Flights this cheap are not worth spending points on as you'll get a low cent per point redemption, meaning that your points are better spent on other flights you may take later down the road.
However, that doesn't mean you need to spend your hard-earned cash to book the flight. Instead, consider booking your next cheap ticket between LAS and LAX using the Chase Travel Portal.
The Chase Travel Portal lets Chase Ultimate Rewards cardholders redeem their points toward paid flights. Currently, Chase Sapphire Reserve® cardholders can redeem towards flights at 1.5 cents per point, Chase Sapphire Preferred® cardholders can redeem at 1.25 cents per point, and all Chase Freedom® and Chase Freedom Unlimited® cardholders can redeem at 1.0 cents per point.
Better yet, the portal is run by Expedia, so you can book just about any flight at any time. And since you're essentially covering the cost of a paid ticket with your miles, you'll still earn redeemable and elite status qualifying miles on all tickets booked through the Chase Travel Portal.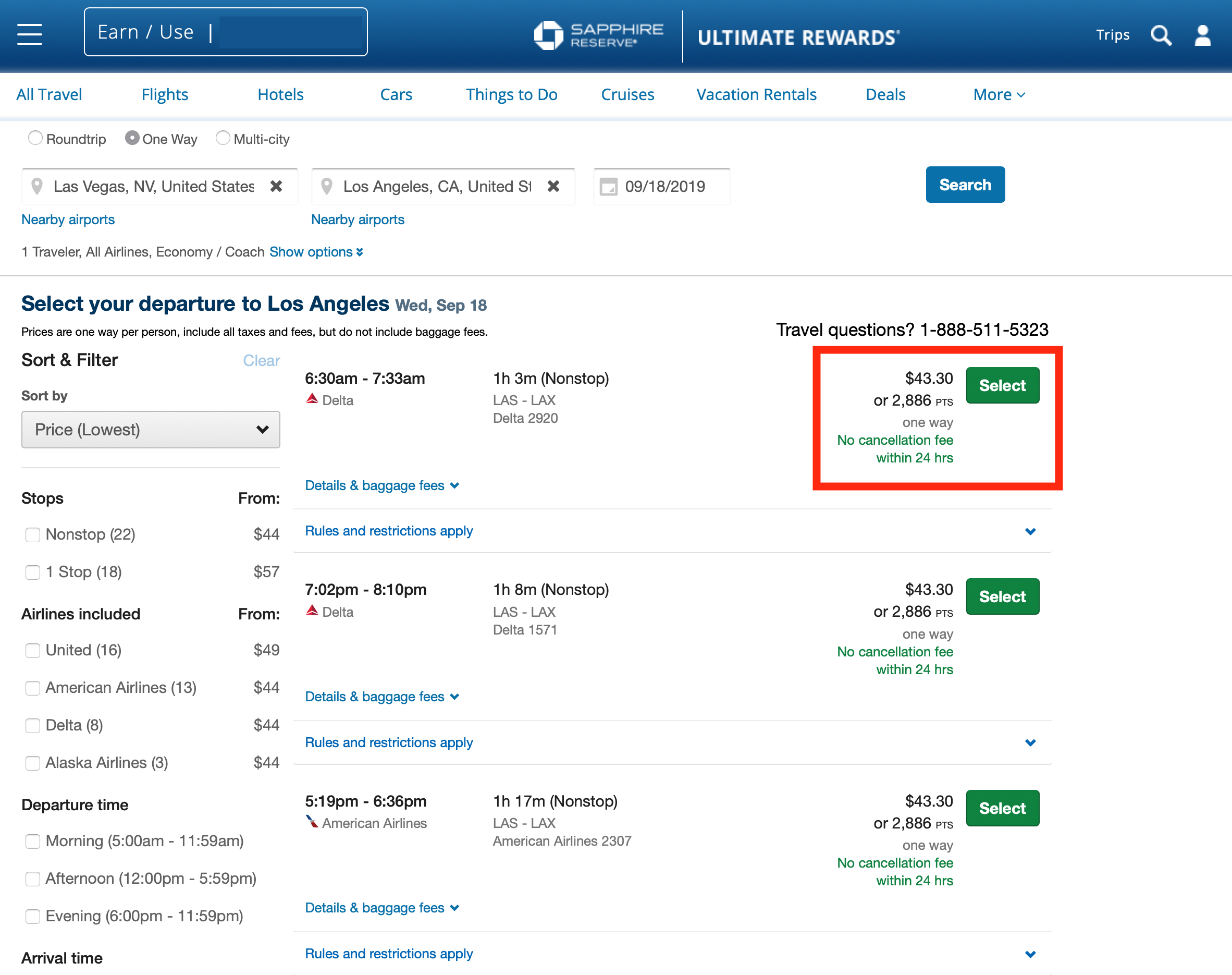 For example, a Sapphire Reserve cardholder can book a $43.30 ticket on Delta Air Lines for just 2,886 Ultimate Rewards points. This is far cheaper than booking even the cheapest Delta SkyMiles award ticket, and you'll actually earn SkyMiles after taking the flight.
Want to increase your Ultimate Rewards balance? Check out these great ways to earn a lot of Chase Ultimate Rewards, and you'll soon have enough points for your next jaunt from LAS to LAX (or wherever else you'd like to travel).
Bottom Line: Always check the Chase Travel Portal first — you may get a better deal than transferring your points to one of Chase's transfer partners.
Final Thoughts
In this article, you saw the best ways to fly between LAS and LAX. Check the Chase Travel Portal first, and then move onto Delta and Alaska Airlines awards when cash tickets are expensive. While other airlines operate the route, award tickets on United and American rarely make sense to book with their respective points.