GeoBlue Travel Insurance Coverage Review — Is It Worth It?
We frequently discuss travel insurance and look closely at companies that offer the coverage, but today we're narrowing our focus from comprehensive travel insurance to a specific type of travel coverage — travel medical insurance.
Chances are you've heard of BlueCross BlueShield (BCBS), one of the leading healthcare insurance providers in the U.S. The company was established in 1929 and currently insures over 107 million members. GeoBlue, an independent licensee of BCBS, picks up where BCBS leaves off, offering travel medical coverage worldwide.
You do not have to be a member of BCBS to purchase travel medical insurance from GeoBlue as the company makes its products widely available to U.S. citizens and permanent residents.
In an effort to determine the benefits of GeoBlue as a viable option for purchasing travel medical insurance, join us as we explore the following in today's review:
Why you should consider travel insurance and specifically GeoBlue
An overview of the types of plans the company offers
Comparing plans and obtaining a quote
How the company measures up versus other companies and to credit card travel insurance
Why Purchase Travel Insurance
Insurance products, in general, serve the purpose of indemnifying you and making you whole (or nearly whole) should a covered event cause you to incur a financial loss. Travel insurance, and in this case travel medical insurance, is designed to accomplish the same objective.
Since our topic for this article is narrowed to travel medical insurance, let's look at several reasons you'd want to consider this coverage.
Your current health insurance policy does not provide coverage outside of the U.S. and/or its territories
Your current health insurance policy covers you outside of the country but has a high deductible
You are on Medicare and do not have a supplement plan
You want a primary travel medical policy that gives you access to a network of medical providers in the country you're visiting
You have insurance from your credit card for trip cancellation, trip interruption, and other travel disruptions, but not travel medical coverage
You are traveling to a remote area and want to have emergency evacuation insurance
This is just a sampling of some of the situations where you'd want to consider purchasing a travel medical insurance policy. Fortunately, the coverage is affordable and widely available.
Bottom Line: If your current health insurance policy does not cover you while traveling abroad or has a high deductible if it does provide coverage, you'll want to consider purchasing travel medical insurance. Additionally, you should consider travel medical insurance if you're concerned about emergency medical evacuation, or want to have 1 primary policy that covers you during your travels. 
Why Choose GeoBlue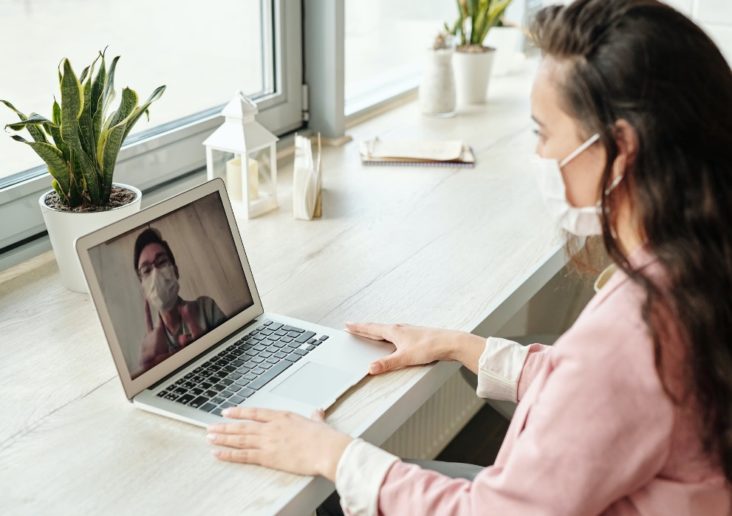 If you have the need to purchase travel medical insurance, there are certainly a lot of companies from which to select. GeoBlue stands tall among those competitors for several reasons.
First, the company has been providing global health insurance options since 1997, is a licensee of BCBS with a rating of excellent by financial insurance rating company, AM Best, and has an A+ rating by the Better Business Bureau.
Additionally, you can expect the following benefits when insuring with GeoBlue:
GeoBlue has a vetted group of elite doctors in a network that spans 190 countries. Physicians must be certified by the American or Royal Board of Medical Specialties.
Visits to network doctors/facilities are handled cashless, eliminating the need to file a claim for reimbursement.
In addition to in-person care, GeoBlue utilizes alternative telemedicine options available 24/7 and provides access to a global network of physicians and facilities.
Access is available to 24/7 assistance including translation services, physician referrals, prescription services, destination assistance, and more.
Bottom Line: GeoBlue is an established, highly-rated company that specializes in providing travel medical insurance with associated care via its global physician network, telemedicine services, and 24/7 medical assistance services. 
Travel Medical Insurance and the COVID-19 Virus
Travel insurance, in general, does not cover voluntary trip cancellations due to the fear of getting ill for any reason, including the fear of contracting the COVID-19 virus. In addition, some travel insurance companies specifically exclude COVID-19 for most coverages. Other travel insurance companies provide limited coverage for COVID-19-related illnesses under trip interruption and medical care coverages only.
You'll want to review any policy you're considering to make sure your greatest concerns are covered.
In order to have any coverage that provides reimbursement for a voluntary trip cancellation, for example, you'll need to consider Cancel for Any Reason (CFAR) insurance.
Travel medical insurance does not normally include extensive coverage for trip cancellations or disruptions but focuses more on providing medical care and reimbursement for the associated expenses that occur as a result of becoming ill or having an accident during your travels.
Fortunately, many of the travel medical insurance policies offered by GeoBlue do cover COVID-19-related illness. Let's look closer at the available options.
Bottom Line: In order to have coverage for trip cancellation due to the fear of getting ill, you would need to purchase Cancel for Any Reason insurance. Some policies provide limited coverage for COVID-19 under trip cancellation and trip disruption coverages should you contract the virus prior to or during your travels. Many of the travel medical policies offered by GeoBlue cover COVID-19-related illness care. 
GeoBlue Policy Comparisons
GeoBlue offers single trip, multi-trip, and long-term plans. The company also issues specialty travel medical plans for students, workers on assignment, missionaries, volunteers, and maritime workers while abroad.
First, let's look at the policy options for individuals and group travelers.
Short-Term Single-Trip Plan Options — GeoBlue Voyager
GeoBlue Voyager plans are designed for individual single-trip travel or group single-trip events. Groups are defined as 5 or more persons traveling together and a 10% discount off of individual pricing is provided.
Voyager plans include coverage for COVID-19-related illness care. 
Here's how the 2 Voyager policy options compare.
Coverage
 GeoBlue Voyager Choice
GeoBlue Voyager Essential
International medical coverage
$50,000
Medical evacuation and repatriation
$500,000
Pre-existing conditions
Covered if enrolled in an underlying health insurance plan
No coverage — lookback period 180 days
Accidental death/dismemberment
$50,000
$25,000
Prescription drug reimbursement
Covered
Emergency dental care for injury/relief of pain
$500/$250
$300/$250
Baggage insurance
$100 per item, $500 per person
Trip interruption insurance
$500 per person for return air
Foreign or domestic terrorism
Included
Deductible for medical coverage
$250
Refundable
Up until the day before the effective date
Multi-Trip Plan Options — GeoBlue Trekker
If you're a frequent traveler, it could make sense to purchase 1 annual policy that covers multiple trips. GeoBlue Trekker multi-trip plans cover all trips made within a 12-month period (up to 70 days in length) and offer 2 levels of coverage options.
Here is a comparison of the 2 GeoBlue Trekker plans.
| | | |
| --- | --- | --- |
| Coverage | GeoBlue Trekker International | GeoBlue Trekker Choice |
| International medical coverage | $500,000 | $1,000,000 |
| Emergency medical transport coverage | $250,000 | $500,000 |
| Accidental death/dismemberment | $0 | $25,000 |
| Repatriation expenses | $15,000 | $25,000 |
| Prescription drug reimbursement | $2,500 | $5,000 |
| Emergency dental care for the relief of pain | $100 | $300 |
| Baggage insurance | $0 | $100 per bag/$500 per trip |
| Deductible | $200 | $100 |
Both plans cover pre-existing conditions and emergency and non-emergency medical care. Both plans require that you have a primary health plan in place to qualify for purchasing these plans.
Important Note: GeoBlue Trekker plans specifically exclude medical treatment for COVID-19.
Long-Term Plan Options
If you're a U.S. citizen or permanent resident living abroad and need medical insurance, GeoBlue offers 2 plans that may provide the coverage you need for you and your family.
These plans are different from short-term plans in that medical underwriting is needed in order to qualify. Here's a brief summary of GeoBlue plans for U.S. expats.
Plan Highlights
GeoBlue Navigator Plan
GeoBlue Xplorer Plan
Type of Policy
Primary
Eligibility
U.S. expats living abroad
U.S. expats living abroad that have a continuous U.S. health insurance plan
Access to the international provider network and telemedicine cashless appointments
Yes
Qualification
Full medical underwriting — 28 health questions
Abbreviated underwriting — 5 questions
Pregnancy coverage availability
364 day waiting period
Immediate
Age limit
74
64
Preexisting conditions
6-month waiting period
All GeoBlue plans offer 24/7 global medical assistance, translation services, doctor searches, and destination health/security information.
GeoBlue Navigator, Xplorer, and Voyager plans include coverage for COVID-19-related illness.
Additional Plans Available
GeoBlue provides additional medical plans for specific types of travelers working abroad, on assignment, or participating in study programs.
Incoming international students studying in the U.S.
Students studying abroad
Employees of multi-national companies working abroad
Expatriate Crew International Health Plan — for those working on ships
Expatriate Missionary and Volunteer International Health Plan — covers missionaries, aid workers, and volunteers worldwide
Bottom Line: GeoBlue offers several comprehensive individual travel medical plan options, comprehensive student plans including coverage for international visiting students, and plans for U.S. students, faculty, and family when studying abroad. GeoBlue also offers employer plans that provide coverage to employees working abroad and their families. Missionaries, those who volunteer internationally, and maritime workers will also find policies designed specifically for those situations. 
How to Obtain a Quote
Obtaining a quote for any type of travel insurance can be quick, easy, and can even result in securing immediate coverage. The process is similar for travel medical insurance.
To obtain a quote from GeoBlue for a single trip plan, you'll need to input your travel destination, your state of residence, the length of your trip, age, cost of the trip, and the date you made the first trip deposit.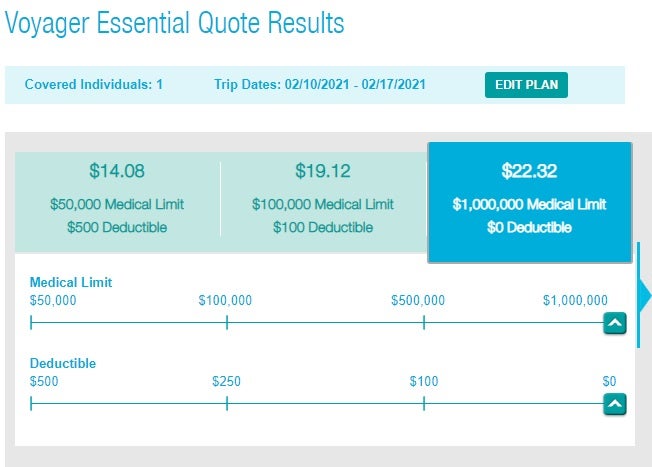 For a multi-trip annual plan quote, the process is similar. You'll need to input your zip code, age, and the desired effective date of the policy.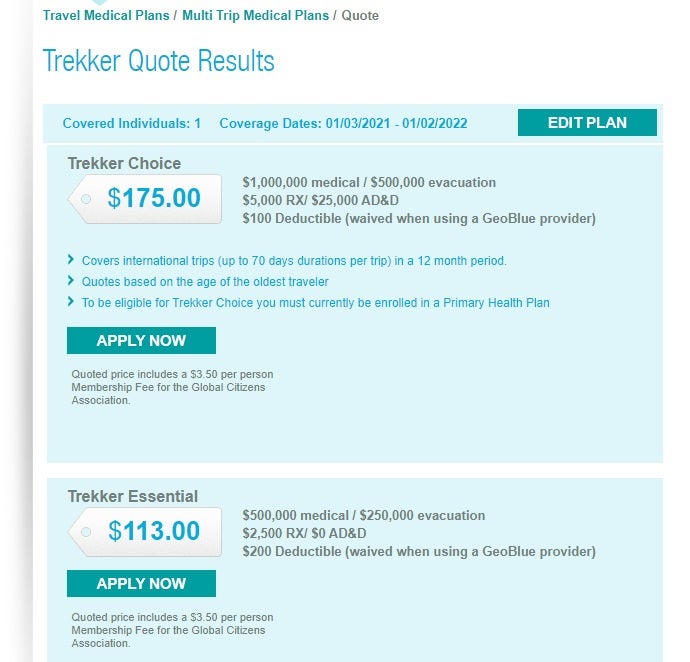 Obtaining a quote with GeoBlue for a single or multi-trip policy can be done in just a few minutes. To obtain a long-term policy quote, you'll need to submit some of the same basic information and a quote will be emailed to you.
Bottom Line: Obtaining a quote for a single or multi-trip policy is a quick and simple process completed on the GeoBlue website. A long-term quote for qualifying applicants must be requested via email. 
The Value of Travel Insurance Comparison Sites
While purchasing a travel medical policy from GeoBlue ensures you're dealing with a highly-rated established company, it's always good to do some comparison shopping when looking for any type of insurance.
Viewing a selection of policies side-by-side makes it easy to compare coverages and costs. This task is easily accomplished by utilizing a travel insurance comparison website such as the ones listed here.
Additionally, comparison sites allow you to narrow the number of policies to those that contain the coverages most important to you. Here are a few we recommend:
InsureMyTrip — great for stand-alone medical travel insurance policy comparisons but also offers comprehensive travel insurance policies from over 20 providers
Squaremouth — easy to navigate site that allows you to compare dozens of travel insurance companies and filter by desired coverage, including travel medical insurance
TravelInsurance.com — you'll want to use this site for comparing travel insurance plans, including those with medical coverage, however, no stand-alone medical plan quotes are available
Bottom Line: Utilize a travel insurance comparison site to help you easily compare several plans, filter by desired coverage, and select those that best match your coverage priorities. 
How GeoBlue Compares — Summary
We know that GeoBlue is a reputable choice for travel medical insurance but let's look at how the company's offerings compare to other travel medical providers and to the coverage that comes with your credit cards.
GeoBlue vs. Other Travel Insurance Companies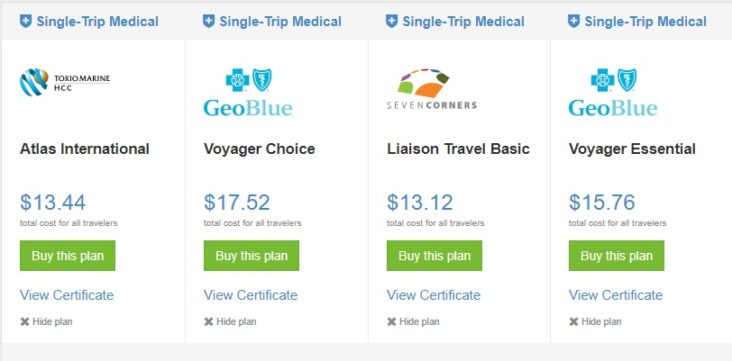 When we searched for a quote using the criteria of a traveler, age 40, for a trip to Mexico for 1 week that costs $3,000, the top 4 results above were shown. You'll notice by the results that single-trip travel medical insurance can be an affordable option.
The next key element in selecting a policy will be to compare coverages. We know that GeoBlue Voyager policies include coverage for COVID-19 with the Voyager plans, for example, so this may be a key factor in our selection.

Digging deeper into our comparison we find that 1 policy does not include coverage for COVID-19. If we narrow our search to plans that only include this coverage, the next step will be to look at other coverages and limits that are important to us.

In this case, coverages for these policies are similar and costs do not vary widely. GeoBlue, however, remains competitive in both coverages offered and premiums charged.
Bottom Line: While GeoBlue holds its own and is competitive in both coverages and cost when compared to other travel medical insurance companies for single-trip plans, we know that coverage for multi-trip plans does not include coverage for COVID-19-related illness. 
GeoBlue vs. Credit Card Travel Insurance
We frequently remind travelers that the travel insurance that comes with your credit card is not a replacement for a comprehensive travel insurance policy. This is especially true for travel medical insurance coverage as you won't find comprehensive medical coverage on any credit card.
There are very few cards that do offer emergency evacuation insurance and other ancillary medical/dental coverage. Here are 2 of the best options for travel-related coverages and benefits.
Credit Card
Benefits & Info

The Platinum Card® from American Express


Learn More

(at Amex's secure site)

Earn 60,000 100,000 Membership Rewards® Points after you spend $6,000 on purchases on the Card in your first 6 months of Card Membership.
Plus, earn 10x points on eligible purchases on the Card at restaurants worldwide and when you Shop Small in the U.S., on up to $25,000 in combined purchases, during your first 6 months of Card Membership.
Earn 5X Membership Rewards® Points for flights booked directly with airlines or with American Express Travel up to $500,000 on these purchases per calendar year.
$200 Hotel Credit: Get $200 back in statement credits each year on prepaid Fine Hotels + Resorts® or The Hotel Collection bookings with American Express Travel when you pay with your Platinum Card®.
$240 Digital Entertainment Credit: Get up to $20 in statement credits each month when you pay for eligible purchases with the Platinum Card® at your choice of one or more of the following providers: Peacock, Audible, SiriusXM, and The New York Times. Enrollment required.
$200 Airline Fee Credit: Get up to $200 in statement credits per calendar year in baggage fees and more at one qualifying airline.
$200 Uber Cash: Enjoy Uber VIP status and up to $200 in Uber savings on rides or eats orders in the US annually. Uber Cash and Uber VIP status available to Basic Card Member only.
$300 Equinox Credit: Get up to $25 back each month on select Equinox memberships. Enrollment required.
$179 CLEAR® Credit: Use your Card and get up to $179 back per year on your CLEAR® membership.
Good to Excellent Credit Recommended (670-850)
Annual Fee: $695
Terms Apply. For rates and fees of the Amex Platinum card, click here.

$2,200

Must Reads: For more info on the Amex Platinum, see our thoughts on the cards incredible benefits and perks, which includes travel insurance coverage, car rental insurance and so much more. Check out our full review to see why it's one of the best travel credit cards.


To learn more about all the travel insurance coverages that come with the Amex Platinum card, you'll want to review our in-depth article on the topic. Note that terms apply and enrollment may be required for some benefits, so make sure you enroll through your American Express account.
Credit Card
Benefits & Info
Chase Sapphire Reserve®


Learn More

(at Chase's secure site)

Earn 60,000 bonus points after you spend $4,000 on purchases in the first 3 months from account opening.
$300 Annual Travel Credit as reimbursement for travel purchases charged to your card each account anniversary year. Through 12/31/21, gas station & grocery store purchases will also count towards earning your Travel Credit
Earn 5x total points on air travel and 10X total points on hotels and car rentals when you purchase travel through Chase Ultimate Rewards® immediately after the first $300 is spent on travel purchases annually. Earn 3x points on other travel and dining & 1 point per $1 spent on all other purchases
Get 50% more value when you redeem your points for travel through Chase Ultimate Rewards®. For example, 60,000 points are worth $900 toward travel
Access to 1,300+ airport lounges worldwide after an easy, one-time enrollment in Priority Pass™ Select and up to $100 application fee credit for Global Entry or TSA Pre✓®
Excellent Credit Recommended (740-850)
Annual Fee: $550

$1,200

Must Reads: For more on the Chase Sapphire Reserve, see our thoughts on its benefits, global airport lounge access, and travel insurance protection. Take a look here for our full review.
For more information on Chase Sapphire Reserve card travel insurance coverages, you'll want to access our expanded overview.
Bottom Line: While credit cards may offer travel accident, trip delay, and other ancillary travel insurance coverages, these cards do not offer travel medical insurance. 
Everything Else You Need to Know
Here's some additional information we need to pass along applicable to the GeoBlue policies mentioned in our article:
Eligibility includes U.S. citizens and permanent residents only
Single and multi-trip medical insurance policies must be purchased in your home country before you travel
Long-term policies, such as those for expats, may be purchased while abroad
Travelers under 96 are generally eligible for coverage; other age limits may apply to specific policies
Coverage is valid in all countries other than where the plan would violate U.S. economic trade sanctions
Some GeoBlue policy options are secondary and require you to have an underlying medical insurance policy
All policies issued by GeoBlue have a 10-day money-back guarantee
Final Thoughts
GeoBlue's expertise at providing travel medical insurance makes it a good choice for purchasing coverage for a single or group trip, or if you're an expat needing longer-term medical coverage while abroad. Students, faculty, and employers will also find comprehensive medical plans that fit their international medical insurance needs.
The company's individual annual/multi-trip GeoBlue Trekker plans that specifically exclude COVID-19 care, however, may not be a fit for those concerned with covering a related illness while traveling.
Finally, keep in mind that our article today is simply an overview and abbreviated summary of GeoBlue's policy offerings — plenty of terms and conditions apply. The company's website provides everything you need to select the appropriate policy, review coverages, obtain a quote, and purchase a plan.
---
All information and content provided by Upgraded Points is intended as general information and for educational purposes only, and should not be interpreted as medical advice or legal advice. For more information, see our Medical & Legal Disclaimers.
For rates and fees of The Platinum Card® from American Express, click here.