Full List of Travel Insurance Benefits for the Amex Platinum Card [2021]
Frequent travelers who are interested in premium travel benefits and solid reward-earning opportunities gravitate to The Platinum Card® from American Express. The card, as well as The Business Platinum Card® from American Express, have been the go-to cards for meeting travelers' earning, redemption, and benefit priorities.
We frequently cover Membership Rewards points-earning opportunities, as well as a multitude of ways to maximize the redemption options. We've even done a deep dive into getting the most from statement credits offered by Amex cards.
Next up in our collection of articles focusing on the valuable perks that come with the Amex Platinum card is the card's insurance benefits. Insurance can be inherently confusing in general and the insurance coverages that come with credit cards can be equally so.
Fortunately, even a quick overview will give you some insight as to the insurance coverages you can expect on the Amex Platinum card. So, right here and now, we're stepping up to deliver just that.
Stay tuned as we discuss the insurances that come with the card, look at how these benefits can provide a level of peace of mind, and find out what situations might trigger the coverage to provide economic value.
Car Rental Loss and Damage Insurance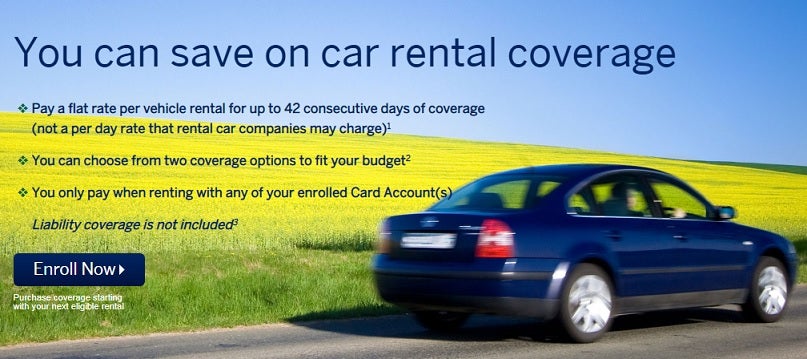 The Amex Platinum card comes with complimentary standard car rental insurance that provides secondary coverage when using your card to reserve and pay for your entire rental car contract. You also have the option to purchase premium primary car rental coverage.
For either coverage to be valid, you must decline the rental car agency's LDW (low damage waiver) or CDW (collision damage waiver) coverage when renting the vehicle.
Here's an overview of how both of these coverages work:
Standard Car Rental Coverage
Secondary coverage means that you must first file a claim with any other applicable insurance you might have before the card coverage applies.
You can expect to receive excess secondary coverage for these losses:
Damage to and theft of the vehicle
Personal property up to $1,000 per person/$2,000 per accident
Accidental injury up to $5,000 per claimant
Accidental death/dismemberment up to $300,000
This is just a snapshot of the standard secondary car rental coverage; several terms and conditions apply. You will need to access the actual guide to benefits or call the benefits administrator for complete information.
Premium Car Rental Protection Coverage
One of the real car rental insurance perks of holding the Amex Platinum card is having access to Premium Car Rental Protection coverage for just 1 low fee that covers the entire rental period, not a per-day charge like the rental agency charges.
Although there are some credit cards that offer primary car rental coverage complimentary, the American Express Premium Car Rental Protection coverage, in some circumstances, can provide equal or better coverage and elevated peace of mind. Terms and conditions apply.
| | | |
| --- | --- | --- |
| | Chase Sapphire Preferred® Card / Chase Sapphire Reserve® Card | Amex Platinum Card |
| Coverage | Complimentary coverage | Premium Car Rental Protection at $12.25 to $24.95 per rental period (depending on the state of residence and coverage options) |
| Type of Insurance | Primary | Primary |
| Maximum Rental Period | 31 consecutive days | 42 consecutive days (30 days for Washington state residents) |
| Maximum Benefit | $50,000/$75,000 | Up to $100,000 |
| Medical Coverage | N/A | $15,000 secondary medical coverage per person |
| Personal Property Coverage | N/A | $5,000 to $15,000 depending on the state of residence |
| Examples of Excluded Vehicles | Expensive, exotic, and antique cars (Chase Sapphire Preferred card only), certain vans and trucks, limos, motorcycles (both cards) | Cargo vans, custom vans, vehicles exceeding 10,000 pounds, off-road vehicles, motorcycles |
| Excluded Countries | No stated exclusions; contact benefit administrator for more information before traveling | Australia, Ireland, Italy, Israel, Jamaica, New Zealand |
Bottom Line: Consider Amex Premium Car Rental Protection if you don't have a credit card that provides primary car rental insurance. Additionally, if you are renting an expensive vehicle that exceeds your card's limit of coverage or the maximum length of the rental period on your other card is limited to less than 42 days, the Amex Premium Car Rental Protection could also be a prudent choice. 
Trip Cancellation and Trip Interruption Insurance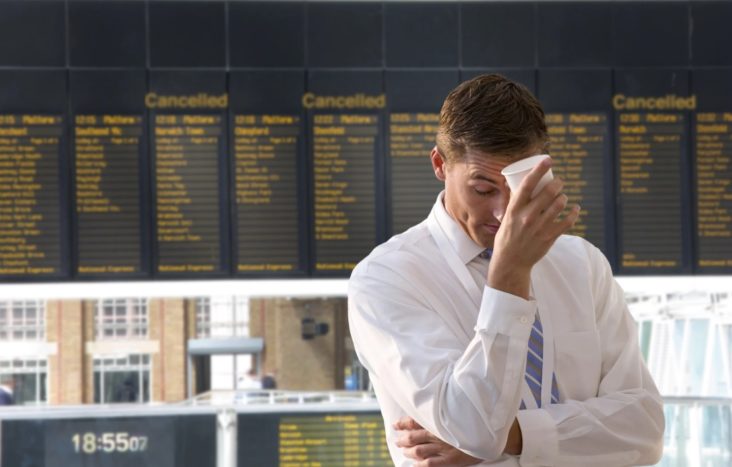 Trip cancellation and trip interruption insurance are designed to cover unexpected, unforeseen events that may cause you to have to cancel your trip or that cause a disruption in a trip you're already started.
To be eligible for coverage, purchase your entire round-trip common carrier ticket with your Amex Platinum card.
American Express has a broad definition of who is covered under this benefit. Eligible travelers can include the cardholder, traveling companion, family member of the eligible traveler, or family member of the traveling companion.
Examples of events that could be covered include the following:
Bodily Injury or Illness — if you, a traveling companion, or a family member of either, experience an accidental injury or become ill, causing you to cancel your trip, you may have coverage
Bad Weather — if extreme weather causes your trip to be canceled or disrupted, there could be coverage
Change in Military Orders — applies to cardmember and/or spouse (spouse definition includes domestic partner)
Terrorist Action or hijacking
Jury Duty or other qualifying legal obligation
Uninhabitable Dwelling of either the cardmember or traveling companion
Quarantine imposed by a physician
You can expect coverage of up to $10,000 per trip, and a maximum limit of $20,000 per card per 12-month period.
Terms and conditions apply.
Bottom Line: While the trip cancellation/trip interruption benefit covers specifically-stated reasons for trip cancellation/interruption, there is no coverage for voluntary cancellations, disruptions due to known events, or for preexisting conditions. Additional terms and conditions can be found in your guide to benefits or call the benefits administrator prior to your trip.
Trip Delay Reimbursement
Experiencing a trip delay is inevitable so having coverage for added expenses as a result of that delay could be a welcome economic benefit. To qualify for trip delay coverage, just pay for the full amount of your common carrier round-trip transportation ticket with your Amex Platinum card.
The delay must be for more than 6 hours for you to be eligible for reimbursement for necessary incidentals, meals, and lodging.
Coverage limits are $500 per covered trip and a maximum of up to 2 covered trips in each consecutive 12-month period. Coverage is secondary to other coverage that applies and does not include expenses that are reimbursed by the airline or other entities. Additional terms and conditions also apply.
Baggage Insurance
Losing a checked bag used to be a common occurrence. With new technology and tracking mechanisms, however, incidents have declined. If you do happen to experience lost bags, however, you can count on the baggage insurance found on the Amex Platinum card.
To activate the coverage, simply pay for your common-carrier fare with your card and/or Membership Rewards points.
Here's the coverage you can expect for lost luggage:
Checked Bags — up to $2,000 per covered person, per trip
Carry-On Bags — up to $3,000 per covered person, per trip
Specialty High-Value Items — up to $1,000 per person, per covered trip ($2,000 for New York residents, maximum $10,000 per trip)
Combined Limit — the limit for all baggage, including high-risk items, is $3,000 per covered person, per single trip
Checked baggage is covered only while traveling on a common carrier. Carry-on baggage is additionally covered while traveling to, from, and when waiting at the carrier terminal.
Note that the coverage on the card is secondary to any other insurance or reimbursement you might receive from the airline. There is no coverage for delayed baggage.
Premium Global Assist Hotline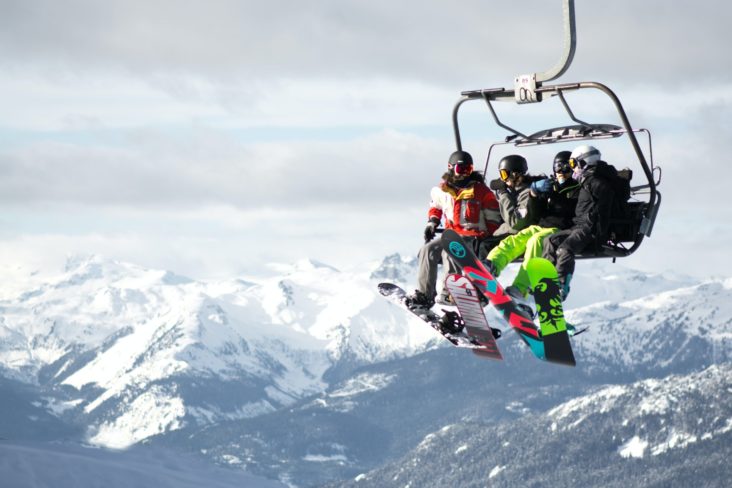 While technically not insurance coverage, having access to help when you're traveling, 24/7, is sure to provide the same peace of mind. The Amex Platinum card offers a premium version of a dedicated helpline that serves as a welcome resource should things go wrong during your travels.
Here are the types of assistance you can expect from the service:
Emergency Medical Transport and Evacuation — Complimentary Coverages
One of the premium services offered on the card is complimentary emergency medical transport or evacuation. If you, or a covered family member, becomes injured or ill during your travels, you could receive emergency medical transportation or evacuation, if necessary.
You can expect to receive the following services without charge when arranged via the hotline:
Emergency Transport or Evacuation — transport to the nearest medical facility or transport from an inadequate medical facility
Transport of Family Member — transport may be covered for an adult member to be by the bedside of the cardmember or for the cardmember's minor child (who had been traveling alone with the cardmember) to be transported back to the U.S.
Transport of Remains — Amex will pay for the transport of remains back to the U.S.
Post-Evacuation Assistance — if you're evacuated and your return ticket back to the U.S. has become invalid, Amex will arrange and pay for transportation back to the U.S.
Please note that the Premium Global Assist Hotline does not cover any medical expenses or emergency transportation services arranged outside of the hotline. Several terms and conditions apply to these coverages.
Additional Medical Assistance
In addition to the complimentary coverages offered by the hotline, you'll find these additional medical services.
Medical Referrals — receive help finding an English-speaking doctor, a hospital, or other needed medical services
Prescription Replacement Assistance — get help with replacing lost or forgotten medications
There is no charge for the referral service but cardmembers are responsible for actual services received from the provider.
Other Hotline Services
Passport/Visa Assistance — whether you need help replacing a passport or have a need to contact the U.S. consulate, the hotline can assist
Emergency Translation Services — receive over-the-phone services or written language translation assistance
Legal Referrals — should you need legal services during your trip, the hotline can help you find local bail bond services that accept Amex or refer you to other legal personnel
Financial Assistance — the hotline can help you arrange cash wire services, help you check out of your hotel remotely, or assist with lost card situations
Emergency Message Relay — in the event of an emergency, the hotline can send a message to a family member, friend, or another recipient on your behalf
Lost Items — should you lose an item, your baggage gets lost, or other missing possession, the hotline can help track it down
Trip Planning Services — access information such as weather, currency exchange rates, passport/visa requirements, customs information, travel warnings, and more
Bottom Line: The Amex Platinum card comes with complimentary emergency transportation and evacuation services with no stated limit. Additional medical, legal, and travel service referrals are also complimentary but other than the Emergency Medical Transportation and Evacuation, services rendered must be paid for by the cardholder. 
Filing a Claim
As with any insurance claim, you'll need to report any event as soon as possible, provide supporting documentation, and follow up after the claim has been filed.
You could be expected to submit any, or all, of the following:
Copies of your common carrier ticket
Copies of your credit card statement showing the expenses
Proof of the loss (i.e. a copy of physician's quarantine order, military orders, etc.)
Copy of the travel supplier's cancellation policy
Any other supporting documentation requested by the claims administrator
Claims must be reported within 60 days but it is best to do it as soon as possible. Once you report the claim, you'll receive instructions for completing the next steps in the process.
Hot Tip: Be sure to take photos, keep receipts, secure any applicable police report, and hold on to other documentation that might be needed to support your claim. Keep in mind that supporting information can be difficult to obtain after the fact but may be readily secured at the time of the claim. 
Final Thoughts
While the insurances that come with the Amex Platinum card won't take the place of a comprehensive travel insurance policy, you'll find value in several of the benefits.
Utilizing Premium Car Rental Protection, trip cancellation/interruption, trip delay, and complimentary emergency medical transport or evacuation could save you plenty.
Additionally, knowing the coverages you have in advance has tremendous value. You'll be armed with information to make educated decisions that can protect each aspect of your trip and be better prepared for how you might handle a covered incident during your travels. If you're looking for other card options, see our article on the best credit cards for travel insurance coverage.
---
All information and content provided by Upgraded Points is intended as general information and for educational purposes only, and should not be interpreted as medical advice or legal advice. For more information, see our Medical & Legal Disclaimers.