The Ultimate Guide to Experian – Credit Reporting for Consumers & Businesses
Your credit report and credit score contain key information used by lenders, creditors, and other entities (such as utility companies and potential employers) in choosing whether to move forward with you in a wide range of transactions. This information is provided by credit bureaus such as Experian.
We designed this guide to help you better understand how Experian collects your data, what the bureau does with your data, and how to dispute and fix incorrect information about you that may show up on your Experian credit report.
What Is Experian?
Experian is a global leader in credit reporting for both consumers and businesses. The company supports clients in more than 100 different countries and helps individuals check their credit report and credit score.
The firm offers other services, too, such as helping companies and individuals better manage credit risk, prevent credit fraud, and protect themselves against identity theft.1
It is estimated that Experian manages and maintains information on more than 1 billion people, 235 million U.S. consumers, and approximately 25 million businesses in the U.S.1
Your Experian Credit Report and Score
One of the biggest reasons consumers contact Experian is to obtain a copy of their credit report. Because there can be inaccurate information on your credit report at any given time, it's a good idea to review your report at least 1 time per year.
Doing so can also help you determine whether you've been a victim of identity theft. If so, you may notice loans and/or credit cards opened in your name without your knowledge or consent.
Your Experian credit report will include a wide array of information about you and your credit history. It begins with your personal details, such as your current and past addresses, date of birth, Social Security number (if applicable), and contact information. The report will also contain information about revolving credit and/or installment loan accounts and credit inquiries.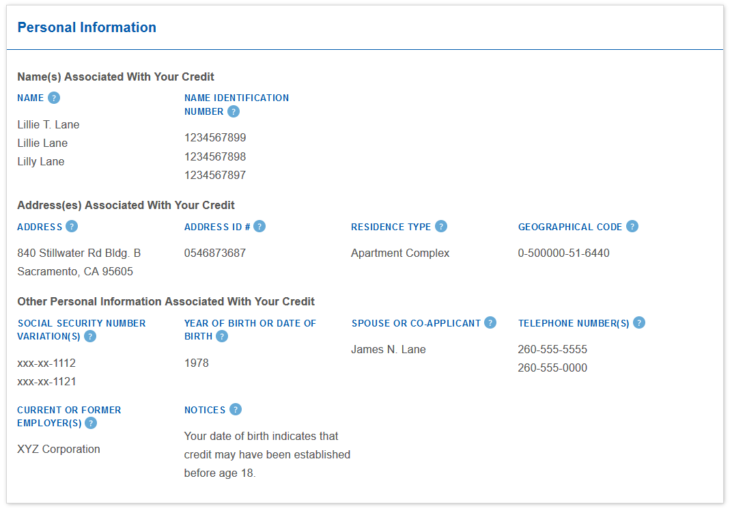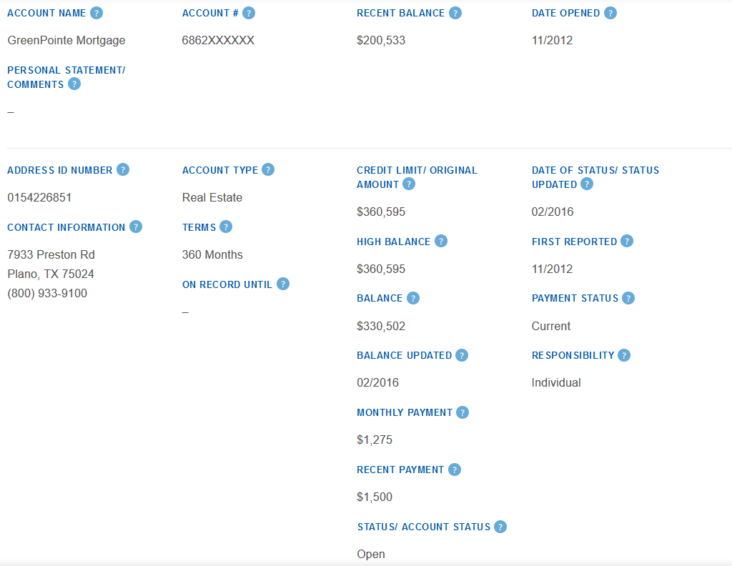 How To Access Your Experian Credit Report and Score
There are several ways you can access your credit report and credit score. One option is to go directly to one of the credit bureaus such as Experian. You can sign up for an account through Experian to get access to both your credit score and credit report.
There are also several other places to access your credit report for free. Your bank or lending institution often has a free service to check your credit score periodically. Additionally, if you've been denied credit or a loan, the Fair Credit Reporting Act requires that you be sent a document called an "adverse action letter."
This letter must explain the reason(s) you were denied a loan or credit, along with information on your right to receive a free copy of the credit report used to make that decision.
Hot Tip: In the case of an Experian credit report, you can contact the bureau directly by calling 888-397-3742. You can also go to the Experian website if you were denied credit and access your information there.
It's important to note that in the case of adverse action, you will only be entitled to order a credit report from the bureau that provided the information to the lender or creditor that was used in the denial decision.
In any case, you can still access all of your credit report information 1 time each year. All consumers in the U.S. are allowed to receive a copy of their credit report from all 3 of the big credit bureaus (Experian, Equifax, and TransUnion) free of charge every year. You can access your free credit report by going to annualcreditreport.com.
Also, there are many different websites, like Credit Karma and Credit Sesame, where you can view your credit report and score at no charge.
What Experian Does With Your Information
Credit bureaus such as Experian collect and maintain individual credit information. This information is then sold to creditors, lenders, and even other consumers in the form of a credit report.
One of Experian's primary roles is to help lending institutions and other creditors make decisions about whether or not you are a good credit risk. This can be determined by the information in your credit reports, such as your payment history and any collections or judgments that may have been filed against you.
Hot Tip: The 3 big credit bureaus (Experian, Equifax, and TransUnion) do not share your information. Not all lenders and creditors report information to all 3 of these bureaus, so your credit report from each may look different.
Many entities, in addition to lenders and creditors, may want access to your credit information before they move forward in a transaction with you. These can include utility companies, cell phone providers, insurance companies, landlords, and even potential employers.
The information Experian stores about you is protected — it has several security measures in place that can help safeguard your personal data and your identity.
For example, the company electronically scrambles your information using a system known as secure sockets layer (or SSL) encryption, which is a widely-trusted encryption standard.
All information is also stored on Experian's servers, where only the company's software can access it. Also, the employees who work at Experian and have access to customers' personal information are trained in the company's strict privacy practices.2
How Does Experian Collect Your Data?
Experian obtains information from your creditors, such as banks, credit card issuers, mortgage companies, or automobile finance companies.
Each of the credit bureaus can collect information from differing sources, so your credit report generated by Experian may appear different than your report from TransUnion or Equifax.
Much of the information in Experian's files is data you have already provided to your creditors. Additional information can be collected by Experian from debt-related public records such as court or property filings.
Details about you collected and stored by Experian can include some or all of the following:
Your creditors
Type(s) of account(s) you have, such as a mortgage, auto loan, credit card(s), etc.
Dates that your accounts have been opened and closed
Your loan or credit limit
Your payment history
How your accounts are titled (such as individual, joint, with a cosigner)
Credit inquiries (this includes "hard" inquiries, such as those for auto loans and mortgages, as opposed to "soft" inquiries that may come when creditors order your report to send you preapproved credit card offers)
There is also information about you pertaining to public records and collection items. This could be information regarding a prior bankruptcy that you claimed, any civil judgments that you owe, or government tax liens.
Although the retention periods can vary from state to state, certain information will typically remain on your credit report for a set period of time, such as:
Civil judgments — 7 years
Unpaid tax liens — 10 years
Paid tax liens — 7 years from the date paid
Chapter 7, 11, or 12 bankruptcy — 10 years
Chapter 13 bankruptcy filing — 10 years
Chapter 13 bankruptcy dismissal or discharges — 7 years
Bankruptcy that is voluntarily dismissed — 7 years
Hot Tip: Because much of the information collected is readily available via public records, credit bureaus like Experian can easily access it and include it in your credit file. In some cases, though, the information may be outdated or incorrect.
What if Your Information Is Incorrect?
Having incorrect information on your credit report is not uncommon. However, if any information is wrong or missing, it can have a negative impact on your credit score.
This, in turn, can affect your ability to obtain better interest rates on loans, or even to be approved for a mortgage, personal or business loan, or credit. So if you notice incorrect information on your credit report, it's important to file a dispute so the data can be corrected.
How To File a Dispute to Remove Errors
When filing a dispute with Experian, you should provide clear and concise details on which item is incorrect and why.
In addition to this written statement, you should also include any other supporting documents, if applicable. There is no charge to file a dispute with Experian.
To submit your supporting documents directly to Experian online, use its online tool. If you send your dispute to Experian as a physical letter, be sure to forward copies of your supporting information and keep the originals in your possession.
When you file a dispute with Experian, it's important to include the following details:
Your full name (including your middle initial, as well as any suffix like Junior, Senior, etc.)
Your date of birth
Your Social Security number
Any address where you have lived within the past 2 years
A copy of a government-issued ID card, such as your driver's license
A copy of a bank statement, insurance statement, or utility bill (to prove your address)
A list of each of the items on your Experian credit report that you think is incorrect (as well as the account number of the creditor or lender and the reason you believe that the information is inaccurate)2
It can also be beneficial if you directly contact the lender or creditor that supplied Experian with inaccurate information. When doing so, be sure to ask if they have any documentation that shows the actual transaction information.
Hot Tip: If you're able to get the situation worked out with the lender or creditor and they make an adjustment to the information, we still recommend that you contact Experian to request the information be updated.
Experian Dispute Address
To get the dispute process started with Experian, you can open a new dispute online or you can file a dispute with Experian by mail. You'll need to download the dispute form, include the required documents, and send it to Experian.
Experian's mailing address for dispute requests is:
P.O. Box 4500
Allen, TX 75013
Once Experian has received your request, the lender or creditor that furnished the information will be contacted by an Experian representative to determine whether or not the information is in fact inaccurate.
Note that to check the status of your dispute, you will first need to obtain a report number from a current copy of your personal credit report.3
Hot Tip: The overall dispute process can take up to 30 days. Once Experian has the results of its investigation, you will be sent the results. However, you can check the status of your dispute online.
What Other Services Does Experian Offer?
In addition to providing credit report data and information, Experian offers a variety of other services. These include:
Credit Advice
Learning how to build and maintain good credit is essential for loan and credit approval, as well as for obtaining lower interest rates on loans (and in turn, lower monthly payments). You can find a great deal of credit advice on Experian's website, as well as in-depth details regarding how to maintain credit throughout your entire life.4
Identity Protection and Fraud Alert
A fraud alert message will notify potential creditors to verify your identification before it extends any credit in your name. This can help stop the opening of fraudulent loans or credit in your name by an identity thief.
Data Breach Response Guide
If an individual or a consumer falls victim to a data breach, they could become victims of identity theft. If a company is impacted by a data breach, it could mean that thousands (or even millions) of its customers are also at risk.
Through its data breach response guide, Experian outlines the steps that should be taken by companies and consumers if they've become a victim of such a breach. Knowing what to do in this situation can help reduce the cost and the extent of a hacker's attack.
Credit Freeze
A credit freeze — also referred to as a security freeze or a credit report freeze — can allow you to control how a credit bureau can sell your data. For example, a credit freeze will essentially "lock" your information at the credit bureau until you give the bureau permission to release it.
Often, a credit freeze is seen as an effective method of preventing identity theft. This is because many identity thieves will open credit in their victims' names. Because a freeze can stop access to your credit report, it basically blocks the process of issuing new credit.
Hot Tip: If you place a freeze on your credit, you'll need to lift this freeze if you want to apply for new credit yourself. Through Experian, it is also possible to grant a creditor 1-time access to your credit file without having to lift the credit freeze entirely.
Education and Resources for Consumers
Experian also provides education and advice for consumers. This includes details on your credit report and credit score basics, as well as tips on how to prevent yourself from becoming a victim of credit fraud.
Experian's Business Services
In addition to services for consumers, Experian also offers a long list of business services, too. These include providing data about a company's customers, which can help deliver added value in terms of products and services offered by the company and building more targeted marketing campaigns.
By knowing more about their potential customers, companies can make more informed decisions that can keep their financial risk to a minimum. Also, through Experian's business services, companies may be able to locate debtors and collect on their unpaid accounts.
To take a closer look at a credit profile report that may be accessed by a business, you can go to Experian's Credit Profile Report product sheet.
Just like individual consumers, businesses have credit histories, too. Through Experian, a company can obtain a business credit report on itself, as well as on other businesses in the U.S. and Canada.
How To Contact Experian Customer Service
To obtain additional information about accessing your credit report or any of the above services, you can contact Experian Customer Service. Here you will be able to access important details regarding access to your credit report, how to report a dispute, and how to prevent (or report) an identity theft or fraud-related incident.
For consumers, a copy of your Experian credit report can be obtained online or by calling 888-397-3742.
Experian also offers information and advice to businesses and corporate entities. Experian's business credit services area can be contacted at 888-243-6951 or via email.
Final Thoughts
The Experian database contains files on nearly 235 million credit-active consumers throughout the U.S. As a consumer, it is likely that this large credit bureau holds details regarding some or all of your credit and payment history.
To determine whether this information is correct (and ensure that potential lenders and creditors are receiving the most up-to-date details when considering you as a borrower or a customer), be sure to review your credit report at least once every year.