Credit Sesame Review: Legit Free Credit Score or Scam?
Credit Sesame offers a number of free services to help manage your credit and provide important financial information on savings accounts and other financial services.
The company has been around since 2010 and acts as a consumer advocate to help millions of Credit Sesame users reach their financial goals.
Here we will explain in detail what Credit Sesame is, how it can help you manage your financial goals, and how it stacks up against the other free credit score and monitoring services out there.
Why Credit Sesame?
Credit Sesame is 100% free! It's easy to sign up and get instant access to your credit score, identity theft protection, personalized savings advice, and more.
It's important to know and understand your credit score before applying for your favorite travel rewards credit cards.
Credit Score and Monitoring
One of the best features of Credit Sesame is the ability to access your credit score. Your score will be updated on a monthly basis so you can begin to track important financial trends that appear in your credit report.
Using Credit Sesame will not hurt your credit score. Since this service is just for your personal information, it results in a "soft inquiry" that does not impact your credit.
However, Credit Sesame does not reflect your real "FICO" score. Instead, it provides a VantageScore which is not commonly used by banks for credit card applications.
Hot Tip: Knowing your credit score can help you save money with better loan rates and give you an idea of what type of credit cards you qualify for, including travel rewards credit cards!
Your credit score is dependent on a number of factors, and Credit Sesame explains in detail how your personal credit history impacts your credit score. Here are those main factors: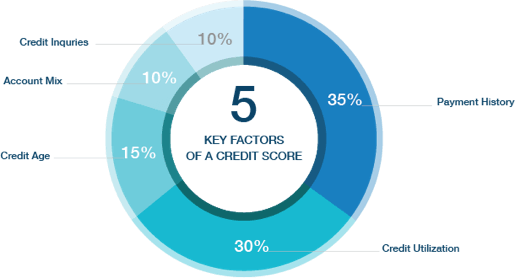 Payment History: Late payments, accounts in collections, foreclosures, and bankruptcies can all negatively impact your credit score. It's best to avoid any of these happening, but if they do occur it's important to recognize this negative mark on your credit report and how to take care of it.
Credit Usage: Comparing how much total credit you have available to borrow with the amount of debt owed helps banks understand your credit utilization. A high credit utilization can look like a risk to lenders, so it's best to keep it low.
Credit Age: Credit Sesame provides the age of your oldest account and your newest account. Lenders like to see a longer average age of accounts to know you have a long history with lenders.
Account Mix: Having a good mix of different types of accounts shows lenders how dynamic your credit history is. Credit Sesame breaks down your accounts by type and includes home loans, student loans, and credit card accounts.
Credit Inquiries: A low number of credit inquiries is good because it shows that you are not seeking a lot of debt.
In addition to the detailed information, Credit Sesame provides based on your credit report, it also gives you a grade based on common market trends.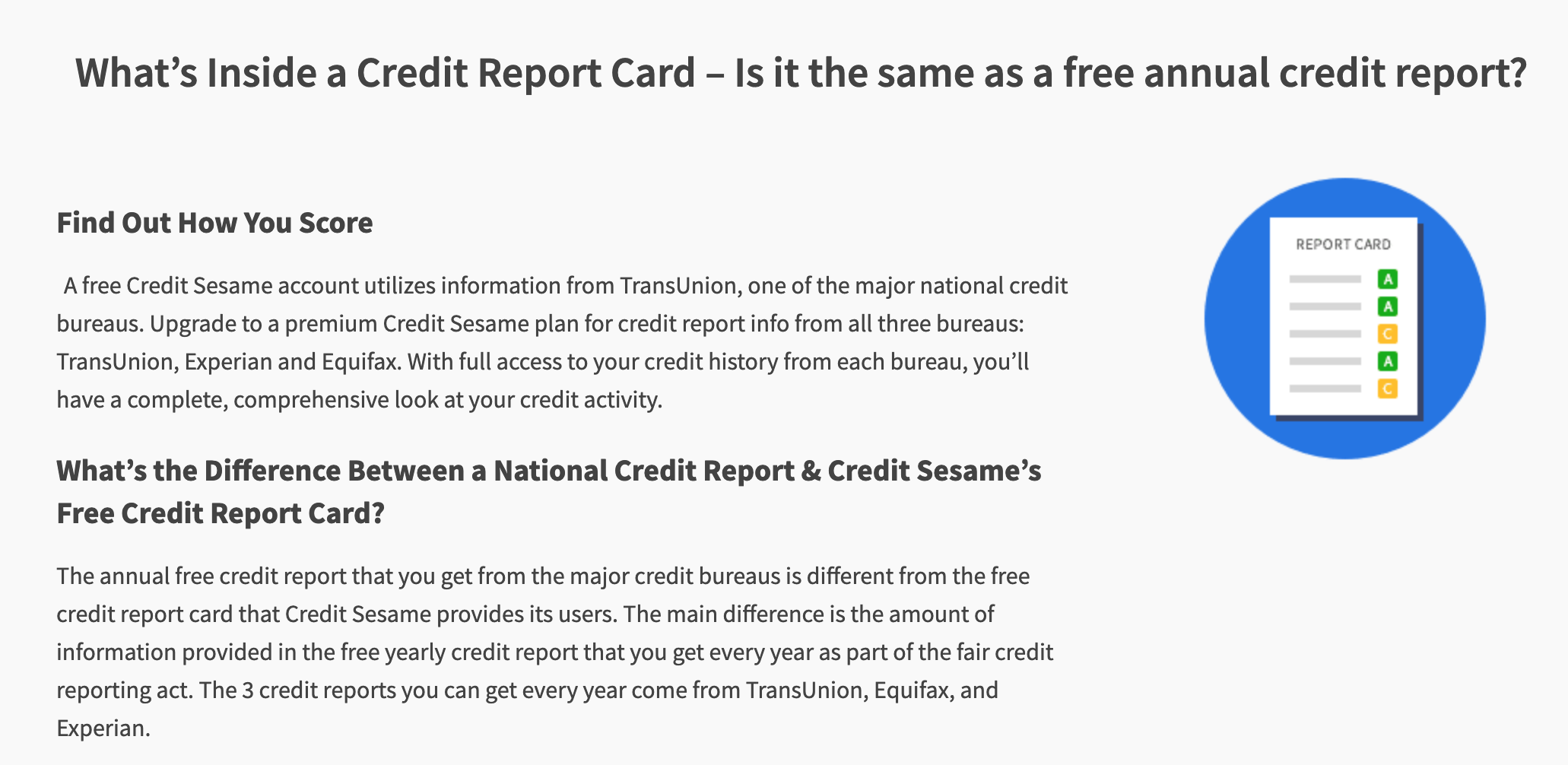 They also give recommendations on how to improve or maintain your credit score and explain what factors impact your score most.
The credit monitoring service will provide you with alerts when your credit score changes, when an account is opened or closed, or when you apply for new credit.
Credit Sesame's credit score and monitoring service helps you keep tabs on financial events that can have major impacts on your creditworthiness. It will also protect you against fraud and identity theft by keeping you aware of your credit all the time.
Identity Theft Protection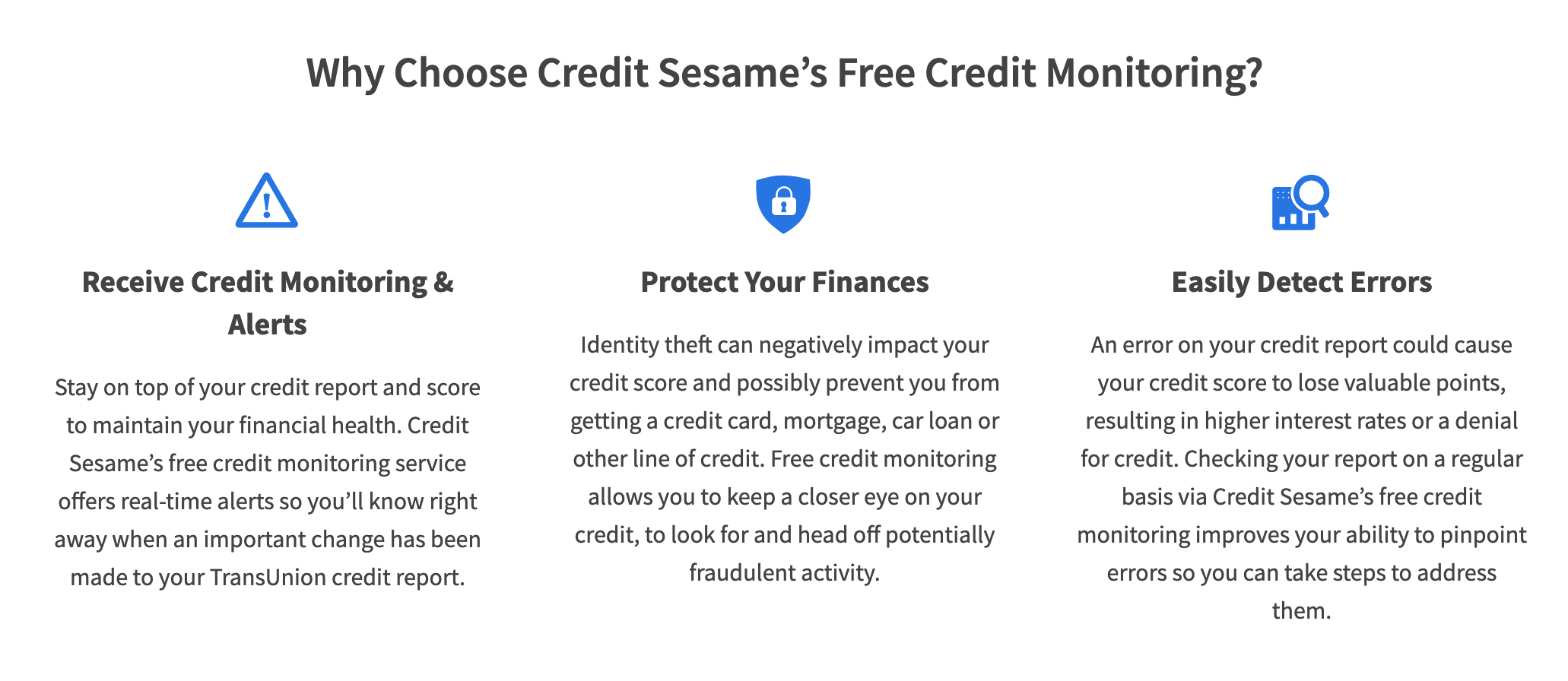 Identity theft has become a very serious problem that can lead to devastating financial troubles for those that fall victim to this serious crime.
That's why it's extremely important to be able to monitor your credit for any unusual activity. Credit Sesame actively monitors the use of your personal information for new credit and will alert you when new activity occurs.
Credit Sesame is so confident their service prevents identity theft that they offer a $50,000 identity theft insurance policy to all members for free!
This insurance will provide guidance and financial support to help restore your identity if it is stolen and used to obtain false credit accounts. You can learn more about how to prevent credit card fraud here.
Personalized Savings Advice and Other Financial Services
Credit Sesame offers personalized savings advice and other financial loan offers targeted especially for you using their proprietary software and your credit profile.
This system will evaluate your credit score, existing loans, current home value, and other factors to provide personalized loans and savings offers from top national lenders to best meet your financial goals.
Credit Sesame will match you with the best financial offers, like the highest APY rate for a new savings account, competitive rates for a new mortgage, or a car loan.
Their patent-pending technology finds these loans by running 5,000 different financial scenarios to forecast how the loans will perform over time and showing you the top 3.
Digital Bank Account: Sesame Cash
Credit Sesame offers a no-fee digital bank account called Sesame Cash. The account has no minimum balance requirement, no overdraft fees, no monthly service fees, and comes with a debit card that runs on the MasterCard network.
Bottom Line: Credit Sesame offers a free credit monitoring service, monthly VantageScore, great identity theft protection, $50,000 in identity theft insurance, and targeted money-saving offers based on your financial goals.
How Do I Sign up and Use Credit Sesame?
Using Credit Sesame is easy. You just need to sign up for an account, provide a few pieces of important information, and you'll be all set! No credit card information is ever required since the service is totally free.
You will need to provide the last 4 numbers of your social security number so they can access your credit history for personal use.
It will also ask you some important identity verification questions to ensure the highest level of security and make sure your personal information is protected.
Once you've created your account, you can log in to your account using the website or mobile app (where you can also sign up for an account).
Does Credit Sesame Have an App?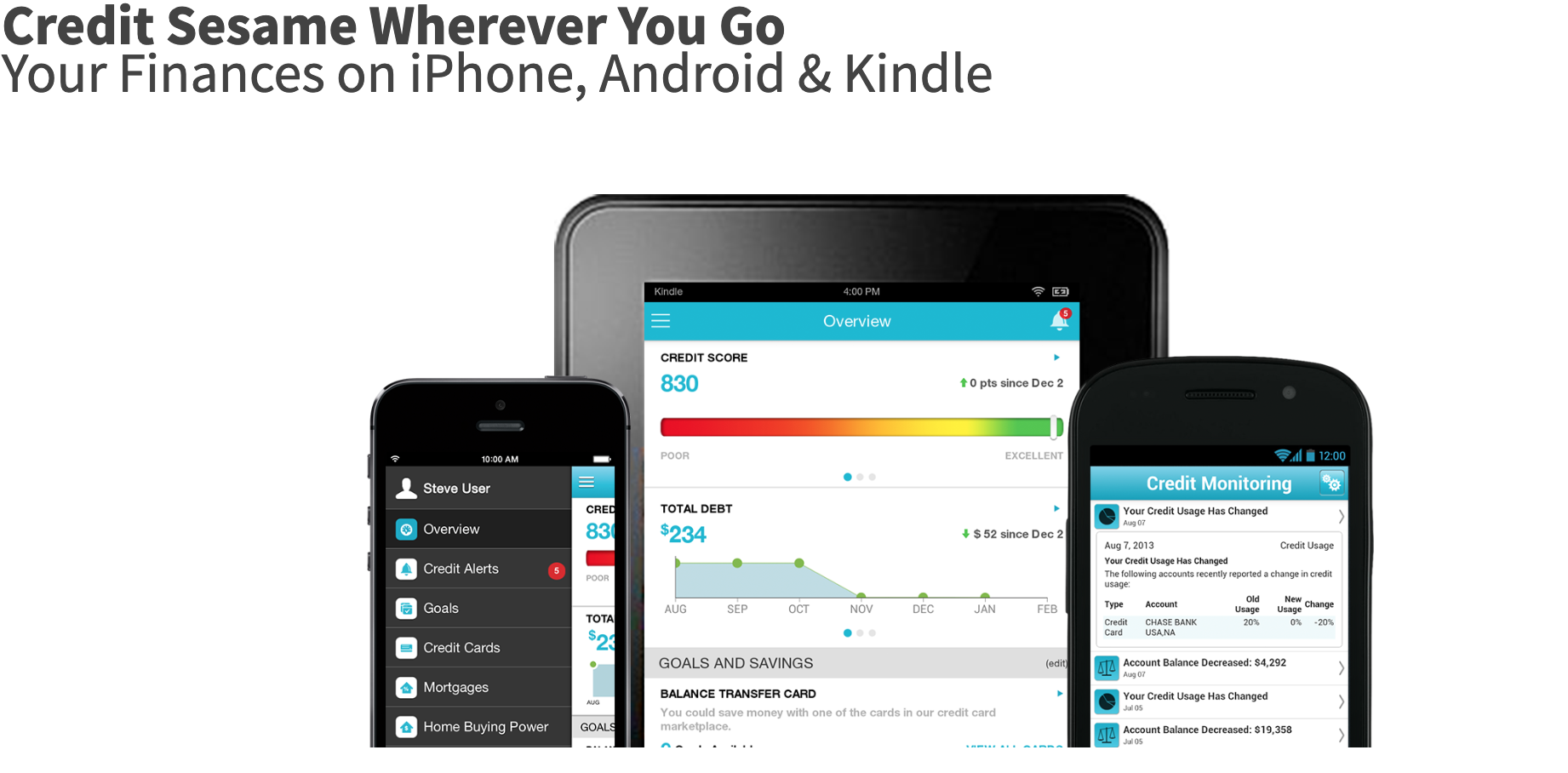 Yes, Credit Sesame has an app for Apple users on the iTunes App Store and Android users on Google Play.
The app is easy to use and even allows you to sign in using Touch ID or a 4 digit PIN to access the app quickly while you're on the go.
Most find the mobile app easier to use and understand since it primarily focuses on the most important information, including your VantageScore and the factors that determine it.
You will be able to access your VantageScore, credit monitoring report (including all the factors that impact your score), recommendations to improve or maintain your score, and personalized offers on other financial products.
The full website is great if you want to look deeper into their personalized financial recommendations and see what type of financial offers you may qualify for.
Is Credit Sesame Safe?
The simple answer is yes. Credit Sesame is safe and uses the same security measures as banks and the government to keep your information safe and secure.
Credit Sesame is not a scam; it is providing a legitimate service. Safeguarding your information is extremely important for them to keep your credit accurate and protected.
Your information is secure with 24-hour monitoring by Credit Sesame, and will never be sold for marketing purposes.
How Do I Contact Credit Sesame?
Credit Sesame prefers customers contact them through their support center on the website. There is an online form to submit your request, which also lets you add attachments so they can better understand your issue.
Social media is another great method to use to contact Credit Sesame for support issues, and it appears that they provide timely responses on both Twitter and Facebook.
Credit Sesame does offer a few contact email addresses on their website, but these are mainly for feedback and business/media relations. Helpful email addresses for customers are:
Unfortunately, Credit Sesame does not appear to have a functioning phone number for customers to call and speak to a live human being for support.
Bottom Line: Credit Sesame is safe and easy to use. Download the app to track your VantageScore wherever you are and get alerts of new activity straight to your phone or email!
Credit Sesame vs. Credit Karma
Credit Sesame is just one of many credit monitoring services, but its main competitor in the free service category is Credit Karma.
Both companies provide easy free services to help you monitor and understand your credit, but let's take a look at their differences.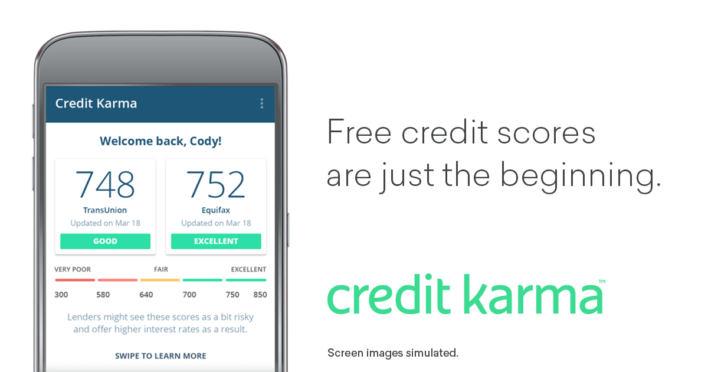 Credit Sesame is very similar to Credit Karma since both offer your VantageScore and monitoring services.
However, one notable difference is that Credit Karma actually provides an additional VantageScore that reflects Equifax, in addition to the TransUnion score both services provide.
You also get access to your full credit report for both of those agencies as a member of Credit Karma, something Credit Sesame does not provide for free.
Credit Karma also updates more frequently than Credit Sesame (about once a week on average), but we find the credit monitoring alerts showing new activity on your credit report are easier to find on Credit Sesame.
While both services promote that their credit monitoring services prevent identity theft, Credit Sesame comes up on top by offering an additional layer of protection with $50,000 identity theft insurance free to all members.
Bottom Line: Credit Sesame is the only service that offers free identity theft insurance. Credit Karma is the only one to offer your VantageScore based on Equifax. It also provides a full credit report. Chase Credit Journey is another free tool that's available to check your credit score.
Final Thoughts
Credit Sesame is an amazing free credit and monitoring service that also adds extra protection against identity theft and personalized financial offers.
It provides accurate information based on your TransUnion credit report to help you stay informed of your credit activity and review your credit history.
The service is safe, secure, and easy to use. With lots of detailed financial information on the full website and a simple mobile app, Credit Sesame should be on everyone's radar to track their credit. It is not a scam!
The one major improvement Credit Sesame could make to beat the competition would be to add another free VantageScore and report from another credit bureau like Equifax. Even better, Credit Sesame could provide a free FICO score since that is the most commonly used score by banks for credit card applications.
Since there is no harm to your credit score using these free credit monitoring services, it's worth trying them all out and seeing which one works best for you. However, Credit Sesame is definitely worth having for the identity theft insurance alone.
It's important to monitor activity on your credit report, especially if you are in the market for new credit like travel rewards credit cards.