Quizzle Review: Legit Free Credit Score or Scam?
Update: Quizzle was acquired by Bankrate in 2019 and the tools described below may no longer be available. To view your credit score for free (from all 3 credit bureaus), check out our helpful guide.

Since 2008, Quizzle has been helping its customers understand their credit history and providing free access to their full credit report and credit score.
Quizzle is a free online service with over 2 million customers. It has a mission to educate as many people as possible about how their credit works and help them gain the financial confidence to manage it best.
Here we will explain what Quizzle is, how it can help you achieve your financial goals, and how it compares to the other free credit score and monitoring services out there.
Why Use Quizzle?
Quizzle is 100% free. It's easy to sign up and get instant access to your full TransUnion credit report and credit score without having to provide any credit card information.
The website is simple and easy to use. It offers a ton of information to help beginners understand their credit and learn about their credit score.
You'll also find excellent money-saving advice with recommendations on refinancing your mortgage or figuring out which credit card is best for you.
It's also very important to know your credit score before you start applying for your favorite travel rewards credit cards!
Quizzle Credit Score and Credit Report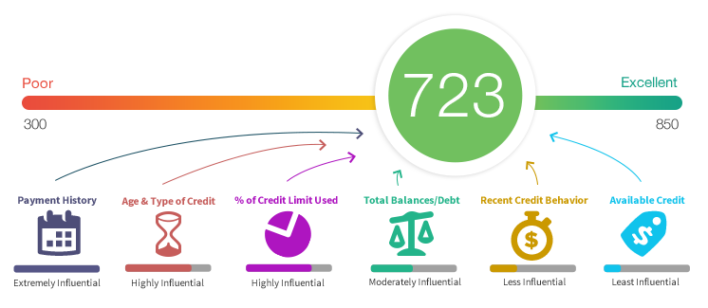 Having instant access to your credit score and credit report will let you start taking control of your finances, and taking advantage of money-saving opportunities by maintaining good credit.
Quizzle offers its users free access to their Vantage credit score and a full TransUnion credit report every 3 months.
The Vantage credit score that Quizzle provides is used by thousands of lending institutions and credit card companies to evaluate your credit, but it is not a traditional "FICO" score.
The credit report that Quizzle provides gets you even more free access to your TransUnion credit report than TransUnion itself. TransUnion allows customers free access to their full credit report only 3 times a year, but Quizzle updates the same credit report once every 3 months.
Using Quizzle will not hurt your credit score since it's just for your personal use, which only results in a "soft inquiry" on your credit report (this does not impact your credit score at all).
Hot Tip: Wondering what happens to your score when you apply for the best travel rewards credit cards? Check out our guide that explains how applying for credit cards could impact your credit score.
Your credit score is dependent on a number of factors, and Quizzle explains in detail how your personal credit history impacts your score.
Here are those main factors:
Payment History: Whether you pay your bills on time.
Amount Owed: How much you owe in debt compared to how much credit is available to you. Also known as your credit utilization ratio — it's good to keep this low to show lenders you're not trying to max out your available credit.
Length of Credit History: The amount of time you've had loans and credit cards. Also known as your average age of accounts (since it takes the average history of all your loans and credit accounts).
New Credit: How many new accounts you've opened recently. Opening too many loans in a short amount of time can look risky to new lenders.
Types of Credit In Use: The variety of accounts you have open. Includes credit cards, retail credit cards, installment loans, student loans, and home loans. Having a good mix of different types of accounts shows lenders how dynamic your credit history is.
The credit score and credit report offered by Quizzle will help you understand your current financial situation and guide you toward reaching your financial goals.
Quizzle Credit Builder Tools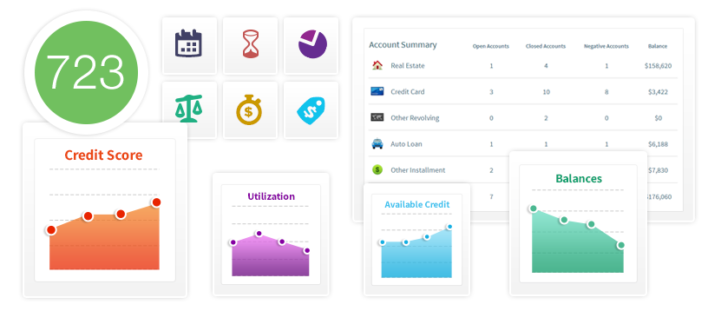 Every financial decision you make also impacts your credit; that's why Quizzle created a number of credit builder tools to show you exactly what changes your credit.
The credit builder tools use information from your credit report and credit score to review your entire credit history, along with current trends to help understand what factors are negatively or positively impacting your score.
Credit Comparison is the perfect tool to answer the question almost everyone asks after checking their credit: "Why did my score go up/down?" Quizzle will compare any 2 of your credit reports to highlight what changed and how those changes are impacting your credit.
Credit Timeline is an exclusive service offered only by Quizzle. It gives you a detailed chronological history of your credit, marking the most important financial moments throughout your credit history.
This tool highlights important milestones paired with expert advice, like marking your oldest account and reminding you to keep it open. The service also tracks your on-time payment history to encourage you to keep up the good work!
Credit Trending tracks your credit score, credit balances, available credit, and credit utilization to create visual graphs. These can help you monitor trends in your credit behavior and watch how these important factors directly impact your credit score.
Score Analysis looks closely at your Vantage credit score, provides the top 4 reasons why your score isn't higher, and offers suggestions on what you can do to fix those issues over time to improve your score.
The credit builder tools by Quizzle provide an interactive way for you to better understand how certain financial decisions can either positively or negatively impact your credit score.
Bottom Line: Quizzle is a great free service to access your Vantage credit score and full TransUnion credit report every 3 months. It provides lots of information and tools to help you track and monitor your credit so you can make smart financial decisions.
Personalized Mortgage Recommendations and Other Financial Services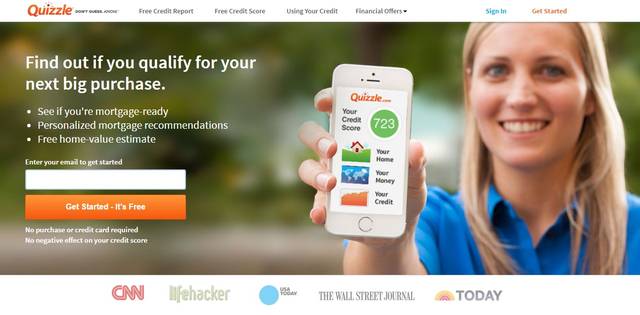 Quizzle seems to be highly focused on attracting customers that are interested in home mortgages, offering personalized mortgage recommendations and free home value estimates.
They recommend a wide variety of different Quicken Loans for home mortgages, so you can choose what fits your financial situation and quickly see if you're pre-approved.
There are also a number of different lending institutions suggested for your various financial needs, including auto loans, credit cards, and debt consolidation.
Overall, Quizzle strives to be the one-stop shop for a complete understanding of your home, money, and credit. They also offer paid subscription plans that come with enhanced services:
Quizzle Pro ($8/mo) – Updates your credit report and score every month compared to the 3-month free version. Also provides 24/7 credit monitoring and alert service.
Quizzle Pro+ ($15/mo) – Adds a $1 million policy to reimburse any costs related to restoring your identity, along with a number of other monitoring services to protect and keep your personal information secure. It also provides a 24/7 live assistance from a Quizzle professional to help you with your needs.
How Do I Sign up and Use Quizzle?
Using Quizzle is easy. You just need to sign up for an account, provide a few pieces of personal information, and you'll be all set!
No credit card information is required since the basic service is totally free. You will be required to provide the last 4 digits of your social security number to access your credit history, but that's just a "soft inquiry" that will not impact your credit score at all.
Is Quizzle Safe?
Yes; Quizzle is safe and promises to protect your personal information. They employ a number of security measures to keep your information secure from hackers.
Quizzle also protects your privacy and will not sell your information to other companies; it will only share the information with their trusted partners when you ask them to.
Really, Quizzle just wants to be your financial friend…and financial friends don't let friends (you!) make bad credit decisions. They want to help you reach your financial goals in the safest way possible.
Does Quizzle Have a Smartphone App?
Unfortunately, Quizzle does not have a smartphone app. You can only access your free credit score and credit report on Quizzle.com.
How Do I Contact Quizzle?
Quizzle only offers an e-mail address to contact them on their website for questions, feedback, or technical support: [email protected].
The help and contact us section also directs users to a comprehensive FAQ section to help address common questions or concerns.
For customers looking for instant live customer support, Quizzle only offers that as part of a paid monthly subscription plan.
Quizzle vs. the Competition
Quizzle is just one of many free credit score services, and they have 2 main competitors: Credit Karma and Credit Sesame.
Let's take a look at the differences and see what benefits we like most from each company.
Quizzle vs. Credit Karma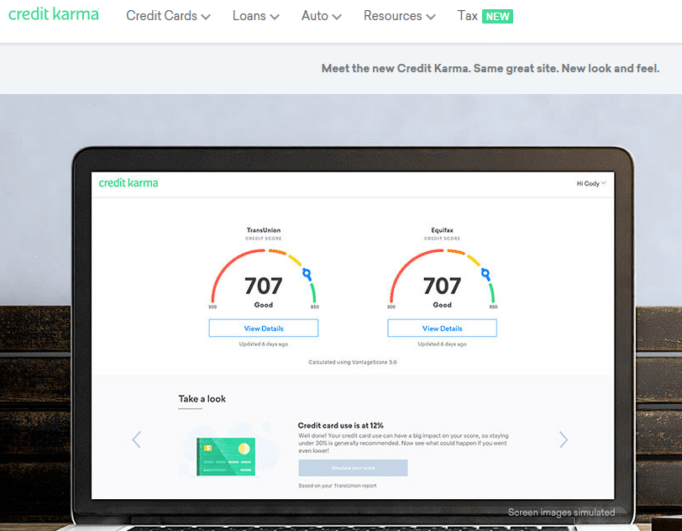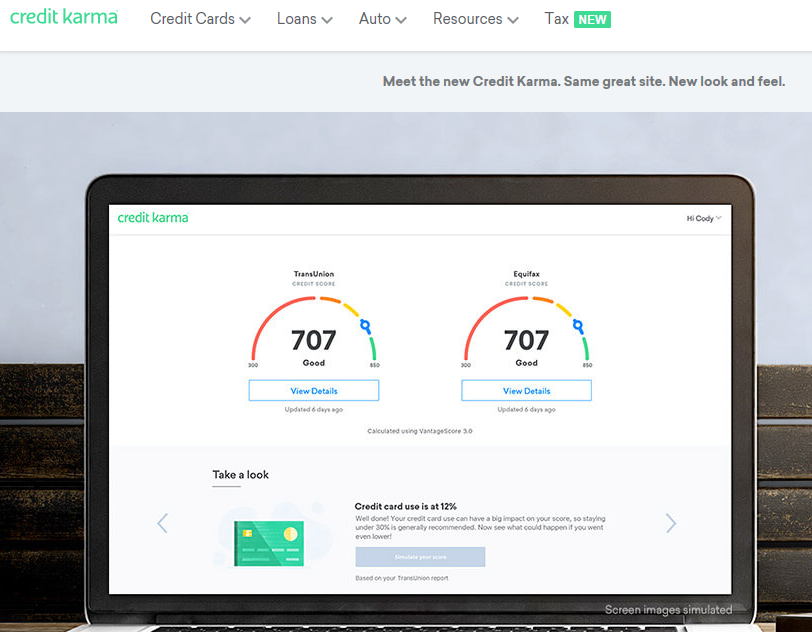 Credit Karma is the most diverse free credit score and credit report service since it provides your credit score and your full report from both TransUnion and Equifax. Quizzle only provides your TransUnion report.
However, Credit Karma updates your credit score and credit report much more frequently than Quizzle, averaging once per week! Quizzle only updates every 3 months.
Credit Karma also provides constant credit monitoring service, which alerts you when any financial activity impacts your credit report. They also have a smartphone app, so you'll always be on top of your credit.
Quizzle seems to attract customers looking to check their credit score and credit report before moving forward with a larger purchase like a home mortgage. These customers may not need to be checking their credit on a regular basis.
In contrast, Credit Karma attracts customers who are looking to constantly monitor their credit on a weekly basis and be alerted immediately of changes to their credit.
Quizzle vs. Credit Sesame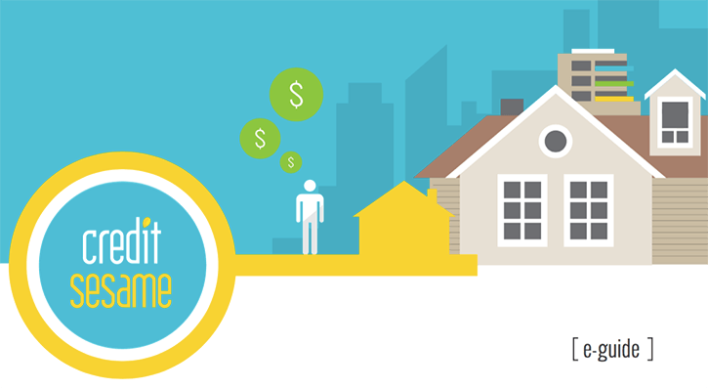 Credit Sesame and Quizzle are more similar since both provide your free credit score from TransUnion. However, Credit Sesame does not offer its customers access to a full free credit report like Quizzle does.
Instead, Credit Sesame offers a free credit "report card," which is based on information in your TransUnion credit report (but is not your TransUnion credit report in its entirety). Users must upgrade to a paid plan to get their full credit report.
Credit Sesame does update its credit score more frequently than Quizzle (once every month), but that is still not as often as Credit Karma.
There is also a smartphone app for Credit Sesame, which offers real-time alerts with its credit monitoring service (similar to Credit Karma). This is something Quizzle does not offer.
One final benefit of Credit Sesame is a free identity theft insurance policy to help cover the cost to restore your credit for all users.
Bottom Line: Credit Sesame is the only service that offers free identity theft insurance, Credit Karma is the only one to offer your score based on Equifax, and both Quizzle and Credit Karma provide a full credit report. Chase Credit Journey is another free tool to monitor your credit score.

Overall
Quizzle is an easy free service for checking your credit score and credit report. This site provides great information to help understand how credit works, and it provides suggestions to reach your financial goals.
You'll find accurate information based on your TransUnion credit report to help you stay informed of your credit activity and review your credit history.
The service is safe, secure, and easy to use. It is not a scam!
One major improvement Quizzle could make is to update your credit score and credit report more frequently, and add real-time alerts with a credit monitoring service. It would also be helpful to have a smartphone app.
Since there is no harm in checking your credit score and credit report using these free credit monitoring services, it's worth trying them all out and deciding which one works best for you.