Credit Karma Review: A Legit Free Credit Score or Scam?
Credit Karma has over 60 million members. Not bad for a service that provided its first free credit score in 2008! The site is successful primarily because joining is completely free.
Members receive 2 free credit scores, weekly reports, and ongoing credit monitoring as well as necessary tools to make educated decisions about their credit. Not to mention that their app is also free.
Here's an examination of the different features of their site while answering the most common questions about its services.
By the time you reach the end, you will have a clear idea of whether joining this online service can help you manage your personal finances.
Why Should I Check My Credit Score?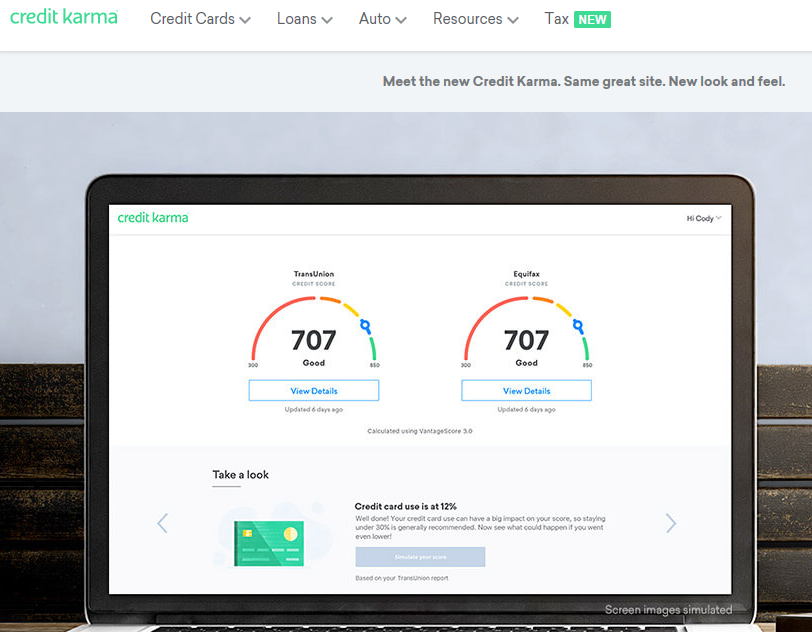 So, what's the big deal with checking your credit score anyway? Is it really necessary? The answer is yes.
Your credit score is created based on the information in your credit report. Unfortunately, it's not uncommon for credit reports to contain errors — sometimes major errors — resulting in low credit scores.
Sometimes this is due to clerical errors, but identity theft can often be the cause.
Regardless of the reason, if your credit report contains inaccuracies, it's imperative that you deal with them quickly. Ignoring them won't make them go away!
With a poor credit score, you may not be approved for a mortgage, loan, or credit card. It can even be difficult to rent an apartment or get a job.
If you do get approved for a loan or credit card with poor credit, it will likely be at a high interest rate, which will result in you paying tons of extra money because of that high interest. This isn't always the case, though — you can read more about credit cards for bad credit.
Plus, because your credit score can change based on a long list of factors, it's important to not only check your credit score but monitor your credit on a regular basis.
CreditKarma.com is one site that makes that possible.
How Does Credit Karma Work?
Credit Karma offers a wide variety of features and tools to its members. Let's take a look at each one to see how they can help you stay on top of your credit situation.
1. Credit Card Reviews and Offers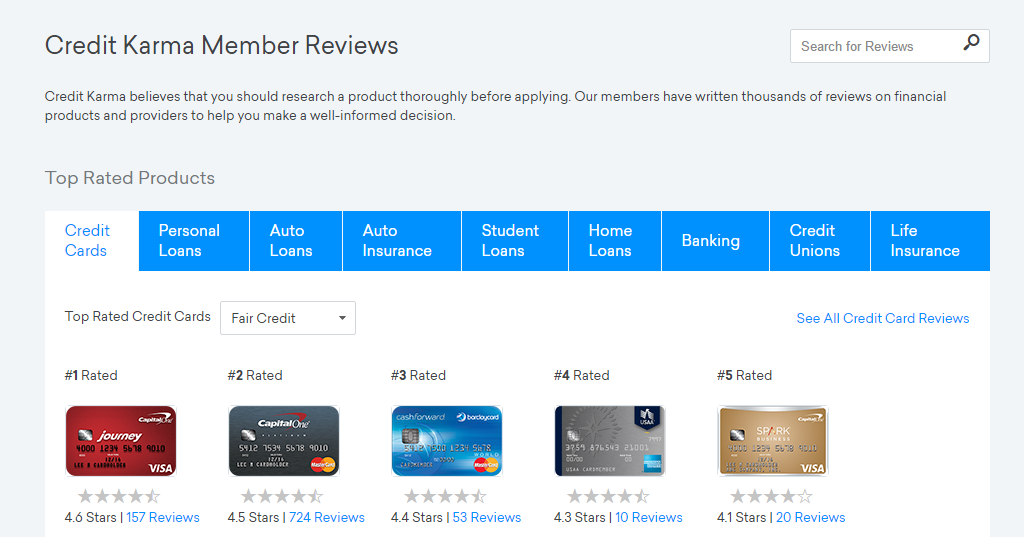 CreditKarma.com analyzes more than 5,000,000 credit cards each month to learn about the average cardholder. Members can view these insights, as well as other member reviews of credit cards and lenders.
As a member, you will receive matches to the best credit card offers based on your profile. You can add your own reviews, compare credit card terms, or apply for a credit card. You can even search the site for business credit cards.
2. Personal Loan Offers
Want to consolidate or refinance your debts? Perhaps you need a loan to pay for a new expense? Whatever the reason, applying for personal loans can be overwhelming, and it can be hard to know where to start.
CreditKarma.com aims to simplify the process by giving you a list of personal loans to consider based on your credit score. You'll see a snapshot of each option, including the estimated loan amount, APR, and terms based on your input.
Also, when you take advantage of personal loan services, you can peruse unbiased reviews by members who have already worked with these lenders.
Hot Tip: Loans are affected by your credit score, so it's helpful to work toward raising your score! You can try applying for some basic cards like the Blue Cash Everyday® Card from American Express, or the Chase Freedom Unlimited® Card to start building it now.
3. Automobile Loan Offers
Buying a car or refinancing an existing car loan is a major financial decision. Your credit score plays a big role in whether you will qualify, which lenders will work with you, and how big a down payment you'll need.
CreditKarma.com will list the lenders that only accept great credit as well as those that accept less-than-stellar credit to help narrow down your options.
Just like with personal loans, they will match you with offers you have a better chance of qualifying for. Then you can read reviews by members who have loans with those lenders.
4. Community Advice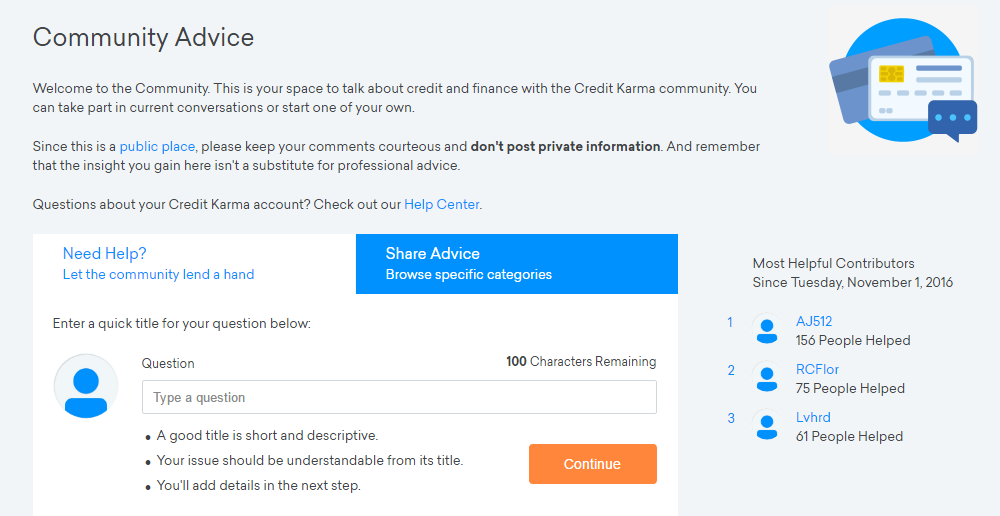 When you post a question on the forum, it can be answered by anyone in the community, which includes average consumers as well as respected financial professionals.
Depending on the question, you may get an answer from someone who works in an auto finance department, consumer loan department, or someone who has been in the same situation you are in.
Chances are, your question was previously addressed, and you can locate it by entering keywords in the search box.
Members of the community are encouraged to provide a thumbs up or thumbs down to questions and answers. The site keeps track of how many people were helped by each question, too.
5. Credit Card Articles
Under the Resources tab, you will find articles written by financial professionals as well as "Your Weekly Money Scoop," a roundup of articles from sites such as the New York Times, Forbes, and Huffington Post.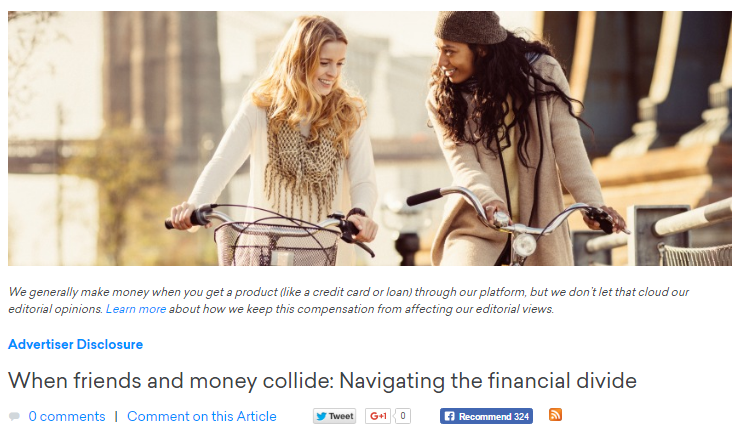 These articles cover credit and other financial concepts to give you a better understanding.
Hot Tip: At Upgraded Points, we also provide credit card reviews, articles on building credit, and other finance articles. However, we focus on keeping you traveling, including how to earn as many points as possible and redeem those points for maximum value!
6. Personal Finance Blog
The Credit Karma blog is divided into the following sections: Karma Culture, Company News, Industry News, Engineering, and Pressroom. It includes general posts about credit as well as information about the company.

7. Home and Auto Insurance Scores
Home and auto insurance scores estimate your risk based on factors such as:
Active accounts
Payment history
Credit card utilization
Age of credit history
Many states use these scores to predict how likely you are to file a claim and set premiums based on the result (although it is prohibited in some states).
Both scores are included with your free membership.
8. Free Credit Scores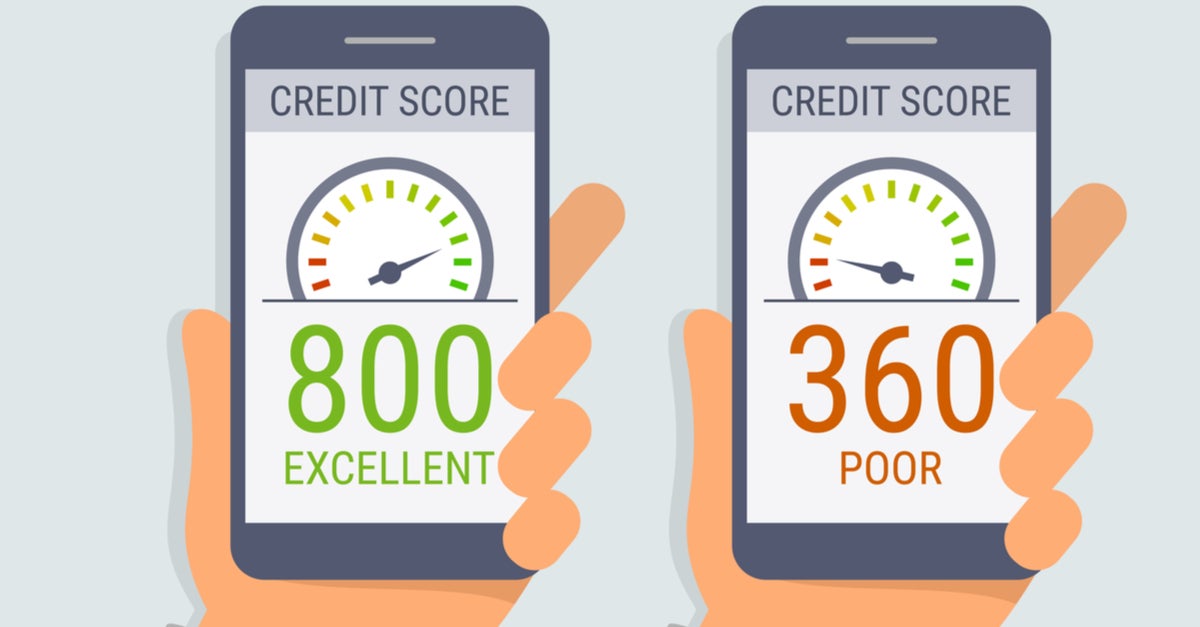 VantageScore
In 2006, the 3 major credit reporting agencies (TransUnion, Equifax, and Experian) developed a joint algorithm to calculate a consumer's VantageScore. Because each credit bureau calculates your VantageScore, you have 3 total.
You'll get 2 VantageScores: 1 from TransUnion and the other from Equifax.
An increasing number of credit decisions are being made with the current version, Vantage 3.0. According to CreditKarma.com, Vantage 3.0 was used more than 8 billion times from July 2015 to June 2016.
Because the numbers are updated daily, you can check your credit score every day on their site. It's a great way to track your score, so you'll know right away if it goes up or down and whether you may need help with your personal finances.
FICO Score
| | |
| --- | --- |
| Credit Rating | Score Range |
| Exceptional | 800-850 |
| Very Good | 700-739 |
| Fair | 580-699 |
| Very Poor | 300-579 |
Source: Experian
Most people are familiar with FICO scores (from the Fair Isaac Corp.) — the industry standard that lenders used to approve and deny new credit applications, make pre-screened offers, and manage existing accounts. However, VantageScore credit scores are becoming more common.
FICO scores are based on 5 factors:
Payment history
Total debt
Types of credit cards
Length of credit history
New credit accounts
Each credit reporting agency calculates a FICO score, just like with VantageScores.
TransRisk Score
You may have heard the term "fako score." It refers to any score that is not a FICO score. One example is a TransRisk score.
TransRisk scores are based solely on data in TransUnion credit reports. Like FICO scores, the range is 300-850. But FICO and TransRisk scores can vary by as many as 125 points.
Lenders do not use TransRisk scores anywhere near as often as FICO and VantageScores.
9. Credit Report
When you apply for a loan, the lender pulls a full credit report, including your accounts, credit inquiries, public records, and collection activity. The lender also does a credit profile check to determine the types of credit you have, how long your accounts have been open, and whether you pay your bills on time.
In addition to credit scores, members get access to their full TransUnion and Equifax credit reports, updated on a weekly basis, including highlighted sections to review.
Check your credit reports for free each week to identify discrepancies and fix them as soon as possible.
Memberships also come with free credit monitoring. You'll receive credit alerts if there is an important change to your TransUnion credit report to help you spot identity theft.
Just a quick note: you may find that your free credit reports don't always match. This can happen because you pulled them at different times, or a certain lender didn't report to both bureaus; sometimes it may just be an error.
10. Credit Tools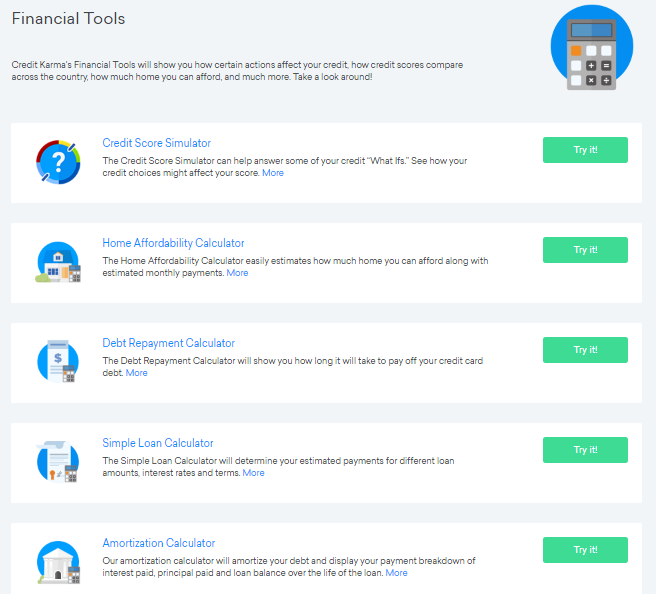 Credit Score Simulator
One of the most beneficial tools for your personal finances they offer is the credit score simulator, which shows how your actions affect your credit score.
For instance, what if you:
Increase your credit line?
Open a new credit card account?
Pay off a balance?
Close an account?
Discover what happens to your credit score when you take these or other actions by choosing from options provided by the simulator.
Different Calculators
There are 4 calculators to help you learn about loans.
Just a warning: they take your credit score and credit history into account, so these are only estimations. But they can definitely give you an idea of what to expect.
Calculate
Information to Enter
Results
Home Affordability

Monthly income
Down payment
Monthly debts
Mortgage interest rate

Maximum house price you can afford and monthly payment
Debt Repayment

Debt balance
Interest rate

Monthly payment to repay the loan in a specific time frame, or how long it will take to repay debt
Simple Loan
Estimated monthly payment
Amortization

Loan amount
Interest rate
Number of years

Breakdown of each payment into interest and principal
How to Sign Up for Credit Karma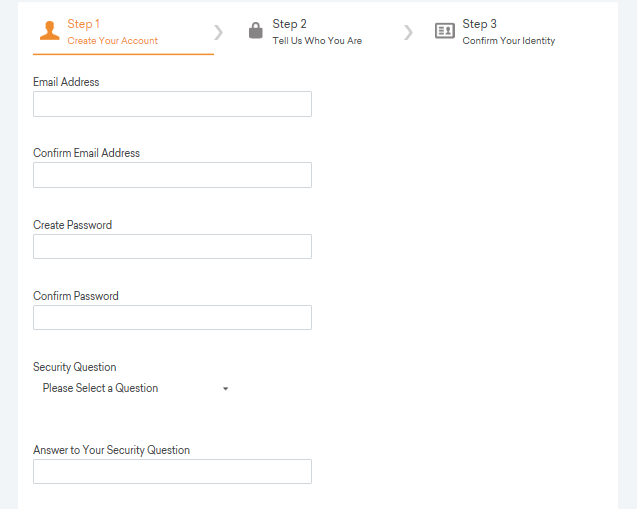 Joining is simple:
Create an account including your email and password
Enter the last 4 numbers of your social security number (required to access your credit bureau information)
Verify your identity by answering questions
Then you will have access to free credit scores and reports from your dashboard.
From your dashboard, you can connect online financial accounts to track your spending and figure out where your money is really going. You can also set email alerts to remind you when bills are due.
Is Credit Karma a Scam?
The top concern addressed in reviews is whether the site is legit or a scam.
The truth is, it really is free and there is no credit card or other payment required to join. You don't have to sign up for a paid credit card monitoring service.
CreditKarma.com is able to operate this model because it makes money through its advertising partners. You know those personalized credit card offers and loan recommendations we mentioned earlier? When you sign up for them (and you are under no obligation to do so), they earn money from these advertisers.
How Safe Is It?
Many people also wonder how safe Credit Karma really is. After all, is it actually possible to get a totally free credit report online and be safe at the same time?
The best way to answer is to tell you about all the safeguards they have in place to protect you and your information:
In January 2016, the company reported it had surpassed 50 million members and had given out more than 1 billion credit scores. That's a lot of business!
The site has a DigiCert EV SSL certificate, which means it has the highest level of authentication.
They use 128-bit encryption to protect the information you type in and doesn't store your Social Security Number (remember, they only ask for the last 4 digits).
Nothing on the site can be altered because it is read-only.
Servers are monitored 24/7, firewalls are in place, and the site's privacy policy is certified by TRUSTe.
What About the FTC Settlement?
You may have heard Credit Karma reached a settlement in 2014 with the Federal Trade Commission over allegations they misrepresented the security of their mobile app and failed to keep customer information private.
Apparently, they disabled SSL certificate validation, putting customers' private info at risk. As a result, they have to submit to independent security assessments every other year through 2034.
Of course, it's always important to safeguard your private information, especially when it comes to phishing scams. Don't click on unsolicited links and attachments and never give your credit card information.
Personal Finance Tools and Your Points Strategy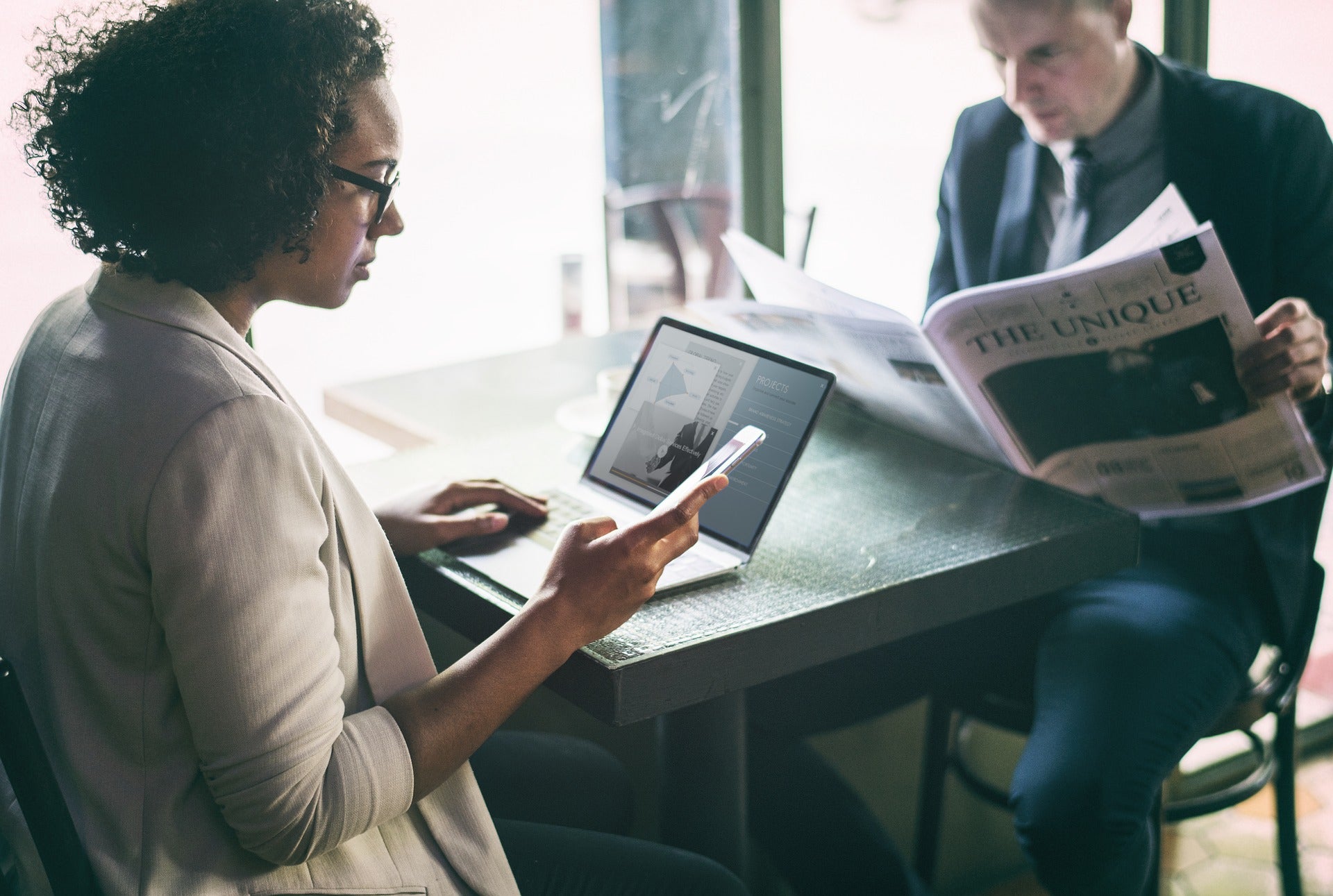 Who doesn't want to earn as many points as possible in order to enjoy travel (and non-travel) rewards? At Upgraded Points, we proudly give you the tools, strategies, and information to earn points.
So how does a personal finance website fit into this?
Well, every person's credit situation is different. The more information you have about your individual situation, the better you can manage your financial life.
By tracking your free credit score and credit reports through their free tools and services, you can pick up errors before they impact your creditworthiness.
Plus, by using the credit simulator, you can identify how the decisions you make about which cards to apply for, pay off, etc., will affect your credit history… before you make them!
Hot Tip: Check out our Express Guide for earning points to help you quickly get started on your journey while safely beginning to build your credit!
Final Thoughts
Credit Karma offers an easy to use interface, with valuable tools to manage your credit — and it's totally free.
When you use their services in conjunction with UpgradedPoints.com, you'll be able to make informed decisions, since you'll already know the potential impact they will have on your credit.