The 9 Best Credit Cards for Bad Credit in 2021 [Find Your Special Offers]
If you've struggled with managing credit, you're not alone. Maybe you succumbed to the barrage of incoming credit card offers during college and are still working to pay off the residual debt, or you were laid off from your job and struggled to make ends meet.
Regardless of the reason your credit history may be less than perfect, bad credit can hurt you in multiple facets of life. You'll pay higher interest rates for credit and may be rejected when applying for credit, an apartment, a car loan, or even employment.
The good news is you can improve your credit score, and we're here to help you start the process. We've compiled a collection of tips, resources, and card recommendations for those with bad credit who would like to get on the road to improvement. Let's get started.
How to Find Out if You Have a Bad Credit Score
Definition of Bad Credit
Experian, Transunion, and Equifax are the 3 major credit reporting agencies. Experian offers the most educational information to consumers, so we'll use their definition for bad credit.
Experian defines bad (poor) credit as a credit score between 300 and 579 and a fair credit score as 580-669.
If you don't know your credit score, finding out where you stand is the most crucial first step. If you're in the 300-579 range, you might set an initial goal of improving your credit score to the "fair" range.
Beyond that, you can move up to a good, then excellent credit score and eventually reap the rewards these higher levels of credit give you.
How to Find Out Your Credit Score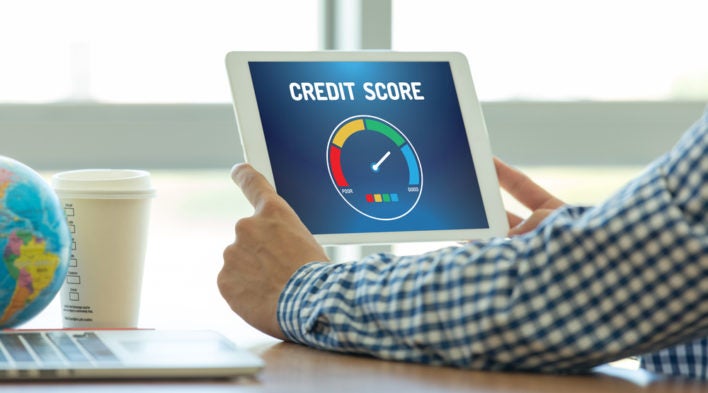 You don't have to pay to get your credit score, as there are plenty of ways to access it for free. Discover has a free credit score check tool, and you don't need to be a customer to use it. Credit Karma (review) and Credit Sesame (review) are 2 other options for accessing your credit score without charge.
You can learn more about how to view your credit score for free and how your credit score is determined by checking out our expert guide. It's also a good idea to review/monitor your credit score on a regular basis.
How Bad Credit Can Hurt You
If you have bad credit, it can cost you in so many ways. You're charged more for credit products, and getting back on track may seem like a daunting process. Bad credit can lead to:
Being denied for an apartment
Being denied for certain employment
Inability to finance a vehicle or high interest rates
Higher insurance premiums in some states where credit is used as a factor to determine your insurance rates
Problems getting a cell phone, such as larger down payments or required pre-payments
Inability to put utilities in your name or a large deposit may be required
Higher interest rates if you're able to qualify for a loan
Hot Tip: Bad credit doesn't have to be permanent, and you can improve it incrementally over time. One of the best ways to improve your credit score is to prove you can manage credit again by opening a credit card and using it responsibly.
Getting a credit card and managing it well may seem like it's easier said than done, but there are options available for rebuilding or building credit, and even small positive steps make a difference.
2 Risk-Free Ways to Find a Credit Card Match
The Card Match Tool: a Risk-Free Step to Finding a Credit Card
Did you know you can find out if there are credit card offers you may qualify for without having to apply formally? Credit card offers used to come in the mail, but now you can access these offers digitally on Card Match.
The Card Match Tool is simple to use and doesn't affect your credit score because there is no hard pull on your credit report. Card Match works with credit card issuers who are looking for consumers that match with their credit card product offerings.
You merely need to enter your information and Card Match will come up with all the credit card offers available for you from their partners.
Where to Look For Pre-qualified or Pre-approved Credit Card Offers
There is another risk-free way to find out if you have any pre-qualified or pre-approved credit offers available. Many credit card issuers have a tool on their website where you can input your information to see if you have any offers available.
With bad credit, there won't be many, if any, credit cards you're pre-qualified or pre-approved for, but you risk nothing by completing the simple online forms and finding out. Your credit score will not be affected.
Hot Tip: Being pre-approved or pre-qualified does not guarantee approval for the credit card. It just means the credit card issuer has determined you might be a fit for their card. You'll have to complete a formal credit card application to find out if you're approved for the card.
Some of the credit card issuers with a pre-qualification or pre-approved option include:
To learn more about how to find out if you're pre-qualified or pre-approved with any of these credit card issuers, check out our complete guide.
Bottom Line: Before applying for a credit card, use the Card Match Tool to find out which credit cards might be right for you – and to find offers that have been matched to your credit score.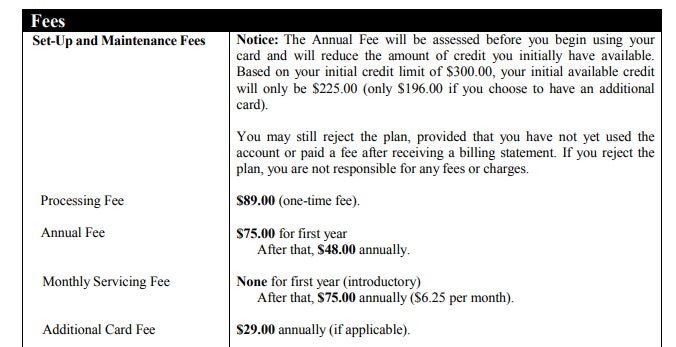 Best Credit Card Choices for Bad Credit
Credit card options for consumers with bad credit often have excessive processing fees and high annual fees like those that come with the Total Visa. And then there are secured cards, requiring a security deposit that may be held indefinitely.
Even with bad credit, you can find a card that will help you rebuild or build your credit history without being charged a high annual fee or excessive servicing fees.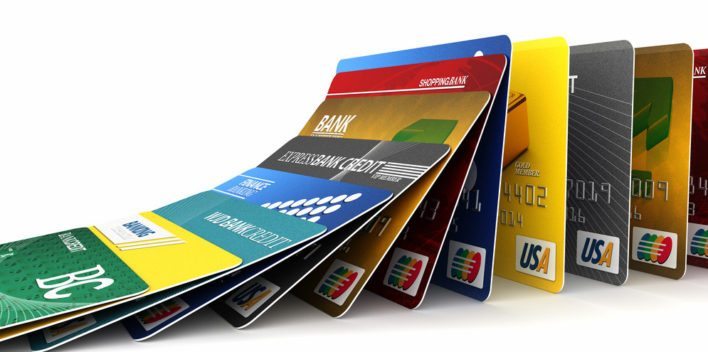 Secured Credit Cards
When you're seeking a credit card and your credit history is less than perfect, a secured card is an option that can help you get back on track. Secured cards typically require a refundable security deposit that is held by the credit card issuer to ensure you make your payments on time and manage the card well.
Secured credit cards can come with high annual fees and additional monthly service or processing fees, so it's essential to select one that minimizes this extra expense.
Here are our recommendations for the best credit cards for bad credit.
Secured Mastercard® from Capital One
The Secured Mastercard from Capital One is perfect for rebuilding or building your credit as it comes with no annual fee, the required security deposit can be less than comparable secured credit cards, and the security deposit can be spread out over several payments.
It offers:
No annual fee
The ability to spread the payment of the security deposit over time
An initial credit line of $200 upon making the minimum required security deposit
Access to a higher credit limit after the first 6 months of on-time payments; no additional deposits needed
Reports to the 3 leading credit bureaus
Bottom Line: You don't need a large credit limit to begin rebuilding your credit. Even a $200 credit limit, if managed wisely, can help you improve your credit score. 
Discover It® Secured Card
You probably didn't think you could earn rewards with a secured credit card, but the Discover It Secured Card proves that you can have it all. This solid credit card offers benefits rarely seen with a secured credit card:
No annual fee
2% cash-back at gas stations and restaurants up to $1,000 in purchases each quarter
1% cash-back on all other purchases
Cash-back matched at the end of your first card anniversary
Redeem cash-back for statement credits, cash, or Amazon purchases
Reports to the 3 top credit bureaus
Minimum $200 security deposit, which can be refunded with as little as 8 months of responsible card management
Free FICO credit score access
Building a credit card history with Discover can be beneficial, as they offer a portfolio of excellent rewards-earning credit cards you may want to apply for in the future.
USAA Secured Card Visa Platinum and USAA® Secured Card American Express
If you are an active military member, former military, an eligible family member, or a cadet/midshipman, you can join the United Services Automobile Association (USAA) and have access to a wide range of financial resources including a fine profile of credit card options.
The USAA Secured Card Visa Platinum and the USAA Secured Amex card are both designed for USAA members who need help rebuilding or establishing credit. The cards are similar in their offerings:
$35 annual fee
Must open an interest-earning 2-year CD as a security deposit for the card
Card activity reporting to all 3 credit card reporting agencies
Visa- or American Express-associated travel and purchase protections and benefits
Free credit score access
Qualifying military personnel can also apply for a secured credit card through the Navy Federal Credit Union. Their nRewards Secured Credit Card earns 1 point for every dollar spent and has no annual fee. A $200 security deposit is required to obtain the card.
You can also check out these additional credit cards for active duty military.
Additional Credit Card Options For Bad Credit
If none of the secured credit cards work for you, you might need to consider these other options.
Credit card for bad credit
Benefits
Drawbacks 

Get 1% cash back rewards on eligible purchases including gas, groceries, and services such as mobile phone, internet, cable and satellite TV. Terms apply
Free credit score access
Periodic reviews for credit limit increases
No security deposit
Reports to credit bureaus
Pre-qualify option

Reports to credit bureaus
Gold Mastercard benefits
Pre-qualify option

Annual fee could be $35-$99 depending on credit history
Possible $75 card opening fee depending on credit history
Next-Step Credit Cards
If you've managed your secured credit card wisely and established a positive relationship with the credit card issuer, you might be able to leverage that history and qualify for another, more rewarding, credit card.
It would be worth revisiting the Card Match tool after establishing some history with your secured credit card to see if any new cards are available for you. Capital One, Discover, USAA, and Navy Federal Credit Union issue rewards-earning credit cards, so it's also worth returning to those that have pre-approval options to see if new offers are awaiting you. There are also some instant-approval cards that require a lower credit score, but make sure you check your score beforehand to know where you stand.
Last-Resort Cards for Bad Credit or No Credit
If you were unable to qualify for any of the credit cards mentioned in this article, you could consider a prepaid card such as the Bluebird by American Express®, the Chase® Liquid Prepaid Card, or the PayPal Prepaid Mastercard®.
A prepaid card can help you manage your finances, especially if you don't have a bank account. You just load an amount when you obtain the card and then make purchases or bill payments as you would with a credit card.
The downside of prepaid cards is they don't help build your credit, and they can come with a lot of fees including reloading, monthly maintenance, and withdrawal fees.
Hot Tip: Don't miss our article on The 10+ Easiest Credit Cards To Get Approved For… 
5 Things You Can Do Now to Improve Your Credit
Review your credit report for mistakes. According to the Consumer Financial Protection Bureau, chances are good your credit report includes errors. Securing a copy of your credit report and reviewing it for errors is an excellent first step to improving your credit.
Don't close your oldest credit card. One of the factors that make up your credit score is the length of your credit history. For this reason, you'll want to keep your oldest credit card active as it will contribute positively to your credit score the longer you have it.
Contact debtors. If you owe money and you haven't been paying on time, accounts can be turned over to collection companies and hurt your credit. Contact any delinquent accounts and make arrangements to pay to avoid the escalation and credit score damage.
Set up automatic payments. If you have existing credit cards, set up automatic payments to be taken out of your bank account. On-time payment history is a factor that makes up your credit score and automated payments ensure you'll pay your bill on time.
Get a secured credit card and manage it well. Secured credit cards can help improve your credit score. You'll have to come up with a security deposit, but it's ordinarily refundable once you've proven you can manage the card effectively.
For more information on how your credit score works, what determines a good or bad credit score, and tips for keeping your credit information safe, our experts have provided everything you need to know on these topics.
Final Thoughts
While there are limited choices for consumers with bad credit, there is a clear path for improving your credit and qualify for more rewarding credit cards.
Getting a secured card and managing it well will go a long way towards building or rebuilding your credit history. However, you'll want to make sure you select a card with minimal fees, or the card can end up as an expensive choice.
Taking steps to improve your credit will reap the rewards with affordable credit and the greater benefits a good credit history can bring you.
---
Like this post? Pin it on Pinterest!