How To Fix (Or Dispute) Errors and Mistakes on Your Credit Report
Your credit score plays a big role in your overall financial life, and it's important to keep it as high as possible — especially if you're planning to apply for a home loan or other type of credit in the near future.
But as hard as you may work to keep your credit score and credit report information in good standing, it isn't uncommon for there to be errors. These errors could be due to incorrect information being reported by creditors to the credit bureaus, or even no information at all being reported about loans that you've paid off. There are ways to dispute these mistakes, though, so that the information can ultimately be corrected.
Credit scores typically range between 300 and 850, with higher scores signifying better creditworthiness as a borrower. If your credit score isn't as high as you'd like it to be, the good news is that there are several ways you can help fix it yourself.
Although it may take some time, rebuilding your credit score will be well worth the effort overall.
How Lenders and Creditors Use Your Credit Score
Your credit score is used a great deal by lenders and creditors. If you've ever applied for a mortgage, auto loan, or credit card, the interest rate you received was directly related to your credit score. In this case, the higher your score, the less "risky" you look in the eyes of the lender in terms of repaying the debt on time.
Although in the past, credit scores were reviewed primarily when applying for large loans like a mortgage or a vehicle loan, today there is a much longer list of entities and organizations that may want to check your score before moving forward on a transaction. These can include the following:
Landlords/property management companies
Cell phone providers
Utility and cable TV companies
Insurance carriers
Employers
Bottom Line: Because so many entities and organizations check your credit score today, having a low credit score can affect you in many different areas beyond just borrowing money.
Obtaining a Copy of Your Credit Report
There are a number of ways you can obtain a copy of your credit report. By simply Googling the term "credit report," you'll find a long list of companies and agencies willing to provide this information to you. Unfortunately, though, many of them will charge for this service.
However, there are some ways you can obtain your credit report for free.
One way is to go to Credit Karma. Here you will find your credit score from TransUnion and Equifax, as well as your credit report. You'll also see recommendations on how to get (and keep!) your credit score in a high range. Credit Sesame is another option for obtaining a free copy of your credit report.
Hot Tip: You can also go to annualcreditreport.com to obtain a free credit report. Based on federal law, consumers in the U.S. are entitled to obtain at least 1 free copy of their credit report every 12 months from each of the 3 big credit reporting agencies.
Because your credit score and the information on your credit report are used extensively for determining loan approvals, interest rates, housing, and even job offers, it is important to ensure that all the details on your report are accurate and up to date.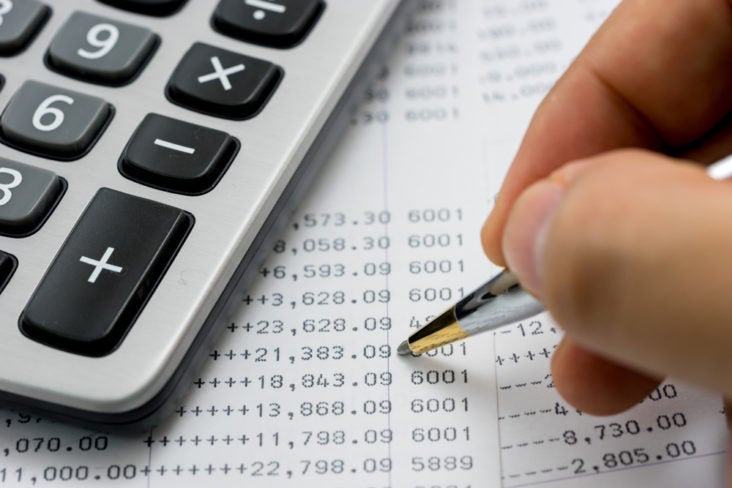 Reviewing your credit report can also help you catch signs of identity theft.
Today, identity theft is one of the fastest-growing crimes in the world, and becoming a victim of this crime can lead to a long list of financial and other headaches, possibly for many years down the road.
Why You May Have More Than 1 Credit Score
Determining a person's credit score takes into account a number of "predictors" of the likelihood that the borrower will (or won't) repay.
As an example:
John has been paying his bills on time for the past 15 years
Because he also has no collections, bankruptcies, or judgments on his credit report, John is viewed as a low credit risk
Therefore, he has a high credit score
Conversely:
Sue has only had a credit card for the past 3 years
During that time, she has made 5 late payments
On top of that, Sue has $8,000 of her $10,000 credit limit in use, which makes her even riskier to a lender or creditor (the closer a person is to maxing out their credit limit, the less likely they are to pay the debt back)
Due to all these factors, Sue has a low credit score
Hot Tip: There is more than 1 credit score that a lender or a creditor may review. In most cases, the FICO credit scoring system is used.
The Fair Isaac Corporation (also referred to simply as FICO) bases an individual's credit score on the consumer credit files of the 3 national credit bureaus. These are Equifax, Experian, and TransUnion.
But rather than providing just 1 cumulative credit score, each consumer can actually have multiple credit scores — starting with 1 for each of the big 3 credit bureaus.
Why the Different Scores?
While the data is mostly the same from 1 bureau to the next, there are still some minor differences. This, in turn, can result in 3 different credit scores.
Because not all lenders and creditors report to all 3 credit bureaus, it can cause different scores to be generated based on the differing information that each bureau has on each consumer.
Another reason for having multiple credit scores is that there are several different credit scoring models that may be used. For example, there are FICO scores as well as educational credit scores. Within each of these, there can be even more variations.
For instance, FICO alone has had more than 60 different scoring models just since 2011. These include industry-specific models, along with regular updates to existing FICO score models.¹ So yes, it can become confusing when trying to determine which credit score may be used by a lender or creditor!
According to the Fair Isaacs Corporation, the most widely used FICO score is the FICO Score 8. The FICO Score 8, or "FICO 8" for short, takes a closer look at certain groups of borrowers for whom lenders need more help predicting their risk. This includes new borrowers, sub-prime borrowers, and those who have only a few open credit accounts.²
Under the FICO 8 score model, consumers who have different types of credit accounts (such as a mortgage, auto loan, and credit cards) will be given a higher score than those who only have a couple of types of accounts.²
In addition, a borrower can also receive points for paying loan balances that are well below the original amount financed. In contrast, borrowers whose loan balance (or balances) are near or above the original amount would lose points on their credit score.²
Also, those who have a high credit utilization (in other words, those who are at or near their credit limit) will have lower scores than those who are only using a small percentage of their available credit.²
It's important to keep in mind the categories that the FICO Score 8 looks at when calculating an overall credit score, as well as the weights it assigns: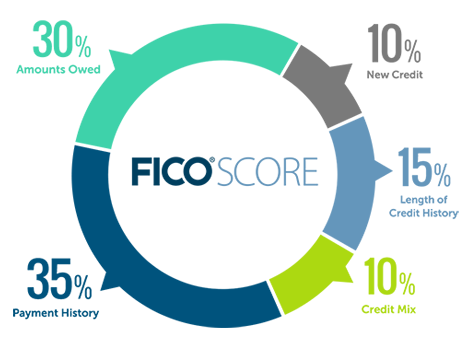 Payment history — 35%
Credit utilization — 30%
Credit history — 15%
Recent credit applications — 10%
The mix of credit — 10%
Depending on the type of loan or credit you're applying for, additional credit scores may be reviewed.
For example, according to the Fair Isaac Corporation, if you are applying for a mortgage, the lender will typically take a look at your Base FICO Score (i.e., versions previous to FICO Score 8). More specifically, most mortgage lenders may also take a peek at your Equifax Beacon 5.0, Experian/Fair Isaac Risk Model V2SM, and/or your TransUnion FICO Risk Score.³
Conversely, for an auto loan, the FICO Auto Score is often used, as well as other industry-specific scores. If you apply to open a new credit card, the creditor will usually review your FICO Score 8 and/or your FICO Bankcard Scores.³
Bottom Line: Given all the different information that your credit scores are based on, it's that much more important to check your credit report and score frequently to determine whether all the details are accurate.
What To Look for On Your Credit Report
Your credit report is made up of several different sections. These components include:
Personal information
Public records
Credit accounts
Inquiries
We recommend that you review each of these sections thoroughly, looking for data that is incomplete, inaccurate, or not authorized to be in your credit file.
To assist in pinpointing any such information, Nolo has created a checklist of items to look for in your credit report. This checklist is divided up according to the key sections of your report.⁴
Personal Information Section
Incorrect or incomplete name, address, or phone number
Lack of prior address(es) if you have not lived for very long at your current residence
Incorrect Social Security number and/or date of birth
Incorrect, missing, or outdated employment information
Incorrect marital status (such as your former spouse listed as your current spouse)
Public Records Section
Lawsuits you were not involved in
A bankruptcy filed by a spouse or an ex-spouse, even though you did not personally file for bankruptcy
Bankruptcies that you filed more than 10 years ago, or that are not identified by the specific chapter of the bankruptcy code
Lawsuits or judgments reported more than 7 years after the judgment was entered, or after the expiration of the statute of limitations
Tax liens you paid more than 7 years ago, or criminal arrest records more than 7 years old
Paid tax, judgment, mechanic's, or other liens listed as unpaid
Credit Accounts Section
Commingled accounts (credit histories for someone with a similar or the same name)
Accounts listed as joint, when only your spouse is responsible for the account (or vice versa)
Premarital debts that your current spouse attributed to you
An account listed due to an identity thief's actions
Accounts on which you are an authorized user are not included in the report (this could happen with accounts that are in 1 spouse's name that the other spouse is authorized to use)
Incorrect account histories, such as late payment notation when you actually paid on time
Failure to list a $0 balance for debt that was discharged in bankruptcy, or showing a discharged debt as still owing
Failure to show that a delinquent debt has been discharged in bankruptcy
Voluntary surrender of your vehicle incorrectly listed as a repossession
A missing notation when you disputed a charge on a credit card bill
Accounts that incorrectly list you as a cosigner
Closed accounts that are incorrectly listed as open (here it may look as if you have too much open credit)
Accounts you closed that do not indicate "closed by consumer" and that may otherwise look like your creditors closed the accounts
Account delinquency that occurred more than 7 years ago or that does not include the date of the delinquency
Incorrect date of delinquency on an account that was charged-off or sent to a collection agency
Date or delinquency listed correctly in 1 account or tradeline, but incorrectly in a second tradeline after it was turned over to a collection agency (the transfer of debt should not result in a new, later delinquency date)
A creditor's tradeline does not show that the account was turned over to a collection agency, so the collection agency account line looks like another overdue account
Overdue child support more than 7 years old
Other adverse information more than 7 years old
Inquiries Section
Credit inquiries by automobile dealers from times that you simply test drove a car, or from other businesses when you were only comparison shopping (creditors cannot lawfully pull your credit report without your written permission until you indicate a desire to get credit)
When reviewing your credit report, it can be helpful to print it out and go over all the details on the paper copy. This can make it much easier to circle or highlight any information that may be incorrect.
Contacting Creditors and Credit Reporting Agencies if There Is an Error
If you do find inaccurate or missing information in your credit report (something more common than most people think), there are some things you can do to fix it and help raise your credit score.
Under the Fair Credit Reporting Act (which we'll discuss in more detail below), both the credit reporting company and the information provider (the person, company, or organization that provides information about you to a credit reporting company) are responsible for correcting any inaccurate or incomplete information in your credit report.

Your first step is to report an inaccuracy to the credit bureau immediately and request that the information be fixed. The longer you wait to do so, the longer the missing or incorrect information can harm your credit score, along with your chance to obtain favorable credit terms going forward.
Hot Tip: When contacting the credit bureau, you should always provide copies (not originals) of documentation that supports your position. 
Equifax's Dispute Information
Online: Equifax's Dispute Center
By Phone: 888-349-5191 between 8 a.m. to midnight EST, 7 days a week
By Mail:
Equifax Information Services, LLC
P.O. Box 740256
Atlanta, GA 30374-0256
Experian's Dispute Information
Online: Experian's Dispute Center
By Phone: Call the number listed on your Experian credit report
By Mail:
Experian
P.O. Box 4500
Allen, TX 75013
Transunion's Dispute Information
Online: Transunion's Dispute Center
By Phone: 833-395-6941, Monday to Friday, 8 a.m. to 11 p.m. EST
By Mail:
TransUnion Consumer Solutions
P.O. Box 2000
Chester, PA 19016
Hot Tip: By law, the credit reporting company must investigate the item or items in question, typically within 30 days. They must also forward all relevant data that you provided to the entity that originally provided the information.
If the provider of the information determines that it is in fact incorrect, this entity must notify all 3 of the major credit bureaus so the information can be corrected in your credit file.
After the investigation has been completed, the credit reporting company is required to provide you with the results in writing, as well as a free copy of your updated credit report (you will still be entitled to your annual credit report via annualcreditreport.com).
What Are Your Rights as a Consumer?
As a consumer, you have a number of legal rights based on credit-related legislation that has been passed. Per the U.S. Federal Trade Commission, some of your rights are found in the following legislation:
Fair Credit Reporting Act (FCRA)
The Fair Credit Reporting Act sets out a number of rules dealing with how creditors approach borrowers and their information. The main points of this act include the following:
Credit reporting agencies may furnish reports only to those entities that have a permissible purpose for the information
Credit reporting agencies are required to exclude from consumer reports any adverse credit records that are more than 7 years old, and more than 10 years old in the case of bankruptcy
Credit reporting agencies must notify recent credit report recipients (as specified by the consumer) of corrections that may have been made or the consumer's side of the story — and they must include this information in future reports
Credit reporting agencies are required, on request, to disclose to consumers both the nature and substance of information that is contained in their credit bureau records
The agencies must also investigate information that has been disputed and make corrections, and allow the consumer to file an explanation should any reinvestigations not result in resolving the disputes
Creditors must notify consumers of the name and the address of credit reporting agencies whose reports are being used for adverse credit decisions
Fair Debt Collection Practices (FDCPA)
This act applies to everyone who engages in collecting consumer debts for another party. This also includes attorneys who work in the area of consumer debt collection.
While creditors collecting for their own accounts are not technically included in this act, most creditors will follow the act's regulations in the interest of using what are considered to be fair and sound business practices.
According to the FDCPA, debt collection prohibitions include:
Using profane or obscene language
Using violence or acting in a threatening manner
Causing a telephone to ring continuously or repeatedly, or engaging a debtor in a telephone conversation
Publishing a list of consumers who are allegedly refusing to pay debts owed
In addition, the Fair Debt Collection Practices Act places the following restrictions on debt collector contacts:
Contacts are limited to between the hours of 8 a.m. and 9 p.m.
If an attorney is representing a debtor, then the collector is not allowed to communicate directly with the debtor unless the attorney grants them permission to do so, or the attorney fails to respond to communication from the debt collector within a reasonable amount of time
The debtor may not be contacted at their place of employment if the debtor's employer does not allow them to receive phone calls during working hours or while on the job
Regularly Reviewing Your Credit Information
There are many reasons to review your credit information, even if you're not currently in the process of applying for a loan or a credit card. Knowing where you stand in terms of your credit score and report is an important part of managing your overall personal finances.
Recent studies have found that 1 in 3 Americans have a mistake on their credit report. Reviewing this information regularly can help you determine whether or not all the details being reported are accurate — and if not, it can be the first step toward having the information corrected.
Today, because crimes like identity theft are on the rise, it's also important to ensure that all your credit (and your personal) information has not been compromised. If you check your credit report and find accounts that aren't yours, or you discover an incorrect Social Security number associated with your report, it could be the first indication that you've been a victim of identity theft.
Hot Tip: We recommend that you review your credit report at least once every 12 months. You can obtain at least 1 free copy of your credit report from all 3 of the credit bureaus (Equifax, Experian, and TransUnion) by visiting annualcreditreport.com.
In order to check your credit report and your credit score more frequently, there are several websites that offer this information to consumers at no charge.
Final Thoughts
Your credit report and credit score are considered a "report card" of sorts that provides information to creditors and lenders regarding how you handle your finances. They can also act as a predictor of how you may repay loans and debts going forward.
If you've worked hard to pay your bills on time and in full, then you probably have a positive credit score to show for it, but it's important to not assume this! By regularly checking your credit information, you can ensure your credit score will remain in check and help secure the best loan and credit terms possible in the future.