What Does a Charged-Off Account on Your Credit Report Mean?
When looking over your credit report, you might notice that a certain item is marked as "charged-off," but might not be sure what this means. Since this item will negatively impact your credit, it's important that you get all of the details.
In this article, we'll break down what a charged-off account is and how it can impact your financial future. Also, we'll give you some tips on how to monitor and resolve any charged-off accounts and steps to take to improve your credit after having a charge-off on your report.
What Is a Charge-Off?
In short, a charge-off happens when you don't make a credit card payment for around 6 months in a row. After multiple months of non-payment, your creditor will consider you severely delinquent on your debt, write it off as uncollectible, cancel your account, and demand payment on your entire balance immediately.
If you are monitoring your credit report monthly, any changes to your account shouldn't be a surprise. This is because your report will indicate both the outstanding balance on the account along with how long it has gone unpaid in 30-day increments.
Once your debt reaches 180 days of non-payment, the creditor will send this information to the credit reporting agencies and it will be noted as a charged-off (aka "written-off") account. You will then see the debt item move from the "Accounts in Good Standing" section to a section titled "Negative Items" or "Negative Accounts" on your credit report.
Hot Tip: Making at least the minimum payments by the due date protects you from being delinquent in your accounts.
A charge-off is one of the worst things that can show up on your credit report. Lenders that see unpaid charge-offs or collections may question your ability (or even willingness) to repay debts. This is important because it can prevent you from getting approved for credit cards or loans in the future!
Even after you pay off the entire past-due amount, this derogatory (or negative) entry on your credit report will still show up for up to 7 years. The entry will simply change from "Charge-Off" to "Paid Charge-Off."
Bottom Line: Paid charge-offs are still considered derogatory entries on your credit report, but some lenders view them as less negative than unpaid charge-offs.
Charged-Off Doesn't Mean Forgiven
A charged-off (or uncollectible) account doesn't mean that you are no longer responsible for paying back the debt you've accumulated — this is just how the credit card issuer refers to the debt. You are still legally responsible for repaying the entire outstanding amount.
You might get notified that your debt has been sold to a third-party agency, but you still continue to owe your debt even after it has been bought from your original issuer. As long as the charge-off remains unpaid and falls within your state's statute of limitations, your creditor or debt collector can continue attempting to collect on the account — including suing you for what you owe.
Statute of Limitations
The statute of limitations has nothing to do with how long negative information remains on your credit report, but it does relate to how long a lawsuit can be brought against you.
Before the statute of limitations expires, you can be successfully sued for any amounts you owe. Once it runs out, a suit will be thrown out of court if you make it clear that the debt is older than the statute of limitations.
Hot Tip: Each state varies, but the statute of limitations can range from 3 to 15 years.
The Difference Between a Charge-Off, Collections, and Transfers
We've already gone into detail about what a charge-off is. Other common phrases you may see include "transfer" or "collections." Here's a quick explanation of what those items mean.
Transfer
A "transfer" isn't always a bad thing. In fact, in most cases, it is considered neutral. A transfer simply means the original creditor has sold your account or moved it to a different creditor. The account can still be transferred and in good standing or can be listed as a charged-off account.
Collections
Once a creditor has charged-off an account, it often sells the debt to a third-party (or debt collection) agency. This company usually pays pennies on the dollar for your debt and takes over efforts to collect what you owe. If this happens to you, you can expect to see 2 changes on your credit report:
The balance owed on the charged-off account will change to $0.
A new entry will appear in the credit report in a section headed "Collections."
This entry is a further negative mark on your credit file, usually accompanied by a lowered credit score. You will also have to deal with these collection agencies. They are notoriously difficult to deal with — attempting to get in touch with you by any means necessary. Expect constant phone calls and letters if your debt goes into collection.
Hot Tip: Debt collection scams are extremely common, so make sure that the company you pay is the one that owns your debt.
How Does a Charge-Off Affect Your Credit Score?
Unfortunately, your credit score has already taken a big hit even before a charge-off shows up on your report. So just how much will this count against you?
How Much Will Your Score Drop?
Your credit score is usually noted as a FICO score in a range from 300 to 850. If you fall into the fair to low ranges (varies by lender, but typically below 689), you might find it hard to get a lender that is willing to approve your credit card or loan application.
All of your missed payments leading up to your account being charged-off will all count against you and your score will likely fall each month you are delinquent.
For example, a missed payment will hurt your score pretty badly and each additional missed payment will lower it even further. So, yes, while a charge-off will definitely lower your credit score, it is probably not looking too great by the time it hits that status anyways.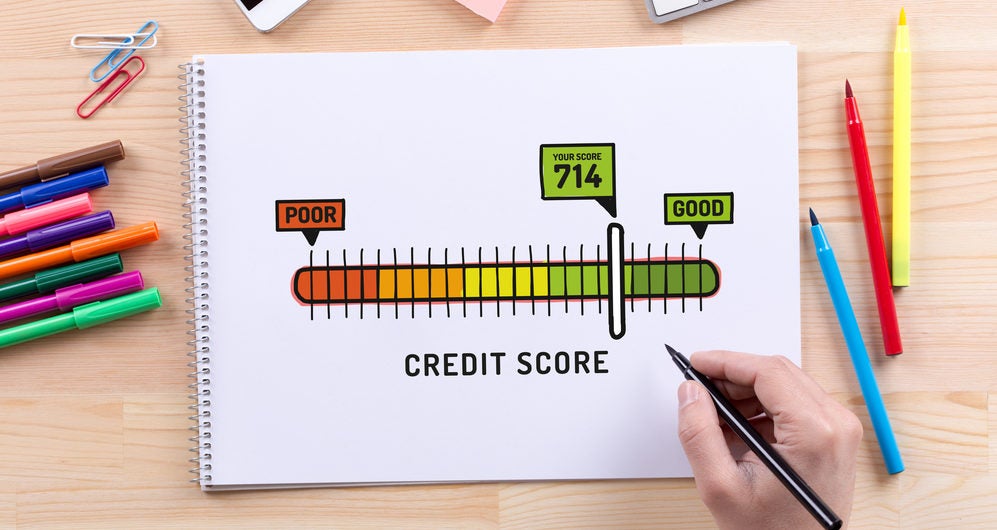 Your card issuer might have also lowered your credit limit, hurting the credit utilization portion of your credit score.
If your account has moved to collections, this could also lower your score. And not paying the collections agency isn't a great option because the agency can report missed payments to the credit bureaus.
We always recommend doing your best to satisfy all debts you owe, but unfortunately, paying off charge-offs and collections won't do much to improve your credit score.
Bottom Line: It's hard to say exactly how much your score will drop as this is dependent on several factors including what your score was before your missed payments and other negative items on your credit report.
How Long Does the Charge-Off Appear on Your Report?
Once a charge-off shows up on your card, it will stay there for 7 years unless you can negotiate its removal with your credit card issuer. This technically means that you will live with this negative entry on your credit report for 7.5 years since your first missed payment.
That's a really long time to have a slip up on your credit report, so it's important to make sure that you're at least making the minimum payments by the due date moving forward.
How To Move Forward
At this point, you've determined that the amounts that are marked as "charged-off" are actually still owed by you. Here are some of the steps you can take next.
Verify Your Debt Is Correct
If you see a charge-off item on your credit report, make sure that you verify if all of the information is correct. Some important things to look for include:
Balance — If your balance is more than what you have in your records, ask the creditor to explain any additional costs or lower the balance.
Date — The date should be the date of your first delinquent payment on the original account, not the date your debt was sold to a new collector.
Account Transfers — Since your account may have been sold multiple times, make sure each sold account is marked "closed" and has a $0 balance. Your current account should only be the only account marked as open.
Timing — Accounts should fall off your credit report after 7 years.
How To Dispute a Charge-Off
If you spot an error on a credit report or the charge-off doesn't fall off your reports after 7 years, you can file a dispute directly with the credit reporting bureaus.
The Consumer Financial Protection Bureau recommends that you contact the credit bureaus that produced the reports with the error. You'll find sample letters in the link above, along with directions on how to use the template and important supporting documents to include.
If you have submitted incomplete information or have submitted your claim multiple times without additional information, your claim can be dismissed without investigation. Be sure to submit all relevant information upfront to avoid a dismissal of your dispute or other delays.
Hot Tip: Equifax, TransUnion, and Experian are the 3 major credit bureaus. A link and mailing address to dispute information are both listed by the Consumer Financial Protection Bureau.
You may need to contact the bank or credit card issuer that has reported your debt, as well. If their address is listed on your credit report, send your dispute to that address or contact the company for the correct address.
Once you have submitted your dispute, it becomes a waiting game. Both the credit bureau and the company that reported your debt generally have 30 days after receiving your dispute to investigate and verify the information.
Ultimately, the results of the investigation are reported back to you as to whether your claim was approved or not. If your claim was approved, you will receive a new credit report noting the changes. If your claim was denied, you can consider contacting a lawyer as a last resort.
Bottom Line: If the charge-off listed is legitimate, it's simply a matter of waiting out the clock. Charge-offs will fall off your credit report after 7 years. 
Negotiate Your Debt
Credit card companies are required to report credit information to the credit bureaus, so it can be difficult to get a creditor to agree to remove the charge-off from your credit report. Best case, the creditor will agree to remove the charge-off from your credit report. Worst case, you wait for 7 years for your credit report to drop the account.
Talk to the Creditor
When you call your creditor, ask to speak to someone who has the authority to remove the charge-off from your credit report. You will want to convince them to remove the charge-off from your credit report.
Earlier we noted that your debt might have been sold to a debt collector, but when it comes to negotiations regarding paying off your debt, it might be better to start with the original creditor. This is because a debt collector didn't report your outstanding debt to the credit bureaus, the original creditor did.
Hot Tip: The more (and sooner) you can pay, the more negotiating power you will have with your creditor. If you can pay in full, you're in the best position to negotiate.
There are a few ways you can proceed. In all instances, be polite, professional, and avoid blame.
Negotiate payment arrangements. Call your creditor and let them know you're interested in paying your account and would like to make arrangements in exchange for having the charged-off status removed from your credit report.
Notify your lender of temporary setbacks. Ideally, this should be done before your account has been charged off, but if your missed payments were due to a medical emergency or loss of a job, notify your lender of this. If you have a history of on-time payments except for this situation, they may be willing to make an exception for you.
Send a "pay for delete letter." This letter asks the creditor to remove the account from your credit report in exchange for full payment. This is the hardest as it's usually difficult to find the proper person at the company to send this letter to.
Lastly, if your creditor won't agree to completely remove your charge, they may agree to change it to something less negative like "closed" instead of "charged-off."
Get Any Agreements in Writing
If you can agree with your creditor to remove the charge-off from your credit report, get this agreement in writing.
Either:
Have the person you spoke with fax you a copy of the agreement on official company letterhead.
If that's not a possibility, get the name and contact information of the person that you spoke with. Write down your understanding of the agreement and send a copy of your agreement to that person via certified mail with a return receipt requested.
If you can settle your debt with your original creditor, this debt will still appear on your credit reports as a "settled" charge-off. This could negatively impact your credit scores, but the account won't be sent to collections.
Take Steps To Pay Off Your Debt
Whether you were able to agree to negotiate your debt or not, you will still need to pay off your debt.
Pay Off the Issuer
If you were able to negotiate with your issuer and have an agreement in place, be sure to abide by that agreement to avoid becoming delinquent again. Otherwise, make payments as quickly as you are able until the entire balance has been paid off.
Pay Off Collections
If your debt has been sold to a debt collector and your attempts to negotiate with your lender aren't successful, you can also attempt to negotiate with collections. The steps noted above for creditors also work for collections as well, but collectors are unable to change how your charge-off appears on your credit report.
Before you make any payments, write to the agency and ask for proof that it owns your account. After you've paid off the debt, the account will appear on your reports as "paid collection," which future lenders may be viewed more favorably than an unpaid account.
Bottom Line: Once you've paid off the debt through the original creditor or the collections agency, make sure you ask for a final payment letter. Also, check your credit report to show that the account changes to a "paid off" status.
It may take a while to see your credit score improve, but with regular on-time payments, you will start to see improvements over time.
When You Don't Pay Off Your Debt
Once a debt is charged off, it might be tempting to not pay it. So what exactly are the consequences of not making any further payments?
From a financial perspective, the company that owns your debt is required to report charge-offs over $600 to the IRS as income. This means that you will be charged taxes on the charged-off amount. Additionally, until the statute of limitations expires, the company that owns your debt can legally sue you to collect on your debt.
In terms of your credit, a charge-off can hurt your chances of getting approved for future loans or credit cards. Most lenders won't lend to you until all of your past due balances are resolved. Even though your account will continue to be reported as charged-off until 7 years is up, a paid-off account will affect your credit score less as time passes. This means that there are still benefits to paying off your account.
Hot Tip: If you find you have overwhelming debt and are unable to make your payments, consider consulting a bankruptcy attorney.
Final Thoughts
If you've missed multiple months of payments on your debt, you might have seen on your credit report that your account was charged off by your creditor. This can be a huge hit to your credit score, so the first step is to verify that all of the information listed is accurate.
Next, you can move forward by disputing or negotiating your debt. Finally, make payments to pay off the remaining balance on your account. Once you've taken steps to combat this charged-off account, you can start repairing your credit score over time.