The Complete Guide To Building Business Credit Scores [2021]
If you've ever tried to get a loan or credit card, you've probably heard of your personal credit score. But if you own a small business, you'll probably want to get familiar with your business credit score as well. Having a favorable business credit score means it might be easier for you to get approved for loans and business credit cards and qualify for lower insurance premiums — just to name a few benefits!
In this article, we'll explain how to check your business score and report, teach you how to interpret them, and even give you tips on ways to improve your scores.
What Is a Business Credit Score and Report
Business Credit Score
At a high level, your business credit score helps financial institutions to determine whether or not you're a good candidate for debt financing. In the same way that your personal credit score shows your personal credit use, your business credit score is the big picture of your business's credit history.
In both cases, lenders use the information found in your credit report to judge whether you will be able to repay any loans or credit cards it decides to extend you and even things like interest rates and repayment terms.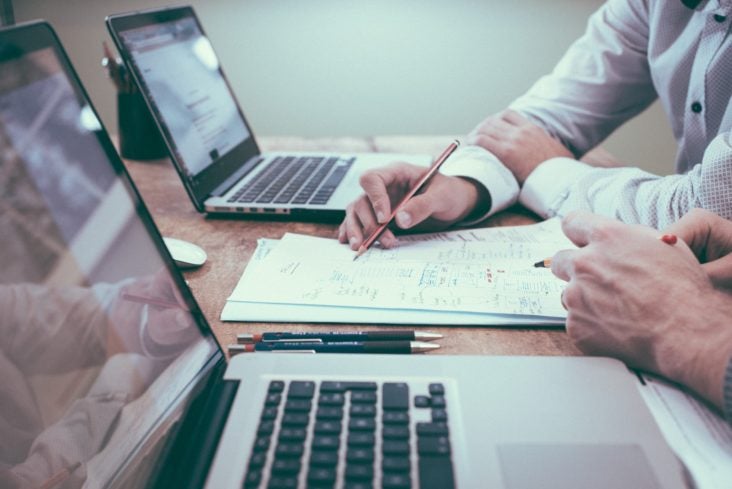 Unfortunately, since there are a few different companies that issue business credit scores, there isn't 1 set number that is considered "good" or "bad." But on any scale, the higher your score, the more that lenders believe that you will be able to repay your debts.
We'll breakdown each of the different companies and each of their scoring methods a bit later, but here are the main business credit score models:
Dun & Bradstreet's PAYDEX
Equifax Business Delinquency Risk Scores
Intelliscore Plus from Experian
FICO LiquidCredit Small Business Scoring Service
Business Credit Report
Your business credit report will show all of the details of how your credit score was calculated. Per the U.S. Small Business Administration, common items found in your credit report include:
Company information, including the number of employees, sales, ownership, and subsidiaries
Historical data of the business
Business registration details
Government activity summary
Business operational data
Industry classification and data
Public filings (liens, judgments, and UCC filings)
Past payment history and collections
Number of accounts reporting and details
Each business will include slightly different information — and which type of business credit score a lender picks is up to them. If the lender is looking for more information, they might pick a more detailed (but more expensive) report such as the FICO SBSS score, for example.
Why Business Credit Scores Matter
So why is knowing your business credit score important? Well, it impacts a huge number of financial aspects of your business, including:
What repayment terms you'll receive (i.e. net 30 vs. net 60)
What interest rates you'll pay
How much credit a supplier will extend to you
What insurance rates and premiums you'll pay
How much credit or funding you will be extended
How favorably your business is viewed
Why It's Important To Separate Business and Personal Credit
While it is possible to use personal credit to fund your small business, it's not a great idea.
Let's discuss some reasons to avoid commingling accounts. To start, the IRS has strict rules about mixing personal and business expenses, but it depends on the type of business — sole proprietor, LLC, corporation, etc.
No matter how your business is set up, you should always consider that:
Using personal checks or a personal credit card makes your bookkeeping and taxes much tougher
Your business will look more professional when you pay for business expenses from a business account
If you use personal credit and default on your business loans, you will be personally liable for the expenses incurred by the business — this can also show up on your personal credit report as well, doubling the negative impact.
How Business Credit Scores Differ From Personal Credit Scores
As we've noted above, both scores are used by potential lenders, suppliers, and landlords, and will ultimately impact the amount and rates used for lending, among other things. But that's really where the similarities end.
1. Different Information
While there's quite a bit of overlap between the type of data listed on a business credit report and your personal credit report, it's not the same. We've broken down the common inclusions above, but a business report will include information on the business, including subsidiaries, trade lines of credit, and business assets like bank accounts, inventory, and sales.
2. Different Ranges and Companies
Business credit scores have fewer variables than FICO scores, making it easier to improve your business credit score than your personal credit score. While FICO personal credit scores range from 300 to 850, the 4 main companies that offer business credit scores all use different methodologies and ranges, but generally range from 0 to 100. We'll go into more detail in the next section.
3. Have To Pay To See Reports
There are over 150 places where you can check your personal credit scores for free, but free business credit scores are only available from a very limited number of sources. Usually, you will have to pay around $40 each time you want to receive your score.
4. It's All Public Information
Anyone can check a business's credit score if they are willing to pay for it, essentially making your business's credit score public information. This is a huge difference compared to personal credit scores which are restricted to anyone with a "permissible purpose" under federal law.
How To Check Your Small Business Credit Score
While the Fair Credit Reporting Act, or FCRA, allows you to check your personal credit score for free, unfortunately, this protection doesn't extend to business credit scores. If you wish to obtain a credit score or report, you will generally need to pay for the information unless you've been denied financing. Here are the companies that provide business credit scores and the prices for their programs.
Denied Financing
If you've been denied financing, you are entitled to request a free business credit report within 90 days of receiving your credit denial letter in the mail.
On your denial letter, it will note the company that was used in the decision and contain contact information on where to request your free credit score. This is a good place to start before the other methods listed below since it is free.
Dun & Bradstreet, or D&B, generates both reports and scores for businesses that have credit files with them and is one of the few companies that offers a free way to view your business credit.
You will need to create a D-U-N-S Number, which is a 9-digit identifying number for your business. D&B may have already created this for your company, but if not, you can get this for free in up to 30 business days through D&B's site.
Free Options: If you don't want to pay a monthly fee, you can get a free CreditSignal account. You won't get unlimited access to your report or get the option to see your business credit score, but you will get a monthly summary of changes to your business credit file along with other alerts and services.
Paid Options: There are many different levels of paid subscription services with Dun & Bradstreet, ranging from $15 per month all the way up to $199 per month depending on your level of service. You can compare its paid products here.
For $99.99, you can pull 1 Equifax report and get access to your Equifax Business Credit Risk Score and Equifax Business Failure Score. You can also buy your information in a bundle of 5 reports for $399.95 (or $79.99 each) and receive them as requested.
Like Equifax, Experian also offers either a 1-time report/score, but it also has the option to subscribe to ongoing monitoring. For $39.95 to $49.95, you can pull 1 business credit report and see your Experian business credit scores. For ongoing access to both your reports and scores, you can pay $189 per year.
If you want to see your FICO SBSS score, your options are limited to signing up for a monthly subscription service through Nav, an online credit platform. This starts at $49.99 per month.
Nav also provides free reports from Dun & Bradstreet, Equifax, and Experian if you sign up with an account. This won't provide detailed information since the free reports only contain a summary of the report and the score is displayed as a letter grade, but it is still a good base level option.
Hot Tip: Be wary of websites and services (beyond the companies we listed above) that claim to offer you "free reports." They could be a scam and looking to steal your information. 
How Is a Business Credit Score Calculated?
Now that you know how to obtain your business credit score, you'll probably want to know what information goes into the calculations. To make it complicated, you will have a different score with each of the 4 business credit reporting agencies since they each have a different scale and unique methodology.
The good news is that each of these 4 reporting agencies relies heavily on a business's payment history with suppliers, creditors, and lenders. As we noted above, the main purpose of your business credit score is to show your company's financial stability — which is why timely payments result in high scores.
Bottom Line: Having a record of timely payments will always help establish and improve your business credit score!
In addition to timely payments, factors like the size and age of your company, credit utilization, and even personal credit histories may also play a role in determining your business credit score.
Here is a breakdown of determining factors by business credit reporting company:
 Scoring Index
Scoring Range
Determining Factors
Dun & Bradstreet
PAYDEX
o to 100

Promptness of payments to creditors

Equifax
Equifax Business Credit Report
2 ranges (see below)

Company size
Age of credit
Credit limit

Experian
Intelliscore Plus
0 to 100

Payment history
Frequency of derogatory marks (collections, liens, etc.)
Credit utilization

FICO Small Business Scoring Service
FICO SBSS Score
0 to 300

Age of business
Number of employees
Revenue and assets
Personal credit history
Data from other business credit reporting agencies
Dun & Bradstreet
Focusing on 1 year of payment history of your business, a financial stress score, and other data from at least 4 vendors, Dun & Bradstreet's PAYDEX report uses a 100-point scale to rank your business credit.
In terms of late payment risk:
1 to 49: High Risk
50 to 79: Moderate Risk
80 to 100: Low Risk
Equifax
Using your business's payment history, the ratio of available credit to utilized credit, age and size, demographics, and public records, Equifax scores your small business delinquent risk in 2 ranges:
Small Business Credit Risk Score — This "predicts the likelihood of a business incurring a 90 days severe delinquency or charge-off over the next 12 months." Ranges are from 101 to 992 (with lower scores indicating higher risk).
Small Business Failure Score — This "predicts the likelihood of a business incurring a 90 days severe delinquency or charge-off over the next 12 months." Ranges are from 1,000 to 1,610 (with lower scores indicate higher risk).
Equifax takes the small business owner's personal credit score into consideration as well.
Experian
Ranging from 1 to 100, Experian's Intelliscore Plus credit score takes into consideration similar factors as Equifax. Experian gathers data from lenders and vendors that have extended a credit line or loaned money to your business and compares all of that data to peers in your industry.
The scores and risks are broken down as follows:
0 to 15: High Risk
16 to 30: Medium Risk
31 to 80: Good Credit
80 to 100: Excellent Credit
FICO Small Business Scoring Service (SBSS)
The SBSS score ranges from 0 to 300, ranking applicants by their likelihood of making payments on time. This method can use both personal and business credit data. A strong history of business credit with timely payments to vendors and suppliers may help boost your SBSS score.
The minimum score to pass the Small Business Administration's (SBA) prescreen process is currently 140.
Hot Tip: This SBSS score is important as it will be used for term loans, lines of credit, and commercial loans up to $350,000 from the SBA.
How Long Does Information Stay on My Business Credit Report?
Whether the information found on your business credit report is good or bad, it will eventually fall off the report. There are certain types of information that will remain around longer than others.
In addition, every company is slightly different, but the length of time Experian keeps information on your credit report is fairly standard and based on "standard industry and government guidelines for keeping data on file," so you can use these as a guide:
Bankruptcies: 10 years
Judgments: 7 years
Tax liens: 7 years
Collections: 6 years and 9 months
Uniform Commercial Code filings: 5 years
Bank, government, and leasing data: 36 months
Trade data: 36 months
Credit inquiries: 9 months
How To Improve a Bad Business Credit Score
If you don't have a business credit score or it is lower than you want it to be, there are a number of steps you can take.
1. Legally Register Your Business
Incorporate or form an LLC in order to get a federal employer identification number (or EIN). Business credit reporting agencies will use this to track your business instead of your personal Social Security number. This helps separate your personal from your business ventures as well.
2. Get a Business Credit Card or Banking Account
Having a separate business card and banking account can help make your taxes easier down the line.
As with any line of credit, be sure to use it responsibly, making consistent, on-time payments, keeping credit utilization low, and avoiding late fees, overdraft fees, and other penalties.
Our top business cards can help you manage your business finances, maximize rewards from your business purchases, and come with benefits that make business travel a breeze:
3. Work With Vendors Who Report Payments
If you're making responsible financial decisions, you might as well benefit from it! This means prioritizing vendors who report your payments and good behavior. If you're not sure whether a vendor reports payments to the credit bureaus, you can always ask.
4. Pay Your Bills on Time
Since every business credit score uses timely payments as a huge factor in determining your score, late payments are one of the worst things you could do for your business credit score. Over time, your vendor will report your timely (or advanced!) payments, leading to an increase in your business credit score.
Hot Tip: Interestingly, the Dun & Bradstreet PAYDEX score will only award you its highest score if you pay vendors early.
5. Use Net Income to Finance Your Debt Obligations
Spending within your means is important. For example, just because you have been approved to borrow up to $200,000 from a credit line does not mean you should. A good way to measure this is that your net income (revenue after subtracting all costs of doing business) should be at least equal to your annual debt obligations.
Showing that your company can cover all debts with current income has a positive impact on your business credit score.
6. Check Your Score Periodically
It's worth keeping track of your business credit scores, especially if you're thinking about applying for a business loan in the near future. Knowing where you stand is important, but you also need to review for inaccurate information.
Mistakes happen, so if you find something fraudulent or inaccurate, it is better to catch it early.
How To Dispute Errors
If you identify errors on your business credit reports, you'll need to notify the credit bureau that is reporting the incorrect data about your company. You might also consider reviewing your business credit reports with the other large companies as any errors could be present there as well.
If you are reviewing business credit report and see data you believe to be inaccurate, you should:
Note the specific error(s) on the report
Include a brief explanation of why you consider the information to be incorrect
Provide the correct information when possible
Include a copy of supporting documentation (when available)
We recommend following the dispute instructions listed directly on your business credit report or review the website of the commercial credit bureaus here:
Final Thoughts
Establishing and growing your business credit score is an important factor in helping your company grow. From getting the best insurance rates to lower interest rates, the benefits are easy to see.
Unfortunately, business credit reports and scores aren't free, making them more difficult to obtain than a personal credit report. It's still a good idea to check these reports at least once a year — especially if you're planning to apply for a small business loan or additional lines of credit anytime soon.