The 5 Best Business Credit Cards for Low Credit Scores & Building Credit [2021]
Are you a business owner that has struggled with maintaining impeccable credit over the years? Or perhaps you're newer to the realm of credit, and you'd like to start off on the best foot?
Regardless of what the exact circumstances are, did you know that it's possible to get a business card for building credit when you have a low credit score?
Most of the time, you see big banks dominating the landscape of credit cards, but many of these cards only approve applicants with excellent credit.
As luck would have it, we've compiled the best business credit cards you should be looking at if you have low credit scores or if you want to build credit.
What To Look for in a Business Credit Card for Low Credit Scores or Building Credit
Since the focus of this guide is on low credit scores and/or building credit, an ideal business credit card will approve someone who might not have the highest credit score and/or would like to use a card to build credit history.
As such, our research was focused on cards that offer exceptional rewards for businesses, the ability to build credit history, as well as ancillary benefits like online expense management and fraud protection.
The results of our research will probably surprise you because there might be a number of credit cards you've never heard of!
So without further ado, let's get into our choices of the best business cards for low credit scores or building credit.
Hot Tip: Our helpful guides can help you navigate what a credit score is, the difference between a good and bad credit score, and offer tips to improve your credit score. Plus, we'll show you how you can build your business credit score.
Best Business Cards for Low Credit Scores or Building Credit
Brex Cash Account

50,000 in Brex rewards points upon approval
Replace your bank account with Brex Cash. Brex Cash is a bank account alternative designed with your time and money in mind. With the Brex card, it's your new financial OS.
No account fees or minimums
Free to send ACH and wire transfers-even internationally
Avoid late vendor payments with tools to schedule recurring payments in advance
Deposit checks, see your balance, and access or lock your cards all from the mobile app
Brex Treasury LLC is not a bank; Brex Cash is not a bank account
Annual Fee: $0
Our best business card for low credit scores or building credit is from a company called Brex. Brex is a startup that offers rewards corporate cards as an alternative to normal business credit cards.
Brex has many different product offerings, but our favorite is Brex Cash. Brex Cash is a cash management account that functions a lot like a business or corporate checking account.
We love this card because you can get access to this card without any personal guarantees or credit checks. The difference is that it works very similarly to a debit card, except you have the ability to earn points on all your purchases!
One of the best things about this card is the points-earning structures if you pay your balances daily, which is expansive:
8x on rideshare
5x on Brex Travel
4x on restaurants and dining
3x on Apple products
3x on recurring software
1x on everything else
If you pay monthly, your earning structure will look like this:
7x on rideshare
4x on Brex Travel
3x on restaurants and dining
3x on Apple products
2x on recurring software
1x on everything else
Getting up to 8x points on a card is incredible, especially considering you don't have to get your credit pulled, maintain any minimum balances, or have any funding.
You can also qualify for up to $150,000 in partner perks, including:
Amazon Web Services — $5,000 credit and up to $100,000 in AWS Activate, depending on eligibility
Slack — 25% off 12 months of eligible Slack paid plans
Zoom — 20% discount on annual Zoom subscription
Dropbox — Get 50% off on all Dropbox Business, Standard, or Advanced plans
Even if you have low credit, Brex won't hold that against you — only companies organized and registered in the U.S. can apply for a Brex account (sole proprietorships are ineligible).
Some of the fantastic business-centric benefits you'll enjoy are automatic receipt matching, FDIC-insured deposits of up to $250,000, seamless spend management, and integrations from popular software like QuickBooks, NetSuite, and Xero.
You'll even get free international money wires (there may be sending/receiving fees for the other person)
Why We Like Earning Brex Rewards Points
In the past, the biggest criticism of Brex Rewards was the fact that you could only redeem points for statement credits.
Since then, though, Brex Rewards has really elevated itself in an unprecedented way. Today, you can redeem your points for cash-back, gift cards, and travel via Brex Travel (including Airbnb) at a flat value of 1 cent per point.
However, the most exciting redemption development is the ability to transfer your points to the following airline transfer partners at a 1:1 ratio.
This is one of the rare business cards you can get with low credit and still access incredible rewards. We value Brex Rewards points at 1.5 cents each, and with up to 8x points, that could equal a 12% return on spending!
Bottom Line: Brex Cash is a no annual fee business corporate card that behaves a lot like a debit card or prepaid credit card with no personal guarantee or credit checks. It's an incredibly valuable card that'll help you rack up plenty of transferable rewards points with many bonus categories. 
2. Capital One® Spark® Classic for Business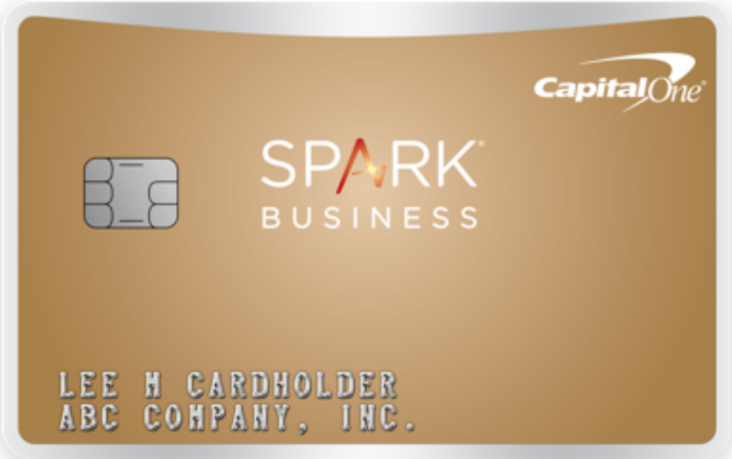 The CapOne Spark Classic card offers straightforward rewards, but most importantly, you don't need to have excellent credit to get approved as a business owner!
This straightforward business credit card offers unlimited 1% cash-back rewards with no annual fee. Its credit score requirements are lower than many other business credit cards.
You'll access free employee cards, zero fraud liability, the ability to build your credit, no foreign transaction fees, purchase protection, extended warranty, roadside assistance, and no foreign transaction fees!
When it comes to cash-back, your rewards won't even expire as long as your account is open, and you can redeem your rewards for statement credits or a check!
3. Wells Fargo Business Secured Credit Card
If you're a small business owner with low credit or little-to-no credit history, Wells Fargo has designed a credit card product that we are fond of.
The Wells Fargo Business Secured card allows you to open this business credit card by depositing funds into a collateral account. Your credit line could be anywhere from $500 to $25,000, depending on the deposit amount.
With this card, you will earn either:
1.5% cash-back on your purchases
1 point per $1 spent with a bonus of 1,000 points when your company spend is $1,000 or more every monthly billing period
This card has no annual fee, no foreign transaction fees, and it also has the ability to upgrade to unsecured credit based on internal reviews conducted by Wells Fargo.
You can add up to 10 employee cards, build your business credit history, and take advantage of zero liability protection and fraud monitoring.
Your cash-back will be credited automatically to your credit card account or your eligible checking/savings account every quarter (March, June, September, and December).
Your points can be redeemed for gift cards, merchandise, airline tickets, and more. You'll also get a 10% points credit rebate when you redeem points online. Keep in mind that a $24 redemption fee is assessed for each airline ticket redemption.
4. BBVA Secured Visa® Business Credit Card
The BBVA Secured Business card is a secured business credit card for growing businesses, those with limited credit history, or those with lower credit health.
The card is secured by your BBVA Secured Credit Card Savings Account with a minimum opening deposit of $500 and ongoing deposits at any time in $100 increments. Your credit limit is 90% of your savings account balance.
Earn 1.5 BBVA Rewards points per $1 spent in qualified purchases on this card with no annual fee for the first year ($40 after that).
Other benefits include free employee cards, travel and emergency assistance, travel accident insurance, purchase security and extended warranty protection, an auto rental collision damage waiver program, and the Visa Liability Waiver.
This card is only available in Alabama, Florida, Texas, Arizona, Colorado, California, and New Mexico.
5. Business Edition® Secured Visa® Card
The Business Edition Secured card from FNBO is a popular secured business credit card with great perks.
This card can be opened and secured via a security deposit. You can request your own credit limit between $2,000 and $100,000 in multiples of $50, and your security deposit is 110% of the amount ($2,200 to $110,000).
This card charges an annual fee of $39, and you'll have access to an online portal to manage your account.
Also, you can make use of the free management reports, cash flow management, fraud protection, identity theft protection, Visa zero liability protection, and Visa SavingsEdge discounts.
If you pay for your monthly cell phone bill with this card, you'll even get cell phone protection that covers the primary line and up to the first 4 secondary lines listed on your statement against damage and theft, up to $1,000 per rolling 12 month period or $600 per claim ($50 deductible).
Hot Tip: Our guide to the best secured credit cards for those with bad credit (or no credit) offers additional personal credit card recommendations!
Final Thoughts
Without a shadow of a doubt, Brex Cash is the most rewarding business card for low or building credit. The card offers incredible rewards, no fees, no personal guarantee, and so much more, without a credit check or relying on traditional underwriting criteria!
And while this is the best option we'd recommend, it's not the only option, even though there are surprisingly few business credit cards for those with low credit.
Hopefully, you found this guide useful to help you figure out some of the unique business cards that have better approval odds if you have lower credit!