Flying With Children: The Ultimate Guide to Less Stressful Flights With Kids
People around the world fly so much, you'd think it's fun. The number of daily flights has now reached 102,465 according to a report.
Frequent flyers, however, know better: Air travel can be a pain in the butt!
Mother Nature may throw a tantrum, canceling your trip due to terrible weather. Connecting flights may be missed. IDs can be forgotten, and luggage may be lost.
What's worse?
A bored and fidgety child thrown into the mix!
Kids have all the right in the world to fly with their parents – to experience the joy of travel and see sights they only see in books or photographs.
But if you want to fly with young ones, you should invest time in planning and preparation. Otherwise, you may find yourself stuck in the skies with a crying or hyperactive child.
But worry not.
This guide will help you gear up for air travel with kids. Here are just some of the stress-relieving and practical tips you'll learn here:
How to schedule your flight and which seats to pick to reduce inconvenience
How to prepare yourself and your child for the trip
Flying etiquette for kids and parents
Which airlines are family- and kid-friendly (and which aren't)
And more!
Here's our promise:
At the end of this guide, you'll know what to do to make flying with children less stressful and more fun. Now, let's get reading!
The 3 Most Important P's Of Flying With Kids: Planning, Preparing, And Packing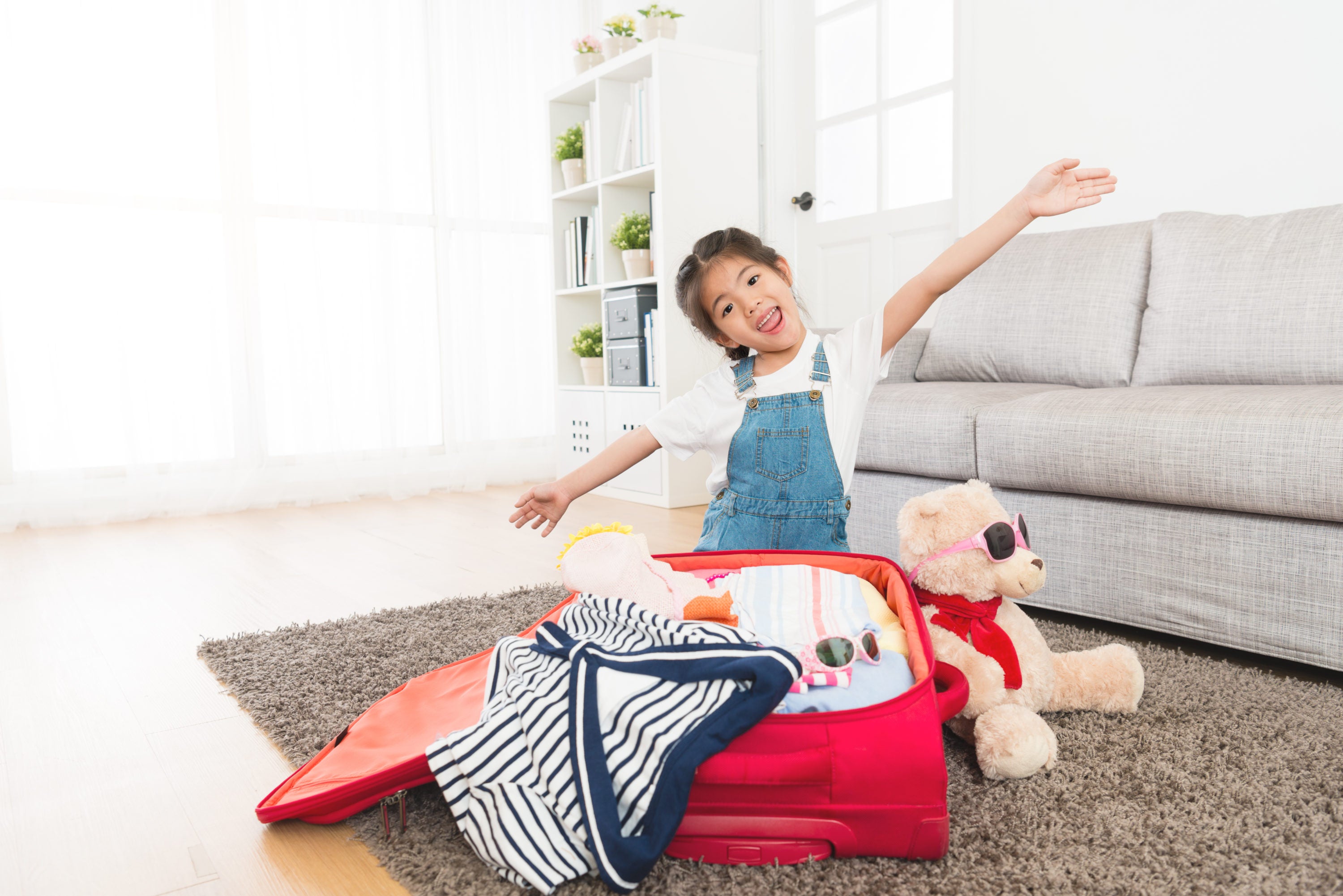 You've made up your mind. You're flying with your child. Now, age isn't as big of an issue for babies. Some parents like Leslie of Trips With Tykes even recommend 3 to 9 months as a great age to start flying.
But however old (or young) your little one is, preparatory work is cut out for you!
And time is of the essence when readying the kids for air travel.
You want to have as much time for planning, preparing, and packing. Forget about spontaneous travel or cramming everything in a day before the trip. And don't even think about using some new-age sleep hack on your child during the flight.
That's a surefire way to lose energy – and sanity!
But worry not. The following sections will show you how to prepare – not just the kids but everyone – for the upcoming trip.
1. Planning And Booking The Flight
Good preparation starts before you even book the flight. And you must pay extra attention to two things – the schedule of the flight and the seats you pick. You want to ensure the flight schedule works around your young one's daily routine and, of course, that you're all seated together.
Beware Of The Red-Eye Flights
Red-eye flights depart late at night and arrive at the destination early in the morning. Unsurprisingly, such flights can be tortuous for passengers of all ages – and they can be bad for one's health, too.
People want to relax and rest on the plane on a red-eye flight. And the last thing you want to do is to cause an outrage by bringing a hyperactive toddler or a crying infant along. If you can avoid overnight flights with children, please do so. If not, then you have to make a few adjustments.
First on the list:
Eat before you board the plane, so you'll have one less thing to worry about.
An overnight flight means minimal time for rest – and you don't want to waste those precious sleeping hours eating dinner inside the plane. If you eat at home or the airport, you and the kids will be ready to sleep as soon as you board the airplane.
Hot Tip: Steer clear of greasy meals as they contribute to indigestion. Go for energy-packed and filling protein-rich foods instead.

Next, you want to ensure the kids are as comfortable as possible. This often requires carrying extra gear such as travel pillows. Now, travel pillows come in different shapes and sizes. So let the young ones shop with you so they can pick one they're most comfortable with.
And one more thing:
A red-eye flight isn't the time for making a fashion statement or showing off your child's adorable superhero costume. This is the time to sacrifice style for comfort.
Working Around The Schedule
Let's say you've steered clear of red-eye flights.
Good job! You have one less thing to worry about. Having said that, you've got work to do regardless of the flight schedule.
Hot Tip: Work around the times when the children get sleepy and energetic.
If the young ones nap after lunch at around 1 p.m. to 2 p.m., schedule your flight during nap time if possible. That way, they're more likely to nap instead of running amok during the trip.
If they don't nap and you've booked a flight in the afternoon when they're likely to play, try wearing them out with fun outdoor activities in the morning. If the airport has a playground, let them run around before having them sit for hours.
For morning flights, ensure your child gets a good night's sleep. A sleep-deprived child is a cranky child – and you don't want one inside the plane!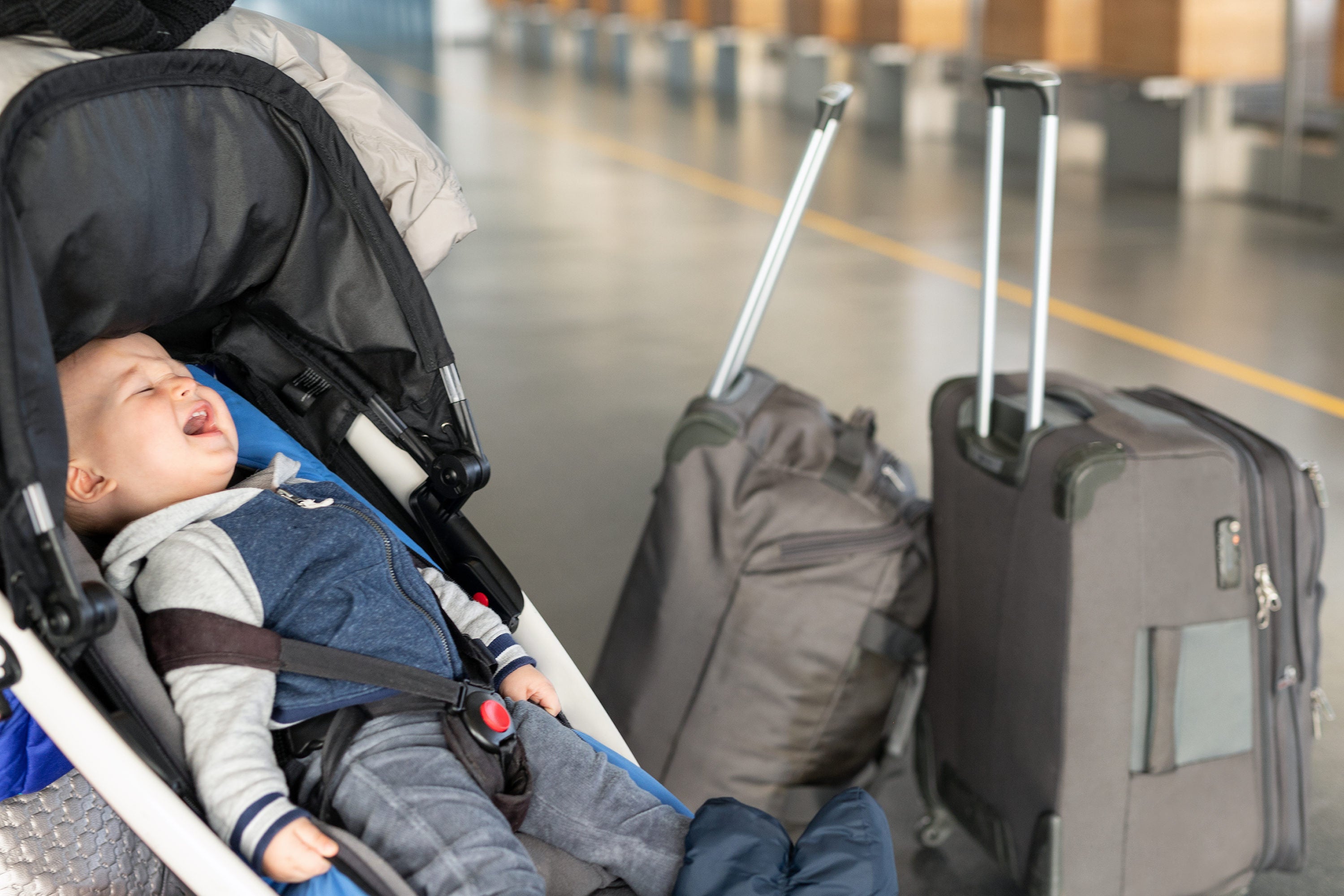 Picking Seats
Sitting together is as big of a problem in real-life flights as it is in movies like Home Alone 2.
You're golden if you can fly on an airline which lets you pick your seats. This guarantees grown-ups and kids will sit as a family. If you don't have the luxury of choosing such an airline, you better book seats as early as possible – or you may end up paying extra for sitting together.
Hot Tip: If you have a baby and can book with an airline with diaper-changing stations, you're golden!

And do note:
Sitting at the back of the plane puts you closer to the bathrooms. This makes toilet trips with kids a lot more convenient and less likely to bother other passengers. Not to mention you can get better access to flight attendants and other amenities, too.
Having said that, do consider the advantages of sitting in the front row, especially on economy flights. The front row is often reserved by airlines for families with young kids. And if the row has vacant seats, you can get a lot of extra room for all the "for kids" stuff you're carrying.
Bottom Line: Curious about flying in premium cabins with a baby? Check out this post for more information: The Pros and Cons of Flying Business Class with a Baby.
2. Preparing Yourself And The Kids
You've booked the flight and picked ideal seats for the entire family. Now, however, you have to get everyone ready for the trip. This is a step you don't want to skip, especially if your children are flying for the first time.
Getting Your Mind And Body Ready
Most of your preparations will focus on the young ones. But know that grown-ups need help, too.
Setting realistic expectations is the order of the day. If you're expecting a relaxing and stress-free air travel where you get as much sleep as your heart desires, you're in great need of a reality check!
Take note:
This guide is about "reducing stress" – and not "eliminating stress" – when flying with kids.
Bottom Line: Stress-free air travel with children is like a unicorn. Much desired and sought after, but ultimately a myth.
Most of your time in the skies will be spent entertaining, cleaning, and putting the kids to sleep. Reclining in your seat to enjoy the view of the clouds is pretty much out of the question!
After the flight, you may even feel drained – and a major tour around your destination may have to wait until the next day. Create an itinerary which gives you enough time for rest after arrival, so that you can enjoy your trip.
Accept the fact you won't get as much rest as you'd like during the flight, and you'll be better equipped mentally to deal with what's coming.
Eliminate Uncertainty
Remember the following rule of thumb:
Taking away uncertainty brings you a step closer to a less stressful time in the skies.
For some parents, this means giving the young one's playthings – like a tablet and a pair of headphones – and having them sit still for an hour or two.
And this is a smart move!
Kids are playful and full of energy, and staying put during the flight may prove impossible. But by rehearsing and teaching them how to stay put for extended periods, you lessen the chances of your child making a ruckus in the cabin.
Note, however, that there are other things to prepare kids for before the trip.
Hot Tip: Turn your travel preparation into an educational and kid-friendly game.
The look, sound, and feel of an airplane are commonplace for traveling adults. But children who are about to fly for the first time may find them terrifying.
The solution:
An airplane toy and a healthy dose of imagination.
You can use the toy to teach kids about the different parts of the plane – such as the wings, door, tail, and cockpit where the pilot sits. When boarding time comes, you and your child can have fun looking for and pointing out those airplane parts.
Pack something from home that they're comfortable and familiar with. It can be Teddy or a favorite toy. Doing so helps lessen the unfamiliarity of the experience.
You also want to talk to them about the security screening process. Tell them that their favorite toy will have to go through security. And most important, assure the young ones that they'll get back their much-loved dolly or toy car right after screening.
Oh! And do warn older kids that bomb jokes are NOT cool and can get everyone in trouble.
Hot Tip: Don't miss our guide on The Best Ways to Help Families Speed Through TSA Airport Security…

3. Packing Your Stuff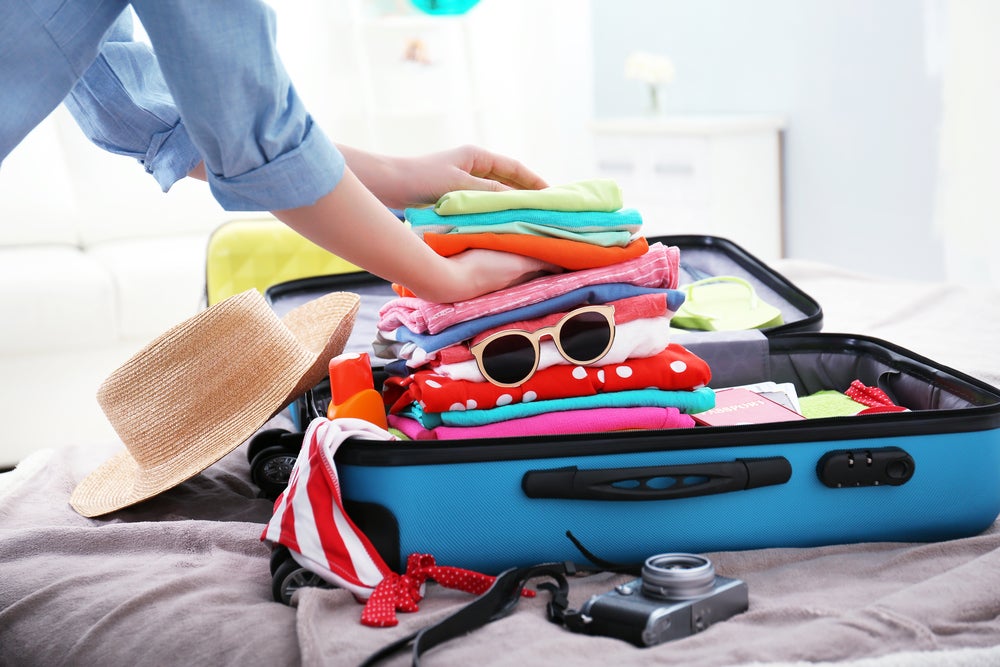 The first rule:
Start packing only if you know for certain the weight and dimensions you can take on the flight.
Call or email the airline and airport to check their regulations and weight limits for baggage. The last thing you want to do is delay your flight because you have to unload stuff to meet the requirements.
Baby food, formula, and breast milk are often allowed in quantities beyond the allowable carry-on liquid size. But of course, you and your young one need more than liquid food to cope well with the flight.
Hot Tip: Don't miss the handy tips we give in our guide on how to get through airport security easier/quicker!
A Small Bag For The Essentials
The next step when packing:
Gather all of the essentials – everything you really need – in a small and easy-to-carry backpack.
Important documents – like passports, printed itinerary, transport details, and tickets – belong to this bag.
You also want to include your wallet, smartphone plus charger, and prescription medication (if necessary). And don't forget to bring an iPod loaded with fun apps along with the favorite stuffed toys of your kids.
Oh! And keep the bag with you at all times.
Hot Tip: Yep, kiddos who are traveling internationally need passports too! For more information on how this works, see our detailed piece: How to Get a U.S. Passport for Your Baby [Step-By-Step].
Another Bag For Items You Need To Have Quick Access To
The essentials have been packed, but you need another bag to store everything you may need to access during travel quickly.
For toddlers, consider getting one of these Jet Kids Bed Boxes. It's a hand luggage, ride-on suitcase, and an in-flight bed in one kid-friendly package. A Bed Box can help young ones get through the airport AND gives extra size to their "bed."
If you're traveling with a baby, infant supplies like feeding bottles, formula milk, and wet wipes go into this bag. You also want to have at least two water bottles and a couple of snacks thrown in. You never know when the kids will get thirsty and hungry.
Hot Tip: Mom and frequent traveler Ashley Vaccarino also suggests stocking up on wipes for easy hand cleaning and disposable placemats to minimize food mess.
Chances are, you'll need more than an iPod to keep your child entertained. Back in the day, coloring books, drawing paper, and colored pencils were the usual distractions. But you can go digital with a portable DVD player, a pair of headphones, charger, and a selection of movies made for children.
And do add an extra pair of clothes, toothbrushes, toothpaste, and pajamas for bedtime.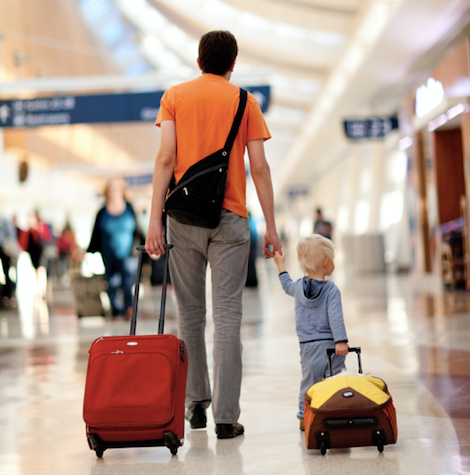 Other Important Reminders To Make Packing Easier
So you now have a bag for the most essential items and another one for things you need to access on the road. But what of your other stuff? Everything else goes to the checked luggage. If you don't need an item until you reach the destination, you don't have to bring it on the plane.
Go for small, versatile clothing. Sure, go with comfy favorites, but jewelry and expensive clothes with sentimental value are best left behind. And bring as much underwear, socks, and sleeping outfits as possible.
You want to be prepared for the weather, too. So bring waterproofs like raincoats and pants, especially if you're headed to a rainy destination. Make room for shampoo, soap, and sunscreen. And do bring an empty bag, handy when you grab a lot of souvenirs during the trip.
And last but not least:
Go through your stuff with a critical eye, leaving behind items you won't need. Otherwise, you run the risk of overpacking.
Hot Tip: For more information, check out our vacation packing guide!
For Parents And Kids: Flying Etiquette To Observe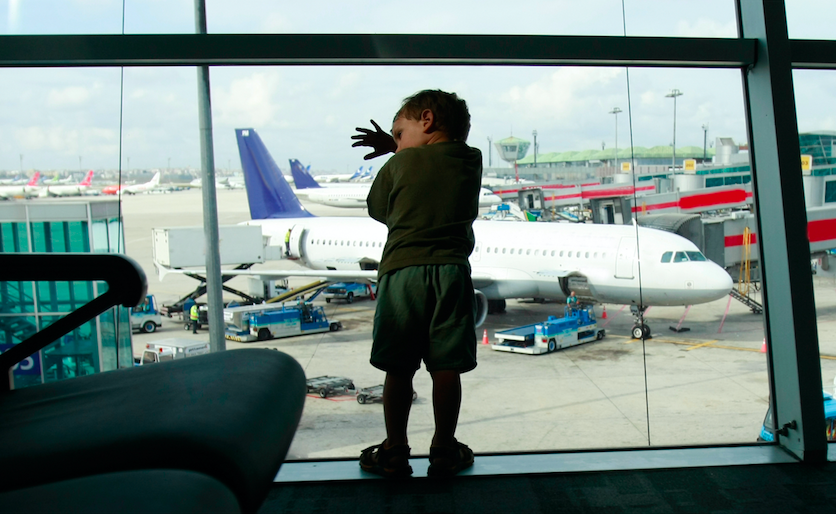 Forget about trying to please everyone in the cabin.
Know not everyone likes the company of children, and the mere presence of a kid will draw glares from some people. Not much can be done aside from ignoring these people. Your kids have the right to be travel with you.
But a parent must also remember:
No one else on the plane loves your children like you do.
And what may come across to you as acceptable behavior (because "they're kids") may not be taken lightly. Families traveling together have garnered a bad reputation – and some of the reasons may be familiar to you:
Parents changing stinky diapers on the tray
Allowing young ones to kick other passengers or pull their hair
Treating flight attendants like babysitters
Letting kids play and run around the cabin
And the list goes on!
Bottom Line: Stay alert and don't space out so you can keep them well-mannered and calm throughout the flight.
You, as the parent, are responsible for supervising your young ones, making sure they're not intruding on someone else's private space or causing inconvenience.
Disruptive passengers are the bane of any flight, and you don't want to be branded as such. Mom and dad, too, should stay behaved, minimizing loo visits and noise levels.
If you want to go the extra mile, you can try this idea:
Get gifts – a tiny bottle of whiskey or a couple of chocolates for each of the seats around you on the plane.
To each gift, add a little note that says: "Hello! I'm baby Miles. I'm pretty new to flying, and I hope it's all OK. I hope this chocolate makes me a bit less annoying."
Drop the gifts onto the seats as you sit down, so the passengers see the little gifts as they get on board. If they still get upset at the baby flying after the gesture, they probably just don't like children.
The 5 Best And Kid-Friendliest Airlines (Yay!)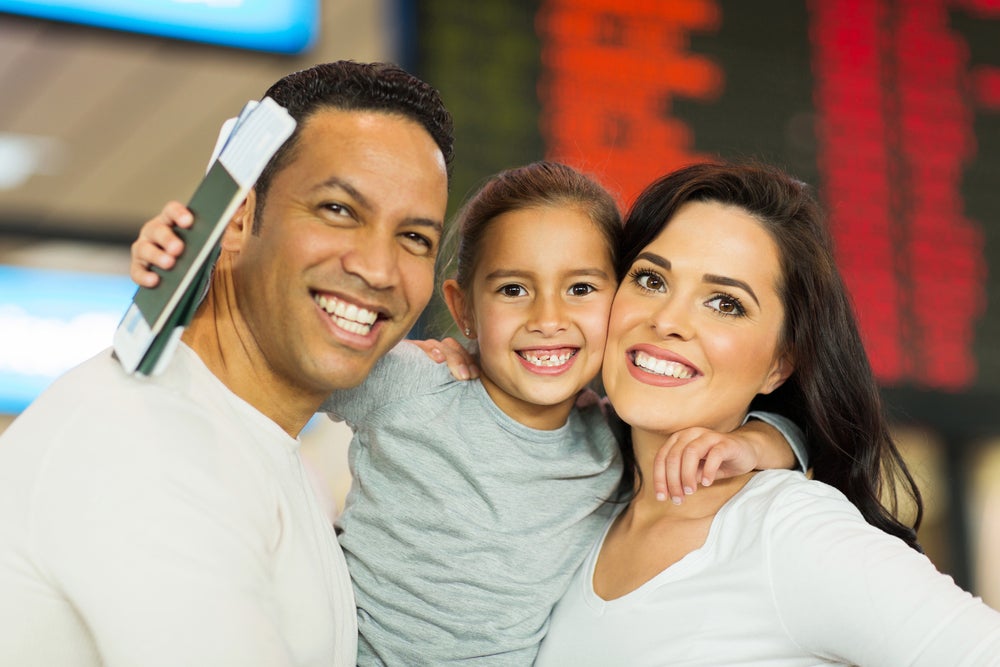 Flying first class has a lot of perks. Comfortable seating and greater legroom immediately come to mind. But the benefits go beyond these two, especially for kids and families.
For starters, many other "firsts" are added into the distinction. First class passengers get faster and easier access to the security line at most airports. Not to mention they get to board and leave the plane first.
And let's not forget:
First class cabins are way more comfortable than their economy counterparts. And with less commotion and noise, kids flying first class have an easier time sleeping.
But first class costs a lot more than economy flights. And while the steep price can easily prove worth it, not every family has the budget for it.
Fortunately, families and children can still get near-first class treatment with the right airline. And in this section, we take a closer look at 5 of them!
JetBlue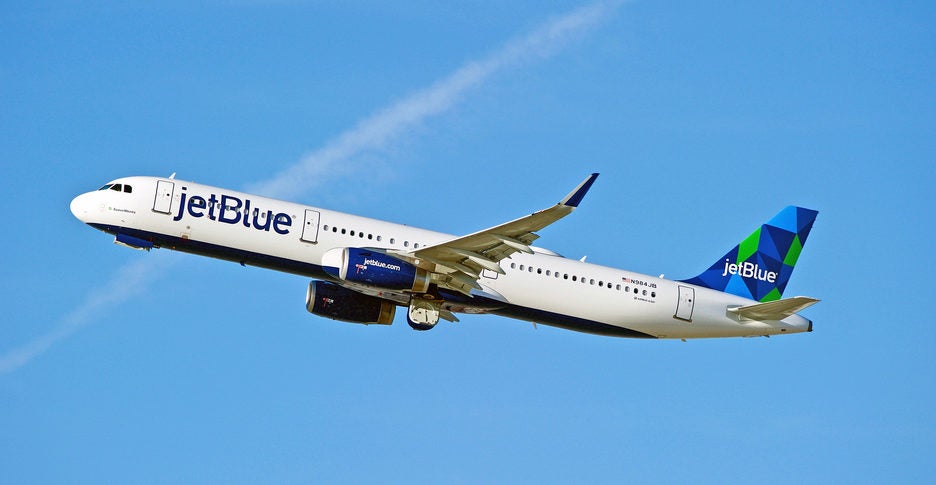 JetBlue knows how to pamper their youngest passengers.
Not only do families (with children under 2) get pre-boarding privileges, the airline also treats little ones to a nice lineup of in-flight entertainment – with Cartoon Network, Nickelodeon, and Animal Planet included in its roster of 3 dozen channels.
And to keep those little tummies full and nourished, JetBlue also offers unlimited juice and free snacks for children. Plus, EatUp boxes are also available for purchase for young ones with big appetites.
Awesome, yeah? But JetBlue still managed to outdo themselves in 2016. During Mother's Day, the airline launched their first ever "FlyBabies" flight where passengers got 25% off of their next ticket every time a baby cried!
Talk about dedication to kid-friendly flying.
Plus, JetBlue in usually on point with customer service – winning J.D. Power North America Airline Satisfaction Study for 12 consecutive years doesn't hurt.
Virgin America
Families with kids aged 5 and under get priority boarding at Virgin America, just after first class passengers.
All Virgin America planes also boast in-flight entertainment, including free satellite TV with channels for kids, premium programs like "Go Diego Go," and free video games to keep the little ones busy.
Before the flight, you can purchase kids meals. For trips lasting longer than 2 hours, healthy food options like chicken and turkey sandwich as well as hummus with veggies are available. Jet Set Kid packs are also available, which includes a turkey sandwich, chocolate, and other snacks.
But the best thing about flying with Virgin America is their bathroom. With diaper-changing stations in their rear lavatories and extra diapers available, parents won't have to worry about dealing with stinky and wet diapers.
Southwest Airlines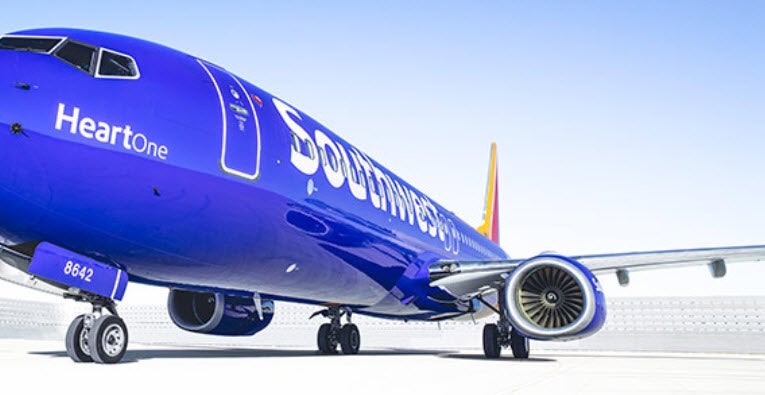 Southwest Airlines is another family favorite – and for good reasons.
Southwest knows how packing light can prove difficult when flying with children, and they're one of the few airlines offer free checked bags (2 bags up to 50lbs) to flying families. Sure, their base fares are often slightly higher than other low-cost carriers. But with free checked bags taken into account, Southwest comes out as the more budget-friendly option.
Moreover, strollers and car seats always fly for FREE! AND, there's free live TV which includes the Disney Channel!
But what if you have to cancel or change a booked flight?
No problem! Southwest won't charge you anything – only the fare difference. We all know how kids are more likely to get sick than adults, and this perk lets parents handle such situations minus the huge penalty.
Delta Air Lines
Pre-boarding is on Delta Air Lines' "menu." Families with small children get the extra time they need to board the plane, find their seat, and settle in – without having to worry about other passengers waiting in line.
Flying is hardly fun, but select Delta airplanes are equipped with free in-flight entertainment (plus headphones) to give families have something better to do than watching the clouds. And with complimentary drinks and snacks on all flights, hunger-induced tantrums won't be a problem.
Alaska Airlines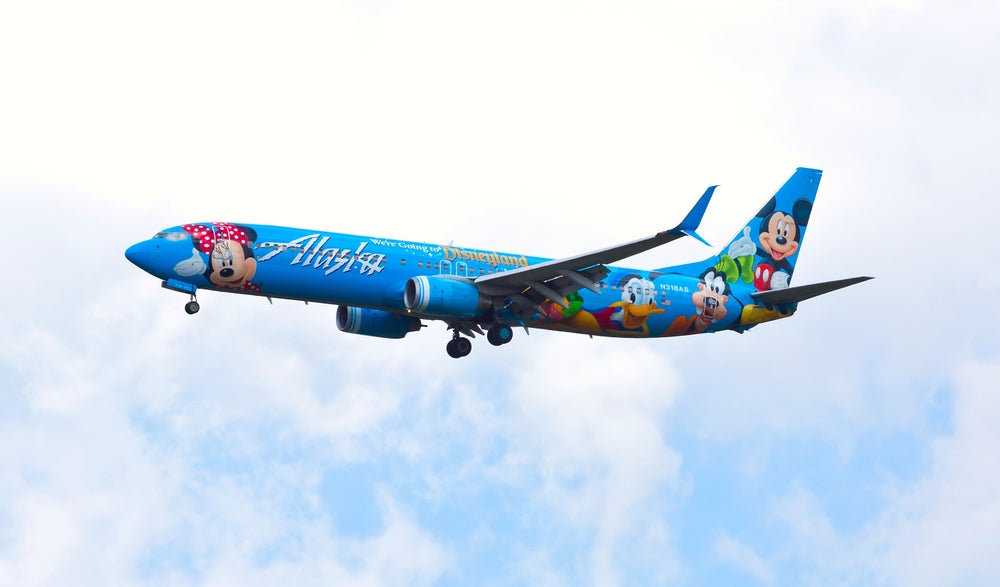 To ensure families stay seated together, Alaska Airlines reserves two "family rows" in most of their flights. If you're booking a flight with Alaska but seating together seems impossible, a simple phone call to reconfirm your flight is often enough to group you back together.
Now, their fleet isn't equipped with in-seat TVs. But flights lasting over 3.5 hours have digital in-flight entertainment players, with dozens of movies and built-in children's programming.
And with flight attendants passing snack baskets an hour before landing, you and the kids will get to your destination with happy tummies.
Hot Tip: Don't miss our study outlining the Top 10 Most Kid-Friendly Airports in the U.S.!
The 5 Worst Airlines For Traveling Families And Kids (Nay!)
Great family-friendly airlines exist, but so do terrible air carriers. The latter group often lure passengers with low ticket prices, only to bombard them with fees, terrible customer service, and even safety hazards!
Learn more about the 5 worst airlines for just about any passenger and steer clear of them!
Spirit Airlines
The discount airline calls itself the "most consumer-friendly airline," but reports and ratings scream otherwise. Spirit Airlines has the honor of being the "most complained about airline" and even made it to Business Insider's list of the world's worst airlines.
The reasons for the dissatisfaction are numerous – from draconian reservation policies, malfunctioning seats, to an "impressive" list of fees.
Sure, their ticket prices are lower than other airlines. But Spirit managed to earn 40% more per airplane than other airlines, thanks to their merciless and high-fee strategy.
Frontier Airlines
Frontier Airlines was once the model low-cost carrier – friendly, comfortable, efficient, and affordable. What's not to like? Unfortunately, even good things come to an end. When the ex-CEO of Spirit Airlines acquired Frontier, everything changed!
Today, Frontier Airlines is just like other "low cost" airlines. Yes, their tickets have rock-bottom prices, but just about anything has a fee attached to it – from carry-on luggage, overhead bins, to reservations and more.
Not to mention they axed Midwest Airlines' warm and freshly baked cookies every flight, shortly after acquiring the latter.
They've had unfortunate press about sarcastic staff and an email-only customer service which contributes to one of the worst rates airlines in the country.
Allegiant Air
Allegiant Air – another "affordable" airline – takes the third spot on our list. The airline has amassed a large number of critics for their terrible customer service – with unreliable planes, uninterested crew, and a rude customer service team.
Heck, they won't even grant a refund to a widowed man!
And as if that's not enough:
The airline is also dangerous according to Greg Marino, a former aircraft mechanic for Allegiant Air. Marino revealed how the airline's Sanford facility adopted bad maintenance habits and even flew airplanes with faulty components.
We provide a full in-depth review of Allegiant Air here.
United Airlines
Does United Airlines suck? Matthew Kepnes of Nomadic Matt gives 15 reasons why he thinks yes and here are some of the highlights:
Calling customer service means talking to a rep who doesn't know what the customer is talking about, cold transfers to another department, or just hangs up.
The on-board meals are hardly edible. Their on-time status is terrible. And they don't allow upgrades even if you offer money. But the worst of all (especially for a parent), the airline loses children and cannot be bothered about it!
Envoy Air
The 2015 Airline Quality Ratings report saw Envoy Air reduce its rate of customer complaints. But aside from the reduced complaints, there's little to like about the airline.
The same report saw Envoy Air's denied boarding rate increase while their on-time performance takes a huge dip. But as if that's not bad enough, the airline also proved terrible in handling baggage, faring far worse than the industry average.
If you don't want to lose your baggage and items you and your kids hold dear, don't fly with Envoy Air!
Hot Tip: Don't forget to pay special attention to the credit card you're using. We've created this guide to the best credit cards to maximize your family's travels to help you out.
Final Thoughts
This marks the end of our in-depth guide, and we've learned a lot along the way.
We saw how to have the best start by planning your flight strategically, how to prepare kids who're flying for the first time, and how to pack efficiently for the trip.
Following that, we had a brief discussion of the etiquette to observe by parents and kids during the flight to ensure a smooth time in the skies. And to end the guide, we also looked at 5 of the best and worst airlines for traveling families.
For additional advice on family travel, check out our dedicated guide: 33 Best Tips for Amazing Family Travel with Your Kids!
We hope that this guide makes your upcoming trip with the little ones a lot less stressful and way more fun. But we're also sure some of you readers have a tip or two hidden in their sleeves – and we'd love to hear about them in the comments!
---
Like this post? Pin it on Pinterest!