Delta Air Lines Boarding Zones — Everything You Need to Know
Update: Due to the spread of COVID-19, Delta has made the following changes to its boarding process.
– Delta is blocking all middle seats in Main Cabin, Comfort+, and Premium Select, across all flights.
– Delta will now also block select window and aisle seats in all cabins on aircraft configured with 1×2, 2×2 and 2×3 seating
– Delta will be boarding no more than 10 passengers at a time, from the back to the front of the plane.
– Passengers and crew members are required to wear face coverings onboard, with exceptions for children and those with some medical conditions.
Airlines love to make the boarding process distinctly theirs by doing things their own way, so having a clear picture of the boarding procedures of every airline you fly can be a bit of a challenge.
Delta Air Lines has always been a little bit different. You can even see it in their name, where they use two words instead of the single word "Airlines" that pretty much everyone else uses.
When it comes to boarding, they do things a little differently too. Their groups may have names or numbers, depending on where in the process they fall.
They use terms like SkyPriority and Medallion throughout boarding. But don't worry — once you understand what they are talking about, it's really not that hard.
Understanding Delta's boarding procedures won't be as tough as you might think. We know the terms, we understand the procedures, and we're going to make sure that you do too.
Come along with us as we look at the details of the Delta Air Lines boarding process, and you'll be ready to go and comfortably board your flight the next time you fly with them.
Delta Air Lines Boarding Zones
It seems that Delta Air Lines couldn't quite decide how they wanted to organize their aircraft boarding procedures. Or perhaps they just wanted to use some fancy words to make their higher tier customers feel more special.
Either way, they ended up with a mix of 8 numbered and named boarding groups, along with pre-boarding for certain customers and early boarding for others. Confusing, right?
We can only assume this leads to some cranky passengers who have boarding zone 1, but see 6 different groups of people get on the plane ahead of them.
Here are the details of who is eligible to board the plane in each of the groups that Delta uses, so you'll know what to expect. You'll never be that cranky passenger wondering why you aren't on board yet!
Pre-Boarding
Delta One
First Class or Delta Premium Select
Delta Premium Select customers
Diamond Medallion members (if aircraft does not have a Delta One cabin)
Early Boarding
Passengers traveling with car seats or strollers
Delta Comfort+®
SkyPriority®
Platinum Medallion Members
Gold Medallion Members
Flying Blue Platinum and Gold members
Virgin Atlantic Flying Club Gold members
Virgin Australia Platinum and Gold members
GOL Smiles Diamond members
SkyTeam Elite Plus members
Main Cabin 1
Silver Medallion Members
Delta Corporate travelers
Priority Boarding Trip Extra customers
Gold, Platinum, and Reserve Delta SkyMiles credit cardmembers
Flying Blue Silver members
Virgin Australia Velocity Silver members
GOL Smiles Gold members
SkyTeam Elite members
Main Cabin 2
Main Cabin 3
Main cabin passengers booked in T, X, and V fare codes
Basic Economy
Boarding Notes
It should be noted that when departing AMS and CDG on Delta flights, Silver Medallion Members will not have their own priority boarding group. This is due to the boarding policies of Air France-KLM, which operates at these 2 airports as their main hubs.
Although this rule is oddly specific and it doesn't make much sense that a different airline's boarding policy changes what Delta Air Lines is doing at these 2 airports, we thought you should know in case it applies to you.
Apparently, Delta feels that the passengers who regularly travel with Air France-KLM from AMS and CDG need to have some consistency in their lives and have adjusted their boarding procedures to help with that.
Priority Boarding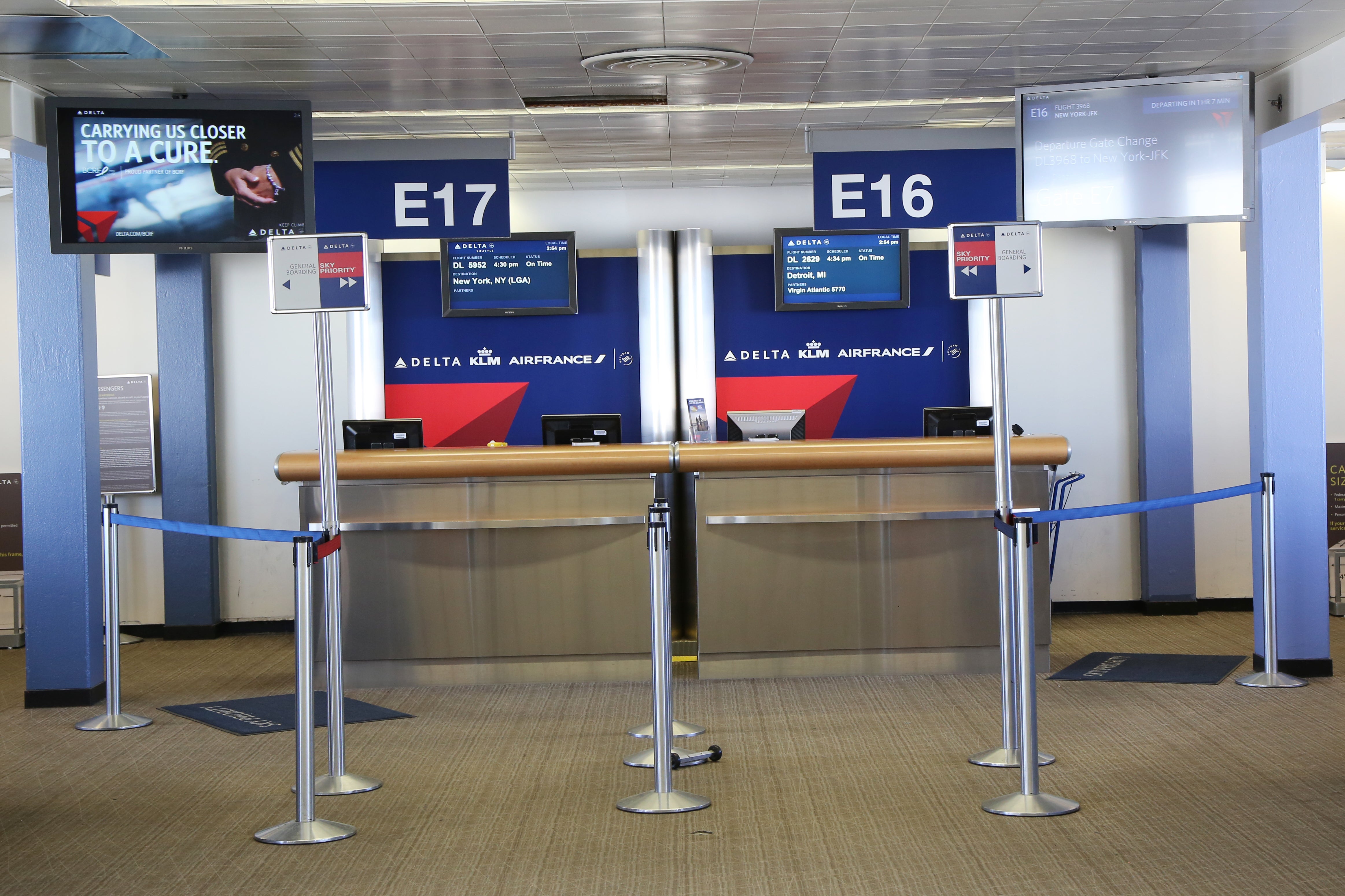 Delta Air Lines allows customers to purchase priority boarding for any flight operated by Delta or Delta Connection. The cost is $15 per flight, and it is one of the "Trip Extras" that Delta makes available to passengers.
Priority boarding, as well as the other available Trip Extras, can be purchased when booking your flight, through the FlyDelta app after booking, online when managing your trips, or at check-in.
Once purchased, priority boarding will give you Main Cabin 1 boarding for your flight. It will be printed on your boarding pass, and you will be eligible to board when Main Cabin 1 is called.
Hot Tip: As a reminder — including Pre-Boarding and Early Boarding, Main Cabin 1 is actually the seventh group of passengers who are able to board the plane.
After you have purchased Priority Boarding for a flight, it is tied to that specific flight and is non-refundable and non-transferable. That means that if you choose to change your flight at a later time, whether online, over the phone, or at the airport, you will forfeit the Priority Boarding pass that you have purchased.
In addition, cardholders of Gold, Platinum, or Reserve Delta SkyMiles credit cards will automatically receive Main Cabin 1 priority boarding as long as their SkyMiles numbers are on their reservations.
This benefit applies to the basic cardholder, and is not available to additional authorized users on the card account. Up to 9 passengers traveling on the same reservation as the basic cardmember will be given Main Cabin 1 priority boarding as well
Bottom Line: Although you will still be behind premium cabin passengers and upper-level elites, purchasing priority boarding will get you on the plane at the same time as the lower-level elite passengers and before the rest of the main cabin passengers. So it might be worth the $15 cost if you want to make sure there's space for your bag in the overhead bin near your seat.
How to Boost Your Delta SkyMiles Balance
There are plenty of ways to earn lots of Delta Air Lines SkyMiles so you can put your new-found boarding knowledge to use on your next award flight.
Flying paid flights on Delta and their airline partners is probably the most obvious way, but you can earn a serious amount of miles (including Medallion Elite Qualifying miles) with their co-branded American Express cards too.
Depending on the level of benefits you are looking for, the number of Elite Qualifying miles you are looking to earn, and the annual fee you are willing to pay, there is sure to be a card that is right for you.
Delta and American Express even offer co-branded business cards so you can earn SkyMiles with all of your spending, whether it be for home or for work.
Recommended Delta Cards
Delta SkyMiles® Gold American Express Card - use this card to get one free checked bag for you and up to 8 companions on your itinerary, which we see as a "must-have" if you fly Delta regularly. The card also earns 2x Miles on Delta purchases, at restaurants worldwide (including takeout and delivery), and at U.S. supermarkets, then 1x on all other eligible purchases.

For a limited time, earn 70,000 Bonus Miles after spending $2,000 in purchases on your new Card in your first 3 months. Offer expires 11/10/2021. $0 introductory Annual Fee for the first year, then $99. Terms Apply. For rates and fees of the Delta Gold card, click here.
Delta SkyMiles® Platinum American Express Card - For a limited time, earn 90,000 Bonus Miles and 10,000 Medallion® Qualification Miles (MQMs) after you spend $3,000 in purchases on your new Card in your first 3 months. Offer expires 11/10/2021.

This card earns 3x Miles on Delta purchases and purchases made directly with hotels, 2x Miles at restaurants worldwide, including takeout and delivery and at U.S. supermarkets, then 1x on all other eligible purchases. Enjoy your first checked bag free on Delta flights and a lot of other benefits and perks, such as a fee credit for Global Entry and TSA PreCheck. The annual fee is $250. Terms apply. For rates and fees of the Delta Platinum card, click here.
Final Thoughts
Delta Air Lines is an airline that people seem to love or hate, though it's not because of the slightly confusing boarding procedure we've outlined. With a little explanation, this boarding process isn't difficult to understand at all.
What people like about Delta is that the inflight experience is one of the best available for domestic U.S. carriers. Comfortable seats and friendly staff can go along way when comparing to airlines like United and American.
The SkyMiles loyalty program, on the other hand, has gotten a bad reputation over the past several years. Things like changes and devaluations with no notice and doing away with award charts completely have made it very difficult to set a goal and save up for an award flight.
Luckily, things seem to be turning around for the SkyMiles program. They didn't give us back award charts, but there are often low-level awards available when searching for a flight.
In addition, Delta Air Lines has been running several different award sales lately, with discounted award flights available to places like the Caribbean, Central America, Europe, and Asia.
As the SkyMiles program continues to improve (which we certainly hope it will), we are going to be more and more likely to find ourselves boarding Delta Air Lines flights.
Use the information we've provided above to understand the details of the boarding procedure, and you will be able to comfortably board your flight without any stress. You might also want to hop over and check out our general airline review on all things Delta!
See you at the gate soon!