How To Upgrade to Business/First Class on Delta Air Lines Flights
The days of getting upgraded just for dressing sharply or being kind to the gate agent are all but history. Airlines now have strict guidelines to ensure that upgrades are allocated to their top customers or sold prior to departure.
Some airline upgrade policies can be complicated, but Delta Air Lines goes a step further and adds a level of secrecy to the upgrade process.
The airline does not publish upgrade availability or allow third-party access to this information. You are allowed to purchase or use miles to upgrade at booking or on an existing reservation, if available, but the pricing can sometimes be prohibitive.
When it comes to securing that coveted upgraded seat, knowledge can be power, and understanding how the process works can certainly gain you leverage when trying to secure an upgraded seat with Delta.
Our guide covers the types of upgrades available with Delta, how the upgrade process works, the value of having a Delta-branded credit card, and tips for increasing your chances for an upgrade on your next Delta flight.
Types of Delta Upgrades
Delta offers many options for upgrades including upgrading with miles, complimentary upgrades for Medallion Elite members, companion upgrades, and the ability to purchase upgrades, when available.
Complimentary Upgrades: Available for Medallion Elites to Comfort+ or first class where those products are available, and Delta One (business class) for travel on most routes within the 50 United States.
Global Upgrade Certificates: Available to Diamond Medallion Elite members to upgrade domestic, regional, or international flights on Delta and select partner airlines.
Regional Upgrade Certificates: Available to Platinum and Diamond Medallion Elite members to upgrade domestic and select regional Delta flights.
Upgrade With Miles: You can purchase upgrades on select flights within the 50 United States with miles during booking.
Mileage Upgrade Awards: Upgrades available for purchase with miles on existing reservations for select flights worldwide. International upgrades are limited to fare classes Y, B, M, H, Q, or K.
Complimentary Companion Upgrades: Available for passengers traveling on the same reservation as Medallion Elite members.
Same-Day Standby Upgrades: Based on availability, these upgrades are available to all passengers for a fee on the day of departure for specific flight routes mostly in North America, the Caribbean, and Cancún.
How To Find Out if Upgrade Space Is Available
Other than the recently-added ability to find upgrade space utilizing Global Upgrade Certificates, Delta does not publish upgrade availability and does not release the information for third-party publishing. Further limitations include not being able to view availability for seats in any class of service on your reservation other than your own.
For example, if you have a reservation and you're assigned a Comfort+ seat, you may only be able to view that seating section of the plane when you view your reservation. You may not be able to view first, business, or Main Cabin seating.
The workaround for this restriction is to try a dummy booking for the class of service you wish to view, then count the available seats in the section where you want to upgrade. A dummy booking is not the most accurate accounting but is a relatively easy way to compare available seating between different flights.
Searching for an award ticket may also help you determine if there is upgrade space available, as there can be parallel availability. For example, if you do a search for a business class award ticket and there are seats available, there is a similar chance an upgrade is available, but not always.
You can also call Delta to determine upgrade availability space.
CWSI publishes a helpful Delta fare class information chart that you can access on its website.
Upgrade Priority: Who Gets the Upgrade First?
Delta Air Lines, like other airlines, has an upgrade hierarchy that determines who is first in line for the next upgrade. Upgrades are allocated based on the following criteria in order of highest priority:
Medallion Elite status
Fare class
Delta SkyMiles® Reserve American Express Cardmembers
Delta corporate travelers
Delta SkyMiles credit cardholders who have met the Medallion Qualification Dollars (MQD) Waiver in the current calendar year.

Spending $25,000 on an eligible credit card waives this requirement for elite levels up to Platinum
Spending $250,000 waives the revenue requirement for Diamond Medallion Elite status

Date and time of upgrade request (the tiebreaker)
Determine where you might fall in the upgrade hierarchy with Delta using this helpful Medallion Upgrade Priority Calculator from CWSI.
The Importance of Delta Medallion Elite Status
Delta Medallion Elite status is the single most powerful factor in getting upgrading on Delta Air Lines. Delta has several tiers of Medallion Elite status:
Delta 360: Top invitation-only status granted at Delta's discretion
Diamond Medallion: Unlimited upgrades that begin clearing 5 days prior to departure
Platinum Medallion: Unlimited upgrades begin clearing 5 days prior to departure
Gold Medallion: Unlimited upgrades begin clearing 3 days prior to departure
Silver Medallion: Unlimited upgrades begin clearing 1 day prior to departure
If these complimentary upgrades do not clear in advance, Medallion members can be added to the standby list at check-in and cleared for upgrades up until departure.
Complimentary upgrades are valid for Comfort+, Delta One domestic flights, and first class on Delta. There are no international complimentary upgrades except for select regional international flights with Delta/Aeromexico. Complimentary upgrades are available on Aeromexico for Medallion members on all Aeromexico flights within Mexico, between Mexico and the U.S., and between Mexico and Central America, the Caribbean, Colombia, and Ecuador.
Medallion members receive priority boarding and seating on many international routes and with most partner airlines.
In addition to complimentary upgrades, Delta Diamond and Platinum Medallion members can earn annual Global and Regional Upgrade Certificates to redeem on International and Regional flights.
Medallion members who purchase a full Y economy fare are also eligible for instant upgrades if available.
The Value of a Delta SkyMiles Credit Card
Having an eligible Delta-branded American Express credit card delivers flight benefits such as improving you and your travel companion's chances for an upgrade, providing you with companion flight certificates that are also eligible for upgrades, complimentary or discounted lounge access, reaching Medallion Elite status faster, or offering flight benefits including free checked bags on Delta flights and priority boarding.
The following Delta-branded cards provide all of these benefits and more.
To learn more about how to achieve Delta elite status, this comprehensive article walks you through the details. You can also learn more about which cards are best for Delta flyers in this overview that includes more than just Delta-branded cards.
Hot Tip: The best Delta-branded credit cards for increasing your chances for an upgrade on Delta flights are the Delta Reserve Business card and the Delta Reserve card.
Upgrading With Miles
It is possible to upgrade your domestic flight with miles during the booking process and on an existing reservation for domestic, regional, and international flights.
How To Upgrade With Miles When Purchasing a Ticket
The Upgrade with Miles option may be available when booking a Delta or Delta Connection flight within the 50 United States.
Log in to your account on delta.com to book your flight, then select a Main Cabin ticket. You will be given the cash price of upgrading your reservation and the option to upgrade with miles at the value of 1 cent per mile. For example, if the cost to upgrade is $450, you have the option to use 45,000 miles.
The pricing will be displayed, and you can decide whether the offer is of good value. In many cases, it's not.
How To Upgrade an Existing Reservation With Miles
You may have the option to upgrade your existing reservation with a Mileage Upgrade Award. When you log in to your account and view your trip, the option to upgrade with miles may be displayed.
If you cannot upgrade online you will need to contact a SkyMiles representative. The representative will let you know if the reservation is eligible for a Mileage Upgrade Award and provide you with pricing.
Miles are deducted from your account if the upgrade can be confirmed.
Upgrades are limited to certain fare classes depending on the route. For North America and Central America, eligible fare classes for Mileage Upgrade Awards include Y, B, M, H, Q, K, L, U, and T. For international flights, eligible fare classes include Y, B, M, H, Q, and K.
Upgrading on Partner Airlines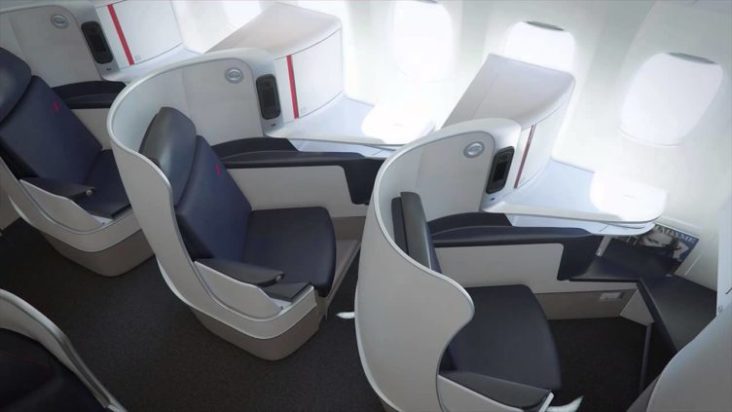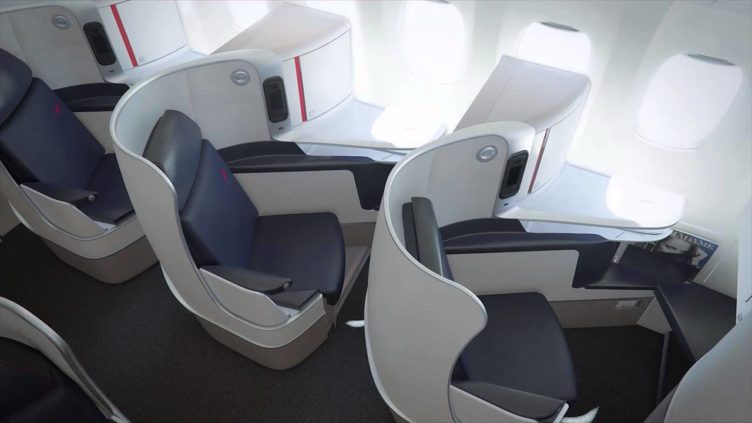 It is possible to use a Mileage Upgrade Award on an existing reservation that includes Virgin Atlantic, Air France, KLM, or Aeromexico-operated flights, basically upgrading with miles.
Fare classes and routes can be limited, pricing may be prohibitive, and in some cases, flights are restricted to only Delta-marketed flights.
You will need to contact a SkyMiles representative to find out if your flight is eligible, receive pricing information, and confirm the Mileage Upgrade Award.
You can access Delta's website for terms and conditions and available routes for partner Mileage Upgrade Awards.
Companion Upgrades
Delta does a nice job of including companions in the upgrade process. If a Medallion member is traveling with a companion, the companion upgrade will receive the same status priority as the Medallion member.
For example, if a Diamond Medallion member is traveling with a companion on the same reservation, the companion will be elevated to Diamond-level priority when it comes to upgrades, regardless of whether the companion has status. However, the companion must be a SkyMiles member and must request the upgrade.
Companion upgrades are available on paid tickets, award tickets, miles and cash tickets, and Pay with Miles tickets.
Hot Tip: Free Companion Certificates are awarded each year on Delta-branded credit cards such as the Delta Reserve card, the Delta Platinum card, and the business version of these cards. These companion certificate flights are eligible for upgrades for the cardholder and companion, making these certificates even more valuable. 
A Dozen Ways To Secure an Upgrade or Increase Your Chances of an Upgrade With Delta
With Delta SkyMiles Medallion Elite Status
Achieve Delta Diamond Medallion Elite status to earn Global Upgrade Certificates and Regional Upgrade Certificates.
Achieve Delta Platinum Medallion Elite status to earn Regional Upgrade Certificates.
Check discounted business, first, and Premium Select prices before using upgrade certificates. Business class pricing is an especially good value on partner airlines such as China Eastern to Asia and Aeromexico to South America. Premium Select fares on Delta from hubs including Detroit (DTW) can be a good value and also elevate the chances of your Global Upgrade Certificate clearing should you choose to use one.
You can increase your chances of getting upgraded by being a Delta Reserve cardholder.
If you hold the Delta Platinum card, the Delta Platinum Business card, the Delta Reserve card, or the Delta Reserve Business card, you can increase your chances of an upgrade by meeting the Medallion Qualification Dollars Waiver as early in the year as possible.
As a Diamond, Platinum, or Gold Medallion member, you have the fee-free opportunity to same-day confirm (SDC) to a different flight. If an alternative flight with a higher number of first class seats is available, you may be able to increase your chances of a complimentary upgrade. Silver Medallion members must pay the $75 SDC fee.
Increase your chances of a domestic complimentary upgrade by selecting a plane with the largest number of business or first class seats. For example, models of the A319 have only 12 first class seats, while an A321 can have 20 first class seats. Review Delta's fleet of aircraft to compare plane capacities.
Without Delta SkyMiles Medallion Elite Status
While there are few ways to secure an upgrade on a Delta flight without Medallion Elite status, opportunities do exist.
Purchase a Comfort+ Upgrade during booking or anytime up until 3 hours before departure.
Use miles to purchase a business or first class flight or use miles to upgrade an existing flight if the pricing is good value.
Check discounted business, first, and Premium Select prices (available on certain Delta routes), as this pricing can be a better value than using miles to upgrade, especially on partner airlines such as China Eastern to Asia and Aeromexico to South America.
Purchase a discounted upgrade to first class at check-in. Be aware that upgrades may be available for purchase when you check-in for your flight and pricing can be at a significant discount. These same-day standby upgrades are available in limited markets.
Offer to give up your economy seat when a flight is oversold in exchange for an upgraded seat on the next available flight (plus a flight voucher or gift card). You'll usually have to ask for the upgrade, but you'll be in a perfect position for it to be granted.
Final Thoughts
If flying in a premium cabin is your preference, watch for upgrade purchase opportunities at check-in, use miles to upgrade when the value is there, or try to select aircraft with larger premium cabins.
If you want to ensure you'll be flying in a premium cabin, it may be valuable to seek out and compare discounted business class on Delta and other SkyTeam partner airlines or use miles to purchase Premium Select or business class fares.