The Pros and Cons of Flying Business Class With a Baby
Flying up front in business or first class is the preferred method of travel any time you need to get on a plane — that is why you read Upgraded Points, right?! Why sit in cramped economy with less legroom, storage space, and personal space if you don't have to?
Well, when you add kids or a baby into the equation, your decision could become a little more complicated. Not only do you need to decide what will be best for you and your travel experience, but also for your little ones… and perhaps your neighboring passengers.
While we would all love to travel in first or business class everywhere we go (or on a private jet if we're being completely honest), sometimes it just doesn't make the most sense. In this article, we'll break down the pros and cons of flying in business class with a baby or young children.
The Basics of Business Class
Whether you're a seasoned travel pro or you're bringing your new baby to meet their family on the other side of the country (or world!) for the first time, you probably know that business class is more comfortable than flying economy.
Nowadays, business class on most flights longer than 5 hours will offer some variation of a lie-flat bed and pretty decent food and beverage options. While business class tends to be a few times more expensive than economy, prices have actually dropped a lot in the past 5 years, and premium cabins are often quite full on popular routes.
With the combination of more attractive fares and passengers becoming savvier with their points and miles, flying your family in business class is definitely something you should consider if you can find award availability or a good price.
By paying for a business (or first) class seat with points or miles, you'll usually get outsized value compared to flying coach. While a paid business class ticket can often cost 3 to 4 times the cash price of an economy ticket, it's not uncommon for a business class award ticket to be only twice the points or miles price of economy, increasing your value per point ratio — which is always good!
But just because it is a good value, is it the right option? Let's dig in.
Pros
As with everything, there are some pros and cons to flying business class — which will be even more evident when flying with a baby or young children in the front of the plane. Let's take a look at some of the pros.
More Space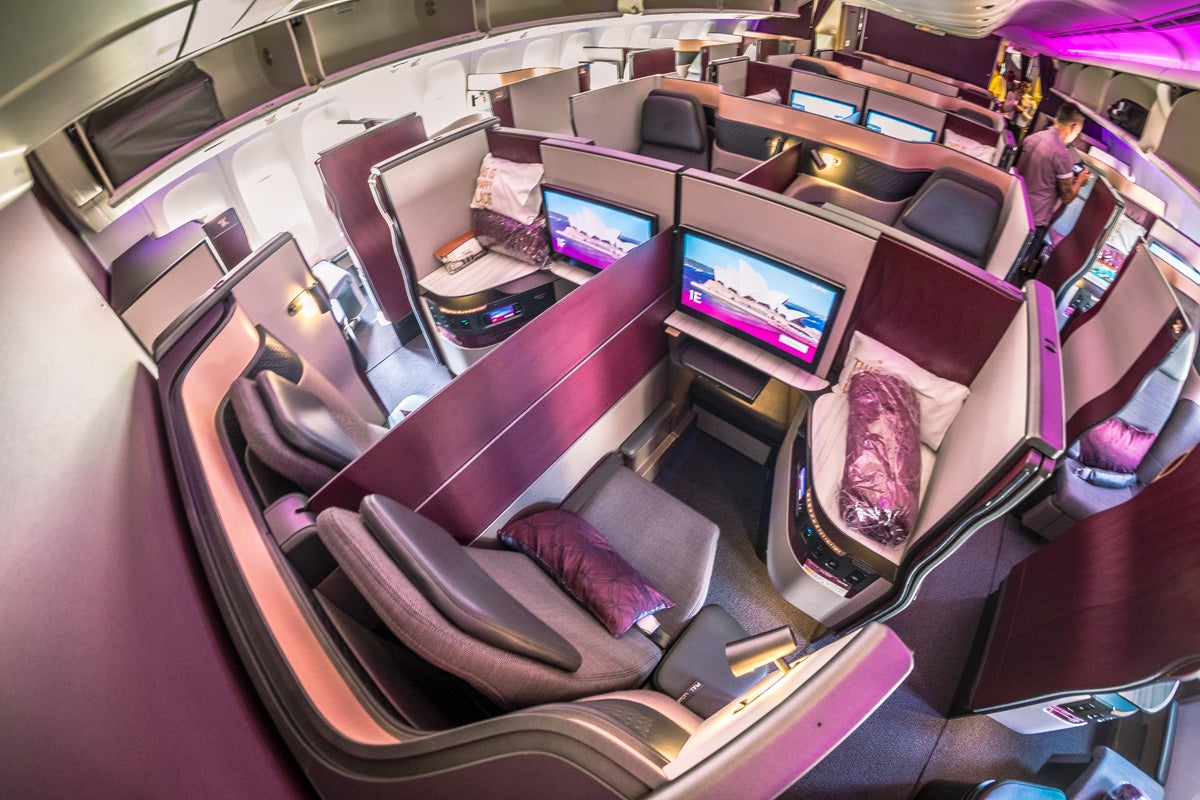 This is an obvious one: more space. Not only will your seat be more spacious, but there will be fewer seats around you as well. While the extra space is always welcome, not having 200 other passengers trying to stuff their carry-ons above your head will help create a calmer atmosphere for you and your baby.
For example, on American Airlines' 777-200, there are only 37 seats in business class and 236 in economy and premium economy behind the curtain. So your vibe in business class will generally be a lot less hectic.
With a seat that can turn into a lie-flat bed at the push of a button, extra storage compartments for bottles and baby wipes, and a TV that won't hit your baby on the forehead if the person in front of you reclines, just having the extra space may be worth the extra cost.
More Comfort
Along with more space, obviously, comes more comfort. Not having to fight over the middle armrest or jam your knees into the tray table is a blessing when all you want is to keep your baby asleep.
On top of that, your seat will be far more comfortable. Not only will you be able to recline without fear of knocking out the person behind you, but you will also be able to turn your seat into a bed — which will give plenty of room for you and your little one to spread out.
Depending on the airline you fly, you may also receive some pretty nice amenities to help make your journey more comfortable. Even domestic airlines are stepping up their game here:
None of these options are shabby, and they'll all certainly give parents more options to help get their baby to sleep.
No Bassinet Necessary
While some airlines do offer bassinets in business class, we have noticed a trend of newer planes not having the necessary hardware installed on the bulkheads (this even includes in economy class — looking at you, American Airlines!).
Hot Tip: We've noticed that American's retrofitted 777s now only have support for bassinets in premium economy bulkheads. 
With most airlines refusing to allow bassinet reservations, most parents have no idea whether or not their little travelers will have access to a bassinet until after boarding — even if they are in the correct seats.
When flying in economy class, this can be especially stressful — the alternative is either buying an additional seat or keeping your baby on your lap for the entire flight (think about meal service).
However, in business class, this isn't as big of an issue. With your seat in lie-flat mode, there is plenty of room for you to create a little "nook" for your baby to curl up in, while still leaving you space to sit, watch TV, and enjoy a nice meal.
Any parent who has found themselves curled up in a crib or a toddler bed will surely find these seats quite spacious and comfortable, making a bassinet unnecessary.
Hot Tip: Make sure you have the right documentation — check out our post outlining the ID and documents your child will need to fly.
More Attentive Crew
This may come as a shock to some, but cabin crews tend to be more friendly to passengers flying up front. While there are of course exceptions to everything, flight attendants who only have to deal with 30 passengers instead of 200 can often provide a more personal (and less rushed) service. This can be a huge difference-maker when flying with a baby or young children.
For example, on our last Delta One flight from Atlanta to Rio, we had a flight crew who really made sure our little family had the best flight possible. My wife was sharing a seat with our 7-month-old son, and she had used her blanket and pillow to create a nice cozy nook for him in the dark footwell of the lie-flat bed.
This worked out great — he was comfortable and sleeping well, but then my wife didn't have a pillow or blanket. Without even asking, our flight attendant brought over a fresh set for her and asked if she wanted any extra to get more comfortable!
On the other side of the aisle, our 5-year-old daughter was dozing off during dinner — but I had hyped up the sundae service at the end of the meal, and she didn't want to fall asleep before trying it. When our flight attendant noticed that she wasn't going to finish her (very large) meal and was looking ready for bed, he rushed back to the galley and brought her a sundae before anyone else.
It's little things like this that can really help make a trip more comfortable and memorable. They can certainly happen in economy class as well, but in our experience, not nearly as often.
Extra Luggage Allowance
As any new parent will tell you, the days of traveling light are over. Even getting the family in the car to go to a BBQ ends up feeling like a mini-vacation with all the stuff our little ones seem to need. This is no different when flying, especially internationally.
Although you can check baby essentials such as car seats and strollers, luggage still just fills up quickly with little ones in tow. And if you are flying with a lap-child, they won't get any luggage allowance — so you'll be sharing your space and weight limit with diapers, wipes, creams, toys, and a million other things you might need.
Hot Tip: Though it's possible to check large baby items like strollers and car seats, learn more about why our family chooses not to.
While each airline has its own luggage restrictions based on fare type and loyalty status, the general rule tends to be 1 or 2 50-pound bags for passengers flying in economy class and 2 70-pound bags for passengers flying in business or first class. And having that extra 20 pounds can make a big difference — especially with kids.
Depending on the fare difference (especially when flying domestic), paying for an extra and/or overweight bag may bring the cost of an economy class ticket closer to that of a business class ticket than you think.
Lounge Access
If you are a regular Upgraded Points reader, you know how important a nice lounge can be when starting off a trip. It is even more important when you travel with kids.
By arriving just a little bit earlier at the airport, you can avoid the stress of rushing and decompress after getting through security. Having lounge access will give your family a place to stretch out and burn some energy before the long flight.
Many airport lounges have dedicated kids' rooms, which are great for entertainment (and will keep them out of the way of other passengers who may not love the idea of sharing a lounge with a baby).
On top of that, you will be able to grab some food and drinks before taking off, which is super helpful if you have a late flight and some family members might fall asleep before meal service. And, if you have time, you can always take a quick shower!
While most readers should have lounge access thanks to their Priority Pass membership from one of the awesome credit cards we recommend, some lounges are only available to those with elite airline status, or passengers flying in business or first class.
For example, I don't have any status with Delta — but since we took that Delta One flight from Atlanta, we received access to the Sky Deck at the Delta Sky Club. It was a beautiful lounge with good food and an outdoor patio that was perfect for plane watching — #AvGeek heaven!
These credit cards below include Priority Pass Select as a cardholder benefit. Also, with these cards, you can bring up to 2 guests in with you, for free.
The Platinum Card® from American Express - There's currently a new welcome bonus offer of 60,000 100,000 Membership Rewards Points after spending $6,000 on purchases in your first 6 months of Card Membership. Plus, earn 10x points on eligible purchases on the Card at restaurants worldwide and when you Shop Small in the U.S., on up to $25,000 in combined purchases, during your first 6 months of Card Membership.

This is our favorite card for getting into 1,300 airport lounges worldwide (including Priority Pass) and we get ~$3,000+ in value from the card every year.

The Amex Platinum can get you up to $200 in Uber Cash annually ($15 per month and a $20 bonus in December), up to $240 a year in digital entertainment credits, up to $300 a year on select Equinox members, and up to $200 in annual credit for airline incidental charges (e.g. baggage or seat selection fees). There's even a $100 Saks Fifth Avenue credit, annually. With an annual fee of $695, you get more value in return. Terms Apply and enrollment may be required for select benefits. For rates and fees of the Amex Platinum card, click here.
The Business Platinum Card® from American Express - Right now, there's a new welcome bonus of 75,000 100,000 Membership Rewards® points after you spend $15,000 on eligible purchases with the Business Platinum Card within the first 3 months of Card Membership.

We get ~$5,525+ in value per year by leveraging many of the card's benefits & perks. This is the best business card for lounge access as you'll get into 1,300+ airport lounges worldwide. Terms apply and for rates and fees of the Amex Business Platinum card, click here.
Chase Sapphire Reserve® - This premium card will get you access to 1,300+ airport lounges. as well as a number of other card benefits. The current sign up bonus is 60,000 points after you spend $4,000 on purchases in the first 3 months from account opening. You'll also get a $300 travel credit per year which wipes away a big chunk of the $550 annual fee. As an extra bonus, until 12/31/21, gas station & grocery store purchases will also count towards earning your Travel Credit.

Earn big with this card, earn 5X total points on air travel and 10X total points on hotels and car rentals when you purchase travel through Chase Ultimate Rewards immediately after the first $300 is spent on travel purchases annually. Earn 3X points on other travel and dining & 1 point per $1 spent on all other purchases.
Hilton Honors American Express Surpass® Card - Earn 130,000 Hilton Honors Bonus Points after you spend $2,000 in purchases on the Card in the first 3 months of Card Membership.

Priority Pass Select Membership is included with the card and you'll get 10 free lounge visits every year once enrolled, all for an annual fee of $95. Terms Apply. For rates and fees of the HIlton Surpass Card, click here.
Additionally, there's also the Citi Prestige® Card and Hilton Honors American Express Aspire Card which give you access to Priority Pass lounges, with up to 2 guests.
Priority Boarding
There are 2 trains of thought when it comes to flying with kids: you should either be one of the first to board or one of the last.
Some people like to wait for all of the chaos to settle before boarding and taking their seat, or give the kids more time to burn off energy — but I don't. I prefer to get on the plane as soon as possible, make sure that my carry-on bag is in an overhead compartment near me, and start getting the kids settled.
When traveling with children, most airlines will allow families to board first so they can get their strollers and seats sorted out before the main boarding process begins. So regardless of whether you are flying coach or business, you should take advantage of priority boarding when traveling with young children.
That being said, if the airline you are flying with doesn't offer priority boarding for families, a business class ticket will still let you board before most other passengers.
Hot Tip: Traveling internationally? Make sure you have the right documents for your little ones! You can find more information in our detailed guide: How to Get a U.S. Passport for Your Baby [Step-by-Step].
More Overhead Storage
One overlooked benefit of flying in business class is the dedicated overhead storage bins that you'll have access to.
With airlines charging so much to check a bag now, passengers are trying to bring everything they can as a carry-on. In economy, that means 200+ people jockeying to be the first to shove their bags above your head and squishing all your baby supplies.
When you fly up front, you'll have access to the same size bins — and share them with only a fraction of the passengers on the flight. In many cases, you may get an entire overhead storage bin to yourself.
This will give you the flexibility of only grabbing what you need when you sit down, instead of trying to get everything you might want for the next several hours. And if you need to get up again, you won't have to worry about solving the luggage puzzle above your head that your fellow passengers left behind.
Many people flying with babies try to book a bulkhead seat in economy to use the bassinet. But remember that you won't be able to store anything on the floor during takeoff and landing in this case (since there isn't a seat in front of you — just a wall). That would leave you with limited baby supplies within arms-reach, and all of your bags jammed up top.
Hot Tip: Debating about paying for a bulkhead seat? Be sure to read Bulkhead Seating: The Pros & Cons [Includes Airline Guide].
Better Food
While the majority of airlines don't offer inflight meals worth writing home about, some do a really good job of feeding your family at 30,000 feet. Knowing that you and your family will be well-fed on your flight can save you some money by avoiding overpriced airport cafeterias before boarding.
For example, JetBlue offers delicious seasonal plates from NYC's Charlie Bird, Pasquale Jones, and Legacy Records — a far cry from what you'll find in economy on most carriers. I don't know about your kids, but my daughter has never turned down ice cream and a fresh cookie from Milk Bar!
Hot Tip: If your child has a mild palate, you can request a kid-friendly meal directly with most airlines.
May Help With Nervous Flyers
Some people just don't enjoy flying as much as others. Whether it be fear of turbulence, motion sickness, or something else, the thought of getting in a metal tube and flying through the air doesn't always sit well with some travelers.
But by removing some of the chaos of flying in economy and instead focusing on luxury amenities and pre-departure cocktails, business class can help nervous flyers relax.
Arrived Well-Rested
This could probably go without saying, but you'll have a much better chance at arriving at your destination (more) well-rested in business class than if you were to fly in economy.
Though it seems trite, the culmination of many seemingly small benefits really does help foster a sense of calmness and relaxation. So even if your little one is cranky, having extra space or a more attentive crew at your disposal will help keep your trip on track.
If you're lucky and your kiddos get some shut-eye, you might even be able to sleep as well. Being able to lay down with a soft pillow and a cozy blanket will certainly make a difference compared to sitting straight up in your middle seat in coach!
Bottom Line: There are a lot of benefits to flying in business or first class, but it will be up to you as parents to decide whether or not it is worth spending the extra miles or money for your family. 
Cons
It's obvious that there are plenty of pros to flying business class as a family, but there are definitely some cons to this situation as well. While they might not be cons for everyone, here are the factors my wife and I consider when we want to travel up front with the kids.
More Expensive
This is another obvious one — flying in business or first class can be very expensive, especially when paying cash. Before we had kids, if we had the money or miles, we wouldn't think twice about booking a nice business class seat. But now that we have to multiply that cost by 3 or 4, the decision isn't as easy.
Even though paying for a business class ticket with miles generally offers a really good value, it is still usually at least twice the cost of an economy ticket. In other words, we are spending 2 family vacations worth of miles on 1 flight.
Is it worth it? That will depend on your mileage balance.
Another cost to consider is that of a lap child. On domestic flights, children under 2 can sit on your lap for free. However, on international flights there is usually a fee — often 10% of the paid fare, even if you're paying with miles.
Again, each airline will have a different policy regarding lap children; our recent trip on Delta is a good example. We were looking for business class seats from the East Coast of the U.S. to Rio de Janeiro, and we settled on either American Airlines from Miami or Delta from Atlanta.
Had we chosen American Airlines, we would have had to pay 57,500 AAdvantage miles per person plus $700 for our 7-month-old to fly on our lap! American Airlines wanted to charge us 10% of a one-way, last-minute business class seat — no thank you!
Instead, we transferred our Membership Rewards points from American Express to Virgin Atlantic and booked the Delta One seats for 45,000 per person, plus only 5,000 for the lap child.
Bottom Line: Be careful — if you don't consider the cost of the lap child, you could be in for an expensive surprise!
Judgy Passengers
The topic of judgy passengers gets brought up a lot when talking about kids in premium cabins. There are people who believe kids have no right to be in business or first class, but we do not agree.
Personally, we have never had any negative experiences with other passengers due to one of our children crying or misbehaving (never!) — in fact, we have experienced the opposite.
We do our best to teach our kids (well, at least our 5-year-old) that she needs to be on her best behavior during the flight, especially when flying in business class. We explain that the other passengers may be going to work and that they need quiet so they can sleep. If she wants the big seat with ice cream, she needs to act like a big girl.
So far, this has worked out, and we've had no complaints about her on 12+ international business class flights. We are also not the type of parents to let our kids run wild through the lounge or the aisles of a plane, so that may help as well.
Still, if you really want to lose your faith in humanity, a quick internet search will prove that there are some people out there who just really don't like children, and believe that their ticket cost should guarantee them a kid-free flight.
However, in all my years of flying, I have seen far more misbehaving adults on planes than kids. And a crying baby is no match for a good set of noise-canceling headphones.
Bottom Line: Despite what other passengers may think, babies and kids have every right to fly in business class — focus on your cranky baby, not your cranky neighbor.
Restrictive Layouts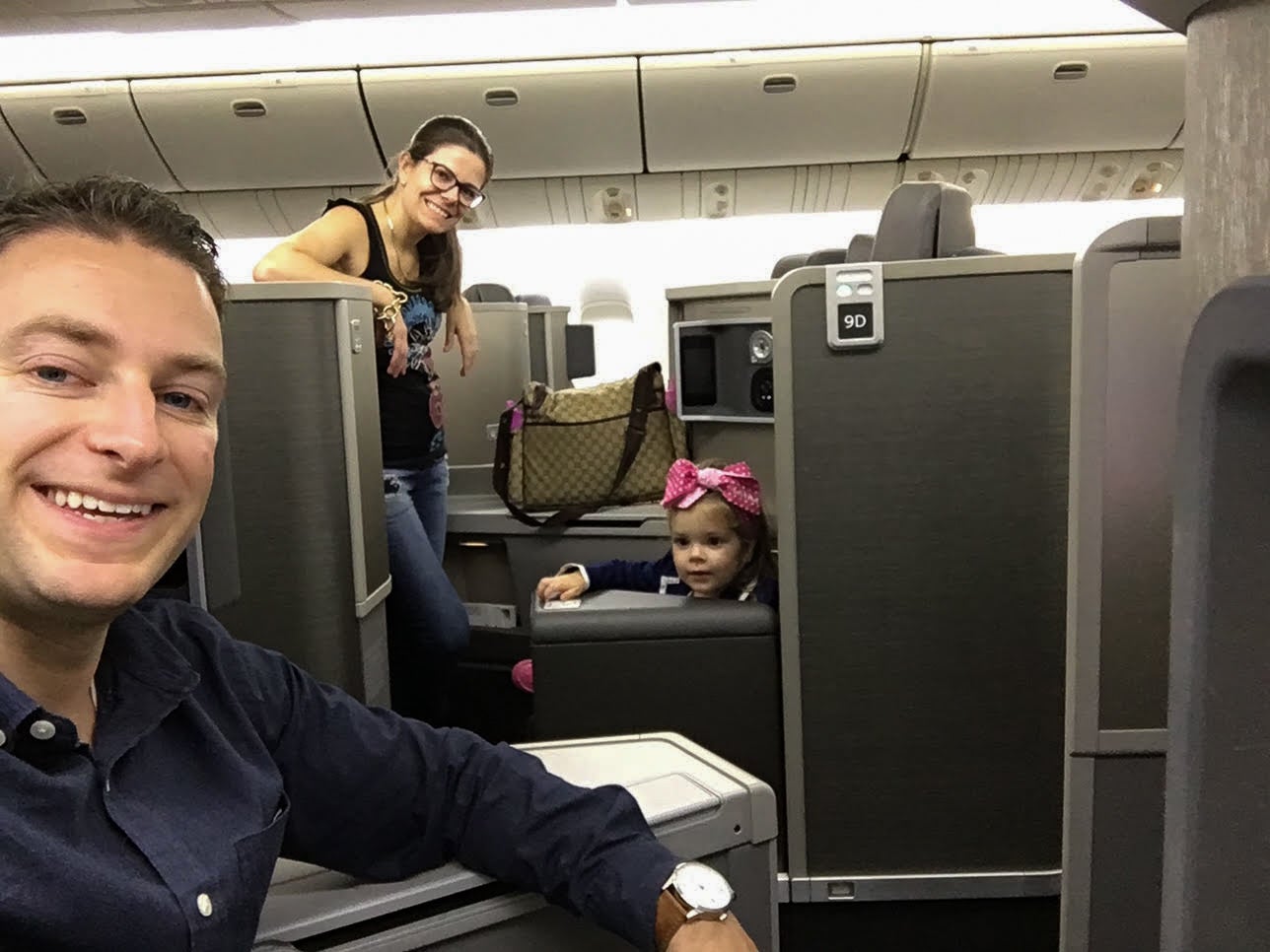 Lately, airlines have been introducing some beautiful business class products — some of which are often nicer than their outgoing first class offerings.
These new seats offer much more privacy, and some even include doors that can turn your seat into a suite. This is great for solo travelers or even couples, but what if you are flying with young children?
If you have a baby who will be staying on your lap, this isn't much of an issue. But if you have a toddler with their own seat, reaching over to help them with their game or movie can be more complicated.
Depending on the layout or location of your seats, parents may need to actually get out of their seat and walk around in order to help their little ones with little tasks. When flying in coach, this isn't an issue (because you are essentially on top of each other anyway).
This issue presents itself again during long, overnight flights. When the seats are in lie-flat mode, other passengers essentially disappear from view. I always find myself popping up from my seat to look over and make sure my daughter is still sleeping peacefully, because I can't see her otherwise. And parents can forget about using noise-canceling headphones — you need to be on-call if your kids need anything.
In comparison, when flying in economy, even though you're not in a comfortable bed, you can close your eyes and relax — because there is a good chance your child is actually laying on top of you, and you don't need to worry about them!
May Not Help With Nervous Flyers
While there are some aspects of business class that can definitely help with nervous flyers (as mentioned above), having seats so far apart may actually make it worse for some flyers — especially young flyers.
Being in a pod and not being able to see mom or dad may add some unnecessary stress to a child's flying experience. This could be made worse by flying at night as well if they have a fear of the dark.
Kids Won't Appreciate It as Much
I can't say that my daughter doesn't appreciate the perks of flying in business class, but I know that she doesn't always appreciate them as much as I do.
With everything from the extra luggage allowance to priority check-in to pre-departure Champagne, there are just some things that kids won't or aren't allowed to appreciate — and that's fine.
Let's be honest: most kids don't care about a 3- or 4-course meal and free drinks. They just want dessert and a Disney movie, no matter where they're sitting.
They Cry
I was hesitant about adding this, but it's a fact of life: the biggest complaint about babies is that they cry and disturb other people. I get it, but I don't agree that they shouldn't be in business class because of it.
Why is it better for a baby to cry in economy class with 200+ sleeping passengers, than in business class with only 30 passengers who have a better chance at actually sleeping?
If someone is really concerned about getting a perfect night's sleep on an airplane, they'll have packed a great pair of noise-canceling headphones anyway. In fact, I know my Bose headphones are perfectly sufficient — once my wife had to wake me up because I didn't hear our daughter crying right next to me.
You Could Spoil Your Children
This is a fair argument — you don't want your children to get spoiled. This is something that most parents aspire to, whether we're talking about air travel or other aspects of family life.
We combat this by being realistic. The majority of our family travel is in economy class, so when we do fly business class it's a treat for everyone — and as parents, we make that known.
It is up to you as parents to explain to your children that flying in business class is a privilege (and it's only possible thanks to all the points and skills you've gathered by reading Upgraded Points!).
Final Thoughts
Flying in business or first class is our preferred method of travel — if money and miles were no object, we would fly up front on every flight we ever take. But that isn't the case.
Whether it be an excessive lap child fee, an extra connection to find award availability, or just wanting to save miles for our next trip, sometimes flying in economy makes the most sense for our family.
While there is no argument that sitting up front has its perks, it's up to each family to decide whether or not it makes the most sense for them. If you have any questions about flying business class with your children, leave them in the comments or come have a chat in our Facebook Group, Level UP Travel!
---
The information regarding the Hilton Honors American Express Surpass® Card, Citi Prestige® Card, and Hilton Honors American Express Aspire Card was independently collected by Upgraded Points and not provided nor reviewed by the issuer. 
For rates and fees of The Platinum Card® from American Express, click here.
For rates and fees of The Business Platinum Card® from American Express, click here.