Ultimate Guide to Booking a Lap Child on Your Next Flight [Includes Airline Pricing]
It can take years of flying for the average traveler to finally "get the hang of things," and that is not even considering the complex world of miles and points.
Just finding the perfect mix of what goes in your checked bag versus your carry-on, when to get to the airport, which airport to use, which airline offers the best mix of price and convenience for you… the list can go on and on.
For travelers who have finally mastered their routine and then decide to have a baby, well, get ready to start learning all over again!
Depending on who is flying with you and your little one, how old your baby is, where you are flying to, and how much comfort you need (think extra seats), the process for booking your lap child on your next flight can vary greatly.
But a positive aspect to focus on is that your baby can often fly for free (domestic flights) or for a fraction of the cost of a ticket (international flights) if they are under the age of 2 and are going to stay on your lap during the flight.
Rules can vary between destination and even airlines but don't worry, we will break it all down for you so you will know exactly what to expect when you go to book your lap child on your next flight.
Who Needs a Ticket?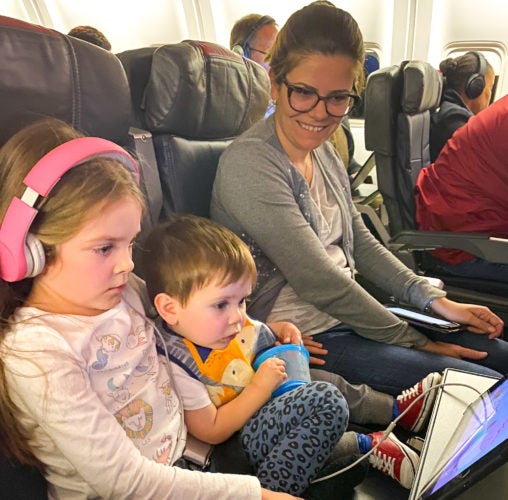 This may seem like a silly question, but it is worth covering. Regardless of age or destination, every passenger on an airplane will need a ticket to board.
Even though your child isn't going to be occupying a seat, you will still need to inform the airline that they will be flying with you.
Some airlines, like Southwest Airlines, may even require you to provide a copy of your child's birth certificate to prove that they are eligible to be a lap child before they will issue a lap child ticket.
Hot Tip: Not sure what documents your child needs to fly? We've got you covered with what ID and documents does your child need to fly.
Flying With Children Under the Age of 2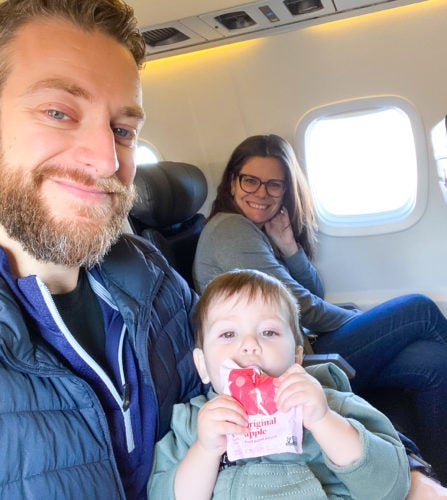 If you are flying with a child under the age of 2, you can potentially save a lot of money by adding them as a lap child instead of booking them their own seat.
This can be somewhat controversial as it is not necessarily the safest option for your child. The safest option for children is to fly in an FAA-approved car seat that can be installed in their own assigned seat.
That being said, buying an extra seat that your little one may not even use may not fit into many parents' travel budgets, especially if you are flying in an international business class seat.
Domestic Flights
The industry standard is that children under the age of 2 can fly for free as a lap child on domestic flights.
That means that an adult on a paid (cash or award) ticket can add a lap child to their ticket for no additional cost.
While some airlines, like JetBlue Airways, will allow you to add a lap child when you are booking your seat online, others may require you to call after you are booked to add your little one.
As mentioned above, airlines may ask for proof of age to make sure that you aren't trying to sneak any 2+ year-olds on the flight for free.
International Flights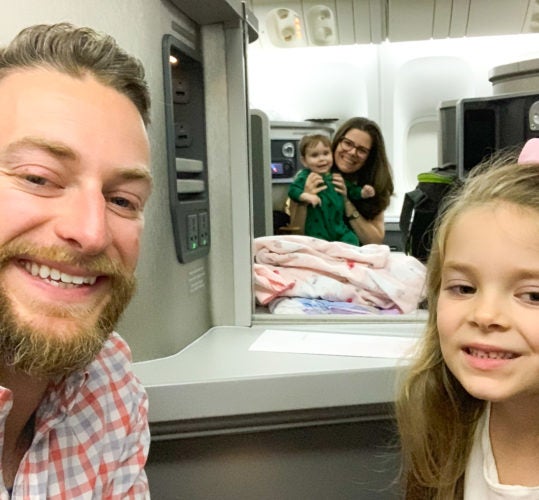 While it may seem like booking a ticket for a lap child flying domestically is pretty straight forward, flying internationally is less so.
The first thing you will need to know is that it is not free. The second is that each airline handles the process differently.
There are 3 billing practices that airlines have adopted when it comes to adding a lap child:
Pay a flat fee in cash or miles
Pay 10% of the miles used for the adult seat
Pay 10% of the cash price of the adult seat
If we were to make a broad stroke statement, we would say that the majority of airlines charge 10% of the paid fare to add a lap child to cover taxes and fees. This may not be a big deal if you were traveling on a cheap economy fare. But if you were flying business class, that 10% could be hundreds of dollars!
And many airlines will charge that 10% of the full fare price even if you are traveling on an award ticket; not great.
"Taxes and fees" mean different things to different airlines. Some airlines are able to ticket lap children without price-gouging their customers, so it makes you wonder what some of the other airlines are really charging you for.
Let's look at the 3 pricing models. For example, if you wanted to take a round-trip international business class flight that cost 100,000 miles and was on sale for $10,000, you would pay the following amounts:
If you booked with Virgin Atlantic, you would pay the 100,000 miles for your seat plus a flat fee of 5,000 miles per segment for the lap child, for a total of 110,000 miles plus any normally applicable taxes and fees.
If you booked with British Airways, you would pay the 100,000 miles for your seat plus 10% more miles (10,000) for your lap child, for a total of 110,000 miles plus any normally applicable taxes and fees.
If you were to book with American Airlines, you would pay the 100,000 miles for your seat plus 10% of the current cash fare ($1,000) for your lap child, for a total of 100,000 miles plus $1,000 plus any normally applicable taxes and fees.
Bottom Line: It is very important to be aware of these fees before you book your flight and it may be worth choosing your airline based on how much they charge for a lap child.
Price For Lap Child (by Airline)
Want to know how much your airline is going to charge you for a lap child?
We put together a list of some of the most popular airlines and how they much charge for a lap child for international award tickets and cash tickets.
Adding a Lap Child to a Reservation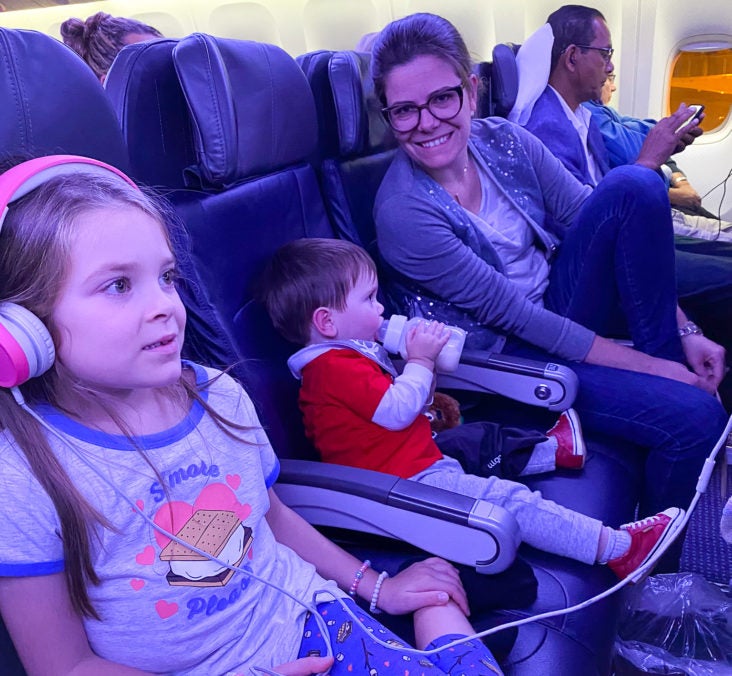 Once you have decided which airline to fly, whether it is worth it to fly business class or coach, and whether you are going to pay in cash or miles, you can now add your lap child.
When to Add a Lap Child
If you are booking a flight while you are still pregnant and your child doesn't have a birth date or official name yet, you will need to wait until they are born before adding them to your reservation.
If you have a beautiful, healthy baby that is cleared to fly, you have a couple of options for when you can add your lap child to your reservation. You can either add the lap child at the time of booking or you can call at a later date and add the child.
How to Add a Lap Child
Assuming that the airline you are flying allows you to add a lap child to your reservation while booking online, there is no real reason to wait. You should book online.
Especially if you're booking a domestic flight and there will be no extra cost, there is no point in wasting time by having to call the airline later on.
Of course, not all airlines allow you to add a lap child online so you may be forced to call. If you prefer to book online, you can complete your booking first and then call to have your lap child added to your reservation.
If you prefer to call (or are booking an award reservation that needs to be processed over the phone), you can add your lap child while on the phone with the agent. Any booking fees should be waived if adding the lap child online wasn't an option.
Hot Tip: While not guaranteed, we have had more luck getting a seat blocked off for a lap child when adding them at the same time of the original reservation.
Traveling With Multiple Children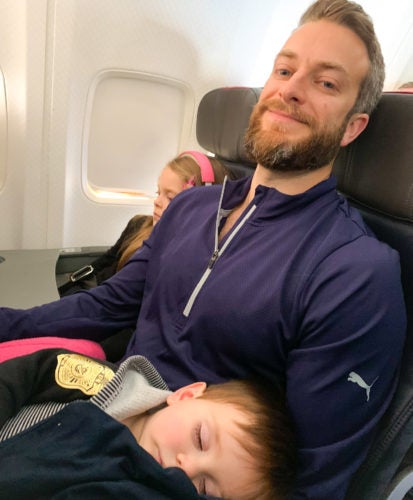 If you are lucky enough to be traveling with more than 1 little one at a time, you will not be able to keep them both as "lap children" unless you have another adult with you.
It appears to be an industry standard that if there is more than 1 child per adult, only 1 of them can fly for free as a "lap child." The remaining mini-travelers will need to have their own, paid seats.
Blocked Seats
Just because you have opted to designate your child as a lap child, that doesn't necessarily mean that they won't get their own seat.
As mentioned above, we have had success blocking a seat for our son even though he was a lap child on an international flight.
If you are watching the seating chart and it doesn't look like a seat has been blocked for you, be sure to speak with the gate agents. They often have seats reserved for unaccompanied minors and other special travelers that get released right before boarding.
If you are lucky, a kind gate agent may be able to shuffle some things around to give your family some extra space.
Pros and Cons of Bulkhead Seats
In general, regardless of cabin class, the bulkhead seats tend to offer more room for travelers, but they may not be the best option for your family.
Pros
Business class bulkhead seats often have more storage and bigger footwells.
Economy class bulkhead seats almost always have significantly more legroom and the option to attach a bassinet to the wall.
Cons
The first con is the financial cost, as bulkhead seats in economy often cost extra money.
Second is the fact that you can't have anything at your feet during takeoff and landing, which includes diaper bags and carry-ons full of baby supplies. A long taxi could have you scrambling to keep your baby happy.
Finally, the armrests in the bulkhead seats are often fixed to accommodate IFE screens, so you won't be able to raise them and give your little one extra space to spread out.
Bottom Line: Only take the bulkhead seats when you're trying to get a bassinet. Otherwise, the extra space doesn't justify the immovable armrests and limited storage space under the seat in front of you. 
Using a Bassinet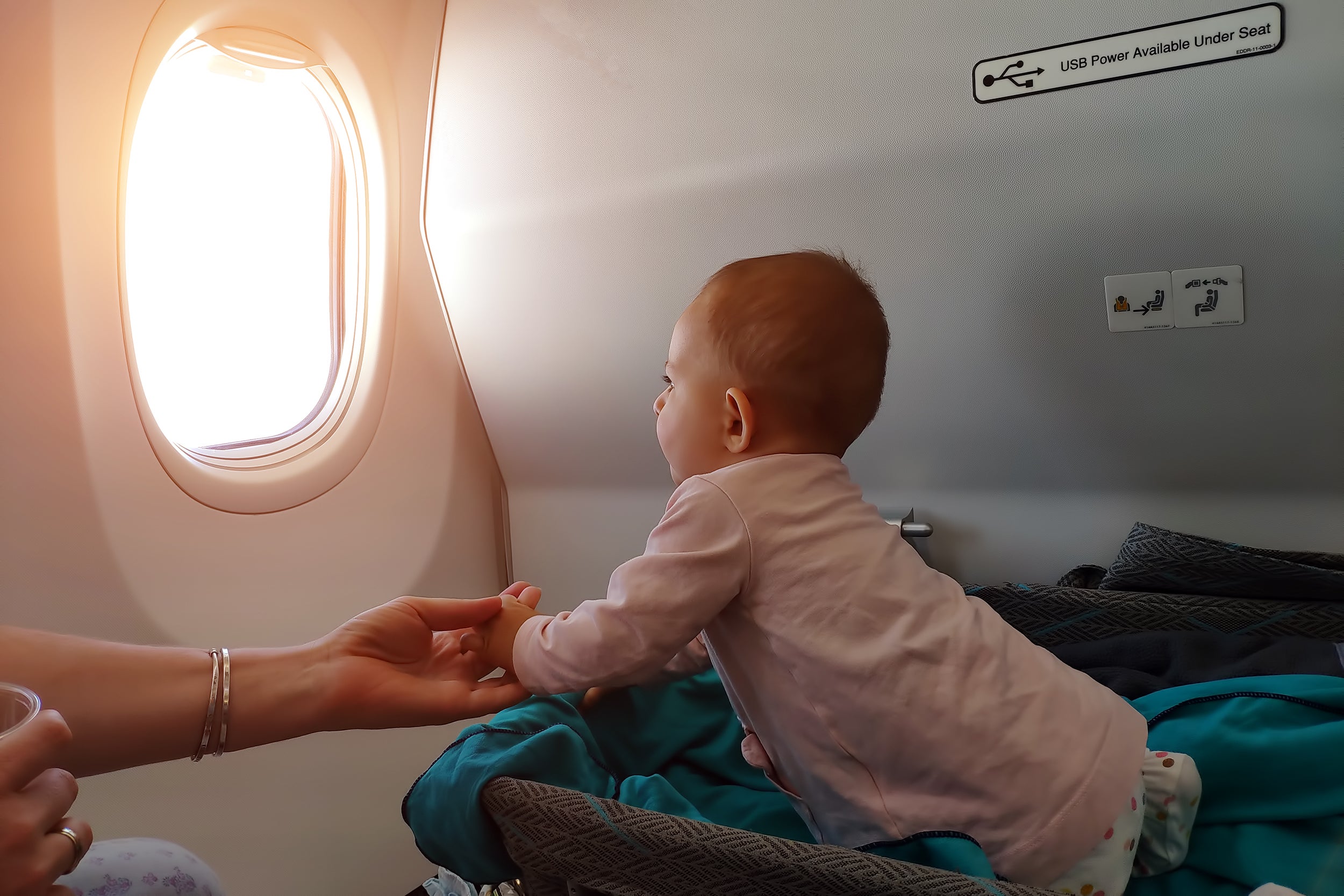 Traveling with a child under the age of 2 can really be a sweet spot if you are lucky.
If you can add a lap child to your reservation at a reasonable price and secure a bassinet that will allow them to sleep comfortably, then you have essentially hit the baby travel jackpot (assuming they aren't crying for the entire flight).
Bassinets are free and can potentially give your baby a comfortable bed to rest in while also giving your arms a break to eat a meal and watch a movie.
For more information about airline bassinets, be sure to check out our ultimate guide to baby bassinet seats.
Luggage Allowance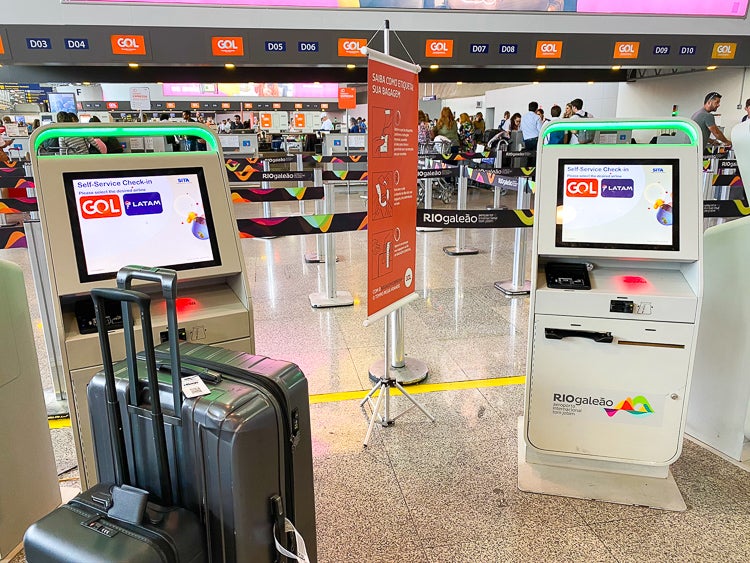 Luggage allowances will vary by airline, however, there is a general rule of thumb that if you are paying the 10% (cash or miles) for a lap child on an international flight, they will be entitled to 1 piece of checked luggage.
Lap children on domestic flights are not entitled to a checked bag.
As always, regardless of the destination, if you are flying with children, you can check their strollers and car seats (either at the ticket desk or the gate) for no extra charge.
Tips for Traveling With a Lap Child
Traveling with your children can be such a rewarding and bonding experience. Here are a few tips that will hopefully make your next trip a little easier.
Do Your Airline Research
Where you are traveling to and which airline is going to take you there can make a huge difference.
If you are planning on burning some points for a nice getaway in business class, just beware that some airlines may charge you a small fortune just to let your child sit on your lap!
Add Your Child to Your Reservation ASAP
If you can't add your child as a lap child online, call the airline as soon as possible to do so.
By adding them as far out in advance as possible, you are giving yourself the best chance to get a seat blocked off for your child.
Even if the system won't physically block the seat, there will be a note on your reservation that will alert other agents and potentially deter them from assigning that seat to another passenger.
Additionally, you will be presented with any lap child fees so that if you needed to cancel, you should still be able to do so.
Be Careful Around Birthdays
If you are traveling around your child's second birthday, be careful about your return date. If you return after they turn 2, you will need to buy them a seat.
That is unless you are flying British Airways, which has an awesome policy in this situation.
If you are flying British Airways and your child turns 2 during the journey, the airline will provide an assigned seat on the return flight for no extra cost! A truly free flight as a birthday present — and you can book online, which is another bonus!
Bring Your Child's Identification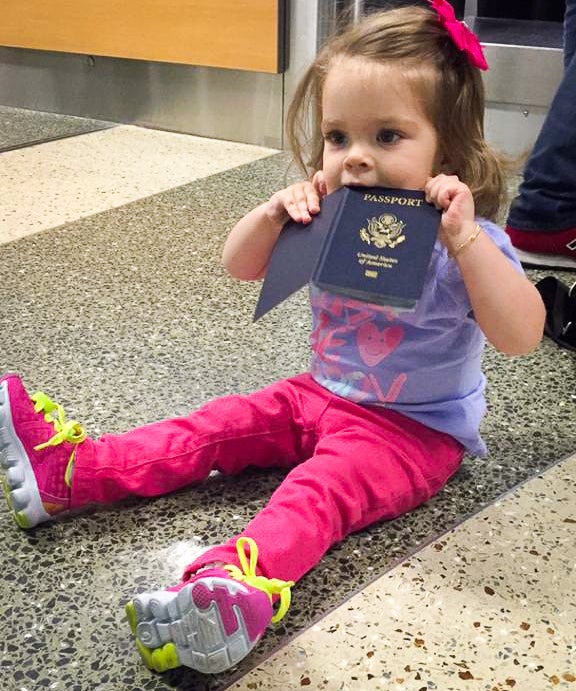 Of course, if you are flying internationally you will have your child's passport with you to prove that they are under the age of 2.
However, since identification isn't necessary for minors on domestic flights, you may not realize that you might need to prove their age until it is too late.
While most airlines won't "card" your little one, Southwest Airlines will and they will want to see a copy of their birth certificate.
Just to be safe, you should travel with a copy of your baby's birth certificate.
Decide If the Bulkhead Is Worth It
Keeping you and your family comfortable will be the first step in having a smooth flight. If your baby can still fit in a bassinet, paying for a bulkhead seat may be worth it for you on a long flight.
However, with immovable armrests and limited storage, the cons may outweigh the pros. Especially if you need to pay extra money for the seats.
Plan What You Are Going to Check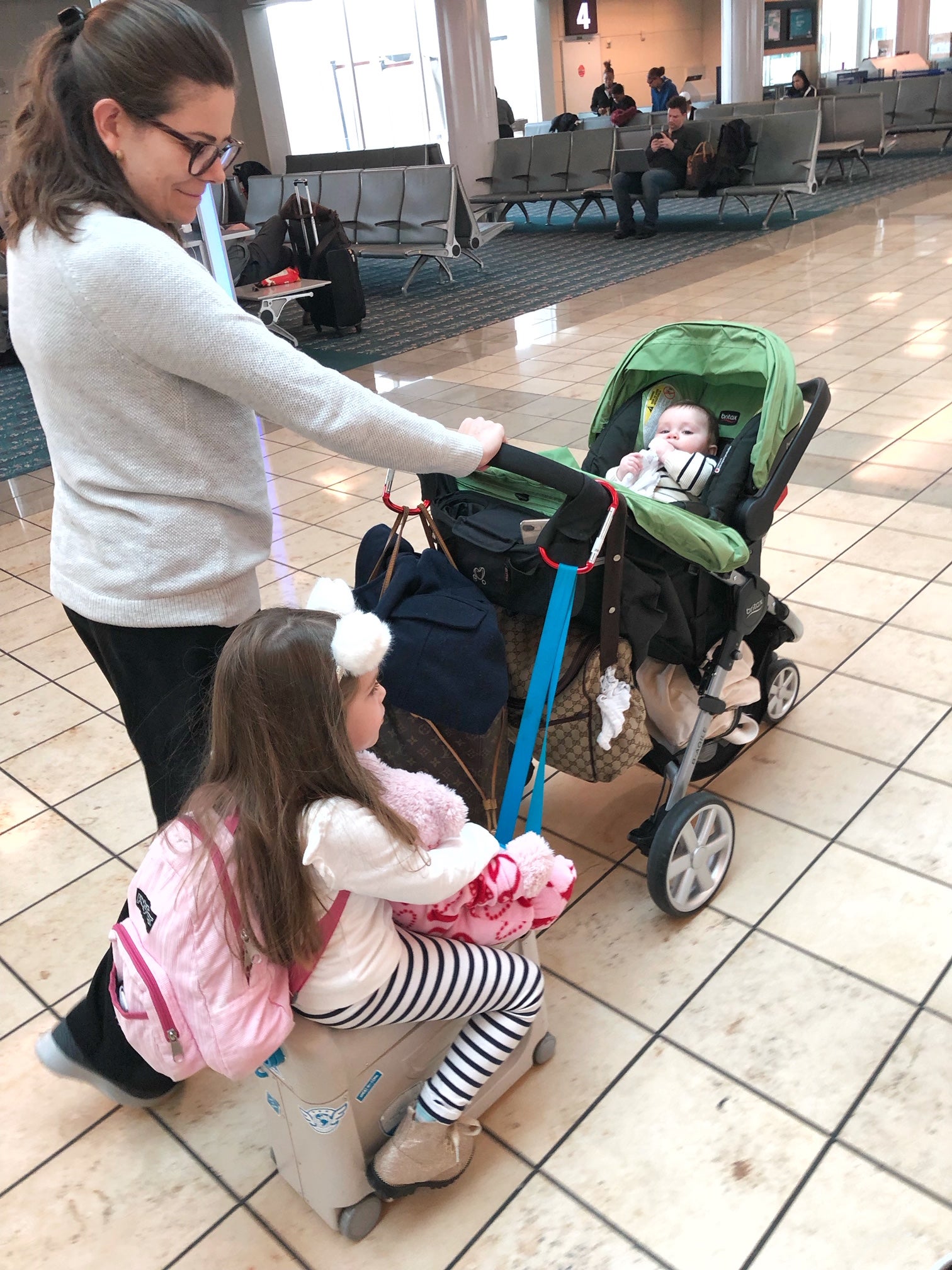 Regardless of whether you are flying domestically or internationally, you will probably have a stroller and maybe a car seat with you. Do you want to check these at the ticket counter or the gate?
If you are like a lot of parents, having a stroller in the airport terminal might be pretty handy for getting the kids around and hauling bags.
Hot Tip: Is your baby still breastfeeding? Be sure to read our guide on flying with breast milk.
Pre-Departure Checklist
Ok, your ticket is booked, the details are finalized — now it's time to focus on keeping your baby happy during the flight.
Here are some things that can help:
Change diapers before boarding to avoid the tiny bathroom
Feed your baby before takeoff to help with ear pressure
Try to keep their sleep schedule as normal as possible
Bring their favorite blanket and toy
Final Thoughts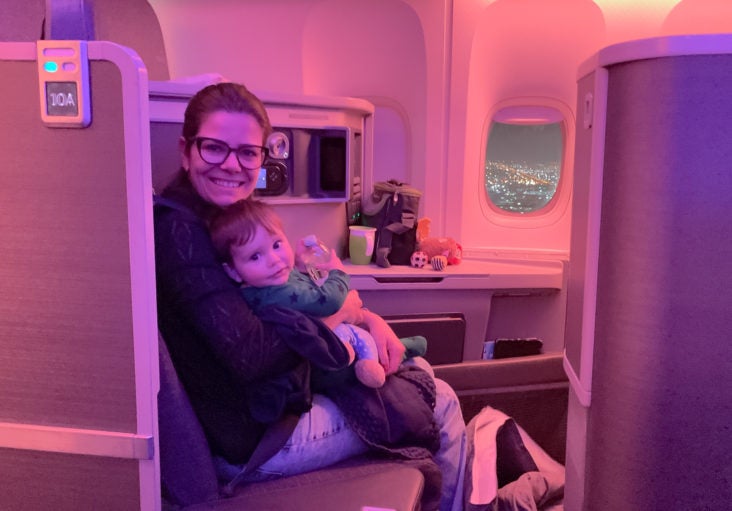 Traveling with family is an incredible experience and something that you will remember for a lifetime; for good or for bad!
When done properly, flying with a child under the age of 2 is a great way to get them on a plane without paying the full cost of a ticket.
There are certain sweet spots in the ages between newborn and 2 years old where they sleep a lot (great for planes) but also visibly enjoy new experiences, which is a beautiful thing to watch when introducing your little travel to this crazy world.
By educating yourself on what is needed to book a lap child on your next flight, you will be setting you and your family up for travel success and avoid any nasty financial surprises.
Safe travels!