Ultimate Guide to Flying With a Lap Child [U.S. Airlines That Require a Ticket]
Just getting out of the house with an infant can be stressful, but bringing them on a plane can add a new level of complexity that can fluster even the most seasoned parents out there.
Then you add in the fact that airline rules and policies aren't always clear, and they almost always vary by carrier, which brings in another level of unnecessary confusion.
Does my infant need a ticket? Does a lap child need to pay to fly? Can I bring my baby's car seat on board? These are just a few of the many questions that run through a parent's head when the prospect of travel pops up.
The good news is that those are all normal questions to have and we are going to (clearly) lay out the answers for you so that the only thing you need to worry about on your next trip with your little one is what to pack in their cute little carry-on bag.
The Basics of Flying With a Lap Child
Basically, as long as the child is under 2 years old, the Federal Aviation Administration (FAA) does not require parents to purchase a seat for them. If they choose, parents can pay for a seat and install an approved car seat for the infant to travel in. Otherwise, the infant can fly as a "lap child" which means that they need to share a seat with an adult.
While this "adult" does not need to be a parent, they do need to be at least 12 to 15 years old, depending on the airline.
If you are flying with more than 1 lap child, there is a limit of 1 per adult. If 1 adult has 2 infants, they must purchase a seat for at least 1 of them.
Depending on the airline and the aircraft, there may be some seat restrictions. The most common restrictions are that infants (and children) cannot fly in exit rows or in seats with airbag seat belts.
Additionally, it is recommended that lap children fly in a window or middle seat so that any additional baggage or car seats don't inhibit an evacuation in the case of an emergency.
Domestic Flights
While the logistics and safety requirements don't change between domestic and international flights, there is 1 big factor that does — price.
On U.S. domestic flights, children under the age of 2 can fly for free. Airlines may require documentation such as a birth certificate or passport as proof if you want to bring your infant as a lap child.
Although a paid ticket isn't required, most airlines will require a boarding pass for a lap child as a way of tracking who is on the plane.
International Flights
Unlike domestic flights, if you are taking your lap child on an international excursion, be prepared to pay. Although you will be sharing a seat with your little one, airlines will still charge a fee that will allegedly go towards taxes… but since there is no standard fee across the major airlines, it is hard to know exactly what the charge is for.
The most common charges are 10% of the cash fare, or a set amount of points if booking an award flight. As you can imagine, 10% of an international business or first class ticket can get pretty expensive.
For now, let's focus on what is required on U.S. domestic flights.
Hot Tip: If you are flying internationally with your infant, be sure to read the ultimate guide to booking a lap child on your next flight (including airline pricing).
Airline Requirements for Lap Children (Overview)
Below is a list of all of the major U.S. airlines and what you can expect next time you fly with a lap child.
Airline Requirement Chart
* Infants under 7 days old must have a physician's note.
** Infants under 14 days old must have a physician's note.
*** A boarding pass is not required but a Boarding Verification Document (BVD) will need to be obtained at the airport
Hot Tip: Traveling with kids can be stressful, especially if you are nursing or pumping parent or partner. Learn what is allowed and our tips for navigating security screenings, lactation areas, and more in our helpful guide to flying with breast milk.
Individual Airline Requirements
Alaska does not have a minimum age requirement for infants to fly and they are allowed to travel as a lap child until they are 2 years old. Parents may be required to provide proof of age, so bringing a copy of the birth certificate or a passport is a good idea.
Due to the variety of small planes that are in the Alaska Airlines fleet, there are certain seats where lap children are not permitted, including exit rows. Therefore it is necessary to call Alaska Airlines reservations at 800-252-7522 to add the infant to an adult's ticketed reservation.
It is worth noting that lap infants are not entitled to their own carry-on luggage and any diaper bags will be counted against the adult's baggage limit.
Children under 24 months are allowed to fly as a lap child and can be added to an adult reservation when booking online.
If you need to add a lap child after you have made a booking you can reach reservations at 702-505-8888.
If you are not going to buy a ticket for your infant, you will be required to provide proof that they are under 2 years old.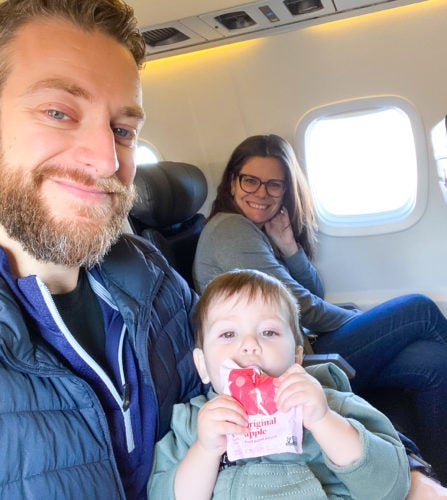 American Airlines allows lap children as young as 2 days old, however, if the child is less than 7 days old a medical form must be completed by the child's physician before boarding.
The infant must be registered on an adult's reservation and will have a luggage allowance of 1 diaper bag.
To add a lap child to an existing reservation, you can contact the American Airlines reservations department.
Avelo is a brand new low-cost carrier based out of Burbank, California that is already shaking things up regarding family travel. The airline does not allow lap children, regardless of age.
All passengers must have their own ticket and seat, and infants must be properly secured in an FAA-approved car seat. If you are not traveling with a car seat or it is not FAA-approved, the airline will provide one.
Delta allows infants to fly as a lap child with a minimum age of 7 days old unless accompanied by a physician's note stating that the child is healthy enough to fly.
The lap child must be added to a ticketed reservation before traveling, which can be done by calling 800-221-1212 or 800-323-2323 for SkyMiles members.
While strollers and car seats can be brought on board or checked for free, a diaper bag will count against the ticketed passenger's luggage allowance.
Infants can start flying with Frontier as soon as they turn 7 days old and can fly as a lap child for free.
While there are some other restrictions (like not being able to sit in an exit row, which is common), lap children may not sit in any seat that has an airbag seat belt installed, which is on most planes in row 1.
There is no specific mention of diaper bags being counted towards the adult's allowance, but based on how encouraging the Travel Tips section is, it is unlikely that the flight crew would give you a hard time about some extra diapers and toys.
To add a lap child to an existing Frontier Airlines reservation call 801-401-9000.
Hawaiian Airlines welcomes infants to fly as a lap child as young as 7 days old, or younger if accompanied by a physician's note. Proof of age will be required as long as the child is not paying for a seat, and a birth certificate or passport is recommended.
Infants flying as a lap child will not receive a luggage allowance nor will they receive a meal on domestic flights.
All lap children must be added to an existing reservation by calling 800-367-5320.
JetBlue is a favorite amongst families for many reasons, and the airline leads the pack when it comes to flying with a lap child as well.
The very helpful Traveling with Kids page is dedicated to making your next flight as easy as possible and it lays out all of the requirements you need to know.
The most important thing to note is that infants are welcome above the age of 2 days old and can fly as a lap child until they turn 2 — just be sure to bring proof of age.
Additionally, your lap child will be allowed to bring 1 diaper bag, 1 car seat, and 1 stroller for no extra cost. Checked bags are not included.
A lap child can be added to a reservation at the time of online booking, or after the reservation has been made by calling 800-JETBLUE.
Southwest is another family favorite, but its infant policy is a bit more confusing than the competition. To start, infants are only welcome over the age of 14 days. Any newborn younger than 14 days will need to provide a medical release before boarding.
Although a boarding pass isn't required, a Boarding Verification Document (BVD) is and can be acquired at a Southwest kiosk on the day of travel or in advance by calling reservations at 800-I-FLY-SWA.
As always, Southwest has a very generous baggage policy, so you don't have to worry about being charged for your baby's diaper bag.
Spirit Airlines welcomes infants flying as a lap child as long as they are older than 7 days and do not need an incubator or other life-support system. Documentation may be requested to prove the age of the child.
Spirit is pretty strict when it comes to baggage, both checked and carry-on. Fortunately, when traveling with an infant, the policy is a bit more relaxed. Car seats, strollers, and diaper bags are allowed to be checked or carried on free of charge, which is a pretty big deal for this airline.
You can add a lap child to your reservation during the online booking process or by calling 855-SAVE-555.
United is the only airline in this list that does not require a lap child to have a ticket to board a domestic flight, however, the airline does recommend letting it know, which may increase the chance of getting a blocked seat next to you.
The only restriction for infants is that they are older than 7 days and not be in an incubator.
In addition to a stroller and car seat, parents are allowed to bring an additional diaper bag that will not count towards the baggage allowance.
If you want to let United know that you will be traveling with a lap child, contact the reservations department at 800-864-8331.
Tips for Flying With a Lap Child
In general, there is not much difference between carriers when it comes to flying domestically with a lap child since they are all free, unlike international flights where the fees vary. It really comes down to your preference of airline, price, and connection.
However, there are always a few tips to keep in mind that will help keep your next trip as stress-free as possible.
Book in Advance
By booking in advance and letting the airline know that you are flying with a lap child, you will increase your chance of getting a seat blocked next to you.
When an airline knows that there will be a lap child on board, they may put a soft block on the seat next to you so that other passengers cannot select it. Of course, if the flight is busy that probably won't happen, but if you know you are going to fly, there is no reason to wait to add the lap child.
Pack Strategically
This goes without saying, especially for parents, but consider all of the circumstances (lost bag, delayed flight, etc.) that you might encounter during your travels and try to prepare for them.
Also, take advantage of the fact that most airlines don't charge for diaper bags, strollers, and car seats, which can be very useful on long trips.
Hot Tip: Breast pumps are considered an assistive device by the FAA and do not count towards your carry-on bag allowance. 
Bring Your Child's ID
While an ID isn't required for children under 18 years old to board a plane, if you want to bring your infant as a lap child, you may be asked to prove that they are indeed under the age of 2.
Bringing a birth certificate, vaccination card, or passport is a good idea.
Be Careful Around Birthdays
If you plan on traveling on or near your child's 2 year birthday, beware that as soon as they hit 24 months they will need to pay for a seat.
That means if your flight is delayed the day before they turn 2, they will no longer be able to fly as a lap child.
Consider Flying Business Class
While it may be more expensive, having the extra space and amenities of flying business class can be well worth it. There are certainly pros and cons of flying business class with a baby, but often the pros will outweigh the cons.
Final Thoughts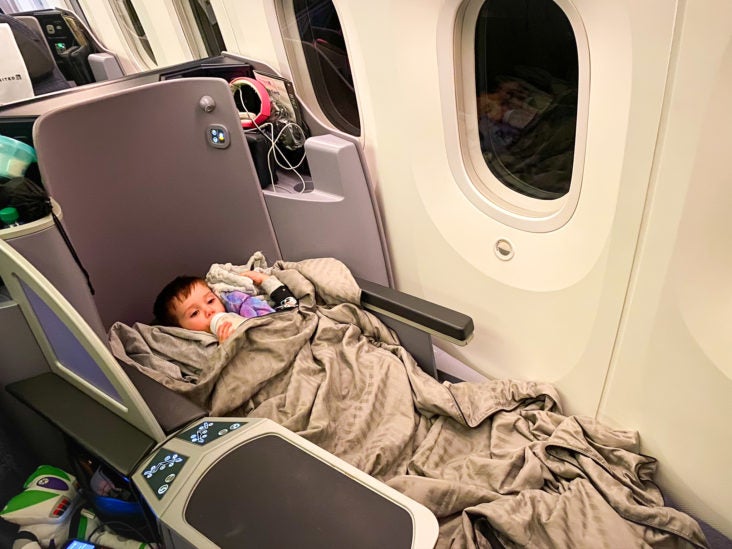 Flying with young children can be stressful, but it can also be so rewarding to start traveling with them at such a young age. Whether it is a trip to meet the grandparents, head to the beach, or visit Walt Disney World, soaring above the clouds with your baby is something you will never forget.
Despite airlines having their own rules, flying domestically with a lap child is pretty straightforward and airlines will more often than not do their best to help make the trip as easy as possible.
I have 2 children and have flown dozens of flights, both internationally and domestically, with them on my lap. While we have gotten lucky on some flights and had the seat next to us blocked, be prepared to have your little bundle of joy on your lap for the entire flight!
Safe travels and enjoy the memories!